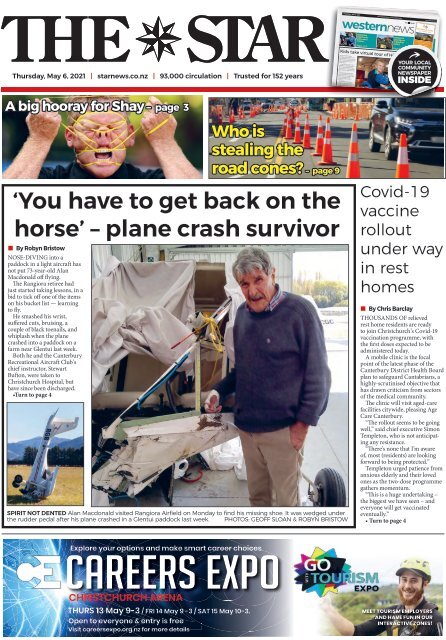 You also want an ePaper? Increase the reach of your titles
YUMPU automatically turns print PDFs into web optimized ePapers that Google loves.
of Hillary's team lived and

worked in the world's most

Ph: 343 3661 | 4 Yaldhurst Rd

www.riccartonclinic.co.nz

The Canterbury West Coast

Air Rescue helicopter service was

THURSDAY, MAY 6, 2021 Connecting Your Local Community

starnews.co.nz

Rehoming

dogs former

army man's

mission

Pages 4 & 5 Page 8

Children to

play big part

in planting

project

Free After Hours Care

for Under 14 Yrs

OPEN 7 DAYS

Thursday, May 6, 2021 | starnews.co.nz | 93,000 circulation | Trusted for 152 years

Kids take virtual tour of Hillary's hut

SCOTT BASE'S oldest

building, a hut built by a Sir

Edmund Hillary-led team, hit

the road this week and visited

Merrin School in virtual

reality form.

Antarctic Heritage Trust's

roadshow visited 10 classes at

Merrin School for four days,

where 270 year 5 to 8 students

got a chance to experience the

VR.

Developed in partnership

with Auckland University of

Technology, the virtual reality

experience allows users

to explore Hillary's hut in

Antarctica.

The experience provides

insight into how the 23 men

Funds

sought

by air

rescue

service

ONE OF the region's most

valuable rescue services is seeking

the public's help.

extreme environment more

than 60 years ago.

A big hooray for Shay – page 3

Who is

stealing the

road cones? – page 9

'You have to get back on the

horse' – plane crash survivor

• By Robyn Bristow

NOSE-DIVING into a

paddock in a light aircraft has

not put 73-year-old Alan

Macdonald off flying.

THe Rangiora retiree had

just started taking lessons, in a

bid to tick off one of the items

on his bucket list — learning

to fly.

He smashed his wrist,

suffered cuts, bruising, a

couple of black toenails, and

whiplash when the plane

crashed into a paddock on a

farm near Glentui last week.

Both he and the Canterbury

Recreational Aircraft Club's

chief instructor, Stewart

Bufton, were taken to

Christchurch Hospital, but

have since been discharged.

•Turn to page 4

The trust's general

manager operations and

communications Francesca

Eathorne, who oversaw

the project development,

hoped the VR tour inspired

people to learn more about

Antarctica and the nation's

most famous son.

"Sir Ed's hut is part

of the rich history of

Antarctic exploration and

we are excited to bring

this experience to as many

students around New Zealand

as we can," she said.

• Turn to page 6

EXPERIENCE: Magnus

Dobson, year 5,

virtually navigates

Sir Edmund Hillary's

Antarctic hut with

helper Matthew

Heath Williams

looking on.

PHOTO: GEOFF

SLOAN

MAKE IT ALL ADD UP.

• Business advice

• Tax advice

• Tax returns

• Business planning

• Rental property accounts

•Annual, monthly or

weekly service

Your local friendly accounting professional

SPIRIT NOT DENTED Alan Macdonald visited Rangiora Airfield on Monday to find his missing shoe. It was wedged under

the rudder pedal after his plane crashed in a Glentui paddock last week. PHOTOS: GEOFF SLOAN & ROBYN BRISTOW​

busier than ever last year with

a substantial increase in mission

numbers, and the trend is

continuing in

2021.

Across a

turbulent year,

the helicopter

crews were

tasked to 869

missions, an

eight per cent

increase in

mission numbers compared to

2019.

May is Chopper Appeal month,

and the Canterbury West Coast

Air Rescue team aims to raise

$200,000 over the next four weeks

to help ge through the predictably

busy winter months ahead.

Trust chief executive Christine

Prince said the need for the choppers'

life-saving service increases

year on year. • Turn to page 7

Christine Prince

Do You Suffer

eczema or PSoriaSiS?

MooGoo Irritable Skin Balm is our

top selling natural anti-inflammatory &

anti-fungal cream for problem skin.

super price

120g tube oNLY $21.90 200g tube oNLY $32.90

You' l be amazed at the difference it can make! MAiL OrDer AVAiLAbLe

Bringing You The BesT

in naTural healTh

marSHaLLS HeaLTH

& NaTuraL THeraPY

388 5757 | 101 seaview rd, new Brighton

Covid-19

vaccine

rollout

under way

in rest

homes

• By Chris Barclay

THOUSANDS OF relieved

rest home residents are ready

to join Christchurch's Covid-19

vaccination programme, with

the first doses expected to be

administered today.

A mobile clinic is the focal

point of the latest phase of the

Canterbury District Health Board

plan to safeguard Cantabrians, a

highly-scrutinised objective that

has drawn criticism from sectors

of the medical community.

The clinic will visit aged-care

facilities citywide, pleasing Age

Care Canterbury.

"The rollout seems to be going

well," said chief executive Simon

Templeton, who is not anticipating

any resistance.

"There's none that I'm aware

of, most (residents) are looking

forward to being protected."

Templeton urged patience from

anxious elderly and their loved

ones as the two-dose programme

gathers momentum.

"This is a huge undertaking –

the biggest we have seen – and

everyone will get vaccinated

eventually."

• Turn to page 4

Explore your options and make smart career choices

CAREERS EXPO

CHRISTCHURCH ARENA

THURS 13 May 9-3 / FRI 14 May 9 -3 / SAT 15 May 10-3.

Open to everyone & entry is free

Visit careersexpo.org.nz for more details

MEET TOURISM EMPLOYERS

AND HAVE FUN IN OUR

INTERACTIVE ZONES!
---
2 The Star Thursday July 30 2020

2 The Star Thursday May 6 2021

inside

Council

Tributes

to

flow

start

after

paying

death

back

..................................

staff...............5

5

Police

Man fined

respond

after

to

docking

'brutality'

puppies

claims...........7

............ 7

Cone-happy

New hospital

culprits

child care

get

initiative

reminder............9

....................9

Reserve

Bank to

status

stop cash,

for Red

cheque

House.....................

deposits ....10

10

Nigerian

New home

taonga

for Smiths

may be

City

returned...........13

......................... 15

Peninsula

Return to

screening

Trump, pandemic

in New

..............20-21

York..........14

John

Heritage

McCombe

in photos

remembered.........16-18

.............................................25

Is

Check

democracy

your shopping

under threat?.........................20

receipts .............. 27

Mayor's

Food .................................................................................28

column......................................................22

Gardening....................................................................25

Gardening ................................................................ 29

Sport..........................................................................32-34

Sport ................................................................................. 31

Puzzles............................................................................35

Drivesouth .................................................................33

Drivesouth....................................................................37

Puzzles ..........................................................................34

Classified..............................................................38-43

Classified ............................................................35-42

Gig

Gig

guide.....................................................................

guide ...................................................................

43

43

newsroom

newsroom

Louis Day Reporter

021 919 917

Matt louis.day@starmedia.kiwi

Slaughter Reporter

Matt

021

Slaughter

910 788

Reporter

matt.slaughter@starmedia.kiwi

021 910 788

Chris matt.slaughter@starmedia.kiwi

Barclay Reporter

Chris

021

Barclay

914 169

Reporter

chris.barclay@starmedia.kiwi

021 914 169

Barry chris.barclay@starmedia.kiwi

Clarke Editor in Chief

Barry

021 359

Clarke

426

Editor in Chief

barry@starmedia.kiwi

021 359 426

barry@starmedia.kiwi

advertising

Shane Victor Advertising Manager

021 381 765

shane@starmedia.kiwi

Classified advertising: 379 379 1100

General inquiries: 379 379 7100

REACH MORE ......

178,000 * *

readers

readers

every

every

week!

week!

*2019 Nielsen Newspaper Readership Report

*2019 Nielsen Newspaper Readership Report

online

Keep

Keep

up

up

with

with

the

the

latest

latest

local

local

news

news

as

as

it

it

happens

happens

www.starnews.co.nz

A

division

division

of

of

Allied

Allied

Press

Press

Regional

Regional

Manager:

Manager:

Steve

Steve

McCaughan

McCaughan

PO

PO

Box

Box

1467,

1467,

Christchurch

Christchurch

359

359

Lincoln

Lincoln

Rd,

Rd,

Addington

Addington

www.starmedia.kiwi

www.starmedia.kiwi

Hororata Glow Festival

Saturday 3pm-8pm

This is the only event in the South Island where people

can experience hot air balloons glowing in unison to music.

Featuring a laser light show and DJ Craig Shaw cranking the

tunes. Activities, craft, food and produce stalls. Admission:

Adults: $21.50 (includes a school-age child ticket for free)

Additional school age child: $5.12. (no gate sales)

Hororata Domain, 61 Hororata Rd

Bumps, Bubs and Beyond

Autumn Market

Saturday 9am-2.30pm

Canterbury's premier market for all things pregnancy, baby

and pre-school related. More than 50 stallholders featuring

products and services for 0-5 year olds. Admission: Free.

Lincoln Event Centre, 15 Meijer Drive

letters

We

We

want

want

to

to

hear

hear

your

your

views

views

on

on

the

the

issues

issues

affecting

affecting

life

life

in

in

Canterbury.

Canterbury.

Send

Send

emails

emails

to:

to:

barry@starmedia.kiwi

barry@starmedia.kiwi

Letters

Letters

may

may

be

be

edited

edited

or

or

rejected

rejected

at

at

The

The

Star's

Star's

discretion.

discretion.

Letters

Letters

should

should

be

be

about

about

150

150 words.

words.

A

name,

name,

postal

postal

address

address

and

and

phone

phone

number

number

should

should

be

be

provided.

provided.

Please

Please

use

use

your

your

real

real

name,

name,

not

not a

nickname,

nickname,

alias,

alias,

pen

pen

name

name

or

or

abbreviation.

abbreviation.

Pet & Animal Expo

Saturday, Sunday 10am-4pm

On display will be hundreds of the latest pet

products and services for dogs, cats, birds, fish, reptiles,

guinea pigs, ponies and more. Billy Black and his performing

Pig "Jonah Junior" headline the acts in the performance

arena. Admission: Adult: $9 Child: $4 Family Pass (2 adults 2

childern) $23. Pioneer Leisure Centre, Lyttelton St

Tactix vs Magic Sunday 6pm

Treat mum on

Mother's Day

and go watch the

Good Oil Tactix play the

WBOP Magic in their first

home game of the season.

Admission: Adult: $20

Child: $12.

Christchurch Arena, 55 Jack Hinton Drive

Super Rugby Aotearoa -

Crusaders vs Chiefs

Saturday 7.05pm

The Crusaders and the Chiefs, the two form teams of Super

Rugby Aotearoa, face off in this must see final.

Admission: Adults: from $45, Children: from $20. Take a kid

to footy: $65 (1 adult, 1 child).

Orangetheory Stadium, Addington

THIS WEEKEND!

ALL INDOORS!

Trusted by Pet Lovers Everywhere

8 - 9 May 2021

10am - 4pm Daily

Pioneer Stadium,

Christchurch

FOR ALL PET AND ANIMAL LOVERS

• Latest Pet Products

& Services. Pet Food,

Accessories, Gifts and more...

• Home of the Cute & Cuddly,

Fluffy & Fabulous!

• Animal Clubs, Rescues,

Charities and Breeders:

The best pet for you!

• Dogs, Cats, Rabbits,

Turtles, Guinea Pigs,

Birds, Ponies, and more...

• "Healthy Choices" for your pet

• Educating and Promoting

responsible ownership of pets!

• Animal Experts and Advice

• "Billy Black and

his Performing Pig"

along with The Heritage

Sheep Shearing Show

• A Pet Lovers paradise

under one roof

• Show only Specials

• FREE Samples

- VISITING PUBLIC -

PLEASE DO NOT BRING YOUR OWN PETS

DAILY ENTRY PRICES:

(Door Sales, or pre-purchase

online via our website)

Adult: $10.00 Senior: $8.00

Child (5-16 years): $5.00

Family Pass

(2 Adults/2 Children): $27.00

Under 5 Years: FREE

Free Parking

www.petanimalexpo.co.nz
---
• By Samantha Mythen

SHAY HORAY'S weekend

started with a morning stroll

around Godley Head and ended

with a truck full of other people's

rubbish.

Horay, a comedian and actor

from Lyttelton – also known

as the Rubberband Boy – was

walking his dog in the historic

scenic reserve when Riley got

some broken glass stuck in his

paw.

Said Horay: "I looked around,

saw heaps and heaps of rubbish

and thought: 'This is gross'."

Rather than taking to social

media to complain about those

who had littered, Horay decided

to do something about it.

After getting back from his

walk, Horay posted an idea

on the Lyttelton Facebook

group.

He asked that any interested

members of the community

meet at the top of Evans Pass at

10am the next morning to "lend

a hand on the 'pick the s**t up

day'."

Horay said he just wanted to

"get into it and go for it."

About 20 people from

Lyttelton, varying in ages, met

up on the Sunday and they spent

the next two hours clearing up

rubbish dumped on the Godley

Head grounds.

"Everyone had a smile on their

face," Horay said.

"It was such a good vibe, just

'let's get this done'."

The spontaneous event proved

to be extremely successful.

After two hours the group

collected seven car tyres, a stereo

system with sub and speakers,

more than 2000 bottles and

much more general rubbish.

It cost about $200 to dump the

rubbish. The money needed for

Latest Canterbury news at starnews.co.nz

Meth-positive greyhound drew $10,000 bet

• By Chris Barclay

AN UNIDENTIFIED

punter placed a $10,000 bet

on a winning greyhound

that later tested positive to

methamphetamine - a breach

that led to the disqualification

of the dog's trainer.

The wager on Zipping Sarah,

which won a Canterbury

Greyhound Racing Club race at

Addington during Cup Week in

November, was the most significant

among a pool of $23,083

covering 481 bets placed on the

dog.

Zipping Sarah opened at fixed

odds of $4 and shortened to

$3.40. She was tested following

Comedian's work stretches

to cleaning up Godley Head

SPONTANEOUS: Shay Horay, aka the

Rubberband Boy, and Riley. The injury to Riley's

paw wasn't serious. PHOTO: GEOFF SLOAN ​

disposal was donated by one of

the volunteers.

There have been some discussions

on another clean-up

occurring. Many more people

had commented on Horay's Facebook

post that they were eager

her victory as the $4.50 second

favourite.

Foxton-based trainer

Angela Turnwald was banned

for four months by the Judicial

Control Authority for Racing,

with the suspension starting last

Friday.

The authority said deliberate

wrongdoing had not been established

but methamphetaminerelated

breaches could not be

tolerated.

Meanwhile, the Ministry for

Primary Industries – which

monitors reported animal welfare

offences – has decided not

to investigate Turnwald, saying

the JCA had already dealt with

the case.

to help out another time.

"With more little groups doing

this regularly the better," said

Horay.

"Sunday proved how much of

a positive affect small action can

have."

Thursday May 6 2021 The Star

NEWS 3

in brief

Mobility scooter rider

has lucky escape

A woman on a mobility scooter

was lucky to escape without

more serious injuries when she

was hit by a van on Lincoln Rd,

near Harman St, yesterday. St

John and police attended. The

woman was treated for minor

injuries at the scene while police

interviewed the driver and

witnesses.

Death of man not

considered suspicious

The death of a man at a social

housing unit on Tuesday has

not been ruled as suspicious.

Dale Crosby Cunard was found

dead at an Ōtautahi Community

Housing Trust complex on

Barnett Ave, Sydenham, about

3pm. The incident comes after

a shooting at an Aranui social

housing unit owned by Kāinga

Ora on Saturday.

Date set for

Matariki fireworks

The date has been locked in for

Christchurch's first-ever Matariki

Fireworks Spectacular. The

public fireworks display will take

place at the New Brighton Pier

on Saturday, July 10. The night's

festivities will start at 6pm and

the fireworks at 7pm. Matariki

marks the start of Māori New

Year, and will be celebrated as a

public holiday for the first time

in June next year.

Serious injuries in

two-car crash

A person was seriously injured

in a two-car crash near Lincoln

on Tuesday night. Emergency

services were called to the crash

on Shands Rd about 6.20pm.

Police said the cars had collided.

The seriously injured person

was taken by ambulance to

Christchurch Hospital.

Bras and

shape Wear

ShOPPING AT ITS BEST

• No under wires

• Straps do not fall down

• Full support from beneath the bust

• Front-opening options in all bra

styles

• Breast Prostheses fitted & supplied

• Esther is a registered

health provider

• Unique shape wear

Formerly

Jeunique Bra

FREE

CONSULTATIONS

& FITTINGS

Esther Rökk UnderFashions

For appointments please phone 322-6590

82 Milns Rd, Halswell • www.eru.co.nz

Care &

Compassion

We pride ourselves on the

very highest level of service

If you are thinking about the future,

we can help you explore pre-payment

and pre-planning options. Contact us

for a Free Information Pack.

We offer funeral information talks to

groups. Please call us for a speaker to

come to you.

Mark Glanville

Manager &

Funeral Director

(03) 379 0196 | www.simplicity.co.nz

Mike Chandler

Funeral Director

Nick Allwright

Funeral Director
---
The Star Thursday May 6 2021

4

NEWS

• From page 1

''I was really lucky. I won't be

playing golf anytime soon,''

Macdonald said.

But he has every intention of

carrying on with his lessons as

soon as his body is willing.

''You have to get back on the

horse again. I am not going to let

it (the crash) beat me.

''It is a lovely view up there. On

a fine day, it is serene. You get

a view of the countryside from

another perspective.

''I also want to see my farm in

Sheffield, which my son has now,

every now and

then from the

air.''

Macdonald

and Bufton

were

practising

engine failure

protocols

when the plane

clipped power

wires and nosedived,

at low speed.

''I was under instruction when

we caught some wires on the

opposite side of the hedge we

were climbing over,'' Macdonald

said.

''It was a slow speed, low

altitude accident. It happened

in micro-seconds, so I didn't get

time to have any thoughts as we

nose-dived into the paddock,''

Macdonald said.

He did not want to comment

further about the crash until the

Civil Aviation inquiry was held to

establish what went wrong.

On Tuesday, Macdonald went

to the Rangiora Airfield to

have a look at the plane, and

search for his log book, and one

of his shoes, which was found

stuck under the rudder pedal.

His family had been

belatedly told that Macdonald

was intending to take flying

lessons.

His daughter, Bridget,

told him he was mad: ''I said

I hoped he didn't fly away too

soon. He nearly did,'' she said.

''They were incredibly

Latest Canterbury news at starnews.co.nz

Crash inquiry to be held

Stewart

Bufton

SLOW-SPEED: The plane Macdonald and Bufton were in

clipped these power lines before crashing.

PHOTO: GEOFF SLOAN

lucky.''

His wife, Christine, said it

was traumatising to get a

call from a policeman to tell

her about her husband being

involved in a plane crash.

She continues to have

nightmares about what

might have been.

''That's what has been

waking me in the night. The

thought of them burning to

death,'' she said.

''But we will be all right. It

could have been worse.''

She reminded her

husband yesterday of their

wedding vows — in sickness

and in health — as she helped to

shower and dress him.

Teething problems

during vaccine rollout

• From page 1

The Association of Salaried

Medical Specialists – the union

which covers salaried doctors

and dentists – acknowledged

there had been teething problems

with the programme in

Christchurch.

"We've heard anecdotally

the vaccine rollout has gone a

bit slower than expected and

there has been trouble with

the electronic messaging and

appointment-making but that

is slowly being ironed out," a

spokesperson said.

"At times there have been

queues of people waiting two

hours for their vaccination."

The programme initially targeted

border and MIQ workers

plus the people they live with

(group 1) followed by high-risk

frontline workers and people

living in high-risk places –

including aged-care residents

(group 2).

Christchurch GP and deputy

chair of the New Zealand

Medical Association, Vanessa

Weenink, said the vaccine rollout

had been patchy and issues

loom when locals over the age

of 65 with underlying medical

conditions (group 3) join the

process from the end of the

month.

"The plan is for rapid growth

in numbers of vaccines, so the

challenges so far will hopefully

have been learning events," she

said.

"If the problems with bookings

and no-shows are not

ironed-out for the wider population

rollout, then there will be

proportional wastage, frustration

and annoyance."

CDHB executive lead for the

Covid-19 response, Ralph La

Salle, said groups 1 and 2 would

continue to be vaccinated for

the next couple of months while

plans were in place to cater for

group 3.

"We're ensuring community

clinics, pharmacies, general

practitioners and primary care

providers are trained, fully

staffed and ready to administer

vaccinations (to those people),"

he said.

The final phase inoculates the

remainder of the Christchurch

population aged 16 and over

from July.

Grandma's Parcels of Love ADVERTISEMENT

SPECIAL OFFER

KORU NUTRITION

Valda is a retiree with a

passion who keeps herself busy

looking after the home, garden

and knitting non-stop.

Valda has 4 grandchildren

living in different cities. She

knits them clothes to keep them

warm and connected to her.

"I started off knitting little

booties and things. Now they're

a bit bigger, I knit them jumpers,

cardigans and beanies. They

love them."

"I've knitted my husband

a jumper and my daughter in

Belgium a cardigan."

Valda's broad smile told the

whole story of how she knits

and sends her parcels of love to

those she cares for.

Valda talks about how knitting

is far more than looping strings

of wool together. It's about love

and connecting with the wearer.

Knowing their Mum or Grandma

is with them wherever they

are.

Wanting to find support for

her joints, Valda began looking

for a natural solution. "I found

Koru FX online and read some

of the reviews. There were

thousands of them. People

raving about the cream."

"I ordered it and experienced

how Koru FX so beautifully

supported my fingers and wrist.

I've even used it on my back

when I've been sitting for too

long." "I find the Koru FX

cream marvellous. I put it on in

the morning and I'm supported

all day."

Valda laughed as she

discussed when a relation of

hers recommended a joint

support cream she had to try.

"I said, 'What's the name of

that?' and he said, 'Koru FX'."

"I couldn't believe it. I told

him, 'I've just ordered some of

that'."

"He'd just given some to his

brother in law. But I thought it

was unusual as he's not the sort

of person that buys anything

like this. He doesn't tend to go

down the natural route. So if

he's telling people about it then

you know it's good!"

Koru FX cream has become

NZ's #1 fastest growing

topical joint support cream.

It contains a blend of natural

oils and ingredients with

joint supporting properties. It

contains powerful compounds

like manuka oil, eucalyptus,

Always read the label and use as directed. If symptoms persist see your healthcare professional. Koru Nutrition Ltd, Christchurch.

and extracts of arnica.

Countless doctors and

pharmacists are recommending

Koru FX cream due to its

natural ingredients and fast

acting delivery.

If you're looking for a fastacting

and long-lasting, natural

product; harnessing the benefits

of essential oils, then Koru FX

is for you.

Koru FX is available in

pharmacies, by phone or online.

FOR READERS
---
Thursday May 6 2021 The Star

THE CITY council will soon

start paying its staff money owed

to them, after it miscalculated

leave entitlements and pay.

The money is owed to them

under the Holidays Act 2003.

An investigation into the payroll

system at the city council found

the series of faults. As a result, the

city council set aside $8.5 million

to review the way

it pays staff and

address potential

back payments that

needed to be made.

City council

head of financial

management Diane

Brandish said the

first payments

would be to current

employees.

"We have reviewed

leave entitlements

and payments

for current and former

employees from April 1,

2011, to December 2019," she

said.

"It's been a technically challenging

project, but we now

know what mistakes were made,

how they were made and who

they affected, so we can start

putting things right for people

who were underpaid."

Brandish said EY was contracted

to help with the work,

as it has the technical expertise

and experience needed, having

worked with other large organisations

that had made similar

payment errors.

Leave entitlements and payments

for 6309 current and former

employees employed during

the 2011 to 2019 period

were reviewed.

Brandish said this

phase of the project will make

back payments to 5779 current

and former employees. The city

council expects to review and

pay staff for this phase of the

project within budget.

She said current employees

Latest Canterbury news at starnews.co.nz

Council to start back paying staff

will receive any money owed to

them in a lump sum payment in

a normal pay in June.

Back payments to former employees

will be managed separately,

through an online claims

service portal.

"We'll be contacting

former employees who

are owed a back payment in July,

using the last contact details we

have for them," Brandish said.

"If people don't hear from

us, it will be because we either

haven't been able to contact

them or their pay was correct

and no back payment is owed –

but they will be able to register

online to check."

The former employee claims

service will be available online

from July 19.

Brandish said the errors were

due to misinterpretations of the

Holidays Act 2003. In 2018 the

Government launched a review

of the Act and has since

accepted 22 recommendations

from

the taskforce

set up to carry

out the review.

"We regularly

review

our systems

and processes under

our continuous improvement

programme,"

Brandish said.

"In 2016, we reviewed our

compliance with the Holidays

Act 2003 and in 2017 we identified

that, in some situations,

we had underpaid leave entitlements

and payments for some

current and former staff."

After this was discovered, the

city council had a legal obligation

to check entitlements and

payments over the previous six

years.

Phase two of the project is

now under way and includes

updating council systems and

processes to enable compliance

with the Act and a second

remediation calculation to cover

the period since January 2020.

NEWS 5

Little rain

in forecast

SUMMER MAY have ended –

but April was still much warmer

and much drier than normal

throughout New Zealand.

Thirty-four locations had nearrecord

or record high maximum

temperatures in April, NIWA

meteorologist Chris Brandolino

told Morning Report.

"Christchurch ... what's impressive

had their second warmest

April mean maximum temperature

on record," he said.

"Their records go back into the

1800s, that's an extensive history."

Timaru also saw a maximum

temperature of 30.8 deg C in

Timaru on April 4, NIWA figures

show – the country's fourth highest

April temperature on record.

The outlook for winter weather

and much-needed rain over the

next three months to the end of

July remained on the dry and

warmer side, Brandolino said.

"If there's kind of a warm lean

for temperatures and kind of a

dry lean for rainfall, it certainly

doesn't bode well, that's for sure,"

he said.

"Unfortunately, the next several

days we're not going to get much."

Six of the past eight years have

been among New Zealand's

warmest on record, according to

previous NIWA reports.

Find it hard

to get out of

your chair?

These stunning chairs

have a practical, high

19" seat, making them

easy to get out of.

Available now from our showroom

or in your choice of fabric.

Blakeleys

of Kaiapoi

Specialist in

Traditional and

Modern New

Zealand made

furniture and

Moorcroft Pottery

from England.

Phone: 03 327 8161

117-119 Williams St, Kaiapoi

Mon–Fri: 9am-5.30pm Sat: 10am-2pm

www.blakeleysofkaiapoi.co.nz

Stay comfortable all year round with

Fujitsu's sleek, stylish Lifestyle Range.

HEAT PUMPS FROM $1999 inc GST INSTALLED!

2020

Heat Pumps

03 381 6950

info@powersmart.co.nz

powersmart.co.nz

Fujitsu's Catechin Filters are approved by

the Asthma and Respiratory Foundation

NZ's Sensitive Choice ® programme.

FREE

consultation from

your local Accredited

Heat Pump Expert

The latest in

winter survival

technology.

50% off Sleepyhead

Matrix

Beds*

It's that time of year when you just want to spend more time in bed. So, you may as well invest in a

good one. The Matrix range features the Powerband support system with Kevlar bands in all the right

places to support your back. Choose Firm, Medium or Plush, and let your hibernation commence.

*Discount is off our full retail price. Offer valid until Tuesday 25th May 2021, while stocks last, unless otherwise stated. Some products on display in selected stores only – please call 0800 764 847 to check availability. Personal shoppers only.
---
The Star Thursday May 6 2021

6

NEWS

Latest Canterbury news at starnews.co.nz

Student

scammed

of $30,000

• By Katie Harris

A CHRISTCHURCH

international student has been

scammed out of more than

$30,000 after a man tricked her

into believing they were dating

and encouraged her to hand

over cash for him to "invest" in

cryptocurrency.

The woman, 28-year-old

Christine, thought she had found

her match when a handsome

man began speaking to her on

Facebook in February.

Christine said he also claimed

to be Chinese, and told her he

was a busy, hard-working finance

worker that didn't have time for

a "real" girlfriend and was scared

he'd end up alone.

Throughout their exchanges,

she said the man would pretend

that she was the only girl he was

speaking to and that he cared

about her.

"So I think, it's a good thing.

Here's someone, a companion

with me, because I am alone

studying in New Zealand, I

sometimes I feel lonely."

Over their few months together,

the man said he liked

her and told her he wanted to be

with her.

As well as showing her attention,

Christine said he would

message her about the significant

growth and returns of his Bitcoin

investments.

"I didn't see anyone in the real

life that could do that, so I asked

how and I wanted to learn that."

Although she felt a little

uneasy about him, she ended up

giving him $2000 and about a

week later he sent her a screenshot

that appeared to show her

money increasing.

Part of her doubts stemmed

from his refusal to send her

videos of himself, and when she

questioned him about it she said

he would get angry and told

CON ARTIST: One of the photos the man used to trick the student.

her "If I want to give it to you [a

video] I will, don't force me."

Soon after her initial "investment",

he convinced her to give

him even more money – a total

of around US$22,000, which is

about NZ$31,000.

The red flags surrounding

the romance increased when he

began creating multiple WeChat

profiles and pop-ups started appearing

on the site warning her

against sharing her bank details.

After discovering the truth,

Christine said she felt depressed

and said she cried every day.

In a note seen by the NZ

Herald, the woman's doctor

asked for her to be allowed an

extension on an assignment as in

his opinion Christine was "medically

unfit".

The student said she also

reported the incident to police in

Christchurch.

When she realised the deception,

Christine found that even

the image he'd gone by had been

stolen, and he'd assumed the

identity of a person on the Chinese

TV show Little Pop Star.

Internet safety organisation

Netsafe has recorded a 39 per

cent increase in romance scams

involving a financial loss between

2019 and 2020.

Chief executive Martin Cocker

warned that these type of scams

were becoming more frequent.

He said there were no "100 per

cent" telltale signs for identifying

scammers, but that reluctance to

provide more open communication,

like not going on video, can

indicate it's a scammer.

Mobility Madness!

Scooter Sale

40%

Off!

$6,490 Retail

$3,895 Special

EziShopper 214

Luxury Seat

Full Suspension

LED Lights

Speed 14 kph

Distance 40km

Full Warranty

Luxury Seat, Full Suspension,

LED Lights, Speed 14kph,

Distance 40km, Full Warranty

Free!

3 Day Home Trial

Showroom - 18 Main North Road. Papanui

We Call Come 0800 1155 To you 76

Canterbury /South Canterbury wide

Call 0800 1155 76

Showroom:

18 Main North Rd, Papanui

www.mrmobilitynz.co.nz
---
Thursday May 6 2021 The Star

• By Chris Marriner

POLICE HAVE spoken out

after video of a violent arrest

circulated on social media, with

some comparing police actions

to cases of brutality overseas.

An edited version of an incident

that occurred on Madras

St in the central city last month

has been shared widely on social

media, showing two officers arresting

a man.

The edited clip shows him

kicking out at two standing

officers while he lies on the

ground, before a male officer

brings his foot down hard on

the man's face, with the impact

audible on the video.

Officers then sit the man up

to arrest him as his head hangs

limply; he doesn't resist any

further.

Critics online said the video

was proof the police were not

adequately trained and used

hashtags such as #policebrutality

and #GeorgeFloyd.

In response to inquiries from

the New Zealand Herald, police

said incidents like this that were

shared without context often did

not tell the full story.

Canterbury Metro Area Commander

Superintendent Lane

Todd, said police were called on

two separate occasions within a

short period of time to a Madras

St address on March 2, following

reports of an aggressive and

intoxicated man.

"The man was arrested by

police and placed in handcuffs.

He began to actively resist the

attending officers and was taken

to the ground in an attempt to

keep everyone involved safe,"

Todd said.

"Police then tried to assist

the man to his feet, and he has

allegedly kicked an officer in

the head. The second officer attempted

to control the man but

Latest Canterbury news at starnews.co.nz

Police respond to 'brutality' claims

RESISTING: Video footage of police officers during a city arrest circulated on social

media.

was also allegedly kicked in the

head by him. Both police officers

were later assessed by a doctor

for minor head injuries and are

being supported by police.

"Following this, one officer

attempted to place the sole of

his foot on the man's shoulder,

however, the man has moved,

causing the officer's foot to connect

with his head once."

"It is important to note that

short videos of police incidents

often exclude relevant context.

This particular video is a small

excerpt from a fast-moving and

dynamic situation."

Police said they have the full

video footage of this incident,

including audio, and had investigated

the circumstances.

A 44-year-old man appeared

in the district court facing two

charges of assaulting police and

one charge each of resisting police

and disorderly behaviour.

He is due to reappear on May

31 for sentencing. – NZ Herald

NEWS 7

Five cars

stolen

from

workshop

• By Matt Slaughter

FIVE VEHICLES, including a

valuable Ford Falcon, were allegedly

stolen from a Sydenham

workshop in an Anzac Weekend

heist.

A post on Facebook is offering

a $10,000 reward for the return of

the black 2007 Ford Falcon GT BF

MKII.

The car has not been found.

It has a special John Bowe sports

pack engine.

The Star has learned the other

cars stolen were a Nissan Homy

van, a Honda CR-V, a Mazda3 and

a Mitsubishi RVR.

Police are investigating. The

Mitsubishi has been recovered and

one person has been charged with

receiving stolen goods. Police did

not respond to questions from The

Star.

The alleged burglary happened

overnight Sunday on Anzac Weekend.

The vehicles were stored outdoors

but surrounded by a 3m

fence with barbed wire at the top,

protected by a combination lock

and solid chain.

The lock and chain were snapped

to gain access.

JOIN US NOW!

See website for details

Nike kids shoes

Plus a FREE training bag

with every kids shoe purchase, worth $30

While

stocks

last

Nike Kids

Basketball..

For ultimate

on-court

performance

and off-court

style for your

youngster

lE BRoN WitNESS

Sizes 11-6 $135

tEAM huStlE

Sizes 11-6 $115

tEAM huStlE

Sizes 4-6 $115

KyRiE FlytRAP

Sizes 12-3 $115

KyRiE FlytRAP

Sizes 4-6 $125

KyRiE FlytRAP

Sizes 1-6 $125

Air Max

Kids..

Air Max 84

reintroduced

for kids

AiR MAx ExCEE

Sizes 4-7 $125

AiR MAx ExCEE

Sizes 4-7 $125

AiR MAx ExCEE

Sizes 4-7 $125

Classic

Air Max &

Borough..

Great for

school

AiR MAx SC

Sizes 4-7 $115

AiR MAx SC

Sizes 4-7 $115

tough

leather

upper

CouRt BoRough

Sizes 4-7 $80

Sign up to Smart Deals & be in the monthly draw for a $100 Dress-Smart gift card!

Preschool..

Fantastic

comfortable

kids shoe with

velcro closing.

REvolutioN 5 PSv

Sizes 11-3 $85

REvolutioN 5 PSv

Sizes 11-3 $85

REvolutioN 5 PSv

Sizes 11-3 $85

Open 10am-5pm, 7 Days 03 349 5750

CHRISTCHURCH 409 Main South Road, Hornby

www.dress-smart.co.nz

Northlands Mall, 55 Main North Road

Phone: 03-352 9902

www.frontrunnerfootball.co.nz
---
8 The Star Thursday May 6 2021

A new way of living

APARTMENTS

RELEASED

At Riccarton Park

UNIQUE DESIGN MEETS PICTURE PERFECT

Phone Wendy on 342 4755 or Anthea on 0800 685 122

RICCARTON PARK RETIREMENT VILLAGE

We have two sales office locations:

25 Steadman Road, Riccarton Park, open Sunday - Friday

Avonhead Shopping Centre

Corner Withells Road and Merrin Street, open 7 days

rymanhealthcare.co.nz

We've just released the first stage of

apartments at our brand-new Riccarton Park

Village, so now is the time to secure the

apartment of your choice.

Many of these apartments will feature unique

views overlooking the racing chute where a

scenic pathway ambles along the raceway

boundary. While others will offer tranquil

views of manicured gardens. These apartments

won't last long, so be in quick.

Apartment options available:

One-bedroom priced from $550,000

Two-bedroom priced from $625,000

Three-bedroom priced from $750,000

2312
---
Latest Canterbury news at starnews.co.nz

Thursday May 6 2021 The Star

NEWS 9

Cone-happy culprits get reminder

• By Bea Gooding

ROAD CONES and traffic

signs are disappearing at an

alarming rate at Christchurch's

seventh most dangerous

intersection, and the

finger has been pointed

at Canterbury University

students.

Since construction

began two months ago to

improve the Middleton,

Ilam and Riccarton Rd

intersection, more than

100 road cones, 35 traffic signs

and 14 bases have either been

removed or stolen.

Fulton Hogan issued a

reminder to Canterbury University,

which was relayed to

the University of Canterbury

Students' Association, that traffic

management measures are there

for the safety of others.

The contractor has now

installed cameras on site in an

effort to catch the culprits.

"Fulton Hogan has asked us to

remind people that traffic management

is in place to protect

everyone's safety," the university

told UCSA members.

UCSA president Kim Fowler

sympathised with Fulton Hogan

but encouraged the contractor to

contact the association directly

to resolve the issue, not just the

university.

"I can absolutely see how this

Kim Fowler

is a concerning issue," she said.

"I'd encourage Fulton Hogan

to get in contact with the UCSA

directly and am more than

happy to work on initiatives to

address the issue."

Fulton Hogan's warning

was also extended

to the wider public this

week, with the contractor

updating the project to

nearby households and

businesses.

It also made it clear

what could happen to

them if they decided to take a

construction site souvenir home

with them, including up to three

months' imprisonment or a fine

of up to $2000.

"There have been a number

of incidents involving our site

traffic management being moved

and/or stolen. Doing this can put

yourself and others at serious

risk of harm and is a criminal

offence under the Summary of

Offences Act," the update read.

"We ask the community to

please leave the traffic management

as is, and [we] have

installed cameras on-site for

monitoring."

The project aims to improve

safety at the dangerous intersection

for all road users. Changes

include accommodating bus

lanes and left-turn only traffic.

It is also in tandem with construction

of the Nor'West Arc

CONSEQUENCES: Students

and residents have been

reminded about the repercussions

of removing traffic

management equipment

at an Ilam intersection after

the theft of dozens of road

cones, signs and bases.

PHOTOS: GEOFF SLOAN

cycleway, which connects Cashmere

to Papanui, via Spreydon,

Riccarton and Bryndwr.

The work is expected to be

completed in October.

Check out our latest

deals

HOT DEAL!

$

24 99

MT DIFFICULTY

ROARING MEG

Pinot Noir

750ml

STONELEIGH

MARLBOROUGH

Sauvignon Blanc or

Lighter Sauvignon

Blanc

Single bottle $12.99

750ml

Excludes all other varietals

2 for

$ 22

Single bottle

prices vary

INTERNATIONAL

SAUVIGNON

BLANC DAY

FRIDAY 7 TH MAY

Best brew dealS

WITHER HILLS Sauvignon

Blanc or Early Light

Sauvignon Blanc

Single bottle $14.99

750ml

Excludes all other varietals

HOT DEAL!

$

34 99

HOT DEAL!

$

34 99

HOT DEAL!

$

44 99

HOT DEAL!

$

47 99

HOT DEAL!

$

54 99

under $20

HOT DEAL!

$

19 99

HOT DEAL!

$

21 99

BECK'S

12 x 330ml

Bottles

STEINLAGER

PURE ULTRA

12 x 330ml Bottles

HOT DEAL!

$

41 99

each

ASAHI or

STEINLAGER CLASSIC

24 x 330ml Bottles

DEWAR'S

1 Litre

RUSSIAN

STANDARD

1 Litre

1.125 LITRE

JIM BEAM

White Label

1.125 Litre

BOMBAY

SAPPHIRE

1 Litre

THE GLENLIVET

Founder's Reserve

700ml

Ready to go

SMIRNOFF ICE DOUBLE

BLACK & GUARANA

12 x 250ml Cans, 7%

HOT DEAL!

$

24 99

Shop local with

AMBERLEY, ASHBURTON, BARRINGTON, BELFAST, BRIGHTON, BURNSIDE,

COLOMBO ST, EDGEWARE, ELMWOOD, FERRYMEAD, HALSWELL, HANMER

SPRINGS, HORNBY, ILAM, KAIAPOI, LEESTON, LINCOLN, METHVEN, OXFORD,

SHOP LATEST DEALS at WWW.SUPERLIQUOR.CO.NZ

NATIONWIDE PICKUP & DELIVERY NOW AVAILABLE

PAPANUI, PEGASUS, RANGIORA, SEASIDE, WOOLSTON

Exclusions may apply on some brands advertised. Offers end close of trade 9th May 2021, while stocks last. Available at participating stores only. Multi Deal only available in store. Varietals may vary

by store. Limits may apply. Wholesale (other liquor retail banners) not supplied. Terms and conditions may apply. Available 26th April - 9th May 2021 inclusive. Please see www.superliquor.co.nz for details.

SUP2221_C3
---
The Star Thursday May 6 2021

Latest Canterbury news at starnews.co.nz

10

NEWS

Police issue 52 tickets in a day to drivers ignoring stop signs

POLICE HAVE clamped

down on motorists running

intersections, issuing 52 tickets in

a single day.

The campaign in Lyttelton

came after residents complained

about driving behaviour.

Said Sergeant Gerard Peoples:

"We recently noted local

concerns about drivers not stopping

at the Lyttelton stop signs

including some occasions where

pedestrians have almost been hit.

As a result of these concerns we

conducted an operation to target

stop sign runners. An incredible

52 tickets were issued in the

course of one day, often while

police staff and vehicles were in

plain view.''

Motorists were fined $150.

"Surprisingly, many people

thought they were give way signs,

and out of the 52 only two were

not locals.

"I understand that giving

out tickets is not popular but

people running stop signs and

putting others at risk is even less

popular."

Police have also been targeting

speeding drivers and riders along

the main roads through the bays.

A significant number of speeding

tickets have been issued in

recent weeks, Peoples said.

"However, it astounds me that

motorcyclists continue to ride

through the area in the manner

in which they do, especially after

the tragic death of one of their

own only a few weeks ago,"

he said.

"Anybody can drive or ride

through these roads at speed

but the speed limits are in place

as you not only need to stick to

the road, you also need to be

able to stop in time when

something unexpected appears

in front of you such as coming

across a broken-down car, a kid

running out in front of you or

a car turning in your path,"

Peoples said.

Reserve status granted

for historic Red House

• By Matt Slaughter

AN AKAROA house and section

for which ratepayers paid more

than double the valuation will

become a

historic reserve.

The Banks

Peninsula

Community

Board approved

at a meeting

Jamie

Stewart

on Monday a

proposal for

The Red House,

at Takapūneke, to be formally

declared and recognised as a

historic reserve.

Last year the city council purchased

the house for $2.55 million,

more than twice its rating

valuation of $1.2 million.

Community board member

Jamie Stewart said: "The history

of that site is right up there with

Waitangi [and] the Treaty of

Waitangi. It plays such a huge

part in the history of New

Zealand – a lot of people don't

realise it.

"The house itself, it won't be

able to run any businesses or

anything like that. It just means

that the whole lot's now part of

the Takapūneke [reserve]."

Takapūneke is a site of significant

history and most of the land

is officially classified as a historic

reserve but the land on which

The Red House sits has been in

private ownership for decades.

Takapūneke was once a thriving

commercial centre for Ngāi

Tahu under the authority of Ngāi

Tahu Rangatira Te Maiharanui.

This significant Ngāi Tahu

trading centre supplied travelling

vessels from Europe, America

and Australia in the 1820s.

The original Red House was

built in 1839 for William Green

and his family, who set up the

first cattle station in the South Island.

That house, named because

of its colour, was destroyed by fire

in 1888. In 1924/25 a new Red

House was built to replace it.

SIGNIFICANT: The Red House in Akaroa will be formally

declared and classified as a historic reserve.

satsuma mandarins .............. 4

green kiwifruit ........................... 2

red kumara ..................................... 3

gold pineapples ...................... 2

Buttercup pumpkin ................. 1

loose parsnips .......................... 2

beef schnitzel ........................... 14

Beef Rolled Roast ................ 12

Lamb Shoulder Chops ........ 13

Chicken Tenderloins .......... 13

pork slices ..................................... 14

.99

kg

.99

kg

.99

kg

.49

each

.99

each

.99

kg

.99

kg

.99

kg

.99

kg

.99

kg

.99

kg

At

we have...

FRIDAY TO

SUNDAY ONLY

Leeks ....................................................99 c

each

Packham Pears .......................... 1

Prime Beef Mince ..................... 11

Butterflied Lamb Legs ... 17

.49

kg

.99

kg

.99

kg

Check our website for

your local stores opening hours

All our fresh meat is 100% NZ FARMED. specials VAlid

3rd May - 9TH May 2021.

WHILE STOCKS LAST! ONLY AVAILABLE AT RAEWARD FRESH HAREWOOD RD, TOWER JUNCTION

WWW.

.CO.NZ

Like us on

Facebook
---
Thursday May 6 2021 The Star 11

FREE LUXURY UNDERLAY

ON SELECTED PRODUCTS

36oz Nylon

Desert

• Solution Dyed Nylon

• Extra Heavy Duty

• 1 Colour

FREE

UNdERlay

36oz Nylon

Windsor Twist

• Solution Dyed Nylon

• Loop Pile

• Extra Heavy Duty

• 11 Colours

FREE

UNdERlay

NOW $79.90 PER M

NOW $129.90 PER M

32oz Polyester

Vermont

• Cut Pile

• Heavy Duty

• 3 Colours

FREE

UNdERlay

50oz Nylon

Grange Fell

• Solution Dyed Nylon

• Cut Pile

• Extra Heavy Duty

• 5 Colours

FREE

UNdERlay

NOW $89.90 PER M

NOW $149.90 PER M

50% OFF LUXURY HARD FLOORING

Vega Vinyl Planks

• 10 Great Colours in Stock

• Commercial Quality

HalF

PRICE

Villa Timber

• 14mm

• Micro Bevel

• European Oak

• Matte Finish

HalF

PRICE

RRP $60.00 per M2

OUR STOCK PRICE $30.00 PER M 2

RRP $140.00 per M2

OUR STOCK PRICE $70.00 PER M 2

Project Oak Timber

• 12mm

• Micro Bevel

• Matte Finish

RRP $120.00 per M2

HalF

PRICE

Regal Oak Timber

• 14mm

• Handcrafted

• Rounded Edge

• Distressed Surface

• Matte Finish

RRP $180.00 per M2

HalF

PRICE

OUR STOCK PRICE $60.00 PER M 2

OUR STOCK PRICE $90.00 PER M 2

312 Wilsons Road North, Waltham Phone 366 0070

Mon to Fri 8am-5pm and Sat 10am-1pm

Q Card Finance

Available

Check out our website! www.carpetkingdom.co.nz
---
12 The Star Thursday May 6 2021

IN OUR SHOW ROOM

TODAY...

Kano 3 Seater

$

1459

Berlin 3 seater & 2 recliners

'Madison' 3 Seater | 3 colours

Jason 3+2

$

2399

$

1229

$

1599

Nord

'Crescent' Lounge Suite

Bacari 3 seater $

1649

Glasgow electric reclining suite

$

1669

4 Colours

$

3199

2 seater $

1299

$

3199

Porter corner with sofabed

$

3199

IN YOUR LOUNGE

TOMORROW...

George 3 seater & 2 recliners

$

2299

Dakota 3RR + R + R

Savil handle recliner suite | pieces sold separately | 3 colours

$

1999

$

1199

$

1049

$

649

Kristie with sofabed

Metung 3 + 2

'Bronson' 6 Seater Suite with Sofabed

Callao leather

reclining suite

$

1899 2 Colours

$

1899

$

2999

$

3999

'Tyler'

French Chair

Finn Leather

Chair

2 colours

Colby electric

leather recliner

4 Colours

Patchwork Chaise

Steiner Chair black | cognac

$

1029

$

1019 $

1699 $

1399

$

949

'Madison' Armchair 4 Colours

'Thomas'

chair &

footstool

$

599

6 colours

Check all these and hundreds

more great bargains

on our website

www.bestfurniture.co.nz

$

779

Delivery $60

140 Brighton Mall Tel: 388 9128 OPEN 7 DAYS
---
Latest Canterbury news at starnews.co.nz

Museum under pressure

to return Nigerian taonga

GERMANY HAS agreed to

return priceless stolen artefacts

to Africa and Canterbury

Museum is now facing pressure

to do the same.

At the turn of the 19th century,

British soldiers

looted sculptures known as

Benin Bronzes from the Kingdom

of Benin, which is now

Nigeria.

Canterbury Museum has the

biggest collection of Benin Art

in Australasia, including ivory

and bronze figurines, bracelets,

amulets and three bronze heads.

Most were purchased at auction,

but at least one was traded

for moa bones.

The museum's head of collections

and research, Sarah

Murray, told Morning Report

they had not received any official

requests to return the artefacts.

"If we did, we would, of

course, consider that really

carefully. As we do with any

request to to return taonga

or treasures to the country of

origin," Murray said.

A question which museums

grapple with was whether they

needed to be proactive about

returning treasures or to wait

until asked, she said.

RARE: Canterbury Museum has the biggest collection of

Benin Art in Australasia.

"Most museums have

prioritised returning human

remains in the first instance.

And as you can imagine, there's

quite a lot of time and resources

required to make sure that you're

returning the right people, to the

right people.

"But certainly there is a big

task ahead of not just New Zealand

museums, but around the

world."

Murray said the origins of

much of the collection was

CHARLESWORTH

WETLAND RESERVE

PLANTING DAY

Sunday, 16 May 10.00am - 12.00 noon

Charlesworth Street, off Ferry Road

(next to Trees for Canterbury

Native Tree Nursery)

What to Bring?

Gloves, Suitable Footwear,

Water Bottle, Hat, Jacket

Spot prizes

Supported by: CCC Park Rangers / Trees for Canterbury

Environment Canterbury and the Rata Foundation Trust

www.estuary.org.nz

"fairly dubious."

"We know that our records

have shown that we purchased

them from agents. But of course,

before those agents came into

contact with them, most of that

art made its way out through

that expedition.

"The items at the time were

looted, to offset the costs of

the expedition, and with our

modernised [ideals], we would

probably view that in quite a

different way." – RNZ

NEWS 13

Woods to raise

insurance concerns

• By Matt Slaughter

MEGAN WOODS will write

to private insurers to request

they become more involved in

earthquake claim determination

processes.

The Minister for Greater

Christchurch Regeneration will do

so on behalf of The Homeowners

Advisory Group, which is

concerned earthquake claims are

sometimes resulting in lengthy,

expensive court cases when

insurers refuse to be involved in

determination processes.

The group's chairman Tom

McBrearty said private insurers

have been reluctant to participate

in determinations to resolve

disputed claims, which is

reducing justice for claimants.

A determination is run

similarly to the court process,

but takes place in a less formal

setting, gives parties a greater

degree of flexibility than

litigation and often leads to faster

outcomes.

McBrearty said Southern

Response and EQC are actively

engaged in determinations, but

private insurers are continuing

to refuse to be involved in the

determination process offered by

the Greater Christchurch Claims

Resolution Service.

The advisory group works with

Thursday May 6 2021 The Star

the GCCRS, a service set up by

the government in October 2018,

to help settle claims.

Said McBrearty: "For some

people it's been, probably, the

most demanding period of their

lives. So, from a mental and social

well being point of view, surely

there's a need for a process that is

less demanding on the claimant.

"For all intents and purposes,

many of the insurance

companies are not participating

in [determination processes].

"It [insurance companies

participating in determination

processes] removes long and

costly case law argument using

lawyers and so on, which is very

expensive line to go down.

Woods met with the group

about two weeks ago to hear their

concerns and said she will outline

them in a letter to private insurers

"in the next couple of weeks."

"It's in response to concerns

raised through the Homeowners

Advisory Group of the Greater

Christchurch Claims Resolution

Service. They're not seeing the

same level of participation [from

private insurers] that we're

seeing with EQC and Southern

Response within that group.

As of April, GCCRS has closed

2003 cases, with 999 cases

remaining open.

03 349 5050

SAME

DAY

RELINES

New Dentures > Relines > Repairs >

6 Brynley Street, Hornby, Christchurch

www.betterdenture.co.nz
---
The Star Thursday May 6 2021

14

NEWS

Latest Canterbury news at starnews.co.nz

Film shot on peninsula screening in New York

A SHORT FILM shot on Banks

Peninsula, edited and produced

by Governors Bay resident

Scott Flyger is premiering at the

Tribeca Film Festival in New

York.

This year is the festival's 20th

anniversary and Flyger is excited

beyond belief that Peninsula is

screening there.

"It is a privilege to be selected

for a pretty competitive and

top-tier film festival. Our film

was chosen by people who don't

know us," Flyger said.

"This shows that it appeals to a

global audience."

Flyger is a long-time friend

of the film's writer and director

Fiona McKenzie. After catching

up several years ago, they both

lamented over the lack of narrative

projects made on Banks

Peninsula.

An idea began to brew. They

discussed making a television

web-series focused on real and

heart-warming content.

However, in order to source

the funds to start the series,

Flyger said, they "needed to

put themselves back on the

map."

Peninsula was born.

It was then shot over three

days in Port Levy.

Flyger said Banks Peninsula is

the fourth character in the triage

character film.

ON SET: Peninsula's producer Scott Flyger oversees the start of the shoot. The film is now

set to premiere at the Tribeca Film Festival in June. ​

"It has so many extremes, big

clouds or blue skies, you never

know what you'll get but it's a

beautiful place each way," said

Flyger.

The film follows actors Tom

Trevella, McKenzie's son Jasper

Sutcliffe and Amber Ranson

CONNECTIONS: Lyttelton

actor Tom Trevella is one of

three stars in the film.

as they navigate nurturing old

relationships and making new

connections.

As an independent film, Flyger

said it was immensely fun to

make as they only had to answer

to themselves.

The film was largely crowdfunded

– with almost $18,000

raised on Boosted.

After completing the film,

they sent it away to independent

film festivals but Covid-19 led

to further delays for its

premiere.

Said Flyger: "It was quite wonderful

to get this news so long

after we started."

The filmmakers are hoping

Peninsula will move the audience.

"Our measure of the film's success

is connecting people," said

Flyger.

"When people watch the film,

we want them to leave feeling

changed and uplifted; seeing

the world a bit differently than

before."

The film festival was founded

by film producer Jane Rosenthal

and actor Robert de Niro in

2001.

It runs from June 9-20.
---
Thursday May 6 2021 The Star 15

spoil Mum

this Mother's Day

Gifts under $20 Gifts under $50 Gifts under $100 Gifts Over $100

Bloom

Assorted Garden Tools

Carbon Steel Head. Comfortable TPR grip.

320960, 320961, 320962, 320963, 320964

Vomo

Mirror 170mm Chrome Frame

One side of the mirror has 3x magnification, the

other is a standard mirror.

155770

Nouveau

Round Acacia Wooden Barrel

Suitable for outdoor garden use. Ideal for garden

planting.

354592

Sunbeam

Blender 600 Watt

3x3 vertical and

horizontal blade system.

1 speed plus turbo.

1.5 litre beaker. 750ml

chopper and whisk

included.

297438

$8

from

98 $24 05 $65 98 $149

each

Enrich with Nature

Macrame Hanger 12cm

A great way to add more style to

your home. Perfect for holding a

12cm ceramic pot.

367986

Enrich with Nature

Moth Orchid with

1 flowering stem

12cm assorted

Incredibly easy to look after.

149069

Bowron

NZ High Country Sheepskin Rug

Warm in Winter. Made from 100% natural NZ sheepskin.

368919

Westinghouse

Air Fryer 5.2 litre

337629

$9 97

$44 97

$59 99 $249

Enrich with Nature

Indoor Foliage Selection in Ceramic

Pot 90cm

Great for enhancing

your décor.

227995

$12 98 $24 98

Orbit Lighting

Fastfit Table Lamp 2x 60 Watt

Perfect for side tables, cabinets, or anywhere to add

a dash of contemporary style.

377125

Orbit Lighting

Table Lamp 2x

60 Watt

Pair of white

textured table lamps.

377128

$64 98

Sunbeam

Espresso

Machine

Mini barista

espresso

machine.

376544

$399

Enrich with Nature Ceramics

Isla Indoor Ceramic Pot 12cm

Stylish design. High quality ceramic. Designed for

indoor use.

369484

$11 98

Botanicals Collection

Glass Geometric

Terrarium 18cm

Low maintenance

garden solution.

Sand and plants

not included.

352986

$29 99

Goldair

Select Micro Fleece Electric Heated

Throw

9 heat settings.

12-hour timer.

LED controller.

Detachable controller.

Machine washable.

349252

Sunbeam

Mixer 1000 Watt

5 litre stainless steel bowl. 10 speed setting.

376542

$89 98 $399

still stuck?

Give the Gift

of Choice

SHOUT MUM OUT FOR LUNCH!

Book in at our Columbus

Coffee on Mother's

Day and try our new

Autumn/Winter menu!

Mitre 10 MEGA

Hornby

☎ 03 349 8497

Mitre 10 MEGA

Papanui

☎ 03 359 5443

Mitre 10

Beckenham

☎ 03 322 7557

Mitre 10 MEGA

Ferrymead

☎ 03 366 6306

Prices valid from the 8th of

April until the 30th of April

while stocks last.

If you find a lower price on an identical stocked product locally we will beat it by 15%

*if you find the same product cheaper from another Mitre 10 store of Mitre 10 website we'll match that price.

Excludes trade and special quotes, stock liquidations and commercial quantities. The in-store price may be lower than advertised.

www.mitre10.co.nz
---
The Star Thursday May 6 2021

16

NEWS

Latest Canterbury news at starnews.co.nz

John McCombe: Legendary snapper

Former Christchurch

Star photographer John

McCombe, regarded

as an ''institution''

among this country's

news snappers, died

at his home last week,

aged 75. Former

colleague Dave Cannan,

assisted by several past

workmates, compiled

this tribute to their old

friend . . .

JOHN McCOMBE was a superb,

award-winning photographer.

But he wasn't one to attend

ceremonies to receive the

trophies. And nor did he hang

his best photos on the walls of

his home. Those spaces were

reserved for pictures he admired

– but taken by others.

It was just his typical, self-effacing

way, his family explained.

''Dad said he was a professional;

by taking good photographs

he was just doing his job,'' said

son Kevin.

That's not to say John wasn't

proud of his work. But his modesty

overshadowed even a hint of

ego; any praise was brushed off

deftly and politely, the focus of

conversation quickly changed or

diverted.

McCombe's death at his

Whangamata home on April 29,

surrounded by family, greatly

saddened and shocked his numerous

friends and former workmates.

Only diagnosed a couple

of weeks earlier with pancreatic

cancer, his rapid deterioration

defied optimistic opinions that

he might have a month or so

longer to deal with his illness.

But, typically, he did not

complain about his fate. Business

partner David Alexander said in

his last conversation with Mc-

Combe, he was "resolute'' about

the prognosis and adamant he

had had a good life.

''It's still not sinking in that he

has gone.''

The pair were partners in a

commercial photography company

Photosouth Photographers,

a business started by McCombe

and his wife Cheryl in 1990 after

John left the Christchurch Star

around the time the North Island

owners were carrying out a series

of redundancies.

And how that partnership with

Alexander evolved says much

about McCombe's trademark

generosity of spirit.

Alexander recalled his last day

as a photographer at The Press, in

2009, and feeling a "bit tearful,''

then he got a phone call from

McCombe.

"He said: 'Hey David, welcome

to the real world mate, but don't

worry, you're a good photographer

and I'm going to help you

out in any way possible' – and he

did.''

McCombe generously offered

him a partnership in the business

and the pair maintained this successful

arrangement from then

on, even after the McCombes

made the huge decision to shift

from Christchurch to the Coromandel

in 2011, a few months

after the devastating February

22, 2011, earthquake.

Another former photographer

colleague who experienced Mc-

Combe's generosity was Don

Scott, who recalled: "I joined The

Star in 1982 and six years later,

without being asked, John and

Dave

Cannan

(left) and

McCombe

John McCombe

relaxes at home in

Whangamata in

2015. McCombe

left Chrischurch

after the 2011

earthquakes.

(Right) McCombe

in 1990 with clay

target shooting

medals.

Cheryl mortgaged their home to

give my wife and I a start. How

does one ever repay that?''

John Quenton McCombe was

born in Wellington on August

2, 1945 to Bob and Cherie. A

brother Bryan would arrive later.

The family later moved, first to

Hawkes Bay and then to Thames

as Bob was transferred through

his job with New Zealand Post.

One of Bob's hobbies was photography,

which was to influence

his son's decision when it came

to choosing a career after leaving

Thames High School. Initially

McCombe thought of becoming

a teacher and duly enrolled at

Ardmore Training College near

Auckland.

But when a job for a cadet

photographer at the Thames Star

newspaper was advertised, Mc-

Combe abandoned his teaching

aspirations and began his media

career on April 24, 1964.

It was to prove a life-changing

decision and McCombe would

go on to work as a highlyregarded

news photographer

for the Sunday News (1965), the

Waikato Times (1967), The Press

in Christchurch (1972) and then

the rival Christchurch Star (1975)

for the next 15 years.

Later, as a freelancer, he was

the Christchurch-based photographer

for both the Sunday

Star Times and the NZ Women's

Weekly while he was the foundation

photographer for the Avenues

magazine from 2009, the

same year he published a glossy

photographic book Images of a

Nation – Canterbury; A Journey

from the Heart.

In 1966, when he worked for

the Sunday News, McCombe

married Cheryl Cullen, whose

father Clarry also worked for NZ

Post in Thames.

Shifting his family to the South

Island in 1972 to work at The

Press was a massive career move

by McCombe. He was a member

of the morning newspaper's first

illustrations department, headed

by Les Bloxham, and worked

alongside Des Woods, Barry

Sharpe and Nev Marriner.

But across town McCombe

soon got to know his Christchurch

Star rival cameramen well,

often enjoying their company socially,

usually at the now defunct

New Albion Tavern in Colombo

St, and thriving on the competitive

nature that existed between

them, especially with Stuart

Menzies.

WIN

$1000 *

TOWARDS YOUR

BATHROOM

TRANSFORMATION

Go into the draw to

win this great prize

by requesting a

no obligation measure

and quote for a

HomePlus shower today.

HomePlus custom made

showers maximise use of

available space, creating a

look of stunning luxury.

*Promotion closes end of May 2021

Measured, made

and installed by our

team of experts.

5 year warranty.

88 Gasson St, Sydenham | 03 379 3740 | www.homeplus.co.nz
---
Thursday May 6 2021 The Star

Latest Canterbury news at starnews.co.nz

NEWS 17

and a tremendous all-round guy

And therein lies a classic tale

about two mates, which Menzies

describes as "the best gotcha

ever''.

"Drinking at our watering hole,

the Albion, one afternoon, stupid

me told John about our little dog

going missing and our daughter

Kristy being really upset. Shortly

after John said he had to go, he

had some work to do.

'The next morning, when I

turned up at work, the editor

Michael Forbes called me into his

office [for a please explain]. On

his desk lay a copy of The Press

and on the front page there was

a photo of my daughter sitting in

the little dog's box.

"John had even conned my

wife into keeping it quiet from

me. My best mate had got me a

beauty.''

It's possible, of course, that

McCombe's "scoop'' may have

been in retaliation for an earlier

"gotcha'' when he and Menzies

were covering a cricket test at

Lancaster Park.

"By early afternoon nothing

was happening, it was so boring,''

Menzies says, "and John said: 'I'm

going to get a pie'.

"He stood up, turned around

and 'bang', there was a wicket.

Smiling, I said 'that was a great

shot'. There were no more wickets

and my old mate was very quiet

for the rest of the day!''.

And so, in 1975, McCombe

jumped ship and joined his

Kilmore St-based evening paper

contemporaries, the illustrations

department being run by Max

Wederell, who commanded a

star-studded team that included

Menzies, Neville Hawke, Derrick

Tonkin, and in later years Simon

Baker, Don Scott and several

others.

Working alongside these

"guns'' brought out the best in

(Above and

below) – A

selection

McCombe's

images from

the past

including

this couple

(left) at

Christchurch

Airport

awaiting

news of

the ill-fated

Air New

Zealand

flight to

Antarctica.

McCombe as both a photographer

and a journalist, honing

his skills alongside his talented

colleagues. Former Star chief reporter

John Crowley recalls Mc-

Combe becoming "the complete

newsman''.

"John's skills were not confined

to those of a photographer when

we went on some of those more

challenging jobs. His extra sharp

news sense was underpinned by

multi-layers of care and compassion.

"These were traits which helped

reporters – young and old. In the

most stressful times he was a cool

head and a guiding hand at arm's

length. These qualities were so

apparent too when it came to his

own profession – one in which he

had few peers.''

McCombe would eventually

become The Star's chief photographer

and continue to have

a major influence on his team,

including Baker, who joined the

camera crew in 1986 as a "young,

naive lad from the Waikato.''

"Right from the first day John

made me feel welcome. He was

always there for advice and guidance

as I tried to justify my place

amongst the team of talented

photographers.''

Baker stayed at The Star for

five years and came to regard his

boss as a "top bloke', perhaps illustrated

best when he decided to

become a freelance photographer

in 1991.

"John had left to do the same

thing a year earlier, so we were

to be direct competitors in

Christchurch, but this didn't faze

him. He generously offered his

darkroom and other equipment

to me as I started to get my business

up and running. And we

continued to work alongside each

other for the next 25 years.''

But it wasn't just photographers

at The Star who benefitted from

McCombe's professionalism and

warm-hearted attitude to his

newsroom contemporaries.

Reporter Debbie Hannan describes

him as "the glue that held

us all together'.'

"He was one of those people

in life that made everyone feel

special, which is what I think

made him such an exceptional

photographer and workmate.''

Hannan also recalls during the

often violent 1981 Springbok tour

when McCombe acted quickly to

save her from possible injury after

getting caught as the "meat in the

sandwich'' between protestors and

the infamous police Red Squad.

The pair were assigned to cover

the pre-match clash outside the

gates of Lancaster Park, knowing

Star management had secured a

"safe house'' across the road, just

in case things turned nasty.

• Turn to page 18

Winter.

Best enjoyed in 4K.

75" NEW 2021

Panasonic 75" 4K Android TV – JX600

9067950

Yes, it's TV watching season. So, you may as well make the most of it with a

crystal clear picture, and audio to match. This Smart TV has all the bells and

whistles — a 4K colour engine, Hexa Chroma Drive, HDR Bright Panel, and

immersive sound. All you need is a comfy spot to sit, and we sell those, too.

less

$3599 $ than

36

per week for

24 months

interest free*

Some products on display in selected stores only – please call 0800 764 847 to check availability. Personal shoppers only. *Apple, selected computers, game consoles, gift cards, clearance items and some promotional items are not available

in conjunction with interest free offers. Flooring available on a maximum of 18 months interest free. Exclusions, fees, terms, conditions, and credit criteria apply. Available in-store only.
---
The Star Thursday May 6 2021

18

NEWS

• From page 17

"Things started to heat up, but

I naively didn't see just what danger

I was in as a big line of protestors

came towards me one way

and the Red Squad was coming

the other and I was in the middle.

"Out of nowhere John came

racing towards me and pushed

me into the safe house. For a moment

the photographer was off

duty on the biggest story of the

day to make sure his workmate

was safe.''

Being good at his job was only

one facet of McCombe's endearing

personality. He was an incurable

practical joker, who loved

playing pranks on his colleagues,

but he was also quick-witted

and resourceful, as recalled by

reporter Brian Cowley.

"On the one hand, he was

the consummate professional,

charming and calming his

nervous subjects with soothing

banter and achieving the desired

photograph by means of mutual

co-operation.

"Then there was the devil-maycare

character who would startle

the reporter accompanying him

with an impromptu cameo from

the McCombe playbook of crazy

tricks.''

Cowley remembers running

late for a job and being amazed

when McCombe drove across a

busy Christchurch, avoiding all

streets and traffic lights, zipping

instead down alleyways and business

access lanes.

When they arrived, he apologised

for their tardiness, saying

Latest Canterbury news at starnews.co.nz

Consummate professional with a devil-may-care character

McCombe's infamous picture of an eight-year-old

Canterbury rugby fan prompted calls for the boy to be

banned from Lancaster Park.

the "traffic wasn't with us'',

which, Cowley says, was no lie!

Away from his work, Mc-

Combe was a man of many

interests, chief of those being his

family. But he was also an avid

hunter, fisherman, boatee, golfer

(later in life) and a crack clay

target shooter.

How many colleagues knew he

was the 1992 New Zealand clay

sparrow champion shooter and

a national clay target shooting

representative while a member

(and former vice president) of the

Belfast Gun Club?

Indeed, daughter Melody

recalls a quote from North Canterbury

artist Sam Mahon, in his

book The Year of the Horse, about

her father – "he went hunting

with dad and wrote that dad was

as artful with a gun as he was

with a camera.''

What they are more likely to

remember are the many great

times enjoyed at the McCombe's

homes in Tancred St – where

plans for the infamous Media

Club in Chancery Lane were first

hatched – and later at Rockinghorse

Rd, South New Brighton.

After a series of earthquakes

in 2010 and 2011 left their

two-storey South Shore villa

unrepairable, the McCombe's

thought about buying land and

starting afresh on the West

Coast. Instead, through family

circumstances, they ended up

visiting Thames.

As McCombe told the New

Zealand Herald in February 2015,

the four-year anniversary of the

big quake, he and Cheryl spent

the night in Whangamata and,

on a whim, called a real estate

agent and found themselves inspecting

a lovely home overlooking

the harbour.

Impulsively – or was it instinctively?

– they made an offer

and a few months later began a

new chapter in their lives in the

Coromandel.

McCombe said the speed of

the decision stunned family and

friends – "I think they must have

thought we'd gone off our rocker

a little bit'' – but it proved to be

"the best decision of our lives.''

He joined the local golf and

boating clubs and took a keen

interest in environmental issues,

eventually becoming an outspoken

chairman of the Whangamata

Harbour Care group,

leading the charge on mangrove

eradication.

In a Facebook exchange (he

ended up with three different

pages) in June last year, Mc-

Combe agreed it was a case of

"paradise lost'' in Christchurch

but "paradise regained'' in

Whangamata.

And it's in that beautiful town,

at the golf club today that friends

and family will farewell the genial

McCombe, a big man with a

heart and a personality to match.

McCombe is survived by his

wife Cheryl, children Melody and

Kevin, three grandchildren and

one great granddaughter.

Treat Mum at Park Lane

Bring mum to Arvida's Park Lane 65+ community for a Mother's Day pampering session she'll enjoy. Choose a

complimentary pedicure or massage from Sensory Therapy, enjoy a glass of bubbles on us and be serenaded

by a wonderful vocalist. There'll be a special menu celebrating mums at 5 Acres Café too.

Pop in Sunday 9th May, 10am-2pm

Call Tara on 021 489 784 or visit parklaneretirement.co.nz

35 Whiteleigh Avenue, Christchurch.

An Arvida Living Well Community
---
Thursday May 6 2021 The Star 19
---
The Star Thursday May 6 2021

20

OPINION

Latest Canterbury news at starnews.co.nz

Is democracy under threat?

Former TV

sports and

news reader

Peter

Williams

writes

about plans

for a

co-governed New

Zealand democracy

I WANT TO talk about a very

important issue. It's called

democracy.

As Winston Churchill once

said, apparently, "no-one pretends

democracy is perfect. In

fact, it has been said that democracy

is the worst form of government

except for all those other

forms that have been tried from

time to time." But the question

I think we should be asking in

this country is this: Is democracy

under threat?

Now, on the surface, that

sounds like an absolutely preposterous

proposition. After all, we

are a long-standing democracy

based on the Westminster or

British system of letting the

people decide who should govern

them.

We had our first elections in

this country in 1853. They were

not perfect though because only

property owners could vote.

Over the next 40 years that

changed and evolved and by

1893, when women were granted

the vote, every New Zealand person

aged 21 or older could vote

for one nationwide parliament

and for local councils. And so,

for 128 years, that is the way New

Zealand has been governed.

We get to vote, and every vote

has been of equal value. And

theoretically, the majority decides

the direction of travel.

But are we seeing that system

under threat? I ask that in the

light – not just of the city where

I live and broadcast from, Tauranga,

now being governed by

appointed commissioners and

them making decisions which

the majority are likely to disagree

with (like the creation of a

Maori Ward, and a rates rise for

residential property owners that

could be as high as 20 per cent) –

but in the very slow and almost

secretive release of a paper called

He Puapua during the election

campaign last year, and the fact

that the full paper has still not

been released officially.

But if you read what is available

on the Te Puni Kokiri website

you should be very worried

about the future of democracy

as we know it in this country.

In short, this paper called He

Puapua is a report of a working

group on a plan to realise the

United Nations Declaration on

the Rights of Indigenous Peoples,

or if you want for short, UN-

DRIP – or the DRIP.

He Puapua has what it calls a

Vision 2040, just 19 years from

now, the 200th anniversary

of the signing of the Treaty of

Waitangi. The vision says that by

2040, the Government will have

implemented the relevant instruments

to share power more fairly

with Maori in our constitutional

arrangements.

Now let that sink in. To share

power more fairly with Maori in

our constitutional arrangements.

The problem can be sheeted

back to the first John Key-led

National Government which

started in 2008. Prior to that, the

United Nations had produced its

Declaration on the Rights of Indigenous

Peoples in 2007, which

said that indigenous peoples had

a right to self-determination.

The prime minister at the time

Helen Clark said we're not signing

that, and New Zealand abstained.

But three years later, John Key –

as part of his deal with the Maori

Party – sent Pita Sharples off to

New York to sign it.

The UN itself said the declaration

was non-binding and

aspirational. But, for whatever

reason best known to them, the

Labour Party has now decided

that the DRIP will be enacted

in this country over the next 20

years and He Puapua sets out

a way that will, in the words of

conservative political commentator

Muriel Newman, lead to

tribal control of New Zealand by

2040 and the end of democracy

as we know it.

The move for Maori wards

on local councils all around the

country is the start of it, and the

suggestion that appointed and

unelected iwi representatives

get full voting rights and full

stipends on the Wellington City

Council is another example.

Muriel Newman writes about

the slow boiling frog effect. If

this happens, and there is every

indication it will, it will happen

slowly, incrementally and by the

time we realise what has happened,

it will be too late.

So how do you feel about

this? Are you happy that a fraction

of the population, that is

those who claim some Maori

ancestry, which is around 15 per

cent of the population, may be

able to share 50 per cent of the

Government's decision-making

and control vast amounts of the

country's economic resources,

including the most valuable of

all – water?

On the surface this seems preposterous

does it not? In Vision

2040 it says the following: "If

Maori are to exercise governance

power, there needs to be support

for this. The Crown's main

contribution will be resourcing.

There are multiple streams from

which financial contributions

might be sourced, including, for

example, levies on resource use

where Maori have a strong claim

to ownership, such as water."

Can you believe the arrogance

of that statement? Can you ever

disagree with what John Key once

said: "Nobody owns the water."

And he was absolutely right. It

is swept up from the oceans and

falls from the sky. It is one of the

wonders of nature. It belongs to

all of us and the resource must

never be put in "ownership."

To have a paper presented to

the Associate Minister of Maori

Development, and Minister

for Local Government, Nania

Mahuta with such a suggestion

in it, and not have it dismissed, is

frankly a very worrying thought.

There is a gradual realisation

among some people of what is

happening. Not only Muriel

Newman but also the left-wing

writer Chris Trotter, has written

about this paper and suggests

that Jacinda Ardern move very

swiftly now to shut down any

talk of a change to New Zealand's

governance arrangements

over the next 20 years.

But is there any sign of that?

•HAVE YOUR SAY: Share

your opinion on Williams'

column. Email barry@

starmedia.kiwi Emails

should be 200 words or

fewer

Of course not.

What is also worrying is the

silence of the National Party on

this. But then, maybe they're

embarrassed.

It was them who started it with

John Key sending Pita Sharples

off to sign up to something that

Helen Clark would not have a

bar of because she realised the

long-term implications of it.

And now it has come to pass.

I don't want any racist tirades

about this issue, I want some

reasoned discussion. And for me,

it comes back to this. I believe in

the concept that all people are

equal, that in this country everybody's

vote is as important as

everybody else's. We are all New

Zealanders.

Yes, we may have descended

from Maori or Chinese or Scottish

or English, but we all live

together in this country as New

Zealanders. My antecedents

came here 173 years ago. Am I

any less of a person, any less of

a New Zealander because my

forefathers and foremothers arrived

here 500 years after other

settlers?

Is somebody born in England

or India or China who came here

in the last 10 years and now has

a New Zealand passport any less

of a New Zealander than me? I

would hope not. But if we have

some sort of devolved co-governance

arrangement whereby

50 per cent of the power is in the

hands of the small proportion of

the electorate, is that acceptable

in a nation which has known

the concept of parliamentary

democracy in some form or

another since 1853?

Isn't this one of the most

important questions facing New

Zealand's future? Yet no one in

the Government wants to talk

about it in the open.

• This first appeared on

breakingviews.co.nz

EXAMINATIONS

ONLY $99

Includes full scale, polish,

2 xrays & consult

Full range of

dental services

at very

competitive

prices

Quality

dental care

for your

whole

family

Book in now with

Dr John Malcolm, Dr Ren Henkel,

Dr Kalo Malthus & Dr Michelle Ling

Read local

123 Waimairi Road, Upper Riccarton | Onsite parking available

Phone: 03 348 1602 www.ilamdental.co.nz
---
Thursday May 6 2021 The Star 21

STYLE & QUALITY

FOR LESS

SUPER

SUPER SPECIALS

SPECIAL SUPER

SPECIAL

Elm

Collection

WAS $3319

$

3069

Naples Corner Suite

2 Seater $1129 $1049

3 Seater $1649 $1529

Table Large $979 $899

Table Small $629 $579

Buffet $1189 $1099

SUPER

SPECIAL SUPER

SPECIAL LUCKY

LAST

Coronet

Barstool

WAS $189

$

159

WAS $1789

$

1659

Storage

Cup Holder

Manatee Corner Recliner Suite

Extra Section Available $299

Raglan Egg

Chair White

WAS $599

$

399

SUPER

SPECIAL

SUPER

SPECIAL

Dark Green

Golden

Greenery

Daintree

Maple

Collection

WAS $1299

$

1189 Madison 3 Seater

Armchair $ 819 $749

Bunk $899 $829

3 Drawer Lowboy $509 $469

5 Drawer Lingerie Chest $489 $449

6 Drawer Tallboy $639 $589

3 Year Warranty

3 Year Warranty

5 Year Warranty

5 Year Warranty

Comet

Mattress

FROM

Single $229 $219

King Single $249 $229

Double $279 $259

Queen $319 $299

Melody

Mattress

FROM

Single $299 $279

King Single $349 $329

Double $399 $369

Riviera

Mattress

$

219 $ FROM

279

$

349

$

459

Queen $439 $399

King $469 $439

FROM

Single $369 $349

King Single $419 $389

Double $499 $469

Queen $549 $509

King $599 $549

California King $709 $659

Chateau

Mattress

Single $499 $459

King Single $589 $549

Double $709 $649

Queen $759 $709

King $839 $779

California King $1009 $939

5 Year Warranty

Continuous Wire

Spring Unit, Firm

Mattress & Quilt Fibre

5 Year Warranty

Pocket Spring,

Euro Top, Quilt Fibre,

Wave Foam & Comfort Foam

5 Year Warranty

Zone Pocket Spring,

Mini Pocket Topper,

Plush Fabric, Quilt

Fibre & Wave Foam

FROM

$

489

Chiro Mattress

Queen $519 $489

King $579 $539

FROM

$

499

King Single $539 $499

Double $679 $629

Queen $759 $709

Cloud Rest Mattress

King $839 $779

FROM

$

519

Super King $899 $839 King Single $559 $519

Queen $809 $749

Indulgence Mattress

King $869 $809

Super King $879 $819

FREE

CARPARKING

SOUTH CITY

BATH ST

WE ARE

HERE

255 MOORHOUSE AVE

REBEL SPORT

COLOMBO ST

MON-FRI 9:30AM – 5:30PM

SAT-SUN 10AM – 5:30PM

0800 268 264

www.affordablefurniture.nz
---
The Star Thursday May 6 2021

22

OPINION

Hospital board

CDHB MEMBERS Gough and

Keown are rightly concerned

over the centralisation of our

medical system, and among other

things how it will impact smaller

towns and the rural sector, as

outlined in The Star (April 22).

There have also been plans

to centralise school boards and

polytechs, including those that

are very successful, like SIT.

Even farming regulations are

becoming 'one size fits all', which

will only fit a few as we live

in a very complex and diverse

landscape.

– D Downward

David McPhail

May I thank Kurt Bayer for his

interesting article about his visit

to David McPhail. Easy to read,

most informative, and it brought

back memories.

Many skits of Kiwi life, especially

of Sir Robert Muldoon,

We want to hear your views

on the issues affecting life

in Canterbury

Send emails to:

barry@starmedia.kiwi

were funny with a capital F.

Much appreciated journalism.

– Bevan Phillipson

Trust in Govt

I wonder why people still trust

this Government? The minister

told us this evening that the biggest

number of people had gone

off the jobseekers benefit since I

think it was 1996.

I also wonder why it is telling

us they are ramping up vaccines

when last week we were told

that there were only approximately

400,000 doses left in the

country.

As usual it is spending large

sums of money setting up vaccine

centres when in the US chemists

can do the same job and I know

our local chemist is qualified to

do it and for a lot less money.

Imagine how much taxpayers

money could be saved? But hey,

it's not their money so easy come

easy go, and we can always print

more. – R Lucas

Letters may be edited or rejected at Star Media's

discretion. Letters should be about 200 words.

A name, postal address and phone number should be

provided.

Please use your real name, not a nickname, alias, pen

name or abbreviation.

Latest Canterbury news at starnews.co.nz

Tourism hui brings

hundreds to city

THIS WEEK I had the

opportunity to welcome more

than 750 delegates to our city

for TRENZ Hui 2021, the largest

business event in New Zealand

for over a year.

THis year it will be a different

format from the normal TRENZ

event. Each year, TRENZ brings

hundreds of international travel

buyers together to meet with

New Zealand's leading tourism

operators, to build or renew

relationships and negotiate

business deals for the coming

seasons.

We were due to host

TRENZ 2020, which was

cancelled for the first time,

when borders were forced to

close by Covid-19.

Given that these borders

are still closed, and buyers

cannot attend, the format was

redesigned to help the industry

prepare for the return of

international visitors.

The three themes were: Revive

– Reconnect – Revitalise.

After everything our city

has been through over the past

decade, I said there was no

better place to come for TRENZ

Hui 2021 than Ōtautahi,

Christchurch.

We describe ourselves as a city

of opportunity for all – a place

that is open to new ideas, new

people and new ways of doing

things – a place where anything

is possible.

The genesis for this thinking

has been the belief that times of

crisis always offer opportunities.

I expressed hope that the

industry would explore the

opportunities to reimagine

the future of tourism in a

post-Covid world in partnership

with mana whenua and the

destinations that together

create a unique offering in the

world.

I invited them to seize that

opportunity with real optimism

based on the unique experience

of a city that has been given the

chance to reimagine its future

and respond to new challenges

in a way we would never have

thought possible.

Mayor

Lianne Dalziel
---
Thursday May 6 2021 The Star 23

Saturday

8 May, 3-8pm

Hororata Domain

Postponement date 9 May 2021

Witness a spectacular Night Glow with tethered hot

air balloons glowing in unison to music. Followed by

a lighting effect show with DJ Craig Shaw.

· Eventhire glowing

fairground

· UV art zone

· Interactive science

demonstrations

· Mitre 10 Mega

warm up cube

· Food trucks

· Food and wine tastings

3–5pm Hot Air Balloon Walk Through

5–7pm Join the Glow Circus

Balloon Night Glow can happen any time from 5.30pm

Live music on the More FM stage

3pm

4pm

5pm

Getting there

Selwyn Community Choir

Sam Bambery and The Bluesettes

Chilton House

Hororata Domain, 61 Hororata Road

via Bealey Road or via Darfield.

Important information

Bring warm clothes, torch, picnic rug, chairs, cash.

No Dogs, glass or BYO alcohol.

Buy your tickets now and be in to win a flight with

Ballooning Canterbury.

EVENT SOLD OUT

HORORATA GLOW FESTIVAL

VISIT HORORATA.ORG.NZ

PROUDLY SUPPORTED BY
---
24 The Star Thursday May 6 2021

MEGA

MAY DEAL$

Jim Beam / CC

4.8% 440ml 4pk

(inc zero) cans

Effen

330ml 4pk bottles

Each

Cody's

(incl zero) 7% 250ml

12pk cans

Woodstock

5% 12pk bottles

Woodstock

250ml 7% cans

(incl zero) 12pk

$12.99 $21.99

$21.99

$22.99

Each

Cruiser

7% 12pk can range

Each

Each

NEW

FLAVOUR

Tui Hard Soda

330ml 10pk cans

$22.99

Each

Jim Beam Gold/

CC Premium

7% 250ml 12pk

Smirnoff Ice Double

Black

7% 12pk can range (ex guarana)

Gordons G&T,

Gin & Soda

(pink/sicilian) 12pk 250ml cans

Long White

10pk bottle range

Part Time Rangers

/JD

4.8% (incl no sugar)

10pk cans

Tui Bourbon

Tui Vodka Soda

7% 18pk range

$23.99

Each

$23.99

Each

$25.99

Each

$25.99

Each

$29.99

Each

Wolf Bass

Yellow Label range

(ex PN)

Jacobs Creek

(ex Sparkling range)

Five Flax

range

Mudhouse

range (ex PN)

Brown Brothers

Moscato

range

The Ned

range (ex PN)

$9.99

Each

$9.99

Each

$11.99

Each

$13.99

Each

$15.99

Each

Pasqua

1500ml range

$18.99

Each

Malibu / Kahlua

700ml (incl flavours)

$25.99

Each

Ivanov/Seagers

(incl lime) 1L

Each

Larios 1L

JB Honey /

Midori 700ml

Jameson/

Jameson Cold Brew/

Absolut/

Beefeater

(flvrd ranges only)

all 700ml

$34.99 $34.99

$35.99

Each

Each

Larios Rose/

Citrus / Larios 12

1L

Jim Beam 1L

Canadian Club

(incl spiced) 1L

Coruba

(incl Gold)

JW Red Label

1L

Bombay Sapphire

1L

Jack Daniels 1L

Woodford Reserve 700ml

$39.99

Each

$41.99

Each

$42.99 $49.99 $54.99

Each Each Each

Chivas Regal 12yr

1L

Glenlivet 12yr

700ml

Bruichladdich

Classic Laddie

700ml

Kingfisher Strong

7.2% 500ml cans

Monteiths

6pk bottle range

Fortune Favours

6pk range

$62.99

Each

$62.99

Each

$99.99

Each

3 FOR

$10.00

NEW

FLAVOUR

$13.99

Each $21.99$18.99

Each

Each

Somersby

10pk can range

Orchard Thieves

12pk range

Haagen

15pk bottles

Asahi

12pk bottles

Lion Red,

Speights,

Waikato or

Summit

15pk bottles

$19.99

Each

NEW

FLAVOUR

$21.99

Each

$21.99

Each

$23.99

Each

$24.99

Each

Steinlager

15pk bottles

Heineken

15pk bottles

Tui/Export

Gold/Extra

Low Carb/ DB

Draught

24pk bottles

Carlsberg

24pk bottles

Export 33

24pk bottles

$26.99

Each

$29.99

Each

$36.99

Each

$39.99

Each

$39.99

Each

40 STONEFIELDS AVE, STONEFIELDS

09 527 0640

280 BLENHEIM RD, RICCARTON

03 343 1523

151 WALTHAM ROAD, SYDENHAM

03 366 5737

227 LINWOOD AVENUE, LINWOOD

03 381 3660

60 QUEENSPARK DRIVE, PARKLANDS

03 686 6052 03 383 2478

www.BigDaddys.co.nz

99/111 EVANS STREET, WAIMATAITAI, TIMARU

29 STAFFORD STREET, TIMARU CENTRAL

03 684 6721

28 HIGH STREET, RANGIORA

03 310 8200

205 HILLS ROAD, SHIRLEY

03 386 0528

7 HALSWELL ROAD, HILLMORTON

03 338 7733

Promotion period between 1/05/2021 to

31/05/2021. While stocks last. Promotion

only available at participating stores – please

contact your local store to confirm whether

they are participating in the promotion and

check the pricing in-store prior to purchase.

Online pricing will vary.
---
AUTUMN IS a great time to

tackle jobs in the garden that the

heavy summer heat doesn't permit,

like getting your lawn back

into shape.

Plus it's an ideal time to sow

winter crops if you haven't

already.

Here are five tasks to get you

started.

1 The beauty of growing fruit

trees at home means harvesting

fruit when they are at their best.

Tree ripening enhances flavour

and results in juicy, delicious fruit

picked right at their peak. The

last of summer fruit crops like

peaches, nectarines, grapes and

passion fruit are now nearing an

end. Use bird netting to ensure

our feathered friends don't steal

the last of the harvest.

2 Harvest remaining summer

crops as they come to an end and

start sowing and planting winter

veges. This will allow the roots

of plants time to establish before

temperatures drop much further

and growth slows. Winter crops

include beetroot, broccoli, carrots,

cabbage, cauliflower, silver

beet, spinach, swedes and turnips

3 It is important to ensure

plants enter their dormant season

in the best health. Give them

a final application of fertiliser

so they're in good condition

to withstand cooler and wetter

winter months and are ready

for growth in spring. In cooler

areas apply fertiliser to fruit trees,

ornamental plants, shrubs and

roses, but don't let that task run

into next week, the end of April

is generally the cut-off point.

4 Summer flowering annuals

will be at the end of their growing

season. It's time to remove

old plants and prepare beds

Latest Canterbury news at starnews.co.nz

Thursday May 6 2021 The Star

GARDENING 25

Time running out to plant winter veges

MAINTENANCE: Sprinkle bare lawn with grass seed to encourage growth over the winter. Plant cornflowers now for a

display in early spring.

for winter flowering displays.

Prepare soil by adding in plenty

of compost and mix in well with

existing soil to a spade depth.

Some favourite winter annuals

to grow are; alyssum, calendulas,

cinerarias, cornflowers, larkspur,

pansies, poppies, primulars,

stock, sweet william and violas.

Grow them in the garden or containers

to brighten up the winter

months. If planting in containers,

toss out old potting mix and use

new mix prior to planting. Old

mix will be lacking nutrients and

over time can break down and

cause poor drainage.

5 Early May is an excellent

time for lawn renovation or the

laying of new lawn as this coincides

with the cooler temperatures

and more consistent rainfall.

Use a lawn patch for tiding

up smaller areas. Lawn

fertiliser can now be safely

applied in cooler regions where

there is reasonable rainfall. If

there is a dry spell, water regularly

to ensure the fertilisers are

washed into the lawn.

naTiVe planT

nursery

Trees for CanTerbury

speCialisTs in

• Groundcovers

• Ferns

• Grasses

• Small to big

sized shrubs

• Shelterbelts

• ALL grades

• Expert advice

• Planting now

Ask us about Super

Gold Card discounts

Helping our community grow

42 Charlesworth Street

Ph (03) 982-1028

OPEN 7 DAYS

www.treesforcanterbury.org.nz

oN sAle Now!

Now only

$35.80

Plus $5 P&H per copy

AvAilAble from stAr mediA:

Level One, 359 Lincoln Road

Addington, Christchurch

Phone 379 7100

Are you ready to grow?

Kiwi Gardener is your practical guide

to gardening in New Zealand.

growing with you Issue 503 | April 2021 | 100%

Superfood in

the garden

Beetroot, silver Beet

coriander & more

The rules

of division

How to multiply your

plants for free

SubScribe From

$

20

Rose Remedies

Identify and solve

common issues

In the name

of good taste

The last apricot orchard

on the Port Hills

$8.00 incl. GST

9 416770 121318

ViVe la Volunteers!

The growing force

behind our botanic and

community gardens

Read local

SubScriptionS Freephone

0800 77 77 10

www.Gardener.kiwi
---
26 The Star Thursday May 6 2021
---
Thursday May 6 2021 The Star 27

SCHOOL OPEN DAYS

Fostering a love of learning

at Selwyn House School

Selwyn House School's nurturing

environment, small class sizes and futurefocused

approach to learning sets our

students up for the best possible start to

their schooling life.

We provide a supportive, all-girl

learning environment for Years 1 - 8, that

encourages students to take risks without

fear of failure and develops their love of

learning. Selwyn House students become

confident, compassionate, articulate and

determined young women who have the

values, skills, and attributes needed to

not only achieve their goals but to make a

difference in their communities.

From Year 1 we teach the girls to express

themselves as competent communicators

and to develop self-reliance. Our carefully

crafted programme focuses on developing

'the total girl', who has the resilience,

foundational knowledge, creativity and

compassion to succeed and lead in the

future.

At Selwyn House we believe leaders

are made, not born, and that is why we

put a particular focus on leadership in

the Senior School. In comparison to

other intermediate or composite high

schools, our Year 7 and 8 students have

the distinct advantage of being the senior

students in their school. Every girl has

the opportunity to serve in leadership

roles and the high number of Selwyn

House students that then go on to assume

leadership roles in their secondary

schools, and later in their careers, speaks

for itself.

Teachers at Selwyn House ensure girls

are inspired and committed to learning.

Our small class sizes allow our teachers to

provide the personal attention that helps

students to identify their own strengths

and talents and ensures we can tap into

each girl's unique potential so that they

leave this school with the self-confidence

and skill-set they need to thrive at

secondary school and beyond.

Selwyn House is now accepting

scholarship applications for the 2022

school year - for more information

please visit selwynhouse.school.nz/

scholarships

phone (03) 355 7299 email office@selhouse.school.nz

122 Merivale Lane, Merivale, Christchurch

An International

Baccalaureate School

WWW.SELWYNHOUSE.SCHOOL.NZ

SCHOLARSHIPS AVAILABLE FOR 2022

APPLICATIONS CLOSE 4PM, 14 MAY 2021
---
2

[Edition datE]

28 The Star Thursday May 6 2021

SENIORS' LIVING LIFE

The perfect lifestyle!

"It's all about location. Geraldine has

everything here for a wonderful, active

lifestyle; we're nestled in a fabulous

microclimate with easy access to parks

and river walks, and Geraldine township

is a vibrant community with art galleries,

boutique shopping and fantastic eateries,

with a never-ending schedule of music

festivals, fetes, exhibitions and shows."

If you've reached the point of wanting

to simplify your life, McKenzie Lifestyle

Village should be on your 'must-see' list.

NOW OPEN - One bedroom luxury

care suites. Offering independence

with discreet help on hand. McKenzie

Lifestyle Village also welcomes

subsidised care providers, Luxury care

suites are designed to provide Rest

Home and Hospital Level Care. Making

a luxury care suite your ideal forever

home.

At the heart of the village is the

Leisure Centre - a central point for

entertainment and events, true resort

style facilities. Too often people tell

us they wish they'd made the decision

to move here sooner, just do it while

you're still independent and you can

enjoy everything that we have to offer.

Whether you're more inclined to enjoy

the company of others, or prefer

privacy and solitude - you'll find your

perfect lifestyle here.

Could Geraldine be your place

to call home? Call today for more

information on 0800 845 524 or

mlv.org.nz.

Pet Pet friendly friendly accommodation

around New Zealand

around New Zealand

If your family includes a

If your family includes a

If your dog,

dog, family cat,

cat,

bird includes bird or

or

other

other a dog, furry

furry cat, bird

creature or other then furry we creature have some then some

we have good some news good for news you

for you

Pets Can Come Too has a long list of holiday

Pets Can Come Too has a a

homes throughout New Zealand that will give

long list of holiday homes

your whole family a warm welcome

throughout New Zealand

that that will give your whole

family a warm welcome

family warm welcome

Ph 021 255 5859

www.petscancometoo.co.nz

Ph 04 293 2705

www.petscancometoo.co.nz

Ph 04 293 2705

www.petscancometoo.co.nz

A Leader in Healthcare Excellence for the Older Person

Brookhaven

Retirement Village

Woolston

Phone 03 384 5046

Albarosa Rest Home

Papanui

Phone 03 375 0727

For more information visit

www.goldenhealthcare.co.nz

Golden Age

Retirement Village

Papanui

Phone 03 375 0720

Hoon Hay Rest Home

Hoon Hay

Phone 03 379 7825

Camellia Court

Rest Home

Papanui

Phone 03 375 0722

Somerfield

Rest Home

Somerfield

Phone 03 332 5897

Hoon Hay House Dementia

Hoon Hay

Phone 03 335 0297

Brand new

One Bedroom Suites

AVAILABLE NOW - One

bedroom assisted care suites.

Offering independence with

discrete help on hand.

VILLAS OPEN TO VIEW BY APPOINTMENT

Belfield Villa 108m 2

2 Bedrooms

Open-plan living/dining

Modern kitchen • Separate toilet

Single garage • North-facing

Belfield Villa 108m 2

2 Bedrooms + Study • Refurbished

Spacious living • Single garage

Bathroom with guest toilet

Generous storage • North-facing

33 CONNOLLY STREET, GERALDINE

FREEPHONE: 0800 845 524

LANDLINE: 03 693 8340

WEBSITE: mlv.org.nz

2231544-12/12-b
---
SENIORS' LIVING LIFE

[Edition datE] 3

Thursday May 6 2021 The Star 29

Effective Natural

Skincare that

is ideal for

problem skin

MooGoo produce a full range of safe, natural

skin and scalp products that are especially suited

for those with problem skin. In these products

they only use top quality edible ingredients that

are known to be highly effective and good for

our skin. These active ingredients are only used

in correct concentrations for effective results and

not just added to look good on the label. Because

the MooGoo range is so safe and yet so effective

is probably why it was rated the number one

most preferred brand of non-prescription (nonsteroid)

creams for those suffering from problem

skin in Australia. It is also recommended by

many medical practitioners in Australia.

As MooGoo products are safe and natural they

are ideal for long term use from babies to adults.

They are an effective alternative or follow-up

treatment to chemically-based ointments.

Although MooGoo products are commonly

used by people with skin complaints like eczema,

psoriasis, dermatitis, rashes and more, the range

of products is becoming increasingly popular for

general healthy skin care. The Skin Milk Udder

Cream is the lightest of creams that can easily

penetrate the skin with its beneficial ingredients,

especially the milk protein which has been

shown to increase skin elasticity and health. It

is suitable for everyone, and can be used on the

face and body by all ages and skin types. It is

non-greasy and contains no mineral oil or other

nasties.

The comprehensive MooGoo range includes

the popular Milk Shampoo and Conditioner,

Milk Wash, Cleansing Bars, Fresh Cream

Deodorant, Tail Swat Spray (deters biting

insects), Dental care, Scalp Cream, Edible Lip

Balms, Sunscreen, Baby range and much more.

The MooGoo range and further detailed

information and advice is available from the

Natural Health Advisers at Marshall's Health

& Natural Therapy, 101 Seaview Road, New

Brighton. They are always happy to help and

can be contacted on phone

388-5757.

Do You Suffer from Eczema,

Psoriasis or Dermatitis?

MooGoo Eczema & Psoriasis

cream (also called: Irritable Skin

Balm) is our top selling natural

anti-inflammatory and anti-fungal

cream for problem skin.

It is a natural, safe and effective

alternative to steroid and chemical

based creams. Customers rave

about how good it is!

Ideal For:

• Eczema and Psoriasis

• Seborrheic Dermatitis

• Fungal and Yeast skin

conditions

• Rashes & itchy skin

• Supports wound healing

• Babies to adults

Super Price

120g tube

Only $21.90

200g tube

Only $32.90

You'll be amazed

at the difference

it can make!

MAIL ORDER AVAILABLE

Our Natural Health Advisers, Naturopath & Medical

Herbalists are always happy to help you choose the best

products for your particular needs. We stock one of the

most comprehensive ranges of quality health products in

New Zealand with all products at very competitive prices.

If we don't have what you require, or a suitable alternative

to suit your needs, we may be able to obtain it for you.

Bringing You The Best in Natural Health

marshalls health & natUral theraPY

CONSULTING - PRESCRIBING - DISPENSING - MANUFACTURING - MEDICAL HERBALISTS

101 SEAVIEW RD, NEW BRIGHTON • PH 03 388 5757 • Email: enquiry@marshallshealthshop.co.nz

- knowledge makes the difference -
---
4

[Edition datE]

30 The Star Thursday May 6 2021

SENIORS' LIVING LIFE

Greater independence

in your own home

Nurse Maude's Health & Mobility Shop

in Wairakei Road has long been the place

to go for those who need specialised

products that allow them to live as

independently as possible in their own

home.

Being able to hire and buy specialist

equipment and supplies is a large part of

being able to retain that independence,

with a wide range of equipment and

products from shower stools to utensils.

With its long history of caring for

people in the community Nurse Maude

knows that access to these products and

this equipment, along with expert advice,

is an integral part of living fully in the

community.

Customers have two options for their

health and mobility needs, the Wairakei

Road shop, open 8.30am to 4.30pm

Monday to Friday and Maudes Online

where you can shop 24 hours a day, seven

days a week at www.nursemaudeshop.

org.nz

The staff at Nurse Maude's Health &

Mobility Shops work closely with Nurse

Maude's nurses and suppliers to make

sure the expertise and support customers

may need is readily available.

The confidence

to thrive

Life is full of adventures to be had, opportunities

to be explored and dreams to be fulfilled.

Unfortunately, health and mobility issues

can rob us of our confidence and hold us

back from living life to the fullest.

At the Health and Mobility Shop, we provide

the products and equipment you need

to maintain your independence.

285 Wairakei Road, Christchurch

Open 8.30am to 4.30pm Mon to Fri

Ph (03) 375 4200

www.nursemaudeshop.org.nz

HC NMA0700ST HM2

From wheelchairs and walking

frames right through to continence

supplies, we'll help you enjoy the

freedom of confidence.
---
Thursday May 6 2021 The Star 31

CHRISTCHURCH MITSUBISHI

386 Moorhouse Avenue, Christchurch

Ph: 03 379 0588

christchurchmitsubishi.co.nz

STOCK AVAILABLE NOW

& BEAT THE COMING PRICE CHANGE

DRIVE A NEW

NISSAN

STOCK AVAILABLE TODAY

AVAILABLE FROM

AVAILABLE FROM

*Price shown excludes on road costs which includes registration, WoF and a full tank of fuel.

CHRISTCHURCH NISSAN, 380 Moorhouse Avenue, Christchurch

Ph: 03 595 6820

www.christchurchnissan.co.nz

AVAILABLE FROM

HAS ARRIVED

$29,990 * $33,990 * $36,790 * THE ALL-NEW

NISSAN 150,000 KM'S

5YR FACTORY

WARRANTY

christchurchnissan.co.nz
---
The Star Thursday May 6 2021

32

SPORT

Latest Canterbury news at starnews.co.nz

Talent on show throughout codes

• By Chris Barclay

WHEN LINWOOD and Hornby

meet for the first time in a new

Canterbury Rugby League

premiership season it's typically a

rematch of the previous battle for

the Pat Smith Trophy.

The Northern Bulldogs bucked

that trend in 2020, but for Keas

veteran Alex Todd the rivalry

with the Panthers endures ahead

of a clash between the competition's

two unbeaten teams on

Saturday.

Before the Kaiapoi-based Bulldogs

could not prevent Linwood

claiming their fifth successive

title, Hornby were the runners-up

the previous four seasons.

A no-nonsense prop, Todd

brings up the disappointment

of the 2009 final, rather than

the victories, when revisiting an

encounter he relishes.

"For me personally it always has

been the rivalry," he explained.

"When I first started playing

prems [in 2008] we had a good

couple of battles. We lost in 2009.

They're always a quality opposition.

They're well-coached and

well-drilled. It's always a tough

game."

Uncompromising in the

middle, the hard heads from both

clubs have formed friendships off

the field.

"A lot of the older boys get on

well – I went to Corey's 40th last

year, it was a pretty good do,"

Todd said.

The 31-year-old said celebrations

at Leslie Park hinge on

keeping Panthers second rower

Corey Lawrie quiet.

"He's always floating around

the middle there. We have to keep

him busy on defence," Todd said.

At the other end of the experience

spectrum, Todd was wary

of the threat posed by Panthers

fullback Sincere Harraway, who

opened the campaign with backto-back

hat-tricks.

"I watched him in the under-

20s. He's a player you've got to

keep your eye on, he's got good

footwork," he said.

Both teams head into the fifth

round in impressive form, with

the Panthers on top via points

differential.

Hornby thrashed the Northern

Bulldogs 44-10 last weekend

while the Keas rolled the Eastern

Eagles 42-22 after trailing 10-0

early at Wainoni Park.

The Celebration Lions' resurgent

campaign also regathered

momentum by crushing the

cellar-dwelling Papanui Tigers

62-20, the highest score of the

season so far.

Lions stalwart Kasi Leka racked

up four tries from five-eighth

while his brother Taniela contributed

a try and nine goals as

the siblings thrived in an 11-try

rout that enabled the club to

bounce back from a narrow loss

to Hornby.

Celebration were in Papanui's

predicament in 2020, propping

up the table, but are now third

behind the pacesetters leading

into their encounter with the

Riccarton Knights.

Halswell round out the top

four with a three-win (including

a default by Papanui), one-loss

record after a 20-point victory

over Riccarton. They now head to

Kaiapoi and attempt to extend the

fifth-placed Northern Bulldogs'

slump under Frank Endacott.

Marist Albion are the only unbeaten

team heading into round

five of the Christchurch Metro

Cup club rugby competition, with

last year's runners-up boasting

the maximum 20 points.

They feature in the fixture of

the weekend when they host

second-placed Linwood at Edgar

McIntosh Field on Saturday.

Even if they suffer their first

loss, they will still remain on top

of the ladder.

The status quo remained in the

Mainland Football premiership

with champions Cashmere Technical

maintaining top spot with a

5-1 thumping of Nelson Suburbs

while second-placed Coastal

Spirit drew 1-1 with third-ranked

Christchurch United.

Eighth round fixtures indicate

the top three should solidify their

places with Cashmere Technical

facing Selwyn United, Coastal

Spirit in a local derby with Ferrymead

Bays FC and Nomads

United hosting Christchurch

United.

Lincoln University maintained

their lead in the Christchurch

Netball Centre's premier grade

RIVALRY ROUND: Linwood Keas stalwart Alex Todd is looking forward to another tussle

with Canterbury Rugby League premiership rivals Hornby at Leslie Park on Saturday.

when they defeated Technical

B 81-21 on Tuesday night while

Technical A and Kereru A are

also undefeated.

Saints recorded the biggest

score of the third round, a 103-23

romp over Villa Maria.

In the opening round of

Canterbury Hockey's men's and

women's premiership grade

competition, reigning champions

Marist and Harewood recorded

3-1 scorelines against new Porritt

Cup holders Southern United and

Hornby respectively.

Marist take on HSOB/Burnside

on Saturday. In the women's

schedule Harewood has an early

bye, giving unbeaten Marist and

Carlton Redcliffs to build on their

round one victories.

Top of the tables

Christchurch Metro Premier Cup men's rugby

P W L D PD Pts

Marist Albion 4 4 0 0 38 20

Linwood 4 3 1 0 44 14

Burnside 4 3 1 0 25 14

Lincoln University 4 2 2 0 5 12

Sydenham 4 2 1 1 -7 12

Christchurch 4 1 2 1 7 11

University 4 2 2 0 -3 10

Shirley 4 1 3 0 -14 10

New Brighton 4 2 2 1 1 9

Sumner 4 1 2 1 -17 8

HSOB 4 1 3 0 -11 6

Belfast 4 0 3 1 -68 5

Canterbury Rugby League Men's Premiership

P W L D PD Pts

Hornby Panthers 4 4 0 0 90 8

Linwood Keas 4 4 0 0 78 8

Celebration Lions 4 3 1 0 74 6

Halswell Hornets 4 3 1 0 64 6

Northern Bulldogs 4 1 3 0 -6 2

Riccarton Knights 4 1 3 0 -82 2

Papanui Tigers 4 0 4 0 -100 0

Eastern Eagles 4 0 4 0 -136 0

Mainland Football Men's Premiership

P W D L GD Pts

Cashmere Technical 7 6 1 0 16 19

Coastal Spirit 7 5 1 1 8 16

Christchurch Utd 7 4 2 1 18 14

Nelson Suburbs 7 3 1 3 1 10

Nomads Utd AFC 7 3 0 4 -4 9

Ferrymead Bays 7 3 0 4 -6 9

Selwyn Utd FC 7 1 1 5 -8 4

Halswell Utd AFC 7 0 0 7 -25 0

Weekend match-ups

•Christchurch Metro

Premier Cup (all Saturday at

2.45pm)

Christchurch v Belfast,

Christchurch Park; Sydenham

v Burnside, Sydenham Park;

University v New Brighton, Ilam

Fields; Lincoln University v HSOB,

Lincoln Uni; Marist Albion v

Linwood, Edgar McIntosh Field;

Shirley v Sumner, Burwood Park.

•Canterbury Rugby League

Premiership (all Saturday at

2.45pm)

Northern Bulldogs v Halswell

Hornets, Murphy Park; Hornby

Panthers v Linwood Keas,

Leslie Park; Riccarton Knights v

Celebration Lions, Wainoni Park;

Papanui Tigers v Eastern Eagles,

Papanui Domain.

•Mainland Football

Premiership

Halswell United v Nelson Suburbs

FC, Halswell Domain, 11.30am

Saturday; Cashmere Technical

v Selwyn United, Garrick Park,

2.45pm Saturday; Nomads United

v Christchurch Utd, Tulett Park,

2.45pm Saturday; Coastal Spirit v

Ferrymead Bays FC, Linfield Park,

12.30pm Sunday.
---
• By Chris Barclay

IT'S CUSTOMARY to get

straight back in the saddle after

a setback, although veteran

harness driver-trainer Kevin

Townley will take time to

consider if and when it is wise to

climb into a sulky after his latest

accident.

A 70-year-old requiring a hip

replacement is not unusual, but

the background to Townley's

procedure in Christchurch Hospital

sets the West Melton-based

horseman apart.

"I was going up in the air and

the next thing I remember was

all these faces staring down at

me," Townley recalled when

revisiting his crash with Murano

at Rangiora on April 18.

"I've seen the replay, I suppose

I was two or three metres in the

air, then I got run over. It [the

footage] doesn't show that."

The stewards' report states Gift

Card fell and checked Murano

plus Tom Brady. Townley was

one of three drivers dislodged

by the incident. Murano, which

avoided injury, galloped on

before being corralled.

"[Murano] fell in a split second

– apparently it stood on a shoe.

You think very fast on the track

and in a split second I thought:

'There's no way out of this one',"

Townley said.

He was treated at the track

and transported to Christchurch

Hospital with hip, rib and lung

damage. He was released last

Friday to continue his rehabilitation

with wife Margaret.

"My left hip was smashed up

pretty bad so I got a total hip

replacement but there's still a

fracture or two to heal. Hopefully

they're healing all right

with the new apparatus on

board," he said.

Townley already has a plate

and several screws in his shoulder

following an accident during

track work. After a crash during

a trial at Motukarara, a horse

trod on his hand, breaking all

the bones.

He was also kicked in the

head by a horse before a race in

Westport in 2017, with a helmet

fortunately bearing the brunt of

the blow.

Townley shrugged off those

incidents – and several others

through the years – reasoning:

"It can be a bit of a rough industry,

you expect things like that.

I've bounced back pretty good

but there must be an age where

you don't."

That might be approaching,

with Townley conceding the

Rangiora spill was the worst he

has experienced.

"It's not great timing to be fair

– at 70 you don't bounce back

Latest Canterbury news at starnews.co.nz

quite as well either. I don't know

how much I'll be able to do in

the future. That will work itself

out I guess."

Townley returned to his stable

on Tuesday to check on his small

team.

"We'll see how the next couple

of months go and how I get

around. I've got to lift my leg

into the sulky don't I," he said.

The surgical advice was to release

the reins but he would not

be pushed into retirement.

"I just have to judge it myself

really. There's no rush, I've got

another month before the bones

are healed anyway."

Townley started training in

with his father Doody in 1987

before training in his own right

from 1995. He has 263 winners

and another 230 with his dad.

Most of his horses are spelling

now although Harbour Queen

placed third at Methven on April

26, just the tonic as he followed

the race from his ward.

Townley has also been boosted

by the harness racing fraternity.

"I've been inundated by offers

of help," he said.

SPORT 33

Crash puts driving on hold Grasstrack

REINED IN: Veteran harness racing trainer-driver Kevin Townley is making a patient

recovery from surgery following a serious crash during a race at Rangiora (below).

PHOTOS: GEOFF SLOAN & TRACKSIDE (below)

Thursday May 6 2021 The Star

to build

on season's

success

• By Dave Di Somma

GRASSTRACK RACING has

been a massive success this

season, and there will be even

more meetings in 2021/22.

The dates calendar has 38

grasstrack meetings next season,

including three dual code. That's

four more than this season, and

includes the return to Hawera in

Taranaki. Their two meetings will

be held over Waitangi weekend

(February 4 and 6, 2022).

There will be two other North

Island meetings, at Wairarapa

and Kapiti, and 34 in the south.

Mt Harding at Methven and

Motukarara will be the busiest

grasstracks, with seven meetings

each next season, while Westport

gets three and Geraldine doubles

its quota to two.

Gore will also race on the grass

twice, as will Oamaru and the

Forbury Park Trotting Club at

Wingatui.

Methven hosted the last

grasstrack meeting of the season

on April 26.

Methven Trotting Club president

Mark Lemon is reasonably

happy with next season's allocation,

saying the club can handle

one meeting a month, although

he thinks nationwide there is still

potential to have even more meetings

over the warmer months.

"We should be having a meeting

on every Sunday, and we are

not doing that."

Grasstrack racing's popularity

with punters is well known. This

season Methven turned over

more than $1 million at five of

its seven meetings, with a best of

$1,565,647 on October 11. The

Hororata Club's meeting there

also did $1,132,720.

Said Lemon: "When you add

it all up it was over $9.5 million

at Methven . . . the only two

we didn't do a million on were

the two when we only had nine

races."

– Harness News Desk

Turn the rainy season

into the dry season.

Great prices on a great range of dryers.

As temperatures tumble, it might be time to consider getting yourself a

new dryer. Especially as you'll have a few more layers to launder. It's the

perfect time of year to take advantage of our great deals, on top brand

laundry appliances. If you find the same product cheaper anywhere else,

we're happy to match the price*.

*T&Cs apply, see smithscity.co.nz/price-promise for details.
---
The Star Thursday May 6 2021

34

SPORT

ICE-COOL goal-kicking saviour

Damian McKenzie is ready to

play his smiling assassin

role to perfection again in

Saturday's Super Rugby

Aotearoa decider with the

Crusaders.

The versatile All Black

utility back, renowned for

grinning as he lines up a

penalty or conversion attempt,

is again likely to be a focal point

as the Crusaders strive for a

fifth successive title under Scott

Robertson.

McKenzie (left) was not a

factor the last time the

Chiefs visited Orangetheory

Stadium – a 39-17

defeat in March – but

since then his work off

the tee has been pivotal

to the underdogs fivematch

winning streak

before the reserves lost to the

Blues at Eden Park last weekend.

The fullback or first five-eighth

nailed clutch kicks to edge the

Latest Canterbury news at starnews.co.nz

Crusaders discipline will be vital to beat Chiefs

Blues first time around before

the Highlanders, Crusaders and

Hurricanes were pipped by late

penalties.

"When you're in those situations,

and you're a kicker, you

live for those moments, and

you're either hero or zero. I've

been fortunate enough for a

few of them to go over, which

has been great," he said, before

spreading the kudos.

"Like I've said before, there

are things that happen before

that people might not see that

build up to those penalties, or

getting us into positions to kick a

penalty."

Maintaining their discipline,

particularly within McKenzie's

range, Crusaders discipline will

be vital.

Both teams are named today,

with the Crusaders only fresh injury

concern an ankle injury for

back-up lock Quinten Strange.

Although the Chiefs celebrated

a 26-25 triumph in

Hamilton on April 17 the statistics

overwhelmingly favour the

Crusaders.

They have never lost a Super

Rugby play-off game in

Christchurch, while they led the

competition in points scored

(237), points conceded (165),

tries scored (30), tries conceded

(18) and try differential (+12).

The Chiefs are fifth, and last,

in all those categories.

Ben O'Keeffe referees the final,

which kicks off at 7.05pm.

NEW CARVERY

in our NEW Restaurant

CARVERY OPEN

THURS - SAT

5-8PM

richmondclub.nz

FROM

22 50 $

75 London St,

Richmond

P: 03 389 5778

theborough.nz

SUPER RUGBY AotEARoA

Tipping CompeTiTion

FINAL

BROUgHT TO yOU By THE STAR MEdIA COMPANy

7.05pm

Saturday

8th May

v

OUR TIPSTERS SELECTIONS THIS WEEK

2 points for correct winner, 1 point for correct margin and 1 point for correct number of tries scored

LEAdERBOARd

# NaMe LaSt week'S TOTAL

SCORe POINTS

Brent Jefferies 4 37

Chris Smith 5 34

John McCann 5 30

Marty Fuller 2 29

Shane Dalley 0 26

Jamie Harris 2 25

Chris Taylor 0 25

Dave McLachlan 3 19

Portstone

GARDEN CENTRE & CAfÉ

465 Ferry Rd • Phone 389-4352

www.portstone.co.nz

OPEN 9am - 5pm

Exclusive stockists

in Christchurch of

DragonstonE

English stoneware

7 Days

Helping

Christchurch Grow

Curtains

• $12.50 Lunches

• $12.50 Lunches

- Friday Nights

• Karaoke - Fri Nights

Live Bands - Sat Nights

• TAB • Gaming Machines

• Pool TAB Table • Pool Table

• Sports on Big Screens

• Live Bands - Sat Nights

• Gaming Machines

• Sports on Big Screens

24a Main North Road

Papanui. Ph: 03 352 7011

www.roseandthistle.co.nz

CHRIS SMITH

portstone

CRUSAdERS

by 15+ points

Total tries 8

MARTy FULLER

elmwood Trading Company

CRUSAdERS

by 8-14 points

Total tries 8

BRENT JEFFERIES

A1 Auto

CRUSAdERS

by 15+ points

Total tries 8

JAMIE HARRIS

Venluree

CRUSAdERS

by 15+ points

Total tries 7

dAvE MCLACHLAN

Rose and Thistle

CRUSAdERS

by 8-14 points

Total tries 5

CHRIS TAyLOR

Richmond Club

CRUSAdERS

by 15+ points

Total tries 11

SHANE dALLEy

Sheffield Cres Auto Centre

CRUSAdERS

by 8-14 points

Total tries 4

JOHN MCCANN

Artworks

CRUSAdERS

by 8-14 points

Total tries 6

Mobile showroom

service

Blinds

Shutters

BRAND NEW SHOWROOM

Free

measure &

quote

Unit 2 / 99 Sawyers Arms Rd

03 365 4666 or 0800 836 587

www.venluree.co.nz

YOUR NEW LOCAL!

SUPER

RUGBY

Treat Mum this Sunday

with lunch or dinner

and we'll treat her

a glass of bubbles!

Aotearoa FINAL

Saturday 7.05pm:

CRUSADERS

v Chiefs

ONE STOP SHOP

FOR ALL VEHICLE REPAIRS

• WOF • Servicing • Full Mechanical Repairs

• Latest Diagnostic Equipment • Tyres

• Batteries • Auto Electrical Repairs

• Mechanical Breakdown Insurance Repairs

• Loan Cars Available

Sizzling

Saturday

$22

WOF

Bookings essential. Conditions apply.

WE'RE BACK!

FRAME YOUR

MEMORIES

We have the perfect frame for you!

• TAB • Private Function Room

1 Normans Rd

Ph 355 5345

www.facebook.com/

elmwoodtradingco

12 Sheffield Crescent, Burnside, Christchurch

P: 03 3585 580 E: sheffieldcauto@xtra.co.nz

Cnr Fitzgerald Ave & Hereford St.

Phone: 365-5220

workshop@a1auto.co.nz

6 Main North Road | Ph 352 7594

Open Mon-Fri 9am-5pm

www.artworkspictureframing.co.nz
---
Thursday May 6 2021 The Star

CROSSWORD

1 2 3 4 5 6 7 8

9 10

11 12

Latest Canterbury news at starnews.co.nz

CHRISTCHURCH

CREMATORIUM

FUNERALS

193

SUDOKU

Every row, column and box should

contain the digits 1 to 9.

PUZZLES 35

WORDBUILDER

WordBuilder

093

6

E N R

T C E

many words of three or more letters,

How including many plurals, words can you of make three from or the more six

letters, using including each letter plurals, only once? can No you foreign

words or words beginning with a capital are

make

allowed.

from

There's

the

at

five

least one

letters,

six-letter

using

word.

each TODAY only Good once? 12 Very Good 15 Excellent 17

No Solution words 092: abet, beginning ate, bad, bade, with bat, a bate, capital bated,

bead, beat, bed, bee, beet, bet, beta, dab, date,

are

deb, DEBATE,

allowed.

debt,

There's

eat, eta, tab,

at

tad,

least

tea, ted,

one

tee,

teed.

six-letter word.

Good 8 Very Good 11 Excellent 16+

DECO

9

13 14 15 16 17

18 19 20

21 22 23 24

25 26

27 28

SOLUTION

No.93

14 15 16 17 18 19 20 21 22 23 24 25 26

I J G A C W B Q V N E X S

1 2 3 4 5 6 7 8 9 10 11 12 13

P K T Z U Y H L M D R F O

14 15 16 17 18 19 20 21 22 23 24 25 26

U

Decoder

Across

1. Clap (7)

5. Strongly dislikes (7)

9. Freight (5)

10. Scent (9)

11. Consciousness (9)

12. Throw out (5)

13. Damp (5)

15. Clear of blame (9)

1 2 3 4 5 6 7 8 9 10 11 12 13

F N

A B C D E F G H I J K L M N O P Q R S T U V W X Y Z

1 16 4 16 18 2

2 9 2 10 26 4 13 11 24 13 24 23

7 18 22 2 1 10 1

18. Assurance (9)

19. Subject (5)

21. Jewish teacher (5)

23. Caretaker (9)

25. Bordering (9)

26. Delayed or postponed

(2,3)

27. Daily, occurring each day

(7)

28. News (7)

Down

1. Praise (7)

2. For each person (L) (3,6)

1 2 11 13 18 25 26 6 19 24 26 2

12 26 10 11 19 5 9

3. Residence (5)

4. Unlike (9)

5. Jumps over (5)

6. Pact (9)

F U N

7. Therefore (5)

8. Ghost (7)

14. Custom (9)

16. Omission (9)

17. A frog or toad (9)

18. Wreath (7)

20. Own up (7)

22. Small and elegant (Fr)

(5)

23. Cool (5)

24. Egg-shaped (5)

All puzzles copyright

14 6 7 10 18 22 2 21 10

4 25 3 6 17 12 7

DECODER

Each number in our DECODER grid represents a different

letter - there is a number for all 26 letters of the alphabet.

Each Enter number the given represents letters into a different all squares letter with of the matching alphabet. numbers. Write the

given The challenge letters into now all squares is to work with out matching which letters numbers. are Now represented work out

which by the letters other are numbers. represented As you by the get other letters, numbers. enter As you them get into the

letters, the main write grid, them and into the reference main grid and grid. the To reference keep track grid. Decoder of the

uses letters all you 26 letters have of found, the alphabet. cross them off the alphabet provided.

11 24 18 8 17 14 9 20 14 15 13 5

24 13 14 11 5 23

8 13 23 16 17 26 18 24 23 10 24 10

17 3 1 12 17 13 13

6 17 11 10 26 3 14 18 2 26 14

F

I

14 6 3 19 18 23

10 24 22 14 18 24 26 17 11 13 23 16

14 24 7 18 3 22

8 7 13 17 11 26 24 23 24 26 26

24 3 8 5 11 11 24

9 17 11 13 13 23 24 10 3 17 25 14

9 14 16 3 16 4

17 16 13 23 6 26 21 5 24 24 4 24

A B C D E F G H I J K L M N O P Q R S T U V W X Y Z

1 2 3 4 5 6 7 8 9 10 11 12 13

T

F

14 15 16 17 18 19 20 21 22 23 24 25 26

I

© A.F.Shuker

T

1 2 3 4 5 6 7 8 9 10 11 12 13

Q K Z V L O T C N P W D X

14 15 16 17 18 19 20 21 22 23 24 25 26

A F I H E Y R G B U S M J

Supplied by KNIGHT FEATURES

20 Crescent Grove, London SW4 7AH

Tel: 020 7622 1467 Fax: 020 7622 1522

Louvre System • Bbqs • Heating • Hammocks • Trampolines • Spas • Pools • Decking

Pizza Ovens • Shade Systems • Water Features • Outdoor Furniture • Fencing

5 24 10 12 15 7 26 13 22

T H E P U Z Z L E C O M P A N Y

www.thepuzzlecompany.co.nz

7 7 2 8 6 23 12

13 24 3 24 26 24 23 26 11 8 23 2

2 1 25 2 19 7 17

SOLUTION

No.92

8 26 11 20 24 2 11 10 13 22 6 1

23 22 19 24 21 7

Each number in our DECODER grid represents a different

letter - there is a number for all 26 letters of the alphabet.

Enter the given letters into all squares with matching numbers.

The challenge now is to work out which letters are represented

by the other numbers. As you get the letters, enter them into

the main grid, and the reference grid. To keep track of the

letters you have found, cross them off the alphabet provided.

ATTENTION BUSINESS OWNERS

Do you sell products or services that enhance outdoor spaces?

You could feature in the Innovative Outdoor Living Area

at the 2021 Star Media Home and Leisure Show this July

and reach over 10,000 attendees across 3 days!

94

DECODER

94

93

Crossword

Across: 1. Applaud, 5.

Loathes, 9. Cargo, 10.

Fragrance, 11. Awareness,

12. Eject, 13. Moist, 15.

Exonerate, 18. Guarantee,

19. Topic, 21. Rabbi, 23.

Custodian, 25. Adjoining,

26. On ice, 27. Diurnal, 28.

Tidings.

Down: 1. Acclaim, 2.

Per capita, 3. Abode, 4.

Different, 5. Leaps, 6.

Agreement, 7. Hence, 8.

Spectre, 14. Tradition, 16.

Oversight, 17. Amphibian,

18. Garland, 20. Confess,

22. Bijou, 23. Chill, 24.

Ovoid.

WordBuilder

Cent, CENTRE, cere, cert,

enter, ere, erect, erne, net,

RECENT, rent, ret, rete, tec,

tee, teen, ten, TENREC,

tern, tree.

Sudoku

If this sounds

like you,

Contact Lisa now on

021 800 809 or email

lisa.lynch@starmedia.kiwi

for a no obligation quote.

Payment options available.

Terms & Conditions apply.
---
36 The Star Thursday May 6 2021

WHY CHoose

WE ARE CURRENTLY OFFERING

$2000 MINIMUM

TRADE IN

*ON SELECTED VEHICLES! TERMS & CONDITIONS APPLY

for Your next VeHICLe?

VALUE

REPUTATION

SELECTION

TRUSTED

PLUS

REGISTRATION

2009 BMw 116i

$10,999

Stylish and sporty European RWD sports hatch,

features a 1.6L engine with tiptronic trans, looks

smart in black with body kit styling, driving lights

and 16'' alloys, black interior, push button start,

very low kms, rear wiper, rear centre shoulder belt,

ABS, T/C and 8 airbags, very nice vehicle!

PLUS

REGISTRATION

2019 MiTSuBiShi mirAGe m

$13,999

Surprisingly spacious 5 door hatch, features an

economical 1.2L engine with automatic trans and 5.5

star fuel efficiency, looks great in white with body kit

and 15" alloys, idle stop, reverse camera, collision

avoidance, push button start, travelled very low kms,

ABS, T/C and airbags, perfect round town vehicle!

PLUS

REGISTRATION

2016 ford FieSTA ecobooST

$16,999

Very stylish 5 door 'hot' hatch, features a 1.0L

turbocharged ecoboost engine with tiptronic trans,

looks stunning in blue with body kit and 16'' alloys,

push button start, cruise control, reverse camera, ,

ABS, T/C and multiple airbags, inspection will impress!

PLUS

REGISTRATION

2012 ToyoTa AquA S

$12,999

Very popular 5 door hatch, features a 1.5L hybrid

engine with automatic trans and 6 star fuel

efficiency, travelled very low kms, looks good in

yellow with two tone interior, keyless entry, rear

wiper, reverse camera, ABS, T/C and airbags,

perfect round town vehicle or for Uber!

PLUS

REGISTRATION

2012 ChevroleT Sonic LT

$9,999

Stylish 5 door hatch, features a 1.6L engine with

tiptronic trans, looks good black with 15" alloys,

travelled low kms, AUX, ABS, T,C and 8 airbags,

perfect round town vehicle!

PLUS

REGISTRATION

2015 Suzuki SX4 S-croSS

$19,999

Pratical, spacious crossover hatch, features a

1.6L engine with automatic trans and paddleshift

option, looks smart in white with factory body kit,

chrome detail, driving lights and 17'' alloys, push

button start, roof rails, very low kms, black interior,

cruise control, push button start, ABS and airbags.

PLUS

REGISTRATION

2011 ToyoTa iq 100G

$9,999

An amazing little car with innovative design features

that make it safe, economical and extremely

manoeuvrable, NCAP 5 star safety rating, features a

1.0L engine with automatic trans, stands out in yellow

with black interior, travelled low kms, rainshields, ABS

and 11x airbags, perfect around town vehicle!

PLUS

REGISTRATION

2009 volkSwagen PoLo croSS

$8,999

Very popular European hatch, features a 1.6L

engine with tiptronic trans, looks smart in grey

with factory kit, driving lights and 17'' alloys, dark

interior, low kms, keyless entry, roof rails, rear

wiper, ABS, T/C and 10x airbags, will sell quickly!

PLUS

REGISTRATION

2014 ToyoTa AXio G

$14,999

Reliable, spacious and economical model of the

popular Corolla, features a 1.5L hybrid engine with

6 star fuel efficiency, automatic trans, travelled low

km, looks sharp in light blue with black interior, push

button start, rain shields, rear centre shoulder belt,

reverse cameras, ABS, T/C & 8 airbags, good buying!

PLUS

REGISTRATION

2014 Mazda ATenzA 20S

$17,999

A desirable sleek and sporty looking vehicle, 2.0L

Skyactiv engine with i-stop, tiptronic trans with

paddleshift, 5 star fuel efficiency, white with driving

lights and 19'' alloys, black interior, cruise, PBS, multifunction

steering wheel, reverse camera, rear vehicle

monitoring, , ABS, T/C and 6 airbags, hurry!

PLUS

REGISTRATION

2007 niSSan LAFeSTA

$4,999

Spacious family wagon with room to seat 7,

features a 2.0L engine with automatic trans,

finished in silver with D/L moonroof and 15'' alloys,

towbar, reverse camera, rear wiper, ABS and

airbags, upgrade your family vehicle today!

PLUS

REGISTRATION

2012 honda FiT ShuTTLe

$11,999

Popular 5 door wagon, features an economical yet

peppy 1.3L hybrid engine with automatic trans,

travelled low kms, looks good in blue with two

tone partial leather interior, smart keyless ignition,

cruise control, reverse camera, rear wiper, ABS,

T/C and airbags, awesome buying!

PLUS

REGISTRATION

2014 Mazda PremAcy 20S

$13,999

Very popular family wagon with room to seat 7,

features a 2.0L engine with tiptronic trans and

i-stop, looks good finished in grey with black

interior, low kms, rear wiper, powered side door,

ABS, T/C and airbags very good buying!

PLUS

REGISTRATION

2018 ToyoTa PrAdo TX

$61,999

WOW! Well sought after family SUV, features a 2.8L

turbo diesel engine with tiptronic trans. 4WD, looks

good in white with chrome detail, running boards,

driving lights, sunroof, roof rails and 17'' alloys, push

button start, cruise control, reverse camera, ABS, T/C

and 9x airbags, inspection won't disappoint!

PLUS

REGISTRATION

2009 honda STePwAGon SPAdA z

$10,999

Well sought after people mover with room to seat

8, features a 2.0L engine with automatic trans

and paddleshift option, finished in grey with a

subtle body kit, driving lights and 16'' alloys, key

less entry, reverse camera, rear wiper, ABS and

airbags, won't last long at this price!

Registration for 6 months is $301

Value Cars Warehouse

4.72

CANTERBURY OWNED

& OPERATED

ESTABLIShED 1993

32 Moorhouse Ave, P: (03) 366 7768 IMVDA

www.valuecarswarehouse.co.nz
---
Thursday May 6 2021 The Star 37

Rally-bred Yaris provides the thrills

TOYOTA IS no stranger to rally

success. I remember well the

heady days during the early 90s

when the amazing Celica GT-

Four dominated the World Rally

Championship.

Toyota distanced itself from

rallying for many years, it dabbled

in formula one and sports

endurance racing, however, it

came back to rallying in 2017

and the company has had success

with the Yaris, winning the WRC

in 2019 and 2020.

While the Yaris is a world apart

from the Celica as I know it – the

latter was part of the Kiddiefamily

line-up for many years

– the Yaris with its hatchback

design lends itself to the WRC,

competing against other small

hatchbacks such as Ford's Fiesta,

Volkswagen Polo and Citroen

DS3.

Toyota has just introduced a

new Yaris on the New Zealand

market. It comes in many guises –

petrol-only models, hybrids and

the funky Yaris Cross. I've driven

all in recent months and can

report that they uphold the values

Toyota has in a small car.

However, there is one major

surprise within the Yaris line-up

and that is the GR model, a car

inspired by the WRC-winning

model. GR is an abbreviation for

Gazoo Racing which is Toyota's

performance arm that helped

develop the WRC car.

The GR Yaris in road-going

form is no rally car, but it doesn't

miss out by much. Firstly, it is

powered by a 1.6-litre threecylinder

heavily turbocharged

engine, it has a six-speed manual

transmission and drives out all

four wheels and, what's more, you

can direct drive to give you that

rally feel, power can be proportioned

heavily to the rear, or to

the front, or have a 50:50 split

should you desire that.

Personally, I like the push you

get from the rear, so during my

time with the test car I drove it

in sport mode which sends 70

per cent in that direction. Under

power you can almost force oversteer,

which is immense fun, and

there is more than enough power

on tap to do that.

Putting that into context, the

engine is rated with 200kW

and 370Nm, outputs realised at

6500rpm and 3000-4600rpm

respectively, all those figures considered,

the Yaris is quick, strong

and willing under all driving conditions.

It is also eager, you know

as a driver it wants to get hunting,

the turbo boost is strong and the

engine will fly to high revolutions

if the accelerator is given any

minor provocation.

According to Toyota, the GR

Yaris will make 100km/h from a

standstill in 5.2sec, and it will also

lunge to 120km/h from 80km/h

in 4.5sec. It will also make

230km/h if laws allowed.

I had some items to pick up

from Rangiora, so the obvious

choice of roads to get home to my

city suburb was through Loburn,

Oxford and State Highway 72.

They weren't perfect roads for

the GR Yaris simply because there

THRILLING:

The GR Yaris

has the

performance

to match its

sporty looks.

TOYOTA YARIS GR: Based on World Rally Championship-winning car.

aren't enough corners, but I did

backtrack into an area where

there were some challenges and

enjoyed the feel of knowing the

driver is in command.

Just when you think it will drift

nicely out of a corner, grip comes

in from the front to pull the car

straight and it powers off until

the next corner arrives. When

that happens, huge stopping force

through a premium brake system

comes into play.

Grip is supplied by high quality

Michelin tyres (225/40 x 18in),

and with a comparatively heavy

steering feel all the ingredients

are in place for spirited motoring.

Shifts through the six-speeder

are short and direct, there's no

chance of wrong-slotting, and

clutch action, while firmish under

foot, is progressive.

There's also an intelligent

manual transmission mode that

will blip the engine on downshift,

matching the revs to the gearing,

much like we used to do with the

double de-clutch method.

The GR Yaris is an absolute

blast to drive, it feels twitchy with

its short wheelbase, but such

is the grip and control it has it

inspires confidence. It is playful,

yet safe at the same time with

traction control systems intervening

when forces are outweighing

the law of physics.

Even though the GR Yaris is

• Price – Toyota Yaris GR,

$54,990

• Dimensions – Length,

3995mm; width, 1805mm;

height, 1445mm

• Configuration – Threecylinder,

four-wheel-drive,

1618cc, 200kW, 370Nm,

six-speed manual

• Performance –

0-100km/h, 5.2sec

• Fuel usage – 7.6l/100km

based on the WRC car, I didn't

take it off the seal as such, it had

been presented beautifully and

I didn't want to risk stone chips

and be presented with a massive

clean-up job. But I did find a

couple of corners that had loose

surface seal and I was able to feel

electronics working in order to

maintain grip and acceleration.

The GR Yaris builds on the fun

angle that Toyota has pitched for

the new Yaris series and you can

glean immense pleasure from it,

it most certainly is an exhilarating

car that tugs at all the senses.

The engine has a characteristic

throb, it sounds chunky but

sings sweetly from 4000rpm

onwards letting the driver know

it is enjoying its work. There's no

point in the rev band where it

doesn't want to work freely, it will

also dawdle the city streets in tall

gears, the turbo producing huge

torque that allows the car to pull

from very low revolutions.

There is a little trade-off in

terms fuel usage. Normally, you'd

expect a 1.6-litre engine to garner

an average better than 7.6-litres

per 100km, but if you want performance

that is the price to pay.

When I took the test car back

to the dealership it was showing

9.8l/100km on the readout, perhaps

an indication of how much

I enjoyed hearing and feeling that

engine work. At 100km/h an instantaneous

reading of 5l/10kmn

can be expected (engine speed

2500rpm). All that aside, a

generous 50-litre fuel tank means

frequent top-ups can be avoided.

In terms of fitment, the GR

Yaris has all the goods. It has

an in-cabin environment that

matches the sporty exterior

design, and has specification

that justifies a very respectable

$54,990 price tag.

My wife recently suggested we

buy a Yaris for our retirement. I'd

certainly be interested in the GR,

the only thing is she's not thrilled

with cars that have manual transmission,

I've obviously got a bit of

work ahead if I'm to convince her

the GR is the car for us.

In the interim anyone who does

get to have one in their garage on

a permanent basis will certainly

be rewarded, it is one stroppy hot

hatchback.

CAR REMOVALS

$$CASH PAID$$

CARS, VANS, UTES & 4X4 WANTED

NZ OWNED AND OPERATED FOR 24 YEARS

We use world class vehicle depollution systems

WOF

only $50

• Courtesy cars

• Oil changes

• Full mechanical repairs

• Brake & clutch repairs

• Transmission flush service

• Tyres & batteries

• Petrol & diesel servicing

FiTzgerald mOTOrs

Phone: 03 349 7813 Unit 8, 193 Waterloo Road, Hornby

0800 8200 600

www.pickapart.co.nz

CAR REMOVALS

$$CASH PAID$$

CARS, VANS, UTES & 4X4 WANTED

NZ OWNED AND OPERATED FOR 24 YEARS

We use world class vehicle depollution systems

0800 8200 600

www.pickapart.co.nz
---
38 The Star Thursday May 6 2021

2

[Edition datE]

Home & Property appears every Thursday, delivered FREE

Marketing

throughout Christchurch

your property –

For more information and bookings, contact Mike Fulham

M: 021 300 567 E: mike@starmedia.kiwi

damaged

Come home

and go 'Ahhhhh'

what does it mean?

Get the TLC experience

Thanks to COVID, more people are

working from home with businesses

accepting it's an entirely plausible way

forward. But with the increase of time

spent at home comes the realisation that

what we want, is an oasis of calm to help

separate 'work' from 'home'. If you're

lucky enough to have a home with ample

space and a little cash to burn, you might

consider some ways of catering for a little

more relaxation and comfort to help

provide relief when you need it.

Conceptually, marketing is

identifying Swimming what pools prospective buyers

are Those looking hot summer for then days providing get much this. easier For

example, to handle larger if you homes and the and family sections can splash

may around. appeal Pools more are to also families. great for Young fitness,

couples keeping starting the kids out, busy generally or just floating have

tight around budgets reading leading a good them book. to Be smaller sure to

properties, do your homework while older across people all the may pool be

looking companies to downsize. to ensure you're getting the

right

Brand

pool

new

for

has

your

a particular

property. You'll

appeal

also

however

need to consider

there will

maintenance

always be a

and

market

how

for

that

established

will fit into

homes.

your routine.

Having

Pools

a

may

picture

also add

in

value

your

to

mind

your

of

property

the type

(if

of

you're

buyer

considering

will help

a future

in determining

sale).

the

features Spa pools to emphasise. and saunas

Whether

If repairs

you

and

have

maintenance

a physical job

need

that

to

ends

be carried

in sore muscles

out before

or strained

putting

joints,

the

property

or you're

on

staring

the market,

at a laptop

seek

or

the

device all

advice

day, a

of

spa

a

pool

real

or

estate

a sauna

agent.

is a

They

fabulous

can

way

advise

to revitalise

on what

and

tasks

relax

are

at the

worth

end of

completing

each day. It's

and

also

what

a lovely

might

chilled

be

out way

unnecessary

of starting your

expense.

weekend mornings! Both

options

Installing

are

a

fairly

new

easy

kitchen

to look

or

after

changing

with

the

minimal

carpet

maintenance

may lift the

and

house

easy

but

chemical

will

the

checks

expense

(for spas),

be recouped

and you

in

can

the

use

sale

them

price? On the other hand, modernising

an outdated kitchen or bathroom

could make a huge difference to

the look of the place. Avoid going

overboard unless the capital value of

properties in the area justifies this.

Real estate agents are in contact with

prospective buyers so aware of what

they are looking for. Draw on their

expertise and advice to help make the

most of the selling opportunity.

You could feature in the Innovative

Outdoor Living Area at the 2021

Star Media Home and Leisure

Show this July and reach over

10,000 attendees across 3 days!

year-round.

Throw on some

Bluetooth

headphones

and a view of

the telly—the

rugby has never

looked better!

Marketing a property is

more than presentation

and advertising.

Gyms

If you're a gym

junkie that

struggles and what to a particular property has to

make offer. it A to unique your local or gym, exceptional having a property setup

that may works justify at home a higher might price, be just though what

you run-down need. You properties can work out can on gain your more own

schedule, than they not appear worry about to merit. membership This might

fees be (though due to the you area will or have other initial factors that

purchase suggest cost a good of equipment). investment. It's also a

great When way to promoting live healthy, a blow property, off steam mix it

and up keep and to be a creative good work/life so your balance. property

stands out from the rest. TradeMe

Media is a must; rooms checked by most people

With looking a multitude to buy. of Present streaming the and features the

entertainment

property offers

options

as benefits

available,

to

it's

potential

never

buyers.

been easier to kick off your

shoes

Erect

and

a

get

sign

stuck

outside

into your

the property.

favourite

programs.

People stop

Comedy,

and look

true

at

crime,

photographs

a live

concert

and this

or premier

might spark

movies—why

sufficient

not

amplify

interest

your

for

experience?

them to visit

Media

an open

rooms

are

home.

technology-led,

Spending

so

a fortune

you'll be

on

needing

massive

a

advertising

large screen,

campaigns good quality

in

sound

every media

system,

might

stereo

seem

equipment

a way to attract

and gaming

potential

consoles,

buyers but

good

may

block-out

be an unnecessary

blinds, comfy

electric

expense

recliners

without

or armchairs,

the return.

and

A better

a

minibar.

philosophy

And,

could

of course,

be a

call

little

your

often.

local

sparky

This will

to make

depend

sure

on

it's all

the

wired

value

in

of

safely.

the

property, your budget and how best to

reach target buyers.

Buyer perception is also significant.

For example, properties that sit for a

while can become stale. Resting the

property by taking it off the market for

a short time, then relisting perhaps in

spring or when sales in the area appear

to lift a little, can make a difference.

However, if a property does not sell

immediately there is no need for panic

or dropping the price. It may simply be

that the right buyer has not yet come

along. If the mix is right your property

will sell.

ATTENTION BUSINESS OWNERS

Do you sell products or services that enhance outdoor spaces?

Establishing a relevant and fair price

for a property is important. Most

agents calculate this based on the price

properties in the area have sold for,

If a property does not sell

immediately there is no need for

panic or dropping the price.

Louvre System • Bbqs • Heating • Hammocks • Trampolines • Spas • Pools • Decking

Pizza Ovens • Shade Systems • Water Features • Outdoor Furniture • Fencing

If this sounds like you,

contact Lisa now on 021 800 809 or email lisa.lynch@starmedia.kiwi for a no obligation quote.

Payment options available. Terms & Conditions apply.

Call one of our Licensed Sales Consultants

today for a free appraisal:

Trish Lawrence ph 0274 350 565

'Trust in Trish'

Kris Hagena ph 027 390 0097

'Creative and effective'

Kay Livingstone ph 021 163 0001

'Goes above and beyond'

MAKING YOUR MOVE EASIER

tlc realty limited

Licensed Agent REAA 2008 | www.tlcrealty.co.nz

RENT ME!

Ideal as an extra

bedroom or office.

no bond required

Fully insulated and double glazed for warmth.

Three convenient sizes from $80 a week:

Standard 3.6m x 2.4m

Large 4.2m x 2.4m | Xtra-large 4.8m x 2.4m

NEW LISTING

Visit our website

www.justcabins.co.nz

for display cabin locations

tlc realty limited

www.justcabins.co.nz

Your

Earthquake

home!

Talk to us if you are serious about

selling your "As is Where is" home.

We have sold over

150 "As is Where is"

homes and we have

a huge database of

qualified buyers.

Phil & Holly Jones

Ph 03-382-2230

Phil 027 435 7711

Holly 027 222 0220

holly.jones@raywhite.com

Licensed (REAA 2008) Results Realty Ltd

EVERY THURSDAY

WIGRAM 5 Sharman Place

$200 is

WoRth

hAving

We have achieved

record breaking

prices recently!

Most people know the quite dramatic changes

we have seen in Real Estate in recent years. One

of the most significant changes all Real Estate

agents face is a quite extreme shortage of

listings so I will pay you $200 for any lead which

results in a confirmed settled sale.

Winton Royds is my name, trading as Royds

Real Estate Licenced Under REA 2008.

I am one of the longest serving real estate

agents in Christchurch with over 50 years

experience selling a wide range of properties. I

am knowledgeable affable and easy to deal with.

My commission is low and my objective is to get

you a maximum price for minimum outlay.

Please phone 027-228-7002 anytime.

tlcrealty.co.nz/tlc10045

Perfect starter, downsize

or investment

Our perfect package, single level,

post quake rear modern home is

located on a 425sqm secure section

close to the heart of Wigram.

With the $7m Silky Otter luxury

cinema complex opening soon and

with a plethora of restaurants,

services, schools and child care all

within walking distance of this home

you had better be quick.

3 2 1 1

DEADLINE SALE: All offers will be

presented 26 May 2021 (unless sold prior)

VIEW Sat & Sun 1-1.45 pm

Trish Lawrence

ph 0274 350 565

MAKING YOUR

MOVE EASIER

Licensed Agent REAA 2008
---
The Star Classifieds

Board

Retired Male

Solicitor

Seeks homestay

in Bishopdale,

Bryndwr or

Papanui.

Keen walker, enjoy

excellent health

but have limited

domestic skills.

I'm keen to secure

a congenial long

term homestay

with board.

If you can assist

please phone

Peter 03-359-2533

to discuss.

Board

BOARD WANTED Long

term, ChCh area for retired

man. Non smoker. clean &

tidy in good health. Ph 027

331 4668

Cars Wanted

AAA CASH - CASH -

CASH . Any unwanted

cars. Phone 347 9354 or

027 476 2404

$$ CASH PAID $$

Buying cars & trucks for

wrecking. Ph / txt Zac 021

1056 797.

Caravans, Motorhomes

& Traliers

CARAVAN Wanted to

buy. Up to $5000 cash

today 027 488-5284.

Car Parts

TYRES Secondhand,

most szs from $30 - $70

fitted, Also batteries, 217

Waltham Road, 027 476

2404

TYRES Secondhand,

most szs from $30 - $70

fitted, Also batteries, 217

Waltham Road, 027 476

2404

Church Notices

Christian

sPiritUaList

ChUrCh

182 Edgeware Road

Sunday Service

7pm

Address

Allison

Clairvoyant

Allison

All Welcome

Building Supplies

Church Notices

Christian

sPiritUaList

ChUrCh

182 Edgeware Road

Sunday Service 7pm

Address

Andy Douglas

Clairvoyant

Andy Douglas

All Welcome

SYDENHAM CHRISTIAN

SPIRITUAL CHURCH

Sydenham

Community Centre

23/25 Hutcheson St

Sunday 7pm

Address

Davida

Clairvoyance

Davida

All Welcome

Community Events

ALCOHOLICS

ANONYMOUS, If you

want to have a drink that's

your business. If you

want to stop, we can help.

Phone 0800 229-6757

PSYCHIC CAFE NEW!

Commencing Friday 21st

May 7-9pm. Meet psychic

/ spiritual people socially.

Not an expo or psychic

fair. $10 cash only. Venue

is Room 10 Phillipstown

Community Centre,

Nursery Rd. 021 0272

8271

Funeral Directors

No Service Cremation $2,000

Family Funeral with Cremation $3,950

Chapel - 35 people, casket, hearse, cremation fees

Full Funeral options and

Burial options available

Just Funerals, a family owned and

operated company with qualified,

registered and experienced staff.

Phone 0800 804 663 - 24 Hour Availability

Email: info@justfunerals.co.nz

christchurch.justfunerals.co.nz

Finance

RW Finance

Small Loans

From $1,000 - $5,000

SPECIAL

INTEREST RATE

FOR NEW

CUSTOMERS

(limited time offer)

Beneficiaries Welcome

Friendly & Personal

Customer Service

0800 325 345

www.rwfinance.co.nz

RESPONSIBLE LENDING & CREDIT CRITERIA APPLY

Garage Sales

ARANUI.

Shortland Street, (Breezes

Road end)

Saturday 9am - 1pm.

Bedside lockers, filing

cabinets, office chairs, gas

heater, Bed sette, electric

concrete mixer, ladies

bike, crockery, books,

artificial flowers, & loyts

more

************

AVONHEAD ROTARY

CLUB Monster Charity

Garage & Car Boot Sale,

this Saturday 8th May,

8am to 1pm, at Burnside

Bowling Club, 330

Avonhead Road. Huge

variety of useable items,

stalls, sausage sizzle,

coffee.

*************

HANDCRAFT SALE

8 Athelston St, Friday

7th May 10am - 4pm,

Saturday May 8th 10am

- 4pm. Items suitable for

Mothers Day gifts, eg:

Crochet, woollen & sewn

goods, brooches, pendants,

pictures, decorated bottles

etc.Cash Only

LINWOOD 139A

England St, Sat 8am.

House full. Whiteware,

crafts, bric a brac,

pedigree dolls & DVD's.

Everything must go

Gardening

& Supplies

PETE'S GARDENING

SERVICE Gardening,

rubbish removal, cleanups,

expert pruning, hedge

trimming, tree cutting,

good rates, no job too big

or too small, half the price

of a franchise. Ph 027 551

4118

Thursday May 6 2021 The Star 39

• Phone our local team 03 379 1100 • Email star.class@starmedia.kiwi

Gardening

& Supplies

MONDO GRASS Black.

Large pots full. $5. Ph

352-2590

Massage

LADIES enjoy a full body

sensual massage. Choice

of oils, discreet mature

gent. Ph / txt 027 251 4660

RELAXATION to

Remedial massage.

Hillmorton area. Ph 027

244 0195

Personals

LADY 69 yrs looking for a

nice gentleman.69 - 73 yrs.

Enjoy watching sports,

dining, travel, swimming

& music. Replies to: Box

5, c/o The Star, PO Box

1467, ChCh.

MIDDLE Aged male

looking for a woman

any age for fun times,

ph/txt 021 0442272

MIDDLE Aged male

looking for a woman any

age for fun times, ph/txt

021 0442272

MUSIC LOVING GUY.

Young looking 63,5ft 9in

tall, slim build, brown hair,

good sense of humour.

Interests incl concerts,

live theatre, sport, movies,

cafes & travel. Would like

to meet similiar attractive

lady 37 - 57 for friendship,

possible relationship. Lets

meet for coffee. TXT 021

0278 1736

Pets & Supplies

CATS UNLOVED

can help with the cost

of desexing your cat.

Ph 3555-022 or email

catsunloved@xtra.co.nz

Funeral Directors

Direct

Cremation

No frills, No Service,

No fuss, simply

straight to the crem.

Other options

available.

Ph: 379 0178

for our brochure

or email

office@undertaker.co.nz

For Sale

STEEL for sale all

sections, off cuts cut

lengths. siteweld@ xtra.

co.nz Ph 0274 508 785

Pets and Supplies

Discover Christchurch's

best priced pet

accommodation

• Daycare - all breeds

• Boarding

• Long stay/short stay

Call now to book

in your cats &

dogs, inspections

welcome anytime!

aLameDa

kenneLs & cattery

271 Dyers Road

Ph 384 1297 or 0274 587 067

www.alameda.nz

Situations Vacant

Reid TouRs

Waipapa station Sat 29th May $45 pp

Mt Cook Sat 14th August

Two Passes Sat 4th September $45pp

Call Reid Tours 0800 446 886

Email: reidtours@xtra.co.nz www.reidtours.com

ReId TouRs

Hokianga Cape Reinga

Bay of Islands

9 days - Departs 15th May

$2250 pp including flights

Chatham Island

2nd to 9th November

Call Reid Tours 0800 446 886

Email: reidtours@xtra.co.nz www.reidtours.com

Change the energy and

belief you bring to your

business and wellness.

As a coach I have conversations

to empower you to:

• Greater vision

• Strategy

• Lower your stress

Trades & Services

• Sleep better

• Improve life/work balance

• Grow wellness and resilience

Individual, group or

Workplace Wellness.

Connect with me today.

Call Gillian: 0275640068

E: gillian@gillarna.com

www.gillarna.com

"I WILL TURN UP

WHEN I SAY I WILL"

Need a certified and reliable plumber for filtration

systems or hot water cylinder replacement?

Bathroom upgrades or refurbishments?

FREE CALL

TEXT

EMAIL

Travel Tickets

& Accessories

0508 H2O BOY

426 269

027 245 5100

NICK@NICKJONESPLUMBING.CO.NZ

Trades & Services

Re Roofing

Roof Repairs

Spouting

Approved Age Concern provider

Over 30 years experience

Licensed Building Practitioner

N A BARRELL

ROOFING LTD

Ph: 0275 389 415

Email: nabroofing@xtra.co.nz

House & Garden

Property services Ltd

Tree and hedge trimming

Stump grinding

Tree removal

Gardening

Landscaping

CALL us 021 405 277

Professional

Garden Services

• Regular garden

maintenance

• Pruning, spraying,

weeding, mowing

• Planting solutions

• Garden makeovers

Qualified with 40 years

experience

Phone Richard

027 4918 234

03 349 4022

DRIVEWAYS

paths, patios, decking,

exposed aggregate,

coloured / plain concrete

Fence staining

FREE QUOTE

LBP BuILDERS

PHONE jOHN:

027 224 2831

EXPERIENCED

GARDENER

(Kevin Garnett)

30 Years

Christchurch Botanic

Gardens.

ALL landscape

work done.

Maintenance, pruning,

tidy up, lawn work,

landscape planning

and planting etc.

Free Quotes

Phone 348 3482

PAINTING

older painter

for older houses

50 years in trade

"All the skills"

GST FREE

Contact Jimmy Bell

0211221487

Trades & Services

30 years + experience

Older house

restorations:

no problem!

Quotes: FREE!

Rates: Reasonable

Paint supplied at

trade price!

NO JOB TOO SMALL

Light industrial also

Roger Brott

Painter & Decorator

021-1966-311

ROOF

PAINTING 24/7

Rope & harness

a speciality,

no scaffolding

required,

30 years of

breathtaking

experience.

FREE QUOTES

20% OFF other

roof quotes

Exterior staining,

exterior painting,

water blasting.

Moss and mould

treatment $300.

Phone Kevin

027 561 4629

Trades & Services

repairs, bathroom/shower

Deep clean, soap scum,

deposits . Comp prices.

foundations, ph 342 9340

50 yrs exp. Bathrooms,

Free quotes. Discount for

pensioners. Ph Mike 03

AAA HANDYMAN

licensed carpenter

LBP, all property and

building maintenance,

installations, with free

quotes 03 383 1927 or 027

245 5226 ciey@xtra.co.nz

AA SHOWER

CLEANING

water stains, mineral

Gold card disc. Ph 021 022

824 85

BRICK & BLOCK

LAYING

all restoration work

and new work plus

or 021 853 033

BUILDER QUALIfIED

Kitchens, Renovations,

Repairs & Extensions

980 9771 or 027 2266 930
---
40 The Star Thursday May 6 2021

Trades & Services

Your local guide to our

Trusted Tradesmen & Professionals

To advertise: 379 1100 or star.class@starmedia.kiwi

DECORATORS

ELECTRICIAN

Contact for a free quote

phone 027 331 0400

davewsimpson@windowslive.com

Experienced Domestic Electrician

Quality Workmanship

• New Build

• Renovations

• Fault finding

PLUMBER

NEED A PLUMBER

Call us now for fast friendly service.

Get your problems sorted out

quick smart - on time!!

Phone for a

FREE

quote now.

New Paint • Repaints

Wallpapering • Fences

Feature Walls

Floor & Roof Painting

Spray Painting

Light Commercial

Restoring Timber

* Finance available (T's & C's apply)

Selwyn based but service the whole of Canterbury

www.andertondecorators.co.nz

www.facebook.com/andertondecorators

027 724 6846 027 PAINTIN

• Power

• Lighting

• Switchboards

Phone 03 377 1280 | Mobile 021 898 380

SCRAP METAL

Dominion Trading Co Ltd

• Scrap metal buyers

• Canterbury owned & operated

• Top prices paid $$$

• Open Saturday morning

Open Mon-Fri 8am – 4.30pm Sat. 8.30am-12.30pm

www.happyscrappy.co.nz

03 343 9993 333 Blenheim Rd

DRIVEWAYS

Exposed Aggregate

Stamped Concrete Plain

Concrete Resurfacing

Things we offer...

Competitive/affordable pricing

Attention to detail

Professional service

free quotes/insurance scopes

Cell 0278 145 848

www.drivecrete.co.nz

landscaping

Landscape

Construction and

Garden Maintenance

You can have your gardens, trees,

shrubs, plants and lawns maintained to look their best

all year round, for a great price.

Residential & Commercial Landscaping

• Maintenance • Pruning • Reconstruction & Rejuvenation

• Rental Property and Commercial Maintenance

• Pre-Sale Tidy-Ups

New Home Landscaping

Lawns • Gardens • Decks • Paving • Water Features

• Quality • Value for money • Experienced • Punctual

• Professional • Flexible • Knowledgeable • Reliable

Call Ross Legg - 027 222 0388

Email ross@revivelandscaping.co.nz

www.revivelandscaping.co.nz

PLUMBING & DRAINAGE

Gas FittinG & GuttER CLEaninG

High reach gutter cleaning machine.

No job too big or small.

Local family run Christchurch/

Redcliffs business for all plumbing,

drainage & gas work.

Free Quotes

Call Morgan 0223 758 506

Visit our website - www.mtpd.co.nz

Email - morgan@mtpd.co.nz

Towing

For safe, damage free

car transportation

call Ashley's Tow Taxi

Special care for special cars

ASHLEY'S TOW TAXI

Breakdown & Relocation

0800 TOW TAXI • 0800 869 8294

Driveways

SWAINS

KIWI KERB

(Since 2005)

Over 22 Years Experience

Quality

Workmanship

• Driveways

• Kerb &

Channel

• Garden Edging

Freephone: 0800 081 400

swainskiwikerb@gmail.com

Mailer Deliveries

For a local, reliable

mailer delivery

service contact

Star Media

• Newspaper inserts

• Magazine inserts

• Letterbox deliveries

• Urban & Rural deliveries

For a cost effective, targeted

delivery please call 03 379 7100

or email mike@starmedia.kiwi

www.star.kiwi

ROOF REPAIRS

Locally owned & operated with

over 30 years experience.

• Extensions & repair • Roof coating

• Concrete & clay tiles • Butynol

• Malthoid • Asbestos Certified

• Coloursteel • Old iron • Guttering

Phone Dave 981 0278

or 021 223 4200

E: dave@beaumontroofing.co.nz

BEAUMONT ROOFING LTD

WINDOW TINTING

tintawindow

advanced film solutions

99% uv block

fade protection

heat control

reduce glare

25 Years Experience

privacy films

frosting designs

non-darkening films

Workmanship Guaranteed

Lifetime Warranties on Most Films

UV

block

Free Quotes Canterbury and Districts

03 365 3653 0800 368 468

Need it?

Rent it!

No Bond

Free Delivery

Free Repair

Great Student Deals

Canterbury Owned & Operated

Free Call Now:

0800 717 000

Trades & Services

BUILDER QUALIFIED

Decks, T & G Flooring,

Villa Restoring, New

Homes, Weatherboards.

Free Quotes. Bennet &

Sons Ltd Sam 027 496-

9362 or Tony 027 224-

0374

BUILDER,

HANDYMAN,

MAINTENANCE

Have peace of mind with

a fully qualified owner

operater LBP. Available

for all jobs around the

home, commercial or

rental property (extremely

experienced in Healthy

Homes Reporting and

all Remedial works) Call

Chris on 027 3888 211

BUILDER

New builds, alterations,

decks, fencing. 30 yrs in

the trade has given me

ability to build to a high

standard. Free quotes. Ph

Brent 027 241 7471

CARPET LAYING

Exp. Repairs, uplifting,

relaying, restretching.

Phone John on 0800

003181, 027 240 7416

jflattery@xtra.co.nz

CARPENTER

BUILDER

Or Apply Online:

www.a4r.co.nz

Trades & Services

ELECTRICIAN

All types of domestic

& commercial work

undertaken, new housing,

city -wide. No call out

fee. M/S, 8-5. Call Pat

Barrett 03 359 2087/ 027

alterations, extensions,

ranges, security lights,

quick response, efficient

service, free quotes,

7331384.

ELECTRICIAN

Prompt & reliable

registered electrician

with 24 years experience

for all residential and

commercial work, new

housing and switch board

replacements. Phone Chris

027 516 0669

FENCING

All types of fencing . Free

quotes. Ph Jim 022 137

1920

GARDENING

Weeding, Lawns, Pruning,

Garden Cleanups. Call

Phil The Gardener 021 661

246 for your free quote.

GARDENER

AVAILABLE.

Have your gardens tidied

up ready for winter.

Licensed Building Weeding, planting,

Practitioner no. 100981. mulching & light pruning.

All carpentry & building $25 per hour.Ph Wendy

repairs & maintenance. 027 282 8515

Alterations & property GASFITTING

upgrades.Laundries / N.T. Gas Services.

bathroom / kitchens Domestic gas installations.

replaced. Specialising in Reg Craftsman Gas Fitter.

replacement of all rotten Ph Nick 021 892 491

timber, fascia boards, GLAZIER

window, windowsills etc.

Glass repairs - pet doors

John Sandford, ph 329

- conservatory roofs. Exp

4616, mob 027 5189 598

Tradesman. Call Bill on

johnsandford2@gmail.

022 413 3504 or 981-1903

com

HANDY - DAN

CLEANING SERVICE

Home - Rentals -Home General Handyman for

Help. Competitive rates. all your maintenance

Ph Amanda 0274 761 602 requirements. I specialise

COMPUTER REPAIRS in fences and decking, also

FAST

do spouting cleans and

Friendly experienced repairs and everyday home

techs available to help you

now. Christchurch based.

maintenance. NO JOB TO

BIG OR SMALL I can do

All work guaranteed. it all, please don't hesitate

Computer Help 0800 349

669

CONCRETE CUTTING

to call me on 022 600 7738

for a no obligation free

quote.

Affordable Concrete HANDYMAN

Cutting with Quality, and Small jobs specialists. eg:

removal work. Free quote. drippy taps, sticky doors,

No job to small. Phone 027 locks, moss spraying etc.

442-2219, Fax 359-6052 Discount for pensioners.

a/h 359- 4605

Ph 390 1565 or 022 5275

ELECTRICIAN

668 @oddjobs2018

Registered, electrical

HANDYMAN

installation and repairs,

Gorbie Electrical, ph 021

For all those odd jobs. Ph

026 73375 or 03 322 4209 027 294 1508

ELECTRICIAN

HOME CLEANING

Available, 30 years SERVICES

experience, immediate Regular Weekly or

start, competitive rate,

ph Brian 027 433 9548

No Call out fee

Fortnightly. Ring Vivien

at 03 365 8422 for free

quotation
---
Incorporating

ISSUE 685 | FrIday 16 aprIl 2021

See inside for this week's

Ce l 021 8 5 84

PH 03 web

2013 Lexus Ls460

Black leather, airbags, rear

radio control, climate control,

82,130kms, 10 airbags,

reverse camera, cruise

control, and much more .

$39,999 inc.

A fordable new parts available for BMW / MERCEDES BENZ

454 st asaph str et, 03 378 1818 or 021 480 201

Cannot be Beaten!

• Talk to us about finance for your next

motor vehicle purchase

Specialising in Finance for Private Purchases

Very quick a provals, sensational interest rates

• From no deposit (terms & conditions may a ply)

Cnr Main South Rd and Epsom Rd, Christchurch

Ph: 0 348 4129 | avoncityford.com

orc

Ce l 021 8 5 84

CAR AUDIO CAR SECURITY

AUDIO VISUAL CE LULAR

1992 GMC VANDURA 2500

5.7 litre V8, auto, 7 seater, a loys,

tints, ro l bar, alarm, towbar.

$27,995

See page 13 for more!

41 Shands Road, Hornby, Christchurch

The biggest range of vehicles in one location!

2 09 Subaru

Outback R

$17, 9

REVERSE CAMERAS

RADAR DETECTORS

leather interior, exce lent

condition, drives we l

$22,999 inc.

PARKING SENSORS

AERIALS

orc

32 M orhouse Ave | P: (03) 3 6 768 | www.valuecarswarehouse.co.nz

h tp: /kaywa.me/8aVDQ

S e page 5 for more info!

DASH CAMERAS

GPS/TRACKING

My kaywa QR-code

w.valuecarswarehouse.co.nz

Download the kaywa QR code Reader (a p Store &android Market) and scan your code!

2 09 Honda

StepwagOn

SpaDa Z

$10, 9

S e page 5 for more info!

h tp: /kaywa.me/8aVDQ

Download the kaywa QR code Reader (a p Store &android Market) and scan your code!

My kaywa QR-code

w.valuecarswarehouse.co.nz

The Star Classifieds

Trades & Services

Trades & Services

MOBILE CAR TREE SERVICES

CLEANING SERVICES Hedges, shrubs, tree

We come to you where trimming & removal,

ever you are. Ring us rubbish removal, Ph for

at 03 281 8054 for free free quotes 022 540 4900

quotation.

TREE SERVICES

PAINTER,QuALIfIEd

Hedges, shrubs, tree

local professional, Int /

trimming & removal,

Ext,roofs,wallpaper, call

rubbish removal, Ph for

or text Corban 027 846

free quotes 022 540 4900

5035

PAINTING

WINdOW CLEANING

Indoor / Outdoor, over 30 Average 3 brm house

yrs exp, same day quotes, inside or out from $45.

ph Steve 021 255 7968 Both from $80 Phone

PAINTING

All jobs, none too small.

Trevor 344-2170

WINdOW CLEANING

Free quotes Affordable Brown & White Ltd.

rates. Seniors discounts.

James 0220 652 637

Family owned since 2001.

Ph Paul 027 229 3534

PAINTING

PLASTERING

Free quotes. Int/ext & Tuition

roof painting Family run

business, work guaranteed.

COMPUTER LESSONS

Pensioner discounts. Ph avail for computer, IPad,

Kerin or Paul 022 191 or Mobile. Please contact

7877 or 379-1281. Website Jobee 027 290 9246 www.

www.swedekiwipainting. computertutor.nz

co.nz

PLASTER MASONRY Wanted To Buy

PAINTING, TILING,

WALLPAPERING

Roofing & Brick Repairs,

Stucco, Fixing, Stopping,

Cracks & Holes. Small

jobs ok. Property Repairs

.30 yrs exp. Gary 3428950

/ 021 529 022

PLASTERER

WANTED

SLEEPOUTS

Sleepouts Galore

Phone Finn for all your Buyers and sellers of

relocatable buildings

interior plastering needs. 11 Brixton Street, Hornby

No job too small - Phone: 349 9633

renovations, alterations,

holes & cracks. Free

STEVE PURCELL

quotes. I'll beat any quote

ANTIQUES

by 10% .25 yrs exp. Canty

born. Ph 022 087 4351

PLASTERING (INT) BUYING

and small painting jobs

Experience and NOW

Excellence. Small to

Gold jewellery,

Medium job specialists

in all aspects of Interior watches, coins,

Plastering. Please call Tim medals, scrap

022 5380959

REMOVALS

gold, sterling

silver, pewter,

Small furniture removals, original paintings,

have own van, can fit

modern art.

various types of whiteware

appliances, some furn, 351 9139

bedding, boxes etc, honest

stevepurcellantiques.com

& reliable, any area AAA Buying goods

considered, ph Chch 027 quality furniture, beds,

517 7001

stoves, washing machines,

ROOfING SERVICES

fridge freezers. Same day

Metal roofing & spouting. service. Selwyn Dealers.

Butyl rubber and flat

Phone 980 5812 or 027

rooves. Repairs, reroof

313 8156

and new build. 25 yrs

experience.NZ Cert

and LBP qualified. Free Wanted To Buy

quotes. Call Elliot 332-

9662 / 027 237 9431

RuBBISH REMOVAL

ALWAYS

Van & Trailer Rubbish BUYING

Removal. Free quotes. Ph

Gary 342-8950, 021 529

Estates, China,

022

Antiques, Art, Royal

SPOuTING

Albert, Royal Doulton

Select Spouting

etc. Best Prices,

The PVC specialist. Free Appraisal. Call

Repairs & replacement. Ph

022 197 2351

SPOuTING CLEANING

Rob at 349-4229 or

027 299 7232

academyantiques.co.nz

SPECIALIST

Entire spouting system Wanted To Buy

cleared. Single or 2 storey.

Jo 021 164 0365

A1 Albums, old photo's,

SPOuTING CLEANING postcards, coins, gold,

Spouting Unblocked, bank notes, badges,

Cleaned Out and Flushed medals, jewellery,

Out, Call Trevor 332 8949 watches, china, crystal,

or 021 043 2034

STuMP GRINdING

books,

clothing,

furs, vintage

paintings,

Best price guarantee Tony furniture, estates &

0275 588 895

downsizing. Etcetera

TREE SERVICES

Free quotes 20+ yrs exp.

Antiques, 194 Edgeware

Rd 385 5117

Tree, hedge or shrub A+ Household effects,

- reduction, shaped or fridges, freezers, washing

removed. Ph/text Paul machines, ovens. Good

The Branch Manager

0274314720

cash paid. Ph Paul 022

0891 671

Wanted To Buy

ALL whiteware wanted.

Same day service, cash

paid for freezes, fridges,

washing machines, ovens.

Also buying furniture &

h/hold effects.Anything

considered. Ph Dave 960-

8440, 027 66 22 116

A records and Hi-Fi

gear wanted. Pennylane

Sydenham. 7 days. Ph

366-3278

MILITARIA Any

country, firearms,

uniforms, badges, medals,

memoribilia, WW2 or

earlier ph 338-9931

MILITARIA Any

country, firearms,

uniforms, badges, medals,

memoribilia, WW2 or

earlier ph 338-9931

TOOLS, Garden garage,

saw benches, Lathes. Cash

buyer Phone 355-2045

Public Notices

Thursday May 6 2021 The Star 41

• Phone our local team 03 379 1100 • Email star.class@starmedia.kiwi

CLEANERS

REQUIRED

Christchurch Area

Monday to Friday

3pm-6pm

(Relieving work in schools)

We are looking for cleaners

to join our commercial

cleaning team.

You will need to pass a

Security Check and you

MUST have your

own transport.

Must be eligible to work

in New Zealand.

Please email your

Application to

csc@totalcanterbury.co.nz

or phone 338 9056

Visit our website:

totalcanterbury.co.nz

Please advise which job

when emailing your CV.

Nau Mai, Haere Mai

You are all most welcome to join us for the

START AGM

Thursday 20th May 2021

6pm for a shared meal

7pm for the AGM

@ START's Premises:

18 Queenswood Gardens, Mairehau

Please RSVP by 18th May to phone 355-4414

Senior Citizens

Outings

with Companion Driving Service Ltd

Friday 18 June

ChCh - Kaikoura by coach

- dinner and overnight.

SaTurday 19 June

Kaikoura - Picton by train

- dinner and overnight.

Sunday 20 June

Picton - Kaikoura by coach

then onto ChCh by train.

Our price of $849.00 includes free pick up

and drop off service. All nice accommodation

(single room - no sharing). Evening meals and

breakfasts. Your own tour guide on the coach

and train travels with you.

Ph Peter on 0800 453 873 for info & bookings.

OUT OF ZONE ENROLMENT

16,065 copies delivered every week

Situations Vacant

EDITOR – Ashburton Courier

Allied Press Ltd is seeking an experienced journalist ready

to take the next step in their career, as

Editor for the Ashburton Courier.

The Ashburton Courier is a weekly

community newspaper delivered to more

than 16,000 homes across Mid Canterbury

and the surrounding rural areas.

The Ashburton Courier is the largest

circulating and best read newspaper within

the Mid Canterbury area.

This is an exciting opportunity and provides

the successful applicant the ability to help

shape and connect the community we

serve.

You will be responsible for our newspaper

layout, leading the news team, writing

stories and co-ordinating news gathering for

the Ashburton Courier.

The successful applicant will be selfmotivated,

tenacious and have a passion for

news and building relationships within our

local community.

Ability to find local stories, juggle tasks, meet

deadlines and write engaging, accurate

copy is essential. You will have an eye for

photography. Video and website skills are

desirable.

It is essential that you have a full driver's

licence. Given the nature of the role,

occasional evenings and weekend work may

be required.

All applications will be treated in the strictest

confidence.

Our well respected local title is owned

by Allied Press, the largest independent

publisher in New Zealand.

Please note that you must have the right to

live and work in New Zealand to apply for

this role.

If this sounds like an exciting opportunity

for you, please send your CV with a

covering letter to steve@starmedia.kiwi

or feel free to call me on 021 372 479

OUT OF ZONE ENROLMENT TERM 1 & 2 2021 Please email your

• Effective promotion and sales of advertising for Drivesouth Sales

Application to

Magazine and Star Media's range of products

Enrolment TERM at the 3 school & 4 is 2021 governed by an enrolment csc@totalcanterbury.co.nz

scheme, details of which are available • Providing a high quality, professional sales administration service

from the school office and on the website.

or phone 338 9056

Enrolment at the school is governed by

Visit our website:

• Ensuring the highest possible level of customer/client service

an Applications enrolment for scheme, 10 out-of-zone details places of which are now being invited for new entrants who will

totalcanterbury.co.nz

• Working proactively to ensure that clients are offered the best

are become available eligible from for the enrolment school office during and the period Term 1 & 2 2021 .

advertising solution across all potential advertising platforms

To apply for on an the out-of-zone website. application please email Please ​enrolments@thorrington.ac.nz

advise which job

If you think this role is for you, please apply with your CV and a

Applications The deadline for for 5 receipt out-of-zone of applications places are for out-of-zone when places emailing is your 3pm CV. Wednesday 28 covering letter to shane@starmedia.kiwi

now October being invited 2020. for new entrants who will

become eligible for enrolment during the

A copy of the full position description can be found at

If a ballot for out-of-zone places is required, it will be held on Thursday 29 October 2020.

Parents

period

will be

Term

informed

3 &

of

4 2021

the outcome

.

of the ballot within three school days of the ballot alliedpress.co.nz/employment

To being apply held. for an out-of-zone application

Applications will close on Friday 21st May 2021.

please email admin@thorrington.ac.nz

All applications will be treated in the strictest confidence.

The deadline for receipt of applications

Please note you must have the right to work in

for out-of-zone places is

3pm Tuesday 8 June 2021.

New Zealand to apply for this role.

If a ballot for out-of-zone places is required,

it will be held on Wednesday 9 June 2021.

Parents will be informed of the outcome of

the ballot within three school days of the

ballot being held.

Situations Wanted -

Jobs Wanted

CLEANING

Housework wanted, honest

& reliable. Excellent

results. Please ph 021 255

2940

Situations Vacant

CLEANERS

REQUIRED

Shirley Area

Monday to Friday

3pm - 6pm

City Area

Monday to Friday

6pm - 9pm

We are looking for

cleaners to join our

commercial cleaning

team.

You will need to pass a

Security Check and you

MUST have your

own transport.

Must be eligible to work

in New Zealand.

Situations Vacant

Are you keen on cars?

A motoring nut?

We'd like to talk to you!

Account Executive

Drivesouth Sales

Full time permanent

Classic Car feature!

www.drivesouth.co.nz

Who we are

Star Media is a division of Allied Press Limited, who employs over 450

people on a permanent basis across our 15 sites in the South Island.

We operate across multiple media platforms (print, on-line, digital)

delivering quality news, information and entertainment through our various

regional and city publications, including The Star, StarNews.co.nz and a

network of Community Newspapers.

The role

We are currently seeking an Advertising Account Executive to take

responsibility for our weekly Drivesouth Sales Magazine. We are looking for

an experienced salesperson to join our team based in Christchurch.

You will enjoy working as part of a team, have a can-do attitude and an

affinity and interest across the motoring sector.

Some of the key accountabilities include:

Disclaimer: Allied Press does not accept unsolicited agency resumes.

Allied Press is not responsible for any fees related to unsolicited resumes.

free

best motorbuys

40 Years Finance

Experience

PH 03 web

Incorporating

ISSUE 687 | FrIday 30 aprIl 2021

331 Blenheim Road, Christchurch

Hilux spares

40 Years Finance

Experience

Now Available @ NZ Van Spares

Cannot be Beaten!

• Talk to us about finance for your next

motor vehicle purchase

Specialising in Finance for Private Purchases

Very quick a provals, sensational interest rates

• From no deposit (terms & conditions may a ply)

Cnr Main South Rd and Epsom Rd, Christchurch

Ph: 0 348 4129 | avoncityford.com

2013 Jaguar xF-Luxury

A fordable new parts available for BMW / MERCEDES BENZ

454 st asaph str et, 03 378 1818 or 021 480 201

A loys, leather seats, twin

exhaust, done 78, 19kms,

2 0 c turbo, black

www.grcaudio.co.nz MOBILE INSTA LATION SERVICE 0800 212 7 S e our ad on page 2

free

best motorbuys

www.drivesouth.co.nz

Hilux spares

Now Available @ NZ Van Spares

2016 NISSAN LEAF 30X

F/lift Gen. 2 Model, Emergency

Brake A sist & Lane departure

warning, 30KWh ba tery, Rev. Cam,

49,000kms, English conv. Stereo &

dash! S e page 27 for more!

The biggest range of vehicles in one location!

32 M orhouse Ave | P: (03) 3 6 768 | www.valuecarswarehouse.co.nz

$27,995

this W ek:

eV & Hybrid feature
---
42 The Star Thursday May 6 2021

THE ENTERTAINMENT HUB OF THE NORTH!

113 RAVEN QUAY | PHONE: 03 327 7884

BISTRO

OPEN FROM 12PM

WEDNESDAY

TO SUNDAY

HOUSIE

EVERY THURSDAY

12PM

EYES DOWN 12.30PM

Coming up...FRI 14 MAY, 7PM

Like,totally awesome

80night

FEATURING THE

DnD TRIO

(JOJO, GIGI & MARK)

's

DnD's

Essential 80's Mix

S h o w b a n d

DOWNSTAIRS BAR

FREE!

Hammering out

the kitsch n cool

hits of the 80's

PRIZES FOR BEST

80'S OUTFITS!

Totally Rad!

To add a listing, contact

Jo Fuller 03 364 7425 or

027 458 8590

jo.fuller@starmedia.kiwi

www.star.kiwi/whatson

Treat Mum

& be in to win!

$45pp

Children

Normal Price

This Sunday - Lunch or Dinner

BAR HOURS

MON 3PM-10PM

TUES & WEDS 11.30AM

THURS 11AM | FRI 11.30AM

SAT & SUN 11AM

Closing times will vary.

Complimentary drinks

for Mum & chocolates

for the table.

LUCKY

DRAW

GRAND PRIZE:

2 Nights at Saxton Lodge

in Nelson.

OTHER PRIZES:

La Mode Hair Salon

Voucher

& Meal Vouchers

T&C's apply

THIS SUNDAY

Mother's Day Special

A flower on arrival for every

mother followed by a

special dessert with every

main meal ordered.

Bookings essential 03 260 0325

*Limited number of flowers & desserts.

Offer valid until 3pm.

Bridie's Bar & Bistro | 401 Worcester St, Linwood | Ph: 03 260 0325

Bookings Essential PH 386 0088

fb.com/GardenRestaurantBuffet

www.gardenhotel.co.nz

Mother's Day High Tea

THIS SUNDAY IN GBC

$28pp (minimum 2 people)

MORNING & AFTERNOON TEA

BOOKINGS ESSENTIAL

FRIDAY

MEMBER DRAW

3x $500

LIVE RUGBY

THE AOTEAROA

SUPER RUGBY

GRAND FINAL!

SATURDAY 7.05PM

CRUSADERS v CHIEFS

MOTHER'S DAY - THIS SUNDAY

COMPLIMENTARY BUBBLES FOR

DINING MUMS IN WHITFORD'S

LIVE MUSIC NEXT SATURDAY

ROBBIE DREWAutumn Dance

N E W

ME NU

NEW BAR/BISTRO MENU

AVAILABLE

MONDAY-SUNDAY

12 NOON - 8.30PM

QU I Z

EVERY WEDNESDAY

FROM 7PM

HOU S I E

EVERY SATURDAY

FROM 12.30PM

Woolston Club|43 Hargood St|Ph 03 389 7039|www.woolstonclub.co.nz|fb.com/WoostonclubInc

CAFE OPEN 7 DAYS 9AM - 4PM

BAR OPEN THU - SUN EVENINGS

PH 385 8880

FACEBOOK fb.com/GBCCHCH

THE GARDEN HOTEL COMPLEX, 110 MARSHLAND RD

www.gardenhotel.co.nz . Phone 385 3132

facebook.com/gardenrestaurantbuffet instagram.com/gardenrestaurantbuffet

COME DANCING

with Lynne Chaney & friends

This Sunday 9th May, from 1.30pm

Papanui RSA, 55 Bellvue Rd. $2 Entry.
---
Thursday May 6 2021 The Star 43

christchurch

GIG GUIDE

Thursday 6 to Wednesday 12 May 2021

12 BAR, 342 St Asaph St: Christchurch's

smoking hot BLUES BAR. Friday 8pm - A

Night of Funk with Eat My Shorts. Saturday

8pm - Sign of the Firebird.

A ROLLING STONE, 579 Colombo St:

Thursday 7.30pm - CWB (Cathcart Walsh

Blaikie), free; 9.30pm - Revolucion Thursdays

Latin dancing with DJ Zee, free. Friday

5.30pm - Clube do Choro's Brazilian Jam,

free; 9pm - Bite the Bullet (covers), free.

Saturday 9pm - The Dadz, free. Sunday 4pm

-Sunday Sesh with The Cha5ers & The High

Kats, free. Monday 7pm - Quiz. Tuesday 8pm

- Stand-up comedy night, free.

BILL'S BAR, 1 Halswell Rd: Thursday

7pm - Mickey Rat's Karaoke. Friday 7pm -

Accent duo. Sunday 7pm - Mickey Rat's

Karaoke.

BOO RADLEYS, Level 1, 98 Victoria St:

Thursday 9pm - Topia. Friday 8pm - Kate

Owen; 10.30pm - The Fillet duo. Saturday

8pm - Caitlin Joy; 10.30pm - Mirrors.

Wednesday 7.30pm - South Street Blues Trio;

9.30pm - Open Mic Night.

CASSELS BLUE SMOKE, Garlands Rd:

Saturday 15 May 8.30pm - Beastwars 10 year

anniversary tour with special guests Earth

Tongue, tickets at undertheradar.co.nz

CHRISTCHURCH CASINO, 30 Victoria

St: Friday 6pm - Lissel; 9.15pm - Rockabella.

Saturday 6pm - Natalie Elms; 9.15pm -

D'Sendantz.

HORNBY CLUB, Carmen Rd: Friday 7pm

- Jo's Karaoke. Saturday 7pm - Sweet Azz.

Sunday 5pm - Mother's Day with Norm

Bland.

KAIAPOI CLUB, 113 Raven Quay: Friday

14th May, 7pm - 80's Theme Night feat. the

DnD Trio (Jojo, Gigi & Mark), free.

MICKY FINNS, 85a Hereford St: Friday -

Uncovered. Saturday - Smoke & Mirrors.

To add a listing, contact

Jo Fuller 03 364 7425 or

027 458 8590

jo.fuller@starmedia.kiwi

www.star.kiwi/whatson

Dan Sharp is currently on tour with

his new EP, 'Water Went Away'.

The Taupo-based singer/songwriter

is renown for his honest, gritty and

soulful songs. Don't miss this chance

to see him at the Wunderbar in Lyttelton

tomorrow night with Leighton Fairlie

and Chris Lake.

NEW BRIGHTON CLUB, 202 Marine

Pde: Friday 14 May 7pm - Mama Rock.

RICHMOND CLUB, 75 London St: Friday

7pm - Cantora. Saturday 7pm - Mockingbird.

Sunday 3pm - Andy Genge.

RIVERSIDE MARKET, 98 Oxford Tce:

Thursday 6pm - Live jazz feat. Brad Kang,

$10 entry.

TEMPS BAR, 21 Goulding St, Hornby:

Friday 8.30pm - DJ. Saturday 8.30pm -

Misfitz.

THE CUBAN, 236 St Asaph St: Friday

6.30pm - Live music with Brent Love.

THE EMBANKMENT, 181 Ferry Rd:

Friday 7.30pm - Open Mic & Jam. Saturday

8pm - Sins of Eve & guests. Wednesday 9pm

- Titanic (Kevin Emmett, Nick Buchanan, and

Peter K Malthus). Saturday 5th June - Black

Sabbath Tribute performed by After Forever

with support from Sabotage Theory

performing Soundgarden, tickets $20 at bar or

online at cosmicticketing.co.nz, door sales

$30.

THE MILLER BAR, 308 Lincoln Rd,

Addington: Friday 9.30pm - X-Files Duo.

Saturday 9.30pm - Red Zone. Sunday 6pm -

Lance Kiwi Karaoke. Tuesday 7pm - Quiz.

Wednesday 7.30pm - Lance Kiwi Karaoke.

WOOLSTON CLUB, 143 Hargood St:

Next Saturday 7pm - Robbie Drew Autumn

Dance.

WUNDERBAR LYTTELTON, 19 London

St, Lyttelton: Thursday 8.30pm - Estère,

tickets at undertheradar.co.nz. Friday 7.30pm

- Dan sharp with Leighton Fairlie & Chris

Lake, tickets at dansharpmusic.com. Saturday

8pm - Sid Wanderer (psychedelic loops) &

Subatomic (northen monkey noise), $10

entry. Tuesday 8pm - Open Mic. Wednesday

8pm - Jam Night.

'Famous for their roasts!'

RESTAURANT & CAFÉ

Cooked Breakfasts

Check out our extensive breakfast

menu from Continental to Cooked

We are open from 6.30am

Seniors SPECIAL

Two courses $23

Soup/Roast or

Roast/Dessert

Special available lunch only

Monday - Saturday 12pm - 2.30pm

$19

at Hornby Club

MOTHER'S DAY

Kid's 2 course

special

Treat

Mum!

We are family

friendly.

Great Kids menu

plus designated

play area.

THIS SUNDAY

$13

The

RACECOURSE HOTEL

& Motorlodge

118 Racecourse Rd, Sockburn,

Christchurch. Ph 03 342 7150

www.racecoursehotel.co.nz

LIVE MUSIC IN THE PAVILION

Friday 7pm: JO'S KARAOKE

Saturday 7pm: SWEET AZZ

Sunday 5pm: NORM BLAND

AOTEAROA SUPER RUGBY LIVE

grand final Saturday 7.05pm

CRUSADERS v CHIEFS

Mother's Day

Buffets

BOOKINGS

ESSENTIAL

OYSTER

LUNCH

WEDNESDAY 26 MAY

Battered oysters

served with chips & salad

1 DOZEN $30 • 1/2 DOZEN $20

Complimentary glass of house wine,

tap beer or soft drink included.

PRE-PAID TICKETS ONLY

AVAILABLE AT RECEPTION

LUNCH & DINNER

THIS SUNDAY

$35 PER PERSON

CHILDREN $1 PER YEAR OF AGE

(UP TO 12 YEARS)

Coming Attraction

PLUS Johnny Cash

FRIDAY 21 MAY, 8PM

Tickets $20 available from the Club

Come on down!

17 CARMEN RD. PH. 03 349 9026

WWW.HORNBYWMC.CO.NZ

WHAT'S ON AT THE RICHMOND CLUB

FRIDAY 7PM

CANTORA

SATURDAY 7PM

MOCKINGBIRD

in the Junction

SUPER

RUGBY

AOTEAROA

FINAL

CRUSADERS

v CHIEFS

Saturday 7.05pm

in the Taproom

SUNDAY 3PM

ANDY GENGE

75 London St, Richmond

Christchurch 8013

P: 03 389 5778

theborough.nz

richmondclub.nz
---
44 The Star Thursday May 6 2021

Allessa Chaise Sofa

WAS $

2199

NOW

$

1799

SELECTED ITEMS IN STORE & ONLINE + SUPER DEALS. ENDS 31.5.21.

MAISON

Buffet NOW $ 899

Entertainment Unit NOW $ 599

Coffee Table NOW $ 499

Ramsey Single/Single Bunk

WAS $

1299

NOW

$

999

Includes underbunk

storage drawer

Kate Sofabed

WAS $

499

NOW

$

399

Atlantic 3 Piece

Dining Set

WAS $

1379

NOW

$

1099

Medium Feel

boxed

for easy

transport!

Sloane Queen/King Headboard

WAS $

449

NOW

$

299

Sono Queen Mattress

WAS $

599

NOW

$

399

Atlantic

4 Drawer Tallboy

NOW $

799

Tipaz Bedside

NOW $

295

Tipaz 4 Drawer

Tallboy NOW $ 799

ON SALE!

Atlantic

Bedside

NOW $

275

Shop

Online

Nationwide

Delivery

Finance

Options

Buy NZ MAde!

PLUS HEAPS more super deals online & in store!

AUTUMN SALE ENDS 31.05.21.

250 Moorhouse Ave, Christchurch

Ph: 0800 TARGET (0800 827438)

targetfurniture.co.nz

Offers and product prices advertised here expire 31/05/21.

Sale Excludes Accessories.
---
Thursday May 6 2021 The Star 45

Bigger Better Bush Inn!

The Provedore, Briscoes,

unbelievable food and hospitality

outlets and over 65 great stores!

The Provedore

Grocery Market

Corey Winder Master Butcher and

Euro Deli now open!

The Source Bulk Foods now open!

Tank Juice now open!

Salmon Heaven now open!

V Mart Supermarket now open!

Aroma Bakery now open!

Super Bazaar - House of Spices now open!
---
46 The Star Thursday May 6 2021

Have you visited The Provedore yet?

The Provedore – our speciality grocery and

provisions market is gaining in popularity

as even more stores are opening with Super

Bazaar House of Spices now open also!

The Provedore has all you will find in a

supermarket plus so much more with our line

up of speciality provisions retailers!

With nothing else like this in the city make us

your weekly grocery shopping destination –

come in and have a look.

Unbelievable Food Line up!

When you've done your

shopping whether you want

fast food, breakfast or dinner

we reckon we have the best

line up of food outlets in the

city! From Burger Fuel and

Lone Star to Smokeshack

BBQ, Tuk Tuk Thai, Kebab Inn

we have over 30 eateries – you

wont go hungry at Bush Inn !

We also have over 60 local and national stores to choose from

From services like BNZ, NZ Post, Phonefix, Copyprint and Mr Minit , to

boutique fashion, Fascino Shoes, Leather Direct, All About a Girl and of

course the wonderful Caroline Eve.

Petersens Jewellers, Frontrunner, health and beauty stores including

Unichem, OK Gift Mart, Haircare Market, Haircuts For Haircuts and Be a

Beauty.

Our new Waberi Bakery is also now open as well as Jinabob Korean Foods

and so much more – come on in now!
---
Thursday May 6 2021 The Star 47

If you're still not ready to come over to

Bush Inn, here are some offers from our

team to make your visit worthwhile!

The Source

Bulk Foods

Buy a jar of our new

toothpaste tabs

and receive a free

toothbrush

(valid until 23rd May)

Haircuts for

Haircuts

Haircuts for the entire

family. No appointment

necessary. Don't forget

our loyalty card, every

8th haircut is FREE.

Corey Winder

Master

Butcher and

Euro Deli

Huge range of gluten-free

products now available

including pies, sausage rolls

and savouries with much

more to come!

Salmon Heaven

15% off our gourmet pizzas and

pies, also with gluten free and

vegan options. Exciting new

flavours in our deep dish pies –

pork belly, butter chicken, steak

and field mushroom, salmon,

silverside and mash…. And so

much more!

Valid until Sunday 23rd May

Super Bazaar House of Spices

Amul/Verka Ghee 1 Litre - $15.99ea

Onions 5kg Red - $5.99, Yellow - $4.99

Bikano Suji Rusk 600gm - $5.99

Bikano Fruit Cake Rusk 400gm - $5.99

Maggi Masala Noodles 4pk - 3 for $5
---
48 The Star Thursday May 6 2021

Our gift

to you!

ENJOY A FREE*

AMBER FIG HAND

CREAM 100ML

WHEN YOU SPEND $50

OR MORE ON LINDEN LEAVES.

*Limit one gift per customer, while stocks last. Qualifying purchase must be made in a single transaction and

excludes clearance items. Excludes already reduced items. Not available in conjunction with any other offer.

Gift with purchase is a Amber Fig 100ml valued at $27.99 by Linden Leaves.

Leather

Direct

Over 1000 formal

dresses in stock

SALE ON NOW!

This one only

$149.90 while

stocks last!

front Runner

20% off all rugby/

football boots

(while stocks last)

bUSH INN SHOPPING CENTRE

All About a Girl

Haircare Market

Be a Beauty

Hair Cuts for Haircuts

BNZ

Leather Direct

Briscoes

Lincraft

Caroline Eve

Mister Minit

Copy That

OK Mart

Elite Meats

Petersens Jewellers

Fascino Shoes

PhoneFix NZ

Sunshine Travel

TAB Sports Bar

The Front Runner

The Main Skein

The Nail Shop

Unichem Pharmacy

Waberi Bakers

THE PROvEDORE

Corey Winder Master

Butcher and European Deli

The Source Bulk Foods

Tank Juice

Salmon Heaven

V-Mart Boutique

Supermarket

Super Bazaar House of

Spices

Aroma Bakery

bUSH INN CENTRE TRADING HOURS

9am – 5pm Weekdays

10am -4pm Sundays

fOOD OUTLETS

Black & White Coffee

Cartel

Burger Fuel

Carl's Jr

Coffee Culture

Corianders

Dubba Dubba

Hachi Hachi

Jinabob Korean Food

Kebab Inn

Lone Star

Moko Sublime Cafe

Muffin Break

New York Deli

Noodle Station

Pizza Hut

Roast Ease

Shake Shed & Co

Shanghai Street

Dumplings

Smokeshack BBQ

The Sushi Company

Tuk Tuk Thai Street

PUbLIC HOLIDAyS

10:00am – 5:00pm

fOOD OUTLETS

11:30am – Until Late

LOCATION

Cnr Riccarton and Waimairi Roads,

Upper Riccarton, Christchurch 8041