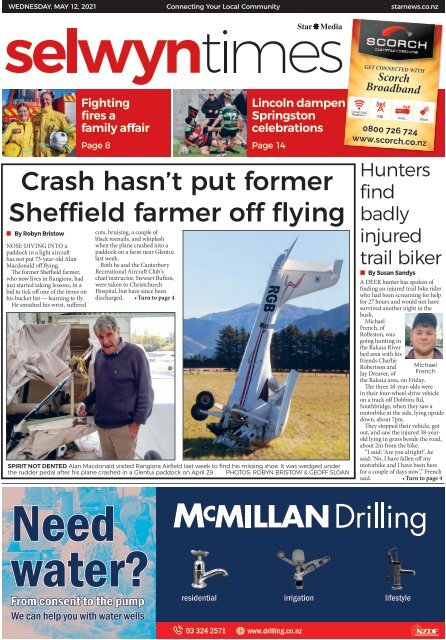 Selwyn Times: May 12, 2021
You also want an ePaper? Increase the reach of your titles
YUMPU automatically turns print PDFs into web optimized ePapers that Google loves.
WEDNESDAY, MAY 12, 2021

Connecting Your Local Community

starnews.co.nz

Fighting

fires a

family affair

Page 8

Lincoln dampen

Springston

celebrations

Page 14

Crash hasn't put former

Sheffield farmer off flying

• By Robyn Bristow

NOSE-DIVING INTO a

paddock in a light aircraft

has not put 73-year-old Alan

Macdonald off flying.

The former Sheffield farmer,

who now lives in Rangiora, had

just started taking lessons, in a

bid to tick off one of the items on

his bucket list — learning to fly.

He smashed his wrist, suffered

cuts, bruising, a couple of

black toenails, and whiplash

when the plane crashed into a

paddock on a farm near Glentui

last week.

Both he and the Canterbury

Recreational Aircraft Club's

chief instructor, Stewart Bufton,

were taken to Christchurch

Hospital, but have since been

discharged. • Turn to page 4

SPIRIT NOT DENTED Alan Macdonald visited Rangiora Airfield last week to find his missing shoe. It was wedged under

the rudder pedal after his plane crashed in a Glentui paddock on April 29 . PHOTOS: ROBYN BRISTOW & GEOFF SLOAN​

GET CONNECTED WITH

Scorch

Broadband

0800 726 724

www.scorch.co.nz

Hunters

find

badly

injured

trail biker

• By Susan Sandys

A DEER hunter has spoken of

finding an injured trail bike rider

who had been screaming for help

for 27 hours and would not have

survived another night in the

bush.

Michael

French, of

Rolleston, was

going hunting in

the Rakaia River

bed area with his

friends Charlie

Robertson and Michael

Jay Dreaver, of French

the Rakaia area, on Friday.

The three 18-year-olds were

in their four-wheel-drive vehicle

on a track off Dobbins Rd,

Southbridge, when they saw a

motorbike at the side, lying upside

down, about 7pm.

They stopped their vehicle, got

out, and saw the injured 38-yearold

lying in grass beside the road,

about 2m from the bike.

"I said: 'Are you alright?', he

said: 'No, I have fallen off my

motorbike and I have been here

for a couple of days now'," French

said. • Turn to page 4

Need

water?

From consent to the pump

We can help you with water wells

residential irrigation lifestyle

03 324 2571 www.drilling.co.nz
---
2 Selwyn Times Wednesday May 12 2021

from the editor's desk

GENERAL INQUIRIES Ph 379 7100

CLASSIFIED ADVERTISING Ph 379 1100

Star Media, a division of Allied Press Ltd

PO Box 1467, Christchurch

starmedia.kiwi

THERE ARE two amazing

survival stories on our front

page today.

Retired former Sheffield

farmer Alan Macdonald

is learning to fly. That new

chapter in the 73-year-old's

life could have been rather

tragic when he and his instructor

nose-dived into a

paddock while practising

how to get out of engine

failure trouble.

A farm worker from the

Southbridge area can thank

his lucky stars for the chance

arrival of Michael French

and his two mates who found

him badly injured after coming

off his motor bike.

French and his mates had

been duck shooting but

decided to start looking for

deer when they chanced

across the farm worker –

who had been lying in scrub

overnight.

He may have not survived

another night.

– Barry Clarke

NEWS

Susan Sandys

Ph: 021 914 742

susan.sandys@starmedia.kiwi

ADVERTISING

Lynette Evans

Ph: 364 7434

lynette.evans@starmedia.kiwi

news

Collecting bread tags for a good cause

Lucy McMenamin has collected thousands of bread bag tags and wants

more people to contribute so she can fund a wheelchair for disabled

people in South Africa.

Page 13

The best-read local newspaper,

delivered to 20,926 homes

every week.

Ladbrooks • Tai Tapu • Leeston • Lincoln

Southbridge • Prebbleton

Rolleston • Burnham • Kirwee

West Melton • Darfield • Arthur's Pass

community events

Celebrate New Zealand Music

May is New Zealand Music Month, head along to Selwyn Libraries and

help promote local artists. Saturday, 11am-1pm.

cinema

@

17 West Belt, Lincoln

Page 22

MEARES WILLIAMS

LAWYERS

Over 10 Years

in Selwyn

Tuesday, 11 May 2021

11:00 AM The Father

1:30 PM Private Hire

3:20 PM Locked Down

5:40 PM The Pinkies are Back

7:30 PM Twist

M

PG

M

Wednesday, 12 May 2021

11:00 AM Cousins

PG

1:00 PM Six Minutes to Midnight M

3:00 PM French Exit

M

5:10 PM Then Came You M

7:10 PM Locked Down M

Thursday, 13 May 2021

M 11:00 AM Blackbird

1:00 PM Then Came You

3:00 PM Finding You

5:20 PM Locked Down

7:30 PM The United Way

Friday, 14 May 2021

11:00 AM Locked Down

1:30 PM Cousins

3:30 PM French Exit

5:45 PM Finding You

8:00 PM The Father

M

M

TBC

M

E

M

PG

M

TBC

M

apollo.thelaboratory.co.nz or ph 3253006

Private Hire enquires to goodparties@thelaboratory.co.nz

Saturday, 15 May 2021

11:00 AM Peter Rabbit 2: The Runaway G

1:00 PM Tom & Jerry The Movie G

4:00 PM Private Hire

6:00 PM The Father

M

7:50 PM Locked Down M

Sunday, 16 May 2021

10:30 AM Cousins

12:30 PM Finding You

3:00 PM Locked Down

5:30 PM The United Way

7:20 PM Twist

PG

TBC

M

E

M

gift vouchers

available

ROLLESTON OFFICE

78 Rolleston Drive, Rolleston

Kieran Heenan

Anita Molloy-Roberts

Belinda Ferguson

Emma-Jane Moore

Kate Warren

W: www.meareswilliams.co.nz

T: (03) 374 2547

E: reception

@meareswilliams.co.nz

Offices also located at:

43 Gerald Street, Lincoln

225 Papanui Road, Christchurch

Need funding for your

Creative Communities

Selwyn can help!

Funding is available to groups or individuals with

community-based creative projects that promote

arts or culture in Selwyn.

Applications for this funding round close at 5pm,

Friday 28 May.

Visit www.selwyn.govt.nz/artsfunding for more

information and to apply.

project?
---
Wednesday May 12 2021 Selwyn Times

BUILDING consent applications

to the district council continue

to lift the roof off previous

records.

The council has launched two

innovative industry partnership

programmes to help deal with

the exploding numbers. March

saw a massive 372 applications,

the highest ever, while there

was 264 in April. Numbers have

grown steadily from about 220

per month prior to lockdown

last year.

The council says there is a

national shortage of building

consent officers, and the huge

number has created a backlog

in processing. Average consent

times are now over the 20 working

days statutory time frame.

Demand for inspections is also

exceeding the number of inspectors

available.

The council has hired three

new consent staff, and launched

two programmes – a professionals

partnering arrangement and

a training package.

The professionals partnering

arrangement will see professionals,

such as designers, builders,

developers or building companies,

be able to apply to become

council's partners if they meet

the criteria. Once they join the

programme they will be able to

have their consents fast-tracked

as long as they meet, and continue

to meet, certain criteria.

District council building

manager Vanessa Mitchell said

this would standardise how

application information was

presented and allow the council

to focus on higher risk elements,

such as site specific matters and

weather tightness.

"We want to work with the

industry, using the skills that

are out there, with the people we

know are already doing things

right," Mitchell said.

"It will reduce red tape where

possible, speeding up the process

Latest Canterbury news at starnews.co.nz

Bid to tackle increasing number

of building consent applications

while still allowing us to focus

on risk areas of the consent, and

continuing to support population

growth in Selwyn."

The training package will help

train new building consent officers

on the job.

The council will hire six new

trainee staff in July and support

them through an intensive

28-week in-work training

programme. Following this, they

will receive ongoing support to

achieve a relevant qualification

that is required for staff carrying

out technical functions.

"The proposal has been well

received, with 28 applications

for the six positions, including

students and builders looking

BUILDING

BOOM:

Demand for

inspections

is exceeding

the

number of

inspectors

available.

PHOTO:

GEOFF

SLOAN

to retrain."

Mitchell said the programme

would have long-term benefits

for the industry and the district.

"There's a national shortage

of building consent officers, so

we are positioning ourselves to

support people into work and

help our community," Mitchell

said.

Very few councils had the

capacity to run such an initiative,

but as the fastest growing

district in the country, Selwyn

needed to be innovative and

think differently to meet growth.

In the meantime, the council

is continuing to encourage those

applying for building consents to

be patient and plan ahead.

NEWS 3

In Brief

NITRATE TESTING

About 100 people were given an

indicator of the nitrate levels in

their drinking water. The Selwyn

Waihora Water Zone Committee

hosted the testing on Wednesday

at Darfield Library. Using an

optical sensor, an Environment

Canterbury scientist ran bottled

water through the sensor,

returning a nitrate concentration

number on a digital sensor. The

Ministry of Health has set the

Maximum Acceptable Value for

nitrate in drinking water at 11.3

mg/L. A spokesperson said the

testing was done for the residents,

not ECan monitoring, so results

were not recorded. The zone

committee will host a second

nitrate testing workshop in

Leeston on May 18, from 1-4pm.

WRIST BANDS AT POOL

Wrist bands to help to keep

children under eight safe while

swimming are available at Selwyn

Aquatic Centre. The wrist bands

were recommended by Worksafe

for all pools nationally, following

the death of a seven-year-old who

drowned at a pool complex in

the North Island last year. Active

Selwyn manager James Richmond

says the bands, introduced last

week, would help lifeguards to

identify swimmers needing the

most caregiver supervision. Under

five-year-olds are given a green

band and those aged five to seven

an orange band.

Bras and

shape Wear

ShOppING AT ITS BeST

• No underwires

• Straps do not fall down

• Full support from beneath

the bust

• No shoulder strap pull

• Over 200 size combinations

• Outlasts other bras three to one

• Unique Shape Wear

FREE

CONSULTATIONS

& FITTINGS

Formerly

Jeunique Bra

Beauty Bra Prebbleton

Contact Lisa Tempero 03 550 0297 or 027 370 0914

www.beautybra.co.nz | lisatempero@outlook.com

NUMBER ONE SUPPLIER

TO THE NZ JET BOATING

COMMUNITY FOR OVER

50 YEARS

• Part Boats & Hulls

• Turn Key Packages

• New Jet Units

• Custom Fabrication

• Expert Advice

SERVICING

Peter Tonkin

03 962 0505

peter.tonkin@hamiltonjet.nz

• Spare Parts Retailer

• Jet Unit Refurbishment

• Engine Tune-Ups

• Insurance Repairs

• Impellor Reconditioning

2378252

It's Only Rock 'n' Roll Baby

21st – 29th May

Fri / Sat 7.30pm / Sun(23rd) 2pm / Tue – Sat 7.30pm

Adults $59* / Senior / Student $49*

Group 6+ $5* off per ticket. Tuesday Treat $10 off per ticket

Variety Theatre Ashburton are proud to bring

you 'It's only Rock 'n Roll baby! The show has

been created and is directed by well-known local

performer Gavin Templeton, with his daughter

Sarah as Musical Director and joining them is

Choreographer Jessie Thomson.

Wonderland Glow Show

Monday 13th September

0-5 years 10am, $13.50*

6-12 years 11-30am, $15.50*

The Glow Show team is back with a

"Kiwified" interpretation of Alice and

Wonderland with Wonderland Glow Show.

Let your imagination soar as you are

transported into another world of giant scale

glow-in-the-dark puppetry.

book

now

For more information

www.ateventcentre.co.nz

An Evening With Simon O'Neill – Jackie Clarke

and Tim Beveridge

Sunday 27th June 4pm

Adult $89.90* / Senior / Group 6+ $79.90* each

Student $75*

Fall in love with Simon O'Neill, Jackie Clarke

and Tim Beveridge with an unforgettable

evening of music and entertainment. See Simon

O'Neill, Jackie Clarke and Tim Beveridge in

Concert, as you've never seen them before in

this once in a lifetime musical event.

Friends! The Musical Parody

Friday 24th September 7-30pm

Premium $89.90* / A -Reserve $79.90* /

School age $69.90* /

Groups A Reserve 10+ $69.90*

Friends is touring New Zealand for the first

time. The Musical Parody takes a hilarious

look and remembers the TV phenomenon

that rules the 90's. This is a hilarious

good–hearted romp through our favourite

moments from the hit TV

03 307 2010 211A Wills Street, Ashburton 7700 admin@ateventcentre.co.nz *Service fees apply

Masport clean-burning, NZ made wood fires

Designed by Kiwis to meet the unique heating needs of New Zealand homes

Stay comfortable all year round with

Fujitsu's sleek, stylish Lifestyle Range.

HEAT PUMPS FROM $1999 inc GST INSTALLED!

2020

Heat Pumps

Fujitsu's Catechin Filters are approved by

the Asthma and Respiratory Foundation

NZ's Sensitive Choice ® programme.

Pellet and Wood Fire Specialists

472 Blenheim Road

Sockburn

Phone: 03 343 1651

Open 8:30am - 5pm

Sat 10am - 3pm

www.heatstore.co.nz

03 381 6950

info@powersmart.co.nz

powersmart.co.nz

FREE

consultation from

your local Accredited

Heat Pump Expert
---
Selwyn Times Wednesday May 12 2021

4

NEWS

•From page 1

''I was really lucky. I won't be

playing golf anytime soon,'' Macdonald

said.

But he has every intention of

carrying on

with his lessons

as soon as his

body is willing.

''You have to

get back on the

horse again. I

am not going

Stewart

Bufton

to let it (the

crash) beat me.

''It is a lovely

view up there. On a fine day, it

is serene. You get a view of the

countryside from another perspective.

''I also want to see my farm in

Sheffield, which my son has now,

every now and then from the air.''

Macdonald and Bufton were

practising engine failure protocols

when the plane clipped

power wires and nose-dived, at

low speed.

''I was under instruction when

we caught some wires on the opposite

side of the hedge we were

climbing over,'' Macdonald said.

''It was a slow speed, low

altitude accident. It happened

in micro-seconds, so I didn't get

time to have any thoughts as we

nose-dived into the paddock,''

Macdonald said.

He did not want to comment

further about the crash until the

Civil Aviation inquiry was held

to establish what went wrong.

Latest Canterbury news at starnews.co.nz

'You have to get back on the horse again'

• From page 1

French said the man, who lived

and worked on a nearby dairy

farm, explained he had been lying

there unable to move since he

came off his bike about 3.30pm

the previous day. They phoned

111.

He said the man seemed in

good spirits generally, even asking

for his prized motorbike to be

rescued before he was. However,

he could not move and had no

feeling in his body.

He was also "stone cold" to the

touch, wearing only jeans, gum

boots, T-shirt and a polar fleece

top. With -5 deg C temperatures

forecast for that night, French

said he and his friends were

relieved they had come across the

man when they did.

"It was very coincidental that

we drove up that track that

night," he said.

He said the man recounted

having been able to hear fourwheel-drive

vehicles in the river

SLOW-SPEED: The plane Macdonald and Bufton were in

clipped these power lines before crashing.

PHOTO: GEOFF SLOAN

Last week, Macdonald went

to the Rangiora Airfield to have

a look at the plane, and search

for his log book, and one of his

shoes, which was found stuck

under the rudder pedal.

His family had been belatedly

told that Macdonald was intending

to take flying lessons.

His daughter, Bridget, told

Charlie

Jay

Robertson Dreaver

nearby throughout the day, and

yelling for help, but no-one hearing

him. He had his cellphone

with him, and could hear it ringing,

but could not retrieve it as he

could not move.

Leeston Constable Herb Inwood

said the actions of the three

deer hunters in saving the injured

rider was commendable.

"He wouldn't have survived

another night," Inwood said.

A resident on the neighbouring

farm of Rakaia Island Dairies,

Kim Morton, said the area was

isolated and it was not surprising

no-one heard the man yelling.

"If someone didn't find him,

him he was mad: ''I said I hoped

he didn't fly away too soon. He

nearly did,'' she said.

''They were incredibly lucky.''

His wife, Christine, said it was

traumatising to get a call from

a policeman to tell her about

her husband being involved in a

plane crash.

She continues to have nightmares

about what might have been.

''That's what has been waking

me in the night. The thought of

them burning to death,'' she said.

''But we will be all right. It

could have been worse.''

She reminded her husband

of their wedding vows — in

sickness and in health — as

she helped to shower and dress

him.

He wouldn't have survived another night – police

no-one would have known he

was down there," she said.

St John said it was notified via

a 111 call at 7.12pm, and sent two

ambulances and a rapid response

vehicle. St John took the man to

Christchurch Hospital in a serious

condition.

Southbridge Volunteer Fire

Brigade chief Shane King said the

brigade responded to the scene

with its four-wheel-drive utility

appliance, and assisted police and

ambulance at the scene.

Open Day

Thursday 27th May

4-6pm

New brochure

out now.

What's On

in Selwyn

Term 2 2021

May – July

Choosing a high school which gives you the opportunity to be

motivated, happy, challenged and supported is essential in your

years as a young adult to set you up for a full and enriched life.

During our open day we will have guides to take you around

the school. You can also hear presentations by the principal,

head students and Year 9 students in the hall at 4pm or 5:40pm.

Events

Libraries

Recreation Centres

Lincoln High School Open Day

Thursday 27th May, 4–6pm

25 Boundary Road, Lincoln

(03) 325 2121

lincoln.school.nz

Pick up a copy from any

Council facility or view it online:

selwyn.govt.nz/events

Pools
---
POLICE SUSPECT just

one person is responsible

for a vandalism attack on

community rooms at Rolleston's

St John ambulance station.

The trail of damage included

a smashed television, a pool

of urine on the floor and food

smeared into the carpet.

Senior Sergeant Dean Harker

said video camera footage from

a commercial premises nearby

had captured one person who

was a possible suspect.

Latest Canterbury news at starnews.co.nz

"We just need to try and identify

who it is," Harker said.

Regional general manager St

John South Island Craig Stockdale

said it was disappointing

the charity's public space was

vandalised. The break-in was

believed to have taken place

sometime overnight on Sunday

last week.

Stockdale said the space

was heavily used by the community.

The damage has forced

Wednesday May 12 2021 Selwyn Times

NEWS 5

Community rooms at St John station vandalised

a meeting of the charitable

organisation's youth division to

be postponed until this week,

while a public first aid course

that was also due to be held

in the facilities had to be

relocated.

Hororata event a glowing success

As the sun set over the plains on Saturday,

10 hot air balloons glowed brightly

in the dimming light. What followed

enthralled the 10,000 who attended

the Hororata Glow Festival. With the

balloons burning in time to music, it was

a symphony of light, colour and sound.

Then as most of the balloons slowly

deflated, lasers took over the night sky.

The festival also featured a live band and

activities such as walking inside a hot air

balloon, Canterbury University science

demonstrations, an inflatable movie

theatre, a fairy tree, UV art, a warm-up

cube and massive fairground. Hororata

Community Trust executive officer Cindy

Driscoll said organisers were grateful

to Ballooning Canterbury and all the

balloonists who travelled from around

New Zealand and flew over Hororata

skies leading up to the festival. "We

wanted to create a festival which made

people 'glow' and we succeeded. We have

something special in Hororata." Ballooning

Canterbury chief pilot Michael Oakley

said it had been an amazing festival and

week of flying. "We are grateful to all the

farmers who have happily had us land on

their farms. (The festival) is such a huge

team effort and we are really proud of the

performance we put on for the massive

crowd."

Hororata Community Trust executive officer Cindy Driscoll

and Ballooning Canterbury chief pilot Michael Oakley are

happy with the success of the glow festival.

PHOTOS:

DAVID

BAIRD
---
6 Selwyn Times Wednesday May 12 2021

Closer

than you

think!

Six fields so close to home.

Selwyn's fields offer uncrowded slopes, friendly Kiwi hospitality and

the easiest access to some of the best back country skiing in the

world. Not to mention affordable skiing for the whole family!

Mixed-terrain skiing from beginner to advanced, on-mountain

accommodation, on-site café and bar facilities and snow schools

with highly qualified instructors.

Selwyn is the perfect destination for a quick afternoon roadtrip, a

daytrip or a minibreak. Explore your district this season!

Porters Alpine Resort

Our closest field to Rolleston perfect for family skiing, offering a

friendly relaxed atmosphere. Visit Porters Lodge for a delicious

meal or stay overnight in the bunk-style accommodation. Gentle

runs combined with easy lifts aim to foster the passion for skiing.

portersalpineresort.com

Temple Basin

The perfect option for those seeking a ski experience outside the

norm. Breath-taking views, warm hospitality, night skiing, a ski-in

ski-out lodge and rope tow access to peaks on the main divide

make this a unique field. templebasin.co.nz

Home to six stunning ski fields

offering small field support with

big field fun.

Access all six fields * with the Chill

6 Pass. Visit chillout.co.nz

Broken River

Boasting some of New Zealand's best off-piste, soft-snow skiing

and snowboarding. Broken River offers an authentic kiwi ski

experience. Everyone is welcome. The atmosphere is laid-back

and friendly. You'll quickly feel part of the "family".

brokenriver.co.nz

Mt Olympus

An incredibly fun and lively atmosphere not to be missed! The Top

Hut offers ski-in, ski-out accommodation and is a popular place

to stay with a great vibe, it's fully catered with a bar and home of

the famous Mt O hot-tub. mtolympus.co.nz

Craigieburn

Located just over 90 minutes' drive from Rolleston between

Springfield and Arthur's Pass. Craigieburn is a non-profit club

field run by passionate members. craigieburn.co.nz.

Mt. Cheeseman

Ski and board instruction, full ski rental facilities, a warm day lodge

with wrap-around deck and a licensed café. There is also an ice

skating rink located at Forest Lodge at the base of the mountain.

Kids 10 and under ski FREE! mtcheeseman.co.nz

On-site catering

and bar facilities

On-mountain

accommodation

Gear hire

Ski School

TEMPLE BASIN

ARTHUR'S

PASS

BROKEN RIVER

CHEESEMAN

MT OLYMPUS

CRAIGIEBURN

Waimakariri River

CASTLE

HILL

N

WEST MELTON

SHEFFIELD

DARFIELD

CHRISTCHURCH

PORTERS

SPRINGFIELD

ROLLESTON

VISIT SELWYN.NZ

Rakaia River
---
Latest Canterbury news at starnews.co.nz

Dairy burglars sought

BURGLARS SMASHED their

way through the front doors of

On The Spot Dairy on Chaucer St,

Rolleston, about 2.40am Friday.

Security camera footage from

inside the premises captured two

male offenders wearing dark clothing.

It also identified their vehicle

outside, a stolen Nissan Tiida,

registration LMB193.

Senior Sergeant Dean Harker

said the offenders tried to break

into the store's cigarette cabinet,

but they were unsuccessful.

Police provided still images of

the store's CCTV footage, and

wanted anyone who may recognise

the offenders, their distinctive

clothing, or the vehicle to phone

them on 347 9248 and quote file

number 210507/7586.

Big tick for

yellow bin users

• By Susan Sandys

THE DISTRICT council is

giving residents a pat on the

back for using their yellow bins

correctly.

While the Christchurch

City Council has spent almost

$2 million on dumping

contaminated recycling,

the district council has spent only

$1300 in the past five months.

The city council has also

confiscated hundreds of

yellow bins from Christchurch

properties but the district council

has confiscated none.

District council solid waste

manager Andrew Boyd said

since a team of four street

recycling checkers had started

in December, only one truck

had been rejected and average

contamination levels had

decreased from 8.65 per cent to

3.6 per cent.

"The results have been

fantastic," Boyd said.

The district council followed

the same process undertaken

councils at Christchurch and

Ashburton. Upon finding bins

with items that could not be

recycled, they placed a tag on the

bin with a note letting people

know what was in there that

couldn't be recycled.

Wednesday May 12 2021 Selwyn Times

NEWS 7

The district council had a focus

of education first, only rejecting

the heavily contaminated bins

which may have items such as

food, nappies and sanitary pads.

Over the six months before the

street recycling checkers started,

the district council had provided

updated bin stickers and

magnetic easy recycling guides to

residents. It also ran newspaper

and social media advertising.

"We realise that the large

majority of residents are trying

to do the right thing and we are

really proud of the low levels

of contamination in Selwyn's

recycling," Boyd said.

The district council had

not had to get to the stage

of confiscation with any

householders. In the case of any

consideration of confiscation,

there would be multiple warnings

and attempts to call and speak

with the householder first.

Boyd said recycling loads were

inspected as they were tipped off

at the recycling facility. If loads

contained more than 10 per cent

contamination then they were

rejected, reloaded and sent to

landfill.

The average cost of a rejected

load was about $1300. Only one

truck had been rejected by the

district council since December.

LincoLn'S nEwESt

Bar & rEStaurant

BrEakfaSt, Lunch & DinnEr DaiLY

Your new local on the corner of Edward St & Eastfield Dr

Bookings and more information: 03 925 9151 or www.lincolnhq.co.nz
---
Selwyn Times Wednesday May 12 2021

8

NEWS

Wool bales

stolen

from farm

• By Susan Sandys

THE THEFT of $6500 of items

has come as a blow to a West

Melton farming family affected by

the drought.

Anna McCulloch said she discovered

on Thursday morning last

week that 12 bales of wool weighing

160kg each, eight steel yard

gates, a dozen lengths of timber, a

new roll of fencing wire, and a fast

weigh sheep crate had been stolen.

"It's just another added stress

and cost on top of everything else.

Also when we are having to buy

in feed for our stock due to such a

dry autumn," McCulloch said.

"While wool may not be worth

a whole lot at the moment, it's our

farm income and potentially not

covered by insurance."

She estimated the items would

be worth at least $6500.

McCulloch believed the theft,

which took place sometime after

6pm the previous evening and

before 6.30am Thursday, had been

planned as the thieves would have

had to have had the right equipment

in order to uplift the items.

She appealed to the public to be

in touch with police if they saw

the wool or any farm gates for

sale. The wool bales had G D and

A M McCulloch in black vivid

written on the top.

Like father, like daughters

• By Susan Sandys

DARFIELD RURAL Fire Force's

latest recruit Sophie Dance is

joining her father Ed and older

sister Eloise as members of the

volunteer brigade.

The Darfield High School

student said as soon as she

turned 16 she had wanted to join,

after hearing stories of fighting

fires from her family members.

"It seems quite exciting, they

would come home from fires

and have so many stories to tell,"

Sophie said.

It will not be until she has

completed a recruitment course

later this month that she can

herself go to callouts.

She said she was excited

and nervous for that day,

but was looking forward to

working alongside her dad and

sister.

Ed said he was among four

fellow fire force members

who had been joined by their

children.

"It's great because our children

are tomorrow's firefighters. We

try and encourage the families

down to the fire stations as often

as we can because if you plant

the seed early when they are old

enough they will be ready to

join."

He said he had found family

dynamics worked well when it

came to fighting fires. To date

Latest Canterbury news at starnews.co.nz

he had only worked alongside

Eloise, 21, who had also joined at

the age of 16.

"I suppose it's exactly the

same as working alongside any

other crew members, except you

can almost predict what they are

going to do," Dance said.

An example was if he found

himself needing to increase

water pressure or hose length,

Eloise would instinctively help

remedy the situation.

Eloise is studying to be a vet at

Massey, Palmerston North, but is

home regularly.

In training, there was a healthy

competitive aspect between the

three.

Dance is among the original

members of the rural fire force,

having joined when it was

LATEST RECRUIT:

Sixteen-year-old

Sophie Dance

(left) has joined

the Darfield Rural

Fire Force, joining

her father Ed,

who is deputy

controller, and

sister Eloise.

PHOTO: GEOFF

SLOAN

established six years ago. It has

33 members, aged from 16 to 82.

The trade assistant at Darfield

ITM emigrated in 2007 from the

UK, where he also served as a

firefighter.

"Some people jump out of

aeroplanes, some people climb

through caves, I just love being

an on-call firefighter. It's a good

adrenaline rush."

Own land and looking

for a builder?

Build with experienced locals for

complete peace of mind.

Jennian Homes have been building in the larger Canterbury

region for more than 20 years. Part of a Nationwide

Franchise company, Jennian Homes is a registered Master

Builder and provides a 10-year Master Build Guarantee and a

36 month maintenance warranty. These guarantees ensure

you have the complete peace of mind not only during your

build, but well after your home is handed over.

Why choose us?

• Design and Build service

• Fixed price with Visible, Efficient Construction Process

• Industry Leading Finance

• Studio J Selection Centre

• 36 Month Maintenance Warranty

• 10-year Master Build Guarantee

Jennian Homes Canterbury

212 Main South Road, Hornby

P 03 741 1436 | E canterbury@jennian.co.nz

jennian.co.nz
---
Wednesday May 12 2021 Selwyn Times 9
---
Selwyn Times Wednesday May 12 2021

10

NEWS

• By Susan Sandys

LINCOLN HAS had its tenth

driest start to the year since

records began in 1881, the

National Institute of Water and

Atmosphere reported in its

monthly climate summary.

Just 91.8mm of rain fell from

January 1 to April 30. The driest

ever recorded was 2001, when

58mm of rain fell in the same

period.

April was persistently dry in

New Zealand, particularly in

the east of both islands due to

regular westerly foehn winds,

meteorologists said in the

summary. Winds fanned

several wildfires in the South

Island.

Lincoln also had its third

highest daily maximum for the

month since records began, 29.7

deg C on April 5, its third highest

April mean maximum air

temperature of 19.8 deg C, and

fourth highest daily minimum of

18.3 deg C.

Lincoln has NIWA's only

currently operating automatic

long-term weather station in the

district, however, MetService

data shows Darfield is also

experiencing dryness.

Darfield received 162.8mm of

rain from January 1 to April 30,

which is a little over two thirds of

the historical average at the site

of 231.6mm.

The Ministry for Primary

Industries last month extended

the classification of a large

scale adverse event for drought

to include Mid-Canterbury,

South Canterbury, and Otago,

unlocking up to an extra

$900,000 to help farmers.

Latest Canterbury news at starnews.co.nz

Dry weather pushes

region toward records

DROUGHT: Cattle grazing in a dry paddock near Lincoln.

The event was first classified in

March last year, when it included

the upper South Island including

Selwyn, the North Island and the

Chatham Islands.

Senior scientist Manaaki

Whenua – Landcare Research

Dr Nick Cradock-Henry said

the drought highlighted the

climate-related challenges for

primary industries and rural

communities.

Ideas put forward

to retain

Southbridge bus

LEESTON AND Southbridge

residents have shared ideas

for retaining the trial 87

Southbridge-city bus service.

Patronage levels are too low to

sustain the service, which may

be discontinued next month.

At an Environment Canterbury

community meeting at

Leeston, about 50 residents met

with staff and councillors Peter

Scott, John Sunckell and Ian

Mackenzie.

General manager public

transport Stewart Gibbon said

ECan had suggested the idea of

an annual pass concept for the

existing direct service.

This was "an option to ensure

sufficient funding from fares"

which would be economic for

passengers.

Residents suggested having

trips from Lincoln to Southbridge

to connect with the Lincoln

buses, which would include

city transfers as a preferred

option.

"With morning patronage

being high, but afternoon

patronage being too low, it was

found that many parents travel

to Lincoln to pick their children

up after taking a connecting bus

from the city to Lincoln. Also,

the current special fare does not

allow transfers to other buses –

something the community

shared they would find beneficial,"

Gibbon said.

"We've taken this information

back, and staff will be looking

in how this option might work

from a scheduling, financial

and patronage point of

view. Although we can't promise

anything, it's great to have a

suggestion to investigate," he

said.

The trial service started in

January 2019 and has continually

been extended with modifications

to scheduling and fares.

"The meeting was successful

in that everyone who attended

was able to voice their thoughts

and understand the challenging

position we are in.

"It's tough deciding whether

or not to continue a trial service

that isn't financially viable

but provides public transport

for the needs of many people,

including youth.

"It was great to see such

constructive discussion."

Our Bupa Ashford

Retirement Village,

Prebbleton

Open home | This Friday 1pm - 3pm

Spacious

1 bdrm villas

from $445,000

& 2 bdrm villas

from $505,000

Our Bupa Ashford Retirement village will make you feel safe, secure and sociable. Our one and two

bedroom villas are designed for independent living.

• Stylised and functional kitchen, lounge & dining • Modern and reliable Fisher & Paykel appliances

• Stunning landscaped gardens

• Community centre now open

• Double glazed windows and heatpump

• Fixed weekly fees for life

• Care home opening late 2022

• Fitted 24/7 emergency alarm and security

Call Debbs on (03) 344 1422 today | 8 Brunel Road (off Stationmasters Way), Prebbleton | bupa.co.nz/ashford
---
Wednesday May 12 2021 Selwyn Times 11

Community is the heart of

Christchurch Casino

"At Christchurch Casino, we feel being an active, supportive member of our

community represented a core initiative of our mission. We are very proud of

our personnel who are supportive of the philanthropic organisations we have

partnered with. As a business, we have donated hundreds of thousands of

dollars each year to local events and more importantly, many of our team have

donated their time for these worthy causes," says Christchurch Casino CEO

Brett Anderson.

Brett Anderson

CEO of

Christchurch

Casino

Christchurch Casino has been an active and

contributing member of the community over

their past 26 years of operation. They have actively

supported a variety of organisations representing

individuals or families including those suffering from

the effects of addictive or compulsive behavioural

problems, such as the effects of gambling.

Recent Youth ACTIS Event with the

Canterbury Rams

Their Trust has donated more than $4.8 million dollars

to non-for-profit organisations within the Canterbury

region. Specifically, in 2020 the Christchurch Casinos

Charitable Trust distributed $307,000 to 36 local

charities, outside of the Charitable Trust $100,000 was

donated to 10 other local charities including:

• Christchurch City Mission - Funding for Alcohol &

Other Drug Services and Social Services

• ACTIS – Aranui Community Trust Incorporated

Society – Funding towards youth and family events

• Christchurch Apostolic Trust - Funding for the

Youth Ministry Activities

• Enrich Community Chaplaincy Trust - Funding

towards costs of employing chaplains to support

the Intellectually Disabled community in

Canterbury

• Age Concern Canterbury - Funding for Elder Abuse

Response services

• AVIVA (Christchurch Women's Refuge) - Funding

for 24/7 phone response line

• Battered Women's Trust - Funding for 24 Hour

Crisis Service, and safe house

• Canterbury Men's Centre - Counselling

interventions for men, operational costs, and wages

• Home & Family Society Christchurch - Funding

towards salary of Clinical Leader, residential

parenting programme, counselling services and

REFOCUS programme

• Kingdom Resources - Funding budget advice, debt

restructuring & employment services

• YWCA Inc - Funding to upgrade telephone

and IT systems for residents in transitional

accommodation

• NZ Council of Victim Support Groups Inc- Funding

for volunteer and staff costs including training costs

• Tenants Protection Association (Chch) Inc -

Funding towards rent and wage costs

• Family Mental Health Support Inc - South

Canterbury based group supporting people and

families affected by mental illness and addiction.

Funding towards operational expenses

• West Christchurch Women's Refuge - Wages for

After-Hours worker in the 24 Hour Crisis Response

service

• The Order of St John South Island Region -

Funding for additional emergency resources at

peak times

• Compassion Trust - Addiction advocacy and peer

support services

• Citizens Advice Bureau - Funding for training and

support of volunteers – providing community

support and advice for vulnerable people

• MHAPS (Mental Health Advocacy and Peer

Support Services) - Funding towards wage

costs for financial mentor

Manager Rachael Fonotia of Aranui Community Trust

confirms, "We appreciate and enjoy our relationship

with Christchurch Casino. They are easy to work with

and deeply care about their community by providing

support and collaborative effort for our events and

platforms.

One of those events we recently hosted was the

Aranui Family Festival. We received such positive

feedback we will now be making this festival an

annual or possibly a bi-annual event."

In addition to their funding support, Christchurch

Casino provides wider community support in the

value of tens of thousands of dollars annually in

the form of auction or raffle items to charity dinner

fundraisers, golf tournaments, school functions and

more.

Enjoy extensive dining options, gaming, and live

entertainment at the Casino, including some

exciting comedy shows booked for early June. Also,

remember to sign up to their free Players Club loyalty

program.

Christchurch Casinos Charitable Trust, showing

Canterbury their support for the community we live

in and love.

Aranui Family Festival run by ACTIS

OPENING HOURS

SUN - THU 12PM - 12AM

FRI - SAT 12PM - 2AM

Christchurch Casino – food, music and fun you don't want to miss.

www.christchurchcasino.co.nz • 03 365 9999 • 30 Victoria Street
---
12 Selwyn Times Wednesday May 12 2021

Thank you for

helping your

community

Fall Zones

To all of you who have had your trees

trimmed before they became a

problem, thank you for keeping all the

farms working and families in your

community warm, happy and healthy.

We know it can be a hassle, but tree branches touching the

powerlines are one of the main causes of power cuts. So, you can

be proud of the fact that you kept the local cowsheds milking,

water pumps pumping and sheep shearers shearing. And if it's

still on your to-do list, now's the time to do it, as winter sets in.

You're our priority.

Notice and Growth limit zones

B

A

Power line voltage A. Growth limit zone B. Notice zone

66,000 volts 4.0m 5.0m

33,000 volts 2.5m 3.5m

11,000 volts 1.6m 2.6m

400/230 volts 0.5m 1.5m

We're not exaggerating.

On our network, 10-20% of all unplanned power outages are

caused by trees — including vegetation — coming into contact

with power lines. Other than this, fire damage to property from

branches sparking in dry conditions and serious injury from

electrocution from contact with trees touching power lines are

also possible consequences of not maintaining your trees.

How close is too close?

While most damage is caused by trees falling on power lines,

significant risk exists from trees merely touching them. This risk

increases the higher the voltage of the power line.

The minimum distances that must be maintained between trees

and power lines, as defined in the Electricity (Hazards from

Trees) Regulations 2003, are outlined in the diagrams above.

All vegetation should be kept out of the growth limit zone and

preferably the notice zone.

Sometimes it may not be practical to have a tree trimmed at the

rate at which it grows and unfortunately, this means it may need

to be removed. Other situations may require trees to be removed,

most commonly when they are at a high risk of falling due to

disease or adverse weather events.

Where do I start?

Before you begin, remember to keep yourself, and those around

you, safe. We recognise that not everyone is experienced in tree

trimming and are happy to advise you on what to do. We can arrange

for trees near power lines to be trimmed at your expense, however

we recommend you hire professionals to safely carry out the work.

If you or someone working for you intends to work within four

metres of power lines, a close approach consent is required from

Orion before you start. As a tree owner, you may be liable for any

damage caused by carrying out trimming or felling of trees.

Will I be fined if I don't comply?

If a cut or trim notice is given to you and you fail to have the tree

trimmed and/or advise us of the time and location of the trim

without a reasonable excuse, this is an offence. This will make you

liable for a fine not exceeding $10,000. If the offence continues,

you will be liable for a further fine of not more than $500 for every

day or part day during which the offence continues.

More info can be found on our website and if

you have any questions or notice any trees

touching power lines in your area, please call

us on 03 363 9898 or 0800 363 9898.

oriongroup.co.nz

Orion operates, and maintains, the electricity distribution

network that provides power to central Canterbury.

We are always here to help if you have any questions

or concerns about the network.
---
BACKYARD CRITTERS

Mike Bowie is an ecologist who specialises in

entomology (insects and other invertebrates).

Each week he introduces a new species found

in his backyard at Lincoln. His column aims

to raise public awareness of biodiversity, the

variety of living things around us. Check out

the full list of invertebrates found at www.

inaturalist.org/projects/backyard-biodiversity-bugs-in-mylincoln-section

AN ALIEN looking beetle

captured beside my woodpile

was identified as the endemic

ribbonwood fungi weevil

(Hoherius meinertzhageni).

THis green coloured weevil

has distinctively long antennae

that are up to 1.2 and five

times longer than the abdomen

in the females and males

respectively.

Latest Canterbury news at starnews.co.nz

200,000 bread bag

tags the goal for Lucy

• By Susan Sandys

LUCY McMENAMIN is slowly

getting towards her target of

collecting 200,000 bread tags,

but she has a long way to go.

The 13-year-old Lincoln High

School student has reached

about 30,000 after she began

collecting them about two

years ago for Bread Tags for

Wheelchairs.

The charity recycles the

plastic from the tags to fund

wheelchairs for disabled in

South Africa.

Lucy is hoping to get more

contributors on board as she

strives towards her goal of

ultimately getting enough bread

tags for one wheelchair – 200kg

or 200,000 bread tags.

There are depots for people

to drop off their tags at Ararira

Springs School and the Lincoln

Scout Den, as well as Lincoln

Library.

Lucy set up the depot at the

library about four months ago

and has cleared one full box

since.

She said she hopes to clear

many more in future as Lincoln

TAGS GALORE: Lucy McMenamin has collected thousands of bread tags and wants

more people to contribute.

PHOTO: GEOFF SLOAN

residents saved their tags and

dropped them off there.

She said her main inspiration

to start the project, came from

when she was a student at

Ararira Springs School and her

love for the environment.

She wanted to stop the tags

from going to landfill.

THe weevils are 3-7mm long

and 1.5-2.6mm wide. The

weevil's host plant appears to

be limited to the Malvaceae

family including ribbonwood

(Plagianthus) species and

mountain lacebark (Hoheria

glabrata).

Larvae feed on the bark of

dying wood and adults emerge

from September to April. PHOTO: PETE MCGREGOR

NEWS 13

Golfers

chip-in for

new

community

patrol car

• By Susan Sandys

MALVERN Community Patrol

is fundraising for a new patrol

vehicle.

Chairman Errol Ashby

said the organisation had

been served by its current car,

a 2015 Nissan X-Trail, for about

five years. It was now time to

upgrade.

"It has gone extremely well,

it has been a good car, it has not

given us any problems," Ashby

said.

The car had been bought

with the help of about $18,000

raised at the Malvern Lions Club

annual charity golf tournament,

and now the same event was

being planned for this week to

raise funds for the replacement

car.

Patrol volunteers use the

patrol vehicle in the Malvern

area three nights per week,

covering Darfield, Kirwee,

Sheffield, Springfield, Hororata,

Coalgate, Glentunnel and

Whitecliffs.

Ashby said the new car would

inherit the current vehicle's

personalised number plates,

which say CPNZ4U, meaning

Community Patrols of New

Zealand for you.

He said some funds had

already been raised towards the

new car. It was unknown how

much it would cost at this stage,

but the current car had cost more

than $30,000.

The Malvern Lions annual

charity golf tournament will be

held at Greendale tomorrow.

Convener Hamish Milner said

he was expecting up to

120 entrants. The tournament

was one of the bigger events

held by the Malvern Lions each

year.

Keep warm this winter with NZ's

quietest floor console *

RapidHeat KW42

Heating 5.4kW | Cooling 4.2kW

$3,499

INSTALLED

Basic back-to-back installation.

Conditions apply.

Fall in love

with your favourite

furniture all over again!

• Recover your chairs and couches

and save money!

• Excellent range of fabrics

• Quality workmanship guaranteed

• Free quotes available

• Over 30 years experience

before

Somerfield Upholstery welcome you to email a

photo for a quote online: somerfielduph@gmail.com

after

* MFZ-KW25/35/42 indoor

sound level on lowest fan

setting in heating mode

Call us for a free quote

Somerfield Upholstery Ltd

FURNITURE RECOVERY SPECIALIST

6/47 Sonter Road, Wigram | Ph 021 251 6200 | 349 0456
---
Selwyn Times Wednesday May 12 2021

14

SPORT

Latest Canterbury news at starnews.co.nz

BREAK AWAY: Ben Sisson attempts to fend off Caleb Early and make ground for Lincoln. (Right) – Springston's Ashley Miller looks to keep the ball alive as

he is tackled by Morgan Riordan.

Loss doesn't dampen Springston's celebrations

• By Chris Barclay

SPRINGSTON'S centennial

celebrations could not be

enhanced by a win over Lincoln

in the showpiece match, but the

weekend was still beneficial for

the club off the field.

Several thousand dollars was

raised by a charity auction,

with a signed Crusaders jersey

provided by club member and

fringe All Black lock Mitchell

Dunshea fetching $1275.

Other members of the

Dunshea family were not as

benevolent as George Dunshea

was a strong presence at lock

for a Lincoln line-up coached

by another brother of Mitchell,

Lyndon.

Lincoln prevailed 23-17 after

resisting a last-minute attacking

raid by the undermanned hosts

at Springston Domain.

Springston's bid for a timely

triumph was undermined when

wing Muipu Nati was red-carded

for a dangerous tackle with about

15min remaining.

"That didn't help us. It was

a bit of a lazy swinging arm,"

Springston manager Craig

Hardacre said.

"We had a chance in the dying

seconds but we couldn't quite get

there."

The clubs used their bye

weekend in the Luisetti Seeds

Combined for the special clash,

and although the points were

not accrued, Lincoln carries

over four and Springston a

bonus point to the upcoming

competition exclusively between

Ellesmere clubs.

In spite of the defeat, the

centenary celebrations were a

fitting occasion.

"We had an auction that'll be

a good money-spinner for the

club. We had some (club) jerseys

TRY TIME:

Jackson Brown

scores for Lincoln

in spite of a

desperate tackle

from Muipu Nati.

that went for between $500 and

$1000 each. Mitch came through

with a signed Crusaders jersey,"

Hardacre said.

With the festivities over,

Springston now focus on a

challenging pool A clash with

Darfield at home on Saturday.

Lincoln travel to Ashburton for

an encounter with Celtic.

Springston's junior

players also took centre

stage during the club's

centenary celebrations,

with the Bone of

Contention, a trophy

contested between

Springston and

Sheffield since 1926

on the line at under-10

level. Sheffield won 75-

20 but were sporting

enough to let fourth

generation Springston

players Mathew

Mulqueen and Riley

Field get their hands

on the symbol of

supremacy.

(Clockwise) – Springston's Sam

Lawn is lowered in a double tackle.

Lincoln's Sam Kendal takes on

several Springston defenders.

Springston wing Muipu Nati scores

before his contribution is tarnished

by a red card.

Marshall van Jaarsveld looks for a

way past Lincoln defenders Nick

Werahiko and Tom Keeling.

•Senior rugby wrap, page 18

PHOTOS: KAREN CASEY
---
Wednesday May 12 2021 Selwyn Times 15

aCe tool Sale

now on

Big range, Low price, Local advice

Flora Viva

Flowering Annuals 100mm Pot

343385

Look after the garden

Number 8

Potting Mix 40L

245877

Goldair

Eco Panel Heater

425w

369535

keep warm

Goldair

Convection Heater

2kw

380341

$2 49 $6 78 $99

$59 98

each

each

KiwiCare

No Rats & Mice One Feed Bait Blocks

With Mouse Trap

353739

Tui

Compost 40L

141806

Natures Flame

Wood Pellets

15kg

280490

Goldair

Flame Effect

Heater 1.85kw

317687

$9 50 $6 99

$9 98

kit

each

$149

Number 8

Hard Wearing

Lawn Seed 14g

247094

Number 8

Weed Killer &

Lawn Feed 4L

327811

Hitachi

Heat Pump Air Conditioner

H: 280mm, W: 780mm, D: 218mm, White

326276

Metrofires

Wee Rad Base

Wood Fire 15kw

280144

$10 98

$14 99

$1099

$1699

Yates

Weed 'n' Feed 2L

138233

Tui

Lawn Force

Prep Mix 40L

141841

Woodsman

Brunner MkII

Wood Fire

14.5kW

229210

Masport

Akaroa Wood Fire

9.92kW

269234

$16 66 $14 98

$2189 $3399

huge selection of house plants instore now!

Mitre 10 MEGA Hornby

☎ 03 349 8497

/ Mitre10MegaHornby

Mitre 10 MEGA Papanui

☎ 03 359 5443

/ Mitre10MegaPapanui

Mitre 10 Beckenham

☎ 03 322 7557

/ Mitre10Beckenham

Prices valid from the 12th of

May until the 19th of May

If you find a lower price on an identical stocked product locally we will beat it by 15%

*if you find the same product cheaper from another Mitre 10 store of Mitre 10 website we'll match that price.

Excludes trade and special quotes, stock liquidations and commercial quantities. The in-store price may be lower than advertised.

www.mitre10.co.nz
---
16 Selwyn Times Wednesday May 12 2021

New initiatives to streamline

record building consents

The Council is launching two innovative industry partnership programmes to support the

processing of record numbers of building consent applications.

A record 372 building consent applications were submitted in March and 264 in April

This volume, plus a national shortage of building consent officers, has led to a backlog for the

Council, and average processing times for consents are now over the 20 working days. Demand

for inspections is also exceeding the number of inspectors available.

In addition to hiring new consent staff and working with the industry, the Council has now

launched a professional partnership allowing professionals who meet the criteria to have low-risk

consents fast-tracked.

Council Building Manager Vanessa Mitchell says it will place reliance on the skills and experience

of Licenced Building Practitioners, standardise how information is presented and allow the

Council to focus on higher risk elements of a building consent, such as site specific matters and

weather tightness.

The Council has also put together a training package to train new building consent officers on

the job, which will see it hire six trainee staff in July and support them with in-work training and

funding to achieve a relevant qualification.

"There's a national shortage of building consent officers, so we are positioning ourselves to

support people into work and help our community. We know as the fastest growing district in the

country we need to be innovative and think differently to ensure we're meeting the growth and

keep serving our community well," Mrs Mitchell says.

The Council is continuing to encourage people to plan ahead, allowing extra time for a building

consent and throughout their build as supply chain issues are emerging.

Sister City project wins national awards

A partnership between Selwyn and rural Indonesia has been recognised with two national awards.

The Council's Sister City Committee's two projects with the district's Sister City of Toraja, in Sulawesi,

Indonesia won two awards at the New Zealand Sister City Conference. The committee picked up Best

Local Government Award and the Best Project Overall.

The awards were for the Toraja visit to Selwyn in June 2019 and the work of three Selwyn teachers in

Toraja in September 2019.

The Toraja visit to Selwyn included observing waste management, schools in Rolleston and Ladbrooks,

Lincoln University, tourism marketing, and horticultural businesses and stayed with homestay families.

After discussions about how Selwyn could support Toraja, three retired teachers made the return trip to

Toraja and spent three weeks working with 30 junior high school English teachers. This programme was

warmly welcomed by teachers. Toraja has requested a return of Selwyn teachers. This, and a visit to

Selwyn, by teachers from Toraja has been delayed by Covid.

Committee Chairperson, Allison Rosanowski said the awards were a great reward for the hard work put

into the projects. "It is wonderful to have national recognition for so much voluntary work by the Sister

Cities Committee plus our community and Council staff."

Have your say on innovative new

waste project

Selwyn residents are being asked to have their say on an innovative

project to reconnect people with the environment and think

differently about waste.

A re-use shop, salvage yard for building materials, micro-enterprise

units for making products out of waste materials, an education

centre and a garden hub are part of the plans for the Reconnect

Project at the Pines Resource Recovery Park.

The project began with a new, covered recycling area, which was

completed in April. It was developed with sustainability in mind.

Over 5000m 2 of asphalt was made incorporating 11,000 four litre

oil containers recycled as a substitute for virgin polymers in the

asphalt, and a number of other sustainable features.

Consultation is under way now on the next steps, with the Council

looking for feedback and ideas on what might be included.

Solid Waste Manager Andrew Boyd says the Council wants to hear

from people as to whether it is on the right track with its plans for

the re-use shop, salvage yard, micro-enterprise units, education

centre and garden hub and looking to tap into other good ideas.

"We've got some big ideas here on rethinking the way we approach

waste and making the most of reducing and reusing. Now we want

to give people a chance to look at it with fresh eyes, to get excited

and to bring their own great ideas that could enhance what we've

got, especially around things like who and how we might use the

micro-enterprise units."

You can share your ideas or fill in the online survey at

selwyn.govt.nz/reconnectprojectsurvey

Growing pathways to work

There was a day out in the garden with a difference for a group of

12 Selwyn high school students last week.

The students from Ellesmere College, Rolleston College and Lincoln

High School spent a half day working at Southern Woods nursery

organised by the Council through the Mayors' Taskforce for Jobs.

The programme sees the Council working with district high schools

and businesses to organise work experience sessions.

The students were walked through the life cycle of a plant at the

nursery from planting and propagation, to potting and presentation

for sale.

Production Manager Devin Westley said the students had been

enthusiastic and fun to work with.

"They've all asked lots of questions and have been really interested

to see where the plants come from. They loved having a go on the

potting machine and a few of them were really fast with it, so we got

a few trays out of them too."

Ellesmere College students Jackson Laffey and Jack Saunders,

both 16, said it had been a fun and worthwhile day out.

"It's good to get out of the classroom, to see something different and

see how much work goes into keeping up the plants," Jackson said.

Mayor Sam Broughton says the Mayors' Taskforce for Jobs is a

nationwide programme to help develop leadership and help young

people into work or training.

"We want to make sure there's a pathway for all young people

to enter the workforce in the district. Days like today are an

opportunity to work with businesses and training centres and match

young people to work or training that suits them."

Southern Woods owner Susy Mannell said the collaboration was

part of the business' values and it had enjoyed the students' visit.

"It's good to have young people in and to give them some hands on

experience. And hopefully some of them might come into the business."

Are You Ready guide on its way

Emergencies can happen at any time and it's important to be prepared

when they do.

Fortunately, our Civil Defence team has prepared a new booklet of simple

tips that make it really easy to get ready now.

ARE YOU READY?

A guide to emergency preparedness in Selwyn

Look out for the 'Are You Ready?' booklet in your mail this week, or pick

up a copy at one of our libraries or the Rolleston Council offices.

Council Call

Selwyn District Council

Norman Kirk Drive, Rolleston

Ph 0800 SELWYN (735 996)

Rolleston Library

Rolleston Drive, Rolleston

Ph 347 2880

Darfield Library & Service Centre

1 South Terrace, Darfield

Ph 318 8338 or 347 2780

CC120521
---
Wednesday May 12 2021 Selwyn Times 17

Notices

PRIVATE PLAN CHANGE 69

RE-NOTIFIED

Rolleston Industrial

Developments Limited have

lodged a private plan change

application (PC69) to rezone

approximately 190 ha of land at

Lincoln from Rural (Outer Plains)

Zone to Living X, Living Z and

Business 1 zones.

Submissions are open to enable

you to have your say on this

rezoning proposal. Information

on this plan change request and

how to make a submission is

available at Council's Rolleston

Headquarters, and can be

Meetings

Public Forums: Council,

Community Board and local

committees meetings are open

to the public. Time is available at

the start of meetings for people

to speak on matters of concern.

Please notify Therese Davel or

Bernadette Ryan if you wish to

speak at the Council meeting at

least five days before the meeting.

Township, Hall and Reserve

Committee meetings: To list or

make changes to meeting details,

email meeting.changes@selwyn.

govt.nz or phone 0800 SELWYN

(735 996) by 9am Wednesday the

week before publication.

COUNCIL & COMMUNITY

BOARD MEETINGS

Representation Review

Subcommittee*

Wednesday 12 May 11am

Rolleston Council Offices

Council Meeting*

Wednesday 12 May 1pm

Rolleston Council Offices

Long Term Plan 2021–2031

Hearings*

Thursday 13 May 9am &

Friday 14 May 9am

Rolleston Council Offices

Long Term Plan Deliberations*

Thursday 20 May (Time TBC)

& Friday 21 May (if required),

viewed online at Council libraries

and service centres and at

selwyn.govt.nz/pc69, or by

contacting the Strategy and

Policy Team on 0800 SELWYN

(735 996). Submissions must

be lodged by 5pm Thursday 10

June 2021.

DOG MICROCHIPPING

This free monthly service is

available on Friday 21 May at

the following places:

· Lincoln Library 9–9.30am

· Leeston Library 10.15–10.45am

· Darfield Library 11.30am–12pm

· Rolleston Council Offices

12.45–1.15pm

Rolleston Council Offices

Malvern Community Board

Monday 24 May 4pm

Darfield Library

Council Meeting*

Wednesday 26 May 1pm

Rolleston Council Offices

Audit & Risk Subcommittee

Wednesday 2 June 9.30am

Rolleston Council Offices*

* Livestreamed on the Council

website and YouTube channel

DISTRICT COMMITTEE

MEETINGS

Coalgate Township Committee

Tuesday 25 May 7.30pm

Coalgate Fire Station

Coalgate-Glentunnel Reserve

Management Committee

Tuesday 1 June 7.30pm

Coalgate Fire Station

Doyleston Community

Committee

Wednesday 2 June 7.30pm

Doyleston Hall, Osborne Park

Dunsandel Community

Committee

Monday 17 May 7.30pm

Dunsandel Community Centre

Glentunnel Community

Committee

Monday 31 May 7.30pm

Glentunnel Community Centre

Active Autumn for learners

Thousands of Selwyn primary schoolers are getting active

this month.

4,200 Selwyn learners from 14 primary schools are starting

off term two with Active Autumn, a programme designed to

change travel modes and create healthy lifelong habits.

With prizes like scooters, helmets and pool passes, learners are

encouraged to walk or wheel to school over the month of May.

There's also a poster competition to encourage thinking about

keeping yourself safe out on the road.

If your dog was first registered

after 30 June 2006 and is not a

working dog, the law requires

them to be microchipped.

Microchipping will not take place

if wet. If you have any questions,

please contract Tracey Wheeler

on 0800 SELWYN (735 996).

ALCOHOL NOTICES

Alpine 182 Degrees Limited

(Springfield Hotel) has applied

for the renewal of an on licence

and an off licence. Objections

to these application are

open until 20 May. For more

information visit selwyn.govt.nz/

alcoholnotices

Greendale Recreation Reserve

Management Committee

Tuesday 1 June 7.30pm

Greendale Pavilion

Hororata Citizens' Committee

Tuesday 25 May 7.30pm

Hororata Hall

Kirwee Community Committee

Monday 17 May 7.30pm

Kirwee Hall, A&P Showgrounds

Leeston Park Committee

Monday 31 June 7.30pm

Leeston Park Pavilion

Rolleston Residents'

Association Inc.

Monday 24 May 7pm

Rolleston Community Centre

Sheffield Waddington

Community & Township

Committee

Thursday 20 May 7.30pm

Sheffield Hall

Springfield Township Committee

Tuesday 1 June 7.30pm

Tawera Memorial Hall

Tai Tapu Community

Association Inc.

Wednesday 2 June 7.30pm

Tai Tapu Hotel

Springston Committees

Wednesday 19 May 7.30pm

Errol Tweedy Pavilion,

Springston Reserve

Selwyn Events

THURSDAY

13

MAY

FRIDAY

14

MAY

SATURDAY

15

MAY

SATURDAY

15

MAY

MONDAY

17

MAY

CanBreathe

Darfield Library, 10.30–11.30am

Do you, or someone you know,

have breathing difficulties? Join

CanBreathe for an informative and

educational discussion around asthma

and other respiratory conditions, plus

tips on how to maintain good lung

health. Free. Bookings not required.

Family Bingo Night

Lincoln Event Centre, 6–7pm

Bring the family along and try your

luck at our bingo night! Line up all

the numbers on your card to win

some cool prizes. $5 per family, plus

booking fee. Bookings essential at

Eventbrite.co.nz

Journal Art Workshop

Leeston Library, 10.30am–3pm

Create a collaged journal packed

with gift tags, cards, envelopes and

more. Suitable for 16+ years. Bring a

packed lunch. Tea, coffee and water

provided. $20 library members. $40

non-members. Bookings essential

at selwynlibraries.co.nz. Payment

can be made on the day, or in-library

beforehand and is not required to

secure the booking.

Unplugged with the

Ministry of Mind

All Selwyn Libraries, 11am–1pm

Celebrate New Zealand Music

Month by supporting local musicians

performing live and 'unplugged'. Free.

Bookings not required. Darfield Library

- Lynette Diaz, Leeston Library –

Moonflower, Lincoln Library – Analise

Twemlow, Rolleston Library – Veranda

Cocktail

Coding Club

Rolleston Library, 3.30–4.30pm

Join our weekly sessions for some

hands-on coding and problem solving.

Aimed at 9-13 years. Please bring

your own device/laptop if you have

one. Book at selwynlibraries.co.nz.

On the roads

ON THE

ROADS Metaling is being done on McLachlans Road between Leeston Taumutu Road and Gullivers

Road. Pavement repairs are taking place on Telegraph Road between Creyke Road and

Bealey Road. Traffic management is in place for these works. Stop/go controls are in place

on D'Arcy Street and Pennington Street for the laying of a new sewer line.

Need funding for your

project?

Creative Communities

Selwyn can help!

Funding is available to groups or individuals with community-based

creative projects that promote arts or culture in Selwyn.

Applications for this funding round close at 5pm, Friday 28 May.

Visit selwyn.govt.nz/artsfunding

for more information and to apply.

WEDNESDAY

19

MAY

Are you ready for

an Emergency?

Darfield Recreation and

Community Centre, 7–8.30pm

Come and learn simple, practical

steps for being ready and getting

through emergencies such as tsunami,

an alpine fault or other serious

earthquakes, storms or flooding.

For information on listing a community event visit

selwyn.govt.nz/councilcall

Leeston Library & Service Centre

19 Messines Street, Leeston

Ph 347 2871

Lincoln Library & Service Centre

Gerald Street, Lincoln

Ph 347 2876

0800 SELWYN

www.selwyn.govt.nz

SelwynDistrictCouncil
---
Selwyn Times Wednesday May 12 2021

18

SPORT

Latest Canterbury news at starnews.co.nz

Promotion justified as Horn makes a mark on debut

• By Chris Barclay

CHAMPIONS Southbridge

unveiled a potential star of

the future with 18-year-old

debutant Boston Horn scoring

five tries from fullback in the

85-15 thumping of Rakaia in

pool A of the Luisetti Seeds

division 1 competition.

Horn justified his promotion

after a string of impressive

performances for the division 2

side with a stunning step-up on

Saturday.

"Boston was outstanding.

He's been playing really well for

div 2, he chucked his hand up

and deserved an opportunity.

He made the most of it and

he's given us a real headache

in terms of the make-up of

our backline," said coach Tom

Turner.

"He's got the uncanny ability

to pop up at the right place at

the right time and he's probably

the fastest in the team. He's got

the ability to burn players on

the outside."

Turner and fellow coaches

Reece Allen and Brendon Stevens

now have to decide which

role Horn will play against winless

Hornby during sixth round

action at Southbridge Domain

on Saturday.

Darfield still lead pool A by a

point after a 38-19 victory over

Hampstead while Southern

head pool B by the same margin

in spite of dropping their first

game of the season, a 17-14

defeat by Prebbleton.

Saracens are the only unbeaten

club in pool C with a perfect

five-from-five record thanks to

a 33-14 win over Hurunui.

Results:

Centennial game – Lincoln 23

Springston 17.

Pool A – West Melton 48

Hornby 26; Southbridge

85 Rakaia 15; Darfield 38

Hampstead 19; Springston bye.

Pool B – Methven 17 Celtic

7; Prebbleton 17 Southern 14;

Waihora 52 Rolleston 19; Lincoln

bye.

Pool C – Oxford 37 Ashley 5;

Kaiapoi 20 Glenmark-Cheviot

13; Saracens 33 Hurunui 14;

Ohoka 41 Woodend 16.

Standings:

Pool A – Darfield 20, Southbridge

19, Springston 14, Rakaia

10, West Melton 7, Hampstead

5, Hornby 2.

Pool B – Southern 18,

Prebbleton 17, Methven 10,

Waihora 9, Celtic 9, Lincoln 9,

Rolleston 0.

Pool C – Saracens 22, Kaiapoi

19, Glenmark-Cheviot 18,

Oxford 12, Ohoka 10, Ashley

7,Hurunui 5, Woodend 3.

Sixth round draw (all 2.45pm

Saturday):

Pool A – Springston v Darfield,

Springston Domain; West

Melton v Hampstead, West

Melton Domain; Southbridge v

Hornby, Southbridge Domain;

Rakaia bye.

Pool B – Rolleston v Methven,

Foster Park; Celtic v Lincoln,

Ashburton Celtic RFC; Waihora

v Prebbleton, Rhodes Park;

Southern bye.

Pool C – Hurunui v Ashley,

Culverden 1; Glenmark-

Cheviot v Saracens, Cheviot 1;

Ohoka v Oxford, Mandeville 1;

Woodend v Kaiapoi, Gladstone

Domain.

Serious harness racing

crash puts driving on hold

• By Chris Barclay

IT'S CUSTOMARY to get

straight back in the saddle after

a setback, although veteran

harness driver-trainer Kevin

Townley will take time to

consider if and when it is wise to

climb into a sulky after his latest

accident.

A 70-year-old requiring a hip

replacement is not unusual, but

the background to Townley's

procedure in Christchurch Hospital

sets the West Melton-based

horseman apart.

"I was going up in the air and

the next thing I remember was

all these faces staring down at

me," Townley recalled when

revisiting his crash with Murano

at Rangiora on April 18.

"I've seen the replay, I suppose

I was two or three metres in the

air, then I got run over. It [the

footage] doesn't show that."

The stewards' report states Gift

Card fell and checked Murano

plus Tom Brady. Townley was

one of three drivers dislodged

by the incident. Murano, which

avoided injury, galloped on

before being corralled.

"[Murano] fell in a split second

– apparently it stood on a shoe.

You think very fast on the track

and in a split second I thought:

'There's no way out of this one',"

Townley said.

He was treated at the track

and transported to Christchurch

Hospital with hip, rib and lung

damage. He was discharged on

April 30 to continue his rehabilitation

with wife Margaret.

"My left hip was smashed up

pretty bad so I got a total hip replacement

but there's still a fracture

or two to heal. Hopefully

they're healing all right with the

new apparatus on board," he

said.

Townley already has a plate

and several screws in his shoulder

following an accident during

track work. After a crash during

a trial at Motukarara, a horse

trod on his hand, breaking all

the bones.

He was also kicked in the

head by a horse before a race in

Westport in 2017, with a helmet

fortunately bearing the brunt of

the blow.

Townley shrugged off those

incidents – and several others

through the years – reasoning:

"It can be a bit of a rough industry,

you expect things like that.

I've bounced back pretty good

but there must be an age where

you don't."

That might be approaching,

with Townley conceding the

Rangiora spill was the worst he

has experienced.

"It's not great timing to be fair

– at 70 you don't bounce back

quite as well either. I don't know

how much I'll be able to do in

the future. That will work itself

out I guess."

Townley returned to his stable

REINED

IN: Veteran

harness

racing

trainerdriver

Kevin

Townley is

making a

patient

recovery

from

surgery

following

a serious

crash

during a

race at

Rangiora

(below).

PHOTOS:

GEOFF

SLOAN &

TRACKSIDE

(below)

last week to check on his small

team.

"We'll see how the next couple

of months go and how I get

around. I've got to lift my leg into

the sulky don't I," he said.

The surgical advice was to release

the reins but he would not

be pushed into retirement.

"I just have to judge it myself

really. There's no rush, I've got

another month before the bones

are healed anyway."

Townley started training in

with his father Doody in 1987

before training in his own right

from 1995. He has 263 winners

and another 230 with his dad.

Most of his horses are spelling

now although Harbour Queen

placed third at Methven on April

26, just the tonic as he followed

the race from his ward.

Townley has also been boosted

by the harness racing fraternity.

"I've been inundated by offers

of help," he said.
---
Wednesday May 12 2021 Selwyn Times 19
---
20 Selwyn Times Wednesday May 12 2021

St Michael's School

Your school at the heart of the city

SCHOLARSHIPS

St Michael's is pleased to

offer academic, music and

choral scholarships

for 2022 for pupils in

Years 5, 6 & 7

Contact the Registrar for

application and audition

details.

registrar@saintmichaels.co.nz

SCHOLARSHIP DAY

Tuesday 25 May

OPEN DAY

✓ Co-educational, Years 1-8

✓ Small classes

✓ Specialist teachers

✓ Musical excellence

✓ Christian values

✓ Traditional classrooms;

academic rigour

✓ Before & after school care:

7.30am - 5.30pm

✓ Central city location

Taking enrolments for 2022.

Some places available for 2021.

OPEN DAY

Wednesday 26 May

www.saintmichaels.co.nz 249 Durham Street

Phone (03) 379 9790
---
Wednesday May 12 2021 Selwyn Times 21

Senior Chef Cooking Classes

Today 10am-1pm

To stay healthy we need to eat

well, so being a confident cook

is vital. Senior Chef provides a

free eight-week cooking course,

one of which begins today. Gain

skills, confidence and motivation

around cooking for one or two

people, learn about nutrition

for older adults, cook a meal in

pairs using your complimentary

cookbook, share a meal with

friends. Participants must

register with the Senior Chef coordinator

to go on the waitlist for

the class.

Lincoln Event Centre

Selwyn Library at Tawera

Hall

Today 2.30-4.30pm

Go along and choose some

new reading material off the

Edge Connector Vehicle, build

something with the Lego

collection or create an artwork

using light pads and watercolour

pens. Children under 8 must be

accompanied by a parent.Free.

No bookings required.

Tawera Memorial Hall,

Springfield

Autism Kōrero

Today 10.30-11.30am

Join in for a presentation and

conversation about autism by

educators from Autism NZ. They

Email susan.sandys@starmedia.kiwi

by 5pm each Wednesday

will look at what autism is and

will discuss myths, strengths,

and challenges. Drop-in.

Leeston Library

Kids Sign Language Classes

Thursday 3.30-4.30pm

In celebration of New Zealand

Sign Language week, join in

with this four-part series to

learn basic vocabulary in a fun

environment. Presented by kids,

for kids. This workshop will run

for four weeks each Thursday to

May 27. Suitable for ages 8+, free,

bookings essential.

Rolleston Library

CanBreathe

Thursday 10.30-11.30am

Do you, or someone you know,

have breathing difficulties? Join

CanBreathe for an informative

and educational discussion

around asthma and other

respiratory conditions, plus tips

on how to maintain good lung

health. Drop-in.

Darfield Library

Family Bingo Night

Friday 6-7pm

Take the family try your luck

at this district council bingo

night. Line up all the numbers

on your card to win some

cool prizes. $5 per family plus

booking fee. Bookings essential.

Lincoln Event Centre

GET CONNECTED WITH

Scorch Broadband

0800 726 724

www.scorch.co.nz

Christchurch Symphony

Orchestra – Music Trails

Friday 10.30am

Join in these ever-popular

shows by the Christchurch

Symphony Orchestra as part

of New Zealand Music Month.

These sessions are aimed at

pre-schoolers, however, all are

welcome. Free, bookings not

required.

Lincoln Library

Journal Art Workshop

Saturday 10.30am-3pm

Immerse yourself in the

artistic world of journal-making!

Create a collaged journal, packed

with gift tags, cards, envelopes

and more. For 16+ years, $20

library members, $40 nonmembers.

Bookings essential.

Leeston Library

Amy's Atmosphere

Ambassadorship

Monday 7pm

Lincoln Envirotown Trust

hosts Amy Burney to talk about

her BLAKE Ambassadorship

and spending three weeks

in December at the National

Institute of Water and

Atmosphere's Wellington and

Lauder sites learning about

their research. Tickets are not

required, just come along.

Lincoln Event Centre

Employment Zone Seminar

Tuesday 10.30-11.30am

Delivered by the Ministry

of Social Development,

Employment Zone Seminars

provide information around

job seeking, redundancy, staff

retention and recruitment. 16+

years. Drop-in.

Darfield Library

Career Support Presentation

Tuesday 10am-noon

A career consultant will be

in house to give a presentation

with tips on identifying

employers' most sought after

skills. Attendees will learn how

to identify their transferable

'Famous for their roasts!'

SENIORS SPECIAL

Two courses: $

23

Soup/Roast or Roast/Dessert

Special available lunch only

Monday - Saturday 12pm - 2.30pm

Conditions apply

FAMILY FRIENDLY

Kid's Special

Two courses

Great Kids menu plus

designated play area.

$

13

RESTAURANT & CAFÉ

Unplugged with the Ministry

of the Mind Saturday,

11am-1pm. Celebrate New

Zealand Music Month with

this Selwyn library tour

by Ministry of the Mind, a

group which promotes local

music in the Selwyn district

and Canterbury. Support

musicians performing live

and unplugged. The tour runs

each Saturday to May 22 and

features Moonflower, Lynette

Diaz, Veranda Cocktail and

Analise Twemlow. Free,

bookings not required.

All Selwyn libraries

skills, search proactively for

work, customise their CVs and

cover letters, and polish up their

interview techniques. Free,

bookings essential.

Leeston Library

Markets

Rolleston Sunday Market:

Sunday, 2.30am-12.30pm. Open

Sundays all year round, 631

Springston-Rolleston Rd.

Market@254 West Melton:

Saturday, 9.30am-1pm. Open

Saturdays all year round, 254

Lawford Rd, West Melton.

Lincoln Farmers' and Craft

Market: Saturday, 10am-1pm.

Open Saturdays all year round,

Gerald St, Lincoln.

Darfield Market: Saturday,

9am-1pm. Open Saturdays

all year round, 33 South Tce,

Darfield.

Prebbleton Community

Market: First Sunday of the

month, noon to 4pm, cnr Blakes

and Springs Rd, Prebbleton.

Open daily from 6.30am - Breakfast, Lunch & Dinner

The

RACECOURSE HOTEL

& Motorlodge

118 Racecourse Rd, Sockburn,

Christchurch. Ph 03 342 7150

www.racecoursehotel.co.nz

"Capital gain was a big

influence..."

MICHAEL WILLMER - RETIRED BUILDER,CABINET MAKER

"..we knew there'd always be money left to help

our kids - especially the grandchildren. But it was also the

quality of the build that swayed us...it was very good."

There are many more reasons why Woodcroft Estate could be the right

choice for you. Why not drop into our onsite office to see just how good

your retirement living could be.

PAVILION & SALES OFFICE OPEN MONDAY TO FRIDAY 9AM TO 3PM

34 KENDON DRIVE LEVI PARK, ROLLESTON | CORINNE 03 421 7796 | 021 292 1141

woodcroftestate.co.nz
---
22 Selwyn Times Wednesday May 12 2021

rolleston business hub

Jones Road and Industrial Zone

Keep your feet deliciously cosy

and cowhide rugs. They also have a selection

of lower grade sheepskins which are very

popular as pet mats.

Possum Pam supply to numerous shops

across the board spanning the length of New

Zealand. They use NZ materials wherever

possible and are one of only four companies

left in New Zealand selling these type of

products because of the influence of Chinese

imports.

The devastation of Covid globally has

driven home how blessed we are to live

in such a safe country. At Possum Pam

everything is done onsite. It has become

increasingly important to buy local, reduce

Slide your feet into snuggly sheepskin

slippers on these frosty Autumn mornings.

Russell and Sue Dalzell, owner/operators of

Possum Pam, are enjoying being in Rolleston

and love the fact that they are now able to

have a retail outlet, bringing their wonderful

cosy slippers right to your doorstep.

Russell and Sue have been manufacturing

quality NZ Made sheepskin slippers since

1998, building the business up from a small

market stall to where they are today, currently

hiring 10 staff. "We have fantastic staff and

couldn't be happier with the staff we have got."

They shifted from their home-base in

Dunsandel to Rolleston in September. "We

had been looking for a place to base ourselves.

When this location came up in September we

jumped at it. We are in amongst a great bunch

of businesses who are all very supportive.

We are very pleased with how the locals have

come out and supported us."

Possum Pam's predominantly make

sheepskin slippers, from adorable baby

booties right through to adult sizes. There are

mid-calf boots and custom-made Bespoke

slippers for people who have special needs. "It

is surprising how many people come in here

or contact us, who can't get what they need

in retail shops," said Russell. They also sell

possum accessories, leather belts, sheepskins

carbon miles and retain as much of our

manufacturing base as we can. People are very

conscious of the benefit of buying products

that haven't travelled halfway around the

world to get to here,

Russell and Sue fully stand behind their

product; check out their Facebook page or

pop in to see them. As long as the factory is

open, they are open. Possum Pam is located

at 823 Jones Road; open weekdays and from

9-3:30 on Saturdays.

Gary Elliot operates the

travelling head press.

(Behind Diesel fix)

SheepSkin & poSSum

Skin Factory Shop

• Sheepskin Slippers, Boots & Scuffs

• Possum Accessories

• Cow and Calf Hides

• Sheepskin Rugs

• Pure Sheepskin Pet Mats

Open 9am to 4.30pm Monday to Friday

and 9am to 3.30pm Saturday

Follow us on Facebook

823 Jones rd rolleston

ALL YOUR

MOTORING NEEDS

› While You Wait WOF's

› Courtesy Cars

› Diagnostics

› Repairs

› Servicing

› Batteries

› Tyres

Phone 347 4020

131 IPORT Drive

(Cnr Hoskyns & IPORT drive)

www.jonesroadauto.co.nz

The Team: Hayden, Simon & Allan

Mon-Fri

7am-5pm

Sat 8am-12 noon

(WOFs only)

839 Jones Road, Rolleston

P.O. Box 16 Rolleston

Phone Simon on 347 7110

or Mobile 027 272 9213

3 TRUCKS

3 CARS

3 LUBES

3 SERVICING

3 FLEET WORK

3 BOATS

3 DIESEL INJECTOR

3 & PUMP SERVICING

3 ENGINE TUNING

3 BRAKES

3 MAXXIS TYRES

3 WHEEL ALIGNMENTS

3 BATTERIES

3 WOFs

3 CAMBELTS

AND MUCH MORE!

Manufacturers of Fine Natural Pet Food

Variety of 10kg

Mixes

for cats and dogs

$47 50 -$57 50 DIESEL FIX

Phone (03) 347 0626

Shop 4, 855 Jones Road, Rolleston (opposite Redpaths)

Mon-Tue 9am-5pm, Wed-Fri 9am-5.30pm, Sat 10am-1pm

Is your vehicle not running

to it's full potential?

Is it lacking power or

blowing black smoke?

Diesel Fix can give you a no Fuss assessment

• Specialist in fuel injection and efi

injector repairs

• Diesel and Petrol Injectors repairs

• Diesel injection pump repairs

• Large selection of service

exchange pumps and

injectors available

• Vehicle scanning and diagnostic

• Compression testing

DIESEL SPECIALISTS

Mon to Fri 8am-5pm, Sat 9am-1pm

821 Jones Road, Rolleston

Phone 0274 368 154 or 03 3477108
---
Wednesday May 12 2021 Selwyn Times 23

STYLE & QUALITY

FOR LESS

SUPER SPECIALS

CHRISTCHURCH'S MOST AFFORDABLE

NZ MADE LOUNGE SUITES

CUSTOMISE TO YOUR REQUIREMENTS

SUPER

SPECIAL

Fen Dining

Collection

Table 900 x 900 $355 $299

Table 1200 x 770 $379 $329

Table 1600 x 900 $489 $419

Table 1800 x 900 $569 $489

Chair $139 $119

WAS $619

$

569

Steiner Armchair

SUPER

SPECIAL SUPER

SPECIAL SUPER

SPECIAL

Maui

Recliner

3 Colour options

available

WAS $999

$

899

WAS $149

$

129

Newb Barstool

WAS $2809

$

2599

Calla Corner Sofa Bed Chaise

with storage ottoman

SUPER

SPECIAL

Available in

Green

Blue

Grey

The Flow

Collection

FROM

$

429

Iris Sofa

3 Seater $809 $749

2 Seater $679 $629

1 Seater $459 $429

Lamp Table $249

Coffee Table $429

Console Table $429

5 Year Warranty

5 Year Warranty

Pillow Top Foam,

Continuous Spring,

Comfort Foam,

Wave Foam.

Pocket Spring,

Euro Top, Quilt

Fibre, Comfort Foam,

Wave Foam.

FROM

FREE

CARPARKING

Queen Bed Frame $779 $729

Chateau Queen Mattress $759 $709

4 Drawer Tallboy $709 $649

SOUTH CITY

BATH ST

WE ARE

HERE

Pepper Collection

255 MOORHOUSE AVE

REBEL SPORT

FROM

Cloud Rest Mattress

$

649 $

279

$

539

COLOMBO ST

Single $299 $279

King Single $349 $329

Double $399 $369

Melody Mattress

Queen $439 $399

King $469 $439

Super King $679 $629

FROM

King Single $539 $499

Double $679 $629

Queen $759 $709

MON-FRI 9:30AM – 5:30PM

SAT-SUN 10AM – 5:30PM

0800 268 264

King $839 $779

Super King $899 $839

www.affordablefurniture.nz
---
24 Selwyn Times Wednesday May 12 2021

RURAL | LIFESTYLE | RESIDENTIAL

TAI TAPU 149 Cossars Road

Quality in a Sought-After Location

On offer is this beautifully presented 4.068 hectare property,

featuring a large homestead set in an expansive easy care garden

boasting numerous specimen trees and a formal rose garden. The

five-bedroom, four-bathroom home has recently had major

enhancements including new double glazing being installed and

new roof tiles. The spaciousness of the home is evident as soon as

you walk into the large entranceway which leads to either the three

bedrooms located on the ground floor, the sun-drenched lounge, or

into the kitchen and separate dining room. A separate lounge is

located off the kitchen giving space for all the family. Upstairs the

master bedroom has pride of place with separate his-and-hers

wardrobes and en suites, as well as another bedroom and office. The

inground swimming pool has its own changing rooms, shower, and

toilet and is set in a sheltered setting. The large multipurpose shed

located near the stand of mature oak trees gives plenty of options for

a home-based business, as does the helicopter hangar situated near

the home. Possibilities may include storage and/or workspace for

trades-people or contractors, or it may be a suitable space for an

antique centre as it has a built-in auction room. so there are lots of

options for the use of the property.

5 4

AUCTION GST Inclusive

12.00pm, Thursday 27 May Bayleys Auction Room,

3 Deans Avenue, Christchurch

VIEW

1.00-1.30pm, Sunday 16 May

Sam Davidson

M 027 488 8269

E sdavidson@pggwrightson.co.nz

pggwre.co.nz/CHR34212

DARFIELD 77 Bleakhouse Road

Versatile Cropping and Grazing Property

This 139.1857 hectare property offers excellent soils and is located in

the highly sought after Racecourse Hill area.

The older four-bedroom home was renovated in 2007 and is situated

in an established and sheltered setting. The property has been used

for cropping, lamb fattening, and cattle grazing in recent years.

This is a wonderful opportunity to secure a well-established property

in a fantastic location.

PRICE BY NEGOTIATION

Plus GST (if any)

VIEW By Appointment Only

Sam Davidson

M 027 488 8269

E sdavidson@pggwrightson.co.nz

Mark Clyne

M 027 531 2964

E mark.clyne@pggwrightson.co.nz

pggwre.co.nz/CHR33854

PGG Wrightson Real Estate Limited, licensed under REAA 2008

Helping grow the country

1 Robin Mann Place, CHRISTCHURCH

Phone: 03 341 4301 | Email: christchurch@pggwre.co.nz

For more great listings, visit www.pggwre.co.nz

PGG Wrightson Real Estate Limited, licensed under the REAA 2008

Helping grow the country
---
Wednesday May 12 2021 Selwyn Times

Latest Canterbury news at starnews.co.nz

GARDENING 25

Time of year to look after your roses

DRAINAGE: If you are planting roses don't disturb the root system and apply plenty of compost. Snapdragons should

now be in full bloom.

EVEN THOUGH winter is

fast approaching, there are still

many important tasks to be

carried out in the garden, such

as harvesting the remaining

vegetables, completing annual

pruning, planting new fruit trees

and watching newly-planted

strawberries break into growth.

Continue distributing compost

around vegetables to help absorb

excess water from typical winter

downfalls.

Vegetables to harvest include

broccoli, brussels sprouts, cabbage,

carrots, cauliflower, celery,

leeks, lettuce, parsnips, silverbeet

and spinach. Continue sowing

seeds of broad beans, onions,

peas, radish and spinach directly

into well prepared and drained

soil.

Old crowns of rhubarbs can be

divided and replanted into permanent

positions around 600mm

apart. Rhubarb thrives in rich soil

so add plenty of compost when

planting

Displays of annuals should

now be approaching full bloom,

including alyssum, calendulas, lobelia,

nemesias, pansies, poppies,

primulas, snapdragons, stock and

sweet peas. All these flowering

annuals can also be successfully

grown in containers or large tubs

and brings life to dull parts of the

garden or decks during winter

months.

The best selection of deciduous

fruit trees are now available

in garden centres and it is a

good time to start planting. Next

month you should consider pruning

your existing deciduous fruit

trees such as; apples, apricots,

nectarines, peaches, pears and

plums.

With young trees, it's important

to develop a strong structure that

will carry fruiting wood in successive

years.

Older trees may require more

detailed pruning. This involves

pruning out old wood that is

no longer providing fruit and

removing overlapping laterals or

branches and any diseased wood.

You can also prune raspberries,

boysenberries, loganberries and

gooseberries now. In very general

terms, remove all old growth,

selecting vigorous growing wood.

With climbing berry plants, select

the strongest canes and tie them

to a supporting framework.

In June and July, garden centres

are overflowing with new season

ornamental trees and shrubs.

Preparation of planting sites is

critical.

In most parts of New Zealand,

the rose flowering season is

finished. If leaf drop is complete,

plants can now be pruned.

Remove all dead wood and inward

growing branches. Prune to

outward facing buds and remove

any wood that is narrower than

pencil thick. If any plants have

significant die back, remove it

and burn.

Apply a clean up spray of copper

oxychloride after pruning.

New seasons roses are now

available at garden centres. When

you purchase your rose, it may be

bare-rooted or potted.

Bare-rooted plants are generally

cheaper and will need to be

planted as soon as possible. With

potted varieties, be careful not to

disturb the root system when you

plant them.

Roses can grow in a variety of

soils as long as they have good

drainage, so add in plenty of

compost.

Give your rose a generous

watering to help the roots settle in

and put a generous layer (about

5cm deep) of mulch around the

base of the plant.

• More gardening, page 26

ATTENTION

BUSINESS OWNERS

Do you sell products that are

eco-friendly or sustainable?

Garden

In the

with intelligro

You could feature in the Eco-Zone at the 2021 Star

Media Home and Leisure Show this July and reach over

10,000 attendees across 3 days!

Beeswax Wraps • Reusable Products

Natural Cleaners • Skincare & Make-Up Organics

Compost • Upcycled Furniture • Recyclable Products

If this sounds like you,

contact Lisa now on 021 800 809 or email lisa.

lynch@starmedia.kiwi for a no obligation quote.

Payment options available. Terms & Conditions apply.

May Garden Checklist

May is the month where autumn switches from milder days to the cold

of winter. The spectacular colours and shades of deciduous leaves fade

away and we start to move into frosts and colder wetter days. There

are many plants that relish the winter, fortunately there are many

insect pests that do not.

Flower Garden

Prepare for frosts and colder nights. Keep a frost cloth handy or move

your plants in pots to sheltered positions if frost tender. Add some

instant colour to you garden in pots to brighten up the shorter days such

as Primulas, Polyanthus or Pansies. Other options include: Calendula,

Cineraria, Poppies, Primula, Snapdragon, Viola, and Wallflower

Top Products For May

• Bark Mulch

• Organic Compost

• Frost Cloth

• Vegepod Range

• Birdies Garden Beds

• Veggie Garden Mix

Edible Garden

• Mulch around newly planted

seedlings to reduce weeds,

insulate against the cold and

reduce competition for light,

space, and nutrients.

• Broad beans can be planted

straight in your soil, for a

continuous harvest stagger your

sowing.

• Traditionally garlic and shallot

bulbs are planted on the shortest

day but in cooler areas they

can be planted from mid-May

onwards. Make sure to give them

plenty of winter sun

• Sow seeds of beetroot, broccoli,

broad beans, cauliflower, cabbage,

carrots, onions, radish, spinach,

swedes, and turnips directly into

your garden bed. Plant seedlings

of broccoli, cabbage, cauliflower,

brussels sprouts, spinach, onion

and silverbeet. Protect from the

cold while they are young.

Intelligro Opening Hours:

Monday – Saturday: 7.30am – 5.30pm

Sunday & Public Holidays: 8.30am – 4.30pm

/igro.co.nz /intelligro_nz

261 Manion Road, Weedons 7677 | P: 03 347 9012 | E: info@igro.co.nz
---
Selwyn Times Wednesday May 12 2021

26

GARDENING

POPPIES ARE always one of

the most popular seedlings sold

through garden centres.

And it's not hard to see why.

They're very pretty, they grow

easily, and they make good cut

flowers.

Some of the varieties available

are Shirley, Anzac and peony. A

lot of gardeners are fans of peony

poppies. Their many fluffy layers

of petals look striking – they're

a great alternative if you don't

get enough frosts to grow true

peonies.

Shirley poppies are also lovely

and have a very delicate look

to them. But a New Zealand

favourite would be Anzac –

particularly planted en masse.

They are a very special sight to

see in a garden.

Other popular varieties are

oriental and Iceland.

When you've got your poppy

plants look around the garden

for a sunny, well-drained spot.

Somewhere near the house is

good if you get any wind as it

will provide protection.

Once you're ready to plant,

simply dig a small hole and plant

each seedling around 30cm

apart.

Next give them a water to

help them get established. After

that they shouldn't require too

much watering. If you do water

them be careful not to overhead

water as the pressure of the water

might squash them.

Your poppies will start to put

on their pretty display of flowers

in around six to eight weeks.

Remember to remove the flower

heads when they die (deadhead)

to prolong their flowering.

Latest Canterbury news at starnews.co.nz

Popular poppies with

special significance

oN sAle Now!

STRIKING: Poppies have a

delicate look. They are easy

to grow and come in many

different varieties.

TRICKY: If you are growing coriander in a pot make sure it

is deep and use potting mix.

Take care with coriander

CORIANDER IS a love it or hate

it type of plant.

There isn't any other herb or

vegetable that divides people as

much. And it can also be quite a

tricky herb to grow as it loves to

bolt (head to seed), which probably

doesn't help its reputation

with its detractors.

But it's a plant every kitchen or

vegetable garden should have.

Here are some tips for successful

coriander growing.

Firstly, plant it now. While you

can grow coriander for most of

the year, now during autumn

and winter when the weather is

cooler, is the perfect time to plant

– especially if you find it difficult

to grow. The steady, cool weather

will prevent it from bolting.

Coriander will grow well in a

pot or in the garden. But if you do

plant in a pot make sure it's a deep

one and pour in some good quality

potting mix.

If you're growing in the garden,

at this time of the year look for

somewhere with full sun.

Coriander doesn't like damp or

humid conditions.

Next ensure the soil is aerated

and free-draining by digging

over the soil and even dig in

some potting mix or compost if

required.

Next, mound up the soil and

plant a seedling on top – this

will help ensure the soil is freedraining.

Give it a water and then

regularly water it in the morning.

This will allow the water to dry

off during the day and prevent

disease.

Now only

$35.80

Plus $5 P&H per copy

AvAilAble from stAr mediA:

Level One, 359 Lincoln Road

Addington, Christchurch

Phone 379 7100

Making your great outdoors greater

HIre equIpment

1.7 ton Digger 3 buckets

and 2.5 ton electric tip trailer

Plate compactor

Log splitter

Concrete mixer

Lawn Dethatcher

Barreto rotary hoe

3" Water Pump

Wheel barrows

Hand tools

Concrete ball float/Screeds

Electric concrete vibrator

Check out the rest of our landscape supplies online

www.mainscapegardensupplies.co.nz

Contact us

mon - Fri

1543 Springs Road, Lincoln 8:00am - 5:00pm

021 241 7908

Saturday

sales@mainscape.co.nz 8:00am - 3:00pm

The Right Fence at the Right Price

Roundwood

Farm Posts

Deer Fencing

Post and Rail Fencing

YOUR LOCAL TIMBE R M E RCHANT

Yarding Timber

Oregon Rails

Oregon Gates

Sheep & Deer

O PEN

Mon-Fri 7.00am - 5.00pm

Saturday 8.00am - 12.00pm

C O N TACT: JASON PESTER

P 03 347 7465 F 03 347 7032 jason@cthl.co.nz 167 MANION ROAD, WEEDONS 8441, CHRISTCHURCH

Netting

Gallagher

Strainrite Fencing

Systems

Visit us via our

New

Entrance on

167 Manion

Road

167

GARDENING

SOLUTIONS

FROM

CONCEPT TO

COMPLETION

Advice Landscape Plans Delivery & Planting

Allwood Trees

913 Shands Road

Prebbleton 7676

Phone: (03) 349 9240

allwood.co.nz

Allwood-Trees-Limited

allwoodtrees
---
Wednesday May 12 2021 Selwyn Times 27

CHRISTCHURCH MITSUBISHI

386 Moorhouse Avenue, Christchurch

Ph: 03 379 0588

christchurchmitsubishi.co.nz

10 year / 160,000km Powertrain Warranty (whichever comes

first) (non transferable). 5 year / 130,000km New Vehicle

Warranty (whichever comes first) (non transferable).

DRIVE A NEW

NISSAN

STOCK AVAILABLE TODAY

AVAILABLE FROM

AVAILABLE FROM

*Price shown excludes on road costs which includes registration, WoF and a full tank of fuel.

CHRISTCHURCH NISSAN, 380 Moorhouse Avenue, Christchurch

Ph: 03 595 6820

www.christchurchnissan.co.nz

AVAILABLE FROM

HAS ARRIVED

$29,990 * $33,990 * $36,790 * THE ALL-NEW

NISSAN 150,000 KM'S

5YR FACTORY

WARRANTY

christchurchnissan.co.nz
---
2013 Volkswagen

Tiguan TSi

h tp: /kaywa.me/8aVDQ

Download the Kaywa Qr Code reader (A p Store &Android market) and scan your code!

my Kaywa Qr-Code

w.valuecarswarehouse.co.nz

CELLULAR

See page 5 for more info!

2

h tp: /kaywa.me/8aVDQ

Download the Kaywa QR Code Reader (a p Store &android Market) and scan your code!

REVERSE CAMERAS

My Kaywa QR-Code

w.valuecarswarehouse.co.nz

PARKING SENSORS

0800 212 777

Ce l 021 855 884

GPS/TRACKING

motor vehicle purchase

See our ad on page 2

28 Selwyn Times Wednesday May 12 2021

Mazda BT-50 helps complete project

I HAVE THE council to thank

for completion of a landscaping

project on my front lawn.

Even though I still can't work

out why, our footpaths were replaced

and I was left with a bit of

a tidy-up job near my front fence

and berm.

I needed top soil and grass seed

to finish the job. Fortunately, I

had a Mazda BT-50 ute on hand,

and on a trip to the garden centre

a half load of soil was gently

placed on the deck. It's fair to say

this old body of mine wasn't too

willing to work the shovel and

unload the soil, but it is now a

case of job done.

That's one of the reasons why

today's ute has become so popular,

it's the versatile carryall for

when jobs crop up or something

needs to be transported on a

whim.

What's more, the double cab

configuration means five occupants

can be transported at will

and, as in the BT-50's case, comfort

levels are high right across

the range.

Regular readers will recall I

drove the range-topping BT-50

Limited in February, this evaluation

focuses on the mid-spec

GTX four-wheel-drive model,

it lists at $58,490, which is a

$2500 saving, bearing in mind

the seven-model range starts at

$47,490 (2WD). All are double

cabs with wellside decks.

The Mazda BT-50 is all new,

gone is the old Ford Rangerbased

variant. The BT-50's release

coincides with a new Isuzu

D-Max, I mention that because

underneath, the platform of the

BT-50 is all Isuzu, although I

know that the Mazda Motor Co

in Japan has done a lot of refinement

work on the driveline and,

of course, the body shell is far

from similar.

Even in mid-spec form the

BT-50 is well appointed. Sure,

you don't get leather and that

suits me fine, but elsewhere there

are plenty of items that will keep

buyers happy and for those who

see the modern double cab as a

family vehicle then the BT-50 easily

fits the bill.

Major items of fitment include

satellite navigation, keyless entry

and ignition and dual zone climate

control. More importantly,

Mazda's high-spec suite of safety

kit is included, easily keeping

up with the safety functions of

all of its competition. You could

happily say Mazda are leading the

charge in terms of ute safety.

Powering the BT-50 is a fourcylinder,

3-litre turbocharged

diesel. The outputs are rated at

FORMIDABLE: The Mazda BT-50 is a useful off-road

performer with its low ratio four-wheel-drive system.

MAZDA BT-50: Three grades from $47,490.

140kW and 450Nm, if these look

familiar, yes, it's pretty much

the same engine as in the D-

Max. In contrast to the manual

gearbox option that Isuzu offers,

all BT-50s here in New Zealand

are six-speed automatics. I guess

that's the trend, but it would be

good for those who still prefer a

manual to have a choice.

That aside, the driveline in the

BT-50 is smooth and sophisticated.

I guess Mazda has done

the business in terms of soundproofing,

for the engine just

seems to tick over quietly and it is

a smooth operating unit.

The power outputs are up to

par and would meet the demands

and load carrying claims. The BT-

50 is rated for a 3500kg braked

trailer and will take just about

one-tonne on the deck. My load

didn't stretch that parameter but

I can report that with something

on the deck the ride is calm and

controlled.

It's hard to get a leaf spring/

live rear axle set-up working well

under empty and load-carrying

conditions but the BT-50 excels

in both areas, the ride is smooth

and other than a jiggle through

the tyres over road ripples you'd

find it hard to complain.

Up front a traditional double

wishbone system is fitted and

it, too, has good compliance

along with the geometry to

• Price – Mazda BT-50 GTX

Limited, $58,490

• Dimensions – Length,

5280mm; width, 1870mm;

height, 1790mm

• Configuration – Fourcylinder,

four-wheel-drive,

2999cc, 140kW, 450Nm,

six-speed automatic.

• Performance – 0-100km/h,

10.5sec

• Fuel usage – 8l/100km

provide relative steering feel

and satisfactory handling

characteristics.

A ladder chassis vehicle isn't

expected to be the high-country

corner challenger but the BT-50

does steer directly on its 265/60

x 18in Bridgestone Dueller tyres

and rear-end stability is settled.

Dry ground conditions in

Canterbury during the time I

had the evaluation vehicle meant

I was a little wary of driving

off-road, but there is a short

clay track with no foliage near

Burnham which I tackled in low

ratio, the ground was flat so I was

unable to utilise the downhill

descent function, but I can report

that from my previous experience

in the Limited model and D-Max

both are useful off-road chargers.

One area you can guarantee

Mazda has been pro-active in the

production of BT-50 is in terms

of fuel consumption. Mazda's

manufacturing philosophy is

that of minimising our carbon

footprint.

The BT-50 is rated with an

eight-litre per 100km combined

cycle average. The fuel

usage readout was sitting at

9.8l/100km when it was returned

to the dealership, that aided by a

8.2l/100km instantaneous readout

at 100km/h (engine speed

1400rpm).

Mazda could easily be excused

for abandoning their ute/pick-up

development. The fact they build

amazing cars and sports utility

vehicles for the mainstream

market fits with their company

philosophy.

Nevertheless, given the number

of utes sold globally it's a productive

market to be in and Mazda

has been served well with steady

sales of all generations of its

Bounty and BT-50.

Mazda should also be well

pleased with its new partnership

with Isuzu. The BT-50 is all

that you could expect from a

state-of-the-art ute, it's practical,

comfortable and will have

reliability on its side. That's why

it gets a five-year/150,000km

warranty.

I can't wait to get into the base

model variant a little later this

year.

has motoring covered!

Incorporating

ISSUE 667 | FrIday 20 novEmbEr 2020

iggest range of vehicles

location!

2011 Jaguar

XF Premium

$18,999

See inside for this week's

4WD feature!

sherborne st, edgeware

se Ave | P: (03) 366 7768 | www.valuecarswarehouse.co.nz

See page 4 for more info!

free

best motorbuys

Incorporating

ISSUE 668 | FrIday 27 NovEmbEr 2020

275 Colombo street, Christchurch

For more see their advert on pages 6 & 7

Ce l 021 855 884

Incorporating

ISSUE 669 | FrIday 4 dEcEmbEr 2020

See inside for this week's

Classic Car feature!

PH 03 web

www.drivesouth.co.nz

One Owner!

40 Years Finance

Experience

Cannot be Beaten!

• Talk to us about finance for your next

motor vehicle purchase

Specialising in Finance for Private Purchases

Very quick approvals, sensational interest rates

• From no deposit (terms & conditions may apply)

Hiace spares

Cnr Main South Rd and Epsom Rd, Christchurch

Ph: 03 348 4129 | avoncityford.com

2015 IsuZu D-mAX

4WD Ls D/CAb

NZ new, 3.0 intercooled turbo/dsl,

auto, rare flatdeck with ladder/pipe

racks, reverse cam, service history.

$34,995 $192pw

For more see their advert on page 31

free

best motorbuys

www.drivesouth.co.nz

See inside for this week's

marine feature!

free

best motorbuys

The South Island's leading motoring resource,

filled with news, reviews and dealer listings.

From family cars to work trucks, and supercars

to SUVs. No matter what you're looking for,

you can find it all with Drivesouth.

Magazine available for FREE every Friday

at a convenient pick up point near you!

The biggest range of vehicles

in one location!

Now Available @ NZ Van Spares

www.drivesouth.co.nz

2.4 auto, alloys, ABS, twin airbags.

2005 toyota rav

$20,999

$9,990

40 Years Finance

2008 bmW 320i

2.0lt Petrol, 5 Dr Station wagon,

Climate Control, ABS Braking,

.nz

CAR AUDIO

AUDIO VISUAL

CAR SECURITY

32 Moorhouse Ave | P: (03) 366 7768 | www.valuecarswarehouse.co.nz

MOBILE INSTALLATION SERVICE

RADAR DETECTORS

DASH CAMERAS

Cannot be Beaten!

$10,974 NoW $7,974 + orC

Experience

Automatic. $34.63pw.

AERIALS

• Talk to us about finance for your next

Specialising in Finance for Private Purchas

• Very quick approvals, sensation

• From no deposit (term
---
Wednesday May 12 2021 Selwyn Times 29

Classifieds Contact us today Phone our local team 03 379 1100

Public Notice

Public Notice

Operative Selwyn District Plan

PLAN CHANGE 69: Re-notification

Following the notification of Plan Change 69 (PC69) on Wednesday 28 April 2021,

Selwyn District Council was made aware of a minor error in the public notice regarding

the site area (notified as 186ha). As a consequence, the Council is re-notifing the

request to avoid any issues that this error may cause to further processes, and has

extended the period for submissions until 10 June 2021.

Rolleston Industrial Developments Limited has lodged a private plan change request

with Selwyn District Council pursuant to Clause 21 of the First Schedule, Resource

Management Act 1991

Plan Change 69 (PC69) proposes to change the Selwyn District Plan to rezone

approximately 190 ha of land at Lincoln from Rural (Outer Plains) Zone to Living X,

Living Z and Business 1 zones, to facilitate the future development of approximately

2,000 residential sites plus a small commercial zone.

The land proposed to be rezoned is located generally on the south side of the

Lincoln township (to the immediate south of the Te Whāriki and Verdeco residential

subdivisions), to the east and west of Springs Road, and to the north of Collins Road.

The western and eastern boundaries of the subject land are an ephemeral waterway

termed Western Boundary Drain and the LII River respectively.

PC69 proposes amendments to the Selwyn District Plan that include:

· amending the District Planning Maps to rezone the subject land

· incorporating outline development plans to coordinate and guide the future

development of the areas

The plan change request and the assessment of why it is needed can be read at

Council's Rolleston Headquarters and Rolleston Library and can be viewed online at

service centres and public libraries in Darfield, Leeston, Lincoln and Rolleston or at

www.selwyn.govt.nz.

Submissions

Any person or organisation may make a submission supporting or opposing any aspect

of this plan change. Submissions must be written and in accordance with Form 5 of the

Resource Management Regulations and is available from any Council Service Centre or

on the website.

Submissions may be:

Posted to: Planning Department, Selwyn District Council, PO Box 90, Rolleston 7643

Delivered to: A Council service centre in Darfield, Lincoln, Leeston or Rolleston.

Faxed to: (03) 347 2799 (if you fax your submission please post or deliver a copy to

the details above)

Emailed to: submissions@selwyn.govt.nz

At a later date, all submissions received will be summarised and published. Further

submissions will then be invited, allowing certain persons and organisations to support

or oppose any of the initial submissions. A Council hearing will then be arranged

to consider all submissions, after which the Council will decide whether to reject or

approve the plan change. Any submitter who is not satisfied with the Council's decision

may then appeal to the Environment Court.

For further information regarding this plan change or the process outlined above, please

contact Jocelyn Lewes on 0800 SELWYN (735 996).

The amended closing date for submissions is 5pm on Thursday 10 June 2021.

selwyn.govt.nz

Notice for consultation on a proposed Enrolment

Scheme amendment – Lincoln High School

The Ministry of Education has identified that Lincoln High School requires some

changes to their enrolment scheme and has given the school board notice of

this.

After consultation with the board, we have developed a proposed enrolment

scheme amendment for Lincoln High School under the Education and Training

Act 2020.

As part of this process, we are consulting with the school's community and with

people living in the area for which the school is a reasonably convenient school.

Under this scheme, students will be enrolled if they live within the proposed

home zone. The enrolment of out-of-zone students is governed by the

provisions of the Education and Training Act 2020.

A copy of the proposed enrolment scheme is available at

https://consultation.education.govt.nz/education/lincoln-high-school-enrolmentscheme-amendment

If you have any feedback about the proposed enrolment scheme, please visit

the website, read the information and complete the survey before 07 June

2021.

Contact email; Canterbury.EnrolmentSchemes@education.govt.nz

POLICE EXERCISE -

Night Firing Activity

14 – 15 May 2021

The general public is to be advised that

the New Zealand Police will be conducting

live fire training in the West Melton Rifle

Range area on Friday 14th and Saturday

15th May 2021.

Training will involve carrying out night

firing in the West Melton Rifle Range area

from 2pm – 10pm.

Live small arms rounds will be used.

For more information please contact:

03 363 7791.

Sorry, we are

no longer accepting

cheques

Star Media wish to advise

we no longer accept cheques as

payment for advertising, events

or accounts due to changes in

bank processes.

We do offer a range of other

payment options including cash,

EFTPOS, Visa, Mastercard, debit

card and online.

www.starnews.co.nz

ADVERTISE YOUR BUSINESS HERE

Phone for further details

(03) 379 1100
---
30 Selwyn Times Wednesday May 12 2021

Classifieds Contact us today Phone our local team 03 379 1100

your Guide To

TrusTed Trades and

services in your area

To place your advertisement

contact Vicky Sayers

379 1100 or email

vicky.sayers@starmedia.kiwi

NEED A PROFESSIONAL

PLUMBING SERVICE?

Call us at Think Water Canterbury for all your

plumbing needs. Certified Plumber Available Now!!

Our services include:

• Residential Plumbing Services

• Installation & Upgrades

• Hot Water Installation & Repairs

• Leaks & Blockages • New Piping & Repairs

Ph Mike: 027 272 8058 OR 03 324 4323 A/H | sales@gmcontracting.co.nz www.gmcontracting.co.nz

22 Station St, Leeston. Ph: 03 324 3880

DECORATORS

AUTO ELECTRICIAN

Ellesmere

Auto

Electrical

• Air Conditioning • Alternators

• Starter Motors • Wiring Repairs

• Diagnostics • Lighting • Batteries

Mobile Auto Electrician

022 644 9664

New Paint • Repaints

Wallpapering • Fences

Feature Walls

Floor & Roof Painting

Spray Painting

Light Commercial

Restoring Timber

* Finance available (T's & C's apply)

Selwyn based but service the whole of Canterbury

www.andertondecorators.co.nz

www.facebook.com/andertondecorators

027 724 6846 027 PAINTIN

Driveways

SWAINS

KIWI KERB

(Since 2005)

Over 22 Years Experience

Quality

Workmanship

• Driveways

• Kerb &

Channel

• Garden Edging

Freephone: 0800 081 400

swainskiwikerb@gmail.com

Farmlands Card Accepted

SHELTERBELT TRIMMING

Boundary

Trimming

Call Tony Dempsey

Phone 03 325 3256

Mobile 0274 323 943

GARAGE DOORS

The Genuine

Custom Made Garage

Door Professionals

0800 661 366

info@custommade.co.nz

Auckland, Christchurch, Wanaka

www.custommade.co.nz

landscaping

Landscape

Construction and

Garden Maintenance

You can have your gardens, trees,

shrubs, plants and lawns maintained to look their best

all year round, for a great price.

Residential & Commercial Landscaping

• Maintenance • Pruning • Reconstruction & Rejuvenation

• Rental Property and Commercial Maintenance

• Pre-Sale Tidy-Ups

New Home Landscaping

Lawns • Gardens • Decks • Paving • Water Features

• Quality • Value for money • Experienced • Punctual

• Professional • Flexible • Knowledgeable • Reliable

Call Ross Legg - 027 222 0388

Email ross@revivelandscaping.co.nz

www.revivelandscaping.co.nz

Specialising in:

Driveways

Outdoor Areas

Patios, Pathways,

Residential

& Commercial Floors

Professional Advice

Free Quotes

Frank McWatt

03 423 9344

027 274 0342

allwaysconcrete@gmail.com

www.allwaysconcrete.nz

WINDOW TINTING

tintawindow

advanced film solutions

99% uv block

fade protection

heat control

reduce glare

25 Years Experience

privacy films

frosting designs

non-darkening films

Workmanship Guaranteed

Lifetime Warranties on Most Films

UV

block

Free Quotes Canterbury and Districts

03 365 3653 0800 368 468

BAILEY

PAINTING CONTRACTORS

High Quality Professional Service

•Interior & Exterior Residential •Apartments

•Light Commercial •Motels •Rural Homesteads

Free Quotes • No Obligation

Contact Brent

021 363 432

brentbailey.bpc@gmail.com

LIFESTYLE BLOCK MOBILE SHEARING

NO JOB TOO BIG OR TOO SMALL

• Shearing • Crutching • Tailing

• Drenching • Foot Trimming

• Single & Double Crutching Trailers

A professional, friendly service

Call Shaun Adams for a free quote

021 204 1274 or 03 960 3112

adamsshearing.com

• shearing contracting • mobile shearing trailer • mobile crutching trailer

FOR ALL YOUR

★Garden Clean-ups

★Pruning

★Lawn Mowing

★Garden Maintenance

Call us today for a FREE quote

PH 0800 4 546 546

(0800 4 JIMJIM)

Caravan /

Motorhome

Interior alterations

& repairs, water

damage etc

Ph 027 262 6867

Selwyn

Accounting

For all your

Accounting &

Tax Needs

03 741 1783

027 332 8086

brian@

selwynaccounting.co.nz

UDI PAINTING &

DECORATING

For all painting and

decorating services.

Fully Qualified

• Interior &

Exterior Painting

• Wallpapering

• Plastering

• Roof Painting

Quality Services

FREE QUOTES

Contact Udi Aale

Ph. 021 074 2075

BATHROOM TILER

wet area waterproofing,

underfloor heating, soap

boxes, old to new, for best

results, call Devon on 021

375-888 or 03 329 5511

BUILDER QUALIFIED

Decks, T & G Flooring,

Villa Restoring, New

Homes, Weatherboards.

Free Quotes. Bennet &

Sons Ltd Sam 027 496-

9362 or Tony 027 224-

0374

CARPET LAYING

Exp. Repairs, uplifting,

relaying, restretching.

Phone John on 0800

003181, 027 240 7416

jflattery@xtra.co.nz

FENCING

All Residential,

Subdivisions, Rural

Fencing. FCANZ Certified

Contractor. Call 021 640

748

Bellamy's

Furniture

Furniture made to

order and restoration

by tradesman with

35yrs experience.

PH Stephen

021 073 2624

FENCING

All Residential,

Subdivisions, Rural

Fencing. FCANZ Certified

Contractor. Call 021 640

748

POWER CABLE

Our Cable or yours,

phone-fibre-water installs,

COC supplied, trenching

and cable locating

service, owner operator.

FREE quote ph Gerard

0272379742

POWER TOOLS

REPAIRS

Parts & Sales for over 40

years. All main brands

serviced. Grossman Trade

Tools,23 Watts Road,

Christchurch. Ph 389 9230

RJB PLUMBING

Renovations, New Houses,

Hot Water Cylinders,

Kitchens Bathroom

Upgrades, Laundries,

General Maintenance ,

Water Filters. Phone Mark

0278690026

RJB PLUMBING

Renovations, New Houses,

Hot Water Cylinders,

Kitchens Bathroom

Upgrades, Laundries,

General Maintenance ,

Water Filters. Phone Mark

0278690026

STUMP GRINDING

Best price guarantee Tony

0275 588 895

TILING

Flooring - Splashbacks -

Wall incl tile removal, reg

master tiler, ph Dave 027

334 4125

TILER ( MASTER )

Int / Ext. Res / Comm. .

Free quote. 18 yrs exp. Ph

Zac 021 1056 797

WINDOW CLEANING

Brown & White Ltd.

Family owned since 2001.

Ph Paul 027 229 3534
---
Incorporating

ISSUE 685 | FrIday 16 aprIl 2021

See inside for this week's

Ce l 021 8 5 84

PH 03 web

2013 Lexus Ls460

Black leather, airbags, rear

radio control, climate control,

82,130kms, 10 airbags,

reverse camera, cruise

control, and much more .

$39,999 inc.

A fordable new parts available for BMW / MERCEDES BENZ

454 st asaph str et, 03 378 1818 or 021 480 201

Cannot be Beaten!

• Talk to us about finance for your next

motor vehicle purchase

Specialising in Finance for Private Purchases

Very quick a provals, sensational interest rates

• From no deposit (terms & conditions may a ply)

Cnr Main South Rd and Epsom Rd, Christchurch

Ph: 0 348 4129 | avoncityford.com

orc

Ce l 021 8 5 84

1992 GMC VANDURA 2500

5.7 litre V8, auto, 7 seater, a loys,

tints, ro l bar, alarm, towbar.

$27,995

See page 13 for more!

41 Shands Road, Hornby, Christchurch

The biggest range of vehicles in one location!

2 09 Subaru

Outback R

$17, 9

leather interior, exce lent

condition, drives we l

$22,999 inc.

32 M orhouse Ave | P: (03) 3 6 768 | www.valuecarswarehouse.co.nz

CAR AUDIO CAR SECURITY REVERSE CAMERAS PARKING SENSORS DASH CAMERAS

AUDIO VISUAL CE LULAR RADAR DETECTORS AERIALS

GPS/TRACKING

orc

h tp: /kaywa.me/8aVDQ

S e page 5 for more info!

My kaywa QR-code

w.valuecarswarehouse.co.nz

Download the kaywa QR code Reader (a p Store &android Market) and scan your code!

2 09 Honda

StepwagOn

SpaDa Z

$10, 9

S e page 5 for more info!

h tp: /kaywa.me/8aVDQ

Download the kaywa QR code Reader (a p Store &android Market) and scan your code!

My kaywa QR-code

w.valuecarswarehouse.co.nz

Wednesday May 12 2021 Selwyn Times 31

Classifieds Contact us today Phone our local team 03 379 1100

your Guide To

TrusTed

Trades and

services in

your area

Need it?

Rent it!

No Bond

Free Delivery

Free Repair

Great Student Deals

Canterbury Owned & Operated

Free Call Now:

0800 717 000

Or Apply Online:

www.a4r.co.nz

Re Roofing

Roof Repairs

Spouting

Approved Age Concern provider

Over 30 years experience

Licensed Building Practitioner

N A BARRELL

ROOFING LTD

Ph: 0275 389 415

Email: nabroofing@xtra.co.nz

Division of Tuffnell Drainage Ltd

14 Centrum Lane, Rolleston

We:

• Unblock Drains

• High pressure waterblasting

• CCTV

• 24/7 Service

Call us now - 03 974 3561

Cars Wanted

AAAA $$ CASH PAID

Buying cars & trucks for

wrecking. Ph / txt Zac 021

1056 797.

AAA CASH - CASH -

CASH . Any unwanted

cars. Phone 347 9354 or

027 476 2404

AAA CASH - CASH -

CASH . Any unwanted

cars. Phone 347 9354 or

027 476 2404

Tours

it's here!

tAX retUrN tiMe!

Tax returns for

Companies, Trusts,

Rentals, Individuals,

Non For Profits

Ideal time to think

about migrating

to a new payroll or

accounting system.

Xero Certified Advisor

ICNZB Certified Member

sue thomas

027 283 3448

businessroundup.co.nz

/businessroundup

Need a hand?

✤ Lawns & Edges

✤ Landscaping

✤ Gardening

✤ Hedge Trimming

✤ Handyman Jobs

✤ Casual or One Off

Phone Mike Lineton

022 341 8848

Your local

Selwyn District

GARDENER/

HANDYMAN

Specialising in:

Driveways

Outdoor Areas

Patios, Pathways,

Residential

& Commercial Floors

Professional Advice

Free Quotes

Frank McWatt

03 423 9344

027 274 0342

allwaysconcrete@gmail.com

www.allwaysconcrete.nz

Reid TouRs

Waipapa station Sat 29th May $45 pp

Mt Cook Sat 14th August $55 pp

Two Passes Sat 4th September $45pp

Call Reid Tours 0800 446 886

Email: reidtours@xtra.co.nz www.reidtours.com

Heating

Log Fires

Pellet Fires

Heat Pumps

Sales

Service

Installations

Free Quotes

03 343 1651

472 Blenheim Rd

www.heatstore.co.nz

Building Supplies

STYLETILE by

dumawall suitable for DIY

or installation available.

This new waterproof

tile, no grouting required

suitable for bathroom,

laundry and kitchen.

Various colours and

patterns available. Fab

Plastics. Ph 366 3634

www.styletile.nz

To Let

RENT ME!

Ideal as an extra

bedroom or office.

no bond required

16,065 copies delivered every week

Fully insulated and double glazed for warmth.

Three convenient sizes from $80 a week:

Standard 3.6m x 2.4m

Large 4.2m x 2.4m | Xtra-large 4.8m x 2.4m

Visit our website

www.justcabins.co.nz

for display cabin locations

www.justcabins.co.nz

Vehicles Wanted

CAR REMOVALS

$$CASH PAID$$

CARS, VANS, UTES

& 4X4 WANTED

NZ OWNED

AND

OPERATED

FOR

24 YEARS

We use world class vehicle

depollution systems

0800 77 80 80

www.pickapart.co.nz

Situations Vacant

EDITOR – Ashburton Courier

Allied Press Ltd is seeking an experienced journalist ready

to take the next step in their career, as

Editor for the Ashburton Courier.

The Ashburton Courier is a weekly

community newspaper delivered to more

than 16,000 homes across Mid Canterbury

and the surrounding rural areas.

The Ashburton Courier is the largest

circulating and best read newspaper within

the Mid Canterbury area.

This is an exciting opportunity and provides

the successful applicant the ability to help

shape and connect the community we

serve.

You will be responsible for our newspaper

layout, leading the news team, writing

stories and co-ordinating news gathering for

the Ashburton Courier.

The successful applicant will be selfmotivated,

tenacious and have a passion for

news and building relationships within our

local community.

Ability to find local stories, juggle tasks, meet

deadlines and write engaging, accurate

copy is essential. You will have an eye for

photography. Video and website skills are

desirable.

It is essential that you have a full driver's

licence. Given the nature of the role,

occasional evenings and weekend work may

be required.

All applications will be treated in the strictest

confidence.

Our well respected local title is owned

by Allied Press, the largest independent

publisher in New Zealand.

Please note that you must have the right to

live and work in New Zealand to apply for

this role.

If this sounds like an exciting opportunity

for you, please send your CV with a

covering letter to steve@starmedia.kiwi

or feel free to call me on 021 372 479

Situations Vacant

Are you keen on cars?

A motoring nut?

We'd like to talk to you!

Account Executive

Drivesouth Sales

Full time permanent

Classic Car feature!

www.drivesouth.co.nz

Who we are

Star Media is a division of Allied Press Limited, who employs over 450

people on a permanent basis across our 15 sites in the South Island.

We operate across multiple media platforms (print, on-line, digital)

delivering quality news, information and entertainment through our various

regional and city publications, including The Star, StarNews.co.nz and a

network of Community Newspapers.

The role

We are currently seeking an Advertising Account Executive to take

responsibility for our weekly Drivesouth Sales Magazine. We are looking for

an experienced salesperson to join our team based in Christchurch.

You will enjoy working as part of a team, have a can-do attitude and an

affinity and interest across the motoring sector.

Some of the key accountabilities include:

• Effective promotion and sales of advertising for Drivesouth Sales

Magazine and Star Media's range of products

• Providing a high quality, professional sales administration service

• Ensuring the highest possible level of customer/client service

• Working proactively to ensure that clients are offered the best

advertising solution across all potential advertising platforms

If you think this role is for you, please apply with your CV and a

covering letter to shane@starmedia.kiwi

A copy of the full position description can be found at

alliedpress.co.nz/employment

Applications will close on Friday 21st May 2021.

All applications will be treated in the strictest confidence.

Please note you must have the right to work in

New Zealand to apply for this role.

Disclaimer: Allied Press does not accept unsolicited agency resumes.

Allied Press is not responsible for any fees related to unsolicited resumes.

free

best motorbuys

40 Years Finance

Experience

PH 03 web

Incorporating

ISSUE 687 | FrIday 30 aprIl 2021

331 Blenheim Road, Christchurch

Hilux spares

40 Years Finance

Experience

Now Available @ NZ Van Spares

Cannot be Beaten!

• Talk to us about finance for your next

motor vehicle purchase

Specialising in Finance for Private Purchases

Very quick a provals, sensational interest rates

• From no deposit (terms & conditions may a ply)

Cnr Main South Rd and Epsom Rd, Christchurch

Ph: 0 348 4129 | avoncityford.com

2013 Jaguar xF-Luxury

A fordable new parts available for BMW / MERCEDES BENZ

454 st asaph str et, 03 378 1818 or 021 480 201

A loys, leather seats, twin

exhaust, done 78, 19kms,

2 0 c turbo, black

www.grcaudio.co.nz MOBILE INSTA LATION SERVICE 0800 212 7 S e our ad on page 2

free

best motorbuys

www.drivesouth.co.nz

Hilux spares

Now Available @ NZ Van Spares

2016 NISSAN LEAF 30X

F/lift Gen. 2 Model, Emergency

Brake A sist & Lane departure

warning, 30KWh battery, Rev. Cam,

49,000kms, English conv. Stereo &

dash! S e page 27 for more!

The biggest range of vehicles in one location!

32 M orhouse Ave | P: (03) 3 6 768 | www.valuecarswarehouse.co.nz

$27,995

this W ek:

eV & Hybrid feature
---
32 Selwyn Times Wednesday May 12 2021

SELECTED ITEMS IN STORE & ONLINE

+ SUPER DEALS. ENDS 31.5.21.

Lincoln 4 Seater

WAS $

2699

NOW

$

1999

Ramsey Single/Single Bunk

WAS $

1299

NOW

$

999

Duke

Dining Chair

NOW $

125

Atlantic 3 Piece

Dining Set

WAS $

1379

NOW

$

1099

Veno

Dining Chair

NOW $

95

Includes underbunk

storage drawer

Kate Sofabed

WAS $

350

NOW

$

275

Atlantic Queen Bed

WAS $

999

NOW

$

699

Allessa

Chaise Sofa

WAS $

2199

NOW

$

1799

Allessa Sofa with

Ottoman WAS $ 3299

NOW

$

2699

ON SALE!

Medium Feel

boxed

for easy

transport!

Macey Swivel Chair

WAS $

899

NOW

$

699

Shop

Online

Nationwide

Delivery

Finance

Options

Buy NZ MAde!

Sono Queen Mattress

WAS $

599

PLUS 24 MONTHS INTEREST FREe! - SeE In store for details.

NOW

$

399

AUTUMN SALE ENDS 31.05.21.

250 Moorhouse Ave, Christchurch

Ph: 0800 TARGET (0800 827438)

targetfurniture.co.nz

Offers and product prices advertised here expire 31/05/21.

Sale Excludes Accessories.
---
PUBLiSheD eVeRY WeDneSDAY

the BeSt PRoPeRtieS AcRoSS

the SeLWYn DiStRict

INSIDE

Week commencing WeDneSDAY, 12th mAY, 2021

Crafting the

perfect loan

for you.

Sharon Hunt - Mortgage Advisor

0274 339 752

www.loancraft.co.nz

NEw listiNg

OPEN HOME

DELIGHTFUL WITH

FABULOUS PARKING

Situated on a private and established easy-care section is this solid low

maintenance and desirable property. Soundly constructed in 2012, the

intelligent and versatile floor plan offers an open plan living area which

has double ranch sliders opening out to a covered private patio area

which enjoys a wonderful north facing aspect.

The property offers three double bedrooms, with the master suite

enjoying a walk-in robe and ensuite, while the centrally located family

bathroom complete with bath and shower is shared between the

remaining bedrooms. The modern and well specified kitchen with its

reputable appliances is conveniently located next to the dining area and

with a log burner and heat pump your year-round comfort is taken care

of.

Some of the other features of this fabulous property include wonderful

internal storage options, security system, two garden sheds, woodshed

and a double internal access garage. One of the standout features of

this property is the versatile parking options which include a carport and

additional space for a motor home or additional vehicle.

Overall, this is a delightful property in a fabulous location which is in zone

for West Rolleston Primary School and close to all the amenities that

Rolleston has on offer.

Priced from $635,000

www.marealestate.co.nz/MA0876

Jackie Derrick

Contact:

027 636 3576

jackie@marealestate.co.nz

58A Stonebrook Drive, Rolleston

Open Home Sun 1.30 – 2.00pm

forget the big picture...

let's look at the detail

To be fair, we can show you both...

VISIT SOME OF THE FINEST SHOWHOMES IN CANTERBURY

SALES OFFICE AND SHOW HOME VILLAGE

OpEN THURSDAY - SATURDAY 1 - 3pM

EMAIL: enquiries@yoursection.nz

or call 03 741 1340

ADVERTISEMENT

yoursection.nz

Residential sections, Big Range, Canterbury Wide
---
2
---
3
---
4
---
5

Due to continued success as Selwyn's leading

Real Estate team, we need more homes to

satisfy these genuine waiting buyers.

Please, if you can help, call us today!

Prebbleton/Lincoln

3-4 bedrooms, 2 bathrooms

3 car garaging or 2 plus workshop

Less than 10 years old

Price $750,000 - $850,000

Contact

Kate Cameron 027 688 8057

kate.cameron@raywhite.com

Lincoln/Prebbleton

3-4 bedrooms, 1-2 bathrooms

Potential to add value

2 car garaging (not essential)

Price $500,000 - $700,000

Contact

Kate Cameron 027 688 8057

kate.cameron@raywhite.com

Kirwee

3-4 bedrooms, 1-2 bathrooms

2 car garaging

Section 800m2 - 1000m2

Price up to mid $600,000's

Contact

Lorraine Gardiner 021 207 6661

lorraine.gardiner@raywhite.com

Dunsandel

3-4 bedrooms, 1-2 bathrooms

2 car garaging

Section 800m2 - 1000m2

Price $500,000 - $600,000

Contact

Lorraine Gardiner 021 207 6661

lorraine.gardiner@raywhite.com

Tai Tapu

3 bedroom entry level home

1-2 bathrooms

Section 700m2 approximately

Price $600,000 - $700,000

Contact

Emma Langton-George 027 555 0568

emma.langton-george@raywhite.com

Rolleston

3 bedrooms, 2 bathrooms

2 living areas, nice spec

Small easy care section

Price $600,000 - $670,000

Contact

Emma Langton-George 027 555 0568

emma.langton-george@raywhite.com

Rolleston

3+ bedrooms

2+ bathrooms

Price up to $650,000

Contact

Kresha Ross 022 014 3183

kresha.ross@raywhite.com

Rolleston

Must be Levi Park

3 bedrooms, 2 bathrooms

Parking for a camper

Price $700,000 - $1,000,000

Contact

Amanda Cherry 027 340 6955

amanda.cherry@raywhite.com

Rolleston

2-3 bedrooms, 2 toilets

Floor area less than 170m2

Section size to park 18ft caravan

Price up to $800,000

Contact

Morgan Cathro 021 034 2147

morgan.cathro@raywhite.com

Selwyn

Lifestyle block

Bare land 2 acres plus

Suitable to build dream home on

Closer to Christchurch preferred

Contact

Dwayne Bloomfield 021 163 9874

dwayne.bloomfield@raywhite.com

Rolleston

3-4 bedrooms, 2 bathrooms

Section 700m2 plus

Price $600,000 - $700,000

Contact

Dwayne Bloomfield 021 163 9874

dwayne.bloomfield@raywhite.com

Tai Tapu/Lincoln/Rolleston

3 bedrooms, 2 bathrooms

Extra sheds for cars

Land 2 acres

Price $800,000 - $1,000,000

Contact

Dwayne Bloomfield 021 163 9874

dwayne.bloomfield@raywhite.com

Lincoln/Rolleston

3-4 bedrooms

Section 500m2 plus

Price $600,000 - $630,000

Contact

Trina Rea 027 424 6901

trina.rea@raywhite.com

Lincoln/Rolleston

4 bedrooms

2 bathrooms

2 living areas

Price mid to high $600,000's

Contact

Trina Rea 027 424 6901

trina.rea@raywhite.com

Selwyn

2-3 bedrooms

Price up to $370,000

Contact

Trina Rea 027 424 6901

trina.rea@raywhite.com

Lincoln/Tai Tapu

Bare land

Up to 4 hectares

Price up to $600,000

Contact

Trina Rea 027 424 6901

trina.rea@raywhite.com

Rolleston

4 bedrooms, Ambrose or Park Grove

2 living areas, 2 bathrooms

Section 750m2

Price $500,000 - $700,000

Contact

Leisa Webster 027 722 5537

leisa.webster@raywhite.com

Darfield

Large 4-5 bedroom home

Section over 1000m2

Price up to $800,000

Contact

Leisa Webster 027 722 5537

leisa.webster@raywhite.com

Rolleston

5-6 bedrooms or with an annex

2+ bathrooms, high spec home

Section 1000m2 plus

Price up to $1,200,000

Contact

Leisa Webster 027 722 5537

leisa.webster@raywhite.com

Rolleston

3-4 bedrooms

3 car garaging

Section 700m2 plus

Price up to $800,000

Contact

Leisa Webster 027 722 5537

leisa.webster@raywhite.com

Are you considering selling? Do you have a property that matches one of these descriptions?

Contact us now for a no obligation appraisal

If you want to get SOLD, call us TODAY

Ray White Rolleston 347 9988 | Ray White West Melton 347 9933 | Ray White Lincoln 325 7299

rwtownandlifestyle.co.nz

Ray White Town & Lifestyle Real Estate Limited Licensed (REAA 2008)
---
6

Rolleston 20 Northmoor Boulevard

New Listing

Selwyn,

Proud to

be here

Looking to buy, sell, invest or

have your property managed?

Give us a call at Property Brokers

Selwyn, or pop in to talk to one

of the team today!

Clever design gives you more!

Built in 2018, this trendy home holds incredible curb appeal in a quiet

yet handy location and it doesn't stop there... The clever layout has

ensured maximum use of space so you can be sure you are getting

more bang for your buck! Quality fittings and fixtures adorn this

wonderful modern 4 bedroom, 2 bathroom home. The kitchen is a

stand-out with a hi-gloss bench, stylish negative detailing, walk-in

pantry and opens out to a private patio and courtyard area, the

perfect cosy spot for entertaining friends. With practicality in mind the

extremely spacious lounge offers a soft contemporary colour scheme

and is the perfect size for a 4 bedroom family.

4 2 1 2

Auction 4.00pm, Wed 26th May,

2021, (unless sold prior)

View Sat 15 May 2.30 - 3.30pm

Sun 16 May 2.30 - 3.30pm

Web pb.co.nz/ROU87227

Sarah Yeates

M 027 447 2719

PB Selwyn

E rolleston@pb.co.nz

P 03 929 0306

Grab a FREE property appraisal between 1 May and

13 June 2021, and you're in the draw to win* free

groceries for a whole year worth $15,000! Go on to list

your property for sale and double your chances to win.

For specialist property advice that could lead to

great things, talk to us today 0800 367 5263 or visit

pb.co.nz/freefood

*Terms and Conditions apply

Property Brokers Ltd Licensed REAA 2008 | pb.co.nz

Proud to be here
---
Four Seasons Realty

7
---
8

Four Seasons Realty
---
9

TOP 20

Sales

Consultants

Four Seasons Realty

Congratulations to our top 20 sales

consultants for 2020 -2021

Our Top 20 sales consultants exemplify everything Harcourts Four

Seasons believes in - experience, local knowledge, professionalism,

focus and commitment. Thank you to all our wonderful clients who

have helped our Top Consultants achieve these outstanding results.

Mitch & Mana

Top

Richard & Sue Woerlee

2

Sue & Gemma Roberts

3

Harley Manion

4

Jan Green

5

Lyn & Nicholas Martin

6

Jackie Frame

7

Geoffrey Twiss

8

Ross Mitchell

9

Natalie McLean

10

11

Katie Harrison

12 Lisa Tippen

13 Fergus Spain

14 Stevie Golding 15 Caine Hopcroft

16 Glen Young 17 Victora Thompson

18

Andrew Sare &

Wendy Godfrey

19 Shona Robb 20 Jayne Martin

CHRISTCHURCH REGION END OF YEARAwards

Mitch & Mana

Richard & Sue Woerlee Sue & Gemma Roberts

Harley Manion

Jan Green

3 rd Rural & Lifestyle Top Rural & Lifestyle 2 nd Rural & Lifestyle 18 th Sales Consultant 22 nd

7 th Sales Consultants 11 th Sales Consultants 13 th Sales Consultants

Sales Consultant

Lyn & Nicholas Martin Natalie McLean Kaiapoi Office The Palms Office

23 rd Sales Consultants 2 nd Exclusive lister 3 rd Client experience TopOffice in Christchurch

0800 789 10 11

Your home for local property

Four Seasons Realty 2017 Ltd Licensed Agent REAA 2008
---
10

NEW LISTING

Boundary lines are indicative only

Greenpark 41 Carters Road

Stellar lifestyle starter

Quaint cottage charm and rural vistas are yours to enjoy at this 4.02 hectare property in Greenpark, which provides

buyers with the perfect introduction to lifestyle living. The home is encompassed by a mature garden featuring fruit

trees. Living areas (dining room, lounge and open plan living) all extend outdoors. Mostly double glazed, heating

solutions include a heat transfer system, heat pump and log burner with wetback ensuring you're well covered to

keep cosy over the winter. With enough land to construct the shed you have always wanted, graze stock and fulfil

your lifestyle dreams, the site features two large paddocks, a set of sheep yards and a well. Located just over five

minutes' drive to either Lincoln or Tai Tapu, buyers looking to take their first step on the lifestyle ladder are

encouraged to act quickly.

bayleys.co.nz/5515082

3 2 1 4

Deadline Sale (unless sold prior)

1pm, Wed 2 Jun 2021

View Sat 2-2.30pm

Chris Jones 027 220 5043

chris.jones@bayleys.co.nz

Sam Sidey 027 346 3500

sam.sidey@bayleys.co.nz

WHALAN AND PARTNERS LTD, BAYLEYS, LICENSED UNDER THE REA ACT 2008

Experience

Bayleys

Kevin Jenkins

027 577 4232

Ben Turner

027 530 1400

Chris Jones

027 220 5043

Jo McIntosh

027 384 4279

Adrienne Goodeve

021 977 877

Bianca Davidson

027 322 9055

Bayleys

Canterbury,

it's the local

knowledge,

the kind you just

can't buy

Craig Blackburn

027 489 7225

Emma Groom

027 555 1075

Evan Marshall

027 221 0910

Haley Smith

027 341 3846

John Bailey

027 893 0234

Nathan Collett

027 826 1535

When you sell with Bayleys, you're

choosing a salesperson with real

estate knowledge of the local

Selwyn area. The kind of insight

that can't be measured and makes

all the difference.

Sam Sidey

027 346 3500

Suzy McPherson

027 695 0519

Tim Dyer

027 495 0979

Urszula Bedggood

027 338 7889

Bayleys Darfield 03 975 4559

Bayleys Leeston 03 375 4700

Residential / Commercial / Rural / Property Services

bayleys.co.nz

WHALAN AND PARTNERS LTD, BAYLEYS, LICENSED UNDER THE REA ACT 2008

bayleys.co.nz
---
2

[Edition datE]

11

Presenting your home for sale?

The presentation of your home

doesn't mean spending thousands

on an upgrade either! So why

wouldn't you want to do everything

possible to make it appealing to

prospective purchasers?

Street appeal

The exterior of your home is the first

thing buyers will see, so the property

needs to look well-kept and inviting. Take

a look at your place from the street and

see it through a buyer's eyes. So, cut the

lawns, trim trees, plants and hedges, add

some garden lights and place a nice pot or

plant by the front door. Ensure the house

exterior is cleaned or freshened with new

paint if necessary, hose down drives, paths

and fences, put stylish new numbers on

the house and perhaps buy a funky new

letter box!

Make an entrance

Even if your entrance or hallway is

small, you can still give it some wow! A

large mirror adds light and makes an

entrance look twice the size. Fresh flowers,

candles or a stylish piece of art create an

inviting first impression. Ensure floors are

clean whether timber, tiles or carpet.

Create space

Light, air and space are three key

factors in presenting a home to the

best advantage. Open up curtains

and windows and use lamps and light

fittings for mood and ambience. Arrange

furniture to maximise space and remove

items that make the room appear

cramped.

Fresh feel

Freshen rooms with new paint if

necessary, but aim for neutral tones which

are more versatile for buyers. Add a splash

of colour in cushions, throws, artwork or

a vase of flowers. Invest in a new duvet or

bedspread and always make the bed!

Clear out clutter

Storage space sells but clutter

complicates! Clean out your cupboards,

shelves and garage, and get rid of

unnecessary clutter. Buyers inspect

wardrobes and cupboards so tidy them up

and reduce the number of photos, books,

nicknacks on display – they distract

buyers, too!

Beautify the bathroom

Replace or resurface fittings if necessary,

but otherwise you can simply beautify

your bathroom with thorough and

fastidious cleaning, thick opulent towels,

a tray of beautiful soaps and some lush,

green plants. Invest in a new shower

curtain or laundry hamper, and maybe a

sleek, modern towel rail.

Clean clean clean

Cleaning is a mandatory part of

selling your home: have carpets, rugs

and upholstery commercially cleaned

and sanitised, clean drapes and blinds to

look like new, polish glass and furniture,

wash down all surfaces and fittings in

the bathroom and kitchen, clean all light

fittings, wash windows inside and out,

deodorise your home to eliminate any

odours from pets, cooking or smoke.

Outdoor spaces

Even a small patio, deck or terrace

can be enhanced with a café table and

chairs. Add some colourful accessories –

placemats, candle lamps, pots and plants,

and there you have an extra living area.

If space is not limited, hang a hammock,

string some outdoor lights, position a

garden sculpture or create a water feature

that buyers will love.

Hire a handyman

Squeaking doors, dripping taps, cracked

tiles, broken fences, leaking toilets or

appliances that don't work are a turn-off

for buyers. If you can't repair or replace

things yourself, then hire a handyman to

make sure everything in your home works

as it should.

Finish it first

Buyers want to see a finished home,

not one that's still being fixed! So finish

everything before you list your home

for sale, then launch it onto the market

when it looks its absolute best – you have

nothing to lose and everything to gain!

NEW LISTING

Boundary lines are indicative only

Boundary lines are indicative only

Boundary lines are indicative only

Darfield 695 Essendon Road

Prebbleton 540-544 Hamptons Road

Horse heaven

4 2 2 2

For those with vision

5 2 2

Those who love horses are bound to be impressed

with this superb family home and exceptional lifestyle

property equipped with everything you could need

for the equine life. At 6.4446 hectares, offering ample

space for many uses. The spacious home features

polished concrete floors and a fresh, neutral palette

for an enduring modern look. The well thought out

layout includes the luxurious master bedroom with a

private ensuite bathroom and sliding door access to

the garden. This property is superbly equipped with a

large arena and a range of outbuildings.

bayleys.co.nz/5515174

Deadline Sale (unless sold prior)

12pm, Thu 3 Jun 2021

3 Deans Avenue, Chch

View by appointment

Ben Turner 027 530 1400

ben.turner@bayleys.co.nz

Craig Blackburn 027 489 7225

craig.blackburn@bayleys.co.nz

WHALAN AND PARTNERS LTD, BAYLEYS, LICENSED REAA 2008

If you have been looking for a project where you can

add value or want a stepping stone into lifestyle living,

then this 6.98 hectares in three titles offers enormous

potential. The property is offered to the market on an

'as is, where is' basis including the current dwelling

with brick exterior, existing services and access

arrangements (if any). Prebbleton, Templeton and

Rolleston are situated close by. This property is ready

and waiting for your inspiration - embrace the space

and convenient location.

bayleys.co.nz/5515076

Deadline Sale (will not be sold prior)

1pm, Wed 26 May 2021

View Sat 3-3.30pm

Chris Jones 027 220 5043

chris.jones@bayleys.co.nz

Sam Sidey 027 346 3500

sam.sidey@bayleys.co.nz

WHALAN AND PARTNERS LTD, BAYLEYS, LICENSED REAA 2008
---
12

8 Habgood Street, Lincoln

This sunny sheltered, private

property is situated in central

Lincoln close to amenities and

University. Fixed term tenanted

until end of Nov 2021. This will

be of interest to investors and

owner-occupiers with an eye for

quality real estate.

Deadline Sale: All offers

presented on or before 4pm Fri

21st May 2021 (unless sold prior)

Call Joe

for more

information

021 324 529

joe.brankin@mikepero.com

RX2574243

West Melton, Darfield, Hororata,

Kirwee, Coalgate, Rolleston

Unique

marketing options

Proven top quality results

We're your locals

Supreet Mahey

Mortgage Adviser

022 120 1285

Tracey & Joe Brankin

021 324 529

tracey.brankin@mikepero.com

Cheryl Hunt

027 430 3906

cheryl.hunt@mikepero.com

Mike Pero Real Estate Ltd Licensed REAA (2008)

REAL ESTATE SPECIALISTS

61a Fairfield Way, Rolleston

12 Viceroy Place, Halswell

DEADLINE SALE

Stunning Style & Space!

**All offers to be presented 5pm, 25th May

(unless sold prior)

Desirably positioned in a well-established pocket

of Halswell, as well as surrounded by fast growing

suburbs with modern amenities, this substantial

property offers the perfect combination of

surroundings, space and superior style. Spread

over two levels, the home offers five double

bedrooms, two bathrooms and two living options

to accommodate large-scale family living in superbly

comfortable surroundings. Brilliantly located on

a private 648m2 section in a quiet cul-de-sac, this

home is a showstopper and needs to be on your

viewing list. Contact Mike for further details.

DEADLINE SALE

Family Living Galore!

**All offers to be presented 5pm, 26th May (unless sold prior)

Sited on a 922sqm section, this 4 bedroom, 2 bathroom home is generously proportioned for family living

and beautifully presented for your immediate enjoyment. The layout is beautifully arranged with effortless

integration between the open plan kitchen & dining space which links seamlessly with the lounge. Fully fenced

with low maintenance landscaping, the outdoor living is ready for you to enjoy. Warm & inviting throughout,

this home is ready for its new family – could this be you? If so, don't delay as these properties are in hot

demand – contact Mike today for more information.

5 St Clio Street, Ilam

DEADLINE SALE

Mid-Century Modern Class!

**All offers to be presented 3pm, 19th May

(unless sold prior)

Contemporary finesse meets mid-century

architecture at this meticulously modernised 1960s

residence that promotes a lifestyle of undeniable

ease in sought after Ilam. Perfectly placed on

a generous 916sqm private rear section, this 3

bedroom home offers an abundance of space and

style. With features such as in-slab heating, an

expansive Purpleheart timber deck, and stacker

doors to the outdoor living, just to name a few, this

lovely home is a must to view to truly appreciate all

that is on offer here! Give Mike a call today to book

your time to view, or check our website for Open

Home times.

68 Rolleston Drive, Rolleston

0800 645 346

www.oneagencyres.co.nz

Mike Goatley

027 249 5561

Lindsay Welch

027 577 0216

Wade Goatley

027 749 6468

Shane Jarvis

022 130 0766

Wayne McFarlane

027 337 6093

Real Estate Specialists Ltd Licenced REAA (2008)
---
Your guide to all things Real Estate

in the Selwyn District

Securing your

home this winter

13

Being burgled is an invasion of your

private space, the place where you feel

most safe – your home. It's important to

secure your property when away as well as

when home.

Assets can be replaceable, treasured

keepsakes conveying irreplaceable

memories, not so. Motor vehicles and

electronics are often the target but it is

surprising what a thief will take.

The thought of someone entering our

home is unsettling, the mess and damage

left behind a real hassle. Even when well

insured, there is a cost: the excess, loss of

a no claim bonus; write-down of an asset's

value; the inconvenience of no wheels or

other possessions; the wait time before

insurance pay out; and the time involved

in looking for replacement items.

These are good reasons to make our

homes as secure as possible. The adage: 'if

they want to get in, they will' is true yet

some thieves are opportunistic, looking

for easy targets.

Simple ways to secure your

home and vehicles are:

• Lock your house and garage when going

out, heading away or at home.

• Keep vehicles locked when in the

driveway or on the street, never leaving

the keys in them and ensuring valuables,

bags or other tempting items are hidden.

• Shut all windows at night and when

going out or away; especially those

accessible from the street.

• Activate any alarm system keeping

the codes confidential. Never share

the master code. Set temporary codes

for guests and when issuing a key to a

neighbour or trusted tradesperson.

• Padlock sheds with all tools inside so

they cannot be used for breaking-in.

• Lock firearms in an out-of-the-way

place then secure the key in a separate

location.

• Organise a house sitter or ask a

neighbour, family member or friend to

keep an eye on your property and clear

the letterbox. Alternatively, put a stop on

your mail with NZ Post.

• If away longer than two weeks, arrange

for a neighbour or contractor to mow

the lawns.

• Secure the spa and swimming pools,

locking covers or draining them.

More serious ways to protect

your home include:

• Fitting sensor lights.

• Installing lockable security doors.

• Installing an alarm system.

• Installing security surveillance cameras

like those where you can download an

APP onto your cell phone so you can

remotely view your home while away.

These are ideal when you are not likely

to have power or Internet access.

• Fit an automated irrigation system on

a timer, programming it to turn on

each day. This will give the impression

someone is home and keep your plants

healthy.

Burglaries can be opportunist due to

lax security. Locking doors and windows

helps. Setting the alarm is common sense

– if the facility is there, why not use it.

Adopting other security measures can

be worth the effort and might keep your

home safe over the holidays.

Fit an automated

irrigation system.

Arrange to have

your lawns mowed.

Keep your home & vehicles locked.

Showhome

Guide

LOOKING FOR DESIGN INSPIRATION?

Visit one of our stunning showhomes to gather ideas for your dream home

Signature Homes

Faringdon

47 & 49 Lanner Drive, Rolleston

Both Open Wed to Sun 12pm-4pm

Show Room/Office:

31 Watts Road, Sockburn

Open Mon to Fri 9am - 5pm

0800 8444 88 or 03 342 7788

www.signature.co.nz

Faringdon, 47 Lanner Drive, Rolleston

SHOWHOMES

Both showhomes

Open Wed-Sun 12pm-4pm

Faringdon, 49 Lanner Drive, Rolleston

SHOWrOOM / OfficE

31 Watts Road, Sockburn

Open Mon-Fri 9am-5pm

0800 844 488

signature.co.nz
---
14

ATTENTION

BUSINESS OWNERS

Do you sell products or services that

enhance outdoor spaces?

You could feature in the Innovative Outdoor Living Area

at the 2021 Star Media Home and Leisure Show this July

and reach over 10,000 attendees across 3 days!

Louvre System • Bbqs • Heating • Hammocks

Trampolines • Spas • Pools • Decking Pizza Ovens • Shade

Systems • Water Features • Outdoor Furniture • Fencing

If this sounds like you,

contact Lisa now on 021 800 809 or email lisa.

lynch@starmedia.kiwi for a no obligation quote.

Payment options available. Terms & Conditions apply.
---
This Week's

15

12.00pm – 12.30pm

1.00pm – 1.45pm

5.00pm – 5.30pm

1.00pm – 1.45pm

1.00pm – 1.45pm

Wednesday 12 Th May

2/7 Brogar Place, Casebrook

Ray White Town & Lifestyle

2/1014 Weedons Ross Rd, West Melton

Harcourts Four Seasons Realty

7 Pablo Place, Hoon Hay

Property Brokers

Thursday 13 Th May

56 Langdales Road West Melton

Harcourts Four Seasons Realty

23C Ruakaka Street, Hornby

Harcourts Four Seasons Realty

saTurday 15 Th May

2.00pm – 2.45pm

3.00pm – 3.30pm

11.00am – 11.30am

11.15am – 11.45am

11.30am – 12.00pm

12.00pm – 12.30pm

12.00pm – 12.30pm

12.00pm – 12.45pm

2/1014 Weedons Ross Rd, West Melton

Harcourts Four Seasons Realty

540 – 544 Hamptons Road, Prebbleton

Bayleys Canterbury

sunday 16 Th May

7 Pablo Place, Hoon Hay

Property Brokers

45 Balcairn Street, Halswell

Ray White Town & Lifestyle

1/279 Main South Road, Hornby

Ray White Town & Lifestyle

91 Tennyson Street, Rolleston

Ray White Town & Lifestyle

2/7 Brogar Place, Casebrook

Ray White Town & Lifestyle

21 Beak Street Rolleston

Harcourts Four Seasons Realty

1.00pm – 1.30pm

1.00pm – 1.30pm

1.00pm – 1.30pm

1.00pm – 1.45pm

1.00pm – 1.45pm

1.30pm – 2.00pm

1.30pm – 2.00pm

1.45pm – 2.15pm

2.00pm – 2.30pm

2.00pm – 2.45pm

28 Shepherd Avenue, West Melton

Ray White Town & Lifestyle

149 Cossars Road, Tai Tapu

Bayleys Canterbury

90 Moorhouse Avenue, Selwyn Hutts

Bayleys Canterbury

56 Langdales Road West Melton

Harcourts Four Seasons Realty

23C Ruakaka Street, Hornby

Harcourts Four Seasons Realty

58A Stonebrook Drive, Rolleston

Matson & Allan Rolleston

70 Rotherham Drive, West Melton

Ray White Town & Lifestyle

18 Brittan Drive, Rolleston

Ray White Town & Lifestyle

805A East Maddisons Road, Rolleston

Ray White Town & Lifestyle

2/1014 Weedons Ross Rd, West Melton

Harcourts Four Seasons Realty

1.00pm – 1.30pm

215 Lincoln Rolleston Road, Rolleston

Bayleys Canterbury

12.30pm – 1.00pm

59 Zabeel Street, Lincoln

Ray White Town & Lifestyle

2.00pm – 3.00pm

20 Northmoor Boulevard, Rolleston

Property Brokers

1.00pm – 1.45pm

23C Ruakaka Street, Hornby

Harcourts Four Seasons Realty

1.00pm – 1.30pm

49 Beaumont Drive, Rolleston

Ray White Town & Lifestyle

3.00pm – 3.30pm

2 Reserve Lane, Prebbleton

Ray White Town & Lifestyle

2.00pm – 3.00pm

20 Northmoor Boulevard, Rolleston

Property Brokers

1.00pm – 1.30pm

21 Cassidy Aveunue, Lincoln

Matson & Allan Rolleston

3.00pm – 3.30pm

370 Maddisons Road, Rolleston

Ray White Town & Lifestyle

For full details of all

Open Homes, please

contact the Real

Estate companies

RAY WHITE

Rolleston 03 347 9988

www.rwrolleston.co.nz

West Melton 03 347 9933

www.rwwestmelton.co.nz

Lincoln 03 325 7299

www.rwlincoln.co.nz

PROPERTY BROKERS

www.propertybrokers.co.nz

Rolleston 03 929 0306

Darfield 03 975 4506

Leeston 03 929 0306

Lincoln 03 595 6954

HARCOURTS

www.fourseasons.harcourts.co.nz

Harcourts Hornby 03 349 9919

Harcourts Rolleston 03 347 4711

Harcourts Lincoln 03 662 9933

MATSON & ALLAN

www.marealestate.co.nz

Rolleston 03 347 9949

Darfield 03 318 8204

Leeston 03 324 3704

BAYLEYS CANTERBURY www.bayleys.co.nz 03 375 4700

SELLING YOUR HOME?

Potential buyers are

likely to be living in your

neighbourhood, it's an

area that they already love

and are actively seeking

to stay in. That's why it

makes sense to advertise

your property in the

Selwyn Property Guide.

We are the only media

that reaches across the

entire Selwyn District.

73

Arthur's Pass

1

77

Springfield

Glentunnel DarfieldTempleton

Rolleston

Burnham Lincoln

Dunsandel Tai Tapu

Leeston

For cost effective, highly

targeted advertising that delivers

results, contact a local Real

Estate Company that advertises

in the Selwyn Property Guide.
---
16

M-A

MATSON & ALLAN

REAL ESTATE LIMITED

'The

Selwyn

Experts'

The last few months have been busy.

If you are considering selling and want to reap the benefits of a strong market

contact the Selwyn Experts today to discuss how we can help you achieve the

best possible price. We would love the opportunity to work with you.

Residential

Lifestyle

Rural Property

Licensed REAA2008

SOLD

SOLD

SOLD

SOLD

SOLD

44 Park Lane, Rolleston

29 Riverstone Drive, Rolleston

67 Cassidy Avenue, Lincoln

10 Farthing Drive, Prebbleton

45 Territory Street, Rolleston

SOLD

SOLD

SOLD

SOLD

SOLD

19 Cunningham Street, Leeston

2 Highworth Crescent, Rolleston

19 Lemonwood Drive, Rolleston

727 The Lake Road, Leeston

18 Charlbury Drive, Rolleston

SOLD

SOLD

SOLD

SOLD

SOLD

1/522 Weedons Road, Rolleston

223B Lowes Road, Rolleston

93 Ledbury Drive, Rolleston

4 Appleton Court, Rolleston

9 The Stables, Halswell

SOLD

SOLD

SOLD

SOLD

SOLD

8 Fibonacci Way, Leeston

18 Hulme Lane, Rolleston

155B Lowes Road, Rolleston

11 Wedgewood Row, Rolleston

2 Charlbury Drive, Rolleston

SOLD

SOLD

SOLD

SOLD

SOLD

4 Carlyle Lane, Rolleston

14 Spirit Terrace, Rolleston

52 Selwyn Street, Leeston

376 Harmans Road, Leeston

18 Broomleigh Drive, Rolleston

SOLD

SOLD

SOLD

SOLD

SOLD

203 Brookside & Irwell Road, Irwell

5 Blossom Lane, Rolleston

8 Berners Way, Rolleston

29 Blue Jean Avenue, Rolleston

62 Branthwaite Drive, Rolleston

SOLD

SOLD

SOLD

SOLD

SOLD

1161 Goulds Road, Rolleston

40 Mclenaghan Road, Rolleston

49 Sheridan Drive, Rolleston

1004 Leeston Dunsandel Rd, Leeston

13 Goodwood Avenue, Lincoln

SOLD

SOLD

SOLD

SOLD

SOLD

9 Rossington Drive, West Melton

14 Fulham Street, Islington

9/487 Weedons Road, Rolleston

Stage 2, Torlesse Estate, Darfield

Stage, 4, Bellfield, Southbridge

ROLLESTON PH: 03 347 9949 LEESTON PH: 03 324 3704 DARFIELD PH: 03 318 8204 www.marealestate.co.nz

M-A

MATSON & ALLAN

REAL ESTATE LIMITED

Chris Flanagan

027 433 4657

Andrew Taylor

027 435 5930

Jackie Derrick

027 636 3576

Amelia Nisbet

027 376 3868

Stephan Knowler

027 229 9522

Cameron McRae

027 769 6696

Bronwyn van der Pol

022 073 7757

Residential

Lifestyle

Rural

Property

Licensed REAA2008