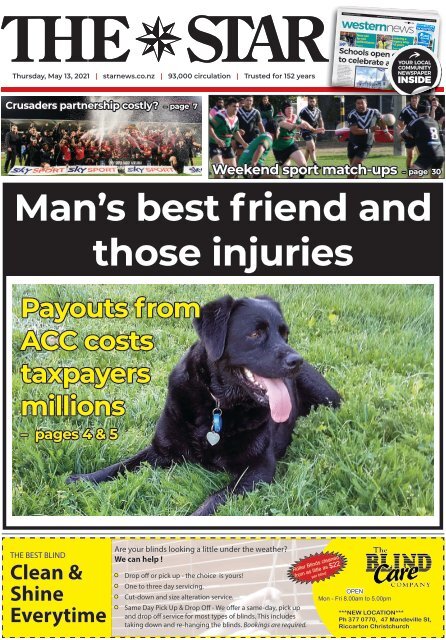 You also want an ePaper? Increase the reach of your titles
YUMPU automatically turns print PDFs into web optimized ePapers that Google loves.
to see inside some of Christchurch's

unique homes and

buildings of cultural, historic

or architectural significance.

Guided tours, children's

workshops, exper tours,

guided walks, and exhibitions

will also be held as part of

"We simply want people

to enjoy exploring the city's

Not available in conjunction with any other offer or promotion.

Limit 1 coupon per table. Offers redeemable Monday to Friday,

Lunch & Dinner only. Not valid during Mother's Day W ekend.

Valid till 30th of June 2021. Discount can not exceed $50.

THURSDAY, MAY 13, 2021 Connecting Your Local Community

starnews.co.nz

New use

for old

defibrillators

Page 3 Page 12

Leaving a

legacy after

43 years

Talk to over 10,000 visitors in 3 days

Schools open doors

Contact Lisa on 021 800 809

to celebrate architecture

CHRIST'S College, St

Andrew's College and

Thursday, May 13, 2021 | starnews.co.nz | 93,000 circulation | Trusted for 152 years

Christchurch Boys' High

School will be opening their

doors to the public this

weekend during a festival

that celebrates the city's

architecture.

Organised by Te Pūtahi -

Centre for Architecture & City-

Making, Open Christchurch

will give people an opportunity

the two-day festival next

weekend.

Crusaders partnership costly? – page 7

architecture and landscapes, '

festival director Dr Jessica

Halliday said.

"Te Pūtahi wants to make

it easy, desirable and fun for

more people to get involved in

the enjoyment and shaping of

Ōtautahi. Open Christchurch

is a great way to do this as

everybody likes to have a good

nosy in buildings. '

• Turn to page 3

STYLE: St Andrew's College's

Strowan House (above left),

Centennial Chapel and

Christ's College's memorial

dining hall (left) are just some

of the buildings on display

during Open Christchurch.

Bring this

voucher in to get

10% off your bill

Weekend sport match-ups – page 30

Man's best friend and

those injuries

Payouts from

ACC costs

taxpayers

millions

– pages 4 & 5

THE BEST BLIND

Clean &

Shine

Everytime

Are your blinds looking a little under the weather?

We can help !

• Drop off or pick up - the choice is yours!

• One to three day servicing.

• Cut-down and size alteration service.

• Same Day Pick Up & Drop Off - We offer a same-day, pick up

and drop off service for most types of blinds. This includes

taking down and re-hanging the blinds. Bookings are required.

Roller Blinds cleaned

from as little as $22

per blind

OPEN

Mon - Fri 8.00am to 5.00pm

***NEW LOCATION***

Ph 377 0770, 47 Mandeville St,

Riccarton Christchurch
---
2 The Star Thursday July 30 2020

2 The Star Thursday May 13 2021

inside

Cost

Tributes

of Crusaders

flow after

partnership.......................7

death .................................. 5

Man fined after docking puppies ............ 7

Racing spotlight on formalin..................8-10

New hospital child care initiative ....................9

Mixed progress on Master Plans.... 12 & 14

Bank to stop cash, cheque deposits ....10

Fellowship for expert OJ witness...........16

New home for Smiths City ......................... 15

Model faces more charges..........................19

Return to Trump, pandemic ..............20-21

Letters.......................................................................21-22

Heritage in photos .............................................25

Mayor's Check your column......................................................24

shopping receipts 27

ECan Food column............................................................27

.................................................................................28

Puzzles............................................................................28

Gardening 29

Gardening....................................................................29

Sport ................................................................................. 31

Sport.......................................................................... Drivesouth .................................................................33 30-31

Drivesouth....................................................................33

Puzzles ..........................................................................34

Classified.............................................................. ............................................................35-42 34-39

Gig

Gig

guide.....................................................................

guide ...................................................................

39

43

newsroom

newsroom

Louis Day Reporter

021 919 917

Matt louis.day@starmedia.kiwi

Slaughter Reporter

021 910 788

Matt Slaughter Reporter

matt.slaughter@starmedia.kiwi

021 910 788

Chris matt.slaughter@starmedia.kiwi

Barclay Reporter

021 914 169

Chris Barclay Reporter

chris.barclay@starmedia.kiwi

021 914 169

Barry chris.barclay@starmedia.kiwi

Clarke Editor in Chief

021 359 426

Barry Clarke Editor in Chief

barry@starmedia.kiwi

021 359 426

barry@starmedia.kiwi

advertising

Shane Victor Advertising Manager

021 381 765

shane@starmedia.kiwi

Classified advertising: 379 379 1100 1100

General inquiries: 379 3797100

7100

REACH MORE . . . .

178,000 * *

readers readers every every week! week!

*2019 Nielsen Newspaper Readership Report

*2019 Nielsen Newspaper Readership Report

online

Keep

Keep

up

up

with

with

the

the

latest

latest

local

local

news

news

as

as

it

it

happens

happens

www.starnews.co.nz

A

A

division

division

of

of

Allied

Allied

Press

Press

Regional

Regional

Manager:

Manager:

Steve

Steve

McCaughan

McCaughan

PO

PO

Box

Box

1467,

1467,

Christchurch

Christchurch

359

359

Lincoln

Lincoln

Rd,

Rd,

Addington

Addington

www.starmedia.kiwi

www.starmedia.kiwi

NZ Careers Expo

Thursday, Friday, Saturday 9am-

3pm

Open to all ages and stages of career development, this is

your opportunity to really find out what your options are

and where your future could lie, with the widest range

of opportunities on show including employers, industry,

tertiary providers, training institutes, government

departments, and corporate New Zealand. Admission: Free.

Christchurch Arena, 55 Jack Hinton Drive

CSO Dress Rehearsal

Saturday 10am-12.30pm

Don't miss this rare opportunity to listen and

watch the CSO in full dress rehearsal in the Douglas Lilburn

Auditorium. Part of the Open Christchurch Festival. No

flash photography or video. Admission: Free.

Christchurch Town Hall, 86 Kilmore St

letters

We We want want to to hear hear

your your views views on on the the

issues issues affecting affecting life life in in

Canterbury.

Canterbury.

Send

Send

emails

emails

to:

to:

barry@starmedia.kiwi

barry@starmedia.kiwi

Letters

Letters

may

may

be

be

edited

edited

or

or

rejected

rejected

at

at

The

The

Star's

Star's

discretion.

discretion.

Letters

Letters

should

should

be

be

about

about

150

150

words.

words.

A

name,

name,

postal

postal

address

address

and

and

phone

phone

number

number

should

should

be

be

provided.

provided.

Please

Please

use

use

your

your

real

real

name,

name,

not

not

a

a

nickname,

nickname,

alias,

alias,

pen

pen

name

name

or

or

abbreviation.

abbreviation.

Open Christchurch 2021

Saturday, Sunday 8am-5pm

46 buildings with exceptional architecture and

cultural significance will be open to the public this weekend,

from Sockburn to Lyttelton, with the majority in the central

city. Two guided city walks and children's activities. See

www.openchch.nz for times and locations. Admission: Free.

Smokefree Rockquest,

Regional Heats

Saturday 11am-6.30pm

Showcasing an array of emerging musical talent across a

number of genres as local bands and artists play off for a spot

in the Canterbury

regional finals on

June 4. Admission:

$10, Children

under 5: Free.

Aurora Centre,

151 Greers Rd

Envirokids Launch

Saturday 10am-3pm

Connecting kiwi kids to the environmental

community and creating the opportunity to meet other

eco-warrior kids. Different activities each Saturday with a

different theme and organisation showcased. Admission:

Free. The Kiosk, Christchurch Botanic Gardens

Stay comfortable all year round with

Fujitsu's sleek, stylish Lifestyle Range.

HEAT PUMPS FROM $1999 inc GST INSTALLED!

2020

Heat Pumps

Fujitsu's Catechin Filters are approved by

the Asthma and Respiratory Foundation

NZ's Sensitive Choice ® programme.

RecoveR youR loved fuRnituRe

Quality furniture

specialists

100s of fabrics to

choose from

www.qualityfurniture.co.nz

Hours: Mon - Thurs, 7am - 4.30pm, Fri 8am - Midday,

or by appointment with Keith 027 566 3909

03 381 6950

info@powersmart.co.nz

powersmart.co.nz

FREE

consultation from

your local Accredited

Heat Pump Expert

424 ST ASAPH STREET PH 371 7500

RE-UPHOLSTERY SPECIALISTS KEITH HARTSHORNE 0275 663 909
---
• By Emily Moorhouse

HAS COVID-19 killed the

cinema for Gen Y?

Cinemas face an uphill battle

attracting young adults, who are

not only used to video streaming

but also wary about Covid.

NZ on Air data shows subscription

video on demand is

the second-most popular media

in terms of time spent (behind

linear TV), with YouTube now

New Zealand's most popular

channel.

A survey of more than 1400

Canterbury University students

found more than 80 per cent

prefer to watch movies on SVOD

with more than 40 per cent saying

they have not set foot in a

cinema in over a year.

Paige

Cornish used

to go to the

cinema at

least once a

month but

now worries

about the

cleaning

process post-

Covid. "I have

only gone once since lockdown."

The 20-year-old has turned

instead to streaming movies.

Troy Burnett, 21, prefers

watching movies with a cinema

crowd but has not visited a cinema

in over a year.

He said he "might've been a

bit wary" about returning to the

cinema after New Zealand's first

lockdown, and was also waiting

for new films to be released.

Many big budget movie

releases, including the new

Bond movie No Time to

Die, have been delayed

because of Covid, while

others, such as Mulan,

have been released

straight to SVOD.

"It's pretty annoying,"

Burnett said. "Hopefully,

they'll be here by the

end of the year and don't

keep getting pushed

back."

Lumière Cinema co-owner

Nick Paris said the attraction

of SVOD for younger people

marked a " generational shift"

for movie-going.

Latest Canterbury news at starnews.co.nz

Covid-19 jabs to ramp up for rest homes

• By Chris Barclay

MORE THAN 500 residents

and staff at four aged care

facilities in Christchurch have

received their first dose of the

Covid-19 vaccination, almost a

week into a rollout designed to

protect vulnerable members of

the community.

Ultimately about 5300 elderly

Cinemas face challenge as

young movie-goers stay away

Paige Cornish

housed in rest homes across

Canterbury will be inoculated

by the Canterbury District

Health Board's mobile vaccination

teams.

The process started last

Thursday at Rosewood – the rest

home that linked New Zealand's

deadliest Covid-19 cluster.

There were 12 deaths connected

to the Linwood complex,

Troy Burnett

the nationwide death toll is

currently 26.

A CDHB spokesman said as

of yesterday 521 residents and

staff had received the initial

jab while an increase in the

number of mobile vaccination

teams would soon accelerate the

process.

Minister for the Covid-19

Response Chris Hipkins

"They're so used to watching

Netflix and web-based series.

They'll only really go to the

cinema if it's a special

event."

Paris said Covid had

affected his cinema

"greatly" and, in spite

of social distancing and

regular sanitising, there

was "still an element

of doubt" for people

around the risks of going

to the cinema.

He's trying to grow

the market, particularly for

students, by "spending up" on

radio advertising, but said it was

a tough nut to crack.

"A lot of students are dirt poor

acknowledged healthcare workers,

vaccinators and district

health boards for their efforts

as older people and those with

pre-existing conditions became

the focus of the campaign.

"We're making good progress

in vaccinating staff and

residents at aged residential care

facilities around the country,"

he said.

so the idea of $10 a month for

a Netflix account won't harm

them, but $15 per pop in cinema

does."

A Hoyts employee said that

Covid was continuing to have

an impact long after lockdowns

were lifted.

"We didn't have any movies

coming out, so business just

completely died down."

He said that Disney films were

proving the most popular so far,

but they attracted mostly children

and parents, and did little

to boost young adults' interest.

"[For them] it's a lot more

convenient to have a Netflix

subscription than to go to the

movies."

Thursday May 13 2021 The Star

NEWS 3

in brief

Alleged vandal

wanted by police

Police have released an image

of a man they want to speak to

in relation to the burglary of

Rolleston ambulance station

on May 2. Police suspect just

one person is responsible

for a vandalism attack on

community rooms at the

station. If you know this person

or have information that can

help, please phone 105 quoting

file number 210503/2661.

Alternatively, you can get in

touch with Crimestoppers

anonymously on 0800 555 111

or via www.crimestoppers-nz.

org/police

Further arrests after

March assault

Two more men were arrested

yesterday in relation to three

serious assaults outside a

Christchurch bar in March.

The two men, aged 42 and 28,

are patched members of the

King Cobras gang, a police

spokesperson said. The arrests

are linked to an attack on three

men, including two brothers, at

the Cruz bar and nightclub on

Victoria St in the early hours

of March 21. Yesterday's arrests

follow the arrests of three men

last Friday in several raids.

City Mall vehicle

rules

A hearings panel has

recommended the city

council approve changes that

would see City Mall, from

Cashel St's intersection with

Oxford Tce, to its intersection

with High St, into a pedestrian,

cycle and scooter-friendly area.

This is set for discussion at

today's city council meeting.

If approved, cycles, trams,

emergency vehicles and city

council service vehicles would

be the only vehicles allowed in

the area at all times.

ROCKPOOL RIBS

AND A BOTTLE OF HEINEKEN

ALL DAY SPECIAL

85 Hereford St, Christchurch

$20

Care &

Compassion

We pride ourselves on the

very highest level of service

If you are thinking about the future,

we can help you explore pre-payment

and pre-planning options. Contact us

for a Free Information Pack.

We offer funeral information talks to

groups. Please call us for a speaker to

come to you.

Mark Glanville

Manager &

Funeral Director

(03) 379 0196 | www.simplicity.co.nz

Mike Chandler

Funeral Director

Nick Allwright

Funeral Director
---
The Star Thursday May 13 2021

4

NEWS

Latest Canterbury news at starnews.co.nz

The millions paid out for injuries

Simply walking the dog

round the block, or lifting

a beloved canine into the

car for a trip to the vet, can

have drastic repercussions

for Christchurch pet

owners – and the

Accident Compensation

Corporation. Chris Barclay

discovers millions are spent

annually dealing with

dog-related injuries in the

city, and nationwide

WHILE DOG attacks routinely

attract headlines, Duncan

Ferguson represents a largely

unseen statistic as a victim of

canine-related injuries where the

bark, or lunge, was worse than

the bite.

Ferguson was spooked by a

collie as he ran along the Coastal

Cliffs Walkway somewhere

between Purau Bay and Church

Bay at Diamond Harbour early

on January 4.

Accidentally, the New Year's

exercise initiative has already

needed five months recovery

time, and counting.

"I had my headphones on so I

wasn't really listening to what's

around me and all of a sudden a

dog jumped out at me snarling,"

he recalled.

"It startled me, I tripped over a

tree root and it was quite a steep

section of the track. I tumbled

7-10m down a bank."

"I just felt silly as much as

anything. Why am I screaming

in pain? This is stupid of me.

Man-up sort of thing. But it was

a serious break of the wrist."

Ferguson broke his right wrist

and suffered cuts, abrasions, plus

a shoulder injury that started being

attended to on Monday.

BAD DOG: Duncan Ferguson broke his wrist and suffered

other injuries when he took a tumble after being surprised

by an unleashed, snarling border collie at Diamond

Harbour.

"It was just a collie, so it was

nothing too big and scary. I've

grown up with dogs, I'm not

afraid of them. I felt silly screaming

in pain, but it was a serious

break."

The St Andrew's College head

of music, who also composes

educational resources for fellow

teachers, joins a long list of

Cantabrians injured while either

walking, carrying or evading

dogs.

Figures released by the

Accident Compensation

Corporation (ACC) reveal there

were 2957 new claims made in

2020, slightly down on the 3025

recorded in 2019. There were

3274 active claims in Canterbury

in 2020, with 317 carrying over

from previous years.

The cost of those claims was

almost $3.1 million, while

nationwide the repair bill was

estimated at $20,877,059. In 2019

it was $17,421,369.

Claims data covers all claims

which involve a dog, including

people tripping over, spraining

by lifting dogs and being headbutted

in the face.

"Everyone's Little Secret" ADVERTISEMENT

SPECIAL OFFER

KORU NUTRITION

Hidden away in the UK's

south west, Ann's passion for

decades was to cut, clip, dye and

perm thousands upon thousands

of individuals expressing

themselves.

Slick looking businessmen,

mums with bubs, first time job

interviewees, brides to be, along

with the weird and the wonderful

were just a small selection of

those who took the time to sit in

her chair.

"Everyday I'd go to work and

have wonderful conversations

with people. Some days the time

would fly by as you're engrossed

in one conversation after the

other."

"My career highlight is the day

my 2 eldest grandchildren (aged

4 and 6 at the time) came into

the salon. They're still living in

the UK with my son but being

able to cut their hair when I see

them fills my heart."

Whilst retired now, Ann still

appreciates giving haircuts to

her family and close friends.

"I still cut my husband and

childrens hair. It's a bit of an act

of love really."

"As I've gotten older, I'm

noticing I'm no longer able to do

as many haircuts back to back.

You just can't hold your arms up

for that long."

After years of working her

shoulders, and standing on cold

hard concrete, Ann discovered

a natural cream secret that

was said to support joints and

muscles.

"My daughter gave me

a bottle of Koru FX cream

and said 'try this on your

shoulders Mum'."

"Before using it I had a good

look into the ingredients. I

like to research things before

using them. I try to use natural

products wherever practical.

This cream is jam packed with

nature. The more I learnt, the

happier I was to use it."

"I'm now using Koru FX

on my shoulders most days

with great results. Sometimes

I'll use it on my knees. I

really work it into the joints

and muscles. I know that I'm

supported all day long."

Koru FX cream has become

NZ's #1 fastest growing topical

joint support cream. With tens

of thousands of happy customers

like Ann, Koru FX has set the bar

for natural joint support creams.

Ann now recommends Koru

FX to anyone who needs that bit

of joint and muscle support.

"It's incredible how many

people I will tell about it and then

they pull out a bottle. It seems

that if you're over 55 you've got a

bottle somewhere. It's everyone's

little secret, I know it's mine."

Koru FX contains high quality

Always read the label and use as directed. If symptoms persist see your healthcare professional. Koru Nutrition Ltd, Christchurch.

oils like calendula, arnica,

manuka and peppermint,

along with 12 others providing

the perfect formulation for

supporting joints and muscles.

Countless doctors and

pharmacists recommend Koru

FX cream due to its natural

ingredients and fast acting

delivery.

If you're looking for a fastacting

and long-lasting, natural

product; harnessing the benefits

of essential oils, then Koru FX

is for you.

Ask for Koru FX cream next

time you're in the pharmacy and

try it for yourself.

FOR READERS
---
Thursday May 13 2021 The Star

Latest Canterbury news at starnews.co.nz

NEWS 5

caused by man's best friend

Ferguson said the dog

continued to act aggressively

towards him as he lay in shock

before managing to climb back

to the path, by which time the

owner had restrained the collie.

"It kept going at me, snarling,

when I was on the ground," he

said.

Despite signage warning all

dogs had to be on leads in the

area, the collie was untethered.

"It was about seven o'clock in

the morning, the guy (owner)

didn't expect anyone else to be

on the track then, that's what he

said anyway," Ferguson said.

The owner was apologetic and

returned to take Ferguson to

where he was staying at Church

Bay, after dropping the collie

back home.

Ferguson was initially treated

at the Pegasus Health 24-hour

surgery but was referred to

Christchurch Hospital to get the

break set.

He estimated he had spent

$600 on his treatment, which

included a public holiday

surcharge and a surcharge for a

waterproof cast.

ACC footed the bill for

thousands more to cover

necessities like x-rays, scans and

a contribution to physio.

Ferguson was too distracted

to get the owner's details after

the incident but he has been

A PEACH: This friendly

black labrador is no

stranger to causing injuries

to its owner, from a lead.

First it was a ripped finger

and then a torn shoulder

when the lab decided to

chase cats.

identified.

"We haven't gone and

complained. What's the point?"

he said.

Fortunately the incident

happened during the school

holidays, though he did have

to wear a cast for the first few

weeks of the opening term at St

Andrew's College. Not ideal for a

piano and double bass player.

"The resources I usually would

have written through January I

haven't been able to write so I'm

out of pocket tens of thousands

of dollars as well," he said.

"January-February was a real

pain as a result of all of this."

The Canterbury District

Health Board data was not

captured in a way to easily

identify dog-related injuries,

though a spokesperson said

they make up a 'very small'

component of the emergency

department's monthly workload.

However, Hayden Thom, of

Motus Lincoln Physiotherapy,

is familiar with the potential

pitfalls of visiting a dog park.

"It's surprising how many

knee-related injuries we deal

with caused by a chaotic dog

running into them," he said.

"It's often their dog running

past and smashing into a knee.

It actually causes quite a bit of

damage.

"It's a little bit more common

than you probably think. They

stand out an unusual."

Thom, who owns a placid

cocker spaniel, said knee injuries

could take several months to

heal.

"Often there's ligament

damage and significant damage

to the outer layer on bone in the

knee. One lady took close to six

months until she was 100 per

cent right."

TOUGH BREAK: An x-ray of Duncan Ferguson's broken

wrist after he was caught unawares by an aggressive dog

while out running.

gold kiwifruit ............................. 2

Vivaldi Gold or Red Jacket

Potatoes 2.5kg ................................. 3

limes ....................................................... 2

Celery Bunch ............................... 1

Check our website for

your local stores opening hours

.99

kg

.99

each

.99

kg

.99

each

broccoli ............................................99 c

each

Persimmons ..................................... 5

Beef Point End Brisket .... 12

Beef ribeye steak ................... 29

.99

kg

.99

kg

.99

kg

Lamb Shanks - Knuckles 12 .99

kg

Chicken Drumsticks ............... 4

.99

kg

Pork Shoulder Roast - Bone In

8 .99

kg

At

we have...

FRIDAY TO

SUNDAY ONLY

.49

kg

satsuma mandarins ............ 3

Loose Brown Onions .......99 c

kg

loose carrots .........................99 c

kg

Silver Fern Farms Gourmet

Burger 4PK Range ............... 7

.99

each

All our fresh meat is 100% NZ FARMED. specials VAlid

10th May - 16TH May 2021.

WHILE STOCKS LAST! ONLY AVAILABLE AT RAEWARD FRESH HAREWOOD RD, TOWER JUNCTION

WWW.

.CO.NZ

Like us on

Facebook
---
6 The Star Thursday May 13 2021

EVs save money and

the planet. Find out

how this weekend.

Electric vehicle expert Ken Chen of Gary Cockram Hyundai is sharing his

EV wisdom this weekend at Arvida's Park Lane community. Find out how

driving an electric vehicle can help the planet, as well as your finances. You

can also take a tour of our innovative community for over-65s, as well as the

neighbouring Arvida Good Friends Living Well Centre.

Open weekend Saturday 15 & Sunday 16 May, 11am-3pm

Electric vehicle talks both days at 11am & 1pm

Tours of Arvida Good Friends Living Well Centre Saturday only

35 Whiteleigh Ave, Christchurch. Call Tara 021 489 784

or visit parklaneretirement.co.nz
---
Thursday May 13 2021 The Star

Latest Canterbury news at starnews.co.nz

NEWS 7

Cost of Crusaders partnership still unknown

• By Matt Slaughter

RATEPAYER-funded

ChristchurchNZ is still refusing

to say the full cost of its partnership

with the Crusaders rugby

franchise.

The Taxpayers' Union and

city councillor Aaron Keown

say there should be more

transparency about the cost.

A three-year partnership will

see ChristchurchNZ, the city

council's economic development

arm, use the Crusaders to

market Christchurch and other

nearby tourist destinations to

fans who travel here to watch

games.

In March, ChristchurchNZ

revealed to The Star it was investing

$70,000 towards media content

and its promotion as part

of the project. This was the only

cost it provided because others

were said to be commercially

sensitive for the Crusaders.

In response to an Official Information

Act request released to

The Star on Tuesday in relation

to the partnership, ChristchurchNZ

has redacted all details

on the remaining cost.

A ChristchurchNZ spokesperson

said: "We have chosen to

withhold the dollar value of our

sponsorship agreement with the

Crusaders, as it is commercially

sensitive to the Crusaders as a

private company. These agreements

are heavily negotiated

by all parties, and the benefits

received vary between sponsors

and partners.

"We are unable to share this

information, as it will negatively

impact the Crusaders and their

ability to negotiate similar agreements

with third parties in the

future."

The secrecy comes as ChristchurchNZ

also has not said how

much global sailing event SailGP

in Lyttelton Harbour next year,

which it is providing funding for,

will cost because of commercial

sensitivity.

The city council's 10 year

budget has the annual ratepayer

contribution to ChristchurchNZ

for the next three years at $15.9

million.

ChristchurchNZ gets about 75

per cent of its funding from the

city council, and the remainder

from Government and other

third parties.

Said Taxpayers' Union

spokesman Louis Houlbrooke:

"Ratepayers will and should

expect a greater level of

transparency with regard

to the agency's sponsorship

arrangements.

"Commercial sensitivity

considerations should only apply

to low-level spending.

Louis Houlbrooke (left) and

Cr Aaron Keown

HAVE YOUR SAY: Do you

think the full cost of the

partnership between

ChristchurchNZ and the

Crusaders should be

made public? Email matt.

slaughter@starmedia.kiwi

"This [the partnership] will not

be cheap."

Cr Keown has no problem

with ChristchurchNZ working

with the Crusaders because

the team attracts people to

Christchurch, but said rate

payers have a right to know the

cost of this.

"All of council and, by

extension, council agencies and

Government agencies, should

be transparent with ratepayer or

taxpayer money.

"I do understand there's some

commercial sensitivity, but at the

end of the day, you are spending

ratepayer money in this case,

and the ratepayer has a

right to know."

ChristchurchNZ told The

Star in March the commercially

sensitive cost will go towards a

research campaign, led by the

Crusaders, to understand who

fans at games are, what they do

in the lead up to and on game

days, and how to get them to

stay longer in Christchurch and

spend money.

As well as this,

ChristchurchNZ would be

able to advertise its brand at

Crusaders home games on the

field, on big screens, on LED

signage and during promotional

activities before games and at

halftime.

The cost would also go

towards ChristchurchNZ getting

access to Crusaders players and

staff to feature in its content,

and the use of the team's social

media channels to promote this.

Of the $70,000

ChristchurchNZ revealed it

would invest in the partnership,

$15,000 was for creating four

videos featuring the Crusaders,

encouraging fans from other

parts of New Zealand to visit

destinations in Christchurch or

other nearby tourist hot-spots.

The remaining $55,000 was for

promoting the videos to reach

audiences in cities like Auckland

and Dunedin.

DOWNLOAD

THE APP

GAssoN sT

Moorhouse Ave

CArLYLe sT

BYroN sT

BrIsBANe sT

WALThAM rD overBrIDGe

Come and see

us about our

May specials
---
The Star Thursday May 13 2021

8

NEWS

Latest Canterbury news at starnews.co.nz

Harness racing spotlight goes on

Formalin kills bacteria and helps to harden cows'

hooves when used as a foot bath to ensure

maximum penetration. It is suitable for sheep,

goats and cattle, though not on horses to treat

bleeding. The chemical is the latest performanceenhancing

substance identified in Canterbury's

harness racing industry thanks to Woodend Beach

trainer Jesse Alford being nabbed by a sting

operation. Chris Barclay reports

A COMPANY marketing

formalin for the farming

industry promotes the product

online with an associated ninepage

safety data sheet.

Section 2: Hazards

identification highlights

the dangers posed by the

general purpose disinfectant

"recommended

for use in the

treatment and

prevention of

footrot."

The chemical,

which includes

Jesse

Alford

formaldehyde – the

colourless, flammable,

pungent

substance used to embalm and

preserve corpses – is classified as

hazardous in a variety of ways.

It is acutely toxic, inhalation;

acutely toxic, oral; harmful to

human target organs or systems;

skin corrosive; eye corrosive

… it is a known or presumed

carcinogen.

Jesse Alford took the necessary

health and safety precautions

when using a syringe to inject 10

millilitres of formalin into the

neck of Jimmy Cannon on February

25 at his Woodend Beach

stables.

However, the disgraced harness

racing trainer made one

critical oversight which led to

him banned from the industry

for seven years by the Judicial

Control Authority for Racing.

The 30-year-old never realised

covert surveillance – a camera

planted by Racing Integrity Unit

investigators – was monitoring

his illegal treatment of the fiveyear-old

gelding.

Formalin is used to staunch

bleeding but is banned for use

in the racing industry because it

can affect the horse's cardiovascular

system.

Harness, thoroughbred and

greyhound racing's watchdog

had been tipped off Alford was

doping horses.

After he injected Jimmy

Cannon, Alford did likewise to

Johnny Nevits, shortly before

RIU investigators descended on

the property to discover several

empty syringes in a rubbish bin,

a third primed for use and a halffull

two-litre plastic container of

formalin.

Alford also unsuccessfully attempted

to 'tube' Johnny Nevits,

an illegal process where a mixture

of bicarbonate of soda and

water – known in the industry as

a 'milkshake' – is administered

to improve a horse's stamina.

Ultimately he injected the horse

with formalin instead.

Jimmy Cannon and Johnny

Nevits were set to race later that

day at a New Zealand Metropolitan

Trotting Club meeting at

Addington Raceway.

The RIU believe Motor

Mouth, a third horse at the

stable, would have been treated

by Alford had investigators not

swooped.

Betting records contained

several unusual bets had been

DRUG ALERT:

For the first time

a harness racing

trainer has been

banned for the

illegal use of

formalin in New

Zealand. Former

Woodend Beach

horseman Jesse

Alford was only

caught using the

difficult to detect

performanceenhancing

chemical after

Racing Integrity

Unit investigators

were tipped off.

PHOTO: GETTY

placed on Johnny Nevits and

Motor Mouth the day before

they were due to race. Motor

Mouth was initially quoted as a

$9 chance to win its race; it had

shortened to $2.80 when it was

scratched.

Alford returned to Canterbury

harness racing headquarters

last Wednesday for a penalty

hearing before the JCA after

pleading guilty to two charges

of administering a prohibited

substance on race day and

one charge of attempting

to administer a prohibited

substance.

HEAT PUMP

SALE NOW ON!

Amazin' autumn Specials!!

90%

SubSidy

Warmer KiWi HomeS

Programme

*Eligibility criteria apply

• We will offer you the best quality brands and

option of heat pump for your home/business

• Providing Heat Pump solutions for over 19 years to Cantabrians

• We personally guarantee all our products & installs for 5 years

(providing annual maintenance has been completed)

Phone us today for your free consultation & quote

41A SHAKESPEARE RD, WALTHAM

PHONE 03 366 0525

www.enviromaster.co.nz

"A local team for local people"

Do you need a Plumber, Gasfitter,

Drainlayer or Electrician?

We'll arrive within 30 minutes of the arranged

time or the first hour of labour is free!

Contact

Us Now

Phone: 343 0763

www.foleys.co.nz

Buy any Resene testpot

starting with P, I, N, K

during May and Resene

will donate $1 to Breast

Cancer Foundation NZ.

for breast

cancer awareness

Offer applies to all Resene 60ml testpots

with colour names starting with P, I, N, K

purchased at the normal retail price during

May 2021 at Resene owned ColorShops.
---
Thursday May 13 2021 The Star

Latest Canterbury news at starnews.co.nz

NEWS 9

performance-enhancing formalin

The JCA unveiled their punishment

on Tuesday, barring Alford

from holding a training licence

until May 9, 2028. Given Harness

Racing New Zealand are working

on a code of conduct, there is no

guarantee he will ever return.

Jimmy Cannon died on April

13, according to the HRNZ

website. There was no suggestion

his death was associated with

doping. Johnny Nevits and Motor

Mouth were transferred to

another stable.

A nine-year ban had been

proposed for Alford by the RIU;

a JCA committee opted for seven

after taking into account his early

guilty plea and remorse.

Harness Racing New Zealand

hopes Alford's use of formalin

is an exception rather than the

norm.

"This is the first case (involving

formalin) the RIU has dealt with

in regard to harness racing in

this country," said HRNZ chairman

John Coulam.

"I believe the use of formalin is

a recent development, and hopefully

this is an isolated incident.

"It's use in New Zealand came

to the attention of the RIU once

they were able to analyse the

substances that Jesse Alford was

found to be administering.

"Now that the substance has

been identified it would be

reasonable to expect that current

testing will now include this

substance," said Coulam.

The RIU does not comment on

the drug testing regimes used by

NZ Racing Laboratory Services

Ltd in Takapuna, though an

experienced equine vet acknowledged

it was difficult to detect

formalin.

"There's been a lot of work

done on it internationally

but

it's still not easy.

The best way to

catch someone

using formalin

Andrew

Grierson

is to catch them

red-handed,"

said Andrew

Grierson, chief

veterinarian for Harness Racing

New Zealand.

"One of the problems you have

with doing a trial (to improve

detection) is you need ethical

approval, and it's really hard to

get that across the line when it's

already known as a carcinogen."

Formalin had been used in

the past to treat bleeding, before

the dangerous side-effects were

apparent, and now registered

treatments – like Lasix – are

preferred.

However, they can only be

administered four days before a

race, meaning the horse has no

advantage at the track. In Alford's

case formalin was injected

hours before the races started.

"They're not using it because

it's the best treatment out there,

it's because it's hard to detect,"

said Grierson, who is also the coowner

of the standardbred farm

Woodlands Stud.

While possibly a recent development

in New Zealand the

illegal use of formalin has been

prevalent across the Tasman for

several years.

In 2015 a Racing NSW inquiry

into cobalt doping heard it was

common for horses to be treated

with formalin/formaldehyde

before racing.

More recently, the Queensland

Racing Integrity Commission

warned racing industry participants

last October against

the use of the formalin after

the organisation learned the

chemical was being used to stop

bleeding from the lung, known

as exercise-induced pulmonary

haemorrhage.

QRIC director of veterinary

services and animal welfare Dr

Martin Lenz said while the use

of the chemical may for a time

cause blood to clot, it also causes

many other effects in tissues it

comes into contact with, the majority

of which are harmful.

"Bleeding from the lung, is

extremely common in racehorses

and there are other more effective

and welfare-friendly ways

to manage the issue, including

maintaining good stable air

quality, modifying the horse's

training regime and the judicious

use of frusemide within the applicable

Rules of Racing."

Alford's case, and last month's

suspension of greyhound trainer

Angela Turnwald after one of

her dogs tested positive to methamphetamine

after winning at

Addington, has renewed calls

from animal welfare group SAFE

for the Ministry of Primary

Industries to prosecute.

SAFE spokesman Will Appelbe

insisted the MPI should be pursuing

criminal charges under the

Animal Welfare Act.

"The Judicial Control Authority

is run by the racing industry.

It's a kangaroo court. Serious

animal cruelty belongs in a court

of law," Appelbe said.

Criticism of the JCA prompted

a staunch defence by RIU general

manager Mike Godber.

"The JCA is an independent

statutory body established

under the Racing ACT 2003.

The hearings are often chaired

by very experienced ex-High

Court and Court of Appeal

judges whose independence

and integrity could not be

questioned," he said.

Regardless, Appelbe insisted

the onus was on the MPI to be

more proactive.

• Turn to page 10

Mobility Madness!

Scooter Sale

Nike kids shoes

Plus a FREE training bag

with every kids shoe purchase, worth $30

While

stocks

last

40%

Off!

$6,490 Retail

$3,895 Special

Nike Kids

Basketball..

For ultimate

on-court

performance

and off-court

style for your

youngster

lE BRoN WitNESS

Sizes 11-6 $135

tEAM huStlE

Sizes 11-6 $115

tEAM huStlE

Sizes 4-6 $115

EziShopper 214

Luxury Seat

Full Suspension

LED Lights

Speed 14 kph

Distance 40km

Full Warranty

Luxury Seat, Full Suspension,

LED Lights, Speed 14kph,

Distance 40km, Full Warranty

Free!

3 Day Home Trial

Showroom - 18 Main North Road. Papanui

We Call Come 0800 1155 To you 76

Canterbury /South Canterbury wide

Call 0800 1155 76

Showroom:

18 Main North Rd, Papanui

www.mrmobilitynz.co.nz

Air Max

Kids..

Air Max 84

reintroduced

for kids

Classic

Air Max &

Borough..

Great for

school

Preschool..

Fantastic

comfortable

kids shoe with

velcro closing.

KyRiE FlytRAP

Sizes 12-3 $115

AiR MAx ExCEE

Sizes 4-7 $125

AiR MAx SC

Sizes 4-7 $115

REvolutioN 5 PSv

Sizes 11-3 $85

KyRiE FlytRAP

Sizes 4-6 $125

AiR MAx ExCEE

Sizes 4-7 $125

AiR MAx SC

Sizes 4-7 $115

REvolutioN 5 PSv

Sizes 11-3 $85

KyRiE FlytRAP

Sizes 1-6 $125

AiR MAx ExCEE

Sizes 4-7 $125

tough

leather

upper

CouRt BoRough

Sizes 4-7 $80

REvolutioN 5 PSv

Sizes 11-3 $85

Northlands Mall, 55 Main North Road

Phone: 03-352 9902

www.frontrunnerfootball.co.nz
---
The Star Thursday May 13 2021

10

NEWS

• From page 9

"The MPI should not be

leaving the racing industry to

police themselves. If horse and

greyhound racing fell under normal

animal welfare rules, these

people would face hefty fines,

possible jail time, or both."

The Star sought information

on the number of prosecutions

the MPI had made specific to the

racing industry.

Statistics were not available

before publication, but a scan

of the 85 animal welfare-related

media releases posted on the MPI

website between May 5, 2015, and

May 9, 2021, does not record any

racing-related prosecutions.

That may change, however,

with the MPI announcing it will

investigate Turnwald, who was

fined $3500 and suspended for

four months.

Alford might also draw further

punishment as the MPI and the

RIU are understood to be developing

a memorandum whereby

all evidence and records in cases

relating to animal welfare will

be made available to the government

department.

MPI director of compliance

Gary Orr said the organisation

is also engaging an independent

expert to provide additional

advice regarding the application

of methamphetamine to a

greyhound as well as formalin/

formaldehyde and bicarbonate of

soda to a horse.

"Just like other agencies that

have prosecution powers, animal

welfare cases require a high

standard of evidence to be successful

in court," Orr said.

SAFE's criticism of the MPI's

lack of action has been backed by

an expert in animal welfare law.

"The problem is MPI is a very

reactive organisation, they're

ill-resourced and simply not

well equipped to investigate and

enforce the law in every given

circumstance, it's simply not

good enough," University of

Otago senior lecturer Marcelo

Latest Canterbury news at starnews.co.nz

Alford might also draw

further punishment

Rodriguez Ferrere told TVNZ.

Ferrere argued the Alford and

Turnwald cases were "open and

shut" cases under the Animal

Welfare Act.

"It's a clear breach of the act in

my opinion and it's something

both MPI and New Zealanders in

general should be very concerned

about," he said.

SAFE chief executive Debra

Ashton would have preferred

Alford to be banned indefinitely

and insisted the MPI investigate.

"Given the seriousness of his

actions, this case should have

been heard in a court of law

where he could face criminal

charges under the Animal

Welfare Act. Whenever animals

are mistreated, MPI should be

investigating," she said.

"The Racing Integrity Unit's

purpose is to manage the integrity

of the racing industry and investigate

and prosecute breaches

of the Rules of Racing.

"They're not equipped to lay

criminal charges . . . that is the

MPI's job, but ultimately we need

a Commissioner for Animals that

can be the voice for all animal

welfare complaints so when

people put animals at risk, it is

investigated and justice can be

sought."

No demolition yet

for historic building

• By Devon Bolger

THE OWNERS of the central

city NG building have managed

to halt the destruction of the

110-year-old property to make

way for the city's new $473

million multi-use indoor arena.

Roland Logan and Sharon Ng

filed an injunction against the

Crown at the High Court in Wellington

to stop the compulsory

acquisition of the building by

Land Information New Zealand.

In April, an interim order

was granted for Logan and Ng

to maintain ownership of the

building.

But on May 4, the Crown completed

its compulsory acquisition

of the building. A judgement

from the High Court today said

the interim order will continue

until the trial.

The reasons given include that

the owners were likely to "suffer

irreversible prejudice" if the

order was not made.

"The balance of convenience

and overall interests of justice

favour preservation of the NG

building until the substantive

merits of the application for

judicial review have been determined,"

the judgement said.

Logan said they are greatly

relieved with the decision.

"It gives us great breathing

space by which to hopefully

go back into negotiations with

the Crown and city council to

resolve this.

"I am heartened by the judge's

comments about the heritage

values that are associated with

the building and that's been the

cause we have been trying to put

forward all along."

Logan said they have spent a

substantial sum of money on the

issue so far.

"More than we can afford because

we are not wealthy people."

The historic warehouse, home

to NG Boutique since 2005,

has been on the knife-edge of

planned demolition since 2012

when, during a television announcement,

Logan and Ng

learned their building was in the

footprint of the planned stadium.

A hearing to argue the

injunction is set down for

August.
---
Thursday May 13 2021 The Star 11

FREE LUXURY UNDERLAY

ON SELECTED PRODUCTS

36oz Nylon

Desert

• Solution Dyed Nylon

• Extra Heavy Duty

• 1 Colour

FREE

UNdERlay

36oz Nylon

Windsor Twist

• Solution Dyed Nylon

• Loop Pile

• Extra Heavy Duty

• 11 Colours

FREE

UNdERlay

NOW $79.90 PER M

NOW $129.90 PER M

32oz Polyester

Vermont

• Cut Pile

• Heavy Duty

• 3 Colours

FREE

UNdERlay

50oz Nylon

Grange Fell

• Solution Dyed Nylon

• Cut Pile

• Extra Heavy Duty

• 5 Colours

FREE

UNdERlay

NOW $89.90 PER M

NOW $149.90 PER M

50% OFF LUXURY HARD FLOORING

Vega Vinyl Planks

• 10 Great Colours in Stock

• Commercial Quality

HalF

PRICE

Villa Timber

• 14mm

• Micro Bevel

• European Oak

• Matte Finish

HalF

PRICE

RRP $60.00 per M2

OUR STOCK PRICE $30.00 PER M 2

RRP $140.00 per M2

OUR STOCK PRICE $70.00 PER M 2

Project Oak Timber

• 12mm

• Micro Bevel

• Matte Finish

RRP $120.00 per M2

HalF

PRICE

Regal Oak Timber

• 14mm

• Handcrafted

• Rounded Edge

• Distressed Surface

• Matte Finish

RRP $180.00 per M2

HalF

PRICE

OUR STOCK PRICE $60.00 PER M 2

OUR STOCK PRICE $90.00 PER M 2

312 Wilsons Road North, Waltham Phone 366 0070

Mon to Fri 8am-5pm and Sat 10am-1pm

Q Card Finance

Available

Check out our website! www.carpetkingdom.co.nz
---
The Star Thursday May 13 2021

12

NEWS

Latest Canterbury news at starnews.co.nz

Mixed progress on Master Plans

After the February 2011 earthquake, the city

council, in consultation with community boards,

created a set of suburban Master Plans to help

with rebuild and urban regeneration. Matt

Slaughter investigates

SOME SUBURBAN hot-spots

are lagging behind in terms of

post-earthquake revitalisation

projects, while significant

progress has been made on

others.

Master Plans were developed

for nine suburban centres in

different years between 2012 and

2015.

The areas were Edgeware,

Ferry Rd, Linwood, Lyttelton,

Main Rd (Redcliffs), New

Brighton, Selwyn St, Sumner and

Sydenham.

The projects outlined within

the plans are being implemented

by a mix of groups, including

the city council, community

groups, residents and private

landowners.

For the Edgeware Village

Master Plan, created in

December 2013, just one

project has been completed.

Fourteen have not started or

been implemented and six

are partially implemented, in

progress or ongoing.

The project that has been

completed is the lighting up

of trees in the area, while

projects like $2.154 million

street scape upgrades, originally

scheduled for completion by

2016, have not started.

St Albans Pharmacy owner

and Edgeware Business Association

president Malcolm Pearce

said: "I guess we're seeing slow

progress.

"I can't remember what's in the

Master Plan now anyway."

In spite of this, Pearce is

pleased with the development of

new housing in the area.

Said Nicky Garven, owner

of Ma Baker in Edgeware:

"The projects that we were told

were going to happen haven't

happened, like beautifying the

area."

Garven questions whether

the future plans the city council

has for Edgeware would benefit

residents.

St Albans resident Margaret

Pickering, who goes to

Edgeware Village often to do

her shopping, has few concerns

with the progress made since the

February 2011 earthquake.

"I think Edgeware is the best

community.

"The new [St Albans] community

centre is a work of art," said

Pickering.

The New Brighton Centre

Master Plan, adopted in 2015,

has also only had one of its projects

completed, the $3.5 million

upgrade of Marine Pde. Twelve

projects are partially implemented,

in progress or ongoing,

and four have not started or been

implemented.

In contrast, a number of

projects that are part of the Ferry

Rd Master Plan, created in 2014,

have been completed, or are

under way.

Eight projects, including the

construction of Woolston Community

Library, city council car

park upgrades, and the improvement

of the pedestrian and cycle

safety measures along Ferry Rd,

have been completed.

As well as this, nine projects

are in progress, ongoing, or partially

implemented as part of this

Master Plan, including Woolston

ONGOING: Ferry Rd

pedestrian cycle

and safety works.

street scape enhancements and

the connection of the estuary

edge to the Coastal Pathway in

Ferrymead. Six projects have not

started or been implemented.

Leroy Kremers, owner of

Around Again Cycles on Ferry

Rd, has worked at the store for

16 years and is pleased with the

progress made.

"I just like the idea of some

more tree planting [which has

been completed]. It's just generally

beautiful, the whole area," he said.

• Turn to page 14
---
Thursday May 13 2021 The Star 13
---
The Star Thursday May 13 2021

Latest Canterbury news at starnews.co.nz

14

NEWS

'You can see the light at the end of the tunnel'

• From page 12

Said Kremers: "I also like that

they've dropped the speed limit

a bit.

"It [work along Ferry Rd] is

kind of getting to the point that

you can see the light at the end of

the tunnel. It's better than before."

Woolston Bakery owner Min

Che said it is positive that road

works outside his store are nearly

finished after about six months.

"They've done the job, it looks

quite good. Nice and clean and

much better."

Woolston Discounter owner

Sheen Tam has worked at the

dairy for two years and does not

think much has changed.

"I don't see a huge difference.

Maybe the road is a bit tidier,"

said Tam.

Since its creation in 2012,

the Lyttelton Master Plan has

also seen good progress, with

17 projects completed and

15 partially implemented, in

progress or ongoing.

For the Main Rd [Redcliffs]

Master Plan, adopted in 2014, 13

projects have been completed,

12 are partially implemented,

in progress or ongoing and 2

have not commenced or been

implemented.

In spite of this progress,

Redcliffs residents are resigned

village improvements under the

Master Plan will only occur in

2030.

Work on the Redcliffs Village

street improvements was meant to

happen last year.

However, this aspect of the

Master Plan has since been

assigned to the 2030/31 period in

the city council's draft Long Term

Plan.

Vinod Manu, owner of the

Redcliffs Dairy said the village

"needs a boost."

Clifton resident Eric Smart

said he thought Redcliffs was

becoming "quite dead."

"There aren't as many people

wandering around the shops," he

said.

The Linwood-Heathcote-

Central Community Board has

put forward the recommendation

that this is a high priority and the

urban regeneration should occur

at an earlier period.

From top left: Malcolm Pearce, Margaret Pickering, Leroy Kremers, Sheen Tam, Vinod

Manu and Nicky Garven.

Suburban Master Plan progress

Edgeware Village Master Plan

projects since creation in 2013

• Completed: 1

• Partially implemented, in

progress or ongoing: 6

• Not started or not

implemented: 14

• Concluded: 1

Ferry Rd Master Plan projects

since creation in 2014

• Completed: 8

• Partially implemented, in

progress or ongoing: 9

• Not started or not

implemented: 6

• Discontinued: 1

Linwood Village Master Plan

projects since creation in 2012

• Completed: 5

• Partially implemented, in

progress or ongoing: 5

• Not started or not

implemented: 2

Lyttelton Master Plan projects

since creation in 2012

• Completed: 17

• Partially implemented, in

progress or ongoing: 15

• Not started or not

implemented: 0

• Discontinued: 2

Main Rd Master Plan projects

since creation in 2014

• Completed: 13

• Partially implemented, in

progress or ongoing: 12

• Not started or not

implemented: 2

New Brighton Centre Master

Plan projects since creation in

2015

• Completed: 1

• Partially implemented, in

progress or ongoing: 12

• Not started or not

implemented: 4

• Concluded: 1

Selwyn St Shops Master Plan

projects since creation in 2012

• Completed: 4

• Partially implemented, in

progress or ongoing: 1

• Not started or not

implemented: 7

• Discontinued: 1

Sumner Village Centre Master

Plan projects since creation in

2013

• Completed: 4

• Partially implemented, in

progress or ongoing: 6

• Not started or not

implemented: 10

Sydenham Master Plan projects

since creation in 2012

• Completed: 10

• Partially implemented, in

progress or ongoing: 4

• Not started or not

implemented: 3

• Discontinued: 1

Fraudster

continues

to evade

Interpol

• By Devon Bolger

THE MYSTERY of where

a Kiwi fraudster wanted by

German authorities is hiding

continues.

Interpol, based in Lyon,

France, posted a "red notice" on

its website seeking information

on the whereabouts

of Paul

Robert Mora

in February.

He is

suspected of

facilitating

and concealing

fraudulent

transactions

Paul Mora

worth more than €113 million

($190 million).

The 53-year-old is understood

to be in New Zealand, where he

has property in Christchurch.

The New Zealand Companies

Office shows that Mora still has

a number of business interests

in New Zealand, and is listed as

the director of several Christchurch-based

companies.

He went to St Bede's College

and Canterbury University.

New Zealand police have

been assisting Interpol with

their inquiries "for some time."

A police spokesperson

said Mora still has not been

found. The "red notice" is still

in place.

The spokesperson said in New

Zealand, police cannot arrest

people based on a red notice.

Property records show Mora

also co-owns a $2.5 million

property in Scarborough.

He is alleged to have acted

on behalf of a foreign investor

while he worked at a large bank

between 2006 and 2008.

Frankfurt prosecutors, who

are handling the investigation,

said Mora has "many contacts

abroad, including in New

Zealand, Great Britain,

Switzerland, Australia and

Spain."

– NZ Herald

SUPER RUGBY SUPER DEALS

Make sure your

team has a

quality bench.

Neo 6 Piece Dining Suite

$2999

was

$3999

less than

$16

9064416

per week for

50 months

interest free*

Like all the best rugby teams, this dining suite is entirely New Zealand made,

extremely stylish, and has a strong bench. The quality craftsmanship is backed up

by its contemporary design and a 25 year guarantee. Celebrate the start of Super

Rugby Trans-Tasman with a feast (of food and footy) — just pick your team wisely.

Offers valid until 8th June 2021, while stocks last, unless otherwise stated. Some products on display in selected stores only – please call 0800 764 847 to check availability. Personal shoppers only. *Apple, selected computers, game consoles, gift cards, clearance items and some

promotional items are not available in conjunction with interest free offers. Flooring available on a maximum of 18 months interest free. Exclusions, fees, terms, conditions, and credit criteria apply. Available in-store only. Equal instalment amounts include one-off booking fee of $45.00,

annual fees of $45.00 p.a. and security registration fee of $8.05, and exclude insurance. Current interest rate of 23.95% applies to any unpaid balance after expiry of (any) interest free period. See in-store or visit smithscity.co.nz/interest-free for details.
---
Thursday May 13 2021 The Star 15

Thank you for

helping your

community

Fall Zones

To all of you who have had your

trees trimmed before they became

a problem, thank you for keeping all

the families in your community warm,

happy, healthy and connected.

We know it can be a hassle, but tree branches touching the

powerlines are one of the main causes of power cuts. So, you can

be proud of the fact that you have allowed your neighbours to stay

warm, cook dinner and even charge their mobile phones. And if it's

still on your to-do list, now's the time to do it, as winter sets in.

You're our priority.

Notice and Growth limit zones

B

A

Power line voltage A. Growth limit zone B. Notice zone

66,000 volts 4.0m 5.0m

33,000 volts 2.5m 3.5m

11,000 volts 1.6m 2.6m

400/230 volts 0.5m 1.5m

We're not exaggerating.

On our network, 10-20% of all unplanned power outages are

caused by trees — including vegetation — coming into contact

with power lines. Other than this, fire damage to property from

branches sparking in dry conditions and serious injury from

electrocution from contact with trees touching power lines are

also possible consequences of not maintaining your trees.

How close is too close?

While most damage is caused by trees falling on power lines,

significant risk exists from trees merely touching them. This risk

increases the higher the voltage of the power line.

The minimum distances that must be maintained between trees

and power lines, as defined in the Electricity (Hazards from

Trees) Regulations 2003, are outlined in the diagrams above.

All vegetation should be kept out of the growth limit zone and

preferably the notice zone.

Sometimes it may not be practical to have a tree trimmed at the

rate at which it grows and unfortunately, this means it may need

to be removed. Other situations may require trees to be removed,

most commonly when they are at a high risk of falling due to

disease or adverse weather events.

Where do I start?

Before you begin, remember to keep yourself, and those around

you, safe. We recognise that not everyone is experienced in tree

trimming and are happy to advise you on what to do. We can arrange

for trees near power lines to be trimmed at your expense, however

we recommend you hire professionals to safely carry out the work.

If you or someone working for you intends to work within four

metres of power lines, a close approach consent is required from

Orion before you start. As a tree owner, you may be liable for any

damage caused by carrying out trimming or felling of trees.

Will I be fined if I don't comply?

If a cut or trim notice is given to you and you fail to have the tree

trimmed and/or advise us of the time and location of the trim

without a reasonable excuse, this is an offence. This will make you

liable for a fine not exceeding $10,000. If the offence continues,

you will be liable for a further fine of not more than $500 for every

day or part day during which the offence continues.

More info can be found on our website and if

you have any questions or notice any trees

touching power lines in your area, please call

us on 03 363 9898 or 0800 363 9898.

oriongroup.co.nz

Orion operates, and maintains, the electricity distribution

network that provides power to central Canterbury.

We are always here to help if you have any questions or

concerns about the network.
---
The Star Thursday May 13 2021

16

NEWS

Latest Canterbury news at starnews.co.nz

Former Shirley

Boys' dux and

expert OJ

witness receives

fellowship

HONOURED: Former

Shirley Boys' High School

student Bruce Weir (left),

has become a Fellow

of the Royal Society of

London.

Above: OJ Simpson

• By Matt Slaughter

PROFESSOR BRUCE Weir

went from being Shirley Boys'

High School's first dux to

being an expert witness for the

prosecution in the OJ Simpson

trial.

Weir has become a Fellow of

the Royal Society of London,

founded in 1660, the oldest

national scientific institution in

the world.

Weir is a statistical geneticist,

who develops new statistical

methods to analyse genetic data,

and is director of the Institute

of Public Health Genetics at the

University of Washington in

Seattle.

He has previously worked at

North Carolina State University,

where he earned his PhD in

statistics and genetics.

Weir was chosen as an expert

witness in the 1995 trial of

Simpson because his work in

DNA analysis was considered

pioneering at the time.

Simpson was a former NFL

American football player accused

of the murders of his ex-wife

Nicole Brown Simpson and her

friend Ronald Goldman, who

were stabbed to death.

He was acquitted of all criminal

charges.

Said Weir: "I was asked by the

prosecution to attach numbers to

the stains found in Simpson's car

and on his gloves: those stains

had blood from two or three people

and the numbers were one

in a few hundred, but the stains

with blood from only one person

(blood on the pavement next to

the bodies matching Simpson)

had numbers like 1 in 57 billion.

"The courtroom was very quiet

and peaceful, but after my testimony

I attracted attention simply

by walking into a supermarket –

not very comfortable.

"It also didn't help, but I made

a small error in some calculations

that the defence said damaged

my credibility. The numbers

had little effect on the totality of

the DNA evidence, but it may

have lessened my contribution.

"The long-term impact has

been minimal and I don't feature

in the books or movies about the

trial."

After graduating from Shirley

Boys', Weir received a university

entrance scholarship in 1961 and

attended Canterbury University.

He remembers his time at

Shirley Boys' fondly.

" I was a first-day pupil at a

brand-new SBHS. It was an exciting

time; the staff were young

and enthusiastic, and we felt to

be building something of value. I

was very much taken with all the

new academic subjects, especially

maths and science. Headmaster

C V Gallagher was an amazing

leader."

Weir moved to North Carolina

with his wife Elizabeth Swainson

in 1976. He became a William

Neal Reynolds distinguished

professor of statistics and

genetics, and founding director

of the Bioinformatics Research

Centre at the university.

He said of moving from New

Zealand to the United States:

"The change was enormous, of

course, especially as I moved

to North Carolina not long

after segregation had officially

ended but the Ku Klux Klan still

paraded.

"Now that I live in Seattle, on

the West Coast, I feel to be in a

place with values closer to ours

in New Zealand."

Weir has maintained ties to

Christchurch and New Zealand.

He has connections with Auckland

and Otago universities.

His sister Margaret Calder

lives in Christchurch and his

brother Trevor Weir lives in

Palmerston North. He has

nieces in both cities and cousins

in Christchurch.

Keep warm this winter with NZ's

quietest floor console *

RapidHeat KW42

Heating 5.4kW | Cooling 4.2kW

$3,499

INSTALLED

Basic back-to-back installation.

Conditions apply.

* MFZ-KW25/35/42 indoor

sound level on lowest fan

setting in heating mode

Call us for a free quote

Read local

SUPER RUGBY SUPER DEALS

Heart pumping.

Adrenalin flowing.

Body reclining.

Velara fabric 3 Seater Electric Recliner Sofa

9056574

Super Rugby Trans-Tasman means the old rivalry has been reignited. So get

yourself ready to kick every ball and feel every tackle. And, with a bit of luck, sit

right back (at the touch of a button) and enjoy watching the Aussie teams lose.

was

$2099

$1469 $9

less than

per week for

50 months

interest free*

Offers valid until 18th May 2021, while stocks last, unless otherwise stated. Some products on display in selected stores only – please call 0800 764 847 to check availability. Personal shoppers only. *Apple, selected computers, game consoles, gift cards, clearance items and some

promotional items are not available in conjunction with interest free offers. Flooring available on a maximum of 18 months interest free. Exclusions, fees, terms, conditions, and credit criteria apply. Available in-store only. Equal instalment amounts include one-off booking fee of $45.00,

annual fees of $45.00 p.a. and security registration fee of $8.05, and exclude insurance. Current interest rate of 23.95% applies to any unpaid balance after expiry of (any) interest free period. See in-store or visit smithscity.co.nz/interest-free for details.
---
Thursday May 13 2021 The Star 17

Community is the heart of

Christchurch Casino

"At Christchurch Casino, we feel being an active, supportive member of our

community represented a core initiative of our mission. We are very proud of

our personnel who are supportive of the philanthropic organisations we have

partnered with. As a business, we have donated hundreds of thousands of

dollars each year to local events and more importantly, many of our team have

donated their time for these worthy causes," says Christchurch Casino CEO

Brett Anderson.

Brett Anderson

CEO of

Christchurch

Casino

Christchurch Casino has been an active and

contributing member of the community over

their past 26 years of operation. They have actively

supported a variety of organisations representing

individuals or families including those suffering from

the effects of addictive or compulsive behavioural

problems, such as the effects of gambling.

Recent Youth ACTIS Event with the

Canterbury Rams

Their Trust has donated more than $4.8 million dollars

to non-for-profit organisations within the Canterbury

region. Specifically, in 2020 the Christchurch Casinos

Charitable Trust distributed $307,000 to 36 local

charities, outside of the Charitable Trust $100,000 was

donated to 10 other local charities including:

• Christchurch City Mission - Funding for Alcohol &

Other Drug Services and Social Services

• ACTIS – Aranui Community Trust Incorporated

Society – Funding towards youth and family events

• Christchurch Apostolic Trust - Funding for the

Youth Ministry Activities

• Enrich Community Chaplaincy Trust - Funding

towards costs of employing chaplains to support

the Intellectually Disabled community in

Canterbury

• Age Concern Canterbury - Funding for Elder Abuse

Response services

• AVIVA (Christchurch Women's Refuge) - Funding

for 24/7 phone response line

• Battered Women's Trust - Funding for 24 Hour

Crisis Service, and safe house

• Canterbury Men's Centre - Counselling

interventions for men, operational costs, and wages

• Home & Family Society Christchurch - Funding

towards salary of Clinical Leader, residential

parenting programme, counselling services and

REFOCUS programme

• Kingdom Resources - Funding budget advice, debt

restructuring & employment services

• YWCA Inc - Funding to upgrade telephone

and IT systems for residents in transitional

accommodation

• NZ Council of Victim Support Groups Inc- Funding

for volunteer and staff costs including training costs

• Tenants Protection Association (Chch) Inc -

Funding towards rent and wage costs

• Family Mental Health Support Inc - South

Canterbury based group supporting people and

families affected by mental illness and addiction.

Funding towards operational expenses

• West Christchurch Women's Refuge - Wages for

After-Hours worker in the 24 Hour Crisis Response

service

• The Order of St John South Island Region -

Funding for additional emergency resources at

peak times

• Compassion Trust - Addiction advocacy and peer

support services

• Citizens Advice Bureau - Funding for training and

support of volunteers – providing community

support and advice for vulnerable people

• MHAPS (Mental Health Advocacy and Peer

Support Services) - Funding towards wage

costs for financial mentor

Manager Rachael Fonotia of Aranui Community Trust

confirms, "We appreciate and enjoy our relationship

with Christchurch Casino. They are easy to work with

and deeply care about their community by providing

support and collaborative effort for our events and

platforms.

One of those events we recently hosted was the

Aranui Family Festival. We received such positive

feedback we will now be making this festival an

annual or possibly a bi-annual event."

In addition to their funding support, Christchurch

Casino provides wider community support in the

value of tens of thousands of dollars annually in

the form of auction or raffle items to charity dinner

fundraisers, golf tournaments, school functions and

more.

Enjoy extensive dining options, gaming, and live

entertainment at the Casino, including some

exciting comedy shows booked for early June. Also,

remember to sign up to their free Players Club loyalty

program.

Christchurch Casinos Charitable Trust, showing

Canterbury their support for the community we live

in and love.

Aranui Family Festival run by ACTIS

OPENING HOURS

SUN - THU 12PM - 12AM

FRI - SAT 12PM - 2AM

Christchurch Casino – food, music and fun you don't want to miss.

www.christchurchcasino.co.nz • 03 365 9999 • 30 Victoria Street
---
18 The Star Thursday May 13 2021

STYLE & QUALITY

FOR LESS

SUPER SPECIALS

CHRISTCHURCH'S MOST AFFORDABLE

NZ MADE LOUNGE SUITES

CUSTOMISE TO YOUR REQUIREMENTS

SUPER

SPECIAL

Fen Dining

Collection

Table 900 x 900 $355 $299

Table 1200 x 770 $379 $329

Table 1600 x 900 $489 $419

Table 1800 x 900 $569 $489

Chair $139 $119

WAS $619

$

569

Steiner Armchair

SUPER

SPECIAL SUPER

SPECIAL SUPER

SPECIAL

Maui

Recliner

3 Colour options

available

WAS $999

$

899

WAS $149

$

129

Newb Barstool

WAS $2809

$

2599

Calla Corner Sofa Bed Chaise

with storage ottoman

SUPER

SPECIAL

Available in

Green

Blue

Grey

The Flow

Collection

FROM

$

429

Iris Sofa

3 Seater $809 $749

2 Seater $679 $629

1 Seater $459 $429

Lamp Table $249

Coffee Table $429

Console Table $429

5 Year Warranty

5 Year Warranty

Pillow Top Foam,

Continuous Spring,

Comfort Foam,

Wave Foam.

Pocket Spring,

Euro Top, Quilt

Fibre, Comfort Foam,

Wave Foam.

FROM

FREE

CARPARKING

Queen Bed Frame $779 $729

Chateau Queen Mattress $759 $709

4 Drawer Tallboy $709 $649

SOUTH CITY

BATH ST

WE ARE

HERE

Pepper Collection

255 MOORHOUSE AVE

REBEL SPORT

FROM

Cloud Rest Mattress

$

649 $

279

$

539

COLOMBO ST

Single $299 $279

King Single $349 $329

Double $399 $369

Melody Mattress

Queen $439 $399

King $469 $439

Super King $679 $629

FROM

King Single $539 $499

Double $679 $629

Queen $759 $709

MON-FRI 9:30AM – 5:30PM

SAT-SUN 10AM – 5:30PM

0800 268 264

King $839 $779

Super King $899 $839

www.affordablefurniture.nz
---
Low on fuss,

Instagram model faces more charges

A FORMER Instagram glamour

model who threatened to blow

up a plane after demanding a

free glass of wine is also facing a

string of charges after a violent,

drunken rampage in 2018 at a

posh Melbourne nightclub.

Hannah Lee Pierson is now

facing legal consequences on

both sides of the Tasman -

although she's trying to avoid

conviction in both cases.

Last month, the 31-year-old

admitted in Christchurch

District Court charges of disorderly

behaviour and disruptive

conduct towards a crew member

after she caused a mid-flight

ruckus on an Air New Zealand

flight between Melbourne and

Auckland on November 7.

After requesting a glass of

wine and being told her ticket

didn't cover wine, and that

she'd need to buy one from the

menu, Pierson called the flight

attendant a "b****" and yelled

"I don't give f***, get me a f*****

wine" before leaving her seat and

saying she would "f***** get it

myself".

Crew put her in a vacant row,

handcuffed her and strapped

her to her chair - with one having

their arm squeezed hard by

Pierson, who also made head

movements crew thought were

attempts to head-butt one - and

who later yelled "get me a f*****

CHARGES: Hannah Pierson appeared via video-link from New Zealand at the Melbourne

Magistrates' Court.

PHOTO: INSTAGRAM ​

wine or I'll blow up the plane."

After pleading guilty, Pierson's

lawyer said she intended to

apply for a discharge without

conviction, saying a conviction

would have travel consequences.

She was bailed to June 23, when

she'll be sentenced.

Since then, Pierson has been

back in court - this time the

Melbourne Magistrates' Court

and via video-link from New

Zealand on Friday, when she

admitted six charges relating to

the May 2018 nightclub incident.

The charges included various

Latest Canterbury news at starnews.co.nz

assaults, public drunkenness and

resisting an emergency services

worker, the Daily Mail reported.

It was on a boozy night out at

Crown Casino's exclusive Club

23 when Pierson became violent

and spat on a security guard

after she was spotted "highly

intoxicated" on the dance floor

and refused a request to leave,

the court heard.

Flexible handcuffs were then

used, but Pierson repeatedly

kicked bouncers as she was

removed and police were called,

who found Pierson passed out in

a casino corridor.

The calm was to be brief -

when she woke Pierson became

verbally aggressive towards officers

and was taken to a private

area where a paramedic

assessed her.

She screamed at police to "do

your job properly" and pushed

an officer into a window sill, the

Daily Mail reported.

She also kicked in a wall,

which fell on police, before being

handcuffed.

Police prosecutor Acting

Sergeant James Carfi described

Thursday May 13 2021 The Star

NEWS 19

the "unprovoked" attack as a

"volatile and violent situation",

the Herald Sun reported.

A report given to the court

said Pierson could suffer from

a non-verbal learning disorder,

and that she had post-traumatic

stress disorder and had

previously been diagnosed with

oppositional defiance disorder

after a difficult childhood, the

Daily Mail reported.

She returned home to New

Zealand for mental health

treatment, but magistrate Hayley

Bate ordered Pierson to "return

to the jurisdiction" to serve her

punishment.

However, Pierson's lawyer

Scott Kaiser said she needed to

remain an outpatient at a New

Zealand hospital for the next

18 months.

He also asked that a

conviction not be imposed as it

could affect her job prospects

- she wanted to work as a

beautician.

Bate told the court she was

"not satisfied" Pierson should

escape conviction for her

"alcohol-fuelled crime", but

deferred the case to August to

give Pierson's legal team more

time to put together a forensic

psychiatric report on why the

Kiwi shouldn't have to return to

Melbourne for punishment.

—NZ Herald

november 2020

Forget about

ordering gas!

GasOwl automatically orders when

your 45kg LPG gas bottle needs

to be replaced

www.GasOwl.nz

Make an

entrance

Looks to steaL

the show

Doughnuts in

a Zephyr

DuneDin's fooD

truck scene

Make an

entrance

Looks to steaL

the show

Doughnuts in

a Zephyr

DuneDin's fooD

truck scene

november 2020

for the love of local

Hitting the

sweet spot

Life in a

cake shop

Your dinner

party menu

Low on fuss,

high on fancy

for the love of local

Hitting the

sweet spot

Life in a

cake shop

Your dinner

party menu

ANNIVERSARY

Do you have any

unwanted, broken

or worn out gold

jewellery?

70

UP TO

■ All forms bought,

including Alluvial

gold

■we We buy also buy Estate

and Antique

Jewellery

jewellery?

MORE DETAILS ON WEBSITE

Do you have

unwanted, broken

or worn out gold

This is a Special Customer Invitation

Tuesday 7th May 9am – 5pm

Providing you the opportunity to secure a bargain

before we open our doors to the public 9am Wednesday

CarPet

BARGAINs

SCooP PUrCHaSeS

turkestan Plus

By Bremworth Carpets. Beautiful 100%

wool, chunky loop pile carpet, rated

extra heavy duty, natural cream colour,

exceptional value, first grade.

out it goes at only $99m

(that's $27.05m 2 ) Limited stock, get in early

to avoid disappointment

Bases Loaded

Sensational new, entry level cut pile

carpet, looks and feels great, 4 fabulous

colours, made from hard wearing solution

dyed polyeter.

Great Value $69m

(that's $18.85m 2 ) only while stocks last.

november 2020

november 2020

high on fancy

www.style.kiwi | @StyleChristchurch

10 DAYS ONLY

Gold & Silver Bullion/Coins

Wednesday 8th May – Saturday 18th May

Bought

& Sold

Gold & Silver Bullion/Coins Bought & Sold

Trusted 7 since 1967

WESTENDE JEWELLERS

W J Telephone 03 366 5475

421 Colombo Street, Sydenham

www.westendejewellers.co.nz

PLUS

MUCH

MORE

INSTORE

47 Gasson Street • Ph 353 8899 • Hours: 8.30am-5pm Mon-Fri

www.theflooringwarehouse.co.nz
---
The Star Thursday May 13 2021

20

NEWS

Latest Canterbury news at starnews.co.nz

Error quashes conviction of man who

flouted Covid-19 lockdown rules

• By Karen Pasco

A CHRISTCHURCH man who

flouted Covid-19 lockdown rules

has had his conviction quashed

after a fundamental error was

made by a duty solicitor and

judge.

Fraser Wright Maddigan

pleaded guilty to breaching the

Civil Defence Emergency Act

2002 when he appeared before

Judge Bernadette Farnan on

April 2 last year in the Invercargill

District Court.

He was charged after being

found in his car in Queenstown

on March 30 and Te Anau on

March 31 and April 1.

On the first two occasions,

police had given Maddigan "educational

directive" to return to

his home in Christchurch.

Maddigan entered his guilty

plea after he had been denied

bail and was to be remanded in

custody. He was sentenced to a

fine of $1000 and ordered to pay

court costs.

At a submission hearing, Maddigan

told the court he was driving

home to Christchurch on the

Milford Rd travelling towards Te

Anau at the time he was arrested.

Maddigan's written submissions

states; ''I believe the (p)

rosecutor chose to hid this

crucial evidence to convince the

Judge (I) was equally as bad as

the mosque shooter.''

In his decision released yesterday,

Justice Nation states the

judge did not deny him bail to

pressure or induce him to plead

guilty.

However, a "fundamental error"

was made by the judge and

duty solicitor.

"In Mr Maddigan's presence,

the duty solicitor advised the

Judge that Mr Maddigan was

bailable as of right but could

nevertheless be remanded in

custody if there was just cause for

his continued detention."

"Judge Farnan dealt with Maddigan

on that basis."

However, he was bailable as of

right, Justice Nation says, and

could have had a bail condition

imposed to ensure he complied

with police directions to return

to Christchurch.

He believed that if had Maddigan

had been granted bail, he

would not have pleaded guilty.

"He would have wanted to defend

the charge, albeit on a basis

that was not likely to succeed."

Justice Nation said he had

to decide whether there would

be a miscarriage of justice

if Maddigan was to remain

convicted and sentenced after

only being wrongly remanded in

custody when it is likely he had,

and still has, no defence to the

charge.

"By a narrow margin, I have

decided there would be such a

miscarriage.

Justice Nation quashed the

charge and remanded Maddigan

on bail to appear in the Christchurch

District Court on May 27.

If Maddigan defends the

charge, the trial will be held in

Invercargill.

—Otago Daily Times
---
Latest Canterbury news at starnews.co.nz

Thursday May 13 2021 The Star

LETTERS 21

Readers respond to former TV sports and news reader Peter Williams' column last week: Is

democracy under threat?

THe Star should be congratulated

for being prepared to present

alternative points of view when

the daily print media in our city

is a shadow of its former self in

this regard.

Not enough Kiwis realise

what power a small cabal of people

can exercise in this country.

We share more with countries

like Russia than we care to admit

in terms of governance compared

Australia and the United

Kingdom. Far fetched?.

The Government here controls

our national airline and railway;

effectively controls its own

television and radio networks,

financially supports the major

newspapers (perhaps hence the

mild Government criticism

usually found in them); wants to

run the Reserve Bank and has reduced

interaction with the public

to a few gimmicky sessions on

their TV channel.

Yes, size has something to do

with it but some recent developments

should set off alarm bells

The issues raised by Williams

plus the proposed centralisation

of health departments;

and planned amalgamation of

television and radio control will

effectively place the future of our

democracy in even fewer hands

than at present.

Is this what we want? I don't

think so. – David McCarthy

Thank you so much for your

article.

My ancestor James Busby

was a signatory to the Treaty of

Waitangi.

I cannot imagine that he foresaw

what is now being proposed

in He Puapua. How is it that

New Zealanders do not know

about this document?

I didn't until I read your

article. I agree, it is preposterous.

Something like this must be

brought to the attention of all

citizens and we should all have

the right to vote and decide on

such decisions.

Like you I feel all people are

equal, and everyone's vote is

equally valuable. I totally do

not agree that 15 per cent of

the population should have

the right to 50 per cent of the

decision-making on our country.

– Victoria Sinclair

I am so bored with the recent

series of articles by obscure,

has-been, minor media men who

have been appearing in The Star.

All of these blokes seem to be

so insecure in their own culture,

history and language that

they attack the first people of

Aotearoa, their place on the land,

their language and their right to

self-determination especially for

their children and their health.

The daft old duffers harrumphing

in their armchairs

can only weary their nearest and

dearest.

But why does The Star have to

print the offensive rubbish week

after week? What is your end

game I ask myself as I wrap up

vegetable peelings in The Star

ready for the compost.

Williams article is wrong on

many levels and almost every

paragraph has errors of fact.

Just as an example the paragraph

on who could vote in 1893

is wrong and the next paragraph

on every vote being of equal

value in the past, is absolute nonsense.

– Karolin Potter

I believed I lived in a democratic

country so I would have thought

that a referendum would have

been required to allow for Maori

wards on local council boards.

Places on boards should be by

way of merit not tokenism.

Women don't expect tokenism

and statistically I would have

thought make up greater than 50

per cent of voting adults.

As a nation we need to move

forward and focus on the positives

for all and not keep revisiting

the inequities that Maori may

have experienced.

It is not possible to change the

past but we should be making

New Zealand a better place for

all citizens to live and thrive in. –

Di Clarke

I too have longed to speak up

regarding the fact that there are

so many folk whose ancestors

have come from other lands,

mine included, who have been

born here and thus we are New

Zealanders, not pakeha.

I am an elderly lady and a

Christian and have seen our

democracy being whittled away.

– Valerie Lather

I was pleasantly surprised to

see someone like Peter Williams,

writing an article on what I

believe the majority of New Zealanders

are quietly thinking.

We can only hope that this article

serves as a rallying point to

galvanise the silent majority into

pushing back with their MPs

on the insidious way that this

Government has surreptitiously

set out to change our countries

name from New Zealand to

Aotearoa without any referendum,

dividing up our health

system by race and establishing a

race-based justice system, while

Labour now intend to progress a

tribal Iwi race-based governance

model for New Zealand that is

widely disproportionate to their

actual numbers. – Ian

McInnes •Turn to page 22

Support Local.

We're an award-winning

bank. We think we're a

darn good bank. And we

want to be your bank.

We want to thank all of our customers and the Christchurch

community for their ongoing support. The highlight for our team

over the last 12 months was winning Canstar's Most Satisfied

Customers Award 2020!

Left to right - Standing: Jo Taylor, Karen Docherty,

Brendon Forrest (Branch Manager), Janet Smith, Julia Austin.

Sitting: Sara Taylor, Jules Keillor.

Being a challenger bank is in our roots and

challenging the home loan options available

to the community back in 1869 was the very

reason that our story began. Our founders

knew it could be done better so SBS Bank

was established to help customers achieve

their dreams of home ownership.

We have 14 branches nationwide serving our

customers along with a New Zealand-based

Contact Centre which is open 7 days a week

and 24/7 access through our digital channels

such as internet banking and our mobile app* .

We've come a long way over the past

152 years expanding from home loans

to now offering the full suite of banking

products and services.

Because we're owned by our customers

our profits don't go overseas and everything

we do is about serving our customers and

communities across New Zealand.

Come and try the SBS Bank difference.

Support your local team.

SBS Bank Papanui

2-6 Main North Road, Papanui, Christchurch.

0800 727 2265 sbsbank.co.nz

*Eligibility criteria applies. Electronic Banking Terms and Conditions apply and Fees and Charges may apply, both are available

on request and free of change from any branch of SBS Bank or at sbsbank.co.nz
---
The Star Thursday May 13 2021

22

LETTERS

I have thought the New

Zealand situation was a form of

apartheid but no one wanted to

acknowledge this.

I agree with Mr Williams that

all people who hold citizenship

should share in the governing as

one country, one people.

We all should stop being

so apathetic, and demand

answers from the Government.

– E Wilson

People seem to be afraid to

speak about this sort of thing

happening and are just allowing

the schools and educational

institutes to put forward a very

sanitised history of New Zealand

and what constitutes the true

meaning of democracy.

It seems to me that our vote

means nothing anymore as politicians

just do what the loudest

minority wants while the average

person just stands aside and allows

it to happen.

We must all not be afraid to

say what we believe so long as

we don't use abusive language,

the fact that anyone can stand

for positions of government

and council should and must

be enough we must never put

anyone in that has not been

elected by the people it is

very dangerous and can only

lead to division on a large scale. –

Alan Truscott

Congratulations to The Star

and Peter Williams for bringing

to the attention of New Zealanders

what is secretly being planned

We want to hear your views

on the issues affecting life

in Canterbury

Send emails to:

barry@starmedia.kiwi

and is being implemented by our

current Government.

Unfortunately, it seems that

people have their heads in the

sand as there is

very little reaction

from the

public for some

reason.

Just watch

TV1 it's

enough to

hit the mute

button. What Peter Williams

New Zealanders

need in these troubled

times is a strong person that can

unite us not divide us even if it

means peaceful protest. – Ray

O'Rourke

Kiwis protested South Africa's

apartheid and rightly so, but now

they want to create there own

version of apartheid and create

inequality by having a different

system for different races.

Latest Canterbury news at starnews.co.nz

Letters may be edited or rejected at Star Media's

discretion. Letters should be about 200 words.

A name, postal address and phone number should be

provided.

Please use your real name, not a nickname, alias, pen

name or abbreviation.

With all the diversity of people

now calling New Zealand home,

some may also want to live under

their traditional or religious laws.

When will the division stop? Can

we deny them the right to live as

they choose even though some of

their traditions and laws are in

conflict with each other? Whose

laws will dominate?

Our system may not be perfect

in practice and that is something

to work on, but equality under

the same law is the fairest in my

opinion. – D Downward

Thank you for publishing this

material and keep up the good

work.

The frog in the pot analogy

is relevant and true. – Peter

Marshall

I enjoyed reading your report

on the Labour Government's

plans for a co-governed New

Zealand democracy and agree

that it is absolute arrogance on

their part and very worrying.

In fact, as time goes by, with

all that is being proposed by

this Government I worry for my

grandchildren and their generation

as to what this country (New

Zealand) is coming to. – Claire

Cosgrove

Peter Williams outlines what

appears to be just another

aspect of the worldwide reset

which includes the financial

systems extending to the move

to socialism presently taking

place in a number of democratic

countries. Unless there is

combined global pushback it

will quickly lead to the end of

democracy. – Terence Mundy

I would totally agree with

Peter Williams that it appears that

New Zealand is well on the way to

becoming a separated country.

I would agree that Maori did

not get a fair deal from the start,

but that mentality must change

if we are all to go forward as one

nation. Maori health and wards is

just the start.

The latest weekly report of the

National Party, states: "National

has obtained a full, un-redacted

version of He Puapua – a report

commissioned by Cabinet in

2019 that sets out a road map

to co-governance between the

Crown and Māori by 2040."

The report proposes a Māori

Health Authority, separate

court and justice systems, Māori

ownership over the foreshore and

seabed, Māori wards in councils

and constitutional reform to

consider matters such as a Māori

Parliament or Upper House for

New Zealand.

If this doesn't point to a twotier

system, nothing does. I

would be interested to know who

will pay for all this separatism?

Will it be the "Bank of Colonisation"

or will Maori also have

their own banking system?

If we follow that path then

what may we be asked to do for

all the other ethnic groups in

this beautiful country? – Bill

McElhinney

Well said Peter Williams. What

a great article. He has articulated

what I have been thinking for

some time.

We are all New Zealanders,

and as someone else has said the

health system should be based on

need, not on what ethnic group

you belong to.

The silent majority should

not be so silent and should

be speaking out against the

potential loss of democracy.

The analogy of the frog in

boiling water is also relevant to

the manner in which so many

public buildings and ministries

are now having Maori names,

with many times no English

counterpart.

I am not against Te Reo

Maori but I do wonder at the

subtle message when a public

toilet has the word Wahine in

letters three times the size of

ladies. – V Jones

ADVERTISEMENT

GETTING TO THE ROOT

CAUSE OF DIGESTIVE

PROBLEMS AT

MARVEL HEALTH

Many people suffer

from recurring digestive

problems that may be

resistant to treatment.

These problems range

from chronic or

recurrent stomach pain,

bloating, diarrhoea or

constipation, acid reflux,

nausea and vomiting

and intolerance to foods.

And over time, these

problems can cause

other issues such as

fatigue and weight

problems.

The typical treatment

for such problems are

antibiotics and acid suppressants such as

Omeprazole which may work for a short

while. The problem with Digestive diseases

is that they can have many different causes,

and they may require extensive investigations

to get to the cause. Microbes are a common

cause, and identifying the exact type is crucial

for recommending a therapy that works.

Food Allergies and Sensitivities also cause

digestive issues.

Digestive problems may also

occur from a sluggish bowel,

cysts in the pancreas, polyps

in the stomach, or they may

arise from dysfunctions in

unrelated systems of the

body. A weakened immune

system will encourage

microbial growth, which

may, in turn, cause digestive

diseases.

The Marvel Health Scan

examines all aspects of the

Digestive System, including

other systems in the body.

The scan can pick up

inflammation in all body

organs, including the stomach, intestines,

liver and pancreas. It can detect over

150 microbes, Food Allergies, nutrient

deficiencies, digestive enzyme deficiencies,

and diseases that may be present. And after

the scan, our doctors and specialists review

the reports and recommend therapies and

lifestyle changes to support the body's

healing.

Smooth-Air

Ventilation Equipment Suppliers

totrade

retail

Substantial energy savings

over traditional domestic

ventilation systems.

The most efficient way

to ventilate your home

HEX 390

For Healthy Indoor Air

Heat is transferred to the

incoming filtered fresh air

Made in New Zealand,for New Zealand conditions

Fresh air

from outside

Warm, stale

air from house

&

Exhaust air

to outside

Warm fresh air

to house

Book A Scan Today 03-669-5410

www.marvel.health

Unit 13/6 Cone Street, Rangiora, Canterbury, 7400

293 Durham Street, Awly Building, Christchurch, 8013

The inspections from the scan is not a substitute for medical inspections. It is not assigned to state the final diagnosis

0800 SMOOTH

(0800 766 684)

sales@smooth-air.co.nz

264 Annex Rd

Riccarton

Christchurch

03 343 6184

Monday - Friday

7.30am - 5pm

www.smooth-air.co.nz
---
Thursday May 13 2021 The Star 23

Balance the key

for fast growing

Cassels Brewing

ALTHOUGH they have won major

international awards, Cassels Brewing

are excited to get local recognition in

this year's New World Beer & Cider

Awards.

Included in the Top 30 is the family-owned

Christchurch company's Cassels APA. With

the tropical fruit and resiny pine character of

West Coast US hops it's a great example of the

American Pale Ale style, described by judges

as offering a ''long, coherent flavour journey."

Owner and director Alasdair Cassels says that

phrase sums up the balanced beers that the

brewery aspires to produce.

"We pride ourselves on that," he says.

"Drinkable beers that people go back to, and to

some extent our success has been based on

that. Some APAs reek of hops when you take

the top off, but that's all you've got. Our beer

from the beginning to the end, you get

the hops, you get the malt, you get everything."

Launched over a decade ago, Cassels Brewery

now has the fastest growth in the Top 10

premium craft beer producers in New Zealand,

according to Nielsen statistics.

They have a focus on export,

and are making headway in

both the United Kingdom and

Chinese markets.

As well as the APA in the Top30,

they make superbly balanced IPA, lager,

pilsner, pale ale, New Zealand APA, and a milk

stout that won at the World Beer Awards in

both 2019 and 2020.

Executive Brewer Simon Bretherton explains

that a lot of work goes into developing beer of

the consistent quality produced by Cassels.

To develop a new beer, they start with a strong

idea, which is refined over several brews at

the brewhouse in Woolston's Maunsell St. Of

course, there are other vital factors to brewing

good beer.

"People are key," Bretherton says. "Anyone

we recruit into the brewing team has to have

the right character and attitude. They're all

passionate about brewing really good beer.

That's the bare minimum really. And good

equipment."

Left to right: Alasdair Cassels, Simon Bretherton, Zak Cassels, Joe Shanks.

Cassels began in September 2009 with a 200L

wood-fired brewery, expanding in 2010 as they

opened a brewbar at The Tannery in Woolston,

owned by property developer Alasdair. His son

Zak and son-in-law Joe Shanks came aboard

as the other two directors.

Only months after the opening, the February

2011 earthquake wrought extensive damage

to the brewery, but also spurred Cassels on to

something more ambitious.

"The city was wiped clear, to start again," Zak

Cassels says. "What we've got here now with

The Tannery we could never have dreamt

about pre-quake. This was a downtrodden,

industrial part of town where fashionable shops

didn't belong, but they do now. So the quake

has a big part to play in our story."

They've also witnessed huge changes as the

craft beer market has exploded in New Zealand

over the last decade. When Cassels launched,

there were perhaps 50 breweries in the country,

and now there are over 250. The premium craft

beer market grew by around 30% in 2020.

This has meant an upscaling of production,

and at Maunsell St, Cassels now have a

25HL (2500L) brewhouse that runs twice a

day (soon to be four times). They also have

a sophisticated bottling plant, and a canning

machine that will soon be online.

"We have more growth than any ahead of us

and we haven't started with cans yet,'' Alasdair

reflects. ''Cans are becoming quite a big part of

the premium craft market, so we expect to see

some really strong growth. We're fairly well set

up, and we have quite a few things planned."

He says that the New World Beer & Cider

Awards are a great avenue for breweries to get

their product in front of beer lovers around the

country.

The Awards were judged by an independent

panel of 28 New Zealand beer industry

luminaries. They assessed over 650 beverages

from over 100 breweries and cidermakers over

two days in March, taking in a range of beer

styles - from hazies to IPA, through pale ales

and stouts, lagers and ciders and beyond. The

Top 30 award winners are available in New

World stores nationwide throughout the month

of May.

"New World are helping brewers get on the

shelves," Alasdair says. "It's good for start-up

companies, and it's very good for us. The

Awards prove how much New World back craft

beer and craft beer brewers in New Zealand."

Discover the New World Beer & Cider Awards Top 30 in store and at newworld.co.nz/Top30

Find anew brew foryou

IT'S TIME TO RAISEAGLASSTOTHE

NEWWORLD BEER &CIDER AWARDWINNERS.

MichaelDonaldson,Chair of Judges,carefully selected 27

experienced independent judges whoblind-tastedand evaluated

more than 650differentbeers,ciders, alcoholicseltzers, kombuchas

andgingerbeers to find theTop 30. Cheers to that!

Top30beers andciders areavailable in allliquor-selling NewWorld

stores nationwide until30May 2021,orwhilestockslast. As many

arebrewedinsmall batchesbyindependent breweries, suppliesmay

be limited–so ouradviceistobuy them when yousee them!

CasselsAPA

328ml6Pack Bottles

Snappy citrus,

pineand ahintof

dank that'slike

super-ripe tropical

fruit. Mild honey

andbiscuit notes

come through

underneathto

create foralong,

coherent flavour

journey. The

judges loved the

freshvibrancyand

intensityofthe

hopcharacter.

Duetocurrent Licensing Trustlaws, liquorisnot availableatstoreswithin Trustareas.

Liquormay only be sold duringlicencedhours specifiedinthe storelicence.
---
The Star Thursday May 13 2021

Decoding Chinese

Political System

With the rise of China and its

increasing international influences,

the West has put more emphasis on

the ideological differences in recent

years. China's path of development

is sometimes labelled as a challenge

to the universality of Western

formula, and the Chinese political

system has drawn suspicion and

smear from some Western countries.

As the Communist Party of China

(hereinafter referred to as "CPC")

is to celebrate its centennial this

year, it is worthwhile to get a better

understanding of the CPC and

China's governance.

In 1840s, China's door was kicked

open by western powers during the

Opium War. From 1840 to 1949,

China signed hundreds of unequal

treaties with 23 western powers. All

Chinese ports, waterways, railroads

& coastlines were controlled by

major powers owning all kind of

privileges, even concessions. With

its sovereignty and independence

suffering serious damage, China was

plunged into a semi-colonial and

semi-feudal society.

In order to build a free and

democratic new country, China

had ventured into many political

experiments like the constitutional

monarchy, parliamentary system

and multi-party system, but none

of them worked out. China and its

people were still left in chaos with

rampant corruption and endless

misery. The Japanese aggression

against China in 1931 further

aggravated the sufferings.

Communism was introduced to

China in the early 20th century. The

ideal for creating an equal society

and emancipating the mass from

oppression echoed the aspiration of

the Chinese people. Therefore many

patriotic intellectuals introduced,

adopted and promoted Communism

to find a way to save China from

deep water.

The CPC, since its founding in 1921

with only dozens of members, soon

rallied massive support among

Chinese people. Although faced

with different challenges, the CPC

always took the lead in uniting

and liberating the Chinese people

from imperialism, feudalism and

bureaucrat-capitalism. After 28

years of arduous efforts, under the

leadership of CPC, the People's

Republic of China was founded in

1949. Ever since then, the Chinese

people stood up again.

The new China wiped out the

vestiges of feudalism and made

remarkable achievements in

all important fields including

economy, education, health,

science, technology and culture

within less than two decades. In

the early days after the founding of

the new republic, China couldn't

even produce a bicycle on its own.

By 1966, China has established

complete agricultural and modern

industrial systems. China also broke

sanctions and blockades imposed by

certain western countries. By 1976,

among more than 130 independent

countries in the world, 110 of them

established diplomatic relations with

China.

The CPC has served as the leading

force in China's reform and openingup.

Market economy was introduced

in China more than 40 years ago,

leading China into fast track of

development. A socialist path of

Chinese characteristics has been

established successfully. From 1978

to 2020, the GDP per capita of China

has amounted to more than USD

10,000 from USD 200 and the world's

largest middle class of more than

400 million people has been created.

More than 800 million people have

been lifted out of poverty. The

average life expectancy has more

than doubled from 35 years old to 77

years old since the founding of the

new China. Chinese people enjoy

higher living standards and more

personal freedom today than any

other time in Chinese history.

Looking back at the history, we can

easily draw the conclusion that the

leadership of CPC in China is the

choice of the Chinese people and the

Chinese history.

While some parties strive for

power and political gains to serve

their own interests, the CPC

always seeks to serve the interests

of the overwhelming majority of

the Chinese people. The CPC has

always adopted a down-to-earth

approach, and sought to apply the

Marxist doctrines to fit China's

domestic situations. The CPC always

uses merit-based mechanism for

appointing senior officials. Before

taking charge, officials appointed

normally have rich experience and

outstanding performance rather than

professional politicians elected in

western political system. The CPC

has always been committed to selfrenewal

and self-improvement. This

has enabled the CPC to ensure that

the Party will resolutely correct its

own problems.

A survey conducted by Harvard

Kennedy School last year shows

that more than 93 per cent of

Chinese people are satisfied with

the performance of the government

under the CPC leadership at

central and local levels. History has

proved that the Chinese system and

development path fit the country.

There is no fixed mode worldwide

for modernization. Countries should

learn from experiences of each other

rather than simply force one's shoes

on others' feet.

(Author: Wang Zhijian, Chinese

Consul General in Christchurch)

This advertisement is paid for by the Chinese Consulate

24

OPINION

Visitors are welcome at

the city council building

I'M WORKING in my

office on Saturday, not

because we have hearings

on this weekend, but

because we have people

coming into the city

council building, Te

Hononga, as part of Open

Christchurch, a new

festival of architecture

organised by Te Pūtahi

Centre for Architecture

and City Making.

Te Hononga is one of

46 open buildings in the

festival.

Most of the buildings

are walk-up opportunities

– the ones that required

bookings including the

guided city walks are fully

booked now (unfortunately

for those who haven't

booked, but great in terms

of the popularity of the

festival).

I will be welcoming

people to what is called

the Mayor's Lounge, but

which is really a place

where we hold many of our

all-important workshops

and briefings, as well as

informal meetings. These

are opportunities to canvas

issues before we go into a

formal decision-making

environment, enabling

questions to be asked and

further information provided

if necessary. So they

are an important part of

what we do.

It is also the place where

we host overseas dignitaries

and other visitors to the

city.

Based on the sixth floor,

it has a great view of the

Arts Centre and across the

city to the west. On a clear

day the view of the Southern

Alps is spectacular. It

PRE

wintER

HEAt PUMP

SPECiALS

Phone now for prompt expert

advice and installation

(we can install the same week)

Mayor

Lianne Dalziel

IDENTITY: Architecture will be on show on

Saturday at Te Hononga, the city council building.

is great to be able to show

visitors just how special

our location is at the centre

of the South Island.

I hope you take a chance

to visit some of these places

over the weekend and

enjoy seeing and hearing

about the architecture both

modern and historic that

helps create our unique

identity as a city.

Details are on the

website http://openchch.

nz/.

Heat Pump Sp

GE35 4kW Heat Pump fro

GE50 5.8kW Heat Pump

FH50 6.0kW Heat Pump

INCLUDES INSTALLATION. CON

379-3589

7 Dalziel Pl,

www.snowtemp.co.nz Woolston,

Christchurch

Heat Pump Installation/Repairs • Refr

T
---
Thursday May 13 2021 The Star 25

CHRISTCHURCH MITSUBISHI

386 Moorhouse Avenue, Christchurch

Ph: 03 379 0588

christchurchmitsubishi.co.nz

10 year / 160,000km Powertrain Warranty (whichever comes

first) (non transferable). 5 year / 130,000km New Vehicle

Warranty (whichever comes first) (non transferable).

DRIVE A NEW

NISSAN

STOCK AVAILABLE TODAY

AVAILABLE FROM

AVAILABLE FROM

*Price shown excludes on road costs which includes registration, WoF and a full tank of fuel.

CHRISTCHURCH NISSAN, 380 Moorhouse Avenue, Christchurch

Ph: 03 595 6820

www.christchurchnissan.co.nz

AVAILABLE FROM

HAS ARRIVED

$29,990 * $33,990 * $36,790 * THE ALL-NEW

NISSAN 150,000 KM'S

5YR FACTORY

WARRANTY

christchurchnissan.co.nz
---
26 The Star Thursday May 13 2021

eXhibitoRs Wanted!

Christchurch Arena, 2-4 July 2021

IN ASSOCIATION WITH

Reach over 10,000 potential customers across three days!

The perfect opportunity for you to personally engage with

and grow new customers!

Showcase your business in one of our general areas or feature in a specialized zone below! Limited stands available, don't miss out!

a new

addition to

the show!

We have stands available to suit all budgets!

If you want to grow your business, contact Lisa now on 021 800 809 or email lisa.lynch@starmedia.kiwi

for a no obligation quote. Payment options available. Terms & Conditions apply.
---
ince Environment Canterbury

climate-change emergency

Consenting remains as important as ever

by sea-level rise this century and threatened and facing increased

our productive and protected land pressures due to river system

Environment

jeopardised by the arrival and change.

spread of new, exotic weeds and Wetlands are also ecosystems

Canterbury Chair

pests from warmer climates. at-risk nationally and regionally,

Jenny Hughey

All these eventualities have degraded by draining, damming

to be planned and prepared for, and diversion affecting their

CONSENTS and enhance AND that work. the

Public fleet hybrid notification or long-range means the electric

and Environment Canterbury ability to sequester carbon,

consenting That work process included may setting not community by 2022. Carbon can have emissions a say a from

will remain in the vanguard of cleanse freshwater and mitigate

seem up a climate-change the most riveting integration of consent air travel application across the before organisation

these climate change efforts. flooding, as well as impacting on

a decision

are offset is made. via It's our usually own biodiversity done Waimakariri River flood

With biosecurity, we are

One example is the $40 million biodiversity and mahinga kai.

subjects programme at first, in the but Long-term it's worth Plan

knowing 2018-28, a ensuring little bit climate about them, change if the programmes.

SERVICE:

proposed activity would protection project, completed putting greater emphasis on the

Caring for the

particularly was actively as considered they affect across how have According a more than to minor a Madworld impact report

late last year. The network of risks of new pests establishing

environment

we workstreams, manage the increasing environment. visibility on in the 2019, people our living gross in emissions the area, were

floodgates and stopbanks will in Canterbury. Warming

is a

of When the science most people and what hear we know other 2253 users tonnes of a of resource, carbon dioxide or the

protect half a million people and temperatures, changing soils and

consideration

'consents' about the they impact probably of climate think environment. (CO2) equivalent, compared with

$8 billion of community and new land uses mean new weeds

during the

about change building on Canterbury, consents, and but liaising There removals are of instances 7883 tonnes where of public

equivalent notification through is not an our option, efficiency

CO2-

business assets from a possible especially, will be able to gain a

consenting

for on Environment the issue with Canterbury iwi and regional it

includes things such as releasing even if the impact on the environment

is deemed significant. the regional The last council. major flood was in we check More around broadly, 50 per we cent have of to

"super flood".

better foothold across the region.

process.

partners, other local authorities efforts and from forestry planting

contaminants, taking or diverting

water (such as from rivers), In such instances, no matter When December a consent 1957, is granted, when parts them. curb Usually reliance around on 80 fossil per fuels and

and central government.

across 2700 hectares.

the legislation, consenting will

As an organisation, we have The changing climate will pose

remain as important as ever

storing effluent, or disturbing the how much we might want to it comes of Coutts with conditions Island in Belfast that and cent will find be environmentally compliant, with suitable the

also made significant progress in many risks to life and livelihood

and will always have a degree of

foreshore or seabed.

involve the public, our hands are the consent Kainga were holder swamped must comply by river remainder alternatives, requiring such some as electricity form complexity and as it seeks to balance

addressing our own greenhouse-

Canterbury. In recent years

Consenting provides an tied by the RMA. This is one aspect

that is often misunderstood have metres many of per these second – even (cumecs). up The transport. RMA is currently being and the expectations of the wider

with. flow An peaking individual at 3990 consent cubic may of intervention hydrogen, by to us. power our public the interests of the environment

gas emissions, with our

we have seen how occasional,

important service to the community,

but the process is not by the community.

to a The hundred. protection In fact, scheme over the has been overhauled When by the my Government

predecessor Steve community.

Christchurch building receiving a but extreme, weather events have

without

"market-leading"

its share of

energy

complexity.

efficiency had huge effects on residents and

Sometimes a consent application

years designed we have to seen defend increasingly Christchurch and will Lowndes be replaced retired with as new chair of

The

rating

overarching

of 5.0 out

piece

of 6 in

of

the

legislation

to February that guides on the and National decides how determined

year infrastructure

outcome

around

needs

the

to be

South complex from consents a flood of issued. as much as 6500 resource this management council late last laws. year, he • Cr Jenny Hughey is chair

Island.

by an independent No cumecs. matter who grants a consent,

Environment Canterbury's is reforms changes will work on the better way. for He the was Council (Environment

The highlighted expectation some is that of these

big of the Canterbury Regional

applications Australian Built are handled Environment is the commissioner The driest or parts a panel of our of region,

Resource Rating System Management New Zealand. Act. commissioners. along the Marlborough This can occur coast if and ultimately leadership responsible of biodiversity for checking

that biosecurity consent programmes holders are act-

is also ognition deal of with Te Tiriti the "pressing o Waitangi, issues" of

and environment, optimistic give we proper would rec-

be able to Canterbury)

When The building's we receive features consent include application,

184 solar we panels assess which the effect can that be Plains, heard on are a expected proposal to or get there even ing sustainably and within the and help us mitigate the effects

there across are much submitters of the who Canterbury wish to

the generate activity more would than have 55,000 on people

kilowatt and the hours environment. of electricity This per in technical predicted input. to become more intense, There concerns.

I share his confidence. As a

are drier. complex North-westerly factors requiring storms are

underpinned by climate-change climate change and sustainability.

It's a year since Environment

conditions set.

Canterbury

of climate change; all the while

Canterbury's are around 24,000 distinct resource

rivers consents and unique on Environment wetlands face remains we a are key taking aspect. some bold steps to

braided ensuring community, that local and participation as a council,

turn year. helps us to determine if we Once with torrential again, in such alpine cases, rainstorms the

need There to notify declared has been the a public. 26% reduction decision turning a is climate-change our out braided of the hands rivers of into Canterbury's many challenges. books. Every The rivers year emergency

form This ensure is welcome, are but, in a no better matter place to

per staff member in emissions roaring rapids, fuelling landslides

JENNY HUGHEY explains what

a vital ecological link and provide

by sea-level

cope with

rise

the

this

changing

century and

climate

threatened and facing increased

since 30 the June council 2010. has We been now doing. have and causing widespread erosion. an abundant food supply and our and productive the tests and it will protected set us. land But pressures due to river system

access to electric and hybrid

Canterbury's coastal Environment

nesting grounds for 26 species of there will always be a need to do

The formal declaration of a

jeopardised by the arrival and change.

vehicles and hope to have half our communities will be threatened native birds – most classified as spread more. of new, exotic weeds and

state of climate emergency across

Canterbury was one of the most

serious, and colourful, moments

in the regional council's more than

30-year history.

A year ago this Saturday,

at 11.49am, Environment

Canterbury became New Zealand's

first council to proclaim such an

emergency, formally dedicating

itself to consideration of climate

change at the heart of all it does.

The declaration highlighted

that all the work Environment

Canterbury does – from

freshwater management to

biodiversity and biosecurity,

transport and urban development

to air quality, and also regional

leadership – has a climate change

focus.

Currently, under the Resource

Management Act, regional

councils are required only to adapt

to climate change, not mitigate

it – that responsibility is the

Government's, but could change.

Even in 'adapt mode' many

of Environment Canterbury's

existing policies and plans already

contribute to reduced emissions.

In declaring the climate

emergency, the Council noted it

would continue to show leadership

on climate-change and do so

without adding new programmes

at ratepayers' expense. It also gave

staff a clear mandate to continue

and enhance that work.

That work included setting

up a climate-change integration

programme in the Long-term Plan

2018-28, ensuring climate change

was actively considered across

workstreams, increasing visibility

of the science and what we know

about the impact of climate

change on Canterbury, and liaising

on the issue with iwi and regional

partners, other local authorities

and central government.

As an organisation, we have

also made significant progress in

addressing our own greenhousegas

emissions, with our

Christchurch building receiving a

"market-leading" energy efficiency

rating of 5.0 out of 6 in the year

to February on the National

Australian Built Environment

Rating System New Zealand.

The building's features include

184 solar panels which can

generate more than 55,000

kilowatt hours of electricity per

year.

There has been a 26% reduction

per staff member in emissions

since 30 June 2010. We now have

access to electric and hybrid

vehicles and hope to have half our

Latest Canterbury news at starnews.co.nz

Canterbury Chair

Jenny Hughey

fleet hybrid or long-range electric

by 2022. Carbon emissions from

air travel across the organisation

are offset via our own biodiversity

programmes.

According to a Madworld report

in 2019, our gross emissions were

2253 tonnes of carbon dioxide

(CO2) equivalent, compared with

removals of 7883 tonnes of CO2-

equivalent through our efficiency

efforts and from forestry planting

across 2700 hectares.

The changing climate will pose

many risks to life and livelihood

in Canterbury. In recent years

we have seen how occasional,

but extreme, weather events have

had huge effects on residents and

infrastructure around the South

Island.

The driest parts of our region,

along the Marlborough coast and

across much of the Canterbury

Plains, are expected to get even

drier. North-westerly storms are

predicted to become more intense,

with torrential alpine rainstorms

turning our braided rivers into

roaring rapids, fuelling landslides

and causing widespread erosion.

Canterbury's coastal

communities will be threatened

pests from warmer climates.

All these eventualities have

to be planned and prepared for,

and Environment Canterbury

will remain in the vanguard of

these climate change efforts.

One example is the $40 million

Waimakariri River flood

protection project, completed

late last year. The network of

floodgates and stopbanks will

protect half a million people and

$8 billion of community and

business assets from a possible

"super flood".

The last major flood was in

December 1957, when parts

of Coutts Island in Belfast and

Kainga were swamped by river

flow peaking at 3990 cubic

metres per second (cumecs).

The protection scheme has been

designed to defend Christchurch

from a flood of as much as 6500

cumecs.

Environment Canterbury's

leadership of biodiversity and

biosecurity programmes is also

underpinned by climate-change

concerns.

Canterbury's distinct braided

rivers and unique wetlands face

many challenges. The rivers form

a vital ecological link and provide

an abundant food supply and

nesting grounds for 26 species of

native birds – most classified as

Thursday May 13 2021 The Star

OPINION 27

Wetlands are also ecosystems

at-risk nationally and regionally,

degraded by draining, damming

and diversion affecting their

ability to sequester carbon,

cleanse freshwater and mitigate

flooding, as well as impacting on

biodiversity and mahinga kai.

With biosecurity, we are

putting greater emphasis on the

risks of new pests establishing

in Canterbury. Warming

temperatures, changing soils and

new land uses mean new weeds

especially, will be able to gain a

better foothold across the region.

More broadly, we have to

curb reliance on fossil fuels and

find environmentally suitable

alternatives, such as electricity and

hydrogen, to power our public

transport.

When my predecessor Steve

Lowndes retired as chair of

this council late last year, he

highlighted some of the big

changes on the way. He was

optimistic we would be able to

deal with the "pressing issues" of

climate change and sustainability.

I share his confidence. As a

community, and as a council,

we are taking some bold steps to

ensure we are in a better place to

cope with the changing climate

and the tests it will set us. But

there will always be a need to do

more.
---
The Star Thursday May 13 2021

28

PUZZLES

CROSSWORD

CHRISTCHURCH

CREMATORIUM

FUNERALS

1 2 3 4 5 6 7

9 10

11 12

8

Latest Canterbury news at starnews.co.nz

194

SUDOKU

Every row, column and box should

contain the digits 1 to 9.

WORDBUILDER

WordBuilder

094

6

S C I

T T A

words of three or more letters,

How

including

many

plurals,

words

can you

of

make

three

from

or

the

more

six

letters, using including each letter plurals, only once? can No you foreign

words or words beginning with a capital are

make from the five letters, using

allowed. There's at least one six-letter word.

each only once? TODAY

Good 15 Very Good 17 Excellent 20

No words beginning with a capital

are allowed. There's at least one

Solution 093: cent, CENTRE, cere, cert, enter, ere,

erect, erne, net, RECENT, rent, ret, rete, tec, tee,

six-letter teen, ten, TENREC, word. tern, tree.

Good 10 Very Good 14 Excellent 18+

DECO

9

13 14 15

16 17 18 19

20

21 22 23

24 25

SOLUTION

No.94

14 15 16 17 18 19 20 21 22 23 24 25 26

J Z X K T B Q W H S U G L

26 27

1 2 3 4 5 6 7 8 9 10 11 12 13

R E M Y F O I P V N A D C

14 15 16 17 18 19 20 21 22 23 24 25 26

T S

Decoder

Across

1. Worldwide (6)

4. Suspenders (6)

9. Nemesis (4)

10. Briefly (10)

11. Breakfast food (6)

12. Pardoned (8)

13. Diction (9)

15. Present (4)

16. Fill to satisfaction (4)

17. Set up (9)

21. Advantages (8)

22. Afraid (6)

24. Idle, worthless person

(4-2-4)

25. Friendly nation (4)

26. Cowardly (6)

1 2 3 4 5 6 7 8 9 10 11 12 13

E

A B C D E F G H I J K L M N O P Q R S T U V W X Y Z

27. Facade (6)

13 5 17 10 7 17 25 21 18 3

18 3 2 19 14 3 10 14 18

25 25 25 13 14 17 25 13 21 25 4

Down

1. Step by step (7)

2. Complies (5)

3. Cause physical or mental

suffering (7)

5. Reply (6)

6. Festive (9)

7. Financially sound (7)

8. Calm, collected (4-9)

14. Holy building (9)

16. Landscape (7)

18. Clear of blame (7)

19. Outstanding (7)

20. Japanese robe (6)

23. Conscious (5)

7 2 9 1 21 7 25 10

2 18 5 18 20 2 13 24 2 3 6

14 24 12 6 1

16 13 6 2 13 10 17 10 5 2 26 10

10 25 21 22 3

14 16 8 21 21 3 10 18 20 22 23

T

T H E P U Z Z L E C O M P A N Y

SUPER RUGBY SUPER DEALS

All puzzles copyright

www.thepuzzlecompany.co.nz

10 18 13 11 4 17 16 13

E

Keep your NZ colours

separate from any

Aussie ones.

S

DECODER

Each number in our DECODER grid represents a different

letter - there is a number for all 26 letters of the alphabet.

Each Enter number the given represents letters into a different all squares letter with of the matching alphabet. numbers. Write the

given The letters challenge into now all squares is to work with out matching which letters numbers. are Now represented work out

which by the letters other are numbers. represented As you by the get other numbers. letters, enter As you them get into the

letters, the main write grid, them and into the main reference grid and grid. the To reference keep track grid. Decoder of the

uses letters all 26 you letters have of found, the alphabet. cross them off the alphabet provided.

23 22 19 24 21 7

8 26 11 20 24 2 11 10 13 22 6 1

2 1 25 2 19 7 17

13 24 3 24 26 24 23 26 11 8 23 2

7 7 2 8 6 23 12

21 16 17 17 2 8 18 14 10 18 25

5 24 10 12 15 7 26 13 22

F U N

4 25 3 6 17 12 7

14 6 7 10 18 22 2 21 10

12 26 10 11 19 5 9

1 2 11 13 18 25 26 6 19 24 26 2

7 18 22 2 1 10 1

2 9 2 10 26 4 13 11 24 13 24 23

1 16 4 16 18 2

94

A B C D E F G H I J K L M N O P Q R S T U V W X Y Z

1 2 3 4 5 6 7 8 9 10 11 12 13

F

N

14 15 16 17 18 19 20 21 22 23 24 25 26

U

SOLUTION

No.93

13 13 7 17 6 25 26 10 17

25 13 10 15 16 25 14 22 2 11

The challenge now is to work out which letters are represented

by the other numbers. As you get the letters, enter them into

the main grid, and the reference grid. To keep track of the

letters you have found, cross them off the alphabet provided.

Each number in our DECODER grid represents a different

letter - there is a number for all 26 letters of the alphabet.

Enter the given letters into all squares with matching numbers.

95

1 2 3 4 5 6 7 8 9 10 11 12 13

P K T Z U Y H L M D R F O

14 15 16 17 18 19 20 21 22 23 24 25 26

I J G A C W B Q V N E X S

DECODER

95

Crossword

Across: 1. Global, 4.

Braces, 9. Bane, 10.

Fleetingly, 11. Muesli, 12.

Forgiven, 13. Elocution, 15.

Gift, 16. Sate, 17. Establish,

21. Benefits, 22. Scared, 24.

Ne'er-do-well, 25. Ally, 26.

Yellow, 27. Veneer.

Down: 1. Gradual, 2.

Obeys, 3. Afflict, 5. Retort, 6.

Convivial, 7. Solvent, 8. Selfpossessed,

14. Cathedral,

16. Scenery, 18. Absolve,

19. Stellar, 20. Kimono, 23.

Aware.

WordBuilder

Act, acts, asci, attic, ATTICS,

cast, cat, cats, its, sac, sat,

scat, sic, sit, STATIC, tacit,

tact, tacts, tat, tats, tic, tics.

Sudoku

© A.F.Shuker

Bosch Serie 6 9kg Front Load Washing Machine - WGA244U0AU

9068081

With the Super Rugby Trans-Tasman getting underway, it's important to look after your

supporter gear. This top-of-the-range machine from Bosch is perfect for the job. The AntiStain

function removes the most common stains: oil, red wine, grass, blood, sweat, and Australian tears.

less

$1649 $ than

18

per week for

24 months

interest free*

Supplied by KNIGHT FEATURES

20 Crescent Grove, London SW4 7AH

Tel: 020 7622 1467 Fax: 020 7622 1522

Offers valid while stocks last, unless otherwise stated. Some products on display in selected stores only – please call 0800 764 847 to check availability. Personal shoppers only. *Apple, selected computers, game consoles, gift cards, clearance items and some promotional items are not

available in conjunction with interest free offers. Flooring available on a maximum of 18 months interest free. Exclusions, fees, terms, conditions, and credit criteria apply. Available in-store only. Equal instalment amounts include one-off booking fee of $45.00, annual fees of $45.00 p.a. and

security registration fee of $8.05, and exclude insurance. Current interest rate of 23.95% applies to any unpaid balance after expiry of (any) interest free period. See in-store or visit smithscity.co.nz/interest-free for details.
---
Thursday May 13 2021 The Star

Latest Canterbury news at starnews.co.nz

GARDENING 29
---
The Star Thursday May 13 2021

30

SPORT

Latest Canterbury news at starnews.co.nz

BIG CLUB MATCH-UPS THIS WEEKEND

Cashmere Technical continue unbeaten run

• By Chris Barclay

CASHMERE Technical were

in unfamiliar territory, yet

still managed to navigate their

way home safely when a first

defeat in 42 Mainland Football

premiership games loomed.

Trailing 0-2 to Selwyn United

with 15min to play at Garrick

Park, the reigning champions

conjured up irrepressible phases

of play to ultimately triumph 4-2

on Saturday.

Selwyn dared to dream of becoming

the first team to beat the

league's perennial powerhouse

since Ferrymead Bays triumphed

in the opening round of the 2019

season when Jamie Carrodus

scored his second in the 75th

minute.

So on cue the seven-time

champions rallied.

Jacob Richards pulled a goal

back 8min from the end of regulation

then veteran Cory Mitchell,

in his first appearance of the

season, produced the equaliser.

Richards then secured the

three competition points in

the 87th before Yuya Taguchi

completed the escape act deep in

added time.

"We left it very late but we

tried to keep going forward as

often as possible," head coach

Dan Schwarz said.

"I thought it was a matter of

time before we got one. And with

the players we've got in the squad

if we get one, we can get two or

three at times.

"We've got a very tight group,

we don't bicker, we don't argue

during games – much. We all

pull together at the right time.

"We've had a few late comebacks

over the years and that was

up there with one of the best."

Cashmere Technical's comeback

protected their three-point

lead over Coastal Spirit, who

were 4-0 winners over Ferrymead

Bays.

Christchurch United ceded

ground on the leaders when

Nomads United recovered from

a 2-1 deficit to secure a 3-2 victory

through strikes to Daniel

Thoms, who also scored Nomads

RECOVERY: Yuya Taguchi

scored in added time

to complete Cashmere

Technical's rebound from

a two-goal deficit against

Selwyn United.

PHOTO: MATT HASTINGS

first goal, and Declan Hickford's

winner on the hour-mark at

Tulett Park.

In the other eighth round

contest, winless Halswell's goal

differential is now -26 though

they did avoid another rout as

Nelson Suburbs settled for a 2-1

win where their defence was only

breached in added time.

The league takes a break this

weekend as the opening round

of the Chatham Cup takes precedence.

While Cashmere Technical

survived their scare, five-time

Canterbury Rugby League premiers

Linwood were shaded by

leaders Hornby in a tense clash at

Leslie Park.

The hosts prevailed 14-10 after

leading 10-4 at the break. Electric

fullback Sincere Harraway

produced two of the Panthers

three tries to also give them a

two-point lead atop the table.

A hooker or playmaker in

the halves before switching to

fullback and being entrusted

with the captaincy, Harraway

has been a revelation in his latest

position as Hornby aim to make

JOB DONE: Champions Cashmere Technical displayed their

title-winning qualities by overwhelming Selwyn United late

to remain unbeaten in Mainland Football premiership.

PHOTO: MATT HASTINGS

PANTHERS POUNCE: Hornby scrum half Benji Heather sets up an attack in the Panthers

tense Canterbury Rugby League premiership win over champions Linwood.

PHOTO: BRENT TOMLINSON

this year's grand final after missing

the 2020 decider.

"He's one of our best players

and you see the finished product

of how good he can be now," said

Hornby coach Jed Lowrie, who

was rapt for the inexperienced

players in the squad to revel in a

win over the Keas.

"It's been a while since we've

beaten Linwood at home so the

new boys and the young boys

should get a bit more confidence

with the win," he said.

Lowrie said maintaining the

momentum against the Eastern

Eagles, who broke their duck

against Papanui, this weekend

was key.

"Trying to get up a week after

playing Linwood is tough, there's

a lot of sore bodies," he said.

The Northern Bulldogs, last

year's beaten finalists, got their

campaign back on track after

setbacks against Riccarton and

Hornby with a 28-18 win over

Halswell while Riccarton beat

the improving Celebration Lions

20-14 at Coronation Park.

Riccarton will be favoured to

beat winless Papanui on Saturday,

Linwood try to get back

on track against Halswell and

the Celebration Lions host the

Northern Bulldogs.

Leaders Marist Albion suffered

their first loss of the Christchurch

Metro Cup season but

they still lead their conquerors

Linwood by four competition

points.

Linwood won the top of the table

clash 27-24 while champions

Lincoln University continued

their resurgence with a tight 30-

26 triumph over HSOB.

University no longer had the

tutelage of All Black Braydon

Ennor on hand, but they still

recorded a third successive win

by beating New Brighton 47-23.

The status quo remained in the

Christchurch Netball Centre premier

grade although champions

Lincoln University were pushed

hard by Saints before prevailing

57-52.

Technical A and Kereru A are

the other unbeaten teams after

four rounds thanks to contrasting

wins over Villa Maria (83-15)

and St Nicholas (51-50) respectively.

In Canterbury Hockey's

premier league, Harewood and

Marist are unbeaten after two

rounds of the men's schedule,

likewise Marist and Carlton

Redcliffs in the women's draw.

Top of the tables

Christchurch Metro Premier Cup Men's Rugby

P W L D PD Pts

Marist Albion 5 4 1 0 35 22

Linwood 5 4 1 0 47 18

Lincoln University 5 3 2 0 9 17

Sydenham 5 3 1 1 1 17

Christchurch 5 2 2 1 36 16

University 5 3 2 0 21 15

Burnside 5 3 2 0 17 14

Sumner 5 2 2 1 -5 13

Shirley 5 1 4 0 -26 11

New Brighton 5 2 3 0 -23 9

HSOB 5 1 4 0 -15 8

Belfast 5 0 4 1 -97 5

Canterbury Rugby League Men's Premiership

P W L D PD Pts

Hornby Panthers 5 5 0 0 94 10

Linwood Keas 5 4 1 0 74 8

Celebration Lions 5 3 2 0 68 6

Halswell Hornets 5 3 2 0 58 6

Northern Bulldogs 5 2 3 0 4 4

Riccarton Knights 5 2 3 0 -76 4

Eastern Eagles 5 1 4 0 -108 2

Papanui Tigers 5 0 5 0 -128 0

Mainland Football Men's Premiership

P W D L GD Pts

Cashmere Technical 8 7 1 0 18 22

Coastal Spirit 8 6 1 1 12 19

Christchurch Utd 8 4 2 2 17 14

Nelson Suburbs 8 4 1 3 2 13

Nomads Utd AFC 8 4 0 4 -3 12

Ferrymead Bays 8 3 0 5 -10 9

Selwyn Utd FC 8 1 1 6 -10 4

Halswell Utd AFC 8 0 0 8 -26 0

Weekend match-ups

•Christchurch Metro Premier

Cup (all Saturday at 2.45pm)

HSOB v Sydenham, Bob Deans

Field; Belfast v Burnside, Sheldon

Park; Linwood v Lincoln University,

Linfield Park; University v Marist

Albion, Ilam Fields; Sumner v New

Brighton, St Leonards Square; Shirley

v Christchurch, Burwood Park.

Canterbury Rugby League

Premiership (all Saturday at

2.45pm):

Linwood Keas v Halswell

Hornets, Nga Puna Wai; Eastern

Eagles v Hornby Panthers, Wainoni

Park; Celebration Lions v Northern

Bulldogs, Cuthberts Green; Papanui

Tigers v Riccarton Knights, Papanui

Domain.

Mainland Football

Premiership

No matches due to the first round

of the Chatham Cup.

Chatham Cup fixtures (all

2pm Saturday):

Parklands Utd v Cashmere

Technical, Parklands Reserve;

Waimakariri Utd v Coastal Spirit,

Kendall Park; Halswell Utd v Selwyn

Utd, Halswell Domain; Western

AFC v Burwood AFC, Walter Park;

FC Twnety 11 v Christchurch Utd,

Avonhead Park.
---
Thursday May 13 2021 The Star 31

SUPER RUGBY

AotEARoA

Tipping

CompeTiTion

winnER

conGRAtUlAtionS to

BREnt JEFFERiES

FRoM A1 AUto

ON WINNING OUR SUPER RUGBY

AOTEAROA TIPPING COMPETITION

Brent (right) pictured with The Star advertising manager Shane

Victor receiving his winning prize of a trip for 2 to Auckland.

• $12.50 Lunches

• $12.50 Lunches

- Friday Nights

• Karaoke - Fri Nights

Live Bands - Sat Nights

• TAB • Gaming Machines

• Pool TAB Table • Pool Table

• Sports on Big Screens

• Live Bands - Sat Nights

• Gaming Machines

• Sports on Big Screens

24a Main North Road

Papanui. Ph: 03 352 7011

www.roseandthistle.co.nz

YOUR NEW LOCAL!

SUPER

RUGBY

Friday 7.05pm:

Highlanders v Reds

Saturday 7.05pm:

CRUSADERS

v Brumbies

Running a

charity quiz is

a piece of cake!

Let us put together

a charity or

fundraising quiz

night for YOU!

Call or speak to us now!

• TAB • Private Function Room

1 Normans Rd

Ph 355 5345

www.facebook.com/

elmwoodtradingco

ONE STOP SHOP

FOR ALL VEHICLE REPAIRS

• WOF • Servicing • Full Mechanical Repairs

• Latest Diagnostic Equipment • Tyres

• Batteries • Auto Electrical Repairs

• Mechanical Breakdown Insurance Repairs

• Loan Cars Available

12 Sheffield Crescent, Burnside, Christchurch

P: 03 3585 580 E: sheffieldcauto@xtra.co.nz

SUPER RUGBY tRanS taSman

Tipping CompeTiTion

ROUND ONE

14-15 May 2021

CRUSaDERS v BRUMBiES

WESTERN FORCE v ChiEFS

MElBOURNE REBElS v BlUES

highlaNDERS v QUEENSlaND REDS

NSW WaRaTahS v hURRiCaNES

OUR TIPSTERS SELECTIONS THIS WEEK

2 points for correct winner, 1 point for correct margin

CHRIS SMITH

portstone

CRUSadERS

by 11-20 points

WESTERN fORCE

by 1-10 points

BLUES

by 11-20 points

REdS

by 1-10 points

HURRICaNES

by 20-30 points

MaRTy fULLER

elmwood Trading Company

CRUSadERS

by 1-10 points

WESTERN fORCE

by 1-10 points

BLUES

by 11-20 points

HIgHLaNdERS

by 1-10 points

HURRICaNES

by 11-20 points

Sizzling

Saturday

$22

WOF

Bookings essential. Conditions apply.

WE'RE BACK!

Cnr Fitzgerald Ave & Hereford St.

Phone: 365-5220

workshop@a1auto.co.nz

BROUgHT TO yOU By THE STaR MEdIa COMPaNy

BRENT JEffERIES

A1 Auto

CRUSadERS

by 21-30 points

CHIEfS

by 21-30 points

BLUES

by 21-30 points

HIgHLaNdERS

by 11-20 points

HURRICaNES

by 30+ points

JaMIE HaRRIS

Venluree

CRUSadERS

by 21-30 points

CHIEfS

by 11-20 points

BLUES

by 21-30 points

HIgHLaNdERS

by 1-10 points

HURRICaNES

by 1-10 points

davE MCLaCHLaN

Rose and Thistle

CRUSadERS

by 11-20 points

CHIEfS

by 11-20 points

BLUES

by 11-20 points

HIgHLaNdERS

by 1-10 points

HURRICaNES

by 21-30 points

CHRIS TayLOR

Richmond Club

CRUSadERS

by 11-20 points

WESTERN fORCE

by 1-10 points

BLUES

by 11-20 points

HIgHLaNdERS

by 1-10 points

WaRaTaHS

by 11-20 points

Welcome to 2021

Super Rugby Trans Tasman

Tipping Competition.

Each week, our panel of tipsters

below will pick their winners from

the weekend's round of matches.

As well as selecting the winner

(2 points), they will also select

the margin (1 point). Either 1-10

points, 11-20 points, 21-30 points

or 30 points and over. Check

in here every week to see the

updated scoreboard.

SHaNE daLLEy

Sheffield Cres Auto Centre

CRUSadERS

by 11-20 points

CHIEfS

by 1-10 points

BLUES

by 11-20 points

REdS

by 1-10 points

HURRICaNES

by 21-30 points

JOHN MCCaNN

Artworks

CRUSadERS

by 21-30 points

CHIEfS

by 11-20 points

BLUES

by 11-20 points

HIgHLaNdERS

by 1-10 points

HURRICaNES

by 21-30 points

FRAME YOUR

MEMORIES

We have the perfect frame for you!

6 Main North Road | Ph 352 7594

Open Mon-Fri 9am-5pm

www.artworkspictureframing.co.nz

NEW CARVERY

in our NEW Restaurant

CARVERY OPEN

THURS - SAT

5-8PM

richmondclub.nz

465 Ferry Rd • Phone 389-4352

www.portstone.co.nz

OPEN 9am - 5pm 7 Days

Mobile showroom

service

FROM

22 50 $

75 London St,

Richmond

P: 03 389 5778

theborough.nz

Come view our

range of pots

Sizes to complement your

courtyard, garden or indoor space

Portstone

GARDEN CENTRE & CAfÉ

Helping

Christchurch Grow

Curtains

Blinds

Shutters

BRAND NEW SHOWROOM

Free

measure &

quote

Unit 2 / 99 Sawyers Arms Rd

03 365 4666 or 0800 836 587

www.venluree.co.nz
---
32 The Star Thursday May 13 2021

WHY CHoose

WE ARE CURRENTLY OFFERING

$2000 MINIMUM

TRADE IN

*ON SELECTED VEHICLES! TERMS & CONDITIONS APPLY

for Your next VeHICLe?

VALUE

REPUTATION

SELECTION

TRUSTED

PLUS

REGISTRATION

2010 Honda Cr-Z

$10,999

The CR-Z is a sports compact hatch, features a 1.5L

hybrid engine, tiptronic trans, looks sleek in white

with 16'' alloys, keyless entry, reverse camera, multifunction

steering wheel, cruise control, ABS, T/C and

airbags, come and inspect today!

PLUS

REGISTRATION

2015 ToyoTa Porte

$12,999

A versatile new generation hatch, best feature being

the huge passenger door and high roofline allowing

easy entry/exit, features a 1.5L engine with automatic

trans and 5 star fuel efficiency, finished in light green,

low kms, keyless entry, rear wiper, parking sensors,

ABS and airbags, perfect for someone!

PLUS

REGISTRATION

2016 Suzuki BaLeno BooSterjet

$13,999

Stylish 5 door family hatch, features a 1.0L

turbocharged engine with automatic trans looks

great in red with 15'' alloys and chrome detail,

stylish black interior, keyless entry, rear wiper,

collision avoidance, cruise control, ABS, T/C and

airbags, very nice vehicle!

PLUS

REGISTRATION

2014 Honda Fit L

$13,999

A popular, versatile, economical and spacious 5 door

hatch, features 1.5L hybrid engine with automatic

trans, stands out in yellow, stylish black partial leather

interior, proximity key, reverse camera, collision

avoidance, travelled very low kms, ABS, T/C and 8x

airbags, never lose your vehicle in the carpark again!

PLUS

REGISTRATION

2010 Honda inSight

$7,999

Economical liftback, features a 1.3L hybrid engine

with automatic trans, looks good in dark purple,

travelled low kms, keyless ignition, star fuel

efficiency, climate control, ABS and 8 airbags,

great buying - won't last long!

PLUS

REGISTRATION

2015 Subaru imPreZa

$16,999

Very nice example, delivery kms only, features a 2.0L

chain driven engine with tiptronic trans, looks smart

in dark blue with black interior, Eyesight safety suite,

cruise, collision avoidance, lane departure warning,

idle stop, keyless entry, rear wiper, ABS, T/C and

airbags, great vehicle and great buying!

PLUS

REGISTRATION

2014 Mazda atenZa 20S

$17,999

A desirable sleek and sporty looking vehicle, 2.0L

Skyactiv engine with i-stop, tiptronic trans with

paddleshift, 5 star fuel efficiency, white with driving

lights and 19'' alloys, black interior, cruise, PBS, multifunction

steering wheel, reverse camera, rear vehicle

monitoring, , ABS, T/C and 6 airbags, hurry!

PLUS

REGISTRATION

2015 jaguar F-tyPe SPort

$81,999

Seriously impressive European sports coupe, 3.0L

supercharged V6 engine with Tiptronic trans and

paddleshift, looks very smart in dark grey with rear

spoiler and 18" alloys, part leather interior, reverse

camera, Bluetooth, very low kms, sports exhaust,

ABS, T /C and 8x airbags, an absolute must see.

PLUS

REGISTRATION

2014 ToyoTa aXio g

$14,999

Reliable, spacious and economical model of the

popular Corolla, features a 1.5L hybrid engine with

6 star fuel efficiency, automatic trans, travelled low

km, looks sharp in light blue with black interior, push

button start, rain shields, rear centre shoulder belt,

reverse cameras, ABS, T/C & 8 airbags, good buying!

PLUS

REGISTRATION

2012 Subaru LegaCy gt

$14,999

Very nice sports sedan, features a 2.5L turbo engine

with tiptronic trans, looks sharp in white with factory

body kit and 17'' alloys, SI drive, keyless entry, rain

shields, rear wiper, cruise control, safety of ABS, T/C

and airbags, very nice vehicle!

PLUS

REGISTRATION

2011 Honda odySSey m

$12,999

Popular family wagon with room to seat 7, features

a 2.4L VTec engine with automatic trans, looks

smart in white with custom 18'' alloys, reverse

camera, keyless entry, rear wiper, ABS, T/C and

airbags, upgrade your family vehicle today!

PLUS

REGISTRATION

2010 Subaru LegaCy S

$12,999

Stylish and well sought after family wagon, features a

2.5L engine with tiptronic trans, SI drive, looks sharp

in black with factory body kit and 18'' alloys, black

partial leather interior, AWD, safety of ABS, T/C and

airbags, very nice vehicle!

PLUS

REGISTRATION

2016 ToyoTa Sienta XV

$16,999

Spacious and practical, features a 1.5L engine with

automatic trans, looks nice in wine red, new shape,

black interior, 7 seater, 5 star fuel economy, low kms,

ABS and airbags, come and inspect today!

PLUS

REGISTRATION

2014 Ford eCoSPort titanium

$14,999

Stylish compact SUV, features a 1.5L engine with

automatic trans, looks smart in black with factory

body kit and 16'' alloys, keyless entry, rear wiper,

parking sensors, rear wiper, roof rails, cruise control,

ABS and multiple airbags, great buying!

PLUS

REGISTRATION

2019 ToyoTa Prado tZ-g

$74,999

WOW! Well sought after family SUV, 2.8L turbo diesel

engine with tiptronic trans, 4WD, 7 seater, in white

with chrome detail, running boards, driving lights,

sunroof, roof rails and 19'' alloys, push button start,

cruise control, reverse camera, and so much more,

ABS, T/C and 9x airbags, inspection won't disappoint!

Registration for 6 months is $301

Value Cars Warehouse

4.72

CANTERBURY OWNED

& OPERATED

ESTABLIShED 1993

32 Moorhouse Ave, P: (03) 366 7768 IMVDA

www.valuecarswarehouse.co.nz
---
Thursday May 13 2021 The Star 33

Subaru that won't get your goat

THE GOOAT – greatest Outback

of all time is Subaru's slogan

for its latest generation station

wagon.

It's a kind of corny catchphrase

but there's no disputing the claim,

the new Outback is surely worthy

of high praise. I see it as competing

squarely with European cars

of similar concept.

The reason for my statement

simply comes down to the quality

of build in the new Outback, it is

full of appointments, the controls

are extensive and the layout

borders on what you would get in

any luxury car.

Yet the Outback hasn't lost sight

of its purpose, which is the reason

why it is the vehicle of choice for

recreational enthusiasts who see

the model as reliable transport in

and out of low grip sites.

And that is something Subaru

has done well with every iteration

of the Outback, it is a wagon that

could easily double as any sport

utility vehicle, yet it looks and

functions like a station wagon

should. Anyone who knows me

will tell you I like station wagons

and the cavernous load section is

full of purpose.

The Outback will also carry

five occupants in comfort on any

surface, sealed, unsealed or as

Subaru hints – on any goat track.

A few years ago Subaru New

Zealand adopted the policy of

selling all new vehicles here

complete with its symmetrical

four-wheel-drive system. It's

worked well for the company, and

any buyer who has purchased a

new Subaru will have reaped the

benefits.

For one it is a complete safety

system, providing grip even when

you aren't aware of it, plus there

is the other benefit of travelling

cross-country or off-road at will,

and that's where the Outback

comes in, it lives up to its name

with 213mm of ground clearance

and suspension travel that deals

well to uneven surfaces.

On that score, and because the

evaluation car had seen some

loose surface travel, I drove along

the shingle tracks that run parallel

to the Waimakariri River and

experienced a soft, controlled

ride. You can certainly feel the

suspension absorbing the uneven

surfaces, and on a slippery, gentle

incline the driveline can be felt

working to keep wheelspin at bay.

Most of all, the Outback's ability

to cocoon the occupants with

a sublime ride is pretty much

a miracle and is testament to

those who have developed the

spring and damper rates. I know

Subaru's association with German

USER-FRIENDLY: Large screen and icons make using the

Outback's display console easy.

SUBARU OUTBACK: Capable when tackling the high country goat tracks.

shock absorber company Bilstein

has paid dividends over the years,

today's Outback capitalises on

that development.

There is little trade-off when

cruising the highway. The soft

ride could suggest on-road handling

would be jeopardised, that's

not the case, even at 1675mm tall

the Outback doesn't lean awkwardly

and gravitational movement

is well arrested.

Much of the Outback's overall

handling prowess must be put

down to the quality of the tyres.

The Bridgestone Alenza's (225/60

x 18in) are a new compound to

me and, although they can't be

described as deep-treaded as

you would expect for an off-road

vehicle, they have a pattern that

copes well on all surfaces, they

are quiet and provide much information

to the steering wheel.

The loading in a corner is

well-weighted, the entire vehicle

is fully directional. I like vehicles

that give you confidence through

the steering and suspension, the

Outback's front-strut/rear-double

wishbone system is fully informative,

the messages the driver receives

are very much confidenceboosting.

There's also a bit of a surprise

under the bonnet, Subaru has introduced

an almost entirely new

engine. Well the boxer design is

the same as before and it's much

the same capacity – a 2.5-litre. It's

a four-cylinder unit I've long had

an affinity for.

Developing 138kW and

245Nm, the horizontally-opposed

unit is punchy and torquey, delivering

with a distinctive sound

• Price – Subaru Outback

Touring, $57,490

• Dimensions – Length,

4870mm; width, 1875mm;

height, 1675mm

• Configuration – Fourcylinder

(boxer), fourwheel-drive,

2498cc,

138kW, 245Nm,

continuously variable

automatic

• Performance –

0-100km/h, 9sec

• Fuel usage – 7.3l/100km

that lets you know there is something

special sitting up front.

Drive is directed through a

continuously variable transmission,

one which Subaru has

constantly developed to the

point where it feels much like a

traditional automatic. However,

it has the advantage of a direct

transfer of power, there is nothing

lost through the transmission.

Consequently, the Outback feels

sprightly, there's no obvious feel

of weight within the car, even

though it comes in at 1661kg.

Acceleration is strong, the Outback

will reach 100km/h from a

standstill in 9sec, and it will lunge

through a highway overtake (80-

120km/h) in 6sec.

On the subject of figures,

Subaru must be well satisfied

with the fuel usage figures in

the newcomer. It is listed with

a 7.3l/100km combined cycle

average. That's achievable, when

I took the evaluation car back to

the dealership the internal readout

was showing 9l/100km, that

aided by a thrifty 4.7l/100km instantaneous

readout at 100km/h

(engine speed 1500rpm).

The new Outback is available

in three variants, all with the

same driveline. The series starts

at $49,990, the evaluation car

was the range-topping Touring

at $57,490; in-between there is a

$54,990 X model.

The Touring wants for nothing,

it is a plush, luxury vehicle with

all the trimmings for comfort and

convenience. Full leather trim,

paddle-shifters, clever Eyesight

safety system, SI drive intelligent

drive modes, Harman Kardon

audio and heated and electrically

adjustable seats are all fitted.

I particularly like the large

central console display. It's about

as big as any I've seen previously

in any car and it makes reading

and touching the icons so very

easy. The system displays are

deep and comprehensive, all

of these factors contributing to

why I rate the Outback as a full

luxury car market contender, yet

it offers so much more in terms

of ability.

As much as I enjoyed the

Outback, the Touring model

would be a little out of my reach.

However, my wife has been easily

convinced that the XV is the

Subaru for us as we look towards

retirement.

Subaru's philosophy and

direction is proving to be a

winning combination, from

where I sit I can say without any

hesitation that interest is growing

strongly, drawing people to the

brand, and its fine vehicles like

the Outback and its stablemates

that are doing that.

Downsizing? Decluttering?

Christchurch

STORES

Please help support local St John activities by donating

good quality pre-loved clothing, jewellery, homeware,

furniture and books to one of your local St John

Christchurch Stores.

We welcome donations dropped off at either:

- St John Durham St – 180 Durham Street South, Christchurch Central

- St John Ferry Road – 375 Ferry Road, Waltham

- St John Sydenham – 300 Colombo Street, Sydenham

To book a pick up for larger items please call 027 304 7821.
---
34 The Star Thursday May 13 2021

Get the TLC experience

Call one of our Licensed Sales Consultants

today for a free appraisal:

Trish Lawrence ph 0274 350 565

'Trust in Trish'

Kris Hagena ph 027 390 0097

'Creative and effective'

Kay Livingstone ph 021 163 0001

'Goes above and beyond'

MAKING YOUR MOVE EASIER

tlc realty limited

Licensed Agent REAA 2008 | www.tlcrealty.co.nz

Appears every week in

For more information:

Mike Fulham

P 379 7100

E mike@starmedia.kiwi

The Star Classifieds

Bicycles

HUGE END OF

ROADWORKS

SALE

Coming soon to

around again

cycles

620 Ferry Rd, Woolston.

P: 03 376-6377.

aroundagaincycles@gmail.com

Board

Retired Male

Solicitor

Seeks homestay

in Bishopdale,

Bryndwr or

Papanui.

Keen walker, non

smoker, teetotaller,

enjoy excellent

health but have

limited domestic

skills. I'm keen to

secure a congenial

long term homestay

with board.

If you can assist

please phone Peter

03-359-2533

to discuss.

Caravans, Motorhomes

& Traliers

CARAVAN Wanted to

buy. Up to $5000 cash

today 027 488-5284.

Car Parts

TYRES Secondhand,

most szs from $30 - $70

fitted, Also batteries, 217

Waltham Road, 027 476

2404

Cars Wanted

AAAA $$ CASH PAID

Buying cars & trucks for

wrecking. Ph / txt Zac 021

1056 797.

Church Notices

NEW AGE CHRISTIAN

SPIRITUAL CENTRE

61 Grafton Street

Sunday 7pm

Address:

Bernie

Clairvoyance:

Bernie

Tuesday

1-1.45pm Healing

2pm Clairvoyance

All Welcome

Home & Property appears every Thursday, delivered FREE

throughout Christchurch

For more information and bookings, contact Mike Fulham

M: 021 300 567 E: mike@starmedia.kiwi

SHOULD YOU SELL YOUR

HOUSE IN WINTER?

Selling a property

in winter may

seem to go against

received wisdom,

but there are

plenty of reasons

why it can be a

good idea. It's hard

to ignore powerful

or compelling

reasons like a

change in your

work, financial

or family

circumstances, or because the timing seems

right. In addition, there are several other,

more tangible upsides to selling in winter.

Firstly, there are often fewer houses on

the market so there's less competition. Your

property is less likely to be lost in a swarm

of listings and it will be easy to make it stand

out. People who are looking to buy at this

time of year are usually highly motivated

because they need a home sooner rather

than later. The upside of this is that you may

get fewer 'tyre-kickers' than in the warmer

months – and increased demand will often

result in higher prices.

If you're selling your property with a

real estate agent, you need to mine their

experience. When you're choosing an agent,

ask them how houses in your area sell over

the colder months. It's in their interests to

make sure the sale of your property is as

advantageous as possible; if they think you'll

be better off waiting a couple of months, they

should tell you. They should also work with

you to work out the best times to hold open

homes or viewings, taking in account shorter

Church Notices

Christian

sPiritUaList

ChUrCh

182 Edgeware Road

Sunday Service 7pm

Address

Andy Douglas

Clairvoyant

Andy Douglas

All Welcome

SYDENHAM CHRISTIAN

SPIRITUAL CHURCH

Sydenham Community

Centre

23/25 Hutcheson St

Address

Angela

Clairvoyance

Angela

Sunday 7pm

All Welcome

For Sale

STEEL for sale all

sections, off cuts cut

lengths. siteweld@ xtra.

co.nz Ph 0274 508 785

sunlight hours.

You want your property

to look attractive, inviting

and easy to look after –

and there are plenty of

practical steps you can

take to make it seem an

attractive proposition

on a cold winter's day.

Now's the time to fix any

leaks, cracked windows or

sticking doors or broken

drains. All the usual rules

for preparing a home for

sale will apply - your buzzwords should be

decluttering and deep-cleaning. If it has

good insulation and an efficient heating

system, make sure these factors are included

in any marketing. Ensure the house is warm

and dry during any viewings.

Don't forget that people will want to look

around the outdoor areas too - sweep or

waterblast paths, mulch garden beds and

clear gutters. If your garden is picture-perfect

in summer and spring, consider making

some photos available so prospective buyers

can see what they've got to look forward to.

A few colourful plants in pots will also help

brighten outdoor spaces and a new letterbox

or freshly painted front fence or gate will do

wonders for your property's street appeal.

Prepare well and there's no reason why you

can't successfully sell your property before

the weather warms up. Sell now and you'll

hopefully have lots of properties to choose

from when you start scanning the market in

spring.

For more information about buying or

selling property, check out settled.govt.nz.

Your

Earthquake

damaged

home!

Talk to us if you are serious about

selling your "As is Where is" home.

We have sold over

150 "As is Where is"

homes and we have

a huge database of

qualified buyers.

Phil & Holly Jones

Ph 03-382-2230

Phil 027 435 7711

Holly 027 222 0220

holly.jones@raywhite.com

Licensed (REAA 2008) Results Realty Ltd

RENT ME!

Ideal as an extra

bedroom or office.

no bond required

We have achieved

record breaking

prices recently!

Fully insulated and double glazed for warmth.

Three convenient sizes from $80 a week:

Standard 3.6m x 2.4m

Large 4.2m x 2.4m | Xtra-large 4.8m x 2.4m

Visit our website

www.justcabins.co.nz

for display cabin locations

www.justcabins.co.nz

EVERY THURSDAY

• Phone our local team 03 379 1100 • Email star.class@starmedia.kiwi

Community Events

ADDICTIVE EATERS

ANONYMOUS Had

enough of battling

food? Tired of under or

overeating or obsessing

constantly about food? We

have found freedom from

food addiction through the

Twelve Steps. We have

three meetings each week

in Christchurch. For more

information phone 03

662-9128 or visit www.

AEAnz.org

ALCOHOLICS

ANONYMOUS, If you

want to have a drink that's

your business. If you want

to stop, we can help. Phone

0800 229-6757

PSYCHIC CAFE NEW!

Commencing Friday 21st

May 7-9pm. Meet psychic

/ spiritual people socially.

Not an expo or psychic

fair. $10 cash only. Venue

is Room 10 Phillipstown

Community Centre,

Nursery Rd. 021 0272

8271

Entertainment

STAMP AND

POSTCARD FAIR

The Philatelic Centre

67 Mandeville Street,

Riccarton

Saturday 15th May

9am-12pm

Sellers tables available

Phone 027 6354 957

Finance

RW Finance

Small Loans

From $1,000 - $5,000

SPECIAL

INTEREST RATE

FOR NEW

CUSTOMERS

(limited time offer)

Beneficiaries Welcome

Friendly & Personal

Customer Service

0800 325 345

www.rwfinance.co.nz

RESPONSIBLE LENDING & CREDIT CRITERIA APPLY

Garage Sales

PAPANUI 30 Marble

Wood Drive, Sun 7.30am-

1pm, owner downsizing,

china, glasses, silver,

lamps, furniture, bedding,

pictures in picture frames

cushions and lots more

assorted items

PHILLIPSTOWN 33

Percy St, Sat 9am - 3pm.

Adult & kids push bikes,

h/hold effects, bric a brac.

Massage

LADIES enjoy a full body

sensual massage. Choice

of oils, discreet mature

gent. Ph / txt 027 251 4660

LADIES enjoy a full body

sensual massage. Choice

of oils, discreet mature

gent. Ph / txt 027 251 4660

RELAXATION to

Remedial massage.

Hillmorton area. Ph 027

244 0195

Pets and Supplies

Discover Christchurch's

best priced pet

accommodation

• Daycare - all breeds

• Boarding

• Long stay/short stay

Call now to book

in your cats &

dogs, inspections

welcome anytime!

aLameDa

kenneLs & cattery

271 Dyers Road

Ph 384 1297 or 0274 587 067

www.alameda.nz

Motoring

RENAULT SCENIC.

2004,128,000 km. 5-sp,

red, wof, reg. $4500 ono.

Ph 027 435 4160

Personals

MALE 60 seeks lady any

age / size for intimate fun.

021 146 8156

MALE 60 seeks lady any

age / size for intimate fun.

021 146 8156

Pets & Supplies

CATS UNLOVED

can help with the cost

of desexing your cat.

Ph 3555-022 or email

catsunloved@xtra.co.nz

Tuition

COMPUTER LESSONS

avail for computer, IPad,

or Mobile. Please contact

Jobee 027 290 9246 www.

computertutor.nz
---
Incorporating

ISSUE 685 | FrIday 16 aprIl 2021

See inside for this week's

Classic Car feature!

Ce l 021 8 5 84

PH 03 web

2013 Lexus Ls460

Black leather, airbags, rear

radio control, climate control,

82,130kms, 10 airbags,

reverse camera, cruise

control, and much more .

$39,999 inc.

A fordable new parts available for BMW / MERCEDES BENZ

454 st asaph str et, 03 378 1818 or 021 480 201

Experience

Cannot be Beaten!

• Talk to us about finance for your next

motor vehicle purchase

Specialising in Finance for Private Purchases

Very quick a provals, sensational interest rates

• From no deposit (terms & conditions may a ply)

Cnr Main South Rd and Epsom Rd, Christchurch

Ph: 03 348 4129 | avoncityford.com

orc

Ce l 021 8 5 84

1992 GMC VANDURA 2500

5.7 litre V8, auto, 7 seater, a loys,

tints, ro l bar, alarm, towbar.

$27,995

See page 13 for more!

41 Shands Road, Hornby, Christchurch

The biggest range of vehicles in one location!

2 09 Subaru

Outback R

$17, 9

32 M orhouse Ave | P: (03) 3 6 768 | www.valuecarswarehouse.co.nz

PH 03 web

Cnr Main South Rd and Epsom Rd, Christchurch

Ph: 0 348 4129 | avoncityford.com

A loys, leather seats, twin

exhaust, done 78, 19kms,

2 0 c turbo, black

leather interior, exce lent

condition, drives we l

$22,999 inc.

CAR AUDIO CAR SECURITY REVERSE CAMERAS PARKING SENSORS DASH CAMERAS

AUDIO VISUAL CE LULAR RADAR DETECTORS AERIALS

GPS/TRACKING

www.grcaudio.co.nz MOBILE INSTA LATION SERVICE 0800 212 7 S e our ad on page 2

orc

h tp: /kaywa.me/8aVDQ

S e page 5 for more info!

My kaywa QR-code

w.valuecarswarehouse.co.nz

Download the kaywa QR code Reader (a p Store &android Market) and scan your code!

2 09 Honda

StepwagOn

SpaDa Z

$10, 9

S e page 5 for more info!

h tp: /kaywa.me/8aVDQ

Download the kaywa QR code Reader (a p Store &android Market) and scan your code!

My kaywa QR-code

w.valuecarswarehouse.co.nz

The Star Classifieds

New and Used

WINDOWS

& DOORS

• Extensive

range

• Aluminium &

timber

• French doors

Phone

379 6159

215 Waltham Rd

Building Supplies

www.windowmarket.co.nz

Funeral Directors

Direct

Cremation

No frills, No Service,

No fuss, simply

straight to the crem.

Other options

available.

Ph: 379 0178

for our brochure

or email

office@undertaker.co.nz

Gardening

& Supplies

Gardener available for

maintenance, weeding

pruning, spraying,

planting, advice. Qual &

exp. Pensioner discount

25%. Ph Richard 0274 918

234, 03 349 4022

PETE'S GARDENING

SERVICE Gardening,

rubbish removal, cleanups,

expert pruning, hedge

trimming, tree cutting,

good rates, no job too big

or too small, half the price

of a franchise. Ph 027 551

4118

Wanted To Rent

MALE WANTING ONE

BEDROOM Apartment

or flat. With garage. Call

Dan 021 090 2210

MALE wanting 1 bdrm

apartment/ flat with

garage. Call Dan 021 090

22110

• Exterior

sliding doors

• Single &

double glazed

• Buy and sell

Situations Vacant

CLEANERS

REQUIRED

Christchurch Area

Monday to Friday

3pm-6pm

(Relieving work in schools)

We are looking for cleaners

to join our commercial

cleaning team.

You will need to pass a

Security Check and you

MUST have your

own transport.

Must be eligible to work

in New Zealand.

Please email your

Application to

csc@totalcanterbury.co.nz

or phone 338 9056

Visit our website:

totalcanterbury.co.nz

Please advise which job

when emailing your CV.

Thursday May 13 2021 The Star 35

• Phone our local team 03 379 1100 • Email star.class@starmedia.kiwi

financial controller

Allied Press Limited is the largest independently owned Media

Company in New Zealand. Employing over 1,100 staff and

contributors across its 15 South Island locations, the Group

has considerable interests in Digital and Print Media, web,

regional television and commercial print operations. The

Head Office, based in Dunedin has an on-site workforce of

approximately 250 staff.

Reporting to the CEO, you will be responsible for leading all

aspects of the finance function across Allied Press Ltd and the

wider Fraser Smith Holdings (FSH) Group, while ensuring that

all financial obligations are met. This is a senior leadership

role requiring strong strategic leadership, technical capability

and commercial expertise.

Key accountabilities include:

• Leading the finance function, ensuring best practice

standards and processes are upheld and building team

capability.

• Financial management, accounting and treasury functions

for the Fraser Smith Holdings Group and Allied Press Ltd.

As an integral member of the senior leadership team, you will

be expected to actively contribute to the strategic direction

of the company.

You will have

• CA Qualification

• Minimum of 6-8 years' experience in a senior accounting

role, preferably in a commercial environment

• Strong relationship and people leadership experience

• Forward thinking and change ready – able to think beyond

the current brief in order to strengthen the business.

A full copy of the position description can be found at

alliedpress.co.nz/employment. Further enquiries may be

directed to Grant McKenzie, CEO (grant@alliedpress.co.nz).

To apply please submit your CV and Cover Letter by the

31 May 2021 by emailing recruitment@alliedpress.co.nz or

apply via seek.

Please note you must have the right to work in New

Zealand to apply for this role.

Situations Vacant

CLEANERS

REQUIRED

Shirley Area

Monday to Friday

3pm - 6pm

City Area

Monday to Friday

6pm - 9pm

We are looking for

cleaners to join our

commercial cleaning

team.

You will need to pass a

Security Check and you

MUST have your

own transport.

Must be eligible to work

in New Zealand.

Please email your

Application to

csc@totalcanterbury.co.nz

or phone 338 9056

Visit our website:

totalcanterbury.co.nz

Please advise which job

when emailing your CV.

Situations Wanted -

Jobs Wanted

CLEANING Housework

wanted, honest & reliable.

Excellent results. Please

ph 021 255 2940

Situations Vacant

CLEANER

PAPANUI AREA

2 x night cleaners required

for Medical Facility

Mon - Fri, 9pm - 11pm, Saturday if

required, start 5pm

Willing to relieve as well for sickness etc

Full onsite training given

Must be reliable, honest and

undergo a police check

Please text 021 244 2377

Warehouse Assistant

Part-time hours

Tues/Wed/Thur 8.00 - 11.30am plus

available for additional as required.

Must be reliable, accurate and have

experience in computers as well as

good customer service skills.

Please email with CV to

patrick@brandwear.co.nz

Tours

Reid TouRs

Waipapa station Sat 29th May $45 pp

Mt Cook Sat 14th August $55 pp

Two Passes Sat 4th September $45pp

Call Reid Tours 0800 446 886

Email: reidtours@xtra.co.nz www.reidtours.com

2383167

Situations Vacant

reporter

Gore

Full-time Permanent

Are you a reporter who's passionate about news and

hungry to forge a career telling your community's stories?

Allied Press Communities has an exciting opportunity for

ambitious and adaptable reporter to join our team at The

Ensign and Otago Daily Times in Gore. As a member of

our Gore newsroom you will work on wide range of stories

and features from education to council and breaking

news.

Allied Press Limited is the largest independently owned

Media Company in New Zealand. Employing over 1,100

staff and contributors across its 15 South Island locations,

the Group has considerable interests in Digital and Print

Media, web, regional television and commercial print

operations. The Ensign is published twice a week and

delivered to 12,000 homes in Eastern Southland, Northern

Southland and West Otago.

The ideal candidate will be a self-starter with:

• Excellent writing ability with a keen interest in news and

story-telling both in print and online

• a high degree of initiative.

• the ability to juggle tasks and meet regular deadlines

• a full NZ drivers licence

• Photography, video and website skills are desirable.

• Relevant journalism qualification (or equivalent

experience) would be a distinct advantage)

This role may require some evening and weekend work.

A copy of the full job description can be found at

alliedpress.co.nz/employment

Informal inquiries about the role are welcomed and should

be directed to the regional editor (tim.miller@odt.co.nz)

To apply please email your CV and cover letter to

recruitment@alliedpress.co.nz or apply via SEEK.

Applications close on Friday 4 June 2021.

Please note you must have the right to work in New

Zealand to apply for this role.

Disclaimer: Allied Press does not accept unsolicited

agency résumés.

Are you keen on cars?

A motoring nut?

We'd like to talk to you!

Account Executive

Drivesouth Sales

Full time permanent

www.drivesouth.co.nz

Who we are

Star Media is a division of Allied Press Limited, who employs over 450

people on a permanent basis across our 15 sites in the South Island.

We operate across multiple media platforms (print, on-line, digital)

delivering quality news, information and entertainment through our various

regional and city publications, including The Star, StarNews.co.nz and a

network of Community Newspapers.

The role

We are currently seeking an Advertising Account Executive to take

responsibility for our weekly Drivesouth Sales Magazine. We are looking for

an experienced salesperson to join our team based in Christchurch.

You will enjoy working as part of a team, have a can-do attitude and an

affinity and interest across the motoring sector.

Some of the key accountabilities include:

• Effective promotion and sales of advertising for Drivesouth Sales

Magazine and Star Media's range of products

• Providing a high quality, professional sales administration service

• Ensuring the highest possible level of customer/client service

• Working proactively to ensure that clients are offered the best

advertising solution across all potential advertising platforms

If you think this role is for you, please apply with your CV and a

covering letter to shane@starmedia.kiwi

A copy of the full position description can be found at

alliedpress.co.nz/employment

Applications will close on Friday 21st May 2021.

All applications will be treated in the strictest confidence.

Please note you must have the right to work in

New Zealand to apply for this role.

Disclaimer: Allied Press does not accept unsolicited agency resumes.

Allied Press is not responsible for any fees related to unsolicited resumes.

free

best motorbuys

40 Years Finance

Incorporating

ISSUE 687 | FrIday 30 aprIl 2021

331 Blenheim Road, Christchurch

2013 Jaguar xF-Luxury

A fordable new parts available for BMW / MERCEDES BENZ

454 st asaph str et, 03 378 1818 or 021 480 201

Hilux spares

40 Years Finance

Experience

Now Available @ NZ Van Spares

Cannot be Beaten!

• Talk to us about finance for your next

motor vehicle purchase

Specialising in Finance for Private Purchases

Very quick a provals, sensational interest rates

• From no deposit (terms & conditions may a ply)

free

best motorbuys

www.drivesouth.co.nz

Hilux spares

Now Available @ NZ Van Spares

2016 NISSAN LEAF 30X

F/lift Gen. 2 Model, Emergency

Brake A sist & Lane departure

warning, 30KWh ba tery, Rev. Cam,

49,000kms, English conv. Stereo &

dash! S e page 27 for more!

The biggest range of vehicles in one location!

32 M orhouse Ave | P: (03) 3 6 768 | www.valuecarswarehouse.co.nz

$27,995

this W ek:

eV & Hybrid feature

2382508-15/5-b
---
36 The Star Thursday May 13 2021

Your local guide to our

Trusted Tradesmen & Professionals

To advertise: 379 1100 or star.class@starmedia.kiwi

Driveways

Over 22 Years Experience

Quality

Workmanship

• Driveways

• Kerb &

Channel

• Garden Edging

Freephone: 0800 081 400

swainskiwikerb@gmail.com

landscaping

You can have your gardens, trees,

shrubs, plants and lawns maintained to look their best

all year round, for a great price.

Residential & Commercial Landscaping

• Maintenance • Pruning • Reconstruction & Rejuvenation

• Rental Property and Commercial Maintenance

• Pre-Sale Tidy-Ups

New Home Landscaping

Lawns • Gardens • Decks • Paving • Water Features

• Quality • Value for money • Experienced • Punctual

• Professional • Flexible • Knowledgeable • Reliable

Call Ross Legg - 027 222 0388

Email ross@revivelandscaping.co.nz

www.revivelandscaping.co.nz

TRADES

Advertise your

business & services

in Christchurch's

best read &

largest circulation

newspaper

Delivered into over 93,000

Christchurch homes every week.

Ask us about our fantastic

cost affordable packages.

Landscape

Construction and

Garden Maintenance

PLUMBER

NEED A PLUMBER

Call us now for fast friendly service.

Get your problems sorted out

quick smart - on time!!

Phone for a

FREE

quote now.

SWAINS

KIWI KERB

(Since 2005)

Phone 03 377 1280 | Mobile 021 898 380

Phone: 03 379 1100 | www.star.kiwi

DRIVEWAYS

Exposed Aggregate

Stamped Concrete Plain

Concrete Resurfacing

Things we offer...

Competitive/affordable pricing

Attention to detail

Professional service

free quotes/insurance scopes

Cell 0278 145 848

www.drivecrete.co.nz

Mailer Deliveries

For a local, reliable

mailer delivery

service contact

Star Media

• Newspaper inserts

• Magazine inserts

• Letterbox deliveries

• Urban & Rural deliveries

For a cost effective, targeted

delivery please call 03 379 7100

or email mike@starmedia.kiwi

www.star.kiwi

ROOF REPAIRS

Locally owned & operated with

over 30 years experience.

• Extensions & repair • Roof coating

• Concrete & clay tiles • Butynol

• Malthoid • Asbestos Certified

• Coloursteel • Old iron • Guttering

Phone Dave 981 0278

or 021 223 4200

E: dave@beaumontroofing.co.nz

BEAUMONT ROOFING LTD

TREE SERVICES

CRAIGS

TREES

Our services include:

Tree felling

Branch chipping

Trimming and pruning

Crown reduction

Stump grinding

P: 027 2299 454

E: craigstrees@xtra.co.nz

www.craigstrees.co.nz

Fully insured

ELECTRICIAN

Contact for a free quote

phone 027 331 0400

dave@davesimpsonelectrical.co.nz

davesimpsonelectrical.co.nz

Experienced Domestic Electrician

Quality Workmanship

• New Build

• Renovations

• Fault finding

Specializing in:

• Roof Painting

• Interior/exterior

residential

• Small commercial

painting

Noel 027-411-3596

kemp.painters@gmail.com

kemp painters and decorators

• Power

• Lighting

• Switchboards

Painters and Decorators Ltd

Canterbury Owned and Operated

A husband and wife team

SCRAP METAL

Dominion Trading Co Ltd

• Scrap metal buyers

• Canterbury owned & operated

• Top prices paid $$$

• Open Saturday morning

Open Mon-Fri 8am – 4.30pm Sat. 8.30am-12.30pm

www.happyscrappy.co.nz

03 343 9993 333 Blenheim Rd

WINDOW TINTING

tintawindow

advanced film solutions

99% uv block

fade protection

heat control

reduce glare

25 Years Experience

PAINTERS

privacy films

frosting designs

non-darkening films

Workmanship Guaranteed

Lifetime Warranties on Most Films

UV

block

We offer

free quotes

Quality not

Quantity

Free Quotes Canterbury and Districts

03 365 3653 0800 368 468

Trades & Services

GLAZING

TWISTY GLASS &

GLAZING LTD

• Mirrors • Pet Door Specialists

• Splashbacks • All Broken Windows

THE CAT DOOR MAN

Phone Cushla or Darren Twist

027 352 6225

undertaken, new housing,

AAA HANDYMAN BUILDER

licensed carpenter New builds, alterations,

LBP, all property and decks, fencing. 30 yrs in

building maintenance, the trade has given me

repairs, bathroom/shower ability to build to a high

installations, with free standard. Free quotes. Ph

quotes 03 383 1927 or 027 Brent 027 241 7471

245 5226 ciey@xtra.co.nz CARPET LAYING

AA SHOWER Exp. Repairs, uplifting,

CLEANING

relaying, restretching.

Deep clean, soap scum, Phone John on 0800

water stains, mineral 003181, 027 240 7416

deposits. Comp prices. jflattery@xtra.co.nz

Gold card disc. Ph 021 022

824 85

CARPENTER/

BUILDER

ARBORIST

Licensed Building

Qualified. Copper

Practitioner no. 100981.

Beech Tree Services.

All carpentry & building

Tree removal, pruning,

repairs & maintenance.

height reduction, hedge

Alterations & property

trimming, shaping, tree

upgrades. Laundries /

planting, firewood. Free

bathroom / kitchens

quote. Contact Angus

replaced. Specialising in

Edwards 027 2596741

replacement of all rotten

copperbeechtreeservices@

timber, fascia boards,

gmail.com

window, windowsills etc.

John Sandford, ph 329

BRICK & BLOCK

4616, mob 027 5189 598

LAYING all restoration

johnsandford2@gmail.

work and new work plus

com

foundations, ph 342 9340

CLEANING SERVICE

or 021 853 033

Home - Rentals -Home

BUILDER QUALIfIED Help. Competitive rates.

50 yrs exp. Bathrooms, Ph Amanda 0274 761 602

Kitchens, Renovations, COMPUTER REPAIRS

Repairs & Extensions FAST Friendly

Free quotes. Discount for experienced techs

pensioners. Ph Mike 03 available to help you

980 9771 or 027 2266 930 now. Christchurch based.

BUILDER QUALIfIED All work guaranteed.

Decks, T & G Flooring, Computer Help 0800 349

Villa Restoring, New 669

Homes, Weatherboards. CONCRETE CUTTING

Free Quotes. Bennet & Affordable Concrete

Sons Ltd Sam 027 496-

9362 or Tony 027 224-

0374

BUILDER, HANDYMAN

MAINTENANCE

Have peace of mind with

Cutting with Quality, and

removal work. Free quote.

No job to small. Phone 027

442-2219, Fax 359-6052

a/h 359- 4605

ELECTRICIAN

a fully qualified owner Registered, electrical

operator LBP. Available installation and repairs,

for all jobs around the Gorbie Electrical, ph 021

home, commercial or 026 73375 or 03 322 4209

rental property (extremely ELECTRICIAN

experienced in Healthy Available, 30 years

Homes Reporting and experience, immediate

all Remedial works) Call

Chris on 027 3888 211

start, competitive rate, ph

Brian 027 433 9548 No

Call out fee

ELECTRICIAN

All types of domestic

& commercial work

Building

Maintanence

& small job

Specialists

10% Discount

with this voucher

condtions apply

Ph Wayne

021 136 3045

Qualified Builder

go repairs

DRIVEWAYS

paths, patios, decking,

exposed aggregate,

coloured / plain concrete

Fence staining

FREE QUOTE

LBP BuILDERS

PHONE jOHN:

027 224 2831

city -wide. No call out

fee. M/S, 8-5. Call Pat

Barrett 03 359 2087/ 027

alterations, extensions,

ranges, security lights,

quick response, efficient

service, free quotes,

7331384.

ELECTRICIAN

Prompt & reliable

registered electrician

with 24 years experience

for all residential and

commercial work, new

housing and switch board

replacements. Phone Chris

027 516 0669

fENCING

All types of fencing . Free

quotes. Ph Jim 022 137

1920

GARDENING

Weeding, Lawns, Pruning,

Garden Cleanups. Call

Phil The Gardener 021 661

246 for your free quote.
---
The Star Classifieds

Trades & Services

"I WILL TURN UP

WHEN I SAY I WILL"

Need a certified and reliable plumber for filtration

systems or hot water cylinder replacement?

Bathroom upgrades or refurbishments?

Trades & Services

DIRTY TILES

& GROUT?

Our unique restoration

processes will make your

tiled areas look NEW again!

We specialise in professional

cost effective solutions for

all your tile & grout issues.

• Tiled shower makeovers

• Re-colouring old grout

• Mouldy silicone replacement

• Professional tile/grout

cleaning, sealing & repairs

Thursday May 13 2021 The Star 37

• Phone our local team 03 379 1100 • Email star.class@starmedia.kiwi

Vehicles Wanted

CAR REMOVALS

$$CASH PAID$$

CARS, VANS, UTES & 4X4 WANTED

NZ OWNED AND OPERATED FOR 24 YEARS

We use world class vehicle depollution systems

0800 77 80 80

www.pickapart.co.nz

FREE CALL

TEXT

EMAIL

0508 H2O BOY

426 269

027 245 5100

NICK@NICKJONESPLUMBING.CO.NZ

Re Roofing

Roof Repairs

Spouting

Approved Age Concern provider

Over 30 years experience

Licensed Building Practitioner

N A BARRELL

ROOFING LTD

Ph: 0275 389 415

Email: nabroofing@xtra.co.nz

EXPERIENCED

GARDENER

(Kevin Garnett)

30 Years

Christchurch Botanic

Gardens.

ALL landscape

work done.

Maintenance, pruning,

tidy up, lawn work,

landscape planning

and planting etc.

Free Quotes

Phone 348 3482

GASFITTING

N.T. Gas Services.

Domestic gas installations.

Reg Craftsman Gas Fitter.

Ph Nick 021 892 491

GLAZIER

Glass repairs - pet doors

- conservatory roofs. Exp

Tradesman. Call Bill on

022 413 3504 or 981-1903

HANDY - DAN

General Handyman for

all your maintenance

requirements. I specialise

in fences and decking, also

do spouting cleans and

repairs and everyday home

maintenance. NO JOB TO

BIG OR SMALL I can do

it all, please don't hesitate

to call me on 022 600 7738

for a no obligation free

quote.

HANDYMAN

Small jobs specialists. eg:

drippy taps, sticky doors,

locks, moss spraying etc.

Discount for pensioners.

Ph 390 1565 or 022 5275

668 @oddjobs2018

House & Garden

Property services Ltd

Tree and hedge trimming

Stump grinding

Tree removal

Gardening

Landscaping

CALL us 021 405 277

HANDYMAN

For all those odd jobs. Ph

027 294 1508

LANDSCAPING

Paving, Lawns, Irrigation,

Decking, Fencing.

Kanga & small digger

services. Check out Squire

Landscaping on facebook.

FREE QUOTES. Ph

Arthur 347-8796, 027

220-7014 Edwin 027 220-

7154

LAWNMOWING

Ph 022 633 9794

MAN PLUS TRUCK

PLUS FORKLIFT

2.8 Tonne Curtain side

Truck,1,8 Tonne Forklift

with extensions & man

cage. From $45 per hour.

Ph Matt 022 434 1102

MOBILE CAR

CLEANING SERVICES

We come to you where

ever you are. Ring us

at 03 281 8054 for free

quotation.

PAINTER, QUALIFIED

local professional, Int /

Ext,roofs,wallpaper, call

or text Corban 027 846

5035

PAINTING

Indoor / Outdoor, over 30

yrs exp, same day quotes,

ph Steve 021 255 7968

Call today for a FREE quote on 0800 882 772

www.theprogroup.co.nz/dpc9385

ROOF

PAINTING 24/7

Rope & harness

a speciality,

no scaffolding

required,

30 years of

breathtaking

experience.

FREE QUOTES

20% OFF other

roof quotes

Exterior staining,

exterior painting,

water blasting.

Moss and mould

treatment $300.

Phone Kevin

027 561 4629

PAINTING

older painter

for older houses

50 years in trade

"All the skills"

Contact Jimmy Bell

0211221487

GST FREE

30 years + experience

Older house

restorations:

no problem!

Quotes: FREE!

Rates: Reasonable

Paint supplied at

trade price!

NO JOB TOO SMALL

Light industrial also

Roger Brott

Painter & Decorator

021-1966-311

PAINTING

All jobs, none too small.

Free quotes Affordable

rates. Seniors discounts.

James 0220 652 637

PAINTING

& PLASTERING Free

quotes. Int/ext & roof

painting Family run

business, work guaranteed.

Pensioner discounts. Ph

Kerin or Paul 022 191

7877 or 379-1281. Website

www.swedekiwipainting.

co.nz

PLASTERER

Phone Finn for all your

interior plastering needs.

No job too small -

renovations, alterations,

holes & cracks. Free

quotes. I'll beat any quote

by 10% .25 yrs exp. Canty

born. Ph 022 087 4351

PLASTERING (INT)

and small painting

jobs Experience and

Excellence. Small to

Medium job specialists

in all aspects of Interior

Plastering. Please call Tim

022 5380959

PLASTERER

Available for Mid to Small

jobs. Ph 022 430 0277.

Free quotes.

PLUMBING

DRAINAGE & GAS

No job to big or too small.

Discount rates!!. Free

quotes - call Morgan today

022 375 8506

REMOVALS

Small furniture removals,

have own van, can fit

various types of whiteware

appliances, some furn,

bedding, boxes etc, honest

& reliable, any area

considered, ph Chch 027

517 7001

ROOFING SERVICES

Metal roofing & spouting.

Butyl rubber and flat

rooves. Repairs, reroof

and new build. 25 yrs

experience. NZ Cert

and LBP qualified. Free

quotes. Call Elliot 332-

9662 / 027 237 9431

RUBBISH REMOVAL

Van & Trailer Rubbish

Removal. Free quotes. Ph

Gary 342-8950, 021 529

022

SPOUTING

Select Spouting The

PVC specialist. Repairs &

replacement. Ph 022 197

2351

SPOUTING CLEANING

SPECIALIST Entire

spouting system cleared.

Single or 2 storey. Jo 021

164 0365

SPOUTING CLEANING

Spouting Unblocked,

Cleaned Out and Flushed

Out, Call Trevor 332 8949

or 021 043 2034

STUMP GRINDING

Best price guarantee Tony

0275 588 895

TILER ( MASTER )

Int / Ext. Res / Comm. .

Free quote. 18 yrs exp. Ph

Zac 021 1056 797

STOP leaveS

birds, snow, hail & vermin from

blocking up your spouting

Quality materials: BHP Colorbond steel mesh

with unique patented louvre will even keep out

pine needles. Will not rust or sag with age or

load. 10 year warranty, range of colours. Proven

in Australia & New Zealand over the last 15 years.

FOR SaFe, PURe DRINKING

WaTeR FROM YOUR ROOF.

NOW avaIlaBle: STaINleSS STeel MICO MeSH

Call Rohan anytime Mon-Sat for a noobligation

assessment & quote 0800 486 532

Trades & Services

WALLPAPER

STRIPPING

8 Years in trade

Competitive rate

Ph: 027 227 3740

Select Services

www.gumleaf.co.nz

LANDSCAPING

Call Aaron &

the team today!

For the Outdoor

Space of your

Dreams...

Paving, Irrigation,

Lawns, Planting,

Fences, Pergolas,

Water-features,

Outdoor fires,

Raised Vege beds,

Decks, Artificial

grass & more...

Phone: 03 347 4422

or 021 542 402

Email: Aaron@theoutdoorspace.co.nz

www.theoutdoorspace.co.nz

Wanted To Buy

AAA Buying goods

quality furniture, beds,

stoves, washing machines,

fridge freezers. Same day

service. Selwyn Dealers.

Phone 980 5812 or 027

313 8156

A1 Albums, old photo's,

postcards, coins, gold,

bank notes, badges,

TREE SERVICES

Free quotes 20+ yrs exp. medals, jewellery,

Tree, hedge or shrub watches, china, crystal,

- reduction, shaped or books, furs, vintage

removed. Ph/text Paul clothing, paintings,

The Branch Manager furniture, estates &

0274314720

downsizing. Etcetera

TREE SERVICES

Antiques, 194 Edgeware

Hedges, shrubs, tree

Rd 385 5117

trimming & removal, ACADEMY ANTIQUES

rubbish removal, Ph for Buying estates, antiques,

free quotes 022 540 4900 old china, crystal, art,

WINDOW CLEANING Royal Doulton , Royal

Average 3 brm house Albert etc. Best prices,

inside or out from $45. free appraisal. Call Rob

Both from $80 Phone 349-4229

Trevor 344-2170

A+ Household effects,

WINDOW CLEANING fridges, freezers, washing

Brown & White Ltd. machines, ovens. Good

Family owned since 2001.

Ph Paul 027 229 3534

cash paid. Ph Paul 022

0891 671

Public Notices

Senior Citizens

Outings

with Companion Driving Service Ltd

Friday 18 June

3 seats left for ChCh - Picton

road and rail overnight tour

Monday 17 May

Govenors Bay

Morning tea then city sights: $59.00

TueSday 18 May

Methven

Topp Twins Cafe morning tea: $59.00

Ph Peter on 0800 453 873

Sorry, we are

no longer accepting

cheques

Star Media wish to advise

we no longer accept cheques as

payment for advertising, events

or accounts due to changes in

bank processes.

We do offer a range of other

payment options including cash,

EFTPOS, Visa, Mastercard, debit

card and online.

www.starnews.co.nz

Wanted To Buy

ALL whiteware wanted.

Same day service, cash

paid for freezes, fridges,

washing machines, ovens.

Also buying furniture &

h/hold effects.Anything

considered. Ph Dave 960-

8440, 027 66 22 116

ALL whiteware wanted.

Same day service, cash

paid for freezes, fridges,

washing machines, ovens.

Also buying furniture &

h/hold effects.Anything

considered. Ph Dave 960-

8440, 027 66 22 116

MILITARIA Any

country, firearms,

uniforms, badges, medals,

memoribilia, WW2 or

earlier ph 338-9931

TOOLS, Garden garage,

saw benches, Lathes. Cash

buyer Phone 355-2045

Wanted To Buy

STEVE PURCELL

ANTIQUES

BUYING

noW

Gold jewellery,

watches, coins,

medals, scrap

gold, sterling

silver, pewter,

original paintings,

modern art.

351 9139

stevepurcellantiques.com
---
38 The Star Thursday May 13 2021

THE ENTERTAINMENT HUB OF THE NORTH!

113 RAVEN QUAY | PHONE: 03 327 7884

BISTRO

OPEN FROM 12PM

WEDNESDAY

TO SUNDAY

HOUSIE

EVERY THURSDAY

12PM

EYES DOWN 12.30PM

BAR HOURS

MON 3PM-10PM

TUES & WEDS 11.30AM

THURS 11AM | FRI 11.30AM

SAT & SUN 11AM

Closing times will vary.

DOWNSTAIRS FRIDAY 7PM, FREE

Like,totally awesome

80night

FEATURING THE

DnD TRIO

(JOJO, GIGI & MARK)

's

DnD's

Essential 80's Mix

S h o w b a n d

DOWNSTAIRS BAR

FREE!

Hammering out

the kitsch n cool

hits of the 80's

PRIZES FOR BEST

80'S OUTFITS!

Totally Rad!

To add a listing, contact

Jo Fuller 03 364 7425 or

027 458 8590

jo.fuller@starmedia.kiwi

www.star.kiwi/whatson

Are you ready to boogie the night away?

PRIZES FOR

BEST 70's DISCO OUTFIT &

BEST DANCING COUPLE

SATURDAY 7PM

BOOK YOUR TABLE

03 260 0325

Bridie's Bar & Bistro | 401 Worcester St, Linwood | Ph: 03 260 0325

FRIDAY

MEMBER DRAW

3x $500

LIVE RUGBY

SUPER RUGBY

FRIDAY 7.05PM

HIGHLANDER v REDS

SATURDAY 7.05PM

CRUSADERS v

BRUMBIES

LIVE MUSIC SATURDAY, 7PM

Autumn Dance with

ROBBIE DREW

in the Sports Bar

N E W

ME NU

NEW BAR/BISTRO MENU

AVAILABLE

MONDAY-SUNDAY

12 NOON - 8.30PM

QU I Z

EVERY WEDNESDAY

FROM 7PM

HOU S I E

EVERY SATURDAY

FROM 12.30PM

Woolston Club|43 Hargood St|Ph 03 389 7039|www.woolstonclub.co.nz|fb.com/WoostonclubInc

SENIOR'S GOLD CARD

SPECIALS!

From $23.50

Bookings Essential

PH 386 0088

fb.com/GardenRestaurantBuffet

www.gardenhotel.co.nz

WED: ROAST MEAL

THUR: FISH & CHIPS

FRI: FISH & CHIPS

SUN: ROAST MEAL

Available 11.30am-2pm

CHECK

OUT

OUR

AMAZING

WEEK DAY

COFFEE-

COMBO

SPECIALS

FROM $7.50

CAFE OPEN 7 DAYS 9AM - 4PM

BAR OPEN THU - SUN EVENINGS

PH 385 8880

FIND US ON FACEBOOK

fb.com/GBCCHCH

THE GARDEN HOTEL COMPLEX, 110 MARSHLAND RD

www.gardenhotel.co.nz . Phone 385 3132

facebook.com/gardenrestaurantbuffet instagram.com/gardenrestaurantbuffet

LIVE MUSIC

COMING UP

SUPER RUGBY LIVE!

FRIDAY FROM 7PM

MAMA ROCK

BISTRO OPEN

SHUTTLE OPERATING

SUNDAY 6 JUNE, 2PM: CHUR BRO DUO

SUNDAY 20 JUNE, 2PM: NEXUS

BISTRO IS OPEN

TUES TO SAT

12pm-2pm and from 5pm

202 Marine Pde - Ph 388-9416

www.newbrightonclub.co.nz

Members, guests & affiliates welcome
---
Thursday May 13 2021 The Star 39

christchurch

GIG GUIDE

Thursday 13 to Wednesday 19 May 2021

To add a listing, contact

Jo Fuller 03 364 7425 or

027 458 8590

jo.fuller@starmedia.kiwi

www.star.kiwi/whatson

12 BAR, 342 St Asaph St: Christchurch's

smoking hot BLUES BAR. Thursday 7.30pm

- DeltaBros. Friday 8pm - Rhomboid

Psychedelic Funk. Saturday 8.30pm - Pride &

Joy Blues Band present A Tribute to Stevie

Ray Vaughan, tickets at eventbrite.co.nz.

Wednesday 7pm - Ara Jazz & Blues Jam.

ARMADILLO'S BECKENHAM, 155

Colombo St: Saturday 9pm - The DnD

TRIO (Jojo, Gigi & Mark).

A ROLLING STONE, 579 Colombo St:

Thursday 7pm - NZ Songwriters in the

Round presents Songwriters Open Mic, all

welcome, original songs, free. Friday 7pm -

The Eastern & The Black Velvet Band play

the songs of The Pogues. Benefit gig for

DeBarra's Folk Club, Clonakilty, Ireland

SOLD OUT. Saturday 9pm - Battle of the

Bands Pop-Up Gig feat. Daphne & Daisy; I

See Tomorrow; Sins of Eve; Zoleka, presales

eventfinda $7, door $10. Sunday 1pm - Rangi

Ruru Jazz Band (Jazz Combos & Rock Band

Showcase), free; 4pm - John Sanchez-Lloyd

with special guest Andy Genge, free. Monday

7pm - Quiz. Tuesday 8pm - Stand-up

comedy night, free. Wednesday 6pm - Dig

The Gig - UC Student Band Comp feat. Con

Carne; Gecho; Marsha; The Beauchamps; The

Layaronds; Helicopter, free.

BILL'S BAR, 1 Halswell Rd: Thursday

7pm - Mickey Rat's Karaoke. Sunday 7pm -

Mickey Rat's Karaoke.

BRIDIE'S BAR & BISTRO, 401

Worcester St: Saturday 7pm - 70's Disco

Party.

BOO RADLEYS, Level 1, 98 Victoria St:

Thursday 9pm - Supercat Duo. Friday 8pm -

Connor Hartley Hall; 10.30pm - Marcel.

Saturday 8pm - Amber Carly Williams;

10.30pm - Black & Gold. Wednesday 7.30pm

- South Street Blues Trio; 9.30pm - Open Mic

Night.

CASSELS BLUE SMOKE, Garlands Rd:

Saturday 8.30pm - Beastwars 10 year

anniversary tour with special guests Earth

Tongue, tickets at undertheradar.co.nz

CHRISTCHURCH CASINO, 30 Victoria

St: Friday 6pm - Rusila; 9.15pm - Cantora.

Christchurch Casino cont...

Saturday 6pm - Shannon Cooper-Garland;

9.15pm - X-Files duo.

HORNBY CLUB, Carmen Rd: Friday 7pm

- Jo's Karaoke. Saturday 7pm - Sha-low.

Sunday 2pm - Peter Cairns.

KAIAPOI CLUB, 113 Raven Quay: Friday

7pm - 80's Theme Night feat. the DnD Trio

(Jojo, Gigi & Mark), free (downstairs).

MICKY FINNS, 85a Hereford St: Friday -

Uncovered. Saturday - Smoke & Mirrors.

NEW BRIGHTON CLUB, 202 Marine

Pde: Friday 7pm - Mama Rock.

RICHMOND CLUB, 75 London St: Friday

7pm - Isolde duo. Saturday 9pm - Mezzanine.

Sunday 3pm - Natalie Elms.

RIVERSIDE MARKET, 98 Oxford Tce:

Thursday 6pm - Live jazz with Ocelot, $10

entry.

TEMPS BAR, 21 Goulding St, Hornby:

Friday 8.30pm - DJ. Saturday 8.30pm - End

Game.

THE CUBAN, 236 St Asaph St: Friday

4pm - Live music with Brent Love.

THE EMBANKMENT, 181 Ferry Rd:

Thursday 8pm - The Giant Poppies. Friday

7.30pm - Open Mic & Jam. Wednesday 9pm

- Titanic (Kevin Emmett, Nick Buchanan, and

Peter K Malthus). Saturday 5th June - Black

Sabbath Tribute performed by After Forever

with support from Sabotage Theory

performing Soundgarden, tickets $20 at bar or

online at cosmicticketing.co.nz, door sales

$30.

THE MILLER BAR, 308 Lincoln Rd,

Addington: Friday 9.30pm - Reckless Duo.

Saturday 9.30pm - The Meaniez. Sunday 6pm

- Lance Kiwi Karaoke. Tuesday 7pm - Quiz.

Wednesday 7.30pm - Lance Kiwi Karaoke.

WOOLSTON CLUB, 143 Hargood St:

Saturday 7pm - Robbie Drew Autumn Dance.

WUNDERBAR LYTTELTON, 19 London

St, Lyttelton: Friday 8.30pm - Cold Shower

'CS10' album release, with support The

Layarounds; Violet French & the Horrible, $5

entry. Saturday 8.30pm - Mini Simmons

'Push & Pull' single release tour, tickets at

undertheradar.co.nz. Tuesday 8pm - Open

Mic. Wednesday 8pm - Jam Night.

'Famous for their roasts!'

SENIORS SPECIAL

Two courses: $

23

Soup/Roast or Roast/Dessert

Special available lunch only

Monday - Saturday 12pm - 2.30pm

Conditions apply

FAMILY FRIENDLY

Kid's Special

Two courses

Great Kids menu plus

designated play area.

$

13

Saturday 7pm:

SHA-LOW

Coming Attraction

PLUS Johnny Cash

FRIDAY 21 MAY, 8PM

Tickets $20 available from the Club

RESTAURANT & CAFÉ

Open daily from 6.30am - Breakfast, Lunch & Dinner

The

RACECOURSE HOTEL

& Motorlodge

118 Racecourse Rd, Sockburn,

Christchurch. Ph 03 342 7150

www.racecoursehotel.co.nz

at Hornby Club

Sunday 5pm:

PETER CAIRNS

SUPER RUGBY LIVE

Saturday 7.05pm

CRUSADERS v BRUMBIES

OYSTER

LUNCH

WEDNESDAY 26 MAY

Battered oysters

served with chips & salad

Sold out!

1 DOZEN $30 • 1/2 DOZEN $20

Complimentary glass of house wine,

tap beer or soft drink included.

PRE-PAID TICKETS ONLY

AVAILABLE AT RECEPTION

Come on down!

17 CARMEN RD. PH. 03 349 9026

WWW.HORNBYWMC.CO.NZ

WHAT'S ON AT THE RICHMOND CLUB

FRIDAY 7PM

ISOLDE DUO

SUPER RUGBY

HIGHLANDERS

v REDS

Friday 7.05pm

CRUSADERS

v BRUMBIES

Saturday 7.05pm

SATURDAY

AFTER THE RUGBY

MEZZANINE

SUNDAY 3PM

NATALIE ELMS

75 London St, Richmond

Christchurch 8013

P: 03 389 5778

theborough.nz

richmondclub.nz
---
40 The Star Thursday May 13 2021

SELECTED ITEMS IN STORE & ONLINE

+ SUPER DEALS. ENDS 31.5.21.

Lincoln 4 Seater

WAS $

2699

NOW

$

1999

Ramsey Single/Single Bunk

WAS $

1299

NOW

$

999

Duke

Dining Chair

NOW $

125

Atlantic 3 Piece

Dining Set

WAS $

1379

NOW

$

1099

Veno

Dining Chair

NOW $

95

Includes underbunk

storage drawer

Kate Sofabed

WAS $

350

NOW

$

275

Atlantic Queen Bed

WAS $

999

NOW

$

699

Allessa

Chaise Sofa

WAS $

2199

NOW

$

1799

Allessa Sofa with

Ottoman WAS $ 3299

NOW

$

2699

ON SALE!

Medium Feel

boxed

for easy

transport!

Macey Swivel Chair

WAS $

899

NOW

$

699

Shop

Online

Nationwide

Delivery

Finance

Options

Buy NZ MAde!

Sono Queen Mattress

WAS $

599

PLUS 24 MONTHS INTEREST FREe! - SeE In store for details.

NOW

$

399

AUTUMN SALE ENDS 31.05.21.

250 Moorhouse Ave, Christchurch

Ph: 0800 TARGET (0800 827438)

targetfurniture.co.nz

Offers and product prices advertised here expire 31/05/21.

Sale Excludes Accessories.