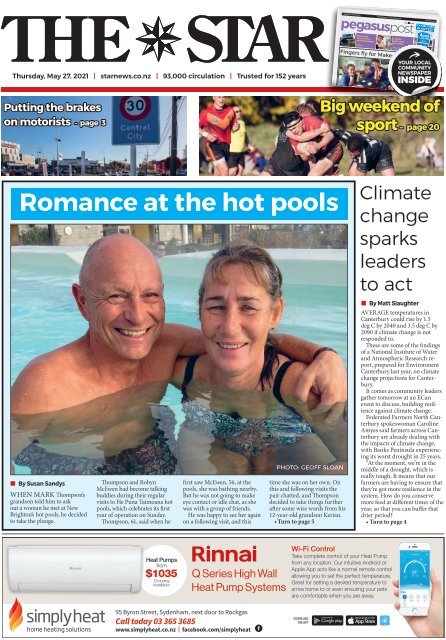 Create successful ePaper yourself
Turn your PDF publications into a flip-book with our unique Google optimized e-Paper software.
Talk to over 10,000 visitors in 3 days

Contact Lisa on 021 800 809

Zealand is hosting their first, big

Cranford Basin community planting

day of the winter season on

plus $100 free accessories

269 Burwood Rd, Burwood Ph: 383 2114

HOURS Mon-Fri 8:30am-5:30pm, Sat 9am-4pm

THURSDAY, MAY 27, 2021 Connecting Your Local Community

starnews.co.nz

New home

for blue room

at florist business

Page 5 Pages 6-10

Prepare

your home

for winter

Thursday, May 27, 2021 | starnews.co.nz | 93,000 circulation | Trusted for 152 years

Fingers fly for Make-A-Wish

Planting

project

marks

Arbor Day

A MAMMOTH planting project

this weekend marks the start

of a plan to reduce the risk of

flooding in Mairehau and urban

Christchurch.

Conservation Volunteers New

Putting the brakes

on motorists – page 3

MISSION: Lanuola Mulitalo (left), Tamia Fenilza and Chahana Mataale and other students of Marian College have

worked hard to fold 1000 paper cranes for the Make-A-Wish Foundation.

MARIAN COLLEGE students

are hoping to raise at least

$1000 for the Make-A-Wish

Foundation by folding 1000

paper cranes.

The Paper Crane Project, led

by Mazda NZ, has Kiwis folding

paper cranes that will be

placed on the Children's Peace

Monument at the Hiroshima

Peace Memorial Park.

Mazda NZ will also donate

Double Peak Sport

$1000 to the Make-a-Wish

Foundation for every 1000

cranes they receive by the end

of tomorrow. • Turn to page 3

Home of tHe $40 service

Saturday in conjunction with the

city council.

The event also marks World

Environment and Arbor Day.

CVNZ's conservation officer

Donna Lusby said they were also

offering community planting days

during the week for businesses

and organisations to be part of

creating a living legacy for the

city.

"It's a great chance for organisations

to muck in and work

together to plant a forest, with

benefits for the team as well as

carbon off-setting and giving back

to the environment," Lusby said.

Cranford Basin will be transformed

over the next decade into

a multi-purpose space, primarily

providing stormwater retention

services, but also a space for recreation

and biodiversity.

• Turn to page 3

Big weekend of

sport – page 20

Flightline plus

$899 now $799

plus $100 free accessories

Get in quick

while stocks last

$849 now $749

Romance at the hot pools

• By Susan Sandys

WHEN MARK Thompson's

grandson told him to ask

out a woman he met at New

Brighton's hot pools, he decided

to take the plunge.

Thompson and Robyn

McEwen had become talking

buddies during their regular

visits to He Puna Taimoana hot

pools, which celebrates its first

year of operation on Sunday.

Thompson, 61, said when he

first saw McEwen, 56, at the

pools, she was bathing nearby.

But he was not going to make

eye contact or idle chat, as she

was with a group of friends.

He was happy to see her again

on a following visit, and this

PHOTO: GEOFF SLOAN

time she was on her own. On

this and following visits the

pair chatted, and Thompson

decided to take things further

after some wise words from his

12-year-old grandson Kerian.

• Turn to page 5

Climate

change

sparks

leaders

to act

• By Matt Slaughter

AVERAGE temperatures in

Canterbury could rise by 1.5

deg C by 2040 and 3.5 deg C by

2090 if climate change is not

responded to.

These are some of the findings

of a National Institute of Water

and Atmospheric Research report,

prepared for Environment

Canterbury last year, on climate

change projections for Canterbury.

It comes as community leaders

gather tomorrow at an ECan

event to discuss, building resilience

against climate change.

Federated Farmers North Canterbury

spokeswoman Caroline

Amyes said farmers across Canterbury

are already dealing with

the impacts of climate change,

with Banks Peninsula experiencing

its worst drought in 25 years.

"At the moment, we're in the

middle of a drought, which is

really tough. It means that our

farmers are having to ensure that

they're got more resilience in the

system. How do you conserve

more feed at different times of the

year, so that you can buffer that

drier period?

• Turn to page 4

Wi-Fi Control

Take complete control of your Heat Pump

from any location. Our intuitive Android or

Apple App acts like a normal remote control

allowing you to set the perfect temperature.

Great for setting a desired temperature to

arrive home to or even ensuring your pets

are comfortable when you are away.

95 Byron Street, Sydenham, next door to Rockgas

Call today 03 365 3685

www.simplyheat.co.nz | facebook.com/simplyheat

DOWNLOAD

THE APP
---
2 The Star Thursday July 30 2020

2 The Star Thursday May 27 2021

inside

Pier Tributes new home flow after for tsunami death .................................. warning......75

Chch

Man

connection

fined after docking

to secret

puppies

squad......

............

8-9

7

New hospital child care initiative ....................9

Wetland planting to create habitats.....11

Bank to stop cash, cheque deposits ....10

Back on track to self-sufficiency.............12

New home for Smiths City ......................... 15

Letters...............................................................................15

Return to Trump, pandemic ..............20-21

Mayor's Heritage column.......................................................15

in photos .............................................25

ECan Check column.............................................................17

your shopping receipts 27

Food .................................................................................28

Gardening.....................................................................19

Gardening ................................................................ 29

Sport..........................................................................20-21

Sport ................................................................................. 31

Drivesouth....................................................................23

Drivesouth .................................................................33

Puzzles............................................................................24

..........................................................................34

Classified................................................................25-31

............................................................35-42

Gig Gig guide....................................................................... 31 43

newsroom

newsroom

Louis Day Reporter

021 919 917

Matt louis.day@starmedia.kiwi

Slaughter Reporter

Matt

021

Slaughter

910 788

Reporter

matt.slaughter@starmedia.kiwi

021 910 788

Chris matt.slaughter@starmedia.kiwi

Barclay Reporter

Chris

021 914

Barclay

169

Reporter

chris.barclay@starmedia.kiwi

021 914 169

Barry chris.barclay@starmedia.kiwi

Clarke Editor in Chief

Barry 021 359 Clarke 426 Editor in Chief

barry@starmedia.kiwi

021 359 426

barry@starmedia.kiwi

advertising

Shane Victor Advertising Manager

021 381 765

shane@starmedia.kiwi

Classified advertising: 379 379 1100

General inquiries: 379 379 7100

REACH REACH MORE MORE ......

178,000 * *

readers every week!

readers every week!

*2019 Nielsen Newspaper Readership Report

*2019 Nielsen Newspaper Readership Report

online

online

Keep up with the latest

Keep local up news with as the it happens latest

local news as it happens

www.starnews.co.nz

www.starnews.co.nz

A division of Allied Press

A Regional division of Manager: Allied Press Steve McCaughan

Regional PO Box 1467, Manager: Christchurch Steve McCaughan

PO 359 Box Lincoln 1467, Rd, Christchurch Addington

359 www.starmedia.kiwi

Lincoln Rd, Addington

www.starmedia.kiwi

Armageddon Christchurch

Saturday, Sunday 9am-5pm

The Entertainment Expo! Armageddon features sci-fi,

gaming, anime, collectables, TV and movie stars and comics

in a massive family entertainment event. Supergirl stars Jesse

Rath and Nicole Maines, Supernatural star Felicia Day and

animation stars from Dragon Ball Z, Skeletor and She-Ra.

Tickets: Adults: $17, Child: $12, Family (2 adults and 3

children) $48.

Christchurch Arena, 55 Jack Hinton Drive

NZSO – Open Doors

Saturday 10.30am-5.30pm

The NZSO is throwing open the doors and inviting

the public to join them for a variety of free events for all ages.

10.30am-11.30am: Instrument petting zoo. Get up close with

various instruments and musicians of the Orchestra. 1pm-

2pm: Brass Jam. Keen brass players of all levels and abilities

are welcome to join in. 2.30pm-5.30pm: Masterclasses,

discussion and demonstrations. Admission: Free.

Christchurch Town Hall, 86 Kilmore St

letters

We want to hear

your views on the

issues affecting life in in

Canterbury.

Send emails to: to:

barry@starmedia.kiwi

Letters may be edited

or or rejected at at The Star's

discretion. Letters should

be be about 150 150 words. words.

A name, postal address

and phone number

should be be provided.

Please use use your your real real

name, name, not not a nickname, nickname,

alias, alias, pen pen name name or or

abbreviation.

abbreviation.

AXIS + AXES: Graham

Bennett Experimental

Works Friday to October 24

The works on display are the products of Bennett's

experiments with new designs and materials, providing a

unique insight into his

three decades of practice.

Many of the works are

from the artist's rarely-seen

personal collection.

Admission: Free.

Canterbury Museum

Kiwiana Party

Saturday 7.30pm-10pm

Skate to kiwi music at the Kiwiana Party to celebrate

New Zealand music month this May. Admission: $10

(including skate hire). Alpine Ice Sports Centre

More the Show

Friday, Saturday 10am-2pm

An exhibition of female artists from around

Ōtautahi, with live screenprinting

and music by Libby Baker.

Fundraiser for Women's Refuge

NZ. Admission: Free. Boxed

Quarter, St Asaph St

Stay comfortable all year round with

Fujitsu's sleek, stylish Lifestyle Range.

HEAT PUMPS FROM $1999 inc GST INSTALLED!

No more surprise

cold showers!

2020

Heat Pumps

GasOwl orders your 45kg LPG gas

bottle replacements - on time

Fujitsu's Catechin Filters are approved by

the Asthma and Respiratory Foundation

NZ's Sensitive Choice ® programme.

03 381 6950

info@powersmart.co.nz

powersmart.co.nz

FREE

consultation from

your local Accredited

Heat Pump Expert

www.GasOwl.nz
---
Thursday May 27 2021 The Star

• By Bea Gooding

NEW ZEALAND'S first socially

sustainable hotel will soon

open in Christchurch, allowing

visitors to give back to the

community.

The YMCA received

$43 million as part of the

Government's shovel-ready

initiative to transform its former

Hereford St accommodation

into what is now known as Hotel

Give.

Opening in July, the hotel

is unique in that it will direct

all profits back into the

programmes and services that

support the YMCA community,

"ultimately fuelling Ōtautahi's

young people," said YMCA

Christchurch chief executive

Josie Ogden Schroeder.

"If we as a society invest our

money in ways that enhance

wellbeing, everybody benefits."

Older facilities were costing

too much to maintain, so the

organisation jumped at the

Latest Canterbury news at starnews.co.nz

First socially sustainable hotel to open

• By Chris Barclay

PHASING TRAFFIC lights

within the city's 30 km/h zones

appears an effective regulatory

measure for lead-footed

motorists, while police rarely

issue infringement notices for

speeding drivers.

Although enforcement may

not be a deterrent given statistics

released by police, Steffan

Thomas, the city council's

transport operations manager,

said coordinating traffic lights in

some areas of the zone applied

the brakes.

THe lights were phased to cater

for vehicles travelling at 30km/h.

"THis has a big impact on

making it unattractive for

vehicles to travel much faster

than the speed limit as they miss

the block-to-block co-ordination

of the traffic signals, resulting in

the need for drivers to constantly

stop and start," Thomas said.

"THis limits the opportunity

to gain excessive speeds and

encourages compliance with the

posted speed limit."

While the city council

has been able to determine

speed limits on roads in their

jurisdiction since 2003, police

are in charge of enforcement.

Police would not reveal the

highest speed recorded in

the 30km/h zone, fearing it

would encourage thrill-seeking

motorists to set a new record.

Since the zones were

introduced in 2016, there have

been 278 infringement notices

issued for exceeding the speed

limit.

More than half of the

infringements (141) were

recorded in 2016 before a lull in

2017 (8), 2018 (12) and 2019 (10).

Enforcement intensified last

year with 107 infringements

detected for the calendar year.

chance to develop a place that

better aligned with the YMCA's

value of giving back.

In the last seven months,

the building has undergone an

aesthetic makeover, including

new double glazing and

insulation.

A key change was making

kitchens and bathrooms

more accessible for people

with disabilities, as many

visitors needed close access to

Christchurch Hospital.

Speedsters curbed by

synchronised traffic lights

In 2019 the city council

expanded the central city

30km/h zone to include St

Asaph St, despite the majority of

737 public submissions railing

against the limit being reduced.

Montreal St on the oneway

system produced the

highest number of speeding

infringements recorded from

2016 to last year: 30.

Ferry Rd (28), Wainoni Rd

(26), Sumner's Marriner St (22)

and Tuam St (17) make up the

city's top five locations.

FAST LANE: More

infringement notices

have been issued

on Montreal St than

anywhere else in the

city's 30km/h speed

zones.

PHOTO: GEOFF SLOAN

Although the 30km/h zones are

unpopular with some motorists

Thomas insisted they were

necessary, and effective.

"A 30km/h speed significantly

improves the chance of surviving

a crash for all road users,

including pedestrians and

cyclists," he said.

Figures indicated reported

injury crashes had reduced 25

per cent in the 2-1/2 years after

the zones were introduced,

compared to the 2-1/2

years prior.

NEWS 3

in brief

Anderson third

candidate for Daniels'

Coastal Ward seat

Another candidate has emerged

in the battle for James Daniels'

Coastal Ward city council

seat. J.T. Anderson will be

running against David East

and Kelly Barber to represent

the ward. Anderson was a

mayoral candidate in the 2019

local body elections, receiving

5183 votes, the fourth-most of

any candidate. Daniels, a wellknown

radio host, is resigning

from his city council position to

host Newstalk ZB Afternoons

with Simon Barnett, triggering

a $65,000 by-election. A date for

the by election is yet to be set.

Aviva Lip-Sync set

for September

The Aviva Lip-Sync Battle to

raise funds for family violence

services across Canterbury will

be held on September 25 at

Addington Raceway. Aviva is

aiming to recruit eight teams to

perform and get the community

behind them. Aviva provides a

range of specialist services to

help people live lives free from

family and sexual violence. To

sign up for the lip-sync battle,

or for more information please

contact Eve at Aviva on

027 453 7323, or email

evew@avivafamilies.org.nz.

Lamborghini sells

for $10k

Cardboard car lovers unite – a

crafty Lamborghini has sold for

an impressive $10,420.

The replica Lamborghini

Aventador was made by New

Zealand YouTuber David Jones

out of just cardboard. The

winning bidder is based in

Christchurch and Jones is now

working out how to carefully

ship it to him from Auckland.

The unique auction attracted

132 bids, 4054 watchers and

closed last night. The cardboard

Lamborghini was auctioned on

Trade Me and all money raised

will be donated to Starship

children's hospital.

Care &

Compassion

We pride ourselves on the

very highest level of service

If you are thinking about the future, we can help

you explore pre-payment and pre-planning options.

Contact us for a Free Information Pack.

We offer funeral information talks to groups.

Please call us for a speaker to come to you.

(03) 379 0196 | www.simplicity.co.nz

Mike Chandler

Funeral Director

$10

BREAKFAST

SPECIAL

FREE RANGE EGGS

STREAKY BACON

HOMEMADE TOAST

COFFEE

85 Hereford St | Ph 03 374 9461

www.therockpool.co.nz
---
The Star Thursday May 27 2021

4

NEWS

Latest Canterbury news at starnews.co.nz

'Death row, do

Sea level may rise by

1.2m in 100 years

• From page 1

"The other issue is, when we

do get rainfall, it tends to be a

lot of rain at the same time . . . it

doesn't necessarily have a great

impact on pasture production."

NIWA'S report found Canterbury's

maximum day-time

temperatures could increase by

between 2 to 5 deg C by 2090,

minimum night-time temperatures

by between 1 to 2.5 deg C

and there could be 20 to 60 more

days where temperatures reach

25 deg C or higher.

As well as this, the number of

frost and snow days are expected

to decrease, eastern, western

and southern parts of the region

could have 15 to 40 per cent

more rain by 2090 and Banks

Peninsula may get five to 15 per

cent less rain if emissions are not

reduced.

The sea level may rise to 0.5m

in 50 years and 1.2m in 100

years.

However, if greenhouse

gas emissions

are cut, the impacts of

climate change could be

reduced significantly.

Average temperatures by

2090 would be reduced

to between 0.5 and 2 deg

C.

NIWA chief scientist Andrew

Tait said it is not too late to start

reducing emissions.

"Nothing is too late. Every

action to reduce emissions and

greenhouse gases globally is

going to be beneficial in terms

of less impact of the change in

Andrew Tait

DRY: Banks

Peninsula is

experiencing its

worst drought

in 25 years.

climate. "The earlier that we

make those cuts in emissions,

obviously, the better the

outcome."

The target for

Christchurch is to be

achieving net zero

greenhouse gas emissions

by 2045, excluding

methane, and to halve its

emissions by 2030, from

2016-17 levels.

Tomorrow's event at

Christchurch Art Gallery, will

feature guest speakers including

MP Megan Woods, Selwyn

Mayor Sam Broughton, Climate

Change Commission chairman

Dr Rod Carr, ECan chief

scientist Dr Fiona Shanhun and

ECan youth rōpū representative

Erana Riddell.

• By Kurt Bayer

A MAN arrested for allegedly

stabbing his neighbour to death

after an early-morning row over

loud music told a police officer

"that guy didn't deserve to die"

and added, "Death row, do me a

favour."

Tristan Ross Locke, 31, denies

murdering neighbour Mark

Cowling, 44, on September 6 in

Edgeware last year and is standing

trial at the High Court in

Christchurch.

Locke doesn't dispute stabbing

Cowling, and that the injury led

to his death.

But his lawyer Kirsten Gray

says it "doesn't necessarily make

it murder" and the Crown must

prove Locke's state of mind, or his

intention, at the time of the incident,

beyond reasonable doubt.

On day three of the trial yesterday,

the jury heard from Detective

Michael Henderson-Rautera

who took notes of Locke's comments

while he was in custody

hours after the incident.

He informed him at 4.27am

- less than two hours after the

altercation – that Cowling had

died from his injuries.

Henderson-Rautera told the

court that Locke responded by

saying, "Oh wow, savage. F***".

He then arrested him for murder

and read him his rights.

Asked if he understood that he

was under arrest, Locke allegedly

replied: "I'm going to be a New

Zealand resident" and "I'm going

to be here for a very long time."

Locke told the police officer

that he was intoxicated and had

been for the last week. But

Henderson-Rauter observed that

Locke walked without issues, did

not appear intoxicated, and was

not slurring his words.

Locke allegedly said his neighbour

kept turning off his power

and that he wanted a lawyer.

Accompanying him on a toilet

break, the detective noted Locke

saying: "That guy didn't deserve

it."

Locke later allegedly said he

was "pretty screwed" and that he

couldn't be "put to death in this

country" which was "probably a

good thing."

While his fingernail clippings

were being taken for DNA

samples, Locke allegedly said:

"Well, I'm f***** aren't I. But so is

the guy who is dead now. We all

make sick jokes."

He later allegedly added:

"How did I even do that? F******

stupid" and "death row, do me a

favour."

The Crown earlier said that

Cowling, his partner Rebecca

McMaster, and their young child

had been living in a block of five

flats in Edgeware, when Locke

moved in last June.

WHY THE MARVEL

HEALTH SCREENING

IS AN IDEAL WOF

FOR OVER 60S

As we grow older,

especially over the age

of 60, specific health

problems may become

prevalent.

These problems are

generally due to the

wear and tear the body

undergoes over time.

The good news is that

such health problems

are preventable, and we

can slow down their occurrence.

Joint and Bone problems are well-known

problems that occur with age due to the

degradation of the connective tissue.

Cardiovascular diseases are typically caused

by the narrowing of the arteries, leading

to high blood pressure, heart attacks, and

strokes. Neurodegenerative diseases such

as Parkinson's and Alzheimer's also tend to

occur later in life. The underlying cause of

age-related diseases is chronic inflammation.

Inflammation is not a bad thing at all. It is

the body's response to injury. The problem

is when that response becomes persistent,

leading to chronic inflammation that causes

ADVERTISEMENT

damage to organs.

The Marvel

Health Scan is

ideal for health

screening in older

people because

it thoroughly

examines all body

organs, including

the brain, heart,

kidneys, joints,

prostate, etc. The

scan can read the

many causes of chronic inflammation in the

body, including contaminants, microbes,

food allergens, nutrient deficiencies and

many other factors such as the state of health

of all organs. In addition to examining the

internal organs, a body composition analysis

is performed to look at the physical body. The

body composition looks at the muscle and fat

mass, metabolic rate, hydration, among other

parameters that also help shed more light on

your state of health.

After your scan, our doctors and specialists

will review the reports with you via video or

telephone and make recommendations that

support the body's healing process.

Book A Scan Today 03-669-5410

www.marvel.health

Unit 13/6 Cone Street, Rangiora, Canterbury, 7400

293 Durham Street, Awly Building, Christchurch, 8013

The inspections from the scan is not a substitute for medical inspections. It is not assigned to state the final diagnosis
---
Cowling's household, and

other residents in the block,

complained that Locke listened to

music at high volumes, with the

first noise complaint coming on

July 9.

Up to the day Cowling died,

there had been a total of 21 noise

complaints.

One neighbour, Enda Lynam,

gave evidence yesterday to say the

music coming from Locke's flat

after he moved in was "horrific...

to the point you could feel it".

Locke's landlord Braidie Wilson

had even been contacted by

frustrated neighbours and she

had asked him to keep the noise

down, which he had agreed to do.

"Tensions had been high for a

while," Crown prosecutor William

Taffs said.

A few weeks before the fatal

incident, Cowling had gone to

Locke's house and they had argued

over "loud music", the court

heard.

On September 5 last year,

Cowling and his family got

home about 4-5pm and allegedly

heard Locke already playing loud

music.

Noise control would be called

four times that evening. It's alleged

that Locke would turn the

music down when noise control

showed up – but resume once

they'd left.

Security officer George

Dimitru was called out that

night. From outside the flats, he

encountered "heavy rock, metal...

very powerful".

He served a notice on Locke

before moving on to the next job.

But the noise allegedly continued

and a fed-up Cowling

accessed the fuse box which serviced

the whole block of flats and

cut the power to Locke's house

three times.

On the third occasion, at

2.25am, the Crown alleges that

Locke took a knife and stabbed

Cowling in the chest, causing a

10-12cm fatal wound that injured

his heart and lung.

Locke phoned 111 and he was

arrested at the scene, with a knife

found on the path outside.

The emergency calls were

played to the jury yesterday,

Latest Canterbury news at starnews.co.nz

me a favour' – accused

ACCUSED:

Tristan Locke

is standing

trial at the

High Court in

Christchurch

accused of

murdering

Mark

Cowling in

Edgeware last

September.

PHOTO: KURT

BAYER ​

where Locke is heard asking

emergency service to come to the

address "right now... stabbing".

When the call taker asked

where the address was, he became

frustrated, saying: "Please

stop kidding, it's serious... He's

f****** bleeding a lot . . . I'm

shouting because this is so serious".

"It's not quite my fault... I'm a

reasonable person," he's heard

saying.

When the call taker asked

Locke for his name, he replied:

"We'll wait for that. Get here.

This is very serious, get here. I'm

not answering anything else right

now without a lawyer."

The trial, before Justice

Cameron Mander, continues.

— New Zealand Herald

THE FORMER head of

southern Victim Support

who was jailed for 14 years for

sexually abusing a pre-teen boy

may die behind bars.

But that fact was not enough

to persuade the High Court

that 66-year-old David John

Charteris should have his

sentence reduced after an appeal

to have it reduced.

Charteris, was jailed for 14

years in 2019 after being found

guilty of seven charges of sexual

violation by unlawful sexual

• From page 1

"He said: 'You always talk

about her, how you see her there,

why don't you ask her out?'"

Thompson said.

On his next visit, he

asked McEwen if she liked

walking, and soon the pair

went for a walk together. In

November, they had their first

official date when they met for

coffee.

McEwen, a Kaiapoi High

School teacher and mother of

four aged 17 to 23, who lives at

Parklands, said the pair not only

both liked visiting the hot pools,

they both enjoyed walking and

cycling. They had a lot in common,

and since getting together

had become best friends and

soul mates.

"I wasn't looking, but when

Thursday May 27 2021 The Star

NEWS 5

Sentence appeal dismissed

connection and one charge of

indecency at a judge-alone trial

in the Christchurch District

Court.

Counsel Josh Lucas argued

his client – who suffered from

prostate cancer – would likely

die before he had served his

sentence.

In a recently released

decision from Justice Gerald

Nation, he dismissed the

appeal and Charteris' challenge

to the legitimacy of the

convictions.

Many friendships formed

you are not looking things just

happen naturally I suppose,"

Robyn said.

He Puna Taimoana is on track

for 120,000 guests by its firstyear

anniversary.

A city council spokesperson

said Thompson and McEwen

were among many of the guests

who had formed friendships

with others as they made bathing

at the pools part of their

wellness routine.

"We really enjoy the strong

community connections. Connecting

is so important for

wellness in a Covid world," the

spokesperson said.

The pools would soon be

releasing a premium experience,

the Sunrise Soak, for visitors to

watch the colours of sunrise at

the beach.

Check our website for

your local stores opening hours

.99

kg

Green Kiwifruit ........................... 1

Red Kumara ..................................... 2 .99

kg

Red or Green Cabbage ..... 1 .99

each

Carrots 1.5kg ................................ 1 .99

each

eve apples ....................................... 2 .99

kg

Leeks ......................................................99 c

each

Beef Rump Steak ........................ 14 .99

kg

Lamb Shanks

(knuckles) ...................................... 12 .99

kg

Lamb Shoulder Chops ........ 14 .99

kg

Chicken Breast

(skin on) ........................................... 8 .99

kg

pork loin chops ....................... 13

.99

kg

At

we have...

FRIDAY TO

SUNDAY ONLY

Broccoli ......................................... 2

Washed Agria Potatoes

5kg ........................................................ 5

Whole beef Eye fillet ... 28

Boneless pork belly ..... 14

2 for

.00

.99

each

.99

kg

.99

kg

All our fresh meat is 100% NZ FARMED. specials VAlid

24th May - 30TH June 2021.

WHILE STOCKS LAST! ONLY AVAILABLE AT RAEWARD FRESH HAREWOOD RD, TOWER JUNCTION

WWW.

.CO.NZ

Like us on

Facebook
---
The Star Thursday May 27 2021

6

NEWS

Latest Canterbury news at starnews.co.nz

Charlie ready to leave the coop

Unwanted

animals

swamp

SPCA

• By Matt Slaughter

FOUR MONTHS ago, Charlie

the rooster was abandoned.

Nearly 120 days after being

found at a Rolleston early

childhood centre and taken to

the SPCA in Hornby, he is still

looking for a loving family to

take him in.

He has made himself at home

at the SPCA, but it is now time

for him to leave the coop.

The centre's Natasha Sutton

said Charlie is sociable and

would make a great pet.

"For a rooster, he's really quite

sweet. He's quite friendly, he'll

kind of come and see you when

you go and feed him.

"He'll come over and say hello

and wait for his feed."

Sutton said Charlie is well

behaved and does not crow as

loudly as some may expect.

Charlie is just one of 289

animals in need of owners at the

SPCA's centre.

The centre has about 150 more

animals than usual for this time

of year.

It has 19 horses waiting for

homes. During normal times,

there are usually "one or two,"

Sutton said.

Said Sutton: "At the moment,

unfortunately, with the drought

that we've had and lack of feed,

people are struggling to feed

their horses, they're getting

really skinny and we're getting a

lot more in."

She said there are 200 cats at

the centre and this is potentially

because last breeding season was

longer due to warmer weather.

The future of the animals

at the centre is safe and all

will stay there until they

find homes.

CROWDED: Natasha Sutton

with Charlie the rooster, one

of 289 animals in need of a

home.

PHOTOS: GEOFF SLOAN ​

• To book an appointment

to view the animals at the

SPCA's Christchurch centre

phone 349 7057.

ST CHRISTOPHER'S

CHURCH bOOk FAIR

FRI 28 & SAT 29Th MAY

Massive selection of high quality Fiction, Non-Fiction,

Special Interest, Kids & Individually priced books.

Something to suit all tastes. Stock continuously topped-up.

Don't miss this hugely popular community event.

Most books $2 or 6 for $10.. What a Bargain!

Cash or Eftpos.

ST CHRISTOPHER'S 244 AVONHEAD ROAD

Friday 9am - 5pm, Saturday 9am - 4pm | Ph. 3588-780

RUN OUT SALE | RUN OUT SALE | RUN OUT SALE

GL50 Heat Pump

Heating 5.8kW | Cooling 4.8kW

$2,599

INSTALLED

Basic back-to-back installation.

Conditions apply.

Call us for a free quote

Any excuse for a big sale.

Like it being the week

before the Queen's

made up birthday.

30% off

selected Bedroom

and Dining Furniture*

Valid dates vary per product. See online or in-store for details. Some products on display in selected stores only – please call 0800 764 847 to check availability. Personal shoppers only. *Discount is off our full retail price and not available in conjunction with any other offer.
---
Latest Canterbury news at starnews.co.nz

Thursday May 27 2021 The Star

NEWS 7

Pier new home for tsunami warnings

WARNING: After years of planning and preparation, Christchurch's

new tsunami monitoring gauge at New Brighton Pier is operational.

The gauge will give advance warning of tsunamis, like the May 1960

tsunami (right), which saw water pour into the dry dock at Lyttelton.

A NEW GAUGE to detect

imminent tsunamis installed at

the New Brighton Pier is now

operational following years of

planning and preparation.

The former gauge in Sumner

has been soldiering on, in spite

of being buried by large amounts

of rock and debris that fell into

the ocean during the February

22, 2011, earthquake.

It needed to be replaced

because GNS Science staff could

not access the site to service the

tsunami gauge.

"It is impressive that the current

gauge is still operational

after all these years," said GNS

Science remote infrastructure

operations co-ordinator Kris

O'Brien.

"Rocks that have been reworked

by the ocean around

the Christchurch coastline have

broken up and washed ashore,

burying our current gauge's

protective covering."

Tsunami gauge data is

collected by two pressure sensors

at each site so that there is a

backup in case one fails.

They need to be regularly

maintained, but this has not

happened at the current site for

years.

"We are unsure of the remaining

lifespan of the current sensors,

and so the need to choose

a new site was important for our

tsunami monitoring network,"

said O'Brien.

New Brighton Pier was chosen

as the new site location for many

reasons, including its distance

from the shore (where it will

be immune to rock build up),

its useful exposed location to

record a tsunami, ease of access

to service the equipment, and

the desire to maintain tsunami

monitoring capabilities in

Christchurch.

The tsunami gauge uses pressure

sensors and measures sea

lating a water height. It confirms

the occurrence of a tsunami and

can help to forecast and alert

other regions of what they might

expect. It is designed to capture

a large level change over a short

timeframe.

The install was similar to other

wharf sites that have been built

before, but each site has its challenges.

A lot of design work went into

planning the brackets (that were

specially rolled to fit the pier leg)

and steel pipe that houses the

cabling.

in the New Brighton Library.

Due to the challenging location,

the help of abseilers and

divers were needed to complete

the install, which only took two

days.

The site is part of Land

Information NZ's network of 18

tsunami gauge sites around New

Zealand's coast.

GNS Science maintains and

monitors these sites, and reports

its data on the GeoNet website.

The old site will continue to

operate for several months to

line up data with the new site,

level variations by comparing GNS has also had to run the ensuring a constant stream of

pressures at the surface with

Heat

cables the whole 300m

Pump

length of Christchurch tsunami

Spec

atmospheric pressure and calcu-

the pier back to the control box gauge reporting.

Don't be

colD this

winter

Phone now for our winter

heat pump specials plus

prompt expert advice

and installation.

We can install in the

same week.

GE35 4kW Heat Pump from o

Heat Pump Specials

GE50 5.8kW Heat Pump from

GE35 4kW Heat Pump from only $2,299

GE50 5.8kW Heat Pump from only $2,749

FH50 6.0kW Heat Pump from only $3,499

379-3589

7 Dalziel Pl,

www.snowtemp.co.nz Woolston,

Christchurch

FH50 6.0kW Heat Pump from

Technology

INCLUDES INSTALLATION. CONDITIONS APPLY.

INCLUDES INSTALLATION. CONDIT

379-3589

196 Wordsworth Street,

Christchurch

www.snowtemp.co.nz

Heat Pump Installation/Repairs • Refrigeration Design, Build, Repairs

Tech

196
---
The Star Thursday May 27 2021

Latest Canterbury news at starnews.co.nz

8

NEWS

Christchurch connection to secret

Victor Sharp developed

a well-known passion

for amateur radio

and electronics

when growing up in

Christchurch, but once

World War 2 broke out

he metaphorically flew

under the radar as a

member of the ultrasecretive

Z-Special

Unit. One of few New

Zealanders to serve in

the Australian-based

special forces unit in

south-east Asia, the

98-year-old died 11

days ago. Chris Barclay

reports

STAFF SERGEANT Victor

Ernest Edwin Sharp's entry with

the Auckland War Museum

online Cenotaph is scant in detail,

a fitting reflection of his army

service during World War 2.

There is no photo attached.

The brief record indicates he

was living with his parents at 31

Gayhurst Rd, Dallington, when

he enlisted after working in civilian

life as a radio serviceman.

Sharp, according to the Cenotaph

record, joined the 2nd New

Zealand Expeditionary Force in

1944.

He was also listed as a signaller

with Headquarters, 3rd New

Zealand Divisional Signals,

though military historian

Christopher Pugsley could not

find Sharp recorded in the Headquarters

and Communications

history published by AH and

AW Reed in 1947.

"It's a very murky unit that

one. They were a very interesting

group and as I say, the history is

a bit murky," added Royal New

Zealand Returned and Services'

Association national president

B.J. Clark.

Ultimately, a eulogy delivered

by his son David shed more light

on Sharp's wartime experience

as the 98-year-old was mourned,

celebrated and farewelled

in Christchurch last Friday.

Sergeant Ross Yorkstone from

the New Zealand Army band

performed The Last Post.

Sharp, service number 446826,

died peacefully while surrounded

by family members on May 16

at Ultimate Care Rose Court in

Somerfield.

His death notice in The Press

provided the first indication

Sharp was not a rank and file

staff sergeant with its reference

to "Z" Special Unit.

Victor's youngest child

Jonathan first told mourners his

father had been expecting to ship

out to the Middle East in the

winter of 1944.

COMBAT READY: Victor Sharp was expecting to ship out

to the Middle East. Instead he was hand-picked to join

Australia's Z-Special Unit, where he honed his combat

skills on Queensland's Fraser Island.

"A suntanned, fit-looking

captain arrived at Trentham and

addressed all the men in groups,

asking for volunteers in three

categories – radio operating/

maintenance, navigation and

diesel engine maintenance. Beyond

this he wouldn't elaborate."

Sharp's was one of eight

names crossed out on the

troopship manifest, he instead

took a train to Auckland and

then a Catalina flying boat to

Melbourne.

"It was all hush-hush. They

spent time on Fraser Island and

various places in Australia training

in hand-to-hand combat,

paddling in little canvas kayaks,

learning explosives and the Malay

language," Jonathan Sharp

said.

"This was his introduction to

the Z-Special Unit."

Predominately made up of

Australians, the reconnaissance

and sabotage unit carried out 81

covert operations in the southwest

Pacific theatre, including

raids on Japanese shipping in

Singapore.

One of these raids, Operation

Rimau, resulted in the deaths

of 23 commandos in July 1945

either in action or by execution

via beheading after capture.

Do you need a Plumber, Gasfitter,

Drainlayer or Electrician?

We'll arrive within 30 minutes of the arranged

time or the first hour of labour is free!

Contact

Us Now

Phone: 343 0763

www.foleys.co.nz

Are you 60+?

NZ Clinical Research is looking for people

aged 60 and above to participate in a

clinical trial of an investigational vaccine

for a respiratory virus (RSV). You will be

reimbursed for your time and inconvenience.

Please call 0800 862 278

for more information.

Well, you get funny looks

if you go to a cafe in your

dressing gown.

Sunbeam Barista Max Espresso Machine - Matte Black - EM5300K

9062695

Lazy morning versus desire for a good coffee. It's a tricky one. But, you can make it easy

on yourself with this compact espresso machine. The built-in grinder also means you'll

get the full café experience, while still wearing your slippers.

$499 $ 5

less than

per week for

36 months

interest free*

Offers valid until Tuesday 1st June 2021, while stocks last, unless otherwise stated. Some products on display in selected stores only – please call 0800 764 847 to check availability. Personal shoppers only. *Apple, selected computers, game consoles, gift cards, clearance items and some promotional items are not available in conjunction with interest free offers. Flooring available on a

maximum of 18 months interest free. Exclusions, fees, terms, conditions, and credit criteria apply. Available in-store only. Equal instalment amounts include one-off booking fee of $45.00, annual fees of $45.00 p.a. and security registration fee of $8.05, and exclude insurance. Current interest rate of 23.95% applies to any unpaid balance after expiry of (any) interest free period.

See in-store or visit smithscity.co.nz/interest-free for details.
---
Thursday May 27 2021 The Star

Latest Canterbury news at starnews.co.nz

NEWS 9

squad operating behind enemy lines

Sharp's oldest son said his

father rarely spoke of his time

with the unit as one of 22 New

Zealanders. Four were killed

while on active service.

"Growing up I knew dad had

been in a submarine and he used

to sleep by torpedoes," David

Sharp explained.

"After World War 2 those who

were in it (the unit) were required

to commit to secrecy for 30 years.

"It was only in later years that

dad felt free to talk about it a bit

more. Growing up I would have

been both amazed and horrified

at the types of things dad was

trained to do.

"I knew he was good with boats

and was very athletic. He tried

to teach us how to vault over

fences on the run. I now realise

his training included many other

things … the use of sabotage

explosives, the various types of

swift and silent combat."

Cyanide tablets were issued as

an alternative to capture by the

Japanese.

DEADLY OPERATION: Members of the Z-Special Unit force selected for the doomed

Operation Rimau in Singapore row away from the submarine, HMS Porpoise.

Victor Sharp would not dwell

on his clandestine operations in

the latter stages of World War

2, though the submarine he was

travelling in was attacked by

Japanese pilots after an operation

off the Sarawak (Borneo) coast

was abandoned in January, 1945.

"The sea was so shallow, diving

beneath the surface was no place

to hide as the submarine was still

visible from the air," David Sharp

said.

The contingent eventually

transferred to an American submarine

bound for Fremantle, a

journey complicated by Sharp

contracting yellow fever.

He was scheduled to go on

another operation in August,

1945 but the atomic bombings of

Hiroshima and Nagasaki ended

hostilities.

David Sharp also paid tribute

to the other New Zealanders who

served in the Z-Special Unit.

"Many of them didn't return

and because of secrecy many families

never received information

as to what happened and where

their loved ones were.

"Along with our dad, we would

like to honour all those who

served, the danger they faced

and the sacrifices they made in

defence of the freedom of our

country," he said.

For several years the New

Zealand contingent received no

formal recognition, though in

2006 Sharp was presented with

a certificate of appreciation from

the Australian government.

Sharp returned to Christchurch

after the war and worked in

a radio business run by another

Z-Special Unit veteran, Graham

Greenwood.

He was always interested in

amateur radio and obtained his

licence in 1939, call sign ZL3DO.

Sharp's first job was as a radio

repairer in New Regent St and

soon after World War 2 broke out

he was called into the army as an

18-year-old.

England-born Sharp married

Noeline, a former schoolmate

at Linwood North School, in

1949. Their 67-year-old union

ended when Noeline died five

years ago.

Although Victor and Noeline

enjoyed exploring New Zealand

in later life, daughter Susanna

said the family also visited Fraser

Island, to see where dad honed

his combat skills.

"It has been very fascinating

learning more of this," she said.

"I don't remember dad talking

much about his army life when

he was young. He said he was in

the army and had to be very fit."

Victor Sharp is survived by

his sister Joy, four children, 14

grandchildren and 11 greatgrandchildren.

Bring your besties to our feel-good brunch

The only thing nicer than our brunch menu is the warm feeling you get with it. By joining us for our delicious

Pink Ribbon buffet brunch at Five Acres Café, you'll be helping a worthy cause because we're donating 50% of

our takings to the Breast Cancer Foundation NZ. Buy a raffle ticket and go in the draw to win a delicious hamper.

Book your table today with Tara

Five Acres Café, Sunday 30 May, 10am-12pm

Call Tara 021 489 784 or email sales@parklaneretirement.co.nz

35 Whiteleigh Avenue, Christchurch. An Arvida Living Well Community
---
10 The Star Thursday May 27 2021

Hi Christchurch,

From our AMI store on Chalmers Street,

our team have enjoyed being part of your

community, and this isn't going to change.

You may have heard AMI has closed most

of our retail stores across the country,

including our Hornby store. But we're not

going anywhere.

We believe it's not the bricks and mortar

that make a relationship, but the people.

So, we intend for all our Hornby Personal

Insurance Consultants to continue working

for AMI, supporting our customers over the

Get 20% off travel insurance

Monday to Friday.

to Australia with code AMI20

phone and online. Just give us a call and

we'll support you with all your insurance

needs, the same as we always have.

The reason for this change reflects the ways

many of our customers choose to interact

with us. During the past few years, we've

seen a decline in visits to our stores with

more of you engaging with us online or

over the phone. So, we also see this as an

opportunity to improve and develop new

online services – to be there for you when

you need us.

To support this transition, we've partnered

with community training network,

SeniorNet. If you would like help with our

online services, we'll cover the annual

membership fee for AMI customers who

sign up by 21 September 2021. Find out

more at ami.co.nz/seniornet or call

SeniorNet on 0800 280 742, 9am – 4pm

If you have any additional questions about

this change or your insurance, we're here

to help. Give us a call on 0800 100 200 or

email the team at info@ami.co.nz.

Your AMI team.

ami.co.nz
---
NEW WETLANDS are taking

shape in the upper catchment

of the Heathcote River as work

continues on reducing the flood

risk in the area.

The wetlands will act as storage

basins in the event of heavy

rainfall.

"We're creating a network of

new wetland areas upstream of

the Ōpāwaho/Heathcote catchment

to capture stormwater and

improve water quality,'' said city

council head of three waters and

waste Helen Beaumont.

"Our contractors are currently

working on a 100-hectare

facility between Cashmere and

Sutherlands Rds, and another

in Cashmere Valley close to the

Christchurch Adventure Park.

"These new facilities will help

reduce the risk of flooding, as

the large ponds capture and store

excess stormwater in large rain

events."

The wetlands will also act as a

natural filter for the stormwater

before it flows into the Heathcote

River, which is home to

freshwater crayfish, mussels and

whitebait.

The Eastman's and Sutherlands

stormwater basins, which are

currently under construction,

IMPROVEMENT: New wetlands at the Heathcote River will

be the largest planting project at one site undertaken in

Christchurch.

PHOTO: NEWSLINE

are part of four new stormwater

treatment facilities in the

Cashmere, Hoon Hay and

Halswell area.

Basins at Curletts Wetland

and Ngā Puna Wai in Wigram

are already operational and

providing flood storage.

All of these facilities will have

an automatic control system to

manage water levels during a

flood event.

They will be planted with

thousands of locally sourced

native grasses, shrubs and trees

to increase the city's biodiversity

Latest Canterbury news at starnews.co.nz

Largest-ever planting

in new wetlands

and to create new habitats for

native birds, fish and animals.

They will also have walking

paths and green spaces for people

to enjoy.

The largest site at Eastman's/

Sutherlands will have about

12,500 native trees planted and

up to 350,000 other plants and

shrubs.

It will be the largest single-site

planting project ever undertaken

in Christchurch.

The full network of stormwater

facilities is expected to be

operational by 2023.

NEWS 11

Racing clamps down

on abusive behaviour

• By Chris Barclay

A CODE OF conduct aimed at

eradicating a range of abusive

behaviour targeting harness

racing participants from within

the industry is taking shape.

While treatment of its

equine stars has been in

focus recently following

highly-publicised illegal

activities by trainers,

Harness Racing New

Zealand is now working

on safeguarding the

human element.

The code, which has

attracted 40 submissions, comes

into force on July 1.

Designed to ensure industry

participants, from owners to

stablehands, conduct themselves

appropriately, the code covers

all interactions between individuals

and members of HRNZ,

the Racing Integrity Unit, the

Judicial Control Authority for

Racing and TAB employees.

HRNZ called for submissions

on May 4, about three weeks

after North Canterbury trainer

Mitchell Kerr was banned for

life after being found guilty of

duping owners in New Zealand

and Australia.

The JCA judgement noted

one of the participants Kerr

deceived, industry veteran Don

Mitchell Kerr

Thursday May 27 2021 The Star

Bates, had been targeted by

other members of the harness

racing community before Kerr's

fraudulent activities drew a

career-ending suspension.

"Disturbingly, he (Bates) said

that he has been subject

to adverse comments

from some sections of the

Canterbury harness racing

community, in a sense ostracising

him and blaming

him, he feels, for daring to

make his complaints (about

Kerr)," the judgement said.

The code insists participants

identify themselves

when using social media and not

use the identity of someone else,

including variations of a name.

Breaches of the code include

inappropriate, insulting, abusive,

defamatory or threatening communication

or behaviour, plus

discrimination or harassment

(sexual or otherwise) directed at,

or to, other participants.

These breaches could be made

in person or by phone, video,

text message, email, live or recorded

broadcast, social media,

in writing or via facsimile.

The code enables HRNZ

management to determine

disciplinary action and also to

refer a breach to the RIU, which

can lay charges under the Rules

of Racing.
---
The Star Thursday May 27 2021

Latest Canterbury news at starnews.co.nz

12

NEWS

Back on track to self-sufficiency

• By Matt Slaughter

THE Christchurch Foundation

has donated $13.335 million to

various different causes, latest

figures show.

Foundation chief executive

Amy Carter says it is also now

closer to its goal of no longer

requiring city council funding to

operate.

The foundation came under

fire in February over a lack of

transparency in its financial

reporting, and for incurring high

costs.

It is independent of the city

council, but receives funding

support from it.

The foundation paid for its

day-to-day operations through

a $600,000 a year city council

grant, something the council

had promised to continue doing

until 2023, when it expected the

foundation to be self-funding.

The city council asked accountants

Deloitte to review the foundation

to see if it was on track for

this target, including comparing

it to similar trusts.

Stripping out the millions

raised following the mosque attacks,

in order to provide a valid

comparison, for every dollar the

foundation raised, it incurred 56

cents in costs.

That was compared to Auckland

Foundation's costs of 22

cents for every dollar raised or

PROMISING: Christchurch Foundation chief executive Amy

Carter says it is on track to being self-funded.

Momentum Waikato at 40 cents. reducing funding as it is closer to

Said Carter: "While we are its goal of being self-funded.

critical of the Deloitte report "Like last year, we are again

it has led to a much stronger asking for a reduction in this

relationship between us and the funding from what was originally

in the agreement. If they

council. I'm now confident that

council staff understand us much accept our proposal this would

more and the value that we provide

to the city."

next two years to them [the city

be a saving of $430,000 over the

The city council's finance and council] from what is in the draft

performance committee is set to LTP.

decide today if it will reduce the "We are able to do this as we

funding it provides the Christchurch

Foundation in the draft be in our establishment process

are ahead of where we hoped to

Long Term Plan.

and have new operational funding

in place."

Carter said the foundation

would support the city council City councillor Yani Johanson,

Life is a highway...

KORU NUTRITION

Ken, a proud Scottish

Highlander, has been an avid

traveller for years. With a

daughter in Auckland and one

in Invercargill, he still makes

his way up and down the

country to say hello and do the

odd bit of gardening for them.

"I recently arrived back from

a road trip with my daughters.

We drove all over the North and

South Islands and caught the

ferry over to Stewart Island."

Constantly keeping himself

busy, Ken doesn't have any

interest in slowing down.

"My daughter was looking

for something to support my

joints. We came across the Koru

FX cream first. I'd been using

another, very popular gel on

my knee but the Koru Nutrition

cream was better."

"When I saw Koru Nutrition

did capsules as well I

was interested. I've used

Glucosamine and Chondroitin

before but it didn't do much for

me. Koru Joint however - that's

made a massive difference."

"I'm so glad I've been taking

this. I am moving like my

young self again. With it I had

the confidence to go on the

road trip, getting in and out

of the car and to walk around

Ulva Island."

Koru Joint is quickly

becoming one of NZ's leading

Glucosamine and Turmeric

supplements in pharmacies.

With countless doctors,

pharmacists and customers

raving about it's all-inclusive

formulation, those who try it

understand why.

Most joint health

supplements, like the

Glucosamine Ken had tried in

the past, only focus on one area

of support. Koru Joint by Koru

Nutrition is different because

it focuses on three areas to

support soothing, nourishing

and lubrication of healthy

joints.

"I did a full day in the garden,

moved some wood around and

raked some leaves today - and I

feel good for it. I think I'm able

to do a lot more. My daughters

have to remind me to slow

down at times!"

"It's not just me though. I

gave my neighbour a bottle of

each and she seems to be doing

very well with it."

Koru Joint is a long lasting

natural formula, harnessing a

proprietary 3 in 1 mechanism

to support soothing, nourishing

and lubrication of healthy

joints.

All 3-phases are required to

build on each other to support

who previously voiced concern

about the foundation's finances,

told The Star: "I think we've got

better processes in place now as

a result of those questions that

were raised and the review that

has occurred.

That has led

to greater

transparency

and a commitment

from the

foundation that

Yani

Johanson

Always read the label and use as directed. If symptoms persist see your healthcare professional. Koru Nutrition Ltd, Christchurch.

they significantly

reduce

their reliance

on rate payer funding for their

activities."

Information released within

the latest finance and performance

committee agenda shows,

since its creation in 2017 (as

of March 31), the foundation's

largest donations have included

$7.421 million of its own funds to

victims of the March 15 attacks,

$2.05 million donated by the

Qatar Charity Fund to victims

of the attacks and $1.534 million

donated by prince Al Waleed bin

Talal to attack victims.

Donations other than those

given after the March 15 attacks

have included $460,000 to St

John New Zealand for two

ambulance vehicles, $1.069

million to Tūranga (central

library) and $291,191 to the Rod

Donald Banks Peninsula Trust.

long term healthy joint, muscle

and cartilage function.

With tens of thousands of

happy customers and counting,

Koru Joint has lifted the bar

for what you can expect from

a Glucosamine or Turmeric

supplement.

If you're looking for a long

lasting product to naturally

provide 3 in 1 support, then

call our Christchurch based

team or ask for Koru Joint in

the pharmacy and experience

the difference for yourself.

Christchurch Foundation

donations since its creation in

2017

$15,000 to the Christchurch

Town Hall

$2.05 million (donated by the

Qatar Charity Fund) to victims of

the March 15 attacks

$1.534 million (donated by

prince Al Waleed bin Talal) to

victims of the March 15 attacks

$293,450 (donated by the Al

Taqwa) to victims of the March

15 attacks

$94,325 (from an anonymous

donor) to several victims of the

March 15 attacks

$2280 (from an anonymous

donor) to a victim of the March

15 attacks

$45,000 in Countdown

grocery gift cards to victims of

the March 15 attacks

$460,000 to St John New

Zealand for two ambulance

vehicles

$12,804 to various charities

and organisations through

business partnerships

$12,000 to the Women's Fund

grant recipients

$1.069 million to Tūranga

(central library)

$291,191 to the Rod Donald

Banks Peninsula Trust

$31,705 towards sports

inclusivity projects

$3222 in other general

distributions

$7.421 million (of its own

funds) to victims of the March

15 attacks

Total donations: $13.335

million

ADVERTISEMENT

SPECIAL OFFER

FOR READERS

33% OFF

KORU JOINT

2 FOR

$79.98

SAVE $40

KORUNUTRITION.CO.NZ

0800 99 99 80

Available in

good pharmacies.
---
Thursday May 27 2021 The Star 13
---
14 The Star Thursday May 27 2021

CHRISTCHURCH MITSUBISHI

386 Moorhouse Avenue, Christchurch

Ph: 03 379 0588

christchurchmitsubishi.co.nz

10 year / 160,000km Powertrain Warranty (whichever comes

first) (non transferable). 5 year / 130,000km New Vehicle

Warranty (whichever comes first) (non transferable).

FROM

$

33,990+ORC*

SAVE $3,800 - STOCK AVAILALBE FOR IMMEDIATE DELIVERY

NISSAN 150,000 KM'S

5YR FACTORY

WARRANTY

*Offer based on selected new Nissan Qashqai ST at a vehicle price of $33,990 plus on road costs. Offer available on Qashqai ST vehicles ordered and delivered

by 31 June 2021 or while stock lasts. Nissan reserves the right to vary, extend or withdraw this offer. Not available in conjunction with any other offer.

CHRISTCHURCH NISSAN, 380 Moorhouse Avenue, Christchurch

Ph: 03 595 6820

www.christchurchnissan.co.nz

• AppleCarPlay & Android Auto

+ voice recognition

• Push button start

• Rearview camera

• Intelligent Emergency Braking

• Front & Rear Sensors

• 17" alloy wheels

christchurchnissan.co.nz
---
Agreeing and

disagreeing with Minto

I agree with John Minto

(The Star, May 20), that this

Government was indeed wrong

to not release this report.

Minto claims that "Maori take

less from our health system than

pakeha simply because Maori die

younger.''

Has he taken into account

that Maori are 15 per cent of

the population and therefore

naturally use less health dollars

than non-Maori? Why are they

dying younger?

Minto fought against the

apartheid in South Africa but

now is for separate systems

for Maori. Whether you call it

a 'partnership' or not, having

separate systems for different

people in the same land is

the definition of apartheid

(apartness).

What of the many other

ethnic and religious groups

that will then want their own

systems in place? How many

systems will we need? What

will bind us together as a

country?

If changes of governance/laws

are to be made, the discussion

should include all New

Zealanders so we can go forward

as one people, not two separate

societies. – D Downward

This latest view by John Minto,

who is renowned for being a

WHEN WE commenced work

on the Long Term Plan in 2019,

I advised the chief executive

that we had used an External

Advisory Group during the 2018

process.

I said it was important that

this independent advice was

embedded in our LTP process,

so we needed to ensure that they

were brought in early on. This

was particularly important for

the Infrastructure Strategy –

basically the capital budget and

priorities for the next 30 years.

I asked that the terms of

reference include some oversight

stirrer, is advocating nothing

more than a separatists form of

government.

We are meant to be one

people with the right to

elect whoever we believe

will be able to deliver the best

outcome for New Zealanders as

a whole.

If we are to allocate 50 per

cent of government seats to

one particular group of

people.

Then what about all the other

ethnic groups in New Zealand.

Like all of us Maori came from

elsewhere.

Being first up doesn't make

you best dressed in a democracy.

– Terrence Mundy

John Minto has a very odd

view of what democracy is.

Co-governance is not actually

democratic, in reality it dilutes

democracy.

You can't give 15 per cent of

a population the same decision

making power as an elected

government. – J Stone

Aotearoa

I take issue with Bronwen

Summers (The Star, May 20 ) and

her version of when the name

Aotearoa was first used in New

Zealand.

Aotearoa does not appear

in the Treaty and the word

of operational expenditure,

however, there is a line between

governance oversight and management

responsibilities, and we

all understood that.

The EAG met fortnightly for

about nine months. Deputy

Mayor Andrew Turner and

Latest Canterbury news at starnews.co.nz

Mayor

Lianne Dalziel

Aotearoa was unknown at that

time.

It appears that in the 1890s a

couple of European writers used

it as a fanciful name for New

Zealand.

Professor Sir Keith Sinclair

thought it was a name suggested

for only the North Island.

I cannot understand this

current campaign to change the

name of our country.

I have great pride to call myself

a New Zealander.

Incidentally, the suggestion

of Otautahi as the Maori name

for Christchurch could also be

incorrect.

It was thought that it referred

to a small area of Christchurch

and certainly not the whole city.

– J M Thomson

councillor Sam MacDonald attended

the meetings, however,

they did not contribute to the

written independent report. Not

every recommendation made by

the EAG fell on the governance

side of the ledger, and we set

aside the elements that our chief

Petty crime

I have only lived in

Christchurch four months

and have never encountered

We want to hear your views

on the issues affecting life

in Canterbury

Send emails to:

barry@starmedia.kiwi

executive is responsible for on

the management side.

That being said, the process

was excellent, and the EAG's

findings were called out as we

went through each of the relevant

activity plans and levels of

service.

This was essentially what was

envisaged would be included in

the chief executive's response. So,

we had what we needed for the

draft LTP.

And now we have heard and

read all the submissions.

On this basis, I agreed with

the chief executive some time

Thursday May 27 2021 The Star

OPINION 15

"petty crime" to the extent seen

here.

Our car was broken into at the

Court Theatre and a neighbour's

the week before in the street, and

another car was broken into with

significant damage that I saw at

the panelbeater.

I am also aware of thefts and

break-ins in our area.

The police of course do not

respond and don't even look at

CCTV evidence offered to them.

– Murray Pashby

A simple resolution to this

would be police actually

attending callouts.

I along with others in

Christchurch have been told its

not urgent and we will attend –

week later.

Modern technology in most

homes actually records these

people but police here are

inactive, even when part of their

work has been done. – Dawn

Martin

Letters may be edited or rejected at Star Media's

discretion. Letters should be about 200 words.

A name, postal address and phone number should be

provided.

Please use your real name, not a nickname, alias, pen

name or abbreviation.

Independent advice important in LTP process

ago that her report summing

up what we had adopted, what

further work was being done and

what had been rejected, including

recommendations that were

out of scope, would be tabled at

a city council meeting early in

June prior to the final deliberation

on the LTP.

Although there are some

recommendations that are

outside our remit as councillors,

this has been a much better

process this time, and I am very

grateful that we were able to be

supported in this way.

•ECan column, page 17

In association with Principal Partner

Ryman Healthcare

FANTASTIQUE

NEW

ZEALAND

SYMPHONY

ORCHESTRA

PODIUM SERIES

Christchurch

Fri, 28 May, 7.30pm

Christchurch Town Hall

Holly Mathieson Conductor

Toru Takemitsu Dreamtime (Yume no toki)

Dorothy Ker The Third Dream

Berlioz Symphonie Fantastique

The NZSO presents a programme of dreams, with music inspired

by love, memory and mythology.

PRINCIPAL PARTNERS

Tickets

from $25

nzso.co.nz
---
16 The Star Thursday May 27 2021

STYLE & QUALITY

FOR LESS

SUPER SPECIALS

SUPER

SPECIAL

SUPER

SPECIAL

WAS $1539

$

1419

Linea Buffet Available for Pre-order

WAS $2229

$

2069

Valley Corner

Storm

Raisin

SUPER

SPECIAL

Elm Dining

SUPER

SPECIAL SUPER

SPECIAL

Grey

Blue

Grey PU

Beige PU

Black PU

7 Piece Dining $1749 $1549

5 Piece Dining $1149 $999

WAS $339

$

319

Medow Chair

WAS $829

$

769

Marlow Chair & Stool

SUPER

SPECIAL

SUPER

SPECIAL

Manatee Corner Recliner Suite

Extra Section Available $299

WAS $1259

$

1169

Lacando Sofa Bed

WAS $1799

$

1659

Maple

Collection

Desk $439 $399

Tallboy 4 Drawers $559 $519

Lowboy 3 Drawers $509 $469

Lingerie Chest 5 Drawers $489 $449

3 Year Warranty

Continuous Spring,

Comfort Foam.

Lift Up Base

Single $489 $459

King Single $509 $479

Double $569 $529

Queen $599 $559

King $669 $619

FROM

$

219

Comet Mattress

Single $229 $219

King Single $249 $229

Double $279 $259

Queen $319 $299

FROM

$

459

FREE

CARPARKING

SOUTH CITY

BATH ST

WE ARE

HERE

255 MOORHOUSE AVE

REBEL SPORT

COLOMBO ST

MON-FRI 9:30AM – 5:30PM

SAT-SUN 10AM – 5:30PM

0800 268 264

www.affordablefurniture.nz
---
since Environment Canterbury

climate-change emergency

Community groups perform important role

by sea-level rise this century and threatened and facing increased

our productive and protected land pressures due to river system

Environment

jeopardised by the arrival and change.

spread of new, exotic weeds and Wetlands are also ecosystems

Canterbury Chair

pests from warmer climates. at-risk nationally and regionally,

FOCUS:

Public transport

Jenny Hughey

All these eventualities have degraded by draining, damming

is a big part of

to be planned and prepared for, and diversion affecting their

Environment

and enhance that work.

fleet hybrid or long-range electric

and Environment Canterbury ability to sequester carbon,

Canterbury's

ONE That OF work the included great things setting by We 2022. heard Carbon from the emissions Greater from

will remain in the vanguard of cleanse freshwater and mitigate work. The Halswell

about

up a climate-change

being an Environment

integration

Hornby

air travel

Residents'

across the

Association

organisation

these climate change efforts. flooding, as well as impacting on Residents'

Canterbury councillor is

on various subjects, but particularly

on issues relating to the

Waimakariri River flood

With biosecurity, we are

a large focus

One example is the $40 million biodiversity and mahinga kai.

programme in the Long-term Plan are offset via our own biodiversity

Association had

hearing from all corners of the

2018-28, ensuring climate change programmes.

community, as we have recently operations of gravel quarries in protection project, completed putting greater emphasis on the on that and

done

was actively

over our

considered

draft Long

across

Term the area.

According to a Madworld report

late last year. The network of risks of new pests establishing had concerns

Plan workstreams, 2021-31. increasing visibility in

The

2019,

association

our gross

wants

emissions

these

were

floodgates and stopbanks will in Canterbury. Warming

Christchurch

of As the well science as reading and what nearly we know moved 2253 further tonnes of away. carbon They dioxide say protect half a million people and temperatures, changing soils and buses were too

1300 about submissions, the impact of councillors climate that (CO2) the dust equivalent, from trucks compared carrying

removals material of 7883 from tonnes quarry of CO2-

with

$8 billion of community and new land uses mean new weeds expensive.

heard change from on Canterbury, many groups and and liaising

business assets from a possible especially, will be able to gain a

PHOTO: GEOFF

individuals on the issue who with presented iwi and regional at the operations equivalent is through a health hazard. our efficiency

SLOAN

"super flood".

better foothold across the region.

hearings. partners, other local authorities They efforts recommend and from portable forestry dust planting including The timetabling, last major flood the environmental

December friendliness 1957, when of such parts rehabilitation curb reliance over other on fossil inter-

fuels and Plan submissions.

was in protection, More and broadly, environmental we have to came through the Long Term

and It was central pleasing government. to meet

monitors across 2700 and employing hectares. staff to

with As some an organisation, of Christchurch's we have keep The a close changing eye on climate the measurements.

many risks to life and livelihood They Kainga also were told us swamped that they by river with freshwater. alternatives, such as electricity who and took the time to write

will pose transport, of Coutts and Island the network in Belfast itself. and ests, especially find environmentally when concerned suitable A big thank you to everyone

neighbourhood also made significant and residents' progress in

associations addressing our during own the greenhousegas

emissions, city's history with with our such as-

part we of have the seen regional how council's occasional, Christchurch metres per buses second were (cumecs). too agement transport. is one of the most hotly Deliberations on everything

hearings. in Air Canterbury. quality is an In important recent years often flow heard peaking people at saying 3990 cubic that It's no hydrogen, secret that to power water man-

our public or present a submission.

The

sociations Christchurch dates building back to receiving the 19th-century.

"market-leading" In fact, Christchurch energy efficiency are had pollution huge effects issues on and residents how and that designed this sent passengers to defend Christchurch

back to the Canterbury Lowndes retired region, as and chair our of commenced, with the plan to be

work. but extreme, To determine weather if there events have expensive The protection and were scheme concerned has been debated When and complex my predecessor issues for Steve we have read and heard have

was rating the of first 5.0 city out in of 6 New in the Zealand year to infrastructure manage them, around we conduct the South their from cars. a flood of as much as 6500 urban this waterways council are late a last key year, focus. he finalised mid-June.

to establish February them. on the National ongoing Island. monitoring in designated

The parts driest of the parts city of (known our region, as of our

Public cumecs. transport is a big part We take highlighted a collaborative, some of the big

Australian There are Built many Environment

issues facing

Environment

work – it's a constantly

Canterbury's

community-led

changes on

approach

the way.

as

He

we

was

our Rating region System and New these Zealand. groups airsheds).

• Cr Jenny Hughey is chair

along the Marlborough coast and evolving and complex area, and try to balance the many interests

perform

The building's

an important

features

role

include

in

across

We also

much

conduct

of the

special

Canterbury

airquality

leadership of biodiversity and optimistic we would be able to of the Canterbury Regional

something that continues to be across the region – something

representing

184 solar panels

matters

which

of

can

interest

Plains,

investigations,

are expected

such

to get

as

biosecurity programmes is also deal with the "pressing issues" Council of (Environment

even a work in progress. However, we that is even more relevant as the

for their respective suburbs. the recent one into dust issues at

underpinned by climate-change climate change and sustainability. Canterbury)

generate more than 55,000 drier. North-westerly storms are

set clear targets to improve public

transport

region starts to respond to the

I'd like to share few thoughts McLeans Island, which included concerns.

outcomes based on

I share his confidence. As a

Government's new freshwater

from

kilowatt

just

hours

three

of

of

electricity

these associations

per

the

predicted

use of a specially

to become

designed

more intense,

public suggestions and the work reforms.

year.

that show how diverse the mobile with torrential app.

alpine rainstorms

Canterbury's distinct braided community, and as a council,

It's a year since Environment

of advisory

rivers and

groups.

unique wetlands face Canterbury

These

we

three

are taking

examples

some

of

bold steps to

concerns There has can been be, even a 26% in reduction a relatively

per staff small member city like in Christch-

emissions

turning The submission our braided of the rivers Halswell into

In many its submission, challenges. the The Beckenham

a Neighbourhood vital ecological link Associa-

emergency

and provide concern cope give with just the a hint changing at some climate

rivers form

residents'

ensure

areas

we

of

are

interest

in a better

and

place to

declared Residents' a climate-change roaring rapids, Association fuelling had landslides a

urch. since 30 June 2010. We now have large and focus causing on public widespread transport, erosion. tion an emphasised abundant conservation,

food supply and of the and issues the in tests the spotlight it will set that us. But

access to JENNY electric HUGHEY and hybrid explains what Canterbury's coastal

nesting grounds for 26 species of by sea-level there will rise always this century be a need and to do threatened and facing increased

vehicles the and council hope has to have been half doing. our communities will be threatened native birds – most classified as our more. productive and protected land

The formal declaration of a

state of climate emergency across

Canterbury was one of the most

Birthday Offer

Subscribe

and get a BLUNT

Umbrella! *

serious, and colourful, moments

in the regional council's more than

30-year history.

A year ago this Saturday,

at 11.49am, Environment

Canterbury became New Zealand's

first council to proclaim such an

emergency, formally dedicating

itself to consideration of climate

change at the heart of all it does.

The declaration highlighted

that all the work Environment

Canterbury does – from

freshwater management to

biodiversity and biosecurity,

transport and urban development

to air quality, and also regional

leadership – has a climate change

focus. NOW!

Currently, under the Resource

Management Act, regional

councils are required only to adapt

to climate change, not mitigate

it – that responsibility is the

Government's, but could change.

Even in 'adapt mode' many

of Environment Canterbury's

existing policies and plans already

contribute to reduced emissions.

In declaring the climate

emergency, the Council noted it

would continue to show leadership

on climate-change and do so

without adding new programmes

at ratepayers' expense. It also gave

staff a clear mandate to continue

Grab a 3 month subscription

for $160 and get a BLUNT

Umbrella* (RRP $109).

SUBSCRIBE

and enhance that work.

That work included setting

up a climate-change integration

programme in the Long-term Plan

2018-28, ensuring climate change

was actively considered across

workstreams, increasing visibility

of the science and what we know

about the impact of climate

change on Canterbury, and liaising

on the issue with iwi and regional

partners, other local authorities

and central government.

As an organisation, we have

also made significant progress in

addressing our own greenhousegas

emissions, with our

Head to mags4gifts.co.nz/blunt

Christchurch building receiving a

"market-leading" energy efficiency

rating of 5.0 out of 6 in the year

to February on the National

Australian Built Environment

Rating System New Zealand.

The building's features include

184 solar panels which can

generate more than 55,000

kilowatt hours of electricity per

year.

There has been a 26% reduction

per staff member in emissions

since 30 June 2010. We now have

access to electric and hybrid

vehicles and hope to have half our

Latest Canterbury news at starnews.co.nz

Environment

Canterbury Chair

Jenny Hughey

*Offer available for a BLUNT Metro Umbrella for a limited time only, while stocks last. Terms and conditions apply.

fleet hybrid or long-range electric

by 2022. Carbon emissions from

air travel across the organisation

are offset via our own biodiversity

programmes.

According to a Madworld report

in 2019, our gross emissions were

2253 tonnes of carbon dioxide

(CO2) equivalent, compared with

removals of 7883 tonnes of CO2-

equivalent through our efficiency

efforts and from forestry planting

across 2700 hectares.

The changing climate will pose

many risks to life and livelihood

in Canterbury. In recent years

we have seen how occasional,

but extreme, weather events have

had huge effects on residents and

infrastructure around the South

Island.

The driest parts of our region,

along the Marlborough coast and

across much of the Canterbury

Plains, are expected to get even

drier. North-westerly storms are

predicted to become more intense,

with torrential alpine rainstorms

turning our braided rivers into

roaring rapids, fuelling landslides

and causing widespread erosion.

Canterbury's coastal

communities will be threatened

Sun, 30 May, 2pm

jeopardised by the arrival and

spread of new, exotic weeds and

pests from warmer climates.

All these eventualities have

to be planned and prepared for,

and Environment Canterbury

will remain in the vanguard of

these climate change efforts.

One example is the $40 million

Waimakariri River flood

protection project, completed

late last year. The network of

floodgates and stopbanks will

protect half a million people and

$8 billion of community and

business assets from a possible

"super flood".

The last major flood was in

December 1957, when parts

of Coutts Island in Belfast and

Kainga were swamped by river

flow peaking at 3990 cubic

metres per second (cumecs).

The protection scheme has been

designed to defend Christchurch

from a flood of as much as 6500

cumecs.

Environment Canterbury's

leadership of biodiversity and

biosecurity programmes is also

underpinned by climate-change

concerns.

Canterbury's distinct braided

rivers and unique wetlands face

many challenges. The rivers form

a vital ecological link and provide

an abundant food supply and

nesting grounds for 26 species of

native birds – most classified as

Thursday May 27 2021 The Star

OPINION 17

pressures due to river system

change.

Wetlands are also ecosystems

at-risk nationally and regionally,

degraded by draining, damming

and diversion affecting their

ability to sequester carbon,

cleanse freshwater and mitigate

flooding, as well as impacting on

biodiversity and mahinga kai.

With biosecurity, we are

putting greater emphasis on the

risks of new pests establishing

in Canterbury. Warming

temperatures, changing soils and

new land uses mean new weeds

especially, will be able to gain a

better foothold across the region.

More broadly, we have to

curb reliance on fossil fuels and

find environmentally suitable

alternatives, such as electricity and

hydrogen, to power our public

transport.

When my predecessor Steve

Lowndes retired as chair of

this council late last year, he

highlighted some of the big

changes on the way. He was

optimistic we would be able to

deal with the "pressing issues" of

climate change and sustainability.

I share his confidence. As a

community, and as a council,

we are taking some bold steps to

ensure we are in a better place to

cope with the changing climate

and the tests it will set us. But

there will always be a need to do

more.
---
18 The Star Thursday May 27 2021

AUTUMN SALE

SELECTED ITEMS IN STORE & ONLINE

+ SUPER DEALS. ENDS 31.5.21.

Allessa

Chaise Sofa

WAS $

2199

NOW

$

1799

4 Seater – Grey NOW $ 1999

2.5 Seater –

Grey NOW $ 1499

Elmhurst

3 Piece Dining Set

– W180

WAS $

1249

NOW

$

999

LINCOLN RANGE

ON SALE!

Zara Playhouse Single Bunk Bed

WAS $

999

NOW

$

799

Duke

Dining Chair

NOW $

125

ATLANTIC RANGE

ON SALE!

Queen Bed NOW $ 699

Bedside NOW $ 275

Tallboy NOW $ 799

Veno

Dining Chair

NOW $

95

24 MONTHS

INTEREST FREE

Medium Feel

boxed

for easy

transport!

Dallas Queen Bed

WAS $

449

NOW

$

349

Credit criteria, exclusions, fees, terms & conditions

apply. See staff for more information.

Sono Queen Mattress

WAS $

599

NOW

$

399

Shop

Online

Nationwide

Delivery

Finance

Options

PLUS HEaps more super deals in store & online!

AUTUMN SALE ENDS 31.05.21.

250 Moorhouse Ave, Christchurch

Ph: 0800 TARGET (0800 827438)

targetfurniture.co.nz

Offers and product prices advertised here expire 31/05/21.

Sale Excludes Accessories.
---
Thursday May 27 2021 The Star

Latest Canterbury news at starnews.co.nz

GARDENING 19

ATTENTION

BUSINESS OWNERS

Do you sell products that are

eco-friendly or sustainable?

Are you ready to grow?

For real kiwi gardeners who like

to get their hands dirty.

You could feature in the Eco-Zone at the 2021 Star

Media Home and Leisure Show this July and reach over

10,000 attendees across 3 days!

SubScribe From

$

20

Beeswax Wraps • Reusable Products

Natural Cleaners • Skincare & Make-Up Organics

Compost • Upcycled Furniture • Recyclable Products

If this sounds like you,

contact Lisa now on 021 800 809 or email lisa.

lynch@starmedia.kiwi for a no obligation quote.

Payment options available. Terms & Conditions apply.

Christchurch Arena, 2-4 July 2021

IN ASSOCIATION WITH

SubScriptionS Freephone

0800 77 77 10

kiwigardenermagAzine.co.nz
---
p $10.99

rrp $10.99

The Star Thursday May 27 2021

20

SPORT

• By Chris Barclay

AVOIDING DEFEAT against

the Canterbury Rugby League

premiership benchmark and the

competition pacesetter's should

be cause for celebration.

Yet the resurgent Halswell

Hornets were again ruing one

that got away after being unable

to protect a lead against a title

favourite during their club day

last weekend.

The Hornets had to settle for

a 16-all draw with the five-time

defending champion Linwood

Keas when they conceded a

last-minute try in round six after

leading 10-0 at half-time.

And a week later Halswell led

Hornby 18-4 at the break before

the Panthers staged a second half

revival to salvage a 24-all draw

on Saturday through braces to

winger Davy Watts and prop

Keletisua Tongotongo.

"We just didn't manage to

carry on, we lost a bit of composure

but we're a young side, we're

still learning," said Halswell head

coach Walter Wilson, who was

proud of his side's reaction leading

into Saturday's clash with

Papanui.

"There were two huddles at the

end of the game. One was very

grateful they got a draw, we were

filthy."

Wilson was still rapt the side

was in the top four at the midway

point of the competition.

Top of the tables

Christchurch Metro Premier Cup Men's Rugby

P W L D PD Pts

Marist Albion 7 5 2 0 38 29

Burnside 7 5 2 0 80 24

Lincoln University 7 4 3 0 58 24

Christchurch 7 3 3 1 70 23

Linwood 7 5 2 0 37 23

Sumner 7 4 2 1 12 23

Sydenham 7 4 2 1 -5 23

Shirley 7 2 5 0 -26 18

University 7 3 4 0 -20 16

HSOB 7 2 5 0 -13 14

New Brighton 7 2 5 0 -79 10

Belfast 7 1 5 1 -152 9

Canterbury Rugby League Men's Premiership

P W L D PD Pts

Hornby Panthers 7 6 0 1 108 13

"We'd like the boys to be patted

on the back for a win, instead of a

draw but we're starting to become

more consistent," he said.

Halswell vice president Jeff

Whittaker was also impressed

after witnessing several lean

seasons recently where the team

languished in or around the bottom

half.

"To draw with (unbeaten)

Hornby … Linwood have won

the last five grand finals. It'll

come. We've had four or five

18 year-olds step up to premier

grade already. They're competing

and doing a good job."

The Eastern Eagles again

distanced themselves from the

bottom of the eight-team ladder

with a 22-20 win over Riccarton

Latest Canterbury news at starnews.co.nz

BIG CLUB MATCH-UPS THIS WEEKEND

Win-hungry Halswell still boosted by stalemates

Knights at Crosbie Park in the

other tight tussle of the round.

Linwood bounced back from

their stalemate with a nine-try

48-20 victory over a Celebration

Lions team featuring four sets

of brothers and the Northern

Bulldogs thrashed the winless

Papanui Tigers 56-8, with coach

Frank Endacott's grandson Josh

notching a hat-trick.

Marist Albion's ability to

collect bonus points in a losing

cause has again enabled last

year's beaten finalists in the

Christchurch Metro Cup to

retain top spot in spite of a 33-31

loss to Sydenham.

They now have nine bonus

points, one shy of Shirley's

haul from seven rounds and

Linwood Keas 7 5 1 1 102 11

Northern Bulldogs 7 4 3 0 58 8

Halswell Hornets 7 3 2 2 58 8

Celebration Lions 7 3 4 0 34 6

Riccarton Knights 7 3 4 0 -64 6

Eastern Eagles 7 2 5 0 -130 4

Papanui Tigers 7 0 7 0 -190 0

Mainland Football Men's Premiership

P W D L GD Pts

Cashmere Technical 9 8 1 0 23 25

Coastal Spirit 9 7 1 1 13 22

Christchurch Utd 9 4 3 2 17 15

Nelson Suburbs 9 4 1 4 1 13

Nomads Utd AFC 9 4 0 5 -4 12

Ferrymead Bays 9 4 0 5 -9 12

Selwyn Utd FC 9 1 2 6 -10 5

Halswell Utd AFC 9 0 0 9 -31 0

HARD YARDS:

Alan Morrison

carts the ball

up for Halswell

during their

Canterbury

Rugby League

premiership

stalemate with

Hornby.

PHOTO: KEVIN

CLARK/CMG

SPORT

just two wins.

Burnside improved to second

through a 22-16 victory over

High School Old Boys; Sumner

burst Linwood's bubble with a

40-27 win at Linfield Park.

It was finally a memorable

round for Belfast, who shaded

Shirley 26-24 to record their first

win off the season to mark wing

Robbie Whareaorere's 50th appearance

appropriately.

Cashmere Technical and

Coastal Spirit continued to

dominate the Mainland Football

premiership after nine rounds.

While the reigning champions

coasted to a 5-0 win over

cellar-dwelling Halswell United,

Coastal Spirit beat fourth-placed

Nelson Suburbs thanks to

Weekend match-ups

Christchurch Metro

Premier Cup (all Saturday at

2.45pm)

Lincoln University v Burnside,

Lincoln University; Sydenham v

Linwood, Sydenham Park; New

Brighton v Belfast, Rawhiti Domain;

Christchurch v Sumner, Christchurch

Park; Marist Albion v HSOB,

Edgar Macintosh Park.

Canterbury Rugby League

Premiership (all Saturday at

2.45pm)

Papanui Tigers v Halswell Hornets,

Papanui Domain; Riccarton

Tristan Nichol's decisive strike.

A Jack Grove double put Cashmere

Technical on course to protect

their unbeaten record before

Yuya Taguchi and Luke Tongue

were on target after the break.

Alex Ballard's maiden premiership

goal completed the rout.

Third-ranked Christchurch

United also lost ground through

a 3-3 stalemate with Selwyn

United which featured five

goals in the opening 26min, but

neither side could conjure up a

winner.

Selwyn started a busy week by

becoming the first semi-finalist

in the English Cup by eliminating

Halswell 2-1 thanks to an

86th-minute winner.

The next quarter-final pits

Christchurch United against FC

Twenty 11 on June 22.

Marist continued their

unbeaten start to the Canterbury

Hockey men's premier

competition with a 1-0 win over

University; Carlton Redcliifs

leads the women's division on

goal difference from Avon in

spite of losing 4-2 to Harewood,

their first loss of the campaign.

Lincoln University maintained

their imposing defence of the

Christchurch Netball Centre

premier title with a routine

63-44 win over St Margaret's on

Tuesday night to be unbeaten

after six rounds. Closest

challenger Kereru A beat the

club's B side 63-35.

Knights v Hornby Panthers, Nga

Puna Wai 1; Northern Bulldogs v

Linwood Keas, Nga Puna Wai 2;

Celebration Lions v Eastern Eagles,

Wainoni Park.

Mainland Football

Premiership

Nomads United v Nelson Suburbs,

Tulett Park, Saturday 11.30am;

Cashmere Technical v Christchurch

Utd, Garrick Memorial Park,

2.45pm Saturday; Selwyn United v

Ferrymead Bays FC, Foster Park,

2.45pm Saturday; Coastal Spirit

v Halswell United, Linfield Park,

12.30pm Sunday.

BE IN TO

WIN

A SONY X90H ANdROId Tv WORTH $2,500!

9 416770 121325

FREE FIRST XV SEASON PREVIEW MAGAZINE INSIDE

MAY 2021

SEILALA MAPUSUA INTERVIEW: HIS VISION FOR MANU SAMOA

JUNE 2021

TONY JOHNSON

ON THE COMING OF

MOANA PASIFIKA

AARON SMITH

'WHY I RATE

DUPONT'

SEAN FITZPATRICK

'WE NEED MONEY TO

SUSTAIN THE GAME'

CRUSADERS DAN

FIVE OF THE BEST

CARTER

TONY

REFLECTING JOHNSON ON A

CAN GREAT THE CAREER

SABBATICAL

SAM CANE

JEROME

THE LONG

KAINO

ROAD BACK

SORTED FOR

LIFE AFTER

RUGBY

BEEGEE'S

DREAM

WHY MOANA

PASIFIKA WILL BE A

• PHIL GAME-CHANGER

GIFFORD: THE BEST

SCHOOLBOY STARS HE SAW

• DARYL GIBSON: HIS VISION

FOR THE BOP STEAMERS

9 416770 121325

WAYNE PIVAC

FROM THE OUTHOUSE

TO THE PENTHOUSE

• WHERE ARE THEY NOW:

MATTHEW COOPER

• SARAH HIRINI:

BRINGING THE MANA

Subscribe to New Zealand's

premier rugby read for six issues

or more to go in the draw. Ten

lucky subscribers will also win

one of five All Blacks jerseys, Lone

Star and Joe's Garage vouchers.

SIX ISSUES

$39

SAvE 41%

+ CHANCE

TO WIN A Tv

& mORE!

*Competition runs till July 31st 2021. Offer only applies to NZ

residents and subscription periods of six issues or more.

SUBSCRIBE AT RUGBYNEWS.CO.NZ OR 0800 77 77 10 | AvAIlABlE AT All GOOd BOOkSTORES ANd SUpERmARkETS
---
REINFORCEMENTS from

either end of the experience

spectrum have been summoned

to Sydney as the Crusaders

combat an injury influx ahead of

another revenge match against

supposedly inferior Australian

opposition.

Captain and All Blacks lock

Scott Barrett has recovered from

illness and is likely to start on

the blindside flank against the

Waratahs in Wollongong on

Saturday after versatile loose

forward Ethan Blackadder

headed home after being

concussed during the 63-28 rout

of the Reds in Brisbane.

Brodie McAlister, Codie

Taylor's back-up at hooker, has

also returned to Christchurch

after suffering a head knock,

meaning Tasman's Quentin

MacDonald, who played the last

of his 22 games for the Crusaders

in 2012, covers any setback for

new deputy Nathan Vella.

Fledgling Canterbury flanker

Liam Allen is also in Sydney

to bolster a fit loose forward

Latest Canterbury news at starnews.co.nz

Barrett set to return for Crusaders

ONE STOP SHOP

FOR ALL VEHICLE REPAIRS

• WOF • Servicing • Full Mechanical Repairs

• Latest Diagnostic Equipment • Tyres

• Batteries • Auto Electrical Repairs

• Mechanical Breakdown Insurance Repairs

• Loan Cars Available

12 Sheffield Crescent, Burnside, Christchurch

P: 03 3585 580 E: sheffieldcauto@xtra.co.nz

Sizzling

Saturday

$22

WOF

Bookings essential. Conditions apply.

WE'RE BACK!

Cnr Fitzgerald Ave & Hereford St.

Phone: 365-5220

workshop@a1auto.co.nz

FRAME YOUR

MEMORIES

We have the perfect frame for you!

unit comprising Cullen Grace,

Whetukamokamo Douglas and

Sione Havili Talitui.

This lack of depth suggests

Barrett, who last played in the

Super Rugby Aotearoa final

win over the Chiefs, will start

alongside Grace and Douglas.

Crusaders head coach Scott

Robertson reveals his team for

the third round of Super Rugby

Trans-Tasman today.

Injuries and the need to

secure a try-scoring bonus

point in every outing means

the Crusaders will probably

field their best available line-up

against the Waratahs, who are

yet to register a win this season

in either the Australian or

combined competition.

The Crusaders are third on

the ladder with three games

remaining, a point behind the

Blues and Hurricanes because

they were unable to record

maximum points in the narrow

opening round win over the

Brumbies.

•Kick off at 5.05pm (NZ time).

SUPER RUGBY tRanS taSman

Tipping CompeTiTion

BROUgHT TO yOU By THE STaR MEdIa COMPaNy

ROUND THREE

28-30 May 2021

HURRicaNEs v WEsTERN FORcE

NsW WaRaTaHs v cRUsaDERs

blUEs v bRUMbiEs

QUEENslaND REDs v cHiEFs

HigHlaNDERs v MElbOURNE REbEls

OUR TIPSTERS SELECTIONS THIS WEEK

2 points for correct winner, 1 point for correct margin

CHRIS SMITH

portstone

Hurricanes

by 21-30 points

Crusaders

by 31+ points

Blues

by 11-20 points

Chiefs

by 11-20 points

Highlanders

by 31+ points

MaRTy fULLER

elmwood Trading Company

Hurricanes

by 11-20 points

Crusaders

by 31+ points

Blues

by 11-20 points

Reds

by 1-10 points

Highlanders

by 21-30 points

BRENT JEffERIES

A1 Auto

Hurricanes

by 11-20 points

Crusaders

by 21-30 points

Blues

by 21-30 points

Chiefs

by 11-20 points

Highlanders

by 11-20 points

JaMIE HaRRIS

Venluree

Hurricanes

by 11-20 points

Crusaders

by 11-20 points

Blues

by 11-20 points

Chiefs

by 11-20 points

Highlanders

by 11-20 points

Curtains

Blinds

Shutters

davE MCLaCHLaN

Rose and Thistle

Hurricanes

by 21-30 points

Crusaders

by 21-30 points

Blues

by 11-20 points

Chiefs

by 11-20 points

Highlanders

by 11-20 points

CHRIS TayLOR

Richmond Club

Hurricanes

by 21-30 points

Crusaders

by 21-30 points

Blues

by 11-20 points

Chiefs

by 11-20 points

Highlanders

by 21-30 points

LEadERBOaRd

# NaME lasT WEEk's TOTaL

scORE POINTS

Dave McLachlan 12 22

Brent Jefferies 11 21

John McCann 11 21

Shane Dalley 11 20

Marty Fuller 9 19

Jamie Harris 8 18

Chris Taylor 12 18

Chris Smith 9 15

SHaNE daLLEy

Sheffield Cres Auto Centre

Hurricanes

by 11-20 points

Crusaders

by 31+ points

Blues

by 21-30 points

Chiefs

by 11-20 points

Highlanders

by 11-20 points

JOHN MCCaNN

Artworks

Hurricanes

by 21-30 points

Crusaders

by 31+ points

Blues

by 11-20 points

Chiefs

by 21-30 points

Highlanders

by 21-30 points

Come view our

range of pots

Sizes to complement your

courtyard, garden or indoor space

Thursday May 27 2021 The Star

SPORT 21

Scott Barrett

YOUR NEW LOCAL!

SUPER

RUGBY

• TAB • Private Function Room

• $12.50 Lunches

Friday 7.05pm:

Hurricanes v W.Force

Saturday 5.05pm:

CRUSADERS

v Waratahs

Running a

charity quiz is

a piece of cake!

Let us put together

a charity or

fundraising quiz

night for YOU!

Call or speak to us now!

1 Normans Rd

Ph 355 5345

www.facebook.com/

elmwoodtradingco

• $12.50 Lunches

- Friday Nights

• Karaoke - Fri Nights

Live Bands - Sat Nights

• TAB • Gaming Machines

• Pool TAB Table • Pool Table

• Sports on Big Screens

• Live Bands - Sat Nights

• Gaming Machines

• Sports on Big Screens

24a Main North Road

Papanui. Ph: 03 352 7011

www.roseandthistle.co.nz

NEW CARVERY

in our NEW Restaurant

6 Main North Road | Ph 352 7594

Open Mon-Fri 9am-5pm

www.artworkspictureframing.co.nz

BRAND NEW SHOWROOM

Mobile showroom

service

Free

measure &

quote

Unit 2 / 99 Sawyers Arms Rd

03 365 4666 or 0800 836 587

www.venluree.co.nz

Portstone

GARDEN CENTRE & CAfÉ

465 Ferry Rd • Phone 389-4352

www.portstone.co.nz

OPEN 9am - 5pm 7 Days

Helping

Christchurch Grow

CARVERY OPEN

THURS - SAT

5.30-8PM

richmondclub.nz

FROM

22 50 $

75 London St,

Richmond

P: 03 389 5778

theborough.nz
---
22 The Star Thursday May 27 2021

WHY CHoose

WE ARE CURRENTLY OFFERING

$2000 MINIMUM

TRADE IN

*ON SELECTED VEHICLES! TERMS & CONDITIONS APPLY

for Your next VeHICLe?

VALUE

REPUTATION

SELECTION

TRUSTED

PLUS

REGISTRATION

2011 bMw 116i

$10,999

Stylish and sporty European RWD sports hatch,

features a 1.6L engine with tiptronic trans, looks smart

in white with 16'' alloys, black interior, push button

start, rear wiper, ABS, T/C and multiple airbags, come

and view today!

PLUS

REGISTRATION

2019 nissan MaRCh s

$11,999

The March is a light steering, easy to drive, popular,

economical and surprisingly spacious 5 door hatch,

features a 1.2L engine with automatic trans and 5 star

fuel efficiency, silver with black interior, keyless entry,

rear wiper, rear centre shoulder belt, travelled super

low kms, ABS and airbags, fantastic buying!

PLUS

REGISTRATION

2018 ToyoTa aqua G

$18,999

Very popular 5 door hatch, 1.5L hybrid engine with

automatic trans, orange with sporty styling, driving

lights and 15'' alloys, black leather interior, cruise

control, heated front seats, collision avoidance, land

departure warning, rear wiper, ABS, T/C and airbags,

perfect round town vehicle or for Uber!

PLUS

REGISTRATION

2010 Honda CR-Z

$10,999

The CR-Z is a sports compact hatch, features a

1.5L hybrid engine, tiptronic trans, looks sleek

in white with 16'' alloys, keyless entry, reverse

camera, multi-function steering wheel, cruise

control, ABS, T/C and airbags, come and inspect

today!

PLUS

REGISTRATION

2015 ToyoTa PoRte

$12,999

A versatile new generation hatch, best feature being

the huge passenger door and high roofline allowing

easy entry/exit, features a 1.5L engine with automatic

trans and 5 star fuel efficiency, finished in light green,

low kms, keyless entry, rear wiper, parking sensors,

ABS and airbags, perfect for someone!

PLUS

REGISTRATION

2013 subaru XV l

$18,999

Very nice example of this stylish AWD family

hatch, features a 2.0L engine with automatic

trans and paddleshift option, looks stunning in

deep purple on black 17'' alloys, driving lights,

rear wiper, black interior, push button start, cruise

control, ABS, T/C and airbags, test drive today!

PLUS

REGISTRATION

2014 ToyoTa PRius s

$15,999

Extremely popular, fuel efficient vehicle, features

a 1.8L hybrid engine with automatic trans and

5.5 star fuel rating, finished in frosty green, push

button start, reverse camera, ABS, T/C and 8

airbags, awesome buying!

PLUS

REGISTRATION

2009 Volkswagen Polo CRoss

$8,999

Very popular European hatch, features a 1.6L

engine with tiptronic trans, looks smart in grey

with factory kit, driving lights and 17'' alloys, dark

interior, low kms, keyless entry, roof rails, rear

wiper, ABS, T/C and 10x airbags, will sell quickly!

PLUS

REGISTRATION

2013 ToyoTa CaMRy hyBRid

$19,999

Popular family sedan, combining practicality with a

bit of luxury, 2.5L hybrid engine, automatic trans with

5.5 star fuel efficiency, wine red with chrome detail,

driving lights and 17" alloys, stylish part leather black

interior with woodgrain accents, cruise, bluetooth,

reverse camera, rainshields, ABS, T/C and 9 airbags.

PLUS

REGISTRATION

2014 nissan latio

$10,999

Practical and versatile 4 door sedan, features an

economical 1.2 litre engine with automatic trans and

5.5 star fuel efficiency, finished in silver with black

interior, travelled low kms, idle stop, keyless entry,

ABS and airbags, another great vehicle for Uber!

PLUS

REGISTRATION

2015 nissan Juke Rs

$16,999

The Juke is a mini SUV that features a 1.5L engine

with automatic trans and overdrive returning 5 star

fuel efficiency, travelled very low kms, looks good in

silver with black interior, keyless entry, rear wiper, ABS,

T/C and airbags, if you prefer to stand out from the

crowd in a unique vehicle, the Juke is a great choice!

PLUS

REGISTRATION

2015 nissan X-tRail auteCh

$23,999

Highly sought after SUV, features a 2.0L engine

with automatic trans, looks great in red with

factory body kit and 18'' alloys, black leather

interior, push button start, reverse camera,

collision avoidance, idle stop, heated seats, ABS

and airbags, very nice example!

PLUS

REGISTRATION

2008 ToyoTa VellfiRe Z

$14,999

A sportier styled version of the ever popular Alphard,

features a 2.4L engine with tiptronic trans, looks smart

in black with chrome detail, body kit, driving lights,

spoiler and 18'' alloys, black interior, 7 seats, push

button start, parking sensors, rear wiper, rainshields,

ABS, T/C and 9 airbags, move the family in style!

PLUS

REGISTRATION

2009 Mazda Biante

$9,999

Stylish 8 seater vehicle, features a 2.0L engine

with i-stop and automatic trans, looks smart in lilac

silver with 16'' alloys, black interior, push button

start, powered side doors, ABS, T/C and airbags,

if you have a large family or small group to move

this van is a great choice!

PLUS

REGISTRATION

2007 Honda elysion VG aeRo

$10,999

Stylish people mover, features a rare V6 3.0L

engine with variable cylinder management, looks

sleek in black with body kit, chrome detail and

17'' alloys, cruise control, keyless ignition, power

side doors, reverse camera, rear wiper, rainshields,

ABS, T/C and airbags, won't hang around long!

Registration for 6 months is $301

Value Cars Warehouse

4.72

CANTERBURY OWNED

& OPERATED

ESTABLIShED 1993

32 Moorhouse Ave, P: (03) 366 7768 IMVDA

www.valuecarswarehouse.co.nz
---
h tp: /kaywa.me/8aVDQ

Download the Kaywa Qr Code reader (A p Store &Android market) and scan your code!

my Kaywa Qr-Code

w.valuecarswarehouse.co.nz

2013 LexuS

LS460 F Sport

Only 79,000kms, black leather

interior, 10x airbags, sunroof,

h tp: /kaywa.me/8aVDQ

Download the Kaywa QR Code Reader (a p Store &android Market) and scan your code!

My Kaywa QR-Code

w.valuecarswarehouse.co.nz

PH 03 web

Thursday May 27 2021 The Star 23

Refresh for major ute market challenger

A WORK colleague recently

bought a pre-owned car for her

son – it is a Honda Accord.

There is nothing unusual

about that, but what is unusual

is it has manual transmission.

Most buyers in the New Zealand

car market today are looking to

purchase vehicles with automatic

transmission, that's fine, it's what

the market demands, so I found

it refreshing to be part of the purchasing

process, getting behind

the wheel and using those three

pedals, albeit for a very short

drive.

The latest evaluation vehicle

to come my way with manual

transmission wasn't actually a car

but a ute, Isuzu's new D-Max to

be exact.

Isuzu has just launched a major

upgrade to its popular model,

given that it's been several years

since its last refresh.

The new D-Max has had a fairly

substantial design makeover,

there's a new double wishbone

suspension up front, the rear

suspension and differential

have had design upgrades, the

engine's turbocharger system has

been re-engineered, there's a lot

more kit in the car, especially

for safety where it earns a

five-star Australasian New Car

Assessment Program rating, and

with a bolder exterior the D-Max

is there to tempt the discerning

buyer who wants just something

a little bit out of the mainstream.

Bear in mind, though, that the

D-Max gets all of the engineering

experience of the wider General

Motors group, and it is a ute

that will stand the test of time.

There are also all of the cabin

configurations that you would

expect in an entire range of utes

– cab-chassis, wellside, space and

double cab options. There are 15

variants in total, some just rearwheel-drive,

others four-wheeldrive

and, of course, automatic

gearbox variants are scattered

throughout the line-up.

The evaluation car was an LS

specification double-cab wellside,

it lists at $61,990 ($65,990 auto),

$9500 from the range-topping

X-Terrain model. Incidentally, the

range starts at $49,990.

All variants are fitted with

a 3-litre turbocharged diesel

engine. Isuzu rates it at 140kW

and 450Nm. Power is up 10kW

and 20Nm over the previous

engine and it shows, the torque

flow is increased markedly in

terms of how it is structured

through the mid-range. Boost

from 1600rpm to 2600rpm is

substantial, especially in manual

gearbox form where power is

ushered in decisively as gears are

moved upwards.

Special mention must be made

here of the clutch and six-speed

shift sequence, the two combine

to give smooth changes and little

OPTIONS: The Isuzu D-Max is available with either a

manual and automatic gearbox.

ISUZU D-MAX: Fifteen variants built for a multitude of roles.

likelihood off a stall at stakeoff.

Clutch action is light and

progressive, easily hiding the

rugged mechanicals which lie

beneath. Incidentally, the fourwheel-drive

and low ratio system

is initiated by console-mounted

electronic switches.

Although I had the D-Max

during a time of extensive

renovation at the Kiddiehousehold,

I didn't use the deck

area for anything other than a

few light tasks. The deck area was

naked paint without a liner, so for

fear of scratching it unnecessarily

I was very circumspect.

On the subject of load, the

D-Max wellside is a genuine

one-tonner, capable of a

1.3-tonne payload depending

on the deck, that along with a

3500kg tow rating has it sitting

commandingly with the market

front-runners.

Not only is the D-Max manual

an easy car to drive smoothly, it

feels good to be in as a driver, it is

civilised and sits comfortably on

the road. The test car was fitted

with 18in Maxxis tyres, they were

deeply-treaded and I thought

they would make their presence

known on the road, however, I

was pleasantly surprised, there is

a little drone on perfectly smooth

surfaces but it wasn't annoying

• Price – Isuzu D-Max LS

double cab, $61,990

• Dimensions – Length,

5265mm; width, 1870mm;

height, 1790mm

• Configuration – Fourcylinder,

four-wheel-drive,

2999cc, 140kW, 450Nm,

six-speed manual

• Performance – 0-100km/h,

10sec

• Fuel usage – 7.7l/100km

and on coarse chip seal there was

sound intrusion.

Isuzu should be well pleased

with the work it did on the

suspension, the ride is as good

as any in this part of the market,

in-cabin comfort is high both in

front and rear, and other than a

little jiggle over bumps and ruts

the load bearing design doesn't

overly compromise comfort

levels.

Being a working ute, the

elements which make it

possible to traverse difficult

terrain are engineered into the

vehicle, the low ratio/manual

gearbox mix means an absolute

crawl mode is possible in first and

second gear.

Prior to picking the ute up it

was used for dealer evaluation

purposes and it had collected

a lot of soil underneath; that

being the case, I pointed the ute

at fairly steep clay bank on the

Port Hills, it easily conquered

the terrain, and with 240mm of

ground clearance there was little

possibility of getting caught going

over the top.

On descent, such is the engine

and transmission braking a feetoff-the-pedals

approach is to be

encouraged.

Column space doesn't allow

comprehensive detailing of the

D-Max but to say it is a worthy

consideration in a busy market,

a market that is dominated by

Thailand-built wellsides. It's

fair to say the D-Max is a

serious competitor, and with

its enhancements it's going to

stay that way for many years to

come.

With its long-time running

mate the Holden Colorado

having disappeared, now is a

good time for the D-Max to

re-establish itself. After a break

in supply while the newcomer

came on stream, shipments

are plentiful and options are

considerable.

Add in the experience of the

local dealership, and Isuzu will

continue to have a good presence

in Canterbury.

z

Incorporating

ISSUE 667 | FrIday 20 novEmbEr 2020

gest range of vehicles

ocation!

2011 Jaguar

XF Premium

$18,999

See inside for this week's

4WD feature!

sherborne st, edgeware

Ave | P: (03) 366 7768 | www.valuecarswarehouse.co.nz

See page 4 for more info!

CAR AUDIO

AUDIO VISUAL

free

best motorbuys

Incorporating

ISSUE 668 | FrIday 27 NovEmbEr 2020

275 Colombo street, Christchurch

For more see their advert on pages 6 & 7

The biggest range of vehicles

in one location!

2013 Volkswagen

Tiguan TSi

$20,999

CAR SECURITY

CELLULAR

2 Moorhouse Ave | P: (03) 366 7768 | www.valuecarswarehouse.co.nz

MOBILE INSTALLATION SERVICE

See page 5 for more info!

Ce l 021 855 884

Incorporating

ISSUE 669 | FrIday 4 dEcEmbEr 2020

See inside for this week's

Classic Car feature!

PH 03 web

REVERSE CAMERAS

RADAR DETECTORS

www.drivesouth.co.nz

40 Years Finance

Experience

Cannot be Beaten!

• Talk to us about finance for your next

motor vehicle purchase

• Specialising in Finance for Private Purchases

• Very quick approvals, sensational interest rates

• From no deposit (terms & conditions may apply)

Hiace spares

Cnr Main South Rd and Epsom Rd, Christchurch

Ph: 03 348 4129 | avoncityford.com

Now Available @ NZ Van Spares

PARKING SENSORS

AERIALS

0800 212 777

One Owner!

DASH CAMERAS

GPS/TRACKING

See our ad on page 2

2015 IsuZu D-mAX

4WD Ls D/CAb

NZ new, 3.0 intercooled turbo/dsl,

auto, rare flatdeck with ladder/pipe

racks, reverse cam, service history.

$34,995 $192pw

For more see their advert on page 31

free

best motorbuys

Ce l 021 855 884

www.drivesouth.co.nz

See inside for this week's

marine feature!

2.4 auto, alloys, ABS, twin airbags.

2005 toyota rav

40 Years Finance

Experience

Cannot be Beaten!

• Talk to us about finance for your next

motor vehicle purchase

• Specialising in Finance for Private Purchases

free

best motorbuys

www.drivesouth.co.nz

$9,990

2.0lt Petrol, 5 Dr Station wagon,

Climate Control, ABS Braking,

Automatic. $34.63pw.

2008 bmW 320i

$10,974 NoW $7,974 + orC

has motoring covered.

The South Island's leading

motoring resource, filled with

news, reviews and dealer listings.

Magazine available for FREE

every Friday at a convenient

pick up point near you!

NEED AUTO

ELECTRICAL REPAIRS?

NEW! European specific diagnostic equipment

– Fine tune & identify any faults.

Diagnostic Testing Starters Alternators

Wiring Alarms: Insurance Approved

Fuel Injection Repairs ABS Airbags

Batteries Free Check & Assessment

ROSES

AUTO ELECTRICAL

Very quick approvals, sensational interest rates

• From no deposit (terms & conditions may apply)

very smart & very rare.

$39,999 incL

orc

Hiace spare

Now Available @

493 blenheim road, Christchurch

Cnr Main South Rd and Epsom Rd, Christchurch

Ph: 03 348 4129 | avoncityford.com

fordable new parts available for BMW / MERCEDES BENZ

The biggest range of vehicles

in one location!

4 St Asaph Street, 03 378 1818
---
The Star Thursday May 27 2021

24

PUZZLES

CROSSWORD

1 2 3 4 5 6 7

8 9

10 11

12 13 14 15

16

CHRISTCHURCH

CREMATORIUM

FUNERALS

Latest Canterbury news at starnews.co.nz

196

SUDOKU

Every row, column and box should

contain the digits 1 to 9.

WORDBUILDER

WordBuilder

096

6

C R A

L L O

How many words of three or more

How many words of three or more letters,

including plurals, can you make from the six

letters, using including each letter plurals, only once? can No you foreign

make

words or

from

words

the

beginning

five letters,

with a capital

using

are

allowed. There's at least one six-letter word.

each only once? TODAY

Good 12 Very Good 15 Excellent 18

No words beginning with a capital

are allowed. There's at least one

Solution 095: elm, elmy, EMPLOY, ley, lop, lope, lye,

mole, mop, mope, mopey, mopy, myope, olm, ploy,

six-letter

ply, poem, pol,

word.

pole, poly, pome, yelp, ylem.

Good 8 Very Good 13 Excellent 18+

DEC

9

17 18

19

20 21 22 23 24

25 26

27 28

29 30

31 32

SOLUTION

No.96

14 15 16 17 18 19 20 21 22 23 24 25 26

S P X G V W F C K Y B E Q

33 34

1 2 3 4 5 6 7 8 9 10 11 12 13

Z O H M U N I T A J L D R

Decoder

I T

Across

1. Kidnap payment (6)

5. Double-cross (6)

10. Debts (7)

11. Understand (7)

12. Mix (6)

15. Lowly (6)

16. Snigger (7)

17. Listen to (4)

18. Ancient tale (4)

19. Acidic verbal abuse (7)

20. The military (4)

22. Effigy (4)

25. Chase (7)

27. Universe (6)

28. Young swan (6)

31. Staying power (7)

32. Desert (7)

33. Separate, break away (6)

34. Strongly dislike (6)

1 10 11 12 13

14 15 16 17 18 19 20 21 22 23 24 25 26

2 3 4 5 6 7 8 9 N

A B C D E F G H I J K L M N O P Q R S T U V W X Y Z

23 24 12 14 3 3 7 10 5 19 16

19 3 14 14 7 14

10 14 3 9 25 25 1 14 1 19 18 8

Down

2. Organise (7)

3. Plays for time (6)

4. Contemplate (4)

5. Exposed

6. Merchant (6)

7. Skill (7)

8. Heat (6)

9. Riches (6)

19 14 9 19 8 17 14

20 10 17 14 9 3 10 24 9 17 3

2 14 6 19 7

19 11 2 19 23 14 7 2 19 4 7 14

19 2 12 9 17

13. Covetous (7)

14. Female thespian (7)

15. Tuneful (7)

20. Allege (6)

21. Error (7)

23. Strips (7)

24. Not yet developed (6)

25. Well-mannered (6)

26. Dictator (6)

29. Attention (4)

30. Surprise attack (4)

N

8 23 17 9 19 11 20 23 14 17 19

I

T H E P U Z Z L E C O M P A N Y

www.thepuzzlecompany.co.nz

13 24 23 8 13 14 26

T

DECODER

Each number in our DECODER grid represents a different

letter - there is a number for all 26 letters of the alphabet.

Each Enter number the given represents letters into a different all squares letter with of the matching alphabet. numbers. Write the

given The letters challenge into now all squares is to work with out matching which letters numbers. are Now represented work out

which by the letters other are numbers. represented As you by the get other letters, numbers. enter As you them get into the

letters, the main write grid, them and into the main reference grid and grid. the To reference keep track grid. Decoder of the

uses letters all 26 you letters have of found, the alphabet. cross them off the alphabet provided.

14 20 9 10 20 24

2 15 7 5 4 25 26 5 25 13 13 23

13 16 15 8 21 9 9

13 9 8 8 11 25 14 3 9 18 2 21

R

O

W

2 5 25 14 2 3

1 7 1 1 3 14 21 24 7 23 1 12

19 2 13 12 4 9 17 7 21 8

25 11 14 9 15

14 15 25 21 22 14 3 25 13 14

21 21 6 15 6 2

9 4 2 6 17 2 24 11 7 17 25 12

13 1 8 19 9 5 12

20 13 25 14 3 25 6 14 11 7 21 25

6 23 14 4 6 6

96

A B C D E F G H I J K L M N O P Q R S T U V W X Y Z

1 2 3 4 5 6 7 8 9 10 11 12 13

O

R

14 15 16 17 18 19 20 21 22 23 24 25 26

W

SOLUTION

No.95

9 20 1 1 9 9

23 19 22 14 1 15 10 14 17 23 20

Each number in our DECODER grid represents a different

letter - there is a number for all 26 letters of the alphabet.

Enter the given letters into all squares with matching numbers.

The challenge now is to work out which letters are represented

by the other numbers. As you get the letters, enter them into

the main grid, and the reference grid. To keep track of the

letters you have found, cross them off the alphabet provided.

97

1 2 3 4 5 6 7 8 9 10 11 12 13

B O L C M D P G X E W J N

T Q U R A F Z S Y K H I V

14 15 16 17 18 19 20 21 22 23 24 25 26

Crossword

Across: 1. Ransom, 5.

Betray, 10. Arrears, 11.

Realise, 12. Mingle, 15.

Menial, 16. Snicker, 17.

Heed, 18. Myth, 19. Vitriol,

20. Army, 22. Idol, 25.

Pursuit, 27. Cosmos, 28.

Cygnet, 31. Stamina, 32.

Abandon, 33. Secede, 34.

Detest.

Down: 2. Arrange, 3. Stalls,

4. Muse, 5. Bare, 6. Trader,

7. Ability, 8. Warmth, 9.

Wealth, 13. Envious, 14.

Actress, 15. Melodic, 20.

Accuse, 21. Mistake, 23.

Denudes, 24. Latent, 25.

Polite, 26. Tyrant, 29. Care,

30. Raid.

WordBuilder

All, arc, arco, call, car,

carl, carol, coal, col, cola,

COLLAR, coral, lac, local,

oar, oca, olm, oral, orc, orca,

roc, roll.

Sudoku

Half price. Free delivery.

You can make your

own bed, though.

© A.F.Shuker

DECODER

97

50% off

selected Sleepyhead

beds including

free delivery*

Supplied by KNIGHT FEATURES

20 Crescent Grove, London SW4 7AH

Tel: 020 7622 1467 Fax: 020 7622 1522

We do all we can to make life easy for you. But the line has to be drawn somewhere.

We'll personally deliver the bed to your home, set it up, and take the annoying

packaging away. But that's where it ends. Still, not bad for half price.

Some products on display in selected stores only – please call 0800 764 847 to check availability. Personal shoppers only.*Terms, conditions and exclusions apply. See smithscity.co.nz for more details.

Valid dates vary per product. Discount is off our full retail price and not available in conjunction with any other offer. Free delivery valid until 8th June 2021, applies to addresses within a 50km radius of a Smiths City store.
---
Get the TLC experience

Call one of our Licensed Sales Consultants

today for a free appraisal:

Trish Lawrence ph 0274 350 565

'Trust in Trish'

Kris Hagena ph 027 390 0097

'Creative and effective'

Kay Livingstone ph 021 163 0001

'Goes above and beyond'

MAKING YOUR MOVE EASIER

tlc realty limited

Licensed Agent REAA 2008 | www.tlcrealty.co.nz

"I WILL TURN UP

WHEN I SAY I WILL"

Need a certified and reliable plumber for filtration

systems or hot water cylinder replacement?

Bathroom upgrades or refurbishments?

FREE CALL

TEXT

EMAIL

0508 H2O BOY

426 269

027 245 5100

NICK@NICKJONESPLUMBING.CO.NZ

The Star Classifieds

Bicycles

HUGE END OF

ROADWORKS

SALE

Coming soon to

around again

cycles

620 Ferry Rd, Woolston.

P: 03 376-6377.

aroundagaincycles@gmail.com

Cars Wanted

CARS

WANTED!

We buy small

Japanese

vehicles

Must be

reasonably tidy

Cash paid

Call 03 3891121 or

027 432 9947

Cars Wanted

AAAA $$ CASH PAID

Buying cars & trucks for

wrecking. Ph / txt Zac 021

1056 797.

Cars Wanted

STUDENT requires small

reliable car, preferably

Toyota or Nissan. 021 108

2343

Caravans, Motorhomes

& Traliers

CARAVAN Wanted to

buy. Up to $5000 cash

today 027 488-5284.

Car Parts

TYRES Secondhand,

most szs from $30 - $70

fitted, Also batteries, 217

Waltham Road, 027 476

2404

TYRES Secondhand,

most szs from $30 - $70

fitted, Also batteries, 217

Waltham Road, 027 476

2404

Church Notices

Christian

sPiritUaList

ChUrCh

182 Edgeware Road

Sunday Service

7pm

Address

Debbie

Clairvoyant

Debbie

All Welcome

Here are our top four tasks for home

buyers.

1. Research the property

The real estate agent selling the

property acts on behalf of the seller,

however they are also required to

tell you everything they know about

the property. They must respond

professionally to all your enquiries and

not withhold any details. Remember

that you still need to do your own

due diligence. That means getting a

title search so you can find out all the

facts about the property's ownership,

boundary and access, as held by Land

Information New Zealand (LINZ). It's

a good idea to get a Land Information

Memorandum (LIM), which shows

information held by the local council

about the property and land. For

valuable feedback on the property's

condition, get a report done by

an inspector who has professional

indemnity insurance and carries out

their work in accordance with the New

Zealand Property Inspection Standard.

Although this all costs money, it will

save you more in the long term. Sellers

may occasionally provide some of this

information for you. If this happens,

check that it is up-to-date.

2. Get legal advice

Buying property is expensive, and it

can cost even more if something goes

wrong. That's why it's important to get

legal advice before you sign anything.

Home & Property appears every Thursday, delivered FREE

throughout Christchurch

For more information and bookings, contact Mike Fulham

M: 021 300 567 E: mike@starmedia.kiwi

Four things you MUST

do before buying a home

Buying a home is a big deal. It's likely to be the most expensive thing you buy,

and it can be a complicated legal process. It might be tempting to take a few

shortcuts, but failing to do things properly could cause more problems later.

Church Notices

SYDENHAM CHRISTIAN

SPIRITUAL CHURCH

Sydenham Community

Centre

23/25 Hutcheson St

Address

Janet

Clairvoyance

Janet

Sunday 7pm

All Welcome

NEW AGE CHRISTIAN

SPIRITUAL CENTRE

61 Grafton Street

Sunday 7pm

Address:

Gaynor

Clairvoyance:

Gaynor

Tuesday

Healing 1-1.45pm

Clairvoyance 2pm

All Welcome

Curtains

A1 CURTAINS &

DRAPES.

Roman blinds, tie backs,

cushions, nets & voiles,

plus alterations. Free

quotes. Ph Kay 980 1501

or 021 257 1823. kay.

tainui88@gmail.com

A lawyer will handle all the paperwork

involved in the process, including the

title search, and offer impartial advice.

If you don't have a lawyer, the New

Zealand Law Society can help you find

one at propertylawyers.org.nz.

3. Understand the sale process

There are several methods of buying

and selling property, for example,

tender or auction. It's important to

understand the process for the property

you are buying. Practices can vary

between agencies so make sure you

confirm details with them. The Home

Buyer's Guide at buyingahome.reaa.

govt.nz has more helpful advice.

4. Read the sale and purchase

agreement and understand what it

means

The sale and purchase agreement

is your contract with the seller. It is

crucial to read it very carefully and get

legal advice before you sign. You can

negotiate the terms and conditions of

an agreement, but once you sign it,

there's no going back.

Thursday May 27 2021 The Star 25

Your

Earthquake

damaged

home!

Talk to us if you are serious about

selling your "As is Where is" home.

We have sold over

150 "As is Where is"

homes and we have

a huge database of

qualified buyers.

Phil & Holly Jones

Ph 03-382-2230

Phil 027 435 7711

Holly 027 222 0220

holly.jones@raywhite.com

Licensed (REAA 2008) Results Realty Ltd

RENT ME!

Ideal as an extra

bedroom or office.

no bond required

We have achieved

record breaking

prices recently!

Fully insulated and double glazed for warmth.

Three convenient sizes from $80 a week:

Standard 3.6m x 2.4m

Large 4.2m x 2.4m | Xtra-large 4.8m x 2.4m

Visit our website

www.justcabins.co.nz

for display cabin locations

www.justcabins.co.nz

EVERY THURSDAY

• Phone our local team 03 379 1100 • Email star.class@starmedia.kiwi

Finance

RW Finance

Small Loans

From $1,000 - $5,000

SPECIAL

INTEREST RATE

FOR NEW

CUSTOMERS

(limited time offer)

Beneficiaries Welcome

Friendly & Personal

Customer Service

0800 325 345

www.rwfinance.co.nz

RESPONSIBLE LENDING & CREDIT CRITERIA APPLY

Flatmates

DBLE ROOM to let for

lady over 50's. Room

very warm,, quiet & tidy.

Unfurn. $170 p/w incl

power & internet. Ph 027

551 4118

For Sale

STEEL for sale all

sections, off cuts cut

lengths. siteweld@ xtra.

co.nz Ph 0274 508 785

STEEL for sale all

sections, off cuts cut

lengths. siteweld@ xtra.

co.nz Ph 0274 508 785

Funeral Directors

Direct

Cremation

No frills, No Service,

No fuss, simply

straight to the crem.

Other options

available.

Ph: 379 0178

for our brochure

or email

office@undertaker.co.nz

For Sale

Phil's

secondhand

shed

• Antique furniture 1920-1930's

• Modern furniture

• Whiteware (with 3 month warranty)

• Bric a Brac

• Fishing rods and tools

5 week layby available

for goods over $200

Phone: 027 223 0948

745 Hawkins Road, Marshlands

Look for the flag outside the gate

Mon, Tues, Wed, Fri & Sat 10am-5pm

Closed Thursdays & Sunday
---
26 The Star Thursday May 27 2021

The Star Classifieds

Funeral Directors

No Service Cremation $2,000

Family Funeral with Cremation $3,950

Chapel - 35 people, casket, hearse, cremation fees

Full Funeral options and

Burial options available

Just Funerals, a family owned and

operated company with qualified,

registered and experienced staff.

Phone 0800 804 663 - 24 Hour Availability

Email: info@justfunerals.co.nz

christchurch.justfunerals.co.nz

Garage Sales

NORTH NEW

BRIGHTON 50

Willryan Ave, Sat

10am - 1pm. Various

h/hold, old Kenwood

mixer attachments,

Dimock met slicer, Agee

preserving stuff, meeting

tables & more. Fishing,

whitebaiting, diving

gear, MTB & car rack,

hydrostatic trans, Honda

ATC 200 bike & more.

Gardening

& Supplies

Gardener available for

maintenance, weeding

pruning, spraying,

planting, advice. Qual &

exp.Pensioner discount

25%. Ph Richard 0274 918

234, 03 349 4022

PETE'S GARDENING

SERVICE Gardening,

rubbish removal, cleanups,

expert pruning, hedge

trimming, tree cutting,

good rates, no job too big

or too small, half the price

of a franchise. Ph 027 551

4118

Massage

RELAXATION to

Remedial massage.

Hillmorton area. Ph 027

244 0195

Personals

MALE 59 seeks older /

larger lady for intimate

fun. 022 637 8403

Pets & Supplies

CATS UNLOVED

can help with the cost

of desexing your cat.

Ph 3555-022 or email

catsunloved@xtra.co.nz

Pets and Supplies

Discover Christchurch's

best priced pet

accommodation

• Daycare - all breeds

• Boarding

• Long stay/short stay

Remote Controlled

WANTED

To buy!

Old remote

control cars.

80s-90s.

Gas

powered

Any

condition.

Call 027 434 1014

Call now to book

in your cats &

dogs, inspections

welcome anytime!

aLameDa

kenneLs & cattery

271 Dyers Road

Ph 384 1297 or 0274 587 067

www.alameda.nz

Tours

Reid TouRs

Waipapa station Sat 29th May $45 pp

Mt Cook Sat 14th August $55 pp

Two Passes Sat 4th September $45pp

Call Reid Tours 0800 446 886

Email: reidtours@xtra.co.nz www.reidtours.com

Trades & Services

DRIVEWAYS

paths, patios, decking,

exposed aggregate,

coloured / plain concrete

Fence staining

FREE QUOTE

LBP BuILDERS

PHONE jOHN:

027 224 2831

Trades & Services

GLAZING

TWISTY GLASS &

GLAZING LTD

• Mirrors • Pet Door Specialists

• Splashbacks • All Broken Windows

THE CAT DOOR MAN

Phone Cushla or Darren Twist

027 352 6225

Trades & Services

House & Garden

Property services Ltd

Tree and hedge trimming

Stump grinding

Tree removal

Gardening

Landscaping

CALL us 021 405 277

EXPERIENCED

GARDENER

(Kevin Garnett)

30 Years

Christchurch Botanic

Gardens.

ALL landscape

work done.

Maintenance, pruning,

tidy up, lawn work,

landscape planning

and planting etc.

Free Quotes

Phone 348 3482

Trades & Services

PAINTING

older painter

for older houses

50 years in trade

"All the skills"

GST FREE

Contact Jimmy Bell

0211221487

30 years + experience

Older house

restorations:

no problem!

Quotes: FREE!

Rates: Reasonable

Paint supplied at

trade price!

NO JOB TOO SMALL

Light industrial also

Roger Brott

Painter & Decorator

021-1966-311

• Phone our local team 03 379 1100 • Email star.class@starmedia.kiwi

Trades & Services

Building

Maintanence

& small job

Specialists

10% Discount

with this voucher

condtions apply

Ph Wayne

021 136 3045

Qualified Builder

go repairs

ROOF

PAINTING 24/7

Rope & harness

a speciality,

no scaffolding

required,

30 years of

breathtaking

experience.

FREE QUOTES

20% OFF other

roof quotes

Exterior staining,

exterior painting,

water blasting.

Moss and mould

treatment $300.

Phone Kevin

027 561 4629

rooF

painting

by Certified Tradesman

Book now

and receive

20% discount.

Rope and harness

a speciality.

No scaffolding

required.

30 years

experience.

Free quotes,

call Craig

021 060 2392

Trades & Services

AAA HANDYMAN

licensed carpenter

LBP, all property and

building maintenance,

repairs, bathroom/shower

installations, with free

quotes 03 383 1927 or 027

245 5226 ciey@xtra.co.nz

ARBORIST

Qualified. Copper

Beech Tree Services.

Tree removal, pruning,

height reduction, hedge

trimming, shaping, tree

planting, firewood. Free

quote. Contact Angus

Edwards 027 2596741

copperbeechtreeservices@

gmail.com

Trades & Services

Re Roofing

Roof Repairs

Spouting

Approved Age Concern provider

Over 30 years experience

Licensed Building Practitioner

N A BARRELL

ROOFING LTD

Ph: 0275 389 415

Email: nabroofing@xtra.co.nz

Trades & Services

BRICK & BLOCK

LAYING

all restoration work

and new work plus

foundations, ph 342 9340

or 021 853 033

BRICKLAYING

Chimney & fireplace

restoration repairs,

PH 021 853 033

BUILDER QUALIfIED

50 yrs exp. Bathrooms,

Kitchens, Renovations,

Repairs & Extensions

Free quotes. Discount for

pensioners. Ph Mike 03

980 9771 or 027 2266 930

BUILDER QUALIfIED

Decks, T & G Flooring,

Villa Restoring, New

Homes, Weatherboards.

Free Quotes. Bennet &

Sons Ltd Sam 027 496-

9362 or Tony 027 224-

0374

BUILDER,

HANDYMAN,

MAINTENANCE

Have peace of mind with

a fully qualified owner

operater LBP. Available

for all jobs around the

home, commercial or

rental property (extremely

experienced in Healthy

Homes Reporting and

all Remedial works) Call

Chris on 027 3888 211

BUILDER

New builds, alterations,

decks, fencing. 30 yrs in

the trade has given me

ability to build to a high

standard. Free quotes. Ph

Brent 027 241 7471

CARPET LAYING

Exp. Repairs, uplifting,

relaying, restretching.

Phone John on 0800

003181, 027 240 7416

jflattery@xtra.co.nz

CARPENTER

BUILDER

Licensed Building

Practitioner no. 100981.

All carpentry & building

repairs & maintenance.

Alterations & property

upgrades.Laundries /

bathroom / kitchens

replaced. Specialising in

replacement of all rotten

timber, fascia boards,

window, windowsills etc.

John Sandford, ph 329

4616, mob 027 5189 598

johnsandford2@gmail.

com

CARPET CLEANING

Your Local Professional

Carpet Cleaner. No Hidden

Fees / Fully Insured /

100% Guaranteed. Call

Now 0800 672 777 www.

mrcarpet.co.nz

Trades & Services

CLEANING SERVICE

Home - Rentals -Home

Help. Competitive rates.

Ph Amanda 0274 761 602

COMPUTER REPAIRS

fAST

Friendly experienced

techs available to help you

now. Christchurch based.

All work guaranteed.

Computer Help 0800 349

669

CONCRETE CUTTING

Affordable Concrete

Cutting with Quality, and

removal work. Free quote.

No job to small. Phone 027

442-2219, Fax 359-6052

a/h 359- 4605

ELECTRICIAN

Registered, electrical

installation and repairs,

Gorbie Electrical, ph 021

026 73375 or 03 322 4209

ELECTRICIAN

All types of domestic

& commercial work

undertaken, new housing,

alterations, extensions,

ranges, security lights,

quick response, efficient

service, free quotes,

city -wide. No call out

fee. M/S, 8-5. Call Pat

Barrett 03 359 2087/ 027

7331384.

ELECTRICIAN

Prompt & reliable

registered electrician

with 24 years experience

for all residential and

commercial work, new

housing and switch board

replacements. Phone Chris

027 516 0669

ELECTRICIAN

Available, 30 years

experience, immediate

start, competitive rate,

ph Brian 027 433 9548

No Call out fee

fENCING

All types of fencing . Free

quotes. Ph Jim 022 137

1920

GARDENING

Weeding, Lawns, Pruning,

Garden Cleanups. Call

Phil The Gardener 021 661

246 for your free quote.

GLAZIER

Glass repairs - pet doors

- conservatory roofs. Exp

Tradesman. Call Bill on

022 413 3504 or 981-1903

HANDY - DAN

General Handyman for

all your maintenance

requirements. I specialise

in fences and decking, also

do spouting cleans and

repairs and everyday home

maintenance. NO JOB TO

BIG OR SMALL I can do

it all, please don't hesitate

to call me on 022 600 7738

for a no obligation free

quote.

"I WILL TURN UP

WHEN I SAY I WILL"

Need a certified and reliable plumber for filtration

systems or hot water cylinder replacement?

Bathroom upgrades or refurbishments?

FREE CALL

TEXT

EMAIL

Trades & Services

Trades & Services

0508 H2O BOY

426 269

027 245 5100

HANDYMAN

Small jobs specialists. eg:

drippy taps, sticky doors,

locks, moss spraying etc.

Discount for pensioners.

Ph 390 1565 or 022 5275

668 @oddjobs2018

LANDSCAPING

Paving, Lawns, Irrigation,

Decking, Fencing.

Kanga & small digger

services. Check out Squire

Landscaping on facebook.

FREE QUOTES. Ph

Arthur 347-8796, 027

220-7014 Edwin 027 220-

7154

MOBILE CAR

CLEANING SERVICES

We come to you where

ever you are. Ring us

at 03 281 8054 for free

quotation.

ODD JOB SPECIALIST

Small jobs specialists.

eg: drippy taps, sticky

doors, locks, spouting/

fence repairs Discount for

pensioners.

Ph 390 1565 or 022 5275

668. Avail now.

PAINTER,QUALIfIED

local professional, Int /

Ext,roofs,wallpaper, call

or text Corban 027 846

5035

PAINTING

Indoor / Outdoor, over 30

yrs exp, same day quotes,

ph Steve 021 255 7968

PAINTING

Indoor / Outdoor, over 30

yrs exp, same day quotes,

ph Steve 021 255 7968

PAINTING

All jobs, none too small.

Free quotes Affordable

rates. Seniors discounts.

James 0220 652 637

PAINTING

PLASTERING

Free quotes. Int/ext &

roof painting Family run

business, work guaranteed.

Pensioner discounts. Ph

Kerin or Paul 022 191

7877 or 379-1281. Website

www.swedekiwipainting.

co.nz

PLASTERER

Phone Finn for all your

interior plastering needs.

No job too small -

renovations, alterations,

holes & cracks. Free

quotes. I'll beat any quote

by 10% .25 yrs exp. Canty

born. Ph 022 087 4351

NICK@NICKJONESPLUMBING.CO.NZ

Trades & Services

PLASTERING (INT)

and small painting jobs

Experience and

Excellence. Small to

Medium job specialists

in all aspects of Interior

Plastering. Please call Tim

022 5380959

PLUMBING

DRAINAGE & GAS

No job to big or too small.

Discount rates!!. Free

quotes - call Morgan today

022 375 8506

REMOVALS

Small furniture removals,

have own van, can fit

various types of whiteware

appliances, some furn,

bedding, boxes etc, honest

& reliable, any area

considered, ph Chch 027

517 7001

ROOfING SERVICES

Metal roofing & spouting.

Butyl rubber and flat

rooves. Repairs, reroof

and new build. 25 yrs

experience.NZ Cert

and LBP qualified. Free

quotes. Call Elliot 332-

9662 / 027 237 9431

RUBBISH REMOVAL

Van & Trailer Rubbish

Removal. Free quotes. Ph

Gary 342-8950, 021 529

022

SPOUTING

Select Spouting

The PVC specialist.

Repairs & replacement. Ph

022 197 2351

SPOUTING CLEANING

SPECIALIST

Entire spouting system

cleared. Single or 2 storey.

Jo 021 164 0365

SPOUTING CLEANING

Spouting Unblocked,

Cleaned Out and Flushed

Out, Call Trevor 332 8949

or 021 043 2034

STUMP GRINDING

Best price guarantee Tony

0275 588 895

TILER ( MASTER )

Int / Ext. Res / Comm. .

Free quote. 18 yrs exp. Ph

Zac 021 1056 797

TREE SERVICES

Free quotes 20+ yrs exp.

Tree, hedge or shrub

- reduction, shaped or

removed. Ph/text Paul

The Branch Manager

0274314720

TREE SERVICES

Specialist small tree

pruning & shaping.

Roses,fruit trees etc. Ph

Hugh 021 2755445
---
Thursday May 27 2021 The Star 27

DIRTY TILES

& GROUT?

Our unique restoration

processes will make your

tiled areas look NEW again!

We specialise in professional

cost effective solutions for

all your tile & grout issues.

• Tiled shower makeovers

• Re-colouring old grout

• Mouldy silicone replacement

• Professional tile/grout

cleaning, sealing & repairs

Call today for a FREE quote on 0800 882 772

www.theprogroup.co.nz/dpc9385

Trades & Services

TREE SERVICES

Hedges, shrubs, tree

trimming & removal,

rubbish removal, Ph for

free quotes 022 540 4900

WINDOW CLEANING

Average 3 brm house

inside or out from $45.

Both from $80 Phone

Trevor 344-2170

WINDOW CLEANING

Brown & White Ltd.

Family owned since 2001.

Ph Paul 027 229 3534

Tuition

COMPUTER LESSONS

avail for computer, IPad,

or Mobile. Please contact

Jobee 027 290 9246 www.

computertutor.nz

Wanted To Rent

MALE WANTING ONE

BEDROOM Apartment

or flat.With garage. $270

Call Dan 021 090 22110

Call us

and we'll

help you

place

your

classified

advert

(with no

hassles!)

Nobody knows

Christchurch

like a local

We're local,

we're in

Christchurch

and we speak

your language!

Ph: 379 1100

Classifieds

The Star is published every

Thursday, is home delivered

free into 93,000 households and

is available at over 500 pick up

points throughout Christchurch

www.starkiwi

Trades & Services

Wanted To Buy

STEVE PURCELL

ANTIQUES

BUYING

NOW

Gold jewellery,

watches, coins,

medals, scrap

gold, sterling

silver, pewter,

original paintings,

modern art.

351 9139

stevepurcellantiques.com

AAA Buying goods

quality furniture, beds,

stoves, washing machines,

fridge freezers. Same day

service. Selwyn Dealers.

Phone 980 5812 or 027

313 8156

A1 Albums, old photo's,

postcards, coins, gold,

bank notes, badges,

medals, jewellery,

watches, china, crystal,

books, furs, vintage

clothing, paintings,

furniture, estates &

downsizing. Etcetera

Antiques, 194 Edgeware

Rd 385 5117

ACADEMY ANTIQUES

Buying estates, antiques,

old china, crystal, art,

Royal Doulton , Royal

Albert etc. Best prices,

free appraisal. Call Rob

349-4229

ACADEMY ANTIQUES

Buying estates, antiques,

old china, crystal, art,

Royal Doulton , Royal

Albert etc. Best prices,

free appraisal. Call Rob

349-4229

A+ Household effects,

fridges, freezers, washing

machines, ovens. Good

cash paid. Ph Paul 022

0891 671

A+ Household effects,

fridges, freezers, washing

machines, ovens. Good

cash paid. Ph Paul 022

0891 671

ALL whiteware wanted.

Same day service, cash

paid for freezes, fridges,

washing machines, ovens.

Also buying furniture &

h/hold effects.Anything

considered. Ph Dave 960-

8440, 027 66 22 116

MILITARIA Any

country, firearms,

uniforms, badges, medals,

memoribilia, WW2 or

earlier ph 338-9931

TOOLS, Garden garage,

saw benches, Lathes. Cash

buyer Phone 355-2045

Your local guide to our

Trusted Tradesmen & Professionals

To advertise: 379 1100 or star.class@starmedia.kiwi

Painters and Decorators Ltd

Canterbury Owned and Operated

A husband and wife team

Specializing in:

• Roof Painting

• Interior/exterior

residential

• Small commercial

painting

DRIVEWAYS

Exposed Aggregate

Stamped Concrete Plain

Concrete Resurfacing

Things we offer...

Competitive/affordable pricing

Attention to detail

Professional service

free quotes/insurance scopes

Cell 0278 145 848

www.drivecrete.co.nz

kitchen renovation

Kitchen looking tired?

Revitalize with new colour at a

fraction of replacement cost

• Alterations & Hardware available

• Laminated Kitchens no problem

• 'On Site' finishing available

• Over 20 years experience

• Free Quotes with no obligation

• All Joinery & Furniture repair & Spraycoatings

PABLO'S PAINTWORKS

27 Birmingham Drive, Middleton

03 338 6280 | 021 541 323

pablospaints@xtra.co.nz

www.pablospaintworks.co.nz

PAINTERS

Noel 027-411-3596

kemp.painters@gmail.com

kemp painters and decorators

SCRAP METAL

We offer

free quotes

Quality not

Quantity

Dominion Trading Co Ltd

• Scrap metal buyers

• Canterbury owned & operated

• Top prices paid $$$

• Open Saturday morning

Open Mon-Fri 8am – 4.30pm Sat. 8.30am-12.30pm

www.happyscrappy.co.nz

03 343 9993 333 Blenheim Rd

Driveways

SWAINS

KIWI KERB

(Since 2005)

Over 22 Years Experience

Quality

Workmanship

• Driveways

• Kerb &

Channel

• Garden Edging

Freephone: 0800 081 400

swainskiwikerb@gmail.com

landscaping

You can have your gardens, trees,

shrubs, plants and lawns maintained to look their best

all year round, for a great price.

Residential & Commercial Landscaping

• Maintenance • Pruning • Reconstruction & Rejuvenation

• Rental Property and Commercial Maintenance

• Pre-Sale Tidy-Ups

New Home Landscaping

Lawns • Gardens • Decks • Paving • Water Features

• Quality • Value for money • Experienced • Punctual

• Professional • Flexible • Knowledgeable • Reliable

Call Ross Legg - 027 222 0388

Email ross@revivelandscaping.co.nz

www.revivelandscaping.co.nz

PLUMBER

NEED A PLUMBER

Call us now for fast friendly service.

Get your problems sorted out

quick smart - on time!!

Phone for a

FREE

quote now.

Landscape

Construction and

Garden Maintenance

Phone 03 377 1280 | Mobile 021 898 380

TREE SERVICES

CRAIGS

TREES

Our services include:

Tree felling

Branch chipping

Trimming and pruning

Crown reduction

Stump grinding

P: 027 2299 454

E: craigstrees@xtra.co.nz

www.craigstrees.co.nz

Fully insured

ELECTRICIAN

Contact for a free quote

phone 027 331 0400

dave@davesimpsonelectrical.co.nz

davesimpsonelectrical.co.nz

Experienced Domestic Electrician

Quality Workmanship

• New Build

• Renovations

• Fault finding

Mailer Deliveries

For a local, reliable

mailer delivery

service contact

Star Media

• Newspaper inserts

• Magazine inserts

• Letterbox deliveries

• Urban & Rural deliveries

For a cost effective, targeted

delivery please call 03 379 7100

or email mike@starmedia.kiwi

www.star.kiwi

ROOF REPAIRS

Locally owned & operated with

over 30 years experience.

• Extensions & repair • Roof coating

• Concrete & clay tiles • Butynol

• Malthoid • Asbestos Certified

• Coloursteel • Old iron • Guttering

Phone Dave 981 0278

or 021 223 4200

E: dave@beaumontroofing.co.nz

BEAUMONT ROOFING LTD

WINDOW TINTING

tintawindow

advanced film solutions

99% uv block

fade protection

heat control

reduce glare

25 Years Experience

privacy films

frosting designs

non-darkening films

Workmanship Guaranteed

Lifetime Warranties on Most Films

UV

block

• Power

• Lighting

• Switchboards

Free Quotes Canterbury and Districts

03 365 3653 0800 368 468
---
28 The Star Thursday May 27 2021

The Star Classifieds

Situations Vacant

Sales /

Administration /

Special Projects

The North Canterbury News is the best-read and largest circulating community

newspaper in North Canterbury. We are owned by Allied Press, a New Zealand

owned and operated company producing quality newspapers, magazines and

on-line media.

We are looking for a new team member to join our team, who is an excellent

communicator, to help grow our business, through sales and administration

support.

This position is 30 hours a week based in our Rangiora office with the

opportunity for it to grow to a full-time position if the applicant required this.

In order to be successful in this role, it is essential that you have:

• Excellent computer skills and have the ability to confidently learn new

programmes and systems.

• A solid work ethic and enjoy the excitement of a deadline driven position.

• Sales hunting skills and a desire to succeed.

• The ability to listen to client needs and provide effective solutions (with

support from us).

Key personality attributes:

• Passionate, positive and proactive.

• Flexible and able to work as part of a team.

• Creative and enjoy discussing new ideas with customers.

• Enjoy being part of our work family team.

You will be joining a business that is passionate about local news, cares about

our customers and our team.

To apply for this role, a NZ drivers license is essential and you must have the

right to live and work in NZ.

Apply in confidence with your CV

and cover letter to:

Dayna Burton

Thursday, August 2, 2018 | Issue 808 | www.ncnews.co.nz

dayna.burton@ncnews.co.nz

2385310

• Phone our local team 03 379 1100 • Email star.class@starmedia.kiwi

Situations Vacant

CLEANERS

REQUIRED

Christchurch Area

Monday to Friday

3pm-6pm

(Relieving work in schools)

We are looking for cleaners

to join our commercial

cleaning team.

You will need to pass a

Security Check and you

MUST have your

own transport.

Must be eligible to work

in New Zealand.

Please email your

Application to

csc@totalcanterbury.co.nz

or phone 338 9056

Visit our website:

totalcanterbury.co.nz

Please advise which job

when emailing your CV.

Situations Vacant

COOK / HOUSE

CLEANING Vacancy to

cook for 7 senior citizens,

on four afternoons each

week, for the evening

meal. Some house

cleaning will also be

required. 16 hrs. Location

is in Riccarton, convenient

to serveral bus routes.

Phone 021 0334 524

Situations Vacant

CLEANERS

REQUIRED

Shirley Area

Monday to Friday

3pm - 6pm

City Area

Monday to Friday

6pm - 9pm

Somerfield Area

Monday to Friday

3pm - 6pm

We are looking for

cleaners to join our

commercial cleaning

team.

You will need to pass a

Security Check and you

MUST have your

own transport.

Must be eligible to work

in New Zealand.

Please email your

Application to

csc@totalcanterbury.co.nz

or phone 338 9056

Visit our website:

totalcanterbury.co.nz

Please advise which job

when emailing your CV.

ADD SOME

COLOUR

TO YOUR ADVERT!

Public Notices

Oh mOst beautiful

flOwer Of mOunt

Carmel, fruitful vine,

splendor of heaven,

blessed mother of the son

of God. immaculate Virgin,

assist me in my necessity.

Oh star of the sea, help

me and show me here you

are my mother. Oh holy

mother mary, mother of

God, Queen of heaven and

earth, i humble beseech

you from the bottom of

my heart to succor me in

my necessity (please help

my family). there are none

that can withstand your

power O mary, conceived

without sin prayer for us

who have recourse to thee

(say three times). holy

mary, i place this prayer

in your hands (say three

times). say this prayer for

three consecutive days

each time followed by 3

Our fathers, 3 hail mary's,

3 Glory be to the father.

then you must publish it

and it will be granted.

thank you blessed Virgin

for hearing my prayers.

Public Notices

Senior Citizens

Outings

with Companion Driving Service Ltd

Due to a cancellation, we have one

seat available on the Coastal Pacific

rail & road trip to Picton (overnight)

departing Fri 18 June.

COASTAL PACIFIC RAIL TRIP TO PICTON

Fri 16 July - ChCh - Kaikoura stay overnight.

Sat 17 July - Kaikoura - Picton by rail - overnight.

Sun 18 July - Picton - Kaikoura by road then onto

ChCh by rail.

Accommodation - meals - no sharing

accommodation - free pick up & drop off included.

Our price $849.00

Phone Peter on 0800 453 873

Sorry, we are

no longer accepting

cheques

Star Media wish to advise

we no longer accept cheques as

payment for advertising, events

or accounts due to changes in

bank processes.

We do offer a range of other

payment options including cash,

EFTPOS, Visa, Mastercard, debit

card and online.

www.starnews.co.nz

Commercial Design Team

Leader - Christchurch

Star Media is a division of Allied Press, a family owned South Island media

company, who employs over 450 people across the South Island.

We operate across multiple media platforms delivering news that connect

and engage our audiences every day.

We also provide a range of Creative service solutions for our clients to

ensure their marketing and advertising provides them outstanding results.

The role:

We are seeking a team leader for our Commercial design team.

It's a hands on role where you will be required to take a client brief accurately and

work with your team of three others, to deliver services on brief and on deadline.

Key skills we require are:

• A 'can do" attitude to go the extra mile to meet our clients' needs.

• Effective use of Adobe Creative Cloud software, InDesign, Photoshop, Illustrator

& Bridge to create artwork for print and digital mediums. Pre-press knowledge

is an advantage.

• Ability to lead your team and schedule workload.

• Communicate with clients and team members to deliver high quality

artwork on time.

Extra skills preferred.

• Experience with photography.

• Understanding of website design, CMS and email EDM layouts.

• Experience with Google Web Designer and knowledge of digital display adverts

best practices.

This is the perfect "next step" if you are looking wanting to move into an exciting

role, with people leadership and client liaison to broaden your already creative

design skills.

If this excites you, then please send your CV to neil@starmedia.kiwi

All applications will be treated in the strictest confidence.

Please note you must have the right to work in New Zealand to apply for this role.

Disclaimer: Allied Press does not accept unsolicited agency resumes. Allied Press is not

responsible for any fees related to unsolicited resumes.

16,065 copies delivered every week

Situations Vacant

EDITOR – Ashburton Courier

Allied Press Ltd is seeking an experienced journalist ready

to take the next step in their career, as

Editor for the Ashburton Courier.

The Ashburton Courier is a weekly

community newspaper delivered to more

than 16,000 homes across Mid Canterbury

and the surrounding rural areas.

The Ashburton Courier is the largest

circulating and best read newspaper within

the Mid Canterbury area.

This is an exciting opportunity and provides

the successful applicant the ability to help

shape and connect the community we

serve.

You will be responsible for our newspaper

layout, leading the news team, writing

stories and co-ordinating news gathering for

the Ashburton Courier.

The successful applicant will be selfmotivated,

tenacious and have a passion for

news and building relationships within our

local community.

Ability to find local stories, juggle tasks, meet

deadlines and write engaging, accurate

copy is essential. You will have an eye for

photography. Video and website skills are

desirable.

It is essential that you have a full driver's

licence. Given the nature of the role,

occasional evenings and weekend work may

be required.

All applications will be treated in the strictest

confidence.

Our well respected local title is owned

by Allied Press, the largest independent

publisher in New Zealand.

Please note that you must have the right to

live and work in New Zealand to apply for

this role.

If this sounds like an exciting opportunity

for you, please send your CV with a

covering letter to steve@starmedia.kiwi

or feel free to call me on 021 372 479
---
The Star Classifieds

Public Notice

SCHOOLS. SPORTS CLUBS OR CULTURAL EVENTS

OUTSTANDING

Fundraising opportunity

The Star has a fantastic opportunity that is an ideal way

to fundraise while at the same time helps to profile and

promote your team and their goals and ambitions.

To add a listing, contact

Jo Fuller 03 364 7425 or

027 458 8590

jo.fuller@starmedia.kiwi

www.star.kiwi/whatson

Thursday May 27 2021 The Star 29

THE ENTERTAINMENT HUB OF THE NORTH!

113 RAVEN QUAY | PHONE: 03 327 7884

BISTRO

OPEN FROM 12PM

WEDNESDAY

TO SUNDAY

COMING ATTRACTION

MADSEN PROMOTIONS

PRESENTS

HOUSIE

EVERY THURSDAY

12PM

EYES DOWN 12.30PM

Call now to find out more about how you can fundraise

those hard to get dollars, while at the same time

promoting some of the great positive work being done

in the community. It also offers exceptional value for

your supporters and sponsors.

BAR HOURS

MON 3PM-10PM

TUES & WEDS 11.30AM

THURS 11AM | FRI 11.30AM

SAT & SUN 11AM

Closing times will vary.

SATURDAY

10TH JULY, 7.30PM

Tickets $25 at the club

Contact:

Mike Fulham

379 7100

mike@starmedia.kiwi

Vehicles Wanted

CAR REMOVALS

$$CASH PAID$$

CARS, VANS, UTES & 4X4 WANTED

NZ OWNED AND OPERATED FOR 24 YEARS

We use world class vehicle depollution systems

0800 77 80 80

www.pickapart.co.nz

FRIDAY

MEMBER DRAW

$500

SUPER RUGBY

FRIDAY 7.05PM

HURRICANES v FORCE

SATURDAY 5.05PM

CRUSADERS v

WARATAHS

LIVE MUSIC SATURDAY, 7.30PM

UNHINGED

SATURDAY

31st JULY, 7.30pm

TICKETS $25

Available at the club or

online cosmicticketing.co.nz

D I N I N G

BAR/BISTRO MENU

AVAILABLE

MONDAY-SUNDAY

12 NOON - 8.30PM

QU I Z

EVERY WEDNESDAY

FROM 7PM

P OK E R

EVERY

THURSDAY 7PM

& SUNDAY 3PM

HOU S I E

EVERY SATURDAY

FROM 12.30PM

Woolston Club|43 Hargood St|Ph 03 389 7039|www.woolstonclub.co.nz|fb.com/WoostonclubInc
---
30 The Star Thursday May 27 2021

'Famous for their roasts!'

SENIORS SPECIAL

Two courses: $

23

Soup/Roast or Roast/Dessert

Special available lunch only

Monday - Saturday 12pm - 2.30pm

Conditions apply

FAMILY FRIENDLY

Kid's Special

Two courses

Great Kids menu plus

designated play area.

$

13

Saturday 7pm:

IAN MAC

CRUSADERS

v WARATAHS

Saturday 11pm

RESTAURANT & CAFÉ

Open daily from 6.30am - Breakfast, Lunch & Dinner

The

RACECOURSE HOTEL

& Motorlodge

118 Racecourse Rd, Sockburn,

Christchurch. Ph 03 342 7150

www.racecoursehotel.co.nz

at Hornby Club

Sunday 3pm:

STEPHEN JAMES

agm

& elections

NOMINATIONS CLOSE

THIS SATURDAY, 6PM

AGM

SUNDAY 6 JUNE, 10AM

ELECTION DAY

SATURDAY 12 JUNE, 10AM

Come on down!

17 CARMEN RD. PH. 03 349 9026

WWW.HORNBYWMC.CO.NZ

christchurch

GIG GUIDE

Thursday 27 May to Wednesday 2 June 2021

12 BAR, 342 St Asaph St: Christchurch's

smoking hot BLUES BAR. Thursday 8pm -

Oscar LaDell NZ Tour. Friday 8pm - All Girl

Big Band, tix at events.humanitix.com.

Saturday 8pm - Mudbelly '12 Month Late'

album release.

A ROLLING STONE, 579 Colombo St:

Thursday 7.30pm - CWB, free; 9.30pm -

Revolucion Thursdays Latin Dance with DJ

Zee, free. Friday 5.30pm - Clube do Choro's

Brazilian Jam Session, free; 9pm - 10 piece

funk with Eat My Shorts, free. Saturday 8pm

- The After (AKL) 'Clear To me' Asia Pacific

Tour with special guests The High Kats; The

Chasers; & End To Avarice, tic $10 on

eventfinda.co.nz. Sunday 5pm - Irish Sunday

Shindig with Malarkey Irish Band, and

special guest O'Neill's Irish Dancers, free.

Monday 7pm - Quiz. Tuesday 8pm - Standup

comedy night, free; 10pm - Open Mic

Night, all welcome, gear provided, free.

Wednesday 6pm - UC Band Competition

'Dig The Gig' Heat 3 feat. Lunar Intruder;

Castaway; Th' Goonz, & This Dog, free.

BILL'S BAR, 1 Halswell Rd: Thursday

7pm - Mickey Rat's Karaoke. Friday 7.30pm

- Don't Tell Mama. Sunday 7pm - Mickey

Rat's Karaoke.

BRIDIE'S BAR & BISTRO, 401

Worcester St: Sunday 4pm - Quiz.

To add a listing, contact

Jo Fuller 03 364 7425 or

027 458 8590

jo.fuller@starmedia.kiwi

www.star.kiwi/whatson

BOO RADLEYS, Level 1, 98 Victoria St:

Thursday 9pm - Marcel. Friday 8pm - Dan

Pfeifer; 10.30pm - Live music. Saturday 8pm

- Neil Alexander; 10.30pm - Chilton House.

Wednesday 7.30pm - South Street Blues Trio;

9.30pm - Open Mic Night.

CASSELS BLUE SMOKE, Garlands Rd:

Friday 7.30pm - Mundi Yurt Party Farewell

to Autumn Shindig with Fiona Pears &

Connor Hartley-Hall, tickets at

undertheradar.co.nz. Saturday 8pm - The

butlers & Muroki Aumn Express Tour,

tickets at undertheradar.co.nz.

CHRISTCHURCH CASINO, 30 Victoria

St: Friday 6pm - Lino; 9.15pm - X-Files duo.

Saturday 6pm - Nyree; 9.15pm - Rockabella.

HORNBY CLUB, Carmen Rd: Saturday

7pm - Ian Mac. Sunday 3pm - Stephen

James.

KAIAPOI CLUB, 113 Raven Quay:

Saturday 10th July, 7.30pm - Madsen

Promotions presents Kenny & Dolly

performed by Stevie K & Jo Hill, tickets $25

at the club.

MICKY FINNS, 85a Hereford St: Friday

- D'Sendantz. Saturday - Red Zone.

NEW BRIGHTON CLUB, 202 Marine

Pde: Sunday 2nd June, 2pm - Chur Bro

Duo. Sunday 20th June, 2pm - Nexus.

RICHMOND CLUB, 75 London St:

Friday 7pm - The Britz & Co. Saturday 7pm

- Krakkajack. Sunday 3pm - Cloud Factory.

RIVERSIDE MARKET, 98 Oxford Tce:

Thursday 6pm - Live jazz with Tiger Moth

feat. Tom Rainey, Scott Taitoko, Cam Pearce,

Kate Taylor, Brad Grainger, and Luke Smillie,

$15 entry.

TEMPS BAR, 21 Goulding St, Hornby:

Friday 8.30pm - DJ. Saturday 8.30pm -

Nightwatch.

THE CUBAN, 236 St Asaph St: Friday

6.30pm - Live music with Brent Love.

THE EMBANKMENT, 181 Ferry Rd:

Thursday 8pm - The Giant Poppies. Friday

7.30pm - Open Mic & Jam. Wednesday 9pm

- Titanic (Kevin Emmett, Nick Buchanan,

and Peter K Malthus). Saturday 5th June -

Black Sabbath Tribute performed by After

Forever with support from Sabotage Theory

performing Soundgarden, tickets $20 at bar

or online at cosmicticketing.co.nz, door sales

$30.

THE MILLER BAR, 308 Lincoln Rd,

Addington: Friday 9.30pm - Awesome

Source. Saturday 9.30pm - Decoy Duck.

Sunday 6pm - Lance Kiwi Karaoke. Tuesday

7pm - Quiz. Wednesday 7.30pm - Lance

Kiwi Karaoke.

THE OLD STONE HOUSE, 30

Shalamar Dr, Cracroft: Sunday 5pm -

Winter Jazz Series feat. Mike Bickers Boptet,

tix at events.humanitix.com.

WOOLSTON CLUB, 143 Hargood St:

Saturday 7.30pm - Unhinged. Saturday 31st

July 7.30pm - Totally 80's Show, tickets $25 at

the club or online at cosmicticketing.co.nz.

WUNDERBAR LYTTELTON, 19 London

St, Lyttelton: Thursday 8.30pm - Comedy

Night. Friday 9pm - Eighties Forever.

Tuesday 8pm - Open Mic. Wednesday 8pm

- Jam Night.

WHAT'S ON AT THE RICHMOND CLUB

FRIDAY 7PM

THE BRITZ & CO

SUPER RUGBY

HURRICANES

v W.FORCE

Friday 7.05pm

CRUSADERS

v WARATAHS

Saturday 5.05pm

SATURDAY 7.30PM

KRAKKAJACK

SUNDAY 3PM

CLOUD FACTORY

75 London St, Richmond

Christchurch 8013

P: 03 389 5778

theborough.nz

richmondclub.nz
---
Thursday May 27 2021 The Star 31

To add a listing, contact

Jo Fuller 03 364 7425 or

027 458 8590

jo.fuller@starmedia.kiwi

www.star.kiwi/whatson

SENIOR'S GOLD CARD

SPECIALS!

From $24.50

Bookings Essential

PH 386 0088

fb.com/GardenRestaurantBuffet

www.gardenhotel.co.nz

WED: ROAST MEAL

THUR: FISH & CHIPS

FRI: FISH & CHIPS

SUN: ROAST MEAL

Available 11.30am-2pm

CAFE OPEN 7 DAYS 9AM - 4PM

BAR OPEN THU - SUN EVENINGS

PH 385 8880

FIND US ON FACEBOOK

fb.com/GBCCHCH

THE GARDEN HOTEL COMPLEX, 110 MARSHLAND RD

www.gardenhotel.co.nz . Phone 385 3132

facebook.com/gardenrestaurantbuffet instagram.com/gardenrestaurantbuffet
---
32 The Star Thursday May 27 2021