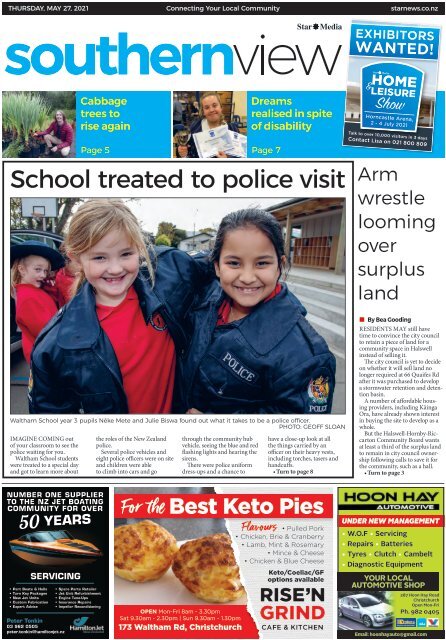 Southern View: May 27, 2021
You also want an ePaper? Increase the reach of your titles
YUMPU automatically turns print PDFs into web optimized ePapers that Google loves.
THURSDAY, MAY 27, 2021

Connecting Your Local Community

starnews.co.nz

Cabbage

trees to

rise again

Dreams

realised in spite

of disability

Talk to over 10,000 visitors in 3 days

IMAGINE COMING out

of your classroom to see the

police waiting for you.

Waltham School students

were treated to a special day

and got to learn more about

Page 5

the roles of the New Zealand

police.

Several police vehicles and

eight police officers were on site

and children were able

to climb into cars and go

through the community hub

vehicle, seeing the blue and red

flashing lights and hearing the

sirens.

There were police uniform

dress-ups and a chance to

Page 7

School treated to police visit

Waltham School year 3 pupils Nēke Mete and Julie Biswa found out what it takes to be a police officer.

PHOTO: GEOFF SLOAN

have a close-up look at all

the things carried by an

officer on their heavy vests,

including torches, tasers and

handcuffs.

• Turn to page 8

Contact Lisa on 021 800 809

Arm

wrestle

looming

over

surplus

land

• By Bea Gooding

RESIDENTS MAY still have

time to convince the city council

to retain a piece of land for a

community space in Halswell

instead of selling it.

The city council is yet to decide

on whether it will sell land no

longer required at 66 Quaifes Rd

after it was purchased to develop

a stormwater retention and detention

basin.

A number of affordable housing

providers, including Kāinga

Ora, have already shown interest

in buying the site to develop as a

whole.

But the Halswell-Hornby-Riccarton

Community Board wants

at least a third of the surplus land

to remain in city council ownership

following calls to save it for

the community, such as a hall.

• Turn to page 3

NUMBER ONE SUPPLIER

TO THE NZ JET BOATING

COMMUNITY FOR OVER

50 YEARS

• Part Boats & Hulls

• Turn Key Packages

• New Jet Units

• Custom Fabrication

• Expert Advice

SERVICING

Peter Tonkin

03 962 0505

peter.tonkin@hamiltonjet.nz

• Spare Parts Retailer

• Jet Unit Refurbishment

• Engine Tune-Ups

• Insurance Repairs

• Impellor Reconditioning

For the Best Keto Pies

OPEN Mon-Fri 8am - 3.30pm

Sat 9.30am - 2.30pm | Sun 9.30am - 1.30pm

173 Waltham Rd, Christchurch

Flavours

• Pulled Pork

• Chicken, Brie & Cranberry

• Lamb, Mint & Rosemary

• Mince & Cheese

• Chicken & Blue Cheese

Keto/Coeliac/GF

options available

UNDER NEW MANAGEMENT

• W.O.F • Servicing

• Repairs • Batteries

• Tyres • Clutch • Cambelt

• Diagnostic Equipment

YOUR LOCAL

AUTOMOTIVE SHOP

287 Hoon Hay Road

Christchurch

Open Mon-Fri

Ph. 982 0405

Email: hoonhayauto@gmail.com
---
2 Thursday May 27 2021

Latest Canterbury news at starnews.co.nz

SOUTHERN VIEW

GENERAL INQUIRIES Ph 379 7100

CLASSIFIED ADVERTISING Ph 379 1100

Star Media, a division of Allied Press Ltd

PO Box 1467, Christchurch

starmedia.kiwi

NEWS

Bea Gooding

Ph: 021 911 576

bea.gooding@starmedia.kiwi

ADVERTISING

Mark Sinclair

Ph: 364 7461

mark.sinclair@starmedia.kiwi

Your local community news

delivered to 21,586 homes

within The Star each week.

Spreydon • Hoon Hay • Hillmorton • Cracroft

Cashmere • St Martins • Somerfield

Sydenham • Addington • Waltham • Opawa

Beckenham • Huntsbury • Woolston

what's on

this week

JP Clinics

Thursday, 10.30am-1.30pm, at

Spreydon, Tuesday, 10am-1pm, at

Halswell, Linwood and South

Halswell, Linwood, South and

Spreydon libraries

A justice of the peace will be available

to members of the community to

witness signatures and documents,

certify document copies, hear

oaths, declarations, affidavits

or affirmations as well as sign

citizenship, sponsorship or rates

rebates applications. This service is

free.

Knit 'n' Yarn

Thursday, 1-3pm, at Halswell, 1.30-

3.30pm, at South, Wednesday,

10.30am-1pm, at Linwood

Halswell, Linwood and South libraries

Take your knitting, crochet, stitching

or any other handcraft and enjoy the

company of others. Share skills and

be inspired.

Mah-Jong

Thursday, 1-3.30pm

60 Vincent Pl, Opawa

If you are interested in playing

Mah-Jong, go along whether you are

a beginner or an advanced player.

Phone Noel at 322 8636 for more

information.

Virtual Reality Experience

Friday, 2-3.30pm

Te Hāpua: Halswell Centre

Go along if you would like to explore

a whole new world in immersive

Linwood College Showcase, Thursday, 4-6pm, Linwood Library

Go along and enjoy the talents and creativity of rangatahi from Linwood

College for NZ Music Month. A celebration of music, dance and drama for

the whole family. Free, no bookings required. ​

3D through a virtual reality device.

Sessions aimed at adults, suitable for

ages 13 and older. Bookings may be

required on the day. Phone 941 7923

to register.

Rotary Market

Sunday, 8.30am-12.30pm

Woolston Club, 43 Hargood St

A variety of stalls will be available,

including fresh produce, jams and

preserves, and recycled clothing,

books and tools. Every Sunday, with

all proceeds supporting the local

community. For site inquiries, phone

Vance at 022 382 0086.

Toddlertimes

Monday, 10.30-11am

Spreydon Library

Meet others in the community

when you and your preschooler go

along for Toddler Times. Join in for

interactive stories, songs and sensory

items. All whānau and caregivers

welcome. Free, no bookings required.

Scrabble

Monday, 2-4pm

Old Stone House, Shalamar Drive,

Cracroft

Go along for a game with a friendly

and social group. If you do not know

how to play, they will teach you. $2.

Phone Anne at 338 7366 for inquiries.

Risingholme Singers Choir

Monday, 7.30-9.30pm

Risingholme Theatre, 99 Hawford Rd,

Opawa

If you love singing, go along and join

the friendly choir. They sing a variety

of music from movies, TV shows, hit

records and more. Reading music

is an advantage but not essential.

All welcome, especially tenors and

basses. Phone Jill at 388 3235 for

more information.

Tai Chi: Meditation in Motion

Tuesday and Friday, 7-8.30pm

St Anne's School hall, 739 Ferry Rd

Tai Chi is a low impact mind and

body exercise known for its many

physical and mental health benefits.

First class is free. Phone Frances on

027 698 0057 for more information.

Not-for-profit organisations

can send their What's On listings

to southern@starmedia.

kiwi

Read local
---
SOUTHERN VIEW Latest Canterbury news at starnews.co.nz

Thursday May 27 2021 3

Land sale up

for discussion

• From page 1

But the community board identified

the need for more affordable

Halswell Residents' Association

secretary David Hawke said the association

was comfortable with that population continues to grow, so

housing in Halswell as the area's

arrangement as the area could do several housing providers were also

with more recreational spaces. contacted to gauge interest.

"If it didn't [go through], we'd be In spite of what the association

pretty disappointed," he said. wanted, Hawke was not against a

"The key outcome we

potential housing development

want is provision for

at this site as he also understood

its importance.

community use."

The city council

Kāinga Ora was not able to

planned to discuss the

confirm its intentions with the

sale at its meeting last

land if it was successful.

week, but it has been rescheduled

to a later date.

comment at this stage,

"It's not appropriate for us to

ahead

It is now being

discussed at the community

board's meeting

next Tuesday before it proceeds to

the city council for a decision.

The city council always intended

to subdivide the land for its stormwater

work and eventually sell the

surplus.

More land was acquired than

needed as the original owner was not

willing to sell the part that the city

council wanted to develop, therefore it

purchased the whole site.

The association saw this as an

opportunity to save the land for

residents to use before it went to the

open market.

Anne

Galloway

of any council decision on the

sale of this land," a Kāinga Ora

spokesperson said.

Halswell Ward city councillor

Anne Galloway said affordable

housing was needed, particularly

due to an ageing population and

that first-home buyers like young

families "need a place to live".

But there was a "real opportunity"

for community involvement in

planning what this space could look

like.

"I'm keen to get a community panel

of people to work with to design

a space that is going to provide an

environment we want our families to

grow up in," she said.

JOIN US NOW!

See website for details

Six years ago I spent several days at Birdlings Flat,

an area I had not visited for over twenty years.

It was a visit that would influence my painting

in many ways. It added to my lexicon of places

beside the sea that I often draw upon when

working.

Visually I was inspired by the shape of the hills

and the conversations between sea, sky and land.

I appreciated the austere elemental geology of

the place. Not to get too esoteric about it, but I

felt comfortable being uncomfortable there.

Since then I have visited various parts of Banks

Peninsula on a regular basis and each time I have

come away with something new to explore via

painting.

Unlike earlier paintings these works are not

seeking to capture or convey these landscapes.

They are certainly shaped by it, but essentially

are by-products of time spent walking, biking, or

simply sitting and looking at local places.

Acrylic on canvas 1530 x 1015mm

Acrylic on canvas 1530 x 1015

Brent Forbes was born 1968 in Timaru, South

Canterbury, where he now resides. He completed

study at Aoraki Polytechnic in 1988 and Nelson

Polytechnic in 1994. Forbes regularly exhibits

throughout New Zealand and has works in private

collections locally and in Australia, Great Britain,

Germany and U.S.A.

Brent Forbes' exhibition runs from 29th May to 22nd June at the Little River Gallery.

Brent

Forbes

Round Here

29 MAY – 22 JUNE 2021

Sign up to Smart Deals & be in the monthly draw for a $100 Dress-Smart gift card!

Open 10am-5pm, 7 Days 03 349 5750

Main Rd, Little River | 03 325 1944 | art@littlerivergallery.com | littlerivergallery.com

CHRISTCHURCH 409 Main South Road, Hornby

www.dress-smart.co.nz
---
4 Thursday May 27 2021

Latest Canterbury news at starnews.co.nz

SOUTHERN VIEW

Students take part in

ANZAC Day services

First Time Ever !

Five students from one school selected for NZ Competi

Joe Eccleton (Principal), Madilyn Haar-Wilkinson, Georgina Cockfield, Matthew Winter

and Brett Cox (Year 11 Head of School).

A number of Cashmere High School

students formally represented our school

community at this year's services of

remembrance held at the Halswell Domain

Memorial and Cashmere Park.

A special mention must go to Madilyn

Pupils muck in for stream clean-up

A special thanks

to the CHS

Sustainability

Council and

Volunteer Army who

helped with the local

stream clean-up on

Thursday, April 6.

A big mihi to new

Cashmere teacher,

Stacie Lilley, who

helped organise

the event, working

with the Healthy

Ōpāwaho team and

EOS Ecology. Ka mau

te wehi!

Thursday 10th June 2021

2022 Prospectus and scholarship

application forms will be available

4.00pm - 6.30pm

Phone 332 9129

www.cashmere.school.nz

Haar-Wilkinson (Year 13) who sung

the national anthem at the Victoria

Park service. We had other students

representing our school as flag bearers,

laying commemorative wreaths and

reading the names of those who had fallen.

www.cashmere.school.nz

Students with teachers Matt Benassi (left) and Paul Conner (right)

Young entrepreneurs set

competition record

NZ Entrepreneurs

in Action 2021

For the first time ever, a New Zealand

secondary school — Cashmere High

School — has five students selected to

attend the National Business Competition

"Entrepreneurs in Action".

This is a Young Enterprise competition

that sees students from across the country

Our Business Studies

students have held two very

different Market Days this

year. In Term 1 our Year

10 students held the everpopular

food market day,

pictured above, and then in

Term 2 our Year 11 students

held a "Mother's Day

Market", right. Both events

were well supported by staff

and students alike.

Sporting success at

Halberg Games

compete over a 48-hour period.

Congratulations to Year 12 students

Liam Crawford and Archie MacDonald,

Year 13 students Oakley Inkersell, Emilia

Dybka and Jayden Rosanowski who will

represent Cashmere for a second year.

Good luck!

Market Days well supported

Over the school holidays, Year 9 student Charlotte

Murphy competed at the Halberg Games, a threeday

sports competition for young athletes aged

8-21 years with physical or visual impairments.

Charlotte took part in six swimming and six

athletics events, achieving a new personal best,

and was also awarded the Joyce Fisher Cup for

Spirit of the Games.

Charlotte is pictured at right with retired

paralympian swimmer Rebecca Dubber.
---
SOUTHERN VIEW Latest Canterbury news at starnews.co.nz

Thursday May 27 2021 5

Cabbage trees to rise again

• By Samantha Mythen

OLIVER LEWIS' passion for

cabbage trees prompted him to

start a fundraiser to buy 24 of the

robust-trunked and sword-leafed

trees.

His goal: To replace the ones

poisoned along the causeway

section of the Coastal Pathway

in 2018.

Last week, in four hours, a

fundraising goal of $633.60

was reached. In total, $778 was

raised, exceeding the amount

needed to buy the 24 cabbage

trees from Trees for Canterbury.

Heathcote Ward city councillor

Sara Templeton and Mayor

Lianne Dalziel have both supported

the fundraiser.

Lewis, who lives in St Martins,

started the fundraiser via a

Givealittle page on May 13.

Lewis, a freelance journalist,

reported on the 2018 poisoning

when he was working for The

Press, calling it a "cold case cabbage

tree killing". The offender

has not been found.

"I've always felt miffed that

someone had the audacity to

poison the cabbage trees and on

petty grounds," said Lewis.

"They should be replaced,

protected and respected."

The reason behind Lewis' fundraiser

is his long-standing like

of cabbage trees. "I have worked

in Marlborough before, and

along the east coast the cabbage

trees stand out among the gold

of the tussocks and the rust of

the railways. They are beautiful

trees," he said.

"They're pioneering, they're

rugged – I quite like them."

Lewis said that unfortunately

many people dislike the trees due

to their habit of dropping tough

leaves that often then get tangled

up in lawnmowers.

Lewis has since bought the

trees and there will be a planting

day in June in collaboration with

the Christchurch Coastal Pathway

Group and any volunteers

who would like to help out.

Pathway group chairman of

the Hanno Sander said: "We're

excited that Oli's fundraising to

reinstate the trees has been so

successful, with broad support

from the community including

the mayor.

"We're looking forward to a

working bee where we'll plant

several hundred natives along

Beachville Rd and the cabbage

trees in their original locations."

Lewis still hopes to solve the

mystery. Last week he dropped

100 leaflets around Mt Pleasant,

asking if anyone knew anything.

If you have any information

about the poisoning of the trees,

email Oliver on oli.lewis720@

gmail.com

ON THE CASE: Oliver Lewis has raised over $700 to

replace cabbage trees on the causeway that were

poisoned.

PHOTO: GEOFF SLOAN

03 322 4548 | Easy Parking

17 Lillian Street, Halswell

Open Mon-Fri 9.30am - 5.00pm

Saturday 10.00am - 1.00pm

LAYBY WELCOME
---
Advert: FCSV2705 Newspaper: Southern View

6 Thursday May 27 2021

Latest Canterbury news at starnews.co.nz

SOUTHERN VIEW

Shop online at

FreshChoiceYourWay.co.nz

or download the

FreshChoice app

Fresh NZ

Skinless

Chicken

Breast Fillets

$

9 90

kg

Loose Red

or Orange

Kumara

$

3 50

kg

Freshly Cut

Broccoli or

Leeks

$

1 50

ea

Stoneleigh

(Excludes Rapaura,

Latitude, Organic &

Wild Valley)

or Lindauer

Classic 750ml

(Excludes Special

Reserve, Vintage

Series & Free)

$

13 90

kg

Fresh NZ Lamb

Shanks

$

5 90 2 for

pk $

22 00

Tip Top Trumpets 4 Pack

Barrington

Open 7am – 10pm, 7 days a week.

barrington.store.freshchoice.co.nz

City Market

Open 7am – 9pm, 7 days a week.

citymarket.store.freshchoice.co.nz

Prices apply from Monday 24th to Sunday 30th May 2021, or while stocks last at FreshChoice Barrington & City Market only. Limits may apply.

FreshChoiceNZ

OWNED &

OPERATED BY

LOCALS

FCSV2705
---
SOUTHERN VIEW Latest Canterbury news at starnews.co.nz

Thursday May 27 2021 7

Dreams realised in spite of disability

NOT EVEN a disability could

get in Charlotte Holt's way

when it comes to fulfilling her

dreams.

The 18-year-old Villa Maria

College student has earned a

$10,000 scholarship towards

fees to study law and arts at

Canterbury University.

Charlotte was diagnosed with

mild to moderate hypotonic

cerebral palsy at six-monthsold.

A lack of tone in the

muscles makes everyday movements

difficult and exhausting.

She said her strong sense of

social justice and empathy for

others was attributed to her

time at the Champion Centre as

a young child.

"Perhaps from my time at the

Champion Centre and my love

of public speaking, I gravitated

towards studying social justice

and law at university," she said.

"It's an opportunity to give

back."

Based in Burwood, the

Champion Centre is a nonprofit

organisation providing

early intervention for babies

and children born prematurely,

or with disabilities.

Because Charlotte was

continuously surrounded by

children who also had a disability,

she was not treated any

differently.

Her mother Jane said she

was a very relaxed, but "floppy"

baby.

"We never put a label on

Charlotte's condition," she said.

Holt initially attended Milestones

Centre for three months

before she started at the Champion

Centre at nine-monthsold,

mainly with her mother.

They would go in once a week

and then eventually fortnightly

until she was nearly two at the

end of 2004.

"While at the Champion

Centre, Charlotte became very

able with her fine motor skills.

As well as sessions at the centre,

we took her swimming a lot,"

Jane said.

"The staff that work there are

incredible, very dedicated and

amazing. Early intervention is

so important, it's your lifeline."

Charlotte's nanas often came

to the sessions as well.

"My mother often found

it quite emotional when she

visited the centre, seeing what

all these amazing children were

achieving," said Charlotte's

father Chris.

"Charlotte definitely developed

her personality and talent

from the Champion Centre, she

received a lot of attention. She

has become very independent."

Growing up, Charlotte

danced, sang and played sport.

She then joined her two older

sisters at Villa Maria, where

she became an esteemed public

speaker and achieved her grade

7 trinity speech and drama

exam.

Last year, Charlotte applied

for a tertiary scholarship

through her father's work at the

Lyttelton Port Company that

was available for children of

employees to apply for.

Through a selection process,

she was awarded the scholarship

which will be used towards

university fees over the next

two years.

SUCCESS: Charlotte Holt

has earned a $10,000

scholarship that will go

towards fees to study law

and arts at Canterbury

University.

Elite Haircuts

at affordable prices

Mens Cuts ...............................$20

Womens Cuts ..........................$27

Kids Cuts under 12 years ........$15

Clipper Cuts ............................$14

Gold Card Mens .......................$15

Gold Card Womens .................$20

Mens Beard Trim .....................$5

Eftpos Available

Read local

238 Barrington Street, Spreydon (opp St Nicholas Church)

NO APPOINTMENT NEEDED! Mon-Fri 9am-5pm, Thu 9am-6pm

Any excuse for a big sale.

Like it being the week

before the Queen's

made up birthday.

30% off

selected Bedroom

and Dining Furniture*

Valid dates vary per product. See online or in-store for details. Some products on display in selected stores only – please call 0800 764 847 to check availability. Personal shoppers only. *Discount is off our full retail price and not available in conjunction with any other offer.
---
8 Thursday May 27 2021

Latest Canterbury news at starnews.co.nz

SOUTHERN VIEW

Lynn Tufuga (left), year 8, Senior Sergeant Roy Appley and Amber Day, year 8, get a closer look at what police officers wear. Donovan Robertson (right),

year 1, gets behind the wheel of a police car.

Pupils taught how to keep safe in community

• From page 1

Waltham School is part of

Canterbury Neighbourhood Support's

school programme.

Co-ordinator Elissa Smith

organised the visit so the pupils

could learn about keeping safe

in your community, the benefits

of knowing your neighbours and

being prepared for emergencies.

"The focus of the visit is for

children to have fun [and] at the

same time, learning that the role

of the police is to help and protect

us," she said.

"This is important for children;

they need assurance that adults

are sorting out things that seem

scary to children.

"Some children have a fear

of the police because they hear

or are threatened by comments

from adults that describe police

in a negative way."

The children were given an opportunity

to ask questions.

"We were impressed with

the range of questions and

how well they were thought

out," said Senior Sergeant Roy

Appley.

Pupils asked if the police

worked at night, why the lights

are blue and red and one of the

most respectful questions was "if

it's such a dangerous job, why did

you choose to do it?"

Canterbury Neighbourhood

Support runs the programme in

14 primary schools in Christchurch.

It is a leadership opportunity

for students.

They choose and lead projects

in their school that cover

information from emergency

services, projects that benefit the

local environment or develop

empathy and community spirit in

children.

The long-term goal of the

programme is that these children

will be active members of their

community and developing the

Neighbourhood Support concept

of looking after your neighbours

to create safer, and more resilient

communities.

Year 3

pupil Ryan

Tyacke

practices

his driving

skills.

Pupils line up

to look inside

the community

hub vehicle

(above). Senior

Sergeant Roy

Appley (left)

hands out

junior detective

activity packs.

PHOTOS:

GEOFF SLOAN

Well, you get funny looks

if you go to a cafe in your

dressing gown.

Sunbeam Barista Max Espresso Machine - Matte Black - EM5300K

9062695

Lazy morning versus desire for a good coffee. It's a tricky one. But, you can make it easy

on yourself with this compact espresso machine. The built-in grinder also means you'll

get the full café experience, while still wearing your slippers.

$499 $ 5

less than

per week for

36 months

interest free*

Offers valid until Tuesday 1st June 2021, while stocks last, unless otherwise stated. Some products on display in selected stores only – please call 0800 764 847 to check availability. Personal shoppers only. *Apple, selected computers, game consoles, gift cards, clearance items and some promotional items are not available in conjunction with interest free offers. Flooring available on a

maximum of 18 months interest free. Exclusions, fees, terms, conditions, and credit criteria apply. Available in-store only. Equal instalment amounts include one-off booking fee of $45.00, annual fees of $45.00 p.a. and security registration fee of $8.05, and exclude insurance. Current interest rate of 23.95% applies to any unpaid balance after expiry of (any) interest free period.

See in-store or visit smithscity.co.nz/interest-free for details.
---
SOUTHERN VIEW Latest Canterbury news at starnews.co.nz

Thursday May 27 2021 9

Retirement village workers recognised for achievements

THREE SPREYDON retirement

village workers are still floating

after winning not one, but

four awards between them at

the Heritage Lifecare Prestige

Awards.

The leadership traits of Caroline

Doole, Gail Kerse

and Urmee Rahman were the

foundations that the team at

George Manning Lifecare and

Village relied on during the past

year.

Heritage Lifecare has more

than 48 care homes and villages

throughout New Zealand, and

staff gathered to celebrate their

achievements in spite of a challenging

2020.

Kerse was recognised for her

"exceptional leadership" and

received the care home manager

of the year award.

She was acknowledged for

building a cohesive team and

promoting positive work culture

with an approachable leadership

EFFORTS:

George Manning

Lifecare and

Village staff

Caroline Doole

(left), Gail Kerse

and Urmee

Rahman with

their awards

for work at the

Heritage Lifecare

Prestige Awards

in Wellington.

style.

"I was really blown away," she

said.

"It was really nice to get the

recognition for the work we do.

I was so proud of our residents

and staff, their level-headedness

ESTUARY MATTERS

Huge turnout for planting day

The Avon-Heathcote Estuary Ihutai Trust is a non-profit

organisation formed to protect one of New Zealand's

most important coastal wetlands. Each week, board

members will discuss matters regarding the estuary,

its rich history and what makes it unique. This week

Tanya Jenkins writes about a successful planting day at

Charlesworth Reserve

and how they followed directions

to the letter."

Doole was the supreme winner

of the a better everyday award,

and was care home and village

support person of the year.

It was because of her

outstanding attitude, skills,

knowledge, and approach that

has seen her become an expert

across both finance and rostering

systems.

Said Doole: "I was already

overwhelmed at being a finalist,

but to then go on to win these

awards had me speechless."

Rahman, George Manning's

clinical manager, was awarded

clinical services manager of

the year for her exceptional

leadership qualities and clinical

expertise.

Due to all the work she did

during the Covid-19 response,

she was asked to input into the

Canterbury District Health

Board's Covid-19 toolkit.

Rahman said it felt amazing

to win the award but was very

quick to point out that it was a

team effort.

"Without our incredible team

this wouldn't have been possible.

It was a total collaboration from

top to bottom, with everyone involved

working to the extreme,"

she said.

Kerse said the awards meant

a huge amount to everyone at

George Manning.

IT IS 10am on Sunday, May 16,

and volunteers are streaming

into the Charlesworth Reserve

car park ready with spades,

gloves and enthusiasm.

Eighteen-month-old Hugo

carried by mum Merodie Rose

was keen to show me his wee

spade and the plant he was going

to plant in the reserve.

Fabulous to see 85 keen locals

arrive to place 1400 native tree

NATURE: More than 80 volunteers flocked to

Charlesworth Reserve to plant 1400 native trees as part

of the Avon-Heathcote Estuary Ihutai Trust's restoration

projects.

seedlings in the reserve to add to

the some 120.000 already planted

here since the start of this wetland

restoration project in 2004.

Even more encouraging was

the number of families present

this year (our 17th annual planting

event) to show the youngsters

how and why we plant here.

The why of course being a list

of very good reasons including

habitat for birds, lizards and insects,

food for birds, nesting and

roosting sites for birds, offsetting

carbon emissions, soil erosion

prevention, filtering polluted

water before it enters the estuary,

safe cycling and walking, providing

a fantastic view for those

living in view of the wetland

and not in the least – a place to

recharge your batteries.

Walk among the creeks,

ponds, observe the birdlife and

KEEN HELPER: Merodie Rose and 18-month-old son

Hugo with his spade ready to help planting.

gain a sense of well-being that

is often only achieved when you

immerse yourself with nature.

All in all, a successful day organised

by the estuary trust with

the city council park rangers and

the fabulous staff of Trees for

Canterbury native tree nursery.

And now? We have another

1400 trees to be weeded. You are

welcome of course, to assist on

Sundays between 2 and 4pm for

this task.

•For more information email

info@estuary.org.nz

Half price. Free delivery.

You can make your

own bed, though.

50% off

selected Sleepyhead

beds including

free delivery*

We do all we can to make life easy for you. But the line has to be drawn somewhere.

We'll personally deliver the bed to your home, set it up, and take the annoying

packaging away. But that's where it ends. Still, not bad for half price.

Some products on display in selected stores only – please call 0800 764 847 to check availability. Personal shoppers only.*Terms, conditions and exclusions apply. See smithscity.co.nz for more details.

Valid dates vary per product. Discount is off our full retail price and not available in conjunction with any other offer. Free delivery valid until 8th June 2021, applies to addresses within a 50km radius of a Smiths City store.
---
10 Thursday May 27 2021

Latest Canterbury news at starnews.co.nz

SOUTHERN VIEW

Prepare your

home for winter

Exterior lighting

Repair or install

• Landscape lighting

• Security lighting

• Path and driveway

lighting

• Discuss the many

more options

Control your home

From your

phone

• Heating

• Entertainment

• Lighting

• Access & Security

...plus other options available

Bought a new

home recently?

Switchboard

health check

Ensure your electrical

wiring and connected

equipment are safe

and compliant.

Just

$190

SAVE $85!

incl.GST

Give us a call today 24/7 03 365 9712

aoteaelectriccanterbury.co.nz

Conditions apply. This offer is exclusive to Aotea Electric Canterbury for residential homes in the Canterbury area only.

Award winning company, trusted in Canterbury for 37 years

Keeping your home

safe and warm

Indoor safety and security

Ensure all your smoke detectors are

working and consider installing carbon

monoxide detectors.

Check seasonal electrical appliances,

such as heaters and electric blankets that

have been stored for some time.

Have your fireplace, woodstove,

chimney/flue and venting system checked

and cleaned annually.

Home automation provides additional

comfort and security options, enabling

you to control lighting, heating, security

features remotely.

Insulation and heating

A well-insulated home is very energy

efficient and ensures you get the most out

of your additional heating and cooling

options. Insulation can also reduce noise

pollution.

Gas fires, wood fires, ultra-low emission

burners, heat pumps, central heating and

underfloor systems, trends and technology

evolve constantly.

Talk to a specialist heating company to

determine the best option for you.

hot

ULEBs are

Come and see us, our

showroom has all the

latest heating solutions

Healthy air flow

During colder months it is tempting to

close everything up to keep heat in, but

good airflow is important all year round.

Condensation collecting on internal

windows and walls creates mould.

Consider extractor fans, especially in the

kitchen and bathroom.

Bathroom steam can be prevented from

escaping by enclosing your shower cubicle.

Move large furniture, curtains and even

drying racks away from your heating

source, these absorb heat that could be

warming your room.

Check your window and door frames, if

you can see daylight block with a foam or

rubber draught excluder.

When the latest

Ultra Low Emission

Burners

are here, Simply

Heat will have them.

These burners comply with the strictest

clean air regulations so you can cosy

up to a wood fire in comfort. See our

range on our website and take a Virtual

Tour of our showroom online at:

www.simplyheat.co.nz

95 Byron Street, Sydenham

(next door to Rockgas)

Call today 03 365 3685

facebook.com/simplyheat
---
SOUTHERN VIEW Latest Canterbury news at starnews.co.nz

Thursday May 27 2021 11

Prepare your

home for winter

Preventative home

maintenance tips

Check your water tanks, pipes

and outside taps

Consider turning off outside taps to avoid

freezing and bursting. Covering water

tanks and pipes is a cost-effective way of

preventing this and reduces heat loss.

Consider your outdoor safety

and security

With the evenings being darker earlier,

frosts on outdoor steps, decks and pathways

are a slipping hazard.

Ensure you have adequate outdoor

lighting, a clutter free and smooth pathway

to your rubbish bins, woodpile, external

garage or sleepout.

Clean up spills immediately. Consider

moisture-absorbent mats and handrails.

Cut back your trees

With the leaves already fallen, now is a

good time to assess your trees and trim

back any dead branches and branches

overhanging your windows, spouting and

roof. Check your roof for leaks, loose nails,

and that it has a sound coating. Also look

for moss and algae.

Clear your gutters, drains and

downpipes

An accumulation of autumn leaves can

quickly block gutters, which can lead to

roof leaks, overflow and flooding. Consider

protecting your gutters from birds, hail and

leaves.

Stagnant water may freeze resulting in

gutters and downpipes coming loose or

collapsing.

Blocked drains are a potential health

hazard, create an unpleasant odour and

attracts bugs and small pests.

Store your seasonal equipment

with care

Before you put your lawnmower and

weedeater away for the season, run low or

drain the petrol. Petrol goes off and come

spring your old petrol can adversely affect

the performance of your equipment and

block up your filters.

Cover outdoor furniture and secure

items, such as trampolines, which may get

blown around in strong winds.

Consider options to extend your outdoor

living all year round.

Upgrade your home

with wall tiles

Winter is here and what better time to

accomplish some DIY home improvements

which will add value to your home.

A new easy to install waterproof wall tile

has recently arrived in New Zealand. The

Styletile brand by Dumawall is lightweight

and offers seamless joins which any

homeowner can install themselves without

the added expense of a tiler.

The decorative tile selection comes in

a range of contemporary colours that

suit a variety of interior spaces including

bathrooms and shower walls, kitchen, and

food preparation areas as well as laundry

and washdown sections. Highlight your

feature walls and large areas as these tiles

can add a whole new look and feel to your

home.

This do-it-yourself-tile is quick and

provides the look of ceramic tiles with

an interlocking tongue and groove

system which can be easily cut on site

with a handsaw, circular skillsaw or

jigsaw. Styletile is easy and doesn't need

complicated grout lines or tools or the costs

associated with ceramic tiles.

Dumafix is a high-quality, quick

hardening adhesive suitable for fixing and

installing on any surface, whether porous

or non-porous.

Have you been thinking about your next

home project? Have you been thinking

about ways to increase the value of your

home? An answer has just arrived. Styletile

by Dumawall.

Phone today for more information

03 366 3634 or visit www.styletile.nz.

Start browsing the colour options to see

which colour you like best and enjoy a

10 year warranty.

Styletile, the easy to install tile to bring

value to your home.

At Whitehead Plumbing & Gas Ltd

we have a great team of loyal staff

offering a diverse range of skills.

Serving Canterbury for over 35

years, we do everything from

domestic maintenance to new

homes and commercial buildings.

Make us your first call today.

Plumbing.

Gasfitting.

Drainlaying.

03 379 0711

whiteheadplumbing.co.nz
---
12 Thursday May 27 2021

Latest Canterbury news at starnews.co.nz

SOUTHERN VIEW

Prepare your

home for winter

Less waste,

more purpose

It is fascinating exploring Musgroves'

sheds where there is a huge variety of

recycled and new building products. This

iconic Canterbury company has been

recycling building materials for the last

50 years and they're really good at it. Not

only do they have an incredible range of

products that are amazingly well organised,

but they have also built themselves a

reputation for providing exceptional

service. The reviews from their many

customers (whether they be homeowners,

business owners or tradies) repeatedly refer

to the care and commitment of Musgroves'

long-serving team members who have gone

above and beyond to assist them with their

many and varied project needs.

General manager, Sue Brown, confirms

that Musgroves has thousands of repeat

customers who come from all round

the South Island (and beyond) to find

treasures for their projects. Whether it

be to look for T&G flooring for their new

build, or for a french door for their home

renovation, or for a sliding door for their

sleep out, or for doors and windows for

their child's playhouse, or for timber beams

for a business fitout or for some roofing

materials to fix a leak, these are just a few

of the reasons why people come to visit

Musgroves.

There is no question that upcycling and

recycling is alive and well at Musgroves

in Wigram and once you've talked to any

member of the Musgroves team you soon

get a sense that sustainability is not just a

fad here, but rather it is in their

DNA and until you've paid them a

visit you can't fully appreciate the

huge range of building materials

that Musgroves can supply you

with.

Musgroves - 3 Musgrove Close,

Wigram. Phone 322 7922,

www.musgroves.co.nz

Protect your

biggest asset

Moss build up can cause damage to

your roof. It can loosen concrete mortar

causing leaks to tile roofs, damage paint

and surfaces of iron, pressed metal and

Decramastic roofs creating costly repair

bills.

Mr Moss, your local roof and wall

care specialist, are a family run business

servicing the local Canterbury area.

They know your home is your biggest

asset and believe that it should not cost a

fortune to protect it. Mr Moss has built a

reputation on providing a quality service

and reasonably priced treatments to future

proof your home.

Moss treatments start at only $215

including gst (for a roof under 120sq/m) to

keep your roof clean and maintained.

Mr Moss provide moss removal

treatments to clean your roofs, walls,

driveways and paths, silicone sealing

treatments which help repel water and keep

your home drier and warmer. They also

offer spider proofing, gutter cleaning, roof

repairs, reroofs or new roofs and gutter

replacement services.

Check out the website

www.mrmoss.co.nz for the full range of

services, or contact them today for your

free quotation. Phone: 0800 355 000.

Thinking Moss?

MUSGROVES LTD

Buyers and Sellers of

Recycled and

New Building Materials

and Joinery

Timber, flooring, doors,

windows, kitchens,

roofing materials and

many more quality

recycled & new products.

Less waste,

more purpose.

Musgroves Ltd,

3 Musgrove Close, Wigram,

Christchurch

03 322 7922

sales@musgroves.co.nz

www.musgroves.co.nz

Think Mr Moss

Roof + Wall Care Specialists

Your roof protects

your biggest asset

Protect your

roof with a moss

removal treatment

FROM ONLY

$215

incl

gst

Contact us today

0800 355 000

mrmossltd@outlook.com

www.mrmoss.co.nz
---
SOUTHERN VIEW Latest Canterbury news at starnews.co.nz

Thursday May 27 2021 13

Prepare your

home for winter

Did you know that healthy trees can add

up to 20% to the value of your property?

You may not think about it

that often – but the trees on

your property are a lifetime

investment.

Carefully selected trees on your property

provide more than beauty - they increase

the value of your home. Several recent

surveys have shown that mature trees in

a well-landscaped garden can increase

the value of a house by 7 per cent to

19 per cent.

Experts indicate that a well-maintained

garden with mature trees can add

thousands to a home's value and speed up

a house sale too.

In addition to adding significant value

at the point of sale, trees also serve very

practical and functional (as well as

aesthetic) purposes for homeowners. They

frame beautiful, relaxing, and pleasant

landscapes and help keep a house cooler

and protected from destructive winds and

weather.

Many tree care companies simply chop,

cut, and call the job done. However, after

speaking with THE TREE PEOPLE, it

quickly became apparent that they are

different. Simply put, they know your

home is your haven and will always ensure

it is treated that way.

Started by Ra and Megan Hammer in

2004, THE TREE PEOPLE knew early on

that their ethos and approach was going to

be different. They never simply chop and

cut, and instead pride themselves on the

fact that they go against the grain of how

many other arborists operate. They can

help with any tree and pride themselves on

being able to do so. They can remove large

dangerous trees safely, look after the trees

that you care about, transplant established

trees with care and offer expert advice on

all 'things' trees.

Speaking with passion about what he

does, chief tree hugger Ra Hammer shares,

"We had some very clear goals when we

started the business that we still 'live by'

today. It was important to us to preserve

and maintain trees sustainably, to provide

an environment that helps our customers

to enjoy harmonious relationships with

their trees, to offer excellent affordable tree

care and to always adhere to best practice.

I am proud to say that, 16 years later, we

still live and breathe these goals".

To remove those dangerous trees,

hard to reach over hanging branches

and to add value to your property, call

Ra, Megan and the team at THE TREE

PEOPLE today.

STOP leaveS

birds, snow, hail & vermin from

blocking up your spouting

Quality materials: BHP Colorbond steel mesh with unique patented louvre

will even keep out pine needles. Will not rust or sag with age or load.

10 year warranty, range of colours.

Proven in Australia & New Zealand over the last 15 years.

FOR SAFE, PURE DRINKING WATER

FROM YOUR ROOF.

NOW AVAILABLE: STAINLESS STEEL MICO MESH

Call Rohan anytime Mon-Sat for a

no-obligation assessment & quote

03 982 8850 0800 486532 www.gumleaf.co.nz

Use your outdoor living areas

all year round

• Warm & dry in winter

• UV protection for summer

• Stylish & permanent

• 5 year warranty

"AS SEEN ON TV"

Chris Thorndycroft

Phone 0274 211 079 | www.archgola.co.nz

15 months

INTEREST FREE

Normal lending criteria apply
---
14 Thursday May 27 2021

Latest Canterbury news at starnews.co.nz

SOUTHERN VIEW

Prepare your

home for winter

Buy — sell — reside with

peace of mind

Any property, old or new, can have

hidden problems. It is important to know

the true condition of your current, or

potential property.

An AA House Check report can provide

you with the confidence to buy or sell with

no surprises.

Property examinations provide detailed

room by room inspections, including

roof cavity, insulation, flooring, electrical,

plumbing, drainage, hot water systems,

roofing, decks, paths and driveways,

garages, asbestos identification and more.

A BOINZ accredited building surveyor

can also carry out moisture checks,

residential foundation inspections,

earthquake damage repair assessments and

methamphetamine testing.

Serving Canterbury homeowners,

landlords and prospective home buyers for

over 15 years AA House Checks have your

house inspection needs covered.

In need of a heat pump for

your home or rental property?

Choose DC Installation Services

and benefit from affordability,

reliability and great customer

service.

Family-owned and operated by local

couple Daniel Cooper and Mel Coates,

the DC Installation Services team are

dedicated to working with Christchurch

homeowners and landlords to provide

energy efficient heating, cooling and

ventilation solutions.

Whether you need a quiet heat pump for

your bedroom or a ducted system for your

whole home, DC Installation Services do

it all. They even have heat pumps available

in different styles and colours to suit the

interior design of your home. They will

work with you to find the best solution to

suit your space and budget and go the extra

mile by showing you how to operate and

maintain your heat pump.

DC Installation Services have built up

an excellent reputation in Christchurch for

fast, friendly and top quality workmanship

by their passionate team of experienced

installers and electricians. From the

first quote to installation and follow-up

services, the team are with you every step

of the way, keeping it simple and easy.

With the cold weather on its way, it's the

perfect time to think about getting a heat

pump installed in time for winter. Keep

warm and save with our one-time only

run-out special on the Mitsubishi Electric

EcoCore GL50 Heat Pump. Combining

efficient technology with unique energy

saving features, it is a great choice for

reliable, energy efficient heating.

Phone DC Installation Services on

0800 324 678 to arrange your free,

no-obligation quote or visit the new

showroom at Unit 6, 23 Hynds Drive,

Rolleston, to view their full range of heat

pump solutions.

RUN OUT SALE | RUN OUT SALE

Retrofit Insulation

Specialists

Retrofitting insulation in your ceiling,

walls and underfloor will make your home

warmer, healthier and more energy efficient.

An investment you cant afford to be without.

CONTACT US NOW

Phone 0800 220 055

www.canterburyinsulation.co.nz

GL50 Heat Pump

Heating 5.8kW | Cooling 4.8kW

$2,599

INSTALLED

Basic back-to-back installation.

Conditions apply.

Enjoy super energy

efficient heating

this winter.
---
SOUTHERN VIEW Latest Canterbury news at starnews.co.nz

Thursday May 27 2021 15

Classifieds Contact us today Phone our local team 03 379 1100

Food

saitouchofspice.co.nz

82 Barrington Street the

best Curry Takeaway,

Open 11.30am to 2.30pm,

4.00pm to 9.30pm, Betoon

murg chicken curry $12 .

Ph Orders 3327885, or text

order to 0212324544

Gardening

& Supplies

Gardener available for

maintenance, weeding

pruning, spraying,

planting, advice. Qual &

exp. Pensioner discount

25%. Ph Richard 0274 918

234, 03 349 4022

Wanted To Buy

AAA Buying goods

quality furniture, beds,

stoves, washing machines,

fridge freezers. Same day

service. Selwyn Dealers.

Phone 980 5812 or 027

313 8156

AAA Buying goods

quality furniture, beds,

stoves, washing machines,

fridge freezers. Same day

service. Selwyn Dealers.

Phone 980 5812 or 027

313 8156

TOOLS Garden,

garage, woodworking,

mechanical, engineering,

sawbenches, lathes, cash

buyer, ph 355-2045

Trades & Services

FOR ALL YOUR

★Garden Clean-ups

★Pruning

★Lawn Mowing

★Garden Maintenance

Call us today for a FREE quote

PH 0800 4 546 546

(0800 4 JIMJIM)

PAINTING

older painter

for older houses

50 years in trade

"All the skills"

GST FREE

Contact Jimmy Bell

0211221487

Trades & Services

BRICKLAYER

George Lockyer. Over

40 years bricklaying

experience. UK trained.

Insurance work, EQC

repairs. Heritage

brickwork & stonework

a speciality. No job too

small. Governers Bay.

Home 329 9344. Cell

027 684 4046. E mail

georgelockyer@xtra.co.nz

CARPET LAYING

Exp. Repairs, uplifting,

relaying, restretching.

Phone John on 0800

003181, 027 240 7416

jflattery@xtra.co.nz

ELECTRICIAN

Prompt & reliable

registered electrician

with 24 years experience

for all residential and

commercial work, new

housing and switch board

replacements. Phone Chris

027 516 0669

PAINTING

Indoor / Outdoor, over 30

yrs exp, same day quotes,

ph Steve 021 255 7968

ROOFING REPAIRS

Fully qualified, over 40

yrs experience. Ph John

027 432-3822 or 351-

9147 email johnchmill@

outlook.com

STONEMASON

BRICK

&

BLOCKLAYER,

Earthquake Repairs, Grind

Out & Repoint, River/

Oamaru stone, Schist,

Volcanic Rock, Paving,

all Alterations new & old,

Quality Workmanship,

visit www.featureworks.

co.nz or ph 027 601-3145

Trades & Services

ROOF

PAINTING 24/7

Rope & harness

a speciality,

no scaffolding

required,

30 years of

breathtaking

experience.

FREE QUOTES

20% OFF other

roof quotes

Exterior staining,

exterior painting,

water blasting.

Moss and mould

treatment $300.

Phone Kevin

027 561 4629

STONEMASON

BRICK

&

BLOCKLAYER,

Earthquake Repairs, Grind

Out & Repoint, River/

Oamaru stone, Schist,

Volcanic Rock, Paving,

all Alterations new & old,

Quality Workmanship,

visit www.featureworks.

co.nz or ph 027 601-3145

STUMP GRINDING

Best price guarantee Tony

0275 588 895

STUMP GRINDING

Best price guarantee Tony

0275 588 895

VHS VIDEO TAPES

& all camera tapes

converted to DVD or

USB. Video taping

special occasions, www.

grahamsvideo.co.nz ph 03

338-1655

Trades & Services

DRIVEWAYS

Exposed Aggregate

Stamped Concrete Plain

Concrete Resurfacing

Things we offer...

Competitive/affordable pricing

Attention to detail

Professional service

free quotes/insurance scopes

Cell 0278 145 848

www.drivecrete.co.nz

ELECTRICIAN

Contact for a free quote

phone 027 331 0400

dave@davesimpsonelectrical.co.nz

davesimpsonelectrical.co.nz

Experienced Domestic Electrician

Quality Workmanship

• New Build

• Renovations

• Fault finding

• Power

• Lighting

• Switchboards

ADVERTISE YOUR BUSINESS HERE

Phone for further details

(03) 379 1100

Loved by

generations

Published more frequently and

giving you better value for money

than any other rugby read

sUbsCribe

FroM as

LittLe as

$20

rugbynews.co.nz | 0800 77 77 10

aLso avaiLabLe at aLL good bookstores and sUPerMarkets
---
16 Thursday May 27 2021

Latest Canterbury news at starnews.co.nz

SOUTHERN VIEW

eXhibitoRs Wanted!

Christchurch Arena, 2-4 July 2021

IN ASSOCIATION WITH

Reach over 10,000 potential customers across three days!

The perfect opportunity for you to personally engage with

and grow new customers!

Showcase your business in one of our general areas or feature in a specialized zone below! Limited stands available, don't miss out!

a new

addition to

the show!

We have stands available to suit all budgets!

If you want to grow your business, contact Lisa now on 021 800 809 or email lisa.lynch@starmedia.kiwi

for a no obligation quote. Payment options available. Terms & Conditions apply.