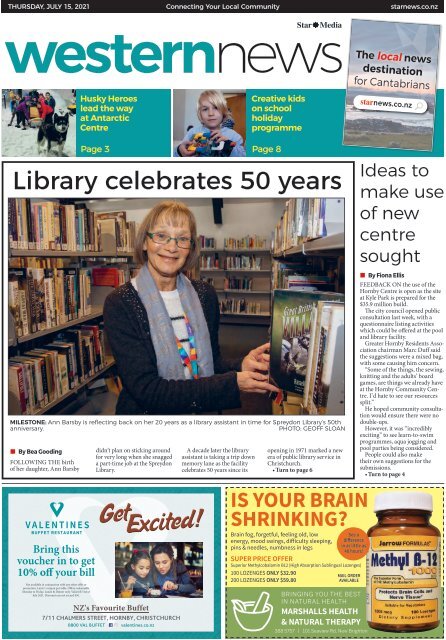 Western News: July 15, 2021
Create successful ePaper yourself
Turn your PDF publications into a flip-book with our unique Google optimized e-Paper software.
THURSDAY, JULY 15, 2021

Connecting Your Local Community

starnews.co.nz

The local news

destination

for Cantabrians

Husky Heroes

lead the way

at Antarctic

Centre

Creative kids

on school

holiday

programme

• By Bea Gooding

FOLLOWING THE birth

of her daughter, Ann Barsby

Page 3 Page 8

Library celebrates 50 years

MILESTONE: Ann Barsby is reflecting back on her 20 years as a library assistant in time for Spreydon Library's 50th

anniversary.

PHOTO: GEOFF SLOAN

didn't plan on sticking around

for very long when she snagged

a part-time job at the Spreydon

Library.

A decade later the library

assistant is taking a trip down

memory lane as the facility

celebrates 50 years since its

opening in 1971 marked a new

era of public library service in

Christchurch.

• Turn to page 6

Ideas to

make use

of new

centre

sought

• By Fiona Ellis

FEEDBACK ON the use of the

Hornby Centre is open as the site

at Kyle Park is prepared for the

$35.9 million build.

The city council opened public

consultation last week, with a

questionnaire listing activities

which could be offered at the pool

and library facility.

Greater Hornby Residents Association

chairman Marc Duff said

the suggestions were a mixed bag,

with some causing him concern.

"Some of the things, the sewing,

knitting and the adults' board

games, are things we already have

at the Hornby Community Centre.

I'd hate to see our resources

split."

He hoped community consultation

would ensure there were no

double-ups.

However, it was "incredibly

exciting" to see learn-to-swim

programmes, aqua jogging and

pool parties being considered.

People could also make

their own suggestions for the

submissions.

• Turn to page 4

Bring this

voucher in to get

10% off your bill

Not available in conjunction with any other offer or

promotion. Limit 1 coupon per table. Offers redeemable

Monday to Friday, Lunch & Dinner only. Valid till 31st of

July 2021. Discount can not exceed $50.

is your brain

shrinking?

Brain fog, forgetful, feeling old, low

energy, mood swings, difficulty sleeping,

pins & needles, numbness in legs

super price offer

Superior Methylcobalamin B12 (High Absorption Sublingual Lozenges)

100 LozengeS oNLY $32.90

200 LozengeS oNLY $59.80

see a

difference

in as little as

48 hours!

MAiL orDer

AVAiLABLe

Bringing You The BesT

in naTural healTh

MarshaLLs hEaLTh

& naTuraL ThEraPy

388 5757 | 101 seaview rd, new Brighton
---
2 Thursday July 15 2021

Latest Canterbury news at starnews.co.nz

GENERAL INQUIRIES Ph 379 7100

CLASSIFIED ADVERTISING Ph 379 1100

Star Media, a division of Allied Press Ltd

PO Box 1467, Christchurch

starmedia.kiwi

NEWS

Fiona Ellis

Ph: 021 914 407

fiona.ellis@starmedia.kiwi

ADVERTISING

Alana Powell

Ph: 962 8753

alana.powell@starmedia.kiwi

Your local community news

delivered to 24,894 homes

within The Star each week.

Templeton • Islington • Hei Hei • Broomfield

Halswell • Oaklands • Westlake • Hornby • Ilam

Wigram • Sockburn • Church Corner • Avonhead

Hyde Park • Russley • Riccarton Park • Riccarton

what's on

this week

Wā Kōrero-Storytimes

Thursday, 11.-11.30am, at Halswell,

Monday, 10-10.30, at Upper

Riccarton, Tuesday, 10.30-11am,

at Fendalton, Wednesday, 10.15-

10.45am, at Hornby

Fendalton, Halswell, Hornby and

Upper Riccarton libraries

Go along to an interactive programme

including books, songs,

rhymes and play.

Recommended for children 2-yearsold

and up. No bookings required.

JP Clinic

Thursday, 9.30am-12.30pm, at

Hornby, Saturday, 10am-noon, at

Fendalton, Tuesday, 10am-1pm, at

Halswell and Upper Riccarton

Fendalton, Hornby, Halswell and

Upper Riccarton libraries

A justice of the peace will be available

to members of the community

to witness signatures and documents,

certify document copies, hear oaths,

declarations, affidavits or affirmations

as well as sign citizenship, sponsorship

or rates rebates applications. This

service is free.

Citizens Advice Bureau

Thursday, Friday, Monday,

Tuesday, Wednesday, 9am-5pm, at

Hornby, Thursday, Friday, Monday

, Wednesday 11am-5pm, Tuesday

2-5pm, Fendalton.

Hornby and Fendalton Libraries

Citizen's Advice Bureau provides

free, confidential advice to everyone.

They take the time to listen and equip

you with information, options and

support that fit your needs. Free,

phone 349 5236 for information.

Free Legal Advice

Thursday, 6.15-8.15pm

Hornby Library

A lawyer will be available to answer

your legal questions. Take relevant

documents. Free. No bookings required.

Knit 'n' Yarn

Thursday, 10.30am-2.30pm,

Tuesday, 1-3pm, at Upper

Riccarton, Thursday, 2-3.30pm, at

Fendalton, Thursday 1-3, Saturday,

1-3pm, at Halswell, Tuesday, 10amnoon,

at Hornby

Fendalton, Halswell, Hornby and

Upper Riccarton libraries

Take your knitting, crochet, stitching

or any other handcraft and enjoy

the company of others. Share skills

and be inspired.

Afternoon Euchre

Friday, 1.15-3.30pm

Halswell Bowling Club, Halswell

Domain

WESTERN NEWS

Paper Fan Medallions, Thursday, 3.30-4.30pm, Upper Riccarton Library

Go along and make your own Paper Fan Medallion as decoration for

that special occasion or simply to brighten your room. Free, no bookings

required. Everyone welcome. ​

Join in for an afternoon of playing

Euchre with other like-minded people.

Hot beverages on offer. $3 entry,

$2 raffle. Phone Noel on 322 8636 for

more information.

Family History

Wednesday, 11am-1pm

Upper Riccarton Library

A volunteer from the Riccarton

branch of the New Zealand Society of

Genealogists will be available to help

you with finding your family history

online. Meet at the family history

computer.

Mah-Jong

Wednesday, 12.30-2.30pm

Halswell Hub, cnr Sparks and Halswell

Rds

If you are interested in playing

Mah-Jong, go along whether you

are a beginner or an advanced

player. Spare card tables would be

gratefully received. Phone Noel at 322

8636.

Not-for-profit organisations

can send their What's On

listings to western@starmedia.

kiwi

MID-WINTER

CHRISTMAS DEAL$

$12.99

EACH

$22.99

EACH

$26.99

EACH

Jim Beam / CC

4.8% 440ml 4pk cans & 7% 355ml

4pk cans (inc zero) cans

Cruiser

12pk can range

$22.99

EACH

ODD Company

10pk can range

$22.99

EACH

Woodstock

250ml 7% 12pk cans

(incls zero / ex raspberry)

$24.99

EACH

Part Time Rangers

Jack Daniels 4.8% 330ml

10pk can ranges (incls no sugar)

$24.99

EACH

Smirnoff Ice Double Black

7% 12pk can range (ex guarana)

$25.99

EACH

Clean Collective

5% 250ml 12pk cans

Long White

10pk bottle range

$9.99

EACH

$13.99

EACH

$15.99

EACH

$18.99

EACH

2 FOR

$30.00

$25.99

EACH

$34.99

EACH

$35.99

EACH

$39.99

EACH

$35.99

EACH

Jim Beam / Canadian Club

18pk 330ml cans

$39.99

EACH

Jacobs Creek (ex Sparkling

range) Montana Classic ranges

$47.99

EACH

Brown Brothers

Moscato range

$54.99

EACH

$59.99

EACH

The Ned

range (ex PN)

$62.99

EACH

Allan Scott Black Label &

Cecilia (brut/rose) ranges

Matawhero Gisborne range (ex PN)

$9.99

EACH

Villa Maria Cellar

Selection, Esk Valley

(ex PN,Syrah,Grenache) ranges

$15.99 each

Malibu / Kahlua

700ml (incl flavours)

$18.99

EACH

$19.99

EACH

Ivanov / Seagers

(incl lime) 1L

$21.99

EACH

Jagermeister/

Pepe Lopez

(gold/silver) 700ml

Larios Rose /

Citrus / Larios 12 1L

Famous Grouse /

Finlandia / Southern

Comfort 1L / Smoky Black

FG 700ml

Wild Turkey

1L

Ratu Dark/Signature/

Spiced Rum 700ml range

Maker's Mark

1L

Chivas Regal 12yr 1L

The Glenlivet 12yr 700ml

Old Mout

1.25L cider range

Fortune Favours

6pk range

Somersby

10pk can range

Haagen

15pk bottles

$23.99

EACH

Asahi

12pk bottles

$24.99

EACH

$24.99

EACH

$29.99

EACH

$36.99

EACH

$39.99

EACH

$39.99

EACH

Lion Red / Waikato / Speights

Summit

15pk bottles

Monteith's

(classic & batch brewed)

12pk range

$26.99

Promotion period between 1/07/2021 to 31/07/2021. While stocks last. Promotion only available at participating stores – please contact your local store to confirm

whether they are participating in the promotion and check the pricing in-store prior to purchase. Online pricing will vary.

BLACK BULL LIQUOR WIGRAM

3/187 WIGRAM ROAD, HALSWELL

06 322 4000

EACH

Steinlager

15pk bottles

Heineken

15pk bottles

Tui/Export Gold/Extra

Low Carb/ DB Draught

24pk bottles

Export 33

24pk bottles

ASK ABOUT

LOYALTY CARD

BENEFITS &

GIFT VOUCHERS

Carlsberg

24pk bottles
---
WESTERN NEWS Latest Canterbury news at starnews.co.nz

Thursday July 15 2021 3

Patrols to kerb

crime extended

• By Fiona Ellis

COMMUNITY PATROLS will

extend coverage to Strowan as

concern grows over petty crime.

THe Christchurch North Community

Patrol has launched a

second vehicle, which will see

more areas covered over a longer

time frame.

Alpha Ave Neighbours

Association member Bernard

Del Rey said Strowan

residents were suffering as a

result of a crime spree.

He gave a presentation

at the Fendalton-Waimari-

Harewood Community

Board meeting last month,

headed: 'We feel unsafe and

underserved.'

THe board decided staff would

look into environmental features

to deter crime, and the possibility

of CCTV camera installation.

Del Rey's concerns would be

raised with police, the Christchurch

North Community Patrols

and Canterbury Neighbourhood

Support.

Adding the Strowan area to the

board's Community Safety Initiative

would also be looked into.

Sam Hall

Staff would update the board

on these issues within six weeks

of the June 28 meeting.

Del Rey said this was a reasonable

response.

Patrol chairman Sam Hall said

before Covid-19 caused membership

of the 50-person patrol to

plummet, the patrol was out

"almost every day and

night."

"We're up to 25 [members],

six have just joined

up in the past week or

so. I think we'll just keep

growing."

The second car, a Toyota

Vanguard that cost

$20,000, meant the patrol

would be able to run general

monitoring as well as focusing on

trouble spots.

"It's hard to know if it's getting

worse or we're just hearing about

it more."

Each month the patrol made

an average 50 reports of

suspicious vehicles to police,

and 20 reports of suspicious

behaviour.

Papanui police did not respond

to Western News' request for

comment.

Husky

heroes

lead

the way

As part of the

International

Antarctic

Centre's

school holiday

programme

Husky Heroes,

children learn

first-hand what

it takes to own

a husky and

how huskies

can survive

in sub-zero

temperatures.

Antarctic

Academy

director

Miranda

Satterthwaite

said all school

holiday

programmes

are full.

For everything

AUTO ELECTRIC

CARS • BOATS • TRUCKS

CARAVANS • TRAILERS • 4WDS

ELECTRIC & HYBRID VEHICLES

• Starter Motors

• Alternators

• Central

Locking

• electric

Windows

• ABS & Airbags

• Stereos/

Alarms

• Batteries

• tuneups

• engine

Management

Amazing

Auto USUALLy

AAE Electric SAMe DAy

ServiCe

65 Coleridge St, Sydenham

Phone 03 379 4250

www.amazingautoelectric.co.nz

WOF

only $50

• Courtesy cars • Transmission flush

service

• Oil changes

• Tyres & batteries

• Full mechanical repairs

• Petrol & diesel

• Brake & clutch repairs servicing

fitzgerald motors

Phone: 03 349 7813

Unit 8, 193 Waterloo Road, Hornby

Modern 3-4 bdrm property

WANTED – up to $1.6m

Kennedys Bush, Cashmere or

Cracroft areas

I currently have a buyer looking for a modern 3-4 bedroom property,

preferably single storey (or master bedroom at ground level) in the

Kennedys Bush, Cashmere or Cracroft areas up to $1.6m.

If you can help contact me

on 027 777 0411

Grenadier Real Estate Ltd MREINZ Licensed Agent REAA 2008

Debbie Pettigrew

M 027 777 0411

Fantastic teamwork by Cameron and his team. They

were super prompt with replies to emails and following

up with any questions.

Our sale price exceeded our expectations due to

Cameron's negotiation skills.

- Jo Corden -

Phone or text 027 555 7079

REINZ Salesperson of the Year across all brands in NZ

cameron.bailey@harcourts.co.nz

No.1 Harcourts Canterbury 2012-2021

No.1 Harcourts New Zealand 2017-2021

www.cameronbailey.harcourts.co.nz No.1 Harcourts International 2017-2020

Licensed Sales Consultant REAA 2008
---
4 Thursday July 15 2021

Latest Canterbury news at starnews.co.nz

WESTERN NEWS

Fungi Farm opens

ON TRACK: Earthworks on the site of the new Hornby

Centre on the corner of Waterloo and Smarts Rd, Hornby.

PHOTO: GEOFF SLOAN ​

Group submission possible

• From page 1

It was important for the council

to staff the centre with locals who

would have more pride in the

facility because they would see it

as their own, he said.

Ease of access was also important.

He had made an individual

submission and thought all people

who lived in the area should

do so if they planned to use the

facility, he said.

"You can't complain if you

don't fill it in."

The Greater Hornby Residents

Association would discuss a possible

group submission at its next

meeting.

City council head of recreation,

sports and events Nigel Cox said

61 submissions had been received

as of 11am on Tuesday.

The questionnaire would

gauge the level of demand for

various activities in the community.

"[It is] are not a confirmed list

of what will be offered when the

facility opens in 2022," Cox said.

"If there are concerns around

the duplication of services, our

preference is to have a direct

conversation to understand the

concerns."

Information and support would

be given to locals who were interested

in applying for a job at the

new centre, he said.

Earthworks for the project were

on track to be completed by mid-

July, with the build set to take

place in spring.

"We expect to have the

building contractor confirmed by

early August, and construction

on the building should start in

September."

A MUSHROOM-themed

education, play and foraging

area has officially opened in the

Ōtākaro Avon River Corridor

Regeneration Area.

More than 50 adults and

children attended the Fungi

Farm's official opening this

afternoon, complete with hearty,

wild mushroom soup, and

mushroom-themed sweets and

savouries.

Located on the corner of Evelyn

Cousins Ave and River Rd,

Richmond, the Fungi Farm will

feature six different species of

edible native and exotic mushrooms

for foragers, 33 manmade

mushroom carvings and

art installations by local artists,

engaging nature play pieces, and

interactive signage to educate

people about the fast-growing

fungi.

The project is an initiative of

the Riverlution Collective and

driven by the Richmond Community

Garden.

Project proponent spokesperson

Hayley Guglietta says the

overwhelming encouragement

and support they'd received from

the community had been inspiring.

"People have been really interested

in this project and it's great

to finally be able to open it to

INTERACTIVE: Young and those young at heart can enjoy

the benefits on Richmond's new Fungi Farm.

PHOTO: NEWSLINE

the community," she said.

"There might not be any

mushrooms growing yet, but the

place will come alive in spring

and autumn."

"We wanted to create an

engaging space that not only

educates people about living

with nature, but is also somewhere

that a family can spend

a whole day here, next to the

Ōtākaro Avon River, enjoying

the regeneration area."

Guglietta says the intention is

to hold monthly workshops with

the community to explore different

methods of growing a range

of different mushroom species.

Residential red zone consultative

group, Te Tira Kāhikuhiku,

awarded the project a grant of

$19,600 from the Red Zones

Transitional Use Fund, to help

bring the project to life.

TTK is able to issue grants

of up to $20,000 for temporary

projects and activities in

regeneration areas that have

been approved by landowner

Land Information New Zealand,

working in partnership with the

city council.

Up to

50 % Off

*Call for Terms

& Conditions

Off

*
---
WESTERN NEWS Latest Canterbury news at starnews.co.nz

Thursday July 15 2021 5

Sleeping on hospital

floor could soon be

a thing of the past

THE SUPPORT people

of mothers giving birth at

Christchurch Women's Hospital

often resort to sleeping on the

floor if staying overnight.

It is why the Māia Health

Foundation aims to raise

$44,000 to buy 20 specialist

chairs, providing a comfortable

place for them to stay alongside a

new mother and baby.

Currently, a support person

can stay at the hospital but their

choices of where to sleep are

limited.

They are provided with either

an uncomfortable chair or a

vinyl mattress on the floor.

"That's not an ideal solution

and it's not very welcoming,"

said Norma Campbell, director

of midwifery for the Canterbury

and West Coast District Health

Board.

Each year more than 5500

women give birth at the

women's hospital. It is the South

Island's largest secondary/

tertiary hospital and the hub

for the Fetal Maternal Medicine

Service.

The specialised chairs the

foundation is fundraising for are

designed for hospital environments.

During the day they can be

used as a sofa chair for visitors

or a breastfeeding chair for the

mother, and in the evening they

convert into a lie-flat bed.

"The staff at Christchurch

Women's Hospital go above and

beyond every day to care for our

community's newest families.

It's time we cared for them and

gave our new mums, babies and

families all the support we can

in those first few days together,"

said foundation chief executive

Michael Flatman.

UNCOMFORTABLE:

Canterbury and

West Coast

District Health

board director of

midwifery Norma

Campbell with the

current sleeping

arrangements for

support people of

women giving birth

at Christchurch

Women's Hospital. ​

Campbell said demand for

their services was "incredibly

high."

The maternity ward on

level five has 45 beds and is 80

to 90 per cent full most of the

time.

"At many times we have been

over capacity as there are increasing

numbers of women and

babies with complex needs or

who are impacted by underlying

health conditions," Campbell

said.

"These women need our

support and they need their

own support – and it may seem

simple, but these chairs will help

provide that."

•Individuals or businesses

can support the campaign

by donating at

www.maiahealth.org.nz/

projects/key-projects/

maternity-chairs

Nurse supports

fundraiser for

new chairs in

maternity ward

WHEN NURSE Joeann

Pagulayan goes to work at

Christchurch Women's Hospital,

she sees an unwelcoming

situation.

Pagulayan spends most of her

time on level five, looking after

new mothers and babies.

Having been in the same

situation herself as a patient, she

finds it difficult to witness those

supporting the new mothers

either sleeping on the hospital

floor, or on uncomfortable chairs

if staying overnight.

It is why she is supporting the

Māia Health Foundation's bid to

raise $44,000 to buy 20 specialist

chairs, which can fold out into a

lie-flat bed.

Pagulayan's husband Mark

was by her side when she was

admitted to the hospital last year

after the birth of their daughter,

Matilda.

Pagulayan became unwell

after losing a large amount of

blood during birth and needed

monitoring and support.

Her husband ended up sleeping

on a mattress on the floor.

"He just wanted to be there for

me. Because of my condition,

mobilising was a bit challenging

so he stayed all throughout those

first few days to support Matilda

and me," she said.

"Culturally it was just

what we do – no matter how

uncomfortable his stay was. It's

such a precious time for a new

family and I want every new

family to be able to be together,

comfortable and safe."

Pagulayan hails from the

Philippines.

She said in her culture, and

many Asian cultures, a husband,

a partner or a support person is

expected to stay with a

Joeann Pagulayan

new mother.

"They are there to help, to take

turns looking after the baby,

giving the new mum a couple of

hours rest," said Pagulayan.

"That little bit of support and

rest changes everything for the

mum – how they feel physically

and emotionally and how they

can connect with their new baby.

"As a nurse, I feel really bad for

those mothers who don't have a

support person to stay with them

overnight, I see how difficult it

can be for many new mums."

Pagulayan understood why the

current situation of providing

a mattress on the floor or an

uncomfortable chair meant

that for some, having a support

person was not an option.

"Having people on the floor is

not ideal at all for the patients or

the staff," she said.

"Sometimes when we enter

the room, especially if it's dark,

we don't notice straightaway that

there's someone on the floor."

Fab haircuts, fab prices

for the entire family these holidays

Get the latest style cuts this winter for your children and

for yourself at the same time by our fully qualified stylists.

Loyalty Card: every

8th haircut is FREE

Pensioner and

student discounts

Open 7 Days - no appointment necessary

South City 555 Colombo St. Ph 03 366 0619

Bush Inn Cnr. Riccarton & Waimairi Rds. Ph 03 348 7008
---
ISSUE 94

$9.25 incl. GST

MARCH-APRIL 2021

$10.50

rrp $10.99

$8.00 incl. GST

9 416770 121318

6

Thursday July 15 2021

Latest Canterbury news at starnews.co.nz

WESTERN NEWS

First purpose-built centre with trained

• From page 1

A bookworm at heart, Barsby

has witnessed the library scene

reinvent itself in the past 20 years

to keep up with the community's

ever-changing demands.

But even as society furthers

into the digital era, she had no

concerns that people would

turn their backs on a good story,

especially now with advances like

e-books and Kindles.

"Technology is the biggest

change, a lot more people have

their own devices," she said.

"The earthquakes changed the

demographic of this area quite a

lot. There used to be mainly older

adults or young families, but

people moved from town out to

the suburbs."

Spreydon Library was the first

purpose-built centre in the city

to be staffed by the city council

with trained librarians. Most

libraries at the time were run by

volunteers.

It first opened in 1929 from

the remodelled Borough Council

Chambers at the current

Barrington St site as a volunteerled

community library.

It continued operating that

way until the city council started

a new network of suburban

public libraries following a boom

in book stocks, starting with

Spreydon from 1971.

The rebuild cost $52,061, with

the library initially housing

17,000 books.

Under city council control,

Christchurch City Libraries is

now a network of 21 modern

THROUGH THE DECADES: Spreydon Library in the 1940s

(left) and 1950s and how it looks today in Barrington St.

libraries across the city.

All of this would not be

possible without the passion

and efforts of librarian Ernest

Bell, who campaigned to make

libraries public and to improve

reading in the community more

than 70 years ago.

"If every library was its

own little community run by

themselves, they wouldn't have

the resources or funding," said

Barsby.

"Now we have a huge

collection that floats between all

libraries."

For library assistant Joanne

Rowe, the Spreydon facility is

more than just a library - it is a

place of refuge.

Over time the library has

developed a strong bond with

the community through daily

activities, and events such as

technology help groups, musical

performances, book clubs, or JP

services.

But Rowe said being

sandwiched between Hillmorton

Hospital and Salvation Army

addiction services created some

unique challenges.

As a warm and dry place to go,

the library also attracted the odd

homeless person.

"Sometimes they'll spend the

whole day there because they just

want to be amongst people to

talk," she said.

Something for

everyone

Save up to 55% when you subscribe to

your favourite magazines!

Turn everyday

essentials into

SuperGold

GENTLEMAN JIM RICHARDS & THE WILLMENT ESCORT

FREE FIRST XV SEASON PREVIEW MAGAZINE INSIDE

For the

motoring

enthusiasts

CLASSIC ALPINE TOUR | PELLAND COUPÉ | JIM RICHARD'S WILLMENT ESCORT | TERRY MARSHALL | VAUXHALL FIRENZA | RICHARD BROCKLEHURST MAR-APR 2021

THE MOTORSPORT

PHOTOGRAPHY OF

TERRY MARSHALL

RARA AVIS:

PELLAND COUPÉ

A SHORT TIME IN FRONT: RICHARD BROCKLEHURST

50TH ANNIVERSARY OF THE VAUXHALL FIRENZA

SOUTHERN MEN AND TALES OF THE SOUTH

SOUTHERN

SOJOURN

THE CLASSIC ALPINE TOUR

COME ON, FEEL THE

NOISE: CLASSIC

RACING ENGINES

9 416770 121332

TONY JOHNSON

ON THE COMING OF

MOANA PASIFIKA

AARON SMITH

'WHY I RATE

DUPONT'

SEAN FITZPATRICK

'WE NEED MONEY TO

SUSTAIN THE GAME'

9 416770 121325

MAY 2021

DAN

CARTER

REFLECTING ON A

GREAT CAREER

JEROME

KAINO

SORTED FOR

LIFE AFTER

RUGBY

• PHIL GIFFORD: THE BEST

SCHOOLBOY STARS HE SAW

• DARYL GIBSON: HIS VISION

FOR THE BOP STEAMERS

For the

rugby fans

meet 20 of our Kiwi garden favourites

AuTumN 2021

The Shrub Hub

growing with you Issue 504 | May 2021 | 100%

A tropicAl

flock

Grow your own

bird of paradise

Space iSSueS?

Try gardening

like the French

For the seasonal

gardeners

Capitalising

on CaCti

Faran Gillbanks

on a succulent

movement

The lowdown on

cover crops

Why, when & how

For the green

thumbs

ISSN 2423-0626

From abelia to Why we How to keep your

viburnum like them shrub in shape

& all the varieties

& where they

& propagate more

in between

like to grow

of those you love

Roses on the wishlist

Hot new releases for 2021

Available in all good bookstores and supermarkets, or subscribe from as little as $20.

growing with you 100%

alliedpressmagazines.co.nz

Rugby News & Kiwi Gardener: 0800 77 77 10 Classic Driver & General: 0800 624 295

Find all the ways you could

stretch your money further.

Visit www.supergold.govt.nz or download

and check the SuperGoldNZ app.

SG_180x130_garden
---
WESTERN NEWS Latest Canterbury news at starnews.co.nz

Thursday July 15 2021 7

librarians

(Below) – Barbara Moorhouse cuts a cake to mark

Spreydon Library's 25th anniversary in 1996.

"Some people come in

intoxicated, in broad daylight.

"Some people are going through

mental health issues; they could

be having a bad day but they

happen to be in the library that

day, so you do what you can to

help."

The library has been through

some trials and tribulations itself.

It was threatened with closure

when South Library was being

built until the city council did a

U-turn.

Because Spreydon Library was

already a huge part of residents'

lives, they rallied together and

produced a 3500 signature

petition against the proposal.

Having worked in a

number of libraries prior to

Spreydon, including central

city, New Brighton and Sumner,

Barsby was glad their efforts paid

off.

As a passionate reader,

especially in the fantasy genre,

it meant she could continue

working in a place she loved and

be surrounded by thousands of

book titles every day.

•Spreydon Library is

marking the occasion with

a free social morning tea to

share stories next Tuesday

from 10.30am to 12.30pm.

Spreydon

Library team

in 1991,

including

Lyndsey

Knight (left),

Jenni Skelton,

Christine

Annan,

Barbara

Moorhouse,

and Hilary

Renfree

(back).

School pupils visit the library in 1995 to keep up with the

latest technology.

A busy day at the Spreydon Library issues desk in 1988.

IMPROVING

BRAIN HEALTH

Wednesday 21 July, 2pm

Come and hear from Dr Olivia Currie from Real

Healthy Me about ways to improve brain health.

She has been a medical doctor for 16 years and

is eager to share her tips on how to keep brain

connections active and growing.

Please RSVP to Susie on 338 7696

by Monday 19 July as spaces are limited.

ANTHONY WILDING

RETIREMENT VILLAGE

5 Corbett Crescent, Halswell

rymanhealthcare.co.nz
---
8 Thursday July 15 2021

Latest Canterbury news at starnews.co.nz

WESTERN NEWS

Kelly Sports Christchurch North's holiday programme kicked off Kidsfest with two weeks of games and activities.

Alfie Shirley, 5, of Bryndwr, with his spaceship made from bricks.

Kyriakos Hill, 8, of St Albans, tries his hand at drawing.

Guy Griffin, 9, of St Albans.

Ben Boughton, 6, of Bryndwr, with his rocket.

PHOTOS: GEOFF SLOAN
---
WESTERN NEWS Latest Canterbury news at starnews.co.nz

Thursday July 15 2021 9

YALDHURST HEALTH

22 SIR JOHN MCKENZIE DRIVE, YALDHURST

Kiwi Pharmacy extends heart

The next time you need to fill a

prescription, ask about supplements or

over the counter health support, stop

into Kiwi Pharmacy. They opened at the

beginning of the year at the new Yaldhurst

Integrated Health Centre, located at 3

Filly Place, which is close to the airport,

Hornby, Riccarton, Avonhead and the

outlying areas.

Kiwi Pharmacy is designed to be

innovative, yet warm and approachable.

Compassion underpins their pharmacy

philosophy, which is every client is treated

with respect and dignity. They work

closely with your doctors and healthcare

professionals, such as the example of their

free weekly blister pack service for their

patients whose doctors identify as having

complex medicine regimes.

Each team member at Kiwi Pharmacy

feels grateful to look after their patients

as they understand they have a choice as

to who is part of their healthcare team. A

fact which is never taken for granted.

The team at Kiwi Pharmacy is

comprised of Joyce, Maureen and

Mitchell. Often the first thing you see in

the pharmacy is Joyce's smile. Maureen

has over 25 years of experience in

pharmacy and draws on that to give

patients insights into what to expect

from an array of treatments. Mitchell

has an interest in healthy aging, exercise

nutrition and the immune system.

Mitchell often works alongside the

doctors to provide practitioner only

ranges. He often sits down with patients

to discuss their medicine regimes and talk

about functional medicine ideas that may

improve their health.

At Kiwi Pharmacy, they actively

research new ideas and products to best

provide quality options for their patients.

They offer specific skin care regimes to

compliment doctors' prescriptions for

acne, rosacea and potential skin cancer

spots. They have specific nutritional

supplements that can assist in mood, sleep

and energy. They specialise in options

related to hay fever, over and above

standard antihistamines.

They do their best to provide testers and

giveaways to their clients where they can

try the product first to feel a benefit.

When you stop by ask about their

pharmacy loyalty clubs to reward their

patients for their loyalty.

A primary goal at Kiwi Pharmacy is

to create a culture where the client feels

comfortable and understood. There

is always great reward through health

discussions, which provide an ability to

share ideas and learn from one another.

Kiwi Pharmacy offers FREE

prescriptions to their club members and

hardship assurance to those who cannot

afford to pay.

Services

• FREE local deliveries

• Weekly blister packs – may be FREE

• Kiwi Club

• Monthly promotions and our health

newsletter

• Flu vaccinations (FREE for certain

criterias)

• FREE Repeat reminders via text

• Optimising complementary medicine

• Blood pressure checks

• Free health advice

• Mens and Womens health consultations

• Ensuring client understands their

medicine to receive optimum benefit.

Stop by Kiwi Pharmacy today where

they have plenty of in-store shopping or

call them 03 925 8128.

Kiwi Pharmacy, when your health is on

track, momentum will flow through to all

aspects of your life – that's when you start

winning the game. Their goal is to help you

win your life game.

Open Mon to Fri 8:30am – 5:30pm | Web: http://www.pharmacykiwi.co.nz | Yaldhurst Health: https//www.yaldhursthealth.co.nz

New OpeNiNg Offer:

Join Kiwi prescription club for $100

ANd receive $100 credit tO speNd iN-stOre

*conditions apply*

free local delivery • the pharmacy your doctors trust

free Medicines use review • free flu vaccination for over 65 years old

Committed to the

health & wellbeing

of our community

New

patients

welcome

3 filly place

yaldhurst health centre

facebook.com/Green-Stripes

Phone 03 925 8128

www.pharmacykiwi.co.nz

1 Filly Place, Yaldhurst Health Centre

Phone 03 372 5190

www.inspirehealth.nz

Yaldhurst Dental

all about teeth

SPECIAL

Full comprehensive

exam

$99

7 Filly Place, Yaldhurst in Yaldhurst Health Centre

Phone: 03 925 8127 Email: info@yaldhurstdental.co.nz

www.yaldhurstdental.co.nz

22 Sir John Mckenzie Dr, Yaldhurst

(Located within Inspire Health

Medical Practice)

Phone: 021 233 6422

Website: www.gudchifeetpodiatry.com
---
10 Thursday July 15 2021

Latest Canterbury news at starnews.co.nz

The importance

of air quality

HOME & HEATING

Keep cosy with

RD Petroleum

this winter

WESTERN NEWS

Pesto-stuffed lamb roast. Try the whisky or mulled wine marinade

instead of your usual gravy. (Below) – Roast venison.

Jazz up your winter roast

with a tasty marinade

It's certainly the

weather for hot

roasts, try spicing

them up a bit

with ingredients

you are likely to

have at home

Pesto-stuffed lamb

roast with garlic

Serves 4

Ingredients

⅓ cup pesto

⅓ cup ground almonds

2 tbsp fresh oregano

salt and ground pepper

750gm lamb roast

2 cloves garlic

Directions

Heat oven to 200 deg C.

To make the stuffing, place

pesto, ground almonds and

chopped fresh oregano in a

bowl. Season with salt and

pepper to taste and mix to

combine.

Trim any fat or sinew

from the lamb. Season on

both sides with salt and

pepper and lay out flat on

a board, skin-side down.

Spread stuffing over the

lamb and roll it up to contain

filling. Tie pieces with

string to secure it.

Heat an ovenproof

pan, add two tablespoons

oil and sear lamb for

5min, turning to brown all

over.

Add two heads of garlic,

cut in half to the pan and

place in the oven to roast

for 25min for mediumrare,

or longer depending

on your liking towards

pink meat.

Whisky marinade for

roast meat

Serves 3-4

Ingredients

¼ cup whisky

2 tbsp prepared mustard

3-4 tbsp olive oil

400gm beef fillet (or

lamb)

freshly ground black

pepper

1 cup beef stock

1 tbsp thyme leaves

Directions

Whisk whisky, mustard

and 3 tbsp of olive oil

until well combined. Place

beef in a plastic bag. Add

marinade. Refrigerate

for 1 hour. Return to

room temperature before

cooking.

Preheat grill on high.

Remove meat from

marinade and pat dry.

Brush with remaining oil.

Season with black pepper.

Grill for about 8min each

side. To test if done, press

thickest part of meat with

your fingertip. The softer it

is the rarer it is; the firmer

it is, the more cooked. Tent

with foil and cover with a

thick towel. Rest for 10min

before slicing.

Bring marinade, stock

and thyme to the boil.

Simmer for 10min. Serve

with the meat.

Mulled wine venison

roast

Serves 3-4

Ingredients

Marinade

½ cup mulled wine

1tsp cinnamon

6 whole cloves

1 tbsp honey

Small strip orange peel

1 tbsp olive oil

Roast

400gm venison roast

Freshly ground black pepper

to taste

2 tbsp olive oil

Sauce

1 cup (250ml) meat glaze

or good beef stock

Directions

To make the marinade,

combine wine, spice,

honey and orange peel in a

saucepan. Slowly bring to

the boil. Simmer for 1min,

then cool. When cold, add

olive oil.

Place venison in a plastic

bag. Pour marinade over.

Move meat around so it is

well coated. Refrigerate for

at least 60min or up to 8

hours.

Return to room

temperature before cooking.

Preheat oven to 200

deg C.

Remove meat from

marinade and pat dry.

Reserve marinade for the

sauce. Season.

Heat olive oil in a pan.

Sear venison until lightly

browned on all sides.

Place in a small roasting

pan in the oven. Roast for

20-25 minutes for medium

rare.

Remove from oven and

tent with foil. Cover with

a thick towel and stand for

10 minutes.

Meanwhile, strain

marinade and bring to the

boil. Add meat glaze or

stock and simmer for 1-2

minutes. Serve with the

venison.

Great accompanied by

baby red jacket potatoes,

plus 4cm cubes of pumpkin

and large broccoli

florets, roasted with the

venison.

RD Petroleum (RDP) is a familiar sight

for farm and rural residents around the

Canterbury region, however now days urban

residents also enjoy the same excellent

customer service for which RDP is known for

in rural communities, through their home

heating diesel.

RDP began its home heating diesel delivery

service to the lower South Island's main urban

centres of Christchurch, Timaru, Dunedin

and Invercargill a number of years ago.

Customer demand has continued to increase

year upon year, and RDP has responded

with specialised improvements to its delivery

equipment.

The trucks that deliver RDP's home heating

diesel in each urban centre are drawn from

the company's extensive vehicle fleet. This

means they have the latest communication

and GPS tracking technology on board, so

the operations team always know where they

are and how far away they are from their next

delivery stop.

RDP's home heating diesel trucks come

equipped with a specially-designed hose,

through which the diesel is pumped from

the truck into house tanks. The length of

the hose allows the trucks to access tanks

without having to enter the property, avoiding

damaging the driveway. RDP is the place to

go if you require diesel conveniently delivered

to your home and as a loyal RDP customer

you're offered discounted pricing and can

become eligible for value-added benefits.

For all enquiries please phone

0800 44 00 14, or visit the RDP website at

https://www.rdp.co.nz/home-heating or

signup at apply.rdp.co.nz/home-heating
---
WESTERN NEWS Latest Canterbury news at starnews.co.nz

Thursday July 15 2021 11

HOME & HEATING

Get the balance

right this winter

Enviro Master has been helping

Cantabrians get the balance right when it

comes to choosing the perfect heat pump or

air conditioning system for their home or

office since 2002.

Their team of expert sales people, qualified

electricians, heating and refrigeration

engineers, help to supply and install

Christchurch's widest range of heat pumps,

and because they have no affiliation with any

one brand, you can be assured their advice

on the benefits and differences between each

product is unbiased.

They will recommend the most energyefficient

and cost-effective system for your

individual situation, and will have you

regulating the heat in your home or office in

no time.

Nowadays, customers are often wanting

whole home solutions to be able to maintain

even temperatures throughout the home both

in Winter and Summer. This can be achieved

by using ducted systems or multi systems

and Enviro Master are experts in designing,

installing and commissioning these systems.

Help is currently available with a

government subsidy covering 80 per cent of

the cost of a new heat pump up to $3000.

The subsidy is part of the Warmer Kiwi

Homes initiative and is available to Home

owner/occupiers with a Community Services

Card, a SuperGold combo card or who live in

a low-income area as determined by deciles

8-10 on the New Zealand Deprivation Index.

The applicant's home must also have been

built before 2008, have insulation up to code

(insulation subsidies also available) and have

no fixed heating in a living area, such as an

existing operational heat pump or fireplace.

With new regulations now in place for

Landlords to provide heating in rentals, it's

time to ensure you are meeting the new

standards.

Inadequate heating and ventilation can

lead to mould growth and dampness in your

property, leading to costlier maintenance

and an unhealthy living environment.

Providing a fixed heater with a higher heat

output and lower running costs, like a heat

pump, will enable your tenants to heat the

area effectively. Enviro Master are well

experienced with the Tenancy Services

software to ensure that you are meeting your

requirements.

To ensure you choose the right system

for your home or business, one of Enviro

Master's experts will visit to assess your

individual situation, offer advice and

answer any questions you may have. This

consultation is at no cost to the customer

and is always provided before a heat pump is

installed.

Anyone wondering about their eligibility

for a subsidised heat pump are welcome to

get in touch for details and help with the

application process. To find out more, call

Enviro Master on (03) 366 0525 or visit

their website www.enviromaster.co.nz

The importance

of air quality

The quality of the air we breathe affects

our health and ability to perform. We

breathe in and out approximately 20,000

litres of air every day. It is therefore very

important to ensure good air quality

indoors through adequate ventilation.

Ventilation is the process of air exchange

to provide the necessary air quality that

meets the needs of the occupants for clean,

fresh air. Low oxygen with high carbon

dioxide causes stuffiness in the room

and occupants can feel drowsy. Invisible

harmful substances like a high content

of dust and tobacco smoke are harmful

and can cause various diseases. Even bad

smells can cause discomfort or irritate the

nervous system.

In summer, it's easy to open windows

for cross ventilation, however as winter

approaches, we start to shut up out houses

to trap in the heat and as a result, air

quality can decline.

Ventilation includes

both the exchange of air

to the outside as well as

circulation of air within

the building. It is one of

the most important factors

for maintaining acceptable

indoor air quality in

buildings. Filtered air

supply for summer and

filtered and warmed air in

winter creates a healthy

environment in which

to live and work. In cases with poor

or insufficient air intake from outside,

the oxygen content decreases, humidity

and dustiness levels increase. If exhaust

ventilation is not provided or it is not

effective, polluted air, smells, humidity

and harmful substances are not removed.

To ensure the quality of your air, contact

the experts. Smooth-Air Products can

calculate the required air exchange for

your building requirement. Smooth-Air

offers a wide range of ventilation

equipment, from air vents to ducting

for fans, for both the commercial and

domestic markets.

They have an extensive range of fans

and ventilation components in-store but

they can also provide innovative solutions

tailored to differing requirements.

You can contact Smooth-Air on

0800 SMOOTH (0800 766684).

HEAT PUMP

SALE NOW ON!

Amazin' Winter Specials!!

80%

SubSidy

Warmer KiWi HomeS

Programme

*Eligibility criteria apply

• We will offer you the best quality brands and

option of heat pump for your home/business

• Providing Heat Pump solutions for over 19 years to Cantabrians

• We personally guarantee all our products & installs for 5 years

(providing annual maintenance has been completed)

Phone us today for your free consultation & quote

41A SHAKESPEARE RD, WALTHAM

PHONE 03 366 0525

www.enviromaster.co.nz

"A local team for local people"

Smooth-Air

Ventilation Equipment Suppliers

to

Domestic

Commercial

Industrial

trade

&

retail

ATTACK RISING DAMP

Centrifugal

inline fans

Axial fans Axial fans Bathroom fans

Window fans

Axial inline fans

the

right

for the

product

job

T. 03 376 4608 E info@foamconcrete.nz

W. www.foamconcrete.nz

0800 SMOOTH

(0800 766 684)

sales@smooth-air.co.nz

264 Annex Rd

Riccarton

Christchurch

03 343 6184

Monday - Friday

7.30am - 5pm

www.smooth-air.co.nz
---
12 Thursday July 15 2021

Latest Canterbury news at starnews.co.nz

continuing education

WESTERN NEWS

Spreading

kindness

through craft

Crafting For a Cause is a group of

crafters meeting weekly at WEA to

create things people need. These clever

crafters knit, crochet, sew, and repurpose

materials generously donated to WEA

Canterbury. Creating social capital,

this group are helping reduce stash

cupboards and keep materials from

going into landfill, while sharing skills

and ideas.

Polar fleece has been turned into

kitten blankets for the SPCA and over

50 children's beanies and mittens for

It Takes a Village, who told them "The

mittens have been a life saver for our

families". Wool yarn has been knitted

up as hats, scarves and baby blankets;

handmade paper has been turned into

Thank You cards; cotton yarn knitted

and crocheted into dishcloths, facecloths

and cat toys; curtains recycled into tote

bags and net curtains into vege bags and

laundry bags and sold as a fundraiser to

members of the WEA.

To find out more or join the group,

visit www.cwea.org.nz or drop into

the WEA office at 59 Gloucester Street

between 9:30 am and 3:00 pm Monday

to Friday.

Papanui High School

Term 3, 2021 nightclasses

Whether you are wanting to learn something

new to improve your fitness, to challenge

yourself, for relaxation, or to master a new

skill Papanui High School offers plenty of

choices for everyone in their

Term 3 Adult Education Programme. Our

Term 3 classes begin week of 2 August and

we do have some weekend workshops on

offer as well. We have a wide range of classes

available from cooking, crafts, languages,

and fitness through to photography,

astronomy and cheese making. We are

confident regardless of your age, or interest,

you will find a course that will give you the

opportunity to extend your personal skills

and knowledge and meet some new people

in an enjoyable friendly environment. Our

tutors are well-qualified in their chosen field

and wanting to help make your learning

experience rewarding.

One of our new courses on offer for

Term 3 is an Introduction to Aromatherapy

taught by Rebecca Dollery. This course

will guide students through some of the

best known, most researched and effective

essential oils looking at their actions and

best mode of use. The course will be a

mixture of hands on practical preparations

with guided learning covering the basics of

what essential oils are, the safety precautions,

how to purchase, store and use oils to gain

maximum effect.

For further information and enrolment

in any of our Term 3 classes please visit our

website https://www.papanui.school.nz/

com-ed/categories or email Barbara Roper

rpb@papanui.school.nz or telephone our

office on 033520701.
---
WESTERN NEWS Latest Canterbury news at starnews.co.nz

Thursday July 15 2021 13

continuing education

Risingholme's Adult and

Community Education

Courses for Term 3, 2021

now is the perfect time to learn something new, christchurch!

ever fancied learning to sew, play the guitar or learn a new

language? Whatever your interest and whatever your adult age,

learning something new is not only fun, it can also be good for you.

With Risingholme having over 80 courses on

offer, at four different locations across Ōtautahi

there is something that will spark your interest, for

sure!

We are expanding our programme by offering

some new and exciting courses from Term 3

onwards. New topics offered are in the health and

wellbeing space, sculpture, arts, Hispanic cuisine,

compassion communication, financial wellbeing

and memory keeping techniques. We have other

courses in the pipeline too, so keep an eye on our

website.

Visit our website www.risingholme.org.nz to see

our full range of courses, locations and enrolment

info. If you have any questions, please email us at

info@risingholme.org.nz or feel free to phone us for

a chat 03 332 7359.

Course brochures are available on our website,

at the Risingholme office and the CCC public

libraries. We look forward to meeting you.

Spaces are

limited in some

courses, so enrol

now to secure your

place and avoid

disappointment!

Adult and Community Education Term 3, 2021

Come learn with us

Risingholme Community Centre offers

a wide range of short courses, each

term, at a range of venues.

Risingholme Community Centre

Art (Creative Art, Mixed Media, Painting with Acrylics, Drawing &

Sketching), Fabric & Craft Skills, Guitar, Pottery, Sewing Skills, Upholstery,

Sewing Retreat, Yoga, Wood Sculpture, Woodwork, Woodwork for Women,

Zentangle, Fermented Foods, Te Reo Maori, Patchwork and Quilting, NZ

Sign Language, Reiki, Junk Journal (Memory Keeping), Picture Framing,

Pattern Drafting, Getting Yourself Out There, Compassion Communication,

Mastering Wealth & Abundance Seminar, Printmaking, Visual Merchandising.

Christchurch Girls' High School

Te Reo Maori, Drawing & Sketching, German Language, Painting with

Acrylics, Spanish & Go, NZ Sign Language, Pattern Drafting,

Watercolour Introduction.

Hornby High School

Sewing for Beginners, Te Reo Maori, NZ Sign Language, Hispanic Cuisine.

Riccarton High School

Calligraphy, Indian Cuisine Beginners, Italian Language, NZ Sign Language,

Russian Language, Te Reo Maori, Photography, Simple Healthy Meals on

a Budget, Sewing Skills, ESOL - English for Migrants & Second Language

Speakers, Tastes from Around the World, Found Object Sculpture.

Full details available on www.risingholme.org.nz

Risingholme office at 22 Cholmondeley Ave, Opawa, Chch

Phone 03 332 7359 | Email info@risingholme.org.nz

www.risingholme.org.nz
---
14

Thursday July 15 2021

Latest Canterbury news at starnews.co.nz

WESTERN NEWS

If you want more information about an item or to contact a

seller, visit www.postanote.co.nz and search the ID#

Dyco 300mm Band Saw

Nitron Rear Shock

63 Phase 3 Vanguard

Pharmco Range Hood

2003 Mitsubishi Challenger

2013 Mazda 6 GLX

$199

ID 38222

$895

ID 38266

$3,500

ID 38023

$50

ID 38230

$2,000

ID 37999

$10,750

ID 38232

Canon 70d DSLR

Tannoy Home Theatre

5.1 Speaker System

2 Furrow Plough

Fi-Glass 4.5m

Morris Minor 1000

Nespresso (Breville)

Milk Fluffer

$750

ID 37788

$1,300

ID 38213

$1,000

ID 37912

$6,500

ID 37787

$6,000

ID 37861

Best Offers

ID 38258

2004 Renault Scenic

Massey Ferguson

Conventional Hay Baler

Panasonic SD2501

Breadmaker

2005 Mazda Premacy

28 Sheets Charcoal

Roofing Iron

Dyco 150mm Planer

$4,500

ID 37795

$2,500

ID 38181

$255

ID 38193

$5,000

ID 38174

$90

ID 15140

$325

ID 38221

1999 Suzuki Hayabusa

GSX1300R

Persian Bidjar Rug

Datsun 240C-P230

Small, Lady's Cabin Bag

Tangent TM 3 Monitor

Stereo Speakers

Bench Seat

$15,000

ID 37607

$3,600

ID 38155

$20,000

ID 37893

$50

ID 23258

$100

ID 38212

$60

ID 28690

Special Wallaby Timber Jack

5 Mag Wheels & Tyres

Seiko Scuba Divers Watch

Mini Compact Disc Radio

Lounge Chairs (2)

2013 Ford Fiesta ST EcoBoost

$175

ID 37970

$600

ID 38114

$200

ID 38099

$20

ID 38051

$225

ID 38044

$16,000

ID 37887

Toro All-Wheel-Drive

Lawnmower

Candy Shop Vending Machine

Fisher & Paykel Stove

Elba Model

Tandem Lawnmower

4.88m Sea Nymph GullWing

Genuine Honda CR-V

Boot Liner

$600

ID 37996

$400

ID 37875

$200

ID 37981

$50

ID 37957

$6,300

ID 37874

$70

ID 36357

2007 Mitsubishi Outlander

7-Seater

2007 Toyota Corolla

Axio Luxel

Dingy Aluminium

Parkercraft Pacific

1996 Nissan Terrano R3 M-R

2014 Volkswagen Polo

Rams For Sale

$9,500

ID 37774

$7,900

ID 36922

$3,500

ID 37801

$9,000

ID 37800

$11,490

ID 37116

$450

ID 37680

0621h07
---
WESTERN NEWS Latest Canterbury news at starnews.co.nz

Thursday July 15 2021 15

Gardening

& Supplies

Gardener available for

maintenance, weeding

pruning, spraying,

planting, advice. Qual &

exp.Pensioner discount

25%. Ph Richard 0274 918

234, 03 349 4022

Real Estate

HOME WANTED 3-4

bedrooms. Looking in Nor

West areas, Beckenham

or Somerfield. Prefer

permanent material brick

and post 1990 build. Don't

mind if it needs some TLC

- anything considered.

Cashed up buyer. Phone

021 372 479

Classifieds Contact us today Phone our local team 03 379 1100

Trades & Services

Trades & Services

BLOCKED

DRAINS?

• Video inspection

• Waterblasting

• liquid Waste

pH: 03 365 7960

24 hours // 7 days

info@h20jet.co.nz

www.h20jet.co.nz

SCRAP METAL

Dominion Trading Co Ltd

• Scrap metal buyers

• Canterbury owned & operated

• Top prices paid $$$

• Open Saturday morning

Open Mon-Fri 8am – 4.30pm Sat. 8.30am-12.30pm

www.happyscrappy.co.nz

03 343 9993 333 Blenheim Rd

WINDOW TINTING

tintawindow

advanced film solutions

99% uv block

fade protection

heat control

reduce glare

25 Years Experience

Trades & Services

TREE SERVICES

CRAIGS

TREES

Our services include:

Tree felling

Branch chipping

Trimming and pruning

Crown reduction

Stump grinding

P: 027 2299 454

E: craigstrees@xtra.co.nz

www.craigstrees.co.nz

Fully insured

privacy films

frosting designs

non-darkening films

Workmanship Guaranteed

Lifetime Warranties on Most Films

UV

block

Free Quotes Canterbury and Districts

03 365 3653 0800 368 468

Trades & Services

BATHROOM

Renovations, complete

service from start to finish,

free quotes, ph Dave 027

334 4125

BRICKLAYER

George Lockyer. Over

40 years bricklaying

experience. UK trained.

Insurance work, EQC

repairs. Heritage

brickwork & stonework

a speciality. No job too

small. Governers Bay.

Home 329 9344. Cell

027 684 4046. E mail

georgelockyer@xtra.co.nz

CARPET LAYING

Exp. Repairs, uplifting,

relaying, restretching.

Phone John on 0800

003181, 027 240 7416

jflattery@xtra.co.nz

PAINTING

Indoor / Outdoor, over 30

yrs exp, same day quotes,

ph Steve 021 255 7968

PAINTING

Indoor / Outdoor, over 30

yrs exp, same day quotes,

ph Steve 021 255 7968

STUMP GRINDING

Best price guarantee Tony

0275 588 895

TILING

Flooring - Splashbacks -

Wall incl tile removal, reg

master tiler, ph Dave 027

334 4125

VHS VIDEO TAPES

& all camera tapes

converted to DVD or

USB. Video taping

special occasions, www.

grahamsvideo.co.nz ph 03

338-1655

Wanted To Buy

AAA Buying goods

quality furniture, beds,

stoves, washing machines,

fridge freezers. Same day

service. Selwyn Dealers.

Phone 980 5812 or 027

313 8156

TOOLS Garden,

garage, woodworking,

mechanical, engineering,

sawbenches, lathes, cash

buyer, ph 355-2045

Public Notices

HALSWELL

TENNIS CLUB

AGM

Sunday 25th July

at 5pm

Craythorne's

Public House

344 Halswell Road

All Welcome

Public Notices

ADVERTISE YOUR BUSINESS HERE

Phone for further details

(03) 379 1100

FREE FIRST XV SEASON PREVIEW MAGAZINE INSIDE

TONY JOHNSON

ON THE COMING OF

MOANA PASIFIKA

MAY 2021

SEILALA MAPUSUA INTERVIEW: HIS VISION FOR MANU SAMOA

dAN

CARTER

REFLECTING ON A

GREAT CAREER

CRUSADERS

FIVE OF THE BEST

JUNE 2021

BE IN TO WIN

A SONY x90h ANdROId Tv WORTh $2,500!

Subscribe to New Zealand's premier rugby read for six issues or

more to go in the draw. Ten lucky subscribers will also win one

of five All Blacks jerseys, Lone Star and Joe's Garage vouchers.

AARON SMITH

'WHY I RATE

DUPONT'

TONY

JOHNSON

CAN THE

SABBATICAL

JEROME

KAINO

SORTED FOR

LIFE AFTER

RUGBY

SEAN FITZPATRICK

'WE NEED MONEY TO

SUSTAIN THE GAME'

rrp $10.99

9 416770 121325

*Competition runs till July 31st

2021. Offer only applies to NZ

residents and subscription

periods of six issues or more.

BEEGEE'S

DREAM

• PHIL GIFFORD: THE BEST

SCHOOLBOY STARS HE SAW

• DARYL GIBSON: HIS VISION

FOR THE BOP STEAMERS

WHY MOANA

PASIFIKA WILL BE A

GAME-CHANGER

rrp $10.99

9 416770 121325

SAM CANE

THE LONG

ROAD BACK

WAYNE PIVAC

FROM THE OUTHOUSE

TO THE PENTHOUSE

• WHERE ARE THEY NOW:

MATTHEW COOPER

• SARAH HIRINI:

BRINGING THE MANA

SIx ISSUES

$39

SAvE 41%

+ ChANCE

TO WIN A Tv

& mORE!

SUBSCRIBE AT RUGBYNEWS.CO.NZ OR 0800 77 77 10 | AvAIlABlE AT All GOOd BOOkSTORES ANd SUpERmARkETS
---
16 Thursday July 15 2021

Latest Canterbury news at starnews.co.nz

WESTERN NEWS

nEED FinancE?

wE can hElP! Easy finance for a Work Visa,

bad credit history & Learner Licence holders

BaD crEDiT? no ProBEm!

ONLY

$19,999

ONLY

$14,999

T&C's AppLy

ONLY

$15,999

1997 Toyota Land

Cruiser 80 VX LTD

Get in quick for this one! 4.2lt,

Diesel, Auto, 4WD, Tow bar,

Rev. Camera, Front airbag, Sun

roof, Back & side steps, Recently

serviced, New WOF!

ONLY $29,999

ONLY

$14,999

2002 Toyota Hilux SR5 Double Cab

CHECK OUT THIS BEAST! 3.4lt Petrol, V6,

4WD, SUV, 5 seater, Auto, Flat deck 2 inch

lift, Bull bar, fitted LED spot lights, Snorkel,

35" tyres, ultimate 4WD driving machine.

1988 Nissan Safari

Diesel, manual, towbar, alloys, in mint

condition.

1990 Nissan Safari 4WD

TD42 IN MANUAL, TIDY INTERIOR &

EXTERIOR NO OIL LEAKS! 4.2lt, Diesel, 5

Spd Manual, Power steering, Tow bar, front

bull bar, Comes with new WOF & Service!

$119pw.

1992 Nissan Safari TD42 LWB

Hard to get a hold of – 4WD Safari! 4.1lt,

Diesel, Auto, 4WD, Tow bar, Allows, Only

170,000kms, Well maintained, Will come with

new WOF & Service!

ONLY

$26,499

ONLY

$15,999

ONLY

$6,999

P.O.A

2006 Land Rover Vogue TDV8

UK IMPORTED, x2 OWNERS SINCE! 3.6lt,

Diesel Turbo, Auto/Tiptronic, Tow bar, Digital

Display, ABS, Rev. Camra, Steering controls,

Leather interior, Parking sensors – Great for

towing! $226pw.

1985 Toyota Landcruiser

2dr, 5 seats, p/steer, hard top,

immaculate condition.

1994 Isuzu Mu 5dr

bulbar, fog lights, new front tyres,

runs and drives well

1990 Nissan Safari Grandroad

power steer, new hard top, mint cond, will

come fully serviced Price on contact

ONLY

$9,999

ONLY

$15,999

ONLY

$7,699

ONLY

$6,999

2012 Toyota Estima Silver Station

Wagon 2.4lt, Petrol, Chain driven, Auto, 5

Dr Wagon, Rare 8 Seater, ABS, Push button

start, Keyless entry, Cruise control, Alloys,

Front airbags, Tidy condition with New WOF

& service! $78pw.

ONLY

$14,499

2006 Mazda Roadster

Low 55kms, auto, 2dr convertible, paddle

shift.

ONLY

$7,699

2007 Toyota Estima

Auto, 8 seats, reverse camera, keyless entry,

new WOF, new service WHOLE FAMILY IN

ONE CAR!

ONLY

$12,999

2006 Toyota Allion

97,000 kms, chain drive, super economical,

a/conditioning, electric mirrors.

ONLY

$5,299

2015 Toyota Corolla GX Hatchback

Super economical, Super reliable Hatch!

1.8lt, Petrol, Auto/Tiptronic, 5 Dr Hatchback,

NZ New, Front airbags, ABS Brakes, Cruise

control, Don't miss out on this extraordinary

Hatch!

2011 Toyota Prius Hybrid Hatchback

Auto, alloys, airbags, Push start, new WOF

IMMACULATE CONDITION!

2008 Mercedes Benz C

131kms, diesel, alloys, parking sensors, leather

trim.

2012 Nissan Tiida Latio Silver

Saloon GRAB A TIIDA BARGAIN! 1498cc,

16 Valve Petrol, 4 door sedan, Auto, Electric

mirrors, Central locking, WOF till September

21, Reliable & economical!

ONLY

$11,999

ONLY

$4,999

ONLY

$9,999

ONLY

$9,999

SOLD

2014 Toyota Corolla Fielder

Auto, 5 seats, 96,900kms, near new in

immaculate condition, Fresh Import READY

FOR FIRST NZ OWNER!

2005 Nissan Lafesta 7 seater

ABS, airbags, 170kms, immaculate condition.

1981 Honda Accord

5dr 4cyl sedan, only 61,315kms, economical,

comes with new WOF. IMMACULATE

CLASSIC!

1975 Austin 1100

tidy original classic, new wof prior to sale.

Two locaTions

www.careacar.co.nz

Experience the Care A Car difference

55 LINCOLN ROAD, SpREYDON (NExT TO LINCOLN NpD)

301 MAIN SOUTH RD, HORNBY (CORNER GARVINS ROAD)

Phone 0223 445 778