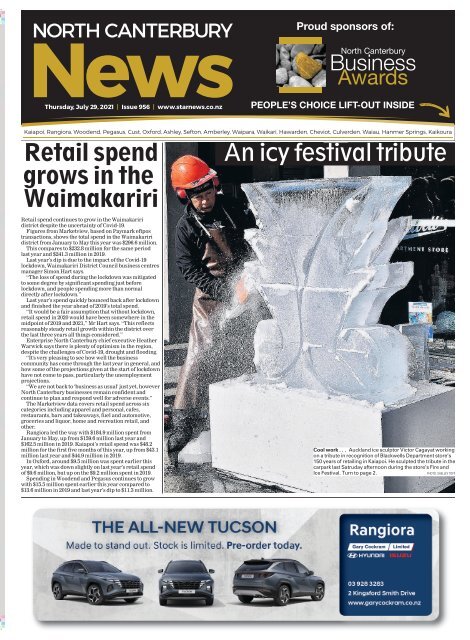 North Canterbury News: July 29, 2021
Create successful ePaper yourself
Turn your PDF publications into a flip-book with our unique Google optimized e-Paper software.
Proud sponsors of:

Thursday,July 29,2021 | Issue 956 | www.starnews.co.nz

PEOPLE'S CHOICE LIFT-OUT INSIDE

Retail spend

grows in the

Waimakariri

Retail spend continuestogrow in the Waimakariri

district despite the uncertainty of Covid­19.

Figures from Marketview, basedonPaymark eftpos

transactions,showsthe total spend in the Waimakariri

district from January to May this year was $296.6 million.

This compares to $232.8 million for the same period

last year and $241.3 million in 2019.

Last year's dip is due to the impactofthe Covid­19

lockdown, Waimakariri District Council business centres

manager Simon Hart says.

''The loss of spend during the lockdown was mitigated

to some degree by significant spendingjust before

lockdown,and people spending morethan normal

directly after lockdown.''

Last year's spend quickly bounced back after lockdown

and finishedthe year ahead of 2019's totalspend.

''It would be afair assumption that without lockdown,

retailspend in 2020 would have been somewhere in the

midpoint of 2019 and 2021,''MrHart says.''This reflects

reasonably steady retailgrowth within the district over

the last three years all thingsconsidered.''

EnterpriseNorth Canterbury chiefexecutive Heather

Warwick says there is plenty of optimism in the region,

despitethe challenges of Covid­19,drought and flooding.

''It's very pleasingtosee how well the business

community has come through the last year in general, and

how some of the projections given at the start of lockdown

have not come to pass, particularly the unemployment

projections.

''We are not back to 'business as usual' just yet, however

North Canterbury businesses remain confidentand

continuetoplan and respond well for adverse events.''

The Marketview data covers retail spend across six

categories including apparel and personal, cafes,

restaurants, bars and takeaways,fuel and automotive,

groceries and liquor,home and recreation retail, and

other.

Rangioraled the way with $184.9 million spentfrom

JanuarytoMay, up from $159.6 million last year and

$162.5 million in 2019. Kaiapoi's retail spend was $48.2

millionfor the first five months of this year,upfrom $43.1

millionlast year and $44.9 million in 2019.

In Oxford,around $9.5 million was spent earlierthis

year, which was down slightly on last year's retail spend

of $9.6 million, but up on the $9.2 million spentin2019.

Spending in Woodendand Pegasuscontinues to grow

with $15.5 million spent earlierthis year compared to

$13.6 millionin2019 and last year's dip to $11.3 million.

An icy festival tribute

Cool work ... Auckland ice sculptor Victor Cagayat working

on atribute in recognition of Blackwells Department store's

150 years of retailing in Kaiapoi. He sculpted the tribute in the

carpark last Satruday afternoon during the store's Fire and

Ice Festival. Turn to page 2.

PHOTO:SHELLEYTOPP
---
NEWS

2 The North Canterbury News, July 29, 2021

Grow

customers,

salesand

profits

with North

Canterbury's

bestread

newspaper

Readership: 47,000 weekly

Circulation: 30,150copiesdelivered

to EVERY farm, RD, lifestyle block

and home inWaimakariri, Hurunui

&Kaikoura every Thursday.

news

Robyn Bristow

Managing Editor

027 312 1581

robyn.bristow

@ncnews.co.nz

Reporters

David Hill, Shelley Topp.

advertising

DaynaBurton

Sales Co-ordinator

027 312 0089

dayna.burton

@ncnews.co.nz

AmandaKeys

Advertising

027 536 6224

amanda.keys

@ncnews.co.nz

Kerryn Clark

Advertising

021 586 138

kerryn.clark

@ncnews.co.nz

Fog causes nervous moments

By SHELLEY TOPP

From Page 1

Kaiapoi retailerAndrew Blackwell had a

few nervous momentslast Saturday

whenfog stoppedearly morning flights

out of Auckland airport.

Andrew,the Blackwell's Department

Store managingdirector, was busy

preparing for the store's annualFire and

Ice Festival later in the day whenhewas

toldabout the fog.

For ashort time it looked like it would

derail the eventwith the show'sstar,

Auckland ice sculptor VictorCagayat,

still in Auckland and unable to travel

south.

Luckily the fog lifted and Victorwas

abletocatch alater flight to

Christchurch to begin his ice sculpting

demonstrationinthe Blackwell's car

parkonly 30 minutes later than

scheduled.

The sculpting and Fire and Ice Night

Market wererun in supportofthe

Kaiapoi Art Expo next door at the

Kaiapoi Club.

''Wewanted to complementitand give

something backtothe community for

supporting our store,'' saysMrBlackwell.

Victor carvedfour ice sculptures

during his public demonstration,

including the one recognising the

Blackwell family's forthcoming150th

anniversary of retailinginKaiapoi,next

month. Alarge crowdlater gathered at

the night markettosee the ice sculptures

lit up, listentoArgentinian­born,

Christchurch­based guitarist and guitar

teacher, SantiagoSamonta, watch the

firedancers perform and sample food

fromaround20stalls.

Market visitors were alsoable to shop

at Blackwell'sDepartment Store, which

remainedopen until late.

Warming up ... Afire dancer performing during the festival.

Big night ... Andrew Blackwell, left, with

family friends Greg Comfort, centre, and

Maarten Loeffen beside the tribute sculpted

by Victor Cagayat.

PHOTOS: SHELLEY TOPP

Ice art ... Another work of art by Auckland

ice artist Victor Cagayat.

Financial boost for wellbeing in Kaikoura

Kaikoura'swellbeing is set to receive

aboost as part of the government's

tourism support.

Mental wellbeingsupportisbeing

rolled out to five SouthIsland

communities most affected by the

absence of international tourists as

part of the government's $200 million

''Tourism Communities:Support,

Recoveryand Re­set Plan''.

''Agreements have now been put in

placewith District Health Boards in

the South Island to deliver thiscrucial

support to regional communities,''

TourismMinister Stuart Nash says.

''The$4.5 million investment allows

DHBs to provide supportinKaikoura

(Canterbury DHB), MackenzieDistrict

(South Canterbury DHB), Queenstown

Lakesand Fiordland (Southern DHB),

and Westland (WestCoast DHB).

''TheDHBs will provide arange of

mental well­being services and

initiatives at alocal level. They will

work with communities to decide

what's neededand how it's delivered.''

Mr Nashsays businesses,workers

and their families in tourist

destinations are facingchallenges

from borderclosures designed to keep

New Zealandsafe.

Furtherbusiness supportinitiatives

in the five communities is progressing,

he says.

''Each community now has alead

entity to manage the business support

services, and recruitmentisunder

way locally to supportthem.

''The initiatives include business

advisory support, agranttoimplement

the advice, and akick­startfund.

''They are on track to be available

from later next month.

''We want access to thissupport to be

easy for businesses to tap into.

Businesses will be talking to one

person locally aboutwhat support is

rightfor them. Iencourage businesses

in the five communitiestocheck their

eligibility criteriaonthe Ministry of

Business, Innovationand Employment

website.''

Businesssupport initiatives

include:

BusinessAdvisory Support fund (up

to $5000 per business) to enable

businesses to receive expert advice

and support such as changing target

market, or scaling their business.

Grants for businesses to implement

business advice (up to $5000per

business).

Tourism Kick­start Fund, to

contributetowardsexistingtourism

businesses scalingback up for the

return of internationalvisitors. The

grantwill be calculated basedontwo

weeksofpre­Covid revenue set at two

weeksofaveragerevenuefor 2019.

JillianDickie

Advertising

022 024 3092

jillian.dickie

@ncnews.co.nz

getintouch

Editorial

info@ncnews.co.nz

Advertising

sales@ncnews.co.nz

Graphic Design

heather.hood@ncnews.co.nz

Distribution/Deliveries

03 314 8335

Rangiora: 03 313 2840 /03314 8335

14 Ashley St, Rangiora

Christchurch: 03 364 7460

www.starnews.co.nz

2386026b

Largest pump display in

North Canterbury

www.tiw.co.nz 03 313 0408

308 Flaxton Road, Rangiora

See usfor all

your domestic &

lifestyle pumping

requirements

-New Homes

-Lifestyle Blocks

-Submersible Pumps

-Variable Speed Booster

Pumps

-Drainage Pumps

-Pond Pumps

-Installations

See the Experts!

AVOID THE SPRING RUSH

GET YOUR MOWER

SERVICED NOW

WE ALSO SERVICE

2STROKE EQUIPMENT

AND SHARPEN

HAND TOOLS

PICKUP SERVICE

AVAILABLE (COSTS APPLY)

2397833

360 FlaxtonRoad,Rangiora

Ph 03 313 5563

www.kingsmowersheating.co.nz
---
NC councils seek information

By ROBYN BRISTOWAND DAVID HILL

The Hurunui District Council willnot be

joiningthe Government's3Waters

Reformprogramme based on the

information it hastodate.

It is thelatest council to express

concern about thelackofinformation, the

haste withwhich the Government is

drivingthe reform, andthe tighttimetable

to consult withtheir communities.

The Waimakaririand Kaikoura District

Councilshave also expressedsimilar

concerns.

HurunuiMayor Marie Black saysthere

are aspectsofthe analysisreleased by

Government in support of thereforms,

thatare not directly applicable in thethe

HurunuiDistrict.

''It(theanalysis) does not fairlyreflect

our current position, andsecondly it

included an underlyingmessage that

council'shistoricallyhaveunder­invested

in basic infrastructureassets.

Mrs Blacksays thecouncilhas intimate

knowledgeofits infrastructure, and had

invested heavily in these critical assets

overrecent years.

''Itwouldappear on thefactsinfront of

us thatthe compellingcase forchange is

unfounded, and we areunlikely to

considerthatthis ReformProgramme

willbring thebestoutcomefor our

district.

She assuresratepayersthe council

teamisscrutinisingall theinformation it

has received.

''Itisseriously disappointingtohear

thatwehave onlyeight weeks to apply

thisscrutiny and undertakecommunity

engagement, prior to making thefinal

decision,'' she says

''Itismy opinion, theinformationthat

the government hasprovided is not robust

enoughtoconvince me that the proposed

benefits of reform will be realised.

''Based on theinformation receivedto

date and thecomparative datathatwe

have available, ourcouncil willnot be

preparedtoparticipate withthisReform

Programme.''

She says engagementwith theHurunui

communityiscritical and shewants the

community'sinvolvement.

Meanwhile the Waimakariri District

Council has sent LocalGovernment

MinisterNanaia Mahutaalistof28

questionsitwants answerstoonthe

reformssoitcan take ''meaningful

consultation to its community''.

MayorDan Gordon says in the letterthe

council wantsconstructive and

informative engagement on the reforms

proposedtobetter understand thebasis

of theinformationand assumptions sent

to thecouncil.

''This willhelp us fulfilour statutory

and partnershiprequirementsunderthe

LocalGovernment Act2002.

''Similarlyitwill enable the council to

fullyunderstandthe proposal and consult

effectivelywith ourcommunity,'' Mr

Gordon says.

He says thecouncilisdisappointed the

timeline for consultation haschanged

from December to September,withno

date finalised.

''Theproposedreform is asignificant

issuefor our community,and it is

important thatweunderstandall the

information in detailbeforeweseek the

viewsofour residents.

''Based on thelimited information

presented so far, the viewofthe

councillors, and my own, would be thatwe

do not jointhe Government's 3Waters

Reform programme.

''Atthispoint we arenot convinced

thereare benefitsfor the Waimakariri

community,'' Mr Gordon says.

Kaikoura chief executiveWillDoughty

is seekinganexplanation after

Department of Internal Affairsfigures

suggestedthe council wouldneed to

invest $280million on its3Waters

infrastructureover the next30years.

''Wehaven't made afinal decision as

yet, andweare waiting formore

information, but we are questioningthe

informationthey have provided.

''The governmenthas said it is still a

choice forlocal councilsonwhetherto

optinor opt out,but we are seeing aslight

change in thelanguage.''

Mr Doughtysaysthere was

considerableinvestmentinthe district's3

Waters infrastructureaspart of the $38

million earthquake rebuild, which was

completed last year.

''If we compareittoour infrastructure

strategy, we estimate thatwewill needto

spend just over $28 million.

''The totalvalueofour 3Waters

network is $57 million.

''Weunderstandthe numbers have

beendoneatanational macro economic

level, but when it's broughtdown to a

local level for asmall, localcouncil, how

real are thosenumbers forour

community.''

With the prospect of change on the

horizon, with3Waters, Resource

Management Act and local government

reformbeingproposed, Mr Doughtysays

thecouncilisnot opposed to change.

''Fromwhat we have seen to date, we

can't seethe casefor change at alocal

level. But the voice of local government

hastobeabout what's bestfor ourrate

payers, ratherthan what'sbestfor the

entity, so if thecase forchange can be

made then we oweittoour community to

support it. One thingisfor certain is this

community understandshow to respond

to change and we willdealwith these

reforms as it becomesclearer.''

NEWS

The North Canterbury News, July 29, 2021

3

TAXRETURNS

Debra Jowsey

Karla Kilner

Tax &Accounting

Consultants

since 1984

Overwhelmed? Confused? With the recent IRD

changes to tax returns, GST returns, rental returns

and pay day filing A-Plus Accounting is here to help.

Give us acall. Friendly,knowledgable staff.

A-Plus Accounting

☎ 03 314 9480

2293781

2095268

Kaiapoi Lodge

Residential Care

Nursing Home, Hospital and

Respite

Person Centred Care,

Care that's built

around you

6CassStreet,Kaiapoi

Ph 03 327 7235

Councils' underestimating water costs

Councils such as Kaikoura are

underestimating the future cost of

maintaining their 3Waters

infrastructure, the Department of

Internal Affairs (DIA) says.

The DIA estimates it will cost up to

$280 million over the next 30 to 50 years

to maintain and upgrade Kaikoura's 3

Waters infrastructure, while the

Kaikoura District Council estimates the

required investment to be $28 million.

''TheDepartment of Internal Affairs

believes the figures providedto

Kaikoura and other councils are robust

and well founded,'' ADIA spokesperson

says.

''Theseprojectedcosts need to be

considered in the contextofahistoryof

under investment in water infrastructure

in New Zealand and the need to take a

long­term (30 to 50 year)

intergenerational view in providing safe

and environmentally appropriatewater

services.

''There is avery low probability that

Kaikoura could deliver three waters

services at alower cost on its own than

what might be expected throughreform,

and even in that scenariothere wouldbe

worse service, health and environmental

outcomes for residentsassociated with

the lower level of investment.''

The DIA's figures are basedonthe

experiences of local councils operating

underthe Water Industry Commission of

Scotland, following3Watersreforms in

the United Kingdom.

The UK reforms led to much higher

costs than wereinitially expected, which

helps to explain why the DIA'sestimate

is significantly higherthan local council

estimates,the spokesperson says.

The DIA says under­estimating the

costs of consumer expectations, a

changing regulatory environment,

meeting iwi/Maoriaspirations, and

building resilience to climate change

and future seismic events are reasonsfor

the differences.

''Thechallengeofestimating future

investment requirements can be

compounded by some councils'

imperfectand incomplete information

on the condition of theirassets, a

situation that has been highlighted by

theauditor­general on several

occasions.'' The DIA's analysis has been

independentlyreviewed by both Beca

Ltd and Farrier Swier Consulting Pty

Ltd, the spokespersonsays.

Caring for North Canterbury

Dr John Dehn

Full Mole Checks

using Dermoscopy

Surgical Management

and Aftercare

Comprehensive, Affordable, Convenient

Ph 03 9204060

52 Pegasus Main Street,Pegasus 7612

www.pegasusmedicalcentre.co.nz

Southern Cross

Affiliated Provider

For selected services

1890742

SHOE SALE

Kaiapoi Mill,

Ranfurly Street, Kaiapoi

Ph 03 327 0576

Monday –Friday 9am –5pm

Saturday 10am –1pm

Closed on Public Holidays

2398790
---
NEWS

4 The North Canterbury News, July 29, 2021

Kaiapoi art showcase makes stylish return

By SHELLEY TOPP

Kaiapoicelebrated the artsinstyle

lastweekend withthe returnofthe

KaiapoiArt Expoand theFire andIce

Festival.

The popular winter events, which

bring manyvisitors to the river town,

werecancelled last year due to the

Covid­19 pandemic, althoughavirtual

Art Expo was establishedonline by

MartynCook, the thenbusiness

manager of theKaiapoi Promotion

Association.

At this year's15th annual expo,

which opened lastFridayeveningand

ran on Saturdayand Sunday,125

artistsexhibited 800artworks.

The expo, in the KaiapoiClub, was

organised by theWaimakariri Arts

Trust andincluded the School Art

Expo, featuring paintingsand

drawings from Waimakaririschool

children. There was also an

opportunity to learnaboutarts and

crafts at the HaveAGosectionofthe

expo.

WaimakaririDistrict Mayor Dan

Gordon,who is also the former

WaimakaririArts Trust chairman, said

the artexpowas now ''very firmlyon

the arts calendar as amustsee''.

In the 15 years thatthe expo has been

helditisestimatedthe eventhas

attractedmore than 60,000 visitors to

the town to appreciate artwithjust

under $400,000insalesgoing to the

artistswho haveexhibited.

''Itisanexcitingtimetobeinvolved

in thearts in Waimakariri,'' Mr Gordon

said.

The WaimakaririDistrictCouncil is

workingwith theartscommunityto

establish aWaimakaririArtsstrategy

and councillorAlBlackie will leadthe

initiative with anew portfolioofArts

and Culture, to signify theimportance

of the artsinWaimakariri.

Meanwhile Mr Gordon realised a

long­held ambition to ownapainting

by KaiapoiartistPaul Smith.

He wasgifted oneofPaul's paintings

As Time GoesByduring the openingof

theKaiapoi Art Expo.

Thepainting,which was one of two

Paul had in theexhibition, was givento

Mr Gordon, by the WaimakaririArts

Trust committeeinrecognitionofhis

service as chairman.

Mr Gordonannouncedhis

resignation as the trust chairman, at

theopeningofthe expo.

''Ihavedecided thatafter 17 years as

chairthe timehas cometostepdown,

butIwill remain as atrustee,''hesaid.

''Ihaveafew things happening in

another jobthattakesmyfocus, butI

am veryproudofeverythingwehave

achievedover theselast 17 years.

''From aconversation withElaine

Armstrong thatled to adiscussion with

fellowneighbour JackieWatson,and

others, here we are,''hesaid.

Initially theythought theexpo would

only be afew events, but every year it

hasgreatlyexceededexpectations and

grown in popularity to become a''must

see'' annualart showcase bringing

many visitorstoKaiapoi.

Trust deputychairwomanJackie

Watsonwill succeed Dan in thetop job.

Thepainting giftedtoDan by the

trust committeewill hanginhis newly

decoratedmayoral office.

''IhavealwayslovedPaul's work and

have wantedtobuy oneofhis paintings

foralong time,soitisgreat to finally

have oneand to be able to put it up in

my office,'' he said.

Guest artist ... Kim Henderson, of

Motunau Beach, in Greta Valley, with some

of her work on opening night.

Enjoying the moment ... Rangiora artist Carol McQueen, who is also aretired sign writer,

with her work at the Kaiapoi Art Expo on opening night last Friday evening. PHOTOS: SHELLEY TOPP

get injured?

Take your sprain, cut, break or

head bump to be treated at an

urgent care clinic

• Parking and late-night pharmacies on-site

• X-ray and casts available

• Free medical visits for under 14s at urgent

care clinics after 6pm weekdays and all-day

during weekends

All clinics open 7days aweek:

• Riccarton Clinic 8am–8pm

• Moorhouse Medical (free ACC wound care) 8am–8pm

CDHB26JULY21 ED

Unsure what you need? Call your GP team 24/7 for advice

cdhb.health.nz/urgentcare
---
Welcome boost to trade

By DAVID HILL

NEWS

The North Canterbury News, July 29, 2021

5

Kaikoura has experienced a

steady flow of visitorsfor the

school holidays.

Whilevisitornumbers have

not reached the heights of July

last year,when New

Zealanders burst out of

lockdown, the townhas

experienced asteadyschool

holiday tradeproviding amuch

needed boost to some

businesses.

But several tourism

operatorsare continuingto

struggle.

''Accommodation providers

seem to be doing reasonably

well,but the main operators

like WhaleWatch and Dolphin

Encounterare well down,''

Destination Kaikoura adviser

Louise Frendsays.

Kaikoura iSite supervisor

Damo McDonnellsays

weekends are typically busier

than weekdays,with the bulk of

the visitors travelling up from

Christchurch and North

Canterbury.

''We are luckythat we are still

popular. We catertoalot of

flavours, so we'vegot stuffthat

Kiwisdoquite regularly, such

as goingfishing, hunting and all

the other outdoorsactivities.

''A lot of peoplehave batches

and we are lucky that we've got

agroup of people who are keen

to come hereregardless of the

time of year.''

Kaikoura Museum is proving

to be apopular destination,

particular for families,

museum managerStephanie

Langesays.

Visitor information ... Kaikoura iSite supervisor Damo McDonnell (left)

and sales consultant Phoenix Laugesen say visitor numbers have been

steady in recent weeks.

The bulk of the museum

visitors are fromChristchurch,

North Canterbury and

Blenheim, but there are been

several North Islanders

passing through.

''We have noticed in the last

12 monthsthat family visitors

are up, even though over all

numbers are down.

''Families are coming in and

enjoying the spaceand it's

alwaysgood to hearthe sound

of kidsenjoying themuseum.''

The Kaikoura Museum is set

to markits 50th anniversary on

September11, Ms Lange says.

The Kaikoura District

Council voted to increase its

fundingtoDestination

Kaikoura to supporttourism

promotioninthe domestic

market and overseas in the

2021/31 Long Term Plan.

Chief executive WillDoughty

sayshehopesnext month's

Kaikoura WinterFestival and a

new Matariki event will

continue to growtoprovide

morereasons for peopletovisit

the town.

''It's aboutkeeping thisplace

on people's radars. We have a

pretty unique and special

location, so it'sabout helping

people to enjoy it.''

Autograph time ... Canterbury half back, Mitchell Drummond,

signs his autograph for fan, Zac Ford.

PHOTO; SUPPLIED

Alpinerugbytreat

The TasmanMako'stook out

the winoverCanterburyinthe

annual Hanmer Springs

Trophy pre­season rugbymatch

in the alpine village last

Friday.

Around 2000 turned out to

watchthe spectacle.

The day prior around 100

fans and supporters were able

to attend aquestionand

answer session with the squad,

and get autographs and join

team membersfor photos.

Wet weather forcedthe

sessionindoors at the

MemorialHall.

Canterbury player, Isaiah

Punivai saysthe guys love to get

out in thewider Canterbury

community. ''Hanmer Springs

is no different, especially when

we'relucky to play in front of a

passionate Hurunui crowd."

Find it all

RIGHT ON

YOUR DOORSTEP

Food and drink spots for socialising

Full medical, physical and dental care

Hair and beauty care at the local salon

VILLAS

SELLING

FROM

$495,000

WOODEND

10 MINS

KAIAPOI

3MINS

CHRISTCHURCH

20 MINS

THE

STERLING

Retirement

Village Site

CAFE

PHARMACY

MEDICAL

CENTRE

PHYSIO

RESTAURANT

WEIGHT

MANAGEMENT

SUPER

MARKET

DENTIST

HAIR &

BEAUTY

ENDO -

DONTIST

SALES

OFFICE

3MIN WALK

RETIREMENT LIVING in the

HEART of the COMMUNITY

VISIT us

1/42 Silverstream Blvd,

Kaiapoi

TALK to us

0508 783 754

hello@thesterling.co.nz

LEARN more

thesterling.co.nz

The Sterling site is render only and subject to change
---
OPINION

6 The North Canterbury News, July 29, 2021

Hurunui Council

supports campaign

In collaborationwithCrohns and

Colitis NZ theHurunuiDistrict

Council lendssupportfor this

nationalcampaign.

Ican'tWait is acampaign

encouragingbusinesses to provide

access to theirfacilities when

someonewith bowel disease is in

urgentneed.

The campaignwas started by a

young 12­year­old New Zealander

who suffers with Crohn's disease,

and hasbeen fightingfor better

awarenessaround theissue.

It simply involves businesses

displaying awindow sticker supplied

by Crohnsand Colitis NZ, honouring

the Ican'tWait cards heldbypeople

withboweldisease,givingthe person

undeniedaccess to their bathroom.

Hurunui Districthas 14 businesses

alreadysigned up and we are leading

the wayinthis national campaign

being the secondSouth Island

council to signupand Iwould

encourageother businessesto

support this by emailing

info@crohnsandcolitisnz.org.nz.

The HurunuiHealth services

DevelopmentGroup in in the process

of transitiontoalocaladvisory

group.

Iamgrateful that17volunteers

across the district haveofferedtheir

voice,asthe purposeofthe advisory

group is to advocatefor thedistrict

and supporthealth outcomes.

Withthe pending health reforms

the advisory groupcan considerthe

health and wellbeing of our district

to drive opportunity.

AlixBush, NorthCanterbury Flood

McALPINES MITRE 10 MEGA RANGIORA -OCEAN WATCH

This

Week

Sun

Fishing

Guide

Moon

Wind

Good

Thursday Friday Saturday Sunday Monday Tuesday Wednesday

Jul 29 Jul 30 Jul 31 Aug 1 Aug 2 Aug 3 Aug 4

Rise 7:44am

Set 5:26pm

Best

Times

4:22am

4:43pm

Set 10:38am

Rise10:59pm

Gentle SW becoming

moderate S

Good

Rise 7:43am

Set 5:27pm

Best

Times

5:04am

5:25pm

Set 10:59am

Moderate SWeasing

to gentle SE

recovery co­ordinator, may be

contacted if youhave been impacted

by therecent flood events. Alixis

available to assist withgathering

critical information to understand

theneeds forarecoverypackage.

Alix may be contacted on alixbush.

ncrst@outlook.co.nz or 02102773370.

Cr RobbieBruertonand Iattended

theLocal GovernmentConference

andAGM in Blenheim recently.

Theannouncement of the tranche 2

funding package receivedavaried

responsefrom delegatesin

attendance.

Hurunui District'sallocation based

on population is $10,682,254million.

This formspartofthe $2.5billion

investmentpackage.

This packageisdesigned to ensure

that local authorities are supported

through the proposed transition

process, although drawing on these

fundsisnot availableuntil 2024.

Engagementwithour district is

critical to thisdecisionmaking.

Thereare major issues facingthe

district­3waters,Natural and Built

environment (RMA),NPS freshwater

and Indigenous Biodiversity and the

Heath reforms –wemust keepour

eyeonall these issuestoensure no

loss of valuestoour district.

Thanks to all the community

memberswho cameout in support of

TheHowlofaProtest lastweek,

unfortunately Iwas unable to attend

locally butitwas equallysatisfying to

stand shoulder­to­shoulder with

other MayorsfromWestland,

Thames­Coromandel, Far North, and

Canterbury.

Electric scootersontrial

Electricscooters willsoon be popping up acrossthe Waimakariri district.

All community boards havegivenfeedbackonthe proposed six month trial, which will

include Kaiapoi, Rangiora, Woodend andPegasus.

Kaiapoi­Tuahiwi CommunityBoard deputychairperson Jackie Watson saysthe trial

is agood opportunity to explore theuse of e­scooters and assesswhether there is aplace

for this technology in the Waimakariridistrict.

Staff haveengaged with the Waimakariri Access Group, Age Friendly Waimakariri and

the Waimakariri Youth Council to addressany concerns in the trial planning.

The proposed trialwill start at the beginning of OctoberorNovember.

Fair

Rise 7:42am

Set 5:28pm

Best

Times

5:46am

6:07pm

Rise 12:02am

Set 11:20am

Gentle SW turning

S

Ok

Rise 7:41am

Set 5:29pm

Best

Times

6:28am

6:49pm

Rise 1:05am

Set 11:43am

Gentle SE

Ok

Neighbourhood support ..

in your street.

Rise 7:40am

Set 5:30pm

Best

Times

Expanding support

By DAVID HILL

NorthCanterbury Neighbourhood

Support is keen to expandits community

support, if it can securethe funding.

SarahSaunderstook overasmanager

four months ago on apart time basisto

oversee the organisation'sworkacross the

Waimakariri, Hurunui and Kaikoura

districts.

''It's quite difficult to secure funding.

Our longterm aim would be to be working

in partnershipwith the councils.''

She has one staffmember in Rangiora,

whilethe Kaikoura District Council has a

staffmember ''who lives and breaths

anything neighbourhood support in her

position''and hopes to appoint someone in

the Hurunui districtsoon, if funding

allows.

Neighbourhood Support has avarietyof

roles, includingproviding support in

emergencies, working alongside police,

CivilDefenceand community patrols, and

supporting street groups.

''We workinwith policeoncrime

preventionand we worktosupport

neighbourhood connections, and through

our database(North Canterbury Gets

Ready) we connect with Civil Defence to

help get messages out to support our

communities.''

The recent flood event highlighted the

valueofthe NorthCanterbury Gets Ready

database, which allows communities to

know what resources are available, such as

wheretofind agenerator, trailer or

defibrillator, Sarah says.

More than3500 NorthCanterbury

households were signed up to GetsReady

before the flood event and that number

keepsgrowing.

7:11am

7:33pm

Rise 2:07am

Set 12:08pm

Moderate Eturning

SE

Ok

Rise 7:39am

Set 5:31pm

Best

Times

7:56am

8:20pm

Rise 3:09am

Set 12:38pm

Moderate SE turning

SW

Sarah Saunders is keen to promote Neighbourhood Support

Ok

Rise 7:37am

Set 5:32pm

Best

Times

8:44am

9:09pm

Rise 4:11am

Set 1:14pm

Moderate SW

PHOTO: DAVID HILL

''My hopeiswecan develop astrong

relationship with CivilDefence and the

councils to be abletowork together to

achieve some fantastic resultstoensure

our communities are safe,resilient and

connected.

''And that comes back to what we

provide andwhatthey can provideeach

other.''

Sarah works closely with senior

constableTony Maw to support crime

prevention and to help prevent the spread

of misinformation.

''It might be that there's aspate of car

burglaries in an area, so we can senda

message with Gets Ready.

''An importantpart of our work is

helping people to feel safe andmaking

peopleaware of whatthey can do to help

their neighbourhoods to be safer.''

Simplethings such as closing windows

when you go out and locking car doors can

reducethe risk of crime.

While there are perceptions on social

media of high crime rates,North

Canterbury ''is avery safecommunity''

compared to the restofNew Zealand.

Around80percent of policecall outs are

for domestic violence.

Prospective volunteers,streetleaders

and board members cansign up on Gets

Ready at northcanterbury.getsready.net/..

Being astreet leader requires a

commitment of two hoursamonth,

''receiving information and informingyour

streetgroup'' and NeighbourhoodSupport

provides the resources to establish astreet

group.

Dial 111 in an emergency,105 when its

not an emergency or go to police.govt.nz/

105support.For ''non­threateningtraffic

matters'' dial *555fromamobile.

Swell

Pegasus Bay

Tide Chart

3

2

E1.2 m E1.2 m E1.4 m E1.5 m E1.4 m E1.2 m E1.2 m

3 6 9 NOON 3 6 9 3 6 9 NOON 3 6 9 3 6 9 NOON 3 6 9 3 6 9 NOON 3 6 9 3 6 9 NOON 3 6 9 3 6 9 NOON 3 6 9 3 6 9 NOON 3 6 9

1

0

Highs Lows Highs Lows Highs Lows Highs Lows Highs Lows Highs Lows Highs Lows

Waimakariri 8:42am 2.3 2:28am 0.5 9:32am 2.2 3:17am 0.5 10:21am 2.2 4:07am 0.6 11:10am 2.1 4:57am 0.7

5:46am 0.7 12:23am 2.0 6:34am 0.7 1:13am 2.0 7:22am 0.7

Mouth

9:03pm 2.3 2:47pm 0.6 9:53pm 2.2 3:37pm 0.7 10:43pm 2.1 4:30pm 0.7 11:33pm 2.1 5:24pm 0.8 12:00pm 2.1 6:18pm 0.8 12:51pm 2.1 7:10pm 0.8 1:41pm 2.1 7:59pm 0.8

Amberley 8:42am 2.3 2:28am 0.5 9:32am 2.2 3:17am 0.5 10:21am 2.2 4:07am 0.6 11:10am 2.1 4:57am 0.7

5:46am 0.7 12:23am 2.0 6:34am 0.7 1:13am 2.0 7:22am 0.7

Beach

9:03pm 2.3 2:47pm 0.6 9:53pm 2.2 3:37pm 0.7 10:43pm 2.1 4:30pm 0.7 11:33pm 2.1 5:24pm 0.8 12:00pm 2.1 6:18pm 0.8 12:51pm 2.1 7:10pm 0.8 1:41pm 2.1 7:59pm 0.8

8:51am 2.3 2:37am 0.5 9:41am 2.2 3:26am 0.5 10:30am 2.2 4:16am 0.6 11:19am 2.1 5:06am 0.7

5:55am 0.7 12:32am 2.0 6:43am 0.7 1:22am 2.0 7:31am 0.7

Motunau 9:12pm 2.3 2:56pm 0.6 10:02pm 2.2 3:46pm 0.7 10:52pm 2.1 4:39pm 0.7 11:42pm 2.1 5:33pm 0.8 12:09pm 2.1 6:27pm 0.8 1:00pm 2.1 7:19pm 0.8 1:50pm 2.1 8:08pm 0.8

8:53am 2.3 2:39am 0.5 9:43am 2.2 3:28am 0.5 10:32am 2.2 4:18am 0.6 11:21am 2.1 5:08am 0.7

5:57am 0.7 12:34am 2.0 6:45am 0.7 1:24am 2.0 7:33am 0.7

Gore Bay 9:14pm 2.3 2:58pm 0.6 10:04pm 2.2 3:48pm 0.7 10:54pm 2.1 4:41pm 0.7 11:44pm 2.1 5:35pm 0.8 12:11pm 2.1 6:29pm 0.8 1:02pm 2.1 7:21pm 0.8 1:52pm 2.1 8:10pm 0.8

8:50am 1.7 2:42am 0.4 9:41am 1.7 3:32am 0.4 10:32am 1.7 4:21am 0.5 11:22am 1.7 5:09am 0.5

5:56am 0.5 12:36am 1.6 6:42am 0.5 1:23am 1.6 7:28am 0.6

Kaikoura 9:15pm 1.8 2:58pm 0.4 10:06pm 1.7 3:50pm 0.5 10:57pm 1.7 4:43pm 0.5 11:47pm 1.6 5:36pm 0.6 12:11pm 1.7 6:28pm 0.6 1:00pm 1.7 7:19pm 0.6 1:48pm 1.7 8:06pm 0.6

*Not for navigational purposes. Wind and swell are based on apoint off Gore Bay. Maori Fishing Guide by Bill Hohepa. www.ofu.co.nz www.tidespy.com Graphic supplied by OceanFun Publishing Ltd.

2118223
---
THEULTIMATEFITNESSEXPERIENCE

ALL THELATEST&GREATEST

FITNESSGEARISHERE!

At Stadium Fitness Centre we'veselectedfromthe BEST

cardio &strength equipmentonthe markettoday to

ensureyour fitness experienceissecond to none.

AdaptiveMotion Trainers

Described as themost versatile

pieceofcardio equipmentever

created, the AMTallows youtogo

from short stride to long stride,

walkingtorunning,climbing

to stepping. Personalise every

workout, engage your entire

body and everymuscle group for

asilky-smooth calorie burn.

PL

US

WattbikePro/Trainers

Wattbikes aredesigned to best

replicate the sensation of road

cycling,while also providing

comprehensivedataonevery

aspectofyour workout. See

howyou apply forcethrough

each pedal stroke to optimise

your technique to improveyour

efficiencyand poweroutput.

Plate-Loaded Belt Squat

Hipbelt squats emphasise the

load on your legs withlessstrain

on your spine &shoulders. The

Hammer Strength Plate-Loaded

Belt Squatisagreatoption for

people with upper bodyinjuries,

providing awide range of

resistancetosuit everyone and

everyrateofprogression.

FOUNDATIONMEMBERSHIP JUST $18.50 PW

JOIN STADIUM FITNESS CENTRE BEFORE WEOPEN ON 9THAUGUSTTOSECURE TO SECURE AN

$18.50 PER WEEK MEMBERSHIP -WHICHINCLUDESINCLUDES YOUR FIRST TWOWEEKSWEEKS FREE

STANDARDMEMBERSHIPPRICE PRICE WILLINCREASETO$21.50INCREASE PWFROM9THAUGUST

STADIUM FITNESS CENTREISPART OFMAINPOWER MAINPOWERSTADIUM, 289COLDSTREAM ROAD.

TO FIND OUTMORE PH:03975 9755560, 5560, EMAIL: STADIUMFITNESS@SPORTSTRUST.ORG.NZ ORVISIT...

WWW.MAINPOWERSTADIUM.NZ

StairMaster 10G

StairMaster 10G features the

new OverDriveTraining Mode –

simulate carrying or pushinga

load up stairs to deliver the most

intense climbing workout. Includes

wide and deep stairs,low step-up

heightand ergonomic handrails

to supportmultipleclimbing

positions.

FIT3D Body Scanner

Usethe Fit3D scanner to create an "avatar"ofyour body so youcan accurately measureand monitor your

progress. The Fit3D scannerwill assess your body composition, create ahealth score, track your postureand

balance, measureyourBasal Metabolic Rate (BMR) and generate an overlay2Ddrawing so youcan compare

yourself beforeand after. There'snobetter waytosee your improvements on aregular basis.

TheFit3D scanner is broughttoStadium Fitness Centreinassociation with ActiveHealth North Canterbury.

@stadiumtnesscentre
---
St John to benefit from

inaugural show in Rangiora

The inauguralNorth Canterbury

Caravan, MotorHomeand Leisure

Show opensinRangiora on Saturday

August the7th 2021.

Wayneand MarilynTeAmo are

hostingthe eventatthe Arlington

ShoppingCentrewithall funds

raised goingtoStJohn, Rangiora.

Marilynsaystheywanttogive

somethingbacktoStJohnthathad

been so supportive of them on a

number of occasions,and theshow

wasagreatway to showcasewhatis

newincaravans,and motorhomes,

andalsohighlight theworkStJohn

does.

Marilyn andWayne,who runtheir

Kakapo Linenbusiness from the

centre, sayitisanideal site forthe

show whichwill become an annual

event, andwhichlongtermmay

have to look foralargerarea.

It will enablepeopletoenjoy a

relaxedenvironment locallyinstead

of having to travel into thecitytogo

to shows.

Both arekeencaravanersand say

people arealwaysonthe lookoutfor

thelatestmodels to tour andcamp

in, alongwithall theaccessories now

availabletomaketheir home-awayfrom-homecomfortable.

Local FM radio station, Compass,

isthe show'smainsponsor,in

conjunctionwithKakapoLinen.

Up to 20 exhibitorsare expected

with experiencedand professional

sales people will be on handtohelp

thoseinterestedincaravans, motor

homesand leisure products.

Exhibitorswill payafeefor asite,

andadultsvisitingthe showwill pay

a$5entry fee, with children under

15 free.All fundsraisedwillgoto St

John.

Marilynsaysitwill be alively,fun,

showwithspotprizes, andplenty to

seeand enjoyfrom10amto3pm.

Compass FM's station manager Kerry Treymane with Marilyn and Wayne Te Amo of Kakapo

Linen (right).

2402823

Compass Radio in conjunction with Kakapo Linen announce the inaugural

North Canterbury Caravan,

Motorhome &Leisure Show.

This is acharitable

fundraising event with

all proceeds being

donated to The StJohn

Arlington Shopping Complex

Car Park, Rangiora.
---
MAINPOWER LIGHT FESTIVAL

The North Canterbury News, July 29, 2021

9

Bigger, better, brighter lighting experience

Alighting extravaganza returns to

Rangiora's Victoria Park next month.

The MainPower Light Festival will

transform the park into alight and

sound wonderland from September 16 to

18.

Event spokesman Karl Horwarth says

close to 8000 people attended last year's

inaugural event, making it one of the

biggest events in the region,

encouraging the trust behind the

venture to hold it again.

This year's theme is 'Bigger, Better,

Brighter'.

Twice as many lights will be installed,

with mirror balls, a5mmushroom, neon

trees, fairy light tunnels and canopies,

and pulsing arches, adding to the

experience.

''Victoria Park will be lit up over three

nights with afairyland of laser lights,

neon, disco lights, interactive lighting

displays, glow toys and more,'' Karl says.

Thursday and Friday will be mainly a

light show, but if tickets sell well, a

licenced bar, craft and food stalls may

be added on the Friday night, plus an

outdoor movie could be shown.

For the finale on Saturday evening, a

UV dance floor, food and craft stalls, a

licenced bar and kid's activities such as

bouncy castles and bumper boats will be

included along with roving entertainers,

and live music.

An outdoor family movie will also

feature on the big screen starting at

5.30pm.

On Thursday and Friday evening the

festival gates open at 5.30pm and close

at 8.30pm, while Saturday's

entertainment starts at 5.30pm and runs

until 9.30pm.

Tickets are $5 per person, under 2s

are free. Family tickets are $15 for two

adults and three children under 16

years.

Tickets can be used on multiple

nights. There are limited tickets

available.

They will be on sale at www.

rangioralightandsound.co.nz or via the

Facebook page www.facebook.com/

rangioralightandsound.

The MainPower North Canterbury

Lights photo competition will run again

this year.

There are sections for youths and

adults. Competition entries must be

emailed to

rangioralightandsound@gmail.com by

noon on September 11.

Up to five photos can be entered per

person.

Finalists will have their work

showcased in the North Canterbury

News.

Imaginations illuminated ...

Agroup of boys do battle with

glowing swords in an archway

during last year's Light

Festival.

PHOTO: DAYNA BURTON

Light

Festival

16 -18SEPTEMBEr

Victoria park, rangiora

Experience alight &sound wonderland.

Afairyland of laser lights, neon, disco lights, interactive

lighting displays, glow toys &more. On the main night, food,

UV dance floor, licensed bar, stalls, kid's activities, roving

entertainers, live music &anoutdoor movie.

ENTRY:Just$5, $15per family.

BIGGER,BETTER, BRIGHTER

Limited Numbers, Get Your TicketsNow

rangioralightandsound.co.nz

Rangiora
---
NEWS

10 The North Canterbury News, July 29, 2021

Lego apopular holiday activity for all ages

Lego was the centre of attention in

Kaikoura during the last week of the

school holidays.

Toni Batey, amum of two teens, set up

an ''Inspiration Corner'' with the help of

the Creative Communities Trust and the

Kaikoura District Council.

She says there is no use having toys in

boxes, and set the corner where all ages

could go and hang out with their lego

and show it off.

This also gave her achance to get out

collection of 60 sets.

With the help of another Lego

enthusiast Lorraine Diver, she set about

displaying builds which were voted on

by the public.

"It was lovely to see parents, sitting on

the floor with their kids and building

from the free flow building blocks.

''We had over 300 people through the

event with over 60 build entries.''

Paper Plus sponsored prizes for those

that the public voted the best.

Suburban School took out the schools

build, Andrew Harvey, adad, won the

best kitset build with his rocket and Gus

Hoggard, aged 12, won with his tank

built using his imagination.

The youngest who created alego

build, was 3and the oldest 74. Lorraine

and Toni are already planning asimilar

event next year.

Down by the seaside ... Toni Batey's

private lego build.

PHOTOS: SUPPLIED

Supreme ... Gus Hoggard's winning build.

MANDEVILLE TAVERN DEER AND PIG HUNT COMPETITION ADVERTISING FEATURE

Deadline draws near for Mandeville Hunt

Hunters wantingtotake part in the

popularMandeville Tavern deerand

pig hunthave until5pm, on August8,

to confirm theirentryinthe

competition.

The competition runs from Friday,

August 13, withthe final weigh in at

2pm at theKaiapoi, Raven Quay

tavern,onSunday, August 15.

Tavern owner Lindsay Peters says

the prize pool for the annual event is

$7000, whichincludes a$1000 rifle

sponsoredbyHazeldine Construction.

One luckyentrant willhave the

opportunity to win the rifle, but will

needtopresent their Firearms

Licence to claim the prize. Other

majorsponsors includeHuntingand

Fishing,NorthCanterbury, Pre­Cut

Construction, and Forbes Builders.

Hunters enteredinthe Mandeville

Pig Hunting committee's competition

will be taking aim at pigs and deer

over the duration of the hunt to be in

for ashare of the prize pool.

Last year 100 huntersentered the

competition, with nearly90animals

weighed in. There are draws and

prizes for the heaviest boar, sow,stag

and hind,and the heaviest average

weight of agroup of pigs.

Hefty line up ... Some of the 90 animals entered in last year's the Mandeville Tavern Pig Hunting competition.

PHOTO: FILE

•Bar snacks available at all times

•Happy Hour Thursday &Friday 5pm to 7pm, Free Nibbles

•9Pokie Machines •Courtesy van available

•Great outdoor area

The Mandeville Tavern Annual Deer &Pig Hunt Competition,

Friday 13 th August to Sunday 15 th August, weigh in no later than 2pm Sunday.

99 Raven Quay, Kaiapoi • Phone: 03 327 8010

2397615
---
BOARDING SCHOOL

Discover, challenge and

extend at Nelson College

PamsFresh Avocado

3Piece Prepack

Product of New Zealand

$

2 29 ea

Pams Fresh NZ

Oven Ready

Chicken

1.5kg

$

11 99 ea

Youngmen want to explore.

Theywantlearningtobefunand

challenging;aplace wheretheycan

question andtestnew ideas,aswellas

acquirethe skills andknowledge they

need to succeed in thenextchapter

of their educationand in lifebeyond

college.

At Nelson College, ourcurriculum

andteachingisdesignedfor boys. We

want ourstudentstobeexcited about

lifeand to discover andpursuetheir

dreams.School shouldbesomewhere

that provides thespacesand support

foryoung mentolearn andfind their

passion. Aplace to be encouraged and

extendedtosucceed in learning.

Ourfocus is on buildingstudents'

keycompetencies such as literacy, selfmanagement,and

criticalthinking;to

buildafoundationfor furtherlearning.

As aspecialistinboys' education, we

provide thestructure,opportunities

andpastoralcarethatwill see your son

succeed at school andbeyond.

Nelson CollegeBoardingiswell-known

forits welcomingfamilyenvironment.

'Wehaveboysfrom allaroundNew

Zealandand overseas,' says Director

of BoardingSamme Hippolite. 'and we

know howimportant it is forthemto

have asense of belongingwithin our

community.

We want ourboystothriveand

succeed in theseformulative years,

so we ensure that they'resupported

throughout theirstudies, as well as

encouraged in theirown interests

andendeavours. Becauseour two

hostelsare on theschool grounds,

it's easy forthe boys to getinvolved

in extracurricular school activities.

We want them to safely have fun,

make lifelongfriendshipsand create

incredible memories of theirlifeat

Nelson College.

PamsFries 1kg

$

2 99 ea

PamsMarinated NZ

Greenshell Mussels 375g

$

5 49 ea

StartyourlegacyatNelsonCollege.

A-FOUR-DABLE

EVERYDAY

PamsFresh

Carrots

1.5kg Prepack

Product of New

Zealand

$

3 29 ea

A-FOUR-DABLE

EVERYDAY

Pams Fresh

Potatoes

2.5kg Prepack

Product of New

Zealand

$

6 49 ea

Nelson College offers theverybestinboarding. Talk to us

about life-changing opportunitiesfor your son.

•Welcoming family environment

•High-levelacademic &leadership programmeswith

tutorsupport

•35differentsports options

•Year-round outdoor activitiesacrossthe Nelsonregion

•Competitive rates&noschool fees

FREE COCA-COLA

OLYMPIC GAMES

COOLER BAG

WHEN YOUBUY ANY 2X

COCA-COLAA 600ML PRODUCTS.

BUY any 3*

Continental soup

or Pasta 85-105g

Products

= A free mug

www.foursquare.co.nz

facebook.com/FourSquareNZ

Specials available SouthIsland onlyfromMonday 26th July untilSunday 8th

August 2021 or whilestocks last.Wine and beeravailable at stores with an off

licence.Wineand beerpurchasesrestricted to persons aged 18 years old and over.

Educatingfor the future since 1856.

Contact us forenrolmentinformation or aBoarding Prospectus:

boarding@nelsoncollege.school.nz |03548 3099 |www.nelsoncollege.school.nz
---
BOARDING SCHOOL

The experience ofalifetime

SammyHoodisakeenadvocateofall

that boardinghas to offer.

She'sbeenboardingatStMargaret's

Collegesince she startedinYear9.Now

in Year 13, Sammyisthe school's Head of

Community Relations.

"I wasbuzzingwithexcitementtostart

boardingatSMC.Itwas awhole new

experience butitdidn'ttakemelongto

getusedtothe boardinglife. The friendly

andcompassionate staff definitely made

thetransitionfromhomeinAshburton to

boardingmucheasier.They helpedusall

adjust to thenew rules andtolivingwith

othergirls.

"Livinginthe dormsduringmyfirst

twoyears made it very easy to form

newfriendshipsand theseconnections

definitely helpedwhenIdid feel home

sick."

The boarding communityisatthe

heartofStMargaret'sand theculture is

closelyalignedwiththe school's vision

of aholisticeducation,embracing the

spiritualand emotionalwellbeingofthe

girls,aswellastheir academic growth

andtheir developmentinsport andthe

arts.

The threeboardinghousesare arranged

in year groups andstructuredtothe

specific needsofeach developmental

stage. In Julius House(Years7-10) the

environment is structured andnurturing

forthe girlstomakethe transitioninto

boarding. KilburnHouse (Years 11-12)

encouragesthe girlstobegin personally

integratingthese skills.Cranmer House

(Year13) allowsfor more freedomto

helpthemdevelop lifeskills andbecome

driven, self-managed youngwomen, all

in amonitored setting. These seniorgirls

thrive astheybecomethe leadersofthe

boardingschooland the'oldersisters'of

theyoungergirls.

SammysaysboardingatSMC has

helped hertobecomemore independent.

"Asyou progressthrough theyear

levels,yourindependence grows. The

connectionsand relationshipsyou

build in theSMC boardingcommunity,

whetheritbegirls in your year group or

thestaff, areall valuableand also helpyou

grow as aperson. The academic support

andpastoralcareprovidedbystaffis

exceptional.Ithelps thegirls to strive to

their full potential. At thesametime, staff

are always keepingacloseeye on each

girl's wellbeing.

"I'vebuilt strongfriendshipsthatwill

last alifetime, andit'salot of fun! Youget

to meet adiverse range of people from all

backgrounds andeveryoneistreated as

equals."

To learnmoreabout lifeat

St Margaret's College, visit

www.stmargarets.school.nz or call

03 379 2000 to arrangeapersonal tour

of the BoardingHouse andCollege.

Empowering Girls

to Learn, Live &Lead.

Learnmoreabout aStMargaret's

Collegeeducation foryourdaughter

–bookapersonaltourtoday.

Contact Susie Campbell,

Admissions Manager

(03) 353 2563

enrol@stmargarets.school.nz

Balanced

foundations,

bright futures.
---
BOARDING SCHOOL

Aboarding home

with heart at Selwyn

House School

Selwyn HouseSchoolisanall girls'

school forYears 1to8.Weare an

InternationalBaccalaureateschool, with

afuture-focused curriculum basedon

interculturalunderstandingand respect.

Ourfocusison developing inquiring

andempatheticminds andbuilding

strong knowledgefoundations so that

ourstudentswill face thefuturewiththe

skillsand confidence to be empowered

global citizens.

Selwyn HouseSchoolisproud to offer a

safe,nurturing,family-orientedboarding

housefor girlsinYears 4to8(ages 7to

13). OurBoardingHouse is conveniently

locatedwithin theschool grounds,

offeringahomeawayfromhomefor up

to 29 students.

Ourboarderscomefromaround

NewZealand, particularly ruralareas

of Canterbury,and internationally, and

casual boardingarrangements arealso

abletobemade.Weare proudofthe

diversityinculturalbackgrounds that our

bordersbring to this community,which

promotes tolerance, trust, friendliness,

understandingand respect.

We valuethe special characterthateach

girl brings to ourcommunity,and we

supporteachgirls'passions andinterests

with variousactivitiesofferedbothonsite

andoff-site.

The girlsare supportedbyacaring

andprofessionalteam, whotakehuge

pride in helping each girl reachher full

potential. OurBoardingHouse Managers

will provide awarmwelcome foryour

daughter andoversee herwellbeingand

developmentthroughout hertimein

theBoardingHouse.Our full-timeChef

will ensure that she receivesahealthy,

balanced diet, andmakeprovisions

forany dietaryneeds. Ateamoftutors

supportthe girlswiththeir homework

andfulfil abig sister role to ourboarders.

We believe boardingisaunique

opportunity foreachgirland we

pride ourselvesoncreatingapositive

environmentwhere thegirls areableto

developtheir academic, socialand life

skills. With theright combinationof

nurture, supportand encouragement,

ourboardersare giventhe toolsand the

environmenttothrive.

Come andsee what we have to

offer at ourOpenDay on Wednesday

20 October, 9am-12pm, or contact

enrolments@selhouse.school.nz or

phone(03) 355 7299 to arrangea

personal tour on anotherdate.

BOARDING

OPTIONS

AVAILABLE

OPEN DAY: WEDNESDAY 20OCTOBER

9AM TONOON, 122 MERIVALE LANE, CHRISTCHURCH

PHONE (03) 3557299 EMAIL office@selhouse.school.nz

122Merivale Lane,Merivale,Christchurch

WWW.SELWYNHOUSE.SCHOOL.NZ

An International

BaccalaureateSchool
---
YOU'RE INVITED

TO THE OPENING

STARTING 12PM 4.30PM • SUNDAY 8AUGUST 2021

MAINPOWER STADIUM, COLDSTREAM ROAD, RANGIORA

Waimakariri Mayor Dan Gordon and

Councillors invite you tothe official opening

of MainPower Stadium.

—

Nau mai, Haere mai

We are excited to show MainPower Stadium tothe District.

Join us for anaernoon of entertainment.

Aer the official opening at12pm tour the facility, and enjoy

demonstrations of avariety ofsports and kapa haka groups.
---
RANGIORA

TOUGH

NAILS FOR

TOUGH JOBS

SORTED.

100% LOCALLYOWNED &OPERATED.

Spend them &

Earn them here

RANGIORA

If youfind alower priceonanidentical stocked productlocally,wewill beatitby15%

If youfind the same productfromanother Mitre10store or Mitre10website, we'll matchthatprice.

Excludestrade and special quotes,stock liquidations and commercial quantities.The in-storeprice maybelowerthan thatadvertised.
---
RANGIORA

NEED

REMOTE

POWER?

SORTED.

100% LOCALLYOWNED &OPERATED.

Spend them &

Earn them here

RANGIORA

If youfind alower priceonanidentical stocked productlocally, we will beatitby15%

If youfind the same productfromanother Mitre10store or Mitre10website, we'll matchthatprice.

Excludes trade and special quotes,stock liquidations and commercial quantities.The in-storeprice maybelowerthan thatadvertised.
---
Giant totara ageing gracefully

By SHELLEY TOPP

Agiant totara in Ashley Gorge could be

Waimakariri's oldest tree.

At an estimated age of more than

1000­years­old the totara, which is

situated on the Forest Giants Track

under development on the bush face

above the existing Loop Track at Ashley

Gorge, is adefinite candidate for oldest

tree in Waimakariri, said John Burton,

manager of the Ashley Gorge Tracks

Group.

''My guess is that this totara is

certainly hundreds of years old and

quite possibly more than one thousand

years old,''he said.

Trees, especially those this old, were

vital to the environment for many

reasons.

''They provide ahome for many living

beings and exist in an environment

humans could learn so much from,'' he

said.

''Especially if we want to survive as a

species on this planet along with all the

other species, most of which wouldn't

mind greatly if we weren't here.'' he

said.

''Trees also clean the air by taking in

carbon, locking it up and producing

oxygen, and forests provide acalming,

stimulating and educational place to

spend time in.''

Department of Conservation (DOC)

community ranger Sarah Ensor said it

would be difficult to pin point the oldest

tree in the Waimakariri district, but

there would be many contenders.

''The first to spring to mind for me is

the giant matai that the Ashley Gorge

kaitiaki(guardians) are hoping to create

aside track to, and Ithink there is a

massive New Zealand tree fuchsia

(kotukutuku), there too,'' she said.

''Failing that there are some pretty

magnificent New Zealand tree fuchsias

Young caretakers ... Amassive Totara tree believed to be more than 1000­years­old, on

the Forest Giants Track under development on the bush face above the existing Loop Track

at Ashley Gorge. Bailey Baker, left, Keegan Bremner and Emma Warwick, are members of

the Ashley Gorge Tracks and Trapping Project.

PHOTO: JOHN BURTON,ASHLEY GORGE TRACKS GROUP MANAGER

on the Kereru Loop Track at Wooded

Gully (in the Mt Thomas Forest

Conservation Area).''

However, DOC's North Canterbury

operations manager, Kingsley Timpson

believes the matagouri and kanuka trees

situated in Okuku Gorge, ''true right on

the journey up to Pinchgut Hut and

around the hut,'' could also be

candidates for Waimakariri's oldest

tree.

''These trees are likely to be many

hundreds of years old, way in excess of

the surrounding beech trees, as they are

very slow growing,'' he said.

''A matagouri the diameter of your

arm is likely to be acouple of hundred

years old and the same for kanuka."

New Zealand's oldest tree is believed

to be Tane Mahuta (Lord of the Forest),

which is located in Northland's

Waipoua Forest and is estimated to be

between 1250 and 2500 years old.

However, compared to the world's

oldest non­clonal, individual tree, a

Great Basin bristlecone pine in

California's White Mountains, which is

thought to be 4852 years old this year,

New Zealand's giant kauri is just a

young sapling.

NEWS

The North Canterbury News, July 29, 2021

IN BRIEF

15

Comfort plus

Comfortstops in Greta Valley, Rotherham

and at St Anne's Lagoon, will be alittle

more up marketbysummer. TheHurunui

District Councilhas received $352,000

fromthe Ministry of Business, Innovation

andEmployment Tourism Infrastructure

Fund fornew toilets in the three areas.

Free pianoconcert

University of Canterbury pianostudents

are planning afree concert in Rangiora.

Piano at theGallery, is presented by the

WaimakaririCommunity Arts Council and

willbeperformed in the Rangiora

Library's Chamber Gallery on Sunday,

August 22,at2pm.

Thestudents will be joined by their

teacher,well known Christchurch pianist,

Tim Emerson, fortheir performance. The

concert will be the students' last

performancebeforetheirfinalpiano

exams.

Lost property

Thefollowingproperty has been reported

to the policeasbeinglost in North

Canterbury­have youseen it? Mazda keys

withScotland andunicornkeyrings, a

rosegold ring which is aplain band with

abow,alightgreenwallet,blackiPhone

11 in aclear case, ablack Mitsubishi

remote car key (fobhas redstitching and

embossed "Christchurch Mitsubishi")

plusasilver house key, ablackleather

wallet, and an iPhone 5S in white

diamante case.

Floodrelief

Bloom Hearing hasbeen overwhelmed

withclothing and bedding leftatits

Rangiorapremises for victims of the

Westport floods. Thank you all, butno

more is needed.

NEW JAGUAR E-PACE

STRIKING FROM

EVERY ANGLE

New Jaguar E-PACE. Restyled on the outside with new bolder looks and an even more dynamic

stance. The newly crafted interior has abeautifully detailed, modern feel, while the next-generation

infotainment system -with 11.4-inch HD touchscreen –keeps you connected, informed and entertained.

The new E-PACE. Every curve and contour, carefully considered. Striking from every angle.

To book atest drive, please contact Archibalds.

38 Tuam Street, Christchurch |Corey Gray |03377 5200 |cgray@archibalds.co.nz

archibalds.co.nz

*Terms and conditions apply. The standard Scheduled 5Year Servicing is included. Speak to Archibalds for more details or visit archibalds.co.nz/new-jaguar-e-pace
---
NEWS

16 The North Canterbury News, July 29, 2021

Tobogganing on real snow captivated the youngsters at last year's festival.

WHILEWEmay be experiencing

averychillywinterthis year,that's

all themorereasontoget the

family together andheadintothe

city forthis year's Winter Festival

'Chill in theCity'.

Runbythe CentralCity

BusinessAssociation with

supportfromthe Christchurch

City Counciland many of the

city's businesses,itfollows last

year's very successfulevent,

whichattracted thousands to

thecentral city with arange of

exciting winter-themedeventsand

activities.

This year therewill be even

more to enjoy, from iceskating,

hugahusky andHagglundrides,

to Disney's frozen bouncy castle,

tobogganingonreal snow,and

Hillary'sHuttVRExperience, all

takingplace in andaroundthe

City Mall area.Real-life winter

fairieswill be therefor thekids,

alongwithactivities foreveryone

to enjoy.

These include iceskating

starting tomorrow andrunning

rightthrough theweekend,with

allother winter activities running

on Saturday andSundayfrom

10amto5pm daily.

Hagglund rides should again prove apopular attraction atthis year's event.

Winter-themed festival offers family funinthe city

There is asmall donation cost

forsomeofthe activities andall

moneyraisedisbeingdonated to

theChristchurch City Mission.

Last year's festival raised just

over $12,000and thebusiness

associationhopes with the

communitycomingintosupport

thefestival, it candomorethis year.

Whilemostof'Chill in the

City'activities areaimed at

family enjoyment, Saturday night

offerssomethingalittledifferent,

with 'Chill in theCity' After

Dark on NewRegentStstarting

earlyeveningand featuringlive

entertainment, mulled wine, hot

toddies anddelicious food.

•Full details of Winter

Festival 'Chill in the City' can

be found on the website

www.chchcentral.co.nz.

Checkout ourlatest

deals

HOT DEAL!

$

34 99

each

Twice as nice

at agreat price!

$ 30

THE NED Range

750ml

Includes Chardonnay,Pinot

Gris, Sauvignon Blanc, Rosé

HOT DEAL!

$

37 99

HOT DEAL!

$

39 99

2 for

SQUEALING PIG Range

750ml

Includes PinotGris,Sparkling

Rosé, Sauvignon Blanc, Rosé

Excludes PinotNoir

HOT DEAL!

$

41 99

ASAHI

SUPER DRY

24 x330ml

Bottles

LONG WHITE

VODKA Range

15 x320ml Bottles,

4.8%

Includes Lemon &

Lime, Apple &Pear,

Raspberry

$

39 99

each

$

41 99 $

41 99

STEINLAGER

CLASSIC

24 x330ml

Bottles

LARIOS or

RUSSIAN

STANDARD

1Litre

BELL'S

1Litre

CORUBA

Original

1Litre

Also

available:

Gold

JIM BEAM

White

Label

1Litre

0%

alcohol

NEW

PRODUCT

75%

less carbs

$

21 99

each

SPEIGHT'SSUMMITZERO or SPEIGHT'S SUMMIT

ULTRA LOW CARB LAGER

12 x330ml Bottles

Shop local with

AMBERLEY, ASHBURTON, BARRINGTON, BELFAST, BRIGHTON, BURNSIDE,

COLOMBO ST, EDGEWARE, ELMWOOD, FERRYMEAD, HALSWELL, HANMER

SPRINGS,HORNBY, ILAM,KAIAPOI, LEESTON, LINCOLN, METHVEN, OXFORD,

SHOP LATESTDEALS at WWW.SUPERLIQUOR.CO.NZ

NATIONWIDE PICKUP &DELIVERYNOW AVAILABLE

PAPANUI, PEGASUS, RANGIORA, SEASIDE, WOOLSTON

Exclusions may applyonsome brandsadvertised. Offers end close of trade 1st August 2021, while stockslast.Available at participatingstoresonly. Multi Dealonly available in store. Varietals may

vary by store. Limits may apply.Wholesale (otherliquor retail banners) notsupplied.Termsand conditionsmay apply.Available 19th July -1st August 2021 inclusive. Please see www.superliquor.co.nz fordetails.

SUP2298_C9
---
PEOPLE'S

CHOICE AWARD

SPECIAL PULL OUT SUPPLEMENT 2021

LEAD SPONSOR:

CATEGORY SPONSORS:

NORTHCANTERBURY

Waimakariri

Hurunui

News Kaikoura

SUPPORTING SPONSORS:

DESIGN BY JAYNE RATTRAY DESIGN AND PRINT
---
Support your Favourite Local Business

The 2021 North Canterbury Business Awards is achance to celebrate and

give recognition to the many exceptional businesses in our community.

This year, 62 local businesses have been selected to compete in the awards.

They are now competing not only in their chosen category, but also for the

MainPower Supreme Award and the much-coveted North Canterbury News

People's Choice Award.

To show your support for your favourite North Canterbury business, go online

and cast your People's Choice Award vote: www.northcanterbury.co.nz/choice.

It's free, easy and agreat way tosupport our amazing local businesses.

LEAD SPONSOR:

CATEGORY SPONSORS:

THE BUSINESS

EVENT OF THE YEAR

VOTE FOR YOUR

FAVOURITE BUSINESS IN THE

PEOPLE'S CHOICE AWARD

Voting is now open for the 2021 North Canterbury

Business Awards People's Choice Award.

Your vote puts you in the draw to WIN aMini Group

Pass from Hanmer Springs Thermal Pools &Spa, OR a

MADE NORTH CANTERBURY Food & Beverage Hamper.

Cast your vote now at

www.northcanterbury.co.nz/choice

NORTHCANTERBURY

Waimakariri

Hurunui

News Kaikoura

The 2021 North Canterbury Business

Awards contestants are:

Professional Services Award

–Sponsored by BDO

Advice Kiwi

Anytime Fitness

Candrive

Career Matters

Head 2ToeMassage Therapy

Higham Architecture

McLean Fire Protection Services

Ltd inc. Fire and Hazard Training

Services

MoMac

Morris and Co Property Management

Limited

Rangiora VetCentre

Techmedics

Excellence in Retail Award

–Sponsored by Percival Street Bakery

Cocoon Beauty and Day Spa

Fi's Flowers and Art

Handzon

Kaiapoi ITM

Robe Boutique

SoYou!

Tourism and Hospitality Award

–Sponsored by Hanmer Springs Thermal

Pools and Spa

Hanmer Springs Fete

Hurunui Attractions

Hurunui Garden Festival

Lacebark Function Centre

NZwildthings (Island Hills Station

Walking Track)

Paris Bakery and Café

Red Post Café

Waiau Motor Camp Ltd

Misco Manufacturing and

Trades Award

-Sponsored by Misco Joinery

Angus Robertson Mechanical

Designer Gates

Kakapo Linen

Sutherland Timber

Waghorn Builders

Wilson Construction

Food and Beverage Award

–Sponsored by MADE NORTH CANTERBURY

With additional support from Harris Meats

and Patoa Farms

27Seconds

Fitfood

Greystone Wines

Make it Raw

Torlesse Farm Ltd

Emerging Business Award

-Sponsored byHellers

Empire Athletics

Lime Real Estate

Mike Pero Real Estate Rangiora

NZCustom Trees

The Grumpy Merino

Your Garden Genie

Innovation Award

-Sponsored bySpark Business Christchurch

Alpine Jet Thrills

Dance Sock Academy

Funky Monkey Bars

International Culinary Studio

Shed Specialists

The cGP Lab

The Skool Loop App

Community Enterprise Award

–Sponsored by PAKnSAVE Rangiora

Compass FM

Driving Miss Daisy

Kidsbase

Mindfulness North Canterbury

Satisfy Food Rescue

Sustainability Award

-Sponsored byLime Real Estate

Back to the Wild

Eco Educate

Flora

MtLyford holiday Homes

Natural New Zealand Honey

Waikuku Beach Holiday Park

SUPPORTING SPONSORS:

People's Choice Award –sponsored byThe North Canterbury News

All businesses can compete for this award

Supreme Award –sponsored byMainPower

All business are automatically entered into this award

DESIGN BY

JAYNE RATTRAY

DESIGN AND PRINT
---
NORTH CANTERBURY BUSINESS AWARDS PEOPLE'S CHOICE

Owners expect their precious animals toget

thesamelevelofcare they receive as humans

RangioraVet Centre, which is locally

owned and operated, has been providing

veterinarycaretothe North Canterbury

community forthe last70years. Covering

all speciesfrompetstofarm animals, and

the wildlifeatOrana WildlifePark.

Accredited facility and equine surgery

located on the corner of Oxford and

Lehmans Roads in Rangiora, is fully

equipped with the latest technology,while

specialistsurgeons, and post-graduate

that youcould expect forall animals.

Ourvision is to be the Centreof

our overwhelming 'Why'isEnhancing

Lives Together.This includes the lives of

animals, their ownersand our people who

work in the business. We do this together

in strong teams and in partnership with

the animal owners. We aim to be the

and building strong and meaningful

underpinned by our values of excellence,

empathyand respect, team, community

Thereisanincreasing demand formore

specialistcare, as animal ownersexpect

their animals to receivethe same levelof

care as humans receiveinhuman health.

Manyofour vets have post-graduate

ons, including twospecialists.

This means we areable to provide a

referral service forvet clinics around the

South Island. We areseeing pets and

horses from Nelson to Invercargill for

specialized procedures such as advanced

surgeries and complicated abdominal

surgeries.

RVCisunique in thatthereisnoother

privatelyowned veterinaryclinic in New

animalspecialistsurgical services. Our

veterinarysurgeon)takereferrals such as

totalhip replacements and heart surgeries

complexhorse surgeries.

To complementthis top-end service

forclients to see aveterinarian with

but who arenot specialists. At RVCthis

acupunctureand physiotherapy. All of

these advanced care services support our

comprehensiveGP

Our veterinaryteamissupported by

one of our vetnurses who is aVet Tech

Specialistinanaesthesia, and analgesia,

she is one of only twonurses to hold this

is unique, the only other place youwill

MasseyUniversity,home to NewZealand's

vetschool.

team, we have alarge animal vetoncall

overnight, and also onsiteovernight,a

dedicated small animal vetand nursing

emergency medicine and surgery.Aswe

other local clinics nowsend their intensive

theclock care and monitoring.

care,wecanprovide peace of mind for

the client, and also forthe dayvets, who

knowtheir post-surgical and intensive

monitored and managed overnight.

This is especially importantfor ensuring

the animal is pain free and receiving its

the lives of manyanimals over thelast4

years.

The North CanterburyBusinessAwards

have provided our business with the

opportunity to see howweare doing

alongside similar businesses in the area.

the Professional Services Category,it

wherewehavecome from,s and whatwe

have achievedasateam. We wish all the

also the People's Choice Award, the best

of luck.

Enhancing Lives Together

Locally owned &operated

www.rangioravetcentre.co.nz

RANGIORA •WOODEND •KAIAPOI
---
NORTH CANTERBURY BUSINESS AWARDS PEOPLE'S CHOICE

Lime Real Estate putting clients'

properties in the limelight

The drivingforce behindLimeRealEstate

is adesiretoprovide apoint of difference

andput clients'properties in thelimelight.

Lime Real Estate specialisesinresidential,

lifestyle andruralsales. The team is also

experiencedindevelopment project sales,

andpropertymanagement,and after only

16 months in businessLimeRealEstate

has become NorthCanterbury'sleading

independentrealestateagency.

The companyisowned by themanaging

directorBrookeAzzopardi (nee Wallis)

with shareholdersFredRahme,JackLin

andMichelleAllen.

"Wespecialiseinprovidinganamazing

customerexperience with customer

service beingour passionand priority,"

Brooke says. "Weare an independent, 100

percentlocallyowned real estate brand."

Thismeans theLimeReal Estate

team cantailorthe businesstosuitthe

needsofits growingbusinessinthe

community by providingexpertrealestate

services, to clients in NorthCanterbury,

Kaiapoi, Rangiora, Oxford, Amberley

andeverywhereinbetween plus the

Christchurchareaand even furtherafield,

in Canterbury.

At Lime Real Estate,the team recognises

that onesize does notfitall andthey

believe in always goingthe extra mile for

clients by making good oldfashioned

service atop priority.

"Our wholeteamcomes together with

thecommongoal of providingaseamless

andpersonalexperience to everyclient,"

Brooke says.

"Wehaveeight licensedsalespeople at

Lime Real Estate. Theyall come from

differentbackgrounds andalthoughLime

Real Estate is young, we have acombined

total of 60-plusyears experience in thereal

estate industry within ourteam,"she says.

"Wealsohaveamazing administrators,

andone of them worksasour graphic

designer, andmarketing guru."

HoweverLimeRealEstatealsohas access

to ateamofexternalgraphic designers

andmarketing professionalsthe company

workswithtoensurethe highest quality

coverage andmarketing skills areavailable

to highlight their clients'requirements and

put their properties in the"limelight."

Thisexceptional team work mindset and

determinationtosucceed wasseverely

testedwhenLimeReal Estateopenedfor

businessinMarch 2020. "Weopenedour

newbusinessinKaiapoi on thesameday

as receivingthe news of theCovid-19

pandemic lockdown," Brooke says.

"Weessentiallyopenedand closed

thebusinessonthe same day. Thiswas

The experienced team at Lime Real Estate share the common goal of providing a

seamless and personal experience to every client.

extremelynerve rackingand upsettingfor

us as we were uncertain what ourfuture

wouldbe."

However theplan"to stay open and

generate what businesswecould to help

us push forward,"has worked well.The

companyhas nowopenedasecondoffice,

locatedinRangiora, andLimeRealEstate

is goingfromstrengthtostrength.

"Wehavethe community to thankfor

this,for so graciously supporting us,

believing in us andchoosingtosupport

local," Brooke says.

"Weintendtocontinueworking towards

ourcore companyvalue of 'supporting the

community that supportus."

2398429

"your best move"

"

Our Values: You

that good old-fashioned client service leads the way in dealing

We love how Lime is an independently owned Business in our location.

We love the connection between Owner and Agent. Very friendly team.

wonderful experience. Gaye and Dave

0508 call lime

"

limerealestate.co.nz Free call 0508 2255 5463 |Lime Real Estate Ltd Licensed REA 2008
---
NORTH CANTERBURY BUSINESS AWARDS PEOPLE'S CHOICE

2396413

www.floragrow.co.nz

hello@floragrow.co.nz

SOW. GROW. INSPIRE.

BEGIN YOUR GARDENING JOURNEY HERE.

Grow Kits,

Microgreens

and more!

All you need to

startyour mini

garden.

Online gardening business

blooming success

Apassionfor theenvironment andteachingis

thedriving forcebehindFLORA.

The Amberley-based,onlinebusinessinspiring

people to begingardening andlive more

sustainably wasestablishedbyFlora Brons,

whohas an agriculturaldegreefromLincoln

University,and is asecondary school teacherof

Agribusinessand Agricultural Science.

Flora's passionfor plants, nature andpeople

came from spendingtimegrowing up withher

mumPaula,anavidgardener.Afterobtaining

herdiploma in teaching, Flora decidedtoput

herentrepreneurial mindset to good useby

developing FLORA, helping people to embark

on their gardeningjourney andlive amore

sustainableway of life.

"Education is my main purpose forFLORA.

ObviouslyIneed sales to survive as abusiness

but if Iameducating people andinspiringthem

to give somethinginthe garden agothenIam

winning.'' Flora says.

Although FLORAhas only been in business

alittleovertwo years,the initiative is proving

popular, with FLORA'sproducts, including

FLORAGrowKits, nowindemandinmore

than 40 storesaroundNew Zealand.

"Thesekitsare just thebeginningofhow

FLORAhopes to encourage allNew Zealanders

to begintheir journeytoself-sufficiency by

growingtheir ownplantsand food,''Flora says.

''Youcan startsmall by just growingsome

parsley in apot on your kitchenwindowsill.''

The kits aremade usingsustainableand biodegradableproductswhichinclude

everything

needed to startamini garden. There arearange

of options availablefromTheCocktailHerbKit

to The My First Garden Kitand more.FLORA

also sells microgreen seed packs, beehotelsand

Flora Brons

awide range of succulents andisnow part of the

SustainableBusinessNetwork.

"This is oneofthe ways to highlight our

dedicationtoasustainablefuture,'' Flora says.

"Asmembers we arecommitted to improving

oursustainability andworking together to

ensure people andnatureprosper whilealso

supporting therestoration ofNew Zealand's

waterwaysthrough ourcontributiontoMillion

Metres. ''

Garden Festival set to thrill

Back for2021!

Saddlewood

22 PRIVATEGARDENS,HISTORICHOMESTEADSAND ART!

Thursday28 th -Sunday31 st

st Oct2021

Find outmoreathurunuigardenfestival.com

We'rethrilled to welcome youtothe fourth

HurunuiGarden Festival,Thursday 28 to

Sunday 31 October,9am to 5pmdaily,entry

$10 pergarden.

Over theweekend youcan visitprivate

gardens, historichomes, andartistsfrom

Amberley to Gore Bay, WaikaritoHanmer

Springs, andmore in between. Ourgarden

ownersare readytogreet youand sharetheir

stories of howthey've createdtheir gardens.

Thisyearfor thefirst time,wehavean

opportunity to walk inside some of Hurunui's

outstandinghistorichomesteads. Also on offer

is ashowcaseoflocal artists, their place of

work andbeautiful exhibitsfor sale.

We areexcited to have NewZealand's

celebritygardeningguru, thewonderful Lynda

Hallinan,attendingthe festival.She willbe

with us forspeakingeventsthatwill educate,

entertain, andinspire you.

The gardensare arranged into geographically

basedclusters, making it easy foryou to plan

yourvisit.Eachcluster has itsown detailed

map, showing youthe preciselocationofthe

gardens, alongwithuseful information,suchas

thelocations of public toilets, accommodation,

petrol anddiesel stations,and food outlets.

Whileyou'reenjoyingour gardens, historic

homesteads,art andwarmhospitality,wehope

you'll stay thenight andvisit ourwineries,

cafes, andthe many otherattractionsthatthe

HurunuiDistricthas to offer.

The HurunuiGarden Festival Inc. is

committed to investingbacktoits community.

The committeeisunitedinfollowing itsethos

of beinginspirational andsupportive to the

residents of Hurunui.

In anygiven year that theHurnuiGarden

FsetivalInc.makes areasonableprofit,itwill

give onestudent, graduating from aHurunui

secondaryschool, ascholarship to thevalue

of $2000 towardsstudy in horticulture at their

choiceofUniversityorInstituteofTechnology.

We arecommitted to reviewing, updating

andexpandingthe garden festival to ensure

it becomesthe district's premier event, and

oneofNew Zealand'smostpopulargarden

festivals.

There's so much to experience andenjoy.For

more information andtobuy onlinetickets to

ourgardensorguestspeakers, visit

www.hurunuigardenfestival.com.

2396814
---
NORTH CANTERBURY BUSINESS AWARDS PEOPLE'S CHOICE

Looking to upskill or achange in career?

Candrive may have the solution for you

If youhaveafull Class1(car) licence,there area

varietyofopportunities open to youwithin many

differentindustries.

CanterburyDriverTrainingLtd, operating as

Candrive,has been operating in NorthCanterburyfor

over 15 years, andcan helppeopletoget thenecessary

drivingqualificationstoworkinthese industries.

Candrive specialisesincommercialdrivertraining

andlicencingcourses, workingwithindividuals looking

to upskill, andcorporateswho requirecustomised

trainingspecific to their industry andenvironment.

The local, family-owned andoperatedbusinesshas

been operating in theNorth Canterburyareafor over

15 years, offeringawide range of courses, ensuring

thereissomethingfor everyone.

Owners Scott, Dianeand Philip allworkinthe

business.

Most coursesare runweeklyfrom their Edward Street

TrainingCentreinRangiora.

There areawide range of coursesonofferincluding

Waka Kotahi/NZ TransportAgencyapproved courses

forTruck licences: Class2,4and 5.

Alongwiththe licence endorsements forWheels

(W), Tracks (T), Rollers(R), DangerousGoods(D)

andForklift (F) andForklift Operators Certificate, a

range of othercustomisedcommercialdrivertraining

coursesincluding4WD forlight andheavy vehicles are

available.

The Candrive Team arekeentohelptheir clients

Admin –Haley and Diane

Trainers –Scott and Phil

achieve their personal drivertraininggoalsand pride

themselvesontheir excellentcustomerservice,that

exceedsclients'expectations.

Haleyand Dianeare your first pointofcontact.They

arefriendly, knowledgeabletrainingco-ordinatorswho

canhelpyou with anybookingsorgeneralenquiries.

Theytakethe time tolisten to yourneeds, understand

your situationand will helpyou make thebestchoice

foryourself

Candrive's highlyqualifiedtrainingspecialists Scott

andPhilare extremelypassionate andmotivated.They

arebothkeentopassontheir skills, knowledgeand

experience.

Theyhaveafresh andup-to-dateapproach to your

trainingusingmoderntechnologywithsmall classsizes

to helpmakeyourlearningexperience enjoyable. They

focusonthe "shouldknow",the "need to know"and the

"nice to knows"

The focusfor Candrive is very much around providing

qualitytrainingfor individualsand companies, many of

whom arereturningclients.

Candrive workswithadiverserangeofclients, from

avarietyofindustries includingrural, contracting,

transport andservice industries forbothindividuals

andcompanies lookingtoupskill anddevelop

themselves or their staff.

Contact us if youwould like more information on

anyofour courses–training@candrive.co.nz –03313

6567.

Candrive was honoured to be nominated for the North Canterbury Business Awards in the BDO Professional Service Award category. This means

that we are also in the running for the People's Choice Award and would really appreciate your support, you can vote for us at www.candrive.co.nz

WE NEED YOUR VOTE!

VOTE FOR US FOR PEOPLE'S CHOICE

Specialising in the following courses

Truck

Licences

Roller

Tracks

Wheels

Forklift

Safety

Dangerous

Goods

Spreadmark

Driver

Training

www.candrive.co.nz

Enquire today!

03 313 6567

027 20 40 700

training@candrive.co.nz

2399653
---
NORTH CANTERBURY BUSINESS AWARDS PEOPLE'S CHOICE

Value added from

strong relationships

In January2015 Stuart andClaireMorris

alongwithKatrina Greenset outwitha

dreamtorun thebestpropertymanagement

companyinCanterbury, wheretheir focus

wasputting people at theheart of property

management, andalmostsix yearslater they

areextremelyproud of theculture they have

builtwithin their team andthe professional

yetpersonalisedservice they offer to their

clients.

"Weunderstandthatall of ourclients are

individuals, we deal with alot of smaller

investors,and arepassionate aboutensuring

that we notonlydeliverontheir expectations

butexceedthem,"saysKatrina.

Although nestledunder theRay White

umbrella,Morrisand Co Property

Management is adedicated property

managementteamwhichmeans theirfocus

is completelyontheir industry,and are

proud to employ aNorth Canterburyteam

wholive andworkinthe community.

With offices basedinRangiora, Kaiapoi,

Pegasus, Papanuiand Sumner their

teams work acrossNorth Canterbury and

Christchurch delivering ahighlevel of

service to both landlordsand tenants.

Their supportofbothlandlords andtenants

(not only theirown but thosewithother

companiesorthose operatingprivately)

througheducational seminars, andthe

community by supporting severallocal

events andorganisations,isongoing andof

highpriorityfor them.

Theyare driventoadd valuefor everyone

their businesstouchesand theirproperty

Operations Manager, Katrina Green,

proudly showing off their Honda hybrid.

managers buildcloserelationships with both

their tenants andlandlords. Often these

associationsspanaconsiderablelengthof

time wheretheywatch their tenantschildren

grow from babies to school children andin

some casesbeyond. Thisisaveryspecial part

of thejob.

Their locallyfocusedexpertise is invaluable

in their daytodayoperation andthe backing

of RayWhite NewZealand ensuresthat

they have accesstotheverylatestsystems

andtools.This,coupledwithacombined

industry experience of over 50 years, means

that they areabletodeal expertlyand

efficientlywithany situationthatmay arise.

2399774

Your local team in

Property Management

Vote for us in the People'sChoice Awards

P: 03 331 6755

E: morrispm.nz@raywhite.com

W: www.canterburypm.co.nz

RayWhite Kaiapoi

116WilliamsStreet

RayWhite Pegasus

Shop 4, 8Tahuna Street

RayWhite Rangiora

Level1,ConwayBuilding,188 High Street

RayWhite Papanui

Level1,Winston House, 7Winston Avenue

Morris &CoProperty Management Ltd

RayWhite Sumner

2/41 MarrinerStreet

WHO ARE WE?

We are so proud and so

excited tobetaking part in

thisyears North Canterbury

Business Awards.

Please take aminute to

vote for usforthe

People's Choice Award -

you'll make our day!

160

High Street, Rangiora

03 313 5552

Email: cocoonbeautyanddayspa@gmail.com

www.cocoonbeautyanddayspa.co.nz

Cocoon is very proudly ownedand operated

by Jess andSally Telfer,amother-daughter

duo, whotookonthe challenge of owning

andrunningaBeautyClinic10years agoin

post-earthquakeCanterbury.

Jess is an InternationallyQualified Beauty

Therapist,and also holdsanNZCertificate

in Adultand Tertiary Teaching. Sheisthe

Managing Director, Technical Educator and

aSeniorSkinTherapist at Cocoon.

Sallyhas alongand successful background

in business,and is thecompany's very able

CFO.Sallyhas akeeninterest in all things

beauty andwellness related,includingbeing

acertifiedyogateacher.

Together,Jessand Sallyare proud of the

longevity andsuccessofCocoon, andlove

that they areabletosurroundthemselves

with ateamoftalentedand enthusiastic

women. Ourteamiswhat makesusspecial.

We areateamofnine, with acombined

total of nearly 70 yearsofexperience in the

beauty,skin, andwellnessindustry! Our

Therapistsand ourClinicCoordinatorsall

hold Beauty Therapy qualifications,ensuring

that everyone on theteamisthe technical

knowledgetoassistclients in selectingthe

righttreatmentsand productstoachieve

theirgoals.

All of ourteamhavestronglocal ties to

NorthCanterbury, andseven of us continue

to live locally.

We love Rangiora,and we love beingapart

Rangiora's vibrantHighStreet. We'vebeena

part of theHighStreet nowfor 10 yearsand

counting.

It's aprivilegetocometoworkeachday,

with the purposeofmaking each clients day

alittle better than when they walked in.

We aresoproud andsoexcited to be taking

part in this yearsNorth CanterburyBusiness

Awards.Pleasetakeaminutetovotefor us

forthe People's Choice Award-you'llmake

ourday!

2399780
---
NORTH CANTERBURY BUSINESS AWARDS PEOPLE'S CHOICE

Experience the best of rural New

Zealand with Hurunui Attractions Ltd

Adesiretostayonthe land hasled to

successful tourismventure.

HurunuiAttractionsLtd, which

encompassesbothEnergyJet and

TawanuiFarmbrands andincorporates

jetboatriverexperiences, glamping,farm

toursand meat sales, is afinalist in the

Enterprise NorthCanterburybusiness

awards.

TimLoughnanstarted thebusinessbased

on andaroundtheir family farm in the

BlytheValley southofCheviot.

"Theneighbouring HurunuiRiverhas

been ahugepartofour lives, mainly on a

recreational level,"Tim says.

"Endlesssummer afternoonsswimming,

weekends jetboating,fishingand

socialisinghavecreated adeepconnection

to theriver."

Timand hisfatherMikehavedecades

of experience betweenthemwithjet

boatsand with thefamilyfarm, Tawanui,

locatedonthe banksofthe HurunuiRiver,

branchingout into acommercialjet boat

enterprise wasthe logical solution.

"Asthe only jet-boatoperatoronthe

Hurunui, we have exclusive accesstoover

100kmofthe riverand itsamazingvariety,

allowingyou to personaliseyourtrip

preferences,"Tim says.

The jetboatexperience allowsyou to

enjoythe beautiful sceneryofthe wild

coastline, stunningNorth Canterbury

farmlandand pristine alpine lake-fed

waters,while venturingupshallow river

braids andnarrowcanyons.

Your jetboatadventurecan be combined

with clay-birdshootingand riverside

BBQcombosinanidyllic location,

complementedbydelicious,local produce.

These areperfect forbothsmall groups

lookingtosoak in theamazingriver

environment or forlargegroupssuchas

sports teams or work functions.

The glamping campsite caters for2to

8peopleand is setonrollingfarmland,

surrounded by kanuka andpine

plantations.

Stay in twogeodesic dome tentswitha

central camp kitchen andalargehot tub,

setagainst agentlehillside backdrop.

An incredible 180-degreeviewinfrontof

thesitelooks down toward theHurunui

River, with viewstothe inland Kaikoura

mountain ranges.

"Atthe endofthe day, relaxinthe hottub

under avastand starry night sky,before

gettingcosy in your boutique tent," Tim

says.

"Wakinguptoanew day, you'll hear the

birdssinging from theplantationbehind

thesite, andonsomemornings, youcan

Scenery, serenity and relaxtion -glamping offers an unforgetable experience.

even hear theocean,3kmsaway."

TawanuiFarmisaworking sheep,beef

farm so you'll seeplenty of animal andbird

life.

Farm toursare also offered,whichcan

be combined with an unforgettableriver

experience up theHurunui Riverwith

Energy Jet.

"This packageisascloseasyou will get

to theruralNew Zealandexperience," Tim

says.

TawanuiFarmalsosells meat sourced

from thefamilyfarm. Beef andlamb boxes

canbepurchased onlineand couriered

direct to your door, nation-wide.

"Werun ourfarmunder regenerative

farmingprinciples,"Tim says.

"This practice focusses on feedingour soil

with more naturalproductsasopposed

to harmful chemicals, allowinghealthy

pastures andtherefore healthyfood.

"Thehealth of ouranimals, environment

andpeopleisatthe forefrontofeverything

we do."

Hurunui River

Experiences

• Scenic and thrill rides

• Riverside BBQ's and clay-bird shooting combos

• Can cater for small or large groups

• Perfect for birthdays, work functions or sports teams

• Group discounts available

Glamping

&Farm Tours

Tawanui Farm Glamping is set on rolling farmland, surrounded

by kanuka and pine plantations. Twolotus belle tents, acentral

camp kitchen and alarge hot tub are sensitively landscaped into

agentle hillside. An incredible 180-degree view in front of the site

looks down toward the Hurunui River,with views from the inland

Kaikoura mountain ranges.

P: 027 426 0154

E: tim@energyjet.co.nz

W: www.energyjet.co.nz

Cheviot, New Zealand

Tawanui

Farm Meats

Tawanui Farm Meats operates under regenerative

farming practices and our animals are grass-fed all

year round on healthy,nutritious pastures. Our beef

and lamb boxes are now available to order online and

will be couriered direct to your door.Each frozen box

will be made up of individual vacuum packed cuts.

Follow us on

2398878
---
NORTH CANTERBURY BUSINESS AWARDS PEOPLE'S CHOICE

Busy season ahead for Island Hills

The Island HillsStation WalkingTrack

has been back open forbusinessfor one

season andisalready attracting plenty of

attention.

Shaun Monk approached Island Hills

owners Danand MandyShand about

reopeningthe highcountry trackduring

lock down last year and haditupand

runningbyOctober.

''There wasanestablished businessfor

years, butgetting it up andrunningagain

wasachallenge,''Shaun says.

''We made thedecisionand then only had

5monthstodeliver. It wasabig joband

we bit off waymore than we couldchew,

so we enlistedsomeawesome volunteers

to lendahand. It wasgruelingwork, but

greatfun andwegot it finished on time.''

Thiswalkingtrackislikenoother in

thecountry,withadiverserangeof

landscapes andvegetationwhichchanges

continuouslythroughout your experience.

The farm has1000'sofhaofun-grazed

bush andmountaincountry andincludes

a600-hectareQEIIOpenSpace Covenant,

thelargest of itstypeinthe Canterbury

district.

After featuringonCountry Calendar

(see -https://www.tvnz.co.nz/shows/

countrycalendar/episodes/s2021-e19),

bookingshaveexceededexpectations

making forabusyseasonahead.Visitors

come from all over NewZealand, with

many flyingtoChristchurchAirport and

hiringarentalcar to head on up to the

farm.

''People often stopfor ameal at the

HurunuiHotel on theway in, then stay

at Hanmer Springs afterwards, they

canmakeitafull NorthCanterbury

experience,''Shaun says.

Walkinggroupscan choose between

threeday andtwo dayoptions,withthe

threeday most popularasitgivesgroups

time to immerse themselves in their

surroundings.

Island Hillstrackisaself-guided private

walkwaywhich is well marked andeasyto

follow with dailypacktransfers so youcan

take afew extra goodies andjustcarry a

daypackalong thetrails.

The lodgestyle accommodationisunique

andisolatedbut still hasfully serviced

kitchen, barbecue anddiningfacilities,

bunk beds andplentyofprivacy. This

is complementedbythe luxuryofhot

showers,comfortable mattresses and

pillows.

There is no cell phonecoverage butyou

remain in contactwiththe hostsvia walkie

talkieand VHFradios in thehuts.

There arealsooptions to bringyourdog

on thewalk or to bringyourown horse

andride on separate trails to thewalkers.

Shaun, an experiencedhunterand

bushmanwithgreat knowledgeonecology

andhistory,alsooffers guidedtours

including''wildfood'' meals. Guests can

NZwildthings manager Shaun Monk, the operator of the Island Hills Station Walking Track.

Image by Claire Inkson Creative

choose an adventuretosuittheir group,

from conservation "trapline" tours, alpine

tent camp outs, kids'outdoor adventures,

corporate getaways, huntingtrips andeven

"stag" parties.

Shaunvolunteershis time andfunds

from thebusinessintoconservationefforts

on thefarm'snaturereserve.Control of

possums,pigsand deer areatthe forefront

of native plantprotection, whilenative

birdsare protectedfromintroduced

predatorssuchaswasps,stoatsand rats,

whichneedregularremoval.Thepublic

canjoinintoo by donating humane kill

trapswiththe owners name paintedon

andplacedalong thewalking trackwhere

they aremostneeded.

Vote forNZwildthings (IslandHills

StationWalking Track) in thepeople's

choice awards.

WALKING TRACK

Atwo or three night self-guided walking

track with comfortable lodgings, hot

showers, pack transport and something

different every step of the way.

Dogs welcome, BYO horse options.

Available October to mid-March.

Walkers on Island Hills Station enjoying the vast mountain scenery in this hidden

Image by Claire Inkson Creative

corner of the Hurunui. .

www.islandhillsstation.com

Phone

Email

Phone 022 464 0140

Email shaun@islandhillsstation.com

Sign up to our newsletter through our website and

keep up todate on news around Island Hills Station.

Owners of Island Hills Station, Dan and Mandy Shand looked to diversify their

Image by Dan Henry.

farming business with the addition of aprivate 3day walking track .

Followus

To vote for us in the People's

Choice Award, scan the QR

code to access the form
---
NORTH CANTERBURY BUSINESS AWARDS PEOPLE'S CHOICE

Turning your ideas into reality

KaiapoiITM is aone stop shopfor all building

supplies, toolsand more.

The store,which is part of oneofthe largest

independentbuildingsupplynetworksinNew

Zealand, takes pride in providingits customers

with ahighlevel of personal service.

It ensuresevery customer'sneedsare metwith

good oldfashionedfamilyvaluesofcourtesy

andrespect.

KaiapoiITM supplies serioustradeand DIY

customers with excellentproduct at agreat rate,

with itsstafftrained to be able to helpmake

thosedifficultdecisions.

The familyoperatedbusinessisproud to be

part of theKaiapoi andNorth Canterbury

community.Ithas stood thetestoftime, andis

in its5th generation of theSutherlandfamily.

DavieSutherlandisatthe helmofKaiapoi ITM,

whichwas established at 197 Ohoka Road,

in 2003. Hisbrother Jonnie,isthe managing

directorofSutherlandand Co,establishedin

1920, of whichKaiapoi ITMisapartof.

KaiapoiITM supplies buildingmaterials for

almost anyjob from largecommercialand trade

projects, to DIY.

It stocksWinstoneWallboards,James Hardie,

Tasman Insulation,Wattyl, Firth,Marley, PSP-

JSC andMakita,justtonameafew.

It canalsosourcealmostany product youneed.

Alltimberismilled andtreated on-site,

stocking over 123baysinits drive-through

yard,includingboxinggrades,outdoor treated,

roughsawn, dressed, kiln driedframingand dry

dressedfinishingtimber.

As amemberofthe ITMnetwork,the one

thingcustomerscan countonissupport,

becauseit'sacore principleonwhichthe

IndependentTimberMerchantCooperative was

founded.

Customerscan enjoythe benefitsITM gains

from buying as agroup,sharing marketing

opportunities, andmuchmore.

The co-operative approachtopurchasing,

combined with thesizeofthe network, ensures

We do more than just building materials ... our production department can build frames &

trusses, pallets, bins, and much much more ... want more info? Come into store and have

achat..... "We'll see you right".

Another beautiful build by Hickson Homes, with frames and trusses proudly supplied by

Kaiapoi ITM.

an increasedlevel of recognition andsupport

from NewZealand andinternational suppliers.

KaiapoiITM,thoughurban-based,has astrong

focusonNorth Canterbury's ruralhinterland.

It offersadesignand buildfarmorlifestyle

blockshedtosuityourneeds. It canhelp

designthe ideal shedfor farm equipment,

boat,caravan,orbulk storage,thensupply the

materialstobring it together.

KaiapoiITM canevenhelprefer youtoalocal

builder.

''We specialiseinsupplying qualitybuilding

materialsthatwill standthe test of time. From

foundationtoframingroofing, you'll findthe

rightmaterialsatITM,''saysmarketing manager

AmySherwin.

''After all, youonlywanttobuild your shed

once.''

''We'llhelpyou turn your ideas into finished

designs,giveyou an accurate estimate and

deliveryourmaterials to your site readyfor you,

or your builder,toget to work.

It sounds easy becauseitiseasy,'' says Amy.

KaiapoiITM opensat7amMondaytoFriday,

to caterfor tradesmen, andcloses at 5pm. On

Saturday mornings it opensfrom 8amtonoon.

Kaiapoi ITM has been happily supplying

Here at Kaiapoi ITM we take great pride

in providing all our customers with ahigh

level of personal service, the kind of service

your granddad used to receive at his local

hardware store, where he was always

greeted by his first name.

We will make that effort and provide you with

the service you deserve without you paying

the extra cost.

We can supply building materials for almost

any job from large commercial and trade

projects to DIY.

Kaiapoi for over 60 years

Come on in and see the friendly team

where no job is too big or too small

and as always "We'll see you right"

2399288

197 Ohoka Road, Kaiapoi

Phone 327 8829

Monday toFriday 7am –5pm,

Saturday 8am to 12 noon

sales@kaiapoiitm.co.nz

"Proudly family

owned and operated

for 100 years"

Vote for us for the

People's Choice Award
---
NORTH CANTERBURY BUSINESS AWARDS PEOPLE'S CHOICE

Quality timber products a

sustainable industry for family

Kaiapoi'sSutherlandfamilycelebrated100 years

in businesslastyear.

Sutherland Timber wasestablishedin

Southlandafterbeing conceivedbytwobrothers

correspondingduringWorld War1.

The business remainsinthe same family,with

Murray Sutherland having handed over the

reinstothe fifthgeneration.

Eldestson Jonnie is nowmanagingdirector,

with second sonDavie runningthe Kaiapoi

ITMtimberyardand daughter AmySherwin

lookingafterthe marketing.

Sutherland Timber became incorporatedin

1920. Itsanniversarycelebrationsweredelayed

becauseofCovid-19, Amysays.

''It's aprettyspecial story howitstarted,with

twobrothers writingtoeachother whilethey

were in thewar,and they startedtoplantostart

somethingwhentheycameback.''

Whileone of thebrotherswas killed in

action,Murray'sgrandfather returned home

safely and persuadedhis father to bankrollthe

establishment of asawmill at Tuatapere.

After 12 years,the sawmill wasrelocated to

theCaitlinsonthe Otago coast,withthe focus

beingonnative timber production.

The business relocatedtoCheviot after World

War2,withthe focusmovingtoPinus radiata

timber.Itmoved to Kaiapoiin1956, when

Murray wasatoddler.

After ashort stintawayfromhome, Murray

returned to Kaiapoiwithhis wife,Annie,

38 yearsago to takeoverthe runningofthe

business.

''I've been here 38 yearsand in that time we've

expandedintothe exportmarketinthe 1990s

with furnituregradetimbers,and ourlogs

areall locallysourced from Ashley Forest and

Hanmer StateForest.''All aremilled on site in

Kaiapoi.

Sutherland Timber producesqualityNew

ZealandRadiata andOregonproductssuitable

forthe domestic andinternational markets, and

in recent yearsithas establishedstrongmarkets

Family affair ...Jonnie Sutherland (left) is continuing the family tradition at Sutherland

Timber with his brother Davie Sutherland,who is at the helm of Kaiapoi ITM and sister Amy

Sherwin, marketing manager.

with Douglasfir.

It is aproduct preferred forits strength,stability

andstiffness, standingout as atop performeras

well as offering naturalmoistureresistance and

treatedoruntreated buildingoptions.

Murray continues to be active in thebusiness,

with eldestson Jonnie as managing director.

''You've got to have onepersonsteeringthe

ship,''Murraysays.

''Butit'sverymuchateam effort,'' Jonnie adds.

''I've been around theplace since Iwas akid

andI'vealwayshad apassionfor thetimberand

theengineering that goes with it.''

In recent years, Sutherland Timber has embarked

on amill upgrade to keep it sustainablefor the

future,Jonnie says.

''We processmostthings on site andwehave75

people employed in Kaiapoi.

''It's agreat industry to be apartof. There's

some amazingpeopleinour industry andthe

lifeexperiences youget alongthe way, you can't

replace them.''

AmysaysSutherlandTimberislooking to the

future.

''Ilovethe fact that it's renewableand

sustainableand it's anaturalresource. Ithink

people areshiftingbacktorealisingthattimber

is agreat product.''

Sutherland

Timber has

proudly been

operating for

over 100 years,

with over 60 of

those in Kaiapoi

Phone 03 327 8843

14 Stone Street, Kaiapoi

sales@sutherlandtimber.co.nz

Vote for usfor the People's Choice Award
---
NORTH CANTERBURY BUSINESS AWARDS PEOPLE'S CHOICE
---
NORTH CANTERBURY BUSINESS AWARDS PEOPLE'S CHOICE

Understanding individuals key

to affordable fitness coaching

AnytimeFitnessRangiora prides itself on

beingall aboutits members.

Coach,Care, Connect, areatthecore of

what theNorth Canterbury-owned and

operatedftness centreat194 King Street,

does, as it aims to buildstrongrelationships

with itsmembers.

Theystrive to understandindividualgoals

andhelpmembers to reachthem.

Owners Paul &Julie Blackler,who opened

thedoors of AnytimeFitness Rangiora in

November,2017, sayowningthe Anytime

Club means beingpartofagroup committed

to ''findingthe funineverythingwedo''.

''Youare notjustjoining agym.You're

joiningasupportive community club of likemindedpeoplewho

areheretogive youthe

encouragement youneed''.

Theysay.''Everybodydoesbetterwitha

coachbeitinlife, business,school, or sport''.

Therefore theclubstrivestooffereverybody

acoachingprogramme they canafford,

through theAnytime FitnessApp,insmall

group trainingsessions, or one-on-one.

"All ourprogrammesare setatdifferent

levels so everyone canaffordsomeformof

coaching."

''What makesusdifferentisthatasateam

we arehelping people tackle what stands in

their waytoahealthyway of life.''

The Blackler's sayahealthylifestyle doesn't

startand stop at thegym -itstartswitha

plan,whichiswhy thecluboffers solutions

that incorporatefitness, coaching, recovery

andbodyscanningtoprovide a360 deg

approachtoyourwellnessjourney.

''Your needsare unique andaone-size-fitsallapproachtocoachingisn't

goingtocut

it.That's whyall of ourteamare qualified

personal trainers/coachesand areready to

create aplanwithyou that is designedto

meet your needs, so youcan reachthe goals

you've setfor yourselfand feel confident

about thejourney of gettingthere.''

AnytimeFitness Rangiora is open to its

members24/7, with staff on site from 10am

to 7pmMon -Thu, 10amto2pm Fridaysand

10amto1pm Saturday andSundays.

Workout 24/7 with the flexibility of the Anytime Fitness &Workouts Apps.

The experienced Coaches will create apersonalised programme tohelp you reach your

individual fitness goals.

This allows membersthe flexibility to

workout at atimethatbestsuits them, but

they canstill enjoythe otherbenefits on

offer at thegym includingthe guidance of

friendlyand interactive coaches, andthe

exciting AF group training, Base,Burn,

Build.

The Blackler's businessstarted with Julie

having been an avid gymgoerfor many

years andknowing thebenefits of health

andwellness, andPaulhavingafewhealth

challenges, whichhelpedhim make the

decisiontoget intothe health andfitness

industry andtomakehealthy happen for

others in thecommunity.

"Ittookayearfrom theday we found the

buildinguntil theday we opened."

''We getalotofpeoplecominginand

tellinguswhatagood gymitiswith the

amount of space,the best equipmentand the

wayit'slaidout,soitshows theimportance

of spendingthe time gettingthings rightat

thestart.''

''It is abusinessthatputspeoplefirst

always''.

Sometimespeopleneed more than a

treadmill or dumbbell,theyneed an

encouraging high-five or patonthe back.

''Ourculture embraces theideathatifyou

do it right, thereisnodistinction between

work andplay.

''Having funinyourclubmakes work

better foryou andyouremployees.

''Playinginyourclubmakes workingout

seem lesslikeworkfor yourmembers.

''Making healthyhappenisabout more

than goingtothe gym. That'swhy we offer

personal coachingand group trainingwhen

you're here,and theright toolstokeepyou

on trackwhenyou'renot."

We have an amazingteamthatmakeall

this possibleand arejustascommitted to

Making Healthyhappenfor youasweare.

Feel free to call in forachatANYTIME.
---
NORTH CANTERBURY BUSINESS AWARDS PEOPLE'S CHOICE

Wedding Venue, Function Centre

and Luxury Accommodation

Lacebark is astunning weddingvenue and

function centrefeaturing anewly renovated,

modernand luxurious barn, in abeautiful

countrygarden setting.

Bringing together idyllic, landscaped formal

gardens, with stunningruralviews anda

modern, Americanstyle barn,Lacebark offers

an elegant,yet rustic settingfor your wedding

reception,corporate eventorcelebration.

With gorgeousviews, adance floor,

commercial kitchen andBed &Breakfast

accommodationavailable, youroptions to

celebrateinstyle,are endless.

OurBed &Breakfast specialises in creating

aspace that is warm andwelcoming,with

beautiful finishing touches, including

aprivate patioareaand outdoor spa,

overlookingthe immaculately landscaped

gardens. Popularasabridal suite, youcan sit

back andtruly relax.

HostsMarionand Lindsay Pulley warmly

invite youtoshare in themagic they have

createdattheir Ohoka home.

We arehonouredtobeinthe runningfor

this yearsTourism &Hospitalityand People's

Choice Awards.

Ph 03 327 5296 or 027 378 2508

41 Moodys Road,RD2 Kaiapoi

2399294

AirBoat experience -a

first for New Zealand

In the1950s Bill Hamilton introduced hisjet boat to theworld after unsuccessful

attempts to build an airboat.

70 years laterAlpine JetThrills successfully builtand introduced thefirstpassenger

AirBoat to NewZealand.

Now that's Innovation... righthere in North Canterbury!

alpinejetthrills.com 0800 26 36 26

Alpine JetThrills offersmore than aride.It

offersanexperience.

The privately-owned commercial jetboat

businesshas operatedonthe Waimakariri

Riversince 1984.

It boasts thefirst,and only,commercial

AirBoatoperation in NewZealand, opening

up newexperiences forclients.

It skimsthe braidedshallowsofthe river,

runs on ''wetstones''and givesclients a

smootherride than ajet boat in afresh.

The AirBoatwas proudly builtentirelyin

NewZealand anddeveloped forNew Zealand

conditions -alarger aluminium hull rather

than fibreglassand severalsafety measures for

Maritime NZ compliance such as seat belts.

The innovationhas helpedthe company

to recoverfromthe 'double-whammy' of

theChristchurch earthquakes, wiping out

potential customers from cruise shipsberthing

at Lytteltondue to wharfdamage, and

Covid-19 puttingthe brakes on thetourism

industry.

RunbyPauland LyndaVernelfor 20 plus

years,Pauland RobynMullan, bought in to

thebusinessfouryears ago.

The friendly andprofessional staff areproud

to deliveranexhilaratingand personal Kiwi

experience on thebreath-taking Waimakariri

River.

2399293

We've got style

Empowering women through clothing -the team at So You! Boutique.

"I came in this morning&Iwouldliketo

thankJacqui &you for thehelpthatyou gave

me.Ihavecomehomefeelingsomuchbetter

about myself.Iwouldn't normally askfor

help, glad Idid." Thisisthe type of feedback

theteamatSoYou!Boutiquelovegetting

becauseSoYou!Boutiqueismore than just a

clothingstore;itisaspace to helpwomen feel

empowered&confidentthrough clothing.

'Enter as strangers, leaveasfriends"isone of

thesayings Debbie &her team believein, &

when youreadthe feedback they receive you

canreally seethisinaction.

So You! Boutique hostsevents, workshops

&fashionshows, &truly believes in helping

womencreateahard-working wardrobe;their

12 piecepackworkshopevenshows youhow

to create over 60 outfitsfrom just 12 items!

Plus theirpersonalshopping service makes

tiredwardrobes &"nothingtowear" athingof

thepast.

This is afun, stress-freeone-on-one

personal shopping consultationwithJacqui

that willleave youinspiredwithawardrobe

transformationthat'll be theenvyofyour

friends andfamily! Forjust$100, notonly

do youget twohours of one-on-one styling

but you canredeemthe $100 voucheronany

purchase.

Beforeyoursession,Jacqui will send a

clothingpersonality questionnairesoshe can

find outwhatyou arecurrently wearing &

howyou want your wardrobetoworkfor you.

You'll come in foryoursession(&feelfreeto

bringsomeitems that aren't workingfor you!)

&overatwo hour period you'll work with

Jacqui one-on-one to findcohesive pieces that

make youfeel&lookamazing -plusyou'll

have awholeheapoffun alongthe way.

The So You! teamoffers honest girlfriend

advice &loves workingwithwomen just

like youtohelpthemfeelfabulousintheir

clothing. Next time you're down Conway Lane,

popin&say hi.Not only willyou seetheir

wonderful rangefromanumberofdesigners,

but you'llmakeanew friendortwo as well!

2398687
---
NORTH CANTERBURY BUSINESS AWARDS PEOPLE'S CHOICE

Unique Alpine Holidays

Escape the crowds for

aunique experience

34 Lulus Lane, Mt Lyford Phone 03 315 6523

Visit lyfordholidayhomes.co.nz Email lyfordholidayhomes@gmail.com

Fire safety and hazard

training ahot topic

The sustainableeco lodges of Mt Lyford

Holiday Homesare highlycoveted quality

holiday accommodationwithin 2hrs

drive from Christchurch.

Experience thecharm andcharacterof

themountainvillageofMtLyford in the

midst of themajesticmountains of the

Kaikoura Ranges. Youcan escape from

thecrowdshere, it's peace andquiet,

space andnature. Authenticlog cabins,

ecolodgesand glamping huts offer a

choice of accommodationfor anysize

group.

Spendagreat holiday that canbeboth

active andrelaxing, whatever youchoose.

Take thetimefor doingnothingjust

enjoying theview, agood book, maybea

woodfired hottub or sauna.

Or findyourrelaxation in swimming

in acrystal clearmountainlake, hiking

andbiking,and of course skiing–thereis

somethingherefor everyone.

Book here:

lyfordholidayhomes@gmail.com

2399092

McLean FireProtectionServicesLtd now

provide firesafety andhazard trainingafter

taking over Fire&Hazard TrainingServices

earlier this year.

Theyofferarange of individually-tailored

trainingcourses designedfor theworkplace

environment,ensuring alllegislative and

evacuation scheme requirements arefulfilled.

Usingcurrent technologyand

environmentallysafe practicaltechniques

andequipmentthe qualifiedteamof

instructorsprovide excellentvalue based

on their extensive experience andresponse

skills.

"I love beingabletogoabove andbeyond

to helpsortout anyfire safety-related issue,"

says director,RyanMcLean.

"Peopleattending getalotofvalue notonly

outofprotectingtheir businessenvironment

but also beingaware of firerisk around their

homes."

Ryan McLean has aprofessionalbackground

andextensive experience in training

emergencyresponseand management for

over 18 years.

Trainingcourses have aduration of between

oneand twohours andeachattendeereceives

acertificateofattendanceuponcompletion.

We provide

Fire Extinguisher Sales and Servicing

Fire Extinguisher Training (hands on experience)

Fire Warden Training

Chemical SpillTraining

Evacuation Schemes

FirePro Switchboard Protection

Vote for us

for People's

Choice

021 115 2580 ryan@firehazard.co.nz

firehazard.co.nz

2399292

Providing great

first impressions

with custom,

locally made gates

and fences

Vote forusinthe

People'sChoice

Award

22B Newnham Street

Rangiora

Ph: 027 845 3980 James

E: info@designergates.co.nz

James and Emma Tillman, centre, with their team at Designer Gates.

Exceeding expectations

DesignerGates, alocal family-owned and

operatedbusiness, is helpingtransform homes

acrossCanterburythankstohusband andwife

team,James andEmmaTillman, andtheir

wonderful team.

Their specialist team constructs,installsand

automatescustomised gatestosuitpeople's

needs, aimingtoexceed their expectations.

The business wasbuilt on afoundationof

passionand aspiration in 2017, coupled

with James' experience in thelandscape

construction industry.

Jamesand Emmawatched theirbusiness

burst into lifeand grow,and say''being able

to callour jobs ourpassion, is successinour

eyes''.

It hasallowed thecouple to raisetheir young

children Mahe andMillywhile buildinga

flourishingbusiness,adream come true.

Sinceits establishment,DesignerGates has

hadthe privilegeofworking withanumber

of buildingand landscaping companies,

architects, project managers,private residential

andcommercial clients.

Basedonits outstandingreputationasa

dependablebusiness,who areeasytowork

withand pride themselvesontop quality

productsand workmanship, theteamhas had

to rapidlygrowtoaccommodatethe increasing

demandfor theirservices.

Whetherclientsare lookingatsomething

DesignerGates hasalready built, or have

aspecificideainmind, Jamesand Emma's

speciality is workingwiththemtodesignand

buildevery gate as an originalpiece.

Allits gatesare customised anddesigned

to caterfor what client'sneed andwhatfits

aestheticallyontheir property.

The gatesand automation arestrong, secure,

stylish anddurable.

Theyofferamultitude of automation

accessories includingswingingand sliding

motors,mains,low voltageand solarpower,

keypad andintercom entry, loop detectionfor

hands free opening, smartintegration through

appintegration.

DesignerGates also offers theopportunity to

completethe look,increaseyourcurb appeal

andadd valuetoyourproperty, with matching

or featurefences, privacyscreens,steel or

wooden pergolas or planters to nameafew.

Jamesand Emmawould love to meet with

youtodiscuss your needs, offer anoobligation

free quoteand bringyourideas to fruition.

2400357
---
NORTH CANTERBURY BUSINESS AWARDS PEOPLE'S CHOICE

Show-stopping performance winner

for Empire Athletics gym

When an Empire Athletics competitive

cheerleadingteamdelivered ashow-stopping

performanceinthe KaiapoiSanta Parade,

last year,MichelleCumming'sphone ranhot.

Michelleisthe ownerand also acoach

andteamleader at Empire Athletics, which

launched in Rangiora only four weeksbefore

theCovid-19 pandemic lockdownlastyear

with under 40 athletes enrolled.

Nowthere are110 athletes, ranginginage

from fiveto40plus, learningcompetitive

cheerleadingatthe gymin KingsfordSmith

Drive, thanks, in part,tothe Kaiapoiand

Rangiora Santaparadeperformances which

attractedalotofattention forthe business.

Butsince then thegym membership has

continuedtogrow, often by word of mouth,

as parentshaverecognisedsignificant

improvements in confidence,fitness, self

discipline and happinessintheir children

after they begantrainingatEmpireAthletics.

The gym'ssuccessatnationwide

competitions has also helpedpromote the

business. Recentlythe teams competed at

their first eventofthe season,the United

Cheerleadingcompetition in Wellington,

takingout thegoldfor Open Coed 3

division, andSilverfor both their SeniorAll

Girl 3, andJunior AllGirl1teams.Itwas an

exceptional result andisatestament to the

positive culturewithinEmpireAthletics.

Competitivecheerleadingisone of the

world'sfastest growingsportsand was

officiallyrecognisedasasportinMay

2013 at theAnnualGeneralAssembly of

Sports Accord in St Petersburg.Itisahigh

energy,multi-disciplinaryactivity,involving

acrobatics, jumps, gymnastic tumbling,and

dance, whichoffers alittle bit of everything

that othersportingactivities just focus

solely on.Teams performan intricately

choreographed2.5 minuteroutine to fastpacedmusic

at competitions andare judged

by apanel.

Competitive cheerleadingalsodevelops

motorskills and cardiovascular fitness,

whichare useful forother sports, and

becausethere isarolefor everyoneitis

also greatfor children whodonot want to

participate in traditional schoolsport or

after-school activities.

"Itisagreat waytoincreasefitness, create

lifelongfriendships, and itevenhelps to

increase self-esteem,'' Michelle says.

"Nomatterwhatyourexperience is,age,

bodyshape,orfitnesslevel, EmpireAthletics

has aposition on ateamfor you."

The nature of cheerleading, where

participantsworkcloselytogetherasateam

andmustsupportone another, physically

andmentally,inthegymnasticroutinesthey

do,encouragesteambonding whichalso

often resultsinlifelongfriendships. Michelle

has friends all around theworld made from

Team work… Members of Empire Athletics training together in their Rangiora gym, at5B

PHOTO: SHELLEY TOPP

Kingsford Smith Drive, on the biggest spring floor in the South Island.

her backgroundincompetitive cheerleading.

"Itisthe ultimate sport,"she says.

"Weprovide apositive,supportive,and

happyenvironment whereathletes cantruly

be themselves, andwehaveastrong focuson

teamworkand dedicationwhile training, with

amantraof'perfection before progression' to

ensure safety."

WhatisCheerleading?

Empire Athletics isacheerleading gym in Rangiora.

Cheerleading is ahigh energy, well rounded activity, involving acrobatic stunts, jumps, gymnastic tumbling

and energetic dance.

Agreat way to increase fitness, lifelong friendships and helps toincrease self esteem. Nomatter your

experience, age, body shape or fitness level we have aposition onthe team for you!

CompetitiveCheerleading

There are no pom poms or cheering involved inCompetitive Cheerleading. Teams of 6-36 athletes train

to perform afast paced 2.5 minute routine at competitions. These intricately choreographed routines

showcase the best ofthe team's stunt, jump, tumbling and dance abilities.

If dance, gymnastics or acrobatics has been something you have always wanted todo-You are never too

oId! We have teams from age 5yrs to adult.

Recreational Cheerleading

Recreational cheerleading isagreat way tokeep fit and can beagreat pathway into acompetitive team

should an athlete want to progress further.

For more information

visit our website

www.empireathletics.co.nz

or get in touch via email

office@empireathletics.co.nz

VOTE FOR

US IN THE

PEOPLE'S

CHOICE

AWARD

Unit B, 5Kingsford Smith Drive, Rangiora

Instagram @EmpireAthleticsNZ

Facebook @EmpireAthleticsNZ
---
NORTH CANTERBURY BUSINESS AWARDS PEOPLE'S CHOICE

2398689

Sharing Abundance

Since2015 Kaiapoi-based SatisfyFood

Rescue has been workingcollaboratively

with Waimakaririand Hurunuifood

retailerscommunity organisationsto

collect anddistributethe abundance

of surplusperishablefood in our

community.

In thelastsix yearsvolunteersand staff

have collected520 tonnes of food items

that wouldotherwise be destinedfor

landfilloranimal feed andturneditinto

theequivalentof1.49millionmealsfor

organisationswho provide assistance to

strugglingfamilies or individuals. This

VOTE

FOR US!

People's choice award 2021 North Canterbury Business Awards

VOTE & WIN!

All votes go into the draw to win a Mini

Group Pass from Hanmer Springs

Thermal Pools & Spa or a MADE North

Canterbury ry Food & Beverage Hamper

Support us by voting at

northcanterbury.co.nz/choice

Votingcloses 11th August2021

Designer dance socks are helping point budding

ballerinas in the right direction, around the

world.

They are the brainchild ofJenna McKenzie, the

principal of Rangiora-based Jenna McKenzie

School of Dance.

Jenna isamazed her "crazy little sock idea" has

takenoff.

She lovestomakeballet magical andinteresting

for her students and uses imagery and props

to help them with their technique. Socks, with

fairies, wands, stars, with afew strings attached,

arenow proving to be an invaluableextensionto

this.

The socks grew out of achat atateachers

training course onhow to teach children the

technicalsideofballet without making it tedious

andonerous.

Imagining strings pulling attheir heels, mice

under theinsteps to keep them from rollingtheir

past year Satisfyhas rescued almost 60%

more food!

Alongside herenthusiasticteam,

Founder andChairperson PhillipaHunt,

is dedicated to reducingfood waste and

creating asustainable environment to

seeyoung people andfamilies thriving

physicallyand emotionally.

"Weare privileged to work with an

amazingbunch of volunteers, food

donors andcommunity organisations.

The scaleand impact of ourworkin

thecommunity wouldnot be possible

without their contributions."

Making ballet magical

feet, and fairies on their toes to make sure their

kneespointed in theright direction have allbeen

helpful,along with stickers on their feet.

But anactual pair of socks with visual marks

children cansee,and touch, areproving farmore

effective.

Jenna, who learnt ballet from the age of 6, has

taught dance inRangiora for over 20 years, and

also in London foratime.

She did some "terrible" sketches ofher ideas,

then turned to glueingsomestringsonsocks and

introducedthemtothe class.

The class loved them, which encouraged Jenna

to developthe ideafurther.

"I then designed 10special features toassist

dance teachers inclass and students practising

at home. Ittook ayear to develop the design,

incorporatingalifetimeofdance teachingtricks."

Rangiora's Create Design helped bring the

project tolife with final designs, alogo and the

DanceSockAcademy website.

Today Jenna has 12 retailers around the world

including inItaly, Chile, Australia, South Africa

andScotland.

"Itissuper exciting," she says.

Forevery pair of ballet sockssold, theacademy,

a company formed by Jenna to make socks,

donates apair ofsports orschool socks toKiwi

children in need through The Clothing Project.

2398947

VOTE FOR SATISFY FOOD RESCUE

AS YOUR CHOICE FOR THE

PEOPLE'S CHOICE AWARD

Safety and fun offers peace

of mind to parents

KidsBase is afamilyrun businesswhich

opened thedoors of itsfirst OSCAR (out of

school care andrecreation) programme in

2006.

From itsearly beginnings of just one

programme with 11 children, KidsBase has

grownand nowoperates11before,after

andschool holiday programmesacrossfour

differentvenues in NorthCanterbury.

BasedinMandeville, owners Matthewand

PaulineHowden have threechildren of their

ownand experience theevery day, constant

demands of balancingworkand home life

withprimary aged children.

As aqualifiedprimary school teacher,

Dance Sock Academy |

WE'D LOVE YOUR

VOTE FOR THE

PEOPLES CHOICE

AWARD!

We have awonderful team of

65 dedicated volunteers and

staff who work hard each day

to support our 30recipient

organisations.

We send out, on average,

14 tonnes of food amonth.

Satisfy has distributed

over 520 tonnes todate!

Thriving, strong, satisfied and sustainable community

Ph 027 951 6052 ● satisfyfoodrescue.org.nz

Paulineisanexpert in programme

development, making sure thereisareal focus

on educationalactivities as well as building

self-esteem, confidence andfriendships.

AllKidsBaseprogrammesare Ministry

of Social Developmentaccredited,and

OrangaTamarikiapproved.Asaparent, it

is imperative that your childisalsosafe and

most of all, having fun–offeringpeace of

mind.

KidsBase areveryhumbled to have been

nominated forboththe "Community

Enterprise"and "People'sChoice"awards.

Ourcommunity andpeopleare the

cornerstoneofour programmes.

Dance Sock Academy brings you abrand-new innovation.

The educational socks have been created by local dance school owner

Jenna McKenzie, who has been training and supporting North

Canterbury dancers for the past 21 years. Dance Sock Academy is also

aproud supporter of New Zealand Charity "The Clothing Project",

via their 'sock for sock' donation.

Available online at dancesock.co.nz and in-store atWee Kiwi Kidz

(133 High Street, Rangiora).

Scan the QR code above to vote or go to

www.northcanterbury.co.nz/choice

hello@dancesock.co.nz |www.dancesock.co.nz

Vote here!

2398680
---
NORTH CANTERBURY BUSINESS AWARDS PEOPLE'S CHOICE

Organic conversion creates

award winning wines

Greystone Winesisacertifiedorganic wine

producer basedinNorth Canterbury.

From itsbeginnings in 2000 when the

Thomas Family brought afarmonthe

Omihi hillsand beganworktocreatethe

Greystone vineyard,to2004, with thehelp

of ViticulturistNickGill,theyhad planted

13 blocks acrossthe Omihi slopes. Dom

Maxwellbecamewinemaker andateam

wasformedinthe pursuit of realisingthe

potentialofthisexceptional site.

In 2007 thefirst wine wasproducedand

over theyears,Greystone has grownamid

accolades andacclaim to be recognisedas

oneofNew Zealand'sbestwineries. With

itswines, Greystone aims to capture the

essenceofthe site andreflect this in every

bottle.

In early2014 Greystone beganthe

conversionfrom conventional to organic

viticulture. In 2016, wasnamed Vineyard

of theYearinthe NewZealandOrganic

Wine Awards,and more recentlywas

namedasthe SustainableWineryofthe

Year in 2020, andhas claimedtwo top

prizes at the2021 Organic Wine Awards.

Paris Bakery &Café -

Bonjour àtous!

Didn't make it to Paris on your last

holiday?

Well, there is no need to travel far for

an authentic French boulangerie and

patisserie.

French baker/owner Sebastien

Bresson and his Kiwi wife Shaan have

brought a little piece of France to

Amberley.

Popular for its beautiful baguettes and

delicate Frenchpastries, you willneed

to get in early to sample what everyone

is talking about; mille-feuille, berry

tarts, Paris brest, chocolate eclairs,

quiche, croissants and baguette rolls,

just to name afew.

With everything baked on the

premises, Sebastien's pies top off what

everyKiwi bakeryneeds.

With indoor and outdoor seating, great

customer service and exceptional food,

Paris Bakery&Café is not to be missed.

Located at 96b Carters Rd, next to

Sally Mac's, opposite New Zealand Post,

the bakeryand café is open Monday -

Friday 7am -3pm and Saturdays 7am

-2pm.

Bon appetit!

2397618

Bringing a little

piece of France

to Amberley

•Beautiful, delicate French pastries

•Mille-feuille

•Baguette rolls

•Croissants

•Eclairs

•Quiche

•Kiwi style pies

•Fresh Artisan breads

96B Carters Road, Amberley

Monday to Friday 7am to 3pm Saturday 7am to 2pm

Supporting Community

Construction

Waghorn Builders provide more than every day construction

services, they also proudly support the community with

various initiatives and donate money,time and resources to

local events and charities.

These include donating to the annual Special Children's

Christmas Party,fundraising for Heartkids and and

Conductive Education Canterbury in charity boxing,

donating aplayhouse for the Kaiapoi Christmas Carnival,

and several sports events in the Waimakariri and Hurunui

districts.

"Wewere honoured to be part of bringing ayoung boys'

vision to life and building him the skateramp that he and

his dad always talked about"

After his dad passed his mum caught himout there getting

frustrated trying to build it himself.

We decided to jump on board and help," says Managing

Director Jake Waghorn.

The construction team focus on core values of trust,

quality,respect and communication with their clients

ensuring building confidence whether the job is big or

small.

Their network of reliable professionals and trades deliver

services from residential and commercial new builds,

alterations and asbestos removal.

"Communication is akey aspect in our business -with

every job we aim to stick to timeframes and communicate

well with our clients. We understand especially in today's

market that products can be delayed, we find having

an 'open book' policy helps our clients understand and

gain trust with us. Youcan'talways help delays but

communication definitely creates understanding," says

Jake.

Waghorn Builders have completed construction projects

in numerous sectors, including residential new builds and

alteration works, commercial build and fitout work,

community housing, education, farming and community

facilities, such as Odyssey House, local district councils and

regional schools.

"We made a boy's dreams come true from

the 'Make aWish Foundation' and built him a

playhouse that he had designed himself," said

Becks Waghorn, Marketing Manager.

When it comes to ensuring safe work practices are utilised,

Waghorn have achieved arating of 100% by Sitewise

accreditation standards.

Their team of professionals offer an exceptional standard of

work from their dedicated and experienced staff of foundation

specialists, builders, painters, and project managers.

They collectively provide an effective solution to successful

project completion as they renovate, extend, build and

complete work the way it is envisioned by their clients.

Waghorn Builders also put alot of emphasis into mental

health and wellbeing, not only for their staff but also subcontractors

and the wider community.

Lately they have worked alongside the Waimakariri District

Council to hold awellbeing breakfast, with guest speakers

discussing ways to be able manage the stresses and strains of

today'ssociety,and saw 200 people attend with great feedback

received.

2397902
---
NORTH CANTERBURY BUSINESS AWARDS PEOPLE'S CHOICE

Fi's Flowers

'n' Art

Beautiful flowers

Stunning homewares

156 High Street Website: www.fisflowers.co.nz

Rangiora

Vote for us in the

Ph 03 3131043

People's Choice Awards

The Scent of Success

WalkingintoFi'sFlowers 'n Artthe scentof

successsurroundsshoppers, from thearoma

of flowers to thesophisticated eleganceof

theextensive range of home decorproducts

available.

Since2008 theRangiora-based business,

nowinthe heartofHighStreet, hasbeen

providingflowersfor weddings, corporates,

funerals andspecial occasions,and the

team of experiencedflorists cancater forall

individual requests.

The store provides amoderntwist on

floristry,art andgiftware whichtakes

visitors on avisual journeythroughouta

store whichisfilled with nooksofstylishly

presentedexquisite gifts.

Aconsiderablerange of exceptionally

highquality pictures,photo frames, pots,

cushions,artificialflowersand otherinterior

designitems tempts shoppersand visitors

alike. In addition,Finow offersahome

consultation service to complementfloral

arrangements, giftwareand furniture,

ensuring yourgift remainsasalongterm

memory.

Fi has been in thefloral industry for

around 20 yearsandhas been involvedwith

many community events. She designedthe

floralchalice at theEllerslie FlowerShow

Festival of Flowerswhich is nowusedas

their logo, andher passionfor theindustry

has ledher to teachingand guidingyoung

florists, as well as conducting presentations

at flowergroupsthroughoutNorth

Canterbury.

The friendlyand knowledgeablestaffatFi's

Flowers'nArt offer well-informedassistance

with allfloral andgiftware requirements,

Fi Sidey.

pridingthemselvesongoing theextra mile

to please all of their customers.

"Apart from providingthe best customer

service,itisour team that brings theWOW

factortoour business,"saidowner/operator

Fi Sidey. "Weall give 110%."

Red Post Cafe -going

above and beyond

2399246

•Stop, Rest and

Revive

•Exceptional

Service

•Licensed

•Open 7Days

Monday - Thursday

8am – 4pm

Friday - Sunday

8am – 5pm

Main Rd, Culverden

Ph 03 315 8492

Looking foranew destination forthatSunday

driveorsomewheretostopofftobreak the

journeyonyournextbig adventure?

The RedPostCafeinCulverden, North

Canterbury, is just theplace foryou,

whetherasa

destination

forbreakfast,

brunch or

lunch, or to

break up the

journeywith

acoffee anda

snack.

Red Post Cafe

is situated

in an idyllic,

restored1920s villainthe heartofCulverden.

Stop off forabreatherorameal in the

comfortableindoorsurroundings, including

an open fireinthe winter months andshaded

outdoor garden seatingfor thewarmertimes

of theyear.

After successfully negotiatingthe purchaseof

thebuildinglastyear, amajor refurbishment

has been undertaken, thefirst in thelast

decade,toensurethe customerexperience is

enjoyablefor oneand all.

The friendly staff at theRed Post Cafe are

always goingabove andbeyondtokeepahead

of newdietaryneeds andrecentlyadded a

range of keto options to themenu.

Stop off forlunch in thewinterand enjoy

theyummysoups, whichchangeregularly,

withthe delightful options includingcurried

kumara, pumpkinsoupsand seafood chowder.

The delectablemenuoffers somethingfor

everyone, from morningorafternoontea,a

light lunch, to afull cooked meal.

In addition,there is awide range available

forthose

with dietary

andallergy

needsand

thestaffpride

themselves

on thehigh

standard of

home baked

food including

cakes, slices,

biscuits, pies

andquiches.

RedPostCafeservesgreat,hot andtasty

coffee, andislicensed, whichenables it to offer

awide selection of NorthCanterbury'sfinest

winesand craftbeers.

The menu also caters forchildren, vegetarians

andthose whoare gluten free.

RedPostCafecan also host your special

occasionorfunction either on site in theidyllic

1920s villa,orprovide catering at your place

withamenu or platterstosuit your tastes.

Your friendly Culverden cafe is open seven

days aweekfrom8am to 4.30pm, so follow

Red Post Cafe on Facebook.

Contact(03) 315 8492 or email

redpostcafe@gmail.comfor more information

or to make abooking,orcallinat

2Highfield Street,Culverden.
---
NORTH CANTERBURY BUSINESS AWARDS PEOPLE'S CHOICE
---
NORTH CANTERBURY BUSINESS AWARDS PEOPLE'S CHOICE

From hobby to North Canterbury

social media marketing leader

MoMacisadigital marketingagencythat

is ledand directedbyRyanMcDonald.

It wasfounded on Ryan's unique skills

andcreative passionfor photographyand

videography.

Todayithas developedinto amultiservice

creative agency basedinBlake

Street, Rangiora, servicing Christchurch

andthe wider Canterburyregion.

It provides brands andbusinesses away

to market themselveseffectivelythrough

professionalvideo,photo,web design,

socialmedia &graphic design.

It offersvideography, photography, aerial

droneservices,socialmedia andwebsite

design.

Trainedasaqualified motormechanic,

Ryan beganextendingand developing

hisskillswhile workinginthe mining

industry andlivinginPerth,Australia, in

2011.

Originallyhefilmed friends skating,

surfing andother adventures. Once the

videos were edited andproofed he would

post them onlinetosocialmedia such as

Facebookand YouTubefor friends and

family to enjoy.

In theearly years this quicklyevolved

from ahobbyinto apassion, andhaving

travelledtoplacessuchasFiji, theCook

Islands,Thailand,India,Canadaand the

Philippines, it allowedRyantopush his

creative filmprocesstothe next level.

Around this time (2015-16) thedemand

forqualityonlinecontent forsocialmedia

rose sharply andthe demandfor an online

presence increasedevenfurther with the

currentglobal pandemic.

As thesocialmedia landscapeevolved,

Ryan startedtoidentifyand understand

thepsychologybehindengagingand

capturing theattention of usersonsocial

media.

Hisdeeplevel of understandingthe

consumer is somethingthatisforever

changingand with Facebook, Instagram

andthe WorldWide Webconstantly

changing their operating systemsand

algorithms,you must be constantly

immersedinthisfield to keepupwiththe

constant changes.

In 2017 whileonafamilyholiday in

Queensland,Australia,the ideacame

to Ryan to utilisehis uniqueskillsto

showcasebusinessesand organisations

in away that is innovative, creative and

unique.Ultimately capturingpeoples

attentionand engaging them throughthe

powerofcarefully curatedcontent.

Followingatrialstage of producing films

foraselectgroup of diverseRangiora

businesses, thetestmarketing proveda

huge success. MoMacthentransitioned

into an operating businessnow knownas

MoMacSocialisingMedia Ltd.

Nowintohis 4thyearofbusiness MoMac

has worked with avarietyofbrands and

businessescreatingengagingcontent with

both videoand photo.

"Wehavebeenmanagingdifferentsocial

Left: MoMac crew after a

successful live stream of the

Otago Rally 2019.

Below: Ryan visits the TajMahal

in 2016 whilst exploring India and

filming his travel experiences.

Ryan outside the MoMac HQ at 12 Blake St, Rangiora.

mediaaccountsand have createdover80

websitesfor clients to date."

"Our clientbaseisdiverseand we love

seeingreal resultsfor thecustomerfrom

ourwork,"saysRyan.

The aimistoconstantlybethe leadersin

creativity,innovationand executionwhen

it comestoworking alongside clients to

produce astandardofworkMoMac and

their clients areall proudof.

It has ateamofweb designers,

videographers, photographersand editors

at MoMac, Rangiora andwho it cancall

on to take on projects. Amorerecent

move to full graphic designand branding

services nowofferMoMac clientsatotal

marketingpackage.

"Weresponded to aneed from our

customers whoalsowantedgraphic

solutionsfrom brochures, to logodesign

to businesscards.Wecan provide

everythingin-house,one-stopshop,"says

Ryan.

MoMac's vision is to be themost

innovative grassroots, styled marketing

agency in NewZealand, by constantly

creating powerful andengagingwork.

"Wewanttobethe go-toteamthatcan

helpyourbusinessgrowinaway that is

achievable, sustainableand reliable,"says

Ryan.

"Wewanttogive everyone thefeeling

that youare workingwithamotivated and

humble team whereour toppriorityisour

customers satisfaction.

"Our only rules we have in ouroffice

when it comestoMarketing are'There

Are No Rulesand BeTheBest'."

MoMacisproud to be in theNorth

CanterburyBusinessAwardsand to be

nominated forthe People's Choice Award,

open foronlinevoting.
---
NORTH CANTERBURY BUSINESS AWARDS PEOPLE'S CHOICE

Ahappy place for craft addicts

Handzonisahappyplace forcraftaddicts.

At HandzoninRangiora, happiness manifests

as rows of colourful fabrics, shinynew sewing

machines, squishyyarnand niftytools from all

around theworld.

Complimentedbyfriendly, helpful andengaging

staff,who arecraftaddicts themselves,thisisa

recipe forextreme happiness.Somemay even

sayeuphoria! Doingthings with otherpeople

who'getit' is always asourceofthose feel-good

moments that makelifeworthwhile. Crafting,

handiwork,sewing-call it whatyou will-isno

differentand at HandzoninRangiora, that is the

order of theday.

Customers andstaffshare ideas,inspiration and

knowledge, but also encouragement,advice and

afriendlyear when needed.Nowonder youcan

sometimeshardlyget in thedoorofthiscute,

cottage-style store on DurhamStreet.

"Friendly, welcoming, customerservice is a

bigpartofwhatweoffer,"owner RianaAuret,

of Rangiora, says. "Wedon't just sell products,

we want to ensure agood endresultand an

enjoyablecraftjourney forour customers."

Selectinggood qualityproductsand materials

that willlastand areethicallysourced is also a

priority at Handzon, andthere is ahugerange

of fabrics, yarns, embroiderythreads andtools

to choose from in thestore,includingBrother

sewingand craftmachines andaccessories.

"Making things from scratch,but also mending

andalteringthings to your personal preference

provides agreat countertofastfashionand

we feel it is theright thingtooffersustainable

productswheneverpossible,"Riana says.

There is also astrongfocus at Handzonon

providingawide range of learningopportunites

forcustomers.Classes, gettogethers,likeStitch

andChatmeetingsand UFO days (those are

unfinished objects, forthe uninitiated!), andeven

one-on-one sessions areall in themix.

"In most of ourclasses youcan work at your own

pace on projects of your ownchoosingand learn

newthings as theneed arises,"Riana says.

There is always alot of fun, crafting andlaughter,

plus theopportunity to learninalow key, relaxed

environment.

Rianahas an extensive background in craftwork

andpublishing, anddescribes herselfasa

"generalist"who enjoys sewing, quilting,

embroidery, knitting andcrochet.

"I believe that creating is therapeutic and

contributes to mental wellbeing. Craftwork

provides people with an opportunity to slow

down andrefocus on life,"Riana says.

"Peoplechoosetodocraftworkbecauseitisan

entertaining, enjoyableprocess, whichcan also

be healing, andyou getsomethingbeautiful to

wear or useout of it atthe endof your project,"

Rianasays.

"Beinginvolvedinour community is another

oneofour passions at Handzon. We love seeing

completed items, helping outwhenhelpis

needed,passingdonationsontocharitable

groups, or even just having anatterabout the

weather. Drop in foravisit,orjoinusinone of

ourclasses or groups -wewould love to meet

you."

Authorised Brother

Dealer

-

Liberty, Moda, Kaffe

Fassett, William Morris

Fabrics

-

Malabrigo, Bellissimo,

Rowan Yarns

-

DMC, Madeira, Cottage

Garden Threads

3 Durham Street, Rangiora - 03 595 2641 - www.handzon.co.nz

nz
---
NORTH CANTERBURY BUSINESS AWARDS PEOPLE'S CHOICE

Family-friendly haven

makes many memories

Family andcreatingmemories aretop priorities

forRex andDebbieJefcoate, theoperators of

theWaikuku BeachHoliday Park.

The Ashley/RakahuriEstuary reserveis

itsclose neighbour, andthe couple sayits

amagnificentattraction whichaddstothe

campingexperience at theHoliday Park.

Rexand Debbie both hail from thesouthern

parts—Rexbeing akiwiraisedinOtago

andDebbiea'southern girl'fromthe United

States. Herexpressionof'southern hospitality'

is unique,and thecouple'spassiontodevelop

their special'corner of theworld'isclear from

themomentyou walk in to

their office.

Operating theWaikuku BeachHoliday Park

wasalifestyle choice.Bothworkedinhigh

profile management roles. On arriving in

Waikukufromthe States 17 year ago, they

setabout developing theHoliday Park in to a

family-friendly, funplace to stay.

Rexand Debbie have proudly createdahaven

forfamilies to enjoyacamping experience they

themselvesenjoyed throughout their lives.

Nothinggives them more pleasure than to see

families,grandparents/grandchildren, and

caregivers enjoying time,withfriends,playing

games, enjoying abarbecuetogetherorjust

headingfor thebeach with apicnic, togs and

towel.

''Thisplace is all about creating memories that

last alifetime,'' they say. It is asentiment which

Rexand Debbie hold dear,and have watched

it unfoldday-after-day, year-after-year,atthe

camp.

With family and grandchildren scattered

Children play on the 'Waitanic' at the playground at

Waikuku Beach Holiday Park.

throughout thecountry,Rex andDebbie

have gathered alocal team around them

whosupporttheminthe operation and

developmentofthe Holiday Park.

Theyhaveavisionfor thefutureafter17years

managingthe Park.Anestablishedprogramme

of annual events at theHoliday Park is ever

increasingasitencapsulatesthe wondersofthe

region,and integrates astayatWaikuku Beach

Holiday Park with local activities, events and

businessactivity.

The HolidayParkiscentral to thegrowing

NorthCanterburyregionwhere there isa

lottosee anddo. There arewellestablished

cycleways, walkingtracks, golf courses, ample

opportunities to fishand explore,and capture

lifeinthe estuaryoncamera.

Driving Miss Daisy North Canterbury

We're there for you

Comeonout...Great Memories aremade here!

Waikuku Beach Holiday Park

1DomainTerrace, WaikukuBeach

Phone 03 3127600

waikukubeachholidaypark@gmail.com

www.wbhp.co.nz

Come and exploreNorth Canterbury!

Waikuku Beach Holiday Park

is adestination for all seasons...

•Family friendly pricing

•Birdwatching at the Rakahuri Estuary Reserve

•Soclose to North Canterbury Wineries

•Lovely cycle and walkways to here, there and everywhere!

•Close to popular eateries and cafes

•Dog friendly sites available on request

•Stunning sunsets on our long sandy beach

•Listen to the sound of the sea as you relax at

your campsite /cabin

Vote for us for

People's Choice

Award

Welcome to Driving Miss Daisy

North Canterbury

2401749

We are asafe,friendly and reliable

companion driving service offering

independenceand peace of mind in

yourcommunity.

We can drive and accompany you to:

• Medical and personal appointments

• Groceryorshopping trips

• Companionship outings

• Family/social occasions

Total Mobility Scheme cards accepted.

ACC contracted supplier.

Call Heathertoday:

Ph: 03 3122936 Mob: 021 2245606

northcanterbury@drivingmissdaisy.co.nz

www.drivingmissdaisy.co.nz

Scan the QR Code

to vote for us in the

Canterbury

People'sChoiceAwards

HeatherAndersonand Rochelle McLachlanare

passionate aboutprovidingthe DrivingMiss Daisy

companiondriving service in their community.

Both arelongtermresidents of NorthCanterbury,

andtookoverownership of DrivingMiss Daisy

NorthCanterburyin2019, whichhas operated

successfullyinNorth Canterburysince 2012.

Theycontinuetogrowthe businessand have six

vehicles in their fleet, includingtwo wheelchair

accessiblevehicles, catering foreveryone'sneeds.

DrivingMiss Daisyisapersonalisedservice,

providingacaring, safe andreliabletransport service

forall people in thecommunity.

Heatherand Rochelle saymaking adifference is

importanttothem. Theyare proud of their team

of ninestaff, each providingavastamountof

experience,and arewelltrained in their specialised

field.

Heathersays, theteamisdrivenby''a passionto

supportour clients to enhancetheir engagement in

thecommunity''.

Theyare familywhenfamilycannotbethere.Their

companionshipservice givesbothclient, andfamily,

support, andconfidence in timesofuncertainty.

Each clientistreated with respectand dignity.

"Welisten, laugh, hug, andcry,asweshare timesin

ourclientslives."

Their service provides an opportunity for youor

your family to stay connectedtothe community and

maintain importantinterests andactivities.

DrivingMissDaisy offers:

■Doortodoortraveltoappointments,

airport, shopping trips etc.

■Doortodoortravelfor children forschool

pickupsand after school activities.

■Outings withfriends.

■Companion servicetoaccompanyto

appointments or events.

■Traveloptions foryourpets, trips to thevet etc.

Younameitand they will do their utmosttomake

it happen!

Heather with one of her favourite local

clients.

Driving Miss DaisyNorth Canterburyare

approvedprovidersofthe Total Mobility Scheme

Card providinganaffordable service for thosewho

qualify. Theyare also an ACCcontractedsupplier,

so if youare an ACCclient requiringtransport then

they canassist.

Everyone needstofeelvaluedand caredfor,

Heatherand Rochelle say.

Youare welcome to call Heathertodiscuss

individualneedson03312 2936 or 021 224 5606.

2399855
---
NORTH CANTERBURY BUSINESS AWARDS PEOPLE'S CHOICE

2399993

Bringingthe mind,

bodyand spirit into

balance…

31 Blackett Street, Rangiora |Phone 03 313 0349

Email info@head2toe.co.nz

www.head2toe.co.nz

Relaxation Massage

Deep Tissue Massage

Sports Massage

Hot Stone Massage

Pregnancy Massage

Aromatherapy

Indian Head Massage

Cupping

Vote for us in

the People's

Choice Award

Natural skincare and outdoor care that

keeps adventurers adventuring, our earth

pure, and your skin happy.

Ethically handmade right here in Kaiapoi with

organic ingredients and at aprice your wallet

will love too!

We also stock avariety of other zero waste and

ethical goodies for your skin and the outdoors.

View our Website

www.backtothewild.co.nz

Email

Phone

backtothewildnz@gmail.com

Sonia Barrish

Crafter, BSc

021 0222 3363

Vote For Us for

People's Choice

Awards

Bringing the mind, body

and spirit into balance…

Head2Toe MassageTherapy's focusistheir

client'sgeneralhealth andwellbeing.

The clinic basedat'OasisonBlackett',

Rangiora, provides DeepTissue,Sports,

Relaxation,Pregnancy,Cupping and Hot Stone

massage.

Head2Toebelieve incorporating massage

therapy into your health maintenance plan,has

ongoingbenefits to helpreduce chronic pain,

musculartension,aid stress managementand

provide injury preventionand recovery.

Head2Toetherapists have theexpertiseto

help you achieve thebestoutcome from your

treatment, witheachsessioncatered to your

Back to theWildisproof that abusinesscan

be ethical andsustainable.

The onlinenaturalskincarebusinesswas

born outofayoung mother's need to find

natural, organic andethical skin, body and

home productsfor herfamily.

"I couldn't findany products that did what

Ineededthemto, andalignedwithmy

values, butIhave gotquite theDIY attitude,

so Idecidedtogive it ago,"saysthe Kaiapoi

ownerofBacktothe Wild,Sonia Barrish.

Some of thethingsBacktothe Wild pride

themselvesonisthe plastic-freepackaging,

andnatural,sustainably-sourced ingredients.

"I love nature andthe wild,and want to

make sure we leaveitinabetterstate for

future generationstoexplore," she says.

Despitebeingsmall,Backtothe Wild has

hadsomemassive achievementsalready.

"I have formulated NewZealand'sfirst

naturalinsectrepellentthatissafe forbabies

from birth, as well as formulatedanatural

sunscreenrecipethattestedtoSPF 96 at the

labinAustralia."

individual requirements.

Sessions canbespecific formuscularrelief, or

to just helpyou relax, indulgeand unwind.

Many clients attend theclinic regularlyto

ensure ongoingimprovementsinstrength,

flexibility &painreduction.

Sports peoplefind massage helpsthem

recoverfrom game day&injuries quicker.

The clinic is open at 31 Blackett Street,

Rangiora, Monday to Friday,9am to 7pm, and

Saturday 9amto1.30pm.

It is easy to find, with onsite parking.

To discussyourrequirementsEmailinfo@head2toe.co.nz

or phone(03)313 0349.

Back to the Wild -an ethical

and sustainable business

Natural, ethical and affordable skincare is

the heart of Back to the Wild.

Owner, Sonia Barrish

Soniaisalso usingher businessasadriving

forcefor good.

"Not everyone comesfrom aposition

wherenaturalisaffordable,evenifitisa

requirementdue to allergies, so Iwantto

keep my prices as accessibleaspossible,"she

says.

"Givingbackisalso really importantto

me. Businessshouldn't be just about making

money, butabout enrichingthe community."

Everymonth aportion of each sale goes to

theCharity of theMonth.

Back To The Wild also runs

PayWhatYouCanAfford workshops, and

variousother give-backs throughout the

year.Sonia canalsooftenbefound readily

sharing herextensive knowledgeonvarious

eco-friendlylivingtopics throughthe Back

to theWildsocialmedia andwebsite, as well

as happily answeringquestions.

2399290

VOTE FOR YOUR FAVOURITE BUSINESS IN THE PEOPLE'S CHOICE AWARD

Voting is now open for the

2021 North Canterbury Business Awards

People's Choice Award.

Your vote puts you in the draw to WIN aMini Group

Pass from Hanmer Springs Thermal Pools &Spa, ORa

MADE NORTH CANTERBURY Food and Beverage Hamper.

Cast your vote now at www.northcanterbury.co.nz/choice
---
Surprise Remix

Super Surprise

Usually upto

$249.99

Potion

Dress Up

Assortment*

Usually up to

$19.99

SAVE

$

70

$ 59 99

ea

Magical

Potion Surprise

Usually up to $5.99

Present Pets

Assortment*

Usually up to $129.99

*Styles will vary from store to store.

wow!

SAVE

$

100

9

$

149 99 ea

50 % OFF

$ 9 99

ea

50 % OFF

$ 2 99

ea

Micro City World

Pack Assortment*

60% OFF

Usually up

to $24.99

15cm Figure

Assortment*

Usually up to $27.99

$

7 99 ea

$

9 99 ea

Expanding Playset Assortment*

40% OFF Usually up to $34.99

ToyStory XL

Capsule

Usually up to

$7.99ea

(Contains 1Ooshies

XL pencil topper.)

wow!

UP TO

60 % OFF

$

19 99 ea

wow!

70 % OFF

wow!

ALL

65 % OFF

4 for

$

10

%

OMG 3.8" Doll Assortment*

Usually up to $69.99

AT LEAST

40 % OFF

Peppa's

Wooden

Playhouse

Usually up

to $69.99

WOODEN

TOYS

wow!

50 % OFF

FEATURED

%

SAVE $

39 99 ea

$

30

$ 39 99

ea

40 % OFF

$

39 99

ea

$

9 99 ea

OMG Remix Doll

Assortment*

Usually up to $69.99

Peppa Pig

Wooden

School Bus

Shape Sorter

Usually up to

$59.99

40 % OFF

wow!

60 % OFF

$

23 99

ea

%

Kitchen Creations Cheesy Sandwich Playset, Slime

Snotty Scotty or Animal Crew Naybelle Show Pony

Usually up to $19.99

Surprise

Creation Kit

Usually up to

$44.99

40 % OFF

$

12 49 ea

Snack Time Friends Doll

Summer Peaches or Donatina

Usually up to $59.99

50 % OFF

$

29 99

ea

$

24 99 ea

Animal Crew Cluck

aDee or Sherrie

Shearin Sheep

Usually up to $24.99

$

4 99 ea

Slime Cereal themed Slime Assortment*

Usually up to $9.99

$

12 49 ea

Kitchen Creations Noodle Party

Playset or Doctor Drill nFill

Usually up to $24.99

TOWER JUNCTION

NZ'sBiggest TOYWORLD

Clarence St,Riccarton, Ph 03 343 0330

MARSHLAND

199 Marshland Rd,

Ph 03 982 8697

Valid from Thursday 29th July until Tuesday 10th August 2021.

HORNBY

Chalmers St,

Ph 03 281 8127

LOOT BAG

*Terms and conditions:

1) Pictures are indicative

only, contents may vary.

2) Limited quantities,

strictly while stocks last.

3) One loot bag per

transaction. 4)The prize

is non-exchangeable, nontransferable

and is not

redeemable for cash or

other goods.
---
NEWS

18 The North Canterbury News, July 29, 2021

Helping young writers find avoice

By DAVID HILL

AKaiapoi­based writer has

found apassion for working

with the next generation.

Originally from the United

States, Claire Wright moved

to Kaiapoi in January 2018 to

be with her fiancee and

began working with young

writers.

''When Ifirst came here I

taught English to Korean and

Chinese children online. I

found Ihad no friends

because Iwas working at

night,'' Claire recalls.

She signed up for a

creative writing course at

Kaiapoi Library, run by

Christchurch­based Write On

School for Young Writers

director Heather McQuillan.

''I was the only non­retiree

in the class, so it was amazing

as there were so many

wonderful stories.''

When Heather found out

Claire had adegree in

creative writing she invited

her to come to classes held at

Hagley College on Saturdays

during school terms.

''I volunteered for afew

weeks and then Idid some

relief teaching, and by term

three Ihad my own class. I

really enjoy it and miss it

during the school holidays,''

Claire says.

After starting with the

youngest age group and

working with teenagers,

Claire has aclass of years 8to

10 students and works with

Express yourself ... Claire Wright encourages young people to

experiment with their writing.

PHOTO:DAVID HILL

correspondence students.

''The biggest thing with this

age group is they have this

need for perfection, but the

point of childhood is to fail.

The kids will often say 'it's no

good', so Itell them it's OK to

fail because you can rewrite

and improve it.

''I find that the year 8s to

10s are more likely to

experiment and try different

things, and they're also abit

more confident to try

different things. And they

don't have the pressure of

exams.

''I always give them a

lesson, but it's up to them

whether they follow it, as

long as they're writing.''

One student is working on a

novel, while another

preferred drawing ''and

that's fine because it's still

creative, but he wrote some

pretty cool stories anyway''.

She is helping another

student who is into Fan

Fiction.

''Fan Fiction often gets a

bad rap, but Ithink if your

children want to do it don't

discourage them because it's

agreat way to develop your

skills and find your voice

within the confines of other

people's characters.

''A lot of famous writers

started out writing Fan

Fiction.''

When it comes to her own

work, Claire is on her fifth

draft of ayoung adult

romance novel, which her US

publisher has invited her to

''revise and resubmit''.

She is also working on abig

project on Greek mythology

which she hopes will be

published next year and has

written ahorror mystery

podcast series Fracture,

which can be downloaded

through Apple Podcasts and

Spotify.

Being an American, Claire

says she has no qualms about

working with US publishers,

but she feels for local writers.

''It can be disheartening

for New Zealand writers.

There's only asmall number

of New Zealand books which

get published each year and

it depends on what they're

looking for.''

Despite the challenges,

there are many ways for

today's writers to express

themselves and writing

books is just the beginning.

There is also film, television,

video, podcasts, video games,

blogging and social media.

Taskforce

ensures Blair

is work ready

Blair Milne is on track to awork­ready

future at E­Cycle, Amberley, thanks to

the Mayor's Taskforce for Jobs

programme.

E­Cycle is aNew Zealand­owned

company recycling electronic waste.

Blair was placed at E­Cycle amonth

ago and is already reaping the benefits of

life in the workforce.

''The programme helped me to get out

and land this job. Having aroutine and

purpose has really improved my mental

health,'' he says.

''Working makes having free time and

doing things for fun more enjoyable

because Iknow Ihave earned it.''

After ashort time working with Blair,

E­Cycle supervisor Aaron Miller has also

noticed positive changes.

''Blair is reliable, and we can always

count on him to show up and do the job.

You can see the structure and skills he is

gaining from working, which is great."

The Government­funded programme

connects local businesses with those

displaced by Covid­19, creating

opportunities for both parties.

Hurunui District Council business

recovery adviser Chris King says the

partnership with E­Cycle aligns with the

programme's vision for youth.

''It's great having businesses like

E­Cycle who provide apathway for

sustainable work. E­Cycle is big on giving

youth achance and that foot in door that

they need for their futures in the

workforce."

If you are alocal business or know a

young person who would be interested in

joining the venture, contact Joni or Chris

at the council on (03) 3148816 or email

tfj@hurunui.govt.nz.

Southern Alps escape

It's right here in Selwyn!

Selwyn is hometosix of the best Canterburyski fields, all within two

hours of Christchurch.Craigieburn, Porters Alpine Resort, Cheeseman,

Mt Olympus, Temple Basin and Broken River offer amix of family-friendly

runs and challenging off-piste skiing.

Plan your SouthernAlps getaway.Stay on the mountain and roll out of

bed and hitthe skifields early, catching the first of the morning snow.

Plenty of parking –noqueues –awesome fun!

Share your Southern Alps photos

and tag us selwyn.nz

Visit selwyn.nz
---
RANGIORA

QUALITY&CHARACTER?

SORTED.

100% LOCALLYOWNED &OPERATED.

Spend them &

Earn them here

RANGIORA

If youfind alower priceonanidentical stocked productlocally,wewill beatitby15%

If youfind the same productfromanother Mitre10store or Mitre10website, we'll matchthatprice.

Excludestrade and special quotes,stock liquidations and commercial quantities.The in-storeprice maybelowerthan thatadvertised.
---
INTERIOR

MAKEOVER?

FIND EVERYTHING YOU NEED IN-STORE

SORTED.

Free tinting

on Valspar &Accent Paint

EXCLUSIVE

100% LOCALLYOWNED &OPERATED.

Spend them &

Earn them here

RANGIORA

If youfind alower priceonanidentical stocked productlocally, we will beatitby15%

If youfind the same productfromanother Mitre10store or Mitre10website, we'll matchthatprice.

Excludes trade and special quotes,stock liquidations and commercial quantities.The in-storeprice maybelowerthan thatadvertised.
---
RUNOUT

OUTLANDER LS 2.4L 2WD

$32,990+ORC *

The 7 seater Mitsubishi Outlander

brings everything you would need in a

family SUV: safety, technolo ogy, comfort,

unrivaled economy and that all important

space, plus a 10 Year Powertrain Warranty † .

Call 03 379 0588 or visit

christchurchmitsubish hi.co.nz

RRP WAS $41,9

90 +ORC

*Price listed is for Outlander LS 2.4L 2wd and excludes on road costs of $650 which includes registration, WoF and a full tank of fuel. Available while stocks last.

†

Visit mmnz.co.nz for full Diamond Advantage warranty conditions.

RANGIORA MITSUBISHI

321 High Street, Rangiora | 03 941 3175 | rangioramitsubishi.co.nz

DRIVE A NEW

NISSAN

STOCK AVAILABLE TODAY

AGILITY MEETS SMARTS

AVAILABLE FROM

$33,990 *

STOCK AVAILABLE NOW

*Price shown is for the Nissan Qashqai ST excludes on road costs of $1,250 which includes registration,

WoF and a full tank of fuel.

RANGIORA NISSAN, 321 High Street, Rangiora

Ph: 03 941 3175

www.rangioranissan.co.nz

THE ALL-NEW

PRO-4X

IN STOCKNOW

rangioranissan.co.nz
---
BEINTowin$1000!

STOREWIDE SALE NOW ON!

Lincoln 4 Seater – Grey

WAS $ 2699

FINAL WEEK!

ENDS 02.08.21.

NOW

$

1999

SCANQRTOENter

Brix Light /Peyton Grey

7Piece Dining Set

WAS $

1569

NOW

$

1149

Riley 3Seater –Grey

WAS $

1199

NOW

$

899

VIVA WHITE

ON SALE

Buffet

NOW $

799

Entertainment Unit

NOW $

699

Zara Playhouse Single

Bunk Bed

WAS $ 999

NOW

$

699

TIPAZ

ON SALE

Side Table

NOW $

249

HEAPSofSUPERDEALS!

ALL DINING CHAIRS

ON SALE

Camille

–Grey

$

75

Jersey

–Grey

$

65

Duke

$

125

SCANQRTOSHOP

Camille

–Rose

$

75

Camille

–Sage

$

75

ALL

MATTRESSES

ON SALE

250 Moorhouse Ave, Christchurch

0800 TARGET (0800 827438)

targetfurniture.co.nz

Offers and product prices advertised here expire

02/08/21. Sale Excludes Accessories.
---
Youth fast fail to success

NEWS

The North Canterbury News, July 29, 2021

21

By DAVID HILL

Kaikoura youth have been

learning how to fail.

Run by Te Ha oMatauranga (the

Kaikoura Education Trust), the

''Fast Fail'' entrepreneur

programme offers young people

the chance to learn some business

skills without the risks.

''It's about taking the pressure

off. We want them to get ataste for

setting up their own business,''

trust co­ordinator Sarah

Beardmore says.

''It's been agood learning curve,

because some of them realised

their costs were too high, so they

had to go back and adapt. So

they're learning by doing.''

Young people were given $100

each to trial abusiness idea over

asix week period.

Ideas included bath bombs,

soaps, lip scrubs, baby scrubs,

rings, lip gloss and candles with

the items promoted on Facebook

and by word of mouth.

One enterprising student

purchased shoes wholesale to be

on­sold for aprofit.

Alongside the ''Fast Fail''

programme, the trust is running

three employment programmes

alongside Kaikoura High School,

including the weekly Tahi

Rangitahi, which helps to prepare

young people for the workforce

and works alongside the school's

Gateway programme.

ASAP (after school aspiration

programme) is for 12 to 14 year

olds, where young people learn

soft skills such as writing aCV,

interview skills and focuses on

preparing for employment, Ms

Young entrepreneurs ... Melody Wang (12, left) and Karys Murphy (12)

have been making and selling bath bombs as part of the ''Fast Fail'' young

entrepreneurs programme run by Kaikoura's Te Ha oMatauranga (Kaikoura

Education Trust).

PHOTO: DAVID HILL

Beardmore says.

Avocational education

programme is also offered, which

includes work experience.

The trust also has education

advocates to help students and

their families ''to engage

positively with eduction and

upskilling around NCEA, because

it's quite acomplex business

these days'', she says.

These programmes, combined

with the Mayor's Taskforce for

Jobs, means the trust has grown

from just three staff to 18 staff to

support the community in the

post­Covid environment.

''Post­Covid there was

recognition from the government

that there was aneed in the

community and particularly in

Kaikoura and there was arisk of

disengagement, so this is to

support people re­engaging with

education and employment,'' Ms

Beardmore says.

''It's also an acknowledgement

from the government that NGOs

on the ground are making abig

difference. Ground up

approaches work well.''

The Mayor's Taskforce for Jobs

in Kaikoura has placed 60 people

in full time employment and a

further 50 people in part time

positions.

Mentoring to help young people

learn to drive is also offered,

while digital inclusion courses

are run alongside Kaikoura

Library.

To find out more, like Te Ha o

Matauranga on Facebook, go to

https://www.kaikoura.link, phone

(03) 3193002 or call in at 14

Ludstone Road, Kaikoura.

motion picture Lion.But the

story of how his adoptive

mother, Sue, came into his life

half aworld away in Tasmania

is every bit as riveting.

Olive, Mabel &me, by Andrew

Cotter

Olive and Mabel are two of the

internet's favourite dogs. They

are canine companions to

sports commentator Andrew

Cotter, who turned to them for

Down South, by Bruce Ansley

From Curio Bay to Golden Bay,

Down South writer Bruce Ansley

sets off on avast expedition

across the South Island, Te

Waipounamu, visiting the places

and people who hold clues to the

south's famous character.

Lioness, by Sue Brierley

Saroo Brierley's journey home

to asmall village in India with

the help of Google Earth became

an international bestselling

book and inspired the major

inspiration during the Covid­19

lockdown of 2020.

These titles are available in

both Waimakariri and Hurunui

libraries.

Find out more about recent

additions to the library

collection by going to the

library catalogue at

waimakariri.kotui.org.nz or

hurunui.kotui.org.nz or contact

your local library.

VOTE

NOW!

FINAL

WEEK OF

SALE

PHOTO CREDIT:

KAREN

MOFFATT-MCLEOD

PEOPLE'S CHOICE AWARD 2021

YOUR VOTE MATTERS MOST!

For thefirsttime, the Kiwi Gardener

BirdPhoto Competitionincludesa

People's Choice Award,where your

votematters themost. The winner

will have theirbirdpride of placeina

stunning 2022 calendar.

SELECT UP TO THREE

FAVOURITES!

VOTE ONLINE AT KIWIGARDENERMAGAZINE.CO.NZ

?

2396590

*Terms andconditionsapply, votingends August11, 2021.

Ph. 3136640| 275Flaxton Road, Southbrook

sales@brandmowers.co.nz
---
IT'S TIMETOSTEP UP

FROM 5IN1TO

COGLAVAX8 VACCINE

The health and welfare of our

animals is really important to

us, so we use products that

achieve results

Hayden Ashby

Livestock Operations Manager,

Brownrigg Agriculture

STEP UP TO 8 IN 1 PROTECTION

When you're running big numbers of sheep and cattle… there's one number you want

to keep really low. And that's unnecessary losses from Clostridial disease.

That's why Brownrigg Agriculture have stepped up from 5 in 1 to Coglavax8

vaccine to protect against 8 Clostridial diseases present in New Zealand.

ONLY AVAILABLE FROM YOUR VET

CEV0001 APFP

coglavax8.co.nz

Ceva Animal Health (NZ) Limited. P: 09 972 2853 ACVM No. 7528 References: 1. JS Munday, HBentall, DAberdein, MNavarro, FAUzal &S Brown, Death of aneonatal lamb due to Clostridium perfringens type B

in New Zealand, New Zealand Veterinary Journal 2020. 2.West, Dave M., Bruere, A. Neil and Ridley, Anne L. The Sheep, Health, Disease and Production. Auckland: Massey University Press, 4th ed., 2018. Print.
---
New season

challenges

By DAVIDHILL

Immigration restrictions are

continuing to be aheadache as calving

gets under way in North Canterbury.

Federated Farmers North

Canterbury senior vice­president

Rebecca Green says she has endured a

60 day wait to get afarm worker

approved by Immigration New

Zealand to work on the Cheviot farm

she contract milks with husband Blair,

after no locals applied for the position.

On the positive side, the

government's relaxing of visa rules

means an existing farm worker has had

his visa extended from 12 to 24 months,

''which is really great'', she says.

''It's tough for alot of people. It's just

very stressful and very hard for my

husband and our workers who are

having to carry the extra load.

''A lot of farmers don't have the

workers that they need, but we just

have to soldier on and get through.''

Despite the drought and the recent

heavy rain events, Ms Green says the

farm is ready for calving after some

late season grass growth and the cows

are in good condition.

''Calving is under way and if we don't

get too many more adverse weather

events, we will be fine.

''That second lot of rain probably hit

Hurunui worst than the (May 31) flood

event, but we have just got to try to do

the best we can.

''We still care about our animals and

our people, so it's about making sure

we are all OK.''

Anetball injury means Ms Green is

out of action for calving, but she has

managed to find some casual workers

to step in.

''But otherwise everything is looking

good.''

While the farm is next to both the

Hurunui and Greta rivers, it has come

through the rain events without too

much damage, aside from the Greta

River flooding apump, some debris

and broken fences.

Fewer lambs expected

By DAVID HILL

Spring lamb numbers are expected to be

down around the region.

North Canterbury scanning contractor

Daniel Wheeler says scanning results

have been mixed around the region, with

the season's drought taking its toll.

The Amberley­based contractor

pregnancy scans ewes in the North

Canterbury and Ellesmere areas.

He estimates scanning percentages are

down about 10 to 20 percent.

''The results are quite mixed. Ewe

condition is pretty good, as farmers have

been feeding out for awhile and good

lamb prices are keeping farmers

optimistic,'' Mr Wheeler says.

''Overall Iwould say lambing

percentages are down 10% to 20%. Some

are down more than that and some have

seen little change.''

Federated Farmers North Canterbury

meat and wool vice­chairman Stu Fraser

says most farmers have had reasonable

scanning results, given the dry summer.

''We've had the same dry rate but less

triplets, which is agood thing when

there's afeed shortage. Triplets can take

alot of extra work for very little return,

but twins are perfect.''

While the recent rain saw the Hurunui

River in flood again, following the May 31

flood event, his farm had come through

with only minor damage.

With plenty of sunshine over the last

two months, soil temperatures have

remained at 9.5 to 10 degrees, allowing

Local Business Serving The Local Area.

• All agricultural and cultivation work

• Direct drilling -Giant discing -Ploughing

-Power harrow -Air seeding

• All heading and windrowing requirements

• Hay -Baleage -Straw

Medium square, round, conventional.

Double mower conditioners, wrapping.

New season ... Early season lambing is

under way in some parts of Canterbury.

PHOTO: FILE

for some winter grass growth and

providing some welcomed relief after the

drought.

Lambing is due to get under way in two

weeks and Mr Fraser is feeling

cautiously optimistic about the season

ahead.

''It's early days yet, but things are

looking promising. Everything else is

ticking along and it's looking good for

beef and sheep. As long as the market

holds up, we will be right,'' he says.

''We are reliant on the weather, but as

long as we get some grass growth to

replenish our winter feed we will be

fine.''

We look after your needs like we look after our own!

• Daily Freight Run to Ch-Ch &Return.

Ph: 0274 517 063

0274 321 581 (Bus)

03 314 4565 (H)

2337025v1

RURAL LIFE

The North Canterbury News, July 29, 2021

2354936

2191656

23

MEAT2U.NZ

HOME KILL

&WILD GAME

MEAT PROCESSING

313 0022

FENCING

• Post Driving

• Stock Fencing

• Stockyards

• Post and Rails

• Lifestyle etc

Ph Andy Horn

021 214 1201 or

(03) 314 9460

POST &RAIL FENCING

Looks great &makes life easy

for the Rural Lifestyler!

-Full range of specialised equipment for farm

fencing and lifestyle blocks, offers you the

complete land package.

-All types of fencing including:

deer,sheep and cattle yards

-Land blasting

Ashley: 0274 364 776 ah: 314 8541

e: A.Duckworth@xtra.co.nz

www.duckworthfencing.co.nz

"Quality fencing built to your budget"

2266722

RangioraToyota

2016 HiluxSR5 4x4

•2.8L Turbo Diesel Auto

•Sat Nav

•Cruise &ClimateControl

$

46,995

2017 LandCruiser PradoVX

•2.8L Turbo Diesel, Leather

•NZ-new,Sat Nav

•Only 43,500km

$

71,995

2000 Toyota HiaceMinibus

•2.4Lpetrol, auto

•Aircon, 10-seater,4-door

• Only 51,900kms

$

17,995

2018 HIGHLANDER GXL

•3.5LV6petrol, auto

•7-seater, leather,Satnav

• Only 52,600kms

$

51,995

2018 Nissan Navara RX

•2.3LTurbo Diesel Manual 2WD

•Camera, Tonneau

•Only 13,600kms

$

35,995

2013Toyota AlphardSC

•2.4LPetrolAuto, 7-Seater

•DualElectricDoors

•25,250kms

$

36,995

Percival Street,Rangiora • Ph (03) 313-8186any time • www.rangiora.toyota.co.nz

Signature

CLASS

2019 Nissan Navara ST 4WD

•2.3LTurbo Diesel Manual

•Camera, Satnav

•61,000kms

$

44,995

2018 Nissan Navara RX4x4

•2.3LTurbo Diesel Manual

•Alloys, Bluetooth

•Only 58,100kms

$

41,995

2018 Landcruiser PradoTZ-G

•2.8L turbodiesel auto

•KDSSsuspension,7-seater

•40,250km

$

71,995

2016 LandCruiser PradoTZ-G

•2.8L Turbo Diesel

•ReverseCamera, Bluetooth

•Sat Nav

$

57,995

FINANCE &INSURANCE AVAILABLE

2394060
---
Rangiora Toyota

Percival St, Rangiora

(03) 313-8186

www.rangiora.toyota.co.nz

Proudly supportingsport

in North Canterbury

Saracens and Kaiapoi to play for NC title

RUGBY

By LINDSAY KERR,

PETER WILLIAMS

AND DAYLE SUTHERLAND

Truetoform Saracensand

Kaiapoi willcompetein

Saturday's LuisettiSeeds

North Canterburyrugby grand

final.

Saracens comfortably

accounted for Oxford 37­10,

while Kaiapoiwas forced to

grindout its 19­3 overHurunui

in lastweek's semi final

encounters.

Saracens raninfivetries to

Oxford'stwo at Southbrook

Parkinagame where both

teams playedanattractive

brand of rugby.

Saracens superiority

however cameinthe forwards,

withascrum thatlaid a

platform for its backstowork

on and exploitthe Oxford

defence.

Fullback HarryMurray was

quickly into the action for

Saracens when he scored after

finding room downthe blind

side touch 25 metres outfrom

the Oxford line. Oxford missed

apenalty attempt before

Saracen's AlexKennedy scored

from apushover.

Although the Saracenspack

was starting to dominate,

Oxford spent timeonattack

thatresulted in its impressive

numbereight, Jesse Houston,

scoring in the corner.

The scene for the final

outcome was set on the stroke

of half timewhenWillie Kerr

was on handtoscore afterthe

ballwas swung wide on the

openside.

Leading21­5going into the

second half, SaracensRicky

Allinadded to Oxford'spain

kickingtwo penalties in the

first10minutes.

Oxford again spent timeon

attack and wasrewarded with a

well­executedtry from full back

Angus Mitchell.

Thathoweverwas the endof

the scoring forOxford, and with

the penalty count steadily

stackingagainst them,it

allowed Saracenstodominate

the final quarter, with Matt

Freeman and John Wakelin

both scoringtries.

Lock Alex Kennedywas a

stand out forSaracens, on aday

thatcouldhave seen him

rowinginthe New Zealand

eight in Tokyo, but he chose to

remainathome. Willie Kerr

relished being back on the side

of the scrumandRickyAllin

wasagain accurate with his

tactical kicking.

JesseBowringand Angus

Mitchell weredangerousinthe

Oxford backlinewhen getting

an opportunity, while nobody

triedharder in the packthan

evergreen StewDalzell.

Scoreboard: Saracens37,

AlexKennedy, HarryMurray,

Willie Kerr, MattFreeman and

JohnWakelintries. Ricky Allin

3conversions and2penalties.

Oxford 10, JesseHouston,

Angus Mitchell tries.

Kaiapoi off boil

As aspectacle the semi­final

between Kaiapoiand Hurunui

rarely got outofsecond gear,

frustrating both setsofcoaches

and the spectators.

The actionnever movedfar

away fromthe forwards, but the

defensive linesofbothteams

were very efficient.

Hurunui hit the front after

just6minutes withaDigby

Heard penalty, but that wasto

to be the only time Hurunui

offered anyemploymenttothe

scoreboardattendant.

As has beenits practicein

recent weeks, Kaiapoiturned

downastraight­forward

opportunitytolevelthe scores.

It soongained an attacking

scrumopportunity, aphase of

the game where Kaiapoihave

beenparticularlystrong in

recent weeks.

The Hurunuiscrum,

bolstered by the inclusionof

players like theformer

Crusaders hooker Ben Funnell,

and evergreen Nordy

Anderson,held off the Kaiapoi

shunt but as thescrumcrabbed

its way cross­field the ball

poppedout and the ever­alert

Jarred Gilmour pounced on it

and barged over for an

invaluable try. Taine Jacobs­

Lawson converted.

For the restart of the half,

both teams cancelledeach

other out.Kaiapoitook a7­3

Pile up ... Saracens prepares to launch an attack as Oxford defends stoutly.

leadinto the second half.

Moreofthe same ensued

until Kaiapoifinally put

togetheraneffectiveplanned

move, from an attackingscrum.

After acouple of passes to the

right, winger Kimeon Reade

insertedhimself at pace and a

perfectly­timedinpass puthim

across near the posts for

Jacobs­Lawson to add the

extras.

Kaiapoistarted to gain some

ascendancyupfront and played

most of the gameinHurunui's

half. At the 60 minute mark, its

forwardsconcerted efforts

were rewarded when Logan

Bell forced his way overafter a

series of pickand gos for what

proved to be Kaiapoi'sfinaltry.

CaptainWill Jamieson and

centre HunterJohnson were

the pick of the bunchfor

Hurunuiwhilethe whole

Kaiapoiforward pack deserved

credit for their endeavours

againstanopposition that

never gaveaninch. In the

backs,replacement centre,

Jovilisi Taleqa added amuch

needed spark.

Kaiapoiappears to havegone

off theboil somewhat in recent

weeks and is amereshadow of

the team thatwas playing with

pizzazzand confidence in mid

season.Byand large, though, its

kept winningand will be

buoyed by the opportunity to

play in aGrandFinalonits

homeground on Saturday.

Their standards,though, will

need to go up anotchortwo to

match aSaracensteam thathas

already beaten them twicethis

season,and arehaving their

best season for manyyears.

Scoreboard: Kaiapoi 19

(Jarred Gilmore, Kimeon

Reade, Logan Bell tries. Taine

Jacobs­Lawson,2conversions)

beat Hurunui 3(DigbyHearda

penalty).

Close call

Glenmark­Cheviot passed up

homefield advantage and met

Ohoka under lights in what

were perfect conditionsona

crisp eveningatMandeville. It

won34­33, thanks to alast

minute penalty.

The visitors wentout to a7­3

leadearlyinthe game, however

Ohoka wasnodoubtmindful of

lastweek's encounter and

never let the visitors settle,

playingwith much improved

PHOTO: LEONIEHANCOX

intentand structure.

Ohoka wasable to convert

field positioninto points and

closed thefirsthalf with a

rewarding 23­7 lead.

Glenmark­Cheviot was

certainly on the back foot,

however wasnever outofthe

match.

Twoconvertedtries early in

thesecondhalf pushed

momentum the visitors way,

andwhile Ohokawas able to

respondwith aconvertedtry to

theenergeticTom Taylor,

Glenmark­Cheviotclosedthe

gapagainwith afurther

converted try.

Apenalty­a­piece in the

closing stagekept Ohoka in

front, however, withtimeupon

theclock, an offside

infringement fromOhoka

handed Brook Retallick 3

points fromthe ensuing penalty

to takethe match for Glenmark­

Cheviot 34­33. Ohoka's young

hooker JackWedlake and

Glenmark's half back Jordie

Gray bothimpressed.

Scoreboard: Glenmark­

Cheviot 34 Ohoka 33.

Ashley comfortably

accounted for astruggling

Woodend side 64­5.

More productsin-store and online!

WINTERSPORTS

BASKETBALL NETBALL RUGBY

FOOTBALL HOCKEY

Sign up to our

customer club &earn

%

10OFF

thesportshop.co.nz

345a FLAXTON RD,RANGIORA |03313 7983
---
SPORT

North Canterbury News, July 29, 2021

25

Rangiora hockey women win again

HOCKEY

It was deja vu forRangiora

Hockey Club's division1

women's teamwhen they took

on SouthernUnited last

Saturday, less than aweek after

playing acatch up game.

Once againRangiora was the

strongerteam, affecting aone

goal victory to build confidence

heading into the last rounds of

pool play.

The division 1men werenot

so lucky, outclassed by

Southern United,which sits

second on the tablecompared

to Rangiora's eighth.

Rangiora is well out of the top

four,but withonly two points

separating the next five teams it

can still finish higher on the

table.

In Sunday super league

action Rangiora Korimakoand

Rangiora Oddfellows putin

superb performances to

comfortablyaccount for its

University opponents.

The Colts could onlysalvagea

draw against Avon,while the

Piwakawakawas understrengthwith

players out

injured and was no matchinits

University clash.

Rangiora Amen's midweek

open team was of its best in a

scratchy 1­0 win over

Harewood,failing to score from

anumberofpromising chances.

TheAllsorts(Bteam) created

chances and scrambled on

defencetowin over University

Romans. The two Rangiora

teamsmeet for the secondtime

this season, next week, in what

is shaping up to be acloser

contest than might havebeen

expectedearlieron.

In lower grades, both

Platinum Amen's and women's

teamsput in improved

2021 NORTH CANTERBURYSPORTS AWARDS

Celebrating the Sporting Achievements of our localAthletes,

Administrators, Officials&Supporters during 2020 &2021

Nominations in the 2021MainPowerNCSports Awards aresought for 13 categories:

•Sportsman •Sportswoman •Administrator

•Sports Team •Coach •Sports Official

•Junior Sportsman •Junior Sportswoman •Masters Sportsperson or Team

•Athlete withaDisability •ServicetoSport(x3) •Sports Event

•Sports Club of the Year

Official Media Partner of the 2021

North Canterbury Sports Awards

On attack ... Neve Fantham scores agoal for the Rangiora Road

Runners Kiwi Sticks Girls team against Harewood Hotsticks. Sammy

Smith watches on.

performances,but in the end it

was only the women which

came awaywithcompetition

pointsinthe game against

Harewood.

There is no stoppingthe

Rangiora Rabbits, which keeps

dominating its opponents

despite being moveduptwo

gradesinthe kiwi sticks

competition.

All Rangiora's kiwisticks girls

teams had winsover the

weekend, as did the Rockets in

the girls mini stickscompetition

and the Rascals in the kwik

sticks11­a­side competition.

Results:

Division 1: Men:Rangiora

CBK 1(John Single 1) lost to

Southern United Sluggers 5.

Women:Rangiora CBK 3

(Kaylee McDonald 1, Claudia

Petrie1,Ronnie Hay 1) beat

Southern United 2. MVP: Malia

Parsons.

SundaySuperLeague

Championship: Men: Rangiora

Colts 1(RhysSeverinsen1)

drew withAvon 1. MVP:Caleb

Applicationsarealso soughtfor 10 Youth Sports Scholarships,each worth $2000 to go towards

developing an individual's sportingtalent. From the finalists awinner and tworunners up will be

selectedtoreceiveanadditional $5000 and $2500 respectively.

Nominations close 17th September. Enter at...

www.sportstrust.org.nz

Phone: 03 975 5560

or Email: roliver@sportstrust.org.nz

PHOTO:SUPPLIED

Orchard.RangioraOddfellows 4

beat University Celts 1. Women:

RangioraKorimako 8(Tayla

Flemming 2, Kalyn Thomas2,

Poppy Griffith­Jones 1, Ashleigh

Merrick 1, HannahRobertson1,

Indi Wilkie 1) beat University

Athenians 1. MVP: Emma Cook.

RangioraPiwakawaka0lost to

UniversityInca 13. MVP:Kala

Ryan.

Mid Week Open: Men:

RangioraA1beat Harewood

Red 0. Rangiora Allsorts 4(Jon

Green 2, JuandeKock 1, George

Ridgen1)beat University

Romans2.

Platinum Grades: Men:

RangioraA2(Sam Firth 1,

Noah van Tuinen 1) lost to

Carlton Redcliffs 3. MVP:

SandroMarty­Heisiger.

RangioraB0lost to Waikirikiri

5. MVP: Heith. Women:

Rangiora A4(NikitaWarnock 1,

SophieBell 1, BrookeCooper 1,

Tilly Dodds1)beat Harewood

Black 0. MVP: Lily O'Steen.

RangioraB1(Meg Hapgood 1)

lost to Harewood Green 4. MVP:

Kimberlea Orchard.

Kwik Sticks 11­a­side: Boys:

Rangiora Renegades4(Henry

Webb 4) lost to Medbury School

10. MVP: Ollie Taylor. Girls:

Rangiora Rascals3(Felicite

Antoniuk­Newall2,Olivia

Lander1)beatHSOB/Burnside

Lions 1. MVP: Libby Baggott.

Kwik Sticks 7­a­side: Boys:

Rangiora Rampage 1lost to

Waikirikiri Hawks6.Rangiora

Rangers1(JamieRyan 1) drew

with HSOB/Burnside Hunters 1.

MVP: CameronKuch. Girls:

Rangiora Rebels 2(Meg Dunn 1,

Bella Ealam­Smith1)drew with

Malvern Blue 2. MVP: Sienna

Watson. RangioraRainbows 0

lost to Harewood 4. MVP: Lelani

Pokoina. Rangiora Rubies1

(ImogenAbernethy 1) lost to

Hinemoa­Kaiapoi 9. MVP:

ImogenAbernethy.

Kiwi Sticks: Boys: Rangiora

Rogues 1(Seth Cann 1) lost to

Southern United Stick Insects 6.

MVP: TJ Iona. Girls: Rangiora

Rabbits 8(Catherine McKellow

3, Emma McKellow 3, Ashlee

Harkess2)beat Carlton

Redcliffs1.MVP: Quincey

Hawes. Rangiora Raiders7

(Lucy McLean 2, Zara

Cartwright 2, Emma McKellow

2, Ana White1)beat Avon/St

Michaels Blitz 0. MVP:Emma

McKellow. Rangiora Road

Runners10beat Harewood

Hotsticks 6.

Mini Sticks: Boys:Rangiora

Roadsters 3(Aidan Ferguson1,

Harry Pullar 1, JordanThomson

1) losttoSouthernUnited

Snakes 5. MVP: Eli Cann. Girls:

Rangiora Rockets7(Ruby

Hutchison 5, Shaylee Eastmond

2) beatHSOB/Burnside

Ducklings 1. MVP: Ruby

Hutchison. Rangiora RockStars

3(CharlotteHawes2,Ila Beavis

1) drewwith Hornby Lynx 3.

MVP: Charlotte Hawes.

Hurunui netball play-offs next Saturday

NETBALL

The final HurunuiNetball round robinwas

played at the weekend at Glenmark.

Both Glenmarksenior teams, which have

battled with injuries throughout the

season, met in the final round.Glenmark A

won the entertainingencounter

comfortably.

Next week in the Agradesemi finals

Glenmark and Cheviot, and Waiau and

Culverdenwill be fighting foraplace in the

finals.

Glenmark under­14 had acomfortable

win over Culverden, withboth teams

putting in abig effort.

Glenmark future ferns 5s played five

gamesinatournamenttoend the season.

All playedwell putting all their skills learnt

over the season intouse on court. They

demonstrated some greatcatching,

pivoting, passing and defenceskills.

Maisie Teutenberg showed impressive

defensive skills, Henrietta Maxwell had

greatbounce passing, Emma Cowanand

Rebecca Lewis with awesomecatching and

passing and Ella Stanley with her great

shooting style. Ella and Maisie Thomson,

who were absent,have beenshowcasing

great pivoting and catchingskillsalso.

Results: Agrade section 1: Glenmark A

55 Glenmark B19; WaiauA33 Culverden A

21. Section 2: Hawarden 35 Waiau White 14;

Cheviot B36Hanmer B8;HanmerA25

WaiauBlack 23.

NOMINATE

YOUR LOCAL

SPORTING

HEROES NOW

NOMINATE

YOUR LOCAL

SPORTING

HEROES NOW

Nominations /Applications close

5pm Friday 17th September 2021

NORTH CANTERBURY

RUGBYSUB UNION DRAW

31 st July 2021

LuisettiSeeds Division 1Final -31/07/21

SaracensVKaiapoi, 03:00PM, KaiOv.

Division 1Plate Final -31/07/21

Ashley VGlenmark Cheviot,01:30 PM,Kai 2.

Ellesmere &North Canterbury Div 2(SectionA)

Division 2Final -31/07/21

Glenmark CheviotVKaikoura,01:00PM, KaiOv.

Division 2Plate Final -31/07/21

Ohoka VWoodend,11:50 AM,Kai 2.

1st XV Round Robin

31/07/21 RHS 1st XV VStAndrew's College 1st XV,

12:00 PM,RHS 1.

Under15

31/07/21 Hurunui VOxford, 11:20AM,Kai 1.

U12 -U13 -North Canterbury Only

Section A

31/07/21 Kaiapoi GoldVAmberley Black, 10:20 AM, Kai

2. 01/08/21 Oxford VAshley, 11:00 AM, Ox2.Hurunui

Blue VGlenmark Cheviot, 11:00 AM, Cul 2. Woodend V

Saracens, 12:25 PM, Wood 2

SectionB

01/08/21 WoodendVOhoka Black, 11:00 AM,Wood2.

Saracens VKaikoura Blue, 11:00 AM, Sbk 2. Oxford V

KaiapoiBlue, 11:00AM, Ox 3.

Under11

01/08/21 Ashley Green V Glenmark Cheviot, 12:00

PM, Omi 1a. Oxford VHurunuiBlack,12:00 PM,Ox4a.

Ohoka RedVKaiapoi. 12:00PM. Mandj5a. AshleyBlue V

Woodend, 12:00 PM, Lob 5a. Ohoka BlackVSaracens

Red, 12:00 PM, Mandj7. Amberley Black VKaikoura A,

12:00 PM,Amb 1a.

Under10

01/08/21 Hurunui Black VOhoka Red, 12:10 PM, Cul

1a.OhokaBlack VOxford, 12:10 PM, Mandj4a. Ashley

VSaracens Blue, 12:10 PM, Lob 4a. Saracens Red V

Amberley Black, 12:15 PM,SBJnr7.

Game of3halves -Woodend vGlenmark Cheviot v

Kaiapoi, 11.00 AM, Woodend2a(25 min halves).

Under9

01/08/21 Glenmark Cheviot VOhoka Red, 10:00 AM,

Omi2a.AmberleyBlack VKaikoura, 10:00 AM, Amb3a.

Woodend VKaiapoi BLUE, 10:00 AM, WoodJ4a. Ohoka

Black VAshley Green, 10:00 AM, Mandj4a. Saracens

Blue VHurunuiBlack,10:00 AM, SBJnr7.

Game of 3halves - AshleyBluevOxford vKaiapoiGold,

10:00 AM,Loburn4(25 minhalves).

Under8

01/08/21 KaikouraVAmberleyBlack,11:05 AM, Kaik1a.

Glenmark Cheviot VSaracens Red, 11:05 AM, Omi 1b.

Ohoka Black VOhoka Red, 11:05AM,Mandj4a. Oxford

VHurunui Black, 11:05 AM, Oxjn5a. Saracens Blue V

Ashley Green, 11:10 AM, SBJnr7.

Game of 3halves - Kaiapoi v Woodend vAshley Blue,

11:05 AM,Woode 3a (25 min halves).

Under7

01/08/21 Hurunui Black VKaiapoi, 10:50 AM, Cul 1a.

Saracens Orange VAmberley Black, 10:50 AM, Sbk3b.

Saracens Red VGlenmark Cheviot Black, 10:50 AM,

Sbk3a. Ashley Green VOhoka Red, 10:50 AM, Lob 4b.

AshleyBlueVSaracens Blue, 10:50 AM,Lob 4a.Ohoka

Black VOxford, 10:50 AM, Mandj6. Woodend Black V

GlenmarkCheviotBlue, 11:05AM,WoodJ4b.

Under6

01/08/21 Glenmark Cheviot Black V Saracens Blue,

10:00 AM, Omi 1a. Amberley Black VWoodend Green,

10:00 AM, Amb 2a. Woodend White VKaiapoi GOLD,

10:00 AM, Wood 2a. Saracens Orange VGlenmark

Cheviot Blue, 10:00 AM, Sbk3a. Oxford Black VAshley

Gold, 10:00 AM,Ox4a. Ashley Blue VOxford Red, 10:00

AM, Lob 4a. Ashley White VOhoka Green, 10:00 AM,

Lob 4b.HurunuiBlack VHurunuiBlue,10:00AM,Cul5.

Ohoka Red VKaiapoi BLUE, 10:00 AM, Mandj6. Ohoka

Black VAshleyGreen, 10:00 AM, Mandj7

Game of3halves -Woodend Black vKaiapoi WHITE

vSaracens Red, 10:00AM,Wood2b(20 minhalves).

Game of3halves - First half: 1plays 2, Second half: 1

plays3,Third half: 2plays3.

Printed draw proudly supported by

Four SeasonsRealty

Your home forlocal property

0800 789 1011

Four Seasons Realty 2017 Ltd|Licensed Agent REAA 2008

For all draw information and updates

please keep up to date with

North Canterbury Rugby

2364200
---
Cust 538 Ashley Road

AVery Special Lifestyle Block

Stunningviewsfrom this wellsheltered4ha block on thecorner of Ashleyand Bowicks Road. Stock waterrace along the

Eastern boundary.Large3bay haybarn with adjacent concrete pad. Old pasturesidealfor horses.Deer fenced boundary.

Fantastic area forthe horse loverwith amazing road riding and nearby is the Ashley River. Well established tree shelter on the

nor/west side. Lots of potential building sites to take advantageofthe views. Lifestyle blocks like this one don'tcomeupvery

often, it's amust to view. ForSale By Auction: on site, Friday13th August 2pm.

Auction 2.00pm,Fri 13th Aug, 2021, (unlesssold prior)

View By appointment

Web pb.co.nz/RL93336

Janice Clyma

M 027 434 7090

E janice.clyma@pb.co.nz

Rangiora 31 Melford Close

Final Notice

The Party is Free!

Book your free appraisal today, then list and sell your house with

me, and the house warming party is free!

Auction onsite-30July 2021

Hidden in asought after cul-de-sac, this five bedroom brick home has

enough space for two families!Built in the 2000s, it combines modern

materials with the comfort of being locatedinaquiet established

street handy to allRangiora amenities.Enjoy all daysun in the large

open plan family room, dining and breakfast bar area, or retreat to the

spacious second lounge for relaxation. Apelletfire, heat pumpsand

double glazing ensure absolute comfort. All five bedrooms are large

with double wardrobes, with the master bedroom featuring an ensuite

with shower, toilet andlarge bath. There are three toilets for comfort

and aseparate laundry with lots of storage.

5 2 2 4

Auction 4.00pm, Fri 30th Jul, 2021,

(unless sold prior), On site

View By appointment

Web pb.co.nz/RU87554

Kirstyn Barnett

M 021 312 230

Includes food, refreshments and set up of the party up to $1,000

incl. GST* with up to 30 people at your new home.

Foryourpersonalised property appraisal and specialist advice,

Call me -YourPropertyExpert-Today!

LindaMcCarthy Residential/Lifestyle Sales Consultant

M 022 692 6090 lindaselznzproperty

E linda.mccarthy@pb.co.nz

*Terms &conditions apply based on per person basis. Property Brokers Ltd Licensed REAA 2008 |PB050049

Property Brokers Ltd Licensed REAA 2008 |pb.co.nz

Proudtobehere
---
Four

Four

SeasonsRealty

Seasons Realty

RENTAL

PROPERTIES

Beer Local Property Management.

Wanted!

Wecurrently haveashortageof

houses in theCanterburyarea.

If you are considering buying a new

investment property or currently have one

you'd like professionally managed, please

call ustoorganise your free rent appraisal

and to chat about how your local Harcourts

Four Seasons office can help you maximise

your rental returns.

027 202 4472|0800789 1011

fsrentals@harcourts.co.nz

Four Seasons Realty2017Ltd |Licensed Agent REAA 2008

Four Seasons Realty
---
What's happening in your

community…

MainPower Stadium Opening

The public are invited tojoin Mayor Dan Gordon

and the Councillors at the official opening of

MainPower Stadium.

It's taken two years to build and the Council are

excited to show itofftothe wider District. The

6,000m 2 building will house four indoor courts and

includes acentral fitness facility, changing rooms,

coaching and meeting spaces, and seating for up

to 500 spectators.

Come along onSunday 8August at12pm for

the official opening and then you can join a

tour of the facility and enjoy demonstrations of

different sports as well as kapa haka groups. The

invitation is open to all and we look forward to

seeing you there.

It's Back to School this Week

School holidays are over and our children will be

heading back to school.

Darker mornings and evenings, and wet or foggy

days all contribute to reduced visibility so please

make sure your kids know tobealert and are able

to be clearly seen.

Here are acouple of quick tips that might make

the school run safer for everyone:

• For those that live rurally, make sure your

youngsters wear some type of reflective garment

if they're walking or cycling to school ortocatch

the bus. Giving drivers every opportunity to see

them helps reduce the risks

• Remember to check lights are working on

bicycles if riding in dark or low light conditions

• Drivers should allow plenty of space and slow

down when you see young people walking or

cycling. Children cannot accurately judge the

speed and distance ofapproaching cars –so

slow down and expect the unexpected

• Inareas where there are vulnerable road users,

like schools, reduce your speed regardless of

the speed limit. Driving to the conditions means

being aware of what is happening around you

and driving appropriately so you can react should

something change

• Police have alow tolerance for speed around

schools and when passing stationary school

buses. Drivers are required to slow down to

20km/h nomatter what side ofthe road they

are onwhen passing

• Ifyou drive your children to school, think about

parking further away from the school gate and

walk. This will help reduce congestion making

it safer for everyone. Double parking is of

particular concern during pick-up and drop-off

times and puts children at risk by creating more

hazards for them to negotiate.

Computer Coursefor Seniors

DigitalIntroductory

FREE four week small group beginners class.

Covers usingdifferent devices, theinternet

and email.

Kaiapoi Library

Starting Monday 2August 10am-12pm for four weeks

RangioraLibrary

Starting Friday 6August 10am-12pm for four weeks

Bookings Essential

libraries.waimakariri.govt.nz

03 311 8901

KNOW YOUR ZONE

TSUNAMI INFORMATION EVENINGS

Hear about the science behind the new tsunami

evacuation zones and learn practical thingsyou can

do at home to be better prepared in this series of free

public meetings.

TOPICS INCLUDE:

The Science Behind the Tsunami Zones |How Likelyisa

Tsunami |Overview of the New Zones |Responding to a

Tsunami Event|Having aPlan at Home |Q&A Time

INFORMATION EVENING DATES:

Kaiapoi

Wednesday28July, 7pm

Kaiapoi High School

Woodend

Thursday29July, 7pm

Woodend Community Centre

The Pines Beach/Kairaki

Wednesday4August,7pm

The Pines Beach/Kairaki Community Hall

Online

Wednesday11August,7pm -Watch on Facebook &Youtube

facebook.com/ WaimakaririDistrictCouncil

youtube.com/waimakaririDC

Should theCouncil support a proposal

to make changes to thelevel of development

contributions required in North East

Rangiora to support growthinthis area

through theprovision of infrastructure?

Theareafrom Kippenberger Avenue North through to

ColdstreamRoadandacrosstoGolf Links Road has

beenidentified as an area forfuture residential growth.

Before adecision is made, we'd like to know

what you think. Share your feedback before

5pm onTuesday 24August 2021.

Have You Registered

Your Dog Yet?

By now you should have received your

2021-22 dog registration application.

If you haven't please contact uson0800 965 468

or email office@wmk.govt.nz toupdate your records.

To avoid penalties, pay your annual dog registration

by 31 July 2021.

All dog registrations can be paid online at

waimakariri.govt.nz or at our service centres in

Oxford, Rangiora and Kaiapoi.

If youare paying by internet banking, please use the first

animal ID numberlisted on theform as areference.

Register now at:

waimakariri.govt.nz/dogs

ABOUT NORTH

EAST RANGIORA

DEVELOPMENT AREA

Have your say waimakariri.govt.nz/letstalk
---
NEWS

North Canterbury News, July 29, 2021

29

River clean-up asuccess

Give usyour

feedback

RuralTales

Join us to hear local author TimFulton talk about

hisnew book Kiwi Farmers' Guide to Life.Tim will

be joined by George Black, who recently ran

'100kminGumboots',toraise money forfarmers

going through toughtimes.

FRIDAY

30 July

›Rangiora Library •7pm

Find out more

libraries.waimakariri.govt.nz

03 311 8901

FROM

28

JULY

Woodend

BookReturns

Bin is Moving!

From Wednesday 28 July,theWaimakaririLibraries

Book Returns bin is going to be relocated to the

WoodendCommunity CentreonSchool Road.

(LEFT OF THE FRONT ENTRANCE BY THE BIKE STAND).

libraries.waimakariri.govt.nz

More than 100 people from 11

local groups collected three

tonnes of rubbish and 93 tyres

during the Ashley River clean­up

on Sunday.

Canterbury Recreational 4WD

clubs, Rangiora Rotary, the

Ashley­Rakahuri Rivercare

Group, the Waimakariri District

Council, the Waimakariri Youth

Council, Eco Educate, Keep

Rangiora Beautiful, Rangiora

Lions, the Kaiapoi Walking

Group, Environment Canterbury

and the Rangiora Tramping club

all joined forces, following the

May 31 flood event.

''While Keep Rangiora

Beautiful and Rotary do regular

clean ups on the river berm, to the

best of my knowledge this is the

first time so many groups have

come together in acombined

effort,'' rivercare group secretary

Joan Miles says.

''Already people are asking

when the next clean up is.''

Joan says the volunteers are

already thinking about repeating

their efforts during Conservation

week in September.

''A huge thank you to all the

volunteers. It was great to have

the youth council involved and a

special thanks to the 4WD clubs as

we could not have managed

without their help.

Joan says it is disappointing to

have seen so much rubbish

dumped by the river, when much

of it could have been taken for

All ages ... Lucy Tavener (left) and Isabella Tavener were among the

volunteers at the Ashley River clean­up on Sunday.

PHOTO: SUPPLIED

free to the Southbrook Recycling

Station.

''Stuff like metal can be

dropped off for free,'' she says.

''Obviously more education is

required on where and how

people can dispose of rubbish.''

The various groups came

together amid concerns at the

expected build up of rubbish at

the Ashley River mouth resulting

from the recent flood.

Briefing ... Simon Woods shows

volunteers amap of the groynes.

Showcase returns

Showcase is returning to

Amberley in September.

The eventhas been the

majorarts and craftsevent

in the Hurunui district for

the last 25 years.

TheHurunuiCommunity

Arts Council missed

runningthe 2020show due

to the uncertainty around

covid restrictions.

But the exhibition will be

backinthe Amberley

Libraryfrom September24

for four days.

Thisyear's guestartist

willbeNeroli McKellow.

Showcase provides an

opportunityfor local

artists to show off their

skills, andshare their

ability withfellow

residents.

SPORTS RESULTS

Rangiora BridgeClub

Oxford Pairs: North/South:

Junette McIntyre/SueMcIlroy

1, Veronica Hall/DawnSimpson

2, Jeanette Chatterton/Gaynor

Hurford3.East/West: Beverley

Brain/Heather Waldron 1,

Cathy McPherson/Neil

McPherson 2, JanStupples/

Deborah Senior 3.

Winter Pairs:N/S: David

McRae/Fern McRae 1, Kareen

McKay/Maggie Johnston 2,

DaveTocker/Sue McIlroy3.

E/W:Jack Lyon/Judith Driver1,

Pat Green/HelenPaterson 2,

Ken Johns/JanRoose 3.

JuniorNight: N/S: Annette

Caldwell/Gail Dunlop 1, Ian

Rouse/Isabel Goodhew 2,

Bernie Lukken/Johns Kennedy

Covid­19, and the

restrictionsaroundit,

presentedart and craft

people in the Hurunuiwith

more time to indulge in

their favourite pastime.

Painting, photography,

ceramics,jewellery,

fabrics and knitting have

all beenonshow in past

years.

Organisersare hoping

people will try one or more

of themediums and enter

at least one iteminthe

show.

Entryforms for the2021

Showcase willbe available

at Hurunui Libraries

during August.

Entriesare welcome

fromall residentsofthe

Hurunui.

Anne Bagrie/Lynne Johnsequal

3. E/W: MurrayDavis/Sharyn

Davis 1, Denis Milne/Gerrard

McRae 2, Kerryn Lange/Karen

Manson3.

Winter Pairs: N/S: Shirley

Symns/Lynda Cameron 1,

ElizabethAlabaster/Colin Dick

2, Colleen Adam/Sarah Waldron

3. E/W Jenny Hassall/Linda

Hanham 1, Jeff Bergman/

Rhonda Bergman 2, Bernice

Lloyd/HelenMora 3.

Amberley Golf Club

Men (July 25):IHolding 38, N

Granger 37,MHarris 37, K

Rayner 35, KRattray 35, R

McPhail 35, KNaish35, R

Denby 35.

Twos: KRattray,TNatapu, D

Williams, MNeale ,K Naish.

Excel Design LongestPutt: D

VanTurnout.

Women:LSchwaiger 37, J

Glowteering

lures families

Over 100 people turned out to Activity

Hanmer's Glowteering event as part of

the Hanmer Springs Winter Festival.

Mostly family teams navigated their

way through the Hanmer Heritage Forest

on the Forest Amble trail, adorned with

face paint and glowsticks.

''It was so good to see them get their

glow paint on and have aboogie in the

hall before they hit the tracks in Hanmer

Heritage Forest,'' says Activity Hanmer

operations manager Michael van

Vledder.

''It was our first Glowteering Event and

Idon't think anyone else has done

anything like this in the region before.

''Our bread and butter is hosting

schools on their Summer Camps so it was

great to get out of our comfort zone and

try something new, which is what we

encourage all our school kids to do when

on their camp experience.''

Bishop 36, JYates36, KPercy

35.

MidWeek Men(July 21): N

Granger40, RHornblow 38,J

Wigley 36.

Two: RHornblow.

MidWeekWomen:V

Wormald +5,SLee +4.

9Holers:HAstell 35, HKemp

36, MCarpenter 37, JEvans 37.

Paris BakeryLongest Putt: M

Carpenter.

Amberley Smallbore Rifle

Club

KQuigley100.7, DQuigley

99.8,MQuigley 98.6, KBrown

98.5,PWisheart 97.4, CRhodes

95.3,CBoyce 94.2,WParker

93.2,IFrazer 92.3,CKelland

92.1,MParker91.1,GHeaven

89.0,TBoyce 87.0, GJennings

63.0,MPalmer 57.0.

Everyone welcomewith gear

supplied.
---
CLASSIFIED

30 The North Canterbury News, July 29, 2021

Public Notices

KAIAPOI CHRISTADELPHIANS

"The Key of Knowledge .."(Luke 11:52)

"GOOD NEWS"

In Exodus34:6-7 The LORD God explainwhatHEmeansby

HIS glory, which is actually HIS character.

"TheLORD,the LORD God of compassion and mercy!Iam

slow toanger and filled with unfailing love and faithfulness.

Ilavish unfailing love to athousand generations. Iforgive

iniquity, rebellion and sin.But Iwill not excusethe guilty".NLT.

2402833

THE SOUTHBROOK COMMUNITY SPORTS C LUB INC.

117 South Belt, Rangiora

Address all communications to:

The Secretary, PO Box 133, Rangiora. 7440

Email: sportsclub@saracensrugby.co.nz

AGM

TUESDAY17 th AUGUST

7.00pm @the Clubrooms

We have vacancies for the following voluntarypositions

which do need to be filled at the AGM.

Chairperson

Treasurer

Bookings Co Ordinator

If you are interested and would like more information,

please contact our current Acting Chair 027 438 4279

or Secretary027 457 8306

2402294

2403731

Amberley

Gun Club

AGM

Willbeheld at Clubrooms

Sunday8August2021

at Midday.

Programme ofday:

10.00 am Skeet

12.00 am AGM

1.00 pm 25 Tgt Single Rise

25 Tgt Points Score

25 Tgt Single Barrel

Lost and Found

FOUND Teddy Bear in my

garden clean up, Kingsbury

Ave, Rangiora. Please

phone 022 365 8655.

Personal

SEMI RETIRED kind,

caring man looking for a

loving relationship.

Seeking agenuine, caring

woman in her 70's, light

drinker. Ph 020 4129 5331.

Educational

TUITION available. Primary

and secondary up to

NCEA level 3. In centre

(Rangiora) or interactive

online from your home.

Each student on an individually

tailored programme.

Kip McGrath Rangiora has

been serving the local community

for 30 +years. Give

us acall (03 313 3638) or

book your free assessment

online https://www.kipmcgrath.

co.nz/rangiora

PUBLIC NOTICE OF

APPLICATION FOR

ON-LICENCE

SECTION 101, SALE

AND SUPPLY OF

ALCOHOL ACT 2012

RANGIORA CRAFT BEER

COMPANY LIMITED

has made application

to the District Licensing

Committee at Rangiora

for the renewal of an On

Licence in respect of the

premises situated at 7

- 9 DURHAM STREET,

RANGIORA known as THE

GOOD DROP.

The general nature of the

business conducted under

the licence is: CRAFT

BEER BAR/TAVERN.

The days on which and the

hours during which alcohol

is sold under the licence are

SUNDAY TOTHURSDAY:

8AM —11PM, FRIDAYTO

SATURDAY: 8AM —1AM.

The application may be

inspected during ordinary

office hours at the office

of the Waimakariri District

Licensing Committee at

215 High Street, Rangiora.

Any person who is entitled

to object and who wishes

to object to the issue of

the licence may, not later

than 15working days after

the date of publication of

this notice, file a notice

in writing of the objection

with the Secretary of

the Waimakariri District

Licensing Committee

at Private Bag 1005,

Rangiora.

No objection to the renewal

of alicence may be made

in relation to amatter other

than amatter specified in

section 131 of the Sale

and Supply of Alcohol Act

2012,

This is the first publication

of this notice.

2404122v1

AUDITION

NOTICE

Rangiora Players are

calling for cast for

"The Ghost Train",

agenre-defining comedy

suspense thriller by

Arnold Ridley,

directed by Dimitri Gibara,

performances in November.

Full audition information

from our website as listed

below. To book an audition

call Mark, 313-3441.

http://rp.nz/auditions

RANGIORA Country

Music Club night, 4th

August at 7pm. Venue is

RSA Rangiora. All welcome.

Enquiries to 027 928

1730.

AMPLIFY YOUR

BUSINESS AND

BE THE NAME

THEY SEE FIRST

Advertise with us and

get noticed today!

Phone us today on 03 314 8335 or email

sales@ncnews.co.nz to find out how we can help!

Situations Vacant

Driver –Truck and Trailer

We currently have an opportunity for an experienced class

5driver to join our friendly team based in Christchurch.

In this role you will ensure the safe and efficient operation

of ahook lifttruck and trailer unit (training provided).

There is more to collecting waste than you might think, we

offer late model trucks, set up with modern technologies

and we all take pride in delivering an essential service to

local residents and business.

We can offer you.

• A place on our fast-growing team where your safety

and compliance with driving rules is paramount

• Ongoing training and development

• A feeling of pride in delivering an essential service to

our community and working for an organisation that is

innovative and value focused

• Latest technologies on board trucks

• Opportunities to grow and expand your driving career

To be successful in this role you need to have;

• Avalid class 5licence with relevant driving experience

• Relevant transportindustryknowledge and experience

• You will need to be physically fit and have the ability to

work both autonomously and as partofateam

Benefits.

In return weoffer you an opportunity to be part ofagreat

team committed to providing acomprehensive one stop

service to meet abroad range of facility, waste, recycling

and industrial needs of our clients.

About Us.

Waste Management NZ Limited is New Zealand's leading

resource recovery, recycling and waste management

provider. We're committed to safeguarding our beautiful

environment through sustainable management of our

valuable resources. Put simply, sustainability is what we

do.

We are leaders in the transportindustryinNZand recently

announced our move to electric trucks as part ofour

commitment to sustainability.

To apply.

The closing date for applications is Monday 2August

2021.

Please note -wedonot always work to fixed closing

dates and may start considering applications as they are

received, so we encourage you to apply early.

Apply online www.wastemanagement.co.nz or to obtain an

application formand job description, please contact:

CanterburyWaste Services

PO Box 142, Amberley7441

Attention: Linda Chandler

Or email: lindac@cws.co.nz

Or telephone: 03 359 1800

WM is an EEO employer and promotes drug and alcohol-free

workplaces.

Only applications from those with the legal right to work in New

Zealand will be considered for this position..

Travel &Tours

Coromandel East Cape Napier Taupo

11 days,departs Tues 12th October

$2,990 pp twin share

DayTrip Arthur's Pass

Wed18th August $25pp

DayTrip Cheviot Hills

Wed15th September $25pp

Call Reid Tours 0800 446 886

Email: reidtours@xtra.co.nz www.reidtours.com

Firewood

DRY WATTLE two years

old, $700 6m2. Dry old

man pine, $550 6m2.Phone

03 312 8726 Rangiora.

Wanted To Buy

$$$

Amalgamated Scrap Metal

Ltd. Specialists in farm

machineryand farm clean

ups, old vehicles etc.

100% locally owned.

Ph 0800 030 712 or

027 695 0480.

2312759

Situations Vacant

JOBS JOBS JOBS. Want

local work? We service all

industries, Administration,

Construction, Manufacturing,

Labouring Roles and

more. Register with us.

Phone Tina 03 310 7285.

Elevate Recruitment, 113A

High Street, Rangiora.

Trade Personal

DECKS AND SHEDS

Looking to build that

new deck or shed?

CHRIS GABITES

CONSTRUCTION LTD

have got you covered!

Our timber decks and

pole sheds are built to last.

Contact us today for a

free no obligation quote at

cgconstruction@

outlook.co.nz

or 022-619-8163.

You can also visit

our website:

www.chrisgabites

construction.co.nz

2400805

Cars Wanted

ANY old cars, anything pre

1990, unfinished Hot Rods,

Classic Cars. Please call

027 258 8366.

CASH 4CARS

and 4WD'S

Phone

Automotive

Parts

03 313 7216

CARS, vans, 4WD's

wanted for dismantling or

repair. Phone 027 258

8366.

WANTED to buy Ford,

Holden, Chrysler or

Chev's, Classic cars. Any

other types considered, any

condition. Please phone

Tony 027 313 5000.

Motorcycles

SOUTH PACIFIC Motorcycle

Services. Local family

business since 2003. All

types of service and repairs,

all makes and models. Collection

service available.

Please phone 03 312 0066

office@motorbiketours.co.nz

www.motorbiketours.co.nz.

Pets

BICHON HOMESTAY

for smaller dogs. We look

after your dog in our home.

"No kennels". Phone today

03 314 6110.

Livestock

HOMEKILL

&Wild Game

Meat Processing

313 0022

2309602MEAT2U.NZ

Gardening

A+ GARDEN hedges cut

to perfection. Tree &arbor

work. Also spraying. Free

quotes. Ph 03 312 0668 or

021 111 4322.

Trade&Services

ABEL &Prestige Chimney

Cleaning. Nth Cant owned

& operated. Covering all

areas from Waimak to Hanmer.

Professional, guaranteed,

service. Firebox

repairs, carry most parts. Ph

0800 661 244.

AFFORDABLE concrete

cutting with quality and

removal work. Free quotes.

No job too small. Ph 027

442 2219, Fax 03 359 6052

or A/H 03 359 4605.

ALL TREE SERVICES,

arbour work, pruning, tree

removal. Affordable &

friendly service. Telephone

021 111 4322.

ARBORIST qualified.

Copper Beech Tree

Services. Tree removal,

pruning, height reduction,

hedge trimming, shaping,

tree planting, firewood.

Free quotes. Contact Angus

Edwards 027 259 6741

copperbeechtreeservices@gmail.com

BRIAN'S Tree Services.

Tree felling, topping,

shaping, firewood cut, rubbish

removed, stump grinding,

branch chipping.

Affordable rates. Phone 03

327 5505 or 021 124 4894.

PAINTERS

Reg Tradesman

Interior,exterior.

North Canterbury Painters

specialising in decorating for

over 65 at adiscount rate.

Free quotes.

Covering Nth Canty,Oxford,

Kaiapoi, Rangiora, Amberley.

Rob 03 327 7899

or 027 432 3520 2227597

BUILDERS Father &Son

team. Amac Builders are

available to help you with

your building needs. High

standards, low overheads.

No job too small. Check us

out on fb. Amac Builders

Ltd. Ph 027 318 4400.

DIRTY TILES &Grout?

Professional tile cleaning,

tiled shower restoration,

mouldy silcone, shower

glass & we can even

recolour your old grout!

For all your tile and grout

issues call Grout Pro for a

free, no obligation quote.

Ph Darryl 0800 882 772.

Log Fires

Pellet Fires

Heat Pumps

Sales

Service

Installations

Free Quotes

03 343 1651

472 Blenheim Rd

www.heatstore.co.nz

KITCHEN, bathroom,

renovations,decking,

pergolas,fencing. Honest

reliable licenced builders.

Ph Don 027 727 9162.

METAL WORX. Flashing,

Sheetmetal Fabrication,

Wrought Iron,

Welding, Custom Trailers,

General Metalwork. No job

too big or too small. Ph 021

265 5428 or 03 314 6908.

Find us on facebook/

Glenmark Metal Worx.

glenmarkmetalworx.ltd@gmail.com.

PAINT & wallpaper

services. Wayne Bryant,

exterior, interior. Qualified

tradesman. Free quotes. Ph

313 5337 or 027 654 4568.

PAINTER & Decorator.

25 + years experience.

Interior /exterior, roofs &

waterblasting. For a free

quote, please ph Steve 03

314 4620 or 027 477 1930.

PAINTER. Qualified local

professional, Int / Ext,

roofs, wallpaper. Call or

text Corban 027 846 5035.

POWER TOOLS repairs,

parts &sales for over 40

years. All main brands serviced.

Grossman Trade

Tools, 23 Watts Road,

Christchurch. Ph 389 9230.

House &Garden

Property Services Ltd

All aspects of Property

Maintenance

Tree trimming and

removal

Stump grinding

CALL US 021 405 277

Trade &Services

RANGIORA Rubbish

Removal and RRR skips.

Wheelie bins any frequency

and skips from 1.5 cube to

9cube. Skips and wheelie

bins for any use, rubbish,

greenwaste, building sites

or just cleanups. Give us a

phone call 313 6957 or for

skips 021 313 255.

ROOFER. All roof repairs,

roof painting, water blasting,

moss treatment,

repointing, gutter cleans &

snow straps. And more.

Free quotes. Phone Nathan

027 516 6609.

SCREEN PRINTING.

For all your printing

requirements. T-shirts,

Hoodies, Hi-Vis vests and

polos, Overalls, Caps etc.

Please phone Heather 03

313 0261 or email heather.

norstar@gmail.com.

SHEARER. Hap's Farm &

Lifestyle Services. Shearing,

crutching, drenching,

tailing, feet trimming &

health check. — Ph. 03-

423-3713 or 021-267-4025.

SUMMERFIELD

FENCING

IN YOUR AREA NOW.

Lifestyle or farm, sheep, cattle,

horse, all types of animals.

Fences, yards, sheds, arenas,

shelters, runs.

30+ years contract fencing.

Steve is available to help with

your design &planning.

Ph office03312 4747

2091848

ANTHONY SYMONDS

Forall your painting &

plastering requirements

Local with 30 years

experience

All workmanship

Guaranteed.

Phone 021 344 023

2220615

SEPTIC TANK

CLEANING

Bill's Liquid

Waste

Blair Tavendale

Ph 03 314 9371

0275 379-694

Pride &Quality Painting

&Decorating Services

20 yrs exp, fast and friendly

service. For all your painting

needs, phone: Martin 310

6187 or 021 128 9867

REMOVALISTS

Movemen Ltd

2Men &agood sized truck.

From $150 plus GST per hour.

Kaiapoi based.

Call Gerard

027 668 3636

movemen.co.nz

2401953

You dump it...

Blair pumps it...

2225862

VALUATION -

Specialising in North Canterbury.

Contact Geoff at

Maxwell Valuation. Phone

03 310 8541 or email

geoff@maxval.co.nz.

WINDOW TINTING

tintawindow

advanced film solutions

99% uv block

fade protection

heat control

reduce glare

25 Years Experience

privacy films

frosting designs

non-darkening films

Workmanship Guaranteed

Lifetime Warranties on Most Films

UV

block

Free Quotes Canterbury and Districts

03 365 3653 0800 368 468
---
Trusted Trades &

Professional Services

Guide

To book your spaceinthis guide,phoneAmanda Keys 313 2840 or email amanda.keys@ncnews.co.nz

Automotive &Recovery

Builder

Builder

Builder /Carpenter

2070788

• WOF Cars &Trailers

• Vehicle Servicing &

Repairs

• Tyres &Punctures

• Jump Starts

•

Towing &Salvage

• Courtesy Car Available

Ph Aaron Rowlands

0272 588 366

13 Stone Eyre Place,

Swannanoa

Eftpos available Mon –Fri 8am –5pm, Sat 9am –1pm

• New Builds

• Light Commercial /Re-strengthening

• Renovations

• Bathrooms

• Farm Buildings

• House Lifting Re-piling

• Shop Fit Outs

2397995

40+ years experience

027 222 5078

markw.hills@xtra.co.nz

High quality carpentry and building services inthe

local area, with competitive rates and quotes.

• Fencing &Decking

• Kitchen Renovations

• Bathroom Renovations

• Alterations

• General maintenance

Todd Gould

Qualified Carpenter

Licensed Building Practitioner

022 170 1715

tagcarpenters@gmail.com

Butchery

Construction &Concrete

DENTURE CLINIC

Digger Hire and Construction

OxfordButchery

Shane and Leanne Frahm

We cankill&process yourstock

FourGenerations of Frahms

since 1957

2089195v2-4/4-S

Ph 312 4205

Oxford

1680439

Number one

old-fashioned bacon

&ham curing.

A/H 312 4709

All Construction & Concrete Work

•Driveways, patios &paths

•Bridges and Culverts

•Floors, foundations

•Sheds and buildings

•Dairy Sheds, Herd homes

•Silage pits, effluent ponds

•Excavation and cartage

•Precast concrete

•Insulated panels

• Ear Health checks.

• Wax removal using Microsuction

• Removal of foreign bodies

• Basic hearing aid care

Daryl Power

027 230 9401

concretepower@scorch.co.nz

www.concretepower.co.nz

Clinics in Rangiora, Amberley and Kaiapoi

Rest homes/retirement villages, booking by prior arrangement.

Bookings: Online www.earcare.nz |Phone 020 4124 25 25

Email alison@earcare.nz | Ear Care Canterbury

2324849

Ear Health

• ACC provider

• WarVeteran provider

• No medical referral

required

2273277

RANGIORA

DENTURE CLINIC

Garry WMechen

Registered Clinical DentalTechncian

Phone (03) 313-9192

38a Ashley Street, Rangiora

NEW N W DENTURES D ES

*RELINE * *REPAIRS

* I S

HOURS

8.30am -12noon

- Monday to Friday

FREE E CONSULTATION O

AND ADVICE

A V C

For a/h repairs

phone (03) 310-3044

ECOM Digger Hire

and Construction

•9 ton Komatsu with rubber pads.

•Excavotor can be dry hired or with

one of our expert operators.

•Attachments available:

•Post driver

•Concrete/rock breaker

•Grab bucket

•Tilt bucket

•Rock bucket

No job

too big

–Nojob

too small

admin@ecomconstruction

www.ecomconstruction.co.nz

2384249

Landscaping

For all your landscaping needs

All Landscaping, Retaining Walls (Engineered and

Non-Engineered), Timber Fences, Landscape Structures

and more...Lifestyle Block, Rural and Residential.

Phone Jeremy 021 169 9394

www.blackhill.co.nz

www.facebook.com/blackhillltd

2372616v2

Seamless Spouting

Seamless Spouting

Supply and Install

of Seamless Gutters

10 year no leaks

guarantee

• Continuous spouting made on site,

large colour range available

• High grade and thicker material used

• Repair or replace any type of gutter

• Undertake all insurance work

• Independently owned and operated

• Competitive pricing

Servicing North CanterburyDistricts

Call Danie 021 875 462

2359362

Landscaping

STEWART CONTRACTING

Landscaping -Fencing

& Earthworks

ENJOYABLE STRESS FREE LANDSCAPING

03 313 9375 •027 369 3974

www.stewartcontracting.co.nz

contact@stewartcontracting.co.nz

Painter /Plasterer

HURUNUI Painting

• Qualified tradesmen, quick,neat and friendly.

• Reasonable rates. • Interior /exterior painting.

• Interior plastering &wallpapering.

• Spray painting &water blasting.

P: Rod Hermes 027 414 0830 or 03 314 2391

E: r.hermes@xtra.co.nz

2394026v2

2136148

Trellis

Proud specialists in enviro-friendly

timber manufacturing trellis from

premium Macrocarpa &treated Pine

2351878

Plumbing

For all

general

aspects of

plumbing

Discounts for over

65 years old

Fast friendly service

All work guaranteed

Aaron McCartney

Certifying Plumber

Cell 027 366 9091

A/H 03 310 2137

Free Call:

0508 44EVER

EMAIL:

plumber_27@yahoo.com

2172994

YOU

COULD

BE

HERE

Advertise

your business

in our Trades

and Services

Phone

Amanda Keys

on

03 313 2840

•Trellis •Outdoor Living

•Outdoor Furniture •Gates

550 Oxford Road, Fernside |sales@kaiapoitrellis.co.nz

Ph 027 575 4511 |www.kaiapoitrellis.co.nz

✓ Mowing

✓ Edging

✓ Trimming

2360356

Mowing &Gardening

✓ Blowing

✓ Pruning

✓ Cleanups

CALL US NOW: 027 294 8279

elitemowingandgarden

Scrap Metal

CASH PAID FOR SCRAP

•Car Bodies •Scrap Steel•Specialists in Farm

Machinery•All non Ferrous

MAINLAND

METALS LTD

Ph (03)338 7000

Mike0274 818544 •Robbie0274818 027

Locally owned and operated

Windows & Doors

And much

more ...

WINDOW MARKET PLACE

• New & Used

• Timber & Aluminium

• Windows & Doors

8am-5pm Weekdays

8am-2pm Saturday

215 Waltham Rd, Sydenham

Ph (03) 379 6159 info@windowmarket.co.nz

Fax (03) 962 1012 www.windowmarket.co.nz

1902273

ncn1242200aa

To book your spaceinthis guide,phone Amanda Keys 313 2840 or email amanda.keys@ncnews.co.nz
---
WINTER

RANGIORA

W R WARMTH?

FIND EVERYTHING YOU NEED IN-STORE

SORTED.

100% LOCALLYOWNED &OPERATED.

Spend them &

Earn them here

RANGIORA

If youfind alower priceonanidentical stocked productlocally,wewill beatitby15%

If youfind the same productfromanother Mitre10store or Mitre10website, we'll matchthatprice.

Excludestrade and special quotes,stock liquidations and commercial quantities.The in-storeprice maybelowerthan thatadvertised.
---
TRADIES:

CHECKED CK OUT

OUR NEW DRIVE

THROUGH YET?

FIND EVERYTHING YOU NEED IN-STORE

100% LOCALLYOWNED &OPERATED.

Spend them &

Earn them here

RANGIORA

If youfind alower priceonanidentical stocked productlocally, we will beatitby15%

If youfind the same productfromanother Mitre10store or Mitre10website, we'll matchthatprice.

Excludes trade and special quotes,stock liquidations and commercial quantities.The in-storeprice maybelowerthan thatadvertised.
---
Bail-Out

of your Old

Bale Feeder!
---
RANGIORA

STYLISH &

PRACTICAL?

SORTED.

100% LOCALLYOWNED &OPERATED.

Spend them &

Earn them here

RANGIORA

If youfind alower priceonanidentical stocked productlocally,wewill beatitby15%

If youfind the same productfromanother Mitre10store or Mitre10website, we'll matchthatprice.

Excludestrade and special quotes,stock liquidations and commercial quantities.The in-storeprice maybelowerthan thatadvertised.
---
Terms &Conditionsapply.Visit mitre10.co.nz/afterpayfor moredetails.

RANGIORA

Want it now?

Payfor it using your

Airpoints Dollars

Remember, 1=$1

When youspend $75 or more.

Seein-store forterms &conditions.

100% LOCALLYOWNED &OPERATED.

Spend them &

Earn them here

RANGIORA

If youfind alower priceonanidentical stocked productlocally, we will beatitby15%

If youfind the same productfromanother Mitre10store or Mitre10website, we'll matchthatprice.

Excludes trade and special quotes,stock liquidations and commercial quantities.The in-storeprice maybelowerthan thatadvertised.