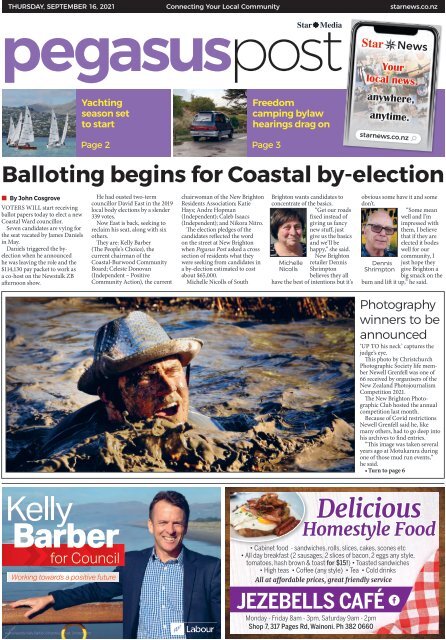 Pegasus Post: September 16, 2021
You also want an ePaper? Increase the reach of your titles
YUMPU automatically turns print PDFs into web optimized ePapers that Google loves.
THURSDAY, SEPTEMBER 16, 2021

Connecting Your Local Community

starnews.co.nz

Yachting

season set

to start

Freedom

camping bylaw

hearings drag on

Your

local news.

anywhere,

anytime.

Page 2 Page 3

Balloting begins for Coastal by-election

• By John Cosgrove

VOTERS WILL start receiving

ballot papers today to elect a new

Coastal Ward councillor.

Seven candidates are vying for

the seat vacated by James Daniels

in May.

Daniels triggered the byelection

when he announced

he was leaving the role and the

$114,130 pay packet to work as

a co-host on the Newstalk ZB

afternoon show.

He had ousted two-term

councillor David East in the 2019

local body elections by a slender

339 votes.

Now East is back, seeking to

reclaim his seat, along with six

others.

They are: Kelly Barber

(The People's Choice), the

current chairman of the

Coastal-Burwood Community

Board; Celeste Donovan

(Independent – Positive

Community Action), the current

chairwoman of the New Brighton

Residents Association; Katie

Hays; Andre Hopman

(Independent); Caleb Isaacs

(Independent); and Nikora Nitro.

The election pledges of the

candidates reflected the word

on the street at New Brighton

when Pegasus Post asked a cross

section of residents what they

were seeking from candidates in

a by-election estimated to cost

about $65,000.

Michelle Nicolls of South

Brighton wants candidates to

concentrate of the basics.

"Get our roads

fixed instead of

giving us fancy

new stuff, just

give us the basics

and we'll be

happy," she said.

New Brighton

Michelle retailer Dennis

Nicolls Shrimpton

believes they all

have the best of intentions but it's

obvious some have it and some

don't.

"Some mean

well and I'm

impressed with

them, I believe

that if they are

elected it bodes

well for our

Dennis

Shrimpton

community, I

just hope they

give Brighton a

big smack on the

bum and lift it up," he said.

Photography

winners to be

announced

'UP TO his neck' captures the

judge's eye.

This photo by Christchurch

Photographic Society life member

Newell Grenfell was one of

66 received by organisers of the

New Zealand Photojournalism

Competition 2021.

The New Brighton Photographic

Club hosted the annual

competition last month.

Because of Covid restrictions

Newell Grenfell said he, like

many others, had to go deep into

his archives to find entries.

"This image was taken several

years ago at Motukarara during

one of those mud run events,"

he said.

• Turn to page 6

Working towards a positive future

Delicious

Homestyle Food

• Cabinet food - sandwiches, rolls, slices, cakes, scones etc

• All day breakfast (2 sausages, 2 slices of bacon, 2 eggs any style,

tomatoes, hash brown & toast for $15!) • Toasted sandwiches

• High teas • Coffee (any style) • Tea • Cold drinks

All at affordable prices, great friendly service

JEZEBELLS CAFÉ

Monday - Friday 8am - 3pm, Saturday 9am - 2pm

Shop 7, 317 Pages Rd, Wainoni. Ph 382 0660
---
2 Thursday September 16 2021

Latest Canterbury news at starnews.co.nz

PEGASUS POST

Yachting season starts

GENERAL INQUIRIES Ph 379 7100

CLASSIFIED ADVERTISING Ph 379 1100

Star Media, a division of Allied Press Ltd

PO Box 1467, Christchurch

starmedia.kiwi

NEWS

John Cosgrove

Ph: 021 195 0284

john.cosgrove@starmedia.kiwi

ADVERTISING

Frank Greenslade

Ph: 364 7441

frank.greenslade@starmedia.kiwi

Your local community news

delivered to 17,598 homes

within The Star each week.

Linwood • Avonside • Richmond • Shirley • Bexley

Burwood • Dallington • Wainoni • Bromley

Aranui • Avondale • New Brighton • Northshore

Queenspark • Parklands • South Brighton

• By John Cosgrove

TACKING through Covid-19

regulations ensures a fair wind for the

Pleasant Point Yacht Club as it starts

sailing this weekend.

On Saturday, the club will launch its

101 st season on the estuary.

Club committee member Nigel

Humphreys said they will be out

on the estuary from the South New

Brighton Park as they host an open

race for dinghy sailors.

"Despite Covid we'll be out there,

but because of the delay in opening

by many other clubs in the district we

are expecting a slightly lower turnout

than in previous years."

The race starts at 2.40pm and

Humphreys said spectators and those

interested in sailing are welcome to

come along.

"Our 101 st season is going to be a

good one as we have new boats and

facilities on hand, they are great and

make a vast improvement from five

years in containers."

He credits the new facilities

and the heightened interest in

sailing due to the recent America's

Cup and Olympics as the reason

for the growing interest in sailing.

"Some come for the social side

and some come to race, to help them

all we will be starting junior and

adult Learn to Sail programmes in

October."

The junior course will run during

the school holidays from October 11

through to October 15, while the adult

learn to sail course will run from

OPEN DAY: The new Pleasant Point Yacht Club facilities will host a

dinghy race meeting this weekend. Senior boats compete in one

of the many races the club holds each sailing season out on the

estuary.

October 17 through to November 13.

The courses follow the

Yachting NZ coaching programme

and will be run by the club's learn to

sail co-ordinators Dan O'Sullivan

and Brett Hawkes, with assistance of

experienced club members.

No experience is needed to

take part and the club will

supply yachts and life jackets … but

recommend suitable footwear and

warm clothing.

Kōrero mai | Have your say

Help create your

community's future

We want your feedback on the

Draft Ōtautahi Christchurch Community Strategy

The strategy is our commitment to how we will work with others

to build a healthy, happy and resilient Christchurch.

Come and talk to us at one of our drop-in sessions:

Wednesday 22 September Thursday 23 September

4-6pm

12-2pm

New Brighton Community Eastgate Mall

Board Room

20 Buckleys Road

88 Marine Parade Linwood

North New Brighton

Drop-ins only available in COVID-19

Alert Level 2 or lower. Please follow

Government guidelines on mask

wearing and contact tracing.

Do you want to know the

secret to saving money

on your power bill?..

It's having a healthy heat pump

Airify Christchurch is

committed to ensuring

your home has a healthy

and effective heat pump,

and we're proud to offer

our PREMIUM service for

just $75!

Our Premium Heat Pump

Clean & Service includes

the latest injection system

technique to ensure your

heat pump is properly

sanitised and maintained. Our unique system cleans your

heat pump's coils of blockages, dust, bacteria and mould with

industry approved disinfectant and anti-bacterial solutions.

Photo credit to Fazakerley Patterson Photography

We offer a discount on additional units when you have them

serviced during the same visit.

Consultation runs from

10 September—25 October

ccc.govt.nz/haveyoursay

Book your clean today by

calling our friendly team

on 0800 24 74 39 or going

to www.airify.co.nz
---
PEGASUS POST Latest Canterbury news at starnews.co.nz

Thursday September 16 2021 3

Hearing panel on freedom camping continues

• By John Cosgrove

THE TESTY issue of freedom

camping in the city continues to

polarise opinion.

The city council's bylaw hearings

panel was due to reconvene

this morning after spending all

of last Monday hearing submissions

for the proposed replacement

Freedom Camping Bylaw

2021.

Submitters assembled to

consider the proposal to make

changes to the freedom camping

bylaw that covers Christchurch

and Banks Peninsula, which was

first introduced five years ago.

Panel members, councillors

Phil Mauger, Tim Scandrett and

Deputy Mayor Andrew Turner,

were to restart the process again

this morning.

Of the 97 submissions

received, 12 were from

organisations, three were from

businesses and 82 were from

individual submitters.

The proposed bylaw changes

include making a temporary

ban on freedom camping in

the North Beach car park

permanent. The ban would apply

at weekends from October to

May to enable good access to the

carpark when it is at its busiest.

Proposed changes also include

creating a city coastal restricted

zone, where freedom campers

could stay for up to four nights

in any 30-day period. This new

zone would prevent campers

using the current 500m rule to

move short distances every few

days and stay in the coastal area

for extended periods of time.

Another proposed change is

the introduction of a new rule to

encourage campers to be more

careful about how they set up

their vehicles and camping gear.

The rule would prevent campers

from blocking thoroughfares

and spreading out.

The last element focuses on

creating a specified area at Naval

Point in Lyttelton where freedom

campers can stay, and limiting

the number of freedom camping

spots to 18 vehicles.

A report prepared by council

staff for the hearings panel

said most of the submissions

received are generally supportive

of the proposed bylaw changes,

EMPTY NOW:

Parking spaces

at North Beach.

PHOTO: JOHN

COSGROVE

although some disagreed and

others put forward suggestions

to further improve the bylaw.

The main area of contention

was the City Coastal Restricted

Zone proposal.

The report notes submissions

on this proposal were very

mixed.

There was strong

opposition mentioned in the

report in relation to Southshore

being included, with some wanting

camping prohibited

instead.

The hearings panel will be

considering all the matters raised

in the submissions and then will

seek advice from staff before

making recommendations to

council on the final form of the

bylaw.

The aim of the panel is to have

an updated Freedom Camping

Bylaw in place by the start of

the summer.

KeeP New ZealaNders

worKiNg!

BUY NZ MADE SHOES

NUMBER ONE SUPPLIER

TO THE NZ JET BOATING

COMMUNITY FOR OVER

50 YEARS

SERVICING

Kids from $115 • Adults from $195

• Part Boats & Hulls

• Turn Key Packages

• New Jet Units

• Custom Fabrication

• Expert Advice

• Spare Parts Retailer

• Jet Unit Refurbishment

• Engine Tune-Ups

• Insurance Repairs

• Impellor Reconditioning

47c Garlands Road, Woolston

Phone 389 3431

www.thefootwearfactory.co.nz

Peter Tonkin

03 962 0505

peter.tonkin@hamiltonjet.nz

FREE ScOOp

OF chIpS

When you buy

two cheese or

two pineapple

burgers

*with this coupon. Expires 30th September 2021.

Cooked

Pacific

Oysters

6 for $10

GOURMET SEAFOODS QEII

Ph: 388 2531, QEII Shopping Centre, 251 Travis Rd

Mon - Wed 11.30am - 8.30pm (Tues from 4.30pm), Thurs - Sat 11.30am - 9.00pm

Sun 12noon - 8.30pm, Daily break 3.15 - 4.30pm

People and Place

– our stories revealed

Saturday 9 October – Monday 25 October 2021

Celebrate and explore our rich and diverse heritage,

with over two weeks of walks, open days,

exhibitions, performances and more!

ccc.govt.nz/heritagefestival
---
4

Thursday September 16 2021

Latest Canterbury news at starnews.co.nz

PEGASUS POST

Big job expected for successful candidate

• From page 1

Facility manager Samantha Fay

said whoever gets elected will have

a big job on their hands.

"I think they all have to realise

what a huge job it will be representing

this area, they cannot consider

it as a part-time job as we have such

a diverse community here.

The candidates

"It's a long ward and the candidates

need to look beyond focusing

on the mall regeneration and have

a broader overview of what need to

be done in all the communities that

make up our ward," she said.

Hair salon owner Felicity Patterson

(right) wants more doing and

less talking. "The council needs to

really sort out the landlords here as

they need to be more accountable."

Retiree Terry O'Keefe said he

hasn't made up his mind yet who to

support, but he is hoping for someone

who is practically minded.

"I hope they are practical people

who are much better at working

than those who just talk about

theory all the time."

Voting closes at noon, Friday, October

8. But electoral officer Jo Daly

is urging people to vote quickly.

The 2019 elections reflected a

response by only 42.13 per cent

or 6509 of the 15,447 eligible voters.

This was a 2.08 per cent increase

from the previous 2016 elections.

Kelly Barber

(Labour) –

The current

chairman of

the Coastal-

Burwood

Community

Board. His

vision is to see the community

bursting with new life. "I

will be continuing to build

strong relationships within the

community and with those who

make the decisions."

Celeste

Donovan

(Independent

- Positive

Community

Action) –

The current

chairwoman

of the New Brighton Residents'

Association believes coastal

communities need a strong

local advocate who listens to

residents and gives 100 per

cent commitment to the job.

"My promise to you is to stay

engaged, to listen and work hard

for the strong communities,

healthy environment and better

future that we all deserve."

David East

(Independent)

was the previous

councillor cites

his previous

six years'

experience on

the city council

and nine years community

board service essential for him

to continue advocating for all

people. His key election focus

includes addressing issues

that matter most to residents,

progression of New Brighton

Mall initiatives, and roads and

footpaths.

Katie Hays, a

property

manager,

believes the

most urgent

need is

regeneration of

the mall. "It's

the core of our communitygeographically,

historically,

and culturally. I am running

because I feel passionate about

this undertaking and qualified to

achieve what is necessary."

Andre Hopman

(Independent), a businessman in

New Brighton, believes people

can't forget the basics that will

ensure Coastal

Christchurch

remains a great

place to live,

work and invest.

"We know what

needs doing here

and why it's so

important. I'm standing as an

independent, because I believe

there is no room for party

politics in local government."

Caleb Isaacs

(Independent),

a small

business owner,

musician and

New Brighton

resident who

believes it's time

the ward had

fresh representation. "We don't

need political parties meddling

in local politics, we need an

unfiltered voice and someone

who won't be afraid to ask hard

questions and ruffle feathers."

Nikora

Nitro would

like people to

vote for him

in this year's

Coastal Ward

by-election

because "you

are amazing,

fabulous, fantastic, unique and

so am I." "I believe that together

we can make transformational

differences and lead the way

as a ward of the city council in

the art of celebrating diversity

and looking after its people."

My campaign strategy is to

bring people together from all

backgrounds.

We need your

help now more

than ever.

Multiple Sclerosis and Parkinson's Canterbury

Annual Street Appeal is NOW ONLINE to

maintain the vital, fundraising lifeline which

supports our work.

Please support us by donating at:

ms-pd.org.nz

Proudly supported by

HEAT PUMP

SALE NOW ON!

Amazin' spring Specials!!

80%

SubSidy

Warmer KiWi HomeS

Programme

*Eligibility criteria apply

• We will offer you the best quality brands and

option of heat pump for your home/business

• Providing Heat Pump solutions for over 19 years to Cantabrians

• We personally guarantee all our products & installs for 5 years

(providing annual maintenance has been completed)

Phone us today for your free consultation & quote

41A SHAKESPEARE RD, WALTHAM

PHONE 03 366 0525

www.enviromaster.co.nz

"A local team for local people"

End of season

SALE 20-70%

OFF

selected

stock

Fashionable • Functional • Footwear

SALE NOW ON

Unit 3, 355 Riccarton Rd, Upper Riccarton

P. (03) 929 0927 E. info@theshoeroom.co.nz

www.theshoeroom.co.nz

FASHIONABLE FUNCTIONAL FOOTWEAR
---
PEGASUS POST Latest Canterbury news at starnews.co.nz

Thursday September 16 2021 5

Knitters give babies a warm welcome

FOUR WOMEN from

Ferrymead Rotary have knitted

almost 100 garments for babies

born at the Christchurch

Women's Hospital this year.

Pat Edward, Debbie Woolf,

Kathryn Tovgaard and Barbara

Crooks began the project about

four months ago, although the

Ferrymead Rotary group has

been providing knitted clothing

to the hospital for some time.

Kathryn has personally been

knitting for the hospital for five

years.

Barbara said they intensified

their efforts this year after

receiving a call for help from the

hospital.

All babies born at the hospital

are given a woollen hat at birth,

while woollen singlets, matinee

jackets and booties are available

for mothers to take home.

So far, the group has knitted

more than 60 woolly hats, with

Pat heading the count.

The hats produced are a variety

of different sizes and colours.

Barbara said Ferrymead

Rotary has funded some of the

wool, but all of the knitters' time

is given voluntarily.

They estimate up to seven

hours goes into making each hat.

Most of the knitting has been

done individually, although the

four have got together from time

to time to share wool and

swap notes.

Acknowledging Rotary clubs

used to be men only, Kathryn

said: "People don't necessarily

connect Rotarians with knitting

but anything is possible."

She said being a part of

a Rotary club was a family

tradition.

"One thing I said a long time

ago was that I always wanted

to help out in the community

throughout my life," she said.

"A group of people can do

so much more than just an

individual."

CHAMPION KNITTERS:

Ferrymead Rotary's Kathryn

Tovgaard, Debbie Woolf, Pat

Edward and Barbara Crooks

have knitted almost 100

garments for new babies,

while Pat tries on a hat for

size (above).

Ferrymead Rotary community

director Debbie Woolf said the

club is also working on making

singlets and booties for Plunket

and supplying the Methodist

Mission with bedding, jerseys,

hats, scarves, gloves and shoes.

The Mission gives these items,

donated or sourced by Rotary

members, to homeless people.

For more information about

Ferrymead Rotary and its

community projects, phone

secretary Kathryn Tovgaard

on 384 9485.

My favourite

kind of fast

food!

Choose delivery to your

door or Click & Collect

with Stanmore
---
6

Thursday September 16 2021

Latest Canterbury news at starnews.co.nz

PEGASUS POST

Pride and protest showcased in annual

• From page 1

The entry 'Control lost' by

Hibiscus Coast Photographic

Club member Miriam Godfrey

was another gleaned from past

files.

"This image was shot at Piha

Beach a few years ago during a

surf lifesaving event," she said.

The competition, in its 30th

year, is open to anyone living

in New Zealand and to any

photographer anywhere in the

world that is a member of the

Photographic Society of New

Zealand.

The club offered Pegasus Post

a sample of the high standard of

entries by amateur photographers

from all over New Zealand and

overseas.

Club president Guy Wright said

it was a good turnout, considering

how people have been living

during the lockdowns of recent

times.

"This year we had 66 very good

entries . . . by some of the top

amateur photographers keen to

showcase life in the country," he

said.

Entrants competed for the top

awards in two categories: Ted

Walker Trophy (overall

champion) and Maree Turner

Trophy (Street Photography

and/or Social Commentary

section).

HOPEFUL: 'Pride' by

Sue Riach (top left),

'Team support' by

Anne Lambe (right),

and 'Provisions for all'

by Sandra Prebble

are all competing this

year's annual photojournalism

awards.

63 x 180

Up to

50 % Off

*Call for Terms

& Conditions

Off

*
---
PEGASUS POST Latest Canterbury news at starnews.co.nz

Thursday September 16 2021 7

photo competition

IN MOTION: 'Control lost'

by Miriam Godfrey (top)

and 'Protest' by Bruce

Crossan (left).

Hibiscus Coast

Photographic Club

member Miriam Godfrey

had to go back in her

files for an entry to this

year's competition. This

photo was shot at Piha

Beach a few years ago

during a surf lifesaving

event.

Top chefs to provide

fundraising dinner

PREPARE FOR your palettes to

be tantalised.

The culinary talents of three

award-winning Canterbury

chefs will entertain guests at the

Cancer Society Canterbury-West

Coast Division's fundraising

dinner event Too Many Cooks

on October 9.

Appearing at the Majestic on

Durham event space, guests will

be treated to a delicious threecourse

meal, with the added

bonus of being able to watch the

chefs preparing it live on stage,

while the witty banter of MC

Michele A'Court keeps everyone

on their toes.

Division manger for fundraising,

communications and

relationships, Heather Locke

said they wanted to take the traditional

fundraising dinner and

add something special.

"We approached Jimmy McIntyre

(executive chef at Otahuna

Lodge), Darren Wright (former

head chef at Chillingworth

Road) and Andrew Brown (former

executive chef at the George

Hotel) and they were delighted

to be involved," Locke said.

During the evening an auction

of rare and original items

including a one-of-a-kind sculpture

and a central city parking

space for a year will be on offer.

TALENTS: Otahuna Lodge

chef Jimmy McIntyre is

one of three award-winning

Canterbury chefs preparing

to entertain guests at the

Cancer Society Canterbury-

West Coast Division's

fundraising dinner event. ​

"Each year, 500 New

Zealanders receive the

unwelcome news that they

have cancer. But while cancer

doesn't stop for Covid, the recent

lockdowns severely limited our

ability to fundraise during the

past 18 months.

"The loss of the annual

daffodil day appeal was a big

blow to our fundraising efforts

this year and for this reason,

we are really hoping that

Cantabrians will support this

event," she said.

•Visit www.toomanycooks.

co.nz to purchase tickets.

Bec | Perfect Fit Bed Customer

This bed is amazing! I used to wake up with a lot of pain. Now I spring

"out of bed and my day begins! …The best purchase I've ever made!"

ADJUSTABLE MASSAGE BED

by

Up to

50 % Off

*Call for Terms

& Conditions

Off

*
---
8 Thursday September 16 2021

Latest Canterbury news at starnews.co.nz

PEGASUS POST

Something for

everyone

Save up to 55% when you subscribe to

your favourite magazines!

GENTLEMAN JIM RICHARDS & THE WILLMENT ESCORT

FREE FIRST XV SEASON PREVIEW MAGAZINE INSIDE

For the

motoring

enthusiasts

CLASSIC ALPINE TOUR | PELLAND COUPÉ | JIM RICHARD'S WILLMENT ESCORT | TERRY MARSHALL | VAUXHALL FIRENZA | RICHARD BROCKLEHURST MAR-APR 2021

ISSUE 94

THE MOTORSPORT

PHOTOGRAPHY OF

TERRY MARSHALL

RARA AVIS:

PELLAND COUPÉ

A SHORT TIME IN FRONT: RICHARD BROCKLEHURST

50TH ANNIVERSARY OF THE VAUXHALL FIRENZA

SOUTHERN MEN AND TALES OF THE SOUTH

MARCH-APRIL 2021

SOUTHERN

SOJOURN

THE CLASSIC ALPINE TOUR

COME ON, FEEL THE

NOISE: CLASSIC

RACING ENGINES

$10.50

9 416770 121332

TONY JOHNSON

ON THE COMING OF

MOANA PASIFIKA

AARON SMITH

'WHY I RATE

DUPONT'

SEAN FITZPATRICK

'WE NEED MONEY TO

SUSTAIN THE GAME'

rrp $10.99

9 416770 121325

MAY 2021

DAN

CARTER

REFLECTING ON A

GREAT CAREER

JEROME

KAINO

SORTED FOR

LIFE AFTER

RUGBY

• PHIL GIFFORD: THE BEST

SCHOOLBOY STARS HE SAW

• DARYL GIBSON: HIS VISION

FOR THE BOP STEAMERS

For the

rugby fans

AuTumN 2021

The Shrub Hub

growing with you Issue 504 | May 2021 | 100%

meet 20 of our Kiwi garden favourites

A tropicAl

flock

Grow your own

bird of paradise

Space iSSueS?

Try gardening

like the French

For the seasonal

gardeners

Capitalising

on CaCti

Faran Gillbanks

on a succulent

movement

The lowdown on

cover crops

Why, when & how

For the green

thumbs

$9.25 incl. GST

ISSN 2423-0626

From abelia to

viburnum

& all the varieties

in between

Why we

like them

& where they

like to grow

How to keep your

shrub in shape

& propagate more

of those you love

$8.00 incl. GST

9 416770 121318

Roses on the wishlist

Hot new releases for 2021

Available in all good bookstores and supermarkets, or subscribe from as little as $20

Rugby News and Kiwi Gardener: 0800 77 77 10

Classic Driver and general enquiries: 0800 624 295

alliedpressmagazines.co.nz
---
PEGASUS POST Latest Canterbury news at starnews.co.nz

Thursday September 16 2021 9

Add cheese to your accompaniments

Chewy, stringy

mozzarella lends

itself to a multitude

of dishes, try these

easy recipes to

complement your

main meal

Mozzarella-stuffed

portobello mushrooms

Serves 4

Ingredients

28gm butter, place in frypan

and melt, then add:

4 cloves garlic, crushed

4 large portobello mushrooms

8 grape tomatoes, halved

Mozzarella cheese, sliced

¼ cup balsamic vinegar, place

in smallest saucepan with:

1 tablespoon sugar

Directions

Brush butter/garlic mixture

over both sides of the mushrooms

and place them on a

baking tray lined with non-stick

tinfoil.

Place Tomato halves inside the

mushrooms along with slices of

mozzarella.

Bake in oven at 180 deg C for

30min, during which time boil

the vinegar/sugar until liquid is

reduced by half and it thickens.

When mushrooms come out of

oven, drizzle vinegar/sugar over

them.

Grilled mini peppers with

mozzarella

Serves 4 – 6

Ingredients

2 x 2 tablespoons olive oil, place

two tablespoons of it in frypan

1 small onion, chopped

Pinch cayenne pepper

Salt (to taste)

Peppercorns

1 x 390gm can chickpeas,

rinsed and drained

¼ cup parsley, finely chopped

125gm mozzarella, grated

350gm mini peppers

Directions

Saute onion until softened, a

dd cayenne, salt, peppercorns

and chickpeas, heat for a few

seconds then roughly mash, then

stir in the parsley and mozzarella.

Thick, juicy

portobello

mushrooms

are a handy

vegetable to

serve with

dinner, or

as a meal

on their

own. Add

mozzarella

to boost the

experience.

Cut tops off mini peppers and

scrape all the seeds out from the

inside.

Fill the mini peppers with the

mixture and push the lids back

on.

Spear two mini peppers per

skewer, threading from the cap

ends through to the points.

Brush with the second measure

of olive oil.

Grill on medium-high for

about 10min, turning often.

Or cook in conventional oven

at 220 deg C for 30min, turning

over halfway through cooking

time.

Slow cooked beef

casserole

Serves 3-4

Ingredients

750gm–1kg blade steak (can

use any steak – cubed)

1 x 400gm can tomatoes (can

use any flavour)

½ cup beef stock (can use red

or white wine, or even chicken

stock)

1 tablespoon tomato paste

1 tablespoon brown sugar

½ teaspoon salt

Peppercorns (or can use ½ teaspoon

ground pepper)

2 bay leaves (optional)

2 heaped teaspoons cornflour

Directions

Grease the crockpot with

melted butter (or can spray with

non-stick spray).

Put steak/tomatoes/stock/

tomato paste/brown sugar/salt/

pepper/bay leaves in, stir gently

to mix, spoon out about six

tablespoons of the liquid into the

cup containing the cornflour and

mix to a paste.

Stir the cornflour mixture back

into the other ingredients and

mix through thoroughly.

Set crockpot onto low for six

hours.

Up to

50 % Off

*Call for Terms

& Conditions

Off

*
---
10

Thursday September 16 2021

Latest Canterbury news at starnews.co.nz

PEGASUS POST

152,504 reasons

to advertise with us!

2021 ABC average issue circulation — Star Max vs Press

200,000

The Star

Max *

152,504

circulation

100,000

The Press *

The latest NZ Audit Bureau of

Circulations report is out and

it shows that The Star Max

provides you more circulation

than any other newspaper in

New Zealand.

0

30,256

circulation

Grow more customers, sales and profits for your business,

Call us now for a free advertising consultancy.

Here's what our customers have to say:

We advertise Affordable Furniture specials

in The Star every week and are extremely

pleased with the results.

We find that the large circulation and

readership, really works for reaching our

target market and growing our customers.

We get people coming in with our ad and

asking about the specials we advertise.

We have been benefiting from the

Christchurch Star and Community papers

for 20 years and see no end to it.

Andrew Idour – Managing Director,

Affordable Furniture

After 4 years advertising in the Bay

Harbour News, I decided to widen

my audience by using the Star.

I am very happy with new ad

placement.

My husband Tim was in the shop

today and 2 ladies had come in

to check us out because they had

seen the ad!!! Oh yes they did buy

some goodies!!

Rose Lindley – Mumma Bear

We have advertised with The Star

over the years.

Advertising in The Star we feel we

get more response and feedback

than any other marketing.

We are lucky to have such a great

free paper in the community.

Thanks team Star.

Mark Glanville FDANZ CERT

– Manager and Funeral Director

Phone 03 379 7100

Email shane@starmedia.kiwi

Office Level 1/359 Lincoln Road, Addington

*Source: 2021 ABC Audit Report — Star Max vs Press ANP average total circulation each issue

*Star Max — The Star, Bay Harbour News, Selwyn Times, North Canterbury News
---
PEGASUS POST Latest Canterbury news at starnews.co.nz

Thursday September 16 2021 11

Classifieds Contact us today Phone our local team 03 379 1100

Health & Beauty

Trades & Services

Trades & Services

KATANG

Fitness

Held at St Faiths Church Hall,

46 Hawke Street, New Brighton

For more info contact Katrina 3811704 or 0274966845

Real Estate

HOME WANTED 3-4

bedrooms. Looking in Nor

West areas, Beckenham

or Somerfield. Prefer

permanent material brick

and post 1990 build. Don't

mind if it needs some TLC

- anything considered.

Cashed up buyer. Phone

021 372 479

HOME WANTED 3-4

bedrooms. Looking in Nor

West areas, Beckenham

or Somerfield. Prefer

permanent material brick

and post 1990 build. Don't

mind if it needs some TLC

- anything considered.

Cashed up buyer. Phone

021 372 479

Wanted To Buy

TOOLS Garden,

garage, woodworking,

mechanical, engineering,

sawbenches, lathes, cash

ADD SOME

COLOUR

TO YOUR ADVERT!

Sit & Be Fit

Monday 1 – 2pm

$4 per class

Movement to Music

Thursday

9.30 – 10.30am

$5 per class

buyer, ph 355-2045

260 PH 0800 4 546 546

x 180

TOOLS Garden,

garage, woodworking,

mechanical, engineering,

sawbenches, lathes, cash

buyer, ph 355-2045

Trades & Services

FOR ALL YOUR

★Garden Clean-ups

★Pruning

★Lawn Mowing

★Garden Maintenance

Call us today for a FREE quote

(0800 4 JIMJIM)

Trades & Services

BLOCKED

DRAINS?

• Video inspection

• Waterblasting

• liquid Waste

pH: 03 365 7960

24 hours // 7 days

info@h20jet.co.nz

www.h20jet.co.nz

BRICKLAYER

George Lockyer. Over

40 years bricklaying

experience. UK trained.

Insurance work, EQC

repairs. Heritage

brickwork & stonework

a speciality. No job too

small. Governers Bay.

Home 329 9344. Cell

027 684 4046. E mail

georgelockyer@xtra.co.nz

BRICKLAYER

George Lockyer. Over

40 years bricklaying

experience. UK trained.

Insurance work, EQC

repairs. Heritage

brickwork & stonework

a speciality. No job too

small. Governers Bay.

Home 329 9344. Cell

027 684 4046. E mail

georgelockyer@xtra.co.nz

CARPET LAYING

Exp. Repairs, uplifting,

relaying, restretching.

Phone John on 0800

003181, 027 240 7416

jflattery@xtra.co.nz

ELECTRICIAN

Prompt & reliable

registered electrician

with 24 years experience

for all residential and

commercial work, new

housing and switch board

replacements. Phone Chris

027 516 0669

ELECTRICIAN

Prompt & reliable

registered electrician

with 24 years experience

for all residential and

commercial work, new

housing and switch board

replacements. Phone Chris

027 516 0669

VHS VIDEO TAPES

& all camera tapes

converted to DVD or

USB. Video taping

special occasions, www.

grahamsvideo.co.nz ph 03

338-1655

CAR REMOVALS

CASH PAID

FOR DAMAGED

CARS & TRUCKS

Phone or text

details to

021 1056 797 - 24/7

FURNITURE

EXCLUSIVE. STYLISH.

HANDCRAFTED.

Solid timber furniture

A fantastic range

of traditional and

contemporary

furniture designs.

We can also help you

with any custom made

furniture requirements.

19 Elgin St, Sydenham. Ph: (03) 366 9219

www.gavincoxfurniture.co.nz

ADVERTISE YOUR BUSINESS HERE

Phone for further details

(03) 379 1100

Need Heat Fast?

The Fastest, Warmest Indoor/Outdoor Heater You Will Ever Own!

Buy One Get One Free! *

+Plus

Free

Floor

Stand!*

worth

$199.99

• Heats Up Instantly

• Suitable for Indoors or Outdoors

– In Rain, Fog, Wind or Snow

• Carbon-Fibre Bulb Technology

• Multi-Directional Stand

• Includes Remote Control &

Built-In Timer

• Motion Detection Function

1.8m High

• Commercial Grade

• Multi-Directional

• Easy Install

• Portable

• Indoors & Outdoors

*Call for Terms

& Conditions

CALL NOW! 0800 665 665
---
12 Thursday September 16 2021

Latest Canterbury news at starnews.co.nz

PEGASUS POST

Finance

available

(conditions apply)

WE BUY CHEAPER JAPANESE CARS!!

WANTED TO BUY!!

SMALL JAPANESE VEHICLES!

SUPER LOW KmS!

REdUCEd!

2007 SUzUKI SWIFT gLx

$6,995

1.5 auto, NZ new, 112,000kms.

2012 NISSAN SERENA HIgHWAYSTAR

$10,995

S. Hybrid, 2000cc auto, 8 seater, 119,000kms,

nice wagon

2008 mAzdA mPV 23T S/W

WAS $10,500 NOW $9,995

2.3, auto, turbo, 7 seater, 130,000kms, nice

unit!

2014 NISSAN NOTE 5/HATCH

$11,500

1.2, auto, low 28,000kms, 4 Star safety,

extras.

Nz NEW

5 SPEEd

Nz NEW

LOW KmS!

2013 NISSAN NOTE dIg-S

$9,995

1200cc, auto, low 49,000kms.

2008 SUzUKI SWIFT SPORT

$6,995

1600cc, 5 speed, 157,000kms,

Recaro seats, alloys.

2016 TOYOTA CAmRY 4 dOOR

$12,500

NZ New, 2.5 auto, 154,000kms, nice car!

2012 mITSUBISHI mIRAgE

$7,995

5dr hatch, 1000cc auto, 53,000kms

LOW KmS!

7 SEATER

2015 NISSAN LATIO 4 dOOR

$9,495

1200cc, Auto, low 66,000kms

2004 TOYOTA IPSUm 240 S

$4,995

Auto, alloys, body kit 136,000kms.

2004 SUBARU OUTBACK

$6,495

2.5 auto, 155,000kms, AWD, alloys, multi

airbags, Bilsteins.

2001 mITSUBISHI LANCER S/W

$3,995

1800cc, auto, 191,000kms!

2008 TOYOTA RACTIS

$6,995

1.5 auto, alloys, body kit, 110,000kms.

2011 TOYOTA VITz 5/HATCH

$7,995

1.3 auto, 92,000kms, alloys, economical.

2008 TOYOTA COROLLA gx

$7,995

1.8 auto, NZ New, 157,000kms, alloys.

2008 NISSAN mARCH 5/HATCH

$5,995

1.3 automatic, 105,000kms.

- 281 Ferry Road - 03 389 1121 - dougdrake@xtra.co.nz

View our cars at www.dougdrake.co.nz