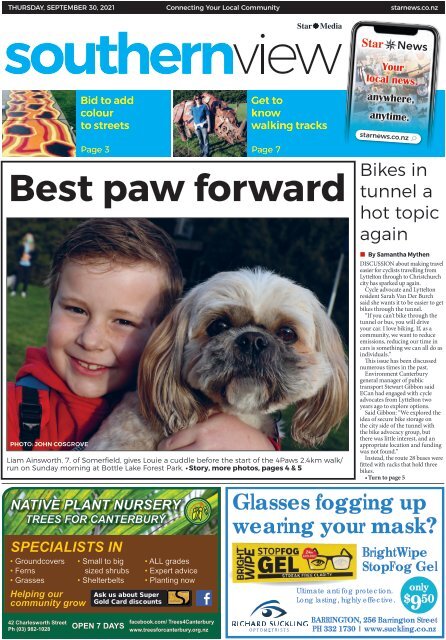 Southern View: September 30, 2021
Create successful ePaper yourself
Turn your PDF publications into a flip-book with our unique Google optimized e-Paper software.
THURSDAY, SEPTEMBER 30, 2021

Connecting Your Local Community

starnews.co.nz

Your

local news.

Bid to add

colour

to streets

Get to

know

walking tracks

anywhere,

anytime.

Page 3

Page 7

Best paw forward

PHOTO: JOHN COSGROVE

Liam Ainsworth, 7, of Somerfield, gives Louie a cuddle before the start of the 4Paws 2.4km walk/

run on Sunday morning at Bottle Lake Forest Park. • Story, more photos, pages 4 & 5

Bikes in

tunnel a

hot topic

again

• By Samantha Mythen

DISCUSSION about making travel

easier for cyclists travelling from

Lyttelton through to Christchurch

city has sparked up again.

Cycle advocate and Lyttelton

resident Sarah Van Der Burch

said she wants it to be easier to get

bikes through the tunnel.

"If you can't bike through the

tunnel or bus, you will drive

your car. I love biking. If, as a

community, we want to reduce

emissions, reducing our time in

cars is something we can all do as

individuals."

This issue has been discussed

numerous times in the past.

Environment Canterbury

general manager of public

transport Stewart Gibbon said

ECan had engaged with cycle

advocates from Lyttelton two

years ago to explore options.

Said Gibbon: "We explored the

idea of secure bike storage on

the city side of the tunnel with

the bike advocacy group, but

there was little interest, and an

appropriate location and funding

was not found."

Instead, the route 28 buses were

fitted with racks that hold three

bikes.

• Turn to page 5

natiVe plant nurSery

treeS for canterbury

SpecialiStS in

• Groundcovers

• Ferns

• Grasses

Helping our

community grow

• Small to big

sized shrubs

• Shelterbelts

Ask us about Super

Gold Card discounts

• ALL grades

• Expert advice

• Planting now

Glasses fogging up

wearing your mask?

BrightWipe

StopFog Gel

Ultimate anti fog protection.

only

Long lasting, highly effective. $

9 50

42 Charlesworth Street

Ph (03) 982-1028

OPEN 7 DAYS

facebook.com/ Trees4Canterbury

www.treesforcanterbury.org.nz

BARRINGTON, 256 Barrington Street

PH 332 1730 | www.suckling.co.nz
---
2 Thursday September 30 2021

Latest Canterbury news at starnews.co.nz

GENERAL INQUIRIES Ph 379 7100

CLASSIFIED ADVERTISING Ph 379 1100

Star Media, a division of Allied Press Ltd

PO Box 1467, Christchurch

starmedia.kiwi

NEWS

John Cosgrove

Ph: 021 195 0284

john.cosgrove@starmedia.kiwi

ADVERTISING

Mark Sinclair

Ph: 364 7461

mark.sinclair@starmedia.kiwi

Your local community news

delivered to 21,586 homes

within The Star each week.

Spreydon • Hoon Hay • Hillmorton • Cracroft

Cashmere • St Martins • Somerfield

Sydenham • Addington • Waltham • Opawa

Beckenham • Huntsbury • Woolston

what's on

this week

Sydenham Business

Networking Meeting

Friday, 7.40–8.40am

33 Wordsworth St

Calling all business owners in the

southern Christchurch area.

The Sydenham Business Networking

meetings are held every Friday

morning at Just Desserts. It is a

great way to finish your week and

it typically, gets 15 to 20+ people at

the meetings. Visitors are always

welcomed and made to feel at

home. Members are very supportive

of each other, both in a business

and a personal sense. During the

meetings amongst the business

talk, collaborating and supporting,

they also like to have some fun. The

meetings are vibrant and filled with

laughter, with everyone finishing

the meeting feeling uplifted. It's a

great way to finish the week and the

group even does a heap of business

networking. Free.

Southern Districts Cricket

Club

Saturday, noon–2pm

20 Norwood St, Beckenham

The Southern Districts Cricket

Club is holding an open day. The

club is looking to add players to the

2021/22 rosters across all teams as

they had great success last season

and want to continue developing

interest and skills in sport. And have

fun doing it. This season Southern

Districts have confirmed teams in the

Bikeoctober events, Wednesday, 9.30am-12.30pm. Join the Wednesday

Wheelies for a slow 30km ride along the Heathcote River, from Woolston

to The Princess Margaret Hospital. Shorter options will also be available.

Take your bike and lock, sunscreen, a water bottle and dress for the weather.

To join and for information go to https://www.facebook.com/groups/

WednesdayWheelies/ Free.

most junior and senior grades including

a new women's team. Register

at https://registrations.crichq.com/

register/101517. Free.

Canterbury Orchid Show

Saturday and Sunday, 10am

Canterbury Mineral and Lapidary

Club, 110 Waltham Rd

The annual Canterbury Orchid show

will be held this weekend. Go and

view all the wonderful and colourful

displays featuring Jenny Gillies

costumes as the Canterbury Orchid

Society's centrepiece. Plant sales will

be available from Nationwide growers

alongside their own club sales during

the first weekend of October. Eftpos

will be available. Admission $5.

Accompanied children under 10 f ree

SOUTHERN VIEW

Adult Learn to Skate and

Learn To Derby sessions

Sunday, 5-6.30pm

Wharenui Swimming Pool, 73

Elizabeth St, Riccarton

Ōtautahi Rollers, a Christchurch

Roller Skating Club will provide

a safe, fun, and supportive

environment to learn to skate in

Christchurch. The club which fosters

learn to skate, play roller derby,

speedskating, and many other skating

styles are accepting registrations

for their adult learn to skate/learn to

derby and Sk8 Skool programmes

this weekend. Adult Learn to Skate

& Learn To Derby, $40. Sk8 Skool

10-skate concession card $100. Casual

skate, $15. Visit www.otautahirollers.

co.nz for more information.

Holy moly look at our

power bill this month

A spike in the cost of your power bill can

be more than just a wee shock. It's one

tell tale sign that your heat pump may

not be working at peak efficiency. And

while heat pumps are a cost effective

form of heating and it may seem to be

running normally, one of the biggest

signs it isn't will be in your power bill.

And this is why:

If your heat pump is overworking, its

diminished heating capacity will raise Photo credit to Fazakerley Patterson Photography

energy use as your pump struggles

to maintain the desired room temperature. The reason could be a number

of things; blocked filters and / or coils, a compromised compressor or a

refrigerant leak. Like any appliance, regular maintenance of your heat pump

will mean it will run more efficiently and save you money. All of these things

will be assessed in a regular service by our trained technicians.

The power is all yours and the best thing you can do to extend the life and

efficiency of your heat pump is to have it professionally serviced at least

once a year. Our technicians do a comprehensive examination of your whole

system, carry out a routine maintenance service and advise you if anything

might need further repair.

Book your Premium Heat Pump Clean & Service for just $75 by contacting

our friendly local team, or heading online to select a day and time that suits.

Learn more about Airify, and how

we can help you save money on

your power bill by going to

www.airify.co.nz. Or get in touch

today on 0800 24 74 39

NUMBER ONE SUPPLIER

TO THE NZ JET BOATING

COMMUNITY FOR OVER

50 YEARS

• Part Boats & Hulls

• Turn Key Packages

• New Jet Units

• Custom Fabrication

• Expert Advice

SERVICING

Peter Tonkin

03 962 0505

peter.tonkin@hamiltonjet.nz

• Spare Parts Retailer

• Jet Unit Refurbishment

• Engine Tune-Ups

• Insurance Repairs

• Impellor Reconditioning

Factory Shop

238 Port Hills Road,

Heathcote

corner of Port Hills and Chapmans

shop hours

Monday to Saturday

8am - 5pm

Sunday 9am - 4pm

UNDER NEW MANAGEMENT

• W.O.F • Servicing

• Repairs • Batteries

• Tyres • Clutch • Cambelt

• Diagnostic Equipment

YOUR LOCAL

AUTOMOTIVE SHOP

287 Hoon Hay Road

Christchurch

Open Mon-Fri

Ph. 982 0405

Email: hoonhayauto@gmail.com

Seconds

Available
---
SOUTHERN VIEW Latest Canterbury news at starnews.co.nz

Thursday September 30 2021 3

Bid to add colour to streets

WALKING TO school in

Addington may soon be a

journey filled with artistic

inspiration if one Addington

group is successful in its

proposal to council.

In one of the more visually

vibrant proposals submitted

recently to the Spreydon-

Cashmere Community Board

meeting, Addington School

board of trustees chairwoman Jo

Robertson spoke of a proposal

to paint the roads in Addington

with colour and playful designs.

Her aim was to bring the

community together, connect

areas of Addington across

Brougham St, and make the

commute to/from school more

fun for children.

She said there was strong response

to the chalk art that had

appeared during the first Covid

lockdown as a way to brighten

up people's lives. She said they

were playful streets, where the

community loved the interaction

with the chalk drawings.

"The community wants our

active school commutes to be

more fun for our tamariki.

We'd love to see art that is fun,

that reflects our whenua, and

reflects Addington people," she

said.

She said that using playful

elements they can add a sense

OPTION: Addington could

soon have playful designs

on roads and footpaths

such as those used in

other locations to make

the journey to school more

fun for children.

of fun, safety and identity to the

area.

Robertson also said a

proposal to paint murals on the

Addington Park pavilion and

the toilet block at the Selwyn

St/Somerset Cres corner,

suggesting a competition

between schools could provide

designs for the murals.

In Brief

ROAD WORKS

The end is in sight for work

on several safety upgrades to

the city's transport network.

City Council acting head of

transport Lynette Ellis said by

early October construction work

should be wrapped up on the

Dyers Pass Rd safety upgrade

and the realignment of the busy

intersection of Cashmere, Hoon

Hay and Worsleys Rd.

POOL OPENS TOMORROW

The much-anticipated $22 million

Te Pou Toetoe: Linwood pool will

open tomorrow. Due to Covid

level 2 restrictions, the opening

will be strictly limited to 100

invited people, and access to the

pool will be restricted to only 48

people at a time. The 'Have a go'

activities and 'Party in the park'

planned for Saturday and Sunday

have been postponed.

GARDEN CARE

Gardeners are encouraged to

'gear up' to protect themselves

against legionnaires' disease as

they get stuck into their spring

gardens. Canterbury Medical

Officer of Health Dr Ramon Pink

said legionnaires' disease, caused

by legionella bacteria, can start

with flu-like symptoms. This

year's campaign highlights the

importance of using the right gear

when handling compost.

BONDS

40% off storewide.

Some exclusions apply, for limited time only.

People and Place

– our stories revealed

Saturday 9 October – Monday 25 October 2021

NEW BALANCE

2 for $50 on selected tees.

T&Cs apply.

Celebrate and explore our rich and diverse heritage,

with over two weeks of walks, open days,

exhibitions, performances and more!

ccc.govt.nz/heritagefestival
---
4 Thursday September 30 2021

Latest Canterbury news at starnews.co.nz

SOUTHERN VIEW

Participation a prize in itself for

• By John Cosgrove

MAN AND beast were running

together at the third annual 4Paws

Marathon series held on Sunday

at Bottle Lake Forest Park.

Observing Covid level 2

spacing rules, competitors

and their dogs from all over

the South Island lined up for

the start of events, including

a marathon, a half marathon,

16km, 10km and 5km runs, and

a 2.4km rascals walk/run.

They ran along tracks through

Bottle Lake Forest Park and

along nearby beaches – with

some going almost as far as the

Brighton Pier.

The day also hosted two

virtual races.

Organisers started lines of

competitors at ten-second

intervals. They also conducted

mandatory vet checks along the

way.

4Paws event organiser and race

director John Molloy said it was

a massive but fulfilling day.

"In all we were very impressed

with how people respected

the event's Covid rules with

responsible mask usage in what

is a very social event (about 100

participants)."

He said dogs bring out the best

in people, and for the third year

in a row there were no dog –or

DUOs: Paula Charmley, of Hoon Hay, and her dog Kahu get distracted before the start of

the half marathon. Top right: Charmaine Le Roux, of Cashmere, and her dog Savannah.

Right: Madeleine Van Dyk, of Cashmere, and her dog Charles. PHOTOS: JOHN COSGROVE

human – altercations.

"The smiles on everyones

faces . . . inspires us to keep

hosting this event. [It] is about

participation and not winning

so the winners get no winning

prizes as such.

"But in due time they will

realise they have won the

best prize of all – sharing

the experience of finishing a

marathon together with their

best friend," Molloy said.

When it came to the multiple

races, he was unaware of any

event in the world that offered

this experience.

It was good to see both human

and dog winners were from

Christchurch, Molloy said.

Darryl Cotton and Pip, a

kelpie, of Rangiora won the

men's marathon in 3hr 46min

31sec, while Holly Weston and

her sheep dog Billy Knowler of

Beckenham won the women's in

3hr 55min 41sec.
---
SOUTHERN VIEW Latest Canterbury news at starnews.co.nz

Thursday September 30 2021 5

both people and pups

READY: Paula with Kahu under control. Top right: Sara

Chisnall and Aaron Duncan, of Huntsbury, with Blake, a

leonburger.

RELAXED: Abigail Hurst of Opawa with her dog Spoon

(right) and Andy Cousins, of Somerfield, with his irish wolf

hound Sullivan (far right). PHOTOS: JOHN COSGROVE

Bus capacity

stretched

for cycles

• From page 1

However, Van Der Burch had

heard about times when there was

not enough room for all the bikes

on the rack, with cyclists having

to wait until the next bus.

She has already discussed her

ideas with Deputy Mayor and Lyttelton

resident Andrew Turner.

Said Turner: "This is an important

idea to talk about. We need

to think about whether increasing

capacity to carry bikes on buses

could work or maybe incentivise

cycling where travelling from

Lyttelton to the gondola and back

could be free if you have a bike."

Turner said these decisions will

be up to ECan.

Cycling through the tunnel

or in any of the side tunnels has

been researched and dismissed as

unfeasible and unsafe.

Gibbon said there will be a

service review of route 28 in the

coming year ahead.

Van Der Burch said she hopes

to talk at ECan's transportation

sub-committee in late October.

• HAVE YOUR SAY: Do you

think it needs to be easier

for cyclists to travel from

Lyttelton to Christchurch

city? Do you have any

solutions? Email samantha.

mythen@starmedia.kiwi

OPEN

DAY

EVENT

Open Day Event

Saturday 2 October, 10am - 2pm

Come along and join us for

a delicious morning tea and a

personal tour around our Villas,

Studios and grounds.

Our new Village Manager, Vicky Knipe,

and our Village Coordinator, Jane

Woodill, will be delighted to meet you.

Bring along your family to experience

Bishop Selwyn's amazing staff and all the

services we have to offer.

Bishop Selwyn Village is a safe place to

call home. Our studios and villas offer

large spacious rooms, modern kitchens

and garden courtyards.

Our residents enjoy a secure and quiet

location with a homely, community feel.

To find out more contact:

Jane Woodill on 027 215 8220

or 03 379 4044

We look forward to seeing you there!

OPEN DAY EVENT:

Sat 2 October 10am - 2pm

OPEN HOMES:

Wed 6, Sat 9 & Wed 13

October 10am - 2pm

Join us for a delicious morning tea

and a personal tour around our

Villas, Studios and grounds.

350 Selwyn Street, Spreydon

E: bishopselwyn@ultimatecare.co.nz

www.ultimatecare.co.nz
---
6 Thursday September 30 2021

Latest Canterbury news at starnews.co.nz

SOUTHERN VIEW

My favourite

kind of fast

food!

Online shopping

now available at

Durham Street

& Ferry Road
---
SOUTHERN VIEW Latest Canterbury news at starnews.co.nz

Thursday September 30 2021 7

Get to know peninsula on foot

• By Samantha Mythen

TWO-THIRDS OF tickets

available have sold for an annual

walking festival exploring Banks

Peninsula.

The Banks Peninsula Walking

Festival is run over four

weekends in November, offering

guided walks in a variety of

locations all around the Peninsula.

More than 50 per cent of

spaces for the festival sold

within the first four days of sales

when the tickets were released

earlier this year.

Festival

co-ordinator

Sue Church

said the aim is

to promote "a

greater understanding"

of

Sue Church

the area and "to

encourage good

health and

well-being."

"All walks are guided by local

volunteers with a good knowledge

of the walk they intend

to lead and who are passionate

about the area," she said.

Many of the walks are across

private land and covenanted

areas in remote parts of

the peninsula, otherwise

inaccessible.

"These are always popular

with festival-goers, with the

longer, harder tramps usually

the first ones to sell out,"

Church said.

"It's a novelty for them to be

able to access somewhere they

usually can't go."

Walks include exploring the

Kaitorete Spit, Brice Falls, Camp

Bay, Hinewai Reserve, the Hikuraki

covenant and many more,

with hikes varying in difficulty,

length and duration.

The festival began as the

Lyttelton Walking Festival but

expanded in 2013 to include the

whole peninsula.

It is run by representatives

from the Rod Donald Banks

Peninsula Trust and Little

River/Wairewa Community

Trust, with partners from

Akaroa District Promotions,

Diamond Harbour Community

Association, Governors Bay

Community Association and

Project Lyttelton assisting with

promoting the event.

Church said they are

"extremely grateful" to the

volunteer guides who plan and

lead the walks, as well as "the

generous private landowners"

who allow the festival access to

their land.

The event will go ahead fully if

Canterbury is at alert level 1.

If the region remains in alert

WALKING

FESTIVAL:

Banks

Peninsula

Walking

Festival

co-ordinator

Sue Church

checking

out Akaroa's

famous Rhino

Walk that is

a part of the

new Childrens

Bay Farm

Walkway. ​

level 2, several events will be

cancelled and masks will be

required for car pooling.

Church, of Robinsons Bay, has

been co-ordinating the event

since 2017.

"For me, one of the most

rewarding parts of this job is

all of the amazing people I have

got to meet along the way. It is

a great chance to showcase our

beautiful area."

•There are still spaces

available on several great

walks. Tickets are available

through eventfinda.co.nz

– search Banks Peninsula

Walking Festival 2021.

Young explorers

invited to

honour Worsley

TWENTY-FIRST century

explorers will face their fears head

on in a challenging Antarcticafocused

weekend aiming to

highlight an unsung hero.

Canterbury-based school students

in years 7 to 9 can now apply

for the 2021 Young Inspiring

Explorers Worsley Weekend.

Run by Antarctic Heritage

Trust in partnership with William

Pike Challenge, the weekend celebrates

Antarctic explorer, Frank

Worsley.

Worsley was part of Sir Ernest

Shackleton's Endurance expedition

and is known for navigating

the rescue party to safety after the

ship was crushed by ice floes.

Trust commercial and partnerships

general manager Marcus

Waters said not many people

know about Worsley.

Twenty students will spend the

weekend of November 20 and 21

in Akaroa and Wainui, learning

about Worsley and taking part in

a range of activities that will teach

them to overcome challenges,

including high ropes and rafting.

Applications close

on Tuesday, and those

interested can apply at

https://nzaht.org/inspiringexplorers-expedition-2020/

application/

Consider Chatswood

for your

"Forever Home"

We are a privately

run and family

owned complex.

You and your family

are our priority for

quality care.

Chatswood has 18 brand new care suites on offer – spacious

en-suited rooms with magnificent views to the port hills and

surrounding area.

Spoil yourself by purchasing a room and remaining

independent, or receive levels of supportive care without ever

having to move…..

Chatswood Retirement Village is close to community

amenities and resides in a beautiful well established leafy area

of Christchurch.

There is huge interest already in these beautifully appointed

rooms, so if you would like to view them make contact with

Kyla Hurley our Manager on (03) 332 7323 or Rhonda Sherriff

on 0275070521

Enquiries to manager@chatswoodretirement.co.nz or

phone (03)332 7323, or drop by to view these beautiful apartments.

"Located in the heart of St Martins / Opawa, set in tranquil surroundings"

Phone: 332 7323 | 60 Hawford Road | www.chatswoodretirement.co.nz
---
8

Latest Canterbury news at starnews.co.nz

Thursday September 30 2021

SOUTHERN VIEW

ADVERTISEMENT

How we aspire to meet our students

A "culturally responsive pedagogy" is a term that

many outside of the education sector may have heard

from time to time but have little grasp of. Such is the

way of many government departments with their

reliance on such jargon and assertions to stay the

course. What this means for us at Linwood College

at Ōtākaro is an endeavour to deliver an accessible

practice of our teaching and learning that values an

individual's culture. It is a genuine attempt of our

educators to recognise, celebrate and utilise every

ākonga for their unique and meaningful identity and

background. We recognise as educators our tried

and true purpose is to advance academic progress

but we also aspire to ensure all our students feel their

cultural identity is strong, secure and fundamentally

valued along the way. Using this practice ensures

we are bicultural and upholding the principles of the

Treaty of Waitangi for both parties, and when we

succeed it benefits every student. For all ākonga, we

must work to ensure they all feel they belong within

the learning environment we provide and a sound,

clear kaupapa is shared with the community that

is focused on the potential of 'all' learners to thrive

without compromising who they are.

Students attending Tausala Night

So what does this look, sound and feel like in

our learning community? In the classroom, it is

expressed through wānanga – decision-making and

learning practices that are responsive to a range of

relevant contexts. It maintains, advances, and shares

knowledge and develops intellectual independence,

while assisting the use of knowledge regarding

ahuatanga Māori (Māori tradition) according to

tikanga Māori (Māori custom). This can be found in

our science classes where Y10 students learn about

genetics and how a cancer threat helped singer

Stan Walker identify how the mutated CDH1 gene

was expressed in his whakapapa. It can be seen

and heard in the karakia recited at the beginning

of Tāhuhu classes. It can be found in the cultural

narrative names gifted to us by Ngāi Tūāhuriri for the

rebuild: Te Aratai college.

Siva Somoa performed at our Festival of Nations

Our commitment to cultural responsiveness is also

addressed in our practice of ako and mahi ngātahi,

a philosophy of not only sharing the content, context

and responsibility of teaching and learning between

student and teacher but also in the wider community

with ongoing kōrero and consultation with whānau.

Perhaps the best example of this is our Wā Whakanui

conferencing we hold twice every year. These

conferences replace the traditional parent-teacher

interviews where whānau are given 10 minutes

intervals to digest a student's progress by individual

teachers. Instead, Wā Whakanui is a presentation

delivered by our students to their whānau, sharing

and speaking to 3 pieces of their best work. These

are empowering, inspiring presentations where the

self-determination and success of our ākonga is

evident for their loved ones.

Our commitment to strong community bonds is

also ever-present in our Tausala Night where our

Pasifika Students and Polyfest group perform for

their family, friends and kaiārahi, and Te Roopu

Kapa Haka o Kimihia, the school's kapa haka group.

This group is a combination of 5 kura from around

a new chapter

Students taking part in the He Puna Putaiao

programme

Christchurch including: Christchurch Girls High

School, Christchurch Boys High School, Cashmere

High School and Haeata Community Campus.

The success from these competitions is more than

placing on the day, it includes creating a sense of

whanaungatanga, personal success and a sense

of belonging and identity within the kaihaka for all

ākonga to be proud of who they are and their cultural

identities.

A school is not an isolated silo where we prepare

our students for the 'real world' outside. A school is

part of that real world, where the experiences and

expressions are as real and lived as anything that

flows in, through and beyond it. This is why we believe

that a successful kura, a school that delivers success

for its taonga, is engaged with the communities,

histories and identities of all that come to tread life

and experience into its hallowed halls.

Te Rōpū Kapa Haka o Kimihia

performers

Linwood High School 1954 - Te Aratai College 2022

linwoodcollege

www.linwoodcollege.school.nz | 180 Avonside Drive | Tel: 9820100
---
SOUTHERN VIEW Latest Canterbury news at starnews.co.nz

Thursday September 30 2021 9

Mouth-watering traditional puddings

There's nothing

quite like a hearty

pudding to go with

the evening meal.

Try these two fruit

puddings before

warm summer

weather calls for cold

desserts

Fruit pudding

Serves 8

Ingredients

600gm dried fruit, place in

largest casserole dish with

¼ cup sherry

125gm butter, melt, then add

Finely grated rind of 1 large

orange

1 egg, beaten with a fork

2 cups flour sifted with one

teaspoon baking soda, one

teaspoon mixed spice and one

teaspoon ground cloves

½ cup brown sugar

Directions

Select a heatproof bowl (or loaf

tin) which will hold five cups and

will fit into crockpot.

Grease the bowl/tin with butter,

then line with microwave-proof

cling film.

Microwave fruit/sherry for five

minutes or until all the fruit is

hot, plump and shiny. The

liquid will soak into the fruit as it

cools.

Cool the fruit mixture to room

temperature before using it.

Turn the crockpot onto high

and fill with two cups hot water.

Add brown sugar to the flour/

baking soda/mixed spice/ground

cloves, then tip butter/orange

rind/egg into dry ingredients and

mix well.

Add the fruit mixture and mix

gently, but thoroughly.

Spoon mixture into prepared

bowl/tin and level off the top.

Cover with tin foil, folding the

edges down over the bowl.

Lower the bowl/tin into the

crockpot and put the lid on.

Cook on high to eight to 12

hours.

Take out while still warm as it

will be less likely to stick to the

container at this stage, then wrap

and cool completely.

Serve with brandy sauce,

custard and/or whipped cream.

Caramel sticky date

pudding

Serves 8

Ingredients

RICH:

Dried fruit

is a sweet

ingredient

to use in a

pudding and

the taste is

divine.

1 cup water, place in largest

casserole dish with

400gm pitted dates, chopped

roughly

150gm butter

2 tablespoons golden syrup

2 tablespoons sugar

1 teaspoon baking soda

1 cup plain flour, sifted with two

teaspoons cinnamon

2 eggs, lightly beaten

Directions

Microwave water/dates/butter/

golden syrup/sugar for 5min, stir,

zap for another 5min, stir (liquid

needs to have reduced right

down, leaving dates just moist).

Remove from microwave and

leave to cool for 15min, while still

warm add baking soda to the date

mixture and stir to combine, then

add flour/cinnamon and the eggs,

stirring until everything is evenly

combined.

Pour into small springform pan

that has been well greased and

lined with baking paper, and bake

at 180 deg C for 50min.

While it is baking, make

caramel sauce, as follows:

½ cup brown sugar, place in

largest casserole dish with

½ cup golden syrup

50gm butter

1 cup cream

1 teaspoon vanilla essence

Microwave for a minute at a

time until all the ingredients have

dissolved, stirring in-between.

Keep heating and stirring until

sauce turns a golden caramel

colour. Pour over the pudding.

Serve with ice cream.

Up to

50 % Off

*Call for Terms

& Conditions

Off

*
---
10

Thursday September 30 2021

Latest Canterbury news at starnews.co.nz

SOUTHERN VIEW

Our

readership is

skyrocketing

AGAIN!

Read

199,000 times every week!

*Source: Nielsen's National Readership Survey. Christchurch area, people over 15 years of age.

*Star Max — The Star, Bay Harbour News, Selwyn Times, North Canterbury News.

That's an

8.8% increase!

in readership over the last three months!

Reach more customers and grow your profits with our free professional advertising

consultancy for your business. Contact Shane on 021 381 765 / shane@starmedia.kiwi
---
SOUTHERN VIEW Latest Canterbury news at starnews.co.nz

Thursday September 30 2021 11

Classifieds Contact us today Phone our local team 03 379 1100

Food

Trades & Services

Trades & Services

Trades & Services

saitouchofspice.co.nz

82 Barrington Street the

best Curry Takeaway,

Open 11.30am to 2.30pm,

4.00pm to 9.30pm. $14.90

Butter Chicken, Nann,

drinks, rice pudding, Gulb

Juman Lunch Combo. Ph

Orders 3327885, or text

order to 0212324544

Real Estate

HOME WANTED 3-4

bedrooms. Looking in Nor

West areas, Beckenham

or Somerfield. Prefer

permanent material brick

and post 1990 build. Don't

mind if it needs some TLC

- anything considered.

Cashed up buyer. Phone

021 372 479

Wanted To Buy

AAA Buying goods

quality furniture, beds,

stoves, washing machines,

fridge freezers. Same day

service. Selwyn Dealers.

Phone 980 5812 or 027

313 8156

AAA Buying goods

quality furniture, beds,

stoves, washing machines,

fridge freezers. Same day

service. Selwyn Dealers.

Phone 980 5812 or 027

313 8156

TOOLS Garden,

garage, woodworking,

mechanical, engineering,

sawbenches, lathes, cash

buyer, ph 355-2045

FOR ALL YOUR

★Garden Clean-ups

★Pruning

★Lawn Mowing

★Garden Maintenance

Call us today for a FREE quote

PH 0800 4 546 546

(0800 4 JIMJIM)

ROOF

PAINTING 24/7

Rope & harness

a speciality,

no scaffolding

required,

30 years of

breathtaking

experience.

FREE QUOTES

20% OFF other

roof quotes

Exterior staining,

exterior painting,

water blasting.

Moss and mould

treatment $300.

Phone Kevin

027 561 4629

CARPET LAYING

Exp. Repairs, uplifting,

relaying, restretching.

Phone John on 0800

003181, 027 240 7416

jflattery@xtra.co.nz

PAINTING & PlAsTerING

• PAINTING • TILING

• PLASTERING

• WALLPAPERING

Phone Kevin Steel

• Interior/Exterior

• New Homes & Repaints

• Quality workmanship assured

• Correct preparation always undertaken

• 20+ years experience

• Earthquake repairs

(Painting/Plastering/Wallpapering/Tiling)

Ph 027 216 8946

www.facebook.com/kevinsteelpainters&decorators

Email: kpsteel@xtra.co.nz

BRICKLAYER.

George Lockyer. Over

40 years bricklaying

experience. UK trained.

Insurance work, EQC

repairs. Heritage

brickwork & stonework

a speciality. No job too

small. Governers Bay.

Home 329 9344. Cell

027 684 4046. E mail

georgelockyer@xtra.co.nz

ELECTRICIAN

Prompt & reliable

registered electrician

with 24 years experience

for all residential and

commercial work, new

housing and switch board

replacements. Phone Chris

027 516 0669

ELECTRICIAN (CERT)

Prompt, quality. Call Jack

027 206 0080

ELECTRICIAN (CERT)

Prompt, quality. Call Jack

027 206 0080

LAWNMOWING

You Grow I Mow. Free

quotes. Phone Chris 0800

701 501

PAINTING

Indoor / Outdoor, over 30

yrs exp, same day quotes,

ph Steve 021 255 7968

STUMP GRINDING

Best price guarantee Tony

0275 588 895

STUMP GRINDING

Best price guarantee Tony

0275 588 895

VHS VIDEO TAPES

& all camera tapes

converted to DVD or

USB. Video taping

special occasions, www.

grahamsvideo.co.nz ph 03

338-1655

DRIVEWAYS

Exposed Aggregate

Stamped Concrete Plain

Concrete Resurfacing

Things we offer...

Competitive/affordable pricing

Attention to detail

Professional service

free quotes/insurance scopes

Cell 0278 145 848

www.drivecrete.co.nz

ELECTRICIAN

Contact for a free quote

phone 027 331 0400

dave@davesimpsonelectrical.co.nz

davesimpsonelectrical.co.nz

Experienced Domestic Electrician

Quality Workmanship

• New Build

• Renovations

• Fault finding

• Power

• Lighting

• Switchboards

ADVERTISE YOUR BUSINESS HERE

Phone for further details

(03) 379 1100

Up to

50 % Off

*Call for Terms

& Conditions

Off

*

ADJUSTABLE MASSAGE BED

by
---
Advert: WDL-3933 FCSV3009 Newspaper: Southern View

12 Thursday September 30 2021

Latest Canterbury news at starnews.co.nz

SOUTHERN VIEW

$

1 00

ea

Large Hass Avocados

27th September - 3rd October 2021

Fresh NZ Chicken Drumsticks

(Excludes Free Range)

$

4 90

kg

$

5 00

ea

Tip Top Ice Cream 2L

$15 00

pk

Coca-Cola, Sprite

or L&P

18 x 330ml Cans

$

1 00

ea

Just Juice Fruit Drink 1L

$42 00

pk

Heineken

24 x 330ml Bottles

ONLINE SHOPPING OFFER

- 1 WEEK ONLY!

*Terms and conditions apply, visit FreshChoiceYourWay.co.nz for details.

Offer ends 3rd October 2021. *$200 or $150 spend includes any fees, but excludes tobacco products

and must resemble a standard grocery order. Available to online shopping orders only.

Barrington

Open 7am – 10pm, 7 days a week.

barrington.store.freshchoice.co.nz

SPEND

$

150 ONLINE

& RECEIVE

$

20 OFF *

USE CODE:

REDHOT

City Market

Prices apply from Monday 27th September to Sunday 3rd October 2021, or while stocks last at FreshChoice Barrington & City Market only. Limits may apply.

OR

Open 7am – 9pm, 7 days a week.

citymarket.store.freshchoice.co.nz

SPEND

$

200 ONLINE

& RECEIVE

$

25 OFF *

FreshChoiceNZ

USE CODE:

REDHOTBIG

OWNED &

OPERATED BY

LOCALS

WDL-3933 FCSV3009