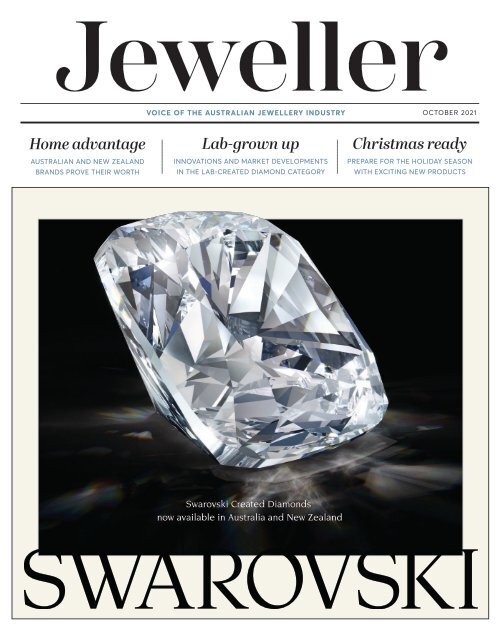 Jeweller - October 2021
• Home advantage: Australian and New Zealand brands prove their worth • Lab-grown up: innovations and market developments in the lab-created diamond category • Christmas ready: prepare for the holiday season with exciting new products
• Home advantage: Australian and New Zealand brands prove their worth
• Lab-grown up: innovations and market developments in the lab-created diamond category
• Christmas ready: prepare for the holiday season with exciting new products
SHOW MORE
SHOW LESS
You also want an ePaper? Increase the reach of your titles
YUMPU automatically turns print PDFs into web optimized ePapers that Google loves.
VOICE OF THE AUSTRALIAN JEWELLERY INDUSTRY

OCTOBER 2021

Home advantage

AUSTRALIAN AND NEW ZEALAND

BRANDS PROVE THEIR WORTH

Lab-grown up

INNOVATIONS AND MARKET DEVELOPMENTS

IN THE LAB-CREATED DIAMOND CATEGORY

Christmas ready

PREPARE FOR THE HOLIDAY SEASON

WITH EXCITING NEW PRODUCTS
---
AUSTRALIA'S PREMIER DIAMOND SUPPLIER

IMMORTALISE

EVERY

SPARKLING

MOMENT

ACCESS TENDER STONES, SINGLE STONES & MELEE ARGYLE PINK DIAMONDS AND

THE WORLD'S LARGEST INVENTORY OF CERTIFIED ARGYLE CHAMPAGNE DIAMONDS

Specialist in all fancy-shapes

GIA / HRD / IGI / RBC Certified stones in stock

Matched fancy and unique pairs

Calibrated melee in RBC and fancy shapes

Quality diamond-set jewellery

P +61 3 9650 2243

E SALES@ADTC.COM.AU

L13/227 COLLINS STREET

MELBOURNE VIC 3000

ADTC.COM.AU
---
Helping you shine

yesterday, today

& tomorrow.

worldshiner.com
---
Swarovski Created Diamonds
---
DURAFLEX GROUP AUSTRALIA

The new exclusive distributor of Swarovski Created Diamonds

Australia and New Zealand

Swarovski's most astonishing innovations have always emerged from the company's legacy of craftsmanship

and technology. Swarovski Created Diamonds are no exception – a feat of master cutting and a move

towards more conscious materials.

100% DIAMONDS

Our lab-created diamonds

are crafted by simulating

the natural processes that

occur in the formation of

mined diamonds.

Just as a greenhouse-grown

orchid is identical to one

found in nature, a Swarovski

Created Diamond faithfully

reflects the growth process

of mined diamonds.

BREATHTAKING BRILLIANCE

Swarovski Created Diamonds

are perfected with master

faceting for maximum light

exposure. Designed in tandem

with shapes dedicated to

enhancing brilliance, this

faceting unlocks the inner

radiance found in each of our

lab-grown diamonds.

IGI REPORT

All Swarovski Created

Diamonds are hand-selected

and graded according to the

industry specific 4Cs (Clarity,

Cut, Color and Carat) by our

gemologists to ensure their

brilliance, with each stone of

0.70 carat and larger

accompanied by a report

from an independent

gemological institute.

RETAIL PROGRAM

This unique display allows

you to present the loose lab

created diamonds in an

exclusive way, providing at

the same time education to

the end consumer as well as

giving them a choice of

beautifully crafted Swarovski

Created Diamonds.

ASSORTMENT

Swarovski Created Diamonds

are supplied as loose stones

and are offered in six classic

diamond shapes and 19

astonishing fancy colours.

Available from DGA in a variety

of colour and clarity ranges

(D-I, VVS-SI) from 0.50 ct to

2.50 ct; other sizes on request.

CERTIFIED EXCELLENCE

As proof of origin, each

Swarovski Created

Diamond 0.10ct/3mm and

larger carries a laser

engraving, visible only

under strong magnification,

identifying it as an

authentic Swarovski jewel

of extraordinary beauty.
---
Our Australian sapphire jewellery collection is crafted in 9ct or diamond set 18ct gold.

Sapphire Dreams certifies and inscribes every sapphire greater than 0.75ct to ensure their Australian origin.

Australia is enriched with amazing treasures. Sapphire Dreams pays tribute to the beauty of natural

Australian sapphires, ethically sourced from the sapphire fields of inland Eastern Australia.

To achieve this level of uncompromised excellence, all sapphires pass through the hands of our skilled gem

cutters to become one-of-a-kind, timeless masterpieces.
---
Call SGA today to become an Authorised Stockist

SapphireDreams.com.au 02 9290 2199
---
Uniting the

Industry

The national program to KICKSTART the future.

Join us to reconnect, network and celebrate.

ewellery

• TRADE DAYS •

MELBOURNE

February 5 – 6, 2022

SYDNEY

February 12 – 13, 2022

BRISBANE

March 5 – 6, 2022

PERTH

March 12 – 13, 2022

ADELAIDE

March 20 – 21, 2022

phone: +61 2 9452 7575 • email: jewelleryfair@expertiseevents.com.au

Est. 1990
---
OCTOBER 2021

Contents

This Month

Industry Facets

11 Editor's Desk

12 Upfront

14 News

40 Jewellers Showcase

22

24

26

29

10 YEARS AGO

Time Machine: October 2011

NOW & THEN

JM Leech Jewellers

MY STORE

Harriet Kelsall Bespoke Jewellery

LEARN ABOUT GEMS

Matrix & boulder opal

30 LAB-CREATED DIAMOND REPORT

Dazzling potential

4The lab-created diamond category

has seen another year of expansion and

innovation, yet it is not immune to

challenges, writes ARABELLA RODEN.

Features

30

LAB-CREATED DIAMOND REPORT

All that glitters

84

86

MY BENCH

Roberto Mattei

SOAPBOX

Joshua Zarb

45

70

HOLIDAY STOCK SPECIAL

Christmas ready

LOCAL JEWELLERY BRANDS FEATURE

Homegrown heroes

Better Your Business

45 HOLIDAY STOCK SPECIAL

Special delivery

4Ensure your store is well-stocked for the

holiday shopping season with products and

services compiled by Jeweller.

78

80

81

82

83

BUSINESS STRATEGY

DENYSE DRUMMOND-DUNN reveals how to increase sales with segmentation.

SELLING

DAVID BROCK explores how managers can support sales staff effectively.

MANAGEMENT

There is a hidden syndrome eating away at productivity, writes DAVID BROWN.

MARKETING & PR

DONNA ST JEAN CONTI explains the importance of repetition in marketing.

LOGGED ON

GARRY GRANT provides a simple strategy for improving your SEO results.

29 LEARN ABOUT

Matrix &

boulder opal

4Natural opal takes

an unusual form

with unique, vibrant

matrix and boulder

specimens.

FRONT COVER Swarovski Created

Diamonds are the marriage of art and

science – a true celebration of human

ingenuity and creativity. They are crafted

by simulating the natural processes

that form diamonds, before masterful

faceting unlocks the radiance in each

one. All Swarovski Created Diamonds

are hand-selected and graded by

gemmologists, and engineered with a

carbon-neutral footprint. Distributed by

Duraflex Group Australia.

October 2021 | 9
---
Editor's Desk

Some battles have losers, while others

create two winners

As the diamond war has subsided, so too has the debate around how the natural

and lab-created categories can thrive in peace, writes ARABELLA RODEN.

When Jeweller published the first 'Great

Diamond Debate' – natural versus labcreated

– in December 2018, the battle lines

had been well and truly drawn.

It was the early days and representatives

from each side fought on every topic, from

terminology and nomenclature, to marketing,

value, sustainability, and ethics.

Needless to say, the industry was heavily

divided with palpable tension between the

natural and lab-created camps. In many

ways, the animosity was understandable; few

knew what the lab-created category would

mean for the natural diamond industry.

Would consumers – increasingly driven by

sustainability concerns and enthusiastic

'greenwashed' marketing – abandon mined

gemstones altogether?

Would they be hoodwinked into purchasing

factory-made rocks with no real 'value',

leading to the collapse of companies with

decades of history and thousands of jobs?

In a move that, at one time, seemed

unfathomable, the natural side also saw a

high-profile 'defection' – the diamond mining

juggernaut De Beers joined the adversaries,

and established lab-created diamond retailer

Lightbox Jewelry, which now leads the very

category it once stood against.

Yet just a year later, when Jeweller published

the second edition of the 'Great Diamond

Debate' – fact versus fiction – tempers had

cooled dramatically as a more realistic

picture of the lab-created category emerged.

The conversation had shifted from a conflict

between righteous, venerable industry and

upstart competitors, to the importance of

transparency, honesty, and differentiation

between two relatively equal products; a

diamond is a diamond.

Today, the rhetoric has softened even further,

and the battlegrounds have devolved to

skirmishes – tit-for-tat reporting of marketing

slogans to advertising watchdogs, swiftly

corrected and forgotten. The dire predictions

have failed to materialise.

As some prophetic industry commentators

foresaw, lab-created diamonds have

settled into their own niche, accounting for

approximately 3 per cent of overall diamond

sales, and with annual production at around

5 per cent of mined stones (in 2020, the

figures were 6–7 million and 111 million

carats). It makes up a sizable dollar value for

a market that once didn't exist!

Have lab-created diamonds become – to

borrow a tech industry phrase – the 'great

disruptor' of natural diamonds? In short, no.

But perhaps they have gone one better.

It is easy to forget that competition is the

cornerstone of capitalism. Competitors

force incumbent businesses to innovate and

improve, creating better products, more

choice, and value for consumers.

Every headline extolling the eco-friendly

benefits of lab-created diamonds is a chance

for the natural diamond industry to explain

that sustainability also includes human

development – one of its major strengths,

having helped to drag entire nations out of

poverty during the 20th Century.

Conservation initiatives, social programs, and

jobs in developing nations are nothing to be

sneered at – a salient point that was recently

made in The Guardian, of all publications.

Indeed, it could be argued that lab-created

diamond companies have pushed mining

companies to examine their impact and

long-term sustainability.

The reverse is also true; mining companies

have consistently held lab-created diamond

producers to account, calling for transparency

in the supply chain and manufacturing

process, and demanding they prove the

generous eco claims in their advertising.

With approximately 60 per cent of lab-created

diamonds manufactured in China under

relatively opaque conditions, the questions

are not unreasonable.

It is quite possible that the entire diamond

trade has become all the more responsible,

accountable and simply better for challenging

its counterpart. As fate would have it, only

diamonds can polish diamonds.

Many lab-created diamond manufacturers

have gladly risen to the challenge,

approaching third-parties for independent

certification on carbon neutrality, water

use, and more. Perhaps anticipating

scrutiny, Pandora Jewelry commissioned an

independent assessment of its first labcreated

diamond collection, Brilliance – and

Have labcreated

diamonds

become – to

borrow a

tech industry

phrase – the

'great disruptor'

of natural

diamonds? In

short, no. But

perhaps they

have gone

one better

made the results publicly available at its

launch this year.

One must wonder whether those findings

would have been made public if it went

the 'other way' – but it is likely that the

natural diamond sector would have had

something to say about it, as they did when

they protested that Pandora had implied it

had switched to lab-created diamonds for

ethical and sustainability reasons.

While eco-friendly credentials are likely to

remain a bone of contention, the upshot

is two industries striving to create more

transparent and positive products.

And what does this mean for the consumer?

Good things! They are the winners in market

competition, gaining the benefit of choice

to select products that best suit their needs

and their budget.

Indeed, it is the latter that appears to

differentiate lab-created diamonds

most plainly.

A recent consumer survey, conducted by

market research firm The MVEye, found that

while sustainability and 'green' credentials

are top of mind when consumers consider

lab-created diamonds, the most important

trigger for purchase is being able to obtain a

larger diamond for less money.

To those who believe that size matters,

lab-created diamonds provide an affordable

alternative. Lightbox Jewelry recently

extended its range to include premium

stones up to 2 carats; incredibly, in 2013

the largest lab-created diamond in the

world – manufactured by Gemesis Diamond

Company – weighed just 1.29 carats.

It is thrilling to consider how the technology

could mature in the coming years, and how

the natural diamond industry will respond,

perhaps creating further value through

innovative cutting and polishing, ever-more

advanced and secure provenance, creative

marketing campaigns, and exclusive

jewellery collections – all of which have

come to the fore in recent years due to

competitive pressure.

It is a cliché, but nonetheless true – without

pressure, we would have no diamonds.

Arabella Roden

Editor

October 2021 | 11
---
Upfront

#Instagram hashtags to follow

#akoyapearl

79,251+ POSTS

#bijoux

12.1 MILLION POSTS

#chocolatediamonds

20,557+ POSTS

#opalring

251,929+ POSTS

#pinktopaz

19,884+ POSTS

HISTORIC GEMSTONE

The Arco

Valley Pearl

4The 575-carat Arco Valley Pearl

is one of the largest natural pearls

in the world. A saltwater baroque

pearl, it is believed to date back to the

11th Century and count Mongolian

emperor Kublai Khan and Marco Polo

among its previous owners.

#radiantcut

49,405+ POSTS

#rosegoldring

95,697+ POSTS

#rubyearrings

42,653+ POSTS

#silverjewelry

4.6 MILLION POSTS

#tsavorite

233,915+ POSTS

Alpha Order

Holes in the pearl suggest it was once

mounted in a tiara or crown. The rest of the pearl's history is unknown, but

it eventually passed into the possession of Austrian nobility, the Arco-Valley

family, from which it derives its current name. The pearl was auctioned in

Abu Dhabi in 2007, valued at $US8 million. The buyer of the pearl and its

current whereabouts are unknown, though it is believed to be in Europe.

Celebrity Style

4Actress Yara Shahidi stunned on the

red carpet at this year's Emmy Awards

wearing a suite of Cartier jewellery

from the Cactus de Cartier Collection,

which is inspired by spiked succulents.

The necklace is crafted in 18-carat

yellow gold set with 170 emeralds

and 204 brilliant-cut diamonds, while

the earrings feature 12 brilliant-cut

diamonds set in 18-carat yellow gold.

Image credit: Getty Images

Image credit: House of Gübelin

Stranger Things

Weird, wacky and wonderful

jewellery news from around the world

Mystery solved

4A woman found on a remote

part of an island in Croatia last

month has been identified as a

former celebrity jeweller. Friends

recognised Slovakian-born Daniela

Adamcova, who previously lived

in Los Angeles and counted Diana

Ross and Barbra Streisand among

her customers, from police photos.

Adamcova was spotted sitting

on a rocky outcrop by a passing

fisherman, who alerted authorities.

She was rescued but had no

memory, phone or identification.

Spectacular specs

4Two pairs of unusual 17th

Century spectacles from the

court of India's Mughal Empire

will be auctioned by Sotheby's

this month. The jewel-encrusted

glasses – named the 'Halo of Light'

and 'Gates of Paradise' – feature

lenses believed to have been

cleaved from a 200-carat diamond

and a 300-carat Colombian

emerald. They have been valued at

£1.5–2.5 million each.

Under a

cryptocurrency

model, customers

would bear

Afterpay's

transaction costs.

Digital Brainwave

4Buy-now, pay-later service Afterpay

has urged the Australian government to

introduce a framework to facilitate the

introduction of cryptocurrencies to its

platform. Doing so would allow the company

to remove many of its merchant fees by

eliminating its reliance on banks.

"Merchants stand to benefit considerably

from the cryptocurrency model, as [debit]

card network fees are entirely removed from

the equation," Afterpay representatives said

in a Senate inquiry submission.

Jewel Watch

4The House of Gübelin has unveiled its

latest jewellery creation, the Cascading

Springs cocktail ring (above). Featuring

an 8.68-carat emerald and 239 other

gemstones, the design is inspired

by the lush landscape and flowing

waterfalls of the Santa Rosa de Cabal

Hot Springs in Colombia. It took 350

hours to complete.

Keep your hair on!

4Talk about an expensive hairstyle!

Mexican rapper Dan Sur has

taken jewellery to the next level

by having gold and diamond-studded

chains surgically implanted

in his scalp. The performer said, "The

truth is that I wanted to do something

different because I see that everyone

dyes their hair. I hope not everyone

copies me now... This is my hair –

golden hair. The first rapper to have

gold hair implanted in human history."

Sur reportedly underwent the

procedure in April this year.

VOICE OF THE AUSTRALIAN JEWELLERY INDUSTRY

Published by Befindan Media Pty Ltd

Locked Bag 26, South Melbourne, VIC 3205 AUSTRALIA | ABN 66 638 077 648 | Phone: +61 3 9696 7200 | Subscriptions & Enquiries: info@jewellermagazine.com

Publisher Angela Han angela.han@jewellermagazine.com • Editor Arabella Roden arabella.roden@jewellermagazine.com • Production Lauren McKinnon art@befindanmedia.com

Advertising Toli Podolak toli.podolak@jewellermagazine.com • Accounts Paul Blewitt finance@befindanmedia.com

Copyright All material appearing in Jeweller is subject to copyright. Reproduction in whole or in part is strictly forbidden without prior written consent of the publisher. Befindan Media Pty Ltd

strives to report accurately and fairly and it is our policy to correct significant errors of fact and misleading statements in the next available issue. All statements made, although based on information

believed to be reliable and accurate at the time, cannot be guaranteed and no fault or liability can be accepted for error or omission. Any comment relating to subjective opinions should be addressed to

the editor. Advertising The publisher reserves the right to omit or alter any advertisement to comply with Australian law and the advertiser agrees to indemnify the publisher for all damages or liabilities

arising from the published material.
---
SINCE 1998

ITALIAN MADE CHAINS

9 CARAT & 18 CARAT

ITALIAN MADE

TENNIS MOUNTS

3pt - 30pt

(03) 9663 2321

ATHAN.COM.AU

@ATHAN_WHOLESALERS

INFO@ATHAN.COM.AU

602/220 COLLINS ST. MELBOURNE
---
News

In Brief

Pandora announces new

Gen Z spokespeople

4 Pandora Jewelry has announced a raft of

new celebrity faces as part of its strategy

to appeal to Gen Z and Millennial shoppers,

which it estimates will constitute 60 per

cent of luxury consumers by 2025. These

include new Pandora 'Muses' Precious

Lee, Cici Xiang, and the first male 'Muse',

actor and skateboarder Evan Mock, and

the Pandora ME Collective, including TikTok

star Addison Rae and singer Charli XCX.

Jewellery 'Stock Up & Top Up' event gets goahead;

full support from buying groups

Delayed JCK Las Vegas

delights attendees

4 US jewellery trade fair JCK Las Vegas

and its 'sister' event, JCK Luxury, had

a successful return after being delayed

due to the COVID-19 pandemic. Held

from 24–30 August 2021, organiser

Reed Events said 1,200 exhibitors and

more than 10,000 buyers attended. The

next JCK Las Vegas – when the show

will celebrate its 30th anniversary – is

scheduled for 10–13 June 2022.

Tech breakthrough

for melee diamonds

4 UK-based technology firm Opsydia

has developed an ultra-precise laser

marking technique that can place

permanent identifying characters, such

as codes or a logo, under the surface

of melee diamonds. The technology has

been used across diamond samples for

the next phase of the Natural Diamond

Council's Project Assure program, which

assesses diamond detectors.

New coloured gemstone

grading system

4Following three years of development,

the Gübelin Gem Lab has announced

a new rating system for coloured

gemstones. Modelled after Robert

Parker's wine rating system, it assigns

each specimen a numerical score from

75 to 100, known as Gübelin Points,

based on its gemmological qualities. The

points system is based on thousands of

gemstone reports analysed by Gübelin's

Gemtelligence software.

NSW Health has cleared Stock Up & Top Up Sydney to take place in November, with buying groups throwing their

support behind the event.

The NSW government's recent announcement

regarding the easing of COVID-19 restrictions

has meant the pre-Christmas trade event,

Stock Up & Top Up – scheduled for Sunday 7

and Monday 8 November at the International

Convention Centre (ICC), Darling Harbour – is

approved to run.

Gary Fitz-Roy, managing director of Stock

Up & To Up organiser Expertise Events, said,

"NSW Health has approved our event within

the new orders, and we are updating our

COVID plans."

Fitz-Roy added that the industry is in dire

need of a trade event to reconnect, and that

the current lockdown has had a very different

impact on retailers than the 2020 lockdown.

For those reasons, it is "even more significant

that all four jewellery buying groups have

announced that they will attend."

"Since announcing Stock Up & Top Up last

week, it's fantastic that Nationwide, Showcase,

Independent Jewellers Collective and Leading

Edge are all supporting the event and will be

there to meet their members and suppliers

face-to-face to support uniting the industry at

this most important time," Fitz-Roy said.

"There is such pent-up demand to reconnect

and get on with our day-to-day routine and

business, and it's an important time to ensure

retailers have the latest stock, and enough

stock, for Christmas and the New Year,"

he added.

Colin Pocklington, managing director of

Nationwide Jewellers, said, "Following a long

lockdown period it is essential that retailers

have a highly successful trading period in the

lead up to Christmas.

"Very buoyant trading in the states with

minimal lockdown periods shows that

consumers are looking to buy jewellery, just as

they did following the lockdown from March to

June in 2020."

Nicola Adams, chief operating officer,

Showcase Jewellers, said she was looking

forward to the SUTU event.

"I am sure it will be a great show for us to

reconnect with our membership. Showcase

is preparing for a strong Christmas once

we finally re-open in many states after long

lockdowns," Adams said.

Echoing Adams and Pocklington's sentiments,

Josh Zarb, CEO of Independent Jewellers

Collective, said, "The timing of Stock Up

& Top Up works perfectly for us to provide

our retailers the chance to see everything

'live' and we will use the opportunity to

look at as much product as possible for

our 2022 season."

Claire Packett, head of category at Leading

Edge Group Jewellers, said she was "looking

forward to welcoming members and suppliers

to Stock Up & Top Up in November," adding,

"We also look forward to supporting and

helping to bring people across the industry

together, for what we hope is a strong and

profitable Christmas for all."

Stock Up & Top Up will be hosted in a

spacious Premier Room of the ICC Gallery,

with a gift industry event in an adjacent room,

and will include Christmas drinks on Sunday.

Fitz-Roy explained that limited spaces would

be available in order to maintain a sensible

buyer-to-seller ratio, along with offering a

cost-effective package.

"We are all hoping that we can finish the year

on a high," he added.

14 | October 2021
---
Former Pandora executive accused of

abandoning latest jewellery company

Following the closure of his multi-level-marketing business JN Jewellery, Jesper

Nielsen came under fire as his fraught business history was revealed.

Following the abrupt closure of his multi-level-marketing (MLM) jewellery

business JN Jewellery/JN Jewelry, many people came forward with

additional information and complaints about its founder Jesper 'Kasi'

Nielsen, a former Pandora Jewelry executive.

While the MLM business model can offer a legitimate sales structure, the

industry has been fraught with illegal operations that are, instead, pyramid

schemes. Nielsen is believed to have launched JN Jewellery in Europe in

early 2020 and expanded into Australia in March 2021.

According to those involved, it had attracted more than 70,000 'ambassadors'

– a buzz term used to describe salespeople recruited as paid members to

sell the jewellery on a commission-only basis – at the time of its closure on

10 September 2021.

A petition titled 'Justice For Our Ambassadors for JN ruining their

reputations' published on the activist website Change.org says JN Jewellery

"shut down with zero warning", claims that more 4,500 orders were still

awaiting shipment, and that "thousands of ambassadors [members] haven't

even received July commissions, let alone August. Some have unspent

credits they issued for their pay in their back office still."

Several former members have provided additional information about JN

Jewellery, saying that Nielsen consistently promoted – and heavily relied

upon – his previous connection with Pandora to attract new members.

Mary Francese, a JN Jewellery member from the US who started the

Change.org petition, explained to jewellery industry publication JCK

Online that she had spent four years working in various MLM businesses,

saying that she was first attracted to JN Jewellery through Facebook

advertisements.

"Usually very little stands out to me. But with COVID, the kitchenware brand

I was working with had a lot of supply backups. And when I saw this post,

it talked about jewellery, it talked about how it involved the co-founder of

Pandora," Francese said.

"I thought, it would be stupid not to pursue this. Pandora was a really

successful company. The product, the compensation plan, it all seemed

perfect."

Francese, a stay-at-home mother, explained to JCK that she had "spent

nearly seven months selling Jesper Nielsen (JN) jewellery, eventually

becoming a company 'World Leader' and joining its customer service team"

in a paid role; however, complaints from members quickly overwhelmed her.

CONTINUED ON PAGE 20
---
News

Pandora Jewelry restructures Asia-Pacific operations

Pandora is restructuring its Asia-Pacific operations, with

its regional headquarters – excluding China – moving to

Sydney. Image: Pandora x Disney Collection charms

Just 18 months after restructuring its

international operations, jewellery company

Pandora has announced it will eliminate one of

its 10 regional divisions, consolidating its Asia-

Pacific operations in the process.

The company announced the closure of

three regional headquarters in March 2020

– alongside the loss of 180 jobs – when it

restructured the business into 10 'Clusters', with

the Asia-Pacific region divided into China, Pacific

and Rest-of-Asia.

However, the Rest-of-Asia division, including

Hong Kong, Japan, and Singapore, will now be

assimilated into existing Clusters.

David Allen, current general manager of the

Pacific Cluster – which includes Australia and

New Zealand and is based in Sydney – will take

control of the Japan and Singapore markets, as

well as 11 other distributor-controlled markets

throughout Southeast Asia and Korea.

Allen told Jeweller, "The leadership team in

the Pacific is reviewing the required resources,

including the current organisational structure,

to ensure that we are able to realise the full

potential of our expanded Pacific and Greater

Asia business."

Meanwhile the Hong Kong, Taiwan, and Macau

markets will be absorbed into the new Greater

China Cluster, headquartered in Shanghai

and led by current China general manager

Jacques Roizen.

The transition is scheduled to be completed

by February 2022, at which point Rest-of-Asia

general manager Alan Chan will depart

the company.

According to a statement from Pandora, the

decision to reduce the number of regional

clusters was made to "optimise our operating

structure and create further commercial

synergies – with the overall goal of capturing the

growth opportunities that we are targeting in our

new Phoenix strategy."

Phoenix is the title of Pandora's new strategic

initiative, announced at the end of Q1 2021.

As part of the strategy, Pandora has announced

it a DKK1 billion ($AU216 million) expansion

of its southeast Asian manufacturing facilities,

including a new factory in Vietnam.

Jewellery sales slump as lockdowns continue; Christmas 'rebound' predicted

Extended lockdowns in NSW and Victoria

have taken a heavy toll on jewellery sales

during September, according to data compiled

by Retail Edge Consultants from stores

across Australia.

Overall, Retail Edge's latest report found that

sales in dollars decreased by 25 per cent

compared with September 2020, while sales in

units dropped by 28 per cent.

All categories of jewellery recorded double-digit

declines when compared with the same period

last year.

However, the steepest falls were sales of

diamond-set precious metal jewellery and

silver and alternative metals jewellery, which

fell 31 per cent and 27 per cent respectively

compared with September 2020, and 19 per cent

and 18 per cent compared with September 2019.

Commenting on the results, the report's

authors noted, "The figures are impacted by

the number of stores with limited trading in

September; however, the picture shows that

those stores that were able to open during the

month showed a strong rebound effect.

"This has been the same pattern that we have

observed each time there has been a lockdown

and re-open process.

"We believe that pattern will continue, so if

you are closed, make sure that you are fully

prepared for when you are able to open.

Historically, there has been pent up consumer

demand for jewellery when this happens."

The report went on to recommend jewellers

encourage customers to "buy early" or put

items on layby given the holiday shopping

season is rapidly approaching.

"Australia Post said that September parcel

numbers were larger than their previous largest

month, December 2020.

"Out-of-stocks and shipping delays will

be inevitable," the report said. "Encourage

customers to adopt the early bird philosophy –

'If you like it and you see it, buy it.'"

Diamond-set precious metal jewellery was the hardesthit

category in September as jewellery sales fell

by 25 per cent across the board, though a Christmas

recovery is expected.

16 | October 2021
---
Precious metal refinery and casting house publishes sustainability report

Pallion has detailed its sustainability initiatives across

the FY2021 in a new report, including new recycling and

low-waste technology.

The Pallion group of companies – which includes

ABC Refinery and Palloys – has released its

annual sustainability report, which details

the group's policies and performance across

environmental, community, health, and industrial

standards.

Titled Considerate Precious Metals, the report

was developed by the company's Sustainability,

Environment, Health & Safety Committee with

oversight from the Pallion board of directors,

and was prepared in accordance with the Global

Reporting Initiative, an independent, international

standards organisation.

David Woodford, chief commercial officer

at Pallion, said, "At Pallion, the concept

of sustainability is not about lip service to

the market, it's an important part of our

business model."

Andrew Cochineas, CEO Pallion, added, "This

report evidences the collective efforts of Pallion,

its clients and suppliers to sustainability

initiatives over the 2021 financial year and in that

regard is a true representation of our corporate

ethos of partnership.

"Our hope is that continued improvement will

result in collective social and commercial

success," he added.

Notably, Pallion introduced a number of initiatives

during the FY2021 financial year to improve

provenance and production of precious metals.

ABC Refinery doubled the size of its Acidless

Separation System (ALS) to establish what

it claims is the largest ALS refining capacity

worldwide; ALS provides "significant advantages

to traditional refining techniques including inert

refining emissions and significantly reduced

refining time which in turn reduces energy

consumption," according to Pallion's report.

ABC Refinery also made "significant

improvements" in the recovery of metallic silver

from silver chloride, a by-product of electrolytic

silver refining, and improved the extraction of

residual precious metals at its sweeps treatment

plant by 60 per cent through the installation of

new crushing and grinding mechanisms.

The report also explored Pallion's workplace

diversity and charity initiatives.
---
News

New Zealand jeweller launches new precious

metal alloy following decade of development

Master jeweller Hugh Gillbanks has spent more than 10 years developing Starium, a high-performance alloy, for

the jewellery industry. Pictured: Jewellery crafted from Starium; Hugh Gillbanks at the bench

STERLING SILVER

CUBIC ZIRCONIA

RRP $169 RRP $219 RRP $259

RRP $289 RRP $259 RRP $299

FOR STOCKIST ENQUIRIES

+61 413 872 810

INFO@BIANC.COM.AU

@BIANC_JEWELLERY

WWW.BIANC.COM.AU

Following more than 10 years of development,

a new metal alloy created by master jeweller

Hugh Gillbanks is now available to the

jewellery industry.

The alloy, named Starium for its celestial

lustre, polishes up to the same colour as

rhodium but does not require rhodium

plating, and has proven resistant to tarnish

and corrosion as well as displaying superior

workability, according to its inventor.

Gillbanks told Jeweller, "You can roll it,

fabricate it, it can be cast; it works exactly the

same as any other metal you'd use.

"The benefits are that it's a high-temperature

metal, so it's very easy to solder and keep

clean. When you're soldering it and you

put it back into the acid, it takes away

all the fireburn.

"If you polish it first, it comes out exactly how

you'd polish it after you'd worked with it," he

explained, adding, "Jewellers will be blown

away by what it does, what it's like to use, and

what they can make with it. It files, bends, and

sets beautifully. It seems too soft to set with at

first, but it's harder than other metals."

Gillbanks had begun his career in the industry

at 16, later moving into luxury custom-makes,

master patterns and design.

He began developing the alloy more than

10 years ago, when he was approached by

his friend Kotin Ma – a geologist, gemstone

collector, and New Zealand tourism operator –

to create metallic beads from a meteorite.

"He is a very spiritual person and I had

made a lot of jewellery for him and his

customers overseas, using a variety of

different gemstones.

"He asked me if I could make beads from

a meteorite, and I said no, nobody could!

Instead, I suggested we create a new precious

metal that could be used for anything,"

Gillbanks recalled.

Ma – now Gillbanks' business partner – also

wanted to develop a metal that wouldn't cause

an allergic reaction, as his wife's wedding ring

did while on their honeymoon.

"That was the first and last time she wore her

original ring!" Ma told Jeweller. "I wouldn't

want any other couples to go through what we

did that day. She could not wear any jewellery

that wasn't platinum or high-carat gold – until

we developed our metal."

Gillbanks said it had taken six years to bring

Starium up to industry standards.

"It can do anything that every other metal on

the market can do," he told Jeweller, adding

that friends and family – including Ma and his

wife – have worn Starium jewellery for years.

In 2010, a prototype of the metal was assessed

by Professor Milo Kral from the University of

Canterbury in Christchurch, New Zealand.

However, while the metal was patented in both

New Zealand and Australia, progress was

halted by the devastating 2011 Christchurch

Earthquake when samples were lost before

they could be tested.

Following a protracted rebuilding phase,

Starium is "finally ready to go out to the market

and everything is in place", with Gillbanks –

now based in Queensland – partnering with an

Australian factory to manufacture Starium at

scale for the jewellery industry.
---
Buying group announces pre-Christmas 'expo'

Nationwide Jewellers, Australasia's largest

jewellery buying group, has announced

its Pre-Christmas Expo virtual event will

return for a second year to assist retailers in

stocking up ahead of the holiday season.

Colin Pocklington, managing director,

Nationwide, praised the Expo format, saying,

"Our 2020 Expo was a huge success with

our participating suppliers achieving

substantial orders. There was also great

participation from members in the webinar

program that we ran over the two-week Expo

period," he added.

This year's Expo will take place from

Monday 25 October to Friday 5 November,

with more than 70 of Nationwide's preferred

suppliers taking part.

The virtual Expo platform features three

supplier 'pavilions' – Australia, New Zealand

and International – and each supplier 'stand'

comprises a video message, Expo special

offer, and list of best-selling products.

Members will be able to order from the

'stand' or by contacting the supplier directly.

Each Nationwide member will be allocated

up to $60,000 in 'Expo Dollars' – depending

on their Member Reward Scheme level – to

pay over six months, interest-free.

In order to provide flexibility to retailers in

different states, Nationwide has"made our

Expo Dollars available over an extended

period from early October to mid-November,"

Pocklington explained.

In addition to special offers from suppliers,

the Expo will also include a keynote address

from Pocklington. daily online workshops

focused on business management, and a

specialist question-and-answer panel.

Plus, a number of social events are set

to take place, including a Melbourne

Cup-themed virtual session on Tuesday 2

November and a concluding Happy Hour on

Friday 5 November, where Nationwide's 2021

Apprentice of the Year and 2021 Members

and Suppliers of the Year for Australia and

New Zealand will be announced.

Hollywood star returns for natural

diamond advertising campaign

Chinese markets last year. David Kellie, CEO

of the NDC, said, "Diamond jewellery sales

have seen record-breaking growth as we

emerge from the pandemic.

"We're thrilled to have Ana de Armas back

with us for another year to share the magic of

natural diamonds with a global audience."

The Natural Diamond Council has released its

second campaign with actress Ana de Armas.

Image credit: Natural Diamond Council

The Natural Diamond Council (NDC) –

formerly known as the Diamond Producers

Association – has revealed its second

large-scale advertising campaign starring

actress Ana de Armas.

De Armas, who is set to star in the upcoming

James Bond film No Time To Die and is

best-known for roles in Knives Out and

Blade Runner 2049, was named the NDC's

international 'face' in 2020.

Her previous campaign for the organisation

was distributed across the US, UK, Indian and

The new campaign, named 'Love Life',

features De Armas wearing a custom-made

11-piece diamond jewellery collection by

jewellery designer Malyia McNaughton, who

was part of the NDC's Emerging Designers

Diamond Initiative earlier this year.

De Armas emphasises the "joy and hope"

of the campaign, saying, "It was an amazing

experience working with this incredible team

and I couldn't be happier to be working again

with the Natural Diamond Council."

Notably, McNaughton's collection – which

features current trends including "gender

fluidity, heavy metal chains, and the

marquise cut" – has been made available

to international retailers to either stock or

manufacture for the holiday season.
---
News

In Brief

International watch and

jewellery sales slow

4 Market analysis firm The Mercury

Project has published its latest report into

international watch and jewellery sales.

Following a strong recovery in the first

half of the year, the report notes "pent up

demand" has "softened" with July showing

a 23.9 per cent rise compared with 2020,

versus 150.9 per cent in May. However, its

overall sales index for the first seven months

of the year is 8.8 per cent above 2019.

E-commerce jewellery

company goes public

4 Brilliant Earth, which manufactures

and retails personalised bridal

jewellery, has successfully launched

its initial public offering (IPO) on the

NASDAQ in New York, with its share

price rising by 43 per cent, from $US12

to $US17.16, on its first day of trading.

According to Forbes, Brilliant Earth's

sales increased 25 per cent in 2020,

reaching $US251.8 million.

Ellendale Mine owner

purchases yellow stones

4 Burgundy Diamond Mines, which

took control of Western Australia's

Ellendale Mine in March, has announced

the purchase of $US1 million in Fancy

Vivid and Fancy Intense yellow diamonds

from the Ekati Mine in Canada. The

stones will be cut and polished at

Burgundy's specialist facility in Perth,

before being marketed as the company's

"first branded diamond product".

Omega gets royal

seal of approval

4Watch brand Omega, part of the

Swatch Group, can count HRH Prince

William among its fans. Observers noted

the royal wearing an Omega Seamaster

Diver to the premiere of the James

Bond film No Time To Die – of which

Omega is a sponsor, adorning the wrist

of the iconic fictional spy. However, the

prince's timepiece is in fact his everyday

watch of choice, gifted to him by his late

mother Princess Diana.

Former Pandora executive accused of

abandoning latest jewellery company

CONTINUED FROM PAGE 15

Another member, who contacted Jeweller,

said Nielsen "planted seeds of dreams in over

76,000 people, he got them to spend money

for higher commissions... Creating urgency to

purchase at discounted rates, but it became

clear when his sales never stopped and his

'newly' named products arrived branded with

Endless [Jewelry] and Amazing [Jewelry], that

something was seriously not right."

One member told Jeweller she had joined

the business just four weeks before it closed

and like many others, was out-of-pocket for

product inventory.

Describing the unexpected closure of

the business, the member said, "On 10

September we were told JN had gone into

administration.

"When we tried to contact customer

service and Jesper via Facebook for further

information, all points of contact and Jesper's

social media accounts had been closed."

"We have searched for a point of contact for

Jesper but he has vanished off the face of the

Earth," she added.

Nielsen was initially a European Pandora

distributor and a member of its management

team, before resigning as president of its

Central Western Europe subsidiary in 2011.

He was bound by a non-compete clause until

1 June 2013, whereby he immediately founded

Endless Jewelry.

Despite experiencing a rapid expansion,

Nielsen left Endless Jewelry in February

2016; the company declared bankruptcy in

November that year.

In June 2016, Nielsen opened the first

Amazing Jewelry store in Copenhagen. It

operated on a franchise business model

and reportedly reached a store count of 60.

However, media reports in August 2018 stated

that five German stores were closed amid

insolvency proceedings.

The last remaining store – the Copenhagen

flagship – was closed by Nielsen in February

2021, one month after Nielsen's company

Kasi Brands went into bankruptcy. According

to Danish media, Nielsen was declared

personally bankrupt on 17 November 2020

and currently lives "for rent" in Majorca, Spain.

Nielsen has also been embroiled in legal

disputes with Pandora since leaving the

company a decade ago.

In 2017, Denmark's Maritime and Commercial

High Court ruled that Nielsen had unlawfully

used the Pandora trademark to promote

Amazing Jewelry.

He had been warned against using the

Pandora name before, with a Danish website

covering trademark law reporting that

Pandora had "found reason to voice their

concern towards Mr Nielsen's continuous

use of Pandora again in the spring of

2015, and in June 2016 Pandora obtained

a default judgment."

"It became clear when his sales never

stopped and his 'newly' named products

arrived branded with Endless [Jewelry]

and Amazing [Jewelry], that something

was seriously not right"

FORMER JN JEWELLERY MEMBER

Three years after his departure from Pandora,

Nielsen also self-published a book entitled

Inside Pandora, and which was promoted as:

"A simple and unconventional approach to

business by one of the key players behind the

billion-dollar global enterprise."

At the time of Nielsen's resignation from the

Pandora board, his company Kasi ApS – also

known as Kasi Group – sold its shares in the

business for an initial payment of DKK385

million ($AU83.5 million) with a second

payment promised based on future earnings.

In 2015, Nielsen contended that Pandora

had not honoured this second payment and

insisted that he was owed DKK753 million

($AU164 million) – later increased to more

than DKK2 billion ($AU430 million).

Pandora has consistently denied Nielsen's

claim. The case has since moved into

arbitration; however, Kasi ApS was fined

DKK5 million ($AU1.09 million) in 2020 due to

Nielsen's breach of a confidentiality clause.

According to a Finans.dk report, the fine was

not paid, forcing Kasi ApS into bankruptcy.

During more recent court proceedings,

Nielsen is reported as saying: "It is expensive

to be Jesper Nielsen, and I am good at

making money."

The future for his reported 76,000 JN

Jewellery 'ambassadors' is unknown – as

are any monies owed to them.

Jeweller has attempted to contact Jesper

Nielsen. His personal website jespernielsen.

com is non-functioning and various emails to

the business have 'bounced'.

20 | October 2021
---
Sky-high sales for fashion jewellery chain Lovisa amid COVID expansion

Lovisa has announced positive financial results for

FY21, following its acquisition of German jewellery and

accessories retail firm Beeline Group.

Fashion jewellery retailer Lovisa has announced

a $42.7 million profit to 20 June 2021, a 39.4 per

cent increase compared to the previous year. Total

sales reached $288 million – an increase of 18.9

per cent over FY20 ($243 million).

Despite the global pandemic, same-store sales

increased by 8 per cent over FY20, while one of

the largest growth sectors was the company's

e-commerce strategy, which delivered 178 per

cent growth in FY21.

Gross margin was up 77 per cent, while gross

profit increased 18 per cent to $221 million.

The fashion jewellery chain started in Australia

more than a decade ago, however 72 per cent

of its current 544-store network is now located

outside

of Australia. Lovisa is owned by the ASX-listed

BB Retail Capital, founded by retail entrepreneur

Brett Blundy.

Lovisa's store count dramatically increased in

December last year when it acquired German

retail firm Beeline Group, which operated 114

fashion jewellery and accessories stores across

Germany, Switzerland, the Netherlands, Belgium,

Austria, Luxembourg, and France, under the

brands Six and I Am.

Along with 22 new stores, 87 of the 114 Six and

I Am outlets were converted to Lovisa, with the

"remainder exited at or around the time of the

handover", the company stated.

As previously reported by Jeweller, the Beeline

acquisition was for a nominal €70 ($AU113), with

Lovisa taking over €3 million in bank guarantees

associated with the leases on the Beeline Group

stores. Lovisa is obliged to pay Beeline Group

an additional €3 million from its existing credit

facilities before 31 March 2022.

Lovisa's US store count increased from 48 in

FY20 to 63 by June 2021. It has been reported

that Lovisa received about $12 million in

JobKeeper and other wage subsidies for stooddown

staff while, at the same time, did not pay

rent while stores were closed.

Lovisa was listed on the ASX at $2 per share in

December 2014 and at the time of publication was

trading at $18.83.

International trade show makes successful return in India

Following the cancellation of its 2020 edition due

to the COVID-19 pandemic, the India International

Jewellery Show (IIJS) Premiere made a triumphant

return last month.

The show – held from 15–19 September in the

city of Bengaluru – recorded approximately

1,300 exhibitors and 21,000 visitors, including

more than 300 international buyers, according

to organiser the Gem & Jewellery Export

Promotion Council (GJEPC).

Prior to the pandemic, IIJS Premiere would attract

35,000–40,000 visitors, of which more than 1,000

were international buyers.

The GJEPC claims it is the first large-scale,

international, and entirely physical jewellery

trade show to be held since the pandemic began.

Notably, the 2021 event was held outside Mumbai

for the first time in the show's history due to

COVID-19 restrictions in the city.

According to a GJEPC statement, the show

generated "business worth $US6.75 billion"

($AU9.4 billion).

"The success of IIJS Premiere 2021 is a clear

indication that the gem and jewellery industry

has shrugged off the pandemic's effects on the

sector and the economy at large," the statement

continued.

Colin Shah, chairman of the GJEPC, said, "We are

delighted that IIJS Premiere has generated an

estimated $US6.75 billion worth of business. We

are already witnessing a surge in exports and are

confident that the industry will achieve the export

target of $US43.75 billion this year."

Shah also thanked the Karnataka State

Government and the show's venue, the Bangalore

International Exhibition Centre, which was subject

to rigorous safety regulations including an on-site

COVID-19 testing centre, ambulance, quarantine

room, and on-call doctor.

Attendees were required to have at least one

dose of a COVID-19 vaccine, as well as produce a

negative test within 48 hours prior to attendance.

The GJPEC statement noted international

buyers from Bangladesh, the UK, USA, Thailand,

Singapore, Australia, the United Arab Emirates,

and Nepal had placed orders at the show.

The India International Jewellery Show (IIJS) Premiere

2021 was held in Bengaluru in September, attracting

21,000 visitors. Image: Dignitaries launch the IIJS

Premiere 2021

October 2021 | 21
---
10 Years Ago

Time Machine: October 2011

A snapshot of the industry events making headlines this time 10 years ago in Jeweller.

Historic Headlines

4 Five more years for Expertise Events

4 Michael Hill profits

4 Big win for Queensland jewellers

4 Georgini heads overseas

4 Celebrity launches diamond collection

Diamond investment fund

Australian investors will have the chance to

contribute to the Australian arm of a new $US250

million diamond asset fund.

The Diamond Asset Fund (DAF 1) is a joint

venture between Canadian retailer Harry Winston

Diamonds and Zürich-based advisor, Diamond

Asset Advisors (DAA) and involves Harry Winston

sourcing diamonds which will then be consigned

to it by the fund; when sold, Harry Winston will pay

the fund the prevailing market price as determined

by its cost to replace the diamond.

Formed in May this year, the partnership is

raising funds from institutional investors. It will be

managed locally by Melbourne-based investment

advisor Bristow Shaw & Company, which aims to

raise $30 million from "institutions" and "high networth

parties".

Young jewellers meet in Sydney

The Young Jewellers Group (YJG) met for the first

time at the Sydney fair in August for cocktails and

conversation.

Hosted by Jeweller editor Coleby Nicholson, the

function was attended by about 30 people including

some senior members of the industry, who offered

help and guidance.

Nicholson, who instigated the meeting, said that

Jeweller magazine was essentially a conduit for

encouraging the group to form ideas and network

together, in order to enhance their future.

NSW-based young jeweller Ewen Ryley has been

managing the group's Facebook page and urged

fellow young jewellers to get on board. Young

jewellers from New Zealand have also joined the

YJG, including Naeem Alhaseny from Marqueez

Jewellery, who said she was eager to network with

other jewellers.

October 2011

ON THE COVER Storch & Co.

Editor's Desk

4Look In The Mirror First:"While

I sympathise with jewellers' concerns

about how the industry has changed,

longing for the 'good ol' days' won't

change a thing.

"Ridiculing successful brands for their

popularity with consumers or agitating

for government protection of traditional

business models is misguided to say the

least. If your business is struggling, the

first place to look is in the mirror, rather

than across the road!"

Soapbox

4The Importance of Trade Fairs

"The core reason for trade fairs is

obvious; for buyers to meet with

existing, and new, sellers. But what

is often overlooked is that fairs also

provide a way for those in the industry

to network and help each other.

"Many people seem to think a

successful fair is just about getting

numbers through the door – I

disagree. It's the quality of the

audience that's important, not

the quantity."

– Gary Fitz-Roy, managing director,

Expertise Events

STILL RELEVANT 10 YEARS ON

Child's Play:

No longer content to be told what to wear

by mum or dad, these chic kids often

dictate what purchases are to be made.

Influenced by peers, celebrities, and a

greater exposure to what's available via

the internet and social media, these kids

know what they want and once they

arexposed to a product, hopefully remain

loyal in the long-term.

Ayres acquires competitor

Melbourne-based company Kenneth Ayres

has acquired its competitor, Davies Ferguson,

which will cease operations on 31 August 2011

after 30 years in business.

Kenneth Ayres has acquired the business

assets in the form of stock, plant and

equipment, but not the 'Davies Ferguson'

trading name. Paul Chaston, Ayres national

sales manager, said: "We knew they wanted

to move on. Our relationship has always been

respectful, despite being competitors, and it

has been an amicable transition."

Chaston believes the combination of both Ayres

and Davies Ferguson gives customers a greater

level of choice.

US jewellery sales expert

in Australia

US based sales expert Shane Decker was in

Australia recently to head a series of seminars

on jewellery retailing.

Visiting for the first time, Decker inspired

audiences with his charistmatic speech and

proactive approach to retailing.

The first seminar, entitled, 'Anatomy of a

diamond sale', saw Decker deliver practical

tools encompassing everything from the

importance of showing diamonds on a

daily basis to the consistency of excellent

customer service.

Decker also conducted one-hour seminars on

customer loyalty and customer service, noting

Australian retailers "lack accountability".

READ ALL HEADLINES IN FULL ON

JEWELLERMAGAZINE.COM

22 | October 2021
---
SUPPORT SERVICES FOR

INDEPENDENT JEWELLERS

"We guarantee that you will be financially better with Nationwide."

Colin Pocklington, Managing Director

• Marketing • Sales Training • Business Planning

• STAY 100% INDEPENDENT•

• NETWORKING • COST SAVINGS • INDUSTRY SUPPORT

the largest network with over 450 jewellery stores

P: +61 2 9418 0000 E: info@jgbs.com www.jgbs.com
---
INSIDE

Now & Then

JM Leech Jewellers

Celebrating 93 Years • BENDIGO, CASTLEMAINE, ECHUCA, AND MARYBOROUGH, VIC • A moment with Adam Tuohy, director

MILESTONES

L to R: Jessie Leech's sister Connie with Johnstone Melmore Leech outside the original JM Leech Jewellers

Bendigo store, circa 1932; an historic newspaper advertisement for the business

JM Leech Jewellers was founded by my

grandfather and grandmother more than

90 years ago and today, is the oldest

jewellery store in Bendigo.

My grandmother, Jessie, used to work for

a department store and my grandfather

Johnstone Melmore Leech fancied her, so he

had his brother take a note to her and ask if

she would come and work for him instead!

They ended up getting together and started

JM Leech Jewellers in 1928.

In 1930, when the business was only two

years old, the Great Depression really began

to hit Australia; then, a few years later,

Johnstone went off to World War II.

There have been so many obstacles over the

years; there were times when they couldn't

get stock – if you wanted an engagement

ring in the 1930s, you had a choice of two!

From wars to depressions and recessions, I

take my hat off to them. I know we are going

through tough times now, but I think if we

were to take our minds back to what the

previous generations went through, we'd

have a bit more appreciation for how tough

times really were back then!

My grandparents had personal struggles

too; their daughter was born in 1937 and

tragically died when she was two.

They had my mother, Faith, in 1941 and

were told she would be in a wheelchair by

the time she was 30 as she had a double

curvature of the spine.

To help with her condition, they got her into

swimming when she was five; by the time

she was 12 years old, she was the fastest

female swimmer for her age on the planet.

She ended up going to the Olympics,

winning a gold medal and bronze medal

in 1956 as one of the Golden Girls alongside

Dawn Fraser. She also worked in the

family business until the mid '90s, when

she retired.

My grandfather and grandmother were very

determined – they built up an extremely good

business over the years. We struggled a bit in

the '70s and early '80s, but since then we've

gone from strength to strength.

I purchased half the business from my

grandmother and the other half from my

mother in the 1990s; it wasn't handed to me,

I wanted to buy it. That's how it worked.

When my grandparents started the business,

jewellery stores were different than they are

today; they were a bit of a 'jack of all trades'.

Alongside jewellery and watches, we stocked

Royal Doulton, Royal Albert, Limoges

porcelain, Belleek pottery, Delft Blue

giftware, stainless steel cookware, cutlery

sets, pens, paintings – you name it!

We phased out giftware from the early '90s

and over a period of 15 years, became purely

a jewellery and timepieces store, which we

remain to this day.

My wife Anna joined the business in 2001 and

this proved a game-changer for our growth.

She has strengths I don't, and vice versa.

Anna has a business background and her

eye for market trends and selecting fastselling

stock is something to be seen!

Anna's involvement has allowed me to

work 'on the business' rather than 'in it'

which is a primary reason for our expansion

to date.

1928

Johnstone Melmore

Leech and wife Jessie

establish JM Leech

Jewellers in Bendigo

1930

The Great Depression

begins, severely limiting

JM Leech Jewellers' stock

1941

Johnstone and Jessie

welcome their second

daughter, Faith, after

losing their first-born

1942

Johnstone serves in

World War II; Jessie

continues to run the store

while he is away

1956

Faith Leech wins gold

and bronze medals at

the Melbourne Olympics,

then joins the family

business

1973

A major renovation of the

store is completed

1986

Faith's son Adam Tuohy

begins working in the

business and starts

phasing out giftware

to focus solely on fine

jewellery and timepieces

1993-1999

Adam purchases the

business from Jessie

and Faith

1998

The store is completely

demolished and rebuilt,

using the original

leadlight but with an

award-winning, modern,

shopper-friendly design

2001

Adam marries Anna, who

also joins the business

2005

A second location opens

in Castlemaine, followed

three years later by a

third store in Echuca

2012

The original Bendigo

location is given a fresh

new look

2016

The fourth store opens

in Maryborough

Above: Adam and Anna Tuohy outside the

Bendigo store in 2018

When you boil it all down, if you look

after the customer the rest takes care of

itself. If you're honest and do what you

say you're going to do, you earn repeat

business and referrals.

We're in an industry where the lifetime

value of a customer is massive; they

start with kids' jewellery and the first

watch, right through to engagement,

wedding, anniversaries, milestone

birthdays – the works.

We have customers whose great-greatgrandmothers

got their engagement

rings from my grandfather. Having said

that, of course, you're only as good as your

last game!

Our second store opened in 2005, and we

now have four locations; we always say

we're not going to have any more, but

opportunities come up and we end up

opening another!

We are very proud – extremely proud – of

our history. We are the oldest jewellers in

Bendigo and that's something no-one can

take away from us. We're the 'last man

standing', and we've been in our position

in Hargreaves Street – now Hargreaves

Mall – since 1928 and no-one else is even

close to that.

Our kids may or may not want to be

involved with the business. If they do,

that's awesome and if they don't, t

hat's fine too. But I jealously guard

our heritage, so it is something that

I want to keep going.

Read the full length interview

on Jewellermagazine.com

24 | October 2021
---
www.retailedgeconsultants.com.au

Retail Edge Consultants Provides Solutions

CRM

Social Media

Use our CRM to stay in touch with your clients

Social Media is a great way to stay in contact

with clients and find new clients. Our websites

integrate to social media for you.

Website

Salesperson

Analysis

Your website inventory is synced from

TheEdge POS. No more out of stock products

showing on your website! A dropshipping

feature will soon be released.

Do you have the right staff that sell in the

product areas that are important to your

business? Our Salesperson Analysis tool is

extraordinarily good.

Weekly Zoom

Meetings

We like to stay in touch with our clients. Our

Zoom Meetings will include topics such as

Buying for Christmas, Improving System

Efficiency, Managing Growth, Key Supplier

Relationships, Supplier Appro, Staff

assessment and much more.

Contact

07 5574 0322

sales@retailedgeconsultants.com

PO BOX 136, Nerang Qld 4211

Quick conversions from your existing POS. You are fully operational

by lunch time. We provide online training. Your existing stock,

customer & sales data is transferred. No contracts.
---
INSIDE

My Store

Harriet Kelsall Bespoke Jewellery

HERTFORDSHIRE, UK with Harriet Kelsall, owner and founder • SPACE COMPLETED 2004

4Who is the target market and how did they

influence the store design?

We pride ourselves on designing for the individual,

making narrowing down a 'target market' a little

tricky. As bespoke design specialists, our team have

the privilege of capturing unique personal stories,

with many one-off designs reflecting the diversity of

the people who commission them.

The possibilities are truly endless and this concept

flows through our store design. When you arrive

at the studio, you will see our displays using real

customer imagery – showcasing the unique and

beautiful jewellery designs.

The designers' desks hold sketchbooks, pencils

and drawing boards on which we proudly display

our customers' thank-you cards, and we encourage

discussion, through our displays and cabinets,

on everything from computer-aided design to

responsibly sourced gemstones to Fairtrade gold.

4With the relationship between store

ambience and consumer purchasing in mind,

which features in the store encourage sales?

We don't employ salespeople; the studio is staffed

by our designers who offer knowledge, experience,

and a passion for individual design rather than a

'hard sell' and our customers value the relaxed

atmosphere that we have cultivated over the years.

As an open, honest, and transparent business, we

frequently hold meetings in our glass meeting room

which sits on our shopfloor.

Our jewellery is also made by our team of

goldsmiths in their fully equipped workshop, just

downstairs from the design studio. We call it 'the

goldsmith's bowl' because of its glass sides for our

customers to see them all hard at work!

4What is the store design's 'wow factor'?

Our Jewellery Centre in Hall's Green is an

award-winning Tudor barn conversion set in rural

Hertfordshire. At 3,500 sq ft, it's an impressive

space that houses our design studio, workshop and

ready-to-wear collections!

The incredible space works as the main hub for our

two other 'High Street' design studios which can be

found in Cambridge and Primrose Hill in London.

26 | October 2021
---
www.centrestone.com.au

CENTRESTONE BENEFITS

WORLDWIDE COVER

ANYWHERE, ANYTIME

YOUR CLIENTS' CLAIMS

COME BACK TO YOU

THE JEWELLERY

INSURANCE SPECIALIST

INSTANT COVER,

NO WAITING PERIODS

Assurance

150% COVER OF THE

INSURED AMOUNT

AGREED VALUE AND LIKE-

FOR-LIKE REPLACEMENT

NO EXCESS ON ALL CLAIMS

Your clients

stay with you.

COVER FOR ACCIDENTAL

DAMAGE, LOSS &THEFT

ANNUAL REVALUATIONS TO

MATCH REPLACEMENT COST

COMMISSION

PAID FOR

EVERY POLICY.

ALL CLAIMS

COME BACK

TO YOU

Our Mission.

Offer the best product & service,

and implement seamless solutions

for jewellery insurance.

Our Solutions.

Implementing frictionless deployment

of jewellery insurance with technology

led innovation and solutions.

Your Success.

Fast, efficient and easy to use.

Build your customer loyalty and

additional revenue.

JOIN AS A PARTNER JEWELLER

CALL NOW

+61 2 8316 3995

Centrestone Jewellery Insurance

Lvl 11, 52 Phillip Street

Sydney 2000 NSW

Info@centrestone.com.au

www.centrestone.com.au
---
Completing my Diploma in

Gemmology has benefited

me as a jeweller in more

ways than I ever expected.

I have always had an interest

in gemstones and found

the course was not only

informative and challenging

but immensely rewarding.

Studying with the GAA has also

allowed me to meet like-minded

people from many facets of the

jewellery industry and grants me access

to resources that I will continue to use

throughout my professional career.

Emma Meakes FGAA

Jeweller, John Miller Design - WA

Diploma in

Gemmology

Enrolments now open

For more information

1300 436 338

learn@gem.org.au

www.gem.org.au

Be

Brilliant

Gem-Ed Australia

ADELAIDE BRISBANE HOBART MELBOURNE PERTH SYDNEY

Passionately educating the industry, gem enthusiasts

and consumers about gemstones
---
REVIEW

Gems

Unusual Opals Part II: Boulder & Matrix Opal

L to R: Linneys earrings; Opal Minded

necklace; Cartier bracelet Below:

Cartier ring; Katherine Jetter ring

Australia – the home of opal – is well known

the world over for black and white opal

specimens; however, boulder and matrix

opals are a huge part of the Australian opal

industry and only increasing in popularity.

So, what's the difference between them?

The classification of natural opal depends

on the relationship between the opal itself

and the host rock in which it forms.

The more well-known black and white

opals are termed 'natural type 1'

and feature solely the opal itself, of a

reasonably homogenous composition.

In contrast, boulder opal is 'natural type

2', a single piece of opal that remains

naturally attached to its host rock.

Matrix opal, on the other hand, is 'natural

type 3', in which opal snakes through

pores and grains and/or fills holes within

the host rock – think 'in' rock, as opposed

to boulder opal being 'on' rock.

Generally, natural type 1 opal is the most

valuable, followed by natural type 2, then

natural type 3.

Boulder and matrix opal are both a type

of sedimentary opal.

The host rock depends on where it

comes from – sandstone or ironstone

for Queensland opal specimens, and

quartzite, sandstone, or claystone for

those from Andamooka, South Australia.

The formation of opal is a complex

curiosity, highly debated among geologists

and scientists.

There have been many hypotheses

produced over the years, with most

controversy and debate happening in

more recent times.

What is agreed is the necessity of certain

factors for the formation of opal – a source

of silica, availability of water, the right

chemical and geological conditions, and

adequate time.

Most of the major opal-producing fields

across Australia have a similar geological

setting, consisting of a thick layer of

sandstone atop a layer of clay.

The most generally accepted hypothesis

of opal formation is known as the 'deep

weathering theory', in which water

flows through the top sandstone layer,

picking up silica and continuing down

through cracks and crevices to the

bottom clay layer.

There, the now silica-rich solution is

deposited, forming opal.

The well-known 'Yowah nut' opals from

Queensland are believed to form in this

way. Yowah nuts are small boulder opals

that resemble tree nuts, with a precious

or common opal centre surrounded by an

outer layer of ironstone.

All Queensland boulder opal and matrix

opal from Andamooka formed during

the Cretaceous period, 60–144 million

years ago.

Andamooka matrix opal is known for being

treated to appear darker through a simple

process involving infusing the opal with a

Boulder &

Matrix Opal

Named for the way the

opal forms and enjoins

the host rock

Colour: Multiple

Found in: Australia,

Honduras, Mexico

Mohs Hardness: 5–6.5

Class: Silicate

Lustre: Subvitreous

Formula: SiO 2

.nH 2

O

sugar-rich solution, followed by boiling in

concentrated sulphuric acid.

This results in carbonised sugar

throughout the matrix which turns the

specimen black and brilliantly highlights

play-of-colour, imitating black opal.

Other methods of producing a similar

result have also been reported.

An interesting opal triplet imitating natural

boulder opal has also been noted. Triplets

are a type of composite opal involving a

thin piece of natural opal between a dark

backing and domed quartz or glass.

In this instance, a piece of crystal opal sits

atop a black layer, followed by an unevenly

joined piece of what is believed to be a

resin and ground boulder matrix mix.

The fourth and final layer is a solid

piece of natural boulder matrix, with

veins of precious opal. According to the

manufacturer, these imitants are made in

Hong Kong using Coober Pedy crystal opal

and Queensland boulder opal.

Mikaelah Egan FGAA Dip DT

began her career in the industry at

Diamonds of Distinction in 2015. She now

balances her role as a gemmologist at

Vault Valuations in Brisbane with studying

geology at the University of Queensland.

Visit instagram.com/mikaelah.egan

For more information on gems and

gemmology ,go to www.gem.org.au

October 2021 | 29
---
IN-DEPTH FEATURE

Lab-Created Diamonds

THE LAB-GROWN

DIAMOND REPORT

ALL THAT

GLITTERS

The past three years have seen the lab-created

diamond category expand and develop, though

not all have embraced it – yet, writes

ARABELLA RODEN.

DIAMOND FOUNDRY CAMPAIGN
---
IN-DEPTH FEATURE | Lab-Created Diamonds

BY THE NUMBERS

Lab-Grown

Diamond Trends

T

hree years on from the 'watershed' year of

2018, when natural diamond juggernaut

De Beers introduced Lightbox Jewelry,

the lab-created diamond category has gone from

strength to strength.

Kimai

"Over the past few years, lab-grown diamonds have

monumentally changed the diamond jewellery landscape,

forever," says Craig Miller, a second generation diamantaire

and CEO of JC Jewels – one of the first diamond suppliers in

Australia to embrace the lab-created category.

"From the consumer's point of view, De Beers entering the

lab-grown space accelerated acceptance, engagement, and

validation. From there, consumer demand and engagement

pushed retailers to engage, and now we watch as lab-grown

diamonds become mainstream," Miller observes.

Miriam Neubauer, director Grown Diamonds, confirms

that consumer awareness of lab-created diamonds has

significantly improved.

"Two years ago, consumers did not know the difference

between diamond simulants, such as cubic zirconia, and

lab-grown diamonds; however, today they are a lot more

educated and researched and understand that they are

optically, physically and chemically identical – with the only

difference being their origin," she tells Jeweller.

This is reflected not only in Australia, but globally. Phil

Edwards, managing director of Duraflex Group Australia,

which distributes the Swarovski Created Diamonds range,

says, "The fact that a global brand such as Swarovski has

launched their own Created Diamonds collection speaks

highly to the significance and importance of this category.

"We strongly feel that consumer demand for more

affordable and sustainable product, without compromising

on actual diamond quality, is a market trend that will

continue to grow and will have a positive impact on the

trajectory of this category."

Meanwhile, Catherine Martin, head of communications at

US-headquartered Diamond Foundry, notes "a massive

increase in consumer interest and demand for lab-grown

diamonds; virtually overnight people have come to accept

this new category of product."

$5.2bn

estimated value

of the lab-created

diamond jewellery

market, in US

Dollars, by 2023

Paul Zimnisky analysis

50–60%

proportion of the

world's lab-created

diamonds that are

manufactured in

China

Bain & Co.

80%

of consumers

are aware of labcreated

diamonds,

compared with

less than 10 per

cent in 2012

The MVEye

6–7m

carats of labcreated

diamonds

produced in 2020

Bain & Co.

$1,500

retail price

per carat, in

US Dollars,

for Lightbox

Jewelry's new

Finest range

Anabela Chan

Indeed, a study conducted by marketing firm The MVEye –

formerly MVI Marketing – in 2020 found that 80 per cent of

consumers surveyed were aware of lab-made diamonds,

compared with less than 10 per cent in 2012.

Martin observes that new demand is coming from previously

untouched categories, such as the high-end watch market;

meanwhile, major vertically-integrated retailers such as

Pandora have launched dedicated lab-created collections to

capitalise on consumers' desire for the product.

Meanwhile, lab-created diamond production reached

between 6–7 million carats last year, according to The

Global Diamond Industry 2020–21: Brilliant Under Pressure,

a report authored by business strategy and research

consultancy Bain & Co.

Lab-created diamond production

reached between 6–7 million

carats last year... That figure is still

dwarfed by the natural diamond

category; Bain & Co. estimated 111

million carats of natural diamonds

were produced in 2020"

That figure is still dwarfed by the natural diamond

category; Bain & Co. estimated 111 million carats of

natural diamonds were produced in 2020, largely as a

result of the COVID-19 pandemic; between 2010–2018,

global production averaged approximately 130 million

carats, with a peak of 152 million in 2017.

However, production capacity continues to rise, with the

Brilliant Under Pressure report noting a "double-digit"

increase in 2020 compared with 2019, and a 15-20 per cent

increase between 2018 and 2019.

This growth is largely driven by expanded production in China,

where the majority – approximately 50 to 60 per cent – of the

world's lab-created diamonds are manufactured, using the

high-pressure, high-temperature (HPHT) method; however,

the US and India are "emerging as major production centres"

using chemical vapour deposition (CVD) techniques.

October 2021 | 31
---
Lab-Created Diamonds | IN-DEPTH FEATURE

Diamond Foundry

Kimai

Diamond Foundry, which uses a proprietary CVD

mechanism in order to produce its lab-created diamonds,

recently announced plans for a new €740 million solarpowered

production facility in Spain.

The factory will have an estimated capacity of 10 million

carats, a proportion of which will be used for jewellery.

Diamond Foundry is also planning an expansion of its

hydro-powered US factory, while its jewellery retailer, Vrai,

has recently opened stores in Shanghai and Los Angeles,

with "more to come," says Martin.

Meanwhile, Element Six – De Beers' lab-created diamond

manufacturing division, which supplies Lightbox Jewelry

– opened a $US94 million new factory in the US state of

Oregon in October 2020.

While consumer awareness

and demand for lab-created

diamonds has come a long way

in recent years, many believe

the most pressing challenge is

still education"

The new facility will support Lightbox's recent introduction

of white, pink and blue lab-created diamonds up to

including 2 carat sizes, and the Finest range of VVS D–F

Excellent cut lab-created diamonds, priced at $US1,500

per carat – which it noted was "well below" current prices.

The Finest product line is the result of a new proprietary

engineering process developed by Element Six, combining

existing CVD technology with a further refinement process

that enhances colour in stones.

Speaking to Jeweller, Steve Coe, CEO Lightbox Jewelry,

said, "For now, our focus is on growing and expanding

the Lightbox business. Our new state-of-the-art

manufacturing facility in Portland, Oregon came on

line at the end of last year and gives us the capacity to

dramatically scale up our distribution to consumers in the

coming months.

Phil Edwards

Duraflex Group Australia

"We strongly feel that consumer

demand for more affordable and

sustainable product, without

compromising on actual diamond

quality, is a market trend that

will continue to grow and will

have a positive impact on the

trajectory of this category."

Craig Miller

JC Jewels

"From the consumer's point

of view, De Beers entering the

lab-grown space accelerated

acceptance, engagement,

and validation. From there,

consumer demand and

engagement pushed retailers to

engage, and now we watch as

lab-grown diamonds become

mainstream."

Catherine Martin

Diamond Foundry

"[There has been] a massive

increase in consumer interest

and demand for lab-grown

diamonds; virtually overnight

people have come to accept

this new category of product."

"This includes both growing our own e-commerce

platform lightboxjewelry.com and also substantially

expanding the list of retail partners that we supply. You

can expect to see a lot more of Lightbox in the months and

years ahead."

He added, "We have seen a noticeable trend toward larger

sizes and higher qualities and we are leading the way here."

Yet while the lab-created category appears to be on a

positive trajectory, challenges persist.

Knowledge and numbers

While consumer awareness and demand for lab-created

diamonds has come a long way in recent years, many

believe the most pressing challenge is still education,

with several contributors observing that the market is

rife with "misinformation".

"We find many consumers remain relatively unaware of

what a lab-grown diamond is and there is clearly still

a requirement to provide education and information to

consumers," says Coe.

"While it is the same material with the same optical and

physical properties as a natural diamond, the great value

proposition for Lightbox lab-grown diamonds is that they

offer consumers exceptional quality at a very accessible

price point, allowing the consumer to make informed

purchase decisions."

Miller shares similar insights, pointing to a definite "lack

of consumer education".

"If you search lab-grown diamonds on Google – which is

where the customer journey begins for many – there is

limited information and education online, and much of

what is found can be misleading, partially derived from a

disconnect with the mined sector and the lab-grown side,"

he explains.

According to a 2021 survey of more than 1,000 consumers

aged 25–60, conducted by US jewellery industry

organisation The Plumb Club, 79 per cent of consumers

said that they were aware of lab-grown diamonds and

their use in fine jewellery – yet 41 per cent did not know

how they differed from natural stones.

32 | October 2021
---
IN-DEPTH FEATURE | Lab-Created Diamonds

MARKET MOVEMENTS ON HOME SHORES

LAB-CREATED DIAMONDS DOWN UNDER

Globally, lab-created diamonds account for

approximately 3 per cent of diamond sales, with

the US the largest retail market.

"The US had a head start over Australia and Europe

with the selling of lab-grown diamonds," says

Miriam Neubauer, director of Grown Diamonds.

"They were the pioneers to push the sales into

the general public and get the 'word out' there.

Australia followed suit about two years later and

we have noticed a dramatic increase in sales

over the past two years," she explains.

Notably, the Michael Hill jewellery chain began

trialling lab-created diamonds at a Queensland

store in late 2019, and introduced a range of

lab-created diamond engagement rings – with

stones manufactured by Fenix Diamonds – later

that year. Its current lab-created offering also

includes earrings.

Lightbox Jewelry currently ships to Australia

via its ecommerce website, as does Diamond

Foundry's Vrai.

Craig Miller, CEO of JC Jewels – one of the

first suppliers in Australia to embrace the

lab-grown category – says the local market

has great potential.

Globally, lab-created

diamonds account for

approximately 3 per cent of

diamond sales, with the US

the largest retail market"

"Australia is following the US, but six to 12

months behind. Consumers are engaging and

welcoming this new choice, and we are seeing

growing demand, but it is still early days."

Edwards believes Australia has been slower than

the US and Europe to "accept and embrace the

lab-grown product", with the market still smaller

on a "pro-rata percentage".

However, he predicts "strong growth of this

category" as lab-created diamonds become

more widely available and accepted –

"Particularly given consumer demand is now

directly driving the category and supply of more

sustainable and affordable products with equal

quality," he adds.

Adds Miller, "Lab-grown is here to stay; in the

future I see most Australian retailers offering

lab-grown and mined diamonds side by side.

It will reach the point when retailers' inventory

management, ranging, marketing strategy, staff

training, and staff delivery will incorporate labgrown

diamonds with importance and respect

equal to mined diamonds."

Access Australia's largest

lab-grown diamond inventory.

GROWNDIAMONDS.COM.AU

Register now

Benefits of Lab Grown Diamonds

Optically, chemically and physically identical to

earth mined diamonds

60 - 75% cheaper than mined diamonds!

Eco - Positive and are 100% mine-free

Your clients can get a bigger diamond and/or better

quality than an earth mined diamond

A great alternative for clients with a smaller budget!

Available online access of close up videos, photos

and lab certificates.

Over 27,000 diamonds available online

Over 1,200 diamonds on hand available for

consignment in Australia

Free express shipping

5% discount if you buy ONLINE

A selection of stock available in Australia for purchase / consignment | Oct 2021

Shape CT Col Cla Cut Pol Sym Fl Cert T.Price

Round 0.71 E SI1 ID EX EX N IGI $ 767

Round 1.01 D VS2 ID EX EX N IGI $ 2,063

Round 1.54 D VS2 EX EX EX N GIA $ 4,609

Round 2.02 F SI1 ID EX EX N IGI $ 5,618

Round 3.63 F VS1 ID EX EX N IGI $ 18,335

Oval 1.63 F VS2 - EX EX N GIA $ 4,390

Oval 5.01 F VS1 - VG VG N IGI $ 36,951

Marquise 1.04 G SI2 - VG VG N GCAL $ 1,531

Pear 1.31 G VS2 - VG VG N IGI $ 2,070

Emerald 1.89 E VVS2 - EX EX N IGI $ 5,826

Princess 1.93 H VS2 - EX EX N IGI $ 3,999

Radiant 2.20 F VS2 - EX EX N IGI $ 7,036

* Price in Australian dollars exclusive of GST | *Price may vary depending on AUD /USD exchange rate

GROWNDIAMONDS.COM.AU

contact@growndiamonds.com.au | Level 11, Suite 1102, 227 Collins Street, Melbourne VIC 3000 | 1800 849 291
---
Lab-Created Diamonds | IN-DEPTH FEATURE

Moi Moi Fine Jewellery Kimai JC Jewels

This indicates further resources should be allocated toward

educating consumers.

Miller also believes retailers are "lacking much-needed

education within the Australian and New Zealand market,

where lab-grown diamonds are fast growing in popularity."

Neubauer says some jewellers remain "not open-minded"

and "refuse to sell lab-grown diamonds to their consumers".

Others across the industry have noted misconceptions about

the differences between HPHT and CVD, and the types of

post-growth treatments applied to the stones.

Edwards says the "ongoing education process is absolutely

key, in addition to increasing the availability of the product

across Australia."

Despite the decline in both

production costs and retail prices,

wholesale prices of lab-created

diamonds remained stable

throughout 2020, resulting in a

contraction in the margins of traders

and jewellery manufacturers"

"Historically, the main challenge was regarding the

misconception or rather limited awareness of the quality

of lab-grown diamonds and not enough price differential to

natural diamonds," he explains.

"However, there's currently a definite shift as consumers are

becoming more educated about the lab-creation process and

the identical properties of diamonds and lab-grown diamonds,

whilst the price has reduced and now plateaued."

Notably, price has been a sticking point for the lab-created

diamond category since its inception.

Speaking to US jewellery industry publication JCK Online

recently, diamond industry analyst Edahn Golan commented,

"We see continued demand and a continued decrease in

prices. What we're seeing is the sort of "ills" we're suffering

from in the natural diamond industry.

Alexander Lacik

Pandora

"[Lab-grown diamonds]

are as much a symbol of

innovation and progress

as they are of enduring

beauty and stand as

a testament to our

ongoing and ambitious

sustainability agenda."

Miriam Neubauer

Grown Diamonds

"People were afraid that

lab-grown diamond sales

would overtake natural

diamond sales. However,

it has become more clear

that both natural and

lab-grown diamonds can

be marketed side-byside,

targeting different

demographics."

Brett Bolton

Biron Laboratory Grown

Diamonds

"When selling these stones,

retailers have to focus on the

benefit of the price and the

fact that they will not scratch

or change colour over time –

not that they are 'a cheaper

diamond.'"

"A lot of goods are supplied on memo, there's stiff competition

between wholesalers, and, in addition to that, we're seeing the

elements that are typical of a technologically driven item:

For example, the cost of production is going down."

According to Bain & Co.'s analysis, the retail price of a

1-carat, G colour, VS-clarity lab-created diamond fell to

only 35 per cent of an equivalent mined diamond in 2020; in

2019 and 2018 this figure was 50 per cent, and in 2017 it was

65 per cent.

Other types of diamond boasted even greater disparities,

with the price-difference between equivalent lab-created and

natural fancy colour diamonds as great as 1,000 per cent.

And despite the decline in both production costs and retail

prices, wholesale prices of lab-created diamonds remained

stable throughout 2020, resulting in a contraction in the

margins of traders and jewellery manufacturers.

The affordability of lab-created

diamonds has made them accessible

to new consumers – a trend most

evident in the fancy colour diamond

space, where extremely rare and

precious pinks and blues are

beyond the financial means

of most consumers"

Still, diamond industry analyst Paul Zimnisky wrote in 2020,

"When analysing the wholesale and retail prices of unbranded

man-made and natural diamonds, it appears that the retail

gross margin of man-made diamonds in popular carat-sizes

is as much as 1.8 times that of natural diamonds."

Golan told JCK Online, "[Retailers are] doing everything to

protect their margin.

"So, if producers raise prices on a certain item, then they'll

raise prices to consumers. On the other hand, if wholesalers

are reducing prices, then retailers are more flexible on

pricing, too. So consumers are enjoying it."

34 | October 2021
---
Inset: Diamond Foundry

L to R: Anabela Chan; Pandora

Brett Bolton, director Biron Laboratory Grown Diamonds,

explains, "The price falling is great for the fashion side of the

market, but concerning for some if using them

for engagement rings or as a 2-carat option to a

natural diamond."

However, lower prices are not necessarily a negative, with

numerous advantages and sales strategies that retailers

can employ.

Bolton says, "When selling these stones, retailers have to

focus on the benefit of the price and the fact that they will

not scratch or change colour over time – not that they are

'a cheaper diamond'."

Bolton notes that price pressures have also sparked

innovation in the lab-created category, leading to "more

experimental colours, shapes and also growth techniques".

Says Diamond Foundry's Martin, "We are in constant

pursuit of creating a better diamond – ever larger and

ever higher quality. We have not yet cracked the D colour

level for larger diamonds; it is still incredibly hard to

achieve the highest quality levels of diamond using the

most advanced technology."

New horizons, new opportunities

The affordability of lab-created diamonds has made them

accessible to new consumers – a trend most evident in

the fancy colour diamond space where extremely rare and

precious pinks and blues are beyond the financial means of

most consumers.

"We believe there is a great opportunity in coloured lab-grown

diamonds and offer our stones in beautiful pink and blue

hues," says Coe.

"Coloured natural diamonds are hugely expensive and

effectively out of financial reach for the vast majority of

consumers. Lightbox coloured lab-grown diamonds offer

consumers the opportunity to own these spectacular stones

at an accessible price point for the very first time."

Many in the diamond industry consider the natural home of

lab-created stones to be in fashion jewellery, gifting, and selfpurchase

– Bolton calls fashion jewellery a driver of "massive

growth" – with engagement, bridal, and luxury reserved for

natural diamonds.

Steve Coe

Lightbox Jewelry

"It is now clear that the great

quality of lab-grown diamonds

and the far more accessible

price point opens up the

opportunity for more frequent

gifting and self-purchase."

Iris Van der Veken

Responsible Jewellery Council

"Setting a standard for LGMs

is an important strategic

initiative by RJC, underlining

our commitment to ensure

that all jewellery is responsibly

sourced, manufactured and

marketed. It is all about

consumer confidence."

Edahn Golan

Diamond Industry Analyst

"We see continued demand

and a continued decrease in

prices. What we're seeing is

the sort of 'ills' we're suffering

from in the natural diamond

industry. A lot of goods are

supplied on memo, there's

stiff competition between

wholesalers, and, in addition

to that, we're seeing the

elements that are typical of a

technologically driven item."

Observes Lightbox Jewelry's Coe, "It is now clear that the

great quality of lab-grown diamonds and the far more

accessible price point opens up the opportunity for more

frequent gifting and self-purchase.

"That's where we see the really exciting opportunity for labgrown

diamonds to develop a genuinely additive jewellery

business which takes share from other luxury/fashion

products – such as accessories and handbags.

He adds, "We are seeing the category expand as other brands

recognise this opportunity in the fashion space."

Pandora Jewelry – the world's largest jewellery company by

volume – introduced its first range centred on lab-created

diamonds, Pandora Brilliance, earlier this year.

The decision to simultaneously publicise the phasing out

of natural diamond jewellery – which made up a tiny

fraction of its overall production – was calculated to take

advantage of growing consumer sentiment for sustainable

and ethical products.

Pandora Jewelry – the world's largest

jewellery company by volume –

introduced its first range centred

on lab-created diamonds, Pandora

Brilliance, earlier this year"

Alexander Lacik, CEO Pandora, said at the time, "I'm

proud to announce the introduction of Pandora Brilliance.

It's a new collection of beautifully designed jewellery

featuring lab-created diamonds. They are as much a symbol

of innovation and progress as they are of enduring beauty

and stand as a testament to our ongoing and ambitious

sustainability agenda."

The company commissioned corporate governance

firm Sphera to provide an independent third-party

assessment of the CVD lab-created diamond production

process, from raw materials to synthesis, cutting and

polishing, and transportation.

The Sphera report found that electricity consumption during

synthesis was responsible for "more than 90 per cent" of total

October 2021 | 35
---
Lab-Created Diamonds | IN-DEPTH FEATURE

L to R: New World Diamonds;

Swarovski Created Diamonds

CO 2

emissions "in most scenarios"; the emissions per carat

could range from 612kg for a lab-created diamond produced

in India, to 17kg for one produced in Europe using 100 per

cent renewable energy.

A 2019 report commissioned by the Diamond Producers

Association – now the Natural Diamond Council – estimated

that natural diamonds produce 160kg CO 2

per carat.

Pandora said it expects the lab-created diamonds in the

Brilliance range to be manufactured using 100 per cent

renewable energy by 2022.

Of course, the ecological credentials of the entire lab-created

sector are far more difficult to objectively quantify, varying

greatly across different manufacturers.

Consumers 'consistently identify the

sustainable, eco-friendly message

of lab-grown diamonds to be frontof-mind',

while the most compelling

purchasing trigger is the 'ability to

trade up in diamond size and quality

for the same price as a smaller

mined diamond"

Still, many lab-created diamond producers remain committed

to achieving transparent and sustainable supply chains.

Says Diamond Foundry's Martin, "There is a lot more demand

than supply. Meeting this demand, and doing so sustainably,

continues to drive us.

"Sustainability and respecting the Earth's resources are core

attributes of our business, and we have focused our growth

on sites with 100 per cent renewable power."

Another US-based producer, WD Lab Grown Diamonds,

was the first manufacturer to be certified by SCS Global

Services – an international standards development business

specialising in sustainability and quality performance – under

its Certification Standard for Sustainable Diamonds.

A S A M AT TER OF FACT

Lab-Grown

Stats

1.8x

retail gross

margin for labcreated

diamonds

compared with

natural diamonds in

'popular' carat sizes

Paul Zimnisky analysis

41%

proportion of

consumers who

do not know the

difference between

mined and labcreated

diamonds

The Plumb Club

35%

retail price of

lab-created 1-carat

G colour VSclarity

diamond,

relative to a mined

diamond of equal

quality, in 2020

Bain & Co.

This grants WD Lab Grown Diamonds third-party

authorisation to use the claim of 'Certified Sustainable'

and 'Certified Climate Neutral' for their products.

Miller believes this is positive for the industry as a whole,

having "introduced new levels of transparency".

From a consumer perspective, Neubauer observes that labcreated

diamonds are considered to be a "great alternative for

those on a budget, for those who are eco-conscious and those

who are ethically conscious".

Recent consumer research conducted by The MVEye –

formerly MVI Marketing – found that consumers "consistently

identify the sustainable, eco-friendly message of lab-grown

diamonds to be front-of-mind", while the most compelling

purchasing trigger is the "ability to trade up in diamond size

and quality for the same price as a smaller mined diamond".

Competition or complementary?

When lab-created diamonds first entered the jewellery

category, debate raged over the impact they would have on

the natural category.

"In the beginning, it felt like it was a competition between the

two," Neubauer observes."People were afraid that lab-grown

diamond sales would overtake natural diamond sales. However,

it has become more clear that both natural and lab-grown

diamonds can be marketed side-by-side, targeting different

demographics," she says.

Adds Bolton, "When lab-grown diamonds were first

introduced to the market, we had many jewellers and

competitors say, 'We will never stock them.'

"Today, we have found that almost everyone accepts there is a

place in the market for these stones – and for more than half

a place in the store as well!"

Edwards notes that the perception of the lab-grown category

versus natural diamonds – and the willingness to stock them

– "depends on the individual retail store and what message

they wish to convey to their customers."

"Now that pricing has stabilised and the education around

quality is more established, this relationship can be more

easily defined and separated within the individual retail stores,"

he adds.

36 | October 2021
---
Swarovski Created Diamonds
---
Lab-Created Diamonds | IN-DEPTH FEATURE

L to R: Miadonna;

Moi Moi Fine Jewellery

Lightbox Jewelry

Still, skirmishes have occurred throughout this

year, largely focused on advertising terminology

and ethical claims.

In February, the Natural Diamond Council

(NDC) referred Diamond Foundry and its

jewellery brand, Vrai, to US advertising

watchdog the National Advertising Division

(NAD), challenging descriptions and

nomenclature used in digital marketing.

"NAD determined that Diamond Foundry must,

consistent with the Federal Trade Commission

(FTC) Jewelry Guides, make an effective disclosure

that its diamonds are man-made. NAD further

found that, consistent with the FTC Jewelry Guides

and the FTC Dot Com Disclosure publication,

the advertiser should distinguish its [lab-grown

diamonds] from mined diamonds," a NAD

statement read.

The following month, NAD acted upon a complaint

by Diamond Foundry against the NDC over

claims that natural mined diamonds produce

"three times less carbon emissions" than labcreated

diamonds.

NAD found that the NDC's evidence for this claim

was "not sufficiently reliable" and "concerned

that such claims conveyed a broader implied

message about the overall environmental benefits

of mined diamonds versus man-made diamonds",

recommending it remove the claim alongside

online advertising that referred to the "scarcity of

mined diamonds [and] the resale value of mined

diamonds versus man-made diamonds".

The body also determined that the NDC's use

of the term "real" to describe mined diamonds

could, in context, incorrectly imply that lab-created

diamonds had different chemical or physical

properties to mined diamonds, and that consumers

"may incorrectly conflate [lab-created diamonds],

such as Diamond Foundry's, with imitation

diamonds like moissanite and cubic zirconia".

In May, organisations including the NDC,

CIBJO, the World Diamond Council (WDC), the

Responsible Jewellery Council (RJC), and the

International Diamond Manufacturers Association

publicly called for Pandora Jewelry to retract

elements of its statement announcing its decision

to stop stocking natural diamonds.

While calling the Pandora Brilliance range a

"positive expansion of the jewellery industry",

the organisations explained, "The misleading

narrative created by the Pandora announcement

implying the natural diamond industry is both less

ethical and the impetus behind Pandora's move

to lab-grown diamonds, particularly given the

inconsequential amount of diamonds Pandora

features in its collections, can have unintended

but substantial consequences on communities in

developing nations."

It is clear that, while still

small, the lab-created

diamond category has

potential, and offers jewellery

retailers opportunities to

appeal to new customers

– without encroaching on

existing diamond sales"

According to research commissioned by the

NDC – then known as the Diamond Producers

Association – in 2019, diamond mining was

found to create social benefits that the labcreated

sector did not, including an estimated

$US16 billion annually to communities, largely

in developing nations, through direct employment,

purchase of goods and services, and funding of

social programs.

Still, Diamond Foundry's Martin says diamond

mining companies are in a "difficult situation" as

mining "necessarily depletes natural resources; it

is by definition not sustainable".

"Recently, there have been important rulings in

North America to increase clarity in the marketing

of mined diamonds. Most importantly, there is a

push to ensure transparency in the market, broad

consumer choice, and awareness of where a

diamond is from and the environmental impact,"

she explains.

Meanwhile, the RJC has recently announced that

it will develop a best-practice standard specifically

for 'lab-grown materials' (LGMs), beyond its

existing Code of Practices.

Iris Van der Veken, executive director of the

RJC, said, "Setting a standard for LGMs is an

important strategic initiative by RJC, underlining

our commitment to ensure that all jewellery is

responsibly sourced, manufactured and marketed.

It is all about consumer confidence.

"This standard will provide a clear, robust

framework not only for manufacturers and

retailers, but also for reassuring customers that

the manufacturers and sellers of LGMs follow

rigorous processes that ensure the credibility and

transparency of their operations."

Observes Miller, "Every industry faces their

challenges, and the mined space is being

challenged by lab-grown.

"Both mined and lab-grown need to push their

strengths and see what appeals to each customer.

Ongoing negative engagement between the two

sides will only push consumers to spend their

money in other industries."

Adds Edwards, "Reduced pricing, increased

consumer demand and acceptance – with overall

more general market awareness – highlights that

lab-grown diamonds are fast becoming a core and

essential category within the trade."

It is clear that, while still small, the lab-created

diamond category has potential, and offers

jewellery retailers opportunities to appeal to new

customers – without encroaching on existing

diamond sales.

38 | October 2021
---
THE SHERLOCK HOLMES 2.0

Lab-Grown Diamond Detector

Only $6,495

Project ASSURE:

The Sherlock Holmes

detected 100% of all lab grown diamonds.

Scan the QR Code below to read the full report of the Assure Program

performed by UL Laboratories, and see for yourself.

+1-212-221-5985 | WWW.YEHUDA.COM
---
CELEBRATING

Local Talent

TIQUE METALS

'Sybelle' Pendant

Metal: 9-carat yellow gold

April Louise

Brisbane, QLD

ALETHEIA &

PHOS

Zodiac Necklace

Metals: (Left)

14-carat gold-plated

sterling silver; (right)

rhodium-plated

sterling silver

Gemstones:

Sapphire, ruby

Alicia Millan

Melbourne, VIC

MIA SAVAGE

DESIGNS

'Oracle' Earrings

Metal: Sterling

silver

Gemstone:

Boulder opal

Mia Savage

Byron Bay, NSW

Australia and New Zealand are not only home to some of the

rarest gemstones in the world, but also the most talented jewellers.

Jeweller showcases a tapestry of local masterpieces that have been

meticulously crafted with great artisanship, right here on home soil

BENJAMIN ROSE

FINE JEWELLERY

Hand Engraved

Signet Ring

Metal: 9-carat yellow gold

Benjamin Rose

Melbourne, VIC

ARBOR

BRUNSWICK

'Gold Slide' Drop

Earrings

Metal: 9-carat

yellow gold

Susan McGinness

Canberra, ACT

40 | October 2021
---
MINERALEIR

'Art Collector'

Hoop Earrings

Metal: Rhodiumplated

sterling silver

Gemstones:

Brown diamond,

smoky quartz,

and citrine

Natalie Triglone

Sydney, NSW

SARAH &

SEBASTIAN

'Gossamer'

Hoops

Metal: 10-carat

yellow gold

Gemstone:

White diamond

Sarah Munro

& Robert

Sebastian

Grynkofki

Sydney, NSW

MANUELA

IGREJA

JEWELS

'Tussie Mussie

C Studs'

Earrings

Metals: 18-carat

yellow goldplated

sterling silver

Gemstone:

White sapphire

Manuela Igreja

Melbourne, VIC

WHITE

NOVEMBER

'BB (Boss Babe)'

Signet Ring

Metal: Silver

Gemstones: Labcreated

emerald,

Australian white opal,

and rose quartz

Bianca Librandi

Melbourne, VIC

TONI MAY

'Cosmic

Diamond Art

Deco' Ring

Metal: 9-carat

white gold

Gemstones: Black

and grey diamond

Laura Byrne

Sydney, NSW

E.G.ETAL

'Garden of the

Beloved' Ring

Metal: 18-carat

yellow gold

Gemstones: Sapphire,

tourmaline, and

champagne diamond

Emma Goodsir

Melbourne, VIC

ANASTASIA

MANNIX

JEWELLERY

Tourmaline

Heart Signet

Ring

Metal: 9-carat

yellow gold

Gemstone:

Tourmaline

Anastasia Mannix

Melbourne, VIC

October 2021 | 41
---
GERMANY

Timesupply

jewellery + watches

p +61 (0)8 8221 5580

sales@timesupply.com.au | timesupply.com.au

exclusive distributor AU & NZ
---
CLOSER TO NATURE

Timesupply

jewellery + watches

p +61 (0)8 8221 5580

sales@timesupply.com.au | coeurdelionjewellery.com.au

exclusive distributor AU & NZ
---
Champagne & Cognac

D I A M O N D S

l o S t r i v e r d i A m o n d S i S A n A u S t r A l i A n o W n e d b u S i n e S S S u p p ly i n g

A r g y l e o r i g i n C e r t i f i e d C h A m pA g n e A n d C o g n A C d i A m o n d S .

S u p p l i e r o f :

A r g y l e C e r t i f i e d p i n k d i A m o n d S | r i o C e r t i f i e d C h A m pA g n e d i A m o n d S | r i o C e r t i f i e d W h i t e d i A m o n d S

n At u r A l C o l o u r e d d i A m o n d S - y e l l o W , o r A n g e , g r e e n | W h i t e m e l e e | u n i q u e C o l o u r e d d i A m o n d j e W e l l e r y

3 / 1 0 5 S t g e o r g e S t C e , p e rt h WA 6 0 0 0 | 0 8 9 4 8 1 0 5 2 6 | troy@lostriverdiamonds.com | www.lostriverdiamonds.com
---
ADVERTISING PROMOTION

Christmas Stock Special

CHRISTMAS

READY

In lieu of the annual jewellery trade fair due to

COVID-19, Jeweller has worked with suppliers

for a marketing and advertising promotion to

inspire and delight your customers. Ensure your

store is well-prepared ahead of the all-important

Christmas and New Year shopping period.

October 2021 | 45
---
Christmas Ready | 2021 HOLIDAY STOCK SPECIAL

Ania Haie

Duraflex Group Australia

Preparing for a stylish summer, Ania

Haie's new collections encapsulate the

season's hottest styles. The Forget Me

Knot collection stems from the catwalk

trend of knotted and netted materials.

Exploring the use of shape and

construction, it features contemporary

chunky T-bar chains, knotted ear cuffs

and sleek, stackable knot rings.

aniahaie.com.au

APDX

SAMS Group Australia

Australian Pink Diamond Exchange (APDX)

is a world-first digital marketplace, made

exclusively for Argyle pink diamond investors

and traders. It is the one and only platform

that facilitates safe and secure buying and

selling of Argyle stones.

australianpinkdiamondexchange.com.au

Athan Imports

athan.com.au

Athan Imports

presents Italianmade

3–30-point

tennis mounts, and

delicate 9-carat

and 18-carat white,

yellow, and rose gold

chains in a variety

of on-trend and

classic styles.

Baume & Mercier

Duraflex Group Australia

Originally created in 1973, the iconic Riviera

watch has been given a new lease on life

this year. Revamped in green to express the

energy, joie de vivre, and natural environment

of its homeland – the Mediterranean coast – it

retains the original's distinctive dodecagonal

bezel and streamlined steel case.

baume-et-mercier.com/au

Beco Technic

The Battery Man

Watch repair Christmas

gifts for your own

workshop! Assemble

the hands of both wrist

and pocket watches with

precision using this tool

German-made Beco

Technic tool.

thebatteryman.com.au

Biron Laboratory Grown Diamonds

Biron Laboratory Grown Diamonds embody

all the beauty of a natural diamond, and

have the same physical, chemical, and

optical properties, without harming the

environment. Explore the amazing and

affordable range of jewellery, perfect for

Christmas. Contact Biron for pricing and

images on the full jewellery range.

biron.com.au

46 | October 2021
---
Australian Diamond

Trading Company

adtc.com.au

Made from 9-carat

white gold, these

graduating open double

teardrop earrings are

set with 30 white pique

diamonds with a total

weight of 0.50 carats.

These claw-set huggie

earrings feature 10

claw-set white diamonds

with a total weight of 0.50

carats. Also available in

0.80 carat, 1 carat, or 1.50

carat, set in 9-carat white

gold with pique diamonds

or 18-carat white gold

with SI diamonds.

The Blush Pink range is an epitome

of charm and opulence intertwined

together. Delicate and utterly

elegant, it features affordable styles

that retain an exquisite sense of

rare luxury.

Crafted in 9-carat white

gold, this graduating

open teardrop pendant

features nine white pique

diamonds with a total

weight of 0.25 carats.

Blush Pink Diamonds

SAMS Group Australia

Own part of Australian history with

Blush Pink Diamonds' jewellery.

Our popular high-end pieces have

been lovingly crafted into pieces

for everyone to enjoy. All of our

designs have been conceptualised

and made with scrupulous attention

to detail, and deliver an air of

exceptional distinction.

pinkkimberley.com.au

Bronzallure

Duraflex Group Australia

The Alba Collection features

nature's most sought-after hues

in contemporary designs, with new

additions malachite, amazonite and

red fossil wood.

bronzallure.com

E pink@samsgroup.com.au W samsgroup.com.au P 02 9290 2199
---
Christmas Ready | 2021 HOLIDAY STOCK SPECIAL

Cactus Smart Watches

Avantco

cactuswatches.com

Cactus' new releases include

smartwatches and fitness

trackers for all ages. Featuring

all the classic functions

including dual-mode Bluetooth

calls, message notifications,

steps, and heart rate, they also

track body temperature, blood

pressure and blood oxygen.

Stock up on

popular Cactus Time

Teacher watches for

kids. These bestsellers

are packed

with child-friendly

features. They are

water resistant for

swimming and have

flexible, comfortable

silicone bands, and

specially-designed

dials to help children

learn how to tell clock

time. The perfect first

watch for kids!

Chemgold

The Petite Signet range of rings is perfect for

gifting. Each ring can be personalised with

laser engraving and is available in a range of

alloys and colours, the most popular being

9-carat yellow gold. The tops are 9mm at their

widest and can be ordered in any finger size.

chemgold.com

Chiara Ferragni

West End Collection

Presenting the Diamond Heart Collection by

Chiara Ferragni, the 'world's most powerful

fashion influencer'. The collection features

'90s-inspired pieces with Italian style and

sophistication. The Heart Silver Chain

Bracelet is embedded with crystal-cut stones

along the length and 3-micron palladium

platinum plating, finished with rhodium

for high-sparkle elegance. It is the perfect

accessory and finishing touch for any outfit.

westendcollection.com.au

Coeur de Lion Germany

Timesupply

This season it's all about colour!

Vibrant petrol green graduates to blue

Swarovski Crystals in this beautiful

finer GeoCUBE style from Coeur de

Lion. Handmade in Germany.

coeurdelionjewellery.com.au

Classique

SAMS Group Australia

It's never too late to get a matching set

of his-and-hers watches from Classique.

Featuring a Swiss-made movement with an

exceptionally tasteful design, timepieces from

Classique's Elegance Diamond Collection are

the perfect gift for a sophisticated couple.

classiquewatches.com

48 | October 2021
---
Couture Kingdom

couturekingdom.com

Couture Kingdom

x Streets Classics

Couture Kingdom is proud to

announce its new licence with

the Streets Classics Collection.

Inspired by Aussie childhood

favourites Bubble O'Bill and

Paddle Pop, these pop culture

jewellery pieces pay tribute to

summer memories and come in

a broad selection of styles and

price points, with the quality and

detail expected from a Couture

Kingdom collection.

Couture Kingdom x Disney

Part of the global Ultimate

Princess Celebration comes the

newest Disney range from Couture

Kingdom, featuring The Little

Mermaid, Cinderella, Princess

Belle, Princess Tiana and Moana.

Crafted in plated sterling silver, this

collection boasts styles for Disney

Princess fans of all ages, and makes

for the perfect keepsake gift for a

magical holiday season.

www.westendcollection.com.au

info@westendcollection.com.au

Ph: 03 9553 3777
---
Christmas Ready | 2021 HOLIDAY STOCK SPECIAL

Cultured Jewellery Designs

culturedjewellerydesigns.com

This bracelet features stunning

multi-toned pink freshwater pearls,

sized 11–11.5mm, with magnetic

clasp in rose gold-plated silver.

Multi-toned natural pink

freshwater pearls, sized 11–

11.5mm, combine to create

beautifully feminine effect

in this necklace, joined with

a delicate magnetic clasp in

rose gold-plated silver.

Complete the set with these

11–11.5mm natural pink

freshwater pearl stud earrings,

crafted in 9-carat rose gold.

D1 Milano

West End Collection

The Skeleton Automatic is

made for those who seek

a bold style. It features

a 41.5mm see-through

case and stands out for

its 24-jewel self-winding

Japanese movement,

enriched by a stainlesssteel

bracelet.

westendcollection.com.au

DJ Diamond Designs

djdiamonddesigns.com.au

A fresh take on traditional hoop

earrings, these elegant 18-carat

white gold diamond hoops have a

sophisticated open design. Also

available in rose or yellow gold.

This beautiful

18-carat white gold

crossover dress ring

is set with more

than 1.70 carats of

sparkling natural

diamonds. Also

available in 18-carat

rose or yellow gold.

A new addition to the DJ

Diamond Designs range,

this outstanding dress ring

is crafted in 18-carat white,

yellow and rose gold, set

with shimmering diamonds.

These stunning 18-carat drop

earrings feature more than 7.30

carats of natural diamonds,

sapphires and emeralds. There

is also an equally stunning

matching pendant available.

More than 3 carats of

natural white diamonds

adorn this splendid 18-carat

white gold cross-over bangle.

50 | October 2021
---
Dansk Copenhagen

Timesupply

A new addition to the everpopular

Amber Collection

is the new Amber Square

necklace and bracelet. Like

much of the Dansk jewellery

range, this adaptable, textured

necklace and bracelet set can

be worn at different lengths.

danskcopenhagen.com

Diamonds by DGA

Duraflex Group Australia

Duraflex Group Australia is delighted

to share the latest addition to the

unbranded Diamonds by DGA

range – 9-carat gold and diamond

Initial Necklaces, available in yellow

or white gold. The on-trend Initial

Necklaces feature a single diamondencrusted

letter pendant suspended

on a fine chain.

dgau.com.au

DiamondsNRocks

DiamondsNRocks presents four perfectly-matched, E-F colour diamonds

with a total weight of 6 carats – ideal for a ring, earrings, and pendant set.

DiamondsNRocks is an exclusive supplier of rough stones and matching

sets, with a promise of the best diamonds at the best prices.

diamondsnrocks.com.au

FIND US ON INSTAGRAM

MILLENNIUM_CHAIN

Australian leading wholesaler, specialising in manufacturing

9ct and 18ct yellow gold, rose gold and white gold.

Machine made and hand made, any kind, chains and bracelets,

bangles and findings. Suppliers to retailers and wholesalers.

MILLENNIUM CHAIN

P: 03 9650 5955 | E: sales@millenniumchain.com.au

www.millenniumchain.com.au
---
Christmas Ready | 2021 HOLIDAY STOCK SPECIAL

Efva Attling Stockholm

Nordic Fusion

nordicfusion.com.au

As one of Scandinavia's most

recognised designers and silversmiths,

Efva Attling's jewellery embodies

modern elegance with an edgy twist. The

Rose Petal Collection from Efva Attling

Stockholm is inspired by the Blue Moon

rose growing in the designer's garden.

Available in 18-carat white or yellow gold,

with or without brilliant cut diamonds.

Efva Attling loves to

send messages of female

empowerment with her designs

that often have a deeper

meaning. The Women Power

Collection is a tribute to all

women! These earrings, crafted

in sterling silver, are formed as

a flash-shaped 'W' for women,

with the word 'power' stamped

on the side.

Ellendale Diamonds

ellendalediamonds.com.au

Combining sophistication and

style, this trilogy ring features

diamond-set shoulders, with a

curved, open gallery supporting

a 0.50-carat brilliant cut white

diamond and two round brilliant

Argyle pink diamonds totalling

0.075 carats. Available in 18-carat

white and rose gold, or platinum.

Engelsrufer

Pride Brands

pridebrands.com.au

Natural gemstone 'pearls',

suspended in an Infinity symbol

carriage, create an enchanting

jewellery piece with meaning. Each

gemstone – rose quartz, tiger'seye,

malachite, blue agate, red

jasper, or lapis lazuli – represents

a star sign as well as a personal

mantra, and can be interchanged.

Available in sterling silver as well

as gold and rose gold plating.

This beautiful German-designed

necklace is both decorative and

symbolic. Surrounded by the moon

and stars, the winged guardian

angel is the centrepiece of the

Heaven Soundball necklace. The

mint green soundball can be

changed for any other soundball

or natural gemstone in the range

to create an individual look.

Give the perfect gift of a relaxing

scented candle matched with a

sterling silver necklace this holiday

season. Available in Fig with

Flower of Life necklace, Rose with

Heartwing necklace and Bergamot

with Tree of Life necklace, all in a

beautiful gift box with the meaning

behind the jewellery and scent

detailed on the side.

52 | October 2021
---
www.morrisandwatson.com

NEW ZEALAND | 0800 500 654

AUSTRALIA | 1800 469 088

Elegance is personified in

this trilogy ring from Ellendale

Diamonds, available in 18-carat

white and rose gold, or platinum.

Gently upswept shoulders meet

a curved, open V gallery, with a

four claw-set 0.50 carat D-colour

diamond, nestled among six clawset

round brilliant cut Argyle pink

diamonds totalling 0.085 carats.

Fabuleux Vous

fabuleuxvous.com

Several small, sterling silver

circles make up the perfectly

detailed Bijoux Silver Earrings.

With a layered, textured look,

these earrings shimmer and

move with you.

CAD/CAM

& MOULD

CREATION

Simple and unique in

their design, the Silver Perle

Freshwater Pearl Chain

earrings pull together

the classic elements of

fine jewellery with the

freshwater pearls and

sterling silver chains.

Take Your Concept From Idea to Design,

Ready to Print CAD Files in Five Days!

*

*Lead time excludes other casting services and shipping, working days only.

Make a mould of your design to cast multiples

without multiple print fees, vulcanized rubber and

silicone moulds available from just $20.

Refining | Bullion | Fabrication | CAD/CAM | Casting | Chain
---
Christmas Ready | 2021 HOLIDAY STOCK SPECIAL

Georgini

West End Collection

Sourced exclusively for the Noel Nights

Collection by Georgini, the new stunning

cubic zirconia cut, known as 'Sliced Stone',

is the first of its kind to hit the market. It

offers a sophisticated and sleek look with

minimal facets and optimal sparkle. The

Noel Nights Collection is crafted in goldplated

925 sterling silver.

westendcollection.com.au

Golden Mile

goldenmile.com.au

Golden Mile's paperclip

link range is extensive

and constantly growing as we develop

styles to keep on top of the latest

fashion trends. Available in 9-carat

gold, 18-carat gold, 9-carat silver

filled, or sterling silver, in the length

of your choosing. Head to the Golden

Mile website to see the full range.

Gerrim International

gerrim.com

Gerrim presents the

coolest of colours for

summer with the Green

Amethyst & Diamond

Ring, matching pendant

and earrings. What could

be more refreshing? In

stock now.

Simple and elegant

9-carat Diamond Signet

Rings are a statement

piece for all time.

Available in rose, yellow,

or white gold, with

delivery in seven to 10

days for specific sizes.

Grown Diamonds

Physically, optically and

chemically identical to

mined diamonds, Grown

Diamonds' lab-created

stones are ethical,

eco-conscious and

affordable. In stock is

this stunning 5.01-carat

VS1 oval-cut lab-grown

diamond – the largest

currently in Australia –

which is available to

view online.

growndiamonds.com.au

Guess

Designa Accessories

Intricate and multi-layered

design details create a touch

of luxury in the latest Guess

ladies' timepiece, Afterglow.

Featuring a black ombré

dial with pavé set, polished

gold case, and bracelet with

crystal embellishments,

this watch is sure to elevate

your look. Also available

in polished rose gold and

polished silver with blue dial.

designaaccessories.com.au

54 | October 2021
---
GOLDEN MILE JEWELLERY

MANUFACTURERS PTY LTD.

Did you know that Golden Mile

now keep fine chains in stock? We

have invested heavily in ensuring the

majority of our chains are in stock

in all standard lengths in a variety of

9-carat yellow, white and rose golds,

as well as on the spool. Order now for

quick delivery.

STANDARD

LENGTH FINE

CHAINS NOW

IN STOCK

FOR 24 HOUR

TURNAROUND

Regal and glorious

in the deepest of blues,

the London Blue

Topaz & Diamond trio

set, comprising ring,

pendant, and earrings, is

one of Gerrim's all-time

favourites. In stock now.

Harper & Rowe

Our 'Star' freshwater

pearl earrings make a

dazzling impression.

Featuring gorgeous

14–15mm baroque

freshwater pearls, with

925 sterling silver, cubic

zirconia fittings, these

breathtaking earrings

are the perfect festive

season accessory.

harperandrowe.com.au

The biggest range of gold

jewellery in Australia.

sales@goldenmile.com.au

03 9753 3977

www.goldenmile.com.au
---
Christmas Ready | 2021 HOLIDAY STOCK SPECIAL

Ikecho Australia

Part of Ikecho Australia's latest

collection, this 9-carat rose gold

design features a 12mm natural

pink round Edison freshwater

pearl suspended from a

delicate diamond-set pendant.

ikecho.com.au

Infinity Rings

Infinity Rings has put

together a modern and

stylish collection of stacker

rings, manufactured using

only the best quality alloys.

Explore how you can

build the perfect stacker

collection and customise

the designs with the Infinity

Rings DesignStudio.

infinityrings.com.au

JAG

Duraflex Group Australia

JAG originated in 1972 on Chapel

Street in Melbourne. Today, it

is internationally renowned as

an iconic Australian brand. The

seasonal JAG fashion watch

collections offer an affordable

range of models for men and

women, featuring casual and

timeless styles with an urban feel.

dgau.com.au/jag

JC Jewels

Register for your login to the

JC Jewels B2B portal to see

our complete range of labgrown

diamond jewellery, more

than 80,000 loose, certified labgrown

and mined diamonds,

smalls, matched shoulder

stones, and more.

jcjewels.com.au

Labanda

Servicing both the watch and

jewellery industries, Labanda

is an Australian supplier

specialising in quality tools

and equipment, with

exceptional service.

labanda.com.au

56 | October 2021
---
S&S

STONES& SILVER

STERLING SILVER JEWELLERY

K&K Export Import

Ethically sourced

directly from the mine,

K&K Export Import has

secured a magnificent

range of emerald from

Brazil, from 0.50 to 5

carats, with larger sizes

available on request.

Contact us for more

information on these

goods, along with all

other types of natural

colour gemstones and

fancy colour diamonds.

03 9654 4449

LJ West Diamonds

Introducing the Argyle Motif Collection

from the Scott West Jewelry range.

Featuring natural Argyle pink diamonds

from Western Australia set in platinum

and 18-carat gold handmade jewellery,

two icons come together in a magnificent

collection – where luxury design meets

the most precious treasure of Australia. Ph: +61 3 9587 1215

Email: info@stonesandsilver.com.au

stonesandsilver.com.au
---
Christmas Ready | 2021 HOLIDAY STOCK SPECIAL

LJ West Diamonds

ljwestdiamonds.com

For more than 30

years, the West Family

has been collecting the

rarest natural colour

diamonds on Earth. As

one of the earliest Argyle

Authorised Partners, our

collection of rare fancy

colour diamonds and

Argyle pink diamonds is

truly exceptional.

With a

stunning, vibrant

raspberry colour,

this 2-carat

Fancy Intense

Pink Argyle 3PR

diamond is part

of the Argyle 2019

Tender Series.

Argyle pink diamonds

display some of the rarest

colours among all natural

colour diamonds. Not only

does this 0.67-carat stone

feature a Fancy Intense

Argyle 5P colour, but it is

also one of only a handful

of emerald shapes available

at any given moment.

Natural purple

diamonds, such as this

0.40 Deep Pink Purple

stone, are very rare,

unique, and soughtafter.

Collectors often

search out these regal

diamonds, as purple

is an ancient symbol

of nobility.

Teal-coloured

stones, such as this

wonderful 0.34-carat

Fancy Intense Blue

Green diamond,

are extremely

desirable among

natural colour

diamond collectors

worldwide.

One of the top 42

diamonds ever found

at the Argyle Mine,

The Imperial Violet,

is a 1-carat Argyle

BL3 Tender stone.

The violet colour is

the pinnacle of rarity

in the natural colour

diamond 'kingdom'.

Mats Jonasson Maleras

Shillcombe

Swedish figurines from Mats Jonasson

Maleras are the perfect accompaniment to

all jewellery stock. Our handmade crystal is

collectable and sold worldwide. In production

since 1890, Mats Jonasson combines

innovative design with artisan glass-making

techniques. Welcome to the crystal kingdom!

matsjonasson.com.au

Maserati

West End Collection

Presenting the Maserati Stile Gold Chronograph

Watch, part of the Stile Collection which embodies

the mechanics, construction and stylistic codes

of iconic sporting timepieces. The decisive lines,

distinctive decagonal bezel and the slim case are

combined with details that strongly identify with

the sporting world, such as pump pushers and

a screw-down crown.

westendcollection.com.au

Maxum

Designa Accessories

Built for extreme conditions and for those

with an adventurous spirit, the Maxum

range of watches help you to get the

most out of every minute. The new men's

Vortex watch by Maxum features a 52mm

red case and polyurethane strap, easy to

read digital display, day and date function,

backlight, alarm and is water resistant

to 100 metres.

designaaccessories.com.au

58 | October 2021
---
Luminox

Duraflex Group Ausralia

For more than 20 years, Luminox has

partnered with maritime commandos to

hone and refine a watch tough enough

for the world's finest warriors. Luminox

is proud to announce the new Navy SEAL

45mm Military Dive Watch XS.3508.GOLD,

sporting the proprietary Carbonox casing

and constant glow for up to 25 years.

luminox.com.au

Mark McAskill Jewellery

markmcaskill.com.au

Lost River Diamonds

One of a great range of certfied Argyle

pink diamonds in stock at Lost River

Diamonds is this princess-cut 0.46

carat Argyle Tender Stone with Argyle

1PP colour grade.

lostriverdiamonds.com

New to the Pink Caviar Collection, this

pear-shaped double halo slider pendant

features 16 Argyle pink diamonds in a rose

gold channel setting, with a six claw-set

pear diamonds and white diamond

outer halo. The total diamond weight

is approximately 0.34 carats. Available

in 9-carat or 18-carat gold, with chain

sold separately.

Mays

mays.com.au

Natural rubies are a rarity in Australia.

Most that are commonly available are

synthetic – grown inside of a lab – or else

heated-treated stones from Mozambique

and Tanzania. Rarest are the unheated

rubies that come from the famous Mogok

stone tract in Burma (Myanmar) which are

known for their iconic 'pigeon blood' colour.

Throughout history, spinels have been the

underdog when it comes to precious colour

gemstones. Only about a century ago, scientists

were able to differentiate spinel from ruby.

Now among the most 'trending' gemstones,

consumers and jewellers are beginning to

appreciate their colour variety – particularly

red, grey, and 'neon' pink, which is sometimes

referred to as 'Jedi' spinel after the film series

Star Wars.

This stunning dress ring features a 10x8mm

oval blue topaz in four talon-claw setting, and

dazzling diamond shoulder settings with round

brilliant and marquise-cut diamonds. The

total diamond weight is approximately 0.28

carats. Available in 9-carat gold, 18-carat

gold, or platinum.
---
Christmas Ready | 2021 HOLIDAY STOCK SPECIAL

Miamor

Miamor's diamond tennis

bracelets feature fine

quality natural diamonds,

always set in 18-carat

white or yellow gold.

All sizes available.

miamordiamonds.com.au

Miln & Co

This beautiful, handmade and hand-engraved

9-carat rose gold and sterling silver hinged

bangle is one of many exquisite designs

produced by fifth generation-owned jewellery

manufacturers. It is also available in 9-carat

yellow gold and polished sterling silver. Contact

Miln & Co for more details or visit our website.

milnco.com.au

Morris & Watson

Always aiming to improve our service and

product range, Morris & Watson now offer

computer-aided design (CAD) services in both

Australia and New Zealand, so you can take

your ideas from concept to creation! Design,

print and cast your design with a business that

has more than 40 years of casting experience.

morrisandwatson.com

Natural Gem Exchange

Natural Gem Exchange is your

Virtual Online Coloured Gemstone

Inventory. If you are a jeweller or

a jewellery brand, having access

to a good gemstone inventory at

any time can help you to offer a

better service and diverse design

options for your customers.

naturalgemexchange.com

Nomination Italy

Timesupply

In addition to the iconic Composable

bracelet range, Nomination Italy also offers

stunning Fashion Jewellery Collections,

such as this new release – the Sweetrock

Romance Edition. It features gorgeous

sterling silver and rose gold-plated hearts,

stars, and moons, set with sparkling cubic

zirconia on belcher chains.

nomination-jewellery.com.au

60 | October 2021
---
Moore Jewels

moorejewels.com.au

This dainty, on-trend, necklace

features an oval-shaped created

opal, flanked by two cubic zirconia

on each side. Set in rhodium-plated

sterling silver, the chain length is

40cm plus 5cm.

The sterling silver Flag Necklace features a

rhodium-plated Evil Eye and rose gold-plated

Hamsa Hand – ancient symbols of protection

– as well as a yellow gold-plated Lotus flower

to symbolise growth and new beginnings. This

lovely trio slide on a rhodium-plated chain and

sit daintily at the base of the throat.

Stylish and modern, this teardrop

necklace features three pear-shaped, satinfinished

sterling silver sliders – one rhodiumplated,

one yellow gold-plated, and one rose

gold-plated – that sit together to form a

beautiful fan. The chain is also rhodiumplated

and is 40cm plus 5cm in length.

Nordgreen

West End Collection

Designed by Jakob Wagner, the carbon

neutral Pioneer all-metal chronograph

comes with interchangeable straps for

a flexible look. Like each Nordgreen

timepiece, the case is engraved with

a unique serial number which allows

customers to track the impact of their

donation through the Giving Back program.

westendcollection.com.au

Full of personality, this cute necklace

features a sweet seal carefully balancing a

pearl 'ball' on his nose. Crafted in sterling

silver with a freshwater pearl, the pendant

has a 40cm plus 5cm chain.

From Moore Jewels' Exotica range,

these gorgeous sterling silver drop earrings

feature both polished and lightly oxidised

filigree adornments and sit on the ear with

a simple shepherd's hook. They measure

25mm x 15mm.

October 2021 | 61
---
Christmas Ready | 2021 HOLIDAY STOCK SPECIAL

Peter W Beck

pwbeck.com.au

The Original Comfort Wedder

has a distinct smooth inner curve

which provides a luxuriously

comfortable fit. The Original

Comfort Wedder is also handfinished

and polished, meaning

that each one is not only unique,

but also guaranteed to have the

signature silky-smooth feel.

Palloys

Palloys is Australasia's premier jewellery

manufacturing and custom jewellery

service. From fabricated metals and

findings, to design, print, casting, refining,

diamonds, finishing services and finished

jewellery, it all comes together at Palloys.

palloys.com

FANCY COLORED DIAMONDS

ARGYLE PINK, COGNAC & CHAMPAGNE

AUSTRALIAN BLACK OPALS

sales@tremac.com.au

www.tremonti.com.au
---
2021 BUYING GUIDE | Christmas Ready

Paterson Fine Jewellery

pfj.com.au

New and on-trend,

these initial pendants

crafted in 9-carat

yellow gold and natural

diamonds personalise

any necklace, bracelet

or anklet. Each disc

measures 10mm. Also

available via special

order in 9-carat white

and rose gold.

Peter W Beck has put together

a unique selection of 49 classic

wedding rings, covering the most

popular profiles and finger sizes,

from I to Z+7 plus half-sizes, and

seven widths. All are guaranteed

to comply with the Peter W Beck

'Original & Accurate' finger size

standards.

Pink Kimberley

SAMS Group Australia

pinkkimberley.com.au

Make gift-giving memorable with these

petite trinkets for precious little ones!

Playful children's brooches are now

available in 9-carat white, yellow and rose

gold, with non-precious safety chains.

Designs include Toby Train, Thomas Teddy,

Tilly Diamond Stadium, Thomas Bluebird,

and Trinity Cross brooches.

With breathtaking

designs and unsurpassed

craftsmanship, Pink

Kimberley jewellery is

inspired by the remarkable

nature of the Australian

Outback, reminiscent

of the colours of the

magnificent pink sunset

sky. Exquisite and one-ofa-kind,

every piece is the

ultimate show-stopper and

the epitome of pure luxury.

There's no such thing

as too much jewellery!

Combining exquisite white

diamonds with one of

Australia's greatest natural

wonders – the Argyle pink

diamond – every piece

from the Unity Collection

is unique and is a beautiful

treasure with a touch of

elegance and exclusivity.

Exquisitely crafted, these stunning

earrings – the Iman Diamond Drop Earrings

and Salma Diamond Drop Pavé Set Earrings

– evoke a Moroccan theme. Featuring

pavé-set lab-grown diamonds and encased

in 9-carat rose gold, they are also available in

9-carat yellow and white gold.

October 2021 | 63
---
Christmas Ready | 2021 HOLIDAY STOCK SPECIAL

Qudo Germany

Perfect for the summer

months are these

sparkling and colourful

Interchangeable tops from

Qudo. Qudo offers fun and

collectable opportunities for

customers, and the ability to

personalise rings, earrings

and necklaces with fresh,

unique looks.

qudojewellery.com.au

Quinn Sterling Silver Jewellery

Sarabol Trading

The best quality sterling silver jewellery on

the market, Quinn Sterling Silver Jewellery

offers dress rings and earrings, necklaces,

pendants and more, either plain or set with

a variety of gemstones. In addition, lapis

lazuli, onyx, and pearl pieces are available,

in combination with gold and stainless steel.

0412 286 387

Sapphire Dreams

SAMS Group Australia

sapphiredreams.com.au

Influenced by our rich

Australian heritage, Sapphire

Dreams pairs premium

jewellery designs with

Australia's most overlooked

wonder, the Australian

sapphire.

Salt & Pepper Diamonds

Salt and pepper diamonds are mined,

natural diamonds without treatment.

The heavily-included nature of Salt and

Pepper Diamonds means they are all

unique and incomparable. They have

become a popular and economical

choice for Millennial engagement rings

and everyday jewellery alike.

saltandpepperdiamonds.com.au

64 | October 2021
---
RAS Spain

Timesupply

Added to the very popular

Gingko Collection from RAS

Spain is this handmade filigree

wide cuff bangle. Golden

Gingko leaves wrap around the

wrist in this fine elegant design.

timesupply.com.au

RR Diamonds

As the renowned Argyle Pink Diamonds

Tender is unveiled for the final

time in 2021, RR Diamonds revisits

the exquisite gems from our most

successful Tender in 2018. We continue

to stock a carefully curated inventory of

the world's most coveted pink diamonds

as well as blues.

02 9235 1799

Sapphire Dreams sapphires come

in a plethora of colours, from ravishing

teals and gorgeous greens to the trendy

parti-colour. Every sapphire featured

in our 18-carat gold designs features a

laser-inscribed girdle and comes with a

Sapphire Dreams certificate. Stunning

designs with established provenance.

Stones & Silver

A modern spin on the timeless hoop

earring, these stunning 925 sterling silver

hoop stud earrings are available with

beautiful freshwater pearls, larimar and

faceted amethyst, lapis lazuli, and onyx.

stonesandsilver.com.au

October 2021 | 65
---
Christmas Ready | 2021 HOLIDAY STOCK SPECIAL

Swarovski

Duraflex Group Australia

Swarovski's legacy of craftsmanship

and technical innovation continues with

Swarovski Created Diamonds. Just as a

greenhouse-grown orchid is as beautiful as

one found in nature, so too are Swarovski

Created Diamonds.

dgau.com.au/swarovski-created-diamonds

The Amber Centre

Part of The Amber Centre's

fresh collection, the

Carousel Earrings and

Rings featuring multicoloured

genuine Baltic

amber, set in sterling silver.

ambercentre.com.au

Troy Australia

troyaustralia.com

Troy Australia is a new

retail support service for

independent jewellery

retailers who are demanding

something different,

modern, and forwardthinking

– at a low cost.

Feel and see the quality in Troy

Australia's exclusive range. Made

by one of the world's leading

international factories to the

highest standards, the jewellery

is amazing – as are the margins!

Tennis bracelets – from 2 carats –

diamond stud story and pendants

are just some of the bestsellers in

this collection.

Tremac

Tremac has been a supplier to the global

gemstone and jewellery trade for more than

30 years. Tremac specialises in coloured

gemstones of all varieties, from precious

gemstones for jewellery production to rare

collectables, as well as diamond melee.

tremac.com.au

66 | October 2021
---
The Battery Man

Watch repair Christmas gifts

for your own workshop! This

24-piece set of Delrin dies

comes from Beco Technic's

Master Tool Selection. Great

for large or small, oval and

other shape watch cases up

to 59mm, they come stored

in a sturdy, durable case.

thebatteryman.com.au

Thomas Sabo

Duraflex Group Australia

The new Sterling Silver Jewellery

collection by Thomas Sabo features classic

silhouettes, vintage-style aesthetics,

archive updates and sparkling white

gemstones. Plus, personalise your jewellery

with engravable pendants and charms.

thomassabo.com.au

Timex

Designa Accessories

Timex's Q Falcon Eye adds two-tone refinement to the Q

Timex series. Reissued for today, Timex have recreated

every detail – a 1970s period-correct woven stainless-steel

bracelet 38mm case, luminescent paint and a striated green

dial. The result is a contemporary watch retaining every

ounce of soul and character from the era that inspired it.

designaaccessories.com.au

With a subscription model,

Troy Australia offers the

solution for a ready-to-go,

competitive range that meets

all the price-points your

business requires.

In addition to premium

jewellery, Troy Australia

offers a one-stop-shop for

help, advice and assistance

to grow your business with

modern, forward-thinking

advice and insights.

Partner with Troy and enjoy

exclusive access to beautiful

boutique collections including our

Harmony Created Diamond range,

curated specifically for our market.

Troy Australia has one of the

most experienced retailers in the

industry at the helm. Collaborate

with us and enjoy unrivalled

insight into the Australian and

New Zealand market. Grow and

flourish with Troy by your side.

October 2021 | 67
---
Christmas Ready | 2021 HOLIDAY STOCK SPECIAL

UNOde50 Spain

Timesupply

The new Ikon Collection celebrates

everyday objects, embracing the

simplicity of form and function. Bracelets,

necklaces, earrings, and rings combine

conventionality with a bold and rebellious

touch, in a quirky and unique design

typical of the iconic UNOde50 style.

Handmade in Spain.

unode50.com.au

TW Steel

Duraflex Group Australia

The new Red Bull Ampol

Racing watch collection from

TW Steel celebrates one of

the most prolific teams in

motorsport. Powered by Swissmade

movements, the three

performance timepieces are

built with racing in mind and

heart, and Red Bull's iconic

red, blue, yellow and silver

colours and team logo

engraved on the case.

twsteel.com.au

AUSTRALIAN

JEWELLERY TOOLS

WHOLESALER

World Shiner

Alongside its extensive collection of white,

pink, yellow, and champagne diamonds,

World Shiner proudly introduces a new

range of Italian-made jewellery with

old-cut diamonds. The collection includes

rings, earrings and pendants.

worldshiner.com

SPECIALISING IN QUALITY JEWELLERY

TOOLS & EQUIPMENT WITH EXCEPTIONAL SERVICE

Glues

(07) 3876 7481

sales@labanda.com.au

FAX: (07) 3368 3100

www.labanda.com.au
---
2021 HOLIDAY STOCK SPECIAL | Christmas Ready

Wolf 1834

Duraflex Group Australia

The British Racing Green Collection by

WOLF 1834 is a truly English collection of

watch winders, boxes and watch rolls. It

is ideal for passionate watch collectors,

travellers, and for safekeeping of your

treasured timepieces.

dgau.com.au/wolf

Wolski's

0411 331 777

Direct suppliers of natural

colour pink and blue Argyle

diamonds. Single stones and

pairs/matched sets are available.

Argyle Certificates are provided

for larger stones.

Direct suppliers

of natural

gemstones,

including sapphire,

ruby, emerald,

aquamarine,

peridot, tanzanite,

tourmaline, topaz,

amethyst, citrine,

rubellite, garnet,

and more.

Worth & Douglas

These on-trend new designs feature current

fashion must-haves in the sparkling world

of coloured gemstones, highlighted with

fancy cuts including radiant, cushion, and

pear shape. Pictured here set with London

blue topaz, blue topaz, and garnet, with

diamonds. Available in most metal alloys

and with many other gemstones.

wdrings.com.au

ZETAGS

ZETAGS has released its new CloudTT

barcode software. For the first time, users

can print tags straight from Google Chrome

on both Windows and Mac computers. The

Lite version is free for ZETAGS customers

with a data-aware Pro version currently in

beta testing.

zetags.com

October 2021 | 69
---
MARKET FEATURE

Local Jewellery Brands

ARABELLA RODEN explores the appeal of Australia and New Zealand's

local jewellery brands and how they can improve retailers' stock mix.

KAGI CAMPAIGN 2021
---
LOCAL JEWELLERY BRANDS | Homegrown Heroes

L to R: Sapphire Dreams; Kagi; Paterson Fine Jewellery

I

n an increasingly globalised world, it can be

easy to lose sight of the unique characteristics

that make local brands special – yet special

they certainly are.

Uniquely developed for the Australian and New Zealand

markets, 'homegrown' brands share a deep knowledge and

understanding of local consumers as well as a pride and

passion for supporting retailers.

Across the jewellery industry, many of these brands are part

of independent family-operated businesses – another value

they have in common with jewellery retail.

SAMS Group Australia CEO Steve Der Bedrossian tells

Jeweller, "SAMS Group Australia represents the homegrown

Australian jewellery and watch brands, such as Classique,

Pink Kimberley and Sapphire Dreams.

"Founded in 1967 as a family business, Classique Watches

had been servicing the Australian watch industry for more

than 50 years.

"Our luxury jewellery brands Pink Kimberley and Blush Pink

had been operating for about 15 years. Sapphire Dreams is

our newly launched brand that came to life in 2021," he says.

Indelible Australian touches are evident throughout the

brands, with Der Bedrossian noting, "The identity of our

brand revolves around working with Australian gemstones.

The Australian way is also reflected in our brand marketing

and company values as all our products are ethically and

responsibly sourced."

Paterson Fine Jewellery (PFJ) is another Aussie brand with a

long history.

"Paterson Fine Jewellery was originally established in 1935

and operated locally around Melbourne," says managing

director David Paterson, grandson of founder Keith Paterson.

"The business expanded nationally in 1959 when Keith took

the 'Little Gypsy' range of earrings to wholesalers around

Australia, and shortly afterwards we expanded internationally

into the New Zealand market."

Today, PFJ manufactures several registered brands including

My Little Angel, Firegem Australian Opal, and Babylinks.

Opal Minded

Pink Kimberley

Ikecho Australia

"As an Australian-owned business, we pride ourselves

on our customer service, quality, and authenticity of our

products. Customer satisfaction and quality workmanship

are at the heart of our business philosophy and underpin

our reputation in the industry," Paterson says.

That commitment to customer satisfaction and quality is

evident in modern jewellery brands too, such as Harper

& Rowe – also a family business – which was established

in South Australia in 2010 and now counts retail stockists

across Australia and New Zealand.

Uniquely developed for the

Australian and New Zealand

markets, 'homegrown' brands

share a deep knowledge and

understanding of local consumers

as well as a pride and passion for

supporting retailers"

"As a family business, we take pride in the knowledge that

our company has developed locally and organically," says

director Virginia Moody.

"Our jewellery is designed in our workshop in South

Australia, with many of our pieces also handmade there.

We try to source local components and materials wherever

possible for our products, and love working with our

amazing Australian suppliers."

Moody adds, "Being a local company means we can work

closely with our retailers to develop and supply designs that

work best in their markets, and many of our pieces have

come to life from the close relationships we have developed

with our customers.

"To us, being homegrown not only means creating a

beautiful local product that sells well in the Australasian

market, but also developing close ties with many small

local businesses."

Christine Harold, director of Melbourne brand Moore

Jewels, which launched in 2007, echoes that sentiment.

October 2020 2021 | 71
---
Homegrown Heroes | LOCAL JEWELLERY BRANDS

Karen Walker

Ikecho Australia

Sapphire Dreams

"Being a local brand, we are able to respond

to our customers' needs quickly," she

tells Jeweller.

"We are completely independent and are

therefore able to treat any issues that

may arise quickly, and always to our

customers' satisfaction.

"We work together with our manufacturers

to produce the best quality product for our

local market."

Those same qualities are abundantly evident in

brands founded 'across the ditch'.

"New Zealand is small and our economy is

made up of approximately 85 per cent small

and medium enterprises (SMEs); many are like

us – family owned and operated," says Helen

Thompson-Carter, director of Fabuleux Vous,

which was founded in 2014.

"Having exported for more than 30 years across

many industry sectors, the one thing I can

honestly say is that New Zealand is proud of its

people, its product and its presentation to the

world," she adds.

"We have a reputation globally for being a leader

and having products that the world simply wants.

"There is not only a strong sense of pride, there

is a camaraderie between business owners and

a very special kind of admiration and support

for each other."

Nick Hoogwerf, brand manager of New Zealandfounded

interchangeable jewellery brand Kagi,

adds, "Stocking home-grown brands is vital to

supporting local businesses.

"Customers love and appreciate a homegrown

success story and are happy to

support a brand that offers good quality,

affordability as well as the ability to mix and

match looks for any occasion."

Adapting to change

Perhaps the most important quality in a

business – particularly given the rapid pace of

change in the retail environment – is the owner's

ability to adapt quickly, shifting gears to meet

challenges and increasingly high expectations

of customers.

It's a quality that is embedded in the mentality of

New Zealanders, according to Thompson-Carter.

"Kiwis are well known globally for their

innovation, ability to adapt to change and with a

'number-eight wire' [resourceful and inventive]

approach to things.

Perhaps the most important

quality in a business –

particularly given the rapid

pace of change in the retail

environment – is the owner's

ability to adapt quickly"

"We are proud to be designing and producing

beautiful world class products from this little

corner of the world," she says.

Worth & Douglas has manufactured its

namesake brand of wedding rings since

1953, and also manufactures jewellery

brands Karen Walker, Lord Of The Rings,

and ZiRO.

"Being local allows us to offer flexibility in

design, take orders in a friendly way, and deliver

quality products in a timely manner," says

business development manager Chris Worth.

In practical terms, Paul Hicks, director of

Ellani Collections – which has been established

in both the Australian and New Zealand

markets since 2008 – says local brands have

an advantage when it comes to serving evolving

consumer tastes.

"Being local allows you to react quickly to

changing consumer demand for designs,

materials and price points," he explains.

"This allows the retailers representing your

brand to be stocking a range with proven sales

results and better retail margins."

Harold has a similar perspective: "One of the

benefits to the retailers is that most local

suppliers carry stock – we certainly do.

"We know the local market and, after working

in the industry for more than 40 years, I'm very

cognisant of regional variance and try to cater

for most areas."

Indeed, while the Australian and New Zealand

market shares some similarities with Europe,

the US and the UK, homegrown brands have an

intimate knowledge of local consumer tastes

and shopping behaviours, as well as a natural

affinity for relevant designs and materials.

"Over the past 50-plus years, we have worked

with many established Australian retailers,

maintaining strong connections with Australian

businesses and our local community," says Der

Bedrossian, noting that SAMS Group's brands

celebrate the nation's unique natural history.

"In Australia, we have so many spectacular

natural gemstones that we use to create our

jewellery and watch designs.

72 | October 2021
---
Homegrown brands

also share a geographic

advantage, being located

in similar time zones to

their retail stockists and

being able to tailor stock

to local needs"

Ikecho Australia

"For instance, we were the first to create a single-slice Australian

opal dial for our watches – which remains the unique hallmark of

Classique to this day," he explains.

Adds Thompson-Carter, "Local people love a local story to be

proud of! Jewellery can so easily tell a life story, and sometimes

that starts from where the jewellery came from and the inspiration

behind the design."

Homegrown brands also share a geographic advantage, being

located in similar time zones to their retail stockists and being able

to tailor stock to local needs.

Explains Moody, "Important economic and social influences are at

play – things like economy of shipping, fast and efficient supply of

stock, dealing in the same language and currency, combined with

the ability to make special orders, including bespoke designs, also

influences buying decisions."

She adds that the importance of doing business with people they

"know and enjoy dealing with, and who understand their business

and customer base" cannot be underestimated by retailers.

Paterson emphasises the customer service advantage enjoyed

by retailers who stock a mix that includes Australian and New

Zealand brands: "The biggest benefits are retailers can get realtime

answers on stock availability, place custom orders with a fast

turnaround, and can access local repairs and quick returns.

"Plus, we have state-based agents who come in-store to showcase

new arrivals and can also take back stock that hasn't worked."

Indeed, New Zealand brand Kagi recently switched to a new

Australian-based distributor, Pride Brands, in order to better serve

its retailer base.

"We can now offer super fast delivery and support to retailers

of our 300-piece range as a result of our partnership with Pride

Brands in Australia," says Hoogwerf.

"We are looking forward to Australians again being able to

wear and love our product through the convenience of a local

distributor. We have a great brand and history in both the New

Zealand and Australian markets and now is the time to build

upon this solid foundation."
---
Homegrown Heroes | LOCAL JEWELLERY BRANDS

Couture Kingdom

Moore Jewels

Fabuleux Vous

Worth & Douglas

Gerrim

While many overseas brands have found

popularity in the Australian and New Zealand

markets and developed loyal followings,

others have faltered, leaving retailers and

consumers disappointed.

Says Hicks, "Sometimes what is selling in

European markets does not resonate with our

consumer base and distributors in our region

– followed by the retailer – have little to no

input in the designs for new release products,

due to the size of our market in comparison

to the rest of the world."

Pandemic challenges

With fewer supply chain disruptions and close

existing relationships with retailers, homegrown

brands were able to communicate and cater to

their stockists' needs throughout the past 18

months, while the COVID-19 pandemic raged.

"We are manufacturers as well as wholesalers.

As a manufacturer, we have the benefit of being

able to scale-up or scale-down the business

depending on demand," Paterson explains.

"Initially, we scaled back production dramatically,

but once we realised the demand for jewellery

was rising and retailers were struggling to attain

stock from overseas, we were able to scale-up to

full capacity in the factory."

At Worth & Douglas, "It's been important to us to

remain fresh and continue creating and designing

so we have released new designs and collections

in the past 18 months," says Worth.

"During lockdowns, we have continued to

serve by offering marketing support, online

assets, answer quotes and general enquiries,

and just be there to help where we can to

navigate these unchartered territories together

with our customers."

In New Zealand, Fabuleux Vous' team "got

up, got dressed and got on with it," says

Thompson-Carter.

"COVID-19 gave a new appreciation to being

'local'," she continues.

"We reached out to as many of our retailer

partners as we could across Australia and

New Zealand and kept in touch.

With fewer supply chain

disruptions and close

existing relationships with

retailers, homegrown brands

were able to communicate

and cater to their stockists'

needs throughout the

past 18 months"

"We supported them with payment plans so that

they still had access to product, ramped up our

digital presence – both business-to-business and

business-to-consumer – and we made sure our

retailers had imagery and material to ramp up

their digital performance."

Thompson-Carter added, "We also brought

fresh on-trend products to market and we learnt

more than anything that cash reserves, cash

management and conservative business thinking

was the saviour."

A similar strategy was employed at Harper

& Rowe, which Moody describes as a "hands-on"

business that "rolled with the punches" during

the pandemic.

"Over the years we have built excellent

relationships with our customers which has held

us in good stead during these turbulent times,"

she explains.

"Like many other Australian small businesses,

we needed to think outside of the square – not

just working differently, but working smarter.

With the explosion in online shopping and the

emergence of the 'lockdown look,' we launched

our At Home Collection.

"The designs in this collection included pieces

which could be worn to complement a casual

look, or to elevate a professional look while

attending online meetings.

"We also focused on designing pieces which

evoked sentimental feelings of love and affection,

for people to send to family members living in

other places.

"When individuals cannot see friends and family

in person, they want to be able to send them

personal gifts which express their love."

At Kagi, Hoogwerf notes, "The lockdowns

have given our customers time to build

upon their collection and be more creative in

crafting their daily look. It's been great to see

so many of our customers find unique ways

daily to bring out their personality with our

interchangeable pieces."

He adds, "We've seen a surge in demand

particularly for our statement earrings –

everybody is looking to brighten up their look

for Zoom calls."

Like retailers, e-commerce was a high priority

for homegrown brands.

"The emergence of COVID-19 was not a time

to panic – it was a time to refocus our energies

and to pinpoint what we perceived our rapidly

74 | October 2021
---
IP907-PRG-EDI-P

COVID-19 TRENDS

GOING LOCAL

CONSUMER BEHAVIOUR INSIGHTS

IP4060N-RGP

There is no doubt the ongoing COVID-19 pandemic has influenced

consumer tastes and behaviour to a large degree – and to the

advantage of homegrown brands.

"There is a new passion to shop local," confirms Chris Worth,

business development manager at Worth & Douglas.

"While many customers are unable to travel overseas due to border

restrictions, more are now shopping locally and choose to recognise

and support local manufacturers and retailers. Consumers are also

looking for bespoke pieces and want them now, without having the

long wait to have it made off-shore."

IP779-ERG-EDI-P

Virginia Moody, director Harper & Rowe, observes, "Closed borders

have meant that, as a nation, we are now reflecting inwards a lot more.

"Australian brand sentiment is very high at present, as is social

conscience and awareness of sustainability. Australians now recognise

the importance of ensuring our industries at home are supported.

"So, it appears that COVID-19 has expanded people's mindsets and

that 'stocking local' is an important part of ensuring this mindset

endures when borders reopen."

Helen Thompson-Carter, director Fabuleux Vous, says local brands

offer a "point of difference" for shoppers.

"There is a famous New Zealand TV fisherman who always said, 'Fish

with your feet first' – meaning have a look around the waters that

surround your feet before you look elsewhere. I love this quote and

I think it's right on the button for where we are at."

Indeed the CommBank Consumer Insights Report, published in May

2021, noted that "a majority of consumers in eight of the 10 retail

categories covered, and half the patrons of personal care service

providers, say that since the pandemic, it has become more important

to them to have options to buy products manufactured in Australia."

IP1143-R9R-EDI-P

The report's authors also observed, "Another apparent change in

priorities uncovered by the research is the desire to support Australian

online retailers and manufacturers, as well as local suburban

shopping centres and neighbourhood stores."

And while COVID-19 may have accelerated the online shopping trend,

analysis by retail media firm Shopper recently found 36 per cent of

Australians spend 80 per cent or more of their discretionary income

within 5km of their home.

For many of today's consumers, it seems home is where the heart

– and the wallet – is.

LUXURY pearl AND opal JEWELLERY

+61 2 9266 0636

enquiries@ikecho.com.au www.ikecho.com.au
---
Homegrown Heroes | LOCAL JEWELLERY BRANDS

Kagi

Paterson Fine Jewellery

Worth & Douglas

Harper & Rowe

Georgini

Steve Der

Bedrossian

SAMS Group

Australia

David Paterson

Paterson Fine

Jewellery

Chris Worth-

Worth & Douglas

"Over the past

50-plus years, we have

worked with many

established Australian

retailers, maintaining

strong connections

with Australian

businesses and our

local community."

"As an Australianowned

business,

we pride ourselves

on our customer

service, quality, and

authenticity of our

products. Customer

satisfaction and quality

workmanship are at the

heart of our business."

"During lockdowns, we

have continued to serve

by offering marketing

support, online assets,

answer quotes and general

enquiries, and just be

there to help where we

can to navigate these

unchartered territories

together with our

customers."

changing marketplace was going to be.

"The first thing we did was to put into place the

rebuilding of our website to better showcase

and streamline our jewellery collections and

individual designs," says Moody.

SAMS Group Australia's digital infrastructure –

already in place pre-pandemic – proved a boon

for the company, according to Der Bedrossian.

"Frequent interstate travel and remote work had

always been a big part of the job, which enabled

us to be digitally prepared many years before the

pandemic happened," he explains.

"The functionality of our systems – with

the diversity and flexibility of the working

arrangements we have in place – ensured a

smooth transition for us to 'work from home'."

He adds, "Once the pandemic hit, we were ready

to service the public with our online presence,

especially with the 'Click and collect from your

local stockist' function.

"I've always been a big believer in investing into

technology. Even though at the time I did not see

the return on this investment, it prepared me to

face the challenges of the pandemic before it

even began."

Similarly, PFJ made investments into

e-commerce "long before the pandemic", and is

in the process of launching a new and improved

online store.

With many retailers unable to meet with

sales agents, the business also introduced a

consignment box service for Australian and New

Zealand customers, with Paterson explaining,

"It's a contactless and COVID-safe delivery to

their door. Our consignment boxes contain a

selection of our latest arrivals and a variety of

stock that we can tailor to request.

"Upon delivery, retailers can review and keep the

jewellery pieces they wish to stock. We include

a free return freight satchel should they wish to

return any items to us," he adds.

With NSW, Victoria, the ACT, and Auckland

beset by further extended lockdowns in 2021,

homegrown brands have another benefit –

an ability to relate to the challenges faced by

local retailers.

With NSW, Victoria, the

ACT, and Auckland beset

by further extended

lockdowns in 2021,

homegrown brands have

another benefit – an ability

to relate to the challenges

faced by local retailers"

"Boy, it's certainly been tough," says Harold.

"Being based in metropolitan Melbourne,

we've had over 230 days in lockdown.

"We don't sell to the public and are, therefore,

reliant on retailers exclusively for sales and it's

been a very rough period as our lovely customers

are also trying to cope with a greatly-reduced

cashflow, furloughed staff and ongoing overheads

and costs to their businesses."

She adds, "Selling trips have had to be cancelled

suddenly due to different states or regions being

locked down, so we haven't seen some of our

customers for over a year and the states that have

fared better with COVID-19 cases have had very

patchy tourist numbers, resulting in less buying

flow through retail."

76 | October 2021
---
Gerrim

IN SUMM ARY

Key Points

Market

insights

Homegrown

brands have

an intimate

knowledge of

local consumers

and trends,

which ensures

the product mix

remains relevant

Personal

service

Many

homegrown

brands are

backed by

family-operated

businesses with

a hands-on

approach

Local supply

chain

An absence of

geographic,

linguistic,

freight, and

currency

limitations

makes doing

business simple

Ellani's Hicks has also observed the uneven

nature of the 'pandemic effect', telling Jeweller,

"There are currently challenges for retailers in

some states with COVID-19 restrictions. We are

seeing states that do not have operating restrictions

having strong demand."

Like many in the jewellery industry, Hicks is

optimistic. "With higher vaccination rates in the

coming months we should see less operating

restrictions and if the demand in the run towards

Christmas this year is anything like last year we will

see incredibly good results," he says.

This assertion is supported by a recent survey

of 3,000 local consumers conducted by the

Australian Retailers Association (ARA) in

conjunction with market research firm Roy Morgan.

The survey found that gift buyers would spend

an average of $726 each, with 79 per cent of

respondents saying they would spend the same or

more than they did last year.

Economists have also predicted a wave of 'revenge

spending', similar to the post-lockdown spending

bumps observed in 2020.

Remarking on the survey's results, Paul Zahra,

CEO of the ARA, said, "The past few months have

been a uniquely challenging time for most retailers,

in particular small businesses navigating extended

state-imposed lockdowns and restrictions that have

limited their ability to trade.

"Despite this uncertainty, the good news is that

consumer sentiment is upbeat for Christmas

and retailers can look forward to healthy trading

conditions over the busy festive season."

With a bumper season hopefully just around the

corner, jewellery retailers should consider the

benefits of adding homegrown brands to their

product mix – both for the holidays, and beyond.

Bloom

PINK KIMBERLEY

This collection is truly a wonder: every piece is a work

of art, a floral-inspired design with a breathtaking,

gorgeous arrangement of Argyle pink diamonds.

The blend of pink, white and gold tones is simply

phenomenal. Reminiscent of Australian pink magnolias,

this collection captures the moment when a flower

blossoms in real time for it to be preserved for eternity.

PinkKimberley.com.au

E pink@samsgroup.com.au W samsgroup.com.au P 02 9290 2199
---
BUSINESS

Strategy

When less is more: The essentials of

customer segmentation

Attracting more customers guarantees higher profits – or does it? DENYSE DRUMMOND-DUNN

explains how selling more to fewer people can be a more successful strategy.

Businesses often make the mistake of

trying to sell to everyone – but why exactly

is this a mistake?

The answer is if you try to please everyone,

you end up pleasing no-one.

Your business needs to appeal to a group of

customers who are looking for the solution

your products offer.

Where to start

When deciding which consumers to target,

conduct an analysis; this can be as simple

as identifying target markets through

observation – which consumers already

purchase your products?

Is it young men, older housewives, or

mothers of large families, for example?

Providing a detailed description of the target

customers makes them easier to engage

because your advertising messages can

then 'speak their language'.

Types of segmentation

You can use demographics to segment

all your category users, but it's not very

distinctive, nor competitive.

This means that you need to make a

choice about who to target among all the

consumers in your relevant category.

Of course, this choice implies that you

will have to ignore some consumers that

you could potentially attract, which feels

counter-intuitive.

Surely, you should try to attract the largest

number of consumers possible?

This choice certainly worries many

marketers, yet it's the only way to sell

more profitably.

Segmentation – that is, narrowing your

target market down to specific consumer

demographics – ensures that you have the

best possible chance of satisfying needs and

making sales.

Although this is easy to articulate, it has the

weakness of not truly reflecting why those

customers are choosing your brand over

the competition.

Therefore, it makes much more sense

to move onto a more sophisticated

segmentation that is informed by values

and reasons for purchase, rather than

simply demographics.

For example, rather than young men,

a sportswear business could target

consumers who value a sense of freedom.

Even if the majority of the consumers who

fall into this segment are young men, the

description is far more actionable

in terms of marketing strategies and

product positioning.

If you have

neither the

product/service

they are likely

to buy, nor

would they be

profitable to

you, why spend

time, money and

energy going

after them?

The sooner you can run a more complex

segmentation, the better.

There are five main types of segmentation:

• Firmagraphics – This is the most basic

and frequently-used segmentation across

different product categories.

An example of firmagraphics in the

beverage category could be alcoholic versus

non-alcoholic, still versus sparkling, or

bottles versus cans.

The consumers of the different types of

beverages are easy to identify since the

products they buy are too.

However, as the grouping is based on

the consumers of the different products,

this is not a very useful segmentation for

78 | October 2021
---
Business Strategy

marketing, since consumers can appear in

more than one segment.

And as you will see below, one of the criteria

of a good segmentation is that customers

can only appear in one segment.

• Demographics – As discussed previously,

demographic segmentation categorises

consumers based on factors such as age,

gender, ethnicity, marital status, income,

education, or employment.

Again, this form of segmentation is limited

because consumers can be classified in

more than one segment, and each segment

also offers limited insights into consumers'

purchasing drivers.

• Geographics – Included in this section

are all the possible descriptions relating to

your customers' geography – country, state,

city, etcetera.

This could be relevant for products suited to

different types of weather or language, or

for businesses expanding into new markets.

However, because it groups people by

geography alone, this form of segmentation

assumes that all those in a group will

be similar.

As we all know, although there are zones in

cities and countries where inhabitants are

similar, it is simplistic to assume that they

all behave and purchase in the same way.

• Behavioural – At this level of

segmentation, we look more at how

customers behave, rather than simply who

they are or where they live.

Types of behaviour included in this

segmentation could be what solution they

are looking for based upon the benefits of

a brand; how, when and where they buy;

and where they are in terms of life-cycle or

engagement with a specific brand.

At this point, we group customers by what

they do, so we at least know that they are

behaving in a similar way.

However, behavioural segmentation doesn't

tell us all the reasons these consumers

behave the same way.

• Psychographics – This is among the

most sophisticated and complex forms

of segmentation.

It involves grouping consumers by their

values, attitudes and opinions, interests,

personality, or lifestyle, and often offers a

competitive advantage as it provides deeper

insights into both the way the target market

purchases and why.

If you do not have the time, money, or

expertise to run a detailed segmentation

study, you can still make an informed

decision based on simple criteria.

This could be based on observation, or an

analysis of your customer service database.

The 'MIDAS' touch

Whatever method you use, the final groups

of consumers – the 'segments' or 'clusters'

– need to meet the following five conditions,

known by the acronym 'MIDAS':

• Measurable – The groups need to

be clearly defined and numerically

quantifiable; think size, market share,

or value in dollars.

• Identifiable – Each segment must have a

distinct profile and each customer must be

attributed to only one segment.

• Definable – Every cluster must be easy to

describe and share with others so that you

have mutual understanding of them.

• Actionable – The groups must be easy to

identify in order to target marketing actions

and communications towards them.

• Substantial – The chosen segment must

be financially viable to target, which means

that it should, in general, be stable or

increasing in size.

Good segments traditionally fulfil all five

of these key conditions, however the last

condition has changed slightly in recent

years due to the rise of personalisation.

Instead of assessing substantiality, some

prefer to assess whether it is sustainable.

This will depend on the category in which

you operate.

Taking action

Once you have identified the different types

of consumers, you can then decide what

to do with each segment – target, convert,

grow, or ignore.

'Target' consumers are core customers;

TARGET

PRACTICE

Define your

clusters

Use your chosen

methodology to

separate your

customer base

into groups

Prioritise

your

resources

Focus the

marketing

strategy

and product

decisions

towards the

most profitable

and easily-won

consumers

Forget the

rest

Some

consumers are

simply not worth

the time, energy,

and money it

would take to

turn them into

customers

they are both profitable to the business and

strongly attracted to the business' products

and services. Therefore, they need to be

protected from competition.

Meanwhile, 'Convert' consumers offer the

most potential as new customers. They

are attracted to the business' products

or services, but the ability to 'win' them is

currently low.

To turn them into customers, consider

improving the product mix or marketing.

'Grow' consumers are those that are easy

to convince to purchase, but perhaps not

as profitable. This might change, so it is

important to review them from time-to-time.

Finally, there are the 'Ignore' consumers. If

you have neither the product/service they

are likely to buy, nor would they be profitable

to you, why spend time, money and energy

going after them?

In order to determine which group your

segments fall into, I suggest using what is

often referred to as the 'Boston Matrix'.

It takes the form of a scatter plot on two

axes. While the criteria you use for each

axis can vary, this simple analysis has the

advantage of being able to be further

refined over time.

These criteria can be grouped into

'Attractiveness' and 'Ability to win'.

Examples of Attractiveness include segment

size, segment growth rate, segment value,

competitive environment, profitability,

industry structure, distribution, and pricing.

Ability to win includes market share,

differentiation, brand strength, distribution

strength, company profitability, customer

appeal, customer loyalty, or reputation.

All businesses want to sell more and

increase profitability, but trying to sell to

everyone is unlikely to accomplish these

goals. Instead, choosing the right group of

customers to attract with your product or

service is the essential first step.

DENYSE DRUMMOND-DUNN has

more than 30 years' management

experience. She runs C3Centricity

consultancy. Visit: c3centricity.com

October 2021 | 79
---
BUSINESS

Selling

Give your sales team what they need!

DAVID BROCK explores the mistakes managers make when supporting

sales staff – and how this can lead to wasted resources.

It's a simple yet critical point: as

managers, we fail to give salespeople

what they need, and as a result, adversely

impact performance – or waste money,

time, and resources.

There are several reasons for this

phenomenon:

• We are more concerned about what

we need from the sales team, rather than

what they need

• With the best intentions, managers,

marketing departments, and others in an

organisation give salespeople what we

think they need – but too often this does

not actually help them get the job done

• We give them things we want them

to need, but they really don't; under

this section would fall a lot of content,

marketing materials, and technology.

Often, these are deployed to the sales team

with the mentality of, "If all the 'cool kids'

are doing this, then we should too!"

• We focus on our needs, without

understanding how they impact the sales

team; for example, putting in place policies

and procedures that make it more difficult

for salespeople to get things done

• We drown the sales team, giving them

far more than they need – part of this is

the 'program du jour' mentality, where all

sorts of new things are added, only some of

which are helpful.

Sometimes, giving salespeople what they

need is stopping certain procedures or

policies, or taking things away that are no

longer useful

• Managers give the sales team

something they really need, but the sales

team doesn't know they need it and so

there is no increase in performance

This is an example bungled 'change

management'.

Identifying the true need

I often see these problems arise when I

start a project with a new client.

Sales teams like to keep it simple – they won't use what they don't need.

At the beginning, the manager will tell me

all the 'stuff' they have in place to help

the salespeople – content, training, tools,

processes, procedures, programs.

The list goes on, and on, and on.

They are providing all the 'right' things,

the things you hear marketing

departments and sales managers talk

about as 'best practice'.

Then I talk to the sales team, watching how

they work and what they do. In particular,

I pay attention to top performers.

Without fail, they've simplified the process

phenomenally; they are doing all the

things they should be, they are executing

tasks in a disciplined way, and they keep

going back to the few things they know

work and are helpful.

They ignore everything else.

Next, I look at utilisation. What content

is the sales team actually using? What

training do they choose? Which tools

are they using and how well are they

using them?

Inevitably, I find huge amounts of 'stuff'

that the sales team simply doesn't use.

The 'sales technology stack' is one of my

favourites. Organisations tend to brag

about the software tools they have in place;

the mentality is, 'More equals better' or the

What content

is the sales

team actually

using? What

training do they

choose? Which

tools are they

using and how

well are they

using them?

Inevitably, I find

huge amounts

of 'stuff' that

the sales

team simply

doesn't use

corporate equivalent of 'keeping up with

the Joneses'.

Too often, the sales technology stack is

more for everyone else than it is for the

sales team; managers love reporting from

customer relationship management (CRM)

systems, while marketing departments

love content platforms.

Don't get me wrong, I think many of these

are very powerful – but imagine how

things would change if we approached

it differently?

For example, I can't imagine a highperforming

salesperson not embracing

CRM systems, like Salesforce or HubSpot,

as there are so many features that improve

effectiveness and efficiency.

If salespeople are using these existing

tools well, the business gets greater value

from them.

Management solutions

The next element to address is coaching.

By this, I mean managers and sales

leaders helping the team to learn, develop

new approaches and ways of thinking, and

acquire new capabilities.

Most managers spend less than three

hours per month coaching everyone on

their teams – and I suspect much of that

'coaching' is saying, "Do this, don't do that,

tell me how it works out, send the next

person in."

Instead, we must pay close attention to

what our salespeople are currently doing

and how they do it, consider what they

might do differently, and engage them in

these discussions.

The reality is salespeople don't really need

that much – yet too often, we fail to give

them that which they need the most!

DAVID BROCK is CEO of Partners

In Excellence, a global consultancy

focused on helping organisations

engage customers more effectively. He

writes at: partnersinexcellenceblog.com

80 | October 2021
---
BUSINESS

Management

The hidden syndrome that may

be costing you more than money

Fatigue, exhaustion, burnout – whatever the term used to describe it, this weariness can have

severe consequences for business owners, writes DAVID BROWN.

I recently met a couple named Tony and

Julie, who were both in their late fifties

and had recently "chucked it all in" –

as Tony described it – after 19 years

running a manufacturing company.

Tony and Julie had decided to take a full

year off to travel.

Their jobs had been particularly

stressful, but they didn't realise to what

extent until they stopped.

"The first day we drove off down the

road, we were both in tears from the

relief," said Julie.

Even meeting them two months into

their year-long break, Tony was still

struggling to sleep at night and to

adjust to the change of pace of their

new lifestyle.

Creeping stress

Tony and Julie's situation is not

uncommon; many business owners

undergo continuous, large-scale stress

in their business – yet they are oblivious

to it, as it has become the 'new normal'.

Like a frog slowly boiling in a pot, it's

not until they are able to step back

that they understand the toll that

long hours and difficult decisions

are taking on both their business

and their health.

It's a syndrome not unknown to runners,

many of whom report that they can keep

running for long periods of time without

feeling anything, then suddenly find their

legs 'crumble' with pain and fatigue as

soon as they stop.

This is part of the body's natural

mechanism when under stress,

which is to concentrate all resources

into one area in order to meet and

mitigate a threat.

It allows us to summon the energy

required to ward off a challenge, then

focus on our recovery afterwards when

the threat has gone.

However, most people don't reach the

point of recovery, unfortunately choosing

Relaxation is not only good for health, but also improves productivity.

instead to continue in a permanent

battle – much like a running race that

never ends.

Building pressure

Although not as immediately life

threatening, this has often been

compared to battle fatigue.

During World War II, more than

500,000 soldiers were estimated to

have been lost to fatigue.

Furthermore, some 40 per cent of

medical discharges from the armed

forces were due to psychiatric reasons

during this time – much of it attributed to

the high level of stress tolerated for days

on end with no respite.

To a lesser degree, the business

environment shares some of these

stress points.

Although no-one is holding a gun to a

business owner's head, many feel a

constant financial threat hanging over

them like a Sword of Damocles, ready to

fall at any time.

This, combined with the stress of human

interaction and conflict from staff or

customers, plus the pressure of selfimposed

expectations, can create a

bubbling sense of anxiety or even panic.

At breaking point

The surest way to relieve this pressure

is to take regular time to recharge.

Although

no-one is

holding a gun

to a business

owner's head,

many feel

a constant

financial threat

hanging over

them like

a Sword of

Damocles,

ready to fall

at any time

Returning to the World War II example,

historical records showed that those

troops who were able to enjoy four days

of 'R-and-R' – rest and recreation –

every two weeks were found to have a

longer tolerance to fatigue, often up to

400 days or longer.

Meanwhile, those who were constantly

exposed to the battle lines without a

break would succumb far sooner, usually

at around the 200–240-day mark.

The real question is, when did you last

take a break of any significant period

of time?

Being at home during a lockdown hardly

counts as a rest from work, especially

given the increased stress that the last

18 months have provided, both physically

and financially.

Once borders start to open and travel

becomes a realistic option again, it

may be time for you to plan a sustained

break; something that provides an

opportunity to recharge fully.

If even a few days away sees you reacting

like Tony and Julie, then it's a clear sign

that your stress 'safety valve' is not being

triggered often enough.

This indicates that you need to plan

breaks as a more regular part of your

business routine.

Decide today to plan an extended period

away – one where you don't take work

with you, and where you have at least

a few days of being completely out of

range for email or phone calls.

The reduction in your stress levels and

increase in your productivity when you

return just might be the best investment

in your health – and business – that you

could make.

DAVID BROWN is co-founder

and business mentor with Retail

Edge Consultants. Learn more:

retailedgeconsultants.com

October 2021 | 81
---
BUSINESS

Marketing & PR

Repetition makes reputation:

How to communicate your message effectively

DONNA ST JEAN CONTI explains the complex psychology behind repetition as a

marketing technique and how best to utilise it in your business.

As the famous beauty entrepreneur

Elizabeth Arden once said, "Repetition

makes reputation and reputation

makes customers."

Influencing an audience is a process that

often requires repetition.

One first repeats a message enough times

for an audience to take notice, then again

for them to make sense of it – relative to

their own biases and filters – and again to

inspire them to take action.

How many repetitions it takes to inspire

action remains debated, as a message

must be repeated enough times for

the target audience to notice and

engage – but not so many times that

it becomes annoying.

One way to avoid 'burning out' an

audience is to maintain the key message

while changing its method of delivery.

This is where the value of multiple

marketing campaigns, based around

a single or few basic themes, comes

into play.

The psychology of repetition

Repetition is a crucial part of effectively

gaining an audience's attention, but it also

has a point of diminishing returns.

A 2013 study by German researchers

found that there are two counteracting

effects that occur when one uses repetition

to persuade another.

The first they described as the "truth

effect", where people find a message

more credible the more they hear and

see it.

However, the second is a reaction in

which the target audience recognises the

message as an attempt to persuade them,

resulting in a negative association that

"reduces the participants' trust in

the source".

In summary, repeating a message

can increase the trustworthiness and

credibility of a product – but it can turn into

a nuisance if done incorrectly.

To ensure your message is heard, follow the principles of repetition.

Using repetition effectively

Communications strategist Adrian

Dearnell has provided a few pointers

for creating a memorable marketing

message that isn't annoying.

While Dearnell emphasises the

importance of repeating your

message, he also advocates for a

'less is more' mentality.

In an article for business publication

Forbes, Dearnell explains that an effective

message starts with a single overriding

communications objective that is

supported by three key points.

Simply put, the message should be

defined as an overarching idea that

is then elaborated upon by three

underlying points.

By structuring the message this way,

Dearnell writes, "You can turn every

difficult question into an opportunity to

restate your message and come back to

your point," when presented with inquiries

from journalists and potential customers.

In addition to establishing a simple but

substantial message, repetition is a must

in an age where people are bombarded

with information on a daily basis.

Dearnell explains this concept succinctly,

writing, "Mention nine points once, and

nothing will be remembered.

A message must

be repeated

enough times

for the target

audience to

notice and

engage – but not

so many times

that it becomes

annoying

"Mention three points three times, and one

thing may be remembered."

At this point, it's important to think about

different channels for communicating the

message, as this variety will help to avoid

annoying your audience.

Writing for small business online platform

Chron, scientist and writer Lisa Magloff

explains, "The idea behind repetition is

that when the consumer goes to buy a

particular product, the name of your brand

is the first one that comes to mind.

"Another way to use repetition is to place

the product or brand in as many places

as possible – for example, print ads in

newspapers and magazines, television ads,

radio ads and [utilising] product placement

on television shows or in movies."

When these factors are considered,

the result is a message that is

memorable, repeatable, and

unwavering when questioned.

Concluding thoughts

Influencing an audience in an age of

'information inundation' is a process

that will only get more difficult as

technology advances.

Yet, with a message that is simple,

supported by smaller points, and

repeated many times in various

ways, one can effectively reach the

minds of consumers.

Most importantly, the varied repetition

of your message will ensure that the

target remembers it as a credible and

trustworthy product – rather than a

blatant attempt to persuade them.

DONNA ST JEAN CONTI is president

of St. Conti Communications, an

award-winning full-service marketing

communications agency specialising

in public relations, social media,

and writing support. Visit:

stconticommunications.com

82 | October 2021
---
BUSINESS

Logged On

Five reasons why your SEO strategy

isn't producing results

GARRY GRANT identifies the most common reasons your business' website is

falling short of expectations on Google, despite your best efforts.

Search engine optimisation (SEO) is a

good digital marketing investment for

most companies because, when done

correctly, it brings in a steady stream of

'clicks' that turn into customers.

It also works continuously, whereas payper-click

(PPC) advertising stops being

effective the second you stop paying for it.

However, a lot of SEO efforts aren't what

you'd expect them to be – and if your SEO isn't

producing the return on investment you'd

hoped for, there are several reasons why.

Let's take a closer look at five of the most

common reasons you're not getting the most

of your SEO campaigns.

Your expectations are off

SEO takes skill, expertise, and most

importantly, time and effort.

It's unreasonable to expect the average

campaign to produce results before it hits the

four-to-six-month mark, and that's after a

great deal of adjustment along the way.

Every SEO campaign is different, but a

standard campaign flow is:

• Month one – Research and discovery

• Month two – Technical SEO work

• Month three – Content creation

• Month four – Optimisation and

link profiling

• Month five – Social media integration

and campaigning

The real impact doesn't begin until well into

the second month.

Typically, it isn't until the sixth month when

the adjustments are in place and Google has

had a chance to register them that you should

attempt to determine if the campaign was

successful or not.

Measuring before then could skew

the results.

Your campaign is under-resourced

Increased spending doesn't necessarily

mean better or faster results. However, you

Work through this simple checklist to determine your SEO weak points.

should allocate enough financial resources

to take the kind of action that will produce

measurable results.

Try increasing your SEO budget and

monitor for changes over a period of

three to six months.

If you cannot increase your budget,

adjust your expectations and narrow your

strategy; focusing on content creation and

improving the other basics of SEO is more

cost-effective than spreading a limited

budget too thin.

Your content needs improvement

Google wants to provide the content for

which users are searching and help them

accomplish what they set out to do.

Some queries are for information,

others are for navigation, and others

are transactional.

You must be able to identify the intent

behind the keywords for which people are

searching and use that intent to structure

your content.

Blogging every day is pointless if you don't

offer your readers something of value!

Not only that, but your content needs to

be well-written in terms of spelling and

grammar. Too much poor content – either

in terms of readability or in terms of

relevancy – and you'll have trouble gaining

any kind of search-engine rank.

Adjust your

expectations

and narrow

your strategy;

focusing on

content creation

and improving

the other basics

of SEO is more

cost-effective

than spreading

a limited budget

too thin

Your backlink profile is poor

The inbound links to your site matter greatly

to Google. If the sites linking to your site are

poor quality, you won't get good results.

It can hurt your Google search rank if your

backlink profile is fully of 'spammy' or

irrelevant sites; too much can earn you a

penalty which could temporarily – or even

permanently – remove your site from the

organic search results.

Check your site's backlink profile with a tool

like Open Site Explorer to look for any 'toxic'

links, and then take steps to remove them.

Your competition is working harder

When it comes to SEO and your competition,

you're both working toward the same goal,

and ultimately only one of you can win – or so

the logic goes.

However, this is a misconception. Your

competition may get ahead of you

occasionally, and sometimes even rank

higher than you for a long time – but that

doesn't mean your SEO efforts aren't making

a difference and paying off.

Good SEO, on a continuous basis, is what

keeps you from sliding back in the search

results and out of the picture completely

when the competition experiences a

'growth spurt'.

Additionally, if your competition suddenly

seems to be ranking higher than you, wait

and see if the rank improvement holds. SEO

is constantly changing; chances are, you'll

see the ranks shift in your favour again.

When you begin any kind of SEO campaign,

be sure you conduct a thorough competitive

analysis, so you know what you're up against.

This will help you in developing the best

strategy for your budget and goals, which

will also assist in terms of setting reasonable

expectations.

GARRY GRANT is a veteran expert in

search engine optimisation and the

digital marketing industry. He is CEO of

consultancy SEO Inc. Visit: seoinc.com

October 2021 | 83
---
My Bench

Roberto Mattei

Roberto Mattei Jewellery Design, Sydney NSW

Age 51 Years in Trade 30 • Training Five years of jewellery school and a few years with the masters • First job Laboro Jewellery Workshop of Roberto Mattei, Rome,

Italy 1997 • Other Qualifications Degree in marketing management and communication

SIGNATURE PIECE

'MY CITY' RING

WINNER – CAD AWARD, JAA AUSTRALASIAN

JEWELLERY AWARDS 2019

This is a dividable modular ring with customisable settings

inspired by city landscapes. It is made from 18-carat yellow,

white and rose gold, steel, titanium and osmium, set with white

diamonds and Argyle cognac diamonds.

4FAVOURITE GEMSTONE Peridot, because it is a

relatively inexpensive stone with beautiful brightness

and variations of light green colour.

4FAVOURITE METAL Green gold [electrum]

because it was the gold of my beginnings! It gave life

when I did my castings on my early handmade floral

creations, and always give me good memories.

4FAVOURITE TOOL The hydrogen torch because

after a life spent working in between hazardous gases

and acids, the power of the hydrogen produces a

much safer, hotter and cleaner flame. It's even easier

to set up!

4BEST NEW TOOL DISCOVERY Laser engraver

because, apart from the capability to do the deepest

marking, I use it in an extreme way in cutting intricate

sheets of metal with a surreal precision. This

powerful tool allowed me to explore new boundaries

that support the kind of design that I do, which is

impossible to reach just with the conventional tools.

4BEST PART OF THE JOB The first half an hour

brainstorming with my wife about every new project

that we start!

4WORST PART OF THE JOB Wrapping a finished

product to be delivered to the customer.!

4BEST TIP FROM A JEWELLER "One hundred

measurements, one cut," from my Italian jewellery

schoolteacher and master jeweller Edoardo Ermini.

He wrote it on the board on the first day of class, in

1985, without explanation. Every day from then until

now, I've lived the meaning which is 'be extremely

precise'.

4BEST TIP TO A JEWELLER Use any tool and don't

limit the way you can use them to achieve your

final piece. And your brain – as my current, smart

apprentice reminded me – is the most powerful tool.

4BIGGEST HEALTH CONCERN ON THE BENCH

Inhaled asbestos during soldering on the board

before it was banned in 1992.

4LOVE JEWELLERY BECAUSE It gives me a chance

to listen to what my customers want, and from

there create a raw piece of flawless design where

every piece of the pattern is made artistically and

imaginatively unique, as I believe that my customers

deserve the best.

84 | October 2021
---
OPINION

Soapbox

Let's communicate – if only it was that easy!

Contact is key when it comes to retail, but too many retailers – and suppliers – are overwhelmed by

the many different channels of communication, writes JOSHUA ZARB.

Like all of us, I have a deep love and

passion for the jewellery industry – so

much so that I decided to put everything

on the line right as COVID-19 hit in 2020

and start, from scratch, what is now one

of four buying groups within Australia.

From the moment we launched, I had

never been more motivated to try and

assist independent jewellery businesses

with anything and everything to assist them

to thrive in the modern retail landscape.

With that in mind, during this time I have

witnessed an ever-increasing divide

between those business owners who have

adapted to the digital jewellery landscape

and those that have not.

Whether we like or not, our customers

have changed the way they communicate

with us, and we are now forced to step

up to the plate and provide levels of

communication and service that simply

didn't exist as little as five years ago.

Now, I am by no means a 'tech head' and

this article isn't about why we all need to

be Facebook experts; but I am 44 years old

and fall into a unique age bracket that

allows me to understand both sides of the

digital 'fence'.

I grew up riding push bikes, going to the

beach and kicking a football for fun and

I didn't get my first proper computer

until I was in my first year at university

– but I was forced to use one from that

moment onwards.

I feel extremely lucky that I grew up

meeting people face to face and having

to pluck up the courage to ask for dates

in person – I can't even imagine swiping

right on a mobile phone in order to have a

fun Saturday night! – because it taught me

skills useful in both life and business.

Yet I still want to encourage retailers,

suppliers, and manufacturers to learn

about the different ways to communicate

with customers that may not come

as naturally as they do to the younger

generations.

It's easy to feel like a jack-of-all-trades

just to keep up with all the requests that

come in each day.

As an example, as I write this my phone

has 'dinged' six different ways. I need to

be able to understand what these different

notifications mean, where they come

from, how quickly I need to respond,

and in which order.

Meanwhile, one of IJC's retailers has sent

me an Instagram message to see if I know

where to source a particular style of hoop

earring, and I also have several new emails

to respond to – as if I didn't have enough to

deal with!

This example is relevant to both retailers

and suppliers.

Retailers, in particular, need to at

least understand all the ways in which

their customers will reach out and

contact them.

In addition to all the above, if I were a

retailer, I could have simultaneously

received a sale notification from my

e-commerce platform, a live chat message

via the website through a service like

Podium, or a good old-fashioned phone

call from a customer.

We all need to be ready to respond in

different ways.

For suppliers, it's a little easier – they

can simply ask retailers how they prefer

to be contacted, take a note of it, and stick

with that.

I want to

encourage

retailers,

suppliers, and

manufacturers

to learn about

the different

ways to

communicate

with customers

that may

not come as

naturally as

they do to

the younger

generations

However, that doesn't excuse suppliers

from learning how to use different

communication services and platforms.

Personally, I still like meeting face to face

and picking up the phone – old school,

I know – but I think there are some

basic skills that can help us all be more

effective communicators with customers

who are digitally-orientated.

It's simple things like learning how to

take screenshots of your mobile phone,

cropping that image, and saving it, adding

text, then sending the image to someone

across as many platforms as you can.

It's learning how to use a 'snipping' tool

on your computer and snip images or

text and send it to yourself as an email

attachment, so you can save it as an

image on your phone to send on to others.

It's learning how to crop an image in

PowerPoint and save something as a PDF.

If any of the above doesn't make sense to

you straight away, reach out for help from

someone who knows.

Once we nail the basics, we can get onto

the fun stuff like sending effective email

communications to drive sales, using SMS

to reduce overdues, and setting up a social

media storefront for the business.

At the end of the day, your business will

ultimately be valued on the strength of

your communication – that's why learning

these new ways of communicating should

be your first priority.

Name: Joshua Zarb

Business: Independent Jewellers

Collective

Position: CEO

Location: Sydney, New South Wales

Years in the industry: 17

86 | October 2021
---
THE JEWELLERY

INSURANCE SPECIALIST

Keep your

customers as

Your customers

COMMISSION

PAID FOR

EVERY POLICY.

ALL CLAIMS

COME BACK

TO YOU

CENTRESTONE BENEFITS

Our Service

Guarantee if the customer ever has a claim, the full replacement

cost is paid directly to you as the customers preferred jeweller,

not shopped around to the insurers preferred jewellers

WORLDWIDE COVER

ANYWHERE, ANYTIME

INSTANT COVER

NO WAITING PERIODS

AGREED VALUE AND LIKE-

FOR-LIKE REPLACEMENT

YOUR CLIENTS' CLAIMS

COME BACK TO YOU

150% COVER OF THE

INSURED AMOUNT

NO EXCESS ON ALL CLAIMS

Like-for-like replacement to the same quality and craftsmanship

that was lost

We do annual revaluations so the item is never under-insured

Commission for every one of your customers that process a policy

Easy, fast claims process. Claims payments made within

5 business days

COVER FOR ACCIDENTAL

DAMAGE, LOSS &THEFT

ANNUAL REVALUATIONS TO

MATCH REPLACEMENT COST

www.centrestone.com.au

JOIN AS A PARTNER JEWELLER

CALL NOW

+61 2 8316 3995
---
Australia is enriched with amazing treasures. Sapphire Dreams pays tribute to the beauty of natural

Australian sapphires, ethically sourced from the sapphire fields of inland Eastern Australia.

To achieve this level of uncompromised excellence, all sapphires pass through the hands of our

skilled gem cutters to become one-of-a-kind, timeless masterpieces.

Our Australian sapphire jewellery collection is crafted in 9ct or diamond set 18ct gold. Sapphire

Dreams certifies and inscribes every sapphire greater than 0.75ct to ensure their Australian origin.

Call SGA today to become an Authorised Stockist

SapphireDreams.com.au 02 9290 2199