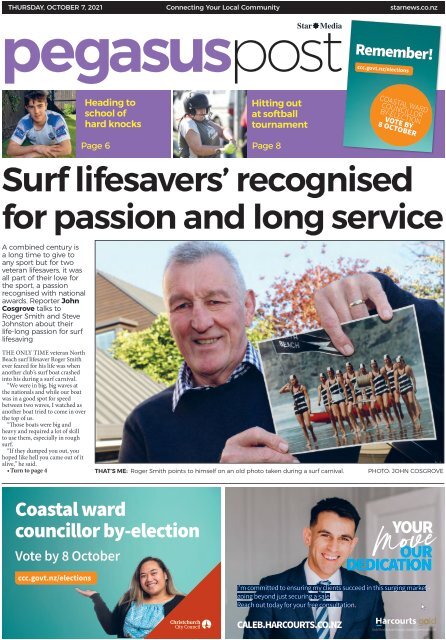 Pegasus Post: October 07, 2021
You also want an ePaper? Increase the reach of your titles
YUMPU automatically turns print PDFs into web optimized ePapers that Google loves.
THURSDAY, OCTOBER 7, 2021

Connecting Your Local Community

starnews.co.nz

Remember!

ccc.govt.nz/elections

Heading to

school of

hard knocks

Hitting out

at softball

tournament

COASTAL WARD

COUNCILLOR

BY-ELECTION

VOTE BY

8 OCTOBER

Page 6 Page 8

Surf lifesavers' recognised

for passion and long service

A combined century is

a long time to give to

any sport but for two

veteran lifesavers, it was

all part of their love for

the sport, a passion

recognised with national

awards. Reporter John

Cosgrove talks to

Roger Smith and Steve

Johnston about their

life-long passion for surf

lifesaving

THE ONLY TIME veteran North

Beach surf lifesaver Roger Smith

ever feared for his life was when

another club's surf boat crashed

into his during a surf carnival.

"We were in big, big waves at

the nationals and while our boat

was in a good spot for speed

between two waves, I watched as

another boat tried to come in over

the top of us.

"Those boats were big and

heavy and required a lot of skill

to use them, especially in rough

surf.

"If they dumped you out, you

hoped like hell you came out of it

alive," he said.

• Turn to page 4

THAT'S ME: Roger Smith points to himself on an old photo taken during a surf carnival.

PHOTO: JOHN COSGROVE ​

Coastal ward

councillor by-election

Vote by 8 October

ccc.govt.nz/elections

YOUR

OUR

DEDICATION

Move

I'm committed to ensuring my clients succeed in this surging market -

going beyond just securing a sale.

Reach out today for your free consultation.

CALEB.HARCOURTS.CO.NZ

Gold Real Estate Group Limited Licensed REAA
---
2 Thursday October 7 2021

Latest Canterbury news at starnews.co.nz

GENERAL INQUIRIES Ph 379 7100

CLASSIFIED ADVERTISING Ph 379 1100

Star Media, a division of Allied Press Ltd

PO Box 1467, Christchurch

starmedia.kiwi

NEWS

John Cosgrove

Ph: 021 195 0284

john.cosgrove@starmedia.kiwi

ADVERTISING

Frank Greenslade

Ph: 364 7441

frank.greenslade@starmedia.kiwi

Your local community news

delivered to 17,598 homes

within The Star each week.

Linwood • Avonside • Richmond • Shirley • Bexley

Burwood • Dallington • Wainoni • Bromley

Aranui • Avondale • New Brighton • Northshore

Queenspark • Parklands • South Brighton

what's on

this week

Biketober Bicycle Parts Sales

and Swap Meet

Sunday, 10am to 1pm

91 Estuary Rd, South Brighton

As part of Biketober 2021, Sustain

South Brighton in partnership with

Nomadic Cycles are hosting a bicycle

parts sales and swap meet on Sunday

October 10. The community is

encouraged to go along, haggle and

swap bike parts with the opportunity

to chat to key people in the industry,

get tips and ideas for their bikes. Free

Brighten Up Brighton –

Community Clean-up Day

Sunday, 10am to noon

Brighton Mall

Meeting at the Our Bright Town

mural, the two hour long Brighten

Up Brighton - community clean-up

day will tackle a variety of issues

the area. The event is led by New

Brighton Project and New Brighton

Residents Association with support

from many community organisations.

Admission free.

A full family history open day

Saturday, 10am to 4pm

Parkview Community Centre, 75

Queenspark Drive, Parklands

As part of the Christchurch Heritage

Festival, Christchurch Libraries are

inviting you to spend a day learning

where to start with your family

history journey from or discover

ways to take it further. Catering for

ages five to 105. Phone NZ Society of

Genealogists, Canterbury Branch 027

688 0211 for more details.

New Brighton Seaside Market, New Brighton Pedestrian Mall,

Saturday 10am–2pm. Every Saturday, New Brighton's pedestrian mall is

filled with colour and creativity. Come down to the seaside and enjoy, live

entertainment, great food, fresh produce, arts, crafts, jewellery and more.

There's also a bouncy castle and free face-painting for the littlies. Life is

Better By the Sea. A New Brighton Project initiative. "Creating Community

Together". Inquiries please txt 027 517 4250 or email seasidemarket@xtra.

co.nz Admission free

Sutton House open day

Saturday, 2-4pm

Sutton Heritage House and Garden, 20

Templar St, Richmond

Self-guided tour of the house

and garden of artist Bill Sutton.

Visitors will be able to tour the

house and garden where the artist

Bill Sutton did much of his work.

Wheelchair access is to the ground

floor only. Phone 351 5928 for further

information. Donation please.

Spirited Cemetery Tours –

Burwood Anglican Cemetery

Tuesday, 2-5pm

Burwood Anglican Cemetery, 305 New

Brighton Rd,

A cemetery tour revealing not

only the great and good but also

the interesting, scandalous and

downright evil. Join local historian

Richard Greenaway on a tour of the

PEGASUS POST

Burwood Anglican Cemetery. Tour

booklets available at $5, admission

free. Phone 260 0925 for more details.

Meet in front of the hall.

Spirited Cemetery Tours –

Avonside Parish Cemetery

Wednesday 2-5pm

Avonside Parish Cemetery, 20 Lychgate

Close, Linwood

Join local historian Richard

Greenaway on a tour of the

Avonside Parish Cemetery and discover

the historic graves of

geologist and museum founder

Julius von Haast, Canterbury Superintendent

William Rolleston and

his socialite wife Mary Brittan, and

architects J. C. Maddison and B. W.

Mountfort. Tour booklets available

at $5, admission free. Entry from

Lychgate Close. Phone 260 0925 for

more details.

YOUR ONE STOP SHOP!

TYRES

NEW & USEd

WoF

FLAGS

TYRES

bOOk

IN NOW

FULL MECHANICAL

SERVICES

WHEEL

ALIGNMENTS

SPECIALISTS$49

Wigram - 341 1226 104 Hayton Rd

Woolston - 384 0000 49 Garlands Road

HEAT PUMP

SALE NOW ON!

Amazin' spring Specials!!

80%

SubSidy

Warmer KiWi HomeS

Programme

*Eligibility criteria apply

• We will offer you the best quality brands and

option of heat pump for your home/business

• Providing Heat Pump solutions for over 19 years to Cantabrians

• We personally guarantee all our products & installs for 5 years

(providing annual maintenance has been completed)

Phone us today for your free consultation & quote

41A SHAKESPEARE RD, WALTHAM

PHONE 03 366 0525

www.enviromaster.co.nz

"A local team for local people"
---
PEGASUS POST Latest Canterbury news at starnews.co.nz

Thursday October 7 2021 3

Big turn out for clean up

• By John Cosgrove

MORE THAN 100 people will

turn up on Sunday to give New

Brighton mall a spruce up.

The annual Brighten Up

community clean-up event has

been swamped with so many

volunteers that organisers

have had to

open a second

registration site.

Coastal-

Burwood

Community

Board deputy

chairwoman

Jo Zervos was

impressed with

Jo Zervos

the response, with more than 100

volunteers keen to help clean up

the areas surrounding the mall

for two hours on Sunday.

"There are so many coming

that we have to divide the mall

up into sections to cater for

Covid level 2 restrictions.

"It sounds really promising

that we will make a good impact

on getting many of the small jobs

done," she said.

Since the event was publicised

in Pegasus Post two weeks ago,

Zervos said other groups had

been in touch and will take on a

number of smaller side projects

in the community.

"They are joining a large

HIKING BOOTS

& SHOES

UNTIDY: More than 100 volunteers have so far put their hands up to help clean up New

Brighton on Sunday.

PHOTO: GEOFF SLOAN

number of community groups

and people who are contributing

to the success of the day,

especially City Care and the

graffiti programme, who I have

done the majority of the work

with in putting this all together.

"We have the New Brighton

oN sAle Now!

Residents' Association, New

Brighton Project, New Brighton

Volunteer Fire Brigade,

PEEEP Trust, Keep Christchurch

Beautiful, Christchurch

Archery, Union Church,

Coastal Time Bank, New

Brighton Lions Club, New

Brighton Community Gardens,

Eastern Community Sports and

Recreation and quite a few more

all coming along."

The registration sites at the

Bright Town Mural and Hawke

St car park will open before the

10am start.

In Brief

COASTAL WARD

BY-ELECTION

Residents have until noon

tomorrow to deliver their

Coastal Ward by-election voting

papers to a library or service

centre in New Brighton,

Parklands or Shirley. The

by-election was called to

replace James Daniels, who

resigned as a city councillor

earlier this year. Electoral

officers have reported only 25

per cent of the 16,751 eligible

voters living in the ward have

voted so far.

ANZAC BRIDGE

FRONDS BACK SOON

The Anzac Bridge fronds should

be back in place by November.

City council officers told the

Coastal-Burwood Community

Board that, in spite of the recent

Covid lockdown causing a slight

delay, the reinstatement project

should be on schedule for an

official unveiling sometime in

mid-November. The exact date

was still to be confirmed.

WOMEN SWIMMING

SESSIONS UNVEILED

Women-only swimming sessions

will be held at the new $22

million Te Pou Toetoe: Linwood

Pool complex. The sessions will

be held every Wednesday from

3-9.30pm.

For men, women

and children

From

$79.95

to $250

Now only

$35.80

Plus $5 P&H per copy

47c Garlands Road, Woolston

Phone 389 3431

www.thefootwearfactory.co.nz

SOIL AND

HARDFILL

DUMPING

AvAilAble from stAr mediA:

Level One, 359 Lincoln Road

Addington, Christchurch

Phone 379 7100

WE NOW HIRE

LANDSCAPING AND

GARDEN EQUIPMENT

DIGGERS, TRUCKS, WOOD CHIPPERS, POLE SAWS,

BREAKERS, WATER BLASTERS, ETC.

PLUS WE SUPPLY THE BEST

LANDSCAPE & GARDEN SUPPLIES

•BARKS •COMPOSTS

•AGGREGATES - CHIP, ROUND & BASECOURSE

•SCHIST PRODUCTS •PUNGAS

•DECORATIVE STONE & LANDSCAPING ROCKS

•TRAILER HIRE - FIRST HOUR FREE WITH PURCHASE

•BAG & BULK - PICK UP OR DELIVERED

DYERS ROAD LANDSCAPE & HIRE

PHONE: 03 384 6540

183 DYERS RD, BROMLEY ● OPEN 7 DAYS

Weekdays 7.30am-5pm. Weekends 8.30am-3pm

www.dyersroadlandscape.co.nz

Working towards a positive future
---
4 Thursday October 7 2021

Latest Canterbury news at starnews.co.nz

PEGASUS POST

Dramatic introduction to water leads

• By John Cosgrove

IN SPITE OF almost drowning

during his first encounter

with the surf, Steve Johnston

eventually developed a deep love

for surf lifesaving.

A passion for service and a

very impressive rescue tally of

more than 112 rescues saw him

presented with his 50-year medal

at the recent Surf Life Saving

New Zealand national awards.

As a young boy his dramatic

introduction to the power of

waves came courtesy of his

older brothers who pushed him

into the surf one day at Taylors

Mistake.

"It was brutal, the waves

demolished me but I survived,

it put me off the ocean for a few

years but I eventually started going

along to Waimairi Surf Club

later in my teens.

"At that time my life revolved

around playing rugby, swimming

and royal lifesaving.

"Once I started at the club in

1970 I was quickly pushed into

instructing and then I became a

paid lifeguard during my university

years," he said.

Johnston, 68, trained as a

teacher working at several

schools in Christchurch, Wanganui,

Tonga and eventually

50 YEARS: Waimairi Surf Lifesaving Club member Steve Johnston reflects on his service in

the club's Waimairi beach trophy room.

PHOTO: JOHN COSGROVE ​

many years at Burnside High

School.

He also took an active part in

the surf lifesaving competitions

held nationally earning several

national titles.

Behind the scenes he worked

for the club committees reaching

club captain and club president

status during his illustrious

career.

But his passion is saving lives

and he had done a few of those.

"When I was a paid guard

there were only one of us on any

beach at any time so you had to

be vigilant all the time.

"On sunny hot days there

could be 200 people on the beach

so I always found the worst part

of the beach and stood there

ready to go.

"We had to be bossy, most

people were compliant but just as

I teach young people today, you

had to use your voice and learn

to read the tides.

"Outgoing tides were the

worst as they brought on the

rips, if you saw anything that

might be happening you had

to run like stink to get to the

people, even if it was a false

alarm you couldn't afford to

waste time wondering what was

happening."

Some of his most fondest

memories of surf lifesaving

are also the most dramatic

and life-threatening rescues

he undertook, often singlehandedly.

"I was instructing one day

and saw these two girls suddenly

dragged off by a rip, I just

grabbed a rescue tube and took

off after them. It was very rough

seas and it took me over 30min

to get them back to the beach, I

was so exhausted that I literally

had to drag them both up on the

beach, one by her arm with the

other wedged under my arm, it

was then I found we were half

way to North Beach.

'I often saw the odd shark or two out there'

• From page 1

Fortunately, the other boat

went under Roger's boat and all

aboard were safe.

For the former businessman,

to be awarded a 50-year badge

at the recent Surf Lifesaving

New Zealand national awards

of excellence, was a humbling

experience.

"I was surprised to be named

as a recipient, I'm not finished

yet as I still think I have much to

offer the sport," he said.

Since he was a teenager Smith

(now 67) has been heavily involved

in both surf lifesaving and

rugby.

A former past president at both

the North Beach Surf Lifesaving

Club and the Shirley Rugby

Club, Smith said he still helps out

where he can on both club committees.

"I love working behind the

scenes, and do what I can for the

good of the clubs. I feel it's good

for any sporting club to have a

few old heads in the mix bringing

their experience to the club."

Smith was 18 when he trained

for his first season as a lifeguard

at North Beach.

"It was a magnificent time back

then, a wonderful way to be part

of something that helped the

community.

"Back then it was the amateur

era and membership at surf clubs

was very strong.

"There were surf carnivals

everywhere and we used to travel

far and wide to get to the whole

day affairs."

He recalls many great trips, as

all the clubs seem to always be

on the same ferries at the same

time, so there were many stories

he said he could tell, but they

wouldn't be suitable for readers.

However, he did recall one trip

to the nationals aboard the TEV

Maori interisland ferry: "Some

members partied too hard on the

day sailing to Wellington so they

decided to sleep it off in their car

but woke the next morning to

find they were back at Lyttelton,

wharfies had left their car aboard

and they had done a round trip

overnight.

"North Beach was a wonderful

place to spend every weekend

during the summer, my family

grew up around me on those

beaches."

His sons Dan and Ryan followed

him into the sport.

"In those days we did a lot a

fundraising every weekend in the

Brighton Mall, and we felt we had

ownership of the club."

In the 1970s all rescues were

undertaken by four-man belt and

line teams, they also used surf

skis, canoes and big heavy surf

boats.

"You would be rostered on

a patrol team of five to six

members and on days when the

beaches were crowded you not

only watched what was happening

between the flags but also

around the edges."

He said patrolling is more

about preventative actions rather

SKILLS:

Roger Smith,

second

from left,

loves the

camaraderie

of surf

lifesaving,

than actual rescues.

"You had to concentrate, look

for the telltale signs that swimmers

were starting to get into

trouble by drifting outside the

flags, or out of their depth in

the waves, and then go and help

them out.

"We tried to stop things happening

before they got worse."

Rips were the cause of many

callouts and he still remembers

his first big rescue.

"One day a rip just developed

out of nowhere, one minute the

surf was okay then suddenly

seven to eight people were being

whisked away, everybody jumped

in to help out and we quickly got

everyone out safely."

He said it's only natural that

people panic when a rip grabs.

"They should remember that

all the sea is doing is going out

along a ditch, just as quickly as

it appears and drags you out it

also quickly deposits you on a

sandbank behind the breakers,

but sadly people panic and panic

kills."

His advice – just float with the

rip and hold your hand up.

"Usually we would only swim

about 100 to 200m out beyond

the surf but on the boats, I often

saw the odd shark or two out

there.

"People would be surprised

that there is more wildlife than

they think out there beyond the

surf."

His fondest memories of his

time spent guarding at North

Beach and Lyall Bay in Wellington

were about the comradeship

and being part of a close-knit

team "that's what made it all so

special," he said.

Smith experienced the many

different technological changes

the sport went through, from the

introduction of the inflatable rescue

boat which revolutionised the

speed of rescues and capabilities

of clubs, to handheld radios aiding

the communication between

crews and shore.

He said the recent crop of

reality surf programmes have

helped raise awareness of water

safety, but he reminds people to

always swim between the flags

and watch the surf conditions.
---
PEGASUS POST Latest Canterbury news at starnews.co.nz

Thursday October 7 2021 5

leads to 50 years of saving lives

Another from early in his

career was one that could have

been tragic.

"I saw a guy in trouble in the

surf.

"I started to bring him back

when he asked if I had seen his

wife, so I got him ashore and

then raced back into the surf

which smashed me about a bit.

I really had no idea where she

was or where to look until I

surfaced again after being hit

by yet another big wave to find

her right beside me. It was a

real wake-up call about being

vigilant on duty," he said.

"They are great memories

because they were successful,"

he said.

His other treasure trove

of experiences are about the

camaraderie of the teams he

worked with, the sense of family

and purpose he found at the

club and all the friends he has

made over the years.

In amongst those yarns is

the odd gem like when down

cleaning out the club rooms

early one winter's day he and

several others heard a faint call

for help.

"It was a still winter's day and

the sea fog was very thick, we

all heard this faint voice calling

for help, so we launched a boat

and headed out into the fog following

the voice.

"Eventually we were able to

reach two blokes in a small fishing

boat about 200m off shore.

"They were lost, drifting

along out of fuel and didn't

know where they were. One of

them had hypothermia so we

got him to safety. We then took

out some more fuel and called

the other clubs along the beach

to keep an eye out for the owner

who remained on board."

"I love what I do here at

the club, I'm still active even

though I gave up competitions

in 2008, and there is much I

can still teach to the younger

new members. It's a great place

to be, I even met my first wife

there."

His advice to young life

guards is to always remember

to be vigilant, and be quick to

respond.

RUNNING MAN: Ever

since he started at the

Waimairi Surf Lifesaving

Club back in 1970 Steve

Johnston has been an

active competitor even

after he retired.

Russell

Connor

Michelle

Moyle

At the recent Surf Lifesaving

New Zealand national awards

of excellence 2021 function,

service awards were presented to

members of eastern surf lifesaving

clubs:

Russell Connor, North Beach

Emma Derrick, North Beach

Scott McAlister, South Brighton

Mark Drabble, South Brighton

Steven Drabble, South Brighton

Scott McAlister, South Brighton

Michelle Moyle, Waimairi

The service awards are

presented to club members who

via a national points system,

analyses the key roles that

person had in the club, their

performance, how many years of

service they did and what roles

they held at regional or national

level plus any extra achievements

attained.

SPOOKTACULAR OCTOBER DEAL$

$16.99

EACH

$19.99

EACH

$19.99

EACH

$21.99

EACH

$22.99

EACH

$24.99

EACH

$24.99

EACH

NEW

PRODUCT

$25.99

EACH

Jim Beam Gold; CC

Premium

7% 330ml 6pk cans

$26.99

EACH

$29.99

EACH

Woodstock Tui Bourbon; Vodka Soda

(incl zero) 330ml 10pk cans

7% cans

Barrel 51 5% bottles all 12pks

$32.99

EACH

$38.99

EACH

$21.99

EACH

Tui Hard Soda

330ml 10pk cans

$13.99

EACH

Jim Beam & Cola; CC

(incl zero) 4.8% 10pk cans

Jim Beam Gold 7% 8pk cans

$13.99

EACH

Cruiser Gordons G&T; Gin & Soda

5% 12pk bottle range

(pink/sicilian) 12pk 250ml cans

Smirnoff Seltzers

12pk 250ml cans

$13.99

EACH

$13.99

EACH

$13.99

EACH

Major Major

10pk can range

2 FOR

$25.00

$35.99

EACH

$25.99

EACH

Clean Collective

5% 250ml 12pk cans or

Clean Collective 2 x

4pk 300ml bottles

$36.99

EACH

Scapegrace

330ml 10pk cans

$36.99

EACH

JB; CC

4.8% 10pk bottle range

$37.99

$37.99

Cody's

7% 18pk cans

$39.99

Woodstock

7% 250ml cans

5% 330ml bottles all 18pks

$42.99

EACH EACH

$49.99

EACH

EACH

EACH

EACH

$46.99

Long White

15pk bottle range

Stoneleigh

Marlborough

(incl lighter) range

$52.99

EACH

19 Crimes

(ex cali red) range

Villa Maria

Private Bin

range (ex PN/Syrah)

$54.99

EACH

Lindauer Classic

& Enlighten

ranges

(ex reserve and free)

$9.99

EACH

Arrogant Frog

Mudhouse

(ex PN) ranges

$13.99

EACH

Canterbury

Cream

$18.99

EACH

Larios 1L

Midori 700ml

$19.99

EACH

Blackheart

Woodstock 1L

$21.99

EACH

Finlandia 1L

Jack Daniels

(lncl Honey, Apple & Fire)

Jagermeister 700ml

$24.99

EACH

Teachers

1L

Gordons Pink

Sicilian Lemon 700ml

Gordons & Smirnoff

1L

$25.99

EACH

Baileys

1L

Absolut

Ballantines

Beefeater 1L

JB 1.125ml

Makers Mark

700mls

$27.99

EACH

Chivas Regal

12yr 700ml

$27.99

EACH

Malfy 700ml range

Jameson 1L

$31.99

EACH

JB Double Oak 1L

Haku Vodka

Roku Gin; Ratu Rum

range 700mls

$36.99

EACH

Old Mout

1.25L

cider range

Monteiths

6pk bottle range

$37.99

EACH

Fortune Favours

6pk range

$41.99

EACH

Kingfisher

12pk bottles

$41.99

EACH

Somersby

12pk bottle range

$26.99

EACH

Heineken

(incl light & 0%)

12pk bottle ranges

Carlsberg

15pk bottles

Tui; Export Gold; Extra

DB Draught

15pk bottles

Corona

12pk bottles

Export 33

15pk bottles

Haagen

24pk bottles

Lion Red; Waikato

Speights or Summit

24pk bottles

Speights Summit

Ultra Low Carb

24pk bottles

Asahi

24pk bottles

Steinlager Pure

Stella Artois

24pk bottles

THIRSTY LIQUOR LINWOOD

21 ALDWINS ROAD, LINWOOD

03 982 1753

THIRSTY LIQUOR BURWOOD

9 PARNWELL ST, BURWOOD

03 383 2564

Promotion period between 1/10/2021 to 31/10/2021. While

stocks last. Promotion only available at participating stores

– please contact your local store to confirm whether they are

participating in the promotion and check the pricing in-store prior

to purchase. Online pricing will vary.
---
6

Thursday October 7 2021

Latest Canterbury news at starnews.co.nz

PEGASUS POST

League player heading to school of hard knocks

• By Chris Barclay

BRONSON REUBEN faces a

steep learning curve on, and

off, the field next year when the

talented rugby league player

relocates to Sydney to pursue his

NRL dream.

Not only will the 15-year-old,

of Prestons, have to adapt to an

Australian education curriculum

near the end of secondary school,

Reuben is also joining one of the

code's ultimate school of hard

knocks after securing a three-year

contract with the Canterbury

Bulldogs.

Fortunately, his mother and

father are in a similar boat after

they make the flight in December

or January.

"It's a bit of an upheaval really.

We're selling the house, we don't

have jobs (to go to) and all that

sort of thing," Kirsten Reuben

said.

However, crossing the Tasman

after her son finishes year 11 at St

Bede's College is a calculated risk

the family is willing to take.

"He's one of these kids that

doesn't have a problem with

change. If we didn't go we'd just

sit here forever thinking what

might have been," said Kirsten,

who will lean on club staff and old

263 x 180

BULLDOGS PUP: Promising rugby league player Bronson high school friends when making

Reuben heads to Sydney next year after securing a the transition.

development contract with the Canterbury Bulldogs Bronson, who captained the

NRL club.

PHOTO: GEOFF SLOAN Southern Zone Scorpions to a

FAVOURITE

PLAYER: One of

Bronson Reuben's

favourite NRL stars,

retired playmaker

Johnathan

Thurston, also

launched his rugby

league career

at the Bulldogs.

PHOTO: GETTY

42-6 victory over the Wellington

Orcas at the national under-16

tournament at Nga Puna Wai on

Saturday, impressed at an Elite

Sport Performance Trust two-day

talent identification camp for 20

players in Auckland last year.

Ideally, the halfback would have

attended training sessions at the

Bulldogs' Belmore headquarters

during the July school holidays

but MIQ requirements ruled out

the trip.

"He could get there, but there

was no guarantee he could get

home," Kirsten said.

Bronson started playing rugby

league as a six-year-old at the

Kaiapoi-based Northern Bulldogs,

following in father Kyle's

sprigmarks – a former New Zealand

age group and Canterbury

representative.

"It'll be a big learning curve

but like anything, if you want to

excel at a sport you should probably

fish where the fish are," said

Kirsten, the Northern Bulldogs

club secretary.

"You go where they've got good

programmes, they just do it properly

over there. We couldn't really

not do it."

The Northern Bulldogs under-

16s player of the year for 2021,

Bronson, who has represented

Canterbury since he was nine,

will play in the same grade next

year.

His favourite player is retired

Kangaroos, Queensland and

North Queensland halfback

Johnathan Thurston, who started

his illustrious career at the Bulldogs

in 2002.

Bronson is the second player

from St Bede's to join the

Canterbury Bulldogs, following

year 13 student and Halswell

Hornets back rower Tanner

Stowers-Smith, who signed a twoyear

deal last December.

Need To Get Fit Fast?

Tone Up or Body Build, Get A Total Body Workout

One Machine...

That Does it All

Easy Storage

Easily Folds Away

Effective Workout

Fun, low impact workouts.

For All Ages

Personalised Settings For

Beginners and Advanced

Includes

Pilates Kit

& DVDs

Up to

50 % Off

Off

*

*Call for Terms

& Conditions

Call Now! 0800 665 665
---
PEGASUS POST Latest Canterbury news at starnews.co.nz

Thursday October 7 2021 7

Discover

New Brighton

New Brighton's

Seaside Market

back in action

New Brighton's Seaside Market is a true

community affair, with a variety of stalls

offering handmade crafts, local produce,

and lots of yummy food. The market is

held every Saturday from 10am-2pm at the

Brighton Mall.

Enjoy the environment or take a

stroll along the beach, visit the Beachside

Playground, or sit up on the Level

One balcony and take in the market

atmosphere from above.

***Important information

regarding COVID-19 Delta level 2

and the Seaside Market***

The market will be making a

few changes to comply with level 2

requirements and continue to provide a

healthy and safe environment for all. This

will include no public kai tables.

Food vendors can only offer takeaway

service during level 2.

The bouncy castle and face-painting are

on hold until Level 1.

It is important to the market that they

continue to provide a space so their stall

holders can trade. Just as important is that

the market is committed to delivering a

safe environment where their customers

can continue to support their local sellers.

Remember to sign in using the QR code

which will be placed around the market or

manually at the info site.

While at the market:

Please wear your mask and practice

2m social distancing from people you

don't know. There will be hand sanitiser

available at the info site.

If you are feeling unwell, they ask that

you DO NOT visit the Market.

Safety first is their motto, and they

appreciate your patience and kindness

extended to others.

Spring Gala Day

Saturday, October 16, 2021 at 10am – 2pm

On October 16th The Seaside Market

Spring Gala Day is a celebration of

the season with some family fun! The

Gala will be held at the New Brighton

Pedestrian Mall.

Come and take part in activities for

all ages including - Itty Bitty Beats,

Bubble Wands, Face-painting, and Craft

Workshops.

All this along with the weekly fun of

the Seaside Market's great range of stalls

and food.

Bring your smiles along for a great day!

Please note this event will only go

ahead if Christchurch is in level 1.

• Key Cutting

• Trophies

• 21st Keys

• Zippo Lighters

The best in the business

since 1988

• Shoe Repairs

• Engraving

• Watch Services

• Bag Repairs

121 New Brighton Mall Ph: 03 382 0399

Web: happyfeetchch.co.nz

Plus we stock

a full range of

polishes, dyes

and laces

Email: info@happyfeetchch.co.nz

TradeMe: 1249562/mothersuperior

VOTED OnE OF ThE bEST

chIp ShOpS In nEw ZEAlAnD

Buy 2 burgers

& get a FRee

Scoop oF chipS

Cheese burgers or

pineapple burgers

*with this coupon. Expires 31st October 2021.

Try our

gluten free

products!

GOURMET SEAFOODS QEII

Ph: 388 2531, QEII Shopping Centre, 251 Travis Rd

Mon - Wed 11.30am - 8.30pm (Tues from 4.30pm), Thurs - Sat 11.30am - 9.00pm

Sun 12noon - 8.30pm, Daily break 3.15 - 4.30pm
---
8

Thursday October 7 2021

Latest Canterbury news at starnews.co.nz

PEGASUS POST

Devils and Angels take to the field

• By John Cosgrove

THE BIG HITS were flying all

around Halswell Domain as the

Parklands Christchurch United

men's and women's softball

teams put in some good batting

practice during the weekend.

The Devils and Angels teams

took part in the two-day preseason

Halswell Fastball45

tournament.

Five women's and seven men's

teams lined up for the fast-paced

round robin event.

Each game starts with two

runners already on bases and

lasts 45min, or four innings,

which ever comes first.

While fast-paced, the game is

also tactical with a lot of bunts,

hits and runs, and squeeze plays

called by the coaches.

PCU Angels manager Donna

Hamilton said it was a good

opening hit out for her young

team.

"They are a young, up-andcoming

premier side and are

always ready to play the long

game to get to the top.

"When I reflect on last season,

I'm happy the team really

found their feet and started to

play fearlessly when coming

up against the top teams in the

premier women's grade.

"We've started our season

with the Fastball45 tournament,

scoring two wins and two losses,

but we were still able to secure

ourselves a spot in the southern

qualifier to be held on Sky Sport

in November.

"We have a talented side,

especially when you consider the

average age of the girls is just 20,

which really highlights the talent

within our squad."

Hamilton said they are looking

to build as a team during their

pre-Christmas games as they

aim for the post-Christmas

Canterbury championship.

"It's a goal we can definitely

achieve and then we hope to

end our season competing at

the New Zealand women's open

EYE ON THE BALL: Angels'

batter Caitlin Davidson

has a bunt.

STRIKE ONE: Madisyn

Dysart pitches against the

Kaiapoi Queens.

HOMER: Trinity Mackley has

a big swing.

PHOTOS: JOHN COSGROVE

club nationals in Lower Hutt,"

Hamilton said.

The PCU Devils were on the

winning side of the action at the

end of the two-days, taking the

outright title after a close fought

final against Papanui.

With the final score tied at 7-7,

the Devils won on a count back,

beating Papanui in the first three

count back criteria of double

plays, squeeze play runs and

power play runs.

The Kaiapoi Queens premier

women took out the women's

trophy, while tournament

runners-up Sydenham Kereru

women and the Papanui men

kept them honest all the way to

the end in both matches.

Read local
---
PEGASUS POST Latest Canterbury news at starnews.co.nz

Thursday October 7 2021 9

continuing education

Risingholme's Adult and

Community Education

Courses for Term 4, 2021

are you a face-to-face learner? Learn something new with Risingholme.

Whether you're looking to learn new

skills for enjoyment or employment! Or,

you want to upskill and don't have time

for traditional tertiary study, or you just

want to learn something new for fun,

Risingholme offers an amazing range of

short courses. Developing a new skill will

influence the way you do things day to day

and will make doing things quicker and

easier, saving time, energy and stress.

offering a new course at Risingholme in

Term 4 – Work Readiness for Women:

This course builds work confidence, goal

setting and learn valuable job search

skills to navigate entry or re-entry into

the workforce by equipping yourself

with the right tools to gain successful

employment.

We are therefore putting a call out to

women looking for a change or restarting

their career after managing the house as a

stay-at-home mum or those preparing for

their next work opportunity.

For more information on all our

courses and to enrol please go to:

Web: www.risingholme.org.nz/Courses/

Email: info@risingholme.org.nz

Phone: (03) 332 7359

We look

forward to

seeing you in

person on a

Risingholme

course this

term.

Make a habit of trying

new things - with over

80 courses available at

Risingholme this term

Risingholme courses range from

language, music, employability, wellbeing,

art, sewing, communication, woodwork

and cooking to name a few! Term 4

enrolments are filling up fast, now is the

time to reserve your space.

Risingholme is thrilled to announce our

latest collaboration with 'Dress for Success

Christchurch' (DFS). Together we are

Adult and Community Education Term 4, 2021

Come learn with us

Risingholme Community Centre offers

a wide range of short courses, each

term, at a range of venues.

Risingholme Community Centre

Art (Creative Art, Mixed Media, Painting with Acrylics, Drawing

& Sketching), Fabric & Craft Skills, Guitar, Pottery, Sewing Skills,

Upholstery, Sewing Retreat, Yoga, Wood Sculpture, Woodwork,

Woodwork for Women, Zentangle, Fermented Foods, Te Reo Maori,

Patchwork and Quilting, NZ Sign Language, Reiki, Junk Journal,

Designing Water Colours, Getting Yourself Out There, Mastering

Wealth & Abundance Seminar, Mindfulness for Health, Compassionate

Communication, Screen Printing, Work Readiness for Women

Christchurch Girls' High School

Te Reo Maori, German Language, Painting with Acrylics, Spanish & Go,

NZ Sign Language, Pattern Drafting

Hornby High School

Te Reo Maori, Thai Cooking, Sewing for Beginners, Hispanic Cuisine

Riccarton High School

Calligraphy, Indian Cuisine Continuing, Italian Language, NZ Sign

Language, Russian Language, Te Reo Maori, Photography, Egyptian

Cuisine, Mediterranean Cuisine, Sewing Skills, Found Object Sculpture

Full details available on www.risingholme.org.nz

Risingholme office at 22 Cholmondeley Ave, Opawa, Chch

Phone 03 332 7359 | Email info@risingholme.org.nz

www.risingholme.org.nz
---
10

Thursday October 7 2021

Latest Canterbury news at starnews.co.nz

PEGASUS POST

If you want more information about an item or to contact a

seller, visit www.postanote.co.nz and search the ID#

Trek Powerfly 5, Small e-bike

6-berth Motorhome

Audi Quattro RS4

34 x CAM-72 Lithium Ion

Batteries Plus Hardware

WANTED: Vintage Turntable

and Stereo Amplifier

1984 Honda Civic E

$2,500

ID 38827

$50,000

ID 38316

$31,000

ID 38424

$3,910

ID 38821

See Buyer

ID 37584

$120

ID 38789

Bike with Basket

Nest of Tables

Victa Enviro Mower

24V Battery

Topsoil

Morris Minor 1000

Masport Cleveland

Trailer

Standard Load

$350

ID 38738

$70

ID 38741

$50

ID 38686

$30

ID 36744

$5,000

ID 37861

$50

ID 38725

2004 Renault Scenic

Massey Ferguson

Conventional Hay Baler

Adjustable Mannequin

Corner Shelf

4.88m Sea Nymph Gullwing

2003 Grand Cherokee

Overland

$4,500

ID 37795

$2,500

ID 38181

$200

ID 35776

$60

ID 38744

$5,500 ONO

ID 38669

$5,500

ID 38354

U-shaped Sofa

Made in Germany

Toyota 14b 5-speed

Datsun 240C-P230

Sun Lounger

Motorbike Jacket

Magnetic Sheet Self Adhesive

$3,800

ID 38463

$3,000

ID 38426

$20,000

ID 37893

$100

ID 38705

$150

ID 19957

$5

ID 25752

Pine Vanity

Nerf 'n Strike Rhino Fire

Nissan Bassarra

E-Bike Merida Espresso

TK-600

Massage Table

2013 Ford Fiesta ST EcoBoost

$250

ID 34720

$50

ID 38618

$2,500

ID 38105

$4,000

ID 38462

$80

ID 38630

$16,000

ID 37887

Sideboard with Bar Facilities

Sony Bravia LCD Digital

Colour TV 40"

Drum Set Of Freedom

OvaEasy 190 Advance EX

Automatic Incubator

TV Corner Unit

Ecko Joist Hanger Nailer

$20

ID 37099

$200

ID 38518

$350

ID 38577

$1500

ID 38786

$399

ID 38489

$210

ID 36072

2007 Mitsubishi Outlander

7-Seater

2002 Smart Fortwo

Nissan Bluebird

1996 Nissan Terrano R3 M-R

WANTED:

ALL CARS

4WDS

CARAVANS

2016 Yamaha WaveRunner

$9,500

ID 37774

$5,000

ID 38320

$2,500

ID 37618

$9,000

ID 37800

$20,000

ID 38271

SEE SELLER

ID 38522

0921h12
---
PEGASUS POST Latest Canterbury news at starnews.co.nz

Thursday October 7 2021 11

Classifieds Contact us today Phone our local team 03 379 1100

Real Estate

HOME WANTED 3-4

bedrooms. Looking in Nor

West areas, Beckenham

or Somerfield. Prefer

permanent material brick

and post 1990 build. Don't

mind if it needs some TLC

- anything considered.

Cashed up buyer. Phone

021 372 479

To Let

OVER 50'S RENTAL

ACCOMMODATION

phILLIpSTOwN

$225 pER wEEk

Includes furniture, heat

pump, smart TV, power

& internet. (Subsidy &

assistance may be available)

phONE STEVE

0800 552 255

Wanted To Buy

TOOLS Garden,

garage, woodworking,

mechanical, engineering,

sawbenches, lathes, cash

buyer, ph 355-2045

Trades & Services

FOR ALL YOUR

★Garden Clean-ups

★Pruning

★Lawn Mowing

★Garden Maintenance

Call us today for a FREE quote

PH 0800 4 546 546

(0800 4 JIMJIM)

Trades & Services

BRICKLAYER

George Lockyer. Over

40 years bricklaying

experience. UK trained.

Insurance work, EQC

repairs. Heritage

brickwork & stonework

a speciality. No job too

small. Governers Bay.

Home 329 9344. Cell

027 684 4046. E mail

georgelockyer@xtra.co.nz

BRICKLAYER

George Lockyer. Over

40 years bricklaying

experience. UK trained.

Insurance work, EQC

repairs. Heritage

brickwork & stonework

a speciality. No job too

small. Governers Bay.

Home 329 9344. Cell

027 684 4046. E mail

georgelockyer@xtra.co.nz

Trades & Services

CARPET LAYING

Exp. Repairs, uplifting,

relaying, restretching.

Phone John on 0800

003181, 027 240 7416

jflattery@xtra.co.nz

ELECTRICIAN

Prompt & reliable

registered electrician

with 24 years experience

for all residential and

commercial work, new

housing and switch board

replacements. Phone Chris

027 516 0669

VHS VIDEO TAPES

& all camera tapes

converted to DVD or

USB. Video taping

special occasions, www.

grahamsvideo.co.nz ph 03

338-1655

ADVERTISE YOUR

BUSINESS HERE

Phone for further details

(03) 379 1100

Trades & Services

SCRAP METAL

Dominion Trading Co Ltd

• Scrap metal buyers

• Canterbury owned & operated

• Top prices paid $$$

• Open Saturday morning

Open Mon-Fri 8am – 4.30pm Sat. 8.30am-12.30pm

www.happyscrappy.co.nz

03 343 9993 333 Blenheim Rd

PLUMBER

NEED A PLUMBER

Call us now for fast friendly service.

Get your problems sorted out

quick smart - on time!!

Phone

Eugene

63 x 180

now.

Phone 03 377 1280 | Mobile 021 898 380

Trades & Services

TREE SERVICES

CRAIGS

TREES

Our services include:

Tree felling

Branch chipping

Trimming and pruning

Crown reduction

Stump grinding

P: 027 2299 454

E: craigstrees@xtra.co.nz

www.craigstrees.co.nz

Fully insured

WINDOW TINTING

tintawindow

advanced film solutions

99% uv block

fade protection

heat control

reduce glare

25 Years Experience

privacy films

frosting designs

non-darkening films

Workmanship Guaranteed

Lifetime Warranties on Most Films

UV

block

Free Quotes Canterbury and Districts

03 365 3653 0800 368 468

Up to

50 % Off

*Call for Terms

& Conditions

Off

*
---
12 Thursday October 7 2021

Latest Canterbury news at starnews.co.nz

PEGASUS POST

THE STAMP, COIN

& GOLD EXCHANGE

134a Riccarton Road. Next to Riccarton Mall

THE BEST PLACE TO SELL YOUR STAMPS, COINS,

BANKNOTES and SCRAP GOLD in Christchurch.

The Stamp and Coin Exchange on Riccarton Road, next

to Westfields Mall, has been looking after Cantabrian

Collectors for many years. The Owner, Matt Power is

a born and bred Cantabrian and has over 40 years of

experience.

My whole focus is to look after the client and make sure

they get the best result for their Stamps, Coins, Banknotes

and Gold. It has been my passion since I was six years old. I

was milking cows to pay for my regular trips to the Stamp

and Coin events in Christchurch, on the bus from Rangiora, even at that

early age. With me, you will get genuine and honest advice on the value

of your collections and holdings.

Owner, Matt Power

Gold and Silver are at ALL TIME highs and the Stamp and Coin market is

actually stronger now than ever, in no small part due to Covid 19, as

people stay home and re discover their hobbies. So, now is a great time

to sell!

I am a Licensed Second Hand Dealer and have hundreds

of happy customers and suppliers.

References on request.

GET IN TOUCH FOR A FREE APPRAISAL!

It's easy, simple and could well be a God send for Xmas!

If you have a large collection, or

unable to travel. No worries! I can

come to you.

"The greatest thing about collecting,

is the people and the fun. At some

stage it is time to move on and

sell. Especially if the family has no

interest in those things. There are

still lots of passionate collectors out

there who will love the work you

have put in. So, why not get in touch

and pass those items to people who

really care?"

It is SIMPLE. Just give me a call,

Matt Power, 0800 39 24 26

(0800 Exchange), email

Matt@thestampexchange.co.nz

or just pop on in to the shop.

134a Riccarton Road, directly

opposite Riccarton Mall, two doors

down from the House of Travel.

Parking at the rear off Kauri Street.

Hours: Mon-Fri 10am-6pm

and Sat 10am-5pm

BUYING

OLD AND NEW STAMPS

COINS, BANKNOTES

and MEDALS

Postcards, Militaria

and Collectables

Gold, Silver, Platinum

and Watches.

134A Riccarton Road,

Opposite Westfield.

Licensed 2nd Hand Dealers

Call 0800 39 24 26

FREE

APPRAISALS!

We can come to you if you are unable to travel

or have a large collection or item. The best prices

paid for your old collectables and metals.

CASH FOR

STAMPS,

COINS AND

GOLD!!

Call the Stamp and Coin Exchange

on 0800 39 24 26