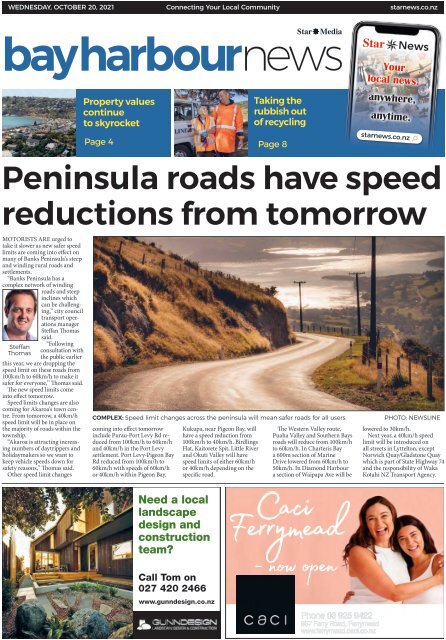 Bay Harbour: October 20, 2021
You also want an ePaper? Increase the reach of your titles
YUMPU automatically turns print PDFs into web optimized ePapers that Google loves.
WEDNESDAY, OCTOBER 20, 2021

Connecting Your Local Community

starnews.co.nz

Your

local news.

Property values

continue

to skyrocket

Page 4

Taking the

rubbish out

of recycling

Page 8

anywhere,

anytime.

Peninsula roads have speed

reductions from tomorrow

MOTORISTS ARE urged to

take it slower as new safer speed

limits are coming into effect on

many of Banks Peninsula's steep

and winding rural roads and

settlements.

"Banks Peninsula has a

complex network of winding

roads and steep

inclines which

can be challenging,''

city council

transport operations

manager

Steffan Thomas

said.

Steffan

Thomas

"Following

consultation with

the public earlier

this year, we are dropping the

speed limit on these roads from

100km/h to 60km/h to make it

safer for everyone,'' Thomas said.

The new speed limits come

into effect tomorrow.

Speed limits changes are also

coming for Akaroa's town centre.

From tomorrow, a 40km/h

speed limit will be in place on

the majority of roads within the

township.

"Akaroa is attracting increasing

numbers of daytrippers and

holidaymakers so we want to

keep vehicle speeds down for

safety reasons,'' Thomas said.

Other speed limit changes

COMPLEX: Speed limit changes across the peninsula will mean safer roads for all users.

coming into effect tomorrow

include Purau-Port Levy Rd reduced

from 100km/h to 60km/h

and 40km/h in the Port Levy

settlement. Port Levy-Pigeon Bay

Rd reduced from 100km/h to

60km/h with speeds of 60km/h

or 40km/h within Pigeon Bay.

Kukupa, near Pigeon Bay, will

have a speed reduction from

100km/h to 40km/h. Birdlings

Flat, Kaitorete Spit, Little River

and Okuti Valley will have

speed limits of either 60km/h

or 40km/h depending on the

specific road.

The Western Valley route,

Puaha Valley and Southern Bays

roads will reduce from 100km/h

to 60km/h. In Charteris Bay

a 600m section of Marine

Drive lowered from 60km/h to

50km/h. In Diamond Harbour

a section of Waipapa Ave will be

PHOTO: NEWSLINE

lowered to 30km/h.

Next year, a 40km/h speed

limit will be introduced on

all streets in Lyttelton, except

Norwich Quay/Gladstone Quay

which is part of State Highway 74

and the responsibility of Waka

Kotahi NZ Transport Agency.

Phone 03 925 9422

987 Ferry Road, Ferrymead

www.ferrymead.caci.co.nz
---
2 Bay Harbour News Wednesday October 20 2021 Latest Canterbury news at starnews.co.nz

Advertise locally and

target customers most

likely to shop with you!

Effective Ad packages start from just $99

(inclusive full colour ad, creative setting,

photography and proofing).

No contracts required.

Your local community newspaper connects

neighbours in the following suburbs

10,514 homes every week.

Brookhaven • Heathcote • Ferrymead

Redcliffs • Mt Pleasant • Sumner • Lyttelton

Diamond Harbour • Governors Bay • Akaroa

from the editor's desk

MORE SUBURBS and areas in

the Bay Harbour News region

have joined the million-dollar

property club (see pages 4-5).

There are 18 suburbs and areas

across Christchurch, Banks

Peninsula and the Selwyn District

where the average house

price is $1 million-plus.

On a national scale,

Canterbury is still seen as

being undervalued, which

is good news for property

owners. Buyers from outside

of the area, particularly from

Auckland, are hovering

waiting for people to sell.

When immigration resumes

to pre-Covid days it will

fuel demand and prices will

news

continue upwards.

At the other end of the

property scale, Birdlings

Flat has the lowest average

property value in Canterbury

at $313,000.

But I suspect people who

own houses there paid a lot

less when they bought the

property.

ADVERTISING

Jo-Anne Fuller

Ph: 364 7425

jo.fuller@starmedia.kiwi

Rob Davison

Ph: 021 225 8584

rob.davison@starmedia.kiwi

Reserve plans

A two-stage proposal for Birdsey Reserve includes a food forest and a

dog park.

Page 5

community events

Have a cuppa

Go along to the Heathcote Community Centre and get to know the

locals. Every Wednesday.

GENERAL INQUIRIES Ph 379 7100

CLASSIFIED ADVERTISING Ph 379 1100

www.starmedia.kiwi

Page 17

SPRING

S alE

70

UP TO

%

OFF

More details on Website under 'Current Promotions'

laST 4 dayS

Ends Saturday 23rd October 2pm

Weekdays 9am-5pm | Saturday 10am-2pm

421 Colombo Street

Christchurch 8023

P. 03 366-5475 www.westendejewellers.co.nz
---
Wednesday October 20 2021 Bay Harbour News

Latest Canterbury news at starnews.co.nz

Sea wall to be repaired

NEWS 3

In Brief

Darren Moses

TWO DAMAGED and aged

sections of Akaroa's sea wall

will be repaired over the coming

weeks so that they are in tip-top

shape for the summer ahead.

The work will start next week

and should be completed by

mid-December. The cost is estimated

at $585,000.

Fulton Hogan will do the

work by the Akaroa Recreation

Grounds, between the boat

ramp and boat park.

"The sea wall

around Beach

Rd was constructed

from

unreinforced

stone in the

early 1900s

and it is showing

signs of its

age,'' said city

council capital

delivery (community) manager

Darren Moses.

"Constant wave action has

undermined it in places and

scoured out mortar and sediment.

That has resulted in some

voids opening up, which in turn

has caused the path behind the

sea wall to slump.

"What we plan to do is repair

the cracks and put additional

rock protection in place at the

base of the sea wall to support

POPULAR: Akaroa's sea wall has been undermined over time. Work to fix cracks and a

slump will start next week.

PHOTO: NEWSLINE

it and protect it from further

scouring. We will also fill the

voids and repair the path.''

Similar repairs and maintenance

will be carried out on the

sea wall by the Akaroa Recreation

Reserve as it too is being

undermined by wave action.

While the sea wall is being

worked on some on-street parking

in the Akaroa Recreation

Reserve and Beach Rd will be

restricted for safety reasons.

The Beach Rd footpath and

the Akaroa Recreation Reserve's

harbour edge will also be closed

to pedestrians. Beach access,

directly below the areas where

the contractor is working, will

be restricted during low tides.

Public access to the boat ramp

though will be maintained for

the duration of the works.

"It has taken a long time to

obtain the consents needed to

carry out the repairs on the sea

wall because we are dealing with

a heritage structure in a coastal

environment, but we are now at

the point where work can start,''

said Moses.

"We know that Akaroa is

a very popular spot over the

summer months so our aim is

to have the work on the sea wall

completed by Christmas.''

COMPOST FOR ROSES

Ferrymead Lions recently donated

10 bags of compost to Heritage

Roses Christchurch for use at the

Memorial Rose Garden situated

behind two tall macrocarpa

hedges at Ferrymead Heritage

Park. The memorial garden was

developed to remember the 21

railway workers who lost their

lives in World War 2. Over the

last five to six years a small group

of volunteers has restored and

replaced many of the special old

roses some dating back to the

early 1900s .The garden is worth

a visit especially in late October,

November and December when

the roses are in full flower.

COASTAL HAZARDS VIDEO

The city council has made a video

on how coastal hazards might

impact Banks Peninsula and

Christchurch in the future. It

provides an overview of why the

areas are at risk of coastal hazards

and what might be expected to

happen over the next 20, 50 and

100 years as sea levels rise. The

video Coastal Hazards 101 video

is on the city council website.

YOUR LOCAL

ACCOUNTANT

I COME

TO YOU

Linwood Woolston Rotary

Market

Every Sunday 8am —12.30pm

at Woolston Club, Hargood Street

Stalls include:

• food/Coffee

• books

• fresh produce

• preserves

• plants

• bric a brac

• Second-hand

homewares

• Second-hand

kitchenwares

• Garden and

workshop

ALL pRoCeedS benefit tHe LoCAL Community

Care &

Compassion

We pride ourselves on the

very highest level of service

If you are thinking about the future, we can help

you explore pre-payment and pre-planning options.

Contact us for a Free Information Pack.

We offer funeral information talks to groups.

Please call us for a speaker to come to you.

(03) 379 0196 | www.simplicity.co.nz

Financial Statement Preparation

Tax Preparation & Compliance

Xero & MYOB Specialist

Steven Clarke Ltd. 7 Margot Lane

Mount Pleasant, Christchurch

Phone 03 384 4633 Cell 021 677 670

steven@sclarke.co.nz

Nick Allwright

Funeral Director

Established in 1996 by Paul and Leanne

Southorn, Southbuild is a reputable,

professional and experienced building

company. Our predominant expertise

lies in extensions, renovations (including

accessible bathroom modifications),

commercial fitouts, light civil construction

and project management.

Why Southbuild?

Experienced

As Registered Master

Builders, we have a broad

and sound knowledge of

the carpentry and building

project management required

for commercial and home

renovations, alterations and

extensions.

Cost Effective

It is important that you feel

assured of the quality of

the materials we supply as

well as the high standard

of our workmanship. We

prepare detailed quotes and

endeavour to price jobs with

the best materials at the

best price. Where possible

we request as many as three

competitive quotes before

selecting our final suppliers.

Efficient

We pride ourselves on tight

co-ordination and good

communication so your

project is completed quickly

and efficiently minimising

inconvenience to you. Our

builders realise their building

site is your home or business

and show respect at all times

being punctual, polite and as

tidy as possible.

Skilled

We are able to complete to a

very high standard large and

complex building projects such

as major renovations, structural

extensions and structural

and internal changes. We

also take on smaller projects

such as renovating kitchens,

bathrooms and installing

window joinery. We can work

with a wide range of different

building products.

Phone: Paul: 027 441 2228, Leanne: 027 648 3574 | Email: lee@southbuildltd.co.nz

www.southbuildltd.co.nz

Helpful

At all times Paul and Leanne

are available to discuss any

concerns or questions that

may arise during the job and

appreciate any feedback you

offer.

Flexible

Over the years Paul and

Leanne have developed

positive relationships with a

variety of reliable suppliers

and subcontractors you

may need to complete your

project. Or if you prefer we

can work with your existing

suppliers. We can work with

or without involvement of

architect depending on the

scope of work.
---
Bay Harbour News Wednesday October 20 2021

4

NEWS

Latest Canterbury news at starnews.co.nz

Property values continue to skyrocket

SUBURBS AND other areas

in the Bay Harbour News area

feature in the $1 million plus

property club.

Figures just released show

Redcliffs, Scarborough,

Sumner, Clifton, Richmond

Hill Teddington and Allandale

are among 18 areas across

Christchurch, Banks Peninsula

and the Selwyn District where

the average house price tops $1

million.

It is double the number 12

months ago.

In comparison Birdlings Flat

has the lowest average property

value in

Canterbury at

$313,000.

According

to the latest

OneRoof-

Valocity

House Index,

Owen

Vaughan

the average

property value

for all of New

Zealand jumped five per cent to

$1.021 million in the past three

months.

The growth rate is smaller

than the 6.1 per cent seen in the

previous three-month period, and

suggests that prices are starting to

ease nationwide.

But in Canterbury, house prices

continue to skyrocket.

OneRoof editor Owen Vaughan

said the region is unlike others

around the country, which

are starting to show signs of

fatigue.

Figures from the OneRoof

Index show Canterbury's average

property value rose 29.8 per cent

($163,000) in the year to October

1, well above the nationwide

annual growth rate of 26.6 per

cent.

Its average property value has

risen 8.2 per cent in the past three

months, compared to growth of

7.4 per cent in the previous three

months.

The Selwyn district is up 9.9 per

cent over the last three months to

$890,000 and Christchurch city is

up 8.8 per cent to $718,000. They

are the region's hottest housing

markets.

A year ago, just nine

Canterbury areas had an average

property value of more than $1

million. Now there are 18 in the

$1 million club.

GROWTH:

Suburbs such

as Sumner

are among

18 areas in

the region

where the

average house

price tops $1

million.

Below –

Birdlings

Flat has the

lowest average

property value

in Canterbury.

Claim Southern Response

compensation now

Obtain independent legal advice on your package before you sign

If you are one of 3,000 Southern Response earthquake claimants who settled

before 1 October 2014, you are likely to be entitled to compensation.

The average compensation is approximately $100,000.

To ensure you receive your compensation package as soon as possible, register now at Anthony Harper's dedicated

website. We will file your claim, and give advice on the opt-out process and your full entitlements.

Fixed fee of $2500 + GST for legal advice, of which Southern Response reimburses $2000.

Apply online at www.SouthernResponsePayment.co.nz

The website is provided by Anthony Harper. Anthony Harper is not part of the Ross Class Action. Further information about Anthony Harper can be found at www.anthonyharper.co.nz
---
across region

Latest Canterbury news at starnews.co.nz

Wednesday October 20 2021 Bay Harbour News

NEWS 5

They are Fendalton, Kennedys

Bush, Redcliffs, Scarborough,

Sumner, Teddington, Allandale,

Lansdowne, Prebbleton, West

Melton, Bottle Lake, Clifton,

Coutts Island, McLeans Island,

Merivale, Ouruhia, Richmond

Hill and Strowan.

Vaughan said the heat in

Christchurch's housing market

is having a big impact on prices,

which had long been static.

A year ago, the average property

value was $591,000, up just

$59,000 on the year before.

New mortgage registrations by

first home buyers in Christchurch

over the last quarter was 43.5 per

cent – the highest amongst all

South Island cities.

The gain over the past 12

months, however, has added

an extra $160,000 on the price

of a typical house in the city –

$58,000 of which has been in the

last three months.

For first home buyers, that

has pushed a 20 per cent deposit

requirement up to $150,200. An

increase of $32,000 on last year's

figure.

Christchurch's most expensive

suburb is also its hottest. Fendalton's

average house price grew

11.3 per cent in the last three

months to $1.659m – a gain of

$169,000, more than the average

gain for all of Christchurch in the

last year.

The city's affordable housing

market has also changed,

Vaughan said.

In September last year, there

were 41 suburbs that had an average

property value of less than

$500,000, now there are just 18.

Bexley is the city's cheapest

suburb, with an average property

value of $319,000.

Vaughan said the region's

relatively affordable prices are

fuelling demand, with first home

buyers by far the biggest buying

group.

They accounted for 40.4 per

cent of all registrations in the

three months to October 1.

Investors' share of the market

has declined over the same period

– from 24 per cent in the first

quarter of the year to 23.7 per

cent in the third quarter.

Properties in Richmond Hill, Esplanade and Taylors Mistake Rd.

up to

30 %

off

Resene Premium Paints,

Wood Stains, Primers,

Sealers and Wallpaper

plus 25% off Decorating Accessories

and Cleaning Products

Come Sailing

aboard the historic

FOX II

The Fox II is a

54' gaff-rigged ketch

and is one of the

oldest sailing vessels

in NZ waters.

03 322 4548 | Easy Parking

17 Lillian Street, Halswell

www.maxwellfashion.co.nz

Open Mon-Fri 9.30am - 5.00pm

Saturday 10.00am - 1.00pm

LAYBY WELCOME

Come in and see us today at

your local Resene ColorShop!

Addington, Ferrymead,

Hornby, Lichfield Street,

Northwood, Rangiora,

Shirley, Tower Junction

or shop online at shop.resene.co.nz

Discounts off the normal retail price until 31 October 2021 at Resene

owned ColorShops and participating resellers. Paint offers also available

at participating Mitre 10 MEGA/Mitre 10 stores. Valid only with cash/

credit card/EFTPOS purchases. Not available in conjunction with account

sales, promotional vouchers/coupons or other offers. Excludes trade, ECS,

WallPrint, wall decals, Crown products and PaintWise levy.

OCTOBER - MID DECEMBER

LYTTELTON HARBOUR

School & Youth Group Sail Training funded by CanSail

schools, clubs and youth group enquiries welcome

We are also available for Private Hire for

Weddings, Stag/Hens Do's, Birthdays and Special Occasions

MID DECEMBER - MAY

AKAROA HARBOUR

Daily Wildlife Cruises and Weekend Sunset Cruises

as well as Private Charters.

Call/Text Roy 027 4144 879 or email info@akaroafoxsail.co.nz
---
6 Bay Harbour News Wednesday October 20 2021 Latest Canterbury news at starnews.co.nz

Manufacturer's 2nds Must Go!

Thousands of metres just arrived...

Pure Wool Carpet

Slightly imperfect

FROM $49.90 peR MetRe

Vinyls

Slightly imperfect, 2 metre wide

FROM $35.00 peR MetRe

Carpet Remnants

Hundreds of small to large lounge size

pieces available

HalF pRice

beFORe

GaRaGe caRpet

6M by 6M

Fully installed

Only

$999

aFteR

Conditions apply

312 Wilsons Road North, Waltham Phone 366 0070

Q Card Finance

Available

Mon to Fri 8am-5pm and Sat 10am-1pm

Check out our website! www.carpetkingdom.co.nz
---
A COMMUNITY initiated food

forest in Birdsey Reserve will be

supported under a new proposal

that has opened for consultation.

Under the proposed two-stage

plan, a food forest and garden

currently being developed by

local community groups would

be continued, along with a revegetation

programme involving

students from Heathcote Valley

School.

The second stage would be to

install dog exercise areas and

extend the existing car park.

Linwood-Central-Heathcote

Community Board chairwoman

Alexandra Davids said there has

been strong community interest

in finding a local space for dogs

to play and socialise safely.

"Having a fenced exercise park

accessible in the south-east is

long overdue. It means owners

can let their dogs off their lead to

socialise in a tightly fenced and

double-gated area without having

to travel outside their local

areas," she said.

"The two-stage process we've

proposed would enable the

revegetation planting at the

reserve to continue, along with

the community food forest and

garden currently under development.

"Subject to funding and further

consultation requirements,

stage two would see the dog

exercise area installed and the

existing car park extended.

"But we really want to hear

people's thoughts on all aspects

of the proposed plan. This is

their neighbourhood, so we want

Latest Canterbury news at starnews.co.nz

to make sure we get it right."

To provide feedback on the

Birdsey Reserve landscape plan,

go to https://www.ccc.govt.

nz/the-council/haveyoursay/

show/436.

The plan is open for feedback

until November 16.

There will also be a drop-in

session to find out more, ask

Wednesday October 20 2021 Bay Harbour News

NEWS 7

Food forest, dog park proposed for reserve

INITIATIVE: A new two-stage proposal for Birdsey Reserve includes a food forest, regeneration and a dog park.

PHOTO: NEWSLINE

any questions and share ideas

on Monday, November 1,

between3pm and 5.45pm, at the

Heathcote Valley Community

Centre on Bridle Path Rd.

Before

you start

your deck

check for

power lines

03 363 9898 | 0800 363 9898

oriongroup.co.nz

You don't want to be within touching distance of the

power lines when the deck's done. It might take a bit

of extra thought, but it could save your life!

You're our priority.

Orion operates, and maintains, the electricity distribution network

that provides power to central Canterbury. We are always here

to help if you have any questions or concerns about the network.
---
Bay Harbour News Wednesday October 20 2021

8

NEWS

Latest Canterbury news at starnews.co.nz

Taking the rubbish out of recycling

AKAROA'S Gloria Calcutt is a

force to be reckoned with.

Each week the diminutive

85-year-old heads out with her

foster son Keith. They're on a

mission to check the recycling

collection points at remote communities

on Banks Peninsula.

Gloria used to drive herself,

but when Keith got his heavy

vehicle licence he took on the

driving duties.

Together they search for incorrect

items in the bins and pull

them out so when the pickup

trucks come there won't be any

contamination.

It's all part of the service provided

by Waste Line, the business

owned by Gloria and her

son Julian for the past 31 years.

Waste Line is a subcontractor

on the city council contract to

provide waste services to more

than 15,000 Banks Peninsula

households.

There's always plenty of talk as

the truck winds its way through

Okains Bay, Le Bons Bay, Little

Akaloa, Pigeon Bay, Onuku and

Robinsons Bay – a solid three-tofour

hour journey.

"Keith chats a lot," says Gloria.

"I love it, it's very enjoyable. I like

the beauty of it."

It's a chance for Keith to get

any problems off his chest as

Gloria lends a listening ear.

CLEAN-UP: Gloria Calcutt and Keith make weekly trips to check recycling points on

the Peninsula.

PHOTO: NEWSLINE

At the collection point the

pair are all business, fishing out

items that shouldn't be there

and recording them in Gloria's

notebook.

"We're trying to do the right

thing, make the product as acceptable

as possible (for resale)",

she says.

People are often confused

about what can be recycled.

"The things that they slip up

on are soft plastic, lids and dirty

containers– it could be at least

an inch in a tomato sauce bottle

that's been put in here or a peanut

butter jar that's got half of it

left. The other things are coffee

cups and milk cartons. We can't

take silver foil or polystyrene

either."

She says when the city council

first started recycling items were

separated into open-top crates,

which made it easier for people

to sort and more obvious if the

wrong materials were presented

for recycling.

Nowadays people try to use the

wheelie bins for 'wish cycling' –

putting materials in the bin in

the hope they get recycled. This

can mean good recycling goes to

landfill as it is contaminated by

the wrong items.

"You might find one that's very

heavy and you check and find

there's a lump of concrete at the

bottom!"

New signs are about to go up at

the collection points, which will

hopefully help spread the message

about what can and can't be

recycled.

Four years ago, Keith came

up with the idea of collecting

old whiteware and cars for scrap

metal – with all proceeds going

to the Akaroa Hospital rebuild.

Gloria was a midwife and

matron at the hospital for many

years and the hospital rebuild is

close to her heart.

So far they've raised around

$78,000 towards the cause,

something they're both proud of.

It's as if the two parts of her

working life have come full

circle.

Asked when she'll stop doing

the weekly checks Gloria shakes

her head fiercely. Not anytime

soon.

• What happens to your

waste, page 11

Seconds

Available

Factory Shop

238 Port Hills Road,

Heathcote

corner of Port Hills and Chapmans

shop hours

Monday to Saturday

8am - 5pm

Sunday 9am - 4pm

2021

INFORMATION AND TICKETS:

Chchbigbandfest.com

Living locally, selling locally

I know the area, I know real estate

To get the best result...

Ask Marilyn.

Marilyn Still, Bayleys Real Estate

027 229 8769 | marilyn.still@bayleys.co.nz

TIAKI

OUR CARE FOR

PEOPLE AND PLACE

WHALAN AND PARTNERS LTD, BAYLEYS, LICENSED UNDER THE REA ACT 2008
---
Latest Canterbury news at starnews.co.nz

Wednesday October 20 2021 Bay Harbour News 9

15

to

storewide

5 day sale

Thurs 21st to Monday 25th October

30 % off

15 % off

all

20 % OFF

20 % OFF

20 % OFF

20 % OFF

20

20 % OFF

% OFF

20 % OFF

20 % OFF

20

20 % OFF

% OFF

20 % OFF

20 % OFF

vEHICLES & PLAYSETS

DOLLS & PLAYSETS

30 % OFF

30

30 % OFF

30

% OFF

% OFF

30 % OFF

30 % OFF

PUZZLES

CLEAR

up to

70%

off

70 % OFF

*Styles will vary from store to store.

60 % OFF

CLEAR

CLEAR

OUT!

60 % OFF

70 % OFF

WOODEN

70 % OFF

OUT!

OUT!

TOWER JUNCTION

NZ's Biggest TOYWORLD

Clarence St, Riccarton, Ph 03 343 0330

MARSHLAND

199 Marshland Rd,

Ph 03 982 8697

HORNBY

Chalmers St,

Ph 03 281 8127

Valid from Thurs

21st to Monday

25th October 2021.

*Terms and

conditions apply.
---
10 Bay Harbour News Wednesday October 20 2021 Latest Canterbury news at starnews.co.nz

LESS THAN

10 WEEKS TO

CHRISTMAS

With the current SLOW

shipping to avoid

disappointment please

make sure you secure your

Christmas pressie books

and gift orders early!

NEW RELEASES

GREAT

Spring

READS

INSTORE!

The Edible Backyard

a Practical Guide to Growing organic Fruit and

Vegetables all year round by Kath irvine

Gardening guru Kath Irvine's guide to everything you need to know to grow

organic vegetables, fruit and herbs in your own garden, all through the year.

In this practical step-by-step guide, gardening teacher Kath Irvine shares her

wealth of knowledge from more than 20 years of helping Kiwi gardeners

design, build, grow and maintain their own productive edible gardens. Kath's

sage, hands-on, often humorous advice steps readers through everything

they need to know to grow great produce at home, including garden design,

tools and equipment, seasonal planting advice, soil fertility, seed-saving

basics, managing pests and diseases, and how to incorporate organic and

permaculture gardening methods into any home garden.

Still Standing

What i've learnt from a life lived differently

by Jess Quinn

Jess Quinn is, in her own words, quite literally a walking miracle. Her body

has been completely restructured so that she could survive an aggressive

cancer. Jess' leg was amputated when she was a young child, and she

has worn a prosthetic leg ever since. She's created a successful modelling

career, has a huge following on social media, was on Dancing with the Stars

and is outspoken on the subject of body diversity. She has strong messages

about resilience. Jess has a remarkable way of talking about her pain and

difficulties, and is inspirational in her response to the difficulties that have

beset her. Her philosophy embraces the fact that none of us get to keep the

body we were born in; we all bear scars that become part of our stories.

Marae — Te Tatau Pounamu

a Journey around new Zealand's meeting Houses

by muru Walters, robin Walters and sam Walters

A magnificent, prize-winning documentation of and tribute to New Zealand's

wharenui, big and small. Bishop Muru Walters is a very well-known Anglican

minister. He is also a master carver, poet, broadcaster and former Maori All Black.

His son Robin is a photographer and filmmaker, who is director at Curious Films.

Sam Walters, Robin's wife, is a photographer. Together the Walters spent three

years visiting some of this country's major meeting houses as well as many of the

more humble ones — houses that serve smaller hapu and iwi — to bring together

a beautiful photographic book on the meeting house. From north to south, from

the east coast to the west, and from ancient wharenui to bold new designs, this

handsome book, with its engaging personal text, captures the huge variety of New

Zealand's original architecture. It's a book for all New Zealanders to treasure.

Hellzapoppin'! The Art of Flying Nun

by Peter Vangioni, Kath Webster, russell Brown and

roger shepherd

Unruly art and design from the early years of Flying Nun Records. From rare

collectible records and vintage posters to original artworks and paste-up

designs, this 92 page book explores the art and artists behind some of New

Zealand's favourite bands. Entertaining essays from are interspersed with

brief interview-style contributions from the people responsible for creating the

art of the label. Heavily illustrated, it features original artwork for the records

and posters, photography from the archives, and rarely seen vinyl releases

and posters. By talking to the people responsible, this book will burst a few

enduring myths, and maybe start some new ones.

Operation Trojan Horse the true story behind

the secret of Flight 149 and the most shocking government

cover-up of the last thirty years. by stephen davis

On 1 August, 1990, British Airways Flight 149 departed from Heathrow airport,

destined for Kuala Lumpur. It never made it there, and neither did its nearly 400

passengers. Instead, Flight 149 stopped to refuel in Kuwait, as Iraqi troops amassed

on the border - delivering the passengers and crew into the hands of Saddam

Hussein and the Iraqi army, to be used as 'human shields' during their invasion.

There is an exchange of favours at the highest echelons of government, and a secret,

unaccountable organization - authorised by Margaret Thatcher - carrying out a

'deniable' intelligence operation to sneak in a group of intelligence officers into Kuwait

aboard the flight. The plane was the 'Trojan Horse', and the plan - as well as the

horrific, traumatic consequences for the civilian passengers - has been lied about,

denied and covered up by successive British Governments ever since.

PORTAPUZZLE DELUXE

Puzzle Carrier: stores standard 1,000 Piece puzzles

You can trust the PortaPuzzle to store your puzzle

pieces securely without them moving about and

disrupting your efforts to complete your jigsaws.

NZ JIGSAW PUZZLES

1000 PIECE

$99 95 FROM

$19 95

1005 Ferry rd

Ph 384 2063

CLOSED SUNDAY

while stocks last (see instore for terms and conditions)

Great to see

so many Familiar

Faces aGain

Barry & kerry
---
Wednesday October 20 2021 Bay Harbour News

Latest Canterbury news at starnews.co.nz

NEWS 11

What happens to wheelie bin waste

City

council

resource

recovery

manager

Ross

Trotter

lifts the lid

on what happens with

the stuff you put in your

red, green and yellow

wheelie bins

REMEMBER THE empty

tomato sauce bottle you put

in your yellow wheelie bin for

recycling? Did you know it could

end up back in your house as

a supermarket meat tray or a

strawberry punnet?

What about those empty

aluminium drink cans that went

into the yellow bin?

They will get recycled back

into new aluminium cans.

Most of us are too busy to give

much thought to what happens

to the items we put out for

recycling, but often they go on

quite a circular journey.

Once the items are picked up

by the kerbside recycling trucks,

they are taken to the Materials

Recovery Facility in Wigram,

operated by EcoCentral. There,

they pass through a range of

machinery that separates them

into different product types. The

sorted materials then get sent

off to national and international

reprocessing plants.

The bales of aluminium and

steel cans get sold locally for

recycling, while the glass is

crushed into sand used for road

fill.

EcoCentral sells bottles and

containers numbered 1 to a New

Zealand-based processor, who

remanufactures them into clear

meat trays or strawberry punnets

for supermarkets.

Plastics numbered 2 and 5

are also reprocessed into other

useful products.

Paper and cardboard get

sent overseas for recycling. The

market for these is extremely

competitive. To maximise

the price we receive we need

to produce clean, untainted

materials. Because we are a small

supplier in a global market, we

risk losing our buyers if we don't

meet high quality standards with

our recycling.

That is one of the reasons why

we are constantly asking people

to take care with their recycling

and only put accepted items in

the yellow bin.

We want to recycle as much

as possible because it is better

for the environment and helps

REPURPOSED: Containers numbered '1' often get a new

life as meat trays or strawberry punnets.

off-set the costs of processing

recyclables. Even when

commodity prices for recyclables

are low, it still costs significantly

less to recycle than to dispose of

the same material in landfill.

Our kerbside rubbish, organics

and recycling collection service

costs about $40 million a year

to run. The money comes from

the rates Christchurch property

owners pay.

If we lose access to any of our

recycling markets, it is likely we

will have to send more material

to landfill. This will push up the

cost of the kerbside collection

service, which in turn will hit

ratepayers in the pocket.

It is important too that people

keep their green wheelie bin for

organic waste only and not put

general rubbish in it.

This is because the material we

collect from the green wheelie

bins is processed locally into

certified organic compost, which

is used around the South Island,

mostly by the agriculture sector.

When the contents of your

green bin are collected at the

kerbside, they are trucked to the

Organics Processing Plant in

Bromley – the biggest composting

facility of its kind in New

Zealand. There, the green waste

gets put through a shredder, with

138 teeth on it, to break the material

down. It is moved into one

of 18 sealed tunnels, where most

of the composting happens. The

composted material is then taken

outside to fully mature.

When the maturation process

is complete, the compost is sold

to businesses and farms around

Canterbury and beyond.

Around 55,000 tonnes of kerbside

organic material a year are

processed through the plant.

This is food and green waste that

would otherwise go to landfill.

If we want to continue to

divert as much waste as possible

from the landfill, we need people

to put the right stuff in the right

bins. Most of you have improved,

but we need everyone to get on

board.

Please remember too that

when it comes to cutting waste

the choices you make when you

shop are powerful. Try and opt

for items with the least amount

of packaging or items that are

able to be recycled in the yellow

bin or alternative recycling

schemes.

The best way to reduce the

amount of rubbish we are

sending to landfill is to prevent

waste in the first place.

133 women with undetected

breast cancer in this lockdown.

And counting...

Join us, demand Government action on breast cancer now.

Sign the petition missingwomen.org.nz

Get checked. Re-book your mammogram immediately.

GET TSUNAMI

PREPARED

Check whether you're in a tsunami evacuation

zone and what you need to do:

ccc.govt.nz/tsunami
---
Bay Harbour News Wednesday October 20 2021

FRESH

FOODS

WEEK

on now

12

NEWS

ABLAZE: The Great Fire of 1870 saw five acres of Lyttelton burned to the

ground. https://www.teuaka.org.nz/online-collection/1135481

Vitor LittleOz Easy Peel

Mandarins 750g Prepack

Product of Australia

Pams Fresh

Asparagus 250g Bunch

Product of New Zealand

Harris Meats Fresh NZ

Prime Beef Mince 500g

$

4 49 ea

$

3 99 ea

$

8 49 ea

Wilcox Perlas

Potatoes 1.5kg Prepack

Product of New Zealand

Fresh NZ Skinless

Chicken Breast Fillets

Cottage Lane Bread

www.foursquare.co.nz

$

6 99 ea

$

12 99 kg

$

4 79 ea

facebook.com/FourSquareNZ

Specials available South Island only from Monday 18th October until Sunday 31st

October 2021 or while stocks last. Wine and beer available at stores with an off

licence. Wine and beer purchases restricted to persons aged 18 years old and over.

Treasures from the

past: Remembering

the Great Fire, 1870

THIS COMING Sunday marks 151 years

since Lyttelton was decimated by fire.

The fire began at about 9pm and was

suspected to have started in packing cases

filled with straw behind the Queen's Hotel

on the corner of London and Oxford Sts.

It spread very rapidly through the mainly

timber structures of the township.

Valiant local efforts were made to

contain the inferno by the 'hook and

ladder' brigade, by prisoners from the gaol

and by seamen organised by the publican

of the Mitre Hotel, who bucketed beer

from barrels in an attempt to protect the

shingled roof.

Eventually, after frantic messages via

the telegraph office, a fire brigade and

fire steam engine arrived by train from

Christchurch, along with the mayor of

and several city councillors.

The sight that greeted The Press reporter,

who also travelled on that train, was just

awful.

"At this time the scene was terrifically

grand, the whole block, some three acres

in area, being one solid mass of fire,

lighting up the harbour and surrounding

hills. The scene on the reclaimed land was

of a most painful character, women and

children being huddled together on heaps

of furniture, utterly homeless, and only

partially clothed."

The fire was finally contained in the

early hours of the morning, but its consequences

were very evident come daylight:

approximately two thirds (5 acres) of the

township had been razed; 30 local businesses

and many private residences left

with only their chimneys standing.

Though many people had lost their

homes and livelihoods, it was remarkable

there were no serious injuries or deaths.

At the time it was New Zealand's worst

urban fire, but it would not be the only

time that Lyttelton was badly affected.

Aside from numerous shipboard,

business and residential fires over the

years, a large blaze on Christmas Eve 1942

– beginning in Rhinds store on Norwich

Quay but fanned by a strong wind –

caused significant damage on Norwich

Quay and Canterbury St.

The Great Fire of 1870, as the fire of

October 24 came to be known, was the

catalyst for the establishment of the

Lyttelton Volunteer Fire Brigade in 1873,

members of which have served Lyttelton

through multiple disasters and gained the

highest respect and appreciation by local

residents.

Lyttelton Volunteer Fire Brigade

with early fire engine.
---
Latest Canterbury news at starnews.co.nz

Wednesday October 20 2021 Bay Harbour News 13

Village centre

now open!

Image indicative only

Summerset at Avonhead's village centre

is now open!

Our brand-new village centre is the heart of our village,

providing a multi-purpose community hub and a

spectacular range of resort-style facilities.

Our village centre is also home to our fully-certified,

industry-leading memory care centre especially

designed for those living with dementia, and our serviced

apartments which are selling now from just $350,000.*

We'd love to show you around at one of our October Open

Days. Open Day tour numbers are limited in Alert Level

Two, so call Anne today on 03 357 3202 to secure your

spot, or to book a private appointment.

Village Centre

Open Days

Every Sunday in October

10am - 3pm

Summerset at Avonhead

120 Hawthornden Road, Avonhead

03 357 3202

*Licence to occupy.

If we are in Alert Level 2, an RSVP will be required due to

restricted numbers, please call the sales manager to RSVP.

For event information, visit www.summerset.co.nz/events

03 357 3202 | summerset.co.nz/avonhead

SUM3430_8X8
---
14 Bay Harbour News Wednesday October 20 2021 Latest Canterbury news at starnews.co.nz

RUNOUT

OUTLANDER LS 2.4L 2WD

$32,990+ORC *

christchurchnissan.co.nz

The 7 seater Mitsubishi Outlander

brings everything you would need in a

family SUV: safety, technology, comfort,

unrivaled economy and that all important

space, plus a 10 Year Powertrain Warranty † .

Call 03 379 0588 or visit

christchurchmitsubishi.co.nz

RRP WAS $41,990 +ORC

*Price listed is for Outlander LS 2.4L 2wd and excludes on road costs of $650 which includes registration, WoF and a full tank of fuel. Available while stocks last.

†

Visit mmnz.co.nz for full Diamond Advantage warranty conditions.

CHRISTCHURCH MITSUBISHI

386 Moorhouse Avenue, Christchurch | 03 379 0588 | christchurchmitsubishi.co.nz

CHRISTCHURCH NISSAN, 380 Moorhouse Avenue, Christchurch

Ph: 03 595 6820

www.christchurchnissan.co.nz
---
Wednesday October 20 2021 Bay Harbour News

Latest Canterbury news at starnews.co.nz

FOOD 15

Sweet treats for dessert or a snack

With daylight

saving here, there's

a promise of

summer and warm

temperatures to

come. These cold

desserts are plentiful

for when visitors are

due

Cheesecake slice

Serves 10

Ingredients

Base

2 packets Super Wine or plain

Digestive Biscuits, place in food

processor

2 teaspoons cinnamon

250gm butter (melted)

Process the biscuits into fine

crumbs and tip into large bowl,

add cinnamon and butter and

mix together thoroughly. Press

crumbs into largest springform

pan (or even bigger container if

one is available) that has been

well greased and lined baking

paper, chill in the fridge while the

filling gets made.

63 x 180

the centre, turn oven off and leave

Filling

2 cups caster sugar, place in

mixer bowl with

1kg cream cheese

500g sour cream

2 teaspoons vanilla paste

6 eggs (beaten)

Zest of four lemons

Directions

Beat caster sugar/cream cheese

until smooth, add sour cream,

vanilla paste and eggs, mix well

until smooth and well blended.

Add lemon zest and mix

through thoroughly. Pour mixture

over base, place in oven on a

biscuit tray to allow for any spillage,

and bake for 1hr and 50min,

or until golden, puffed and set in

in oven to go cold (overnight is

fine).

When cold, cut into wedges.

Blueberry cheesecake

Serves 6

Ingredients

125gm cream cheese, place in

mixer bowl with

1 egg

¼ cup caster sugar

30g butter

1 teaspoon vanilla bean paste

1/3rd cup blue milk

1 cup self-raising flour (sifted)

125gm (1 punnet) blueberries

FLAVOURS:

Use

blueberries as

a garnish for

cheesecake

or as an

ingredient.

Directions

Mix cream cheese/egg/caster

sugar/butter/vanilla bean paste

together for 2-3min until light

and creamy.

Add milk and beat on low to

combine, add flour, mix through

thoroughly, then fold blueberries

through.

Melt butter onto and drop large

serving spoonfuls of batter onto a

hot surface. Cook through.

Whipped cream cheese topping

Ingredients

125gm cream cheese, place in

mixing bowl with

2 tablespoons caster sugar

2 teaspoons blue milk

2 teaspoons vanilla bean paste

Extra blueberries

Directions

Beat cream cheese/caster sugar/

milk/vanilla bean paste for 1-2

minutes until fluffy. A little more

milk may be added to make

the mixture more spreadable, if

desired.

Easy pavlova

Serves 6

Ingredients

8 large egg whites, place in mixer

with two cups caster sugar,

1 desert spoon malt vinegar, 1

desertspoon vanilla essence

Directions

Beat a full speed for 12-15min

until very stiff.

Mould mixture into shape

on a well greased tray that has

been lined with at least two

thicknesses of baking paper and

splashed with a tiny amount of

water.

Bake at 150 deg C for 30min,

then reduce temperature to 100

deg C or 1 hour.

Let it go completely cold in the

oven.

Up to

50 % Off

*Call for Terms

& Conditions

Off

*
---
16 Bay Harbour News Wednesday October 20 2021 Latest Canterbury news at starnews.co.nz

Jump into summer with our

LABOUR DAY

STOREWIDE

SALE

ALL BEDROOM, LOUNGE, DINING, OUTDOOR ON SALE! Ends 01.11.21.

RIVA RECLINERS

ON SALE

HEAPS of HOT DEALS!

Charlie Angular Chaise

– Midnight

WAS $

2699

NOW

$

2199

Recliner

NOW $

999

3 Seater Recliner

NOW $

1999

Brix Light 7 Piece Dining

Set – W180

WAS $

1689

NOW

$

1149

PARIS BEDROOM

ON SALE

Queen Bed

NOW $

799

SCAN QR TO SHOP

Tallboy

NOW $

699

Bedside

NOW $

300

Dallas Queen Bed

WAS $

449

NOW

$

299

MAISON

LIVING

Lista Boxed Queen

Mattress

WAS $

249

NOW

$

199

ON SALE

Buffet

NOW $

799

Bookcase

NOW $

999

Scan to find store

250 Moorhouse Ave, Christchurch

0800 TARGET (0800 827438)

targetfurniture.co.nz

Offers and product prices advertised here expire

01/11/21. Sale Excludes Accessories.
---
2

[Edition datE]

Pottery Social Night

Wednesday, 7-9.30pm

Are you hooked on

pottery? This is an

opportunity for you to

work alongside others on

your own pottery projects.

Tuition is not provided.

There are two working

electric wheels, benches

and some equipment to

share. Take your own clay,

glazes, tools and ideas. $5

donation per session (cash

only). Email Nikki to book

artatsumnerhub@gmail.

com

Sumner Hub, 57 Nayland

St Sumner

Creative Wednesdays

Wednesday, 11.30am-

2.30pm

All welcome and you can

come and go as you please.

This group is focused on

bringing people together

and getting creative, no

matter what level your art

practice is, beginner or

expert. Go along to this

event to make connections

and express yourself freely.

Every Wednesday.

The Rock, 10 Wakefield

Ave, Sumner

Kintsugi: embracing the

scars of healing exhibition

Friday, Saturday and

Sunday, 10am-4pm and

public holidays

Kintsugi is group show

presented by Artists

Against Slavery exploring

the concept of brokenness,

its repair, and how it can

become part of a new

whole. Interpretations

of Kintsugi are made in

the exhibition through

ceramics, pottery, painting

and printing. The artists

are Tania Bostock, Nina

Brown, Julia Dower, Bev

Frost, Renate Galeztka,

Naomi Goto Garrett, Sarah

Harper, Aamira Jain, Jane

McCulla, Janie Porter,

Gaby Reade, Soon-Lee

Spicer, Kaylene Worrall.

As an organisation, Artists

Against Slavery raises

funds to help with the

NEWS 17

Email samantha.mythen@starmedia.

kiwi by 5pm each Wednesday

Heathcote Community Morning Tea, Wednesday, 10am-noon. Everyone

is invited to pop in for a cuppa, some fresh baking and to get to know

some of the locals. Every Wednesday. Heathcote Community Centre.

rehabilitation of women

and children who have

been trafficked and abused.

AAgS gives 100 per cent

of money raised to

Hagar NZ that works

with victims of human

trafficking and abuse in

Afghanistan, Cambodia

and Vietnam.

Stoddart Cottage,

Diamond Harbour

Linwood Woolston

Rotary Sunday market

Every fine Sunday from

9am- 12.30pm.

Woolston Club, Hargood

St

Lyttelton Harbour

TimeBank Drop-in

Session

Tuesday, 10am-12pm

The Lyttelton Harbour

TimeBank exists to help

build a stronger, more

connected harbour

community. Go in for a

chat – get help with joining

or managing your account,

posting an offer or request,

or anything else.

Lyttelton Library

Wednesday October 20 2021 Bay Harbour News

ARA INSTITUTE OF CANTERBURY

Second time lucky

at tertiary study

After an unhappy experience studying

engineering at university, 23-year-old Kylie

Wilson says she was "seriously put off "

tertiary education to the point she never

thought she'd go back to study.

"I left uni due to the lack of support,

intense workload and inability to specialise

in the way I thought I could," says Kylie.

Fortunately, friends who'd studied at Ara

Institute of Canterbury convinced her that

she'd have a completely different experience

if she went there. "And they were absolutely

right," she says. "To this day, studying at Ara

has been the best decision I've made."

Kylie says she's enjoying everything about

being at Ara, where she's studying two

diplomas concurrently – one in quantity

surveying and the other in civil engineering.

"I love the small class sizes and the ability

to really get to know your tutors and learn

more from them. The tutors are awesome;

they know you by name and are always

willing to help, no matter whether you're

struggling or you're a high achiever who

wants to get a more detailed understanding

of the content for your own benefit or

interests. They're also happy to discuss

their industry experience with you which is

invaluable knowledge and something you

don't get from university."

Having not been able to specialise as she'd

wanted to at university, Kylie is making the

most of her double diploma approach at

Ara. "I saw this huge cross-over between

the two disciplines of quantity surveying

and civil engineering, and the extremely

valuable benefits of being both a QS and a

Ryan

Ara graduate

civil engineer."

Kylie has also been impressed with Ara's

supportive learning environment and the

ability to study full-time and balance other

commitments easily. "It's given me a wide

range of opportunities and experiences,

along with a work/life balance."

After a less than ideal university

experience, Kylie is quick to encourage

others to study at Ara. "Just do it," she

says. "My biggest regret was taking 18

months away from study because I was too

scared to go back after my experience at

university. Everything at Ara is manageable

and practical – in my opinion it's the polar

opposite to university-style learning."

To find out more about Ara's

engineering study options visit ara.ac.nz.

The Heathcote Valley Wool Craft Group,

Thursday, 9.15-11.45am. This group of

enthusiasts meets weekly to spin, knit and

create with wool. Anyone is welcome. Email

Felicity Backhouse at thebackhouses@

slingshot.co.nz or phone 384 1755. St Mary's

Village Hall, Martindales Rd, Heathcote

Sumner Bridge Club

Monday 7.15pm,

Wednesday 1pm

For fun, friendly and

competitive bridge. If you

have any questions, send

an email to sumnerbridgeclub@gmail.com.

57 Dryden St, Sumner

Craft Group

Monday, 10am-12pm

Enjoy knitting,

crocheting or sewing each

Monday. The cost is $3

per session with morning

tea and great company

provided.

Heathcote Community

Centre

Like the idea of changing and improving how

the world works? Then check out our study

options in civil, mechanical, electrical and

electronics engineering. You'll discover a

range of qualifications that can equip you

with the skills and knowledge you need for

a career you'll love.

Explore the options at

ara.ac.nz | 0800 24 24 76
---
18 Bay Harbour News Wednesday October 20 2021 Latest Canterbury news at starnews.co.nz

St Michael's School

Your school at the heart of the city

OPEN DAY

✓ Co-educational, Years 1-8

✓ Small classes

✓ Specialist teachers

✓ Musical excellence

✓ Christian values

✓ Traditional classrooms;

academic rigour

✓ Before & after school care:

7.30am - 5.30pm

✓ Central city location

OPEN DAY

Wednesday 3 November

PLACES LIMITED

Due to high demand,

new classes open in

Year 1 and Year 7 in 2022

– only a few places left!

Contact the Registrar for

application details.

registrar@saintmichaels.co.nz

Some places available for 2022.

Taking enrolments for 2023.

www.saintmichaels.co.nz 249 Durham Street

Phone (03) 379 9790
---
Wednesday October 20 2021 Bay Harbour News

CRYPTIC CROSSWORD

1 2 3 4

5 6

7 8 9

10

11 12

13

14 15

16 17

18 19 20

21

22 23

22/10

Latest Canterbury news at starnews.co.nz

Across

1. Sheepish sort of joint that gets

sleeved (3,2,6)

7. Breaking a relic very quietly held to

make one lame (7)

9. Take a sound look at bridge supporter

(4)

11. He was switched on to begin with,

being nimble (5)

12. One was advised there would be

strife with a donkey (6)

14. Happy occasions to visit Tees, if so

disposed (11)

18. The bureau is no longer being

chilled (6)

20. Many times, five is a factor __ (5)

22. A bird one will get ready to fire (4)

23. Puts in for something in signs of

battering (7)

24. Is caught, held – and got ready to be

done up? (11)

Down

2. How to make its peel in the form of a

letter (7)

3. It is a suitable rendezvous (4)

4. One, in repeatedly getting on, may

have one in tears (5)

5. Leading Socialist with a common ill

will tell one off (5)

6. The lady at the union meeting (5)

8. Aphetically, a boy who was learning

his trade (8)

10. As much as can be carried behind

the shafts? (8)

13. Woman seen the day before (3)

15. Twice Ten engages the East in a

friendly relationship (7)

16. 30s song that was light

entertainment? (5)

17. Do so with teeth strikingly (5)

19. There are some terrific huddles

round the cape (5)

21. An omen one can put one's name

to (4)

PUZZLES 19

SUDOKU

Fill the grid so that every column, every row and 3x3

box contains the digits 1 to 9.

24

QUICK CROSSWORD

1 2 3 4 5 6

7

8 9

10 11

12 13 14 15

16

17 18 19 20

21 22

23 24

Across

1. Sword (5)

4. Woollen ball (3-3)

8. Totally disorganised

(7)

9. Person travelling

over snow (5)

10. Gentle push (5)

11. Kiln (7)

12. Product sample (6)

14. Quirk (6)

17. Nurture (7)

19. One of a series of

steps (5)

21. After dark (5)

22. Knowledge,

expertise (4-3)

23. Extreme fear (6)

24. Late (5)

Down

1. First rate (6,2,4)

2. Facial hair (5)

3. Drastic (7)

4. Calm (6)

5. A scrooge (5)

6. Paper-folding art (7)

7. Insect (colloq) (6-6)

13. Illegally import or

export (7)

15. Pull, twist out of

shape (7)

16. Close-fitting

necklace (6)

18. Bury (5)

20. Strongly dislike (5)

CODECRACKER

QUICK CROSSWORD

Across: 1. Sabre, 4. Pom-pom, 8. Chaotic, 9. Skier, 10. Nudge,

11. Furnace, 12. Tester, 14. Oddity, 17. Nourish, 19. Stair, 21.

Night, 22. Know-how, 23. Terror, 24. Tardy.

Down: 1. Second to none, 2. Beard, 3. Extreme, 4. Pacify, 5.

Miser, 6. Origami, 7. Creepy-crawly, 13. Smuggle, 15. Distort, 16.

Choker, 18. Inter, 20. Abhor.

CRYPTIC CROSSWORD

Across: 1. Leg of mutton 7. Cripple 9. Pier 11. Lithe 12. Warned

14. Festivities 18. Office 20. Often 22. Cock 23. Indents 24.

Buttonholed.

Down: 2. Epistle 3. Meet 4. Onion 5. Scold 6. Bride 8. Prentice 10.

Cartload 13. Eve 15. Entente 16. Torch 17. Gnash 19. Fichu 21.

Sign.

TARGET

chirp choir coir cork

croft crop firth fork fort

forth frit frock froth ichor

PITCHFORK porch pork

port prick prof profit rich

rick rift riot rock thorp thrip

torc torch tori trick trio trip

trophic tropic

MEDIUM HARD

EASY

TARGET

K O P

T R C

H F I

Good 18

Very Good 26

Excellent 31+

ALL PUZZLES © THE PUZZLE COMPANY

How many words of four letters or more can you

make? There is at least one nine-letter word.

Each letter may be used only once and all

words must contain the centre letter.

No words starting with a capital, no plurals

ending in s unless the word is also a verb, e.g.

he fires the gun.

Mon-Thurs: 7am - 4pm

Fri-Sun: 7am - 5pm
---
20 Bay Harbour News Wednesday October 20 2021 Latest Canterbury news at starnews.co.nz

REAL ESTATE

Surrounded by Views, Not

Neighbours

10 The Terrace, Mt Pleasant

Auction 4 November (USP)

4 bedrooms, 2 bathrooms, 1 kitchen/dining

2 living, 1 study nook, 2 car garage,

2 off-steet parks - Listing No. FM5728

Open Homes: Weds, Sats, & Suns 1-1:45 pm

Enjoying a premier front-row position in

Mt Pleasant's highly desirable enclave, The

Ridge, this contemporary residence delivers

lifestyle brilliance and has been designed

with considerable thought, ensuring it's a

perfect fit for buyers across the board.

This modern home with solid construction

was completed end of 2017 and boasts steel

framework, highly specified finishes and airy

interiors that complement the exceptional

north-east outlook over the verdant green

surroundings, ocean and coastline.

Carefully organised across two floors, the

upper-level plays host to two light-laden

living zones, a substantial kitchen with

scullery and a master suite that all ease outdoors

to the decks. A discreet study nook, a

3rd toilet and the garage are also found

upstairs, ensuring couples could comfortably

reside upon a single level if required. The

property has its own driveway and good offstreet

parking which is a real bonus.

The ground floor comprises a further three

bedrooms and a second bathroom, ensuring

families are equally well supported. Two of

the bedrooms also enjoy direct access to the

outdoors, where you'll find easy-care

terraced gardens, sculptured landscaping

with watering system, a petanque court, spa

pool and a covered patio to offer the

complete package from top to toe.

Buyers wanting to embrace a genuine feeling

of escape and privacy while remaining

within a comfortable drive of the shoreline

and city are encouraged to act quickly.

Alison Carter

Mob. 0274 318 960

Ferrymead Office

Phone 03 384 7950

(Licensed Agent REAA 2008)

ADVERTISING FEATURE

NEW

LISTING

Up to

50 % Off

*Call for Terms

& Conditions

Off

*

ADJUSTABLE MASSAGE BED

by
---
Kid friendly

REAL ESTATE

Class act on clifton

159 Clifton Tce, Clifton

Auction: Thursday 11 November 2021

4 Bedrooms | 2 Bathrooms | 2 Living | 1 Kitchen/Dining

With enviable views and a design

that maximises space for families and

entertaining. There is a lot to love about 159

Clifton Terrace.

This expansive home will please all, the

top floor hosts the master retreat with

ensuite and private deck where you can

escape and unwind whilst taking in the

stunning views across Sumner village and

beyond.

The upstairs private living area to the

master is also large enough to be utilised as

a fith double bedroom.

The middle floor is the entertainment

hub of the home with floor to ceiling glass

sliders that open to create seamless indoor

- outdoor flow to one of the homes many

decking areas.

The chef in the family will feel right at

home in the open plan kitchen, fitted with a

large island bench-top, premium appliances,

butlers pantry and plenty of storage space.

The kids or extended family are taken care

of downstairs with three large bedrooms all

featuring built in wardrobes and decking

access, all serviced by the large family

bathroom.

The private outdoor spa area and covered,

powered entertainers deck will make you

the envy of your friends and family. Be

prepared to be the host for all socials events

from now on.

With all of this bundled up at the end of

a secluded driveway with privacy in mind,

there is much to love about this hilltop

haven. Just a short drive to Sumner villages

entertainment strip and plenty of walking

tracks around the port hills.

This is a true family home and our

vendors have loved their time here. It's no

wonder that this is the first time its ever

come to market.

Callum Brownlee

Mob: 027 526 4585

Shaun Davey

Mob: 027 953 8860

Harcourts Grenadier

Sumner

Ph 03 384 7950

(Licensed Agent REAA 2008)

Latest Canterbury news at starnews.co.nz

Wednesday October 20 2021 Bay Harbour News 21

Four Grenadier Seasons Realty

NUMBER ONE SUPPLIER

TO THE NZ JET BOATING

COMMUNITY FOR OVER

50 YEARS

The souTh island lifesTyle magazine

i'm yoUrs | JUly 2021

The souTh island lifesTyle magazine

i'm yourS | June 2021

the people. the places. the treNds.

the people. the placeS. the trenDS.

SOIL AND

HARDFILL

DUMPING

WE NOW HIRE

LANDSCAPING AND

GARDEN EQUIPMENT

DIGGERS, TRUCKS, WOOD CHIPPERS, POLE SAWS,

BREAKERS, WATER BLASTERS, ETC.

• Part Boats & Hulls

• Turn Key Packages

• New Jet Units

• Custom Fabrication

• Expert Advice

SERVICING

Peter Tonkin

03 962 0505

peter.tonkin@hamiltonjet.nz

• Spare Parts Retailer

• Jet Unit Refurbishment

• Engine Tune-Ups

• Insurance Repairs

• Impellor Reconditioning

I'm YOURS

July 2021

June 2021

Wood works

old becomes New

iN arrowtowN

Plenty to see here

The PeoPle, The Places,

The Trends

Start your engineS

in tauranga

Wild & free

a chef's JoUrNey from

loNdoN to dUNediN

The perfect pour

a canDle company

with no DiviDe

recipe help for the

school holidays

Major developments

the family act

Shaping communitieS

stylemagazine.co.nz | @StyleChristchurch

PLUS WE SUPPLY THE BEST

LANDSCAPE & GARDEN SUPPLIES

•BARKS •COMPOSTS

•AGGREGATES - CHIP, ROUND & BASECOURSE

•SCHIST PRODUCTS •PUNGAS

•DECORATIVE STONE & LANDSCAPING ROCKS

•TRAILER HIRE - FIRST HOUR FREE WITH PURCHASE

•BAG & BULK - PICK UP OR DELIVERED

DYERS ROAD LANDSCAPE & HIRE

PHONE: 03 384 6540

183 DYERS RD, BROMLEY ● OPEN 7 DAYS

Weekdays 7.30am-5pm. Weekends 8.30am-3pm

www.dyersroadlandscape.co.nz

HEAT PUMP

SALE NOW ON!

Amazin' spring Specials!!

80%

SubSidy

Warmer KiWi HomeS

Programme

*Eligibility criteria apply

• We will offer you the best quality brands and

option of heat pump for your home/business

• Providing Heat Pump solutions for over 19 years to Cantabrians

• We personally guarantee all our products & installs for 5 years

(providing annual maintenance has been completed)

Phone us today for your free consultation & quote

41A SHAKESPEARE RD, WALTHAM

PHONE 03 366 0525

www.enviromaster.co.nz

"A local team for local people"
---
2013 Volkswagen

Tiguan TSi

h tp: /kaywa.me/8aVDQ

Download the Kaywa Qr Code reader (A p Store &Android market) and scan your code!

my Kaywa Qr-Code

w.valuecarswarehouse.co.nz

See page 5 for more info!

2

h tp: /kaywa.me/8aVDQ

Download the Kaywa QR Code Reader (a p Store &android Market) and scan your code!

My Kaywa QR-Code

w.valuecarswarehouse.co.nz

PARKING SENSORS

0800 212 777

Ce l 021 855 884

GPS/TRACKING

motor vehicle purchase

See our ad on page 2

22 Bay Harbour News Wednesday October 20 2021 Latest Canterbury news at starnews.co.nz

Sorento a serious foray into hybrid market

IT MAY SURPRISE you to know

that Kia has 10 Sorento models

listed in the Kiwi market.

What's probably more of a

surprise is that six of those are

hybrids. Even though Kia has

embraced the hybrid concept

and electric-only cars, it hasn't

forgotten the grass roots models

that have made this large

seven-seat sport utility vehicle a

favourite here, the 2.2-litre diesel

engine is still available in four

levels of specification starting at

$59,990 and ending at $76,990.

This evaluation surrounds

what I consider to be the most

interesting model in the Sorento

line-up, it's not just a hybrid but

a plug-in hybrid.

Hybrids today need no

introduction, they are the go-to

models for buyers who feel they

are doing something for the

environment but like to have

the range and flexibility petrol

engines offer. Well, the Sorento

PHEV expands on those two

factors, you further save fuel

by plugging in and charging

from a household or nationwide

charging station. There are

two cables, one for three-pin

domestic supply, the other for

quick charging at a designated

port such as those you will find

at malls or supermarkets.

One of the benefits of plug-in

technology is the ability to run

the Sorento in EV mode only;

you can select that manually, but

if you are gentle on the throttle

the Sorento automatically

defaults to electric mode itself,

it's only when there is a lot of

load or the batteries are low that

the petrol engine comes in. Kia

claims a 57km run on electriconly

along with a combined

petrol and electric distance of

over 600km.

Kia also claims a 1.9-litre

per 100km combined cycle

fuel usage average, that's pretty

spectacular. During my testing

time the readout was constantly

listing around 4l/100km, with

5l/100km sitting instantaneously

at 100km/h.

Therein lies another surprise.

The Kia Sorento PHEV has a

1.6-litre petrol engine. Some

might argue that's a small

capacity for such a big car, but

I can report the turbocharged

132kW unit – loaned from

Cerato and Seltos – combined

with the 63kW electric motor

has plenty of performance.

In terms of total power output

Kia claims a combined figure

of 195kW and 350Nm, which

is more than adequate, the

Sorento PHEV isn't overly heavy

CHARGED UP: The Sorento's batteries can go from empty

to full in less than four hours from a designated port.

KIA SORENTO PREMIUM: Seven-seat SUV that is a true fuel-miser.

at 1915kg, so the power-toweight

ratio is healthy enough.

Acceleration times of 8.9sec to

make 100km/h and 5.6sec to

reach 120 from 80km/h are more

than satisfactory.

These figures are up to par and

elsewhere the Sorento PHEV is

no different to drive than any of

its stablemates or competition,

power is directed through a

traditional six-speed automatic

transmission to all four wheels.

I took the evaluation vehicle

on a long highway cruise

through to Glenroy and home

via Hororata. I only ventured

off the seal for a short shingle

road burst that also included a

ford of the Hororata River, albeit

running nothing more than a

puddle. The four-wheel-drive

network wasn't challenged, but

I did notice that the driveline

was keen to extract grip from

all corners, the system kicking

in without driver intervention.

However, there are drive modes

that can be selected to suit the

journey ahead.

On the seal, the Sorento is

superbly comfortable and quiet

on those long open roads,

when the tight corners present

themselves the Sorento steers

with dignity and accuracy.

Body movement is controlled

through compliant spring and

• Price – Kia Sorento PHEV

Premium, $89,990

• Dimensions – Length,

4810mm; width, 1900mm;

height, 1700mm

• Configuration – Fourcylinder,

four-wheel-drive,

1598cc, 132kW (+63kW),

265Nm (+85Nm), sixspeed

automatic

• Performance – 0-100km/h,

8.9sec

• Fuel usage – 1.6l/100km

damper rates, on-board comfort

hasn't been compromised. Kia

has engineered the battery pack

to sit sandwiched between the

cabin floor and the underfloor,

consequently, weight is

low which counteracts any

gravitational force up top.

That comfort is the essence

of the Sorento, it is an SUV

that borders on the luxury car

market, yet such is its placement

in the market it must be

considered a mainstream model.

The Sorento PHEV comes

in two specifications, the EX

variant lists at $74,990, the

evaluation car was a Premium

model that adds $15k. For

interest's sake, the traditional

hybrid range starts at $63,990

and ends at $82,990. If you are

quick to order you may well

qualify for the $5750 discount as

part of the Government's Clean

Car Programme feebate scheme.

In Premium form the

Sorento is full of kit, nothing

has been left out that would

jeopardise desirability. Items for

comfort and convenience are

manyfold, and most of the major

functions are operated through

a deep and vast central display

system.

Full leather trim is included

with heated seats up front. Other

major items include satellite

navigation, electric sunroof,

paddle-shifters, heated steering

wheel, head-up display, keyless

entry and ignition, electric

tailgate (also automatic), radar

cruise control and a host of other

key features. The Sorento PHEV

has also been crash tested,

claiming a five-star Australasian

New Car Assessment Program

safety rating.

Kia New Zealand has made

no secret of the supply issues

that are affecting the majority

of new car distributors, Sorento

buyers will have to wait around

six months for the plug-in

model. However, I'm of the

belief if that is the road you want

to go down (no pun intended) it

will most certainly be worth the

wait.

has motoring covered!

Incorporating

ISSUE 667 | FrIday 20 novEmbEr 2020

sherborne st, edgeware

iggest range of vehicles

location!

2011 Jaguar

XF Premium

$18,999

See inside for this week's

4WD feature!

se Ave | P: (03) 366 7768 | www.valuecarswarehouse.co.nz

See page 4 for more info!

free

best motorbuys

Incorporating

ISSUE 668 | FrIday 27 NovEmbEr 2020

275 Colombo street, Christchurch

For more see their advert on pages 6 & 7

Ce l 021 855 884

Incorporating

ISSUE 669 | FrIday 4 dEcEmbEr 2020

See inside for this week's

Classic Car feature!

PH 03 web

www.drivesouth.co.nz

One Owner!

40 Years Finance

Experience

Cannot be Beaten!

• Talk to us about finance for your next

motor vehicle purchase

Specialising in Finance for Private Purchases

Very quick approvals, sensational interest rates

• From no deposit (terms & conditions may apply)

Hiace spares

Cnr Main South Rd and Epsom Rd, Christchurch

Ph: 03 348 4129 | avoncityford.com

2015 IsuZu D-mAX

4WD Ls D/CAb

NZ new, 3.0 intercooled turbo/dsl,

auto, rare flatdeck with ladder/pipe

racks, reverse cam, service history.

$34,995 $192pw

For more see their advert on page 31

free

best motorbuys

www.drivesouth.co.nz

See inside for this week's

marine feature!

free

best motorbuys

The South Island's leading motoring resource,

filled with news, reviews and dealer listings.

From family cars to work trucks, and supercars

to SUVs. No matter what you're looking for,

you can find it all with Drivesouth.

Magazine available for FREE every Friday

at a convenient pick up point near you!

The biggest range of vehicles

in one location!

Now Available @ NZ Van Spares

www.drivesouth.co.nz

2.4 auto, alloys, ABS, twin airbags.

2005 toyota rav

$20,999

$9,990

40 Years Finance

2008 bmW 320i

2.0lt Petrol, 5 Dr Station wagon,

.nz

CAR AUDIO

AUDIO VISUAL

CAR SECURITY

Climate Control, ABS Braking,

32 Moorhouse Ave | P: (03) 366 7768 | www.valuecarswarehouse.co.nz

MOBILE INSTALLATION SERVICE

RADAR DETECTORS

CELLULAR

REVERSE CAMERAS

DASH CAMERAS

Cannot be Beaten!

$10,974 NoW $7,974 + orC

Experience

Automatic. $34.63pw.

AERIALS

• Talk to us about finance for your next

Specialising in Finance for Private Purchas

• Very quick approvals, sensation

• From no deposit (term
---
Wednesday October 20 2021 Bay Harbour News 23

Classifieds Contact us today Phone our local team 03 379 1100

Cars Wanted

JAGUAR E_TYPE

ROADSTER. Please

phone 027 445 9123

Real Estate

HOME WANTED 3-4

bedrooms. Looking in Nor

West areas, Beckenham

or Somerfield. Prefer

permanent material brick

and post 1990 build. Don't

mind if it needs some TLC

- anything considered.

Cashed up buyer. Phone

021 372 479

To Let

RENT ME!

Ideal as an extra

bedroom or office.

no bond required

ADD SOME

COLOUR

TO YOUR ADVERT!

Fully insulated and double glazed for warmth.

Three convenient sizes from $80 a week:

Standard 3.6m x 2.4m

Large 4.2m x 2.4m | Xtra-large 4.8m x 2.4m

Wanted To Buy

AAA Buying goods

quality furniture, beds,

stoves, washing machines,

fridge freezers. Same day

service. Selwyn Dealers.

Phone 980 5812 or 027

313 8156

Visit our website

www.justcabins.co.nz

for display cabin locations

www.justcabins.co.nz

Trades & Services

DIRTY TILES

& GROUT?

Our unique restoration

processes will make your

tiled areas look NEW again!

We specialise in professional

cost effective solutions for

all your tile & grout issues.

• Tiled shower makeovers

• Re-colouring old grout

• Mouldy silicone replacement

• Professional tile/grout

cleaning, sealing & repairs

Wanted To Buy

AAA Buying goods

quality furniture, beds,

stoves, washing machines,

fridge freezers. Same day

service. Selwyn Dealers.

Phone 980 5812 or 027

313 8156

Call today for a FREE quote on 0800 882 772

www.theprogroup.co.nz/dpc9385

It's time to

SPRING CLEAN

the exterior of your

property

We are your local specialists

in House Washing and Moss

Treatments, including paths,

roofs and decks and much more.

Rejuvenate and prolong the life of

your paint work – saving you money!

Call us today on 0274 907 364.

Trades & Services

CARPET LAYING

Exp. Repairs, uplifting,

relaying, restretching.

Phone John on 0800

003181, 027 240 7416

jflattery@xtra.co.nz

CHIM CHIM CHIMNEY

SWEEPS

We'll sweep your

logburner's flue, check

firebricks, baffles, airtubes

& controls. We're experts

on coal-rangers, and can

sweep any sized open fire.

We quote & undertake

repairs, flue extensions &

install bird netting. 0800

22 44 64 www.chimchim.

nz

ELECTRICIAN.

JMP Electrical.

Experienced & registered..

Expert in all home

electrical repairs &

maintenance.Call James

027 4401715

ELECTRICIAN

Andrew Martin Electrical.

25 years experience.

Specialize in home

renovations, repairs and

maintenance. Call Andrew

0274 331 183

GUTTER CLEANING /

HOUSE WASH

Total gutter / spouting

clear out & clean. House

wash & windows. For a

professioanl & reliable

service call Greg Brown

A1 Spouting Cleaning 027

616 0331 or 384 2661

GUTTER CLEANING

SUMMER SPECIAL

No obligation free

quote! Spouting repairs/

replacement /cleaning Call

0508 SPOUTING

HOME

IMPROVEMENTS

Decks, fencing, retaining

walls, kitchens, sleepouts,

kitsets, renovations and

more. Greg 022 475 8227

LAWNMOWING

You Grow I Mow. Free

quotes. Phone Chris 021

252 1801

PAINTING SERVICES

Mature, reliable,

conscientious &

experienced, reasonable

rates, no job too small!,

call Ron 027 434-1400

ADVERTISE YOUR

BUSINESS HERE

Phone for further details

(03) 379 1100

WINDOW TINTING

tintawindow

advanced film solutions

99% uv block

fade protection

heat control

reduce glare

25 Years Experience

privacy films

frosting designs

non-darkening films

Workmanship Guaranteed

Lifetime Warranties on Most Films

UV

block

Trades & Services

Your local professional

FOR ALL YOUR

PLUMBING,

GAS &

DRAINAGE

• Bathroom repairs

• Renovations

• Leaks

• Blocked drains

• Gas and drainage

Carol and Chris

Phone 376 5322 or email

chcheast@laserplumbing.co.nz

Trades & Services

PLUMBER

Do you need a reliable

plumber? Quality and

timely services. No job

too big or small. Phone

V Plumbing Ltd. 022 351

4125

Trades & Services

PLUMBER

Do you need a reliable

plumber? Quality and

timely services. No job

too big or small. Phone

V Plumbing Ltd. 022 351

4125

Free Quotes Canterbury and Districts

03 365 3653 0800 368 468

Public Notices

Redcliffs

Public Library

107th AGM

The 107th AGM of the

Redcliffs Public Library

Inc will be held at 10am

on Friday 5 November

in the library.

The appropriate Alert

Level rules will be

followed and numbers

will be limited.

The library will open for

borrowing at 10.30am

Situations Vacant

Te Raekura

Redcliffs School

Teacher Aide Position

We seek a positive, caring and committed

teacher aide to join our fantastic school.

You will work with one of our students,

supporting her to access our curriculum

to the best of her abilities. The ability to

be consistent in your approach and to

help implement a modified curriculum

programme is important. Skills and

understanding of literacy teaching in a

structured and systematic way will be

advantageous, as will the ability to be

flexible and show initiative. Additional

skills in working with students with

Dyslexia will also be beneficial.

The position is currently for 12 hours per

week - Monday to Friday (days and hours

negotiable) and is during school term

time only. This position begins in Term 1

2022, specific date to be advised.

For further information, please contact

Abby Blanch on abby.blanch@redcliffs.

school.nz. To apply, please email your

application including a short cover

letter and your cv, together with the

names and contact details of two

professional referees by 27 October.

Applications close at 5pm.

Local Democracy

Reporter

- North Canterbury

Job type: Fixed term – 24 months

Location: Rangiora

Closing date: October 29, 2021

Are you an outstanding reporter looking for a new challenge and wanting

to serve your community?

Allied Press, with the support of RNZ and NZ On Air's Public Interest

Journalism Fund, is hiring a journalist to join Local Democracy Reporting in

2022 and 2023 from the North Canterbury News office in Rangiora.

You will be covering local authorities and other publicly-funded

organisations, but also going out and talking to the people affected by

these organisations' decisions, sharing their stories, and coming up with

your own stories on similar topics.

Your focus will be providing great public interest journalism coverage daily

throughout the North Canterbury region including Waimakariri, Hurunui

and Kaikōura. This is a multi-media role so experience in video, audio and

photography would be an advantage.

You will report to Allied Press' North Canterbury bureau chief. You will

receive extra training and support from RNZ, and your work will be made

available at the same time to all of the programme's media partners,

including RNZ.

This could be a junior, intermediate or senior role depending on the

successful candidate. We are looking for someone with as many of the

following qualities as possible. You don't need all of these to apply, but you

do need to have at least two years' reporting experience (although in some

cases we may also consider exceptional applicants with only one year's

experience).

• Able to spot a strong story and make it come alive for your audience

• Able to meet the highest standards of accuracy, fairness and balance

• Understanding of Te Tiriti o Waitangi

• Some knowledge of local government

• Excellent writing skills

This is a full-time role for a fixed term (through to 31 December 2023).

Assistance with relocation costs may be considered.

Applications close October 29, 2021.

Please submit your CV along with your cover letter and work samples to

recruitment@alliedpress.co.nz

Visit RNZ's website for more

information about the LDR service:

Thursday, August 2, 2018 | Issue 808 | www.ncnews.co.nz

https://www.rnz.co.nz/news/ldr
---
24 Bay Harbour News Wednesday October 20 2021 Latest Canterbury news at starnews.co.nz

STYLE & QUALITY

FOR LESS

LABOUR WEEKEND DEALS

Manatee Corner

Recliner Suite

SALE

Lacando Sofa Bed

WAS $2299

$

1999

Extra Section Available $299

WAS $1539

$

1299

SALE

Willis Chaise Outdoor Set

SALE

Grey PU

Beige PU

Black PU

WAS $2199

$

1799

WAS $909

$

767

Marlow Chair & Stool

SALE

7 draw Highboy

Lennox

Collection

3 draw bedside

WAS $159

$

139

WAS $399

$

339

Buffet Small $769 $649

Buffet Large $1079 $907

Hall Table $259 $214

Coffee Table $269 $222

Lamp Table $209 $173

Tv Unit $669 $559

Floor Stock Bedroom Clearance

5 Year Warranty

5 Year Warranty

Riviera Mattress

Single $489 $419

King Single $509 $429

Double $609 $519

Queen $729 $569

King $799 $619

California King $879 $749

FROM $489

$

479

Indulgence Mattress

King Single $749 $629

Queen $1019 $859

King $1059 $899

Super King $1079 $919

FROM $749

$

629

Sumata

Fabric

Headboard

Queen $479 $419

King $489 $429

California King $589 $499

FROM $479

$

419

FREE

CARPARKING

SOUTH CITY

BATH ST

WE ARE

HERE

255 MOORHOUSE AVE

REBEL SPORT

COLOMBO ST

MON-FRI 9:30AM – 5:30PM

SAT-SUN 10AM – 5:30PM

0800 268 264

www.affordablefurniture.nz
---
Latest Canterbury news at starnews.co.nz

Wednesday October 20 2021 Bay Harbour News 25

We've got you sorted for

those long weekend projects

Ferrymead

Get Decorating!

with

up to

Resense

Zylone Sheen Interior Paint

Low sheen. Waterborne. Water cleanup.

Tinting extra. 10 Litres. White.

356538

3 - 31 October 2021

Terms & conditions apply.

See mitre10.co.nz for full details.

WAS $215.90

now

$ 161 93

Number 8

75mm Paint Brush

Suitable for all paint types.

Easy to clean.

304548

Wattyl

Forestwood Decking

Stain Applicator

Complete with twist-lock

adjustable pole, applicator

head and wool pad.

304088

Gorilla

Smart Expanding Foam

Re-usable self-expanding foam.

No gun required. Easy, accurate,

one-handed application. BRANZ

appraised. 750ml.

343361

Jobmate

Value

Coveralls

Disposable.

Ideal for

painting. White.

Small, medium,

large and extra

large.

372667

each

WAS $26.98

now

$ 19 98

WAS $30.56

now

$ 20

$9.99 each

2 for $ 10

$

7 98 $

28 39

PAL

Plastic Drop Sheets

Ideal for protecting floors

and furniture. 2.6 x 3.6m.

362626

Resene

3 Piece DIY

Roller Kit

Includes

230mm roller,

sleeve and tray.

304749

PAL

Fencemaster

130mm Block Brush

For use with fence paint or

stains. Soft grip. Easy clean.

100% synthetic filament.

219560

Wagner

Flexio 590 Paint

Sprayer Kit

9 speeds. Adjustable

air pressure for precise

control. 600 Watt.

319032

$4.55 each

2 for $ 5

Wattyl you do in

mount Cook?

Purchase 4L or more of any

Wattyl/Valspar branded

product and be into win a

luxury trip to mount Cook.

5 to be won in

Canterbury!

Promotion runs 18th October 2021 and finishes 21st of November 2021. Wattyl brands include

Valspar, Forestwood, Solagard, Fence Finish and Accent. Terms and conditions apply.

WAS $14.23

now

$ 10

Valspar

Interior Paint

& Primer

Low sheen. Water

based for easy

wash up. Stain and

mould resistant.

White. 4 litre.

277532

$109

WAS $304

now

$ 289

Wattyl

Forestwood

Traditional Oil

Stains

For use on exterior

weatherboards and

fences in new or good

conditions 5 litre.

355552

WAS $88.98

now

$ 58 98

Prices valid until Oct 24th or while stocks last.

Mitre 10 MEGA Ferrymead

1005 Ferry Road. Christchurch

Phone: 366 6306

Find us at: /MEGAFerrymead

Opening Hours:

Monday – Friday:

7am – 7pm

Saturday, Sunday & Public Holidays:

8am – 6pm

www.mitre10.co.nz/local/MegaFerrymead

Ferrymead
---
26 Bay Harbour News Wednesday October 20 2021 Latest Canterbury news at starnews.co.nz

Gear up for some gardening!

Tomatoes

Easy to grow.

Suitable for

growing in

pots and

garden beds.

188029

Tui

Tomato Mix

Contains slow release

fertilizer and SaturAid

wetting agent. 100%

weed free. 30 litre.

142733

Lavender

Assorted sizes

and varieties.

342773

Bloom

Garden Hand Tools

Stainless steel with wooden handles.

320955

from

$3 94

each

$3

from

99

each

Was $15.98

now

$ 12

each

Growfresh

Vege Cell Packs 6pk

Assorted Veges.

188458

188455

188501

$12 98 $14 59

FloraViva

Flowering Annuals

The most popular varieties

of flowering annuals for

your garden. 100mm pot.

343385

Incredible

Edibles

Blueberry

Plants

Harvest

fresh berries

December

to February.

Assorted

Varieties. 3

litre pot.

151562

Tui

Vegetable Mix

Contains blood and

bone, sheep pellets

and dolomite 40 litre.

142734

$3.98 each

3 for $ 11

$2.59 each

5 for $ 10

each

Meyer Lemon

Plants

Plants mature into a

small growing tree

producing juicy

fruit. 4.7 litre pot.

227517

Tui

Lawn Force Lawn

Preparation Mix

Rich in nutrients to provide lawn

seed with the best possible

start. 100% weed free. 40 litre.

141841

$27 49 $ 19 99

Neta

13mm Drip Irrigation Starter Kit

An easy to handle, one stop watering solution.

248629

Hills

Pressure Sprayer

Strong. UV stabilized

bottle. 5 litre.

174015

$27 97

$14 98

Was $29.99

now

Kent & Stowe

Spade or Fork

Hand crafted from the highest

quality ash wood and stainless

steel. 15-year warranty.

268002

$14 98 $39 98 $39 99

Stanley

Polypour Wheelbarrow

Heavy duty galvanized steel tube

frame. Ready to assemble.

72 litre.

341290

Kiwicare

Weed Weapon

Rapid Action

Kills a broad range of

stubborn weeds to

the root. Ready to use.

2 litre.

245290

Tui

Tomato Grow Tower

8 litre water storage system.

Supports growth up to 1.5m.

343342

Was $74.99

now

$ 64 99

each

Was $169

now

$ 119

each

Big Range, Low Price, Local Advice
---
N

Latest Canterbury news at starnews.co.nz

Wednesday October 20 2021 Bay Harbour News 27

Landscape Zone Bulk Bins

Screened Topsoil

Mega Gro

Garden Mix

Medium Prem. Nuggets

$ PER

24 SCOOP

$ PER

31 SCOOP

$ PER

29 SCOOP

$ PER

35 SCOOP

Construction of new lawns, sometimes mixed

with compost for veggie gardens, garden beds

and tree pits.

$8 per bag.

Use as a garden topper to increase soil nutrients.

High mushroom compost content, lime and

pH levels designed to mix into existing soil or

screened topsoil.

$8 per bag.

Soil and compost premix for increasing nutrients.

50% screened top soil, 40% compost and 10%

sand. Great for veggie gardens.

$8 per bag.

Weed suppression and moisture retention that

need to be kept to a standard. Nuggets between

10-25mm.

$7 per bag.

Super Cover

Teddington Chip

Wānaka Schist

Black Betty

$ PER

30 SCOOP

FROM

$ PER

SCOOP

42

$ PER

90 SCOOP

$ PER

38 SCOOP

Ideal for hill side sections and high wind zones.

$7 per bag.

A combination of weathered Allandale, Greywacke

and Ryolite ranging in colour from creamy white

through to light brown and darker reds. Sourced

locally from Banks Peninsula. Multiple sizes available.

$12 per bag.

Known for its earthy blue-grey and golden brown

tones. Great for landscape features, garden beds

and pathways. Low maintenance, timeless and

distinctive. Multiple sizes available.

$12 per bag.

Weed suppression and moisture retention

that needs to be kept to a high standard.

Contemporary appearance.

$7 per bag.

HIRE EQUIPMENT

From wheelbarrows to tip trucks, water blasters to diggers,

we've got you covered for all of your hire equipment needs!

DISPATCH

LOADS OF BULK SUPPLIES.

BUILDING

SUPPLIES

FERRYMEAD

STORE ENTRANCE

We've Got:

• Compactors

• Water Blasters

ENTRY / EXIT

TO HUMPHREYS DRIVE

• Pumps

• Tanks

• Generators

• Concrete Mixers

• Concrete Cutters

GARDEN

CENTRE

HUMPHREYS DR

• Concrete Breakers

• Paddle Floats

• Concrete Vibrators

• Concrete Tools

• Diggers And Excavators

• Self Loading Dumpers

• Tip Trucks

• Rotary Hoes

• Chippers

• Wheelbarrows

• Lawn Rollers

• Lawn Mowers

• Chainsaws

• Hedge Trimmers

• Scrub Cutters

• Blowers

• Trailers

• Electrical Accesories

ENTRY / EXIT

SERVICE ENTRY

ENTRY / EXIT

FERRY ROAD

We deliver • Dumping available • Free courtesy trailer • Open 7 Days.

Now located in our Landscape Zone, 987 Ferry Road.

03 373 6551 admin@handyhire.co.nz

visit www.handyhire.co.nz for more info
---
28 Bay Harbour News Wednesday October 20 2021 Latest Canterbury news at starnews.co.nz

Nouveau

Montego Outdoor Lounge Setting 3 Piece

Set includes 2 double loungers, drinks tray and a coffee

table. Rust resistant powder coated aluminium frame. 100%

FSC teak. Olefin cushions.

354037

$2699

Nouveau

Outdoor

Dining

Setting 5

Piece

Rust resistant

powder coated

aluminium

frame. 5mm

tempered

glass tabletop.

$729

!88168

Charmate

Grady Offset

Smoker&

BBQ Black

Designed for

charcoal or wood.

320981

$699

Nouveau

Siena Outdoor Café Setting 3 Piece

Rust resistant powder coated aluminium frame. Allweather

half round 6mm wicker. Olefin cushions.

353997

$599

Nouveau

Tripoli Outdoor Bench Setting

H: 750mm, W: 2000mm, D: 1780mm.Rust resistant powder

coated aluminium frame. 2-year warranty.

336893

Nouveau

Lorca 4 Piece Lounge Setting

Powder coated aluminium frame. Durable olefin cushions for

added comfort. Wood look design provides elegance of wood

with easy maintenance.

378945

Masport

Maestro

Gas BBQ 4

Burner Blue

LPG. 710 x 460mm

cooking area.

379266

WAS $999

now

$ 899

$999

$899

Weber

Baby Q 1000

LPG BBQ Black

LPG. Up to 100 meals

from one 9kg gas

bottle (not included).

317366

Meteor

Williamette

Gas BBQ 4

Burner

LPG. 50/50 cast

iron hotplate

and grill.

353232

Nouveau

Outdoor Café Setting 3 Piece

Durable E-coating steel bistro setting in dark blue. Set includes

2 single bistro chairs and a bistro table. Fully foldable design

for easy storage.

353998

Nouveau

Montego 5 Piece Bar Setting

Rust-resistant powder coated aluminium frame. FSC teak is

100% sustainably sourced. 3-year warranty.

!89969

$409

$399

$149

$1599

Nouveau

Montego 3 Piece bench Setting

Rust resistant aluminium frame. FSC 100% teak is sustainably

sourced. 3-year warranty.

!89943

Nouveau

Montego Dining Setting 7 Piece

Powder coated aluminium legs. 100% ethically sourced FSC

teak. All weather banana leaf style wicker.

!89845

Nouveau

Lorca Outdoor Lounge & Dining Setting

5 Piece Rust resistant powder coated aluminium frame.

Tempered safety glass tabletop.

319516

Nouveau

Roma Multi-Functional Lounge Setting

Rust resistant aluminium frame with steel inserts

for strength. Durable olefin cushions. 5-in-1 design

provides versatility to your outdoor space.

378946

$2149

$3599

$1099

$1399

Use your airpoints dollars to pay in-store on

purchases over $75! Redeem until November 30th

Shop now.

Pay later.

Always interest-free.

Prices valid until Oct 24th or while stocks last.

Mitre 10 MEGA Ferrymead

1005 Ferry Road. Christchurch

Phone: 366 6306

Find us at: /MEGAFerrymead

Opening Hours:

Monday – Friday:

7am – 7pm

Saturday, Sunday & Public Holidays:

8am – 6pm

www.mitre10.co.nz/local/MegaFerrymead

Ferrymead