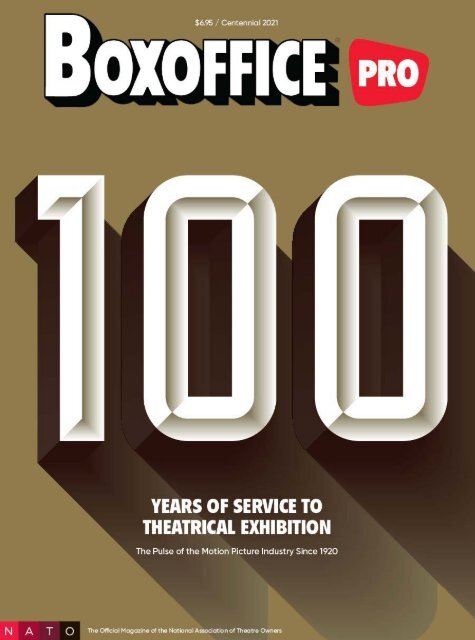 Boxoffice Pro - Centennial Issue
Boxoffice Pro is the official publication of the National Association of Theatre Owners.
Boxoffice Pro is the official publication of the National Association of Theatre Owners.
SHOW MORE
SHOW LESS
Create successful ePaper yourself
Turn your PDF publications into a flip-book with our unique Google optimized e-Paper software.
50+ Years of Innovation and Linear Lighting Leadership

A Step In The Right Direction

FiberStep by Tivoli combines all the benefits of our Title 24 complaint soft step with

a Fiber Optic light guide on the top row and two visual options for the bottom row.

FiberStep Continuous

Top Row: Fiber Optic "durable" soft glow LED

Bottom Row: LED low brightness TivoTape for a continuous glow

Available Light Color Options

1900K 2700K 3000K 4000K Amber Red Blue

FiberStep Titanium

Top Row: Fiber Optic "durable" soft glow LED

Bottom Row: Patented Titanium LED board with optional on center spacing

ADA

COMPLIANT

www.tivolilighting.com

01_AD-Tivoli.indd 1 23/11/2021 17:26
---
ai1636522741188_BoxOfficeMagazine_AD_v1-3_20211108_cs6_OP.pdf 2 10/11/2021 1:39 PM

C

M

Y

CM

MY

CY

CMY

K

02_AD-GDC.indd 2 23/11/2021 17:27
---
03_AD-TSS-Table.indd 3 23/11/2021 17:28
---
04_AD-MiT.indd 4 23/11/2021 17:28
---
Centennial

CONTENTS

142

Cinematic Enchantment

Disney Puts the Magic in

Magical Realism in the

Animated Musical Encanto

110

Parallel Histories

Parallel Mothers is Pedro

Almodóvar's Most Explicitly

Political Film Yet. It's Also

Among His Best.

130

Men Without Women

Ryusuke Hamaguchi

Avoids Getting Lost in

Translation in the Cinematic

Epic Drive My Car

118

California Dreaming

Director Sean Baker on

Red Rocket and the Challenges

Facing Specialty Distribution

136

A Love Story for Jordan

Michael B. Jordan Teams with

Denzel Washington on the True

Account of a Soldier, Husband,

and Devoted Father

05-06_Contents.indd 5 24/11/2021 14:03
---
CONTENTS

INDUSTRY

ON SCREEN

16

19

22

26

32

42

46

100 Years and Being Counted

Celebrating a Century of

Boxoffice Pro

Voices from CinemaCon

Reflections from NATO's Diversity &

Inclusion Scholarship Recipients

Charity Spotlight

A Recap of Industry-Wide Charity

Initiatives

Recovery Year

CinemaCon and CineEurope

Highlight Exhibition's Post-

Pandemic Concerns and Anxieties

State of the Art House 2021

Leaders of Specialty and Art House

Exhibition on What the Future Holds

Industry Insiders

A Tribute to Boxoffice Pro

Executive Editor Kevin Lally in

His Final Issue

Remembering WOMPI

Celebrating the Legacy of Women of

the Motion Picture Industry

110

118

126

130

Parallel Histories

Parallel Mothers is Pedro Almodóvar's

Most Explicitly Political Film Yet. It's

Also Among His Best.

California Dreaming

Director Sean Baker on Red Rocket

and the Challenges Facing Specialty

Distribution

Escape from Afghanistan

Jonas Poher Rasmussen Animates a

Refugee's Harrowing Journey in the

Acclaimed Documentary Flee

Men Without Women

Ryusuke Hamaguchi Avoids Getting

Lost in Translation in the Cinematic

Epic Drive My Car

136

142

148

151

A Love Story for Jordan

Michael B. Jordan Teams with Denzel

Washington on the True Account of a

Soldier, Husband, and Devoted Father

Cinematic Enchantment

Disney Puts the Magic in Magical

Realism in the Animated Musical

Encanto

Event Cinema Calendar

A Sampling of Event Cinema

Programming Hitting the Big

Screen in 2022

Booking Guide

"For me, back then, the cinema

was a parallel universe—the

type of universe I wanted to

live in. The type of universe

you'd only dream about,

one that seemed a lot more

appealing than the harsh

realities of the postwar era."

Pedro Almodóvar, p. 116

CENTENNIAL

50

54

62

The Boxoffice Story!

A Reprint From our 50th Anniversary

Issue, Published in 1970, Looking Back

at the Founding of the Publication

The Boxoffice Story, Continued

An Institutional History of Boxoffice

Pro Since Ben Shlyen's Sale of the

Company

A Century in Exhibition

Documenting 100 Years of Exhibition

History Through the Pages of

Boxoffice Pro

06 Centennial 2021

05-06_Contents.indd 6 24/11/2021 14:37
---
ex experience with Q-SYS from QSCww

To the big screen,

and beyond!

CREATE A FULL MULTIPLEX EXPERIENCE WITH Q-SYS FROM QSC

Today's cinema experience is so much more than movies! And Q-SYS TM is so much more than a

cinema processor. With the Q-SYS Platform you can deliver sound to each theatre and every other

space in the theatre complex where high quality sound is important. You can also monitor and

control every sound system component and many other devices, from anywhere in the building or

remotely from anywhere with a network connection.

qsc.com/cinema

©2021 QSC, LLC all rights reserved. QSC, Q-SYS and the QSC logo are registered trademarks in the U.S. Patent and Trademark Office and other countries.

07_AD-QSC.indd 7 23/11/2021 17:30
---
BOXOFFICE MEDIA

CEO

Julien Marcel

SVP Content Strategy

Daniel Loría

Creative Direction

Chris Vickers & Craig Scott

at She Was Only

EVP Chief Administrative Officer

Susan Rich

VP Advertising

Susan Uhrlass

BOXOFFICE PRO

EDITORIAL DIRECTOR

Daniel Loría

DEPUTY EDITOR

Rebecca Pahle

EXECUTIVE EDITOR

Kevin Lally

MANAGING EDITOR

Laura Silver

CHIEF ANALYST

Shawn Robbins

ANALYSTS

Chris Eggertsen

Jesse Rifkin

DATABASE

Diogo Hausen

CONTRIBUTORS

Patrick Corcoran

Charles Rivkin

Rolando Rodriguez

Erin Von Hoetzendorff

Vassiliki Malouchou

ADVERTISING

Susan Uhrlass

63 Copps Hill Road

Ridgefield, CT USA 06877

susan@boxoffice.com

SUBSCRIPTIONS

Boxoffice Pro

P.O. Box 215

Congers, NY 10920

833-435-8093 (Toll-Free)

845-450-5212 (Local)

boxoffice@cambeywest.com

CORPORATE

Box Office Media LLC

63 Copps Hill Road

Ridgefield, CT USA 06877

corporate@boxoffice.com

Boxoffice Pro has served as the

official publication of the National

Association of Theatre Owners

(NATO) since 2007. As part of this

partnership, Boxoffice Pro is proud to

feature exclusive columns from NATO

while retaining full editorial freedom

throughout its pages. As such, the

views expressed in Boxoffice Pro

reflect neither a stance nor an

endorsement from the National

Association of Theatre Owners.

Due to Covid-19, Boxoffice Pro

will be adjusting its publishing

schedule. For any further

questions or updates regarding

your subscription, please do not

hesitate to contact our customer

service department at boxoffice@

cambeywest.com.

HISTORICAL

MASTHEAD

PUBLISHERS

Ben Shlyen

(1920–1979)

William J. Vance

(1979–1980)

Robert L. Dietmier

(1980–2005)

Brian Pomerantz & Gidon

Cohen

(2005–2006)

Peter Cane

(2006–2014)

Julien Marcel

(2014–Present)

EDITORS IN CHIEF

Ben Shlyen

(1920–1979)

Charles F. Rouse III

(1979)

Alexander Auerbach

(1980–1984)

Harley W. Lond

(1984–1993)

Ray Greene

(1994–1997)

Kim Williamson

(1998–2006)

Annlee Ellingson

(2007–2008)

Chad Greene

(2008–2009)

Amy Nicholson

(2010–2013)

Daniel Loria

(2014–Present)

Boxoffice Pro (ISSN 0006-8527), Volume 157, Number 5, Centennial Edition 2021. Boxoffice Pro is

published by Box Office Media LLC, 63 Copps Hill Road, Ridgefield, CT USA 06877.

corporate@boxoffice.com. www.boxoffice.com. Basic annual subscription rate is $75.00. Periodicals

postage paid at Beverly Hills, CA, and at additional mailing offices. POSTMASTER: Send all UAA to

CFS. NON-POSTAL AND MILITARY FACILITIES: send address corrections to Boxoffice Pro, P.O. Box 215,

Congers, NY 10920. © Copyright 2021. Box Office Media LLC. All rights reserved. SUBSCRIPTIONS:

Boxoffice Pro, P.O. Box 215, Congers, NY 10920 / boxoffice@cambeywest.com. 833-435-8093 (Toll-

Free), 845-450-5212 (Local). Box Office Pro is a registered trademark of Box Office Media LLC.

(Jan–Dec 2021) 2,566 / Print - 2,101 / Digital - 465

08 Centennial 2021

08-10_Executive-Letter.indd 8 24/11/2021 17:37
---
EXECUTIVE LETTER

FORGING A

PATH FORWARD

Two years ago, when we began

preparing for our centennial issue,

we took up the task in the usual way. We

knew we had to be quick and efficient,

and we knew we had to plan everything

in advance in order to stay up to date (the

best one can in a monthly magazine) with

the latest developments in a business

that had just achieved its highest-ever

global earnings. There was enormous

momentum in the industry going into

the holiday season of 2019; it seemed like

the perfect time to celebrate our 100th

anniversary.

What unfolded instead was a series

of events that left a lasting scar on our

personal and professional lives. Here at

Boxoffice Pro, the hardships began

with the unfortunate passing of our

longtime creative director, Kenneth

Bacon, in December 2019. Ken was the

longest-serving member of our staff, and

he was, in many ways, the caretaker of this

publication's history (our archives were

stored in his garage for a period). His wry,

nostalgic Timecode column, which he

compiled from his collection of back issues,

was a reader favorite. Though he is not

with us today, I am sure you will be able to

see his influence throughout this issue.

January 2020 presented another

difficult challenge, with news of a novel

coronavirus spreading in China. None

of us understood what the next months

would bring; even in hindsight, it is

difficult to find words to describe how the

Covid-19 crisis unfolded.

In short, the first quarter of 2020, a

period we had been anticipating as a cause

for celebration, devolved into one of the

most difficult periods in this publication's

history. We reported as cinemas around

the world voluntarily closed their doors in

March 2020. We were forced, for the first

time in our history, to pause publication of

our monthly magazine.

By the end of the summer, cinemas

had finally reopened, and we were back in

publication. But the past 18 months have

In every crisis there are

opportunities, and revisiting

one's history is an opportunity

to better prepare for the

future. That is the very spirit

we drew upon in putting

together this issue.

been defined by a prolonged recovery from

the crisis, full of twists, turns, and false

starts. Like the industry we support, we

are still working to get back on our feet.

But that doesn't mean we aren't making

progress. I am happy to announce that we

will be publishing a total of eight issues in

2022, three more than the number we ran

in 2021. We are confident that this industry

will show its trademark resiliency in 2022

so that we can print even more issues in

the near future.

What we learned from that incredibly

difficult first quarter of 2020 is the

importance of reacting and adapting to

the world around us. These events could

have destroyed our momentum, derailed

our 100-year legacy. But like the rest of

exhibition, we were committed to forging

a path forward.

The world was in a very different place

in 2020 than it is right now, which is why

we made the difficult decision last year

to postpone our centennial anniversary

issue to December 2021. It didn't feel

like the right time to look back; we were

focused on the challenges that lay ahead.

Today, however, as we measure the slow

but steady progress we are making in

overcoming this crisis, looking back is

important and necessary—not out of a

sense of nostalgia, but as a way to inform

our understanding of the present. In

every crisis there are opportunities, and

revisiting one's history is an opportunity

to better prepare for the future.

That is the very spirit we drew upon in

putting together this issue.

It took an extra year to get here, but

we are very proud to share with you the

centennial issue of our publication. We

hope you enjoy reading it as much as we

enjoyed creating it.

Julien Marcel

Chief Executive Officer, The Boxoffice Company

Publisher, Boxoffice Pro

Centennial 2021

09

08-10_Executive-Letter.indd 9 23/11/2021 17:31
---
EDITOR'S LETTER

PROGRESS IN

THE FACE OF

ADVERSITY

Like the industry we represent, Boxoffice Pro

is, I believe, emerging from the pandemic

stronger than ever before—with a renewed

commitment to providing this industry with

the in-depth, vital coverage it has come to

expect from us.

I've been both anticipating and

dreading putting this issue together

since I realized, years ago, that I would

be the editor to lead Boxoffice Pro's

centennial celebration. The challenge

seemed daunting—100 years of history—

but my concern was assuaged by the fact

that I would be working on it alongside our

creative director, Kenneth Bacon.

As the publication's longest-serving

employee at the time, Ken was the

unofficial gatekeeper of the magazine's

history. Since I met him, he had

identified the centennial as his crowning

achievement—the culmination of all his

work at Boxoffice Pro. Ken's passing, in

December 2019 after a brief illness, on the

day our first issue of 2020 was scheduled

to hit the printer, shook us in a very

deep way. Months later, the onset of the

Covid-19 pandemic further complicated

our approach to the centennial. For the

first time in their existence, movie theaters

around the world were forced to close en

masse, with no indication of when (or if)

they would open their doors once again.

Our staff at Boxoffice Pro has

been in crisis mode since those two

developments, the first an institutional

tragedy, the second an industry-wide

disruption. The pandemic forced us to

take a step back and refocus our attention

away from the centennial so we could

provide our exhibition colleagues with

the best and most extensive coverage

of the ongoing crisis. In April 2020, we

made the difficult decision to suspend the

publication of our magazine until cinemas

reopened at the end of the summer. Since

then, in accordance with the theatrical

market's slow recovery, we've slowed

our publishing frequency to every other

month so we could pivot to breaking-news

coverage on our digital platforms.

Instead of a celebration, 2020 turned

into a year defined by the innovations we

pursued in the face of an existential crisis.

Like the industry we represent, Boxoffice

Pro is, I believe, emerging from the

pandemic stronger than ever before—with

a renewed commitment to providing this

industry with the in-depth, vital coverage

it has come to expect from us.

The centennial edition of this

magazine, published an entire year

later than we planned, is a testament to

exhibition's resiliency. It also provided

us with the opportunity to look inward

at how we approach our job. As a trade

magazine, our primary task is to profile

the industry's leading executives,

trends, concerns, and opportunities. As

journalists, we seek out these stories by

expanding our view of the business to be

as inclusive as possible—whether that

means covering the Netherlands' microcinemas,

Nigeria's largest circuits, or, of

course, the North American exhibition

market that is our specialty. We regularly

set our sights outward to enrich the

content in these pages.

Rarely do we have the luxury to

examine our own work and history. Maybe

that's why, during research for this issue, I

was so charmed by a reprint that appeared

in our 75th anniversary edition: a twopage

spread with pictures of Boxoffice's

entire 1947 roster—from the publisher's

desk to the mailroom. The story of this

magazine is also the story of the people

who have dedicated their lives to it. A

large part of our focus in this issue is on

the stories of those people and their work

on our publication.

I'd like to thank Alex Auerbach, Peter

Cane, Phil Contrino, Francesca Dinglasan,

Annlee Ellingson, Chad Greene, Ray

Greene, Harley Lond, Julien Marcel, and

Dave Stonehill for spending time with

me to look back on their experiences at

this publication. Their interviews, and

the materials they provided, greatly

informed the institutional history piece

that appears in this issue. Their work is

also documented in Vassilki Malouchou's

series of articles, "A Century in Exhibition,"

documenting Boxoffice Pro's coverage

of the industry through the decades,

which we have republished (for the first

time) in its entirety.

This edition also marks the final issue

in which our colleague, Kevin Lally, will

be part of our masthead. I first became

acquainted with Kevin as a competitor:

He was the longtime editor in chief of

our then-rival Film Journal International.

Today, I feel privileged to know him

as a mentor who helped me navigate

the challenges of this role, and, more

importantly, as a personal friend. Kevin's

35-year tenure at the helm of FJI is second

only to this magazine's founder, Ben

Shlyen, as the longest-serving editor of

an exhibition trade magazine in North

America. We are proud to profile Kevin's

contributions to our industry as part

of Boxoffice Pro's own history in our

centennial issue.

Outside of our own story, we've put

much work into compiling the industry

coverage that we're known for. In my

recap of this year's major exhibition

conventions, you'll find an assessment of

where exhibition finds itself today—and

where it may be headed in the future. Our

deputy editor, Rebecca Pahle, recaps our

recent webinar panel on the State of the

Art House, providing essential insights

into the specialty market and its potential

evolution. You'll also find a robust On

Screen section, featuring interviews

with some of today's most influential

filmmakers (from the multiplex to the art

house) and their upcoming movies.

On behalf of myself, our current staff,

and everyone who has contributed to this

magazine over the past century, thank you

once again for your support.

Daniel Loria

SVP Content Strategy & Editorial Director

BOXOFFICE PRO

10 Centennial 2021

08-10_Executive-Letter.indd 10 23/11/2021 17:31
---
Experience The New 4K 24,000 Lumen

NC2443ML Digital Cinema Laser Projector!

Designed for theaters with screens up to 72 ft. wide, NEC's NC2443ML is the latest DCI compliant RB Laser

DLP cinema projector. Delivering precise 4K (4096 x 2160) resolution, 3-D capabilities and high contrast

images, this model is easy to operate, extremely user-friendly and requires minimal maintenance

providing up to 50,000 hours of laser life for unsurpassed TCO.

Projectors ready to ship!

NC1803ML, NC2003ML, & NP-NC2403ML 2K Projectors

Coming soon!

NC1843ML & NC2043ML 4K Projectors

Contact us:

Jeff Kaplan – Sharp/NEC Digital Cinema

Em: jkaplan@sharpnec-displays.com

For more information, visit our website at

www.sharpnecdisplays.us

11_AD-Sharp-NEC.indd 11 23/11/2021 17:33
---
FOUNDER'S LETTER

THIS IS A

WONDERFUL

BUSINESS!

Nothing goes on for long with

tranquility and quietude. It is

ever a business that keeps one

on his toes and that, in turn, is

what keeps one in the running.

A note from our late founder,

Ben Shlyen, published in the July

20, 1970 issue of Boxoffice Pro

BY BEN SHLYEN

Not too far in the past, an industry

executive said to us, "Isn't this a

wonderful business that can make so many

mistakes and still come out with a profit?"

That question and its obvious answer

have remained with us through the years,

recurring every now and then, especially

when there is occasion to take a doleful

look at happenings that, at the moment,

cast a cloud across the horizon. And,

thinking back over the years – all 50 of

them, to be specific – our mind's eye

envisages some of the numerous cloudy

periods that the industry has passed

through, each time emerging stronger and

with the outlook brighter than ever before.

We remember a lot of things about

the early days of this industry as it

coursed through the years, from its small

beginnings as a peep-show curiosity to

its peaks of magnitude; from its infancy

to its maturity; from the limited sphere

of its operations to its globe-encircling

strides. None of these steps of progress

was attained or held onto easily, without

some faltering here and there, without

mistakes that were costly or temporary

setbacks. Successes were many, but often

fleeting. Always there was a new obstacle

to overcome. Always it was necessary to

blaze new trails to discover new means

for successful adventures. And always

the need was met with the effort that led

to a new turning point in the road – and

to new horizons.

That is one of the great compensating

factors of this business, in addition to the

profits it may bring. It is adventuresome,

stimulating, and inspiring. Nothing goes

on for long with tranquility and quietude.

It is ever a business that keeps one on his

toes and that, in turn, is what keeps one in

the running.

Not only those who have spent 50 or

more years in this business, but even those

who have been in it only a short time, are

held to it by fascination That is why so

many stick to it through thick and thin,

putting up with trials and tribulations

that they would not long countenance in

any other enterprise. And why so many,

who have found the going in recent times

very hard to bear, are desperately hanging

on. They want to remain a part of this

business as long as possible.

The past decades have been eventful, to

say the least. They serve as foundations to

build on. With some repairing they can be

strengthened, but new building, new ideas

are essential to future industry growth.

What about the future? What course

is there left to take? What new trends will

develop or be developed? Will present

trends, particularly those that have been

unsatisfying or considered inimical to the

industry's well-being, continue? Will the

old orders and patterns of operations be

restored? Each of these questions has an

answer and, whether or not it is what each

individual or group wants it to be, the

collective industry will continue far into

the future with new marks of progress,

new avenues of profit. Some signs of what

is to come already are beginning to take

shape. Some plans, long in the blueprint

stage, are scheduled for early development

and implementation.

It was with an eye to the future that

the editorial content of this issue was

planned. Looking forward, except for a

glance at highlights of the past for their

interest and whatever guidance value

they might serve, we asked qualified inindustry

executives to tell us what they

could foresee for the industry's future. All

branches of the business are covered –

production, distribution, exhibition, and

related phases of each. And, throughout

these views, it is significant that a note of

confidence prevails.

Confidence was the key to the success

of the industry's pioneers and builders

that enabled the motion picture to

grow into the world's greatest mass

entertainment form. To be sure, many

obstacles were encountered, including

new forms of competition. But, with

courage, foresight, imagination, initiative,

and a venturesome spirit, they built this

business from a handful of storeroom

nickelodeons to thousands of edifices of

beauty and magnitude.

After 50 years of publishing

BOXOFFICE, it is apparent that we

have had an abiding confidence in this

business. That same confidence continues

as we move into a new decade with a

feeling that there are no bounds for this

industry's opportunities and progress,

especially if the various segments will

extend themselves in working together,

and through increasing evidences of

understanding cooperation.

On this occasion of marking our 50th

anniversary, we take pride in expressing

our appreciation for the congratulatory

messages and good wishes of the friends

the years and our life's work have

brought us. We are grateful, too, for the

cooperation they have given us along the

way, which has been most heartening and

helpful to our progress.

This is, indeed, a wonderful business –

and it always will be!

12 Centennial 2021

12_Editors-Letter.indd 12 24/11/2021 14:08
---
THE FEATURES YOU NEED.

THE OPTIONS YOU WANT.

THE COMPANY YOU TRUST.

When it comes to concessions,

it comes from Cretors.

Only Cretors combines five generations of industry leadership with more than

130 years of forward-thinking innovations. Backed by our industrial manufacturing

R&D for global snack food giants, we bring revolutionary products to the

concessions marketplace, time and again. Whether it's an industry-changing

safety feature, a long-sought-after option or a customizable machine made

for the way you sell anywhere in the world, there's no limit to our ingenuity.

Made in America, loved world-round!

Contact Shelly Olesen at 847.616.6901 or visit www.cretors.com

13_AD-Creators.indd 13 23/11/2021 17:34
---
TH

BOXOFFICE PRO

ANNIVERSARY

BLOCKBUSTERS

THE WORLD'S MOST IMMERSIVE PREMIUM EXPERIENCE

WWW.ICETHEATERS.COM

ICE IMMERSIVE TECHNOLOGY I 4K RGB LASER PROJECTION I IMMERSIVE AUDIO I VIP SEAT

14_AD-CGR-ICE.indd 14 23/11/2021 17:34
---
Congratulations 16 | Charity Spotlight 22 | 2021 in Review 26 | State of the Art House 32

INDUSTRY

"It's about taking that step coming out of the pandemic in getting

to release models that work for everybody in the industry."

Recovery Year, p. 26

Centennial 2021

15

15_Industry-Opener.indd 15 23/11/2021 17:34
---
Industry NATO

100 YEARS

AND BEING

COUNTED

Celebrating a Century

of Boxoffice Pro

BY ROLANDO RODRIGUEZ &

PATRICK CORCORAN

Congratulations to Boxoffice

Pro on achieving this significant

milestone! One hundred years of a

singular focus on the business and

art of motion picture exhibition. No

other publication in this space can

claim the longevity or achievements of

Boxoffice Pro. Yes, other long-running

entertainment trade publications cover

exhibition, and sometimes cover it well,

but there is nothing like Boxoffice Pro.

The magazine has been re-running

some wonderful pieces on the successes,

failures, and changes in the exhibition

business, and a picture has emerged.

Boxoffice Pro goes deep, and its

interest in and coverage of the business

as a business stand out. It tackles the

concerns and challenges that are unique

to exhibition. And just as interesting,

amid all the changes, it acknowledges that

nothing really changes: People want to go

out to the movies, new home technologies

present challenges and opportunities,

movies that are expected to succeed fail,

and movies that come out of nowhere

succeed beyond all expectation.

It was our pleasure and privilege, at

NATO's Board Meeting in November,

to honor Sumner Redstone and his

formative and lasting impact on NATO

and the exhibition industry. It was

striking, as we dedicated an evening

to him and his legacy, in the presence

of his daughter, Shari Redstone, to see

how much the concerns and interests

of exhibition at NATO's founding on

January 1, 1966, are the concerns and

interests of exhibition today.

In a memo to the Executive Committee

of the Theatre Owners of America,

proposing the bylaws and constitution of

the new organization to be formed by a

merger with Allied States Association of

Motion Picture Exhibitors (representing

mostly independent exhibitors), Redstone

wrote, "It is designed to attack the

principal problems—shortage of product

and talent. Further, we will spend as

much time as necessary looking for

solutions to the many irritating and

aggravating day-to-day problems facing

exhibition and the industry."

It is all achingly familiar, and unlike

more general entertainment trades and

consumer publications, Boxoffice Pro

brings that perspective to its coverage.

Every technological or consumer

innovation is not the end of exhibition, nor

is the hot topic of the present necessarily a

road map to the future. A photo published

in Boxoffice Pro's retrospective of

the 2000s (below, left) brought not just

an awkward photo of then-new NATO

president John Fithian, but a survey of

headlines that could run today.

Boxoffice Pro also provides a

unique history and ongoing chronicle

of how, despite the constancy of issues

and concerns, exhibition has evolved and

changed and met new challenges. Take

simultaneous release. Boxoffice Pro

covered, with respect and balance, the

2005 experiment of Steven Soderbergh's

Bubble, in theaters and on VOD at the

same time. There was acrimony and

doomsaying, but Boxoffice Pro provided

space for cooler and more measured

takes from John Fithian, Magnolia and

Landmark Theatres' Mark Cuban, and

Soderbergh himself. NATO has been able

to maintain a respectful, friendly, and

fruitful relationship with Soderbergh

throughout the years.

NATO, of course, used to publish

its own magazines—NATO News,

followed by In Focus, making for three

publications dedicated to the exhibition

space: Boxoffice Pro, Film Journal

International, and, in the 2000s, In Focus.

This was, from an editorial perspective,

a bounty, but from an advertising

perspective—the perspective of many of

exhibition's vendors—a burden.

In 2007, following an agreement with

Boxoffice, NATO folded In Focus, and

Boxoffice Pro became the official

magazine of the association. NATO would

have dedicated space in the magazine (like

this column), and Boxoffice Pro would

be distributed free of charge to NATO

members, providing benefit to NATO

members and a solid circulation base for

Its interest in and coverage

of the business as a business

stand out. It tackles the

concerns and challenges that

are unique to exhibition.

16 Centennial 2021

16-17_NATO.indd 16 23/11/2021 17:36
---
Our members will redefine

what the theatrical

experience means. Cinema

is much more than a passive

form of entertainment. It's

immersive and life changing.

Boxoffice Pro. NATO freed financial and

staff resources from publishing a monthly

magazine, and Boxoffice Pro remained

editorially independent. Boxoffice Pro

eventually merged with Film Journal

and stands alone as a unique voice of

exhibition in the media.

Boxoffice Pro has continued its strong

internet and social media presence as well.

Its reporters are respected analysts of the

industry and are frequently relied upon

by the trades and consumer publications.

Their sane, historically minded takes

broaden Boxoffice Pro's influence and

counter less-informed perspectives.

Throughout the pandemic, Boxoffice

Pro has innovated and provided tools

to exhibition. Its podcasts and webinars

provided a lifeline of information,

expertise, and an easy way to hear how

other exhibitors around the world have

coped with the crisis. And around the

world is key. As exhibition has expanded

and international theater companies have

become an important engine of world

box office—at least two-thirds in normal

times—Boxoffice Pro has expanded its

reach to meet that new reality.

For the first time this year, at a return to

CinemaCon already recognized as unique,

Boxoffice Pro recorded daily podcasts

from the convention to complement its

already extensive coverage. CinemaCon

already frequently calls on Boxoffice

Pro staffers and executives to moderate

panels, knowing they will be handled with

a firm understanding of the industry and

Boxoffice Pro's hallmark fairness.

So here's to another 100 years and

counting—and being counted—as a vital

asset to the industry. Our thanks and

appreciation for Boxoffice Pro and its

staff are boundless. Our partnership is one

we treasure, especially, as now, when we

miss our deadlines.

Rolando Rodriguez is NATO Chairman

and Chairman, President & CEO of Marcus

Theatres.

Patrick Corcoran is NATO Vice President &

Chief Communications Officer.

Centennial 2021

17

16-17_NATO.indd 17 23/11/2021 17:36
---
Industry MPA

CHAIRMAN

CHIEF EXECUTIVE OFFICER

18 Centennial 2021

18_MPA.indd 18 24/11/2021 14:15
---
INDUSTRY NATO

WORKING TOWARD

A MORE INCLUSIVE

INDUSTRY

Reflections from NATO's

2021 Diversity & Inclusion

Scholarship Recipients

BY ERIN VON HOETZENDORFF

Manager of Membership and Global Affairs, NATO

We all remember our first

CinemaCon (or ShoWest). Most

likely, it was dizzying and exhausting, but

it was also enlightening and exciting, a

reminder of why you got into this business

and an incentive to dig into the industry

even more. At CinemaCon 2021, NATO

created the 2021 CinemaCon Diversity

and Inclusion Scholarship to increase

the involvement of underrepresented

individuals and ensure that the industry's

premier event included the breadth

of people working in exhibition. Five

scholarship recipients attended the event,

from seminars to screenings to meals.

We asked them to reflect on their biggest

takeaway from CinemaCon. Keep reading

to see their reflections, in their own words.

Kelly Allen

General Manager, AMC

Theatres, Austin, Texas

First, let me start by extending a huge

thank you to the D&I Committee and

everyone at NATO for offering the

Diversity and Inclusion Scholarships for

this year's CinemaCon in Las Vegas. I

believe that CinemaCon is something

everyone in our industry should have the

opportunity to experience. NATO and the

CinemaCon team put on an amazing show,

even with all the challenges that our "new

normal" world has presented in order for

us to operate safely.

As a general manager in the field, I

can oftentimes get tunnel vision and get

wrapped up in the day-to-day insanity

that comes with the territory of operating

a movie theater. Personally, my biggest

takeaway from CinemaCon would be the

continuing importance of my involvement

and education in the industry as a

whole—rather than being solely focused

on the four walls of my building. During

CinemaCon, I was able to meet with

many industry leaders and participate in

valuable discussions about where we are

as an industry and how we can continue

our fight for theatrical exclusivity and

other pertinent issues that affect our

future stability.

My time in Vegas inspired me to

continue being the best leader I can be for

my team and for AMC, and to continue

finding ways to branch out and make

an impact on others. I look forward to

continuing this with my company, as well

as with NATO, as opportunities arise, such

as the Diversity and Inclusion Committee

and more.

Benjamin Smith

General Manager, Movie

Palace Inc., Casper,

Wyoming

I was lucky enough to be selected as a

recipient of the 2021 CinemaCon Diversity

and Inclusion Scholarship. This was my

first CinemaCon experience, and there

was so much to take in, it's difficult to say

what my biggest takeaway was. One thing

that really resonated with me was all the

creative ideas that were discussed at the

Independent Theatre Owners Committee

meeting. It was great to see how helpful

everyone was and how willing they were

to share their ideas that they implemented

during the shutdowns. Everything from

additional revenue options to employee

happiness and retention was discussed

as a way to help your business succeed

during these difficult times. The great part

for me was that these were all from people

running similar-size operations as I do, so

I was really able to relate to the struggle

and implementation of the discussions.

I attended many other meetings

that really helped me see how the

industry works as a whole, not just

from the exhibition side. Having a deep

understanding of the things you are

immersed in is, I think, a critical part of

being efficient and making decisions. A

mechanic can't make a decision about

what part to replace on a car without a

thorough understanding of how all the

parts work together. While that may be a

bit of an exaggerated example, it leads me

to my point: I learned how all different

parts of this wonderfully unique industry

work together, more or less, to benefit

each other. While I may not have one

specific implementation to offer, I gained

a much deeper understanding of the

industry, which has helped me become a

better leader and manager.

Centennial 2021

19

19-20_NATO-CinemaCon.indd 19 24/11/2021 14:16
---
INDUSTRY NATO

Constance Camat

Marketing Manager, Tango

Theatres, Dededo, Guam

Coming from an insular area, I found

CinemaCon 2021 to be an eye-opening

experience. I was surrounded by other

individuals who are as passionate, or

maybe even more passionate, as I am

about this industry. The pandemic has

hit every industry, but none as severely as

the movie industry. Yet from closures to

simultaneous on-demand and theatrical

release dates, movie theaters still stand

strong and move together as an industry

like never before. Being able to network

with others going through the same

struggles has helped our location find

ways to continue to survive.

Tango Theatres is the place on our

island for Filipino films. Since reopening,

it has been a struggle to reopen that

market. Thankfully, we were able to

broaden our foreign films by adding

Japanese anime and K-pop concert

films. We have been able to work with

our community to find other uses for our

auditoriums. From book signings to job

fairs, we are able to help the community

have a sense of normalcy. Our location

has begun to explore the possibilities

of offering our auditoriums for karaoke

and gaming, as it has done well for other

theater owners. I look forward to returning

to CinemaCon to see what our industry

has yet to offer our fellow moviegoers.

Logan Crow

Executive Director/

Founder, The Frida Cinema,

Santa Ana, California

Easily my biggest takeaway from

attending CinemaCon is a sense that,

big or small, we're all in this together.

Prior to attending, I'd admittedly been

under the assumption that the problems

faced by community, nonprofit art

house cinemas like The Frida Cinema

wouldn't be relevant to the operations

of larger commercial cinemas, and

therefore I've stuck to networking with

my community of fellow art houses for

perspectives and guidance. Throughout

the conference, I was fortunate to meet

and have great conversations with so

many representatives of cinemas, from

single-screen to multiplex, single-venue

to mega-chain, and the general gist of

every conversation centered on the same

themes: How do we best serve and reflect

the varying interests of our communities;

how do we reopen our doors and

continue to provide entertainment to our

communities while navigating the varying

perspectives on Covid-19 precautions

and restrictions; how do we maintain

staff morale during these difficult times;

and perhaps most universally, at a time

when streaming platforms are growing

exponentially in popularity, how do we

best advocate—to both our customers and

our distributors—for the time-honored

tradition of going out to the movies?

Those conversations have continued in

the months since CinemaCon, and these

new relationships, and the perspectives

we have shared, have been invaluable.

Movie theaters big and small, we truly are

in this together. Long live the cinematic

experience!

Richard Martin

Programming Manager,

Plaza Theatre, Atlanta

After a year of extreme speculation in

theatrical exhibition and the evolution

of distribution, CinemaCon 2021 was one

of the most reassuring experiences I've

had in the past year. Seeing our industry

endure and continue to weather the storm

of a global pandemic to continue our

long-cherished tradition of entertainment

inspired me deeply. To see the overall

positivity around our commitment to

the theatrical experience, and to also see

the continued response to customers

returning to the big screen, proves

that one of the main rallying cries of

CinemaCon is true: "The Big Screen Is

Back." Getting the opportunity to truly

feel like part of the industry and to get a

glimpse of the future of our industry and

a personal introduction to the industry's

warmth and interesting idiosyncrasies

was one of the greatest moments in

my career. The people, the parties, the

constant interaction and hearing many

differing opinions about how the industry

should go into the future—there was

nothing but a wealth of hope out there in

our industry. The landscape of theatrical

exhibition is still foggy, but in the end,

it will never truly die, and CinemaCon

was proof of that. Seeing the exhibition

industry move forward will be quite the

interesting adventure, but one thing is

certain, there will never be anything like

going to the movies, and we're here to

make sure that that stays true.

20 Centennial 2021

19-20_NATO-CinemaCon.indd 20 23/11/2021 17:38
---
We want to thank the entire cast and crew who give our kids the chance to feel like stars.

To our donors, you make dreams come true. You change lives for the better. You help

overcome the stigma and isolation faced by children living with special needs.

Learn more or become a donor at varietytexas.org

21_AD-Variety.indd 21 23/11/2021 17:38
---
INDUSTRY CHARITY SPOTLIGHT

CHARITY

SPOTLIGHT

Know of a recent or upcoming event

that should be included in Charity

Spotlight? Send us the details at

numbers@boxoffice.com.

VARIETY – THE

CHILDREN'S CHARITY

RINGS IN THE HOLIDAYS

Variety of Detroit

On Friday, October 22, 2021, Variety of

Detroit hosted Hearts & Stars at the

Townsend Hotel, honoring Lois Shaevsky,

former president of Variety of Detroit.

Shaevsky (above, with Variety of Detroit

co-chairs Laurie Fischgrund and Rhonda

Sabatini and president David King) was

honored with the Variety Heart Award

for her dedication to Variety of Detroit for

35 years.

This year marks Variety of Detroit's 14thannual

Holiday Adopt-a-Child. Donors

"adopt" one (or more!) children and receive

a wish list of ideas and sizes. Sponsors

shop at their convenience, then bring the

unwrapped gifts to Santa's Workshop on

December 4—where they wrap gifts and

get into the holiday spirit. Variety of Detroit

provides the wrapping paper, food, and fun!

Variety of Wisconsin

Variety of Wisconsin families enjoyed a

beautiful day at the Haunted Mansion

Maze at FrankenStein's Fest at Stein's

Garden and Home. Stein's is a great

partner to Variety and offers this inclusive,

fun trick-or-treat and fall experience,

complete with a pumpkin patch, at its

Brookfield, Wisconsin store.

Variety of Illinois

Variety of Illinois kids had a fangtastic

Halloween, stopping by a trunk-or-treat

monster mobile for candy, glow toys, and

a map of 30 Halloween yard displays in

Chicago's suburbs. This drive-yourself

tour provided a fun and safe alternative

to traditional trick-or-treating for

immunocompromised children with

disabilities.

SANTIKOS GETS INTO THE

GIVING SPIRIT

Throughout the month of November,

Santikos Entertainment hosted their

annual toy drive, spreading the holiday

spirit across their community. Every

customer that donated a gift received

a 30-minute arcade game card and two

Santikos coupons, free of charge.

SMG CONNECTS WITH

THEIR COMMUNITIES

Studio Movie Grill's Sunset Walk location

in Orlando-Kissimmee, Florida, donated

two theaters (a total of 250 seats) to

Sunset Walk's inaugural Special Olympics

5K, which was run around the Sunset

Walk shopping center on October 30 and

raised over $92,000 for Special Olympics

Florida. Wristbands were given to those

who finished the race, allowing them to

come in and watch The Addams Family

as an extension of SMG's Special Needs

Screenings program.

Studio Movie Grill's Rocklin, California

location held a fundraising event for the

Firefighters Burn Institute, while the

CityCentre location in Houston, Texas,

hosted a premiere screening of the

documentary Delivering Hope to benefit

Snowdrop Foundation, which funds

childhood cancer research and college

scholarships for pediatric cancer patients.

22 Centennial 2021

22-24_Charity-Spotlight.indd 22 23/11/2021 17:39
---
MEGAPLEX THEATRES

FULFILLS A CHARITABLE

LEGACY

Utah-based Larry H. Miller Megaplex

Theatres celebrates the season of giving

by supporting a variety of local charities

and community organizations. As part of

the Larry H. Miller Group of Companies,

Megaplex Theatres operates to benefit

and serve the community through Larry

H. Miller Charities—a program that is

funded through voluntary donations

made by Megaplex Theatres employees

and matched by the Miller family. Funds

are used to support people and programs

in the communities where Megaplex

employees live and work. A special focus

is placed on supporting organizations that

serve health and education goals. Recent

beneficiaries include Boys and Girls Clubs,

Primary Children's Hospital, Sub for Santa,

United Way, Big Brothers and Big Sisters

of Utah, Toys for Tots, and many more. In

addition, Megaplex Theatres honors the

company's late founder, Larry H. Miller,

with an annual Day of Service in which

Megaplex employees roll up their sleeves

to clean up parks, spruce up community

shelters, assemble hygiene kits, and host

food and clothing drives to help those

in need. Every day, Megaplex employees

are encouraged to embody the words of

company founder Larry H. Miller: "Go out

into the world and do good until there is

too much good in the world."

"Go out into the world and do

good until there is too much

good in the world."

CANADIAN PICTURE

PIONEERS RETURNS TO

IN-PERSON EVENTS

The Canadian Picture Pioneers were

determined to host in-person events

in the summer of 2021 to get industry

members together, as long as it was safe

to do so. In August, the CPP celebrated

the return of moviegoing by hosting a

night out at a Premier Theatres Drive-In

cinema in Toronto. Later that month,

CPP hosted their annual Summer Golf

Event (above). Although health and safety

protocols meant that they had to change

some elements of how they've hosted

the tournament in the past, they were

still able to get more than 100 golfers out

to spend some time together and play a

round. With the help of their members

and loyal corporate partners, CPP raised

over $15,000.

HAPPY HOLIDAYS FROM

THE MOTION PICTURE

CLUB

The Motion Picture Club got into the spirit

of the season with their annual holiday

party, hosted on Thursday, December 16,

at Ruth's Chris Steak House in Manhattan.

Events such as the holiday party help MPC

make substantial contributions to Variety

– the Children's Charity, the Will Rogers

Memorial Fund, the Motion Picture

Pioneers, Rising Ground, and the Ronald

McDonald House.

Centennial 2021

23

22-24_Charity-Spotlight.indd 23 23/11/2021 17:39
---
INDUSTRY CHARITY SPOTLIGHT

"The last two years have been

especially challenging for those in

our community struggling to feed

their families."

CINERGY ENTERTAINMENT

GROUP HOSTS ANNUAL

THANKSGIVING FOOD

DRIVE

Dallas-based Cinergy Entertainment

Group once again hosted their annual

Thanksgiving food drive, benefiting

local food banks that serve the more

than 2 million households across Texas

and Oklahoma that are in severe need of

their next meal. Cinergy offered guests

their choice of a $5 game card or a free

popcorn in exchange for two canned food

items, dropped off at any Cinergy location

between November 4 and November 28.

Over the years, Cinergy has donated a total

of five tons of food to local food banks.

"The last two years have been especially

challenging for those in our community

struggling to feed their families. With

Cinergy, we will be able to provide

food to so many people in need," said

James Marcum, commissioning pastor

of StoneWater Church, adding: "We

are excited to work together to make a

difference in our community."

"We are grateful to have the opportunity

to help fight hunger in our communities

and make the holidays a little better for

the struggling families around us," said

Cinergy's V.P. of marketing Traci Hoey.

"This year, we hope to provide over 5,000

meals for people in need throughout Texas

and Oklahoma."

WILL ROGERS RENEWS

ITS COMMITMENT TO

PULMONARY HEALTH IN

THE AGE OF COVID

While the significance of pulmonary

health and rehabilitation is not new to the

Will Rogers Institute, the global health

pandemic has solidified its importance in

the minds of people across the world. To

date, the Will Rogers Institute has funded

$48,740,177 in research grants, training

fellowships, and special projects in the

pulmonary sector.

What began as a training program for

medical research during the 1950s and '60s

at the Will Rogers Hospital in upstate New

York lives on in the present day through

the work of the Will Rogers Institute.

Today, the Will Rogers Institute funds the

Will Rogers Institute Pulmonary Research

Center at Keck School of Medicine of USC,

as well as six fellowships across the United

States. The Institute is making strides

every day in understanding, treating, and

curing pulmonary diseases and disorders,

including Covid-19.

While rooted in pulmonary health

from the beginning, Will Rogers Institute

Fellowship hospitals have shifted their

focus over the last 18 months to research

the effects of Covid-19, particularly "longhaul"

Covid-19.

As of November 2, 2021, more than

46 million cases of Covid-19 had been

reported to the CDC, along with 745,000

deaths. Many Covid patients recover and

experience no lingering health problems

after the initial infection. However,

studies estimate that between 10 and 30

percent of Covid-19 patients experience

symptoms that persist six months after

the acute infection. Often referred to as

"long Covid," these lingering symptoms

include fatigue, brain fog, shortness of

breath, and severe headaches. This means

that nearly 14 million people are likely

affected by long Covid.

According to Edward D. Crandall,

PhD, M.D., director, Will Rogers Institute

Pulmonary Research Center at USC, "The

idea to study and prepare informational

materials about long Covid is a worthwhile

undertaking that can fit within the WRI

educational mission. While it's unclear

how large a problem it will turn out to

be as a sustained health threat, long

Covid needs to be studied and especially

managed as a public and population

health risk."

Support of the Will Rogers Institute

during this time has the potential to

impact millions of people suffering from

debilitating effects of long Covid and other

pulmonary-related illnesses. Visit www.

wrinstitute.org/donate to make a donation.

24 Centennial 2021

22-24_Charity-Spotlight.indd 24 23/11/2021 17:39
---
25_AD-Will-Rogers.indd 25 23/11/2021 17:39
---
Industry 2021: YEAR IN REVIEW

RECOVERY

YEAR

CinemaCon and CineEurope

Highlight Exhibition's Post-

Pandemic Concerns and

Anxieties

BY DANIEL LORIA

There was an anxious anticipation

leading up to CinemaCon 2021, held

in August at its usual site, Caesars Palace

in Las Vegas. For one, Covid-19 cases were

surging due to the Delta variant. Other

large-scale conventions had rescheduled

or canceled their 2021 editions entirely.

Secondly, there were still concerns and

questions about the potential impact

of the Delta variant on the cinema

industry. After enduring 18 months of

closures, operational restrictions, staffing

challenges, and release delays, exhibitors

found themselves at a difficult crossroads.

CinemaCon 2021 had the potential to

represent the start of the moviegoing

recovery—it would no longer be the

victory lap many industry insiders had

hoped for—but the industry still faced

serious questions about the months ahead.

In addition to the general sense of

unease, CinemaCon 2021 was further

impacted by international travel

restrictions and the pandemic's toll on

cinema vendors and suppliers. It was

clear from the start that CinemaCon 2021

was going to be a smaller affair than in

years past. Nevertheless, the National

Association of Theatre Owners (NATO) felt

it was crucial to mount the event despite

these challenges.

"There was never a doubt that we were

going to hold it," said NATO's John Fithian

during a live taping of Cinionic's podcast,

The Insiders, at CinemaCon, after being

asked if the association considered bowing

to the pressure of canceling the event for a

second consecutive year. "We knew there

were going to be challenges. We knew

that some, for their individual reasons of

risk calculation, didn't want to come. And

that's fine. We knew that many people still

wanted to come and wanted to get back to

doing business together with their partners."

This year's CinemaCon, along with

its European counterpart, CineEurope,

which went ahead in October, reflected

the back-to-business resolve in Fithian's

words. Yet the sector was still reeling from

the financial devastation of the pandemic.

Global box office revenue dropped by 72

percent in 2020 from 2019's $42 billion

record-setting year. North America

suffered an 80 percent decline in annual

box office, breaking its yearslong streak

of $11 billion per year and relinquishing

its status as the world's highest-earning

market to China.

26 Centennial 2021

26-31_Recovery-Year.indd 26 23/11/2021 17:40
---
In Europe, where admissions had

reached their highest level since 2004—

growing by 34 percent since the year

2000—UNIC territories suffered a 68

percent drop in attendance over 2020.

"We had a small epidemic in 2009 with

the H1N1 flu in Mexico. The government

shut down everything for a week. It took

us five weeks to recover and we thought

it was devastating," said Cinépolis

CEO Alejandro Ramírez Magaña at a

CinemaCon panel. "When this began,

that was our only reference point to an

epidemic. We thought this could be a oneweek

shutdown or a 10-week shutdown

followed by 12 weeks of recovery. We never

in our wildest dreams imagined that a

year and a half later we would still have

countries that were fully closed."

The disruption caused by the pandemic

has been acutely felt by the multinational

circuits, which represent the highest

screen counts. Mooky Greidinger, CEO

of Cineworld, the world's second-largest

exhibitor and parent company of Regal

Cinemas, spoke about those challenges

at a CinemaCon panel. "We operate in

10 countries and received different rules

from every government," he said. "One

prime minister thinks the best thing is

for kids to not be allowed at the movies.

Another one thinks we need to keep five

seats between transactions. The third

one thinks we should not sell popcorn.

It's crazy. And you're dealing with these

changes across territories on a daily basis.

Now it's quieted down a little bit, where

we are almost with no restrictions in most

countries, but at its peak it was a disaster

because there were changes every day."

Regal remedied those challenges

by closing all its locations worldwide in

October 2020, citing varied operating

restrictions across territories and the

volatility of studios' theatrical release

schedules. For Cinépolis, Ramirez Magaña

noted his circuit conducted a market-bymarket

analysis when deciding where to

keep theaters closed and when to reopen.

"We don't call it a breakeven analysis, but a

loss-even analysis. How do you lose less:

open or closed? Because you're going to lose

in both instances, it's all about how you

minimize burning cash," he said.

The pace of reopening cinemas

increased through Q3 2021, following the

wider access to vaccines and a peak of the

highly contagious Covid-19 Delta variant.

Another major factor was the stabilization

of the theatrical release schedule, with

studios' increased confidence in releasing

major titles—albeit under significantly

different business terms. Theatrical

exclusivity windows were once again at

the forefront of discussions at CinemaCon

and CineEurope in 2021. The contentious

topic took on an increased importance

following the experimentations in studios'

release strategies during the pandemic.

Addressing the topic on Cinionic's

podcast, The Insiders, Fithian distanced

himself and NATO from discussions

about the duration of windows while

expressing his general support for a

period of theatrical exclusivity. "People

talk about the window as if there's only

one. There are multiple windows, and

each studio has a different perspective

on what is important in those multiple

windows," he said. "Our members are

working through all those issues with the

studios now, and we're encouraged by

it. Windows coming out of the pandemic

won't be what they were before the

pandemic. They're not going to be what

they were during the pandemic, either.

It's about taking that step coming out of

the pandemic in getting to release models

that work for everybody in the industry."

"I think decisions like day-and-date

have been made because of Covid, and

there have been adjustments to everyone's

benefit. Going forward, I think the

long-term solution is a proper exclusive

theatrical window," said Chris Aronson,

president of domestic distribution at

Paramount Pictures, during a CinemaCon

roundtable. "A lot of this experimentation

that has been going on with windows

was eventually going to happen. It's been

accelerated because of the pandemic. But

I think [the notion of] a proper theatrical

window holds. It's what gets people

talking about the movies. Finding the

"Once you get people

coming to see movies,

they're exposed to trailers,

they're exposed to marketing

materials, and they discover

it's actually a lot of fun going

back to the movies."

proper window—we may still be trying to

figure that out."

For major circuits like Cinemark, the

third-largest chain in North America,

the length of that window appears to be

a 45-day exclusive run for major titles.

"Sometimes the windows will be a little

shorter than 45 days, if it's a smaller or

modest-size movie. But for the big movies,

that's really what we're looking for," said

Cinemark CEO Mark Zoradi. "We use the

term 'dynamic window' as another way

of saying 'flexible window.' Because with

the bigger blockbuster movies, content

providers want a longer window—it's

going to be to their advantage to get as

much of that box office as possible. It

starts with theatrical; it helps create the

franchise and 'eventizes' the movie. You

get your highest per-cap anywhere in

the [distribution] chain with [exclusive]

theatrical distribution."

Fithian says a dynamic exclusivity

window can help more independent and

midsize movies reach a wider number of

screens, particularly with the expiration

of the binding virtual print fee model.

Under that structure, smaller distributors

found themselves priced out of exhibitors'

agreements with the studios that helped

finance the transition to digital projection.

"With VPF deals coming to an end, the

barrier to entry for smaller films has gone

down tremendously. When you combine

more dynamic windowing capabilities

with the end of the VPFs, we expect a

resurgence of small art films and midbudget

films in cinemas," he said.

A diverse slate of films will be crucial

for cinemas' recovery from the pandemic.

The assumption that one film alone can

spur a comeback—as the industry learned

with the release of Christopher Nolan's

Tenet during the pandemic—places undue

expectations on the film in question and

fails to address the frequency of attendance

necessary for the theatrical model to

work properly. Warner Bros. president of

international distribution Andrew Cripps

acknowledged as much in an executive

roundtable at CineEurope. "Success begets

success. It always has in this business," he

said. "Once you get people coming to see

movies, they're exposed to trailers, they're

exposed to marketing materials, and they

discover it's actually a lot of fun going back

to the movies."

Paramount's Aronson addressed the

topic by pointing at the top-performing

Centennial 2021

27

26-31_Recovery-Year.indd 27 23/11/2021 17:40
---
Industry 2021: YEAR IN REVIEW

weekends ever recorded at the domestic

box office. "When you look at the highestgrossing

weekends in this business, it's not

just one film. When this business is firing

on all cylinders, there is something for

everyone."

The shorter windows and the studios'

increasing emphasis on blockbuster

spectacles have led several exhibitors

to seek out content with untraditional

partners. "We are not opposed to asking,

'What does Amazon have coming that

would have real theatrical potential, or

Apple TV Plus, or Netflix?' and doing

some unique deals with them," said

Zoradi. "Had The Irishman been coming

out right now, as opposed to when it

did, we would have played it. We would

have made a deal with Netflix: a flexible

window, probably with some flexible

terms. Scorsese and audiences would

have been very happy to have had a 24-

or 31-day window on that title."

Access to premium content from

streaming platforms emerged as an

untapped source of potential for the

industry at CineEurope. "Is a cinema

only reserved for films? These days, you

can see ballets, operas, [concerts], and

all sorts of events at a cinema. As a fan of

event cinema, there's a lot left to be done

there. TV series today are in many cases

stretched out like long movies, and it's

great to see the bridge between TV and

film creating an ecosystem where talent

can create across both mediums," said

StudioCanal CEO Anna Marsh.

At the same roundtable, Tim Richards,

CEO of Vue International, a multinational

chain and one of the U.K.'s top circuits,

observed that tapping into streamers'

content library for eventized screenings

wouldn't cannibalize the performance of

feature films. "Why wouldn't you want to

put an episode of 'Game of Thrones' once

a week, over two months? Why wouldn't

you show 'Queen's Gambit' and other

high-quality series? I think we're going to

do both high-quality movies and content

of all forms in the future."

At present, however, it's feature

films that were originally destined to

hit cinemas that are going exclusively

to streaming. Streamers like Netflix and

Amazon were active buyers of studio

titles shelved because of the pandemic,

sending movies like Paramount's Coming

2 America and Sony's Cinderella straight

to people's living rooms, at times forgoing

a theatrical release entirely. Major studios

like Disney have moved blue-chip

titles like Pixar's Soul and Luca off the

release schedule to instead launch them

exclusively on their streaming service,

Disney Plus.

"All I can say is that one

studio should plant the flag

and make a huge move to

the theatrical experience,

and the filmmakers will go

there as a result."

While this trend has caused concern

among industry observers, Cinemark's

Zoradi, who previously served as an

executive at Disney, sees it as business

as usual. "During all those years I was

at Disney, when we did sequels to The

Lion King or sequels to Aladdin, those

were direct to video. Those sequels were

going straight to the home," he said.

"Now, much of that is going to Disney

Plus. That doesn't mean that all of their

titles are only going to be spinoffs, but

a significant number of the shows that

are on Disney Plus came from theatrical

movies. [Theatrical and streaming] are

complementary in this way."

Previously a point of contention

between exhibitors and distributors, the

debate around theatrical exclusivity is

now being played out among filmmakers

and Hollywood talent. Black Widow star

Scarlett Johansson sued Disney for its

decision to make the film available dayand-date

on premium video on demand

(PVOD) upon its theatrical release. When

former WarnerMedia executive Jason Kliar

announced Warner Bros. would be making

its entire 2021 slate available to theaters

and the home on the same day (through

its streaming service, HBO Max), highprofile

filmmakers Christopher Nolan and

Denis Villeneuve were quick to denounce

the decision and express their displeasure

with the studio's parent company.

Warner Bros. had earned considerable

goodwill from the exhibition community

in 2020 for backing Nolan's wishes to

release Tenet as soon as cinemas reopened.

Warner Bros. was voted studio of the year

and exhibitor relations department of

the year, and Tenet was recognized as the

most important film of 2020, by a panel

of over 50 exhibitors in this publication's

Boxoffice Pro Blue Ribbon poll. That

sentiment soured considerably following

the studio's binding decision to roll out its

entire slate day-and-date in 2021. While

the decision ensured that major titles

could keep their existing release dates,

something that cannot be overlooked

when looking at box office receipts

from Q1 2021, the gamble seems to have

delivered diminishing returns as the

pandemic began to subside in Q3 2021.

The first Warner Bros. tentpole to

premiere day-and-date in theaters and

on HBO Max was Patty Jenkins's Wonder

Woman 1984. Released on Christmas Day

of 2020, in the middle of the highest surge

28 Centennial 2021

26-31_Recovery-Year.indd 28 23/11/2021 17:40
---
in Covid-19 cases in the United States,

the movie provided respite for exhibitors

that had soldiered on for months with a

dearth of studio releases. "It was the best

choice out of a bunch of very bad choices

at the time," said Jenkins at CinemaCon,

calling the decision to go day-and-date "a

heartbreaking experience."

"I think it was hugely detrimental to the

movie, and I sort of knew it could happen.

We asked ourselves, 'At this point, what

are we going to do? Wait for two more

years?'" she said. "I was happy to give

the film to the public. I don't think that it

plays the same on streaming, ever. I'm OK

with films going to streaming eventually,

but I definitely think when you make a

film … it's painful to see it not get the bigscreen

experience. I'm not a fan of dayand-date,

and I hope to avoid it forever."

Similar attitudes regarding theatrical

exclusivity could have a major impact

on the talent pool studios have at their

disposal in the future. Jenkins, who

has a series development deal at Netflix,

doesn't see a problem working with

different mediums on productions

that are optimized for their respective

platforms. "Films that streaming services

have recently put out, I'm sorry, they look

like fake movies to me. I don't hear about

them, I don't read about them, I don't see

anything about them," she said. Jenkins

rejected the idea of making a movie for a

streaming service outright, "I wouldn't.

I just would not right now. Nor would

I accept a limited-window run. I love

working with Netflix for television, it's

great for me, but I wouldn't make a movie

for any streaming service. It's very difficult

to market a movie if you're only having

a limited run. Perhaps that's why I don't

think that that model works," she said.

Fithian argued that audiences

value theatrical releases while he was

at CinemaCon. "There's always been a

consumer perception of what a movie

made for theatrical release is and a movie

made for the home. They're different.

That's true through television, VCR, DVD,

and now through streaming," he said. "If

you go down to the street and just ask a

movie fan, 'Name the last 10 great movies

you saw that were made by and released

on Netflix,' they can't come up with 10.

Maybe they can come up with two. They

know Netflix for the great series and all

the streamers for their television product,

but people know movies because they play

in cinemas … it has a greater impact on

the cultural conversation."

"I make movies for the big-screen

experience; that's the sandbox I'm in

right now. If you want to watch it for

the third time later on, streaming it on

your phone, fine, but I'm not making

it for that experience," said Jenkins at

a separate CinemaCon roundtable. "I

believe in the theatrical experience, and

I don't understand why we're talking

about throwing it away for 700 different

streaming services that there's no room for

in the marketplace. For studios to throw

[theatrical] in the garbage so they can roll

the dice, it's crazy to me," she continued.

"All I can say is that one studio should plant

the flag and make a huge move to the

theatrical experience, and the filmmakers

will go there as a result."

From a studio perspective, shorter

windows can also have an impact on the

bottom line. "In the past, a lot of piracy

started in the theater, people camcording.

They got crappy copies and we did

our best—night vision goggles, guards,

everything we could—to try and limit that.

When movies come out in a day-and-date

situation, or in too short of a window, to

the home environment, you're putting a

pristine copy over a digital mechanism

that can [be pirated] like that," said Zoradi,

snapping his fingers for effect.

Piracy was a major concern for

Universal's international release of F9 over

the summer; the studio understood that a

shorter window in the United States could

eat into profits overseas. "We took a release

strategy that was tailored to each market,

depending on Covid recovery, that was

really important in terms of maximizing

box office grosses internationally," said

Universal president of international

distribution Veronika Kwan Vandenberg at

CinemaCon when explaining the studio's

"Reconnecting with

moviegoers is a burden both

sides of the industry share,

and there has never been

a more important time for

collaboration."

early launch of F9 outside North America.

"Based on that, it was really important to

protect the movie against piracy as best

we could. We put additional measures

into place in each of those markets, to

make sure we were maximizing the film

theatrically and protecting it as much as

we could. At the end of the day, we were

really pleased to see that the piracy levels

were relatively low."

International box office was also at the

heart of Warner Bros.' decision to open

Dune in several top overseas markets

ahead of its U.S. release, which in turn

would have made the film immediately

accessible on HBO Max. The early

overseas rollout provided a cushion of

theatrical exclusivity for some foreign

markets and helped the film establish a

sizable international run (not to mention

positive word of mouth) by the time it

reached domestic audiences. Weeks earlier

at CinemaCon, Paramount president of

international distribution Mark Viane

remarked that he could see a future in

which every international market would

have its own theatrical exclusivity window.

"Every market plays very differently for

how long a movie normally stays in

theaters," he said. "Whichever window

we set in the future, it will be a window

that's going to be appropriate for that

marketplace."

Tensions around content availability

and exclusivity aside, the biggest

challenge currently facing exhibition and

distribution isn't about reconnecting with

one another, but with a global audience

that lost the moviegoing habit during the

pandemic. Reconnecting with moviegoers

is a burden both sides of the industry

share, and there has never been a more

important time for collaboration.

"Cinemas have had an extraordinarily

hard time during the pandemic. So have

the studios," said Alamo Drafthouse

co-founder and executive chairman Tim

League at CinemaCon. "There's been this

divisiveness between us, an 'us versus

them' mentality, that puts us in a really

unhealthy position. We look back on the

year—there's a lot of experimentation that

happened, experimentation that we're not

all that happy about—but I don't begrudge

any of it. We have partners in this business

who make billions and billions of dollars

of investment, and they're scared as well,

and they need to try to find a path towards

recouping that investment. It's important

Centennial 2021

29

26-31_Recovery-Year.indd 29 23/11/2021 17:40
---
Industry 2021: YEAR IN REVIEW

to cement our position as a partner to the

studios; they make those investments on

our behalf. It's our job to have a seat at

the table and be a part of recouping that

investment for them."

Reaching those estranged audiences

and marketing a return to the movies

has already emerged as one of the most

critical priorities for exhibition's survival

through the pandemic. The first part of

that challenge is to address the risk factor

of visiting a cinema during the pandemic

head-on. "We need to better convey the

message that cinemas are one of the safest

places for out-of-home entertainment.

Safer than a restaurant, café, concert,

club, or sporting event," said Cinépolis's

Ramirez Magaña. "If you want to get out of

your home and be safe, cinema is probably

the safest option."

National and citywide mandates

requiring proof of vaccination to enter a

cinema, instituted in places like France

and New York City, began to pop up in the

second half of the year. Despite initially

affecting box office earnings, the policies

have helped cinemas regain consumer

confidence—with box office earnings

returning to comparable levels despite

the social uproar. In locations with no

vaccine mandates in place, independent

exhibitors like New Hampshire's

Peterborough Community Theatre and

Philadelphia's Bryn Mawr Film Institute

have voluntarily implemented vaccineonly

showtimes and play dates to assuage

their audiences' perception of risk in

going to the movies.

With the studio release schedule

(more) firmly in place following a string of

studio hits during the month of October,

like Sony's Venom: Let There Be Carnage,

MGM/UA's No Time to Die, and Warner

Bros.' Dune, exhibitors are now looking

for ways to market moviegoing beyond

studio-driven promotions tied to specific

titles. "Market the experience, that's what

it's all about," said Paramount's Aronson.

"That's the trade-off. We can work with

[exhibition] very closely to market our

movies … but the [exhibitor's] job is to

market the experience; that's how we get

people back to the cinemas."

This has led to some innovation in how

the country's largest exhibition circuits

communicate with their audience. In

September, AMC launched a $25 million

ad campaign starring Nicole Kidman

under the slogan "We Make Movies Better."

Cinemark has also partnered with tech

manufacturer Cinionic to promote its

adoption of laser projection technology

across many of its locations.

Premium technology has emerged as

one of the biggest drivers for the return to

cinemas, particularly for blockbuster titles,

regardless of whether they are readily

available at home. In North America,

over half of the tickets sold for Dune on

its opening weekend were for premium

large-format (PLF) auditoriums. The

film was available day-and-date on HBO

Max, but cinemas in the U.S. and Canada

nevertheless sold $20 million worth of

tickets—above average price—to people

looking to get the best possible cinema

experience outside the home.

The pace of growth of PLF auditoriums

around the world has continued

unabated for the last decade, even in

a pandemic-stricken year like 2020,

according to research firm Omdia. In a

study published in the Q3 2021 issue of

Boxoffice Pro magazine ("Premium

Formats Come of Age"), Omdia analyst

Charlotte Jones noted that PLF screens

are most prevalent in regions like

Asia and the Middle East, where there

already exists a higher concentration of

development for new cinemas.

The trend is now reaching mature

markets as well. PLF was a recurring topic

at the inaugural edition of the Boxoffice

Forum, a live event hosted by Boxoffice

Pro in Paris immediately following

CineEurope, which featured panels

and roundtable discussions by leading

industry figures. The occasion provided a

glimpse of how a market known for, if not

defined by, its adherence to traditional

exhibition practices is gauging the

appeal of PLF as a way to introduce new

technologies to younger audiences. Days

earlier, ICE Theatres, an immersive screen

format created by French circuit CGR

"We're competing with a ton

of content that people can

sit on their couch and get

on their own. Mediocre isn't

good enough. We all have to

up our game."

Cinémas, announced a deal with Spanish

exhibitor OCine that would add to its

existing footprint in the United States and

the Middle East.

Premiumization will continue to play

a role in the immediate recovery of the

exhibition business, just as all cinema

technology innovations have kept the

industry relevant for audiences. Warner

Bros.' Cripps sees the effort as vital

for exhibition's future. "We've got to

recognize as an industry that mediocre

is no longer good enough," he said at

CineEurope. "We are competing with

people's living rooms. We are competing

with seven or eight global streaming

services that are out there. We're

competing with a ton of content that

people can sit on their couch and get on

their own. Mediocre isn't good enough.

We all have to up our game."

While Vue's Richards sees the value

of PLF for tentpole titles on opening

weekend, the executive says the entire

cinema experience—not just a handful

of screens in each city—has to raise

its standards. "Our experience is that

premium screens are very effective for big

movies, very effective on the weekends,

but they're not really a 365-day business,"

he said. "Our focus right now is on trying

to get recliner seats in every single

screen, make every screen special and not

differentiate as much."

Richards calls recliner seating "one

of the game changers of the last 20 years

in exhibition." It's also part of a trend

that can be seen in new auditorium

designs around the world: optimizing

the capacity in each auditorium to better

reflect each screen's occupancy rate. In

October 2021, Alamo Drafthouse opened

its first theater in Manhattan after six

long years in development. The site

exemplifies the latest trends in cinema

design: 14 auditoriums, each equipped

with laser projection and all of them

with a capacity under 60 seats; a full

kitchen for dine-in service; a retail area

in the lobby; and a stand-alone bar area

that can serve as a live-event space. By

forgoing high-capacity auditoriums and

making each screen feel just as special,

Alamo Drafthouse's Lower Manhattan

location optimizes interactions with a

smaller customer base while offering them

additional purchase opportunities beyond

the box office and concessions stand.

"Now that we've had this downtime in

30 Centennial 2021

26-31_Recovery-Year.indd 30 23/11/2021 17:40
---
the worst year and a half this industry has

ever experienced, our task is to focus on

the essentials," said Alamo Drafthouse's

League at CinemaCon. "We are an

experience economy. We need to make

sure every possible aspect, every touch

point of somebody leaving their home

and coming out to choose cinema for their

entertainment, is performing at its best."

At CinemaCon, Zoradi announced

that two-thirds of Cinemark's domestic

circuit has already been refurbished

with recliners. The chain is currently

installing laser projectors across all its

theaters in the United States. They've

already installed laser projectors in every

single screen of one of its most important

domestic markets, Dallas–Fort Worth, a

short drive from the circuit's Plano, Texas,

headquarters.

"I think the industry as a whole is

changing from the exhibitor side," he said

at CinemaCon. "We no longer think of

ourselves as a theater exhibition company;

we think of ourselves as an important

retailer. And as a retailer, how do you get

to the consumer? What is that consumer

experience? How do you put together

a subscription model that is easy to

implement? We're spending more money

out of our own pockets for marketing

while also cooperating with the studios

like never before to put together joint

marketing campaigns … the exhibitor's

responsibility is to create the immediacy

to get that ticket sold, to act and market

themselves like a retailer."

In October, Cinemark introduced

upgrades to its website and mobile app to

make it easier for consumers to buy tickets

and concessions. During the pandemic,

many circuits continued to make

similar improvements to their online

presence—from social media marketing

to e-commerce—as part of the second

digital transition for movie theaters this

millennium. "We've seen a lot higher

uptake of online ticketing coming out of

the pandemic," said Mark Way, president

of AMC Europe and managing director of

Odeon, one of the U.K.'s leading circuits.

"We are seeing 75 percent of tickets being

bought online in advance in the U.K.

Before the pandemic, we'd be sitting at

around 40 to 50 percent."

During a press briefing at CinemaCon,

NATO's John Fithian shared that at the

start of the pandemic, in March 2020, he

feared nearly half of the cinemas in the

"We are an experience

economy. We need to make

sure every possible aspect,

every touch point of somebody

leaving their home and coming

out to choose cinema for their

entertainment, is performing at

its best."

United States could go out of business.

By August 2021, approximately 42,000

of the country's 43,000 screens prior to

the pandemic were operational. Around

the world, and after more than a year

of closures, cinemas are reopening and

welcoming patrons back as they forge

ahead in a difficult and protracted recovery

effort. "When we came out of lockdown,

we weren't bruised—we were beaten down

and bloodied, all of us. I think the next 12

months are going to be about rebuilding

and surviving," said Vue's Richards. "It's

been really tough, and I think the fact that

most of us made it out of the pandemic

still in business is a testament to what

a great business we all have—and will

continue to have in the future."

If 2020 is etched in history as the year

of the pandemic, 2021 will be remembered

as the year of the vaccine. And like the

vaccine, this year's cinema recovery effort

did not provide an instant solution or

relief to the damage and disruption caused

by the pandemic. Cinema isn't back just

yet, but it's well on its way.

"There was a $42 billion business out

there before the pandemic came, and

it's still out there," said Paul Higginson,

Universal's executive vice president of

EMEA, at CineEurope. "There are many

people who don't believe that—people

that have a glass-half-empty approach to

life. I don't think anyone in this room can

afford to have that approach. There's never

been a time in the history of cinema when

there's been more community about what

we seek to achieve … the name of the game

is to win that business back."

Centennial 2021

31

26-31_Recovery-Year.indd 31 23/11/2021 17:40
---
Industry INDIE FOCUS

THE STATE OF THE

ART HOUSE 2021

Brought to you by

In a November LIVE session webinar, Boxoffice Pro partnered

with Spotlight Cinema Networks to launch a discussion on the

current state of the art house market. A panel of experts from the

art house and specialty space provided candid insights into the

impact that Covid-19 has had on the way the indie sphere operates,

from shifting relationships with streamers to attempts to bring in

younger demographics. Below, we share a condensed version of

that very important conversation.

BY REBECCA PAHLE

C

There's a narrative outside the

industry that the theatrical

experience is in danger of going away,

and that the art house / specialty

scene in particular is in a precarious

place. What do you have to say

to that? And what is some of the

programming that has performed

well recently for you?

Barak Epstein: I think art house theaters

are the ones that are being the most

innovative during this, because they've

done so many things to figure out how to

engage their audiences in these past couple

of years. At the Texas Theatre, we did a big

renovation while we were closed. We built

another theater, so we could show more

movies. Most of what we do at the Texas

Theater, we call it "event-based cinema."

When we say event-based cinema, it's not

just playing the Nick Cave movie—which

we like to play—but we have something

live happening. A live performance, a live

speech, somebody from the movie. What's

been really popular for us recently is,

with a lot of these people who are coming

around touring with their films, often with

appearances at conventions and whatnot,

we get those people to come to the Texas

Theatre and show a movie. Just recently,

we had Malcolm McDowell here for a

50th-anniversary screening of A Clockwork

Orange. 700 people came to that. Just two

days ago, we showed Twin Peaks: Fire

Walk with Me. We had Sheryl Lee, Sherilyn

Fenn, and Harry Goaz. Sold-out crowd for

that. When we bring in people to see the

films that they want to see with people

[from the film] talking after them, that's our

signature thing.

Now that we have the second screen,

we do that in conjunction with playing

mainstream films, which we used to not

be able to do because we couldn't do runs

of them. The one that's done the best for

us has been The Green Knight, as a regular

first-run movie. Filmmaker David Lowery

lives in Dallas, so even though it wasn't

shot here, people wanted to see it around

here. People wanted to see it everywhere.

But [the local connection] did help us.

Paul Serwitz: I'll second what Barak said.

We've tried to tap into Q&As and personal

appearances and introductions as much as

possible. That's been a big driver to get a

lot of people back into theaters. It's helped

smaller movies that otherwise didn't

have a great theatrical life. Those kinds of

special events and personal appearances

really do help drive audiences back,

because it's something out of the ordinary.

You can't get it at home, and you can't get

it in general at movie theaters. So that's

been a big piece for us. We continue to

pursue that as much as we can to be part

of that restart of the business.

Paul Serwitz

President & COO,

Landmark Theatres

Tori Baker

President & CEO,

Salt Lake Film Society

Dylan Skolnick

Co-Director,

Cinema Arts Centre

Barbara Twist

Director of Partnerships,

Vidiots Foundation

Barak Epstein

President, Aviation

Cinemas / Texas Theatre

M

Y

CM

MY

CY

CMY

K

32 Centennial 2021

32-39_Indie-Focus-Spotlight.indd 32 23/11/2021 17:41
---
Centennial 2021

33

32-39_Indie-Focus-Spotlight.indd 33 23/11/2021 17:41
---
Industry INDIE FOCUS

For us, [Landmark Theatres is] a hybrid

circuit, although we lean heavily to the

specialty side. It's been sort of like two

windows: The commercial mainstream

side really started to bounce back in

April, and certainly with Memorial Day

and through the summer. [But it wasn't]

the most fertile ground for specialty in

the summer quarter. It was a struggle on

that side, and the core art houses really

struggled for a while. Even though there

was volume of content, so much of it was

playing day-and-date. That certainly

undermined their theatrical runs. But

there's been a slow, incremental increase.

Obviously, of late, The French Dispatch has

been the big breakthrough title. It's exactly

what we needed and hoped it would be

to sort of break the ice for the specialty

side and those audiences, much the way

Godzilla vs. Kong did [for mainstream

moviegoers] seven months ago.

Some of the [highest-earning] titles

for us—admittedly, the bar has been low.

It's taken a longer period of time for the

older adult, specialty audience to really

start coming back in any significant

numbers. But pictures like The Green

Knight, like Barak mentioned, [bring in

audiences]. Roadrunner: A Film About

Anthony Bourdain was certainly the high

point of the summer for us. That was the

indie release that had the most traction.

Pig was pretty good. We had titles like Zola,

Summer of Soul, that were better than most,

for sure, but not nearly what we'd hoped

they'd be. The Card Counter was one of

the better titles we've had. But all of them,

in comparison to The French Dispatch or

some of the other pictures coming out, now

that we see audiences starting to come

back and some momentum building, have

been pretty small. We're certainly headed

in the right direction.

Tori Baker: We're still in the early days of

telling [what films are bringing audiences

back], because we opened on October 22 at

the Broadway [Centre Cinemas], and we're

still renovating the Tower [Theatre]. We

had hoped to open both, but renovations

and supply chain demands, which

everybody is dealing with right now, are

slowing things down. So we're learning

right now. We made a conscious decision

to open later, rather than earlier. We

talked about it with the board early in the

year and chose the October date. It felt

very shocking to some of our patrons and

"It's taken a longer period

of time for the older adult,

specialty audience to really

start coming back in any

significant numbers."

people that are engaging with us. But we

knew we needed an on-ramp. We knew

we needed time. And the summer movies

were looking like the bigger studio films,

and less of the specialty films were coming

through. So we felt like we had the time

to build the on-ramp and especially take

care of the staff. Because when you're doing

events at the cinema, the manpower that it

takes and the energy that it takes to pivot

back to that from doing our big @homeArts

[virtual cinema] project, that was a real

consideration for us as well.

Barbara Twist: [Regarding what you said

about] the narrative always being pushed

about art houses dying. I want to add to

that I think community spaces are often

positioned as dying or not doing well. And

that's what art houses are. For me, I think

it's more that we are, in some ways, fearful

of community spaces doing well, because

they're out of the box, because they're run

by the people. They're not corporatized.

They don't have clean lines around them.

There's not an obvious profit motivator

center. And that's something that's really

brilliant about the art house space. And I

actually think that when art houses get too

boxed in, too clean, too easy to categorize

and identify—"Oh, this is who goes there,

this is what they show"—that's when they

don't do so well. For a long time, I got

really pissed off that everyone was like,

"Art houses are dying." And now I'm like,

"Fine, whatever, man." You think we're

dead? We're constantly being reborn. We

are a Phoenix every day.

There's been a lot of discussion

surrounding day-and-date and

the shrinking of the theatrical

exhibition window—but most of that

conversation centers around how it

affects major chains. How does the

shortened theatrical window affect

specialty theaters? And how has

your relationship with streaming

outfits changed over the course of the

pandemic, as they move more films

into the theatrical space?

Paul Serwitz: I don't think it would have

ever been any exhibitor's choice, big or

small, to see windows getting shortened,

much less day-and-date availability. It

has compromised theatrical business,

there's no question about it. However, the

reality is, it's here to stay. Streaming is the

34 Centennial 2021

32-39_Indie-Focus-Spotlight.indd 34 23/11/2021 17:41
---
"There's too much good

[streaming] content not to

play [it] theatrically and try

to tap into that audience

that will still get out of the

home and go see a movie

in a theater instead of in

their living room."

800-pound gorilla, and Covid just

amplified that exponentially. At-home

consumption has become a much bigger

thing, and even post-Covid it remains that

way. The volume and quality of the content

that's available at home is a real challenge.

At Landmark, we felt like it had to be

embraced in order to meet that challenge

and work with it as best we could and

hope, really, that distributors—certainly

beyond the streamers themselves—see

that, ultimately, a theatrical window is the

most valuable pathway for a film's lifeline.

We've seen examples of that over the

last six months, both on the mainstream

side and on the specialty side. Where it

goes from here, I don't know. But we've

certainly embraced the streamers and

the day-and-date situation to an extent.

There's too much good [streaming]

content not to play [it] theatrically and try

to tap into that audience that will still get

out of the home and go see a movie in a

theater instead of in their living room.

Dylan Skolnick: The same as what

Paul was saying: This has been going on

somewhat for a while. Art houses were

earlier [than mainstream theaters] in

booking films that were VOD or streaming,

taking some Netflix titles, long before

the pandemic. So this is something we've

been wrestling with and dealing with for

a while. Clearly, it is not good for us when

it's day-and-date. It would be great if we

could have long windows back again. But

that's gone. So it's just a matter of picking

and choosing which [streaming titles]

work for us and which don't, and being

really selective about that.

It's important to remember that some

of these streaming releases are so minimal

that they barely qualify as an actual

theatrical release. I work with a number

of theaters around the country, including

several in Oklahoma, and [there were] a

number of titles where the streamers just

decided that Oklahoma was not part of

a theatrical release in the United States.

That's because they're trying to have a

theatrical release at the tiniest possible

level, probably just to say that they got

it [in theaters] and partly to assuage the

egos of whatever filmmaker was involved.

One of those films that didn't play in

Oklahoma, for example, was CODA. [Apple

TV Plus acquired CODA at the 2021 edition

of the Sundance Film Festival for a recordbreaking

$25 million.] We certainly asked

for it. I forgot the exact term they used. It

wasn't an "essential market" or something

like that.

Barak Epstein: I don't think CODA played

in Dallas, either. Or if it did, it played in a

four-wall in the suburbs. It wasn't really

released.

Paul Serwitz: Apple had a very limited

outlook on what they wanted to get done

theatrically on CODA. And they've been

less proactive, theatrically, than Amazon

and Netflix. The fact of the matter is,

you've got several titles over the next

couple of months that have lofty award

aspirations from those key streamers,

Netflix and Amazon. High-quality films

that will have a very short, truncated

window. They want to have some kind of

theatrical presence. It helps their publicity,

it helps press, it helps deals with the

filmmakers. But the fact of the matter

is, Netflix and Amazon, as examples, are

attracting top-shelf incredible filmmakers,

including notoriously strong specialty

filmmakers like Jane Campion, with Power

of the Dog from Netflix. Netflix also has

Don't Look Up from Adam McKay, and

Amazon's got Tender Bar from George

Clooney, and Aaron Sorkin with Being

the Ricardos. These are all major movies,

high-quality films that have big award

aspirations.

Tori Baker: When it comes to this topic,

I really think that what's important, and

what's definitely different about the

art houses, is that it's about the value

proposition and what we're providing as

an art house. I really find the vernacular

interesting, because "streaming" is such

a great visual to what is really happening

with what people like to say is "content"

out in the world. I really dislike using the

word "content" surrounding films and

movies. Content is anything from my

daughter's five-second Tik Tok video, all

the way up through YouTube videos to a

movie, now. It's really incumbent upon us

in the art house industry to differentiate

what is worthy of time. Why I think that's

such an interesting visual is because it

really is this rapid stream. I'm from the

mountains. You see spring streams come

down, and they're just rolling. You can dip

your hands in, and you may or may not get

Centennial 2021

35

32-39_Indie-Focus-Spotlight.indd 35 24/11/2021 14:19
---
Industry INDIE FOCUS

something that's worthy of your time. And

then there's the rare things that maybe

rise to the top. But that's happening less

and less. There's not really a zeitgeist

happening around one particular film.

And that doesn't mean the industry can't

try and find their avenue for their award

or whatnot. But the reality is, Netflix, even

when they're trying to get an award, they

still just want to promote the next [film]

and the next and the next and the next. It's

about quantity, not quality.

Where art houses can differentiate

themselves in that universe in the

future, whether it's a digital screen or a

bricks-and-mortar screen, is that we're

the curators. We know what the artists

are making. We're bringing the artists to

talk to you about this art form. About the

movies. About film. About storytelling

that happens within that two-hour time

frame, not some sort of extended thing

where I can turn it on, turn it off. I think

that that's the real important value

proposition that we offer, regardless of

the title. The more that we curate, the

more people trust us. Everybody wants to

get off the couch at some point, right? So

at the point that they want to get off the

couch, you need to be a viable option for

them to see something that is worthy of

the quality to make that effort.

Like you say, streamers release

so many movies. And even if they

get good reviews, it feels like they

disappear in a few days. But if an

art house is screening it, that means

something to the audiences that are

a part of your community.

Tori Baker: Even if they watch it online.

That's a value proposition, where they'll

continue to be a donor, for example, but

they might still only go to 10 or 12 movies a

year on average, right? But if they see that

Melancholia is playing in your cinema,

you're validating that in a way that gives

them that curation. It's starting to tell

them the story about what, in cinema, is

worthy of my time. Because the stream is

just too rapid. It's too big. There are too

many options.

Barbara Twist: Something that I'm sure

we'll never be able to quantify, but I'm

quite certain has a significant impact, is

the inherent marketing that an art house

does for a title. We talk about the long tail

and the economic impact of shortening

a theatrical window. The amount of

marketing— newsletters, social media,

etc., etc.—that an arthouse cinema does

… As Tori was saying, even if that person

doesn't end up buying the ticket to see

that film at [an art house], later on down

the road when it's on Netflix, or when it's

on Comcast, Spectrum, whatever, and they

buy it, part of the reason they're doing it is

because of that art house. And that is both

the power of establishing a curatorial trust

with your community and the impact of a

movie theater.

There's no question that the

marketing surrounding a theatrical

release is always going to surpass the

marketing surrounding a streaming

drop. It doesn't matter how many

billboards you buy. The number of

people that the art house community is

connected to—like, my aunt is talking

to all of her friends about what they

should see. And maybe my aunt's the

one person on the mailing list for the

cinema, but she's telling everyone else. I

so desperately wish there was a way that

we could quantify that, because that is

36 Centennial 2021

32-39_Indie-Focus-Spotlight.indd 36 23/11/2021 17:41
---
One of the advantages we have in

working with a Netflix or an Amazon,

because they, at a certain level, don't

care, is that there are very few restrictions.

Sometimes you play a film for one week,

and they go, "Oh, thanks!" You take out a

show for a special event, and you don't get

a temper tantrum. All these things have

made playing their films much, much

easier. A theater I work with is open only

four days a week at the moment. "Sure,

you can open our film right on the break,

no problem!" There is greater flexibility,

and I want to give credit for that.

Paul Serwitz: There is. The streamers

have an array of purpose around theatrical

releases, the least of which, really, is

generating box office revenue. It serves

a lot of other purposes: the relationships

with the filmmakers, attracting other

filmmakers, keeping filmmakers, using

the exposure as a marketing tool. It's

not really about the box office. They'd

like to see box office, but they're not

marketing their films in such a way—nor

are they providing enough of a window

for a theatrical release—to really generate

revenue. [Even when they put effort

into a theatrical release], it's still not the

same as what Neon or Searchlight or A24

do with their theatrical releases. I think

there's a cap on what they're willing to

spend, which is ironic because they've got

resources that never end [when it comes to

acquiring the films].

what the studios are giving up. When

they trade for money next quarter for

their shareholders, they're trading the

possibility of way more money down the

line, and more importantly, a stronger

relationship with an audience that is

going to return to see more of their films

because of the work being done by the

art house.

Do you get the impression that the

streamers are on that same page

about the positive role that an art

house can play in the life of their film?

Dylan Skolnick: The people working at

the streamers are very nice. We have great

relationships with almost all of them. But I

think they don't think what we do is really

an important part of what they do. Which

is OK. What we do is so incredibly different.

[Tori] was likening streaming to like a

mountain stream, but it's more like a fire

hose spewing out a torrent of water of mixed

quality. Some great stuff, some polluted

stuff. Whereas what we do, it's more like a

mountain spring. It's coming out, and it's

not that much, but it's really pure. We try to

make it the best we possibly can.

Barak Epstein: During the pandemic

we, like lots of people, moved to showing

movies in our parking lot or outdoors. We

ran a digital cinema in our parking lot on

an inflatable screen. We wheeled a small

Christie [projector] out there and ran

power. And what that let us do, because

we were doing DCP, was I started talking

to studios that I'd never talked to before,

like Universal and Focus. I'd never booked

a Universal or Focus movie, non-repertory,

before. Ever. And because they were

releasing movies—with windows, but

whatever, they had a lot of movies that

came out last year—I looked at them, and

I started talking to them. I pretty much

played all the Universal and Focus movies

in our parking lot. Dylan was talking about

flexibility on the break—we [booked]

Promising Young Woman for just one show.

They're like, "Good!" And then we kept

playing it, because we kept selling out. So

Centennial 2021

37

32-39_Indie-Focus-Spotlight.indd 37 23/11/2021 17:41
---
Industry INDIE FOCUS

we ended up making five grand on it on

just a handful of shows, which wasn't bad

during the world ending. But then, once

we opened inside, we started playing more

Universal and Focus movies inside. So that

basically started a whole new relationship

for our theater with those kinds of

movies. We played Halloween, we played

Candyman, we played The Card Counter,

we played Last Night in Soho.

It's like what Barbara was saying—an

art house doesn't have to be just one

thing. There's flexibility in what you

can program.

Tori Baker: I don't think there's even more

flexibility. I think it's a demand from our

patrons for us to meet their needs in this

new technological environment where

they do have too many offerings, and they

don't know what's quality, and they don't

know what to spend their time on.

Perhaps we need to start thinking

about the younger audiences and their

trust of this art form. Because how many

times have they shut off a really crappy

streamed title—10 minutes in is really

breaking the trust for the art form and that

experience. The eventizing of these films

can really help with that. You'll always

get quality when you see something in

person. You'll always get the extra, or that

vaudeville effect, whether it's the people

talking or a pre-show that's creative. And

that will engage audiences and keep

them coming back to an art house cinema,

whether they continue to go back to a

larger 20-plex or not.

To that point: The art house

demographic tends to be on the

older side, and we've seen that older

moviegoers are taking longer to

come back to the cinema. What's

been your experience with trying to

get younger groups of people—and

more diverse groups of people—to

come to art houses?

Barbara Twist: Our core audience is

more of a Gen X crowd. Those are folks

who were going to [Vidiots' original

location] in the '90s, 2000s and sort of

evolved with us as we grew. In [L.A.'s]

Eagle Rock [where the new Vidiots is

opening], there's a real mix. There are

families. We have a college. There's a lot

of younger people, millennial-aged folks

moving farther east due to housing prices.

That's something we're really taking

into consideration as we build out our

curation team.

Something that's very important for

us is to ensure that our curatorial team

and what we're showing on screen is

reflective of the community that we're

in, not just reflective of the community

that we've previously engaged with. That

is, I think, something that art houses

are constantly grappling with. It's very

challenging to figure out how to retain

the audience that you have. How do you

develop new audiences? To Tori's point

about how younger folks are watching

really terrible films on streaming, and

that may be the limit of their engagement

with long-form [content], anything

longer than an hour, if their experience

of the long form is not great, why would

they leave their house to come to a space

that, in their minds, is for people who

are over the age of 60 and mostly white?

What's going to get them there?

Vidiots, especially as we open and as

we look to bring in younger audiences,

[is going to] show [older, nostalgic] titles

that younger people know that they like.

You bring them into the space, you work

with them that way. And then, similarly,

our programming team is going to be not

one person, but a rotating collection of

curators so that we are making sure we're

not sticking with one thing all the time.

We're trying to create some sort of synergy

between all the programming, curatorial

spaces that we occupy.

Tori Baker: This topic comes up a lot

right now, obviously. I think that art

houses, number one, have always had

diverse programs that invite different

communities. The challenge that we've

always had is that we might appear a

little too edified or unwelcoming as a

group, in that we are "the cinephiles." We

know what film is, and we understand

film history. And that is not welcoming.

What we have done here at the Salt Lake

Film Society is, we have five cultural

tours. With those cultural tours, from the

Pacific Islands film tour to our Filméxico

tour, we did not demand the community

come. We did not say, "These are the best

of Mexican cinema happening right now.

These are the best Pacific Island films

being made." But we created a task force

from those communities that tell us what

"Perhaps we need to start

thinking about the younger

audiences and their trust of

this art form. Because how

many times have they shut

off a really crappy streamed

title—10 minutes in is really

breaking the trust for the art

form and that experience."

38 Centennial 2021

32-39_Indie-Focus-Spotlight.indd 38 23/11/2021 17:42
---
their community needs are. The only way

that you're really going to diversify your

audience is if you're meeting the needs of

different communities. You can't be the

one that's curating and saying that you

know best, and you hope they show up

just because you market to them.

Every community in the United

States is even slightly different. We have

a Jewish film tour. Here in Salt Lake City,

our Jewish community says, "We are not

interested in exhibiting films from the

Holocaust. It's something that we feel

like we're boxed in about." But there are

other communities where their Jewish

communities do want to see Holocaust

films. Every individual community

that you work with is also regional and

different, depending on where you live

and the experiences that they have. They

need their stories told in a particular way.

And it's your job as an art house to find

those films. That's, I think, the only way to

diversify your welcoming and inclusion in

your bricks-and-mortar space.

Paul Serwitz: Our group of theaters

really varies in their demographic draws.

Some areas and theaters really do skew

more mature and older. Others have a

younger draw. So it's a mixed bag for us.

But we obviously want to try to find ways

to expand the younger audience, because

they are the ones that are the biggest

drivers right now in returning to theaters.

We knew from the beginning of Covid that

the older audience was going to have the

most trepidation of returning. I believe

that they are really starting to show up

now. But there's still a great need to

diversify the audience.

It starts with the film. The film has its

inherent appeal: maybe younger, maybe

older, maybe a combination. Beyond

that, it's marketing, it's social media, it's

alternative content programming. Some of

the best alternative content we've had in

recent months have skewed younger. Bo

Burnham: Inside was huge for us. Some of

the music alternative content: Tom Petty,

The Doors, Oasis. We're getting back to

programming one-offs with Rocky Horror

Picture Show and The Room. Those are all

things that help drive a younger audience.

Barak Epstein: We have the opposite

problem. We have the younger people, we

don't have the older people. Part of it is

just that we're in a little bit of a younger,

"We knew from the

beginning of Covid that

the older audience was

going to have the most

trepidation of returning. I

believe that they are really

starting to show up now. "

hipper, part of town. The only movie I've

shown this year that we did get old people

to come to was the Velvet Underground

doc. We tried showing the James Bond

movie, which wasn't a super hit for us,

because I couldn't find the older people

who wanted to come see it. But if we

show [Andrzej Zulawski's 1981 horror

film] Possession, I'll sell out in about five

minutes. There wasn't anybody over

27 when we showed Possession. There's

certain repertory movies that just bring in

the younger crowds. That's what we really

excel with.

You all work with Spotlight Cinema

Network, which has presented this

panel. Can you say a few words

about your relationship with them,

and how in-cinema advertising has

played a role in your recovery?

Tori Baker: I can recall keenly when I

met Jerry Rakfeldt from Spotlight at Art

House Convergence. We would parry a bit

about pre-show advertising with them. I

was very resistant to the idea, as I had the

impression that pre-show advertising was

always those obnoxious soda commercials

with a 15-year-old skateboarding kid

who didn't fit our brand or speak to our

demographics. Then I saw what Spotlight

had to offer: a curated, specialized service

to match our brand. Their approach is

classy, with an almost sponsor-like feeling

that fits well in our brand. Add to that the

creation of a new revenue stream for the

cinema, and we've been hooked and never

looked back. Our patrons and donors

continue to have a seamless, upscale,

and curated pre-show experience prior

to viewing their motion picture. The

underwriting revenues we receive support

our mission and cinema operations. It's

a collaboration and true partnership. We

appreciate the team at Spotlight so much

and look forward to their creativity in the

future programs they offer.

Paul Serwitz: Now that business is

returning, Spotlight's ad sales business

is picking up nicely, along the lines of

our theatrical business. The revenue

share from advertisers getting back on

screen plays an important role for us as

supplemental income.

Centennial 2021

39

32-39_Indie-Focus-Spotlight.indd 39 23/11/2021 17:42
---
RTS

40 Centennial 2021

40_AD-RTS-Galalite.indd 40 23/11/2021 17:42
---
41_AD-NCM.indd 41 23/11/2021 17:42
---
INDUSTRY INSIDERS KEVIN LALLY

CINEMA'S

CHAMPION

A Tribute to Boxoffice Pro

Executive Editor Kevin Lally

in His Final Issue

BY REBECCA PAHLE

The story of Boxoffice Pro isn't

complete without mentioning

Film Journal International, the cinema

exhibition trade publication that was in

print for 84 years before merging with

Boxoffice Pro in 2019. And the story of

Film Journal International isn't complete

without Kevin Lally, the man who served

as its executive editor for its last 35

years in existence. This issue marks the

last of Lally's tenure at Boxoffice Pro,

where he served as executive editor for

three years following the Film Journal

International/Boxoffice Pro merger.

It's only fitting, then, that we take this

opportunity to pay tribute to a man who

brought kindness, strength of character,

and—above all—a desire to champion

film to his nearly 40 years of covering the

exhibition industry.

Lally grew up in Dumont, New Jersey,

where he was a stone's throw from

local movie palaces—the Claridge and

the Wellmont, both in Montclair, were

particular favorites—an assortment of

smaller cinemas, and all the brilliant

theaters to be found in New York City.

Trips to the movies were frequent; as

he grew, he graduated from Disney ("I'd

say like 50% of what I saw as a child was

Disney.") to seeing the likes of Klute, The

Godfather, and Hitchcock's Frenzy with

his father, whom he describes as his

"movie buddy."

Going to college at Fordham University

in the Bronx brought Lally closer to the

city's art house scene; he jokes that he

"minored in repertory cinema." He would

go to Manhattan's Elgin Theater, his

all-time favorite cinema (it now operates

as a dance theater, the Joyce), for special

summer screenings of Buster Keaton

movies. At Radio City Music Hall, he

caught Abel Gance's Napoleon with a

live orchestra. "That was the heyday of

Carnegie Hall Cinema, Bleecker Street

Cinema, the Thalia, the New Yorker

[Theatre], all these great rep houses in

42 Centennial 2021

42-45_Industry-Insiders-Kevin.indd 42 23/11/2021 17:44
---
Left: (l-r) Andrew Sunshine,

Rebecca Pahle, Kevin Lally,

Bob Sunshine

"If I liked a movie, I did a

piece on the director. Didn't

matter what box office

potential it had. If it was a

worthwhile movie, I had the

freedom to cover it."

New York," he says. "They would program

all the classics—Fellini, Bergman. I was

going down to Manhattan like three

times a week to get my own personal

film education." In a foreshadowing of

his later career, he was the arts editor

of the Fordham newspaper; through

Warner Bros., who at the time "was very

active in pursuing college press," he was

further immersed in the local film critic

scene, going to screenings and talking to

directors (including Martin Scorsese, for

Alice Doesn't Live Here Anymore).

Then came "the best and worst decision

of my life": entering the distribution game.

A fellow critic by the name of Ray Blanco

had started a company called Bauer

International, and Lally joined the team,

"which was a huge mistake because we had

no capitalization at all." Their big star was

Wim Wenders, who distributed his first six

films through Bauer, a decision Lally still

can't claim to understand.

At the ripe old age of 22, Lally found

himself at the Cannes Film Festival for

Wenders's Kings of the Road, which—

though now widely considered one of

his best—was panned by the Times upon

opening in New York City. "We took such

a financial bath with that movie, and

we never recovered." Bauer "limped

along" for a few more years and then

shuttered, leading Lally to move back

to film criticism, working for a small

newspaper in New Jersey. Not too long

after, a publicist friend let him know

about a job opening at Film Journal

International, then owned by the trade

show organization Film Expo Group. By

the age of 30, he was running one of the

two (along with Boxoffice Pro) premier

North American publications dedicated to

the theatrical exhibition industry.

There, he worked under Bob Sunshine

and his brother, Jimmy Sunshine, who let

Lally pursue the films and stories he was

interested in so long as the other half of

the publication—that relating to the nuts

and bolts of the cinema business—ran

smoothly. "I have to give credit to Bob

Sunshine," says Lally. "He was trying to get

this show going—what's now CineEurope

but started as 'Cinema Expo International.'

I remember at the time, I thought, 'Boy,

is that an ambitious idea, to bring an

American-style exhibition convention

to Europe. If they can really make this

work. …' And they did. I think his priority

was growing that side of the business, and

he was just happy that he had somebody

competent who could get the magazine

done every month."

Working under the Sunshines, Lally

had "incredible freedom" to champion

films both big and small. "If I liked a

movie, I did a piece on the director. Didn't

matter what box office potential it had.

If it was a worthwhile movie, I had the

freedom to cover it." Under Lally, Film

Journal International covered early films

from directors like Kathryn Bigelow and

Cary Joji Fukunaga. The partial list of

filmmakers Lally personally interviewed

extends into three single-spaced pages and

includes such names as Clint Eastwood,

Robert Altman, Saul Bass, and the great

Billy Wilder, whom Lally spoke to for his

1996 biography Wilder Times: The Life of

Billy Wilder. (Wilder, resistant to being

interviewed, had to be convinced by his

Centennial 2021

43

42-45_Industry-Insiders-Kevin.indd 43 24/11/2021 14:21
---
INDUSTRY INSIDERS KEVIN LALLY

agent. "This was the time of the Mideast

peace talks," Lally says. "According to [the

agent], Wilder said, 'Well, if Arafat and

Rabin can shake hands, I guess I can meet

with Mr. Lally.") His favorite interview was

with Liv Ullman, whom he spoke to in her

Upper West Side apartment. Giving the

excuse that she'd just had garlic for lunch,

she sat on the floor while Lally took the

sofa. "So Liv Ullmann sat at my feet."

Through it all, Lally stayed—and

stays—an avid moviegoer, both writing

about and experiencing the transition

of cinemas from the days of sloped

floors and 35 mm to power recliners

and digital projectors. "The generation

now has no concept of what it was like

back then," he says. "Sometimes if you

went to a repertory house, you'd go see a

classic film and the print had turned all

red." He was at the helm of Film Journal

International through the days of digital

conversion and, earlier, the "digital sound

wars. You had Dolby, DTS, and Sony, all

with these three competing digital audio

systems, each one claiming it was better

than the other. It was very tricky as a

publication. How do we cover this and

stay objective?"

The technology changed, but Film

Journal International leadership—

Sunshine, Lally, and later Rex Roberts, the

magazine's long-time designer—remained

consistent, joined by a rotating cast of

associate editors. His first associate editor,

Wendy Weinstein, "showed me what I

needed to do. We became great friends.

We're friends to this day. She actually left a

year later—she got pregnant, decided she

wanted to raise a family. But she was just

the perfect person to show me how to do

film journalism."

Since then, Lally hasn't been stingy

about passing his knowledge on to

others. "I have a lot of protégés," Lally

says. "I'm very proud." Full disclosure: I

am one of those protégés, having served

as Film Journal International's associate

editor in the last five years before its

merger with Boxoffice Pro, and can

thus add a personal note that Lally is

one of the kindest men this industry

has been lucky enough to employ. I

also personally benefited from Lally's

decades of dedication to championing

independent and repertory cinema; many

is the film I never would have seen had I

not read a positive review in Film Journal

International, which many times was

"As I reflect on my career,

I'd like to single out three

people who were invaluable

partners in producing Film

Journal: the late Ed Kelleher,

associate editor for 16 years;

Rex Roberts, art director for

20 years; and Rebecca Pahle,

associate editor for the last

five years of the magazine."

Kevin Lally

Executive Editor, Film Journal International,

Boxoffice Pro

Below: (l-r) Boxoffice Pro's

Daniel Loria, Laura Silver,

Kevin Lally

one of a mere handful of publications to

review a particularly niche film.

It's the films that require a bit more

work to find their audience—whether a

low-budget indie title or something non-

I.P.-based from one of the major studios—

that Lally remains concerned with; he's a

big believer in the importance of offering

a diverse array of films to moviegoers and

thinks that, where that's concerned, the

film industry has strayed from the path. "I

think it was a very sad day when Disney

swallowed up Fox," he says. "Because Fox

was making a lot of mid-budget movies—

like Hidden Figures—that found an

audience and did well. That's not a priority

for Disney." One evolution that Lally can

100 percent get behind is the conversion

to recliner seating, "one of the smartest

things [cinemas] did in the last decade."

You'll find some of Lally's writing in this

very issue, with his features on A Journal

for Jordan (page 136) and Flee (page 126).

What comes through in those pieces—and

in all Lally's writing—is his love and

knowledge of the art of filmmaking. That's

not coming to an end any time soon: There

may be another book in his future, about

character actresses. And it's a legacy he

leaves behind him, both in this publication

and in a film community that was very

lucky to have him as a perpetual advocate.

44 Centennial 2021

42-45_Industry-Insiders-Kevin.indd 44 24/11/2021 14:23
---
CELEBRATING

KEVIN LALLY

"He is one of the nicest,

most professional, and most

dedicated individuals I have

ever worked with, and our

industry has been justly served

throughout his career."

Robert Sunshine

Chairman, Film Expo Group

I had the privilege of working with Kevin

Lally for more than 30 years at the Film

Expo Group. Kevin was the executive

editor of Film Journal International. In

effect I was his boss, overseeing most

aspects of the publication, but when it

came to editorial Kevin told me to step

aside. Certainly not in a malignant way,

but said by a person who was extremely

confident in his ways.

Kevin truly loved his job; loved the

movies and loved the industry. His life

was all about the movies—seeing them

and writing about them. When press

time rolled around every few weeks,

this unflappable man was all business—

nervous and stressed out until the book

was put to press.

Kevin loved to attend movie

conventions, and the Toronto Film Festival

was one of his favorites. If he could not

convince us to send him, he took off the

week and traveled on his own dime. We

learned not to turn him down often.

One of the highlights of his career

was the recognition he achieved with

the publication of his first book, in 1996,

Wilder Times: The Life of Billy Wilder. This

book has been recognized as the definitive

work on this great filmmaker. His lengthy

interviews were impeccably written, and

his wit and insightfulness were wellcommunicated

to his readers.

Thirty years is a long time, and I cannot

remember a fight or loud argument with

Kevin more than once during that time. I

miss seeing him in the morning, sitting

at his desk as he gets ready to tackle his

work for the day. Regardless of what it

was, it was always done professionally and

thoughtfully. I wish him good luck and

health in his years ahead and to enjoy life

and never forget the "Wilder side of life."

Mitch Neuhauser

Managing Director, CinemaCon

I have known Kevin Lally for more

than 35 years and worked with him for

upwards of 25 years. He is one of the nicest,

most professional, and most dedicated

individuals I have ever worked with,

and our industry has been justly served

throughout his career. In addition to his

years in leading Film Journal International,

Kevin is also an accomplished author.

He loves movies. He loves going to the

movies. He loves everything about this

industry. Perhaps the only thing he doesn't

like is my whistling, especially, when he's

on deadline. All good thoughts and best

wishes to Kevin. We will always have a seat

waiting for Kevin at CinemaCon!

Cynthia Lucia

Cineaste magazine

Not only has Kevin Lally been an

extraordinary film critic, writer, and editor,

but he also has been an exceptionally

kind, compassionate colleague and friend.

When Ed Kelleher, Kevin's colleague

at FJI for nearly two decades, suffered

from life-ending dementia, Kevin helped

care for him in remarkable ways—from

navigating the complicated health care and

disability waters to offering his unwavering

friendship and steadfast emotional support.

Kevin Lally truly is a splendid human being.

Rex Roberts

Art Director, Film Journal

International

Kevin and I worked together for more

than two decades, producing FJI under

various owners and locations. … A good

guess is that we published 265 magazines;

the show issues were Herculean efforts,

exceeding 200 pages [each]. Three of us,

Kevin overseeing editorial, me design and

production, plus one of the many talented

associate editors employed over the years,

oversaw every page. Was there a more

productive team in the annals of modern

publishing? Kevin accomplished it all with

his customary good humor and judgment,

somehow finding time to write the first

biography of his cinematic idol, Billy

Wilder. We had fun.

Centennial 2021

45

42-45_Industry-Insiders-Kevin.indd 45 23/11/2021 17:45
---
Centennial WOMPI

WONDER

WOMEN

A Look Back at the Legacy

of Women of the Motion

Picture Industry

BY REBECCA PAHLE

"These historical board

members said to me, 'Don't

forget about the WOMPIs.

They've been great to Will

Rogers. Whatever they

need, make sure we're there

to help them.'"

"[Those in the] entertainment

industry, as a whole, are not great

historians," says Todd Vradenburg,

executive director of the Will Rogers

Motion Picture Pioneers Foundation.

"Everyone looks forward, and no one looks

back a little bit and says, 'Hey, what was

this all about? Who were these people?'

and pays homage to those who built the

platform we're standing on now."

Flip through the 100 years of back issues

from Boxoffice Pro—or Boxoffice or The

Reel Journal, as we used to be called—and

you'll see a name pop up consistently over

the decades: WOMPI. Not a person, but

a group: Women of the Motion Picture

Industry. WOMPI serves as an important

thread in the fabric of cinema industry

philanthropy that continues today in

the form of Will Rogers, Variety – the

Children's Charity, The Motion Picture

Club, and countless other groups, circuits,

and individuals who donate their time and

money to help others, both within the film

industry and without.

WOMPI was the first group of its kind

to be covered in the pages of Boxoffice

Pro: a national (and, later, with the

introduction of a Toronto chapter,

international) group made up of women

in the film industry—mostly from

distribution, but some from the exhibition

side as well. More recently, Boxoffice

Pro has enjoyed a collaboration with

another nonprofit group with a similar

demographic: Women in Exhibition,

founded in 2018 to support and uplift

women in the global cinema industry,

including those who work for cinemas,

distributors, and vendors.

The group sprang from a luncheon

hosted by two industry executives in

Dallas in 1953; a group of secretaries at

the event enjoyed connecting with one

another so much that they decided to

make the gatherings regular. Thus, WOMPI

was born. Mary Pickford was in attendance

at the charter membership luncheon

in 1953, where she was presented with a

scroll naming her WOMPI's first honorary

member. WOMPI's Dallas chapter was

shortly joined by chapters in New Orleans,

Atlanta, and Memphis; the WOMPI "World

Premiere" Convention was held in Dallas,

Texas's Baker Hotel on September 18 and

19, 1954. At its height, WOMPI boasted 800

members across chapters in 22 cities.

The story of WOMPI, from its founding

in 1953 until its disbanding in 2013, is one

of camaraderie, community, and charity:

values that continue to be an integral part

of the cinema industry today, and ones

that are even more appreciated after a

year-plus of virtual meetings and digital

trade shows, a period that now thankfully

appears to be coming to an end.

The keeper of the WOMPI legacy is

Dorothy "Dottie" Reeves. Born in Missouri,

Reeves moved to New York City in 1959

to work for United Artists, where she was

an assistant to legendary executive Salah

M. Hassanein. In 1960, Reeves went to

WOMPI's Toronto convention and was

inspired to create a New York chapter. "I

met with a group of ladies in Toronto, and

they gave me some ideas on how to go about

46 Centennial 2021

46-47_WOMPI.indd 46 24/11/2021 14:24
---
organizing the New York club," Reeves tells

Boxoffice Pro. "When I got back to the city,

I started contacting a few of the ladies I had

been in touch with since I moved there that

worked in the film business."

Reeves's first unofficial WOMPI

gathering took place in a conference room

in the United Artists building. "I set up

a meeting, and the girls that came were

really interested. I think it was about 12

[people]. So we decided to have another

meeting, and they talked it up and went

back to their offices. We had girls from

Paramount and Universal and Warner

Bros. We set up another meeting, and we

decided that we were going to organize."

Reeves would go on to become WOMPI's

international president in 1967.

"Dottie and a couple of others would

reference themselves as 'the office girls,'"

recalls Vradenburg, who began working

with WOMPI upon joining Will Rogers

in 1997. "There were women in the group

who did not like that reference. But Dottie

would whisper to me, 'We're just the office

girls.' And they were proud of that."

These "office girls" would use their

time, energy, and passion for the industry

to earn money for those in need. WOMPI

chapters were involved in charitable

causes of their choosing, but the group's

main affiliation was with Will Rogers,

which in 1958 was adopted as WOMPI's

primary philanthropic cause. That year,

the group introduced their "Dimes for

Dames" program, asking its members to

set aside 10 cents a week—the cost of a

price of coffee—to donate to Will Rogers.

What with inflation, in 1977 "Dimes for

Dames" became "Dollars for Dames,"

which rolls off the tongue just as well.

WOMPI sponsored room 308 at the Will

Rogers Hospital; they also purchased over

700 books and medical journals for the

hospital's library, as well as a defibrillator,

a portable communication machine, and a

piano. After the hospital's closure in 1975,

the WOMPI checks would go toward what

Vradenburg calls "short-term assistance:

accident, illness, injury, prescriptions, extra

physical therapy sessions, occupational

therapy sessions, glasses, hearing aids,

things of that nature." Vradenburg

estimates that, over the 60 years of its

existence, WOMPI's contributions to Will

Rogers total some $300,000.

"The checks were not huge, by any

means," says Vradenburg. "But they were

consistent through the decades." Adds

Reeves: "Our members, every month—I

still get notices that someone has sent a

memorial or a donation to Will Rogers, even

though we're not an organization anymore."

A large part of WOMPI was its annual

convention, held in a different city

each year and complete with banquets,

meetings, and even (on occasion) costume

parties. At the first WOMPI convention,

held in Dallas in 1954, visiting delegates

were escorted to the convention center by

fire engines, and authentic Edith Head

costumes were on display at the firstever

WOMPI "Champagne Hour." Reeves

singles out the 1967 convention in New

Orleans as her favorite. "On Saturday night,

they had an authentic Mardi Gras ball,

with the king and the queen. Beautiful

costumes. … [The Mardi Gras page]

escorted me down and presented me to

the king and the queen. And I remember,

the convention chairman kept telling me,

'Dottie, you have to learn how to curtsy!'"

When Vradenburg became Will

Rogers's executive director, he remembers

exhibition icons Hassanein, Bud Stone,

and Jerry Forman telling him: "'Don't

forget about the WOMPIs!' I was like,

'What? What is a WOMPI?'... But these

historical board members said to me,

'Don't forget about the WOMPIs. They've

been great to Will Rogers. Whatever they

need, make sure we're there to help them.'

I said, 'No problem.'" Vradenburg was

"really impressed" by what he saw when

he went to his first WOMPI convention:

"They ran their conference pretty much

like a NATO-type meeting, or our annual

meeting. They had officers' meetings,

closed-room sessions, bylaws sessions,

special committee meetings. … They're

not just a group of people getting together

to have a few chuckles. They take this

work seriously."

WOMPI's 60th and final conference

took place in Grapevine, Texas, with

Reeves once again presiding as

international president. Membership

had dropped to below 100 women spread

across six chapters in Dallas, Charlotte,

Hollywood, Kansas City, Memphis, and

New Orleans. With that number of

people, says Reeves, "it's hard to plan

a convention"—though, even with a

diminished membership roster, WOMPI

was still successfully able to reach

their 2013 Will Rogers fundraising goal

of $5,000. On November 11, 2013, the

remaining amount in WOMPI's coffers was

sent to Will Rogers, marking the group's

last official contribution: $43,224.18.

Reeves still keeps the WOMPI

flame burning, sending out a monthly

newsletter to former members. On a

personal level, she plays the piano at a

nursing and rehabilitation center in her

hometown, though she regrets that she's

had to put that community service on

pause due to the pandemic. "People that

work in the film industry, they're always

doing things to better the country," says

Reeves. "And it's all done out of their

hearts. It's all done for free, mostly. The

people that work in the film business,

they're very giving of themselves."

"People that work in

the film industry, they're

always doing things to

better the country."

Centennial 2021

47

46-47_WOMPI.indd 47 23/11/2021 17:46
---
Online Ticketing is

the new box office

Scan it with the camera on your phone or visit

company.boxoffice.com/boost to book a meeting with us.

48_AD-TBCo-3.indd 48 23/11/2021 17:49
---
centennial

100 YEARS OF BOXOFFICE PRO

50

the boxoffice story

A Reprint from Our 50th

Anniversary Issue, Published

in 1970, Looking Back at the

Founding of the Publication

54

the boxoffice story,

continued

An Institutional History of

Boxoffice Since Ben Shlyen's

Sale of the Company

62

a century in exhibition

Documenting 100 Years

of Exhibition History

Through the Pages of

Boxoffice Pro

Centennial 2021

49

49_Centennial-Opener.indd 49 23/11/2021 17:50
---
CENTENNIAL THE BOXOFFICE STORY

THE BOXOFFICE

STORY!

From the 50th Anniversary Issue of

Boxoffice Pro, a Look Back at 18-Year-Old

Founder Ben Shlyen

BY JOAN BAER

This piece originally appeared in the July 20,

1970, 50th anniversary issue of Boxoffice Pro.

t was January 31, 1920, when

18-year-old Ben Shlyen,

fresh out of high school and

a motion picture "veteran"

since his grade school days,

published the first issue

of The Reel Journal, handdelivered

it to Kansas City's

Filmrow and mailed almost

1,000 copies to exhibitors

in the trade territory. This

marked the beginning of a

career destined to make Ben

one of the industry's most

respected spokesmen and his publication

the most widely read tradepaper in the

motion picture field.

Ben developed his love for motion

pictures when he first saw a flickering reel

in Boston at the age of five. Later during

his grade school years in Kansas City, he

worked in a folding chair theatre and

eagerly devoured the Universal Weekly,

delivered each Saturday to the Universal

exchange.

The day he got his grade school

diploma, Ben talked Lee Balsly, manager

of Standard Film Corp., into hiring him as

office boy. Here he made his first contact

with exhibitors and their problems.

Ambitious and eager, Ben took over poster

department duties, then the shipping

clerk job when the employees in those

positions quit. When the advertising

manager was called to World War I service,

Ben was recruited to write advertising

copy and promotional literature.

Quite an undertaking for a lad who

also had a 5 a.m. newspaper corner,

two grocery store windows to decorate

with bargains of the day, an evening

paper route for which he hired carriers,

and massive lineup of extracurricular

activities at Manual Training High School,

including glee club, orchestra, debate,

senior class president, business and

advertising manager for the school paper.

The latter, a consistent money loser, that

year under Ben's direction, wound up

with a $2,000 surplus. He also wrote about

one-third of the news copy each week and

received a gold Honor Pin for journalism,

the first ever given by the school.

As he sorted mail, listened to exhibitor

complains, shipped posters and cans

of film, and wrote copy about Christie

Comedies, Four Square Productions,

and Art Dramas, young Ben became

increasingly aware of the need for

He outlined his plan, then

unrolled a map of the United

States, swept his hand across

it, and said, "Someday, I hope

there will be a Reel Journal

for each film exchange area

in the country."

a medium of contact between the

exchanges and exhibitors which would

provide practical trade information to the

local or sectional industry. There were

several national tradepapers, but Ben

felt that, since most pictures were sold

and distributed through local franchise

holders, there was need for a medium to

provide the contact between exhibitors

and independent distributors. Thus, late

in 1919, he addressed a meeting of the

Kansas City Film Board of Trade.

Set Goal at Start of His Career

"Gentlemen," he said, showing them a

hand-made blueprint dummy of The

Reel Journal, "I am prepared to publish a

tradepaper to serve your needs. May I have

your support?" He outlined his plan, then

unrolled a map of the United States, swept

his hand across it, and said, "Someday, I

hope there will be a Reel Journal for each

film exchange area in the country."

A few weeks later, the first issue

appeared, a four-page, tabloid-size paper,

carrying the news that Will Rogers had

been signed by Goldwyn to play in Jubilee,

that Vitagraph would star Alice Joyce

in another social drama, that the Hall

Room Boys were appearing in a series of

comedies for C.B.C. Film Co., forerunner

of today's Columbia Pictures Corp., and

other good trade stories. But the readers

best liked the long column of newsy items

about themselves. They felt this was their

own tradepaper with home interest and

home-ground sympathies.

The Reel Journal was an instantaneous

success. Subscriptions came from Kansas

and western Missouri. Exhibitors chugged

50 Centennial 2021

50-53_The-Box-Office-Story.indd 50 24/11/2021 14:24
---
into town in their Model T's, strode to

the young publisher's desk space in the

projection booth of the First National

exchange in the Film Building and

plunked down their dollar for a year's

subscription. An Oklahoma exhibitor who

ran across a copy wrote that one item

saved him $20, enough to convince him he

needed The Reel Journal for the next two

decades, at least. He sent a check to cover

a 20-year subscription.

Soon the young publisher opened an

office in St. Louis, marking the first of

many expansions. Editorially, he began

his campaign urging exhibitors to assume

leading roles in their communities. In

those days, most theatremen thought of

themselves as medicine show men with

little or no tie to the business community,

but in one of his earliest editorials,

Ben asserted, "The exhibitor of any

community should rank his influence with

that of his newspaper editor." He urged

exhibitors to use their screens to promote

good roads, improved city government,

to provide entertainment for children,

and to become active members of their

merchants associations or Chambers of

Commerce.

Operated Theatre for That Experience

His advice to theatremen was based on his

own solid experience. A short time earlier,

feeling that his publication's service

could be enhanced by taking a personal

hand in theatre operation, he bought the

Maple Theatre, a 600-seat neighborhood

house, and learned firsthand the problems

of the exhibitor. He gained additional

background and knowledge when he

took on the job of advertising manager

for two de luxe first-run theatres – the

Liberty and the Doric – which added to

his background and knowledge of theatre

management, advertising, publicity,

and promotion, as well as how to secure

cooperation from merchants, civic and

other groups and newspapers. He also

published an elaborate weekly program

for these two theatres.

About a year after The Reel Journal was

started, Ben joined his printer in forming

The Keystone Press, extending service

to exhibitors via a special type weekly

program. After four years, Ben sold his

interest in Keystone to devote his full time

to publishing.

His dream of setting up a Reel Journal

in every exchange center suffered a

By now, Ben had decided

to acquire the other papers

himself and go it alone,

operating them as a single

group out of Kansas City, but

money was tight and loans

were refused repeatedly.

setback in the early '20s when Ben

discovered that others had beaten him

to the punch. But those were the days of

mergers in the industry and the number

of distribution companies and franchise

holders dwindled rapidly as the big

companies joined – three companies

merged to form Metro-Goldwyn-Mayer in

1924, Realart was sold to Famous Players-

Lasy, Selznick quit production, Schulberg

joined Paramount, and the advertising

potential for The Real Journal and other

regional papers diminished.

Sought to Solidify Regional

Publications

Ben called a meeting of tradepaper

publishers in Milwaukee in 1925 and

proposed setting up an Associated Presstype

association to cut operating costs,

expand services, and create a cushion to

soften the impact of industry mergers.

The other publishers said they preferred

to fight alone. But their dreams of a

return to the heyday did not materialize.

Advertising accounts continued to

shrink and regional publishers lost faith

in their ventures. They bombarded

The Reel Journal with offers to sell. The

Reel Journal was willing to buy, but the

publisher didn't have the cash.

By now, Ben had decided to acquire

the other papers himself and go it alone,

operating them as a single group out of

Kansas City, but money was tight and

loans were refused repeatedly. He decided

to sell the idea to the motion picture

companies themselves, so he printed a

complete issue of one edition and made

his maiden trip to New York.

En route, in Chicago he picked up an

option to buy the Motion Picture Digest,

then the Ohio Showman in Cleveland and

the Michigan Film Review in Detroit. In

New York, he toured the film company

home offices and in five days had

enough advertising contracts to assure

sufficient income to operate for a year.

Six weeks later he lifted options to buy

six other regional papers and Associated

Publications became a corporate entity,

with the first issue of the Associated

Film Group off the press on August 13,

1927, and with New York, Chicago, and

Hollywood offices a reality. The six

regionals and The Reel Journal had a

circulation of 9,000, covering 17 states

across the heart of the country from

western Idaho to eastern Ohio.

Centennial 2021

51

50-53_The-Box-Office-Story.indd 51 23/11/2021 17:51
---
CENTENNIAL THE BOXOFFICE STORY

Realized Original 'Dream' in 1931

Then came sound, throwing the

industry into turmoil and causing the

film companies to hold the line on

advertising. Associated Publications had

taken on a printing plant to facilitate

publishing its seven regional papers,

and working capital had gone to pay

for press equipment. Loans on printing

equipment were hard to get and bankers

were not interested in film advertising

contracts. The outlook was black. Ben

borrowed on insurance, mortgaged his

home, sold a profitable textile magazine

to keep the ship afloat. By January 1929,

there was a counterpart of The Reel

Journal in every exchange city except

Philadelphia, New York, and Washington.

Despite strained resources, Associated

Publications continued to expand and,

in 1931, a regional paper was established

to cover the three remaining exchange

areas. It was named Boxoffice, and two

years later the name was adopted for all

11 regional publications, fusing them into

one national magazine, with local news

supplements for each trade territory.

Then the depression caught up

with the motion picture industry;

four producer-distributors went into

receivership, cash was at a premium, and

advertising for one eight-week stretch was

almost nonexistent.

"The going was really rough," Ben

recalls. "However, with the cooperation of

a loyal staff, in the field, in our home office,

editorial and business department and

plant, paper, ink, and other suppliers, the

storm was weathered."

Service to the reader had always been

Ben's primary objective and through the

years he continued to expand them. From

its inception as The Reel Journal, the

magazine published a weekly release chart,

a projection and equipment department

on merchandising product. In 1928, the

Kinequipment section was established

as the forerunner of The Modern Theatre.

Two years before the adoption of the

production code, Ben recognized the need

for wholesome family pictures. Boxoffice

sponsored establishment of the National

Screen Council and created the Blue

Ribbon Award, for 38 years given to the best

picture of the month "for the whole family."

In 1937 Boxoffice Barometer was

introduced to provide information

on an entire year's product. The

Showmandiser section, designed to

By now, Ben had decided

to acquire the other papers

himself and go it alone,

operating them as a single

group out of Kansas City,

but money was tight

and loans were refused

repeatedly.

provide information on how to increase

ticket sales, was the most extensive in the

tradepress.

Within a short span of years, Boxoffice

moved into first place in circulation

leadership, a place it has now held for 30

years. In 1938, a Canadian edition was

established at the invitation of Canadian

industry interests.

Editorially, Boxoffice has championed

unity within the industry. It has called

for the highest type of citizenship in the

operation of community theatres. It has

urged the industry to settle disputes

through conciliation and arbitration

rather than the courts. It has called for

high morals in movie-making, but has

fought all efforts at censorship. In 1965, in

its efforts to help the industry withstand

the pressures for censorship and statutory

classification, Boxoffice, in cooperation

with the Motion Picture Association of

America, undertook the publishing and

distribution of the Exhibitor Edition

of The Green Sheet, to make available

to exhibitors the means of providing

information and ratings of new film

releases for dissemination to the general

public.

Today, Boxoffice is read in virtually

every country on the globe and its net paid

circulation of 16,840 is the greatest film

trade circulation in the world.

Certainly, the success of Boxoffice

stands as a tribute to its publisher, who

through many years of difficult times

constantly asserted, "Let's take the

positive view. Let each man become his

own cheerleader – but, instead of yelling,

let him be doing. And keep doing. And

doing. And the momentum will take hold

and the action will be sustained."

52 Centennial 2021

50-53_The-Box-Office-Story.indd 52 24/11/2021 14:27
---
IN MEMORIAM

BEN SHLYEN,

BOXOFFICE

FOUNDER

This obituary appeared in the

July 1985 issue of Boxoffice Pro.

When Ben Shlyen died at the age of 84 on

April 7, 1985, he left behind a legacy that few

men can lay claim to – he had founded and

steered towards success a unique motion

picture publication that, 65 years after its

inception, still fulfills its founder's dreams.

Ben Shlyen was just 18 years old when,

on January 31, 1920, he published the

first issue of The Reel Journal, a fourpage

tabloid paper that carried news

and information of the movie industry

for members of Kansas City's filmrow.

Starting out with an initial subscription

base of 1,000 exhibitors and independent

film distributors, Ben parlayed his

publishing ideas into what would later

become Boxoffice Magazine, the nation's

largest motion picture trade publication.

Ben's love for motion pictures and

the movie industry began at an early

age – he once told an interviewer that his

career in the film industry really began

when he saw his first "flickering reel" in

Boston at the age of five. During his grade

school years he worked in a "folding chair"

theatre and was an early devotee of the

Universal Weekly, a newsletter for the

Universal exchange in Kansas City.

His first job, fresh out of grade school,

was with the Standard Film Corp., where

he started as an office boy and worked

his way through the poster and shipping

departments and, during World War I,

ended up in the advertising department,

writing copy and promotional literature.

All this while he decorated grocery

store windows with bargains of the day,

held down a morning job as a corner

newsboy, ran an evening paper route, and

participated in a variety of extracurricular

activities at Kansas City's Manual Training

High School – including the glee club,

orchestra, debate, senior class president,

and as business and advertising manager

for the school newspaper. He also wrote

much of the copy for the latter, eventually

becoming editor when he successfully

pulled the paper out of the red. (One of

his reporters, a young woman on his staff,

Clara Hermer, eventually went on to work

at The Reel Journal and became Ben's wife.)

It was while working at Standard Film

Corp. that Ben first realized his calling. He

became increasingly aware of the need for

some form of communication between

exhibitors and the distribution chain, a way

of providing useful trade information to the

legion of small theatre owners not really

served by the national trade publications.

In 1919 he approached the Kansas City

Film Board of Trade with his idea: "I am

prepared to publish a tradepaper to serve

your needs," he told the group's members.

"May I have your support?" Flourishing a

mock-up copy of the first edition of The

Reel Journal, he added, "Someday I hope

there will be a Reel Journal for each film

exchange area in the country."

It was only a short time later that the first

issue of The Reel Journal appeared, carrying

news and information on the latest movies

and movie stars. But the most popular

feature was a column of home-grown news

and gossip about the Kansas City film world,

giving the new publication's readers a strong

sense of participation.

The Reel Journal was an immediate

success and it wasn't too long before Ben

opened an office in St. Louis, the first of

many additions to the publication. Ben's

expansion was stymied, however, by a host

of other regional newspapers that had

sprung up in the early 1920s.

By 1925 the fledgling motion picture

industry began to consolidate. One after

another, the major studios began merging

into larger entities, cutting down on the

number of independent distributors and

cutting down on available advertising

revenues for the many trade papers. Thus,

in 1925, Ben chaired a meeting of trade

publishers, calling for the formation of an

association of trade papers to consolidate

expenses, expand services, and cushion

the financial blow dealt by the recent

mergers. The other publishers would have

Ben parlayed his publishing

ideas into what would later

become Boxoffice Magazine,

the nation's largest motion

picture trade publication.

nothing to do with Ben's idea.

Within a short time, finances for the

trade papers got worse, and Ben was

deluged with offers to buy his competition.

Within a few years, Ben had acquired

nine regional papers: Movie Age, Motion

Picture Digest, Michigan Film Review,

Ohio Showman, Exhibitors Forum, New

England Film News, Motion Picture Times,

Exhibitors Tribune, and Film Trade Topics,

consolidating them under the banner

of Associated Publications. By 1931 only

three exchange areas lacked coverage

by an Associated publication: New York,

Philadelphia, and Washington. Ben started

Boxoffice to complete his empire. Two

years later he consolidated all 11 journals

into one national magazine, with regional

supplements for each exchange, and used

the name Boxoffice for the overall title.

Now, Ben had only to fine tune

the publication to make it the leader

in motion picture trade publication

influence and circulation. In 1928 a

Kinequipment section was added (the

forerunner to the Modern Theatre

section); a short time later Ben instituted

the Blue Ribbon Awards. In 1937 he

introduced the Boxoffice Barometer; by

1938 he had started the Showmandiser

department and added a Canadian section.

Throughout his years as the Publisher

and Editor-in-Chief of Boxoffice, Ben

was a strong advocate of community

involvement on the part of theatre owners.

He urged exhibitors to get involved in

their local communities by using their

screens to advocate improvements in city

governments and to provide wholesome

entertainment for children. He was a

staunch supporter of strong citizenship

and morality, yet was opposed to any form

of censorship. He urged theatre owners

to join community groups and Chambers

of Commerce. And he was against taking

exhibitor/distributor disagreements to the

courts, instead advocating conciliation

and arbitration. Through the pages of

Boxoffice, Ben was a strong force for unity

in the exhibition industry.

Ben retired from active duty at

Boxoffice in 1980, but remained a member

of the Foundation of Motion Picture

Pioneers and the National Association of

Theatre Owners. His death is a loss to this

publication and to the motion picture

industry, yet, uniquely, his memory

will continue on through the pages of

Boxoffice.

Centennial 2021

53

50-53_The-Box-Office-Story.indd 53 24/11/2021 14:28
---
Centennial THE BOXOFFICE STORY, CONTINUED

THE BOXOFFICE

STORY, CONTINUED

PART I. THE END OF AN ERA.

en Shlyen founded

The Reel Journal in his

hometown of Kansas

City during an era when

railroad tracks dictated

the locations of regional

film exchanges across

the United States. The

magazine survived the industry's move

to Hollywood during the studio era by

keeping close ties to regional distribution

offices and independently owned movie

theaters throughout the United States. Its

central location in Kansas City was an

asset in a largely decentralized industry;

while production had a hub in Los Angeles,

distribution and exhibition were still very

much regional businesses. In the 1970s,

however, film distribution and exhibition

in the United States began to take on a

national dimension.

The late 1960s and early '70s were a

time of radical transition for Hollywood.

The studio system and its Production

Code, relics of a bygone era, had been

supplanted by a new generation of

filmmakers, independent producers, and

corporate executives. Weekly circulation

of Boxoffice had risen to over 23,000 by

1950, a statistic that was prominently

featured on several covers of the magazine.

But by the publication's 50th anniversary,

in 1970, it was down to 16,840, a victim of

that generational shift. The circulation

would only continue to decline in the

ensuing years.

The loss of subscribers can be seen

in the advertising of the era. In the 50th

anniversary issue of Boxoffice, published

in July of 1970, full-page ads by studio

and industry luminaries reflect the

publication's standing with Hollywood's

old guard. Yet on its back cover, a glimpse

of the magazine's imminent future, is a

full-page ad for American International

Pictures' Unchained Angels, with artwork

depicting a biker gang sexually assaulting

a woman.

Throughout the 1970s, Boxoffice

produced some of the strangest—and

on multiple occasions, sleaziest—covers

in the publication's history. Genres like

sexploitation, blaxploitation, horror, and

martial arts were regularly featured on

Boxoffice covers throughout the decade.

The exploitation films of that era were

not only keeping the publication afloat,

they also provided a financial lifeline

for many of its subscribers, downtown

cinemas struggling after a large portion

of their audience flocked to the suburbs.

The magazine that had championed

the production of family-driven films

by launching the Boxoffice Blue Ribbon

Award in 1932, a monthly designation

given to the best family-friendly film

on the market, now rarely gave them

prominence on its cover page.

In January of 1979 Shlyen sold the

magazine he had founded 59 years earlier

(in the projection booth of a Kansas City

movie theater) to a trade-publishing

conglomerate in Chicago. What was

originally a four-page leaflet with an initial

printing of a thousand copies had grown to

become a reference guide for an industry

he documented through his life's work.

By the time of the sale, the film

industry had changed considerably;

Boxoffice had not. To survive, Boxoffice

had to go through a major transformation

of its own.

This is the story of that reinvention.

By the time of the sale, the

film industry had changed

considerably; Boxoffice had

not. To survive, Boxoffice

had to go through a major

transformation of its own.

54 Centennial 2021

54-60_Box-Office-Story-Continued.indd 54 24/11/2021 14:29
---
PART II. GOODBYE, KANSAS CITY,

HELLO, HOLLYWOOD: BILL VANCE

BUYS BOXOFFICE.

ance Publishing Corp.,

Chicago Firm, Has

Acquired BOXOFFICE

Magazine," reads

the headline on the

upper-right-hand

corner of page 3 of the

January 8, 1979, issue of

Boxoffice. Shlyen had sold the company

to a trade-publishing conglomerate that

specialized in niche businesses. Vance

owned publications like Packer ("The

national fresh fruit and vegetable industry

newspaper"), Logging Management ("From

seedling to sawmill"), Drover's Journal

(covering the livestock industry), and

Modern Salon (focusing on the beauty

shop business).

Boxoffice was an awkward fit at Vance

Publishing. The magazine's glossy look

and feel, including the cherry-red color

scheme of its cover, were abandoned

in favor of a more streamlined tabloidbroadsheet

look beginning in July of 1979.

Vance retired the iconic art deco logo that

had graced covers since 1939 with a bulky

film strip featuring the word "BOXOFFICE"

in bold type and capital letters. William

C. Vance became the second publisher

in the magazine's history, with Charles F.

Rouse III succeeding Shlyen as editor for

a brief span. Consistency was achieved

through several key players who stayed on

at the publication's Kansas City newsroom,

including Shlyen himself, now listed as

executive editor. After several months,

however, it was clear that further changes

were needed in order for the publication

to survive.

Those changes started with Alexander

Auerbach, a reporter for the business

section of the Los Angeles Times, who

received a cold call from Vance with

a curious request. "I was covering the

entertainment industry (among others)

and had completed my MBA while I was

at the Times, so I was getting a little bit

restless," he remembers. "I got a call from

this publication called Boxoffice. They had

seen my work and hired me to do a basic

consulting project: What should we do

with this magazine?"

Auerbach flew to Kansas City to

interview the staff and get a bead on the

situation. His report to the publisher

suggested two crucial changes to ensure

the magazine's future. "It couldn't be in

Kansas City; it needed to be in New York

or California, and it couldn't be a weekly

tabloid—it needed to be monthly," he

says. "They came back about a month

later and asked me to run it. I accepted on

the condition they made me editor and

publisher. They said no."

It didn't take long for Vance to

reconsider. Auerbach was announced as

the third publisher and editor of Boxoffice

in January of 1980, tasked with moving

operations away from its longtime

headquarters at 825 Van Brunt Boulevard

in Kansas City and turning a 60-yearold

weekly broadsheet into a monthly

publication.

"I flew back and forth to Kansas

for a month or so, almost like I was

commuting—we still had to get the

broadsheets out while we were figuring

out how to reinvent the magazine,"

Auerbach says. "Finally, I met with the

entire staff, as I recall about 20 people,

many of them young and all of them

good at what they did. I explained it was

going to be a monthly and thanked them

Auerbach, not surprisingly

given his previous beat at the

L.A. Times, had made business

reporting the publication's

primary editorial focus during

his tenure at Boxoffice.

for helping us save the magazine. Then I

told them, here's the deal: We'll move you

to California at our expense, get you set

up, your job is guaranteed. If after a year

you don't like it, we will move you back to

Kansas. I gave them a couple of weeks to

think about it. When I returned, I asked

how many were interested in making the

move. The answer was zero."

Auerbach wasn't totally alone by the

time Boxoffice relaunched as a monthly

magazine. Morris Schlozman, who had

been with the publication for decades,

stayed on as the advertising director, as

did associate editor Jimmy Summers, both

working out of the Kansas City office. The

two men previously worked under Shlyen

and Vance. In every other sense, however,

Boxoffice was forced to start from scratch.

The new Los Angeles office at 1800

North Highland Avenue was steps

away from Grauman's Chinese Theatre.

Auerbach outfitted the space with

used surplus furniture from the Los

Angeles Times' city room and computers

purchased at the bankruptcy sale of a

chain of computer stores. Shortly after the

move, Vance Publishing sold the magazine

to another Chicago-based publisher,

Robert L. Dietmier, in 1980.

PART III. BOXOFFICE GOES MONTHLY:

THE BOB DIETMIER ERA.

obert L. Dietmier

owned Boxoffice for

more than 25 years, the

longest tenure after the

magazine's founder,

and his stewardship is

largely responsible for

the magazine's revival

following Shlyen's departure.

Auerbach, not surprisingly given his

previous beat at the L.A. Times, had made

business reporting the publication's

primary editorial focus during his tenure

at Boxoffice. Managing editor Harley Lond

continued on that same path when he

became the fourth editor in chief in the

publication's history in October of 1984.

Lond's time as editor coincided with

the rise of new cinema technologies,

particularly advancements in sound,

that helped drive both editorial and

advertising from the mid-1980s through

the early 1990s. That era was also marked

Centennial 2021

55

54-60_Box-Office-Story-Continued.indd 55 24/11/2021 14:57
---
Centennial THE BOXOFFICE STORY, CONTINUED

by the introduction of two potentially

disruptive new platforms: home video and

premium cable.

"When VHS and HBO arrived, everyone

was terrified. They thought it was going

to wipe out the industry," Lond says. "Our

editorial position at the time was that it

could enhance moviegoing by whetting

people's appetite to go to the theater and

see a movie on a big screen with popcorn,

candy, and soda. During that time, we

dedicated a lot of articles highlighting

new technology; we doubled down

on showmanship and helping theater

owners better promote movies in their

communities."

As a reflection of home entertainment's

growing role in the movie business,

Boxoffice began publishing a supplement

in the magazine, In Video, in May 1985.

The section ran in every issue for more

than a year, ending in August 1986. It

proved to be a misguided attempt to

expand the magazine's reader and

advertising bases—video stores and

distributors were booming at the time,

creating a parallel distribution channel—

one that alienated the publication's

existing readers without bringing the

additional readers or advertising it was

meant to attract. "Our subscribers didn't

like it and we weren't getting any ad

revenue from it," says Lond. "The efforts

by theater owners to put video stores in

their lobbies didn't work out. We decided

to dump the entire section."

Boxoffice placed a renewed focus on

its editorial roots in the second half of the

1980s. It helped exhibitors navigate the

changing media landscape with articles

introducing new trends, technologies, and

marketing initiatives to better compete

with a new wave of home entertainment

products. "I felt really proud of those

sections; it was like a wilderness of new

formats out there—a confusing time for

the exhibitors—and we tried to guide them

through that as best we could," says Lond.

In 1991 the publication moved to its

second Los Angeles headquarters, just a

few blocks' walk, to 6640 Sunset Boulevard.

By that time, Boxoffice was among the first

publications in the country to publish

digitally. Each month, the magazine would

be uploaded onto floppy disks and shipped

overnight to the printers. Senior editor

Ray Greene succeeded Lond in April 1994,

becoming the fifth editor in chief in the

publication's history.

Under Greene's direction,

Boxoffice became an

interview destination for

Hollywood's biggest stars

and filmmakers.

Greene focused more attention on the

movie side of the business. A new crop

of independent American filmmakers

and producers were once again changing

the way Hollywood did business. The

Sundance Film Festival had gone from a

sleepy conference in a ski resort to a highprofile

bidding ground for the industry's

next breakout stars. Greene shifted the

emphasis of the magazine's long-running

film criticism section to ensure that each

review was published ahead of the film's

theatrical release and early enough for

readers to book titles they were intrigued

by. Under Greene's direction, Boxoffice

became an interview destination for

Hollywood's biggest stars and filmmakers.

"My background is in alternative press,

and I approached the job by asking myself

what type of magazines I liked to read,"

says Greene. "Looking at a model for a

trade magazine, I'd look at something like

Stereo Review. It was a magazine where

you could find business information but

got it in a way that made you feel excited

for being involved in that world. We could

do that with a movie magazine; that was

our ambition in every issue."

Greene also played an important role

in establishing the publication's presence

on the then-nascent internet. Boxoffice's

first foray into the digital world dates

to Harley Lond's tenure as editor with

Boxoffice OnLine. Announced in Lond's

editorial in the December 1988 issue as

"the perfect electronic supplement to the

printed page," Boxoffice OnLine asked

users to mail in a form in order to receive

credentials to access the online site

through their modem connections. The

service promised "information fresher

than any printed source can provide: news,

reviews, promotional notes, the business

news of the motion picture industry

updated daily!"

By the mid-90s, Greene had a plan

in place to ensure that Boxoffice would

be prepared to make its debut on the

internet as we know it today. In June 1994,

Boxoffice partnered with the University

of Southern California to bring a digital

edition of the magazine to the internet.

The site was updated monthly with every

new issue, and it quickly became clear that

the new technology would demand more

attention than a staff of volunteer students

could provide. Greene arranged to have

the webpage regularly updated by Marlin

Software, an early web tech company

56 Centennial 2021

54-60_Box-Office-Story-Continued.indd 56 24/11/2021 16:15
---
founded by CD-ROM developers Dell

Wolfensparger and Ken Partridge. After

Marlin folded, Partridge took on Boxoffice.

com's web management responsibilities

for the next several years.

Boxoffice Online, the publication's first

website, was launched in April 1996 with

web-exclusive content, updated with

increased frequency with movie reviews

that had been filed in advance of, or had

failed to meet, the magazine's long-lead

editorial deadline. The principal domain

name during that time was boxoff.com

(even back then cyber squatters posed

headaches for companies looking to

establish their internet presence). Greene

recalls writing a check for $350 to pry

the Boxoffice.com domain away from

its previous owners, an expense that

Dietmier, his publisher, wasn't thrilled

to discover. "I remember telling him,

'When you sell this company, you won't

be selling a magazine—you'll be selling

Boxoffice.com,'" says Greene.

Greene announced his departure from

Boxoffice in the December 1997 issue,

though he would continue to contribute

in a freelance capacity for many years

after. Managing editor Kim Williamson

was named as the sixth editor in chief

in Boxoffice's history in the January

1998 issue. During his time at Boxoffice,

Williamson set up an editorial staff of four

full-time editors and worked with the

same editorial team from the January 1999

issue until his departure in 2006.

Williamson's time helming Boxoffice's

editorial was marked by consistency in

the newsroom; he brought in two new

junior editors—Francesca Dinglasan and

Annlee Ellingson—in late 1998 just as the

magazine was moving into a new office

at 155 S. El Molino Avenue in Pasadena.

Williamson led editorial operations

while managing editor Christine James

coordinated coverage with freelancers;

Dinglasan and Ellingson were assigned

to cover the exhibition business and

cinema technology beats, respectively.

The four of them worked on every aspect

of the magazine together, including

its design and layout—there were no

professional designers on staff—over the

course of eight years.

"We had this giant scanner that was the

size of a Volkswagen Bug where we would

do all our own layouts with a template,"

says Ellingson. "It was a monthly cycle—

very different from journalism work

today—we were print-first, where you

spend the night in the office for a week

to get the issue out, but the week after

closing you could take a three-hour lunch."

Movie reviews had always been part of

Boxoffice's legacy, and in the late nineties

and early aughts they had grown to claim

a large part of the publication's editorial

real estate. But while film criticism had

served as an invaluable reference for

exhibitors making booking decisions,

the internet had unleashed a spate of

new outlets that could publish their own

reviews online. Film criticism was no

longer the task of the few thought leaders

who had access to advance screenings and

the support of editors and publishers to

run their work. It became democratized—

and commodified—and soon claimed a

ubiquitous presence in digital culture.

Being one of the few outlets to publish

movie reviews on the internet in the

mid-90s lent Boxoffice prestige among

industry insiders. By the mid-2000s,

however, Boxoffice was one of countless

publications that made reviews widely

accessible online without a business

model to support the practice. Despite

being one of the first trade publications

on the internet, the absence of a digitalfirst

strategy set the publication behind

among its peers—a concern shared

by a multitude of other publications

undergoing the same transition to digital.

Even if there had been an editorial

strategy in place to address the problem,

Boxoffice.com was already showing its age

in the rapidly evolving—and increasingly

expensive—world of website design. The

publication once again found itself at a

crossroads, forced to adapt and evolve to

ensure its survival.

Movie reviews had always

been part of Boxoffice's

legacy, and in the late

nineties and early aughts

they had grown to claim a

large part of the publication's

editorial real estate.

PART IV. DIGITAL TRANSITION: THE

PETER CANE YEARS.

s Dietmier neared

retirement age, it

became clear that

Boxoffice would need

a new owner with

the time, energy, and

finances necessary

to establish a serious

digital presence. The April 2005 issue of

Boxoffice announced the news: Media

Enterprises was acquiring the magazine

from Dietmier and appointing Brian

Pomerantz as chief executive officer

and former ad sales representative Ben

Rosenstein as only the fourth publisher

in its 85-year history. By October,

Rosenstein was listed as the publisher,

president, and CEO until Gidon Cohen

succeeded him as publisher on the

masthead in March of 2006.

"[Kim Williamson] facilitated the

transition from Dietmier to a new owner,

who purchased it as an investment. I came

in a year later, buying the company from

Gidon Cohen," says Peter Cane, who first

appeared as publisher in the April 2006

issue of the magazine.

A lawyer by trade with a background

as a reporter in radio news, Cane saw

potential in Boxoffice after launching

Broadway.com during the dot-com era.

Ray Greene's words to Dietmier, his

prophecy from a decade earlier, had come

true: "When you sell this company, you

won't be selling a magazine—you'll be

selling Boxoffice.com." The magazine

underwent its first major redesign in

nearly four decades during Cane's first

year in charge. He hired Roger Black, the

graphic designer responsible for Rolling

Stone's famous 1977 relaunch, to give

Boxoffice the fourth logo in its entire

history—and its first since 1980. The new

look debuted in November 2006, and

three weeks later the publisher signed a

landmark agreement that would secure the

magazine's circulation for years to come.

Boxoffice became the official

publication of the National Association of

Theatre Owners on November 21, 2006. At

the time, there were two other competing

trade publications covering theatrical

exhibition published in the United

States: Film Expo Group's Film Journal

Centennial 2021

57

54-60_Box-Office-Story-Continued.indd 57 24/11/2021 16:15
---
Centennial THE BOXOFFICE STORY, CONTINUED

International and NATO's In Focus. In

Focus went out of circulation following

NATO's deal with Boxoffice.

The changes had taken their toll on the

tightly knit editorial staff from Dietmier's

days, creating a period of instability in the

masthead. Williamson stepped down at

the end of 2006. In January 2007, Annlee

Ellingson, the only one of the four editors

who remained on staff, became the first

ever female editor in chief in Boxoffice's

history. Her tenure was brief—she stepped

down from the role by that year's June

issue—though her contributions would

continue appearing in the magazine well

into the first half of the following decade.

Chad Greene served as editor through

the second half of 2008, followed by Amy

Nicholson in 2009.

Meanwhile, Boxoffice.com continued

to take shape. Two key hires of the

era originally came on to work for the

website. Cane hired Kenneth Bacon as

the publication's first full-time creative

director in 2008. Bacon would be

responsible for the look of every Boxoffice

product through the next decade. His first

redesign of Boxoffice magazine came in

2009—he replaced Black's bold-type logo

with a sleek red-and-white emblem—and

coincided with the magazine's move to

new offices at 9107 Wilshire Boulevard in

Los Angeles. By that time, however, key

members of the staff were already working

remotely in different cities; the Los Angeles

office was a newsroom in name only.

Tasked with overseeing the relaunch of

Boxoffice.com, Bacon hired Phil Contrino,

a young writer straight out of college who

had pitched to write reviews of movie

trailers for the new website. Contrino

was eager to get involved, leading a drive

to launch a comprehensive database of

box office grosses for the website—and

later incorporating daily box office

analysis and forecasts. Contrino helped

establish Boxoffice.com as a data-driven

news resource for industry insiders and

aficionados alike, one that operated under

a web-first strategy outside the constraints

of the monthly magazine.

By the time of the long-awaited

website relaunch in the summer of

2010, the website and social media

accounts had been effectively split in

two: Boxoffice.com for data journalism,

and BoxofficeMagazine.com with longform

editorial that could appeal to

both film fans and professionals. The

Boxoffice became the

official publication of

the National Association

of Theatre Owners on

November 21, 2006.

magazine was to be more than a trade

publication; it would be a consumerfriendly

destination for movie lovers with

a lighter approach to its industry coverage

and increased focus on reviews and

celebrity interviews.

A seasoned film critic with incisive yet

accessible observations on everything

from art house films to blockbusters,

Amy Nicholson was the right editor

to attempt to widen the reach of the

magazine. In 2011 she worked alongside

Bacon to launch a weekly digital magazine

exclusively available on Apple's iPad and

catering to a consumer audience. During

the same time, she collaborated with Cane

on a pilot project to release a free, fancentric

magazine distributed in cinema

lobbies across the country. This shift to

B2C led Cane to rebrand the monthly

exhibitor magazine as Boxoffice Pro

starting with the April 2011 issue, the

magazine's third redesign in five years.

None of the consumer-oriented

editorial projects gained sufficient traction

to continue. Nicholson's final issue as

editor of the magazine came in November

2012. BoxofficeMagazine.com was quietly

folded into Boxoffice.com and reviews were

discontinued entirely, across print and

web, in January 2013. The decision to stop

running movie reviews generated more

backlash among critics themselves, many

of them former freelancers, than with the

magazine's longtime readers in exhibition.

Boxoffice (the media company, as

distinguished from Boxoffice the

magazine) had finally found its digital

identity under Peter Cane's tenure as

publisher. The magazine's future was

secured by the NATO partnership, and

it enjoyed a boost in ad revenue from

tech companies during exhibition's

own transition to digital technology.

Nicholson's sudden departure, however,

had left a leadership vacuum at the

93-year-old magazine. Now publishing as

Boxoffice Pro, the print magazine was

nearing its centennial anniversary, once

again in need of a new identity that could

better reflect the changing nature of the

cinema industry.

58 Centennial 2021

54-60_Box-Office-Story-Continued.indd 58 24/11/2021 14:57
---
PART V. MORE THAN A MAGAZINE:

JULIEN MARCEL AND THE BOXOFFICE

COMPANY.

ulien Marcel came from a

family of publishers but

never set out to become

one himself. His mother's

family ran a daily

newspaper in Normandy,

France, for over 80

years—he remembers

staring at the large printing press in

astonishment as a child—and so running

a publication had always been something

in the back of his mind. Not necessarily a

goal, maybe not even a dream, but an idea

that always stayed with him.

His early career in business led

him to the role of CEO at Screenvision

Europe, then a joint venture among

different entities looking to expand

cinema advertising's reach across the

continent. The global recession of 2008

led to an advertising crisis that eventually

precipitated the company's dissolution

and left Marcel with time on his hands.

"I had developed a real passion for the

sector," says Marcel. "Drawing on my

connections with a number of French and

European exhibitors, I decided to start my

own consulting business to help theater

owners build their own loyalty programs

and online ticketing solutions."

In 2009 he crossed paths with

Patrick Farcy, another French executive

who had developed his own array of

services for exhibitors. They brought

their activities together in 2010 as Côté

Ciné Group, offering an array of digital

marketing solutions for exhibitors that

included digital signage, custom websites

for cinemas, and a small publishing

division that put out a trade magazine for

exhibitors and fan-centric publications

distributed at movie theaters.

The trade magazine, Côté Cinéma,

happened by accident. In the mid-2000s,

Farcy began distributing video content

(like trailers and commercials) on DVDs

to be played on special screens installed

in cinema lobbies—a natural extension

of the digital signage business. A new

DVD reached his network of exhibitors in

France every other weekend, spurring the

studios that provide the content to pay for

ads on the DVD covers promoting their

upcoming releases. There are only so many

ads these DVD covers can accommodate,

so Farcy began to publish an

accompanying leaflet with industry news,

which could accommodate more ads from

distributors. Slowly but surely, that leaflet

grew into a full-blown magazine—going on

to outlive the DVD delivery business it was

originally tied to and becoming its own

stand-alone product.

"For the first few years we were

completely focused on growing our

business in France," says Marcel. "But I

would still attend CinemaCon every year,

which is where I realized the U.S. market

is not much more advanced in terms

of digital marketing than the French or

European markets. Finally, there was a

moment in 2013 when I made the decision

to expand our business to the U.S. so

we can play a role in the world's biggest

market. By then we had a strong enough

position in France, so I started making trips

to the U.S. with the intention of relocating

by the end of the year, not yet clear on how

we're going to enter the market. That's

when someone suggested I should reach

out to the owner of Boxoffice, because he's

in the process of selling the magazine."

Marcel contacted Cane in July 2013.

Within a week of that initial call, they had

entered due diligence for the acquisition

of Boxoffice. The deal was closed in

November 2013, and Marcel relocated

his family from Paris to Los Angeles

in January 2014 as the sixth owner and

publisher of Boxoffice Pro magazine.

During that interim, the magazine had

been nominally edited by Kenneth Bacon,

though his editorial role was limited to

Contrino helped establish

Boxoffice.com as a datadriven

news resource

for industry insiders and

aficionados alike

assigning stories he would later design for

publication. Bacon drew upon the editorial

assistance of anyone willing to contribute

and in that process developed a close

working relationship with the website's

newly hired overseas editor, Daniel

Loria. A native of Mexico, he arrived at

Boxoffice tasked to increase the website's

international coverage—an element he

carried over to his editorial work.

By the time Marcel arrived at

Boxoffice, the magazine's editorial was

being produced entirely by Bacon and

Loria, returning to its roots as a business

publication. Loria is listed as managing

editor during his first years at Boxoffice

Pro, despite acting as the publication's

editorial lead for the print magazine.

"There was no formal announcement; no

one officially offered me the job and I never

asked for it," he says. "I just put in the work

and assumed the role without making a big

deal about it."

With Marcel (a French native) as

publisher and Loria (from Mexico)

as editor, and as large national

chains consolidated into even larger

multinational circuits, the magazine took

a deeper interest in covering the global

exhibition business. Bacon, meanwhile,

in his last five years with the magazine,

introduced two additional redesigns:

one in 2016, with an updated and elegant

lowercase logo; and another in 2019, when

the publication reverted to its original logo

under the Boxoffice banner from the 1930s.

Bacon, whose goal had always been to retire

after the magazine's centennial edition,

passed away unexpectedly at his desk in

December 2019. Hours before, in what was

likely one of his final actions, he uploaded

a backup of the magazine's January 2020

edition to the servers—the final issue he

worked on, and the first marking Boxoffice's

100th year in publication.

In October 2018, Boxoffice Pro

became the last remaining exhibition

trade publication in North America after

acquiring longtime rival Film Journal

International from the Film Expo

Group. "Our business in France, like in

the U.S., has always been open to work

with everybody, including our direct

competitors," explains Marcel. "Over

the years, I had gotten to know and

appreciate [Film Expo Group directors]

Bob and Andrew Sunshine. They realized

that, with Boxoffice's current ownership,

we could develop smarter ways to work

Centennial 2021

59

54-60_Box-Office-Story-Continued.indd 59 24/11/2021 14:57
---
Centennial THE BOXOFFICE STORY, CONTINUED

together. Their core business is to

organize events and our core business

is to publish a magazine. We felt our

multinational presence could support

their events, not only in the U.S. but also

in Europe and Asia. We felt it was a good

moment to merge both magazines into

one publication that could act as the sole

industry reference. It was something we

felt was in the best interest of the industry

as opposed to some sort of financial coup."

As Marcel sought to expand Boxoffice's

U.S. activities beyond publishing, he and

Farcy decided to sell Côté Ciné Group to

French media conglomerate Webedia to

facilitate the group's growth plans, staying

on as employees to oversee a series of

acquisitions. "We knew by October 2014

that we were going to do the deal," says

Marcel. "What was exciting for me was

that—without even having signed the

contract—they were already talking about

ways to grow in the U.S.

"We had barely signed the acquisition

of Côté Ciné Group by Webedia in April

2015 when I immediately entered into

discussions to acquire Westworld Media,

a global showtime listings leader and

digital marketing company for exhibitors,"

he says. "Through Boxoffice Pro, we

expanded the media side of our business

to the U.S. With Westworld Media, we

would expand our digital services business

for exhibitors to more than 70 countries

around the world."

With Westworld Media under its

corporate umbrella, Marcel decided

to rebrand all the group's activities in

the cinema sector into The Boxoffice

Company. The entity is composed of four

divisions serving the global exhibition

community: Boost, providing e-commerce

solutions like websites, mobile apps, and

digital ticketing portals for exhibitors;

Pulse, business intelligence platforms

that aggregate real-time showtime and

release data for studios and exhibitors;

Source, aggregating movie data for every

theatrical release in the United States

and most overseas markets: and, finally,

Media, a collection of websites and

social channels that interact with over

74 million moviegoers in five different

languages each month. While the scope

of Boxoffice has changed, its roots remain

firmly planted in theatrical exhibition.

Today, as the magazine continues serving

as the industry's reference publication,

The Boxoffice Company provides digital

Their actions have

sustained the publication

through downturns,

disruptions, and—in the

year of its centennial—a

global pandemic that shut

down the world's cinemas

for the first time in the

industry's history.

solutions for more than 700 cinema

clients around the world.

Boxoffice Pro, the magazine founded

by Ben Shlyen in 1920 as The Reel Journal,

is the only exhibition trade publication in

the group, alongside its sister publication,

Boxoffice Pro France. "It was quite a

milestone to rebrand our French magazine

to Boxoffice Pro France," Marcel says.

"It made sense to expand our brand to

something bigger and international. In

the U.S., Boxoffice Pro is a domestic

publication with a global focus. In Europe,

Boxoffice Pro France is a global brand

with a domestic focus."

In her 1970 article commemorating

the 50th anniversary of this magazine,

"The Boxoffice Story ," (page 48) author

Joan Baer closes the piece by quoting

the magazine's founder. "Let's take

the positive view," she cites Shlyen as

saying. "Let each man become his own

cheerleader—but, instead of yelling, let

him be DOING. And keep doing. And

doing. And the momentum will take hold

and the action will be sustained."

That Boxoffice Pro is still in

publication today, over 100 years since

its first edition, is a testament to the

actions of the men and women who have

contributed to its pages in the intervening

years. Their actions have sustained

the publication through downturns,

disruptions, and—in the year of its

centennial—a global pandemic that shut

down the world's cinemas for the first

time in the industry's history. As long

as cinemas exist, Boxoffice Pro will

be there to document their history. It's a

commitment that everyone on this staff

assumes, a legacy handed down from the

generations of writers, editors, admen,

designers, and publishers that precede us

—and a promise to those who will follow.

60 Centennial 2021

54-60_Box-Office-Story-Continued.indd 60 24/11/2021 14:58
---
FROM OUR BOX OFFICE TEAM TO YOURS,

CONGRATULATIONS ON 100 YEARS!

100 YEARS

Congratulations Boxoffice PRO

Luxury Cinema, Ultimate Movie-Going, Your Community Theater.

California • Nevada

mayacinemas.com

Centennial 2021

61

61_AD-Megaplex-Maya.indd 61 23/11/2021 17:53
---
CENTENNIAL A CENTURY IN EXHIBITION

62 Centennial 2021

62-106_CIE.indd 62 23/11/2021 17:53
---
2020 marked 100 years since the founding

of Boxoffice Pro, a milestone that neatly

parallels the birth of talking pictures. Though the

publication you hold in your hands has had different

owners, headquarters, and even names—it was

founded in Kansas City by 18-year-old Ben Shlyen

as The Reel Journal, then called Boxoffice in 1933

and, more recently, Boxoffice Pro—it has always

remained committed to theatrical exhibition.

From the 1920s to the 2020s, Boxoffice Pro has

had just one goal: to provide knowledge and insight

to those who bring movies to the public. Radio, TV,

home video, and streaming have all been perceived as

threats to the theatrical exhibition industry over the

years, but movie theaters are still here—and so are we.

During our centennial year, the staff of Boxoffice

Pro couldn't resist the excuse to explore our archives.

What we found was not just the story of a magazine,

but the story of an industry—the debates, the

innovations, the concerns, and above all the beloved

movies. We shared our findings in the series "A

Century in Exhibition," which ran in 10 installments,

from January 2020 through the third quarter of 2021.

As in the industry emerges from the worst period

in its history, we saw it fitting to share "A Century

in Exhibition" here in full—showcasing the many

struggles, uncertainties, threats, and disagreements

that have marked the cinema industry over the years,

all of which we have triumphed over together, as a

community. We are confident in exhibition's ability

to emerge from this crisis, to innovate and thrive for

another century to come—and Boxoffice Pro, if we

have anything to say about it, will be right alongside

you the whole way.

Centennial 2021

63

62-106_CIE.indd 63 24/11/2021 15:00
---
CENTENNIAL A CENTURY IN EXHIBITION

1920S

THE BEGINNING

e start the series

with the 1920s,

specifically 1926,

which is when

reporting on

this newfangled

thing called

"synchronized

sound" began to appear. Also affecting

the industry in the roaring '20s—and

written about extensively in the pages

of The Reel Journal and its companion

regional publications—were a construction

boom with its new-fangled amenities and

consolidation. All three of these topics

reverberate through the years and continue

to affect our industry to this day.

Talking Pictures Are Here to Stay

No technological innovation has shaken

the industry like the introduction of

sound. When Western Electric and Warner

Bros. developed the Vitaphone, the first

successful sound-on-disc technology, in

1926, it forever changed the way movies

are made.

The first-ever mention of sound in the

pages of Boxoffice Pro, then called The

Reel Journal, was in August 1926, with the

world premiere of John Barrymore's Don

Juan. The Warner Bros. drama became

the first publicly shown "talkie," with

prerecorded sound effects replacing the

live music (orchestra or organ) that had

accompanied most major releases up to

that point. Nearly half the premiere was

devoted to explaining the intricacies of the

Vitaphone to the fascinated, if somewhat

skeptical, audience.

As similar technologies for synchronizing

sound and image, like Fox's

Movietone, stormed the market, there was

a "talkie frenzy" that led to skyrocketing

film production and attendance.

The Boxoffice Pro archives provide an

interesting glimpse into how the transition

to sound was viewed as it was happening.

We see the optimism and enthusiasm of the

early days, as well as the uncertainty. Are

talkies here to stay or just a phase? Will the

production requirements of sound degrade

the quality of films? How will censorship

adapt to an increase in dialogue?

But no other debate captivated

exhibitors more than the one discussed

in owner/editor Ben Shlyen's article on

November 10, 1928: How will smaller

exhibitors who can't afford to install

sound equipment be impacted? Shlyen

understood that, in time, as costs

decreased, smaller exhibitors would also

reap the benefits of sound. Until then, he

believed that their success depended on

quality silent features and above all on the

"right kind of showmanship."

As one of our writers observed, "The

motion picture was reborn again in 1928.

The infant industry learned to talk." With

an announcement in November by the

Electrical Research Laboratories and

Western Electric allowing producers to

choose different companies to record and

project sound, the popularity of talkies

exploded further. Paramount became the

first studio to drop the production of silent

films entirely, followed by Fox in March

1929. Talkies were here to stay.

Amid the talkie boom, Joseph Schenck,

president of United Artists, warned

against a blind belief that talkies would

obliterate silent pictures. "It is important

to remember that the picture is still the

foundation of screen entertainment and

sound only an accessory," he proclaimed.

He was also afraid that dialogue would

ruin the international appeal of American

pictures. History would prove him wrong

twice. But Schenck was not the only one

to raise questions about the durability

of talkies. Sam Sax, president of Gotham

Productions, wrote that "the picture made

the motion picture theater popular," while

sound was transitory and an accessory

at best. In March 1929, a questionnaire

asked exhibitors if silent films were still

considered a good bet at the box office.

The results were an overwhelming yes.

The sheer cost of installing sound

equipment and buying prints of talkies

left most small exhibitors outside the

initial wave of sound hype. More and more

articles, especially after 1929, denounced

how the move to sound disproportionately

benefited either movie palaces or theaters

that were producer-owned or located in

major markets. Sometimes producers

offered two versions of their films,

one with sound and one without, but

exhibitors often complained about the bad

quality of the latter and preferred to only

buy original silent features. By August

1929, a Boxoffice Pro survey showed

that 25 percent of all theaters were wired

for sound and that those theaters captured

75 percent of all revenue. An estimated $1

million was invested in equipping theaters

with sound by the end of the decade.

The Theater Construction Boom

After World War I, feature films

consolidated their position as the most

popular form of mass entertainment,

eclipsing vaudeville houses and

nickelodeons. With this came an explosion

in movie theater construction. In 1925

alone, according to our archives, some

15,000 theaters were built, more than in

any other year up to that point.

This was a period of business

innovation. Powerful regional chains such

as Loew's (later Loews), which started in

New York City as a vaudeville company;

the Pennsylvania-based Stanley Company

of America; and, biggest of all, Chicago's

Balaban & Katz used innovations from the

retail world, copying the likes of Kroger

and A&P, to create a "scientific form of

management," enabling them to capture

vast swaths of regional markets.

Throughout the 1920s, Associated

Publications, the corporate entity formed

by Shlyen in 1925 to group The Reel

Journal with other regional publications

that he had acquired, chronicled that

boom. Multiple issues of the various

64 Centennial 2021

62-106_CIE.indd 64 23/11/2021 17:53
---
Associated Publications magazines

featured detailed profiles on the

construction of new movie houses and

movie palaces. A dedicated section, Kino

Equipment, provided exhibitors with tips

on all things equipment. Meanwhile, ads

presented exhibitors with their choice of

lighting fixtures, chairs, marquees and, of

course, projectors.

This decade was one of profound

architectural changes. It saw the birth

of what would later be regarded as a

moviegoing necessity: the air-conditioned

theater. The first of these was built in 1922.

Countless ads promoting the best A.C.

system followed.

The late '20s also saw a peak in the

construction of movie palaces, hundreds

of which opened their doors during

this time. Meant to attract the upper

class, which scorned regular theaters in

favor of luxurious vaudeville houses and

traditional stage theaters, movie palaces

were designed to make their audiences

feel like royalty. Mostly built in city

centers, these "de luxe" theaters boasted

extravagant architecture, stage shows, and

orchestras, in addition to first-run films.

Shlyen, while not against

improvements in a general sense,

opposed this "theater orgy." He saw

the construction boom as vanity that

did not serve a practical purpose. "One

is attempting to outdo the other, not

by clear reasoning, not by practical

purpose, but by seeing how much more

money he can spend than the other," he

proclaimed. Once again, Shlyen had the

fate of the small exhibitor in mind. How

could independent exhibitors remain in

business when newer, bigger, and better

movie houses took over their towns?

Regional chains grew throughout

the first half of the decade, after which

studios began to engage in more

monopolistic behavior. In 1925, the

largest theater chain, Balaban & Katz, was

acquired by Hollywood's largest studio,

Famous Players-Lasky. In April of that

same year, Carl Laemmle's Universal

Pictures announced its acquisition of the

Hostettler Circuit, an important Kansas

City player. And so the race to acquire

movie theaters began.

Even in 1925, Associated Publications

foresaw the risks this posed for the

industry. In an article on that May's

Motion Picture Theatres of America

convention, Shlyen proclaimed, "If this

industry is to grow and prosper, a safety

valve must be maintained. The cooperation

pledged by the exhibitors and

the independents for one another can

keep down the monopoly."

Things didn't happen quite that

smoothly. The "majors" kept buying

theaters, unabated. In 1928, Warner Bros.

purchased the Skouras Bros. operation—

which dominated the Kansas area with

four first-run Koplar theaters, the First

National franchise, the local Educational

Branch, and the St. Louis Film Exchange—

and theaters owned by the Stanley

Company in Pennsylvania. In 1929, Fox's

acquisitions essentially eliminated

independents in the greater New York area.

The same year, RKO formed an alliance

with Famous Players Canadian while

ACADEMY

AWARDS FOR

BEST PICTURE

WINGS

(Outstanding Picture)

1927/28

SUNRISE

(Best Unique and

Artistic Picture)

1927/28

THE BROADWAY

MELODY

1928/29

ALL QUIET ON THE

WESTERN FRONT

1929/1930

Centennial 2021

65

62-106_CIE.indd 65 23/11/2021 17:53
---
CENTENNIAL A CENTURY IN EXHIBITION

seeking to expand its theater ownership by

acquiring 14 Pantages houses.

Now small theaters weren't just

suffering from the high cost of the

transition to sound and the pressure to

keep up with regional chains through

pricey architectural innovations; they also

had to face the prospect of being acquired

or put out of business because of the

monopolistic behavior of the film studios.

Another threat to exhibitors was the

practice of block booking, under which

studios would force theaters, especially

independents, to buy their films in

"blocks"; if they wanted that weekend's big

earner, they would have to take several

other, less desirable, films as well.

The twin issues of consolidation and

block booking caught the attention of

the U.S. Department of Justice. The first

antitrust investigation was launched as

far back as 1921, when Famous Players-

Lasky was charged by the Federal Trade

Commission for block booking. In April

1928, the Department of Justice filed

two antitrust cases against 10 studios—

Paramount, Famous Players-Lasky, First

National, MGM, Universal Film Exchange,

Fox Film, Pathé Exchange, FBO, Vitagraph,

and Educational Film Exchanges—for

monopolizing more than 95 percent of

domestic distribution. A year later, nine

of those studios were also indicted for

violation of the Sherman Antitrust Act.

Legal battles went on for more than two

decades before studios were ordered to

divest their theaters.

Needless to say, the issues of block

booking and consolidation were discussed

in practically every issue of the magazine

and continued to make headlines well

into the 1940s. Shlyen initially expressed

confidence that independent exhibitors

were going to be just fine. He believed

that studios would not acquire small,

independent theaters outside major

markets. His position soon changed,

and after 1926 he began denouncing the

behavior of the studios. At the same time,

he believed that exhibitors could stave

off obsolescence through innovation. In

December 1926, Shlyen wrote, "This socalled

menace may prove a boon to many

exhibitors who have failed to heed duty

by neglecting to build up their business,

improve their service, and otherwise cater

to public demands. But the awakening

is here. The future of the independent

exhibitor's future lies in his own hands."

1930S

THE CRASH, COLOR, AND THE "CODE"

n the '30s, with sound well

established, color became the

technical innovation that drove

the conversation. Then, as now,

government involvement in the

movie industry—specifically

regarding censorship, taxation,

and labor laws—also animated

numerous conversations within our pages.

As the 1930s began, there was a strong

sense of optimism throughout the motion

picture industry. Buoyed by the success of

the "talkies," the industry was confident

in its ability to weather an economic

downturn in the wake of the 1929 stock

market crash. As early as December 1929,

Al Lichtman, United Artists' head of sales,

wrote that "all over the country, business

at the box offices of theaters is fine.

People turned to the economical form of

entertainment that the movies represent

for mental diversion."

Studio leaders were equally optimistic.

In an August 1932 Boxoffice Pro

overview on the state of the industry,

Adolph Zukor, president of Paramount-

Publix, reassured that "there is nothing in

this depression that good pictures, hard

work and sound judgement cannot cure."

Universal Pictures' Carl Laemmle even

affirmed that "the depression has been a

good thing for the motion picture industry,

for it knocked out extravagant ideas and

brought costs down to a sane level."

The reality wasn't quite as rosy. While

after an initial slump in weekly attendance

between 1929 and 1932, attendance

levels were on the rise again, admission

prices were dropping. Many chains were

forced to cut prices. We reported that,

for example, the Boston Publix houses

slashed their prices by about 33 percent

in 1932. That same year, RKO theaters cut

overhead with economies of an estimated

$2.8 million.

Nor were studios immune to budget

cuts. In the late 1930s, Hollywood faced

waves of studio layoffs and production

halts. The second half of the decade saw

Hollywood in paralysis as major strikes

took place almost without interruption.

Union workers from the major guilds

picketed major studios and theaters

in metropolitan centers, requesting a

minimum wage, 42-hour weeks, and better

working conditions. In the eyes of writers,

the strikes were inefficient. In a 1937

editorial titled "A Lost Cause," western

bureau manager Ivan Spear explained

that "theater patrons have only the option

of seeing pictures made in Hollywood—

mostly by the major companies affected

by the strike—or of seeing no pictures at

all." In October 1939, Spear wrote that the

"labor situation [was] again No. 1 problem

of the film capital." This conflict between

"All over the country,

business at the box offices

of theaters is fine. People

turned to the economical

form of entertainment that

the movies represent for

mental diversion."

66 Centennial 2021

62-106_CIE.indd 66 23/11/2021 17:53
---
studios and workers would persist well

into the 1940s.

Meanwhile, the Great Depression gave

new momentum to two debates about

the motion picture industry that would

define the decades to come: federal

regulation and questions about the social

responsibility of films.

The National Recovery Administration

in Washington proposed a 10 percent

tax on admissions in 1932, prompting a

surge of local tax legislation. This was

the beginning of a long battle against

government interference in the film

industry. According to owner/editor Ben

Shlyen, in 1935 there were more than 140

bills in one (unnamed) state alone that

targeted the movie business.

Boxoffice Pro was at the forefront

of the fight against that taxation. Its

contributors thought that government

regulation and heavy taxation were

the product of exaggerated reports of

box office revenues. In an article dated

February 23, 1935, Shlyen called the tax

legislation a "discriminatory nuisance."

The magazine led letter-writing drives,

inviting exhibitors to press their

representatives to fight taxation bills. Just

as taxation issues were making headlines,

so were concerns about local minimum

wage bills, child labor laws, and other

economic measures that were seen as

potentially harmful for exhibition.

At the same time, there was ongoing

discussion among writers, exhibitors,

studio executives, religious groups, and

women's clubs about the impact of

films on society. One of the issues was

the question of realism. The popular

successes of The Grapes of Wrath, The

Plow That Broke the Plains, and other

"Dust Bowl Pictures" proved that movies

were attractive to moviegoers not only

because of their escapism value but also

for depicting the reality of the Depression.

But were these pictures going too far?

Was it "propaganda with a message," as

producer Jimmy Roosevelt—Franklin D.

Roosevelt's son—thought of The Grapes

of Wrath?

No other regulation captured these

debates better than the Motion Picture

Code (1930–66), also called the Hays

Code, which established a set of voluntary

guidelines for producers. The Hays Code,

named after its creator Will H. Hays,

president of the Motion Picture Producers

and Distributors of America (now the

MPA), was enacted in March 1930 and

effectively introduced censorship. With

its series of "Don'ts" and "Be Carefuls,"

producers were called upon to obey

"moral standards," not ridicule the law, and

avoid vulgarity, obscenity, profanity, and

sex. Self-censorship and state censorship

boards became the norm.

There were acts of resistance, however.

Howard Hughes fought hard to stop

the censorship of Scarface, accusing his

censors of "ulterior and political motives"

(May 5, 1932). While Hughes ultimately

succeeded, it was harder for other movies.

There was a lot of buzz in our pages

concerning the educational film Birth of a

Baby, which, in the end, censors deemed

only suitable for specialized medical

audiences.

ACADEMY

AWARDS FOR

BEST PICTURE

CIMARRON

1930/31

GRAND HOTEL

1931/32

CAVALCADE

1932/33

IT HAPPENED ONE

NIGHT

1934

MUTINY ON THE

BOUNTY

1935

THE GREAT ZIEGFELD

1936

THE LIFE OF EMILE

ZOLA

1937

YOU CAN'T TAKE IT

WITH YOU

1938

GONE WITH THE

WIND

1939

Centennial 2021

67

62-106_CIE.indd 67 23/11/2021 17:53
---
CENTENNIAL A CENTURY IN EXHIBITION

In an April 8, 1930 editorial, written

right after the adoption of the Code,

Shlyen praised the maturity of the

industry, especially because he saw

the proliferation of films with sex and

violence as a threat. He wrote, "When an

industry sets out to clean its own house it

is a virtue that deserves to be applauded.

When it sets rules for itself to follow and

follows them, it merits lauding to the

skies." In 1934, the Code had "its teeth

sharpened," per editor-in-chief Maurice

Kann, when tighter regulations associated

with conservative Production Code

administrator Joe Breen were adopted.

The Code was to become one of our

most written-about topics throughout the

decade. As time passed and the Code's

shortcomings became more apparent,

Shlyen did not retract his support but

instead advocated in favor of revisions.

In a 1935 story, he wrote, "The Code has

some good points few will deny. That it

has enabled the industry to regulate itself

and to restrain certain flagrant abuses

also will meet with little denial." He

repeatedly called for more honest, fruitful

debates and for better cooperation among

producers, distributors, and exhibitors

as a means of avoiding government

censorship in favor of self-regulation.

According to a 1939 Boxoffice Pro

survey, that echoed the position of most

exhibitors. Sixty-seven percent declared

themselves to be in favor of the Hays

Code but wanted better cooperation, less

government intrusion, and more precise

guidelines for cancellations and clearance.

After endless back-and-forth between

attorneys and exhibitor groups, the

decade ended with a revised code—which

was nonetheless not accepted by the

Justice Department.

Despite the Depression and battles over

regulation, the 1930s was also a decade

of innovations, among them color. But

much like sound a decade earlier, early

uses of color were questioned by many in

the industry. In March 1930, Shlyen wrote

that he went into a color screening feeling

fine but "came out with a headache." He

also criticized the lack of realism and the

"unreal effect" of the technology. Shlyen

believed that a more measured use of color

would be more effective. Not all features

should be color, he argued. In 1936, film

star Douglas Fairbanks also warned that

"the use of color in features is dangerous"

because of the lack of expertise in finding

proper color combinations.

The first 100 percent multicolor outdoor

drama, Tex Takes a Holiday, proved to be a

big box office draw in 1932. In 1935, Disney,

beginning with the Mickey Mouse short

The Band Concert, announced that all

its future short subjects would be filmed

in Technicolor. A year later, following

the success of Paramount's Technicolor

picture The Trail of the Lonesome Pine,

Lehman Bros., Atlas Corp., and Joan

Hertz purchased Technicolor shares. In

1937, Samuel Goldwyn declared that he

would produce his upcoming films with

Technicolor, arguing that "color no longer

interferes with the telling of the story."

Technicolor shares skyrocketed.

The years 1936–37 marked a turning

point in the use of color, with the

technology gaining more and more

support. The use of Technicolor, which

had improved its three-color method, had

increased nearly 70 percent between 1935

and 1936. A contributor even estimated a

300 percent increase in color features for

the last two years of the decade.

This innovation was a hit with

moviegoers. A survey published in the

magazine in April 1937 found that fans

were asking for more color features.

Disney's Snow White and the Seven Dwarfs

(1937), the first animated feature to use

color and sound, grossed an estimated

$6.74 million by 1939, more than any other

film to date. An exhibitor reporting on The

Wizard of Oz (1939) stated that the novelty

of color was more important than the film

itself. Like sound in the 1920s, color came

to revolutionize the nature of motion

pictures forever.

"The Code has some good

points few will deny. That it

has enabled the industry to

regulate itself and to restrain

certain flagrant abuses also

will meet with little denial."

68 Centennial 2021

62-106_CIE.indd 68 23/11/2021 17:54
---
1940S

GLOBAL CONFLICT AND CONSENT DECREES

The exhibition industry

started the 1940s rocked

by the wars in Europe

and Asia. World War II

would impact where films

could be distributed, what

films would be made, and

even how theaters could

be run. By the end of the decade, the U.S.

government would turn its attention to

something that remains a hot-button issue

for our industry today: the Paramount

Consent Decrees.

Although the United States wouldn't

enter the war until 1941, Boxoffice

Pro, and the industry as a whole, was

uninterested in neutrality. As early as

fall 1938, Boxoffice Pro spearheaded

the cause of "Americanism" to promote

American values, including patriotism

and democracy.

Cecil B. DeMille's documentary Land of

Liberty and John Ford's Young Mr. Lincoln

emphasized patriotic themes, while films

like Confessions of a Nazi Spy and Inside

Nazi Germany took direct aim at Hitler and

the Third Reich. Boxoffice Pro owner/

editor Ben Shlyen identified these films as

an important part of the war effort. There

were more coming; a July 1939 feature

identified at least 42 "Americanism" films

slated for release through the end of the

year. In that same piece, editor-in-chief

Maurice "Red" Kann wrote, "No one can

successfully argue that the screen should

not do everything in its considerable power

to maintain and perpetuate the good things

in the American scene."

Americanism did not fall on sympathetic

ears in Washington, however. In

September 1941, a Senate subcommittee

launched an investigation into the

motion picture industry, accusing it of

warmongering and of violating neutrality

law. Boxoffice Pro fought back against

what it perceived as censorship. Red

Kann accused the committee members

of using the industry "as a springboard

for an isolationist support of the

administration's foreign policy." (And

in fact, four out of five subcommittee

members were isolationists.)

Both Shlyen and Kann feared that

if studios were labeled as peddlers of

propaganda, it would have catastrophic

consequences at the box office. Kann

warned that "one grave danger, perhaps

the gravest, confronting the industry

is the possibility [that the probe] may

succeed in establishing a link in the

public mind between the industry and

propaganda, thereby making suspect

whatever Hollywood may produce and

newsreels may report with feared effects

on the box office." Kann also applauded

efforts by the Hays Office to stop the probe,

writing, "After years of taking it square on

the chin and folding up under the impact

of criticism [...] the industry now discovers

its backbone and returns the blows."

The motion picture industry did

not stand alone in this battle. A survey

conducted by the Hays Office and

published in our pages in October 1941

found that 90 percent of editorials in

American publications were in support of

the motion picture industry rather than the

Senate subcommittee. Editorial support

from various outlets praised the industry's

patriotism and attacked the Senators'

attempt to curtail freedom of expression.

Everything changed with the December

7, 1941, attack on Pearl Harbor. As the

U.S. officially entered the war, the probe

was dropped. A few days later, Shlyen

urged the industry to unite, less for its

own benefit than for the nation's welfare.

Soon after, the Motion Picture Committee

Cooperating for National Defense,

established in 1940, changed its name to

the War Activities Committee and began

the work of supporting the war effort.

Boxoffice Pro ran campaigns to

inform exhibitors about how they could

contribute as well. The magazine proved

a staunch supporter of many industrywide

drives to collect money to support

refugees and encourage the purchase

of war bonds. Throughout the war, the

magazine often ran pleas for theater

owners to conserve and recover precious

materials, like copper drippings and

aluminum (from projector arc lamps

and other equipment), and offered

instructions on how to do so. The pages

of Boxoffice Pro also documented—

and often applauded—various exhibitor

efforts to encourage patriotism among

their patrons, whether through the use of

lobby displays promoting the purchase

of war bonds, running "D for Democracy"

banners on marquees, or hosting training

for "airstrike wardens."

The magazine also kept readers up to

date on the grim reality that faced theaters

as the war progressed. With rationing,

popcorn became increasingly scarce. Film

shortages caused frequent delays in film

delivery. Fuel shortages forced theaters

to modify their hours or shut down

temporarily. In 1942, the War Production

Board issued orders forbidding the

construction of new theaters for the

remainder of the war. There was a high

cost in terms of manpower as well, as

many in the industry—from exhibition

executives to lower-level staff—joined

the military, putting them alongside

Hollywood stars like Charlton Heston,

Jimmy Stewart, and Clark Gable.

The exhibition community also faced

a crumbling demand, both domestically

and abroad. Just two weeks after the

start of the conflict overseas, Boxoffice

Pro writers joined studio executives and

prominent exhibitors in calling for a selfsufficiency

strategy that would rely solely

on U.S. distribution. In 1940, 20th Century

Fox's Darryl F. Zanuck stated, "We've got

a grave responsibility—to place ourselves

in a position where we are domestically

self-sufficient. When we have done that—

and we must do that—then and only then

we'll last forever with the destiny of our

business in our hands."

Centennial 2021

69

62-106_CIE.indd 69 23/11/2021 17:54
---
CENTENNIAL A CENTURY IN EXHIBITION

By the first six months of 1940, film

exports to Europe were down by six

million feet compared to the same period

in 1939. A commentator jokingly wrote

that Hitler controlled the largest theater

chain in the world. With Europe in turmoil,

the industry turned to Latin American

markets for their exports. In May 1940,

Red Kann estimated that the loss of

foreign markets would amount to an

annual $50 million deficit during the war.

As the end of the war approached,

the film industry looked to the financial

potential of the liberated markets. In

1943, Boxoffice Pro reported that

French director Julien Duvivier believed

that the French, "being an emotional

people, [required] substantial food for

their minds," which "must be supplied"

in the form of American films. That

same year, we reported that crowds in

Italian theaters were chanting, "We want

American films again."

After 1945, there was a sharp increase

in exports, owing to both the postwar

economic boom and the presence abroad

of American troops, who were stationed

in such numbers as to offset the impact

of trade tariffs. By 1947, the vice president

of the Motion Picture Export Association

stated that "American pictures have

recaptured their prewar prestige and are

again the preferred entertainment in every

country I visited." Foreign films were also

becoming popular in the U.S.; in 1947, 250

theaters showed pictures from overseas.

Boxoffice Pro expressed hope for the

industry's prospects, publishing articles

on the postwar "theater of the future"

and praising the return of innovation.

Yet the return of business as usual also

meant the return of a legal battle that had

preoccupied the industry for decades: the

antitrust question.

It all started in 1921, when the Federal

Trade Commission declared block

booking anticompetitive and questioned

the studios' monopolistic practices.

Nine years later, the major studios were

declared guilty of monopolization, but the

decision was nullified by the Roosevelt

administration during the Depression. In

1938, as studios became more powerful,

the Department of Justice filed another

antitrust suit against the Big Eight

(Paramount Pictures, Twentieth Century-

Fox Corporation, Loew's, RKO, Warner

Brothers Pictures, Columbia Pictures

Corporation, Universal Corporation, and

United Artists Corporation), accusing

them of conspiring to control the

industry through the ownership of both

distribution and exhibition channels.

A 1940 article reported that between

1930 and 1940, exhibitors had filed 793

complaints with the Justice Department.

That same year, studios reached a deal

with the Justice Department: During a

three-year trial period, studios could

keep ownership of their theaters, but

block booking was limited to groups

of five and exhibitors were allowed to

watch movies before purchasing them.

An arbitration system was enacted a year

later. This consent decree ended in 1943,

when the Department of Justice filed yet

another lawsuit, which was put on pause

due to the war.

ACADEMY

AWARDS FOR

BEST PICTURE

REBECCA

1940

HOW GREEN WAS

MY VALLEY

1941

MRS. MINIVER

1942

CASABLANCA

1943

GOING MY WAY

1944

THE LOST WEEKEND

1945

THE BEST YEARS OF

OUR LIVES

1946

GENTLEMAN'S

AGREEMENT

1947

HAMLET

1948

ALL THE KING'S

MEN

1949

70 Centennial 2021

62-106_CIE.indd 70 23/11/2021 17:54
---
The end of the war led the Justice

Department, with the support of the

Society of Independent Motion Picture

Producers (SIMPP), to renew the case. In

1948, after two decades of legal battles, the

Supreme Court handed down its order

abolishing block booking, circuit dealing,

and resale price maintenance. Studios

would also be forced to divest themselves

of their theater chains or spin them off

into discrete new corporate entities. RKO

was the first studio to sign the consent

decree in November 1948, followed by

Paramount in May of the following year,

and Loew's, Fox, and Warner in July 1949.

The series of consent decrees that were

formalized during that period came to

be collectively known as the Paramount

Consent Decrees.

The exhibition industry was far from

united in how it viewed the consent

decrees. The Motion Picture Theater

Owners of America (MPTOA), predecessor

of NATO, was in favor of self-regulation

over federal regulation. Its president,

E.L. Kuykendall, declared in April 1940

that "we know [the independent theater

owner] has reached the stage of favoring

any regulation, or law, whether he would

benefit by it or not since he has little to

lose anyway. But, in any instance, he has

allowed a temporary cloud to blind his

vision and he will eventually learn he will

suffer most if such legislation is enacted."

In reaction to the decrees, Shlyen wrote,

"The industry has its greatest opportunity

to date to come through with a trade

practice plan designed for elimination of

inter-factional troubles."

But, like Kuykendall, Shlyen thought

the decrees wouldn't solve the industry's

problems. Exhibitors and distributors, he

believed, "must sit down and agree on

terms that will best serve their mutual

interests." In 1946, Shlyen wrote that "the

government's failure to win its 'main issue'

of divorcement"—which it would go on

to "win" two years later—"[was] actually

a victory for the independent exhibitor."

Going back to the self-regulation

argument, he wrote in 1949 that the long

legal battle "has drained the industry

of millions of dollars and the time and

thought which otherwise would have been

devoted to production improvement and

merchandising." Ultimately, for Shlyen, it

was hard to assess the real impact of the

decrees. That wouldn't reveal itself until

future years.

1950S

TURMOIL, TV, AND TECHNOLOGICAL INNOVATION

In the 1950s, the theatrical

industry saw studios, vendors,

and exhibitors all reveling in

a new wave of technological

innovations. This time, the focus

was on making the theatrical

experience bigger and more

spectacular—the better to

compete with a little thing called TV.

The motion picture industry faced

its first existential threat in the 1950s.

Following the introduction of the

Paramount decrees and the weakening

of the studio system, exhibitors faced

a shortage of product and declining

admissions, and the industry met its most

daunting competitor yet: television.

The pages of Boxoffice Pro reflected

this turmoil. Despite a fast-growing U.S.

population and exploding consumer

economy, attendance was not increasing—

or at least it wasn't increasing fast

enough, especially in the second part of

the decade. In February 1955, editor Ben

Shlyen explained the conundrum: "While

the gross business is up, due to the partial

elimination of the excise tax and higher

admission prices, our attendance has not

been increased." In May 1956, a survey by

Slindlinger & Co. found that American

theaters lost 16 million patrons in the

first week of the month because of an

insufficient variety of pictures, a lack of

effective advertisement, and TV.

Filling empty seats became a recurring

mission for Boxoffice Pro and its

contributors. Different solutions were

routinely proposed: more blockbusters,

higher ticket prices, discounts, extended

runs, family nights. Shlyen urged more

diversity in films as well as a different

release strategy. In May 1956, he argued

that fewer second-run theaters per

neighborhood had resulted in a situation

where most, if not all, theaters played

the same movie for multiple weeks

without sufficient alternatives for

patrons who had already seen it.

"Could it be that this—and not television,

much as it has been credited—is the

main cause of the wholesale closing of

neighborhood theaters?" he pondered.

Others called for a more social solution,

like instilling moviegoing as a habit for

younger generations and encouraging "the

women of America" to bring their families

to the movies.

Many contributors turned to the past

to calm the "industryites." Abram F.

Myers, chairman of the board and general

counsel of Allied States Association of

Motion Picture Exhibitors, wrote that the

motion picture industry has "survived

the vicissitudes of the centuries because

it satisfies a deep-seated craving of the

gregarious human race for amusement

and relation, not alone but in the

company of others. So long as there are

men, there will be theaters—television

or no television." In the same issue, a

veteran exhibitor sought to reassure

readers by harking back to how the

industry had overcome the threat of

radio: "It was a costly, discouraging and

prolonged process. Some thought it could

never be accomplished, but it was. New

"We can beat television—or

any other competition—if we

get on the ball!"

Centennial 2021

71

62-106_CIE.indd 71 23/11/2021 17:54
---
CENTENNIAL A CENTURY IN EXHIBITION

and improved methods of presentation

turned the tide."

The industry was facing crises

on multiple fronts. Starting in the

late 1940s, the House Un-American

Activities Committee (HUAC) had been

hunting down suspected Communists in

Hollywood. In addition to the bad publicity,

there were financial costs: A report by

Allied States Association of Motion Picture

Exhibitors, one of the two major exhibitor

groups, estimated that film companies

had spent more than $1 million in settling

contracts with ousted Communists. After

the second HUAC hearings, about 212

individuals were blacklisted, among them

prominent talents like Dalton Trumbo,

who was eventually reinstated in 1960.

Boxoffice Pro reported that director

Elia Kazan, who agreed to talk to HUAC to

avoid the blacklist, repudiated his youthful

ties to the Communist Party, explaining

that "the Communists automatically

violated the daily practices of democracy

and attempted to control thought and to

suppress personal opinion" (April 1952).

Boxoffice Pro deplored the

maltreatment of many industry players

and feared that the hearings "would

besmirch an entire industry for the acts

of a few who have a remote connection

to [Communism]" (March 1951). The

magazine subsequently ran multiple

reports on the lack of influence of "Reds"

on Hollywood films and emphasized the

cooperation of industry leaders. The Red

Scare started to subside in 1959 when the

Academy announced it would repeal the

rule on the ineligibility of Communists.

But the biggest crisis of the decade

was undoubtedly the rise of TV. Talks

about the medium dated back to the

1920s, but it wasn't until the 1950s that TV

became a practical form of entertainment.

Indeed, the decade began with reports on

the unprecedented manufacture of TV

sets. In January, a record 7,463,800 sets

rolled off the assembly line. For theaters,

this meant competition for audiences—

especially after color TV was introduced—

and for product.

In January 1951, the first pay-per-view

system, dubbed "Phonovision," was tested

in 300 Chicago households by the Zenith

Radio Corporation. Viewers could send

a phone signal to decode a movie for one

dollar. Fearing that first-run films would

go straight to TV, the exhibition industry

strongly protested this new system.

Exhibitors, sometimes backed by free

TV networks, fought to ban pay-TV by

pressuring the Department of Justice and

the FCC. The stakes were immense.

"It seems certain that the era

of widescreen has not only

begun; it is here to stay."

In a March 1955 editorial, Shlyen called for

others to join the exhibitors' "crucial fight

for existence."

In October 1954, Disney—partnering

with ABC—became the first major

Hollywood studio to create TV

programming. Walt Disney believed it

to be an exciting development for both

industries. In 1955, studios opened their

libraries for TV rentals and sales of films

prior to 1948. RKO was the first, followed

by Columbia (which sold features

through its TV subsidiary Screen Gems),

Paramount, and Fox. Starting with RKO in

April 1956, some majors developed their

own TV divisions, expanding their lots

to handle the new activity. Studios also

began buying stakes in TV. One of those

was Paramount, which in 1951 acquired

interests in pay-TV player International

Telemeter Corp. Washington, D.C., took

notice. In 1958, the government filed a civil

antitrust suit against Universal Pictures,

Columbia, and Screen Gems for fixing

prices and eliminating competition.

Boxoffice Pro fervently warned

about the myriad dangers of TV and

urged studios to think of exhibitors.

Shlyen also cautioned readers of the

risks of complacency. In January 1957, he

proposed measures like cheaper parking,

babysitting services, and family nights.

"We can beat television—or any other

competition—if we get on the ball!"

But TV had a bright side. It offered

new marketing opportunities, for one.

In addition, some exhibitors were quick

to embrace the potential of "telecasting"

sports via cable TV. In 1950, Allied

72 Centennial 2021

62-106_CIE.indd 72 23/11/2021 17:54
---
Association gave its full backing to the

National Exhibitors Theatre Television

Committee to continue the practice. That

same year, Fox announced it would test

the technology on a 20-theater network,

leading to an uptick in interest for other

major circuits. The first cable TV theater

opened in Bartlesville, Oklahoma, in 1956

to great success. Yet content providers did

not always approve this expansion, and

the cost of installation (estimated at more

than $274.5 million in 1957) proved too

expensive to make it a viable option.

Facing these crises, the industry

found ways to adapt to the increasingly

modernizing world. For Boxoffice

Pro, one last moviegoing bastion was

the drive-in. The "airers," as these

theaters were called, were not always

welcomed by the rest of the industry. In

fact, many indoor exhibitors lobbied to

prevent future owners from obtaining

zoning and construction permits and

even managed to get a total construction

ban in some areas. The truth was that

drive-ins, entering their heyday in 1950,

were already getting one-eighth of the

industry's total patronage. Boxoffice

Pro rejoiced over this boom and the

ingenuity of some drive-in exhibitors. For

example, one drive-in in Minneapolis

incentivized attendance by bringing

in non-auto owners on a big bus. The

magazine ran many ads for drive-inspecific

equipment, including screens,

speakers, and seats. Columns in our

Modern Theater section gave advice for

better drive-in showmanship.

But the real "savior" of the industry

was the introduction of 3-D, wide screens,

and stereophonic sound technologies.

Cinerama Corp. showed distribution

executives its innovative curved-screen

technology for the first time on May 6,

1950, after 13 years of development. It

featured a projection apparatus that could

show movies eight times the size of a

normal screen, four times the width, and

twice the height. Ben Shlyen praised its

"breathtaking" effect.

There were rapid technical

advancements on the 3-D front, as well.

In 1951, the Society of Motion Picture

and Television Engineers hailed the

technology as the "most promising

theater entertainment of the future." A

year later, United Artists' Bwana Devil

became the first 3-D feature film, with

great box office response.

The high-tech turning point took place

in 1953. As major companies equipped

more and more theaters with innovative

new technologies, Boxoffice Pro spoke

of a "third-dimension race." Paramount

was using its own 3-D solution. MGM,

Columbia, and Warner Bros. turned to a

system called Natural Vision, while 20th

Century Fox used a French system with

stereophonic sound called Anamorphosis.

These enhancements to the traditional

theatrical experience popped up at an

unprecedented pace, with everyone trying

to bring something ever-more innovative

to the table. For example, the Ohio-based

company Tri-Dem claimed it had created a

3-D mechanism requiring neither a special

screen nor glasses. On the exhibitor

side, Chicago-based B&K announced the

introduction of its own "Magnascreen" in

January 1951. A Boxoffice Pro survey

published in December 1953 revealed that

more than 50 percent of indoor exhibitors

had installed or planned to install 3-D

and wide-screen equipment within the

year. More gimmicky were Smellorama,

introduced in 1953, and Smell-O-Vision,

introduced in 1959.

1953 was a landmark year due to the

introduction of widescreen shooting

format CinemaScope, first used with 20th

Century Fox's The Robe. Shlyen called the

first public presentation of The Robe in

September 1953 an "epochal event." The

premiere at Grauman's Chinese Theater

was "one of the more spectacular in recent

film colony annals." Noting its immense

success with the public, he observed, "It

seems certain that the era of widescreen

has not only begun; it is here to stay."

In the months to come, CinemaScope

was presented as a true "industry

revolution." Many filmmakers also saw

its creative potential. Combining wide

screens with advancements in Technicolor

processes, filmmakers flooded the market

with historical epics like Quo Vadis, Ben-

Hur, Salome, and David and Bathsheba. In

February 1953, Cecil B. DeMille explained

that he had deferred filming the Ten

Commandments to study 3-D, noting, "I

am lucky that third-dimension appeared

when it did and that it didn't find me in the

throes of production." Other filmmakers

were more skeptical. In August 1953, we

reported that director John Huston was

worried "about properly framing his stories

on the horizontal screen and didn't think

the sacrifice was worth the effort."

ACADEMY

AWARDS FOR

BEST PICTURE

ALL ABOUT EVE

1950

AN AMERICAN IN

PARIS

1951

THE GREATEST

SHOW ON EARTH

1952

FROM HERE TO

ETERNITY

1953

ON THE

WATERFRONT

1954

MARTY

1955

AROUND THE

WORLD IN 80 DAYS

1956

THE BRIDGE ON

THE RIVER KWAI

1957

GIGI

1958

BEN-HUR

1959

Centennial 2021

73

62-106_CIE.indd 73 23/11/2021 17:54
---
CENTENNIAL A CENTURY IN EXHIBITION

While Boxoffice Pro welcomed these

innovations as beneficial to the industry,

our writers also expressed caution,

showing concern for smaller theaters just

as they had following the advent of sound.

Siding with Allied States Association of

Motion Picture Exhibitors, Boxoffice

Pro favored standardization as well as

an industry-wide research program for

improvements. Indeed, many smaller

exhibitors failed to join the technological

revolution of the 1950s because of the

high costs of installation. In an attempt

to counter those costs, Spyros Skouras,

president of 20th Century-Fox, announced

in 1953 that his company would extend

credit to any theater that was unable to

buy the equipment.

These innovations did boost

attendance, but the recovery of the

exhibition industry was not as spectacular

as expected. As a result, industry

leaders began to look for overlooked

audiences. One segment was particularly

lucrative: teenagers. A study published

in December 1956 found that the teenage

market consisted of 16 million boys

and girls—potentially making them the

biggest moviegoer demographic—with

a combined $9 billion to spend per year.

Young people were also deemed less

likely than their older counterparts to stay

home and watch TV. A desire to attract

teenage patrons (despite exhibitors' fears

of their rowdiness) brought new faces to

films. Movies like Rebel Without a Cause

and Teenage Rebel as well as films starring

Elvis Presley became hits. MPAA president

Eric Johnston expressed his optimism in

1957 about the power of young people to

save the industry: "There will always be

motion picture theaters because 'young

people' don't want to sit at home and hold

hands in front of their parents."

1960S

THE COLLAPSE OF THE STUDIO SYSTEM

The studio system

that thrived during

Hollywood's Golden

Age died in the

1960s. Challenges in

the form of pay TV,

antitrust legislation,

low admissions, and

censorship had worn down the studios

in the previous decade. But the 1960s

brought a new challenge that proved too

difficult to overcome: a society in turmoil.

Classic westerns, patriotic war movies,

family musicals, and biblical epics were

receiving an increasingly tepid reception

at the box office. Unable to comprehend

the tastes of their young audience

during the time of the Vietnam War, the

civil rights movement, and the growing

counterculture, studios were ever more

disconnected from their patrons. There

was one question that veteran studio

executives were no longer able to answer:

What was an American film supposed

to be? As studio films floundered and

aging studio executives lost control of

the industry, foreign and art house films

filled the gap, influencing a generation of

American filmmakers who ushered in the

era of New Hollywood.

Until the 1960s, the industry had

never truly confronted its own racism. In

Boxoffice Pro, so-called Negro theaters

were rarely mentioned. From the 1920s

to the 1950s, the magazine published just

one advertisement for a Black-led movie.

One of the ways in which the exhibition

community was forced to come to terms

with the question of race in the 1960s was

the desegregation of movie theaters.

Until the middle of the decade, most

Southern cities practiced segregation in

their movie theaters, either by segregating

individual cinemas—with designated

balconies for Black audiences—or by

having separate cinemas for Black and

white audiences. Black-only theaters,

which were run by African American

managers but often owned by whites,

were less numerous than their white-only

counterparts and mostly ran second- or

third-run films. Some cities, like Charlotte

and Chapel Hill, North Carolina, had no

theaters for Black audiences at all.

As the civil rights movement

progressed, picketing campaigns, mostly

led by students in urban areas of the South,

paved the way for the desegregation of

movie theaters. Major circuits operated by

Loew's (later Loews), RKO, and Warner—

although desegregated in the North—were

targeted by protestors for policies in

their Southern locations. Boxoffice Pro

documented one of the largest studentled

desegregation campaigns, which saw

approximately 1,500 students march in

Atlanta in February 1961. According to the

magazine, most of Atlanta's downtown

movie houses began desegregating in

May 1962 by permitting a small number of

African Americans to attend each showing

for a trial period of a handful of weeks, a

strategy used by many Southern theaters

before integrating completely.

In May 1963, Attorney General Robert

Kennedy praised exhibitors for moving

forward with voluntary integration when

he invited influential exhibitors to the

White House, seeking to persuade them to

support President Johnson's civil rights

legislation. The idea was that voluntary

desegregation of movie theaters, highly

visible hubs in both Black and white

communities, could spill over to other

businesses. Boxoffice Pro founder and

editor Ben Shlyen commented on the

74 Centennial 2021

62-106_CIE.indd 74 23/11/2021 17:54
---
meeting: "From a humanistic, economic

and political viewpoint, it is seen that

the change called for must be made." He

added, however, that it could not "be done

on a wholesale basis" due to the potential

for violent outbreaks. "The threat of

legislation to force integration is not the

way to bring about the change called for

by the times and conditions," he argued.

Overall, the matter of desegregation

was not frequently discussed by the

magazine's writers. But the publication

chose to publish a letter by a Southern

movie manager in 1963, who wrote:

"[The manager] hears it plenty when he

might play a movie appealing mainly to

children, such as a Walt Disney film. He

gets calls from mothers wanting to know

if his theater is integrated, and if it is, the

mother will not send her child."

Contrary to what Shlyen thought,

legislation proved the only way to force

compliance. The end of legal segregation

came in July of 1964 with the Civil Rights

Act, and the Congress of Racial Equity

found that all theaters were abiding by the

law that same month.

The civil rights movement also

brought the (still ongoing) question of

minority representation to the attention

of Hollywood. The success of Sidney

Poitier personified the controversy over

the inclusion of African Americans both

on and behind the screen. In 1964, Poitier

became the first Black actor to win an

Academy Award for Best Actor for his role

in Lilies of the Field. Writes journalist and

author Mark Harris in his book Pictures at

a Revolution, Poitier was worried that his

win would only lead to complacency, as

the industry would busy itself with selfcongratulation

instead of working toward

additional progress. Poitier's fears proved

correct: he did not get another offer for a

year after winning the Academy Award.

But the actor was also internally

conflicted over the kind of parts he was

playing. Was portraying one-dimensional

Black characters a necessary sacrifice to

open the way for more actors of color in

Hollywood? Some civil rights activists

were indeed condemning the portrayal

of African Americans on the silver screen.

The NAACP led discussions with major

studios to ensure progress on the issues of

job access and on-screen representation.

Other groups, including women and Latinx

communities, began protesting as well.

A 1962 Boxoffice Pro article reported

that leaders of Indigenous peoples in

New Mexico had been "long frustrated

over [their] treatment" in American film

and were planning to open their own

production companies. After the 1968

assassination of Dr. Martin Luther King

Jr., a coalition of industry stars including

Poitier, Marlon Brando, Paul Newman, and

Candice Bergen created a nonprofit group

to produce films on racial and social issues.

The proceeds were to go to the Southern

Christian Leadership Conference.

Poitier became the top box office draw of

1967 with the interracial romantic comedy

Guess Who's Coming to Dinner (which

became Columbia's biggest success to date),

To Sir, with Love, and the Oscar-winning In

the Heat of the Night. The success of these

films proved two things: Black moviegoers

could be a lucrative audience, and films

about and starring Black people could play

in the South. Exhibitors did not accept

these truths without resistance. Some

theaters edited moments, like Poitier and

Katharine Houghton's kiss in Guess Who's

Coming to Dinner, out of their prints. More

alarmingly, the KKK picketed, and even

considered planning attacks on, theaters

that played these films.

The new social context created

by the civil rights movement and the

counterculture revolution produced

an appetite among younger audiences

for films that spoke to the reality of

the decade. The catastrophic flops of

expensive films like Cleopatra (1963) and

Doctor Dolittle (1967) proved the desire

for something new. In 1952, the Supreme

Court had ruled that Roberto Rossellini's

The Miracle, a controversial film that

drew criticism from the Catholic Church,

was an artistic work protected under the

First Amendment. With that decision,

the threat of government censorship

was eliminated, opening the gates for

a wave of foreign films that gave young

moviegoers what they were looking for.

These films defied taboos and censorship

and embraced an experimental approach

to filmmaking. Among them were movies

hailing from swinging London, which

exported the Bond franchise and Beatles

films—and stars like Sean Connery,

Michael Caine, and Vanessa Redgrave—to

North American audiences. The French

New Wave introduced young urban

intellectual audiences to Truffaut, Godard,

Brigitte Bardot, and Alain Delon. Italian

Centennial 2021

75

62-106_CIE.indd 75 23/11/2021 17:54
---
CENTENNIAL A CENTURY IN EXHIBITION

films propelled Antonioni, Fellini, Sophia

Loren, Marcello Mastroianni, and Gina

Lollobrigida to fame.

The foreign craze was evident in the

pages of Boxoffice Pro. Coverage of

foreign film festivals boomed, as did

editorial by foreign correspondents

and columns like "Tokyo Report" and

"London Report." In fact, one anonymous

writer reported in 1961 that 70 out of 176

pictures released by 10 companies in

the U.S. between November 1960 and

August 1961 were foreign. By February

1964, Twentieth-Century-Fox, MGM,

Columbia, and United Artists were leading

importers of foreign films. Smaller players

like Embassy and Janus Films, which

imported the work of Ingmar Bergman,

steadily became more prominent.

It was the first time in Hollywood's

history that stars and films competed

with their international counterparts. And

Hollywood was scared. A writer summed

up the situation in August 1961: "The

foreign invasion appears to be creeping

up on the American production industry

and, in time, may equal it or surpass it.

And from all indications, U.S. companies

will increase their imports in the coming

years. While the top pictures still come out

of Hollywood, the quantity is diminishing."

The artistic merit of foreign films was

often recognized in the magazine

with positive reviews and the honor of

Boxoffice Pro's Blue Ribbon Award, but

Shlyen always encouraged Hollywood to

regain its dominant position.

Art house and specialty theaters

thrived thanks to the influx of foreign

films. Leonard Lightstone, executive vice

president at Embassy, said in 1963 that

specialty theaters were "mushrooming"

and becoming more profitable as foreign

films cut costs and became more flexible

in their release strategies than firstrun

product. In 1960, Irving M. Levin,

divisional director at San Francisco

Theatres, attributed the proliferation of

foreign films to their universal appeal

and to "the inevitable maturing of film

audiences as the country's level of

education and appreciation broadens."

Independent cinemas, like the Bleecker

Street Cinema in Greenwich Village, began

showcasing international films. In April

1967, Shlyen urged exhibitors to "drop the

notion that they must have 'big box office

product or nothing'" and give smaller

films a chance. Shlyen's plea came at a

time of declining attendance and frequent

closures of downtown movie houses as

white audiences fled to the suburbs. Some

also found, in foreign and art house films,

the only way to fight TV. Independent

filmmaker Leonard Hirschfield was

reported saying in 1967, "Today the

personal films are 'most important'

"The foreign invasion

appears to be creeping up

on the American production

industry and, in time, may

equal it or surpass it."

because people can see the factory stuff

on television."

Foreign and art house films were

catalysts for the end of censorship and

the revision of the Production Code.

Michelangelo Antonioni's Blow-Up, which

featured full-frontal female nudity, did

not receive the Production Code seal and

was condemned by the National Legion

of Decency. MGM distributed Blow-

Up anyway through its shell company,

Premier Productions. Grossing about

$20 million, the film dealt a huge blow to

puritanical attitudes. Foreign films had

effectively created a double standard. As

more theaters showed films without the

Production Code seal, nudity became

even more prevalent on-screen, raising

questions about whether children and

families were being driven away. But as

the negative effects of censorship on

creativity—not to mention the box office—

became increasingly apparent, calls for

an age-based classification system, which

would give parents control over what their

children could see, started to gain traction.

In 1960, New York became the first state

to establish the classification "Adult Only"

for moviegoers above 18, sparking similar

bills in other local legislatures.

Six years later, Jack Valenti became

the third president of the Motion Picture

Association of America (now MPA). Valenti

was preoccupied with censorship and the

rising insurrection of Code-challenging

filmmakers from the beginning of his

tenure. In his first few weeks in office,

he revised the Code to include the label

"Suggested for Mature Audiences" on

76 Centennial 2021

62-106_CIE.indd 76 23/11/2021 17:54
---
advertising posters. Shlyen welcomed the

revision and praised Valenti's "Herculean

feat" for "giving the industry and the public

a Code of Self-Regulation from which any

benefits can be derived, not the least of

which is the 'better image that so much is

spoken of and which can be the means for

increasing attendance as well as to revive

the custom of multitudes of lost patrons."

But foreign films were no longer the

only problem. A year before Valenti's

hiring, Sidney Lumet's The Pawnbroker

was approved by the Code despite its

nudity on the grounds of the "high

quality" of the film. The decision created

a loophole: Nudity was tolerable for

"good" films, but not for ordinary ones.

Mike Nichols's Who's Afraid of Virginia

Woolf?, which broke barriers with its

strong language, finished what The

Pawnbroker had started. The National

Legion of Decency, supposedly influenced

by Jacqueline Kennedy, gave the film an

endorsement of "acceptable for adults

with reservations." Jack Warner released

it in 1966 with a warning that the film was

for adults only and provided individual

contracts for theaters to sign, pledging

that they would not admit any minors.

Valenti was forced to approve the film with

a "Suggested for Mature Audiences" label.

This became the first step toward

the establishment of the new MPAA

voluntary classification system, enacted

in 1968. Movies were rated G (Suggested

for general audiences), M (Suggested

for mature audiences), R (Persons under

16 not admitted unless accompanied

by an adult), or X (Persons under 16 not

admitted). Valenti declared in Boxoffice

Pro that "the creative filmmaker ought

to be free to make movies for a variety

of tastes and audiences, with a sensitive

concern for children. That's what this

voluntary film rating plan does—assures

freedom of the screen and at the same

time gives full information to parents

so that children are restricted from

certain movies whose theme, content

and treatment might be beyond their

understanding."

The MPAA and the International Film

Importers and Distributors of America

(IFIDA) were to monitor the ratings system

with the newly formed National Association

of Theatre Owners (NATO). After calling

for a united exhibitor front for decades,

Ben Shlyen's wishes became reality with

the birth of NATO on January 1, 1966.

Boxoffice Pro followed its inception

closely. In April 1964, the Allied States

Association of Motion Picture Exhibitors

and the Theatre Owners of America had

agreed on a merger, talks for which had

begun over a decade before. The challenges

and changes of the 1960s brought an end to

the ideological differences that had divided

the two major exhibitor groups. In addition

to enforcing ratings, in its early days NATO

organized defenses against the industry's

greatest threats. It campaigned against the

FCC for the regulation of pay TV, instituted

a "movie month" with discounted prices,

and pushed for more research on patron

behavior.

The final nail in the coffin of the

studio system came in 1967. That year,

the Academy Award nominees were four

films representing the new standard

of antiestablishment, more inclusive

filmmaking—Bonnie & Clyde, The

Graduate, Guess Who's Coming to Dinner,

and In the Heat of the Night—as well as Fox

flop Doctor Dolittle, a film that epitomized

the studios' disconnect from the current

culture. The success of these new types

of films was indisputable. Influenced

by European New Wave cinema, young

directors who had trained in theater

and TV like Sidney Lumet, Arthur Penn,

Mike Nichols, Sam Peckinpah, and John

Frankenheimer were not afraid to take on

taboo subjects and resist the status quo.

While indies like Easy Rider and The

Wild Angels were thriving, the Big Five

were collapsing. Walt Disney had died

suddenly at 55 in 1965, Paramount was

sold to Gulf and Western Industries in

1966, and Warner Bros. sold a third of its

shares to Seven Arts in 1967. MGM was

sold to a Nevada casino millionaire, Kirk

Kerkorian, in 1969. Even United Artists

and Columbia, which had been taking

more risks with independent films,

were shaken. United Artists became a

subsidiary of an insurance company,

Transamerica Corporation, and there were

rumors about a French bank taking over

Columbia. The only Old Hollywood mogul

left was Darryl Zanuck, who remained at

the head of Twentieth-Century-Fox. By

the close of the decade, the golden age of

studios had ended, and New Hollywood

was ascendant.

ACADEMY

AWARDS FOR

BEST PICTURE

THE APARTMENT

1960

WEST SIDE STORY

1961

LAWRENCE OF

ARABIA

1962

TOM JONES

1963

MY FAIR LADY

1964

THE SOUND OF

MUSIC

1965

A MAN FOR ALL

SEASONS

1966

IN THE HEAT OF THE

NIGHT

1967

OLIVER!

1968

MIDNIGHT COWBOY

1969

Centennial 2021

77

62-106_CIE.indd 77 23/11/2021 17:54
---
CENTENNIAL A CENTURY IN EXHIBITION

1970S

A NEW HOPE

hen moviegoers

sank into their

seats in the dark

auditorium of

the Loew's State

Theatre in New

York City on March

14, 1972, to watch

a drama about the Italian American

Mafia, little did they know they were

making movie history. The Godfather

became the best-selling title of the year

and the first American film to gross $100

million domestically in its initial release.

The Godfather was also making history

in a different way: It encapsulated the

contradictions of the decade. On the one

hand, director Francis Ford Coppola

represented the generation of "movie

brats," young male directors fresh out

of film school like Martin Scorsese,

Brian De Palma, and George Lucas,

who represented New Hollywood at its

peak. On the other hand, The Godfather

was a precursor of the blockbuster

phenomenon that buried New Hollywood

in the second half of the decade. Like the

countercultural revolution that had been

embraced by so many young people in

the previous decade, The Godfather spoke

to the disillusionment of the Vietnam

and Watergate era. But in other ways it

was a nostalgic film about the waning of

white male patriarchal power amid the

ascendance of the women's rights, gay

rights, and Black Power movements.

The 1970s were, in fact, a period of

rapid and contradictory transformations

for exhibition. At the beginning of the

decade, weekly admissions continued

their decline. Admissions in 1970 were 18

million, down from 30 million in 1960, in

part because of rising ticket costs, cable

TV, theaters playing the same film for an

extended period (a practice Boxoffice

Pro founder and editor Ben Shlyen

criticized), and a lack of both film variety

and advertising. Dwindling admissions

and the collapse of the studio system made

room for New Hollywood but also for cheap,

shocking exploitation films. The civil

rights movement and the realization that

African American audiences had box office

potential launched blaxploitation, while

the failures of the MPAA's rating system

opened the door for raunchy sexploitation.

Though not without some success, these

films were not enough to prevent the

downtown houses and movie palaces

that showed them from going quiet as

(white) audiences and exhibitors rushed to

theaters in suburban malls. Movies became

another expression of consumerism,

epitomized by the rise of blockbusters—

with their wider releases and expensive

marketing strategies—ushering in an era of

new vitality for the industry.

Power to New Audiences

The early 1970s saw an industry in crisis.

And as many industries in crisis do, the

film industry sought to make money

cheaply and quickly. With exploitation

films, dabbling in on-trend subjects

like martial arts and eroticism, studios

were able to attract moviegoers without

investing in the sort of big-budget

spectacle that had flopped in the 1960s.

One of the most important exploitation

sub-genres was blaxploitation. The civil

rights movement had obliged exhibitors

to open their doors to Black audiences and

brought new ways of thinking about race

relations. For the first time since the birth

of cinema, the integration of theaters gave

African Americans a wider platform and

showed the importance of catering to a

diverse audience.

Melvin Van Peebles's 1971 film Sweet

Sweetback's Baadasssss Song is believed to

be the first blaxploitation film. The movie

features a male prostitute, Sweetback,

who evades the police and protests

white authority. It established one of the

genres core themes: A Black person fights

the system, and for the first time wins.

Despite its X rating (the movie tagline

was "X-rated by an all-white jury"), the

film grossed $15 million and pushed

Hollywood toward a new audience. That

same year, MGM's Shaft became an

instant hit. Boxoffice Pro reported that

it played 24 hours a day for the first week

of its opening in some theaters, like the

DeMille Theatre in New York City's Times

Square. Unlike many Hollywood films, the

genre also made room for women stars,

such as icon Pam Grier, "the "Queen of

Blaxploitation."

Film historians still try to understand

the significance and impact of the

genre. Was it an expression of Black

empowerment, a manifestation of

their anger toward the system, or just

a new marketing angle for Hollywood?

Blaxploitation was indeed criticized

by some African Americans and by the

NAACP for perpetuating stereotypical

images of Black people as criminals.

Others criticized the lack of originality

of the genre, which by the middle of the

decade had resorted to horror, western,

and kung fu film remakes.

In the pages of Boxoffice Pro,

blaxploitation films were received with

"Competition may come and

go, but the movie theater

goes on forever."

78 Centennial 2021

62-106_CIE.indd 78 23/11/2021 17:54
---
mixed reviews. Steven Jacobson, head of

the independent production company

Xanadu Productions, acknowledged in

November 1975 that "Black films make

money." But, criticizing their hyper-focus

on Black audiences, he continued that

"it's in the best interest of the industry to

be sensitive to the needs of the [entire]

moviegoing public." A semiretired trade

paper editor, Don Carle Gillette, criticized

their quality. "Too many exhibitors still

are more interested in making money

from sales of popcorn, cold drinks, and

hot dogs than from the sale of box office

tickets. … But tawdry exploitation pictures

can draw many munchers while quality

films attract a more discriminating

clientele that sits attentively all through

a performance. … So what's best for

the industry—quality films or popcorn

pictures?" he asked.

Downtown Theaters Are Shuttered

Criticism aside, blaxploitation films

did invigorate Black filmmakers and

audiences, especially urban moviegoers.

But their success was not enough to

keep inner-city theaters from closing. In

the local news sections of Boxoffice

Pro, articles about theater closings

proliferated. In an article dated February

1976, Shlyen attributed this to "conditions

which [small theaters] have been unable

to control," including product shortages,

excessive rental terms, and extended

runs in inner-city theaters that "did not

provide sufficient patrons to sustain

such extended needs." Moreover, as

an anonymous contributor wrote in

1972, "The audience that once looked

to moviegoing big-city wise as a steady

habit, has moved increasingly to the

outlying sections and spilled over to the

fast-growing suburban towns." Because

of the "frightening displays of violence

in the streets, choking traffic conditions,

[and] reduced parking availability," they

continued, "it's a matter of persuading

entertainment-seekers to 'return' to the

central-core city after dark."

Suburbanization was taking a toll

on drive-ins too, as more and more

were razed to the ground to make room

for parking lots and malls. Another

institution of American moviegoing was

particularly hard hit during that period:

movie palaces. Boxoffice Pro advocated

for the protection of these historically and

culturally significant theaters, but the

high costs of maintenance in the context

of a wider moviegoing crisis made the task

almost impossible.

Some movie palaces, like the

Hollywood Pantages or Radio City Music

Hall, were converted to performing arts

centers. Others were transformed into

churches. Drive-ins, meanwhile, hosted

swap meets to bring in additional revenue

during the day. NATO dedicated many

conferences and roundtables to the

problem, with debates on topics like

"Unconventional Uses for Conventional

Theaters" or "Daytime Dividends for

Drive-ins." NATO's 1972 Showmanship

Award winner, Joe Vleck, the advertising

director of National General Theaters

in Los Angeles, suggested making the

theaters available for beauty operators'

conventions, travel agencies, gardenequipment

dealers, sports-equipment

suppliers, and savings and loan shows.

In the end, it was grassroots activism

from local moviegoers that contributed

most to the preservation of movie

palaces. Historic theaters like the 4,000-

seat Chicago Theatre or the Bandbox in

Philadelphia were registered as historical

landmarks thanks to their efforts.

Movies Go to the Multiplex

Suburban theaters were popping up

just as fast as downtown houses were

disappearing. The magazine's Modern

Theater section was continuously

dominated by news of the construction

of multiplexes, shopping center theaters,

and "multi-mini-theaters," defined as

multiplexes with smaller auditoriums.

Suburban theaters had their roots in the

postwar years, but the 1970s truly became

the decade of the "complex theater type,"

as M.A. Lightman, president of Malco

Theatres, described it in 1970. Shopping

center theaters and multiplexes, where

exhibitors could show more movies

simultaneously to smaller audiences, were

now the norm. This coincided with the

phenomenon later known as the "malling

of America," a period from 1960 to 1980 in

which an estimated 17,500 malls were built.

These malls catered to a suburban crowd

of largely white, middle class moviegoers—

still considered the backbone of the

exhibition industry. Far removed from the

harsh realities of city life, shopping center

theaters were also places where cinema's

escapism could be literally felt.

Centennial 2021

79

62-106_CIE.indd 79 23/11/2021 17:54
---
CENTENNIAL A CENTURY IN EXHIBITION

The multi-theater concept can be

attributed to Stanley Durwood, president

of Durwood Theatres, the Kansas City–

based circuit that eventually became

the exhibition giant AMC. After the

success of its Parkway Twin in 1962,

AMC pioneered the multiplex with the

first-ever quadruplex in its hometown

in 1966. In April 1971, Boxoffice Pro

reported from Kansas City that AMC

would open 70 new auditoriums and 17

multiplexes in 13 cities in "one of the most

intensive expansions in the history of

motion picture exhibition." AMC's growth

was such that it managed to become

a nationwide franchise in less than 10

years. Durwood described the company's

"fresh and imaginative" approach in a

press release: "The patron-oriented

convenience, comfort, and choice add up

to a totally unique experience that has met

with immediate success everywhere it has

been introduced." Durwood also touted

the free parking and the availability of "a

wide variety of entertainment for a variety

of patrons in a single complex."

Accounts from exhibitors supported

Durwood's argument. The genius of the

mall multiplex was that when families were

done with their shopping, they could all

go to the movies without being obliged to

watch the same film. They could go to the

theater "together but separately," wrote one

mini-theater exhibitor in 1970. Multiple

exhibitors pointed out that the cost of

running a multiplex was now about the

same as running a single-screen theater

with 500 seats or more, thanks to advances

in automation, which allowed theaters to

serve multiple auditoriums from a single

projection booth as well as invest in only

one lobby, box office, and concession stand.

Ben Shlyen, still urging the protection

of smaller urban theaters, congratulated

"progressive theatermen for their capacity

to innovate and keep up with demographic

changes," as he wrote in 1973. "Competition

may come and go, but the movie theater

goes on forever. This has been shown in

the upbuilding of new theater structures,

improvement, and modernization of the

existing ones that have kept apace of the

demands of the times, population, and

urban changes," he argued.

The Blockbuster Phenomenon

With the "malling" of cinemas, movies

were now less a cultural form of

entertainment than a consumerist hobby.

That shift was accelerated and epitomized

by the advent of the blockbuster.

After a harsh admissions crisis at the

beginning of the decade, "lost" audiences

started returning en masse in 1974 when

hits like The Exorcist (which broke The

Godfather's box office record) and The

Sting contributed to an increase of weekly

attendance from 16.6 million in 1973 to 20

million. But the history of the blockbuster

cannot be told without Jaws. In 1975, a

young director named Steven Spielberg

created one of the biggest cultural

phenomena in the history of the industry.

Jaws became the highest-grossing film

ever, as well as the most talked-about

movie of the year. The movie was a

landmark as well for its unprecedented

release: It opened simultaneously in 409

theaters nationwide, while most films

until that point would hit screens in a few

key locations before rolling into new ones.

Jaws was also the first film to understand

the power of the ancillary markets. It

launched the biggest TV campaign up

to then with a $700,000 spend for three

nights of nationwide prime time TV ads

on all networks. And then came Star Wars:

Episode IV – A New Hope. After opening on

May 25, 1977, George Lucas's opus became

an instant hit. Its record-breaking success

was made evident by the endless lines

in front of theaters. "It broke records in

every house in which it opened and set

cumulative box office records in most of

the cities where it is showing," Boxoffice

Pro breathlessly reported on the sixth day

of its opening.

Thus was the modern blockbuster

born. Bigger, high-concept movies that

generated "buzz" started flooding the

market. New practices in marketing,

wider releases in the summer, and longer

runs steadily became the norm. Ben

Shlyen pondered the social roots of the

phenomenon in January 1979. "Has the

public simply tired of the 'deep think' and

'message films'? Some say that the type

of pictures America chooses to watch are

indicative of what we may be currently

experiencing as a people. That is, the

recent dramatic shift to the just-for-fun

brand of motion pictures is symbolic of

what the country is experiencing in the

late '70s. … Today's audiences are tired

of inflation, leery of politics, and are

turning to the movies again as a source

of entertainment."

80 Centennial 2021

62-106_CIE.indd 80 23/11/2021 17:54
---
ACADEMY

AWARDS FOR

BEST PICTURE

PATTON

1970

THE FRENCH

CONNECTION

1971

THE GODFATHER

1972

THE STING

1973

THE GODFATHER

PART II

1974

ONE FLEW OVER

THE CUCKOO'S NEST

1975

ROCKY

1976

ANNIE HALL

1977

THE DEER HUNTER

1978

KRAMER VS.

KRAMER

1979

What certainly amplified the escapism

and wow effect of blockbusters were their

special effects and sound innovations. True

to its capitalist foundations, Hollywood

seems to follow an economic cycle

of booms and busts, the latter often

accompanied by surges in technological

invention. Much like the gimmick frenzy

of the fifties meant to combat TV, the 1970s

witnessed a technological boom that was

supposed to attract the "lost" audiences

flocking to cable and video cassettes. While

advances in sound and special effects had

been happening for decades, they gained

an unprecedented popularity in the 1970s

thanks to the blockbuster.

One of those innovations was Imax,

which premiered at the Expo '70 world's

fair in Japan with the 17-minute-long

Tiger Child. Special effects also captivated

audiences in memorable sequences in

films like The Exorcist, Superman: The

Movie, and Alien. Star Wars perhaps did

more than any other movie to popularize

special effects with its first extensive use

of animated 3-D CGI, widely lauded in the

pages of Boxoffice Pro. The film's VFX

editors, including several of George Lucas's

Industrial Light and Magic co-founders,

went on to receive the Academy Award for

Best Achievement in Visual Effects.

Star Wars also cemented Dolby's

dominance as surround sound made its

comeback. In 1971, A Clockwork Orange

had become the first film to use Dolby

technology for recording sound and noise

reduction. Dolby Stereo, an optical fourchannel

sound system technology, was

used in A Star Is Born five years later. But

to quote famed sound designer Walter

Murch, "Star Wars was the can opener that

made people realize not only the effect of

sound but the effect that good sound had

at the box office." When Star Wars opened

in the summer of 1977, only three prints

out of the 40 screens where it played were

Dolby. Lucas, despite distributor 20th

Century Fox's objections, had insisted

on using Dolby Stereo. As the Star Wars

phenomenon took off, so did the demand

for Dolby. In the first weeks after the

launch of the film, more and more space

in the magazine was dedicated to the

installation of the system in theaters all

over the country.

For many, Dolby Stereo was the way to

fight home entertainment. Dennis Udovic,

a Wisconsin projectionist writing to

Boxoffice Pro in September 1977, argued,

"The basic movie customers are young

people, and stereophonic sound is right up

their alley." Two years later, writer John M.

Novak urged exhibitors to abandon the

view that stereo sound was "just another

fad" and advised them to invest in the

technology. "The average theater is 30

years behind the times in terms of sound

quality. … In competition with the quality

of today's home stereo components, never

mind what's in store for tomorrow; the

average theater sound system would lose

by forfeit," he argued.

The blockbusters, in combination with

multiplexes and technological innovations,

gave new life to the industry and changed

it forever. Ben Shlyen wrote in March

1976 that good blockbusters have "caused

people, again, to talk enthusiastically

about motion pictures." Nevertheless,

as waves of blockbusters overwhelmed

theaters, critics—including Shlyen—

pointed out that the lack of diversity,

embodied by the predictable stories

copying the Star Wars and Jaws formulas,

coupled with long runs could eventually

hurt the market. It was not enough to have

big films. They needed to be good as well.

Many articles in Boxoffice Pro warned

of the importance of protecting smaller,

high-quality films. One writer in Knoxville,

in a 1976 review of Stanley Kubrick's Barry

Lyndon, declared, "It takes a lot of guts

to assemble a film of this magnitude to

compete with today's made-for-money

movies." The exhibition landscape was

indeed very different from what it was in

the early 1970s, with its independent New

Hollywood productions.

Sex, Censors, and Videotapes

The end of the 1970s was radically

different in another respect. The first half

of the decade did not only see the height

of New Hollywood and blaxploitation—it

was the heyday of sexploitation. MPAA

president Jack Valenti's rating system had

failed to trademark the X rating, which

led to a boom of adult films in downtown

theaters. In particular, 1972 and 1973 were

the golden age of sexploitation. Deep

Throat was mainstream (even Jacqueline

Kennedy Onassis saw it, and Bob Hope

talked about it on TV), and adult film

exhibitors, now organized in their own

trade group, the Adult Film Association

of America, were preparing their own

ratings code. And while Boxoffice Pro

frequently wrote about the need for more

Centennial 2021

81

62-106_CIE.indd 81 23/11/2021 17:54
---
CENTENNIAL A CENTURY IN EXHIBITION

general and family products, most of the

ads in the magazine during that period

were for X-rated films.

Sexploitation relaunched debates

about censorship and the precise meaning

of "obscenity" and "pornography," which

lacked an official legal definition. Roth v.

United States had established in 1957 that

sex and obscenity were not synonymous

but did not define what obscenity actually

was. A few years later, an exhibitor from

Georgia, Billy Jenkins, was arrested

for showing Mike Nichols's Carnal

Knowledge. His case was taken to the

Supreme Court, which ruled the movie

was not obscene. But in 1973, the Supreme

Court found that obscenity should be

defined "by contemporary community

standards," leading many local courts

to ban erotic films. Adult theaters were

subject to crackdowns by the police and

picketed by citizens. Some cities even

developed zoned areas specifically for

adult theaters, as many people feared

their effects on children. In fact, another

debate frequently animating the magazine

was the impact of these movies on the

behavior of audiences. Most of the studies

presented concluded that pornography

had no impact on "moral character and

sexual orientation."

James H. Nicholson, president of

American International Pictures, said in a

keynote speech at a NATO convention in

1970: "I cannot believe we are all voyeurs,

and I know this present 'flash' of box

office gold is mostly the result of fleeting

curiosity." Looking at the example of

Europe, he warned, "The audience who

liked the almost pornographic films got

tired of them, and the audiences they had

alienated no longer cared about going to

the movies." Letters from exhibitors in the

magazine certainly show that there was

indeed sexploitation fatigue by the mid-

1970s. However, it was not the end of that

"fleeting curiosity" that killed adult film

exhibition. Adult exhibition was an early

victim of the industry's newest threat,

video cassettes, which were to become so

contentious in the eighties.

1980S

MEGABUCKS, MTV, AND MEGAPLEXES

he experimental

revolution that swept the

1960s and 1970s was all

but dead and buried in

the '80s. Summarizing

the new decade, author

Peter Biskind, in his book

Down and Dirty Pictures,

writes, "When the Ronald Reagan tsunami

swept everything before it, the market

replaced Mao, The Wall Street Journal

trumped The Little Red Book, and supplyside

economics supplanted the power

of the people." The corporatization of

Reagan's America, as well as its return to

conservatism, left Hollywood with little

interest in small, realistic, auteur-driven

films. Instead, it went all-in on megabuck

movies produced by mega-corporations to

be shown in megaplexes.

The Return of the Studios

Riding the blockbuster wave started

by Jaws and Star Wars in the previous

decade, Hollywood in the 1980s turned all

its efforts to the production of expensive

sci-fi, action, and horror blockbusters

like Raiders of the Lost Ark and E.T. What

Jaws had taught the industry was not only

the power of pricey special effects but

also that of huge marketing campaigns.

Skyrocketing marketing budgets

significantly inflated the price of films

in the 1980s. The MPAA's president, Jack

Valenti, revealed in November 1980 that

in that year the average film made by the

major studios that made up the MPAA

cost $10 million before advertising and

prints, double the 1975 figure. Prints and

advertising added another whopping $6

million. According to Valenti, box office

grosses needed to reach about $40 million

for the studio to simply break even.

To guarantee maximum returns,

Hollywood's high-concept blockbusters

became more and more homogenized.

Unlike the popularity of little-known

actors or even nonactors in the'60s and

'70s, the studios increasingly relied on a

small number of very popular actors with

a star factor strong enough to make people

show up at the box office. Boxoffice

Pro even began publishing "box office

attraction" lists, with the most popular

stars and the most promising new actors

based on monthly surveys. Studios also

invested heavily in sequels to minimize

risks. Associate editor Jimmy Summers

wrote somewhat ironically about the trend

in the summer of 1983, when films like

Return of the Jedi, Rocky III, Superman

III, and Psycho II hit the screens. The

"summer of sequels appears to be the

season in which the actors do exactly what

their public wants them to do," he wrote.

Higher production and marketing

costs proved a problem for exhibitors, who

were forced to raise their ticket prices

sometimes to as high as $6 or $7, doubling

the 1970s prices. Between 1979 and 1980,

when the average ticket price was $2.69, the

MPAA reported a 6.9 percent increase in

the average ticket price. Exhibitors found

themselves squeezed between higher print

costs, larger margins for studios, and the

fear of losing their patrons. Boxoffice

Pro editor Alexander Auerbach, who

took over from magazine founder Ben

Shlyen as editor in 1979, urged the industry

to control its costs and pointed out the

studios' hypocrisy in an editorial published

in June 1982. "If the major studios cannot

turn out a steady flow of films for less than

$10 million each, how do they propose to

make them for cable-only distribution for

$3 million or less?" he wondered.

82 Centennial 2021

62-106_CIE.indd 82 23/11/2021 17:54
---
Big Business Entertainment

The financial changes of the 1980s made

it harder and harder for small studios and

exhibitors to survive. Instead, vertically

integrated media conglomerates, well

equipped to finance and distribute these

movies, ushered in the era of big-business

entertainment. Acquisitions of studios

by nonmedia conglomerates had started

in the 1960s, but the 1980s was a time of

unprecedented media cross-ownership,

vertical integration, and the increasing

importance of financial instruments

like equity, shareholder value, and

other financial assets during a period of

unprecedented deregulation.

In 1982, Coca-Cola, a longtime

partner of theaters, entered the industry

aggressively when it bought Columbia

Pictures for a reported $750 million. It

marked the first takeover of a major

Hollywood studio by a conglomerate

since Kinney National Services acquired

Warner Bros.-Seven Arts, Gulf & Western

bought Paramount, and Transamerica

took control of UA in the late 1960s. In

1983, Columbia, HBO, and CBS joined

forces to create Tri-Star (later TriStar), a

new studio that would produce films for

theatrical exhibition and cable TV. A year

later, Tri-Star bought the Loews theater

chain, raising antitrust concerns in regard

to a potential violation of the Paramount

Decrees. In 1987, Japanese electronics

giant Sony moved into theatrical

distribution to enhance its video sales

with the creation of AIP Distribution.

Two years later, in September 1989, Sony

Corporation of America purchased

Columbia Pictures and Tri-Star from Coca-

Cola and renamed itself Sony Pictures

Entertainment.

Sony's acquisitions opened the way for

foreign ownership of studios, amplifying

American anxieties about a "foreign

invasion." The Qintex Group of Australia

had bought MGM/UA earlier in 1989,

topping the bid of Australian publisher

Rupert Murdoch, who had acquired 50

percent of 20th Century Fox in 1985. But

what the Sony acquisition ultimately

showed was the advantages it gave to

Sony, which was now the sole company

controlling its films' content, distribution

channels, and the hardware with which

people could watch movies at home (VCR,

laser discs, etc.).

Exhibition did not escape the M&A

trend, despite the Paramount Decrees.

Sony held the historic chain Loews, which

was briefly renamed Sony Cinemas

before switching back to its original

name. Warner Communications and Gulf

& Western formed Cineamerica Theaters,

a corporate entity that took over Gulf

& Western's Mann Theaters, Festival

Enterprises, and Trans-Lux circuits.

Finally, MCA, the parent company of

Universal, purchased a 49 percent stake in

Cineplex Odeon in 1986.

While most acquisitions were not the

subject of commentary by the editorial

team, Boxoffice Pro's new editor, Harley

W. Lond (who took over in 1984 and

implemented a significant overhaul that

put more editorial emphasis on "vital

analysis and interpretation" rather than

straight news), deplored the trend. In

an August 1989 editorial, he wrote, "The

conglomeration fever in our industry

has now moved from the acquisition of

exhibition outlets to the acquisition of

production outlets, and this does not

augur well for us. Just recently, George

Lucas bemoaned the rash corporate

takeover by stating that such actions

'damage the creative energies of the

entertainment industry' by creating

companies with enormous debts, thus

tying up resources that should be made

available instead for risk-taking on new

films, filmmakers, and new ideas."

The survival of smaller and

independent theaters who struggled to

stay afloat was at stake. Boxoffice Pro

dedicated a lot of space to independent

distribution and exhibitors, publishing

regular strategy columns and profiles of

distributors and cinemas. A few indies

managed to thrive, most notably New

Line Cinema with the hit A Nightmare

on Elm Street and Miramax with Sex, Lies,

and Videotape, as well as exhibitors like

Carmike Cinemas, Pacific Theaters, and

the Laemmle chain. But as Dan Harkins,

president of Arizona's Harkins Theaters,

put it in December 1987, independents

were still "facing extinction" because

of conglomerate buy ups. Independent

exhibitors were at the forefront of the

fight against integration, often pushing

for resolutions through NATO. In

fact, Boxoffice Pro reported that in

August 1987, Dan Harkins, as well as

other exhibitors from Texas and Indiana,

appeared in front of New York's District

Court to prevent Tri-Star from having

Centennial 2021

83

62-106_CIE.indd 83 23/11/2021 17:54
---
CENTENNIAL A CENTURY IN EXHIBITION

the right to book its films into its Loews

cinemas. Despite their efforts, the court

granted Tri-Star its request.

Home Entertainment, VCR Wars,

and MTV

Vertical concentration was not the only

challenge facing the exhibition industry

in the 1980s. Editor Alexander Auerbach

had summed up the threat of home

entertainment in a March 1981 editorial.

"Exhibition and the studios, which once

feared the advent of television, now

ponder on the impact of cable TV, pay-

TV, the videodisc, and videotape, direct

broadcast from satellite to home and

other technological advances. All of this

new gadgetry can be regarded as either

an opportunity or a threat, but in either

case, it cannot be ignored," he argued.

As had happened with the advent of TV

in the '50s, theaters were competing for

the scarce time, attention, and cash of

a moviegoing audience that now had a

seemingly never-ending bounty of home

alternatives.

One significant threat in home

entertainment was the rapid quality

improvements in TV screens and

surround systems at home. Echoing the

race to large formats in the '50s, Tony

Francis, president of Theater Products

International and regular Boxoffice Pro

contributor, lamented in May 1981 that

"the picture only offers size." He feared

that although the quality of TV pictures

was inferior to film, it would soon surpass

it. Francis urged exhibitors to get ready

for the competition and reminded readers

that only 15 percent of American theaters

offered stereophonic sound in 1981, while

consumers were getting more and more

accustomed to it—and therefore expecting

it—at home via their radios, tape players,

and headphones. In September of that

year, Ioan Allen, Dolby's vice president

of marketing, warned in Boxoffice

Pro that as much as 90 percent of

theaters were subpar in sound and/or

projection compared to home equipment.

Innovations in HDTV technologies made

the threat even more imminent. It is

interesting to note that Francis Ford

Coppola's Zoetrope Studios was involved

in HDTV demos, as he believed that the

next logical step would be to distribute

films made on tape via satellite to theaters.

The videotape craze was an additional

challenge to exhibitors, especially

after the mid-1980s. Introduced in the

American market in the '70s, Sony's

Betamax and JVC's VHS were fiercely

competing to dominate the videocassette

and videocassette-recorder industry.

"Home video is actually

a blessing to exhibitors,

because it's tapped into

the people who are not

contributing to Hollywood

film production."

ACADEMY

AWARDS FOR

BEST PICTURE

ORDINARY PEOPLE

1980

CHARIOTS OF FIRE

1981

GANDHI

1982

TERMS OF

ENDEARMENT

1983

AMADEUS

1984

OUT OF AFRICA

1985

PLATOON

1986

THE LAST EMPEROR

1987

RAIN MAN

1988

DRIVING MISS

DAISY

1989

84 Centennial 2021

62-106_CIE.indd 84 23/11/2021 17:55
---
Boxoffice Pro published a study by

the Electronic Industries Association's

Consumer Electronics Group in 1985

showing that sales of VCRs had jumped

over 72 percent year-over-year. The jump

was preceded by the Supreme Court's Sony

Betamax Decision in March 1984, which

ruled that home-videotaping practices

were not in violation of copyright laws.

In an unprecedented move, Boxoffice

Pro extended its coverage to video

with its "Boxoffice Video Supplement,"

starting in 1985, in an effort to inform

exhibitors of the trends and potential

uses of this new format. Soon, cassette

and VCR sales outpaced domestic box

office grosses. According to a report in

the Video Supplement in 1987, income

from videocassette sales rose 30 percent

compared to 1986 and, at $7.46 billion,

nearly doubled the $4.2 billion total box

office take for that same year.

On top of home-entertainment quality

improvements and the VCR menace, the

'80s saw the explosion of cable TV. It was

no coincidence that all major media and

exhibitor conglomerates rushed to acquire

premium channels. For instance, in 1983

MCA, Paramount, and Warner agreed

to become partners to buy the Movie

Channel, a satellite-delivered motion

picture pay-TV service with over 2 million

subscribers at that time. Four years later,

the late Sumner Redstone, owner of

National Amusements—which operated

400 movie centers—bought a controlling

interest in Viacom, which owned MTV

and Showtime. For exhibitors, the danger

was not just a relentless competition for

audiences. As Perry Lowe, chairman of

the board of the National Association of

Concessionaires, explained in a 1981 piece,

because of inflation and the different cost

structures of the industry, "theater owners

would have to raise prices faster than

cable operators, and the result will be a

further widening gap between the value of

seeing a movie at home on cable TV versus

going out to a movie theater."

Overall, however, the response of

exhibitors toward these new threats

was not quite as anxiety ridden as it had

been in previous decades. Exhibition

had survived despite countless doomand-gloom

predictions in the past. This

time around, many Boxoffice Pro

writers and contributors were quick to

point out how ancillary markets could

incentivize filmmaking and present new

opportunities for returns. Jack Valenti

noted in 1982 that while some 40 percent

of television homes were equipped with

cable, 18 million subscribed to pay TV or

cable movie channels, and 4 million video

recorders were in the nation's living rooms,

the year had still recorded an all-timehigh

box office record. The reason behind

this, he argued, was simple: People who

love movies love them in every medium.

Industry experts reassured exhibitors

by stressing the opportunity for an

aggressive promotion provided by pay

TV and cable. One such example was

"Movieweek," a half-hour program on

MSN Information Channel that used an

MTV-like model to put movie marketing

(including trailers and interviews)

into thousands of homes. Video was

also presented as a medium to attract

audiences who did not go to the movies

at all. "Home video is actually a blessing

to exhibitors, because it's tapped into

the people who are not contributing to

Hollywood film production," explained

Dan Harkins in October 1985. A

businessman in the videocassette field

went even further in a 1981 article:

"[Exhibitors] possess a knowledge that no

other group of businessmen have in this

country. They know motion pictures and

how to sell them. It follows that they are

the best-prepared group to become video

cassette and disc retailers." Auerbach

agreed in a 1984 editorial, stating that "the

rental business is a bit different from the

usual snack bar activity, but hardly an

overwhelming challenge to the theater

employee." Indeed, a few small theaters

presented in the magazine, like Fred

Kaysbier's theater in Ogallala, Nebraska,

or the Village Theater in Knoxville, Iowa,

turned to video sales.

The Window Issue

What also concerned exhibitors was the

matter of theatrical exclusivity windows.

Talks about windows went back to the

birth of TV, but the '80s was the decade

that saw the issue become much more

prevalent in the magazine's coverage. The

editorial line was clear. "Exhibition must

battle to preserve its place as the first-run

outlet for product from Hollywood," wrote

Auerbach in November 1980, following

an unofficial NATO convention in New

Orleans dedicated to the topic. Auerbach

was especially concerned by the evershrinking

window between theatrical

releases and cassette releases, noting that

some videocassettes were released while

films were still in theaters. That was not

only true for smaller films but for bigger

box office successes like Purple Rain,

which became available on tape only six

months after its initial theatrical release.

"What became of the unwritten rule

of a one-year window (now ostensibly

six months but, in reality, four-or-less

months) on film to videotape transfers?"

asked editor Harley W. Lond in December

1984. He noted that distributors,

benefiting from word of mouth from

theatrical releases, were eager to shorten

the windows further. Subsequent-run

theaters were hit the hardest. Auerbach

wrote, in May 1984, that "a reasonable

'window' between theatrical and cassette

release would at least help the firstrun

houses, although sub-run theaters

would still have a tougher row to hoe."

The observation was echoed by George

Kerasotes, president of Kerasotes Theaters,

who in 1981 declared, "I don't think

there'll be subsequent-run theaters—

neighborhood houses that run pictures

for a long time—because that market is

rapidly being absorbed by cable TV people,

cassettes, disks, whatever is coming out."

Movie Palaces and Megaplexes

In the aforementioned editorial, Harley W.

Lond urged exhibitors to unite and put

pressure on their suppliers while also

increasing their investments in stateof-the-art

technology to provide "a

form of entertainment that can't be

matched anywhere else." He underlined

a widespread criticism of the exhibition

industry. Despite all the novel technological

threats to be found in the home video

market, the biggest threat for some

exhibitors was exhibitors themselves.

"Badly maintained theaters with poor

acoustics, dim screens, scruffy decor, and

butchered prints will do more to keep

potential ticket buyers away than any of

the electronic marvels now on the market,"

reported Boxoffice Pro after a 1981 NATO

convention in Las Vegas. The shopping

center multiplex model was already starting

to feel lackluster and antiquated. "The

multiplex has become the Japanese car of

the movie theaters—compact, efficient, and

often lacking in individual style," wrote

Tom Matthews, managing editor, in 1989.

The movies needed to bring their

magic back. Jack Valenti put it simply in

Centennial 2021

85

62-106_CIE.indd 85 24/11/2021 15:02
---
CENTENNIAL A CENTURY IN EXHIBITION

1986: "Theater box office and the magic

of the movies in the marketplace are

irretrievably linked together. One goes

down as the other diminishes. One goes up

as the other shines." A new type of theater

was to bring back the magic: the megaplex.

Giant modern theater complexes began

overtaking smaller multiplexes after the

mid-'80s, with Kinepolis Brussels opening

the world's first megaplex with 25 screens

in Belgium in 1988.

The path toward the megaplex era

is well documented in Boxoffice Pro.

That history cannot be told without the

Canadian Cineplex Odeon Group and its

president and founder, Garth Drabinsky.

Drabinsky and Nathan A. Taylor founded

Cineplex Odeon in 1979. By the end of

the decade, according to the magazine's

new Giants of Exhibition list, it had

become North America's fourth-largest

circuit, with more than 1,500 screens in

the U.S. and Canada. Megaplexes were

often located in malls—epitomized by

the 1,000-seat Cineplex Beverly Center in

Los Angeles—but a new trend of standalone

buildings with multiple amenities

was becoming more and more prevalent.

For example, Cineplex Odeon's flagship

location in Universal City, located next

to Universal Studios and its theme

park, was built in 1987 with 18 screens

and 6,000 seats for $16.5 million. In a

speech at a NATO convention in 1988,

Drabinksy highlighted the rationale

behind the megaplex. He stressed "the

urgent necessity of formulating the

most felicitous motion picture viewing

ambiance that the present technology and

the most creative architectural designs

will permit."

The megaplexes were meant to offer

a luxurious experience to moviegoers.

They were often inspired by the movie

palaces of yore, and those classic theaters'

visionary architects—like Samuel "Roxy"

Rothafel, Thomas Lamb, and the Rapps—

were often referenced in megaplex profiles.

"Lobbies and auditoriums are leaning more

towards palatial furnishings rather than

the shopping centers crackerbox floor

plans of yesteryear," wrote Dan Harkins in

1987. This state of mind perhaps explains

why so many pages of Boxoffice Pro

in the '80s were dedicated to profiles of

restored movie palaces. The megaplexes

were also designed to optimize the

patron's viewing and comfort, which

meant that Dolby Stereo surround systems

and the Lucasfilm THX sound system

were a must. To help exhibitors navigate

the countless innovations and new terms,

the magazine's Modern Theater section

"Badly maintained theaters

with poor acoustics, dim

screens, scruffy decor, and

butchered prints will do

more to keep potential ticket

buyers away than any of the

electronic marvels now on

the market."

ramped up its coverage on sound, at a rate

comparable to the 1920s when sound was

first introduced.

The whole idea behind megaplexes

and the fight against home entertainment

was to make moviegoing an "experience."

Concessions became an integral part

of that strategy, as many theaters

expanded their menus to offer more

specialty concessions, like beer and

wine, larger sizes (32-oz. sodas were

dwarfed by 45 and 60-oz. cups), and

combos. Merchandising tie-ins started

booming. The Star Wars licensing and

merchandising success made exhibitors

jump on the bandwagon, and many

started selling licensed T-shirts, posters,

records, videocassettes, toys, and other

paraphernalia at the concessions stand.

Exhibitors hoped to increase their profits

and translate the "buzz" of satisfied

moviegoers into impulse buys once the

movie was over. This was especially

the case with children's movies. As one

exhibitor put it in 1988, "We've sold a lot

of Roger Rabbit pins at our theaters. But

we tried to merchandise Rambo and just

didn't have any luck." Inspired by the

fast-food industry, Coca-Cola, which had

bought Columbia Pictures in 1982, was a

pioneer in that strategy and put in place

multiple promotional tie-ins on reusable

cups and popcorn buckets. "The more hot

properties developed for the screen, the

better. All the promotion and all the hype

on only one hot picture a year will cause

the theater industry to go painfully soft,"

explained Herbert Arnold, V.P. of Coca-

Cola USA in a 1980 interview.

86 Centennial 2021

62-106_CIE.indd 86 23/11/2021 17:55
---
Pioneering the Computer Age

In 1989, Coca-Cola introduced its self-serve,

walk-through concession stand, which

was manufactured by Cretors, the inventor

of the popcorn machine. Coca-Cola was

bringing to concessions one of the most

important developments in the exhibition

industry: automation. While articles on

automation had occasionally been featured

in Boxoffice Pro since the 1950s, modern

automation as we know it today took off

in the '80s. "There's nothing romantic

about a ticket machine. [...] But automation

has hit the box office, and theaters that

don't modernize their operations will

suffer," warned Auerbach in June 1981.

To help exhibitors understand the new

technological tools at their disposal, a

Computers special section was introduced

in the Modern Theater section in the 1980s,

discussing benefits, usage, costs, and

products associated with computers.

Automated ticketing systems, such as

Omniterm, Dataticket, and Movie/Master,

were often advertised and explained in

the magazine. The ability to print tickets

faster and provide all the information

necessary to the moviegoer on the ticket

while also keeping track of sales was a

tremendous innovation for exhibitors.

These systems also allowed customers to

reserve tickets earlier by phone and to pay

with major credit cards. More and more

software products, such as Theatron All in

One, became integrated with concession

sales, programming, bookkeeping, and

even booth and auditorium management.

The '80s also saw the development

of online databases meant to manage

releases and marketing material. Two

of the database services profiled in

Boxoffice Pro were Baseline, which

gave access to weekend box office reports

and information on upcoming movies,

and Cinemascore, which provided

demographic data on opening-night

audiences. In December 1988, the

magazine decided to extend its services

to the digital space with Boxoffice OnLine,

a computer service meant to provide

exhibitors with vital information—like

teasers, trailers, and changing release

dates—more quickly than it could be

delivered in print.

Computers also became an integral

part of an effort to systematically use

data to understand consumer behavior

and tastes. One contributor summed

up the need for more research on the

moviegoer's motivations to watch a

movie within such a fragmented media

landscape. "Today's film patrons don't

go to the movies, they go to a movie,"

he wrote, arguing that predictions and

data were more necessary than ever.

Software like Entertainment Data and

Market Relay Systems was developed to

predict which films would be hits, thus

helping exhibitors guide scheduling. To

quote Tom Matthews, managing editor

in September 1989, with more money at

stake than ever before for both studios

and exhibitors, "the motion picture

industry [had] become a numbers game."

By the end of the decade, the industry

was optimistic. At the NATO/ShoWest

1989 Convention, NATO president William

Kartozian cited a 20-year upward trend in

both screens and revenues—the former

increasing from 13,000 to 24,000 venues,

an 80 percent increase, and the latter

rising from $1.2 billion in annual grosses to

$4.4 billion, a 27 percent increase. In this

context, the trends adopted in the '80s—

from IP-based event films to moviegoing

as an experience, vertical integration, and

automation—were to become the bedrock

of the industry for subsequent decades.

Centennial 2021

87

62-106_CIE.indd 87 23/11/2021 17:55
---
CENTENNIAL A CENTURY IN EXHIBITION

1990S

GLOBALIZATION AND CYBERSPACE

As the exhibition

industry entered the

last decade of the 20th

century, the outlook

was gloomy. Even the

record year of 1990—

with a domestic total of

$5.02B—was not enough

to assuage the fears of industry pundits

who warned that a recession was looming.

They cautioned exhibitors that several

factors, including high ticket prices, home

video, aging Baby Boomers and the ascent

of a new generation who had grown up

with home entertainment, as well as an

oversaturation of screens, painted a bleak

picture for the exhibition industry.

The economy plunged into a recession

in July 1990, taking the box office with

it. There was, however, still reason for

optimism. The end of the Cold War

ushered in the era of the American

superpower, bringing the promise of a

liberal world order to the cinema industry.

This new geopolitical context accelerated

globalization and offered unprecedented

opportunities for the expansion of

American theater circuits abroad at a time

when the domestic market was tapped

out. The enthusiasm for international

expansion was matched by the excitement

generated by an entirely new kind

of frontier: cyberspace. The surge in

telecommunication innovation and new

technologies in the 1990s would be a

boon for some—yet an existential threat

for others. In any case, it prompted the

industry to innovate and reinvent itself for

the digital age of the new millennium.

'The World Is Watching'

"When pundits and cultural historians

look back on the 1990s, the globalization

of the world economy will likely be the

defining story of the decade," wrote

Boxoffice Pro editor Ray Greene in

July 1996. Greene was right. Not only

has globalization shaped the world as

we know it today, but this new global

interconnectedness—documented by

Boxoffice Pro and Greene himself—

pushed American exhibition abroad

while raising new questions about

American cinema's financial and cultural

role in the world.

By 1991, Hollywood was already

experiencing the impact of globalization

at home. Four out of the seven majors

had fallen into foreign hands: MGM/

UA was now owned by the French Pathé

Communications, Columbia TriStar by

the Japanese giant Sony, 20th Century

Fox by Rupert Murdoch's News Corp

Australia, and Matsushita Electric had

just clinched a deal worth $6.59 billion to

acquire MCA/Universal. But this sense of

"foreign invasion" began to abate after the

collapse of the USSR, and the proliferation

of free-trade agreements brought new

opportunities in previously impenetrable

markets. Soon, Boxoffice Pro developed

its coverage of foreign markets with an

International Reports section, countryspecific

columns, and special issues on

CinemaExpo in Europe, the Australian

Movie Convention, and CineAsia. Greene,

welcoming the launch of the first CineAsia

in January 1995, lauded these global trade

shows for revealing "that we all share a

human face by celebrating what we share

and providing an interpersonal conduit

for educating each other about the things

we do not."

Trade shows were significant spaces

for global intercultural exchanges. NATO/

ShoWest, the amalgam of the annual

conventions of NATO and ShoWest

since 1988, emerged both as a forum to

debate how exhibitors would adapt to a

globalized world and as a driving force for

international expansion. The slogan for

the 1991 NATO/ShoWest trade show, "The

World is Watching," encapsulated the

industry's new preoccupations. William

Kartozian, NATO's president, introduced

international audiences to the convention

with "A Global Welcome," while NATO

executive director Mary Ann Grasso wrote,

"Wilkommen, Bienvenue, Welcome!" It

was the first convention chiefly focused

on the international economy, featuring

numerous presentations and seminars

on international exhibition, distribution,

and marketing. A few months earlier, in

November 1990, NATO had launched

an International Exhibition Committee

to help facilitate American investments

abroad. Soon, North American exhibitors

were popping up all over Europe, South

America, and Southeast Asia, while the

African and Middle Eastern markets

remained sidelined. Cineplex, for instance,

expanded to Eastern Europe and South

America, while UA expanded to Singapore

in 1994 following the 1985 introduction of

its first Asian multiplex in Hong Kong.

The signing of the North American

Free Trade Agreement (NAFTA) in 1994

and the 1993 deregulation of the Mexican

film market, which lifted caps on ticket

prices and dropped quota requirements

for Mexican films from 50 percent to

just 10 percent by 1997, put Mexico at the

center of the American expansion strategy.

According to a Boxoffice Pro report

"You can expect to meet

resistance in almost every

market you go to, and in

some places, it's just flat-out

against the law for anyone

from outside the country to

be involved in exhibition."

88 Centennial 2021

62-106_CIE.indd 88 23/11/2021 17:55
---
from February 1994, AMC had "retained

a real estate agent in Mexico to hunt up

potential AMC sites there." The Mexican

market seemed particularly favorable, as

Mexican cinemas, all previously owned

and/or regulated by the government, were

not in the way "of modern competition"

for American firms. Cinemark de Mexico

president Ken Higgins echoed the

argument, claiming that "Mexico is where

the U.S. was 30 years ago, with little single

theaters and twins," and that it boasted

the second most avid moviegoers in the

world after China. While local players

like Cinemex began to rise, American

exhibitors were quick to rival them.

Cinemark, which had opened its first

Latin American theater in the Chilean

capital of Santiago in 1993, opened four

theaters in Mexico right after NAFTA was

signed. By 1997, Cinemark was on track

to become the second-largest circuit

in the world, with locations in the U.S.,

Canada, Mexico, Central America, Peru,

Chile, Argentina, and Brazil, where the

first multiplex with Cinemark's signature

stadium seating opened in July 1997.

Cinemark International also announced

a partnership with the second-largest

Japanese circuit, Shochiku Co., to build

100 screens in Japan by the year 2000.

This expansion was driven by one

mission: to bring innovative multiplexes

to underscreened markets. Tim Warner,

president of Cinemark International,

summarized this in a May 1997 interview:

"The thing we're going to primarily bring

is the state-of-the-art multiplex theater to

Japan. Right now, they have something

like one screen for every hundred and

some thousand people—as compared

to the U.S. which is about one screen for

every 10,000 people—and yet it's still one

of the primary markets outside of the U.S.

for U.S. films from a dollar standpoint."

But, he continued, "The potential of the

marketplace, or the risk versus rewards,

are very high because most of the markets

that we are going in are very, very much

underscreened."

Building global multiplex empires

was not devoid of challenges. Exhibitors

needed to change their corporate culture

to fit into global companies as well as

navigate local laws, economic regulations,

and cultural attitudes toward cinema.

Although the megaplex boom was taking

off in Europe, particularly in the U.K. and

Scandinavian countries, the Old Continent

emerged as a particularly abstruse market.

"You can expect to meet resistance in

almost every market you go to, and in

some places, it's just flat-out against the

law for anyone from outside the country

to be involved in exhibition," decried AMC

International president David Seal in an

interview in July 1994. Seal proposed

circumventing working with local theater

operators altogether, favoring instead

partnerships with financial institutions

and investors.

The last-minute failure in 1993 to

incorporate films and other intellectual

properties in the General Agreement

on Tariffs and Trade (GATT), the most

sweeping free-trade agreement until that

point, further hampered the expansion

of American audiovisual firms in Europe.

There was a pervasive fear that these trade

barriers in conjunction with the cultural

policies of the European Economic

Community, which was gearing up for

a deepened integration and expansion

after the reunification of Germany, would

crowd U.S. product off European screens.

Jack Valenti, the MPAA (now MPA) chief

who spearheaded the GATT talks on the

cinema industry and, in the words of

Greene, "emerged as perhaps the U.S.'s

most eloquent spokesman for open global

markets," spoke to Boxoffice Pro in

February 1994. "It was absurd—it was

a joke. At 3 o'clock in the morning, it

occurred to me like an epiphany that these

people never wanted to negotiate. … I'm

sad and disappointed that after seven

years we couldn't come to some sane

conclusions."

Indeed, the lowering of trade barriers

for cinema was a contentious topic for

many Europeans, particularly the French,

who wished to protect their cultural

identity from a perceived American

imperialism. Reporting from Amsterdam

at the CinemaExpo convention in August

1999, senior editor Francesca Dinglasan

noted that "it was apparent that the

continent's individual countries remain

fiercely proud of their own national and

cultural identities." Greene weighed in on

the debate frequently, offering a qualified

view on American cultural imperialism

and arguing that the U.S. had a lot to

learn from foreign markets. "It might

be interesting to speculate about the

invigorating effects of a sort of inverse

cultural imperialism—in which the often

Centennial 2021

89

62-106_CIE.indd 89 23/11/2021 17:55
---
CENTENNIAL A CENTURY IN EXHIBITION

more humane and humanistic messages

celebrated in foreign product begin to

influence American movies—might have

on Hollywood," he wrote in July 1995.

In 1996, he added: "To Americans the

notion that U.S. movies could be perceived

a threat to the intellectual life of other

societies seems inexplicable since so

few U.S. movies aspire to do more than

entertain (…) but there is a certain truth

to the 'cultural imperialism' arguments

in the sense that even the most seemingly

mindless American action film often

deals in attitudes (about violence as a

rite of passage, about the heroism of the

common individual), which are American

preoccupations, if only at the level of

cliché. American cultural hegemony is

rapidly becoming obsolete because of

the commercial importance of foreign

attitudes on the bottom line." The

imperative to please a foreign audience

was inevitable for Greene, because, just a

year earlier, American movies had grossed

more in foreign lands than in the U.S for

the first time in the history of Hollywood.

Megacircuits Rising

The international momentum was not

only a consequence of a propitious global

context. It was also a response to a very

real domestic problem. The overscreening

of America, due to the megaplex fever that

started in the 1980s, led to an unrelenting

hunt for foreign moviegoers. It was also

a catalyst for the consolidation of the

exhibition industry at home. The case

of Ontario, California, where two major

megaplexes were built across from one

another and 54 screens existed within

700 square feet, served as a reminder of

the nonviability of the current situation.

"Thou Shalt not Ontario one another,"

proclaimed NATO's Kartozian.

"'Grow or die' still seems to be the

philosophy of the megaplex exhibitors;

with new construction destined to

become an increasingly less viable option

for expansion in the years ahead, the

acquisition of already existing circuits

has emerged as exhibition's next big

thing," explained Greene in the Giants of

Exhibition issue of January 1998. Cineplex

Odeon and Cinemark had announced a

merger in 1995. Had the deal materialized,

the new company would have formed the

largest North American circuit, with 2,839

screens. The announcement became a

starting pistol for a trend of mergers and

consolidations. 1997 was undoubtedly the

year of the mergers: Carmike purchased

the 195-screen First International

Theatres. Regal proceeded to buy out

the 95-screen Magic Cinemas chain and

acquired the massive 643-screen Cobb

Theatres, pushing Regal's screen count

past the 2,000 mark. Sony-owned Loews,

meanwhile, merged with Cineplex Odeon

to create the largest exhibition chain in

history. In 1998, Regal was sold for $1.5

billion to two investment companies—

Hicks, Muse, Tate & Furst, and Kohlberg

Kravis Roberts & Co.—which combined

it with the UA Theatre Group and Act III

Theatres, creating another exhibition

behemoth.

The studios were also moving forward

with megamergers. In 1994, Sumner

Redstone's Viacom bought Paramount

Communications for $9.85 billion. In

1995, the Walt Disney Co. announced

plans to buy Capital Cities/ABC for

$19 billion, making Disney the largest

entertainment company in the world. The

following year, Time Warner and Turner

Broadcasting System merged in a $7.3

billion deal, creating the world's largest

communication company. The decade

ended with the creation of the secondlargest

media company with Viacom's

acquisition of the CBS Corporation for

$37.3 billion.

Ray Greene warned against the dangers

of this anticompetitive consolidation.

He feared that an ever-smaller number

of megacircuits would exercise an

unprecedented amount of control over

what American audiences would watch. In

January 1998, the editor wrote, "There is

as yet no reason to view this development

as anything other than virtue rewarded,

the upside for a handful of visionaries who

are reinventing the history of exhibition

in our time. But big companies can also

represent big targets, as Microsoft's

ongoing antitrust difficulties clearly

demonstrate. The bad old days of the

consent decree will almost surely never

return but that doesn't mean exhibition

can't learn from its history in a time where

megacircuits for which there has been

no pre-existing precedent start to define

themselves and take shape." Greene's

fears were surely justified. Yet the 1990s

also saw growth for independent circuits

like Landmark Theatres and Laemmle

Theatres, coinciding with the boom

90 Centennial 2021

62-106_CIE.indd 90 23/11/2021 17:55
---
of independent films. Companies like

Miramax, bought by Disney in 1993 for $80

million, New Line, and October Films—

plus Sundance directors like Quentin

Tarantino and Steven Soderbergh—

reinvigorated independent films and their

theatrical consumption. "Independents,"

wrote Greene in August 1994, "continue

to survive and even thrive by doing what

they've always done—offering alternatives

to mainstream sensibilities in which the

majors specialize."

Interactivity and the 'Information

Superhighway'

The hypercompetitive landscape of the

American market pushed theaters to

innovate. American companies began

creating immense urban screening

environments capable of handling a wide

range of films in release at any given

moment under a single roof. But the

megaplex of the 1990s was not merely

a movie theater: It strived to be a total

entertainment complex. Special formats

were sought after for their impressive

effects and potential to explore new

narratives. After Sony Theatres' giant

flagship in Manhattan's Lincoln Square

became the first major circuit in North

America to house an Imax venue, Imax

rapidly moved into conventional

exhibition. More and more exhibitors

capitalized on the convergence between

film and new entertainment technologies

to create "family entertainment centers"

aimed at providing innovative, interactive,

multimedia experiences to their patrons.

United Artists had its "Starports,"

Regal its "Funscapes," Carmike its

"Hollywood Connection," and Cineplex its

"Cinescapes."

One such multimedia product

appeared in the winter of 1992 in select

Loews locations in Los Angeles and

New York. The "interfilm" I'm Your Man,

which ran for 20 minutes, gave audiences

the capability to select plot twists and

pick the characters' next moves. In 1994,

AMC installed the interactive Interfilm

technology exhibition system in some of

its auditoriums. Loews partnered with ITT

Systems Corp. to exhibit games in 10 of its

multiplexes, and Cineplex teamed with

Sega, DreamWorks, and MCA for its own

entertainment center in 1996. Studios, too,

got in on the action. By 1995, Time Warner,

Sony, and Viacom/Paramount boasted

interactive divisions, with Disney jumping

on the bandwagon that same year.

The studios capitalized on their I.P.s

with film-based video games or CD-ROMs

that complemented individual movies.

That strategy paired especially well with

the exponential growth of animation

prompted by Disney, Pixar, and the

undeniable amelioration of computer

graphics. In 1993, Disney's Aladdin

became the first animated feature in

history to earn more than $200 million

at the U.S. box office. The successes of

The Lion King and later Pixar's Toy Story

validated the studios' investments in

interactive I.P.s. For instance, Disney's

animated storybook of The Lion King,

which compressed the story of the film

and offered additional material, animated

characters, narration, and search options,

sold successfully for $39.95 apiece. Yet,

Boxoffice Pro was rather skeptical about

the marriage of CD-ROMs and moviegoing,

pointing to the flops of game-based

movies like Mortal Kombat and Super

Mario Bros.

Lobbies, seen as perfect locations

for cross-marketing due to their heavy

foot traffic, also underwent significant

revamps. The theater lobby needed

to expand far beyond its old identity

as a place for concession stands with

menu boards that just displayed pricing

information. "We propose entertainment

be brought out of the theater and into

the lobby," argued Cineplex Odeon's

manager of design and construction,

Dana Kalczak, who supported showing

trailers and other marketing material on

HDTVs in theater lobbies. One critical

"The bad old days of the

consent decree will almost

surely never return but that

doesn't mean exhibition

can't learn from its history in

a time where megacircuits

for which there has been no

pre-existing precedent start

to define themselves and

take shape."

ACADEMY

AWARDS FOR

BEST PICTURE

DANCES WITH

WOLVES

1990

THE SILENCE OF THE

LAMBS

1991

UNFORGIVEN

1992

SCHINDLER'S LIST

1993

FORREST GUMP

1994

BRAVEHEART

1995

THE ENGLISH

PATIENT

1996

TITANIC

1997

SHAKESPEARE IN

LOVE

1998

AMERICAN BEAUTY

1999

Centennial 2021

91

62-106_CIE.indd 91 23/11/2021 17:55
---
CENTENNIAL A CENTURY IN EXHIBITION

innovation, developed by companies

such as EIMS, ETM, Vast, and RDS Data

Group, was the introduction of interactive

POS kiosks that displayed information

about current and upcoming films and

discounts and allowed ticket sales to take

place outside the typical box office stand.

One example written about in Boxoffice

Pro with great enthusiasm, despite its

numerous glitches, was the installation

of the first Cinetouch kiosks in Cineplex

Odeon theaters in Toronto in March 1995.

"It's called Cinetouch, and it's going to

revolutionize the way moviegoers choose

movies," wrote the magazine's Canadian

correspondent, Shlomo Schwartzberg.

Throughout the decade, no other

technological development garnered

as much curiosity as the internet. In

November 1994, a Boxoffice Pro writer

defined this elusive new technology. "The

internet comprises more than 20,000

computer networks in 150 countries and

has over 25 million users worldwide. The

internet provides information in both

an exclusively text-based format and

in a multimedia format," he wrote. As

it became increasingly clear that the

trend was here to stay, understanding

the internet became a central mission for

the magazine. In an editorial in October

1995, Greene elaborated: "We've made

informing you about developments on the

'information superhighway' a part of our

mandate, not because we're particularly

obsessed with this stuff (like many of our

readers, we view the 'brave new world' of

'cyberspace' with what we consider to be a

certain healthy skepticism) but because—

whatever their current status—many

of the new 'leading-edge' information

transmission technologies may eventually

have a direct effect on the way exhibition

conducts business." One of these effects

was the emergence of e-commerce. A

growing number of profiles of and ads

for companies like Moviefone showed

that virtual teleticketing and the ability

to book tickets online 24/7 was beginning

to intrigue exhibitors. "Patrons like

it because there's no fuss—just a site

and a few keystrokes. Exhibitors like it

because it extends their box office into

the multi-ticketing arena, affording

greater coverage and helping translate a

cinemagoing impulse into a final ticketsales

transaction," noted one writer in

November 1999.

Exhibitors also realized the importance

of the internet in finding information

about movies and theaters before

one's visit. Several theater owners and

managers reported that they received

incessant requests from patrons that they

set up websites. Contributor Christine

James wrote in February 1997, "More

and more, modern-day moviegoers are

turning on their computers and seeking

out that ubiquitous https:// prefix to find

the information that they need to decide

where and when they're going to see the

latest Hollywood blockbusters." In 1997,

NATO initiated an ambitious plan to

take all of exhibition into the Digital Age.

Through an alliance with Times Mirror

Company, NATO set up "Hollywood

Online," a website providing information

on films and individual theater locations,

including what was playing on which

screen, cinema maps, and details on

sound systems and accessibility. The

"Like many of our readers, we

view the 'brave new world'

of 'cyberspace' with what

we consider to be a certain

healthy skepticism."

startling success of 1999's The Blair Witch

Project, whose marketing was virtually

limited to its website, crystallized the

need to employ internet-based marketing.

It also foreshadowed the democratization

of video production and distribution

as we know it today, while launching

rudimentary "netcasters" (the ancestors

of streaming) like Broadcast.com,

Entertainer.com, and CinemaNow.

Shrinking Windows in a Fast-Paced

World

The internet caused a wider cultural shift,

one that Boxoffice Pro readers will

surely relate to today. Already in the 1990s,

the internet began to accelerate the pace

of an increasingly fast, interconnected

world and instilled, as some writers

noted, a sense of disconnection from the

"real world." This changed the way many

exhibitors thought about the societal

role of cinema. Rusty Gordon, a theater

operator in Tennessee, wrote an opinion

piece in July 1996 in which he stated that

"it's a fast-paced world we live in—instant

this, overnight that. But movies are

special. People leave their homes, faxes,

and phones to forget their troubles for a

couple of hours at the movies. And that's

something you can't do on television."

Director James Cameron delivered an

impassioned plea to "keep showmanship

alive in our hearts" as he accepted his

1995 NATO/ShoWest Producer of the

Year Award. He implored exhibitors to

"embrace the future, while remembering

the real source of our energy: the images

flickering on those screens, those big

screens, in dark rooms, across the planet"

at a time when "the world is speeding up

logarithmically, and we are bombarded by

a million shiny new ideas [... while] surfing

fast and wobbly across a liquid landscape

of new media, new delivery systems,

whole new forms of entertainment made

possible by the digital revolution."

In a fast-paced world, cinemas offered

a short, magical, breathing spell. The

advent of new technologies and a societal

view of theaters contributed to reframing

the debate on theatrical exclusivity.

William Kartozian insisted in April 1997

that a minimum six-month window

would be necessary if exhibition were

to remain healthy. The Boxoffice Pro

team suggested a two-month extension

for the bigger titles to ensure second-run

theaters would have a fair chance. The

92 Centennial 2021

62-106_CIE.indd 92 23/11/2021 17:55
---
internet, online piracy, HDTV, cassettes,

and DVDs, Boxoffice Pro argued, were

not just threatening the livelihood of

theater owners by shortening the length of

exclusive windows. As the pleas of theater

owners like Rusty Gordon made clear, they

were also assailing the sanctity of movie

theaters as guards against the alienation

and rush of the interconnected age. The

issue of windows also became linked to

the preservation of film as an art form and

a technology. In April 1997, Greene was

calling filmmaker/producers like Steven

Spielberg and George Lucas to support

the idea of six-month windows even if it

hurt their bottom line. "The shortening

of video release window doesn't just

cheat exhibitors. It cheats moviegoers,

filmmakers, and everyone involved with

every step in the process. It seems like a

no-brainer to expect that the same leading

figures on the film production side who

stand against the panning and scanning

of widescreen film prints […] would

get behind the concept of a six-month

exhibition window," he argued.

It seemed that for Greene, the issue

of windows was tied to the preservation

of film against a new threat: digital

projection. By the mid-1990s, digital

sound was already advancing fast, thanks

to the work of pioneering companies like

Dolby, Optical Radiation Corporation,

and Eastman Kodak. The rapidity of

innovation was such that the death of

the analog soundtrack (even if rejected

by Boxoffice Pro and its contributing

specialists) was speculated as early as

1996. As analog sound was increasingly

questioned, so was film. Many alternatives

to 35 mm film were beginning to

rival traditional formats. MaxiVision

48, touted for being far brighter, less

wasteful, and more inexpensive, or CDP,

a format eliminating the separations

between frames without compromising

the size or integrity of the image, were

such examples. These ideas, however,

never received the attention that the

most controversial alternative, digital

projection, would get. As would become

clear in the first decade of the new

millennium, no technology since the

introduction of sound in the 1920s would

engender as much controversy as digital

projection.

2000S

FROM BANKRUPTCIES TO A DOUBLE REVOLUTION

he new millennium

marked nothing short of a

historic turning point for

the exhibition business.

Even though exhibition

survived Y2K unscathed,

its own reckless spending

on megaplexes and

overbuilding in the 1990s resulted in a

series of bankruptcies that cast serious

doubts on the industry's future.

But perseverance and resilience, even

during the Great Recession of 2008,

proved doomsayers wrong. Exhibitors

rebounded and confronted the biggest

technological revolution since the advent

of sound: digital cinema. The revolution

was long and full of turmoil, as technical

standards and fair financing for this

costly investment became the object of

intense debates between exhibitors and

studios. During this journey, theater

owners ventured into alternative forms

of content and devised new revenue

channels afforded by digital technologies,

with a special interest in preshow digital

advertising.

The 2000s were also marked by a

strong uptick of interest in another

revolutionary tool: the internet. Yet as

online ticketing began to reach its full

potential and exhibitors slowly discovered

the power of social media, new digital

platforms and the threats of online piracy

created unprecedented challenges that

continue to rock the industry today.

From Boom to Bust to Boom

The megaplex rush of the 1990s proved

to be a costly mistake for most of the

exhibition industry, driving many theaters

to the verge of extinction. As a result of

overbuilding, a wave of bankruptcies

began in the early 2000s. The fate of

United Artists Theatres, one of the

biggest circuits in the country, was a

scary harbinger: even the exhibition

giants, it was feared, were not immune

to the bankruptcy trend. In February

2000, the circuit reported a net loss of

$25.6 million. By May, the rating agency

Moody's downgraded its public debt while

considering doing so for Regal Cinemas,

Loews Cineplex, and Carmike Cinemas.

Soon after, in September 2000, United

Artists sought Chapter 11 protection from

its creditors. Silver Cinemas, the parent

company of the art house chain Landmark

Theatres, preceded it in May of that year,

while Carmike Cinemas, which faced

$65 million in total debt, and Edward

Theatres filed for bankruptcy in August.

In October, General Cinema did so as well,

abandoning its plans for an art house

venture with Sundance Film Centers.

The shadow of bankruptcy loomed over

even bigger circuits, with many pundits

correctly predicting that Regal Cinemas—

which would file for Chapter 11 in 2001—

was next.

How could an industry that had been

so confident in its megaplex strategy

just a few years before find itself in such

a situation? The problem was simple:

exhibitors had cannibalized themselves.

In the 1990s, theater chains added

screens at a much more rapid pace

than their audiences grew. What small

gains were made came at the expense

of existing theaters, ultimately driving

many smaller operators out of business.

At the same time, the premiumization of

the moviegoing experience associated

with the expensive megaplexes drove

up the expectations of moviegoers, who

then demanded better services. "The

Centennial 2021

93

62-106_CIE.indd 93 23/11/2021 17:55
---
CENTENNIAL A CENTURY IN EXHIBITION

thinking was that bigger was better. Huge

multiplexes were built in areas that could

not support the large number of theaters

being built, and smaller mom-and-pops

didn't close down as expected, leaving too

many screens open," explained analyst

Wade Holden in April 2003.

Kurt Hall, president and CEO of United

Artists Theatre Company, explained in

January 2002 that the industry "created

a new theatre design called the megaplex

that turned out to be a profit eating

machine that put existing healthy theatres

out of business and changed film release

patterns and customer moviegoing habits

before an appropriate change in [the] film

cost structure was developed." Indeed, the

advent of the megaplex coincided with

the practice of "glut booking," where an

extraordinary amount of prints was sent

out to theaters, often paired with a rapid

playoff—films cycling out of theaters

quicker—thus depriving operators of

the larger share of box office revenues

they would typically get later in a film's

run—that was detrimental to the cinema

business model. Hall concluded that

the megaplex altered the perception of

moviegoing itself: "We, our suppliers,

and even our customers began to treat

moviegoing as a commodity, rather than

a special out-of-home entertainment

experience."

Exhibitors faced other challenges that

compounded the overbuilding problem.

Activists and Washington brought

exhibitors to court over their alleged lack

of compliance with the Americans With

Disabilities Act (ADA). In a landmark

ruling, Cinemark's stadium seating

was found to be ADA compliant by the

Supreme Court. Litigation in District

Court between AMC and the Justice

Department over stadium seating ADA

compliance, meanwhile, resulted in a

settlement, with AMC agreeing to spend

millions to retrofit the theaters cited in

the case.

Yet the biggest blow came on

September 11, 2001. Immediately after

the tragedy, some movie theaters in New

York City volunteered to help those in

need. The United Artists' Union Square

theater, for instance, "opened its doors

to all needing a place to rest, something

cool to drink or even an abode for the

night, and in those initial days, the theatre

provided comfort to more than 16,000

people," explained editor Kim Williamson

in November 2001.

The terrorist attacks raised new

questions about the security of movie

theaters. Following 9/11, several theaters

had to be checked for anthrax or reported

bomb threats. Williamson sought to

assuage the anxieties of exhibitors and

moviegoers by reminding them that "it's

not that we're not safe; it's that we're

unsettled, and the situation seems worse

because we are accustomed to calm and

comfort." Regardless, many circuits

ramped up their security procedures as

part of special anti-terrorist measures.

New York City–based Loews Cineplex

Entertainment introduced restrictions

like a ban on backpacks and packages, as

well as searches upon entry. Boxoffice

Pro began a series of special articles on

managing crisis situations and increased

its coverage of international terrorism,

reporting, for example, the bombing

of four Bangladeshi movie theaters in

2003 that resulted in multiple deaths. In

November 2001, NATO launched a safety

and security training tape series on how to

prevent and handle emergencies. Despite

the heated conversation about security

at the time, the debate faded until it was

reignited with more urgency after July

20, 2012, when 12 people lost their lives

in a tragic mass shooting at Cinemark's

Century 16 in Aurora, Colorado.

2002 was a very different story.

Despite a weak economy and a dismal

stock market, exhibition was on its

way to recovery. "The year 2002 was an

extraordinary one for exhibitors," wrote

Wade Holden, looking back from April

2003. Box office returns set a new record

of $9.2 million, and admissions grew 7.4

percent to nearly 1.6 billion, recovering

from the dip they took in 2000 that

landed them at 1.4 billion. The recovery

was boosted in part by a good slate of

"Digital cinema could

revolutionize the business

by transforming the nature

of production, delivery, and

exhibition."

superhero films and sequels/prequels,

including Spider-Man, Star Wars: Episode

II – Attack of the Clones, and The Lord of

the Rings: The Two Towers.

While most exhibitors continued to

close screens, the cash of billionaires

like Philip Anschutz—who led a group

that acquired majority investments

in Regal Cinemas, United Artists

Theatres, and Edwards Cinemas and in

2002 consolidated them to form Regal

Entertainment Group—contributed to

a renaissance. AMC, which managed to

avoid the industry's bankruptcy trend

partly thanks to a $250 million cash

infusion from Leon Black and his Apollo

Management, acquired both General

Cinema and Gulf States Theatres in early

2002 and issued an IPO of $100 million.

Regal Entertainment Group also pulled

off an IPO by putting up 18 million shares

of Class A common stock for $19 per share,

raising $345 million. As Kim Williamson

noted in May 2003, "the clearest sign of

how well things are going is who wants

to play too—not just how well you know

things are going, but how much people

elsewhere see how well things are going,

and want to be part of the scene. As I write

this, Microsoft has pacted with Landmark

to make the biggest digital cinema circuit

to date; names like NBC and Turner are

part of the preshow, and giants like Boeing

and TI are parts of the corps; Krispy Kreme

even wants to sell donuts at Famous

Players."

The Long Road to Digital

The interest of outside players was not

a coincidence. It was linked to what

had seemed like a pipe dream during

the bankruptcy boom but was slowly

becoming a reality: the digital revolution.

In the first years of the decade, the idea of

spending upward of $100,000 to retrofit

just one screen was nothing more than a

fantasy. The beginning of the industry's

financial recovery made that dream just

a little more reachable. Meanwhile, the

major studios had been moving full

steam ahead toward digital since 1999. On

June 18, 1999, Texas Instruments' DLP

Cinema projector technology was publicly

demonstrated in two screens in Los

Angeles and New York City for the release

of Star Wars: Episode I – The Phantom

Menace. Disney also led the way with Toy

Story 2 and Dinosaur. Filmmakers like

Mike Figgis enthusiastically embraced the

94 Centennial 2021

62-106_CIE.indd 94 23/11/2021 17:55
---
technology. In 2002, Star Wars: Episode II

– Attack of the Clones was released digitally

in 17 markets across 94 venues.

On June 6, 2000, digital history was

made. For the first time, a feature film was

transmitted via the internet from a studio

lot in Hollywood to the SuperComm

2000 telecommunications trade show in

Atlanta, Georgia. Cisco Systems, Qwest

Communications, Sigma Design Group,

Barco Digital Projection Systems, and 20th

Century Fox partnered to project Fox's

Titan A.E. "The audience loved it," said

digital cinema market manager for Barco

Wendy Bosley in Boxoffice Pro. "It's a

great atmosphere, and people were just

stunned by the image [and] the quality

that the TI projector was able to screen."

Similar partnerships between studios and

digital manufacturers, such as America

Online and Time Warner and Miramax

and Boeing, flourished.

It was in this context that the Digital

Cinema Initiatives (DCI) was formed in

March 2002. A joint endeavor of Disney,

Fox, MGM, Universal, Paramount, Sony,

and Warner Bros. aimed at developing

a system specification for digital

cinemas, it was to become one of the key

battlegrounds in the digital revolution,

pitting studios against theaters and their

representative, NATO.

In 2000, the fan site TheForce.net

launched a petition encouraging fans to

contact their local cinema managers about

the lack of digital system installations

in most theaters. The petition named

NATO's new president, John Fithian, as

a "major stumbling block" who wasn't

"convinced that digital is worth it." The

petitioners were unaware of the general

state of the exhibition industry, which

explained the small number of digital

screens (just 15 in December 2000) at

the time of the petition's release. They

also ignored the many challenges that

needed to be resolved before exhibitors

could transition to this new technology.

"Digital cinema could revolutionize the

business by transforming the nature of

production, delivery, and exhibition; by

saving distributors hundreds of millions of

dollars annually; and by making it easier

for exhibitors to offer alternative content.

None of this will come easy, however.

Significant issues and challenges confront

the potential transition, not the least of

which is the issue of costs. No one knows

for sure which technology will prevail,

when the transition will occur, nor how it

is going to be financed. Nonetheless, the

transition will come. …" Fithian said at

the National Institute of Standards and

Technology in April 2001.

The digital transition was inevitable.

Already in January 2000, a Boxoffice

Pro survey on the state of the industry

revealed that for all the exhibitors

surveyed, including Bruce J. Olson

of Marcus Theatres, Dan Harkins of

Harkins Theatres, Bob Babgy of B&B

Theatres, and Sheri Redstone of National

Amusements, digital cinema was the

biggest change facing exhibition in the

coming decade. However, the questions

of quality, release strategies, security and

piracy, standards, and most importantly

who would pay for it were far from being

resolved. Boxoffice Pro became a

forum for these often-heated debates, as

theater owners, managers, projectionists,

and technology specialists used the

publication as a tribune. In April 2000, an

exhibitor from Texas wrote a passionate

letter to Boxoffice Pro noting the top

five reasons not to go digital. Another

exhibitor from California responded,

concluding that he would "miss the days

of holding 35 mm in his hand, splicing it

and threading it through projectors, but

the advantages of digital projection make

the moviegoer in [him] very happy."

Image quality was a top concern for

exhibitors. By the beginning of the decade,

it had become almost routine for trade

shows to display side-by-side screen

presentations that juxtaposed images of

digital and 35mm movies. A Boxoffice

Pro contributor noted that at one such

screening at Cine Expo in September 2000,

"a suspicious eye may have noted that in

some cases … a particularly poor print

of the 35 mm half was screened to the

audience, with jump and scratch in the

film markedly notable."

"Personally, I feel like there is no

technology available today that can beat

the quality of a properly projected film

print," wrote a former theater manager

and projectionist in a letter to Boxoffice

Pro in July 2001, echoing a widespread

viewpoint. As the technology progressed,

however, the quality of digital projection

became increasingly equal to or surpassed

that of 35 mm film. Another projectionist

shared his experience in February 2002,

when he watched a digital trailer for

Centennial 2021

95

62-106_CIE.indd 95 24/11/2021 15:03
---
CENTENNIAL A CENTURY IN EXHIBITION

Unbreakable: "As soon as I saw Bruce Willis'

flesh tones, I knew that film was dead as

a projection medium. … George Lucas

was right when he said, 'I love film but

it's a 19th-century invention.'" Exhibitors

were also dreading projection failures

and changing release strategies. "Having

every theatre in the world playing the

exact same titles at the exact same time

takes away from the excitement of going to

the movies and is more akin to television

programming," complained an exhibitor.

NATO was on the front lines of

the digital battle between exhibitors,

distributors, and technology companies.

At the end of 2001, NATO and 20 of its

international counterparts, including

UNIC and the Motion Picture Theatre

Associations of Canada (MPTAC), sent out

a letter addressed to several organizations

working on the standardization of digital

cinema. The goal was to encourage

the development of interoperable yet

competitive products while maintaining

the relatively low cost of existing film

projection systems. The nightmarish

transition to digital sound just a few years

prior, which led to many incompatible

systems competing in the market, could

be even more disastrous because of

the multitude of different components

(encryption, de-encryption, compression,

decompression, servers, projectors, etc.)

necessary for digital projection. To

avoid a monopolized market, standards

needed to be set up for all components to

properly interact with each other.

In February 2004, DCI's long-awaited

technical specifications draft drew

criticism from exhibitors in the U.S. and

Europe. In a strongly worded letter, NATO

criticized the studio consortium for

wanting to weaken security standards

to remove exhibitor control over their

equipment. A widespread fear, for

instance, was that a studio could tamper

with the placement of a film in the

program and darken the auditorium.

NATO issued a resolution in January

2005 that highlighted the demands

of exhibitors: "The exhibitors want a

branded digital cinema experience that

exceeds the quality of 35mm film and

home-entertainment systems. They

also require open and global technical

standards that promote competition

and ensure interoperability. They seek

a system that secures the content yet

maintains the same operational control

that movie theaters yield today. And they

have called for a universal financing plan

that is funded by the Hollywood studios

and allows all exhibitors and studios to

participate."

"George Lucas was right

when he said, 'I love film but

it's a 19th-century invention.'"

Later in 2005, three long years

after its creation and following

interminable negotiations among the

various stockholders, the DCI gathered

representatives of studios, NATO, and the

American Society of Cinematographers