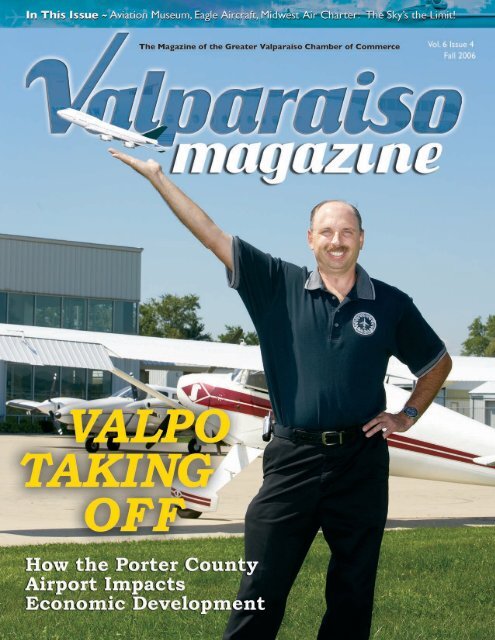 You also want an ePaper? Increase the reach of your titles
YUMPU automatically turns print PDFs into web optimized ePapers that Google loves.
Diet, Exercise, Reduced Stress Levels, Adequate Rest

staying healthy is

heart work

Northwest Indiana Cardiovascular Physicians, P.C. provides quality, affordable, state-of-the-art technology and

personal care that have made us the most trusted and respected cardiologists in the area.

• Clinical Evaluations

• Consultations

• Nuclear Stress Tests

• Echocardiograms

• 24-Hour Holter Monitors • Arterial and Venous Dopplers

• Permanent Pacemakers and Transtelephonic Evaluations

The cardiovascular team of NICP, pictured left to right:

Dr. Wheat, Dr. Forchetti, Dr. Kholoki, Dr. Rao, Dr. Atassi and

Dr. Marchand. Sitting: Dr. Harris, Dr. Linert and Dr. Sehgal.

VALPARAISO | 2000 Roosevelt Rd. | 219-531-9419

Northwest Indiana

Cardiovascular Physicians, P.C.

PORTAGE | 3630 Willowcreek Rd. | 219-364-3062

With other convenient locations in Chesterton, DeMotte and Knox.

TOLL FREE 800-727-6337

www.nwicp.com
---
Valpopourri

Did you know?

The first airfield in Valparaiso was

located at the corner of Calumet Ave.

and Vale Park Rd., and was owned by

Urschel Laboratories, Inc. (This area is

now known as Cumberland Crossing.)

The Magazine of the Greater Valparaiso Chamber of Commerce

Volume 6 Issue 4 Fall 2006

Contents

ON THE COVER: Kyle Kuebler, airport manager

for the Porter County Municipal Airport

▲

Cover photo and photos on this page

by Aran Kessler Photo Imaging

Valpo 4

Taking Off

How the Porter County Airport

Impacts Economic Development

Aviation Museum 6

Offers Visitors a Glimpse of History

Air Charters 8

and Flight Schools

Bring the Sky Within Reach to

Local Travelers

Chamber Focus 11

The Valpo Chamber's

Leadership Development/

Community Engagement

Committee Conducts Leadership

Programs for Valpo Professionals

Chamber 12

Network Night

Business-to-Business Networking

Event on Thursday, Oct. 26

Ask An Expert 18

Expert answers to your

business questions.

What entity choice should I choose

when beginning a new business?

Sections

New Chamber Members 14

Around Town 16

Business Spotlight 21

Our Voice 26

Calendar of Events

www.connecttovalpo.com

FALL 2006

A publication of the Greater Valparaiso Chamber of

Commerce. 162 W. Lincolnway, Valparaiso, IN 46383

Phone (219) 462-1105 Fax (219) 462-5710

gvcc@valparaisochamber.org

www.connecttovalpo.com

www.valparaisochamber.org

GREATER VALPARAISO CHAMBER OF COMMERCE

Rex Richards, President

Amy Page, Senior Vice President, Member Services

Ashli Bowen, Marketing & Communications Specialist

Julie Gaskell, Administrative Assistant

Danielle Oeding, Advertising & Membership Sales

Renee Egan, Bookkeeper

Debbie Pulley, Support Staff

VALPARAISO MAGAZINE

Publisher: The Greater Valparaiso Chamber of Commerce

Design and Production: Griffin Marketing Services, Inc.

Editor: Griffin Marketing Services, Inc.

Printing: Home Mountain Publishing, Inc.

Mailing: Flanagin's Bulk Mail Service

VALPARAISO MAGAZINE is published quarterly by

the Greater Valparaiso Chamber of Commerce, P.O.

Box 330, Valparaiso, IN 46384-0330. To submit

"Around Town" entries, call 219-462-1105 or send

to: gvcc@valparaisochamber.org, Attn: Editor.

For advertising inquiries, call 462-1105.

VALPARAISO MAGAZINE circulates 16,500 copies

per issue by direct mail to all businesses, and, on a

rotating basis, to most households in the 46383,

46384 and 46385 zip codes. Subscriptions may be

purchased at an annual rate of $12, for those

outside our regular circulation.

www.connecttovalpo.com

3
---
When executives at Pratt Industries were considering

places to locate another facility for their

packaging manufacturing business, several

meetings between Pratt and city officials actually took

place in the conference room at the Porter County

Municipal Airport. These negotiations eventually led to

the construction of a corrugating plant near East Point

Centre, and one has to believe that the convenience and

quality of the facilities helped present this community in

a very positive way to Pratt officials.

"We are extremely proud of our terminal and facilities

and the role the airport plays in the economic growth

of this area," explains Kyle Kuebler, airport manager. But

whatever small role the airport may have contributed, it's

only the tip of the iceberg. Kuebler cites a 2003

Economic Impact Study published by the Aviation

Association of Indiana that attributes nearly $23 million

dollars of economic impact for that year. "This amount

represents a factor roughly 25 times the operational budget

of the airport and roughly 50 times that of the levy to

meet the budget."

In fact, according to numerous studies, airport construction

and utilization is among the most significant

economic engines at work in the United States today. The

study cited by Kuebler addresses not only the economic

benefits generated at individual airports throughout the

state of Indiana, but also the economic benefit for the

entire state.

(cont. on page 6)

4 Valpo Magazine Fall 2006
---
▲

▲

Photos by Aran Kessler Photo Imaging

www.connecttovalpo.com 5
---
Valpo Taking Off (cont. from page 4)

The findings reveal that the total annual

impact of direct and indirect airport economic

activity on Indiana's economy is estimated to

be more than $2.8 billion per year. These

expenditures in turn generate an induced

annual impact of more than $1.3 billion. In

addition, transportation cost savings exceeded

more than $455 million, providing a total

annual impact of more than $4.6 billion.

Also, airports mean jobs to communities.

At Indiana airports, more than 18,940 people

are employed, representing more than $478

million in direct wages statewide. Porter

County Municipal Airport board president

Paul Chael also emphasizes the jobs the facility

generates through the people it employs and

those employed by other companies who provide

services for, or at, the airport. "With eight

full-time and two part-time employees plus

nearly 60 other full and part-time employees

who work for other companies located here, it's

important to recognize the financial impact

this provides to the area," he explains. "Also,

we are continually working on facilities and

runways, adding technology and other

improvements which bring in local construction

companies and other contractors and vendors."

With a 7,000 foot runway – longer than

any at Midway Airport – the Porter County

Municipal Airport has come a long way since

its inception in 1949 when residents including

"I don't think most people have any idea of the scope

of activity that takes place here."

a World War II pilot, pulled together a coalition

of business and civic groups to spearhead

a movement to convince the county to pass an

ordinance creating a Department of Aviation.

This led to the construction of an 1800 foot by

50 foot north-south runway, a 2000 foot by

200 foot east-west runway and a modest terminal

which also housed the administration.

Throughout the 60s, 70s and 80s various

other navigational aids, taxiways, hangars and

apron areas were constructed, and continual

improvements and technological upgrades

were implemented. Finally, in 1997, a new

corporate complex/terminal was opened, providing

an impressive

5250 square foot terminal

area comprised of a

plush passenger lobby,

pilot's lounge and rest

area, computerized

flight planning, vending,

restrooms and, of

course, the aforementioned

conference

room. The second

floor provides lease

space for corporate

flight offices. An

18,000 square foot

hangar offers accommodations for large business

jets for owners based in the area as well as

for transient users. All-in-all the airport occupies

718 acres.

"Considering all of our recent improvements,

the airport has positioned itself as the

full service airport of choice when traveling to

and from Northwest Indiana," Kuebler says.

"We have the most up-to-date technology and

systems and a staff dedicated to customer satisfaction."

The first glimpse Bob Swinehart, president

and chief operating officer of Emerson

Power Transmission, had of Valparaiso was

6 Valpo Magazine Fall 2006
---
Jim Read was having the time of his life

when suddenly things went wrong. Very

wrong. It was July 4, 1998 and he was putting

his new toy – a vintage 1947 Corsair

warbird aircraft – through a series of loops

and belly rolls. The plane had recently

arrived in Rockford, Illinois from its previous

home in England where he had bought it

almost a year previously. This was Read's

first flight in the aircraft the Japanese in

World War II had nicknamed "Whistling

Death" because of the distinctive sound of its

engines. But on this day, it almost lived up

to that name for Read and his cockpit companion

Don Keller.

"It flew very easily and was quite nimble

for a big airplane," he explains. "I rolled it

upside down, came through a hole in the

deck (clouds), and the engine backfired so

loudly I thought it would fall out!" After

much wrestling with the controls and an

emergency call to a nearby airfield in

Freeport, Read brought the aircraft back to

earth – on its wheels – and instead of

"I rolled it upside down,

came through a hole in

the deck (clouds), and

the engine backfired so

loudly I thought it

would fall out!"

– Jim Read

becoming history, Read's magnificent aircraft

(not to mention the pilot himself) is preserved

for history at the Indiana Aviation

Museum at the Porter County Municipal

Airport.

Today the Corsair is one of the focal

points of a unique and intriguing collection

of 11 vintage aircraft housed in a hangar at

the east end of the Airport. And, like each of

the other planes in the group, it still flies.

Included in the museum are a P-51D

Mustang, F4U5N Corsair, T-28 Trojan, AT-

6G Texan, P-17 Stearman, L-2 Grasshopper,

A-37A Dragonfly, T-34B Mentor, and DHC

1 MK 22 Dehavilland Chipmunk.

Creation of the museum was the direct

result of the curiosity it aroused in visitors to

the airport. "When we would open the

hangar up to work on the airplanes, people

would stop and come in just to watch," Read

explained. "They would ask a lot of questions

and got us to thinking that (a museum)

might be an asset to the airport and the

community."

He filed for nonprofit status for the

concept and the rest, as they say, is history.

The airport is open to the public 10-4 on

weekends.

Read and several of his pilot friends still

take to the air in the remarkable machines,

and can be frequently seen flying in formation

over the communities of Porter County.

"It's a lot of fun," Read says.

– Mark Taylor, board vice president,

Porter County Municipal Airport

from the runway at the Porter County

Municipal Airport in the early 90s. "An

Emerson plane picked me up in St. Louis and

dropped me off here," he explains. "At the

time, the terminal was not a very impressive

structure, but this new facility holds its own

with any small airport in the country."

Executives from Emerson fly in and out of

Valpo several times a month, according to

Swinehart, and having a convenient airport is

critical to his company's success. "We have

plants and offices in places where there are no

direct commercial flights," he says. "When

you can either spend five or six hours driving

to Kentucky or fly there in one hour and be

back the same day, the decision is really not difficult

to make."

"I don't think most people have any idea

of the scope of activity that takes place here,"

airport board vice president Mark Taylor says.

With 35-40,000 operations per year, the Porter

County Municipal Airport is among the

busiest in Indiana. It is also in the top two in

the number of aircraft based there. "This is a

prime example of what government can do

right. The growth of this place is amazing in

the last ten years."

"We've always tried to jump out ahead of

the demand (for service)," Chael adds. "We

Photo by Aran Kessler Photo Imaging

have operated on the philosophy of 'build it

and they will come,' and it has worked real

well."

This thriving, growing, hustling entity

serves as an integral cog in the economic

machinery that helps support business and

commerce in the entire Porter County area. It

provides a critical link between Northwest

Indiana and literally the rest of the world for

local corporations such as Family Express,

Focus Enterprises, Chester Inc., Urschel

Laboratories, Inc., Task Force Tips, North

Coast Distributing, Emerson Power

Transmission and many others. The airport is

also the place to go for flight instruction, charter

flights, scenic excursions and connections

to the two big Chicago airports.

Pete Peuquet, CEO and chairman of the

board of Chester Inc., can literally watch the

runway from his office at company headquarters.

His company has found the accessibility

and convenience of the airport to be a tremendous

asset. "When we're doing jobs outside

the area in places like Detroit, Louisville or

Atlanta, it is extremely productive to be able to

hop on a charter, fly to the site and be back and

working the same day," he says.

Executives at Chester have also benefited

from the amenities the airport makes available

to incoming customers. "Often our clients will

fly in and meet us right at the airport in their

conference room. This is so convenient and

means we don't have to rent hotel conference

facilities."

Stewart McMillan, President of Task Force

Tips, says that his company has been taking

advantage of the airport for years. "The Porter

County Airport has been a huge resource to

Task Force Tips," he explains. "We can leave in

the morning with a team of engineers, pickup

a tool manufacturer in Piqua, Ohio, fly to

Pennsylvania, have a four or five hour meeting

with a critical supplier of castings, drop off the

tool maker in Ohio on the way home (after

(cont. on page 10)

www.connecttovalpo.com 7

▲

▲
---
Air Charter Services and Flight Schools

Bring the Sky Within Reach to Local Travelers

The flight that started it all – a 12-second, 120-foot-long sojourn on the windswept sands of Kitty Hawk in 1903 – set into motion

a series of events that, as much as any, created and defined the 20th Century. Even though it happened nearly 103 years ago, the

hypnotic allure of flight still amazes and attracts people today. For some people, flying is a hobby; for others, an integral part of

their business. That's why the Porter County Municipal Airport offers a wide range of services that cater to everyone's needs – from

the pleasure flyer, to the corporate fleet, to the traveler who simply needs to get somewhere fast.

▲

John Slegers (left) president of Eagle

Aircraft stands in front of the recently

renovated hangar and facilities with

Lisa Lynch, operations manager and

Dr. John Read, founder and current

vice president of the organization.

The 4500 square foot office and classroom

structure is adjacent to the

company's bright, expansive hangar.

At any given time, some 50-60 aviation

students are in various stages of

flight training by the staff at Eagle.

▲

▲

Photo by Aran Kessler Photo Imaging

Eagle Aircraft

Founded by Dr. John Read some 30 years ago, Eagle Aircraft

specializes in aviation training, but also offers a full spectrum of

other flight-related services. With a mission "To promote and

support a thriving general aviation industry in Porter County

and throughout Northwest Indiana," Eagle Aircraft provides:

❏

❏

❏

❏

Flight instruction

Aircraft rental and sales

LaserGrade testing facilities

Discovery Aerial Tours

For more information call 219-464-0132.

Midwest Air Link

Midwest Air Link provides daily shuttle services

to Midway and O'Hare, effectively cutting drive

time by as much as two-thirds and at a cost that

is less than a private limousine service. Trip time

from terminal to terminal averages 25 minutes to

Midway and 40 minutes to O'Hare and passengers arrive at

luxurious executive terminals in both airports. "The experience

is VIP all the way," says John Slegers, president of the

organization. "It is a tremendous value and makes Valpo accessible

to anywhere in the world."

For information call 219-465-2104.

Midwest Air Charter

This company provides charter flights to anywhere in the

contiguous US and Alaska aboard a Cessna Citation V

which flies at 480 miles per hour at 40,000 feet. "We can

take up to eight passengers to the destination of their

choice," explains Curt Morse, chief pilot and director of

flight operations. From shuttle flights to and from the

Chicago hubs – or any other major airport – Midwest provides

a no hassle, luxurious flight experience.

"We really pamper our customers," Morse adds. "We

can even have a rental car on the tarmac waiting for

them."

8

For information call 219-776-0516.
---
www.connecttovalpo.com

9
---
VALPO TAKING OFF (cont. from page 7)

further discussions have occurred on the plane)

and have everyone home at their own dinner

table and in their own beds."

McMillan also appreciates the sheer practicality

of the concept. "It allows us to have

more minds focus on a problem with less cost

and still maintain the quality of life for our

employees. With our aircraft we can deliver

eight people anywhere east of the Rocky

Mountains nonstop

in less time

"If we could

just get

more people

to think

about the

value of this

airport, how

important it

is to people

coming to

visit the

area, the sky

is the limit"

than it takes to

drive to O'Hare

and go through

security."

"If we

could just get

more people to

think about the

real value of this

airport, how

important it is

to people coming

to visit the

area, the sky is

the limit," says

John Slegers,

president of

Eagle Aircraft,

which operates

its aviation

– John Slegers,

training school,

president of charter service

Eagle Aircraft and Cessna

dealership out

of the airport

facility. "To realize that you can literally fly to

any place in the world from here and that anyone

from anywhere can get here by air is a

tremendous asset and advantage to this community."

While growth over the past decade has

been extraordinary, the future looks even

brighter according to Chael, even though the

local aviation industry – like the rest of the

country – was rocked by the events of 9/11.

"We had a dip (in activity) for a short time, but

ultimately grew in spite of the tragedy."

In fact, Taylor points out, general aviation

has grown since that day, and the changes taking

place in the entire industry bode well for

operations like Porter County's. "The wave of

the future seems to be away from hubs (like

O'Hare and Midway) and towards local airfields,"

he says. "People are looking for ways to

avoid the hassles of the major hubs."

Chael adds another factor: "A whole new

generation of light jets is going to cause the system

to blossom," he says. "A reduction in capital

costs and technology in the design of aircrafts

are going to make private flying a lot

more attainable for more companies." Plus, he

adds, technologies like GPS and other protocols

make it easier and more affordable for

local airports to provide the same level of control

as larger airports do.

This sea change in air travel also promises

a bright future for those current local operators

who provide air taxi flights to and from the

hubs as well as throughout the country. (See

Midwest Air Link and Midwest Air Charter

sidebar.) "I truly believe you're going to see

great growth in these areas as people turn to

their local options," Taylor says.

▲

▲

GETTING READY TO TUG.

Moving airplanes from hangars to the

tarmac requires the use of a vehicle

known as a "tug." Here (left to right)

Jim Bilic, line technician, Dave

Bachman, director of maintenance

and Kyle Kuebler get ready to set an

airplane for boarding.

Photo by Aran Kessler

Photo Imaging

But these great opportunities for small airports

also provide some challenges.

"Technologies involved in aviation and the

needs of the user are ever-changing, and to succeed

as an industry, we must grow and modify

our facilities and services to meet those needs."

The Porter County Municipal Airport has

received numerous awards in the last five years,

has hosted several airshows and events, and

Kuebler was named Indiana Aviation Person of

the Year in 2003 by the Aviation Association of

Indiana.

"Probably the greatest compliment we can

receive is when people from other communities

come here to study how we run our operations,"

says Chael. "This has been happening

a lot lately, and it is a tribute to Kyle and the

rest of our staff."

To Kuebler, awards are fine, but the passengers

and users are most important. "We

focus on service and convenience," he explains.

"Our philosophy is to be proactive to the needs

of our customers. From the amenities they

find in our terminal, to the conditions of our

landing areas, our staff does whatever it takes

to ensure an efficient and pleasing experience

at our facility."

By combining state-of-the-art technology

with unparalleled customer service, it's easy to

see why airport officials unanimously agree

that the sky, indeed, is the limit.

Member

FDIC

10 Valpo Magazine Fall 2006
---
The Valpo Chamber's Leadership Development/Community

Engagement Committee conducted several professional leadership

events designed to provide skills and techniques for engaging

young professionals in the community. The Committee teamed up

with United Way September 21, 2006 to present Map to the Minefield:

Choosing Your Guide to Becoming a Professional Leader at Strongbow

Inn. A moderated forum of six community leaders discussed how to

choose the right mentor. They also shared personal experiences, both

as mentors and individuals who were mentored earlier in their careers.

The committee also hosted the first Speed Networking event at

the Chocolate Café in downtown Valparaiso on October 6, 2006.

Inspired by the speed dating rage, Speed Networking is designed for

those whose business success benefits from meeting new people, referrals

and marketing. Structured and fast-paced, Speed Networking

allows participants to interact with other professionals one-on-one, for

a set period of time. Participants walk away with more new contacts

in one evening than some make in six months.

The committee was established late in 2005 in response to the

desire of Chamber members – particularly young professionals – for

guidance on how to become actively involved in the community and

engaged as a leader. The committee, led by co-chairs Bill Trowbridge

of Harris N.A. and John Seibert of Opportunity Enterprises, develops

programs that instill a heightened personal commitment to community

involvement and build awareness of the opportunities and challenges

that exist in the Valparaiso area.

"Our principal goal is to provide emerging and existing leaders

with opportunities to enhance their business and community knowledge,

civic network and leadership skills," explains Trowbridge. "The

Leadership Development/Community Engagement Committee will

serve as a continual source of active volunteers committed to the development

and advancement of Valparaiso."

In addition to Trowbridge and Seibert, the committee consists of:

Andrea Proulx Buinicki (United Way of Porter County), Dan McGuire

(Valparaiso Department of Parks and Recreation), Craig Menne

(General Insurance Services, Inc.), Jon Schmaltz (Burke Costanza and

Cuppy LLP), Antonice Thomas-LeRoy (Manpower), Kris Parker

(Purdue Extension, Porter County), April Wolford (Harris N.A.),

Melissa Fagen, (Fagen Pharmacy), Jamie Jaurez (Meridian Title),

Anna Parker (Porter County Convention Recreation & Visitor

Commission), Kevin Pressel (Chester, Inc.), and Mark Ribordy

(North Coast Distributing, Inc.) In addition, Amy Page and Rex

Richards of the Valpo Chamber, Deb Butterfield of Porter and Jim

Jorgensen of Hoeppner Wagner & Evans LLP provide expert guidance

and experience.

www.connecttovalpo.com

▲

LEADERSHIP ACADEMY PARTICIPANTS (from left to right):

Michael Mika, Martin Sonnenberg, Charles Hurst, Kevin Pressel,

Kacie Harrington, Barry Pruett, Matt Harvey (photo cont. on page 19)

"My initial role as a co-chair of this committee was to serve in a

leadership position, working with the committee to set direction and a

vision," says Seibert. "Ultimately, it has been a privilege to coach and

support the group of young professionals who serve on this committee.

They are some of the most talented and dedicated individuals I have

come in contact with. Their visions are extraordinary and their commitment

to engaging their peers in the community, as leaders, is to be

commended." (cont. on page 19)

Large or Small . . .

Few or Many

The solution has

always been close

to home

• Stationery

• Business Cards

• Postcards

• Sales Kits

• Newsletters

Call us today for all

your printing needs

• Brochures

• Magazines

• Newsletters

• Manuals

• Direct Mail

3602 Enterprise Avenue • Valparaiso, IN 46383

219-462-6601 • Fax 219-465-0766

Since 1906

11
---
Business-to-Business

Networking Event

809 Wabash Ave, Chesterton

800.828.2253

www.republicservices.com

502 Wall St, Ste 104B, Valparaiso

219.548.1670

www.catalyst-marketing.com

2301 E. Morthland Dr, Valparaiso

219.465.1700

www.marriott.com/vrpcy

2101 E. Morthland Dr, Valparaiso

219.465.6225

www.marriott.com/vrpfi

14 Indiana Ave, Valparaiso

219.462.4165

www.fnbv.com

4295 Ohio St, Michigan City

800.382.0808

www.fosterprintingservice.com

2702 Beech St, Ste C, Valparaiso

219.465.3133

www.indianarebath.com

Greg Farrall, Financial Advisor

219.926.1182

www.lakesidefinancialgroup.com

1567 E 93rd Ave, Merrillville

800.935.2181

www.pickmta.com

12 Valpo Magazine Fall 2006
---
Presented by the Porter County Chamber Coalition

Chesterton/Duneland, Hebron, Kouts, Portage and Valparaiso Chambers of Commerce

Discover solutions to your business needs, connect with potential customers and meet the people

behind Porter County's thriving business community face to face. Over 120 exhibitors will introduce

their newest and greatest products and services. Chamber Network Night is the premier

business to business networking event of the year dedicated to generating high-quality leads,

learning from the brightest and networking with the best.

LaPorte

219.362.7610

www.warmfloors4u.com

Ron Bush

219.617.2651

www.divresdev.com

332 W US Hwy 30, Ste C, Valparaiso

219.465.1868

www.expresspersonnel.com

New

Location

4980 W. US 20, Michigan City

219.872.1700 219.617.1453

www.garmanelectric.com

3602 Enterprise Ave, Valparaiso

219.462.6601

www.homemountain.com

Recycling & Waste Reduction

District of Porter County

155 Indiana Ave, Valparaiso

219.465.3694

www.itmeanstheworld.org

901-1 Calumet Ave, Valparaiso

219.531.4997

www.tricorpwireless.com

www.connecttovalpo.com

13
---
Members

All addresses are in the 46383 zip code and phone

numbers are 219 area unless otherwise indicated.

THE GREATER VALPARAISO CHAMBER OF COMMERCE welcomes new members who joined during June, July and Mid-August 2006.

Accounting Made Simple

957 West St, 46385

462-0588

Anna Sheets

Computer Networking/Products/

Services/Training

Art Advertising Specialties, Inc.

230 1/2 Main St, PO Box 31

Hobart, 46342

942-2814

Melissa Czekaj

Promotional/Specialty Products

Century 21 Executive Group

(Genovese)

2612 N Calumet Ave

508-6742

Kimberly Genovese

Real Estate Residential/Commercial

Construction Services of

Indiana

17500 S Paxton Ave

Lansing, IL 46375

808-3542

Stephen Gillespie

Construction

D Mofield Property Services

0152 S 400 W

LaPorte, 46350

362-7610

Amy Feikes

Heating & Air Conditioning

Desert Moon Fresh Mexican

Grille

2310 LaPorte Ave, Ste 500

531-9000

Jennifer Gillespie

Restaurants

The Flagstick

2355 Clifford Rd

531-7888

Larry Stuber

Recreation

Good Hospitality Services, Inc.

1351 Silhavy Rd, Ste 100

462-6265

Carrie Hanks

Property Management &

Construction

Griffin Valuation Group, LTD

1311 Peachtree Dr

465-1908

Barbara Wiggins

Accounting/Tax Services

Green Field Technologies

2264 Morthland Dr, Ste 101

309-0127

Dale Kroeger

Computer Networking/Products/

Services/Training

Making Dinner Fun

1809 N Calumet Ave

531-2949

Eric Hiller

Meal Preparation

Mr. Electric of Porter County

PO Box 1396

465-5205

Charles McCrammer

Electricians

Northwestern Mutual Financial

Network (Hurst)

954 Eastport Centre Dr, Ste C

548-8722

Charles Hurst

Financial Services

Northwestern Mutual Financial

Network (Reuter)

954 Eastport Centre Dr, Ste C

548-8722

Steven Reuter

Financial Services

Pines Ski & Family Recreation

Area

674 N Meridian, 46385

477-5993

Jennifer Pluskis

Recreation

Porter County Family

Counseling Center, Inc.

554 South Locust

464-3919

Dana Hofstetter

Counseling Services

RCA Physical Therapy

952 S State Rd 2, 46385

548-0597

Fatai Adisa, DPT

Physical Therapy

RE/MAX Affiliates (Osika)

2803 Boilermaker Ct, Ste 1A

548-9020

Melissa Osika

Real Estate/Commercial &

Residential

Saint Anthony Center for

Diagnostic Imaging

2411 LaPorte Ave

476-7226

Valerie Shields

Medical

Snow Pros, Inc.

900 Locust St

476-7669

Michael Anderson

Snow Removal

Stewart Title

175 Lincolnway, Ste H

531-4147

Joe Yonkman

Title Company

Tweenville Glamour Salon, LLC

1806 Burlington Beach Rd

464-7200

Gladys Osby

Salons

Special Event Planning/

Products/Services

Valparaiso Family Health

Center, PC

808 E Lincolnway

462-4446

Faleh Atassi MD

Physicians

Valparaiso Nazarene Church

2702 E Glendale Blvd

462-2751

Juli Radtke

Churches

Venue

74 W Lincolnway

512-5620

Michelle Carter

Banquet/Meeting Room Facilities

Special Event Planning/

Products/Services

Walsh & Kelly, Inc.

1700 E Main St, Griffith, 46319

924-5900

Jim Sellhorn

Construction

14 Valpo Magazine Fall 2006
---
www.connecttovalpo.com

15
---
Visit www.connecttovalpo.com for a calendar of events and a list of fall/winter recreation.

Answering Service Professionals, Inc., of

Valparaiso, was awarded with the exclusive

2006 Award of Excellence for the third consecutive

year. The award is presented annually

by the Association of TeleServices International

(ATSI), the industry's trade association for

providers of telecommunications and call center

services including telephone answering and

message delivery. For more information visit

www.ringading.com or call (219) 462-4007.

The Chicago Theatre Guild's Chicago

Street Theatre opens its 52nd season

(2006/07) with Neil Simon's Rumors,

October 6 - 22, 2006 directed by Stephany

Mullen and It's a Wonderful Life

Nov. 17 - Dec. 10, 2006 directed by Kelly Hite

and Jan Rees, dramatized by James W.

Rodgers. Visit www.ctgonline.org for more

information or call (219) 464-1636.

On Thanksgiving morning, Thursday,

November 23, Kids Alive® International

will host their Third Annual Turkey Trot

10K Run and "Fun Run"/Walk. The proceeds

of this race go to help Kids Alive rescue

10,000 children in 14 countries around the

globe. The race begins at 8:30 a.m. from

Valparaiso High School. Pre-registration fee is

$15 per entrant if registered by Nov. 20, 2006.

Same day registration fee and registration after

Nov. 20 is $20. For your convenience, online

registration is available, please visit www.kidsalive.org.

For more Turkey Trot information,

contact Phyllis@kidsalive.org or call (219)

464-9035.

The Memorial Opera House presents

Mame, November 4, 10, 11, 17, 18 at 8:00

p.m. and November 5, 12, 19 at 2:00 p.m.

The Winter Wonderettes take the stage

December 8, 9, 15, 16 at 8:00 p.m. and

December 10, 17 at 2:00 p.m. Individual tickets

are $16 for Adults, $13 for Students &

Seniors. Call (219) 548-9137 or visit

www.memorialoperahouse.com.

If you are doing business in Porter County, this

is where you need to be! Chamber Network

Night, hosted by the Porter County

Chamber Coalition will be held at the Porter

County Expo Center on Thursday, October

26th from 4:00 – 7:00 p.m. One of the largest

and most entertaining business trade shows in

all of Porter County, this annual event features

120 exhibitors and the opportunity to meet

more than 700 potential customers and business

decision makers. Open to the public.

Admission is free. For more information visit

www.valparaisochamber.org or call (219)

462-1105.

Porter-Starke Services, Inc. is offering the

following Lunch & Learn monthly educational

seminars: October 17th, 11:30-1:00

p.m., Carol Todd of The Mental Health

Association in Porter County presents Helping

Families Cope with Schizophrenia at Porter-

Starke's Children's Services Building, 701 Wall

Street, Valparaiso, IN. November 21st, 11:30-

1:00 p.m. Holidays and Stress...at Holiday Inn

16 Valpo Magazine Fall 2006
---
Express, Portage, IN. December 19th, 11:30-

1:00 p.m., New Treatments for Kids presented

by Dr. Linda Munson...Knox Community

Center, Knox, IN. January 16th, 11:30-1:00

p.m., Coping with Chronic Illness by Susan

Fingerhoot at Porter-Starke's Children's

Services Building, 701 Wall Street, Valparaiso,

IN. The Lunch & Learn's are monthly educational

seminars open to the general public as

well as clinicians and educators. Lectures feature

informative and practical topics. There is

no charge for the presentation. The Mental

Health Association in Porter County proudly

sponsors the series and offers 1.5 Continuing

Education Credits for $5.00. A boxed lunch

can be purchased from our Wall Street Café for

$5.50 or you may bring your own. For more

information or to RSVP, simply call (219) 476-

4505 or email: thowe@porterstarke.org.

Alice's Halfway House, Boys & Girls

Clubs of Porter County, Family

Counseling of Porter County and VNA

Hospice were recently presented $15,000 collectively

as part of St. Theresa of Avila

Church's three-year long Good Samaritan

Campaign. The Good Samaritan Campaign

was launched in 2004 and registered members

of the church were invited to make a financial

pledge to aid the Raise a Roof campaign for the

new Spring Valley Homeless Shelter. The

response from a small congregation of only 250

registered families was so overwhelming that

the Social Justice Commission at the church

decided to begin a grant process to help other

non-profit organizations in Porter County.

Over $109,000 has been pledged over three

years (2004-06). A total amount of $60,000

will be awarded to Spring Valley Homeless

Shelter, $20,000 each year for three years

(2004-06). For more information about this

program, contact Danielle & Bill Oeding, cochairpersons,

219-464-9829, or Father Kevin

McCarthy of St. Teresa of Avila Church, 464-

4042.

Valparaiso Community Festivals &

Events will hold its annual Trick or Treat

Fun Nite on Friday, October 27, 2006 from

4:00 – 6:00 p.m. in downtown Valparaiso. A

ghostly fun Halloween celebration includes

trick-or-treating at downtown businesses,

cider, and hayrides around the downtown

square. Admission is FREE. For more information

visit www.popcornfest.org or call

(219) 464-8332.

Holly Days & Live Nativity, a kick-off to

the Christmas Holiday Season hosted by the

Valparaiso Community Festivals &

Events, will be held downtown at the

Valparaiso Courthouse Square on Friday,

December 1, 2006 from 5:00 – 8:00 p.m. A

family-fun event, Holly Days & Live Nativity

is filled with the spirit of the season. Come and

hear the girl scouts caroling, witness a Live

Nativity scene, enjoy a cup of hot cocoa, take a

carriage ride around the downtown square, and

shop at your favorite downtown stores. And,

don't miss Santa Claus riding into town on a

fire truck! Admission is FREE. For more information

visit www.popcornfest.org or call

(219) 464-8332.

The Valparaiso Department of Parks &

Recreation is currently accepting reservations

for the 2006 hayride season at Rogers-

Lakewood Park. The group hayride is great

fun for youth groups, family gatherings, clubs,

birthday parties and more. Hayrides will be

held on Friday and Saturday evenings, and

NEW FOR 2006 on Sunday afternoons,

September 15 through November 12.

Available hayride times will be 5:00, 6:30, and

8:00 p.m. on Friday and Saturday evenings and

2:00, 3:30, and 5:00 p.m. on Sundays. The

reservation includes a 45-minute hayride and

45-minute campfire. Hayrides take place at

the Derby Downs area in Rogers-Lakewood

Park. Groups are welcome to bring food and

beverages. The standard fee per hayride is $65;

resident discount fee is $55. For more information

visit www.valparaisoparks.org or call

(219) 462-5144.

The Valparaiso University Chamber

Concert Band, which released its fourth

album earlier this summer, will again feature

the works of John Phillip Sousa during its

2006-2007 season. The Chamber Concert

Band opens its season Nov. 4, partnering with

the VU Chorale for its fall concert. The concert

will be the Chamber Concert Band's first

since the June release of "Spirit of the March

King," featuring live recordings from the

ensemble's authentic Sousa concerts. The

University's 9th annual Sousa Tribute Concert

takes place Feb. 17, 2007 with a program that

includes a variety of ballads, marches and patriotic

songs by Sousa. Joining the Chamber

Concert Band for the concert will be musicians

from community and high school bands. The

ensemble's final concert of the year will take

place April 27, 2007. The Chamber Concert

Band also will be one of the featured groups at

the annual Valparaiso Christmas Concert,

which will be performed Dec. 1 and 2. All of

the Chamber Concert Band's performances

take place in the Chapel of the Resurrection on

campus. Tickets for each concert are $15 for

adults and $10 for senior citizens and students.

For more concert and ticket information, call

the VU Box Office at (219) 464-5162.

www.connecttovalpo.com

17
---
Establishing a legal structure for your business

is a decision that is based on many factors.

The choice you make will govern virtually

all the aspects of your business. How you

interact with investors, banks and other sources

of capital; whether you acquire operating assets

through purchase or lease; how the company

will be managed day-to-day and in the future;

how to allocate profits and losses among owners,

lenders, employees and investors; and how

these decisions dovetail into State and Federal

regulatory legal requirements and limitations –

are all critical questions that are addressed by

the legal formation of your company entity.

Operating as a sole proprietorship or as a

single partnership does not require formal

organization in writing. A person operating as a

sole proprietorship need not be concerned with

State or Federal regulations. All business matters

of operation and management inures to the individual.

Both State and Federal governments

look to the individual and holding the individual

responsible for compliance. The individual

reports business financial affairs, i.e. profits and

losses, on their individual tax returns without

accountability beyond himself. Accounting can

be handled by bank deposits and issuing checks,

risks of business affairs by insurance and individual

asset protection devices. This is the simplest

form and least expensive to maintain. However,

such election determines whether or not the

business practices and financial records are subject

to confidential and privacy protection or is

disclosure permitted to third parties. Costs of

administration of the business enterprise are low.

The owner of a created legal entity, such as

a limited partnership, a limited liability company

or corporation, begins to lose his individual

discretionary authority and becomes more

accountable to those who do not have as much

money, commitment to the business plan or to

the ultimate success of the business venture as

the individual owner. By being removed from

the business activities, such third persons as well

as government interests require more formality

for the owner. It is the need to rely on others to

furnish money or provide assistance that the

organization needs to be more formalized but

more restrictive to the owner. It is the creation

of legal entities which require lengthy written

contracts, such as an Operating Agreement,

Articles of Organization or Incorporation, and

corporate by-laws, formalized accounting and

audit procedures and disclosures. Lesser committed

persons now require that their rights and

obligations be in writing, opportunity for review

of operations by accountants and lawyers with

the management structure more confining, with

less discretion in the owner, and with more hindsight

and criticism of business operations and

decisions. Costs and administration increase to

meet the needs of these outsiders.

(cont. on page 20)

18 Valpo Magazine Fall 2006
---
(cont. from page 11)

VALPO YOUNG PROFESSIONALS (VYP)

Social and/or cultural enrichment activities are also offered as part of

Valpo Young Professionals which is in its third year and brings

together future business leaders with events that are fun, educational

and allow attendees to establish business relationships that could last a

lifetime. Every first Thursday of the month, from 5:00 – 8:00 p.m.,

the VYP host AFTER 5 at a local restaurant. AFTER 5, a casual networking

event, is free to Chamber members and no reservations are

required. Earlier this year, the VYP held the 2nd annual Wine

Experience at "Blue", An American Restaurant. In June, City

Planning Director Craig Phillips presented The Puzzle of Planning

Valparaiso as part of the VYP's Cultivation Café, an annual educational

seminar and luncheon. July's event, Grand Slam Summer Outing,

a picnic and Railcats' baseball game at the U.S. Steel Yard, was a huge

hit. The final 2006 VYP event, the 2nd annual Center Stage, a theatre

and dining event, will be held at the Chicago Street Theatre on

Wednesday, November 29th from 6:30 – 9:00 p.m. Participants will

Valparaiso North

3500 Calumet Ave.

Valparaiso, IN 46383

(219)462-0105

▲

LEADERSHIP ACADEMY PARTICIPANTS (cont. from page 11)

Cliff Malings, Stephenie Moser, Michelle Jones, Diana McMillon,

Chad Rodriguez, Lynette Jones, Scott Akins and Clay Patton

sit in on a dress rehearsal of "It's a Wonderful Life," take a tour of the

theatre and enjoy hors d'oeuvres and drinks.

VALPO CHAMBER LEADERSHIP ACADEMY

In addition to the Valpo Young Professionals' events, the Leadership

Development/Community Engagement committee, through a collaborative

effort with the Greater Valparaiso Chamber of Commerce staff

and Board of Directors, established the first Valpo Chamber

Leadership Academy. The mission of the Leadership Academy is to

provide a growing leadership pool of willing and able leaders and volunteers

for current and future civic, charitable and governmental

organizations in Valparaiso. The academy complements other leadership

organizations with a focused training on the skills and knowledge

necessary to be an effective leader in the community, including serving

on boards, public speaking, dealing with media, managing time, problem

solving, team building and understanding corporate structure.

During the six four and half hour sessions, August through November,

participants will be infused in the community, exploring the

public/city government sector, private business sectors and non-profit

organizations that currently benefit from local leaders. Local leaders

will also mentor the group, sharing their personal experiences at each

session. Upon completing the six sessions, students will take the

insights, skills and contacts gained in the Leadership Academy and

apply them to community activities and organizations.

Fifteen students are participating in the inaugural Leadership

Academy, including: Scott Akins (Task Force Tips), Kacie Harrington

(First National Bank), Matt Harvey (Claudon & Anderson Insurance,

LLC), Charles Hurst (Northwestern Mutual Financial Group),

(cont. on page 23)

Valparaiso South

750 S. Washington

Valparaiso, IN 46383

(219)531-6497

www.harrisbank.com

Member FDIC

www.connecttovalpo.com

19
---
ASK AN EXPERT (cont. from page 18)

Limited liability companies, limited partnerships and corporations

are creatures of State legislation but impact of the State and Federal

statutes and regulations upon formation of these entities and special

benefits for these created entities is the tension of choices. Furthermore,

these State created entities are only viable and existing if governmental

requirements are met in its formation and during its existence. Ignoring

or failing to meet requirements will preclude the entity from recognition

as an entity and may evolve into a sole proprietorship with its limitations.

Maintaining a legally created entity is more expensive and time

consuming.

The State has evolved a business philosophy to promote inventiveness

of ideas and entrepreneurial ventures. Through legislation the State

permits creation of statutory business entities, which insulates an individual's

personal wealth and future financial well-being from seizure for

business debts. The State's statutory schemes for entity formation create

methods to form limited liability companies, limited partnerships

and corporations to create this shield. By law these entities limit personal

assets put at risk for these entrepreneurial ventures. The trade-off for

this shield of protection is an increase in regulatory State requirements

for the entity. These State requirements require formalized legal documents

filed with the Secretary of State, as well as periodic filing of

reports of business activity. The Federal government is limited in its

involvement with entity formation, but influences business formation

decisions through its taxing and regulatory authority. Tax returns are

required for the entity and the individual owner. Financing institution

and trade creditors require more formalized and detailed statements of

business operations.

Having chosen an entity for limitation of risk and for individual

asset protection, the next major concern is how does the successful

owner access profits but avoid, minimize or defer the taxman's share.

Choosing a corporation form puts at risk business profits and causes

burdensome "double taxation" and complicates decisions necessary to

maximize the retention of business profits. Centuries old business entity

concepts have limited the flexibility of financing arrangements and

the needs of owners, partners and investors. In today's expanded international

market the economic model for operating and financing small

business enterprises are not limited to local economies. One must keep

in mind the innovative financing arrangements for real estate development

funded through individual banks and insurance companies which

are not U.S. citizens, let alone residents. To meet these issues, the limited

liability company was created by State legislation and recognized by

State and Federal taxing agencies. The limited liability company statutory

scheme takes that which is necessary and desirable from decades of

business experiences from the State limited partnership, corporate statutory

requirements and Federal taxation law. This entity is not a vehicle

which meets all business issues anticipated at the time of its formation,

(cont. on page 24)

20 Valpo Magazine Fall 2006
---
The right place to be.

For more info:

219-921-1444

www.lbji.com

Orthopedics. Podiatry. Rheumatology.

For over 50 years, Lakeshore Bone & Joint Institute has been

dedicated to helping our patients overcome their pain. From necks

to feet and everything in between, our physicians and specialists use

the most innovative surgical and non-surgical treatments available.

Our Specialties Include:

• Orthopedic Care • Pediatric Orthopedics • Sports Medicine

• Spine Surgery • Upper Extremity Care • Rheumatology

(arthritis) • Podiatry (foot & ankle) • Trauma Care

Orthopedic Surgery

: : James A. Malayter, MD

: : Michael C. Leland, MD

: : Bruce J. Thoma, MD

: : Paul J. Gruszka, MD

: : Thomas H. Kay, MD

: : Ron Clark, MD

: : David J. Musgrave, MD

: : Anthony C. Levenda, MD

Spine Surgery

: : Anton A. Thompkins, MD

Upper Extremity

: : George Alavanja, MD

Podiatry

: : Marc S. Bruell, DPM

: : Rachel L. Stern, DPM

Rheumatology

: : Karen Kovalow-St. John, MD

CHESTERTON • HOBART • MICHIGAN CITY • PORTAGE • VALPARAISO

22 Valpo Magazine Fall 2006
---
(cont. from page 19)

Lynette Jones (The Caring Place), Michelle Jones (McDonald/Cagen,

Inc), Cliff Malings (Compass Financial Advisors), Diana McMillon

(Compass Financial Advisors), Michael Micka (Harris N.A.),

Stephenie Moser (Emerson Power Transmission), Clay Patton

(Gordon Etzler & Assoc.), Kevin Pressel (Chester, Inc.), Barry Pruett

(Burke, Costanza & Cuppy LLP), Chad Rodriguez (Computer

Services Inc.) and Martin Sonnenberg (Task Force Tips).

"The leadership academy is not just about training. The students

who complete the academy in 2006 will be linked with organizations

in the community and placed in a position of leadership for the year

2007. Whether they decide to serve on a board or a commission, they

will have the skills necessary to be successful and prosper," says John

Seibert, co-chair of the Leadership Development/Community

Engagement committee.

Henrik Isben, an influential Norwegian playwright, once said, "A

community is like a ship; everyone ought to be

prepared to take the helm," and with the spirit and commitment

put forth by the Valpo Chamber's Leadership

Development/Community Engagement committee, Valparaiso will

continue sailing with great fortitude.

For more information on the Valpo

Chamber's Leadership

Development/ Community

Engagement committee or the

Valpo Young Professionals,

please visit

www.valparaisochamber.org

or contact the Valpo Chamber

(219) 462-1105.

Valpopourri

Did you know?

Thomas Edison visited Valparaiso in

1881 to demonstrate his newest invention,

the incandescent lamp (seven

years before the first light bulb.)

Prostate Cancer

YOUR PROSTATE MOVES EVERY DAY.

SHOULDN'T YOUR

PROSTATE CANCER TREATMENT?

SAY "FAREWELL" TO PROSTATE CANCER WITH THE MOST

ADVANCED TREATMENT THERAPIES IN NORTHWEST INDIANA,

INCLUDING THE FIRST AND ONLY NON-INVASIVE FORM OF

DAILY PROSTATE POSITIONING.

DAILY PROSTATE POSITIONING FOCUSES RADIATION THERAPY

PRECISELY WHERE IT IS NEEDED EACH DAY. BEFORE EACH

TREATMENT, RADIATION ONCOLOGISTS USE ULTRASOUND

TO PINPOINT THE EXACT LOCATION OF THE PROSTATE,

WHICH CAN MOVE UP TO ONE CENTIMETER IN ANY

DIRECTION FROM DAY TO DAY. THEN, EACH INDIVIDUAL

TREATMENT IS TARGETED SPECIFICALLY SO THAT ONLY THE

CANCER IS DESTROYED, PROTECTING HEALTHY TISSUE.

THIS EXCITING TECHNOLOGY IS AN IMPORTANT

ADVANCEMENT IN PROSTATE CANCER TREATMENT – AND

THE NORTHERN INDIANA ONCOLOGY CENTER IN VALPARAISO

IS PROUD TO BE THE FIRST AND ONLY CENTER IN OUR

REGION TO OFFER A NON-INVASIVE FORM OF DAILY

PROSTATE POSITIONING.

FOR MORE INFORMATION, CALL 462.8246.

THE NORTHERN INDIANA ONCOLOGY CENTER

54 ROOSEVELT ROAD

VALPARAISO, INDIANA 46383

219.462.8246

A joint venture between and

Northwest Indiana Radiation Oncology Group
---
ASK AN EXPERT (cont. from page 20)

but is and has become the entity of choice for most small businesses.

A limited liability company is an entity whose laws and regulations

permit necessary flexibility to meet present day business issues. Through

contract provisions incorporated into the Operating Agreement, it is possible

to define selectively who will operate and manage the company, perhaps

separate from investors and employees; how the company will comply

with accounting rules and regulations; how investor contribution

funds are treated and return on investments rendered; who is paid, how

much, and in what manner; how losses and other tax deductions and

attributes are recognized; how privacy concerns and trade secrets are recognized

and protected. A limited liability company has the flexibility to

favor one investor over another, if having substantial economic substance.

The Operating Agreement can also determine the legal status of the

owner as a member or as an employee. This classification can effect

whether a person is entitled to health and life insurance benefits or even

if social security and other employment taxes are paid. Of course, the

major positive effect is that personal assets are

protected without the inflexibility of State or

tax regulations of Sub "S" Corporation or the

double taxation of a "C" Corporation.

The choosing of entities is a function of

the analysis of State and Federal regulatory and

taxation law, which imposes limitations and

exceptions to general rules. Choosing a proper

entity is as important to a business's success as

making sound management and marketing

decisions. Success doesn't hang in the balance

but the wrong decision can be costly, and, as in

all matters, it pays to do it right.

Select Features

for Select Members

SHARE SAVINGS ACCOUNTS

FREE DRAFT ACCOUNTS

SHARE CERTIFICATES

ON-LINE BANKING

ATM/DRIVE UP

•

ATM/DEBIT CARDS

& VISA CARDS

•

SHARED BRANCH NETWORK

CAN MEET ALL YOUR

LENDING NEEDS

About the author:

Gordon A. Etzler is

licensed to practice

law in the state of

Indiana in both

State and Federal

Courts and maintains

his office at

251 Indiana Avenue,

Valparaiso, Indiana.

If you live, work,

worship, or go

to school in

Porter County,

you are eligible

to join!

We're looking

forward to greeting

new customers and

better serving our

current members at

our new location.

Your health…

your life…

Duneland Health and

Wellness Institute is a

medical campus featuring:

• Aesthetics

• Behavioral medicine

• Medically based

Fitness Center

featuring aquatics,

personal trainers

and group instruction

• Neuromuscular therapy

• Physical and

occupational therapy

• Physician offices

• Women's Comprehensive

Health Center

• X-ray/lab services

Together We Will Share!

302 Silhavy Road •

Valparaiso, IN

219-465-5047 •

www.selectcommunityfcu.org

810 Michael Drive, Chesterton, IN 46304

(219) 983-9832

24
---
Welcoming a new baby into the world is one of

life's most joyous occasions. The Birth Day Place at

Saint Anthony Memorial brings together the comfort

and privacy of a hotel suite with the expert care

of an acute-care hospital.

Each mom has her own private suite and bathroom –

a peaceful, warm and quiet place in which to welcome

her newborn and visit with family and friends.

The Birth Day Place features the most advanced

medical technology available, with care provided

by board-certified physicians and specially trained

obstetric nurses. And our advanced OBIX technology

allows remote surveillance of both mother and baby.

For more information about The Birth Day

Place at Saint Anthony Memorial, please

call 219-877-1610.

301 West Homer Street • Michigan City, IN 46360
---
The Porter County Municipal Airport has

been a key ingredient to supporting and

encouraging jobs in not just Valparaiso,

but Porter County as a whole. The 7,000 foot

runway was a significant factor in helping

Bethlehem Steel in its early days with the airport

being an important tool in shuttling executives to

and from Bethlehem, Pennsylvania on their corporate

aircraft. Many of the decisions leading up to

the announcement of Pratt Industries coming to

Valparaiso were actually made at meetings held at

the Porter County Municipal Airport. These

important meetings were held at our municipal

airport because Pratt flew their decision makers

into Valparaiso when they were scouting the area.

Today, local firms base their corporate planes here

to accommodate their management teams' need to

be out and back in one day visits to both customers

and their far flung operations that are

located elsewhere. The Chamber feels it is important

to showcase the Porter County Municipal

Airport as an important core asset for our job

retention and job creation efforts.

Another key component in attracting people

to Valparaiso is the quality of education offered

here. During late August of this year, many of our

educational institutions were recognized for their

outstanding performance. Washington Township

and Porter Township School Corporations were

both designated as exemplary school districts by

the Indiana Dept. of Education. Valparaiso

schools were also recognized with the important

award of commendable. The awards put our K –

12 districts at the highest levels of achievement in

the state. We are most fortunate to have highly

achieving leaders and teachers working with our

youth. Valparaiso University was also given

national recognition in August when the US News

and World Report ranked the University number

2 and number 3 in the entire Midwest for 4 year

degree and master's conferring institutions. Few, if

any, communities in the state have been so fortunate

to achieve such honors for outstanding performance

at all levels of their educational institutions.

Valparaiso could easily call itself the premier

education community in the state of Indiana.

Good schools play a major role in attracting people

to the community. Award winning schools,

like ours, help distinguish our community as an

excellent quality of life community.

Valparaiso - good job!

26

Valpo Magazine Fall 2006