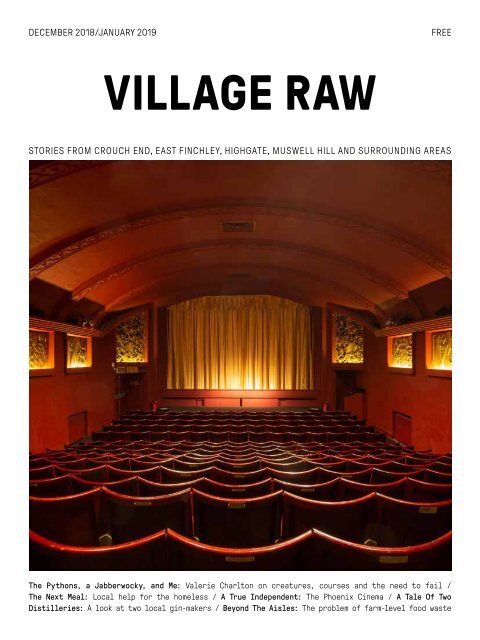 Village Raw - ISSUE 4
Village Raw is a magazine that explores cultural stories from Crouch End, East Finchley, Highgate, Muswell Hill and the surrounding areas. The magazine is created by the community, for the community. If you like this issue you can support the project through a subscription or donation. See the links below. The fourth issue of Village Raw magazine includes: THE PYTHONS, A JABBERWOCKY, AND ME - Valerie Charlton on creatures, courses and the need to fail. A LEAP INTO THE UNKNOWN - Artist and dancer Jo Cork's work with film. SATURN RETURNS - Yazmyn Hendrix - an a cappella artist who sees her music. THE NEXT MEAL - Local initiatives to help the homeless. A NEW ERA FOR HORNSEY TOWN HALL - Looking to the future. A TRUE INDEPENDENT - The Phoenix Cinema is one of the oldest independents in the UK. SECRETS OF A PERSIAN KITCHEN - A collection of recipes has been brewing in Atoosa Sepehr's home. A TALE OF TWO DISTILLERIES - A look at two local gin-makers bringing mother's ruin home again. BEYOND THE AISLES - The problem of farm-level food waste. VILLAGE ESSAY - The importance of local government. VILLAGE GREEN - The Guerrilla Gardeners of Palace Gates. AND MORE… Village Raw is created by the community, for the community. If you like this issue you can support the project through a subscription or donation. See the links below.
Village Raw is a magazine that explores cultural stories from Crouch End, East Finchley, Highgate, Muswell Hill and the surrounding areas. The magazine is created by the community, for the community. If you like this issue you can support the project through a subscription or donation. See the links below. The fourth issue of Village Raw magazine includes:

THE PYTHONS, A JABBERWOCKY, AND ME - Valerie Charlton on creatures, courses and the need to fail.
A LEAP INTO THE UNKNOWN - Artist and dancer Jo Cork's work with film.
SATURN RETURNS - Yazmyn Hendrix - an a cappella artist who sees her music.
THE NEXT MEAL - Local initiatives to help the homeless.
A NEW ERA FOR HORNSEY TOWN HALL - Looking to the future.
A TRUE INDEPENDENT - The Phoenix Cinema is one of the oldest independents in the UK.
SECRETS OF A PERSIAN KITCHEN - A collection of recipes has been brewing in Atoosa Sepehr's home.
A TALE OF TWO DISTILLERIES - A look at two local gin-makers bringing mother's ruin home again.
BEYOND THE AISLES - The problem of farm-level food waste.
VILLAGE ESSAY - The importance of local government.
VILLAGE GREEN - The Guerrilla Gardeners of Palace Gates.
AND MORE…

Village Raw is created by the community, for the community. If you like this issue you can support the project through a subscription or donation. See the links below.
SHOW MORE
SHOW LESS
You also want an ePaper? Increase the reach of your titles
YUMPU automatically turns print PDFs into web optimized ePapers that Google loves.
DECEMBER 2018/JANUARY 2019

FREE

VILLAGE RAW

STORIES FROM CROUCH END, EAST FINCHLEY, HIGHGATE, MUSWELL HILL AND SURROUNDING AREAS

The Pythons, a Jabberwocky, and Me: Valerie Charlton on creatures, courses and the need to fail /

The Next Meal: Local help for the homeless / A True Independent: The Phoenix Cinema / A Tale Of Two

Distilleries: A look at two local gin-makers / Beyond The Aisles: The problem of farm-level food waste
---
04

06

10

12

14

16

18

CONTENTS

THE RAW

The latest local happenings

and things to do

THE PYTHONS, A

JABBERWOCKY, AND ME

Valerie Charlton on creatures,

courses and the need to fail

A LEAP INTO THE UNKNOWN

Artist and dancer Jo Cork's

work with film

SATURN RETURNS

Yazmyn Hendrix - an a cappella

artist who sees her music

THE NEXT MEAL

Local initiatives to help

the homeless

A NEW ERA FOR

HORNSEY TOWN HALL

Looking to the future

A TRUE INDEPENDENT

The Phoenix Cinema is one of the

oldest independents in the UK

EDITORIAL

Oh, for more space… Before we launched our first issue, someone said we'd

struggle to find things to write about. Actually, it's been quite the opposite –

we just don't have the space to present all the stories we want to feature. It's

amazing how much talent there is in our area and how many people there are

doing really amazing things, engaging with the community in all kinds of ways.

Even with the stories we've covered, it feels like we're fighting for space – we

want to write more, and show more. We've got a cabinet filling up with submitted

ideas (there are some truly amazing ones), and we're just having to exercise

patience as the magazine slowly evolves and finds its feet. Wouldn't it be

nice to double the page count?

It seems that we're looking at a long, cold winter, so we wondered what local

facilities there are for the homeless and how we can help. And for years, especially

since having children, we've become more and more aware of the waste

we generate around Christmas. Our sustainability columnist Emma Ross considers

how we can cut down on this at home, while Chris King explores waste on

the farm. As each council deals with rubbish and waste differently, our essay

considers the importance of local government. Following on from Emma's suggestion

to buy secondhand presents we look at some of the vintage options

in the area – or how about gifting some of our local gins? We also explore the

world of digital dance with Jo Cork and look at special effects model-making

with Valerie Charlton – whose work would surely have been projected on the

screen of the Phoenix Cinema. This issue's flavour is East Finchley Persian, and

the looped a cappella soundtrack is provided by Yazmyn Hendrix.

David and Luciane

hello@villageraw.com

www.villageraw.com

By subscribing you'll not only

be supporting Village Raw,

but the community as

well. You'll also receive the

magazine delivered to your

door every two months.

www.villageraw.com/

subscribe

22

24

28

32

33

34

SECRETS OF A

PERSIAN KITCHEN

A collection of recipes has

been brewing in Atoosa

Sepehr's home

A TALE OF TWO DISTILLERIES

A look at two local gin-makers

bringing mother's ruin home again

BEYOND THE AISLES

The problem of farm-level

food waste

LOW-WASTE CHRISTMAS

Tips from Emma Ross

VILLAGE ESSAY

The importance of local

government

VILLAGE GREEN

The Guerrilla Gardeners

of Palace Gates

EDITORS

Luciane Pisani

David Reeve

GRAPHIC DESIGN

Luciane Pisani for Studio Moe

COPY EDITOR

Emily Spurling

CONTRIBUTORS

Zoe Bee, Dan Bridge, Giorgia Carlini, Jonathan

Carr-West, Aimee Charalambous, Chris King, Kate

Kuzminova, Katrina Mirpuri, Kerrie O'Connell, Carla

Parks, Emma Ross, Dan Snell.

ADVERTISING

hello@villageraw.com

PRINTING

Printed in East Finchley by JG Bryson on chlorine

free paper produced by an EU Ecolabel certified

mill from FSC and PEFC regulated forests.

VIDEOS

David Reeve and Philip Taylor

Cover image by Dan Bridge

Tweet us twitter.com/VillageRawMag

Like us facebook.com/villageraw

Follow us instagram.com/villageraw

Contact us hello@villageraw.com

Subscribe villageraw.com/subscribe

Village Raw December 2018/January 2019

Designed and published by

Studio Moe Ltd.

© 2018 Studio Moe Ltd.

All rights reserved. Reproduction

of any contents of Village Raw

magazine without prior permission

of the publisher is strictly prohibited.

THANKS TO:

Ben Abrahams, Caitlin Alpert, Rachael Booth-Clibborn,

Valerie Charlton, Jo Cork, Lucy Davis, Siobhan

Feeley, Ian Hart, Yazmyn Hendrix, Claire Jury, Caroline

MacAskill, Andrew Major, Jelena Milosavljevic,

Joan Podel, Ian Puddick, Piers Read, George Rees,

Atoosa Sepehr, Kevin Stanfield, Megan Stevenson,

Martin Stone, Ruth Syratt, Hannah Whitehead,

Hilary Whitney, Liv Wright.

03
---
VILLAGE RAW

THE RAW

VILLAGE ALLSORTS: Things to look out for in the neighbourhood include an

art cafe, music cafe, and natural skincare shop. Words by Katrina Mirpuri.

VINTAGE:

With Emma's column

(p32) discussing

local and second-hand

gifting, we thought

we'd look at some

of the vintage shops

and businesses in the

area. Words by David Reeve.

20thC Quarters

Mid-century furniture and lighting with a

Scandinavian emphasis. Open Wednesday

to Sunday. 265–267 Archway Road, N6 5BS.

www.20thcquarters.com

Aladdin's

Vintage and antique furniture, homewares

and paraphernalia, with an attached

cafe. Open Monday to Sunday.

1 Hazellville Road, N19 3LW.

www.aladdinsfurnitureandantiques.co.uk

Can't Buy Me Love

Vintage clothes from the 50s-70s, as

well as a selection of homewares, books,

records and handmade cards and gifts.

Open 12pm to 5pm on Saturdays. 16 Avenue

Mews, N10 3NP.

www.cant-buy-me-love.com

Cha Cha Cha

As well as selling vintage clothing, furniture,

homewares, Cha Cha Cha also regularly

hosts events such as film and music

nights. Open 11am to 5pm on Saturdays.

20-22 Avenue Mews, N10 3NP.

www.cha-cha-cha.co.uk

Floral Hall

Since 1983, this Crouch End institution

has stocked a range of antique and vintage

furniture and homewares. Open

Tuesday to Saturday. Crouch Hill, N8 9DX.

www.floralhallantiques.co.uk

While a touch out of the Village Raw area,

this is such a great and inspiring project

it has to get a mention. As its name suggests,

Grow Tottenham encourages locals

Mosey Home

to grow produce and participate together

An ever-changing stock of mid-century

in a community-led project. Starting as a

vintage furniture and homewares alongside

temporary site, Grow Tottenham is now a

modern designs. Open Tuesday to

council-approved space which success-

Sunday. 28 Stroud Green Road, N4 3EA.

fully runs a community garden, arts venue,

www.moseyhome.co.uk

bar and cafe. It's open from Wednes-

day to Sunday with events occurring in the

Retro Sistaz

day and night, including gigs, gardening

Vintage clothing, vinyl records and retro

workshops, and other volunteering opportunities.

accessories including jewellery, bags and

Having started in Elephant and

belts. Blue House Yard, Wood Green, N22 7TB.

Castle, Grow celebrates its fourth space

www.facebook.com/retro.sistaz.7

in Tottenham by staying busy with exciting

projects, such as their most recent development

Solomon Retro

of a geodesic dome greenhouse

A selection of vintage and retro homeware

in the garden. Inspired by the masses of

and furnishings. Open Monday to

unused space in London, Grow gives locals

Saturday. 37 Park Road, N8 8TE.

the chance to enjoy a shared space and

www.solomonretro.com

learn new skills. Grow also offers budding

gardeners the opportunity to grow crops

WCD Interiors

on their own personal micro allotment free

Mid-century British, Irish and Scandinavian

of charge, encouraging a more sustainaday

furniture and homewares. Open Monble

way of living. If gardening isn't your

to Sunday. 84 Highgate High Street,

thing, a meal at the cafe or a drink at the

N6 5HX.

bar will hit the spot, as they offer a new

www.wcdinteriors.com

menu every day alongside a selection of

local beers on tap.

04 www.growtottenham.org

05

Forget Me Nots Vintage

A range of vintage and upcycled furniture

and gifts. 22 Aylmer Parade, N2 0PE.

www.forgetmenots-vintage.co.uk

Gonnermann

Specialising in mid-century Danish furnish

ings, Gonnerman offers a range of vintage

furniture, lighting and homewares.

Open Wednesday to Sunday. 408-410

Archway Road, N6 5AT.

www.gonnermann.co.uk

Junk 'N8' Disorderly

An assortment of antique, vintage and

junk oddities and retro furnishings from

an ever-evolving stock. Open seven days a

week. 26 Veryan Court, Park Road, N8 8JR.

020 8340 3222

Little Paris

An eclectic range of vintage and modern

homewares, furniture and fashion,

sourced from France. Open seven days a

week. 39 Park Road, N8 8TE.

www.littleparisstore.com

Monstrous Vintage Kids

A local, but online, store featuring carefully

chosen, high quality vintage clothes

for stylish children.

www.monstrousvintagekids.london

Grow Tottenham Mimi's Café Bistro Avivson Gallery

Mimi's is Muswell Hill's newest independent

hangout, offering a family- (and dog-) friendly

space to eat, drink, socialise and relax. Opening

at 8am, during the day Mimi's fulfils the full

duties of a high-functioning cafe with an allday

breakfast, fresh pastries, and lunch and

a-la-carte menus – all of which have plenty

of options for vegans, vegetarians and those

with other dietary requirements. Taking pride

in freshness and ethics, the cafe serves fantastic

fair trade drinks – including their coffee,

which is ethically sourced by Equal Exchange,

a company which distributes organic produce

made by women in developing countries.

Come evening time, Mimi's slowly transforms

into a bistro with its own dinner menu and

great selection of drinks, including cocktails,

wine and local beers. If you're looking to meet

new people, it could be one to watch as they

are soon to introduce a regular senior tea and

board games afternoon every Wednesday

from 3pm to 5pm. Whether you're looking for a

caffeine pick-me-up or an evening wind-down,

Mimi's has something for everyone and is open

until 10pm, seven days a week.

www.mimiscafebistro.co.uk

With over 30 years' experience collecting

art and a history of hosting exhibitions

around the world, Janus Avivson

has opened his newest gallery with his

wife Katarzyna in the leafy streets of

Highgate. Following their most recently

run galleries in the art-centric north

London hotspots of Camden Lock and

Islington, Avivson Gallery sees the beauty

of its surrounding greenery mirrored

in its impressive array of eye-catching

artwork – collected alongside his numerous

past endeavours (including mining,

factory work, bus-driving, stunt performance

and publishing). Avivson Gallery

runs regular monthly exhibitions for the

public to enjoy the finest artwork, and it

is open by appointment from Wednesday

to Saturday for anyone wishing to learn

more about what they have to offer. With

galleries and artwork temporarily popping

up across London, Avivson Gallery challenges

the fast pace of modern art as

it's found its home and it's here to stay.

For more information about what Avivson

Gallery has on, head to their website.

www.avivsongallery.com
---
ART & CULTURE

Valerie Charlton has enjoyed a dual career as both a special effects

model maker and an educator. Here she tells Village Raw about creatures,

courses and the need to fail.

THE PYTHONS,

A JABBERWOCKY,

AND ME

Interview by Luciane Pisani and David Reeve.

The path to Python

I grew up in Yorkshire, and in the early sixties went to Harrogate

Art School. We did a lot of life drawing, life modelling and painting,

and I also studied sculpture, ceramics and graphic design. In

1965 I came to London for a teaching qualification at the Institute

of Education. Here, I met Julian, my partner for the next 14

years – we had two children. After leaving the Institute I taught

part-time for seven years in comprehensive schools, adult education

classes and children's art classes. Julian went on to

study film and afterwards set up Chippenham Films, a small production

company, with another ex-student, Mark. It turned out

that Mark, an American, knew Terry Gilliam from his time in New

York – through this connection, he and Julian made a Monty Python

commercial for Harmony Hair Spray. Amazingly, this led to

them being asked to co-produce their first feature film – Monty

Python and the Holy Grail.

Tea, sandwiches and the Holy Grail

Pre-production of Monty Python and The Holy Grail was a very

local affair, mostly taking place between our house in Gospel

Oak and a nearby cottage which belonged to Henry Moore's

daughter. Michael Palin lived across the road; the art director,

Roy Smith, was our next-door neighbour; Terry Gilliam lived in

South End Green; and Graham Chapman was in Highgate. I had

been making props for Chippenham Films over the years and was

loosely involved in the pre-production, mainly getting tea and

sandwiches. There were people already building props in Doune,

in Scotland. One of the props had not turned out as Terry had

designed it, so Roy asked if I would go to Scotland and remake

it. It turned out to be the figurehead of the boat in which King

Arthur was to sail across a Scottish loch. We were in Scotland for

about six weeks during a beautiful spring. Everybody's families

turned up and were often roped into the film to be dressed as

filthy peasants. Lots of things went wrong - like at the very beginning,

when Mark and Julian had forgotten to supply a canteen

- but we survived and it was great fun.

What could have been…

In 1973-74 Terry Gilliam made the film Jabberwocky. I started

working with him on the development of the creature costume.

At that time most creature costumes were rigid and made of

fibreglass, but Terry had an idea for a very flexible costume with

the brilliant notion that the performer inside would stand back

to front – so the wings would be in a bird-like position and the

legs likewise. After I had helped Terry with the design and made

a model he looked for someone else to make the creature because,

at that stage, I hadn't yet made a creature costume. Nobody

seemed to fit the bill and eventually I was trusted with the

job. I started experimenting with very unconventional methods,

but then a few weeks into the filming the special effects supervisor

decided that he wanted his man to make the Jabberwocky.

I was furious and told Terry, but by now he was too engrossed

06

07
---
VILLAGE RAW

ART & CULTURE

in shooting the film to do anything. This was April and the film

continued to be made right through the summer into the autumn.

Come November, nobody had seen the Jabberwocky. In

desperation the producer, John Goldstone, and Terry went to

the supervisor's house, where they found the creature in his

garage in a very sorry state. The person who had made it hadn't

even understood that the performer should be standing back to

front. John rang me and asked if I could put it right. I was given

a week – I could have had eight months. I don't know what I was

thinking, but the first thing I did was to take a blowtorch to all

its ghastly hair. Of course I set the whole thing alight – fortunately,

we managed to douse the fire. I was leading a team of

four and we finished the creature in 10 days by working day and

night. We made as many changes as we could, and by the skin

of its teeth and some very clever shooting and editing by Terry

it worked. But I still wonder what it might have been… My next

film for Terry was Time Bandits, but now I was vindicated – I was

models supervisor.

A move into education

In early 1990 I was offered a senior lectureship at Wimbledon College

of Art on a newly validated degree course which hadn't yet fully

defined itself. I saw an opportunity on two levels. The new course

had evolved from a prop-making course for theatre design, but I

realised that it could satisfy a real need for skills training in film-related

special effects. On an educational level I was very committed

to a student-centred approach, rather than a subject-centred approach.

We encouraged students to determine their own pathway

– to decide for themselves what and how they wanted to learn.

We even asked them to mark their own perceived achievements

and they always under-marked themselves. The success of that

course, where frequently 40% of the students were dyslexic, forever

convinced me that when anyone is fully supported and allowed

to discover where their passions lie they are unstoppable in their

learning and in their creativity. More dyslexic students were awarded

first class honours degrees than those that weren't dyslexic.

Forest of hands, landscape of eyes

The hand forest made for Time Bandits was just one of Terry's extraordinary

images. He wanted these absolutely colossal hands

as trees which were alive and human-looking. I made heaps of

them – they looked terrific and would have worked, but I think

the scene got cut because it didn't fit into the plot very well. The

landscape of eyes were made for Brazil – they were part of the

dream sequence where the flying man flies over this landscape

of eyes, which were supposed to follow him. That was shot but

they couldn't get it to work properly as the eyes kept flicking in

the wrong direction. Terry once said he has these images that

sort of splurge out of him often without being processed – he

produces a heap more stuff than he ever uses.

The pleasure of learning

Desmond Morris was a naturalist who worked a lot with chimpanzees.

He gave them painting equipment and found they

loved putting colour on paper and painted with interest. Then

he started rewarding them and their motivation changed – they

painted to get the reward. They lost the curiosity in painting for

its own sake. I think this reflects a problem in schooling where

everything is geared towards the rewards or punishments related

to students' achievements. We 'mark' students, sometimes

for life; we scrutinise everything they do and applaud them, instead

of supporting them in the joy of learning and exploring –

the pleasure of learning for its own sake.

An imbalance in society

Studio 8

After Time Bandits I was asked to make the landstrider creatures

for Jim Henson's Dark Crystal. Jim, always an innovator, took

over Studio 8 at Elstree Studios in Borehamwood and turned it

into a joint workshop and rehearsal room so that makers could

work closely with the performers – it was a great working environment.

The four main landstrider performers trained for eight

months to walk on all fours on stilts. The landstriders were big

creatures – nine feet to the top of the back, supported by one

thin wire from a giant crane above. The costume, and especially

the legs, had to be very light but strong. I rejected so many

casts of the legs because they were too heavy and the plasterers

threatened to make a museum of them all. I wanted to put

a tiny pogo stick with a pivot in each hoof but the guys I was

working with couldn't make it, so I rang my dad, who was very

inventive. He and his engineer friend produced some amazing

little sprung hooves which pivoted and provided the lift-off that

the performers needed while they ran and galloped across the

landscape set. It was incredible – no computer-generated imagery;

it was all done for real.

I came from a skilled working-class background, so I've got huge

respect for the skills that people have developed in all kinds of

technologies. I've never believed that an academic education

automatically denotes intelligence, though it might. But I know

that there is great intelligence in manipulating all kinds of materials

– steel, wood, fabric, clay, plaster – not to mention in cooking

food, growing plants, and living in a rainforest. The kind of intelligence

in people who can solve problems materially tends to

be undervalued and underpins a massive imbalance in society.

On failure

I don't think I've ever made anything correctly the first time – I

fail, I fail, I fail, and then eventually I might get it right at the

end. Failure is just a step along the way. If you are frightened of

failing you can't learn. How can you possibly get it right the first

time if it's something you've never done before? You've got to

get it wrong to get it right. •

An exhibition of Val's photos is currently showing at Muswell HillBilly Brewers Tap

Room: www.muswellhillbillybrewers.co.uk

PHOTOS COURTESY OF VALERIE CHARLTON. PORTRAIT OF VAL WITH HER MONTY PYTHON BUSTS BY KATE KUZMINOVA

Previous page: Val Charlton with landstrider head at Elstree Studios (The Dark Crystal, 1982); The

Landstriders on set at Elstree Studios (The Dark Crystal, 1982). This Page Clockwise: Val in her studio,

with her Monty Python busts; Jabberwocky creature worn by Peter Salmon on location in Wales (Jabberwocky,

1975); model of the hand forest (Time Bandits, 1981); working on King Arthur's boat on location in

Scotland (Monty Python And The Holy Grail, 1974).

08

09
---
VILLAGE RAW

ART & CULTURE

A LEAP INTO

THE UNKNOWN

When a serious injury nearly

ended her dance career, artist

and Wood Green resident Jo Cork

turned to working with film.

She hasn't looked back.

Words by Carla Parks. Photos by Kate Kuzminova.

Only a few years ago, Jo Cork was told that she might never

dance again. Career-ending injuries are not incredibly rare in the

dance world, but Jo's injury was the result of a freak accident

in an office that left her with a seriously damaged Achilles tendon.

She was told in hospital that she'd recover, but that dancing

might be impossible. Two years of treatment and physical therapy

followed, to try to get her strength back.

It was during the rehabilitation process that she started making

what would become her first film – Sensate, in which she also

takes the role of dancer. "I didn't know if I was going to perform

[publicly] again," recalls Jo, "but I needed to perform for myself,

even if no one ever saw it. I just needed to be in the studio for the

sake of my sanity while I was recovering. I needed to be creative."

Sensate was created at Chisenhale Dance Space in 2016

– where 32-year-old Jo is a member artist. There were no expectations,

but the film ended up being a success and toured

internationally at 15 events in Europe, America and Asia. It was

also selected for a best film award in its category at a festival in

Colombia. "I applied to masses of festivals," Jo admits. "The film

festival circuit was something I'd never experienced before and,

out of curiosity more than anything else, I wanted to see how

well – or badly – it would do."

With her confidence growing, Jo has now made two more

works – a sequence of shorts called the Intersection Series and a

five-piece installation called Calibrate, which has been supported

by Arts Council England. The latter explores subjects such as

identity and mental health through interconnected pieces. Jo's

interest is in making dance films that say something about the

human condition and experience. "If we can draw on that, then we

have something that speaks to people," she argues.

Jo, who lives in Wood Green, is passionate about attracting

new audiences to dance, and it's partly this passion that drives

her vision. She recalls a conversation with a film technician who

was working on a Sensate screening in Hereford. The technician

explained how he thought he hated contemporary dance but

surprised himself by loving the short film. "This really resonated

with me," Jo says. "I thought that was such an opportunity. It's

gold dust."

With Calibrate, Jo explored using split screens, holograms

and layered projections that can be viewed with custom-made

hardware and stands. Instead of thinking of dance as an art

form that requires an auditorium for a live performance, Calibrate

purposely exploits new digital technologies that can be

used in smaller spaces. As a result, it can be viewed in galleries,

cafes, foyers and even event toilets.

"I wanted the work to be really accessible to both audiences

and venues, so using tech that could be fairly self-contained

felt important," the creator explains. In addition, she wanted

the works to be found in unexpected spaces, creating situations

where people could simply stumble upon them and have a

"unique encounter". The music – composed by Bartosz Szafranski

– is designed to adapt as viewers move from one piece to

the next. Jo says the composer, with whom she's worked before,

"always captures something vital about the work".

Jo is currently doing an MA in Screendance at the London

Contemporary Dance School – the first course of its kind to exist

worldwide. Working with industry professionals, she is helping to

develop Frame Rush: A Place for Screendance, a two-day festival

in London in March 2019. While the artist concedes that more

commercial work will always get the lion's share of funding, she's

determined to progress her vision for what dance can achieve

through film: "We have to be more tenacious about how we are

working, to make sure that we don't just dwindle into the background."

It's her belief that experimental work will help to ensure

that dance continues to break new ground. Eventually, she hopes,

it'll reach new audiences who didn't think dance was for them. •

You can find out more about Jo through her social media channels: @jocorkdancedigi

10

11
---
VILLAGE SOUNDS RAW

you'll be sitting trying to think of a name

but you're just seeing this pink cloud with

orange slashes in it – I can see the name,

but I don't know it.

What does my voice look like?

It looks like narrow tubes of autumn colours,

not just one colour… It's quite dark,

not because I think you're dark, but perhaps

because you have brunette hair –

it's somehow representative of what you

look like too. Every word is a slightly different

thing and intonation changes how

it looks.

SATURN

RETURNS

Yazmyn Hendrix is an

a capella artist who uses

her voice and a loop

station to create textured

musical environments.

After several years living

in Brighton, she recently

returned to Hornsey, where

she was brought up. Her

first single, Stay With Me,

was released in November.

Interview by Luciane Pisani.

Photo by David Reeve.

Why music?

You know when you feel like you have a

purpose? Music's mine – that's how I feel

about it. Also, my parents are musical. I

tried to find an instrument that was right

for me and I finally found the trumpet,

but really I always wanted to sing but

never had the confidence. I'd been writing

songs my whole life, but never sang in

front of anyone.

What are your influences?

I'm influenced by a lot of different music.

I love jazz, I love blues, gospel, folk and

pop. Everything I do is quite soulful. I like

to make something which is easy enough

to listen to and follow.

How do you write?

I write in a lot of different ways. I could

get out my loop station and just kind of

vibe off it – it's on the spot, it's instant.

Sometimes I do things like listen to a conversation

on the bus, listen to the rhythm

of the words… But improvisation is probably

my favourite way.

How did you find out you experience

things differently?

When I was about 19 I was at a friend's

house – we were watching this video and

I said, "Oh, it looks like this song." They

said, "What do you mean, 'It looks like

this song'? It looks like the video for that

song?" And I said, "No, it looks like that

song." That was how I discovered it – my

friend knew what synesthesia was and I

was like, "Oh my God, this is a thing!"

What does it mean to be synesthetic?

The definition is a crossing of the senses

– and, to me, it just means that some

things are blended into one kind of sense

rather than being two separate ones.

That's just the experience that I have –

everyone's experience as a synesthete

is different. And it can be really useful –

like I can remember phone numbers and

I can remember names, usually. Although

sometimes it's really annoying, because

Name a song that's important to you.

Grateful by Hezekiah Walker. It's a gospel

song and I usually start my day with it. It

always looks the same – waves of voices

which are mainly green, but there's also

hot pink. It goes up in harmony, and different

parts come in – they do the low

part and then they do the high part. Visually

it's really interesting because spatially

it's all around me. It's like another

dimension. If I close my eyes it's more

prominent, and music has more clarity

than speech – it's more present. If I'm at

home in my room and I listen to a song,

it's very much filling my head.

Where are you now with your music?

This is a super exciting point in my career.

I'm releasing an EP next year called

Saturn Returns. It's about life, death, my

inner self, and my outer universe. From

the day you're born it takes roughly 27

to 30 years for Saturn to return. There's

all different kinds of astrological ideas

about what this means, but perhaps it's

a point where you can reassess things if

you want to make a change in your life.

The track Stay With Me is a conversation

with my inner child. I'm also doing collaborations

with Adam at The Boathouse

Studio – an awesome studio in the middle

of nowhere, the middle of nature – and

we have some exciting things coming up.

I also have a five-track collaborative EP

coming out with a Brighton-based rapper/piano

player called Mrisi. •

You can find out more about Yazmyn via her

website and various social media channels:

www.yazmynhendrix.com

Yazmyn recorded a live version of Stay With Me,

which you can view at: www.villageraw.com/yazmyn

interesting, local, ethical & sustainable shopping

12 1
---
VILLAGE RAW

COMMUNITY

THE NEXT MEAL

Martin Stone is the heartbeat of the Muswell

Hill Soup Kitchen. From here, he has also

started Next Meal – an innovative website

designed to end begging.

Words by Zoe Bee. Photos courtesy of Martin Stone.

Muswell Hill Soup Kitchen, based in the

Baptist Church on Duke's Avenue, was

known as one of the "tough-nut soupies

of London". Martin Stone took over

around 12 years ago, and since then he

has transformed it. "I wanted to produce

a product that others can emulate: to get

the cooking right, get the safety right,

get the support right," says Martin.

Martin raised £50,000 from the local

community to install a new kitchen. Inside,

there's an Aladdin's cave of goods

donated from local schools' harvest festivals,

Mitzvah Day from the Jewish community,

as well as items from the Sainsbury's

food bank. Fresh food comes from

Gail's Bakery and various schemes across

London, including the Felix Project.

There have been challenges on the

way to success. The soup kitchen fills an

acute need in the area – it's probably no

coincidence that it opened soon after the

Friern Hospital closed in 1993. The original

room was a small, enclosed space

where violent scenes often occurred.

"You could have one disturbed guest

setting off another," says Martin. "There

could be chaos." To help, Martin moved

the space into a large, comfortable hall

which by day is used as a children's nursery.

People told him that he couldn't do it,

saying it was a terrible idea, but he did it

anyway. "It's hard to get angry at a teddy

bear," he says.

At night, the hall is a warm, welcoming

room where guests can eat great

food with great company. The tables have

multiple charging points, so the guests

can charge up their phones. On Sundays,

there are jazz musicians to entertain

people as they eat.

One of the reasons the soup kitchen

works so well is because it isn't in

an area of deprivation – volunteers and

guests feel safe coming here. Martin

uses the talent in the community and

puts the soup kitchen's success down

to them. A team of 60 volunteers from

all backgrounds work over five nights to

help with cooking, buying and maintaining

the kitchen's high standards. Doctors

and psychiatrists observe and give

advice, while professionals come in to

check the kitchens. The musicians are

also volunteers. It's a fun place to work,

where everyone is encouraged to share

their skills. "The great thing about an area

like this is that people don't have to help,

but they do," says Martin. "People have a

confidence that if something needs doing,

they can do it."

Volunteer Jess has been coming on

and off for two years: "The guests are

cool and quirky. They've always got a

smile on their face, even in the circumstances

that they're in. It's somewhere

that instantly felt friendly and welcoming

to me, and I think that's quite important

when getting people to come."

"There's a really nice atmosphere,"

says Anne, a librarian who has volunteered

at the soup kitchen for over a year.

"A lot of that is down to Martin. He's a

very relaxed sort of person. Even though

he's not keeping control over everything,

somehow it all seems to just work. Everyone

mucks in."

Beyond the kitchen

While visitors to the soup kitchen can

enjoy an evening meal five days a week,

Martin and his team wanted to provide

more support for when the kitchen isn't

open – so they wrote a booklet to tell

their guests where else they could go for

a free meal.

Martin was motivated to offer this extra

support by an incident in Stourbridge

in 2017. A woman met a homeless person

and, wanting to help, offered him food,

friendship and sometimes shelter with her

family. A year later, he murdered her and

her son at their home. At the trial, her husband

said: "I wish she had never met him."

Martin says, "I'm really distressed

that a man is wife-less and son-less because

of a homeless person. He doesn't

know, but I wanted to do it for him."

"We want people to care about homeless

people, but we want to help them in

the centres where there's a level of expertise,"

he adds. Martin is an expert in

social housing and is sad that his skills

couldn't help the family in Stourbridge. "If

people have talent, they should use it,"

he says with passion.

So when a neighbour, Oli Roxburgh,

mentioned that his talent was making

"app-y things", Martin asked Oli to turn

the soup kitchen booklet into an interactive

tool – and thus, Next Meal was born.

The website lists locations which offer

food and advice for vulnerable people.

Anyone who is concerned can visit

the website, print off a set of Next Meal

cards, and give one to anyone who is

begging. When this person looks up the

website on their mobile phone, GPS will

identify their location and Next Meal will

tell them their nearest place to go for immediate

support.

Martin's idea, which has been a huge

success in Muswell Hill, has now been

rolled out to 300 Next Meal sites across

the UK and in Dublin, Paris, Milan, New

York and San Francisco. Martin predicts

Next Meal will eventually reach cities

where there are no centres, but by then

he hopes they'll have enough money to

set up places of safety. "Using modern

technology, we'll be able to track phones,

see what's happening in the centres, and

monitor them from London."

Next Meal has been rejected by some

cities, but this has simply motivated Martin

to try harder. "We have to think, 'What

can we give?'. We have talent and we're

accountable to that talent – all I've proven

is that you should just do it. I used my own

resources and believed in the project."

Martin has written a book on poverty

and been awarded a Points of Light award

for significantly improving the lives of

Opposite page: Soup Kitchen

volunteers Rebecca, Amos and

Bradley. This page: Ann talking

with Martin Stone.

others. Is he proud of his achievements?

"Next Meal is a good idea," he says, "but

it's not me, it's the community that's

done this. But when people say they like

it... I'm chuffed."

Further support

Other initiatives in the area include the

Community Cafe at St James Muswell Hill,

which is open every Tuesday from 11am

to 1pm. This is another friendly and welcoming

space where people in need can

come for soup and cake. Community Cafe

partners with various high street shops

in Muswell Hill which help to support it.

"The best way for people to help out is

to simply come along and have a coffee,"

says Hannah Whitehead, Head of Community

Ministries.

St James Muswell Hill is also taking

part in the Haringey Churches Overnight

Respite initiative. From 5 December to

14 March, the church is offering a threecourse

meal, bed and a warm breakfast

for 12 people in need during the coldest

12 weeks of the year. •

GET INVOLVED

MUSWELL HILL SOUP KITCHEN

If you would like to volunteer

at the Muswell Hill Soup

Kitchen, contact Martin Stone:

www.mhbc.org.uk/soup-kitchen.

Local businesses can request

Next Meal cards to display and

give to their customers, while

individuals can print them off

to carry around. You can find

out more about Next Meal at

www.nextmeal.co.uk and share

the page on social media.

OVERNIGHT RESPITE

To help at Overnight Respite,

contact Hannah Whitehead

at St James Muswell Hill:

hannah.whitehead@st-james.

org.uk. There are lots

of shifts available, from

helping to cook the threecourse

meal or dining with

the guests in the church,

to taking a night shift or

clearing away the breakfast

things in the morning.

People are also welcome

to donate toiletries and

warm hats, scarves, gloves

or socks (they all need

to be new).

OTHER CHARITIES

The following charities

also offer suggestions on

how people can help a rough

sleeper or homeless person.

Centre Point:

www.centrepoint.org.uk

Crisis:

www.crisis.org.uk

Shelter:

www.shelter.org.uk

St Mungos:

www.mungos.org

Street Link:

www.streetlink.org.uk

14

15
---
VILLAGE RAW

PARTNER CONTENT

"Buildings are vital organisms. They contain people who are doing

something and it is people who matter, not the buildings."

So said Reginald Uren, the architect who designed Hornsey Town Hall,

unveiled in a grand ceremony on 9 November 1935.

Words by Carla Parks. Photos courtesy of Hornsey Town Hall Arts Centre.

A NEW ERA FOR

HORNSEY TOWN HALL

Clockwise: A holographic projection in Hornsey Town Hall; The flexible workspace; Outside Hornsey Town Hall with Kerb X.

Looking at Hornsey Town Hall today, it doesn't feel very much

alive or vital. It still, however, contains people doing things.

Among them are David Reeve and Luciane Pisani, the editors

and creators of Village Raw, who continue to work from a small

office space on the first floor of the building. They aren't the

only office tenants - other rooms are occupied, and Hornsey

Works, a co-working space, has recently opened to house more

creatives working local to Crouch End.

But the building itself is a shell of what it must have looked

like 83 years ago. A beautiful wrought-iron grille guards the

entrance, opening onto a functional reception desk. Nearby, a

clock is permanently frozen at 4 o'clock. It seems an apt metaphor

for a building that seems lost in time, stuck somewhere

between the grandeur of its past life and its uncertain future.

Into this breach steps Piers Read, managing partner of The

Time + Space Co., a business that specialises in urban regeneration

projects. Appointed as the arts operator of HTH in April

2018, it's their job to breathe new life into what will become the

renovated arts centre – over 10,000 square feet of space is

guaranteed for community uses. Their vision is to focus on five

pillars: community, performance, events, workspace and hospitality.

For Piers, community is his number one priority.

"We want to get people, in particular the local community,

into the building. To let them know that we are totally collaborative

in our approach," he says. "Part of the process is to understand

what the local need is for the community, the demand,

and how we can use the building for the ultimate benefit of as

many people as possible."

To get a better understanding of what locals might want for

the arts centre, The Time + Space Co. commissioned some independently

run consultations themed around the pillars. The

last of these takes place on 13 December and is seeking views

on performance and events. "It's not a tick-box exercise," Piers

explains. "It's a catalyst for how people will communicate with

us from that point going forward." It's his intention to use the

feedback as much as possible, but any suggestions will need to

work spatially and fit into the overall business plan.

This is, after all, a commercial venture. There is no subsidy

or grant to help fund the £30m redevelopment of the arts centre

or its future running costs. It's being funded by the Far East

Consortium's development of the site and The Time + Space

Co.'s investment. Piers, who has lived with his family in Crouch

End for 10 years, acknowledges locals' concerns about issues

ranging from the likes of public access to pricing.

One fear was that current occupants would be turfed out of

the building and it would close, although Piers maintains that

was never the plan. In fact, they will be opening a new cafe on

the ground floor in December, one of four eventual restaurants

on site, selling both cocktails and coffee. Just down another

corridor, a co-working space is ready for new occupants and

about 50% of the desks had already been pre-sold to local freelancers,

entrepreneurs and creatives.

Piers is hoping to draw a "creative cluster" to the arts centre,

like-minded individuals who might be inspired by each other.

Other plans include hosting corporate events, weddings and bar

mitzvahs and offering full-service catering. Meanwhile, it's hoped

that the performance and events programme will be a mix of the

traditional and cutting edge – such as 3D holographic imagery.

Belinda Chorley, the owner of bespoke wedding-wear shop

Beyond Bridal, has worked from the Hornsey Town Hall for two

years. She's optimistic about the plans: "Time + Space have instilled

confidence in me that they will manage the building and

do everything they can for the creative community." Chorley,

who lives in Crouch End, is pragmatic about what needs doing.

"I understand that it's a business venture and to overhaul the

building to the Grade II listed standard requires huge financial

investment, but it will be truly amazing when it is complete."

Chorley's only concern is that she and other creatives who

currently work from HTH will be able to afford a working space

when the arts centre is fully renovated in about two years' time.

But Piers is clear on this point: "Our pricing model is being developed

so that it will be affordable for local businesses. We

want to support and nourish the existing creative cluster here

so freelancers and SME's can thrive under one roof." He wants

to encourage people to have a voice in the arts centre's future.

"We are very passionate about this building, the project and its

potential. It's a journey we are going on and it's about welcoming

everyone to come on board and get involved."•

To find out more about Hornsey Town Hall Arts Centre check their website:

www.hthartscentre.com

16 1 17
---
VILLAGE RAW

VILLAGE IN PICTURES

A TRUE INDEPENDENT

East Finchley's Phoenix Cinema is one of

the oldest independent cinemas in the UK

Words by David Reeve. Photos by Dan Bridge.

18

19
---
VILLAGE RAW

VILLAGE RAW

VILLAGE IN PICTURES

Photos: 100 years of cinema - the facades from 1918 (top left), 1954 (top right),

1965 (middle left),1978 (middle right), 1983 (bottom left), 2018 (bottom right).

In 1912 The East Finchley Picturedrome opened its

doors – its mission, to screen the "world's finest picture

plays". Since then, the cinema has become known for

screening independent, foreign, classic and specialist

films. While Granada tried and failed to introduce a more

mainstream programme in the 1970s, the cinema is no

stranger to change. Major renovations in 1938 moved

the screen to the opposite end of the auditorium and

gave the cinema's facade a modernist makeover. Over

the years its name has also changed, from the Picturedrome

to The Coliseum (1924), The Rex (1937) and finally

The Phoenix (1975). When the Phoenix was under threat

from property developers in the 1980s, the community

came together and petitioned the council. The Phoenix

Cinema Trust was formed and awarded a grant by the

Greater London Council to purchase the cinema, which

they did in December 1985.

Being owned by a charitable trust means the Phoenix

is an independent, not-for-profit community cinema

operated on behalf of the people of north London. Alongside

its diverse programme, the cinema also works with

schools; runs a filmmaking course for young people; and

runs dementia-friendly screenings. Receiving no regular

subsidy, the Phoenix has been struggling financially. With

Curzon Cinemas poised to take control, Save The Phoenix

was formed to campaign to keep the Phoenix as an independent,

community cinema. After pressure from staff,

the public, and national coverage, The Phoenix's Board of

Trustees pressed pause on the takeover to consider other

options. The future of the Phoenix Cinema, as a true independent,

may once again be up to the community. •

To find out more visit: www.phoenixcinema.co.uk

To support the cinema visit: www.change.org/p/save-the-phoenix-cinema

ARCHIVE PHOTOGRAPHS COURTESY OF PHOENIX CINEMA

20

21
---
VILLAGE RAW

FOOD & DRINK

SECRETS OF A PERSIAN KITCHEN

A collection of recipes has been brewing in Atoosa Sepehr's

East Finchley flat for over a decade – and they've just been

published in her debut cookbook, From a Persian Kitchen.

Words by Katrina Mirpuri. Photos by Kate Kuzminova.

Challenging the traditional expectations of an Iranian woman,

Atoosa Sepehr studied computer science and became a success

in the steel industry, where she worked as the only woman

in a predominately male environment. Her life and career took

a U-turn when, after unforeseen circumstances, she left Iran

for England – leaving her old life behind and starting afresh.

Atoosa describes her surreal first weeks in the UK with reminiscent

eyes: "When I came to London, I started missing my home

– and the only thing that made me feel at home was food". Living

alone in East Finchley, Atoosa found comfort in cooking and

relished in recreating the flavours of Iran. "There are so many

Turkish shops and Persian shops where I can find all my ingredients,"

she says. "The only thing I still get from Iran is saffron."

But despite London's endless supplies, some things just aren't

the same here: "The yoghurt in my country tastes completely

different. To get that same umami taste here, I started adding

cheese," she explains.

As she perfected her craft, fresh aromas would dance down

the hallways of her flat – spiking the attention of her passing

neighbours, who constantly asked what she was cooking. As the

weeks went by and her neighbours begged for recipes, the idea

sparked in Atoosa to write a cookbook. The interest in her food

was overwhelming and it was then that she realised that while

London's Iranian community is large and thriving, Persian cuisine

is a mystery to many. While flicking through the colourful

pages of her book – fittingly named From a Persian Kitchen –

she says, "Hopefully my book will bring a bit of awareness about

Persian food, because it's really not like other Asian cuisines."

The imagery in Atoosa's book is vibrant and incredibly personal,

and her style comes through strongly across the pages. The

food is displayed effortlessly, with elements of still life creeping

into the pictures – vases filled with delicate flowers sit behind

loud, bright dips, and photographs of dishes rest between stills

of Iran's landscape. You could be forgiven for thinking the pictures

are from a professional photographer but, like its recipes, they

were created in Atoosa's flat and were all taken by Atoosa herself.

"The background in the photographs is some black slate that

I saw at my neighbour's house. I thought it looked good, so asked

to borrow it", she recalls, giggling at the concept. DIY is a recurring

theme in Atoosa's life. Her self-made business background, her

cookbook and new life in England all come from a strong urge to

move forward and succeed. Having already achieved so much in

Iran, her peers were shocked when she decided to write the cookbook.

"People were like, 'Why did you do that? You shouldn't have

done that. It's a shame to leave your job'."

While moving into cookery seemed like a drastic switch at

the time, it was the change Atoosa needed to move onto the

next chapter in her life. "When I was writing the book I thought

about all the negative things you hear on the news about Iran.

I wanted to show a different side, like the beautiful food, the

people and the landscape". Atoosa's current success in the food

world reflects her new life, which is as bright and colourful as

the pictures in her cookbook. From a Persian Kitchen is a love

letter and a tribute to Iran. Hoping to open more eyes to Persian

cooking, Atoosa's easy recipes are the perfect gateway to the

flavours of the east. •

This page: Barberries, pistachios and almond in saffron with

rice. Opposite page: Atoosa preparing a Persian delicacy.

You can find out more on her website: www.atoosasepehr.com. Atoosa will be signing

books at the Aylmer Pantry, Aylmer Parade, N2 0PE from 12.30pm to 1.30pm on

Saturday 15 December. For a short recipe film visit: www.villageraw.com/atoosa

22 1 23
---
VILLAGE RAW

FOOD & DRINK

A TALE OF TWO DISTILLERIES

One old, one new, both the same spirit. A look at the gin distilleries

bringing mother's ruin home again.

Words by Aimee Charalambous. Photos by David Reeve.

Long neglected, British gin is well and truly back. The spirit once

known as mother's ruin is reinventing itself with spectacular

success, and the new gin craze has seen Britons buying almost

60m bottles of the juniper-based spirit in the past 12 months.

One of the pioneers at the helm of this reinvention was Highgate's

very own Sacred Spirits. Launched in 2008, Ian Hart and

Hilary Whitney started Sacred in a very different world to the

one we know today. "Gin didn't always have the cool millennial

edge it has now," says Hilary. "A decade ago it was associated

with suburban cocktail hours and crusty old generals." Over the

years gin had lost its spark, but Sacred discovered a way to restore

it.

Naturally curious and fascinated with science and distillation

from an early age, Ian started playing around with vacuum

distillation of Bordeaux wines as a hobby. One day, he decided

to use the same method for gin – launching what would become

a gin-volution from the kitchen of his family home. Ian realised

he was on to something and enthusiastically set about experimenting

and distilling dozens of well-known and obscure botanicals.

Every Sunday he took his experiments down to his local

pub, The Wrestlers, for people to try – and, after a year of trial

and error, a panel of regulars declared Recipe 23 a winner. Sacred

was born.

The Sacred distilleries are unique, having a touch of the mad

scientist's lab to them. A modular system of pumps, silicone piping,

and quick-release fittings has been designed by Ian to his

exact specification. The precision gives him complete control

and flexibility to distil botanicals individually and achieve exceptional

flavour profiles, as in Sacred's distinctive Coriander or

Cardamom gins. Vacuum distillation occurs at much lower temperatures

than traditional pot distillation, where botanicals can

be stewed at somewhere around 90C, and brings a much fresher

character to the end result. "Think of the aroma of cooked

oranges in marmalade versus fresh cut orange," Ian explains.

"Vacuum distillation allows us to capture that initial flavour,

preserving it and opening up a whole new way to appreciate the

botanicals that make our gin's flavour so distinctive."

The provenance of gin drives Ian as he explores each new

flavour with his own local, familiar take. Take the Rosehip Cup,

which was developed as a fruiter, less bitter alternative to Campari.

It combines with Sacred Vermouth and original gin to complete

a perfect – and truly English – Negroni. Then there's Sacred's

Christmas Pudding Gin, which is made by distilling whole

Christmas puddings cooked according to Ian's Great Aunt Nellie's

recipe.

Even the label emphasises the authentic, meaningful experience

Ian and Hilary seek to create. If you look closely you'll see

nods to the constituent parts that made Sacred a reality. Hilary

points out the nightingales of Highgate Woods intertwined with

the gates. A snake's head represents the mythical serpents legend

says protect the Boswellia sacra tree – the tree from which

frankincense is obtained, and Sacred takes its name. Ian's mark

is there in the hearts that adorn the crown, and the hinges are

pen nibs, referencing Hilary's previous life as a journalist. The

label is even cut at the bottom to suggest precious drops collecting

in the still.

You can find the masters at work upstairs at The Star Pub in

Highgate. From 6pm to 11pm, Thursday to Saturday, you can sample

a bespoke collection of gin cocktails crafted by mixologists

from across the world. The team also host regular tastings and

cocktail masterclasses – the next of which is on 12 December.

For the love of gin

On the other side of north London, a very different discovery

brought about another new distillery. Six years ago, Ian Puddick

bought some old buildings in Pymmes Mews, Palmers Green to

use as offices. During renovations and a land dispute, he uncovered

a long-forgotten secret buried deep in the building's past.

Once an old bakery, Ian's new office had, at one time, also

been the site of an illegal gin distillery. After tracking down the

bakery owners' descendants – specifically, a seventh-generation

grandson – and uncovering the original four ingredients,

he set about recreating the recipe. "Initially I was just playing

20

25
---
VILLAGE RAW

around, enjoying a window into the past and a new hobby," says

Ian. "Unlike most distillers I didn't come to this with a view to

build a business. It was a love of gin and a love of the story. The

thought of gin being made in or around my office was too much

to bear – I couldn't let it go."

Most new brands seek to differentiate themselves through

weird and wonderful botanicals or novelty twists, such as

launching ingredients into space and adding moon rock into the

mix. Old Bakery, though, keeps thing simple and stays true to

the origins of the spirit. Ian points out that Old Bakery's recipe

is probably one of the simplest around. "Back in the day gin

was made with what was available, containing botanicals that

were easily accessible – which is especially important if what

you're making is illegal! Our botanicals may not seem like a lot

but, when handled right, they make a gin that's extraordinarily

flavourful and complex. Our simplicity is a major selling point."

That said, while tradition is at the core of Old Bakery's identity,

Ian has begun to experiment. In June he launched a Baker's

Pepper edition, and in November he debuted London's first rum

– paying homage to Wen, one of the original bakers at Pymmes

Mews. Created as a one-off, the recipe has taken a sharp, harsh

dark Jamaican rum and transformed it into a super smooth tipple

- perfect neat over ice.

You can find Ian in action and get a taste of Old Bakery first hand

at the monthly Enfield Gin Palace Pop-Up, running 4pm to 11pm on

the last Saturday of every month. The next is on 22 December. •

Top: Ian Hart, from Sacred Spirits, discusses the

chemistry of gin with apprentice distiller Siobhan Feeley.

Bottom: Ian Puddick, from Old Bakery, measures out the

juniper berries as fellow distiller and plumber George

Rees watches on. Previous page: The Old Bakery stills.

You can find out more about these distillers and their events on their websites:

www.sacredgin.com / www.oldbakerygin.com

There are more photographs and short videos of the distillation processes at:

www.villageraw.com/gin

26
---
VILLAGE RAW

SUSTAINABLE VILLAGE

BEYOND THE AISLES

We all have a role to play when it comes to the issue of food

waste – even what occurs outside of the household – but how do

we take action against something we cannot always see?

Words and photos by Chris King.

When we think of food waste, we tend to think about what we

ourselves are throwing away – that half-eaten burger, that bag

of unopened salad leaves forgotten at the back of the fridge.

And for good reason – we can see it, and we feel the sense of

guilt and shame when we throw it in the bin. But we're also reminded

of food waste through supermarket and government- or

council-funded initiatives – where the spotlight is also firmly

placed on the household.

Current statistics, used to justify the focus on us, seem

to validate this view. In its report on food waste in the UK, the

government-funded non-profit organisation, WRAP, claims that

more than 70% of the waste produced comes from the household

– 70% of which is edible. What isn't always apparent is that

those statistics only relate to what happens beyond the farm

gate, and so doesn't provide a complete picture. What happens

on the farm stays on the farm.

There has been some attempt to put a figure on what gets

wasted on the farm – a report by the UN's Food and Agriculture

Organisation in 2013 claimed that 20% to 40% of fresh produce

was wasted for cosmetic reasons alone. However, even

this is likely to be a conservative estimate, due to the lack of

up-to-date, comprehensive and complete data available. I've

witnessed field after field of crops being left unharvested. It's

shocking to see, but from the farmer's perspective it must be

incredibly frustrating, disheartening, and economically devastating

– to devote so much time and energy into nurturing the

plants, only to have to let them rot into the ground.

But, apart from farmers' wellbeing and livelihoods, why should

we be concerned about farm-level food waste? Surely the farmers

can just plough produce back into the ground, or let it fall from the

trees, and fertilise the soil or the tree roots? Well, they can, and

they all too often have to. However, not only does this fail to replace

all the nutrients taken from the soil, but it also wastes all the

resources that were embedded in that food – the fuel, the labour,

the water, the fertilisers, and everything else used to grow it – just

as we are when we throw uneaten food away. Food that moves from

the farm to our fridges has more and more resources embedded

into it, because of the additional transportation, refrigeration,

packaging and everything else required to get it on to our plates.

Why is so much perfectly edible food going to waste? Some

of it is built into the system by default – farmers will often overplant

by a certain percentage to allow for the unforeseen. But a

significant amount of what is wasted comes down to supermarket

practices – from imposing unreasonable cosmetic standards,

to cancelling or reducing their orders at the last minute.

This means some or all of the crop is left in the ground or

hanging on the tree, simply because it is considered too small,

too big, too blemished, inappropriately shaped, or indeed even

because of excessive 'soil splash', to name just a few of the justifications

supermarkets give for stopping perfectly edible food

making it on to their shelves. I've documented delicious, sweet

red apples, juicy pears, beautiful, dark green cabbages – all rejected

and left to rot. And when you think that it takes roughly

15,400 litres of water to produce 1kg of beef (compared to 237

litres for 1kg of cabbage), wasting meat – anywhere along the

supply chain – is an even bigger waste of resources.

28 29
---
VILLAGE RAW

find out more at

omvedgardens.com/events

We can all reduce the amount of edible food we needlessly

throw in the bin (or hopefully food waste caddy or compost

heap) by changing our habits, but what can we do about what's

happening on the farm? Us urbanites are very disconnected

from where our food comes from, largely because we have come

to rely so heavily on the supermarkets to source and supply us

with the vast majority of our groceries. But there is a co-dependency

there – in fact, they need us more than we need them

– and we can use that to affect positive change.

When enough people stand up and make their voice heard

– whether through petitions, engaging with local politicians,

supporting organisations lobbying the supermarkets, or by

some other means – supermarkets will eventually listen and

take action. We can demand greater action to reduce avoidable

farm-level food waste; we can call for greater transparency

around the quantities and causes of farm-level food waste; and

we can communicate our willingness to purchase fruit and vegetables

that are currently rejected by supermarkets on cosmetic

grounds. The supermarkets have engineered the food system

in the UK for the sole benefit of their bottom line – such is the

nature of any company that wishes to survive and thrive in a

particular market – but it's also one of their biggest weaknesses,

and it's one we, their customers, can use to the advantage

of our communities and environment.

You can, of course, cut the middleman out altogether and

support your local farmers' market, grocers, butchers and bakers,

of which there are plenty to choose from. This is a great

way of taking power away from the supermarkets, and buying

locally brings with it a range of other benefits. And while there

remains a criminal amount of food being wasted on farms, you

can always volunteer as a gleaner – someone who goes onto a

farm post-harvest and gathers food that might otherwise go to

waste, which is then redistributed to charities supporting vulnerable

members of our communities.

I would like to leave you with this thought – our food system

has a direct impact on all the environmental issues of our

time, from climate change to ocean acidification; deforestation

to biodiversity loss; soil degradation to water security. If we're

wasting a third of the food we produce globally, addressing the

flaws in our system, along with changing our own habits, can

potentially have an incredible impact on helping mitigate the

damage being done as a consequence of those issues.

So, let's take action! •

You can find out more about the issue of food waste by visiting Chris's website:

www.foodiswasted.com. To volunteer as a gleaner, visit: www.feedbackglobal.org.

Feedback, the Food Ethics Council (www.foodethicscouncil.org), and many other

great organisations lobby for a more sustainable food system.

30
---
SUSTAINABLE VILLAGE

VILLAGE ESSAY

that's been grown responsibly – look out for the FSC certification

logo or one that is Soil Association approved.

Fake plastic trees are not a great solution (unless you already

own one) – they're mostly imported, are incredibly

energy-intensive to manufacture and at the end of the

day create more waste as they cannot be recycled. Finally,

if you're using fairy lights, choose LED, solar-powered

or ones with a rechargeable battery – they're the most

energy-efficient – and put them on a timer.

A NEW SOCIAL

ARCHITECTURE

Gifting

Words by Jonathan Carr-West.

Illustration by Kerrie O'Connell.

HOW TO HAVE A LOW-

WASTE CHRISTMAS

Words and photo by Emma Ross.

Can you believe it's that time of the year again? The

clocks have gone back, the days are growing shorter, and

we're starting to pull out our winter jumpers and think

ahead to the festive season. There are many wonderful

and meaningful rituals associated with this time of year,

but it's also come to be a period synonymous with pressure,

consumption and waste - in fact, an alarming 30%

more rubbish is produced.

It's time to challenge some of the conventions out

there, embrace nature and enjoy a more mindful, more

economical – and equally joyful – way of celebrating.

The good news is that there are plenty of ways we can

celebrate and respect Earth's natural resources.

Decorations

In the UK alone, we go through an estimated 108 million

rolls of wrapping paper at Christmas. Given that it contains

plastic and is often impossible to recycle, that's a

colossal amount of waste. Why not consider wrapping

in newspaper, fabric, or brown paper? Look to nature to

spruce it up by adding a sprig of holly. If you celebrate

Christmas, also consider your choice of tree. Every year,

an estimated six million Christmas trees are bought in the

UK alone, and most of these are thrown out just weeks

later – generating an estimated 160,000 tonnes of waste.

Why not rent a tree or, if you want to buy one, find one

It's time to radically rethink the act of gift-giving. Each

festive season, 4,000 tonnes of products arrive from

China. Why not avoid importing gifts or buying from the

online giants and instead opt to buy locally, supporting

our small businesses and our community – all the while

minimising your carbon footprint. There's a multitude of

wonderful shops on our high streets as well as several

wonderful Christmas markets in the area. Buying second

hand is another sustainable way to shop – preventing

waste, giving to charity and saving money at the same

time. We're fortunate to have a plethora of brilliant charity

shops in Haringey, so next time you pass one, take a

look inside. Finally, gifting should be about time, effort

and love, so why not consider creating homemade gifts

this year? Pinterest is full of ideas, from DIY candles to

hand-cut cloth wipes - and once you strike upon a good

idea, go bulk and make it for everyone!

Food and drink

Approximately 10 million turkeys are eaten in UK every

Christmas – that's a lot of turkey – and given that the meat

industry is one of the biggest single contributors to global

climate change, the festive season is an opportunity to

eat less meat and opt for some winter veg. Head to your

local grocers or farmers' market for delicious, plastic-free

choices. If you do choose meat, go for organic, which has

shown to be higher in nutrients and lower in "bad fats". And

don't overbuy - we already waste about a third of all food

produced, but with the increased intake over the festive

period, this rises even more. Approximately two million turkeys,

74 million mince pies and 17.2 million brussels sprouts

are thrown away every Christmas.

It's time to stop putting pressure on ourselves and

on the environment and to reclaim what we love about

this time of the year: nature, good food, and people.

However you choose to celebrate, here's to a meaningful,

sustainable and wonderful festive season. •

Follow Emma on her social channels: @mamalinauk

The word "municipal" has a rather dreary image these

days. For too many people it is evocative of concrete,

of multi-storey car parks and of faceless, labyrinthine

bureaucracy. Once, things were different. Once, "municipal"

spoke of the civic pride of great cities; of education

for the masses; of clean water and sanitation; and the

biggest increases in public health and life expectancy

this country has ever seen.

All these were delivered by local government. Councils

continue to deliver the things that matter most to

us: schools for our children; clean, safe neighbourhoods;

new homes; care for our elderly; vibrant high streets. All

these everyday good things come from the town hall,

not from Whitehall.

Local government is the most important bit of government.

Yet local government is under threat as never

before. A decade of deep cuts has left councils in many

parts of the country perilously close to breaking point.

Over the last ten years, local authorities in London have

seen their funding reduced by £4bn. In Haringey, for instance,

the council's spend per head of population has

dropped by nearly a quarter.

We've all seen the effect of the cuts in closing

children's centres, reductions in support services to

schools and less frequent waste collection. But the real

impact is in the expensive statutory services on which

councils spend three-quarters of their money: adult social

services (including care for older people) and children's

services. Both face massive funding gaps.

Of course, this is hardest on the people who rely on

those services, but it affects us all. It goes to the heart

of our social contract – how we think about ourselves

and others and our obligations to each other within

society. The diminution of the local state leaves us all

poorer and more isolated.

So what can we do about it? Well, firstly, we can vote.

Everything the council does is ultimately decided by

elected local councillors. There are very real differences

in how Barnet, Haringey and Camden run their councils,

and that's down to local politics. Yet six out of ten of us

don't even bother to vote in local elections.

Secondly, we can get involved in our communities:

through schools, through faith groups, or even just befriending

our neighbours. The more connections we create

within communities, the better their "social health"

– that means people are better able to support each

other, and that in turn means the council can focus its

scarce resources where the need is greatest.

Finally, we can put pressure on central government

through our MPs and through our vote to ensure that

local government isn't always first on the list when it

comes to cuts.

And all of this needs to take place within a broader

conversation about the places we live in and what's special

about them. (Village Raw is a good place to start).

It's time to reclaim the word "municipal" and to reframe

it for the 21st century. To make it not just about

bureaucracies, but about relationships. Not just about

bricks and mortar, but about a new social architecture

of which we are all a part. •

Jonathan Carr-West is the Chief Executive of: www.lgiu.org.uk

32

33
---
VILLAGE GREEN

Gorgeous knitting, crochet & embroidery supplies

THE GREEN-THUMBED GUERRILLAS

Words by Dan Snell.

Photos courtesy of the Guerrilla Gardeners.

For six years now, the Guerrilla Gardeners of Palace Gates

have taken it upon themselves to transform litter-ridden

rubble and uninspiring verges into horticultural havens of

colour. The growing group of green-fingered volunteers from

the Palace Gates Residents' Association meet on the first

Saturday of each month, through rain and shine, for a spot of

gardening and a cup of tea.

The Guerrilla Gardeners are sowing seeds not only in the

flowerbeds of Alexandra Palace, but also in the neighbourhood.

Thanks to their work, community spirit is truly blossoming. No

experience or expertise is necessary, and all volunteers are

welcome!

To get involved, visit: www.palacegatesra.info

LOOPKNITTING.COM

15 CAMDEN PASSAGE, ISLINGTON, LONDON

34