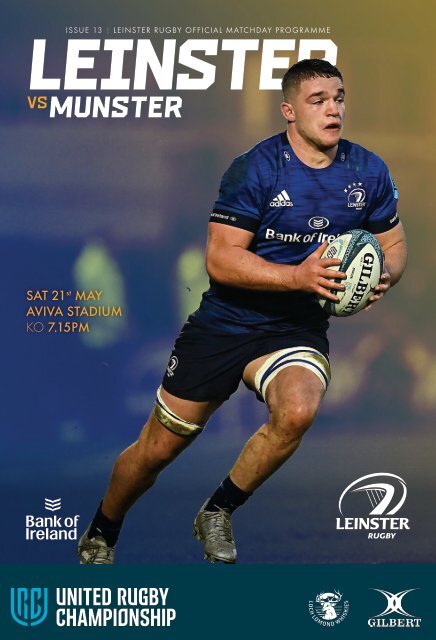 Leinster vs Munster
Leinster | Official Matchday Programme of Leinster Rugby | Issue 13 Leinster vs Munster | United Rugby Championship Saturday 21st May, 2022 | KO 7.15pm | Aviva Stadium
Leinster | Official Matchday Programme of Leinster Rugby | Issue 13
Leinster vs Munster | United Rugby Championship
Saturday 21st May, 2022 | KO 7.15pm | Aviva Stadium
SHOW MORE
SHOW LESS
You also want an ePaper? Increase the reach of your titles
YUMPU automatically turns print PDFs into web optimized ePapers that Google loves.
ISSUE 13 | LEINSTER RUGBY OFFICIAL MATCHDAY PROGRAMME

LEINSTER

VS

munster

SAT 21 st MAY

AVIVA STADIUM

KO 7.15PM
---
Newstead Building A,

UCD,

Belfield,

Dublin 4

#LEIVMUN

The Line up

Telephone:

012693224

Fax:

012693142

E-mail:

information@leinsterrugby.ie

www.leinsterrugby.ie

6

24

EXECUTIVE MANAGEMENT

President: John Walsh

Chief Executive: Michael Dawson

Honorary Secretary: Stuart Bayley

Honorary Treasurer: Michael McGrail

RUGBY MANAGEMENT

Head Coach: Leo Cullen

Senior Coach: Stuart Lancaster

Head of Rugby Operations:

Guy Easterby

Assistant Coach: Robin McBryde

Backs Coach: Felipe Contepomi

Kicking Coach: Emmet Farrell

Contact Skills Coach: Denis Leamy

14

PROGRAMME CREDITS

Editorial Team: Marcus Ó Buachalla,

Ryan Corry & Paul Cahill

Advertising: Gary Nolan

Design: Julian Tredinnick,

Ignition Sports Media

Photography: Sportsfile

Chief Steward: Sword Security

Ambulance: St. John's Ambulance

Medilink

Event Control & Safety Services:

Eamonn O'Boyle & Associates

57

86

STAY

CONNECTED

& KEEP

UP-TO-DATE

www.leinsterrugby.ie | 3
---
john walsh welcome

PRESIDENT, LEINSTER RUGBY 2020/22

A week after Leinster's Heineken

Champions Cup semi-final win over

Toulouse, we extend a warm welcome

to rugby fans to the Aviva Stadium

for this evening's rescheduled

Round 15 fixture in the United Rugby

Championship.

It features the defending

champions and current league

leaders Leinster on 62 points and

the second-highest ranked team

in rivals Munster on 56 points

(incidentally the same number

of points as South African teams

the Cell C Sharks and the DHL

Stormers).

This game also marks our final game

in this phase of this new and exciting

international competition and it will have

a bearing as to which clubs will have

home or away fixtures in the final stages

of the competition.

The strength and quality of Irish rugby

is reflected in the fact that three of the

top eight clubs in the 16 United Rugby

Championship clubs are Ulster (11 wins),

Munster (11 wins) and Leinster (12 wins).

In relation to our win over Toulouse we

want to acknowledge the tremendous

and spectacular support that the team

was given by the 'sea of blue' at the

Aviva.

We thank all the 42,000 fans who

created a magnificent atmosphere. The

Official Leinster Supporters Club have for

many seasons played an important role

in the success story of Leinster at home

and abroad and we thank all the OLSC

Committee members and volunteers for

their commitment to the team. We hope

to see and hear that 'sea of blue' on

Saturday, 28 May, at the iconic Stade

Velodrome in Marseille when we play

La Rochelle in the final of the Heineken

Champions Cup.

In what was a short turnaround from our

win in Leicester, the Leinster marketing

and ticketing team's effort was truly a

magnificent one to sell 42,000 tickets in

five days so we thank all involved.

The local derbies between our provincial

sides no matter at what level are eagerly

awaited by all rugby fans and indeed

all players look forward to that extra

spice that these events generate. No

doubt the impending Ireland tour to New

Zealand will be a factor as players seek

performances that will guarantee a seat

on the plane.

A special welcome to our visitors Munster

and their supporters, Munster President

Sean McCullough, the officers of the

Munster Branch, head coach Johann Van

Graan, players and management team.

While we may be rivals on the pitch,

we at Leinster, continue to work with our

colleagues in Munster, Connacht, and

Ulster for the sustained development

of the game at all levels on this island

and share many common goals and

objectives and long may that be so.

As we approach the final months of the

season, Leinster Rugby wishes to thank

and acknowledge the contributions that

departing players have made to our club.

Leinster Rugby will bid farewell to Devin

Toner (a record 279 Leinster caps), Seán

Cronin (204 Leinster caps), Dan Leavy

(79 Leinster caps) who are all retiring.

Joining the Connacht squad are Peter

Dooley (103 Leinster caps), Adam

Byrne (65 caps), Josh Murphy (60 caps)

and David Hawkshaw (11 caps). Also

departing are Rory O'Loughlin (96 caps)

and Jack Dunne (20 caps) who are

joining Exeter Chiefs. We wish all the

very best in their future endeavours.

I would also like to take this opportunity

to wish Felipe Contepomi well on his

return back home at the end of the

season. The opportunity to coach your

country is one too good to turn down but

what a legacy he will leave on this club

as a player and now as a coach. You

will always have a warm welcome here

Felipe, safe home and thank you.

The Energia All-Ireland League has

this season resulted in three individual

Leinster Clubs (Clontarf, Blackrock and

Enniscorthy) winning three of the five

titles that were up for decision in what

has been a most competitive and exciting

league programme.

A total of 18 out of the 50 AIL clubs are

Leinster-based while there are five Leinster

women's teams playing in the Energia

Women's All-Ireland League which

currently consists of 10 clubs. The AIL

fixtures received excellent coverage from

4 | www.leinsterrugby.ie
---
all the participating clubs who promoted

the games on their multiple media

platforms which continue to develop and

produce quality content.

I also wish to remind you that the Leinster

Rugby charity partner for the month of

May is CRY (Cardiac Risk in the Young)

and I would like to thank the team in

BearingPoint for bringing them back to

the table having previously been partners

of ours back in 2015 and last year.

I would strongly recommend to all that

you log on to their website and make

yourself fully aware as to the impact

that this disease and condition can

have on your life and on the lives of

your treasured loved ones. CRY was

established in 2002 and continues to

do amazing work in the diagnosis and

management of the cardiac condition.

Make yourself aware and log on to

www.cry.ie for further information. The

CRY HELPLINE is Freephone Republic of

Ireland 1800 714 080, Northern Ireland

00 44 8006 40 62 80, and you can

email info@cry.ie.

On a related topic Leinster Rugby's

'Operation Life Saver' has highlighted

to all the Leinster-based clubs the

importance of having a defibrillator

(AED) in their grounds in order to deal

with emergencies. Furthermore, we have

highlighted the need for clubs to have in

place effective emergency protocols, as

well as full awareness of Eircode location.

On completion of this Leinster project

our clubs will be linked to the National

Emergency Operations Centre and

National Ambulance Service in order

that we can provide the best possible

outcome in these emergency situations.

Two hugely worthwhile and visible

campaigns that I would urge you all to

support.

Enjoy the game and the next few weeks.

These are the games and the occasions

that we have missed so much over the last

two years!

John Walsh

President Leinster Rugby 2020-2022

www.leinsterrugby.ie | 5
---
Leo Cullen

head Coach Welcome

Good evening

to you all

and a warm

welcome to

Johann van

Graan and his

Munster team

to the Aviva

Stadium for

tonight's

game.

The action is coming thick and

fast, and it has been amazing to

witness the display of red and

blue at this ground over the past

couple of weeks. These games

are always a reflection of the

passionate support behind both

of our teams and that's something

we never take for granted. Long

may it continue.

Thankfully, we have managed to

secure top spot in the United Rugby

Championship. However, we know it is

very tight with a lot of teams still in with a

shout of securing a home play-off spot, so

tonight promises to be a keenly contested

game. The addition of the South African

teams has added a whole new dynamic,

not just on the pitch but in terms of travel,

logistics and squad management.

Meanwhile, even though we are involved

in a European final next week, we also

have a quarter-final to play the week

after (we hope to see you all there!).

That's a challenge that will require focus

and renewed energy. The last round of

the regular season will no doubt throw up

a few surprises as everyone battles it out

for the top seedings.

Many thanks to the 42,000-plus

supporters who turned out last week to

create another Leinster 'Sea of Blue' at

the Aviva. It was truly remarkable to get

such a big crowd in just five days of ticket

sales (well done Claire, Niamh and all

the team in what was a massive effort

behind the scenes).

I know it's a big ask and a significant

expense, but we hope to see as

many familiar faces as possible in

Marseille next Saturday.

Our supporters definitely

made a difference

last weekend. The noise and colour

throughout the match gave us all a big lift

and I want to say a special thanks to the

OLSC for their efforts over the last few

weeks, both here and on the road.

On this, the last game in our regular

season, I also want to thank the team's

sponsors, especially Bank of Ireland. We

know it has been a challenging couple of

years for all organisations but your faith

and backing makes a huge difference

to the running of this team. We certainly

couldn't do what we do without you.

Felipe's announcement this week that

he will be returning to Argentina really

drove home the point that every season

is unique; there is always some personnel

movement and no two groups are ever

exactly the same. That's just the nature of

our game.

It's not just Felipe who will be moving

on at the end of this season; we'll be

saying goodbye to a number of players

and staff members, and I'd like to take

this opportunity to wish them all the very

best. We are lucky to have had so many

outstanding individuals feeding into the

group dynamic over many years, and we

thank them all for their efforts.

The last few weeks have required huge

commitment from absolutely everybody

in the group, and we are still standing

and fighting on all fronts. That in itself is

a tribute to the hard work that goes on,

both on the pitch and behind the scenes.

We're in for another battle this

evening. I hope you enjoy the

game, and the exciting few

weeks that lie ahead – the

games can't come quick

enough!

Leo

6 | www.leinsterrugby.ie
---
Many thanks to the 42,000-plus

supporters who turned out last

week to create another Leinster

'sea of blue' at the Aviva.

www.leinsterrugby.ie | 7
---
carla

delaney

DIRECTOR, BANK OF IRELAND AREA EAST

A very warm welcome back to Aviva Stadium for the

last time this season! And what a season it has been

at this home, away from home, of Leinster Rugby.

We have seen some breath-taking

displays in European competition

in the Aviva Stadium this season,

not to mention in the URC at the

start of the season against the

Bulls, and now we welcome the

Red Army from Munster for one

last battle at Lansdowne Road this

season.

The performance last weekend against

Toulouse certainly whets the appetite

for the game this evening and with

a European final only around the

corner, in addition to the United Rugby

Championship play-offs, the Leinster

players will look at this as an opportunity

for some of them to lay down a marker

ahead of the knock-out games to come.

As we all know, after this weekend, its

knock-out rugby all the way until June 18.

A condensed run of high-stakes matches

that certainly narrows the focus!

Well done to both Jimmy O'Brien,

who won his 50th Leinster cap against

Toulouse in the European semi-final,

and also well done to Leo Cullen on the

occasion of his 200th game as Leinster

Rugby head coach today.

A coaching career that commenced

against Edinburgh Rugby, and has

taken in the highways and the byways

of European rugby ever since, has led

Leinster Rugby to unprecedented success

since Leo took over in 2015. Thank

you Leo for all that you have done and

achieved so far and here's to many more

big days ahead.

Thank you also to Felipe Contepomi

who announced this week that he will be

leaving the club at the end of the season.

As a player and as a coach over many

years, he brought great joy to all of us

supporters. Safe home Felipe and best of

luck with Argentina.

Players too will exit stage left over the

coming weeks and we, in Bank of Ireland,

would like to thank all the players that

pulled on a Leinster jersey for the men's

team and the women's team this season.

You may never fully understand the great

joy that you give to supporters but you

genuinely do, and we very much thank

you for it. We wish you all the very best

of luck as you embark on your next rugby

adventures.

As proud sponsors of rugby in all four

provinces, Bank of Ireland will always

remain on the fence for days like today!

But I would like to wish all the players

a safe and sporting game, and the

supporters a great day out.

May the best team win and good luck

to both in the coming weeks in the URC

play-offs.

CD

www.leinsterrugby.ie | 9
---
THE ULTIMATE

URC EXPERIENCE

JOIN FOR FREE

Personalised team

experience

Exclusive offers

& competitions

Premium opinion

articles & analysis

Match highlights &

exclusive video content

WWW.UNITEDRUGBY.COM/MYURC
---
16 TEAMS,

2 HEMISPHERES,

1 LEAGUE
---
Available Now

gilbertrugby.com

The oval trim design is a registered trademark of Gilbert Rugby.
---
Did you

know?

• Leinster have lost their

last two United Rugby

Championship matches, both

in South Africa, at the Cell C

Sharks and the DHL Stormers

and have not lost three in

a row in the United Rugby

Championship since 2008.

• Leinster's only defeat in

their last twenty-three

visits to Aviva Stadium in

all tournaments was 17-25 to

Saracens in the Quarter Final

of the European Champions Cup

in September 2020.

• Munster have lost just one

of their last four United

Rugby Championship matches:

19-34 to today's opponents,

Leinster, in Limerick on 2

April.

• The Munstermen have already

visited Aviva Stadium this

season drawing there 24-all

with Toulouse three weeks ago

in the European Champions Cup

Quarter Final but going out of

the competition on a penalty

shoot-out.

• Leinster have lost just

one of their last eight

encounters with their

fiercest rivals: 3-27 at the

RDS Arena in the Rainbow Cup

last April.

• Munster's only victory in

their last twelve visits

to Aviva Stadium to face

Leinster was 34-23 in October

2014.

COMPARISON

Overall URC head-to-head record:

Played 44, Leinster won 29, Munster won 15.

Last 3 URC results

2 Apr - Munster (A) W 34-19 2 Apr - Leinster (H) L 19-34

23 Apr - Sharks (A) L 23-28 22 Apr - Ulster (A) W 24-17

30 Apr - Stormers (A) L 13-20 29 Apr - Cardiff Rugby (H) W 42-21

URC 2021/22

1ST - W12 D0 L5 - 62PTS

2ND - W11 D0 L6 - 56PTS

WLWWLL (18pts)

URC form

LLWLWW (16pts)

Top try scorer

6 - Scott Penny, Max Deegan 7 - Simon Zebo, Craig Casey

Top points scorer

109 - Ross Byrne 95 - Ben Healy

Date Venue L M Leinster scorers Munster scorers

Sat 28 Dec 19 Thomond Park 13 6 Ross Byrne(C/2P) Ed Byrne(T) JJ Hanrahan(2P)

Sat 22 Aug

20

Aviva Stadium 27 25 James Lowe(T) Ross Byrne(P) Cian Healy(T)

Garry Ringrose(T) Johnny Sexton(3C/P)

Andrew Conway(2T) Keith Earls(T) JJ

Hanrahan(2C/2P)

Fri 4 Sep 20 Aviva Stadium (SF) 13 3 Ronan Kelleher(T) Johnny Sexton(C/2P) JJ Hanrahan(P)

Sat 23 Jan 21 Thomond Park 13 10 Ross Byrne(C) Jordan Larmour(T) Johnny

Sexton(2P)

Tadhg Beirne(T) JJ Hanrahan(C/P)

Sat 27 Mar

21

RDS Arena (TF) 16 6 Jack Conan(T) Ross Byrne(C/3P) Joey Carbery(2P)

Sat 2 Apr 22 Thomond Park 34 19 James Lowe(2T) Ross Byrne(C/4P) Garry

Ringrose(T) Jimmy O'Brien(T)

Damian de Allende(T) Joey Carbery(C/4P)

www.leinsterrugby.ie | 13
---
14 | www.leinsterrugby.ie
---
scott

penny

Scott Penny

is still just

22 years of

age.

It seems like

he's been

around a lot

longer given

he already

has 40

appearances

for the

province

under his

belt, not to

mention his

22 tries in

those games.

the big interview

BY RYAN CORRY

www.leinsterrugby.ie | 15
---
However, it'll come as a surprise

to many to learn he has yet to

make an appearance in the

Heineken Champions Cup despite

being named to start against

Montpellier in December as the

contest was later cancelled and

the home side were awarded a

five-point win.

So, last week, as Leinster Rugby took on

Toulouse at Aviva Stadium, he held a

watching brief within the ground after a

week where he will have done his best

impressions of Rynhardt Elstadt, Francois

Cros or Anthony Jelonch.

But the day itself is one of those, in

Penny's opinion, that sees all of the hard

work pay off.

"It's been a while since I've seen that kind

of atmosphere in the Aviva and that much

energy," he says.

"Hopefully we'll see that again tonight.

We were just preparing the lads to the

best of our ability. We always talk about

being brothers here and how, if you're

not involved, you're preparing the team in

the best way you can.

"Basically, it was about learning off the

Toulouse plays and trying to play their

way during the week to get the lads used

to it, just in the general loose off-loading

style."

This time around, Penny will get the

chance to lead the line, slotting into

the number seven shirt for just his third

appearance against provincial rivals

Munster.

He started in the 27-3 reverse at the

RDS Arena in last season's Rainbow Cup

competition and had a four-minute cameo

in December 2019's 13-6 win for Leinster

at Thomond Park.

"I've only played against them twice. The

Rainbow Cup over a year ago was the

last time. It was a tough fixture," he adds.

"We had a similar enough team to what

we have out tonight, and they were pretty

much full strength. They got the upper

hand with the physicality with a few of

us coming back having not played for a

few weeks which is a similar scenario to

this game.

"They're big rivals for us. Anytime we

play them, no matter what it is, we're very

motivated. You want to put your hand

up for selection for next week and then

the quarters, semis and hopefully a final

coming up then as well.

"Everyone's motivated and we've seen

during the week, we're very up for it. A

lot of people haven't played in a while,

maybe since South Africa, so we're all

fired up and ready to go."

Not playing since the tour to South Africa

is something he has to contend with

himself, starting both of those games and

even being on-field captain for a spell

after Rhys Ruddock was replaced.

16 | www.leinsterrugby.ie
---
It was a really good

opportunity for them

to get comfortable in

the environment and

you saw it in their

performances.

And despite losing by a converted try

or less in both of those games, Penny

outlines the level of belief that it has

instilled in the wider squad and some

of the fresher faces from the Academy

who were experiencing their first taste

of the Senior game in such a difficult

environment.

From training in the sweltering sun

to playing games in the midst of

never-ending rain against seasoned

Springbok internationals, it threw

everything at Leinster's young touring

squad.

And, despite the losses, it was

job done. The losing bonus points

clinching top spot in the Conference

and a home route to the final should

Leinster get there.

"It was a great experience. We were so

disappointed not to get a win over there

but when we went over, the job was to

secure first place before the end of the

season which we did by getting two

losing bonus points," Penny explains.

"Especially in the Sharks game, we felt

we had an opportunity to win towards

the end of the game and we didn't. But, I

think it's great learning that, in those big

games, that we are still in it. It's just those

small errors – a knock-on on the line,

getting held up or whatever, they're the

winning and losing of it.

"And, you're spending a lot more time

with people that you wouldn't normally

have spent too much time with before

then. You're with each other all day,

every day for the guts of two weeks so

you build these connections.

"We visited Robben Island, Table

Mountain, a few of the lads went fishing.

It was a great trip. It was pretty flat out,

it was a normal work week while we

were there too though, training and gym

sessions. And with the heat, you would

be fairly tired in the evenings after 20

degrees all day.

www.leinsterrugby.ie | 17
---
MORE

innovation

As Official Innovation Partner to Leinster Rugby,

BearingPoint is embarking on a journey with

Leinster Rugby into the metaverse.

Contact us to learn more

01 418 1111

www.bearingpoint.com

ireland@bearingpoint.com

@bearingpoint_ie
---
"There were lads who were getting

their first chance to play for Leinster,

like John (McKee), (Brian) Deeny,

getting their first cap and being

surrounded by the environment for the

whole week with small breaks in the

evening.

"It was a really good opportunity

for them to get comfortable in the

environment and you saw it in their

performances."

Another of those young players given

the chance to showcase his ability was

Alex Soroka, Player of the Match in the

defeat to DHL Stormers.

In his post-match interview, the Clontarf

man spoke about the criticism of the

chosen squad and widely-held opinion

that they would simply be fodder for

the southern hemisphere sides when

they arrived in Durban and Cape

Town.

And Penny elaborates on Soroka's

points. Despite defeat, it was the

unspoken motivation to hold their

own, show exactly why they are in the

position they are in by going toe-to-toe

with fancied home teams.

"We didn't talk about it as a group but

we knew that most people probably

didn't have faith in us down there.

We're all good athletes, we've all

trained together week in, week out for

the last year.

"We knew we had the capability

to go down there and put on a

performance. And you'll always see

that with Leinster teams, even when the

internationals are away, we'll still have

good performances in us. We had

confidence that we could go down to

South Africa and get two wins."

While it wouldn't work out like that, it

was still job done. And done well.

So, once again, as the flanker said,

motivation will be high this weekend as

the southern neighbours sit in the red

corner at Aviva Stadium.

Tensions are always high between the

provinces and with a home quarterfinal

within Munster's grasp, Penny and

Co will be hoping to put that out of

arm's reach.

While Munster have suffered some

injuries in the pack, Penny states that

www.leinsterrugby.ie | 19
---
preparation and application will remain

the same for him regardless of who

stands opposite him.

"There are some injury concerns for the

Munster back row but they're all pretty

much the same type of player, they go

very hard at the ball, they're very direct

ball carriers," he says.

"No matter who it is, you have to treat it

like it's an international forward in front

of you whether that's Peter O'Mahony or

Alex Kendellen.

"You have to try and use the footwork

around them and get over the gainline.

In defence then, you have to smash them.

They're going to run directly at us so

you have to be prepared to stand up for

yourself."

That ball-carrying aspect is something

that the former St Michael's College

student has earmarked as an area for

improvement in his own game.

There's no doubting his work-rate, ability

to tackle or knack for scoring tries, but

making the next step in his career will

come from building on those strengths.

It helps that he has someone like Denis

Leamy, one of Ireland's greatest backrowers,

offering him guidance along the

way.

"I need to offer myself more in carrying.

It's something Josh (van der Flier) did last

season. He really upped his ball-carrying

game and there's a reason now that

he's been selected as Players' Player of

the Season at the Rugby Players Ireland

awards this week.

"Coaches always like to have a good

ball-carrying seven as well as the other

natural attributes of a seven – chop

tackle and poach specialists.

"It's such tough competition here in the

back row, the starting back row here is

the starting back row for Ireland.

I always do

some extras

with him,

he's always

giving us cues

and tips that

he learned

from his own

incredible

career in the

game.

20 | www.leinsterrugby.ie
---
"You want to get into those big games

and that comes from making a name for

yourself in training, show the coaches that

you're training consistently well.

"I work pretty closely with Leams. I always

do some extras with him, he's always

giving us cues and tips that he learned

from his own incredible career in the

game.

"Especially the young lads, he's always

looking to give them a hand when

anything's asked of him or going through

training with them."

"And then when you're given those

opportunities, you're not slipping up on

that chance."

The next one of those opportunities is

tonight – an interprovincial in front of

35,000 people at Aviva Stadium.

While the minds of some supporters may

have been on the planes, trains and

automobiles-type journey that they may

need to figure out to find their way to

Marseille next weekend, in and around

the team HQ in UCD, all focus was purely

on Munster and a strong finish to the URC

Conference.

"Since we got the win against Toulouse

last weekend, people have been

really excited but our focus has been

solely Munster this week," Penny says

assertively.

"I think, now that we're here at this part of

the season, everyone is dialled in.

"Everyone knows what is at stake and you

could see last week how clear the detail

is. Those extra meetings on the small

detail can lead to a big performance."

www.leinsterrugby.ie | 21
---
Action

replay 40 17

LEINSTER RUGBY

Hugo Keenan; Jimmy O'Brien, Garry

Ringrose, Robbie Henshaw (Ciarán

Frawley 65), James Lowe; Johnny Sexton

(68), Jamison Gibson-Park (68); Andrew

Porter (Cian Healy 68), Rónan Kelleher

(Dan Sheehan 47), Tadhg Furlong

(Michael Ala'alatoa 17); Ross Molony,

James Ryan (Joe McCarthy 76); Caelan

Doris, Josh van der Flier (Rhys Ruddock

72), Jack Conan.

SCORERS

Tries: James Lowe (2), Josh van der Flier,

Hugo Keenan.

Cons: Johnny Sexton (3), Ross Byrne.

Pens: Johnny Sexton (3), Ross Byrne.

SATURDAY, 14 MAY

AVIVA STADIUM

ATTENDANCE: 42,076

HEINEKEN CHAMPIONS CUP

TOULOUSE

Thomas Ramos; Juan Cruz Mallía, Pierre

Fouyssac (Zack Holmes 62), Pita Ahki

(Martin Page-Relo 67), Matthis Lebel;

Romain Ntamack, Antoine Dupont;

Cyril Baille (Rodrigue Neti 52-70),

Julien Marchand (Selevasio Tolofua

52), Dorian Aldegheri (David Ainu'u

56); Rory Arnold (Thibaud Flament 56),

Emmanuel Meafou (Joe Tekori 62);

Rynhardt Elstadt, Francois Cros, Anthony

Jelonch (Peato Mauvaka 52).

SCORERS

Tries: Antoine Dupont.

Cons: Thomas Ramos (2).

Pen: Thomas Ramos.

22 | www.leinsterrugby.ie
---
They're the

special moments

that you get,

the honour of

representing

this team. We'll

have a group of

players that

will get to

run out here

against Munster

and hopefully

we'll have a big

turnout again

and then we

turn the page to

Marseille.

Leo Cullen

With the form

he's been in, and

when I saw the

red scrum hat, I

just thought: 'Get

the ball to the

red scrum hat'.

Johnny Sexton on his set-up for Josh van

der Flier's try

www.leinsterrugby.ie | 23
---
From the sidelines

to the engine room

Women volunteering

in rugby

BY BARRY LAMBKIN

Across the season, we have been

highlighting the commitment and

contribution made by women to

the effective running of our clubs.

Now, as we look back on another

wonderful season we would

like to take this opportunity to

highlight four more women who

have stepped up and made a

significant difference in their clubs

by volunteering with energy and

purpose.

Like all of our contributors, Enniscorthy

RFC's Samantha Wafer had her first

experience of club life as a parent on the

side line. Her sons were playing minis

rugby at the club and a request came

from the house committee for parents to

help out with the organisation of blitzes.

Samantha put her hand up to help one

week and she has been involved in

various roles ever since then.

Samantha says that she has always been

encouraged and supported by other

club members and that this has made

it easy to stay involved. She points out

that like with all aspects of life there are

challenges around working with other

strong-minded people and long-serving

Kathy Cranny

Samantha Wafer

volunteers who aren't as open to new

ideas as they might be but that at the end

of the day everyone always puts the club

first and they find a way to enjoy working

together to achieve their common goals.

When we asked her about her proudest

moment as a volunteer Samantha said:

"I managed the U-18 girls' team. At the

end of the season, we had a bit of a get

together where the girls and parents were

invited for a cup of tea and treats.

"The coaches thanked me for the work

I had done behind the scenes and the

parents are still texting to see if I am

going to be involved this year. Just

hearing the words and praise spoken by

the coaches, parents and girls touched

me deeply."

Dundalk RFC is another club that has

always encouraged women to get

involved and supported them when they

have brought new ideas to the table. Two

such women are Kathy Cranny and Mary

Murdock whose stories merge when they

came together to run an incredible event

at their club.

Mary first became involved in 2005

when her eldest son took up rugby. Like

Samantha, she found herself on the

side line but wanted to contribute to the

team. She began taking photographs at

games, helping with the half-time water

breaks and organising parties for the

kids. Committee members at the club

noticed her enthusiasm and approached

her to become more involved as they

recognised her talents and since then she

has served as an Executive Committee

member as well taking on roles in

fundraising, PR, events and youths rugby.

Kathy's pathway was similar to Mary's.

She always got involved with any

activities that her kids took part in and she

wasn't long on the sidelines at Dundalk

RFC when former Chairman Larry Steen

recognised her potential and asked her to

join the club's committee.

Kathy recalls how proud she felt at being

24 | www.leinsterrugby.ie
---
Mary Murdock

asked. "He had great belief that I could

fulfill the role of Honorary Secretary at

Dundalk RFC. It was a great honor to

be asked and while I was delighted I

was unaware of the role or workload

involved.

"After a chat with my family and of

course my employees, Denis and Bridget,

I decided I would take on the role for one

year! I'm still here many years later but

am enjoying every moment of it. It's good

to give something back."

For both of these Dundalk women

though, their proudest moment came

from being involved in events that both

supported families in the club who had

been bereaved through tragedy and also

raised vital funds for important charities.

Kathy told us, "One of my proudest

moments has been the confidence in me

and trust afforded to me by the Executive

Committee to lead out on Dundalk RFCs

strategy to tackle breast cancer with the

hosting of the "No High Tackles, Just

High Heels" ladies event in February of

this year.

It was a celebration of Dundalk RFC

Ladies and those who have lost their

battle to breast cancer and those still

fighting the disease. This is a first for a

rugby club backed both by Leinster Rugby

and the IRFU. Its seeds were planted by

our "Think Pink For Caroline" event in

2019 to remember Caroline Gray, the

late wife of our senior player, Jonathon,

and mummy to Alex and Georgia who

sadly lost her battle with breast cancer

at age 27 which started our association

with the National Breast Cancer Research

Institute."

That sense of family at her club is also

what encouraged Cill Dara RFC's PRO

Bernadette Prendergast to become

involved. She describes herself as

someone who is naturally shy but she has

pushed herself out of her comfort zone so

that she can be a part of the excitement

of matchdays at the club.

That sense of pushing yourself is

something that means a lot to Bernadette

and a quality that she admires in rugby

players of all ages. She tells us that this is

something that really rubbed off on her

son who has special needs after he had

been made to feel like a valuable part

of a youths team who made him their

mascot. Seeing them working together

to achieve the goals and pushing

themselves as individuals is something

that Bernadette tells us that she believes

played a huge part in her proudest

moment.

"On his first holy communion day, with

the aid of a walker, he stood up from

his wheelchair and walked up to the

altar to receive his communion. It took

every single strand of energy, stamina,

endurance, and determination for him

to do this. The same qualities that apply

to most things in life, especially sporting

activities. Qualities that were without

doubt influenced by the support and

the positive actions of the players and

Berndaette Prendergast

volunteers that he witnessed from the

underage team in Cill Dara."

More and more, we are seeing our clubs

encouraging women to take on roles

where they can make a real difference.

The energy that new volunteers bring to

every aspect of club life makes the club a

more enjoyable place for every member

and the new ideas that these skilled

volunteers bring create new possibilities

and encourage even more volunteers to

become involved.

Samantha, Mary, Kathy and Bernadette

would all like to encourage anyone

who would like to be a part of the buzz

at their club to reach out to someone

on the club's committee and tell them

that you would like to contribute. More

importantly, they would like for more and

more committee members to recognise

the potential of the parents on the

sidelines and offer them an easy way to

become involved.

Everyone here at Leinster Rugby applaud

these four women and every woman

who has done their bit to make rugby the

most welcoming and inclusive sport in our

wonderful province. Thank you to each

and every one of you.

If you are

interested in

taking up rugby

or you would like

to follow our

updates, check out

our social media

channels:

Leinster Women's Rugby

LeinsterWomensRugby

@LeinsterWomen

womenspro@leinsterrugby.ie

www.leinsterrugby.ie | 25
---
HERE'S TO BEING SHOULDER

TO SHOULDER AGAIN
---
SHOP THE 2021/22 LEINSTER RUGBY RANGE NOW,

EXCLUSIVELY AT LIFE STYLE SPORTS

www.leinsterrugby.ie | 27
---
leo

the lion's

kids

corner

IN A BLUR!

Can you name this

leinster player?

spot the difference!

Can you find all six?

ANAGRAMS

Can you un-jumble the names of these academy players?

FRILLED

MOON CAR

I BEEN SO

MAJOR

how did you do?

IN A BLUR?

HUGO KEENAN

ANAGRAMS

NIALL COMERFORD

JAMIE OSBORNE

ZOOMED IN!

TOMMY O'BRIEN

zoomed in!

WHo is this leinster

player having an

extreme close-up?

28 | www.leinsterrugby.ie
---
AJ Products provides unique

solutions for office,

warehouse and

environment

www.ajproducts.ie
---
AZTO

with

MAX DEEGAN

A – Action: If you could be a superhero,

which would you be?

Thor

B – Boyhood: Who was your favourite

sporting idol growing up?

Ronaldo

C – Childhood: What is your favourite

childhood memory?

Going to the 2009 Grand Slam in

Cardiff with my dad

D – Dish: What's your go-to pre-match

meal?

Carbonara

E – Education: What was your favourite

subject in school?

Maths

F – Film buff: What's your favourite film?

Harry Potter

G – Groove: Who is the best dancer in

the squad?

Ed Byrne

H – Holiday: What's your favourite

holiday destination?

Mexico

I – Inside: Who is the worst to sit beside

in the dressing room?

Ed Byrne smells

J – Joker: Who is the funniest in the

squad?

Michael Bent will never be matched.

K – Kick-off: What's your favourite time

of the day to play a match?

5pm

L – Languages: How many languages

can you speak?

Six

M – Music: Your favourite artist?

Arctic Monkeys

N – Number: Do you have a lucky

number?

Nope

30 | www.leinsterrugby.ie
---
O – Others: What's your

favourite sport outside of rugby?

NFL

P – Pal: Who is your best mate in

the squad?

Devin Toner

Q – Quirky: Who has the most

interesting fashion sense?

Adam Byrne

R – Red Carpet: Who is the most

famous contact in your phone?

Michael Bent

S – Superstitions: Do you have

any matchday routines?

Take a nap before the game!

T – Trim: What's the worst

haircut you've ever had?

Shaved head

U: Under pressure: Who in the

squad would be the best in a

bad situation?

Will Connors

V – Verified: How often do you

use social media?

Every few hours!

W – Worst fear: What are you

most scared of?

Illuminati

X – X-ray: Have you ever broken

any bones?

Never

Y – Youth: Where did you grow

up?

Stillorgan

Z – Zoo: What's your

favourite animal?

Gorilla

www.leinsterrugby.ie | 31
---
THE SPIRIT OF

UNITED RUGBY

CHAMPIONSHIP.

Enjoy responsibly

DISCOVER THE SPIRIT WITHIN |

#SAVOURTHEMOMENT
---
Stillorgan-Rathfarnham RFC

growing with

new home

ground

Stillorgan-

Rathfarnham

RFC have

been very

busy in 2022

and the year

will get

busier!

The 22/23 season marks the clubs

50th Anniversary but on the pitch

Stillorgan-Rathfarnham hit new

milestones with growth in girls'

rugby teams and phenomenal

growth of the minis section.

Summer 2022 will now see

eight years of hard work finally

come to fruition when Stillorgan-

Rathfarnham RFC open their new

home ground, Heavy Technology

Park, on Tibradden Road,

Rathfarnham.

The vision dream of Heavy Technology

Park was born after the club were given

short notice that the club pitch had been

sold. Stillorgan-Rathfarnham were at a

crossroads. It was either look for a new

base and see if the club could survive or

attempt to go out on their own with a new

facility. Stillorgan-Rathfarnham formed

a strategic committee, and the club are

ready to move to their new home.

The new facility will open with:

• Three natural grass rugby pitches

• Two pitches with match-standard

floodlights

• Pathways and spectator fencing

• Changing facilities

•100-space car park and utilities

connections

The new ground will meet the demand

from the phenomenal growth in the

club's underage sections. The club is now

fielding teams with both girls' and boys'

teams.

• Over 200 minis in 2022 season

• Establishment of underage rugby

structure

• Second year of growth in girls' rugby

teams

• Three adult teams

Stillorgan-Rathfarmham RFC will officially

open Heavy Technology Park on

September 10, 2022, and will mark the

50th Anniversary with a Gala Dinner in

April 2023.

www.leinsterrugby.ie | 35
---
leinster

squad

2021/22 season

Vakh Abdaladze #1263

PROP

DOB: 06/02/1996

HEIGHT: 1.88m

WEIGHT: 121kg

Michael Ala'alatoa #1301

prop

DOB: 28/08/1991

HEIGHT: 1.91m

WEIGHT: 127kg

7

CAPS

Ryan Baird #1278

LOCK

DOB: 26/07/1999

HEIGHT: 1.98m

WEIGHT: 113kg

8

CAPS

Adam Byrne #1213

WING / FULL BACK

DOB: 10/04/1994

HEIGHT: 1.91m

WEIGHT: 98.18kg

1

CAP

Ed Byrne #1222

6

CAPS

Harry Byrne #1280

2

CAPS

Ross Byrne #1236

13

CAPS

Thomas Clarkson #1285

PROP

DOB: 09/09/1993

HEIGHT: 1.8m

WEIGHT: 114.09kg

FLY HALF

DOB: 22/04/1999

HEIGHT: 1.9m

WEIGHT: 95kg

FLY HALF

DOB: 08/04/1995

HEIGHT: 1.9m

WEIGHT: 92kg

PROP

DOB: 22/02/2000

HEIGHT: 1.85m

WEIGHT: 118kg

36 | www.leinsterrugby.ie
---
Jack Conan #1223

27

CAPS

7

CAPS

Will Connors #1264

9

CAPS

Sean Cronin #1202

72

CAPS

Max Deegan #1256

1

CAP

NO. 8

DOB: 29/07/1992

HEIGHT: 1.93m

WEIGHT: 114.09kg

BACK ROW

DOB: 04/04/1996

HEIGHT: 1.96m

WEIGHT: 100kg

HOOKER

DOB: 06/05/1986

HEIGHT: 1.78m

WEIGHT: 103.18kg

NO. 8

DOB: 01/10/1996

HEIGHT: 1.93m

WEIGHT: 110kg

Peter Dooley #1230

Caelan Doris #1268

17

CAPS

Jack Dunne #1276

Ciaran Frawley #1265

PROP

DOB: 04/08/1994

HEIGHT: 1.83m

WEIGHT: 117kg

BACK ROW

DOB: 02/04/1998

HEIGHT: 1.93m

WEIGHT: 107kg

LOCK

DOB: 21/11/1998

HEIGHT: 2.03m

WEIGHT: 120kg

FLY HALF

DOB: 04/12/1997

HEIGHT: 1.91m

WEIGHT: 98kg

Tadhg Furlong #1220

PROP

DOB: 14/11/1992

HEIGHT: 1.83m

WEIGHT: 125kg

57

CAPS

13

CAPS

Jamison Gibson-Park #1247

SCRUM HALF

DOB: 23/02/1992

HEIGHT: 1.75m

WEIGHT: 80kg

17

CAPS

David Hawkshaw #1290

FLY HALF / Centre

DOB: 03/07/1999

HEIGHT: 1.75m )

WEIGHT: 85.91kg

Cian Healy #1142

PROP

DOB: 07/10/1987

HEIGHT: 1.85m

WEIGHT: 116.82kg

116

CAPS

2

CAPS

Robbie Henshaw #1251

57

CAPS

9

CAPS

Dave Kearney #1158

19

CAPS

Hugo Keenan #1253

20

CAPS

Ronan Kelleher #1277

18

CAPS

CENTRE

DOB: 12/06/1993

HEIGHT: 1.9m

WEIGHT: 99.09kg

WING / FULL BACK

DOB: 19/06/1989

HEIGHT: 1.8m

WEIGHT: 90kg

FULL BACK

DOB: 18/06/1996

HEIGHT: 1.85m

WEIGHT: 91.82kg

HOOKER

DOB: 24/01/1998

HEIGHT: 1.83m

WEIGHT: 105kg

www.leinsterrugby.ie | 37
---
Jordan Larmour #1258

30

CAPS

Dan Leavy #1231

11

CAPS

WING

DOB: 10/06/1997

HEIGHT: 1.78m

WEIGHT: 90kg

FLANKER

DOB: 23/05/1994

HEIGHT: 1.91m

WEIGHT: 105.91kg

for full squad profiles

please click here

James Lowe #1262

12

CAPS

Nick McCarthy #1241

Luke McGrath #1206

19

CAPS

Michael Milne #1279

WING / FULL BACK

DOB: 08/07/1992

HEIGHT: 1.88m

WEIGHT: 105kg

SCRUM HALF

DOB: 25/03/1995

HEIGHT: 1.8m

WEIGHT: 84.09kg

SCRUM HALF

DOB: 03/02/1993

HEIGHT: 1.75m

WEIGHT: 84.09kg

PROP

DOB: 05/02/1999

HEIGHT: 1.83m

WEIGHT: 115kg

Jimmy O'Brien #1272

Conor O'Brien #1260

Josh Murphy #1261

Ross Molony #1233

LOCK

DOB: 11/05/1994

HEIGHT: 1.96m

WEIGHT: 113kg

FLANKER

DOB: 17/02/1995

HEIGHT: 1.98m

WEIGHT: 110kg

CENTRE

DOB: 06/02/1996

HEIGHT: 1.91m

WEIGHT: 100kg

CENTRE

DOB: 27/11/1996

HEIGHT: 1.83m

WEIGHT: 88kg

Tommy O'Brien #1283

Rory O'Loughlin #1248

1

CAP

Scott Penny #1271

Andrew Porter #1246

43

CAPS

CENTRE

DOB: 28/05/1998

HEIGHT: 1.83m

WEIGHT: 95kg

CENTRE

DOB: 21/01/1994

HEIGHT: 1.88m

WEIGHT: 94.09kg

FLANKER

DOB: 22/09/1999

HEIGHT: 1.83m

WEIGHT: 104kg

PROP

DOB: 16/01/1996

HEIGHT: 1.83m

WEIGHT: 114.09kg

38 | www.leinsterrugby.ie
---
Garry Ringrose #1237

42

CAPS

Rhys Ruddock #1167

27

CAPS

James Ryan #1259

43

CAPS

Johnny Sexton #1127

105

CAPS

14

CAPS

CENTRE

DOB: 26/01/1995

HEIGHT: 1.85m

WEIGHT: 96kg

BACK ROW

DOB: 13/11/1990

HEIGHT: 1.91m

WEIGHT: 113.18kg

LOCK

DOB: 24/07/1996

HEIGHT: 2.03m

WEIGHT: 115kg

FLY HALF

DOB: 11/07/1985

HEIGHT: 1.88m

WEIGHT: 90kg

Dan Sheehan #1286

HOOKER

DOB: 17/09/1998

HEIGHT: 1.91m

WEIGHT: 110.91kg

7

CAPS

Devin Toner #1128

LOCK

DOB: 29/06/1986

HEIGHT: 2.11m

WEIGHT: 127kg

70

CAPS

James Tracy #1211

HOOKER

DOB: 02/04/1991

HEIGHT: 1.83m

WEIGHT: 106kg

6

CAPS

Josh van der Flier #1228

FLANKER

DOB: 25/04/1993

HEIGHT: 1.85m

WEIGHT: 103kg

40

CAPS

Coaching

Staff

2021/22 season

LEO CULLEN

HEAD COACH

STUART LANCASTER

SENIOR COACH

ROBIN MCBRYDE

ASSISTANT COACH

FELIPE CONTEPOMI

BACKS COACH

EMMET FARRELL

KICKING COACH AND

LEAD PERFORMANCE ANALYST

GUY EASTERBY

HEAD OF RUGBY OPERATIONS

DENIS LEAMY

CONTACT SKILLS COACH

www.leinsterrugby.ie | 39
---
We always strive to be

A beat ahead

layahealthcare.ie
---
Your best support every season

Managed IT Services IT Disaster Recovery

Managed IT Security Services Cloud Services

Delivering bespoke IT services from concept, delivery and support

support@lantech.ie

www.lantech.ie

OFFICIAL

IT PARTNER
---
RUGBY

YOU KNOW BETTER

BECAUSE YOU GET

Official Media Partner of Leinster Rugby
---
THANK YOU

TO OUR CLUBS

Leinster Rugby wish to acknowledge the 72 rugby

clubs across the province for the excellent

contribution in promoting the domestic game by

way of their social media platforms, in particular

over the last 18 months as we all strived to deal

with and come through the Covid pandemic.

Who would have envisaged this

time last year that we would get

to complete a full season across

all levels of our domestic game.

The Leinster Branch domestic

rugby personnel along with the

many volunteers on various

committees strived tirelessly

as always to ensure that all

competitions were completed

successfully. They are to be

congratulated and thanked for

their hard work.

The dedication and expertise by Lisa

Doyle and the communications team in

the Branch office in promoting the club

game through Leinster's media channels

are greatly appreciated by all involved

with domestic rugby.

However, without the commitment and

buy-in by all in our rugby clubs across

the 12 counties post pandemic, this

past season would not have been the

wonderful success that it was.

None more so than the very noticeable

increase of the use of social media

platforms by all clubs in promoting

events and matches across all levels

of the game. This proved to be a vital

way of connecting and reaching out to

club members and players especially

during lockdown and it is great to see

there has been little let up in the amount

of use on these outlets since rugby

resumed.

The number of club rugby video clips

and the promotion of upcoming games

being shared is increasing and the

standard of content is ever improving

and as a result it means our club game

is reaching a far wider audience.

Also, a lot of clubs are live-streaming

matches now allowing members who

cannot attend or living abroad the

ability to watch their clubs in action.

This again is a wonderful and new

innovation and initial concerns that

it might keep club members from

attending in person has not happened.

Indeed, regular notifications of

upcoming fixtures on social media has

no doubt led to the increased number in

attendances seen at club matches over

recent months.

Club websites are another outlet that

has seen increased usage as clubs

continue to improve the quality of

content.

As a result of all this increased media

activity by our clubs our domestic game

is reaching wider audiences which will

in time only prove to be beneficial to all.

Congratulations and sincere thanks to

all 72 clubs, and keep up the posting

and sharing.

John Walsh

President Leinster Rugby

Jacinta O'Rourke

Chair of Domestic PR Committee

PS - Clubs can avail of the Leinster

domestic website with good news stories

by forwarding articles to: stories@

leinsterrugby.ie or by contacting a

member of the Domestic PR Committee

www.leinsterrugby.ie | 43
---
BEARINGPOINT INTRODUCES

LEINSTER RUGBY TO

THE METAVERSE

BearingPoint,

the official

innovation

partner of

Leinster

Rugby, has

hosted a

milestone

event

showcasing

the

capabilities

of metaverse

technology

for the

Leinster Rugby

sporting

community.

In a multi-location demonstration

of BearingPoint's virtual reality

(VR) and innovation capabilities,

they have unveiled their shared

ambition with Leinster Rugby. The

metaverse is a digital environment

where you can work, collaborate,

meet friends and have fun, and

Leinster Rugby is looking to lead

the way for the future of sport in

this digital world.

Business partners, media and Leinster

Rugby players Jamison Gibson-Park,

Will Connors and Hugo Keenan were

in attendance through virtual reality

technology in four locations across Europe

including the BearingPoint offices in

Dublin, London, and Paris as well as the

Leinster Rugby club facilities in University

College Dublin.

Showcasing the convergence between

the physical and digital worlds through

cutting-edge technology, guests at the

event entered the metaverse and went on

a journey from the BearingPoint offices

in Paris and finished with a pitchside

experience and presentation in a VRbuilt

Aviva Stadium developed by the

BearingPoint team.

BearingPoint is planning to play a central

role in leveraging its VR expertise to

enable Leinster Rugby to further engage its

fans through immersive experiences and to

explore the wider commercial possibilities

and potential this technology has in the

sporting world.

Speaking at the launch, Gillian O'Sullivan,

Country Leader for BearingPoint Ireland

said: "Today we unveiled our plans to

lead Leinster Rugby into the metaverse.

It is a very exciting day for us as their

innovation partner and we are committed

to leading them on this journey.

"The power of virtual reality is enormous,

and we wanted to show how this

technology can expand businesses and

experiences. What better way to do it

than by bringing Leinster Rugby into the

metaverse."

BearingPoint's vision and commitment to

leading Leinster Rugby on this journey

were set out by their immersive experience

expert, Eric Chevallet at the event.

Speaking at the launch, Eric Chevallet,

Head of Immersive Labs at BearingPoint

said, "At BearingPoint, we are an

innovative company that is ahead of

the curve with regard to metaverse

technology and more broadly with virtual

reality technology.

"The potential for businesses in the

metaverse is endless, and we are

delighted to be working with Ireland's

leading sports franchise making this first

move today."

44 | www.leinsterrugby.ie
---
Kevin Quinn, Head of Commercial and

Marketing at Leinster Rugby who attended

the event said, "At Leinster Rugby, we're

always striving to improve, to nurture

and drive the pursuit of excellence in

everything we do both on and off the

pitch. This exciting initiative is a significant

and strategic business and brand building

opportunity for us at Leinster Rugby.

He added: "By entering the metaverse

with BearingPoint's support, we are

broadening our horizons to identify new

digital commercial opportunities and

working to develop immersive rugby

experiences that provide our community

with new ways to experience rugby, follow

their teams and interact with our brand.

"We have a passionate, engaged and

growing supporter base and we're excited

to work with our innovation partner,

BearingPoint, to explore new ways to

improve how we communicate and

engage with them."

The event provided valuable learning

opportunities for attendees to experience

first-hand the benefits and potential of the

metaverse.

Interest in the metaverse has grown

exponentially in the past year which is

causing businesses to rethink and change

how they can engage more effectively

with users online.

www.leinsterrugby.ie | 45
---
compiled by stuart farmer

media services limited

Leinster Player

Statistics

SQUAD

CAP

NO

DEBUT

2021/22 SEASON FOR LEINSTER LEINSTER CAREER

ALL GAMES URC EPCR ALL GAMES PRO14/URC EPCR

App Try Pts App Try Pts App Try Pts App Try Pts App Try Pts App Try Pts

SINCE LAST TRY

CAPS

VAKH ABDALADZE 1263 2 DEC 17 0+5 1 5 0+4 1 5 0+1 - - 0+17 2 10 0+16 2 10 0+1 - - 2 -

MICHAEL ALA'ALATOA 1301 25 SEPT 21 12+10 2 10 11+4 1 5 1+6 1 5 12+10 2 10 11+4 1 5 1+6 1 5 10 WS 7

RYAN BAIRD 1278 27 APR 19 5+4 1 5 4+3 1 5 1+1 - - 17+19 7 35 15+14 7 35 2+5 - - 4 IR 8

LEE BARRON 1308 23 APR 22 0+2 - - 0+2 - - - - - 0+2 - - 0+2 - - - - - - -

ADAM BYRNE 1213 29 DEC 12 6+2 4 20 6+2 4 20 - - - 55+10 24 120 45+10 18 90 10 6 30 5 IR 1

ED BYRNE 1222 9 FEB 14 7+7 2 10 7+5 2 10 0+2 - - 26+58 12 60 26+45 11 55 0+13 1 5 1 IR 6

HARRY BYRNE 1280 28 SEPT 19 6+4 - 12 6+4 - 12 - - - 20+14 6 166 20+13 6 161 0+1 - 5 13 IR 2

ROSS BYRNE 1236 4 SEPT 15 13+8 3 157 11+3 2 109 2+5 1 48 83+42 9 807 69+21 4 580 14+21 5 227 8 IR 13

THOMAS CLARK-

1285 29 AUG 20 3+4 - - 3+4 - - - - - 5+12 - - 5+12 - - - - - - -

SON

JACK CONAN 1223 20 FEB 14 9 2 10 3 - - 6 2 10 89+25 25 125 62+15 16 80 27+10 9 45 7 IR 27

WILL CONNORS 1264 9 FEB 18 1+1 - - 1+1 - - - - - 18+7 2 10 17+7 2 10 1 - - 12 IR 9

TIM CORKERY 1298 12 MAR 21 - - - - - - - - - 0+2 - - 0+2 - - - - - - -

CHRIS COSGRAVE 1305 26 MAR 22 1+1 - - 1+1 - - - - - 1+1 - - 1+1 - - - - - - -

SEAN CRONIN 1202 28 OCT 11 3+6 3 15 3+6 3 15 - - - 123+81 45 225 79+60 28 140 43+19 16 80 3 IR 72

MAX DEEGAN 1256 3 DEC 16 7+11 6 30 7+7 6 30 0+4 - - 42+41 24 120 39+29 22 110 3+12 2 10 4 IR 1

BRIAN DEENY 1306 23 APR 22 2 - - 2 - - - - - 2 - - 2 - - - - - - -

PETER DOOLEY 1230 31 OCT 14 3+7 - - 3+7 - - - - - 43+60 5 25 41+54 5 25 2+6 - - 18 -

CAELAN DORIS 1268 28 APR 18 12 2 10 5 2 10 7 - - 44+8 7 35 31+6 5 25 13+2 2 10 9 IR 17

JACK DUNNE 1276 16 FEB 19 2+3 - - 2+3 - - - - - 4+16 - - 4+16 - - - - - - -

CORMAC FOLEY 1299 24 APR 21 1+2 - - 1+2 - - - - - 1+3 - - 1+3 - - - - - - -

CIARAN FRAWLEY 1265 17 FEB 18 12+6 2 31 10+2 1 26 2+4 1 5 29+24 6 174 26+16 4 158 3+8 2 16 7 -

TADHG FURLONG 1220 1 NOV 13 9+1 2 10 3+1 - - 6 2 10 82+42 10 50 45+34 3 15 37+8 7 35 3 IR 57

JAMISON GIBSON-PARK 1247 2 SEPT 16 8+4 4 20 3+2 - - 5+2 4 20 57+56 21 105 47+30 14 70 10+26 7 35 3 IR 17

MARCUS HANAN 1295 19 FEB 21 - - - - - - - - - 0+3 - - 0+3 - - - - - - -

DAVID HAWKSHAW 1290 2 NOV 20 0+3 1 13 0+3 1 13 - - - 0+11 2 27 0+11 2 27 - - - 2 -

CIAN HEALY 1142 5 MAY 07 4+10 2 10 3+5 2 10 1+5 - - 160+85 29 145 93+53 15 75 65+31 13 65 5 IR 116

ROBBIE HENSHAW 1251 8 OCT 16 8 4 20 3 1 5 5 3 15 64+1 15 75 28 6 30 36+1 9 45 2 IR 57

DAVE KEARNEY 1158 16 MAY 09 3+1 1 5 3+1 1 5 - - - 150+23 52 260 124+16 45 225 25+6 7 35 2 IR 19

HUGO KEENAN 1253 5 NOV 16 13 5 25 6 1 5 7 4 20 40+3 9 45 28+3 5 25 12 4 20 1 IR 20

RONAN KELLEHER 1277 22 FEB 19 8+2 4 20 2+2 3 15 6 1 5 28+7 13 65 16+5 11 55 12+2 2 10 6 IR 18

JORDAN LARMOUR 1258 2 SEPT 17 9 6 30 6 4 20 3 2 10 61+10 25 125 37+7 18 90 24+3 7 35 1 IR 30

46 | www.leinsterrugby.ie
---
SQUAD

CAP

NO

DEBUT

2021/22 SEASON FOR LEINSTER LEINSTER CAREER

ALL GAMES URC EPCR ALL GAMES PRO14/URC EPCR

App Try Pts App Try Pts App Try Pts App Try Pts App Try Pts App Try Pts

SINCE LAST TRY

CAPS

TEMI LASISI 1304 12 MAR 22 0+1 - - 0+1 - - - - - 0+1 - - 0+1 - - - - - - -

DAN LEAVY 1231 31 OCT 14 4+3 - - 4+3 - - - - - 47+32 17 85 39+22 13 65 8+10 4 20 8 IR 11

JAMES LOWE 1262 2 DEC 17 10+2 13 65 5+1 3 15 5+1 10 50 62+2 47 235 39+1 28 140 23+1 19 95 1 IR 12

JOE MCCARTHY 1303 29 JAN 22 5+2 - - 5 - - 0+2 - - 5+2 - - 5 - - 0+2 - - - -

NICK MCCARTHY 1241 19 DEC 15 3+7 1 5 3+7 1 5 - - - 9+37 5 25 9+31 5 25 0+6 - - 6 -

LUKE MCGRATH 1206 5 MAY 12 12+9 1 5 10+4 1 5 2+5 - - 114+58 40 200 79+47 32 160 35+11 8 40 6 IR 19

JOHN MCKEE 1307 23 APR 22 2 - - 2 - - - - - 2 - - 2 - - - - - - -

MICHAEL MILNE 1279 28 SEPT 19 0+1 - - 0+1 - - - - - 1+16 2 10 1+16 2 10 - - - 15 -

MARTIN MOLONEY 1300 24 APR 21 2+4 - - 2+4 - - - - - 2+5 - - 2+5 - - - - - - -

ROSS MOLONY 1233 20 FEB 15 17+3 1 5 10+3 - - 7 1 5 81+55 5 25 72+40 4 20 9+15 1 5 13 -

JOSH MURPHY 1261 3 NOV 17 7+4 - - 3+4 - - 4 - - 49+11 5 25 44+10 4 20 5+1 1 5 20 -

JAMIE OSBORNE 1294 30 JAN 21 10+2 - - 10+2 - - - - - 12+6 1 5 12+6 1 5 - - - 13 -

CONOR O'BRIEN 1260 3 NOV 17 1 - - 1 - - - - - 17+7 6 30 17+6 6 30 0+1 - - 10 -

JIMMY O'BRIEN 1272 23 NOV 18 14+1 8 42 8 3 17 6+1 5 25 40+10 15 79 32+9 9 49 8+1 6 30 5 -

SEAN O'BRIEN 1297 12 MAR 21 0+1 - - 0+1 - - - - - 0+3 - - 0+3 - - - - - - -

TOMMY O'BRIEN 1283 20 DEC 19 6+6 3 15 6+4 3 15 0+2 - - 10+11 6 30 10+9 6 30 0+2 - - 2 -

RORY O'LOUGH-

1248 2 SEPT 16 8+1 1 5 8+1 1 5 - - - 72+24 22 110 65+16 19 95 7+8 3 15 3 IR 1

LIN

MAX O'REILLY 1291 2 JAN 21 2 - - 2 - - - - - 8+1 1 5 8+1 1 5 - - - 8 -

SCOTT PENNY 1271 23 NOV 18 10+1 6 30 10+1 6 30 - - - 33+7 22 110 33+7 22 110 - - - 2 -

ANDREW PORTER 1246 2 SEPT 16 10+1 3 15 4+1 2 10 6 1 5 38+50 14 70 27+31 10 50 11+19 4 20 5 IR 43

GARRY RINGROSE 1237 12 SEPT 15 13 2 10 6 2 10 7 - - 97+2 29 153 58+1 18 98 39+1 11 55 5 IR 42

RHYS RUDDOCK 1167 6 DEC 09 13+7 1 5 12+3 1 5 1+4 - - 156+52 12 60 118+34 10 50 37+16 2 10 14 IR 27

ROB RUSSELL 1302 3 OCT 21 2+2 - - 2+2 - - - - - 2+2 - - 2+2 - - - - - - -

JAMES RYAN 1259 2 SEPT 17 5 - - 3 - - 2 - - 49+6 3 15 25+1 1 5 24+5 2 10 15 IR 43

JOHNNY SEXTON 1127 27 JAN 06 7+2 - 87 2+1 - 22 5+1 - 65 155+27 26 1594 89+20 13 855 64+7 12 708 22 IR 105

DAN SHEEHAN 1286 23 OCT 20 4+9 7 35 3+3 4 20 1+6 3 15 7+19 13 65 6+13 10 50 1+6 3 15 6 IR 7

ANDREW SMITH 1292 2 JAN 21 - - - - - - - - - 1+1 - - 1+1 - - - - - - -

ALEX SOROKA 1296 28 FEB 21 1+1 - - 1+1 - - - - - 2+2 - - 2+2 - - - - - - -

DEVIN TONER 1128 27 JAN 06 6+7 - - 6+4 - - 0+3 - - 212+67 4 20 146+46 4 20 63+21 - - 62 IR 70

JAMES TRACY 1211 4 NOV 12 7+5 4 20 7+4 4 20 0+1 - - 64+77 18 90 57+48 17 85 7+29 1 5 5 IR 6

LIAM TURNER 1287 23 OCT 20 - - - - - - - - - 4+2 - - 4+2 - - - - - - -

JOSH VAN DER FLIER 1228 11 OCT 14 12+1 7 35 5+1 1 5 7 6 30 87+24 18 90 50+18 8 40 37+6 10 50 1 IR 40

KICKING

2021/22 SEASON FOR LEINSTER LEINSTER CAREER

ALL GAMES URC EPCR ALL GAMES PRO14/URC EPCR OVERALL

SUCCESS

RATE

C PG DG C PG DG C PG DG C PG DG C PG DG C PG DG ATT Career

%

- - - HARRY BYRNE 66.67% 6 - - 6 - - - - - 59 6 58 5 1 1 83 78.31%

ROSS BYRNE 86.49% 50 14 - 33 11 - 17 3 - 246 89 1 187 61 1 59 28 - 428 78.27%

CIARAN FRAWLEY 100.00% 3 5 - 3 5 - - - - 54 12 - 51 12 - 3 - - 80 82.50%

DAVID HAWKSHAW 66.67% 4 - - 4 - - - - - 7 1 - 7 1 - - - - 12 66.67%

JIMMY O'BRIEN 100.00% 1 - - 1 - - - - - 2 - - 2 - - - - - 4 50.00%

GARRY RINGROSE - - - - - - - - - - 4 - - 4 - - - - - 6 66.67%

JOHNNY SEXTON 84.78% 30 9 - 8 2 - 22 7 - 264 301 11 128 171 7 129 126 4 706 80.03%

www.leinsterrugby.ie | 47
---
TITLE PARTNER

OFFICAL KIT PARTNER

PREMIUM PARTNERS

PARTNERS & SUPPLIERS

MEDIA PARTNERS

48 | www.leinsterrugby.ie
---
Proudly Supporting

Leinster Rugby

Offices in Dublin, Cork, Limerick and Mullingar

Tel: +353 (0)1 266 6000

Fax: +353 (0)1 266 6620

Web: aon.com/Ireland

Aon Ireland Limited t/a Aon, Aon Risk Solutions, Aon Risk Affinity, Aon Claims Management, The Bar of Ireland Financial

Services and Unity Insurances is a private company limited by shares and is regulated by the Central Bank of Ireland.
---
ig picture

14 May 2022

Leinster supporters before the

Heineken Champions Cup Semi-

Final match between Leinster and

Toulouse at the Aviva Stadium in

Dublin.

50 | www.leinsterrugby.ie
---
Photo by Harry Murphy/Sportsfile

www.leinsterrugby.ie | 51
---
Your one stop shop for

Deep Retrofits

A deep retrofit will bring your home to the highest level of

energy efficiency so you'll see the savings in your energy

usage immediately.

Energia's Cosy Homes Scheme offers all the practical support

and advice you need to get started. Our expert team has years

of experience helping homeowners with all kinds of energy

saving upgrades and retrofits.

We manage everything on your behalf, including all the SEAI

grants which are discounted upfront. And with grants of up to

€35,000 per home now available, as well as additional Energia

financial support, having a cosy home is easier than ever.

Talk to us today about how you can improve the

comfort and BER rating of your home.

energia.ie/cosy-homes

0818 300 701
---
Old Belvedere announce

partnership with

Homeless Period Ireland

Old Belvedere Women's

Rugby are proud to announce

a partnership with Homeless

Period Ireland. The Old Belvedere

women's team will display the

logo of Homeless Period Ireland

for the 2022 season and beyond.

The aim is to promote awareness for

period poverty and to encourage period

positivity in today's society.

"Old Belvedere women's rugby is

delighted to support the important work

that Homeless Period Ireland is doing to

provide feminine hygiene products and

promote awareness of how this issue

affects the dignity and comfort of those

experiencing homelessness and other

barriers to accessing period products.

"Our team has provided practical

support for the charity through collections

and donations for the past several years

while also raising awareness by proudly

wearing the Homeless Period Ireland

logo on our jerseys," said Yvonne Nolan,

Director of Rugby at Old Belvedere RFC

Claire Hunt, CEO of Homeless Period

Ireland added; "Homeless Period Ireland

is a volunteer-run initiative. The aim of the

initiative is to get period products to those

in need but also to raise awareness to the

issue of period poverty.

"Sport has a massive platform, which

can be used to start a conversation

about periods in a space that you would

never expect! A huge thank you to Old

Belvedere women's rugby, it is an honour

to have our logo emblazoned on the Old

Belvedere jersey. This sends out a very

positive message to both fans in stadia

and players."

www.leinsterrugby.ie | 53
---
offical leinster supporters club

And so with the high and the success of our European semi-final

victory last week, our 2021/22 rugby journey will now roll on for

the next three weeks at least (with hopefully another two after

that!). The focus for today is back on URC action and a return to

the Aviva as we once again welcome another red army, that of our

interprovincial rivals, Munster, for this rescheduled fixture.

So much has been written about

these two sides and their many,

many head-to-heads down

through the years that you might

be forgiven for thinking this is

just another routine run of the

mill game, however thankfully

you'd be wrong! Whilst we

have secured a home quarterfinal

for the weekend of June 4,

Munster will be looking to secure

as many match points as they

can today given that the three

teams in second, third and fourth

positions of the URC are all on 56

points and so they'll no doubt be

desperate to stay in the top four

so that they won't have to travel

for a quarter-final.

The last fixture for Munster in the Aviva

Stadium was a mere two weeks ago

when their supporters met with the other

red army of Toulouse in the Heineken

Champions Cup quarter-final. Victory

on that day went to the French and well

we know what happened to them last

weekend, however given that Munster

have had an extra week to prepare for

this fixture, you can be sure that they will

be primed and ready to overturn Leinster

at every opportunity and so this is once

again sure to be an exciting game of

rugby from start to finish.

Leo, Stuart and Co took a welcome

opportunity to get some of the extended

senior squad some game time last Friday,

as 'A' head coach Simon Broughton

selected a number of the players as part

54 | www.leinsterrugby.ie

Leinster

Munster

1st Position 2nd

L W W L L URC Form L W L W W

511 Points Scored 499

69 Tries Scored 63

7,253 Metres Gained 5,590

251 Points Conceded 306

28 Tries Conceded 30

2,440 Tackles Made 2,317

89% Tackle Success 89%

Ross Byrne (109) Leading Points Scorer Ben Healy (97)

Scott Penny (6) Tries Scored Simon Zebo (7)

Max Deegan (73) Successful Carries Gavin Coombes (61)

Rhys Ruddock (22) Defenders Beaten Mike Haley (24)

of his team that faced a University Student

Selection in Energia Park. Michael Milne,

Jack Dunne, Martin Moloney, Ryan Baird

and Vakh Abdaladze were just some of

the names who featured and this is sure

to be a welcome boost to Leo and the

entire squad as they work to what is a

very important game both today, and in

France next week!

Our form coming into this game reads as

having lost our last two however those

fixtures were away from home down in

South Africa and it was a very youthful

Leinster team who travelled. Whilst the

results might not have been what the

players themselves wanted, those two

losing bonus points they secured ensured

our place as the top seed in the URC and

thus the all-important home quarter-final

so it was an excellent result that they

returned home with.

These fixtures are always tense affairs

and we expect no different this week

but what we do know as evidenced in

the past weeks both home and away is

that we can come away with the victory

when we need it most when the crowd

is behind the team and let's make sure

today is no different. We want to wrap up

the pool stages on a high so let's ensure

we get the job done today!

As always we're thankful for the support

we as a committee get from Leinster

Rugby, Bank of Ireland, Laya (for our

wonderful TRY/clap banners, and all

our other sponsors and as always we

encourage you to show your support

through our social media channels.

Be loud, be true, be blue

Yours in Rugby,

Your OLSC Committee
---
OFFICIAL

LEINSTER

SUPPORTERS

CLUB

Suort Suort Suort Suort Suort us by

visiting r r r r r

ONLINE

STORE

Kp Kp Kp Kp Kp up date

OLSC

NEWS

Ctact Ctact Ctact Ctact Ctact us

olsc@leinsterrugby.ie

Foow Foow Foow Foow Foow us

#seaofblue P D E Q
---
Leinster Rugby

thriving in Nairobi

Paula Cullen and

three friends,

Adrienne Keeley

(Wicklow),

Catherine Nolan

(Carlow) and

Irene Plunkett

(Castleknock)

have spent the

last 15 days

working at the

street boys

rehab centre

in the Mukuru

slums.

Among the many things they

achieved for the boys during their

stay included a day at an animal

sanctuary in National Park, an

afternoon swimming and a school

sports day.

However the highlight of their trip had

to be the centre's residents competing at

a tag rugby tournament in the heart of

the Ngong Hills about two hours outside

Nairobi, a most remote area.

The centre had three teams entered,

U-14s with the name Carlow, U-16s with

the name Blackrock and U-16s called

Leinster.

The U-14s won their section and the two

U-16s got to the final with the B team

beating the A team in their group. It was

as good as it gets with huge excitement

among the boys who had all played four

matches each to make the finals.

This could not have happened without

the support of Leinster Rugby who have

generously supplied the boys kits while

we were honoured to meet the vice

chairman of Kenya Rugby Union, Kombo

Mwalimu who had scouts present on the

day.

We had another success when one of

'our boys' was offered a place at a rugby

boarding school about an hour outside

Nairobi.

This is a huge achievement for Mukuru

Promotion Centre as these homeless boys

wouldn't even have known the shape of a

rugby ball three years ago.

We must thank all at Leinster including

many supporters who donate towards the

expenses of coaches, hiring of buses and

general expenses in running this rugby

project.

Thank you to all for your continued

support and best wishes to Leinster for the

remainder of the season.

Paula Cullen and friends and the boys

at MPC rehab centre.

www.leinsterrugby.ie | 57
---
As Official Clean Air Partner to Leinster

Rugby we are delighted to support the

team in their pursuit of excellence by

adding Novaerus Air Disinfection to their

winning formula.

Irish-designed and patented Novaerus

NanoStrike technology strives to give

Leinster the physical and competitive edge

by disinfecting the squad and

management team's indoor

air safely, 24/7.
---
GETTING

We check social media

for the latest views

and thoughts across

SOCIAL

the 12 counties

www.leinsterrugby.ie | 59
---
Try Leinster's Next Big Dish

from Mao At Home today
---
Virtual Mascot

Alex

Traynor

Age: 8

School: Willow Park Junior School

Class: Second Form

Hobbies and Interests: Rugby, football,

playing drums and piano

Favourite Player: James Lowe

www.leinsterrugby.ie | 61
---
WHERE ARE

THEY NOW?

STEPHEN KEOGH

THEN: Stephen

Keogh won

85 caps for

Leinster over

five seasons

between 2006

and 2011.

NOW: He is

Head of Retail

Sales for

the south

and west at

New Ireland

Assurance and

married to

Niamh with

three children

Mollie (8),

Frankie (5) and

Zoe (3).

62 | www.leinsterrugby.ie
---
Stephen Keogh was one of them.

You know the type, a hard-nosed Limerick

man steeped in the best traditions of

Munster rugby which amounts to a blood

and guts approach to this game for

warriors.

Back in 2006, the back-row forward

crossed the great divide in order to

bring some of that meanness into a

Leinster pack of forwards that seemed

demoralised.

"I was playing with Bruff RFC, but my

school St Munchin's was affiliated to

Shannon where Colm Tucker Senior, who

unfortunately passed away, was very

good to me in school. I lived out in the

country and he used to drop me to the

bus. So, naturally, Shannon was always

in my mind to settle into as my club.

"The world was a much bigger place

back then," he recalls.

"When you travelled to play in

Clongowes or Blackrock - they were the

two big schools in Leinster at that stage - it

just felt like a different place. You had that

bitterness even then, going up to try and

win in those places."

When school was done and a degree

pocketed from UCC, Keogh returned

home to the bosom of all-conquering

Shannon.

Stellar form for the club led to 54

Munster caps between 2003 and 2006,

marking Stephen as one of the up-andcoming

forwards in Irish rugby at the age

of 23.

"At one time, it was one culture versus

another culture. Dublin was moving

ahead in relation to the Celtic Tiger.

Limerick and Cork were that bit

behind.

"It was a clash of two different cultures.

You had that between Ireland's two best

provinces and one of them, Munster, was

the best in Europe.

"You always look over the wall at what

the neighbour has and Munster had

Heineken Cups when Leinster didn't.

"Then, there was the importance of Irish

selection. When you throw all of that

together, sparks are going to fly and they

did back then.

"But, it was great. The public bought into

the rivalry and the atmosphere was all

the better for it."

However, Stephen decided to take the

unusual move of signing for Leinster, just

weeks before sitting on the bench for that

epic 2006 Heineken Cup semi-final in

which Munster won the day once again.

"While I had played a lot for Munster,

I was ahead of the curve in my

appearances because there had been

a spate of injuries that opened up game

time for me.

www.leinsterrugby.ie | 63
---
"I just got a phone call from Michael

Cheika. Eric Miller was moving on and

Victor Costello was gone. They needed a

back-rower to come in.

"I looked at it and decided there was a

spot there at Leinster to start regularly in

the Heineken Cup. I signed in March."

It was a smart move given the resources

in that area for Munster, the list including

Anthony Foley, Alan Quinlan, Eddie

Halvey, Denis Leamy, David Wallace, Jim

Williams and Stephen.

"The reaction in Munster was fine. It was

no problem at all. The lads were grand.

There was no issue," says Stephen.

"Even at that stage, rugby was treated

as a business as well as your passion.

The lads knew it was a good business

decision for me, a good rugby decision

for me to move. They understood it."

It was the possibility of becoming more

relevant on Heineken Cup days that

made it a relatively easy decision for the

impatient loose forward.

"I think the Leinster lads would openly

say this, there was a vast contrast in the

two teams at that stage, especially up

front."

In the summer of 2006, the challenge

was to leave that hatred behind and to

embrace those who once were enemies.

"When you move somewhere, you've got

to buy into it," he adds.

"It's not really about the colour of the

jersey. It is not about the place. It is

about teammates. At the end of the day,

everyone's the same. They all want the

same things.

"When you are involved in rugby,

generally, people will have the same

motivations, the same common goals.

Once you buy into those, the men around

you become your friends. And you

would do anything for your friends, your

mates. Those friendships were created in

Leinster."

Those bonds remain.

"Who am I closest to from the group? It

is not like the schoolyard thing where: 'I

don't want to say who my best friend is',"

he laughs.

"We had a reunion in 2019, 10 years

after the first Heineken Cup. It was just

great craic, like we had never left.

"It is only when you leave the game that

you realise what a time you had. I urge

any player now, to savour it. You will

never have that time again."

When the 2006/07 fixture list came out,

Stephen would have been excited to see

where and when Munster would come.

He still remembers where he was when

Michael Cheika rang on a Thursday

afternoon to let him know he wouldn't be

starting in that first derby.

In 2008, there would be another chance

to exorcise demons and it came on a

miserable, wet day at Musgrave Park

when Stephen returned from a broken

hand in a 10-3 win in Cork, giving

Leinster much-needed confidence.

"I am not saying it turned the tide. But,

it was one of those wins that helped

along the way, especially for the type

of day it was, lashing rain in the muck in

Musgrave.

"My only memory is of Denis Leamy, my

great friend, giving me a dig and pulling

the jersey over my head, so I couldn't see

where I was going for 30 seconds. There

was just good niggle to that game."

When you make the change from red to

blue, you discover that the hype of hate

built up around the contrast in cultures is

not real.

64 | www.leinsterrugby.ie
---
"You grow up with the common belief

in Munster, albeit wrongly, that Leinster

players are all posh and what have you.

You just find out that they are normal

people. They are the very same as you.

"I wasn't long up in Leinster when I did a

press conference. I was asked a simple

question: 'Did you notice any differences

between Munster and Leinster?'"

"I said: 'The only thing I can't get my

head around is that there are so many

takeaway coffees up in Leinster.'"

There was a headline in the newspaper

the next day: "I'm not here for the

coffee." To this day, the boys in the

WhatsApp group will hit him with "I'm not

here for the coffee".

"Looking back now, I am as long out of it

as when I was playing it. They were great

times, just great craic."

The dream of making a difference for

Leinster in the Heineken Cup never truly

materialised, Rocky Elsom arriving in

2008 to be the missing piece in that

jigsaw.

"They obviously felt they needed quality

in the position I was in and that leads to

you asking questions about yourself.

"I was a good Magners League player.

I had two seasons of starting regularly

in the Heineken Cup and then dropping

down to be a squad player."

When Rocky left, Kevin McLaughlin

and Seán O'Brien came on the scene.

In Ireland, there are always back row

players coming on the scene.

"Only the world-class players reach the

top of the game. I wasn't world-class.

Therefore, I didn't reach the top. And

that is okay. I have no hassle with

that."

It wasn't too long before Stephen

had had enough of the professional

environment.

"People think professional rugby is

great. And it is. It is also very frustrating.

Whether you are a good player, or not,

or fully-committed, or not, holding a

tackling bag is not easy.

"Everyone knows if you are doing a

good or bad job as a professional rugby

player because all they have to do is

read the teamsheet.

"You are constantly explaining yourself.

People are asking you, are you injured?

No. Why aren't you playing? The coach

didn't pick me.

"I just got sick of it. I could have gone to

Italy or France. For me, there are other

things in life outside of rugby."

That meant the beginning of a second

career in 2011.

A degree in Economics from UCC led

to a future in finance with New Ireland

Assurance, working his way up that

particular ladder to become Head of

Retail and Sales in April.

"It is important to join the right company.

That happened to me. They never treated

me as an ex-rugby player. I never had to

do any rugby-related stuff for them.

"I came in on merit and they helped me

to build a career. That is really important.

I fell on my feet that way."

Stephen cited determination, clear goals,

clear plans, clear strategies as some of

the building blocks that translate from

rugby into the workplace.

"You don't learn management when you

are a professional sportsman because

you are mostly worrying about yourself,

doing your part.

"You don't have to motivate people

because they are already motivated. You

learn how to be part of a team."

In red and blue.

www.leinsterrugby.ie | 65
---
W W W . B E S T M E N S W E A R . C O M

OFF

ENTER THE CODE BELOW

LEIN15

Until June 30th 2022

ONLINE ONLY SHOP NOW

T&Cs Apply
---
Delvin RFC 60s/70s

Players Get Together

BY CAROLINE MCFADDEN

L-R Eamon Cooney,Bill Douglas, Donal

Henderson, Jim Walker, Christy Lynch,

Gordon Henderson & Alec Smyth

The Neptune Hotel in Bettystown

was the place back in the 1960s

and 1970s where the ex-Delvin

RFC club entertained their visiting

teams following their games at

their then grounds in Butlin's

Mosney. They also celebrated New

Year's Eve with their famous 'sold

out' New Year's Eve Dinner Dances

in the hotel.

Those great bygone days were relived

recently when the club's players of that era

once again gathered to celebrate another

momentous occasion, the 60th anniversary

of the club winning the Leinster Provincial

Towns Cup back in 1962.

The captain of that famous team, Mr

Billy Reynolds, was in attendance along

with another member of the team, Hugh

Cumisky. Others such as Derek Little, Niall

Delaney and Peter Barry, who were on

the periphery of the team, were also in

attendance.

Perusing old times

in the Drogheda

Independent

Whilst the get together did celebrate

the 60th anniversary of that great

achievement, it wasn't confined to that

year and was expanded to include

members and players who played with the

club throughout the 60s and early 70s.

An informal lunch was organised and

there was a great response from those

who lined out or supported the club

throughout that period. Pictures of the '62

final were on view as well as page cuttings

from the Drogheda Independent which

drew great attention from the gathering.

There was also a book profiling the club's

history, written by former club President

and player, Jim Walker, for the nostalgic

gathering to peruse.

As the afternoon wore on, stories were

once again retold, embellished and

friendships were rekindled following many

years since meetings had taken place

between many of those who attended.

The Winning Captains, Seamie

Briscoe McGowan Cup '77 &

Billy Reynolds PTC '62

There was a splendid surprise when

an anniversary cake was baked and

produced for the occasion by Karen

Hammond which was certainly eaten with

great nostalgic taste by everybody.

The club was founded in the early 1950s

by Des Scaife and played out at the

Butlin's Holiday Camp in Mosney. Their

playing base comprised of players mainly

from north County Dublin and east Meath.

Ten years after Delvin RFC was founded,

they managed to win the prestigious

Leinster Provincial Towns Cup in 1962

and their only other senior success was

the North-East Area LB McGowan Cup

in 1975/76. The captains of both these

sides, Billy Reynolds and Seamie Briscoe

respectively were present at the gathering.

The winning Delvin Leinster

PTC Team from 1962

Team Mates From '62 Billy Reynolds

& Hugh Cumiskey

www.leinsterrugby.ie | 67
---
Referees

Corner

BY DAN WALLACE

Welcome to another edition of Referees Corner and a warm

welcome to Frank Murphy, today's match referee and his team.

Frank is a former rugby player. Originally from Cork, Murphy

played for his native province of Munster before moving to the

English side Leicester Tigers, with whom he won a Premiership

title, and then finished his career with Connacht, another

Irish province, making over 100 appearances for the side.

He began refereeing in the

All-Ireland League in 2015,

progressing to referee in the

British and Irish Cup later that

year. He began refereeing at

international level in 2016 and

has taken charge of games in

the European Nations Cup. In

November 2016, Murphy took

charge of his first PRO12 game,

and has since gone on to referee

in the Challenge Cup at European

level.

We're wrapping up our 2021/22

season in Referees HQ and it has been

fantastic to see so many competitions

back in full swing and see our referees

back on the pitch. Referees play a

central role in our game and we are

justly proud of how we have conducted

ourselves and our contribution to rugby

in Leinster this season.

We had a tricky but successful season

with our trial referees. We ran one

new member workshop on October

30, with the attendance of 25 recruits.

In total, a record number of 36 trial

members passed trial matches and

attained full membership during the

season. Compliments are due to a

number of individuals for their hard

work with our trial referees in achieving

these outstanding results. The next

new recruits' workshop will be held on

Saturday, August 27. Details further on.

This season, we also launched a new

programme of mentoring with IRFU

guidance. Norman Carter took on the

role as head of mentors and recruited

approximately 40 active and former

referees to act as mentors. Training

was provided by the IRFU, and as a

result, almost 70 referees have received

mentorship during the season.

​Do you want to explore a new way to

be involved in the game next season?

Leinster Rugby Referees are inviting applications

for their next New Referees Course which will

take place on 27 August. Visit the website…

And drop Sean Gallagher an email for

more information…

68 | www.leinsterrugby.ie
---
During the season, head of evaluation

Jim Breen and his sub-committee

deployed approximately 25 evaluators.

These evaluators are responsible for

assessing our referees in the field

and recommending promotions and

demotions amongst other things. In

total we completed well over 300

evaluations, covering our own referees

and also covering National Panel

Referees and IPAS Referees. In all

almost 200 individual referees were

evaluated, a great return.

Under the guidance of Barry O'Keefe,

using a combination of ref cam and

attendance at matches, we deployed a

number of coaches who issued almost

50 coaching reports. This is significantly

more than previous years. Coaching

and evaluating differ greatly. Coaching

focuses more on observing the referee

and giving them a couple of items to

work on over the following weeks.

A referee development team of six

individuals, directed by Steve Griffiths,

run the activities of our development

group. The development group is made

up of referees that we see as having the

skill and ability to move to the top level

of refereeing in Leinster and onwards

to perhaps the National Panel. This

group and the work coming from it,

involves a serious commitment on their

parts to allow them to become the best

they can be as referees. The group for

the season consisted of nine referees,

three of whom were in IPAS. All three

IPAS members performed very well

throughout the season, as a result of

which Robbie Jenkinson has already

been promoted to the National Panel,

and Katie Byrne has already refereed

at AIL level.

Our area representatives are one of the

cornerstones of our association. Their

level of commitment and work rate can

never be overstated. A massive thank

you for all the work they put into their

areas, especially youth and underage

games!! Also many thanks go to

Hayley White in our Administration

office, who makes sure everything runs

smoothly.

For the first time in two years, we

were able to hold our annual dinner.

Held in Lansdowne FC on April 9, a

fabulous night was had by all. Over

130 attendees and expertly organized

by Barry Dempsey and his team. The

presidents from both the IRFU and the

Leinster Branch were in attendance. A

full set of awards being handed out on

the night.

Harry Ardle Award to

Keith Spendlove

Alain Rolland Award to

Mitch Enderby

Terry Doyle Award to

Coolmine RFC

Denis Collins Award to

Robbie Jenkinson

Lifetime Achievement Award to

Peter Donnelly

www.leinsterrugby.ie | 69
---
ank of ireland

MATCHDAY MINIS

West Offaly Lions

Front Row: Ellie Flynn, Senan Dunne, James Darcy, Cian

Dunican, Cathal Molloy, Ultan Keeneghan, Clyde Buckley,

Jessica Coffey, James Guinan, Noah O'Duffy.

Back Row: Jason Mullen, Hayley Delaney, Emily Lynam-

Carroll, Alex Foley, Kayleigh Berry, Callie Hennessy,

Jasmine McIntyre, Will Browne, Dylan Buckley, Adam

Delaney.

Ardee RFC

Back (left to right): Killian McShane, Paddy McArdle, Adam

Malone, Turlough McCague, Jake Steel, Daniel Malone,

Charlie Murray, Jeremiasz Michalski, Pat Smith, Shea

Campbell, Noel Malone (Coach)

Front (left to right): Jack Gillick, Shea Devlin, Connor

Kiernan, Connor Grimes, Odhran Carrlon, Michael Tighe,

Noah Taaffe, Jay McHugh, Sean Madden.

Managers: John Mullen, Frances Pillion.

Old Belvedere RFC

Players: Alex Rochford, Ben Glynn, Bobby Callanan,

Cameron Wallace, Charlie Reynolds, Chris Comer, Danial

Kennedy, David Kelly, Donnacha Cosgrave, Freddie Moore,

Jack Moyles, Jack O'Rourke, James O'Reilly, John Gunne,

Kyle Calvert, Lewis Murphy, Mark Bryson, Mark McNally,

Nathan Keogh, Robin Elliott

Coaches: Colm Bryson and Alan Wallace

Athy RFC

Players: Cailan O'Shaughnessy, Charlie Rafferty, Charlie

Price, Cian Maher, Conor Brophy, Conor Dooley, Cormac

Kerrigan, Donnacha Conway, Eoghan Kavanagh, Finbar

Purcell, Harry Walsh, Henry Hovenden, Jack Farrell, Jerry

Davis, Mark Boyle, Max Hogan, Oscar Byrne, Saran Buttle,

Senan Mulqueen, William Cassidy

Coaches: Brian Kerrigan, Eric Conway, Mark Price,

Niall Walsh, Paddy Byrne, Steve Mulqueen

www.leinsterrugby.ie | 71
---
TO MAXIMISE YOUR SPORTS AND EXERCISE

PERFORMANCE THROUGH NUTRITION

Optimum Nutrition and Leinster Rugby have partnered to help share good nutrition tips throughout

the season to help you achieve your performance goals. Here are some simple tips and things to

remember to help maximise your performance and help you recover quickly to come back stronger.

Protein Rich.

Protein provides your muscles with

the building blocks to repair & grow.

Carb-Up.

Carbohydrate foods are king as they

power high intensity play.

Fuel-Up.

Consume the majority of your

carbohydrates around training to

support fuelling and recovery.

Recover.

Quality rest & nutrition between

training sessions is the key to

recovery. Remember to:

Repair with protein,

Refuel with carbohydrate,

Rehydrate with fluid.

Hydrate.

Dehydration can lead to a drop in

exercise intensity & can impact your

decision making. Drink 2-3 litres of

fluid each day to ensure hydration.

Game Day.

To fuel performance on the field,

consume a large carbohydrate rich

meal 2-3 hours before kick-off, i.e.

chicken & pasta, turkey bolognaise

wraps.

Get 20% off all Optimum Nutrition products

using code Leinster20 on optimumnutrition.ie
---
KNOWING WHAT ADVICE TO TAKE

IS ESSENTIAL IN THIS GAME.

beauchamps.ie

OFFICIAL LEGAL ADVISOR

Beauchamps LLP | Riverside Two | Sir John Rogerson's Quay | Dublin 2 | D02 KV60
---
Leinster Rugby charity partner

Cardiac Risk in

the Young

THE FIELDS OF

LANSDOWNE

ROAD.

When it

comes to

selecting her

favourite

Lansdowne

Road memory,

Orla Foley

has a few to

pick from.

Orla's brother Anthony Foley

Ireland's debut in 1995, when

he scored a consolation try

against England, came close, but

she quickly plucked for a game

almost a decade later.

"Ronan O'Gara's try… the Heineken Cup

semi-final against Leinster in 2006, that's

my favourite game," she smiles.

"I was in Glasgow watching his Ireland

debut in 1995 on the TV, so the 2006

game has to be the best memory."

Orla is quick not to rub salt in the wounds

of the opposition who welcome Munster

to Dublin today though. "I support all four

provinces, really! I find I can't be shouting

for them in green, and not when they're

playing for their provinces… I like to see

all the provinces do well.

"I'll never forget how Leinster wore

Number 8 shirts in 2016 after Anthony

died (due to Sudden Cardiac Death) and

brought a Munster jersey into the dressing

room. That was the day of the funeral and

looking at it on TV was unreal. Leo Cullen

always speaks so well of Anthony and so

fondly too, and that means the world.

"I'll never forget either, how Johnny

Sexton - after he scored that famous

drop goal against France to win the Six

Nations - sent his jersey to Anthony's boys

with a beautiful letter. The rugby family

in Ireland,

from Ulster, Connacht, Leinster and

Munster has a special connection. You

get to meet people from all walks of life

and I've been given lovely memories of

what Anthony meant to many over the

past few years."

The last time Orla was in the Aviva

Stadium, it was to hear Hermitage Green

singer, and former Munster player, Barry

Murphy launch his song 'Alone You

Stand', in tribute to Anthony Foley to raise

vital funds for CRY Ireland, Mid-Western

Cancer Foundation and the children's

charity CARI.

But she won't walk down Lansdowne

Road today, instead she's cycling in

France as part of her fundraising 'Orla's

Wild Ways' tour that began almost two

years ago when she cycled the coast of

the Wild Atlantic Way.

Orla's Wild Ways is in memory of

Anthony Foley, and has raised over

€30,000 already for three charities

including Leinster's charity partner

for May, CRY Ireland (Cardiac Risk

in the Young / CRY), which facilitates

free access to cardiac assessment and

provides free support and counselling

services for families that have been

affected by the loss of someone to

Sudden Cardiac Death.

"I was only in Dublin a couple of weeks

ago to get my own heart check - I do it

every few years because of history in the

family," Orla said.

"CRY has a new centre in Dublin, with

a helpline that wasn't there for us - it's

lovely that it's there for others now, the

helpline really goes that extra mile.

"Everyone has access to this service for

free, which is amazing. And it covers all

32 counties - just like rugby, there's no

north and south separation, everyone has

access."

You can

still make a

donation to

Orla Foley's

Wild Ways

Cycle

For more

information

about CRY,

please go to

cry.ie

74 | www.leinsterrugby.ie
---
ABOUT CRY

CRY in Ireland was founded in

March 2002 by parents Michael

and Marie Greene who had

experienced the effects of sudden

and unexplained death within

their families.

We are a self-supporting registered

Charity. We are therefore dependent

on fundraising activities and donations

to help us provide access for families in

Ireland, north and south, bereaved by

the sudden cardiac death (SCD) of a

young person, or who are affected by,

or at risk from inherited conditions that

cause SCD.

TEXT CRY TO

50300

TO DONATE €4

Texts cost €4.00 CRY Ireland will

receive a minimum of €3.60 Service

Provider: LIKECHARITY.

Helpline: 01 4819311

Our

Programmes

CRY facilitates free cardiac

assessment at the centre at

Tallaght University Hospital,

for families who have lost a

young person through SCD or

SADS (Sudden Arrhythmic Death

Syndrome), or who are affected

by, or at risk from inherited

conditions that cause SCD.

CRY supports research into the prevention

of sudden cardiac death.

CRY also offers emotional support

to families, bereaved through SCD

through the CRY Helpline a freephone

service available 7-9pm Tuesdays and

Thursdays, 10am-12pm Wednesdays and

4-6pm Sundays.

FREEPHONE:

Republic of Ireland:

1800 714 080

Northern Ireland/UK:

00 44 8006

40 62 80

Looking for a

challenge?

Join Team CRY and help us raise

funds this September as we walk

the Camino Portuguese from Tui

to Santiago de Compostela.

Take part in the VHI Mini Marathon on

June 5th and consider supporting CRY

and the families affected by SCD

To join our fundraisers, please email:

info@cry.ie

@CRYIre

For more see our website

www.cry.ie

@cryireland @cry.ireland

Proudly supported by BearingPoint.

www.leinsterrugby.ie | 75
---
opposing view

7 May 2022

Munster supporters celebrate

a second half penalty during

the Heineken Champions Cup

Quarter-Final match between

Munster and Toulouse at Aviva

Stadium in Dublin.

76 | www.leinsterrugby.ie
---
Photo by Ramsey Cardy/Sportsfile

www.leinsterrugby.ie | 77
---
All-New Nissan Qashqai

Now electrified with mild hybrid power.

Personalised 3.9% APR finance packages.

Find out more on windsor.ie
---
Head Coach

Johann

van Graan

South African Johann van Graan

joined Munster in November 2017

from his role as forwards coach

with the Springboks.

Prior to that he had enjoyed success with

the Bulls in Super Rugby, working as both

their forwards and attack coach.

He is due to sign English Premiership club

Bath at the culmination of the current

season.

Captain

Peter O'Mahony

Flanker Peter O'Mahony made

his Munster at Ravenhill against

Ulster in January 2010 as an

Academy player.

Awarded a senior contract ahead of the

2011/12 season, he has since gone on

to be named the province's captain after

Doug Howlett's departure in 2013.

He has played 159 times for Munster

as well as amassing 84 Ireland caps to

date.

munster squad

FORWARDS

THOMAS AHERN

LOCK

STEPHEN ARCHER

PROP

DIARMUID BARRON

HOOKER

TADHG BEIRNE

LOCK

SCOTT BUCKLEY

HOOKER

CHRIS CLOETE

FLANKER

GAVIN COOMBES

NO. 8

JACK DALY

FLANKER

MARK DONNELLY

PROP

JOHN FORDE

LOCK

JAMES FRENCH

PROP

JOHN HODNETT

FLANKER

CIAN HURLEY

LOCK

JASON JENKINS

LOCK

ALEX KENDELLEN

FLANKER

DAVE KILCOYNE

PROP

JEAN KLEYN

LOCK

KEYNAN KNOX

PROP

JEREMY LOUGHMAN

PROP

CONOR MOLONEY

FLANKER

KEVIN O'BYRNE

HOOKER

LIAM O'CONNOR

PROP

EOIN O'CONNOR

LOCK

JACK O'DONOGHUE

FLANKER

DANIEL OKEKE

NO. 8

PETER O'MAHONY

FLANKER C

JACK O'SULLIVAN

NO. 8

JOHN RYAN

PROP

ROMAN SALANOA

PROP

NIALL SCANNELL

HOOKER

RG SNYMAN

LOCK

JOSH WYCHERLEY

PROP

FINEEN WYCHERLEY

LOCK

BACKS

GROUP

TONY BUTLER

FLY-HALF

PATRICK CAMPBELL

FULLBACK

JOEY CARBERY

FLY-HALF

CRAIG CASEY

SCRUM-HALF

ANDREW CONWAY

WING

LIAM COOMBES

WING

ETHAN COUGHLAN

SCRUM-HALF

NEIL CRONIN

SCRUM-HALF

JACK CROWLEY

FLY-HALF

SHANE DALY

WING

DAMIAN DE ALLENDE

CENTRE

KEITH EARLS

WING

CHRIS FARRELL

CENTRE

JAKE FLANNERY

FLY-HALF

SEAN FRENCH

CENTRE

MATT GALLAGHER

FULLBACK

DAN GOGGIN

CENTRE

MIKE HALEY

FULLBACK

BEN HEALY

FLY-HALF

CONOR MURRAY

SCRUM-HALF

CALVIN NASH

WING

ROWAN OSBORNE

SCRUM-HALF

PADDY PATTERSON

SCRUM-HALF

RORY SCANNELL

CENTRE

JONATHAN WREN

FULLBACK

SIMON ZEBO

WING

www.leinsterrugby.ie | 79
---
TAKE A CAR-CATION TO

BRITAIN

FROM ONLY €139 SINGLE CAR & DRIVER

DUBLIN - HOLYHEAD | BELFAST - CAIRNRYAN

BELFAST - LIVERPOOL | ROSSLARE - FISHGUARD

stenaline.ie

T&Cs apply.
---
Club in Focus

ROSCREA

RFC

Roscrea is

a county

Tipperary

town with a

rugby club

holding

Leinster

status. It

has long

celebrated

an

interesting

relationship

with

Ireland's

biggest

provincial

rivals.

82 | www.leinsterrugby.ie
---
"It started as a club playing

in Munster competitions and

migrated to Leinster due to the

grounds being across the border

in Offaly. We were admitted into

the Leinster League and we have

stayed there," says Club President

Terry Farrelly.

"I became a member 35 years ago and I

haven't been able to escape since."

At one point, in the 1970s, it is

understood there was a movement within

the club to switch to Munster as the club's

new pitches were inside the Tipperary

border. This was quickly subdued by an

IRFU promise to reduce or even wipe out

tickets for Ireland's internationals.

The desire to switch provinces came from

the fact that the majority of the Roscrea

players and supporters were and are

Munster supporters.

In 1978, one of the members of the

club, Seamus Dennison, who played

for Garryowen at the time, was on the

Munster team that beat the All Blacks.

"There are certain members of the club,

who are staunch, staunch Leinster. There

are certain members of the club, who are

staunch, staunch Munster," says Terry.

"The breakdown of the membership is

probably close to two-thirds Munster and

one-third Leinster."

They are drawn from counties Laois,

Offaly, and Tipperary within about a

12-mile radius, taking in Offaly's Shinrone

and Coolderry, Laois' Borris-In-Ossory

and Rathdowney and Tipperary's

Roscrea, Cloughjordan and Moneygall,

a village divided between Offaly on one

side of the main street and Tipperary on

the other.

"We have very few Leinster season ticket

holders. We have a lot more Munster

season ticket holders. That is really down

to geography," he adds.

www.leinsterrugby.ie | 83
---
"For example, I had a 10-year ticket to

Munster and I could pop in the car and

be in my seat in Thomond in 45 minutes

whereas it would take the guts of two

hours to make it to the RDS."

It would lead an objective observer to

presume a siege mentality has set in

over the decades, a sort of outsiders'

perspective.

"No, I wouldn't say that. It is quite a

trek for many of the provincial clubs, like

Longford, Wexford, Mullingar, to make it

to Dublin," notes Terry.

"But, in recent years, the provincial

clubs are providing a much higher

representation to Leinster. For example,

Peter Dooley is from up the road in Birr.

His father Gerry would have been a mad

Munster supporter."

The nearest Leinster club Birr has

amalgamated with Roscrea at the youth

level to play together as the Roscrea and

Birr Ravens, a union born out of necessity

for the boys and girls in the area.

"We don't have the numbers we used to

have at underage from U-14 up. While

the bigger clubs prospering might be the

ones closer to Dublin, the provincially

peripheral clubs are finding it difficult.

"There are healthy numbers at minis.

But, there is a fall-off from U-14 upwards

with some of the boys going to school as

day-boarders at CCR (Cistercian College

Roscrea), a short walk from the club

grounds.

"Consequently, at U-14, U-15, U-16,

and U-18, we are joined up with Birr

for boys and girls, training and matches

alternating between the clubs."

The rise in popularity of girls' and

women's rugby has injected a different

kind of excitement and given the club

another level of interest from the outside.

"The number of girls at the club is almost

as many as the boys. In the minis, we

could have 120 boys and 100 girls.

The importance of the girls cannot be

overestimated."

There is also the view that the club has

to reach out as more than just a place to

play rugby given the competition from

various sports and organisations.

"We are trying to develop the club as

a community facility. My thoughts are:

'If we don't do that, we won't survive',"

warns Terry.

"We have to be more than a club

providing men's rugby. We are

diversifying. That process has started

already.

"The girls were the start of it. We have

people with disabilities in the club as

associate members, coming from St

Anne's, the special needs school here.

That is another step in the right direction.

We have to encourage everyone to

come in.

"At one stage, there were four senior

men's teams at the club and no

underage. Now, it is an underage club

with one senior team."

At present, Roscrea is in the middle of an

application for planning permission to

upgrade many of the facilities that have

aged since the 1970s.

Floodlights, changing facilities accounting

for the rise in the numbers of girls,

wheelchair access, and a walking track,

designed to encourage locals to come

into the club, are all part of the plan.

"From a personal point of view, the

challenge is to manage the interests of all

the people in the club from minis, girls,

adults, so that they all get a fair shake."

It means a considerable amount of time

84 | www.leinsterrugby.ie
---
given over in a voluntary capacity as

many as six to eight hours a week.

"Sadly, for some of the older members, it

is a fundraising thing, trying to keep the

club going for everyone.

"Every administrator in every rural club

would understand. Everyone wants free

jerseys. Nobody wants to pay for them."

Pulling on the maroon and white shirt

is about generating a sense of identity,

coming together from different counties,

even different provinces, to play for the

same goal.

"Legendary Liverpool manager Bill

Shankly once said, to paraphrase,

'Football is not life or death. It is much

more important than that'.

"The same goes for rugby, in this regard.

When something is important for a

10-year-old, it is everything to them. It is

also important for his or her parents and

grandparents whereas it is not as big a

deal for a senior player.

"We have to do everything we can to

show all the people of Roscrea and the

surrounding area how important they are

to us and how important the club is for

the whole community."
---
joe

McCarth

THE ACADEMY

INTERVIEW

BY PAUL CAHILL

As the final whistle

blew last Saturday

at Aviva Stadium, Joe

McCarthy celebrated

with his teammates as

Leinster Rugby reached

their sixth Heineken

Champions Cup final

in front of more than

42,000 supporters.

But, just three years earlier,

McCarthy was a fifth year student

watching the very same fixture

from the stands with his younger

brother.

For many of us, that 2019 semi-final

against Toulouse seems like only

yesterday, but the Academy second

row – who only last month signed his first

senior contract – has been on quite a

journey since then.

As the 2021/22 season was getting

underway, McCarthy didn't have the

lofty ambitions of featuring in a Heineken

Champions Cup semi-final.

The extent of his ambitions, was just trying

to get fit.

"I was coming back from an injury at the

start of this season," says the 21-year-old.

86 | www.leinsterrugby.ie
---
y

www.leinsterrugby.ie | 87
---
do.ie

audit

tax

advisory

consulting

BDO's Hospitality

Sector Sentiment Survey

is available now

Hospitality Sector

Sentiment Survey

September 2021

Smart business advisors

For further information contact:

Michael Costello, Managing Partner,

on 01 470 0130 or email mcostello@bdo.ie

Click here to visit bdo.ie

The survey consulted with

almost 1,000 representative

bars and restaurants, drawn

from the membership of the

Licensed Vintners Association,

Restaurants Association

of Ireland and the Vintners

Federation of Ireland.

Download your copy of the

survey here.

Smart business advisors

BDO is authorised by the Institute of Chartered Accountants in Ireland to carry on investment business. BDO, a partnership established under Irish Law, is a

member of BDO International Limited, a UK company limited by guarantee, and forms part of the international BDO network of independent members firms.
---
"I missed the Irish U-20s through injury,

and I was out for all of pre-season.

"So, I was just hoping to try and get back

playing as many games as possible.

Whether that was with Trinity in the

Energia All-Ireland League or wherever, I

just wanted to play and try to improve."

As McCarthy entered his second year in

the Leinster Academy, he got his first run

out of the season in November 2021 at a

wet and blustery Banbridge Rugby Club

for Leinster 'A' against Ulster 'A'.

"I felt a bit off after not playing for quite

a while. But, after coming through that 'A'

game I got a good run of matches with

Trinity.

"I managed to play five or six full games

in a row. I started to feel back on track

after getting a few 80 minutes in the

AIL. I definitely improved through those

games."

McCarthy may not have known it then,

but that period with Dublin University

Football Club under Tony Smeeth made

him battle hardened and gave him the

match fitness required to kick on with

Leinster.

"The AIL has been really important this

year. We know the Leinster coaches

watch all of the games too. It's been a

great springboard for players."

With most Leinster Academy players

playing with their AIL club, there have

been some huge battles on show each

weekend, and McCarthy has been in

some big tussles.

"I remember we played Clontarf. They

had Martin Moloney, Alex Soroka and

David Hawkshaw. Plus a lot of lads who

would have played with Leinster at some

stage or age grade. Lots of quality.

"On our Trinity team we had Jack Dunne,

Thomas Clarkson, Lee Barron, Liam

Turner, Rob Russell, Max O'Reilly and

myself . So, it was a really competitive

game. Those games are such a high level

that you really feel match fit when you get

back to Leinster."

After a consistent run of games with

Trinity, McCarthy was given the news that

every Academy player hopes for; that

he would be making his Leinster senior

debut.

"A lot of the internationals had gone

away, so you're kind of hoping you might

get an opportunity, but you're still not

really sure, because there's still loads of

really good players around.

"It was a Monday morning, and I had

played with Trinity the week before. I

was in the gym and I got a tap on the

shoulder to say that I would be playing

in the game away to Cardiff. I was

pretty shocked to hear that and I was just

delighted really.

"I was thinking to myself, 'Don't look

so shocked!'. It was hard to go back to

weights after that."

Having found out early in the week that

he would be involved, the McCarthy

family had time to make their way over to

Cardiff for the game.

But, even if they had been given little

notice, they would have found a way to

Cardiff Arms Park.

"My parents and my brother Andrew go

to all of my games, no matter where they

take place. As soon as I told them that I

was playing, they started booking flights

straight away.

"It was nice to have my mum and dad

and my brother in Cardiff that night. It

was special."

It helps that the McCarthy household is

rugby mad.
---
We joke about it at home that

Andrew has more Leinster gear

than me! He's fully dressed in the

right colours for every game.

Joe (senior) and Paula McCarthy have

three rugby mad sons.

Our Joe is in the middle. Paddy is the

youngest and was one of the standout

players on this year's victorious Blackrock

College Senior Cup team.

But, Joe admits that their older brother,

Andrew, is by far the biggest rugby fan in

the house.

"He plays with the Seapoint Dragons,

which is their special needs team. He

absolutely loves it, and he just loves

going to watch games.

"He's a big Blackrock College fan. He

would always be coming into me and

Paddy telling us that we have to beat

Michael's in the Schools Senior Cup!

"He's a big Leinster fan too, so I know

he loves seeing Paddy and I playing

in Energia Park or in the RDS. We joke

about it at home that Andrew has more

Leinster gear than me! He's fully dressed

in the right colours for every game. He

probably takes some of my gear too."

So while McCarthy may have burst

onto the scene this year with Leinster

Rugby, getting his first run out at Aviva

Stadium last Saturday, he wasn't the first

McCarthy to play on the hallowed turf.

"Andrew has played in Aviva Stadium a

couple of times at half-time during Leinster

games. It would be cool if we got to play

on the same day. But, Andrew definitely

played there before I did!"

After travelling to Cardiff for Joe's debut,

the McCarthys had another day out a

few weeks later as he was named to

start his first home game alongside Devin

Toner against the Emirates Lions.

"That was my first time playing in the

RDS, so it was really cool. All of my

family were there.

"It was really special, because obviously

for my first cap away to Cardiff we lost

the game. So we could enjoy the postmatch

a bit more after getting the win.

"We put in a pretty good performance

against the Lions, who were a really

big, tough team. It was actually really

satisfying. It's definitely one of the

highlights of my year."

There was an interesting contrast when

the Leinster team was announced for that

Lions game. The second row consisted of

the clubs most experienced player and

one of the youngest players.

90 | www.leinsterrugby.ie
---
"It was just quite funny when the team

was announced and the second row had

274 caps. It was my second and Dev

had 272!"

As McCarthy starts his journey in

professional rugby, Toner is winding

down his, after announcing that he will

retire at the end of the season.

But, McCarthy is keen to learn as much

as he can from the most-capped Leinster

player.

"Dev is class. Whenever you play with

Dev you're quite confident because he is

a real calm guy and you can see that he

knows exactly what he's doing.

"It's kind of crazy to think how many caps

he's got, because it's such a big deal

getting your first one, and he's nearly

got 300. He has so much experience of

playing in the biggest games and World

Cups.

"He's always giving younger players

little tips and he puts a lot of confidence

in you."

As the season moved along, McCarthy

continued to hit new milestones.

In March, he played three more senior

games, including his first two interpro

fixtures at a packed Kingspan Stadium in

Belfast and the Sportsground in Galway.

"You hear a lot that interpro games are

another step up in intensity. I definitely

found that it was another step up,

especially when you know the players a

bit more than against other teams.

"The travelling Leinster fans were class

and they really got behind the team.

They really are the games you want to

play in."

Earlier this month, McCarthy made

another huge stride in his rugby journey

by making his European debut away to

Leicester Tigers.

"It was a really cool experience. Playing

in a European quarter-final is the type of

game you dream of playing in as a kid.

Especially somewhere like Welford Road.

"When you're younger, that is

somewhere you associate with big

European games. There's a lot of

history there.

"The whole experience of

travelling over and then

seeing the stadium. It's an

old school stadium with

those changing rooms, but

it has a big capacity, and

you can really feel the crowd

on top of you. So it was a

great experience."

While McCarthy has taken

each new experience in his
---
Join our FRIENDS

programme

and help support

seriously injured

rugby players

For more details,

click here

www.irfucharitabletrust.com
---
stride, even he was a little taken aback

at the prospect of facing the five-time

European Champions, Toulouse.

"I remember in 2019, I went to Aviva

Stadium with my brother, Paddy for the

semi-final against Toulouse. I was in fifth

year in school and Paddy would have

been in second year.

"So, it was quite surreal to come on

against them last week, considering I was

watching that fixture in the stands a few

years ago.

"Toulouse always have some big names

and French internationals involved. I

remember my brother saying it was

surreal that I was playing against them."

McCarthy's fine form has been rewarded

with a senior contract which begins next

season.

But, he knows that there's no time to

reflect on his achievements just yet.

"You have to make sure you kind of

stay on top of your stuff because there's

probably a bit more expectation on you

as a senior. You're just trying to make

sure you just keep the foot on the pedal

really."

There were plenty of 'pinch me' moments

for McCarthy this season, but getting

a call up to the Irish Six Nations camp

was certainly another big moment for the

former Blackrock College student.

"After I played the Ulster game, I got a

call to come in and train and see what

the setup was like. I certainly wasn't

expecting it because I had just played

four games for Leinster.

"I learned so much while I was there.

How professional the players were in

their preparation, and you could see that

it was another step up again.

"But being in that environment, I really

enjoyed it. I trained there for the week

and learned from all of the coaches.

"I chatted to Paul O'Connell a lot while I

was there. We spoke about how to plan

your day and how you can get better. I

tried to soak up as much as I could."

As we enter the business end of the

season, McCarthy is keen to contribute.

"There are a lot of big games coming

up and I'll be aiming to just try and put

my hand up to try and get involved in as

many of those as possible. They're the

kind of games you dream of playing in.

"Hopefully, I can just put my best foot

forward in training or whatever games I

may get selected for."

www.leinsterrugby.ie | 93
---
Leinster Rugby Academy

Year Three 2021/22:

Leinster Rugby Academy

Year two 2021/22:

Second Row

Brian Deeny #1306

DOB: 02/03/2000

HEIGHT: 1.99m WEIGHT: 121kg

HONOURS: Ireland U20 (8 caps) &

Leinster Rugby (2 caps)

Did You Know: Brian played youth rugby with Wexford

Wanderers RFC. He got his first Irish cap playing for

Ireland Under-18 Sevens. Brian played midfield for

his school St Peter's College in Gaelic football and

reached the All-Ireland Colleges Final in 2017. He is

currently studying Science in Trinity and lives in Abbey

House B&B, Wexford. Instagram: brian_deeny

wing

Niall Comerford

DOB: 06/04/2000

HEIGHT: 1.83m WEIGHT: 86kg

HONOURS: Ireland U20

Did You Know: Niall played both hurling and Gaelic

football with Kilmacud Crokes for 14 years. He also

represented Dublin in Gaelic football in the U17

Leinster Championship. He is currently studying

Commerce in UCD.

Instagram: niall_c123

Cormac Foley #1299

DOB: 24/10/1999

HEIGHT: 1.81m WEIGHT: 88kg

HONOURS: Ireland U20 (9 caps)

& Leinster Rugby (4 caps)

Marcus Hanan #1295

DOB: 03/10/2000

HEIGHT:1.8m WEIGHT:110.91kg

HONOURS: Ireland U20 (2 caps)

& Leinster Rugby (3 caps)

Scrum Half

Did You Know: Started playing rugby with Greystones

RFC when he was nine. Growing up, Cormac did a lot

of show jumping and he is now studying Economics and

Finance in UCD.

Instagram: cormacfoley6

prop

Did You Know? Marcus is from Clane in Kildare and is the

youngest of three. His dad went to the High School and then

played rugby in Old Wesley before coaching back at Clane

RFC. Marcus has Italian connections on his mother's side with her

father, Luigi Rea, being from Italy. Marcus is studying Business

Management in Griffith College. Instagram: @marcus_hanan

Back Row

Martin Moloney #1300

DOB: 19/10/1999

HEIGHT: 1.88m WEIGHT: 99kg

HONOURS: Ireland U20 (5 caps) &

Leinster Rugby (7 caps)

Did You Know: Martin played hurling for Kildare and

played GAA and basketball for his secondary school,

Knockbeg College, and local GAA club, St Laurence's.

He played his youth rugby with Athy RFC. He is now

studying Business and Law in UCD, He also enjoys

working on the family farm. Instagram: martin_moloney

Second Row

Joe McCarthy #1303

DOB: 26/03/2001

HEIGHT: 1.95m WEIGHT: 119kg

HONOURS: Ireland U20 (3 caps) &

Leinster Rugby (7 caps)

Did You Know: Joe started playing rugby with Blackrock

College RFC at the age of six before moving to

Willow Park and then Blackrock College. He was also

on the Blackrock swim team for five years. He's currently

studying Global Business in Trinity College Dublin.

Instagram: joetmmcc

Second Row

Charlie Ryan

DOB: 03/02/1999

HEIGHT: 2.01m WEIGHT: 115kg

HONOURS: Ireland U20 (15 caps)

Did You Know: Charlie played youth rugby at Blackrock

College RFC while also attending the school since

Senior Infants. He captained Ireland to the U20 Grand

Slam in 2019 and again for the U20s World Cup. His

friends call him Chuck! He is currently studying Business

and Legal Studies in UCD.

Instagram: chuck_ryan5

hooker

John McKee #1307

DOB: 15/02/2000

HEIGHT: 1.82m WEIGHT: 105kg

HONOURS: Ireland U20 (12 caps) &

Leinster Rugby (2 caps)

Did You Know: John grew up in Belfast going to school

at Campbell College where he won a Senior Cup. He

was involved with Ulster at age grade level until moving

to Dublin after school. He also has multiple medals

from Northern Irish Schools Judo competitions.

Instagram: johnmckee_

Centre

Liam Turner #1287

DOB: 14/07/1999

HEIGHT: 1.73m WEIGHT: 91kg

HONOURS: Ireland U20 (10 caps)

& Leinster Rugby (6 caps)

Did You Know: Liam started to play rugby at the age

of six at Blackrock College RFC. He later joined

Blackrock College and was part of the 2018 Senior Cup

winning team. He was also part of the Ireland U20 team

that went on to win the 2019 Grand Slam. Liam currently

studys BESS in Trinity College. Instagram: liamtn123

Centre / Full Back

Jamie Osborne #1294

DOB: 16/11/2001

HEIGHT:1.93m WEIGHT:96.82kg

HONOURS: Leinster Rugby (18 caps)

Did you know? Jamie is studying commerce in UCD. His

grandad, Paddy Osborne, was a horse trainer in Naas,

while his dad played rugby all throughout his life and

his mum played hockey. Other than rugby, Jamie loves

all sports especially soccer, GAA and NFL. Jamie is

currently in a house with fellow Leinster Academy players

Brian Deeny, Martin Moloney and Max O'Reilly.

Instagram: @jamieosborne01

94 | www.leinsterrugby.ie
---
Seán O'Brien #1297

Lee Barron #1308

Back Row

DOB: 31/07/2000

HEIGHT: 1.90m WEIGHT: 103kg

HONOURS: Ireland U20 (3 caps)

& Leinster Rugby (3 caps)

Did You Know: Seán started playing rugby at age

six with Greystones RFC where he played up until Under-13.

He then played on the Junior and Senior Cup

teams in Blackrock College. He is currently studying

Economics and Finance in UCD

Instagram: seanobrien456

Hooker

DOB: 15/02/2001

HEIGHT: 1.91m WEIGHT: 108kg

HONOURS: Leinster Rugby (2 caps)

Did You Know: Lee played golf growing up in the

Castle Golf Club and in the end was playing off a

handicap of eight. He has family roots in Carlow but

went to school in Dublin and attended St Michael's College.

As well as rugby with his school, he also played

GAA and even lined out in Croke Park.

Instagram: @lleebarron

Max O'Reilly #1291

Chris Cosgrave #1305

Full Back

DOB: 26/02/2000

HEIGHT: 1.85m WEIGHT: 86kg

HONOURS: Ireland U20 (3 caps) &

Leinster Rugby (9 caps)

Did You Know: Max is currently in his third year of

Business and Management in DIT. His preferred sport

was soccer until about the age of 15, which he had

played at centre midfield with Enniskerry FC for over 10

years and also for Wicklow.

Instagram: max_oreilly

full back

DOB: 24/07/2001

HEIGHT:1.83m WEIGHT:85kg

HONOURS: Leinster Rugby (2 caps)

Did You Know: Chris is a member of UCD RFC, where he

is also an Ad Astra scholar studying Agricultural Science.

His athleticism is best highlighted by his feats in the field

of Athletics with All-Ireland honours to his name in both

the 4x100m relay and the Discus. Before the UCD and

St Michael's College days, he played at a young age

with Old Belvedere RFC. Instagram: @chriscosgrave1

Andrew Smith #1292

Mark Hernan

DOB: 21/07/2000

HEIGHT: 1.83m WEIGHT: 91kg

HONOURS: Ireland U20 (3 caps) &

Leinster Rugby (2 caps)

DOB: 04/07/2000

HEIGHT: 1.88m WEIGHT: 99kg

HONOURS: Leinster Rugby (1 cap)

Back Three

Did You Know: Andrew is currently studying Quantity

Surveying and Construction Economics in TUD. In

2019, he won the Leinster Schools Senior Cup with St

Michael's College. Andrew also played Gaelic football

with his local club - Clanna Gael Fontenoy GAA Club.

Instagram: andrew.sm1th

Flanker

Did You Know: Mark was coached by Ross Molony,

Josh Murphy, Ross Byrne and Nick McCarthy when in

St. Michael's College. His grandfather Fergus O'Brien

was Lord Mayor of Dublin and his father, Ray, played

for Connacht seniors and Ireland u25s.

Instagram: @mark_hernani

Alex Soroka #1296

Temi Lasisi #1304

Back Row

DOB: 19/02/2001

HEIGHT: 1.95m WEIGHT: 104.5kg

HONOURS: Ireland U20 (7 caps)

& Leinster Rugby (4 caps)

Did You Know: Alex's family moved to Ireland from

Ukraine shortly before his birth. He was born in Cork

before moving to Dublin.

Instagram: alex._.soroka

prop

DOB: 09/05/2001

HEIGHT: 1.78m WEIGHT: 115.8kg

HONOURS: Leinster Rugby (1 cap)

Did You Know: The TUD Mechanical Engineering

student originally picked up the oval ball in Enniscorthy

before later moving to Lansdowne FC. Temi rose

through the ranks in the Youths system, his first outing

with the province came at U-18 level against Northampton.

He also describes himself as a 'competent

pianist'. Instagram: @lasisi.temi

Leinster Rugby Academy

Year one 2021/22:

Scrum half

Ben Murphy

DOB: 23/04/2001

HEIGHT: 1.75m WEIGHT: 80kg

HONOURS: Ireland U20 (3 caps)

& Leinster Rugby (1 cap)

Did You Know: Ben played all different sports growing

up including football, GAA and golf and won an 800m

gold in the U-14 East Leinsters. He is studying economics

in UCD. Ben's father Richie played for Leinster

Rugby and has coached at all levels of the game and is

the current Ireland U-20s head coach. I

nstagram: @ben._murphy01

Jack Boyle

DOB: 10/03/2002

HEIGHT: 1.85m WEIGHT: 106kg

HONOURS: Ireland U20 (9 caps)

Rob Russell #1302

DOB: 13/01/1999

HEIGHT: 1.83m WEIGHT: 90kg

HONOURS: Leinster Rugby (4 caps)

Prop

Did You Know: Jack's father, Herbie, and uncles, Colon

and Eric, all represented Old Wesley rugby club for

years. His cousin Stephen Boyle also represented the

Leinster Rugby youths. Jack is currently studying for a

Commerce Degree in UCD.

Instagram: @jackboyle1

Full Back / Wing

Did You Know: Rob is currently in his final year of

Business and Management in DIT. He started playing

rugby at the age of five with Wanderers RFC. He also

played football up to minor level with Kilmacud Crokes

and it took priority over rugby until he left school.

Instagram: @robrussell7

www.leinsterrugby.ie | 95
---
Date

25/09

03/10

09/10

16/10

22/10

27/11

03/12

11/12

1/12

1/01

22/01

29/01

11/02

19/02

25/02

05/03

12/03

26/03

02/05

08/04

15/04

23/04

30/04

07/05

14/05

KO/

Result

W

31-3

W

7-6

W

43-7

Opposiotion Venue 15 14 13 12 11 10 9 1 2

URC VODACOM

BULLS

URC DRAGONS

Aviva

Stadium

Rodney

Parade

URC ZEBRE RDS Arena J O'BRIEN

KEENAN O'LOUGHLIN RINGROSE FRAWLEY LOWE

SEXTON

3C 1P

MCGRATH

PORTER

1T

SHEEHAN

KEENAN RUSSELL RINGROSE C O'BRIEN O'LOUGHLIN R BYRNE GIBSON-PARK PORTER SHEEHAN

A BYRNE

2T

OSBORNE

FRAWLEY

W

50-15 URC SCARLETS RDS Arena KEENAN LARMOUR RINGROSE FRAWLEY

1C

W

31-15

URC GLASGOW

Scotstoun

Stadium

KEENAN

1T

A BYRNE

1T

L

10-20 URC ULSTER RDS Arena J O'BRIEN A BYRNE HENSHAW

1T

W

47-19 URC CONNACHT RDS Arena KEENAN LARMOUR 1T RINGROSE

1T

W

45-20 HCC BATH Aviva

Stadium

L

0-28

W

89-7

W

64-7

L

29-27

W

26-7

W

29-7

W

21-13

HCC MONTPELLIER

GGL (Altrad)

Stadium

KEENAN

1T

HCC MONTPELLIER RDS Arena KEENAN

HCC BATH

URC

CARDIFF

RUGBY

Recreation

Ground

Cardiff Arms

Park

LARMOUR

1T

LOWE

RINGROSE FRAWLEY LOWE

FRAWLEY

HENSHAW

LARMOUR RINGROSE FRAWLEY

LARMOUR

LOWE

LOWE

1T

H BYRNE

SEXTON

1C 1P

R BYRNE

4C 1P

R BYRNE

1C 1P

H BYRNE

5C

R BYRNE

5C

MCGRATH

GIBSON-PARK

MCGRATH

E BYRNE

1T

PORTER

1T

HEALY

CRONIN

1T

KELLEHER

1T

KELLEHER

1T

MCGRATH E BYRNE TRACY

MCGRATH

GIBSON-PARK

2T

HEALY

PORTER

- - - - - - - - -

KEENAN

1T

LARMOUR

1T

LARMOUR

1T

RINGROSE

RINGROSE

FRAWLEY

HENSHAW

J O'BRIEN

1T

J O'BRIEN

4T

J O'BRIEN A BYRNE 1T OSBORNE FRAWLEY O'LOUGHLIN

URC EDINBURGH RDS Arena OSBORNE T O'BRIEN O'LOUGHLIN FRAWLEY KEARNEY

URC OSPREYS RDS Arena J O'BRIEN

URC

EMIRATES

LIONS

W

17-61 URC BENETTON Stadio

Monigo

L

13-18 URC ULSTER Kingspan

Stadium

W

45-8

LARMOUR

1T

OSBORNE H BYRNE KEARNEY

RDS Arena O'REILLY T O'BRIEN OSBORNE H BYRNE

J O'BRIEN

2T 1C

URC CONNACHT Sportsground J O'BRIEN

W

34-19 URC MUNSTER Thomond

Park

LARMOUR

1T

KEARNEY

1T

OSBORNE H BYRNE T O'BRIEN

J O'BRIEN A BYRNE O'LOUGHLIN OSBORNE T O'BRIEN

KEENAN

W

26-21 HCC CONNACHT Sportsground KEENAN

1T

W

56-20 HCC CONNACHT Aviva

Stadium

L

23-28

L

13-20

W

23-14

URC

CELL C

SHARKS

URC

DHL

STORMERS

HCC

LEICESTER

TIGERS

Jonsson

Kings Park

Green Point

Stadium

Mattioli Woods

Welford Road

W

40-17 HCC TOULOUSE Aviva

Stadium

21/05 19:15 URC MUNSTER

00/05 19:15 HCC Xxxxx

Final

fixtures and

results 2021/22

Aviva

Stadium

Xxxx

Stadium

T O'BRIEN

2T

J O'BRIEN

1T

OSBORNE

RINGROSE

1T

FRAWLEY

1T

HENSHAW

J O'BRIEN RINGROSE HENSHAW

KEENAN J O'BRIEN RINGROSE

COSGRAVE

T O'BRIEN

1T

OSBORNE

HENSHAW

2T

FRAWLEY

2C 3P

O'LOUGHLIN

1T

LOWE

2T

LOWE

2T

LOWE

4T

O'REILLY A BYRNE OSBORNE O'LOUGHLIN RUSSELL

KEENAN J O'BRIEN RINGROSE

KEENAN

1T

HENSHAW

1T

J O'BRIEN RINGROSE HENSHAW

R BYRNE

1T 7C

SEXTON

5C

R BYRNE

3C 2P

R BYRNE

3C

R BYRNE

3C 1P

R BYRNE

3C

R BYRNE

1T 7C

R BYRNE

1C 2P

R BYRNE

1C

R BYRNE

1P 4C

SEXTON

1C 2P

SEXTON 6C

GIBSON-PARK

1T

MCGRATH

PORTER

PORTER

1T

SHEEHAN

1T

KELLEHER

1T

KELLEHER

KELLEHER

MCGRATH E BYRNE CRONIN

N MCCARTHY

1T

MCGRATH

E BYRNE

HEALY

1T

TRACY

TRACY

N MCCARTHY E BYRNE TRACY

MCGRATH

DOOLEY

CRONIN

2T

MCGRATH DOOLEY TRACY

MCGRATH DOOLEY TRACY

GIBSON-PARK E BYRNE TRACY

MCGRATH HEALY SHEEHAN

GIBSON-PARK

1T

PORTER

KELLEHER

O'LOUGHLIN H BYRNE N MCCARTHY PORTER MCKEE

LOWE

LOWE

2T

FRAWLEY

2P

SEXTON

2P 2C

SEXTON

3C 3P

FOLEY

E BYRNE

1T

MCKEE

GIBSON-PARK PORTER KELLEHER

GIBSON-PARK PORTER KELLEHER

96 | www.leinsterrugby.ie
---
3 4 5 6 7 8 16 17 18 19 20 21 22 23

ALAALATOA MOLONY J RYAN RUDDOCK

VAN DER FLIER

1T

ALAALATOA MOLONY RYAN RUDDOCK VAN DER FLIER

ALAALATOA BAIRD TONER LEAVY

FURLONG MOLONY RYAN

DORIS

2T

PENNY

1T

VAN DER FLIER

DORIS

DEEGAN

1T

RUDDOCK

CONAN

FURLONG MOLONY BAIRD DORIS LEAVY CONAN

TRACY

1T

E BYRNE HEALY BAIRD DEEGAN GIBSON-PARK

R BYRNE

1T 1C

TRACY E BYRNE HEALY BAIRD LEAVY N MCCARTHY C FRAWLEY

KELLEHER

1T

SHEEHAN

2T

SHEEHAN

1T

DOOLEY HEALY MOLONY DEEGAN N MCCARTHY

HEALY

1T

ALAALATOA BAIRD RUDDOCK MCGRATH

SEXTON

4C

R BYRNE

3C

OSBORNE

S PENNY

[UNUSED]

RUSSELL

T O'BRIEN

E BYRNE ALAALATOA TONER RUDDOCK GIBSON-PARK OSBORNE VAN DER FLIER

FURLONG MOLONY TONER LEAVY PENNY RUDDOCK CRONIN DOOLEY ABDALADZE DEEGAN CONNORS N MCCARTHY H BYRNE T O'BRIEN

ALA'ALATOA

BAIRD

1T

TONER

RUDDOCK

1T

VAN DER FLIER

DORIS

1T

KELLEHER PORTER ABDALADZE J MURPHY

DEEGAN

1T

N MCCARTHY

R BYRNE

1C

T O'BRIEN

FURLONG

1T

MOLONY BAIRD RUDDOCK

VAN DER FLIER

1T

DORIS SHEEHAN HEALY ALAALATOA TONER DEEGAN MCGRATH J O'BRIEN T O'BRIEN

- - - - - - - - - - - - - -

FURLONG

MOLONY

1T

J MURPHY

DORIS

VAN DER FLIER

2T

CONAN

2T

SHEEHAN

2T

HEALY

ALAALATOA

1T

RUDDOCK DEEGAN MCGRATH

SEXTON

5C

LOWE

1T

ALAALATOA MOLONY MURPHY DORIS

VAN DER FLIER

1T

CONAN

SHEEHAN

1T

HEALY ABDALADZE BAIRD DEEGAN GIBSON-PARK

R BYRNE

2C

FRAWLEY

1T

ALAALATOA TONER J MCCARTHY RUDDOCK CONNORS PENNY 1T TRACY 1T DOOLEY ABDALADZE MOLONY DEEGAN N MCCARTHY H BYRNE T O'BRIEN

ALAALATOA MOLONY J MURPHY MOLONEY

ALAALATOA MOLONY BAIRD MOLONEY

ALAALATOA

1T

PENNY

1T

PENNY

1T

DEEGAN

1T

CRONIN

DOOLEY

ABDALADZE

1T

TONER SOROKA MCGRATH H BYRNE RUSSELL

DEEGAN CRONIN DOOLEY CLARKSON DUNNE RUDDOCK N MCCARTHY A BYRNE

TONER J MCCARTHY J MURPHY LEAVY RUDDOCK CRONIN DOOLEY CLARKSON DUNNE DEEGAN MCGRATH A BYRNE

CLARKSON MOLONY J MCCARTHY RUDDOCK PENNY

ALAALATOA MOLONY J MCCARTHY RUDDOCK PENNY

ALAALATOA MOLONY J MCCARTHY RUDDOCK PENNY

DEEGAN

1T

DEEGAN

1T

DEEGAN

1T

TRACY

2T

LOWE

1T

PENNY

1T

E BYRNE ALAALATOA TONER LEAVY FOLEY O'LOUGHLIN KEARNEY

CRONIN LASISI CLARKSON TONER LEAVY N MCCARTHY HAWKSHAW MOLONEY

CRONIN E BYRNE CLARKSON J MURPHY MOLONEY N MCCARTHY

HAWKSHAW

1T 4C

ALAALATOA TONER DUNNE DORIS VAN DER FLIER CONAN SHEEHAN HEALY FURLONG MOLONY MURPHY MCGRATH FRAWLEY DEEGAN

FURLONG MOLONY J MURPHY DORIS VAN DER FLIER CONAN TRACY E BYRNE ALAALATOA TONER DEEGAN GIBSON-PARK

FURLONG

1T

MOLONY J MURPHY DORIS VAN DER FLIER CONAN SHEEHAN E BYRNE ALAALATOA TONER RUDDOCK MCGRATH

CLARKSON DEENY DUNNE RUDDOCK

PENNY

1T

R BYRNE

1P

R BYRNE

2C

COSGRAVE

FRAWLEY

FRAWLEY

DEEGAN BARRON DOOLEY ALAALATOA J MURPHY SOROKA FOLEY HAWKSHAW MOLONEY

CLARKSON J MURPHY DEENY SOROKA PENNY RUDDOCK BARRON MILNE ABDALADZE DUNNE S O'BRIEN N MCCARTHY

FURLONG MOLONY RYAN DORIS

FURLONG MOLONY J RYAN DORIS

VAN DER FLIER

1T

VAN DER FLIER

1T

CONAN SHEEHAN HEALY ALAALATOA J MCCARTHY RUDDOCK MCGRATH

CONAN SHEEHAN HEALY ALA'ALATOA J MCCARTHY RUDDOCK MCGRATH

H BYRNE

1C

R BYRNE

1P

R BYRNE

1C 1P

MOLONEY

T O'BRIEN

FRAWLEY

www.leinsterrugby.ie | 97
---
matchday

Squads

officials

Jordan Larmour

Rob Russell

Jamie Osborne

Ciarán Frawley

Rory O'Loughlin

Harry Byrne

Cormac Foley

15

14

13

12

11

10

9

FULL BACK

RIGHT WING

OUTSIDE CENTRE

INSIDE CENTRE

LEFT WING

FLY HALF

SCRUM HALF

Mike Haley

Andrew Conway

Chris Farrell

Dan Goggin

Keith Earls

Joey Carbery

Conor Murray

REFEREE:

FRANK MURPHY

(IRFU, 62ND COMPETITION GAME)

ASSISTANT REFEREE

PETER MARTIN (IRFU)

ASSISTANT REFEREE

OISIN QUINN (IRFU)

TMO:

BRIAN MacNEICE (IRFU)

Ed Byrne [C]

Seán Cronin

Thomas Clarkson

Joe McCarthy

Josh Murphy

Ryan Baird

Scott Penny

Max Deegan

1

2

3

4

5

6

7

8

LOOSE HEAD PROP

HOOKER

TIGHT HEAD PROP

SECOND ROW

SECOND ROW

BLINDSIDE FLANKER

OPENSIDE FLANKER

NUMBER 8

Josh Wycherley

Niall Scannell

John Ryan

Jean Kleyn

Thomas Ahern

Fineen Wycherley

Alex Kendellen

Jack O'Donoghue [C]

John McKee

Peter Dooley

Cian Healy

Devin Toner

Alex Soroka

Ben Murphy

David Hawkshaw

Adam Byrne

16

17

18

19

20

21

22

23

REPLACEMENT

REPLACEMENT

REPLACEMENT

REPLACEMENT

REPLACEMENT

REPLACEMENT

REPLACEMENT

REPLACEMENT

Diarmuid Barron

Jeremy Loughman

Keynan Knox

Jason Jenkins

Jack Daly

Craig Casey

Ben Healy

Rory Scannell
---
At Sword we know how important the Game is.

We know how important your memories are ....so relax

and enjoy yourself, you're in safe hands.

LEINSTER RUGBY FANS .... Secured by the team at Sword

Dublin: 01-6688220

info@swordsecurity.com

www.swordsecurity.com

Securing Sports Fans around the World.
---
Parting Shot

Photo by Harry Murphy/Sportsfile

100 | www.leinsterrugby.ie
---
14 May 2022

James Lowe of Leinster celebrates after scoring his side's first try

during the Heineken Champions Cup Semi-Final match between

Leinster and Toulouse at the Aviva Stadium in Dublin.

www.leinsterrugby.ie | 101