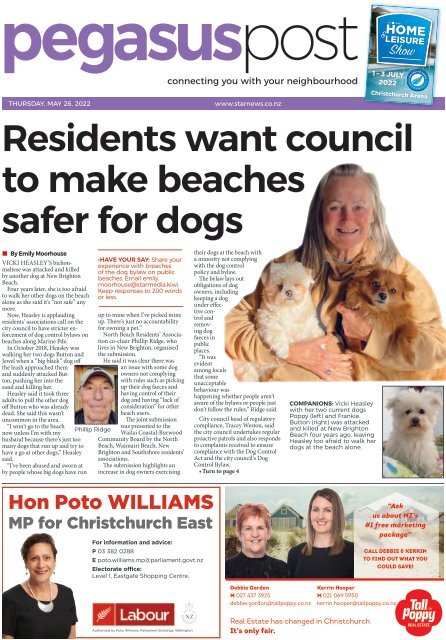 Pegasus Post: May 26, 2022
Create successful ePaper yourself
Turn your PDF publications into a flip-book with our unique Google optimized e-Paper software.
connecting you with your neighbourhood

1 – 3 July

2022

THURSDAY, MAY 26, 2022

www.starnews.co.nz

Christchurch Arena

Residents want council

to make beaches

safer for dogs

• By Emily Moorhouse

VICKI HEASLEY'S bichonmaltese

was attacked and killed

by another dog at New Brighton

Beach.

Four years later, she is too afraid

to walk her other dogs on the beach

alone as she said it's "not safe" any

more.

Now, Heasley is applauding

residents' associations call on the

city council to have stricter enforcement

of dog control bylaws on

beaches along Marine Pde.

In October 2018, Heasley was

walking her two dogs Button and

Jewel when a "big black" dog off

the leash approached them

and suddenly attacked Button,

pushing her into the

sand and killing her.

Heasley said it took three

adults to pull the other dog

off Button who was already

dead. She said this wasn't

uncommon in the area.

"I won't go to the beach

now unless I'm with my

husband because there's just too

many dogs that run up and try to

have a go at other dogs," Heasley

said.

"I've been abused and sworn at

by people whose big dogs have run

Phillip Ridge

•HAVE YOUR SAY: Share your

experience with breaches

of the dog bylaw on public

beaches. Email emily.

moorhouse@starmedia.kiwi.

Keep responses to 200 words

or less.

up to mine when I've picked mine

up. There's just no accountability

for owning a pet."

North Beach Residents' Association

co-chair Phillip Ridge, who

lives in New Brighton, organised

the submission.

He said it was clear there was

an issue with some dog

owners not complying

with rules such as picking

up their dog faeces and

having control of their

dog and having "lack of

consideration" for other

beach users.

The joint submission

was presented to the

Waitai Coastal-Burwood

Community Board by the North

Beach, Waimairi Beach, New

Brighton and Southshore residents'

associations.

The submission highlights an

increase in dog owners exercising

their dogs at the beach with

a minority not complying

with the dog control

policy and bylaw.

The bylaw lays out

obligations of dog

owners, including

keeping a dog

under effective

control

and

removing

dog

faeces in

public

places.

"It was

evident

among locals

that some

unacceptable

behaviour was

happening whether people aren't

aware of the bylaws or people just

don't follow the rules," Ridge said.

City council head of regulatory

compliance, Tracey Weston, said

the city council undertakes regular

proactive patrols and also responds

to complaints received to ensure

compliance with the Dog Control

Act and the city council's Dog

Control Bylaw.

• Turn to page 4

COMPANIONS: Vicki Heasley

with her two current dogs

Poppy (left) and Frankie.

Button (right) was attacked

and killed at New Brighton

Beach four years ago, leaving

Heasley too afraid to walk her

dogs at the beach alone.

Hon Poto WILLIAMS

MP for Christchurch East

For information and advice:

P 03 382 0288

E poto.williams.mp@parliament.govt.nz

Electorate office:

Level 1, Eastgate Shopping Centre.

"Ask

us about NZ's

#1 free marketing

package"

CALL DEBBIE & KERRIN

TO FIND OUT WHAT YOU

COULD SAVE!

Debbie Gordon

M 027 437 3925

debbie.gordon@tallpoppy.co.nz

Kerrin Hooper

M 021 069 5950

kerrin.hooper@tallpoppy.co.nz

Authorised by Poto Williams, Parliament Buildings, Wellington

Real Estate has changed in Christchurch

It's only fair.
---
2 Thursday May 26 2022

DELIVERERS WANTED!

Are you honest, reliable and over

the age of 11? Why not earn money

and get fit doing it. Get in touch

with your interest today:

deliveries@alliedpress.co.nz

029 983 2293

Your local community newspaper connects

neighbours in the following suburbs

Linwood • Avonside • Richmond • Shirley • Bexley

Burwood • Dallington • Wainoni • Bromley

Aranui • Avondale • New Brighton • Northshore

Queenspark • Parklands • South Brighton

19,600 readers every week.

ADVERTISING

Frank Greenslade

Ph: 021 662 975

frank.greenslade@starmedia.kiwi

NEWS

Nielsen Media NRS

Emily Moorhouse

Ph: 021 910 788

emily.moorhouse@starmedia.kiwi

GENERAL INQUIRIES Ph 379 7100

CLASSIFIED ADVERTISING Ph 379 1100

www.starmedia.kiwi

what's on

this week

Reflections of the East

Thursday, all day

Linwood Library

Go along to Linwood Library to see

what past times in Linwood and its

surrounding neighbourhoods looked

like through a digital photographic

exhibition to reminisce on days gone

by. Free, no bookings required.

Kawhe and Kōrero

Thursday, 10-11am

New Brighton Library

Want to practice your reo? Go

along to New Brighton Library for a

cuppa to build your korero skills with

fellow learners. This session is aimed

at adults who would like to build

confidence speaking te reo Maori in

a relaxed environment. No booking

required but places are limited.

Rummikub club

Thursday, 10am-noon

Linwood Library

Go along to enjoy a game of Rummikub,

a tile-based game for two to

four players that combines elements

of the card game rummy and mahjong.

Free, no booking required.

Afterschool Activity Zone

Thursday, 3.30-4.30pm

Linwood Library

Go along every Thursday during

term time for a variety of activities including

technology, crafts and games

in a fun learning environment. Free,

no bookings required.

Local Body

Elections 2022

Are you planning on running

for council in the Coastal,

Burwood or Linwood ward?

I can help you with your

newspaper advertising.

Contact Mark Sinclair

Phone: 021 913 566

Email: mark.sinclair@starmedia.kiwi

THURSDAY, JANUARY 20, 2022

• By Emily Moorhouse

WHEN STEVEN Muir isn't testing X-ray

machines and printing 3D models for surgery

a the hospital he's busy fixing up bikes for the

community.

Muir is the founder of the Aranui Bike Fixup

Project, a group that meets every Thursday

afternoon to restore old bikes and teach youth

how to be handy with bike tools.

You' l rarely see Muir driving his car. Instead

he zips across town on his ebike, towing

six bikes ready to be restored on his trailer.

• Turn to page 4

connecting you with your neighbourhood

www.starnews.co.nz

Hi-tech to fixing kids' bikes

PHOTO: STAR MEDIA

natiVe plant nurSery

treeS for canterbury

SpecialiStS in

• Groundcovers

• Ferns

• Grasses

Helping our

community grow

THURSDAY, JANUARY 27, 2022

• Sma l to big

sized shrubs

• Shelterbelts

Ask us about Super

Gold Card discounts

PASSION: Arna Morton

has been playing the

violin for 26 years and took

on the role of principal

second violinist for the

Christchurch Symphony

Orchestra last year.

PHOTO: MORTON MUSIC

• ALL grades

• Expert advice

• Planting now

CALEB.HARCOURTS.CO.NZ

20 March 2022

connecting you with your neighbourhood

www.starnews.co.nz

EntriEs now opEn!

Sparks performance

a night to remember

• By Emily Moorhouse

VIOLINIST ARNA Morton

has grown up with the Sparks

concert – only this time

around things looked a little

different.

Morton traded the view of

the stage for the view of the

audience as she performed

with the Christchurch

Symphony Orchestra at

Saturday night's Sparks in

North Hagley Park.

Although performing

at Sparks was a firs time

experience for Morton,

she said the concert went

rea ly we l and had a great

atmosphere.

"I was just so excited to be

back performing together

with the band," she said.

"Obviously last year we had

a lot of disruptions so it was

nice to have everyone get back

into it."

Even after playing the

violin since she was five, the

coastal area resident said

it was normal to sti l get

nervous before a performance,

especia ly for a large crowd.

"There's this heightened

sense of adrenaline before

you go on stage. I definitely

still get nervous, which is

important," she said. "It's

about channe ling the energy

required for a performance."

• Turn to page 4

rock & roll fashion

Add some

Retro rockabi ly inspired swing dresses,

classic polka dots, crazy or zany prints,

flirty florals and more

• Lady V, He l Bunny, Lindy Bop, Banned

Apparel, Retrospec'd

• Old fashioned Laybys

• Afterpay, Laybuy & Genoapay are available

Rockabilly RetRo

to your wardrobe

Proud

sponsor of

trophy a the 32nd

Muscle car Madness

Show 2022

Rangiora

"BEST POTENTIAL"

133 New brighton Mall, christchurch

Website: rockabi lyretro.ecwid.com

P: 022 083 0604 e: office@rockabillyretro.co.nz

Call for

something

to be done

about

Bromley

'stench'

• By Emily Moorhouse

RESIDENTS LIVING near the

Bromley wastewater treatment

plant have been "coping with the

stench" for weeks now and want

something done to fix it.

The wastewater treatment plant

caught fire in November and has

been emitting an unpleasant smell

ever since, causing frustration

among residents.

Katinka Visser has lived in

Bromley for 35 years, and said

while the stench hasn't been as

bad during the new year for her,

she sometimes felt as though she

couldn't breathe.

"I've had three nights that I

virtually couldn't breathe, it was

that bad, there's like a fog and it's

just sitting.''

She said even after putting her

head under the blankets, she

could sti l smell the stench.

Visser said because the wind

has been coming from a southerly

direction lately, she hasn't been

experiencing the sme l as strongly,

but knows that residents close by

do.

"I'm so thankful that I'm not

affected as much as most people,"

she said.

"There are people way, way

worse off than me."

• Turn to page 5

Move

YOUR

OUR

DEDICATION

Making a move in 2022?

Now's time to start discussing your summer se ling strategy.

Contact me today for your free consulation.

42 Charlesworth Street

facebook.com/ Trees4Canterbury

Ph (03) 982-1028 OPEN 7 DAYS www.treesforcanterbury.org.nz

Gold Real Estate Group Limited Licensed RE A

20 March 2022

EntriEs now opEn!

Money

puts hand

up for local

elections

• By Emily Moorhouse

FORMER Coastal-Burwood

chairwoman Kim Money has

made a bid to return to local body

politics, with plans to stand for

council as an independent for the

Coastal Ward.

Celeste Donovan

is the current

Coastal Ward

councillor and

said it was always

great for democracy

when you

had a choice.

"It's

encouraging to hear another

woman is standing and there will

be others putting up a hand closer

to the election date," Donovan

said.

Money was the board's

chairwoman in 2016, but didn't

stand for re-election in 2019 due

to personal circumstances.

Now she says those

circumstances have changed

and the timing is right for her to

throw her hat back in the arena.

"I'm keen to get back again and

represen this community that I

love so much," she said. "We rea ly

do need that experience from the

coast sitting a the council table

and I would love to do that for my

community."

Money said it had been

unfortunate she couldn't stand

again in 2019 as there were a few

unfinished things she needed to

do. • Turn to page 4

Kim Money

YOUR ONE STOP SHOP!

TYRES

NEW & USEd

WoF

FLAGS

TYRES

bOOk

IN NOW

FULL MECHANICAL

SPECIALISTS$49

WHEEL

ALIGNMENTS

SERVICES

Wigram - 341 1226 104 Hayton Rd

Woolston - 384 0000 49 Garlands Road

Te Rā Takutai: Beach Sunrises, Thursday, all day, New Brighton

Library. Te Rā Takutai: Beach Sunrises features the art of Bob Nicholls

aka BeachPoetBob. These images are sketched in water colour pencil and

then painted. Free, no bookings required.

SAYGo Falls Prevention

Exercise Class

Friday, 10-11am

New Brighton Library

Steady As You Go (SAYGo) is the

exercise class designed to help older

people reduce their likelihood of having

a fall. The class involves working

on improving balance, flexibility and

strength to help you feel physically

better and more able. Free, no booking

required but places are limited.

For more information phone Age

Concern on 366 0903 or 0800 803

344.

Scrabble Club

Friday, 10am-noon

Linwood Library

Go along to the scrabble club

every Friday. No obligation, just go

along when you can and join the

friendly group. All materials are supplied.

Free, no bookings required.

JP Clinic at Parklands

Friday, noon-2pm

Parklands Library

A justice of the peace will be available

to members of the community,

to witness signatures and documents,

certify document copies, hear oaths,

Buy One Get One Free! *

declarations, affidavits or affirmations

as well as sign citizenship, sponsorship

or rates rebates applications.

Vaccine pass required.

Auahatanga – New Brighton

Weekend Creative Time

Saturday, 2-3pm

New Brighton Library

Go along to use the exciting

range of equipment available at

New Brighton Library – 3D printer,

craft cutter, sewing machine,

badge maker, cameras, tripods and

microphones. Staff will be on hand to

support you with equipment. These

sessions are geared towards people

aged 16 and older.

Choir Concert

Saturday, 3pm

Rawhiti School Hall, Leaver Tce

Go along to see the South Brighton

Voices choir perform alongside the

New Zealand Male Choir for an

afternoon of music. The choirs will

perform separately and together.

Also performing will be Molls Dolls,

a tap dance group for women. Adults

$20, secondary and primary students

free. Tickets at the door, Eftpos available.

Masks required.

Need Heat Fast?

The Fastest, Warmest Indoor/Outdoor Heater You Will Ever Own!

• Heats Up Instantly

• Suitable for Indoors or Outdoors

- In Rain, Fog, Wind or Snow

• Carbon-Fibre Bulb Technology

*Call for Terms

& Conditions

• Multi-Directional Stand

• Includes Remote Control

& Built-In Timer

• Motion Detection Function

+Plus

Free

Floor

Stand!*

worth

$199.99

1.8m High

• Commercial Grade

• Multi-Directional

• Easy Install

• Portable

• Indoors & Outdoors

CALL NOW! 0800 665 665

ALL AREAS OF LAW

FOUR AREAS

OF CHRISTCHURCH

WHATEVER NEEDS SORTING, YOU'LL FIND US AT A LOCATION NEAR YOU. LET'S TALK.

03 379 7690 | LAWYER@SAUNDERS.CO.NZ | WIGRAM, CITY, FERRYMEAD, BISHOPDALE | SAUNDERS.CO.NZ
---
Thursday May 26 2022 3

Donald's cabin officially open for art

• By Emily Moorhouse

VOLUNTEERS, sponsors and

funders gathered to celebrate the

official opening of a deaf-andblind

artist's community-built

cabin.

New Brighton Community

Gardens was bustling last

Wednesday with people involved

in the instalment of a cabin for

artist Donald Gibson.

Earlier this year, the New

Brighton Community Garden

team, along with helpers,

installed a kit-set cabin in the

gardens for Gibson to continue

his artwork.

Garden funding and administration

manager Lin Klenner

said it was the garden's first

opportunity to come together

after Covid restrictions, describing

the evening as "a night to

remember."

The evening started with a

welcome from the garden team

followed by a speech from funder

and Department of Internal

Affairs community advisor

Adam Parker, who said it was a

first for Lotto to fund a project

like this.

"The committee, while at first

apprehensive, took a chance and

have been very impressed with

the outcome. In fact, it exceeded

their expectations and they will

look at similar projects more

willingly now," Klenner said.

Klenner then spoke about the

first time the garden team was

GRATITUDE: Donald Gibson and Lin Klenner, who said the

opening of Donald's cabin was a night to remember.

PHOTO: ALEXANDER HORGAN

approached by Gibson and his

carer a year ago, after Gibson's

old studio at New Brighton

School was set for demolition.

"New Brighton Community

Gardens is in need of people

defying the odds and showcasing

anything is possible, a blindand-deaf

artist will teach us and

our community exactly that,"

Klenner said.

The gardens had just one week

to move one of Gibson's artworks

from his former studio – a

TEAMWORK: Adam Parker (left), Catherine O'Neill, Helen

Smith, Stephen Pearce, Maree Bone, Donald Gibson, Lin

Klenner, Jo Zervos and Celeste Donovan.

600kg sculpture.

"The gardens was desperately

ringing around to find someone

to move the sculpture," Klenner

said. "Stephen Pearce from

Citycare answered the call . . .

and we managed to move the

sculpture on the coldest day of

the year."

The event was invite only and

included volunteers who had

helped with the cabin, as well

as Coastal Ward city councillor

Celeste Donovan and Waitai

Coastal-Burwood Community

Board member Jo Zervos.

Klenner said Gibson expressed

his gratitude to everyone for

their help with his new studio

through his interpreter before

cutting the ribbon to the

cabin.

"Donald's sense of humour

was truly coming through as he

was signing a countdown from

five down, everyone was counting

with him to cut the ribbon,"

she said.

"Donald is still in the process

of setting up the space and getting

a feel for it as well as orienting

himself.

"He is currently working

on the stone sculpture in our

gardens, which has come along

impressively," Klenner said.

DELHI 6

AUTHENTIC INDIAN FOOD

Delhi-6 is proud of serving the best Indian food and

we are BRINGING the same at your doorstep here

in CHRISTCHURCH.

We believe what Paul Prudhomme said:

"You don't need a silver fork to eat good food."

We have recently taken over Sai Tandoor Indian Restaurant

and aim to serve authentic Indian food with exceptional

service. Our chef has extraordinary cooking skills and

understands the value of tasty food.

If you believe love and food are meant for sharing,

then Delhi-6 Authentic Indian Food on Ferry Road

is the best place for you all to eat.

– We are proud to be the best of best –

TOO BUSY WORKING FROM HOME?

WE DO DELIVER!

OPEN 7 DAYS LUNCH & DINNER

5/245 Ferry Rd, Waltham. Ph: 03 365 1873

www.delhi-6.co.nz
---
4 Thursday May 26 2022

Confrontations sometimes

end in physical assault

• From page 1

"Enforcement options include

issuing warnings and infringements;

if continual breaches

occur over a 24-month period

this may result in an owner being

made a probationary dog owner

or may be disqualified from

owing a dog for a determined

period," Weston said.

However, Heasley said she has

never seen animal control on the

beach.

"I see them parked sitting in

their car looking on their phone

and they're probably doing business,

I don't know, but you never

ever, ever see them on the beach

where all the problems happen."

For the period of January 1,

2021, to December 31, 2021, city

council received 528 complaints

of dog attacks, 74 complaints of

dogs in prohibited areas/breaching

the bylaw and 74 complaints

of dogs fouling across the city.

Board chair Kelly Barber said

the submission has been referred

to city council staff in the animal

management team to investigate

and report back to the board.

"It's quite rare for community

organisations and residents' associations

to get together," Barber

said.

"I think the whole board

thinks it's something that needs

to be taken seriously."

Ridge said the issue had been

bubbling away for some time but

has recently got worse and said

some instances led to confrontations

between beach users, sometimes

ending in physical assault.

"We want to ensure everyone

can enjoy their experience at the

beach," Ridge said.

"The bad behaviour doesn't

come from dogs, it's the dog

owners that haven't trained their

dogs properly."

Ridge said he hopes some

action can be taken by the city

council to have stricter enforcement

of the dog bylaws to ensure

everyone can enjoy the beach.

"With freedoms comes responsibilities,"

he said.

"People can have their dog off

the leash at the beach but they

need to have control of them and

respect the rights of others. It just

comes down to consideration."

Scooter riders raise

almost $350,000

for Cancer Society

Alex Faulkner (above left) of Ohoka and his father

Rodney Faulkner of Parklands were among almost

300 riders who hit the road for the biennial Tranz

Alpine Scooter Safari at the weekend. Aboard 50cc

scooters, the group rode 240km over the Southern

Alps to Hokitika as they raised almost $350,000 for

the Cancer Society. The first scooter safari was held

in 2009. Photographers John Cosgrove and Geoff

Sloan caught up with participants at the start of their

journey at McLeans Island. ​•

•Watch the video on starnews.co.nz
---
Thursday May 26 2022 5

Community frustrated over stolen tabletop

• By Emily Moorhouse

A HANDMADE tabletop that

was part of primary school

pupils' community project has

been stolen within two months

of being installed.

Banks Avenue School pupils

raised funds to cover some of

the $3500 that a macrocarpa

tabletop cost to go with their Adventure

Ave Playground project

in Richmond.

But last week, the tabletop was

stolen, causing frustration for

those involved.

Avon-Otakaro Network

manager Hayley

Guglietta

brought the issue

of theft and

vandalism in the

red zone to the

Waitai Coastal-

Hayley

Guglietta

Burwood Community

Board

last month and

was told red zone

patrols would be reinstated in

early May.

However, the patrols are yet to

be reinstated, leaving Guglietta

disappointed to see another

community project targeted by

petty crime.

"We're having so much trouble

out here, we wanted to get the

security patrols back in before we

put anything else back in there

and they were supposed to get

them back up and running but

they haven't," Guglietta said.

ASSET: The tabletop made from macrocarpa was used as

a shared food table for children.

"It's hugely disappointing."

Guglietta said there has been

ongoing issues with theft and

vandalism in the red zone with

the Medway St bridge being the

latest target of vandalism days

after it opened.

Burwood Ward board member

Bebe Frayle said there

were issues with sorting

out a contractor for the

patrols and the city council

is working through

this process.

"They are expected to

get these up and running

end of May or beginning

of June," Frayle said.

"They are committed

to doing it, it's just about

sorting the logistics."

Guglietta said it was the pupils

that discovered the tabletop was

missing when they went to the

playground, which was "even

Bebe Frayle

EFFORT: Hayley Guglietta said wooden posts that were

lying around the playground appeared to have been used

to roll the tabletop off-site.

more disappointing."

"This is like three or four years

of work and planning that gets

wiped in one evening," she said.

"They're wanting activation in

the red zone but no one's going

to want to activate anything if

everything they do is going to

get stolen or vandalised

or tagged."

Guglietta has filed

a police report on the

tabletop and has gone

back to the city council

about the issue but was

told they would get back

to her.

She said the people

that stole the table would

have had to use wire

cutters and tools to unscrew the

bolts and used wooden posts

lying around the playground to

roll it off-site.

"Our communities want to activate

the red zone but if we can't

get support on simple things like

helping us with security then

no one's going to want to do it,"

Guglietta said.

"Our community deserves

to have some nice things, we've

been through a lot."

Guglietta is asking the community

to keep an eye out for the

tabletop that is over three metres

long as they "just want it back"

for the pupils.

"It's not going to stop us from

doing stuff," Guglietta said.

"We'll just have to think

of how we're going to do it

differently."

YOUR ONE STOP SHOP!

Restoring your confidence through your smile

Full service Denture Clinic

and Laboratory

Caldent Denture Cleaner

Free Consultation

No Obligation

Ph: 385 5517 + 396 Innes Road, St Albans

admin@denturesplus.co.nz

+ denturesplus.co.nz

TYRES

NEW & USEd

WoF

FLAGS

TYRES

bOOk

IN NOW

FULL MECHANICAL

SERVICES

WHEEL

ALIGNMENTS

SPECIALISTS$49

Wigram - 341 1226 104 Hayton Rd

Woolston - 384 0000 49 Garlands Road

free

No.1 SMART

MARKETING PACKAGE

SOLD

29 Aston Dr. Waimairi Beach

SOLD

69 Union St. New Brighton

SOLD

SOLD

25 Baltimore Green, Shirley

SOLD

2 Sinclair St. New Brighton

SOLD

real estate

FREE MARKETING OF YOUR PROPERTY

DURING MAY, JUNE & JULY

26 Merlington Cres.Aranui

33 Kirner St. Burwood

SOLD

39 Sandown Cres. Aranui

51 Maces Rd. Bromley

SOLD

www.smartrealestate.co.nz

Kama Jacobs

Mob 022 386 5591

Office 03 384 8600

Kama

Jacobs
---
6 Thursday May 26 2022

Rugby stalwart tries his hand at horse racing

• By Dave Di Somma

SOME PEOPLE are born

into racing. Others, like New

Brighton Rugby Club stalwart

Tyson Keats, marry into it.

And for someone who says he

"doesn't know much" he's now

getting involved at various levels

of the sport.

After marrying the then Chelsea

Jones, Keats found himself

part of the extended Jones clan,

one of racing's most famous

families.

His in-laws are Derek and

Adele Jones, who have recent

success with the likes of open

class trotter Majestic Lavros and

Rangiora Winter Cup winner

Kiss The Girls. Earlier this year

they also sold an Elusive Chick –

Bettor's Delight colt for $210,000

at the NZB Yearling Sales.

"They call Derek the horse

whisperer – he's been having a

great run," says Keats, a former

Crusaders and Hurricanes halfback.

"You wouldn't meet a nicer

bloke."

Keats has had interests in a

number of horses over the years,

including seven race winner Nui

Ba Den who's since headed to

North America.

Right now he is one of six

that own three-race winner

Moody River, trained by Matt

Purvis, and has a small share in

Swagger Man along with high

profile owners such as Philip

and Glenys Kennard and Peter

Baken. Swagger Man broke his

WINNER: Kiss The Girls added a Rangiora Winter Cup to the Summer Cup he won at the track in December last Sunday.

Here trainer Derek Jones is joined by daughter Chelsea on his right along with her son Connor and close family friend Cath

Ironside who share in the ownership.

maiden status three starts back

at Addington at start number

seven.

Keats got into the horse

through Swagger Man's trainerdriver

David White, a close

family friend of the Jones'. Keats

is also good mates with Methven

Trotting Club president Carl

Markham, who is White's fatherin-law.

White is married to

Markham's daughter Stacey.

Keats' involvement in racing

doesn't stop there. His company

TK Plastering has been sponsoring

races and soon will have a

permanent hoarding at Addington

Raceway.

"It's just down the back

straight . . . we sponsor a few

things, it's always good to give a

little back."

TK Plastering is Keats' exterior

plastering business. While based

in Christchurch he has expanded

to Wellington and Central Otago

and has 30 staff members on the

books.

During his playing days Keats

attracted a fair bit of media attention

as the part-time plasterer,

part-time rugby player. He's

a chatty cheeky character, as

many halfbacks are. Long-time

team-mate and fellow halfback

Andy Ellis also has an interest in

harness racing, as a part owner

of horses like Lifes A Beach and

Monaco Grace, and he was also a

part owner of millionaire trotter

Speeding Spur before he was

retired to stud.

Keats was in the Canterbury

team that won back-to-back

NPC titles in 2008 and 2009,

before playing 24 games of super

rugby for the Crusaders (3) and

Hurricanes (21).

On moving to Wellington

he sold his business, only to set

up his own company again in

Christchurch in 2014 after rugby

playing stints at Aironi in Italy

and at London Welsh.

A New Brighton member since

he was a nipper, Keats is now 40

and says his rugby playing days

are over.

"I played for New Brighton div

3 last year but my knees are done

. . . it was just a few cameos."

These days golf occupies some

of his leisure time – "I play off

a 12 to 14" – at the Waimairi

Beach club.

He also enjoys going to the

races and seeing his horses up

close.

'And I like a punt but I just

pick them on names," he jokes,

"and I like outsiders."

—Harness News Desk

During his playing days

Keats was known as a 'parttime

plasterer, part-time

rugby player.'

mitre 10 mega ferrymead

lend a helping hand

thanks to a joint venture between Mitre 10 MEGA Ferrymead, Southbuild Ltd and Spinal unit volunteers, a

previously scruffy outdoor area at the Burwood Spinal unit has been transformed into a fresh and welcoming space.

It all started when a former Spinal Unit patient and her

whanau approached Southbuild to ask if they could

repair an outdoor table. Leanne and Paul from Southbuild

visited the site and realised that a lot more could be done

to spruce up the area. Having participated in a previous

Mitre 10 MEGA Ferrymead's Helping Hands Project, they

approached the store to see if they would assist. Miles from

Mitre 10 MEGA Ferrymead willingly agreed.

On May 4 2022, Mitre 10 MEGA Ferrymead staff, the

Southbuild Ltd team and the volunteers got to work. This

involved weeding/water blasting the patio, constructing

and painting four raised planter boxes, repairing and

painting picnic tables, installation of a shade sail and posts

and a general tidy-up and removal of rubble.

Mitre 10 MEGA Ferrymead supplied labour and all the

materials, Southbuild donated labour, and Canterbury

Trellis supplied two new picnic tables. The Spinal Unit

provided a huge spread of food and a coffee cart, which

BEFOrE

AFtEr

was welcomed by all.

"Having the space tidy and looking presentable has

made quite a difference for people staying in the unit,"

the Burwood Spinal Unit's peer support co-ordinator

Brett Ladbrook says. "It has come up great. Staff are

sitting out there for lunch and the patients are using it a

lot more as well."

Brett also says the area was "quite a suntrap" so the shade sail

has made the area more comfortable to sit in. And as Cam

from Mitre 10 MEGA Ferrymead, says, "We turned a rundown

smokers' area into a multi-use space for all patients and

families of the Spinal Unit to enjoy. Hugely rewarding!"

HAvE yOu GOt A

cOMMunIty PrOjEct?

visit https://www.mitre10.co.nz/local/MegaFerrymead/

cOMMunIty/ to register and you could have the Mitre10

team lend you a helping hand.

Terms and conditions apply, see instore or online for more details.

BEFOrE

AFtEr

proudly

supported by:

Ferrymead

1005 Ferry Road, Phone: 366 6306

Opening Hours: Monday–Friday: 7:00am–7:00pm

Saturday, Sunday and Public Holidays: 8:00am–6:00pm

mitre10.co.nz/local/MegaFerrymead/

If you find a lower price on an identical in-stock

product locally we will beat it by 15%

@MEGAFerrymead

*if you find the same product cheaper from another Mitre 10 store or Mitre 10 website we'll match that price. Excludes trade and

special quotes, stock liquidations and commercial quantities. The in-store price may be lower than advertised.
---
Thursday May 26 2022 7

Returning stolen bikes to owners

THREE WEEKS after a bike

registration service aimed at

retrieving stolen bikes launched,

a bike flagged as stolen has been

reunited with its owner.

Police and the city council

teamed up with 529 Garage, a

free bike registration service

aimed at discouraging bike thefts

last month.

Soon after, a bike owner who

thought they would never see

their bike again has got his

wheels back.

Mark Anderson's bike was

stolen from the bike shed at his

apartment building in the central

city in February.

To his surprise, he spotted it

in a nearby property soon after

it was stolen. Anderson called

police who visited the address,

but the bike had been moved.

He'd seen something about

529 Garage in the media, so he

registered his bike and flagged it

as stolen.

Unfortunately, he didn't have

the serial number, but he did

have clear photos of his bike.

Constable Olivia Bensley, one

of the police administrators for

529 Garage, was executing a warrant

in relation to other stolen

items when she saw Anderson's

bike.

"Without the serial number it

would have been almost impossible

to identify. Coincidentally, I'd

seen his bike on 529 Garage when

I was trying to identify a different

bike," Bensley said. "It was pure

chance that I recognised it when I

saw it at the address."

Although a few parts had been

switched out, there was a recognisable

scratch on the frame that

Anderson said happened when

he crashed while mountain biking

in the Port Hills.

A police spokesperson said

although the bike was located at

a nearby address, theft charges

are yet to be laid in relation to

Anderson's stolen bike.

Bensley asked Dave Johnson

from RAD Bikes, a community

bike workshop, to give the bike a

spruce up, then arranged for Anderson

to visit the police station

to collect it.

"Registering my bike on 529

Garage was easy but I didn't

really expect to see it again,"

Anderson said. "I prefer biking to

driving a car, unless it's raining,

so I'm thrilled to have it back."

Since its launch on April 12,

over 1500 bikes have been registered

on 529 Garage.

A police spokesperson said

while Anderson was lucky that

his bike was identified and recovered

without the serial number,

it's important to register your

bike before it's stolen.

That way the serial number can

be recorded in the 529 database,

to greatly increase the likelihood

a bike being identified and

returned to its owner.

• To find out more and to

register your bike, go to

www.529garage.co.nz/chch

REGISTRATION: Constable Oliva Bensley (left) and Anne

Heins from the city council are the team behind the

launch of 529 Garage in Christchurch.

SPRUCE

UP: Dave

Johnson,

from RAD

Bikes with

a cheese

scone he

received for

payment

after

repairing

the stolen

bike.

Speed

reductions

for 28 streets

• By Emily Moorhouse

TWENTY-EIGHT streets

in Shirley will drop from

50km/h to 40km/h as part of

the city council's Slow Speed

Neighbourhood project.

But of the 53 submitters that

gave their feedback, more than a

third were against the changes.

THe Waipapa Papanui-Innes

Community Board approved the

proposal to reduce the speed limit

on all roads bound by Shirley Rd,

Marshland Rd, Briggs Rd, Akaroa

St and Hills Rd.

A city council report on traffic

speed data indicated that most

road users in this area already

recognise that the currently posted

speed limit is not safe, and are

travelling below this limit.

However, after putting the

proposed changes out for

community consultation, a

minority shared their concerns

that a reduction in speed would

not be effective due to some

drivers already exceeding the

speed limit.

Figures show that while 41 per

cent of submitters support the

changes, 38 per cent opposed

them and 21 per cent had no clear

support or opposition.

City council staff will monitor

the roads once the slow speed

Zone is implemented over the

next few months and "address as

needed."

Trustee Services

"We cannot predict

the future, but we

can protect it"

Protect your future

with a compliant

TRUST

The best time to establish a trust is when you do not

need it.

Our purpose is to advise individuals on asset

preservation and protection through a client focused

approach tailored to their needs.

We are driven by integrity and building strong and lasting

relationships with our clients. Our Trustee Services

are provided by a dedicated team who understand

the complexities and detail of New Zealand Trust Law,

especially in light of the recent legislative changes.

Trusts require meticulous management to ensure they

are and will continue to be, legally compliant.

We have vast experience in reviewing non-compliant

trusts and swiftly making the necessary changes

to ensure they are legally compliant. If a trust is not

compliant it cannot protect your assets.

How we protect your future

Trust Establishment

We take the time to thoroughly understand

our clients situation and their unique goals for

the future. If a Trust is appropriate, we assist

in deciding the most suitable type. The various

types we consider include Family, Single, Parallel,

Business, Investment or Inheritance depending

on their specific personal needs or objectives.

Trust Management

Trusts require meticulous management to

ensure they are and continue to be legally

compliant. This is particularly important with the

recent changes to legislation in Trust Law with

the introduction of the Trusts Act 2019.

We are passionate about and have a new level

of precision to our trust record keeping so as to

comply with these new requirements from the

get go.

Review Existing Trusts

With New Zealand having the greatest numbers

of trusts per capita, it is concerning knowing

that a large number of them (which have not had

a review in light of the new Trust Act 2019) are

likely to be successfully challenged. This means

that without the review they are likely to not

fulfil their purpose of protecting individuals hard

earned assets.

Business risk, relationship property claims, and

legal action are all possible ways a

trust can be challenged. We are

experts in reviewing existing trusts.

We swiftly implement any

necessary changes and ensure

they will offer full protection from

any potential challenge.

We are passionate about

helping people and ensuring

their futures are protected.

ZARA TONKS Senior Associate & Trust Law Expert

Phone Zara (03) 384 3880

Email zara@summitlaw.co.nz

Summit Law, Unit 7, 1025 Ferry Rd, Ferrymead. www.summitlaw.co.nz
---
8 Thursday May 26 2022

Dress up lamb rack the Greek way

Be transported to

the Mediterranean

with this easy and

delicious lamb roast

NEW SLANT:

Try something

different with

lamb rack.

Roasted Greek lamb

Serves 4-6

Ingredients

2 racks of lamb

3 tbsp red wine vinegar

3 tbsp coriander seeds

2 tbsp fresh rosemary

½ tbsp ground black pepper

1 to taste sea salt

2 lemons

4 tbsp extra virgin olive oil

100ml red wine

If you like

seafood,

prawns can be

made prepared

in many

different ways.

Directions

Use two small racks of lamb

(or lamb shoulder or top rump

enough to serve 4-6 people).

Trim surplus fat from the lamb

and pierce the skin with a series

of little holes. Rub the lamb all

over with the vinegar.

Crush the coriander seeds

in a mortar and pestle. Make a

marinade by whisking together

the crushed seeds, chopped

rosemary, pepper, salt, and the

zest and juice of 1 lemon. Rub

the marinade over the lamb, then

refrigerate overnight or stand at

room temperature for 3-4 hours.

Heat the oven to 200 deg C.

Take the lamb from the marinade,

pat dry and coat with the

oil. Place the lamb and the

remaining marinade in an oven

dish to cook. After 15 minutes,

turn, reduce the temperature to

180 deg C and roast for 15-20

minutes, basting the lamb occasionally

with the pan juices.

Remove the lamb from the

dish, then cover with foil for up

to 15 minutes while you make a

sauce.

Loosen the pan residues, then

stir in the wine while rubbing the

scrapings on the bottom of the

pan so they dissolve. Let the sauce

bubble up a little, then leave it to

simmer gently while you slice the

lamb.

To serve, place the sliced lamb

on a heated serving plate, squeeze

the juice of the remaining lemon

over, drizzle with sauce and decorate

with extra sprigs of rosemary.

Coconut prawns

Serves 4-6

Ingredients

1 cup coconut threads

½ cup breadcrumbs

2 egg whites, whisked

¼ cup flour

½ tsp chilli powder

24 raw prawn cutlets

1 mango, roughly chopped, or

400g canned mango, drained

1 tbsp lemon juice

½ red onion, finely chopped

¼ cup fresh coriander, chopped

½ cup sweet chilli sauce

vegetable oil, for deep frying

Directions

Place coconut, whisked egg

whites and flour in separate shallow

bowls. Mix salt, pepper

and chilli powder into the

flour.

Dip prawns into seasoned flour,

then into egg white and lastly the

coconut and breadcrumbs.

Combine chopped mango,

lemon juice, chopped red onion,

coriander and sweet chilli sauce

in a small bowl.

Heat oil in a large saucepan to a

depth of 3cm.

Once oil is hot, quickly fry

prawns until coconut is golden

and prawns are pink. Transfer

prawns to a plate lined with paper

towels to drain.

ADJUSTABLE MASSAGE BED

by
---
Thursday May 26 2022 9

School Update

Manukura Kōrero

He Manukura Pitopito Kōrero

Mā mātou e rāranga to

mātauranga

Let us weave together the future

of tomorrow

Kia orana, Noa'ia, Talofa lava, Mauri, Mālō

e lelei, Tālofa, Ni Sa Bula Vinaka, Fakaalofa

lahi atu, Mālō ni and warm Pacific

greetings. Tēnā koutou, tēnā koutou, tēnā

tatou katoa. Nau mai, Haere Mai!

Haeata ākonga and kaimahi have made a

very positive start to Term 2! As winter

approaches we are looking forward to

the new rugby, league and netball season

as we compete in the secondary school

competitions. Our teams are focused on

qualifying for Nationals and look forward

to the positive wero teams sports offer

us all.

You will be aware that in September

2022 there will be a Haeata Community

Campus Board Election. We need you!

The Haeata Board is currently working

to directly engage whānau/families,

kaimahi/staff and ākonga/students in

democratically electing the new board.

The triennial (three-yearly) elections for

kura/school boards have been held in

every Aotearoa/New Zealand state and

state-integrated school since 1989.

The role of the Haeata Board is largely

invisible, but incredibly important. The

Board governs the kura/school, protecting

and upholding the school's vision,

NZ Sign Language Week

by Melanie Fairweather

Here are cousins Shy Bensley and Taylea Gwatkin.

Shy's mum Emmie Bensley (pictured in the poster) is

the ambassador for NZ Sign Language Week 2022.

Every year NZSL Week is celebrated to promote

the language and culture of our deaf tangata in

Aotearoa. Emmie came to our kura to teach a sign

language taster class. Around 15 ākonga, including

her daughter and niece participated in this class. A

lot of fun was had as ākonga learned and practised

greeting each other, signing their names, and signing

words used in daily conversations. *Hand Wave* to

all our deaf and hard of hearing whānau within the

Haeata and Aranui community.

dispositions and values. Community

ownership is at the heart of governance

and it is so important that all whānaua

feel they are welcome to participate and

contribute.

You do not need any experience

because there is a lot of support to build

members' knowledge and understanding

of the governance role. Members are paid

for the hui they attend, hui are catered

and childcare can be arranged if needed.

So the question is, "if not you who? If not

now, when?"

Please think about putting yourself

forward and if you need help to fill out

your nomination form don't hesitate

contact us.

Please enjoy the Newsletter articles and

thank you for your support of Haeata!

Ko Haeata Tātou!

Kia kaha, kia toa, kia manawanui

He tangata ki tahi.

Dr Peggy Burrows

Manukura

Please keep an eye on our website as we will have some information

for prospective whānau following our Open Night that took place on

Tuesday 24 May.

Science Year 9/10

In term 1, the year 10 science ākonga worked hard

on building their own mini waka. We looked at the

principles of physics such as friction, drag and thrust

from a te ao Māori perspective on waka usage.

In Week 1 of term 2, we had Stephen Williams from

the University of Otago come to visit us to support

our mahi. He helped our ākonga test their waka out.

Practical learning is fun!

Sports update by Melanie Puckett

Finally, sport is back

in term 2 due to

the lifting of covid

restrictions so we

have seen a very busy

start to the term with

events being jam

packed into the next

7 weeks.

Our first event was the "Kick it Day'' which was delivered by Profile Training Group

alongside the Coastal Football club. This session involved learning fundamental

football skills and small sided football games for our year 5-8 ākonga.

Last Friday, our kura

was treated to a

special visit from

the Crusaders and

Crusader Academy

players as they came

into our school to

deliver a skills session,

sausage sizzle and a

question and answer

session. We had

over 100 students

participate in this

event and we are so grateful for the

support shown by the Crusaders to our

kura.

This term, we have our U16 rugby league team playing a game on a Monday night,

Senior Boys A Basketball playing on a Tuesday, Senior A netball team playing on

a Wednesday afternoon, plus U14 rugby league team playing on Wednesday

afternoons, then Senior Boys Reserve basketball on Fridays with the Rawhiti Sports

competition for year 5-8 starting on a Friday in Week 6.

Taking enrolments, please visit: https://haeata.school.kiwi/index.php/enrolment to complete an

online enrolment form or email enrol@haeata.school.nz for any enquiries

Haeata Community Campus

240 Breezes Road, Wainoni Reception Hours: Mon - Fri 8am - 3pm

Contact 03 930 0110 www.haeata.school.nz
---
10 Thursday May 26 2022

Prepare your

home for winter

Stay Warm

Time for a new heat pump?

We guarantee ours for 5

years – ask for the latest

offers.

Or book a Heat Pump Service.

Dedicated, friendly team.

Keeping you warm throughout winter.

Stay Healthy

NEW Aura Air Purifier – enjoy

clean air everywhere.

Scientifically proven to

eliminate SARS-CoV-2 by

99.998%, keeping indoor air

safe and healthy.

Preventative home

maintenance tips

Check your water tanks, pipes and

outside taps

Consider turning off outside taps to avoid

freezing and bursting. Covering water

tanks and pipes is a cost-effective way of

preventing this and reduces heat loss.

Consider your outdoor safety

and security

With the evenings being darker earlier,

frosts on outdoor steps, decks and pathways

are a slipping hazard.

Ensure you have adequate outdoor

lighting, a clutter free and smooth pathway

to your rubbish bins, woodpile, external

garage or sleepout.

Clean up spills immediately. Consider

moisture-absorbent mats and handrails.

Cut back your trees

With the leaves already fallen, now is a

good time to assess your trees and trim

back any dead branches and branches

overhanging your windows, spouting and

roof. Check your roof for leaks, loose nails,

and that it has a sound coating. Also look

for moss and algae.

Clear your gutters, drains and

downpipes

An accumulation of autumn leaves can

quickly block gutters, which can lead to

roof leaks, overflow and flooding. Consider

protecting your gutters from birds, hail and

leaves.

Stagnant water may freeze resulting in

gutters and downpipes coming loose or

collapsing.

Blocked drains are a potential health

hazard, create an unpleasant odour and

attracts bugs and small pests.

Store your seasonal equipment

with care

Before you put your lawnmower and

weedeater away for the season, run low or

drain the petrol. Petrol goes off and come

spring your old petrol can adversely affect

the performance of your equipment and

block up your filters.

Cover outdoor furniture and secure

items, such as trampolines, which may get

blown around in strong winds.

Consider options to extend your outdoor

living all year round.

In stock and ready to install. First come, first served.

Stay Safe

& Save Energy

Light up your home with

smart LEDs, inside and out.

Save on electricity bills and

reduce your carbon footprint

with energy-efficient LED

lighting.

Fixed Price.

Full Service.

Guaranteed

Quality.

Now,

that's hot.

We've worked hard to ensure the Aotea Electric

Canterbury team has the stock they need to

look after your home this winter.

Give us a call today

03 365 9712

aoteaelectriccanterbury.co.nz

Award-winning company, trusted in Canterbury for over 37 years

For a fully project-managed

hot water repair or upgrade.

Call the installation hotline

0800 HOT WATER

hotwatershop.co.nz
---
Thursday May 26 2022 11

Prepare your

home for winter

Minimise your heat loss

Insulation

Without insulation, approx. 30-35%

of the heat loss occurs through the roof,

20-30% through windows, and 20-25%

through walls. The floor and air leakage

make up the balance.

Drafts

Seal up any unused openings such as cat

doors and open fireplaces.

Use draft stopping tape around windows

and tape, door 'sausages or a rolled-up

towel for doors.

Double glaze windows, there is a wide

range of DIY Window insulation kits that

are both effective and economical.

Downlight fittings

Some modern LED downlights have

insulation fitted over them, instead of

leaving a gap for fire prevention.

Super-efficient LEDs use less energy

and can save lighting costs. Ask a lighting

specialist or registered electrician for

advice.

Simple steps to reduce dampness

Air your home regularly

Open doors and windows for 10-15

minutes each morning or use a ventilation

system.

Use energy efficient, low

emissions heaters

Heat rooms being used to at least 18˚C.

Don't use unflued or portable gas heaters.

Use extractor fans

They can help to get rid of moisture in

the bathroom and laundry and use a fan or

rangehood in the kitchen.

Use lids on pots when you cook

This helps to stop the steam escaping.

Turn on the fan before a shower

or bath

Shut the bathroom door and open the

window slightly. Afterwards, leave the fan

running until the moisture clears.

Move furniture away from walls in

winter

A 10cm gap discourages mould

(especially on external walls).

Dry washing outside

Use a washing line or rack in the garage

or a under covered area.

Leave wardrobes slightly open

A little air circulation discourages mould

growing on fabric.

Customers proud to use

recycled building products

Exploring Musgroves' sheds with

their huge variety of recycled and new

building products can be a fascinating and

rewarding experience.

This iconic Canterbury company has

been recycling building materials for the

last 50 years, and not only do they have

an incredible range of products that are

well organised and displayed, but, over

that time, they have also built themselves

a reputation for providing exceptional

service.

The reviews from their many customers

(whether they be homeowners, business

owners or tradies) repeatedly refer to the

care and commitment of Musgroves' longserving

team members, who have gone

above and beyond to assist them with their

many and varied project needs.

General manager Sue Brown confirms

that Musgroves has thousands of repeat

customers that come from all round the

South Island (and beyond) to find treasures

for their projects. "Whether it be to look

for T&G flooring for their new build, a

french door for their home renovation, a

sliding door for their sleepout, doors and

windows for their child's playhouse, or

timber beams for a business fitout, there are

numerous reasons why people come to visit

our yard."

As Sue also says, you only need to look

at the Wall of Fame on their website to get

a sense of the pride that their customer

community takes in being able to reuse

the products that Musgroves sells for their

build or renovation projects.

Upcycling and recycling is alive and

well at Musgroves in Wigram and once

you have talked to any member of the

Musgroves' team you will have the sense

that sustainability is not just a current fad

there, but rather it is in their DNA. But,

until you have paid them a visit you won't

be able to fully appreciate the huge range

of building materials that Musgroves can

supply you with.

CALL FOR A FREE QUOTE

The Tree People are your Canterbury-owned tree experts

with 12 years' experience in arboriculture. Our team is

focused on sustainability and we care about what we do. You

can trust us to take care of your tree needs South Island wide.

Buyers and

sellers of

recycled and

new building

materials

Our services include all aspects of tree work:

• Pruning

• Mulching

• Removals

• Planting

• Tree transplanting

• Vista management

• Hedge trimming

3 Musgrove Close, Wigram

www.musgroves.co.nz

03 322 7922
---
12 Thursday May 26 2022

Prepare your

home for winter

Retrofit Insulation

Specialists

An investment you can't

afford to be without.

Retrofit & New Build

Wall Insulation

We can insulate a wide variety

of homes, and internal walls for

sound proofing. CosyWall is a

high-performance insulation

product that's easily retrofitted

into older homes.

Only available through

authorised installers, CosyWall

has been installed in New

Zealand homes for over 20 years.

Underfloor

Insulation

Terra Lana provides us with

a high performing insulation

called PolyKing.

It comes in two different R

Values of R1.4 and R1.8. and is

made specifically to the width of

your floor joists.

The Latest Craze

in Bathroom Maintenance

Made Easy...

Too much moisture in the bathroom leads to blistering paint damage

with expensive repairs, and harmful mold spores causing potential

health issues. Look after yourself along with your most valuable asset

by keeping your home dry and free of damage causing moisture.

Swiper Shower Tops new designs, not only look great but with our cut

to size option, we supply to the shape and size for your shower, meaning

you do not need to pay for an installer to come to your home.

Installation service available

10 minutes to install yourself

Paint lasts 10 years longer

Clear steam free mirrors

Less hot water usage

Phone or e-mail us today and we will email you

back our latest installation video showing you how

easy it is to fit your own shower top.

$289

NEW MODERN

DESIGN

Web: www.swiper.co.nz

Email: info@swiper.co.nz

Ph: 03 421 0882

Cell or TXT 027 566 8444

WINTER WARM-UP DEAL!

Enjoy the comfort

of central heating!

Roof Insulation

Keep the outside temperature

out and the inside temperature

in. Jet Stream MAX completely

fills the space in your roof

cavity. No gaps or spaces left

compared to blankets or batts.

*Standard residential installation, site inspection

required to confirm sizing and installation.

Includes 4x supply outlets 1x return air grill.

BOOK YOUR FREE PROPERTY ASSESSMENT

Contact us now 0800 220 055

www.canterburyinsulation.co.nz

Call us for a free quote

0800 324 678

www.dcis.co.nz
---
Thursday May 26 2022 13

Exhibitors

wanted!

1 – 3 July 2022

Christchurch Arena

Reach over

10,000 potential

customers across

three days!

You could feature in Canterbury's most

highly marketed Home and Leisure show.

This is the perfect opportunity to reach

new customers, generate ongoing leads

and boost your brand's awareness.

Stands are available in a range of sizes

to suit all budgets. We also have a new

exhibitor pack and monthly payment

options available to get you started.

Your business or services may also fit into

one of our unique zones, including:

NZ OWNED

HOMESHOW

HOMESHOW

CHRISTCHURCH

CHRISTCHURCH

ONLY

WE havE sTands avaiLabLE To suiT aLL budgETs!

Contact Lisa now on 021 800 809 or email lisa.lynch@starmedia.kiwi for a no obligation quote.

Payment options available. Terms & Conditions apply.
---
14 Thursday May 26 2022

CHRISTCHURCH

CREMATORIUM

FUNERALS

CROSSWORD

1 2 3 4 5 6

7 8 9

10 11

12 13 14

15 16 17

18

245

SUDOKU

Every row, column and box should

contain the digits 1 to 9.

WordBuilder

WORDBUILDER

145

6

A R E

D R G

many words of three or more letters,

How

including

many

plurals,

words

can you

of

make

three

from

or

the

more

six

letters, using each letter only once? No foreign

words or words beginning with a capital are

allowed. There's at least one six-letter word.

once?

TODAY

Good 18 Very Good 22 Excellent 26

Solution 144: art, arts, artsy, arty, ASTRAY, rat, rata,

rats, ray, rays, sat, satay, satyr, say, star, stay, stray,

sty, tar, tars, tray, trays, try, tsar.

letters, including plurals, can you make

from the six letters, using each only

No words beginning with a capital are

allowed. There's at least one six-letter

word.

Good 18 Very Good 22 Excellent 26

19 20 21 22

145

23 24

25 26

Across

7. Ancestor (8)

9. Boil gently (6)

10. Essence (4)

11. Outline (10)

12. Strange person (inf) (6)

14. Located (8)

15. Evening meal (6)

16. Careless, negligent (6)

19. Side by side (8)

21. Soak (6)

23. Reinforce (10)

24. Singe (4)

25. Develop gradually (6)

26. Sample (8)

Decoder

Tel: 020 7622 1467 Fax: 020 7622 1522

Email: info@knightfeatures.co.uk

20 Crescent Grove, London SW4 7AH

Supplied by KNIGHT FEATURES

S W Q Z L F M E B O N R A

14 15 16 17 18 19 20 21 22 23 24 25 26

K Y H U C D V X I G T J P

1 2 3 4 5 6 7 8 9 10 11 12 13

Each number in our DECODER grid represents a different

letter - there is a number for all 26 letters of the alphabet.

DECODER

Enter the given letters into all squares with matching numbers.

The challenge now is to work out which letters are represented

Each by the number other represents numbers. a As different you get letter the of letters, the alphabet. enter them Write the into

given the main letters grid, into all and squares the reference with matching grid. numbers. To keep Now track work of out the

which letters letters you are have represented found, cross by them other off numbers. the alphabet provided.

6 26 4 10 3 11 21 25 11 14

21 24 4 8 14 11 21 26 1

13 24 21 4 20 26 11 9 5 26 21

11 16 13 21 3 1 9 11

3 23 4 25 21 24 7 23 2 14 5

26 14 11 18 3

15 9 18 19 4 18 12 26 18 23 13 2

3 22 10 25 5

9 5 23 4 13 23 24 9 11 5 3

14 9 25 25 22 26 26 23

11 26 22 4 18 18 19 9 10 3 11

18 26 17 21 14 21 25 23 18

21 2 26 11 11 23 25 24 21 2

A B C D E F G H I J K L M N O P Q R S T U V W X Y Z

1 2 3 4 5 6 7 8 9 10 11 12 13

T

14 15 16 17 18 19 20 21 22 23 24 25 26

E

A

SOLUTION

No.144

1 2 3 4 5 6 7 8 9 10 11 12 13

F M Q D E R T B H A X I Y

K L P U J G C N S V Z W O

14 15 16 17 18 19 20 21 22 23 24 25 26

T

E

A

L A X

A F Shuker

Supplied by KNIGHT FEATURES

20 Crescent Grove, London SW4 7AH

Tel: 020 7622 1467 Fax: 020 7622 1522

Email: info@knightfeatures.co.uk

12 4 8 12 7 5

13 5 3 24 18 26 11 12 9 12 16 2

20 4 9 25 18 13

3 24 12 9 9 18 25 8 18 6 25

26 10 1 4 4 25 22

4 23 4 1 8 20 12 9 25 7 5 4

3 25 4 21 4 4

A F Shuker

SOLUTION

No.145

A B C D E F G H I J K L M N O P Q R S T U V W X Y Z

1 2 3 4 5 6 7 8 9 10 11 12 13

L A

14 15 16 17 18 19 20 21 22 23 24 25 26

X

All puzzles copyright

T H E P U Z Z L E C O M P A N Y

www.thepuzzlecompany.co.nz

Down

1. Cow-like (6)

2. Nuisance (4)

3. Jewel (8)

4. Accompany (6)

5. Essential (10)

6. Fidgety (8)

8. Enjoy (6)

13. Again and again (10)

15. Tranquilliser (8)

17. Put at risk (8)

18. Engraves (6)

20. Young eagle (6)

22. Deranged (6)

24. Leg bone (4)

25 18 8 4 25 2 18 4 9 26 4 26

Crossword

Across: 7. Forebear,

9. Simmer, 10. Gist,

11. Silhouette, 12. Weirdo,

14. Situated, 15. Supper,

16. Remiss, 19. Adjacent,

21. Drench, 23. Strengthen,

24. Sear, 25. Evolve,

26. Specimen.

Down: 1. Bovine, 2. Pest,

3. Gemstone, 4. Escort,

5. Imperative, 6. Restless,

8. Relish, 13. Repeatedly,

15. Sedative, 17. Endanger,

18. Etches, 20. Eaglet, 22.

Crazed, 24. Shin.

WordBuilder

age, aged, are, dag, dare,

darer, dear, drag, drear, ear,

egad, era, erg, err, gad, gar,

gear, grade, GRADER, rad,

rag, rage, raged, rare, read,

rear, red, reg, REGARD.

Sudoku

25 9 12 2 24 20 25 2 24 5 26 2

14 25 23 26 5 12 12

25 20 25 22 18 6 18 5 1 25 9

20 11 5 1 15 8

CHRISTCHURCH

CREMATORIUM

FUNERALS
---
Thursday May 26 2022 15

Collision Repairs

QEII Collision Repairs.

Free Courtesy Cars

(conditions apply). All

Insurance work, Rust

Repairs & Private work.

Spray-painting. Free

pickup & delivery. Ph. 03

388 5187

To Let

RooM

to Rent

phillipstown

Includes furniture, heat pump,

smart TV, power & internet.

(Subsidy & assistance may be available)

ph/txt steve

021 472 737

Wanted To Buy

TOOLS, Garden garage,

saw benches, Lathes. Cash

buyer Phone 355-2045

TOOLS, Garden garage,

saw benches, Lathes. Cash

buyer Phone 355-2045

Trades & Services

BRICKLAYER

George Lockyer. Over

40 years bricklaying

experience. UK trained.

Insurance work, EQC

Classifieds Contact us today Phone our local team 03 379 1100

Trades & Services

HALSWELL

GLASS & GLAZING 2017 LTD

THE PET DOOR SPECIALIST

• PET DOORS

• NEW GLAZING

• FRAMELESS SHOWERS

• MIRRORS

• INSURANCE CLAIMS

• RETRO GLAZING

• BALUSTRADING

ALL SUBURBS COVERED FOR

ALL YOUR GLAZING NEEDS

PHONE GAIL ON

322 7999 OR 021 CAT DOOR

(228 3667)

CARPET LAYING

Exp. Repairs, uplifting,

relaying, restretching.

Phone John on 0800

003181, 027 240 7416

jflattery@xtra.co.nz

CARPET LAYING

Exp. Repairs, uplifting,

relaying, restretching.

Phone John on 0800

003181, 027 240 7416

jflattery@xtra.co.nz

ELECTRICIAN

A Prompt & reliable

registered electrician

with 24 years experience

for all residential and

commercial work, new

housing and switch board

replacements. Phone Chris

027 516 0669

VHS VIDEO TAPES

263 & all camera tapes

x 180

converted to DVD or

USB. Video taping

special occasions, www.

grahamsvideo.co.nz ph 03

repairs. Heritage

brickwork & stonework

a speciality. No job too

small. Governers Bay.

Home 329 9344. Cell

027 684 4046. E mail

georgelockyer@xtra.co.nz

DRIVEWAYS

Exposed Aggregate

Stamped Concrete Plain

Concrete Resurfacing

Things we offer...

Competitive/affordable pricing

Attention to detail

Professional service

free quotes/insurance scopes

Cell 0278 145 848

www.drivecrete.co.nz

Excavations

• Driveways

• Car Parks

• Site Cleaning

• Demolition

• Farm Tracks

• Drain Cleaning

• Stump & Hedge

Removal

• Asphalt Concrete

Wide range

oF TruckS

Trades & Services

For a Free Quote

on your next project

Phone Steve on

021 338 247

• Tennis Courts &

Swimming Pools

• Chip Seal Driveways

• Diggers – 2 Ton

up to 20 Ton

• Excavators

• Bobcat & Drilling

• For Posthole &

Fence hole

Free

QuoTe

338-1655

Need A Massage?

Stop suffering from stress, tension, headaches, anxiety, stiff muscles and fatigue.

The State-of-the-art Robotic Massage Chair.

· Enjoy a luxurious, professional full body massage in the comfort of your

own home

· Advanced optical sensors combined with intelligent bio-mapping for a

customised massage

· Hi-tech intelligent robotic hands deliver a 3D massage to melt away stress

& tension

· Multiple massage types including Shiatsu, Swedish & Thai Foot Massage

Free

TEBO Neck

Massager *

Worth $249.00

*Call for Terms & Conditions

Call Now! 0800 665 665
---
16 Thursday May 26 2022

SOUTHERN RESPONSE PRE-OCTOBER 2014

PAYMENT PACKAGE

AMI policyholders who cash settled with Southern Response prior

to October 2014 may be eligible for an additional payment of certain

professional fees and contingencies if they did not receive those

costs at the time.

Am I eligible? If you:

Had your house insured by

AMI and made an insurance

claim for earthquake damage

to that property arising from

the Canterbury Earthquake

Sequence; and

Settled your insurance

claim with AMI or Southern

Response between

10 September 2010 and

1 October 2014; and

Cash settled your claim

with Southern Response,

as opposed to Southern

Response managing the

repair or rebuild of

your home;

Visit www.southernresponse.co.nz/payment-package

for more information or or to to register your your interest. interest.