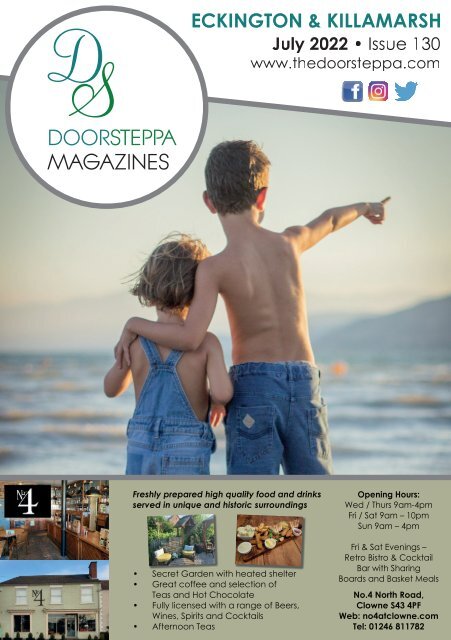 You also want an ePaper? Increase the reach of your titles
YUMPU automatically turns print PDFs into web optimized ePapers that Google loves.
D S

DOORSTEPPA

MAGAZINES

ECKINGTON &KILLAMARSH

July 2022 • Issue 130

www.thedoorsteppa.com

Freshly prepared high quality food and drinks

served in unique and historic surroundings

• Secret Garden with heated shelter

• Great coffee and selection of

Teas and Hot Chocolate

• Fully licensed with arange of Beers,

Wines, Spirits and Cocktails

• Afternoon Teas

Opening Hours:

Wed /Thurs 9am-4pm

Fri /Sat 9am –10pm

Sun 9am –4pm

Fri &Sat Evenings –

Retro Bistro &Cocktail

Bar with Sharing

Boards and Basket Meals

No.4 North Road,

Clowne S43 4PF

Web: no4atclowne.com

Tel: 01246 811782
---
D

S Doorsteppa Magazines

2

W.N.Allcock

FuneralServices

7Station Road,Eckington, S214FW

Telephone: (01246) 433328

www.wnallcockfuneralservices.co.uk

owned and managedbyBarry Pritchard Funeral Services Limited

Independentlyowned

funeral business that

provides apersonal,

friendly professional

funeral service.

2

W.NAllcock Funeral Services offersa24-hour personal service, which includes

taking yourloved onetoour funeralhome place of rest at anytime, dayornight.

Be assuredthatthe levelofservicefromuswill be of the highest standard at alltimes.

www.thedoorsteppa.com •0114 418 5359
---
D

S Doorsteppa Magazines

3

ECKINGTON SELF STORAGE

2

• Units available from

10 sq ft to 160 sq ft

• All units are indoor -

unload in the dry

• Drive up - no double handling

on and off trolleys

• Residential & Business

customers welcome

Monday to Friday 8am to 6pm

Saturday 8am to 2pm

01246 388333

ONTHE

MAINROAD NEXT

TO ALDI

MOSS

CHURCH STREET

PEVERIL ROAD

ECKINGTON

CHURCH STREET

Eckington Self Storage

info@eckingtonselfstorage.co.uk

www.eckingtonselfstorage.co.uk

Littlemoor Business Centre, Eckington S21 4EF

A6135

A6135

A6135

Specialist in Artificial Grass, Contemporary Gardens,

Timber Decking, Composite Decking, Driveways,

Porcelain Paving and all types of Landscaping

We are are an experienced team of 8landscapers with most of

our guys having 20 plus years in the trade.

Istarted myself at the ageof13inthe landscapeindustry working

weekends for alocal garden centre, and then progressed over the

years.I've spent the last tenyears running ateamof15but now

we've downsized so we can specialise more in the design and

build element and being able to be morefocusedonfewer builds.

We have built gardens for Chelsea gold winners, installed in the

grounds of Chatsworth, worked all over the country building

sensory gardens, and we pride ourselves on quality and passion

and thinking outofthe box!

For acompletedesign and build package don't

hesitate to contact us we have agreat customer base

and fantastic portfolio.

Call Wayne on 01246 700145 or 07792 803069

easylivinglandscaping@gmail.com Easy Living Landscaping www.easylivinglandscaping.co.uk

www.thedoorsteppa.com •0114 418 5359
---
D

S Doorsteppa Magazines

4

INTRO

2

D S

DOORSTEPPA

MAGAZINES

Welcome to the July 2022 edition of The Eckington and

Killamarsh Doorsteppa!

Hopefully everyone enjoyed the warm weather in June and got

into that communityspirit during the Jubilee Weekend. Lots of

you gotintouch with stories and pictures of packed events, and

street parties, and it was great to see people out celebrating

after the last couple of years we'veall hadtoendure.

We were delighted to meet with local volunteer Michelle

Taurins recently as she was recognised as aRoyal Platinum

Champion! Congratulations to Michelle, who has been a

volunteer forover 10 years. We got to hear herstory of how the

award came about. Turn to our Charity section on page 26 for

all the info.

There are details of local boy, Charlie, who wasdiagnosedwith

Muscular Dystrophy Duchenne when he was 4. His parents best

friend Nicola Hinchcliffe has set up a Justgiving Page for

donations aiming to raise funds for awheelchair. This will

enable Charlie to have arelatively normal day to daylife. Please

see our Communitysection on Page 16 for more on how youcan

help.

Above: No 4Coffee House in Clowne

Welcome to theEckington&

KillamarshDoorsteppa!

It was great to catch up with Andy, the owner at No 4Coffee

House in Clowne (seeabove).Many locals will remember fondly

the Toy Shop that was there before and we delve into

the history of the building as well as the positive changes

Andy and his team have made at No 4. Check outpage14for the

details.

If there are any local, community groups who have events

coming upinAugust which can be advertised for free in The

Doorsteppa, please contact us on the details below.

Forany businessthinking of advertising, please do nothesitate

to contact us by phone, email, through our website or via our

social mediachannels.

Have afantastic month!

Contact Us

Tel 0114 418 5359

Mob 07903 858276

Email thedoorsteppa@gmail.com

Web www.thedoorsteppa.com

Facebook TheDoorsteppa

Twitter @Doorsteppa

Instagram @doorsteppamagazines

THE DEADLINE FOR THE AUGUST ISSUE IS

MONDAY 25TH JULY 2022

www.thedoorsteppa.com •0114 418 5359
---
D

S Doorsteppa Magazines

6

BARLBOROUGHELECTRICAL

FOREVERYTHING ELECTRICAL

Local•Reliable•Fully Insured

AlarmSystems

01246 810115 •07970 343908

email -ask@barlboroughelectrical.com

Located in the heartofChesterfield

Town Centre on Hollis Lane Top,

Chesterfield S41 7RA we have opened

the doors to our antiques, salvage

andcuriosities centre.

CLEARANCES WANTED

FOR CASH!!

•Garage •Shed

•House &Barn Clearances

SELF SERVE

TEA ROOM

NOW OPEN!

OPENINGTIMES

Mon&Tues CLOSED

Weds - Sat 10:30am -4.00pm

Sun 11.00am-3.00pm

FILLED

WITH ANTIQUE

ADVERTISING

07885 541 397

www.theluckymagpiesalvage.com

suzie@theluckymagpiesalvage.com

•Painting &Paperhanging

•Commercial &Domestic

•Quality Assured

carllindley@live.co.uk

Free Estimates -Local to the Area

For aFREE No Obligation Quote

www.thedoorsteppa.com •0114 418 5359
---
THE AREAS ORIGINAL &AWARD

WINNING HOT TUB SERVICE COMPANY

Established in 2005

Air Source Heat Pump

installations

andupgrades

Quality Refurbished

tubs for sale

Insurance reports

and repairs

Fully stocked vehicles

for 1visit repairs

HotTub removals and

relocations •Hot Tub

accessories

Outdoor buildings

and gazebos

Holiday Lets planned

hot tub maintenance

and changeover plans

Authorised for

repairs by multiple

manufacturers

and dealers

Service packagesfromonly £169 forquarterly cleans •Maintenance packages fromonly £45per month
---
D

S Doorsteppa Magazines

Kids Connect and

Warm &Dry

Children's and youth groups run within

Derbyshire term time

These twogroups are run every Friday for

school years 1-4 and 5-8

Withflexibilityinthe school yearsatthe

older end depending on which group

would be most suitable

All children and Youngpeople are

welcome

The leaders are DBS checked and

first aidtrained

For further details pleasecontact

CharlottebyEmail charlotte@oakscc.org.uk

Or phone Sharon on 07422 722512

8

LOCAL

ECKINGTON

PROBUS CLUB

NEW MEMBERS WELCOME

You may have seenthatthere is now

adefibrillator which is located on the

front of the Killamarsh Juniors Club.

Statisticsshow thatonly 1in10

people who sufferacardiac arrestoutside of

hospital survivewhilst waiting for medical

emergencyservices. However, thisrateincreases

by 50-70% if defibrillationisusedwithin3-5

minutes.

After acardiac arrest, every minute without CPR

and defibrillation reduces someone's chance of

survival by 10%.

These are stark statistics aren't they...

This life savingequipment has

beendonated by the family and

friends of GaryUnwin. The

defib is located in an areaof

high activity(football, cricket,

fishing, cycling, running,dog

walking) and is agreat

community asset. Thank you!

Calling All Crafters

St Giles communityshop hashad 100's

of pieces of fabricdonated straight from

the factory from remnants. Fatquarters

to meters and meters of fabric.

Prices start at 3for 50p, £1,£1.30,£1.50,

£1.70 and £2. The rest we will sell by the

metre at low prices.

St Giles Community Shop, Sheepcote

Road, Killamarsh is open Monday and

Tuesday afternoon2pm -5pm.

www.thedoorsteppa.com •0114 418 5359
---
D

S Doorsteppa Magazines

9

Lighting •Sockets •Testing &Inspection

FaultFinding•Maintenance•Service andRepair

Contact us for afree quotation or

to discusshow we can help on:

2

Tel:01246 725391 Mob:07903 910098 Email: dsjelectrics@gmail.com

www.thedoorsteppa.com •0114 418 5359
---
D

S Doorsteppa Magazines

ARIES 21 March -20April

Beneficialchanges are underway covering more thanone

aspect of your life. Recent times haveleft you wondering,worrying

and, sometimes,downright dispirited, but finally you're facingacalmer

existence. Nothing's going to happen atthe snap of your fingers

however, slowly but surely, situations improve. One event is set to

ignite your heart withapassionhitherto unknown! Use all thelessons

lifehas taughtyou recently and all will be well. Enjoy yourself!

10

TAROTSCOPES

LIBRA 24 September -23October

Many choices are placed before you but don't make any

hastydecisions regarding acceptance just yet.For now it would be

better to takeyour timeand ensure you readall thesmall print

before committing to anything. Don't allow wishful thinking to take

over as one offer certainlyisn'tall that it's cracked up to be. Slow

and steady wins therace! Exercising patience and being

methodical in your approach leads to contentment. Eventually!

TAURUS 21 April -21May

Prepareyourself as life gains momentum. Communications

arrive thickand fast and there could be atouchofromance

surrounding some of them.This is great as there are also

celebrations in theair. Wherever theinvitation to party arrives from

be sure to get your glad rags on and enjoy thecamaraderieofthe

event. Whilst there are no guarantees of ahappy ever after,nor of

an uneventfuljourney, something wonderful starts here.

GEMINI 22 May -21June

You've reached the mid-point of an argument which has gone

on long enough and now needs to be put to bed onceand forall.

Someone is going to bring all their might to beartoproveapoint

and you may feel browbeaten. Haveyour saythen move away!

You'renot conceding anything and time will prove you right but for

now put your energies into something that, with effort, willbring

you success.

SCORPIO 24 October -22November

More than one situation seemingly in atangle? Fear not;

you're more than capable of sorting things out. It'sgoing to needa

mixtureofpatience, applying your own standards and going with

what you feel comfortable with, and getting ahelping hand from

The Universe. What is it you really, and truly, would like? There's

agood chance you'llget it now. Have faiththingsare better than

theyappear and you can prevail.

SAGITTARIUS 23 November -21December

Financially errorshavebeenmade; either physically or thoseof

judgement, and you could now find yourself feeling atad isolated

and unsure where to go next.Scrutinise accountsand check

everything; twice!! Someonecould appear to offeryou the world but,

again, checkthe small print as not everything promised will come to

fruition.Toensure success make alistand complete one job at a

timecarefullypayingattention to EVERYminute detail.

CANCER 22 June -23July

Time to move away from the past. You're encouraged to

make sweeping changes allowing space for new experiences.

Don't let fear hold you back but be careful with the decisions you

make. One opportunity presenting itself isn't as good as it appears.

Be prepared to helpothers along your way knowing that your

efforts willberepaid in your time of need. Balance mind, body, and

spiritwithrest, good diet,exercise, and mental stimulation.

LEO 24 July-23 August

Happiness, joy, and delight, are yours for the taking. Why

wouldn't they be? You've added your two' penneth and been

proven right in more than one situation. Now it's time to help others

along their path and othersWILLlook foryourguidance. You're

more than capable and your wisdom and judgement know no

bounds. That said, beware you may feel trapped helping others

with no concern forwhat makes you tick. You've been warned!

CAPRICORN 22 December -20January

Career and business again! Contemplate where you are,how

you got there, anddon't be afraid to let some things go. The relief

felt at theirpassing will be welcome. You need to maintain a

balance between head and heart or perhaps that should be your

income and expenditure. This isn't atime for frivolity with hard

earned cash! New learning will increase thecofferseventually but

you'll need to put thetime in first.

AQUARIUS 21 January -19February

You may need to balance thefinancesnow so perhaps some

thought should be given as to how your financial futureisgoing to

shape up. Aheartfelt conversation holds much promise but it does

depend on bothparties speaking their truth and listening to the

responses made. The air is cleared and relief felt all round. Hard

work and attention to detail elevates your status and gives asolid

platform from which to grow.

VIRGO 24 August-23 September

Nostalgiatakes hold as atripdown memorylane is

unavoidable. Someone could be out to cause mischief so keep

your eyes open and your mouth closed. Not everyone is who they

say they are. However, thereare genuine feelings of good will

surrounding you and Karmaensures you'rerepaidfor past good

deeds. From then on move away from the past.It'stime foranew

start and this time it's all about you.

PISCES 20 February -20March

Using your head rather than your heart is key and getting

agreements in writing is paramount. Someone provides an

emotional support network but thepractical stuffisyours. Changes

around you suggest you'll be willingtograspthe nettlewith

determination and move forward. You'll always help those less

fortunate asyou know Karma will repay you in time but know

where to draw theline. Do not let anyone take you for afool!

KAREN GLAZIER TAROT•Tel 01246 435975 Email karen@karenglaziertarot.co.uk Web www.karenglaziertarot.co.uk

www.thedoorsteppa.com •0114 418 5359
---
D

S Doorsteppa Magazines

BLINDS DIRECT

12

2

5% DISCOUNT forDoorsteppa Readers

QUALITY MADE TRULY AFFORDABLE

VERTICALS •VENETIANS •ROLLERS •ROMAN

WOOD SLAT •PLEATED •PERFECT FIT •VISION

01142210740or07711 646 572

Local Plumber

"Carried out efficiently and was

helpful in every way. Quote

was the best quote and

standards of work were high."

-Customer in Worksop

Need areliable, friendly plumber?

Contact Chris today!

07789 717047 01909 809363

info@hcplumbingservices.co.uk

All aspects ofplumbing work undertaken

with over 15 years experience

ASHLEY AERIALS

ALL AERIAL WORK

COMPLETED AT

SENSIBLE PRICES

TV AERIALS •FREEVIEW

DIGITAL SATELLITES

BEDROOM EXTENSIONS

0114 247 7782

07977 327555

MP SERVICES

SPECIALISTS

IN BIRD DETERRENT

TV AERIALS

GLAZING &REPAIR

All our

Work is

Guaranteed

We also offernew installations

Doors &Windows at Affordable Prices.

CALL MARK TODAY:

Tel: 01909 521507 Mob: 07793 509401

Email: info@mpglazingservices.co.uk

Web: mpglazingservices.co.uk

JF Mobile Ear

Syringing

• National Ear Care Diploma

• DBS Checked • Fully Insured

• Immediate Appointments

Day / Evening / Weekends

Call 07983 537203

e: jaynefox16@gmail.com

FROM

£30

HENDERSON'S DECORATING

INTERIOR &EXTERIOR

•Residential &Commercial

•Over 20years experience

• Fully Insured

Based inEckington

• Call Craig now for your FREE quotation

07966 153092 or

01246 435361

Website: hendersonsdecorating.co.uk/private

Email: hendersondecor@googlemail.com

www.thedoorsteppa.com •0114 418 5359
---
2

D

S Doorsteppa Magazines

13

Making an entrance…

Your local composite door specialist.

We are highly skilled and experienced and

guarantee a professional and excellent service.

• External door replacement service, supplied and fitted

• A wide range of handles, glass designs and door colours

• Superior security door with Anti-snap locking system

• Achieve better sound and heat insulation

• Stunning kerb appeal

• FREE quotation, friendly efficient service

…withacomposite doorfrom Compocel!

Call Marie for more details on:

01909 307 101 -07946 232 214

or email: compocel.sales@gmail.com

10 Year

Guarantee

www.thedoorsteppa.com •0114 418 5359
---
D

S Doorsteppa Magazines

14

PROFILE

When you step into No.4 Coffee House in

Clowne you can't help but feel the place

is a little special. The history of the

building speaks for itself and the smell of

greatcoffee will probably make youwant

to stay awhile.

The history of No.4 canbetraced backto

1880 when it was built and opened as J.A.

Radford's Grocery Store. Itremained as

aGrocer and Corn Factors, under the

ownership of Eastwood and Sons, and

then M.Carter for several years. The

original hoist and pulley wheel has been

saved and can still be seen in No.4's

Secret Garden, and the Valor Pump used

for the sale of paraffinisstill on display in

the fireplace of thePiano Room.

local people have fond memories of

going to Barbara's shop to get the latest

toy or game,ortoget their bike repaired.

It was during 2016 that the building was

converted into acaféand tearoom which

opened in 2017. The restoration was

carried out sympathetically with many

original featuresleft intact.Visitors today

can still be served over the original toy

shopcounter, and can enjoy the historic

atmosphere created by the original

floors, fixtures and fittings. The Raleigh

sign from the bike shop days still hangs

proudly on the wall near the original

Rattue ToyShop sign.

beverage, a beer, or a glass of your

favourite tipple, you'll find ithere. You'll

also find breakfast, brunch and lunch

options, as well as lots ofcakes, scones

and Afternoon Teasavailable.

The Coffee House isopen Wednesday –

Sunday and the Secret Garden with

heated shelter is always open when the

Coffee Houseis. On Fridayand Saturday

evenings No.4 transforms into a retro

Bistro and Cocktail Bar with amenu of

Sharing Boards and Basket Meals.

Bookings are taken for evenings and

Afternoon Teas. For the daytime menu

customers are encouragedtojustwalk in

and enjoy the table service.

In 1932 the building was taken over by

W.D 'Dougie' Rattue. Initially Dougie

Rattue ran itasaMotorcycle Dealership

and Filling Station but the premises

becameaRaleigh Bicycle Agent in 1941.

After Dougie's death in 1981 the shop

became a Toy Shop and Bike Repair

Specialist under the stewardship of

Dougie's wife, Barbara, who ran the

business alone for many years. Lots of

After being closed for a while No.4

re-opened in 2021 and is now afully

licensed Coffee House with a varied

menu of freshly prepared food and a

good selection of drinks. Whether it's

great coffee you're looking for, acold

Being so close to the Clowne Greenway -

the old railway line which has beenmade

into an accessible path between

Cresswell and Poolsbrook -No.4makes a

great pit stop for walkers, cyclists and

dog walkers. Well behaved dogs are

welcome throughout No.4 –wejust ask

thattheyare kept on ashort lead.

Evening tables and Afternoon Teas can

be booked by phoning 01246 811782.

Website –no4atclowne.com

For updates followusonFacebook.

www.thedoorsteppa.com •0114 418 5359
---
LOCAL PROFESSIONAL COMPETITIVE FRIENDLY

Suppliers &installers of high quality

windows, doors &conservatories

•THE ONLY MANUFACTURER IN S21

•NOW FITTING SUPALITE CONSERVATORY ROOFING

•ARATED WINDOWS

NOW SUPPLYING

VEKA WINDOWS

ALL TRADE WELCOME!

•FULLY TRAINED INSTALLERS

•OVER 25 YEARS EXPERIENCE

Check out our reviews on

RATED

FOR

UNDERTAKINGS FULFILLED

WORKED EFFICIENTLY

COURTEOUS & PROFESSIONAL

RECOMMEND COMPANY

Waterford Glazing Ltd, Units 5&6Moorside Court Rotherside Road, Eckington, S21 4LN

TELEPHONE: 01246 433077 MOBILE: 07968 828660

OR: 07801 573644 EMAIL: waterfordglazing@live.com
---
2

D

S Doorsteppa Magazines

Let's raise £10,700 to Fund anew wheelchair for Charlie

which will enable him to carry on doing day to day activities.

Nicola Hinchcliffeisraising moneytohelp herbestfriends

sonCharlie, aged 10.

Local boy, Charlie, was diagnosed with Muscular

Dystrophy Duchenne when he was 4years old. He now

requires a wheelchair to enable him to have a normal day

to daylife.

His Mum Zoe, Dad Lee, and Sister Heidi, along with their

extended family work so hard to ensure he experiences

all thethings thatother children of his agedo.

The new wheelchair they require will grow with Charlie

and enable him to use it on all terrains. Off road, sand,

snow as well as the usual pathways, which means he can

still continue his day to dayactivities.

Nicola has setupaJustgivingpage for donations so please

share far and wide withfamilyand friends:

www.justgiving.com/crowdfunding/nicola-hinchcliffeforcharlie

Renishaw School Community come together

to redevelop EYFS area

Saturday 11th June2022, saw an immense effort

andshow of unity from everyoneinthe Renishaw

School Community.

They came together to redevelop the EYFS area.

This was only stageone of the project,but it has

been completely transformed with the help

and generosity from within outside the Renishaw

area.

Special mention to the PTFA, RenishawHall, Barn

At Morefruita and One Planet Matters for their

timesupport andguidance.

16

COMMUNITY

There are plans for more fundraising events toadd to the

amount so please contact usifyou have any ideas you

would liketoshare.

Lets do this and help make adifferencefor Charlie and the

amazing Etches family!

Below: Over 60volunteers including Renishaw Hall,

One Planet Matters, PTFA, and of course

our amazing school community. WARAW!

Thenext plan is for an allotment with poly tunnel

and growing areaonthe topfield to support the

outdoorlearning programme.

Massive thanks toeveryone involved. Truly, a

humbling, proud and exciting moment in the

history of Renishaw Primary School.WARAW

www.thedoorsteppa.co.uk •0114 418 5359
---
SERVICE CARE PLANS

• Priority Service 365 days ayear

• 24hr lead time on emergencies (Weather permitting)

• Labour &parts for repairs (Gold and Silver cover)

• Annual full service of your appliance

• Endless advice from our fully qualified engineers

• Discounted plans for under warranty boilers

Prices start from £12.75pm

BOILER INSTALLATIONS

We specialise in the installation of condensing boilers and renewable

energy products. Older boilers convert aslittle as 60% of the fuel they

use into heat which has abig impact on your home heating bills

and the environment.

WHY CHOOSE US?

-Accredited installers for Ideal &Worcester Bosch

-Finance options available

-Friendly and professional engineers

-Family run business offering great after care

01909 771100

enquiries@brookhousegas.com

44a Union Street, Harthill

Sheffield S26 7YH

201317
---
D

S Doorsteppa Magazines

Sudoku

18

BRAINTEASERS

JUNE

SOLUTIONS

Crossword

ACROSS

1 Pierced, punctured

(medical) (6)

4 Atones (6)

8 Squander (5)

9 Disciple (7)

10 Extend (7)

11 Divide in two (5)

12 Maze (9)

17 Regulations (5)

19 Authorise, enable (7)

21 Aid, assist (7)

22 Bestowed (5)

23 Plundered goods(6)

24 Catches, traps (6)

DOWN

1 Furthest down (6)

2 Nasal hole (7)

3 Occurrence (5)

5 Black water bird (7)

6 Pre-_____, before

birth (5)

7 Brochette, spit (6)

9 Despicable (9)

13 Coy, reticent (7)

14 Nevertheless (7)

15 Blackmails (6)

16 Sips, gulps (6)

18 Slow tempo (musical

term) (5)

20 Follower of ancient

religion (5)

www.thedoorsteppa.com •0114 418 5359
---
D

S Doorsteppa Magazines

19

From

£895 *

for a fully

fi tted electric

garage door.

WAS £1,354 INCLUDING VAT.

Garolla garage doors are expertly

made to measure inour own UK

factories, they're strong and solidly

built. The electric Garolla door rolls

up vertically, taking up only 8inches

inside your garage, maximising

valuable space. Our expert local

installers will fit your new door and

they'll take away the old one too,

so there's nomess.

Give us acall today and we'll come

and measure up FREE of charge.

CALL US TODAY ON:

01246 700201

0114 3450138

MOBILE:

07537 149 128

2

*Offervalid for openings up to 2.4m wide &including 2remote controls, 55mm white slats, internal manual override.

• INGROWN TOENAILS

• FUNGAL NAIL INFECTIONS

• FINGER/TOENAIL CUTTING

• CORNS • CALLUS

• CRACKED HEELS

• TOENAIL RECONSTRUCTION

• DIABETIC CARE • FOOT HEALTH

• CHIROPODY/PODIATRY

31 BRIDGE STREET

KILLAMARSH

S21 1AH

GROUND FLOOR CLINIC

Tel: 0114 349 4568

www.killamarshfootclinic.co.uk

Paul Deacon DipCFHP MPSPract. Jane Deacon MRCPod HCPC

insured &

DBS checked

www.thedoorsteppa.com •0114 418 5359
---
D

S Doorsteppa Magazines

KILLAMARSHCELEBRATES

THEQUEEN'S

PLATINUM JUBILEE

Killamarsh celebrated the

Queen's Platinum Jubilee4day

weekend, from the 2nd to the

5th of June,instyle.

Bunting was displayed around

Bridge Street and the pubs in

the village all held events to

which everyone was invited.

KillamarshHeritage Society put

adisplay on theplanter on the

Precinct.

20

tea party which was enjoyed

by all (see photograph).

Killamarsh Parish Council presented

commemorative leather bookmarks

to Infants and Junior Schools in the

village.

LOCAL CHRONICLE

inclement weather and spirits

weren't dampened.

A barbeque which had been

planned in the garden of the

Methodist Church on Sheffield

Road on Sunday lunchtimewas

unfortunately 'rain stopped

play', but the British spirit

prevailed and it was moved

inside thebuilding.

The children at Killamarsh

Bears Pre School Group held a

Street parties were enjoyed all

around the village despite the

Above: Theresidents of Shepherds Close

have agreat time

2

KILLAMARSH PEOPLE ………………INTRODUCING ……….

This month we introduce Steven

Cullabine.

Steven is alifelongresident of Killamarsh

and went to Killamarsh Infant and

Nursery School, KillamarshJunior School

and Eckington Comprehensive School.

He is married to Gemma and they have

two daughters Annabelle aged 6 and

Lacey aged 9who both gotoschool in

Killamarsh.

Steven is a Carpenter working for

Kingston Joinery, aSchool Governor at

Killamarsh Infant and Nursery School

and a member of the Woodhead

Mountain Rescue Team.

Steven says: "Being part of aMountain

Rescue Team is something quite special

and unique. We receive the besttraining

available which enables us to go out

safely into the most inhospitable

conditions imaginable,and bring people

back to safety.

Mountain rescue is not just about hilly

terrain, we can quite often be seen in

areas suchasRother Valley Country Park

working alongside the Police searching

for vulnerable missing people, helping

Yorkshire Ambulance Service extracting

casualties from woodland and fields etc

suchasmountain bikers and horse riders.

Being on call24/7 365 daysayearcan be

challenging, but knowing there is abig

team of us ready to respond to people in

need in our local community, makes that

3.00 am callout worth itand when the

dust has settled, and you are getting on

with your day job or whatever you were

doing at the time, knowing you played

a part in reuniting someone with

their loved ones, or getting someone

seriously injured to definitive care is a

fantastic feeling.

People are often surprised that

mountain rescue is 100% voluntary and

relies on committed team members to

attend training everyweek,callouts on a

regular basis and attend fundraising

events. It costs around£40,000 per year

for amountain rescue team to remain

operational and this is what team

members have to raise with the help of

donations from the public and

businesses.

Recently it was agreathonourtoreceive

the Queen's Platinum Jubilee Medal for

servicestomountain rescue and thiswill

be deeply treasured."

When Steven does manage toget any

spare time heenjoys walking in the hills

and mountains all over the UK,

mountain biking, generally trying to

keepfit andspending timewith family

If you would like to make adonation to

Woodhead Mountain Rescue and make

areal difference in helping us to help

others, you can visit our website where

you can find information on how to

donate.

Thank you.https://woodheadmrt.org/

www.thedoorsteppa.com •0114 418 5359

Edited by Patricia Bone
---
D

S Doorsteppa Magazines

21

2

Bouncy Castles, Disco Domes

&Inflatable Slides For Hire

Family Run Business since 2006

Fully insured •NoDeposit Required •Ifwe

cover your area there's NO delivery charge!

Facebook: Elegance Bouncy Castle Hire

Web: www.elegancecastlehire.co.uk

Tel: 01246 433109 or 07872 623140

Email: gregward95@btinternet.com

Modern

Indoor

Storage

Rooms

To Rent

•From25to120 Sq Ft

•Clean, dryand no damp

•CCTV24hour monitored

Unit 2, 50 Rother Valley Way, Holbrook, S20 3RW

Web: www.ustore.website

Email: ustoreholbrook@outlook.com

TELEPHONE 07974182404

Worriedabout thefuture?

The world seems uncertain and troubled.

To hearthe good news of the Bible

message, givingushopeboth now and

in thefuture, you are invited to atalk on:

Sun31stJuly5-6pm,God willing,

at theChristadelphian Hall, Creswell Rd,

Clowne, S43 4LS.

For aFREEbooklet

'TheBible ourGuide'

Write to theabove address

Or email:

info@clowne-christadelphians.org

Clowne-christadelphians.org

LIKE IT NEVER HAPPENED

Whitting Valley Road, Chesterfield, S41 9EY

www.thedoorsteppa.com •0114 418 5359
---
2

D

S Doorsteppa Magazines

DON'T HAVE THE TIME

TO CLEAN UP?

Our professional cleaners will get it done for you!

DOMESTIC &COMMERCIAL CLEANING

AVAILABLE GIVE US ACALL!

.....

@pinkcleaningladies pinkladiesclean

Established over 35 years

Qualified Tradesman

Specialist paper hanger

Free estimates

ANDY SHAW DECORATOR

TEL: 0114 44 99 749 MOB: 07971 935 826

HAND MADE

Bird Tables, Feeders

&Outdoor Furniture

Made toorder to your

own requirements ordesign

Telephone Steve on 07900 263686

for further details

22

Domestic&Commercial

Grasscutting • Turfing

Hedges • Fencing

Regular Maintenance

Garden Tidy Up • Patios

Tel 07471 751271

CITY PLAYERS

AMATEUR DRAMATIC SOCIETY

How would you like to get involved in a fun, worthwhile activity

in your spare time while contributing to your local community?

WHATEVER YOUR EXPERIENCE OR SKILLS, COME AND JOIN IN!

We are a community charity organisation and are grateful for all volunteers.

We are always welcoming to new faces, so if you are at all interested,

please do contact us or call into The Corner Playhouse, Eckington

any Tuesday or Friday from 7.30pm quoting CP1.

TEL: 01246 430507 Email: info@cityplayers.co.uk

For all your aerial, satellite

and electrical needs

18th

EDITION

Professional barber with over 20 years experience

within a busy city centre barber shop

Traditional and modern men's hairdressing

and barbering operating from the below address

20% OFF ALL

treatment with

this voucher!

David Vandenbosch

8MeynellWay, Killamarsh

Sheffield S21 1HG

Tel:07734 406 754

DT SCRAP METALS

FREE!! SCRAPMETAL COLLECTION

Registered with the environment agency &local councils

House, Garage &Garden Clearances •Nothing too big or small

BUSINESS CONTRACTS WELCOME

SORRY NO FRIDGES/FREEZERS

HOUSEHOLDAPPLIANCESCOLLECTED FROM YOUR DOOR

Call or Text us on

07718 254780 or 07505 572579

www.thedoorsteppa.com •0114 418 5359
---
West End

Carpet Company

• Carpets

• Natural Weaves

• Vinyl Flooring

• Cushion Floorings

• True Forest Flooring

• True Mineral Flooring

• Contract Flooring

and much more ......

Many New Rolls

of Carpet & Vinyl

to clear at

discounted

prices!

• FREE FITTING

• FREE UNDERLAY

• FREE GRIPPERS

• FREE ESTIMATES

Just ring and

samples we will bring!

Check out our regular warehouse clearance sales

Have your waste carpet made into rugs on our own machine!

Call us on 01246 432616 or 07980 950922 for further details

21 VALLEYVIEW CLOSE (off Fanshaw Road)

ECKINGTON S21 4HD Email: bingy64@hotmail.com

WEST END

Carpets

Sheffield S21
---
INSPIRE

Award

experi

designers

a FREE me

and desig

Come down and

visit our large

inspirational

showroom with FREE

customer parking.

DESI

The Showroom, Derby Road,

New Tupton, Chesterfield

Derbyshire S42 6JX

Telephone: 01246 39550

Email: info@theshowroom.de

Website: www.theshowroomderby
---
winning

ienced

s who offer

easure up

gn service.

CREATE

IGN

Full project

managementservice

and professional,

qualified

fitting teams.

09

esign

yroad.com

Opening Times:

Monday - Friday: 9.00am - 5.00pm

Saturday: 10.00am - 4.00pm

Sundays: Closed

THE

SHOW

ROOM

Kitchens &Bathrooms
---
D

S Doorsteppa Magazines

In this, the year of Her Majesty the

Queen's Platinum Jubilee, local

volunteer Michelle Taurins has been

awarded aPlatinum Champions Award

from the RoyalVoluntary Service for her

outstanding contributions as a

volunteer.Inhonour of their patron, Her

Majesty the Queen and the great

example she has set inher 70 years of

service, the Royal Volunteer Service

launched the Awards as part of national

Jubilee celebrations. Out of over 3,000

applicants, only 490 were handpicked for

awards by ajudging panel presided over

by the Duchess of Cornwall, and there

were only 3awarded inthe whole of

Sheffield!

Here at Doorsteppa we have worked

with Michelle for some time and it is no

surprise thatshe wasone of theindividuals

crowned aPlatinum Champion! This is an

incredible achievement and to celebrate,

we met with Michelle at The New Hope

Community Church on Old Lane in

Holbrook, where wediscussed her years

of volunteering, the creation of the New

Hope CommunityChurchfoodbank, and

the New Hope Furniture Project.

For over 10 years, Michelle has travelled

over 40 miles from her home inNewark

to help out every day. Michelle shared

with me that towards the end of 2011,

she felt Godcalling her to the New Hope

Community Church. She was self

employedatthe timeand came on board

dedicating her time in2012. After just a

few months, she began to look into how

feasible it would be to start alocal food

bank to help those in need inthe community.

Michelle and her team

discovered that there was nowhere

within a6mile radius of the Churchthat

provided this service to the vulnerable in

the community. They discovered that

people locally, who were already in

need, had to spend over £5.00 to get to

the nearest food bank. After several

months of studying different existing

models set upbyother organisations,

Michelle took the best practices from

each and setupasystem distributing

26

Local volunteer recognised asaRoyal Platinum Champion

for her outstanding contributions!

food to local homes that needed support

and help.

Then came the jobofvisiting all the local

supermarkets, getting donation bins

installed wherever possible to allow

shoppers to conveniently donate food

when shopping. Very quickly, the food

donations began to come in and the

Church were able to expand their

referral base. They made apromise to

deliver food within 24 hours of referral.

In order to achieve this, they partnered

with other churches -Dronfield Oaks,

EckingtonOaks, Spa View Hackenthorpe,

and Swallownest Baptist Church. The

deliveriesarrived on the Monday,goout

to the respective Churches and it's then

distributed to homes within the 24 hour

window!

Back then, meetings took place atthe

Methodist Church inKillamarsh but as

the organisation and donations grew, it

was obvious that New Hope needed a

building of their own. Alady from the

Co-Op happened to come tovisit and

mentioned toMichelle that anoption

may be to look into taking over

otherwise unused Co-Op buildings.

Looking at several different places and

eventually finding the building at Old

Lane Holbrook in 2015, New Hope

approached Derbyshire County Council.

Michelle said, "After several prayers

outside, we were given the unit we

wanted!" Painting and refurbishing

throughout the building, New Hope

became the destination we know today,

with both the Charity Shop and Coffee

Shop openand welcoming to the public.

In 2015,referrers intothe food bank began

to ask if New Hope had any furniture

available. This led to the creation of the

New Hope Furniture Project.

Michelle told us, "It all started by going

into Center Parcs once a year. They

refurbish on average 69units annually

and wewere given access to go in and

take anything that wethought would be

useful. We now also receive many kind

donations. Working by referral and

under direction from front-line care

professionals, we will provide free of

charge 'house-packs' including beds,

wardrobes, dining table and chairs,

microwave, and other essential household

items which are required to reduce need,

hardship or distress, helping to turn a

house into ahome." These packs go outto

the homeless getting their first home, and

peoplefleeing domestic violence.

Michelle is avery warmand modestlady

and just before Ileft she said, "I want to

emphasise that this award was given to

me but it'sfor allthe volunteershere.I'm

only as good as my team and they all go

above and beyond on adaily basis.Ilove

what Ido. There is nothing better than

giving and helping people who need it.

Meeting people at their point of crisis

andmaking adifference -it'saprivilege!"

Congratulations Michelle! Here at

Doorsteppa we all agree the award is

richly deserved and we know that you

will continue to make a positive

difference in thelocal community.

www.thedoorsteppa.com •0114 418 5359

CHARITY
---
Now isthe perfect time to get your

boiler serviced.

01246 498400

info@directgasltd.co.uk @GasChesterfield
---
D

S Doorsteppa Magazines

28

2

FAMILY RUN

SINCE1996

MATTRESSES

DIVANS

OTTOMANS

HEADBOARDS

BED FRAMES

ADJUSTABLE BEDS

Russell Street, Kelham Island,

Shalesmoor, Sheffield S3 8RW

FREE PARKING IN FRONTOFTHE SHOP!

(We are next door to The Gym)

tel: 0114 278 4848

MON -THURS10AM-5PM •FRI -SAT 10AM -4PM

SUNDAY-CLOSED

Chiropody/Podiatry

Corns? Callus? Ingrowing nails?

Heel Pain? Verrucae?

Contact

Matthew Scattergood

MSSCh,MBChA, HCPC Reg.

Over 20 years

Experience

Fully Qualified

Westfield/Simply Health

Approved

Custom Made

Orthotics

Home Visits

Eckington, Killamarsh, Marsh Lane &surrounding areas

Also at The Sheffield Therapy Centre

500 Ridgeway Rd.,Gleadless, Sheffield

Thursdaymornings. Call direct on 01142390022

Tel: 07710979535

• Boilers

• Bathrooms

• Drainage

• Fully

All

Insured Aspects

of Plumbing

and Gas Work

For aFREE Quote contact

John Robinson on 07584 576606

Email: J_A_Robinson@outlook.com

CLOWNE MOBILITY

FOR ALL YOUR MOBILITY NEEDS

•Scooters4,6,8mph

•New &Used

•Stair Lifts •Beds

•Rise &Recliner Chairs

•Service andRepairs

•Part Exchange Welcome

•Wheelchairs•Batteries •Tyres

•Scooter Servicefrom£30

HillClimber

EXTREME

TWIN MOTOR

TECHNOLOGY

Forward speed8mph

Standard Range

up to 35 miles

Open:

Mon-Fri 9amto4pm

Sat 9amto2pm

www.clownemobility.net

Rectory Road

Clowne S434BH

01246575716

www.thedoorsteppa.com •0114 418 5359
---
C CLEAR GLASS &

GLAZING SERVICES

29 YEARS EXPERIENCE

FREE QUOTES

NO JOB TOO SMALL

- Specialist in Replacing Single or Double Glazing

- Hinges, Handles And Locks Repaired Or Replaced

- Conservatories Repaired Or Replaced

- UPVC Door/Window Adjustment & Repairs

- Horticultural Green House Glass Also Supplied

- Board Up Service & Emergency Call Outs

WE WILL BEAT ANY LIKE FOR LIKE QUOTE

We are no

longer in the

shop at Eckington.

New premises

in Halfway

COMING SOON!

2 HALFWAY CENTRE

HALFWAY, S20 4TA

Tel: 0114 449 3093

Mob: 07961 524588
---
D

S Doorsteppa Magazines

DEADLINEFOR OUR AUGUST ISSUES IS 5PM MONDAY 25TH JULY2022

BABIES/CHILDREN

Mothercare high chair, converts to alower table

and chair. Good condition. £20. Tel 07817

048857.

CLOTHING &ACCESSORIES

Mens black 2piece suit from Burtons, jacket

38S, trousers 32S VG condition £20. Tel 0114

248 1572 or 07887 866639.

Ladies size 7Next shoes boxed never been

worn excellent condition £12-00. Tel 07309

184108.

Light fitting boutique style, black metal with bead

decoration, as new £8. Tel 0114 248 1572 or

07887 866639.

Size 10 Nike mens black trainersboxed never

been worn £30-00. Tel 07840 232371.

Fantastic sale of topquality Mens shirts, many

unworn. Gabicci and other well known brands.

Both short and long sleeve, sizes 38"- 44", plus

new and nearly new jackets -Bargains! Also

Mens shoes, many unworn, still in boxes -Hotter,

Padders, Alfred Sargent&more, sizes 10 -

11. Prices from £4 forall items. Come and try

weekend of 16th and 17th July, 1-5p.m. Proceeds

to Charities. Tel 07974 065553 or 0114

248 0828. Killamarsh.

COLLECTABLES

Beswick China large Siamese Cat Fireside series

excellent condition £40-00. Tel 07840

232371.

3George Cunningham Framed Prints of Old

Sheffield. Really interesting picturesinattractive

frames of The Star Cinema Ecclesall Road, Lyceum

Theatre, &Fulwood Church. £20 each. Tel

0114 251 0515.

Spitfireprint Flying into Dusk by F.S.Stringer

framed size 17" x13" excellent condition £15-

00. Tel 07309 184108.

Framed black &white photograph of OldHaymarket,Sheffield,showing

several old trams &

buses. Really interesting picture in an attractive

wooden frame.£15.Tel 0114 215 0515.

30

Muranoglass cockerels x2£16-00 each or the

pair for£28-00. Tel 07309 184108.

3Old Spear &Jackson Wood Saws. 24" &27"

long, with Spear &Jackson Badges. Old &

rusty, sobeing sold as collectables. £20. Tel

0114 251 0515.

FURNITURE

Free to collect. One lounge easy chair. Light

brown patternedfabric. Fire retardant label. Tel

07809 457002.

HOME

Square glass tableand 4chairs. Excellent condition.

£150 o.n.o. Tel 07795 555720.

Indian Tree English Bone China 13" Oval Serving

Platter £12. 10" Round Tureen &Lid £15. 6"

Gravy Boat &Saucer £12. Excellent condition,

as new. Tel 0114 251 0515.

Chrome thermostaticmixer shower. B&Qin

box. £148 new, accept £50. Killamarsh. Tel

07851 161703 .

Eternal Beau Design Tea Service. 61 Items, including

6tea cups &saucers, teapot, 6mugs,

place mats, coasters, napkins etc. Excellent

condition, some items unused. Reduced price

£35. Tel 0114 251 0515.

MOBILITY

Safety Step Stool Platform size, never used

Cost £25, will accept £10. Tel 0114 248 9366.

Wheelchairlightweight fold up excellent condition£89-00.

Tel 07840 232371.

MOTORING

External Thermal/Sun Wind Screen Shieldfor

heat &coldprotection, easy fit, used on Ducato

motorhome£10.Tel 0114 248 1572 or 07887

866639.

Rear motor bike paddock stand, good condition

£15 -07887 866639 or 0114 248 1572.

PETS

Hamster cage (HABITRAILSAFARI) plastic with

numerous add on tubes &exercise ball. Great

starter kit £15. Tel 0114 248 1572 or 07887

866639.

SPORTS &LEISURE

Water container/Water Hog -large roller type

with handle, push or pull. £10. Tel 0114 248

1572 or 07887 866639.

JML E2 Double Bed Fits away into acase£85.

Tel07838 047853.

Various Cycling Accessories. Large cycling helmet.

Spare Saddle. 2new inner tubessize 26 x

1.75. Brad new side bike stand. 2unused puncture

kits. Hand tyre pump. 4bike computers, one

brand new still boxed, other 3asspare parts.

£25 thelot. Tel 0114 251 0515.

Yawn Double Air Bed Self inflating with electric

builtinpumpOnlyused3times Excellent Condition

Cost £80, will accept £35. Tel 0114 248

9366.

Armchair pedal exerciser. Digitaldisplay. Like

new, only been used afew times.£14.00. Tel

07552 692007.

Motorised Treadmill Top speed 10KPH Display

functions HardlyusedPaid £280 Wanting £120.

Tel 07838 047853.

Caravan Accessories forsale:

2Water Barrels 40 ltrs ,with handle. 1Waste

Water carrier. £30 for all three. Tel 07950

931685.

12 Volt KAMPA Awning strip light4ft.£15.Tel

07950 931685.

Caravan wheel clamp £10. Tel 07950 931685.

Halfords aluminium roll up table 70 x70cm

x70cm H. £10. Tel 07950 931685.

50 mm towing coupling (with clipand chain) £25.

Tel 07950 931685.

TOYS &GAMES

Jigsaws forsale1000piece £2 each. 500 piece

£1 each. 40 to choose from. Tel 0114 248 9366.

ADVERTISE YOUR GOODS FORFREE!

1. VISIT www.thedoorsteppa.com 2. CLICK ON 'CONTACT US'

3. ENTER YOUR DETAILS&THE ITEMSFOR SALE IN THE MESSAGEBOX

SORRY WE CANNOT TAKEENTRIESOVERTHE PHONE OR BY POST

www.thedoorsteppa.com •0114 418 5359

STUFF 4SALE
---
D

S Doorsteppa Magazines

FULLY

INSURED

MAN

WITH A VAN

31

HOUSE &OFFICE REMOVALS &STORAGE

HOUSE CLEARANCES

from Single Items to Full Van

•Ebaypurchases •Stuff4Sale items

•Student House/Flat Moves •Storage facility

Competitive Rates •FreeQuotes•OAP Discounts

CALL ALAN on 07407 707857

2

R VC

Established 1958

BP Garage

Station Road

Halfway

Sheffield

S20 3GW

WE WANT YOUR CAR NOW!

Telephone & Fax: 0114 251 0689 Mobile: 07769 673273 Website: www.mvscarsales.co.uk

CAR &LIGHT COMMERCIAL

MOBILE MECHANIC

MOT'S•DIAGNOSTICS•REPAIRS

√ FARMMACHINERY

√ PLANT &EQUESTRIAN

√ MAINTENANCE &REPAIRS

√ ALLWELDING CONSIDERED

√ FLEET PRICES AVAILABLE

√ FULLY INSURED

01246 436202

07950 101846

MOT'S from £40!

VEHICLES COLLECTED

Dale CommunicationsLtd

TV,AERIAL, SATELLITE

SPECIALISTS

•Digital, Aerials &Sky Installations &Repairs

•All Electrical works-17th Edition Electrician

•CCTV Installations -Domestic &Commercial

•LCD, LED &Plasma Installations

•Watch &ControlSky in any room

•Fully Insured&Qualified Engineers

•Extra TV/Sky Points •Multi Point Systems

•Local,familyrun business with 25 years experience

•7day service with locally employed engineers

FREE QUOTATIONS

15%

DISCOUNT

WITH

THIS

ADVERT

CALLYOURLOCAL ENGINEERON

01246 642325 or 07711796985

Engineers based in Killamarsh

visit www.dalecomm.co.uk

email: sales@dalecomm.co.uk

www.thedoorsteppa.com •0114 418 5359
---
D

S Doorsteppa Magazines

32

EVENTS

www.thedoorsteppa.com •0114 418 5359
---
D

S Doorsteppa Magazines

33

2

YOUR LOCAL

ALL ELECTRICALWORKUNDERTAKEN

Reliable • Friendly • Professional

• Full & Partial re-wires

• New Lights

Extra Sockets

• New Fuse Boxes

• Showers • Cookers

• Security

Lighting

• Extensions

• Fault Finding & Repair

ALL WORK GUARANTEED

Free Fully

Quotes Insured

SJ ELECTRICALS

Call Steveon07725304 023

www.thedoorsteppa.com •0114 418 5359
---
D

S Doorsteppa Magazines

34

2

ECKINGTON SERVICESTATION

FREECOLLECTION ANDRETURN

SERVICEFROM YOURDOOR

FULLY INSURED

MOT'S

SERVICING

TYRES

EXHAUST

DIAGNOSTICS

BRAKES

SHOCKERS

GENERAL REPAIRS

TELMOBILE:

07774 939485

Lawn Mowing•LawnRenovation

Lawn CareProgrammes

Seasonal Lawn Treatments

•Fully insured

•Competitive prices

•Based locally

All types of joinery

undertaken including:

FLOORS • KITCHENS

DOORS • SKIRTINGS

Call Paul on 07834 998889

pfinney@sky.com

NO JOB TOO SMALL

BRIAN BURGON

58 Calver Crescent, Staveley, Chesterfield S43 3LZ

Email -edjamcollectable@aol.com

Telephone 07780 776682

www.thedoorsteppa.com •0114 418 5359
---
TM

GU10

Classic lamps

from

£1.20

+VAT

Summer Promo

Product

Code

Promo

Price

Non-Dimmable

ILGU10NC102 ILGU10NE103 ILGU10NG104

+VAT

£1.20

Product

Code

Promo

Price

Dimmable

ILGU10DC109 ILGU10DE110 ILGU10DG111

+VAT

£1.95
---
D

S Doorsteppa Magazines

USEFUL

NUMBERS

36

2

Alcohol Helpline.....................08457 697 555

Blood Service...........................0114 203 4800

Childline..............................................0800 11 11

Citizens Advice Bureau:-

NE Derbys Citizens Advice..........0808 250 5702

Councils:-

Derbys County Council................08456 058 058

NE Derbys District Council..........01246 231111

Crimestoppers...........................0800 555 111

Dial-A-Ride:-

C'field &Dct Comm Transport........01246 209668

Sheffield Comm Transport.................0114 276 6148

Doctors:-

Moss Valley Medical Practice..................01246 439101

Emmett Carr Surgery.....................01246 430200

Killamarsh Medical Practice.........0114 251 0000

Doorsteppa.................................0114 418 5359

Drug Helpline...........................0300 999 1212

Hospitals:-

Chesterfield Royal............................01246 277271

Northern General..........................0114 243 4343

Royal Hallamshire...........................0114 271 1900

Libraries:-

Eckington Library.............................01629 533748

Killamarsh Library............................01629 537426

MP

Lee Rowley.....................................01246 439222

National Rail............................08457 48 49 50

NHS Direct.....................................................111

Parish Councils:-

Eckington.......................................…07715 668815

Killamarsh.........................................0114 247 2260

Police:- (IN ANEMERGENCY DIAL 999)

Derbyshire Constabulary..................................101

South Yorkshire Police..............…………….101

RSPCA:-

National............................................0300 1234 999

Chesterfield &N.Derbyshire................01246 273358

Samaritans................................08457 90 90 90

email thedoorsteppa@gmail.com

orphone 0114 418 5359

If you wish to addany further

usefulcommunitynumbers

Call 0114 247 6678

Email info@thelodgecare.co.uk

or visit www.thelodgecare.co.uk

We look forward to hearing from you.

RESIDENTIAL | NURSING

RESPITE | DEMENTIA

The Lodge Care Home, Bridge Street,

Killamarsh, Derbyshire S21 1AL

www.thedoorsteppa.com •0114 418 5359
---
D

S Doorsteppa Magazines

37

INVOLVED IN A DISPUTE?

WE CAN HELP

2

Getting involved in adispute canbeadaunting and uncertainexperience.Thatmeans

getting the righthelpand support is vitaltoensure you reachthe best outcome possible.So,

look no furtherthanour Head of Dispute Resolution Peter Kidd (pictured) for quality, good

value andsensible advice on any of the following:

•Building Disputes

•Challenging aWill

•Residential or Commercial Property Dispute

Matters forLandlords and Tenants

•Debt Recovery •BusinessDisputes

•Contract Disputes

•SettlementAgreements

•Actions against thePolice

•Property Ownership Disputes

•Boundary and Neighbour Disputes

No jobistoo big or too small forPeter so call himtodayon01246220737 or e-mailhim at

peter@andersonslaw.co.uk You havenothing to loseand everything to gain.

www.thedoorsteppa.com •0114 418 5359
---
D

S Doorsteppa Magazines

38

TRAVEL

Dubai isthe perfect family destination, with a

multitude of activities, eateries and theme

parks for all the family to enjoy together.

Winter time, from November toApril, is the

besttime to visit.

Waterparks

Dubai's waterparks have something for all

ages. From the thrilling rides for adrenaline

junkies to idyllic beaches for those who like a

slower pace oflife, here are some ofthe best

waterparks to visit:

2

•Legoland Water Park caters for children all

ages.There'saDuplo Splash Safari for toddlers,

while other slides provide thrills for the bigger

children. At'Build-A-Boat', children can even

construct aboat and test it on the water. This

waterpark isperfect for those with children

aged 2 to 12 with plenty of interactive

experiences.

•The biggestwaterparkinDubai,Aquaventure

is made up of two main towers, Poseidon and

Neptune, connected byagiant lazy river that

transports riders between slides. For those

with astrong stomach, try the Leap ofFaith, a

wide-open near-verticaldrop!

•AquaFun is the region's biggest inflatable

waterpark with 74 games totry along the fun

course. Italso features some of the world's

longest and highest water slides.

•Splash Pad at The Beach isperfect for little

ones with its fountains, tipper bucket and

climbing frames. There's also plenty of

entertainment nearby to keep you busy into

the evening.

Friday Brunch

Dubai's working week spans Sunday to

Thursday so Friday is the time to kick back and

enjoy adelicious family-friendly brunch:

•The Ultimate Friday Brunch takes place at

Flow Kitchen atFairmont the Palm. There's a

selection of healthy bites, Middle Eastern

classics and delicious roasts from live cooking

stations. The little ones can stay entertained

with activities suchasfacepaintingand fun arts

and crafts.

•Brunch atAtmosphere, onlevel 122 of the

Burj Khalifa tower is one of those 'only in

Dubai' experiences! Itonly takes place four

times ayear, but the extraordinary views and

15 dishes make it unmissable!

•Lock, Stock &Barrel specialises indelicious

southern US fare and the delicious brunch

features classics such asmac 'n' cheese balls,

buffalo wings and beef sliders, all at

wallet-friendly prices.

Kids rule at Kidzania!

Located inside the Dubai Mall, Kidzania is a

place where children can work, play and

pretend in this made up town where they're in

charge! There are over 80-role playing activities

and 60 city establishments where children can

build essential real-life skills. On arrival,

children begin at the airport with aboarding

pass and 50 kidzos (the Kidzania currency).

They can head to the bank, cash their checks

and hit the streets to explore.Theycan work to

earn more money in avariety of roles such as

firefighter or beautician and then treat

themselves to things like shopping sprees and

entertainment. They've earned it!

Something alittledifferent

If the family have had enough ofall the usual

sun, sea and sand-based activities, here are a

few ideasfor something alittle different…

•OliOli is afresh conceptfor children aged two

to 11 which is split into eight themedgalleries.

From Toshi's Net,acolourfulhanging play area,

to launching cannonballs inthe Water Gallery

and tinkering in the Creative Lab, there'splenty

to keep little ones occupied!

• A unique shopping experience, City Walk

fuses entertainment, shopping and dining. Try

Hub Zero for avirtual gaming experience or

The Green Planet – an enclosed ecosystem

recreating atropicalrainforest with over 3,000

plants andanimals!

•The new VR Park combines augmented and

virtual reality with options for all the family.

Propel down the side of the Burj Khalifa in the

Burj Dropexperience or trytosurviveazombie

attackatThe Walked DeadOutbreakVRgame.

Why book withme?

My name is Lisa and Ihave myown independent

travel business based in Renishaw. Working

under the umbrella of Travel Counsellors, who

have over 1800 carefully selected home based

travel agents like me, Ivalue my clients above

anything else. Ioffer apersonal service and I

am available when it suitsyou. My clientsreally

appreciate the caring service Ioffer as aTravel

Counsellor, which you just can't get online. It's

my own business and I treat everyone's

holidays as if it was my own, with the attention

to detail it requires. Many people don't have

time to research all the details during the

working weekand that's where Icomein! Iput

together the whole package and ensure Ihave

everything covered.Asatravel agent, Iamfully

protected under the Travel Counsellors Trust

andamATOL licensed.

So, let mebook your next adventure, all you

needtodoispack!

Contact details

Lisa Byers 07899997070

lisa.byers@travelcounsellors.com

www.thedoorsteppa.com •0114 418 5359
---
D

S Doorsteppa Magazines

39

APC ROOFLINE

Mob: 07813 125721

Tel: 01142 480578

2

28 KIRKCROFT DRIVE,KILLAMARSHS21 1GY

www.apcroofline.co.uk

Civil Engineering Contractors

0114 4731554•07788583197•07709064743

Commercial &Domestic

•Tarmac•Concrete

•Block paving •Patios

•DropKerbs •Fencing

52 RotherhamRoad, Killamarsh S21 2DS

email: pandpsurfacing@aol.com

www.thedoorsteppa.com •0114 418 5359

Fully Insured

&Council

Approved
---
D

S Doorsteppa Magazines

ARCHITECTURAL KNOWHOW

Plans Drawn Professionally

Planning &Build Regulations Approvals Obtained

Full 'Design &Build' Service

Free Competitive Quotes for Plans &Building Works

consulting services

Architectural

Practice

construction services

Builders

Darren -07938 623132 Richard - 07951 663564

Email -info@architecturalknowhow.co.uk Web -www.akhconsult.co.uk

Extensions, Alterations, Refurbishments &New Builds

40

CK AERIALS

Digital Services

TV, Satellite &Freeview

0114 248 7151

0779 069 4355

2

ONE ROOFING

A1

From One Loose Slate To AFull Re-Roof

•STORM DAMAGE •FELTING

•GARAGE ROOFS •BAY TOPS

•FLAT &DORMER ROOFS

•GUTTERING •RIDGE TILES etc

TELEPHONE

01246 436 690 • 0114 265 7191

MOBILE: 07808 473355

DO YOU NEED LEAFLETS

DELIVERING IN KILLAMARSH,

ECKINGTON, MOSBOROUGH,

OWLTHORPE OR RIDGEWAY?

£40

per

thousand

TELEPHONE

0114 418 5359 or

07903 858276

for more details

Safe for children andpets

Flexible andreliableappointments

Personal, friendly andattentive service

Fully Insured

Domestic Service

It'sadirty job, why do it yourself?

www.ovenrevive.co.uk

0114 2280090 •0800 410 1400

PAUL SIMMONITE

Domestic Appliance Repairs

All makes of:

Washing Machine

Tumble Dryers

Fridges

Freezers

(including large American style)

Oven &Hobs

Dishwashers

01909 290839 | 07956 036801

email: paulsimmonite@hotmail.com

ALL WORK FULLY INSURED AND GUARANTEED

www.thedoorsteppa.com •0114 418 5359
---
Roman R n oad

Systems Ltd.

ResinBound

Decorative Surface Dressing Systems

We are afamily run business, with over 25years experience, that

always provides apersonal and bespoke service to breath new life

into tired paths, driveways and hard areas.

Our products are being used on Drives, Paths, Patios, Roads and

Parking Areas inboth the private and public sectors.

RESIN BOUND DRESSING

An exciting alternative for your driveways, decorative patio area and tree pits

For over 50 years Ronacrete has been at the

leading edge of product development and

performance. They provide aspecialist

range ofproducts for installation by

expert contractors such as ourselves.

To ensure that all our customers get the

best possible service and highest quality

product, all of their materials are

manufactured to aQuality

Management System

and are certificated

to BS EN ISO

9001:2008.

We also do: FLAT ROOFING,

DAMP PROOFING &RENDERING

Tel: 01246 436587

Rob: 07817 385623

Email:info@romanroadsystems.com

www.romanroadsystems.com

Roman RoadSystems Ltd. Eckington Business Park Unit6 Rotherside Road Eckington Sheffield S21 4HL
---
D

S Doorsteppa Magazines

Killamarsh Heritage

Society havelots of

oldphotographs in

their archiveand

nowits official!

42

HISTORY

Looking at old photographs is more

relaxing than meditating. The

research suggests we should be

embracing the new trendoflooking

at old photographs and reminiscing

on pastadventures.

Are you feeling weirdly stressed,

having oddly vivid dreams and

waking up each dayfeeling no more

rested than the one before? If you

feel like you need tounwind, don't

bother reaching foryour yoga mat –

look out some old photographs instead.

New research has found that

2the British find looking back at old

photographs even more relaxing

thanmeditating.

The photographs may be from your

childhood, of the first photo you

and yourpartnertooktogether or of

your happiest memory. Looking

back at these happy memories is the

perfect activity to remind you ofall

the fantastic experiences you've

hadinyourlifesofar.

Taking the time tolook back onour

treasured memories can be truly

beneficial forour wellbeing as it can

help to evoke feelings of positivity

andhappiness. Becauseofthis, and

especially at times like this, we

shouldtake moretimetoappreciate

and look backonthem.

Our photographs remind us of

people, pets, places and activities

that we love as wellashelpingusto

remember the past. This has been

shown to reduce our stress and

enhance our mood and overall

wellbeing.

When we look back and reminisce

on happy times and special

moments, we returntothe moment

that we can see in the image. This

fuses with our wider memories of

the occasion that we might not have

photographed and transports us

back toahappier place.

Laughing at silly photographs

releases endorphins, our body's

natural stress reliever. Seeing

images of our friends and family, in

significantmoments in ourand their

lives, reducescortisol andadrenalin

which are the hormones

responsible for anxiety.

On mantelpieces, windowsills,

shelves and sideboards, where

many of us display our treasured

photos in frames, have been shown

to one of the most peaceful places

in our home. This is because of the

immediate sense of wellbeing that

we get by looking at photographs of

our loved ones atvarious stages in

their developing lives.

Research has alsoshown that

having 'real' photographs in our

home provides regular psychological

positive reinforcement by

reminding us of what and who is

important to us.

Old photographs are a great help to

people suffering from dementia.

Oneofthe best ways to help do this

is by showing them photos that will

take them back through their

memories and encourages them to

reminisce. By sharing snapshots

from the past, you will be stimulating

their brain. This will work to

improve memory function and

prolonging their cognitive ability.

Reminiscing means sharing life

experiences, memories and stories

from the past. Typically, aperson

with dementiaismore abletorecall

things from many years ago than

recent memories, so reminiscing

draws on this strength.

Nostalgia is apowerful thing, and

it's about sentimentalityfor thepast

and is about areturntoatime period

that we associatewith happiness.

So get out those old photographs

andreminisce. After all it's good for

your healthand wellbeing.

Edited by Patricia Bone

www.thedoorsteppa.com •0114 418 5359
---
SHEFFIELD

FOREVERYSOFA, COMETOKCSOFAS!

OVER 30

RANGES

ON SHOW

THE ASHLEIGH

THE FANTASY

THE ALDEBARAN

THE PERTH

UNIT 3 MIDLAND WAY,

BARLBOROUGH LINKS

NETWORK CENTRE,

S43 4WW

OPEN 7DAYSAWEEK

10AM -4PM

THE BLADE

www.kcsofas.co.uk 0114 349 1712
---
D

S Doorsteppa Magazines

Killamarsh Methodist Churchinpartnership with

Freedom CommunityProject host a Free Café

everyFridayMorning from 9-12am

The cost-of-living crisis is impacting on so many of us, in

so many ways. Every Friday we offer support from a

community worker who canhelp with

•Debt advice

•Housing support

•Benefit Advice

•Mental health support

•Just Meals - frozenmeals made from locally grown

or surplus food.

•Foodbanksupport

We also offer a Free Breakfast

44

LOCAL

NEW WI'sNOW OPEN

IN ECKINGTON

The Eckington Bluebells WI meet on

The3rd Wednesday of the month

(20th July) at 7.30pm

and the Eckington Emeralds WI meet on

The4th Tuesday of the month

(26th July) at 1.30pm.

BothWI'smeet at the Lighthouse Hall

(formerlythe FriendshipHall)on

Berry Avenue Eckington S21 4AR.

All women welcome.

Comealong andmakenew friends.

More information:

Textorphone Pauline

07889029758

Remembering the Falklands Conflict

It was alovely morning on Tuesday the

14th June2022.

We were remembering the fallen of the

FalklandsConflict.

Especially Stephen Tonkin and John

Pashley who were from Eckington.

It wasfantastictosee Stephens Mumand

Dad as well as the children from Birkhill

Infant's, Eckington Junior and Renishaw

Junior Schools.

Rector Andy Walker took theservice.

www.thedoorsteppa.com •0114 418 5359
---
D

S Doorsteppa Magazines

Aerials

Ashley Aerials.......................................12

Ridgeway Aerials..................................22

Dale Communication.............................31

CK Aerials.............................................40

Amateur Dramatics

City Players...........................................22

Antiques &Salvage

Lucky Magpie..........................................6

Architecture

AKH.......................................................40

Bathrooms

The Showroom................................24, 25

Bedrooms

The Bed Shop.......................................28

Beds For Everyone...............................34

Bird Tables

Steven Owen.........................................22

Blinds

Blinds Direct..........................................12

Bouncy Castles

Elegance Castle Hire............................21

Care Homes &Elderly Care

The Lodge.............................................36

Carpets

West End Carpets.................................23

Car Repairs

David Fowler Mobile..............................31

Eckington Service.................................34

Car/Vehicle Bodywork

Chips Away...........................................21

Chiropody/Podiatry

Killamarsh Foot Clinic...........................19

Matthew Scattergood............................28

Christadelphians

Clowne Christadelphians......................21

Cleaners

Pink Ladies............................................22

Coffee House

No 4Coffee House..................................1

Domestic Appliance Repairs

Paul Simmonite.....................................40

Doors

Compocel..............................................13

Driveways &Surfacing

P&PSurfacing.....................................39

Roman Road.........................................41

Pro Pave...............................................45

Mossaway.............................................48

Ear Syringing

JF Mobile Ear Syringing........................12

46

Electrical Wholesaler

EWS Electrical......................................35

Electricians

Barlborough Electrical.............................6

DSJ.........................................................9

Positive Electrics...................................12

Ridgeway Aerial &Electricals...............22

SJ Electricals.........................................33

Equity Release

Later Living Now!..................................11

Foot Health

Killamarsh Foot Clinic...........................19

Matthew Scattergood............................28

Funeral Directors

W.N.Allcock.............................................2

Pemberley.............................................13

Furniture

Fosters for Furniture................................5

Garage Doors

Garolla...................................................19

Gardeners

Greenleaf..............................................12

Cloverleaf..............................................22

Green Patch..........................................34

Gas

Brookhouse Gas...................................17

Direct Gas.............................................27

Glass &Glazing

MP Glazing............................................12

Waterford Glazing.................................15

CClear Glazing.....................................29

Perfectly Clear.......................................47

Golf

Renishaw Park Golf Club......................37

Guitar Lessons

Rob Ward..............................................40

Gutter Cleaning &Repair

Craig Turner..........................................33

Hairdressing/Barbers

Bosch Barbers.......................................22

Handyman

Brian Burgon.........................................34

Hot Tubs &Spas

The Spa Doctor.......................................7

Joinery &Flooring

Derbyshire Joinery................................34

Kickboxing

Kickboxing 4Life.....................................6

Kitchens

The Showroom................................24, 25

Landscaping

Easy Living Landscaping........................3

Lofts

Access 4Lofts.........................................9

Mobility

Clowne Mobility.....................................28

MP

Lee Rowley MP.....................................36

Outdoor Furniture

Easy Living..............................................3

Steven Owen.........................................22

Oven Cleaning

Oven Revive..........................................40

Painter &Decorators

Carl Lindley.............................................6

Henderson's Decorating.......................12

Andy Shaw............................................22

Plumbing &Heating

Homecare Plumbing..............................12

Brookhouse Gas...................................17

Direct Gas.............................................27

Robinson Plumbing...............................28

Pubs &Restaurants

No 4Coffee House..................................1

Removals

Man And Van........................................31

Roofing, Soffits, Fascias

CPR.......................................................33

APC Roofline.........................................39

A1 One Roofing.....................................40

Scrap Metal &Waste Removal

DT Scrap...............................................22

Sofas

KC Sofas...............................................43

Solicitors

Anderson Partnership...........................37

Storage

Eckington Self Storage............................3

UStore...................................................21

Man And Van........................................31

Used Car Sales

RVC.......................................................31

Wills

Pemberley...............................................2

Windows &Doors

A1 Windows............................................6

MP Glazing............................................12

Waterford Glazing.................................15

CClear Glazing.....................................29

Perfectly Clear.......................................47

PLEASEMENTION DOORSTEPPA WHEN YOU CONTACT OURADVERTISERS

INDEX

GIVE YOUR BUSINESS A BOOST

AND GET YOUR NAME OUT THERE!

DON'T LEAVE ITTOOLATE. Contact us NOW

PRICES START AT

ONLY £18+VAT amonth

Tel: 0114 418 5359 Web www.thedoorsteppa.co.uk

Mob 07903 858276 Email: thedoorsteppa@gmail.com

Doorsteppa can make no recommendationastothe fitness of the advertisers appearing in the publicationtocarry outtheir services and no recommendations should be deemed to

have been made. All information contained herein is correct to the best knowledge and belief of the publisher. Noliability whatsoever can be accepted by the publisher for any

inaccuracies. Artworkcreated by Doorsteppa for use in this publicationremainsthe property of Doorsteppa and must not be reproduced without their written permission.

www.thedoorsteppa.co.uk •0114 418 5359
---
Keep the Frame -Lose the Pane!

Most of us have double glazing thesedays.What a

wonderful thing itis! No more draughts, warmer

houses,lessnoise. But what happens when the seal

goes and condensation starts to form? Doesitmean

paying out foracomplete new window andframe?

Not at all! According toSteve Godley (pictured

right), owner of PerfectlyClear Windows, it's often

not necessary to renew the complete window and

frame. Simply replacingthe defective glass will do -

and save you lots of expenseinthe process!

Perfectly Clear is afamily run businesswhoseaim is

to provide afirst class, money-saving service to local

residents with problem windows. They can repair

and replace all household window types, regardless

of age or type, and detailed glass such asleaded,

Georgianbar and bevelled can be easily replicated to

match existing units.

Steveexplains, "I personally advise on thebest

options in order for thecustomer to make a

well-informed choice."

His honest, reliable advice means that customers

avoid unnecessary expense,eventhough it may

result in him losing business.

"I take the long term view," he says."By

maintaining the confidence of my customers, they

not only rely on me forfuturework, butalso

recommend my company to others."

In addition to supplying replacement glass,

Perfectly Clear offerenergy efficient, heat reflecting

and gas-filled insulatingunits which can help keep

your home warmer and thus reducecostlyheating

bills in the future.

For more information about any of their services,

or to book afree no obligation survey, please call

Melanie on 07835 818887.

Perfectly

Do problem Windows

get you all

WINDOWS

KEEP THE FRAME

REPLACE THE PANE

TO ARRANGE ASURVEY

CALL MELANIE ON

07835 818887 OR

STEVE ON 07734 947386

5YearManufacturers Guarantee

5YearInstallationGuarantee

www.perfectlyclear.uk.com

email:sales@perfectlyclear.uk.com
---
01246 433 853 • 07979 407 138

TRADING

SINCE

2006!

Driveways • Paths • Patio • Tarmac & Conservatory Cleaning

ANY

GENUINE

QUOTE

BEATEN

We clean Block Paving, Decking, Imprint Concrete,

Flagstones, Tarmac, Walls & Conservatory Roofs.

For your piece of mind, we are a member of Trusted

Trader, run by Derbyshire Trading Standards.

BROKEN SLABS AND

SUNKEN BLOCK PAVING REPAIRED

We use the latest technology flat surface

cleaner, which is NOT A JETWASH to clean

your surfaces and make them look like new!

THE MOST

EXPERIENCED

COMPANY

AROUND!

Imprint Drive

RE-COLOUR TO YOUR CHOICE

Moss / Algae • Oil Stains • Weeds

EASILY REMOVED

NEW DRIVE?

Preserve it's look with

our specialist sealer

Visit our website: www.mossaway.co.uk