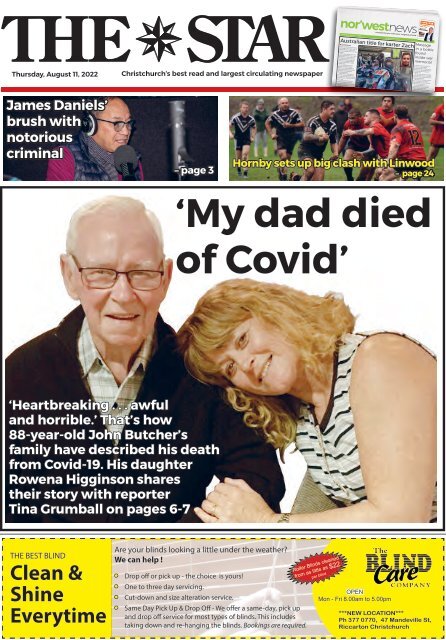 The Star: August 11, 2022
You also want an ePaper? Increase the reach of your titles
YUMPU automatically turns print PDFs into web optimized ePapers that Google loves.
THURSDAY, AUGUST 11, 2022

connecting you with your neighbourhood

www.starnews.co.nz

Australian title for karter Zach

• By Chris Barclay

ZACH TUCKER has accelerated

past another career goal, with the

talented Medbury School kart

racer winning overseas a the first

attempt.

The 11-year-old kept his nerve

after being overtaken late in final

of his cadet 12 class a the City

of Melbourne Titles on Sunday,

coolly executing a passing manoeuvre

as the chequered flag

loomed a the end of 17 hotlycontested

laps.

Message

in a bottle

found

inside war

memorial

Thursday, August 11, 2022

Christchurch's best read and largest circulating newspaper

Zach, who represents New

Zealand at October's ROK

Superfinal in Italy, qualified in

pole position a the culmination

of two days of racing in his

36-strong division.

"There was lots of pressure. I

led all the way until the third to

last corner but I passed him back

on the hair pin with one corner to

go," he said.

"I'm very proud of our team

and I really appreciate all the

A HAND-written note listing

the names of the original

stonemasons who worked on the

Citizens' War Memorial has been

found inside the monument's

concrete core.

The 85-year-old note was tightly

rolled-up inside a glass bottle that

was found when the memorial was

being deconstructed.

The memorial has been restored

and relocated to a new spot in

Cathedral Square, near where the

messages of support from friends

and family," he said.

police kiosk used to be.

"It was a fluke discovery," city

Zach qualified to race in Italy

council head of vertical capital

after defending his Vortex Mini

delivery Brent Smith said.

James Daniels'

brush with

notorious

criminal

ROK national title in Wellington

in June.

Before racing overseas for

the first time, Tucker also secured

his first national schools title

in Invercargill, claiming the

Vortex Mini ROX crown last

month.

Zach's coach Matt Hamilton

was convinced he was destined

to achieve his long-term goal of

emulating Shane van Gisbergen

and driving across the Tasman in

the Supercars Championship.

"I've no doubt Zach has what

i takes to succeed. Over the past

three seasons he's been almost

unbeatable."

QUICK LEARNER: Talented kart racer Zach Tucker made a smooth transition to

Australian circuits, winning his class at the City of Melbourne Titles last weekend.

"The contractor was working on

dismantling the concrete core of

the memorial when a big chunk of

concrete broke off, revealing the

glass bottle.

"If the concrete had not broken

in that exact spot, we would never

have found it."

The glass bottle was handedover

to a team of conservators

from Canterbury Museum who

delicately drilled through the

bottle's glass stopper to reach the

note inside.

However, the neck of the bottle

was too narrow and the note too

fragile because some moisture had

seeped in.

They had to wait several weeks

for the rolled-up piece of paper

to dry out before they could have

another go at extracting it.

• Turn to page 5

Hornby sets up big clash with Linwood

– page 3 – page 24

'My dad died

of Covid'

'Heartbreaking . . . awful

and horrible.' That's how

88-year-old John Butcher's

family have described his death

from Covid-19. His daughter

Rowena Higginson shares

their story with reporter

Tina Grumball on pages 6-7

THE BEST BLIND

Clean &

Shine

Everytime

Are your blinds looking a little under the weather?

We can help !

• Drop off or pick up - the choice is yours!

• One to three day servicing.

• Cut-down and size alteration service.

• Same Day Pick Up & Drop Off - We offer a same-day, pick up

and drop off service for most types of blinds. This includes

taking down and re-hanging the blinds. Bookings are required.

Roller Blinds cleaned

from as little as $22

per blind

OPEN

Mon - Fri 8.00am to 5.00pm

***NEW LOCATION***

Ph 377 0770, 47 Mandeville St,

Riccarton Christchurch
---
2 The Star Thursday August 11 2022

inside

James Daniels' hitchhiking shock.............3

MacDonald focuses on Waimairi .............5

'Heartbreaking' Covid death.....................6-7

Hilda's rose planted at Mona Vale......... 10

Burt's 63 years of service to rugby............12

Cairns shares lessons of brutal year .......14

Desperate bid to rescue driver..................17

Readers' letters....................................................... 20

Opinion..................................................................20, 22

Sport...........................................................................24-26

Gardening....................................................................27

Puzzles............................................................................28

DriveSouth................................................................. 29

Classified..............................................................30-35

Gig guide.......................................................................35

newsroom

Chris Barclay Reporter

021 914 169

chris.barclay@starmedia.kiwi

Tina Grumball Reporter

022 014 5622

tina.grumball@starmedia.kiwi

Mike Hansen Online editor

mike.hansen@starmedia.kiwi

letters

We want to hear

your views on the

issues affecting life in

Canterbury.

Send emails to:

barry@starmedia.kiwi

Letters may be edited

or rejected at The Star's

discretion. Letters should

be about 150 words.

A name, postal address

and phone number

should be provided.

Please use your real

name, not a nickname,

alias, pen name or

abbreviation.

Barry Clarke Editor in Chief

021 359 426

barry@starmedia.kiwi

advertising

Shane Victor Advertising Manager

021 381 765

shane@starmedia.kiwi

Classified advertising: 379 1100

General inquiries: 379 7100

readership up 9%

207,000 *

readers every week!

*Source: Nielsen CMI Q2 20 - Q1 21 vs CMI Q2 21- Q1 22

DELIVERERS WANTED!

Are you honest, reliable and over the age of

11? Why not earn money and get fit doing

it. Get in touch with your interest today:

deliveries@alliedpress.co.nz | 029 983 2293

A division of Allied Press

Regional Manager: Steve McCaughan

PO Box 1467, Christchurch

359 Lincoln Rd, Addington

www.starmedia.kiwi

Footnote

NZ Dance

Dry Spell

Thursday,

7.30pm

Fantasy and reality

collude in this spiralling

ascension of desire

and disgrace. Dry

Spell blends nostalgia

and futurism to create

scenes of excitement,

fear and pleasure.

Performed by Footnote

New Zealand Dance,

with choreography

by Rose Philpott and sound design by composer Eden

Mulholland, Dry Spell is a performance for thrill-seekers.

Town Hall

Arts Canterbury Arts

Show

Saturday & Sunday,

10am-4pm

Go along and see 65 Arts Canterbury artists exhibiting a

wide range of art for sale. Opening night Friday, tickets

available online at eventbrite for $25 or $30 on door.

Cashmere Club, 50 Colombo St

HELLZAPOPPIN'!

Saturday, 7-11.30pm

Featuring Die! Die! Die!, Francisca Griffin & The

Bus Shelter Boys, Mermaidens, and the Remnants.

RDU's Ziggy Starlet will be banging out tracks from the Flying

Nun back catalogue, plus there'll be bars, food trucks and

merch, as well as space to listen, dance and chill. Free entry.

Christchurch Art Gallery – Te Puna o Waiwhetū

A MidSummer

Night's Dream

Friday, 7.30pm;

Saturday, 2pm

& 7.30pm

Top Dog returns with Shakespeare's A Midsummer Night's

Dream. Brimming with romance, love potions and practical

jokes, plus live music and acrobatics. Tickets $20 at Ticketek.

Part of the Turn Up The Heat festival: turnuptheheat.nz

Isaac Theatre Royal, Gloucester St

Georgia on my Mind

Saturday, 7-9pm

You are invited to an evening of exquisite music,

showcasing Fiona Pears, one of New Zealand's

finest violinists, in concert with the acclaimed Christ Church

Cathedral Choir. Tickets $30-45 at eventfinda.

Transitional Cathedral, Hereford St

Stay comfortable all year round with

Fujitsu's sleek, stylish Lifestyle Range.

HEAT PUMPS FROM $1999 inc GST INSTALLED!

free

CONSULTS

2020

Heat Pumps

Fujitsu's Catechin Filters are approved by

the Asthma and Respiratory Foundation

NZ's Sensitive Choice ® programme.

At Better Denture

we have a range

of services and

options available. New Dentures > Relines > Repairs >

03 381 6950

info@powersmart.co.nz

powersmart.co.nz

FREE

consultation from

your local Accredited

Heat Pump Expert

6 Brynley St, Hornby, Christchurch

Phone: 03 349 5050

www.betterdenture.co.nz
---
Thursday August 11 2022 The Star

Latest Canterbury news at starnews.co.nz

NEWS 3

Radio host Daniels hitches

ride with notorious criminal

• By Chris Taylor

IT'S EVERY hitchhiker's

nightmare, jumping into a car

with a serial killer or dangerous

criminal.

So when well-known

Christchurch talkback radio

host James Daniels and his wife

accepted a ride while on holiday

in the Cook Islands recently

they were stunned when their

driver introduced himself as one

of Rarotonga's most notorious

criminals.

They were even more shocked

when the affable man in his 60s

disclosed what his current job

happened to be – handing over

his Ministry of Corrective Services

business card with a smile.

Daniels, a former city councillor,

regaled the light-hearted

tale on air with his fellow host

of the 'Simon Barnett and James

Daniels Afternoons' show on

Newstalk ZB.

After spending an idyllic holiday

on Aitutaki, during their last

morning on Rarotonga, Daniels,

67, said he and wife Dianne

decided to spend it at Avarua's

bustling Punanga Nui Saturday

Market. What happened next left

Barnett aghast and in hysterics.

The story began with Daniels

saying that after they missed the

bus from Rarotonga International

Airport the couple decided

to try their hand at hitching a

ride to the popular market.

"It was too far to walk and was

as hot as hell … and I said come

on let's hitchhike."

In spite of initial protests from

Dianne they ended up curb side.

The well-travelled couple had

never thumbed a ride anywhere

else in the world before.

After a few cars went past a

hatchback pulled up alongside

the pair.

"And there was a little guy

about my age who looked a lot

like me driving. And he says:

'Get in'."

Daniels attempted to hand the

driver $10 for the ride back to

HYSTERICS: James Daniels has recalled his hitchhiking experience in Rorotonga on radio.

town which was waved off. They

got into the backseat and the

vehicle drove away.

As he does every day behind

the radio mic Daniels struck up a

conversation by regrettably asking:

"So what do you do here?"

The driver to the couple's shock

replied: "Well, I've spent 34-years

in prison."

A stunned Barnett then

exclaimed on air: "What,

34-years?" At the time in the

backseat, Dianne was looking at

her husband and Daniels said he

was thinking: "Huh?" Alarmed

at the disclosure, he asked what

he'd done to be locked up for

such a long time.

Daniels said the man then

shared his criminal past saying

he'd "done a few things". From

starting a gang there in the 70s to

stealing and attempting to burn

down the government house*.

"I'm already freaking! And I was

sitting in this car, he's driving

along, and I was thinking was

there any kidnapping on that

list!?" By this time Barnett was

laughing hard at Daniels' retelling

of their odd-ball hitchhiking

experience.

The radio co-host then asked

the man: "What are you doing

now?" To which he astoundingly

replied that he was the Minister

of Corrective Services in the

Cook Islands.

"He gave me his business

card."

Daniels then revealed the

identity of the driver as colourful

Tupapa Maraerenga MP George

'Maggie' Angene.

"He proceeds to take us to the

markets, and he drove straight

past." Daniels nervously said

to Angene at the time: "Um,

um, hang on … it's back there."

Angene, however, said he knew

a special way and drove them

in the back entrance. Daniels

was then surprised at all the

market visitors who immediately

acknowledged Angene.

"Everyone knows him. They're

all waving and saying: 'Hey

George'. He winds down his

window and points to us."

"What an amazing and extraordinary

story," said Barnett

in response to the fascinating

yarn that kicked off the brief

hitchhiking talkback segment.

Subsequent text responses into

the station revealed how much

listeners loved the story.

And as memorable as their

first hitchhiking experience was,

however, they've decided to never

attempt to thumb a ride again

said Daniels, but now have a

great dinner travel story to share

for years to come.

• On the radio recording

Daniels misheard Angene say

he came out of prison in 2017

and that he had attempted to

burn down government house.

However, the now veteran MP

was in fact paroled and released

from prison over 22-years ago for

arson to the ministry of justice,

post office, and telecom building

centre.

– Cook Islands News

FIGHTERS: The Topp Twins

are both going through

cancer treatment and

have thanked fans for their

support. PHOTO: FACEBOOK

'We are

both alive

and kicking'

– Topp Twins

• By Anna Leask

ENTERTAINERS Lynda and

Jools Topp have spoken out about

their "hard" journey with cancer,

thanking their fans across the

world for the support and love.

The Topp Twins announced

in March that they were both

fighting breast cancer.

Jools was diagnosed with breast

cancer 16 years ago and after

having chemotherapy, went into

remission. However, this year she

discovered that her cancer has

metastasised, and started radiation

therapy.

In December 2021, Lynda was

diagnosed with grade 3 invasive

breast cancer.

Last week they posted an update

on their Facebook page.

"It has been eight months since

Lynda was diagnosed with grade

3 breast cancer and six months

since Jools was discovered with a

new tumour in her rib cage," they

said.

"We are both alive and kicking

but it has been a pretty hard

journey of surgery, chemo and

for Jools radiation therapy.

"The love and support we

have had from Kiwis and fans

around the world has been amazing

and we thank each and every

one of you who have sent messages

and donated to our Givealittle

page.

"To all of you lots of love."

– NZ Herald

NZ's Favourite Buffet

BRIDIE'S BAR

Bring in this voucher to get

10% OFF YOUR BILL

Not available in conjunction with any other offer or promotion.

Limit 1 coupon per table. Offers redeemable Monday to Friday,

Lunch & Dinner only. Valid till 31st October 2022.

Discount can not exceed $50.

Dine in • Takeaway PLUS Dine FREE on your Birthday!

T's & Cs Apply

7/11 Chalmers Street, Hornby, Christchurch

0800 VAL BUFFET valentines.co.nz

QUIZ

NIGHT

THE

MEANIEZ

HOUSIE

BINGO

7PM THU 3PM SAT 3PM SUN

BRIDIE'S BAR & BISTRO | 401 WORCESTER ST

PH (03) 260 0325 | WWW.BRIDIESBAR.CO.NZ
---
The Star Thursday August 11 2022

4

NEWS

• By Chris Barclay

HARNESS Racing New

Zealand's top administrator has

criticised the police investigation

into corruption in the industry.

Gary

Woodham, the

Christchurchbased

HRNZ

chief executive,

expressed his

frustration with

the undercover

National Crime

Group inquiry

– known as

Operation Inca

– in a podcast on Australian

sports radio network SENZ.

Most of the charges laid

during Operation Inca have

either been dismissed in court or

withdrawn.

The operation which came

to light in 2018 to investigate

suspected drug use in the

harness racing industry

eventually led to 13 defendants

nationwide facing charges, which

included race fixing and betting.

Undercover officers and covert

electronic monitoring and

interceptions were used during

the operation.

Most of those charged were

from Canterbury and included

harness racing drivers, trainers

and owners.

"I really feel for the

participants of our sport that

have been through a wringer

financially and mentally. The

mental strain it is put on them

and then this thing gets blown

off," Woodham said in the

podcast.

But while almost all of the

criminal charges have now

gone, the saga is scheduled to

return to the district court in

Christchurch before Judge Raoul

Neave next month, where the

Racing Integrity Board might

learn if it is able to access police

evidence as a means of exploring

their own avenues to prosecute.

Latest Canterbury news at starnews.co.nz

Harness chief criticises corruption inquiry

Gary

Woodham

Individuals who had

their charges dismissed and

withdrawn continue to engage

legal counsel in an attempt

to stop the racing industry's

watchdog accessing police

evidence which it could use in a

racing jurisdiction.

The Star has been told some

of the defendants have spent

hundreds of thousands of dollars

in legal fees to try and prevent

the evidence being handed over

to the RIB. If they were found

guilty in a racing jurisdiction it

could lead to lengthy or life bans

from the racing industry.

From the original 13

defendants, three are still before

the courts. All defendants,

former and the trio remaining,

have interim name suppression.

Woodham would not

elaborate on his concerns when

approached by The Star this week

after he told the podcast: "I have

asked plenty of questions and

had no answers. As it is a police

matter we're not asked for our

opinion or given any updates.

They don't say one word to us,

it's their case, not our case. We're

not seen as anybody who needs

to know."

Woodham told The Star: "I

haven't had anything formal, I

know some people have been

told there is no future action

as they have told me, but again

nothing formal from the police

or courts."

Asked for his view on the RIB's

bid to access police information,

Woodham would not comment

as he was not familiar with that

phase of the proceedings.

"Best I stay away from

commenting as I'm not aware,"

he said.

RIB chief executive Mike

Clement, a former deputy

commissioner of police, was also

playing a waiting game as the

court process drags on.

"We are still waiting for a

hearing at which the judge will

determine what will come of the

material held by the police," he

said.

"The discharged defendants

will challenge the release of the

information and the judge will

decide, however, given the slow

progress to date, I do not expect

anything soon."

It is possible the legal

argument regarding access

will be destined for the High

Court.

National Organised Crime

Group director, Detective

Superintendent Greg Williams,

would not comment on

Woodham's concerns when

contacted by The Star yesterday.

Smooth-Air

Ventilation Equipment Suppliers

totrade

retail

&

Smooth-Air has a wide range of

ventilation equipment to bring

fresh air into your home.

Domestic

Commercial

Industrial

Remote Extraction Fans

Range Hood Cupboard Inserts

0800 SMOOTH

(0800 766 684)

sales@smooth-air.co.nz

264 Annex Rd

Riccarton

Christchurch

03 343 6184

Monday - Friday

7.30am - 5pm

www.smooth-air.co.nz
---
Thursday August 11 2022 The Star

Latest Canterbury news at starnews.co.nz

MacDonald sets Beehive aside

• By Chris Barclay

SAM MACDONALD has placed

his parliamentary ambitions on

hold to ideally broaden his local

government experience following

October's city council elections.

The first-term Waimairi Ward

representative was considering

seeking National's nomination

for the Ilam electorate after former

MP and government minister

Gerry Brownlee indicated

he would not challenge Labour's

Sarah Pallett next year.

With Brownlee, Ilam's MP

from 1996 to 2020, last week

confining himself to the party

list, there was scope for Mac-

Donald – Brownlee's campaign

manager at the last general

election – to make a bid for the

Beehive.

However, a staunch supporter

of Phil Mauger's mayoral bid,

MacDonald opted not to withdraw

his city council nomination

before they close tomorrow and

reiterated he would not chase

National's nomination if re-elected

on October 8.

"I'd like to do it (Parliament)

one day, it's a seat that could be

won back but timing wise, in

terms of nominations being open

for council I couldn't in good

conscience trigger a by-election,"

he said.

"It will still be there in time,

but I just wonder whether at the

moment I can add more value to

the council," said MacDonald,

a member of the right-leaning

Independent Citizens faction.

"With a new mayor coming

in and the like, there's going

to be an opportunity to really

contribute."

While MacDonald has Wellington

on his horizon, he will

be challenged in Waimairi by

an independent candidate who

spent several years in the Beehive

as a press secretary for the Green

Party before returning home.

Also a former sector leader for

left-leaning The People's Choice,

Kevin List helped Zahra Hussaini's

unsuccessful bid to beat

MacDonald in 2019, and that

experience convinced him to

stand.

LOCAL:

Councillor Sam

MacDonald (left)

has opted to

keep his focus

local and will not

be withdrawing

his city council

nomination.

He will be

challenged in

Waimairi by

Kevin List, a

former media

advisor for The

Green Party.

"I ran Zahra's campaign and

went around and door knocked.

It wasn't super successful but I

got a bit of a vibe for Waimairi.

I'm doing teacher training and

living here now so I thought:

'Someone needs to give Sam a

run for his money'," said List,

who joins fellow independent

Laly Samuel in seeking to oust

MacDonald.

List was not surprised Mac-

Donald had pulled back from

Ilam, noting National's recent

scandals involving former MPs

Andrew Falloon, Jami-Lee Ross,

Todd Barclay, Hamish Walker

and Sam Uffindell.

"My guess is he had no chance

of getting it after all the young

30-something guys that ended

up with scandals," he said.

MacDonald took issue with

that prediction.

"The guy clearly hasn't been

watching my work locally for the

last couple of years if he thinks

that's the reason (for not seeking

the nomination)," he said.

List said the Te Kaha/Canterbury

Multi-Use Arena was a

key platform of his campaign, a

project MacDonald has backed

to the hilt.

"Voting to blow the stadium

budget by $150 million is not

showing respect to ratepayers,"

List said.

"I'm not anti the stadium,

but I want it put on the table

that the $150 million isn't as

popular as people think and

make it a referendum on that in

Waimairi."

NEWS 5

Five mayoral

contenders

confirmed

THE MAYORAL race continues

to take shape, with five contenders

confirmed as Lianne Dalziel's

potential successor ahead

of nomination for the local

government elections closing at

midday tomorrow.

High-profile independent

candidate and outgoing first-term

Burwood Ward city councillor

Phil Mauger has so far been

joined by pastor Carl Bromley

(Independent – I Hear I Care),

Stephen Jelly (Stop The Stadium),

Tubby Hansen (Economic

Euthenics) and Peter Wakeman

(Independent).

Former Canterbury District

Health Board chief executive

David Meates launched his

campaign as Mauger's leading

challenger in late June, but had

not officially joined the race by

midday yesterday.

When Dalziel was elected for

her third and final term in 2019

there were 12 other mayoral

candidates, including Wakeman

and Hansen. Hansen has stood in

every triennial election since 1971.

Wakeman has previously stood in

1998, 2007, 2010 and 2013.

At midday yesterday, 15 of the

16 council wards had official

nominations. Harewood, where

Independent Aaron Keown is

the incumbent, was the only

exception.

THE 2022 LOCAL ELECTIONS

It's almost time

to vote in the

local elections.

Enrol by 12 August to make voting

in the local elections easy.

0800 36 76 56.

vote.nz
---
The Star Thursday August 11 2022

6

NEWS

Latest Canterbury news at starnews.co.nz

Covid victim: 'He had a long, colourful

• By Tina Grumball

WHEN JOHN Butcher died

on Friday, July 29, after battling

Covid-19, he was calm.

"As calm as he could be," his

daughter Rowena Higginson told

The Star.

John contracted the virus on

the Monday, and by Thursday, his

lungs had been severely attacked,

breathing was difficult and he

was highly medicated.

Miscommunications and

misunderstandings meant

Rowena and her family were not

able to see him until Thursday,

missing precious days with him.

By Friday morning, he had

died in his bed at Addington

Gardens rest home, aged 88.

"My sister missed seeing him

by an hour because we weren't

aware that we were able to visit,"

she said. Her sister, Cherie, lives

in the Bay of Islands.

"I think it was a very sad end

for my father, because he was a

wonderful person."

John was born on Anzac Day

in 1934.

"He had a long, colourful . . .

and a happy life," Rowena said.

"He was old-school because he

was born just before the break

of World War 2, so his father

was a return serviceman from

the Great War and . . . his older

brother went to the second

world war."

You would find John every year

at the Anzac Day and returned

services commemorations.

Rowena accompanied him a

few times in recent years.

Raised in St Albans, he enjoyed

helping in his family's corner

shop during the war.

After spending his high

school years, from 1947-1951, at

Christchurch Boys' High School,

John left to join the National Air

Corporation in 1952 at 17-yearsold.

In 1978, NAC became Air New

Zealand. John trained as a pilot

at first, but was unable to finish

his finals due to illness.

Instead, he moved into

reservations and "stayed there for

46 years so he must have loved

his job".

"He was incredibly loyal

to the corporation and, in

return, he enjoyed the leisure of

travelling overseas and doing

lots of amazing work within the

company," Rowena said.

John travelled extensively

around the world during his early

career, and was a very talented

tour guide for various groups he

took around places in Australia,

New Zealand and further

overseas.

His job also allowed his family

to travel, including to Sydney for

their first family holiday in the

1960s.

"Because dad worked for

Air New Zealand and my

grandparents lived at the top of

the North Island, we went away

every school holidays and long

weekends.

"We were always able to go into

the captains' cabin and the air

hostesses used to let me take the

lollies round, and they all knew

dad . . . I think it was the time

in the corporation where it was

more a family."

John's highlight of the year was

Melbourne Cup week and Cup

Week in Canterbury, to which he

also took tours groups to.

LOVED: John Butcher, who died on July 29, aged 88, after

a battle with Covid, leaves behind his two daughters, five

grandchildren and 10 great-grandchildren, some of which

are pictured here.

Rowena said her father was also

a very talented musician and he

played violin in the Christchurch

Symphony Orchestra as a young

student.

Though he was never able

to realise his dream of playing

guitar in a modern band.

He loved and excelled at fishing

and gardening as well, and played

squash socially.

From the late 1940s, early 50s,

John also danced – right up until

Covid hit.

"I used to dance with him in

the home," Rowena said.

John fell sick about a decade

ago, developing Parkinson's

disease, then Lewy Body which is

a form of dementia.

Rowena said her father was

fine, but when he ended up in

the Burwood Hospital for respite

care in the first lockdown, at the

behest of his third wife, it was

"the beginning of the end".

From there, he went straight

into dementia care at Addington

Gardens, though Rowena and her

family tried to have him at home.

STAND FOR YOUR CHRISTCHURCH
---
Thursday August 11 2022 The Star

Latest Canterbury news at starnews.co.nz

NEWS 7

and happy life' – daughter

For about two months, Rowena

said they had no contact

and no visitation.

"It's such a different concept

for us as Māori families dealing

with that separation," she said.

"What I have grown to know

is . . . when we're separated from

family, there is a decline in

health."

The first day they were able to

visit him, it was very emotional.

"They take you into a room

and they sit with you, and they

brought our father in and he

sat opposite to us," she said,

gesturing a length of about three

metres.

"That first day was very difficult

and very emotional because

we couldn't give him a hug. He

didn't understand what was going

on, he wanted to leave with

us."

She appreciated what they had

to do to keep everyone safe, but

seeing her father like that was

incredibly difficult.

It wasn't until New Zealand

moved into the lower levels that

Rowena was allowed to see her

father in his room, which was

again quite emotional.

"You're now seeing your parent

in a rest home facility, in a

locked facility as well because it's

dementia . . . and you've never

been in there before and you're

kind of trying to work out why

he's here, and does he need to

be here, he's got this room and

where's his stuff," Rowena said.

The frequent changes to

Covid-19 restrictions proved a

difficult time for Rowena family

as rules for visitation would

change suddenly.

About six months ago, John

was moved into the hospital part

of the rest home.

Lengthening gaps between the

short visits lead to him becoming

quite unwell, Rowena said, and

his verbal ability diminished

rapidly.

He was one of the last people

to catch Covid in the rest home,

she believed.

On his last birthday, the Anzac

Day past, the rest home was in

lockdown again, so his family

recorded The Last Post on Rowena's

phone, and made poppies

and a big card with all of the

grandchildren's pictures.

"They gave us permission to

go to his room and stand outside

HISTORY: John

Butcher was an

avid rugby player

at school. He is

the player to the

left of the ball in

this 1948 team.

the window . . . they wheeled

him up to the window, and the

window in the top of my father's

room opened about [half a metre]

. . . we're talking through this

gap and saying happy birthday,

and he was sort of looking up

very vaguely at me . . . he never

forgot who we were," she said.

"We played The Last

Post through the window on my

phone and he started tapping

with his hand . . . it was really so

lovely."

She said it was "heartbreaking"

as it was the third birthday

he had been locked down away

from them.

They're the difficult hurdles

that you had to get over with the

Covid."

Rowena and her family

were not able to honour their

Māori traditions as John's body

was cremated shortly after he

died.

However, family still came

from all around New Zealand to

kōrero; to talk, and to sing and

dance.

"Those kind of wonderful

things," she said.

"But it has been very different

for us because we haven't had

our tūpāpaku [the deceased]

with us."

To honour her father, they put

together large cards which were

read out at the gathering, each

a different era of his life, so his

descendants could know who he

was.

John was the father of Rowena

and Cherie, grandfather of

Rochelle, Beau, Josh, Kipa, and

James, and great-grandfather

of Ayla, Shaydis, Aroha, Stacy,

Leslie, Eli, Tia, Bailey-Rae and

Reo-Taritanga.

There are now a total of 1705

deaths in New Zealand that are

confirmed as attributable to

Covid-19.

We are hiring

locally!

• STMS & Traffic Controllers

• Network Inspectors

• Drivers/operators

• Forepersons

• Labourers

KEO'S BACK!

Born in Yasothon, North East

Thailand, Keo has been a chef

for 35 years.

Keo moved to New Zealand

in 1986 and is renowned

for his traditional and

contemporary Thai cuisine.

come see us @

Job Fair

Sat, 13 August, 2022

Christchurch, 9am - 4pm

Nga Puna Wai Sports Hub

Augustine Drive, Wigram,

Christchurch.

heb.co.nz

LICENSED RESTAURANT & BAR

123 Victoria Street

Ph: 355 6229

HOURS:

Mon-Thurs:

5pm - 10pm

Fri, Sat & Sun:

5pm - Late

Weekend Lunch:

Noon - 3pm

www.keostastesofthailand.com
---
8 The Star Thursday August 11 2022
---
• By Anna Leask

INFAMOUS PRISON escapee and

murderer Phillip John Smith has taken

legal action against the Department of

Corrections for refusing to allow him to

wear a necklace in prison.

And he is arguing that he should be

allowed a particular stereo behind bars despite

being told no – and offered a number

of other options to choose from.

Smith was in the High Court at

Christchurch yesterday before Justice Jonathan

Eaton for a Judicial Review of Corrections'

decision to refuse him the items.

Smith – jailed for life for murdering the

father of a young boy he'd been convicted

of sexually abusing – made international

headlines in 2014 when he walked out of

Spring Hill Prison on a 74-hour temporary

release and boarded a flight to Chile.

He made his way to a backpackers in Rio

De Janeiro, where a fellow guest recognised

him from news reports and tipped off the

Brazilian police.

He was arrested and eventually deported

on immigration grounds back to New

Zealand.

Smith regularly takes legal action against

Corrections for what he sees as breaches of

his rights in prison.

He has previously taken the agency to

court over their refusal to let him wear a

hairpiece in prison and not allowing family

members to visit him in prison.

Yesterday's fight was in relation to items

Smith has been denied by Corrections – a

Panasonic stereo and a necklace.

It is understood he was not allowed the

necklace for safety reasons – to protect

him and other inmates from potential

dangers including strangulation.

The stereo was deemed not compliant

under Corrections' operations manual.

Smith said he had been told by Corrections

the stereo exceeded width limitations.

The convicted killer appeared before

Justice Eaton via audio visual link from

prison – wearing a full suit and tie, his

infamous toupee and a watch.

Smith went on to say he had been allowed

to wear a necklace for "a number of

years".

However, his request to put a crucifix

pendant on it was denied.

He conceded he could apply to have a

"freestanding" crucifix but want it on the

necklace so he could express his religious

beliefs.

He argued he had a right to freedom of

expression and said his case was "not dissimilar"

from inmates who were allowed to

wear manaia, pounamu and rosary beads.

Smith denied his crucifix would pose

any risk to safety or security.

Smith will now be given time to prepare

further submissions for the court.

The matter will be called again once he

has done that, and Justice Eaton will then

make his decision. – NZ Herald

Latest Canterbury news at starnews.co.nz

NEWS 9

Infamous escapee takes Corrections to court

CAUGHT:

Phillip John

Smith being

handcuffed by

police in South

America after

his brazen

escape from

New Zealand,

and in the

Auckland

District Court

on his return.

PHOTOS: NZ

HERALD

Thursday August 11 2022 The Star

Apartment Living in

Central Christchurch

Impress friends and family with a stylish and

modern two bedroom home, available now at

Arvida's St Albans.

Your weekly fee offers you:

• Three delicious dinners a week

• A weekly house clean and use of shared electric cars

• Arvida Good Friends Living Well Centre membership.

Come take a look by calling Kathie on 021 392

446 or visit stalbansretirement.co.nz

41 Caledonian Road, St Albans.

CASE: Smith is taking Corrections to

court after they refused to let him

wear a necklace.

An Arvida Living Well Community
---
The Star Thursday August 11 2022

10

NEWS

Latest Canterbury news at starnews.co.nz

Hilda's rose planted at Mona Vale

• By Tina Grumball

A "VERY SPECIAL" rose has

been planted in Mona Vale

Garden Park in honour of its

namesake who was murdered

under suspicious circumstances.

English peace campaigner and

world renowned rose-grower

Hilda Murrell was found dead in

the Shropshire countryside, West

Midlands, in 1984.

While a person was arrested

and sent to prison for her murder

in 2005, there is still uncertainty

surrounding her "bizarre,

strange" death, including the role

of British intelligence.

A prominent figure at the rose

planting ceremony, her nephew

Robert Green published a book

about her death called A Thorn

in Their Side in 2013.

In his book, Green explored

new evidence that should have

acquitted the charged man and

exposes police errors from their

investigation.

Green served for 20 years in

the British Royal Navy, from

1962-82, where he worked with

nuclear depth-bombs and as an

intelligence officer during the

Falklands War.

Now a leading figure in talking

about disarmament, including

nuclear, he lives in Christchurch

and is married to Dr Kate Dewes

– another prominent figure in

ENDURING: Rob Green with a Hilda Murrell rose bush, which was planted at Mona Vale.

A world-renowned rose grower and peace campaigner, Murrell (inset) was murdered in

1984 in what was described as "bizarre, strange" circumstances.

this area.

The rose planted on Tuesday

was named after Murrell just

three weeks before she was

murdered, as a tribute to her and

the international respect she had

gained as a rose-grower by David

Austin, a famous rose grower

himself.

"This was an old-fashioned

rose which was developed by a

famous rose grower in England

called David Austin back in the

1980s and 90s," Green told The

Star.

"He knew my aunt . . . admired

her, and this rose, as she described

it in her own diary . . . it's

an old-fashioned warm pink after

the manner of Constance Spry."

Constance Spry was a famous

pioneer and collector of old

English roses.

These older roses, like the

Hilda Murrell rose, are different

to those more modern, as they

only flower once a year.

"They have a very strong scent

and they're all very special. They

have a long history going back

hundreds of years," Green said.

He said the stock of Hilda's

rose almost died out in the

United Kingdom, but some New

Zealand rose growers worked

"diligently" to propagate the

plant.

There are now 11 plants

ready to be distributed to the

rest of the country, starting in

Christchurch.

"I am confident that Hilda

would have been delighted to

know [it]."

Murrell was also a campaigner

against nuclear waste from the

nuclear power plants that generate

electricity.

"The problem of nuclear power

plants is that if they go wrong

then they have hundreds of times

the radioactivity in them than

nuclear weapons . . . it can spread

on the wind, and you can't get

rid of it for years and years, and

it's basically poisonous," Green

said.

Green noted the Ukranian

War is something Murrell would

have kept a close eye on as the

biggest nuclear power plant is

there, and, if it got out of control,

"it would radiate the whole of

Europe".

"She was also concerned about

nuclear weapons, but her primary

concern was about waste."

Green and Dewes were at

the 77th anniversary gathering

in Hagley Park for the atomic

bombings of Nagasaki and

Hiroshima on Sunday.

HEAT PUMP

SALE NOW ON!

Amazin' WINTER Deals!!

80%

SubSidy

Warmer KiWi HomeS

Programme

*Eligibility criteria apply

• We will offer you the best quality brands and

option of heat pump for your home/business

• Providing Heat Pump solutions for over 20 years to Cantabrians

• We personally guarantee all our products & installs for 5 years

(providing annual maintenance has been completed)

Phone us today for your free consultation & quote

41A SHAKESPEARE RD, WALTHAM

PHONE 03 366 0525

www.enviromaster.co.nz

"A local team for local people"

NEW DATES

Buy tickets now at foodshow.co.nz

19 - 21

August

Christchurch

Arena

Enter the

promo code

FOODIEFAN

to unlock $18 tickets

before15 August
---
Thursday August 11 2022 The Star 11

RYMAN HEALTHCARE'S

NORTHWOOD

Village launch

VILLAGE LAUNCH

Monday 22 August, 2pm or 6pm

THE PAPANUI CLUB

310 Sawyers Arms Road

Light refreshments will be served.

These presentations will also be streamed

online so you can join from the comfort of

your home. Please RSVP for details.

MAKE THE MOVE TO RYMAN'S

BRAND NEW VILLAGE IN 2023!

Join us to learn about Ryman Healthcare's brand new

retirement village, under construction in Northwood.

Cheyne Chalmers, NZ Chief Executive and

Bernadette Forsdyke, NZ General Manager Sales will

officially launch our new village with an informative

presentation showcasing all the village will offer.

There will also be the opportunity to view architectural

plans for our stunning townhouses and apartments.

Hear from Ryman residents as they share

their experience of living in our vibrant

village communities.

Learn more about independent living in

townhouses and apartments.

Find out about assisted living in a serviced

apartment, and our care options, which will include

resthome, hospital and specialist dementia care.

This will be a Covid safe event and

RSVP is essential. Either scan the QR

code or phone Anthea on 0800 685 122

rymanhealthcare.co.nz/village-launch

3974
---
The Star Thursday August 11 2022

12

NEWS

Latest Canterbury news at starnews.co.nz

At 92, Burt not ready to give up the game

Burt Powell started

playing rugby at

Linwood North School

the year World War

2 broke out, and his

association with the

national sport has

endured, with the

former referee now

on the sidelines as

a sub-controller. He

reminisces during his

latest off season with

Chris Barclay

BURT POWELL isn't onside

with all of rugby's rule changes

and innovations introduced

during the twilight years of an

almost life-long association with

his sporting passion.

When he refereed a senior club

game at Lancaster Park Oval,

interaction with his touchies was

limited to a nod in the negative,

or affirmative, after a dubious try

was claimed.

"It's tiresome," the soon to

be 93-year-old admitted, when

asked his thoughts on the television

match official plus a referee

and two assistants convening at

regular intervals to study replays

on the LED screen.

Yet there is one undeniable

improvement since Burt's own

playing days for his beloved

Linwood, the club he joined as a

10-year-old.

"One thing I'm happy about

is the stages for a scrum engagement,"

he said, while gazing,

downcast, at a team photo of the

Linwood RFC Senior Second

Division runners up of 1954.

Burt is smiling at the far right

of the top row, in retrospect a

forced gesture, given the head

shot glued close to him on the

black and white image.

"That's Colin," he said. "He

died a couple of weeks before the

photo was taken."

There was no 'crouch, bind, set'

instruction when Burt and Colin

Bailey collided head first with an

opposition front row that winter's

afternoon 68 years ago.

"My head went back, Colin's

went down and he broke

EXPERIENCE: Burt Powell is flanked by assistant Jonty

Gallagher (left) and referee's water boy Baxter Robinson-

Kennard sideline at Rugby Park.

PHOTO: CRFU

his neck."

The photo explained the reason

behind Bailey's inset matterof-factly

in brackets: (Died of

Injuries).

Bailey's accidental death was

not enough to convince Powell

to stop playing; it was the birth

of Robyn, the eldest of his four

daughters with Norma, which

prompted a move to refereeing in

1959 because it was not as time

consuming.

"I wasn't injured. I was married

with two children and a new

house," said Burt, who started

playing rugby as an eight-yearold

at Linwood North School,

alongside future All Black threequarter

Allan Elsom, who played

six tests from 1952 to 1955.

As Burt's playing career was

nearing the end, he also played

with future Canterbury legend

Fergie McCormick, who was

finding his feet as a teenage first

five-eighth.

"When he was 17 you wouldn't

be thinking of him as a great

fullback, but he had potential,

there was no doubt about it," said

Burt, whose highest level as a

player was Canterbury B in 1956,

the season the top side beat the

Springboks 9-6.

A former wing, loose forward

and prop, Burt finally earned

a trial to referee at senior club

level after four years in the lower

grades and eventually officiated

inter-provincial matches until

he blew his final whistle in 1979,

after the West Coast hosted Mid

Canterbury.

His non-playing highlights

include touch judge duty during

the violent "Battle of Lancaster

Park" between Canterbury and

the British Lions in 1971, a clash

one newspaper summed up as:

'Lions won the game, Canterbury

won the fight'.

The Lions lost props Sandy

Carmichael and Ray McLoughlin

to tour-ending injuries during

a hard-fought 14-9 victory.

Carmichael suffered five

cheekbone fractures when he

was uppercut in a scrum; Ray

McLoughlin broke a thumb

thumping Alex 'Grizz' Wyllie's

head with a retaliatory strike.

Burt has only vague memories

of a contest that has gone down

in infamy as the dirtiest in British

and Irish Lions history.

"That was quite a day. It was

no holds-barred at times, apparently.

I didn't see what happened

to him (Carmichael)," said Burt,

who never sent off a player during

21 years as a referee.

Burt also had the distinction of

refereeing the relatively genteel

Our new Choice Satellite

Internet Plan is here

CONNECT WITH

FRIENDS AND WHANAU

$

152

100GB

10mbps down/5mbps up

Top-up option available

12-month term

GST INCL. PER MONTH

INTERNET AND EQUIPMENT RENTAL

All Blacks' 38-0 victory over

Wairarapa Bush during their

unbeaten nine-match internal

tour in 1972.

The All Blacks line-up included

Keith Murdoch, who gained

notoriety six months later when

the abrasive Otago prop was sent

home from Wales after a bust-up

with a security guard at The

Angel Hotel in Cardiff.

Burt was also staying at The

Angel, but was oblivious to the

late night, post-test drama.

"I was on a tour (led by former

All Black and Canterbury hooker

Dennis Young) and in the morning

we knew something was

wrong because Keith had gone,"

he said.

When Burt, a teacher who

spent 20 years at Casebrook

Intermediate until retirement in

1990, opted to stop refereeing, he

mentored the next generation of

match officials.

And these days – in the social

media age – he doesn't envy the

likes of Ben O'Keeffe.

Sure, Burt would hear more

than an 'Aw ref' from the embankment

at Lancaster Park,

though criticism generally

focused on his eyesight, or lack

thereof.

"We got a bit of encouragement,

at some club grounds we

got plenty of tongue-in-cheek

stuff, but I never heard any

swearing," he said.

"I'm quite glad I'm not

refereeing now. It's a very

difficult job . . . they're

(Canterbury Rugby Football

Union) trying hard to educate

people (to be tolerant)."

A life member of the Canterbury

Rugby Referees Association

since 1994, Burt now works as a

sub-controller, monitoring the

game-day personnel changes in

the Christchurch Metro Premier

competition.

Health-willing – macular

degeneration in his left eye is

his major concern – Burt will

resume the role in 2023, his 64th

year of service to the game – and

the city – he loves.

"I've been with rugby, stayed

with it and watched so much of

it," he said.

"If I can, I'll keep going."

GRIM MEMORY: Burt Powell

recalls the accidental death

of teammate Colin Bailey

during a club rugby match

for Linwood in 1954.

PHOTO: CHRIS BARCLAY

ABSENT MATE: Burt puts on

a brave face days after Bailey

(inset) died.

CLASS PHOTO: Burt (front

row, right of captain) started

playing rugby at Linwood

North School in 1939. ​

FOR THE

RURAL KIWI

Installation charge: $114 upfront

Installing nationwide

Terms and conditions apply

For more information:

0800 GET WOI (438964) www.woi.co.nz
---
Thursday August 11 2022 The Star 13
---
The Star Thursday August 11 2022

14

NEWS

Cairns reveals life lessons after brutal year

CHRIS CAIRNS has opened up

on what he's learned 12 months

on from a serious health scare

that he says "would impact every

aspect of my life".

The 52-year-old former cricketer

and Cantabrian suffered

a life-threatening heart attack

last year, resulting in an aortic

dissection, or a tear in the inner

layer of the body's main artery.

He also suffered a spinal stroke

and received a cancer diagnosis

just months later.

Following multiple surgeries,

rehabilitation and chemotherapy,

Cairns took time to reflect on the

last year in an Instagram post

he labelled "reflections from 12

months on".

"It is a year today that I was

admitted to hospital with an

aortic dissection, an event that

would impact every aspect of

my life (and those around me) in

ways I never imagined possible.

As I reflect on all that has happened

there are three key takeaways

that I will carry forward

with me," he wrote on the social

media platform.

"1. Set the direction, not the

destination. I now use a compass

to navigate rather than a GPS,

setting my North Star towards

where I am heading, but very

alive to the fact that there will

be unintended stops, delays and

some rerouting.

"2. Life is what happens

REFLECTIVE: Chris Cairns is staying positive 12 months

after his serious health scare. PHOTO: INSTAGRAM

between the plans you make.

Mel (Cairns' wife) reminded

me recently that I needed to

stay present. I have always been

guilty of focusing on the future

and rushing to get where I was

going. Saying things like 'once

XXX happens, then it will be the

start.' I've also looked back and

wondered if I could have done

something differently to avoid

being where I am today. Chemo

can feel like Groundhog Day, but

I have found that taking it day

by day (and even hour by hour

Latest Canterbury news at starnews.co.nz

when needed) has given me the

ability to stay in the moment

and I find that calming. It also

helps to focus on the little things,

watching the kids play sport,

helping with homework, reading

books, dinners with family

and friends …these little things,

strung together are no longer

taken for granted."

Cairns finished his thoughtful

post by saying he wants to "pay

it forward" after everything he's

been through.

"3. Find your purpose. You are

always evolving and who you

were isn't always who you will

be. We often define ourselves

by what we do, but recently I've

been able to engage with different

groups of people and find

that my story has an impact. Not

just the outcome of my medical

events, but the roller coaster

of triumph and disaster that is

life and that at varying degrees

everyone encounters. I have

been told by people far smarter

than me, that there is no medical

reason I should have survived -

so I will assume that I have been

given a gift and I will do what I

can to pay it forward."

In an interview with the

Between Two Beers podcast,

Cairns said he now has a positive

outlook of life and is determined

to make the most of his second

chance.

"I'm no different from anyone

else … there's no secret recipe.

"It's choice, fundamentally.

The human race is gifted with an

asset in the mind that allows you

to choose your reaction to any

situation.

"That is the most important

thing you possess, and at times

people don't tap into that.

"It's easy to be a victim, easier

for it to be someone else's fault …

to be unlucky.

"I just never carried that mentality.

Maybe that was through

cricket or other things in my life

WICKET-TAKER: Chris

Cairns in action with the

Black Caps.

… that choice aspect is always

the most important.

"Of course, I will burst into

tears or feel horrible, but I

quickly try to transition out of

that. The key things in all of this

are choice and purpose."

– NZ Herald

Smile with confidence

Showcase your brand or product to

thousands of women at our two day expo!

29 & 30 OCT | CHRISTCHURCH ARENA

This is the perfect opportunity for you to:

• build awareness of your brand

• grow your customer database

• demonstrate or sample your product

• generate strong sales

BEFORE

Full or Partial Dentures

Immediate Dentures

Winz Approved

aFtER

Insurance Claims

Urgent Denture Repair & Reline

Payment Options Available

CONTACT US: (06) 354 0498 | enquire@events.nzme.co.nz

womenslifestyleexpo.co.nz

914 Colombo St | Ph: 03 365 2859 | www.cosmeticdentureclinic.co.nz
---
Thursday August 11 2022 The Star 15

SHOP ONLINE tradedepot.co.nz

Christchurch

16 Watts Rd, Sockburn.

Alder Black

Frameless Shower

Includes Tray & Liner

1200x900mm

Reversible Door

Flat Liner

Corner Waste

$

1099

LOW PRICE

902249

10 Year Warranty

Edge Bathroom Wall

Side Cabinet

Edge Wall Vanity 261556

2 Drawers

Soft Close

$

499

LOW PRICE

211198

5 Year Warranty

$

449

LOW PRICE

Mirror Cabinet

3 Soft Close Doors

$

379

LOW PRICE

262902

Zara Floor Vanity

2 Soft Close Drawers

$

699

LOW PRICE

903991

24 Month Warranty

Marsela Toilet Suite

P Pan, S convertible

Back to wall

WELS 4 Star

Slim Seat

$

279

LOW PRICE

230185

5 Year Warranty

7.0kW Aurora Plus Smart

Heat Pump

DC Inverter

WIFI Ready

High Energy Efficient

Room Size: 40 ~ 70m²

$

1699

EXPO

370770

5 year Warranty

HUGE

7.0kW

Aurora Plus Smart

Heat Pump

DC Inverter

WIFI Ready

R32 Gas

Energy Efficient

Room Size: 15 ~ 25m²

$

899

EXPO

370726

5 Year Warranty

2.5KW

Carbon Infra-Red

Outdoor Heater

$

199

LOW PRICE

740105

Freestanding Carbon

Infra-Red Heater

$

249

LOW PRICE

740110

12 Month Warranty

Dehumidifier

3 l 3 l

$

219

LOW PRICE

373050

24 Month Warranty

Dehumidifier

with WiFi

$

279

LOW PRICE

373055

24 Month Warranty

Wall Oven with

Steam Assist

Pyrolytic

Wall Oven

Pyrolytic

Wall Oven

Platinum

Pyrolytic Wall Oven

Freestanding

Gas Oven

Freestanding

Oven

72 l

82 l

73 l

73 l

900mm

W I D E

60cm

W I D E

60cm

W I D E

60cm

W I D E

60cm

W I D E

60cm

W I D E

$

1299

LOW PRICE

310716

24 Month Warranty

$

1299

LOW PRICE

310744

24 Month Warranty

$

1150

EXPO

310703

36 Month Warranty

$

2999

EXPO

310728

36 Month Warranty

$

1599

LOW PRICE

310136

24 Month Warranty

$

1149

LOW PRICE

310150

24 Month Warranty

Vented Dryer

Condenser Dryer

Heatpump Dryer

Washing Machine

Washing Machine

Washing Machine

All in One

Washer Dryer

7kg

8kg

8kg

5kg

8kg

10kg

10kg

$

350

LOW PRICE

361170

24 Month Warranty

$

699

LOW PRICE

361281

24 Month Warranty

$

999

LOW PRICE

361308

24 Month Warranty

$

399

LOW PRICE

360451

24 Month Warranty

$

799

LOW PRICE

360483

24 Month Warranty

Prices Guaranteed as of 13/8/22. Subject to change.

$

949

LOW PRICE

360212

24 Month Warranty

$

949

LOW PRICE

360173

24 Month Warranty

CAN-C21

KITCHENS | BATHROOMS | APPLIANCES
---
16 The Star Thursday August 11 2022

Let's use water

like we oughta

Christchurch and Banks Peninsula households

that regularly use much more water than

average will pay extra for their water supply

from October.

Most households are using less than 700 litres of water a day and won't be charged.

Thanks for using water like you oughta!

A fairer way to manage our city's water supply

We don't charge ratepayers for water itself. We charge for delivering it

– through our network of pipes, pumps and other infrastructure.

When the district's water use doubles over summer, the cost of

delivering water goes up significantly too. That increase in demand

isn't spread evenly, with most of the increase due to a small

proportion of households.

When demand on our water supply network is at its peak we're at risk

of not being able to supply enough water to properties, which could

have serious impacts on public health, and our ability to fight fires.

If everyone uses water like we oughta, we won't need to spend as

much money expanding our water supply network, and it will also

improve the sustainability of our city's water supply, which helps us

achieve our climate change goals.

Seek the leak and reduce your use

You can use our Water Reporter online tool to find out how much

water your household uses before charges come into effect in

October 2022 – visit ccc.govt.nz/WaterReporter

If your household is using a lot of water there might be a leak on

your property. You have time to find the leak and get it fixed.

Our website tells you about how to read your water meter, check for

leaks and reduce your water use*.

*Some properties' water use is not recorded on the Water Reporter.

This includes: properties with a shared water meter, properties

that haven't had their water meter read and properties without

a water meter.

How the new rate will work

The new rate will apply to any household that uses, on average,

more than 700 litres a day. We'll read your water meter roughly

every 90 days, and for every 1000 extra litres you use during that

period, you'll pay $1.35.

We know there are some reasons households might have high water

use. If any of these circumstances apply, you might be eligible for

a remission:

Unexpected high use due to a leak – if you can show the leak

was repaired promptly.

Personal circumstances such as medical conditions.

Families with nine members or more who are using water

responsibly.

High water users can expect to receive their first bill between January

and March 2023.

What does this mean for tenants and landlords?

The property owner, or the person who receives the property's rates

bill, will also receive the excess water supply bill. The landlord must

pay the bill and can then ask the tenant to reimburse them.

If high water use is due to a leak, it's the owner's responsibility to get

it fixed and apply for a remission.

Landlords should let their tenants know they have a responsibility to

be good water users and will need to pay for excess water use.

Know and reduce your water use

ccc.govt.nz/WaterReporter
---
2

[Edition datE]

• By Susan Sandys

A MOTORIST on his

way to work felt a sense

of dread as he ran to a

car that had just

crashed into a ditch.

Cam Downs was

worried the driver

would be seriously

hurt, but soon

found the man,

believed to be in his

20s, was uninjured.

The driver said

"I don't know what

the f** just happened," as

Downs helped him out of

the car.

Downs said it had been

a relief to find he was okay,

after the crash happened

about 8.15am last week

between Halswell and

Lincoln.

"I was fully in panic

mode, thinking: 'I have

to get this person out of

here'," Downs said.

Downs, who lives in

Lincoln, was driving on

Ellesmere Rd on his way to

work, as a real estate agent

in the city, with

his three-year-old

daughter, who

he was to take to

pre-school.

He heard a loud

"boom noise",

then saw a "huge

puff" of dirt up

ahead at the

intersection with

Trices Rd.

A white vehicle which

had also pulled over, just

in front of him, had also

been involved in the crash.

The driver of that car was

shaken. Her car appeared

to have clipped the other

car, with some damage to

the front.

Downs approached the

car in the ditch and could

see the driver upside down

Cam Downs

NEWS 17

LUCKY: The driver of this vehicle was helped out of his vehicle by a

passing motorist.

Desperate effort to

rescue trapped driver

and trying to open the

driver's door, which appeared

jammed.

He ran back to his car to

get something to smash the

window, and found an umbrella.

When he got back to

the car, umbrella in hand,

the driver motioned to him

to try opening the door

from the outside, which

was what he did.

Balancing on the muddy

bank of the ditch, he held

the door open with one

arm and used the other to

grab the driver and help

him out.

Soon more than 10 passing

motorists had stopped,

including a nurse. As they

assisted at the scene, it appeared

both drivers were

okay and uninjured.

"You never want to see

something like that, but it

was quite good to be able

to help out," Downs said.

Need Heat Fast?

The Fastest, Warmest Indoor/Outdoor Heater You Will Ever Own!

Buy One Get One Free! *

• Heats Up Instantly

• Suitable for Indoors or Outdoors

- In Rain, Fog, Wind or Snow

• Carbon-Fibre Bulb Technology

*Call for Terms

& Conditions

• Multi-Directional Stand

• Includes Remote Control

& Built-In Timer

• Motion Detection Function

+Plus

Free

Floor

Stand!*

worth

$199.99

1.8m High

• Commercial Grade

• Multi-Directional

• Easy Install

• Portable

• Indoors & Outdoors

CALL NOW! 0800 665 665

ARA INSTITUTE OF CANTERBURY

Digital skills

beneficial at any age

Becoming 'digitally savvy' has had many

advantages for former national ice figure

skating champion and Order of New

Zealand Merit recipient, Jeanne Begej.

Thanks to free computing courses at

Ara Connect, 75-year-old Jeanne has

significantly increased her digital skills and

is putting them to good use every day.

As President of the Canterbury Masters

Figure Skating Club, her new-found digital

confidence and enhanced computing skills

and have been enormously beneficial. Her

skills in Word, Excel and Publisher could

put many people half her age to shame and

she quite possibly knows her way around

smart phones and apps better than most of

us.

Jeanne had some computing skills prior

to attending Ara Connect but wanted to

gain more. "I've used computers for a

long time, but everything I've done on

them has been self-taught or just what

I've learned through my employment

at the time. And with skating

administration, I'm on the computer a

lot so I just wanted to upskill."

Jeanne attends Ara Connect's

Woolston hub, conveniently located just

around the corner from Christchurch's

main indoor ice rink where she still

skates. She says the hardest part about

starting was simply walking in the door

on the first day. "But once you've been

through that door, it's very easy."

She started off with Digital Basics then

went on to courses in Word, Excel and

Publisher and is now — at the suggestion

for the digital world

Thursday August 11 2022 The Star

of her tutors who were impressed with

her ability to pick things up — studying

towards a New Zealand Certificate in

Computing. "I'm up to web fundamentals

at the moment, which I just love. Learning

how to design fully functioning websites

and make PowerPoint presentations have

been highlights."

Jeanne says the tutors at Ara Connect are

excellent — "very friendly and helpful" —

and she loves being able to study when it

suits her, often after a skating session or a

coffee with friends nearby.

She encourages anyone who wants better

digital skills to just go for it. "It's brilliant

and the more people who know about it the

better. If you want to improve yourself by

upskilling, there's no reason not to do it. It's

a golden opportunity."

Jeanne Begej was awarded an ONZM in

2020 for services to ice figure skating. As

a leading administrator for the sport, her

enhanced computing skills have proven

very beneficial.

Thrive in the world of computers, smart phones

and the internet with Ara Connect. Whether you

have no computing experience, or you'd like to

get more, Ara Connect's friendly facilitators can

help you build your skills and confidence locally

and at your own pace. Start any time at an Ara

Connect location near you (Rangiora, Papanui,

City or Woolston).

Explore now at

ara.ac.nz | 0800 24 24 76
---
18 The Star Thursday August 11 2022

We're making a bit

of hoohah about our

28 Day Doodah.

Earn a huge 3x

Airpoints Dollars TM *1

INTRO

DEAL

FREE

DELIVERY ON

TVS* 2

Levante Powered Fabric Recliner Corner Chaise Bosch 8kg Series 4

Heat Pump Dryer

LG 65" 4K Nanocell

LED-LCD Smart TV

Available in Dark Grey (Pictured), Oyster, Steel Blue

9070498 Valid until 6th September 2022.

9072248 / WTH8300AU 9072856 / NANO80

FULL RRP

$

4499

Sanctuary Model

Runout Beds #

selected Lounge

Suites & Recliners #

inc.

selected Bedroom

& Dining Furniture #

HD and HDX Beds

plus free delivery #

Excludes Limited Edition

50 months INTEREST FREE on furniture & beds $999 & over #

24 months INTEREST FREE on purchases $499 & over #

This ad is valid 10 - 16 August. Some offer valid dates vary. See individual product pages online for detail.

#Terms, conditions, exclusions and credit criteria apply. Visit smithscity.co.nz/interest-free for more details.

*Discount is off our full retail price. Not available in conjunction with any other offer.

*1 3x Airpoints offer valid 27 Jul - 23 Aug 2022. Airpoints TM terms and conditions apply. Visit smithscity.co.nz/airpoints for details.

*2 Free delivery on selected LG TVs valid Wednesday 27 July – Tuesday 23 August 2022. See individual products on smithscity.

co.nz for details.

Due to ongoing global supply issues outside of our control, some products may be delayed at time of printing.

Check in-store for more information on availability and timeframes.
---
Thursday August 11 2022 The Star 19

Head into your local for great deals storewide

on thingymajigs, watchamacallits and gizmos.

Make your floordrobe history.

Make your bedroom the peaceful place you always wanted it to be,

with this stylish bedroom suite. Even the queen slat bed has storage —

with two drawers and shelves in the headboard. There'll be no excuse

for chucking your thingymajigs and your whatsits on the floor

Queen, King, Super King. Same price.

Sleepyhead Matrix Limited Edition Bed

less than

$14

per week for

50 months on

interest free*

Louie 4 Piece Bedroom Suite with Queen Slatbed

9066821

BONUS

was

less than

$15

$200 Smiths Gift Card

when you purchase any Beko

Wall Oven and Induction Cooktop

in the same transaction.* 4

selected NZ Made

Bedroom & Dining

Furniture # $

5369

per week for

50 months on

interest free*

9073111 / 9073107 / 9073112

FREE

DELIVERY ON

BEDS* 3

Breathe a little easier.

Take $50 off.

Breville Easy Air

Connect Purifier

less than

$6

9065114

per week for

52 weeks on

EasyCard**

Breville Barista

Express Impress

in Silver

less than

$11

9072250

#

per week for

24 months on

interest free*

Mountain Buggy Urban Jungle V3.2 Buggy

less than

$9

bedding #

9060552

per week for

24 months on

interest free*

was

$

989

selected Nursery #

Seen a better price on the same item, elsewhere?

We'll match it* 5 , plus you'll earn Airpoints Dollars TM

Offers valid dates vary. Please check individual product pages online for details. Available while stock lasts, or unless otherwise stated. Some products on display in selected stores only - please call 0800 764 847 to check availability. #Apple, selected computers, game consoles, gift

cards and some promotional items are not available in conjunction with interest free offers. Flooring available on a maximum of 18 months interest free. Exclusions, fees, terms, conditions and credit criteria apply. Equal instalment amounts include one-off booking fee of $45.00,

and a maintenance fee of $3.75 per month. The current interest rate of 23.95% applies to any unpaid minimum payments during the interest free period, and any balance after the expiry of (any) interest free period. In circumstances of default, a $19 notification fee may apply. See

in-store or visit smithscity.co.nz/interest-free for details. *Discount is off our full retail price. Not available in conjunction with any other offer. *1 3x Airpoints offer valid 27 Jul - 23 Aug 2022. Terms and conditions apply. Visit smithscity.co.nz/airpoints for more detail.*2 Free delivery on

selected LG TVs valid Wednesday 27 July – Tuesday 23 August 2022. See individual products on smithscity.co.nz for details. *3 Sleepyhead beds free delivery offer valid 27 July – 23 August 2022 only. Free delivery terms, conditions, and exclusions apply. Applies to delivery addresses

within 30km of a Smiths City store. Also applies to local Auckland delivery addresses (from Auckland CBD extending to Albany, Henderson, Howick, and Papakura). See individual products on smithscity.co.nz for details. *4 Gift card offer valid dates vary, while stocks last, see

product pages online for dates. One gift card per qualifying transaction. Availability may vary between stores. Not available in conjunction with any other offer. Limits and other exclusions may apply, ask in-store for details. In the event of an order cancellation or refund, the bonus

product must also be returned. Personal shoppers only. Trade not supplied. *5 Price promise terms, conditions and exclusions apply. Visit smithscity.co.nz/price-promise for details.
---
The Star Thursday August 11 2022

20

OPINION/LETTERS

Latest Canterbury news at starnews.co.nz

National's line on jobs an 80s flashback

Canterbury

Mornings

host on

Newstalk ZB

Christchurch

John

MacDonald

talks jobs

IS ANY job better than no job?

The National Party seems to

think so – announcing yesterday

that, if it becomes government,

there'll be no more young

people lying around on the

unemployment benefit playing

video games all day.

"The free ride is over" – that

was the warning shot fired from

the luxurious surroundings

of Christchurch's new Te Pae

Convention Centre, to young

people in Aranui, Linwood,

Spreydon, Otara . . . In fact,

anywhere in New Zealand where

there is a young person currently

receiving the unemployment

benefit. Or Jobseeker benefit, as

it's known these days.

And when I saw the coverage

on TV on Monday night, I

thought I was back in the 80s.

Especially pre-'87 when it

seemed anyone who had a spare

bit of cash was starting up or

joining a shares club and there

were yuppies left, right and

centre who seemed to be making

money out of nothing.

It turned out they were making

money out of nothing and it all

came crashing down but, before

SO THE NZR circus continues

with another loss for the All

Blacks, this time to South Africa.

Ian Foster, as most people

realise, should never have got the

job of All Black coach. Poorly

selected teams are at the heart of

the problem.

Crusaders scrum coach, Jason

Ryan, has made a difference. He

is not a selector as was not another

former Crusaders co-coach

it did, if you weren't in a share

club or if you weren't a yuppie

you were what we here in New

Zealand referred to at the time as

a dole bludger.

If you were on a benefit, it was

because you couldn't be bothered

working and all you needed was

a good kick up the backside and

sent out to do an honest day's

work. Because it never did us any

harm!

That was back in the 80s. But

fast-forward to Monday, and the

National Party seems to think

the same solution is needed.

The gist of its policy is that

anyone under 25 who's been on

the jobseeker benefit for more

than three months would get

what's being called a "job coach"

to essentially do whatever is

needed to get them into a job.

And then when you get a job,

if you stick at it for 12 months

you get a $1000 bonus from the

taxpayer.

But if you don't go along with

the plan laid out by the "job

coach", then there would be what

the National Party is calling

"sanctions". Even the word

"sanctions" reeks of Margaret

Thatcher, doesn't it?

On Tuesday morning, party

leader Christopher Luxon told

Mike Hosking on Newstalk

ZB that these sanctions would

start with state control of

beneficiaries' spending and then

eventually their unemployment

benefit would be out the window

if they didn't toe the line and get

a job.

to Scott Robertson, Brad Mooar,

who was ridiculously jettisoned

by Foster a couple of weeks ago.

The bizarre non-selection of

Richie Mo'unga at first-five, who

regularly shows his genius for the

Crusaders, is sickening.

-Graham Paterson, Redwood

I recently had occasion to

spend three fascinating days in

the company of the Mayor of

ENGAGEMENT: National Party Leader Christopher Luxon

doing a walk about at the annual party conference.

PHOTO: GEORGE HEARD/NZ HERALD

Now I think this policy is

a disaster. It will sound good

but, in my view, it will achieve

nothing.

It's all big stick with a little bit

of carrot. It's the sort of thing

that is very easy to trot out – but

making it happen is a completely

different story.

For starters, does the National

Party have any idea why some or

all of these young people aren't

working? Doesn't it understand

that some of them come from

really good families who have

done all the right things – who

aren't "the no-hoper parents"

people like to rant on about – but

in spite of all that, life just throws

some cruel things at these young

people?

Christchurch, Lianne Dalziel,

after we happened to be seated

together at the World Cities

Summit in Singapore.

The mayor told me her term

is coming to an end later this

year. In my discussions with

her, she showed herself to be a

rare thing in politics: genuinely

caring, principled, without ego,

concerned about the details, and

still interested in learning – even

Things like mental health

issues. But also self-esteem and

confidence problems. Kids who,

especially over the past two-tothree

years, have spent so much

time in isolation that the idea of

going out terrifies them.

I know young people right now

– some of them I've known since

they were babies – who are really

struggling at the moment. And

what does National think will

help them? Telling them that the

free ride is over and they need to

get a job.

Is this really still the answer in

2022? Are we really going back

to the days of calling everyone

who doesn't have a job a "dole

bludger"?

Another reason why I think

Rugby woes continue with latest loss

after a long innings in office.

Her legacy is, no doubt, secured

in a stronger, better and

more resilient city for everyone.

I very much enjoyed meeting

her, and I wish her well in the

next phase of her life. Residents

of your fine city can feel proud

of their mayor. Take five, Mayor

Dalziel - you've earned it.

-Geordin Hill-Lewis, Mayor

of Cape Town, South Africa

it won't work is that National

seems to have completely

forgotten – or ignored – what

would actually have to happen to

make it work.

Where would all these "job

coaches" come from? What

would the Ministry of Social

Development have to stop

doing so it could implement

this new policy? What would

the consequences be of cutting

someone's unemployment

benefit just because they don't

get a job? More crime,

anyone?

I was talking to a 75-year-old

woman on Saturday night who

is still working. She started

working when she was 16 and

she's at the point now where she

thinks it's time to wind things

up.

I'd never met her before and

I don't know a lot about her but

it sounded to me like she and

her husband had done pretty

well for themselves, but they had

obviously worked very hard to

get there.

Now she could easily be

very critical of "the current

generation" and be of the view

that if she managed to work hard

and keep working, then anyone

could.

But she wasn't, and even she

acknowledged that life is so

much more complicated for

young people today.

And I'm picking that, like me,

she won't be falling for this cheap

talk from the National Party.

– NZ Herald

We want to hear your views

on the issues affecting life

in Canterbury

Send emails to:

barry@

starmedia.kiwi

Letters may be edited or rejected

at Star Media's discretion. Letters

should be about 200 words.

A name, postal address and phone

number should be provided.

Please use your real name, not

a nickname, alias, pen name or

abbreviation.

KIRST & BEAVS

IZZY & KEMPY

DOWNLOAD THE SENZ APP TODAY
---
Thursday August 11 2022 The Star 21

STYLE & QUALITY

FOR LESS

Winter

STOREWIDE

S A L E

WWW.AFFORDABLEFURNITURE.NZ

Flow

Sideboard

QUALITY

FURNITURE

Affordable

PRICE TAG

WAS $1950

$

1749

WAS $2799

$

2549

Valley Corner Lounge Suite

Available in Raisin and blue

Flow Dining 180 x 90

Mia Dinning Chair

Colorado

Barstool

Rustic Bar Stool

Finn Chair

WAS $1179

$

1049

WAS $199

$

179

Wagner

Chair

WAS $239

$

219

WAS $179

$

149

WAS $249

$

229

WAS $1149

$

1099

Bradman

Lifter Chair

Marlow

Chair & Stool

12

Queen Lift Up Base

Mattress not included

Single $619 $569

King Single $649 $599

Double $739 $679

King $879$809

WAS $789

$

699

WAS $969

$

899

Lending criteria, $50 Annual Account Fee, fees, Ts&Cs apply. Standard Interest Rate

(currently 25.99%p.a.) applies to any outstanding balance at end of interest free period.

Offer ends 31 December 2023. Min spend and exclusions may apply,

$55 Establishment Fee or $35 Advance Fee applies to Long Term Finance Purchases*.

WAS $759

$

699

FREE

CARPARKING

SOUTH CITY

BATH ST

WE ARE

HERE

255 MOORHOUSE AVE

REBEL SPORT

COLOMBO ST

WWW.AFFORDABLEFURNITURE.NZ

MON-FRI 9:30AM – 5:00PM

SAT-SUN 10AM – 5:00PM

0800 268 264
---
The Star Thursday August 11 2022

Building on Past Achievements,

Taking China-New Zealand

Friendship to a New Level

22

OPINION

Kia Ora. My name is He Ying, Consul

General of the People's Republic of China in

Christchurch. It's been 4 months since I came

to the South Island. Besides Christchurch, I

have also visited some other cities and districts

including Selwyn, Hurunui, Marlborough,

Nelson, Dunedin, and Queenstown. I'm deeply

impressed and happy to see the fruits of

China-New Zealand cooperation wherever I

go. Now, the South Island has 16 pairs of sister

city relations with various provinces and cities

in China, which provide efficient platforms

to carry out our practical cooperation. The

local governments I visited, enterprises and

businessmen I talked with, are attaching great

importance to the cooperation with China.

In particular, Christchurch city council has

formulated its international strategy, taking

Guangdong Province of China as one of the

priorities for its international cooperation.

I met people from dairy, meat processing,

construction, education and tourism sectors, as

well as members of the Chinese communities,

all of whom are participants, contributors

and beneficiaries of our bilateral practical

cooperation. The passion and commitment of

the South Island community to China-New

Zealand friendship and cooperation has made

me deeply aware that this relationship has

brought tangible benefits to both people, thus

filled me with a sense of responsibility for my

work as the Consul General.

This year marks the 50th anniversary of the

diplomatic ties between China and New

Zealand. Over the past 50 years, China-New

Zealand relations have weathered international

changes and become a successful example of

win-win cooperation between countries with

different social systems, histories, cultures, and

development stages. Cooperation between our

two countries has reaped fruitful outcomes,

especially in economic and trade fields. The

signing of the FTA in 2008 has boosted

bilateral trade in goods from NZ$9 billion to

NZ$35.5 billion by 2021. This hard-won result

is achieved through the relentless efforts of

both sides and thus deserves to be cherished

and maintained by both sides. Currently,

China is New Zealand's largest trading partner,

export market and source of trade surplus. Our

economies are complementary. New Zealand

products can meet China's growing demand

for high-quality products, while the Chinese

market makes positive contribution to New

Zealand's economic development, income

growth and job creation. Meanwhile, "made

in China" products like home appliances,

inexpensive and of good-quality, provide more

choices for New Zealand's consumers and

are welcomed by the Kiwis as well. Our two

countries and peoples have achieved mutual

benefit and win-win results.

China now has a population of more than

1.4 billion, a large labor force of more than

900 million , a per capita GDP of more than

$12,000, a middle-income group of more than

400 million, and imports goods and services

worth about $2.5 trillion every year. It's a

market with unlimited potential. New Zealand's

national brand as a clean, green, open, friendly

country and its high-quality products are very

popular in Chinese market. As New Zealand's

biggest trade partner, China accounts for

about 30% of New Zealand's foreign exports of

goods and services. In 2021, China accounts

for 42% of total exports of New Zealand's dairy

products, 42% of total exports of meat and 65%

of total exports of wood products. There is also

a growing demand in China for New Zealand's

wines, honey, fruits, seafood, etc, all of which are

mainly produced in the South Island. In April

this year, the Upgrade Protocol of China-New

Zealand FTA came into force, giving new

momentum to deepen our bilateral practical

cooperation.

New Zealand enjoys a good reputation

among Chinese tourists for its natural scenery.

Before the pandemic, most of the nearly

400,000 Chinese tourists who visited New

Zealand came to the South Island. Close to

4000 Chinese students studied in the South

Island, in Christchurch, Dunedin, Invercargill,

Nelson and other places. Many of them were

attracted by New Zealand's multicultural

society and chose to stay here and live a happy

life. Chinese companies actively participates

in the South Island's urban construction and

economic development. Wherever I go in the

South Island, I can feel the enthusiasm of local

people in developing China-New Zealand

relations and their appreciation for Chinese

companies, Chinese students and local Chinese

communities. This makes me deeply moved

and proud. On Aug.1, New Zealand reopened

its borders. Like many New Zealanders, I also

look forward to welcoming Chinese students,

tourists and entrepreneurs back to New

Zealand for sightseeing, study, investment and

business.

This year also marks the 125th anniversary of

the birth of Rewi Alley. Rewi was a great hero

of Canterbury and one of the most respected

international friends of the Chinese people.

He came to China in 1927 and lived in China

for 60 years, dedicating his life to China's

development and the friendship between

our two countries. When visiting Rewi Alley

memorial park and relevant commemoration

facilities in Selwyn and Hurunui, I was deeply

touched by his internationalism of loving

peace and pursuing justice, his "Gung Ho

spirit" of arduous struggle and "work hard,

work together", his educational philosophy of

"hand and mind, create and analyse", as well as

his boundless love and selfless dedication to

the Chinese people. This year, our Consulate

General plans to hold a series of events

to celebrate and commemorate the 50th

anniversary of China-New Zealand diplomatic

relations and the 125th anniversary of Rewi

Alley's birth. We welcome our Kiwi friends'

active participation.

Our Consulate General will make full use

of our resources and do our best to promote

friendly relations and people-to-people

exchanges between the two countries. China

has made new adjustments to the measures on

Covid-19 prevention and control. Many cities

in China have shortened their entry quarantine

time. The Chinese embassies and consulates

abroad including our consulate general, have

already started to accept visa applications to

China. As before the pandemic, if you want to

apply for business or visit visa, you only need

to provide an invitation letter from a partner in

China. We welcome more Kiwi friends to China

with open arms.

He Ying

Consul General of the People's Republic

of China in Christchurch

This advertisement is paid for by the Chinese Consulate

LOCALISED ISSUE: Flooding in Edgeware Rd in July.

PHOTO: GEORGE HEARD/NZ HERALD

Flooding woes and a

new water authority

National list MP

Gerry Brownlee

says Jacinda

Ardern's assertion

ownership of

Christchurch's

water assets will stay with the

city is a fanciful notion

JULY SAW record rainfall in many parts

of the country and Christchurch certainly

bore its fair share, with its wettest month

of any on record, recording 310mm

of rain – roughly half of the amount

Christchurch typically records over a full

year, and compared to its average July

rainfall of 60mm.

This led to considerable surface flooding

but was mainly confined to parts of the

city that are prone to flooding in big rain

events.

Much of the land Christchurch is built

on was in pre-European times swampy.

Post-earthquakes, considerable geo tech

analysis guided the extensive renewal and

replacement of underground water services

and the development of sizeable flood

basins to take the excess stormwater in

big weather events. The system, although

reaching capacity, worked.

Discussion is now about frequent flooding

areas. One is a commercial area of St

Albans, which has seen an iconic butchery

flooded several times this year.

The fix would cost an estimated $23m,

which the council is currently considering.

The point is, locally we know what

needs to be done. A solution can be

worked up and a funding programme allocated.

But with the new water authority,

local representation will need to identify

issues, convince the whole South Island

authority that it needs sorting, and wait

for that system to process and hopefully

approve it.

How on earth can that be efficient?

Water issues in Christchurch are very

different to Invercargill and Dunedin in

the south, or Blenheim and Nelson in the

north, let alone the West Coast.

The value of our water assets in

Christchurch is $6.9 billion. The Prime

Minister says the ownership of them will

stay with the city, but that's a fanciful

notion when all decisions about them are

made by the new entity.

Ratepayers stumped up about $1.7

billion post-earthquakes to build in resilience

and long life to these assets. There

is no way the cost imposed by the new

authority will be less than the $1000 average

water and waste charges currently in

Christchurch rates bills. So there's loss of

assets and local control, and greater costs.

Local Government New Zealand has

asked for the stormwater assets and

administration to be left out of the Three

Waters structure and left with local councils

who know these areas and needs.

There's a slim chance of that happening.

The Government has an outright majority

and even though the legislation has yet to

be passed, it is already advertising for a

chief executive for the new South Island

entity. It can do this because it has the

numbers to do what it likes, even though

the Christchurch City Council has said

please don't.

I hope the new CEO at least has enough

sense to locate central command in the

South Island, and preferably in Christchurch.

Meanwhile, our splendid new convention

centre is doing very good business

with bookings well into 2023. It's a great

facility in the centre of the city bounded

by Cathedral Square, the Avon River,

Victorian Square, and the currently under

construction Court Theatre.

With its striking design containing a

1500-seat capacity auditorium, vast display

areas, and multiple breakout rooms,

it's set to become one of the country's

iconic buildings.

Above ground, our assets like the convention

centre give life to any city.

Below ground, assets such as Three

Waters are essential to life in the city, and

they too should be in local ownership and

control.

– NZ Herald

HAVE YOUR SAY on Brownlee's

column, Email barry@starmedia.

kiwi

Keep responses to less than

200 words. Provide your name

and suburb, and include contact

details (not for publication).
---
Thursday August 11 2022 The Star 23

CHRISTCHURCH MITSUBISHI

386 Moorhouse Avenue, Christchurch

Ph 03 379 0588 | christchurchmitsubishi.co.nz

10 year / 160,000km Powertrain Warranty (whichever comes

first) (non transferable). 5 year / 130,000km New Vehicle

Warranty (whichever comes first) (non transferable).

%APR FIXED

ZERO DEPOSIT

2.936 MONTH TERM*

NISSAN

150,000 KM'S

5YRFACTORY

WARRANTY

X-TRAIL RUNOUT

ON NOW

*Finance offer available on new Nissan Navara (D23) and X-TRAIL (T32) models registered between 01/08/2022 and 31/08/2022. Approved applicants of Nissan Financial Services New

Zealand Pty Ltd (Nissan) only. Fixed interest rate of 2.9% p.a. only available on loan terms up to 36 months (3.9% p.a. applies for 37-48 months and 4.9% p.a. applies for 49-60 months loan

terms). No deposit required. This offer includes an establishment fee of $375, PPSR fee of $8.05 and $10 per month account keeping fee. All lease and some fleet purchasers excluded.

Nissan reserves the right to vary, extend or withdraw this offer. Not available in conjunction with any other offer. Additional terms and conditions apply and can be viewed at

www.nissan.co.nz.

CHRISTCHURCH NISSAN, 380 Moorhouse Avenue, Christchurch

Ph: 03 595 6820

www.christchurchnissan.co.nz

christchurchnissan.co.nz
---
The Star Thursday August 11 2022

24

SPORT

Latest Canterbury news at starnews.co.nz

​Keas face Panthers in league final

• By Chris Barclay

A MONTH AGO the prospect

of Linwood and Hornby meeting

in their sixth Canterbury Rugby

League premiership grand final

in seven years looked remote as

the Panthers seemed destined to

miss the play-offs.

But a stirring late season resurgence

ensures normal service

resumes at Nga Puna Wai on

Sunday when the arch rivals

again determine ownership of

the Pat Smith Trophy.

The unbeaten Keas are the

favourites having already beaten

reigning champions Hornby

twice in 2022.

They won the first regular

season by 20 points in April but

needed 10 points inside the final

10 minutes to pip Hornby 28-24

in June.

So there will be no room for

complacency after Hornby's

blend of youth and experience

combined to keep their bid for

back-to-back championships

alive.

"If you'd asked me a few weeks

ago if I thought Hornby would

make it I'd have said: 'Probably

not'," admitted Keas head coach

Iuma Mulitalo.

"I think we were all thinking

that, but Hornby are a finals

team. They sneaked into the four

and they're every chance of winning

it."

Hornby's post-season aspirations

were in jeopardy until they

posted a century against Papanui

in the final round to eclipse the

Northern Bulldogs, who lost to

Linwood, on points differential.

They then ended the Eastern

Eagles impressive campaign before

avenging two regular season

losses to the Hornets by claiming

a gritty 16-6 preliminary final

win at Halswell Domain.

Hornby led 12-6 after 15min

through tries to centres Zinzaan

RESURGENCE: Champions Hornby clawed their way into

the Canterbury Rugby League premiership grand final,

where they meet arch rivals Linwood.

Martin and Christian Fetu, either

side of fullback Jacob Nyman

crossing for the hosts.

Panthers wing Iseleli Pulu

provided the only points of a second

half arm wrestle in difficult

conditions when he scored early

in the spell to give Hornby an

impregnable buffer.

Mulitalo was among the more

interested spectators, scoping

the opposition as Linwood eye a

sixth premiership in seven years.

"The weather was a factor in

the second half, the game got

sloppy and Hornby defended well

to keep them out," he said.

Hornby rely on veterans Corey

Lawrie and James Baxendale to

steer the side around the park

while, like Linwood, the next

generation have also melded with

the old heads.

"They've got plenty of experience

to get them round the field

and they're a bit of a youthful

team too," said Mulitalo.

COLLISION ZONE: Hornby

try-scorer Christian Fetu was

also on point defensively as

he stops Halswell's Finley

Esera.

Linwood fit the same bill

with playmaker Daniel Hartley

complemented by South Island

under-20s hooker Makaia Tafua.

HARD YARDS: Maui Siulepa carts the ball up for Hornby

during the Panthers preliminary final victory over Halswell.

PHOTOS: KAREN CASEY

"We've also got a good breed of

young ones coming through that

have grown into our culture," said

Mulitalo, who also singled out

the promising development of

back rower Uriah Tuli and prop

George Faaiva.

Mulitalo's counterpart Jed

Lawrie always had belief a squad

with only seven players from last

year's triumph could still make

the decider.

"I always had faith, they

showed glimpses of how talented

they are. The young boys have

matured through the year and

given the opportunity they've

been able to find that next level of

finals footy," he said.

Lawrie identified the turning

point as the second half against

winless Papanui, where Hornby

piled out 80 unanswered points.

"I know they were struggling

but going into halftime we

realised what we were putting

out wasn't good enough. It was a

pretty big lightbulb moment for a

lot of those boys."

The Keas premier reserve team

also had the luxury of having

last weekend off as Hornby

advanced to the Canterbury Cup

decider by ending newcomer

Greymouth's season with a 30-14

triumph.

Linwood also feature in the

women's final where they take on

reigning champion Sydenham

after they beat Burnham and

Woolston respectively.

The ladder-leading Keas produced

a convincing 34-4 victory

over Burnham while Sydenham

prevailed in a tighter tussle with

Woolston, 26-18.

The men's premier grade

second-tier Gore Cup final will

be contested by the Northern

Bulldogs and Riccarton

Knights, who progressed at

the Celebration Lions expense

thanks to a 34-10 win at Crosbie

Park.

TOP

OF THE

TABLES

Brought

to you by

Curtains | Blinds | Shutters

Unit 2 / 99 Sawyers Arms Rd

03 365 4666 or 0800 836 587

www.venluree.co.nz

Top of the tables

Southern League Football

P W D L GD Pts

Christchurch Utd 15 14 1 0 45 43

Cashmere Technical 15 13 1 1 49 40

Nelson Suburbs 14 8 2 4 3 26

Ferrymead Bays 15 7 3 5 6 24

Dunedin City Royals 14 7 1 6 9 22

Green Island 15 4 1 10 -24 13

Coastal Spirit 15 2 6 7 -12 12

*Nomads Utd 14 3 3 8 -26 12

Mosgiel AFC 15 2 3 10 -28 9

Selwyn United 15 1 5 9 -21 8

Canterbury Hockey men's Premier League

P W L Bye Pts

Marist 14 10 3 1 31

Carlton Redcliffs 14 9 3 2 29

HSOB/Burnside 14 8 2 4 28

Harewood 14 8 5 1 25

Avon 14 7 7 0 21

Southern 14 4 9 1 13

Hornby 14 2 9 3 9

University 14 1 11 2 5

Women's premier hockey league

P W L Bye Pts

Carlton Redcliffs 12 11 1 0 2 33

Marist 12 10 2 0 2 30

Harewood 12 8 4 0 2 24

HSOB/Burnside 12 6 6 0 2 18

Avon 12 5 7 0 2 15

Hornby 12 2 10 0 2 6

Southern 12 0 12 0 2 0

SUCCESS: Carlton Redcliffs claimed

Canterbury Hockey's Rosebowl for the

top regular season team in the women's

premier league with a 2-1 win over

Harewood. PHOTO: GEOFF SOPER

Weekend match-ups

Canterbury Rugby League finals

series (all Sunday):

Gore Cup final: Northern Bulldogs

v Riccarton Knights, Nga Puna Wai 2,

11am.

Canterbury Cup grand final: Linwood

Keas v Hornby Panthers, Nga

Puna Wai 2, 1pm.

Premier women's grand ginal:

Sydenham v Linwood Keas, Nga Puna

Wai 1, 12.30pm.

Premier men's grand final: Linwood

v Hornby, Nga Puna Wai 1, 3pm.

Southern League round 16 fixtures

(all Saturday):

Coastal Spirit v Nelson Suburbs,

Linfield Park 11.30am; Mosgiel AFC

v Cashmere Technical, Memorial

1 12.30pm; Dunedin City Royals v

Selwyn United, Football Turf 12.30pm;

Christchurch United v Green Island,

Christchurch Football Centre 2pm;

Ferrymead Bays v Nomads United, Ferrymead

Park 2.45pm.

Canterbury Hockey Premier League

finals series round 1 (all Saturday):

Men: 7 v 8 play-off: University of

Canterbury v Hornby Vipers, Foster

Park midday; 5 v 6 playoff: Avon v

Southern, Marist Park @ St Bede's

College 3pm; Preliminary final (1 v

2): Marist v Carlton Redcliffs, Nga

Puna Wai 3pm; Minor semi-final (3 v

4): HSOB/Burnside v Harewood, Nga

Puna Wai 4.30pm.

Women: Lower play-off: Hornby v

Southern, Foster Park 4.30pm; Minor

semi-final (3 v 4) HSOB/Burnside v

Harewood, Nga Puna Wai midday;

Preliminary final (1 v 2): Carlton

Redcliffs v Marist, Nga Puna Wai

1.30pm.
---
St Thomas makes

ST THOMAS of Canterbury's

1st XV have created history by

qualifying for the top four of the

Miles Toyota Championship for

the first time.

Denied a place in last year's

Cup semi-finals by an agonising

final round loss to St Bede's

College, St Thomas led the

standings this season with a 47-

33 win over Shirley Boys' High

School enabling them to finish

one point clear of defending

champion Nelson College.

They can now avenge that defeat

to St Bede's last year when

they host the fourth-ranked

qualifier in Saturday's Trophy

semi-final.

The other semi-final has

Nelson College hosting thirdseeded

Christchurch Boys' High

School.

St Thomas, who have former

All Black hooker, and old

boy, Mark Hammett as head

coach, while Hammett's former

Canterbury and Crusaders

teammate Johnny Leo'o is the

college's director of rugby.

Significant improvers in a

competition usually dominated

locally by CBHS, Christ's College

and St Andrew's College,

St Thomas are arguably bestplaced

to win the title in 2022,

with at least a dozen players in

the first-choice match day 22

departing at the end of the year.

The second-tier Plate

Latest Canterbury news at starnews.co.nz

history to get to top four

CHRISTCHURCH United and

Cashmere Technical predictably

sealed qualification for the

National League with any lateround

dramas.

The Southern League front

runners have been on course to

claim the two available berths

for the domestic competition

from the outset and achieved

that goal with three rounds of

the regular season remaining.

Christchurch United passed

their first assignment by beating

relegation-threatened Selwyn

United 4-0 on Saturday while

Cashmere Technical were up by

three goals before Coastal Spirit

MARIST ENTER Canterbury

Hockey men's premier league

buoyed by regular season

success after a helpful schedule

enabled them to head off their

closest challengers to claim the

Presidents Shield.

Buoyed by a Covid-19

catch-up win earlier last week,

Marist nailed top spot for the

play-offs with a 6-1 victory over

cellar-dwelling University of

Canterbury.

Carlton Redcliffs rounded out

their programme with a 3-0 win

CHARGE: St

Thomas of

Canterbury

No. 8 Richie

Tuipelehake

Tupua'ilei

makes ground

against Shirley

Boys' High

School with

prop Ezekiel

Faga Iete in

support.

managed a consolation goal in

the 90th minute.

Cashmere Technical and

United are now vying for the

Southern League title with the

latter returning to the top of the

standings after a 1-0 win over

Nomads United in a Covid-19

catch-up game on Tuesday

night.

United also host Green

Island while Selwyn United

will be hoping Cashmere

Technical maintain their

intensity away at Mosgiel,

with only a point separating the

Dunedin and Rolleston-based

outfits.

over fellow finalists Harewood

while HSOB/Burnside qualified

third after edging Avon 3-2.

Marist and Carlton Redcliffs

meet to decide which of the top

two teams heads straight to the

final, with the loser able to activate

their second life and play

the minor semi-final winner,

HSOB/Burnside or Harewood.

Carlton Redcliffs needed to

lose by 17 goals to surrender top

spot in the women's competition

and they duly claimed the Rosebowl

with a 2-1 triumph over

TRY TIME: St

Thomas of

Canterbury

College wing

Jackson

Stewart is

poised to

score out

wide against

Shirley Boys'

High School.

PHOTOS:

BRENDAN

BIGGS

competition's semi-finals pit

St Andrew's College against

Shirley Boys' High School while

Timaru BHS host Marlborough

Boys' College.

Easy road for Southern

League front runners

Bottom-placed Selwyn also

venture south for a potentially

crucial clash with Dunedin City

Royals.

There was another

unsurprising outcome in the

women's four-team South Island

Championship with powerhouse

Coastal Spirit SAS beating

Dunedin City Royals 4-1 in the

final, a week after recording a

9-1 margin against the same

opponent.

In the third/fourth play-off,

Cashmere Technical beat

Roslyn Wakari 2-1 in the first

leg of Sunday's doubleheader at

English Park.

Top play-off spot for Marist

champions Harewood.

Like their male counterparts,

the women's top four was already

set before the final round,

with Marist safe in second

regardless of last weekend's bye.

Carlton Redcliffs and Marist

again vie for direct passage

to the final, while in another

mirror image of the men's

title race, HSOB/Burnside and

Harewood face a sudden death

clash, with the winner facing an

ominous task next in phase two

of the finals format.

IN MY 40 years of journalism,

nothing has felt remotely as

difficult as writing this, because

the emotions are still so raw.

A few weeks ago, I bade 'happy

travels' to my dear friend and

long-time New Zealand Herald

sports writing colleague David

Leggat, who was getting ready for

a family adventure in Europe.

David and his wife Jacqui

Bensemann were travelling with

one son, and meeting up with

the other in London. This is what

life should be all about, the joy of

anticipation, fresh fields, with the

people who mean the most.

Now, I am writing a tribute to

"Leggo", who has passed away

suddenly while swimming in

Lake Como, Italy, at the age of 64.

It feels heart-breaking and

surreal, and the mourners will

include – I can safely say –

much of the sports writing and

media community around New

Zealand. For he was a truly

unique and special character, of

unforgettable charisma, warmth

and charm.

David Leggat was long a central

part of our industry and in

recent years the undisputed elder

statesman.

He started out at the The Press

when a major newspaper still

had room for club table tennis

coverage, he worked for the New

Zealand Press Association as

sports boss and London-based

representative, and he had a

number of roles at the New

Zealand Herald/NZME including

sports editor.

Sports readers will know

him through his coverage of

just about everything, from

his first calling – cricket – to

Commonwealth and Olympic

Games, Rugby World Cups, and

so much more.

Sports writers will remember

him just as much for the

bonhomie, the generous nature,

the endless stories, the tag of

being a champion tourist during

the age of long sports tours, the

cutting critiques of no discernible

malice, the natural ability to

take humble command, the selfdeprecating

humour, the overall

humour, the phrases, the lunches,

the afternoon teas, the morning

teas.

He has left an impact on so

many people, but this story really

summed him up.

Thursday August 11 2022 The Star

SPORT 25

David Leggat, a sports reporter at The Press for

a number of years before heading north to work

for the New Zealand Press Association and NZ

Herald, drowned tragically in Italy last week while

on a family holiday. Colleague and good mate

Chris Rattue shares his memories of the likeable

Cantabrian

Remembering

a charismatic

sports writer

David Leggat during a

Blacks Sticks media briefing

in 2014.

Sports broadcaster Andrew

Alderson recalled – with

reverence – being a nervous

rookie on a New Zealand cricket

tour and hearing a knock on his

hotel door. Leggat - the veteran -

was going out of his way, making

sure the newbie knew about the

touring media dinner and felt

welcome. Alderson has never

forgotten this simple yet easily

overlooked gesture.

My favourite Leggat travel

story concerned the 2002

Commonwealth Games, which

we covered in Manchester.

Leggo was in charge of the

company's cash and for two days

I'd lived on meagre rations until

we managed to meet up, so he

could hand over a pile of twentypound

notes.

Within the hour I was eagerly

licking my lips at a curry house,

only to be told the money was no

longer legal tender. Before leaving

Auckland, Leggo had apparently

grabbed leftover cash from a

previous overseas assignment.

I can't recall his response to

my despair and rumbling

stomach, but it may have been

along the lines of "sorry about

that champ". He loved the word

"champ".

His own stories went on much

longer than those above, and

they might be described as a

series of detours expertly cobbled

together.

• Turn to page 26
---
The Star Thursday August 11 2022

26

SPORT

Latest Canterbury news at starnews.co.nz

Leggat regarded as a 'print editor's dream'

• From page 25

These tales were littered with

nicknames such as 'The Knight'

(Sir Richard Hadlee), or Harry

Potter (Daniel Vettori), and his

stories took on a special meaning

when they involved cricket.

He grew up around Christchurch

cricket royalty – his test

cricketer father Gordon became

a national selector, team manager

and chairman of New Zealand

Cricket until his death at the age

of just 46.

And yes, in keeping with this,

David Leggat's memorable work

travelled familiar territory, such

as a piece on the death of Martin

Crowe, a sparkling column

recounting how the Kiwi legend

pranked him on a tour, then

recalling a moment that revealed

the frustration Crowe often felt

about falling short as a cricketer.

He might lament, beautifully,

on the departure of Bill Lawry

from Australian cricket commentary

boxes or – as he did in

2016 – give a decent and hugely

read serve to an Eden Park

crowd.

He didn't let cricket obscure

his view though.

The files are packed with his

stories on sports people great

and small, including the first

ever mention in the New Zealand

Herald of a certain Lydia Ko,

who had shot a round of 98 in

FOCUSED: Journalists David Leggat and Mark Geenty on day three of the second test

match between the Black Caps and Australia in 2016. PHOTO: PHOTOSPORT.CO.NZ

the national golf amateurs and

"skipped down the Titirangi

fairways" like any other sevenyear-old.

Without overtly championing

the cause of women's sport, he

did so by covering it like anything

else. There were stories on

Lisa Carrington, Eliza McCartney,

and so many more. Women's

hockey became something of a

treasure to him, and I believe the

last piece he ever filed, for Newsroom,

was a memory lane story

on the White Ferns.

He loved writing about sports

people, and from what I could

gather the feeling was mutual.

Journalists also loved working

with him, and it wasn't just for

the warm experience. He filled

vast spaces with precision and

class, and ran the department

with similar aplomb.

He was regarded as a "print

editor's dream" as one boss put

it, capable of having three pieces

on the go at once – say a column,

profile and news story, all cleanly

written, on time, while still being

engaged in the office conversation

around him.

Leggo had mastered the ability

to juggle balls in the air with the

best of them.

Only those who have held key

news media positions can understand

how difficult that is to

achieve, day after day after day.

He was, to put it simply, a fully

rounded sports journalist from

another age, and his belief that

many things deserved at least

some coverage survived into a

digital era where analysis said

this was not the case.

I've got no idea how to say

goodbye to David Leggat, and I

won't try.

His spirit will live on for me,

always.

And that leaves the last word

to a veteran sportswriter from an

opposition outfit, who reckoned

– on hearing of his passing – that

Leggo's company always made

him feel so much better.

That was his very special gift.

Thanks for sharing it with us

all, champ. – NZ Herald

THE

SOUTH TODAY

Where local

news comes

to life.

VIEW ON

DEMAND

online at

thesouthtoday.co.nz

weeknights

from 7pm

Join me, Hannah Wilkins, and the South

Today team as we bring to life the stories

from your community and across the region.

The South Today is the only live, local

television news in the country. Proud to be

the voice of the South, our weeknight

bulletins deliver quality local coverage of the

people, places and events that matter to you.

ODTARTHO8132v2
---
Thursday August 11 2022 The Star

Latest Canterbury news at starnews.co.nz

GARDENING 27

Time to get the weed sprayer out

WHAT EXACTLY is a weed?

Definitions abound, but a weed

is generally considered to be

a plant that's growing where it

isn't wanted.

And, as winter draws near to

an end, it often seems that the

weeds are about to take over the

entire garden.

Onehunga weed, which

usually causes problems in

lawns, is one of the weeds you'll

find starting to develop at this

time of year.

Onehunga weed is a soft,

ferny-leafed plant that only

reveals the nasty side of its

nature when it produces its

sharply-barbed seeds. These can

make walking on the lawn in

bare feet an utter misery.

You can remove onehunga

weed with what's called a

selective weedkiller but,

remember, if the weed has

already formed its spiky seeds,

it's sure to re-appear next year.

Make a note to begin control

earlier next season.

Selective herbicides cleverly

remove the non-grass weeds

from the lawn, without

damaging the grass.

However, it's vitally important

to read the label and carefully

follow the instructions. Tooheavy

applications will burn the

grass.

Many other lawn weeds such

as clover, dandelions, thistles

and capeweed – can also

be removed with a selective

weedkiller.

Weeds in garden beds can

be removed using a glyphosate

herbicide. Glyphosate is

non-selective, which means it

will kill any plant material it

contacts. This, obviously, means

it must be applied with great

care. Fortunately, though, it

doesn't leave residues in the

soil.

TIDY: Be sure to get the

right type of weed killer

for your lawn and garden.

Are you ready to grow?

For real kiwi gardeners who like

to get their hands dirty.

SUBSCRIBE AND SAVE UP TO

20 %

natiVe plant nurSery

treeS for canterbury

SpecialiStS in

• Groundcovers

• Ferns

• Grasses

Helping our

community grow

• Small to big

sized shrubs

• Shelterbelts

Ask us about Super

Gold Card discounts

• ALL grades

• Expert advice

• Planting now

Subscriptions 0800 77 77 10

kiwigardenermagazine.co.nz

42 Charlesworth Street

Ph (03) 982-1028

OPEN 7 DAYS

facebook.com/ Trees4Canterbury

www.treesforcanterbury.org.nz
---
28 The Star Thursday August 11 2022

CHRISTCHURCH

CREMATORIUM

FUNERALS

CROSSWORD

1 2 3 4 5 6 7

8 9

10 11

256

SUDOKU

Every row, column and box should

contain the digits 1 to 9.

WordBuilder

WORDBUILDER

156

6

N I E

T R E

12 13 14 15

16

17 18

19

20 21 22 23 24

words of three or more letters,

How

including

many

plurals,

words

can you

of

make

three

from

or

the

more

six

letters, using each letter only once? No foreign

words or words beginning with a capital are

allowed. There's at least one six-letter word.

once?

TODAY

Good 16 Very Good 21 Excellent 24

letters, including plurals, can you make

from the six letters, using each only

No words beginning with a capital are

allowed. There's at least one six-letter

Solution 155: aid, ail, avid, AVIDLY, daily, dal, day,

dial, diva, idly, idyl, ivy, lad, lady, laid, lav, lay, lid,

word. vail, valid, via, vial.

Good 16 Very Good 21 Excellent 24

25 26

27 28

29 30

31 32

33 34

Across

1. Stench (6)

5. Rush madly (6)

10. Without purpose (7)

11. Pillage (7)

12. Martial art (6)

15. Befall (6)

16. Redeemer (7)

17. Adolescent (abbr) (4)

18. Wine sediment (4)

19. Grille (7)

20. Risqué (4)

22. Prohibits (4)

25. Amble (7)

27. Scan (6)

28. Stay (6)

31. Whip (7)

32. Spread from (7)

33. Chaste, pure (6)

34. Delicate or slender build (6)

Decoder

Down

2. Submerge in liquid (7)

3. Perspires (6)

4. Church recess

5. Continually find fault (4)

Tel: 020 7622 1467 Fax: 020 7622 1522

Email: info@knightfeatures.co.uk

20 Crescent Grove, London SW4 7AH

6. Athlete (6)

7. Deliberately vague (7)

8. Hamper (6)

Supplied by KNIGHT FEATURES

9. Winter sport enthusiasts (6)

13. Erode (3,4)

14. Far off (7)

15. Meatworker (7)

20. Oppose (6)

21. Rust (7)

23. Determined (7)

24. Break apart (6)

25. Confidential (6)

26. Partial refund (6)

29. Chime (4)

30. Clutter (4)

T U M E V B N S I Y F J H

14 15 16 17 18 19 20 21 22 23 24 25 26

X A G P L O D Q C K Z W R

1 2 3 4 5 6 7 8 9 10 11 12 13

A F Shuker

A B C D E F G H I J K L M N O P Q R S T U V W X Y Z

1 2 3 4 5 6 7 8 9 10 11 12 13

N R

14 15 16 17 18 19 20 21 22 23 24 25 26

A

All puzzles copyright

T H E P U Z Z L E C O M P A N Y

www.thepuzzlecompany.co.nz

SOLUTION

No.156

Crossword

Each number in our DECODER grid represents a different

letter - there is a number for all 26 letters of the alphabet.

DECODER

Enter the given letters into all squares with matching numbers.

The challenge now is to work out which letters are represented

Each by the number other represents numbers. a As different you get letter the of letters, the alphabet. enter them Write the into

given the main letters grid, into all and squares the reference with matching grid. numbers. To keep Now track work of out the

which letters letters you are have represented found, cross by them other off numbers. the alphabet provided.

2 9 10 24 22 9

9 26 2 22 20 13 2 16 4 2 20 14

26 21 6 17 2 16 6

22 20 26 22 19 22 14 3 13 17 17 10

B I T

20 22 21 17 6 17

3 5 17 17 22 18 6 13 23 20

13 21 22 23 25

21 17 8 15 2 5 14 2 5 9

12 9 15 7 9 6

2 4 2 9 17 3 26 17 13 10 22 20

16 4 17 15 9 7 18

4 13 17 14 11 17 5 2 3 2 4 17

13 17 24 23 12 1

A B C D E F G H I J K L M N O P Q R S T U V W X Y Z

1 2 3 4 5 6 7 8 9 10 11 12 13

SOLUTION

No.155

156

14 15 16 17 18 19 20 21 22 23 24 25 26

T

B I

1 2 3 4 5 6 7 8 9 10 11 12 13

T G V M L X Q S N F C Y J

B Z P D R K O H E U W A I

14 15 16 17 18 19 20 21 22 23 24 25 26

8 8 12 12 2 23

23 14 18 15 2 23 6 18 6 10 14 18

24 4 1 11 12 23

21 7 17 8 10 14 10 8 25 1 10 26

10 12 6 3 25 20

26 12 18 3 18 8 18 20 22 10 4 25

Across: 1. Miasma, 5.

Career, 10. Aimless, 11.

Ransack, 12. Karate, 15.

Betide, 16. Saviour, 17.

Teen, 18. Lees, 19. Lattice,

20. Racy, 22. Bars, 25.

Saunter, 27. Survey, 28.

Remain, 31. Scourge, 32.

Emanate, 33. Vestal, 34.

Svelte.

Down: 2. Immerse, 3.

Sweats, 4. Apse, 5. Carp,

6. Runner, 7. Evasive,

8. Basket, 9. Skiers, 13.

Eat away, 14. Distant, 15.

Butcher, 20. Resist, 21.

Corrode, 23. Adamant, 24.

Sunder, 25. Secret, 26.

Rebate, 29. Bell, 30. Mess.

WordBuilder

enter, ENTIRE, ere, erne,

inert, inter, ire, net, nit, nitre,

rein, rent, ret, rete, retie, rite,

tee, teen, ten, tern, tie, tier,

tin, tine, tire, tree, trine.

Sudoku

16 23 6 18 23 2 19 5 25 8 14 20

9 12 6 18 18 18

16 1 23 6 1 23 8 8 23 6 25 8

23 20 23 18 12 2

2 16 12 10 18 8 20 6 8 18 18 6

N

A

R

CHRISTCHURCH

CREMATORIUM

FUNERALS

A F Shuker

Supplied by KNIGHT FEATURES

20 Crescent Grove, London SW4 7AH

Tel: 020 7622 1467 Fax: 020 7622 1522

Email: info@knightfeatures.co.uk
---
Fresh face for

Skoda Kodiaq

WHEN I'M booking

evaluation cars in my diary

I generally try to avoid an

overlap, one car at a time is

preferable.

However, that is not

always possible and after

a schedule change I didn't

want to turn down the

chance to drive a high performance

sports car, so for

three days I had two cars in

my driveway.

While one of them was

spectacular in terms of

speed and handling, I

couldn't help but be smitten

with the other – a sport utility

vehicle, a Skoda Kodaiq

to be exact, and it was the

go-to vehicle when I had SKODA KODIAQ STYLE: Fresh looks but with well

errands to run or for the proven driveline.

daily commute, driving my engine at 132kW and the dash panel readout was

wife to and from her place 320Nm. In true European listing a combined average

of work.

engine-building fashion, the of over 10l/100km which I

The Kodiaq equips itself turbocharged unit develops thought was satisfactory.

well in terms of occupant a lot of its power low in The suspension is a fully

comfort and engineering the rev band. Peak power independent mix of struts

prowess that is a perfect arrives all of the way from and multiple links with

blend of performance and 3900pm to 6000rpm, while spring and damper rates

economy.

maximum torque comes in well balanced for comfort

I guess that's why it was at 1400rpm and meets the and the inevitable time

voted the New Zealand Motoring

Writer's Guild Car of

to traverse undulating

point of peak power. the Kodiaq will be asked

the Year in 2017, a welldeserved

title if my memory Style TSi, $63,990

• Price – Skoda Kodiaq ground. While most fourwheel-drives

of this ilk

serves me well.

• Dimensions – Length,

can't be considered genuine

The Kodiaq has just had

4699mm; width,

2087mm; height, off-roaders, the Kodiaq is

a facelift, and all that has

1685mm

a capable all-road vehicle,

done is make a good car • Configuration – Fourcylinder,

four-wheel-

journey I presented it

and the short shingle road

even better. Most of the

changes are cosmetic, while drive, 1984cc, 132kW, with served to prove how

the driveline and mechanicals

are largely as they were direct shift automatic environment.

320Nm, seven-speed tidy it is in a loose surface

when the model first landed • Performance –

In terms of on-board

here five years ago.

0-100km/h, 8.4sec

equipment and value

There are five models • Fuel usage –

fitment, the Kodiaq at

in the Kodiaq range, it

9.3/100km

$64k doesn't miss out on

is extensive in terms of

much, the seats are leather

whether you want the highperforming

RS at $79,990 is a minuscule amount of stage heaters for the cold

That being the case, there trimmed and have three-

or want to ease yourself into power drop-off, the entire Canterbury mornings; the

the line-up at $48,990 for acceleration and transmission

process is seamless. heated at will. I particularly

steering wheel, too, can be

the 1.4-litre Ambition. The

evaluation car was the 2-litre

petrol-powered TSi Style direct shift automatic, and front door, complete with

The latter is a seven-speed like the umbrella tube in the

that lists at $63,990, bearing without the power-robbing umbrella, that has become

in mind that the Government

will want an extra converter the way the features such as those that

characteristics of a torque a Skoda hallmark. It's small

$1093 to off-set carbon power process is developed show a lot of thought has

emissions. For my money I is simply extraordinary. gone into manufacture.

think I'd pay an extra $11k The Kodiaq Style is quick The Kodiaq's seven-seat

and go diesel, but that's not with an 8.4sec standstill to system is constructed

saying the petrol-powered 100km/h acceleration time, the way we expect of the

Style doesn't impress. and it will scoot through a modern SUV. The rear row

All of the engines that highway overtake in 5.1sec of seats fold up from the

power the Kodaiq today – 80-120km/h. The feel floor, and even though they

are state-of-the-art, as from beneath the throttle is would only be suitable for

you would expect from a constantly entertaining and short trips for adults, for

Volkswagen-based source – encouraging.

youngsters and the slight

Czech Republic's Skoda is in It is also built in the way of build the rear area is

partnership with VW and where fuel usage hasn't been entirely practical.

the Kodiaq is based on the sacrificed. Skoda also rates Up front the driver has

Tiguan platform.

it with a 9.3-litre per 100km at his or her command a

While its seven seats offer

a point of difference to will sip fuel at 6.1l/100km high specification fitment.

combined cycle average. It wealth of functions and

other SUVs in the mid-size instantaneously at 100km/h The Kodiaq sits beside a

category, take into account with the engine turning host of other models in the

that there is also four-wheeldrive

in the Kodiaq, and 1800rpm.

There are a lot of fresh

over quite relaxed at just Skoda line-up.

drive modes that encourage Most of my driving with and exciting models arriving

at the moment and

the odd excursion into the the test car was at city

high-country back roads speeds, and even though Skoda will lure buyers with

and trails.

that doesn't present the competitive prices and

Skoda rates the 1984cc best fuel economy result, quality built product.

Thursday August 11 2022 The Star 29

Further Update on China's

Position on Nancy Pelosi's

Visit to Taiwan

On Aug.2, Speaker of the U.S.

House of Representatives Nancy

Pelosi, in total disregard of the

firm opposition and repeated

representations of the Chinese

side and with the condonement

and even arrangement of the U.S.

government, went ahead with the

visit to China's Taiwan region.

Furthermore, the U.S. even began

to spread disinformation and

falsehoods, accusing China of

changing the status quo and fueling

the tension in the Taiwan Strait.

I would like to further share with

our New Zealand friends China's

position on this question.

First, the reckless visit by the

U.S. seriously interfered in

China's internal affairs, seriously

undermined China's sovereignty,

and seriously jeopardized peace

and stability across the Taiwan

Strait. It is only natural that China

makes a firm response. China's

military exercises are open,

transparent and professional.

They are consistent with domestic

and international laws, as well as

international practices. They are

aimed at sending a warning to the

perpetrator and punishing the

"Taiwan independence" forces.

We will firmly safeguard China's

sovereignty and territorial integrity

and uphold the international law

and the basic norms governing

international relations, particularly

the principle of non-interference

in other countries' internal affairs.

More than 170 countries and

international organizations have

so far spoken out, reaffirming their

firm commitment to the one-China

policy.

Secondly, Taiwan has never been

a country. There is only one China

in the world and both sides of

the Taiwan Strait belong to one

and the same China. This has

been the status quo of Taiwan

since ancient times. The China-

U.S. Joint Communiqué on the

Establishment of Diplomatic

Relations in 1978 clearly

underlined that the government

of the People's Republic of China

is the sole legal government

representing the whole of China,

and Taiwan is a part of China.

This has been the status quo of

the Taiwan Strait for decades.

However, this status quo has been

broken by the United States and

the separatist forces in Taiwan.

Since 2000, the United States put

the so-called "Taiwan Relations

Act" it unilaterally concocted

before the three China-U.S. joint

communiqués and took out

the once-secretive so-called Six

Assurances to Taiwan and made

that part of its one-China policy.

Isn't this blatantly changing the

status quo? Since the Democratic

Progressive Party took office

in Taiwan region, it has been

pushing for "incremental

Taiwan independence" and

"de-sinicization", and trying to

create the false impression of

"two Chinas" or "one China, one

Taiwan" on various occasions. Isn't

this blatantly changing the status

quo?

Thirdly, after serious disrupting

peace and stability in the Asia-

Pacific region, U.S. has begun to

expand its military deployment

in the region. The typical U.S.

playbook is to create a problem

first, and then use that problem

to achieve its own objective. All

parties should stay highly vigilant

against this. China will continue

to work with all regional partners

to safeguard peace and stability in

the Asia-Pacific region and jointly

oppose the US from creating

tensions and conflicts in our

common home.

The principle of non-interference

in other countries' internal affairs

is the "golden rule" in international

relations. We appreciate all

countries' understanding and

support of China's position. At a

time when unilateral bullying is

rampant from time to time, the

international community should

form a clearer consensus and

make a stronger voice to jointly

uphold the basic norms governing

international relations and

international law, and safeguard

the legitimate rights and interests

of every country.

He Ying

Consul General of the People's

Republic of China in Christchurch

This advertisement is paid for by the Chinese Consulate
---
30 The Star Thursday August 11 2022

"I WILL TURN UP

WHEN I SAY I WILL"

Need a certified and reliable plumber for filtration

systems or hot water cylinder replacement?

Bathroom upgrades or refurbishments?

FREE CALL

TEXT

EMAIL

0508 H2O BOY

426 269

027 245 5100

NICK@NICKJONESPLUMBING.CO.NZ

PLUMBING DRAINAGE GAs FITTING

EXCAVATION BLOCKED DRAINs

Have you had your drains

checked post earthquake?

Free CCTV Drain

Camera Inspection.

Call now for a FREE quote!

Call: 022 375 8506

Email: morgan@mtpd.co.nz

Website: www.mtpd.co.nz

The Star Classifieds

Bicycles

Vintage push bike wanted.

I'm looking for an old

chopper or dragster bike.,

had one when I was a

kid. Want to put it on the

mancave wall. can be

in any condition ph/txt

021861732

Business for Sale

BUSINESS Work from

home $4500, Ph 028 415

0486

Business Opportunity

SECURE

YOUR

FUTURE

Due to demand of work and retirements we are

urgently seeking keen, motivated franchisee's.

Low as possible start up costs.

Capital gains as you go. Full office support.

For more information:

chchadmin@jimsmowing.net.nz

Phone 021 643 675

Cars Wanted

WANTED

Peugeot 206

convertible

Must be auto, low km's

and extremely tidy.

Private cash buyer

384 0431

Cars Wanted

Cheap small car up to

$3,500 - in good running

order, preferably with

WOF. Exterior not

important. Ph or txt 027

640 4935 or ph 348 -1458

Cheap small car up to

$3,500 - in good running

order, preferably with

WOF. Exterior not

important. Ph or txt 027

640 4935 or ph 348 -1458

Cars Wanted

CLASSIC Car wanted

1950s, 60s, 70s, 80s, or a

modern classic.

American, Japanese,

English or what have

you., Mazda RX2, 3, or

4. Keeping options open.

Text me with what you

have, I can call / txt you

back, Ph 021 861 732.

Home & Property appears every Thursday, delivered FREE

throughout Christchurch

For more information and bookings, contact Mike Fulham

M: 021 300 567 E: mike@starmedia.kiwi

What to ask at an open home

It's easy to get carried away when you're searching through

property listings for the house of your dreams. But if you're not

careful, home buying can become a nightmare.

"Buying a property is a complex and What condition are the roof, piles,

potentially stressful process, not least wiring, and plumbing in?

because it involves such a scary amount - Is the property insulated? If so,

of money," says the Real Estate Authority to what degree (eg walls, underfloor,

(REA).

ceiling)?

"It's smart to do as much as you can to - Is there any risk of

reduce the risk of unwelcome surprises methamphetamine (P) contamination?

or unexpected costs further down the - If there is a body corporate (usually

line."

for apartments), what does that entail?

In the first instance, draw up a list of - Are there any issues with neighbours

questions to ask about properties you're or planned developments?

interested in.

If you are seriously considering

"Remember that you can ask the real making an offer, you will need to do

estate agent anything you like about your own research and seek professional

the property," he says. "They are also advice. It may well become your home,

required to tell you everything they know so you need to know as much about it as

and not withhold any details."

possible to save unhappy surprises later.

If you're not sure what to ask, here's "Knowing the right questions to ask is

a handy list of questions. Open homes a good starting point."

can be busy, so ask the agent if you can For more advice on buying a property

talk on the phone, or send questions via in New Zealand visit settled.govt.nz

email.

- Have there been any issues with the

property, such as earthquake damage or

water-tightness?

- Are there any offers on the property,

or have any contracts been cancelled by

potential buyers?

- How long has it been on the market?

What is the seller's preferred settlement

date?

- What maintenance, repairs or

improvements have been carried out? Do

these have permits?

Home - Is there & Property a Land Information appears every Thursday, delivered FREE

throughout Memorandum Christchurch

(LIM) available or

a building report prepared by an

For accredited more property information surveyor? and bookings, contact Mike Fulham

M: - 021 Is the 300 property 567 well-maintained?

E: mike@starmedia.kiwi

Caravans, Motorhomes

& Traliers

CARAVAN Wanted to

buy. Up to $5000 cash

today 027 488-5284.

CARAVAN Wanted to

buy. Up to $5000 cash

today 027 488-5284.

Church Notices

PAPANUI

SPIRITUAL

CENTRE

150 Harewood Rd

(formally Edgeware

Spiritualist Centre)

Sunday 7pm

Medium

Debbie

Guest Speaker

Laeis

SYDENHAM CHRISTIAN

SPIRITUAL CHURCH

Sydenham Community

Centre

23/25 Hutcheson St

Address

Angela

Clairvoyance

Angela

Sunday 7pm

All Welcome

Your

Earthquake

damaged

home!

Talk to us if you are serious about

selling your "As is Where is" home.

We have sold over

150 "As is Where is"

homes and we have

a huge database of

qualified buyers.

Phil & Holly Jones

Ph 03-382-2230

Phil 027 435 7711

Holly 027 222 0220

holly.jones@raywhite.com

Licensed (REAA 2008) Results Realty Ltd

We have achieved

record breaking

prices recently!

Re Roofing

Roof Repairs

Spouting

Approved Age Concern provider

Over 30 years experience

Licensed Building Practitioner

N A BARRELL

ROOFING LTD

Ph: 0275 389 415

Email: nabroofing@xtra.co.nz

• Phone our local team 03 379 1100 • Email star.class@starmedia.kiwi

Church Notices

NEW AGE CHRISTIAN

SPIRITUAL CENTRE

61 Grafton Street

Sunday 7pm

Address:

Shirley

Clairvoyance:

Shirley

Tuesday

Healing 1 – 1.45pm

Clairvoyance 2pm

All Welcome

Clothing &

Accessories

RETRO Clothing wanted

for a dress up 70's party.

Would love to get a

safari suit but anything

considered.Ph or txt

021861732

Community Events

ADDICTIVE EATERS

ANONYMOUS Had

enough of battling

food? Tired of under or

overeating or obsessing

constantly about food? We

have found freedom from

food addiction through the

Twelve Steps. We have

three meetings each week

in Christchurch. For more

information phone 03

662-9128 or visit www.

AEAnz.org

Curtains

A1 CURTAINS &

DRAPES.

Roman blinds, tie backs,

cushions, nets, voiles, &

squabs, plus alterations.

Free quotes. Ph Kay 980

1501 or 021 257 1823. kay.

tainui88@gmail.com

For Sale

MENSWEAR All large

sizes, hardly worn, mainly

cardigans, good jackets,

many mixed ties. Ph 383

5422

SOLITAIRE & CRIB

BOARD GAMES.

Handmade & a great gift

idea, brand new & just

$10 each. All monies paid

donated to St Vincent de

Paul. Ph Alan on 981 9340

STEEL for sale all

sections, off cuts cut

lengths. siteweld@ xtra.

co.nz Ph 0274 508 785

Funeral Directors

Funeral Directors

direct

cremation

$2,000 GSt inclusive

(includes committal)

0800 27 28 29

www.mainland

crematorium.co.nz

Gardening

& Supplies

White's

Tree Service

• All types of tree work

• Stump grinding

• Firewood

www.whitestreeservice.co.nz

Phone Chris White on

0210 4044 13

NPTC Arb, BSC forestry

FULLY INSURED

No Service

Cremation

$2,300

Family Funeral with Cremation $4,100

Chapel - 35 people, casket, hearse, cremation fees

Phone 0800 804 663 - 24 Hour Availability

Email: info@justfunerals.co.nz

christchurch.justfunerals.co.nz

Gardening

& Supplies

PETE'S GARDENING

SERVICE Gardening,

rubbish removal, cleanups,

expert pruning, hedge

trimming, tree cutting,

good rates, no job too big

or too small, half the price

of a franchise. Ph 027 551

4118

Health & Beauty

MOBILE Toe Nail

Cutting Service with foot

and lower leg massage by

regd nurse. $50. Phone

022 281 6647

Massage

NEW THAI MASSAGE

SHOP IS OPEN HERE,

Sydenham. Aurora

Health and Massage. Our

experienced team can help

ease your pain. Call now

020 4052 6665

Personals

A Male 59 seeks lady for

intimate fun, any age /

size. 022 637 8403

Pets & Supplies

CATS UNLOVED

can help with the cost

of desexing your cat.

catsunloved@xtra.co.nz

Ph 355 5022

CATS UNLOVED

can help with the cost

of desexing your cat.

catsunloved@xtra.co.nz

Ph 355 5022

To Lease

CBD area. 60 - 100 sqm.

lease period. Call Shane

for more details on 021

Office space to lease,

Comp priced. Flexible

381 765

To Let

FERRYMEAD 3 bdrm,

open plan house, very

warm & tidy. Gge. Easy

care section. $450 p/w.

Avail 13th Aug. Ph 027

551 4118

HOUSESITTERS reqd

October onwds. Lovely

homes. Must love dogs.

Ph Lisa 021 547 262 www.

townandcountryhomesit.

co.nz

Tuition

COMPUTER LESSONS

avail for computer, IPad,

or Mobile. Please contact

Jobee 027 290 9246 www.

computertutor.nz

ADD SOME

COLOUR

TO YOUR ADVERT!
---
Select Services

STOP BIRDS

hail, leaves, snow & vermin from

blocking & damaging your spouting

Quality materials: BHP Colorbond steel mesh with

unique patented louvre will even keep out pine needles.

Will not rust or sag with age or load. 10 year warranty,

range of colours.

Proven in Australia & New Zealand over the last 15 years.

FOR SAFE, PURE DRINKING

WATER FROM YOUR ROOF.

NOW AVAILABLE: STAINLESS STEEL

MICO MESH

Call Rohan anytime Mon-Sat for a

no-obligation assessment & quote

03 982 8850 0800 486532

www.gumleaf.co.nz

LANDSCAPING

Call Aaron &

the team today!

Tours

For the Outdoor

Space of your

Dreams...

Paving, Irrigation,

Lawns, Planting,

Fences, Pergolas,

Water-features,

Outdoor fires,

Raised Vege beds,

Decks, Artificial

grass & more...

Phone: 03 347 4422

or 021 542 402

Email: Aaron@theoutdoorspace.co.nz

www.theoutdoorspace.co.nz

COMPUTERS

Wayne Middleton

Registered Electronics Service Technician

• Internet & Email Setup

• Wi-Fi Solutions

• Technical Support

• Virus & Scam Infections Removed

• Scan to Improve Speed & Usability

Phone: 03 352 7182

Wayne: 0274 326 102

Website: onsiteelectronic.co.nz

Onsite Professional Service Guaranteed

Established 1982

ELECTRICIAN

Contact for a free quote

phone 027 331 0400

dave@davesimpsonelectrical.co.nz

davesimpsonelectrical.co.nz

Experienced Domestic Electrician

Quality Workmanship

• New Build

• Renovations

• Fault finding

• Power

• Lighting

• Switchboards

Thursday August 11 2022 The Star 31

Your guide to our LOCAL & TRUSTED

Trades & Professional Services

To advertise: Phone 379 1100 or email star.class@starmedia.kiwi

DECORATORS

Excavations

• Driveways

• Car Parks

• Site Cleaning

• Demolition

• Farm Tracks

• Drain Cleaning

• Stump & Hedge

Removal

• Asphalt Concrete

Wide range

oF TruckS

For a Free Quote

on your next project

Phone Steve on

021 338 247

Selwyn based but

service the whole of

the South Island

• New Paint • Floor & Roof

• Repaints Painting

• Wallpapering • Spray Painting

• Fences • Commercial

• Repairs • Timber Finishing

• Feature Walls • Plastering

027 724 6846 027 PAINTIN

email: andertondecorators@gmail.com

• Tennis Courts &

Swimming Pools

• Chip Seal Driveways

• Diggers – 2 Ton

up to 20 Ton

• Excavators

• Bobcat & Drilling

• For Posthole &

Fence hole

Free

QuoTe

DRIVEWAYS

Exposed Aggregate

Stamped Concrete Plain

Concrete Resurfacing

Things we offer...

Competitive/affordable pricing

Attention to detail

Professional service

free quotes/insurance scopes

Cell 0278 145 848

www.drivecrete.co.nz

landscaping

Landscape

Construction and

Garden Maintenance

You can have your gardens, trees,

shrubs, plants and lawns maintained to look their best

all year round, for a great price.

Residential & Commercial Landscaping

• Maintenance • Pruning • Reconstruction & Rejuvenation

• Rental Property and Commercial Maintenance

• Pre-Sale Tidy-Ups

New Home Landscaping

Lawns • Gardens • Decks • Paving • Water Features

• Quality • Value for money • Experienced • Punctual

• Professional • Flexible • Knowledgeable • Reliable

Call Ross Legg - 027 222 0388

Email ross@revivelandscaping.co.nz

www.revivelandscaping.co.nz

Tours

10 Day Napier Coromandel East Coast

Coach Tour 2023: Departs 17th May

PAINTERS

PLUMBER

NEED A PLUMBER?

SCRAP METAL

Dominion Trading Co Ltd

Taupo Wellington Wairarapa Napier 9 Days

Departs 22nd September $2,545pp twin share

Xmas Tour 6 Days Oamaru Mt Cook

Departs 24th December

Chatham Islands April 2023

Kaikoura Day Trip

Wednesday 21st Sept

$25pp return

Day trips

Longbeach 3 garden Tour

Sunday 30th October

$65pp

We can provide shuttle and coach hire

Call Reid Tours 0800 446 886

Email: reidtours@xtra.co.nz www.reidtours.com

Email to join our mailing list

Painters and Decorators Ltd

Canterbury Owned and Operated

A husband and wife team

Specializing in:

• Roof Painting

• Interior/exterior

residential

• Small commercial

painting

Noel 027-411-3596

kemp.painters@gmail.com

kemp painters and decorators

We offer

free quotes

Quality not

Quantity

• Father & son Plumbing Business with over

40 years experience.

• Bathroom alterations a specialty.

• Cylinder replacements.

• We do all small jobs.

Call us now for fast friendly service.

Get your problems sorted out

quick smart - on time!!

THOMSON PLUMBING

Phone Eugene now

Phone 03 377 1280 | Mobile 021 898 380

• Scrap metal buyers

• Canterbury owned & operated

• Top prices paid $$$

• Open Saturday morning

Open Mon-Fri 8am – 4.30pm Sat. 8.30am-12.30pm

www.happyscrappy.co.nz

03 343 9993 333 Blenheim Rd

Trades & Services

GLAZING

TWISTY GLASS &

GLAZING LTD

• Mirrors • Pet Door Specialists

• Splashbacks • All Broken Windows

THE CAT DOOR MAN

Phone Cushla or Darren Twist

027 352 6225

House & Garden

Property services Ltd

Tree & hedge trimming

Stump grinding

Gardening

Landscaping

Gutter cleaning

All aspects of

property maintenance

CALL us 03 260 4499

SHOWER

CLEANING

Gold card

discounts

for sparkling

results

021 0228 2485

TRADES

Advertise your

business & services

in Christchurch's

best read &

largest circulation

newspaper

Delivered into over 93,000

Christchurch homes every week.

Ask us about our fantastic

cost affordable packages.

Phone: 03 379 1100 | www.star.kiwi

TREE SERVICES

CRAIGS

TREES

Our services include:

Tree felling

Branch chipping

Trimming and pruning

Crown reduction

Stump grinding

P: 027 2299 454

E: craigstrees@xtra.co.nz

www.craigstrees.co.nz

Fully insured

WINDOW TINTING

tintawindow

advanced film solutions

99% uv block

fade protection

heat control

reduce glare

25 Years Experience

privacy films

frosting designs

non-darkening films

Workmanship Guaranteed

Lifetime Warranties on Most Films

UV

block

Free Quotes Canterbury and Districts

03 365 3653 0800 368 468
---
32 The Star Thursday August 11 2022

The Star Classifieds

Re Roofing

Roof Repairs

Spouting

Approved Age Concern provider

Over 30 years experience

Licensed Building Practitioner

N A BARRELL

ROOFING LTD

Ph: 0275 389 415

Email: nabroofing@xtra.co.nz

Trades & Services

EXPERIENCED

GARDENER

(Kevin Garnett)

30 Years

Christchurch Botanic

Gardens.

ALL landscape

work done.

Maintenance, pruning,

tidy up, lawn work,

landscape planning

and planting etc.

Free Quotes

Phone 348 3482

PAINTING

older painter

for older houses

50 years in trade

"All the skills"

GST FREE

Contact Jimmy Bell

0211221487

SHOWER

CLEANING

Gold card

discounts

for sparkling

results

021 0228 2485

"I WILL TURN UP

WHEN I SAY I WILL"

Need a certified and reliable plumber for filtration

systems or hot water cylinder replacement?

Bathroom upgrades or refurbishments?

FREE CALL

TEXT

EMAIL

Trades & Services

0508 H2O BOY

426 269

027 245 5100

Trades & Services

30 years + experience

Older house

restorations:

no problem!

Quotes: FREE!

Rates: Reasonable

Paint supplied at

trade price!

NO JOB TOO SMALL

Light industrial also

Roger Brott

Painter & Decorator

021-1966-311

Water

Blasting

Industrial

Commercial

Domestic

Contact Kerrie Ling:

027 683 0033

iss.clean@xtra.co.nz

Trades & Services

AAA HANDYMAN

licensed carpenter

LBP, all property and

building maintenance,

repairs, bathroom/shower

installations, with free

quotes 03 387 0770 or 027

245 5226 ciey@xtra.co.nz

NICK@NICKJONESPLUMBING.CO.NZ

Trades & Services

ARBORIST.

Qualified.Copper

Beech Tree Services.

Tree removal, pruning,

height reduction, hedge

trimming, shaping, tree

planting, firewood. Free

Quote. Contact Angus

Edwards 027 259 6741.

copperbeechtreeservices@

gmail.com

BRICK & BLOCK

LAYING

all restoration work

and new work plus

foundations, ph 342 9340

or 021 853 033

BUILDER QUALIfIED

50 yrs exp. Bathrooms,

Kitchens, Renovations,

Repairs & Extensions

Free quotes. Discount for

pensioners. Ph Mike 03

980 9771 or 027 2266 930

BUILDER

New builds, alterations,

decks, fencing. 30 yrs in

the trade has given me

ability to build to a high

standard. Free quotes. Ph

Brent 027 241 7471

BUILDER

Exp in all aspects of

building works, new

builds, home renovations

& extensions, property

repairs. Free quote. Ph

Stuart 0274 661058

CARPET LAYING

Exp. Repairs, uplifting,

relaying, restretching.

Phone John on 0800

003181, 027 240 7416

jflattery@xtra.co.nz

CARPENTER

BUILDER

Licensed Building

Practitioner no. 100981.

All carpentry & building

repairs & maintenance.

Alterations & property

upgrades.Laundries /

bathroom / kitchens

replaced. Specialising in

replacement of all rotten

timber, fascia boards,

window, windowsills etc.

John Sandford, ph 329

4616, mob 027 5189 598

johnsandford2@gmail.

com

ELECTRICIAN

All types of domestic

& commercial work

undertaken, new housing,

alterations, extensions,

ranges, security lights,

quick response, efficient

service, free quotes,

city -wide. No call out

fee. M/S, 8-5. Call Pat

Barrett 03 359 2087/ 027

7331384.

PLUMBING DRAINAGE GAs FITTING

EXCAVATION BLOCKED DRAINs

Have you had your drains

checked post earthquake?

Free CCTV Drain

Camera Inspection.

Call now for a FREE quote!

Call: 022 375 8506

Email: morgan@mtpd.co.nz

Website: www.mtpd.co.nz

• Phone our local team 03 379 1100 • Email star.class@starmedia.kiwi

Trades & Services

ELECTRICIAN

A Prompt & reliable

registered electrician

with 24 years experience

for all residential and

commercial work, new

housing and switch board

replacements. Phone

Chris 027 516 0669

ELECTRICIAN

Available, repairs and

small jobs. Phone Brian

027 433 9548

ELECTRICIAN (CERT)

Prompt, quality. Call Jack

027 206 0080

fENCING

All types of fencing . Free

quotes. Ph Jim 022 137

1920

HANDY - DAN

General Handyman for

all your maintenance

requirements. I specialise

in fences and decking,

also do spouting cleans

and repairs and everyday

home maintenance. NO

JOB TO BIG OR SMALL

I can do it all, please

don't hesitate to call me

on 022 600 7738 for a no

obligation free qwuote.

HANDYMAN

For gardening, fence

repairs & painting plus

just about anything else

around the home. Ph Len

0274 335 956 or Nika 022

071 5078

LANDSCAPING

Paving, Lawns, Irrigation,

Decking, Fencing.

Kanga & small digger

services. Check out Squire

Landscaping on facebook.

FREE QUOTES. Ph

Arthur 347-8796, 027

220-7014 Edwin 027 220-

7154

BT LANDSCAPING

General landscaping

services Free quotes. Ph

Ben 027 350 1963

ODD JOB SPECIALIST

Small jobs specialists.

eg: drippy taps, sticky

doors, locks, spouting/

fence repairs Discount for

pensioners.

Ph 390 1565 or 022 5275

668. Avail now.

PAINTING

Indoor / Outdoor, over

30 yrs exp, same day

quotes, ph Steve 021 255

7968

PAINTING

PLASTERING

Free quotes. Int/ext &

roof painting Family

run business, work

guaranteed. Pensioner

discounts. Ph Kerin or

Paul 022 191 7877 or

379-1281. Website www.

swedekiwipainting.co.nz

Trades & Services

PAINTER,QUALIfIED

local professional, Int /

Ext,roofs,wallpaper, call

or text Corban 027 846

5035

PAINTING

Int, Ext, Roofs and

Fencing . Phone John 027

224 2831

PAINTER QUALIfIED

Int/ Ext. Quotes ph 021

197 5597

PLASTERER

Phone Finn for all your

interior plastering needs.

No job too small -

renovations, alterations,

holes & cracks. Free

quotes. I'll beat any quote

by 10% .25 yrs exp. Canty

born. Ph 022 087 4351

PLASTERING

30 yrs exp. Small patches

to renovations. Small

painting jobs considered.

Ph Tim 022 538 0959

PLUMBER

Do you need a reliable

plumber? Quality and

timely services. No job

too big or small. Phone

V Plumbing Ltd. 022 351

4125

PLUMBER.

All plumbing work, HWC

replacements. Pensioner

discount. No job too

small. Friendly, reliable

& professional service &

workmanship. Ph Nigel

027 4136004

or 385 2930

PLUMBER.

Highly experienced

Plumber. Exceptional

service. Ready to help with

all your plumbing needs.

Call today! MJ Plumbing

Ltd 021 109 2397

PREPARED TO

LOSE...

all your computer stuff?

Get an effective backup

from us. Computer Help

ChCh 0800 349 669

REMOVALS

Small furniture removals,

have own van, can fit

various types of whiteware

appliances, some furn,

bedding, boxes etc, honest

& reliable, any area

considered, also rubbish

removals, scrap & old

cars in going order &

motorbikes. ph Chch 022

434 6047 or 027 380 4934

ROOfING

All Roof repairs, Roof

painting, moss treatments,

Gutter cleaning 10 + yrs

exp, free quotes 24 / 7, Ph

027 516 6609

RUBBISH REMOVAL

Van, Trailer Rubbish

Removal. Ph Gary 342-

8950, 021 529 022

SPOUTING CLEANING

SPECIALIST

Entire spouting system

cleared. Single or 2 storey.

Jo 021 164 0365

SPOUTING

CLEANING

Spouting Unblocked,

Cleaned Out and Flushed

Out, Call Trevor 332 8949

or 021 043 2034

SPOUTING

Select Spouting

The PVC specialist.

Repairs & replacement. Ph

022 197 2351

STUMP GRINDING

Best price guarantee Tony

0275 588 895

TILING

Floor & walls. Kitchen &

splashback specialist. No

job too small.35 yrs exp.

Free quotes Ph 027 483

3887

Trades & Services

TREE SERVICES.

Specialist tree pruning &

shaping, hedges & tidyups.Book

now for winter

pruning Eg Roses & fruit

trees. Ph Hugh The Little

Green Groomer 021 275

5445

TREE SERVICES

Free quotes 20+ yrs exp.

Tree, hedge or shrub

- reduction, shaped or

removed. Ph/text Paul

The Branch Manager

0274314720

TREE SERVICES

Hedges, shrubs, tree

trimming & rubbish

removal. Phone for free

quotes 022 540 4900

Public Notices

GREYPOWER

CHRISTCHURCH

Monthly Social. August

17th, St Martins Church

Hall, Lincoln Road at 1pm.

Topic: Candidates for

Local Body Elections. No

entertainment. Afternoon

tea, raffles. Neville

Wootton, Vice President.

SCHOOLS. SPORTS CLUBS OR CULTURAL EVENTS

OUTSTANDING

Fundraising opportunity

The Star has a fantastic opportunity that is an ideal way

to fundraise while at the same time helps to profile and

promote your team and their goals and ambitions.

Call now to find out more about how you can fundraise

those hard to get dollars, while at the same time

promoting some of the great positive work being done

in the community. It also offers exceptional value for

your supporters and sponsors.

Contact:

Mike Fulham

379 7100

mike@starmedia.kiwi

Public Notices

RESOURCE MANAGEMENT

ACT 1991

CHRISTCHURCH DISTRICT PLAN

NOTICE OF COUNCIL DECISION

PROPOSED PLAN CHANGE 5

PACKAGE OF CHANGES

The Christchurch City Council has made its

decision on Proposed Plan Change 5 – Package

of Changes, at its meeting on 28 July 2022.

The Council has adopted the Commissioner's

recommendation that the plan change be

approved with some modification.

The Commissioner's recommendation and

the plan change, as amended by the Council's

decision, are now available for public viewing

online at https://ccc.govt.nz/the-council/

plans-strategies-policies-and-bylaws/plans/

christchurch-district-plan/changes-to-thedistrict-plan/proposed-changes-to-the-districtplan/plan-change-5/

or during normal opening

hours at any of our service centres or libraries.

For details of your nearest service centre or

library, please telephone 941 8999.

Mark Stevenson

Manager Planning

Infrastructure, Planning &

Regulatory Services
---
THURSDAY, MAY 5, 20 2

co necting you with your neighbourh od

w.starnews.co.nz

1 – 3 July

20 2

Christchurch Arena

in Cambridge, the talented t enagers

made a sm oth transition to November, so her progre s has

development progra me last

THEY MIGHT not stand out the age group road race national b en remarkable.

riding to and from sch ol championships in Hokitika.

"I was talking t one of my

the roads of New Brighton or Sayers, who lives in Avondale, coaching leagues we were

Avondale, but Amelia Sykes and ca ped an unbeaten debut season trying to think: 'Has an under-15

Shaylah Sayers are already on the as competitive cyclist by securing bike rider ever dominated and

fas track to su ce sful cycling the under-15 time trial and road won everything the under-15

car ers.

race on the West Coast over Anzac women's grade?' And for the life

After dominating thei respective

categories a the track national title haul to eight.

in the past 20 years," said Sayers'

w ekend, to b ost her national of us we couldn' think of anyone

championships inside Cycling The 13-year-old only joined coach Te ry Gyde.

New Zealand's flagship velodrome the Canterbury Track Cycling • Turn to page 5

• By Chris Barclay

DOUBLE TIME: Amelia Sykes defended her under-19 time trial title a the age group road race national championships.

PHOTO (right): GRANT HA RIS PHOTOGRAPHY

Jayne and I would like to thank you for the work you've done to get us where

we are today. Bit of a blu rea ly. Every step in the proce s has gone into

achieving the resul today that exc eded our expectations. The detail and

profe sionalism has b en on point. Staging, photography, the video along

with the marketing campaign a leading to a great property to presen to

the market. These aspects a l se the scene perfectly for the open homes and

visits leading to today's outstanding auction result. Quiet nigh tonight but

sure there wi l be a few celebratory drinks later in the w ek.

- Jason Sco t & Jayne Lesley Rhodes -

Phone or text 027 5 7079

cameron.bailey@harcourts.co.nz

w.cameronbailey.harcourts.co.nz Licensed Sales Consultant RE A 2 08

REINZ Residential Salesperson of the Year acro s a l brands in NZ

No.1 Harcourts Canterbury 2012-2021

No.1 Harcourts New Zealand 2017-2021

No.1 Harcourts International 2017-2021

THURSDAY, MAY 5, 20 2

- Jason Sco t & Jayne Lesley Rhodes -

Phone or text 027 5 7079

cameron.bailey@harcourts.co.nz

co necting you with your neighbourh od

• By Chris Barclay

w.starnews.co.nz

REINZ Residential Salesperson of the Year acro s a l brands in NZ

No.1 Harcourts Canterbury 2012-2021

No.1 Harcourts New Zealand 2017-2021

No.1 Harcourts International 2017-2021

1 – 3 July

20 2

Christchurch Arena

in Cambridge, the talented t enagers

made a sm oth transition to November, so her progre s has

development progra me last

the age group road race national b en remarkable.

championships in Hokitika.

"I was talking t one of my

Sayers, who lives in Avondale, coaching leagues we were

ca ped an unbeaten debut season trying to think: 'Has an under-15

as a competitive cyclist by securing bike rider ever dominated and

the under-15 time trial and road won everything the under-15

race on the West Coast over Anzac women's grade?' And for the life

w ekend, to b ost her national of us we couldn' think of anyone

title haul to eight.

in the past 20 years," said Sayers'

The 13-year-old only joined coach Te ry Gyde.

the Canterbury Track Cycling • Turn to page 5

The Star Classifieds

Public Notices

HORNBY WMC

& MSA INC

Gaming Fund

The Hornby Club, invites applications

from recognised charitable, welfare

and educational organisations and from

amateur sporting or youth, organisations

within the local community to further

the objectives of these groups.

Application forms are available from:

• The Hornby Club Office ,17 Carmen Rd,

Hornby, Christchurch 8042

• or on our website;

https://hornbywmc.co.nz/the-club/

grant-applications/

Fully completed application forms must

be received at the Club Office no later

than 5.00pm, Monday5th Sept 2022.

Wanted To Buy

WANTED

SLEEPOUTS

Sleepouts Galore

Buyers and sellers of

relocatable buildings

11 Brixton Street, Hornby

Phone: 349 9633

STEVE PURCELL

ANTIQUES

BUYING

NOW

Gold jewellery,

watches, coins,

medals, scrap

gold, sterling

silver, pewter,

original paintings,

modern art.

351 9139

stevepurcellantiques.com

Wanted To Buy

AAA Buying goods

quality furniture, beds,

stoves, washing machines,

fridge freezers. Same day

service. Selwyn Dealers.

Phone 980 5812 or 027

313 8156

A+ ALL whiteware

wanted. Same day

service, cash paid for

freezes, fridges, washing

machines, ovens. Also

buying furniture & h/

hold effects.Anything

considered. Ph Dave 960-

8440, 027 66 22 116

Thursday August 11 2022 The Star 33

• Phone our local team 03 379 1100 • Email star.class@starmedia.kiwi

Wanted To Buy

A1 Albums, old photo's,

postcards, coins, gold,

bank notes, badges,

medals, jewellery,

watches, china, crystal,

books, furs, vintage

clothing, paintings,

furniture, estates &

downsizing. Etcetera

Antiques, 194 Edgeware

Rd 385 5117

ACADEMY ANTIQUES

Buying estates, antiques,

old china, crystal, art,

Royal Doulton , Royal

Albert etc. Best prices, free

appraisal. Call Rob 349-

4229 academyantiques.

co.nz

A records and Hi-Fi

gear wanted. Pennylane

Sydenham. 7 days. Ph

366-3278

MILITARIA Any

country, firearms,

uniforms, badges, medals,

memoribilia, WW2 or

earlier ph 338-9931

TOOLS, Garden garage,

saw benches, Lathes. Cash

buyer Phone 355-2045

Viantage push bike

wanted. I'm looking for

an old chopper or dragster

bike., had one when I was

a kid. Want to put it on

the mancave wall. can be

in any condition ph/txt

021861732

So

GOOD!

Still

FREE

It's

FANTASTIC!

Thanks to the

support of our

advertisers

PH 379 7100

www.star.kiwi

Situations Vacant

NIGHT CLEANERS

REQUIRED

HOSPITAL CLEANING

MERIVALE / PAPANUI AREA

Monday to Friday

9pm to 4.30am

9pm to 1.00am

Willing to relieve longer hours if required.

Working in team environment with your own

specific areas to clean.

Email office@medfac.co.nz

Text 0224083113 with details and a

contact name and number

DELIVERERS WANTED

Are you honest and reliable?

Are you aged 11 or over? Do you want to join our

dynamic team and deliver The Star newspaper

to local homes every Thursday?

Need

some extra

cash? Why

not get fit

earning it!

Driver also wanted!

• With suitable vehicle.

• For bulk delivery to

residential addresses.

• Hours negotiable, early

every Thursday morning.

Thursday, May 5, 2022

Thursday, May 5, 2022

How much Vitamin C? – page 9

How much Vitamin C? – page 9

Christchurch's best read and largest circulating newspaper

Racers set blistering

pace on two wheels

THEY MIGHT not stand out

riding to and from sch ol the roads of New Brighton or

Avondale, but Amelia Sykes and

Shaylah Sayers are already on the

fas track to su ce sful cycling

car ers.

After dominating thei respective

categories a the track national

championships inside Cycling

New Zealand's flagship velodrome

DOUBLE TIME: Amelia Sykes defended her under-19 time trial title a the age group road race national championships.

PHOTO (right): GRANT HA RIS PHOTOGRAPHY

Jayne and I would like to thank you for the work you've done to get us where

we are today. Bit of a blu rea ly. Every step in the proce s has gone into

achieving the resul today that exc eded our expectations. The detail and

profe sionalism has b en on point. Staging, photography, the video along

with marketing campaign a leading to a great property to presen to

the market. These aspects a l se the scene perfectly for the open homes and

visits leading to today's outstanding auction result. Quiet nigh tonight but

sure there wi l be a few celebratory drinks later in the w ek.

New perspective

on life for

Chris Cairns – page 12

w.cameronbailey.harcourts.co.nz Licensed Sales Consultant RE A 2 08

Templeton hints at

mayoralty bid

Christchurch's best read and largest circulating newspaper

No candidate from

The People's Choice

• By Susan Sandys

CITY COUNCILLOR Sara Templeton is

reassessing her previous decision no to

stand for the mayoralty.

The Heathcote Ward representative said

the city needed a future-focused mayor,

particularly in light of the threat of

climate change.

Phil Mauger

David Meates

It comes as left-leaning The People's

Choice says it wi l not field a candidate.

The only candidates confirmed a this

stage are fe low city counci lor

Phil Mauger, and The Wizard. Former

health board boss David Meates

is considering standing.

•Turn to page 6

BUYING

OLD AND NEW STAMPS

COINS, BANKNOTES

and MEDALS

Postcards, Militaria

and Co lectables

Gold, Silver, Platinum

and Watches.

The Wizard

134A Riccarton Road,

Opposite Westfield.

Licensed 2nd Hand Dealers We can come to you if you are unable to travel

Call 0800 39 24 26

Racers set blistering

pace on two wheels

New perspective

on life for

Chris Cairns – page 12

Templeton hints at

mayoralty bid

No candidate from

The People's Choice

• By Susan Sandys

CITY COUNCILLOR Sara Templeton is

reassessing her previous decision no to

stand for the mayoralty.

The Heathcote Ward representative said

the city needed a future-focused mayor,

particularly in light of the threat of

climate change.

Phil Mauger

It comes as left-leaning The People's

Choice says it wi l not field a candidate.

The only candidates confirmed a this

stage are fe low city counci lor

Phil Mauger, and The Wizard. Former

health board boss David Meates

is considering standing.

•Turn to page 6

David Meates

BUYING

The Wizard

OLD AND NEW STAMPS

COINS, BANKNOTES

and MEDALS

Postcards, Militaria

and Co lectables

Gold, Silver, Platinum

and Watches.

FREE

APPRAISALS!

134A Riccarton Road,

Opposite Westfield.

Licensed 2nd Hand Dealers We can come to you if you are unable to travel

Call 0800 39 24 26

FREE

APPRAISALS!

or have a large co lection or item. The best prices

paid for your old co lectables and metals.

or have a large co lection or item. The best prices

paid for your old co lectables and metals.

CASH FOR

STAMPS,

COINS AND

GOLD!!

Ca l the Stamp and Coin Exchange

on 0800 39 24 26

CASH FOR

STAMPS,

COINS AND

GOLD!!

Ca l the Stamp and Coin Exchange

on 0800 39 24 26

If this sounds like you, email your interest along

with your name, address and phone number to:

deliveries@alliedpress.co.nz

ADJUSTABLE MASSAGE BED

by

Vehicles Wanted

CAR REMOVALS

$$CASH PAID$$

CARS, VANS, UTES & 4X4 WANTED

NZ OWNED AND OPERATED FOR 24 YEARS

We use world class vehicle depollution systems

0800 77 80 80

www.pickapart.co.nz
---
34 The Star Thursday August 11 2022

CLUB OPEN DAILY

FROM 8AM

MAIN RECEPTION

OPEN 9AM-8PM DAILY

Enjoy a Pre-Show

Carvery IN CHALMERS

ALL BLACKS

Big Screen

Breakfast Replay

Hāpai Access Card

Fund-raising Show

u Eddie Low u Noel Burns u SweetAzz

u Vicki Galloway Downes u Nick Jackman u K4

SUN. 14th AUG. 2PM

TICKETS $30 AT THE CLUB OR HAMANITIX.COM +BF

THE

MADSEN PROMOTIONS PRESENTS

Tributes to

SAT. 3rd SEPT

Live Music

SATURDAY 7PM

FLEETWOOD MAC

ABBA

SOLD OUT

SUNDAY 3PM

IAN MAC

WINTER

Bingo

10AM EVERY TUESDAY

(Until 30th August)

SAT. 13th AUG

SAT. 3rd SEPT

SAT. 1st OCT

$30pp from 4.30pm

SUN. 14th AUG, 9AM

AB's v SA Replay

Watch the game while

enjoying a Pavilion breakfast

BEATLES& ELVIS

TICKETS $25. DOORS OPEN AT 7PM. SHOW STARTS AT 7.30PM

Come on down!

17 CARMEN RD. PH. 03 349 9026

WWW.HORNBYWMC.CO.NZ

COME DANCING

with Lynne Chaney & friends

This Sunday 14th August, from 1.30pm

Papanui RSA, 55 Bellvue Rd. $2 Entry.

RICCARTON PARK RACECOURSE

Festival of Racing

START

-and- END

RACE DAYS

WITH US

The

RACECOURSE HOTEL

& Motorlodge

BRIDIE'S BAR & BISTRO

401 Worcester St, Linwood. Phone 03 260 0325

Senior Gold Card *Discounts

*Excludes Friday to Sunday Dinner

This week's

specials &

events

Monday

2 Pizzas for $20

Tuesday

Parmy Mania

any Parmy for $18

Wednesday

Steak Night

all steaks 25% off

Bookings Essential

PH 386 0088

@GardenRestaurantBuffet

ORANGE = WE ARE OPEN FOR BUSINESS.

6, 10, 13 AUGUST

Scrumptuous

Brunch

Menu

ALL ITEMS

$20

118 Racecourse Rd, Sockburn,

Christchurch. Ph 03 342 7150

www.racecoursehotel.co.nz

THE GARDEN HOTEL COMPLEX, 110 MARSHLAND RD

www.gardenhotel.co.nz

FULL TAB

LIVE

MUSIC

SAT 6pm

KRAKKAJACK

We are proud to sponsor the NZ Grand National Steeplechase on Saturday 13 Aug

Thursday

Burgers for $15

Quiz 7pm

Friday

Blue Cod Fish &

Chips for $20

Saturday

Live music 3pm

THE MEANIEZ

Sunday

Sunday Roast $15

& Kids meals $5

Housie-Bingo 3pm

9AM - 4PM 7 DAYS

$16 LUNCH SPECIAL

PH 385 8880

@GBCCHCH
---
Thursday August 11 2022 The Star 35

christchurch

GIG GUIDE

Thursday 11 to Wednesday 17 August 2022

To add a listing, contact

Jo Fuller 03 379 7100 or

027 458 8590

jo.fuller@starmedia.kiwi

www.star.kiwi/whatson

12 BAR, 342 St Asaph St: Thursday

9.45pm - Terror of the Deep & The Tiny

Dangers. Friday 8pm - Mim Jensen

'Germaphobe' Release Show, tickets at

cosmicticketing.co.nz. Saturday 7pm - Foot

in the Doore presents Hidden Talent feat.

Mish & Green, tickets at ticketfairy.com.

Wednesday 7.30pm - Oscar Lerma, free.

A ROLLING STONE, 579 Colombo St:

Friday 8pm – NZ Battle of the Bands 2022,

Christchurch Heat 1, tickets $12+BF

eventfinda.co.nz, and door sales. Saturday

8pm – NZ Battle of the Bands 2022,

Christchurch Heat 2, tickets $12+BF

Eventfinda.co.nz, and door sales. Sunday

1pm – Open Mic Sundays hosted by

Hannah-Grace and Myllo, instruments

provided incl drums, piano, guitars, all

welcome, free. Sunday 4pm – Charity

Fundraiser Quiz in support of O'Neills'

School of Irish Dance, bookings at venue ph

03-377-4787, $15 per person or $50 group

of 4. Monday 7pm – Believe It or Not Quiz,

free.

BOO'S, 98 Victoria St: Thursday 8pm -

Celine Marie. Friday 8pm - Jaz Paterson;

10.30pm - Cantora. Saturday 8pm - Lee

Martin; 10.30pm - Neon Switch.

BRIDIE'S BAR, 401 Worcester St:

Thursday 7pm - Believe It or Not Quiz.

Saturday 3pm - The Meaniez. Sunday 3pm -

Housie-Bingo.

CHRISTCHURCH CASINO, 30 Victoria

St: Thursday 7pm - Chur Bro. Friday 7om -

Sirenz; 10.15pm - D'Sendantz. Saturday

7pm - Nat & Cory; 10.15pm - Mynt.

CHRISTCHURCH FOLK MUSIC CLUB,

Irish Society Hall, 29 Domain Tce:

Sunday 7.30pm - The Sweet Sweet Nothings

- Frankie Daly, Jessie Shanks (The Eastern),

Tess Liautaud.

COME TOGETHER, Chch Town Hall,

Kilmore St: Friday - Liberty Stage presents

David Bowie, tickets at ticketek.

FAT EDDIES, 76 Hereford St: Thursday

6pm - Ed's Jazz Club presents Tiger Moth;

10pm - Diamond Blue. Friday 5pm - Penny

Blues Band; 8pm - Black & Gold; 11.30pm -

Chilton House. Saturday 5pm - Elly Rydge;

8pm - Mirrors; 11.30pm - VOXY.

HORNBY CLUB, 17 Carmen Rd:

Saturday 8pm - Fleetwood Mac/ABBA

SOLD OUT. Sunday 3pm - Ian Mac.

INTO SPRING FAMILY VARIETY

CONCERT, Isaac Theatre Royal,

Gloucester St: Sunday 21st August 2pm -

Featuring Yulia - NZs own Edith Piaf, Fiona

Pears and her Gypsy violin and the magical

Into Spring Family Variety Concert

cont...

Southern Cross Irish Dance troupe. There

will be some surprises! The show is being

moulded together by radio personality

James Daniels. 50s Up Brass are 35 mostly

retired musicians, some originally from the

NZ army Band and the NZ National Band..

Get your tickets from the Theatre or from

Ticketek. Children $15, Seniors $25, Adults

$30 plus a small booking fee.

KAIAPOI CLUB, 113 Raven's Quay:

Sunday 4th Sept, 3pm - SweetAzz. Friday

9th Sept, 7pm - Retro Party with DnD Trio.

Friday 16th Sept 7.30pm - Beatles/ELVIS

Tribute.

LITTLE BROWN JUG, 290 Wairakei

Rd: Saturday 7.30pm - Old Skool.

MICKY FINN'S, 85a Hereford St: Friday

10.30pm - Red Zone. Saturday 10.30pm -

Flat City Brotherhood.

RACECOURSE HOTEL, 118

Racecourse Rd: Saturday 6.30pm -

Krakkajack.

REDWOOD HOTEL, 340 Main North

Rd: Friday 7pm - Reboot.

RICHMOND CLUB, 'The Borough', 75

London St: Friday 6pm - Speedboat.

Saturday 7pm - End Game. Sunday 3pm -

Stephen McDaid.

SHARKEY'S BAR, 96 Hoon Hay Rd:

Saturday 6pm - Karaoke. Sunday 4pm -

Open Mic. Tuesday 7pm - Karaoke.

SULLIVANS IRISH PUB, 291 Lincoln

Rd: Friday 7.30pm - Live music. Saturday -

Live music. Wednesday 7pm - Willie's Open

Mic.

TEMPS BAR, 21 Goulding Ave:

Saturday 8.30pm - Titanic.

THE BOG, 50 Victoria St: Thursday 7pm

- Quiz. Friday 10pm - The Corks. Saturday

7pm - Holly Kimber; 11pm - Corner

Sounds. Sunday 4pm - Elly & Friends.

THE CRAIC IRISH BAR, 84b Riccarton

Rd: Friday & Saturday 9pm - Karaoke.

Tuesday 7pm - Quiz. Wednesday 10pm -

Karaoke.

THE EMBANKMENT, 181 Ferry Rd:

Friday 7.30pm - Open Mic. Wednesday

9.30pm - Titanic Pub Rock Covers Band.

THE MILLER BAR, 308 Lincoln Rd:

Friday 9.30pm - The Meaniez. Saturday

9.30pm - Misconduct. Sunday 6pm - Lance

Kiwi Karaoke. Tuesday 7pm - Quiz.

Wednesday 7.30pm - Lance Kiwi Karaoke.

THE ENTERTAINMENT HUB OF THE NORTH!

POOL TABLES OPEN

HOUSIE

12.30PM THURSDAY

FRI 9 SEP 7PM

OPEN

FROM

11AM

FRI 16 SEP 7.30PM

Tickets $30

OPEN

WED, THUR, SUN

12pm-2pm &

4.30pm-7.30pm

FRI & SAT

12pm-2pm &

4pm-8pm

CLOSED

Monday & Tuesday

NEXT QUIZ

7PM THURSDAY

11th August

BISTRO

113 RAVEN QUAY | P 03 327 7884 | WWW.KAIAPOICLUB.CO.NZ

WHAT'S ON AT THE RICHMOND CLUB

FRIDAY 7PM

SATURDAY 7PM

SUNDAY 3PM

75 London St, Richmond

Christchurch 8013

P: 03 389 5778

SPEEDBOAT

END GAME

STEPHEN McDAID

theborough.nz

richmondclub.nz
---
36 The Star Thursday August 11 2022

FINAL WEEK FOR STOREWIDE SAVINGS!!! SALE ENDS 15.08.22

30th Birthday

HEAPS of HOT DEALS!

SCAN QR TO SHOP

FINAL WEEK FOR STOREWIDE SAVINGS!!! SALE ENDS 15.08.22

VERMONT RANGE

ON SALE

Malone Modular

Sofa Range

ON SALE

Corner – Duck Egg NOW $ 950

1.5 Seater – Duck Egg NOW $ 900

2 Seater – Dark Grey NOW $ 1149

3 Seater – Dark Grey NOW $ 1499

Melve 3 Piece Dining Set

– W220

WAS $

1699

NOW

$

1399

Haven Dark Queen Bed

WAS $

1149

NOW

$

999

Woodwall Room Divider

with Shelves

WAS $

549

NOW

$

449

DON'T MISS OUT ON THESE HOT, HOT, BIRTHDAY DEALS

Carter Barstool

– Light Grey or Tan NOW $ 125

Eva Chair NOW $ 479

Penn 3 Drawer Chest NOW $ 459

Avita Bench NOW $ 149

Penn Bedside NOW $ 225

Scan to find store

250 Moorhouse Ave, Christchurch

0800 TARGET (0800 827438)

targetfurniture.co.nz

Offers and product prices advertised here expire

15/08/22. Sale Excludes Accessories.