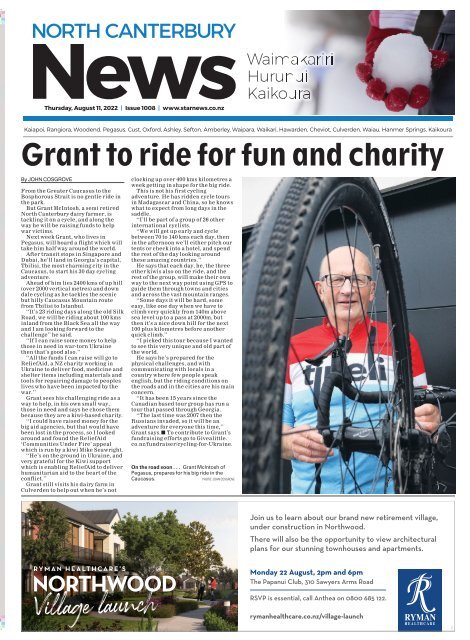 Nor'West News: August 11, 2022
Create successful ePaper yourself
Turn your PDF publications into a flip-book with our unique Google optimized e-Paper software.
Thursday,August11, 2022 | Issue1008 | www.starnews.co.nz

Grant to ride for fun and charity

By JOHN COSGROVE

From theGreater Caucasus to the

Bosphorous Straitisnogentle ride in

the park.

But Grant McIntosh, asemi retired

North Canterbury dairy farmer, is

tackling it on acycle,and along the

way he will be raising funds to help

war victims.

Next weekGrant, who lives in

Pegasus, will board aflight whichwill

take him half way aroundthe world.

After transit stops in Singaporeand

Dubai,he'll landinGeorgia'scapital,

Tbilisi,the most charming cityinthe

Caucasus, to start his 30 day cycling

adventure.

Ahead of him lies 2400 kmsofuphill

(over 2000vertical metres) and down

dale cycling as he tackles the scenic

but hilly Caucasus Mountain route

from Tbilisi to Istanbul.

''It's23riding days along the old Silk

Road, we will be riding about 100 kms

inlandfromthe Black Sea all the way

and Iamlooking forward to the

challenge''hesaid.

''If Ican raise some money to help

those in need in war­torn Ukraine

then that'sgood also.''

''All the fundsIcan raisewill go to

ReliefAid, aNZcharity working in

Ukraine to deliver food, medicineand

shelter itemsincludingmaterialsand

tools for repairingdamage to peoples

lives who havebeen impacted by the

war.''

Grant sees his challenging ride as a

way to help, in his own smallway,

those in need and says he chose them

becausethey are akiwi­based charity.

''I could have raisedmoneyfor the

big aid agencies, but that wouldhave

been lostinthe process, so Ilooked

around and found the ReliefAid

'Communities Under Fire'appeal

which is run by akiwi Mike Seawright.

''He's on the groundinUkraine, and

very gratefulfor the Kiwi support

which is enabling ReliefAidtodeliver

humanitarianaid to the heart of the

conflict.''

Grant still visits his dairyfarm in

Culverden to help out when he'snot

clockingupover 400 kms kilometres a

weekgetting in shape for the big ride.

Thisisnot his first cycling

adventure. He has riddencycle tours

in Madagascar and China, so he knows

whattoexpect fromlong days in the

saddle.

''I'll be part of agroupof26other

international cyclists.

''We will get up earlyand cycle

between70to140 kmseach day, then

in the afternoon we'll eitherpitch our

tents or check into ahotel, and spend

the restofthe day looking around

theseamazingcountries.''

He says that eachday, he, the three

otherkiwis alsoonthe ride,and the

rest of the group, will make theirown

way to the nextway point usingGPS to

guidethem through towns and cities

and across the vast mountain ranges.

''Some days it willbehard, some

easy,like one day when we have to

climbvery quickly from 140m above

sea leveluptoapass at 2000m, but

then it's anice downhill for the next

100 plus kilometres before another

quickclimb."

''I picked this tour because Iwanted

to see this very unique and old partof

the world.

He says he's prepared for the

physical challenges, and with

communicating with localsina

country where few people speak

english, but the riding conditions on

the roads and in the cities arehis main

concern.

''It has been15years sincethe

Canadian based tour group has run a

tour that passedthrough Georgia.

''Thelasttime was 2007 then the

Russians invaded, so it willbean

adventurefor everyonethis time,''

Grantsays. To contribute to Grant's

fundraisingefforts go to Givealittle.

co.nz/fundraiser/cycling­for­Ukraine.

On the road soon ... Grant McIntosh of

Pegasus, prepares for his big ride in the

Caucasus.

PHOTO: JOHN COSGROVE

Join us to learn about our brand new retirement village,

under construction in Northwood.

Therewill also be the opportunity to view architectural

plans forour stunningtownhouses and apartments.

RYMAN HEALTHCARE'S

NORTHWOOD

Viage launch

Monday22August, 2pm and 6pm

ThePapanui Club,310 Sawyers Arms Road

RSVP is essential,call Anthea on0800 685 122.

rymanhealthcare.co.nz/village-launch

3974
---
NEWS

2 North Canterbury News, August 11, 2022

Grow

customers,

salesand

profits

with North

Canterbury's

bestread

newspaper

Readership: 51,000 weekly

Circulation: 30,150copiesdelivered

to EVERY farm, RD, lifestyle block

and home inWaimakariri, Hurunui

&Kaikoura every Thursday.

news

Robyn Bristow

Managing Editor

027 312 1581

robyn.bristow

@ncnews.co.nz

Reporters

David Hill, Shelley Topp.

advertising

DaynaBurton

Sales Manager

027 312 0089

dayna.burton

@ncnews.co.nz

AmandaKeys

Advertising

027 536 6224

amanda.keys

@ncnews.co.nz

JillianDickie

Advertising

022 024 3092

jillian.dickie

@ncnews.co.nz

Stand up for your community

By DAVID HILL

LOCAL DEMOCRACY REPORTER

North Canterbury councils are

struggling to attract candidates for this

year's local government elections. But

Kaikoura is bucking the trend.

With just aweek to go, electoral

officers in Hurunui and Waimakariri

are scratching their heads at the lack of

nominations for this year's local

government elections.

The stage is set for amayoral race in

Kaikoura, with two candidates lining up

to challenge incumbent Mayor Craig

Mackle.

Former Kaikoura Mayor Kevin Heays

wants his old job back, while former

councillor Ted Howard has announced

his run against Mr Mackle.

Mr Mackle said Kaikoura was ''a very

diverse community'' and he looked

forward to the campaign.

''If I've done agood job, I'll soon find

out!''

Hurunui District Council deputy

electoral officer Naomi Woodham said

there had been some issues with loading

candidates on the electionz.com

website, but there had yet to be arush of

nominations.

''Democracy is so important and I

know people are tired, but your district

needs you ­Hurunui needs you.''

She did expect some nominations over

the next week from some sitting

councillors before deadline, but there

did not appear to be ''a lot of interest or

engagement''.

Covid fatigue may be factor, she said.

''I did think with issues like the RMA

(Resource Management Act) and Three

Waters reforms that there might be abit

of interest, because it's really important

that local people speak up on these

issues.

''But maybe people are tired. It's been

ahard few years.''

If candidates were stuck at home with

Covid, they could submit forms online,

as long as they were signed by two

eligible nominees.

Waimakariri District Council deputy

electoral officer Sarah Nichols

suspected last week's wet weather may

have turned people off.

No nominations have so far been

received from the growing towns of

Woodend and Pegasus for either council

or the Woodend­Sefton Community

Board.

Just one nomination has been

received for the Oxford­Ohoka

Community Board, with six positions

available.

''It would be nice to see more diversity

and to see more young people and more

women,'' Ms Nichols said.

''The community board is ideal for

someone who is working or has family

Hurunui Theatre Group presents

commitments, but still wants to

contribute as there's less time

commitment and usually only one

meeting amonth.

''Our key message is not to leave it to

the last day.''

Nominations close at 12 noon on

Friday, August 12, while billboard

signage is permitted to go up from

Saturday, August 6.

Confirmed nominations (as at August 8):

Waimakariri District Council:

Mayor ­Dan Gordon.

Rangiora­Ashley Ward (4 vacancies) ­

Robbie Brine, Padi Nistala, Joan Ward,

Steve Wilkinson, Paul Williams.

Kaiapoi­Woodend Ward (4 vacancies) ­

Philip Redmond, Brent Cairns, Neville

Atkinson, Stephen Bell.

Oxford­Ohoka Ward (2 vacancies) ­Tim

Fulton.

Rangiora­Ashley Community Board ­

Rangiora Sub­division (6 vacancies) ­

Steve Wilkson, Jim Gerard, Grant

Harris, Murray Clarke, Bruce McLaren,

Liz McClure.

Ashley Sub­division (2 vacancies) ­

Kirstyn Barnett.

Kaiapoi­Tuahiwi Community Board (5

vacancies) ­two nominations so far.

Oxford­Ohoka Community Board ­

Ohoka (3 vacancies) ­one nominations

so far.

Oxford ­(3vacancies) ­nonominations.

Woodend­Sefton Community Board (5

vacancies) ­nonominations.

Hurunui District Council:

Mayor ­Marie Black.

East Ward (2 vacancies) ­Fiona Harris.

South Ward (4 vacancies) ­Robbie

Bruerton, Pauline White.

West Ward(4 vacancies) ­Karen

Armstrong, Ross Barnes, Tom Davies,

David Hislop.

Hanmer Springs Community Board (5

vacancies) ­Mary Holloway, Alice

Stielow, Richard Tapper.

Cheviot Licensing Trust (6 vacancies) ­

Murray Crampton, Geoff Denton, Sue

Harrison, Kait Murray, Kate Nicol, Kate

Sims.

Kaikoura District Council:

Mayor: Kevin Heays, Ted Howard, Craig

Mackle.

Council (7 vacancies) ­Lisa Bond, John

Diver, Vicki Gulleford, Kevin Heays,

Ted Howard, Julie Howden, Neil

Pablecheque.

Environment Canterbury:

North Canterbury /Opukepuke Regional

Constituency (2 Vacancies) ­Grant Edge,

Shaun Lissington, Claire McKay.

Public interest journalism is funded

by New Zealand on Air.

Kaiora

DownsMats

100% wool yoga mats made locally

getintouch

Editorial

info@ncnews.co.nz

Advertising

sales@ncnews.co.nz

Graphic Design

heather.hood@ncnews.co.nz

Distribution/Deliveries

03 314 8335

Rangiora: 03 313 2840 /03314 8335

14 Ashley St, Rangiora

Christchurch: 03 364 7460

www.starnews.co.nz

Show runs from 25 th August

to 3 rd September

Thursday, Friday, Saturday 7:30pm;

Matinee on Saturday 27 th 2pm

Waipara Memorial Hall

Tickets available in August from: Sally Mac's

Amberley, Gas Waikari, Gifts &Finds Cheviot

Or online bookings at

www.hurunuitheatre.org

Adults -$25; Seniors -$20;

Children under 16 -$15

2501142

sustainable

Born in the foothills

of the Hurunui

sustainable comfortable hill-country, Born in the foothills these of Hurunuihill-country,these

comfortable

mats

mats were

were

designed

designed

to

durable

durable

to bring bring the outdoors the outdoors

&the

inner self together.

natural

&the inner self

The wool wasgrown from

together.

sheep on our farm Kaiora

kaioradownsmats.co.nz Downs North Canterbury.

The wool was grown from sheep on our farm

Kaiora Downs North Canterbury.

kaioradownsmats.co.nz

2499742
---
NEWS

North Canterbury News, August 11, 2022

3

Caring for North Canterbury

Dr John Dehn

Full Mole Checks

using Dermoscopy

Surgical Management

and Aftercare

Comprehensive, Affordable, Convenient

Ph 03 9204060

52 Pegasus Main Street,Pegasus 7612

www.pegasusmedicalcentre.co.nz

Southern Cross

Affiliated Provider

For selected services

1890742

Holiday heaven ... Hanmer Springs TOP 10 Holiday Park owner, Jacqui Anderson, back row, third from right, with her staff after the

business she owns with her husband, Dean, won the People's Choice Award at the Lion Hospitality Awards for Excellence 2022.

PHOTO: SUPPLIED

Top spot to holiday in Hanmer

By SHELLEY TOPP

Ateam mantra of ''memories for life''

and the recognition it is often the little

things that make adifference, have

helped the Hanmer Springs TOP 10

Holiday Park take away atop

international award.

It has won the People's Choice Award

at the Lion Hospitality Awards for

Excellence 2022.

The Hanmer Springs park was up

against stiff competition, including

luxury international hotel chains and

lodges, and much­loved New Zealand

motels, restaurants, bars and cafes.

Jacqui Anderson, who owns the holiday

park with her husband Dean, says to

have become afinalist at the prestigious

Business hub in hot demand

By SHELLEYTOPP

The new Rangiora Business Hub is

attracting huge interest with 18 of 35 lots

in the development now sold or under

contract.

With industrial land in Canterbury in

short supply, sections in the industrial

park, on the corner of Fernside and

Todds roads, in Southbrook, were

expected to be in big demand.

However, the level of interest has

surpassed expectations, says Colliers

Christchurch director of industrial, Sam

Staite.

event was a''real buzz'', but then win the

People's Choice Award really pushed

the excitement level off the charts.

''Thanks to all our fantastic guests who

voted for us.''

The park caters for everyone, with

facilities including new architecturallydesigned,

stand­alone luxury

apartments, well appointed selfcontained

units and cabins through to

powered and non­powered sites for

caravans, campervans and tents.

''The jumping pillow, fun bikes and

playground where the kids can happily

play for hours, the barista coffee

available at reception, locally­made

gourmet pizzas which guests can cook on

the outdoor pizza ovens, asoak in one of

the private on­site wood­fired hot tubs

''We knew there would be strong

interest from owner­occupiers,

investors and tenants, but even we were

surprised by the speed of sales,'' he says.

''The key drawcard is that the

Rangiora Business Hub provides the

opportunity to secure affordable,

freehold industrial land in one of the

highest growth commercial locations in

the district.''

The main entrance to the 13.8ha

business hub, which offers freehold

titles with options ranging from 1200sqm

to 1.35 hectares in size, is on Todds

Road, near Flaxton Road, with

or aluxurious shower in the Italian tiled

bathrooms, complete with underfloor

heating, make Hanmer Springs TOP 10

Holiday Park, aspecial place for a

holiday,'' says Jacqui.

There is also an on­site meeting room

which is an ideal spot for team building

and small retreats with attendees able to

have meetings under the radar. Jet

boating and world class food are also on

the doorstep.

''Everyone visiting Hanmer Springs

TOP 10 Holiday Park gets to relax and

enjoy themselves in arange of first­class

quality accommodation, with some

unexpected surprises, five­star touches,

and warm, friendly customer service.''

The awards were held at Auckland's

Grand Millennium Hotel on July 27.

McDonald's, Mitre10 Mega, PAK'nSAVE,

Farmlands Rangiora and MainPower all

close by.

''Southbrook, and particularly

Flaxton Road, has grown significantly

over recent years as industry and

services have responded to the everincreasing

population of the

Waimakariri District,'' Sam says.

''This growth has created ashortage of

industrial land available for sale,

particularly smaller lots.''

The business hub is being developed

by Mainland Capital, aSouth Islandbased

commercial property company.

HUGE

WINTER

SALE

NOW ON

Kaiapoi Mill, Ranfurly Street, Kaiapoi

Monday –Friday 9am –5pm

Saturday 10am –1pm

Closed Public Holidays &Long Weekends

Ph 03 327 0576

2498014
---
NEWS

4 North Canterbury News, August 11, 2022

Angela wins Arable Food Award

Food champion ... Eat New Zealand CEO Angela Clifford, of

Broomfield,

PHOTO: SUPPLIED

By SHELLEY TOPP

North Canterbury's Angela

Clifford, has been named

Arable FoodChampionatthe

recentArable AwardsofNew

Zealand, in Christchurch.

Angela is thefounderand

chief executiveofEat New

Zealand, andownsthe Food

Farm, at Broomfield,with her

husband NickGill.

She saysitwas ''pretty

humbling'' to receive her

award in front of more than

400 arable farmers,scientists

and industryleadersatthe

new conventioncentre,Te

Pae,lastweek.

She hopes heraward will

bring recognitiontothe work

being done at Eat New

Zealandtoestablish alocal

grain economy.

''The work we are doing is

about betterconnecting

peopletowhere their food

comes from,'' she says.

''Itisabout ensuringwe

havefood securityfor so many

of our dailystaples.

'' Imaginelife without bread

or pasta or hummusorbiscuits

or pies or cooking oil or

breakfast cerealorevenbeer.

''Wecan easily grow all

these thingsfrom local

ingredientsifweconnectthe

peoplegrowing them with

those eating them.

''The same is truefor

everything elsewefind on our

plate hereinNorth

Canterbury,'' she says.

She alsohopes hersuccess

at the awardswillhighlight

the high quality of New

Zealand­grown foodand

encourage more peopletobuy

producegrown locally in their

neighbourhood.

''Ifwecan just investalittle

bit of our timeseekingout our

local food,whether that is

buying it from alocalmarket,

an independent retailer, a

farmstall, or growing ourown,

we willensure it is therefor

the future,'' she says.

''Ifwewant strong,

inclusive,resilient

communities then food canbe

areally goodway of building

them, andtheselocal solutions

create great environmental

outcomes as well, reducing

emissions andincreasing

biodiversity.''

She was humbled to be

considered forthe award,

alongsidesome ''wonderful

arable farmers''.

''Weoftendon'tthink about

the amountofgrains thatwe

eat;from breadtopasta,

biscuits to hummus, quinoa to

pies.

''Weare workingonaLocal

Grain Economy so we can

ensure these thingsdon't

disappearasglobal

disruptionscontinue.''

Corde

strikes

acord

CORDE, which holdsthe

Waimakariri District Council's

maintenance Contract, has been

honoured at the Civil Contractors

New Zealand Hirepool Construction

Excellence Awards.

The South Island civil

construction and maintenance

companytook home top spot in this

category for excellence in the

maintenance and management of

assets.

The judges notedCORDE's strong

field knowledge and use of

technology, which allows its client

Waimakariri District Council to

accessreal time data on road

maintenance across the network.

They also noted CORDE's ability

to allocate its maintenance efforts to

wherethey were most needed, and

its commitment to staff training, and

its ongoing efforts to reduce its

carbon footprint.

The awards were presented in

front of acrowd of more than 600

people at ablack­tie awards dinner

hostedatthe end of the Civil

Contractors New Zealand National

Conference at Te Pae Convention

CentreinChristchurch.

THE 2022 LOCALELECTIONS

It's almosttime

to vote in the

localelections.

Enrol by 12 Augusttomakevoting

in the localelectionseasy.

0800 36 76 56.

vote.nz
---
NEWS

North Canterbury News, August 11, 2022

National will 'repeal' regional council bill

By SHELLEY TOPP

ANational Governmentwill repeal

the Canterbury Regional Council

(NgaiTahu Representation) Bill, says

WaimakaririMPMatt Doocey.

The bill,whichallows two

councillors, appointedbyNgai Tahu,

to join the 14 electedcouncillors on

the regional council (ECan),became

law after passing its third reading in

ParliamentonAugust 3.

NationalMP, Mr Doocey, who spoke

against the bill during its first reading,

said afteritbecame law aNational

Governmentwould ''repeal this

undemocratic legislation''.

The LabourMPinchargeofthe bill,

Rino Tirikatene, is delighted the bill

he introducedinto Parliament on

behalfofECan has now becomelaw.

''NgāiTahu are entitled to this

representation becausethatisthe

promise of the Treaty of Waitangi and

this is amodern­day expression of that

promise,''hesaid.

ECan chairwoman Jenny Hughey

describesthe billas''a significant

milestone'' that would lead to better

environmentaloutcomes.

Ngai Tahu chairwoman Lisa

Tumahai said the passing of the bill

was ahistoric moment forNgai Tahu

and iwikatoa (all races) in New

Zealand.

''I welcomethe passing of this bill,

which givesour people official seats

at the council table as manawhenua

(territorialrights)ofWaitaha

(Canterbury),'' she said.

''Itrecognises Te Tiriti oWaitangi

and is astep towards NgaiTahu

exercising rangatiratanga (right to

exercise authority)withinour takiwa

(territory).''

Two daysafter the Canterbury

RegionalCouncil (NgaiTahu

Representation) Bill becamelaw Ngai

TahuFarming,which manages almost

100,000 hectares of farmand forestry

landinthe South Island, includingsix

5

dairyfarms at EyrewellinNorth

Canterbury, announced a''groundbreaking''regenerative

farming trial.

The multi­milliondollar, seven­year

trialisapartnership between Ngāi

Tahu Farming, NgāiTūāhuriri and

the Governmentthroughthe Ministry

for Primary Industries' Sustainable

Food and Fibre FuturesFund.

The trialwill compare dairyfarms at

EyrewellForest,which are side­byside,toassessthe

environmental

impacts of a286ha regenerative farm

compared to the adjacent 330ha

conventional farm. The Government

has committed $8 million towardsthe

$11.58 million trial.

Cabinets open for artists to showcase talent

Chorus is giving localartists the

opportunity to showcasetheir workin

the Hurunui district throughitits

Cabinet Art Programme.

Two cabinets, one in Hanmer

Springs and the other in Waikari, have

been chosenfor amakeover and

artists are encouraged to get their

designs in before the deadlineof

August 31.

The project,which seessomeof

theirmore frequently tagged cabinets

painted in art works, has been very

successfulsoChorus has chosento

extend its reach further.

CommunityRelationsManager Jo

Seddon says, it is the first year for the

initiativeinthe Hurunui district.

''We are really looking forward to

seeing whatlocalartistscome up with.

''Hisinitiative is awin­win for

communities.Not only do they get

fantasticnew artworks in their

streetscape, but it also provideswork

and promotion of localartists.''

These cabinets become works of art

in the street, oftentelling stories

about the communities in which they

arelocated and help to discourage

graffiti vandalism.

Requestsfor designs are now open

andthe winningdesignfor each

cabinet will be chosen from entries

received.Submissionsclose August

31.

Information can be foundonChorus'

dedicated webpage: chorus.co.nz/

community/cabinet­art­programme.

Swings ... Amasterpiece by Jeremy

Sauzier in Inwoods Road, Burwood. It is one

of 12 murals commissioned in Christchurch

City over the past year.

PHOTO: SUPPLIED

STAGE3

availablenow!

Mon–Sun

by appointment

LIVE WITHOUT LIMITS

in theheart ofSilverstream

Purpose-designed,resident-led, and

harmoniously integrated into the

Silverstream community, The Sterling,

Kaiapoiisaborderless retirement village

withadifference.

EXTENDED INDEPENDENCE

Choose howyou spendyour day. Be as

privateorengagedasyou desire. At The

Sterling,you'refreetoliveyourlife, your

way, in thesecurityand convenienceofa

like-mindedcommunity.

"

We'reabsolutely delighted withThe Sterling. Nothing

is aproblem here.Norates, no house insurance, and

we're mortgage-free... It's agood life!

STUART AND FAYE -Residents of TheSterling,Kaiapoi

DON'T DOWNSIZE,RIGHTSIZE!

TheSterling, Kaiapoihelpsyou rightsize

your lifestylewithout thesacrifice.The

Sterling's modernand spacious villas

offer allthe privacy andcomfort of home,

withoutthe burdenofmaintenanceor

financialuncertainty that comes with

maintaining alargerhome.

VISIT us

6Camellia Lane, Kaiapoi 7630

TALK to us

0508 783 754 |hello@thesterling.co.nz

LEARN more

thesterling.co.nz
---
OPINION

6 North Canterbury News, August 11, 2022

Submissions closed

The submission timefor the Water

Services Entity Billhas now closed, and

it is anticipated that you should be

heardbythe Finance and Expenditure

committee in Christchurch during the

week of August15.

Itrust thatthoseofyou who madea

choice to inform the government of your

position, will receive this opportunity.

Smokefreeand Vapefree streets have

ahigh level of support from tourists,

businesses,and residents as stated in

the August 5, 2022 release of the New

Zealand Medical Journal.

Areport by David Brinson, Charlotte

Ward,Cheryl Fordand Annabel Begg

says:''The aim of the communication

plan was to raise public awareness of

the initiative, and help empowerthe

public to provide positive social

reinforcement if smoking behaviours

were observed in the zone''.

The reportsays Breathe EasyHanmer

Springs was asix month trialofa

Smokefreeand Vapefree zone

implemented across key publicspaces,

including the streetfrontageofthe

retail/business area of the village.

''In 2019the Hurunui District Council

in collaboration withthe Hanmer

Springs CommunityBoard supported

the Cancer Society survey, thatwas

implemented to raise public awareness

and empower the publictosupport

McALPINES MITRE 10 MEGA RANGIORA -OCEAN WATCH

This

Week

Sun

Fishing

Guide

Moon

Wind

Fair

Thursday Friday Saturday Sunday Monday Tuesday Wednesday

Aug 11 Aug 12 Aug 13 Aug 14 Aug 15 Aug 16 Aug 17

Rise 7:29am

Set 5:40pm

Best 11:37am

Times

Set 7:08am

Rise 4:14pm

Moderate S

Rise 7:28am

Set 5:41pm

Best 12:08am

Good

Times 12:38pm

Set 7:50am

Rise 5:36pm

Moderate SW turning

SE

zoneswithin the alpine village.

''Theresults indicate asupportive

majorityineach of thethree

stakeholdersgroupsfrom business,

residents andnotably visitors,'' the

report says.

In conclusion it states:''Theweight of

evidence from theprojectevaluation

points toward anet benefitboth for

individuals and for thecommunity from

implementing voluntary Smokefree and

Vapefreezones in tourist destinations in

New Zealand.''

We have again been hit by a

significant weatherpatternswithmore

floods —three weeks in arow.

Pasturesare at capacity, and the roads

have takenahammering.

Ihope thatyou haveall youneed to

get through, and if Imay offer atimely

reminderthat there are arange of

support agencies available to assist.

Hurunui District Council is about to

embark on the Welcoming Committees

project.

This is afunded initiative and

supports newcomers to our district.

It is an exciting opportunity to ensure

we liveuptoour strategic goal to

support and empower sustainable

communities andensure our

communities arevibrant and full of

energy and life.

Take care of yourselves.

Ok

Rise 7:26am

Set 5:42pm

Best

Times

1:07am

1:34pm

Set 8:23am

Rise 6:56pm

Gentle SW turning

SE

Ok

Rise 7:25am

Set 5:43pm

Best

Times

2:00am

2:26pm

Set 8:51am

Rise 8:13pm

Gentle SW turning

SE

Ok

Rise 7:23am

Set 5:44pm

Best

Times

Joanne Gumbrell

Chair, Waimakariri Age-friendly

Advisory Group

Social connectionis

important for all

Ihelp takeacommunionservice at a

residential homeinRangiora.

Lastweek aresident cameand sat

besideme.

''How longhaveyou beenhere?''I

asked.

Thiswoman hadlivedalonesince her

husbanddiedseveralyearsago.

She seemed to be enjoying the

companionship of othersinthe home.

Thisisone of the things about living

communally.

Theyget mealsprovided and anyother

carethey need.

Social connection is so important forus

all and fits withthe Age­friendlygoalto

makeWaimakariri"aplace whereolder

people canstay connected, healthy, active

and respected, whatever their age".

Igrewupinathree generation family.

We had oneset of grandparentsliving

withusuntilthey died, and theother

grandmotherafter my grandfather died.

At another time we hadGreat Aunty

Florrie whose husbandhad died, and

their onlyson was killed in the war.

Thiswas great forthem andour family,

but Ioften think of my mother whowas

expected to lookafter them as wellasdo

all the other domestic chores expectedof

women in thosedays.

She didn'tget thechance to havea

2:50am

3:14pm

Set 9:14am

Rise 9:26pm

Gentle SW turning

SE

Ok

Rise 7:22am

Set 5:45pm

Best

Times

3:37am

4:00pm

Set 9:36am

Rise 10:37pm

Gentle Sbecoming

moderate E

Good

Rise 7:21am

Set 5:46pm

Best

Times

4:22am

4:45pm

Set 9:58am

Rise 11:45pm

Gentle E

strengthening

careerofher ownwhich Ihad.

Housing,health and social connection

are high on the Age­friendlylist andthe

recentAbbeyfield Waimakariri (AWI)

inaugural annual meeting is something to

celebrate.

Information aboutthe Abbeyfield

projectcan be requested by emailing

abbeyfieldwaimakariri@gmail.com.

Our new look Age­friendlyAdvisory

Group is busy organisingways to seekthe

community's comments aboutwhat else

we need to be looking at to make

Waimakaririanevenbetter place for

older peopletolive.

There willbemeetings and

questionnaires.

If youwouldlike to be partofthis,

please contact MartinPughatthe

WaimakaririDistrictCouncil's

community teammartin.pugh@wmk.govt.

nz or phone021 567544during office

hours.

I'm goingtoget opinions fromgroups I

belong to, andmaybeeven invitemy

neighboursfor acup of teaand discussion

about what we need in the district to make

it evenbetter for our older people.

The more youcan tellus, themore

information we will have to pass on to

relevant places.

Nga mihi nui.

North Canterburypolice incidentstoAugust8

Tuesday2August:ASwannanoa

resident discovered thatthe

investmentcompanytheywere

investing in wasafraudulent

copyofalegitimatecompany; a

burglary was reported to a

caravansiteatKairaki Beach. A

greyFord Territory and

property from acaravanwas

stolen; an attempt was made to

steal aToyota Landcruiser

parkedonEastBelt overnight;a

malewas seenonCCTV

snooping aroundproperty on

RobertCoup Road, in Kaiapoi; a

drone sighting reported on the

WoodfieldsRoadinCust.

Tuesday August 2­Wednesday,

August3:Unlockedvehicles and

buildings in Woodend were

targeted by thieves. Tools and

other property were stolen.

Wednesday 3August: Tools

stolenfrom agarage on

SovereignBoulevard in Kaiapoi.

The garagehad inadvertently

beenleftopen overnight.

Opportunist offenders are likely

to target opengarages, so ensure

garagesand vehicles are locked

up, even duringthe day; a

Rangioraresidentwas caught in

ascam wheretheythought they

weredealingwithareputable

investmentcompany,howeverit

appears it wasanimitation;

graffiti wasreported at Elephant

Parkplayground in Rangiora.

Wednesday August3­Thursday,

August4:An attemptwas made

to steal an Isuzu Bighorn,parked

on BuckhamStreet,inRangiora.

Thursday August4­Friday,

August 5:Tools werestolen

from an insecuredwelling on

OhokaRoadinKaiapoi.

Friday, August5:Aburglarywas

reported at aMainRaceRoad

addressinEyrewell.Atrailer,a

quad bike, abattery and a

bonnet of aFord Prefect were

stolen; an Oxfordmalewas

processed for driving with

excess breath alcohol afterbeing

stoppedinChurch Street,

Rangiora.

Friday, August5­Saturday,

August 6: Asilver Nissan

Skylinewas stolen froma

Beatties Road address in Ashley;

Ahouse on MainNorth Road,

Waikuku,was broken into.

Saturday, August6:An

Amberley male wasprocessed

fordriving withexcess breath

alcohol after beingstopped in

Kaiapoi; aKaiapoi femalewas

arrestedfor threatening

behaviour.

Saturday August6­Sunday,

August 7: Numberplateswere

stolenfrom vehiclesparked in

VictoriaStreet Rangiora, and

Sewell Street, Kaiapoi; asilver

Nissan Tiida was stolen from

Akaroa StreetinKaiapoi. These

vehiclesare currently favourites

forjoyriders so please be aware

that steering wheel locks canbe

agooddeterrent foropportunist

offenders; ared Brifordcaged

trailer was stolen from Gressons

road in Waikuku.

Sunday, August 7: ARangiora

male wasprocessed for driving

with excessbreath alcohol after

beingstopped in Rangiora.

Sunday, August 7­Monday

August 8: Damage wasreported

to propertyand equipment at

Waipara School; an attemptwas

made to steal avehicle parkedin

Willock St,Kaiapoi.

Monday 8August: Aburglary

wasreportedtoaWoodend

property.Food, electronics, and

personal effectswerestolen;a

Tuahiwiresident discovered

theirnumberplatesmissing after

they wereused in apetroldrive

offinChristchurch.

Monday August 8­Tuesday,

August 9: Two vehiclesparked

in Pegasus were brokeninto and

personal effectswerestolen.

Swell

Pegasus Bay

Tide Chart

3

2

E1.2 m E1.0 m E0.8 m E1.0 m E1.0 m SE 0.9 m E1.2 m

3 6 9 NOON 3 6 9 3 6 9 NOON 3 6 9 3 6 9 NOON 3 6 9 3 6 9 NOON 3 6 9 3 6 9 NOON 3 6 9 3 6 9 NOON 3 6 9 3 6 9 NOON 3 6 9

1

0

Highs Lows Highs Lows Highs Lows Highs Lows Highs Lows Highs Lows Highs Lows

Waimakariri 3:12am 2.4 9:25am 0.3 4:09am 2.4 10:24am 0.3 5:05am 2.5 11:20am 0.3 6:01am 2.5

6:57am 2.5 12:45am 0.3 7:52am 2.4 1:37am 0.3 8:46am 2.4 2:30am 0.4

Mouth

3:46pm 2.6 10:05pm 0.3 4:41pm 2.6 10:59pm 0.3 5:35pm 2.6 11:53pm 0.3 6:29pm 2.6 12:14pm 0.3 7:22pm 2.5 1:07pm 0.3 8:16pm 2.4 2:00pm 0.4 9:10pm 2.3 2:53pm 0.5

Amberley 3:12am 2.4 9:25am 0.3 4:09am 2.4 10:24am 0.3 5:05am 2.5 11:20am 0.3 6:01am 2.5

6:57am 2.5 12:45am 0.3 7:52am 2.4 1:37am 0.3 8:46am 2.4 2:30am 0.4

Beach

3:46pm 2.6 10:05pm 0.3 4:41pm 2.6 10:59pm 0.3 5:35pm 2.6 11:53pm 0.3 6:29pm 2.6 12:14pm 0.3 7:22pm 2.5 1:07pm 0.3 8:16pm 2.4 2:00pm 0.4 9:10pm 2.3 2:53pm 0.5

3:21am 2.4 9:34am 0.3 4:18am 2.4 10:33am 0.3 5:14am 2.5 11:29am 0.3 6:10am 2.5 12:02am 0.3 7:06am 2.5 12:54am 0.3 8:01am 2.4 1:46am 0.3 8:55am 2.4 2:39am 0.4

Motunau 3:55pm 2.6 10:14pm 0.3 4:50pm 2.6 11:08pm 0.3 5:44pm 2.6

6:38pm 2.6 12:23pm 0.3 7:31pm 2.5 1:16pm 0.3 8:25pm 2.4 2:09pm 0.4 9:19pm 2.3 3:02pm 0.5

3:23am 2.4 9:36am 0.3 4:20am 2.4 10:35am 0.3 5:16am 2.5 11:31am 0.3 6:12am 2.5 12:04am 0.3 7:08am 2.5 12:56am 0.3 8:03am 2.4 1:48am 0.3 8:57am 2.4 2:41am 0.4

Gore Bay 3:57pm 2.6 10:16pm 0.3 4:52pm 2.6 11:10pm 0.3 5:46pm 2.6

6:40pm 2.6 12:25pm 0.3 7:33pm 2.5 1:18pm 0.3 8:27pm 2.4 2:11pm 0.4 9:21pm 2.3 3:04pm 0.5

3:16am 1.6 9:25am 0.1 4:13am 1.7 10:23am 0.1 5:10am 1.7 11:20am 0.1 6:07am 1.7

7:03am 1.7 12:54am 0.1 7:58am 1.7 1:49am 0.1 8:53am 1.7 2:43am 0.2

Kaikoura 3:50pm 1.9 10:09pm 0.1 4:46pm 1.9 11:04pm 0.1 5:41pm 1.9 11:59pm 0.1 6:36pm 1.8 12:16pm 0.1 7:31pm 1.8 1:13pm 0.1 8:27pm 1.7 2:09pm 0.1 9:22pm 1.6 3:05pm 0.2

*Not for navigational purposes. Wind and swell are based on apoint off Gore Bay. Maori Fishing Guide by Bill Hohepa. www.ofu.co.nz www.tidespy.com Graphic supplied by OceanFun Publishing Ltd.

2118223
---
Product knowledge and passion drives the Orizen Rangiorateam

Orizen Tyres, which has opened its doorsin

Southbrook, is part ofagroup of independently

owned tyre stores offering an extensive range of

products to enhanceany vehicle.

Store manager JT Freeman says Orizen supplies and

installs everything underneath the car, including tyres,

wheelrims, brakes, shock absorbers, suspensionparts

and spring coils.

Wheel alignment puncture repairs, fittingand

balancing, and brakeinspections arealso offered.

JT comes to Rangioraafter working forthe past five

years at Orizen Tyresstore in FerryRoad, Christchurch,

where he wasworkshop manager fortwo years.

Orizen TyresRangioraisjustthe second Orizen store

to open in the SouthIsland and the thirteenth store in

NZ. It is located at 343E Flaxton Road, in abrand new

building with all newequipment,including thelatest

wheelalignment technology.

It has an impressiverange of tyre brandsforcars,utes,

vans, classic cars, American musclecars andfour-wheel

drivevehicles,which includes Continental, Maxxi,

Kenda, Pirelli and Toyo.

For those buying Continental and Maxxi tyres, there is a

road hazard warranty of12,000km or 12 months, which

is exclusivetothe OrizenGroup.

''An impressiverange of alloyand steel wheels are

in stock, with different sizes and styleswhich canbe

customised to your tastes''JTsays.

Orizen supplies parts fromShock Shop, and a

wide range of suspension parts are available from

factoryshock replacements to shockupgrades and

performancesuspension.

If youare looking to upgrade your work truck or your

four-wheel drive, OrizenTyreshas all the gear youneed

includingsnorkels, flares, light bars and bullbars.

Product knowledge and passion really drivesthe

OrizenRangiorateam, and if theydon't have your

requirements instore, theycan orderitintomeetyour

needs.

Financeisavailable forupto24months,withthe firstsix

monthsinterestfree, throughSmart Cover, Zippay and

Humm.

TheOrizen group wasestablished in Maylast year when

Cooper Tyres wasrebranded.

It is nowone of the fastest growingtyrestore networks

in NewZealand due to theexcellentoptions Orizen has

to offertobothcustomers and store owners alike.

For Orizen Tyres, Rangiora,the advantage ofbeing part

of the nationwide franchise is being able to offerawide

range of products.

''This definitely setsusapart and we'reproud to see the

growth in the SouthIsland,'' JT says.

WHEEL ALIGNMENT TYRES SUSPENSION

4X4ACCESSORIES LIFT KITS WHEELS

2488785b

343EFlaxtonRoad,Rangiora

Phone 03 424 1170

rangiora@orizen.co.nz

www.orizen.co.nz
---
NEWS

8 North Canterbury News, August 11, 2022

Local government has afuture

By DAVID HILL,

Local Democracy Reporter

Local government has apositivefuture,

despite the uncertainty of reform, says

Waimakariri District Councilsenior

manager Simon Markham.

Three Waters,local governmentand

Resource Management Act reformand

climate change legislation are changing

the nature of localgovernment and then

there is the challenge of getting people

engaged in elections.

But Mr Markham, who has more than

30 years experience working in the

sector, said councils would continue to

play arole for yearstocome.

''I don't thinkanyone is saying 'pick

up your bucketsand spades and go

home'.There's plenty of services,needs

and requirements that councils deliver

to their communities.

''Councilscollect the rates, maintain

the roads, provide libraries, community

facilitiesand swimming pools, enforce

building regulations and maintain

cemeteries.

''You name it we do it. It'smuch more

than threewaters.''

Mr Markham has worked in local

governmentsince the 1980sand during

his time at the Waimakariri District

Council he led the council'srecovery

from the 2010 and 2011 earthquakes as

recovery manager.

He plans to leave the council in

October to focus on consultancy work,

advising councils on the futureoflocal

government.

The future of localgovernmentpanel,

led by former WaimakaririDistrict

Council chief executive Jim Palmer,

presented its interim report earlier this

year asking fivekey questions.

These included the shape of local

Simon Markham

governance,the roleoflocal

government,the relationship with Te

Tiriti oWaitangi, relationships with

central governmentand how to finance

local government.

''The challengesthat we face are

significant and it's differenttowhen the

current system was set up in 1989,''Mr

Markham said.

''Climate change was aroundin1989,

but moreinthe academicand research

world ­and now it's arrived.''

One handbrake for councils was

funding,with around90percent of tax

and ratescollected in New Zealand

goingtocentral government.

This meantcouncils were

increasinglyreliant on central

government support, whilefacing an

increasedburdenfrom legislation, Mr

Markham said.

''When you look at issueslike climate

change or housing, you need to look at

what needstobefundedtomeet

expectationsand what is affordable for

acountry of our size.

''Andthen, what should be councils'

shareand what should be central

government's share and Idon'tthink

we'veresolvedthat yet.''

Mr Markham saideven if Three

Waters reform continued down its

present path,local government still had

arole to play.

''It will change from being the

provider of services and infrastructure

to being more focused on the wellbeing

of communities.''

But councilshad arole to play as

advocatesfor their communities and

seeking solutions.

New elected councils will havelittle

time to put their feet under the table, as

the future of localgovernment panel

was due to present its

recommendations in October.

Mr Markham said it willbeimportant

for councillors to give feedback, ahead

of the final report due to be presented

to the GovernmentinJune.

Public interest journalism is funded

by New Zealand on Air.

Waste trips

will be just

one aweek

By DAVID HILL,

Local Democracy Reporter

The Kaikoura District Councilsays

transferring its waste to Kate Valley

will require just one truckround trip

per week.

The council has entered into anew

solidwaste contract whichtook effect

on July 1, which willsee the district's

wastebegin being transferred to the

Kate Valley Landfill and EnergyPark.

Senior operations managerDave

Clibbery said around1500 tonnes per

year of refuse,anaverageofabout 30

tonnes per week, has been going to the

Kaikoura Landfill.

It willnow instead be sent to Kate

Valley Landfill and EnergyPark.

''Once the transferstation is

completedinthe next few months,

refuse will be compressed into

capsules that each contain about 25

tonnes of waste,'' Mr Clibbery says.

''As such only around one truck

roundtrip per weekwill be needed,

perhaps even lessifB­train trucksare

used which can carry two capsules.

''In comparison the average level of

heavyvehicle traffic on StateHighway

1alongthe route to Kate Valley is

around 4000vehicles perweek.''

Innovative WasteKaikoura (IWK) is

in the process of constructing a

transferstation at the existing

Kaikoura landfill site to help cater for

the new arrangement.

Public interest journalismisfunded

by New Zealand on Air.

Canterbury'sMostExciting NEWRetirementVillage!

Amberley Country Estate -Coming Soon!

Introducing Amberley Country Estate, an exciting NEW 250 home Retirement Village atthe gateway to

the Hurunui District. Here, you'll find generously-sized, well spread out, energy-efficient Villas with

spacious, fully maintained yards and landscaped gardens. Our 330m 2 Residents Centre will beavailable

for the very first Residents! And, for your peace of mind, modern medical and care facilities are coming

too. If you're 65+ and seeking anactive lifestyle with laid-back country estate living, call us today. Visit

ourwebsite or phone 0800 573 573.

L L Y US

Our layout is different to other Villages.

Instead oflines of similar homes, all in arow,

we offer awide range of villas, with unique

and distinctive streetscapes. Right-of-ways

give acommunity feel. With rural-people in

mind, some homes have private driveways

and extra generously-sized yards. This gives

your home more individuality and the streets

more character, meaning the village feels

much more special and more upmarket.

SHOWHOME OPEN AUGUST

10 Teviotview Place, Amberley ● www.amberleycountryestate.co.nz ● Call Free: 0800 573 573
---
Sports awards return

after 3year absence

The MainPower North Canterbury

Sports Awards promise to be the biggest

and most diverse in the award's 20 year

history.

They return this year after athree year

Covid­enforced break, and organisers

are now appealing for people to

nominate their local sporting heroes for

the 2022 Awards.

Many have been glued to the

Commonwealth Games and the amazing

performance by Kiwi athletes, and it is

hoped their focus will now turn closer to

home and look to the performance of

home­grown North Canterbury athletes.

This year's awards will encompass

sporting achievements by athletes,

coaches, officials and supporters since

2019, with this extended timeframe

offsetting the reduction in opportunities

both local and internationally due to the

pandemic.

However through those years we have

seen Olympics (both summer and

winter), Commonwealth Games and

world championships, as sports have

found ways to hold their major events in

spite of Covid restrictions.

As aresult the awards organisers –The

North Canterbury Sport &Recreation

Trust ­isexpecting awider variety of

sporting people and codes to be

nominated for this year's event.

Sports Trust CEO Michael Sharpe says

while the last three years have been

tough for all sports and sports people, it

has highlighted the sector's resilience

and fortitude to make the best of every

situation.

''In particular we see the way sports

club committees and competition

organisers have adapted to provide

opportunities for their participants at

all levels under arange of restrictions.

Yes many events have been cancelled

but most sporting codes have been able

to change and evolve, and those sports

will be stronger in the future because of

this.''

While much of the focus at all sports

awards goes on the top athletes and

teams, the MainPower North Canterbury

Sports Awards also places much

emphasis on the grass­roots contribution

Award venue ... The awards will be the

first gala event to be held in the MainPower

Stadium.

PHOTO: FILE

of coaches, administrators, clubs and

events, and to those who provide

exceptional long­term service to local

sports in any capacity.

''Like any small province we can

produce the Anton Coopers and the

Angie Petty's, but we can't hold on to

them forever,'' says Sharpe.

''So while we'll celebrate these

champions for as long as we have them,

we'll also celebrate those people behind

the scenes who help to produce these top

athletes, as well as everyone else

involved in sport at every level.''

The North Canterbury Sports Awards

has 13 categories covering all aspects of

sporting achievement, including senior

and junior sportsman and woman,

coach, administrator, official, athlete

with adisability, team, masters athlete

or team, club and event, as well as three

service to sport awards.

The 2022 edition will be the first gala

event to be held in the new MainPower

Stadium with table settings for up to 400

people.

You can nominate your deserving

sports heroes at www.sportstrust.org.nz.

Book competitions winners

The winners of the recent

competitions in the NorthCanterbury

News for aset of the SPCA's latest

learn­to­read books and five copies of

the Cancer Society's cookbook, The

Food Connectionare: Patricia

Williams, of Amberley (the SPCA

books), while Lois Farrow of

Rangiora, Susan Robinson of

Rangiora, Julie Murray, Andrea

Thomson, of Kaiapoi, and Helen

Balneaves­McGill, of Rangiora, each

won acopy of the cookbook.

The winnershave been notified.

2499840

NEWS

North Canterbury News, August 11, 2022

VISITING ANTIQUE DEALER

WISHES TO PURCHASE:

__________________________________________________________

OLD PHOTOS -Postcards -Stamp Collections-OldMaps-Globes-Cricket&Rugby

Programmes -EARLYcomics -SUPERMAN -PHANTOM - commando

JEWELLERY (evenbroken) SILVER OR GOLD -greenstoneorpaua-RINGS -BRACELETS

-NECKLACES -POCKET&WRISTWATCHES -OLD CHAINS Silver or Gold -Perfume

Bottles (old) -PocketKnives-Fountain Pens -Old Pipes- VestaCases -Compacts

Cameras -Telephones-Butterchurns, EARLYshotgun &rifle ammunition -reloading gear -

telescopes-binoculars -barometers

FLY RODS -Reels -Gaffs-Nets-Flies -Lures -Ice Axes -Wooden Skis -Hickory shafted-Golf

Clubs-CricketBats-rugbyBalls-Small Wooden Cabinets -MedicalInstruments-

BOXED BONE HANDLED KNIVES -CanteensCutlery.

OLD CAR PARTS -Lights-Speedos -Horns -Gig Lamps-Vintage Vehicle NUMBER

PLATES

OLD TOOLS -Planes-Saws -Chisels -Spanners-OldPadlocks-&keys.

MUSICAL INSTRUMENTS -Violins-Trumpets Accordians -Music Boxes-Etc -

Hatboxes -&Trunks

OLD COINS pre decimal especiallyearly CROWNS -&SOVEREIGNS -POUND andTEN

SHILLINGBANKNOTES -ESPECIALLYwithMAORI HEAD

WAR BADGES & MEDALS -uniforms -LODGE Medals-FIRE BRIGADEmedals-

TradingorCommunion Tokens -Bayonets-Hunting Knives-&EarlyAxes

OLD TINS Tea-Honey -Cigarette -Tobacco-Spice -Biscuit -etc

GOLD -ALLUVIAL -NUGGETS -Dental -or-COINS.

OLD BOTTLES -CROCKS -Whisky Jugs -GINGER BEERS -Oil Bottles

ADVERTISING SIGNS especiallyPETROLOROIL PRODUCTS

TOYS -FUN HO -Matchbox-Dinky -Meccano -HornbyTrains-Teddybears

Cast Pots -Kettles -Irons -MAORI -Statues -Carvings-Artifacts-Books

CHINA -China &Glassware -Belleek -Moorcroft-Doulton -Shelley-Sylvac-Maling-Royal

Winton La Lique-Clarice Cliff -BeswickAnimalsFishorBirds

NZ POTTERY -Crown Lynn -Temuka-Miltonetc etcAny Stuffed Animal HeadsNZRailway

&Shippingcrockery.

Anypre 1950 advertisingitems.ESPECIALLY NZ

____________________________________________________________________

OFFERING HIGHEST PRICES -WILL CALL TO VIEW -ONE ITEM, WHOLE

ESTATES OR COLLECTIONS, WILL TRAVEL anywhere

PLEASE PHONE 03 615 5290

OR 021 101 8469 TXT

OR E/MAIL thom.taylor@xtra.co.nz

WILL BE IN area AUGUST 14 th -17 th APPROX

2501308

WINTER SALE

Receive $500 off aMetro fire and ECO flue combo.

Available for alimited time only while stocks last.

Visit your local heating specialist today!

Conditions apply

Offer ends 31 st August 2022

360 FlaxtonRoad, Rangiora

Ph 03 3135563

www.kingsmowersheating.co.nz

9
---
Rangiora Toyota

Percival St, Rangiora

(03) 313-8186

www.rangiora.toyota.co.nz

Nth Canterbury has first up win

RUGBY

By LINDSAY KERR

It was a31­7 win first up for anew North

Canterbury rugbyside in their clashwith

aSouth Canterbury XV on Saturday.

PlayedatGeraldine in wet conditions,

something that has becomealmost

normalinrecent weeks, North

Canterbury dominated throughout the 80

minutes.

It was 15 minutesinto the secondhalf

beforeSouth Canterbury breached their

line.

At that point North Canterbury had

alreadyposted 26 points,ascore it

rattled up before halftime.

Playingwithout its grandfinal

selections from Kaiapoi and Hurunui,

the forwards quicklyadapted to the

conditionsand laid aplatform for the

finalout come.

JordyGray ably assisted themathalf

back and the reliableboot of Ricky Allin

also featured.

The backsdid try to run the balland

this was reflected on the scoreboard,

particularly the final try where winger

Matt Holmesaslast receiver was the

scorer.

Gray's overall game was outstanding

and loosieBen Goldfeatured in forward

play.

Scoreboard: North Canterbury 31

(Jordy Gray, Jessie Houston, Willie Kerr,

Matt Holmes tries.RickyAllin 1

conversion and 3penalties) beat South

Canterbury XV 7.

North Canterbury starts its Tane

Norton Cup programme this Saturday

against Canterbury MaoriatKaiapoi.

Games against aCantabriansunder 23

sideatWoodend and Ellesmere for the

Southbridge Shield at Lincolnfollow.

The North Canterbury Colts also

venturedsouth to Geraldine. Extended

periods on defencefinally told and they

werebeaten 22­12.

The Colts next gameisagainst aMid

Canterbury Colts side at Kaiapoi, before

taking on theirEllesmere counterparts.

Racing their way to shield victory

SWIMMING

The annual KaneShield splashed its

way into history on Mondaynight at

the KaiapoiAquatic Centre.

Nineteenteams of four swimmers,

took part in the racing which has been

an annual fixtureofthe Kaiapoi

swimming scene since 1948.

Swimmershad to setatime as a

group for a100m relay and then

continue to match it in subsequent

heats based on ahandicap system.

Any deviation by greaterorless than

three seconds meant they were

disqualified so it wasn't aboutwho

could swimthe fastest–just who could

be consistent.

This year the overall winnerswere:

The KaneShield: 'One Speed' (all

swimmers were Primary School age.

WestpacRunner Up: 'Whiz Kids.'

Harry Bates RoseBowl forthe Fastest

Time: 'Sugma'with atime of 50

seconds.

Industries Shield:'School Patrol'from

Kaiapoi High School.

Burgess Family Sports Trophy: 'One

Speed.'

All Together Kaiapoi School Trophy:

'Super Speedy Seagulls'from Kaiapoi

North School.

Away ... Jane Yellowlees, one of the first

swimmers away in the competition.

My run ... Craig McConchie completes his first 25m swim for his team as they set their

benchmark time to keep during the Kane Shield at the Kaiapoi Aquatic Centre on Monday

evening.

PHOTOS: JOHN COSGROVE

North Canterbury sports results

Rangiora Golf Club

Nine holeStroke/ LGU/ FinalofHills

&Thomas Trophy, Stableford­

Knibbs Cup Round 3:

Men: John Walker 22, Ross Gillespie

21,Colin Bowman 20, Clifford Boddy

19.

Women: Verety Johnson 19, Sarah

Rutherford 18,RitaMoore c/b17, Ann

Martin 17c/b.

Twos: CliffordBoddy, John Gardner,

Robert Madden.

LuckyCard: Men­ Eric Pollock,

Women: Carol vanHout.

Hills&Thomas Trophy: Men­

Clifford Boddy, Women: Annie

Cameron.

Rangiora Bridge Club

Winterpairs: North/South:David

McRae/Ann Blackie 1, Faye Priest/

Julie Day 2, NormShipley/Bunty

Marshall 3. East/West: Lyn Edwards/

Adrienne Paine 1, Janice Pickering/

Lesley Shipley 2, TomRose/Rona

Maslowski 3.

Individual: N/S: Adrienne Lamb/

PeterWhitehead 1, Mary Newton/

Anne Anderson 2,RoseFahey/

Lorraine Tullett 3. E/W: Catherine

Boddy/Raeleen Tull 1, Nancy Harris/

Colleen Adam 2, David McRae/Fern

McRae3.

Junior Evening: N/S:Fons Sanders/

EllisSanders 1, Sharyn Davis/Murray

Davis 2, Trish Warnes/Anne Bagrie 3.

E/W: Carolyn Fifield/Margaret

Cornwall1,Elaine Ryan/Helen

Hobbs 2. Judy McIvor/Lynne Mair 3.

Winter Pairs :Junette McIntyre/

JoyceGray1,Tony Biddington/Sarah

Waldron 2, Tom Rose/Rona

Maslowski 3.

Waimakariri Gorge Women'sGolf

Second Championship Qualifier

(Gross)

18 Holes:Silver: NRobertson79, J

Collins90.

Intermediate: BThompson 99, MTe

Awa103,JBlatch 105. Junior:LScott

104, RPilbrow 111, TCraig 112,W

Mehrtens 116.

Nine holes: RRoy 60, HChamberlain

62.

Amberley Smallbore Rifle Club

KBrown 99.7, MBlack 99.6, O

Mitchell98.6, MQuigley 98.4,IFrazer

97.5, WParker 96.4, GHeaven 95.4.

Proudly supportingsport

in North Canterbury

NORTH CANTERBURYRUGBY

SUB UNION-13August 2022

Under 13

Woodend VAshley, 10:30 AM.Kaiapoi GOLDV

Oxford, 11:40 AM. Saracens VHurunui, 11:40

AM,Sbk 2.

Under 12

11/08 -Ohoka Black VSaracens, 05:15 PM,

Mand 3..

13/08 -Ashley VHurunui, 11:30 AM. Ohoka

Red VOxford, 11:30 AM. Glenmark Cheviot V

Amberley,12:00 PM, Omi1.Kaikoura BYE.

Under 11 -All games 10.30am

Woodend V Amberley. Ashley V Hurunui.

Kaiapoi GOLD VSaracens Blue. Ohoka Red V

Oxford. Saracens Red VKaiapoi BLUE. Ohoka

Black BYE.

Under 10 –all games12.10pm

Amberley Black V Kaiapoi GOLD, Amb 1a.

Ashley Blue V Hurunui, LobLr1a. Oxford V

Ohoka Red, OxOvala. Woodend VAmberley

Blue, WoodJ4a. Kaikoura V Ohoka Black,

KaiOva.

Under 9–all games 10.00am

Ohoka Red VOxford, Mand 1a. Ohoka Black V

Woodend, Mandj4a. Saracens Red VAshley

Green, SBJnr6. Ashley Blue VHurunui, LOB

Jnr2.SaracensBlue VKaiapoi GOLD, SBJnr7.

GlenmarkCheviot Bye.

Under 8-All games 11.05am

Woodend Black VAmberley, Wood 1b. Ashley

Blue VHurunui,LobLr1b.Ohoka BlackVAshley

Green, Mand 1b. Saracens Red V Kaiapoi

GOLD, Sbk1c. Kaikoura Blue VKaikoura Red.

Ohoka Red V Oxford, Mand 1a. Glenmark

Cheviot BlackVGlenmarkCheviotblue, Omi2a.

Saracens Blue BYE.

Under 7-Allgames 10.50am

Woodend Green VAmberley, Wood 1a. Ashley

Blue V Hurunui Black, LobLr1a. Glenmark

Cheviot VKaiapoi BLUE, Omi 1a. Saracens

Blue VHurunui, Sbk1a. Saracens RedVKaiapoi

GOLD, Sbk1b. Oxford Black VOxford Red,

OxOvala. OhokaBlack VAshley Green, Mandj6a.

Ohoka RedVWoodendBlack,Mandj6b.

Under6-all games10:00am

Woodend Green VAmberley,Wood 1a. Ashley

Blue VHurunui Black, LobLr1a. Ashley Gold

VOxford, LobLr1b. Woodend White VAshley

White, Wood 1b. Glenmark Cheviot Black V

Glenmark Cheviot Gold, Omi 1a. Saracens

Red V Kaiapoi GOLD, Sbk1a. Glenmark

Cheviot Blue VKaiapoi BLUE, Omi2a. Ohoka

Red V Woodend Black, Mandj5a. Ohoka

BlackVAshley Green, Mandj6a. Ohoka Green

VSaracens Blue, Mandj6b

Printed draw proudly supported by

Four Seasons Realty

Your home forlocal property

0800 7891011

Four Seasons Realty 2017 Ltd|Licensed Agent REAA 2008

For all draw information and updates

please keep up to date with

North Canterbury Rugby

2501113b
---
NEWS

North Canterbury News, August 11, 2022

Millie-Jane is aiming for higher honours

By JOHN COSGROVE

11

The top woman shooter on the day at last

Sunday's North Canterbury Secondary

School clay target champs, was 16­yearold

Hurunui College student, Millie­

Jane McIlraith.

Millie­Jane picked up several awards,

including being amember of the

winning ladies team with fellow

Hurunui College student Maggie

Fergusson, and the third highest point

scoring senior award, with ascore of 85

out of 90, only three points behind the

top shooter overall.

Amember of the New Zealand Open

Women' Skeet Clay Target shooting

team, Millie­Jane says it was agood

competition.

''I did very well, Iwas using it as a

build­up for the National Secondary

School Shooting competition which will

be held in Christchurch in October, and

then the following month, Ihope to be

competing in the NZ National Skeet

Shooting Championships.''

Over the weekend 70 competitors

came from eight high schools and were

arranged into five groups competing in

the skeet shooting section and 12 in the

rise section.

Millie­Jane said it was fun to be there

among so many good competitors.

Her father, Robert McIlraith, says it

was so good to see so many students

competing there.

''It was great to see all the kids there,

there is aheap of talent out there in

secondary schools and it bodes well for

the future of competition shooting in our

country.''

Millie­Jane, who is also the chair of

the Hurunui Youth Council, has ahectic

schedule and yet she somehow manages

to fit all her training in each week.

This includes travelling from the

family farm in Harwarden to Waihora

Agreat aim ... Millie­Jane McIlraith, 16, of Hurunui College takes aim during her winning session on the range at the North Canterbury

Secondary School clay target champs.

PHOTO: RICHARD COSGROVE/NORTH CANTERBURY FISH AND GAME COUNCIL

near Tai Tapu each weekend to train at

the Waihora Clay Target Club, to shoot

over 100 targets each week, and to take

part in anumber of shooting

competitions held in other locations

around the South Island.

Her recent run of winning

performances over the past couple of

years has been rewarded by sponsorship

deals offered by Kilwell Sports and Gun

City.

''The Amberley Gun Club have always

been ahuge support to me and all the

other other junior shooters,'' she says.

Now her goal is to do well in both the

Secondary School Nationals, and again

in the New Zealand Skeet Nationals.

Areyou

aWaititi?

No matterwho you

are, yourcreative

project may be

eligible for funding.

waimakariri.govt.nz/creative

The second round of applications for the year

will close on Monday 29 August 2022.

#ArtsForAllKinds

Or more of

aWhitney?

The Creative CommunitiesScheme supports

local artists to create. Visit your nearest

Waimakariri Library toget help with your

funding application.
---
RANGIORA

SORTED.
---
EVERTHING YOU NEED IN-STORE

100% LOCALLY

OWNED &OPERATED.

RANGIORA
---
STYLE & QUALITY

FOR LESS

Winter

STOREWIDE

S A L E

WWW.AFFORDABLEFURNITURE.NZ

Flow

Sideboard

QUALITY

FURNITURE

Affordable

PRICE TAG

WAS $1950

$

1749

WAS $2799

$

2549

Valley Corner Lounge Suite

Available in Raisin and blue

Flow Dining 180x90

Mia Dinning Chair

Colorado

Barstool

Rustic Bar Stool

Finn Chair

WAS$1179

$

1049

WAS $199

$

179

Wagner

Chair

WAS $239

$

219

WAS $179

$

149

WAS $249

$

229

WAS $1149

$

1099

Bradman

Lifter Chair

Marlow

Chair &Stool

12

Queen LiftUpBase

Mattress not included

Single $619 $569

King Single $649 $599

Double $739 $679

King $879$809

WAS $789

$

699

WAS $969

$

899

Lending criteria,$50 Annual Account Fee, fees, Ts&Cs apply. Standard Interest Rate

(currently 25.99%p.a.) applies toany outstanding balance at end of interest free period.

Offer ends 31 December 2023. Min spendand exclusions may apply,

$55Establishment Feeor$35 Advance Feeapplies to Long Term Finance Purchases*.

WAS $759

$

699

FREE

CARPARKING

SOUTHCITY

BATH ST

WE ARE

HERE

255MOORHOUSE AVE

REBEL SPORT

COLOMBOST

WWW.AFFORDABLEFURNITURE.NZ

MON-FRI 9:30AM–5:00PM

SAT-SUN10AM–5:00PM

0800 268 264
---
Council happy with investigation

By DAVID HILL,

Local Democracy Reporter

ANorth Canterbury council chief

executive says an investigation into

local government meetings will help

boost public confidence.

The Waimakariri District Council is

one of eight councils named by Chief

Ombudsman Peter Boshier for an

investigation into decision making

behind closed doors.

Acting chief executive Jeff Millward

said he only found out about the

investigation through media reports, but

was confident his council stood up to

scrutiny.

''I can understand why the

Ombudsman is doing it.

''I think it's agood idea and we are

very happy to be apart of it because it's

only going to improve clarity and build

public confidence.''

Mr Millward said the timing of the

investigation was unfortunate, with

local government elections looming.

Councils were also faced with Three

Waters, resource management and local

government reform, high inflation and

staff recruitment challenges, he said.

''Our council is dealing with it, but

there must be councils out there who are

struggling with the reforms and with the

environment that we are in.''

The Waimakariri District Council has

consistently received aAArating in

Local Government New Zealand's

excellence programme.

''I assume we are in the mix because of

we are the highest rated council in the

country,'' Mr Millward said.

''When we did the Local Government

excellence review we scored highly for

finance and our governance was also

highlighted.

''We do struggle sometimes and

there's points you always fail on, but in

Acting CEO ... Jeff Millward

the latest review we did pretty well.''

The other named councils were

Rotorua Lakes Council, Taranaki

Regional Council Taupō District

Council, Palmerston North City Council,

Rangitikei District Council, Timaru

District Council and Clutha District

Council.

''I have chosen these councils for a

variety of reasons,'' Mr Boshier said.

''Some councils are getting it right. I

want to understand how they achieve

this and share their good practices with

other councils so we can all learn from

this investigation.''

The investigation was launched in

response to complaints made against

council decision making at workshops

and public excluded meetings.

''The public may become suspicious if

councils repeatedly use closed

workshops or informal meetings to

discuss issues,'' Mr Boshier said.

Mr Millward said he was not aware of

any complaints against his council.

While the Waimakariri District

Council often used workshops to debate

issues, minutes were taken and were

publicly available, he said.

All council decisions were made at

meetings.

Public excluded meetings were

generally held when there were privacy

concerns or information was

commercially sensitive.

The decisions to hold workshops or

public excluded meetings were based on

staff recommendations, but elected

members could override those

decisions.

But Mr Millward did acknowledge that

councils appeared to be conducting

more business behind closed doors.

''We have found since the

earthquakes, that we are dealing with a

lot more sensitive issues and Iwonder if

it's areflection of the environment we

are in.

''I don't think they will find anything,

but if they do we will adjust our

operations to suit.''

The Chief Ombudsman's report is

expected to be released next year.

Public interest journalism is funded

by New Zealand on Air.

NEWS

North Canterbury News, August 11, 2022

15

Mysterious feature ... By Banksy Lad.

PHOTO: BRENTCAIRNS

Art statement

An art installation in the style of

English street artist,Banksy, has

appeared at the Kaiapoi Food Forest.

The work, named Sharefood Forest,

whichfeaturesaRobinHood­like

character offering freshapplesand a

baguette, was created by ``Banksy

Lad'', and appeared at the food forest

last weekfollowing socialmedia

reports about visitors takingtoo much

and not leaving enough. The food

forest boardoftrustees chairman,

BrentCairns, who is alsoanartistand

photographer, says Sharefood Forest is

not hiswork. ''It appeared overnight,

completewith apples.Iwould love to

know who did it. Ithinkitisbrilliant.''

Kaiapoiartist andsignwriter, Mark

Larsen, says he is not responsible for

the work either, and Joel Hart, who

created the large­scale wall mural

near the railway crossing in Kaiapoi's

Williams Street, alsodeniesitishis

work.

YOUR LOCAL HUSQVARNA DEALER

Ph: 3136640

sales@brandmowers.co.nz

275FlaxtonRoad,

Southbrook

2498003
---
OUR TOWN KAIAPOI

16 North Canterbury News, August 11, 2022

UPHOLSTERY

SPECIALISTS

•All furniture Recoveries &Repairs

•Squabs, Cushions &Fabric Sales

•Antique and Loose Covers

•Cars, Boats, Caravans, Motor Homes

•Custom-made Bed Heads &Ottomans

2321966

FREE QUOTES, PICK UP AND

DELIVERY

32 years experience

03 327-0266

0274 840 159

72 Otaki St, Kaiapoi

recoveries@xtra.co.nz

Support Local

Businesses

Recommendus for Paint&Panel

requirements

Makeaninsurance claimand choose North

Canterbury Collision Repairs Kaiapoiasyour

repairer. Your Car, Your Choice.

Crash repairs, bumps &scrapes to major

smash work

Commercial&fleetrepairs, Buses, Caravans &

Motorhomes, Trucks,Trailers, Buses &Boats

Quality

workmanship &

fastest

turnaround

Fleet of courtesy cars available

ContactLee 03 3273028

98DWilliams St, Kaiapoi | www.nccrc.co.nz

2485651

Major step for project in red zone

By DAVID HILL,

Local Democracy Reporter

Kaiapoi's multi­million

dollar mahinga kai project is

set to take amajor step

forward with the signing of a

new trust deed agreement.

The Waimakariri District

Council last week approved a

co­govenance agreement

with Te Kohaka oTuhaitara

Trust to manage the Huria

Reserve, heritage and

mahinga kai area.

The initiative is akey

project from the Waimakariri

Residential Red Zone

Recovery Plan and comprises

eight hectares of land in the

Kaiapoi south regeneration

area.

The reserve is located to

the south of Kaiapoi River,

straddling the south bank,

and continues south to sit

between the proposed

Kaiapoi Community Hub and

Courtenay Lake.

It is apartnership between

the council and Te Runanga o

Ngai Tuahuriri.

The council is contributing

$1.74 million over five years

to the project, which was

established in the 2018 Long

Term Plan, and will retain

ownership of the land.

Waimakariri District

Council community and

recreation manager Chris

Brown said the trust will

manage the area under a

lease agreement and will

seek additional funding from

other sources.

Mayor Dan Gordon said the

project was an important part

of Kaiapoi's ongoing

regeneration.

''It's afantastic partnership

and I'm in full support of it.

It's good to see this finally

coming to fruition.

''The project will create a

public reserve with walkways

and board walks through

native planted areas,

opportunities for mahinga

kai, natural play areas,

educational zones and

interpretive signage to tell

the local stories and history.''

Representatives from the

council, trust and runanga

have formed ajoint working

group to work on the project

design and construction.

Construction is under way,

with work on the pathways

tendered and awarded to

Citycare Property in May and

due to be completed this

month.

The first round of planting

was completed on June 30,

with 4000 native plants and

shrubs planted.

''This included five totara

trees that will greet visitors to

the entrance of the reserve

area and lead them through

the paths,'' Mr Gordon said.

Landscape design and

master planning for the

second stage of works is

under way.

The reserve area design

takes into account the

interim licence to occupy

held by the WHoW Charitable

Trust for the Kaikanui

Aqualand NZ aqua play park

facility on Courtenay Lake.

Cactus Cars

Automotive Repair Workshop

&Used Car Dealership.

WOF Discount Voucher

Volunteering ... Tuhaitara Coastal Park education and visitor

services ranger, Adele Jackson, with Te Kohaka oTuhaitara Trust

trustee Rex Anglem, at the first Huria Reserve community planting

day in Kaiapoi in May.

PHOTO: NORTH CANTERBURY NEWS FILE

The name Huria recognises

the Huria whanau, which

fished the local Cam and

Waimakariri rivers and has a

long history in the area.

It also recognised the loss

of land, which was taken from

the whanau to allow the

motorway to be built.

Public interest journalism

is funded by New Zealand on

Air.

$39

WOF While you wait service may be available, however bookings highly

recommended. Discount vouchers are not usable in conjunction with any other offers.

Offer limited to the first 500 vouchers. Please bring your discount voucher with you.

Cactus Cars Workshop &Used Car Dealership

165 Williams Street, Kaiapoi

327 2961 or 027 586 7570 www.cactuscars.co.nz

SMALL DEALERSHIP

Canterbury

2020

SMALL DEALERSHIP

Canterbury

2021

Promise from Deb &Paul owners of

Cactus Cars Ltd.

•You will always be greeted with asmile

•Wewill always take the time to listen to you

•Wewill always treat you and your car with respect

•Wewill always save you money where possible

Automotive Repair Workshop

•While you wait WOF

•WOF repairs

•Servicing, all makes &

models of cars, SUV's,

4x4's, commercial vehicles,

diesel &petrol

•10% Gold Card Discounts

of all workshop labour (not

in conjunction with any

other offer)

•Genoapay &Afterpay

account payment options

•WINZ Quotes

•All workmanship 100%

personally guaranteed

•Latest equipment &

diagnostic scanner

•Friendly, qualified &

experienced team

•Courtesy cars available

2495234
---
Books by NZ authors donated

By DAVID HILL,

LocalDemocracy Reporter

Kaiapoi High School and the Karanga

Mai Young Parents' College have

received agenerous donation of 150

books.

The books were donated by Laura

Caygill, from the Waimakariri Libraries.

Laura was part of the judging panel for

the New Zealand Book Awards for

Children and Young Adults and was

given acopy of each book to read as part

of the role.

''You could definitely say Ihad a

summer of reading,'' Laura says.

All books entered in the awards are

written by New Zealand authors and

Laura says she was very impressed with

the calibre of entries.

''It was fantastic. There certainly were

alot of books, with such adiverse range

of themes and perspectives.

''I think we are so lucky to have so

many talented authors in New Zealand

and these awards are afantastic way to

showcase that talent and engage young

people in reading.

''We had some wonderful discussions

on the judging panel and Iknow we were

all really impressed with the books

coming through for our young readers in

New Zealand.

''Many of these books would easily

stand up on the international stage,''

Laura says.

Waimakariri Libraries, in

collaboration with the community have

created online virtual storytimes to

celebrate the awards.

They have also produced aBooks

Alive digital event showcasing one of the

Young Adult Fiction finalists ­ Learning

to Love Blue by Saradha Koirala.

Book sorting ... Karanga Mai English teacher Carola Crawford (left), Laura Caygill, of

Waimakariri Libraries, Kaiapoi High School librarian Heather McCorquodale and principal

Jason Reid admire acollection of books at the Kaiapoi High School library.

PHOTO: WAIMAKARIRI DISTRICT COUNCIL

Students from Kaiapoi High School

have been involved in the Books Alive

event, reading chosen excerpts from the

book.

This was made available to view

online on Tuesday (August 9).

Kaiapoi High School principal Jason

Reid, librarian Heather McCorquodale

and Karanga Mai English teacher

Carola Crawford were delighted to

receive all 150 books.

''We are very grateful for the

generosity. It's amazing to see the

Extension for park

By DAVIDHILL,

Local Democracy Reporter

Kaiapoi's proposed aqua sportspark is a

step closer after the Waimakariri District

Council agreedinprinciple to extend its

memorandum of understanding by up to

threeyears.

It means the WHoWCharitable Trust

will have another three years to develop its

plan for surfwave, whitewaterand cable

wakeboard facilitiesalongside its

inflatable play park in the Kaiapoi east

regeneration area, to the northofKaiapoi

River.

Arevisedagreement will now be

negotiated between thecouncil and the

trustuntilAugust 2025, before being

brought back to the council for final

approval.

The original agreement was signed in

August 2020 and was due to expirethis

month.

''Thelast two years have been

particularly challenging in developing

plansfor largerecreationalfacilities

requiringsignificant funding under Covid

restrictions and difficult economic

conditions,''actingchief executive Jeff

Millwardsays.

''Thecouncilwas, however, impressed

with the WHoW Trust'scommitment to the

concept and the district through

progressingthe Aqualand NZ project in

Courtenay Lake, which successfully

trialled at asmallscale elements proposed

for the AquasportsPark.''

The trust launched its temporaryaqua

playpark on Courtenay Lake, to the south

of Kaiapoi River, in November under a

three­year licensetooccupyagreement

with the council.

Councillors also considered an

alternative proposal from the Kaiapoi East

Residents' Association (KERA)for an

alternative use of the land.

KERAmade adeputation to the

Kaiapoi­Tuahiwi Community Board last

month requesting alicence to occupy the

landtoplantthe area with pocketsof

forest, fruitorchards and vegetable

patches, as wellascreating walk waysand

picnic and playareas. While they resolved

not to pursue KERA'sproposal for a

licensetooccupy,councillors requested

staff to engagewith the residentsto

identify opportunities for the association

to progress its objectives in eastKaiapoi.

Publicinterest journalismisfunded by

New Zealand on Air.

wealth of knowledge laid out on this

table,'' Jason says.

''They are all new and fresh and

written by New Zealand authors, which

makes them very relevant and engaging

for our young people.''

The category finalists were

announced Thursday, June 2.

The awards ceremony and

announcement of winners of the 2022

New Zealand Book Awards for Children

and Young Adults was due to be held

yesterday (Wednesday, August 10).

STOP LEAVES

birds, snow, hail &vermin

from blocking up your spouting

Quality materials: BHP Colorbond steel mesh with unique patented

louvre which will even keep out pine needles. Will not rust or sag with

age or load. 10 year warranty,range of colours.

Proven in Australia &New Zealand over the last 15 years

FOR SAFE, PURE DRINKING WATER

FROM YOUR ROOF.

NOW AVAILABLE: STAINLESS STEEL MICRO MESH

Call Rohan anytime Mon-Sat for

ano-obligation assessment &quote

0800 486532 03 982 8850 www.gumleaf.co.nz

OUR TOWN KAIAPOI

North Canterbury News, August 11, 2022

TheAuctioneers

17

Auctions everyThursday at 11am

Specialists in Antiques and General Goods

Items for Auction accepted on Friday

38 Charles Street,Kaiapoi • Ph: 03 327 8875

www.bellsauctions.co.nz

PAINTERS

RegTradesman • Interior,exterior.

North Canterbury Painters

specialising in decorating for

over 65.

Discounts

for Seniors

Free quotes.

1965434

Covering North Canty,Oxford,

Kaiapoi, Rangiora, Amberley.

Ph Rob 03327 7899

or 027 432 3520

2423683

Repairs,

Tarpaulins

alterations &

Sidecurtains

manufacturing Awnings •Sunblinds

Marquees &Canopies

REPAIR CALL

Boat Covers •Umbrellas

OUT SERVICE

-FREE QUOTES - Outdoor Furniture recovers

Now is the time to get your awnings made

Paul Berg •57WesleySt, Kaiapoi

Phone (03)338-1112 •0274 381-871

canvasco@xtra.co.nz

2323117

PLASTERER

Matt Smith

PAINT FINISH • CORNICE

• GIB COVE

New Homes, Renovations

and Extensions

FREE QUOTES

Ph 027 436 1112

www.mattsmithplastering.co.nz

2324007
---
Dining

Escapes

Greta Valley Tavern

The newlyrenovated GretaValley Tavern is just 25 minutes from both Amberley and

Cheviot, on StateHighway 1.

It's central location providesadestination andhomebasefor NorthCanterburylocals

seekingtorelax andexperience fabulous hospitality, food,ales andwines.

It's also agreat opportunity fortravellerstotakeareststopontheir waynorth or south.

The GretaValley Tavern is also agreat place to host afunction–big or small.

It's just farenoughawayfrom thedistractionsofthe office andmaincentres to be the

rightplace foragreat dayout in their newlydeveloped functionroom.

The newmanagementteamatthe tavern have just completed therenovations of their

newfunctionroomwhichcan handle over 120 people andalongside it:anew deck dining

andentertainmentareaoffering visitors expansive viewsout over theNorth Canterbury

vistawhile they sample thegreat fare on offer.

The newfunctionroomisperfect forcorporate andindustry trainingdays, product

launches, socialparties or family celebrations,group meetings andweddings.

Proprietor Mr.Peter Whittaker says if thereare more than 20 people in your group, then

theroomisfreeand reserved exclusively foryou.

"It'sagreat option forthose organising either oneofforregular socialeventsor

gatherings andfor all thosewho areplanningweddings on tightbudgets, when youthink

what we canofferhere, youwill know it is thebestoptionavailable.

"Weare workingmuchmore with thewider NorthCanterburycommunity,hosting

events such as quiz nights, monthlyservice group meetings andcharity events."

The function roomoffers fulland privatebar andrestaurant accessand has aseparate

children's play area so that mumand dadcan have achancetosocialise.

The tavern is open sevendaysaweekfrom11amtolateand it's baroffers awide range of

localwines andbeverages.

The restaurant offersafullalacarte breakfastmenuto3pm dailyand afullmenuuntil

late.

"Weare focussed on providingNorth Canterburylocalsand visitors with afamily

friendlydiningexperience,while offeringawide range of qualitypub mealsproducedby

ourtalentedteamusinglocallysourced ingredients,"Whittaker says.

Forthose notwanting to sitdownfor amealordrink,the GretaValley Tavern's nowhas

twotakeawayoptions:Thetakeawaydiningoptionoffers qualityfish andchip, burgers

andmanyother fast food options, whilefor thoselooking at entertainingathomethere is

thetavern'snewlyopenedbottle store.

"Weare happytoofferthisnew service to ourpatrons andlocalsinthe wider North

Canterburyregion,"saysWhittaker,"It is open dailyfrom 11amto10pmand we offer a

wide range of qualityspirits, beersand winesplusnon-alcoholic andmixers."

Whittaker says their central location in NorthCanterburyonSH1 is also proving to be a

bigdrawcardfor travellers.

"Manymotorcycleand carenthusiasts daytripping around ourwonderfully scenic region

often call in forabreak during their journey."

Other events comingupfor theGreta Valley Tavern include their first Open Micsession

with very specialguests this Sunday August 14, from 1pm.

Theywill be servingaspecial Sunday Roast&Dessert deal on thesameday whichwill be

aperfect match foraSundaylonglunch.

Bookings at 03 975 3924 or just flickthemamessage via their Facebooksite.

2470692v2

TheEntertainment Hubof TheNorth!

2453511v3

Wow!

This Food is Amazing!

Delicious Snack Menu, Starters, Kids Meals,

Light Meals, Mains, Extras, Desserts

Come along and enjoy playing Housie, Raffles and Quiz

NEW BISTRO HOURS

Wednesday, Thursday, Sunday

12noon –2pm and 4.30pm –7.30pm

Friday &Saturday 12noon –2pm |4pm –8pm

Bistro closed Monday &Tuesday

113 RavenQuay, Kaiapoi |Ph: 03327 7884

www.kaiapoiclub.co.nz |info@kaiapoiclub.co.nz

Open daily 7.30am –3.30pm

Delicious coffee Scrumptious food

Exceptional service

8Hall Street, Cheviot

www.facebook.com/numbereightcafe

Newly refurbished and restyled, The Amberley Hotel combines its

historywithcurrent day living by providing abroad range of amenities

to the community.

2453515v2

Phone 0800 023 929 |84Carters Road, Amberley

Email: admin@amberleyhotel.co.nz
---
Relaxation squared

The Levantecorner sofa will exponentiallyincrease your lazing options. Witha

poweredreclineronthe end seat, achaise,and manuallyadjustable headrests

on every seat,you can sit,lie,orlean anywhich wayyou can imagine.

LevantePowered Fabric Recliner CornerChaise

Earn 3x AirpointsDollars TM

storewide -in-storeand online* 1 FULL RRP

$

4499

Available in Dark Grey (Pictured),Oyster, SteelBlue

Validuntil

6thSeptember 2022.

INTRO

DEAL

Make your floordrobe history.

Makeyour bedroom the peaceful place youalwayswantedittobe, withthisstylish bedroom

suite. Even the queen slatbed has storage —with two drawers and shelvesinthe headboard.

There'll be no excuse forchucking your thingymajigs and your whatsits on the floor

lessthan

$15 perweekfor

50 months on

interestfree*

9070498

Louie 4Piece Bedroom Suite with Queen Slatbed

9066821

was

$

5369

lessthan

$15

perweek for

50 monthson

interest free*

Queen,King, Super King. Same price.

SleepyheadMatrixLimited Edition Bed

9073111 /9073107 /9073112

lessthan

$14

perweek for

50 monthson

interest free*

Validuntil23rdAugust2022.

FREE

DELIVERY ON

BEDS* 2 selected Nursery #

Bosch

8kgSeries 4HeatPump Dryer

lessthan

$16

perweek for

24 months on

interest free*

9072248

WTH8300AU

LG 65"4KNANO80 Nanocell

LED-LCD SmartTV

lessthan

$23

perweek for

24 months on

interest free*

FREE

DELIVERY ON

lessthan

$9

perweek for

24 months on

interest free*

9072856 9060552

TVS* 3

Validuntil:

23rd August2022

Mountain BuggyUrban Jungle V3.2 Buggy

Available in Black (Pictured),Berryand Silver

was

$ 9899

Sanctuary Model

Runout Beds #

selectedLounge

Suites &Recliners

inc.

#

selected Bedroom

&Dining Furniture #

Bedding #

#

womans

hair removal&stylers #

24

MONTHS

$499 &over*

INTEREST FREE

on purchases

INTEREST FREE

50MONTHS

$999 &over*

on furnitureand beds

Offers validuntilTuesday16thAugust2022, whilestockslastorunless otherwisestated. Some products on display in selected stores only —please call 0800 764847 to checkavailability.*Apple, selected computers, game consoles, giftcards, clearance

itemsand some promotionalitems are notavailable in conjunctionwith interest free offers.Flooringavailable on amaximum of 18 monthsinterestfree. Exclusions,fees, terms,conditions andcreditcriteria apply. Equalinstalmentamounts includeoneoff

establishment fee of$45.00, amaintenance fee of $3.75per monthand exclude anyinsurance premium financed. Current interest rate of 23.95% applies toany unpaid minimum payments during the interest free period, andany balance after the

expiry of (any)interest freeperiod. Seein-storeorvisit smithscity.co.nz/interest-free for details. **Weekly equalinstalments arebased on a52weekfinance period commencing 7days from the date interest is first calculated.SettingupanAutomatic

Payment authority will help you to avoid missed payments and additional interest charges. Available in-store and online. Current interest rate of 23.95% applies. There are no set-up, annual, oraccount maintenance fees –a$19 notification fee may

applyincircumstancesofdefault.Terms,conditions,and credit criteria apply. Seein-storeorvisit smithscity.co.nz/easycardfor more detailsortoapplyfor your EasyCard.#Discount is offour full retail price. Notavailable in conjunctionwith anyother

offer. *13xAirpoints offervalid27Jul -23Aug 2022. Terms and conditionsapply. Visit smithscity.co.nz/airpoints for more detail.*2FreedeliveryonSleepyheadbedsvalidWednesday 27 July –Tuesday23August 2022. Terms,conditions,and exclusions

apply. See individual products on smithscity.co.nz for details. *3Free deliveryonselected LG TVsvalid Wednesday 27 July –Tuesday23August 2022. Seeindividualproducts on smithscity.co.nz for details.
---
Your local professionals

Family Trust tax reporting requirements

Thosewho haveaFamily Trust may

like to checktheir position withthe

team of legal experts at Helmore

Stewart, Rangiora.

The Governmentrecently increased

the highest income tax rate for annual

incomes over $180,000 from33% to

39%.

For one reasonoranother,the

Governmentdid notincrease the

income tax ratefor Trusts, which

remainsat33%.

The Governmenthas since

discovered that somehigh income

earners havebeen allocating their

income through their Trusts to benefit

from the lower Trustincome taxrate.

In response,ithas enacted changes

to the Tax Administration Act 1994 to

enable the InlandRevenue

Department (IRD)tokeep acloser eye

on Trusts anddeter high income

earners gainingatax advantageby

allocating incometoaTrust.

Thesechanges applyfrom the start

of the 2022 financialyear,which for

most Trustswill be April1,2021.

In general terms,the impact of these

recent changescan be summarised by

the following two options:

If your Trust earns an annual

income under $200 and there are no

deductions, and no income is

allocatedtobeneficiaries instead of

beingretained by the Trust, thenthe

trustees must file aNon­Active Trust

Declaration(form IR633)with the

IRD.

If Option 1does not apply, then the

trustees mustfile atax returnwith the

IRD andprovide alarge amount of

additional informationrelatingto

their Trust.

In manyinstances,your Trust's

accountant mayhave already

arranged compliance with thesenew

IRD reporting requirements, andyou

may liketocheck this position with

the accountant.

But for legaladvice Helmore Stewart

can assist in regard to compliance

with the Tax AdministrationAct, and

welcomes you call.

Partners ... Helmore Stewart has the

expertise to assist with compliance with the

Tax Administration Act.

PHOTO: FILE

WELCOMING

NEW PATIENTS

Come

say

hello!

We have

moved!

216 High St Rangiora

studio.rangiora@printing.com |03313 7774

createdesignstudio.co.nz

03 314 7640 www.sdal.co.nz

5Beach Rd, Amberley

Providing proactive accounting

solutions to North Canterbury

Businesses.

Contact Ben Shore or

Tsarina Dellow for afree

consultation on your tax

and accounting needs.

2454089v3

Providing helicopter services

to the North Canterburyand

Marlborough region.

• Spraying

• Lifting

• Fertiliser-liquid &solid • Frost control

• GPS proof of placement • Pest control

• Fire

• Mustering

25 years experience

Call for afree farmvisit, advice and

non obligation quote.

Brent Harkerss - 027 435 1243

JamesPinfold - 021 656 770

info@glencree.co.nz

2220 State Highway1

Kaikoura

2456056

2302329

The caring and professional

health care team for you

and your family

237 High Street

Rangiora

Ph: 313 7877

r

e

.

p

e

.

a

Love Your Hearing, North Canterbury

Vera Setz:

(03) 423 3158

Clinics in Rangiora,

Amberley, Cheviot,

Hanmer Springs

Charlotte Watson

Audiologust

MNZAS

Vera Setz

Audiologist

MNZAS

Alison Highman

Ear Nurse

RN

We're your

local hearing and

ear health experts!

Ear Care:

020 4124 2525

Clinics in Rangiora,

Amberley, Kaiapoi

NORTH CANTERBURY

03 311 8008

email@helmores-law.co.nz

www.helmores-law.co.nz

2373179v2

2453203
---
YOUR TIME IS LIMITED

SO DON'T WASTEIT

Contact Prosser Quirke Accountants

Chartered Accountants &BusinessAdvisors

6Blake Street, Rangiora

Ph 313 7824

team@prosser-quirke.co.nz

Your local professionals

Lime delivers apersonalised service to all

Providing apoint of difference in

understanding that onesize

doesn't fit all and delivering

personalised customer service, is

the driving force behind Lime

Real Estate.

''Eachclientisexperiencing

different circumstances and we

like to workwith people

individually to determine their

needs so thatwecan provide a

betterexperience,''Brookesays.

Lime RealEstate specialises

in residential,lifestyle, ruraland

development project sales, and

takes pride in its property

management department that

leads the way in technology and

service levels.

After twoand half yearsin

business,Lime RealEstate has

becomealeadingNorth

Canterbury independent real

estateagency, which also

claimed the Emerging Business

Award in the NorthCanterbury

Business Awards.

Lime RealEstate is ownedby

the managingdirector Brooke

Azzopardi with shareholders

Fred Rahme, Jack Lin, and

Michelle Allen.

''We are an independent, 100

percent locally­ownedreal estate

brand andweare exceptionally

proud to be partofour

Helping you make your

business successful

Caring and delivering ... Lime Real Estate goes the extra mile for its

clients.

community,'' Brookesays.

Lime has the community to

thankfor much of its success and

growth,asthis has allowed them

to become astrong player in the

localreal estate market.

''We receivephone calls often

from prospective clients, telling

us that theyjust want to work

with us because we are local.

''They find it refreshing and

with online marketing at our

2299722v2

2499729

ENROLLING NOW

20 HOURS FREE ECE

Pre-school and nursery 0-6 years

Excellent child/staff ratios

Exciting and caring environment

Hours 7.00am-6.00pm

Welcome Special for new enrolments,

where the first 4weeks are FREE

48 Church Street, Rangiora

Phone (03) 313 5675

www.firstlearners.co.nz

$3,0000

CASHBACK

When you sell your

property with us

Offer ends 30

September 22

fingertips, there are no

limitations on whatwecan offer

our clients.

''Ourvalues are you! We will

confidently guideyou through

your RealEstate journey ­we

hear,wecare and we deliver,''

Brooke says.

They believe in always going

the extra mile for their clients by

making good old­fashionedclient

service atop priority.

Experienced

Podiatrist;

2458397

Backing its community ... Lime Real Estate is exceptionally proud to

be part of the community.

PHOTOS: SUPPLIED

''We might be small, but we are

mighty! With exceptional systems

and robustnetworks, we can

guarantee you reach far and wide

nationallyand globally,'' Brooke

says.

As ateam,Lime Real Estate

sharethe desire and

Now with more availability

022 1726 049

www.northcanterburypodiatry.co.nz

commitment to work collectively

to get youthe bestresult.

''With proven results, we can

helpyou achieve your property

goals ­frombuying and selling

residential,lifestyle, rural and

developments, to property

management and more.''

I'd love to

help you with

your home

buying

journey.

Get in touch

to start the

conversation.

Graeme Soper

your local lending specialist

PH: 0800 888 485

email: graeme@mariathackwell.co.nz

for the

feeling

Physicaland Mental Health

•Customised

Programmes

•Experienced

Trainers

•Gym Newbies

Welcome

•Physio Onsite

•BodyScans

Available

101 WilliamsSt

Ph 327 7250

2457245v1

T's &C's apply

0508calllime|limerealestate.co.nz Lime Real Estate Ltd Licensed REA 2008

8High St

Ph 313 0909

2456952v4
---
SHOPONLINE tradedepot.co.nz

Christchurch

16 WattsRd, Sockburn.

Alder Black

FramelessShower

Includes Tray &Liner

1200x900mm

ReversibleDoor

Flat Liner

Corner Waste

$

1099

LOWPRICE

902249

10 Year Warranty

Edge Bathroom Wall

Side Cabinet

Edge Wall Vanity 261556

2Drawers

Soft Close

$

499

LOWPRICE

211198

5YearWarranty

$

449

LOWPRICE

Mirror Cabinet

3Soft Close Doors

$

379

LOWPRICE

262902

ZaraFloor Vanity

2Soft Close Drawers

$

699

LOWPRICE

903991

24 Month Warranty

Marsela Toilet Suite

PPan, P Pan, Sconvertible

S Back to wall

WELS 4Star

Slim Seat

$

279

LOWPRICE

230185

5YearWarranty

7.0kW Aurora Plus Smart

HeatPump

DC Inverter

WIFI Ready

High Energy Efficient

Room Size: 40~70m²

~ $

1699

EXPO

370770

5year Warranty

HUGE

7.0kW

Aurora Plus Smart

Heat Pump

DC Inverter

WIFI Ready

R32 Gas

Energy Efficient

Room Size:15~25m²

~ $

899

EXPO

370726

5YearWarranty

2.5KW

CarbonInfra-Red

Outdoor Heater

$

199

LOWPRICE

740105

Freestanding Carbon

Infra-Red Heater

$

249

LOWPRICE

740110

12 Month Warranty

Dehumidifier

3 l 3 l

$

219

LOWPRICE

373050

24 Month Warranty

Dehumidifier

with WiFi

$

279

LOWPRICE

373055

24Month Warranty

Wall Oven with

Steam Assist

Pyrolytic

Wall Oven

Pyrolytic

Wall Oven

Platinum

Pyrolytic Wall Oven

Freestanding

Gas Oven

Freestanding

Oven

72 l

82 l

73 l

73 l

900mm

WIDE

60cm

WIDE

60cm

WIDE

60cm

WIDE

60cm

WIDE

60cm

WIDE

$

1299

LOWPRICE

310716

24 Month Warranty

$

1299

LOWPRICE

310744

24 Month Warranty

$

1150

EXPO

310703

36 Month Warranty

$

2999

EXPO

310728

36 MonthWarranty

$

1599

LOWPRICE

310136

24 Month Warranty

$

1149

LOWPRICE

310150

24 Month Warranty

Vented Dryer

Condenser Dryer

HeatpumpDryer

Washing Machine

Washing Machine

Washing Machine

AllinOne

Washer Dryer

7kg

8kg

8kg

5kg

8kg

10kg

10kg

$

350

LOWPRICE

361170

24 Month Warranty

$

699

LOWPRICE

361281

24 Month Warranty

$

999

LOWPRICE

361308

24 Month Warranty

$

399

LOWPRICE

360451

24 Month Warranty

$

799

LOWPRICE

360483

24 Month Warranty

$

949

LOWPRICE

360212

24 Month Warranty

$

949

LOWPRICE

360173

24 Month Warranty

PricesGuaranteed as of 13/8/22. Subject to change.

CAN-N21

KITCHENS |BATHROOMS |APPLIANCES
---
NEWS

North Canterbury News, August 11, 2022

Abaking career sure to rise for baker Sue

23

By ROBYN BRISTOW

Sue Brocherie was humbled

when her name was put

forward to do abakery

apprenticeship.

The bubbly Artisan by

Rangiora Bakery production

supervisory baker, who is in her

late 40s, was inwardly petrified,

but grabbed the opportunity.

Sue has gone on to prove age

is no barrier to learning and

upskilling.

''It's never too late. For those

of us who have done avariety of

things in our lives and have lots

of life experience, but don't

have any formal qualifications,

this is an opportunity to get that

qualification, have that feeling

of accomplishment, fulfillment,

and achievement.

''You're never too old to

learn,'' Sue says.

While doing an

apprenticeship seemed the

logical next step in her career,

Sue says it was scary as she had

not done any study for 30 years.

''But Ithought as Iwas baking

for aliving, why not become

qualified?''

The prospect of all the papers

she had to complete was

daunting, but once she started,

it wasn't too bad.

Surrounded by experience in

the bakery where she has

worked for the past 14 years,

and making the most of the

learning and reference

material supplied as part of her

apprenticeship, along with

Google, Sue completed her

three year cake baking

qualification in 2021.

Now she is half way through

her 18­month pastry strand

qualification.

Sue is abig fan of the earn

and learn model that comes

with being an apprentice.

''Earning while you learn for

mature students is definitely

the way to go. You can't beat on

the job training.

''A lot of people learn by

doing, and this is the perfect

way to do that.''

Sue started out making

muffins at the Rangiora Bakery.

''As the bakery has evolved,

so has my role,'' says Sue, who

is now the production

supervisor of the cake, slice,

bread and meat pie areas.

She has always loved baking

—acraft she inherited from her

mother. She remembers fondly

as achild mixing up bowls of

flour, sugar, water and sultanas

in her playhouse and her

mother baking creations in the

kitchen.

''Baking has always been

more than just achore. Ilove

doing it.

''At home, 99% of my baking is

given away —it's my happy

place. It is also something Iam

good at and since doing my

apprenticeship, I'm challenging

myself with things Iwould

never have tried making

previously.''

Competenz account

managers have played akey

role in Sue's learning journey,

with regular visits throughout

the year and popping in to see

her while she's been on ablock

course.

''At each visit you receive

Next step ... Apprentice baker Sue Brocherie, who is in her late 40s, has completed her three year cake

baking qualification and is now halfway through her 18­month pastry strand qualification.

PHOTO: JOHN COSGROVE

your progress report and to be

above the line always gives me

asecret thrill,'' Sue says.

''The enthusiasm and

encouragement from

Competenz is above and

beyond. Rangiora Bakery has

also been incredibly supportive

and the progress and success of

their apprentices is always

appreciated and celebrated.

''The wealth of knowledge of

management and senior staff is

soaked up by all of us,'' she says.

Rangiora Bakery has four

female and two male

apprentices, and Sue urges all

mature people who might be

considering anew career ''to

just do it''.

Sue's employer, Rangiora

Bakery General Manager Frank

Janssen, says the Government's

Apprenticeship Boost scheme

has allowed the business to

take on new talent by

subsidising the training fees.

Following the 2022 budget,

the scheme was extended until

the end of December 2023.

''There are no problems to get

apprentices. We have awaiting

list among our staff which is

really cool. They are very keen

to learn.

''We normallyallow staff that

have been herefor acouple of

yearsand are serious to sign

up.''

Mr Janssen is very

supportive of Sue'straining.

''Sueisdoing great. She had

worked here already for 10

plus years as asupervisor

before she started her

apprenticeship.

''Shehas alot of

responsibilities, and the

baking knowledgethat she gets

from her training helpsher to

do her job evenbetter.''
---
NEWS

24 North Canterbury News, August 11, 2022

BUYING &SELLING

Stamps •Records

Preloved books •Comics

Cheap postage

Unit 3/63Warrington St

Phone: 021 946 362

Tues -Sat: 10am-5pm

Sunday: 10am-4pm

STAND

STAND

forour

environment

ecan.govt.nz/elections

Community celebration ... Hurunui Mayor Marie Black (centre front), with community

members recognised for their contribution to others and the community.

PHOTO:SUPPLIED

Community service

recognised at awards

There is no greaterjoy than helping

others, and it was in abundance at the

Hurunui District Council's annual

Community Service Awardsceremony.

Held at the WaikariCommunity Hall,

the awards also encompassed the Youth

Awards, and the MainPowerHurunui

Environment Fund announcement.

There was atouch of afamilyaffair

with the YouthVolunteer award going to

SamuelBush, a16­year­old community

volunteer,whilehis grandmother Judy

Meikle, aformer deputy Mayor of the

Hurunui District, received the Amuri

Community ServiceAward for her varied

and extensive work in the community.

Cr GeoffShier said Sam had maturity

beyondhis years when it came to getting

thingsdone in and for the community.

His grandmother had givendecades of

service to the district while living in

HanmerSprings and Waiau, said Cr Ross

Barnes.

''Large amounts of Judy's workhas

been undertaken without the wider

community realising her level of

involvement,'' he said.

The Volunteering for YouthAward

went to Lee Copplesto, and the

Outstanding Youth Leadership Award

was granted to John Stroh.

The Special MayoralPresentation was

awarded to Amy Satterthwaite, one of

New Zealand most cappedcricket

players.

The right­handed medium pace, left

hand batter cut her teeth playingin

Culverden, in the boys' grade.

The Community Service Awardswere

awarded to Jo Hassall (South Ward), Sue

Hanna(Cheviot Community),Pauline

Bennett (Hanmer Springs Community),

and Geoff Olorenshaw (Hurunui

Community).

Awards for the MainPowerHurunui

Environment Fund went to Caroline

Elliot to helpwith atrapping projectat

Ashworths Ponds,the Jed River

CatchmentProject to helprestore the

natural structure and function of the Jed

Rivercatchment, and to Francois Bonny

and Kate MacMillan to assistthe removal

of invasive toxic weeds and fencing of a

dryland areainBroomfield.

The Hurunui Heritage Award was

awarded to the Weka Pass Railway INC

to assit them with painting passenger

carriage A1733 to complete the

restoration work done by the group.

The guestspeaker to mark the Awards

evening was Hawarden resident Sandy

Velmont.

She was originally from the

Philippines and movedtoNew Zealand

in 2009with her husband, shifting to

Hurunui in 2010.

Sandyhas dedicated her professional

career and her voluntary rolestohelping

others.

''My journeyinthe Hurunui District

has been very pleasant,with great people

and great experiences. Ialways say a

simple wave, or asmile can make

someone's day.''

Two posthumousCommunity Service

Awards have also beenpresented to the

families of the Glenmark Community's

KarenDuncan and KeithBerry.

NEW DATES

Buy tickets now atfoodshow.co.nz

19 -21

August

Christchurch

Arena

Enter the

promo code

FOODIEFAN

to unlock $18 tickets

before15 August
---
NEWS

26 North Canterbury News, August 11, 2022

Qualmark for Greystone

Waipara's Greystone Wines has

been awarded Qualmark

recognition under the

Sustainable Tourism Business

criteria.

The certification, which is

supported by Tourism NZ, comes

after Greystone's recent

recognition as Toit Envirocare

net carbonzero certified.

Qualmark General Manager

Steven Dixon says Greystone

Wines has avery compelling

story to tell, as acertified organic

winery and vineyard.

''The diversity of soil types,

aspects and the different

varieties planted has created a

high­quality, wide and

interesting selection of wines for

their cellar door experience.

''The restaurant experience

and menu using locally­sourced

ingredients only add to the guest

experience,'' Mr Dixon says.

The Qualmark certification is

designed to help travellers select

experiences based on excellence

and best practise in high­quality,

safe and sustainable

experiences.

Greystone general manager

Nick Gill says Greystone is proud

to show excellence in the

sustainability space.

''We've dedicated endless

hours and resources to reduce

our environmental impact over

several years, however we're still

in the early days and we only

want to keep improving all areas

of the business.

''We've proven it is possible to

be carbon­certified and organic

and we hope our efforts

encourage others in the wine

industry to follow suit.''

Guest experience ... Diners enjoying the restaurant experience and menu

at Waipara's Greystone Wines.

PHOTO: SUPPLIED

Greystone's entire 50­hectare

vineyard, located in the North

Canterbury wine region, is

certified organic with BioGro

New Zealand. The company has

clocked up numerous awards,

with the award­winning

Vineyard Ferment Pinot Noir

produced using an age­old

outdoor winemaking method that

sees grapes handpicked and

fermented outside in the

vineyard rows where the fruit is

grown.

Saying no urged

Groundswell NZ is launching

a Say No campaign aimed

property owners interacting

with the Government over

demands for information

''used to harmfood

producers and rural

communities''.

Groundswell NZ cofounder

Bryce McKenzie

says the organisation is

calling for New Zealand's

farmers and growers to say

no to allowing public

agencies to survey on your

private land.

It says the surveyscarried

out under the RMA and the

NPS­IB willmake liabilities

out of the natural, cultural,

and historic features on

private land,when central

and local governmentshould

be empowering landowners

to care for them.

Groundswell also wants

them to say no to

participating in central

government­controlled farm

plans.

''Theone­size­fits­all

approach the Government is

taking to farm plans is riding

roughshod over the industry

and regional council farm

plansthat haveserved

farmers and communities

well for years.Say no to

calculating your emissions

number. Foodproducers

have apart to play in

addressing climate warming

and the calculations made in

the Know Your Number

programme will obscure this

role by failing to accountfor

carbon sequestration and the

minimal warming effect of

methane,''MrMcKenzie

says.

Winter grazingisalso

targetedinthe campaign.

Groundswell wants farmers

to say no to the request for

resourceconsent for winter

grazing.

''Wintergrazing

regulations remain

unworkable, and the slope

ruleshave little to do with

how waterwaysare actually

affected by winter grazing.

Farmers shouldbe

responsible for the actual

effect they haveon

waterways, not for a

bureaucrats assumptions

aboutthe slope of their land.

''Freshwater issuesare

best addressed by

prioritising action on those

waterbodies most at risk and

by councils workingin

partnership withtheir

communities,asexemplified

by the hugely successful

Catchment Groups

approach.'' Mr McKenzie

says the actionisashortterm

necessity untilthe

Governmentputs workable

regulations in place which

achieve ''real environmental

outcomes and respect the

privacy of propertyrightsof

thosethey affect''.

Full details of the

campaign are at

groundswellnz.co.nz/

campaigns/say­no
---
RANGIORA MITSUBISHI

29 Southbrook Road, Rangiora | 03941 3175 | rangioramitsubishi.co.nz

10 year /160,000km Powertrain Warranty(whichevercomes

first)(nontransferable). 5year/130,000kmNewVehicle

Warranty(whichevercomesfirst)(nontransferable).

%APR FIXED

ZERO DEPOSIT

2.936 MONTH TERM*

NISSAN 150,000 KM'S

FACTORY

5YR WARRANTY

X-TRAIL RUNOUT

ON NOW

*Finance offer available on new Nissan Navara (D23) and X-TRAIL (T32) models registered between 01/08/2022 and 31/08/2022. Approved applicants of Nissan Financial Services New

Zealand PtyLtd (Nissan) only. Fixedinterestrateof2.9%p.a.onlyavailable on loan termsupto36months(3.9% p.a. appliesfor 37-48monthsand 4.9% p.a. appliesfor 49-60monthsloan

terms). No deposit required. This offer includes an establishment fee of $375, PPSR fee of $8.05 and $10 per month account keeping fee. All lease and some fleet purchasers excluded.

Nissan reserves the right to vary, extend or withdraw this offer. Not available in conjunction with any other offer. Additional terms and conditions apply and can be viewed at

www.nissan.co.nz.

RANGIORA NISSAN, 29 Southbrook Road,Rangiora

Ph: 03 941 3175

www.rangioranissan.co.nz

rangioranissan.co.nz
---
RURAL LIFE

28 North Canterbury News, August 11, 2022

2410273

2191656

North Canterbury farmers earn top award

By JOHN COSGROVE

Developing an environmentally

sustainable dairying and beef farming

operation which has evolved to become

ahub of community activities has

earned ahusband­and­wife farming

couple atop rural award.

The People in Primary Sector title at

this year's Canterbury Ballance Farm

Environment Awards, was awarded to

North­Canterbury couple Geoff and

Rochelle Spark who own and manage

Torlesse Farm in Eyrewell,

Waimakariri.

In assessing the Spark's entry into the

awards, the judges commended the

couple on actively building connections

between "town and country," along with

ONLINE MEAT SALES

MEAT2U.NZ

HOME KILL

&WILD GAME

MEAT PROCESSING

313 0022

FENCING

• Post Driving

• Stock Fencing

• Stockyards

• Post and Rails

• Lifestyle etc

Ph Andy Horn

021 214 1201 or

(03) 314 9460

sharing their property with the wider

community for farm visits, and

generously supporting rural health and

wellbeing organisations such as Farm

Strong and the Rural Support Trust.

In addition to developing astrong

community involvement programme

across the region, the judges were

impressed at how Geoff and Rochelle

Spark have invested substantially in

Torlesse Farm's infrastructure –such as

pivot irrigation, the storage dam, soil

temperature and moisture monitoring,

irrigation scheduling, and effluent

storage. The judges also commended

Torlesse Farm's winter grazing

management –using catch crops such as

oats after winter grazing crops to extract

as much nitrogen as possible from the

soil profile.

"We need to protect the future

productivity of the land. The

replacement of k­lines and individual

sprinklers in corners for more

environmentally friendly and efficient

set sprinklers, help reduce nitrate

losses," says Geoff.

Geoff and Rochelle Spark entered the

Ballance Farm Environment Awards

because they believed they had a

positive business story to share.

They sought to make their rural

commercial activity sustainable and

perform at ahigh standard, not only

from aproduction perspective, but also

including environmental stewardship.

Torlesse Farm runs about 1700 dairy

cows on 450­hectares, with afurther 400

hectares split between dairy support

and beef grazing.

The Sparks have diversified their

business to include grazing and grass

sales, in addition to operating a

commercial weigh bridge and a

purpose­built function venue.

The couple moved on to the family

owned Torlesse Farm in 1995,

eventually buying it from Geoff's

parents in 2005.

They believe good infrastructure and

management programmes provide the

foundations of long term sustainability,

and activities such as regenerating

native bush, trapping possums, and

The Widest Music Variety

Friday 6pm & replayed at 12pm Sunday

Tune in nowtolistenon104.9 North Canterbury

and103.7 Hanmer Springs andKaikoura

PLOUGH PARTS

Your local Kramp stockist, Power Farming

Canterbury has alarge range of plough

parts available in store. Come and talk to

the parts team for your requirements.

Torlesse Farm ... The Eyrewell based operation runs about 1700 dairy cows on

450­hectares, with afurther 400 hectares split between dairy support and beef grazing.

fencing off feral deer on the hill country

portion of the beef farm serve to

enhance their property.

Within Torlesse Farm is a5.5­hectare

irrigation storage lake which has been

enhanced around its banks with native

plants to provide aclean and totally

swimmable amenity for arange of

community events.

The lake hosts the Canterbury

Primary School Triathlon which attracts

between 800–1000 competitors, and the

OxMan multi­sports event for all ages

and abilities, with around 400

participants swimming, cycling, and

running.

With apurpose­built function venue

overlooking the lake, the Sparks also

host multiple charity and community

organisations on the property ­involving

members of the public from across

Canterbury's towns, and even

Christchurch city.

"These events help foster a

connection between town and country.

Our philosophy in farming is long term.

We go by the motto 'plant atree you

never see', We have planted more than

1,000 native plants around our irrigation

storage lake," says Geoff.

The Sparks, their long­term

sharemilkers of 12­years, and all their

staff, operate with apositive 'solutionsfocused'

approach –meaning

production at the property has returned

to previous output levels after

sustaining asubstantial challenge from

the Mycoplasma bovis outbreak in 2017

Torlesse Farm owners ... Geoff and

Rochelle Spark.

PHOTOS: SUPPLIED

which saw 2500 cattle on the property

killed.

Geoff is also adedicated advocate for

the Farm Strong wellbeing programme –

an initiative which helps farmers and

primary producers to cope with the

pressures of farming, ranging from

drought and flood weather conditions,

evolving Government legislation on the

rural sector, and the unpredictability of

commodity prices.

2499834

Power Farming Canterbury

1George Holmes Rd, Rolleston | 03 349 5975
---
IT'S TIMETOSTEP UP

FROM 5IN1TO

COGLAVAX8 VACCINE

The health and welfare of our

animals is really important to

us, so we use products that

achieve results

Hayden Ashby

Livestock Operations Manager,

Brownrigg Agriculture

STEP UP TO 8 IN 1 PROTECTION

When you're running big numbers of sheep and cattle… there's one number you want

to keep really low. And that's unnecessary losses from Clostridial disease.

That's why Brownrigg Agriculture have stepped up from 5 in 1 to Coglavax8

vaccine to protect against 8 Clostridial diseases present in New Zealand.

ONLY AVAILABLE FROM YOUR VET

CEV0001 APFP

coglavax8.co.nz

Ceva Animal Health (NZ) Limited. P: 09 972 2853 ACVM No. 7528 References: 1. JS Munday, HBentall, DAberdein, MNavarro, FAUzal &S Brown, Death of aneonatal lamb due to Clostridium perfringens type B

in New Zealand, New Zealand Veterinary Journal 2020. 2.West, Dave M., Bruere, A. Neil and Ridley, Anne L.The Sheep, Health, Disease and Production. Auckland: Massey University Press, 4th ed., 2018. Print.
---
FINAL WEEK FOR STOREWIDE SAVINGS!!! SALE ENDS 15.08.22

30th Birthday

30th Birthday

HEAPSof HOTDEALS!

SCANQRTOSHOP

FINAL WEEK FOR STOREWIDE SAVINGS!!! SALE ENDS 15.08.22

VERMONT RANGE

ON SALE

Malone Modular

Sofa Range

ON SALE

Corner –Duck Egg NOW $ 950

1.5 Seater –Duck Egg NOW $ 900

2 Seater – Dark Grey NOW $ 1149

3 Seater – Dark Grey NOW $ 1499

Melve 3Piece Dining Set

–W220

WAS $

1699

NOW

$

1399

Haven Dark Queen Bed

WAS $

1149

NOW

$

999

Woodwall Room Divider

with Shelves

WAS $

549

NOW

$

449

DON'T MISS OUT ONTHESE HOT, HOT, BIRTHDAY DEALS

Carter Barstool

–Light Grey or Tan NOW $ 125

Eva Chair NOW $ 479

Penn 3Drawer Chest NOW $ 459

Avita Bench NOW $ 149

Penn Bedside NOW $ 225

Scantofindstore

250 Moorhouse Ave, Christchurch

0800 TARGET (0800 827438)

targetfurniture.co.nz

Offers and product prices advertised here expire

15/08/22. Sale Excludes Accessories.
---
PASSENGER

RangioraToyota

2007Toyota BladeHatch

• 2.4L PetrolAuto, 7-Airbags

• Camera, Alloys, Half Leather

• 80,300kms

WAS$12,995

$ NOW 11,995

2014 Toyota Aqua

•1.5LHybrid Petrol, ClimateAir

•Fog Lights, 3.9/100kms

•Only39,100kms

2017 Toyota Vitz Hybrid

•1.5LHybrid PetrolAuto, Camera

•3.8L/100km, Rebate Eligible

•Only49,600kms

$

16,995 $

19,995

2013Daihatsu Sirion

•1.3LPetrolAuto

•5-door,NZNew

•Only 42,936km

WAS$10,995

$ NOW 9,995

2013LexusIS350 F-Sport

•3.5LPetrol, Leather,Camera,

•18" Alloys, Keyless,

•5-Star Safety, Satnav,

•Only 62,900kms $35,995

2017 Toyota C-HR Hybrid

•1.8L Hybrid Petrol

•Leather Interior, 5-Star Safety

•Satnav,Only 35,800kms

$

34,995

2019 Toyota C-HR Limited

•1.2LTurboAuto, 2WD, Satnav

•NZNew,Leather

•Only 11,650kms

2019 Toyota C-HR Hybrid

•1.8L Hybrid Petrol, ClothInterior

•Camera, Rebate Eligible

•Only 2,750kms

2018 Toyota C-HR

•1.2LPetrolTurbo, 5-Star Safety

•Satnav,NZNew,Camera

•Only54,900km

$

37,995 $

37,995

$

27,995

RECEIVE UPTO$1000 TOWARDS ACCESSORIES OF YOUR CHOOSING WHENPURCHASINGANY USEDPRADOORHIGHLANDER MODELS

2020 LandCruiser PradoVX

•2.8L Turbo Diesel, Leather 7-Seater

•Keyless,Climate Air

•Camera

2016 LandCruiser PradoVX

•2.8L Turbo Diesel, Leather 7-Seater

•Satnav,Keyless

•360 Camera

$

79,995 $

54,995

2017 LandCruiserPrado VX

•2.8L Turbo Diesel, Leather,

•360 Camera, Satnav,

•Keyless,NZNew

WAS$64,995

NOW $ 61,995

COMMERCIAL

2017 LandCruiserPrado

Limited

•2.8L Turbo Diesel, KDSS Suspension

•Sunroof,Cool Box

•Facelifted

2018 LandCruiserPrado VX

•2.8L Turbo Diesel, Leather 7-Seater

•Keyless,Satnav,

•360 Camera

2017 LandCruiserPrado TX

•2.8L Turbo Diesel, 7-Seater

•Leather,Keyless,Camera

•Only 37,150kms

WAS$77,995

WAS$75,995

WAS$63,995

$ $ Model NOW 74,995

NOW 71,995

$

NOW 59,995

2013HiluxSR5 4WD

•3.0L TurboDiesel Manual, Alloys

•Camera, Bluetooth,

•Cruise Control

$

39,995

2019 HiluxSRSingle-Cab

4WD

•2.8L Turbo Diesel Auto, Alloy Toyota Deck

•Camera, 83,100kms

$

44,995

2017 HiluxSR4WD

•2.8L Turbo Diesel Auto

•Canopy, Towbar

•Camera, Bluetooth

NOW

WAS$37,995

$

35,995

2015Ford RangerXLT

•3.2LTurbo Diesel Auto, 2WD

•Alloys, Bluetooth, Tonneau

•Rear Sensors

NOW

WAS$29,995

$

27,995

2022 Ex-Demo Hilux

SR5 Cruiser

2016 HiluxSR5 Limited 2017 HiluxSR2WD 2021 Daihatsu Hijet

2WD

•2.8L Turbo Diesel Auto

Dump Truck

•2.8L Turbo Diesel, Leather,18"Alloys •Alloys, Bluetooth, Camera

•650ccPetrolManual, 4WD

$

•SportsBar

•78,050km

•Tipper Deck, DiffLocker, Hi-LoRatio

WAS$42,995

WAS$39,995

•Tonneau.

•Only 100kms

73,995

$

39,995

$

37,995

$

NOW

NOW

31,995

Percival Street,Rangiora • Ph (03) 313-8186 any time • www.rangiora.toyota.co.nz

•150kW 2.8L Turbo Diesel

•Leather,360° Camera, Satnav

•Only 5,100km

Signature

CLASS

2018 Hilux SR Extra-Cab

4WD

•2.8L Turbo Diesel Auto, Bullbar, Flatdeck

•Camera, Only 42,800kms

$

51,995

2499844

FINANCE &INSURANCE AVAILABLE
---
NEWS

32 North Canterbury News, August 11, 2022

Waimakariri Weekend Wrap

Photos BY JOHN COSGROVE

Maps anyone?. .. Oxford Promotions

volunteer Clive Smythe hands out garage

sale maps.

Where to next?. .. Looking over the map showing where all the 42 locations of the garage

sales at the annual Great Oxford Garage Sale on Sunday were (from left) Malcolm Bennett,

Sue Eden and Cherie Bennett.

Loving it ... Christine Harris enjoys her hot

dog as she helps out at the Catholic Church

hall at the Great Oxford Garage Sale.

Hats off ... Arlo Druce 8, gets into the mood

for his team, the Red Crowned Parakeets, at

the Maria Andrews Park.

Outta here. .. Tyson Parker 7, of the Green

Geckos, plays at the mini football games in

Rangiora on Saturday.

Pass it ... Sea Lions player Harry Sinnott

6, dodges past coach Matt Bricker as they

warm up.

Got it ... Buyela Pollard 8, clears atackle

during the Maui Dolphins soccer match

against the Green Geckos.

Listen in. .. Sea Lions coach Matt Bricker

briefs his team before their match on

Saturday.

Gently does it. .. Atrainee pilot makes atouch and go

landing at the Rangiora Airfield on Sunday.

On the clock ... Jez Cattermole of the Kaiapoi Lodge

team, swims her lap in the Kane Shield at Kaiapoi.

Floral options. .. Rachel Hooper holds up ToiToi and Arrowhead

plants she had for sale at the Great Oxford Garage Sale.

Away .... Hayden Inch dodges atackle as he plays for the Rangiora

Hockey Club's Platinum team against Hornby on Sunday afternoon.

Keeping time ... Ilonka Buwalda of the Mothership

team, sets her pace in the pool during Monday nights

Kane Shield event in Kaiapoi.

Sliding into fun ... Amy Wall 11, of Queensland, tries

out adrift bike at her grandmothers garage sale in

Oxford on Sunday morning.
---
Fernside 862 Oxford Road

Doublethe

dedication

whenselling

your home!

Forafriendlychat about

your real estateneeds, call

Kirstyn or Dayantoday.

Entry Level Lifestyle Property

Offered to the marketbyvendors whohave made thedecisionto

downsize, this entrylevel lifestyle propertyboasts as much potential as

it doescharacter. Built in the 1980s, this property offers three

bedrooms,anopen-planliving area, atidy kitchen,conservatory

(unconsented), separate laundry room and afamily bathroom. The log

burnermeansthe homeisalways warmand inviting, while excellent

indoor/outdoorflow ensuresyou'll spend plenty of timeoutside.

Outside, on 1.99 hectares of land it features an establishedgarden

framing the house with mature trees,avegetablegarden with

planters, abevyofbarns,double garage with workshoparea, chook

houseand astable.

3 1 1 2

For Sale Buyers $760,000+

View Sun 14 Aug 2.30 -3.15pm

Web pb.co.nz/RL105108

Victoria McKenzie-Browne

M 021 413 883

Kirstyn Barnett &

DayanMuntz

Residential/Lifestyle Sales Consultants

Kirstyn

M 021 312 230

E kirstyn.barnett@pb.co.nz

Dayan

M 021 432 926

E dayan.muntz@pb.co.nz

Hawarden 646 Dalmeny Road

Dalmeny Dream

This stunning 272m2private property was built in 2005 to ahigh standard with extensive useofHalswell Stone, including at

the road entrance. Internally theuse of nativetimbers as beamsand incorporatingtimber with the aluminiumjoinery,isreally

effective.Comprising four bedrooms, plus office,master ensuite andwalk in robe,aswell as three living areas and adouble

internalaccess garage.Heating is provided by the 27kw log-burner andaneffectiveheat transfersystem. It is very energy

efficient with the mains pressure cylinder connected toawet-backinthe log-burneraswell as solar heating.There is littlefor a

purchaser to do after extensive workdone in 2019, including anew roof, painting, newcarpet, anew heat transfer system,

upgraded insulationand LED lights. Around the homeitisbeautifully landscapedwith raised beds, aglasshouse,an orchard

whichincludes apple trees,plums,feijoa, pears, apricots, blackberries, blackcurrants and gooseberries. Thereisawoodshed

andworkshop/garden shed. The 8.45haoflandisproductive andaccording to S-maps is mainly Pahau Deep Silt over clay and

is subdividedinto three main paddocksofpasture.

Property Brokers Ltd Licensed REAA 2008 |pb.co.nz

4 2 3 2

DeadlineSale closes Tuesday 16th August, 2022at2.00pm,

(unless sold prior)

View Sun 14 Aug 1.00-2.00pm

Web pb.co.nz/RL104038

Hamish Anderson

M 027 678 8888

Maurice Newell

M 027 240 1718

E hamisha@pb.co.nz

E mauricen@pb.co.nz

Proudtobehere
---
Four Seasons Realty

Four Seasons Realty

Four Seasons Realty

AUCTION

TO ACHIEVE THE

POSSIBLEPrice

Best

Foryourlifestyle property,you need aconsultant who

lives in the area,understandsyourproperty and will work

hardtoexceed your expectations!

21 Orchard Place,Clarkville 75 Barkers Road, Kaiapoi

SOLD

45 Eyredale Road, Eyrewell Forest OFF-MARKET 601Broad Road,Balcairn

Specialising in Lifestyle and Equestrian Properties in

North Canterbury.

Phone me forafreenoobligation market appraisal, or a

friendly chat about the current real estatemarket.

Rhiannon Moss

027 440 4449 |03323 6045

rhiannon.moss@harcourts.co.nz

harcourtsfourseasons.co.nz

Your home forlocal property

Four Seasons Realty 2017 Ltd

Licensed Agent REAA 2008

Rhiannon

Four Seasons Realty
---
NEWS &CLASSIFIED

North Canterbury News, August 11, 2022

35

Shootout ends Rangiora Gold'sfinals hopes

The Rangiora GoldDivision 2men's

hockey team fellatthe penultimate hurdle

last weekend when they lost to Carlton in

apenalty shootout.

With scores tied 1­all at end of regular

time the teams thenplayed tit for tat in the

shootout,with it coming downtothe fifth

and last to keep Gold in thehunt.

Unfortunately it was unabletobe

converted giving Carltonthe win.

This ended Rangiora Gold's questto

make the divisionfinals, and it will now

battle out for thirdplace againstAvon in

two weeks time.

Rangiora CBK also played it close

against archenemies Avoninits lower

playoff semifinal of the Division 1

women'sgrade.

Scores stayedclose throughout the game

with Avonholding aslim margin intothe

finalquarter.

Rangiora pulledits keeper late in the

hope of salvaging adraw but to no avail,

and will now play Southern to avoidthe

wooden spoon.

In other grades Rangiora Oddfellows

kept Avon close for much of its lower play

off game in the SundayChampionship

(Division 3) men's encounter, but the

visitors pulled away latefor acomfortable

win.

This endsthe Oddfellows season with

just awin and adraw to show for their

hard work. Rangiora Korimako's dead

rubber with Hornby was calledoff at half

time due to atrociousweatheratNga Puna

Wai.

It will get one more chance against UC

Amazons to salvagesome success after

beingpromotedtothe Division 2

competition half way throughthe season.

In Platinumgradesthe Rangiora Jets

Rangiora Oddfellows ... Liam Hayes tries to lift the ball past the defender in the Rangiora

Oddfellows playoff loss to Avon.

PHOTO: SUPPLIED

camefrom behindtobeat Hornby in its

playoff game to determine rankingsfor the

semifinals. Jets will play Waikirikiri

Falcons for aspot in the finalafter the

Falcons beat the Rangiora Snakes in its

playoff.

RangioraKaka lost to Marist in their last

gameofregular season, so willbeplaying

for 5th­8th place overthe final two weeks

of the Girls Division 2competition.

RangioraKakariki alsolostinGirls

Division4Platinum,narrowly losing to the

unbeaten Hinemoa­Kaiapoi.

Kakariki could get another crack at

Rangiora Bowling Club

Anyone interested in trying their hand at bowls is invited to the Rangiora Bowling

Club on Saturday, August 13, and August 20 from 10am to 12 noon, or 1pm to 3pm both

days to ''Have ago''. Bowls provided, but wear apair of flat shoes. All welcome. For

further information phone 02102735220.

Folk music fusion

Across the Great Divide will appear live at the Balcairn Hall on Saturday,

September 23 at 7.30pm. They will present an uplifting package of Celtic, Americana

and Scandinavian folk music.

Tickets $25 from: Sally Mac's, Amberley; Sefton Garage; Stan's 7Day Pharmacy,

Rangiora, Cash preferred by ticket vendors, or purchase tickets online at

balcairnhall.com.

Eisteddfod

The North Canterbury Federation of Women's Institute invites the public to attend

its Eisteddfod on Tuesday, August 16, at 10am in the Sefton Hall. $2 entry. Enjoy the

stage items and table competitions. For further information contact Ann (03) 313

7592 or Trish, (03) 313 0155.

Lions Club speech contest

The McIlraith Trophies willbeatstake

later this month at theHawarden

Waikari Lions Club Speech competition.

Entries are being called for the annual

event which is open to students from

Years 7to13, including home­schooled

pupils.

This year there is no set topic, but

students are being urged to make their

speech ''persuasive in nature''.

This rules out speeches on alovely

holiday, or afavourite pet.

However, ClimateChange is aMyth,

Genetic Engineering is aNecessary Evil,

or What the World needs now is Love,are

being suggested by the Lions Club if

anyone gets stuckfor atopic.

The competition will be held in the

Hawarden Hall on August 24, at 4.30pm.

There are three sections —Year 7to8

who will speak for three minutes, Year9

to 10 (four minutes), and Years 11 to 13

(five minutes).

The judge will be Sally Macdonald.

To enter, names must be withJJ

Dudopp, 0274 384140, by August 15.

New track section to open

The newly extended Rakahuri Trail in

Rangiora will be officially opened this

weekend.

An opening ceremonyand free sausage

sizzle will be held at 10.30am on Sunday,

August 14 to celebratethe extensions to

the popular mountain biking and walking

track.

Four kilometres have been added to the

track to create an 8.8kmloop for mountain

bikers and walkers.

As part of the track extension new ramps

weredesigned for mountain bikers to ride

in one directiononly, making the track

safer for all users. This now increases the

length of walking and bikingtracks in the

Ashley Rakahuri Regional Park to about

21.5km. The ceremony is open to the public

and will be held in the Rail Bridge Picnic

Area at the north end of East Belt,

Rangiora. The official openingceremony

startsat10.30am.

their local rivals in the final if they can get

past Southern this comingweekend.

In mid weekaction the Rangiora

Hurunui Hares cemented second on the

Division 1Women's table with one more

game to play in regular season.

Its semifinal opponent will be found in

the lastroundwith four teams vyingfor the

last two spots.

Rangiora Piwakawaka have agood

chanceoffinishing the regular seasonon

ahigh as it will be playing bottom of the

table Southern.

MightyMid Week Men were guaranteed

to finishits regular season in third place

on the Division 1tablebefore their last

game against Harewood, so used the clash

to prep forits upcoming semi against

Southern ­ateam it lost to badly just a

couple of weeks ago.

Rangiora Allsorts started its last game

against Hornbywith adominant first half,

netting two goals ­one from apenalty

corner by George Ridgenand the second a

subtle deflection past the keeperbyTony

Kean from agreatinball from Kevin

Orchard.

However, the Allsorts went off the boil

and Hornby stepped up the pressure in

the second half to firstlevel the scores

with two PC goals, then eventually win

with two late field goals.

Results

Div 1women ­Rangiora CBK 2lost to Avon

Swans3

SSL Premiership women ­Rangiora

Korimako friendly against Hornby

abandoned due to weather

MWO Women Div 1­Rangiora Hurunui

Hares3beat HSOB/Burnside 1

MWO Women Div 3­Rangiora

Piwakawaka0lost to Marist5

SSL Premiership men ­RangioraGold1

lost to Carlton Redcliffs 1inpenalty

shootout;SSL Championship men ­

Rangiora Oddfellows 0lost to Avon 4.

MWO men Div 1­Rangiora Mighty

Midweek Men 7beat Harewood 3. Men Div

2­Rangiora Allsorts 2losttoHornby

Rebels 4

PlatinumGrades: Girls ­Rangiora Kaka 0

lost to Marist4;RangioraKakariki2lost to

Hinemoa­Kaiapoi3.Boys ­Rangiora Jets 3

beat Hornby 2;

Rangiora Snakes2lost to Waikirikiri

Falcons 3.

Situations Vacant

SUPERVISOR WANTED

We are looking forawell organised personto

manage the distribution of advertising material

&local newspapers intohousehold letterboxes.

This is apart-time contract position where you can co-ordinate most of

your work from home, allowing the opportunity to continue or apply

for w

Theposition may include managing ateam of deliv This role could

suit an at home parent, retiree or someone returning tothe workforc

Youwill need asuitable van, mobile phone, computer with internet

access and be able to provide short-term undercover stor

Interested? Contact:

mark.kelly@mainlanddistribution.co.nz

Interested? Contact:

Phone mark.kelly@mainlanddistribution.co.nz

Mark 029 983 2293

DELIVERERS REQUIRED

FOR RANGIORA

Earn cash and get fit!

We are looking to increase our distribution team

and need deliverers for the Rangiora area.

Must be aged 11 or over, and be honest and reliable.

Contact Mark Kelly at Mainland Distribution

mark.kelly@mainlanddistribution.co.nz

2486141
---
What's happening inyour

community…

Orange traffic light restrictions are in place -visit waimakariri.govt.nz for further information.

Safety Improvements for Ruataniwha

Kaiapoi Civic Centre Underway

From Monday 8August, contractors will be

undertaking vapour blasting work on the tiles

outside the Ruataniwha Kaiapoi Civic Centre.

This is anecessary safety improvement to the tiles

around the Civic Centre to ensure they are anti-slip,

making itsafer for all our community accessing

the Centre and Library.

Work will begin on the main front entrance, taking

approximately aweek to complete. Raven Quay

will then be closed for the following week while the

same treatment is completed on the outside of the

building. Access to the Centre will be maintained

throughout the works via the rear entrance off the

Hilton Street car park.

Noise created by the blasting unit may be loud

at times and we are taking steps to mitigate the

impact by erecting hoardings, but we apologise for

any disruption to library-goers and venue users.

Fencing and signage will be in place around the

work site for the duration. Work is expected to be

finished on or before Wednesday 24 August.

There's Still Time to Take aStand

Waimakariri District Council is calling on

community advocates to put their name in the

mix to stand for Mayor, councillor orcommunity

board member with nominations closing at midday

Friday 12 August.

It's anexciting time to be part of local government

and local elections are agreat opportunity to see

your community progress from your dedication.

Successful local election candidates are those

that take the time to listen to their communities,

engage with the people within them and go on to

champion their voice as their representative.

Candidates must be aNew Zealand citizen and

enrolled on the electoral roll. They don't need to

live inthe area they represent but do need to be

nominated by two people enrolled in the area they

wish to represent.

For more information about standing, enrolling

and voting, visit

waimakariri.govt.nz/your-council/local-body-elections

Chlorination of Kaiapoi East Water Supply

Council have continued to carry out extensive

testing of the water supply in North Kaiapoi since

chlorine was turned off on the supply in March

2022. While the testing had been good, recent

testing is showing increased levels of organic

materials in the supply and we have chlorinated

the supply to allow ustoinvestigate further.

The most likely cause is sediment including

organic material that has slowly built up in the

pipework. While our testing shows that the water

is still safe todrink, this signals apotential risk

to the system and the addition of chlorine tothe

supply isprecautionary.

This only affects those properties on the supply

north ofKaiapoi river through to and including The

Pines Beach and Kairaki. As we can separate the

supply at the river, properties to the south of the

river will not be affected.

If youexperience anydiscolouredwater, pleaseflush

your tapsuntil this clears. If this doesn't clear aer 10

minutes, please let us knowbycalling 0800 965 468.

Additional sampling and investigation work has

started to determine the source of the issue. The

level of chlorine will be consistent with national

guidelines and standards. We do understand the

community's preference for unchlorinated water

and are doing everything we can to resolve the

issue as soon as possible.

Have you signed up for

the Waimakariri District

Council Newsletter?

Tojoin visit:

waimakariri.govt.nz/subscribe

2022/23 Rates

Instalment Due

We'd like to remind you that the first

instalment ofthe 2022/23 rates isdue on

20 August 2022 and the last day to claim a

discount for earlier payment is approaching.

Please note that a10% penalty will be added to any part of

the first instalment that remains unpaid aer 27 August 2022.

If youare going to paythe totalratestoclaimthe discount,

please do so along with any arrears by 27 August 2022.

If you are having dificulty paying your rates, we encourage you

to get in touch with us at rates@wmk.govt.nz to talk through

payment options.

Online

Go towaimakariri.govt.nz/services/online-services

(credit card and debitcard payments incur aconvenience fee).

Internet Banking

Account number:010877-0129222-00

Usethe valuation numberonyourratesinvoice as reference.

If youare paying rates on morethan oneproperty, email details

of payment to finance@wmk.govt.nz

In Person

Epos and cash payments are welcome at any Council

service centre.

STAND FOR YOUR COMMUNITY

STAND FOR ELECTION

Nominations close

noon Friday

12 August

STAND FOR ELECTION

waimakariri.govt.nz

Youth Service Awards 2022

Nominations are Open

These awards are to recognise

young people volunteering and

having apositive impact on

our community.

Youcan pickupanomination form from

oneofCouncil's ServiceCentres and

Libraries at Rangiora, Kaiapoi and Oxford

or on ourwebsite waimakariri.govt.nz

Criteria

Any young person who has carried out

significant voluntary services in the

Waimakariri District to: the arts, culture,

education, health, recreation, sport,

welfare or youth.

Must be nominated by two people of

the Waimakariri District.

Nominations close 5pm,Friday 19 August 2022
---
CLASSIFIED

North Canterbury News, August 11, 2022

37

Give usyour

feedback

| Book Launch

Adopted

Loss, love,familyand reunion

By Jo Willis andBrigitta Baker

Adopted is the powerful and honest account of two of

the thousands of children adopted during the era of

closed adoption in Aotearoa New Zealand, between

1955 and the early 1980s.

Join us at the Rangiora Library, to hear co-author

Brigitta Baker's own story around closed adoption.

Wednesday17August 2022 • 6.30pm

RangioraLibrary

BookingsEssential

waimakaririlibraries.com

FREE ENGLISH

LANGUAGE

CLASSES

Come along to our classes toimprove your

speaking, listening and grammar skills

through arange of interesting topics!

Every Saturday, 23July–10 September 2022

10am–1pm

Rangiora Town Hall Function Room

303 High Street, Rangiora

Enrol Now

Julie Cloughley |Tutor

Email: cloughju@hotmail.com

Phone: 027 403 8245

Situations Vacant

School Bus Drivers

Required in Rangiora &Darfield

We areproud to be atransport provider

forthe MinistryofEducation and Direct

Resourced Schools in the CanterburyArea.

We arelooking forSchool Bus Driversto

drivemorning and afternoon schoolrunsin

Darfield and Rangiora.

Days of work areMondaytoFridayduring

the school term. Extracharter work will be

available at times.

If youare or have

•AClass 1or2licence and aPendorsement

•Excellentcommunication skills

•ATeam player

•Health and Safety focused

•Keen to contributeand acan-do attitude

Thenthis could be ajob foryou. Support to

achieve licencing maybegiven to suitable

applicants.

Please registeryourinterestby

contacting Vern by emailing

manager@torlessetravel.co.nz

or phone 021198 7358

VACANCY -FINANCIAL MENTOR

Financial Mentor (Budget Advisor)/ MoneyMates

Facilitator (Community Education)

Budgeting Services North Canterbury (BSNC) works

across the Waimakariri and Hurunui districts.

We provide budgeting advice and financial mentoring skills,

in an approved and appropriate manner, for clients to learn

to manage their finances more effectively.

We are seeking applicants for the role of a Financial Mentor

(Budget Advisor)/ MoneyMates Facilitator (Community

Education).

This is an additional, paid position and you'll be joining the

small, dedicated and motivated team of volunteer and paid

Financial Mentors.

Applicants must be able to commit to 20 hours per week

(guaranteed while training), with flexibility to increase to

25 hours per week (once certificated) depending on client

demand.

The successful applicant will need to be willing to undergo

and pass the required FinCap/BSNC Financial Mentor and

MoneyMates/Community Education facilitation training.

To apply,please email the Service Manager for the Position

Description and the Application for Employment form.

Applications will only be accepted, via email, of acompleted

Application for Employment form, acover letter, and your

CV to Sharon Grant IService Manager:

servicemanager@bsnc.org.nz

Applications close at 5:00pm on Sunday 21 st August 2022

Pets

BICHON HOMESTAY

for smaller dogs. We look

after your dog in our home.

"No kennels". Phone today

03 314 6110.

Livestock

HOME KILL

MEAT PROCESSING

MEAT2U.NZ

313 0022

2466978

Hairdressing

MOBILE HAIRDRESSER

AVAILABLE

2504562

24 yrs exp

Reasonable Rates

Ph Anne

021 298 3957

or 03 313 9391

Gardening

Wanted To Rent

2502865

A+ GARDEN hedges cut

to perfection. Tree &arbor

work. For a quote, phone

021 111 4322.

LAWN MAINTENANCE,

mowing, weed spraying,

fertilizing. Please phone

027 632 7216.

To Let

HOUSESITTERS

required. October onwards.

Lovely homes. Must love

dogs. Phone Lisa 021 547

262 or visit our website

townandcountryhomesit.co.nz

Cars Wanted

CASH 4CARS

and 4WD'S

Phone

Automotive

Parts

03 313 7216

CARS, vans, 4WD's

wanted for dismantling or

repair. Phone 027 258

8366.

FALCONS &

COMMODORES

WANTED

Suitable for

dismantling or repairs

Ph 313 7216

2412522

Automotive Services

CARAVANS &

MOTORHOMES.

Interior &exterior repairs,

maintenance & upgrades,

based in North Canterbury.

Solar, satellite, awning

installations. Sheetmetal,

light engineering &welding

services. Professional

coach builder specializing

in the RV industry 25 years.

Call Darryl @ Advanced

Auto Homes 027 220 6566.

Motorcycles

MOTORCYCLE wof,

service &repairs at South

Pacific Motorcycle

Services, Mandeville.

Please phone 03 312 0066

office@motorbiketours.co.nz.

Machinery Sales

PETTER DIESEL engine,

7.5hp plus steel stand.

1800rpm, ex Lincoln College

engineering (demo).

$1500 ono. Please phone

03 310 8382.

For Sale

• DOG FOOD

• BIRD FEEDERS

HALF PRICE

MEAT2U.NZ

313 0022

2490219

Wanted To Buy

★ ★ ★

NZ PAINTINGS / ART...

Cash paid. Please phone 027

682 3222.

$$$

Amalgamated Scrap Metal

Ltd. Specialists in farm

machineryand farm clean

ups, old vehicles etc.

100% locally owned.

Ph 0800 030 712 or

027 695 0480.

2312759

Stock Feed

MEADOW HAY for sale,

no rain, shed stored, $8 per

bale. Phone 027 499 7328.

CAMPERVAN storage

shed wanted. 8meters long For Hire

x 3.5 meters high. Farm

shed or shared workshop PORTABLE CATTLE

considered. Phone John yards &loading ramp for

027 560 3444.

hire. Phone 027 540 0027.

PUBLIC NOTICE OF

APPLICATION FOR

ON-LICENCE

SECTION 101, SALE

AND SUPPLYOF

ALCOHOL ACT 2012

Authentic Foods Limited,

3/61 Williams Street, Kaiapoi

has made application to the

District Licensing Committee

at Rangiora for the issue

of aOn-Licence in respect

of the premises situated at

Unit 3/61 Williams Street,

Kaiapoi known as Golden

Turmeric.

The general nature of the

business conducted (or to

be conducted) under the

licence is Restaurant.

The days on which and the

hours during which alcohol

is (or is intended to be)

sold under the licence are

Monday to Sunday 11am to

11pm.

The application may be

inspected during ordinary

office hours at the office

of the Waimakariri District

Licensing Committee at 215

High Street, Rangiora.

Any person who is entitled

to object and who wishes

to object to the issue of

the licence may, not later

than 15 working days after

the date of the publication

of this notice, file anotice

in writing of the objection

with the Secretary of

the Waimakariri District

Licensing Committee at

Private Bag 1005, Rangiora

or email to records@wmk.

govt.nz.

No objection to the issue

of alicence may be made

in relation to amatter other

than a matter specified in

section 105 (1) of the Sale

and Supply of Alcohol Act

2012.

This is the second

publication of this notice.

This notice was first

published on 4th August

2022.

2502432v2

Terrible

Debt

a free and

Public Notices

Kiwisaver

www.bsnc.org.nz

PUBLIC NOTICE OF

APPLICATION FOR

OFF LICENCE

SECTION 101, SALE

AND SUPPLY OF

ALCOHOL ACT 2012

Bare Rabbit Limited, 10 Bob

Robertson Drive, Woodend,

North Canterbury has made

application to the District

Licensing Committee at

Rangiora for the renewal

of aOff-Licence in respect

of the premises situated at

10 Bob Robertson Drive,

Woodend known as New

World Ravenswood.

The general nature of the

business conducted (or to

be conducted) under the

licence is Supermarket.

The days on which and the

hours during which alcohol

is (or is intended to be)

sold under the licence are

Monday -Sunday 7.00am -

10.00pm.

The application may be

inspected during ordinary

office hours at the office

of the Waimakairiri District

Licensing Committee at 215

High Street, Rangiora.

Any person who is entitled

to object and who wishes

to object to the issue of the

licence may, not later than

15 working days after the

date of the pubication of this

notice, file anoticeinwriting

of the objection with the

Secretary of the Waimakariri

District Licensing Committee

at Private Bag 1005,

Rangiora 7440 or email to

records@wmk.govt.nz.

No objection to the renewal

of alicence may be made

in relation to amatter other

than a matter specified in

section 131 of the Sale and

Supply of Alcohol Act 2012.

This is the first publication of

this notice.

2504035v1

teach

manage

the Waimakariri

or Hurunui

District

other agencies

Sharon Grant

Find us on Facebook: (Budgeting Services North Canterbury)

Supported by:

Registered Charity Number: CC10710
---
CLASSIFIED

38 North Canterbury News, August 11, 2022

KAIAPOI CHRISTADELPHIANS

"The Key ofKnowledge .."

(Luke 11:52)

"KINGDOM OFGOD"

Likethe LordJesus Christ, theApostle Paul alsocontinued to preach

about the Kingdom ofGOD, firstly tothe Jews, "Then Paul went

to the synagogue and preached boldly for the next three months,

arguingpersuasively about the Kingdom of GOD." Acts19:8.

And later when he was thrown into prison for preaching this

message,hesaid "It is because of the Hope of Israelthat Iambound

with this chain." He believed that the Kingdom of GOD and Israel

wereboundtogether andalways will be.

Public Notices

2504075

EVENT MANAGER with

20 years plus trail ride

experience seeking hill

country, high country and

forrestry properties with

30km plus tracks in aloop

circuit, suitable for 1 day

events; landowner access

fee paid. —Ph. Grenville

027-291-1239.

NORTH Canterbury Cycle

Club AGM, Sunday 14th

August, 5.30pm, Rangiora

Town Hall, meeting room,

upstairs.

Annual General

Meeting

Citizens Advice

Bureau North

Canterbury

Thursday, 25 th August

2022 at 10.30am

in the Mainpower

Oval, Corner

Coldstream Road and

East Belt, Rangiora

2499852

North Canterbury

ARBORIST qualified.

Copper Beech Tree

Services. Tree removal,

pruning, height reduction,

hedge trimming, shaping,

tree planting, firewood.

Free quotes. Contact Angus

Edwards 027 259 6741

copperbeechtreeservices@gmail.com

BRIAN'S Tree Services.

Tree felling, topping,

shaping, firewood cut, rubbish

removed, stump grinding,

branch chipping.

Affordable rates. Phone 03

327 5505 or 021 124 4894.

CHIMNEY SWEEPS.

Time to service your fire.

Accumulation of soot seriously

affects performance.

Latest rotary brush technology.

Free moisture check

on wood. Safety inspection.

Home Services

CARPET &UPHOLSTERY

CLEANING Commercial &

All work insured and guaranteed.

From $80 single

story. 0800 SWEEPME or

www.sweepnz.co.nz.

Residential. Servicing

North Canterbury. Ph Dave HOMEKILL & Wild

at Christchurch Carpet Game meat processing. Ph

Cleaning 021-638-637 313 0022. www.meat2u.nz.

Educational

TUITION available. Primary

and secondary up to

NCEA level 3. In centre

(Rangiora) or interactive

online from your home.

Each student on an individually

tailored programme.

Kip McGrath Rangiora has

been serving the local community

for 30 +years. Give

us acall (03) 313 3638 or

book your free assessment

online https://www.

kipmcgrath.co.nz/rangiora.

Trade&Services

ABEL &Prestige Chimney

Cleaning. Nth Cant owned

& operated. Covering all

areas from Waimak to Hanmer.

Professional, guaranteed,

service. Firebox

repairs, carry most parts. Ph

0800 661 244.

DIRTY TILES &Grout?

Professional tile cleaning,

tiled shower restoration,

mouldy silcone, shower

glass & we can even

recolour your old grout!

For all your tile and grout

issues call Grout Pro for a

free, no obligation quote.

Ph Darryl 0800 882 772.

www.theprogroup.co.nz/dpc9385.

KITCHEN, bathroom,

renovations, decking,

pergolas, fencing. Honest

reliable licenced builders.

Ph Don 027 727 9162.

METAL WORX. Flashing,

Sheetmetal Fabrication,

Wrought Iron,

Welding, Custom Trailers,

General Metalwork. No job

too big or too small. Ph 021

265 5428 or 03 314 6908.

Find us on facebook/

Glenmark Metal Worx.

glenmarkmetalworx.ltd@gmail.com.

PAINT & wallpaper

services. Wayne Bryant,

exterior, interior. Qualified

tradesman. Free quotes. Ph

313 5337 or 027 654 4568.

PAINTER & Decorator.

25 + years experience.

Interior /exterior, roofs &

waterblasting. For a free

quote, please ph Steve 03

314 4620 or 027 477 1930.

Log Fires

Pellet Fires

Heat Pumps

Sales

Service

Installations

Free Quotes

03 343 1651

472 Blenheim Rd

www.heatstore.co.nz

Trade &Services

PAINTER. Qualified local

professional, Int / Ext,

roofs, wallpaper. Call or

text Corban 027 846 5035.

POWER TOOLS repairs,

parts &sales for over 40

years. All main brands serviced.

Grossman Trade

Tools, 23 Watts Road,

Christchurch. Ph 389 9230.

ROOFER. All roof repairs,

roof painting, water blasting,

moss treatment,

repointing, gutter cleans &

snow straps and more. Free

quotes. Please ph Nathan

027 516 6609.

SCREEN PRINTING.

For all your printing

requirements. T-shirts,

Hoodies, Hi-Vis vests and

polos, Overalls, Caps etc.

Please phone Heather 03

313 0261 or email heather.

norstar@gmail.com.

SHEARER. Hap's Farm &

Lifestyle Services. Shearing,

crutching, drenching,

tailing, feet trimming &

health check. — Ph. 03-

423-3713 or 021-267-4025.

PAINTERS

Reg Tradesman

Interior,exterior.

North Canterbury Painters

specialising in decorating for

over 65 at adiscount rate.

Free quotes.

Covering Nth Canty,Oxford,

Kaiapoi, Rangiora, Amberley.

Rob 03 327 7899

or 027 432 3520 2227597

ANTHONY SYMONDS

Plastering &Painting

Services

Locals with 30 years

experience

All workmanship

Guaranteed.

Phone 021 344 023

027 216 0000

WINDOW TINTING

tintawindow

advanced film solutions

99% uv block

fade protection

heat control

reduce glare

25 Years Experience

privacy films

frosting designs

non-darkening films

Workmanship Guaranteed

Lifetime Warranties on Most Films

UV

block

Free Quotes Canterbury and Districts

03 365 3653 0800 368 468

Trusted Trades &

Professional Services

2502479

2362002

Pride &Quality Painting

&Decorating Services

20 yrs exp, fast and friendly

service. For all your painting

needs, phone: Martin 310

6187 or 021 128 9867

SEPTIC TANK

CLEANING

Bill's Liquid

Waste

You dump it...

Blair pumps it...

Blair Tavendale

Ph 03 314 9371

0275 379-694

CRAIGS Trees

(03) 327-4190

TREE REMOVALS

THINNING &PRUNING

STUMPGRINDING

FELLING &TOPPING

FULLYINSURED

QUALIFIED ARBORIST

Free Quotes

027 2299 454

craigstrees@xtra.co.nz

Guide

2225862

2434390

To book your spaceinthis guide,phoneAmanda Keys 313 2840 or email amanda.keys@ncnews.co.nz

Accountant

Debra Jowsey &Karla Kilner

Ph 027673 3330

We help with all Taxreturns for the

salary &wage earner,self employed, rental,

business,farm,GST,pay dayfiling, rentalreturns

Chiropractic Care

2469229

Dr.YvonneShaw Chiropractor(B.Chiro)

(03) 975 5135

18 BlakeSt, Rangiora

info@symmetrychiropractic.nz

ncnSymC1006

2070788

Automotive &Recovery

• WOF Cars &Trailers

• Vehicle Servicing &

Repairs

• Tyres &Punctures

• Jump Starts

• Towing &Salvage

• Courtesy Car Available

Ph Aaron Rowlands

0272 588 366

13 Stone Eyre Place,

Swannanoa

Eftpos available Mon –Fri 8am –5pm, Sat 9am –1pm

Butchery

OxfordButchery

Shane and Leanne Frahm

We cankill&process yourstock

FourGenerations of Frahms

since 1957

Ph 312 4205

Oxford

Number one

old-fashioned bacon

&ham curing.

A/H 312 4709

WE ARE OPEN, WEARE AESSENTIAL SERVICE

AMPLIFY YOUR BUSINESS

AND BE THE NAME THEY

REMEMBER FIRST

Advertise your trade or service in our

Trusted Trades &Professional Services

Phone Amanda today and get your

business noticed 03 313 2840 or email

amanda.keys@ncnews.co.nz

2227889v2

2475070v2

Computer Repairs

Bruce Evans

131 Ohoka Road

Kaiapoi

Carpentry

Quality Workmanship •Friendly Service

New Builds, Renovations, Alterations, Decks, Pergolas,

JoineryInstallation (incl. Windows), Roofing

Ph: 027 390 3307 Email: jakec478@gmail.com

03 327 3111

021 293 6331

compucare@xtra.co.nz

www.compucare.co.nz

Computer Repairs &upgrades

Prompt professional services

2276525v2

Virus &malware removal

New &UsedPC's4Sale

To book your spaceinthis guide,phone Amanda Keys 313 2840 or email amanda.keys@ncnews.co.nz
---
Trusted Trades &

Professional Services

Guide

To book your spaceinthis guide,phoneAmanda Keys 313 2840 or email amanda.keys@ncnews.co.nz

Construction &Concrete

DENTURE CLINIC

Digger &Cartage Specialist

Contractor

All Construction & Concrete Work

•Driveways, patios &paths

•Bridges and Culverts

•Floors, foundations

•Sheds and buildings

•Dairy Sheds, Herd homes

•Silage pits, effluent ponds

•Excavation and cartage

•Precast concrete

•Insulated panels

Thursday,August 2, 2018 | Issue808 | www.ncnews.co.nz

Daryl Power

027 230 9401

concretepower@scorch.co.nz

www.concretepower.co.nz

HAVE YOU BEEN TO

OUR WEBSITE LATELY?

www.ncnews.co.nz

Visit now toview the paper online &more!

2273277

RANGIORA

DENTURE CLINIC

Garry WMechen

Registered Clinical DentalTechncian

Phone (03) 313-9192

38a Ashley Street, Rangiora

NEW N W DENTURES D N ES

*RELINE * *REPAIRS

* I S

HOURS

8.30am -12noon

- Monday to Friday

FREE E CONSULTATION O

AND ADVICE

A V C

For a/h repairs

phone (03) 310-3044

DIGGER &CARTAGE SPECIALIST

Specializing in Excavation;

Rural &Residential

• New Builds

• Driveways

• Demo Stump Removal

• All aspects of cartage

No job too big or small

Over 30 years experience

K&KCONTRACTING LTD

Ph: Kevin Carter 027 778 5599

E: kandkcontracting2021@hotmail.com

2488721

Ear Health

• Ear Health checks.

• Wax removal using Microsuction

• Removal of foreign bodies

• Basic hearing aid care

• ACC provider

• WarVeteran provider

• No medical referral

required

Clinics in Rangiora, Amberley and Kaiapoi

Rest homes/retirement villages, booking by prior arrangement.

Bookings: Online www.earcare.nz |Phone 020 4124 25 25

Email alison@earcare.nz | Ear Care Canterbury

2324849

SPECIALISING IN

•Earthworks

•Subdivisions

•Driveways

•Excavation

•Horse Arenas

Ronnie 027 434 4271 |Ryan 027 323 4000

2502828

Glass

Electrician

Electrician

Engineering

A-GR8-SPARKYLTD

NOW UNDER NEW OWNERSHIP

North Canterbury Glass

10 Albert Street, Rangiora

03 313 5335

www.northcanterburyglass.co.nz

2499832

2495004

Residential &Commercial

Glass Repairs &Replacement by

Experienced, Professional Glaziers

Windows &

Door Repairs

New Glass Install

-Indoors &Outdoors

No job too big or small

Mobile Welding /Fabrication

Scrap Metal

CASH PAID FOR SCRAP

•Car Bodies •Scrap Steel•Specialists in Farm

Machinery•All non Ferrous

MAINLAND

METALS LTD

Ph (03)338 7000

Mike0274 818544 •Robbie 0274 818 027

Locally owned and operated

1902273

p 03 313 7144 | m 027 432 1534

e info@rgrantelectrcial.com

• New Houses • Heatpumps • Alterations

• TV &Data • Security &Alarms • Lighting

• Residential &Commercial Maintenance

• Test &Tagging • Audio &Home Theatre

• Inspections &much more

www.rgrantelectrical.co.nz

2502205

YOU

COULD

BE

HERE

Advertise

your business

in our Trades

and Services

Phone

Amanda Keys

on

03 313 2840

Plumbing

For all

general

aspects of

plumbing

Discounts for over

65 years old

Fast friendly service

All work guaranteed

Aaron McCartney

Certifying Plumber

Cell 027 366 9091

A/H 03 310 2137

Free Call:

0508 44EVER

EMAIL:

plumber_27@yahoo.com

2172994

Landscaping

For all your landscaping needs

All Landscaping, Retaining Walls (Engineered and

Non-Engineered), Timber Fences, Landscape Structures

and more...Lifestyle Block, Rural and Residential.

Phone Jeremy 021 169 9394

www.blackhill.co.nz

www.facebook.com/blackhillltd

2372616v2

• All Commercial &Residential electrical work

• Fault finding and Test &tag

• Heat pumps, TV comms /Data

Daniel Parkin P 03 314 3706 |022 642 7078

Dirk Potgieter P 03 960 3798 |022 658 3344

E quicksill@gmail.com | W agr8sparky.co.nz

2130 Omihi Road, Greta Valley, 7483

Seamless Spouting

Seamless Spouting

Supply and Install

of Seamless Gutters

10 year no leaks

guarantee

• Continuous spouting made on site,

large colour range available

• High grade and thicker material used

• Repair or replace any type of gutter

• Undertake all insurance work

• Independently owned and operated

• Competitive pricing

Servicing North CanterburyDistricts

Call Marvin 027 371 4179

spouting2u@gmail.com

2464654

2481421

2269236

Lawn Care

Love your lawn? Youwill!

Lawn mowing -complete lawn care

Cost effective lawn care; fine home and business

lawns; sports turf. Mowing (reel and rotary),

edging, fertilising, weed elimination, soil

improvement, de-thatching, core aeration.

Ph or email David now to secure your spot

for the coming season 021 0241 7759

Edavidwhiteturfcare@gmail.com

2500209v2

For your Engineering needs

187d Ohoka Road, Kaiapoi

Phone 03 327 5246 |027 495 2821

toppeng@xtra.co.nz

Pool Care

Year-roundPoolwerxChristchurch areheretoassistyou with:

•Regular, casual or on-demandpool and spa valet servicing

•Heating optionsincluding thermalcovers and heatpumps

•Pool and spa chemicals and equipment

•Safety healthchecks

•Water tests

•Roboticcleanersales and servicing

Wheels &Tyres

• WHEELS&TYRES • 4x4 ACCESSORIES

• SUSPENSION • LIFT KITS

• WHEEL ALIGNMENTS

343 Flaxton Rd, Rangiora | Ph03424 1170

rangiora@orizen.co.nz

2498051v1

2489072

To book your spaceinthis guide,phone Amanda Keys 313 2840 or email amanda.keys@ncnews.co.nz
---
COME IN

AND SEE OUR

WINNING TEAM

Jamie &Ellen Petersen and their team are proud toannounce

they are the 2021 winners ofFranchise of the Year. When it

comes togarages, sheds, barns and commercial buildings,

there'sprettymuchnothingTotalspanNorth Canterbury can't do.

COMMUNITY

BUILDING

OF THE YEAR

2021

FRANCHISEE

OF THE YEAR

2021

LOCAL

MARKETING

EXCELLENCE

2021

Totalspan North Canterbury

127 Main North Road, Woodend

Phone: (03) 310 0247

Email: northcanterbury@totalspan.co.nz

0800 TOTALSPAN TOTALSPAN.CO.NZ

HC TLS2163