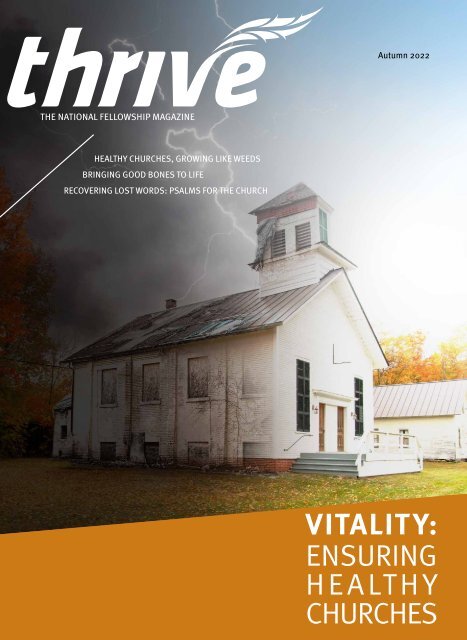 Thrive - Fall 2022
VITALITY: Ensuring Healthy Churches
VITALITY: Ensuring Healthy Churches
SHOW MORE
SHOW LESS
You also want an ePaper? Increase the reach of your titles
YUMPU automatically turns print PDFs into web optimized ePapers that Google loves.
Autumn 2022

HEALTHY CHURCHES, GROWING LIKE WEEDS

BRINGING GOOD BONES TO LIFE

RECOVERING LOST WORDS: PSALMS FOR THE CHURCH

VITALITY:

ENSURING

HEALTHY

CHURCHES
---
Autumn 2022

I'VE BEEN TO THE

MOUNTAINTOP

by Steve Jones

THE FIRST WORD

In a recent conversation with five

Regional Church Health Directors,

I asked about the general health of

our 500+ Fellowship churches. Their

rough estimate was as follows:

• Healthy or promising: 50-55%

• Plateaued or stable: 25-30%

• Declining or dying: 20-25%

While these percentages were based

on estimates rather than firm data,

the reality is that we have much to

do to support our local churches in

returning to health and vitality.

Church consultant George Bullard

talks about the typical life-cycle of

a church in North America. He said,

"The average church that makes it

seven years will have a lifespan of 80

years."

The actual closing of churches is more common than you might think. Our own

Fellowship member churches have numbered around 500 for the past two decades.

Many churches have been planted during that time (87, between 1990 and

2009 and 106 between 2010 and 2021), but many churches have also closed, and so

our net gain is minimal. This is not ideal.

Bullard identifies ten stages in the life-cycle of a church:

• Birth

• Infancy

• Childhood

• Adolescence

• Adulthood (Apex)

• Maturity

• Empty Nest

• Retirement

• Old Age

• Death
---
thrive-magazine.ca

thrive / 3

The "Moment" a local church decides

that it…

Needs a Mountain:

This church, as it nears "adulthood" or

"maturity", needs to climb a new mountain

together. It needs a fresh vision or

the church will decline over the next

three-to-five years.

Needs an Intervention:

This church has plenty of structure but

less and less movement. Its traditions can

choke out its life and reason (mission)

for being. This church needs a Church

Consultation, with an outside party to

develop some prescriptions that will help

redirect it back on mission. If not, the

church will die sooner than later.

So, what is my point?

I recognize these are sobering words.

Some declare we're called to "faithfulness".

I certainly won't disagree.

However, this declaration only gets it

half right. The Bible calls the Church

to "faithfulness and fruitfulness": lives

that are won, discipled, transformed, and

multiplied in others. Our church stats

indicate we are experiencing only modest

outcomes. What are we to do with that? I

visit global fields where church planting

movements and disciple-making movements

stagger the imagination. But this is

Canada. So, do we believe it can happen

here?

We all love the Church, the very bride of

Christ. It is precious.

Consider a Local Church Consultation

Our Fellowship Regions have a ministry

whereby they come alongside a

Fellowship church, and consult and coach.

The Church Consultation takes place over

a weekend with key leaders and members

in the church. Several solutions are

identified and steps are determined for the

church over the next one-to-three years.

This intervention has been used by the

Lord to help dozens and dozens of our

churches pursue missional health.

THESE PRINCIPLES SEEK TO

RAISE UP VIBRANT GROUPS

OF CHRIST FOLLOWERS WHO

DEPEND ON GOD, PRAYING

THEY MIGHT REPRODUCE

THEMSELVES RAPIDLY

THROUGH THE POWER OF

THE HOLY SPIRIT.

The Essential Element Principles

Our own Fellowship International department has been training our Fellowship missionaries

to pursue ten principles that will help advance mission.

These principles seek to raise up vibrant groups of Christ-followers who depend on

God, praying they might reproduce themselves rapidly through the power of the

Holy Spirit. Spiritual seekers — or "people of peace" — form in groups called Discover

Bible Studies (DBS), where they discover true life in Christ. This past year, almost 200

DBS groups were formed in the fields where our Fellowship International missionaries

serve. In fact, a couple of our missionaries have also implemented these principles

through DBS groups in several of our churches in Canada.

What's the next step?

Contact your Regional office to help your church start on the journey to vibrancy and

health. For example, if you need information about conducting a Church Consultation,

contact your Regional office. For more information on the Essential Elements, contact

our Fellowship International Director Ben Porter (bporter@fellowship.ca).

In this edition of Thrive, Vitality: Ensuring Healthy Churches, we will learn of stories of

health and vitality within churches in Canada and beyond.

Steven Jones

is President of

The Fellowship

of Evangelical

Baptist Churches

in Canada. Follow

Steve on Twitter @

FellowshipSteve.
---
4 / thrive Autumn 2022

THE FELLOWSHIP'S THEME VERSE

DURING OUR "YEAR OF JOY" IN 2022

IS: THE LORD YOUR GOD IS IN YOUR

MIDST, A MIGHTY ONE WHO WILL

SAVE; HE WILL REJOICE OVER YOU

WITH GLADNESS; HE WILL QUIET

YOU BY HIS LOVE; HE WILL EXULT

OVER YOU WITH LOUD SINGING.

ZEPHANIAH 3:17 (ESV)

12 A MISSION TO REPLANT

2 THE FIRST WORD

I'VE BEEN TO THE MOUNTAINTOP / Steve Jones

4 WHY SPONSOR A CHILD?

5 FOUNDATION

A FOUNDATION FOR YOUR GIVING NEEDS / Gord Baptist

6 OUT THERE

THE SECRET TO EXPLOSIVE CHURCH GROWTH

IN COLOMBIA / Phil Webb

HEALTHY CHURCHES, GROWING LIKE

WEEDS / Richard Flemming

8 LOVE EXTENDED

UKRAINE RELIEF UPDATE / Paul Hildebrand

BRINGING GOOD BONES TO LIFE / Denise Wicks

12 GROUND WORK

A MISSION TO REPLANT / Sergei Li

JOIN A PRAYER MOVEMENT FOR QUÉBEC / Steve Jones

STEPPING OUTSIDE THE WALLS / Larry Freeman

14 TRUTH TALK

RECOVERING LOST WORDS: PSALMS FOR

THE CHURCH / Dr. David G. Barker

16 UP TO SPEED

THE UNEXPECTED PURSUIT OF A HEALTHY CHURCH / Jeff Bennett

FELLOWSHIP PACIFIC: FOCUSSING ON CHURCH

HEALTH / Mike Mawhorter

KEEPING FEB CENTRAL CHURCHES

HEALTHY / Rick Buck and Bob Flemming

CHURCH REVITALIZATION NETWORKS / Tim Strickland

FOSTERING VITALITY IN FRANCOPHONE

CHURCHES / Jean-Philippe Lapierre

BUILDING HEALTHY LEADERS ACROSS

FELLOWSHIP ATLANTIC / Danny Barrett

22 THE LAST WORD

You can connect with us on FACEBOOK:

www.facebook.com/thefellowshipca,

on INSTAGRAM: @thefellowshipca,

and on TWITTER: @thefellowshipca.

Come and join the conversation.

HOW TO BOOST YOUR CHURCH'S FITNESS LEVEL / Ed Fontaine

MISSION STATEMENT: Thrive is the official magazine of The Fellowship of Evangelical Baptist Churches in Canada. It is published to enhance the life and ministry of church leaders and

members in Fellowship congregations by providing articles, resources, and news that reflect evangelical values, a common mission, and a shared sense of identity and vision. Thrive is published

three times per year and is available in English and French.

© The Fellowship of Evangelical Baptist Churches in Canada

MINISTRY CENTRE: P.O. Box 457, Guelph ON N1H 6K9

T: 519-821-4830 F: 519-821-9829

EMAIL: president@fellowship.ca

thrive-magazine.ca

SENIOR EDITOR: Steven Jones MANAGING EDITOR: Valerie Heaton

COPY EDITOR: Jesskah McCartney LAYOUT & DESIGN: Ampersand

EMAIL: thrive@fellowship.ca

POSTAGE: Return undeliverable Canadian address to Circulation

Department, P.O. Box 457, Guelph ON N1H 6K9

WHY SPONSOR A CHILD?

When you sponsor a child, you're saying, "I believe in you," and that has a huge impact

on the children who are part of any of the Fellowship's five Child Sponsorship

programs. Do you remember the last time someone said that to you? Didn't it encourage

you and give you a boost of confidence? Difficult tasks suddenly seemed much less

daunting.

You can give this same gift to children in the Dominican Republic,

Honduras, Lebanon, and Sri Lanka by sponsoring a child. Scan

the QR code or visit fellowship.ca/ChildSponsorship for more

information.
---
A FOUNDATION FOR

YOUR GIVING NEEDS

by Gord Baptist

foundation

The following includes excerpts

from Malcolm Burrows, who is

at Philanthropic Advisory Service

with Scotia Wealth Management.

When charities were first required

to register federally in 1967, over

60% of organizations were religious

and most were churches. In

2013 in Canada, giving to religious

charities represented 41% of all

giving. As of January 2022, Christian charities represent just

29.7% of Canada's registered charities.

Statistics Canada reported that in 2013 donors who attended

religious services weekly gave an average of four times more

per year than non-religious donors. Believers have a faith/

value-based passion for regular charitable giving. We are

trained to give.

Yet in Canada we are just starting to see a shrinking base of

donors that are feeling less connected to churches overall.

Unfortunately, this is also true with some of our Fellowship

churches. But, not all thankfully.

This trend has implications for estate planning. Bequests

to churches have traditionally been an important source of

funding. With this decline in churchgoers follows a decline

in estate donations.

Consequently, individuals are increasingly looking to foundations

to address their giving needs. This is why many have

turned to the Fellowship Foundation for their estate planning

needs. It provides a way for people to give confidently

to various ministries, with the opportunity to re-evaluate

their giving wishes if their situation changes.

We at the Fellowship Foundation, in partnership with

ADVISORS with Purpose, can help you create your own

personal Will plan. If you have not yet made these arrangements,

you can contact Fellowship Advancement Director

Gord Baptist at 519-821-4830, ext. 244 (fax: 519-821-9829, or

gbaptist@fellowship.ca) and we will walk you through the

process.

— Gord Baptist is Fellowship Advancement Director.

FOUNDATION
---
Autumn 2022

THE SECRET TO EXPLOSIVE CHURCH

GROWTH IN COLOMBIA by Phil Webb

OUT THERE: FELLOWSHIP INTERNATIONAL

Many have asked what caused

the success of church growth

in Colombia. My wife, Deene, and

I had the privilege of being part of

this movement firsthand from 1987

to 2013. Since then, we have continued

to visit Colombia twice a year to

encourage leadership. Those first 25

years of the El Redil movement had

various characteristics. El Redil means the "Sheepfold", so

each church is known for its shepherding qualities.

The first El Redil church was planted in 1987 amongst university

students and professionals. In a city of 2.5 million

there were only a few other churches targeting the middle

and upper classes. We did an extensive job of studying the

cultural and spiritual state of the city and recognised some

glaring needs within the Evangelical church. Within Latin

church culture, leadership is traditionally held within a

select group of people. The Evangelical church continued

to have strong hierarchical structures that did not facilitate

leadership development. In the first years, we were challenged

by Leith Anderson's quote:

"LEADERS WHO FINISH WELL

ARE NOT THOSE WHO RUN

THE LAST RACE BEFORE THE

TRACK LIGHTS ARE TURNED OFF.

LEADERS WHO FINISH WELL ARE

THOSE WHO PASS THE BATON

TO THEIR SUCCESSORS TO RUN

THE NEXT LEG OF THE RACE.

BLESSED ARE THOSE WHO MAKE

THEIR SUCCESSORS SUCCEED."

In response, instead of holding onto leadership, the

churches intentionally sought to get rid of the "caudillo"

(strong lone ranger) pastoral style. People were surprised

that there were no protagonists within our public meetings.

Leadership was shared and no one person became the

focus. Team leadership has allowed us to face mistakes —

which have been many — much quicker.

If we were going to believe in and practice the priesthood

of all believers, leadership had to set the example in allowing

themselves to be ministered to by others. Vulnerability

was the road less travelled, but the only road to change in

Latin church culture. We tend to feel able to wash the feet

of others, but find it hard to allow our feet to be washed.

Church culture does not change unless leadership is willing

to practice what is being preached. In order for a movement

to occur, continual evangelism and discipleship must

occur. Trust must be placed in each believer's ability to

share with and care for others. Last of all, the prayers of all

believers is recognized as paramount in the life and growth

of the church.

The DNA of the El Redil churches has always been to start

new churches once they get to a certain number. We never
---
thrive-magazine.ca

thrive / 7

planned to be a mega church, therefore we knew that we needed

to train up new leadership for new plants. All the churches

that have been started by El Redil give back 10% of all offerings

in order to help with leadership training and new church

plants. Today we are a group of 18 churches with 60 or so leaders

being trained to be elders and future pastors.

Longevity of leadership allows for crucial DNA to be passed

on to the second and third generations. We have lost very few

leaders to moral, mental, or spiritual decay. I am also thankful

to say that we have had very few burnouts, because with shared

leadership there is also reciprocal care and shepherding.

The unity amongst the pastors from the 18 churches is critical

for the DNA to continue. This demands time taken to meet

as pastoral couples every month or so. This may seem like a

superfluous gathering, but this is where DNA is passed on and

protected. Most of these 18 churches are already planning for

their next plant.

Let me conclude this brief explanation by noting that expositional

preaching is one more factor that has helped churches

stay focused, and is where the balance between truth and grace

has protected them from the legalism and abuse which is prevalent

in Latin America. Today the El Redil churches are helping

many independent churches and other denominations to understand

what healthy leadership and, in turn, healthy church

life can look like. It's God's grace working through each of these

factors that has allowed the Church in El Redil to thrive.

— Phil Webb is a Fellowship International missionary working

with the El Redil churches in Colombia, and Regional Coach

in Leadership Health and Development for the Fellowship

Prairies Region.

HEALTHY CHURCHES,

GROWING LIKE WEEDS

by Richard Flemming

Anyone who enjoys gardening knows about weeds. Left on their own they can quickly become the unintended

feature of our flower beds. The rapid progression of weeds alerts us to an uncomfortable reality:

just because it grows doesn't mean it's healthy. Just ask anyone battling cancer! By their nature, disciple-making

movements produce healthy churches that multiply quickly. While several reasons could be offered as to

why this is the case, let me mention two that immediately come to mind.

Nowhere to hide

Trevor Larson has been serving in Indonesia as a movement leader for almost 30 years. To date, along with his

team of dedicated Indonesian workers, they have seen 350,000 Muslims come to Christ, forming 70,000 groups

that meet regularly around God's Word. Do the math and that works out to five people per group. According to proximity, several

groups join together to form churches. It's not hard to imagine that in a group setting like that, it would be difficult for participants

to hide the true condition of their hearts. House churches, the model of preference for disciple-making movements, leave little room

for regular attenders who we might label as "adherents." God's people gathering in small groups around God's Word is not a place of

comfort for weeds.

Teach them to obey

One of the important qualifiers of disciple-making that Christ left His followers is found in

Matthew 28:20. "Teaching them to observe all that I have commanded you" (ESV) is all about

practicing obedience to the Lord's commands, not just knowing about them. This significant

emphasis on obedience to God's Word characterizes DMM churches. Here we find a vital metric

of church health that is often neglected in our current measurements. It stands to reason

that a room full of people is not in itself an indication of health any more than a flower bed

full of weeds would be.

Churches that are part of these disciple-making movements are far from perfect. However,

just like the gardener who regularly attends to those annoying weeds, so the makeup of these

small groups of Christ-followers act as landscapers hoeing out those unwanted plants thus

making room for the healthy ones to flourish.

Today, these God-driven movements are producing healthy churches and they are multiplying

like weeds!

— Richard Flemming is Fellowship National's Eastern Coordinator.
---
love extended

Autumn 2022

UKRAINE

RELIEF

LOVE EXTENDED: FAIR

UPDATE by Paul Hildebrand

Since the Russian invasion of

Ukraine began on February 24,

2022, our Fellowship International

missionaries living in Poland, along

with many partners, have been providing

emergency care for refugees

arriving in Poland and supporting

churches in Ukraine as they continue

to care for their communities.

In the first phase of FAIR's emergency response (March to

April), our main priority was caring for refugees arriving in

Poland. Two of our church partners ran emergency shelters

out of their church buildings near the Ukrainian border.

They provided refugees with fresh food and a place to rest

after their long journey. One of the church members in

Zamość is a widow with boundless energy and deep faith

in Jesus. She brings a sense of welcome and peace to each

family. When a refugee family arrives, she greets them all

with a big hug, tells them that Jesus loves them, and gives

a Bible to each child. This welcome and the care provided

were especially helpful to all the mothers who escaped

Ukraine with their children, arriving fatigued from their

difficult journey, and filled with worry about their husbands

who remained back in Ukraine.

This summer, FAIR entered phase two of its emergency response.

Because the number of refugees arriving in Poland

decreased significantly, the main priority was to help

refugees settle into medium-term housing and to send food

aid into Ukraine. Another of our church partners in Poland

was introduced to some refugees who were elderly or had

disabilities, which put them in extra vulnerable situations.

To help these refugees they provided them with a safe place

to live, including the purchase of an apartment using the

money they had saved for a church building renovations,

and financial assistance from FAIR.
---
thrive-magazine.ca

thrive / 9

HELPING AT THE

POLISH BORDER

We also have partnerships with Operation Mobilization, numerous

churches, and chaplains serving throughout Ukraine who regularly

need food aid. They are feeding and caring for many displaced

people in Western Ukraine, Ukrainian Christians regularly need

food and fuel support to continue. The large food shipments from

the UN were mainly sent to Eastern Ukraine, making our food aid

vital for Ukrainian churches in Western Ukraine who are caring

for their communities where other sources of aid were slow in

coming.

We are grateful that God has called so many churches and

individuals to give generously to this emergency response. By

the end of April, nearly $1,200,000 was raised. This past summer

we were praying for an additional $750,000 to continue

to provide aid to those who have lost so much as the war

continues.

— Paul Hildebrand is a FAIR Projects and Promotion

Coordinator.

In March, a team of volunteers

from Fellowship churches in BC,

led by April Christensen, went to

the Polish/Ukrainian border to join

in the work being done by Fellowship

International missionaries. In the past,

they had worked with Pierre Jutras in his

camp ministry, and so out of their love

for Pierre, they wanted to go help. When

they arrived, they served at two emergency

shelters operating out of churches near the

Ukrainian border. Seeing how weary the

church members were in caring for the flood

of refugees, they immediately began caring for

many of the 'behind the scenes' tasks necessary

to keep the shelters operational, providing

the local volunteers with to rest and be restored.

Their time was filled with prayer and service meeting

many practical needs.

To inquire about possible volunteer opportunities,

please email international@fellowship.ca.
---
10 / thrive Autumn 2022

BRINGING

TO

GOOD BONES
---
thrive-magazine.ca

thrive / 11

LIFE

by

Denise Wicks

Have you ever had a season in your life when you

had no meaningful occupation – whether paid or

unpaid? Perhaps it was because of an illness or loss of

employment. Maybe it started out as a relief because

you needed the break from a stressful job or time to

heal. But with every passing day, new feelings began to

surface: boredom, worry, discouragement… losing hope

that your circumstances would change.

For many of us, we return to our normal occupations

after such a season. But for many boys in Lebanon, this

is a daily reality with little likelihood of ever changing.

The people of Lebanon have been hit hard by a series of

unfortunate events. The country was already experiencing

political, economic, and social instability exacerbated

by the hundreds of thousands of Syrian refugees who

sought shelter from the civil war in their home country.

Then the COVID-19 pandemic and the Beirut port explosion

in August 2020 caused hyperinflation to settle

in. Most businesses have either closed or are struggling

to stay open. Jobs are extremely challenging to find.

Fellowship International missionary Karim Anayssi

tells the story of a young man named Mohammed,

whom he met while out in the community around

Cedar Home in Lebanon. Every day that Karim went

out, Mohammed was at the same place, standing by garbage

cans. He told Karim that his father pulled him out

of school and told him to pick through the trash to try

to find things that they could sell or use for their family.

Every day he goes out to wait for people to drop their

trash off at the garbage cans.

It's young men like Mohammed that Karim dreams of

helping, and he's in the unique position to do just that!

Karim serves as the executive director of Cedar Home.

One of the assets he oversees is a building located

outside the city. Abandoned during the Lebanese civil

war, and previously home for Cedar Home, shows the

scars of the decades it has stood empty. But it does still

stand – straight and tall amongst the hills. Despite bullet

holes on the outside and broken furniture and debris

within, it has "good bones" – and the potential to bring

hope to young people again.

Karim dreams of bringing those "good bones" to life

again, taking the old building and making it into a

school for boys to provide them with the opportunity

to learn trades like plumbing and electrical work so

they will have "in demand" skills, and to demonstrate

and share the love of Christ with them so they will gain

hope in Christ. Then they would be sent out to apprentice

and work in their community, bringing the Good

News with them.

FAIR wants to make Karim's dream a reality.

Through the Good Bones special appeal, FAIR is

seeking to raise $150,000 to repair, renovate, and

outfit the old Cedar Home building. Funds will be

used to make the home ready to accept both residential

and non-residential boys into the program. You

can partner with us in this life-changing ministry opportunity

on our website: fellowship.ca/GoodBones

With your help, we can bring "good bones" to life,

bringing hope for the future and the light of the Gospel

in its wake.

— Denise Wicks is a FAIR Projects and Promotion

Co-coordinator.

Please join us in praying these verses over the Good Bones project and the boys who will be

impacted by its success.

"YOU ARE THE LIGHT OF THE WORLD. A TOWN BUILT ON A HILL CANNOT

BE HIDDEN. NEITHER DO PEOPLE LIGHT A LAMP AND PUT IT UNDER A

BOWL. INSTEAD THEY PUT IT ON ITS STAND, AND IT GIVES LIGHT TO

EVERYONE IN THE HOUSE. IN THE SAME WAY, LET YOUR LIGHT SHINE

BEFORE OTHERS, THAT THEY MAY SEE YOUR GOOD DEEDS AND GLORIFY

YOUR FATHER IN HEAVEN." MATTHEW 5:14-16 (NIV)
---
ground work

Autumn 2022

A MISSION

TO REPLANT

In October 2020, Zach Lautsen and Aaron Murray moved

to Québec from Sioux Lookout, ON. When they came,

provincial restrictions were strict – yet they came to learn

French and the culture, and to discern their calling. Zach

is a flight specialist and Aaron was a youth pastor; both are

now full-time missionaries in Québec, serving in churches

that are in the midst of the replanting process. Their goal

is to help give life and support to new churches plants and

those churches that are being replanted. When a church

reaches a phase of waning growth and/or decreasing numbers,

they are faced with the prospect of closing their doors

entirely. Here in Québec, many such churches have engaged

in the process of replanting their church – re-establishing

the church's mission, vision, and direction, setting

them on a path towards church health.

Over the past two years, Zach and Aaron were able to

learn French and develop a strong desire to reach the rural

areas of Québec with the Gospel. It's been pure joy for

me to see their heart for Québec grow every month, and

to watch them work hard at learning a foreign language

by Sergei Li

alongside their families. Their love for reaching French

Canadians shows in both their efforts to learn the language

and in answering God's call to minister in the rural

area of Chicoutimi, QC. They worked together with the

current leadership at the Chicoutimi church with humble

hearts, providing much-needed support during the

church's replanting process. Zach and Aaron are now in

Verdun, QC, serving in another local church engaging in

the replanting process.

As the needs in Québec grow and as our pastors age, we're

encouraged to see missionaries from Canada come and do

the hard work of learning the language, the culture, and

helping to plant and replant churches

in Québec for God's glory. Join us in

praying for more young people, individuals,

and families to come serve in

Québec, for the glory of God.

—Sergei Li is Fellowship National's

Francophone Ministry Coordinator

GROUND WORK: FRANCOPHONE AND CHAPLAINCY MINISTRIES

JOIN A PRAYER MOVEMENT FOR QUÉBEC

by Steve Jones

In recent years a prayer movement was started, praying for Québec 24 hours a day, 7 days a week. I

became aware of it when I heard alarms go off on the watches and Smart phones of Québec leaders

at 10:02 am during our meetings. It was a reference to Luke 10:02 (NIV): "He told them, 'The harvest is

plentiful, but the workers are few. Ask the Lord of the harvest, therefore, to send out workers into his harvest

field'."

A growing number of Fellowship Francophone brothers and sisters are praying that God will bring "times

of refreshing" (Acts 3:19) to our Québec region and more workers from around Canada and the world to

share in the work of reaching people for Christ. Currently there are 297 people who persevere in prayer one

hour each week. They gather in 14 prayer small groups each month, and commit to fast and pray for one day

for Québec. An invitation is going out to all of English-speaking Canada to join this prayer movement. Steps

are being taken to get the information concerning this prayer movement translated into English. This information

will be available on our website sometime in autumn 2022 outlining the movement and how to join.
---
thrive-magazine.ca

thrive / 13

STEPPING

OUTSIDE

THE WALLS

by Larry Freeman

Do you ever get the feeling that

you are being watched? Under

some circumstances this might

be a bit creepy, while in other

circumstances that is the hope

and desire. When Jesus called His

disciples, He said, "Follow me,

and I will make you fishers of

men" Matthew 4:19, ESV. The idea

in these words is that while they were following Him,

they would observe and listen with the goal of learning

how to become fishers of men.

Those words still hold true for the call to discipleship

today. A number of our pastors in Québec, as well as

other parts of Canada, have stepped outside the walls of

their offices and their churches to model for their people

how to become "fishers of men", remove boosting their

church's overall health through fostering a culture of

discipleship. Éric Leblanc (Cowansville, QC) serves as a

Fellowship chaplain at the food bank run out of Église

Évangélique Baptiste de Cowansville. He writes: "In this

way, they (those who utilize the foodbank) discover

God's love for them in Jesus through the love that I

and my team show them. This has encouraged some

members of our church to get involved in the ministry."

Healthy churches have increasingly involved members.

Fellowship chaplain François Provencher (Granby,

QC) writes: "In our church we have several chaplains

who are involved in the community… The members of

our church pray for each of us… Church members see

Sunday morning visitors in connection with the different

areas of chaplaincy, which is encouraging for the

church."

Serge Caron, a pastor and a Fellowship chaplain who

works with parolees, sums it up with these words:

"Chaplains who work with the released not only bring

hope to these ex-detainees, but also encourage church

members when they see them attend Sunday worship.

These are powerful testimonies that remind us that

God is present everywhere, whether in prison or on the

street."

— Larry Freeman is Fellowship Chaplaincy Coordinator.

GOD IS PRESENT EVERYWHERE,

WHETHER IN PRISON OR ON THE STREET.
---
truth talk

Autumn 2022

by Dr. David G. Barker

TRUTH TALK: THEOLOGY AND TRENDS

CHURCH HEALTH IS ABOUT

VITALITY AS WELL AS STRUGGLE;

COME-BACK CHURCHES AS WELL AS

DYING CHURCHES. THE CHURCH LIFE

CYCLE TALKS OF INFANCY, GROWTH,

REDEVELOPMENT, AND AGING. THE

AVERAGE NORTH AMERICAN CHURCH

LIVES AND DIES WITHIN 75 YEARS.

A HEALTHY THEOLOGY OF CHURCH

HEALTH PRACTICE MUST ALSO INCLUDE

LAMENT. HERE DR. DAVID G. BARKER

REMINDS US ABOUT THE IMPORTANCE OF

THE LAMENT PSALMS.

In recent studies of the Psalms many have come to

believe that the movement away from the psalms in

general, and the lament psalms in particular, is a loss

for both theological truth and authentic worship in

the twenty-first century-church.

Two factors play into this. First, the apostle Paul said,

"Speak to one another in psalms, hymns, and spiritual

songs" (Ephesians 5:18; cf. Colossians 3:16 AMP). If

Paul thought that the psalms were beneficial to the

first-century church, how can we think they are not

beneficial for the twenty-first-century church?

When we think of the 150 psalms in the book of

Psalms, we are taken from the amazing glory of God to

the deepest depths of lament. In no other place do we

find such an all-encompassing collection of worship
---
thrive-magazine.ca

thrive / 15

songs. And they are God-breathed Scripture. No contemporary

song or ancient hymn can make this claim.

Second, we have avoided the psalms of lament. It is surprising

to many Christians that lament psalms comprise the largest

category of psalms in Psalms. With this omission, we have lost a

crucial voice of spirituality and worship.

Yes, as Christians we have hope like no others. But we live in

the now-but-not-yet. Death is still an enemy. There is a day coming

when all tears will be wiped from our eyes, but not yet. We

don't grieve like others with no hope, but we still grieve, and

lament psalms give us a voice.

How do we bring lament back into the church? The answer

is simple: read all the psalms, and all the verses in them (i.e.

don't skip vv. 19-22 in Psalm 139). For centuries reading a psalm

was part of the church's worship. But in recent times we have

chosen to do differently. We have come to believe that church

services need to be uplifting and positive. Psalm 88 is a tough

read in these kinds of services.

Fellowship National President Steve Jones designated 2022 as our

"year of joy" (Zephaniah 3:17). Perhaps it would be good to reflect

on from where joy comes. Yes, the psalmist said, "Rejoicing comes

in the morning." But why the morning? Because in the previous

line he said, "Weeping may stay for the night" (Psalms 30:5 NIV).

Almost one third of Psalms is given to the

lyrics needed for that night of weeping. We

all know that the darker the night is, the

brighter is the dawn.

— Dr. David G. Barker is Professor

Emeritus of Biblical Studies at Heritage

College and Seminary in Cambridge, ON.
---
Autumn 2022

THE UNEXPECTED

PURSUIT OF A HEALTHY

CHURCH

by Jeff Bennett

UP TO SPEED: REGIONAL UPDATES

Lead pastor. Growing attendance.

Small groups and community.

But there was a question that repeatedly

pulsed within my heart: "How

many times have you, and the people

in your church, shared the Gospel?"

I knew the number must be low,

which exposed a lack of priority in

sharing the Gospel. God's presence

in my church was graciously apparent in many ways, but I

could no longer ignore the reality that I had not equipped

the church well to pursue the lost. My mind agreed that the

harvest is plentiful. My heart longed to see a plentiful harvest.

So, my decision was to simply grow my ability to share.

The plan? From 10:00 a.m. to 5:00 p.m. across 15 days, I

knocked on doors and engaged people on the streets alongside

a new friend from the UK. It felt awkward and a little

bizarre. Yet as days passed, I was surprised by how God had

gone before us, how open people were to receive prayer or

hear the Gospel, and how fast this new habit became routine.

Joining someone else who helped me see beyond my current

perspective was essential toward me making progress in

Gospel witness.

The fruit? An even greater longing for the lost, clarity

to obey Scripture, and willingness to die to self. I didn't

return home with a new method, but with a renewed

heart that compelled me to go share truth, instead of only

defending it (Mark 16:15). I began spending time every

week proactively engaging people with the Gospel and

prayed for others to join me.

Three years later, we have a team who inspires one another

to engage the harvest weekly and seeks to model evangelism

as normal obedience. God has moved believers from

many places to join in conversation and evangelism with

us. We are seeing regular baptisms and churches started.

We've learned that church health isn't triggered by human

ingenuity but through ordinary, surrendered hearts

that have counted the cost at salvation, and every day after.

We've learned that we need one another for perspective,

encouragement, and accountability. If God has already spoken,

then we can go out with kindness, with boldness, and

just as we are to share the truth of who He is.

Are you ready to take the next step? "The harvest is plentiful,

but the workers are few" (Luke 10:2 NIV). Join us at

harbourfellowship.com for resources, upcoming in-theharvest

times, and to connect with people who can help you

make room for the Gospel in new ways in your own heart.

— Jeff Bennett is Lead Pastor of Harbour Fellowship

Church in St. Catharines, ON.
---
thrive-magazine.ca

thrive / 17

FELLOWSHIP PACIFIC:

FOCUSSING ON CHURCH

HEALTH by Mike Mawhorter

What is church health? As difficult as it may be to define,

healthy churches are why the Fellowship exists. Our

vision at Fellowship Pacific is "to innovatively develop relationships

and resources that propel every Fellowship Pacific church to

be accountable to their Gospel mandate." The wording and even

the order of wording is significant. We value innovation in

the resources and service we provide, always asking how we

can do it better. Relationships are key – between churches and

Fellowship Pacific, but church-to-church as well. And we want

the resources we develop to support and inspire churches in

their mission.

Some of the resources we provide include helping develop mission,

vision, and values; providing a discipleship framework

for churches to design and implement their own discipling

strategy; board training to equip board members to lead effectively;

team building for staff and boards; consultations to help

a church do a deep-dive into their culture and ministries; EQ

Bootcamps to help pastors and leaders improve their Emotional

Intelligence; as well as crisis support, pastoral care, and assistance

to search teams.

As we currently reimagine how we can best serve our churches,

we are shifting priorities in two directions. First, we are moving

away from simply presenting content to a greater emphasis on

coaching. All our staff are getting coaching certification. We are

also working to develop the resources we offer into asynchronous

seminars involving video content, group interaction, and

ongoing coaching.

Second, we are emphasizing more church-to-church involvement,

so that people don't just look to the Fellowship Pacific

Regional office for help. There is a gold mine of wisdom, experience,

and creativity in our churches. The challenge is how to

discover those resources and make them accessible. We are currently

working on a platform to better facilitate this.

Recently a church contacted us for a survey to give their congregation

as they look for a new pastor; we were able to send them

a survey from another church. A different church is struggling

to survive; two churches in their part of the province have come

forward to offer help and support. This kind of interdependence

can enhance the health of both the giving

and receiving churches. And church

health is what we are all about.

— Mike Mawhorter serves on the

Fellowship Pacific Connect team, where

he is responsible for pastoral placement

among other ministries.

RELATIONSHIPS ARE KEY –

BETWEEN CHURCHES AND

FELLOWSHIP PACIFIC, BUT

CHURCH-TO-CHURCH AS

WELL. AND WE WANT THE

RESOURCES WE DEVELOP

TO SUPPORT AND INSPIRE

CHURCHES IN THEIR MISSION.
---
18 / thrive Autumn 2022

KEEPING FEB CENTRAL

CHURCHES HEALTHY

by Rick Buck and Bob Flemming

UP TO SPEED: REGIONAL UPDATES

Helping churches thrive on mission by maximizing

their ministry impact and sharpening their effectiveness

to make disciples – that is FEB Central's Church

Health mission, and here are just a few of the ways we accomplish

this:

Association Shepherds are experienced pastors who connect

with our churches' pastoral staff, pray for them, and

assist in reconciliation when invited. They are a valuable

aid as they voluntarily give of their time to support their

area churches.

Church Consultations are one way we assist churches

with discovering areas of weakness, and with prescriptions

for how to address them and move forward. This diagnostic

process offers specific direction in needed areas and

enhances church health.

Vitality Interim Pastors (VIPs) are another tool for our

churches. Times of transition are windows of opportunity,

and in addition to preaching and giving care, VIPs offer

leadership in areas such as vision, structure, and the new

pastor search process. Far more than simply "holding the

fort", a VIP serves with the leadership, preparing the church

for their new pastor. FEB Central is running training for

VIPs this fall.

And finally, although a new model for us, we have seen success

in the area of Church Mergers. In their book, Better

Together, Jim Tomberlin and Warren Bird say, "Mission driven

church mergers have tremendous potential...to expand

the impact of strong, vibrant churches as well as revitalize

plateaued and declining churches."

We praise God for how He is strengthening our FEB Central

churches to be on mission for the Gospel of Jesus Christ.

— Rick Buck is FEB Central Regional Director, and Bob

Flemming is FEB Central Church Health Director.

WE PRAISE GOD FOR HOW HE IS STRENGTHENING OUR FEB CENTRAL

CHURCHES TO BE ON MISSION FOR THE GOSPEL OF JESUS CHRIST.
---
thrive-magazine.ca

thrive / 19

CHURCH REVITALIZATION

NETWORKS

How is a plateaued or struggling

church revitalized? The answer

to that question is critical to pastors

in churches needing revitalization. To

support our pastors in leading churches

to good health, FEB Central Leadership

Development launched Church

Revitalization Networks (CRN) in 2018.

The networks consist of five-to-ten pastors

who meet in a monthly cohort over ten months. They

receive teaching, peer interaction, and coaching in Church

Revitalization principles.

The CRN teaches a change process that is rooted in Gospelcentred

thinking found in Ephesians 4:22-24: "…put off your old

self…be renewed in the spirit of your minds… put on the new self".

(ESV). The network is not a quick fix, but teaches a patient process

of discernment and faithfulness in preparation for implementing

the necessary changes.

To date we have conducted eight networks across Ontario in

Chatham, Woodstock, Cambridge, Toronto, Cobourg, Sault Ste.

Marie, Parry Sound, and Ottawa, with almost 50 pastors having

received this training. Many of their churches are making good

progress in being revitalized. We plan to continue launching

new networks.

by Tim Strickland

At the request of CRN participants, we created a follow-up

network called Next Level Leadership. Over twenty pastors

have participated in three networks in London, Cobourg, and

Cambridge, with more planned for the future. In addition, we

are launching a Next Level Preaching network in the Fall of 2022,

led by our Leadership Catalyst, Steve Adams. We are branding

the networks under the Next Level banner as Next Level

Revitalization, Next Level Leadership, and Next Level Preaching.

What is key to the networks' effectiveness? While the training

material and coaching provide helpful teaching, the heart of the

networks is peer learning and fellowship among participants.

Pastors share about their efforts to lead revitalization in their

churches, learn from one another, and grow in relationship

together in the Lord. In addition, the networks fit our ethos as a

Fellowship, combining sound doctrine and practical leadership,

showing that good theology and good leadership go hand-inhand

and lead to stronger church health.

We would be pleased to provide support to other Regions who

are interested in launching Next Level networks for pastors. Our

network team of Jack Flietstra, Mark Cuthbert, Steve Adams,

and Tim Strickland would be happy to hear from you. Visit

febcentral.ca for more information and to get in touch.

— Tim Strickland is FEB Central Leadership Development

Director.

<

CHURCH REVITALIZATION NETWORK,

LED BY MARK CUTHBERT, CHATHAM, ON, 2020-2021

<

CHURCH REVITALIZATION NETWORK, LED BY PETER CHALEBOIS AND

TIM STRICKLAND, TORONTO, ON 2021-2022

CHURCH REVITALIZATION AND NEXT LEVEL

LEADERSHIP TRAINING MANUALS (2021)
---
20 / thrive Autumn 2022

FOSTERING

VITALITY

IN FRANCOPHONE CHURCHES

by Jean-Philippe Lapierre

UP TO SPEED: REGIONAL UPDATES

As Director of Church Vitality

in the AEBEQ Region, I see the

last two years of critical moments

as a season in which God has been

renovating hearts and pushing

AEBEQ churches towards greater

fruit. James. 1:2-3 instructs us to look

at critical moments (trials and testing)

as necessary — not something

to fear, but to welcome. A stable church is often synonymous

with a plateaued church: resistant to change and

struggling to integrate the younger generations. The path

towards becoming a healthier church must often start

with critical moments where God reveals obstacles in the

hearts of believers and in the church culture.

I have the pleasure of working with a Church Vitality Field

Team of five pastors who assist churches in these critical

moments. While we estimate that 40% of our churches are

showing signs of spiritual healthiness, another 40% are

plateaued, and 20% show signs of decline. Through tough

moments, leaders pray with a new sense of urgency. They

can also call upon the help of our Church Vitality Field

Team.

We offer assistance in the area of crisis management,

church board assessments, and walking with both the

church and the pastors in ministry transitions. We also provide

a church vitality pathway which involves the whole

church seeking God's face step-by-step on the issues of

becoming a healthy missional church. This involves 16-18

months of coaching as God sheds new light on the heart issues

and church culture He wishes to transform.

One pastor described his experience in the Vitality Pathway

this way: "God identified four major groups in the church

who had different challenges, did not mingle, and did not

understand the other groups suffering. When God enlightened

our board on this issue, we realized that even we were

part of two of these subgroups. It became evident to us how

we needed to shepherd differently."

By the end of the Pathway experience, testimonies of healing,

repentance, and unity replaced the old factions in the

church. This is one of many stories of how God brings new

life when the whole church seeks His face.

— Jean-Philippe Lapierre is AEBEQ's Church Vitality

Director.
---
thrive-magazine.ca

thrive / 21

BUILDING HEALTHY LEADERS

ACROSS FELLOWSHIP ATLANTIC

by Danny Barrett

"IRON SHARPENS IRON,

AND ONE MAN SHARPENS

ANOTHER."

PROVERBS 27:17 (ESV)

Many men's ministries have used that

verse as a good reason to gather for

breakfast and a devotional on Saturday

mornings. Being Baptist, I like a good breakfast with the guys!

Throughout the years I've been involved in Fellowship Atlantic,

that verse has taken on deeper meaning as I've seen it lived out

through our pastors' clusters. These gatherings have helped to

shape us as pastors for our churches.

Our pastors' clusters are monthly gatherings hosted in two

locations within our Region. Each quarter both groups come

together for training and encouragement in what we call

"super-clusters". We regularly have 20 or so Fellowship Atlantic

pastors, from most of our 19 churches, plus about a dozen or so

other like-minded brothers.

For monthly gatherings, we come prepared to discuss a chapter

of a book we've been collectively reading through (most

recently we have been working through Paul Tripp's book,

Lead) or a relevant article. Often those are just our launching

points for a variety of discussions that offer wisdom, experience,

counsel, and practical help for daily ministry through the

relationships we build together as brothers in the trenches of

ministry.

Camaraderie and mentoring relationships have developed because

of these gatherings as we come away knowing better the

needs, joys, and sorrows of the churches to which we are connected.

We also gain prayer, encouragement, wisdom, and practical

advice for applying Gospel truths to our situations. These

clusters remind us that we are part of something bigger than

our own ministries and churches, and that we are interdependent

for the good of ourselves, our churches, and our Region.

From these clusters we grow and are shaped together so that we

can continue the Kingdom work that God has called us to in

our Region. We encourage one another so that we don't become

weary in welldoing, and so we can be healthier shepherds leading

healthier churches.

— Danny Barrett is Fellowship Atlantic Regional Director

Church Health Director.
---
Autumn 2022

HOW TO BOOST

YOUR CHURCH'S

FITNESS LEVEL

by Ed Fontaine

THE LAST WORD

Church assessments are like a

workout: not something I'm excited

to do beforehand, but glad I accomplished

afterward. It seems there

is a natural high that results when we

do the hard work of exercising, and

the hard work of assessing ourselves.

But I get it: not many of us pastors

look forward to an assessment. We

get enough criticism about our preaching, leadership, and

weaknesses that we don't need a team of experts coming

in and piling on where our congregation leaves off. But

surprisingly, my experience with an assessment was quite

the opposite.

Two friends that are senior pastors went through a church

assessment. They raved — and that isn't hyperbole — about

how good the process and result was for them. They came

away encouraged, challenged, and feeling valued. Not what

I expected. In fact, their stories were so encouraging that I

felt like I was missing out on something. It took me a while,

but I finally pulled the trigger and initiated an assessment

for our church.

The process was thorough and professional. Four leaders

were there with one clear goal: to help me lead our church

better. Like a doctor asks questions to be sure he understands

your health before prescribing a solution, the team

asked questions and reviewed documents to ensure they

had an accurate view of the church before they made their

prescriptions. It didn't seem to take them long, and so I was

surprised at how accurate and insightful their findings

were. They showed me their report first, allowing me to

explain anything I thought necessary. Then they gave it to

the elders and the entire church. The report outlined our

strengths and weaknesses, and made suggestions on how to

move forward by building on strengths as well as addressing

weaknesses.

Their report did three things for us as a church. First, it

strengthened my leadership because it verified that many

of the things I had been saying were in fact true. Their

words helped move our leadership and our people to a

more committed stance on things I'd been suggesting.

Second, it encouraged me as a leader. I had gone through

an independent assessment and they were generous in

their praise, to me and to the church. I felt valued, and it

strengthened my commitment to lead better. Third, it gave

us direction about next steps as a church. Because the assessment

focused on our church, they were able to identify

specific issues we needed to address for our ministry based

upon our context and strengths. One of their suggestions

was so big that I didn't think our leaders would be willing

to even consider it. But they listened and formed a team

that is now leading our church through a major renovation

that they have agreed is our faith step for the future. Truth

be told, I was blind to this important step and would never

have led the church into it. But the assessment woke us all

up to a faith step that is now breathing life into our body as

we continue to move toward accomplishing it.

Few of us naturally like working out, and few of us naturally

like the idea of an assessment. But the truth is, an

assessment is like a workout: it breathes new life into our

leadership and our churches.

FOR MORE INFORMATION OR TO INITIATE

A CHURCH CONSULTATION, PLEASE

CONTACT YOUR REGIONAL OFFICE.

— Ed Fonatine is Lead Pastor of Springvale Church in

Stouffville, ON.
---
Members & adherents of The Fellowship of Evangelical

Baptist Churches enjoy great rates through our Group

Car & Home Insurance Program.

To receive a FREE no obligation quote on your CAR and HOME or TENANT

Insurance through our partnership, please get in touch with one of our

friendly customer service advisors.

Find the right insurance for you:

CAR

HOME

SMALL BUSINESS

COMMERICAL

1-855-633-1964

www.deeksinsurance.ca

Servicing the Evangelical

Community in Canada since 1981.

D.L. Deeks Insurance Services Inc. ("Deeks Insurance") is a licensed insurance intermediary. Auto and home insurance policies are primarily underwritten, and claims handled, by Unifund

Assurance Company ("Unifund"). Described coverage and benefits applicable only to policies underwritten by Unifund. Auto insurance not available in BC, MB or SK. Home and auto

insurance not available in QC, NWT, NU, or YK. Deeks Insurance and Unifund share common ownership. D.L Deeks & Design is a registered trademark of Deeks Insurance.