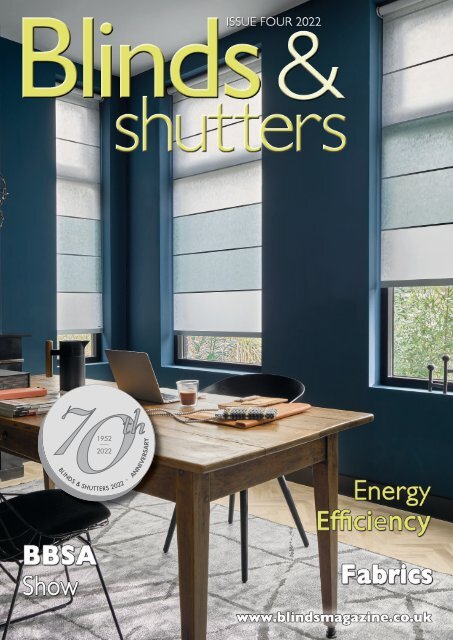 Blinds & Shutters - Issue 4/2022
On every home owner and businesses mind over the last few months has been the inevitable rise in energy prices. In an energy hungry manufacturing industry such as the blinds industry, this is felt even more keenly and it will be interesting to see how the industry reacts to our new PM's proposals. I imagine that the next year will be an incredibly hard year for the blinds industry, with energy price rises plus inflation making operations more and more difficult. I am sure the industry will adapt and find ways of staying in business but I know it will be very difficult. Good luck in the coming years and lets hope there is some good news in the coming month. Industry most definitely needs it.
On every home owner and businesses mind over the last few months has been the inevitable rise in energy prices. In an energy hungry manufacturing industry such as the blinds industry, this is felt even more keenly and it will be interesting to see how the industry reacts to our new PM's proposals.
I imagine that the next year will be an incredibly hard year for the blinds industry, with energy price rises plus inflation making operations more and more difficult.
I am sure the industry will adapt and find ways of staying in business but I know it will be very difficult. Good luck in the coming years and lets hope there is some good news in the coming month. Industry most definitely needs it.
SHOW MORE
SHOW LESS
You also want an ePaper? Increase the reach of your titles
YUMPU automatically turns print PDFs into web optimized ePapers that Google loves.
701952

2022

BL

INDS

&

SHUTTERS

2022

ANNIVERSARY

•
---
Our Faux Wood and

Wooden Venetian blinds

EVERGLADE

RANGE

Our beautiful collection

of Wooden Venetian blinds

offer 11 styles in natural

wood or painted finishes

to reflect current and

classic trends.

This style comes with coordinating tapes and

a choice of valance length, making Everglade

completely customisable to your customers' needs.
---
We have traditional and

contemporary styles available to

accommodate all interior styles.

ESSENCE

RANGE

Our versatile Faux Wood

Venetians are a great product

to choose for any room,

withstanding high levels of

humidity, being fire retardant

and easy to clean.

Reasons to choose our Faux Wood and

Wooden Venetian blinds:

● Valance lengths available up to 3 metres

● Range of available fixings and brackets,

including new top fix bracket

● Coordinating tapes available

● Range of over 40 colours to choose from

Essence really combines the beautiful

look of real wood blinds with all of the

benefits of a PVC product.

● Real wood, wood effect and contemporary

style options available

Find out more at

arena-blinds.com
---
Personalise

your customers'

space with

the help of our

Faux Wood

and Wooden

Venetian blinds!

Find out more at

arena-blinds.com

OPEN

TO FIND

OUT

MORE
---
CONTENTS

www.blindsmagazine.co.uk

Regulars

NEWS . . . . . . . . . . . . . . . . . . . . . . . . . . . 4

Eclipse has put together a new sales team

NEW PRODUCTS . . . . . . . . . . . . 62-79

The BBSA show means there are lots of new products being

launched

Features and articles

ENERGY . . . . . . . . . . . . . . . . . . . . . . . 8-10

Blinds can contribute to energy savings around the home

EXHIBITIONS . . . . . . . . . . . . . . . . . . . 12

The BBSA Show is taking place at the end of October

PROFILES . . . . . . . . . . . . . . . . . . . . . 16-20

Good things are happening up in Scotland

MARKETING . . . . . . . . . . . . . . . . . .26-36

Blinds are set for a period of growth

AUTOMATION . . . . . . . . . . . . . . . . 40-43

Consumers want a smart home and blinds can deliver

FABRIC . . . . . . . . . . . . . . . . . . . . . . . 44-54

What sort of material suits you personality?

AWNINGS . . . . . . . . . . . . . . . . . . . . 56-58

Pergolas are a great way to maximise the use of patios in the

summer

From the editor

Issue FOUR 2022

On every home owner and

businesses mind over the last few

months has been the inevitable rise

in energy prices. In an energy

hungry manufacturing industry such

as the blinds industry, this is felt

even more keenly and it will be

interesting to see how the industry

reacts to our new PM's proposals.

I imagine that the next year will

be an incredibly hard year for the

blinds industry, with energy price

rises plus inflation making

operations more and more difficult.

I am sure the industry will adapt

and find ways of staying in business

but I know it will be very difficult.

Good luck in the coming years

and lets hope there is some good

news in the coming month. Industry

most definitely needs it.

John Hatcher

editor

www.blindsmagazine.co.uk

Cover image: Courtesy of

Luxaflex

© Copyright Turret Group Ltd 2022. All rights reserved. No part

of this publication may be reproduced in any form or by any

means without the prior permission of the copyright owners.

Opinions expressed in Blinds and Shutters are not necessarily

those of the publishers or the editor.

Incorporating The Blindmaker • Est. 1952 • ISSN 0305-733X

Blinds and Shutters is available to non-qualifying

readers at a subscription of:

1 Year – UK £60; overseas £100 air mail.

2 Years – UK £102; overseas £170 air mail.

3 Years – UK £135; overseas £225 air mail.

www.blindsmagazine.co.uk

2022 ISSUE FOUR • AUTUMN

Editor:

John Hatcher

+44 (0)1923 432 705

j.hatcher@turretgroup.com

Advertising sales manager:

Julie Saridakis

+44 (0)1923 432 705

j.saridakis@turretgroup.com

Production manager:

Carol Baird

+44 (0)1923 432 705

c.baird@turretgroup.com

Circulation:

+44 (0)141 370 3883

circulation@dimensionsmail.co.uk

Managing director:

Ian Garmeson

i.garmeson@turretgroup.com

Turret Group Ltd

Cardinal Point, Park Road, Rickmansworth, Herts, WD3 1RE, UK

Tel: +44 (0)1923 432 705

Blinds & Shutters • ISSUE FOUR 2022 3
---
NEWS NEWSDESK: mail: j.hatcher@turretgroup.com

New to the team

Over the past few months Eclipse has recruited 3 new area

sales managers to fill key positions within its UK Sales

Team and the company now has a full lineup.

In making these appointments, it was

important for the company to find the best

candidates, who have the drive and

determination to succeed in our fast-paced

market environment and Eclipse is excited to

introduce the new faces alongside some

familiar ones:

Richard McIntyre – Area 1, Scotland

Richard James – Area 2, North East

England – North Wales

Iain White – Area 3, Midlands

Phil Morgan – Area 4, South East England

Colin Moore – Area 5, South West and

Ireland

With this full team in place, Eclipse

believes that it is well positioned to support

its loyal customers and work with its clients

RICHARD M C INTYRE

AREA 1

t: 07919 488509

e: McintyreR@eclipseblinds.co .uk

RICHARD JAMES

AREA 2

t: 07803 236507

e: JamesR@eclipseblinds.co.uk

Area Sales Managers

to identify mutual growth opportunities for

our businesses. The team are now fully

contactable and if you haven't met your new

ASM already, you will get a chance to do so

soon.

In addition to this, the company has

appointed Lee Benedetti as its new Internal

Sales Representative. Lee is office based and

his role will be focused on increasing our

contact with our wider customer base, whilst

developing accounts and working with our

ASM Team to give further support to our

customers.

Eclipse would like to thank its clients for

their patience in recent months as the

company has worked through this

transition.

NEWS IN BRIEF

Legrand's Building Control Systems

(BCS) division's Legrand Shading

Systems and Vantage brands will be

rolling out the latest in luxury and smart

home shading and lighting at CEDIA

Expo 2022, taking place Sept. 29-Oct.1

at the Kay Bailey Hutchison Convention

Center in Dallas. In the Legrand | AV

booth 19035, installers will experience

Legrand Shading Systems' newly

launched shading accessories and fabric

collections from top shading fabric

designers such as Coulisse. Vantage will

showcase its LHUMAN human-centric

lighting (HCL) system, featuring the

company's customizable lighting control

options integrated with lighting fixtures

from Legrand Lighting Alliance Partners.

"Smart home shading and lighting is

the hottest trend and opportunity in

residential technology," said Charlie

Derk, general manager, shading and

residential controls, Legrand North

America. "At CEDIA, we'll show

integrators how simple it is to get

started with our shading and lighting

brands that come together effortlessly

to achieve a modern, beautiful look for

any room. Come check out our new

demo cases and fabric books — tools

that will make it incredibly easy to

support and entice your customers."

IAIN WHITE

AREA 3

t: 07876 406157

e: WhiteI@eclipseblinds.co.uk

PHIL MORGAN

AREA 4

t: 07803 236 506

e: MorganP@eclipseblinds.co.uk

COLIN MOORE

AREA 5 & IRELAND

t: 07917 034868

e: MooreC@eclipseblinds.co.u k

LEE BENEDETTI

INTERNAL SALES

t: 07469 296077

e: BenedettiL@eclipseblinds.co.uk

In the next issue:

Energy efficiency

Motorisation

Marketing

4 Blinds & Shutters • ISSUE FOUR 2022

www.blindsmagazine.co.uk
---
CALL FOR DETAILS 0161 882 5050
---
NEWS

NEWSDESK: mail: j.hatcher@turretgroup.com

Increase in UK temperatures

means shading industry

set to grow

Over the last couple of years, the external shading market

has experienced a significant demand for product, and this

doesn't look as if it will slow down any time soon.

There are a number of reasons for the

increased demand: the 'holiday at home

'culture that the UK has experienced as a

result of the pandemic, the much hotter

weather due to a warming climate that UK

homes just can't cope with without external

shading, and now the introduction of Part O

of the Building Regulations (15th June) to

prevent overheating in new homes caused

by modern 'glass box' building design, with

high levels of wall insulation.

20% of existing homes (almost 5.5 million

properties!) overheat. The popularity of

incorporating large expanses of glass

including sliding / bi-folding doors and

skylights has been made fashionable by TV

programmes such as Grand Designs. With

high levels of wall insulation to protect our

homes against the cold, and being driven by

recent regulations, this figure will increase.

Part O of the building regulations,

introduced on 15th June 2022, will change

the way new homes are designed and built.

Large expanses of glass will need to include

exterior shading of some description to

prevent overheating, and air conditioning is

not a solution!

Did you know, 16,836 skylights are

fabricated each year? 100,380

conservatories/glass rooms are installed per

year and 16,754,400 windows/doors

fabricated per year. That is a lot of glass and

wherever there is glazing, there is an

opportunity for external shading.

Installing External Blinds keeps buildings

cool by providing a dynamic protective layer

to the outside of the glass, absorbing and

deflecting up to 97% of solar radiation, in

turn reducing interior room temperatures by

up to 18oc and cutting the energy

consumption otherwise needed to cool

down a hot room by over 80%. They offer a

whole host of additional benefits too, from

diffusing incoming light to prevent glare,

providing privacy (particular important urban

locations), blocking damaging UV rays to

prevent fixtures and fittings from bleaching

by the sun and enhancing the façade.

It's time to get involved as the potential is

phenomenal in this sector and there really is

enough for everyone to have a share of it.

There are 27,066,000 homes across the UK

- 81% are houses or bungalows and 7/8

British Households have a garden

NEWS IN BRIEF

Consisting of a bespoke collection of

artisan furniture, sumptuous signature

cushions and lamp bases with gathered

silk ikat lamp shades that bring style,

energy and life to any home, as well as a

carefully selected collection of everchanging

continental antique furniture,

contemporary art and homewares,

Alexander Thomas harbours all things

individual and eclectic for the home.

Whether it be a country house in the

Cotswolds, a modern apartment in

London, a converted barn in Wiltshire or

a cosy cottage in Cornwall, every home

deserves diverse one off pieces that

help to create special spaces and a

serene oasis of calm, which is where

Alexander Thomas has the answer.

With an extensive background in

interior design and mutual passion for

property, architecture, antiques, art and

design, Iain Pritchard and Glenn Robb

founded Alexander Thomas, having both

lovingly restored a number of properties

over the last two decades combined

with their delight in seeing tired buildings

brought back to life with expertly

curated interiors, including the current

home in Shropshire.

Over time, the duo have built up a

diverse "little black book" of Artisan

makers from across Great Britain and

around the world, as well as an array of

talented artists whose work they are

proud to showcase and represent as

part of Alexander Thomas, and therefore

offering something truly original and unmatched

to its clients.

6 Blinds & Shutters • ISSUE FOUR 2022

www.blindsmagazine.co.uk
---
Less is more with ShadeBox ®

Hide roller blinds when they're not in use

Compatible with most manufacturers' roller blinds

Motor or handpull option

compatible with various ceiling types

Enquire now at:

enquiries@yewdale.co.uk

Or call us on:

01268 570900
---
ENERGY EFFICIENCY

Energy positive

S:Craft says that

climate change

means home

owners are looking

for more solutions

to keep their

houses cool

The hot topic is the rising cost of energy, so

it makes sense to reduce the amount we

use! Did you know that heat gain and heat

loss through windows are responsible for 25 –

30% of residential heating and cooling energy use?

So, there has never been a better time to start

advising your customers about the practical steps

they can take to improve energy efficiency in their

homes.

Not only are shutters and blinds stylish, but

they're practical too, and they add another

insulating barrier to windows, helping to improve

temperature and comfort in homes. It is worth

considering how you use shutters and blinds...

Autumn is a season renowned for its Indian

Summers which is a period of unseasonably warm,

and dry weather. Several references describe a

true Indian summer as not occurring until after

the first frost. So how can we use this weather to

our advantage when we think about keeping our

homes warm, and energy usage down? Something

as simple as remembering to open your shutters

and blinds during the day to allow solar gain to

enter the room, and harvest solar energy. Here

comes the science part…The glass windows in

our homes allow most of the shortwave radiation

(light) to pass through them but will not transmit

most of the longwave (heat). So, the sun's rays

pass through the glazing as a shortwave and hit

objects in the room such as walls and furniture

which absorb the radiation and re-radiate it back

as longwave heat. The heat cannot pass back

through the glass, so as the sun starts to go down,

be sure to shut those shutters and blinds to help

retain that generated heat. Automating shutters

and blinds will save you time and effort because

you can programme them to close at sunset.

In the autumn months, the sun is lower in the

sky than in the summer months and positioned

more in the Southwest direction; this means that

sometimes there is more sunlight beaming

through your windows during the latter part of

the day. Light and glare are effectively controlled

by shutters and blinds as they are adjustable, they

regulate luminance according to varying visual

comfort. In a typical family room in the home,

customers will want to make the best use of

daylight, improved indoor conditions and visual

comfort. Installing a 5% openness screen blind in

a darker colour, will not only allow varying levels

of light but will also reduce glare without

darkening the room. Darker colours will absorb

more light and reduce light glare but still diffuse

the heat. Shutters or our Genoa Collection of

venetians are other practical solutions as the

louvres or slats can be tilted to reflect the sun,

depending on its position. Our range of screen

fabrics is available in our Designer Signature

Collection. We offer made-to-measure Avignon

rollers, and Rochelle romex; both of which can be

automated to improve visual comfort. We also

have a range of Lyon panels, and Versailles

verticals in screen fabrics, as well as translucent or

room darkening.

8 Blinds & Shutters • ISSUE FOUR 2022
---
GROW YOUR

SALES

SEE US AT THE

STAND 23

LOUVERED

ROOFS

PATIO

AWNINGS

EXTERNAL

BLINDS

SCAN QR CODE TO FIND

OUT MORE & REGISTER

AS A TRADE PARTNER

0344 800 1947 t

info@cbsolarshading.co.uk e

cbsolarshading.co.uk/trade w

LUXURY EXTERNAL SHADING SINCE 1987
---
ENERGY EFFICIENCY

Making the switch

Cool your house

down and save 40%

on bills by making

this simple switch

With UK temperatures soaring into the

high thirties this week, many Brits are

doing anything they can to keep their

homes cool. As climate change is predicted to

make these temperatures more common in the

UK, it may be time to start preparing the home

for slightly warmer summers. Did you know that

there is a solution that can not only cool the

house during the summer but can also save you

money in the winter months?

Blind experts at Unbeatable Blinds reveal that

switching your regular blinds or curtains to

thermal blinds can reduce the amount of heat

entering your house by 75% and will save you up

to 40% on heating bills once winter arrives.

How can thermal blinds keep my house cool?

When you think of the best thermal blinds, you

usually associate them with warm, cosy spaces.

However, thermal blinds can also be effective in

the warmer, summer months too. Thermal Blinds

are designed to offer incredible temperature

control all year round. In the winter months when

the temperature drops, thermal blinds create a

layer of insulation and prevent cold air from

entering your home. In the summer, they will also

reflect heat and sunlight, preventing your space

from becoming uncomfortably warm.

Aluminium coated blinds with honeycomb

pockets are particularly good at regulating

temperature as they trap air inside. This creates a

thermal barrier between the window and your

home, reducing heat loss by up to 40%! In the

Summer months, this aluminium coating helps to

reflect sunlight, stopping your space from getting

uncomfortably warm and reducing 75% of heat

entering your home.

How effective are thermal

blinds?

Thermal blinds can be extremely effective when

used correctly. The best thermal blinds are those

fitted close to the window and are fitted within

the recess as they prevent draughts. Thermal

blinds will still make a difference if they are hung

outside of the window, especially if there is a

generous overlap of fabric to cover the

surrounding of the wall. For your blinds to be

most effective, they should be fully closed as any

gaps will compromise their efficiency.

Can thermal blinds help me

sleep better in the heat?

Yes! Not only will the blinds cool down the

temperatures in your home by blocking out

intense sun rays and warm air, but they will also

block out light and sound. Although not fully noise

cancelling, thermal blinds considerably lower the

impact of outdoor noise, whether that be weather,

traffic or your neighbours! These noise reducing

blinds are the perfect choice even if you live in a

busy environment.

A spokesperson from Unbeatable Blinds had

this to say: 'As the cost of living has grown in

recent months, finding the right thermal blind for

you and using it correctly can not only keep you

cool during a heatwave, but they will significantly

lower the cost of those ever-increasing energy bills

this winter.'

10 Blinds & Shutters • ISSUE FOUR 2022
---
THE

INTERIOR SHUTTERS

COLLECTION

Tropical Blinds are a UK manufacturer offering the trade an independent choice of

custom blind collections designed for you and your customers.

Our Interior Shutters Collection are skilfully hand-made by quality craftsmen. Your

customers can select from one of our many paint or stain finishes or opt for a custom

colour to complement and enhance their home.

You can see all our product ranges and first class customer support systems at

tropicalblinds.com
---
PROFILE

BBSA Show 2022

'One day away

from your business

could make all the

difference': Don't

miss out; book your

free BBSA Show

2022 ticket today

TV's Kevin McCloud will take part in a Q&A

session at the UK's only blind, shutter and

awning show which is FREE to attend and

returns this month!

After four years, the UK's only trade exhibition

for the blind, shutter and awning industry is back -

and you're invited.

More than 60 brilliant exhibitors, 20 expert

speakers and thousands of visitors will all be at the

BBSA Show 2022 in Coventry, and you should be

too.

Exhibitors specialising in the designing,

manufacturing, and selling of blinds, shutters,

awnings, and textiles will be there, alongside

businesses focusing on machinery, software, and

other innovative tools and products for the shading

industry.

With so many exhibitors showcasing their

newest products and an estimated £10 million

being invested, you do not want to miss the BBSA

Show.

And when you fancy a break from the busy

exhibition floor, you'll be able to head to the

seminar theatre where expert speakers will be

sharing their knowledge on the benefits of solar

shading, handling consumer complaints, and

growing a small business in the industry, among

other key industry topics.

As if all that wasn't enough to entice you book

your free tickets, popular TV host and building

design expert Kevin McCloud will be attending the

exhibition on Monday, October 24.

Kevin will be sharing his knowledge and insights

on design, architecture, shading and much more

during a Q&A session, before presenting the

winners of the BBSA Show awards with their

prizes.

Ben Kirsch, chairman of the BBSA's exhibition

working group, is urging everyone in the industry

to make the journey to the Coventry Building

Society Arena.

Ben said: "It's quite simple - if you're not at the

BBSA Show in October, you're missing out.

"It's so important people understand that just

one day away from their business could make all

the difference, be it a new product they see or

something they learn from one of our speakers.

"The show takes place over three days and only

comes around once every few years, so there's no

excuse not to be there! We can't wait to see

everyone in Coventry."

The UK's only trade exhibition for the blind,

shutter and awning industry will take place from

October 23-25 at the Coventry Building Society

Arena.

Kevin McCloud will attend on October 24 and

our prize draw means one lucky visitor will win

£1,000 on each day of the show!

Remember, your competitors will be there. Make

sure you are too by booking your free ticket at

www.bbsashow.co.uk today!

12 Blinds & Shutters • ISSUE FOUR 2022
---
End-to-end automation software

for wholesalers & retailers of blinds,

shutters & curtains

We recognise every industry has

unique requirements ...

So we have gone out of our way to make our software

platform easily configurable for your business challenges

and to meet your needs, whatever they are.

Wouldn't you prefer less admin and more time doing

what you like?

Automate day to day tasks

Achieve better business growth

Streamline workflows

Reduce Real time errors

Increase efficiency

Reduce time and cost

BlindMatrix does

everything we need it to

do and more, exceeding

our expectations, saving

us an enormous amount

of time and money

John Beevers

Yorkshire Blinds & Curtains

Call +44 (0) 20 7096 1371

sales@blindmatrix.com | www.blindmatrix.com

Learn more,

request demo
---
Softness of a curtain,

functionality of a blind.
---
stylebyglobal.com
---
PROFILE

Scottish pride

Scottish Shutter

company's blinding

growth gains major

recognition

ANewington-based family business that

specialises in high-end internal window

shutters and blinds is celebrating after

triumphing at their industry's showcase awards

night.

The Scottish Shutter Company took home the

award for "Best Shutter Installation" at the BBSA

(British Blind & Shutter Association) annual

awards*.

It caps an excellent first half of the year for the

business for the family team which was set up by

husband-and-wife David and June Browne in 1987

and joined by daughter Judith and son-in-law David

D'Ambrosio in 2001.

With business booming, the company is now on

the lookout for talented team members to join

their growing business, with fitters especially

sought.

David D'Ambrosio comments;

'This is a fantastic accolade to have picked up as

it comes from a body that champions excellence.

The installation that captured the judges' eyes was

one of our most challenging to date, a bungalow

with overlooked windows.

'There were no mounting surfaces as the project

was in progress and because our shutters are

custom made there was a potential issue with lead

times which could have held everything up. No

other shutters company wanted to touch the

project - we are not so easily daunted!

'By working very closely with our client, her

architect, and the builders, we were able to design

and engineer the shutters around the site works

then deliver and install them in time for her to

move in. It goes to show what can be achieved on

even the most tricky sites if all of the teams are

pulling together and we're delighted to be

recognised for such a challenging project.'

Business is brisk at The Scottish Shutter

Company, which also has a showroom in Dundee,

with the switch to working from home, along with

increasing work from architects and developers a

major factor in that growth according to David.

'We've seen a massive increase in enquiries as

people look to re-purpose rooms in their houses

for home and hybrid working. Glare from windows

when working is not helpful and also the backdrop

for virtual meetings needs to look as stylish and

professional as possible.

'Architects are coming to us to help create

hidden cavity blinds and shading systems, especially

in the modern apartment developments that tend

to feature a lot of glazing and with that, a lot of

potential trapped heat and even bleaching from

the sun's rays. We're creating solutions that are not

one-size-fits all here and that means we are always

on the lookout for talented team members,

especially installers. In the meantime, we will

continue to grow sustainably at our Edinburgh and

Dundee sites, never losing sight of the fact that we

are a proud, independent, family business.'

16 Blinds & Shutters • ISSUE FOUR 2022
---
Retailer/Manufacturer

Supplier

End-to-end automation software for wholesalers

& retailers of

Base CRM system

Manage leads, quotes, sales & projects in one

central system with full job history and dynamic

dashboards for full visbility.

Onsite Quoting App

Easily quote onsite. Access appointments, issue

quotes and invoices, send purchase orders, get

signatures and pictures of the windows.

Suppliers catalogue (EDI enabled)

Send purchase orders to suppliers through EDI.

Download supplier catalogues. Standardisation

of pricing in the industry. Streamline the supply

chain. No duplicate entries into the suppliers portal.

Order

Manufacturing worksheets

Calculate allowances and create work orders

and labels for manufacturing. Automate formulas.

Multiple labels, for example, product labels,

manufacturing labels, shipping labels, etc.

Order management

Get full visibility of ongoing jobs with various

filters, customise views, colour code the jobs

for easy identification, bulk updates, schedule

due dates, etc.

Accounting software integration

Easily transfer sales orders and payments into

your accounting software. Eradicate manual entries

and duplication of work. Saves time.

Online

Online ordering portal

Trade customer orders directly from online ordering

portal. Reduce manual job entries from emails

and human errors. Update trade customer about

the jobs and status.

Stock & BoM (Bill of Materials)

Manage inventory, purchases and receivables

effectively. Have full visibility of stock. Forecast

needs and expenses.

Financial

Credit balance, credit control, automated

payments, payment gateway integrations, special

customer discounts, etc.

Production optimisation (workroom)

Streamline production via barcode scanning.

Easily update status through barcode scans.

Create separate barcodes for products and

manufacturing stations.

YOUR

Brand

3rd party integrations

Integrations through API to send/receive data

from the CRM.

Marketing

Send unlimited email campaigns. Get more

leads and more sales. Get return on investment.

eCommerce

Additional new line of business. Earn even

when you sleep. Drop shipping model.

White label/dedicated server

Run the full application on a dedicated server under

your own domain. Establish and promote your

brand.

Shipping integrations

Link tracking numbers to the jobs. Update

customers automatically on the shipment status.

Contact
---
PROFILE

Caribbean investment

Caribbean Blinds

expands factory by

10,000sq/ft to

increase

manufacturing

capability

Caribbean Blinds, has increased its factory

space to a combined floor space of

30,000sq/ft - dedicated to the manufacture

of luxury external shading systems

The state of the art 10,000sq/ft extension will be

used for storage and the cutting of all product

profiles; aluminium extrusions and steel tubes, leaving

the existing section of the factory purely for

producing the end product and will mean they have

a capacity to produce in excess of 10,000 external

shading systems every year!

The combination of higher stock levels along with

additional production stations will result in

significantly shorter manufacture times, ideal for the

summer months when lead time is key. Great news

for dealers who will inevitably sign off increased

numbers of orders!

Stuart Dantzic, managing director of Caribbean

Blinds explained: "We have experienced a significant

demand for external shading for a number of

reasons; the 'holiday at home 'culture that the UK has

experienced as a result of the pandemic, the much

hotter weather due to a warming climate that UK

homes just can't cope with without external shading,

and now the introduction of Part O of the Building

Regulations (15th June) to prevent overheating in

new homes caused by modern 'glass box' building

design, with high levels of wall insulation.

The new extension will enable us to hold higher

levels of stock (£1.5m+ at any one time) and help to

avoid potential delays in 'top up' stock due to

continued supply chain issues caused by the

increased demand across the whole home

improvement sector. We will be able to manufacture

orders as soon as they are placed, no waiting for

parts!.

Furthermore bigger shipments from our

extruders will help to avoid rising costs thanks to

greater economies of scale i.e. larger single

shipments and of course, this is more

environmentally friendly."

The extension is in its final stages of being

completed in time for the official opening on

Monday 3rd October. Caribbean Blinds is currently

recruiting for an additional six members to join the

team.

18 Blinds & Shutters • ISSUE FOUR 2022
---
20+ expert

speakers

3,000+

visitors

expected

60+

exhibitors

investing

£10m

Book your free tickets to the

UK's only industry exhibition at

www.bbsashow.co.uk

23 - 25 October 2022

Coventry Building Society Arena
---
PROFILE

Blinding success

ShuttersUp has had

a successful 2022

as B&S found out

The team at ShuttersUp are enjoying a very

successful few months. Achieving 'Highly

Commended' in the Best Internal Shutter

Installation category at the BBSA Excellence

Awards came the day after being announced Kent

Business Champions 2022 at the Town & County

Awards – both of which made for a very successful

(and celebratory) weekend.

We have also been recognised as the 'Most

Trusted Home Improvements Business - South

East' in the SME News Southern Enterprise

Awards 2022.

And the celebrations don't stop there, as we are

heading to Wembley in December as Finalists in

the Service Excellence category at the prestigious

SME National Business Awards 2022!

Co-founders and Directors Ross and Ashley are

thrilled that the company, and most importantly

their team are receiving this well-deserved

recognition:

'Since starting the company in 2006 it has always

been our ethos to ensure that the customer is at

the very heart of everything we do, and to work

towards our Vision 'To become the UK's Most

Loved Service'.

"We are rated Excellent on Trustpilot with a 4.9

star rating from over 1,100 reviews, and

increasingly our customers are taking the time to

compliment our service and our team as well as

praising the products, which is testament to

everyone's focus on delivering customer service

excellence.

"Not every business can say that 80% of their

Sales Team are former customers who enjoyed our

service so much they joined the company!

"We want to take this opportunity to thank

every single member of our team – keep up the

good work everyone!'

20 Blinds & Shutters • ISSUE FOUR 2022
---
Discover

more

SMART WINDOW COVERINGS

Eve MotionBlinds motors, developed by Coulisse

in collaboration with smart home specialist Eve

Systems, work with Apple HomeKit technology

directly from an iPhone, without a bridge or any

cloud dependency. Easy, reliable, future-proof

and smart in a minute.

motionblinds.com/eve
---
OUR SERVICE IS YOUR SUCCESS

VERTEX BLINDS

Blindtex introduces Vertex blinds to the UK trade

market. Suitable for larger windows and patio doors.

Vertex is now the fastest growing window treatment

within our product range.

VERTEX BLINDS FABRICS

Available as full rolls, louvres only, louvres with header

and hanger, or entirely made to measure blinds.

Manufactured using hotwire cutting technology, we

ensure a fray free cut every time.

CHOOSE YOUR VIEW

30

sku's

Over three designs: Oval, Classic

and Stripe, you can ensure your

customers find what they are

looking for.

PERSONALISE YOUR BLINDS

HEADRAIL COLOURS

White - Brushed Steel - Piano Black - Brown -

Champagne Gold - Graphite

FASCIA COLOURS

White - Graphite

With Vertex blinds, you can achieve several different

privacy options:

• Clear view - Slide the soft fabric vanes to one side to

enjoy a clear outside view.

• Sheer view - Place the vanes into the open position

and enjoy a partial view with privacy, ideal for daytime.

• Closed view - Rotate the vanes to the closed position

to enjoy total privacy, ideal for nighttime.

Website

Vertex blinds filter the daylight during the day yet still offer a view to the outside.

Made up of a combination of sheer and opaque textured fabric. Vertex blinds look

particularly stunning in larger windows, bi-folding and patio doors and could be

described as a cross between curtains and vertical blinds.

0161 818 9915 0161 818 9915

sales@blindtex.co.uk www.blindtex.co.uk
---
DUPLEX BLINDS

DUPLEX BLINDS ARE IDEAL FOR

• Filtering the light with sheer and solid panels

• Creating a modern feel in any room

• Motorised options are available

• Large windows

FEATURES

1. The Signature Duplex blind system comes

with matching fabric cassette and bottom

bar.

2. The Fabric is wipeable with a damp cloth.

3. Multi size cassette system available (small,

medium, large).

10 DESIGNS

with multiple colourways

COVERED CASSETTE AND BOTTOM BAR

The cassette and bottom bar system has been exclusively

designed by Blindtex, offering a fully covered cassette

and bottom bar option. This makes our Duplex Blinds

truly unique!

Covered Cassette (Matching Fabric)

Covered Bottom Bar (Matching Fabric)

WARRANTY

We take great pride in the knowledge that we design and manufacture our

blinds with the

highest quality standards and the greatest attention to detail.

With this commitment in mind, every Signature blind is backed up with our

unique "Lifetime Warranty". See blindtex.co.uk for complete details.

CHILD SAFETY

CHILD SAFETY

Child safety is a primary concern for us all and we have taken measures

to ensure all of our products are either child safe as standard or carry

warning tags to ensure the risks are outlined to parents and guardians.

CUSTOMER CARE

Our sales and service teams are here for you,

with direct access in a more personal way via

video or voice call directly from our website or

even WhatsApp for convenience.

MOTORISATION

Wire-Free & Hard Wired

ABOUT BLINDTEX

Blindtex is a premium UK-UAE based window coverings'

firm. For over 25 years, our team has provided quality

products, exceptional brand experience and bespoke

window treatments to various business sectors throughout

Europe, Africa and the Middle East.

Trade accounts will have access to our photo library for

your website and promotional material.

Website

WhatsApp

0161 818 9915 0161 818 9915

sales@blindtex.co.uk www.blindtex.co.uk
---
BUSINESS

Three ways to improve

how we do business

Vivek Rao, CEO,

BlindMatrix

(below) asks how do

we create a smarter

and more

profitable industry

for all?

How can the blind, shutter and curtain

industry make the changes that we need

– to our business operations, processes

and IT – so we can work in more efficient, more

customer-focused and more profitable ways? At a

time of soaring business costs, this question is

more relevant than ever.

No person or business is an island. We live in a

connected world. Global supply chains, connected

communications and technologies, manufacturers

connected to wholesalers connected to retailers

who interact with consumers, and so on.

In the last year I've become increasingly

interested in looking at our industry as a whole,

and thinking about the industry-wide changes

required to overhaul and update how we work.

I believe there are opportunities we cannot

afford to miss - to modernise processes, better

manage and reduce costs, make the best use of

people, and make sure we can protect margins

while always delivering excellent service. I don't

claim to have all the answers. But as an industry

insider for many years, forming strong relationships

with many different companies, I can see areas for

improvement. We need to start those important

conversations now and develop new thinking.

So, from my perspective, here are three areas

that I believe can revolutionise our industry, and

your business.

1. Collaborate to succeed

'Together we're stronger' may be an overused

phrase but there's a great deal of truth in it.

Collaboration makes us all stronger, so we all

benefit. We have to make it easier for companies

to work together, sharing experiences, ideas and

best practice to make life easier. Easier to take,

place, fulfil and deliver orders. This is already

happening in some parts of the industry. I know

from personal experience that some BlindMatrix

customers use our technology as their primary

means of communicating. In one case, it's a

wholesaler and a retailer, one a customer of the

other. They said this approach was a 'game

changer' in terms of their relationship and what

they could achieve.

In my experience, the most successful

companies are generally not afraid to share their

ideas. They confidently help other companies,

partners and suppliers on the basis that if they

succeed as well, more often than not this feeds

into their own success. Think of the BNI® business

networking and referral group. The more you put

in, the more you get out: Givers Gain®. The

companies that are less willing to share, by

contrast, tend to be less successful. Think about

this as co-opetition – we can cooperate and

compete so we all benefit. And this topic is a far

broader issue than IT alone, taking in company

culture, underlying structures and business

processes.

Do you think more collaboration is a good

thing? How can we embed it in business practices?

I'm interested to hear your own experiences and

how you think we could move forward.

24 Blinds & Shutters • ISSUE FOUR 2022
---
BUSINESS

2. Technology with a

purpose

My second point, linked to the above, is

about the IT we use to support our

businesses; the systems and infrastructure

that should be actively contributing to

smarter and more profitable working.

Technology is a great enabler but it has to

be the right technology used in the right

ways at the right time, and with the right

inputs. That can mean taking a long hard

look at our data, to clean up our act, and

harness that data to its full potential. How

much is out of date or simply unnecessary?

How much do we actually need, and what's

the most valuable data, to perform the

specific tasks that we need to do?

3. Standardisation: clarity

and consistency

My third point is around the language we

use in our industry. More specifically, the lack

of clarity, consistency and standardisation in

terminology. What we call the materials that

we use and the products that we sell, and

how that impacts on how we communicate.

You can see this in the diversity of catalogues,

the sheer lack of consistency and therefore

compatibility in how business partners and

suppliers are able to interact smoothly.

A more standardised approach across the

board can mean fewer errors and significant

time and cost savings in sales, order taking,

product configuration, process control, stock

management, fulfilment, etc. etc. The prize for

such an approach therefore includes greater

operational efficiencies, better margins, and

improved customer satisfaction.

Again, I'll be very interested to hear your

thoughts on standardisation - it's another

piece of the jigsaw as we work towards

creating a more modern, efficient and

profitable industry. www.blindmatrix.com

vivek@blindmatrix.com

Innovation comes built-in

YOUR NO.1 CHOICE

FOR INTEGRAL

BLINDS

Manual or automated

Venetian or pleated

sales@morleyglass.co.uk

0113 277 8722

Blinds & Shutters • ISSUE FOUR 2022 25
---
MARKETING

Back to the future...again

Louvolite can help

customers see what

their new blinds

will look like in-situ

with its new app

For those of you who are able cast your mind

back to the late Autumn of 2000 and the

BBSA exhibition of that year, many

companies had new products or programmes to

launch and Louvolite was no exception.

In addition to its fabulous new fabric

programmes, Louvolite amazed the audience with

a totally new concept of presenting window

shading products to the consumer. Louvolite called

it Blinds@Home and, not unlike other products

Louvolite had launched previously, it was quite

radical.

It was a digital programme operating via a CD

(remember them) that allowed the consumers

who owned video recorders/players to look at

the menu options, select a room type, wall and

flooring colour, choose a window type and then a

window shading product to fit in the window.

Once done, the consumer could select a fabric

from the Louvolite programme and this would

magically appear at the digital window in the

digital room. The idea was to allow the consumer

to engage more in the selection process and have

a better understanding of how a window shade

could impact on their room/home so the

purchase would be given a greater level of

importance rather than the "just a blind"

approach.

In all honesty the project was not as successful

as Louvolite had hoped, but that was likely due to

the concept being ahead of its time and the

consumer's acceptance of pattern books as their

only source of reference.

So scroll forward now to 2022 and, according

to the Office for National Statistics:

• 92% plus of adults in the UK are recent

internet users

• Almost all adults aged 16 to 44 years in the

UK were recent internet users (99%)

• 54% of adults aged 75 years and over were

recent internet users.

As you can see, the internet is absolutely THE

reference tool for the consumer. Not only that,

96% of all UK adults owns a smart phone and

uses it daily. The population now carries what is,

not only a communication tool, but also a

sophisticated mini computer around with them

wherever they go.

26 Blinds & Shutters • ISSUE FOUR 2022

continues on page 28
---
THINK SMARTER

THINK AUTOMATED WINDOW TREATMENTS

Consumer demand for automated shading is growing.

The technology is so easy to use, they save time and look so good in contemporary and

traditional interiors.

As the exclusive fabricators of the innovative QMotion® product range we can support

dealers in taking advantage of this big market opportunity.

Take a look at our extensive range of solutions and see why now is the perfect time to

specify and fit QMotion window treatments.

On show at BBSA 2022 Stand S20, 23-25 October, Coventry Building Society Arena

Contact us today for the best automated blinds on the market.

www.qmotionshades.co.uk

info@qmotionshades.co.uk

+44(0)1908 047 980

@QMotionUK

QMotionShades

qmotionshades

A brand of
---
MARKETING

So how can our industry

take advantage of this

massive societal change?

Well let's just imagine a situation where a

consumer contacts their local blind

company to measure and quote for some

blinds for the lounge in their home. The

supplier schedules the appointment for, say,

two days ahead and asks the consumer to

download the Louvolite AR app – which of

course is free of charge.

The Louvolite AR App allows the

consumer to access the complete

programme of Louvolite fabrics – they can

just open up the app and follow the simple

instructions:

• Select the product they wish to furnish

the window with and click on their fabric

choice.

• Take their mobile device to the window

to be furnished.

• Point the camera to the bottom two

corners of the window and click when

reaching each one.

• Step back from the window and drag

the selected blind in the chosen fabric

magically into place in real time!

Should the consumer wish to change the

blind type and/or the colour, they simply

select and view the options and alternatives

available from Louvolite.

The consumer can move around the

room and see the blind from different

angles, they can zoom in close to see all the

detail of a selected print – they can see the

absolute difference the blind makes to their

home. They can even share screenshots

their choices with family, friends and

relatives.

At the scheduled and appointed time the

blind supplier arrives at the consumers

home. The consumer has been able to view

the options in their lounge and has selected

Louvolite roller blinds in Magnolia Rosa. The

surveyor measures the two windows and

advises the price whilst the consumer

verifies their selection by viewing and no

doubt handling the selected fabric from the

Louvolite roller blind book.

All good - the consumer states they have

also used the Louvolite App to look at their

young children's bedrooms and the children

have selected Unicorn Magical and Dinosaur

Prehistoric as the blockout blinds of their

choice.

The surveyor measures and gives a price

for these additional windows to be

furnished and the consumer approves the

purchase and advises that there will be

other orders when their budget allows.

With the Louvolite App the consumer

can view all the different options for the

additional windows to be covered in their

own home and at a time convenient to

them and can advise the supplier as and

when they will be required.

The supplier now has a new customer

who, having already ordered from them, will

likely return to that supplier for future

orders.

The Louvolite App can of course be used

by the surveyor to help their customer

overcome any uncertainty over a particular

product or fabric type.

It can be used by online suppliers who

carry the Louvolite programme since their

"virtual" customers can download the

Louvolite App to select and view a product

before ordering.

There will be many more opportunities

for Louvolite customers and the trade in

general to benefit from using the Louvolite

App and as our trade inevitably looks for

ways to help improve their chance of

successful sales and increasing the number

of satisfied customers, there is little doubt

the Louvolite App will be widely used.

28 Blinds & Shutters • ISSUE FOUR 2022
---
R E A L W O O D V E N E T I A N B L I N D S

Our Quality Builds Your Reputation.

To find out more 01908 642 888 | www.homecreationsuk.com
---
MARKETING

Global update

R+T Asia, R+T

Turkey and Sun

Shading Expo

North America

ready for take-off

The trade fairs in the R+T-Alliance, the trade

fair combination for the sun shading system

industry and the door/gate industry, are still

continuing their positive development. Another

three trade fairs in the R+T Alliance are

scheduled to take place this autumn: R+T Asia in

Shenzhen, China, from 31 August to 2 September;

Sun Shading Expo North America in Charlotte

(NC), USA, from 12 to 14 October; and R+T

Turkey in Istanbul, Türkiye, from 20 to 22 October.

However, the preparations for other trade fairs in

the R+T Alliance are also progressing.

R+T Asia ready for take-off

R+T Asia will open its doors for the 17th time

from 31 August to 2 September 2022. The trade

fair will be held this year for the first time and out

of turn in the famous World Exhibition

Convention Center in Shenzhen. The latest

developments and trends of leading

manufacturers from China will be presented on

site and discussions will be held with the sun

shading system industry and the door/gate

industry. R+T Asia will offer a special participation

opportunity for interested foreign trade visitors

who are unable to travel to this event: using the

Twitter account of R+T Asia (@RTAsiaFair),

visitors will be able to obtain an interactive

overview of selected stands in a "virtual booth

tour" and contact the on-site exhibitors directly

via WeChat / WhatsApp.

R+T Turkey expecting a

record event

The next edition of R+T Turkey will be held at

the Istanbul Exhibition Centre from 20 to 22

November 2022. Over 90 national and

international exhibitors will present their product

innovations at the trade fair this year on a gross

exhibition area of around 11,000 square metres.

The main focal points will be products relating to

the trend topics of energy efficiency, convenience

and safety. The omens for the imminent edition of

R+T Turkey are therefore positive: "The amount of

exhibition space at this year's R+T Turkey has

more than doubled and the exhibitors'

innovations will now be found in Halls 9 and 10.

This shows that Türkiye is also still very important

30 Blinds & Shutters • ISSUE FOUR 2022

continues on page 32
---
INTRODUCING

ROQUE & DIJON

Scan to

view video

®

Scan to

view video

Dijon and Roque are the latest blinds to join our

all-encompassing range of shutters and blinds.

Visit our stand at the BBSA Show to see what's

new at S:CRAFT, find us at stand 20.

To find out more,

0333 202 5054

connect@s-craft.co.uk

www.s-craft.co.uk/trade
---
MARKETING

for the sun shading system industry and the

door/gate industry," enthused Manuela

Keller, Trade Fair and Event Manager at

Messe Stuttgart, over the positive

development. "R+T Turkey is the only

international trade fair in its sector for

Southeastern Europe, the Middle East and

North Africa. We will also again have a

German pavilion with six German

companies at the trade fair. Due to these

exhibitors and other exhibitors from

abroad, we are also expecting a large

number of international guests at this

event," added Ufuk Altintop, President of

Messe Stuttgart Ares Fuarcilik, in looking

ahead with positive optimism to the

forthcoming R+T Turkey.

Première of Sun Shading

Expo North America

coming ever closer

The première of Sun Shading Expo

North America is not far away: renowned

manufacturers will present their product

innovations in the area of internal and

external sun shading systems at the

Charlotte Convention Center –

concurrently with IFAI Expo – from 12 to

14 October 2022. In addition to seeing the

innovations of national and international

exhibitors, the trade visitors will also

experience an extensive conference

programme: firstly, some exhibitors will

carry out live demonstrations every day on

the INNOVATION STAGE followed by

discussions afterwards. Secondly, the

Knowledge2Go Conference programme

will feature interesting talks on the topics of

"Smart shading/ smart home",

"Motorisation" and "Energy efficient impacts

of sun shading solutions". These talks will

offer all participants easily accessible and

free advanced training opportunities in the

immediate vicinity of the exhibition stands.

"We can hardly wait to implement our

newest member of the R+T Alliance in

North America and finally celebrate the

première of Sun Shading Expo!," enthused

Sebastian Schmid, Vice President of Messe

Stuttgart.

Presentation of the

INNOVATION FORUM

APAExpo by R+T in

October

The plans for the INNOVATION

FORUM APA by R+T are in full swing. The

new concept will be presented on 20

October in the venerable El Born Centre

de Cultura i Memòria in Barcelona. "We are

currently preparing everything for the

presentation there. The event is divided into

three parts: firstly, the author and industry

leader Dr. Joan Torrent Sellens will give a talk

on digitalisation and sustainability in the

industry. This will be followed by the

presentation of the INNOVATION FORUM

APA Expo by R+T. Selected companies will

then present their innovations on site," said

the delighted APA General Secretary

Ricardo Ricart. "The INNOVATION

FORUM APAExpo von R+T is being

promoted in cooperation with national and

international companies, public

administrations, universities, institutes and

many other partners. We are very pleased

to receive so much support! The

INNOVATION FORUM APA Expo by R+T

will be held in spring 2023. Although we still

have a great deal to do by then, we can

hardly wait to finally hold personal

discussions with the industry there again."

Start of planning for R+T

2024

The preparations for R+T 2024 are also

progressing. "At present, our R+T Team is

busy allocating floor space for the world's

leading trade fair. Over 75 per cent of the

available space on our trade fair grounds

has already been booked, and we have so

far received around 660 registrations from

37 countries for R+T 2024. We are very

proud that so many exhibitors are still

convinced about the R+T concept and that

we were also able to regain some

exhibitors," said Sebastian Schmid, Vice

President of Messe Stuttgart. "In the next

few months our team will continue to

contact our exhibitors in order to discuss

stand placement proposals. We are looking

forward very much to intensive discussions

with our industry." The world's leading trade

fair will be held in Stuttgart again from 19 to

23 February 2024.

32 Blinds & Shutters • ISSUE FOUR 2022
---
SOLAR

FABRiCS

COLLECTION

Awning fabrics

More contemporary

New range of stripes

A pallet of harmoniously

toned colours

Material effects through

transparency

More natural aspects

Changing plains

the art of weaving by Dickson ®

SAS DICKSON CONSTANT - capital 12.640.000 euros - 381 347 970 R.C.S. Lille Métropole - Photos : Landry Laurie - Glen Raven TM is a trademark of Glen Raven, Inc. - Dickson Constant is a Glen Raven company

LUXAFLEX - 0161 442 9500
---
MARKETING

New period of growth

Caribbean Blinds

says that growing

sales in the

external shading

market mean it's

time to get involved

Over the last couple of years, the external

shading market has experienced a

significant demand for product, and this

doesn't look as if it will slow down any time soon.

There are a number of reasons for the

increased demand: the 'holiday at home 'culture

that the UK has experienced as a result of the

pandemic, the much hotter weather due to a

warming climate that UK homes just can't cope

with without external shading, and now the

introduction of Part O of the Building Regulations

(15th June) to prevent overheating in new homes

caused by modern 'glass box' building design, with

high levels of wall insulation.

A few stats

20% of existing homes (almost 5.5 million

properties!) overheat. The popularity of

incorporating large expanses of glass including

sliding / bi-folding doors and skylights has been

made fashionable by TV programmes such as

Grand Designs. With high levels of wall insulation

to protect our homes against the cold, and being

driven by recent regulations, this figure will

increase.

Part O of the building regulations, introduced

on 15th June 2022, will change the way new

homes are designed and built. Large expanses of

glass will need to include exterior shading of some

description to prevent overheating, and air

conditioning is not a solution!

Where there is glazing there

is a need for external

shading

Did you know, 16,836 skylights are fabricated

each year? 100,380 conservatories/glass rooms

are installed per year and 16,754,400

windows/doors fabricated per year. That is a lot of

glass and wherever there is glazing, there is an

opportunity for external shading.

External shading is the most

effective solution to prevent

overheating

Installing External Blinds keeps buildings cool by

providing a dynamic protective layer to the

outside of the glass, absorbing and deflecting upto

34 Blinds & Shutters • ISSUE FOUR 2022

continues on page 36
---
abachi . bamboo . basswood
---
MOMENTO DAWN

WWW.THEFABRICBOX.CO.UK
---
PLAZA STONE

Roller and

Vertical Collection
---
HAMPTON

ORDER UP TO DECEMBER FOR PRE CHRISTMAS DELIVERY
---
MARKETING

97% of solar radiation, in turn reducing

interior room temperatures by up to 18oc

and cutting the energy consumption

otherwise needed to cool down a hot

room by over 80%. They offer a whole host

of additional benefits too, from diffusing

incoming light to prevent glare, providing

privacy (particular important urban

locations), blocking damaging UV rays to

prevent fixtures and fittings from bleaching

by the sun and enhancing the façade.

The potential is huge

It's time to get involved as the potential is

phenomenal in this sector and there really is

enough for everyone to have a share of it.

There are 27,066,000 homes across the UK

- 81% are houses or bungalows and 7/8

British Households have a garden

To get involved, why don't you come and

see us at the BBSA Show 2022 at the

Coventry Building Society Arena on 23-25

October?

Caribbean Blinds will be showcasing our

entire award-winning product portfolio

including patio awnings, external blinds and

louvered roofs. Our knowledgeable and

passionate team will be there to welcome

you on our stand to run through the

features and benefits of our products,

discuss our comprehensive dealer package

and discuss how we can help you to

maximise and capitalise on the external

shading potential in the area that you cover.

Plus we will be launching our new 2023

trendsetting awning and screen fabric

collection and, each day, there is an

opportunity to win £500 worth of sampling

to help kick start your sales in the sector –

this is the one event (and stand at the

show) you do not want to miss!

36 Blinds & Shutters • ISSUE FOUR 2022
---
Seasonal solutions for

your customers' home!

With Winter approaching, and the cost of living

rising, now is the best time to get your customers'

homes ready for the colder weather.

Both our Roman

blinds and Curtains

can be made with

Thermal and Blackout

linings, helping to keep

out the draught

from windows.

With an edge to

edge fit in your

window frame, our

shutters are a great,

stylish solution to

keep the cold out.

Our Duo Pleat

blinds are made with

a clever honeycomb

structure that helps

to insulate your

windows, keeping

the heat in.

Find out more at

arena-blinds.com
---
SHUTTERS

Evolving shutters

Santa Fe shutters

continues to evolve

The new Santa Fe online portal has evolved

to ensure the customer order journey is as

simple as possible across the entire Santa

Fe shutter portfolio. The easy, three step order

process simplifies the user experience. Completing

the order with a 3D shutter visualisation enabling

confirmation of shutter configuration.

A quick calculate facility on the home page

computes a price guide for each shutter range in

one click by entering the desired width and height

of the window.

Each user login is unique allowing varying levels

of functionality throughout a business. Access can

be limited to ordering and viewing order status,

whilst other users can manage payments and view

the reporting facilities available. An additional

feature allows customers to customise and

generate their own branded quotations making

the portal the "one stop shutter shop".

For ease of use a range of training videos and

documentation have been created to enable

customers to reference training sessions, perfect

for new staff. The development undertaken to

improve the new portal has been extremely well

received by our Santa Fe customers.

The site has been built to be used on mobiles,

tablets and desktop enabling orders to be placed

at any time, even onsite during a customer survey,

or at your own convenience.

Blockout Shutter

A new shutter option has been introduced to

the Madison Collection and is available to order

on the Santa Fe portal. This new shutter style

incorporates a blockout cellular blind within the

shutter frame, that when fully closed, light seepage

through the shutter panels and blades is

eliminated.

The 25mm cellular blind is housed within a

purposely designed channel within the shutter

frame ensuring optimum light control reducing any

light seepage through shutters frames or stiles.

The white cellular fabric offers the added benefit

of enhanced energy efficiency.

Santa Fe continues to develop a quality and

reliable solid wood shutter program.

For more information on Santa Fe Shutters

contact your Area Sales manager or Santa Fe

Customer Service team.

38 Blinds & Shutters • ISSUE FOUR 2022
---
TAKE CONTROL WITH THE

32MM & 40MM MOTOR.

Soft closure at end limit, bi-directional wireless controls, smooth 21rpm and 40rpm

motor speeds, up to 300 complete open & close cycles per charge.

Control from your smart device with the Home Hub.

CONTROL YOUR HOME

FROM ANY DEVICE,

ANYTIME, ANYWHERE.

WWW.ELLARD.CO.UK | 0161 945 4561
---
AUTOMATION

Digital interface

Somfy's Control4

to Digital Motor

Interface is

enhancing the

smart home

environment with

better bidirectional

communication,

less power

consumption and

seamless

integration

capabilities

Somfy has announced the North American

launch of its Control4 to Digital Motor

Interface. The Control4 to Digital Motor

Interface enables seamless integration of the

Somfy Digital Network (SDN) motor family with

Control4 systems to deliver an integrated home

automation solution.

Somfy North America's newest interface

operates as a wireless end node within a Control4

system. With reliable bi-directional communication,

real-time motor position status updates and

incremental positioning from 0-100%, end users

can more easily control their compatible smart

home devices for better natural light management.

The Control4 to Digital Motor Interface is

designed to fit smaller shade pockets for roller,

roman and woven shades and can be seamlessly

integrated into the existing smart home system

for enhanced privacy, comfort and energy

efficiency. This interface can also be the ideal

solution for new residential construction as SDN

motors are AC or DC powered, which is easiest

to deploy at the same time as construction for

built-in bi-directional communication in various

torque and power options.

With Control4 certified drivers and a simple

integration process, this interface increases

convenience for an improved connected living

experience.

"This new interface will improve the

connectivity of Somfy's line of digital motors to

Control4 systems, while also providing a modern

solution for today's smart home integrations. The

Control4 to Digital Motor Interface allows for

easy installation and because it is Control4

certified, dealers and integrators can find this

product in Control4's commissioning software,

making the process to deliver a flexible solution

even easier," said Amit Parpani, senior product

manager, Somfy North America.

40 Blinds & Shutters • ISSUE FOUR 2022
---
D o n

S m i t h

B l i n d s

Utilise our Industry Leading Expertise

Let us survey, manufacture and fit

through our SMF service for all our

Perfect Fit International Blinds® for

Roof and Gable Ends

Supplying your customers under your

company name

We also have a huge range of quality

made-to-measure blinds available for

supply only

Supplying Retail and Trade
---
AUTOMATION

AI has arrived

Josh.ai & Somfy

announce

partnership for

control of

motorized solutions

Josh.ai continues expanding upon the power

and range of artificial intelligence in the home

through an integration with Somfy, the world's

largest manufacturer of tubular motors for interior

window coverings and exterior shading solutions.

The partnership not only aligns two marquee

brands in the custom channel that are focused on

the design-build community, but also provides

multiple shading and screening fabricators with a

recommended voice platform. For clients that

want to adjust the degree of daylight warming

their homes or conveniently automate a theater

screen, Josh.ai now provides them with a natural

and privacy-oriented means of control.

Starting with the Tahoma interface, Josh.ai has

targeted wireless and retrofit applicable installs

with their first iteration of Somfy integration.

Support for Somfy's low voltage offer, including

UAI+, will be coming in a future update.

Integrators will enjoy an efficient deployment

process for WiFi connected Tahoma bridges after

enabling third party integration for Josh.ai in the

Somfy app. Once authorized, Josh.ai will

automatically begin pulling in the following devices

from Somfy for native control: Shades, Blinds,

Draperies, Exterior Screens, Awnings, Rolling

Shutters, Pergolas, Projection Screens, and Zigbee

Smart plugs.

By communicating directly to each device within

a project, the Josh.ai integration ensures a userfriendly

experience. The case of shade grouping

applies to not only a room's shades, but sub-types

like sheers and blackouts as well. Utilizing Josh.ai's

advanced device aliasing capabilities will enable

clients to experience an unmatched level of

convenience and joy when interacting with their

homes. Natural language commands like, "Ok Josh,

close the blackout shades and lower the theater

42 Blinds & Shutters • ISSUE FOUR 2022
---
AUTOMATION

screen," as well as, "Ok Josh, raise the firstfloor

solar sheers halfway," are now possible

with this new Somfy integration.

"When combined, voice control and solar

shading add an aspect to daylighting that

allows an occupant's space to react to their

needs at any given moment. Whether it's

exposing views, providing shade, or

protecting valuable artwork, the

combination of movement and voice

control is something to experience, and not

soon forget." said Brittany Mier y Terán,

Partnership and CI Channel Manager.

"Somfy North America is proud to partner

with an innovator like Josh.ai. Together, we

provide the design and architecture

communities with the ability to design for

wellness through natural voice control of

their favourite window treatments and solar

shading."

"Voice control of motorized blinds and

shades are some of the most popular

activations we see by Josh users, and

personally, I give commands to the shades in

my home multiple times a day," said Alex

Capecelatro, CEO of Josh.ai. "Our

partnership with Somfy provides dealers,

designers, and architects with an even better

selection when it comes to delivering

exceptional experiences for our mutual

clients. I can't wait to see the creative ways

the design and build community takes

advantage of this new opportunity!"

Choose Broadview as your

Trade Awning Partner

• Shading solutions for residential

and commercial projects

• Knowledgeable and highly

experienced team

• Point of Sale materials available

• Full dealer support

Call us for an informal discussion

01202 679012

sales@broadview.co.uk

www.pergolasandshading.co.uk/trade

Blinds & Shutters • ISSUE FOUR 2022 43
---
FABRIC

Luxurious collection

Chase Erwin

introduces

luxurious new

textile collections,

Solstice And Aurora

Luxury textiles brand Chase Erwin is launching

two new and exclusive collections, Solstice

and Aurora. These stunning new fabric

launches draw inspiration from nature, reflecting

the changing of the seasons and the chasing of the

Aurora Borealis lights. The highly anticipated

collections feature an elegant palette of subtle

colours with sophisticated appeal. Textured linens,

tactile silks and lush velvets flow seamlessly

together in a celebration of texture, colour and

pattern.

Founded in 1987 with a rich Icelandic heritage

and a scandi sensitivity to colour and texture,

Chase Erwin is renowned for their luxurious textile

collections that can be used individually or layered

with ease, showcasing a variety of superior-quality

options. These two new and expertly curated

collections reflect the versatility of the Chase Erwin

range, offering a wide range of weights, weaves and

textures for choice, comfort and contemporary

appeal.

Solstice: a new beginning

Solstice is a brand new and sophisticated textile

collection, with layered textures and soft whispers

of colour. Inspired by the concept of new

beginnings, Solstice reflects the subtle changing of

the seasons and the beauty of the Icelandic

landscape. With a bespoke colour palette that's

elegant and effortless, the fabrics will elevate any

interior with their timeless aesthetic.

The inspiring Solstice collection features fabrics

in a sophisticated mix of yarns including wool,

cotton, linen, viscose and silk, offering a versatile

and far-reaching collection of over 65 carefully

selected fabrics. The collection is designed by

Chase Erwin's creative team and skilfully woven in

Italian mills by dedicated craftspeople.

Tactile textures, luxurious linens and twisted

yarns add visual interest and evoke feelings of

warmth and comfort. The new Solstice collection

offers fabrics that can be used for upholstery,

drapery and accessories, which can be coordinated

with ease.

Colours of nature

Solstice features calming colourways which draw

cues from a walk through nature and reflect the

changing of the seasons.

Taking inspiration from the fresh green tones of

44 Blinds & Shutters • ISSUE FOUR 2022

continues on page 46
---
prestigious blinds

Portfolio Collection

Roller Blinds

ptblinds.co.uk

01274 568822
---
FABRIC

Spring, discover a crisp, natural colour

palette, evoking a walk through the forest,

with vibrant greens that reflect the lush,

verdant tones of trees and plants.

Summer is reflected in a palette of soft

neutrals with calming colours of cream,

restful taupe and earthy browns inspired by

the gentle colours of dried flowers and the

flaxen golds of pampas grass. Inspired by a

cascading Icelandic waterfall, discover fresh

blues - from cool aqua to sparling azure to

rich ceruleans. These serene tones inspire

feelings of tranquillity in nature.

Solstice features rich earthy tones for a

touch of Autumn warmth. Inspired by crisp

fallen leaves, discover soft browns, dusky

yellows and luxurious bronze.

Inspired by a misty forest in mid-winter;

Solstice also offers a soothing collection of

colours in tones that are perfect for winter

layering. Featuring comforting woven wools

in pebble greys, soft buff, subtle off-whites

and cool silver.

Aurora: a natural light

display

Aurora is an exquisitely curated collection

of 50 elegant new silk and cotton fabrics

woven by artisans in our mill specialising in

luxury weaves, in Lake Como, Italy. These

soft and flowing, luxurious silks make them

ideal for accessories and drapery. The

rainbow of inspiring colours available, reflect

the changing of the Aurora Borealis lights

and offer endless possibilities. The

meticulously crafted fabrics feature a

delicate soft sheen, inspired by the beautiful

dancing waves of light that have captivated

people for millennia.

Chase Erwin CEO Lauren Stonnell

comments: "We are delighted to be

introducing Solstice and Aurora to our

customers. We've curated these beautifully

crafted collections to offer a truly luxurious

aesthetic with timeless appeal, offering

beautiful quality textiles that are suitable for

a wide range of interior projects. These

inspiring new collections mark a pivotal

moment in Chase Erwin's evolution and

celebrate new beginnings. "

FOR YOUR COMFORT

WE ARE A CZECH

MANUFACTURER OF

SHADING TECHNOLOGY.

For 30 years, we have made sure

that you feel comfortable at home,

have the best lighting conditions

and can take care of the

things you really like.

www.isotra.com

46 Blinds & Shutters • ISSUE FOUR 2022

VENETIAN BLINDS

ROLLER BLINDS

AWNINGS

PERGOLAS
---
Save energy

Save money

Reduces

heat loss

by up to

43%*

(* Independently tested)

Siderails

High quality

fabric

Siderails with

brush seals

NEW

Portal

Quoting

System!

Rubber seal

Order today: portal.blocblinds.co.uk

Become a trade partner

T: 028 7944 0130 E: sales@blocblinds.com
---
FABRIC

Senses awakened

Awaken your senses

with The Fabric

Box Textures

Collection

At the Fabric Box we understand that touch

is part of the experience people seek

when they purchase interior goods.

Textured fabrics are making a comeback due to its

cocooning qualities. Studies have shown that when

a person feels something, it releases oxytocin, the

so-called Love hormone, reducing stress and

anxiety levels. The qualities attached to this was

intrinsic when developing the new textured

offering in The Fabric Box.

As the Fabric Box brand continues to evolve and

develop, the new Collection has been formulated

to adapt to contemporary living where the fabrics

provide a cocooning and relaxing aesthetic. The

balanced, yet sophisticated selection of textures

pushes the boundaries of conventional window

blinds to go beyond the conventional,

experimenting with new yarns, weaves, and fabric

weights. When combined, this amalgamation

presents an infallible selection emulating a balanced

yet sophisticated choice for the consumer.

Altea presents a stunning highly textured

horizontal weave, the mix of yarns and complexity

of the weave creates a defined tactile look. The mix

of colour combinations introduces a touch of

drama to the Collection. Emulating opulence, Vivi

showcases a dense, multi weave style fabric which

oozes a luxurious soft cloth look.

Stripped back to true organic form, Ennis

presents an authentic, natural feel, imitating a

cocooning woollen weave, whilst Logan's subtle

horizontal texture transcends from natural linen, an

earthen palette further embraces the consumers

desire for bringing nature indoors in the most

organic form.

Synonymous with texture, Focal's boucle style

weave is thriving in popularity, the highly twisted

yarns create a luxurious tactile finish that enables

acoustic absorption, making it perfect for areas

where there are higher levels of noise, whilst

encapsulating an environment of comfort.

Micro textures and heavy textures merge and

complement each other throughout the Collection,

and with the additional benefits of blockout and

dimout properties facilitating the optimum choice

of textures that enable the consumers to gain the

ideal level of comfort within the room.

As windows become wider to create an

equilibrium between the calming effects that come

with being close to nature and our busy lifestyles,

the Fabric Box continues to develop and evolve in

line with consumer demand. 8 Fabric Box textures

are available as 3m wide, these fabrics not only

create beautiful blinds for larger areas of glass, but

they also offer advantages to manufacturers;

reducing the need to turn or join fabrics whilst

offering increased production efficiencies and

waste reduction.

Through the synergy of fabric performance and

aesthetics, each Fabric Box textured weave

maintains and promotes their own distinct

identity. In its entirety, The Fabric Box offers

consumers the opportunity to choose from the

widest Collection of textured fabrics, each

developed with quality, individuality, and

sophistication at the core.

48 Blinds & Shutters • ISSUE FOUR 2022
---
ADVERTORIAL

Setting new

standards

Sattler sets new standards with the 2023

collection

Sattler has been inspiring customers with its stylish and unique

designs for years. Now the time has come again and Sattler

launches a new collection with the beginning of 2023.

With the new 2023 collection, functionality meets breathtaking

design. The unique design line LUMERA LEAF inspires with its

inspiring and natural colors. The inspiration for this design line the

dense forests and leafy canopies.

Thanks to our great design team, who have worked on the unique

designs with the help of trend research and development, this

extraordinary and unique design line could be created.

Also popular design lines such as URBAN DESIGN and LUMERA

LANDSCAPE have been extended based on the latest trend

research of our design team.

The new quality LUMERA ALL WEATHER is a true masterpiece of

our research and development. 100% spun-dyed brand acrylic with a

special IPC coating. In addition to our well-known TEXgard, this

innovative coating overlays the fabric, creating a protective shield that

makes it impossible for rain to penetrate, but still gives the fabric a

suppleness that allows it to perform at its best on the layout.

Our fabrics speak a clear sustainable language: Thus, our textiles are

not short-lived disposable items, but products that are produced,

tested and approved for above-average outdoor use.

SUNPROTECTION

N

FABRICS WITH

ADDED VALUE

100% spun-dyed premium acrylic is the base

of all our fabrics – this is how we at SATTL

LER

create a long-lasting and thus sustainable

product that will beautify any terrace or bal-

cony for decades.

With the new collection, which will also be

available in specialized stores from January

2023, we are once again setting standards

with innovations in design and quality.

Our new Design Selector

supports you in your sales

process and your customers

in choosing the right fabric.

Try it out:

Blinds & Shutters • ISSUE FOUR 2022 49

www.world-of-sattler.com
---
FABRIC

Premier partnership

Legrand has

teamed up with

Coulisse for a new

designer collection

Legrand Shading Systems is excited to

announce the launch of its new fabrics

featuring designer collections from Coulisse,

Twitchell, Phifer, and more. Fashion-forward,

beautiful, and functional, the curated collections

feature new decorative, solar screen, sustainable,

and room-darkening options — perfect for

dressing up windows in style and spicing up any

room. With this latest release, Legrand now offers

753 fabrics in its portfolio.

"Windows are one of the most distinct design

elements of any home or business, and they should

be outfitted that way," said Charlie Derk, Director

of Product Marketing, Shading and Residential

Controls, Legrand North America. "Our latest

collections have been expanded and curated to

reflect today's style trends, delivering many

decorative window covering options that can pair

with black-out fabrics to create the most functional

yet beautiful window treatments available. They're

the perfect solution for homeowners looking for

something modern and different."

These unique collections from Legrand Shading

Systems will dress up any space. From delicate

screens to richly textured linen black-out fabrics,

homeowners and interior designers will enjoy

making a statement with their windows:

• Highly regarded by designers, the Coulisse line

reflects European style with textures and colors

inspired by nature. Legrand Shading Systems has

added several Coulisse collections that provide

many light filtering levels to create attractive,

elegant finishes, including Como, Hampton, Mexico,

Mombassa, Salvador, and Santiago styles.

• The Twitchell fabric line encapsulates laid-back

luxury to achieve the all-American boho feel with

meticulously designed, high-quality woven fabrics.

Made in the U.S., Twitchell's EarthTex and

Shadeview solar screen collections provide a

unique color and style not found in other fabric

lines.

• Sustainable meets chic with the new options in

Legrand's Phifer fabric line, featuring stylish, highperformance

fabrics with several certified

sustainable selections. Phifer has been expanded

with additional colors, lighting-filtering and blackout

choices, including an aluminum-backperformance-plus

option.

• Blackout is the new black with Legrand's

growing Blackout collections. Beyond basic, the

new collection also offers a variety of black-out

styles and shades, whether customers want a dark,

goth-inspired look or a summery light color that

will still keep sunrays out.

For windows that need the option of both

lighting filtering and room darkening, Legrand has

several matching light-filtering and black-out fabrics

available, which utilize one set of brackets for two

shades. In addition, these new fabrics pair

beautifully with Legrand Shading Systems' new

Designer Series decorative brackets and hembar

endcaps.

Legrand Shading Systems has just launched two

new fabric books packed with all the new fabrics.

Dealers can order the new books featuring

Coulisse and the other new high-end fabric

collections on the online service center (OSC) or

from their customer service rep.

50 Blinds & Shutters • ISSUE FOUR 2022
---
SAS DICKSON CONSTANT - capital 12.640.000 euros - 381 347 970 R.C.S. Lille Métropole - Photos : Landry Laurie - Glen Raven TM is a trademark of Glen Raven, Inc. - Dickson Constant is a Glen Raven company

SOLAR

FABRiCS

COLLECTION

Awning fabrics

More contemporary

New range of stripes

A pallet of harmoniously

toned colours

Material effects through

transparency

More natural aspects

Changing plains

the art of weaving by Dickson ®

LUXAFLEX - 0161 442 9500
---
FABRIC

The right fabric for you?

Interior design

experts reveal

which fabrics are

right for you, based

on your personality

When it comes to decorating your

home, you often first think of the

larger, functional pieces of furniture.

Wardrobes, sofas, beds – they're always at the top

of the priority list. However, if you are looking to

go beyond the basic necessities and create an

expertly styled space, it's time to take notice of the

smaller details – yes, we're talking about textiles.

From satin to suede, there are hundreds of

textiles and textures for you to choose from, and

each fabric you use in your home enhances your

interior style. So, how do you know which one is

right for you? Luckily, the UK's leading online

design-led furniture brand, Swoon, and its interior

designers, are here to reveal all. Continue reading

to discover which fabric is most suited to your

personality and lifestyle, according to the

professionals…

Velvet – 'the socialite'

If you're a fun loving, super social twentysomething

(or at least still party like one!), velvet is

your ultimate go-to fabric. Bold, spirited, and chic –

velvet is a versatile textile that can be used all

around your home, on anything from suave sofas

to whimsical wallpaper.

To incorporate this into your social abode, why

not treat your inevitable overnight guests to a

sumptuous sleep on a crushed velvet sofa bed?

Reminiscent of the opulence of the 1920's, crushed

velvet emanates luxurious, cocktail party vibes.

Choose a radiant colour that co-ordinates with

your current interior – we love a champagne pink

or harissa burnt red to make a real statement.

After all, you love to be the centre of attention.

Linen – 'the mother'

Whether you have children, four legged friends,

or you are just the mother of the friendship group,

we bet you love a chilled out, early night in bed

after a long day. And, what better fabric to unwind

upon than linen? If you'd love to replicate the

'Coastal Grandma' trending style, or simply love a

minimalistic, natural aesthetic, linen is the ideal

fabric to enhance your current interior to the next

level.

Since you love spending time relaxing in cosy

spaces, why not upgrade your bed to one with a

luxurious linen headboard? Choose an alabaster

shade linen for a truly tranquil, beachside hotel vibe

– the perfect place to lay back, relax, and

recuperate for tomorrow's activities. Delightful.

52 Blinds & Shutters • ISSUE FOUR 2022

continues on page 54
---
IN CIRCLES

Do you get to the point

or

GO ROUND

Some of the best curves, straights,

angles and shapes in the business

t: 01260 297976

f: 01260 297515

info@blindshapers.com

www.blindshapers.com

TM

BLINDSHAPERS LTD

FESTIVAL WORKS

SPRAGG STREET

CONGLETON

CHESHIRE

CW12 1QR
---
FABRIC

Corduroy – 'the hipster'

You're cool, and you know it. You listened

to that popular artist before they were

famous, and most of your clothes have had

more than one previous owner. We get it.

We bet you've got some corduroy in your

wardrobe, but did you know you can

incorporate it into your abode, too? With its

distinctive cord pattern, this fabric stands

out, but not in an obvious way – just like

you.

So, what better way to integrate

corduroy into your interior than with an

individual mis-matched chair, such as a

loveseat? Choose a tone or shape that

opposes your current sofa, to create a chic

dichotomy in your lounge space that reflects

your individual personality. Be the black

sheep.

Boucle – 'the trendsetter'

You're all about trends and staying on top

of them – from styles straight off the

runway to chic vintage pieces from eras

long gone. Since you're always on it with the

nation's current obsessions, we can only

guess you have this fashionable fabric in

your abode already. Yes, we're talking about

boucle. This organic looped fibre fabric is all

of the rage at the moment, oozing modern

cosy vibes into any space.

To absorb this trending textile into your

abode (if you haven't already), we

recommend going minimal and thinking

small – remember, less is more. The finishing

touches are the cherry on top when it

comes to interiors, so why not add a

sophisticated ottoman footstool

embellished with the fabric? Whether you

use it as an unorthodox side table, or a

place to rest your feet after an evening in

those uncomfortable but oh-so-chic

designer shoes, a footstool is the ultimate

subtle addition to your space to integrate

boucle into your interior.

Yarn – 'the homebody'

You're probably reading this from the

comfort of your living room. Candles are lit,

Netflix is on, a freshly prepared dish is

bubbling along in the oven – you're a

homebody. You enjoy nothing more than an

evening in, playing board games with your

loved ones, enjoying each other's company

from the comfort of your own home. With

this in mind, the fabric most suited to your

personality, unsurprisingly, is the humble and

homely yarn.

This spun thread is long lasting, and has an

organic aesthetic that would fit perfectly into

your unpretentious and intimate abode. To

combine it into any space effortlessly, a yarn

based woven rug is the ultimate accessory to

create a welcoming and warm atmosphere,

instantly. Stick with a neutral colour palette of

beiges and earthy tones, and place the rug

one third underneath your sofa for an

effortless display of cosiness. Perfection.

So, which one of these fabulous fabrics do

you gravitate towards based on your

personality traits? Whether you are a linen

lover, or a boucle aficionado – incorporating

different textures and textiles into your

home will naturally enhance your interior

style without spending a fortune. All that's left

to do now is to get shopping!

CUT & WELD PERFECT ROLLER BLINDS

Matic M1

- Automatically cuts on four sides

- Fast and Accurate

- Athenea Software links to

your Order System

- Utilises part rolls or pieces

- Automatic Nesting

- Minimal Waste

- Users report over 25%

material savings and increased

production

54 Blinds & Shutters • ISSUE FOUR 2022

Matic M1-PC Cutting Tables

&

Matic Impulse Welders

All Matic machines are Industry 4 compatible

www.atech.co.uk

Matic Welders

- Automatic fold and weld

- Perfect for vertical blinds

- 3 - 8m welding widths

- Weld Zips, Pockets, Splines

and much more

- Seamless welding, no shine

- Weld fabrics with welding

tape

- Semi or Fully Automated

- Simple to use
---
Sun protection

Sun protection

Sun protection

Sun protection

Outdoor living

Roller shutters

Discover our

full promotion

on tailor-made

solutions at

www.harol.com

Roller shutters

Outdoor living

www.harol.com
---
AWNINGS

Restaurant protection

markilux furnishes

event location in

Mannheim with an

awning system

The restaurant and café "bootshaus" in

Mannheim has had its outside terrace

covered with a large awning, the "pergola

stretch" from markilux. This means the location

now also offers an outdoor dining area protected

from the vagaries of the weather.

The "bootshaus" restaurant is situated next to

the Luisenpark, very close to Mannheim's

television tower, looking over the river Neckar. The

restaurant also serves as a location which

organises events for up to 500 people. The

company had its 160 square metre restaurant

terrace covered with an awning system from

manufacturer markilux so as to be able to offer

this kind of capacity whatever the weather.

Now, the terrace is much

more versatile

"After a few months of preliminary planning,

last autumn, we were commissioned to furnish

the outside terrace with our 'pergola stretch'

model. When it came to the cover, the customer

chose a rainproof fabric so as to be able to make

the space available in as versatile a manner as

possible," explains Jan Kattenbeck, "team : project"

sales manager at markilux. The system consists of

four awning units adjoined to one another with a

total width of over 23 metres and an extension

of seven metres. The terrace can also be closed at

the sides with two vertical blinds featuring

panoramic windows. Combined with "format

triangle" side sections, which meet the awning

roof at its edge, the system provides good

protection from both wind and rain. LED lighting

systems also ensure an attractive lighting

atmosphere in the evening says Jan Kattenbeck.

Installation by a local qualified markilux specialist

dealer, supported by "team : service" from

markilux, took just over a week. All the necessary

components were lifted in by crane. "Thanks to

our pergola canopy, you can now use the terrace

virtually all year round. And that of course pleases

the restaurateur," says Jan Kattenbeck. The

restaurant had after all been closed for months

due to the pandemic. But it was able to re-open

again in the middle of March this year with a new

restaurant terrace that can be used whatever the

weather.

56 Blinds & Shutters • ISSUE FOUR 2022
---
HAFREN

EFFORTLESSLY ELEGANT

/hav-ren/ Welsh

noun

A legendary Welsh Princess who was

drowned in the River Severn by her stepmother.

Hafren is the Welsh name for the River Severn.

RETRACTABLE

CANOPY

ABOUT

A modular electrically-operated retractable canopy.

Utilises highest quality Makefast sliding roof

systems.

Canopy retracts to the rear at the press of a button.

Marine-grade 316 stainless steel roof frames.

FEATURES

Module width up to 4m

Module projection up to 6m

All modules can be linked

Marine-quality waterproof fabrics

Proudly designed and manufactured in Wales

info@shashe.co.uk

01686 629010

www.shadeandshelter.co.uk
---
AWNINGS

Stretching out

The "pergola

stretch" model

from markilux is in

tune with the times

The "pergola stretch" from markilux has

been on the market for a year now and

has already exceeded the sales figures

expected by the company. According to the

manufacturer, the design award-winning awning

model is extremely popular with both private and

commercial end consumers, such as those in the

hospitality industry.

Awnings have grown in size in recent years as

nowadays, patios are often used as spacious

outdoor oases. They therefore need a product that

provides generous shade to protect against the

effects of sun, wind and rain. Systems that can be

attached to the building as well as free-standing

ones are in demand among end users.

Successful market entry

The "pergola stretch" from markilux also falls

into this product category. The model, which has

won two design awards, can cover areas of up to

175 square metres with its special toothed gear

drive that guides the awning cover along lateral

guide tracks like a roof festoon. The product was

an eye-catcher as soon as it was launched thanks

to its homely textile character and XXL

dimensions. This is where, according to Klaus

Wuchner, Director of Sales and Marketing,

markilux clearly stands out from the competition.

In great demand in its first year

Mr Wuchner is also more than satisfied with the

sales figures of the "pergola stretch" over the past

year: "We are seeing a great demand for pergola

awnings because, as well as acting as sun

protection, they also provide excellent protection

against wind and wet weather," he explains. Its size

and the various lighting and heating options bring

the stretch version completely in tune with the

times. Demand is high from both private

customers and commercial end users, especially

from the hospitality sector. This was demonstrated

by the numerous customer contacts in the

company's showrooms, as well as by the large

number of pergola configurations on the Internet

and via the markilux Augmented Reality App. The

product quickly won over the specialist dealers,

too, with its installation-friendly technology.

Product range shows great variety

Thus, the stretch version has once again added a

sought-after product to the manufacturer's pergola

family. "We are offering a lot of visual variety within

this group of products. The awnings are suitable for

outdoor areas ranging in size from small to very

large. They can also be transformed into a cosy

outdoor space on the terrace with a wide range of

accessories," says Klaus Wuchner. And to round off

the portfolio even more, markilux is launching

another model variant of the "pergola" this year.

58 Blinds & Shutters • ISSUE FOUR 2022
---
WHY CHOOSE OUR

ENGINEERED WOOD SHUTTERS?

• Affordable - a more budget-friendly option

without compromising on style or functionality.

• Durable and hard-wearing - recommended

for high traffic areas of your customers' homes.

• Available in over 20 popular colours - coated

polymer allows for a wider colour choice across

our Seattle and Georgia ranges.

• Wipe-clean surface - allows for easy and

quick maintenance.

FIND OUT MORE AT CUSTOMWEST.CO.UK OR CALL US ON 0800 681 6076
---
VENETIAN

In the fast lane

Coulisse is

introducing some

new motorised

ranges at IFA 2022

At IFA 2022 Berlin, the world's most

significant trade show for consumer and

home electronics, global window covering

specialist Coulisse in collaboration with smart

home specialist Eve Systems is presenting Eve

MotionBlinds motors for Venetian and

Honeycomb blinds. These Thread-enabled motors,

currently working exclusively with Apple Home,

are the most advanced solutions on the market

and ready for the smart home future with Matter.

Both motors will be available later in the year

following Eve MotionBlinds for Roller Blinds, which

has been available since the start of this year, being

widely acclaimed by smart home experts.

Ready For The Smart Home

Future

Eve MotionBlinds motors work with the Thread

protocol, designed specifically for smart home

solutions to improve connectivity between

devices. Thanks to Thread, the motors are ready

for Matter, the new smart home protocol

developed jointly by leading platform providers

and smart home manufacturers to eliminate

incompatibilities in the smart home once and for

all, starting this fall.

Eve MotionBlinds motors, currently working

exclusively with Apple Home, will begin receiving

free over-the-air firmware updates so, over time,

they can be used with other Matter platforms like

Amazon Alexa, Google Home, or Samsung

SmartThings. This makes Eve MotionBlinds the

most future-proof blinds and shades motors

available on the market, and ready for a simpler,

more interoperable smart home.

The Next Essential Smart

Home Device

"As an industry leader in window coverings we

are ready to conquer the smart home world," says

Christiaan Roetgering, founder and owner of

Coulisse. "With smart home connectivity, security,

heating, energy and health being trends to watch,

the smart blind market is being heralded as the

next big thing that will revolutionize households

and buildings across the world. Making life easier,

safer and more convenient, while saving energy at

the same time."

60 Blinds & Shutters • ISSUE FOUR 2022
---
VENETIAN

"Smart home technology is no longer

about comfort only, it also contributes to

safety and saving energy. Connected blinds

are a prime example as they are key to

keeping your home cool," says Jerome

Gackel, CEO, Eve Systems. "As Threadenabled

accessories, Eve MotionBlinds are a

future-proof choice because they can

natively support Matter."

Eve MotionBlinds For Venetian Blinds

Venetian motor CM-06-E-V is specially

designed for tilting and lifting wood and

aluminum blinds with slats in widths of

50mm up to 65mm, assembled with ladder

tape or ladder cord. This powerful 6Nm

motor first rotates at low speed to tilt slats

in exactly the right position. When lifting the

blind, the motor automatically speeds up.

Seamlessly integrated into the head rail,

the Venetian motor CM-06-E-V has a builtin

battery that is USB-C rechargeable,

allowing smart Venetian blinds to be

installed cable-free. A control panel in the

head rail of the blind provides easy access

to the motor's USB-C charging port and

control buttons.

Eve MotionBlinds For

Honeycomb Blinds

Honeycomb motor CM-08-E is specially

designed for window covering systems with

pleated or cellular fabrics in various cell sizes.

This 0.6Nm Honeycomb motor has a builtin

USB-C rechargeable battery, allowing

cable-free installation.

Thanks to its rotatable head, the

Honeycomb motor can be slid into the head

rail on either side of the system, with the

USB-C port and control buttons remaining

easily accessible to users. The motor head is

nicely covered with a cover cap, available in

colors to match the head rail, for that

perfect finish down to the finest detail.

Eve MotionBlinds For

Roller Blinds

Eve MotionBlinds for Roller Blinds has

been available since the start of this year

with 1.1Nm motor CM-03-E for 38-50mm

tubes. The second ultra-powerful CM-06-E-R

motor for large-size roller blinds with heavy

fabrics such as screens will become available

later this year. This 6Nm motor is suitable for

42-80mm tubes, has a larger battery capacity,

and is more silent than CM-03-E. The motor

can also be used in larger roman blind

systems. CM-06-E-R also has a built-in USB-

C rechargeable battery allowing cable-free

installation.

The Benefits

Eve MotionBlinds is the crème de la

crème of smart motors, drastically

simplifying installation, setup and control of

smart blinds in smart homes.

• No need for a bridge, registration or

any cloud dependency

• Setup is super easy: simply scan the

HomeKit setup code with your iPhone

• Putting the blinds on autopilot is

effortless, thanks to on-device schedules that

can be created in the Eve app

• Through HomeKit automations in the

Apple Home app, the blinds seamlessly

interact with other HomeKit accessories

• 100% privacy with local intelligence and

direct communication, all data stays in the

home

• Manual control with just a simple pull, a

valuable add-on to smart automation

MAJOR SYSTEM

Dutch Blind

Extrusions and

Components

EXTRUSION.

ANODISED, WHITE AND

BLACK + INSERT

PULLEY BLOCK

DUTCH COVERBOARD

6 metre x 200mm

4 LEG HINGE CORNER INTERNAL MITRE INTERMEDIATE

BRACKET

TUNING FORK

COVERBOARD

J' BRACKET

METRO SYSTEM (DA1)

CENTRE LEG

BRACKET

BACK HINGE PIECE

CLEAT STRAP HINGE ALUMINIUM PULLEY PLASTIC PULLEY 'J' HOOK

END CHEEK

FIXING ANGLE

1" x 1" x 6 metre

ANGLE

1" x 1/8" x 6 metre

BRACING BAR

DOG LEG BRACKET

Made from Glass Filled UV Stabilised

Nylon for strength and durability.

All components moulded to match the

colour of the Extrusions.

Anodised, White, Black (Major system)

and Anthracite (Metro System)

EXTRUSION. ANODISED,

WHITE AND ANTHRACITE

+ INSERT

INTERMEDIATE

BRACKET

4 LEG HINGE CORNER type 1 CORNER type 2 CORNER type 3 UNIVERSAL BRACE HIDEALL TAPE

CENTRE LEG

BRACKET

EXTRUSION CAP FIXED WALL PLATE DISPLAY STAND T

CONNECTOR

Unit 2a, Miglo Ind Est, Paignton,

Devon, TQ4 7QW

Tel: 01803 522887

E: tony@supa-shade.co.uk

Blinds & Shutters W: www.awningsdevon.co.uk

• ISSUE FOUR 2022 61
---
NEW PRODUCTS

Superior system

Softcell says it

offers superior

system selection

Decora is introducing a new V Series

pleated and cellular blind system to

complement their existing Fabric Box

Softcell Collection.

The V Series system has been designed and

engineered by Vako, part of the Mzuri Group. Vako

was established in 1984 and is a wholesale systems

provider to the European and Global window

blind market, designing a producing their own

systems; some of which have been patented.

Boasting a wide range of system choice the new

V Series operation can vary from a highly

innovative patented child safe breakaway chain

control, free hanging, spring, and tensioned options

alongside motorised control offering the ultimate

in comfort and control.

The ultimate choice for child safety and

convenience is motorisation. System V07 enables

seamless integration with innovative and smart

home appliances. When motorised every Fabric

Box pleated or Softcell blind will create a safe,

comfortable and more energy efficient

environment. Favourite positions can be set along

with the ability to schedule timed control with your

remote, smartphone or Home Automation system.

Reenforcing the importance of ensuring a child

safe home, the V04 free hanging spring operation

enables the blind to be placed at any position by

simply positioning the bottom rail. Eliminating the

need for cords the V04 system presents another

inherently child safe option.

Vako's innovative design concepts are

showcased with the V05 and V06 system options.

The chain control operation houses a patented

break away side winder, which releases from the

headrail when pressure is applied. This unique

operation system is available a bottom up and

top- down bottom-up.

The V Series system is also available in traditional

free hanging bottom-up and top-down bottom-up

operation as well as day and night which allows two

fabrics to be utilised on the one blind to facilitate

semi-transparent and blockout properties.

Developed to keep the fabric in place,

tensioned options are the perfect solution for tilt

and turn windows or bi-fold doors. Available as

top-down bottom-up operation the V08 system

offers perfect light control and privacy. Operation

is controlled through moving the slimline top and

bottom profiles to the desired position.

The V Series is available to order in a selection

of colours, white, anthracite, grey and black.

62 Blinds & Shutters • ISSUE FOUR 2022
---
SUPER QUICK HEAT WELDER FOR PVC VERTICAL BLINDS

Micro Pneumatic's

Heat Welder

Compact and lightweight, to sit on top of any bench

Gives a super flat weld in record time, approximately

2 seconds per weld

Can also be supplied as a double headed unit

Please contact Micro Pneumatics Ltd for more information

Tel: 0116 2611055 / 0116 2611066 Email: sales@micropneumatics.co.uk

Micro Pneumatics Ltd

1 Palmer Street

Leicester LE4 5PT

MICRO PNEUMATICS

INNOVATION – AUTOMATION – SERVICE
---
NEW PRODUCTS

Stunning new rollers

PT Blinds launches

stunning new roller

blind collection

Ready for the autumn and winter months, PT

Blinds is set to unveil its new roller blind

collection featuring 50 new designs, 50

daylight plains and 50 blackout plains, all available

from the 1st September.

Showcasing many of the best-selling fabrics from

sister company Prestigious Textiles, each stunning

on-trend design has been exclusively selected for

the new roller blind offerings, which will inspire and

transform any room.

From eye-catching conversational prints to subtle,

sophisticated plains, the versatile and practical blinds

come in an extensive range and can be controlled

by either a standard chain sidewinder, or an

upgraded motorisation via a remote control.

All roller blinds come with the standard roll,

reverse roll is also available as an option.

Alternatively you can upgrade to a closed cassette

heading available in six colours.

Available in either a Daylight quality, PVC quality,

which is suited to bathrooms and kitchens, or

blackout which is ideal for bedrooms, each style can

be bespoke to suit every situation.

These include:

Nicobar Jungle – Featuring statement leaf prints

for a captivating and natural finish, Nicobar Jungle's

rich green styling links interiors with a spacious,

outdoor feel, giving off a vibrant rainforest look.

Pacific Cream – A subtle blind design ideal for

bathrooms and kitchens, Pacific Cream has delicate

green bamboo shoots and leaves to inspire a

tropical and tranquil setting.

Alano Azure – With leafy trails and gentle

geometrics, Alano Azure offers a lightweight, breezy

feel, lending its gentle blues and lilacs to a calming

overall style.

Hanalei Hibiscus – Offering a contemporary edge

to a classic floral trend, Hanalei Hibiscus is inspired

by Hawaiian tropics, and boasts a stunning canvas

for laid-back living.

Osaka Green Tea – Taking inspiration from

Japanese gardens, the watercolour foliage of Osaka

Green Tea is presented in a palette of calming

pastels, to add an element of zen to the home.

Honeysuckle Honey – With vibrant, hand-painted

florals in a range of rich oranges and greens,

Honeysuckle Honey captures the essence of the

English botanical gardens.

PT Blinds' Roller Blinds are available in 50 brand

new designs, as well as 50 on-trend plain colours, in

a PVC, daylight or blackout finish from the 1st

September here: https://ptblinds.co.uk

64 Blinds & Shutters • ISSUE FOUR 2022
---
Semper Blinds

At Semper Blinds we are a

trademarked family run company

with over 30 years combined

experience, where we offer a range

of pleated and cellular blinds, in a

manual and motorised format. All

of which are made in house by our

team in Rochdale, Manchester.

Website

www.semperblinds.com

Queries

semperblinds@gmail.com

Orders

semperorders@gmail.com

Mobile

07766 600131

Fax

01706 662441

What we do?

3

3 Freehangs

3 Skylights

3

3

UK Survey and fit service for

PFI conservatory roof blinds

in pleated and cellular fabrics.

5-year warranty and

Lantern Blinds (PFI framed skylights)

a 5* service

Perfect fit (pleated, cellular and venetian)

Venetians (metals and woods)
---
NEW PRODUCTS

Contemporary control

Eclipse has a range

of contemporary

finishes to please

any home owner

Combining the most desirable aesthetic

features with sleek and innovative design,

Senses is a contemporary, stylish window

blind system that has been designed by our product

design and development experts. The perfect

complement to any traditional or modern interior

makes it the superior system choice for any window

covering.

Senses is available to your customers in Vertical,

Roller, Mirage, Pleated, Hive or Venetian Blinds. Our

Senses system is a slimline system that allows a

flawless finish, perfect for every room. Complete

your customers blind with a choice of

contemporary rail and endcap colours. It's the ideal

way to upsell the standard blind to give your

customers a different and stylish option.

Your customers can live the life of luxury with

our Slow-Rise, Elavate and Powershade systems.

Slow-Rise is a system which is a sophisticated one

touch operation for your roller blind, allowing your

customers to select the 'rise' speed and 'stop'

position of their blind, for simple control at their

fingertips.

The Elavate blinds bring a smooth, simple

operation to Pleated and Venetian Blinds. You raise

or lower the bottombar and to your desired

position and tilt your slats by hand, without the

need for cords or wands.

Or go one step further and motorise the blind.

Motorised blinds are very popular just now and

have definitely sparked the interest of consumers.

Powershade is the ultimate offering of luxury and

convenience for your customers. With a quiet and

smooth operation, the motor and rechargeable

battery are both discreetly contained within the

blind to maintain the stylish appearance. Combine

with the Powershade Smart Controller and to

control the blind with your smartphone device.

Available for iOS and Android, the product is also

compatible with Amazon Alexa, Google Home and

Siri Shortcuts to easily integrate into homes.

All three systems also have the benefit of being

child safe by design, give your customer complete

peace of mind.

66 Blinds & Shutters • ISSUE FOUR 2022
---
NEW PRODUCTS

Hide and seek

Yewdale says hide

roller blinds when

they're not in use

ShadeBox is an innovative recessed box

system designed by leading commercial blinds

manufacturer, Yewdale. It has attracted a lot of

interest from architects who specialise in creating

minimalistic, modern interiors.

ShadeBox blends into the ceiling and conceals

roller blinds from view. The blind is fitted within

the box system, meaning it isn't visible unless the

blind is being used.

Hiding roller blinds from sight ensures external

views are not obscured by the blind and increases

the amount of light coming through the window.

When shading is required, the blind descends from

the ceiling.

Installing the box system is surprisingly simple. All

a tradesperson needs to do is dryline or plaster up

to the box during the construction of the ceiling.

Alternatively, an adaptor can be used which enables

the installer to fit ShadeBox within a false ceiling.

This system is only supplied in component form

and is available up to 5m in length, ensuring it fits

most windows. ShadeBox is supplied as standard in

white but can be powder-coated in any RAL

colour to suit the interior design of different

buildings.

If you'd like to learn more about ShadeBox®,

please email enquiries@yewdale.co.uk or call us on

01268 570900

68 Blinds & Shutters • ISSUE FOUR 2022
---
clic

PLEATED, HONEYCOMB

& VENETIAN BLINDS

Our clic bead-fit system's ultra slim design has been developed to fit perfectly onto any double-glazed

window but is particularly suitable for bi-fold doors and tilt-and-turn windows.

With clic, there is no need to measure the window's bead depth as this system has been carefully

engineered to fit all window frame depths with a single bracket type.

Its clever, fold away handle makes it ideal to use on bi-fold doors where it is important that the blind

does not protrude further than the window frame.

Please contact your Area Sales Manager to see a sample of clic along with the beautiful collection of

venetian slat finishes and pleated and honeycomb fabrics, that are available with this blind.

tropicalblinds.com
---
NEW PRODUCTS

Reimagining rollers

Luxaflex reimagines

roller blinds with

new LightLine

collection

With clean lines and a contemporary

feel - it's easy to fall for the charm of

the new LightLine Roller Blinds

collection from Luxaflex.

The classic roller blind has been reimagined with

the incorporation of distinctive segmented panels

and customisable features.

The collection's simplistic feel fits perfectly with

the emerging Japandi interiors trend and a fusion of

Scandi and Japanese influences can be seen in the

product's sleek look and natural colour palette.

Play with colour and light

Fabrics feature a translucent finish, allowing

LightLine Roller Blinds to create an attractive light

filtering effect that maintains privacy, while still

allowing a softly diffused natural daylight through

when closed.

Consumers are invited to play with colour and

patterns to create unique segment combinations

that suit their individual home and style. The blind's

panels are available in 29cm and 44cm segments

and are separated by sleek aluminium trims.

Throughout the collection a serene colour

palette incorporates shades of earthy browns, grey

stone and sea blues, featuring prints that are

reminiscent of the natural landscape, fabric textures

and marble.

The composition of the LightLine Roller Blinds

fabric is a mix of polyester and polypropylene, making

it highly practical for kitchens and bathrooms as the

blinds can resist moisture, heat and sunlight and can

be wiped clean with a damp cloth.

Design Options

Banded aluminium trims are available in white,

aluminium and black, with a 40mm bottom trim and

smaller 10mm bars throughout, adding to the

contemporary look.

It's the finishing touches that count, a cassette

option is available with this product range to

complete the sleek appearance.

Smart Home Control

For the ultimate in smart home convenience,

homeowners can team LightLine® Roller Blinds

with PowerView Automation, which allows

homeowners to program their shades to

automatically open, close or adjust on a schedule.

PowerView Automation also seamlessly

integrates with other smart home systems and

speakers including Amazon Alexa, Google Assistant

and Apple HomeKit for voice-activated control of

window coverings.

70 Blinds & Shutters • ISSUE FOUR 2022
---
FAUX WOOD VENETIAN BLINDS

Our Quality Builds Your Reputation.

To find out more 01908 642 888 | www.homecreationsuk.com
---
NEW PRODUCTS

Making sense

Eclipse has

introduced a new

Senses range

Introducing the new Senses Roller & Mirage

system from Eclipse. This new system has been

developed with the customer in mind. You've

spoken and we've listened!

The key message is simplicity and scalability,

allowing you to scale up your blind to gain

enhanced capabilities without the need for lots of

additional componentry. The new system maintains

the stylish Senses aesthetic, with many improved

features and benefits.

Supporting the trend for wider windows and

wider width blinds, this system boasts blinds up to

3.5m wide and up to a 6m drop.

We can offer an improved smoothness of

operation through well engineered friction units,

with built-in chain guides to fascia endcaps.

You can reduce stock holding needs with the

universality of components. Only 3 bracket types

required to achieve all chain-op and motorised

blind sizes. Installation is also easy for the Fascia &

Mounting Profile blinds with common mounting

brackets.

The 32mm, 40mm and 48mm tubes are all

compatible within the Fascia, Mounting Profile and

as Standard Fit. The 48mm tube is designed to fit

40mm friction units and motor crown & drive with

no additional componentry necessary.

The built-in Mirage channel on Fascia & Mounting

Profile reduces additional componentry count, as

well as improving assembly process and panel

coverage.

The new Senses Universal Fascia is available in 5

colours with complementing endcaps. It also allows

for reverse roll fabric drops of up to 3m. Multiple

blinds can be fitted within the same fascia using the

new universal brackets.

72 Blinds & Shutters • ISSUE FOUR 2022
---
That holiday feeling. Every day.

Design Novelty: markilux pergola cubic – Essentially square. Practically superb.

| Brand

| e.g. markilux MX-2

50 years of designer awnings "Made in Germany".

50 years of innovative, safe sun protection.

50 years of happy and satisfied customers.

For the most alluring shade in the world. markilux.co.uk
---
NEW PRODUCTS

Home comforts

Duette window

shades are one of

the most popular

choices for

homeowners when

it comes to

choosing window

blinds for their

home.

Luxaflex is thrilled to announce that their latest

and long-awaited new Duette Shades

collection is now available in-store for

customers to browse and purchase.

With exciting new fabric colours and designs for

every window, lifestyle and season, customers will

be pleased to know that these exquisite and

exclusive fabrics not only look good, but have

extraordinary energy efficient properties.

Duette has also got an exciting new feature that

promises to provide the ultimate in room

darkening.

So, without further ado you'll find all there is to

know about the new Luxaflex Duette Shades and

more in this article.

Luxurious Fabrics and

Colours

Customers can choose from pastels to natural

tones and new inspiring patterns, there's a look for

every style from period to modern homes.

Inspired by the latest colour and design trends

Luxaflex designers are proud to introduce new

metallic designs that add a touch of glamour to any

room. These delightful fabrics gently sparkle as the

light moves across the window, making an elaborate

unique light show.

A Design for Every Window

There are options for each and every window

type, from sliding doors to Tilt & Turn, or shaped

windows. Duette Shades work perfectly with

virtually all window types, shapes and sizes.

LightLock

The new LightLock system is a revolutionary new

feature that is ideal for locking out light. Customers

can browse and select from a variety of room

darkening fabrics which also absorb or deflect

nearly all the incoming light sweeping into your

74 Blinds & Shutters • ISSUE FOUR 2022
---
NEW PRODUCTS

from, you can be confident that you're doing

your bit to support our planet.

Duette Shades are also built to last the

test of time and are carefully measured to

your windows. All shades also come with a

5-year guarantee.

room.

Only the new collection of Duette Shades

offers this level of room darkening. Suitable

for the whole family, for a better night's sleep,

to darken media rooms or to deflect light in

a home office. Helping to create a feeling of

pure comfort.

Energy Efficient Design

If customers are looking to achieve better

control of the temperature in their home.

The latest fabric range from Duette has an

even better level of heat reduction and

insulation, with some fabrics achieving an

outstanding A++ rating.

Duette Shades can also help to reduce

annoying echoing from hard materials like

flooring, walls, and glass by up to 60%.

Eco Friendly Fabrics

Now with over 300 Cradle to Cradle

Certified fabrics and materials to choose

east anglia blinds_quarter page_BLS1-12 16/12/11 12:30 Page 1

Automated Smart-Home

Control

For those of you who love your home to

be connected, fear not, with PowerView

Automation you can control your Duette

Shades using a smart device, remote control,

or the sound of your voice.

From a single window blind to your entire

home, it's easy to connect your blinds so that

you can control privacy and light whatever

time of the day, even when you're not at

home.

What's more, by using a rechargeable

battery PowerView Automation is now also

available for Tilt & Turn window options

too!

Conservatory and

Window Blinds

Specialists

Motorisation options

available

Louvolite VogueTrack

for Trade Customers

VANE SERVICE AVAILABLE

now available with Allusion

■ Panel blinds ■ Pinoleum blinds

■ Pleated blinds ■ Roller blinds

■ Roof blinds ■ Roof roller blinds

■ Vertical blinds ■ Conservatory blinds

■ Motorised blinds

01603 404040

enquiries@eablinds.co.uk

www.eablinds.co.uk

fax: 01492 539581

Available in white, brown,

champagne, black &

silver

• Does not twist

• Trouble free

fitting

Blinds & Shutters • ISSUE FOUR 2022 75

bend it_quarter page_iss1-19.indd 1 14/12/2018 12:13
---
NEW PRODUCTS

The time is Hive

Eclipse says its the

perfect time to tell

customers about its

Hive blinds that

look great and save

energy

Given the current energy crisis and concern

amongst consumers, it's the ideal time to

sell them the energy saving properties of

window blinds. Educate your customers on how

their window blinds can be a cost- effective way to

save money on their energy bills. And the perfect

product to do this with is Hive!

Hive is a cellular honeycomb structured fabric,

giving increased insulation as well as a

contemporary, sharp look. The fabric is anti-static,

with heat blocking and sound absorbent properties;

Hive really is the superior fabric choice for blinds.

It's unique structure means there are no visible

holes. Unlike pleated blinds which can have small

holes to allow for the cording to hold the pleat in

place, the cords in cellular fabrics are discreetly

hidden within the cells giving it that elegant, clean

finish. Although the fabric is light, the structure is so

innovative that it holds its shape firmly and doesn't

falter, creating a strong statement in the window

over a standard roller or vertical blind.

What are these 'heat-blocking' qualities? Hive

takes the crown as one of the best at energy-saving

of all fabric types, each honeycomb cell in the fabric

traps air helping to keep your room cooler in

summer and warmer in winter. This means they are

suitable for a wide range of rooms and window

types, appealing to a variety of customers.

Our Style Studio Hive and Pleated Collection

boasts an offering of plains, blackouts, textures and

designs, some of which have fire retardant

properties.

Hive fabrics are versatile, with the standard

option allowing for soft, beautiful light to penetrate

through the fabric, coming in an array of bright and

neutral colours, as well as subtle prints to add

something extra, without feeling overwhelming. For

those consumers who require extra light control,

Hive Blackout is an excellent option.

The popularity of cellular and honeycomb fabrics

has significantly risen over the last few years. Once

considered to be an exclusive luxury, Hive is now

an affordable product making its presence known in

the consumer market. Let your customers know

about its' energy saving properties and how they

can use their blinds to help insulate their windows.

76 Blinds & Shutters • ISSUE FOUR 2022
---
NEW PRODUCTS

New for 2022

QMotion uk unveils

range of

automated shading

solutions for

window treatment

dealers at BBSA

2022

At BBSA 2022 (Stand S20, 23-25 October,

Coventry Building Society Arena),

QMotion UK, specialists in motorised

window treatments, will be showcasing its latest

hardware and control solutions to support window

treatment dealers in growing their automated blind

business.

"Automated shading is growing in popularity with

consumers because the technology is so easy to

use, saves time and looks so good in contemporary

and traditional interiors," says Ian Claxton, Director

at QMotion UK. "As the exclusive fabricators of the

innovative QMotion® product range in the UK and

Ireland, a wholly owned brand of Legrand, the

global manufacturer of electrical and digital building

infrastructure products, we can support dealers in

taking advantage of this big market opportunity.

We're looking forward to showing our extensive

range of solutions at BBSA 2022 and demonstrating

why there has never been a better time to specify

and fit QMotion window treatments."

Visitors to the show will be able to see

QMotion's hybrid-powered Wireless Roller Blind

Systems on the Stand. Unlike any other wire free

system on the market, these automated treatments

provide industry-leading battery life, from 1-4 years,

and are available in sizes up to 3800mm wide x

4500mm drop.

Also on display will be the Legrand Netamo app,

a potential game-changing product for dealers

which brings the benefits of the smart home within

reach of many more customers. Using a range of

Intelligent Legrand Arteor sockets and switches, the

app enables the homeowner to control their

shading, heating and security technology within the

home from their phone or iPad.

Another highlight will be QBasic+, the company's

complete and affordable Roller Blind solution. This

system simply requires a small modification in

minutes to create a fully automated blind without

the need or additional cost of changing fabric or

fixing brackets. Dealers can begin by fitting manual

78 Blinds & Shutters • ISSUE FOUR 2022
---
NEW PRODUCTS

blinds, then return when budget allows to upgrade and install

QMotion battery powered motors into the existing QBasic+ system.

BBSA visitors can see how QMotion blinds are ultra-energy

efficient thanks to the company's patented spring-counterbalancing

system which keeps battery power consumption to an absolute

minimum and delivers near silent operation in every application.

Meanwhile, the minimal side light gaps of just 13mm ensure an

attractive installation. The patented, manual-override command also

allows the customer to operate the blinds by hand, without damaging

the automated mechanism. Ultra-quiet Cat6 wired motors provide

control and power and are supplied with a 20-year limited lifetime

warranty, as standard.

For a clean, contemporary interior finish, QMotion will also show its

new blind concealment solution. High quality extruded aluminium

boxes will be available to conceal the automated QMotion blind to

ensure only the fabric is visible when the blind is fully lowered.

Dealers have the flexibility to add their own fabric to a QMotion

system or choose from the company's own fabric collection, if required.

With 15 finishes to choose from, QMotion's new Designer Series of

Decorative Brackets and Endcaps can also help match the design

aesthetic of an installation and will be on show at BBSA 2022.

For more information on QMotion UK or to view the company's

full range of automated solutions, please visit

http://www.qmotionshades.co.uk/.

We are proud to

introduce a brand

new retail concept

for pleated and

cellular shades

more than

Come and meet us at the

BBSA Show - Booth 26

Lienesch Ltd

Unit 2 - Hunslet Trading Estate,

Severn Road, LEEDS, LS10 1BL United Kingdom

Tel. 0113 8681066

info@lienesch.co.uk

lienesch.com

Blinds & Shutters • ISSUE FOUR 2022 79
---
Helpline

To advertise here contact Julie at j.saridakis@turretgroup.com

AWNING FABRICS

CONCEALED BLINDS & TRACKS

FLY/INSECT SCREENS

PLEATED BLIND SYSTEM

& FABRICS

Pleated Blinds

Everything you need to

manufacture Pleated

blinds using Louvolite

fabrics & components

www.dickson-constant.com

Contact Luxaflex

Distributor for Dickson awning fabrics

0161 442 9500

BLACKOUT BLINDS

C

M

Y

CM

MY

CY

CMY

CONSERVATORY ROOF BLINDS

When you want a

roof specialist,

speak to Stuart

at Semper.

Conservatory and

Window Blinds Specialists

Motorisation options available

01603 404040

enquiries@eablinds.co.uk

www.eablinds.co.uk

We're here to provide

you with a full survey

& fit service across

the UK for PFI

Conservatory roof

blinds in both pleated

and cellular fabrics,

manual or motorised.

INTEGRAL BLINDS

YOUR No1 CHOICE FOR

INTEGRAL BLINDS

ea blinds_3x1_BLSCLASS.pdf 29/10/12 15:41:21

07766 600131 SEMPER BLINDS

morleyglass.co.uk

semperblinds@gmail.com www.semperblinds.com

0113 277 8722

MOTORS & CONTROL SYSTEMS

Customer Services

0161 882 5050

orders@louvolite.com

PLEATED BLINDS

Excellent Quality, Unbeatable

Service & Competitive Prices

• Wooden

• Aluminium

• Vertical

•

• Roller

• Faux Wood

• Pleated

• Roman

E: vicky@tropicalblindsltd.co.uk

T: 020 8269 6400 F: 020 8269 6401/2

We set the standard for Customer Support

2202-Tropical Blinds advert 42mm.indd 1 16/02/2018 10:21

K

Award winning blinds

0800 107 5535

blocblinds.com

Excellent Quality, Unbeatable

Service & Competitive Prices

• Wooden

• Aluminium

• Vertical

•

• Roller

• Faux Wood

• Pleated

• Roman

E: vicky@tropicalblindsltd.co.uk

T: 020 8269 6400 F: 020 8269 6401/2

We set the standard for Customer Support

CURTAIN TRACKS MOTORISED

PERFECT FIT BLINDS

Perfect Fit Blinds

Everything you need to

manufacture Perfect Fit

blinds using Louvolite

fabrics & components

PLEATED BLINDS MOTORISED

BLINDS AUTOMATION

2202-Tropical Blinds advert 42mm.indd 1 16/02/2018 10:21

Customer Services

0161 882 5050

orders@louvolite.com

Window Blind Motorisation

Battery and hardwired solutions

Home Hubs • Solar Panels

Remotes and wall switches

Control your home from any device,

anytime, anywhere

THE HOME OF AUTOMATION

For more information call a member of

our team on 0161 945 4561

www.ellard.co.uk

BLINDS FABRICS

FLY/INSECT SCREENS

To advertise in Blinds & Shutters

please contact JULIE SARIDAKIS

via e-mail at:

j.saridakis@turretgroup.com

PERFECT FIT BLINDS

Roller / Verticals / Pleated blinds / Honeycomb

For more information contact:

info@lienesch.co.uk

lienesch.com

Excellent Quality, Unbeatable

Service & Competitive Prices

• Wooden

• Aluminium

• Vertical

•

• Roller

• Faux Wood

• Pleated

• Roman

E: vicky@tropicalblindsltd.co.uk

T: 020 8269 6400 F: 020 8269 6401/2

We set the standard for Customer Support

To advertise in this space

please contact

JULIE SARIDAKIS

j.saridakis@turretgroup.com
---
ROLLER BLIND FABRICS,

COMPONENTS & SYSTEMS

SHUTTERS

WEB DESIGN

Roller Blinds

Everything you need to

manufacture Roller

blinds using Louvolite

fabrics & components

Customer Services

0161 882 5050

orders@louvolite.com

Excellent Quality, Unbeatable

Service & Competitive Prices

• Wooden

• Aluminium

• Vertical

•

• Roller

• Faux Wood

• Pleated

• Roman

E: vicky@tropicalblindsltd.co.uk

T: 020 8269 6400 F: 020 8269 6401/2

We set the standard for Customer Support

VENETIAN BLINDS TO THE TRADE

2202-Tropical Blinds advert 42mm.indd 1 16/02/2018 10:21

Excellent Quality, Unbeatable

Service & Competitive Prices

• Wooden

• Aluminium

• Vertical

•

ROMAN BLINDS

• Roller

• Faux Wood

• Pleated

• Roman

E: vicky@tropicalblindsltd.co.uk

T: 020 8269 6400 F: 020 8269 6401/2

We set the standard for Customer Support

202-Tropical Blinds advert 42mm.indd 1 16/02/2018 10:21

Excellent Quality, Unbeatable

Service & Competitive Prices

• Wooden

• Aluminium

• Vertical

•

ROLLER BLINDS

• Roller

• Faux Wood

• Pleated

• Roman

E: vicky@tropicalblindsltd.co.uk

T: 020 8269 6400 F: 020 8269 6401/2

We set the standard for Customer Support

SHAPED BLINDS & TRACKS

202-Tropical Blinds advert 42mm.indd 1 16/02/2018 10:21

Excellent Quality, Unbeatable

Service & Competitive Prices

• Wooden

• Aluminium

• Vertical

•

VERTICAL BLIND FABRICS

• Roller

• Faux Wood

• Pleated

• Roman

E: vicky@tropicalblindsltd.co.uk

T: 020 8269 6400 F: 020 8269 6401/2

We set the standard for Customer Support

2202-Tropical Blinds advert 42mm.indd 1 16/02/2018 10:21

Vertical Blinds

Everything you need to

manufacture Vertical

blinds using Louvolite

fabrics & components

Customer Services

0161 882 5050

orders@louvolite.com

WOOD BLINDS CUSTOM PAINTED

WOODEN BLINDS

To advertise in this

space please contact

JULIE SARIDAKIS

via e-mail at:

j.saridakis

@turretgroup.com

Excellent Quality, Unbeatable

Service & Competitive Prices

• Wooden

• Aluminium

• Vertical

•

• Roller

• Faux Wood

• Pleated

• Roman

E: vicky@tropicalblindsltd.co.uk

T: 020 8269 6400 F: 020 8269 6401/2

We set the standard for Customer Support

View our magazine online

at

www.blindsmagazine.co.uk

2202-Tropical Blinds advert 42mm.indd 1 16/02/2018 10:21

www.blindsmagazine.co.uk

To advertise in this space please contact

JULIE SARIDAKIS

j.saridakis@turretgroup.com
---
FOR SALE

For Sale

Blinds and Shutter

shop business.

Leasehold premises

East London / Essex border

Established 48 years

Please contact if interested with

possible proposal/offer to

Rod Williams at ellrodo@aol.com

View our magazine online

at

www.blindsmagazine.co.uk

In the Janary 2023 edition, features include:

n Energy efficiency

n Panel blinds

n Motorisation

n Roller, roman & soft blinds

n Production Techniques/weaving

n Blinds components & accessories

n Marketing & Branding

To submit your editorial article, please contact:

John Hatcher, Editor

E: j.hatcher@turretgroup.com

For all advertising enquiries, please contact:

Julie Saridakis, Sales Manager

E: j.saridakis@turretgroup.com

Turret Group Ltd, Cardinal Point, Park Road, Rickmansworth, Herts WD3 1RE, UK

Switchboard +44 (0) 1923 432 705

Classified's

SHUTTERS, BLINDS AND CURTAINS INSTALLERS REQUIRED

LOCAL ADVISORS & SALES DESIGNERS REQUIRED

SHUTTERS, BLINDS AND

CURTAINS INSTALLERS

Join our experienced installation team

At Thomas Sanderson we pride ourselves on

precision and detail. If you have an eye for detail,

practical DIY knowledge and exceptional customer

service skills our hands-on installer opportunities

could be the next step in your career.

• Part-time & full-time opportunities available

• Comprehensive training provided

• High earning potential

Visit careers.thomas-sanderson.co.uk

or call 0115 852 2896

BLINDS CURTAINS SHUTTERS

JOIN OUR TEAM OF DEDICATED LOCAL ADVISORS

Work for yourself, at your own pace and with the hours

that suit your lifestyle as one of our dedicated

self-employed advisors. Help the nation choose the

perfect blinds, curtains and shutters for their homes.

Great earning

potential

I M M E D I AT E STA RT AVA I L A B L E

Flexible

working

Award winning

training

HILLARYS.CO.UK/CAREERS

SPECIALIST INSTALLERS REQUIRED

SALES DESIGNERS REQUIRED

BLINDS CURTAINS SHUTTERS

JOIN OUR AWARD WINNING

NETWORK OF SPECIALIST

INSTALLERS

I M M E D I AT E STA RT AVA I L A B L E

As the UK's number one provider of window

furnishing solutions we're always looking for

practical thinking, confident new people to

join our dedicated network of self-employed

specialist installers. Join today and grow your

own local business.

A CAREER BESPOKE TO YOU

Join our dedicated network of sales designers

Thomas Sanderson is always seeking talented new sales professionals to join

our experienced team of sales designers. Our national field opportunities

are suited to those with exceptional customer service skills, a passion for

interior design and a great eye for detail.

• Part-time & full-time opportunities available • High earning potential

• Comprehensive training provided

Visit careers.thomas-sanderson.co.uk or call 0115 852 2896

HILLARYS.CO.UK/CAREERS

Great earning

potential

Flexible

working

Award winning

training
---
IMPRESSIONS

WOOD VENETIAN COLLECTION

Combining Tropical Blinds' extensive experience producing wood blinds and our continued success with

the Impressions Faux Wood blind, we are excited to launch the Impressions WOOD Collection.

Six carefully selected Basswood colours will complement and enhance any interior décor, harmonising

perfectly within the current interiors trend of white, cream, grey and black. Available with ladder braid,

25mm and 38mm tape, these stunning wood blinds will add warmth and elegance to any setting.

Please contact your Area Sales Manager, or the customer services team, to request a swatch containing

the complete collection including tapes or a sample blind.

You can see all our product ranges and first class customer support systems at

tropicalblinds.com
---
INTRODUCING THE NEW

Larger blind sizes up to

3.5m wide and up to 6m drops.

Improved friction units for

smoother operation & easy lifting.

Simplicity & scalability –

common components through

Standard fit, Mounting Profile

& Fascia.

Senses Universal Fascia available

in 5 colours with complementing

endcaps.

For more information contact your Area Sales Manager

or call our Customer Service Department on

0141 814 3500

www.eclipseblinds.co.uk