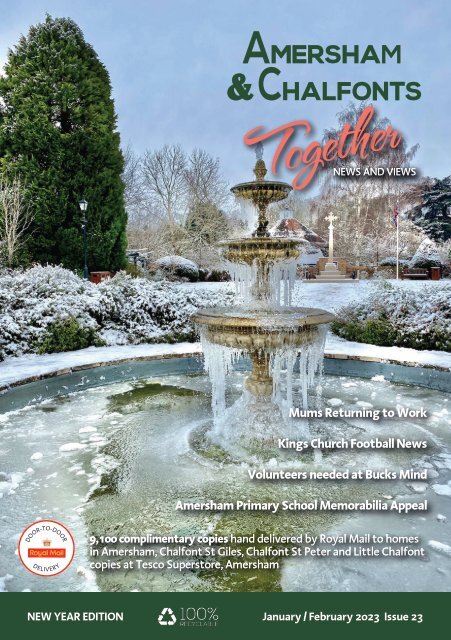 Amersham and Chalfonts Together January February 2023
#Community publication hand delivered to 9,000 homes and businesses via Royal Mail distribution in Amersham, Chalfont St Giles, Chalfont St Peter and Little Chalfont. News and views from non profit organisations, communities, charities, schools, with features on health, food, lifestyle, financial and much more. Please email us with latest news to: marketing@communitytogether.co.uk
#Community publication hand delivered to 9,000 homes and businesses via Royal Mail distribution in Amersham, Chalfont St Giles, Chalfont St Peter and Little Chalfont. News and views from non profit organisations, communities, charities, schools, with features on health, food, lifestyle, financial and much more. Please email us with latest news to: marketing@communitytogether.co.uk
SHOW MORE
SHOW LESS
Create successful ePaper yourself
Turn your PDF publications into a flip-book with our unique Google optimized e-Paper software.
NEWS AND VIEWS

Mums Returning to Work

Kings Church Football News

Volunteers needed at Bucks Mind

Amersham Primary School Memorabilia Appeal

DOOR-TO-DOOR

DELIVERY

9,100 complimentary copies hand delivered by Royal Mail to homes

in Amersham, Chalfont St Giles, Chalfont St Peter and Little Chalfont

copies at Tesco Superstore, Amersham

NEW YEAR EDITION January / February 2023 Issue 23
---
Bespoke Garden Rooms

www.jmgardenretreats.co.uk

A Space to Work, or a Place to Unwind

Home Office, Summer House, Art Studio, Gymnasium,

Music Room, Gaming Den... The Choice is Yours!

Whatever you require extra space for, we can help design and build a garden

room tailored to your needs. Functional as well as beautiful, your new retreat

will be fully insulated, double glazed and fitted with energy efficient heating and

lighting to ensure its suitability for use all year round.

Email: enquiries@jmgardenretreats.co.uk Tel: 07855 484 944
---
Useful Numbers

Mental Help Helpline 24/7

t: 0800 783 0119 / 01865 904 997

National Domestic Abuse Helpline 24/7

t: 0808 2000 247

Chilterns Dial-a-ride for those with

mobility problems t: 01494 766 123

Alcoholics Anonymous

Call confidentially on: t: 0800 917 7650

Be Amazing and Volunteer

Age UK's Befriending service matches older

people with volunteers who have similar interests.

t: 01296 431911

e: age@ageukbucks.org.uk

Bucks Mind in Buckinghamshire

Volunteers over 18 years needed

t: 01494 463364 or

w: www.bucksmind.org.uk

Meet the Team

Publisher, Editor & Sales

Therese Cooklin - 07786 735 711

Magazine Designer

Mathew Peet, Digital Bear Design - 01949 839 206

Content is accurate to the best of our knowledge, however Amersham &

Chalfonts Together part of Abstract Niche Ltd cannot be held liable for

loss or damage, caused by errors or omissions. Inclusion of advertisers

does not indicate our endorsement of their products or services.

The opinions and findings expressed in articles submitted to this

publication are solely those of the authors and should not be assumed

to be those of Amersham Together or its affiliates.

Frozen fountain at Amersham Memorial Gardens

Hello & welcome!

Happy New Year! This is the time to reflect on all

that has passed in 2022, take stock of what we

have achieved, things we could've done better

and how we can improve our lives as we go into

2023.

It is true to say life has become tough, but these

external influences which could either drag

us down, or we find the inner strength to find

positive thoughts, words and actions to help us

through.

If you want to do something amazing, why not do

some voluntary work this year? There are some

ideas opposite, but whatever your interests, you'll

always find ways to help others using your skills.

If you are looking for some new interests or ways

to meet people p10, 12 and 17 may give you

ideas. Mums looking to get back to work will find

p18 editorial useful. Keep smiling and see you in

Spring!

With love,

Therese

Next Copy Deadlines -

February / March 2023

Editorials: 31st Jan

Advertisers: 1st Feb

t: 07786 735 711

e: therese@amershamtogether.co.uk

w: www.amershamtogether.co.uk

Get your business noticed

for as little as £36

Royal Mail door-to-door delivery and

drop-off sites to over 17,000 homes in

Beaconsfield, Amersham & Chalfonts

e: sales@communitytogether.co.uk
---
COMMUNITY NEWS

Mind Buckinghamshire

We are Bucks Mind, the mental health

charity and our vision is that everyone

with a mental health problem gets

support and respect.

We deliver services in our local communities,

in Buckinghamshire and East Berkshire. We

promote wellbeing and recovery; we prevent

mental ill health; we offer talking therapies and

we provide support in times of crisis.

We are an independent charity that is proud to

be affiliated with national Mind.

Could you help us? We are always looking

to recruit more volunteers, particularly in our

Befriending service, which involves meeting or

calling and supporting someone each week for

around 6 months.

We work with anyone over 18 years and try

to use the volunteer's skills and experience to

benefit the service user. An understanding of

mental health issues would be helpful, but we

offer regular training and development sessions

and ongoing support, if needed. We recognise

that everyone's mental health is important and

we are here for all.

We match volunteers with someone that we

really feel they will get on with and be able to

help, to make the experience worthwhile and

enjoyable for them, as well as the person they

befriend.

Please do call us on 01494 463364 for more

info or see our website www.bucksmind.org.uk

where you can complete our application form.

Volunteers needed

Do you have free time, skills or experience to share?

Could you make a difference to the lives of people

with a mental health problem?

Volunteer with Buckinghamshire Mind and we will provide

training, ongoing support and pay expenses.

info@bucksmind.org.uk

01494 463364

www.bucksmind.org.uk

Registered Charity (No: 1103063)

4 Amersham & Chalfonts Together is part of Community Together
---
To advertise please call 07786 735 711 or email marketing@amershamtogether.co.uk 5
---
LOCAL CARE

BUILT THE ECO WAY

First Est.1695

REDUCE YOUR HEAT LOSS BY 50%+

THERMOGRAPHY IS OUR WEAPON OF CHOICE

Improve your thermal envelope

with the "fabric first" approach to

retain heat in older (Pre 1990s)

and listed historic buildings.

Eco Tiffin is a well established family run business

combining a passion for energy saving

and conservation.

• Thermal Survey and Defects Analysis

• Retrofitting and Insulation

• Energy Saving Assessment

• Dampness and Decay Assessment

• Renovation and Modernisation

• Insurance Claims Advice

As featured in Grand Designs - ASK THE EXPERT

Book your Consultation now

and learn more about your property

than you thought possible

01442 819332

enquiries@ecotiffin.co.uk

www.ecotiffin.co.uk

Will you have enough money to look

after yourself in later life?

This is something that everybody needs

to consider. Often, it is an awkward

and difficult question to have honest

conversations with family about.

Now, more than ever, it is important to consider

how much money you need to continue to live

comfortably.

Many people assume they will need to sell their

home and move into a residential care home if

family is no longer living nearby and can't be on

hand to help. If every day tasks are becoming

too much, then ask your local council for a care

needs assessment. This works out what would

help people remain independent at home. With

permission, GPs or district nurses can refer you.

If your local council agrees you are eligible for

support, they will do a means test, taking into

account income and savings (Certain types of

funding may not be counted).

If you are eligible for financial support to pay for

home care, your local council can arrange care, or

you can choose to receive direct payments and

select your own home careprovider. Costs for

home care vary across the country.

Age UK has a free advice line on

Tel: 0800 678 1602 or call Ashridge Home Care

on Tel 01494 917 344 for a friendly and helpful

chat. Ashridge Home Care offers both live-in and

hourly visiting care.

Useful websites:

Moneyhelper.org.uk

societyoflaterlifeadvisors.co.uk

Ageuk.org.uk

Homecareassociation.org.uk

6 Amersham & Chalfonts Together is part of Community Together
---
Counties Loft Ladders tradesmen, so our customers lead to more happy to pop round and

come in.

customers are assured happy customers is true give you a no obligation

of the best job.

and we work hard to quote BUSINESS so you NEWS too can

The company,

make that happen for make use of your loft!

based Home locally, offers Counties Integrity in that we Loft Ladders,

homeowners the will turn up at the time

Home Counties Loft

opportunity to maximise we say and make sure

their storage space Quality the house is spotless You Can Trust!

with

Ladders,

a loft ladder,

Quality when we leave, You and

These days most

watchwords are Quality, - that simply wouldn't every installation we

50sqft

homeowners

of boarding

suffer

and value in that we offer

from Integrity and Value. happen if we didn't carry out!'

a light Can

a lack - of all storage fully Trust! fitted space.

our

Quality

services

in the

at

materials

a price

adhere to our overriding

in So many precious items that we use for all our principles.

So, if you want to make

These

less than

days

a day

most

from people can afford.

homeowners suffer

just that £355! need But to be it's kept not installations and the fact

use of your loft space,

from a lack of storage space. So many

just – but the where affordability

Our business relies on

to store it that all our loft packages At the end of the day the call Jamie free on 0808

of all?

precious the That's package where

items that Home

that need referrals to be and kept we get a old adage that happy 301 9558 and he'll be

makes Counties – but Home where Loft Counties Ladders to store it huge

tradesmen, all? amount That's so where of our calls

our customers lead to more happy to pop round and

Loft come Home Ladders in. Counties stand

from

Loft Ladders customers

people

come are

who

assured

have

in.

happy customers is true give you a no obligation

out, as manager Jamie

been of the referred best job. to us by and leave, we and work value hard in to that we quote offer so our you services too can at a

The company, based locally, our offers existing homeowners customers

Oakley explains: 'Our

make price that people happen can afford. for Our make business use of your relies loft! on

based the opportunity locally, offers to maximise Integrity their storage in that space we referrals and we get a huge amount of our calls

homeowners with a loft ladder, the 50sqft of will boarding turn up and at the a light time - from people who have been referred to us by our

opportunity all fully fitted to in maximise less than a we day say from and just make £444! sure But existing customers - that simply wouldn't happen

their it's not storage just the space affordability the of the house package is spotless

Need more that if we didn't adhere to our overriding principles.

with makes a loft Home ladder, Counties Loft when Ladders we leave, stand and out, as

50sqft manager of boarding Jamie Oakley and explains: value in 'Our that watchwords

we offer At the end of the day the old adage that happy

are Quality, Integrity and Value. our services Quality at in a the price

storage in materials less than that a day we from use for all

people space?

customers lead to more happy customers is true

our installations

can afford.

and and we work hard to make that happen for every

just the fact £355! that But all it's our not loft packages

just the affordability

Our business are fitted relies by on time installation we carry out!'

served tradesmen, so our customers package that

referrals and are we assured get a

of INSTALL the best job. A LOFT LADDER

makes Home Counties

huge amount of our calls So, if you want to make use of your loft space,

Loft Ladders stand

from people who have call Jamie free on 0808 301 9558 and he'll be

Integrity in that we will turn

out, as manager Jamie

been up at referred the time to we us say by happy to pop round and give you a no obligation

and

AND

make sure

USE

the house is

YOUR

our spotless existing when customers we

LOFT!

quote so you too can make use of your loft!

Oakley explains: 'Our

STARTER PACKAGE: Aluminium loft

ladder, light plus 50 sqft boarding, fully

fitted in less than a day from £355

storage space?

• Loft Ladders • Hatches

• Boarding • Insulation

• Lights • Fully Guaranteed

CALL FREE: 0808 301 9558

: Aluminium loft

ladder, light plus 50 sqft boarding, fully

from £444

Loft Ladders Hatches

Boarding Insulation

Lights

CALL FREE: 0808 301 9558

To advertise please call 07786 735 711 or email marketing@amershamtogether.co.uk 7
---
* When you buy a frame for £18 or more. Excludes other offers. Assumes Free NHS eye test and NHS voucher subject to NHS guidelines. Ask for details.

EYE NEWS

Eyes on 2023

If you eat well and keep fit, have you

considered what more you can do for

your vision and the health of your eyes?

Your eyesight is the most precious of your

senses, so it makes sense to look after it.

Start with a diet rich in fruit, vegetables and grains.

Omega 3 (found in salmon, tuna and sardines) can

reduce the risk of eye disease and helps with tear

function. Vitamin A (carrots, sweet potatoes and

apricots) are good for your retina. Vitamin C (found in

citrus fruits, red peppers, tomatoes and strawberries)

help repair cells and protect the body. Make sure

you have regular sight tests - usually every 2

years (unless you are a child or have certain health

conditions: such as Diabetes or Glaucoma). Look

out for sudden changes in your vision particularly

flashes or floaters, which may need further checking.

Any sudden change in your vision or light sensitivity

should be looked at promptly.

Make sure you make the most of your vision. As

an Optician for many years I'm puzzled why, when

advising a patient that their vision can be improved

they respond that they are happy with their contact

lenses or glasses. Who wouldn't want to have the

best vision they could ?

Always ask your opticians what they would

recommend. Reading lenses have a fixed, shorter

working distance, but with phones, tablets, laptops

and hobbies most of us require a longer range than a

reading lens can give. Office or Occupational lenses

(as they are known) are much better for modern-day

activities. Newer contact lens designs and materials

can improve vision and longevity of lens wear. Above

all, make time for an eye test and listen to your

Optician as they can answer all your eyecare

questions.

Helen Gilbert FBDO

Dispensing Optician

HARROLD HARROLDS OPTICIANS

opticians & audiologists Your vision...Our care

Let us show you the difference...

... Ask about office lenses

2 for 1

Kids & Teens

glasses

The driving lens

Less Glare... Less Dazzle... Less Eyestrain.

The Enroute driving lens has a special glare filter and an optional enhancing filter providing

less glare and reflections from oncoming traffic and better contrast in low light conditions.

Upgrade to Enroute Driving

Lenses from £75 extra

* Available as single vision and varifocals. Excludes other offers. Offer ends 31st January. Conditions apply.

Eye tests are free for kids

With glare reducing lenses designed specifically for night driving , UV protection, blue control lenses,

photochromic lenses that darken when you drive and polarised lenses, our qualified opticians can advise

you on the best eyewear for your lifestyle.

For any advice please phone your local branch. We will be very happy to help.

Our eye test has retinal photography as standard and the option of OCT. Book your eye test online today.

3 Station Road Gerrards Cross 85-87 Sycamore Road Amersham

01753 886306 01494 721795

8 Amersham & Chalfonts Together is part of Community Together
---
To advertise please call 07786 735 711 or email marketing@amershamtogether.co.uk 9
---
COMMUNITY NEWS

Discover Bucks

Museum in

Aylesbury

You have an amazing brain, in fact

everybody does! But how does it

make sense of the world around you?

Opening now until middle of April 2023, a

new exhibition at Discover Bucks Museum in

Aylesbury will show you just how amazing

our brains really are. From emotions to our

senses, you will find out how your brain

interprets what it sees, hears, smells, and

feels. This family-friendly exhibition will take you

on a journey inside your brain, to find out just

what makes you, you!

With over 15 interactive puzzles and

'mind-bending illusions' we will show you how

your brain can play tricks on you. Get ready for

some 'WOW' moments that might leave you

questioning what you thought you knew.

This exhibition will appeal to visitors of all ages

and don't worry, you don't need to go it alone.

We have enlisted some help, our two 'Amazing

Brain' guides will join you in your journey through

the brain. You might not think science is for you,

but we are going to show you it's for everyone!

Your Amazing Brain exhibition opens on

Saturday 26 November 2022 and runs

until Saturday 15 April 2023. For more

information, opening times and ticket prices

visit discoverbucksmuseum.org

Discover Bucks Museum, Church Street,

Aylesbury HP20 2QP

Dancing takes place at:

Gerrards Cross on: Tuesday evenings 7:30pm - 10pm

Colston Hall, Memorial Centre, Gerrards Cross, SL9 7AD.

Little Chalfont on: Thursday afternoons 2:15pm - 4:15pm

Methodist Church Hall, Chalfont Avenue, Little Chalfont HP6 6RD.

Car parking is available at both locations and further details

are available on the About page on website

10 Amersham & Chalfonts Together is part of Community Together
---
New

Adult Learning

brochure out now

• Languages

• Creative Arts

• Health and Fitness

• Home Improvements and Gardening

• English, maths and digital skills

• Community Engagement

• Distance Learning

• Family Learning

• Apprenticeships

Enrol today for new courses and workshops

01296 382403

www.adultlearningbc.ac.uk

CommunityTogetherJan-Feb23 - 130mm x 90mm.indd 1 08/11/2022 09:46:16

JOIN US!

Singing for Pleasure Group

Are you retired or semi-retired? Are you looking for connection and

fun with others in your local community? Come and join our fun, friendly

u3a Singing for Pleasure choir!

We are a non-auditioned choir and we welcome all abilities. We sing a

wide variety of music to suit all tastes.

When? Term time Mondays 5.15pm - 6.45pm

Where? Amersham Free Church (hall)

Contact singing@cvu3a.uk

Website www.cvu3a.uk

To advertise please call 07786 735 711 or email marketing@amershamtogether.co.uk 11
---
COMMUNITY NEWS

Flower power

At this time of year, when cold, grey days

are the norm, it is especially great to see

the occasional sunny day when winter

flowers may show their full colours to

cheer us up.

The parish council is responsible for looking

after the grass areas of the village, such as the

village green next to Chenies Parade shops,

and the green bank alongside Nightingales

Corner, just opposite.

Therefore, we are very grateful to Lisa Roberts

and Carolyn Smith at The Flower Boutique, on

Nightingales Corner, for adding to our work by

providing and planting the flower tubs on the

green bank alongside Nightingales Corner. Our

picture shows the latest results of their efforts,

with young winter pansies almost in full bloom.

The triangular flower bed alongside the village

green, however, is planned and managed by

Tennis Club

announces

major, exciting

development

As part of their on-going drive to provide

excellent facilities to their members, Chalfont

St Peter tennis have installed a new pickleball

court.

Pickleball is said to be the fastest growing sport in the

US and is becoming increasingly popular in the UK.

Growing interest in the sport is attributed to a

number of factors including a short learning curve,

appeal to a wide range of ages and fitness levels.

Our Head Coach, Stephen Wright, is also a

registered pickleball coach (one of only 20 in the

country) and available to provide lessons to the

members. In addition, some of our members

with pickleball experience have been providing

introductory sessions for members and nonmembers'.

The club also intends to introduce

the Evening WI, whose members can often be

seen tidying the beds and planting out new

flowers and shrubs for each season.

Our second picture shows the flower beds

last month, and although there are not many

flowers on show at this time of year, the foliage

of the shrubs provides some beautiful colours,

especially when the sun shines!

So do take some time to wander past these

beautiful displays and admire the handiwork of

the volunteers that contribute so much to our

village. It is really uplifting to admire the results

of their hard work.

Little Chalfont Parish contact:

t: 01494 76 66 55

e: clerk@littlechalfont-pc.gov.uk

a pickleball-only membership at a very reasonable

subscription.

The court also doubles up as a junior mini-red,

enabling our younger members to get even more

court time. The court complements the 4 all-weather,

floodlit Tiger-Turf tennis courts which makes the club

available all year round.

Chalfont St Peter Tennis Club is a friendly,

community based club where all standards of play

are encouraged, from fun organised play sessions,

intra-club tournaments to competitive LTA matches.

The club also has coaches on hand to help with your

game and offers an extensive social programme with

a calendar of events across the year.

If you fancy joining a friendly, inclusive

club the please visit their website

www.chalfontstpetertennisclub.co.uk for

details of a special offer for new members

12 Amersham & Chalfonts Together is part of Community Together
---
DOMESTIC & COMMERCIAL ELECTRICIANS

Family run business

Full and partial rewires

Safety electrical testing

Landlords reports (PRS)

Fuse board upgrades

Garden lighting

All electrical work undertaken

Adam: 077251 72878 Craig: 077305 75633

w: www.alconelectrical.co.uk

e: info@alconelectrical.co.uk

Find us on instagram: @alcon_electrical

Made to conquer

From £23,610 ex VAT

ssangyonggb.co.uk/musso

With Low Rate Finance 6.5% APR Representative*

CSG MOTOR COMPANY CHALFONT ST GILES 01494 873045

www.csgmotorcompany.com 7 year warranty with all new SSANGYOUNG models

Fuel consumption figures in mpg: Combined 36.7 - 40.4; CO2 emissions in g/km 158-175. 6.5% APR representative HP & PCP finance available for all Musso models, at participating dealers until

*

30th September 2022. Finance by SsangYong Financial Services a trading name of Northridge Finance, BT1 5LR. Finance subject to status, availability and terms and conditions. Applicants must be 18 or over. Offer only

applies in the UK (excludes Channel Islands & I.O.M). Offer may be amended or withdrawn at any time. SsangYong Motors UK Ltd is a credit broker not lender. Commission may be received. Model features is a Musso Saracen

at £31,585 ex VAT including optional metallic paint priced at £575 ex. VAT. Musso is registered as an LCV and VAT may be recoverable depending upon the circumstances of the business concerned. Prices are correct at the

time of going to print, but may be modified or changed at any time. Warranty covers 7 years or 150,000 miles.

16825 SsangYong Advert Half Page Finance Musso_AW.indd 1 10/06/2022 10:22

To advertise please call 07786 735 711 or email marketing@amershamtogether.co.uk 13
---
LOCAL BUSINESS

Give your new

year detox the

green light

With research indicating that indoor air

pollution is over 3 times more polluted than

outdoor air pollution in the UK and 45% of

homes are showing significantly increased

levels of Volatile Organic Compounds (found

in many home cleaning and personal care

products), we asked a local eco-friendly

business, Eco-Homemaker, their thoughts

on this.

"With two young

children ourselves,

we know that for

parents there's

nothing more

important than

creating a safe

environment and

taking care of health

and hygiene in their

homes. But whilst

many of us think a

clean house means

a safe house, we are often not made aware of the

harmful toxins and chemicals found in our high street

cleaning and personal care products." Victoria,

co-founder explains. "Sadly, this is evident when

you look at your cleaning product labels and find

'hazardous' or 'corrosive' warnings. With the new year

detox period upon us, now is a great time to reflect

on how you can make small changes that could make

a significant impact on you and your family's health."

Eco-Homemaker's top tips to detox your home:

• Use naturally derived surface cleaning products

and look out for non-toxic sprays and bleach

alternatives

• Replace your washing up liquid, dishwasher tablets

and rinse aid in your kitchens with naturally derived

alternatives

• Use plastic-free cloths, sponges and where

possible replace plastic bottles/containers with glass,

stainless steel, ceramic or wood

• Use soaps and shampoo bars made only with

naturally derived ingredients

• Go for natural materials where possible in the

bedroom – wooden bed frames, a mattress or

topper made of natural materials, natural fibres for

bed linen, sheets, duvets and pillows

• Use toxin free paints and stains for walls and

furniture

Eco-Homemaker, an online shopping platform, is on

a mission to make your life easier when it comes to

eco-friendly shopping for your family. They stock

refillable non-toxic cleaning products such as a

bleach alternative, anti-bac surface cleaners, oven

cleaner, glass cleaner and floor cleaner – and all have

been meticulously tried and tested so you can be

assured of their effectiveness.

14 Amersham & Chalfonts Together is part of Community Together
---
Experienced, Friendly

& Professional Internal

& External Decorators.

We have been

working in & around

Beaconsfield,

Gerrards Cross,

Amersham &

surrounding areas

since 1993.

Please call to discuss

your requirements.

Call Nigel:

01494 681 794 or 07771 521 263

www.ngilliedecoratingservices.co.uk

Hector's House Charity

Mental Health & Crisis Support

t: 07397 155 562

w: hectorhouse.org.uk

DESIGN AND MARKETING FOR

MAXIMUM IMPACT

LOGOS, ILLUSTRATIONS, ADVERTISEMENT,

BUSINESS STATIONERY, SOCIAL MEDIA

ADVERTS, WEBSITES, LEAFLETS, car livery,

clothing designs

Amersham & Chalfonts

Chimney Sweep

Manual and Power Chimney Sweeping

Open Fires, Stoves and Gas Fires

Certificates Issued

Professional and Reliable

Pay by Card

Chimney Caps and Cowls

Call JOSH: 07549 422 465

Or Book Online Today:

www.TheLocalChimneySweep.co.uk

To advertise please call 07786 735 711 or email marketing@amershamtogether.co.uk 15
---
COMMUNITY NEWS

Kings Church Football News

We're delighted to announce the

inaugural Kings Church Amersham FC

Christmas charity match to raise money

for the Chiltern Toy Bank.

The event was postponed from last December

due to bad weather but will now take place

at 12 noon Saturday 14th January 2023 at

Amersham Town FC. With over 30 volunteer

coaches spread across 2 squads the event is

set to draw quite a crowd of young players

coaching their coaches from the touchline.

After the match the clubhouse will be open for

drinks, raffle and an auction for unusual items

including a bouncy castle hire (donated by

Ollie's Bouncy Castles) and 2 tickets to a Gong

Bath (donated by The Chiltern Sound Spa).

Anyone wanting to

donate a prize please

get in touch with

DarrenHendersonUK

@yahoo.co.uk

So please come down

and cheer on the

volunteer coaches

at a fun and festive

event.

16 Amersham & Chalfonts Together is part of Community Together
---
COMMUNITY NEWS

Lionesses look towards 2023

A season full of highs and lows, moments

to be proud of, and the great feeling

of being part of an amazing team and

community. This was The Kings Church

Lionesses season, who went to finish their

year strong and are now looking towards

2023.

Interesting facts about the women's game:

• Women's football is one of the fastestgrowing

sports in the UK

• Chelsea has sold out of their season tickets 2

years in a row

• Tickets to a Woman's Super League game will

cost you around £10

more girls in Y6 and

above to form new

teams. The FA are

right behind them

too, giving a huge

push nationally to

offer more resources

and support to

clubs like The Kings

Church Amersham

FC.

Katie Freegard, the head coach for the girl's

teams welcomes anyone to a taster session

where you can experience playing with other

like-minded girls in a great fun environment.

The success of the year for them has been the

large interest shown by girls wanting to play

football, and the funding and exposure the

girl's grassroots game is now getting.

The Kings Church Lionesses are looking for

Playing in the Bucks girls league, they have

league matches a couple of times a month

on Saturday mornings or training with further

mid-week training to commence in 2023.

For more information visit www.kcafc.co.uk

To advertise please call 07786 735 711 or email marketing@amershamtogether.co.uk 17
---
COMMUNITY NEWS

Upskilling, reskilling

and shining after

motherhood

A local initiative created by Laura

Arguello called Between Mums

(www.betweenmums.com) has set out

to reskill, upskill and let mums shine.

They help mums living in the UK with kids at

school age wanting to return to work. The

company helps solve how they feel about their

careers, in terms of confidence, their purpose

and feeling out of date. They provide online

courses and support through partnerships with

coaches and training companies which helps

with all of these issues. Between Mums will

guide them to find a new purpose in their

careers, take action, upskill and reskill to

unlock their potential in industries with low

female representation to narrow the gender

gap in the workforce.

Being a mother herself, Laura knew the effects

of having children would have on her career

but she also believes having children shouldn't

stop any woman from having that personal

and professional part of their life.

In a recent interview with Laura, she said

"Personally, I was a bit frustrated when my

kids were at an age where I could go back to

work, then I spoke with more mums who were

feeling the same. A lot of them wanted to go

back to work but had been away from it all

so long they were either scared or just didn't

know how to take action."

In a recent survey by the Between

Mums team, they found that more than

80% of the mothers said that they wanted

to have a change in their careers or get

a job.

This topic couldn't be more relevant in

today's climate with the cost of living only

increasing on a daily basis. Between Mums

is giving the power back to this underutilised

work force who just need a bit of support to

shine again.

If you are thinking of returning to work or

want a career change but are not sure where

to start, Betweenmums.com has an interactive

quiz to try and point you in the right direction.

You can also look out for their next Instagram

live @betweenmums_uk.

If you want to reach out with any questions,

they can be found at www.betweenmums.com,

info@betweenmums.com, or their

Instagram account @betweenmums_uk

Laura told us, "Bootcamp skills, one of our

initiatives through a training partner, offers

free training to help these mothers get into

industries like web development."

18 Amersham & Chalfonts Together is part of Community Together
---
Eyes Up & Forward

How to cope with divorce and separation

The breakdown of a relationship and the separation that follows,

married or not, children or not, is one of the worst times in anyone's

life – and having to deal with solicitors and the legal process of

untangling your relationship can, if you are not careful, become a

corrosive process.

Having been a divorce lawyer for 27 years, I have seen both

men and women struggle with moving forward – no matter how

amicable and constructive both parties might be. The situation

becomes even harder when one party is making it difficult or

trying to solve old hurts through the separation/divorce/financial

distribution process.

One of the problems I see so often is where clients become

entrenched in a "pain cycle". The more they "revisit" a negative

aspect of the process, the more deeply they drill into that

negativity, uncovering further layers and spiralling downwards –

sadly very easy to do when you are hurt and your emotions are

already heightened.

The legal process will conclude with the outcome always in the

same range of possibilities, whether you are intensely negative

or intensely positive. How you think about the process and your

former partner, and how you feel at the end of the process, is very

much a matter of perception and your understanding.

LEGAL ADVICE

to be in 3 or 5 years' time and focus on it – keep your "eyes up",

looking forward.

Imagine yourself having moved on, in a home you love, spending

time with your children and loved ones, financially secure and able

to be cordial with your ex. This last point is particularly important if

you are going to need to co-parent.

Keep busy - unfortunately, individuals can quickly fall into a pain

cycle if there are no external diversions. For some parties, on

relationship breakdown there is a sudden void. What used to be

time with your partner is now free time. So think about other things

to do – start a new hobby or sport, get back into a pastime you

used to enjoy but have set aside; you can re-establish who you are

now that you have separated.

Avoid emotional vampires - people who feed on negative

processes. They may seem to provide help and support but

actually they are just 'feeding' off your situation, very often making

it worse, not better – focusing on negatives and accelerating

hostilities between you and your ex. Take a step back and listen –

is their advice helping, or hindering and conflicting with your

lawyer's advice.

Seek professional help. The end of a relationship causes

significant changes. Speaking to a properly trained counsellor,

psychotherapist or psychologist is often of real assistance, helping

you understand your situation a little better and less negatively.

People who go through this process invariably have a "nicer"

divorce - they have a better perspective about what is happening

around them.

Constructively applied, these tips could help you get

through a difficult time and come out the other side

exactly where you want to be.

However, there are some "tricks of the trade" that can help you

navigate difficulties and come to a resolution that suits you - here

are some 'top tips' that have helped my clients:

Rayden Solicitors, Julian Bremner, Partner and

Picture very clearly, RS_BEACS_AM_CHAL_CMYK_130X90_OUT_1.pdf in as much detail as possible, where you want 1 04/10/2021 Financial 11:44 Arbitrator, Beaconsfield office

C

M

Y

CM

MY

CY

CMY

K

To advertise please call 07786 735 711 or email marketing@amershamtogether.co.uk 19
---
COMMUNITY NEWS

Amersham

primary

school appeal

for photos

and memories

St Mary's CofE Primary School, Amersham

has launched an appeal to former pupils,

staff, governors and the wider community

for old photographs, memorabilia and

memories as part of their exciting year of

celebration and fundraising to mark the

school's 150th anniversary.

Submissions will then form part of a planned

exhibition to be curated by Amersham

Museum and hosted in the town next summer.

Memories will also be included as part of

a special commemorative souvenir book

currently being written.

Launching the appeal, Chair of Governors

Jacqui Rouse said: "The special moments we

have at school stay with us forever, we hope

lots of former St. Mary's pupils, teachers,

governors or anyone else with memories of

the last 150 years of the school will now share

them with us.

"Photos, school reports, certificates and any

other memorabilia will help us to capture the

story of our school for future generations to

look back on with fondness."

Over the next twelve months, staff and pupils

will reflect on the school's history through the

curriculum and special events. They have also

committed to an ambitious fundraising target

of £150,000 for the year to help the school

achieve its sustainable vision.

All submissions can be sent to the

school at the following e-mail address:

estaite@stmarysce.bucks.sch.uk

The Sesquicentennial celebrations began

in October with staff and pupils creating

a human mosaic of '150' on the school's

Rectory Meadow.

20 Amersham & Chalfonts Together is part of Community Together
---
COMMUNITY NEWS

Beaver Scouts

are out of this

world

Over 500 Beaver Scouts (boys

and girls aged 6 to 8) from across

Buckinghamshire had a sleepover at

the National Space Centre in Leicester.

Held over two weekends the children

enjoyed a variety of events with some

late nights and early mornings.

The activities included several planetarium

shows, time in the galleries with lots of buttons

and dials, a talk about space and rockets, and

an interactive track system.

Reggie Moore said, "I really enjoyed the

quiz and spending time in the galleries. I liked

learning about where the planets were and how

far away they are from earth. I am worn out."

Ellie said, "I liked learning about space.

It's been very tiring, but I've loved exploring.

The sleepover has been amazing. My favourite

activity was seeing the planetarium shows. I

hope I will be able to get my Space badge"

Adult volunteer Bernie Dickens said, "I've been

a volunteer for three years. It's very rewarding

seeing children achieve something. The smile

on a child's face when they use a flint and

succeed in starting a fire is a sight to behold.

I've challenged myself and done activities I

have never done before. I never thought I

would go dragon boating."

Tessa Ingram lead volunteer for Beaver Scouts

said, "We had planned a couple of years ago

but lockdowns put the lid on it. It's been great

to see over 500 children and 150 volunteers

have a great experience at the Space Centre.

To hear and see the excitement from the

children reminded me why I volunteer.

James Palin, lead volunteer for

Buckinghamshire Scouts said, "Scouting in the

County is growing and we are looking for more

volunteers. With more and more children and

young people (boys and girls aged 4 to 17), on

the waiting list we are looking for adults who

can help provide activities.

For more information about scouts please visit

www.scouts.org.uk/join

Keep Beaconsfield Country Fayre going!

Held in the Old Town of Beaconsfield every Bank Holiday Monday, this popular event attended by

hundreds of people of all ages is in danger of folding as the organiser who ran it for 16 years is now

retiring! Please do not let this happen!

Almost £160,000 has been raised to and goes to local charities.

The committee is made of members from St Mary's Church, Rotary, Beaconsfield

Society and Round Table, do something amazing and keep it going!

To advertise please call 07786 735 711 or email marketing@amershamtogether.co.uk 21
---
GET MONEY

SMART!

How to save money and access help- news from Citizens Advice Bucks

At Citizens Advice Bucks we know times are hard and

people are struggling with the cost of living. We are

doing the best we can to help. Part of this help is our

Money Matters project.

Money Matters is a FREE financial education

programme. The project aims to give people the

confidence, knowledge and tools to help avoid debt

and manage crises.

Financial capability-or being 'money smart'- is often

not taught in schools and not being money smart can

make life more difficult, expensive, unstable and

stressful than it otherwise would be, especially for

people living on a low income.

By joining this course- which is delivered in small

bitesize, easy to follow 30 minute sessions, the

learner gains access to information & support early

on and finds access to services should they need

them. These sessions aim to financially empower

people by allowing them to take control of their

Household Costs to learn how to manage, track

and reduce your outgoings by identifying your

needs and wants.

Insurance for understanding how to protect

yourself from financial risk(s)

Banking to be able to distinguish between

different types of accounts, payment

methods and features available

Budgeting & Income Maximisation can help

to identify ways to increase your income and

reduce your spending by budgeting

Tax & Employment helps us to understand

our payslips, pensions & tax codes

Savings & Investments to establish different

types of investments and ways to save.

Credit & Borrowing helps us to evaluate the true

cost of borrowing and products available.

Debt to learn about the implications of not

paying bills and how to manage and cope

with debt.

If you would like to join up to one of these

courses then please check out our website! But

please remember that we can give help,

money and understanding the products and services information and advice whether you sign up to

available to help.

this course or not. You can follow us online, use

our online info search on our website or email or

These sessions can run either online or face to face, call us. You may also like to join our Cost-ofto

fit the needs of the learner. We have eight Living Support Buckinghamshire Facebook page

different topics to choose from:

which has lots of tips!

https://citizensadvicebucks.org.uk/moneymatters

Citizens Advice Bucks is a local charity that provides free, impartial and confidential advice on any

problem you might face. Expert advisers can help with issues involving benefits, debt, housing,

employment, consumer rights, immigration, discrimination and more! Citizens Advice also offer

support with filling in forms, negotiating with third parties and writing letters.

www.citizensadvicebucks.org.uk

0808 278 7938

22 Amersham & Chalfonts Together is part of Community Together
---
COMMUNITY NEWS

Energy saving

tips for your

home

Some of these energy-saving tips may

seem obvious but they can make a big

difference when it comes to reducing your

fuel bill.

Set your heating to come on just before you

get up and switch off after you've gone to bed.

If it's very cold, set your heating to come on

earlier and turn off later rather than turning the

thermostat up.

If you can't heat all the rooms you use, heat

the living room throughout the day and

your bedroom just before you go to bed.

Remember to close curtains and shut doors to

keep heat in the rooms you use most.

Consider adding draft excluders to maximise

the heat in the house and minimise drafts and

cold getting in.

If your heating system uses storage heaters,

make sure that are set up in the most efficient

way possible. You can use this guide to do so.

There's really useful advice in the Keep

Warm Keep Well booklet produced by the

Government. This booklet aims to help you

maintain good health during winter and take

advantage of the financial help and benefits

available. It is aimed at over 60s, low-income

families, and people living with a disability.

Go to: www.bit.ly/metoffice-energysaving

for more information

HM Coastguard: Keeping you

safe at the coast

Her Majesty's Coastguard seeks to

search, rescue and save and have been in

existence for two hundred years!

On 15th January 1822 they were formally set up

and have since then, saved lives along the UK

coast and at sea, as well as coordinating rescues

for those in distress in international waters.

Maritime Minister, Robert Courts said:

"Congratulations HM Coastguard on their

200-year anniversary. I am immensely proud

and humbled by the continued dedication and

professionalism from the staff and volunteers

which ensures everyone's safety on our shores

and around our coast.

HM Coastguard is the backbone of our

maritime sector and the nation is indebted

to its incredible workforce which continues to

deliver an exceptional service."

Have a thought when you go on holiday along

the UK coast for all the coastguard rescue

offices and volunteers. These volunteers

could be called out at any time of the day

or night, may have to work in hazardous

situations for long hours and may have to carry

out physically demanding tasks, for example

carrying heavy equipment to rescue sites.

As a volunteer they will not be paid and can only

claim a small amount for time and expenses.

To advertise please call 07786 735 711 or email marketing@amershamtogether.co.uk 23
---
COMMUNITY NEWS

Netball at Amersham School –

giving girls a courageous edge

Netball is very important at Amersham

School. Physical activity and playing

together encourages teamwork,

promotes self-esteem, and improves

communication skill.

It provides students with confidence in

competing and determination to follow

dreams. Netball is a fast and exciting team

game with running, jumping, throwing and

catching. Netball is the perfect sport for girls

to be part of a team, to lead, take on roles and

responsibilities as well as creating strategies

and improving analysing skills.

Every year-group has the opportunity

to participate in extra curricular netball.

Teachers advocate playing all year round.

Playing netball enhances decision-making,

leadership and goal setting skills. Each player

has her own role and area of the court. Each

position is determined by the strengths of the

player - similar to the work place. It encourages

working together; no one player can dominate

and win the game – a pure team sport.

Netball is the perfect arena for girls to be

competitive and learn how to come back

from defeat. Within sport, girls learn that

sometimes there is someone out there who

can outperform her on the day, and they

learn how to reflect, regroup and come

back stronger. We are very lucky in having a

pathway for our elite athletes, able to join a

local community netball club that plays in

the High Wycombe league. The club accepts

athletes based on ability and skill level – we

currently have 22 students who are selected

for the external squads.

Over the past two years - since returning

to the 'norm' post Covid - it is has been

remarkable to see the development of the

girls, both individually and as a group. In

March 2023 the athletes will attend a netball

camp to provide the girls with a fun and an

exciting new approach to training. We believe

netball is the perfect game!

Sarah Wilcox, PE Teacher

– Amersham School

24 Amersham & Chalfonts Together is part of Community Together
---
THE YOUNG JOURNALIST ISSUE 12

United Nations Climate

Change Conference - COP27

COP27 began on Sunday 6th November

and focusses on environmental issues. This

conference happens annually and is this year in

Egypt. Leaders from around the world review

climate goals and unite over world changing

issues.

Those who went include; the UK Prime Minister,

Rishi Sunak, Alok Sharma (who went to COP26)

has been replaced by James Cleverly who

attended with Scotland's first minister: Nicola

Sturgeon. Quoting the Independent, 'More

controversially, from Mr Sunak's point-of-view,

'Boris Johnson will be appearing as well'.

The list of those present got longer as the week

progressed, but some influential world leaders are

not attending. Vladimir Putin will not be there due

to the ongoing war between Russia and Ukraine.

What will they discuss?

We must realise the targets they set, are not going

to be met unless drastic action is taken. How long

before climate evacuees turn up searching for help?

What can we do to prepare for the worst, while

trying to prevent it at the same time? That is the

type of dilemma that the COP27 members will

face. The COP27 meeting is going to talk about

various things over the 10 days in Egypt. What they

talk about will shape the world's future.

Global Temperature

Global temperatures have risen in the last 50

years. Climate.gov says "For the last 50 years,

global temperature rose at an average rate of

about 0.13°C". It is supposably the eighth

warmest year on record. I suspect that they will

focus on this during COP27 with suggestions

on why this is and what this means for global

temperatures.

Helping other countries

Another topic the famous climate conference

might mention is how to help countries prepare

and deal with climate change. Afghanistan,

Japan, the Philippines and Germany are among

the many countries already struggling to deal with

climate change and what this government doing

to help That brings me into my next topic of

'Climate Targets'.

Are the targets set realistic?

Since 2009 certain countries were promised

significant funding levels. This money was going

to go towards climate related issues and funding.

This target has not been met and due to the

current recession, probably will never be.

What does this mean?

All the points I have mentioned have something

in common: climate change. But what does

this COP27 meeting mean? Caroline Lucas, a

prominent member of the Green Party said on her

Twitter feed, "We are on a highway to climate hell

with our foot on the accelerator. Our planet is fast

approaching tipping point" She then goes on to

mention COP27 and how "it is the only thing we've

got". Yet Greta Thunberg (the teenage climate

activist) said earlier in the week that COP27

was a "scam" that encouraged "cheating",

"greenwashing" and "lying".

In a few words COP27 is a climate conference

where influential leaders talk about the pressing

issue that is Climate Change. They talk about

global temperature and what to do about it and how

to prepare for climate refugees and yet the media do

not focus on this. All they care about is sweeping

up controversy and dividing countries when that is

exactly the opposite of what COP27 is about.

Sophie Hazzard is a keen writer at Amersham

School. Her favourite things are reading, writing

journalism and spending time with friends. She

hopes to be a journalist one day and influence

people through her writing.

Disclaimer

Please note: the opinions and findings expressed in this article are

solely those of the author and should not be assumed to be those of

Amersham and Chalfont Together or its affiliates.

To advertise please call 07786 735 711 or email marketing@amershamtogether.co.uk 25
---
ISSUE 12

THE YOUNG

Expressing myself

through interior

design

Art is not my forte, but I do admire

design. Being a professional designer

would be difficult for me. but this does not

stop me from expressing my fervent side.

Not long ago, I had my bedroom transformed

from that of a child to one of a young woman:

this being my first opportunity to have

complete design control over what I wanted

my personal space to be. For a long time, I

chose to keep my room quite bland - I didn't

do much with the wall space apart from

building bookshelves over my bed - yet to

be completed. I knew that I wanted to do

something with the empty walls.

Taking to Pinterest to get inspiration, I scrolled

and saved ideas for a few weeks. Finally, I

decided what I wanted to do - more colour.

I cut clippings from old magazines and stuck

them on vacant wall space, leading me to

explore my interior design visions. I started

buying and putting up more art on all of the

walls and I soon felt that my bedroom really

reflected me, finally starting to fall in love with

it. Following the long time I spent on Pinterest

searching for designs, I began to use it more

often; creating boards for interiors, and soon,

exterior designs and create some of my

favourite looks. Having freedom over how I

wanted my space to look made me notice

how much design fascinates me. It allowed

me to express myself in ways I hadn't

explored before, and realise that design

affects me as a person: bright, lively and

passionate.

To put it simply, I cannot wait to own a

property where I decorate it as I wish; it is

one of the many things I look forward to in

my future.

Ava Hitner is a student in

Amersham studying English

Literature, Drama and Media.

The three things she enjoys most

are reading, walking her dog and

spending time with family

and friends. She aspires to be

successful and make the world a

better place.

26 Amersham & Chalfonts Giving Together our is future part of the Community freedom of Together speech
---
JOURNALIST

New Year -

New Planet

How do we see the world? With the

global climate crisis threatening our

environment and destroying everything

we know and love, the world seems

an unstable and dangerous place. Perhaps

the greatest positive change we could

make for a healthier and more harmonious

relationship with our planet is to change

our attitude.

Instead of seeing Mother Earth as a lifeless

stock of resources which we can deplete,

see our planet as the source of all life, as

a shared responsibility - and a shared

wonder. Around the world, people have

united in realising the pattern of consumerism

we have established is damaging health:

new clothes, new technology, new material

possessions and more extravagant lifestyles

have fuelled the belief that nature is at our

disposal. This is prevalent in all forms of

media such as television, social media and

the internet, further distancing us from the

mother Earth that continues to provide for us.

We are suffering from the disconnect.

Physically, we are suffering from the lower

air, water and food quality resulting from the

distress we have put global ecosystems and

biodiversity under. The increase in mental

health issues is also partly caused by

materialistic achievements that fail to

recognise the natural bliss and contentment

found in nature.

Sometimes prescribing pills to suppress

symptoms may seem an easier option

that arises from having a hectic lifestyle.

Instead the prescription of a more natural

approach and more of a connection with

mother nature would be more beneficial.

The benefits of being in nature for even a

five minute walk are so great that we could

be living more in harmony with nature, for our

own health and ultimately, the planet's. When

we love something, we protect it.

One of the most important things we could

do, is reduce our waste. Food waste is

anaerobically digested to be used as fertiliser

and generate electricity. Over 50% of the

waste we produced is reused and the rest is

transported to the Greatmoor Energy from

Waste Facility. We send less than 0.1% of our

waste to landfill which is one of the best rates

in the country; however we can always do

more. And we must.

Let's make it our mission in 2023 to

reconnect ourselves to nature and do all we

can to protect it. We can reduce, reuse and

recycle. We can eat more plant-based and

British foods to reduce carbon emissions

caused by food transport. As well as focusing

on 'new year new me', focus on: new year,

new planet.

Sanchi is a student in Little Chalfont.

The three things she loves most are

nature, people and writing. Uniting

these, she aims to create a brighter,

greener world!

Sanchi

To advertise please call 07786 735 711 or email marketing@amershamtogether.co.uk 27
---
Amersham & Chalfonts

Together Brain Matter

Left Overs

Cross off words in the box as indicated by the instructions. The remaining words will form a

common saying when read from left to right and line by line.

LEFT OVERS

Cross off all fruits.

Cross off words in the box as

Cross indicated off all anagrams by the instructions. of PALES.

Cross The off remaining all names words of countries. will form

a common saying when read

Cross from off left all colours to right of and the line by line.

rainbow.

Cross off all fruits.

Cross Cross off all off trees. all anagrams of PALES.

Cross Cross off all off words all names with of the countries. same

Cross first and off last all colours letter. of the

rainbow.

Cross Cross off all off months all trees. of the year.

Cross Cross off all off words all words that with contain the same

first and last letter.

Cross

two Os.

off all months of the year.

Cross Cross off all off animals. all words that contain

two Os.

Cross Cross off all off woodworking all animals. tools.

Cross Cross off all off planets. all woodworking tools.

Cross off all planets.

KEYWORD

LEAPS INDIGO CHINA COCOA

TURKEY SPOON LARCH APRIL

FOX LEMON BETTER MERCURY

EARTH CEDAR LAPSE BANANA

YELLOW JAPAN HAMMER DATED

SAW COMMON RED PLEAS

GOING LATE GRAPE MOUSE

BEAR BLUE FORGOT THAN

MARCH PLANE FRANCE PEALS

NEVER APPLE AUGUST VIOLET

SPOT THE DIFFERENCE

On the face of it, this puzzle is perfectly Spot the There Difference are eight differences between these

straightforward. Simply fill in the letters two pictures. Can you spot them?

There are eight differences between these two pictures. Can you spot them?

missing from words 1-10 and enter them

ywordinto the numbered boxes, to reveal a

this puzzle hidden is perfectly keyword. straightforward. Simply fill in the letters missing from

e nter face them of it, into this the puzzle numbered is perfectly boxes, straightforward. to reveal a hidden Simply fill keyword. in the letters missing from

s 1-10 and enter them into the numbered boxes, to reveal a hidden keyword.

1 2 3 4 5 6 7 8 9 10

1 2 3 4 5 6 7 8 9 10

1 C R __ 1 S TC R __ S 6 T C R 6 __ N C ER __ N E

2 S T I 2 __ KS T I __ K7 __ H 7 O R __ NH O R N

3 S __ 3 O R TS __ O R 8 T G R 8 E __ G TR E __ T

Answer:

4 G __ 4 A S SG __ A S 9 S __ I 9 G H __ T I G H T

Better late than never.

5 S W 5 E __ S T W E __ 10 T G R 10 A N G __ R A N __

(answers on p30)

28 Amersham & Chalfonts Together is part of Community Together
---
Safe & gentle ear wax

removal at a clinic

near you

What is ear wax?

What is it, why do we have it in our ears and why does it sometimes cause hearing loss. Earwax, also known

as cerumen, is produced inside your ears to keep them clean and free of germs. It usually passes out of the

ears harmlessly, but sometimes too much can build up and block the ears.

It protects the skin of the human ear canal, assists in cleaning and lubrication, and also provides

some protection from bacteria, fungi, insects and water. In other words, ear wax is a good thing!

The amount of ear wax that the body produces differs from person to person, the amount

that is retained within the ear also differs for each of us - these differences are for a number

of reasons; Age; Diet; Lifestyle; Personal anatomy; Genetics; Ethnicity.

Many people will produce a small amount of wax their whole lives, which leaves the ear

canal naturally, and never have any problem with it. For others, their ear will produce a larger

amount of wax, which will not fully leave the ear canal and will become blocked, which leads to

them having reduced hearing ability and also a blocked feeling in the ear.

50% off

latest tech

hearing aids

Are you experiencing any of the following?

• Pressure in the ears

• Blocked feeling in the ears

• Need to pop your ears but can't

• Sudden loss of hearing or muffles sound

• Hearing aids whistling

• Underperforming hearing aids

Call for more information on

Call: 07903 013 123 / 07535 603 744 or

01494 590 860

Email: hearwego.beaconsfield@gmail.com

Web: www.hearwegohearingsolutions.co.uk

The Studio, 37 Station Road, Beaconsfield HP9 1QG

To advertise please call 07786 735 711 or email marketing@amershamtogether.co.uk 29
---
COMMUNITY NEWS

Drive in a clean

air zone

Use this service if you're planning to drive

through clean air zones in:

Keyword

On the face of it, this puzzle is perfectly straightforward. Simply fill in the letters missing from

words • Bath 1-10 and enter them into the numbered boxes, to reveal a hidden keyword.

• Birmingham

ese two • pictures. Bradford Can you spot them?

If you want to check if your Left car is compliant Overs

• Bristol

visit: https://www.gov.uk/clean-air-zones and

• Greater Manchester Cross off words in the box as indic

1 2 3 (under 4 5 review) 6 7 8 9 10

check your car registration plate.

common saying when read from le

• Portsmouth

• Sheffield (charging starts in early 2023) Charges are payable if your car is registered in

• Tyneside - Newcastle and Gateshead

the UK and you will be fined Cross if you off all do fruits. not pay

(charging starts on 30 January 2023)

within a certain time frame.

1 C R __ S T 6 C R __ N E

Cross off all anagrams of PALES.

Cross off all names of countries.

2 S T I __ K 7 __ H O R N

Cross off all colours of the

3 S __ O R T 8 G R E __ T

rainbow.

RED KITE CRAFT 4 G __ A S MARKET

S 9 __ I G H T

Cross off all trees.

Saturday 14th 5 January S W E | __ 9am T - 10 1pmG R A N __

Cross off all words with the same

first and last letter.

Saturday 11th February | 9am - 1pm

FREE ENTRY

www.facebook.com/redkitecraft

email : redkitemarket@gmail.com

Little Chalfont Village Hall, Little Chalfont,

HP8 4UD

Cross off all months of the year.

Cross off all words that contain

two Os.

Cross off all animals.

Cross off all woodworking tools.

Cross off all planets.

Wishing Amersham & Chalfont Together

readers a very happy and healthy

New Year!

PUZZLE

SOLUTIONS

Answer:

SPOT THE DIFFERENCE

KEYWORDS

Answer:

UNPLEASANT

LEFT OVERS

Answer:

Better late than never.

30 Amersham & Chalfonts Together is part of Community Together

eyword.indd 2 07/08/2022 2:39:41
---
Every 2nd and 4th Tuesday of the month

January 10th, 24th and February 14th,28th.

Epilepsy Society, Kent House,

Chesham Lane, Chalfont St Peter, SL9 0RJ

Time: 19.00 - 20.00 (everyone over age 18 welcome)

pranichealing.chalfont@gmail.com

To advertise please call 07786 735 711 or email marketing@amershamtogether.co.uk 31