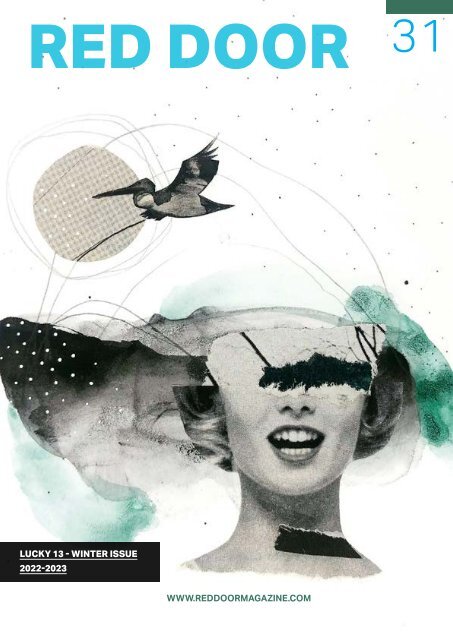 RED DOOR 31
Red Door Issue #31 Featuring the art of Jessa Dupuis New titles by Red Press coming this spring 2023 I KNOW WOMEN by Ly de Angeles ............ pg. 15-16 VISUAL POETRY BY Sofia del Carmen Rodriguez Fernandez...... pg.17-18 THAT DAY ARRIVED In memory of Knud Sørensen By Michael Favala Goldman ...........................pg. 20-23 IN THE EYES OF THE BEHOLDER By Martin Andersen.............................................pg. 30-31 POETRY .................................................pg.32-34 IN THIS ISSUE BY Dr.Alex Van Huynh Beatriz Seelaender Rey Fairburn Rose Menyon Heflin ART, FILM & MUSIC by: MEANWHILE, IN AUSTRALIA The Neon Rebel ...................................................pg.24-29 WHY YOU DON'T KNOW A THING ABOUT UKRAINIAN MUSIC By Olene Pohonchenkova ...............................pg.36-39 FEATURED ARTIST Jessa Dupuis .........................................................pg.40-45 The Poetic Phonotheque presents: New poetry films added to the collection: pg.46-52 (from the Nature & Culture - Poetry Film Festival) and more! www.reddoormagazine.com Pre-order your copy at www.reddoormagazine.com/shop
Red Door Issue #31

Featuring the art of Jessa Dupuis

New titles by Red Press coming this spring 2023

I KNOW WOMEN by Ly de Angeles ............ pg. 15-16

VISUAL POETRY BY
Sofia del Carmen Rodriguez Fernandez...... pg.17-18

THAT DAY ARRIVED
In memory of Knud Sørensen
By Michael Favala Goldman ...........................pg. 20-23

IN THE EYES OF THE BEHOLDER
By Martin Andersen.............................................pg. 30-31

POETRY .................................................pg.32-34
IN THIS ISSUE BY
Dr.Alex Van Huynh
Beatriz Seelaender
Rey Fairburn
Rose Menyon Heflin

ART, FILM & MUSIC by:

MEANWHILE, IN AUSTRALIA
The Neon Rebel ...................................................pg.24-29

WHY YOU DON'T KNOW A THING
ABOUT UKRAINIAN MUSIC
By Olene Pohonchenkova ...............................pg.36-39

FEATURED ARTIST
Jessa Dupuis .........................................................pg.40-45

The Poetic Phonotheque presents:
New poetry films added to the collection: pg.46-52
(from the Nature & Culture - Poetry Film Festival)

and more!

www.reddoormagazine.com

Pre-order your copy at www.reddoormagazine.com/shop

SHOW MORE
SHOW LESS
You also want an ePaper? Increase the reach of your titles
YUMPU automatically turns print PDFs into web optimized ePapers that Google loves.
RED DOOR 31

LUCKY 13 - WINTER ISSUE

2022-2023

WWW.REDDOORMAGAZINE.COM

01
---
TABLE OF CONTENTS:

EDITORIAL: PUT IT BACK TOGETHER ............. pg.06

Founder & Director:

Elizabeth Torres

(Madam Neverstop)

Poetry Editor:

Pablo Saborío

Correspondents:

Melaine Knight

The Neon Rebel

Australia

Brandon Davis,

Germany / DK

Mario Z.Puglisi

Tanya Cosio

Mexico

Miller Almario

Red Visions

Colombia

Kultivera

Sweden

Martin Andersen

Denmark

Cover & Back cover

by Jessa Dupuis

RED PRESS presents......................................... pg. 08-13

I KNOW WOMEN by Ly de Angeles ............ pg. 15-16

POETRY TAKEOVER:

VISUAL POETRY BY

Sofia del Carmen Rodriguez Fernandez...... pg.17-18

THAT DAY ARRIVED

In memory of Knud Sørensen

By Michael Favala Goldman ...........................pg. 20-23

IN THE EYES OF THE BEHOLDER

By Martin Andersen.............................................pg. 30-31

POETRY .................................................pg.32-34

IN THIS ISSUE BY

Dr.Alex Van Huynh

Beatriz Seelaender

Rey Fairburn

Rose Menyon Heflin

ART, FILM & MUSIC:

MEANWHILE, IN AUSTRALIA

The Neon Rebel ...................................................pg.24-29

WHY YOU DON'T KNOW A THING

ABOUT UKRAINIAN MUSIC

By Olena Pohonchenkova ...............................pg.36-39

FEATURED ARTIST

Jessa Dupuis .........................................................pg.40-45

The Poetic Phonotheque presents:

New poetry films added to the collection: pg.46-52

RED DOOR MAGAZINE #31

Winter Issue

Celebrating 13 years

Red Press, Copenhagen

ISBN: 978-87-94003-13-1

02

www.reddoormagazine.com

All rights reserved to the

corresponding authors.

In loving memory of Mikkel Feirskov Knudsen,

member of Red Door Copenhagen, musician,

photographer and worldthreader, whose support

and love for Red Door were fundamental during

the relocation of the project to Denmark. Your fire

and curiosity will remain in all of us who loved you.
---
SUBMIT CONTENT to

RED DOOR MAGAZINE:

Red Door Magazine releases digital & printed issues

quarterly with an emphasis on visual art and poetry.

This includes multimedia art, artistic research, essays

on projects, reports on festivals and activism, as well as

relevant media articles and documentation of the activities

by you and your network. The magazine always features

a poetry selection, prose, and occasional interviews by

established and emerging artists, plus relevant upcoming

events. We're here to give you a handful of essential

pieces you can digest in one sitting.

We're currently seeking visual art, music, film reviews,

travel and media articles, poetry, fiction, and creative

nonfiction. Simultaneous submissions are always ok,

but if you have a piece accepted elsewhere, please let

us know by adding a note to your submission; we're not

aiming for exclusivity - but relevant, quality content.

Please send your questions to reddoorny@gmail.com

________________________________________

File specifications: Your article may be a maximum of

two pages, and we accept a maximum of 3 poems per

submission. All languages are welcome but please

include English translation. Also include a small

biography of up to 5 lines about you. All this must be

included as .doc files . All images must be attached

as .jpeg images in a resolution of 1080 x 1080 px or

its equivalent in format so it can be used for print

and hi-res for web. Please note we currently accept

poetry submissions only via our submittable platform:

https://redpress.submittable.com/submit

ISSUE #32: ORGANISMS AND STRUCTURES

(SPRING 2023)

SUBMISSION DUE DATE:

March 05, 2023

LEARN MORE AT:

WWW.REDDOORMAGAZINE.COM

03
---
RED

IN THE EYES OF THE

BEHOLDER

BY MARTIN ANDERSEN

30-31

WHY YOU DON'T

KNOW A THING ABOUT

UKRAINIAN MUSIC

36-39

FEATURED ART BY

JESSA DUPUIS

40-45

04
---
Happy 13th anniversary, and to all a joyful 2023!

VISUAL POETRY BY

REY FAIRBURN

MENYON HEFLIN

SOFIA DEL CARMEN

RODRIGUEZ FERNANDEZ

32-34

17-18

05
---
EDITORIAL

PUT IT BACK TOGETHER

Dear worldthreaders,

2022 came and went filled with rediscovery and

turmoil. It saw us grieving from personal losses and

a global pandemic, economic imbalances and that

which we do not mention publicly but remains an

open wound in each of us individually, whatever

it may be called. We all have it and it shows in our

eyes when we lift up our heads now and try to start

a conversation in a crowded room once again, as if

we naturally remembered how that functions.

But this year also saw us as a species of resilience,

reinventing ourselves and reconstructing, from the

ashes of that we no longer are and no longer have,

so as to build a world, no, let's be honest, so as to

build room for ourselves in this world, with what

we envision as ours manifesting itself in front of our

awe-struck faces. Such is life, such is poetry, such is

our existence. A constant invitation to put ourselves

back together.

Suddently, Red Door Magazine turned 13 years old.

From its beginning as a solely digital magazine, to

what this all encompasses now, it is ironic that our

13th year finds us printing physical magazines and

expanding our publishing project Red Press, while

simultaneously continuing our online operations,

in a time when AI is causing so much controversy

and the future of art seems so uncertain to many in

our community. I personally believe that artists are a

breed of creativity, curiosity and resourceful capacity

who know how to adapt, rebuild and interpret with

the singularities that a computer cannot, with the

ingenuity and tenderness, kindness and passion

that a computer cannot, so I am not worried... but

while I say this I click save since this entire issue is

dependant on a computer to get to your hands.

Let us move on to the subjects that we know.

Our cultural operations are flowing with delight

like sweet poetic honey, including an open call

for our first environmental poetry international

anthology, as well as for the upcoming issues of

Red Door Magazine, all of which you can find on the

SUBMITTABLE platform by searching for: Red Door.

Additionally, Litteraturcentrum KVU, Kultivera and

all its partners busily prepare Tranås at the Fringe,

an incredible Performing Arts Festival taking place

this summer in Tranås. Sweden, which Red Door

not only helps curate but also documents.

Additionally, Red Door joins IMMART for a festival

of Nordic magnitude that aims to connect and

inspire those involved in arts and organizing.

We have several art and poetry books coming out

this Spring and Fall through Red Press, including

Abstrakt Maskine by Lazlo Taboli and an art

publication by Danish artist Nikolaj Jacobsen.

Our collective of publishers / performers /

translators / cultural organizers RED THREAD will

meet for its second year this April in Copenhagen,

as part of the OUTSIDER BOOK FAIR, which we are

organizing in collaboration with HUSETS BIOGRAF

and which is done thanks to the support of NORDISK

KULTURFUND.

...And Red Transmissions Podcast will soon reach

its 100th episode, with a new season documenting

artistic researchers and practitioners in the Nordic

Region, as well, of course, as all the previous

activities mentioned.

As if all of this weren't enough reason to look

forward to 2023, I am honored to share that this

Fall, the Academy of American Poets named me

the recipient of the Ambroggio Prize 2022, with my

upcoming book Loteria: Nocturnal Sweeptsakes,

which comes out this February with University of

Arizona Press. I will be touring the US this March,

and Europe through the Spring, so please stay

tuned via instagram, facebook or patreon so we

can meet and discuss collaborations and other

opportunities.

Red Door Gallery, Red Door Magazine, and all

the other projects that are part of the Red Door

operations eagerly aim to support your existing

projects, document them, share them, and hopefully

help you connect with others in our communities

with similar enthusiasm and interests, in whatever

cultural field you might be seeking. That is the

idea of the worldthreader. To seek and receive in

constant flow, for this is how art and universe exist.

My gratitude to all our partners, collaborators,

and to everyone who participated on this issue of

Red Door., and who slowly but surely has helped

us see the world put itself back together in new

ways, with our renewed energy. I look forward to

being marveled constantly in 2023 by your poetic

endeavours and to learning from every single one

of you.

Love and poetry,

Madam Neverstop.

www.patreon.com/madamneverstop
---
Art by Jessa Dupuis

07
---
BOOKS!!!

RED PRESS PRESENTS:

Created in Scandinavia during 2018, Red

Press is an independent publishing project

of Red Door, distributed as limited editions

in Denmark, Sweden, and by mail via our

Red Door online shop.

Red Press is a collection of publications of

art, essays, photography and poetry in its

varied spectrum of styles, subjects, voices

and languages, by emerging or renown

writers, with quality and uniqueness as the

base criteria.

The current focus is in Spanish, English,

Swedish and Danish, as well as bilingual

books in other languages with one of the

mentioned languages as the original text.

Operations are based in Copenhagen and

Malmö, but the books are also distributed

by mail-orders, through fairs and partner

organizations in other cities of Europe, as

well as in the US and South America during

poetry festivals or other events wherever

Red Door representatives may be.

This is not a print-on-demand project, and

we reserve the right to reject proposals

which do not fit the criteria and aesthetics

previously mentioned. No funds are

currently received from any government,

private, nor public institution, so the project

is independent and self-funded with the

purpose of maintaining transparency and

manageable logistics in the name of poetry

and our belief in worldthreading.

The publications of selected books, are

based on time availability and the strong

belief on the work being published.

As books are either handmade or printed

locally (and every time through the most

sustainable solutions), the editions are

limited, often numbered, and also serve as

art objects with poetry, art and translation

as the connecting threads.

If you'd like to submit a book proposal,

please write to:

redpresspublishing@gmail.com

We currently have an open call for

an environmental poetry anthology

(international, all languages welcome,

as long as the English translation is

included), and you can join by visiting our

SUBMITTABLE platform and sending your

poetry.

We look forward to reading you, and

celebrating your work.

Follow us on instagram @ redpress.eu

08
---
09
---
ABSTRAKT MASKINE

By Lazlo Taboli, Red Press, 2023

Den nomadiske krigsmaskine

De forbinder sig gennem familier og slægter

Med en helt særlig form for korpsånd

De er ikke en fundamental celle

En kønnet form for solidaritet

I periferien ligger den hemmelighedsfulde magt

Den nomadiske krop er en krigskrop

En hvirvlende krop i et nomadisk rum

---

The nomadic war machine

They connect through families and lineages

With a special kind of esprit de corps

They are not a fundamental cell

A gendered form of solidarity

On the periphery lies the mysterious power

The nomadic body is a warrior body

A whirling body in a nomadic space

ABSTRAKT MASKINE by the

Danish Collective Lazlo Taboli,

is a compilation of poetry and

AI art responses, created as

a commentary on our current

society's inner struggles, the

machinery of our world and what

fuels it.

This book is already in the printers

and will be available from April

through Red Door, Red Press, and

our partner distributors overseas.

Get your copy via www.

reddoormagazine.com/shop

010
---
Den organfrie krop

Du er allerede ovenpå kroppen

Uden organer suser kroppen som et skadedyr

Jeg famler som en blind i lyset

Er du den sindssyge løber?

Vi vil gerne forenes som ørkenrejsende

Er mit liv, nomadens liv?

Vi sover på kroppen uden organer

Vi lever vores vågne liv

Og søger vores plads

---

The body free of organs

You are already above the body

Without organs, the body rushes like a pest

I grope like a blind man in the light

Are you the crazed runner?

We want to unite like desert voyagers

Is my life the nomad's life?

We sleep on the body without organs

We live our waking lives

And seek our place

Den imperiale Stat

Der foregår en overkodning af befolkningen

Fangeapparatet fængsler

kontrære individer

Er det en maskine af slaver?

For den imperiale stat er intet privat

I udkanten finder vi den befriede slave

I skabelsen af den private krop

Er dissidenten kollektivets outsider?

---

The Imperial State

There is an overcoding of the population

The prison system imprisons

recalcitrant individuals

Is it a machine of slaves?

For the imperial state nothing is private

On the fringes we find the freed slave

In the creation of the private body

Is the dissident the outsider of the collective?

011
---
WE NEVER SAID THAT

A CONVERSATION, Red Press, 2023

Texts by Nana Anine, Tam

Vibberstoft, Elizabeth Torres

and Sonja Ferdinand.

Workshop facilitated by

Andreas Liebmann, in the

framework of Den Danske

Scenekunstskoles Writing

Specialization, written in

Aarhus 2022.

The formal premise for this

book is a writer's dialogue,

which has a long tradition in

the creative writing process.

Thinking is different when

thinking together, when

thinking for each other, and

with each other. In this case,

the common threads are the

writers' experiences with

school, with life in Denmark,

and with the Danish society.

Unfinished thoughts, open

statements, open states.

It is an invitation for you

to think along. An instant

publication. An exercise.

A document of a certain

moment in time.

Coming out in May, 2023

via Red Press.

012
---
LET'S ROCK!

An art book by Nikolaj Jacobsen, Red Press, 2023

Let's Rock! by Danish artist Nikolaj

Jacobsen is the first art publication

by this creative being, who uses

fragments of memories from the

parties, concerts and punk scene

of Copenhagen, and colorfully

illustrates them in small square

format, usually available for

viewing only through his instagram

@ nikolajxxjacobsen

Nikolaj is not in it for the fame

nor the money, but because it's

part of his existence and a way to

immortalize or at least temporarily

capture otherwise futile scenes of

the city's nightlife, and the stories

they inhabit.

Available as a limited edition from

April.

Reserve your copy via www.

reddoormagazine.com/shop

013
---
014
---
LY DE ANGELES

I KNOW WOMEN

When we look into a mirror we seek flaws.

In our faces we see lines or open pores

or dry skin or broken capillaries; we see

a nose too big or too pointed; chins that

sag or bags beneath tired eyes. In body

we see thighs too fat, too droopy, too big;

waists and bottoms that are never right;

wobbly upper arms; love-handles (that they

hide beneath long tee-shirts) – and always

we secretly or fearfully talk about what

we ought to do about it, despairing and

casually embarrassed.

Ask yourself, you who see these things and

sense distress: Why do I see myself so? Ask

yourself whether the secret condemnation

you feel about your physical form is of your

own making?

Don't you give of your strength and

compassion to the world around you?

You strive to meet the challenges and

responsibilities of merely living from day to

day, don't you? You suppress the urge to

desert your kids. To have sex with strangers.

Maybe. Sometimes? Don't you understand

that by simply being alive you make a

difference to the way the world is?

Do you compare yourself to others? Do

you compromise your choices because

someone thinks you're too something? Do

you yearn to be loved? Honored for your

worth? Respected for no reason other than

that you are fabulously alive? To feel good

about—fill in the dots? To be really liked?

And do you feel that only someone else can

make things better for you? Oh, what lies

we've let ourselves believe.

We can be merciless upon ourselves for

not fitting someone else's idea of what is

acceptably beautiful.

Ask yourself:

Who defines

our concept of

beauty?

015
---
Someone ask me who defines the concept.

Go on, someone ask me!

I do.

It took me over forty years to be certain that

I understood.

I learned about the truth of things when I

decided to do exactly what I wanted with

my life; when I decided that it's me who

should like the way I look; when I decided

that I would never lie to myself about my

motives in any matter, no matter what the

repercussions; when I determined never to

have to try to have someone like who I am.

I look at the Earth with her ragged mountains

and her deep gorges; her canyons, her

caves, her forests, her seas and her rivers,

her vast tracts of desert, and my body is that.

I know my moods of thunder and lightning,

intolerable winds, hazy, smoky autumn

evenings, days of grey stillness, hot and

sweaty mid-summer afternoons, and the

times when I'm ice on the water-tank.

I've got scars and stretch-marks and

muscles on a tiny woman-body; I've got

wrinkles from too much sun or too little

back-up in times of trouble; a mane of hair

that knows no comb – and yes, attitude.

I consider the Earth; I feel her, and we're the

same. Her mirror. You're her mirror. Do you

understand? Do you recognize you among

all the people you try to be, for all the others

you try to be someone for?

You see, I've worked it out. It's not what you

do in life that matters, or even who you are,

but that you are – that's the important thing.

To understand that is to set yourself free to

know that everything that you say and do

is an expression of you that you share with

life itself.

The dirty, sweaty, grunting, sighing,

howling at the moon-ness of women—

LY DE ANGELES—LORE (she/her)

REWILDING CONSCIOUSNESS

Ly de Angeles (Lore) is an elder, healthy

living activist, anarchist, linguistic

anthropologist and psychic, with 18 books

in print, including THE SKELLIG with Red

Door's own Melaine Knight. She has lived

for 71 human years in December of 2022.

She is mostly known for TAROT. A wildmedicines

practitioner, seer, wordcrafter

and scholar de Angeles is a proud Celto/

Scandinavian knowledge-holder and

practitioner of witchcraft, maintaining

strong genealogical taproots to an Irish

and Breizh ancestry as well as being the

descendant of Albanach/Irish gypsies (na

lucht siúil), the term being considered, by

some, a racial slur. De Angeles, however,

embraces the word used by her father's

mother, and the women before her.

BACKSTORY

Known by the name LY DE ANGELES,

Lore was a stolen child—trafficked—only

gaining her ancestral identity through

the high courts in Australia as recently as

December, 2020. She is an anti-slavery/

trafficking advocate and a practitioner of

many arts, from tarot to healing, relationship

counselling, writing, strength training to

immersive trance/shamanic-style voyages

into the deep-time lived experience.

De Angeles lives with high functioning,

lifetime, complex PTSD as a result of birth

trauma and is working on a thesis called

Natal Alienation and the effects on those

affected for 5 generations.

SAVAGE, the full workbook associated with

this article and previously published under

a different title, is expanded and made more

relevant as the questions keep rolling in.

Release date, worldwide, February 2nd

2023. Focus: health, nutrition, resistance

training, relationships, sex, taboos, scarlet

women and a touch of witchcraft.

016

FUCKING BEAUTIFUL!
---
017
---
Art by Sofia del Carmen Rodriguez Fernandez

Instagram: @sofivolart

018
---
WE

WANT

YOU!

DID YOU KNOW

THAT WE ALSO HAVE OUR VERY OWN

LITERARY RADIO STATION?

SOUNDSCAPES, POETRY, INTERVIEWS, DJs, THEATER,

PLAYLISTS AND MORE.

WWW.TREMELLARADIO.EU

NOW ACCEPTING RADIO HOSTS:

If you'd like to join us with your show,

write us now:

tremellaradio@gmail.com

019
---
MICHAEL FAVALA GOLDMAN

THAT DAY ARRIVED

020

The funeral of Knud Sørensen, great

Danish author of more than sixty works

of poetry and prose, was held today, and

the sky cried. It poured, not out of sadness,

I suspect, since Knud was 94, and had

had a life in all respects fully lived. But it

is fitting to mourn the passing of a man

who illuminated many of his brothers and

sisters by the way he held and expressed

himself.

Knud entered my life through his books in

1996, when I was living in Denmark, and

not too far from a library, where I chanced

on his work in the poetry section. I was

immediately struck by his intimacy with

the agricultural way of life and landscape,

the farmers' experience which he gained

through his daily work as a land surveyor.

Unfortunately, he often was surveying

small family farms which were being sold

for development or impacted in other ways

by industry and society. He communicated

both the dignity and the tragedy of the

farming life in his poems, stories, essays,

and novels.

When I first read Knud's depictions of small

farms, and their clash with modernization,

I realized that I was a product of this

evolution. The house and the housing

development I grew up in stand on the

land of a previous farm. My hometown

once had 83 farms. There is only one left

today, but there are numerous shopping

centers and tens of thousands of houses.

While still a surveyor, Knud published his

first poetry book in 1965. He went on to help

found an author's collective publishing

house, Atticus Press, and he was a prolific

book reviewer. He also became an active

mentor of younger Danish writers and a

literary historian. Like a walking museum,

he researched and documented the

important writers from the rural area where

he lived, winning particular notoriety for

his biography of Steen Steensen Blicher.

In a country often dominated by the rich

cultural life in the capital, Copenhagen,

Knud was a tireless advocate for rural art

and culture, serving on the board of the

library and arts council in his hometown,

Nykøbing Mors.

I first met Knud in 2014 in the gardens

and grounds outside the mansion of

Sofienholm, near Copenhagen. They were

holding a gallery show of art accompanied

by poetry, and Knud's poems were among

them. I was lucky enough to get a free

ticket to the reception from poet Benny

Andersen, who was invited, but not

attending. At the time I was in Denmark

working with Benny on translating his

poems.

I located Knud standing alone outside

the mansion and approached him. I

introduced myself in Danish as a literary

translator working with Benny Andersen. I

told Knud that he was my second favorite

Danish poet, and that I loved his farming

poems especially. I recited a poem that

was a particular favorite, Only the Middle of

May, and he never forgot that. Many years

later he would bring up in conversation

how surprised he was that a stranger from

the US would come up to him and recite a

poem that he could hardly recall himself!

I told him I was interested in translating

his work, and he seemed happy about the

idea.

After a few email exchanges and receiving

a rights permission letter, I set about

selecting from Knud's poetry a collection

of agricultural themed poems, which

became our first book of translated

poetry, Farming Dreams. It is a thin

volume that packs a historical, poetic

punch. You can read more about it here:

michaelfavalagoldman.com/books/knudsorensen-farming-dreams/
---
For the past two decades, Knud took daily

walks to the fjord near his home, where

he would sit on a bench and 'receive'

poems that he felt were waiting for him

there. These walks resulted in collections

of poetry nearly annually for the last

years of his life, many of them conveying

a sense of connection to nature and the

fact of aging and mortality. These poems

I selected from for the 2020 bi-lingual

poetry book, New and Selected Poems of

Knud Sørensen. You can check that out

here: michaelfavalagoldman.com/books/

knud-sorensen-new-and-selected-poems/

Besides these two books, Knud's

poetry and prose also appeared in such

esteemed pages as The Harvard Review,

The Columbia Review and Rattle.

be King of Sweden. But now I have a book

for sale in the United States."

It was meaningful for Knud to have a

connection outside of Denmark, and to

have his writing translated. And I think it

has been meaningful for his readers too. I

imagine that other readers, as I have, find in

his writing an awakened sense of valuing

history and of our tenuous and bittersweet

place in nature.

When I learned of Knud's death, I wrote

the following poem in his honor, and the

poem was read today at his funeral. I hope

you will find in my words a bit of Knud's

spirit.

Ære være hans minde.

Knud kept careful track of his steps on his

walks, tallying at least 8000 steps each

day into his 90s, with the excess of 8000

steps going towards his 'bank,' from which

he carefully withdrew as his walks became

shorter and less frequent. I have often

wondered this past week how there is no

one to receive the poems at the fjord now.

Maybe someday someone new will come

along to take up where Knud left off.

One day I was visiting Knud, and we were

getting ready to go out. It had rained

earlier, and we were on the second floor

of his house. As we were about to leave,

I slipped past Knud to exit first, onto the

little patio, which had quarry tile, as did

the stairs down to the walk. The tile was so

slippery my feet went right out from under

me, and I nonchalantly grabbed the railing

with both hands to keep from sliding down

the stairs. I turned back to Knud without

making a fuss, suggesting that we go

through the door downstairs, since it was a

bit slick. I have often thought back on that

moment as the time I saved Knud's life.

As Knud's poems become available in

English, he and I performed together at

his hometown library. It was a lively crowd.

After the readings, an audience member

asked Knud how it felt to be translated.

This was late in his career, when Knud was

88. Knud responded, "My father used to

say, if you keep at it long enough, you can

become King of Sweden. I never wanted to

That Day Arrived

for Knud Sørensen, 1928-2022

We do not come from nowhere.

There was someone here before us

who planted seeds

put down roots

looked at the sky

and tried to predict the future.

It is so easy to forget

or assume

that everything starts now.

We are all that came before,

however shameful and joyful,

which we may never live up to.

The story is indelible,

closer than our fingerprints

we are constantly leaving

on everything,

barely a thought to the future,

so caught up in now,

until redeemed by a story.

Knud was a storyteller.

He knew

when a narrative bears weight.

Knud did not write for himself.

He wrote for the story.

He wrote for the timelessness

in the story

so that we would remember

we are more than just this.

021
---
KNUD SØRENSEN

Aften

I et langstrakt forløb

trækker solen et stykke mark

hen over sig

og langsomt svinder

det nære lys

som gav os endnu en dag

og som nu efterlader os

dybt under

den stjernebestrøede evighed

deroppe.

Evening

In a drawn out sequence

the sun pulls a section of field

over itself

and slowly the enveloping light

which gave us one more day

and which now abandons us

dissipates

deep below

the star-strewn eternity

up above.

By Knud Sørensen, from Horisonter ©2019

Translated by Michael Favala Goldman

Ved Geddal Enge

På denne varme augustdag

hvor sollyset simrer

dernede i græsset

er nogle køer

vadet ud i fjorden.

Og der står de nu

i vand til bugen

og køler den mælk

som tankvognen

henter i morgen.

At Geddal Meadows

On this hot August day

as the sunlight simmers

down in the grass

some cows have waded

out into the fjord.

And there they stand

in water to their bellies

cooling the milk

which the tanker truck

will pick up tomorrow.

By Knud Sørensen ©2015 from Mere Endnu

Translated by Michael Favala Goldman

Efter halvanden måneds tørke

Ledsaget af tordenfanfarer

regner glæden nu ned over os

og jorden åbner

sine tusinder af tørre munde

så de halvdøde rødder dernede

kan genvinde troen på liv.

After a month and a half of drought

Accompanied by fanfares of thunder

happiness rains now over us

and the earth opens

its thousands of dry mouths

so the half-dead roots below

may regain their belief in life.

022

By Knud Sørensen, from Horisonter ©2019

Translated by Michael Favala Goldman
---
Drømmen

By Knud Sørensen "Drømmen" ©1972

Translated by Michael Favala Goldman

Jeg vil ha at det skal være enkelt

og let at forstå:

Man begynder med at bearbejde sin jord og bagefter sår

man. Så skinner solen og det regner og solen skinner igen

og en dag er de grønne spirer kommet frem. Så ser man at

spirerne vokser til planter og at planterne vokser og

blomstrer og sætter frø og solen skinner og frøene modnes

og det er tid at høste.

Så høster man. Så tærsker man og nogle af frøene gemmer

man for at så dem næste forår og nogle af frøene gemmer

man for at bruge dem i vinterens løb og resten af frøene

sælger man.

Om vinteren passer man sine dyr.

Sådan lever man til man dør. Alt andet er kun krusninger

på overfladen. Mejerisammenslutninger fabrikker revolutioner

forretningsprocenter kødkvæg kontra mælkekvæg alt det

er uvirkeligt. Det virkelige er jord sol regn og luften

som er varmere om sommeren end om vinteren.

Så enkelt.

The Dream

I want to make it simple

and easy to understand:

You start by preparing your land and afterwards you

sow. Then the sun shines and it rains and the sun shines again

and one day the green shoots come up. So you watch

the shoots grow into plants and the plants grow and

flower and set seed and the sun shines and the seed matures

and it's time to harvest.

So you harvest. So you thresh and some of the seed you save

for sowing next spring and some of the seed you save

to use during the winter and the rest of the seed

you sell.

Over the winter you take care of your livestock.

In this way you live until you die. Everything else is just ripples

on the surface. Dairy consolidations factories revolutions sales

percentages meat cattle versus milk cows all that is unreal.

What is real is earth sun rain and the air

that is warmer in the summer than in the winter.

So simple.

023
---
MEANWHILE, IN AUSTRALIA:

HERE'S SOME GEMS!

Amyl And The Sniffers, Adalita,

The Velvet Lovers,

+ Nick cave & Warren Ellis'

Carnage

& a chat with legendary producer

+ honorary Aussie Nick Launay …

Iconic mullet smoking Melbourne pub rock with

punk thrusters!

They like to get sweaty + are unapologetically real.

So here we are Red Doorians… on this 13th day

of December, we are 13 lucky years in + going

stronger than ever.

In this Neon Rebellion I salute Red Door

Magazine as a mage of records, that documents

over a decade of ever changing times + the

artists that shape our culture + inspire us to dare

to be different + authentic, to the calling of our

true natures.

Here's some of Australia's latest offerings …

Invite them into your ether …

AMYL + THE SNIFFERS

Comfort To Me LP

Amy Taylor has the qualities of all the outcasts +

punk chics I grew up loving from Wendy O'Williams

(The Plasmatics) to Poly Styrene (Xray Specs) but she

actually reminds me more of a female Bon Scott …

Raw + Aussie with those crazy eyes and crooked

teeth!

She could be Bon + Cherie Currie's (The Runaways)

bastard child asking for love.

Their latest record Comfort To Me is full of riffs + raw

power. Songs like Hertz + Choices have got the type

of grooves that will start a skank + turn into a mosh pit

in seconds.

Taylor's lyrics are bloody great!

She thunders through with such honest vigour + her

sense of rhythm + phrasing is right on, begetting to

punk music ...

"... good energy and bad energy

Ive got plenty of energy

It's my currency ..." (Guided By Angels)

This kind of punk is so familiar to me, it reeks of the

music I loved growing up when I used to go to punk

picnics or sneaking into pubs when I was a young

tacker. There are real moments of it in the rhythm

guitar sound, reminiscent of UK's Conflict or Crass.

The big difference is AM+TS can really play well + the

record is mixed superbly.

Pal + acclaimed music producer NICK LAUNAY was

at the mixing helm + you can hear it.

He has The Midas Touch.

This record is next level for the genre coming out

of Australia + the band's growing global success is

testament of that.

024
---
THE NEON REBEL

I asked Nick to describe the band in 10 words or less

…

" RAWPOWER, REAL, FERRAL, ONAMISSION,

UNSTOPPABLE, THEFUTURE, INYAFACE,

EDUCATIONAL, INSPIRING, RIDICULOUS."

I also asked Nick what it was like working with the

band + given his very poignant background with post

punk music, how does AM+TS fit in there …?

'It's interesting because they weren't even born when

Punk happened in 1977, yet the essence of what they

do is exactly the same.

They are simply letting out what they feel 100%

inside, and that's what Punk was about back then.

Amy is extremely real and honest, which is very

refreshing in the era of "AUTOTUNE"...'

(more from Nick Launay below keep reading ...)

This is balls out rocking music that Amyl + The

Sniffers are known for, backed by their intensity you

feel at live shows.

This record has been allowed to simmer through a

pandemic + come out with some thoughtful lyrics +

more sophisticated guitar slinging than simple power

chords.

This feels like Australia to me … Let's go ...1-2-3-4!

Dark beauty Adalita, has just released her 3rd solo

record, Inland.

The songs are hauntingly beautiful but with ever

catchy hooks + melodies that get stuck in your

head for days, something Adz is reknowned for.

A Darling of Australia's rock scene in the 90s

fronting band Magic Dirt, she wrote hits like Plastic

Loveless Letter + Dirty Jeans + the incredible

Vulcanella.

Adalita's songwriting + the voice is stronger than

ever.

The foundation is a stark landscape of an

emotionally troubled guitar with a yearning vocal.

The opener Private Feeling has a movement

musically + lyrically will take you out of the

mundane + transport you somewhere in your heart

for a while … like a truly good song ought to do.

The whole album has this quality + sits out of time,

on its own, lovely + iconic.

I asked Adalita to describe her new baby in 10

words or less …

" INLAND is a world within, of vast and vibrating

memories, and slow realisations. It is also born from

the external influences of electric connections,

vanished love and the epic wilds of the Australian

landscape."… Adalita

If I was to put money on any of the songs, it would

be Equations.

I can hear it as the perfect theme track for a show

with it's anthemic quality.

My fave tho is Savage Heart.

"I wanted you right from the start …

are you beating for me Savage Heart?"

"Is my body too plain?

Am I unaware, too involved or insane

In a moment too hot for your brow

I'm just one of many for now"

The melody stays with you for days, let alone the

raw honesty of a woman bearing herself, tinged

with the possibility of rejection.

I cant.

And Blue Smoke.

Give me a tremolo any day.

ADALITA - INLAND

Go deep … go Inland...

025
---
THE VELVET LOVERS - NOCTURNA

After Fires, floods + global pandemics, this writer

finally got her own record out with a fine band of

compadrés. We are The Velvet Lovers.

This record was designed to be listened to like a

cinematic soundtrack + as a complete body of work,

as a painter or other visual artist would produce.

The record has 11 tracks with musical interludes

tying each track together creating a musical narrative.

"We wanted to make a record that was like when we

were kids … An LP. Where you put it on + just listened

from start to finish + pawed over every part of the lyrics

+ photos + immersed yourself in a world for a time…"

The album was recorded over different sessions

between an old farmhouse in Wildes Meadow on

the south coast of NSW in Australia + Legendary Sun

Studios in Memphis USA.

It was pressed to vinyl at Jack White's Third Man

Pressing in Detroit USA.

It was an honour + a privilege to be able to record at

SUN, to capture the essence of the room + the energy

that it provoked from all the legendary musicians

that had recorded there before us … We got to record

vocals on one of Elvis' 1940's ribbon mics he had

used to record in there.

Personally, it doesnt get better than that, I can die

happy now!

AND....

The music has been described as ...

"Dark tremolo with post punk gothic influences

in cinematic soundscapes …"

"It's like and I mean this in a fabulous way, David

Lynch had a baby with Nick Cave who had a

baby with Patti Smith who had a baby with Elvira

who had a baby with Liza Minnelli" …

Ben Pierpoint (Head A+R Wise Music Aus/NZ)

We wanted to make some music you'd find in

the back of a scene in a Lynchian film where

some band plays in a music box while some

creature from a parallel dimension does a

dance in tapshoes … You can find opening track

Hypnotized on The Twin Peaks Night Times At

The Roadhouse playlist.

The vinyl comes with a handmade art songbook,

made during lockdown. Laid out old stylee +

placed with a blade + glue + a photo printer,

with edits + illustrations done in fine liners. It

was a sheer joy to make + in the strangest of

times. Being able to get lost in this space out of

time just creating was an absolute pleasure + an

artist's pure freedom.

Nocturna invites you to come dream in that

place for a little while … x

026
---
LIVE

Gold Coast 10.12.2022

CARNAGE ~ NICK CAVE and WARREN ELLIS

THE NEON REBEL

This show felt like Nick + Warren coming home,

Carnage, the album they made during lockdown

played host to Ghosteen, the Bad Seeds tour

cancelled because of covid times.

The last time I saw Nick + Waz play here in

Australia was in 2019, they were playing their

soundtracks with The Melbourne Symphony

Orchestra, it was a most magnificent moment.

The looks they cast at one another from across

the stage were of elation. They had finally

arrived. All their musical dreams come true.

Seeing them now was so casual, it felt like we

were with them at home. The 2 boys from Victoria

taking the piss out of the Gold Coast … still.

The humour.

The diabolical balanced next to the devastating

beauty is what they do best … Bright Horses into

Night Raid to Carnage + bombing into White

Elephant.

Nick commands the stage like a preacher giving

sermon + these days he gets up close to the

audience taking their hands before returning

them to the piano keys which also feels like a

place he sits now with confidence + ease.

Warren spent a good deal of the show

horizontal on his chair when on violin, he strikes

a mephistophelian pose with abs of steel.

They mostly hurtled through Bad Seeds songs,

which of course were wonderful, there is a magic

however that I really do love most, when its all of

The Bad Seeds playing.

I realised the other nite that Nick Cave is the

artist Ive consistently gone to see live more than

any other in my lifetime, Ive been going to his

shows since I was a teenager. Its been quite a

ride.

And quite an honour to witness his music +

artistry develop from the sweaty mess of black

hair looking like he's having a seizure shouting

at the heavens to the eloquent pianist in a fine

cut suit whispering to me to "just breathe, just

breathe …"

I do miss seeing the sweaty mess though!

They closed a 2 hour show with the ethereal

Into My Arms ...

I learned recently Nick sang it at Michael

Hutchence's funeral … pure transcendence.

027
---
THE NEON REBEL

A FEW MORE WORDS WITH FEELING with

NICK LAUNAY …

Nick Launay, Karen O + Nick Zinner (The Yeah Yeah Yeahs) via launay.com

A long time co-conspirator of Nick Cave

(+ Warren Ellis), Launay has worked on

many records with him producing, mixing +

casting his magic from The Birthday Party to

The Bad Seeds to Grinderman …

He has worked with an endless list of

incredible artists; PIL, Kate Bush, Lou Reed,

The Yeah Yeahs Yeahs, Anna Calvi, Black

Rebel Motorcycle Club, Killing Joke, Talking

Heads, it goes on + on ...

In your wonderful career …

What has been your favourite project

you've worked on?

"There are so many, but the one

project that's on my mind at the

moment is "The Dreaming" by

Kate Bush.

Her Imagination was wild. Every

day would be a new adventure

into a fantasy world. It was like

making a film."

Nick lived in Australia for many years

bringing up his family + produced such

iconic records as Midnight Oil's 10-1 + Red

Sails In The Sunset and INXS' The Swing.

As an honorary Aussie, what other

Australian acts you've worked with would

you encourage people to listen to?

"The Models (Pleasure of your Company

LP), The Birthday Party (Release The Bats,)

Grinderman (Grinderman 1 of & 2), Michael

Hutchence (Rooms for the Memory, Dogs In

Space Soundtrack)

Big Pig (Bonk)"

Look them up!!

Nick has an uncanny ear + eye for new

bands coming through + his work on their

records has been able to elevate them.

What do you look for in a new act or project

you like to work with?

028
---
"The Artists must be singularly passionate

about their music and hellbent on getting

it to the people. Good Memorable Songs.

Charismatic Front person.

The Artist and songs must have the ability

to communicate feelings and emotions

to move people. It's important that it has

originality and not just repeating things we

have already heard."

Lately Nick has spread his musical wings

into soundtracks, he just scored the last

season of Peaky Blinders with Anna Calvi.

I asked him is there specific artists or future

work or a project he'd like to do!?

"Rolling Stones, Depeche Mode, Viagra

Boys, Boy Harsher, Gary Numan, Score a

Vampire Movie."

Whatever we hear coming next from Nick

will be great!

But it involves navigating this new world.

That's something artists have always lead

the way with.

There's the common thread that's drawing

all of us together right here, right now.

The dark night of the soul.

How we endured it, loved in it and

celebrated in it, is the music that sways in

the breeze like lotuses growing out of the

mud.

All the music is available on streaming

+ digital platfroms + bandcamp for vinyl

lovers.

Enjoy x

029
---
IN THE EYES OF THE BEHOLDER

030
---
Illustrations by Martin Andersen

www.facebook.com/tuschmartin

www.instagram.com/skyggelaegger/

031
---
POETRY

Sun's apparition

Giants and rain –

Light begetting yellows matched with white-forgotten greys –

Joy dies and by the pale revenant moves

And makes the door of me as nothing more

Than its retelling has nature beyond

Entertain most pleased and most pitiful

Memories – my own chiasm with the world –

Above, possession, sun's apparition,

And day was delineated in the dark divide –

Wings, their shadows mark the sounds of sunset –

The final uniped, walking upright

At last on the surface of the star – blood

Unbound by brine or breath, viscera razed,

Wholly exaggerated jaws hang themselves open

By vestigial thews – humanity

Rattles our rows of articulations

In dead applause, bones scattering across all the worlds

Possible – yet I only view this as

Reflected, and the moon becomes a puddle broken

Under my foot.

Sun's apparition by Alex Van Huynh

Dr. Alex Van Huynh received his Ph.D. in Biology

from Lehigh University and is currently an assistant

professor of biology at DeSales University. His poetry

can be found in multiple literary journals.

Right: It was an Eureka Moment by Rose Menyon Heflin

032

Originally from rural, southern Kentucky, Rose Menyon Heflin is

a writer and artist living in Madison, Wisconsin.
---
033
---
034

POETRY
---
Year of the Would-Be GOAT

Are you that desperate for meaning

that you search for it in the absence of birdsong

the change in traffic lights

locker and page numbers

the time being told by the clock?

Are you that desperate that you put two

and two together, when they never wanted to mesh?

That the lines separating the tiles might prophesize death?

That you think maybe someone will die if you don't hold

your breath?

Why has meaning left you? Whatever do you mean?

What do you even mean? Be still, be still, until you can answer that question.

You'll split hairs between the world

and yourself, trying to answer that question.

You'll split hairs between fallen

and fell, trying to answer that question.

You'll slip heirs as the brush to the comb, trying to

answer that question? The sleeve and the mango; the samba, the tango,

the tail-end of tales from the telltale end.

You'll split hairs between white and

Eggshell and black, the mirror and yourself, the soul and the act,

the pit and the well, the well and the pit, and well oh well.

Stop splitting hairs between here and there. Stop

splitting hares between bunnies and rabbits. Just

stop splitting altogether. Soda, soda, soda; that's it.

Stop splitting heirs between ruined and damaged,

Soda and pop, stop.

Stop splitting hairs because others do not.

Left: Oracle by Rey Fairburn

Year of the Would-Be GOAT by Beatriz Seelaender

Beatriz Seelaender is a Brazilian author from São

Paulo. Her fiction has appeared in Cagibi, AZURE,

Psychopomp, among many others, and essays can

be found at websites such as The Collapsar and

Sterling Clack Clack, where she acts as Creative

Nonfiction editor. Her novellas, upcoming in 2022,

have earned her both the Sandy Run and the

Bottom Drawer Prizes. Seelaender's poetry has been

published by Inflections Magazine, VERSON [9], etc.

"Canon Familiaris", a chapbook in which she turns

canonical poems into poems about her shih tzu, Uli,

will be released by Really Serious Literature in 2023.

Rey Fairburn is a queer, neurodivergent

poet and artist. She has been published by

Lupercalia Press, Fauxmoir, and Plants and

Poetry Journal. You can find more of their work on

Instagram @reysenchantments

035
---
MUSIC FEATURE BY OLENA POHONCHENKOVA

Fighting a colonial war means rethinking the

past and reorganizing ties within the present.

For a long time, one could even say for the

time of its existence, Ukrainian music has been

kept in the shadows of its Eastern European

counterparts, all mixed up in western optics.

This optics alongside the post-Soviet colonial

narrative about 'brotherly cultures' where the

'elder brother' is highbrow, knowledgeable

and deep while the 'younger one' is a funny

and awkward 'simple folk,' always a few steps

behind, has distorted the image of Ukrainian

culture not just from the outside but also from

within.

Ukraine is not a country of distinct music

taste: the roots of unfussy listening habits

can be traced back to overall social apathy

and the lack of a fully functional civil society

typical for post-totalitarian countries. The

problem gained the most resonance after the

full-scale invasion when Russian musicians

(and not even the good ones) kept their

high positions in Ukrainian streaming charts.

The fact proved that 'not really thinking'

about such things equals colonial thinking.

Although the awareness of an average

Ukrainian listener is growing day by day, the

problem goes deeper than that. I'll bring out a

few problematic areas, each of them a starting

point for rethinking the big picture.

For many Ukrainians, making music goes

hand in hand with the search for their identity.

Unfortunately, they usually stick to an easy

way of finding one by incorporating the

decorative elements of Ukrainian folk music

into their sound. The tendency goes back to

post-Great Purge times when after a decade

of Stalinist terror, the social strata of artists,

cultural actors and intellectuals of soviet

Ukraine was completely wiped out, once

vibrant Ukrainian culture reduced to 'safe'

folk art. As a result, for many years (2022 is not

an exception), we've had all these Eurovision

contestants in embroidered costumes and

flutes in the song mix. But the superficial

folkiness goes beyond export acts. Musicians

that come from the more underground, 'artsy'

scene use this very means of self-exoticization

either as the 'perk' of their sound or as a way

to cater to an audience that's been mingling in

the pot of colonial forgetfulness and cultural

ignorance for decades.

Another issue is one of specific genre clicheés

that many countries in the region have shared

since the Soviet era. Those are especially

strong in rock and synth music, since its

Eastern European blueprints were set in the

shared Soviet past, namely during the time

of perestroika. Since then many Ukrainian

musicians embraced the cold monotonous

sound with a distinct bassline, preferably with

lyrics sung in Russian, probably the stiffest of

the Slavic languages. With the 2000s postpunk

revival and minimal synth coming into

fashion, this kind of music got another reboot,

and although there are genuine synth-based

acts, and many post-punk artists switched

to Ukrainian language after horrible Russian

war crimes, the problem of Russian imperial

legacy is much more complex than that of a

shared language. Even the scene that started

out as underground and anti-establishment

embraces the model of colonial dependency

that affects its sound and songwriting

decisions.

Issue number 3 might very well be

the one shared by many economically

underdeveloped post-colonial countries

that look up to the west in search of creative

solutions. Many indie musicians (the term

used broadly) get a little bit more attention

and sell more tickets to their shows by simply

being secondary.

036
---
WHY YOU DON'T KNOW A THING

ABOUT UKRANIAN MUSIC

People are used to the sound of Radiohead

and Arctic Monkeys, and those bands don't

come to Ukraine that often (and even if they

do, they only play in Kyiv), so why not make

something similar but worse? Music of this

kind rarely makes it beyond Ukraine and says

nothing to Ukrainians about themselves,

nothing good at least.

These are just a few obstacles for Ukrainian

music to fully embrace all its capabilities

that, alongside postcolonial amnesia and the

overall obscurity of the European East, make

your chances to come across worthy Ukrainian

music little to none. Within the country, there's

a bunch of small underground communities,

each with genuine musical thinking, that

have very little connection to one another and

no context to hold on to when reaching out

to a wider audience. The situation, however,

started to change in the past few years, and

with all eyes on Ukraine now, lots of great

Ukrainian music gets the chance to be heard

while the country's colonial ties are breaking

up for good. Problems posed here require

more than one person and a lot of time and

effort to be solved. However, Ukrainian

communal action which has already proved

effective in this war can work just as well in

the realm of culture. This is my small part of

the fight.

037
---
A FEW UKRAINIAN RELEASES

TO GET YOU STARTED:

Heinali - Madrigals (2020) [Injazero

Records]

Medieval polyphony created with the help

of modular synthesizer and 17th century

instruments.

mandarinaduck - Garden Souls (2015)

[self-released]

Best record of Ukrainian shoegaze/jangle

pop/any indie rock related tag.

Chillera - SCHAX (2017) [Muscut]

Laid back sound of Ukrainian south, dubby

and wavy yet precise.

Kurl - Fickle (2022) [self-released]

Psychedelic pop that's a little haunted and

also a bit of a joke. That's my band, so can't

be bad.

Bio:

Olena Pohonchenkova is a Ukrainian music

writer, blogger and concert goer. She also

sings and writes some lyrics for the band

Kurl. She is currently taking part in SWAN

emergency artist residency in Jönköping,

Sweden.

038
---
039
---
ART FEATURE

JESSA DUPUIS

Jessa Dupuis is an emerging

collage and mixed media artist living

and working on Vancouver Island,

Canada.

Originally trained as a designer and

illustrator at MacEwan University,

Jessa has spent 17 years dedicated

to client-driven design and

illustration projects.

She has recently shifted her focus

to furthering her creative practice in

collage and mixed media.

Statement

My process when creating art is

playful, organic and therapeutic. I

challenge myself to look carefully and

pull beauty and hidden meaning out

of the seemingly ordinary, letting the

piece evolve as I go. My work often

merges art and design, abstraction

and order, truth and fiction. My

intention is to create art that allows

people a moment to step into the

piece and laugh, cry, wonder, and

connect their own narrative to my

visual storytelling.

040
---
Art by Jessa Dupuis

041
---
042 Art by Jessa Dupuis
---
043
---
044
---
Art by Jessa Dupuis

045
---
THE POETIC PHONOTHEQUE PRESENTS:

NATURE & CULTURE

INTERNATIONAL

POETRY FILM

FESTIVAL

The 2nd edition of Nature & Culture -

International Poetry Film Festival, took place

this November in Copenhagen at Husets

Biograf, accompanied by an online edition

which screened for over a week, giving free

access to more than 100 films of various

genre to an international audience.

This year's festival theme was First Nations

and Indigenous Representation, which

saw over 600 films in the categories

of documentary, short film, animation,

experimental and poetry films, plus a curated

selection from Kultivera's Tranås at the

Fringe, as well as from Trafika Europe Radio.

The poster for this year's festival was

designed by Danish artist Hunter Berg, and

we counted with the participation of the

poet Pablo Saborío for the closing of our

festival, as well as with the participation of

students from København Universitet who

had recently participated in our multimedia

poetry masterclass.

In the following pages you will find the

newest additions of poetry short films

to the permanent archive of the Poetic

Phonotheque, which you can enjoy ad-free

by visiting our website, without any log-in

requirements. Feel free to share with your

fellow poetry fiends.

The open call for this year's festival is already

open, with ORGANISMS & STRUCTURES as

the main theme. Send your short films!

046

WWW.POETICPHONOTHEQUE.COM
---
SOLO DUET, by Janet Lees, UK

A poetry film exploring our yearning for

connection with each other and with the

earth, and our paradoxical longing for perfect,

fearless aloneness

ASK THE WATER, by Laura Hirch, Germany

An eco-feminist poetry film by independent

filmmaker Laura Hirch and artists & poet Joanna

Hruby that address the ecologically and

culturally damaging effects of mass tourism

and globalisation on the island of Ibiza.

WATER by Diana Taylor, UK

A futuristic view of the world. A poem which

relates to the vanishing environment a

poignant reflection on society.

WOVEN WORDS, by Jeffrey Morin, US

A crossing of words universal and my own

from mood and emotional discourse. All

woven together as day and night and years

that have now gone.

LISTEN TO THE WATER by Zoey Roy, Canada

A poem about breaking ground.

SENTENCES by Cia Rinne, Germany

Sentences is based on sentences from the

book with the same title by Cia Rinne. In sentences,

it is the sentence as a linguistic unit

itself that reflects on its purpose and position.

047
---
PENN-AR-BED by Emma Ramsay-Tanniou , FR

Based on the loss of culture that comes with

the loss of language. Focusing on the insular

Celtic language Breton, the work is a reflection

of the deprivation of heritage that happens

when an orally transmitted culture is heavily

discouraged, almost to the point of extinction.

PROJECT HAZMATIC: Score For Body As

Cautionary Tale

by Willa Carroll, United States

Eco-ritual and apocalyptic pilgrimage, "Project

Hazmatic: Score for Body as Cautionary

Tale" follows an array of wayfarers through

endangered landscapes.

OF WEL / OR WILL IT

By Marc Neys, Belgium

Video for the poem 'Of wel' by Marleen de

Crée

A SPARK CATCHES, by Natalia Gaia, Mexico

Excerpts from Jade Lascelles's book The

Inevitable. Shot in Boulder, Colorado and

Mexico City, the film's visuals and narration

juxtapose certain dichotomies familiar in our

lives.

PRESERVES BY B.Rich, United States.

A poetic journey into an Ecuadorian rainforest

that contains some of the greatest biodiversity

on Earth, two uncontacted tribes living in voluntary

isolation and 850 million barrels of oil

that will ultimately determine its future.

REBIRTH OF VENUS

By Robin Noorda, Netherlands

a short arthouse film realised in stop-motion

animation.

This experimental film is based on a poem by

Noorda about inequality and oppression.

048
---
TRANSPARENCY OF THE SOLE

By Diek Grobler, South Africa

A poetry-film about adaptation for the sake of

survival. The poet uses the Sole (flatfish) as a

metaphor: The fish transforms into a grotesque

distortion of fish in order to survive.

AWAKEN, by Rosie O'Regan, Paul Casey,

Ireland

Awaken imagines what nature might say with

a human voice. It is both a love letter and a

rebuke.

THE SNAPSHOT OF SUMMER

By Vladimir Mihaylov, Bulgaria

Poetry short film based on the poem with the

same title, from the book of poems Brick Lane:

Sunday. Poem translated into English with

subtitles.

POSTCARD: GREETINGS FROM LAKE

SUPERIOR

By Patricia Killele, United States

Video Poem exploring ecological crisis in the

Great Lakes region of the United States.This

picture of Lake Superior is very different from

what appears in beautiful travel postcards.

EVACUATE by Gaele Sobott, Australia

This charred dusk

this forest of

blackened

desecration

a poetic animation after the fires

SOFT GROUND by Indigo Eli, Australia

Soft ground explores the senses and sensation

of walking on this leaf littered Earth; the

immediate impression underfoot and the

gravity placing these footsteps upon our planet.

049
---
LIKE THE AIR by Marilyn Freeman, US

Blending poetry and nonfiction media art, Like

the Air is a spacious meditation on love, loss,

reflection and resiliency.

LIGHTWAVES SOUNDWAVES

by Dwayne Jahn, Germany

A collection of wholesome ideas inscribed on

the video images of original handmade abstract

artworks. Soundtrack by Oxford Improviser

Lawrence Casserley with water sounds,

rainsticks and his signal processor instrument.

WALK OF COURAGE

By Johannes Paul Olszewski Germany

Walk of Courage is a dynamic and

atmospheric portrait of the bustling city of

New Delhi, its people, and its history.

FAIRY TALE by Alfio Leotta, Kathleen Kuehn,

New Zealand.

A Poem by Katherine Mansfield

ARROGANCE

By Tova Beck-Friedman, United States

An environmental video-poem touching on

climate change.

I NEED THE SEA by John David Simboli, US

Shifting patterns of ocean light and waves open

the mind's eye to meditation and exhilaration.

050
---
LOST ARAB by Carine Koleilat, UK

Whether it is the unsettled feeling of

belonging, the devastation after 4th of August

2020 Beirut port explosion, or gender identity

and queerness, this visual poetry is a snapshot

depiction of the struggles and pains that queer

Lebanese go through. Adapted from Omar J

Saker's book "The Lost Arabs",

ON A STORMY DAY

By Gil Zablodovsky, Israel

In the depths of the biography Lali is exposed

to the roots of her obsessive wanderings in the

world.

OLUJA by Nikola Zivkovic, Serbia

Feelings of the common man in the foreground

many years after the military operation Storm,

are revived here. Without intending to point

a finger at any of the warring parties, this film

stands as a memorial to an event that should

never be repeated anywhere.

SAME DIFFERENT by Nesindano "Ques"

Namises, María Cecilia Reyes - Namibia

A rare encounter between the Khoekhoegowab

language and a still camera, together with the

sounds of the bow and the forest, along with

the sun, the wind, and the spirit of the poet

herself.

I AM HYDRA by Thale Blix Fastvold, Norway

A hydrofeminist spell to end the petrocapitalist

age. The film is shot in Norway and Denmark,

its opening scene is from Skagen where two

oceans meet (the Northern Sea and the Baltic

Sea).

LONELINESS

Vladimíra Hradecka, Slovakia

This short film explores loneliness through the

lens of dance.

The texts are based on the experiences of

people living in the city.

051
---
A CERTAIN SLANT OF LIGHT

By Susan McCann, United States

Leaves, shadows, and landscape reveal the

words of Emily Dickinson's poem, "There's a

certain Slant of light", accompanied by the

notes of Schoenberg and sounds of a winter

garden.

IMMIGRANTS OPEN SHOPS

By Pat Boran, Ireland

Despite the fears of some, immigration brings

many benefits to society, introducing new

energy, new talent, and new perspectives, and

adding to our shared understanding of the

world and what it means to be human.

GOING TO PASARGADA

By Ingrid Gans, Germany

Per stop motion animated poetry film -

minimalistic, associative - based on the poem

by Odile Kennel 'going to Pasárgada'.

DAMHSA AN DORCHADAS / DANCING THE

DARKNESS

By Irene Tanner, Ireland

This meditative poetry film explores the theme

of humanity's oneness with the natural world.

MADEIRA FROM THE SEA by Julian Weinert,

Franziska Simon Germany

The poem short film "Madeira from the sea"

adapts the poem of the same name by Pulitzer

Prize-winning American poet Sara Teasdale. It

reflects the source material's combination of

nature poetry and impressionism.

THE HAUNTED PALACE BY Roberto

Vallilengua, Austria.

We wander through a postindustrial, forgotten

realm, trying to revive better days. With every

phrase It becomes clearer, that the golden age

is over. All there is left is an empty, dystopian

world.

052

Enjoy these and more than 100 other poetry films from all over the world at

www.poeticphonotheque.com or submit your voice to our collection!
---
THANK YOU FOR 13 YEARS OF RED DOOR MAGAZINE.

Join us on PATREON.COM/MADAMNEVERSTOP

and we'll thank you with this limited edition Red Door

"LUCKY 13 T-SHIRT"

Your support will allow us to keep on worldthreading,

for many years to come.

053
---
The Red Door

Network:

Red Door Magazine is a quarterly Arts &

Culture publication meant to document

the work of creators everywhere, as

well as facilitate new conversations on

important matters for our communities

in a local and international way, through

the linking of themes, collaborations,

interviews and hybrid events that can

expand the reach of independent voices

and remarkable projects. Red Door

counts with the help of correspondents

in Australia, Mexico, the US and Denmark.

Red Door also functions as a gallery

and independent space in order to serve

as a platform for the same purposes.

In expanding its reach, Red Door also

counts with:

-A podcast called the Red

Transmissions, where creatives,

activists and cultural organizers share

their process, projects and initiatives.

-A Poetic Phonotheque, which serves

as an online collection of poetry in many

languages in the voice of its authors,

created to break the barriers of distance

and facilitate free access to poetry in

households around the world.

-An independent print project called Red

Press, which focuses on the publication

of poetry (and illustration) in translation.

Bilingual books, handmade, limited

edition books.

-The Red Door Gallery located in

the cultural hub of Copenhagen on

Møllegade, Nørrebro, where talks,

workshops, exhibitions, performances

and other events are often on the

calendar, as well as limited edition

books and prints, original art,

miniature books and other art related

products, often with a focus on poetry.

See them also on the online shop:

www.reddoormagazine.com/shop

The Partners:

Litteraturcentrum KVU:

Litteraturcentrum KVU is an international

literary initiative we often promote as

a league of publishers in Scandinavia.

Red Door is published through this

collaboration.

Kultivera operates international

cultural programs that are physical,

social and creative; that stimulates and

inspires both the artists and the local

community. It is the organization in

charge of the Tranås Fringe Festival and

their curriculum of activities can be seen

on the issues of the Red Door Magazine.

Write4Word Is a West Wales

community organization with a focus

on language arts. Its director, Dominic

Williams, is a frequent correspondent of

Red Door.

La Libélula Vaga is a multilingual

literary magazine published in

Sweden documenting the work of

poets all over the planet, as well as

encouraging translations, talks and

other collaborations.

Keith FM is a Berlin-based community

radio.

Trafika Europe Research seeks

to help renew the role of literature

in nudging along the European

conversation in culture, This is done

through a bookshop, a journal, and a

radio.

IMMART works for the activation and

inclusion of linguistically and culturally

differentiated artists.

054
---
There are beautiful things happening

due to the collaborations, partnerships,

ideas and new projects that arise from the

conversations started in these pages and

through the other Red Door initiatives,

such as the podcast, which has already

celebrated over 70 interviews, or the

phonotheque, which counts with the

voices of over 500 poets around the world...

all of this, including the digital version of

the magazine, are free to ensure access to

information wherever you are in the planet.

However, these projects are indeed time

consuming and not free, especially since

it is necessary to pay to remove the ads

so that you are not distracted and can

have a fully immersive artistic experience

when enjoying this magazine and the

RED DOOR website. There's costs for

hosting and printing and domains and

publishing... and for now, ONE certain way

to show your support directly: PATREON.

WIth a membership starting at 3 EU a

month, yo too can ensure these projects

keep existing. What's more, now Patreon

allows for one yearly payment, if you're

not into monthly fees. So, what do ya say?

Wanna help keep making this happen?

www.patreon.com/madamneverstop

Eternal gratitude to the current patrons

of this magazine: Nanda Arias, Maria

Jose Nielsen, Andreas Frostholm, Malene

Boeck Thorborg, Dharma Agustina Padron,

Dominic Williams, Juan Pablo Salas,

Michael Favala Goldman, Ulla Hansen,

Sergio Guzman, Jaider Torres, Melissa

Albers, Melanie Perry, Juana M. Ramos,

David S.Miller, Crox Pow, Doktor Hansen,

Valeria Schapira, and you,

who are reading this.

Love and poetry always,

Madam Neverstop

055
---
THANK YOU FOR 13 YEARS

OF RED DOOR MAGAZINE!

056

WWW.REDDOORMAGAZINE.COM