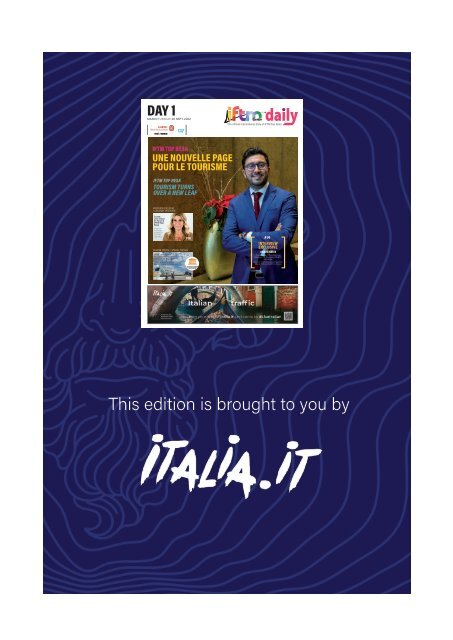 You also want an ePaper? Increase the reach of your titles
YUMPU automatically turns print PDFs into web optimized ePapers that Google loves.
DAY 1

MARDI/TUESDAY 20 SEPT. 2022

The official international daily of IFTM Top Resa

STAND

1-S48

IFTM TOP RESA

UNE NOUVELLE PAGE

POUR LE TOURISME

IFTM TOP RESA

TOURISM TURNS

OVER A NEW LEAF

INTERVIEW EXCLUSIVE

/ EXCLUSIVE INTERVIEW

Corse :

une venue

en force à

IFTM Top

Resa

Corsica:

A strong

presence

at IFTM

Top Resa

DOSSIER SPÉCIAL / SPECIAL FEATURE

2022, une année

exceptionnelle pour

Valence en Espagne

2022, an exceptional

tourism year for Valencia

#16

#14

INTERVIEW

EXCLUSIVE

JIHAD CHAKIB

Directeur de l'Office National

Marocain du Tourisme (ONMT)

en France

Director of the Moroccan National

Tourist Office (ONMT) in France

#18

This edition is brought to you by
---
DAY 1

MARDI/TUESDAY 20 SEPT. 2022

The official international daily of IFTM Top Resa

STAND

1-S48

IFTM TOP RESA

UNE NOUVELLE PAGE

POUR LE TOURISME

IFTM TOP RESA

TOURISM TURNS

OVER A NEW LEAF

INTERVIEW EXCLUSIVE

/ EXCLUSIVE INTERVIEW

Corse :

une venue

en force à

IFTM Top

Resa

Corsica:

A strong

presence

at IFTM

Top Resa

DOSSIER SPÉCIAL / SPECIAL FEATURE

2022, une année

exceptionnelle pour

Valence en Espagne

2022, an exceptional

tourism year for Valencia

#16

#14

INTERVIEW

EXCLUSIVE

JIHAD CHAKIB

Directeur de l'Office National

Marocain du Tourisme (ONMT)

en France

Director of the Moroccan National

Tourist Office (ONMT) in France

#18
---
The official international daily of IFTM Top Resa

HALL PLAN

STAND 1-H59 STAND 1-V54

STAND 1-V62, V53

STAND 1-R53

STAND 1-R47

STAND 1-M59

IFTM Daily is a CLEVERDIS Publication

439 Route de la Seds, 13127 Vitrolles, France • Tel: + 33 442 77 46 00

• SAS capitalised at €155,750 • VAT FR 95413604471 • RCS Salon de Provence 413 604 471

• info@cleverdis.com • www.cleverdis.com • www.iftmdaily.com

President & Publisher: Jean-François Pieri • Senior Project Managers: Bettina Badon • Account Managers: Sara Hirache,

Benjamin Klene, Veronika Verzhak • Event Manager: Zineb Elhabiri • Head of Editorial Team: Emiliana Van Der Eng

• Senior Editor: Thomas Campbell • Editors: Luc Citrinot, Laura Sharman, Florent Clerq • Art Director: Hélène Beunat

• Design & Page Setting, Webmaster: Guillaume Vinrich. With the participation of: Philipp Schiberna.

>>> To contact them: first name.last name@cleverdis.com

• Cover: © Office National Marocain du Tourisme (ONMT)

Printing: Imprimerie Frazier, 33 Rue de Chabrol, 75010 Paris

© CLEVERDIS 2021 - Registration of Copyright September 2021. Information presented in this publication is purely indicative in order to illustrate subjects

contained therein. No guarantee can be given as to the accuracy of data or content at time of printing and thus the latter should not be used for professional

or commercial ends. While all efforts have been made as to accuracy and pertinence of content and data contained in this publication, CLEVERDIS may in no

case be held responsible for the consequences, whatever their nature may be, that may result from the interpretation of this data or content, or any eventual

errors therein. Any reproduction of the content of this publication, even partial, by any means whatsoever, is strictly prohibited without the prior autorisation

of the publisher. Any copy, whether by photography, photography film, magnetic tape, disc or other means constitutes a forgery, liable to punishment under

French law according to the legislation of 11 th March 1957 covering copyright. All brands cited in this publication are registered trade marks and/or belong to

companies which are their respective proprietors. The publishers and editorial staff decline all responsibility as to opinions formulated in this publication by those

interviewed or cited therein. Their opinions are entirely their own, and are included with the understanding that they contain, to our knowledge, no malicious

intent. The inclusion of all texts, photographs and other documents supplied by those included in this publication imply the acceptance by their authors of their

free publication therein. Documents and photographs will not be returned. It should be understood that this publication contains forward-looking statements

that involve risks, uncertainties and assumptions. All statements other than statements of historical fact are statements that could be deemed forward-looking

statements. Risks, uncertainties and assumptions include assumptions relating to the timing of the recorded date. If any of these risks or uncertainties

materialises or any of these assumptions proves incorrect, actual results could differ materially from the expectations outlined in these statements. Cleverdis

assumes no obligation and does not intend to update these forward-looking statements during the period of publication. Photo Credits and Copyright: All Rights

Reserved.

IFTM DAILY • MARDI/TUESDAY 20 SEPT. 2022 3
---
I ACTUALITÉS I NEWS

I

MARDI/TUESDAY

20 SEPT.

10:15 - 11:15

En partenariat avec / In partnership with :

ATD

Tourisme inclusif : comment

créer une expérience

touristique pour tous ?

Inclusive tourism: how to

create an tourism experience

for all? In partnership with

ATD?

ESPACE TOURISME DURABLE /

SUSTAINABLE TOURISM AREA

11:45 - 12:30

En partenariat avec / In partnership with :

EQUINOXE AVOCATS

Aide juridique à la relationclient

: comment éviter ou

gérer les réclamations au

quotidien ?

Legal assistance in client

relations: How to avoid or

manage complaints on a daily

basis?

CONVERSATIONS

14:30 - 15:30

Entre avancées

technologiques et « wishful

thinking », comment atteindre

la neutralité carbone dans

l'aérien ?

From technological advances

and "wishful thinking",

how to achieve carbon

neutrality?

ESPACE TOURISME DURABLE /

SUSTAINABLE TOURISM AREA

4 IFTM DAILY • MARDI/TUESDAY 20 SEPT. 2022

Je voudrais souhaiter la bienvenue à

tout le monde à l'IFTM Top Resa 2022,

le principal salon multi-segments

de l'industrie du tourisme. Nous

avons travaillé dur pour produire un

programme passionnant et motivant,

afin que les visiteurs puissent découvrir

et apprécier le meilleur de ce que

l'industrie du voyage et du tourisme a

à offrir.

Il y a quelques nouveautés passionnantes

cette année, comme l'espace

tourisme durable, où plusieurs ateliers

participatifs auront lieu au cours des

trois prochains jours. La première

session, intitulée «Tourisme inclusif :

Morning

Briefing

by Laurence

Gaborieau

© Maya Angelse

comment créer une expérience

touristique pour tous» par ATD,

débutera à 10h15.

À midi, on débattra à l'Arena des

destinations qui ont connu le succès ou

l'échec en 2022. À 12:15 les visiteurs

sont invités à venir écouter la séance

de micro-tendu d'Olivia Grégoire

Ministre déléguée chargée des Petites et

Moyennes Entreprises, du Commerce,

de l'Artisanat et du Tourisme sous

la Tour Eiffel (Bar de la Destination

france). Dans l'après-midi, Wavestone

donnera le coup d'envoi de la semaine

du numérique dans l'espace Agora,

suivi de la 4e édition du Hackathon de

l'IFTM par CDS Groupe à partir de 14h.

Le briefing

matinal

de Laurence

Gaborieau

Laurence Gaborieau

Directrice du salon IFTM Top Resa

Director IFTM Top Resa

«Une version améliorée et

nouvelle de l'IFTM Top Resa»

"A new and

improved

IFTM Top

Resa"

I would like to welcome everyone

to this year's IFTM Top Resa, the

leading multi-segment trade show

for the tourism industry. We have

worked hard to design an exciting

and inspiring programme so visitors

can experience and enjoy the very

best of what the travel and tourism

industry has to offer.

There are some exciting new

features this year, like the

Sustainable Tourism Area, where

several participatory workshops will

be taking place over the next three

days. The first session, Inclusive

tourism: how to create a tourist

experience for all by ATD, will begin

at 10:15am.

What destinations 'topped and

flopped' in 2022 will be discussed

in the Arena at midday. At 12:15pm,

visitors are invited to attend a Q&A

with Olivia Grégoire, the Deputy

Ministre for Small and Medium-sized

Faisant également ses débuts, le

Village de l'Attractivité est un espace

dédié à l'emploi et à l'employabilité, à

la formation, ainsi qu'à l'attractivité du

secteur touristique.

Nous sommes également fiers de

lancer les Conversations, un nouveau

format de conférences. Elles se

déroulent dans un cadre intimiste, afin

de renforcer l'esprit d'échanges entre

les intervenants et le public.

Aussi, une fois encore, bienvenue à

cette 44e édition. J'ai hâte d'échanger

avec vous le long des allées du salon

Enterprises (SMEs), Trade, Crafts

and Tourism, which will be taking

place at the Destination France bar

under the Eiffel Tower. Then in the

afternoon, Wavestone will kick-off

the Digital week in the Agora area,

followed by the 4th edition of IFTM's

Hackathon by CDS Groupe starting

at 2:00pm.

Also making its debut, the Village

of Attractiveness, an area dedicated

to employment and employability,

training, as well as the

attractiveness of the tourism sector.

We are also proud to be launching

Conversations, a new conference

format, taking place in intimate

settings, in order to accentuate the

spirit of exchange between speakers

and the audience.

So again, a warm welcome to this

44 th edition and I look forward to

exchanging thoughts with you on

the show floor

www.iftmdaily.com
---
I ACTUALITÉS I NEWS

I

PUBLIREPORTAGE

Jordanie : Le "Kingdom

of Time" de retour à l'IFTM

Pour la deuxième année

consécutive, Visit Jordan est

présent sur IFTM Top Resa.

Nous avons parlé à Nayef Al

Fayez, Ministre du Tourisme et

des Antiquités de la Jordanie,

pour connaître les messages

clés que la destination souhaite

mettre en avant à cette édition

du salon.

Pourriez-vous nous donner quelques

chiffres relatifs aux visiteurs français

venant en Jordanie ?

Les derniers chiffres couvrent la

période de janvier à août pour 2021

et 2022. Entre fin août 2021 et août

2022, le nombre total de touristes

français en Jordanie a explosé,

passant de 4 181 à 31 991, une hausse

de 665,1% durant cette période.

La France fait partie des premiers

marchés internationaux émetteurs.

Ce qui est dû à la décrue du Covid et

à notre campagne à IFTM 2021.

Quels messages clés souhaitez-vous

partager ?

"Kingdom of Time" est la nouvelle

marque de la Jordanie, montrant que

la Jordanie est une destination unique,

qui permet de découvrir une diversité

naturelle et culturelle inégalée. Les

voyageurs en retirent des souvenirs

inoubliables en s'engageant dans des

expériences locales, notamment en

interagissant avec les communautés

du pays.

Le tourisme contribue de manière

importante à l'économie jordanienne,

avec de gros investissements dans des

projets majeurs comme les stations

balnéaires Ayla & Saraya à Aqaba,

les hôtels de luxe à Amman ou les

resorts de bien-être ou écologiques

à Ajloun et sur la mer Morte. Ces

dernières années ont vu l'émergence

de produits touristiques de niche, tels

que le tourisme religieux, le tourisme

MICE ou le tourisme médical et de

bien-être.

Pourquoi ce slogan de "Kingdom of

Time" ?

La Jordanie a toujours été le "Kingdom

of Time", abritant plus de 100 000 sites

archéologiques, religieux et touristiques.

Pensez aux sites mondialement connus

de Petra, de la mer Morte et de Wadi

Rum. La Jordanie est de fait le plus grand

musée à ciel ouvert du monde, qui abrite

des histoires et des expériences vieilles

de 10 000 ans. Comme nous avons la

chance d'avoir des paysages majestueux,

nous avons choisi de nous concentrer sur

les voyageurs intrépides car leur passion

correspond à notre offre de produits. La

Jordanie a quelque chose à offrir à tous

les types de tourisme, dont l'histoire et

le patrimoine, les visites touristiques,

le trekking, le tourisme d'aventures, de

santé, l'observation du ciel, les activités

marines, le tourisme lié au cinéma ou le

tourisme religieux. Suite de l'article sur

site internet

ADVERTORIAL

Jordan: The "Kingdom of Time"

is back at IFTM Top Resa

For a second year in a row, Visit Jordan is present at IFTM Top Resa.

We talked to Nayef Al Fayez, Minister of Tourism and Antiquities of

the Kingdom of Jordan, to learn more about the key messages the

destination is putting forward at this year's show.

Could you please share some figures

related to French visitors coming to

Jordan ?

The latest numbers cover the period

of January-August for 2021 and 2022.

Between the end of August 2021 and

August 2022, the total number of

French tourists to Jordan skyrocketed

from 4,181 to 31,991, up 665.1% during

that period. France is among the top

international inbound markets. This

is due to Covid receding and our

campaign at IFTM 2021.

Do you have any key messages you

would like to share ?

"Kingdom of Time" is Jordan's new

brand. The message is that Jordan

is a unique and one-of-its-kind

destination which gives travellers the

opportunity to experience unrivaled

natural beauty and cultural diversity.

Travellers will make unforgettable

memories by engaging in local

experiences, including interacting

with local communities.

Tourism makes an important

contribution to the Jordanian

economy, with large investment in

major projects such as Ayla & Saraya

resorts in Aqaba, luxury hotels in

Amman or wellness and eco-resorts

in Ajloun and the Dead Sea. In recent

years, niche tourism products have

STAND 1 - R53

started to emerge, which include

faith, MICE or medical/wellness.

Why this slogan " Kingdom of Time"?

Jordan has always been the Kingdom

of Time, home to more than 100,000

archaeological, religious and tourist

sites. Think of the world-famous

Petra, Dead Sea and Wadi Rum.

Jordan is indeed the world's largest

open-air museum, nurturing 10,000-

year old stories and experiences.

As we are blessed with majestic

landscapes, we chose to focus on

the intrepid travellers whose passion

falls in line with what we have to

offer. But Jordan has something for

all types of tourism, including history

and heritage, sightseeing, trekking,

adventure tourism, health tourism,

sky gazing, marine activities, film

tourism or faith tourism. Full article

available online.

IMPORTANTE

DÉLÉGATION

JORDANIENNE

À L'IFTM TOP

RESA 2022

La délégation présente à

l'IFTM 2022 comprend de

nombreux acteurs clés du

secteur du voyage et du

tourisme en Jordanie, soit

18 tour-opérateurs et DMC

spécialisés, Royal Jordanian

et des représentants

de l'Autorité de la zone

économique spéciale d'Aqaba

(ASEZA). Le marché français

étant considéré comme

essentiel, le Ministre du

Tourisme et des antiquités,

l'Ambassadeur de Jordanie

en France et le Directeur

Général de l'Office du

tourisme de Jordanie (JTB)

sont présents à l'IFTM pour

continuer à faire croître le

nombre de touristes français

visitant la Jordanie. Suite de

l'article sur site internet

Lisez la suite

sur iftmdaily.com

Scannez ce Code QR

Read more on iftmdaily.com

Scan the QR Code

MEET THE

JORDANIAN

DELEGATION

AT IFTM TOP

RESA 2022

The delegation at IFTM

2022 comprises many key

actors of Jordan's travel and

tourism sector, including 18

specialized tour operators

and DMCs, Royal Jordanian

and representatives from

the Aqaba Special Economic

Zone Authority (ASEZA).

As the French market is

considered essential, the

Minister of Tourism &

Antiquities, the Jordanian

Ambassador to France, and

the Jordan Tourism Board

(JTB) Managing Director

are at IFTM to help further

increase the numbers of

French tourists visiting

Jordan each year

IFTM DAILY • MARDI/TUESDAY 20 SEPT. 2022 5
---
I ACTUALITÉS I NEWS

I

The Originals : une hôtellerie plus

humaine, plus locale et plus authentique

Philippe Marguet, Directeur Général, The Originals, explique : "La

transformation marketing et digitale de 2019 nous a permis de traverser les

deux dernières années de manière positive"

Comment se porte la coopérative

The Originals après ces deux

années de Covid ?

Nous avons maintenu une relation

forte avec l'ensemble de nos

adhérents pour les accompagner

au mieux. La transformation

digitale et marketing de 2019, avec

notre rebranding et notre nouvelle

technologie, nous a permis de

traverser cette période de manière

positive et cela porte ses fruits

The Originals:

a more human,

more local and

more authentic

hospitality

offering

Philippe Marguet,

Managing Director

of The Originals,

explains: "Our

marketing and digital

transformation in

2019 has helped us

view the past two

years positively"

aujourd'hui. Sur les douze derniers

mois, la coopérative enregistre

les meilleurs résultats qu'elle ait

jamais connus. Nous sommes

donc confiants pour l'avenir de ce

modèle.

Quels sont vos objectifs en

participant à l'IFTM Top Resa 2022

?

Nous avons à cœur de présenter

aux visiteurs une proposition qui

convienne à tous,

du haut de gamme à

l'économique, pour

le loisir comme pour

le marché d'affaires.

Notre technologie

nous permet de

connecter nos hôtels

à tous les acteurs

majeurs du marché.

De plus, nous

bénéficions d'une

offre MICE et Groupes

complète et attractive

pour répondre aux

How is The Originals cooperative

doing after these two years of

Covid?

We have maintained a strong

relationship with all of our

members to support them as best

we can. The digital and marketing

transformation of 2019, with our

rebranding and new technology,

has helped us look back at this

period positively and it is now

bearing fruit.

Over the last twelve months, the

cooperative recorded its best

results ever. We are therefore

confident about the future of this

model.

What are your objectives with your

participation at IFTM Top Resa

2022?

We are committed to providing

visitors with a proposition that is

suitable for everyone, from the top

to the budget end of the market,

for both leisure and business

travel. Our technology allows us to

connect our hotels to all the major

players in the market. In addition,

besoins grandissants du marché.

Nos hôteliers qui incarnent cette

pluralité sont des personnes

passionnées qui portent haut et

fort les couleurs d'une hôtellerie

plus humaine, plus locale et plus

authentique.

Quels sont vos temps forts pendant

les 3 jours d'IFTM ?

Les moments forts seront les

rencontres entre les 20 hôteliers

présents sur le stand, l'équipe

commerciale et les visiteurs. Pour

encore plus de convivialité, nous

organisons un cocktail Affaires

aujourd'hui à 18h dans le Club

affaires et un apéritif pétillant ciblé

loisir, le mercredi 21 à 17h30 sur

notre stand

TEMPS FORTS

• Aujourd'hui 18h

Cocktail Affaires

STAND 1 - U16 & U22

• Mercredi 21/9 17h30

Apéritif Pétillant

STAND 1 - U16 & U22

we have a comprehensive and

attractive MICE and Groups offer to

meet the market's growing needs.

Our hoteliers embody this diversity

and are passionate people who

stand for a more human, more local

and more authentic hospitality

offering.

What are you choosing to highlight

during the 3 days at IFTM Top

Resa?

The highlights will be the meetings

between the 20 hoteliers present

on the stand, the sales team

and the visitors. For even more

conviviality, we are organising a

business cocktail on Tuesday 20

at 6pm in the Business Club and

a sparkling aperitif targeting the

leisure travel sector on Wednesday

21 at 5.30pm on our stand

HIGHLIGHTS

• Today 6pm

Business Cocktail

• Wednesday 21/9 17h30

Sparkling Aperitive

STAND 1 - U16 & U22

Club Affaires

Business Club

ADN TOURISME

ET IFTM TOP

RESA VERS UNE

COLLABORATION

RENFORCÉE EN

2023

ADN Tourisme est une nouvelle

fédération qui regroupe les

trois anciennes fédérations du

tourisme en France : Offices de

Tourisme, Conseils Régionaux

du Tourisme et Conseils

Départementaux du Tourisme.

ADN regroupe 1300 structures

adhérentes. Après avoir réussi

cette fusion, 2023 verra une

collaboration renforcée entre

ADN tourisme et IFTM Top Resa.

Elle permettra de mettre

davantage en lumière les

richesses, les spécificités, la

diversité et les innovations du

territoire français, mais aussi

d'accentuer la visibilité de la

destination France. Enfin, elle

présentera de nouvelles offres

et structures exposantes pour

l'accompagnement de la filière

dans le développement et

l'évolution des activités des

représentants du tourisme

ADN TOURISM

AND IFTM TOP

RESA REINFORCE

TIES IN 2023

ADN Tourisme is a new

federation which brings together

the three former tourism

federations in France - Tourist

Offices, Regional Tourist

Councils and Departmental

Tourist Councils. ADN has 1,300

member structures. Following

their successful merger, 2023 will

see a reinforced collaboration

between ADN tourisme and IFTM

Top Resa.

This will allow to highlight

the wealth, special features,

diversity and innovations of the

French territory and to increase

the visibility of Destination

France. Finally, it will present

new offerings and exhibiting

structures to support the industry

in the development of activities

for tourism representatives

IFTM DAILY • MARDI/TUESDAY 20 SEPT. 2022 7
---
I ACTUALITÉS I NEWS

I

PUBLIREPORTAGE

Lata Berkoh

(National Park)-

Pahang

Un festival de nouveautés

pour TUI France pour son

programme hiver

TUI France est de retour à IFTM Top Resa avec de

nombreuses nouveautés : Outre de nouveaux logos pour

les Club Marmara, Club Lookéa et Nouvelles Frontières,

l'offre s'étoffe avec deux nouveaux Clubs et des nouvelles

destinations chez Nouvelles Frontières.

Tourism Malaysia à la rencontre

des professionnels français du

tourisme sur IFTM Top Resa

Tourism Malaysia est présent

cette année à IFTM avec huit

partenaires de Malaisie: Asian

Trails, Canary Tours, Bamboo

Adventures, Pro Eco Adventure,

Berjaya Hotels & Resorts, Villa

Danialla, Emilia Handicraft et

Mosafer.

Le Directeur de Tourism Malaysia Paris,

Libra Haniff, profite de ces trois jours

de présence sur le salon pour mettre à

jour les visiteurs professionnels sur la

Malaisie.

L'industrie touristique malaisienne se

concentre désormais sur l'optimisation

de ses ressources tels l'écotourisme,

le tourisme rural et de découvertes,

ainsi que sur l'amélioration de

produits de niche. Avec le récent

assouplissement des règles relatives

au masques - seulement obligatoires

dans les établissements médicaux et

les transports publics, la ministre du

Tourisme, des Arts & de la Culture, Dato'

Sri Nancy Shukri, a annoncé un nouvel

objectif pour le tourisme en Malaisie

en 2022 : 9,2 millions d'arrivées, et des

recettes d'environ 5,9 milliards d'euros.

Pour le marché français, les actions

marketing sont alignées sur les

stratégies marketing globales de

Tourism Malaysia. La collaboration et

le partenariat font partie des stratégies

clés de relance et de croissance pour

la Malaisie. À ce jour, Tourism Malaysia

a confirmé des partenariats marketing

avec Malaysia Airlines, Qatar Airways

et Emirates

STAND 1 - D47

Dans la collection des Club

Marmara et Club Lookéa arrive

le Club Marmara Playa Maroma

au Mexique, à Punta Maroma

(Riviera Maya). Au Sri Lanka, le

Club Lookéa Palm Bay se situe

au cœur d'une nature préservée,

entre lagune et plage de sable fin.

Pour les circuits accompagnés

Nouvelles Frontières, la collection

2023 regroupe 86 destinations,

avec comme nouveautés la Côte

d'Ivoire, la Slovénie, la Géorgie et

Club Marmara

Playa Maroma

le Qatar. La Collection 2023 Road

Trips et Circuits privés affiche 45

destinations dont 4 nouvelles :

la Dominique, la Colombie, la

Bulgarie et la Roumanie. Deux

circuits « Le Costa Rica en

roue libre » et le « Circuit Privé

Aventure Namibienne » sont

lancés, ainsi que deux nouveaux

labels « Ethique » et « Sur les

Rails »

STAND 1 - H61

© interaview

ADVERTORIAL

Tourism Malaysia looks to

reconnect with French travel

professionals at IFTM Top Resa

Tourism Malaysia is attending

this year's IFTM Top Resa with

eight partners from Malaysia:

Asian Trails, Canary Tours,

Bamboo Adventures, Pro-Eco

Adventure, Berjaya Hotels &

Resorts, Villa Danialla, Emilia

Handicraft and Mosafer.

At the stand, Tourism Malaysia Paris

Director Libra Haniff, will take the

opportunity to update trade visitors on

Malaysia.

The country's tourism industry is

focusing on leveraging its existing

resources through ecotourism, rural

and experiential tourism, as well as

enhancing niche products. With the

recent relaxation of mask wearing

regulations, now only compulsory in

medical facilities and public transport,

the Minister of Tourism, Arts & Culture,

Dato' Sri Nancy Shukri, has announced

a new target for the industry in 2022, 9.2

million arrivals and tourism receipts of

approx. €5.9 billion.

The French market is perfectly

aligned to Tourism Malaysia's global

marketing strategies. Collaboration

and partnerships are among the

country's key strategies for recovery

and growth. To date, Tourism Malaysia

has formed collaborations for marketing

partnerships with Malaysia Airlines,

Qatar Airways and Emirates

STAND 1 - D47

A new bag of treats from

TUI France for its winter

programme

TUI France is back at IFTM Top Resa with many exciting

novelties: In addition to new logos for Club Marmara, Club

Lookéa and Nouvelles Frontières, the winter catalogue adds

two new Clubs and new destinations to Nouvelles Frontières.

The Club Marmara and Club

Lookéa collection welcome the

addition of Club Marmara Playa

Maroma in Punta Maroma (Riviera

Maya, Mexico). In Sri Lanka, the

Club Lookéa Palm Bay is located

at the heart of pristine nature,

between a lagoon and fine sand

beach.

The Nouvelles Frontières

Accompanied Circuits Collection

2023 includes 86 destinations.

New to the collection are the

Ivory Coast, Slovenia, Georgia

and Qatar. The 2023 Road Trips

and Private Tours Collection

features 45 destinations,

including 4 novelties: Dominica,

Colombia, Bulgaria and

Romania. Two circuits, "Costa

Rica Freewheeling" and the

"Namibian Adventure Private

Tour" have also been launched as

well as two new labels, "Ethical"

and "On the Rails"

STAND 1 - H61

8 IFTM DAILY • MARDI/TUESDAY 20 SEPT. 2022

www.iftmdaily.com
---
I ACTUALITÉS I NEWS

I

We Go GreenR, 1 ère plateforme

d'hébergements touristiques

éco-responsables en France,

présent à IFTM Top Resa

We Go GreenR, the first

platform for eco-responsible

tourist accommodation in

France, is at IFTM Top Resa

Lancé en 2020, We Go GreenR est

une plateforme d'hébergements

et d'expériences touristiques écoresponsables,

qui met en relation des

hôtes engagés dans une démarche

durable et leurs voyageurs. Le site

recense tous les types d'hébergement

dans quelque 400 destinations dans

toute la France.

Avec plus de 1 000 hébergements

référencés, la start-up a créé son

propre algorithme, le « GreenScore »,

pour refléter l'engagement de chaque

établissement. Basé sur 118 critères

éco-responsables, il permet de mesurer

leur engagement écologique.

Deux ans après son lancement,

We Go GreenR se diversifie et

lance GreenFlow, premier parcours

100% digital pour accompagner les

établissements touristiques dans leur

Marie-Pierre

Schaubroeck et

Stéphane Vincent-

Montagnon,

fondateurs de We

go GreenR

Marie-Pierre

Schaubroeck and

Stéphane Vincent-

Montagnon, We go

GreenR founders

transition RSE. GreenFlow propose une

solution complète en ligne, accessible

et ouverte 24/24h et 7/7j, pour les

hôtes engagés dans une démarche

responsable. Outre des programmes de

formation, ces derniers ont également

accès à une centrale d'achat dédiée

aux solutions éco-responsables

STAND 1 - E65

Launched in

2020, We Go

GreenR is a

platform for

eco-responsible

accommodation

and tourism

experiences,

which connects

environmentally

committed hosts

with travellers.

The site lists

all types of accommodation

in some 400 destinations

throughout France.

With more than 1,000

accommodations listed, the

start-up has created its own

algorithm, the "GreenScore",

to reflect the commitment of

each establishment. Based on

118 eco-responsible criteria,

it measures their ecological

commitment.

Two years after its launch, We

Go GreenR is diversifying and

launching GreenFlow, the first

100% digital pathway to support

tourism establishments in their

CSR transition. GreenFlow offers

a complete online solution,

accessible and open 24/7, for

guests who are committed to

a green approach. In addition

to training programmes, they

also have access to a central

purchasing office, dedicated to

eco-responsible solutions

STAND 1 - E65

IFTM DAILY • MARDI/TUESDAY 20 SEPT. 2022 9
---
I PAROLES DE PROFESSIONNELS I TRADE TALK I

Matthieu Drouet (à gauche)

Gérant associé / Managing partner

Jean-Philippe

Lardennois

Gérant associé / Managing partner

Martin Fournier

Responsable Service Gestion Clients

Customer relationship manager

IFTM Top Resa servira de

tremplin au concept de

"l'auto-indemnisation"

L'auto-indemnisation offrira une plus grande autonomie aux

professionnels du voyage comme l'expliquent, pour IFTM

Daily, Matthieu Drouet et Jean-Philippe Lardennois, gérants

associés chez Assurever.

Que représente Assurever à IFTM

Top Resa 2022 ?

L'IFTM est incontournable pour les

professionnels et en tant qu'expert

et courtier, nous y sommes

présents depuis 30 ans.

Quels sont vos points forts ?

Nos points forts pour la protection

des clients sont notre totale

réactivité et notre proximité. On l'a

prouvé lors du Covid en inventant

la "garantie des prix et la protection

sanitaire". Notre efficacité s'appuie

sur la coexistence d'équipes

commerciales renforcées et la

digitalisation comme outil de

facilitation du quotidien.

Que représente Assurever en

volume clients ?

Nous protégeons 2 millions de

voyageurs via 4 000 agences, dont

200 à 250 tour-opérateurs.

Quels avantages offre votre

nouveau concept de "l'autoindemnisation"

?

Dès 2023, l'auto-indemnisation

permettra aux professionnels

d'être autonomes grâce à la

maîtrise de A à Z d'un dossier

d'indemnisation. Cela permettra

de gagner en efficacité et en

fluidité pour l'assuré comme

pour l'intermédiaire. Ceci limitera

les sources d'incompréhension

pour les assurés, accélérera les

processus de remboursement.

Avec, au final, une expérience

améliorée client

STAND 1 - H65

IFTM Top Resa serves as

springboard for concept of "selfcompensation"

Matthieu Drouet and Jean-Philippe Lardennois, associate

managers at Assurever, explain in the IFTM Daily why selfcompensation

will offer travel professionals greater autonomy.

What does IFTM Top Resa 2022

represent for Assurever?

The IFTM Top Resa is essential for

professionals and as an expert and

broker, we have been present there

for 30 years.

What are your strong points ?

Our strong points when it comes

to protecting customers are, our

total reactivity and our proximity.

We proved it during the Covid

pandemic by inventing the "price

guarantee and health protection"

policy. Our efficiency is based on

the coexistence of a stronger sales

team and digitalisation, as a daily

facilitation tool.

What does Assurever represent in

terms of customer volume?

We protect 2 million travelers

through 4,000 agencies, including

200 to 250 tour operators.

What advantages does your new

concept of "self-compensation"

offer?

From 2023, self-compensation

will allow professionals to become

autonomous by taking control of

a compensation file from A to Z.

This will increase efficiency and

fluidity for both the insured and

the intermediary. This will also limit

sources of misunderstanding for

policyholders and speed up the

reimbursement process. Ultimately,

an improved customer experience

STAND 1 - H65

10 IFTM DAILY • MARDI/TUESDAY 20 SEPT. 2022

www.iftmdaily.com
---
I PAROLES DE PROFESSIONNELS I TRADE TALK I

Le plafond de verre existe certainement pour

les femmes dans le management

Carole Ange, CEO de 2A Business Conseils & Développement et membre de l'association des

"Femmes du Tourisme", est depuis plus de 30 ans active dans ce secteur, ayant travaillé pour

des tour-opérateurs, une compagnie maritime avant de créer son propre cabinet de conseils de

voyages. Avec de nouveaux défis à relever...

La CEO s'est confiée à IFTM

Daily sur son parcours

professionnel dans l'industrie

du tourisme.

Comment s'est déroulée votre

carrière ?

Ma vocation première était de

travailler pour le Quai d'Orsay. Mais

la vie en a décidé autrement. J'ai fait

finalement un BTS Tourisme, puis

je suis rentrée chez Jet Tours à la

réservation. J'y ai fait mes classes.

Après la réservation, je me suis

occupée du yield management

aérien, ai été en charge de la

garantie client et agence, puis du

call center. Avec la vente à Thomas

Cook, je suis devenue directrice

de Jet Tours, puis des enseignes

Thomas Cook. Jusqu'à ce que je

quitte cette entreprise et crée ma

propre structure 2A Business

Conseils & Développement. J'ai

toujours eu envie d'avoir ma propre

entreprise. Ce qui est fait !

The glass ceiling certainly exists for women

in management

Carole Ange, CEO, 2A Business Council & Development and member of the association

"Women in Tourism", has been active in this industry for over 30 years, having worked for

tour operators, a shipping company and set up her own travel consultancy. With new and

exciting challenges ahead…

The CEO spoke to IFTM

Daily about her career path

in the tourism industry.

How has your career been going?

My initial vocation was to work

for the Ministry of Foreign Affairs.

But life decided differently. I finally

graduated in tourism and then

joined Jet Tours as a reservation

agent. I built up my experience

there. After reservations, I was

in charge of yield management,

customer and agency guarantees,

and then responsible of the call

centre. With the sale of Jet Tours

to Thomas Cook, I became director

Quelle entreprise vous aura le plus

influencée tout au long de votre

parcours ?

C'est définitivement Jet Tours.

Car elle m'a permis d'aborder le

tourisme par la base et d'y faire

mes armes en travaillant sur tant

de domaines différents. Et il y avait

un esprit de groupe avec de vraies

valeurs d'entreprise.

of Jet Tours, then of the Thomas

Cook brands. I finally left the

company and created my own

structure, 2A Business Conseils &

Développement. I must admit that

I always wanted to have my own

company. This is now a reality.

Which company has influenced

you the most?

It is definitely Jet Tours. Because

it gave me an approach to tourism

from grassroots and allowed me

to get knowledge by working in

so many different areas. There

was also a team spirit with real

company values.

Pensez-vous avoir souffert ou du

moins avoir subi des discriminations

professionnellement en tant que

femme ?

Non, je ne pense pas avoir

ressenti qu'être une femme était

une source de problèmes, même

quand j'étais dans l'aérien où peu

de femmes travaillaient alors avec

des responsabilités. Le plafond

de verre existe certainement dans

le management. Je souhaiterais

d'ailleurs rendre hommage à

Laurence Berman-Clément, de Jet

Tours. Elle a permis d'affirmer le rôle

et la condition des femmes chez les

tour-opérateurs

Carole Ange

CEO, 2A Business Conseils

& Développement

Do you think you have suffered

or experienced discrimination

professionally as a woman?

No, I don't think I felt that being a

woman was a source of problems,

even when I was in the airline

industry where few women were

then working with responsibilities.

The glass ceiling however certainly

exists in management. I would like

to pay tribute to Laurence Berman-

Clément, from Jet Tours. She has

helped affirm the role and status of

women in tour operating

VOYAGE

AVEC VUE, LA

NOUVELLE

AVENTURE DE

CAROLE ANGE

Voyage avec Vue est la

prochaine aventure de Carole

Ange. Le site, qui est lancé cette

semaine, veut accompagner

les professionnels du voyage,

être un guide et une inspiration.

"Voyage avec Vue, c'est un peu

comme lorsque vous entrez dans

votre chambre d'hôtel et que

vous regardez par la fenêtre pour

découvrir ce qui vous entoure.

Je souhaite que ce site donne

la parole aux hébergeurs, aux

prestataires pour qu'ils parlent

de ce qu'ils font, de leurs valeurs

pour un développement durable,

la découverte d'un lieu. La vue,

c'est ce qui est essentiel quand

on fait du tourisme"

VOYAGE AVEC

VUE, CAROLE

ANGE'S NEW

VENTURE

Voyage avec vue is the next

adventure for Carole Ange. The

site, which launches this week,

seeks to accompany travel

professionals and help them

become an inspirational guide.

"Travel with a view is a bit like

when you walk into your hotel

room and look out the window

to discover your surroundings. I

would like this site to give a voice

to accommodation and service

providers so they can discuss

what they do, share their values

for sustainable development and

discovering a place. The view,

so to speak, is indeed what is

essential when you are in

tourism

IFTM DAILY • MARDI/TUESDAY 20 SEPT. 2022 11
---
I TENDANCES DU MARCHÉ I MARKET TRENDS I

Europe : un très bel été 2022 pour

le tourisme du continent

Printemps et été ont attiré les touristes du monde entier en

Europe. Selon le UNWTO, sur les cinq premiers mois de 2022,

le tourisme européen est revenu à 64% de son niveau de 2019,

contre 46% dans le monde.

L'Organisation mondiale du

tourisme UNWTO et la European

Travel Commission (ETC) sont

d'accord sur un point : le tourisme

européen est celui qui connaît la

plus forte reprise dans le monde.

Sur les 5 premiers mois de 2022,

l'Europe a accueilli, selon le

UNWTO, quatre fois plus d'arrivées

internationales qu'en 2021, en

particulier grâce au fort rebond de

la demande intra-régionale. Les

arrivées internationales à la fin mai

sur le continent étaient inférieures

de seulement 36,4% aux chiffres

de 2019.

Europe: a very good

summer 2022 for the

continent's tourism

Avec des variations cependant d'une

région européenne à l'autre. La

meilleure performance se retrouve

autour du bassin méditerranéen,

pour lequel les arrivées

internationales n'étaient plus que

de 31,3% inférieures à ce qu'elles

étaient en 2019 entre janvier et mai.

L'Europe de l'Ouest offre aussi une

belle performance : les arrivées

internationales des

cinq premiers mois

sont inférieures de

seulement 32,1%

aux chiffres pré-

Covid.

Spring and summer attracted tourists from all over the world

to Europe. According to UNWTO, in the first five months

of 2022, European tourism reached 64% of its 2019 level,

compared to 46% worldwide.

The World Tourism Organization

UNWTO and the European

Travel Commission (ETC) agree

that compared to other regions

worldwide, European tourism

is experiencing the strongest

recovery. In the first 5 months

of 2022, according to UNWTO,

Europe welcomed four times more

international arrivals than in 2021,

in particular thanks to the strong

rebound in intra-regional demand.

International arrivals at the end of

May on the continent were only

36.4% lower compared to 2019.

There were some variations

from one European region to

another. The best performance

was the Mediterranean area,

where international arrivals were

down only 31.3% compared to its

January-May 2019 performance.

Western Europe also performed

En revanche, l'Europe centrale et

orientale souffre du conflit russoukrainien.

La reprise des arrivées

reste très inférieure au reste de

l'Europe. Sur les cinq premiers

mois, les arrivées de touristes

internationaux sont toujours

en dessous de plus de 50% des

chiffres de 2019. Le UNWTO estime

que les arrivées internationales

en Europe cette année devraient

représenter 65% à 80% du total de

2019. Un chiffre que confirme l'ETC

avec une estimation de 70%

Plus que tout autre région en

Europe, le sud du continent a connu

une très forte reprise des arrivées

internationales entre janvier et mai

By the end of May, Western Europe

regained almost 70% of its arrivals

from 2019, according to the UNWTO

well : international arrivals in the

first five months were only 32.1%

below pre-Covid figures.

In contrast, Central and Eastern

Europe suffer from the Russian-

Ukrainian conflict. The recovery in

arrivals remains far below the rest

of Europe. In the first five months,

international tourist arrivals were

still more than 50% below 2019

figures. But UNWTO estimates

that international arrivals in

Europe should reach 65% to 80%

of the 2019 total. This figure is

confirmed by the ETC, who sees

the recovery at 70%

Fin mai, l'Europe de l'ouest avait

retrouvé près de 70% du chiffre des

arrivées de 2019 selon le UNWTO

L'INDUSTRIE DU

TOURISME TOUJOURS

À LA RECHERCHE DE

TALENTS

Selon une étude du World Travel &

Tourism Council (WTTC) et de l'ETC,

l'Europe reste toujours confrontée

à un déficit de 1,2 million d'emplois

dans le secteur du tourisme. Et il y

a urgence à résoudre ce problème.

Selon les deux institutions, au plus

fort de la crise, le secteur du tourisme

et des voyages avait perdu en Europe

1,7 million d'emplois. En 2021, il en

a recréé 570 000, mais cela reste

insuffisant avec la reprise. L'absence

de personnel se fait particulièrement

ressentir dans l'hôtellerie et les

transports, ou il peut être cause

d'engorgements et d'annulations

TOURISM AND TRAVEL

SECTOR LOOKS TO

RECRUIT

According to a study by the World

Travel & Tourism Council (WTTC)

and the ETC, Europe still faces a

shortfall of 1.2 million jobs in the

tourism sector. There is an urgency

to solve this problem. According to

the two institutions, at the height

of the crisis, the tourism and travel

sector in Europe lost 1.7 million jobs.

By 2021, it had created again 570,000

new jobs, however still not enough to

match the recovery. The lack of staff

is particularly felt in the hotel and

transport sectors, where it possibly

translates into congestion and

cancellations

IFTM DAILY • MARDI/TUESDAY 20 SEPT. 2022 13
---
I INTERVIEW EXCLUSIVE I EXCLUSIVE INTERVIEW

I

«Bien plus qu'un

pays à visiter,

le Maroc est un

pays qui se vit»

Jihad Chakib, Directeur de l'Office

National Marocain du Tourisme (ONMT)

en France, souligne l'importance pour

le Maroc d'être le pays à l'honneur de

l'édition 2022 d'IFTM Top Resa

Le Maroc est une destination

importante pour le marché français.

Comment se comporte ce marché

en 2022 ?

Effectivement, le Maroc est la

première destination des Français

hors Europe et nous nous réjouissons

de cet engouement pour notre pays.

Pendant et après la crise sanitaire,

l'ONMT s'est mobilisé afin de

soutenir et sécuriser les connexions

aériennes directes entre nos deux

pays, de multiplier les partenariats

avec les tour-opérateurs et

prescripteurs de voyages français,

et de lancer une nouvelle campagne

internationale qui se nomme «

Maroc, Terre de Lumière ».

Toutes ces actions et beaucoup

d'autres donnent d'ores et déjà de

très bons résultats et la destination

Maroc retrouve progressivement ses

niveaux de performances de 2019.

Vous avez lancé la nouvelle

campagne cette année. Pouvezvous

nous en dire plus ?

Qu'apporte cette campagne

pour l'image du Maroc ?

A quels groupes cibles s'adresset-elle

?

La lumière singulière du Maroc est

le fil conducteur de la campagne «

Maroc - Terre de Lumière », qui révèle

les richesses que le pays a à offrir :

bien plus qu'un pays à visiter, c'est

un pays qui se vit, à travers ses arts,

sa culture vivante, son artisanat. La

campagne s'attelle donc à sublimer

les richesses du pays et à en affirmer

la splendeur en mettant l'accent sur

sa lumière caractéristique. Celleci

interpelle les voyageurs dès leur

arrivée. Elle devient le thème central

de la communication en tant que

source de vie et de mouvement,

source d'inspiration pour nombre

d'artistes.

La campagne vise à positionner

le Maroc parmi les destinations

touristiques mondiales les plus

convoitées, à renforcer sa notoriété

et son attractivité auprès du public

international, et à renforcer son

image tendance, surtout auprès

des nouvelles générations de

voyageurs.

"IFTM TOP RESA

CONSTITUE (...)

UN RENDEZ-VOUS

INCONTOURNABLE

ET STRATÉGIQUE

NOUS

PERMETTANT

D'ÊTRE AU PLUS

PRÈS DE NOS

PARTENAIRES..."

Elle constitue ainsi un tournant dans

la communication de la destination

en lui donnant un nouveau souffle, en

s'adressant notamment à une cible

plus jeune, plus dynamique, plus

connectée, et en constante demande

d'inattendu et de découvertes.

Qu'apporte cette campagne aux

professionnels en France ?

La campagne « Maroc - Terre de

Lumière » permet aux Français

d'avoir en permanence le Maroc à

l'esprit, de déclencher les envies

d'achat et ainsi reconquérir notre

clientèle tout en développant de

nouvelles parts de marché.

Quelle importance le salon IFTM

Top Resa a-t-il pour vous ?

Comme vous l'avez-dit, « le Maroc

est une destination importante pour

le marché français ». C'est notre

premier marché et nous tenons à

garder notre place de destination

préférée des touristes français hors

de l'Europe.

Le salon IFTM Top Resa constitue

donc un rendez-vous incontournable

et stratégique nous permettant d'être

au plus près de nos partenaires,

d'exposer nos nouveautés et de

pérenniser la reprise de l'activité

touristique. Mais aussi et surtout

de renforcer les liens entre les

professionnels du tourisme marocain

et les producteurs et vendeurs

français

14 IFTM DAILY • MARDI/TUESDAY 20 SEPT. 2022

www.iftmdaily.com
---
I INTERVIEW EXCLUSIVE I EXCLUSIVE INTERVIEW I

TOUTES LES

RÉGIONS

DU MAROC

PRÉSENTES À

IFTM

Cette année, ce sont quelque 18

exposants qui sont présents sur le

stand du Maroc à IFTM. L'ensemble

des régions est ainsi représenté à

travers leurs conseils régionaux ou

via les professionnels du tourisme

qui exercent dans ces régions.

"C'est une édition particulière

puisque le Maroc est le pays à

l'honneur du salon IFTM. C'est une

mise en avant dont nous sommes

très fiers et qui souligne le travail

que nous effectuons au quotidien

à l'ONMT pour que le Maroc

reste dans les starting-blocks des

prescripteurs français", précise

Jihad Chakib.

UNE SOIRÉE

AFTER-TO

SCINTILLANTE

SOUS LA LUMIÈRE

DU MAROC

Organisée en partenariat entre

Maroc, Terre de Lumière et le

Village des Tour-Opérateurs

(TO), la soirée After TO est LE

rendez-vous convivial et festif

des agents de voyages et des

tour-opérateurs. La soirée a lieu

le jeudi 22 septembre à partir de

19h30 sur la péniche Concorde

Atlantique, amarrée en plein cœur

de Paris. Trois étages, cinq espaces

différents, deux terrasses à ciel

ouvert avec une vue imprenable sur

le Grand Palais, le musée d'Orsay,

l'Assemblée Nationale et le pont

Alexandre III : un cadre idéal pour

networker et se détendre ! Et bien

sûr, un open bar, open food, open

champagne et un DJ. La soirée se

fait sur inscription.

"Morocco is much more

than a country to visit, it's

a place to experience"

Jihad Chakib, Director of the Moroccan National

Tourist Office (ONMT) in France, underlines the

importance of being the country of honour at IFTM

Top Resa 2022 for the destination

Morocco is an important

destination for the French market.

How will this market behave in

2022?

Morocco is effectively the primary

destination for France outside

Europe and we are delighted

about this enthusiasm for our

country. During and after the

health crisis, the ONMT worked

hard to support and secure direct

air connections between both

countries, multiply partnerships

with French tour operators and

travel agents, as well as to launch

a new international campaign

called "Morocco, Kingdom of

Light".

All of these actions and many

others have already yielded results

and Morocco as a destination

is gradually recovering its 2019

performance levels.

Morocco launched its new

campaign this year. Could you

please tell us more about this?

What effect has the campaign

had on Morocco's image ? And

what groups is it targeting?

Morroco's unique light is the

guiding force of the "Morocco-

Kingdom of Light" campaign,

which aims to reveal all of the

treasures the country has to offer.

More than just a country to visit,

Morocco lives through its arts,

dynamic culture and crafts. The

campaign therefore seeks to put

forward the country's treasures

and affirm its magnificence

through the emphasis of light,

which seduces travellers as soon

as they arrive. Light is therefore

the central theme of ONMT's

communication, as a source of life

and movement, and a source of

inspiration for many artists.

The campaign aims to position

the country among the world's

most coveted tourist destinations,

to strengthen its reputation and

attractiveness to the international

public, and reinforce its 'trendy'

image, especially among members

of the new generation.

It constitutes a turning point in

our communication strategy by

giving it a new lease of life and

addressing in particular a younger,

more dynamic, more connected

audience who demand the

unexpected and for discoveries.

What does this campaign bring to

the trade in France?

The "Morocco - Kingdom of Light"

campaign keeps Morocco in the

mind of French travellers at all

times, triggering a desire to buy/

visit the destination, and thus, win

back our customers and develop

new market shares.

"IFTM TOP

RESA IS (...) AN

ESSENTIAL AND

STRATEGIC

MEETING PLACE

THAT ALLOWS US

TO BE AS CLOSE

AS POSSIBLE

TO OUR

PARTNERS..."

How important is the IFTM Top

Resa show for you?

As you stressed before, "Morocco

is an important destination for

the French market". It is our first

market and we want to keep our

place as the favourite destination

for French tourists outside Europe.

IFTM Top Resa is therefore an

essential and strategic meeting

place that allows us to be as

close as possible to our partners,

to exhibit our new products

and to ensure the recovery of

our business. Above all, it also

strengthens the links between

Moroccan tourism professionals

and French producers and

sellers

ALL THE REGIONS OF MOROCCO

PRESENT AT IFTM

This year, some 18 exhibitors are present on the

Moroccan stand at IFTM. All the regions are

represented through their regional councils or via

tourism stakeholders who work in these regions. "It is

a special edition this year as Morocco is the country of

honour at IFTM. We are very proud of this honour and

it underlines the work we do on a daily basis at the

ONMT to ensure that Morocco remains in the starting

blocks of French travel providers", tells Jihad Chakib.

A SPARKLING AFTER-PARTY UNDER

THE LIGHT OF MOROCCO

Organised in partnership with Morroco -Kingdom of Light and the Village

des TO, the After-TO party is the cheerful and festive meeting for travel

agents and Tour-Operators. This event takes place from 7.30pm on

Thursday September 22, on the Concorde Atlantique barge in the heart

of Paris. Three floors, five different spaces, two open-air terraces with a

breathtaking view of the Grand Palais, the Musée d'Orsay, the Assemblée

Nationale and the Pont Alexandre III: an ideal and optimal setting for

networking and relaxing! Of course, there will be an Open Bar, Open Food,

Open Champagne and a DJ. Registration is compulsory.

IFTM DAILY • MARDI/TUESDAY 20 SEPT. 2022 15
---
I INTERVIEW EXCLUSIVE I EXCLUSIVE INTERVIEW

I

Angèle

Bastiani

Angèle Bastiani, Présidente

Agence du Tourisme de la

Corse (ATC)

Angèle Bastiani, President

of the Corsican Tourism

Agency (ATC)

Une venue

en force à

IFTM Top

Resa

Destination à l'honneur durant IFTM Top Resa 2021, la Corse

est massivement présente sur l'édition 2022. Avec un message

clair d'Angèle Bastiani, Présidente de l'ATC : celui d'institutions

qui soutiennent les acteurs locaux pour allonger la saison

touristique et diversifier l'offre.

L'Agence du Tourisme de la Corse

(ATC) est de nouveau présente à

IFTM Top Resa 2022. Que mettezvous

en avant cette année ? Quelles

sont les activités ou animations

prévues ?

La Corse est présente sur IFTM Top

Resa en 2022 comme les années

précédentes. Notre délégation est

d'ailleurs venue en force avec de

nombreux partenaires et offices

de tourisme. C'est l'occasion

pour l'ATC de mettre en avant les

thématiques qui ont été à l'honneur

en 2022 : la gastronomie, le sport, la

culture… Soit la Corse dans toutes

ses facettes, au-delà de l'aspect

balnéaire, et principalement hors

saison.

Côté animations, nous prévoyons

un apéritif traditionnel en musique

le mercredi soir, durant lequel nous

pourrons échanger de manière

conviviale avec nos partenaires.

L'ATC a-t-elle réussi son pari

d'étendre la saison touristique audelà

de mai-septembre ? Quelles

nouvelles initiatives pour une plus

grande amplitude de la saison

touristique ?

Notre objectif de déconcentration

touristique reste plus que jamais

d'actualité. Les saisons entre

mars et mai et de septembre à

novembre sont de plus en plus

plébiscitées, l'offre est de plus en

plus fournie. Le but reste de faire de

la Corse une destination hautement

attractive 12 mois sur 12, car nous

avons beaucoup à proposer tout

au long de l'année, tant au niveau

de la promotion, à travers des

thématiques spécifiques à l'hiver, à

l'automne ou au printemps, que du

16 IFTM DAILY • MARDI/TUESDAY 20 SEPT. 2022

www.iftmdaily.com
---
I INTERVIEW EXCLUSIVE I EXCLUSIVE INTERVIEW I

développement, avec des aides axées

sur le tourisme rural et sur une offre

touristique à l'année.

LES SAISONS

ENTRE MARS

ET MAI ET DE

SEPTEMBRE À

NOVEMBRE SONT

DE PLUS EN PLUS

PLÉBISCITÉES,

L'OFFRE EST DE

PLUS EN PLUS

FOURNIE.

Comment travaillez-vous avec les

différents acteurs locaux (offices de

tourisme, logements, compagnies

de transports, TOs, TAs...) pour

développer une offre sur 365 jours ?

L'un des quatre axes de travail de l'ATC

est la coordination des acteurs. Je l'ai

pris en considération dès ma prise

de fonctions en 2021. Nous avons

effectué d'octobre à juin dernier des

tournées dans tous les territoires de

Corse, rencontré tous les directeurs et

présidents d'offices de tourisme. Cela

a conduit à l'élaboration d'un guide

des aides encore plus ancré dans les

besoins du terrain, à une campagne

de promotion plus adaptée, et à la

conclusion de nombreux dossiers

d'accompagnement de projets.

Les années à venir continueront

d'être placées sous le signe de cette

collaboration avec tous les acteurs du

territoire

A strong presence

at IFTM Top Resa

Last year's IFTM 'Region of Honour', Corsica, is massively

present again at the 2022 edition with a strong message from

Angèle Bastiani, President of the ATC : that of institutions

supporting local players to extend the tourist season and

diversify the offer.

The Corsican Tourism Agency (ATC)

is once again present at IFTM Top

Resa 2022. What are the highlights

? What activities or events are

planned?

Corsica is present at IFTM Top

Resa 2022 as in previous years. Our

delegation comes with a strong team

of partners and tourist offices. This

is an important opportunity for the

ATC to highlight our 2022 themes

: gastronomy, sport and culture…

Corsica is all of them, beyond the

seaside aspect, and mainly beyond

the peak season. At IFTM, we are

planning a traditional aperitif with

music on Wednesday evening, during

which we will be able to exchange

ideas with our partners.

Has the ATC succeeded in extending

the tourist season beyond May-

September? What new initiatives for

a wider tourist season?

Our objective of spreading out the

tourist season remains more relevant

than ever. The seasons between

March and May and from September

to November are increasingly

popular, with an increasingly

extensive. The aim remains to make

Corsica a highly attractive destination

12 months over 12, because we have

a lot to offer throughout the year. We

are working on both the promotion

and development, through specific

themes in winter, autumn and spring,

and with financial means focused

on rural tourism and on an all-year

tourism offer.

How do you work with the

different local actors (tourist

offices, accommodation, transport

companies, TOs, TAs,…) to develop

a 365 day offer?

One of the ATC's four areas of work

is the coordination of stakeholders.

I considered this to be a priority as

soon as I took office in 2021. From

October to June last year, we toured

all the Corsican territories, meeting

all the directors and presidents of

tourist offices, as well as dozens of

THE SEASONS

BETWEEN

MARCH AND MAY

AND FROM

SEPTEMBER TO

NOVEMBER ARE

INCREASINGLY

POPULAR WITH

AN

INCREASINGLY

EXTENSIVE

OFFERING.

social and economic professionals.

This has led to the creation of a guide,

which is even more anchored in the

operational field requirements and a

more adapted promotion campaign.

It also led to the conclusion of

numerous project support dossiers.

The coming years will continue to be

marked by this collaboration with all

the players in the region

LES MARCHÉS

TOURISTIQUES DE LA

CORSE RETROUVENT

LEURS NIVEAUX DE

L'AVANT COVID

Selon Angèle Bastiani, l'année 2022

a été marquée par un "retour à la

normale" après deux années fortement

impactées par la pandémie de

Covid-19. Selon toute vraisemblance,

cela équivaut aux taux de tourisme

domestique et étranger enregistrés en

2019 et des années précédentes, après

l'arrêt du tourisme étranger en 2020 et

2021 en raison de la crise sanitaire. Les

chiffres ne sont pas encore définitifs,

mais c'est la tendance qu'observe la

présidente de l'ATC. Pour mémoire, en

2019, les hébergements touristiques

professionnels marchands (campings,

hôtels et autres hébergements) avaient

enregistré 10,5 millions de nuitées,

dont 3,2 millions pour les hôtels. Sur ce

total, 25% provenaient de marchés hors

France

DES INITIATIVES

MARKETING DE

L'ATC AXÉES SUR

DES EXPÉRIENCES

THÉMATIQUES

Les thématiques gastronomie,

deux-roues, culture et patrimoine,

sport et nature, autour de l'eau,

vigne et oenologie, permettent

de mettre en avant des aspects

spécifiques du territoire corse,

parfois méconnus selon Angèle

Bastiani. Elle souligne que la

Corse n'est pas en effet que de

la plage. "Ne profiter que de

l'aspect balnéaire, c'est passer

à côté de l'essentiel de notre île.

Et la Corse, ce n'est évidemment

pas que l'été. Faire passer ces

messages, c'est l'objectif de

cette initiative marketing qui

commence à porter ses fruits",

souligne-t-elle

CORSICA'S

TOURISM

MARKETS RETURN

TO PRE-COVID

LEVELS

According to Angèle Bastiani,

the year 2022 was marked by

a "return to normal" after two

years heavily impacted by the

Covid-19 pandemic. This is likely

equivalent to the domestic and

foreign tourism rates recorded

in 2019 and previous years, after

foreign tourism stopped in 2020

and 2021 due to the health crisis.

The figures are not yet definitive,

but this is the trend observed by

the President of the ATC. For the

record, in 2019, the professional

market tourist accommodation

(campsites, hotels and other

accommodation) recorded 10.5

million overnight stays, of which

3.2 million were for hotels. Of

this total, 25% of overnight stays

came from markets outside

France

ATC'S

MARKETING

INITIATIVES

FOCUSED

ON THEMED

EXPERIENCES

The themes of gastronomy,

two-wheelers, culture and

heritage, sport and nature,

around water, vineyards and

oenology, promote specific

aspects of the territory, which

are sometimes unknown

according to Angèle Bastiani.

She emphasises that Corsica

is not just about the beach.

"To only take advantage

of the seaside aspect is to

miss the essential part of

our island. And Corsica is

obviously not just about

summer. Getting these

messages across is the aim

of this marketing initiative,

which has already to begun

to bear fruit," she stresses

IFTM DAILY • MARDI/TUESDAY 20 SEPT. 2022 17
---
I DOSSIER SPECIAL I

I SPECIAL FEATURE I

2022,

une année

exceptionnelle

pour Valence

en Espagne

Troisième ville d'Espagne, Valence (Valencia) est au cœur d'une année

touristique exceptionnelle en cumulant les titres de Capitale Européenne

du 'Smart Tourism' et de Capitale Mondiale du Design 2022.

L'une des villes les plus dynamiques

et innovantes d'Europe, Valence,

cumule les distinctions en 2022.

Côté Smart Tourism, la ville s'efforce

de mesurer l'empreinte carbone

de son activité touristique. Elle

est également la première ville

européenne à recevoir une double

certification UIT (ONU) et ISO pour

le développement durable des villes.

Avec l'objectif d'être carbone-neutre

d'ici 2030.

En étroite collaboration avec

l'association PREDIF pour les

personnes handicapées, Valence a

développé un programme de tourisme

inclusif. Il se traduit par des circuits

accessibles pour les personnes à

mobilité réduite, des traductions en

braille et des pictogrammes.

La cité des Arts et des Sciences, une

architecture avant-gardiste qui reflète

l'esprit design de Valence

Valence travaille ainsi à rendre son

tourisme facile pour les visiteurs et

supportable pour les habitants. Les

autorités surveillent la durabilité

sociale de son tourisme. Cela va du

contrôle de l'hébergement irrégulier,

à l'installation de capteurs pour

mesurer le bruit dans les zones

de loisirs, en passant par des

enquêtes auprès du public. Une vraie

démarche d'intégration du tourisme

au quotidien.

Le titre de "Capitale Mondiale du

Design" rend hommage à l'incroyable

créativité des habitants de Valence

- artisans, stylistes, architectes,

artistes ou encore restaurateurs

STAND 1 - R70

2022, an exceptional

tourism year for

Valencia

Spain's third largest city, Valencia is having

an exceptional year when it comes to tourism,

having been named European Capital of Smart Tourism and

World Design Capital in 2022.

One of the most dynamic and

innovative cities in Europe,

Valencia has been accumulating

awards in 2022.

On the Smart Tourism side, the city

is working to measure the carbon

footprint of its tourism activity. It

is also the first European city to

receive dual ITU (UN) and ISO

certification for the sustainable

development of cities. Its aim is

to be carbon neutral by 2030.

In close collaboration with the

PREDIF association for disabled

people, Valencia has also

developed an inclusive tourism

programme. This is reflected

in accessible tours for people

with reduced mobility, Braille

translations and pictogrammes.

Valencia is also working hard to

make its tourism industry easy for

visitors and bearable for residents.

The authorities are monitoring the

social sustainability of its tourists.

This ranges from controlling

irregular accommodation,

installing sensors to measure

noise levels in leisure areas and

conducting public surveys. In this

sense, there is a concerted effort

to integrate tourism into everyday

life.

Meanwhile, the title of "World

Design Capital" pays tribute to

the incredible creative people

of Valencia - craftsmen, stylists,

architects, artists or even

restaurateurs

STAND 1 - R70

VALENCE, FINALISTE

POUR LE TITRE DE

CAPITALE VERTE DE

L'EUROPE 2024

On saura le 27 octobre prochain qui,

de Valence ou de Cagliari (Italie),

remportera le titre de Capitale Verte

européenne 2024. Ce prix, décerné par

la Commission européenne, reconnaît

les efforts des villes pour améliorer

l'environnement et la qualité de vie

de leurs citoyens et visiteurs. Pour

Valence, ce serait en reconnaissance

de la création et la protection

d'espaces verts tels que le parc naturel

de l'Albufera ou le jardin du Turia, ainsi

que d'initiatives de mobilité durable

VALENCIA

REACHES

FINAL FOR

THE TITLE OF

EUROPEAN

GREEN

CAPITAL

2024

On October 27 the announcement will be made

which city - between Valencia and Cagliari,

will win the title of European Green Capital

2024. This prize, awarded by the European

Commission, recognises the efforts of cities to

improve the environment and the quality of life

of their citizens and visitors. For Valencia, this

is in recognition of the creation and protection

of green spaces such as the Albufera Natural

Park or the Turia Garden, as well as sustainable

mobility initiatives

18 IFTM DAILY • MARDI/TUESDAY 20 SEPT. 2022

www.iftmdaily.com
---
I DOSSIER SPÉCIAL I SPECIAL FEATURE I

PUBLIREPORTAGE

Luc Bereni, Président du Directoire

Air Corsica : un bilan positif pour la

saison été 2022

Quels sont vos résultats pour la saison 2022 ?

Nous avions parié sur une saison d'été 2022

normale, avec une capacité comparable à celle

de 2019, comprenant même quelques nouveautés

à l'international. Bien nous en a pris, puisque nous

tirons un bilan positif des six mois écoulés.

Comment avance le renouvellement de la flotte ?

Cet hiver, nous intégrons 5 ATR72-600 neufs,

plus rapides, plus économes en carburant et

plus confortables que nos actuels ATR. Pour nos

Airbus, nos actionnaires souhaitent poursuivre

le remplacement des A320 "classiques" par une

version "neo", 15% plus économe.

Quelles perspectives pour le réseau en 2023?

Ce sera une année de consolidation pour

Air Corsica. Avec nos douze appareils, nous

maintiendrons notre position de leader sur le

segment continent-Corse, forts de nos 24 lignes

domestiques et de nos 12 lignes européennes.

Nous avons récemment lancé un nouveau concept

de service à bord, fortement identitaire. Il répond

mieux aux attentes de nos clients, qui doivent se

sentir déjà en Corse dès l'embarquement à bord

STAND 1 - V54

Luc Bereni

Président,

Directoire Air Corsica

Chairman of the Air Corsica

Management Board

ADVERTORIAL

Luc Bereni, Chairman of the Air

Corsica Management Board: a

positive roundup for the 2022

summer season

What are the results for the 2022 season?

We were betting on a normal 2022 summer season

with a capacity comparable to 2019, even including

new international services. And we were right to do

so, as we can look back on the past six months with

satisfaction.

How is the fleet renewal going?

We integrate this winter 5 new ATR72-600s, which

are faster, more fuel-efficient and more comfortable

than our current ATRs. Regarding Airbus aircraft,

our shareholders want to continue replacing the

'classic' A320s with a 'neo' version, which is 15% more

economical.

What is the outlook for the network in 2023?

This will be a year of consolidation for Air Corsica. With

our 12 aircraft, we will maintain our leading position

between Corsica and the rest of France, with 24

domestic and 12 European routes. We recently launched

a new concept for our onboard service with a strong

identity. It's better suited to meeting the expectations

of our customers, who should get the feeling they are

already in Corsica as soon as they board the aircraft

STAND 1 - V54

IFTM DAILY • MARDI/TUESDAY 20 SEPT. 2022 19
---
La Croatie apporte de bonnes nouvelles

et des statistiques prometteuses à

IFTM Top Resa 2022

Minestrone, CC BY-SA 4.0 , via Wikimedia Commons

La Croatie peut croire en une formidable année touristique

2022 grâce à la levée des restrictions de voyage liées au Covid

dans la plupart de ses marchés émetteurs, ainsi qu'en Croatie

même. De janvier à juillet 2022, le nombre total de nuitées de

touristes internationaux dans les hébergements commerciaux

était seulement inférieur de 4,1 % à celui de la même période de

2019.

La reprise du tourisme en Croatie

gagne en rythme, comme l'indique

l'Office national des statistiques de

Croatie. Au cours des sept premiers

mois de 2022, les touristes ont

généré 9,8 millions d'arrivées

et 47 millions de nuits dans les

hébergements commerciaux. Soit

une augmentation de 67% des

arrivées de touristes et de 54,1% des

nuitées touristiques par rapport à la

même période en 2021. Les chiffres

du tourisme restent pourtant

encore inférieurs aux performances

de 2019.

Au global, les arrivées affichent

un recul de 9,8% et les nuitées de

2,9% entre janvier et juillet 2022 par

rapport à 2019. A l'international, les

arrivées de touristes et les nuitées

sont respectivement en baisse

de 12,8% et de 4,1% de janvier à

juillet 2022, par rapport à la même

période en 2019. La Croatie peut

cependant être fière d'afficher

l'une des meilleures performances

touristiques de l'UE.

L'Allemagne reste le plus grand

marché pour la Croatie, générant

un quart de toutes les nuitées

touristiques, suivie par la Slovénie,

l'Autriche et la Pologne. Le marché

français se redresse également,

bien qu'à un rythme plus lent que

les autres marchés européens. Les

nuitées ont culminé à 830 000 de

janvier à juillet.

Sans surprise, la Dalmatie et

Dubrovnik sont les destinations

les plus prisées des Français pour

les 7 mois de 2022. La Dalmatie (y

compris Split) a généré 286 000

nuitées françaises, soit une part de

34,5%, suivie de Dubrovnik avec

232 000 nuitées (28%) et de l'Istrie

avec 74 000 nuitées (9%)

STAND 1 - T55

LE PONT DE

PELJESAC

UNIFIE LA

DALMATIE À

DUBROVNIK

Mis en service en juillet, le pont

de Peljesac permet d'éviter aux

visiteurs de traverser la Bosnie-

Herzégovine et deux contrôles

frontaliers, lorsqu'ils voyagent

entre Dubrovnik et Split. Le pont

de Peljesac est l'un des plus

grands projets d'infrastructure

entrepris en Croatie. Au

total, le projet a nécessité un

investissement de 525 millions

d'euros, dont 357 millions ont

été fournis par les fonds de

développement régional de

l'UE. Ce pont de 2,4 km revêt

une importance capitale pour

la Croatie. Il relie la péninsule

de Peljesac à la partie sud de

la côte adriatique et à la ville

populaire de Dubrovnik. Le pont

permet de réduire de 37 minutes

le temps de trajet le long de la

côte adriatique, ce qui améliore

la vie des gens et fait le bonheur

des touristes de la région !

Split vue de la mer

Croatia brings good news and promising

stats to IFTM Top Resa 2022

Croatia can look forward to a terrific tourism year 2022 after Covid

related travel restrictions were lifted in most incoming markets,

as well as in Croatia itself. The total number of international

tourist nights spent in commercial accommodation between

January and July 2022 only 4.1% below the same period of 2019.

The recovery of tourism in Croatia

has gained pace as stated by Croatia

National Office of Statistics. In the

first seven months of 2022, tourists

generated 9.8 million arrivals and

47.0 million nights in commercial

accommodation. This represented

an increase of 67.0% in tourist

arrivals and of 54.1% in tourist nights

compared to the same period of

2021. However, tourism numbers still

remains below 2019 performance.

Total arrivals were still down 9.8%

and tourist nights down 2.9% in

Jan-July 2022 compared to 2019.

International tourist arrivals and

overnights from January to July 2022

were respectively down 12.8% and

4.1% compared to the same period

of 2019. Meanwhile, Croatia can

be proud of having one of the best

tourism performances in the EU.

Germany remains Croatia's largest

inbound market, generating a

quarter of all tourist nights followed

by Slovenia, Austria and Poland. The

French market is also recovering,

albeit at a slower pace than other

European markets. Overnights

peaked from January to July 830,000.

Not surprisingly, Dalmatia and

Dubrovnik are the most popular

destinations for the French over

the last 7 months of 2022. Dalmatia

(including Split) generated 286,000

French overnights, representing a

34.5% share, followed by Dubrovnik

with 232,000 nights (28%) and Istria

with 74,000 nights (9%)

STAND 1 - T55

PELJESAC BRIDGE

UNIFIES DAMATIA AND

DUBROVNIK

Opened in July, Peljesac Bridge

helps visitors avoid having to

cross through Bosnia Herzegovina

and two border controls, when

travelling between Dubrovnik and

Split. The Peljesac bridge is one of

the biggest infrastructure projects

undertaken in Croatia. All together,

the project required an investment

of €525 million, of which €357m

was provided by EU regional

development funds. The 2.4 km

bridge is of huge significance

for Croatia. The link reaches out

from the mainland to the Peljesac

peninsula which connects it to the

southern part of the Adriatic coast

and the popular city of Dubrovnik.

The bridge cuts travel time by

37 minutes along the Adriatic

coastline, improving people's lives

and pleasing tourists in the region.

IFTM DAILY • MARDI/TUESDAY 20 SEPT. 2022 21
---
PUBLIREPORTAGE

Le tramway jaune DTravel de

nouveau dans la station IFTM

Top Resa 2022

C'est avec de nombreuses

nouveautés que le célèbre

tramway jaune DTravel revient

sur l'édition 2022 d'IFTM. Un

tramway qui continue son

parcours mais sous le signe de

l'originalité !

DTravel a mis à profit l'accalmie

forcée des dernières années pour

élaborer et tester de nouveaux

programmes répondant encore

plus aux nouvelles attentes des

voyageurs. Des voyageurs plus

enthousiastes, plus responsables,

plus curieux. DTravel propose ainsi

ADVERTORIAL

à ses clients des programmes où

une grande place est accordée à la

nature, aux nouvelles découvertes et

thématiques pour plus de rencontres

et de moments de partage.

C'est avec plaisir que l'équipe de

DTravel offre sa brochure actualisée

et que les visiteurs peuvent visualiser

le dernier film sur le Portugal à travers

le regard de DTravel, en dégustant

un délicieux Porto. Partez voir sur le

stand V43 le tramway jaune...

STAND 1 - V43

DTravel's yellow tram pulls

into IFTM Top Resa 2022

station once again

The famous yellow tram from Dtravel

has returned to the 2022 edition

of IFTM with a new string original

products in tow.

DTravel has taken advantage of

the "forced break" over the past

few years to develop and test new

programmes which respond to

the new expectations of travellers,

who are ever more enthusiastic,

responsible and curious. DTravel

offers its clients a range programmes,

a large part of which are dedicated to

nature, new discoveries and themes,

which encourage encounters and

moments of sharing.

Its with great pleasure that the

DTravel team is showcasing its

updated brochure. Visitors can also

view the latest film on Portugal

through the eyes of Dtravel, while

enjoying a delicious glass of Port

wine. Come and see the yellow tram

at booth V43

STAND 1 - V43

W

Les traditions, thème

principal 2022-2023 pour la

relance du tourisme Tchèque

La campagne 2022-2023 de

l'office de tourisme tchèque

prévoit d'accueillir à nouveau 15

millions de touristes en 2022. Pour

y parvenir, sont mises en avant

plusieurs traditions uniques du

pays. Celles-ci incarnent le mode

de vie, la culture et la gastronomie

tchèques. Une demi-douzaine

d'acteurs du tourisme font ainsi

la promotion des traditions et des

destinations tchèques à IFTM Top

Resa.

En commençant par la

gastronomie, la bière et les vins

sont un thème principal pour les

voyageurs internationaux. Prague

est ainsi une extraordinaire une

destination pour découvrir les

micro-brasseries et la production

de la bière. Les voyageurs

peuvent également visiter Pilsen,

With another 15 million tourists

expected in 2022, CzechTourism's

2022/2023 campaign

shines a spotlight on traditions

showcasing the Czech way of

life, culture and gastronomy. Half

a dozen tourism stakeholders

are attending IFTM Top Resa

to promote these traditions and

destinations.

Starting with gastronomy, beer

and wines have become a

major highlight for international

travellers, with Prague turning

into a wonderful destination to

explore micro breweries and learn

about brewing. Travellers can also

visit Pilzen, the city in Moravia

from where the word "pils" is

la ville d'où dérive le mot "pils".

En Moravie, les voyageurs iront

déguster des vins qui font partie

d'une tradition bien ancrée de

cette région. Quant aux amateurs

d'eaux, ils peuvent profiter des

sources des célèbres villes

thermales que sont Karlovy Vary

ou Marianske Lazne.

Deux autres aspects à souligner

sont le cristal de Bohême du Nord

avec la visite de fabricants et

d'artistes. Ainsi que les marchés

de Noël, l'un des points forts du

marketing touristique tchèque

pour la saison hivernale. Selon

l'office du tourisme, celui de

Prague a été élu le plus beau

marché de Noël d'Europe

STAND 1 - V30

Traditions, main theme for

relaunch of Czech tourism in

2022-2023

derived and discover the region's

wines, a long standing tradition.

Water lovers on the other hand,

will be able to enjoy the springs of

famed spa cities such as Karlovy

Vary or Marianske Lazne.

Manufacturers and artists will

also visit to highlight the beauty

of Northern Bohemia's crystal, as

well as Christmas markets, which

are an important part of the Czech

Republic's tourism marketing

in the winter season. According

to CzechTourism, Prague has

been voted the most beautiful

Christmas Market in Europe

STAND 1 - V30

22 IFTM DAILY • MARDI/TUESDAY 20 SEPT. 2022

www.iftmdaily.com
---
WHERE

TO GO IN

PARIS

© Emilio Del Prado

Les belles rencontres muséales de Paris

Trésors du Moyen Age, de Dior

ou de la Bibliothèque nationale :

telles sont les nouveautés 2022

des musées parisiens.

Paris confirme plus que jamais son rôle

de capitale culturelle avec trois nouveaux

musées ouverts en 2022.

En mai dernier, le Musée de Cluny,

musée national du Moyen Age, a rouvert

ses portes. Le bâtiment, qui intègre

un hôtel particulier du 15e siècle et les

anciens thermes romains, offre une

plongée dans un monde médiéval raffiné

de sculptures, de bijoux et de sublimes

tapisseries de la Dame à la Licorne.

Adjacente à la maison de couture

historique, avenue Montaigne, la Galerie

Dior propose un parcours éblouissant

par sa mise en scène de l'histoire de la

Maison Dior et des créations du maître

et de ses six successeurs.

Ouvert en septembre, le site Richelieu

de la Bibliothèque nationale de France

accueille le public après plus de 10

années de transformation. Le public

accède gratuitement à la salle Ovale,

joyau architectural, et peut s'émerveiller

devant les 900 œuvres d'art, de

l'Antiquité à nos jours.

Musée de Cluny, musée national du Moyen Age

Musée de Cluny, the national museum of the Middle Ages

Paris' stunning museums encounters

Treasures from the Middle Ages,

Dior and the National Library.

These are Paris museums' newest

developments in 2022.

Paris has more than ever confirmed

its role as a cultural capital with three

museums' opening in 2022. Last May, the

Musée de Cluny, the national museum

of the Middle Ages, reopened its doors.

The building, which incorporates a 15thcentury

mansion and former Roman

baths, plunges visitors into a refined

medieval world of sculptures, jewels and

sublime tapestries depicting the Lady of

the Unicorn.

Adjacent to the historic fashion house

on Avenue Montaigne, the Dior Gallery

Galerie Dior / Dior Gallery

offers a dazzling

journey through the

history of the fashion house Dior and

the creations of the master couturier and

his six successors.

Opened in September, the Richelieu site

of the Bibliothèque nationale de France,

is welcoming the public after undergoing

renovations for over 10 years. The public

has free access to the architectural gem

Oval Room. They can also marvel at the

900 works of art, from antiquity to the

present day, in the new BnF museum.

Bibliothèque nationale de France

Bibliothèque nationale de France

© Jean-Christophe BALLOT