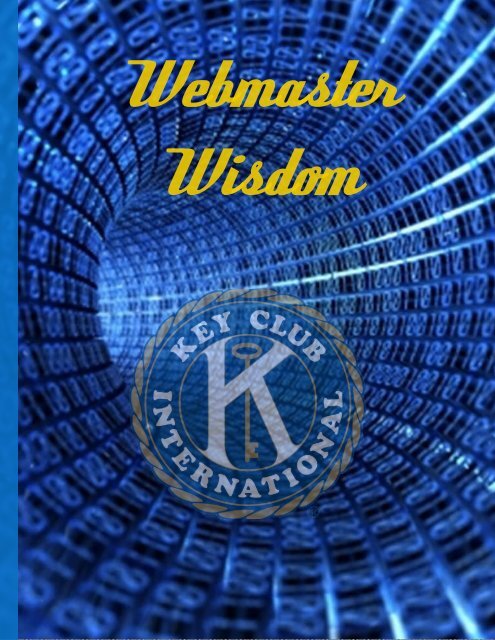 Webmaster Newsletter #1 2015
You also want an ePaper? Increase the reach of your titles
YUMPU automatically turns print PDFs into web optimized ePapers that Google loves.
Webmaster

Wisdom
---
Table of Contents:

1. District Director of Technology

Introduction

2. Social Media

3. Club Webmaster Announcement

4. Club Use of Technology Ideas
---
Hey Key Clubbers!

My name is Mikaela Hanrahan and I will be serving as your District Director of Technology

for this 2015-2016 Key Club year! I look forward to meeting all of you this upcoming year

and working together to make a positive impact in our district!

I am currently a junior at St. Mary?s Springs Academy, where I am an active member in our

school. I am currently involved in Vocal Jazz, Choir, Math Team, Chess Team, NHS, ASTOP

(Assist Survivors Treatment Outreach Prevention) Committee, Music Liturgy, Theater, and of

course, Key Club. In my free time I enjoy reading, writing, and singing. I live with my sister,

parents, and my dog, Maggie. Key Club has been a majorly significant part of my life since

freshman year. It has allowed me to become part of a community that shares my passion for

service. This past year, I served on the 2014-2015 District Board as Director of Technology.

That experience enabled me to grow in my understanding and love of Key Club. This year, I

hope to surpass last year?s accomplishments and lead you all through a successful year of

service!

As District Director of Technology, I would like to make a point to reach out to clubs and

encourage them to create a club website, because it can be a very beneficial resource for

interdivisional communication. Also, I would like to publish four newsletters this year which

will include helpful tips for club webmasters to enhance their use of technology as well as

information about what we have been doing in our district on a technological scale. An

obvious goal of mine would be to efficiently keep updating the district website. I hope to

make it an easier and more widely used tool throughout our district. I look forward to serving

you on the District Board this year and cannot wait to see how we can make a difference

together. If you have any questions, please do not hesitate to contact me anytime!

Yours in service,

Mikaela Hanrahan

Contact Information:

Cell Phone: 262-888-2712

Email: mikaelahanrahandot@gmail.com
---
Social Media!

How to Use Social Media in Your Clubs:

1. Promote Events on Facebook or Twitter to encourage members to attend

2. An Instagram page would be a great option to visually show your

members what Key Clubbers are like in action

3 . Added humor or some kind of incentive can be beneficial in your posts,

because they will encourage members to continue reading them.

4. If your club is just beginning to use social media as a method of

communication, I would recommend starting with Twitter or Instagram.

Facebook can be more difficult to keep up to date if you are just starting out.

5. Featuring members on social media, such as a Member of the Week, can

be a great way to keep your members engaged in their service

6. Instead of addressing your Facebook posts and tweets to only members,

it would be best to encourage nonmembers to join Key Club as well through

your posts.
---
Attention Key Clubbers!

At ICON, the club and district Webmaster

position w as made an official position,

recognized by Key Club International. I w ould

encourage all clubs interested to elect a club

Webmaster this year or the next. I w ould be

happy to help and provide guidance in anyw ay

possible. Further information regarding this

position can be found on the district w ebsite

(w w w .w iumkeyclub.com), including the

recently created Distinguished Club Webmaster

criteria and form for DCON.

Yours in service,

M ikaela Hanrahan
---
How to Use Technology

In Your Clubs

1. Start a club website!

- Although this may seem like a difficult task,

it is definitely worth the effort, and with the right

tools it is easier than you think. I would advise

using Weebly, which is what the district website

was created with. It is a very easy tool that is

perfect for both the advanced website creator

and the beginner. You would also be eligible for

the Club Website Award at DCON. :)

2. Social Media

- As it is the 21st century, social media has

become a major source of communication

between teens. As a Key Clubber, the use of social

media is "key" to the success of your club. You

can use various social media outlets to promote

upcoming events, reminders, and even to

encourage nonmembers to attend a meeting.
---
Announcement!

If any Key Clubber would like to write an article

for this new Webmaster newsletter, you can send

it directly to my email:

mikaelahanrahandot@gmail.com and CC:

wiumkcexec@gmail.com.

*The first person to submit an article gets a very

exciting prize :)
---
Contact Information:

Dist rict Governor

Joshua Dvorak

governor.wium@gmail.com

Direct or of Technology

Mikaela Hanrahan

mikaelahanrahandot@gmail.com