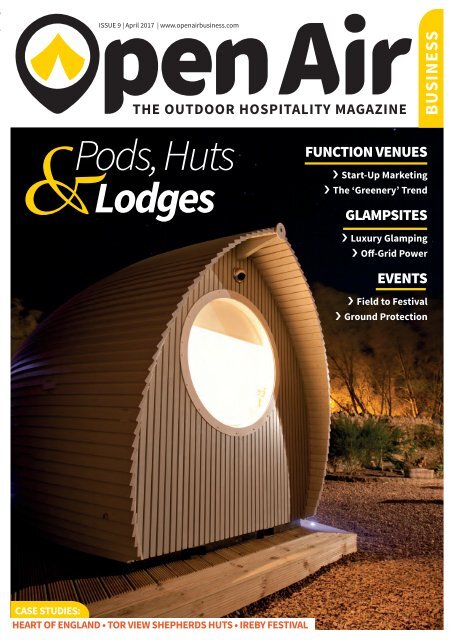 Open Air Business April 2017
The UK's outdoor hospitality business magazine for function venues, glampsites, festivals and outdoor events
The UK's outdoor hospitality business magazine for function venues, glampsites, festivals and outdoor events
SHOW MORE
SHOW LESS
Create successful ePaper yourself
Turn your PDF publications into a flip-book with our unique Google optimized e-Paper software.
ISSUE 9 | April 2017 | www.openairbusiness.com

BUSINESS

&

Pods, Huts

Lodges

FUNCTION VENUES

› Start-Up Marketing

› The 'Greenery' Trend

GLAMPSITES

› Luxury Glamping

› Off-Grid Power

EVENTS

› Field to Festival

› Ground Protection

CASE STUDIES:

HEART OF ENGLAND • TOR VIEW SHEPHERDS HUTS • IREBY FESTIVAL
---
POWERING EVENTS

AROUND THE WORLD

LIGHTING & GENERATORS

morrismachinery.co.uk 0345 409 0277
---
ISSUE 9 | April 2017 | www.openairbusiness.com

WELCOME

Welcome

WHILE OPEN AIR hospitality is absolutely about

embracing the qualities of being out of doors, it is

true to say that the majority of customers expect a

degree of comfort. In this issue of Open Air Business

we take a look at how that can be achieved.

In the Glamping section Kate Morel whizzes round

the world to help us understand how to create all

out luxury, and has some tantalising thoughts on

the scope for uber luxury glampsites in the UK.

Mentioned as a standout glampsite, Devon-based

StarBed Hideaways has a special offer for readers who want to experience luxury

first hand – turn to pages 6-7 for more.

This issue's glamping case study is also testament to luxury done well. Tor View

Shepherds Huts in Somerset was the first site to be awarded VisitEngland's Gold

Award. Owner Philip Russell shares some of what makes his site so special on

pages 24-26.

Perhaps deemed more of of a necessity that a luxury, even the most back to

nature offerings will probably want to provide some means of power and light. In

this issue we go off-grid and look at how to achieve this without the help of mains

electricity.

For function venues, much of the feel of an event will be down to the structure you

decide to hold it in. We have advice on the different tented structures available,

and how to plan the logistics of a marquee event.

Wedding venue owners need to be aware of Pantone's heads up on the 2017

colour trend 'Greenery'. The colour specialist describes it as 'a fresh and zesty

yellow-green shade' - something all outdoor wedding venues should be able to

conjure with! Wedding venue consultant Kelly Chandler has some fab ideas – turn

to pages 16-17 on how to incorporate them into your offering.

PUBLISHERS

Steve Rix - steve@openairbusiness.com

Tally Wade - tally@openairbusiness.com

EDITORIAL TEAM

Tally Wade - tally@openairbusiness.com

ADVERTISING SALES

Graham Alleyne - 01892 677740

graham@openairbusiness.com

Antoinette Marley - 01892 677721

antoinette@openairbusiness.com

DESIGN

James English -

www.jamesenglishdesign.co.uk

PUBLISHED BY

Coffee Shop Media - 01580 848555

www.coffeeshopmedia.com

The House on the Hill, Friezley Lane,

Cranbrook, Kent, TN17 2LL

t: 01580 848555

FOLLOW US ON

TWITTER

@openairbusiness

FOLLOW US ON

FACEBOOK

www.facebook.com/

openairbusiness

Find more expert advice online:

www.openairbusiness.com

Fellow consultant Isabel Smith also runs through an important exercise, revealing

the realistic costs for marketing a start-up function venue on pages 14-15. Both

Isabel and Kelly are offering services to readers, check out the News pages for

more information.

In Events we take a look at Ireby Festival, a folk/roots event run in a tiny Cumbrian

village. Despite its size and logistical challenges, it sells out months in advance

and has a UK-wide following. Ground protection is a must for Ireby and most other

outdoor events in UK climes. Turn to pages 57-59 for advice and information from

suppliers.

NOW

LIVE

Pods, Huts

& Lodges

FUNCTION VENUES

› Start-Up Marketing

› The 'Greenery' Trend

GLAMPSITES

› Luxury Glamping

› Off-Grid Power

EVENTS

› Field to Festival

› Ground Protection

BUSINESS

And if you have a spare field and are looking to monetise it by holding an event,

then Field Lover might be a service you could use. Katie Tann, founder of the

online field finding service for events, has some ideas! (pages 52-54).

ISSUE 9 | APRIL 2017 | www.openairbusiness.com

CASE STUDIES:

HEART OF ENGLAND • TOR VIEW SHEPHERDS HUTS • IREBY FESTIVAL

COVER PHOTO

The Armadilla pod. Turn to pages 36-37 for more

on the iconic design and its ROI for glampsites

WWW.OPENAIRBUSINESS.COM 3
---
INSIDE

Contents ISSUE

#9 | April 2017

UP FRONT

6 News

8 Industry Talk – Facebook

fundamentals for open air

hospitality businesses

FUNCTION VENUES

10 Heart of England – an events

centre with a grand vision

14 Marketing Costs – a realistic

look at costs for start-up venue

marketing

16 Greenery Trend Alert – Kelly

Chandler offers ways your venue

can embrace it

18 Marquees – Know your

structures, with advice from

MUTA

GLAMPSITES

24 Tor View Shepherds Huts –

the first glampsite to achieve

VisitEngland's Gold Award

28 Off-Grid Power – how to

provide light and power to offgrid

locations

32 Luxury Glamping – Kate Morel

finds what elevates an offering

to luxury status

39 Pods, Huts and Lodges – the

case for solid structures at

glampsites

EVENTS

48 Ireby Festival – a boutique folk

festival with a mass appeal

52 Field to Festival – monetising

your spare land through events

57 Ground Protection Advice

– suppliers talk about their

products

60 Trackway and Flooring –

products to keep your visitors

safe and happy

62 Spotlight

64 Classifieds

66 Periwinkle

✁

CONTINUE RECEIVING OPEN AIR BUSINESS FOR FREE

Receive OPEN AIR BUSINESS for FREE (published 9 times a year). Fill in the form below and return it to: COFFEE SHOP MEDIA, THE HOUSE

ON THE HILL, FRIEZLEY LANE, CRANBROOK, KENT, TN17 2LL or subscribe online at: www.openairbusiness.com/subscribe-free

Do you wish to receive FREE printed copies of OPEN AIR BUSINESS?

YES NO (if not, please state why)

Do you wish to receive the OPEN AIR BUSINESS E-NEWS?

YES NO (if not, please state why)

Your details

Ms/Miss/Mrs/Mr

Surname

Company

Website

Address

First Name

1) What best describes your business?

2) Which sector(s) do you operate / are you interested in?

Outdoor Accommodation, Outdoor Events, Outdoor Functions,

OTHER (please specify)

3) What best describes your job role?

4) Are you involved in the purchase of products and/or services?

Email

Phone Number

Postcode

5) Open Air is independently audited by the ABC. Please answer the

following question for auditing purposes. What make of car do you

drive? (you can put 'Don't drive' etc.)
---
Let Celina turn your branding idea into a reality. Our team of design experts will work with you

to make your vision come to life. Our custom commercial grade graphic tents are ideal for

on-site advertising and will get you noticed before your competitors.

WWW.OPENAIRBUSINESS.COM 5
---
The latest news from the world of outdoor hospitality

Event Production Award Winners

OVER 600 PROFESSIONALS

from the live and outdoor

events industry celebrated at

the Event Production Awards

in March. A panel of 15 judges

assessed entries and Arena

Group ended up as the biggest

winners at the ceremony, with

its company Arena Structures

collecting the Access All Areas

Editor's Award. Dave Withey,

Arena UK & Europe sales and

marketing director, also took

home the inaugural Industry

Legend Award, recognising his

40 years working in the events

industry.

"It was such a surprise to

be honoured with this award,"

Withey said. "My thanks have

to go out to my wonderful

colleagues at Arena that I've

worked with over the years,

in particular Jill Mowat who

has put up with me for over

half of that time, as well as

the many peers and friends

that I have had the pleasure of

collaborating with across the

events industry."

A Special Recognition

Award was also created for

2017, to bring attention to

the organisers behind charity

event The Flying Seagull

Project - a troupe of clowns,

magicians, circus performers

and musicians taking smiles

to those in need. Ash Perrin,

Ed Harcourt, Melody Kennett,

Neil Kennett, Faye Toner, Paul

Luxford, Iain Rayner, Jim Carey

Connell and Steve Wynne

collected the award.

Duncan Siegle, the Event

Production Awards' event

director, commented:

"Everyone had a fantastic

evening at this year's Event

Production Awards. We

couldn't have asked for more

deserving winners, picked

by our esteemed and diverse

panel of judges.

"The addition of the Industry

Legend Award given to Dave

Withey, coupled with our

Special Recognition Award

to The Flying Seagull Project,

made for an incredible night of

celebrations. Congratulations

to all the winners, and roll on

2018!"

EPA 2017 WINNERS

INCLUDED:

› Best Fencing/Crowd Barrier

Company - Entertee Hire

Services Ltd

› Best Staging Supplier - Acorn

Event Structures

› Best Temporary Power

Supplier - Pearce Hire

› Best Ticketing Company -

The Ticket Factory

› Best Toilets - A1 Loo Hire

› Best Trackway Supplier - Eco

Track & Access

› Best Structure Supplier -

Ascot Structures

› Green Supplier of the Year -

Power Logistics

› Special Recognition Award -

The Flying Seagull Project

› Access All Areas Editor's

Award - Arena Structures

READER OFFERS

GROUND PROTECTION - Ground protection

specialist Eco Track & Access is offering a 10%

discount on all orders for Open Air Business

readers. Turn to page 61 for more. 01455

553700 / www.ecotrackway.co.uk

A LUXURY STAY - Luxury glampsite StarBed

Hideaways in Devon is delighted to offer 10%

off a stay for the first 10 Open Air Business

readers that book. Featured in this issue's

Luxury Glamping (pages 32-34), why not

check out how to deliver on the things that

elevate a glamping offering to something

really special. 01822 259062 / www.

starbedhideaways.co.uk

£500 OFF PODS - PodzRUs is offering up to

£500 off orders in April. www.podzrus.com

HANNAH DUFFY PHOTOGRAPHY

Wedding Venue Business Course

KELLY CHANDLER WILL be holding a course titled 'How to make your venue

succeed and shine in the 2017 wedding landscape,' on 5 May at Home House,

Portman Square, London. Utilising her 13 years+ planning for discerning

couples in a range of unique and diverse venues alongside her experience

as mentor, trainer and director at industry body, the UK Alliance of Wedding

Planners, Kelly has researched and written a practical, business-focused

one-day training course aimed at wedding venues, to assist them in growing

and developing their understanding of this market.

The one day training is specifically aimed at venues exploring entry to

the wedding market and managers and their teams wanting to update their

knowledge and train new members. Course content includes: The bridal

market landscape, trends, the do's and don't's of marketing to couples,

putting together an irresistible wedding offering, the customer journey, and

wedding budgets. www.kellychandlerconsulting.co.uk

6 WWW.OPENAIRBUSINESS.COM
---
Find Your Perfect In-House

Wedding Co-ordinator

WEDDING VENUE CONSULTANT

Isabel Smith offers a recruitment

service to help you find the perfect

in-house wedding co-ordinator for

your team.

"If you are looking to recruit a

new team member, then don't

just look out for the strong sales

skills and fantastic organisational

abilities that are the bedrock of the

role," says Smith. "We help a lot of

venues recruit and train their team

and passion counts for so much

more than experience in my book.

The role is so rarely 9-5 and we all

know it's hard to give 100% when

working long hours if you don't

love what you do. We charge a flat

fee instead of a percentage and

work really closely with venues to

find the perfect person."

www.isabelsmithconsulting.co.uk

Glampsite Consultancy

and Workshops

KATE MOREL IS delighted to announce the launch

of her independent glamping advice and design

consultancy service for those looking for expert

guidance when setting up a new glampsite,

or owners who want to review and revamp an

existing offer.

This new venture will also include a series of

workshops on different market sectors throughout

2017 starting with two workshops in May

(Northamptonshire on 11 May and Somerset, date

TBC). Focusing on how to set up and run a small

to medium glampsite, information will include

industry developments, choosing a structure,

planning requirements, facilities, how to create

an unbeatable glamping offer, current marketing

options, and examples of expected costs and

rental fees. There will be lots of opportunities to

ask questions and discuss your own ideas and

projects.

To express your interest or for further details,

please contact info@katemorel.com or visit

www.katemorel.com

LateRooms.com Win

CONGRATULATIONS TO YORK Holiday and Cycle Stop in Holtby,

near York, named recently as the Best Countryside Hotel in Britain in

the Simply The Guest 2017 awards, run by LateRooms.com following

glowing customer reviews. Opened in 2015, the site offers guests

accommodation in a choice of either a basic pod or luxury pod with free

Wi-Fi, secure cycle storage and wash down facility from £40 per night.

"We focus on our unique selling points, with our proximity to York and

the Way of the Roses cycling route, the extra facilities for cyclists and

also with the attention we pay to the landscaping around the site," says

Ben Smith, who runs the site with his father Trevor. "The other thing we

try really hard to do is chat to as many of our guests as we can with an

eye to continuously improving their experience and what we do. It's led

to us getting such nice reviews and so many returning guests."

Up to £500 off orders in April

WWW.OPENAIRBUSINESS.COM 7
---
INDUSTRY TALK

Facebook

Fundamentals

When it comes to inexpensive, or even free, highly

targeted marketing to over a billion people, you

can't beat Facebook says Gemma Went

EVER SINCE ANNOUNCING my engagement on Facebook, my newsfeed

has been filled with wedding-related ads. Venues, photographers, event

planners, florists, bridal apps (yes, those really are a thing) and more. I

won't lie, I've clicked through to more than a few, and let myself dream

about my big day.

That just proves the power of Facebook. You can find your audience

and engage with them without reaching out personally, or spending a

ton of money on marketing campaigns. And to be frank, if you're not already

on Facebook as a business, you're missing a trick. A big, lucrative trick.

But let's go back to basics for a moment. What is Facebook?

Facebook is the ultimate online social network. It's an online platform primed for

sharing every kind of content, from articles and ads to live video, memes and more.

Even your nan has an account. With over a billion active users worldwide, the potential

for your business is immense.

FACEBOOK SHARES

As with every other social media channel, it's

a good idea to put together a content plan

for Facebook. This enables you to factor in

the big picture goals of your business, as well

as planning for peak times in the industry,

and any time sensitive offers you'd like to

promote.

Planning ahead also allows you to batch

and schedule your posts in one sitting, so

that you never neglect your page, regardless

of how busy you are. Tools like Buffer,

Hootsuite and Smarterqueue are really

handy for helping with this.

I always recommend an 80/20 split of

Facebook content - that means 80 per cent

of your posts should be shared from other

sources, or helpful tips and ideas, and 20

per cent should be promoting your own

business. The idea here is that you will

promote engagement with your followers,

rather than marketing "at" them.

PERSONAL VS. PROFESSIONAL

Many still think of Facebook as a

personal social network, rather than a

business opportunity. Both schools of

thought are correct.

There should be a clear boundary

between your personal profile and

your business page. And yes, you

do need a separate business page -

without one, you can't play around

with Facebook advertising. It can also

feel a little invasive if your customers,

or potential customers, try to add you

as a friend.

For this reason, I use my personal

cover photo to highlight that they have

arrived on my personal profile, and to

point them towards my Business Page.

To do this yourself, simply upload a

high-quality image to a free editing

tool such as Canva, and add a text

overlay.

SMART SEARCH

Facebook is a fantastic resource when

it comes to finding and learning about

your market - all through a tool called

Facebook Graph Search, accessible

through the main search bar at the top

of your screen.

Facebook Graph Search is a

semantic search engine - that means it

looks at the full context of your search

phrase, rather than the individual

words, and it can give you some real

insight into your competitors, and

your prospects.

Start by investigating your

competition. By reviewing and

analysing how your peers are

marketing and engaging with

customers you can decipher what

works and what doesn't. Feed that

information back into your own

marketing strategy.

If you don't know much about your

competition, use search terms such as:

› Pages liked by people who like

[insert your page name]

› Pages liked by fans of [insert page

name in your niche]

› Pages liked by [your broad target

group] who live in [your local area]

I'd also recommend you research

your target audience too - find out

what interests them, other than

planning a wedding, booking a

glamping holiday or attending an

open-air event. This data, once

compiled, can help you put together

really targeted marketing messages

that will appeal to the right people. Try

searching for:

› Posts by people who like [insert your

page name]

› Posts by people who like pages

similar to [insert your page name]

› Posts by people who live in [your

local area] who like [your page/a

competitor's page]

8 WWW.OPENAIRBUSINESS.COM
---
INDUSTRY TALK

PAGES VS. GROUPS

There are two ways to communicate with your audience

on Facebook, one is through your business page, the other

is through groups - either your own, or ones you've been

invited to join. I often get asked which is better, and to that I

say… neither. And both.

Pages and groups have different purposes, different

benefits, and different possibilities - they're simply not

interchangeable.

A Facebook page is like a personal profile for your

business, and allows your fans to follow a brand. It's very

easy to update, you can post whatever you like (following

the Facebook guidelines of course), and you can personalise

it in line with your brand. You also have access to Facebook

Insights, so you can monitor the performance of each of

your posts, and it's essential if you want to run ads.

However, there are a few downsides. For starters,

everything is out in the open. You can't stop people

from seeing what you post (or what others post), and

communication (especially between fans) can be difficult to

manage. You will also have to fight the newsfeed algorithm,

which tends be tougher on page updates than group

updates. It can be difficult to grow a page organically, so you

will need to work hard at it.

A Facebook group is a place to bring people together

who are interested in a particular topic. It's an incredibly

powerful tool to build connections, but it is definitely more

about a personal presence than a brand.

You may be reaching a narrower audience, but it will also

be a more focused one. Again, it takes some work to build a

large, engaged audience, but it's worth it.

The pages/groups toss-up will always depend on your

intentions. Do you want to promote your business? Do

you want to establish yourself as an expert? Do you want

to cultivate a community? Do you need to run ads? Think

about all of these things and then work out which is right

for you.

FACEBOOK ADVERTISING

Facebook ads are a great equaliser.

Smaller scale businesses can

now explore paid advertising

opportunities without the need

for a big-brand marketing budget.

For a relatively low spend, you can

get in front of a wider audience of

your choice, promote your unique

offering, and encourage them onto

your mailing list.

Advertising can be a scary

prospect if you've never done it

before - Facebook is a fab way

to dip your toe into that pool.

Facebook also has some really handy

guidelines to help you get started.

Whether you've been using

Facebook as a business for a while,

or your experience is limited to the

Candy Crush variety, these simple

tricks can help raise your profile

and reach more customers (without

having to invest all your time or all

your money).

I have a free series that shares

my top hacks for each of the

social media platforms, including

Facebook. If that sounds good,

use this link to sign up gwent.co/

hacksseries and they'll be in your

inbox quicker than a quick thing.

FACEBOOK LIVE

One of my very favourite things about Facebook is the Facebook Live function.

Streaming live video is huge in the marketing world, and is only growing

momentum. It's a brilliant way to engage with your followers in a more intimate

way - they start seeing you as a person, as well as a business, and they have the

chance to ask questions, live.

With anything event-related, live streaming can be incredibly impactful. It

provides you with a unique opportunity to show your facilities in use, so that

your customers get a real feel for what their experience could be like.

USEFUL LINKS

Buffer – www.buffer.com

Hootsuite – www.hootsuite.com

Smarterqueue – www.smarterqueue.com

Canva - www.canva.com

Facebook advertising guidelines - www.

facebook.com/business

Social Media Hacks Series – www.gwent.co/

hacksseries

ABOUT THE AUTHOR

Gemma Went is a digital strategist, business mentor and Bride to Be. She's been working in the social media world

since before Twitter even existed and has been teaching businesses how to harness the power of this online tool

ever since. She was the social media director at two London agencies, the first to create a social media strategy for

the BFI London Film Festival and the first to put fashion bloggers on the red carpet next to the press at the Global

Fashion Awards. Go here for more on Gemma: gemmawent.co.uk and, of course, Tweet her here @gemmawent

WWW.OPENAIRBUSINESS.COM 9
---
FUNCTION VENUES

CASE STUDY

Heart of

England

This 160-acre estate in Warwickshire

offers a spectacular array of event options

with a twist for corporate and private clients

Shaped by the impressive vision of owner and managing director

Stephen Hammon, the Heart of England is a conference and events centre where

thinking big and outside the box is positively encouraged. Open Air Business talks

to head of marketing Ema Townsend about tennis festival themed weddings and

animatronic dinosaurs.

When did you open Heart of

England?

Stephen Hammon, owner and

founder of Heart of England, bought

the property in 2001. Prior to that,

Stephen made his living working

as a DJ and event supplier. He

decided to buy the site in order

to expand. Stephen says: "I'd had

years of experience behind me in

organising and managing events

at various locations throughout

the UK. I was inspired to create

something different, something

spectacular that no-one else was

offering. I wanted to create a truly

unique venue; where a multitude

of corporate events and private

celebrations could be expertly

organised, planned and managed by

a specialist creative team of handpicked

staff.

"Purchasing the 160 acre

Warwickshire estate in 2001, I set

"I WAS

INSPIRED

TO CREATE

SOMETHING

DIFFERENT,

SOMETHING

SPECTACULAR

THAT NO-ONE

ELSE WAS

OFFERING"

about renovating and building,

making a start on creating the

remarkable events centres I had

envisioned. I want what we do to be

the best in the UK."

Tell us about your location and site

Heart of England is a privatelyowned

estate. We're situated right

in the heart of England between

Meriden and Fillongley. The site is

close to motorway networks and the

Birmingham International airport

and train station.

Our site is set in 160 acres of prime

Warwickshire countryside with 60

acres of medieval woodland, 100

acres of open park space, a lake, a

purpose-built conference and events

centre, and a stunning bar and grill

restaurant – The Quicken Tree.

A favourite with some clients is

the Cedar Suite - a meeting space

that's moveable. It can be picked

up and moved anywhere on the site

allowing for peace, tranquillity and

the space to create.

A new bridge has been recently

constructed over 'Dinosaur Canyon'

(yes you read that correctly) - we

have a canyon of animatronic

dinosaurs leading you across the

bridge and into the new bar and

restaurant.

As well as the conferences, events,

product launches, team building,

fun days and weddings we host,

we have nestled in the grounds a

4*, 16th Century boutique country

house bed and breakfast - Old Hall

House, which featured on Channel

4's Four in a Bed. There are also

two glamping pods and a log cabin,

built and designed by the owner.

We are currently building our very

own shepherds hut. Stephen is at

the forefront of everything we do as

a team. He is the leading creative

force and has designed and built the

site from its humble beginnings as a

country farmhouse and outbuilding

to the stunning venue it is today.

What facilities for outdoor

functions do you offer?

We have a lake and pier set in our

park, and an on-site hotel with seven

stunning double en-suite bedrooms,

including our master suite boasting

a four poster bed and double

jacuzzi. There are two glamping

pods, a log cabin and a shepherd's

hut on the way. We have a 39x12m

10 WWW.OPENAIRBUSINESS.COM
---
opulent marquee offering beautiful

views across the lake. We also have

an abundance of other marquees

available to hire, from the traditional

pole style to the ultra-modern.

In our woodland we offer team

building, including quad trekking,

laser clay shooting and archery

amongst other things, and a new

4x4 course is being planned for this

year through 300,000 newly planted

trees.

What services do you offer?

We offer events services both

on- and off-site, and much of our

equipment is for hire. On-site we

host all manner of corporate events

including conferences, product

launches, team building and fun

days but also cater for private

functions such as weddings, parties,

proms, award ceremonies, balls etc.

We have two kitchens on-site, one

servicing our restaurant and the

other being much larger, catering for

the bigger events. Our park area has

electric and water points throughout

and we have many marquees of

varying sizes and styles available

for hire.

Describe how you researched and

sourced your marquees

We own our marquees but have

had occasions where we've needed

bespoke ones brought in for a

specific event. We tend to use one

company (Hoecker) for this who

have catered for all our needs over

the years.

How do you work with your

customers to make their event

unique?

Our creative events team is highly

skilled, with a wealth of experience

in designing and delivering bespoke

events tailor made to meet our

clients' needs and budgets. Our

motto is "nothing is impossible" and

we encourage clients and staff alike

to dream big. We work very closely

with clients to ensure everything

they desire is achieved. This

approach is successfully evidenced

in the feedback and outcomes of our

events.

We've seen a rising trend in

customers wanting 'out of the

ordinary' and that's where we

excel. We have a vast collection of

equipment that we own ourselves

and know what works well together

and this is why customers come

back year on year. For Example:

› ACE - For a tennis loving couple

wishing to get married, we created a

tennis festival themed wedding with

three marquee tournament zones,

bouncy castles, giant deckchairs and

picnic tables. We even built the bride

and groom a pair of bespoke umpire

chairs.

› FUN, FUN, FUN - Last Summer we

ran a corporate family fun day out

on our park, complete with carousel,

dodgems, zip wire, fire engine,

party bus, cricket, quadding, 4x4

driving, and ultimate wipe-out (as

seen on TV). Out on the lake we had

the pedalos and the pirate ship, so

"WE'VE SEEN A

RISING TREND

IN CUSTOMERS

WANTING

'OUT OF THE

ORDINARY'

AND THAT'S

WHERE WE

EXCEL"

there was something for absolutely

everyone. A fantastic day was had by

all, and the customers are booking

again this year.

› CARRY ON CAMPING - We recently

had a corporate event with all

attendees wanting to do something

different and to stay on site. We halffilled

one of our event fields with

five berth bell tents and additional

toilet and shower blocks. The event

itself was an exhibition, which we

hosted in our giant marquee, and a

conference was held in our Birchley

Suite. It worked really well and the

feedback was brilliant.

How do you publicise yourself?

We have tended to advertise on

agency portals rather than in trade

publications to date. A lot of our

work comes from word of mouth

or agents; however, we have grown

so much over the years and want to

continue to grow so are now looking

at potential publication partners.

How would you describe your

'style' or unique selling point?

We are adaptable for both small and

large events both on- and off-site.
---
FUNCTION VENUES

Our team is innovative and creative,

and can work from the traditional

to the off-the-wall and quirky - we

cater for all. We constantly strive

to improve and diversify to keep

on trend with what our customers

require, investing in new equipment

often while trying to come up with

greener alternatives to petrol-fed,

motorised team building activities.

Last year, we bought a Ziesel to

add to our 'Electric Dreams' team

building package. It's the first and

only one so far in the UK. A single

seat ride controlled by a single

joystick but connected over the

internet, the Ziesel has tank treads

and goes at a whopping 23mph!

This coupled with laser clay pigeon

shooting, archery and ninebots

personal transporter riding makes

for a cleaner and greener team

building experience.

What challenges have you faced?

Being sited on green belt land has

caused no end of challenges, with

multitudes of planning issues. When

Stephen bought the property, he

built the lake and a beach around it.

This was to attract school children

and we offered educational visits

to schools through the woods, with

beach visits and paddling as part of

the experience. The beach was an

instant success attracting visitors

from all over who were otherwise

unable to get to a beach or water

including many less abled children.

A rock shop was embedded in to

the sandstone banks and Heart

of England became a stunning

attraction.

A government inspector ruled

that the beach was in contravention

of green belt land and, following a

high court battle, Heart of England

was forced to close the beach. It was

deemed as a 'honey pot' attracting

too many visitors to the site. The

lake is still here, but constant battles

remain a challenge with local

authorities. Trying to attract tourism

and employ people appears to be

at odds with our local authorities'

rulings on the use of green belt land.

Recruitment is also a challenge,

whilst being close to all the major

road networks, the site is along a

country lane and non-drivers tend to

struggle in getting here

What are your plans for next

season?

We have planning permission to

build a new 30-bedroom hotel,

although it may not happen next

season. We are also working towards

building a 'chapel of love' on the

lake to offer outdoor ceremonies.

We have some very large events

booked in over the coming months

and some proposals going out for

festivals along with the 'Reaper

Runs' (obstacle run) so lots coming

up.

Describe your average day midseason

It's manic! Every day is different and

covers all seasons which is what

the team loves most about Heart

of England. One day we could be

filling our conference suite with

tractors for a product launch, the

ADDRESS BOOK

MARQUEES

Hoecker - 01536 316970

www.hoeckeruk.com

FURNITURE

Besp-Oak - 02476 632148

www.besp-oak.com

WC FACILITIES

Andy Loos - 0845 671 1111

www.andyloos.co.uk

PROMOTION

Venue Directory

www.venuedirectory.com

GREEN CREDENTIALS

› Recycling all cooking oil

› Reed bed sewer system

› New green travel plan

next running a team building course

and constructing rafts down in the

park. We offer such a diverse range

of services with no two events the

same, the variety is endless.

What other outdoor hospitality

sectors do you operate in?

We operate in all areas of the

sector, offering parties, events,

festivals, obstacle races, overnight

accommodation and glamping.

We throw two large parties for

Halloween with trips down through

the woods (for the very brave). We

operate in the corporate sector too

of course, offering conferences, team

building, product launches and

corporate fun days.

What advice could you give

to someone coming into the

industry?

Don't be afraid to diversify - change

is good and keeps everyone on their

toes.

Venue Finder

www.venuefinder.com

HG One Stop

www.hgonestop.co.uk

CVENTS - www.cvent.com/uk

INSURANCE

Newstead - 0121 410 2400

www.newstead.co.uk

DETAILS

Meriden Road, Fillongley,

Coventry, CV7 8DX

01676 543303

www.heartofengland.co.uk

› Encouraging teams towards

electric and non-motorised

team building activities, with

investment into new and

innovative kit

12 WWW.OPENAIRBUSINESS.COM
---
Event Kitchens

Busy planning your summer events?

dontforgetthekitchen.com

Whether you need to hire temporary kitchens or stand-alone catering

equipment for use in a marquee or existing building, we can help.

Choose from our range of over 10,000 items of catering equipment and

600 temporary kitchen units to make your event kitchen amazing!

Give us a call for a chat with our events team, or visit our website for an

instant online kitchen estimate!

Have fun planning your events this summer, but

whatever you do… Don't forget the kitchen!

• Event kitchens

• Catering equipment

• Pop-up restaurants

• Marquee kitchens

• Crockery, cutlery and glassware

• Instant online estimate

@PKLEvents

www.DontForgetTheKitchen.com
---
FUNCTION VENUES

Start-Up Venue

Marketing

Realistic marketing costs for start–up wedding venues with Isabel Smith

When consulting with start-ups, I often get

asked about marketing costs and how much

should be invested in the various marketing

activities. The truth is, it entirely depends on

the kind of business you are, but before you

even begin to think about marketing costs,

there are some essential steps you need

to take. This process is always the same

regardless of business, industry or sector:

› Create your offering – decide what it is

you're selling

› Profile your target market – think in

detail about exactly who you are selling to

› Develop your brand – how do you

want your target market to perceive your

company?

› Write the marketing strategy – what will

you do to reach your target market?

Too often a lot of time is spent developing

the product and writing the marketing

strategy with the middle steps being

overlooked, which is a huge mistake. How on

earth can you expect to market effectively if

you haven't given detailed thought to who

you are selling to?

Profile them down to the finest details;

age and geographical location simply isn't

enough. Think about what they do for a

living and how they spend their free time.

Find out about their lifestyles, interests

and spending habits. Having a clear

understanding of them will ensure that

you are marketing in the right way and in

the right places, and not wasting precious

marketing resources. After all, a flawless PR

campaign in a national luxury bridal title is

a bit of a waste if your target market is local,

lower spend couples.

The other step which companies skip the

most is creating the brand. You must give

careful thought to your brand identity before

you start marketing. After all, your brand is

the soul and personality of your business.

It is the way people feel about it and, as

such, you want to make sure that everyone

who interacts with the company feels the

way you want them to. Most importantly,

Millennials actually care about brand. The

2016 report on the UK wedding industry

from Splendid Insights (the only wedding

specific marketing research company out

there), shows that a whopping 89 per cent

of couples believe that your portfolio is

important or very important when it comes

to their decision making. The figure jumps to

95 per cent in reference to your personality.

These being key parts of your brand, it just

shows how important it all is.

Getting it right, however, is a big job, so

to reflect that desired feeling in potential

clients you'll want to hire a professional

branding agency to build a branding

package. The agency will work alongside

you to get an understanding of your

business and present you with mood boards

displaying a range of logo ideas, typography

styles, imagery and colour palettes from

which to base all your marketing. The costs

for branding agencies obviously vary – the

best in the business can charge upwards

of £10,000 for their services – but there are

many start-ups and mid-range agencies

(often set up by experts from those larger

agencies) offering more affordable services.

So, do take your time to shop around for the

best one for you. I recommend spending

between £1,000-£3,000 on this (more if you

are aiming for the luxury market).

OK, so now you've got your brand

package together, it's all about your website.

The purpose of almost all marketing is

essentially to drive more traffic to your

website. You can be the world's greatest

marketer, attending lots of networking

events and whipping out great PR left, right

and centre, but if your website is pants

(outdated, off brand, difficult to navigate or

missing key information), you're going to

lose out on business.

To get those bookings flowing, your

website will need the following elements:

› A consistent brand (obviously) – You will

have already bought this from your branding

agency – images, typography and logo

should be all in line with your agreed brand

and ready to go.

› Flawless copy – Content should be well

drafted with no spelling or grammatical

errors as well as informative to the client.

Include relevant information such as

location, facilities, approximate pricing

and the flow of space. If you are dry hire,

include which suppliers you work with.

This can be a DIY project and even if you're

not the greatest writer. Look at websites of

similar venues and what type of content

they include. Don't plagiarise, just take

inspiration.

› Great build with intuitive navigation

– This is where you spend. Costs vary

depending on the functionality of your

website – e-commerce or live availability

calendars will be more complex to build and

the costs will reflect that. But the chances

are that a static website – one which can

exhibit your photos and display all your

well-written copy – will suffice. You may also

consider installing a blog function (blogging

is great for SEO!).

› SEO forethought – I highly recommend

reading SEO 2017 & Beyond, by Dr Andy

Williams. This book will give you enough

insight into the subject of SEO that you can

discuss your needs with your web developer

and make sure you are covering the basics.

From there, for a while at least, you can

manage all your SEO yourself, maybe

14 WWW.OPENAIRBUSINESS.COM
---
FUNCTION VENUES

investing in some technical support

further down the line.

› Outstanding photography – This

is the other area where you just can't

compromise and need to pay out for

a professional. You want to showcase

your amazing venue both empty/

vacant but also dressed to the nines

for a wedding (think inspiration and

aspiration). Doing this commercially,

paying all the suppliers involved their

full rates, would run to thousands

of pounds, but it is currently very

popular for wedding planners to

offer styled shoot design for free,

calling upon the suppliers from your

preferred suppliers list to help out

at low/no cost. Not only will you get

excellent images for your site, and

a chance to cement your supplier

relationships, but great quality

shoots also get picked up by the press

- meaning exposure for everyone

involved.

To get the professional website

you're after, you should be spending

between £3,000 - £5,000.

Now you've built your website,

it's time to get it out into the world.

Directory listings are a great way to

do this. Most authoritative directories

which offer links to your website will

charge a fee for you to feature so you

can find the costs racking up if you

aren't careful, but if you research

thoroughly and focus on the ones that

fit best with your target market, it can

be really worthwhile. Treat directory

hunting like going to a casino or an

auction – have a budget in mind

and stick to it! If you find you're not

getting referrals in six to 12 months

from the sites you chose, you can

always change them.

How about expenditure on printed

materials? Luxury venues should be

producing brochures and other take

away material that is memorable

and brand appropriate. As a farm or

a rustic barn owner, it isn't necessary

to spend money on printed materials

when a well-designed PDF with all

the relevant information will do.

Make this downloadable from your

website and you're good to go. It will

need to be professionally designed,

but you can always get your web

developer to create this for you as an

add on. You will, of course, need some

business cards to match your brand,

but these needn't be expensive. The

likes of Vistaprint offer great products.

Think of it as like ordering wine in a

restaurant; pick the next one up from

the 'house'. You'll get quality at an

affordable price. You really needn't

allocate more than £200 to £1,000 for

printed/PDF materials.

At this early stage in the business,

you can also start thinking about

these other marketing activities:

› Testimonials – begin collating these

from couples as they come your way.

Add the kind words to your website,

PDFs, social media content and

LinkedIn page.

› Social media – pick the social

platforms which work for you (you

don't have to do them all) and get

social. Tweet useful industry content

and share your most impressive

photos.

› Networking – in addition to the

network you have built within your

preferred suppliers list and styled

shoot, start mingling with other local

suppliers to see how you might be

able to work together. You can do this

by simply attending local business

events and wedding showcases.

› Blogging – you either blog or you

don't. Google loves it, so if you do it

well you can really boost your SEO.

But it may not be relevant for you,

so if you don't have the time, don't

bother.

You'll be delighted to know that

the costs for these extra activities is

exactly £0. They can all be done inhouse

by your good self.

So, where does that leave us? By

my calculations, you've followed the

4 steps so know exactly what you are

selling, who you are selling it to, how

you want them to feel about your

business and, crucially, how best to

reach them. Put aside between £5,000

and £9,500 to put the steps in place

and you'll soon be on the path of a

solid strategy.

ABOUT THE AUTHOR

Isabel Smith has 10 years in the wedding industry behind her as

one of the UK's top wedding planners and business consultant

to venues and other suppliers. Isabel's expertise spans

marketing, sales and operations as she helps new vendors

launch as well as assisting established businesses should they

find their sales falling. www.isabelsmithconsulting.co.uk /

www.isabelsmithweddings.co.uk

Realistic marketing

start-up costs

CREATE

THE

OFFERING

No room for

compromise

here! The key

features of

your marketing

activities

must all send

a consistent

message.

Work with

a professional

branding agency.

SPLURGE

£1-3k

COLLATING

TESTIMONIALS

NETWORKING

IDENTIFY

THE TARGET

MARKET

LISTING

Go for quality not quantity

when it comes to signing

up with directories.

Look for longer-standing

websites with good SEO

authority and make sure

you get a link back to your

own site. Set a budget and

stick to it.

SAVE £500

SAVE

THESE ACTIVITIES SHOULD

BE UNDERTAKEN IN-HOUSE

ON A NO/LOW COST BASIS

SOCIAL

MEDIA

BLOGGING

DEVELOP

THE BRAND

WEBSITE

IMAGERY - Your shopfront

– it must be flawless,

professional and creative

COPY - Perfect spelling and

grammar is a must but this

can be a DIY project

SEO - Read up on white-hat

techniques and manage

yourself until you can afford

to outsource

BUILD - Costs will depend on

the functionality you require.

Simple websites can be

DIY, high functioning

ones should be built

by a professional.

SPLURGE

£3-£5k

PRINTED

MATERIALS

Your business cards

and brochures should

be as luxury as your

product is, but there

is nothing wrong with

certain materials

remaining digital until

funds allow for the

high quality print-run

you need

SAVE NOW | SPLURGE LATER

£250 - £1,000

WRITE

THE

MARKETING

STRATEGY

TOTAL

£5 - £9.5k
---
FUNCTION VENUES

KATE NIELEN

ABOVE Mr and Mrs chairs by Couture Chairs, wicker heart by

Elite Hire, heart and guest chair styling by Beautiful Bows and JF

Flowers.

Greenery

Trend Alert

A heads up to savvy venues - be aware of Pantone's

colour of 2017, says Kelly Chandler

WEDDING TRENDS CHANGE constantly

and the most successful and endlessly

popular venues keep up to date with

trends and fashions, and make smart

choices as to where to adopt and

incorporate them into their offer.

This article is about the trend for

'Greenery' (somewhat appropriate for

Open Air Business readers' locations

don't you think?). Pantone named

'Greenery' as their colour of 2017

shortly before the start of the year.

You might say so what? – we leave

the creative part of a wedding to the

bride or her/our team of suppliers

such as florists, cake designers and

more. That's most definitely true in

many cases, but the smart money is

on venues and their teams who work

the latest trends subtly into their own

offerings from the initial point of client

contact and beyond.

While the latest colour trend

(whether it's 'Greenery' or not) may

not appeal to all, potential couples are

very style conscious and very aware of

trends – studying Pinterest is a rite of

passage for every newly engaged (or

even pre-engaged) bride.

Pantone describe greenery as 'a

fresh and zesty yellow-green shade',

which is not to everyone's taste. For

some couples, greenery will only ever

make an appearance within a bouquet,

buttonhole or in a table centrepiece,

and for others it may never feature at

all. But there will be those who want to

go the whole hog and follow this trend

for 2017 and 2018 by making their

wedding spaces foliage filled and lush.

Considering that it's sensible to use a

venue's backdrop as a natural scene

setter, for those of you surrounded by

fields, woods and green landscapes

you really won't need to do that much

to go 'green'.

So how can you further adopt greenery

into your venue's offering to show an

understanding of trend-aware clients?

› Use your natural location to its

best effect – if you put up temporary

structures, make sure you site them

to not only show their best side but

to also show your landscape in its

very best light. Don't position them

too close to buildings if you can, look

at gaining height and vantage points

and consider the visual perspective of

KATE NIELEN

KATE NIELEN

ABOVE Styling by Beautiful Bows and JF Flowers.

BELOW Foliage styling by Simon Nickell and tableplan flag by

White Cottage Weddings.

16 WWW.OPENAIRBUSINESS.COM
---
the guest from the inside and the

outside. "Letting the outdoors is" is

a massive trend that goes beyond

the greenery trend but is so vital.

Work with your temporary structure

suppliers to come up with options

that allow for sides of marquees to

come out, doors to be open or look

at stretch tents and so on that really

bring out the best of your views

and allow guests to appreciate the

natural greenery of your location.

Don't forget to look at clear roofs

as an option to connect to the

outdoors while keeping the warmth

in; this is particularly relevant in the

cooler months.

› Wedding florals and styling –

look at the photos your website

features and the colour palettes

of the wedding specific florals and

details these show – do you have

any close ups of foliage you can

update your website with or any

weddings with lots of foliage or

touches of green in the past that

you can bring to the fore? I know I

planned some stand out zesty lime

green weddings some years ago

which I see being commented upon

favourably in 2017 again. Couples

love to see images which inspire

them – while they will invariably

put their own spin on it, think what

you can already show that ticks this

trend box. Don't over-do it though –

there is no need to go green entirely.

› Are you planning any upcoming

promotional events? If so, can

you style some of your areas

to showcase this trend? Can

you design your invitations to

incorporate this colour? This is

especially relevant if you are an

outdoorsy venue anyway, with

beautiful grounds, outdoor spaces

and features. Orangery-style,

light-filled locations, garden rooms,

gazebos and marquees are likely

to see more demand for dates than

they already have (and they are

some of the most popular spaces on

the market anyway).

› Showrounds – can you

incorporate some greenery into your

showround process? When you greet

your couple, can you welcome them

with lovely green leaves with their

names written on as you offer them

a glass of champagne? Can you

have a stylish tree in a key location

of your venue, holding testimonials

written from past clients on little

green/foliage inspired cards? Can

you plan some greenery inspired

edibles to give away? It's the little

touches that really stand out. Drinks

featuring 'botanicals' are very on

trend this year, and in particular

up-market soft drinks. Can you offer

your couples a quirky bottled soft

drink with a soft green coloured

straw popped inside to enjoy as

they tour your spaces? Not a big cost

investment but a nice welcoming

touch that shows you're up there in

the style stakes.

› Add-ons – are there new little

add-ons for the wedding day that

you can offer/charge out to your

couples who might be in love

with this new trend? If you have a

permanent marquee, how about

over-sized foliage-filled chandeliers?

How about large trees that can

be used as wishing trees or guest

books? How about stacked up

logs or tree stumps and trailing

greenery to create a wow cake table

alternative? There are potentially

really good opportunities to supply

products at additional cost to

couples such as trees and large

potted plants, and the good thing

with this trend is that these items

have a shelf life unlike fresh cut

flowers so you can reuse and recycle

throughout the season.

› Furnishings – I'd suggest a really

close look at your furnishings such

as chairs, tables and more. Greenery

is likely to lead to more popularity

in the wood-finish, rustic look

furniture (cross-back chairs are

huge this year) as well as anything

vintage, recycled, paired-down

and outdoorsy – do you have

suppliers on your books who can

supply and meet this demand? If

you have an existing set of chairs

which you don't wish to change,

you may be able to work with one

of your suppliers to dress them

with green slips of fabric or foliage

trails. If you're able to showcase a

small permanent area with some

of these items in your spaces so

much the better as you're bringing

the possibilities to life. If that isn't

practical, can you photograph

them and use them on your social

media or at your open days and

showcases? It's vital to refresh and

update your excellent supplier

partners, and each new trend is a

chance to ensure you are working

with the very best teams who can

KATE NIELEN

ABOVE Floral design

by JF Flowers

ABOUT THE AUTHOR

Kelly Chandler is a

long-term preferred

service provider for

exclusive venues

such as Syon Park,

Highclere Castle,

Spencer House and

Stoke Park Club. Kelly's

consulting services to

wedding venues draw

on prior experience

in international

conference and event

planning, over 13

years of business

management, and

working directly with

discerning couples

planning their

weddings in diverse

locations and forging

successful relationships

with all components of

the wedding industry.

A former director of

trade body, the Alliance

of Wedding Planners,

Kelly is a well-regarded

innovator, mentor,

trainer and industry

spokesperson on and in

the wedding business.

www. kellychandler

consulting.co.uk

adapt and modernise the products

they are offering. Make sure your

suppliers work with you to show off

the latest trends in a way fitting of

your spaces.

› Trend–aware – talk about the

fact that you are trend-aware –

even if you can't physically make

or incorporate all of these ideas

into your offering, don't be afraid

to comment upon the greenery

trend via industry blog posts, social

media posts and more, and share

your ideas and likes. Commenting

that you'd really like to welcome

such and such an idea into your

venue might well just mean you

attract that client to you who does

just that! And if you're lucky you'll

get some beautiful images you can

use to attract more of what you like.

Don't be afraid to ask for images

post wedding – most couples are

happy to share and be flattered that

you asked. As long as all suppliers,

and especially the photographer,

are credited fairly, everyone is

usually happy.

KELLY'S

WEDDING VENUE

BUSINESS COURSE

5 May, Home House,

Portman Square,

London

WWW.OPENAIRBUSINESS.COM 17
---
FUNCTION VENUES

MUTA

TRADITIONAL MARQUEE

Traditional marquees go

under a number of names -

pole tents, soft tops (not to

be confused with big tops

or circus tents), or guyed

marquees. This style of

marquee has vertical timber

'king poles' running down the

centre line of the structure,

vertical 'wall poles' around

the perimeter, and guy ropes

that run from the top of the

wall poles to the ground,

creating tension in the roof

fabric.

They all have one thing

in common in that the main

structural element is the

cover itself. Most traditional

marquees use cotton based

fabrics as the covering, but

PVC coated polyester is

popular too. While traditional

marquees can be as wide

as 120 feet, most hirers will

switch to frame marquees for

widths above 40 or 50 feet (12

or 15 metres).

Traditional marquees are

a popular choice for private

functions and events such

as agricultural shows and

village fêtes. The combination

of the traditional look and

feel of pole tents and the

breathability of natural fibres

means that this type of tent

is still as popular as ever and

still represents a significant

slice of the market in the UK.

Over recent years, we

have seen the introduction

of American traditional and

sailcloth tents, which add an

interesting visual dimension

to this sector.

Know Your

Structure

A rundown of temporary demountable

structures for functions from MUTA, the

UK's only trade association dedicated to

marquees, tents and structures

FRAME MARQUEE

Frame marquees, where a

semi rigid frame provides the

structural stability, mostly use

synthetic fabrics as a covering

so as to avoid the problems

created by shrinkage and

expansion of natural fibres.

Frames can be of wood,

steel or aluminium tubing

or, as is the case with most

modern frames, box section

aluminium. This latter type

is often referred to as a 'clear

span' structure and can be

up to 50 metres wide with no

intermediate pole supports

(hence the name).

The uninterrupted internal

space of frame structures

makes them very popular for

a wide variety of events from

private functions, through

corporate hospitality to large

exhibitions.

Because they have a solid

frame this type of marquee

can accept a higher level of

accessories, such as doors,

windows, rigid side panels

and sophisticated flooring

systems. Consequently, the

move, of late, has been to an

ever-increasing standard of

finish and comfort, so much

so that many guests do not

realise that they are actually

in a marquee. This level of

sophistication, together with

their structural stability, has

encouraged the recent trend

to extend the traditional

marquee season beyond the

summer into the autumn

and, indeed, the industry now

erects marquees 12 months of

the year.

Not all frame structures are

inherently safe and there are

many 'home made' varieties

out there in the market place

that are neither safe nor

attractive. While standards for

structural stability do exist, it

is difficult for the authorities

to police all events,

particularly those on private

property. MUTA members are

obliged to follow the correct

standards.

GIANT STRUCTURE

(OVER 30M WIDE)

Generally defined as large span

aluminium frame or tensioned

pole tents that are in excess

of 25 metres wide. These can

be 30/40/50 metre span frame

tents, usually needing the aid

of telescopic plant or cranes

to erect and dismantle. These

are specialised structures

and only very few hirers are

competent to deliver them

safely.

MULTI-DECK STRUCTURES

Multi-deck structures can

be either double, triple or

quad level structures. The

top floor is of a standard

clear span aluminium frame

design with the lower floors

being constructed from an

integral steel upright and

horizontal beam system. As

with giant structures, these

are specialised structures

and only very few hirers are

competent to deliver them

safely.

18 WWW.OPENAIRBUSINESS.COM
---
FUNCTION VENUES

NORDIC TIPI

Giant, linkable Nordic tipis

were introduced to the UK

rental market in 2005. Their

natural timber and canvas

construction, aesthetics,

and quirky possibilities have

quickly established them as

an interesting alternative

type of structure. They are

used widely for weddings,

parties and festivals, and,

increasingly, for smaller scale

corporate events.

All manner of interesting

shapes can be created by

linking the tents in different

configurations to meet the

requirements of individual

events.

To the untrained eye, they

may appear to be simply

a "bunch of sticks and

canvas", but there is much

more to them than that. The

need to have full structural

calculations, flame retardant

fabrics and competent build

crews is the same with these

tents, as with any other. MUTA

members are obliged to have

all three to operate.

STRETCH TENT

Funky shapes in a wide

variety of colours characterise

stretch tents, which use a

special technical fabric that

is stretchy but also provides

structural stability. The fabric

is anchored at its corners

and along its sides, and then

poles of different lengths are

pushed up to create the iconic

shapes. On some styles of

stretch tent it is possible to fit

sides to create a fully enclosed

structure to protect against

the elements.

SADDLESPAN

Some people describe a

saddlespan tent as looking

like a Pringle crisp. Made from

tensioned PVC and supported

by architectural aluminium

trussing, these unusual

looking tents can be used as

a large marquee, stage cover,

audience shelter or exhibition

venue.

They are available in

different sizes and can be

linked in a variety of ways to

create large and interesting

structures.

Safety issues are

paramount, and this type

of structure like all other

tents requires competent

installation. MUTA has

created guidance specific

to saddlespan tents which

MUTA members are obliged to

follow.

INFLATABLE TENT

Inflatable tents use air to

support the structure. They

might use air beams, tubular

construction or cellular walls;

some have a supporting metal

framework and some use a

single skin and rely on positive

pressure inside the structure.

Primarily used in the

corporate market, they are

highly customisable and

capable of being branded.

Creativity and innovation are

ingredients for success in this

market and inflatable tents

provide that in spades.

As always, safety concerns

are paramount and MUTA's

guidance on the use of

inflatable temporary

structures is followed by

MUTA members.

Party Pointers

MUTA proves some useful pointers

on holding functions in a temporary

structure

HOW MUCH SPACE?

Too many people crammed into a small place is both

uncomfortable and unsafe. Conversely, too large a

space can make your event seem under populated. The

table (over-page) is is a simple guide to determining the

optimum size of structure required for the number of

guests. Add space for the stage, dance floor, bar, catering,

reception, cloaks, toilets etc.

Try to keep the length of the marquee or tent to no more

than three times the width to ensure maximum stability

and to avoid a 'tunnel' effect.

FURNITURE

Specify the number of guests and agree with the hirer the

numbers and styles of:

› Tables - round tables come in a variety of sizes and are

often thought more sociable than long tables; in reality it

is often only possible to talk to people sitting either side

of you - across a round table is too far. Long tables come

in a variety of sizes too and enable you to use benches

rather than chairs if you wish. Some tables are attractive in

their own right and can be used without table linen, whilst

others are purely functional and must be covered with a

cloth.

› Chairs and benches - chairs are available in an array of

styles and finishes, with different coloured seat pads. It

is also possible to choose decorative chair covers which

render the look of the chair itself irrelevant. More informal

or rustic events may use benches at long tables, or a

combination of benches at some tables and chairs at

others.

› Bar - if a bar is required, the simplest and cheapest

solution is to use a couple of trestle tables. All manner of

proper bars are available, though, in different sizes and

styles to fit in with your event.

FLOORS, STAGE AND DANCE FLOOR

Matting laid directly on to the ground, usually with a

membrane underneath to prevent dampness and worm

castings, is widely used as a marquee flooring, and looks

GETTY IMAGES
---
FUNCTION VENUES

Guide to space required, in square metres

No. of Standing Seated Seated at Seated at Banquet

Guests Theatre Style Long Tables Round Tables (8 per 5ft

(10 per 5ft round) round)

25 16 25 36 36 54

50 36 54 54 54 81

100 54 90 100 100 135

150 90 135 162 162 180

200 126 162 240 240 240

300 180 240 300 300 360

500 300 375 525 525 675

1000 525 800 1000 1000 1200

2000 1000 1500 1800 1800 2250

attractive when laid well. More

sophisticated solutions involve a

solid floor with or without carpet

or matting laid on top. Ask your

hirer about their policy for cleaning

matting - do they clean it between

every event, or just every now and

then?

Will you have a band or other

entertainment that requires a

stage? When deciding on the type of

stage, do check with entertainers if

they require a certain size of stage,

or whether they need a stage at

all – they may be able to perform at

ground level.

Regarding dance floors, think

about the number of guests

expected at the function and how

many are likely to be dancing at one

time. Use your hirer's experience

to decide on the size of dance floor

needed. Dance floors take up space

of course, so over-specifying the

size not only increases the cost

of the dance floor itself but may

require a larger structure as well.

LIGHTING

There are a bewildering array of

lighting options available, from

simple white light to complicated

moving head lights that can create

extraordinary effects. External

lighting may be needed to light the

way to the car park for the guests,

or to highlight dramatic external

features (specimen trees, statues or

building frontages for example).

Your hirer should be able to

advise on lighting rigs suitable for

their structures, and offer different

levels from simple white light to

something more sophisticated.

POWER

A safe and sufficient power source

is essential for any event. There are

three main options:

› Running a cable or two from a

domestic 13A mains socket - fine

for events that don't require much

power, and where the mains

sockets are not too far from the site

(long cables result in voltage drop

which can mean that equipment

will not function). A Residual

Current Device must be included in

the circuit at the mains socket.

› Wiring into a fuse board – this is

suitable for events requiring more

power where the fuse board is not

too far from the site. Wiring into

a fuse board is potentially lethal

and must only be carried out by a

properly qualified electrician.

› A generator - generators come

in a range of sizes to handle the

smallest events right up to a large

festival. 'Super silent' generators

are available which make little

more noise than a diesel car engine.

Generators must only be installed

by a properly qualified electrician.

HEATING

With modern heaters there is no

need to be cold inside a marquee

or tent. The trick is to have

enough heaters. Heaters other

than electrical heaters should be

'indirect' - they will have an exhaust

system and sit outside the tent,

blowing warm air in through flame

retardant ducting running under

the edge of the canvas or through a

specially made cut out in the wall.

Check how long the heaters can

run for on a full tank of fuel. If you

ABOUT MUTA

MUTA is the UK's only

trade association

dedicated to

marquees, tents and

structures. Since 1919

it has been working

to improve standards

in the industry, and

its Best Practice

Guide is followed by

members, which are

also inspected against

it. www.muta.org.uk /

01379 788673

expect to exceed that time, ensure

there is spare fuel on site and

someone who knows how to refuel.

Bear in mind that if there is snow, or

a risk of snow, the marquee or tent

must be heated at all times (day

and night) to prevent a build-up of

snow on the roof.

LOGISTICS

Agree with your hirer the erecting

date(s) and date on which the

structure will be complete ready for

you to use. Ensure that someone

responsible is available at the

time the hirer arrives on site to

confirm exact positioning of the

structure. Also ensure that someone

responsible is available at the

time of completion for the formal

handover of the structure from the

hirer.

Stagger the arrival of the various

contractors to site. For example,

there is no point having the caterers

arrive to lay up the tables if the

marquee or tent is still being built.

Agree with your hirer the

dismantling date(s). Ensure that

someone responsible is available

at the time the hirer arrives for

dismantling, so that a formal 'hand

back' of the structure can happen.

Your hirer will usually carry out an

inventory check with you at this

time to ensure nothing is missing.

SAFETY

Check that your hirer will be

following MUTA's Best Practice

Guide and don't be afraid to ask

to see their safety policy, risk

assessment, method statement,

flame retardancy certificate and

structural calculations for the

structure proposed. If erecting

requires use of forklifts or other

plant, ask to see the licences of

the drivers. Be sure that your

hirer is aware of the position of

underground and overhead services

(eg drains, gas pipes, electrical

cables, irrigation systems, etc).

Ensure that furniture is laid

out allowing access to fire escape

routes and fire exits. Ask your

hirer for advice on the regulations.

Consider fire precautions, we

recommend as a minimum a water

and CO2 fire extinguisher by each

fire exit.

20 WWW.OPENAIRBUSINESS.COM
---
www.tentickle-stretchtents.co.uk

Nationwide

07826 84 30 99

@TentickleUK

TentickleUK
---
FUNCTION VENUES | PRODUCT FOCUS

Tented Venue Spaces

A fundamental consideration for most outdoor venues, check out these tented space options

STUNNINGLY BEAUTIFUL,

HANDCRAFTED YURTS

Green Yurts

07823 339297

www.greenyurts.co.uk

Inspired by the magic of

festivals and designed to

incorporate their spirit,

our 42ft yurt is the perfect

solution for anyone looking

for an alternative to a

traditional marquee. Be it

a wedding, private party

or corporate function our

large yurt will make your

event stand out and be

one to remember. We are a

company that understands

the importance of luxury

and have an ethos rooted

in providing a top quality

service at outstanding value

for money. With the option

of adding additional yurts,

bell tents, stretch tents and

marquees the possibilities

are almost endless!

EVERLASTING

MEMORIES

Tentickle Stretch Tents

07826 843099

www.tentickle-stretchtents.

co.uk

Tentickle Stretch Tents

UK is proud to offer you

exciting and stylish cover

for your outdoor event. Our

stretch tents don't compete

with their surroundings,

they serve to enhance the

beauty around them. Unite

them with buildings or let

them stand freely, create

an intimate sanctum or

a canopied wonder but

above all, give your event

the exceptional touch

that it deserves. Alfresco

affairs have never been

so appealing. Mesmerise

your guests with one of

our stunning stretch tents

and create an everlasting

memory.

FRIENDLY, FULL

SERVICE MARQUEE

HIRE

Brighton Marquees

07900 212655

www.brightonmarquees.co.uk

Whether you are planning a

wedding, party celebration or

corporate event, our friendly

team will draw on their

experience to provide you with

the perfect solution. We have

a wide range of structures

suitable for use all year round,

and our attention to client

detail is certain to make your

event a success. We have a

strong business network in the

Sussex area and are a MUTA

registered marquee company.

Contact us to arrange a

complimentary consultation

to discuss your entire event

needs, from the size and type

of structure to flooring, linings,

lighting, furnishings, floral

decoration and more!

FRAME, POLE &

PINNACLE TENTS

Celina Tent

01157 940041

www.gettent.co.uk

Celina Tent is one of the

largest tent manufacturers

for events in North America

and is expanding its

manufacturing services to

the UK. This year, Celina Tent

opened its UK distribution

centre to ensure easy

purchase and delivery of its

high quality event products.

Celina Tent Europe will

offer its established frame

and pole tents, including

its most popular Pinnacle

tents. What makes Celina

Tent Europe different from

other tent manufacturers?

Any of Celina's tent products

can be custom printed, with

only two days of shipping

from the in-house print shop

located in the US.

22 WWW.OPENAIRBUSINESS.COM
---
Beautiful Stretch Tents

For Any Occasion

WEDDINGS – PARTIES – FESTIVALS

Comprehensive selection of free style Stretch Tent

marquees for hire and sale throughout the UK.

Create an exclusive indoor/outdoor experience by

moulding our structures around the landscape.

Created in South Africa

Lightweight, waterproof and highly versatile

Can be erected on uneven ground and over garden features

01403 333135 email enquiries@tentstyle

www.tentstyle.co.uk

We Offer Premier Outdoor

Event Structure Hire to All Events

SADDLESPAN, MODULAR MATRIX TENTS AND MOBILE STAGES

Office: 01223 870935 Mobile:

07881 614134

Email: enquiries@gigtent.co.uk www.gigtent.co.uk
---
GLAMPSITES

CASE STUDY

Tor View

Shepherds

Huts

This

two-unit site pays

homage to a family

connection to shepherding

As the owner of the first glampsite in the country to be awarded VisitEngland's

Gold Award, Philip Russell knows a thing or two about what it takes to keep visitors

happy. Open Air Business finds out more about his approach to quality and his

personal connection to shepherd's huts.

What made you decide to

start offering glamping

accommodation?

My grandfather, Leonard Candy,

was a shepherd, and my family

home includes a grazing field.

Around 2006 I became obsessed

with the idea of opening a luxury

shepherd's hut retreat. My first hut,

'Len' (named after my grandfather)

was a self-build, which was built by

myself and craftsmen on-site during

the winter of 2012. It was completed

in spring 2013 and welcomed its

first guests in May of that year.

How did you research the

business before entering it?

Because we had been running

The Old Milking Parlour holiday

accommodation for six years

prior to opening Tor View, we had

experience of managing guest

accommodation. We stayed in other

huts to see how they operated,

and also engaged the services of a

surveyor to help with planning.

Tell us about your location and

site

Tor View is located on the Mendip

Hills, near Wells, and is within easy

travelling distance of several tourist

areas including Wells, Glastonbury,

Cheddar Gorge, and Bath. Maesbury

Castle, an Iron Age fort, is within

walking distance.

The site is south facing on a hill

and enjoys views of Glastonbury

Tor, the Somerset Levels, and, on

24 WWW.OPENAIRBUSINESS.COM
---
a clear day, the Exmoor Hills and

coastline, and Rampisham Down in

Dorset.

How did you tackle getting

planning?

The actual planning permission

was not difficult, the challenge

came with getting approval from

the Highways Department. From

initially submitting plans to

obtaining permission was a period

of more than 18 months.

We obtained permission to

locate three huts on-site and, after

completing the first hut, we decided

to alter the location of the second

and third hut sites. This decision

was made so that the location of

the first hut was not compromised.

What glamping accommodation

do you offer and why did you

choose it?

We have two shepherd's huts, Len

and Ted. Len was designed and

built by hand in-situ, whereas we

purchased Ted to our specification

then created the interior. Both

"FOR US, IT

HELPED THAT

JULIE HAD

EXPERIENCE

AS A PROFESS-

IONAL IN THE

CONSTRUCTION

INDUSTRY,

SO WE DID

NOT HAVE

TO RELY ON

CONSULTANTS"

huts offer luxury glamping

accommodation, and the newer

hut 'Ted' enables guests to have a

real retreat as it is off-grid without

power points (although you can

charge your e-book reader and

gadgets through USB charging

points). Both huts have modern

comforts such as an en-suite

shower, flushing toilet, fitted

kitchen, and a luxury mattress

supplied with all the bed linen and

duvet, as well as eco wood-fired hot

tubs. 'Ted' also has an outside oven.

I chose shepherd's huts because

I love the look of them and the

idea of compact living. We have

managed to fit a lot into our huts.

Describe how you researched and

sourced your units

When 'Len' was built, there were

only a handful of shepherd hut

manufacturers, and we visited

them all. We wanted to create an

en-suite hut, which wasn't available

at the time, which is why we built

'Len' ourselves. Our hut supplier,

Blackdown Shepherd Huts, was a

relatively new company at the time,

but they helped us to self-build one

of the first 18ft huts in the country.

How do you publicise yourself?

Since opening our first hut, we have

enjoyed coverage in publications

such as Somerset Life, West Country

Life, Conde Naste Traveller, the

London Evening Standard, and The

Times. We advertise on a number

of glamping websites and have our

own website. We use social media

(Facebook, Twitter and Instagram)

to share news and images with our

followers. We also have leaflets

which are displayed in local venues.

Recently, we have begun

advertising in wedding fayre

programmes, as weddings,

honeymoons and anniversaries are

a key market for us. In fact, we have

had another engagement occur

during a stay in the past month.

How would you describe your

'style' or unique selling point?

We offer a real retreat from the

modern world. Our huts offer

WWW.OPENAIRBUSINESS.COM 25
---
GLAMPSITES

luxury glamping and their location

means that you can step back from

everyday life completely if you wish.

How did you choose your interior

decoration?

It was a joint effort between us – my

wife, Mandy, chose the colours and I

sourced the vintage features such as

the clocks, maps, books, and sheeprelated

items from flea markets

and auctions. We often don't know

where the items are going to go

when we first buy them.

What challenges have you faced?

The main challenge is cash flow –

you can be cash-rich in the summer

and cash-poor in the winter.

What are your plans for next

season?

We have already doubled in size

ready for the 2017 season, and are

now planning further expansion for

2018-19. Our plans are top secret

at the moment, so you will have to

wait and see!

Describe your average day midseason

Because Tor View is not our only

business no two days are the same,

but we do our fair share of hut

changeovers and administration.

Do you enjoy the business and

why?

Managing shepherd's huts can

be hard work, especially in the

winter! However, I enjoy seeing

guests' reactions when they first

open the door to the huts and see

what we have created. I also enjoy

reading guests' comments after

their stays, and they obviously

enjoy the experience as we have

had many repeat bookings! It is

also pleasing to put the field to

good use and carry on a link with

my grandfather through the type of

accommodation we offer and the

names of the huts.

What other outdoor hospitality

sectors do you operate in?

The Old Milking Parlour is our twobedroom

barn conversion close to

the field with the huts. It is 4-star

and VisitEngland Gold Award rated

(www.theoldmilkingparlour.co.uk).

It operates as a separate business

and offers a different rural holiday

experience to Tor View.

What advice could you give

to someone coming into the

industry?

Stay in at least three other similar

sites. Always assume that building

a glamping spot will take longer

and cost far more than you think

(trust me on that from experience!).

You should also offer additional

services/add-ons (such as hot tubs

and outside ovens); and ensure

that repeat customers always see

ADDRESS BOOK

ACCOMMODATION

Blackdown Shepherd Huts -

01460 929774

www.blackdownshepherdhuts.co.uk

HOT TUB

Hikki – +46 706 370 820

www.hikki.se

BBQ & PIZZA OVEN

Hikki – +46 706 370 820

www.hikki.se

BOOKING SYSTEM

Bookalet - 01234 834716

www.bookalet.co.uk

something new, even if that is just a

refurbishment.

Congratulations on your Visit

England Gold Award. How did

you prepare for the accreditation

process?

We were really pleased to have

achieved this award. As we have

held a Gold Award at The Old

Milking Parlour for almost 10 years

we knew the standard which would

be expected, and our assessment

score was just short of 100%.

DIRECTORY SITES

Quirky Accommodation

www.quirkyaccom.com

Cool Stays

www.coolstays.com

INSURANCE

NFU Mutual

www.nfumutual.co.uk

DETAILS

Thrupe Marsh Farm, Wells,

Somerset, BA5 3HB

01749 841401

www.torviewshepherdshuts.co.uk

26 WWW.OPENAIRBUSINESS.COM
---
☎

✉
---
GLAMPSITES

Power to

the People!

To avoid leaving your clients in the dark, Open Air Business

takes a look at off-grid power provision

GETTY IMAGES

BY THEIR VERY nature, the ideal locations

for glamping accommodation are often off

the beaten track and therefore away from

the services that most people take for

granted such as mains drainage, gas and

electricity.

Although the concept of glamping is all

about escaping from the day to day norm,

most glampers expect a certain degree of

luxury, and a feeling of home from home.

For example, many people want to be

contactable and to be able to charge their

mobile phones wherever they are. Where

these services are not easily available,

the challenge is to offer alternatives that

combine the provision of power, and thus

comfort, with the authentic glamping

experience that promotes a feeling of

getting back to nature.

Adrian Williams, managing director of

Solar Technology International, explains:

"As the glamping industry continues

to see growth, its offer of rustic charm

coupled with a sense of understated

luxury can be more fully met with the

provision of off-grid electricity to power

lighting, water pumps and so on. Wiring

up to the grid is not only an expensive

option, but also an impractical one with

the seasonal and sometimes nomadic

nature of glampsites. In addition, the

disruption of the natural landscape

undermines the 'off-grid' ethos of

glamping."

According to Tim Smerdon, owner of

Mobile Solar Chargers and co-owner of

Solar Charging Can, many of those who

choose glamping as an option are city

dwellers and are therefore looking for an

experience that is rural, rustic and above

all quiet. He says: "I think phone charging

is seen as a necessity - people like to

have the option, even though they might

choose not to use it - as is lighting."

Alicia Whymark, product manager,

Portable Power Technology, agrees

that light and power are an important

commodity to offer your glamping

customers on off-grid sites. "Customers

may want to turn off all their devices

and get right back to nature and some

may want to retain as many creature

comforts as possible, but most will reside

somewhere in the middle," she says.

"Everyone needs light and energy, it's just

a question of how much."

GETTING CONNECTED

So, light and energy are considered

essential, but if you are to avoid potential

noise and disruption to the surrounding

landscape while keeping in mind those

'green' credentials, what are the off-grid

options?

Solar power is probably the one

that first springs to mind. The sun can

provide lots of electric power (especially

if your accommodation gets a lot of

solar exposure). However, it is unlikely

to be cost-effective to rely on solar

energy alone. Therefore, solar might be

considered part of the answer rather than

the total solution. Solar panels can be

installed on the roof of a hut or in a sunny

spot nearby. Energy collected by the

panels can then be used to power the hut

directly or to charge a battery. The success

of this option does, however, rely on the

sun exposure of your chosen plot.

If you get good news after you contact

your local weather service to check on

the average wind speed in your area,

generating electricity from residentialsized

wind turbines is another option

for off-grid energy. Knowing the average

and wind speed ranges, you can estimate

how much electricity a given system

will produce. However, you should

keep in mind that wind speeds can vary

significantly from regional averages

depending on local topography.

If you require energy on a small scale,

there are plenty of experts who can offer

28 WWW.OPENAIRBUSINESS.COM
---
GLAMPSITES

LEFT The SolarMate Arena Light from

Solar Technology International can

illuminate an area of up to 200 square

metres

BELOW The NIWA Home 200 X2 from

Portable Power Technology is an all

in one modular solar system

you advice and potential cost solutions

that are both environmentally friendly

and cost-effective. You can, for example,

install a battery pack or generator - not

unlike those you might find in a caravan

or boat. These batteries work in a similar

way to a car battery; you charge them and

power is stored ready for use.

There is a wealth of options to choose

from when deciding how to light your

off-grid accommodation. This is where

you can really indulge in the hiss of a

Tilly lamp. Nowadays, of course, we can

make great use of solar lamps or battery

powered lighting. These are a great option

if you are nervous of a naked flame or you

want to avoid the smell of methylated

spirits. The choice is huge.

Portable Power Technology offers

solutions that harness the sun's energy to

deliver power without resorting to noisy

and polluting generators, which may

detract from the glamping experience.

"A lightweight, portable system is a great

way to please all customers depending

on their energy and lighting preferences,"

says Whymark. "Portable systems

are also ideal if you have to take your

accommodation down between seasons

and are also maintenance free with no

serviceable elements," she adds.

THE TECHNOLOGY

Solar Technology International designs,

prototypes, manufactures, markets and

distributes a wide range of brands that are

suitable for powering phones, tablets and

cameras, water pumps and mains quality

lighting for a complete off-grid power

solution.

As Williams explains, "Solar provides

an instant, clean and efficient renewable

power source that can be scaled up or

down accordingly. Small, portable lighting

and power units such as the SolarHub16

ABOVE The Solar Charging Can from Mobile Solar Chargers is a standalone solar/battery set up

which is scalable

provide an instant indoor lighting solution

via bright LED strip lighting or pendant

lighting that allows the fitting of a

lampshade, and can light an area of up to

16 square metres.

"It also provides enough power to

charge a smartphone or tablet and can

power a 12-volt fan. Larger scale outdoor

lighting solutions include the SolarMate

Arena Light that is capable of lighting an

area of up to 200 square metres; the PIR

mode allows motion activated operation

and it is the perfect solution for bringing

light to any large open space," he adds.

Mobile Solar Chargers is a specialist

retailer of a range of portable solar

chargers, power banks and portable

power solutions. According to Smerdon,

the minimum requirement for safety and

basic needs, assuming your guests are

staying for a summer weekend or a weeklong

break, are power for hot water and

some cooking - although they are likely

to prefer a barbecue or may even choose

a local pub - as well as lighting, phone

charging, Wi-Fi and perhaps an option for

heating or cooling the air.

"For the glamping market, I would

concentrate on the 'standalone' options,

i.e. a generator (240-volt AC) or the Can,

a solar/battery set up, which is scalable.

A cross between the two is a hybrid

generator, which has a diesel generator to

back up the solar," he says.

"Portable Li-Po (lithium polymer

battery) should be charged daily and

is ideal for use in bell tents. To give an

idea of Ah (capacity) a standard phone is

around 2.5Ah, so a 50Ah battery would

give 20 odd charges with no solar help.

You can position solar panels on the roof

of a hut with a bank of 12 volt batteries

on the ground, but if you are considering

power for a non-rigid structure, such as a

yurt that can't hold solar panels, then our

Solar Charging Can would be an option."

The portable Solar Charging Can has

been designed to be silent and to replace

generators. It provides automatic lighting,

phone charging, remote CCTV and Wi-Fi,

WWW.OPENAIRBUSINESS.COM 29
---
GLAMPSITES

and is modular and easy to store.

Portable Power Technology

offers several portable power

solutions ranging from a single

light for quick trips to the toilet

after dark all the way up to

larger scale silent, rechargeable

power solutions that provide AC

electricity for larger appliances,

all of which are ideal for the

glamping market.

"Offering your customers a

system that can be installed

easily in each individual

accommodation unit on off-grid

sites will allow them to have the

freedom to be able to charge

phones if needed, read a book

using LED light into the night or

listen to music," says Whymark.

"We feel that one of the main

attractions of glamping is the

freedom it gives you to step out

of your day to day life and relax

in any way you want. However,

customers will still have some

level of expectation with regards

to the comfort and security that

comes from light and indeed basic

power," she adds.

The company also stocks

the NIWA Home 200 X2, which

it describes as a complete, all

in one, safe and easy to install

modular solar system that

provides a dimmable and efficient

lighting source, phone and small

device charging facilities via USB

and a solar panel. "The system

is fully expandable by adding

more lights and power packs

that simply click into place," says

Whymark.

GETTY IMAGES

Another option is the small,

lightweight and powerful PPT

Powerpack 300+, which consists

of an internal lithium battery

and pure sinewave inverter to

deliver AC and a battery charger.

"This product is solar ready

and can also be charged via the

mains. It is perfect for powering

lights, audio equipment, device

charging, laptops, televisions and

more," she says.

Portable Power Technology

also offers larger off-grid silent

and solar rechargeable power

ABOVE The Powerpack

300+ from Portable

Power Technology

delivers AC and DC

power wherever you

need it

LEFT Solar Technology

International's Solar

Hub 16, a complete

lighting and power kit

in a box

systems that utilise an inverter,

battery bank and solar panels.

These have been developed to

allow more prolonged use of

power-hungry AC appliances

where required.

CONCLUSION

So, where mains power isn't an

option, there are ways of offering

your glampers the services they

expect without great expense.

There are even solutions for

running washing machines and

hair dryers. With some systems,

the amount of power created by

renewable sources alone may

be dependent on the weather,

but even those that rely on

traditional charging methods

can be aesthetically pleasing

and, most important of all, silent.

Many of the options discussed

are scalable, giving you the

option of add-ons as and when

you need them. They can also be

moved and deployed elsewhere

and stored in the winter, and no

maintenance or technical skills

are required to run them.

USEFUL LINKS

Solar Technology International - www.solartechnology.co.uk

Mobile Solar Chargers - www.mobilesolarchargers.co.uk

Portable Power Technology - www.portablepowertech.com

30 WWW.OPENAIRBUSINESS.COM
---
Self contained Portable or

Static Solar Charging Station

• All components stored and moved in Drum

• 5v-12v power, WiFi, Lighting, CCTV

Call 01935 825914 or visit www.solarchargingcan.com

Fron Farm Yurts

Yurts - Wooden Yurts - Roundhouses

Unique Structures for all year Glamping & Events

Custom Made in Wales to Create your Perfect Space

Our Wooden Roundhouses and Yurts incorporate the

beauty of the traditional yurt within a solid timber structure,

which are suitable for all seasons and allow extended

rentals. We work with all budgets to produce unique

handmade spaces, which maximise business potential.

fronfarmyurts@live.com Tel: 01994 419775

www.yurtsforsaleuk.co.uk

SolarHub 16

• Instant off grid lighting & power

• Illuminates an indoor area of up to 16 sq m

• Perfect for yurts, tipis, safari tents, cabins,

eco pods...

• Simple to install & exempt from Part P of building regulations

SolarMate Arena Light

• Powerful outdoor off grid floodlight

• Simple & quick to install on scaffold pole or wall brackets

• Perfect for glampsites, festivals, arenas, sports fields

and car parks

• Motion activated PIR or via remote control

01684 774000

www.solartechnology.co.uk

WWW.OPENAIRBUSINESS.COM 31
---
GLAMPSITES

STARBED HIDEAWAYS DEVON

WITH AN INCREASING spectrum of

structures, business models and price

points out there, it's an appropriate time

to evaluate the potential for investing in

the luxury sector. One interesting point to

note is that this sector currently remains

one of the least competitive because there

are not that many truly luxury offerings in

the market. And, while it requires a larger

initial investment per unit, if a luxury offer

has been well planned and carried out, the

higher rental fees should continue to attract

good occupancy rates and reap a healthy

profit long after the initial investment is

recouped.

Some would say that the luxury side

of the market is also more 'future proof',

meaning that it will continue to command

high rental fees long after the boom has

bust. Let's put it this way, I'll be surprised to

see top quality, well run and well marketed

glamping sites in discount voucher schemes

at any point.

As a prospective owner, a few factors will

influence whether this type of glamping

has potential. Is the proposed site in the

right location? Is there an existing business

or feature, for example a special property,

hotel, gastro pub, gardens/lakes, or an

All Out

Luxury

Kate Morel explores the alluring

landscape of high-end, luxury glamping. It's a worldwide,

growing and profitable sector of the industry, so pack

your Panamas and parasols because we'll be stopping

off at a couple of exotic destinations along the way

outstanding, exclusive rural setting? If

not, are you confident that you can create

something so superior that it will still attract

enough guests willing to pay the high rental

fees?

HIGH DEFINITION

Our first thoughts about luxury glamping

might turn to expensive tents, stylish

furnishings and opulent baths - and whose

wouldn't: One dictionary defines luxury as:

"a state of great comfort or elegance,

especially when involving great expense

Synonym: opulence, luxuriousness,

sumptuousness, richness, costliness,

grandness, splendour, magnificent,

lavishness"

The definition of luxury in this business,

however, seems to be rather subjective.

ADRIA

For some, it's acceptable to describe a

nice-looking canvas tent with a proper

bed and a few accessories as 'luxury',

and, in comparison to a regular camping

tent I suppose it is. But as the standard of

glamping continues to rise, the time will

come when we need to take a squinty-eyed

review of what luxury glamping should

entail in terms of décor and facilities. At

least, for this article, 'luxury' is going to be

the same as any other self-catering rental,

the key criteria being quality, style and

taste.

High-end accommodation should

always utilise quality furnishings and

boast beautiful facilities, I don't believe it's

possible to get around that. While some

of us certainly have a knack of making

inexpensive look great, these ensembles will

only look good on photographs, they won't

feel luxurious in use. Discerning guests will,

quite rightly, expect the experience to be

one of genuine quality when paying topdollar

rental fees.

STYLE COUNSEL

The style of a luxury glamping offering can

be influenced by many things, the location,

a property that it's associated with - a

historic country house, for example. They

can also be a 'stand-alone' offer, where it

becomes important to get the style and

facilities right for the specified guest profile.

It's a bigger subject than I have time to

explore here, but suffice it to say there are

hundreds of design styles and ideas out

there – and really, of all the decisions we

make, this is one of the easiest.

One of the hardest, however, is because

glamping differs from other holiday rentals

in one respect - we usually start with an

32 WWW.OPENAIRBUSINESS.COM
---
GLAMPSITES

empty field. This means we create the

accommodation structure(s) from scratch;

I'm often told that people find this the most

challenging decision. To be fair, choosing the

right structure for the location/guest profile

can require some skill, especially when

we have planning permissions and other

factors to consider. Fortunately, there is a

wide range to choose from, and professional

companies are pushing boundaries with

innovative designs. Adria have brought a

super boutique mobile tent into the market,

as have Eco Living Australia, and the UK's

leading bespoke treehouse designers, Blue

Forest, continue to trail blaze with innovative

designs. I'm also delighted to keep finding

small, craftsman-owned companies who are

willing and able to design and build bespoke

structures.

When it comes to buying the structure(s)

do choose wisely, it can be a big investment

and getting this right is crucial, not only

in terms of appealing to guests, but the

business's long term success. Do note that

occupancy rates and rental fees as suggested

by some marketing brochures are not always

achievable, so research ideas and potential

results. Alternatively, seek objective advice

from someone in the business (it doesn't

have to be me, just get as much sound

advice as you can). It can be difficult to put

things right with hindsight and, sadly, I've

seen some costly mistakes.

FIRST CLASS INTERNATIONAL

Last year, one of the UK seminars I presented

was 'Inspiration from International

Glamping', which highlighted glamping and

design features from around the world that

caught my eye as outstanding. To be honest,

I was on something of a mission because I

ADRIA

wanted to inspire more of us in the UK to

create mind blowing glamping offers akin to

the places I was finding on other continents.

Internationally, manufacturers are

responding to the demand for luxury

glamping and new, stylish structure designs

are launched every year, companies such as

InTenta, Tentickle, Adria and Eco Structures

Australia are among those leading the way.

There are many others, and it is fascinating

to see so many new concepts being created;

I can barely keep up these days.

One company totally blew me away when

I discovered them a few years ago. Luca and

his team at 'LuxuryFrontiers' have created

stunning designer developments in South

Africa, Italy and Spain. The company ethos

is commendable and their environmental

qualifications are impressive. They tick

all the boxes for me, and I would love to

see them create more developments in

Europe and particularly the UK. So, if you're

ambitious and like their work we need to

talk.

Another example of exceptional

international glamping is Richard Branson's

'Kasbah Tamadot' in Morocco, and 'Mahali

Mzuri' in Kenya, which combine stunning

locations with world class accommodation.

If you're looking for inspiration you will

find it here, they are nothing short of

breathtaking and, naturally, appropriately

priced.

RULE BRITANNIA

It's fair to say that we have a couple of

challenges when it comes to creating

glamping developments in the UK. Firstly,

the climate limits the rental season for

some structures, secondly, our planning

regulations are more restrictive than

elsewhere. However, these needn't limit our

imagination when it comes to luxury and

GLAMPING HUB

Warner Springs, California

design, and whilst speaking to interested UK

landowners, I've recently been encouraged

to hear that more are interested in creating

something exclusive.

Outside of the USA, I have a sneaky

suspicion that the UK is one of the leading

countries in creating new glampsites each

year, but don't let that deter you because

as I said earlier there are still profitable

opportunities to create something in the

high-end sector. The UK has more heritage,

character and elegance than you can shake a

stick at and there is no reason at all why UK

glamping can't compete on the international

field.

UNIQUE BY DESIGN

At this level, it is 100 per cent about giving

guests an experience they can't find

elsewhere, and facilities they'd never have

at home. Luxurious interior design schemes,

and opulent touches that guests wouldn't

think of putting in their own homes, add to

the exclusivity. Showers and baths can never

be 'over the top' as far as I'm concerned –

and I love the imaginative, elegant bathroom

furnishings at Canonici Sanmarco near

Venice. In fact, grab a coffee and bask in true

Italian gorgeousness, it's totally inspiring.

At the luxury level of glamping, we'd

be remiss to overlook the use of outside

space, and a dedicated area with generous,

comfortable garden furniture sets the scene

nicely. I'm excited to share a recent discovery

with you – a company called Rivelin who

create fantastic outdoor spaces using super

stylish furniture. They also supply the most

impressive Sheffield-made, gas powered fire

pits, and when I say impressive, I mean it. For

those of us who prefer a real crackling fire,

or an environmentally sustainable option,

then a heavy-duty, log burning fire-bowl is

in order. This is luxury glamping remember,

WWW.OPENAIRBUSINESS.COM 33
---
GLAMPSITES

LUXURYFRONTIERS

NORTH STAR CLUB, YORKSHIRE

so why not go one step further

and commission your own design

from the Firepit Company, their

hand cut fire globes add a dash of

blazing magic to starry night time

glamping. They'd make a great

centrepiece for weddings and

events too.

If you can provide the appropriate

privacy, open air showers and baths

are fun additional options, and

we all know by now that hot tubs

are perennially popular. I recently

spotted a new product, a wood

fired sauna, that might give hot

tubs some competition… ironically

it was on Naked Flame Eco Tubs'

website. Which reminds me – I try to

keep a look out for new, innovative

structures and products, but I do

have a life outside glamping you

know (no comments, thank you), so

if you're launching an exciting new

product please let me know.

MOVERS AND SHAKERS

Luxury glamping is about to lift

off in the UK, on both small and

large scales. I visited a luxury

development last week, the size of

which raised even my eyebrows.

In contrast, another was a small,

three unit, boutique set up curving

around a newly created natural

swimming pool. More often these

days I drive home inspired by the

quality and diversity of glamping

that I see being created here, it's

such an exciting time to be in this

business.

One such glampsite has just been

launched - 'StarBed Hideaways'

is a little gem, possessing all the

elements that raise a glamping offer

beyond the ordinary into that five

star, luxury experience. Located

in Devon, it comprises two quality

cabins on the Buckland Abbey

National Trust Estate. Designer

interiors, stylish furnishings and

roll-top baths are only part of the

package - a visiting spa, falconry

and hot air balloon rides are just

a few of the activities that can

be enjoyed by guests. Bryony

and Bertie have paid scrupulous

attention to detail and possess

a clear willingness to make their

guests' experience unforgettable.

The website presents the

accommodation and experience

with clarity and elegance, and the

quality is evident from the moment

a potential guest lands on a page.

If you would like to experience

StarBed Hideaways for yourself,

Bryony and Bertie have kindly

created a limited, exclusive offer

to readers of Open Air Business, I

believe details can be found in the

'News' section (pages 6-7).

GUEST-CENTRIC

When rental fees rise above

a certain price point, guest

expectations are high, so if we are

ABOUT THE AUTHOR

Kate Morel provides

a completely

independent advice

and design service to

individuals, estates

and companies

looking to create a

successful glamping

business. She is

well qualified and

connected to provide

advice on every aspect

of creating, operating,

marketing and

upgrading glamping

accommodations or

developments. www.

katemorel.com / info@

katemorel.com

NORTH STAR CLUB, YORKSHIRE

going to offer luxury breaks, and

charge accordingly, it's vital that

we 'deliver'. It's also important to

remember that when some guests

book an expensive, luxury break,

it's for a special occasion of some

sort – a proposal, honeymoon,

anniversary or birthday - they may

even have saved up for it. As always,

the key here is to put ourselves

in our guests' shoes and provide

what we would expect. I am sure

we would all want to relish the

experience, the exclusivity, richness

and sheer extravagance, to feel

spoiled, special and pampered.

I hope our little canter through

luxury glamping has inspired you.

If you are considering adding a

glamping development to your

land, and would like to talk through

your ideas, do get in touch. There

are so many other factors I would

have liked to cover, and have a

plethora of ideas to share, but alas,

Tally says she has other things to fit

into Open Air Business as well!

Until next time, Kate.

INSPIRATION

Canonici Sanmarco, Venice

www.glampingcanonici.com/en

Kasbah Tamadot, Morocco

www.virginlimitededition.com/en/

kasbah-tamadot

LuxuryFrontiers - www.luxuryfrontiers.com

Mahail Mzuri, Kenya

www.virginlimitededition.com/en/

mahali-mzuri

StarBed Hideaways

www.starbedhideaways.co.uk

34 WWW.OPENAIRBUSINESS.COM
---
garden-oven.co.uk

or call 01256 581014

Luxury Fleeces

Luxury, creamy soft, brown sheep fleeces,

tanned in the West Country.

The perfect addition to the luxury glamping experience

Our sumptuous brown sheepskins are perfect for cosying up in the evening

by the fire pit or snuggling those toes on a frosty morning as a bedside rug.

Each one is unique.

A sumptuous treat for the more discerning glamping guest in your luxury

accommodation, used on sofas as a soft comfy throw, as a bedside rug or on

outdoor chairs and benches providing luxury and warmth on a chilly evening.

Bulk orders 5 or more £45 each+p&p

Order online at

www.leafyfieldsglamping.com or call 07842 320 981

WWW.OPENAIRBUSINESS.COM 35
---
ADVERTORIAL

Armadilla

A British made luxury pod, with an ingenious design

that elicits more than a good ROI!

NESTLING IN BEAUTIFUL countryside

south of Edinburgh is a rural business

manufacturing a pod called the Armadilla.

Seven years ago, farmer Archie Hunter and

his son Ross, a design engineer, came up with

the concept in an attempt to create a product

which was unique and special. It looks like

they have succeeded.

With over 400 Armadilla pods already in use

in the UK, Armadilla Ltd is now distributing

throughout Europe and the Middle East with

plans afoot to launch in the US.

The flagship product of the company is

the Armadilla Xtraroom Deluxe, a luxurious

accommodation pod with an en-suite

wet room. It is primarily targeted at the

fast-growing boutique glamping sector

which, like the boutique hotel genre, has

become synonymous with quirky upmarket

accommodation. Comfort, aesthetics, quality

fittings, attention to detail and advanced

technological features are fundamental.

The market for this type of accommodation

is quite discerning, but is willing to pay a

premium for a good experience. The Xtraroom

has been designed to readily provide either

two single beds or a good sized double bed.

The largest proportion of guests tend to be

Millennials (born in the '80s and '90s) but the

Baby Boomers are getting in on the act also –

both sectors with high disposable incomes.

EMOTIONAL IMPACT

One of the most exciting features of the

Armadilla is the shape. The design is quite

unique and has elements of the Fibonacci

Sequence and the Golden Mean incorporated

in it. These mathematical elements have been

used throughout millennia in architecture and

art, and have been found to have an intriguing

effect on peoples' emotions.

It's certainly true that the Armadilla creates

an emotional impact on all who see it. From

a commercial perspective, this is important.

Most bookings are based on a trawl through

the internet, and if an Armadilla image pops

up on the screen people are more inclined to

stop and look at it. They then read about its

features and when they see that it has a wet

room with flushing toilet, shower and wash

hand basin they become seriously interested.

Prospective bookers will then examine

what other ingredients are on offer and

begin looking at availability. So, what are all

these other ingredients? Location, additional

facilities (eg. hot tub), proximity of restaurant

or pub etc, but most importantly an attractive

natural environment. And the more exciting or

stunning the environment the better.

At this point it is worth examining the

concept of the 'Experience Economy'.

Glamping, as an industry, is part of this

experience economy. We are providing an

experience for our customers that they will

(hopefully) enjoy and remember. They will

want to share their experience with their

friends and family. And they will frequently do

this during the experience using social media.

(hence it is important to provide good internet

access).

A recent survey by Eventbrite found that

three in four Millennials would prefer to spend

money on a desirable experience rather than

buying something desirable. Over 70 per cent

indicated that they would like to increase

their spending on experiences rather than

physical things in the coming year.

OCCUPANCY AND YIELD

A classic example of getting all the ingredients

right is Riverbeds (www.stayglencoe.co.uk),

a site with eight Armadilla Xtrarooms on the

west coast of Scotland near Fort William.

Owner Laurence Young had approached

Armadilla to see how he could best capitalise

on a site he had adjacent to a mountain river

cascading down from a dramatic mountain

backdrop.

To create a truly unique experience, Archie

proposed cantilevering the Armadillas over

the river, which was relatively easy due to

the integral steel frame with which they are

built. Laurence introduced hot tubs into the

equation and, from a standing start in April

2016, he has maintained superb occupancies

right through the year (winter included) with

average nightly rates far in excess of normal

glamping operations.

FULL OF FEATURES

So, what are the principal features of the

Armadilla? Crucially, it is constructed in

the UK in a factory environment which

enables it to be built to an exceptionally high

commercial standard. Cladding is Siberian

Larch, and all external fittings are marine

grade stainless steel. It is offered with a 10

year structural warranty, but is expected

36 WWW.OPENAIRBUSINESS.COM
---
REVIEWS

to comfortably go on for many decades. All

external coatings are Scandinavian with a

typical six to eight year re-coating cycle.

In fact, the longevity of the product is

one of the key environmental features –

sustainability. Coupled with its exceptionally

high environmental credentials (all materials

FSC, water based coatings, low energy

consumption, low or no VOC etc.) it will attract

environmentally conscious users. Doors and

windows are double glazed with laminated and

toughened glass.

The organic shape of the Armadilla allows

it to nestle comfortably in any environment.

Whether it's halfway up a mountain, in amongst

trees or overlooking a sandy beach, it only

requires four padstones to sit on. The simplicity

of installation is one of the many features

commented on by purchasers. It also means

that relocation is a breeze if circumstances

change. A real benefit of the Armadilla is the

ability to start off with a few and build up

incrementally as business grows. One site has

added a new unit every year for the last six

years.

From the outset, the Armadilla Xtraroom

was designed as a commercial product. The

overriding focus is to enable commercial users

to maximise profit. As all owners know, the

time spent servicing accommodation between

guests is critical. The Xtraroom should take

no more than 15 to 20 minutes for a thorough

clean and changeover. This enables owners to

consider taking one nighters more readily thus

maximising occupancy rates.

The Xtraroom Deluxe is fitted with Climate

Control, integrated sound system, smart TV,

colour changing LED wall wash lighting and

much more. However, there are a number of

other accommodation models in the Armadilla

range which will be of interest to glampsite

owners looking for a more basic unit, including

a family unit.

But the Armadilla is not just a glamping

product. It can provide a sensibly priced

and speedy solution to a B&B, hotel or

wedding venue seeking additional high

class accommodation. In addition to the

accommodation models, Armadilla Ltd

produces a range of offices and therapy rooms

suited to the ever-expanding home working

market.

To cope with increasing enquiries from

schools, the company has introduced an

educational model used by schools for special

educational needs, nurture groups, dyslexic

and autistic children etc. In Scotland, the

company has introduced a sensory room in

conjunction with the National Autistic Society.

VAT AND CAPITAL ALLOWANCE WINS

Due to its construction, sizing and facilities the

Xtraroom models are classed as caravans and

attract the Holiday Park Caravan VAT rate of 5

per cent. This may well be of interest to owners

who are planning only a few and are going to

have turnover below the VAT threshold (and

thus the low 5 per cent VAT on the purchase is

less painful).

For the larger user, the caravan status of

the Armadilla means there is the potential to

claim 100 per cent Capital Allowances on the

full cost of the Armadilla. This is an advantage

enjoyed by licensed Holiday Caravan Park sites.

A licence can be obtained within two months

of gaining planning approval, and applications

are made to the same local authority for a

Holiday Park Licence (this does not require you

to have on your site anything other than the

Armadillas, and the conditions required are for

the most part quite sensible).

Armadilla Ltd has a knowledgeable team

that can provide any level of involvement right

up to a turnkey solution. Archie is happy to talk

through all aspects with enquirers.

There are many hundreds of

reviews from satisfied users on

the internet. Here are a few:

"Within five minutes of having

arrived I was thrilled we'd chosen

to stay in one of these fab little

self-contained units. I'd never have

believed you could fit so much into

such a compact space. They start

to feel quite big once you realise

everything that's in them. Brilliant.

There were all the gadgets you could

want - wall mounted TV above the

bed, kettle, toaster, coffee machine,

fridge. The pods were quiet, felt

secluded and ours had a hot tub. My

6'5" partner was comfortable in the

bed, and we both slept well." Jo

"These lodges are amazing! So

comfortable and cozy, but so

innovative with space and facilities!

Every little thing had been thought

about… and done well!" Rachie

"I loved the idea of glamping and

the quality of the accommodation

that was provided. Everything we

could possibly need for our stay was

provided. So much could fit in the

pod and it still felt there was lots of

room to 'live' in there. My husband

is over 6ft and the bed provided

enough room for him to sleep

comfortably." Hannah

CONTAST

Sales - 0131 440 4515

info@armadilla.co.uk

www.armadilla.co.uk

WWW.OPENAIRBUSINESS.COM 37
---
"Revitalise your connection with nature"

Discover our unique modular Pod design

38 WWW.OPENAIRBUSINESS.COM
---
GLAMPSITES

Pods and

Huts Advice

Suppliers explain why pods and huts are a great

choice for glampsite accommodation

Cath Caesar, founder

Plain Huts

07903 313922

www.plainhuts.co.uk

How can shepherd's hut accommodation

benefit a glampsite?

The shepherd's hut is not only a muchloved

traditional icon of the countryside,

it also happens to be a very versatile

addition to a glamping site. The huts can

be used individually to accommodate

two people comfortably or combined to

cater for families or groups. With a little

imagination, however, the shepherd's hut

can become a hardworking attraction on

your site. For instance, if kitted out with a

kitchen it could serve bacon sandwiches for

breakfast, offer a range of sandwich fillings

at lunch time, ice creams in the afternoon

etc. Off season, it could be hired by

groups wanting to organise food for a

special occasion or activity.

What is the USP of your product?

Here at Plain Huts we have lovingly

developed a slightly contemporary look

and feel to our huts. The traditional

corrugated tin roof is still there, as are

our fabulous cast iron wheels, but the

space itself is light and airy, the doors

open wide bringing the outside in and

allowing furniture and fittings to be

changed easily. Maintenance is kept to a

minimum; the powder-coated aluminium

frames need only a simple wipe over

and will not jam shut during the winter

months

How can your product be customised or

made bespoke?

Our company is called Plain Huts because

we are situated on Salisbury Plain, not

because our huts are plain. We love to do

bespoke and if you have an idea we will

happily help to realise it, whether you

want a bridal suite, an activity centre, or a

charming setting for cream teas.

What options do you have for small,

medium and large budgets?

Our smallest huts start at £9,500, but a hut

that sleeps two with an en-suite wet room

and kitchen would cost in the region of

£27,000. For those of you looking for that

extra special space, then you might like

to consider two huts joined with a raised

walkway, deck and hot tub.

Another option is to purchase a kit.

These can be bought for £3,800 and provide

a starting point for a hut up to 2.4m wide

and 4.8m long.

What is the estimated return on

investment of your product?

We believe that the best returns are to be

gained from the larger huts with an ensuite

wet room and kitchen. With estimated

bookings of 50 per cent overheads of 35 per

cent and rental of £120 per night, the initial

outlay of £27,000 would be redeemed in

just under two years.

WWW.OPENAIRBUSINESS.COM 39
---
40 WWW.OPENAIRBUSINESS.COM
---
GLAMPSITES

needs, our pods are based around a

beautiful roundwood frame on to which

panels are fixed. The size and shape of

the frame will dictate the final design.

Pods can be used for glampsites,

personal reasons, farm innovations and

retreats. Add an en-suite, kitchenette,

wood burner, or bespoke furnishings to

create the right space for you.

What options do you have for small,

medium and large budgets?

Choose from the highly sought after

range including the Hex-Pod at 3.1m,

used for glamping, dining or as a

studio; and the extremely popular

Octo-Pod. Measuring an impressive

4.2m diameter, the Octo-Pod can

include a double bed, shower room

and kitchenette.

What is the estimated return on

investment of your product?

Depending upon the specifications of

the pod – whether it has en-suite, a

kitchenette, or a unique quality; and

depending on the site setting – whether

it has majestic views or great nearby

attractions, will ultimately dictate the

return on investment.

Nick Sneller, director

Classic Pod Company

07971 869058

www.classicpodcom

pany.co.uk

How can hut or pod accommodation

benefit a glampsite?

It is widely understood there are health

benefits to being outside in nature, but

not everyone is able or wants to camp

out. A study by the Institute for European

Environmental Policy has found that having

more nature in our lives can provide health

benefits like increased mental wellbeing

and allergy reductions.

The smaller pods, huts, bothies

and shielings can provide a means to

experience nature but with a little comfort.

Our hand-crafted pods are a dream escape

from the stress and strain of hectic lives

that we all lead. These 'rooms outdoors'

create a space where you can become one

with nature while still enjoying that bit of

luxury, and can easily incorporate all our

modern-day comforts. These designs can

help revitalise people's ability to re-engage

with nature.

What is the USP of your product?

All pods are equipped with double glazing,

can have a 12v lighting system, and are

extremely adaptable. They can be added

to upon request, either adding pods or

making them multi-roomed to suit your

requirements. The modular aspect of the

design gives a flexibility of construction

like no other. We encourage you to pursue

that creative interest - have that soundproofed

pod as a music studio, and have

extra window panels to allow light in

an art studio space, the healing pod for

practitioners, or your very own dream

pod. There is no end to the potential of

your pod, addressing your creative or

therapeutic needs.

How can your product be customised or

made bespoke?

Eco-friendly, insulated and bespoke to your

Josephine Young, partner

White Peak Shepherd Huts

01298 872752 / 07761 983312

www.whitepeakshepherdhuts.uk

How can shepherd's hut accommodation benefit a glampsite?

As shepherd huts are hugely diverse their list of benefits is a long one. They are

suitable for siting almost anywhere, mobile, require minimal set up and provide

year-round accommodation. They are also perfect as an on– or off-grid solution

(appealing to the escalating number of eco-tourists), family friendly, romantic

(ideal for couples and weddings) and can be used as shower blocks or site offices.

Each hut is unique and designed specifically for you, and represents a long-lasting

investment.

What is the USP of your product?

I could mention the exceptional build quality or our tailored design service, or

even the marketing advice that we offer, however, what we believe really sets us

apart is our customer service. This may seem like a small detail, however those

who've fallen foul to poor customer service and experienced the frustration and

disappointment that comes with it will know that it can make the difference

between a good experience and a hellish one. We appreciate that our customers

are investing not only a significant amount of money with us, but also their plans

and dreams, so to ensure that their experience with us is rewarding and enjoyable

we offer the individual level of support each client needs and fulfil our promises.

How can your product be customised or made bespoke?

The beauty of our shepherd huts is that no two are ever the same as we design and

build each one to reflect our clients' differing needs and tastes.

WWW.OPENAIRBUSINESS.COM 41
---
GLAMPSITES

What options do you have

for small, medium and large

budgets?

Our huts come in a range of sizes

from the smallest at 10ft x 6ft to the

largest at 20ft x 8.37ft. Additionally,

you can opt to have your hut

delivered in its simplest form to

fit out yourself or leave it to us to

finish to the highest specification,

complete with kitchen and

bathroom, so that all you need to

do is concentrate on the bookings.

What is the estimated return on

investment of your product?

How much can be charged depends

on several factors such as location

and the quality of the facilities,

however, existing glampsite owners

are charging between £70 and

£120 a night. When charging £80

per night at 70 per cent occupancy,

a single unit grosses a return of

£20,560 per year. With our Holiday

Huts starting at £27,090, you could

be in profit as early as year two.

Please mention a glampsite that

has installed your product

Our most recent Holiday Hut went

up to the stunning Glenwhan

Gardens in Stranraer. Owner

Tess has hit the ground running,

and despite the fact it was in the

coldest, wettest month of the year,

already had guests staying in her

new hut. I have no doubt that her

venture will be a huge success.

Nick Feeney, managing director

One Night Stand Glamping

0203 7733101

www.one-nightstand.co.uk

How can pod accommodation benefit a

glampsite?

I asked my clients this and the three main

responses were: To extend their season,

get a better return on their pitch or just to

have a different offering. These are huge

benefits of glamping pods in their own

rights, but combined I think it makes it an

easy decision.

What is the USP of your product?

All pod manufacturers will tell you their

pods are the best on the market… What I

can tell you is we most definitely aim to be.

We only use the best materials for our pods

to ensure they are fit for purpose and last

the test of time. For example, all our exterior

wood is either Siberian Larch or Western

Red Cedar, which have a life expectancy of

40 years plus and require no maintenance

other than staining.

We also offer the most insulated pods

on the market, with 150mm of Kingspan or

equivalent throughout the pod.

How can your product be customised or

made bespoke?

All our clients have different needs and

requirements for their pods and while we

have our standard range and sizes, we are

also able to build to order.

What options do you have for small,

medium and large budgets?

One Night Stand researched the

marketplace and we found that site owners

were frustrated at the difficulties of securing

finance for growth. Therefore, we are the

only company that offers three ways of

getting a glamping pod. 1) Straightforward

purchase, 2) Rental, 3) Try before you buy.

All these options offer great value in their

own right with our 'Try before you Buy'

scheme being the most popular.

What is the estimated return on

investment of your product?

This is a dangerous question, and many

manufacturers give out misleading figures

to their clients just to make a sale. The true

answer to this is it really depends on your

site facilities, location, surrounding area

and how you offer your pod. It goes without

saying if you have a strong offering then you

are more likely to get a strong return.

Please mention a glampsite that has

installed your product

Back of Beyond Touring Park in East Dorset

has just taken delivery of some glamping

pods for the first time. They are already

looking great for bookings this year and

furthermore can now offer a longer season

due to the all year-round use of the pods.

www.backofbeyondtouringpark.co.uk

Will Vickery, director.

Blackdown Shepherd Huts

01460 929 774 / 07711 489717

www.blackdownshepherdhuts.co.uk

How can shepherd hut accommodation benefit a

glampsite?

Shepherd huts can be used as a luxury glamping retreat

to give a real sense of intimacy and a high-end camping

experience. Blackdown Shepherd Huts are specially designed

to make the best out of the room they have to create

something really special for guests.

What is the USP of your product?

Blackdown Shepherd Huts have the drop-down wall bed,

which is unique and a great use of space. In addition, we

add in all sorts of storage solutions and surprise nooks and

crannies. We've also recently added a glass roof to some our

huts for those who want to stargaze. Clad in our signature

feather-edge oak cladding, or wriggly tin, our huts are made

for generations to come.

How can your product be customised or made bespoke?

We offer all types of customisation and bespoke additions.

Our Turnkey shepherd huts offer customers the opportunity

to indulge their imagination and create their own cosy

space, including all the extras like kitchens and bathrooms.

Shepherd hut customers can make their huts completely

individual to them and they can be as luxurious or as simple

as they choose.

What options do you have for small, medium and large

budgets?

As well as our bespoke huts in Turnkey, Heritage or Retreat

style, we offer self-build options, which are available in a

metal or oak chassis. We still work with customers to achieve

their dream hut, and thus we have devised a hut build which

allows customers to construct their own artisan hut, with

42 WWW.OPENAIRBUSINESS.COM
---
Further reductions for multiple orders

The moduLog is a

modular pod designed

to suit your needs and

your budget.

.Fully insulated

.Anti-vermin mesh

.Oak joinery & floors

.Low Maintenance

.Home-grown timber

.U.K. made

.Placed anywhere

.Off Grid

.Multiple designs for

multiple uses.

.Ideal for woodlands

Glamping in style.

www.modulog.co.uk

Tel: 01982 553022 / 07843322175 info@modulog.co.uk

Web: whitepeakshepherdhuts.uk

Email: info@whitepeakshepherdhuts.uk

Tel: 01298 872752 | 07761 983312

Tideswell, Derbyshire

WWW.OPENAIRBUSINESS.COM 43
---
GLAMPSITES

our self-build system. Having built quite

a few huts, we've used our knowledge

to pre-prepare the elements which need

specialised equipment or components,

but apart from that, it's all down to the

customer and their skills (which can be

anything from basic carpentry to fullyfledged

builder). A self-build option allows

the customer not only to save money,

but also enables them to add their own

personal touch every step of the way.

What is the estimated return on

investment of your product?

The key thing is to remember that

generally what you project is what you will

bring in. So, if you want to attract families

at certain times and couples at others, then

we advise customers to think about using

PR. We use Niche Brands, who work with

customers running glamping business to

ensure that websites, PR and adverts are

relevant to the people the business wants

to attract at the right times. We advise that

PR will be instrumental to business success

and that businesses should see things

changing and improving with a PR boost

within three to six months. Promotion of a

business is key and you need to know what

will set you apart from the competition.

The key to PR for glamping businesses is

getting your brand out there and raising

your profile, which in turn should see

an increase in awareness, enquiries and

ultimately occupancy.

Please mention a glampsite that has

installed your product

The high-end Dimpsey hut in Somerset

is one of Blackdown's finest Turnkey

huts. Emma Warren set up her glamping

business in 2014 and has created the

Dimpsey hut as the ultimate in a high-end

glamping retreat, which is now an award

winning glamping site. Emma has designed

it to ensure that guests feel like they are in

a luxury hotel. Dimpsey is 18 feet long and

contains a double bed, seating, kitchen

area and a bathroom with shower and

flushing toilet. Dimpsey now also has a hot

tub and garden oven in the outdoor area

and Emma has created an idyllic retreat for

couples.

Philip Ternouth, sales manager

Camping Snug

01208 850376

www.campingsnug.co.uk

How can pod accommodation benefit a glampsite?

For the site owner, a fully insulated structure means all year-round

use. Our pods are low maintenance and set up ready to go. It also

means no taking down of wet tents and drying before storing. For

guests, there is no wind whip or flapping to keep them awake, no

waking with the early dawns of the long days of summer, more

privacy and security, and a guaranteed dry place should the

weather get a little damp.

What is the USP of your product

Complete self-contained glamping, low maintenance, and yearround

rental potential.

How can your product be customised or made bespoke?

The Star Pod is modular - we can build any size depending on the

customer's specification. We have built an H-Shaped Star pod to

accommodate workers at a famous festival.

What options do you have for small, medium and large

budgets?

Our smallest Camping Snug starts at 4.2m, which can

accommodate two adults easily. For medium budgets a 6m

standard pod gives you more room. Our star pod is the largest we

supply off the shelf. We can supply larger bespoke pods - the only

limit is your imagination and size of wallet.

What is the estimated return on investment of your product?

The Star Pods will pay for themselves in one to three years,

depending on site location and length of season. Our Star Pods

have a life expectancy of 25 years plus. Each pod has a potential to

earn over £15,000 per annum.

Please mention a glampsite that has installed your product

The owner of Trecombe Lakes in Falmouth (www.trecombe-lakes.

co.uk) helped design the Star Pod. The site has steadily grown

over the years and now offers seven Star Pods in an idyllic Cornish

location. Their season gets longer and longer each year. This year

they were fully booked over the Christmas holidays, which speaks

volumes about the build quality and insulation that is used in

our Star Pod. They have been fully booked every weekend since

Christmas and are now looking forward to another busy season.

They have just taken delivery of their latest addition.

44 WWW.OPENAIRBUSINESS.COM
---
Picture these on

your site...Now call us

020 3773 3101 One-nightstand.co.uk

WWW.OPENAIRBUSINESS.COM 45
---
GLAMPSITES | PRODUCT FOCUS

Pods, Pods, Pods

Longer seasons, comfortable guests and great ROIs – what's not to love?!

'TRY BEFORE YOU

BUY' GLAMPING

PODS

One Night Stand

020 3773 3101

www.one-nightstand.co.uk

The safest way in the

market to get into

glamping - One Night

Stand's unique 'Try

before you Buy' scheme.

We are offering you the

opportunity to dip your toe

into the glamping industry

by trying our pods out. This

gives you the flexibility to

test your market and find

out which pods will work

for your business, if any.

This offer is only available

through ourselves and is

currently a limited offer,

available on a first come

first serve basis. To start

your 'Try before you Buy'

lease, call Nick Feeney 020

3773 3101.

STAR POD

Camping Snug

O1208 850376

www.campingsnug.co.uk

The Star Pod offers 6m x

6m of comfortable selfcontained

living. It can be

fitted with a kitchenette,

shower room and two

sleeping areas for up to

four people. The pods are

fully insulated offering

the potential for yearround

rental. We use long

lasting larch cladding and

coated aluminium tiles,

guaranteed for 40 years,

for minimum maintenance.

High quality, double

glazed windows and doors

have multipoint locking

for added security. The

modular design means they

can be installed in a day

with minimal disruption

to your guests and your

business.

ECO-PODS THAT WOW

Armadilla

0131 440 4515

www.armadilla.co.uk

A family business passionate

about design, technology and

engineering. We use sustainable,

high-quality materials and

the latest manufacturing

technology to create beautiful,

functional and iconic eco-pods

that "wow". Ethical principals

have been at the forefront of

our work and environmental

innovation for over 20 years.

MD Archie Hunter and his son

Ross built the first prototype

in 2009 and have honed the

design over the past eight

years, with over 400 Armadillas

manufactured to date. An

innovative graphic design and

tech team is supplemented

by a superb sales team who

will advise and work with

you throughout the entire

process.

NO MAINTENANCE,

INSULATED POD

moduLog

01982 553022

www.modulog.co.uk

The moduLog is a unique

glamping pod made

using home grown timber

and British sheep wool

insulation. The unique

design enables you to create

your own pods for glamping

accommodation, garden

offices, summer houses

or fishing huts. Each pod

comes ready for use with a

240v hook up or with a 12v

off grid solar system. They

are designed to be used 12

months of the year with no

maintenance and feature

oak flooring and handmade

double glazed oak windows

and doors. Design your pod

to any length or join two or

more pods together to make

larger units.

46 WWW.OPENAIRBUSINESS.COM
---
UK customer service

& support

New tent

ranges for

2017

Bedouin

Safari Tent

6

SUITABLE FOR

P E R S O N S

With the development of our own

Bedouin tent, Clear Sky has gone back

to the origin of the safari tent by

producing a tent that would have been

familiar to the ancient desert Nomads.

Using the original North African tent

as inspiration and combining this

with the modern luxury and comfort

expected today, we have successfully

brought the atmosphere of the East to

the West.

Clear Sky

Bell Tents

4

SUITABLE FOR

P E R S O N S

What sets our Bell Tents apart from

the rest is that they are all made from

heavy duty canvas, in fact the same

canvas that we use to make our Safari

Tents. That means they are completely

waterproof and built to last for 5-10

years.

Our Bell Tents now come with an

optional PVC Fly Sheet, giving extra

protection & life to the canvas.

Available in two sizes: 4m & 5m

0845 299 6484 www.safaritents.net

6 Alexander Road, Tonbridge, TN9 2AA UK
---
EVENTS

CASE STUDY

Ireby Festival

A strict maximum capacity and quality artists mean

this 15 year old festival in the Lake District has a

reputation for selling out early

A community event, the Ireby Festival is held in a small farming village

on the north-western edge of the Lake District National Park. Despite its

self-imposed small size, it attracts visitors from around the UK to its mix

of folk, roots and Americana music. Open Air Business talks to founder Charles Devlin.

Describe your event and how

many people it attracts?

Ireby is a small farming village

in Cumbria, with a population

of about 150. The festival is

designated a not for profit

community organisation and has

a self-imposed capacity of 650.

Music venues include St James'

Church, the village hall and the

local pub, Emily's Black Lion. The

village square is also a popular

meeting point, as is the Women's

Institute; the ladies here make

delicious soup and home bakes.

The local primary school is

involved and the Woodlands

Country Guest House, which hosts

music workshops. Concerts are

held in a 12th Century chancel

(the original Ireby church) situated

a mile from the village. There is

no vehicle access so visitors are

"THE LOCAL

PRIMARY

SCHOOL IS

INVOLVED

AND THE

WOODLANDS

COUNTRY

GUEST

HOUSE,

WHICH

HOSTS MUSIC

WORKSHOPS"

taken on a guided walk from the

festival site to the chancel. The

main stage is a wide span marquee

with a seating capacity of 650. The

festival attracts people from all

over the UK and has developed a

reputation for selling out early.

How does the relationship with

the landowner work?

The festival arena houses the

main stage, tents, camper vans

and a small number of caravans.

From the onset, the local farmer

has been a staunch supporter

of the festival, and three weeks

before the event he will free up

several fields for our use. These

are conveniently situated just a

few minutes' walk from the village

square. Prior to the festival these

field are grazed by sheep and

cattle.

What is the event's history and

what made you decide to run it?

A chat over a glass of wine at a

friend's birthday party brought

about the idea of a festival.

At that time, I was a booking

agent for a number of folk/roots

musicians in the UK and Canada,

so programming such an event

was fairly straight forward. The

inaugural festival was held 15

years ago in Susan Gray's garden

and sold 100 tickets. Initially, we

just used the village hall but as the

popularity of the festival grew we

were offered an alternative, more

spacious venue in the grounds of

another private dwelling in the

village, Ellenside House, where a

main stage marquee was erected

within the perimeter of a tennis

court. The festival remained here

until 2012 when it's popularity

48 WWW.OPENAIRBUSINESS.COM
---
outgrew the available space and

required us to move to a larger

open field site.

How did you find applying for

permission to run the event?

From the onset, and to date,

we maintain a good working

relationship with Allerdale

Borough Council licensing

officers. Initially our license

was a Temporary Event Notice

restricting capacity to 499, which

had to include all the artists,

volunteers and infrastructure staff.

We applied to change this to a

premises licence, which is what we

hold now.

How have you planned the

layout of the event?

There is no flat field in or near the

village suitable for staging such an

event, however, with assistance

from the farmer and other local

businesses, we widened the

entrance gates and re-enforced the

uphill access to what is now the

festival arena. A wide span main

stage marquee sits on the flattest

and highest section of the field,

which boasts stunning panoramic

views overlooking the Caldbeck

Fells and Skiddaw, England's

fourth highest mountain.

"SOURCING

ARTISTS FOR

THE FESTIVAL

IS MAINLY

THROUGH

MUSIC

AGENCIES OR,

OCCASIONALLY,

DIRECTLY WITH

ARTISTS"

How did you research and source

your marquees, bars and other

infrastructure?

From the onset, we chose local

suppliers and have been fortunate

to develop a sound working

relationship with some extremely

professional individuals. They

know how we operate and

understand the nature of our

voluntary community status and

the physical issues we have to

overcome to stage the event.

What entertainment do you offer

and how did you source it?

In relative terms the festival is tiny,

but from an artistic perspective if

fights well above its weight, with

previous headline artists including

Eddi Reader, Kate Rusby, Elkie

Brooks, Seth Lakeman, and Cara

Dillon. This year we have Jon

Boden (ex Bellowhead frontman)

and, from Scotland, Admiral

Fallow.

The festival employs local,

national and international

musicians, and focuses principally

on folk/roots/Americana with a

pinch of blues and jazz thrown in

for good measure. Sourcing artists

for the festival is mainly through

music agencies or, occasionally,

directly with artists.

What provisions do you make for

power, lights and sound?

Sound, light and power, staging,

portable toilets and waste

disposal is contracted from local

businesses. The main stage,

catering units and campsite

lighting is generator powered.

Other venues in the village are selfsufficient,

but do require sound

and stage lighting technicians.

How do you manage admissions

and visitor safety?

Admission is by advance ticket

purchased either by post and

cheque payment or online

through our chosen ticketing

company. Visitors have to

exchange their payment
---
EVENTS

voucher for a wristband which

allows entry to music venues.

Professional security personnel

are employed in addition to

approximately 55 volunteer

stewards deployed over the two

festival days. One month before

the festival the local authority

and police require us to submit a

management plan which covers all

aspects of visitor safety, vulnerable

adult and child safety and first aid

provision.

What ground protection do you

use for cars and footfall?

Access to the main arena and

campsite has to be re-enforced

with 8x4 rubber matting hired

from a neighbouring festival.

Generally, the fields drain well and

fast, which is probably a bonus for

living in a hilly area.

How do you publicise the event?

In national magazines, social

media and through our website.

Our local county newspaper,

The Cumberland News, is very

supportive too. We also place

leaflets in the tourist visitor centre

in Keswick.

What challenges have you faced?

Living in the Lake District,

inevitably brings its own localised

weather issues which requires us

to hope for the best and plan for

the worst. Ensuring problem-free

access on and off the main site and

adjacent car parking field is our

principal challenge.

What are your plans for next

year?

This year's festival sold out at the

beginning of March. We will have a

debrief meeting at the end of May

where a decision will be made on

the next festival.

ADDRESS BOOK

MARQUEES & FLOORING

Lock Hart Leisure - 01946

725222

www.lockhartleisure.com

LIGHTING & POWER

SVL Hire - 01228 562110

www.svlhire.co.uk

BAR & CATERING

Bean on the Scene -

07856 057755

www.facebook.com/

beanonthescene

Big Pizza Pies - 07847 807739

www.bigpizzapies.com

What advice could you give

to someone coming into the

outdoor event industry?

No matter where you are, always

prepare for the worst weather

possible. Stick to your budget

and make sure all partners work

in harmony - in our case that

means artists, the paying public,

infrastructure staff, volunteers

and, above all, the local residents.

Red Raddish Catering

07917 005000

www.redradishcatering.co.uk

Yates Brewery

01983 867878

www.yates-brewery.co.uk

TOILETS

Leet Loos – 01697 343399

(Cumbria)

TICKETING

Gigantic

www.gigantic.com

VISITOR MANAGEMENT

Pro-Tect UK - 0843 289

1875 / www.pro-tect.co.uk

(Cumbria)

INSURANCE

La Playa Insurance

020 3865 0149

www.laplayainsurance.com

DETAILS

26-27 May 2017

Ireby, Wigton, Cumbria

www.irebyfestival.co.uk

50 WWW.OPENAIRBUSINESS.COM
---
®

The portable bar system

NEW

The Festival Bar

Super strong - £765

for a 1.2m section

Fully integrates with standard

Zipbar units

Call for quotations

An all inclusive beverage service platform for

event organisers, function venue owners and

private clients, comprising a full front bar in any

size or shape, full back bar and connector bar

The new Industry standard portable

bar to the leisure industry

• Ultimate style

• Flat packs in minutes into flight cases

• Set up in minutes with no tools

• Mains power distribution on all main

sections - RCD protected

• Creates an efficient, safe working environment and

increases beverage sales

• Hire in extra stock for one off events or hire out your

stock to other Zipbar owners

Call now or email for itemised quotations 01752 787422

www.zipbar.co.uk
---
EVENTS

Field to

Festival

Make monetising your spare field a reality with these tips

from Katie Tann, founder of Field Lover - an online portal

matching field owners with 'field seekers'

people. If you are hiring in external services,

such as a marquee company, fireworks

display team, temporary power provider

or catering company, then each individual

supplier should undertake their own risk

assessment for their activity and provide the

event organiser with a copy or a certificate

of compliance with the relevant safety

regulations.

WE LIVE IN A 'sharing economy' world

with an increasing number of online

marketplaces at our disposal for renting out

our surplus assets. The sharing economy

is a real trend and one that is growing,

creating new markets out of things that we

wouldn't have previously considered to be

monetisable.

Field Lover aims to fill a gap in the microland

rental market assisting landowners to

advertise and rent their land to field seekers,

who are primarily looking for short-term

land rental for a variety of activities. From

a simple day rental for the local church fête

or amateur dramatics performance, to a

sporting event such as Tough Mudder, popup

open air cinema or local music festival

- the list is ever growing. Outdoor events are

fast gaining popularity, can be profitable

and provide a valuable contribution to the

community and local area.

As the landowner, you choose whether

you rent your land to a third party who

organises an event or whether you organise

and run an event yourself. When hiring

your land to a third party you have a duty

of care to those assisting you and to people

attending the event to ensure the site

is risk assessed, hazards clearly marked

and adequate signage is in place. Any

activities related to the event itself are the

responsibility of the event organiser, who

has ultimate responsibility to carry out a

more detailed risk assessment.

It is good practice, regardless of your

event size, to undertake a risk assessment

to identify the risks versus actions required

for the prevention of accidents during

your event. Once your event is assessed

you can assign actions to the relevant

WHERE TO START

First and foremost it is worth spending time

carrying out some sound market research.

Ask yourself questions such as, "What type

of event?" and "Is it best suited to my site?"

Consider your land from an outdoor event

viewpoint – think about:

› gradient

› boundaries (walls, fences or hedges)

› natural hazards (rocks, lakes, rivers or

streams)

› do any of the features of the land hinder

the event requirements?

› is the site within easy access from a main

road?

› is there sufficient space for traffic and

suppliers to navigate the site and park?

› how does the land cope after rainfall; will

parking areas need stabilising and are

you able to provide assistance if cars get

stuck?

52 WWW.OPENAIRBUSINESS.COM
---
EVENTS

› what are the existing amenities - consider

water supply, power, outbuildings etc.

We have a wide range of fields listed on

Field Lover and large numbers of 'field

seekers' searching for land for a variety of

uses. As we head into summer and longer

evenings, land for outdoor events is in

high demand. When deciding whether to

hire your land for a public event it is worth

considering your type of event using the

'low to high risk approach'.

A low risk event defines small scale

events that require a lower capital

investment, shorter planning period (+3

months) and generally have less than 1,000

attendees, such as:

› car boot sales

› charity fundraisers such as fêtes and dog

shows

› local food festivals or farmers markets

› theatrical performances

Medium risk applies to events which

require a larger investment and a longer

planning period (+6 months), these could

include:

› country shows

› car rallies

› sporting events, such as obstacle course

races and local horse shows

› local music festivals

SHUTTERSTOCK

High risk events will have large attendee

numbers and complex infrastructure

such as staging, large scale amenities

and parking, or they may have a high-risk

element to them such as a firework display.

Initial investment is high and the planning

period would be +12 months. They might

include large music festivals.

KEY CONSIDERATIONS

Before planning any event, you need to ask

some important questions:

1) Who are my anticipated audience?

Family-focused events tend to be lower

risk than events aimed at young adults.

Consider requirements for visitors such as

the elderly or disabled - is the site suitable?

2) Where will visitors be travelling from?

Will your event attract visitors from further

afield? Consider what the impact of

increased footfall and traffic to the local

area during the event period might be.

3) Is my site big enough?

A small-scale event is usually considered

less than 1,000 attendees. For anything

larger it is well worth seeking help from

an event planner who has the knowledge,

skills, contacts and experience in planning

and organising larger scale events.

4) What is the timing of my event?

Events held during the daytime are lower

risk than those which run into the evening.

You'll need to ensure adequate lighting

can be provided to assist visitors with

navigating the site after dark.

Next on your list is your Event Plan. Your

event should be well planned from the

outset, here you identify who is responsible

for each area, the tasks leading up to the

day, your list of actions and timeline to

ensure everything is covered before, during

and after the event, such as the clear up.

As a general rule, a low risk event will

require less planning, resources, licensing

and insurances than a higher risk event;

plan your timeline accordingly.

LICENCES AND NOTICES

Identify early on which licences you need

to apply for and what notices need to be

issued. Once this has been done, draft a

timeline to ensure you have all applications

SHUTTERSTOCK

agreed and licences in place well before the

event day.

Your first point of call is your local

authority, this is the local authority where

your event will take place. Give details

of your event and they can advise on the

appropriate time scales for planning, who to

contact and any licence or other applications

that are required. Expect to give at least six

months' advance notice for a large event

with more than 1,000 people attending, or

where public safety is a concern.

Don't be put off by the thought of too

much red tape. It's pretty straightforward

and can be helped by following simple

checklists, and breaking areas down into

a step by step approach can ensure the

process is painless. Planning an event can

be a lot of fun, very rewarding and profitable

for both the landowner and event organiser.

Careful planning and organisation ensures

your event is successful and safe.

For smaller, lower risk events allow a

minimum of three months for consultation

with all services that may be affected -

such as police, local authorities, fire and

rescue, ambulance service, emergency

planning department, event safety team and

Highways, as well as to notify all properties,

residences and businesses that may be

affected by your event.

Below are some other licences you may

need. As part of your enquiries and licence

submissions you may need to provide maps,

site or route plans.

Advance Notice – One month before your

event you or your organiser must post a

public advance notice stating the event

details and effect of the event – make sure

to describe any alternative route(s) available

to traffic.

› Temporary Event Notice (TEN) - Under the

Licensing Act 2003, some events may require

a licence or a Temporary Event Notice (TEN).

Apply to your local authority where your

event is being held, or online.

› Entertainment Licence – It's worth noting

that it can take up to three months from

application for an Entertainment Licence.

› Film - If you plan to show a film publicly

you will need a Single Title Screening

Licence (STSL), obtainable online from BFI,

Filmbank and MPLC.

› Food and Drink - Will you be providing

food or alcoholic drinks, and if so is a license

or hygiene certificate required? It can take

up to six months for an application for a

Temporary Alcohol Licence, so ensure you

submit as early as possible.

› Fireworks, Chinese Lanterns or a

Bonfire - It can take up to one month for an

application for a firework display outside of

the bonfire night and New Year periods. This

must be submitted to the fire and rescue

service.

WWW.OPENAIRBUSINESS.COM 53
---
EVENTS

SHUTTERSTOCK

SHUTTERSTOCK

WHAT ABOUT INSURANCE?

Whether you are hiring your land to

a third party or organising the event

yourself, you'll need to investigate

what insurance is required. Speak to an

insurance broker who can help you with

identifying the necessary cover for your

event.

› Public liability insurance

Organisers can be held legally liable for

costs or damages relating to any injury

or incident occurring during the event

period, so it is strongly advised you take

out a public liability insurance policy.

In the event of any injury or damage to

property you must write down full details

of the incident and you should report to

your insurers without delay.

Events which involve activities such as

bouncy castles, fireworks and sporting

events pose a higher risk than a local

food festival, fête or car boot sale.

If you are hiring in external suppliers

you should check that they have their

own public liability insurance and

they comply with the policy terms and

conditions. Ask for a copy of their policy.

As the landowner, consider whether

you include a clause in your hire contract

requiring for public liability insurance

to be held by anyone wishing to hold an

event on your property.

› Employer's liability insurance

If you are recruiting anyone to help you

with your event you will need employer's

liability insurance.

FURTHER THOUGHTS

Further questions you should ask yourself in

defining your Event Plan include:

› Fire - Do you have effective control

measures in place and adequate provision for

warning and assisting escape?

› Public order and traffic management - How

will you manage traffic, are cones or crowd

control barriers required, are the entrances

and exits on your site fit for purpose,

controlled and signed and do they cater for

disabled people?

› How will you manage lost children and lost

property?

› Roads and public transport - Are any local

roads affected, do you need to close or put

signs on a road, does the event impact on a

bus route?

› Health, safety and first aid - What are your

first aid facilities and emergency procedures?

Are you in agreement with the relevant

services, such as - Police, Fire and Rescue

and Ambulance Service? Consider the first

aid provisions available to you, such as the

Red Cross, St John Ambulance or, for smaller

events, first aid training.

› Manpower - Do you need external suppliers

or to recruit volunteers to fulfil the various

services and tasks required for your event?

› Site amenities - Do you need a water supply,

how many toilets, are rubbish bins required?

› Water safety - Is the event in or near water

such as a lake or river? Events near to or

involving water are considered higher risk

than those on dry land.

ABOUT THE AUTHOR

Katie Tann is the co-founder of Field Lover, a UK-based platform assisting

landowners to advertise and rent their land to field seekers looking for short

to medium-term land rental for a variety of activities. Katie is an outdoor

enthusiast with a keen interest in the sharing economy market.

The idea for Field Lover was born from a love of the outdoors and the

challenges both she and co-founder Adrian Griffith had encountered in finding

outdoor space for a variety of uses. Demand for land rental is high with the

Field Lover community expanding on a daily basis. www.fieldlover.com

WHERE CAN I GET HELP?

For further help and advice we've put

together a number of resources, along

with some simple checklists to help

you navigate your way around land

rental, risk assessments and event

planning.

› We are regularly updating our library

which you can find in our 'Field Kit for

Field Owners' www.fieldlover.com/

home/fieldkitforfieldowners or follow

our blog for regular articles and insights

into land hire and event management.

› If you are a landowner looking to

rent your land then join the Field Lover

community; it is free to list -

www.fieldlover.com/ive-got-a-field

› If you are interested in organising

a festival, the Association of Festival

Organisers is a good place to start, with

membership options, member benefits

and discounts, and a useful supplier

directory www.festivalorganisers.org

› For insurance take a look at Hiscox

who provide custom built outdoor

event insurance - www.event-assured.

com/outdoor-events

› Temporary Events Notice (TEN)

applications - www.gov.uk/temporaryevents-notice

› Guidance for an Entertainment

Licence - www.gov.uk/guidance/

entertainment-licensing-changesunder-the-live-music-act

› For guidance on event safety -

www.hse.gov.uk/event-safety/index.

htm

› The Purple Guide is a great resource

aimed at music events but has useful

information for any event. It's £25 for an

annual subscription and is a worthwhile

investment - www.thepurpleguide.co.uk

54 WWW.OPENAIRBUSINESS.COM
---
WWW.OPENAIRBUSINESS.COM 55
---
The organiser of Event Production Show and publisher

of Access All Areas is delighted to bring you the...

27 - 28 SEPTEMBER 2017

This new two day show is aimed at the full array of outdoor events. Bringing

together suppliers, venues and organisers of events across the music,

sport, cultural and public spectrums, the show will allow suppliers to show

off their full capacity using both the indoor and outdoor space of Sandown

Park, allowing organisers to be inspired for their next events.

This is a must attend new show for all professionals in the outdoor

events market, with great accessibility to the south west of London.

For more information on exhibiting at the show

please contact Jason Jacob on 020 8481 1122

or jjacob@mashmedia.net

More information on how to attend as a visitor will

be announced soon.

If you're in outdoor events - you're in

the Festival & Outdoor Events Show

festivalandoutdoorshow.co.uk

@festoutshow
---
EVENTS

Ground

Protection

Advice

Prevent damage to land, vehicles and

visitors with solutions from three

suppliers of ground protection

products

Dan Devenish, head of

global sales

Ground-Guards

0113 267 6000

www.ground-guards.co.uk

What advice can you give an event

organiser on ground protection?

Never trust the British weather! We've

seen rain and mud completely ruin

'unprotected' events in the past, with

wheels getting stuck in the mud and

people slipping and sliding all over the

place.

You want people to remember your

event for all the right reasons, and so

the inclusion of ground protection in a

marketing budget is a must.

Watch out for 'hidden' costs – aluminium

boards for example are extremely heavy

and require expensive lifting equipment

to lay them. Make sure your supplier

is upfront about costs and clear about

application. Ground-Guards offer free

consultation to ensure the appropriate mat

and tread pattern is selected for a specific

job.

What is the USP of your product?

Ground-Guards' high quality ground

protection mats are made from 100%

recycled plastic. Our mats are lightweight

and very easy to handle, which means that

two workers can comfortably lift the mats

without the need to hire any specialist

or expensive lifting equipment. This

represents a great cost saving for any event

organiser.

As well as being light, our mats are also

incredibly strong. They won't break under

pressure, making them suitable to hold all

vehicle types and heavy equipment. Our

MultiTrack mat is so strong in fact, that we

guarantee it unbreakable by vehicles up to

120 tonnes.

We believe that no other ground

protection solutions are as strong, light,

portable and easy to install as the Ground-

Guards' range.

What options do you have for small,

medium and large budgets?

With Ground-Guards, a little budget can

go a long way, so whether the requirement

is for a temporary car park, roadway,

wheelchair access, stage area, footpath or

more, there is a solution for every event.

WWW.OPENAIRBUSINESS.COM 57
---
EVENTS

All our mats are competitively priced

and provide a fantastic return on

investment. We offer flexible options

and great customer service. Mats can

either be purchased or hired depending

on need: our consultation team will

provide free expert advice on which mat

is best suited for a client's need.

Where has your product been used?

Longleat Safari Park approached us

last winter as they wanted to turn grass

fields into a 6,000 sqm overflow car

park, to cater for thousands of extra

visitors who would come to see their

annual Winter Festival of Lights event.

Safety was of course the paramount

concern so we recommended our high

traction MultiTrack mats to ensure zero

slips, trips and accidents.

A total of 2,000 MultiTrack mats were

laid to create a safe, functional and

aesthetically-pleasing car park with

enough space to park an additional 300

vehicles.

Graham Crisp, director

GT Trax

01487 823344

www.gttrax.co.uk

What advice can you give an event

organiser on ground protection?

Throughout the past 12 years we

have seen a significant growth in the

use of plastic trackway and ground

protection for outside events. Most

event organisers are fully tuned in to

their requirements, however, some

don't realise that we offer a pre event

site inspection. These visits can often

help to resolve any issues before our

teams arrive on site.

What is the USP of your product?

GT Trax is a rental company supplying

a range of plastic trackway, ground

protection and temporary flooring

to the events market. The company

was formed in 2005 and remains

independently owned and managed.

The move from traditional metal

trackway to recycled plastic has

taken off over the past few years. We

believe that we have been one of

the pioneers in this change. Our new

Power Tracks 40 temporary roadway

system, launched in 2015, has all

the attributes of metal trackway

but with the advantage of being

environmentally sustainable, as it's

made from recycled (and probably

more importantly - recyclable)

plastic. Also, using plastic trackway

can help to reduce an organisers

security costs, as plastic has no

discernible resale value, whereas

metal is a valuable commodity.

Outside events can generate

a lot of mud! Recognising the

ecological impact of the volumes

of water which were required to

clean our panels, we developed, in

collaboration with a local supplier

of cleaning equipment, a bespoke

automatic ground plate cleaning

machine, which operates using

recycled rainwater.

What options do you have for

small, medium and large budgets?

We have a range of trackway, ground

58 WWW.OPENAIRBUSINESS.COM
---
EVENTS

protection and temporary flooring

all ideally suited for use at outside

events. We will supply most types

of outside event that require our

products no matter how large

or small. There are no minimum

quantities or other stipulations - we

will put in exactly the same effort to

ensure that an event organiser has

the right type of equipment.

Where has your product been

used?

In 2016 we supplied both our Power

Tracks 20 and Power Tracks 40

trackway systems to the popular

Green Man festival based in Powys.

The organiser deployed the lighter

duty Power Tracks 20 for safely

guiding cars and vans onto site and

the heavy duty Power Tracks 40

for bringing in articulated trucks.

We were humbled when two of the

festival organisers made a visit to

our stand at the 2016 Showman's

Show to thank us personally for our

services and for supplying the exact

products to suit their requirements.

Dan Brown, group sales

manager

Grassform Group

07818 040529

www.grassform.co.uk

What advice can you give an event

organiser on ground protection?

Always prepare for the worst weather! We

have had several of our event organisers

be hopeful of sunshine and try to cut back

on trackway, then the event has come to

a halt the moment the rain has started.

Rain causes some events to have major

problems getting deliveries in and around

the site safely and has even caused some

of them to be cancelled.

What is the USP of your product?

Our trackway has a unique chevron grip

surface, which provides incredible grip

and traction and also dispels mud from

vehicles as they drive over it, keeping

them safer while on-site. It is virtually

indestructible and can take over 100

tonnes in weight on a single 3m wide

roadway. It is made from 100% recycled

materials and is environmentally friendly.

It is approved for use on SSSI sites so will

not disturb the habitats of local species

living there. Is it very quick to deploy and

take up and causes no lasting damage to

the ground it's been on. It is also made

from a none valuable material, so is not a

theft risk and does not require additional

security or insurances in place to cover it.

What options do you have for small,

medium and large budgets?

Our Euromats are a lightweight trackway

system for small budgets and can be laid

by hand using a two man lift. They are still

very robust and can be walked on or driven

on and will take up to 25 tonnes in weight.

For larger budgets we recommend our

machine laid Tuff Trak - this is more robust

and will not move around once laid as each

piece weighs over 290kg.

Please mention an event that has used

your product and how it performed

We are currently working with UK Live who

do all the "Let's Rock" events along with

Penne Festival and Lockdown Festival. Our

Trackway is used for pad areas to allow

heavy cranes to build stages. It is also

used for walkways and other roadways.

The system performed excellently and

did everything the client had hoped for,

kept everything moving on-site and most

importantly kept all the vehicles safe. Since

using this the client has now signed up to

a multi year deal to work with us on every

event.

WWW.OPENAIRBUSINESS.COM 59
---
EVENTS | PRODUCT FOCUS

Ground Protection & Flooring

Products to protect your ground, and visitors alike

HIGH PERFORMANCE

GROUND MATS

Ground-Guards

0113 267 6000

www.ground-guards.co.uk

Don't let bad weather ruin your

event! Rain can easily turn the

ground into a mud bath, causing

vehicles to get stuck and

creating dangerous slippery

conditions for visitors. Protect

the ground you're using, and

keep your visitors, vehicles and

equipment safe with Ground-

Guards' fantastic range of

ground protection solutions.

We have a range of quality,

high performance ground

mats to create temporary car

parks, roadways, stage areas,

walkways, wheelchair access,

site entrances and more. Our

mats are strong, lightweight,

easy-to-join and have multiple

tread patterns. They are made

from high strength, 100%

recycled plastic.

SITE SAVER TRACTION

MAT SYSTEM

Eco Track & Access

01455 553700

www.ecotrackway.co.uk

Keep your event site open for

business whatever the weather

with the new Eco Traction

system from multi-award

winning Eco Track & Access.

Renowned for its versatile range

of lightweight, portable access

systems, Eco Gridmat and Eco

Terra-Tech – perfect for walkway,

roadway, hard-standing for

parking and ground protection

– the new Eco Traction system

can match the performance of

metal systems whilst ensuring

minimal ground damage and

rapid site recovery. Available

in two sizes (up to 80 or 120

tonnes, static loading) the mats

are easy to handle and use an

unbreakable joining system to

create unbroken trackway of the

desired length.

Hire Temporary

Roadways and Ground Protection

FULL NATIONWIDE INSTALLATION AND REMOVAL SERVICE

Power Tracks 20

60 WWW.OPENAIRBUSINESS.COM

Power Tracks 40

GT Trax Ltd, High Tree Farm, New Road,

Warboys, Cambs . PE28 2SS.

Tel 01487 823344 info@gttrax.co.uk

www.gttrax.co.uk Twitter @GTTrax

PORTABLE DANCE

FLOORS, BARS & STAGING

Portable Floormaker

01332 814080

www.portablefloormaker.co.uk

Portable Floormaker is a UK

based manufacturer of the

well known 'LOK' range of

portable dance floors, bars

and staging such as Florlok®,

Publok®, Wedlok®, Nightlok®,

Starlok®, Outlok®, Weblok®

and the all new Multilok®

indoor/outdoor floor. It

is also the UK distributor

for the IKADAN range of

sectional, durable flooring.

The company strap line is

"supplying the best... to

the best" and the company

philosophy is that we will

not compromise on quality

of materials to achieve sales

of our product unlike some

of our competitors.

Call us, email us or find us

on Facebook to discover

how we can help your

business.
---
10%

OFF YOUR

FIRST ORDER

Quote: Open Air Business

Don't get stuck

in the mud!

Ground Mats

■ Heavy duty roadway or walkway

■ Instant ground protection

■ Portable and easy to use

■ Available for hire or sale

nationwide

tel: 01455 553700 • sales@ecotrackway.co.uk • www.ecotrackway.co.uk

ETA_OpenAirBus_HP_(132x185)_03_17.indd 1 05/04/2017 09:02

WWW.OPENAIRBUSINESS.COM 61
---
ADVERTISING FEATURE

Spot light

A roundup of products for the outdoor hospitality industry

ALL-IN-ONE SOLAR

RECHARGEABLE SOLUTION

Portable Power Technology

01474 761051

www.portablepowertech.com

Perfect for all off-grid

locations! Our PPT

Powerpack 300+ can power

lights, charge small devices,

TV's, laptops or even a fridge!

Developed exclusively by

PPT using our extensive

knowledge in off grid power,

the Powerpack 300+ is an

all-in-one solar rechargeable

solution.

This safe, lightweight system

comprises of a powerful

lithium battery, an integrated

300w pure sinewave inverter

and battery charger.

PPT offer a wide range of offgrid

power options including

the fantastic NIWA solar

lighting range. If you want

to discuss any of our power

solutions- please call us.

EVENT KITCHENS AND CATERING

EQUIPMENT

PKL Group

01242 663000 | www.pkl.co.uk

PKL Group is the UK's leading

supplier of modular commercial

kitchens. With 27 years in the

industry, we have hundreds of

temporary kitchens and 10,000

items of catering equipment

available to hire. We work on

around 500 events each year,

including festivals, sporting

events and pop-up restaurants in

all sorts of weird and wonderful

places!

From stand-alone catering

equipment for use in marquees

or existing buildings, to complete

modular kitchens and coldrooms,

we supply events of all sizes. We

are CDM Regulations compliant

and offer a complete turnkey

service, from design and project

management to installation and

24-hour technical support.

SAFETY KETTLE FOR

GLAMPSITES

Ghillie Kettle Company

01527 66217

www.ghillie-kettle.co.uk

The Ghillie Kettle has

produced camping kettles

for centuries and still

manufactures them in the

traditional way. We do

however have one unique

feature - all of our kettles

come complete with whistles.

This adds to their safety

as you know exactly when

the kettle reaches boiling

point. The kettle can be used

in harsh, wet and windy

conditions. It's simple to use

and doesn't require gas or

any other artificial fuels -

just use twigs, fir cones, dry

leaves and/or newspaper.

It is also the only camping

kettle on the market that has

a whistle, and is a perfect

solution for glampsites.

WI-FI ANYWHERE!

noba Event Intelligence

020 3440 4610

www.noba.co.uk

noba is one of the longest

running event specific IT

companies in the industry.

Specialising in event Wi-Fi

and internet anywhere, noba

is the go-to connectivity

company for brands, festivals,

production companies and

agencies. Working in the UK

and globally, we have delivered

internet and Wi-Fi services to

virtually every conceivable

location; from boats, trains,

abandoned warehouses, fields,

cathedrals, palaces and more

conventional venues - we've yet

to be defeated by a technology

challenge! We can deliver

services at very short notice,

sometimes less than 24 hours!

From one to over 1,000 users,

get in touch today to discuss

your requirements.

62 WWW.OPENAIRBUSINESS.COM
---
ADD 'WOW' WITH LIGHTING

BALLOONS

Airstar

02033 016 339

www.airstar-light.com

Airstar, the inventor of and a

world leader in lighting balloons,

wanted to innovate a balloon

that is ideal for any live event,

including broadcasted events such

as fashion shows, sport events,

festivals and television shows. It

launched the new Crystal Dynamic

White 300W LED, the first balloon

of its kind that is completely flicker

free, dimmable, DMX controllable

and allows you to control the

colour temperature (3,000-6,500°

Kelvin) of the light diffused. Perfect

for decorating event spaces inside

and out, it adds to the versatility

of Airstar balloons, giving you

enhanced control of your lighting.

You can also customise the balloon

by branding it with vinyls.

TREEHOUSE GLAMPING FOR ALL

Cheeky Monkey Treehouses

01403 732 452

www.cheekymonkeytreehouses.com

Our team has over 15 years'

combined experience in

designing and building

treehouses of all shapes and

sizes. From simple elevated

cabins to a complex maze

of rope bridges and tree

top hideaways. Whether

it is a single structure as a

luxury escape for two, or

a field of individually built

family glamping pods. We

provide a personal treehouse

consultation service with

you at your proposed

treehouse site, where ideas

can be gathered, shared

and implemented. Handdrawn,

illustrated and

three-dimensional drawings

are then created to suit your

needs and those of your

desired end user.

AIRSTREAM

ACCOMMODATION

Airstream Facilities

07775 802 611

www.airstreamfacilities.com

Airstream Facilities

supply luxury Airstream

accommodation to the

boutique camping market at

festivals, corporate events,

weddings and to the TV/film

industry. Each Airstream

has been lovingly restored

and fitted out to the highest

possible standard. Popular

with couples, families or

friends, with a choice of

double or single beds, they

sleep between 2-5 people.

Take your pick from our

fleet of 37 luxury Airstreams.

All Airstreams come with

a fully equipped kitchen,

bathroom, central heating,

air-con, TV/DVD, hi-fi system

and plenty of space to hang

out.

SHOWER COLUMN THAT

REDUCES TAX BILLS

Horne Engineering

01505 321455

www.horne.co.uk

Did you know that the stylish

Duŝo shower column from

Horne Engineering can also

reduce your tax bill? If you

buy an asset that qualifies

for First Year Allowances, you

can deduct the full cost from

your profits before tax. The

Duŝo is named on the ECA

Water Technology List as it is

water and energy efficient. A

flow rate of 8 L/min optimally

balances the need to conserve

pre-heated water but still

provide an effective shower.

The auto shut-off prevents

water wastage and the 60

second duration per paddle

actuation also improves

your customer experience.

Narrated animation at https://

youtu.be/ZjrYa6Mreik

WWW.OPENAIRBUSINESS.COM 63
---
CLASSIFIED DIRECTORY

A4 - Full Page Ad.indd 1 04/04/2016 17:17

A4 - Full Page Ad.indd 1 04/04/2016 17:17

Classified Directory

Sewage Treatment Systems

For all residential, commercial

and industrial applications

mobile cookery theatre

demonstration kitchens for hire

01462 43 44 45

www.onstagekitchens.com

08450 945 603 • info@theseptictankstore.co.uk

www.theseptictankstore.co.uk

Providing luxury bell tents available

for both hire & purchase

info@boutiquecamping.com

Providing

Providing

luxury bell

luxury

tents perfect

bell tents

for:

perfect for:

• Camping • Camping

+44(0)203

• Outdoor

394 2986

• Outdoor summer play summer roomsplay rooms

boutiquecamping.com

• Garden • lounge Garden areas lounge areas

• Festivals • Festivals

info@boutiquecamping.com

info@boutiquecamping.com • Weddings

• Weddings

and much

and

more!

much more!

+44(0)203 394 2986

+44(0)203 394 2986

boutiquecamping.com Available for both hire & purchase.

boutiquecamping.com Available for both hire & purchase.

LEADING LIGHT

AND POWER

FOR THE EVENTS

INDUSTRY

0345 409 0280

the Ultimate solution for

restraining temporary structures

the Ultimate solution for

restraining temporary structures

www.classicpodcompany.co.uk

T: 07971 869058

0800 122 3304 www.anchorbloc.co.uk

0800 122 3304 www.anchorbloc.co.uk

ü Hire or buy your Anchor Blocs outright

ü Take advantage of our 'Anchor Managment'

programme - great if you have multiple events at

different locations.

ü Hire

Full

or

logistics

buy your

and

Anchor

storage

Blocs

facilities

outright

are available

ü Take

Payment

advantage

by credit

of our

card

'Anchor

for convenience

Managment'

ü

programme

Emergency telephone

- great if you

service

have

for

multiple

24/7 support

events at

different locations.

ü Full logistics and storage facilities are available

ü Payment by credit card for convenience

InPartyTentsCo.

ü Emergency telephone service for 24/7 support

HIRING ALL OVER KENT & SUSSEX, NO VAT

AND FREE DELIVERY WITHIN 30 MILE RADIUS

O7917 457 820 | inpartytentsco@aol.com

STYLISH & UNIQUE MARQUEES

FOR WEDDINGS & PARTIES

ü 1000kg, 500kg, 330kg and 250kg options

ü Perfect for securing marquees, inflatables and any

other fabric temporaty structures.

CDM 2015 compliant Lloyd British Testing Certifed

ü 1000kg,

in accordance

500kg,

with

330kg

BS5975:2008.

and 250kg options

ü Perfect

Custom

for

options

securing

avalible.

marquees, inflatables and any

other

Huge

fabric

Range

temporaty

of accesories,

structures.

From branded covers to

ü CDM

specially

2015

adapted

compliant

all

Lloyd

teraine

British

pallet

Testing

trucks.

Certifed

in accordance with BS5975:2008.

ü Custom options avalible.

ü Huge Range of accesories, From branded covers to

specially adapted all teraine pallet trucks.

64 WWW.OPENAIRBUSINESS.COM
---
CLASSIFIED DIRECTORY

Festival

Trackway

traditional tepees with a

modern twist...

Retailer of single pole canvas tepees with fly

screens & windows in 3,4,5 and 6m diameter

tent hire in the north east

www.northernstartepees.co.uk

Luxury Toilet Trailers, Event Loos,

Themed Toilets, Shower Units &

Accommodation Hire

Multi award-winning trackway

& safety flooring solutions

01455 553700

sales@ecotrackway.co.uk

Ec

Track

& Access Ltd

incorporating

UmTech

Epic Group

01256 384 134

www.site-equip.co.uk

event@site-equip.co.uk

Your own private bathroom

right next to your tent or caravan

Tel. 0031 186 769 054 ❤ info@campplus.co.uk

www.campplus.co.uk

Simply the Best Events own and operate over 350

different attractions in house for Corporate Fun Days

and It's A Knockout events throughout the UK.

Speak to one of our Event Managers

on 0800 019 3908

www.simplythebestevents.co.uk

Ensure your guests have the best!!

• Luxurious eco-friendly modular vacuum toilet facilities

• Bespoke and stylish

• Ideal for all prestigious corporate and private outdoor events

• Covering the UK

Ensure your guests have the best!!

• Luxurious eco-friendly modular vacuum toilet facilities

Tel: • Bespoke 0345 and 459 stylish 0589

• Ideal for www.classicalloocompany.com

all prestigious corporate and private outdoor events

enquiries@classicalloocompany.com

• Covering the UK

Tel: 0345 459 0589

www.classicalloocompany.com

enquiries@classicalloocompany.com

BRAND NEW POP UP

Erection and dismantling included

in the price. Excellent for garden

parties, birthdays, markets,

weddings and other events

Tel: 01789 267000

Email: info@sketts.co.uk

www.popuphire.co.uk

COOLING & HEATING SOLUTIONS

Ensure your guests have the best!!

COOLING • Luxurious eco-friendly & HEATING modular vacuum SOLUTIONS

toilet facilities

temperature • Bespoke control and stylish

specialists

• Ideal for all prestigious corporate and private outdoor events

• Covering hirethe UK

sales hire

Tel: 0345 459 0589

portable sales units

www.classicalloocompany.com

temporary portable systems

enquiries@classicalloocompany.com units

temporary systems

sales@candhs.co.uk – coolingandheatingsolutions.com – 01590 681 434

Marlwood House, Silver Street, Lymington, Hampshire SO41 6DG, UK

sales@candhs.co.uk – coolingandheatingsolutions.com – 01590 681 434

Marlwood House, Silver Street, Lymington, Hampshire SO41 6DG, UK

sales@candhs.co.uk

coolingandheatingsolutions.com

01590 681 434

TIMBER INTENT

Tensile structures:

facilities, camp, glamp & event

Architecture:

design & planning application

01297 444416 timberintent.co.uk

WWW.OPENAIRBUSINESS.COM 65
---
PERIWINKLE

The battle of the wedding fairs leads to trouble for Periwinkle's chums

MONDAY

Twistleton-Penge dropped by. He is so full

of entrepreneurial va-va-voom following

his discussion with Fields of Gold - our

consultancy - that I reckon he might burst.

He says he has been inspired by business

advice from me and the boys on getting his

ancestral pile, Squirrelton Hall, to generate

much needed coins of the realm. Upshot?

Wedding Fair on Wednesday. Twistleton-

Penge's daughter, Daphne, is the event

manager. Daphne is broad of thigh and

dowdier than Tubby's niece, Freda the

Frump, who was expelled from her convent

school for being too straight-laced.

TUESDAY

Only Tuesday and by golly is this turning

out to be a busy week! Tubby popped in for

breakfast. Said that if the Twistleton-Penge's

could have a wedding fair so could he (you

can't keep anything secret for long around

here). He's going to promote rustic weddings

in the woods round at his place on exactly

the same day. Tubby has organised

a mini-bus of hairdressers,

photographers and caterers to set up

stalls in the woods for prospective buyers.

Mark my words, it'll end in tears.

The postmistress informs me that Daphne

Twistleton-Penge has dug out her riding

boots from the stables with the intention of

greeting all visitors on horseback on the day

at the main gate.

Tubby has placed adverts in the local

press for a number of al fresco wedding

styles: Posh names like the 'Rusticana', the

'Raggle-Taggle Gypsy', and the 'Pastoral'.

But he has gone over the score with the

branding at the bargain basement end of

the market: The 'Redneck', the 'Hillbilly' and

the 'Shotgun'. Seems, to me anyway, they all

come down to the same thing really - getting

married in the woods.

The weather man predicts a dry day

tomorrow with highs of 15-17 degrees.

WEDNESDAY

An unexpected phone call from Ms Meadow

Flowers, regarding arrangements for

Woodstock II, meant I could attend neither

Tubby's nor Twistleton-Penge's events.

Note to self: Get updates from both parties

tomorrow.

THURSDAY

Police combing Tubby's woods since

daybreak looking for three missing couples.

Not surprising really - the forest on Tubby's

estate is so vast that no one would be

surprised if the descendants of Robin

Hood and his Merry Men were discovered

in there somewhere, still splitting the

green wood and whacking each other with

quarterstaffs.

Good news: While combing the woods

for the missing couples police saved a bit of

overtime by simultaneously combing the

woods for Daphne Twistleton-Penge whose

horse got squirrelly when the first guests'

car backfired and bolted in the direction of

Tubby's spread.

Bad news: The ink on the wrist stamp

used by Tubby's officials as a pass for

visitors turned out to be indelible.

Solicitors' have been calling Tubby all day

to warn of pending law suits from young

couples who will have to spend the rest

of their lives with 'Tubby's Forest Frolic'

emblazoned on the back of their hands.

A gaggle of local veterinary surgeons

has been bussed in to dislodge deer ticks

off Tubby's guests' legs. Tubby is warned

that the solicitors threatening litigation for

the indelible ink intend to join forces with

the solicitors threatening to sue over the

potential for their clients to develop Lyme's

disease, in a class action likely to quadruple

Tubby's liability.

FRIDAY

Tubby's accountant discovered today that

the VISA terminals Tubby rented to take

deposits for venue bookings worked only

sporadically in the woods. This resulted in

transfers being either part financed only,

not financed at all, or even double charged.

Tubby also told me that iPads intended

to allow PayPal payments couldn't find a

signal and some guests ended up sitting

in their cars in the car park playing Angry

Birds. Which was handy really since it

turned out the weatherman lied and a

thunderstorm of biblical proportions

washed out what remained of the day.

Good news: A police search party

found all three couples, soaking wet and

huddled together to the leeward side of

a fallen tree, crying. Bad news: Two of

the business cards Tubby collected in a

networking frenzy turned out to have been

from drug dealers. A third came from

a Ms Whiplash. The inspector wanted

to know how long these had been

in Tubby's possession - were they

given to him on the day? Or had he

had these in his wallet long before

that, for personal consumption?

There's still no sign of Daphne,

though her horse came home on its own

yesterday.

SATURDAY

Given the ineffectiveness of the VISA

terminals, the surprise weather bomb

and the fact that over 50 per cent of

visitors never left the car park, Tubby's

accountant estimates profits for the day

ranging from a possible loss of £50,000 to a

profit of 86 pence. It'll take a year to square

the books, Tubby says.

Good news: According to Twistleton-

Penge's butler, a postcard from Ms Daphne

Penge reached Squirrelton Hall this

morning postmarked 'Gretna Green'. Turns

out the horse had not bolted at all. Rather

she rode all night to reach Gretna where

she met her secret lover, Cecil, a man far

more Albert Steptoe than Heathcliff. Her

elopement was a bit of a shock to the old

war horse himself, but as he confessed on

the phone, "It's one less mouth to feed in

these troubling post-Brexit times."

SUNDAY

Tubby still helping police with their

inquiries.

66 WWW.OPENAIRBUSINESS.COM
---
LIVE 2017

COUNTRY HOUSE

BUSINESS INNOVATION 2017

INNOVATION 2017

The event for farmers, land owners and rural business

entrepreneurs to gain inspiration, resources and advice

INSPIRING RURAL ENTREPRENEURS

7

A WORLD OF IDEAS

TO MAKE YOUR LAND

MORE PROFITABLE

8 & 9 NOVEMBER 2017, NEC BIRMINGHAM

7,500 VISITORS

200 SEMINARS

400 EXHIBITORS

Register for FREE tickets at www.farmbusinessshow.co.uk

@Farm_Innovation

#FarmBiz

IN

PARTNERSHIP

WITH:

LINKING ENVIRONMENT AND FARMING