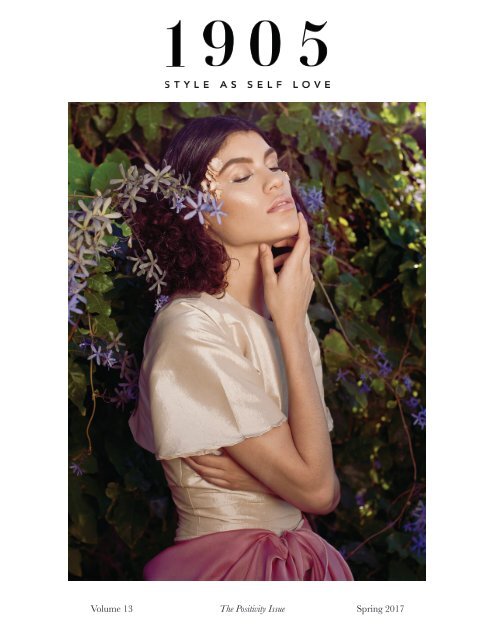 The Positivity Issue (v.13)
You also want an ePaper? Increase the reach of your titles
YUMPU automatically turns print PDFs into web optimized ePapers that Google loves.
Volume 13 The Positivity Issue Spring 2017
---
photography

Saul G. Hodgers

Hayley Rheagan

Mark Baker-Sanchez

LaCharles Trask

Amy West

words

Tawanda Suessbrich- Joaquim

Cydnie Smith-McCarthy

Charles Austin Ross

good eats

Andie Fuller

editors

Darnell Thomas

Mariah Romero

design

Mariah Romero
---
3
---
hello

hello

hello

Welcome to the Positivity Issue! We would like to thank all of our amazing contributors

for making this issue possible. In this issue they help us shed some light on

why being positive can be the smartest life decision we can make. Positivity is not

an easy thing to practice but it sure does feel good when it is considered right? Our

contributors gives us some insight on maintaining a healthy balance of finding your

happy place while there is so much going on around you. We think that positivity

can come in all shapes and forms but it is what you make of it. When life gives you

lemons you must make an easy lemon pie, right? We will take our slices to go! Enjoy.

Darnell & Mariah

5
---
8

"A"

Hayley Rheagan | Darnell Thomas

16

POSITIVITY IN THE FACE OF NEGATIVITY

Tawanda Suessbrich-Joaquim

18

EDITOR'S WISHLIST

Lydia Abernathy

20

NURTURE & REPEAT

Saul G. Hodgers

26

POTENTIAL

Charles Austin Ross
---
30

GLORY

La Charles Trask | Keynan Johnson

36

CYDNIE'S ARTICLE

Cydnie Smith-McCarthy

38

HAVE A NICE DAY

Mark Baker-Sanchez | Mariah Romero

44

LAZY LEMON PIE

Andie Fuller

48

AN INTERVIEW WITH RUSA

1905 Magazine | Amy West

7
---
A

photography, Hayley Rheagan

creative director, Darnell Thomas

model, Amy West

8
---
9
---
10
---
11
---
12
---
13
---
14
---
15
---
Positivity In The Face Of Negativity

Tawanda Suessbrich- Joaquim

When we think of the past few months, on social, economic,

political and global levels, it's enough to make

most of us frustrated. Some of us might laugh nervously.

Others might actually take a few moments to

hold in tears. It may, for some, seem like the world is

falling apart—an incapable president, environmental

issues not being taken seriously, police brutalities, less

and less rights for marginalized groups every day. The

list seems endless.

​But how do we stay positive in the face of all this negativity?

Is it even possible?

​I've found the answer to be yes. We can absolutely stay

positive, and here's why—it's the only way to make it

to where we want to go.

​We tend to think of things in terms of everlasting dichotomies—light

and dark, happy and sad, good and

bad, positive and negative. These ideas come from

thousands of years of survival through distinction,

knowing which plant is poisonous, expressing our

emotions, trusting the people in our tribe and protecting

ourselves against those who aren't and so on and

so forth. But I don't think things have to be so black

and white.

​Personally, I like to relate positivity and negativity to

ebbs and flows—picture a wave rushing in and out

again with the tide. Good times and not so good times

are like the seasons. We all go through our spring,

summer, fall and winter cycles, just like our environment

around us. The world and all the people in it

need to go through beautiful warm, sunny days spent

outside into cold, snowy days where we'd rather stay

in, because just when we think winter will never end,

the sky will clear and the flowers will start blooming.

And the seasons will begin all over again.

​Staying positive in times like these means understanding

that life is filled to the brim with happiness and

sadness, and both of them are good. They are good

because they are both essential to our growth as beings.

If we were never sad, we wouldn't be so thankful

for laughter, for hugs and kisses, family and friends.

Sometimes we need a little bit of difficulty to push us

towards doing the best we can, towards working hard.

And at the end, it's all worth it!

​I guess what I'm trying to say is: with the change in the

global atmosphere during the last year, you know this

year, 2017, is going to be all about big moves and even

bigger changes. So GO FOR IT. Don't let anyone, including

yourself, keep you down. Begin every day with

an affirmation—a simple "I can do this," "I'm beautiful"

or "inner peace equals outer peace" will help you

move mountains. Get off the couch. Take matters into

your own hands,

and don't be afraid

to learn, to ask for

help. Spread love,

joy and knowledge

everywhere

you

with the change in the global

atmosphere during the last

year, you know this year,

2017, is going to be all about

big moves and even bigger

changes. So GO FOR IT.

go. Stay educated. Stay aware. Stay healthy, and do

whatever is best for you. Get together with people who

make you happy, eat your favorite foods, learn some-

16
---
thing new about the world and continue to create art.

Know that a bad day every once in a while is only preparing

you for all the good ones ahead—remember:

spring is just around the corner. No matter what, do

not stop seeking positivity in everything you see and

do. Just because you can't see it doesn't mean it's not

there. When hard times come, take time to go within

yourself and feel into your emotions. Really feel it. Let

it all out. Cry. Then, let a ray of light in, plant a seed

and watch it grow. Live everyday as the best you that

you can possibly be, and love yourself every step of the

way! You're the only you that the world will ever know!

And just think about how much more beautiful the

world will be after you share your positivity with it.

17
---
EDITOR'S WISHLIST

illustration by Lydia Abernathy

18
---
19
---
20
---
NURTURE

& REPEAT

photography & direction, Saul G. Hodgers | model, Karen Bringas at

New Icon Model Management | hair & make up, Neftali Camacho

styling, Janeth Uribe | production assistants, Paulina Lagarda, Raquel

Partida & Duende Montaño

21
---
Top by Genesis Solano / Buena Sangre | Skirt by Gibran Murillo

22
---
23

Top by Genesis Solano / Buena Sangre | Dress by Gibran Murillo
---
Jacket by Mayra Navarro | Dress - Stylist's own | Necklace - Stylist's own

24
---
25
---
potential

Charles Austin-Ross

In two thousand and nine I was a freshman in

high school. At that age I didn't know that I would

be twenty-three in seven years, let alone be dealing

with the stress that comes with being a twenty-three

year old. The only twenty something I

knew at that time was my sister and she was off

in college. Needless to say I wasn't influenced by

her very much in that time of my life because she

was in North Carolina studying at the prestigious

Duke University and I was in St. Louis acting like

a fool. My main influences came from Music, TV

and School.

Metro Academic and Classical High School was

a place for the brightest individuals; anything

below a C- was considered an F, and if you

had three F's you would be "asked to leave".

Bright was not how my teachers would describe

me and so when I walked in to school on the

first day I was already intimidated by high walls

and serious teachers. I would say I cared less

about my classes and more about my friends.

Metro pretty quickly became an access point to

our frequent vices as an escape from the stress.

Keeping that secret from those around was my

utmost priority. #truly

Lots of things happened in high school that I will

never forget. When I was eighteen, I was failing

math horribly. Consequently, I was going to fail

out of high school too. I would have to tell my

parents that I wasn't going to walk the stage with

the rest of my friends, and even more dreadful;

why I was failing Math.

I remember the vice principal of my school approaching

me in the cafeteria.

He said "You've got a lot of potential Austin but you

know that smile isn't going to get you everywhere."

He patted me on my shoulder and walked away.

"Ha!" I thought.

I knew what he meant, but it was lame so I pretended

like it never happened.

In my heart of hearts I knew that he was right.

He knew that I wasn't doing my homework and

he knew that I wasn't passing my tests. I felt like

a piece of glass, and in that moment I was about

to crack. Up to that point I had pretended like

everything was okay, and that my habits couldn't

change the trajectory of my life, but I was discovering

quickly that the opposite was true.

I was sitting at home when my best friend Morgan

called me. He said candidly, "Bro, where are

you? Mrs. Funk said you haven't been to school

in two weeks."

26
---
27
---
"Two weeks?" I thought. "No Way" I swore it

had only been one.

For two weeks I skipped class everyday and got

high. I told myself it was okay to continue this way

if I could just bury myself negative thoughts.

Long story short, I passed high school that year

and fortunately my parents never really knew

the extent of how close I was to not graduating

on time. I got to walk the stage and be applauded

and squaded with everyone else that

day. However, I was not sure that I deserved the

acknowledgement so graduation day was full of

guilt and fear that my parents would find out.

I was cracking again. They were proud of me,

smiling. They saw that I had graduated high

school despite everything. Honestly, it was a

good feeling.

More recently I met this guy named Emmy. I

was twenty two, he was thirty-five, but we had

a lot in common; young, black, artist. He said

he saw a little bit of himself in me and immediately

a shudder ran down my back. From my

high school experience I knew that as soon as

someone sees potential in me, they would start

to expect a lot.

I was working in a city that I wasn't familiar

with, so I would stay with him three days here,

two days there. Naturally we got to know each

other pretty quickly, his eyes always watching

to be sure that I was acting the way he

would've if he could go back in time and talk

to his younger self.

Potential.

po·ten·tial: having or showing the capacity to become

or develop into something in the future. I

swallow that word like a bag of rocks.

Emmy took care of me, so in a lot of ways I

owed respect to his crazy methodology. If he

asked me to do something I would do it and

do it right the first time. To be honest, I never

thought about making a mistake because he

had become my friend too. But, when I finally

uffed up I remembered my responsibility to

keep things the way he liked it.

He asked me to lock the doors when I was done

getting my bag from his car, but I didn't. He had

that look in his eyes like "You know? That smile

isn't going to get everywhere."

I froze in suspense and made my best attempts

at being respectful, responsible, and redeemable.

Emmy was cool so disappointing him was not.

Believe me when I say the doors to his car were

locked every day from then on out.

When I was in the thick of it [being scolded by

Emmy] I could feel the walls closing in again.

I was becoming glass. Emmy was serious, Mr.

Mayhem was serious too, and so were my parents.

I wanted to explode, or maybe just disappear.

I wanted it all to go away.

I think back to that time in my freshman year of

high school. Finals were approaching and the

walls were closing in again. It got really dark.

So, I planned do something that I would never

be able to talk about again. I went to my basement,

tears running down my face, and wrote

the note that would explain why I did it. Why I

killed myself.

28
---
It's moments like that where everything comes

into focus that the solution can be simple. I don't

think I have to say that I didn't commit suicide

that night.

I walked into class the next day. The professor

was in the front of the room eyeing everyone that

walked in.

"Do you have your assignment?" She said. I think I

was one of two people who didn't. There was a girl

in the class named Sara who had always done her

homework on time, she had an in with the teacher.

"How come you didn't prepare for the final Austin?"

I shrugged it off thinking about where I had

been in the past fourteen hours. There was nothing

to say.

"Did you know you can buy Marquita a box of

chocolates, and she'll pass you?" My jaw was on

the floor.

There's a point in pure chaos when everything

stops and the air is calm. It's called the eye of

the storm. That's where I operate; in full throttle

crashing into all the other atoms around me, vibrating

at the perfect frequency to become a solid.

I find peace in knowing myself, because the truth

sets me free. My favorite line in a song this year,

and probably forever is:

"I know you think it's fake, maybe fake's what I like"

"

qualities either, but

this is what I need

in my life right now.

You can either get on board or you can get out of

my life." I love that! That line is about acceptance.

I accept that I am still that fifteen year old who is

that twenty-three year old who will be a thirty- five

year old in chaos trying to graduate high school

with a smile and positive thinking. The truth is;

it's impossible. I had to get a lot of things rolling

before I was able to walk the stage with my friends

that day.

What I learned from all those experiences is that

life is unpredictable; it literally makes no sense. Yes

there is structure and rigor but only in an attempt

to put a method to the madness. Don't stress. Life is

like a workshop. Everyday I wake up, I have to work

to clear the fog and tackle the days obstacles. It's not

easy, and sometimes I feel my past selves wanting

to take charge. But, honestly, I would describe that

more as me letting go. We have to take control.

Long story short what ever it is you're doing, you're

doing just fine. If you are alive, you are winning,

and if you are deceased you'll be back soon. Love

the people around you and be positive. I promise

it will all work out, or your money back.

"Life should be made as simple as possible, but not

much simpler" -Albert Einstein

I find peace in knowing

myself, because the

truth sets me free."

-New Person, Same Old Mistakes Currents 2015

As cliche as that band is the line is special to me. In

a hyperbolic way it says "Maybe you don't believe

that jumping over shrubs makes me feel closer to

God, and maybe I'm not so sure of its spiritual

29
---
glo·ry

ˈɡlôrē/

magnificence or great beauty

Spring 2017 fashion show held at Santa Fe University of

Art & Design. Curated and directed by Keynan Johnson.

Behind the Scenes photos by La'Charles Trask

30
---
31
---
32
---
33
---
34
---
35
---
WHAT YOU NEED IN YOUR PERSONAL LIFE

TO ALLOW POSITIVITY TO FALL INTO PLACE

The mind is your most powerful weapon.

Mind over matter is everything.

As a advocate of self-care/love/esteem/confidence

etc. I highly believe in mind-power and the ability

it has to change the way you walk through life.

And let's be real, it's HARD to stay positive.

For me, it's hard because I tend to be easily

stressed and overwhelmed but — like everything,

it's a process and it's slowly getting better with

each visit.

I've made a list of things to focus on in your personal

life in order to allow positivity to fall into place.

Have a year of YOU

We all get caught up in hustling so hard that

we tend to neglect ourselves and our needs but

PLEASE don't forget about yourself!

Sometimes this can be tough because there is so

much going on, and so much we want to stick our

hands in that we over exhaust ourselves because

we haven't taken the time to self-care.

Whatever self-care means to you, do it.

Often. No one is going to do it for you.

If you don't start making yourself a priority you

will one day look back and wonder where your life

went. It's not selfish. It's more like the greatest gift

you can give to the people around you.

When you feel more balanced and whole, the rest

of the world gets the best parts of you, too.

Change your approach

In his most recent album, the song "No Favors"

he says:

"When my grandma died I realized I got an angel

Show me everything's a blessing, dependin' on

the angles"

Perfectly said.

You've gotta look at all the angles and determine

your blessings

Every negative, brings some type of positive.

Don't work to accept things you cannot

change.

"Change the things you can't accept."

Just like you can change the course of your future

by taking a long look at your life and surroundings

and deciding which parts are no longer acceptable.

Have a "this isn't working for me anymore" moment

and take out the trash!

Empathy. Get acquainted with it.

And this may not even apply to all of you reading this.

A lot of people are already extremely empathetic.

All im saying is that there is power in learning and

listening to others.It's truly a hidden secret.

Once more people start putting themselves in others'

shoes, this Karma thing might actually show

up and start to bless all of us.

Cydnie Smith-McCarthy

36
---
dream huge

Failure is only failure if you choose to quit.

Dream big, but start small.

Make a list and slowly start checking those things off and i promise you will feel

better about the bigger goals you have.

It's all a process.

It's okay to start small.

What this does is open ourselves up to the possibility of a goal without boundaries.

Invest in yourself on a greater scale.

You'll be surprised at how much you truly accomplish

If 2016 has taught me anything, it would be that gratitude is a thing.

Be grateful for the people you have in your life and the time you have with them.

Enjoy them. Because nothing is finite.

it's important to make a difference, change a heart, really live a life this year.

Let's make the most of it.

37
---
38
---
photography by Mark Baker-Sanchez | styling by Mariah Romero | model, Analyss Robles

39
---
40
---
41
---
42
---
43
---
L.L.P. (Lazy Lemon Pie)

Welcome to Spring my friends! I'm sharing a health inspired dessert because

well, we now live in 2017 and duh?! In all seriousness I've discovered

that sugar is something that causes an inflammatory response for my body,

whether that's just currently or forever, I've committed to a much reduced

sugar intake which has made me re-think dessert.

One of the best ways to get your "glow" on the outside is to approach

things from the inside. In 2017 I've committed to creating glowing health

and beauty both inside and out. So, comes this recipe I'm calling Lazy

Lemon Pie. It's EASY. I promise. And it's just such a good substitute to a

normal dessert.

Here's a drop of wisdom with your pie, feeling vibrant in life is your birthright.

If you don't experience that on the daily, go within. If you don't go

within, you'll go without.

All the love,

Andie

44
---
45
---
What you need

Base

2 ½ cups desiccated coconut

1 egg

3 tbs coconut oil

½ tsp vanilla powder (check your local health food store)

½ tsp cinnamon

½ tsp liquid stevia

Pinch of salt

Curd

¼ cup fresh lemon juice

6 tbs coconut oil

3 eggs

Zest of 2 fresh lemons

½ tsp liquid stevia

What you do

Preheat oven to 300°F. Mix base ingredients in medium bowl until dough like and sticky.

Press coconut base into a 9 inch pie pan and build sides up to ½ inch thick. Be sure to

back down well so the base it totally firm. Back until golden brown, about 20 minutes.

Once crust is cooling, make curd on stovetop: Add eggs, coconut oil to saucepan and

whisk until oil is melted. ***Note: stir constantly to avoid clumps. Once oil is melted,

add lemon juice, lemon zest and stevia stirring until mixture becomes thick (roughly

5-10 minutes).

Take curd off heat and press through a strainer, into cooled crust. This should leave

most if not all zest i n strainer. Shake crust gently to settle the curd and make it level.

Serve it warm and runny or leave it in the fridge until totally set (at least 4 hours).

You're welcome babes, happy Spring and cheers to our health!

46
---
47
---
RUSA

" Rusa is a bunch of obsessive

musicians determined to bring

you the best listening experience

they can deliver, and will stop at

nothing to achieve that goal. They

are genuine people who want to

make your life better."

48
---
49
---
50
---
What's the vibe of your sound?

Something along the lines of Neo-soul combined with Progressive Rock, think

Hiatus Kaiyote combined with the Alabama Shakes plus some weird stuff.

How does the relationship with music and style coincide?

Well we don't know if our style has anything to do with our music, mimi style

(she calls it grandma chic) comes from her afican heritage, thrift stores and

her need to feel comfortable at all times. The rest of us just try our best not to

look homeless.

How do you stay positive as a group?

Muffins and Beer. Being there for each other, but mostly the muffins and beer.

Can you describe your aesthetic as a band in one word?

Casualdadwear

How is the relationship between the band?

Silly, it's like the show comedy bang bang (Mimi is Reggie Watts).

What does your band name mean?

Javan Rusa is a spices of deer. There was a night were that name came to Kyle,

and he told us and we thought it was cool.

Who are your music influences?

Music influences are Hiatus Kaiyote, Snarky Puppy, Esperanza Spalding, Lianne

La Havas, Ravel, and Erykah Badu.

What's the future of Rusa?

Touring the world with Hiatus Kaiyote and other heroes of ours would be pretty

cool. It's really hard to say because the future is so unpredictable, but we're working

on an EP right now and we'd like to travel and keep making music. We are

always trying to improve and so that is always a plan for the future.

Keep up with Rusa!

Facebook -Rusa | Instagram -rusastuff

51