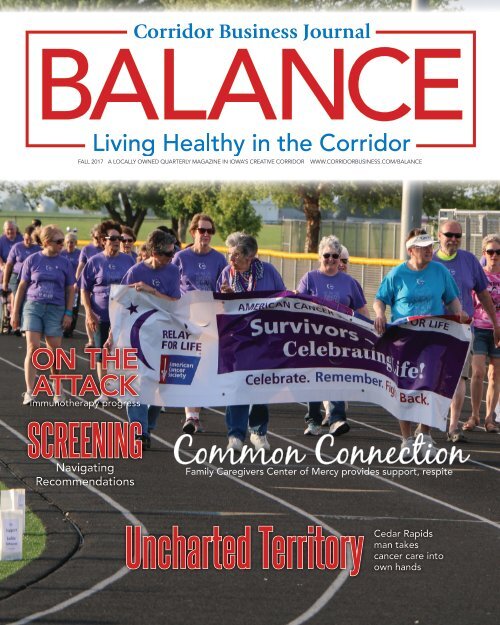 Create successful ePaper yourself
Turn your PDF publications into a flip-book with our unique Google optimized e-Paper software.
FALL 2017 A LOCALLY OWNED QUARTERLY MAGAZINE IN IOWA'S CREATIVE CORRIDOR

WWW.CORRIDORBUSINESS.COM/BALANCE

ON THE

ATTACK

Immunotherapy progress

SCREENING

Navigating

Recommendations

Common Connection

Family Caregivers Center of Mercy provides support, respite

Uncharted Territory

Cedar

Rapids

man takes

cancer care into

own hands
---
A healthy smile is a powerful thing. Yours deserves Delta Dental

of Iowa, the state's leading dental benefits provider. With the

largest network of dentists, prompt answers and personable

service, we make it easy to protect your smile and keep it healthy.

Visit deltadentalia.com to find a plan today.
---
IN THIS ISSUE

FEATURES

UNCHARTED TERRITORY 5

Cedar Rapids man takes cancer care into own hands

ON THE ATTACK 8

Immunotherapy makes progress in cancer treatment therapy

COMMON CONNECTION 12

Family Caregivers Center of Mercy provides support, respite

YOUR CANCER SCREENING ROADMAP 18

Listen to body signs and get checked out

5

DEPARTMENTS

FROM THE EDITOR 4

COLUMN: PRAMOD DWIVEDI 7

Opioids: A public health emergency in Linn County

Q&A: CHIRANTAN GHOSH 10

Oncology and Hematology

HEALTH CALENDAR 11

MOVERS & SHAKERS 14

8

QUICK BITES 15 & 21

CBJ PULSE 16

Stats and data from the health care sector

COLUMN: JEAN E. ROBILLARD, M.D. 17

Academic medical centers vital to health and economy

CBJ LIST: NONPROFIT SUPPORT SERVICES 20

RECIPE CARDS 22

PICTURES OF HEALTH 23

Submitted photos of health in the Corridor

COVER PHOTO:

Survivors walk a lap at the Benton County Relay for Life held June 9 at Benton

Community High School in Van Horne. The event was held to raise money for the

American Cancer Society. Photo by Angela Holmes

12

CBJ BALANCE - FALL 2017 3
---
FROM THE EDITOR

AUGUST 21, 2017

Seasons of Change

Well, that was a quick summer. When the last issue of Balance came out, I had just planted my

garden and was planning a bountiful season. This week, I am sending my son off to high school

and harvesting the last of my tomatoes and peaches.

My garden and fruit trees weren't as plentiful as I had

hoped, mainly because of pesky rabbits and those relentless

Japanese beetles. I did pull in a decent crop of radishes,

onions, cherries and cucumbers, and will take the

misses as a lesson learned for next year.

On a whim (after thinking about it for six months), I

signed up for a 10-week Boot Camp Challenge through

Total Balance in Vinton. I had been off the fitness wagon

for five years, and the intensity of boot camp three times

a week was the jolt my body needed, bad knees and all.

I started a blog, Balancing Act, chronicling my renewed

health and fitness journey. Check it out at www.corridorbusiness.com/balance/.

In this issue, the Balance staff takes a deeper look at

preventing, treating and coping with chronic illnesses

such as cancer, diabetes and heart disease. Even if you

have never received such a devastating diagnosis, you

more than likely have been affected by someone who has.

Deciding on a course of treatment is the first step to

dealing with a diagnosis. Not all treatments are the same

and not all are the right fit for every patient. For example, when Paul Cross was diagnosed

with cancer last year, he researched different treatments and ultimately decided to forego the

traditional schedule of chemotherapy and radiation. Instead, he chose an alternative route that

incorporates organic foods, supplements and other natural remedies (page 5).

Meanwhile, an emerging cancer treatment, called immunotherapy, uses the body's own immune

system to attack cancer cells. Starting on page 8, Dr. Mohammed Milhem of the University

of Iowa's Holden Comprehensive Cancer Center describes recent progress made in clinical

trials of immunotherapy.

In this issue's Q&A (page 10), Dr. Chirantan Ghosh, founder of The Ghosh Center for Oncology

and Hematology, discusses his practice's philosophy of holistic treatment and the importance

of having a good bedside manner.

Chronic illnesses such as Alzheimer's can also take a toll on the patient's caregivers. Family

Caregivers of Mercy in Cedar Rapids (page 12) helps caregivers navigate local medical, financial

and human services systems, as well as provides a respite for caregivers through free services like

music therapy, chair yoga and massage.

Of course, preventing and recognizing the signs of various diseases is the best course of action

to keeping healthy. The U.S. Centers for Disease Control & Prevention maintains a variety

of guidelines of what to watch for as people age, and we've recapped some of its cancer screening

guidance on pages 18-19.

As always, this issue of Balance also includes columns from area health care experts, spotlights

on local movers and shakers in the health care industry, a new list, recipes and a fall

calendar full of events throughout Eastern Iowa.

Enjoy the beautiful fall weather. Maybe I'll run into you at a 5K or cross-country meet.

Angela Holmes

Balance Editor

angela@corridorbusiness.com

CONTACT US

John F. Lohman

CHIEF EXECUTIVE OFFICER & PUBLISHER

johnl@corridorbusiness.com

Aspen N. Lohman

VICE PRESIDENT

Andrea Rhoades

CHIEF OPERATING OFFICER &

ASSOCIATE PUBLISHER

andrea@corridorbusiness.com

Angela Holmes

MAGAZINE & SPECIAL PROJECTS EDITOR

angela@corridorbusiness.com

Cindy Hadish

WRITER

Shuva Rahim

PHOTOGRAPHER

Becky Lyons

GRAPHIC DESIGN MANAGER

becky@corridorbusiness.com

Julia Druckmiller

GRAPHIC DESIGNER

julia@corridorbusiness.com

Judith Cobb

MAGAZINE MEDIA CONSULTANT

judith@corridorbusiness.com

Adam Moore

CBJ EDITOR

adam@corridorbusiness.com

Dave DeWitte

SENIOR BUSINESS REPORTER

dave@corridorbusiness.com

Kris Lacina

CBJ MEDIA CONSULTANT

kris@corridorbusiness.com

Kelly Meyer

CBJ MEDIA CONSULTANT

kelly@corridorbusiness.com

Jean Suckow

MARKETING & DISTRIBUTION MANAGER

jean@corridorbusiness.com

Ashley Levitt

EVENT MARKETING COORDINATOR

ashley@corridorbusiness.com

Rhonda Roskos

EVENT MEDIA CONSULTANT

rhonda@corridorbusiness.com

Corridor Business Journal BALANCE

(USPS 024-715) is published quarterly by Corridor

Media Group, Inc. Copyright Corridor Media Group,

Inc. 2017. All rights reserved. Reproduction or use,

without permission, of editorial or graphic contents in

any manner is strictly prohibited. Periodicals Postage

Rate is paid at Iowa City, IA and additional mailing

offices. POSTMASTER: Send address changes to

Corridor Business Journal, 2345 Landon Rd, Ste. 100,

North Liberty, IA 52317 Phone: 319-665-NEWS (6397)

CORPORATE OFFICE:

2345 Landon Rd. Ste. 100

North Liberty, IA 52317

Would you like to receive this quarterly magazine?

Contact Jean Suckow at 319.665.NEWS or jean@corridorbusiness.com

Phone: (319) 665-NEWS (6397)

Fax: (319) 665-8888

www.corridorbusiness.com

www.facebook.com/CorridorBusinessJournal

@CBJournal

VOL. 1 ISSUE 3

4 CBJ BALANCE - FALL 2017
---
Uncharted Territory

Cedar Rapids man takes cancer care into own hands

STORY BY CINDY HADISH PHOTOS BY SHUVA RAHIM

When Paul Cross was diagnosed with cancer on his right vocal chord last year, he decided to forego chemotherapy and radiation and embark on his own treatment course.

Paul Cross will never forget

April 15, 2016 – the day he was

confronted with the devastating

diagnosis of squamous cell

carcinoma of the subglottic

larynx, or, in common terms,

cancer on his right vocal cord.

In the month before his diagnosis, Mr. Cross had become increasingly

bothered by the hoarseness of his voice, but was not

prepared for the treatment options he was given.

Doctors told him he could undergo 12 weeks of chemotherapy

and radiation, or have his voice box removed.

"That's the options: poison, burn or cut," said Mr. Cross, 48,

a systems support technician at the Cedar Rapids Public Library.

He felt rushed to make a decision, but told the doctor he wanted

time to do research and discuss alternatives with his family.

"(The doctor) looked confused and said, 'Well, what else are

you going to do? We do the same treatments as the Mayo Clinic,'"

Mr. Cross said. "To me, it sounded like he didn't want me to

take my insurance money somewhere else."

That was one of several red flags he said he noticed, starting

Mr. Cross on a journey to take his care into his own hands.

Complementary approach

He has since chartered his own treatment course that includes

organic foods, supplements and other natural remedies. >

CBJ BALANCE - FALL 2017 5
---
Paul Cross has devised his own diet which includes large organic salads with spinach, kale, tomatoes and peppers, as well as raw vegetable shakes.

No definitive figures are available on how many cancer patients

choose complementary and alternative medicine over conventional cancer

treatment, but health experts say numbers are on the rise, spurred, in

part, by the Internet.

A study published last year in JAMA Oncology followed 685 women

with breast cancer. Those who were using dietary supplements and

other forms of complementary and alternative medicine were less likely

to initiate chemotherapy as prescribed, with 11 percent choosing not to

undergo the standard treatment.

Separately, the U.S. Food and Drug Administration and the Federal

Trade Commission have issued a warning for patients to be aware of

fraudulent cancer treatments.

"Cancer treatment frauds aren't new, but in recent years it has become

easier for the people who market them to reach the public using

the Internet," the warning notes. "Some fraudulent cancer treatments

are harmful by themselves, and others can be indirectly harmful because

people may delay seeking medical care while they try them, or

because the fraudulent product interferes with the effectiveness of

proven cancer treatments."

Revolving door

Mr. Cross contends, however, that the health care industry pushes treatments

that can cause harm, describing the process as a revolving door.

"Patient comes in, doctor comes in, next doctor, then the next doctor

and then it starts all over with a new patient coming in the door," he said.

"Nothing is individualized and they have no knowledge of nutrition."

Mr. Cross said an oncology nutritionist suggested he eat ice cream,

shakes full of sugar and "all kinds of things I wouldn't eat normally."

Instead, he has devised his own diet, starting with large organic salads

with spinach, kale, tomatoes and peppers topped with olive oil, black

pepper and turmeric – the main spice in curry – as well as raw vegetable

shakes and scrambled eggs with spinach, turmeric and avocado, along

with herbal teas and 10 supplements, twice daily.

He also eats organic grass-fed beef and other sources of protein and

food high in "good" fats, while avoiding processed carbohydrates.

The supplements, organic vegetable powders he uses in smoothies and

other natural remedies, can be expensive, and are not covered by insurance.

No convincing evidence

Mr. Cross is also an advocate for medical marijuana, believing that the

right course of treatment could cure his cancer. While Iowa has legalized

the use of cannabis oil, it is still difficult to obtain. Also, taking a dose high

enough to be effective would make it difficult to work, Mr. Cross said.

The National Institutes of Health's National Center for Complementary

and Integrative Health notes that some complementary health approaches

may help to manage symptoms of cancer and side effects of

treatment, but so far, there is no convincing evidence that any complementary

health approach is effective in curing cancer or causing it to go

into remission.

"Some complementary approaches can interfere with standard cancer

treatments or have special risks for people who've been diagnosed with

cancer," the center notes, adding that cancer patients should discuss any

complementary approaches with their health care providers.

Mr. Cross said the doctors he saw were not interested in the supplements

he was taking. He has dropped almost 30 pounds since his diagnosis,

bringing his weight down to 130, but said his health is possibly

the best it's ever been, citing, for example, the blood pressure medicine

he no longer needs.

"Really, it's mostly my voice," he said, sounding raspy, but understandable.

"That's hard for me because I love talking to people. Customer

service – that's what I do."

Mr. Cross is unsure what might prompt him to return to a doctor in

the future and doesn't know what caused the cancer, which is more common

in teachers, singers and others who consistently use their voice at a

loud volume. He had been a smoker, but quit about a decade ago.

His son was married earlier this summer, something Mr. Cross was

grateful to see, and notices his younger son following his example with

a healthier diet.

"I want to cure this more than anything for them," he said, adding

that keeping a positive attitude is "huge…It helps with healing." CBJ

6 CBJ BALANCE - FALL 2017
---
COLUMN

Opioids: A public health emergency in Linn County

A silent epidemic of opioids has

been engulfing our communities for

many years, but now its impact on

Linn County is so pronounced that

it's silent no more. The situation is

truly frightful.

Opioids are a class of drugs that

are dangerously addictive and include

oxycodone, hydrocodone,

codeine, morphine, heroin and

fentanyl.

Between 2008-2015 in Linn

County alone, 218 people died of

opioid overdose. In 2015, 78 people

visited the emergency room

because of opioids overdose. Tens

of thousands of deaths are associated

with opioids use in the

United States each year. In 2015,

33,091 Americans succumbed to

opioids-related overdoses, half of

which were prescription opioids

deaths. Each day we lose 91 Americans

to opioids overdose. In addition,

$78.5 billion is the estimated

burden to the U.S. economy.

According to a report from the

Centers for Disease Control and

Prevention (CDC), overdoses from

prescription opioids are a driving

factor in the increase in opioid

Pramod Dwivedi

Linn County Public Health

Director

Follow him on twitter @pdwive

deaths. The amount of prescription

opioids sold in our country has

quadrupled since 1999, although it

has declined in recent years thanks

to our medical community's action

to reduce inappropriate prescription

of opioids.

In spite of the reduction in opioids

prescription, the overdose

deaths associated with opioids

continue to rise largely due to the

use of illicit opioids, such as heroin

and fentanyl.

The Linn County Public Health

department is working with numerous

partners to prevent and

control opioid-related overdoses

and death. We are working on developing

a comprehensive intervention

strategy. Our law-enforcement

agencies, hospitals and schools are

instrumental in preventing people

from becoming addicted and

changing the demand for opioids.

One important strategy for our

community is aimed at public

health surveillance, data sharing

and rapid response. Law enforcement

seizure data will help us target

the high burden areas to focus

on prevention efforts such as linkage

to treatment and access to naloxone

to reverse opioids overdose.

Our collective goal is to utilize all

available tools, skills and knowledge

at our disposal.

We are promoting programs

such as CDC's new prescription

guidelines (prescribing only threedays'

worth of prescription painkillers

for acute short-term pain

and explore other medication and

treatment for chronic, long-term

pain) and Iowa Prescription Drug

Monitoring Program (monitoring

patients' use of controlled substances

by authorized medical prescribers

and pharmacists).

In our community, there are

some treatment options provided

by agencies such as Area Substance

Abuse Council. ASAC uses Medication

Assistant Treatment (MAT),

which includes pharmacological

medications such as naloxone,

suboxone and vivitrol in combination

with therapy to provide a

whole-person approach to the treatment

of substance use disorder.

If you have a friend or family

member suffering from opioids

addiction and needs treatment,

Between 2008-2015 in Linn County alone,

218 people died of opioid overdose.

PEACE

OF

contact ASAC at (319) 390-4611 or

visit www.asac.us. For more information

and resources, visit www.

hhs.gov/opioids/ or http://idph.

iowa.gov/mat •

MIND

TrueNorth offers real solutions that are designed

with you in mind.

Whether you're looking for health care options for your employees or

dynamic professional liability coverages, our integrated solutions offer a

multifaceted approach that addresses today's ever-changing complexities.

truenorthcompanies.com

CBJ BALANCE - FALL 2017 7
---
On The Attack

Immunotherapy makes progress in cancer treatment therapy

STORY BY CINDY HADISH PHOTO BY SHUVA RAHIM

To say advancements

in cancer treatments

are on a fast pace is

an understatement.

Dr. Mohammed Milhem,

deputy director for clinical

research and clinical services at

the University of Iowa's Holden

Comprehensive Cancer

Center, has been placing

about 100 cancer patients

every year in clinical trials

that use immunotherapy and

combinations of treatments,

some of which show marked

improvements in survival rates.

Dr. Mohammed Milhem has an

"Iowa wall" in his office displaying

photos, messages and artwork from

patients he has treated since 2007.

8 CBJ BALANCE - FALL 2017
---
Immunotherapy uses the body's own immune system to

attack cancer cells.

Its use traces back to the 1890s – when bacteria were

deliberately injected into the body to stimulate the immune

system and shrink tumors – but it wasn't until a

breakthrough in 2011 that progress in cancer immunotherapy

began skyrocketing, Dr. Milhem said.

The Food and Drug Administration that year approved

an antibody called ipilimumab, under the brand name

Yervoy to treat advanced melanoma.

"I don't think it was for lack of trying," Dr. Milhem

said of the previously slow progress in immunotherapy.

"But we have not understood the immune system."

Checkpoint inhibitors became one of the keys to that

understanding.

Cancer tumors are sometimes able to evade an immune

system attack by "disguising" themselves as normal

cells, Dr. Milhem said, but checkpoint inhibitors can

"uncloak" the cancer cells, allowing them to be recognized

as cancerous and unleashing the immune system

to attack those cells.

and sarcoma, a rare cancer that affects bone and soft tissue,

among other types.

Dr. Milhem, who also serves as Holden Family Chair

in Experimental Therapeutics, noted that the cost of immunotherapy

drugs are high, with the price of a single

dose running up to $24,000. Drugs that are FDA-approved

are usually covered by insurance, while patients

do not pay for drugs in clinical trials.

An "Iowa wall" in his office displays photos, messages

and artwork from patients he has treated since arriving at

the University of Iowa in 2007.

"These are my heroes," Dr. Milhem said of the patients,

who not only stand to improve their own survival,

but contribute to the understanding of the therapies involved

in clinical trials for other patients.

The number of immunotherapy doses – generally given

intravenously or injected directly into a tumor – can

vary, but could be weekly for as long as it is effective, Dr.

Milhem said.

Side effects are typically less severe than conventional

chemotherapy, which can result in fatigue, hair loss,

Dr. Milhem, who

also serves as

Holden Family Chair

in Experimental

Therapeutics, noted

that the cost of

immunotherapy

drugs are high, with

the price of a single

dose running up to

$24,000.

Since 2011, other types of cancer immunotherapy also

have been approved. University of Iowa Hospitals & Clinics

lists the following types available:

• Monoclonal antibodies: Manmade version of immune

system proteins that boost the natural immune

response

• Immune checkpoint inhibitors: These help the immune

system kill cancer cells by making it more difficult

for cancer cells to avoid the immune system; a

common type is called PD-1 inhibitors

• Cancer vaccines: Put into the body to start an immune

response against cancer

• Cellular therapy: Involves taking immune cells out of

the body and manipulating them so they are more effective

at fighting cancer. One form of cellular therapy

is chimeric antigen receptor (CAR) T-cell therapy.

The Holden Comprehensive Cancer Center uses clinical

trials – research studies that examine whether medical

treatments are safe for humans – to explore new combinations

of therapies, as well.

For example, Dr. Milhem pointed to the use of immunotherapy

in combination with radiation and surgery in

increasing patients' survival rates.

Immunotherapy doesn't work for every type of cancer,

but has shown promise in the skin cancer melanoma,

nausea and other reactions. Immunotherapy can result

in diarrhea, skin rashes and attacks on the liver and other

organs, but Dr. Milhem said side effects usually occur in

less than 10 percent of patients.

Denver Dvorsky, 74, of rural Toddville, underwent immunotherapy

at the Iowa City Veterans Affairs Medical

Center after having a tumor removed from his bladder.

Mr. Dvorsky previously had a kidney removed and

was being monitored to see if the cancer spread when the

tumor was discovered in his bladder last year.

He was given the option to have his bladder removed

or undergo Bacillus Calmette-Guerin therapy,

known as BCG.

Bacillus Calmette-Guerin, which also is used as a tuberculosis

vaccine, is injected directly into the bladder through

a catheter in treating early-stage bladder cancer, and is one

of the older immunotherapy treatments for cancer.

Mr. Dvorsky said his weekly treatments for six weeks,

followed later by three more treatments, left him with flulike

symptoms, including a high fever. He was bedridden

for 12 hours after each session, but described the side

effects as minimal, and so far, checkups have shown no

recurrence of the cancer.

"It's a very innocuous treatment, compared to what

people think of as chemotherapy," he said. "It seems to

work so far." CBJ

CBJ BALANCE - FALL 2017 9
---
Q&A

Chirantan Ghosh

ONCOLOGY AND HEMATOLOGY

Dr. Chirantan Ghosh is founder of The Ghosh Center for Oncology

and Hematology, a cancer and blood disease treatment center in Cedar

Rapids. He was born in Calcutta (now known as Kolkata), India, and

received his medical degree from Calcutta National Medical College

before coming to the United States. He completed his residency at the

Edward Hines Jr. Veterans Administration in Illinois and his fellowship

at University Hospitals of Cleveland in Ohio. He began practicing in

Cedar Rapids 27 years ago and is board-certified in internal medicine,

medical oncology, hospice and palliative medicine and hematology.

Q. How does The Ghosh Center differ from other cancer centers?

A. In many ways. We take care of the patient as a whole. We support their

social and emotional and spiritual needs. It's all about putting the patient

first and following the Patient's Bill of Rights. It's a law that says this: 'As a

patient, you have the right to understand your diagnosis and have this information

explained to you in everyday language; understand why tests, X-rays

and procedures are ordered and how they are going to help you; understand

your options, benefits and risks explained in everyday language; and make

the final decision regarding your care.' We give treatments in an effective way

that follows the medical literature and looks at the data. And we do everything

up front with a financial counselor so our patients can access financial

help. This office has never taken anyone to a collection agency.

Q. Your center offers an approach called "prehab." What

does that involve?

A. We know in studies of orthopedic procedures, if you get the

patients stronger, they go through treatment better. The same

thing is true with oncology patients. We provide yoga, nutrition

classes, meditation, fitness and other classes. That

decreases the complications and the cost of health care.

Q. Press Ganey has ranked your center in the top

1 percent nationally for patient experience and

you've been re-certified by the Quality Oncology

Practice Initiative. Why should rankings and

certifications matter to your patients?

A. We know we do a good job, but that's not enough.

The ASCO (American Society of Clinical Oncology)

collects data for the QOPI certification. To apply,

you need to score at least 75 percent on key quality

measures. We scored 94 percent. This shows the

patients that they are getting the best care and that

we're meeting the highest standards.

Q. You were recently named the Non-Resident

Indian of the Decade in your home country for

your contributions that include construction of

an ER and services to villages for safe water

and child education. Why is it important to give

back to India?

A. Usually when I go back, it's for a project. I was

last there for (the award) for seven days in February.

I was born in Calcutta and I basically received a

free education there, with the idea that with limited

resources, that person would grow and take care of

the country. That was the concept. I use that concept

to give back.

Q&A PAGE 21

PHOTO BY SHUVA RAHIM

10 CBJ BALANCE - FALL 2017
---
HEALTH CALENDAR

AUG. 25-27

Ancient Wisdom for Modern Times,

by Prairiewoods Franciscan Spirituality

Center, 120 E. Boyson Road,

Hiawatha. This two-and-a-half-day

course with Debra Reis is offered by

the Institute of Spiritual Healing & Aromatherapy

(ISHA). Learn how essential

oils affect the body, mind and spirit,

and focus on integrating essential oils

with heart-centered healing techniques.

Cost: $450. For more information,

contact ISHA at www.ISHAhealing.com

or (865) 357-1541.

AUG. 26

Bring the Noise 5K Run/Walk, by

Vinton Noon Kiwanis, Benton

County Courthouse, 111 E. Fourth

St., Vinton, 9-10:30 a.m. Proceeds

of annual event during Boomtown

Festival go toward children's

initiatives in the community and a

current fundraiser for a Splash Pad

at Kiwanis Park. Cost: $25 through

Aug. 24; $30 after. To register, visit

http://bit.ly/2tJTyAI.

SEPT. 3

NewBo Run – Half Marathon &

10K, by Corridor Running and

NewBo Run, NewBo City Market,

1100 Third St. SE, Cedar Rapids,

7:30-11 a.m. Everything at the

event is local including custom

race medals, craft beer, lots of

food, post-race party and NewBo

arts festival following the race.

Cost: $40-$50. For more information,

visit http://newborun.com/.

SEPT. 24

Step Up for Down Syndrome 5K/

Walk, by Hawkeye Area Down Syndrome

Association, Sag Wagon Deli

& Brew, 827 Shaver Road NE, Cedar

Rapids, 9 a.m.-2 p.m. The team with

the best costume will receive a small

prize during the opening ceremony

along with the largest walk team

and the team that raises the most

money. Cost: $15-$45. For more

information, visit www.crowdrise.

com/HADSA.

SEPT. 29

The Glo Run – Cedar Rapids, by

The Glo Run and All Community

Events, McGrath Ampitheatre,

475 First St. SW, Cedar Rapids,

7:45-10 p.m. Run through five

neon luau-themed zones in this

evening event that raises money

for the American Heart Association

and American Stroke Association.

Cost:$60-$66.99.For more information,

visit www.theglorun.com.

SEPT. 30

Corridor Running Swamp Fox 5K

and Little Fox Mile, by Corridor

Running and Marion Parks and

Recreation, Marion Square Park,

1107 Seventh Ave., Marion, 7:30-10

a.m. This family event is part of the

citywide Swamp Fox Festival. Cost:

$20. To register, visit http://bit.

ly/2v60qMm/

OCT. 14

Hurts Donut Run, by Hurts Donuts,

200 E. Park Road, Iowa City, 10 a.m.-

1 p.m. This 5K is open to people of

all ages and abilities. Hurts Donuts

will be waiting at the finish line.

Cost: $20-$35. For more information,

visit www.hurts5k.com.

Submit health care calendar events to

news@corridorbusiness.com, subject line

"Health Calendar." Please include date, time,

location and a brief description.

PREMIUM ALL-ACCESS MEMBERSHIP

PRINT

CBJ Weekly Print Edition with Latest

Corridor business news

DIGITAL

CBJ Weekly Digital Edition with early access

+ 5 Bonus Digital Subscriptions to share

MAGAZINES

10 Topical Magazines published by the CBJ

MOVERS & SHAKERS

4 Free Premium Movers & Shakers

REPRINT DISCOUNTS

50% Off Framed Reprints (one per customer)

MEMBERS ONLY

Invitations to Members Only Networking

Events

+ Members Only Access to White Papers

UNLOCK

THE

VALUE

EVENT DISCOUNTS

15% Off Individual Tickets (2 per event)

+ $50 Off Table of 10 (Tickets must be

reserved before early bird deadline)

EXTRAS

Access to CBJ Archives 2015-current

+ Discounts on PDFs of CBJ Stories

MEMBERSHIP

SIGN UP TODAY!

www.corridorbusiness.com/membership

QUESTIONS? Contact Jean Suckow

319.665.NEWS or jean@corridorbusiness.com

$

99.95

1 year

Other memberships

also available

CBJ BALANCE - FALL 2017 11
---
Common Connection

Family Caregivers Center of Mercy provides support, respite

STORY BY CINDY HADISH PHOTOS BY SHUVA RAHIM

Carole Butz leads a support group at the Family Caregivers Center in Cedar Rapids.

The center provides resources and support for those caring for an adult family member.

CEDAR RAPIDS – Carole

Butz and her husband,

Mick, marked 50 years of

marriage in June, but it

was difficult to celebrate

their milestone.

Mr. Butz was diagnosed with

Alzheimer's disease in 2008 and

while he still recognizes her, "I'm

not sure he knows I'm his wife,"

said Ms. Butz, who retired from

her job at Coe College to become

her husband's caregiver.

12 CBJ BALANCE - FALL 2017
---
Having insight into such challenges is one of many reasons Ms.

Butz creates a special connection to other caregivers as she serves

multiple volunteer roles at the Family Caregivers Center of Mercy.

The center, at 901 Eighth Ave. SE, opened in December 2015

as a resource for family caregivers of adults, regardless of their

hospital or physician affiliation.

"It's a community resource," said Kathy Good, director of the

center. "We don't care where you're receiving your medical care."

Chronic conditions such as cancer, diabetes, heart disease and

Parkinson's disease are among the reasons that lead a spouse,

son, daughter or other family member to becoming a caregiver.

In Linn County alone, 3,200 residents have Alzheimer's disease;

a number expected to triple by 2050.

With that in mind, and after hearing about a caregivers center

in New York, Tim Charles, president and CEO of Mercy Medical

Center, set the wheels in motion for the Family Caregivers Center

of Mercy.

"He was concerned about

the numbers," Ms. Good said.

CAREGIVING

FACTS

n 42.5 million family

caregivers in the

United States.

n 34.2 million family

caregivers care for

someone 50 or older.

n 52,000 family

caregivers live in

East Central Iowa.

n 1.4 million Americans

are diagnosed with

cancer every year.

Source: Caregiving in the

U.S. 2015 report, AARP Public

Policy Institute

"He thinks the health care community

was not ready to deal

with that tsunami."

Ms. Good was a caregiver

herself after her late husband,

David Good, a Sixth Judicial

District Court judge, was diagnosed

with early onset Alzheimer's

at the age of 56. He lived

at Mercy's Hallmar Care Center

for nearly four years before his

death in 2015.

She recalls his sense of humor,

love of kayaking and other

outdoor adventures and his extensive

bow tie collection as Ms.

Good keeps his memory alive,

at the same time she strives to

make it easier for other caregivers

to cope with adversity.

Even with her knowledge of

services available in the community as a social worker, "I often

felt alone and overwhelmed," Ms. Good said of the time after her

husband's diagnosis. "That's common."

Mr. Charles approached Ms. Good about using her expertise

to lead the center.

"He asked if I was interested, and I said, 'absolutely,'" she said.

More than $2.6 million was raised to endow the Family Caregivers

Center of Mercy before it launched. The center employs

just one staff member, office coordinator Mary Rink; others, including

Ms. Good and Ms. Butz, are volunteers.

Find more information at: www.mercycare.org/services/

family-caregivers-center and on the Family Caregivers

Center of Mercy Facebook page, or call (319) 221-8866.

The Mercy Foundation continues to raise funds to support the center and its

many services.

Those include helping caregivers navigate the medical, financial and human service

systems with the help of "caregiver coaches," such as Ms. Butz, in order to help the

caregivers find the assistance they need and determine their eligibility.

The center also helps care for the physical, mental and emotional needs of caregivers

through services such as music and art therapy, chair yoga and massage, all of which

are offered for free.

A resource library at the center offers books about chronic conditions, care giving,

grief and loss, as well as a quiet spot to read, while educational sessions offer advice on

topics such as financial planning and VA benefits.

As of earlier this summer, nearly 500 caregivers had been served at the center. Most

of the caregivers are women, with about one-fifth men, and generally are age 45 and

older and caring for a spouse.

The center offers connections to hourly, overnight and in-home companion respite

care, with financial assistance on an as-needed basis for those who qualify.

Support groups, including a Male Caregiver Coffee and "The Mindful Caregiver"

book study and support group led by Ms. Butz, are among other ways the center helps

caregivers find answers and solace.

"We have wisdom for one another," Ms. Butz said. "I don't think there's an emotion

or any kind of feeling that I haven't experienced on this journey, so I'm able to tap into

that. I hope I can give them the gift of understanding." CBJ

WATCH RODGER'S VIDEO

www.corridorbusiness.com/balance

Rodger Burnett has been taking care of his wife, Marlene,

full-time since she was diagnosed with Alzheimer's in

2009. Photographer Shuva Rahim gives a glimpse of the

Burnetts' life together at their Hiawatha home.

CBJ BALANCE - FALL 2017 13
---
MOVERS & SHAKERS

Kathy Wilden has been

named emergency management

and safety specialist in the

Department of Security and

Environmental Safety at Mercy

Medical Center in Cedar Rapids.

April Golwitzer, of UnityPoint

– St. Luke's Hospital, was

awarded Kirkwood Community

College's 2017 All Stars of the

Creative Corridor workforce

award.

Sara Wattnem, of Virginia

Gay Hospital Clinics, was

awarded Kirkwood Community

College's 2017 All Stars of the

Creative Corridor workforce

award.

Matt Lapka, of MediRevv, was

awarded Kirkwood Community

College's 2017 All Stars of the

Creative Corridor workforce

award.

CC Lee has joined Mercy

Medical Center as medical

director of cardiac, thoracic and

vascular surgery services.

Melissa Coulter, of

UnityPoint Health, was awarded

an Iowa Hospital Education

and Research Foundation

scholarship.

Michelle Pappas, of

UnityPoint Health, was awarded

an Iowa Hospital Education

and Research Foundation

scholarship.

Erin Roberts has been

appointed total joint program

manager at UnityPoint Health –

St. Luke's Hospital.

Roberta Bean, nursing

department administrative

assistant at Mount Mercy

University, received the

Distinguished Staff award.

Jennifer Schulte joined the

American Heart Association as

the development director for

the Cedar Rapids Go Red For

Women luncheon and Heart Ball.

Stephanie Wilson joined the

team of health care providers at

MercyCare North Urgent Care.

Jeffrey Westpheling joined

MercyCare Occupational Health

at Prairie Creek in Cedar Rapids.

Send Movers & Shakers to

news@corridorbusiness.com

Include name, title, company,

brief description and a high

resolution (300 dpi) head and

shoulders photo.

Keeli Irwin, of Mercy Pediatric

Clinic, was named 2017 Nurse

Practitioner of the Year by the

Iowa Association of Nurse

Practitioners.

Diane Smith joined the

American Heart Association as

the development director for the

Iowa City Go Red For Women

luncheon and Heart Ball.

Dilli Bhurtel joined UnityPoint

Health-Cedar Rapids Cardiology

Clinic as a pediatric cardiologist.

14 CBJ BALANCE - FALL 2017
---
QUICK BITES

Health Solutions

acquires CarePro

Worksite Wellness

Cedar Rapids-based Health Solutions

LLC in July acquired CarePro

Worksite Wellness, a provider of corporate

wellness programming under

the CarePro Health Services umbrella.

The two companies offer many of

the same services, including health

risk assessments, biometric screenings,

health coaching and wellness

plan design, although Health Solutions

officials said the merger will

offer CarePro customers an expanded

range of wellness technologies

and predictive data analytics.

"This integration will allow

Health Solutions to grow our footprint

within our community, offer

enhanced services to the CarePro

clients, provide the opportunity to

CarePro team members to do what

they are passionate about with expanded

resources, and support

and allow CarePro to expand their

clinical services," Health Solutions

Founder and President Jen Musick

stated in a press release. "It is a winwin

for both organizations."

CarePro Health Services, one of

the largest health and wellness firms

in the Corridor, will now focus on

its other lines of business, including

pharmacies, home medical equipment

sales and home care services.

Health Solutions was founded in

2004, and has grown to around 60

employees from its home at 151 Fifth

Ave. SE in downtown Cedar Rapids.

Terms of the deal were not disclosed.

PCI to build new

facility in Cedar

Rapids' MedQuarter

Physicians' Clinic of Iowa is moving

forward with plans to build a second

facility on the current PCI campus

in the downtown Cedar Rapids

Medical District.

"Our physician shareholders are

not only committed to health and

wellbeing in Cedar Rapids, they're

committed to the economic development

and growth of the MedQ,"

Michael Sundall, PCI CEO, stated in

a press release. "These new construction

plans come at a critical time for

the MedQ, as the district advances

through a strategic plan to become a

regional medical destination."

Initial plans approved by the

group are for a 98,000 square-foot,

three-story medical facility and a

new 400-plus space parking ramp.

"These new facilities will accommodate

PCI's continued growth and

attract other non-PCI health and

wellness-related services," Mr. Sundall

continued. "When we opened

the first medical pavilion four years

ago, the intent was to fill the space

over five years. It was full after just

three years, making additional expansion

a priority."

The planned medical facility will

be constructed on the PCI campus

on what is currently a parking lot

south and west of Firestone Tire, between

Second and Third avenues SE.

It could potentially house PCI specialties,

tenants and a sports rehabilitation

and performance center.

The 400-car parking structure

will be located on the south side of

the PCI campus, along Third Avenue

SE. Current plans are to connect the

new medical facility to the existing

parking structure via walkway. Covered

walkways will be constructed

from the new parking structure to

the existing PCI Medical Pavilion.

Mercy's Hiawatha

Medical Park opens

Mercy Medical Center opened the

new 60,000-square-foot Hiawatha

Medical Park at 1195 Boyson Road

in July.

The Hiawatha Medical Park consists

of three separate components.

The third floor of the building is the

site of Mercy's new outpatient surgery

center, where eye surgeries are

performed. Included on that floor

are 11 pre-op and post-op rooms

and two operating rooms, with additional

space for future expansion.

The second floor is home to Wolfe

Eye Clinic, offering multi-subspecialty

medical and surgical eye care.

The building's first floor is scheduled

to open later this year as an

extension of Mercy's clinic services.

Those services will include an Urgent

Care, pharmacy, imaging and lab.

"We are responding to significant

demand for conveniently located

and more accessible care," Tim

Mercy Medical Center's Hiawatha Medical Park, which opened this summer, includes

Mercy's outpatient surgery center, Wolfe Eye Clinic and Mercy Urgent Care.

Photo Mercy Medical Center

Charles, Mercy president and CEO,

stated in a press release. "The needs

and wants of our patients are evolving.

There's been a push for many

years to provide more treatment on

an outpatient basis."

Mercy is leasing the space for the

Hiawatha Medical Park from a local

developer. The site was previously

occupied by Duffy's Collectible Cars.

Helping older adults

remain independent.

Call Today: 319.398.3644

www.abbehealth.org

Services for older adults

and caregivers.

Healthy Aging programs

and activities.

Adult Day Health Centers

in Cedar Rapids, Marion

and Iowa City.

CBJ BALANCE - FALL 2017 15
---
Stats and data from

the health care sector

Despite recent

declines, opioid

prescribing is still

high and inconsistent

across the country.

The Amount Of Opioids Prescribed Per Person

Varied Widely Across the U.S. in 2015

The amount of

opioids prescribed

per person was

3X

HIGHER

in 2015 than in 1999.

SOURCES: Automation of Reports

and Consolidated Orders System

(ARCOS) of the Drug Enforcement

Figure Administration; 4.2 displays 1999. the percentages QuintilesIMS of deaths due to the selected chronic diseases. By examining the leading causes of

Transactional Data Warehouse; 2015.

death, statewide and local programs can determine which interventions, prevention activities, and messages are needed for

various groups to prevent deaths prior to reaching life expectancy and to improve health across the state. Of all deaths,

approximately 28% were due to diseases of the heart; over one in four Iowans died of heart disease.

Percent of Selected Chronic Disease-Related

Deaths, Iowa Residents, 2006

Figure 4.2 Percent of Selected Chronic Disease-related Deaths,

Iowa Residents, 2006

Morphine Milligram

Equivalents (MME)

MME PER PERSON

Insufficient data

0.1 - 453

454 - 676

677 - 958

959 - 5,543

SOURCE: CDC Vital Signs, July 2017

Some characteristics

of counties with higher

opioid prescribing:

general atherosclerosis

1%

kidney disease

1%

hypertension &

hypentensive renal disease

1%

all other

20%

heart disease

29%

> Small cities or large towns

> Higher percent of white residents

> More dentists and primary care

physicians

> More people who are uninsured or

unemployed

other circulatory system

disease

1%

all infective & parasitic

disease

2%

> More people who have diabetes,

arthritis, or disability

influenza & pneumonia

3%

diabetes

3%

chronic lower respiratory

disease

6%

SEPTEMBER

National Childhood Obesity

Awareness Month

stroke

7%

cancer

26%

SOURCE: Healthy Iowans: Chronic Disease Report

World Suicide Prevention

Day is September 10th

16 CBJ BALANCE - FALL 2017
---
COLUMN

Academic medical centers vital to health and economy

As the national debate about health

care continues, it is important to

understand the vital role of academic

medical centers, like University

of Iowa Health Care, in the

national and local health system

and economy.

Academic medical centers

(AMCs) bear the responsibility

not only for providing all levels of

patient care, but also for educating

and training the nation's doctors

and associated health care providers,

and conducting biomedical research

that leads to new treatments

and cures to share with the world.

Beyond those missions, AMCs also

provide important services through

community benefit services.

UI Health Care, which includes

Jean E. Robillard, M.D.

UI Health Care

Vice President for Medical Affairs

and surgeries to basic primary

care. Like other AMCs, UI Health

Care provides critical community

services – such as trauma and burn

centers – that are often not available

elsewhere. UI Health Care

also provides health care to Iowa's

vulnerable populations through

charity care and state and federal

health programs.

The impact of UI Health Care's

education mission is also significant

to Iowa's physician workforce,

with the UI Carver College of

Medicine graduating 140 new physicians

every year, and more than

700 resident and fellow physicians

in training at UI Hospitals and

Clinics. Our data show that Carver

College of Medicine students who

of more than $231 million and

644,381 persons receiving services,

including free medical care for uninsured

patients, health screenings

and other preventive care, public

seminars on health topics and population-based

research.

In addition to societal benefits,

AMCs have a substantial positive

economic impact. The most recent

report (2012) by the Association

of American Medical Colleges

(AAMC), conducted by Tripp Umbach

of Pittsburgh, showed that UI

Health Care had a total employment

impact of 32,598 people, supported

more than $277 million in revenue

for the state, and provided a total

economic impact of $4.6 billion.

Looking to the future, there

are several key issues confronting

academic medicine, including the

availability of affordable, accessible

insurance; status of scientific research

funding; viability of learning

and teaching methodologies; and

caring for the well-being of the

health workforce and an increasingly

diverse nation.

To ensure that we preserve the

strengths of the nation's AMCs and

their role in improving the health

of all Americans, it is incumbent

on those of us working in academic

medicine and our policy makers

at both state and federal level to

carefully evaluate these issues and

design solutions for these pressing

issues. •

UI Health Care had a total employment impact of 32,598

people, supported more than $277 million in revenue for the

state, and provided a total economic impact of $4.6 billion.

University of Iowa Hospitals and

Clinics, the UI Carver College of

Medicine and the University of

Iowa Physicians, is the only comprehensive

AMC in Iowa, and one

of about 125 in the United States.

As a major employer in the Corridor,

we contribute to the growth

of the local economy, while also

working to improve the health and

well-being of all area residents.

This has included extending our

patient care mission to businesses

through the Work-Related Care

Management program which

provides several services to assist

employers with solutions for improving

the health and wellness of

all team members

Through UI Hospitals and Clinics,

patient care ranges from highly

specialized, complex treatments

do residency training in Iowa are

nearly four times more likely to

enter practice in Iowa than those

training outside the state.

As the research engines of the

American health system, AMCs

conduct more than half of all

extramural research sponsored by

the National Institutes of Health

(NIH). In fiscal year 2016, the UI

Carver College of Medicine garnered

more than $229 million in

external funding, including 254

grants totaling more than $105

million from the NIH.

Like other AMCs, UI Health

Care faculty and staff members go

beyond these mission-driven activities

to provide community benefit

programs or activities that promote

health and wellness. In fiscal year

2015, we recorded a contribution

Getting YOUNGER Every Day

Feel Better. Move Better. Look Better.

Live an active satisfying life.

SMALL GROUP

PERSONAL TRAINING

FOR YOU!

Our trainers focus on Functional

Fitness - Enhance your performance

in every-day life with greater ease,

enjoyment and less pain!

u Up to 5 people in each small group

u Initial screening addresses your

health concerns

u Assess upper/lower body strength,

cardio, agility, balance and flexibility

Positively impact your life now

plus your 70s, 80s and 90s.

CORALVILLE

Clock Tower Plaza

1801 2nd St, Ste. 250

319-337-4777

fitnessatbodymoves.com

CBJ BALANCE - FALL 2017 17
---
Your Cancer

Screening Roadmap

Listen to body signs and get checked out

BY CINDY HADISH

Carla Vawter

Carla Vawter – known in the Corridor as Carla Davis on the radio

and as an on-field hostess at Cedar Rapids Kernels baseball

games – spent years tanning as she worked in the public eye.

"I had heard the

dangers, but after

many years of doing

it, I had this, 'it

won't happen to me'

mentality," she said.

"Several years later, I

noticed I had a bump

on my nose that

wasn't going away."

Ms. Vawter went

to a pre-cancer

screening, where several

areas of concern

were noted, followed

by an appointment

with a dermatologist.

She was diagnosed

with basal

cell carcinoma on her back and arm, both of which were removed,

and actinic keratoses – rough, scaly patches – on her

face, which were frozen off with liquid nitrogen.

Nonmelanoma skin cancer – the type Ms. Vawter had – is

the most common cancer in the United States, but while early

detection of the more deadly melanoma is less likely to cause

death when treated early, health officials do not recommend

regular skin cancer screenings for people not at high risk.

Navigating cancer screening recommendations from various

agencies can be confusing as not all are the same. The

American Cancer Society, for example, offers guidelines that

differ from other entities.

Experts note that the best course of action is to watch your

body for changes and discuss concerns with your doctor.

The U.S. Centers for Disease Control & Prevention offers

the following cancer screening recommendations from the

Preventive Services Task Force, a panel of national experts in

prevention and evidence-based medicine. CBJ

BREAST CANCER

n A mammogram, an X-ray of the breast, is the best way to

find breast cancer early, when it is easier to treat and before

it is big enough to feel or cause symptoms. Having regular

mammograms can lower the risk of dying from breast cancer.

n Women who are 50-74 years old and at average risk for

breast cancer should get a mammogram every two years.

n Women ages 40-49 years old should talk to their doctor or

other health care professionals about when to start and how

often to get a mammogram and should weigh the benefits

and risks of screening tests when deciding whether to begin

getting mammograms at age 40.

n Breast Magnetic Resonance Imaging (MRI) uses magnets and

radio waves to take pictures of the breast. MRI is used along

with mammograms to screen women who are at high risk

for getting breast cancer. Because breast MRIs may appear

abnormal even when there is no cancer, it is not used for

women at average risk.

LUNG CANCER

n Yearly lung cancer screening with low-dose computed

tomography is recommended for people

with a history of heavy smoking, who smoke now

or have quit within the past 15 years and are between

55-80 years old.

n Heavy smoking means smoking one pack a day

for 30 years or two packs a day for 15 years.

n Lung cancer screening has at least three risks:

false-positive result that can lead to follow-up

tests and surgeries that are not needed and may

have more risks; cases of cancer that may never

have caused a problem for the patient and

radiation from repeated tests can cause cancer in

otherwise healthy people.

n Annual screenings can stop when the person turns

81, or has not smoked in 15 years, or develops a

health problem that makes him or her unwilling or

unable to have surgery if lung cancer is found.

18 CBJ BALANCE - FALL 2017
---
COLORECTAL

(COLON) CANCER

Adults ages 50-75 should be screened for colorectal cancer

on an annual basis or up to once every 10 years, depending

on which screening method is chosen.

OVARIAN CANCER

There is no evidence that any screening

test reduces deaths from ovarian cancer.

STOOL TESTS

The fecal occult blood test and fecal immunochemical test

are done once per year, using a test kit to obtain a small

amount of stool that is checked at a lab. With a FIT-DNA

test, an entire bowel movement is collected and sent to a lab

to be checked for cancer cells and done once every one or

three years.

FLEXIBLE SIGMOIDOSCOPY

The doctor puts a short, thin, flexible, lighted tube into your

rectum to check for polyps or cancer inside the rectum and

lower third of the colon; performed every five years, or every

10 years with a FIT every year.

COLONOSCOPY

The doctor uses a longer, thin, flexible, lighted tube to check

for polyps or cancer inside the rectum and the entire colon

and can find and remove most polyps and some cancers;

performed every 10 years.

COMPUTED TOMOGRAPHY (CT) COLONOGRAPHY

(VIRTUAL COLONOSCOPY)

X-rays and computers are used to produce images of the

entire colon, which are displayed on a computer screen for

the doctor to analyze; performed every five years.

n Adults ages 76-85 should ask their doctor if they should be

screened.

n People at an increased risk of developing colorectal cancer

should talk to their doctors about when to begin screening,

which test is right for them and how often to get tested.

n Colorectal cancer almost always develops from precancerous

polyps (abnormal growths) in the colon or rectum.

Screening tests can find precancerous polyps, so they can

be removed before they turn into cancer and can find colorectal

cancer early, when treatment works best.

CERVICAL CANCER

n Women should start getting regular Pap tests at

age 21. The Pap test, which screens for cervical

cancer, is one of the most reliable and effective

cancer screening tests available.

n Women ages 21-65 should be screened with a Pap

test every three years, or, for women ages 30-65,

every five years with a Pap test in combination with

human papillomavirus (HPV) testing.

n The Pap test can find abnormal cells in the cervix

that may turn into cancer. Pap tests also can find

cervical cancer early, when the chance of being

cured is very high.

n The only cancer for which the Pap test screens is

cervical cancer. It does not screen for ovarian, uterine,

vaginal or vulvar cancers. So even if you have a

Pap test regularly, if you notice any signs or symptoms

that are unusual for you, see a doctor to find

out why you're having them.

SKIN CANCER

PROSTATE CANCER

The U.S. Preventive Services Task Force

has concluded that there is not enough

evidence to recommend for or against

routine screening (total-body examination

by a clinician) to find skin cancers

early for people who do not have a history

of skin cancer and who do not have

any suspicious moles or other spots.

The U.S. Preventive Services Task Force recommends

against prostate specific antigen (PSA)-based screening

for men who have no symptoms.

CBJ BALANCE - FALL 2017 19
---
CBJ LIST

NONPROFIT SUPPORT SERVICES

................................................................................

Abbe Center for Community Mental Health

Designed to encompass emotional, physical and social

well-being through integrated health approach

520 11th St.

Cedar Rapids, IA 52405

(319) 398-3562

www.abbemhc.org

................................................................................

The ALS Association, Iowa Chapter

A full range of services to guide and assist families through

their journey with amyotrophic lateral sclerosis (ALS)

3636 Westown Parkway, Ste. 204

West Des Moines, IA 50266

(515) 369-2572

www.alsaiowa.org

................................................................................

Alzheimer's Association

East Central Iowa Chapter

Offers education programs for the caregiver, individual

with disease, health care professional, workplace and

general public

317 Seventh Ave. SE, Ste. 402

Cedar Rapids, IA 52401

(319) 294-9699

www.alz.org/eci

................................................................................

American Cancer Society

Covers everything from cancer research to education,

prevention to diagnosis and treatment to recovery

4080 First Ave. NE, Ste. 101

Cedar Rapids, IA 52402

(319) 866-7100

cancer.org

................................................................................

American Heart Association

Offers advocacy and research efforts to prevent heart

disease and stroke

1035 N. Center Point Road, Ste. B

Hiawatha, IA 52233

(319) 378-1763

http://heart.org/easterniowa

................................................................................

Area Substance Abuse Council

Provides comprehensive services to prevent substance

misuse and address substance use disorders

3601 16th Ave. SW

Cedar Rapids, IA 52404

(319) 390-4611

www.asac.us

................................................................................

................................................................................

Children's Cancer Connection

Enhances quality of life for families affected by childhood

cancer by providing programs for education, recreation,

and support

401 10th Ave.

Coralville, IA 52241

(515) 243-6239

www.childrenscancerconnection.org

................................................................................

ChildServe

Offers pediatric therapy and family support services to

children with developmental delays and disabilities

1552 Mall Drive

Iowa City, IA 52240

370 W. Cherry St.

North Liberty, IA 52317

(319) 351-5437

www.childserve.org

................................................................................

Community Health Free Clinic

Provides free medical, dental, vision and prescription

services for people without access to or the ability to pay

for health care

947 14th Ave. SE

Cedar Rapids, IA 52401

(319) 363-0416

www.CommunityHFC.org

................................................................................

Eastern Iowa JDRF

Funds type 1 diabetes (T1D) research with mission to

accelerate life-changing breakthroughs to cure, prevent

and treat T1D and its complications

1026 A Ave., Ste. 113

Cedar Rapids, IA 52406

(319) 393-3850

www.jdrf-org/easterniowa

................................................................................

Gems of Hope

Provides cancer patients and their families support and

resources to inspire hope

420 Sixth St. SE, Ste. 140

Cedar Rapids, IA 52401

(319) 393-9681

www.gemsofhope

................................................................................

His Hands Free Clinic

Provides medical, dental, chiropractic, women's health,

mental health, physical therapy, prescription assistance,

durable medical equipment and patient advocacy

services for the under- and uninsured

400 12th St. SE

Cedar Rapids, IA 52403

(319) 862-2636

hishandsclinic.org

................................................................................

................................................................................

Iowa City Hospice

Provides patient-centered palliative care and grief

support to anyone affected by a terminal illness

1025 Wade St.

Iowa City, IA 52240

(800) 897-3052

Iowacityhospice.org

................................................................................

Iowa KidSight

Screens young children throughout Iowa for free and

educates the public about risks of undetected vision loss

431 Coral Court, Ste. 5

Coralville, IA 52241

(319) 353-7616

www.IowaKidSight.org

................................................................................

Prelude Behavioral Services

Offers youth prevention programming, mental health

counseling, substance abuse treatment and transitional

housing for families in recovery

430 Southgate Ave.

Iowa City, IA 52240

(319) 351-4357

www.preludeiowa.org

................................................................................

Red Shamrock Foundation

Raises awareness of health care needs of childhood

cancer survivors, and supports survivorship programs and

research

3016 Raven. St.

Iowa City, IA 52245

(319) 530-1981

www.redshamrock.org

................................................................................

Ronald McDonald House Charities of Eastern

Iowa & Western Illinois

Provides families accommodations including housing,

meals, transportation, laundry and shower facilities while

their child receives treatment at a local hospital

730 Hawkins Drive

Iowa City, IA 52246

(319) 356-3939

www.rmhc-eiwi.org

................................................................................

Team Breast Friends

Raises money to make a positive impact in the lives of

individuals impacted by breast cancer

1153 Hampton Court

Iowa City, IA 52240

teambreastfriends.org

................................................................................

20 CBJ BALANCE - FALL 2017
---
QUICK BITES

Ronald McDonald

Family Room opens at

UI children's hospital

Ronald McDonald House Charities

of Eastern Iowa and Western Illinois

(RMHC-EIWI) in June opened

the Ronald McDonald Family

Room at University of Iowa Stead

Family Children's Hospital.

The service is designed as a respite

for visiting families of a child

being treated in the hospital's Pediatric

Intensive Care Unit or Pediatric

Cardiac Intensive Care Unit.

The Ronald McDonald Family

Room at UI Stead Family Children's

Hospital is made up of five

spaces: the Family Room Proper,

which includes a kitchenette,

dining area and living room; the

Family Shower Suite; a Family

Sleep Room for overnight stays

and naps; a Parent Respite Room;

and a lounge with snacks and

basic services provided at all times.

The Family Room also provides

self-serve breakfast and lunch and

serves fresh, homemade dinners

every night, prepared by volunteers.

"By the time a parent steps foot

in the Ronald McDonald Family

Room, they're exhausted," RM-

HC-EIWI Executive Director Barbara

Dee Werning stated in a press

release. "After spending a stressful

day surrounded by equipment and

doctors, it's invaluable to have a

quiet, home-like space where you

can get away from the chaos and

take care of yourself."

RMHC-EIWI increases the ability

of parents to spend more time

with hospitalized children, interact

with the clinical care providers and

participate in care decisions. Research

shows that RMHC bolsters

a family's psychological well-being

by keeping them close together and

providing emotional and physical

comfort and support.

Iowa City VA Health

Care awarded for

environmental

excellence

In recognition for achievement and

innovation in health care sustainability,

the Iowa City VA Health

Care System received the Top 25

Environmental Excellence Award

from Practice Greenhealth, an organization

dedicated to environmental

sustainability in health care. The

award is one of the Environmental

Excellence Awards given each year

to honor environmental achievements

in the health care sector.

As a new addition to Practice

Greenhealth's Top 25 award

winners, the Iowa City VA Health

Care System excelled in various

efforts, ranging from energy and

water conservation to reducing and

recycling solid wastes. For example,

the facility's medical waste stream

was reduced by 24 percent from

2012-2016, and the facility's overall

recycling rate in 2016 was 32 percent.

Further, with a goal to reduce

water consumption by 36 percent

by 2025, water reduction is a must

for all VA facilities. As a result, lowflow

faucets, shower heads, urinals

and toilets have been installed

wherever feasible.

"The Iowa City VA Health Care

System is committed to sustainable

practices in our day-to-day

operations and our planning for

the future," Heath Streck, associate

director for operations, stated in a

press release. "It's an honor to be

recognized for our commitment

to the health and safety of our

patients, staff, environment and

community."

The award was presented May 18

at the conclusion of Practice Greenhealth's

CleanMed Conference &

Exhibition in Minneapolis.

Q&A FROM PAGE 10

Q. You're also well-known

for your philanthropy

in Cedar Rapids, such

as starting the Anna

Purna Ghosh Foundation

and providing financial

incentives for students

to take end-of-course AP

examinations. Why is that

important to you?

A. I know two things: health

care and education, so I focus

on those two things. It's

an extension of the best way

to take care of the patients;

the community and society at

large need to improve. Quoting

from verses attributed to

Mother Teresa and framed on

the wall at The Ghosh Center,

he adds: "The good you do

today, will often be forgotten.

Do good anyway. Give the best

you have, and it will never be

enough. Give your best anyway.

In the final analysis, it is

between you and God. It was

never between you and them

anyway."

- Cindy Hadish

Dr. Chirantan Ghosh makes a point to give back

to the community and encourage education.

Photo Shuva Rahim

CBJ BALANCE

Your Online Solution

For a fresh take on health care, wellness and well-being we offer this amazing online

opportunity. Advertise in the Balance enewsletter and on the Balance website. We

cover everything from local health care providers and facilities to emerging research on

wellness, and includes a look at health care developments from around the web.

Contact Judith to get your business

in your customer's inbox today!

319.665.NEWS or

judith@corridorbusiness.com

CBJ BALANCE - FALL 2017 21
---
RECIPE CARDS

RECIPE

WATERMELON,

FETA AND

MINT SALAD

6 SERVINGS

SOURCE:

WWW.MIDWESTLIVING.COM

4 cups 1- to 2-inch chunks seedless red

and/or yellow watermelon

4 ounces feta cheese, coarsely crumbled

1/4 cup loosely packed mint leaves, torn

into rough pieces

2 tablespoons extra virgin-olive oil

Ground black pepper

RECIPE

GARDEN

CAPRESE

SNACKS

6 SERVINGS

SOURCE:

REALHOUSEMOMS.COM

2 tomatoes, sliced

4-8 basil leaves

½ cucumber

8 ounces fresh mozzarella

Balsamic glaze

DIRECTIONS

DIRECTIONS

In a large bowl, combine

watermelon, feta cheese, mint

and oil. Season to taste with

pepper. Cover and chill 2 to 4

hours before serving.

Slice mozzarella into eight

slices. Slice cucumber and

tomato into eight slices

each. Layer mozzarella, basil,

cucumber slice and tomato

slice. Drizzle balsamic glaze or

reduction over the top.

NUTRITION PER SERVING: Calories 120, Sodium 210 mg, Fat 9 g,

Carbohydrates 9 g, Cholesterol 17 mg

NUTRITION PER SERVING: Calories 130, Sodium 215 mg, Fat 8 g,

Carbohydrates 9 g, Cholesterol 13 mg

RECIPE

MIXED

VEGETABLE

GRILL

6 SERVINGS

SOURCE:

WWW.MCCORMICK.COM

1 tablespoon light brown sugar

1 1/2 teaspoons fresh basil leaves

1/2 teaspoon salt

1/2 teaspoon garlic powder

1/8 teaspoon black pepper

2 tablespoons olive oil

8 asparagus, spears, ends trimmed

1 medium red bell pepper, cut lengthwise

into 6 strips

DIRECTIONS

Mix brown sugar, basil, salt,

garlic powder and pepper in

small bowl. Drizzle oil over

vegetables in large bowl; toss

to coat well. Add seasoning

mixture; toss to coat well. Place

vegetables in grill basket, grill

rack or thread onto skewers.

Grill over medium heat 10 to 12

minutes or until vegetables are

tender, turning occasionally.

NUTRITION PER SERVING: Calories 105, Sodium 215mg, Fat 5g,

Carbohydrates 13g, Cholesterol0 mg, Protein 2g, Fiber 3g

22 CBJ BALANCE - FALL 2017
---
PICTURES OF HEALTH

s HEALTH CARE DISCUSSION

From left, Steve Baumert, president and CEO of Methodist Jennie

Edmundson in Council Bluffs; Tim Charles, president and CEO of Mercy

Medical Center in Cedar Rapids; Kirk Norris, president and CEO of the Iowa

Hospital Association; Cindy Mann, partner of Manatt, Phelps & Phillips; Ted

Townsend, president and CEO of UnityPoint Health-Cedar Rapids;

and Mike Myers, CEO, Veterans Memorial Hospital, Waukon, discuss the

American Health Care Act at press conference June 7 at the DoubleTree by

Hilton in Cedar Rapids.

s HEARTFELT GIFT

Coralville-based MediRevv presented a $10,000 gift as part of its 10th

anniversary initiative to The Bird House (Hospice Home of Johnson County)

at the Second Annual Bird Bash held April 20 at Big Grove Iowa City. From

left are Carol Tippe, home coordinator of The Bird House; MediRevv Human

Resources Director Nicki Brick; and MediRevv CEO Chris Klitgaard.

s RESTFUL ROOM

Representatives from Ronald McDonald House Charities of

Eastern Iowa and Western Illinois, University of Iowa Stead Family

Children's Hospital and University of Iowa Hospitals and Clinics

held a ribbon cutting May 24 at the new Ronald McDonald Family

Room at University of Iowa Stead Family Children's Hospital.

DOCTORS'

DEDICATION u

Dr. Melissa Kahler and Dr.

Daniel VandenBosc cut the

ribbon at an open house and

ribbon cutting at the new

UnityPoint Clinic-Westdale

held June 10 at 4325 Williams

Blvd. SW, Cedar Rapids. The

new Westdale Clinic offers new

services to the area including a

Pediatric Clinic, X-ray (imaging

services), laboratory services

and Therapy Plus.

CBJ BALANCE - FALL 2017 23
---
St. Luke's is the area's heart hospital.

53,227 OPEN HEART SURGERIES AND PROCEDURES

Dr. Hajj, UnityPoint Clinic Cardiology & St. Luke's Cath Lab team

Since 1978, over 50,000 open heart surgeries and procedures have been performed

by the area's most experienced and largest heart care team at St. Luke's Hospital –

the most in Linn County.

More experience leads to better results. Choose, St. Luke's.

Located in the MedQuarter.

unitypoint.org/heart

002256a1-1 06/17 CS