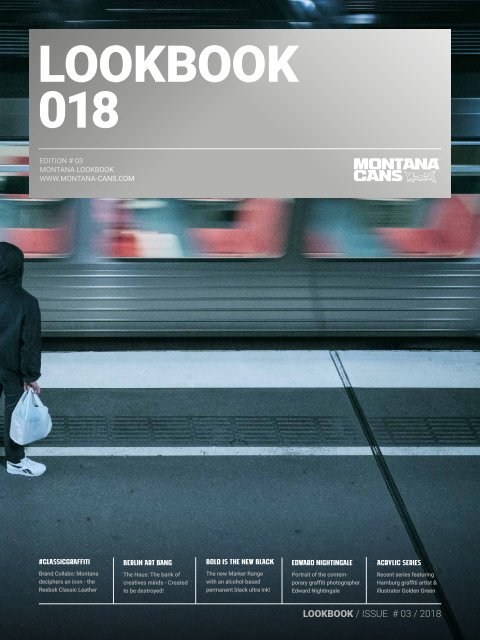 Montana LOOKBOOK 2018
The new MONTANA-CANS LOOKBOOK 2018 out now featuring special MONTANA-CANS products, brand collaborations, events and artists. At MONTANA-CANS we benefit, as a team and as company, from working closely with creative heads, our friends and partners. In return, it is our pleasure to support events, projects and artists. In our opinion, a fruitful cooperation is the source for creativity, development and growth on all levels. We are fortunate and grateful for the fact that we are approached by artists and collaboration partners alike, who have incredible ideas and inspirations, is something that we are very thankful for. Also check the previous issues MONTANA-CANS LOOKBOOK 2016 and 2017
The new MONTANA-CANS LOOKBOOK 2018 out now featuring special MONTANA-CANS products, brand collaborations, events and artists. At MONTANA-CANS we benefit, as a team and as company, from working closely with creative heads, our friends and partners. In return, it is our pleasure to support events, projects and artists. In our opinion, a fruitful cooperation is the source for creativity, development and growth on all levels. We are fortunate and grateful for the fact that we are approached by artists and collaboration partners alike, who have incredible ideas and inspirations, is something that we are very thankful for. Also check the previous issues MONTANA-CANS LOOKBOOK 2016 and 2017


SHOW MORE
SHOW LESS
Create successful ePaper yourself
Turn your PDF publications into a flip-book with our unique Google optimized e-Paper software.
LOOKBOOK

018

EDITION # 03

MONTANA LOOKBOOK

WWW.MONTANA-CANS.COM

#CLASSICGRAFFITI

BERLIN ART BANG

BOLD IS THE NEW BLACK

EDWARD NIGHTINGALE

ACRYLIC SERIES

Brand Collabo: Montana

deciphers an icon - the

Reebok Classic Leather

The Haus: The bank of

creatives minds - Created

to be destroyed!

The new Marker Range

with an alcohol-based

permanent black ultra ink!

Portrait of the contemporary

graffiti photographer

Edward Nightingale

Recent series featuring

Hamburg graffiti artist &

illustrator Golden Green

LOOKBOOK / ISSUE # 03 / 2018
---
WHEN PASSION MEETS PRECISION.

MONTANA-CANS - HIGHEST QUALITY MADE IN GERMANY
---
MONTANA LOOKBOOK 2018 | PRINTED IN GERMANY
---
Content

Montana Lookbook 018 / Editorial 06

Reebok Classic X Montana Cans 08

#Classicgraffiti FW17

Black Artist Series 18

Edward Nightingale 28

Bold is the new black 36

New Montana Cans Marker Range

Artist Feature: Wane Cod 40

Mural Festival Canada 50

POW! WOW! 2017 Recap 56

THE HAUS 68

The bank of creatives minds

Artist Feature: Buff Monster 80

The melty misfits

Portrait: Low Bros 90

The Urban Nation Museum 98

Portrait: Nevercrew 110

Quintessenz 116

Colormaze

Pangeaseed / Seawalls 124

Interview: aptART 134

Acrylic Series feat. Golden Green 142

Rust Magic, Canada 150

Introducing: La Franz 156

Imprint 162

5
---
At the MONTANA-CANS headquarters in Heidelberg/Germany, we benefit as a

team and as company from working closely with creative minds, our friends

and our partners worldwide.

In return, it is our pleasure to support events, projects and artists. In our opinion,

a fruitful cooperation is the true source for creativity, development and

growth on all levels for all creative disciplines. We are so fortunate and grateful

for the fact that we are approached by artists and collaboration partners alike,

who have incredible ideas, concepts and inspiration. It is something that we

are very thankful for.

Cultural sponsorship and social commitment mean a great deal to us, which is

why we are honored and happy to invest in projects and event sponsorship that

support the very causes which are so extremely close to our hearts. This is our

great privilege. As a follow-up to the second edition, we are now happy to present

the third edition of the MONTANA-CANS Lookbook series, in which we'd

like to take the time to feature some of the special projects and partnerships

we have established throughout the year and share our pride and gratitude

with you!

More information on MONTANA-CANS

and its products can be found at:

WWW.MONTANA-CANS.COM

#GERMANSPRAYPAINT

Photography by Edward Nightingale

6
---
7
---
8

#CLASSICGRAFFITI
---
MONTaNA-CANS BRAND COLLABO

Montana deciphers

an icon: THE REEBOK

CLASSIC LEATHER

OUT AND ABOUT WITH BLACKOUT AND

WITHEOUT: Montana Cans teamed up with

Reebok to reimagine a classic, the Reebok

classic to be precise.

Inspired by the Blackout and Whiteout Series,

the outcome presents a playful approach

which takes upon a constant duality which

revolves around the game of graffiti.

9
---
The pack consists of a predominantly black pair, with

a white heel and a somewhat inverted white version.

On the black pair, the details seem to be applied with a

white enamel, whereas its counterpart depicts a more

prominently placed black Reebok logo on the side of the

otherwise all-white shoe. Usually details like paint stains

come with time, involuntarily and by accident, due to the

wear and tear caused under mysterious circumstances,

often whilst midnight marauding. In this case however,

these details are carefully placed and a conscious choice,

paying hommage to Montana's heritage. Hints towards

the origin of these marks are subtle, yet members of the

club will decode them with ease. As several analogies to

urban art contexts are translated into the design of both

pairs, the result of the collaboration between Montana

and Reebok almost feels natural.

Black and white represent complete opposites of the

visible light spectrum. As black absorbs all light, white on

the contrary, reflects all light.

The stark contrast between the inherent properties of the

two tones easily allows an allegory to day and night. A

nocturnal scenery, as mirrored in the black pair, provides

a perfect surrounding for hidden adventures, such as

painting graffiti.

The combination of black and white spraypaint is also

an essential choice for urban artists, who want to

emphasize their style and maximize the legibility of their

artworks. Black and white is always a timeless choice,

especially for #classicgraffiti. Maybe the underlying

reference to the light of the day versus the dark of the

night subconsciously influences artists in their choice of

color. Black paint drizzles are clearly visible on the white

pair, as if a flash picture has been taken in total darkness.

Being a little more blunt than the black pair, the white one

might just be as useful to camouflage and blend into an

urban crowd, after secretly emerging from a hatch.

Photography by MONTANA-CANS /

Edward Nightingale

10
---
#CLASSICGRAFFITI

11
---
12
---
So, the collaboration represents seemingly contradicting

notions of light and dark. They are public yet discreet.

Like ying and yang, both colorways complement each

other. The given context will determine which of the two

will be the more suitable choice. However, either pair

also carries properties of its opponent. In night missions,

luminous flash pictures might be taken for mere safety, in

case the sunny next morning benching is sabotaged by a

too eager buff, let alone the boys in blue.

The interplay of sunrays and shadows is cleverly

resonated in the design of both versions. Simultaneously,

the design approach plays with the idea of an individual

and authentic look after accompanying their owner during

their adventures, where paint stains might be collateral

damages. Like creases, their amount may increase with

wear. Here, these details particularly show the dna of

Montana already on the brand new crisp pair. The upper

sits on a comfy Eva sole that provides a comfortable

ride in any situation. Fully made of leather, both pairs are

made to stand the test of time and fit as easily through

the hole in a freshly cut fence, as they navigate through

the lines in front of your favourite nightclub.

www.montana-cans.com/reebok

#classicgraffiti

13
---
14
---
Photography by MONTANA-CANS | Alexander Krziwanie

15
---
16
---
#CLASSICGRAFFITI

17
---
LOOKBOOK

018

www.montana-cans.blog

#BLACKARTISTEDITION

#MONTANABLACK

#GERMANSPRAYPAINT

18
---
BLA

CK

ART

IST

SERI

ES

MONTANA-CANS prides itself on the recently introduced

limited edition Artist Series cans. Each can features a world

renowned Graffiti artist that will have the opportunity to

design personalised artwork for their favourite Montana

BLACK color, from the 187 colors in the Montana BLACK

range. These designs are then implemented for a limited

time in the production of the artists chosen color. Thus

making any versions of the Artist Series cans exclusive,

functional and collectable. These designs are featured 4

times a year at the same price as the regular version. they

can only be obtained while they are available!

19
---
LOOKBOOK

018

RA

MBO

The Montana BLACK Artist Edition No. 12 features the Moscow

based Graffiti Artist RAMBO. Hailing from one of the largest

cities in the world, Rambo played with the contrasts of Moscow´s

city lights and skyline. The Russian Artist chose the color tone Silverchrome

of the famous and proven Montana BLACK Range for

his Artist Edition. Silverchrome is notorious for its coverage and

speed and therefore many writers chose it to paint the streets during

the last financial crisis. Perfect for Rambo´s fast and simple

pieces and styles. The design is inspired by the artist's environment

— impressions that Rambo sees everyday: the city lights,

the skyline of Moscow and of course a lot of Graffiti!

instagram.com/rambch

20
---
21
---
LOOKBOOK

018

FUNC

The Montana BLACK Artist Edition No. 13 features the Paris based

Graffiti Artist Func'88 who chose the color BLK 3940 Magic

out of the Montana BLACK 400ml high pressure Line. Graphic

designer, but also graffiti writer and illustrator, Func'88 started

as it name says, in the year of 1988. Func proclaims "Living the

golden age" of graffiti in France has been "the best times without

being too nostalgic". Trying to perpetuate the spirit of the old Parisian

style, Func adds a modern ultra touch. For him, the 80's were

days full of innocence and discoveries, in terms of creation. "My

favorite one is the Montana "BLACK" so when the idea of an artist

edition came along, I obviously chose it and pick the 3940 Magic

color because it's a tone I frequently used in my pieces and I love

the name — "BLACK Magic." he said.

instagram.com/koolfunc88

22
---
23
---
LOOKBOOK

018

LUGO

The Montana BLACK Artist Edition No. 14 features the Italian based

Graffiti Artist LUGO. The illustrator and tattoo artist has chosen

his favorite color from the Montana BLACK range, Lambrate

BLK 7130. And in true LUGO fashion there is also a hidden irony

to this choice as the name Lambrate was chosen after the much

beloved district of Lambrate in the Milano city outskirts. Lugo is

no stranger to the street. As a and writer, he has his artwork

covered on surfaces and people globally. Known for his humor,

illustrative style and his rebellious tendancies, Lugo has a way of

making you laugh and impressed at the same time. He is a quiet

achiever whom pops up in all the right places. As a crew member

of the JBCB crew, his artwork and personality has also become part

of a wider audience as their artwork as a crew crosses all borders.

instagram.com/lugosis

24
---
25
---
Photography by SMASH137 – Train panel

"SMASH137" on freight
---
LOOKBOOK

018

For constant Graffiti updates

check the MONTANA-CANS Blog:

www.montana-cans.blog/graffiti
---
[ ]

EDWARD

NIGHTINGALE

A CONTEMPORARY

GRAFFITI PHOTOGRAPHER

28
---
29
---
EDWARD NIGHTINGALE

30

"Roots"

Mexico City, 2017
---
LOOKBOOK

018

If you like graffiti photography, Edward Nightingale

will not be a name you are not aware

of. Based in Europe, Nightingale is an artist

that sees things that many don't see. As one

of the most prolific photographers of the

contemporary train graffiti documentation

movement, Nightingale's speciality is capturing

the essence and mood of the graffiti

discipline that is often over looked by general

public. Whether it be in a tunnel, on a

fence line, at the dead of night or the middle

of the day. A reference point for most

prolific contemporary train painters who

are happy to have him by their sides, Nightingale

is not just along for the ride. He is

the artist next to the artists. Shooting from

above, up close, a far and right in the heat

of the action. Taking the same risks, the

same steps as any other participant of the

action he is capturing, but yet with a completely

different agenda.

With exceptional technical ability and an

amazing eye that looks at the right spot at

the right moment, Nightingale's work stands

to survive the test of time!

31
---
EDWARD NIGHTINGALE

"I came into contact with graffiti through hiphop

in my early teenager years. since I was a young,

insecure boy I was thankful for this opportunity

to get some kind of identity without being in the

center of attention. Ever since my fascination for

graffiti started I was obsessed with books about

it. Like many others I soaked up everything about

graffiti that I could get my fingers on. Wich sadly

was not too much at that time. What I always liked

most were the pictures showing the act of writing

over the finished pieces. It gave me a glimpse of

how it was to be there. To paint in a certain place. I

have to say that that to me graffiti is mainly about

the experience and the feelings that you get while

being in unusual places. Many people might have

a different opinion about that but that's just what

it's like to me.

When I got older my technical knowledge and

the advantages of digital imaging allowed me to

go deeper into that topic. The need or the urge to

capture those wonderful moments slowly took

over the urge to paint myself. While painting I was

always focused on the act itself but while taking

pictures I could capture this place. It's like writing

down a beautiful memory.

Today, more than ever I feel the urge to capture as

much as possible of Graffiti's first child: trainwriting.

The look and feel of train tracks and especially

tunnels is unique and the adrenaline I get from

it helps me to forget the grey swath of my daily

routines. I wish I would have used my younger years

more for traveling than going to the same yards

over and over again because a lot of nice trains

have disappeared and

a lot of places became

really hard to acces

due to today's technological

possibilities.

"It's like

writing down

a beautiful

memory."

When I see the heroes

of my childhood like

Martha Cooper, Kaos,

Chintz and others growing

old with graffiti

this gives me this wonderful feeling that maybe

I'll be also this lucky to grow old with the most

wonderful form of vandalism."

]

32
---
LOOKBOOK

018

33
---
EDWARD NIGHTINGALE

MONTANA-CANS collaborated

with Edward Nightingale

on recent projects like the

Montana X Reebok

#CLASSICGRAFFITI as

well as a Montana BLACK

print advertisement campaign.

Photography by Edward Nightingale

www.edwardnightingale.com
---
LOOKBOOK

018

35
---
36
---
BOld is the

NEW BLACK

(BOLD IS BLACK –

NEW MONTANA-

CANS MARKER

RANGE)
---
The new MontanaCans

Marker range has gone

BOLD! #Montanabold

As any writer knows, within the

essence of graffiti lies the tag, or

otherwise known as the "hand

style". A flawless handstyle reveals

true talent. It is true that

practice makes perfect, but with

the right equipment, you can

take your hand style to a BOLD

next level and beyond.

With BOLD, Montana-Cans

has created tagging markers

that merge function, quality and

style. Made in Germany, these

sleek #montanamarkers will be

the basis of your tagging needs.

The marker bodies are

made of premium aluminum that

provide a superb haptic. Filled

with the finest alcohol-based

aptly named Ultra black ink.

This luscious, deep black ink is

waterproof and UV-resistant,

but not clothing friendly, so take

care when using it while wearing

your Sunday bests. The

combination of our low viscosity

ink and the premium German

made pump action valve, allows

high flowing marking on almost

any surface, reliabily and consi-stantly.

In the tagging game,

the artist always decides, juicy,

drippy, clean or tight? The BOLD

marker range is uncompromising

and functional fusing a sophisticated

and lean look that is

classic, not plastic.

As Cap famously stated in

the iconic graffiti documentry

Stylewars, "The object of the

game is more!". Montana BOLD

Markers have durable-replaceable

tips, refillable alluminium

bodies offering longevity

and endurance for HEAVY USE.

In the streets, the buff never

sleeps. With Montana BOLD Markers

you can get up and, most

importantly, stay up. Whether it

be with your newly hit, rich and

shiny fresh black tags or the

aesthetic stain left once buffed.

An experienced writer

knows that the key to success is

to keep both yourself and your

tools stealth. With BOLD markers

that look so impressive, this

may be harder than it sounds.

The range consists of four

model sizes plus refill ink making

any idea you have possible.

The BOLD range starts with a

3mm chisel (6ml), followed by

an 8mm round (20ml), 10ml chisel

(20ml) and a 15mm standard

(20ml) tip. To reload, we have a

180ml refill ink bottle that completes

the range. The changeable

tips breathe new life into any

battle scared marker, what ever

surface you have used it on.

The Montana BOLD marker

range is your choice to make your

mark on society.

38
---
Montana Bold offers

the perfect choice to make

your mark on society.

#Montanabold

39
---
WANE COD

It's all

about

letters
---
LOOKBOOK

018
---
WANE COD

Well known for his great style, Wane

Cod has dedicated his life to the power

of letters. He was born in London and

lived in England and Greneda until he

was seven years old. In 1978 his parents

brought him and his brother to the U.S.

and moved to the North Bronx. During

1983, he became "Wane One" when he

painted his first train.

Montana Cans had the chance to go to

his studio recently and also follow him

for a little while, to check out what is

going on with him recently!

Today, he divides his time between

painting and running his company:

Writers Bench. As an artist and Montana

Cans heavy user, he states that

"it's all about letters" and graffiti is

basically a type of typography that

they can call style.

For Wane spray cans have become a

medium, but the culture of graffiti is a

big movement, and the reason why he

still goes out and does it the so called

"illegal" way is because it keeps him

grounded. It also keeps him knowing

of what's happening in the culture of

graff. In the real world of how graffiti

writers live the moment. "If you don't

go out and do it illegally, you're clueless

to what's really going on. You are just a

commercial artist using spray cans," he

quoted to the Creative Independent a

couple of months ago.

42
---
LOOKBOOK

018

"If you don't go

out and do it

illegally, you're

clueless to what's

really going

on. You are just

a commercial

artist using spray

cans."

43
---
44

WANE COD
---
LOOKBOOK

018

(…)

"it's all

about

letters" and

graffiti is

basically

a type of

typography

that they

can call

style.

IN 1983,

he became "Wane One" when he

painted his first traiN.

Photography by WANE, Ven AOK,

Jordan Katz | MONTANA-CANS

45
---
46

WANE COD
---
LOOKBOOK

018

From graffiti in the

streets of NYC to trucks,

trains and big walls,

Wane has become

a living legend and

representative in the

culture of graffiti, not

only because of his

history, trajectory and

specific style, but also

because his honesty.

There's no secret, but Wane believes the

only way to become good at something is to

keep trying, knowing your past, your roots

and work hard to until you get what want.

www.waneone.com

47
---
G7050 ROOF

The classic NYC rooftop tint. Bring the flavor of the city that never sleeps

to your work. Make your choice among 215 tones in Montana GOLD's flowing

color system #montanacans #germanspraypaint
---
50

MURAL FESTIVAL

MONTRÉAL
---
MURAL

FESTIVAL

Montréal

Five Years

of Art

attend Austin during that time of the year, know what we mean. The full

city is part of the celebration and the program includes not just art, but

music, film, conferences, exhibitions, yoga, carnival, food, parties an art

fair and pop-up shows. As for the muralists, this edition reunited leading

international artists from seven countries, including: Ron English (USA),

INSA (UK), 1010 (Germany), Mad C (Germany), Ricardo Cavolo (Spain),

Fintan Magee (Australia), Ruben Sánchez (Spain), Nuria Mora (Spain),

Smithe (Mexico) and Onur (Switzerland). Many prominent Canadian artists

also attended the festival, including: Fluke and Dodo, SbuOne, Scribe csx,

Kevin Ledo, who painted a tribute to Leonard Cohen; Monosourcil, Mort,

Aydin Matlabi and Miss Me.

Montréal goes from a thick intense winter to a hot busy summer

full of festivals. But there's nothing more exciting than looking

to those empty walls turning into vivid candid pieces of art.

MURAL International Public Art Festival celebrated its 5th edition this year. We

were there to experience a magnificent diverse array of activities, including murals,

music, exhibitions, pop-up installations, conferences and their third art fair. MURAL

Festival activities and events take place in a free-access pedestrian zone located

Saint-Laurent Boulevard, between Sherbrooke Street and Mont-Royal Avenue. Some

twenty new murals created this year enhance an already impressive and wellrounded

route of legacy of over 80 major works created by the Festival since 2013.

It's the closest to be in a festival like SXSW, for those who have had the chance to

51
---
MURAL FESTIVAL

MONTRÉAL

Aaron Li-Hill, Canadian artist living in New York also produced a large-scale art

installation to adorn Saint-Laurent Boulevard all summer long. Some of the

favorite events were Ricardo Cavolo and 123Klan's conferences, Ron English

'Propaganda' pop-up show, Felipe Pantone 'Planar Direction' exhibition at

Station16 Gallery and the 'Nasty Women' exhibition at Boxotel with work of

Ness Lee, Sarah Blais, Cécile Gariépy, Lydia Maria, Ranji Perera, Kathryn

Macnaughton and Dana Peebles. Very fresh to see a series of art pieces by all

Montréal and Toronto based women artists. Montana Cans is proud of being a

continuous supporter to the festival, with the purpose to being an ally to the

artistic movement in Montréal. During our time there, we had the chance to chat

with Ron English and when we asked him: If Montréal could be a

character, what kind of character would it be? He replied, "Would it be a

multicolored polar bear?"

52
---
53
---
54

MURAL FESTIVAL

MONTRÉAL
---
www.muralfestival.com

#muralfestival

Photography by Maria Enriqueta Arias,

Davi Tohinnou, Daniel Weintraub

55
---
POW!

WOW!

WORLD

WIDE

2017

U ND THE GLOBE

OART WARRIORS AR

56
---
LOOKBOOK

018

MontanA-Cans is proud to be

one of the major partners of

this festival for many years.

2017 was no exception.
---
58
---
LOOKBOOK

018

59
---
60
---
LOOKBOOK

018

61
---
62
---
LOOKBOOK

018

Because it takes place on the

city streets, POW! WOW! is by

default open to the public and

the featured artists always

includes a final block party

and speaking events in public

spaces. The most important

thing is also the artists could

experience the place and to

have the interaction with the

community to create a major

symbiosis between the art

pieces and the audiences.

One of the most impressive

editions of the year was in Israel,

an event that actually started

as a small road trip between

artists that couch surfed and

collaborated to create public

art that mattered. But ended

up bringing the POW! WOW! art

community to a whole nother

level. It was a perfect fuel for

creativity and the original quest

to make art with a backdrop of

sun and dust, the color made its

way on to surfaces that are not

standard at all.

The Worchester edition of

POW!WOW! included artists like

It's a Living, Kristin Farr, Pichi

Avo, Christopher Konecki, just

to mention a few that described

their experience as one of the

greatest ones during the year.

63
---
Nosego, a POW! WOW! veteran

who has experienced various

locations affirms that the

amazing thing about the festival

is that it seems like a tribe of

an outdoor annual presence in

Hawaii and Long Beach, as well

as satellite locations worldwide

throughout the year, such as

Seoul.

people that live in different

parts of the world, but once they

are there—at any POW! WOW!

location—they all meet up to

celebrate what they love, art.

The invited artists list includes:

Royal Dog,

Sixcon, Xeva,

Yoon Hyup and

POW! WOW! founder

POW! WOW! Korea 2017

Jasper Wong.

A lot stunning murals were

created, but this was the first

time ever for POW!WOW! in

Korea. The mural art festival

that has been taking place in

cities like Hawai'i, Washington

D.C., Tokyo and Taipei, arrived

in Seoul for the first time

with guest artists such as

Andrew Hem, Sheryo, Jay Flow,

Laurence Vallieres, Cryptik and

massive collaborations such as

Tristan Eaton, who's a heavy

Montana Cans user and Dave

Persue, whom painted a 13-story

building titled "Forever Peace",

which is certainly one of the

centerpieces of the festival.

For all these reasons and more

Montana Cans, has been a

continued supporter of POW!

WOW! featuring a Collab Can

series at the beginning of this

year. In celebration of the event,

a limited edition of MONTANA

GOLD POW! WOW! can that was

dedicated to the 2017 event

and it's participating artists.

The chosen color was the high

covering Shock Black SH9000, of

Montana Gold's shock color rage.

Find all POW! WOW! recaps

on our blog:

www.montana-cans.blog or

on the POW! WOW! Websites!

POW! WOW! was initially created

to bring together friends and

collaborators. The festival has

www.powwowhawaii.com

@powwowworldwide

64
---
LOOKBOOK

018

65
---
Photography by Brandon Shigeta (@bshigeta), Andrew Tan (@weerdnaa),

Jonas Maon (@jonasmaon), Andy Song (@andyisong)

66
---
LOOKBOOK

018

67
---
The Haus—

The Bank

of Creatives

Minds

Created

to Be Destroyed♥

68
---
This motto has been fulfilling

the brilliant, fresh and bizarre

art concepts from different

artists in an abandoned bank

building on Berlin's most

famous streets: The Kudamm-

Kurfürstendamn. More than

165 artists have turned this

building into a whole new

experience to the viewer. Since

April 2017, when this event was

known as The Berlin Art Bang,

it hosted different artists, from

various disciplines. This is

what has enriched it the most.

Eventhough, the concept of

the project was created with

the knowledge of this building

going to be destroyed and

demolished in August of 2017.

"The uniqueness of THE HAUS

isn't the simple fact of existing,

but the limitation to exist",

stated DIE DIXONS. The effect

of the idea of this place to be

destroyed, also enhanced the

audience and the artists to

create images and experiences

that would be burnt in your

memory and seaze the moment

of creation, while you still can.

To experience THE HAUS with

all your senses.

69
---
THE HAUS

THE HAUS is a project initiated

by XI Design / DIE DIXONS,

who's a Berlin based street art

crew driven by the tension to

messages. The gang gather a

collective of freethinkers to

spread one statement, which is:

It doesn't matter who you are,

what your name is or what you

do, make time to create things

on your own and use time

to really experience created

things before it's too late.

70
---
Montana Cans has been a

proud supporter of this unique

project. "We thank to all

THE HAUSMEISTERS for this

incredible happening in the

heart of Berlin, which was

really impressive. MONTANA-

CANS feels lucky enough to be

a partner on this project from

the early beginning, not only

providing material such as

spray cans, technical aerosols,

effects and markers to support

the participating artists, but

also our belief in the project

and the cause,

enhance and

accompanied

THE HAUS

with its creative

revolutionary

ideas," Montana Cans

affirmed. The artists

bring the streets to the

old bank and build their

own dreams: sculptures,

video installations, virtual

realities, projections,

photography, illustration,

etcetera. All these to express

themselves and their ideas.

71
---
THE HAUS

Artwork © Case

72
---
73
---
THE HAUS

74

Artwork © Felix Rodewaldt
---
This universe of creation

inhabits in the center of Berlin's

commercial-heart. Every visitor

of crew gets one space to

generate a metamorphosis of

the place and of their own ideas.

Artwork © Dixons

75
---
THE HAUS

Artwork © GHS

Artwork © Herakut

www.thehaus.de

#thehaus

Photography by Eugen Lebedew | THE HAUS

76
---
Artwork © Rocco

"We have only one frame

and one aim. The frame

is the room. The aim is to

create a mind-blowing

something that the

viewers are forced to

tell the others about it."

THE HAUSMEISTERS

77
---
www.thehaus.de

#thehaus
---
Buff Monster

The Melty

Misfits

80
---
81
---
82
---
Buff Monster is an artist from

New York City, who uses brightly

colored creatures, bold lines

and funny characters to make the

world a better place. His career

started in Hawaii, some years ago.

He lived in Los Angeles for 15

years and finally arrived in New York

City, where his inspiration came

from black metal music (amazingly

good and always great to have),

ice cream, graffiti, Garbage Pail

Kids and the Japanese cute culture.

83
---
Buff Monster works in a variety of

creative fields, from murals to designer

toys, from books to illustration.

He is also included in Banksy's

Oscar-nominated documentary

"Exit Through the Gift Shop". His

work has been featured in different

art galleries like StolenSpace Gallery

in London, Galo Arte Gallery in

Turin, Italy and Corey Helford

Gallery in Los Angeles, California,

just to mention a few.

And the Bristol City Museum has

a painting in their permanent

collection. He's worked with

some of the most recognizable

brands, such as Disney, Converse,

Hello Kitty, Samsung, Nike and

Coca-Cola. Now under the brand

name "Stay Melty", he continues to

release a variety of limited-edition

collectibles, including vinyl and

resin toys, prints, shirts, stickers

and trading cards.

"As an artist, I think it's your

responsibility to shepard your

work into the world.", is something

he says with confidence.

Buff Monsters knows how to balance

his true self as an artist and the

needs of the commercial clients

and brands he works with. It's always

meticulously executed, brightly

colored and delivered on time.

84
---
Buff has been a long-time user of

Montana-Cans for outdoor murals,

as well as Montana ACRYLIC inks

for paintings and drawings in the

studio.

In 2017, Buff showed his work in

NYC and Europe. He completed

a large mural in Bristol England

and launched a new website

(StayMelty.com). He was also featured

in the Montana BLACK cans

limited edition artists series. More

to find on the artist's website as

well as on the Montana Cans blog.

Recently we visited his studio

and tagged along to watch as

he used his favourite "popping"

Montana BLACK colors for a mural

in Queens. In true Buff Monster

fashion the sugary color scheme

was enough to make us want to

brush our teeth, but smile at the

same time.

"As an artist, I think

it's your responsibility

to shepard your work

into the world."

85
---
Montana BLACK ARTIST EDITION

BUFF MONSTER

Two icons that immediately come

to mind as pretty much owning the

color pink are Hello Kitty and Buff

Monster. No surprise as to which

color Buff Monster chose after

agreeing to design one of our special

BLACK artist edition cans for us:

our P 4000 "Power Pink". To him,

the color pink symbolizes confidence,

individuality and happiness. For

his design, Buff Monster chose to

drift away a little from the original

BLACK can design, and create

a unique lettering of his own. Of

course, all of his distinctive Buff

Monster design elements like dripping

ice-cream, one-eyed monsters

and skulls are integrated into the

design. The typical Buff Monster

character has two teeth and freckles

and seems to drip like melting

ice-cream. The can design sports

three of these little fellows, plus he

decided to use a cool technique in

which a few chosen elements have

been left out in the litho printing

process, leaving the metallic colored

base of the litho exposed for a

metallic effect and adding depth.

THE MONTANA BLACK ARTIST EDITION No 11

86
---
uffmonster.com

www.montana-cans.blog/buffmonster

#buffmonster

Photography by Jordan Katz | MONTANA-CANS, Buff Monster

87
---
Designed and manufactured in Ger

has proven its worth as a favored cr

studios and DIY workshops, by mur

The flowing color system is inspir

everyday life. With 215 color shade

spray paint. The Montana GOLD NC

ximum coverage and quick-drying p

surfaces. The specially developed lo

maximum accuracy. The strengths

tana Level Cap System, with each c

Medium and Soft flow, to extra fat p

The Montana GOLD flowing color s

leashing an incredible scope of fu

spray paint the supreme tool for cre

G8180 BRAIN

A fine, cerebral color shade that will electrify the synapse density of any

project. Make your choice among 215 tones in Montana GOLD's flowing color

system. #montanacans #germanspraypaint
---
many to the highest standards, the Montana GOLD spray paint line

eative tool worldwide; greatly valued by street and urban artists, in art

al painters and graffiti writers everywhere.

ed by the colors around us, be it in nature, the urban landscape or

s we offer one of the largest and most concise ranges available in

-Acrylic lacquer has a high pigment load, is lightfast and provides maerformance

on canvas, wood, concrete, metal, glass or even flexible

w-pressure valve system allows for controlled, smooth handling and

of the system are particularly striking in combination with the Monap

offering unique advantages, ranging from extra fine lines, through

ressure, or even from light to dark in one smooth stream!

ystem is compatible with the Montana EFFECT and TECH lines, unrther

creative applications and possibilities, making Montana GOLD

ative minds all over the world.

#GERMANSPRAYPAINT

#MONTANAGOLD
---
A Blink

A Bounce

90
---
to the Future

to the Past
---
LOW BROS

Born in Hamburg, but based

in Berlin, Low Bros is an artist

duo made up of Christoph

and Florin Schmidt—a.k.a.

Nerd and Qbrk. These guys

know perfectly how to mix

the geometrical shapes

with the natural essence

of things. Influenced by

the mass culture, graffiti,

skateboarding and hip hop,

their unique work stands

out either digital or on the

streets. Either a bright color

palette or three-dimensional

executions, they create

stylized-animal characters

with some human features.

Cubic effects, acid colors,

flamboyant esthetics, virtualminded

characteristics. They

know how to make us believe

their pieces could be part of a

video game, and we are only

visitors in this cool colorful

world. But always precise

and perfectly detailed, their

art is a blink to the future.

92
---
Cubic

effects,

acid

colors

93
---
LOW BROS

Always passion-driven by

their work, they talk a lot

about their ideas 'till they

catch fire and have to realize

them. Their year was fulfilled

with enormous projects all

around the world. Some of

our favorite murals were

located in Morocco and of

course the one in Mannheim

for Stadt.Wand.Kunst.

Saying that, their exhibition

in London at Stolenspace

Gallery and their

participation at the Urban

Nation Museum of Urban

Contemporary Art are just

some of the main projects

they completed this year.

flamboyant

esthetics,

virtual-minded

characteristics

they know how to

make us believe

their pieces

could be part of a

video game

94
---
95
---
LOW BROS

It has been very interesting to

see the way the Low Bros have

evolved and consolidate their

work in such a strong way. They

speak for today's generation

when creating something new,

despite the persisting things

that connect and reoccur. It

keeps tradition in the corner of

their eyes while perpetuating

the fact that there are roots and

historyto respect and preserve.

On out recent interview with

them, they talked about how the

character of wolves are the main

characters in their paintings.

LOW BROS connect with nature

and they observe how society

see's wolves as still a counter

part of human beings and reflect

their inner state and behavior.

Don't forget to go check our recent

interview with them on our Blog:

www.montana-cans.blog

www.lowbros.de

Photography by Jordan Katz &

Manuel Wagner | MONTANA-CANS

the counterpart

"Hiding the eyes and their

personality with reflecting

shades and coated with a

stone-like surface, they keep

a certain distance and appear

more like a projection screen

for the generation of the digital

age," affirmed the Low Bros.

They have started working

on their next solo exhibition,

which will be at Mirus Gallery in

San Francisco in April next year.

This will be the final chapter

of a trilogy, together with the

two latest shows: "Perfiction"

& "Wired", at Golden Hands

Gallery in Hamburg and the one

at StolenSpace in London.

Stay tuned to see what the

LOW BROS come up with next,

but in the mean time we keep

their best advice for us: "Trust

yourself rather than other

people's advice, if it comes to

making art. If you want to walk

an unknown path, you better

not listen to those who never

went even close to it."

of human

beings

96
---
Stadt.Wand.Kunst 2017

Mannheim

97
---
98
---
100
---
BERLIN MUSEUM

FOR URBAN

CONTEMPORARY ART:

"Diversity is

our treasure"

Yasha Young, Director Urban Nation

All Nations

Under One Roof

101
---
102

LOOKBOOK

018
---
This past September 16th, a unique new center and institution

for research, exhibitions and exchange, focusing

on one of the most important art forms, and the most documented

art movements in the 21st century opened its

doors to the public.

Urban Nation worked on this vision since 2013, and they

built the first independent and non-commercial space for

urban contemporary art. With more than 100 artists, Urban

Nation Berlin made the impossible possible, and with the

support of Berlin's secretary of cultural affairs, Tim Renner,

this initiative was congratulated because of its vision and

ambition.

The unique institution houses all nations under one roof

and its located in the Wilhelminianera building at Bülowstrasse

7 in Schöneberg. Berlín. For the inaugural day, ten

curators have selected approximately 100 urban artists,

including Seth Globetrotter, Franco Fasoli Jaz, Miss Van,

Shepard Fairey, Ron English, Faith47, Icy and Sot, Herakut,

Nychos, Low Bros, Saner, just to mention a few. Their pieces

also were created specifically for the museum and

exhibited for the very first time.

"Urban contemporary art is the logical next step to

follow what is happening on the street," Museum Director

Yasha Young said recently. Besides to the Museum,

the installations located at the Art Mile invited the public to

come along and discover the artworks.

Regarding the opening of the museum, Montana Cans released

a special edition, can celebrating a long-term partnership

with Urban Nation Berlin.

The Museum also featured the Martha Cooper library, named

after the beloved legend and photographer, who has

dedicated for more than 30 years of her life to document

graffiti and the street art movement. This has become one

of the biggest documentation libraries of street art and urban

culture, to educate and preserve all this history. The

man responsible to take care and curate this compound is

Christian Omodeo.

It's a fact we all wonder about the current direction of the

urban movement, which is dangerously becoming bigger

and bigger. So, that's why Yasha assures the key purpose of

the museum is "to give some more grounding and integrity

to street art, before it becomes a little thing

that was swallowed up by advertising."

www.urban-nation.net

montana-cans.blog/urban-nation-berlin

instagram.com/urbannationberlin

Photography by Nika Kramer,

Sabine Dobre (interior),

Jordan Katz

103
---
104
---
105
---
montana-cans.blog/urban-nation-berlin

www.urban-nation.com

107
---
Nevercrew

A Trigger

Mechanism
---
NEVERCREW

For them,

mechanisms are

the trigger of their

paintings. The

generator from

which the rest is

developed.

NEVERCREW is a Swiss based artists duo,

founded by Christian Rebecchi & Pablo Togni,

and they have been working together since

1996. Recently, NEVERCREW worked on

particular "living systems". Overviews

that are made perceptible in their totality

and in their structure by the act of sectioning,

which allows to see them as they are

inside while maintaining the perceptible

global shape.

The guys apply and generate a simultaneous

vision, layered in systems that start

from the individual mechanical or natural

components up to the overall composition

given by the association of different

subjects, to finally expand out in a personal

relationship with the observer and the

environment.

For them, mechanisms are the trigger of

their paintings. The generator from which

the rest is developed. They proclaimed

their own contradictions and still aware of

how human race determine their position

in an environment that overtakes and overwhelms

it. Their paintings are realistic and

paradoxical, even though there is a sense

of realism, it opens the possibilities to go

beyond the imagination.

110
---
living

systems

111
---
Propagating

Machine

Stadt.Wand.Kunst,

Mannheim 2017

112
---
The issues that they want to examine are

closely connected to the base of their

work: it's especially a view on the human

condition, on the relationship between

mankind and nature, between mankind

and its nature, and on economic or social

systems. They work on all of this developing

a way to incorporate everything into

a broader and more global topic that could

gradually shows itself as a whole. This can

be readable in every component in a vision

of total and inevitable relationship between

everything, between all parts, where

only the point of view, the location within a

system, defines a selection.

Working together for almost twenty years,

Christian Rebecchi & Pablo Togni developed

the issue of the comparison—the confrontation

between two persons, between

ideas, between forces—and at the same

time, interacting in the public space as

street artists. They extended this confrontation

outside in a direct way, making this

perennial dual "discussion" one of the hubs

of their work.

They recently participated in Stadt. Wand.

Kunst—where MONTANA-CANS was also

a partner of the project—with their piece

titled "Propagating Machine". They went

to Mannheim, Germany to tackled the local

environment and give something back to

the visual aesthetic of the heavily painted

town, where they took the challenge of making

art around the notion of the relationship

between mankind and nature beyond

the aesthetics. Their complex color choices

are also reflections and connections to the

transformation between penguins, in the

stencilled scenery at the base of the mural,

which portrayed it as light and reflection in

the quartz, like a rock formation at the top.

a view on

the human

condition,

on the

relationship

between

mankind

and nature

"A beautiful marriage of technical and

conceptual comes to life in a variation of

marks and tonal shifts," the artists say.

Photography by Christian Rebecchi &

Pablo Togni (NEVERCREW),

Alexander Krziwanie

113
---
114

NEVERCREW
---
Encumbering

machine

— Kiev

115
---
Color

maze

Quintessenz

Amazing installation in Berlin

with Montana GOLD's Flowing

Color Palette.

116
---
117
---
QUINTESSENZ

Quintessenz is an artist

duo from Hannover and

Berlin, originally formed

by Thomas Granseuer

and Tomislav Topic.

They both met at HAWK

Hildesheim (University

of Applied Sciences and

Arts Hildsheim) in 2006

and since then they

have been working together

on film, in-stallation

and painting projects

for a long time.

Their abstract works make reference

to the environments in

which they are made. Structures

and compositions are filtered

from space and translated into

pictures or installations. The

final result of these two artist is

a subtle tension that both have

explored in many different studies

and contrasts created by

adding color.

Recently they did "COLORMA-

ZE", an installation the artists

did as a labyrinth using colored

modules, allowing visitors to

travel through different worlds

of color. Light and shadow

underscored the modules' repetitive

visual aesthetics. Each

module comprises 20 to 40

shades of color and they coordinated

to yield harmonious

gradients, from multi-chromatic

to monochrome, from dark to

light. Around 24 modules in various

formats. Altogether, they

consumed nearly 1000 Montana

spray cans. With a total of 170

different shades from Montana

GOLD spray paint. They installed

and moved 8,5 tons of wood.

Over 10,000 screws turned in

and several liters of white lacquer

used for priming.

The main attraction of Quintessenz

in all works, whether

2D or 3D, is primarily based on

color and its properties. Objects

and paintings refer to the

surroundings and still stand

out. Something's shown in Color

sequences as in the installation

Colormaze create interaction

with the viewer. In the installation

the color selection shows

a complete color circle, so each

visitor can be found in a color

world, simply by the clothes or

on the more subtle emotional

level. Color sequences can be

found in everyday life, but also

in very special moments such

as the skies / clouds or the process

of an autumn leaf.

Beside the art, it's a great presentation

of the flowing

Montana cans color system as

they play with gradients from

the Montana Cans Color Range

(mainly Montana GOLD).

www.montana-blog.com

www.quintessenz.art

Photography by Quintessenz

118
---
119
---
QUINTESSENZ

"Collusion"

Metropolink Festival,

Heidelberg, 2017

120
---
"After Laughter"

The Haus, Berlin, 2017

121
---
122

QUINTESSENZ
---
"Paradis Perdus"

Festival A-part, France, 2017

123
---
PANGEASEED / SEAWALLS

artists for oceans

Because Our

Oceans Matter

124
---
LOOKBOOK

018

125
---
"The power of public

art and activism has

the ability to educate

and inspire the global

community to help

save our oceans,"

says PangeaSeed

Foundation founder and

Executive Director,

Tre' Packard.

No matter where you are in the

world, the ocean supplies us

with every second breath we

take and life on Earth cannot

exist without healthy oceans.

With dwindling global fish

stocks, rising sea levels, ocean

acidification, and widespread

pollution, whether you live on

the coast, in the city or in the

mountains, we should all feel

responsible for the health of

our oceans and life that lives

within it. Simply put, without

healthy oceans, life on land is

impossible.

In 2014, PangeaSeed

Foundation, the Hawaiibased

non-profit organization

established the Sea Walls:

Artists for Oceans program, a

public art initiative, and the

first of its kind, that brings

the oceans into streets around

the world. Since its inception,

they have created over 300

public murals in coastal

communities around the

world helping to inspire and

educate individuals to become

better stewards of our seas.

"Through the Sea Walls

program, we aim to generate

awareness for pressing marine

environmental issues, and

catalyze positive change

within the communities we

work in by fostering a sense

of pride and ownership for

the murals and their natural

resources," Packard adds.

126
---
LOOKBOOK

018

Forging a synthesis

between public art, nature,

and society, PangeaSeed

Foundation has collaborated

with renowned contemporary

artists to create large-scale

public murals in New Zealand,

Canada, Grenada, Vietnam,

Mexico, Estonia, China, Sri

Lanka, and throughout the

U.S. By creating a worldclass

platform and unifying a

global network of concerned

creative individuals painting

for a purpose, they are one

step closer to helping save

the lungs of the planet.

Upcoming Sea Walls projects

are slated to take place in

Australia, South Africa, and

the Philippines.

Due to the nomadic nature

of the Sea Walls: Artists

for Oceans program,

international partnerships

with organizations and

brands are paramount to

the success of the initiative.

Montana Cans has been a vital

partner and supporter of the

cause supporting multiple

Sea Walls projects around the

world.

127
---
128

PANGEASEED / SEAWALLS
---
129
---
PANGEASEED / SEAWALLS

About PangeaSeed Foundation

PangeaSeed Foundation is

an international non-profit

organization acting at the

intersection of culture and

environmentalism to further

the conservation of our

oceans through ARTivism,

Education, and Science.

You can support the initiative

with a donation, artwork or as

volunteer:

pangeaseed.foundation/

Photography by

PangeaSeed| Tré Packard

130
---
LOOKBOOK

018

131
---
YELLOW SUBMARINE

Bring the flow from beneath the waves with our yellow submarine, a distinctive and

inspiring hue of yellow. #montanacans #germanspraypaint
---
134
---
INTERVIEW

aptART

"Public art is a

language for

everyone"

Interview with Founder

Samantha Robison

135
---
APTART

Artwork © Herakut

136
---
Artwork © Maranje

AptART is an acronym for Awareness and Prevention

Through art. The woman behind this project strongly

believes that public art sparks strong conversations

and create spaces for disadvantaged communities to

express themselves and also could be heard.

Samantha Robison studied art and politics at

Lewis and Clark College, which is a small liberal arts

school. After she graduated, she moved overseas and

volunteered and got involved with art projects focused

on children. This was just the trigger to keep doing

projects around the world and finally create her own.

Seven years after, she's the founder of aptART, a project

that brings public art inside the confines of refugee

camps, as well as conflict and post conflict zones

with the aim of amplifying voices of displaces people.

With the strong statement of creating art for everyone,

regardless their nationality, race, religion, sex, etc.

Montana Cans as a continued supporter of apt-

ART had the chance to talk to Samantha, so read it up!

Montana Cans: When and how did you started with Apt-

Art? Samantha: I started aptART in 2010 along with 3 friends:

Leah O'Bryant (activist), Jonathan Darby (artist) and Nick

Renn (logistics). In 2012 Jonathan and I were in San Francisco

working on an exhibition, we had done with street kids from

Congo. We were staying in an apartment across from Jasmin

and Falk (Herakut) and they've been helping us ever since.

We believe all people should have access to art, regardless

of their circumstances. We use street art, and all the social

and conventional media that goes with it, as a tool to build

awareness about issues affecting people's lives. Our aim is

to raise awareness and connecting people, to prevent issues

that damage their environment. We mostly work in refugee

camps, war zones and post conflict areas. We organize

workshops with the community existing around the area

to find out what they might like to paint about. After the

workshops and discussions, a concept is formulated and we

work with the community to paint the wall. We work mostly

with kids and youth, but adults are invited too.

137
---
APTART

Montana Cans: Through all these projects, how do

you choose which cause to focus on?

Samantha: We try to select places with the most need.

Places where street art isn't common. When we first

started in 2010 public art was becoming more popular

but eight years later it is significantly more common.

We also try to select places where most artists wouldn't

normally go. We work in refugee camps, slums or post

conflict areas. We select places where there is social

tension and public art can be used to unite a divided

community through a collaborative activity.

Montana Cans: As a woman activist, but

also involved in the arts, what are the obstacles

you have faced through the years?

Samantha: Street art and graffiti are a male dominated

industry; there can be a lot of ego. I have been lucky

enough to only work with extremely supportive men.

The industry is slowly changing, but it is changing.

Montana Cans: For you, what is the

importance of art as a medium / a tool to educate

and change our world?

Samantha: Art is a language for everyone. It's a peaceful

way of expressing ideas or feelings, but also a unique

and universal way of communicating with people from

other cultures or countries, different to our own.

Montana Cans: If you could tell something to your

younger 'you', "like 10 years back", what do you

think that would be?

Samantha: So many things! Wear sunscreen, study harder,

stop drinking cheap beer. Those things and so many

more, but probably the most important would it be to

spend time with people

who have different

culture and ideas than

mine. The more ideas

you expose yourself to,

the better you examine

your own ideas and the

broader your perspective

becomes. I used to

believe there was a clear

right and wrong. My

perspective was black

and white, but now I

see things more nuanced,

and that makes me

a happier person. There

"Out beyond

ideas of

wrongdoing

and rightdoing

there is a field.

I'll meet you

there."

is a Rumi quote I think sums this up completely: "Out

beyond ideas of wrongdoing and rightdoing there is a

field. I'll meet you there."

138
---
LOOKBOOK

018

139
---
APTART

Montana Cans: I bet you have seen, learn't,

listened to and experienced so many life changing

experiences though aptART, but do you have any

significant one you want to tell us about?

Samantha: Every experience taught me something, but

I don't think one experience sticks out. Certain people

stick in your mind though. There was this one 8 years

old kid name Mohamed from Syria. He lived in Zaatari

refugee camp and I am pretty sure he is still there. He

had a learning disorder and at school his teachers didn't

have the chance to help him. During a workshop with

Jumana Hokan—one of the artists—she asked him to

tell her about himself. He told her that he didn't know

how to read or write but he knew how to draw because

she taught him how to draw. Mohamed also asked us

to bring him an umbrella. He must have asked us every

day for a month straight. No one knew why he wanted it

and when we asked, he would tell us to stop asking silly

questions and just bring it. On our last day in his section

of the camp, we brought him an umbrella. He grabbed it

with a massive smile and shouted: "Shukran", as he ran

off. We still have no idea why he wanted the umbrella,

but maybe that doesn't matter.

Montana Cans: In which sense has

Montana Cans have helped aptART to keep going

and doing what you guys do at the organization?

Samantha: The love of spray paint is universal. It

transcends age, gender, nationality and religion. Everyone

loves to press that nozzle and watch colorful magic spew

out into the world. It's pretty special to be able to give

kids the opportunity to use a spray

can, but also such vibrant colors and

high-quality paint. There is always a

look of sheer joy across a child's face

as they blast paint onto a wall. Also,

the spray paint available in most of

the countries we work is pretty poor

quality so for artists it can be critical

for the quality of the art.

Any and every project we have asked Montana Cans

to support us, they have done it! I met them through

Herakut back in 2012. Alex was super supportive with

the idea of the work we do and offered to send us some

cans to the Democratic Republic of Congo where we

were painting an ambulance with street girls. There was

a lot of violence and displacement in Congo at that time

and needless to say, it was a logistical challenge but the

Montana guys made it happen. They have been making it

happen for us all over the world ever since.

The future projects of aptART involves an upcoming

book, next to Jonathan Darby. It's slowly going but will

be a retrospective of sorts chronicling the past seven

years of work.

Samantha would really

like to do some work

with communities in

Mosul, Iraq as they

rebuild and she is also

looking forward to a

project in Greece, at

the camps for newly

arrived refugees.

"I always have a million

and one ideas but… like

everything, it's just a

matter of finding the

funding", concludes

Samantha.

www.aptart.org

Photography by Apt Art/

Samantha Robison,

Falk Lehmann

140
---
LOOKBOOK

018

Artwork © Addison Karl

Artwork © Kevin Ledo

Artwork © David Shillinglaw & Billy

141
---
Acrylic Series

GOLDEN GREEN

Shaping Up

a Unique

Graffiti

Aesthetic

Hamburg-based artist Mortiz G. Green, better known as GOLDEN

GREEN bursts a universe of color and also encrypts the typical

stylistic elements into his own new language. We know his work and

style, but we also know he's a heavy user of Montana ACRYLIC tools.

This time, we will talk about his creative process and how he takes

the futuristic designs to a whole to another level.

142
---
143
---
THE MONTANA ACRYLIC SERIES

He has had numerous "odd jobs", including

working as a stage-builder, working at a fish

market and as a call center agent. But in

2008 he completed his studies to become a

graphic designer and now he works as a freelance

artist and has constructed a universe

full of surreal characters, clever retro futuristic

flickered shapes and has quite a long list

of publications, solo shows and group exhibitions

to show for it. We had the chance to visit

his studio and closely observe his creative

process which not only includes watching

how he uses the Montana Cans tools, but

also getting involved with his imagery and

so on. GREEN combines a pastel color scheme

with his graffiti aesthetic, and his preference

of Montana ACRYLIC shades, as well as

2mm, 15mm and 50mm markers. With extra

wide marker tips he can achieve extensive

coverage in a short amount of time, whilst

still working with a 100% precision tool. His

designs involved large areas to be covered

with one color, and that is why he also uses

Montana GOLD spray paint for uniform, fast

and easy coverage on his artworks.

144
---
145
---
THE MONTANA ACRYLIC SERIES

In addition to the almost futuristic implementation

of figurative characters influenced

by Cubism and Minimalism, his preference

for artists from the Golden Twenties

influenced both GOLDEN's artwork and naming.

One of the main characteristic the art

during this era was, that it did not always

show the world as a perfect place to live in.

It integrated marginal figures and situations

as well – a factor that plays a role within

GOLDEN GREEN's artwork too.

146
---
goldengreen179.com

www.montana-cans.blog

147
---
THE MONTANA ACRYLIC SERIES

Montana ACRYLIC markers and Montana

GOLD spray paint are build to match up perfectly

and absolutely compatible, even with

high coverage during layering. This is one of

the main reasons why GOLDEN GREEN uses

180ml refills to create the colors of his choice,

as they enable to mix the tones directly in the

empty markers. This enables him to have the

flexibility to go further in terms of a color palette

or color scheme, applying any shade he

wants. For the finest details, GOLDEN GREEN,

who's also a member of the Ultra Boyz crew,

chooses the 2mm fine marker to accentuate

his artworks and make his pieces sing. We

are very impressed of how he's developed a

very unique style, always nailing the use of the

spray can and his versatile talent which includes

print-making skills and the realization of

his ideas with all different media.

148
---
Photography by MONTANA-CANS/

Jordan Katz

149
---
RUST MAGIC

EDMONTON

TRANSFORMS THE

CITY INTO AN

OPEN-AIR MUSEUM

Edmonton in Canada, holds a one of a kind festival called Rust Magic.

However this festival is not actually an exception. It belongs to the

family of festivals held in similar other big cities directed by Annaliza

Toledo and Trevor Peters. These festivals aim to open up street art and

graffiti projects to the world.

152
---
153
---
154

"We see how

art makes such

a difference

in community."
---
www.rustmagic.ca

Photography by Jeremy

Filmsmore, Shayne Woodsmith

Rust Magic have invited dozens of graffiti

artists from around the world over the past

years and to give some of the city's buildings

a new face and spirit.

Montana-Cans has been a loyal supporter

of the Rust Magic event which has become

one of the main graffiti festivals in Canada.

During the festivals activities, the city of

Edmonton, Alberta is converted into a popping

open-air museum for one weekend where

a selection of walls and trucks were happily

face lifted with a new, vibrant look.

We had the chance to talk with one of the

invited female artists, Carly Ealey and she

affirmed: "Edmonton is a rad little city

that is really embracing the graffiti and

street art cultures. The curators and fellow

artists were insanely supportive and

made me feel like family. At the time, it

was my largest mural to date which was

an exciting challenge. The festival was

a welcoming environment to grow as an

artist and overall cool experience."

of uncertainty and unrest concerning the

world we live in,

Carly stated. So much space and lifeless

walls, their past event gave enough room to

the 23 artists who attended the event. It was

a mix of homegrown superstars like

Amuse,

Stare NME,

Wane and

Stash,

as well as some other international names.

The renowned US artist Wane One painted

his first train in 1983, subway cars and walls

would become his preferred medium. Having

such legendary graffiti artists such as Wane

being part of this festival in Alberta, validates

and highlights the importance of graffiti

in our culture and this city. The city has got

international love and the initiative to starting

up Rust Magic is most definitely putting them

on the map.

At the most recent festival, she painted two

female characters. One of them floats among

the jellyfish. She feels the energy of their

glowing bodies as they reflect their unique

hues back onto her. They drift like thoughts

through her mind, stirring up deep emotions

"We see how art makes such a difference

in community," affirmed Toledo, one of the

founders and organizers.

"We wanted to bring that here because

there's such an obvious lack of it."

155
---
INTRODUCING

THE ITALIAN

GRAFFITI ARTIST

La Franz

LA FRANZ

"When in Rome, do as the Roman's

do". Unless your name is La Franz,

then you do it your own way. Born

in Naples, Rome was the place she

called home before she realized she

was an artistic citizen of the world.

156
---
158

LA FRANZ
---
Rome is not a city for the

faint hearted. So if you

want to be a writer in

Rome, you need to keep

your head down and your

can up. And in this case,

your Montana BLACK up.

LA FRANZ knows this all

to well. She loves graffiti,

but not always graffiti

writers. With a style that

is vibrant, dynamic and

FRESH, she pays homage

to graffiti's greats but is

working on that strong

foundation to create new

colorful energetic letters.

And she is doing her own

thing, her own way. Since

2004 she is proving that

she is here to stay. With

her graffiti beginnings starting

in a small city near Rome, La

Franz who was born in Napoli

and started writing at a time

when only a handful of active

writers were painting detailed

complex work in her neighborhood.

It was most likely a rough transition

to the big city mentality

of Rome, where works are

created and gone over in days

depending on context. Now residing

and working in Northern

Italy, La Franz is not restricted

to a city or hood to make her

art. As can be seen by her outstanding

visual vocabulary.

159
---
LA FRANZ

facebook.com/lafranzofficial

instagram.com/__lafranz__

Photography by La Franz &

Vincenzo, Hard2Buff Staff
---
G8170 LIP

A sultry, almost maroon shade of earthy red. A perfect hue to sensualize your

creations with a certain, delicate sexiness. Make your choice among 215 tones in

Montana GOLD's flowing color system #montanacans#germanspraypaint
---
LOOKBOOK

018

IMPRINT

Media owner and publisher:

MONTANA-CANS

Editorial design | Art direction:

RB02 Design Raum & MONTANA-CANS

Juliane Gutschmidt, Frank Bässler, Alexander Krziwanie

Texts:

Maria Enriqueta Arias, René Van Kan, Julian Rink, Lydia Scott

Special thanks to all contributing photographers:

Edward Nightingale, Maria Enriqueta Arias, Jordan Katz,

Alexander Krziwanie, Jok Sauer, Manuel Wagner (MONTANA-CANS)

Wane, Rambo, Lugo, Func, Smash137, Buff Monster

Brandon Shigeta, Andrew Tan, Jonas Maon, Andy Song (POW! WOW!)

Tré Packard (PangeaSeed)

Jeremy Filmsmore, Shayne Woodsmith (Rust Magic)

Eugen Lebedew, The Dixons & all Hausmeisters (The Haus)

Nika Kramer, Sabine Dobre (Urban Nation)

Davi Tohinnou, Daniel Weintraub (Mural Fest)

Christian Rebecchi, Pablo Togni (Nevercrew)

Thomas Granseuer, Tomislav Topic (Quintessenz)

Samantha Robison (AptArt)

La Franz, Vincenzo (Hard2Buff)

© 2018, MONTANA-CANS

All rights reserved.

Reprinting, even in part, only with the approval of the

publisher. No liability can be accepted for unsolicited

photos, slides, films or manuscripts received.

/

MONTANA-CANS

Häusserstraße 36

69115 Heidelberg

Deutschland

Ph: +49 (0) 6221 36 333 0

info@montana-cans.com

WWW.MONTANA-CANS.COM

WWW.MONTANA-CANS.BLOG
---
LOOKBOOK / EDITION # 03 / 2018

WWW.MONTANA-CANS.COM

TNR 447181