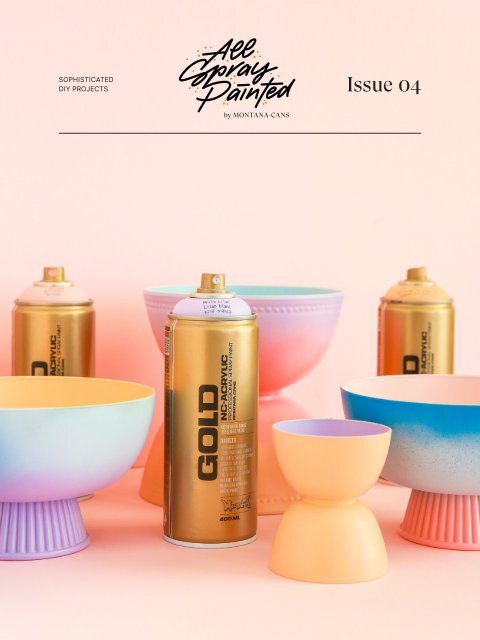 Allspraypainted Magazine #04
The allspraypainted Magazine issue #4 is now available online here for free and in print. For four years now, the allspraypainted magazine has been consistently summarizing the inspiring and nurturing projects being undertaken throughout the year on the allspraypainted website. A printed and free online journal that helps readers to "Create their own worlds" through interesting craft, art, and DIY projects for all skill levels. Using little more than some simple objects and a variety of Montana Cans products, in 2021 we tackled projects for interior, exterior, creative and functional, resolved storage problems, and gave makeovers, and we even heard what some artists and creators had to say in this most peculiar of times. We used materials that were new, we saved money where ever it was possible and upcycled all the objects we could get our hands on. www.allspraypainted.com/
The allspraypainted Magazine issue #4 is now available online here for free and in print.

For four years now, the allspraypainted magazine has been consistently summarizing the inspiring and nurturing projects being undertaken throughout the year on the allspraypainted website. A printed and free online journal that helps readers to "Create their own worlds" through interesting craft, art, and DIY projects for all skill levels.

Using little more than some simple objects and a variety of Montana Cans products, in 2021 we tackled projects for interior, exterior, creative and functional, resolved storage problems, and gave makeovers, and we even heard what some artists and creators had to say in this most peculiar of times. We used materials that were new, we saved money where ever it was possible and upcycled all the objects we could get our hands on.

www.allspraypainted.com/
SHOW MORE
SHOW LESS
You also want an ePaper? Increase the reach of your titles
YUMPU automatically turns print PDFs into web optimized ePapers that Google loves.
SOPHISTICATED

DIY PROJECTS

Issue 04

by MONTANA-CANS
---
Magazine

allspraypainted

ALLSPRAYPAINTED.COM
---
Contents

6 Editorial

8

Gradient Desktop

Organizers

Upcycling

14 Introducing

RUST Effect

Introducing

16 An Easter Back

to Basics

Seasonal

22 Introducing

"allspraypainted meets"

Introducing

24 allspraypainted meets

Nadine Kolodziey

Interview
---
allspraypainted Magazine

30 Magic Chrome

Makeover

Makeover

38 RUST Effect and

Color Shelving

Makeover

46

Pantone Inspired

Colorway 2021

Makeover

52 RUST Effect Office

Update

Interior

58 How to Marble

with Spray Paint

DIY

64 Glass Paint Bathroom Jar

Makeover

Makeover
---
Contents

70 Three New Takes On

The Halloween Pumpkin

Seasonal

74

Recap: allspraypainted

meets Carolin Kaiser

Interview

80 Abstract Patterned

Floor Coverings

Interior

86

Colorblock

Storage Boxes

Storage

94

Colorful Christmas

Tealight Candle Holders

Seasonal
---
Find shops via

montana.link/stores

@allspraypainted
---
Editorial

6

Create your

own world!

To say "we saw it coming" is an understatement. From the very beginning of 2021, the world knew

that the year ahead was going to be a wild and unpredictable ride. Like those refreshing autumn

days when the cold winds whisp away the warm summer air. Taking with them the leaves from the

trees and the carefree manner of summer. In 2021, we slowly tasted a little of our former freedoms as

international borders eased their restrictions and the new world started to come to terms with what

it could and couldn't do.

With it came a world of opportunity, but above all a new appreciation for everything that we took for

granted prior. In a follow-up interview with former allspraypainted meets artist Carolin Kaiser, she told

us of how post-lockdown, her appreciation and awareness of how amazing natural colors are was

only possible thanks to forced isolation. In another allspraypainted meets feature with artist Nadine

Kolodziey, we were reminded of how fruitful creative flexibility can be in terms of employment and

creative outlets, in a time where many people needed to reinvent their professions to stay afloat.

When we weren't being tested by the complexities of our current time, we were being creative. Projects,

projects, projects! And how glad we were to have that to look forward to. We celebrated the

seasons by way of upcycling glass vessels with Montana GLASS Paint for a frosted Christmas, kept it

simple with some concrete Christmas tealights holders, gave natural materials like paper stars a Montana

METALLIC facelift, and ended the year with the popping of corks as our new Montana METALLIC

wine coolers stored our favorite bubbly at the New Year's Eve party. Never did the Easter Eggs look

so colorful as they did this year, as did our impressive pumpkins on Halloween.

Getting acquainted with the Montana RUST Effect Spray was more than just fun as we tried it on nearly

everything, from picture frames to clocks, sculptures to shelves. We even gave the working and

office workspaces we spend so much time in a brand new mood with a RUST Effect makeover. And for

those preferring to stick to classic colors, we celebrated the release of the seasonal Pantone colors

by giving our office objects a Pantone-inspired touch.

There was no idea too big or too small. Floor coverings, lighting, plastic storage crates, bathroom

decor objects, all types of furniture (regardless of their material), and even home decor products like

plastic flowers got a run. The Montana PRIMER Sprays, GLITTER colors, GLASS Paints, METALLIC

Sprays, MARBLE, GRANIT, NIGHTGLOW, and all the VARNISH Sprays passed through our creative

hands at one time or another. Leaving us with the confidence and know-how to tackle any project in

the future.

There are a lot more craft and DIY projects installed for 2022. All of them will be fun, creative, and

inspirational. Stay with us as we grow, learn, and create together, one project at a time. In 2022 we

also look forward to featuring more allspraypainted meets artists and putting the spotlight back on

what can be done, rather than what we are told we can't do. Turn the pages of this book and enjoy the

ride within it. This, the 4th annual allspraypainted Magazine.
---
8

Gradient Desktop

Organizers

THERE'S A COLORFUL PLACE FOR EVERYTHING
---
Spray paint FAQ via

montana.link/help

@allspraypainted
---
Upcycling Gradient Desktop Organizers

10

Where do we put our pens, paperclips, erasers, sticky notes, and scissors? The

list goes on and on for all the things that live on the desktops that we need to

help us create and stay organized. It is great to have all these things, that is,

unless there are no desktop drawers to store and organize them all. Naturally,

that gave us an idea to resolve the problem and have an excuse to start a

project all at once. The DIY Desktop Organizers were born, and here is how we

made them.
---
allspraypainted Magazine

11

HOW WE DID IT

The basis of our DIY Desktop Organizers is the bowls, dishes, or

cups you decide to use. The idea is to glue one to the other to

make a base and a holder on the top. Any variation of shape and

size is possible as long as some thought is given to equilibrium.

Be mindful that whatever combination you use can balance and

hold the weight put into them once filled with desktop goodies.

We chose to use plastic bowls and dishes due to their availability,

strength, and lightweight. They can hold a lot without weighing

a lot.

Scuffing the sides and insides of the bowls lightly with

some sandpaper meant that there was a bit of tooth on the plastic

surfaces to hold paint well. All items were cleaned and dried

and the rims of the bases were glued together using superglue.

Important at this stage to remember is that if any excess glue

drips or runs onto the outside of your join, that you clean it off

straight away with a q-tip. Dry glue drips and blobs will show up

on your painting work and can be wiped away when the glue is

still wet. Depending on the material of your bowls etc, you may

want to ask your local hardware or craft store if the glue you

have is right for the materials you are using. Once glued together

and holding, we left the new look holders overnight to dry.

Then it was time for the fun part. Remembering to shake all

our cans well for 2-3 minutes before using them, we removed the

black safety ring from under the nozzles of the cans (where applicable)

and started with the Montana Plastic PRIMER. Should

you be working with other materials like wood or ceramics, we

recommend using the Montana Universal PRIMER instead. Once

the 2-3 minutes shaking has occurred and you can hear the mixing

balls moving freely, spray the holders from a distance of

about 15cm, in thin light coats, moving in a side-to-side motion

as you trigger on each pass. Start with the inside of the holder

and then move your way to the outside. Once dry, you can repeat

this process with your chosen Montana GOLD colors. Again,

start with the base color you want to use from the inside outwards.

Once dry, you can take the holder in your hands and turn

them upside down, spraying first the midsection of the holder,

allowing any spray mist or splatters to drop downwards to create

an ombre or gradient, and then with your third color spray a

portion of the top rim of your holder, which will be the base once

you place the holder back down the right way up. We chose the

Montana GOLD colors Bazooka Joe, Lyche, Shrimp Pastel, Frozen

Strawberry, Smaragd Green, White Lilac, Flipper, and Shock

Blue Light. You could choose any color or any colorway you like

making your holders look exactly as you want them to.

All holders were then left overnight to dry. This allowed the

curing process of the Montana GOLD colors and gave us some

time to decide if we wanted to clear coat them with a Montana

VARNISH Spray or leave them as they were. If you wish to clear

coat them, choose your preferred Montana VARNISH Spray to finish

in Matte, Semi-Gloss, or Gloss, repeat the painting process

as with the other cans and allow them to dry overnight. Then

you're done. Nice work!

The actual work time for this project was no more than 30

minutes, however for best results, allow overnight drying time

for the gluing, painting, and sealing processes. Don't skimp on

good glue as the bond between your bowls, cups and dishes are

essential to the longevity of your desktop organizers. And if at

first, you are not happy with your choice of colors, don't worryit's

just paint! Before applying any clear coat, allow the old colors

to dry and recoat in the new colors as desired. This is a project

for any skill level and could be a good way to upcycle some

bowls, cups, and dishes you may already have lying around.

Don't hold back and Happy Crafting!
---
Upcycling

Gradient Desktop Organizers

12

MATERIALS USED

• Montana MARBLE Effect Pastel Green

• Montana Universal PRIMER

• Montana GOLD Bazooka Joe

• Montana GOLD Lyche

• Montana GOLD Shrimp Pastel

• Montana GOLD Frozen Strawberry

• Montana GOLD Smaragd Green

• Montana GOLD White Lilac

• Montana GOLD Flipper

• Montana GOLD Shock Blue Light

• Montana PRIMER

• Bowls

• Cups

• Dishes

• Superglue

• Q-tips

• Gloves

• Mask

• Drop Sheet
---
Allspraypainted Lookbook 13
---
14

Introducing

RUST Effect

TESTING THE NEW MONTANA RUST EFFECT SPRAY 400ML
---
Rust, a charming sign of weathering, aging, and exposure to the

elements. The scars of time can be as alluring and beautiful, as

they can be painful and fatiguing. Or at least that is when rust

claims its victims and things start to break. Although some projects

require the removal of rust before you can give something

a new lease on life, there are often cases while being creative

where you wished that mother nature would step in and help add

a little bit of rust to give something a little extra character. For

exactly these moments, there is now the Montana Cans, RUST

Effect Spray 400ml.

This easy-to-handle 400ml can is as simple to use as any

other Montana can you are used to. Available in the colors Orange

Brown ER8000 and Brown ER8100, this high-pressure can is

ideal for creating the illusion of rust, or that a surface has rusted

naturally over time. Not only does the Nitro-Combi formula offer

two tones of the color of rust, but also a texture on the surface

of your object that looks deceiving like the real thing.

You're probably be asking yourself, "but why don't you just

leave your object outside for a while to rust naturally?" Because

pre-primed wood, concrete, plastic, synthetic materials such as

polystyrene, or flat surfaces such as walls and canvas don't rust.

That is until now, with a little help from the Montana RUST Effect

Spray 400ml.

The ideas came flooding and it didn't take long before we

were out in the studio, or rummaging through cupboards, looking

for things to upcycle, reinvent, or make more charming with

our new favorite effect can. Our treasure hunt resulted in the finding

of some cool looking planters, an old clock, picture frames,

and a little bike model. All items once cleaned and dry, were given

the RUST Effect Spray treatment. Wherever required, each

item was precoated with the applicable Montana Cans PRIMER

Spray in Universal, Plastic, Polystyrene, or Metal PRIMER. If your

objects are precoated, you can test to see if your RUST Effect

Spray applies straight on.

The high-pressure output in conjunction with the nozzle on

the can (a Standard Round female nozzle), was great for getting

into all those hard-to-reach nooks and crannies of each object.

Mixing a little of the Orange Brown with the Brown was not only

fun, it also made each object look more natural and organic. As

if mother nature had done the job herself. And when the first

visitors started to see what we had achieved, the reactions were

nothing short of "WOW!"

With the new Montana RUST Effect Spray 400ml, not only

have new doors of creativity opened, but also the context of the

materials we can use to make them look natural. Stay tuned for

more projects and artworks using Montana RUST Effect Spray

400ml on allspraypainted soon.

"The RUST Effect Spray is great for giving an

object a used look. There's no way you can

make things go rusty faster!"

– Carolin Kaiser, visual artist from Mannheim, Germany
---
16

An Easter Back

to Basics

WHEN ALL YOU NEED IS A LITTLE COLOR
---
Seasonal An Easter Back to Basics

18

Festive days aren´t just an excuse to have days off work or school. They all

have their backgrounds and historical origins, and in most cases, whatever your

orientation, they are all great days together with people you love. Easter is a

classic example of such a day. Color, searching for Easter eggs, and let's not

forget copious amounts of chocolate. The one symbol, however, that seems to

be universal is the humble egg. And with that, we decided to go back to basics

and add some color to the beloved hard-boiled egg. This is how we did it.
---
allspraypainted Magazine

19

BEFORE

For this project, there weren´t any materials required that were out of the

ordinary. Our workspaces were already prepared with a drop sheet, gloves,

and our masks. And our chosen Montana GOLD colors were at hand's reach.

You can choose any colors you like, but we chose to stick to a pastel

colorway with the colors Light Lilac, Summit, Pudding, Viola, Linden Green,

and of course, Easter Yellow. In keeping with the theme "back to basics", we

used good old-fashioned chicken eggs. Not so that we could eat them later

(eggs should not be eaten if spray painted), but as they have such a beautiful

form that is natural and durable if hard-boiled. If you wanted, you could

choose to pierce the eggs at both ends and blow out the contents to have

hollow eggs. Or you could use decor eggs made of wood, plastic, or foam. If

you use foam, preprime with Montana Polystyrene PRIMER Spray and ensure

all the foam´s pores are covered and sealed. After having shaken the cans

for 2-3 minutes, removing the nozzle, and allowing the black safety ring

underneath it to fall out, you´re ready to trigger your cans and paint your

eggs. Lay each egg on your drop sheet with enough space around it so you

can spray from all angles. Then paint each egg in thin layers from 15-20cm

distance, in slow sweeping motions. Allow to dry and roll slightly so that the

unpainted patches can be sprayed. Then repeat the process so that all sides

of your egg are painted. Allow to dry and your eggs are done!
---
Seasonal

An Easter Back to Basics

20
---
allspraypainted Magazine

21

AFTER

Your eggs are now dry, the colors look amazing, and the whole painting

process took less than 5 minutes. What was the most challenging part of the

project was hard boiling the eggs so that they didn´t crack. But even that

isn´t too hard if you go slow and start with cold water. Such beautiful, simple

eggs mean you can then put your energy into how you want to present them.

Play with different bowls, holders, and color combinations. Or even make a

day of it and invite some friends to join in and catch up while you're doing

it. Compliment your display with some seasonal flowers or twigs from the

garden, and you have yourself a timeless Easter decoration for indoors or

out. Then, all you need to have is a happy Easter. Happy Crafting.
---
22

Introducing

"allspraypainted

meets"

A FRESH NEW LOOK AT THE CREATORS BEHIND THE CREATIONS
---
For several years, allspraypainted has been bringing inspiring

creativity from all orientations straight to your screens. To motivate,

assist, and inspire you, so you too can make the world you

live in a colorful one.

With the realization that everyone can use a spray can, we

realized it was time to take a deeper look at what the movers and

shakers using spray paint for their craft. Who are the innovators

such as fine artists, visual artists, architects, interior designers,

and creatives that are at the top of their game when it comes to

using spray paint for their craft?

Allspraypainted meets will feature and interview, some

amazing creators who will inform, inspire, and intrigue you. What

drives them, what's their motivation, how do they do it? Check

out our feature with German visual artist, Nadine Kolodziey and

learn how she makes her amazing art. Carolin Kaiser gives us

an update on what happened since we last spoke to her back

in 2020. Stay tuned and watch this space for a new way to get

creative.
---
24

allspraypainted

meets

Nadine Kolodziey

"LEARNING TO UNLEARN"
---
allspraypainted meets Nadine Kolodziey

26

It's funny to think that an email shifted over to the trash can in suspicion of it

being "fake", could have been the end of a monumental opportunity. Luckily for

Nadine Kolodziey, the forgotten about email from YouTube in the U.S was followed

up weeks later by a surprise telephone call from them personally. They

were trying to contact her regarding a book project for which they wanted her

to design illustrations.
---
allspraypainted Magazine 27

This, only a single element of the broad spectrum of artwork

created by the thirty-something classically trained German illustrator.

Even so early on in her career, Nadine Kolodziey is more

than just your average drawing addict. With her formative years

taking place in the '80s and 90s, Nadine has managed to merge

her love of manga and Japanese culture generally, with other

strengths she displays with ease like color use, collage, painting,

and digital artwork.

As a visual artist, Nadine alternates her workspace between the

German cities of Frankfurt and Berlin. Also apt in many forms of

artmaking by hand, it is Berlin that she turns to for the progression

for her newfound love of augmented reality. The diversity of

such progressive and creative cities only adds some extra edge

to her already dynamic work.

At the core of her artistic practice, Kolodziey likes to implement

a motto that always keeps her moving forward. "Learn to unlearn".

With these three words, she offers herself the freedom to

return to basics to rediscover what lies at the source of each

idea. The love of mixing and matching means no doors are closed

when Nadine Kolodziey creates. With a strong foundation in

drawing, it is often a Montana ACRYLIC marker or design marker

in hand, that starts the process from conception to execution of

an artwork.

"Learn to unlearn", keywords that guide her through the digital

visual landscape, as she trailblazes with her own augmented

reality app known as "Nadine Kolodziey" in app stores. As with

most pixel pushers, Nadine Kolodziey is no exception to the notion

that behind most digital artwork creators, there are talen-
---
allspraypainted Magazine

ted craftspeople with manual skills. Skills that even

translated into Kolodziey's movement into spray

paint works made with her favorite spray paint line,

the Montana GOLD range.

With a mystical effect that seems not completely

graphically inspired, not quite painterly, Kolodziey's

also seamlessly applies her favorite Montana GOLD

colors in her canvas work. Works that supply a location

where opacity and transparency meet in a manner

that is dynamic, colorful, and loud. Although the

love of manga, toys, and Japanese cultural references

are ever-present, it is no secret that European

and Memphis design, are also morphed with Kolodziey's

personality to keep the work traveling in its

own unique direction.

Kolodziey's yearning to invite the audience to interact

with her artwork beyond its design or motif has

not only led her onto the path of augmented reality,

but her stylized 3D works in the form of sculptural

installation also breathe life into her portfolio while

integrating digital enhancement. The works take on

a life of their own creating human experiences and

thus memories. In a recent development within her

augmented reality works, Kolodziey has discovered

the augmented reality spray can filter. Just as in real

life in her studios, this feature enables her use of the

Montana GOLD cans to breach new horizons in a

combination of static artwork, and real-time dynamic

digital artwork. Without requiring a wall or a static

substrate as a painting surface, the spray can filter

enables users to create spray markings in thin air,

within an installation context created by Kolodziey.

This magical merge fulfills both her love of handson

artmaking and her fascination for creating a world

that is otherwise not there. With a background of

white walls and life-sized white polystyrene objects,

the welcomed digital splash of color is nothing less

than captivating.

We look forward to the new horizons

we are sure to see in the development

of Nadine Kolodziey's work, but until

then, let's enjoy what she has already

achieved today.

Watch the video via

montana.link/nadine

@allspraypainted
---
30

Magic Chrome and

Metallic Makeover

FROM PLAIN TO TIMELESS IN TWO STEPS
---
Makeover Magic Chrome and Metallic Makeover

32

It is easy to find objects and ornaments that get your attention and can decorate

your home. Any yard sale, second-hand store, decor, and hardware stores,

all have something to offer. Maybe you already have them stored away from a

time long ago when your taste in color may have been a little different. With

the Montana GOLD Chrome Effect and Metallic Matt color range, you can add a

touch of class and timelessness in as little as two steps. Sound intriguing? Read

on.

What's the difference between Chrome Effect and Metallic Matte colors you

might be asking? Chrome Effect colors have shiny metallic pigment particles

that dry on the outside of the paint surface to reflect as much light as possible.

You could consider this an "open" surface paint that marks when the pigments

are touched or exposed to the elements. The Metallic Matt colors, on the other

hand, are traditional "closed" surface paint colors that have metallic pigments

inside the paint liquid which dries to form the paint's skin. Metallic Matt colors

are less shiny but more durable and able to be handled. Both offer unique finishes

that are beautiful in their own right. Just as we learned in our Magic Chrome

and Metallic Makeover.
---
Makeover

Magic Chrome and Metallic Makeover

34

BEFORE

Dusting off some old objects like glasses, candle holders, or vases

is done in a flash. If you're looking for something new or different,

as suggested prior, go and visit your local stores and yard

sales to see if anything there takes your fancy. With your painting

space ready, objects and ornaments clean, dry, and dustfree,

shake your cans for 2-3 minutes to ensure the mixing balls

were moving freely. Starting with the Montana Universal PRIMER

Spray, paint each object at a distance of about 15cm from the

object's surface, in smooth side-to-side motions. You are better

off doing thin multiple coats, than singular thick coats that may

drip or take longer to dry thoroughly. Once dry, it's time to take

the Montana GOLD Metallic color of your choice and apply it in

the same manner as the PRIMER. We used the Montana GOLD

Chrome Effect colors Goldchrome, Copperchrome, and Silverchrome,

for the shiny metallic finishes. We turned to the Montana

GOLD Metallic colors Silver Matt and Gold Matt to achieve

the low sheen (or matt finishes) that can be handled. Repeat the

process if desired with each color till you achieve the metallic

finish you were aiming for.
---
Makeover

Magic Chrome and Metallic Makeover

36

AFTER

Well, it was that easy! What was once a pile of things that were

OK, is now decorative or functional objects and ornaments that

can find a new place in your home. The shiny Chrome Effect

finish took our plain ornaments in a whole new direction. While

the smooth matt luster of the Metallic Matt colors offers a sense

of timelessness, like a family heirloom or a forgotten treasure.

It's important to remember, the Chrome Effect colors have pigments

on the surface of the paint, meaning they can't be touched

or handled as they will mark or deteriorate. So choose your

objects carefully when you apply each color so you can enjoy

the fruits of your labor for many years to come.

This project is for all skill levels and can be done by anyone

that has a spare 10 minutes (excluding drying times) and

is old enough to use a spray can. Another job well done. Happy

Crafting!
---
38

RUST Effect and

Color Shelving

A NEW LOOK FOR METAL SHELVES
---
Makeover

RUST Effect and Color Shelving 40

It isn't always possible, or necessary, to buy expensive shelving for simple

storage problems. Just as it isn't always simple to find storage shelves that

look good and do the job well. Although available in just about any hardware

store, the classic DIY metal shelves may do a great job when it comes

to storing your books and belongings, but often the way they look is not

exactly what you want inside your home. In this project, we fix two problems

at once using Montana RUST Effect Spray, and our favorite Montana

GOLD colors. Sound tempting? Read on.
---
allspraypainted Magazine
---
Interior Marble Entryway Bench

42
---
allspraypainted Magazine

43

HOW IT WAS DONE

Our shelves came from the local big-box hardware store that had

a few variations of shelving available. Some came with wooden

inserts which we liked, others were completely metal. Should

yours be metal only but you like the idea of wooden shelf inserts,

ask their wood department if you can also purchase some cutto-size

pieces of plywood to fit onto your shelves.

The first step to vitalizing our very standard metal shelving

was to sandpaper the surface of every piece of shelving

lightly while it was still in pieces. This created light abrasion for

our paint to stick to. The same goes for the wood inserts if they

apply to you. You don't need to do a great amount of work here,

just ensure that your sandpaper is fine and that all your pieces

are clean, dry, and dust-free before painting. Reverting back to

our regular practice of shaking our cans vigorously for 2-3 minutes

and removing the black safety ring from the nozzle where

applicable, we then started by priming all the metal pieces,

which were either laid down on our drop sheet or propped up in

our protected painting space. Using the Montana Metal PRIMER

Spray, we applied thin, even coats to each piece. While this was

drying, we took our wooden shelf inserts (if applicable to you),

and also coated them in thin even coats. But this we did with

the Montana Universal PRIMER Spray. We suggest priming both

sides of the wood to avoid it warping.

Once all our primed metal parts were dry, the next step

was to give them a touch of rust effect. Starting with our Montana

RUST Effect Spray in the color Brown, we coated all our pieces

as desired. This became the basis of the rust effect. If your

shelving has no wooden inserts, place the flat metal shelving

pieces aside. We will color them later. If you do have wooden

shelf inserts, you can apply RUST Effect Spray only to the sides

of the metal shelves as the inner parts will be covered by the

wood inserts. Once all these metal parts were dry, we grabbed

our Montana RUST Effect Spray in Brown Orange which is lighter

and added some highlighting touches. This made the effect look

more organic and natural as if our shelves had aged and weathered

naturally outside in the elements.

The final touch was to add color. Using our favorite Montana

GOLD colors, we took our first pre-primed wooden shelf

insert and applied one color. Spraying in slow sweeping motions

from side to side, we ensured that our coats went on evenly.

You can recoat once dry if you desire. We chose to change

color for each shelf, however, you could use one throughout if

you prefer. If your shelves are all metal, the same technique applies.

Apply one color to each pre-primed shelf insert, and work

in sweeping motions from side to side. A small tip; why not try

the Montana Flat Jet Cap medium on your Montana GOLD cans

when painting the flat surfaces. It gives a great finish making it

easy to avoid drips and inconsistencies.

All the hard work was now done! Or at least most of it. We

left all our pieces to dry for 24 hours or more. Even though everything

already looked great, before we put it all back together

there was only one last step we wanted to take. Turning to our

trusty Montana VARNISH Spray in the finish of your choice (we

chose GLOSS), we applied thin even coats to all pieces (metal

and wood) as desired. This was the icing on the cake that not

only gave our shelves a look in one singular finish, but also protected

our shelves from scratches, chipping, UV exposure, and

general wear and tear. Again, we left it all to dry overnight before

putting the shelves together.

Although there are only 1-2 hours of actual work, the whole

project would need to be planned over at least 3-4 separate

sessions. One for sanding and priming (allow to dry), one for applying

the color (allow to dry), one for applying the varnish (allow

to dry), and the final to put it all together again. Able to be done

by all skill levels, you are bound to have fun with this project

whether you're a beginner or a pro. Now to figure out what to put

in our cool new shelving?

Well done and Happy Crafting!

MATERIALS USED

• Montana RUST Effect Spray Brown

• Montana RUST Effect Spray Orange

• Montana Metal PRIMER Spray

• Montana Universal PRIMER Spray

• Montana GOLD Lychee

• Montana GOLD Light Lilac

• Montana VARNISH Spray Gloss

• Metal shelving

• Wooden shelf inserts (optional)

• Fine sandpaper

• Gloves

• Mask

• Drop Sheet
---
Makeover

RUST Effect and Color Shelving

44
---
allspraypainted Magazine

45
---
46

Pantone Inspired

Colorway 2021

BRINGING YOUR SPACE UP TO DATE
---
Makeover Pantone Inspired Colorway 2021

48

The Pantone color trends have been major influencing trends for design, fashion,

homewares, and all things color for many years. And we must be honest,

we think they get it pretty right most of the time. Each year their team introduces

a new set of colors that inspire both independently, as well as when they are

together as a colorway. "So, what are the 2021 colors this year?", we hear you

asking. The colors announced for 2021 are Ultimate Gray and Illuminating. Colors

that are both solid, uplifting, optimistic, and warm. All the things one needs, after

putting a year like 2020 behind us.

The whole thing got us thinking, and you guessed it, we got inspired. The result

was a Pantone-inspired colorway project in celebration of the 2021 colors. And

of course, you can also find similar colors within the Montana color ranges in a

variety of their paint lines. We chose Montana METALLIC Silver, Montana GOLD

Asphalt, Vanilla, and Easter Yellow. Interested in seeing what we did, Read on.
---
allspraypainted Magazine

HOW WE DID IT

The European winter is ending, the sun is shining again, and the

new 2021 Pantone colors have been announced. What a great

opportunity to update our office or our workspace. Or any

other room you think needs it. Our focus was on the ceramic

planter pots that housed our little cacti, a wooden desktop organizer

that was begging for a facelift, a hole punch as we hadn't

thought of that before, and a complimentary piece of a wooden

board (or MDF particle board) for general decoration and surface

protection.

CERAMIC PLANTER POTS

The small white planter pots were ambient decoration on our

desks up until now. Therefore, it occurred to us to bring them to

the fore a little. Starting with the biggest one, after it was cleaned

and dried, we applied a complete coat of Montana GOLD

in the color Easter Yellow. Inside and out, we sprayed one side

while in a standing position, the other upside down once the inside

had dried. We then allowed the whole pot to dry and then

masked the top half off with our masking tape so that it would

stay yellow where covered. While we were using the tape, we

also masked triangular shapes into two of the small pots which

we were going to spray a different color each. One pot was

left completely white as a complementary color to our wooden

board, which we will get to later. The remaining half of the big

pot was sprayed with Montana METALLIC Effect Spray in the color

Silver, and the two smaller pots had their triangles painted in

either Asphalt or Easter Yellow from the Montana GOLD range.

We left them all to dry overnight.

WOODEN DESKTOP ORGANIZER

Our wooden desktop organizer was one of those classic musthaves

that gets daily use on our desk and was more than overdue

that we gave it a little color. Ours was smooth and clean,

but you may need to lightly sand with fine sandpaper, clean, and

dust off in preparation for painting. And the rest was easy. Take

the draws out, place it all on our drop sheet, spray, let dry, turn,

and repeat. You can do multiple coats if desired. Let it all dry

overnight, place the draws back in, and it's ready to go.

HOLE PUNCH

The hole punch is one of those instruments that always gets looked

over. Not this time! We removed any loose parts that could

be reapplied, gave it a clean and a dry, and then sprayed it with

the Montana GOLD color Vanilla. Once dry we reapplied anything

we removed, and it was ready to go back into service.
---
Makeover

Pantone Inspired Colorway 2021

50

WOODEN BOARD

Our little wooden board was a logical add-on to our new look

workspace. Ours was a piece of MDF that was clean and smooth.

This or any other clean and smooth wood could be used. If required,

give it a light sanding with some fine sandpaper and then

clean it off in readiness for painting. You can either spray the

whole board the color you want to start with on both sides and

leave it to dry or mask off the area you want to seal off and apply

your first color to the unmasked section. Once dry, repeat this

process by covering the already painted side and cover the side

you want to apply the second color onto. We recommend coating

the whole board once on both sides if it is thin, to avoid it

warping if only one side is covered. Our color combination was

Montana GOLD Vanilla and Asphalt.

Naturally, remember to shake all cans well for 2-3 minutes before

use so you can hear the mixing ball moving freely. If required,

turn the can upside-down and remove the nozzle, allowing the

back safety ring to fall out. Reapply the nozzle and do a test

spray in a direction away from everything.

This is an easy project that is ideal for any level. There is about

an hour of work involved to complete all pieces, but it could be

faster if you chose straight color applications rather than masking

and creating application shapes. You can increase or decrease

the difficulty by doing simple or complicated masking

work. When it's all done, you can look at your fantastic handy

work and feel like a Scandanavian designer in your own home or

office. Well done and Happy Crafting.

MATERIALS USED

• Montana GOLD Asphalt

• Montana GOLD Vanilla

• Montana GOLD Easter Yellow

• Montana METALLIC Silver

• Ceramic planter pots

• Wooden desktop organizer

• Hole punch

• Wooden board (or MDF particle board)

• Sandpaper (optional)

• Masking tape

• Gloves

• Mask

• Drop Sheet
---
Allspraypainted Lookbook 51
---
52

RUST Effect

Office Update

NO NEED TO WAIT FOR THE ELEMENTS
---
Interior

RUST Effect Office Update 54
---
allspraypainted Magazine

55

Office spaces are not just places of business. To work well in an office, it is

ideal if it makes you happy to be there, that it inspires you, and motivates you so

you can work efficiently with discipline. At best, your office puts you in a good

mood when you go there to work. But this is not always the case. So what are

your options? Either imagine it is more inspirational than it really is, or take matters

into your own hands and make somewhere that brings the best out of you.

We chose the latter, and with a little help from the new Montana RUST Effect

Sprays, we created a RUST Effect Office Update.

HOW IT WAS DONE

The items we worked with for our RUST Effect Office Update were a metal desktop

lamp, a recycled food tin, some metal bookends, and a circular desktop organizer. These

items were already at home on our desk, so it was an easy choice. You could choose

to use other functional metal objects that you already have, or take a look in any kind of

homewares, hardware, or furniture stores (like IKEA) that sell many various items that

you may like. The most important thing is they are all clean, dry, and free of dust and

oils.

With your painting area prepared, drop sheet laid down, gloves and mask on,

and your cans all shaken for 2-3 minutes or more, pick up the first item of your choice

and spray it evenly with the Montana Metal PRIMER Spray. In the case of the desktop

lamp, make sure your light bulb is removed, the cord is NOT PLUGGED IN and covered

with masking tape to protect it from being covered by any spray. It is also important

that the fitting where the wires and bulb normally is has been covered well with some

scrunched paper or sealed off completely with masking tape. Repeat this process with

all your items spraying at approximately 15cm distance from each item. Then let them

all dry.

The second step is applying your first coat of Montana RUST Effect Spray in the

color Brown. By the time you have managed to spray all the items, they should be dry

enough to add the second coat which will be with the RUST Effect Spray color Brown

Orange. Only apply the Brown Orange in blotches as you desire. This will give each item

an organic look of rust at various stages as if it had been left out in the rain. When you

are happy with your result, leave all items overnight to dry.

You are now at the final stage of your RUST Effect Office Update. To seal your

items and give them protection against scratching, it is time to apply your preshaken

Montana VARNISH Spray. We suggest Semi-Gloss or Matt as this is closest to the matt

look of natural rust. However, you could also use VARNISH Gloss should you prefer a

shiny finish. As soon as your desktop lamp is dry enough to handle, remove any protective

tape or papers you applied previously.
---
Interior

RUST Effect Office Update

56

And you're done, and everything turned out great! This is a great project for all

skill levels and you only need about 30 minutes of actual work time not considering the

drying time. There is a good chance you may not be able to decide what should now go

where. But that's OK, just swap things around from time to time and you will feel you

are creating a completely new office space each time. Well done and Happy Crafting!

MATERIALS USED

• Montana RUST Effect Spray Brown

• Montana RUST Effect Spray Orange

• Montana PRIMER Metal

• Montana VARNISH Spray Matt

• Desktop lamp

• Metal bookends

• Recycled metal food tin

• Circular metal desktop organizer

• Masking tape

• Gloves

• Mask

• Drop Sheet
---
58

How to Marble with

Spray Paint

ORGANIC EFFECTS WITH NOTHING MORE THAN COLOR
---
DIY How to Marble with Spray Paint

60

"Everyone is an artist." There is nothing more disheartening than hearing that

if you don't relate to it but still love being creative. If this is the case, maybe a

technique like marbling is just the right way to discover the artist within you.

With little more than some Montana GOLD Spray color, a bucket of water, and

natural vases, you can make artwork that everyone will appreciate. But most of

all, even yourself! It's easy, fast and all you need to do is read on to make it happen.
---
61

HOW WE DID IT

Any vase, plant potter, or terracotta object you have in your home is a potential candidate

for this project. And if there isn't anything at home, a trip to the local hardware

store, homewares, or decor shop will have you ready to start in no time. The ideal color

base for the object is white, in a matt finish. However, don't be afraid to experiment with

different colors and finishes.

Ensuring your vases, pots, or objects of any natural orientation are clean, dry, and

free of dust and oils, the next step is to prepare all your cans for use. Remove the nozzles

and turn your cans upside-down, allowing the black safety ring to fall out. While in

the upside-down position, tap each can in the palm of your hand till you hear the mixing

balls move around. Then shake the can well for 2-3 minutes so the mixing ball moves

freely, reapplying the nozzle when you are ready to spray. Test spray the can away from

any other surfaces to ensure the cap is on correctly and the can is working perfectly.

In your bucket of water which is on your protected spray area, spray one, two, or

any number of the Montanan GOLD colors you have chosen onto the top of the water.

You will see the color float on the water's surface. We chose one color at a time for a

"less is more" look. However, If you choose to use multiple colors, the effect will vary.

Dip your object slowly into the water which allows the color to adhere to your object

as it submerges. As you remove the object, twist or move it slightly to add the effect

of movement to the color adhering to the object. Place in a clean area to dry. The hard

work is already done. Once completely dry, you could choose to apply some Montana

VARNISH Spray in the finish of your choice on the outsides of your objects to enhance

and protect them. Or just leave them natural if you prefer. With a scrap cloth or paper,

place on the top of the water to absorb any remaining paint. Do not pour the remaining

water into the drain or waterways and allow the remaining water to evaporate.

It doesn't get much easier than this! This project can be done by any skill level and

having fun while doing it is guaranteed. Working time is minutes once you have sourced

and cleaned the vases or objects you want to use. And when somebody asks, "Wow,

where did you get those cool vases?" You can stand up tall and say, "I made them".

Well done and Happy Crafting!
---
DIY

How to Marble with Spray Paint

62

MATERIALS USED

• Montana GOLD Poison Light

• Montana GOLD Malachite

• Montana GOLD Light Blue

• Montana GOLD Viola

• Montana VARNISH Spray

• Vase

• Plant potter with natural surface

• Bucket of water

• Gloves

• Mask

• Drop sheets

• Protective material
---
64

Glass Paint

Bathroom Jar

Makeover

USING LIGHT TO CHANGE THE MOOD
---
Makeover

Glass Paint Bathroom Jar Makeover

66
---
allspraypainted Magazine

67

Over our lifetime, we spend a lot of time in our bathrooms. Often, we forget that

a space like this can influence the mood of some of the most intimate time we

spend alone. So why should this room just be hygienic and practical, when it

can be warm and inspiring as well. With the possibilities offered by the Montana

GLASS Paint color range, we came up with a great idea that can add a bit of light

and life to your bathroom.

BEFORE

It's clean, it works, and it doesn't smell bad. For some people,

this is enough and the time they spend in their bathroom does

not warrant the worry about how it looks. For others, a bathroom

is a place of refuge in the comfort of a hot bath in winter, a space

for reinvention in front of the mirror before a big night out, or

simply a room you can lock the door and be alone for a quiet

moment. The decor in your bathroom can play a big role in the

mood you experience while in this, the most intimate of rooms in

your house. For this project, we focused on some glass jars with

wood or bamboo air-tight lids. Again, they are clean and functional.

But are they inspiring? Using only some adhesive plastic

film (book covering film), scissors, a Montana ACRYLIC marker

(or marker of your choice), a piece of cardboard, gloves, mask,

drop sheet, Montana GLASS Paint colors (we used Black, Coral

Red, and White), and of course glass jars, we will bring in some

new light into your bathroom.

Ensuring the jars are clean and free of dust and oils, remove

the wooden/bamboo lids and place them somewhere

safe away from your painting space. With your shaken Montana

ACRYLIC marker, on your piece of cardboard, draw shapes as

desired of what you think attractive labels would look like. We

chose diamonds, circles, and rounded edge rectangles of various

sizes. We cut these out and they then became templates for

our plastic adhesive film. On the reverse side of the film, layout

the cardboard shapes and trace around them with your ACRYLIC

marker. Then repeat the process and cut the drawn shapes out

of your adhesive film. Carefully peel off the paper backing and

position the adhesive film shapes on the front of each jar as desired.

Where the film is applied, clear glass will remain, and the

rest of the jar will be covered with GLASS Paint color.

With all adhesive labels applied and gloves on, place your

hand inside each jar one at a time, and with the carefully shaken

(2-3 minutes) Montana GLASS Paint color of your choice in the

other hand, spray your glass paint color on over your drop sheet

at 15-25cm away from the jar. Ideally, the GLASS Paint applies in

a thin even layer to avoid drips. Should you want to increase the

opacity, reapply coats as desired. Once dry, carefully remove

your adhesive film shapes, leaving the clear glass space in their

places. And that's it! Nice job.
---
Makeover

Glass Paint Bathroom Jar Makeover

68

AFTER

After allowing to dry overnight, your glass jars are now filled with

the lids on, and back into service. What was plain transparent

functionality, is now frosted glass variations of White, Coral Red,

and Black, which warmly hold all your bathroom necessities like

soap, toothbrushes, or cotton buds. The transparent effect of

light passing through each vessel adds both a personal touch to

your bathroom experience and a varying mood as the radiating

light changes during each time of the day.

Your new GLASS Paint makeover is not only easy to keep

clean and practical, but it has also brought a whole new level of

warmth to the time you spend in front of the mirror. And all this

in as little as 5 minutes of creation time per jar. Not only will feel

better within your bathroom space, so will those you share the

space with.

This project is super easy and can be done by any level of

DIY ability. There is no reason why anyone cannot give it a go

and get the results they want. And of course, if you didn't have

glass jars in your bathroom before, for safety reasons, make sure

to give a little attention to where you put them. Now you can go

back to your hot bath and enjoy the new GLASS Paint ambiance.

Happy Crafting!
---
allspraypainted Magazine

69
---
70

Three New Takes

On The Halloween

Pumpkin

HALLOWEEN, WHERE EVER YOU ARE
---
Seasonal Three New Takes On The Halloween Pumpkin

72

Pumpkins. A tasty source of nutrients and an ideal ingredient for healthy autumn

meals. But is that what most people think of when they see the first ripe pumpkins?

Nope... they think of Halloween, and so do we. With little effort, we have 3

new Halloween pumpkin ideas that can help you add some Halloween flavor to

your home or workspace. Read on, and get your pumpkin on.

BEFORE

It's pumpkin season and the supermarkets, farms, and greengrocers

of the world have all their pumpkin wares on display making

it irresistible to not get on board with the Halloween spirit.

The trick is to choose with your eyes, and not with your stomach.

Most likely three or more pumpkins will stand out as perfect Halloween

project candidates. Choose them, and take them home

to clean and dry them.

The first pumpkin will get the stone age treatment with a

timeless finish of Montana GOLD Spray and Montana GRANIT

Effect. Choosing the Montana GOLD color of your choice as a

base (we recommend a white or soft color), shake all your cans

for 2-3 minutes, prepare your painting space with some sort of

drop sheet, and put on your gloves and mask in readiness to

paint. Apply the color in soft sweeping motions from side to side

from a distance of about 15-20cm. (This process will need to be

repeated for all three pumpkins). Apply in thin even coats and

repeat if desired. Once dry, take your shaken Montana GRANIT

Effect colors (we chose Black and Light Gray), and apply in soft

whispy bursts, only allowing it to land softly on the top of the

pumpkin. You can choose to let it dry as-is, or apply a Montana

VARNISH in the finish of your choice to seal the pumpkin on the

following day. Pumpkin number one - done!

The second pumpkin is for all those people that don't mind

a little spookiness in their Halloween decor. Taking the second

pumpkin you have, apply the Montana GOLD color Shock White

or Montana Universal PRIMER Spray to the whole pumpkin. The

lighter the pumpkin becomes, the better the Montana NIGHT

GLOW can perform. Give your pumpkin plenty of time to dry,

or leave it overnight, and then apply the first coat of Montana
---
allspraypainted Magazine

73

NIGHTGLOW Paint. We chose NIGHTGLOW Effect Spray Luminescent Green, but you

might prefer Luminescent Orange. Again, apply sweeping motions at a distance of about

15-20cm to avoid drips apply. Allow 5 minutes or more to dry and reapply. The more

coats you apply, the stronger the glow effect will work. Once the final coat as desired

has been applied, leave your pumping to dry. Ideally in the sun, which is also how you

need to charge the NIGHT GLOW paint generally for the paint to glow at night. In the

evenings, place your pumpkin in the darkest corners you can find and turn off the lights.

And watch your new scary pumpkin light up on its own. Pumpkin number two - done!

The final pumpkin has a touch of METALLIC Effect to add a special something

to its natural surface. Using a Montana GOLD color of your choice, spray your whole

pumpkin from top to bottom. As with all the pumpkins before, allow to dry and turn over

to cover the areas not covered previously. Repeat as desired. We chose Montana GOLD

Shock White as a neutral base of which the METALLIC Effect could shine, however you

may choose another color combination. Taking your pre-shaken Montana METALLIC

Effect color, start by applying only to the top stem of your pumpkin. Then slowly proceed

to move around in a contained circle as large as you like. Remember to stop well

before the middle of the pumpkin so there is a clear contrast between the base color

and the METALLIC Effect color. We chose METALLIC Effect Plum for its strong contrast

to the Shock White base. For this pumpkin, it is important to spray at a closer range to

the surface (approx. 5 -10cm), allowing the paint to gather in spots at the top of the

pumpkin and drip down it. Luscious thick drips of metallic pigment goodness can now

roll down your Halloween treasure. Leave to dry overnight before handling. Pumpkin

number three - done!

AFTER

No longer do you look at your beautiful pumpkins wondering if you should cook them or

use them for the Halloween season. It's clear, they have now become your new Halloween

icons and are bound to inspire all those that are lucky enough to see them. Should

you have preferred one of the three more than the others, why not continue the project

and create more with new colorways or themes (e.g. Glow/Granit/Metallic). Or if you

want to save some of the ideas for years to come, display the one in the style you like

and save the others for next year. This project is super easy and able to be performed

by any skill level. The important points to remember are to ensure your pumpkins are

clean and dry, and that your cans are always shaken well for 2-3 minutes before use so

you can hear the mixing balls moving freely. Everything else is subject to your creativity.

Well done and Happy Crafting!
---
74

Recap:

allspraypainted

meets Carolin Kaiser

CATCHING UP AGAIN WITH CAROLIN KAISER

CREATIVITY BEYOND THE PANDEMIC
---
allspraypainted meets Carolin Kaiser

76

In 2020, the team at allspraypainted was more than excited to introduce the

new allspraypainted meets project. The idea behind it was a breath of creative

fresh air and a window into the creative processes of some of the most innovative

professionals the world has to offer. To kick start the series we met the

very talented and creative German artist/illustrator/designer/commercial artist,

Carolin Kaiser. While talking to the Mannheim resident who is also a confessed

80s girl and lover of all things from that era, we learned that she had a profound

connection between her creative process and music. Not to mention that she

was an advocate of sketching nearly every day. But what we didn't know at the

time is that the world was about to change and that a pandemic was coming.

Fast forward a little over a year, and we take a small moment to reflect on how

the Coronavirus has affected the creative process of nearly every professional

and personal creator on earth. Lockdown, restrictions, a new way to be educated

and work, changes of how we have time and how we use it. It got us thinking

about how artists have coped, or are coping with the "new world". Why not

speak to an artist we thought, and get some feedback from the source. That's

when we decided to reach out to our very first feature artist Carolin Kaiser and

see if she would share some thoughts with us. Lucky for us, she was not only

happy to speak to us but she also invited us into her studio to see what she was

working on at the moment. Here is how the visit rolled out.
---
allspraypainted Magazine

ALLSPRAYPAINTED

What have you been up to since we last spoke in

2020?

CARO

During the first three lockdowns, not that much actually

happened. My daughter, like many other children,

spent a lot of time at home. It was important

for me to stay relaxed and not lose my nerve. Therefore,

the priority for me at this time was to try and

achieve a relaxed "togetherness" at home. I started

gardening and invested a lot of time and energy in it.

The garden was the perfect retreat for me from all

the dreariness and chaos. And gave me back a lot. I

didn't do any major projects, but I drew in my sketchbook

almost every night. You can say that I used the

pandemic to expand my creative ideas fund, which I

can now fall back on when the restrictions start up

again. I also tested a lot of materials that I could use

for future projects. That was a lot of fun too.

ALLSPRAYPAINTED

Has the way you work changed at all?

CARO

Nothing has really changed in terms of the implementation

of my work, rather, my personal attitude

to making it. I have become more relaxed. I don't get

so agitated anymore when something doesn't work. I

have become more confident that I will find a way to

make it work. On the one hand, because the Coronavirus

made me aware of what is really important, and

on the other hand because I have grown in myself. In

times like these, you get to know yourself from another

perspective.

At the moment I am so full of power. So much so that I

have rarely been like this before. I'm soaking up everything

new. Looking for new input and new people. I

missed socializing with people the most. That's why

I'm so happy about all the new projects I am involved

in and the people I'm getting to know.

A relaxed Carolin created her artwork right before

our eyes as we asked our questions and shared

our thoughts. The works she was working on took a

slightly different form from what we had experienced

from her in the past, however still carried an obvious

connection with all that had come before it. Of

course, we were still looking at her unique take on

80s color schemes, use of ACRYLIC markers and

paints, and imaginative and retrospective motifs like

the palm tree. But now, with some diverse new materials

in addition like metal mesh, glass, wood and

concrete as a basis, we were also seeing the fruits

of her lockdown experimentation in the form of the

use of Montana GLASS Paint and the use of tools like

small angle grinders which assisted her in cutting

and forming metal.
---
allspraypainted meets

Carolin Kaiser

78

Watch the video via

montana.link/caro

@allspraypainted
---
allspraypainted Magazine

79

It is obvious to see that physical lockdown at home

has not meant mental lockdown for Carolin's design

process, idea development, or material experimentation.

Taking what she knew to a new level, we watched

on as the artworks progressed and the questioned

rolled on.

ALLSPRAYPAINTED

Is spray paint still your favorite medium? What materials

are you working with right now?

CARO

At the moment I'm working with different materials.

Currently, I'm even making paper collages again. But

I'm reluctant to focus on one medium. I like the variety

and challenge of testing new things, expanding

my material know-how, and exploring new materials

generally. New materials offer new possibilities.

ALLSPRAYPAINTED

What was the process of creating this particular project,

and which part was your favorite?

CARO

The first step, as it always is, is the analog sketch.

Then I convert it into a digital graphic so I can make

the color selection and improvements. I also needed

a production file for this project as the glass elements

had to be cut by a glazier. I also needed templates for

the wood elements as these I cut them out with the

decoupage saw. After that, it's sanding, priming, and

painting. I cast the bases from concrete and sawed

them from wood.

CARO

No, no change. I still prefer analog and the handmade

aspect to my work. I don't think that will ever change.

The only thing I would like to learn soon is animation.

I would like to breathe more movement into some of

my illustrations.

ALLSPRAYPAINTED

What are your plans for the future?

CARO

Get bigger! Take more risks! I'm totally up for bigger

formats, bigger collages, room-sized installations, or

even crazier projects. I want to break out and grow

beyond my limitations.

In the end, three new unique artworks

braced the world and we were a little

more informed on what goes on in

the mind of a creative professional in

a time like these. We look forward to

seeing where Carolin's journey takes

her and the artworks that are created

during the process.

The process of moving from a design to a finished

object is the most fun for me. You can see and feel

how something is created out of nothing. That is very

fulfilling for me.

ALLSPRAYPAINTED

What is your biggest source of inspiration at the moment?

CARO

I think right now I'm most inspired by life outside the

door. Into the hustle and bustle. Feeling the vibration

of the city and the people. Experiencing new stories.

But also the colors and shapes of nature that surround

me outside. I have the feeling that this summer

I have perceived the colors much more intensely. It

has surprised me again and again how intense and

luminous the natural world is.

ALLSPRAYPAINTED

How balanced is the proportion of digital to analog

in your artwork now? Has the pandemic changed the

balance of scales at all?
---
80

Abstract Patterned

Floor Coverings

PUTTING SOME COLOR UNDER YOUR FEET
---
Interior

Abstract Patterned Floor Coverings 82

Due to our stature as upright human beings, looking down is not often the first

instinct we have when walking into a room. But whether people are aware of it or

not, the floor plays a big part in our environment. It is the basis of every step we

take, it is the surface of which all things support themselves, it is the substance

on which we build everything up from. And in the end, it's the place where everything

ends up when it falls. So why not personalize it with some charming floor

coverings and some creative abstract color? With the help of some Montana

GOLD can colors and some natural fiber floor rugs, that's exactly what happened.

Sound inviting? Read on.
---
allspraypainted Magazine

83

BEFORE

Often the rugs required for this project already exist and have

their place in apartments and homes on the floor. The rugs we

chose for this activity were made of natural fibers and were beige.

However, it is possible to use other rugs, mats, or pieces of

carpet should they be available. The ideal materials are natural,

non (or minimally) treated materials like cotton, jute, or wool.

This is not a must though. Natural materials are better for the environment,

have a tendency to absorb the paint better, and will

be more durable to wear and tear later when in use. Shape and

size are not relevant. If it works for your space, then it is possible

to give them some new abstract color.

The steps for this project were simple and able to be undertaken

by any DIY or creative skill level. Once the rugs are

chosen, found, or purchased, ensure that they are completely

dry, clean, and free of dust and oils. If required, grab a piece of

paper and a pencil, and roughly sketch your rug/mat shape(s)

out a few times. Then, consider how you might like to divide these

spaces into squares, slices, or geometric shapes. Once the

rough ideas are decided upon, either check your Montana GOLD

can supply at home and see which colors you might want to use

and combine, or look at a Montana GOLD color chart and pick

the colors you want to buy for your designs. We chose a mixture

of the earthy colors Shrimp, Cappucino, Shock Brown, Caffe,

Manilla Green, and Mushroom to compliment the natural beige

base color of our rugs.

Assuming you have chosen your colors, shaken your cans

vigorously for 2-3 minutes until you hear the mixing balls moving

freely, have your mask and painting gloves on, and have prepared

your painting space, it is now time to carefully apply the first

color to the shape you have masked off with masking tape and

some sturdy paper or cardboard. This will ensure the rest of your

rug is protected from overspray, and the shape you have created

with your masking tape is crisp, clean, and exactly as you wanted.

Spray in thin even coats from about 15cm from the surface

of the rug(s), in a sweeping motion from side to side. Remove the

masking materials shortly after having applied the color. Once

the shape you have just painted is touch dry or more, repeat

this step to create the layers and shapes of color you intended.

It may be necessary to take off your gloves when removing the

paper from the masked areas and setting up the new color shapes.

We chose to leave selected areas of our rug uncolored so

that there was a balance between positive space (the added color)

and negative space (the rug's natural color).
---
Interior

Abstract Patterned Floor Coverings

84

AFTER

The paint has dried overnight. The paper and masking tape used to cover the nonpainting

areas have been removed, and our gloves and painting masks have long been

removed and are back in their storage spaces. What we are left with is some fantastic

abstract compositions that make our rugs practical surface coverings, decoration, and

now, even pieces of art.

The cleaning instructions for the care of your rugs will be the same as was before

you decorated them. However, it must be considered that friction, excessive water

contact, or agitation could lead to the damaging of your added color. If mud or dirt is

deposited on the rugs, it is best to allow them to dry and then brush off with a soft

brush. Or if you want to avoid and chances of them being damaged, use them in rooms

where clean feet are more likely to come in contact with them.

With a view outside, a cup of something warm in our hands, and the mood of the

light in the room just perfect for taking a moment to breathe and reflect, how nice it is

to look down at the wonderful works of art that reside under our feet. Well done and

Happy Crafting!
---
allspraypainted Magazine

85
---
86

Colorblock

Storage Boxes

THE KEY TO SIMPLICITY IS COLOR
---
Storage

Colorblock Storage Boxes

88

Often in life, overthinking something can be just as fatal as not thinking about

it at all. Storage and transport are two of those classic topics that fit perfectly

into this category. Moving things can be easy if you have the right tools for the

job, but difficult if you don't. Storing things can be just as easy if you have ample

space, but tricky if space is at a premium. With this in mind, we couldn't help but

notice how effective the humble plastic fruit and vegetable box is at doing both.

Strong, lightweight, space-efficient, stackable, cheap, and hang on... it can be

aesthetic too. That is if you give it a coat of paint. And that's when we got an

idea!

With access to plastic boxes being easy and cheap, we decided to create some

fruit box color blocks with some of our favorite Montana GOLD can colors. If you

want to give it a go too, read on.
---
Storage

Colorblock Storage Boxes

90

HOW IT WAS DONE

Depending on where you live, the trend toward bringing your

own bags or foldable boxes to the supermarket may already be

the norm. If this is the case, you will regularly be able to find

foldable or rigid plastic boxes on offer at supermarkets, big-box

hardware stores, or homewares stores. If, however, this is not

the case for you, remember the foldable shopping box has its

origins as the classic fruit and vegetable box. And if you visit

your local market or greengrocer, you can probably access some

there, or find out where they get theirs from.

Once you have your plastic boxes, if required, give them a

good clean with some soapy water, and be sure to rinse off all

the soap residues. If yours are new and clean, make sure they

are clean, and free of dust and oil, and above all completely dry

before applying any paint. Believe it or not, the hardest part is

already behind you. Our boxes were pre-colored originally, so

our color choices (as listed in the materials list) were made with

the idea that they would work well with the color of the plastic.

If your boxes are black, or a color you don't like, you have the

option of painting them directly with the color of your choice, or

you can prime them first with Montana Plastic PRIMER Spray, or

with the Montana GOLD color Shock White.

Prepare the sections you want to paint of your clean dry

boxes by applying masking tape over the areas you want to keep

the color of the plastic. If you have decided to paint the whole

box, skip this step, and place the boxes on your drop sheep with

enough space so you can move around each box freely in readiness

for painting. If you are only painting half of each box as

we did, place the box on the side that is masked, ensuring easy

access to the areas you want to paint.

It is now time for that ritualistic moment once you have

your mask and gloves on and your space is prepared for painting.

Time to shake your cans for 2-3 minutes so that you can

hear the mixing balls moving freely, turn the can upside-down

removing the nozzle to allow the safety ring under it to fall out.

Reapply the nozzle and turn the can the right way up triggering

it away from everything to ensure the paint is flowing freely. In

smooth sweeping motions from side to side, spray your chosen

color to your chosen plastic box at a 15-20cm distance. Allow to

dry and then turn each box over for the second coat if desired.

Once the boxes are dry, remove the masking tape (if applicable)

to expose your cool two-tone finish. Leave them to dry overnight

so the paint can cure before using the boxes to store or move

anything. You are done!

This is a super easy project that can be done by creators of

any skill level. Each clean box only takes up to 5 minutes to mask

up and paint. Masking different areas or in different patterns

could also add another design element to your boxes but could

also add some time to the completion of each box. They look so

good; the hardest part will be deciding what goes in them. Well

done and Happy Crafting!
---
allspraypainted Magazine

91
---
93
---
94

Colorful Christmas

Tealight Candle

Holders

ADDING COLOR AND LIGHT THIS CHRISTMAS
---
Seasonal

Colorful Christmas Tealight Candle Holders

96

Getting into the Christmas spirit is usually

pretty easy. But once all of the old

tricks like the Christmas tree and baubles

are unpacked, hanging up, on display,

or put into their position like every

year, it's often the case that we are left

with the feeling that a little something

extra is needed. Light can often be the

difference between feeling Christmas

or just doing it. And natural light in the

form of candlelight is just the thing to

make your Christmas more personal

and intimate. This year, allspraypainted

has just the project for you to add a

little color and light to your Christmas.

Keep reading to learn more about this

exciting project.
---
allspraypainted Magazine

97

HOW WE DID IT

At the basis of our idea to add color and light to our Christmas

this year is the very humble tealight candle. This simple but beautiful

candle offers a light that is soft, warm and is possibly the

most easy-to-find candle available. After creating simple concrete

bases to house our tealight candles, we will add a little of

our favorite colors and the rest is placement.

Find a plastic vessel that has the shape you would like for

your tealight candle bases. Soft plastic bottles are easily available

and easy to cut. Alternatively, you may choose something

like plastic plant potters which only need to have the holes in

their bases taped up to hold concrete. Find the size you like that

must be at least slightly larger than the tealight candle itself (or

more). Make sure your base vessel is clean, then cut it slightly

higher than the height you would like your holder to be. Following

the instructions to the ready-mix craft concrete or similar

product that you found in your local hardware or craft store,

mix the concrete mass to the desired consistency and pour it

into your prepared plastic vessel(s) at the height you want your

candle holders to be. Remember to have all the vessels prepared

before starting to pour the concrete. If you want your candle

holders at all at the same height, mark each vessel with a marker

equally beforehand also. To make the space for your tealight,

either press an unlit tealight into the wet concrete making the

impression slightly bigger by gyrating slightly, or find another

product (like another small plastic drink bottle), and place it in

the drying concrete. Depending on the product you used, you

may need to leave the tealight or bottle base in the concrete

mold till it is dry if you are unable to remove it during the drying

process. Once dry, turn the vessels upside down and carefully

push the dried concrete out of the molds. Do this over a soft surface

or onto some soft material to prevent them from breaking

as they exit the mold.

With the well-shaken Montana GOLD cans, and the painting

space prepared and ready to use, take your masking tape

and mask off the areas of your dry concrete holders where you

do not want the paint to cover. Place the masked candle holder

on your drop sheet leaving the exposed concrete areas accessible.

Apply the color to each holder separately in smooth sweeping

motions from side to side at a distance of about 15cm from

the holder. Repeat as desired to get the opacity you wish. After

5 minutes, remove the masking tape without touching the drying

paint and allow all bases to dry overnight.

Should you not want to keep all the candle holders in one

uniform look, variations to your color application can be simply

created by varying where you apply the masking tape to the

concrete base, and where or how much concrete is covered in

color. Other variations may be the type of concrete or modeling

ready-mix you use to create the bases, which can offer alternative

surface qualities.

There is no more hard work to do now and apart from putting

the tealight candles into your new holders and lighting them,

the difficult part is figuring out where to put them and fighting

the urge to keep making more.

This is an easy project that is a beginner to intermediate in

skill level, subject to the amount of effort required for mixing the

concrete (or ready-mix base material) you choose. Should you

want to alter the finish of your new colorful Christmas tealight

candle holder, why not try one of the Montana VARNISH sprays

available in Matte, Semi Gloss, and Gloss.

What a great creative distraction from doing Christmas

shopping or Christmas cooking. Pat yourself on the back and

give yourself a big well done as you stare in the soothing light

of your new Christmas tealight candle holders. Happy Crafting!

MATERIALS USED

• Montana GOLD

• Soft plastic bottle bases

• Planter pots or similar

• Ready-mix craft concrete or similar

• Tealight candles

• A craft cutter or sturdy scissors

• Masking tape

• Marker (optional)

• Gloves

• Mask

• Drop Sheet
---
Media Owner and Publisher:

MONTANA-CANS /

allspraypainted.com

© 2021 allspraypainted.com

All rights reserved.

Reprinting, even in part,

only with the approval of

the publisher.

MONTANA-CANS

Häusserstraße 36

69115 Heidelberg

Deutschland

Phone +49 (0) 6221 36 333 0

info@montana-cans.com

www.allspraypainted.com

Creators:

Vera from nicestthings.com

Lisa from itsprettynice.com

Rachel from thecraftedlife.com

Martin from contact@deadsailor.de

Carolin from carolinkaiser.de

Nadine from nadinekolodziey.com

Danny and Martin from schreiberpoetter.de
---
MEETS

MORE ARTIST

INTERVIEWS

COMING SOON

#ALLSPRAYPAINTED #ALLSPRAYPAINTEDMEETS #MONTANACANS
---
ALLSPRAYPAINTED.COM

FOLLOW US @ALLSPRAYPAINTED

505072