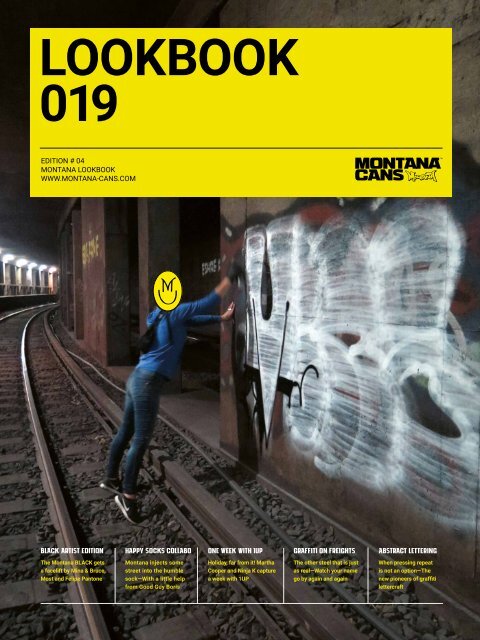 MontanaCans Lookbook 2019
Every organisation that was built up on passion and a love of what they do, finds themselves more and more pro-active in their work each year. Montana Cans is no exception as we strive to make the best cans on earth. But that is no excuse to reflect on all the extra curriculum activities like collaborations, festival, project and artist support that happen through the year as well. After all this helped create history. The Montana Cans LOOKBOOK gives an outlet to remember, reflect and reward those who deserve a little extra attention with some extra glow of the spotlight. With great pleasure, we announce the online release of the Montana Cans LOOKBOOK 2019, looking back at some of the highlights of 2019. This edition delves into many projects such as the Montana Cans limited edition cans that featured Mina & Bruce (plus interview), Felipe Pantone, Most and Flying Förtress. We reminisce on the cool collabo's we were involved in with Happy Socks, Good Guy Boris and Reebok Sneakers. We get re-inspired by feature articles on artists IMAGINE, THE LONDON POLICE, FRAU ISA, 1010 and 1UP CREW. We take a look at some of the urban art festivals that raised the bar even higher like METROPOLINK, POW!WOW ROTTERDAM and the THE BERLIN MURAL FESTIVAL. With eyes wide open we scratch under the surface of some alternative disciplines within graffiti culture. The spotlight gets turned on ABSTRACT LETTERING, GRAFFITI ON FREIGHTS and CALLIGRAFFITI. We share some knowledge on the new products like the Montana BLACK INFRA colors and Montana BOLD marker line, which took the industry by storm. Just as the special moment that was the grand opening of the MONTANA STORE VIENNA with our industry partners CONCRETE, did. All this and more over 160 enthralling full color pages.
Every organisation that was built up on passion and a love of what they do, finds themselves more and more pro-active in their work each year. Montana Cans is no exception as we strive to make the best cans on earth. But that is no excuse to reflect on all the extra curriculum activities like collaborations, festival, project and artist support that happen through the year as well. After all this helped create history.

The Montana Cans LOOKBOOK gives an outlet to remember, reflect and reward those who deserve a little extra attention with some extra glow of the spotlight. With great pleasure, we announce the online release of the Montana Cans LOOKBOOK 2019, looking back at some of the highlights of 2019.

This edition delves into many projects such as the Montana Cans limited edition cans that featured Mina & Bruce (plus interview), Felipe Pantone, Most and Flying Förtress. We reminisce on the cool collabo's we were involved in with Happy Socks, Good Guy Boris and Reebok Sneakers. We get re-inspired by feature articles on artists IMAGINE, THE LONDON POLICE, FRAU ISA, 1010 and 1UP CREW. We take a look at some of the urban art festivals that raised the bar even higher like METROPOLINK, POW!WOW ROTTERDAM and the THE BERLIN MURAL FESTIVAL. With eyes wide open we scratch under the surface of some alternative disciplines within graffiti culture. The spotlight gets turned on ABSTRACT LETTERING, GRAFFITI ON FREIGHTS and CALLIGRAFFITI.

We share some knowledge on the new products like the Montana BLACK INFRA colors and Montana BOLD marker line, which took the industry by storm. Just as the special moment that was the grand opening of the MONTANA STORE VIENNA with our industry partners CONCRETE, did. All this and more over 160 enthralling full color pages.


SHOW MORE
SHOW LESS
Create successful ePaper yourself
Turn your PDF publications into a flip-book with our unique Google optimized e-Paper software.
LOOKBOOK

019

EDITION # 04

MONTANA LOOKBOOK

WWW.MONTANA-CANS.COM

BLACK ARTIST EDITION

HAPPY SOCKS COLLABO

ONE WEEK WITH 1UP

GRAFFITI ON FREIGHTS

ABSTRACT LETTERING

The Montana BLACK gets

a facelift by Mina & Bruce,

Most and Felipe Pantone

Montana injects some

street into the humble

sock—With a little help

from Good Guy Boris

Holiday, far from it! Martha

Cooper and Ninja K capture

a week with 1UP

The other steel that is just

as real—Watch your name

go by again and again

When pressing repeat

is not an option—The

new pioneers of graffiti

lettercraft
---
COVER: PHOTO BY ZZTOP

WHEN PASSION MEETS PRECISION.

MONTANA-CANS - HIGHEST QUALITY MADE IN GERMANY
---
MONTANA LOOKBOOK 2019 | PRINTED IN GERMANY
---
Content

MONTANA LOOKBOOK 019 / EDITORIAL 07

BLACK ARTIST SERIES 08

HAPPY SOCKS X MONTANA CANS X

GOOD GUY BORIS COLLABO

18

INTERVIEW: MINA & BRUCE 24

MONTANA CANS X REEBOK COLLABO 30

MONTANA CANS BLACKBRÄU EDITION

BAVARIAN BLUE

48

ARTIST FEATURE: IMAGINE 52

PORTRAIT: THE LONDON POLICE

NO NEED TO CALL THE COPS

58

ACRYLIC SERIES FEAT. FRAU ISA: 64

THINGS JUST GOT "WEIRD"

ABSTRACT LETTERING 70

MONTANA STORE VIENNA 80

GETTING 1UP ON SOCIETY 88

GRAFFITI ON FREIGHTS 98

THE MONTANA BOLD 104

CALLIGRAFFITI – CONTEMPORARY

CALLIGRAPHY IN THE URBAN SPACE

108

POW! WOW! 118

ROTTERDAM 2018

1010 FOR STADT.WAND.KUNST 126

THE BERLIN MURAL FESTIVAL 132

METROPOLINK FESTIVAL 140

THE MONTANA BLACK

INFRA COLORS

150

5
---
6
---
EDITORIAL

We the Montana-Cans team at our headquarters

in Heidelberg/Germany, love working with creative

minds, our friends and our partners, worldwide. It's

mutually beneficial for everyone.

It is our honour to be able to support events, projects

and artists in fruitful collaboration. For us this

is a vital aspect for development and growth, on all

levels of creativity. We are extremely fortunate and

grateful that artists and collaboration partners alike,

approach us for involvement and support for their

projects. They bring with them incredible ideas and

concepts that inspire and motivate. For this, we are

thankful.

Social responsibility and cultural commitment also

mean a great deal to us. Often the many projects

that we support, and the varied events that we sponsor

are already geared toward helping the very causes

that are dear to us. This makes assisting a privilege.

Sometimes, we are even lucky enough to help

make a positive difference to causes that weren't already

on our radar.

This, the fourth edition of the Montana-Cans

LOOKBOOK series, is an opportunity to share some

of the special projects and partnerships with you.

Projects that we have been able to establish or

nurture throughout 2018. It is our pleasure, and with

great pride that we are able to shine some extra light

on them and show our gratitude to those that helped

make it possible.

7
---
LOOKBOOK

019

www.montana-cans.blog

#BLACKARTISTEDITION

#MONTANABLACK

#GERMANSPRAYPAINT

8
---
BLA

CK

ART

IST

SERI

ES

The MONTANA-CANS Limited Artist

Edition cans are the jewels in the

crown for the world's most favourite

graffiti can, the Montana BLACK range.

Each can gives a world-renowned

graffiti artist the opportunity to redesign

and personalise their favourite

Montana BLACK color. Choosing one

from the 187 impressive colors is no

easy task. Each artist knowing that

their design will come into circulation

for a limited time making their can

exclusive, functional and collectable!

There are 2-3 designs featured per

year, most in keeping with the change

of the seasons. Each artist series can

is sold at the same price as the regular

version of that color and can only

be obtained while stocks last. Each

consumer having to decide if they use

it, or collect it.

9
---
LOOKBOOK

019

MINA

For 15 th Edition of the Montana-Cans Artist Edition cans we created

a double feature working with the artist duo, Mina (from

Germany) & Bruce (from France). For her can, the German artist

MINA has very cleverly combined graffiti style, with illustrative

humour. Choosing her favourite color from the Montana BLACK

range BLK6310 Olymp, MINA created a well-designed female

Olympiad figure that walks a fine line between street knowledge

and physical strength. With a Montana BLACK can in hand, her

character exhibits the optimal amount of "know how", with classic

graffiti style. Possibly like MINA herself, who is no stranger to

connecting the dots to all the elements of her artistic personas.

@theminamania

10
---
11
---
LOOKBOOK

019

BRU

CE

For 15 th Edition of the Montana-Cans Artist Edition cans we created

a double feature working with the artist duo, Mina (from

Germany) & Bruce (from France). For his can, the native Parisian

artist Bruce chose the color BLK5200 Ice Blue. If the Parisian

streets taught BRUCE one thing, it was not to waste time and to

paint fast! For Bruce it was not enough to be just fast, he also

wanted to be extremely good at what he does at the same time.

He expresses that he loves high covering pastel shades and Ice

Blue reminds him of Berlin winters. And after living in Berlin for

five years, he knows what he is talking about.

@bruceontherocks

12
---
13
---
LOOKBOOK

019

MOST

The 16 th release of the Montana-Cans Limited Edition Artist cans

was no spontaneus matter. In fact it was foreseen long before it

actually took place. Why? Because in the words of the featured

artist and self professed graffiti prophet MOST, "I saw it all coming".

MOST the Hamburg based stylemaster has been pushing

letter forms since the 1990's. Originating from the Ruhrgebiet in

Western Germany, this founding member of the JBCB crew and

all-round prolific contributor to graffiti culture chose the much

loved Montana BLACK color, Nostradamus BLK 7230. Or as we

should call it now, MOSTradamus.

@thatsallmost

14
---
15
---
LOOKBOOK

019

FE

LIPE

PA N

TONE

The 17 th edition of the Montana-Cans Limited Edition Artist cans

is as much from the future, as it was from the past. The featured

artist Felipe Pantone (Pant1) is a self confessed child of the internet

era, who has taken his graffiti above and beyond letters

achieving a unique style that is somewhere between fine art and

the future itself. Far from it's final destination, the work is dynamic

and striking. In keeping with the forward momentum of his

artwork, Pantone chose the color Infra Red BLK IN3000. The Argentinian/Spanish

artist is based in Valencia, Spain, and can now

be seen on a multitude of surfaces all over the globe, unrestricted

by two dimensionality.

@felipepantone

16
---
17
---
Montana-Cans

HAPPY SOCKS

Good Guy Boris

Three is not

always

a Crowd

In the modern world of business and economic growth, it's easy to

loose sight of the important things in life. Those fundamental things

like waking up and putting on clean socks and underwear, or simply

drawing an idea on a piece of paper. But there are some fundamental

ideals that we all have in the beginning, that are important not to

loose or let go of.

Those things that motivated you in the first place like creativity, color

or freedom to express yourself. Every now and then an opportunity

arises to collaborate with good people that bring us back to those

fundamental values. In 2018 we were able to connect all the dots in

collaboration with our good friends at the Swedish based sock company,

HAPPY SOCKS.

18
---
19
---
20
---
Since 2008, the Happy Socks Team have been turning the

essential clothing items of socks and underwear into creative

canvases of endless possibilities. Not to mention

keeping feet warm and putting smiles on faces all over the

world.

Rewind back to a few years earlier, back to the humble

little town of Heidelberg Germany where we, the team at

Montana-Cans, have been re-inventing the spray can in all

its glory since 1996. With the goal and motivation to offer

writers and artists the best possible cans and creation

tools on earth. Putting color and freedom

of expression back into the streets, galleries

and spaces of the world over for everyone

to enjoy.

The outcome of our collaboration was an

exciting, limited edition, athletic, cotton

sock collection. All laced with graffiti and

paint based designs, the socks were served

up in a can like container, celebrating our

common love of all things color and graffiti.

In this shared spirit of rebellion and creation,

it was obvious to us that we needed

to call in the master of freedom of expression

and boisterous rebellion, GOOD GUY

BORIS to capture the essence of our collaboration

on film. And this he did.

Set in the sun soaked background of Greece, the graffiti

covered trains and streets were as much of a reflection of

the Montana-Cans X HAPPY SOCKS collaboration as the

socks themselves. In his short film "Wear under pressure",

GOOD GUY BORIS brought a smile to our faces and a much

needed touch of color to our world. And our feet.

21
---
MONTANA-CANS.BLOG/HAPPYSOCKS

HAPPYSOCKS.COM/MONTANACANS

22
---
23
---
24
---
MINA

Montana

BLACK Artist

Edition feat.

&

BRUCE

25
---
When we work with artists who become featured on the Montana BLACK Limited Edition

can series, we like to know what lies below the surface of their artistic skin. It is not

always possible to get the dirt on an artist, so when we managed to speak to MINA and

BRUCE about the 15th edition of the Montana BLACK LimitEd Edition Artist Series, we were

twice as excited. Here is a little insight on what makes them tick and how the project

fit within their art practice.

Montana Cans just released the limited

BLACK Artist Edition cans with your designs.

Are you happy with the result of your

work?

MINA & BRUCE: Yes, we are very happy with

the outcome of the cans!

Maybe the both of you could introduce

yourself shortly – where do you come

from and where do you live / work currently?

BRUCE: I'm originally from Paris. I lived in

Berlin, Germany for about 5 years and I

currently live and work in Belgium.

MINA: My studio base is in Berlin at the

moment. I am travelling a lot and living

from time to time in different places.

Like Berlin, Amsterdam, Paris.

Your roots are within

classic Graffiti writing.

What did Graffiti mean

to you in the past and

what's the value nowadays

for the development

of your art?

MINA: Yes, our roots are

within classic graffiti

writing, which is

still very important

to us now as it was in

the past. For me both

within my life and my

artistic work. My studio

work is inspired by the formal language

of my graffiti, but in an abstract

way. The energy I feel when I'm painting

outdoors is a constant motor and motivator

for my studio work.

When did you start writing Graffiti? Who

did you influence at that time?

BRUCE: I started painting graffiti in the

mid-nineties when I was a teenager. I

recall I was about 15 years old. I used to

look at a lot of graffiti pieces around the

city. Once, I found out that an older guy

from my school was the person painting

them. I started talking to him and asked

if it was possible to paint with him and

how? That's how it all started.

Your paintings are shown in galleries

and can be seen in the streets. Do you

relate more to your street based work,

or work for the gallery context?

MINA: I have to admit, I love both.

When did you meet Mina for the first

time?

BRUCE: I met Mina 8 years ago in Paris

during an opening event. We got to

talking and decided to go painting the

day after.

What does it mean to you to be printed

on a limited edition Montana spray can?

MINA: It is a honour for our work to be

featured on a limited edition Montana

BLACK spray can. At the same time it

means an appreciation of our work and

a recognition of us as artists. And for

me personally, also my contribution to

the graffiti culture.

You did an Artist Edition of Montana

BLACK – which color did you pick and

why?

BRUCE: I chose the ICE BLUE color, I like

pastel colors and it reminds me of Berlin

winters.

26
---
MINA: I chose the color "Olymp", because

the mint shade is fresh and one of my

favourite high covering colors.

Tell us something about your work.

BRUCE: I started by painting walls, then

quickly switched to trains for many

years. After a while, I went back to doing

walls. I started doing more bombing

in the streets because for me, it's more

interesting. I like walking in the streets,

painting easy and doing quick throwups.

I don't want to spend too long in

front of one wall. Sometimes I will add

eyes, hands or feet which makes kind of

a mix between a throw-up and a character.

But the main focus and the most

important thing for me is doing short,

quick pieces. This I like the most.

How would you describe the subject of

your designs with your own words?

MINA: My design represents the goddess

Athena, the most famous greek goddess

and one of the twelve olympic deities.

She is the goddess of art, wisdom, strategy

and war. Not to mention the goddess

and namesake of the Greek city of

Athens.

What does Graffiti mean for you?

BRUCE: To me graffiti is a kind of freedom.

It's real freedom. You paint for yourself

and for your friends, wherever and

whenever you want. It's also a kind of

sport. Some people play football, I like

to do graffiti.

What's the importance of spray cans for

your paintings and why did you choose

to work with lacquer?

MINA: Spray cans are my tool of choice and

my preferred material to paint outdoors.

What do you like about Montana

BLACK?

BRUCE: You don't lose any time when you

paint. The pressure is high and the coverage

is great. That's perfect for me.

If you could pick any spot to paint with

your BLACK Artist Edition, where would

it be and what would you paint?

MINA: I would love to paint the Mina Athena

in Athens.

What are your plans for the future?

MINA & BRUCE: Keep on going, never give up!

Thanks guys for the interview!

27
---
28

What makes art stay

interesting and inspiring?

Balance, and Mina & Bruce

have achieved just that.

Merging graffiti with fine

art, the street with the

white cube of the gallery.

The artists have become

one entity finding common

ground through two very

different approaches

to creativity. All while

maintaining integrity

so that their work

stays contemporary and

relEvAnt.
---
INSTAGRAM.COM/THEMINAMANIA

INSTAGRAM.COM/BRUCEONTHEROCKS

#BLACKARTISTEDITION

29
---
MONTANACANS

REEBOK

COLLABORATION

Spring/Summer 2018

If the shoe fits, wear it

March 2018 saw the global release of the Spring/Summer MONTANA-CANS x REEBOK Club C 85, Classic

Leather and Workout Plus sneakers. For the second time, the synergy between these two iconic

brands went flawlessly hand in hand, just like sneakers and graffiti culture do. The three SS18 ranges sold

through, quickly making them instant collectors items, or proud straight-to-service footwear for their

new owners. Each release was celebrated with exclusive events and release parties at key footwear retailers

around the globe. Making the energy of the collaboartion even more infectious for participants

and onlookers.

The collaboration that originated back in early 2017, started it's path with the release of the Reebok

Classic #ALWAYSCLASSIC. Celebrating the basis of the Montana GOLD spray paint range, the series

rolled out in two powerful color ways featuring the tried and true Shock Black SH9000 and Shock White

SH9100.

The SS2018 campaign titled #ALWAYSCLASSIC, was amplified with the involvment of #HIDDENCLASSICS, in

the form of two very special, internationally renowned artists. The first being Czech born and Prague based

Sany. The second being the Argentinian/Spanish artist that never sleeps, Felipe Pantone (aka Pant1). Sany,

known as a female master of her game in a male dominated scene, continually delivers the anticipated highend

New York inspired, classic graffiti on the streets, that she is known and loved for. All with a fresh female

touch that breathes fresh air into this classic style. Felipe Pantone, king of the contemporary kinetic-meets

graffiti game, boldly goes where no writer has gone before. Taking with him a dynamic color pallet that is as

simple as it is complicated. With their attention to detail, they served up style as classic as the #ALWAYS

CLASSIC sneaker series itself.

THER | CLAS

Internationally, a multitude of media campaigns rolled out on all platforms. The audience for both

Montana-Cans and Reebok Classic both widened and strengthened considerabally. A historical collaboration

that is a true example of what can happen when two great entities with their hearts in the right

place come together.

GENDER: MEN'S

30
---
#CLASSICGRAFFITI

#HIDDENCLASSICS

#ALWAYSCLASSIC

#REEBOKCLASSIC

#MONTANACANSXREEBOK

31
---
32
---
33
---
REEBOK CLASSIC LEATHER

Never before was the statement "Classic not plastic" more relevant then

with the SS18 REEBOK CLASSIC LEATHER. The series was released in four

colorways which included Fern Green/Chalk, Blue Note/Chalk, Duck Season/

Chalk and Paris/Chalk.

#alwaysclassic #ReebokMontanaCans

34
---
G6030 Lime

G6040 Lawn Green

G6050 Greenery

G6060 Fern Green

G6070 Smaragd Green

Montana GOLD Green Series G 6000-6090

The Montana GOLD with 215 colors gave an endless source of inspiration

for the development of the REEBOK CLASSIC LEATHER colorways. Keeping

grounded and staying in touch with terra firma is important what ever your

game plan. The G6000 green tones achieve just that so you never skip a beat.

#MontanaCansXReebokClassic #MontanaGOLD #GermanSpraypaint

35
---
REEBOK CLASSIC LEATHER

Grey tones are timeless. Just like the REEBOK CLASSIC LEATHER itself.

This edition of the SS18 REEBOK CLASSIC LEATHER was available in three

colorways featuring Marble/Iron/Gravel (as shown), Cappucino/Toffee/Hot

Chocolate/Mushroom/Bone and Malachite Lite/Malachite.

#alwaysclassic #ReebokMontanaCans

36
---
G7000 Pebble

G7010 Marble

G7020 Wall

G7030 Iron Curtain

G7050 Roof

Montana GOLD Grey Series G 7000-7090

With this edition of the REEBOK CLASSIC LEATHER we kept our feet on the

street, inspired by the Montana GOLD G7000 grey series, featuring the colors

of the pavements we walk and the cities we love. With 215 colors to choose

from and the most extensive selection of aesthetic grey tones, we only had to

follow our instincts.

#MontanaCansXReebokClassic #MontanaGOLD #GermanSpraypaint

37
---
REEBOK CLUB C 85

1985 was a great year for sneaker innovation. As was 2018 with the

release of the SS18 REEBOK CLUB C 85 series that had a brand new look,

in five exciting colorways. The featured colorways were Manila Light/

Chalk, Purple/Dusty Pink/Chalk, Biege/Pebble/Chalk, Make Up/Chalk and

Mt. Fuji/Chalk.

#alwaysclassic #ReebokMontanaCans

38
---
G4000 Baby Skin

G4010 Mortadella

G4020 Dusty Pink

G4030 Ancient Pink

G4040 Powder Pink

Montana GOLD Pink Series G 4000

In the developing of the SS2018 series REEBOK CLUB C 85 with five colorways,

it was important that all of the available 215 Montana GOLD colors

were carefully considered. Without fail good taste prevailed, and just the right

amount of steet style to make them the perfect kicks for any occassion.

#MontanaCansXReebokClassic #MontanaGOLD #GermanSpraypaint

39
---
REEBOK WORKOUT PLUS

It doesn't matter if your hitting the gym or out on the track. The REEBOK

WORKOUT PLUS is the VIP for your feet when working up a sweat. In SS18

this edition was available in three colorways featuring Blue Note/Chalk,

Marble/Chalk and Manila/White....

#alwaysclassic #ReebokMontanaCans

40
---
G5060 Blue Magic

G5075 Signal Blue

G5080 Ultramarine

G5085 Blue Note

G5090 Nautilus

Montana GOLD Blue Series G5100

The Montana GOLD 215 flowing colors leave ample room for style and class.

For this series of the REEBOK WORKOUT PLUS, colors as deep as the sea

were the inspiration for the G5000 blue tone colorways. With names like Blue

Note and Manila it was obvious this series would take us on an iconic journey.

#MontanaCansXReebokClassic #MontanaGOLD #GermanSpraypaint

41
---
#MontanaCansXReebokClassic #MontanaGOLD #GermanSpraypaint

Purple / Dusty Pink / Chalk

Manila Light / Chalk

42
---
MT. Fuji / Chalk

Make up / Chalk

Beige / Pebble / Chalk

43
---
44
---
45
---
46
---
47
---
LOOKBOOK

019

Bavarian

Montana–CANS

B

lue

Blackbräu Edition

Montana-Cans and

Flying Förtress pays homage

to Oktoberfest

When the calender in Germany nears September, the people's

excitement and anticipation rises as the worlds most famous

festival is just around the corner. And the team at Montana-Cans

is no exception. Everyone the world over has heard of

OKTOBERFEST and this year we wanted pay homage to it.

48
---
49
---
Since 1810 the Bavarian capital of Munich has celebrated this

internationally renowned peoples fest. The festival, which runs from

mid to late September until the first weekend in October, was

originally created to celebrate the marriage of the then Crown Prince

Ludwig with the Princess Therese of Saxe-Hildburghausen. Today,

OKTOBERFEST celebrates all things beer, festivities, the colors light blue

& white and of course, Sausage dogs (Dachshund).

Thats right, Sausage dogs.

The Dachshund is as Bavarian as

OKTOBERFEST itself. The stubborn little four

legged critter shares a lot of traits and characteristics

with the Bavarian folk themselves. Characteristics like loyalty,

inquisitiveness, assertiveness and determination. And did I mention

they were stubborn?

In the creation of the BLACKBRÄU Limited Edition

Bavarian Blue, we needed to call on someone special. Someone

that knew how to connect the dots on all these iconic

traditions and put them into one design that paid homage to

this cultural phenomenom.

There was no better artist to create such an artwork then

FLYING FÖRTRESS. Born and raised in Munich and

now living in the northern city of Hamburg, Germany,

FÖRTRESS is no stranger to the joys of drinking beer and the

beauty of the legendary Bavarian blue skies! With Beer & Bavaria in

his blood, the integration of the Dachshund in the limited

edition BLACKBRÄU Bavarian Blue design was a logical step for this

Oktoberfest insider.

In the world graffiti community, FÖRTRESS is maybe as famous

as Oktoberfest itself. As an integral member of the JBCB crew

and purveyor of all things cool, FÖRTRESS's

work extends far into illustration, design, apparel and

collectible vinyl toy design.

50
---
51
---
LOOKBOOK

019

IMAGINE

THE PATH OF

A FEMALE,

NEPALI ARTIST

52
---
As a young girl growing up in Kathmandu, IMAGINE didn't know

which path her future would take her on. In a country where wealth

is something only the visitors had, she grew up feeling as though the

teachers at her school were actually her bullies. Not exactly a role

model for self improvement or learning. But this only served as fuel

to the fire for her quest for knowledge and creativity. Fast forward till

the present day and what we see before us is not a victim. It is a self

empowered young lady that has manage to merge her language, her

culture and her creative output. With a sharp mind that can fire at will,

she also has a sharp calligraphic style to follow it up. Her uniquely

Nepali flair gives her a little something special that at first site can't be

understood. ACRYLIC Artist Series with IMAGINE.

A Masters from the Harvard Graduate School of Education not only

opened her eyes and mind to the way she see's the world, it also

taught her leadership to negotiate a path in an often male orientated,

creative world. It also educated her about the business of art. Knowing

how to plot a path to self sufficiency while staying true to the

style of art making that she loves. We recently managed an ACRYLIC

SESSION with IMAGINE and while she was making the marks, we

asked her a few questions to try and get a personal insight into her

life and art. Here is what she had to say:

1) When was the moment when you decided you wanted

to become full time artist and entrepreneur?

Everything happened over time. I don't think being an artist

happens simply by deciding. There are so many other factors

that need to align for this to be possible. What I did decide on,

was to follow my passion and started connecting the dots after

that.

2) I understand you graduated from the Harvard

Graduate School of Education. How do you combine

this with your art? How does the merge between these

two enrich your daily life?

Yes, I received my Masters from the Harvard Graduate School

of Education where I learned about leadership, technology

and creativity in Education. Education is an area of interest

for me because sharing, learning and teaching is so important

to create better understanding in the world. Growing up in

Kathmandu, Nepal, I didn't get the best education. My teachers

often felt like my bullies and I was convinced that I was a dumb

kid. Good education should do the opposite. Children should

be encouraged to see the world with limitless imagination. So I

always wondered about how other Nepali children like me can

best learn. One of the things that helped me with my education

and overall development was art. And this is why I founded the

Children's Art Museum of Nepal in 2013, so that children growing

up in Nepal like me have a place where they can express

themselves creatively. So…long story short, Education is a big

part of who I am as a person. My art is a visual representation

of my voice. My voice comes from my understanding of the

world and academia helps me inform my thoughts. Education

and development issues are close to my heart because I know

about these from first hand experience growing up in a poor

country. So I find it's important to learn about them and understand

them beyond just my experience.

3) What do you think is the role of the artists in our

society nowadays and specially urban artists?

I think the role of artists is to make people see things differently

than they would otherwise. I see my role as beautifying spaces

by sharing my culture and native language through my art.

Learning about a world different than yours, can improve your

understanding of the world.

4) What does Montana Cans represent to you? —

specially the ACRYLIC markers and inks for calligraphy.

Montana Cans represents to me a creative freedom and versatility.

Montana Cans has continuously improved its product

similar to a creative process where iteration is a big part of

the finished product. I love the chisel tip ACRYLIC Markers

because it's great to use it for my handstyle. The ink flows well

and is super opaque. My work is heavily influenced by my culture

and my native language. Being born and raised in Nepal,

53
---
54

LOOKBOOK

019
---
I take rituals, philosophies and especially colors from my Hindu-Buddhist

up bringing. Color is so important to my work and

Montana Cans provides a range of colors that resonate with

me. (Favorite color is Royal Red). Another thing is that Montana

Cans products are still not fully available in Nepal so I see it as

a privilege I have earned to regularly use high quality products

that I didn't have around me as a young kid.

5) Do you have any special projects that you have been

involved with recently that you want to tell us about?

Yes! I recently released a collaboration with Reebok for their

Artist Collective line. I had a great time working with the Reebok

team with complete creative freedom. You can see more of it

reebok.com/IMAGINE. Another great opportunity came about

when Facebook invited me to participate in their Facebook

Artist in Residence program. I created a large installation for

their new office in Cambridge and I had a blast!

I recently painted for POW!WOW! Nepal, which very special. I

have had a lot of fun painting twice at POW!WOW! Worcester

so I was very much looking forward for POW!WOW! Nepal because

it was in my hometown of Kathmandu where I grew up!

It was amazing traveling back to my hometown of Kathmandu

for POW!WOW! Nepal, and I was so thankful for the opportunity.

It was my two very different worlds coming together and I can't

think of a more cathartic life experience. Like… when have I ever

painted a wall where I'm with all these amazing international

artists, but also have my people speaking my native language

around me? And I also have my best friend and my MOM watch

me paint??? My street art and mural world that largely lives in

the United States, met with my world in Nepal that I grew up

in. I am not sure if I am able to express to you how amazing

this is for a Nepali kid to experience this. My world is so big

and so small at the same time. I am forever grateful for art

making this possible in my life…I made sure to take time to

take it all in, each and everyday. Right now I'm painting a

building for the Harvard-Sparked space called "Zone 3", on

Western Ave in Allston. During my time at Harvard, I spent

a lot of time at the Harvard Innovations Lab at the Harvard

Business School, so coming back to paint something for this

area means a lot to me.

6) As a woman, what are the difficulties you have faced in

the street art/ urban art scene? How do you think women

and men should face these together and create awareness

for everyone else, so there's a possibility of sorority

and equality for the future generations of artists?

I think as a woman, there are difficulties to navigate through the

art world and street art isn't any different. I think women should

face them in a way they would approach any other sort of work,

stand your ground, be confident and have an undeniable work

ethic. Women supporting other women is also a powerful thing

and I feel lucky to be part of Few and Far Crew, where we do

just this.

7) What are your up and coming projects? What's next in

the career path of IMAGINE?

My future plans is to continue pursuing my art career. This

summer, I am wrapping up a prestigious artist residency with

the Museum of Fine Arts in Boston, which I am very, very excited

for. It's another opportunity for me to create more work

and share it with this city that I love so much. I will continue

making my way into galleries across the country and paint as

many walls as I can! I am also working on designing the Visiting

Artist Program at Harvard's South Asia Institute so I can't wait

to share it with everybody.

www.imagine876.com

55
---
56

LOOKBOOK

019
---
instagram.com/imagine876

57
---
LOOKBOOK

019

It has been a long time

since Chaz Barrisson and

Bob Gibson have lived

in London. The town

that not only played a

seminal role in the early

development of their

creativity, but also stuck

with them in the naming

of thier collaborative

artistic identity, "The

London Police", (aka

TLP).

In every artistic life there

is a time to travel and

gather new impulses.

For the TLP this was

1998 when Chaz and Bob

set sail for Amsterdam.

The purpose; to brighten

the streets of the

Netherlandic capital,

re-charge their creative

inspiration and probably

drain their physical

batteries a little in

the party culture that

Amsterdam is famous

for. 2002 saw the TLP

fall under the global art

radar and the travelling

expanded, as did the

member count for the

TLP itself. Since then,

London Policemen have

come and gone but

Bob and Chaz, the two

founding members are

here to stay. All be it in

Amsterdam.

58
---
THE

LONDON

POLICE

NO NEED

TO CALL

59
---
LOOKBOOK

019

The TLP's artistic path

has been a dynamic one.

The establishing of the

"LAD" characters created

by Chaz, have secured

them a firm place in the

modern history of street

art and graffiti.

The quirky little smiley

faces first popped up

everywhere like "buy

now" advertising in bus

stops all over the world.

With the help of Bob,

who can draw a mean

portrait and architectural

illustrations, they have

now taken a multitude of

shapes and contexts in

various locations all over

the globe.

60
---
61
---
LOOKBOOK

019

www.stadt-wand-kunst.de/the-london-police

www.thelondonpolice.com

62
---
We first came into close contact

with the TLP during their

involvement with the ONE

WALL project in Berlin 2016.

The project curated by the UR-

BAN NATION museum allowed

the lads to paint their "LADS",

in mammoth proportions at

Tegel Park. In 2018 the second

occassion presented itself for

us to get to know the TLP even

better.

And this time thanks to the

Stadt.Wand.Kunst Mural festival

(SWK) in Mannheim, Germany,

the meeting was in our own

back yard.

The TLP are a special kind of

entity in the wider culture of

street art. The lads Bob and

Chaz are not just your standard

graffiti artists. They are thinkers,

film makers, exhibiting

artists, photographers, installation

artists and musicians. And

above all, they have a positive

drive behind each creative adventure

they undertake.

63
---
Things

just got "WEIRD"

The artist

making

multi tasking

look easy

64
---
65
---
Frau Isa is not your average lady, nor is she an average artist.

This Austrian born lady is the epitomy of multi tasking. With

a creative path that started many years before with classic

graffiti, her creative evolution has taken her to new heights

and new places. Her art isn't just a form of self indulgence.

Not only does art feed her creative sole, but it also helps feed

her family as well.

Frau Isa simultaneously wears many hats. She is not only an artist,

she is a mother, illustrator, graphic designer, mural painter and illustration

company owner with her husband Oliver. When she is

not spending time with her main love of painting with acrylics on

canvas, then she is in the digital world creating artworks for clients.

And if that alone is not enough to occupy her time, there is also her

position at the trigger end of a spray can while painting murals.

66
---
67
---
In the European summer of 2018, Frau Isa who is also member

of the now European wide collective "The WEIRD", arrived in

Mannheim, Germany with the challenge of painting an eight

story building for the Stadt.Wand.Kunst festival. With a bit of

support from her husband Oliver and crew mate Cone (also of

"The WEIRD" crew), the mural took shape in the Mannheim urban

landscape and the warm pallet brought a positive glow to

the streetscape that is now adored by all. Frau Isa rose to the

occasion creating the mural titled "Aeskulap".

After the Aeskulap mural, we invited ourselves to visit Frau Isa

in her studio/office "WALD UND SCHWERT" in Vienna, Austria.

The visit enabled us to take a peak into where she thinks, creates

and ponders on both free and commercial art projects. The

occasion also brought on the opportunity to film the newest edition

of the Montana "ACRYLIC SERIES" films.

Her studio was well prepared with all the tools of a master

crafts person. Montana GOLD, Montana ACRYLIC markers,

Montana ACRYLIC Empties and ACRYLIC Refill paints. It was

obvious to see that Frau Isa was as comfortable with small

scale art making as she was with large mural work. Not disappointing,

we were drawn into the world of someone who

has many worlds moving at once. With passion and vigor,

she brings her creativity and personality into world that has

enough room for color.

68
---
Mannheim/Germany

Linz/Austria

Sheffield, UK

www.frau-isa.com

instagram.com/frauisa

69
---
LOOKBOOK

019

A

L

A

G

The genre with

no end in sight

Graffiti has come a long way since the

kids of the Philadelphian and New York

ghettos were scribbling their names

on their block. What was once a silent

scream to be seen rather then heard,

catapulted itself into an ever-growing

art form. The mold set by writers of the

70's and soon after graffiti found its way

in grand scale on the outside of the New

York subway system. Modern graffiti as

we know it was born.

Graffiti spent the next 20-30 years evolving and

maturing. The whole time, the underlying connection

however loose it had become, was LETTERS.

What was once a set pattern (first outline, fill-in,

background, final outline), morphed vigerously into

new territories where the shape and form of letters

themselves were being constantly challenged,

reinvented and reinterpreted on a daily basis.

Final outlines first, backgrounds in the fill-in, or no

background at all. In contemporary graffiti, any idea

is possible and it is not reliant on the institution of

the gallery, or the green light from the "industry"

to survive.

70
---
In contemporary graffiti it's

not relevant if you're old or

young. It matters what you

do, where you did it and how

it looked. Instagram, Facebook

and the buff limits your

window of real world exposure

as with most graffiti that

came and went before you.

Documentation and constant

creation is your only hope to

survive. Unlike in the white

cube where artists are bought

and sold/come and go, on the

street your only as good as

your last idea.

In 2018 we were lucky

enough to support and

nurture some of these letter

innovators that lay their

focus not on regurgitating

the classics, but in creating

new classics for others to

regurgitate later.

www.montana-cans.blog/Graffiti

71
---
LOOKBOOK

019

2000nce

INSTAGRAM.COM/2000NCE

72
---
Artists like

BONDTRULUV,

PREF, AMUSE,

VOYDER,

ANGEL TOREN

and ERNEST

are raising the

bar, in their quest

to see the light

at the end of the

never ending

graffiti tunnel.

AMUSE

INSTAGRAM.COM/AMUSE.126

73
---
LOOKBOOK

019

BOND_TRULUV

INSTAGRAM.COM/BONDTRULUV

ANGEL TOREN

INSTAGRAM.COM/ANGELTOREN

74
---
ERNEST

INSTAGRAM.COM/ERNESTILLM

75
---
LOOKBOOK

019

PREF_ID

INSTAGRAM.COM/PREF_ID

D

76
---
VOYDER

INSTAGRAM.COM/VOYDER

77
---
#MontanaBLACK

#GermanSpraypaint

#NCFormula
---
"A consulting space for

Concrete to base themselves,

a location that stocks the

worlds number one paint brand

(Montana Cans) with it's whole

product range, an exhibiting

space for world class graffiti/

urban/ fine art, a venue for

inspiring events and a new

"go-to" location for writers and

artists alike to exchange ideas

and build relationships."

80
---
#MontanaStoreVienna

81
---
The last 10 years has been a dynamic period for

graffiti, urban art and street culture in Austria. With

Vienna being the capital, it has also served as the

hotspot for artists to come together, imagine and

create. In the wave of activity, the art consultancy

agency "Concrete" has been in the thick of it

all. Not to mention a driving force in the need

and consumption, of Montana Cans products in

Vienna. Through their hard work and increased

agency jobs, a logical idea arose that maybe they

should be a destination for materials and ideas.

On Saturday 26th of May 2018, the MONTANA STORE

VIENNA x CONCRETE was born. The store unites all

the strengths of the Austrian graffiti movement in one

location. A Consulting space for Concrete to base

themselves, a location that stocks the worlds number

one paint brand (Montana Cans) with it's whole product

range, an exhibiting space for world class graffiti/ urban/

fine art, a venue for inspiring events and a new "go-to"

location for writers and artists alike, to exchange ideas

and build relationships.

82
---
Photography by Akos Vincze

83
---
The proprietors of the store Maira Kerschner,

Paul Hoffman and Fabian Pohl bring with them

many years of experience and paint under their

finger nails. The team offers sound advice to

customers combining graffiti, street and fine art

materials with the services of the CONCRETE

agency, which includes concept development,

consultancy and creation of murals.

MONTANA STORE VIENNA x CONCRETE

has firmly proven itself as a must see destination

for local and travelling artists. It is a true compliment

on board the Montana Cans store family,

having close ties with its sister store, MONTANA

STORE FRANKFURT-CANPIRE.

montanastorevienna.com

instagram.com/montanastorevienna

84
---
85
---
#ULTRAWIDE #GAMECHANGER #GermanSpraypaint
---
NE UNITED

OWER

ETTING

UP ON

OCIETY

The crew that plays together, stays together.

Bonded by the love of graffiti.

88
---
89
---
The concept of crews is one that has been in the

graffiti community since the beginning.

90
---
@1up_crew_official

91
---
92

1UP is a force to be reckoned with and shows

no signs slowing down.
---
GETTING 1UP

ON SOCIETY

The concept of crews is one that has been in the graffiti community

since the beginning. If we look closer at the history of graffiti, we

can see that the culture of acting in groups existed in the form of

gangs marking their turf even long before it became organized

and we called it graffiti.

Thankfully the gang element has receeded into the background

for most artists, it is no wonder that there are many crews in the

world today practicing their art in the bond of friendship. One crew

is truely unique in their focus on the idea of "just for the crew". This

crew is ONE UNITED POWER crew (aka 1UP). Primarily based in

Berlin, 1UP is more like a family. A network, a secret society, or

even an organisation of friends that have become such a close

unit that they have left their own graffiti identities behind, all for

the benefit of the crew.

1UP is now a global entity which doesn't just recruit strategic

members in key cities or graffiti hotspots to increase their

brand strength. Each member entering the fold through friendship

and shared experiences that were founded on trust. 1UP is humans

of all professions and orientations that have come together to

share their skills and create. Bonded by the love of graffiti.

In the background, a James Bond like underground network

of helpers and supporters that carry out varied tasks to assure the

crews safety. Like checking, spotting new locations, escape routes,

developing entry methods and collecting devises for untraceable

communication. The essential crew code is "all for the crew", and

safety is a top priority.

2018 has seen a plethora of actions, projects and exhibitions

the world over for 1UP. Whether it be collaborations with world

renowned graffiti photographer Martha Cooper to create the "One

week with 1UP" book, or showing at the now iconic Urban Nation

Museum in their home town Berlin. 1UP is a force to be reckoned

with and shows no signs slowing down with the relentless drive to

create and achieve.

93
---
94
---
Photography by Martha Cooper,

Ninja K & 1UP

95
---
#MontanaBLACK

#GermanSpraypaint

#NCFormula
---
STEEL IS REAL, a

proverb that often

exits the mouths

of graffiti artists

globally.

In every country where

freight trains can be

found, whether it is due

to long transport distances,

few inhabitants or a

strong economy of import/export.

Freight trains

are that "other" steel that

a lot of artists turn to,

to develop their creative

tendencies.

Over the years, the changing

shape of freight trains

and ever growing distances

that they travel across

borders and continents

has made them an even

more attractive target

as substrate for graffiti

artwork.

Freight

Train

Graffiti

That other "steel"

that is

just as real

98
---
In the high security world

of camera's, guards,

sensors and unscalable

fences, the prospect of

more time and less stress

is an enticing one. For

those well practiced in

the art of freight train

painting, a sense of preference

can occur when

the artwork being created

becomes more suitable

for the windowless shape

of the often-giant metal

monsters. Watching your

name go by 6 months,

12 months or even years

later is a novel luxury not

often possible in other disciplines

of illegal graffiti.

Watch this space, as your

name could go by over,

and over again. Each time

with a little more dust, a

little more rust and a little

more romance then the

last time.

99
---
100
---
102
---
103
---
104
---
Montana

BOLD

With alcoholbased,

MADE-TO-

STAY Ultra Ink

An experienced writer knows that the key to success

is to keep both yourself and your tools stealth.

With BOLD markers that look so impressive, this may

be harder than it sounds.The BOLD marker range

is uncompromising and functional, fused with a

sophisticated and lean look that is classic, not plastic.

The marker bodies are made of premium aluminum that

provide a superb haptic. Filled with the finest alcoholbased

ultra black ink, they come in a tone aptly

named "strong black". This luscious, deep black ink is

waterproof and UV-resistant, but not clothing friendly

so take care when using it while wearing your Sunday

bests. The combination of our low viscosity ink and

the premium German made pump action valve, allows

marking on almost any surface with high ink flow,

reliably and consistently. Because in the tagging game,

it is the artist whom decides, juicy and drippy, or clean

and tight?

The range consists of four model sizes, plus refill ink,

which covers all your bases to make any idea you have

possible. The BOLD range starts with a 3mm chisel (6ml),

followed by a 8mm round (20ml), 10mm chisel (20ml) and

a 15mm standard (20ml) tip. To reload, we have a 200ml

refill inkbottle that completes the range with ease and

efficiency. The changeable tips breathe new life into any

battle scared marker, whatever surface you have used it

on. Montana BOLD, ready for anything.

105
---
#MontanaMarkers

#MontanaBOLD

#BOLDUltraInk

www.montana-cans.com/bold

106
---
107
---
108
---
Calli-

Graffiti

Contemporary

calligraphy

in the

urban space

Even before books were created and printed, artisans were covering

pages with ornate calligraphy; to inform and impress those

educated enough to be able to read. Stemming into an art form of

its own, the evolution of the printing press meant that calligraphy

would no longer exists in the same way as it did next to its industrialized

brother—the printed letter.

Many years later for the second time, it would experience another

attach from a letter writing practice that was not actually out kill

it off. In fact the opposite would occur when graffiti came along

and graffiti writers with an inclination for hand styles, would

merge it into their practice creating a new discipline that is affectionately

known as CALLIGRAFFITI.

109
---
110

www.montana-cans.blog
---
The straight caps that were once the norm for many spray can producers

around the world, would also celebrate a return to popularity

as artist interested in Calligraphy tried their hand at creating larger

then life Calligraffiti tags. The larger and straighter the output, the

closer the practice came to its roots. The closer it came to its roots, the

more it developed into a new form of graffiti writing within the many

disciplines of the art form.

Then came the game changer, the Montana ULTRAWIDE. The introduction

of this can opened creative doors for Calligraffiti practitioners,

that had never before been thought possible. The result is a

traditional practice that now breathes new life in a new environment.

And with artists like STOHEAD, SICOER and OSCAR, we hope to see

the Calligraffiti envelope being pushed for a long time to come.

111
---
In every sub movement of art, there has always some star performers,

innovators or flag bearers. Artists that take their new discipline

and turn it into something much, much, more. Christoph Hässler

is one such person. Also known as STOHEAD, he was born 1973 in

Schwäbisch Hall, Germany. Being there from the beginning of the

global graffiti surge, STOHEAD whom now works and resides in Berlin

was part of the "Getting Up" group show in 1999. The "Getting Up",

exhibition was one of the most important contemporary Graffiti-Fine

Art group exhibitions to put graffiti onto the European gallery radar

since Yaki Kornblit brought New York graffiti to the Amsterdam art

scene in 1983. Later representing BC Gallery in 2015 at the SCOPE Basel,

STOHEAD has come a long way taking his love of tags, script, calligraphy

and the context of words, way beyond those humble times in 1999.

The discipline of calligraffiti rising to another level. Whether it be exploring

societies new buzz words, song lyrics or just randomly chosen

words, he recreates, repeats and abstracts his content till it becomes

abstract patterns that intern become the basis for new mark making

and image building. A heavy user of the Montana SPIDER can, STO-

HEAD has forged a path in contemporary art and taken calligraffiti

with in the process using an innovating tool that back then no one

else quite knew what to do with. But it wasn't just STOHEAD that "got

it". The international graffiti world was watching and his global peers

112
---
that also focused on the new direction of raw script based graffiti, also

morphed it into an artform of it's own. With fellow international innovators

like Astro, Theosone, Oscar, Sicoer and Hoker, the unspoken

graffiti rule of left to right classic graffiti in horizontal format is being

actively re-written. With new virticle, circular and geometric postioning

opening not just doors for calligraffiti artists, but the graffiti

movement as a whole. Including the introduction of innovative new

tools such as the Montana SPIDER, ULTRAWIDE and MARBLE EFFECT

sprays, the future for the art of Calligraffiti is limitless.

INSTAGRAM.COM/STOHEAD

113
---
114
---
115
---
116
---
Deception as far as the eye can see

Hailing from the suburbs of Northern Paris, since 2000 the artist

Astro has been questioning the bounds of the very space he paints

on. With strong ellements of calligraphy, graffiti and abstract art,

his exploitation of shadows and light results in optical illusions

that draw viewers into a 2 dimensional space, that looks deceivingly

3 dimensional.

INSTAGRAM.COM/ASTRO_ODV_CBS

117
---
LOOKBOOK

019

ROTTERDAM 2018

EUROPE GETS

ITS FIRST TASTE

OF POW! WOW!

118
---
119
---
120
---
With a city slogan like "Rotterdam—Make it happen", it was

no wonder that the harbour city of Rotterdam, in the Netherlands

is the first city to host the internationally renowned

and proudly Montana Cans supported, POW! WOW! Festival.

This lively city has been experiencing a boom like never

before. The financial and cultural progressions have meant

the city has outgrown its tall, grey, dreary, concrete structures.

All of which cover this shipping metropolis. These

are the very same structures that have until now, given it

its mood. Grey, industrial and far from motivational. However

the Rotterdam of today runs at a different speed. It's

spritely, upbeat and multicultural. On the ground, there is

color, action and the atmosphere is positive.

The perfect time, place and context to host

A hub of creativity and a centre for art, Rotterdam has

been home to artists for centuries. Names like the late Willem

De Kooning are amongst some of the talents to call the

city home. Fast forward to September 15 & 16, 2018 and

the POW! WOW! Festival arrives. Bringing with it more artistic

big names with the common goal to spread color and

create together. The only greys as far as the eye could see

were the specifically chosen Montana Cans grey tones that

carefully fit within their specifically chosen concepts. The

local aerosol heavy weights rubbed shoulders and shared

ideas with their equally motivated, international peers. An

energy shared and celebrated by the onlookers and festival

goers who were also rewarded in the evening by the

classic POW! WOW! musical celebrations, that also saw

both local and international artists rock the stages.

Unique to the POW! WOW! Rotterdam event, the artistic

endeavours were split into three artistic platforms.

POW! WOW!

ROTTERDAM — 2018.

Large-scale murals featuring:

BIER EN BROOD, DAN KITCHENER,

DANNY RUMBL, DILK, DOPIE,

DZIA & SONS,

ENIGMA GEOMETRICKS,

FANAKAPAN, I AM EELCO,

KARSKI & BEYOND,

ME LIKE PAINTING, MR. JUNE,

NUNO VIEGAS, OZON, SUPER A,

TELMO MIEL, ZEPHA.

20 vans 30 cans (van painting) featuring:

CES53, HIPSTERSKULLS,

JOREN JOSHUA.,

ILSE WEISFELT, IVES ONE,

JAKE, LEMPKE, GOMAD,

MICK LA ROCK, MISTER,

NASH, NEAS, OLES, OX ALIEN,

PAGE3, POP-EYE, SAID KINOS,

SREK, STOOG, SUNK.

And PART ONE unique group exhibition, curated by

Rewriters010 featuring:

DAGMAR DERKSEN, DALIT LYMOR,

FRANKY STICKS, ILONA BAL,

KID KURA, NAAMLOOOZZ,

QUIN DE VREEDE, RIQ E TIQ,

THIJS LANSBERGEN, TIM MULDER.

121
---
122
---
123
---
124
---
No one has a crystal ball telling us what will happen when

in the future. But it is safe to say that POW! WOW! Rotterdam

was not only the first POW! WOW! in Europe, but it was

also one of the major graffiti and street art events for the

Netherlands, and surrounding European region. The proof

is in the pudding, Rotterdam "Made it happen".

Photography by Martine Kiers

125
---
126
---
127
---
The artist actually known as… 1010 (Ten

Ten). The name, the word, the numbers.

It all sounds as mysterious as the artist

himself, who by choice tries to stay anonymous.

Most readers today are spoilt with

a gamut of information when they read an

article about a contemporary artist. And

the lack of information makes 1010 the

artist, and his art work even more intriguing

and appealing.

So what do we actually know about

1010? The internet tells us he was born in

1979 in Poland, moving to Germany when

he was 8 years old. And that he now resides

in Hamburg. In an interview below he tells

us he did his first pieces in 1994. This must

mean he was 15. We know first hand that

Montana-Cans is a proud regular supporter

of his work. His work is inspired by his

old Amiga 500, cartoons, fantasy novels

and comics. And the breakthrough year

when his iconic wall portals surfaced in

his art was 1994.

It is not just his designs that are illusionary.

With a clever twist of decision

and fate, 1010 happily uses the Montana

GOLD fluorescent colors, knowing that

all fluor colors fade faster and have limited

life spans against UV exposure. As the

sun takes control these fluorescent colors

descend back into the portals as the color

tones do themselves. Illusively drawing us

in further.

Over recent years his popularity has exploded,

as has the complexity of his artworks.

A now global artist, 1010 worked

at the MontanaCans supported "STADT

WAND KUNST" (SWK) festival in Mannheim,

Germany. The festival which has

run since 2013 initiated by Alte Feuerwache

Mannheim, has seen the contents of

many Montana GOLD and Montana BLACK

cans emptied upon the grand facades of

the Mannheim streetscapes. With 16 world

class murals already on it's list, 1010 became

an honorary part of the 2018 addition

to this massive open air gallery.

With a prolific international gallery

presence as well, 1010 is in no way limited

by size or scale. His illusionary black holes

and organic dissenting portals move visually

into a 3rd dimension that doesn't

physically exist. They function just as well

in the studio as they do on the street.

Whether it be on paper, canvas or any

other substrate, acrylic paint, water color

and even pixels in the digital realm are all

tools to create for this diverse artist. We

had the chance to ask 1010 a view questions—interview

on the next page!

128
---
129
---
130
---
SOME QUESTIONS FOR 1010

Q: In the art world where your

identity is often your business

card, what actually brought you

to the decision to stay anonymous?

Is it working and do you

still have your private sphere?

A: I just want to do art and show

the results, not to share my

private life online. I'm not too

worried though about people

coming up to me while I'm

painting at a wall and having a

chat.

Q: Does this effect the success of

your artistic career path?A: No

idea, I haven´t tried the opposite!

Q: Was there a single moment

in 2012 where you had a break

through that led to the path of

creating the illusionary portals

that you are now famous for

(if we may call them that)? If

yes, what was the context of

that moment? Do you ever feel

trapped in this decision or even

without experiencing success

with this concept, would you be

painting this idea anyway?A: No

special moment. But a period of

time where I've shifted from describing

in paintings, to searching

through paintings. I started

painting in 1994, so its not the

first time I shifted. Coming from

classic graffiti characters with

their 15 standard expressions,

the first bigger change in my

works was to reduce the color

palette and also to get rid of every

kind of face, or easy to interpret

pose… Over time, I also got

rid of characters and my main

focus at the moment is perception.

Basically as an artistic

method I add or I take away. I

check if the opposite of what I

think is right or functions best

might also work. If something

works or something doesn´t

work, I would just try the opposite

to find out if it maybe works

too? From there you just take

the next step.

Q: Montana Cans prides itself

on making world class tools for

creating. And in this case as you

are a world classed artist, we

were wondering what is your

favorite Montana Cans product

and why? How did you come to

this conclusion.A: For outside:

The calligraphy and flat jet caps,

some of the Montana GOLD

transparent tones. For Inside:

Since I work with an airbrush in

my studio and I mix most of my

colors myself, I really got hooked

on the ACRYLIC 180ml refill bottles,

especially also the empty

ones.Q: Is there any place, space

or substrate on your artistic

wish list that you would love to

paint one of your designs on? If

so which/where?A: Yes, a ton of

them…

Q: Do you first create designs

that you execute large scale on

walls and then get inspired to

make smaller studio works from

this experience? Is it a classic

draw first, expand and paint

later? Or do all projects studio/

street/festival all mix into each

other?A: It goes all the different

ways.

Q: How many coffee's do you

need to finish one painting?

A: Usually I drink around 2 coffees

a day. So mannheim took

me 10 coffees and 8 Club Mate's

It is safe to say that it doesn't really

matter who 1010 the person

is. His art work amazes and has

the ability to invite any viewer,

of any experience level, in any

language, to stop and contemplate

what they are looking at.

More often than not also offering

a positive experience while

doing it. This is a skill that not all

artists possess.

www.stadt-wand-kunst.de/1010

www.montana-cans.blog/murals

@stadtwandkunst

@1010zzz

131
---
HE

ERLIN

URAL

ESTIVAL

132
---
NOTHER

ERLIN

RT BANG
---
A STIFF

NECK

GUARAN-

TEED!

#nackenstarregarantiert

Many mural festivals brace the bricks and concrete of walls all

over the world. Some are unique, others are even more unique! In

2017, Montana Cans was proud to support the Berlin collaborative

team of "Die Dixons". Die Dixons made public art history

with their unique project, THE HAUS. Through a fruitful long term

partnership with DIE DIXONS, Montana-Cans recognised a long

time ago the efforts of this prolific and dynamic trio. Just as the

people of their home town Berlin who have welcomed the many

amazing artworks that resulted from their engagement and hard

work.

DIE DIXONS consists of artists Bolle, Kimo und Jörni. THE HAUS

which was conceptualised and curated by them, took over a

full building with the help of 165 other artists in the creation of

installations in many artistic disciplines prior to the buildings destruction.

The site which was a former bank was a "no camera's

allowed" environment, leaving only memories and experiences to

hold on to (or let go of), for those that visited and participated in

the project.

But behind closed doors a new dream was being had by DIE

DIXONS. With a little creative watering and some of Berlin's first

rays of pre-summer sunlight, the seed of THE BERLIN MURAL

FESTIVAL (BMF) had grown, and its inaugural opening happened

on May 19th, 2018. At colossal speed, the city of Berlin saw an

impressive array of color burst into its streetscape in the form of

over 30 painted house facades.

134
---
135
---
montana-cans.blog/berlin-mural-fest

berlinmuralfest.de

136
---
PARTICIPATING

ARTISTS WERE

Mario Monkey, Huariu,

Tank, Telmo Miel & James

Bullough, Onur, Wes21,

Heraut, Arsek & Erase,

One Truth, Notes of Berlin,

Natalia Rak, Millo, Snik,

Nuno Viegas, Klebebande,

Isakov, Insane51, SizeTwo,

MTO, Elle, Tasso, El Bocho,

Case Maclaim, Akte One,

Cren, Mr. Woodland, Kera,

Ghettostars

and many more!

137
---
Photography by Berlin Mural Fest

138
---
139
---
Metropolink Festival 2018
---
141
---
LOOKBOOK

019

METROPOLINK

FESTIVAL

2018

Metropolink Festival 2018

www.

metropolink-festival

.net
---
Taking spaces

in Heidelberg,

Germany

In 2018, the METROPOLINK Festival has reached

its 4th consecutive year running. And as a proud

supporter, Montana-Cans and all the onlookers

saw another diverse line up of internationally recognized

and very talented artists do their thing.

With diversity being the key word, just some of

the artists featured this year were HERAKUT,

QUINTESSENZ, KERA, JAN PAUL and SWEET

UNO. With a generous supply of walls through

out the Heidelberg district, and abundance of

Montana BLACK and Montana GOLD cans did

what they were made to do in the creation of

many large-scale murals. With a unique mix

of the inhabited and uninhabited, many walls

painted were on old US army barrack buildings

located in the now sought after development district

of Heidelberg. Each building brought with it a

certain mystique, adding to the final outcome of

artwork being created on it.

With the scent of military personnel being long

gone, the smell of acrylic paint and Montana

Cans was the relevant fragrance of choice. No

two artworks the same, the festival explored

the whole gamut of street art, fine art and

graffiti. As far as the eye could see, color was

creeping up on every square meter of brick.

Daunting eyes, linear graphic work, and typographic

graffiti-ism.

Photography by Daniel Schreiber

www.metropolink-festival.net

143
---
LOOKBOOK

019

Metropolink Festival 2018

A definite highlight for METROPOLINK

2018 was the presence of the Portuguese

street artist Bordalo II who tackles

a socially relevant global issue of

plastic waste. The artist is scratching

the nerves of our time while building

huge animals out of trash bins, carwheels

or plastic pipes. Bordalo II created

two unique works of art: With the

mentioned materials, the artist created

the 6x5m Half Martha on the facade

of a former US church in Heidelberg

Südstadt.

For the second piece he collaborated

with a group of refugees

on the former US Army Housing

Estate Patrick-Henry-Village.

Staring in the face of the truth

however distorted, the onlookers

were left with the oily taste

of contemplation and colorful

amazement.

Photography by Daniel Schreiber
---
145
---
LOOKBOOK

019

Metropolink Festival 2018
---
147
---
148
---
LOOKBOOK

019

150

@mr.stan_nats
---
THE MONTANA BLACK

INFRA COLORS

The Montana BLACK INFRA Fluorescent colors glow under incident

UV-Light! Now available with an optimized formula!

151
---
BLK IN 1000 Infra Yellow

Warning!! No need to look away or put on a safety vest. Montana BLACK Infra Yellow has

got it covered and has everyone paying attention.

BLK IN 2000 Infra Orange

The night sky is full of luminous lights that shine brightly even without the obvious help of the

sun. Take your artwork to another galaxy with Montana BLACK Infra Orange!

BLK IN 3000 Infra Red

It's getting hot in here, but leave your clothes on as Montana BLACK Infra Red is

bringing the heat. So hot it burns, making any graffiti artwork pop with vibrance.
---
BLK IN 4000 Infra Pink

The Pink Panther would have been jealous of the new quality Montana BLACK Infra Pink. As

classy as a panther, this fluorescent is definitely an eye catcher.

BLK IN 4500 Infra Violet

If lavender fields of southern France could glow in the dark, they would probably be as

intense as Montana BLACK Infra Violet on a white background.

BLK IN 6000 Infra Green

Take yourself back to those classic 80's monster films, the Montana BLACK Infra Green's intensity looks as toxic as

any slime or goo that any of those monsters may have had dripping off them. Add a touch of goo to your artwork!
---
LOOKBOOK

019

THE Montana BLACK

INFRA UPDATE

Since the beginning of time, man has been using

color to mark his surroundings and record his path

in life. Fluorescent colors which were a completely

man made creation, took the playing field of color to

a complete other level. Graffiti art was not immune

to the alure and intensity that fluorescent colors can

offer. But it took quite a while before the balance

of beauty and science would occur, bringing with it

paint in the quality that graffiti writers needed.

Since the creation of the current quality Montana

BLACK range, the INFRA colors have always been

high performing fluorescent colors in the eyes of

graffiti artists the world over. Without fail, they delivered

luminosity, coverage and handling. But that

was never enough for us. We wanted them to be

even better! The new formula INFRA colors don't

just cover more surface area then before, they boast

increased color vibrance and the same performance

and handling that you know and love from the Montana

BLACK range.

But we didn't rest on our laurels. We knew we needed

to get the green light from some serious color users

before we had a formula that was ready to hit the

streets of the world. So we called in some of the best.

SOBEKCIS, STAN NATS and ONE TWO SPLASH, to

push the new BLACK INFRA colors to their limits to

make sure they were as good as we thought they had

become. The results are easy to see with some eye

popping artwork with ultra intensity.

The new Montana BLACK INFRA colors have more

opacity for better coverage and an increased color

brilliance, making the colors even more intense. So

you can cover a greater surface area in a shorter period

of time. The INFRA Fluorescent colors also glow

under incident UV-Light.

154
---
ON INSTAGRAM:

@MR.STAN_NATS

@ONE_TWO_SPLASH

@SOBEKCIS

WWW.MONTANA-CANS.COM

#BLACKINFRA

#GERMANSPRAYPAINT

155
---
156
---
157
---
LOOKBOOK

019

IMPRINT

Media owner and publisher:

MONTANA-CANS

Editorial design | Art direction:

MONTANA-CANS,

Juliane Gutschmidt, Alexander Krziwanie

Texts:

René Van Kan, Maria Enriqueta Arias

Special thanks to all contributing photographers:

Jordan Katz, Alexander Krziwanie, Jok Sauer (MONTANA-CANS)

Felipe Pantone, ZZtop, Edward Nightingale, Martine Kiers,

Daniel Schreiber, Daniel Wetzel, Ninja K, Martha Cooper, Akos Vincze

Special thanks to:

Mina & Bruce, Most, Felipe Pantone, Good Guy Boris,

Happy Socks, Flying Förtress, Reebok Classic, Imagine876, The London Police,

Montana Store Vienna, Amuse126, Frau Isa, BondTruLuv, 2000nce, Angel

Toren, Ernest Illm, Pref_ID, Voyder, 1UP, Sicoer, Oscar Handstyles, Sweetuno,

1010, Theosone, Hokerone, Stohead, Astro, POW! WOW! Rotterdam, Nuno

Viegas, Berlin Mural Fest, Die Dixons, Stadt.Wand.Kunst, Metropolink, Stan

Nats, Sobekcis, One Two Splash, Herakut, Case Maclaim, Kid Roise, Frost

(legz), Osman, Kaer, Taps, Moses, JBCB.

© 2019, MONTANA-CANS

All rights reserved.

Reprinting, even in part, only with the approval of the

publisher. No liability can be accepted for unsolicited

photos, slides, films or manuscripts received.

/

MONTANA-CANS

Häusserstraße 36

69115 Heidelberg

Deutschland

Ph: +49 (0) 6221 36 333 0

info@montana-cans.com

WWW.MONTANA-CANS.COM

WWW.MONTANA-CANS.BLOG

158
---
159