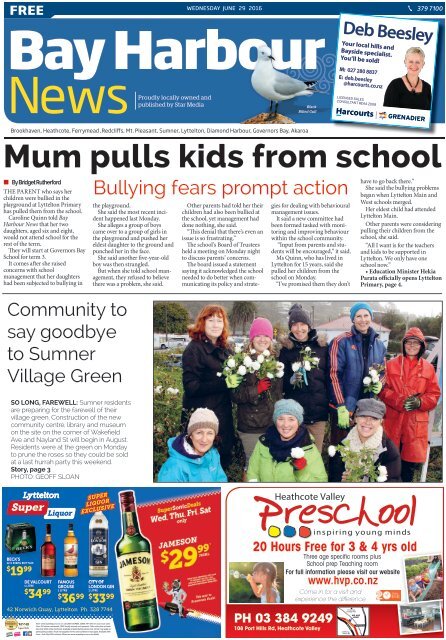 Bay Harbour: June 29, 2016
Do you know the secret to free website traffic?
Use this trick to increase the number of new potential customers.
FREE

Wednesday JUne 29 2016 379 7100

Bay Harbour

News

Proudly locally owned and

published by Star Media

Brookhaven, Heathcote, Ferrymead ,Redcliffs, Mt. Pleasant, Sumner, Lyttelton, Diamond Harbour, Governors Bay, Akaroa

Black

Billed Gull

Deb Beesley

Your local hills and

Bayside specialist.

You'll be sold!

M: 027 280 8837

E: deb.beesley

@harcourts.co.nz

LICENSED SALES

CONSULTANT REAA 2008

GRENADIER

Mum pulls kids from school

• By Bridget Rutherford

THE PARENT who says her

children were bullied in the

playground at Lyttelton Primary

has pulled them from the school.

Caroline Quinn told Bay

Harbour News that her two

daughters, aged six and eight,

would not attend school for the

rest of the term.

They will start at Governors Bay

School for term 3.

It comes after she raised

concerns with school

management that her daughters

had been subjected to bullying in

Community to

say goodbye

to Sumner

Village Green

Bullying fears prompt action

the playground.

She said the most recent incident

happened last Monday.

She alleges a group of boys

came over to a group of girls in

the playground and pushed her

eldest daughter to the ground and

punched her in the face.

She said another five-year-old

boy was then strangled.

But when she told school management,

they refused to believe

there was a problem, she said.

Other parents had told her their

children had also been bullied at

the school, yet management had

done nothing, she said.

"This denial that there's even an

issue is so frustrating."

The school's Board of Trustees

held a meeting on Monday night

to discuss parents' concerns.

The board issued a statement

saying it acknowledged the school

needed to do better when communicating

its policy and strategies

for dealing with behavioural

management issues.

It said a new committee had

been formed tasked with monitoring

and improving behaviour

within the school community.

"Input from parents and students

will be encouraged," it said.

Ms Quinn, who has lived in

Lyttelton for 15 years, said she

pulled her children from the

school on Monday.

"I've promised them they don't

have to go back there."

She said the bullying problems

began when Lyttelton Main and

West schools merged.

Her eldest child had attended

Lyttelton Main.

Other parents were considering

pulling their children from the

school, she said.

"All I want is for the teachers

and kids to be supported in

Lyttelton. We only have one

school now."

• Education Minister Hekia

Parata officially opens Lyttelton

Primary, page 4.

SO LONG, FAREWELL: Sumner residents

are preparing for the farewell of their

village green. Construction of the new

community centre, library and museum

on the site on the corner of Wakefield

Ave and Nayland St will begin in August.

Residents were at the green on Monday

to prune the roses so they could be sold

at a last hurrah party this weekend.

Story, page 3 ​

PHOTO: GEOFF SLOAN

Lyttelton

Heathcote Valley

42 Norwich Quay, Lyttelton Ph. 328 7744

Visit: www.superliquor.co.nz or call 0800 SUPERL (0800 787 375) for your local store.

Over 120 stores nationwide, 100% locally owned and operated. Offer ends close of trade

2nd July 2016, while stocks last. Available at participating stores only. Limits may apply at

participating outlets. Trade not supplied. Terms and conditions may apply. Available 29th

June - 2nd July 2016 inclusive. Please see www.superliquor.co.nz for details.

Come in for a visit and

experience the difference

Ph 03 384 9249

108 Port hills Rd, heathcote Valley

inspiring young minds

20 Hours Free for 3 & 4 yrs old

Three age specific rooms plus

School prep Teaching room

For full information please visit our website

www.hvp.co.nz

Lyttelton

Tunnel

Ferrymead

Heritage Park

We are

here

Port Hills Rd

Tunnel Rd

Bridle Path Rd

Martindales Rd
---
PAGE 2 BAY HARBOUR

Wednesday June 29 2016

FROM

THE

EDITOR'S

DESK

Inside

News.................... 3,4,5,7 & 8

TEN CHARITIES are better off

due to the combined efforts of

some twinkle-toed Sumner folks.

Strictly Sumner raised $95,000

through a dancing competition.

It seems that some residents as

a result have caught the dancing

bug – check out the article on

page 4. Ka pai team.

An interesting column from

Labour MP Ruth Dyson this

week. I wondered what the billboard

"a new school is coming"

near Mt Pleasant Squash Club

meant the other day. Linwood

College is looking to change and

wants to attract more people from

Bay Harbour News area. Have a

read of the column on page 10

and let me know what you think.

And finally on page 14, see why

Our Lady Star of the Sea School

principal John Kane was "all

shook up" recently.

Have a grand week.

– Shelley Robinson

Promoting collaborative communities within the school.

12

SCHOOLS

Your Local Views.......10

Schools...........................12, 14

Keep it Local.................15

Sport..........................................18

Education................20, 21

Community Events......22

Food...................................25

GET IN TOUCH

General Enquiries Ph 379-7100

Classified Advertising Ph 379-1100

starmedia.kiwi

Bridget Rutherford. Ph: 371 0778

bridget.rutherford@starmedia.kiwi

NEWS SPORTS ADVERTISING ADVERTISING

Fraser Walker-Pearce. Ph: 364 7424

fraser.walker@starmedia.kiwi

Javier Balcazar. Ph: 982 9308

javier.balcazar@starmedia.kiwi

Rob Davison. Ph: 021 225 8584

rob.davison@starmedia.kiwi

To all Metro Customers

Fare and Zone Changes

A small fare and zone change will take

effect from 4 July. However, metrocard

fares will not change as much as cash

fares, so metrocard users will now save

even more.

Customers on all current zone 3

Waimakariri services will now only

pay a zone 2 fare.

Save at least

30% when you

use a metrocard

Free Trip To

RARO!

Sell With Me

Fly For FREE...*

Seriously

it's 30

degrees in

July you'll

LOVE it!

Matt Clayton 0212 233 998

matt.clayton@raywhite.com

Ferrymead office 03 384 4179

Prier Manson Real Estate LICENSED

(REAA 2008)

Ask me about

SELLING YOUR

HOME today!!

*Terms & conditions apply

Child

Adult

Metrocard Cash Metrocard Cash

Zone 1 $1.25 $2.00 $2.55 $4.00

Zone 2 $1.85 $2.80 $3.75 $5.50

Airport one-way $1.25 $4.00 $2.55 $8.50

Airport return NA $7.00 NA $15.00

Ferry one-way $2.30 $3.20 $4.60 $6.50

Ferry return NA $6.40 NA $13.00

For more information visit our website or call 03 366 8855.

ECAN/7429/STAR
---
Wednesday June 29 2016

ews

BAY HARBOUR

PAGE 3

Farewell planned for green

ashion

Village green

to go for

new facility

• By Bridget Rutherford

Gardening

SUMNER RESIDENTS will

farewell their village green this

weekend before construction

of the new community facility

begins in August.

The green, on the corner of

Nayland St and Wakefield Ave,

was set up after the former community

centre was demolished

following the February 2011

earthquake.

otoring

It has since been the home the village market, a temporary

skate ramp, and various community

activities.

But after about five years,

residents will say goodbye to

the green with a last hurrah

party on Sunday, to make

way for the new combined

library, community centre and

asty Bites

museum.

Tanya Michael, who helped

set up the green, said residents

wanted to secure part of the

former Marine Tavern site

across the road to replace it.

"The moral of the story with

the village green is that it proved

to be something that is really

needed in Sumner."

She said the farewell this

weekend would be "emotional".

Sumner resident Marnie Kent

said the green was a "bumping

place" that brought people

together to enjoy Sumner.

She said the community was

in charge of maintaining the

site, running the activities

there and making sure it was

safe.

At least 100 people had helped

with it over the years, she said.

"We've grown to love it so

much it's a shame we're going to

lose it. We've now got to step up

and work collaboratively with

COMMUNITY JOB:

A group of Sumner

residents pruned the

roses at the village

green on Monday so

they are ready to sell

at the last hurrah this

weekend.

PHOTO:

GEOFF SLOAN

Land Information New Zealand,

the council and this other group

that has formed to try and turn

the former Marine Tavern site

into a green."

The last hurrah will run from

11am-3pm on Sunday, with

children's entertainment, live

music, market stalls, and a skate

competition.

The roses, which were

originally donated from New

Zealand Gardener magazine

at the Ellerslie Flower Show in

2012, will be sold on the day for

$10 each, to raise money for the

community.

In Brief

GRAFFITI RATES DOWN

Graffiti in Ferrymead and

Lyttelton has dropped by more

than 50 per cent since the

same time last year. In the city

council's recent graffiti scan, 20

tags were found in Ferrymead,

dropping from 49 cases the

same time last year. Lyttelton

had 24 tags, down from 64 last

year and 127 in 2014.

STONE COTTAGE REPAIRS

Work to repair one of Sumner's

historic stone buildings has

begun. The small stone cottage

and signal mast on Cave Rock

has been closed since 2011

due to earthquake damage.

Dominion Constructors Ltd

has set up containers next to

the site. Contractors will take

the stone building apart, before

carrying out strengthening

work and putting it back

together as it was. Work is

expected to finish in September.

TUNNEL LANE CLOSURE

Lyttelton Tunnel will be

reduced to one-way for eight

nights over the next two weeks.

It will be partly closed from July

4-8 and July 11-15 from 9pm-

6am. New Zealand Transport

Agency will replace the centre

line smart studs, clean the

tunnel, replace the lighting and

install air quality monitoring

equipment.

oney

TREE TROUBLE?

Call the

TREE PEOPLE

0800 4 SEASONS

384 9630

QUalIFIeD

aRBORIStS

LANDSCAPING & PLANTING

WWW.FOURSEASONSTREECARE.CO.NZ

NUK KORAKO

NATIONAL LIST MP BASED

IN THE PORT HILLS

My I hold new regular office clinics is now around open at the 6/950 Port Ferry Hills Road.

Please electorate. contact To make the office an appointment, if there is anything or to I

can sign help up for with. my newsletter, please contact us.

OFFICE: 6/950 Ferry Road, Ferrymead

EMAIL: Nuk.KorakoMP@parliament.govt.nz

WEBSITE: www.korako.co.nz

PHONE: 03 384 0008

Working hard for our community

www.national.org.nz

jonsson minimal clock

static black cushion

caSUaL & cOUNtry'S NeW

eatery IS NOW OPeN!

SiMPle & StyliSh living...

ten27

eatery

c O ffee

bar

Open morning, noon & night serving breakfast, lunch,

dinner, dessert & everything in between

century low bookcase

acky sideboard

MON - tUeS 6.30aM-5.30PM•

WeD - frI 6.30aM-Late • Sat & SUN 8aM-Late

1027 ferry road, ferrymead • www.ten27.co.nz • Ph: 03 595 2428

curtains • blinds • cushions • wallpaper • fabric • furniture • bedlinen • homewares • gifts • ten27 eatery

1027 Ferry Rd, Ferrymead • Ph. 384 4880 • Open: Mon-Fri 9am-5.30pm Sat-Sun 10am-4pm • www.casualandcountry.co.nz
---
PAGE 4 BAY HARBOUR

Wednesday June 29 2016

News

Strictly Sumner pays

IT'S OFFICIAL:

Education

Minister

Hekia Parata

at Lyttelton

Primary

School's

official opening

ceremony last

week. ​

Hekia Parata opens

Lyttelton school

• By Tania Green

LYTTELTON PRIMARY School

has been operating out of its new

premises since May – but last week it

was officially opened.

Education Minister Hekia Parata

visited the new school on Thursday to

officially open it.

The school is a result of a merger

between Lyttelton Main and West

schools.

It was operating out of the two sites

until the end of April, before moving

into the new building.

The school came with a price tag of

nearly $15 million.

Ms Parata said the school was an

investment for the whole community.

She said the hall's ability to double

as a theatre was "outstanding".

"I think it's an example to the rest

of the country."

Principal Diana Feary said it was a

wonderful environment to be in.

"We just feel privileged to come in

every day . . . into a beautiful environment

that is created for our children

to have the best outcomes, and it's

such a cool thing to have."

It has a theatre in its hall, which is

used by The Loons Theatre Trust. The

trust was left without a home following

the earthquakes.

off for local charities

ABOUT $95,000 was

donated to 10 local charities

and organisations on Friday

– the result of last month's

Strictly Sumner event.

A special ceremony was

held on Friday where the

money was presented to

the charities. Each dancing

team represented a different

charity.

The event, held on May 7,

involved 10 couples having

to learn dance routines and

perform them for their chosen

charity. But it was also

about improving community

spirit and connections.

Resident Lucy Hone, a

researcher working in resilience

psychology, said nights

like those are what made living

in Sumner so special.

"We love getting together

as a community, and while

it's a whole load of fun, these

events certainly bolster both

our individual and communal

resilience."

Mrs Hone's daughter, Abi,

12, was killed when Dutch

businessman Johannes Jacobus

Appelman ran through

a stop sign near Rakaia

on Queen's Birthday

weekend in 2014.

She was killed along

with her friend Ella

Summerfield, also 12,

and Ella's 49-year-old

mother, Sally.

Mrs Hone said studies

showed that continued

learning and strong

supportive relationships

were important for

resilience, as is having a

sense of purpose.

"So an event like this

ticks all the right boxes.

The contestants are

learning new things,

strengthening their

connections, and being

active at the same time.

Plus they're doing it for

several good causes."

Each charity and

organisation would get

to chose what the profits

would be spent on.

The event has also LET'S DANCE: Kath Cross

started a bit of a craze, and Craig Prier danced for

with many residents Sumner Community Residents'

taking dance lessons in Association. PHOTO: NATASHA C

Sumner and Redcliffs. PHOTOGRAPHY

relocation

sale

ShowErS FroM $360

VaNItIES FroM $170

toILEtS FroM $189

MIxErS FroM $58

WiDe selectiOn Of bathrOOm anD

kitchen prODucts heavily reduced

up to

70%

off

232 Main South Rd - Christchurch

0800 MILLEN

Open 7 Days

Mon - Fri 9.00 - 5.30, Sat 9.30 - 4.00, Sun 10.00 - 3.00

0800 MILLEN | www.millen.co.nz | 03 348 8678
---
Wednesday June 29 2016

ews

BAY HARBOUR

PAGE 5

Question time for port project

Community consultation begins

for multi-million dollar plan

ashion

• By Bridget Rutherford

ABOUT 70 people went along

to find out more about an $80-

$120 million project to dig a

deeper and wider navigation

Gardening

channel Lyttelton Harbour

on Saturday.

Lyttelton Port of Christchurch

held a special port talk session

so the community could go

and ask questions about the

proposed channel deepening

project.

The port plans on applying

for resource consent to deepen

the navigation channel from

the current 12.5m to 18m, and

widen it by 20m in September.

otoring gained, and an overseas company

The work would allow for would carry out the dredging.

larger vessels carrying up to

It would cost between

8000 containers to enter

$80-$120 million depending

on the market.

the port to support the

region's economic growth.

Mr Davie said LPC

LPC chief executive Peter

Davie (right) said the

hoped the consenting

company

asty

wanted to begin

Bites

process would take a year,

with dredging hoped to

consulting with the community

about the plan, which would take about a

begin in 2018. The dredging

year.

began on Saturday.

"We're looking to apply for a

resource consent in September

this year, and we're asking for

that to be notified because we

want the public to be able to

input into that and have wide

consultation."

Project manager Jared Pettersson

will also be at Friday's

port talk session from 11am-

1pm to answer any questions.

As part of the plan, the channel

would be widened from

180m to 200m, and lengthened

by 6.5km out of the harbour.

About 18 million cu m of sediment

would be removed from

the harbour floor by a dredging

vessel, and dumped about 6km

offshore from Godley Head.

LPC would put the contract

out for tender once consent was

He said LPC had already

spent $3 million working with

scientists to see what effects the

dredging would have on the

marine ecology, mammals and

COMMUNICATION: About 70 people went along to port

talk on Saturday to find out more about the proposed

channel deepening project. ​

sea birds, which showed little

impact.

In addition, 15 real-time

monitoring stations would be

installed in and outside the

harbour to monitor the water

quality. Local runanga helped

choose the locations.

Mr Davie said the plan was

about future proofing the port.

"We need to have the right facilities

and capacity to continue

to attract major international

shipping lines," he said.

HAVE YOUR SAY: What

do you think of the port

company's dredging plan?

Email your views to bridget.

rutherford@starmedia.kiwi

Decision looms

over Redcliffs

School's fate

REDCLIFFS SCHOOL will know

its fate next week.

Members of the school's Board of

Trustees will meet with Education

Minister Hekia Parata in Wellington

on July 7 where she will

announce whether the school will

remain open.

Board spokesman Mark Robberds

said he was confident there

would be a positive outcome after

commissioning a new geotechnical

report on the Main Rd site.

He said the new report provided

a robust solution to the minister's

concerns about possible disruption

to education at Redcliffs.

Principal Rose McInerney said

the board had had a chance to

put a human face on the school's

situation in a recent meeting with

Ms Parata.

She felt confident Ms Parata understood

the community's passion

for its local school.

The school has been based at van

Asch Deaf Education Centre in

Sumner since June 2011, due to the

risk of rock fall.

In November Ms Parata made an

interim decision to close the school.

The school had until the end of

March to make a submission on

why it should remain open and

return to its Main Rd site.

oney

WOF $35

Full Workshop Repairs

(exhaust repairs by appointment)

Bookings Advisable

Complete

Tyre and

Auto

TYRES

All popular

sizes available

Canterbury owned and operated

464 Ferry Rd, 03 389 5370

ctawoolston@yahoo.co.nz

8.00am-5.00pm Mon-Fri,

9.00am-1.00pm Sat

New & Used Tyres • Puncture Repairs

Batteries • WOF • Balancing

Mechanical Repairs • Lube & Servicing

Wheel Alignment

31 - Dyson ad (Chch Star) 64x90.indd 1 31/10/14 14:19

A cosy

home is

furry nice

indeed...

Come and

watch a fire

master build

a smoke-free

fire.

Fine-tune your

burning technique –

you'll be warmer,

save on firewood and

have a smoke-free fire!

WHEN

Friday 1 July

1.30pm and 3.30pm

WHERE

Harris Home Fires

41 Braddon St, Christchurch

For more information contact

demo@warmercheaper.co.nz

Imagic ECAN/7191/STAR
---
PAGE 6 BAY HARBOUR

Wednesday June 29 2016

We sell property for

No Commission, No Fixed Fee,

NO KIDDING!

Sold for $1,180,000

RV $1,050,000

Days on market - 11

Chargeable hours - 9.3

Sold for $610,000

RV $570,000

Days on market - 22

Chargeable hours - 7.0

Sold for $455,000

RV $435,000

Days on market - 40

Chargeable hours - 10.2

Cost For Sale

$3,059.70

plus marketing plus GST

Cost For Sale

$2,303.00

plus marketing plus GST

Cost For Sale

$3,559.80

plus marketing plus GST

Contact me now to ensure you get the highest market price,

in the shortest possible time for a Realistic cost!

Fleur Allinson 021 237 2774

fleur.allinson@bellamys.co.nz

www.bellamys.co.nz 0800 741 147

Bellamy's Real Estate Ltd MREINZ Licensed REAA (2008)
---
Wednesday June 29 2016

BAY HARBOUR

PAGE 7

ews

All Blacks jersey for

Welsh quake supporters

ashion

LYTTELTON'S Maurie

Alderslade has repaid his

Welsh friends who supported

Canterbury following the

February 2011 earthquake in

true Kiwi fashion.

Mr Alderslade was in Dunedin

to watch the All Blacks beat

Wales 46-6 on Saturday.

During the pre-match celebra-

Gardening

tions, he gifted a signed All

Blacks jersey to a group of Welsh

visitors, from where he used to

play rugby in Cardiff.

It was Mr Alderslade's way of

returning the support his old

teammates gave to his province

after the earthquake.

Following the earthquake, The

Cardiff Blues Supporters Club

otoring

raised £10,000 (NZ$19,153) for

the earthquake recovery.

The New Zealand Red Cross

received 70 per cent of the funds

and the rest went to earthquake

survivor Stacey Herbert, who

had both legs amputated above

the knee after she was crushed

in The Press building.

asty Bites

The friendship goes back 36

years, to Mr Alderslade's decision

to follow the All Blacks on

the Welsh centenary tour in

1980. He went from London,

where he had a job lined up,

to Cardiff for the test match

Previously

United Travel

oney

PAYING IT BACK: Lyttelton's Maurie Alderslade (sitting,

second from left) with his Cardiff friends (from left) Kevin

McLean, Gareth Thomas, Sue Thomas, Sharon McLean,

Rita Bagshaw, Brian Wade and Ken Bagshaw in Dunedin on

Saturday.

against Wales.

He soon fell in with some

Welsh fans who "adopted''

him and he never went back to

London, instead staying on in

Cardiff for a year playing rugby

and working.

"I was treated like a king

and they were fantastic. After

36 years, we've always kept in

touch,'' Mr Alderslade said.

The All Blacks jersey will be

auctioned off to raise money

for former Welsh centre Owen

PHOTO: ODT/STEPHEN JAQUIERY ​

Williams, who suffered a

serious spinal injury at the 2014

Singapore 10s tournament.

"When the earthquakes happened,

they were there for us,''

Mr Alderslade said.

"Even though they're 12,000

miles away, they're my brothers

– and sisters – from another

mother.

"The New Zealanders and

the Welsh are just interlinked

between the sheep, the beer and

the rugby.''

CELEBRATION: Local

representatives and

community members

went along to the sod

turning to commence

construction on the

new Heathcote Valley

library and community

centre. ​

Work under way for library,

community centre

• By Bridget Rutherford

HEATHCOTE Valley is another

step closer to having its library

and community centre back.

Construction of the new

$912,000 facility, which will

combine the two, got under way

on Friday with a sod turning

event.

Local representatives and residents

gathered at the Bridle Path

Rd site so it could be blessed by

Kaumatua James Robinson, and

the first sod turned.

Heathcote Valley School pupils

also sung Te Aroha.

The original Heathcote Valley

Community Library on Martindales

Rd and the community

centre on Bridle Path Rd were

both demolished following the

earthquakes.

The new combined facility

will have several meeting areas,

a kitchen, bathroom facilities

along with a large deck.

It is due to be completed by the

end of the year.

Three-year-old Joachim

Foulkes stole the show at the sod

turning event, as he was eager to

get construction under way, leading

the charge with his yellow

digger.

Hagley-Ferrymead Community

Board chairwoman Sara

Templeton said everyone was

pleased to have the builders on

site.

"I'm looking forward to later in

the year when the centre is open

and I can sit on the deck, with a

book in my hands, reading and

looking at the view down the

valley towards the city. A group

of committed locals have worked

really hard to bring the project

to this stage and the community

really appreciate it."

2017 Avalon River Cruising on Sale

Early Bird Offer

$4,000 Air Credit

Per Couple

Early Bird Offer

$3,000 Air Credit

Per Couple

Magnificent Europe

Budapest to Amsterdam

14 Night Deluxe River Cruise

from $7,339 * pp

Twin share based on 27 Oct 2017 category E

HIGHLIGHTS

Guided sightseeing in Budapest, Bratislava, Vienna and Wurzburg

Excursion to Gottweig Abbey

Beer tasting in Regensburg

Cruise through the Rhine Gorge

Canal cruise in Amsterdam

Romantic Rhine

Amsterdam to Zurich

7 Night Deluxe River Cruise

from $3,998 * pp

Twin share based on 9 Apr 2017 category E

HIGHLIGHTS

Choice of guided city walk or Jewish Heritage walk in Cologne

Visit Siegfried's Mechanical Musical Instrument Museum in Rudesheim

Excursion to Heidelburg with a guided visit of it's castle

Guided sightseeing in Kloblenz and Strasbourg

Onboard woodcarving demonstration

see us instore youtravel.co.nz

03384 2700

YOU Travel Ferrymead

960 Ferry Road, Christchurch

melissa@youferrymead.co.nz

*Terms & Conditions: All All care care is taken is taken to promote to promote correct correct pricing pricing at time of at printing, time of is printing, dependent is dependent upon availability upon and availability will be confirmed and will at be time confirmed of reservation. time Book of any reservation. 2017 Europe Book river any cruise 2017 departure Europe and river receive cruise either departure a (1) $2,000 and per receive person Air either Credit a (1) for Europe $2,000 cruises per person of 15+ days; Air or

Credit (2) $1,500 for per Europe person cruises Air Credit of 15+ for Europe days; river or (2) cruises $1,500 of 7 per - 14 days person to be Air used Credit towards for Europe your airfare. river Valid cruises for new of 72017 - 14 bookings days to made be used between towards 06/04/16 your - 30/06/16. airfare. Valid To secure for new this offer 2017 a bookings non-refundable, made non-transferable between 06/04/16 $500 - per 31/07/16. person/per To cruise secure deposit this offer must a be non-refundable,

received within 7 days of

non-transferable booking (or by 30/06/16; $500 per whichever person/per comes cruise first). This deposit offer is must an up be to received $2,000 per within person 7 credit days to of be booking used towards (or by an 31/07/16; airfare of your whichever choice in comes conjunction first). This with the offer cruise an booked. up to Full $2,000 payment per person for Avalon credit cruise to must be used be on towards file for the an Air airfare Credit of to your apply. choice Air Credit in is conjunction 100% non-refundable with the and

cruise non-transferable. booked. Full For full payment terms and for conditions Avalon cruise please must contact be on your file nearest for the YOU Air Travel Credit store.

apply. Air Credit is 100% non-refundable and non-transferable. For full terms and conditions please contact your nearest YOU Travel store.
---
PAGE 8 BAY HARBOUR

Wednesday June 29 2016

News

For all your

emergency

plumbing

and

gasfitting

needs

PLEASE give

us a call.

Back Row: Mark, Aaron, Jacob, Mark, Sam

Front Row: Liz, Matt, Sandra, Ant & Paul

SERVICING ALL AREAS OF CHRISTCHURCH

Phone today! 3790-711

or email us: info@whiteheadplumbing.co.nz

MASSIVE

MARQUEE

GOLF SALE

MASSIVE SAVINGS on all

clubs, apparel, gloves,

putters, drivers, bags,

balls and much more

This Fri 1, Sat 2 & Sun 3 July Only

Bird numbers rise

SOOTY shearwaters, also

known as mutton birds,

are making a comeback in

a remote Banks Peninsula

breeding colony.

A headland at Stony Bay,

about 10km from Akaroa,

is one of the last remaining

sooty shearwater – or

Titi – breeding sites in the

South Island.

Monitoring from the

recent breeding season

has shown the number of

young has grown from 27

last year, to 38.

City council Banks

Peninsula ranger Paul

Devlin said the increase

was a sign that efforts

made to control predators

were paying off.

The city council helped

build a predator-proof

fence around the colony in

2010 as part of a joint project

with the Department

of Conservation and the

Banks Peninsula Conservation

Trust.

The fence encloses about

half a hectare of land on

the edge of the cliffs.

City council senior field

ranger for Port Hills and

Banks Peninsula, Phil

The newly refurbished

Woolston Club...

A classic, contemporary

club experience

Cafe open from 11am

Happy Hour 4.30pm - 5.30pm

TAB & Gaming, Function Facilities,

HOUSIE Tuesday, Thursday, Saturday

SHUTTLE Tuesday - Saturday

GROWING: A predator-proof fence protects the

growing number of sooty shearwater birds on Banks

Peninsula. (Inset) A sooty shearwater, also known as

a mutton bird.

Crutchley, said with the

predator-proof fence doing

its work, the colony was

slowly recovering with

about 60 breeding pairs.

"From the low of five

active burrows in the early

2000s, there are now 38

chicks ready to fledge after

the 2016 breeding year.

"It's hoped that in the

not too distant future

there will be hundreds of

sooty shearwaters returning

to the wild from this

Open 7 Days

Restaurant open

from 5.30pm!

SUNDAY ROAST

12PM-2PM SUNDAY

from Sunday 3rd July

Retro Roast Lunch

12pm Wednesdays

$10 Members/$12 Non

colony."

In the 1990s, Stony

Bay landowners Mark

and Sonja Armstrong

were concerned with the

declining sooty shearwater

population and built their

own exclusion fence to

keep predators out.

However, stoats were

still finding their way

through the fence, so they

approached DOC and the

city council to build a new

one.

NEW SEASON

MENU

OUT NOW!

LIVE MUSIC

6PM FRIDAY: STEVIE D

7PM SATURDAY: FRANCHISE

3PM SUNDAY: MARION'S OUTLAWS

50 Ferrymead Park Drive Ph.376 5350

Visit our new website: www.min.nz

A professional realtor with

local expertise

and a personal touch

COASTAL REAL ESTATE SPECIALISTS

We'll help you live the dream.

Min Sarginson Real Estate Ltd. specialises in homes, sections and

rental properties in the spectacular Lyttelton Harbour bays, and

coastal suburbs of Christchurch, New Zealand.

We'll make it so easy for you. All our sales consultants live in the

area – we can give you valuable insights into life in our thriving

coastal communities.

This is an exciting time; of promise, optimism, and opportunities

never anticipated pre-quakes. Beachfront, or hillside with

grandstand views, find the property of your dreams:

Lyttelton | Diamond Harbour | Governors Bay | Cass Bay

Charteris Bay | Church Bay | Purau Bay | Port Levy | Northshore

Southshore | New Brighton | Heathcote | Sumner | Redcliffs

Scarborough | Mount Pleasant | Clifton

Call Min Sarginson Real Estate Ltd. for free, no-obligation advice. Lyttelton: 03 329 4161, lyttelton@min.nz or Church Bay: 03 328 7273, churchbay@min.nz
---
Wednesday June 29 2016

BAY HARBOUR

PAGE 9

Market Stays Strong

Market Update News from Craig Prier

"With recent reports showing available properties across New Zealand to be 40% fewer compared

to this time last year there is ample evidence to suggest to owners considering going to the market

that now be a great time. A simple equation of high demand and a low a supply of stock means that

properties will spend less time on the market and prices will remain firm, if not continue to increase.

However, for owners wanting to take advantage of good market conditions it is still important

that you continue to present your properties well, invest in good marketing campaigns and

seriously consider the most appropriate method of sale.

Marketing without a price still appears to be the most effective method to ensure the best price

is achieved particularly in comparison to marketing a property with a fixed asking price. The

risk with this method is that you may undersell the property by pricing it too low or, conversely,

lose potential buyers by pricing it too high. We recommend you talk to any one of our sales team

to advise you on the most effective method of sale for your property."

Marilyn Still

027 229 8769

Bonnie Brown

021 343 407

Matt Clayton

021 2233 998

Community Involvement

10 staff assisted again this year for the Ronald McDonald House Collection, and we had a fantastic

response with the changed collection venue to Redcliffs New World. Thank you to all those who

generously donated and stopped to have a chat, contributing to a wonderful charity. We also

decided to help out the local SPCA, so the admin staff got their bake on to supply delicious treats

to purchase for a donation in the office. A huge amount of cupcakes were consumed that day, but

all for a great cause, raising $125 to contribute to the SPCA.

Jan Edlin

027 433 8025

Mark Gardner

021 633 669

Tips for selling your home this winter:

• Give Each Room a Cosy Touch

A folded drape over an arm chair, a fleecy throw over on the foot of the bed, warm hues on a rug,

or even a crackling fire if you have a log burner, are all small additions that could make a world of

difference to prosperous buyers.

• Show How Your Outdoor Areas can be Utilised in Winter

A covered porch, or outdoor heaters/fire place is an excellent asset to show off in those wintery

months. Be sure to turn on outdoor lights, and keep outdoor furniture immaculate – placing a couple

of thick throws on top of outdoor couches and chairs will give the finishing touch to furnishings.

• Don't forget the Exterior

Maintenance is crucial, especially in Winter when lighting is a lot harsher. Minor repairs need to

be tended to, windows should be clean, and verandahs swept clear of leaves, as this will make a

world of difference to your houses appearance. Winter may not be the best month to show off your

garden, however you can still use structural elements for interest. Large urns, rock walls, wooden

furniture and other garden decorations can help a buyer see potential even in the colder months.

Renee Moore

027 227 2033

Bronny Clifford

021 272 7718

Kane Cooper

027 222 0087

Patricia Van der bent

027 296 1408

Anna Loader

027 272 7128

2A Avery Place,

Redcliffs

Asking Price: $975,000

• 3 bedroom home - just perfect for an

executive or retired couple.

• Light filled and airy with all day sun and flow

through the bi-folding doors to an expansive

deck, ideal for entertaining.

• 3 bedrooms downstairs, master with ensuite,

bathroom and a study area.

• Formally landscaped with native hedging for

ease of maintenance and ideal for "lock and

leave".

• Superb panoramic vistas of Pegasus Bay, City,

the snow-capped Southern Alps and the Kaikoura Ranges - stunning by day and magical by night.

• Flat drive on access to a double garage with internal access plus an extra parking bay.

Beautifully presented and fastidiously maintained and ready to move in and enjoy.

Contact Jan Edlin 027 433 8025 rwferrymead.co.nz

Open Home Sun 1-1.30pm.

Ross Cooper

027 432 4438

Wendy McCallum

0274 360 835

Marie Malone

0274 898 349

& Daisy Foldesi

021 328 059

Bev Prout

027 495 9586

Peter McCallum

027 434 5785

Eleanor Corston

027 435 2415

21 Humphreys Drive, Ferrymead

Phone (03) 3844 179

rwferrymead.co.nz /RayWhiteFerrymead

Prier Manson Real Estate Ltd Licensed (REAA 2008)
---
PAGE 10 BAY HARBOUR

Wednesday June 29 2016

Your Local Views

Shop local; support community

Hagley-Ferrymead

Community

ews

Board

chairwoman Sara

Templeton says

it is important to

shop local

LOCAL independent

shops are at the heart of our

village communities. They are

owned and staffed by locals,

who in turn support other local

suppliers and businesses and

ashion

sponsor local sports teams.

They are bumping spaces

where residents share news

and connect, building stronger,

more resilient communities.

We would miss them terribly if

they were gone.

However, the advent of large

format shopping centres and

malls, populated with national

Gardening

and international chains and

corporates has put significant

pressure on our local village

otoring

Port Hills

Labour MP

Ruth Dyson

says people

in the bays

area should

have their

say on how

they would like Linwood

College to look like in five

asty Bites

years' time, with a whole

school rebuild planned.

MANY OF you will have

noticed billboards around

our suburbs talking about a

new school coming – have

your say. And you may have

talked with people at one

oney

of our markets, outside the

supermarket or at meetings

about this new school.

This project is one of the

best examples of collaboration

and taking an opportunity

for improvement that I have

seen. It is called the legacy

project and is taking a very

frank look at Linwood College

shops. In these centres

with their highly visible

parking, stores where

we can buy more than

we would ever need and

poor environmental

amenity it can seem

easier for us to drive

in and shop without much

thought to their impact.

This is not a problem beyond

us.

We have the Ferry Rd

(Woolston Village), Main Rd

(Redcliffs Village) and Sumner

Village Masterplans, each with

village shopping area designs to

try and encourage residents to

come, stay and shop. They make

point of having good urban

design and high amenity, but are

not easy to retrofit into current

spaces and it is hard to compete

with large private developments.

We can engage with locals and

businesses over how the plans

should be implemented and

spend millions making these

areas great spaces to be in, but in

the end that isn't enough.

As an individual and as

communities we need to make

a deliberate choice to shop at

our local independent butchers

and pharmacies; to buy gifts,

clothes, flowers and meet for

coffees locally. If each of us

does this, even once a week, it

can make a huge difference to

our village centres, helping our

communities thrive. And best

of all, we don't need to wait for

street enhancements – we can

do it today.

Have say on Linwood College

in the future, the fact that it

now has a new principal who

is very community focused

and outward looking, and the

complete rebuild of the school

which will be under way soon.

The project asks the questions

about what people think

of the school, what they would

like to see from the school,

and what it should look like in

five years' time.

The community consultation

has been fantastic, with

many parents who are looking

at colleges in the future,

coming along and having

their questions answered in

an honest and open way. We

all know that there have been

problems at Linwood College

over the last few years. But we

know that it has an excellent

provider of quality education

for many local children and

with the right leadership, can

become a school of choice. The

fact that it will be brand new

is an added bonus!

It is a huge opportunity for

our communities to have their

say and be part of making the

new high school a place of opportunities.

All our children

and young adults deserve the

best possible education. This is

an exciting piece of work that

will deliver that in our community.

If you haven't been part of

the discussion yet, it's not too

late. The community meetings

have finished but you

can share your ideas online

www.surveymonkey.com/r/

makeityours

Help build a great school for

our future leaders.

HAVE YOUR SAY: What

do you think of plans

to revamp Linwood

College? Would you send

your child there for high

school education? Email

your views to bridget.

rutherford@starmedia.kiwi

Riccarton Megastore, 179 Blenheim Rd. Phone 341 3196 • OPEN 7 DAYS • www.bigsave.co.nz

A reader

responds to

a story about

Hagley-

Ferrymead

Community

Board deputy

chairwoman Islay McLeod's

(above) departure from the

board.

Jocelyn Papprill, of Mt

Pleasant – I was saddened

to read the article on Islay

McLeod's resignation from the

Hagley-Ferrymead Community

Board and her subsequent move

to Dunedin. Saddened on two

counts – firstly, that a committed

community activist is leaving

Christchurch after giving

sterling service to our city;

secondly, that she chose to speak

in such an intemperate manner

about the other members of the

community board. The latter

overshadowed the former; I am

left feeling rather less warm

about Islay McLeod.

I have found the current

I HAVE just returned to work

from a few weeks' leave, where I

was lucky enough to travel to the

Isle of Man and watch the Tourist

Trophy. For those non motorcyclists

out there the TT is the

mecca of street racing, with about

40,000 odd people travelling from

all over the world to watch this

sport. It is both exhilarating and

amazing to be part of.

Now I hear you thinking, what

has the TT got to do with boating,

and I guess that's a fair question.

When I was there, watching the

racers travelling at speeds in excess

of 200mph (320km/h) I started

to think about risk. These racers

are on the top manufacturers'

motor-cycles, have the best safety

gear available, and are highly

experienced in their sport. They

are super fit both mentally and

physically.

When it comes to boating, I see

a different side of risk. As mentioned

above, the TT racers have

minimised their risk to what they

and the racing organisers see as an

acceptable level. However, I still see

some of our water users going out

serving elected members of the

Hagley-Ferrymead Community

Board to be most able. Their

'lack of local government experience',

as expressed by Islay has

certainly not been a hindrance

as they have been well advised by

council staff and ably chaired by

Sara Templeton, making competent

decisions in sometimes

difficult circumstances.

Board members like Alexandra

Davids and Joe Davies

have brought new energy and

perspectives to the table and I

have found our two city councillors,

Yani Johanson and Paul

Lonsdale, most approachable

and helpful. I am grateful that

our community has been served

these past three years by an

proactive board that has the best

interests of the area in mind.

Islay, may your return to

Dunedin be a good move for

you. Your work for Christchurch

is appreciated; a pity you chose

to disparage other good-hearted,

hard working people in your

interview.

Risk assessment recommended

Pirate's Corner

on days when the weather is bad.

Hopefully you will see where I

am heading here, the boaties have

not taken into account risk and as

a consequence, have not considered

the outcomes of their actions.

So not only does the skipper put

both him or herself in danger, it is

also the passengers and then the

emergency personnel trying to

save the people out on the water

who have put themselves in the

situation due to not assessing the

risk.

So here is what I want you to do

over the next couple of months

before we get back in to boating

again.

Every time you get your boat

out, have a think about what your

own risk assessment is going to be.

That's it from me, be safe out

there, if you ever have any questions

feel free to contact me, at

gary.manch@ecan.govt.nz.

BIGGEST EVER BED SALE

Offers valid 29 June to 1 August 2016. Storewide discount excludes Everyday Low Price furniture and Ecocare.

SAVE

$1000

$

1999

DREAMFOAM

PHYSIOCARE

CELESTE

Queen mattress + base

100% pure New Zealand

wool fibre with

knitted top panel.

Luxurious Dreamfoam

and Memory Gel

foam comfort and

support layers.

• Pocket spring system to

minimise partner disturbance.
---
Wednesday June 29 2016

BAY HARBOUR

PAGE 11

BUT THE PARTY'S

or

one

of 2

this BLUETOOTH STEREO

$150 party packs in every store.

Celebrate in store

and get in the draw

worth

$399

Promotion runs from Monday 27th June until Sunday 10th July 2016. One entry per $25 spent (excluding tobacco, Lotto and gift cards).

Standard service carrier fees apply. For full terms and conditions visit www.foursquare.co.nz
---
PAGE 12 BAY HARBOUR

Wednesday June 29 2016

SCHOOLS

Sumner's Hugo Gozdzikowski won first place in a national

drawing competition. The year 3 Sumner School pupil

entered a competition run by the Embassy of the Republic

of Poland and won first place in the drawing category. The

embassy paid for flights and accommodation for him to fly

to Wellington to attend the awards ceremony, where he met

the Polish Ambassador of New Zealand. Hugo's drawing was

inspired by Polish journalist, novelist and Nobel Prize laureate,

Henryk Sienkiewicz's novel W pustyni i w puszczy (Desert

and Wilderness).

Diamond Harbour

School's four houses

are not just represented

in sports fixtures.

This year the houses,

which are named after

landmarks and people

from the area's history,

are being used to

promote collaborative

communities within the

school. The Godley,

Stoddart, Adderley and

Bradley houses each

have pupils ranging in

age from 5-12 years old.

Last week, each house

participated in a range of

team building activities,

including board games

and problem-solving.

They had fun in the

process.

ARTISTIC: Hugo Gozdzikowski's (inset) drawing won first prize in

a competition run by the Polish Embassy.

This month children

at the James Street

Pre-school & Nursery

have been learning

about Matariki. They

made stars to decorate

the pre-school, and

set up a food donation

box to help people in

need. Several fouryear-old

pupils had the

opportunity to attend a

Matariki show at Redcliffs

School, performed by

The Court Theatre. One

of the highlights of the

celebrations was the

pre-school's lantern

walk. The children made

their own lanterns to use,

and gathered with their

families for a takeaway

meal. Following the walk,

there was hot chocolate

for everyone to enjoy.

CREATIVE: Bella Alldridge (left) and Erika Cable with the lanterns

they made for Matariki.

WINNERS: Hugo (front left) with the other winners of a

competition.

FUN: Lola

Brinson (left)

and Monay

Christensen

got their faces

painted as part

of the Matariki

celebrations.
---
Wednesday June 29 2016

BAY HARBOUR

PAGE 13

GREAT

WINTER READS

IN-STORE!

1005 Ferry rd

Ph 384 2063

while stocks last (see instore for terms and conditions)

Barry & kerry
---
PAGE 14 BAY HARBOUR

Wednesday June 29 2016

SCHOOLS

Once a term, Diamond Harbour School's enviro-group, The Green Diamonds, organise a whole-school activity. This

term's activity was decorating various items found in the environment. Pupils weaved sticks and painted stones.

Some stone artwork was painted with ladybirds. They were then covered with PVA glue to protect them from the

elements.

WE

Some will be used for outside

ARE

play.

ON THE

Teachers,

parents

perform

OUR LADY Star of the Sea School staff and

parents turned into pop stars to raise money

for learning resources.

MOVE AGAIN...

It was the 10th anniversary of the school's

lip-sync competition recently, which is the

"social event of the year".

Parents and staff took to the stage in

character to lip-sync their favourite songs

in the adult only event, while dressed up in

costume.

The winning team, taking home The Stars

of the Sea lip-sync trophy, was the Knockouts.

It was made up of Marion Meates, Jane

Robertson, Michelle McSoriley, Lisa Davies,

Megan Heather, Richard Harcourt and

Bruce Twaddle.

TO A NEW LOCATION IN Principal John Kane, who dressed up as

Elvis, said Jane Robertson, Michelle Fulford

FERRYMEAD, DUE TO

and the parent volunteers had done a great

job organising the event.

"I don't know how they do it, but it seems

to get better every year."

EARTHQUAKE REPAIRS

He said the school was still waiting for the

final total raised, but it was successful event.

WATCH THIS SPACE

DECORATION: Diamond Harbour pupils Teya Lloyd (left), Thomas Wedlake and Leah Noakes show off their creative

side.

INTO IT:

Marion

Meates

performs

Katy

Perry's

Roar.

WE WELCOME ALL NEW PATIENTS

We will keep you informed as to our

new address.

on the day service whenever possible

arlotte

If you would lIke advIce

and treatment wIth:

• Women's health • Children's & teenage health & wellbeing

• Older persons health • Lifestyle advice

• Warrant of fitness checks for men and women

• Helping patients manage long term medical problems

Dr Brendan Smith Dr Charlotte Cooper Dr Gort Stephan Dr David Thomson

If you would lIke advIce and treatment wIth:

• Removal of skin lesions • Sports medicine • Vasectomies

• Occupational and company medicine • Drug testing

• Pre-employment medicals • Stopping smoking support

• Travel vaccinations

• Women's health • Children's & teenage health & wellbeing

• Older persons health • Lifestyle advice

• Warrant of fitness checks for men and women

• Helping patients manage long term medical problems

• Removal of skin lesions • Sports medicine • Vasectomies

• Occupational and company medicine • Drug testing

• Pre-employment Gort medicals • Stopping smoking support

• Travel vaccinations

New patients welcome Ph. 384 5484

Ferrymead

MEDICAL

c e n t r e

ferrymead

medIcal centre

YES we are now permanently

located in the new purpose

designed medical facility on

the corner of Waterman Place

& Ferry Rd (next to BNZ and

Café del Mar)

ferrymead medIcal centre

unIt 10/2 waterman Place

Phone 384-5484

Mon to Fri 8.30am-5.30pm
---
Wednesday June 29 2016

2

[Edition datE]

Bay Harbour

News

BAY HARBOUR PAGE 15

itLocal

Keep

Craft bakery part of

port town's revitalisation

"It Is hard to believe that we have been

in the new bakery for 18 months, the time

has absolutely sped by," says Lyttelton

Bakery Ltd owner Ian scott.

"I would like to thank all the locals and

those who come to Lyttelton for work or

recreation for their loyal support. It is also

great to see things starting to be rebuilt and

reopen in our portside community."

One of the bakery's staff members, Bree,

is expanding her new cake range, which she

calls Glamour Cake, and they are proving

very popular. she has just returned from

textbook Patisserie in sydney, where she

has been extending her knowledge and skills

in fine patisserie work.

Bree plans to take further trips away

to other bakeries and hotels, so she can

continue to learn her craft and bring back

new and fresh ideas.

Customers are invited to 'watch this space'

and check out her facebook page 'Glamour

Cake' for daily updates.

two of the bakery's long-serving staff

members decided to move to australia

earlier this year, and it was very sad to say

goodbye, says Ian.

"however, we have a new and vibrant

team of girls who are loving the challenge.

"I am amazed at the changes and

challenges within the baking industry

and how the small craft bakery is having

to compete for their place in such a large

market.

"I hope the small craft bakery continues

well into the future and keeps passing on

the time-honoured skills and traditions to

people who are keen to join this specialised

trade.

"another issue the baking industry is

working towards addressing is that of

salt, sugar and diabetes, with a big push

for cutting down on salt and sugar. It is

something we look at daily within our

bakery."

Ian suggests: "With winter now truly

upon us, come in and enjoy a hot drink and

some tasty treats in our cosy warm café."

Lyttelton Bakery Ltd is located at

8 Norwich Quay, Lyttelton.

Winter opening hours are

Monday to Fri day6am-4.30pm,

Saturday 7am-2.30pm, closed

Sundays, public holidays

and all long weekends.

End of Year Tax

info still a pile in

the corner?

Doing your head in?!

Plan make an appointment with us

Navigate to 11F Settlers Crescent

Achieve peace of mind. Job done!

NOW SELLING

PIZZA

FASHION RECYCLE SHOP

The best in recycled designer clothes,

shoes & accessories plus new samples

& end of lines.

Always accepting new stock.

OPEN 7 DAYS

Phone 022 354 8218 or 384 8179

chris@ferrymeadaccounting.co.nz

OPEN TILL 8PM WEDNESDaY-SaTURDaY

22a ESPLaNaDE, SUMNER

Ph: 326 5358

Shop 2, Sumner Village Mall

Christchurch | 03 326 7246

Open Monday - Friday 6am-5pm

& Saturday 7am-3pm

8 Norwich Quay, Lyttelton

Phone: 03 328 9004

Monday, Tuesday

& Wednesday

Onion Bhaji

2 Curries + Rice

2 Plain Naans

(takeaway & dine in)

$39.99

(excluding seafood curries)

Get a 10% discount if you bring this ad.

takeaway only. Conditions apply

9 Humphreys drive, Ferrymead

Ph 384 2310 | 021 168 5160

currynightnz@gmail.com

HUNTER JUNIOR

Childrens sizes 6-13 & 1-2 ½

Great price from $90

And great colour range

Adult styles also available

47c Garlands Road, Woolston

Phone 389 3431

www.thefootwearfactory.co.nz

$5

bubbly &

1091 Ferry Rd

by the traffic

lights on

the water,

Ferrymead.

Open Tues-Sun,

9am 'til late!

Advertising enquiries Javier Balcazar | Ph: 021 225 8221 | javier.balcazar@starmedia.kiwi
---
Page 16

BaY HaRBOUR

WEDNESDAY JUNE 29 2016

Globus 2017 Preview

UK & Europe

Best deal guaranteed.

• Save 15% off all 2017 Globus UK and Europe Preview tours

• Book and deposit by 13 September 2016

• Get in quick to reserve your 2017 holiday today

• More ways to save

- ** Save a further 5% Repeat Traveller Discount

- ** Save a further 5% second tour discount

Find out more & call the team today on 03 3764022
---
WEDNESDAY JUNE 29 2016

BaY HaRBOUR

Page 17

The team at Ferrymead believe there is no better way to see as much as possible than with a quintessential coach tour from Globus/Cosmos. The

hassle is taken away from you - the traveller, and with the fabulous services of a Tour Director and Driver you really make the most of everywhere

you go. Choose anything from a 7 day overview to 31 day in depth tour and tailor your budget to suit. With all your transport, accommodation,

much of the sightseeing excursions and many meals included – not to mention the skip the line benefits, you will come home feeling like you have

really made the most of a destination and had a great overview. Of course the team all have their favourite tour destinations:

Mel Hubber (nee Lowen)

Owner Operator

Austria & Switzerland

Any tours taking in my new two favourite countries

are a great choice in my opinion. Visit grand Vienna

and the green rolling hills in 'sound of music' country,

cruise on the Danube and explore gems like Salzburg

and Lucerne, not to mention stunning alpine resort

towns and the views of the Matterhorn and Jungfrau

Massif that will take your breath away.

CONTACT MEL | email: mellowen@hot.co.nz | phone: 376 4018

Kim Beswick

Owner Operator

United Kingdom

From imposing regal palaces & castles to charming

country cottages & pubs, travelling through the UK

& Ireland has a feeling of the familiar & is steeped in

rich tradition culture & heritage. A range of tours

showcase all the highlights of Britain & Ireland. Be

sure to book early for departures in July & August

that include tickets to the Edinburgh Military Tattoo.

CONTACT KIM | email: kbeswick@hot.co.nz | phone: 376 4019

Nicky De Clifford

Travel Specialist

Spain & Portugal & Morrocco

I love the wide variety of tours on offer for these

countries. Enjoy Moorish influences in food and

architecture at the grand Alhambra palace, to eating

salt crusted sea bass on the Costa del Sol. Enjoy

the tapas and local paella all washed down with a

sangria, and head to Morocco for its exotic cities,

incredible souks, sand dunes & more.

Anna O'Dell

Travel Specialist

Turkey & the Mediterranean

Turkey is one of my favourite countries. Spend time

wandering the Grand Bazaar in Istanbul and appreciate the

amazing palaces and mosques. Take time to head around

the Coast and visit Gallipoli which is truly a memorable

and thought provoking place. The blue sea entices

around further with amazing ancient ruins, carpets to

haggle over and a game of backgammon to win!

CONTACT NICKY | email: ndeclifford@hot.co.nz | phone: 376 4031 CONTACT ANNA | email: annao@hot.co.nz | phone: 376 4036

Alisha Russell

Travel Specialist

Sweden & Scandinavia

This area and the Baltics are certainly popular and

after travelling there I can see why! Everywhere

has fairytale old towns combined with cutting

edge modern cities – the range of tours on offer

here have something for everyone – particularly if

you are wanting longer days with midnight sun or

northern lights in the winter time.

CONTACT ALISHA | email: alishar@hot.co.nz | phone: 376 4023

Harriet Babe

Travel Specialist

Essential Europe

I think a European overview of any size to suit is

a fantastic way to get a taste of many popular and

amazing destinations so that you get a good look

around and see where you may want to go back to! It

depends how much time you have but I think a good

10-15 day tour that takes in the Eiffel tower and Sistine

Chapel in Rome is a must on any first time trip.

CONTACT HARRIET | email: harriets@hot.co.nz | phone: 376 4027

Melanie Bartram

Travel Specialist

Imperial Splendors

I just love anything to do with Eastern Europe,

the prices are amazing and the architecture and

history, cobbled town squares and culture are

just unbeatable. If you are wanting areas rich in

history there are some great combination tours

on offer here.

Shannon O'Brien

Concierge/Sales Support

I love to travel and have been to some great countries

so far however there are many more I am longing to

explore! While I am relatively new to the industry I

am your first point of contact when you come into our

office and I hope to make you feel welcome! I support

the sales team with the construction of your holiday,

something I find truly rewarding and enjoyable.

CONTACT MELANIE | email: melanieb@hot.co.nz | phone: 376 4021 CONTACT SHANNON | email: shannono@hot.co.nz | phone: 376 4038

The best holidays are created together.

1005 FERRY ROAD, FERRYMEAD VILLAGE | 376 4022 | FERRYMEAD@HOT.CO.NZ

*Terms & Conditions: 15% discount applies to 2017 Globus UK & Europe Preview bookings made between 22/06/16 – 13/09/16. A non-transferable non-refundable deposit of $250 per person/per tour is required within 7 days (or by 13/09/16; whichever

comes first) to secure reservation. Not combinable with any other offer except for Save 5% Second Tour discount and/or Save 5% Repeat Traveller (Journeys Club) discount (standard conditions apply). All discounts are based on land-only portion of core tour on

twin share price, not including extra night accommodations, extensions, taxes/fees, tips and supplements/reductions. Offer reliant on space availability. Offer can be withdrawn or amended at any time without notice. Full cancellation penalties will apply. Additional

restrictions may apply. For full terms & conditions refer to the 2017 Globus Europe Preview brochure or visitglobustours.co.nz.
---
ORTS

PAGE 18 BAY HARBOUR

Wednesday June 29 2016

50 years' service recognised for yacht club stalwart

• By Fraser Walker-Pearce

THE ADVICE from the

recipient of a Life Time Award

for yachting is to do what you

enjoy and just keep on doing it.

Margaret Park received the

award last week for 50 years'

service to the Christchurch

Yacht Club in Redcliffs.

In that time she has sailed

solo, with her husband and

seen their children sail on the

harbour and the estuary.

Mrs Park was called on

stage at last week's Canterbury

Yachting Association's annual

awards evening, along with

another member of the

Christchurch Yacht Club, as well

as two members of the Naval

Point Club Lyttelton.

"It certainly was very special.

SINESSES

It was just part of the yachting

awards night . . . it's not just

at the club I do these things,

I've been involved in different

contests along the years, my

husband's the chief umpire,"

Mrs Park said.

She said for her it was all

about seeing the "youngsters"

coming through the club and

doing well.

"I do really enjoy it and I don't

plan on stopping any time soon.

It's great seeing the youngsters

doing so well and watching

them improve – it's what it's all

about really," she said.

Fellow member Trevor

Kite won the off-the-water

administrator of the year. Mr

Kite has been a member for 21

years.

Mr Kite said he was honoured

to receive the award on Friday

night, which he had never been

nominated for.

"It was quite special, because

I think there was 11 clubs

involved on the night and a lot

of volunteers in total . . . they

filled up the function room at

the Cashmere Club," he said.

Paul Roe and Malcolm

Snowdon from Naval Point

Club Lyttelton were jointly

awarded Yachtie of the Year

after their gold medal winning

performance in the National R

Class championship.

Christchurch Yacht Club

changed commodores at their

annual meeting on Sunday

evening, which saw Jo Hooker

leave the seat after two years,

and Richard Ineson become the

new commodore.

SCHOOLS

OUT AND ABOUT: Margaret Park (right) was presented with a Life

Time Award for 50 years' service to the Christchurch Yacht Club.

She is pictured in Shag Harbour, Abel Tasman with husband Jim.

S

S

SPORTS

TIGHT VICTORY: The semi-social Ferrymead Bays ladies

team, the Oil Paintings, won a tightly fought contest

over the weekend against the Halswell Honeys. The

Oil Paintings took the game 2-1 after two strikes from

Emily Sheldon gave them all three points. The team has

enjoyed a recent run of success in their Sunday Division 3

competition, this being their latest victory.

500 DAYS

NO PAYMENTS,

*

NO INTEREST

Minimum purchase $499. Finance offer expires 4th July 2016.

Lending criteria, $50 Annual Account Fee, Establishment Fees, terms and conditions apply.

See below for terms & conditions.

SAVE

$

570

Stockholm

5 Piece Dining Set

This classic 5 Piece Dining Setting

features an 110cm Table with 4x Eames

Replica Chairs. Also available in black.

was $675

now only

$399

Carlton

3 Seater Chaise

Simple and elegant, the Carlton

features deep comfortable seats

and classic square wooden feet.

Removable seat and back

cushions can be rotated and

plumped up with ease.

was $2279

now only

$999

NOW

40 % OFF

SAVE

$

1280

Bahamas

Trundle Bed

Great for sleepovers, easy to

set up & the perfect solution

for extra guests.

was $1269

now only $699

Cnr Blenheim & Curletts Rds,

Christchurch. Ph: 03 343 3204

View our collections online: targetfurniture.co.nz

Offers and product prices advertised here expire Monday 11th July 2016.

*500 days no payments and no interest

*No Payments and no interest for 500 days ("Payment Holiday") is available on Q Card Flexi Payment Plans

for in-store purchases only. Not to be used in conjunction with AA Smartfuel offer. Minimum spend $499.

Annual Account Fee of $50 applies. New Q Cardholder fees - $55 Establishment and $3 PPSR. Existing

Q Cardholder fee - $35 Advance. Q Card Standard Interest Rate, currently 25.25% p.a. applies to any

outstanding balance at end of Payment Holiday. Offer expires 04/07/16. Q Card lending criteria, fees, terms

and conditions apply. Rate and fees correct as at date of publication, subject to change.
---
Wednesday June 29 2016

BAY HARBOUR

PAGE 19

BRING ON THE

WEEKEND

Bosch

14.4 Volt Li-ion Driver Drill

10mm keyless chuck

Includes 2 batteries

291449

Work Bench

100kg weight bearing capacity

287486

Mighty Straps

Ratchet Tiedowns

25mm x 4m

115179

2 Pack

$

9 95

$

129

$

24

$

79 99

$

12 98

2 Pack

$

6 98 $

12 98 $

14 89

Dust mask

13 pce Screwdriver Set

Paper Filter P2 with valve

Includes Carry Case

Black + Decker

174957

229945

Circular Saw

121061

Bacho

475mm Hand Saw

253732

Stanley

Claw Hammer

Fibreglass handle

Lifetime warranty

245134

Werner

6 Step Dual Purpose Ladder

NZ industrial 120kg Standard

244619

Number 8

Sledge Hammer

3.6kg (8lb)

235623

Number 8

Extension Lead

Light weight, 22m

288633

$

19 98

$

98

Fuller

Jumbo Tape Measure

8m x 32mm

273247

$

39 98

$

13 99

Ferrymead

1005 Ferry Road, Phone: 366 6306

Opening Hours: Monday–Friday: 7:00am–7pm

Saturday, Sunday and Public Holidays: 8:00am–6:00pm

Offers available at Mitre 10 Mega Ferrymead while stocks last.

mitre10mega.co.nz

If you find a lower price on an identical stocked product locally

we will beat it by 15%.

If you find the same product cheaper from another Mitre 10 store or Mitre 10 website we'll match that price. Excludes trade

and special quotes, stock liquidations and commercial quantities. The in-store price may be lower than that advertised.
---
PAGE 20 BAY HARBOUR

Wednesday June 29 2016

Parents of Year 6 students are

encouraged to take a good look

at their child's full primary school

when choosing schooling for

2017.

Why change schools when you don't

need to? Full Primary schools are tried

and tested and have developed in

innovative and cost effective ways since

their inception in 1877. They are as

important to the provision of education

in 2017 as they were in 1877.

What makes them successful?

• They have evolved over time and have responded to the

different demographic changes since 1877.

• They are located in neighbourhoods; they cater for

families and respond to community needs.

• They are staffed by highly trained teachers who know

curriculum levels from Level 1 – 5 who have had the same

teacher training as teachers in other Year 7 and 8 school

types.

• Teachers in the student's current full primary school

know about individual students learning progress and

learning style from Year 1 – 8.

• Developing the whole child, flexibility, nurture,

innovation and child centred learning sum up full primary

schools.

• Year 7 and 8 students are the leaders and role models

along with the adults in a full primary school with

opportunities to nurture Year 1 – 6 students.

• School organisation in a full primary school fits the needs

of students not the timetable.

• All Year 7 and 8 students are included in leadership

opportunities, sporting opportunities, school community

job opportunities, buddy responsibilities and role model

expectations. They are seen by others in the school as

the leaders and younger students look up to them.

• These opportunities and strategies to build leadership,

key competencies and resilience are available to all Year

7 and 8 students in a full primary.

Lincoln Primary

What does the research tell

us about the learning needs

of Year 7 and 8 students?

• Curriculum that is relevant, challenging,

integrative, and exploratory

• Multiple learning and teaching

approaches

• Assessment and evaluation programmes

that promote quality learning

• Organisational structures that support

meaningful relationships and learning

• Educators who value working with the

age group

• Courageous, collaborative leadership

• School-wide efforts and policies that

foster health, wellness, and safety

• Multifaceted guidance and support

services

• School-initiated family and community

partnerships

Looking at the above list it becomes clear that it isn't school

type or school buildings that make the difference for Year

7 and 8 students. It is instead the innovative approach to

learning and the attitude of professionals toward this group of

students. This can happen in any school setting as long as the

leadership, teachers and non-teaching staff are committed

to the social and emotional development of this group of

learners. Full Primary Schools are providers of Year 7 and 8

education in every way that other types of schools are.

"Encouraging life-long learners. Expanding Horizons"

Burnham School

Westburn School

Our school offers…

§ Fun and authentic learning.

§ A family orientated environment.

Full Primary Years 1 – 8

135 Hackthorne Rd

Cashmere 8022

§ Quality teaching with high expectations.

St Joseph's Papanui
---
Wednesday June 29 2016

BAY HARBOUR

PAGE 21

Avonhead 55 Avonhead Road, Avonhead 03 348 7361 admin@avonhead.school.nz www..avonhead.school.nz

Beckenham 71 Sandwich Road, Beckenham 03 337 1404 principal@beckenham.school.nz www.beckenham.school.nz

Belfast 700 Main North Rd, Belfast 03 323 8849 office@belfast.school.nz www.belfastschool.co.nz

Burnham School Chaytor Avenue Christchurch 03 347 6851 principal@burnham.school.nz www.burnham.school.nz

Cashmere Primary 135 Hackthorne Rd Cashmere 03 332 6786

office@cashmereprimary

.school.nz

www.cashmereprimary

.school.nz

Ch.Ch. East 311 Gloucester St Christchurch 03 366 2440 admin@chcheast.school.nz www.chcheast.school.nz

Christ the King 92 Greers Rd Burnside 03 358 2708 admin@christtheking.school.nz www. christtheking.school.nz

Diamond Harbour 13 Hunters Road, Diamond Harbour 03 329 4842

office@diamondharbour

.school.nz

www.diamondharbour

.school.nz

Halswell 437 Halswell Rd, Halswell 03 322 7038 admin@halswell.school.nz halswell.school.nz

Heathcote Valley 61 Bridle Path Rd, Heathcote Valley 03 384 1058 admin@hvs.school.nz www.hvs.school.nz

Kaiapoi Borough

School

20 Hilton Street, Kaiapoi 03 327 7231 principal@kbs.school.nz www.kbs.school.nz

Kaiapoi North 278 Williams Street, Kaiapoi 03 327 8803 jason.m@kaiapoinorth.school.nz www.kaiapoinorth.school.nz

Lincoln Primary 130 North Belt, Lincoln 03 325 2571 principal@lincolnprimary.ac.nz

lincolnprimary.ultranet.

school.nz

Loburn RD 2 Rangiora 03 312 8828 principal@loburn.school.nz www.loburn.school.nz

And also

The research also provides insight into

what works for Year 7 and 8 students:

Ministry of Education by Dinham and Rowe

of the Australian Council for Educational

Research. 2007

• From the broader 'teaching and learning literature',

there is strong evidence that the quality of teaching

which students receive at all levels and stages of

schooling is of major importance in influencing

achievement outcomes for students.

• While productive and positive student-teacher

relationships are identified as an important

characteristic of highly performing schools

catering for middle years' students, it needs to be

acknowledged that good teachers and school leaders

at all levels of schooling is what works.

• It is therefore debateable whether at least some

aspects of the philosophy and enactment of middle

schooling is any different from 'good' teaching and

effective schooling generally in all school types.

The literature is clear in advocating 'middle schooling

approaches focusing on quality teaching and

enhanced learning' rather than on school type.

Therefore it is what happens in the classroom to

support learning and what happens across the school

to cater for the specific developmental, cognitive,

physical, emotional and social needs of Year 7 and 8

that makes the difference. Not school type.

The research on middle schooling and its implications

to provide quality education to Year 7 and 8 students

is as applicable to full primary school as it is for other

schooling types.

Lyttelton Primary

School

34 Oxford Street, Lyttelton 03 929 0588 office@lyttelton.school.nz www.lyttelton.school.nz

Mairehau Primary 43 Mahars Road, Mairehau 03 385 3796 principal@mps.school.nz www.mps.school.nz

Merrin 41 Merrin Street, Avonhead 03 358 8369 office@merrin.school.nz www.merrin.school.nz

Mt Pleasant School 82 Major Hornbrook Road 03 384 3994 principal@mtpleasant.school.nz www.mtpleasant.school.nz

New Brighton

Catholic (Mary

Immaculate)

100 Lonsdale Street, New Brighton 03 388 7982 office@nbc.school.nz www.nbc.school.nz

Oaklands 37 Cunningham Place, Halswell 03 322 8735 office@oaklands.school.nz www.oaklands.school.nz

Ohoka RD2 Kaiapoi, Kaiapoi 03 312 6840 office@ohoka.school.nz www.ohoka.school.nz

Ōpāwa School 30 Ford Rd. Opawa, Christchurch 03 332 6374 principal@opawa.school.nz www.opawa.school.nz

Our Lady Star of

the Sea

45 Colenso Street, Sumner 03 326 5315 office@ourladystar.school.nz www.ourladystar.school.nz

Ouruhia School 21 Turners Rd, Christchurch 03 323 8855 principal@ouruhia.school.nz http://ouruhia.wikispaces.com

Parkview Chadbury St, Parklands 03 383 0833 office@parkview.school.nz www.parkview.school.nz

Pegasus Bay

School

5 Solander Rd, Pegasus 03 920 7000 principal@pegasusbay.school.nz www.pegasusbay.school.nz

Prebbleton School Blakes Road, Prebbleton 03 349 6553 admin@prebbleton.school.nz www.prebbleton.school.nz

Queenspark 222 Queenspark Drive, Christchurch 03 383 1578 admin@queenspark.school.nz www.queenspark.school.nz

Rangiora new Life

School

2 Denchs Rd, Rangiora 03 313 6332 admin@rnls.school.nz www.rnls.school.nz

Redcliffs Truro St, Sumner 03 384 3853 admin@redcliffs.school.nz www.redcliffs.school.nz

Riccarton Primary English Street, Upper Riccarton 03 348 5700

office@riccartonprimary

.school.nz

www.riccartonprimary

.school.nz

Russley 74 Cutts Road, Russley 03 342 7783 reception@russley.school.nz www.russley.school.nz

South New Brighton 160 Estuary Road, South New Brighton 03 388 9426 admin@snbs.school.nz www.snbs.school.nz

Springston School 16- 20 Leeston Road, Springston 03 329 5724 office@springston.school.nz springston.school.nz

St Bernadette's

Catholic

St Joseph's

Papanui

74 Hei Hei Road, Hornby 03 342 9780 admin@stb.school.nz

www.stbernadetteschch

.school.nz

4 Vagues Rd, Christchurch 03 352 8779 principal@stjopapa.school.nz www.stjopapa.school.nz

St Martins Albert Terrace, St Martins 03 332 6121 admin@stmartins.school.nz www.stmartins.school.nz

St Patrick's Kaiapoi 61 Fuller St, Kaiapoi 03 327 7700 tcoleman@stpatkai.school.nz www.stpatkai.school.nz

St Peter's 11 Fisher Avenue, Beckenham 03 332 7598 office@saintpeters.school.nz www.saintpeters.school.nz

Sumner Colenso Street, Sumner 03 326 6546 admin@sumner.school.nz www.sumner.school.nz

Templeton 40 Kirk Road, Templeton 03 349 7045 office@templeton.school.nz www.templeton.school.nz

Waltham School Waltham Road & Hastings Street 03 379 3137 admin@waltham.school.nz www. waltham.school.nz

Westburn 257 Waimairi Road, Ilam 03 358 8173 admin@westburn.school.nz www.westburn.school.nz

West Eyreton 1651 North Eyre Road, Rangiora RD 5 03 312 5850 office@westeyreton.school.nz www.westeyreton.school.nz

West Melton

Primary

743 Weedons Ross Road,

West Melton

03 347 8448 mary@westmelton.school.nz www.westmelton.school.nz

Wharenui 32 Matipo Street, Riccarton 03 348 5263 office@wharenui.school.nz www.wharenui.school.nz

Woodend Full Main Road, Woodend 7641 03 312 7808 g.barber@woodend.school.nz www.woodend.school.nz

Yaldhurst Model 48 School Road, Yaldhurst 03 342 7933 secretary@yaldhurst.school.nz www.yaldhurst.school.nz

Lyttelton Primary School -

Te Kura Tuatahi o Ōhinehou

Parkview School

New Brighton Catholic
---
PAGE 22 BAY HARBOUR

Wednesday June 29 2016

Still Pedalling!

Email bridget.rutherford@starmedia.kiwi

by 5pm each Wednesday

Trevor Crowe's been involved with

cars for a while. You can benefit from

his experience at...

Full Workshop Services

WOF's | Service Checks | Wheel Alignments

Brakes | Clutches | Tyres etc

All makes & models

CAR SALES

Great range of Subarus & other

makes from $5,000 - $35,000

View at www.crowesport.co.nz

518 Moorhouse Ave (East end)

Phone 379 7615 or

email: service@crowesport.co.nz

The Nukes Original

Ukulele Trio

Friday, 8pm at Lyttelton, and

Tuesday, 6.30pm in Akaroa

As part of their warm-up

for warm-up for the Geraldine

Folk Festival, The Nukes Original

Ukelele Trio will perform

at Wunderbar, Lyttelton on

Friday. They will also perform

in Akaroa at the Madeira Hotel

on Tuesday. As part of the

performances, local nine piece,

The Secret Lives of Ukelele will

also perform.

Wunderbar, Lyttelton, door

sales $15, and Madeira Hotel,

Akaroa, door sales $10.

Two Decades of Song!

Saturday, 7.30pm

Directed by Helen Charlton,

Global Voices choir presents

Two Decades of Song! It is a

concert celebrating 20 years of

song together. It will feature

music from the past and present.

Lyttelton Arts Factory,

Oxford St. Adult $20, children

$10.

Victoria Park planting day

Saturday, 10am-noon

Take along sturdy boots,

gloves and a spade and help

plant at Victoria Park this

weekend.

Victoria Park, Port Hills.

Park in Victoria Park and

follow the signs to planting site.

Phone Robbie Hewson on 027

459 2891 for more information.

Rotary LEGO Contest

July 10, 9.30am-noon

This is one for the diaries.

There will be two events taking

place, with teams of three

pupils. Years 1 and 2, and

years 7 and 8 at 9.30am, years

3 and 4 at 10.15am and years 5

and 6 at 11am. The pupils will

make the best LEGO model

in 15min. There will also be

an individuals contest, which

looks at the best model made

at home from an original design

or copied from a design.

Made up models need to arrive

between 9.30am and 10.30am.

There will be lots of prizes.

Sumner Community Centre,

20-28 Wiggins St. Free. For

more information email

Kathryn Tovgaard at ktandkt@

xtra.co.nz or phone 384 9485.

Organised again by Ferrymead

Rotary.

Maori Carving Course

Starting soon

Lyttelton's Whakaraupo

Carving Centre is running

the Tane tu Tane Ora Course,

which is designed to help men

to find a new passion and

INSPIRING: Join Antarctic Heritage Trust tomorrow

at 6pm at The Gaiety to hear about the life of Akaroa

man Frank Worsley. Best known for his role as Captain

of the Endurance on Ernest Shackleton's 1914-1917

Imperial Trans-Antarctic expedition and for navigating

a small lifeboat across a stormy stretch of Southern

Ocean. Join the trust to learn about Worsley, Antarctic

exploration, and the work to conserve the legacy of

the early Antarctic explorers. Email Lydia McLean

at l.mclean@nzaht.org or phone 358 0212 for more

information. ​

sense of belonging and identity

through carving. It is free and

will start as soon as the course

is filled.

It would run three days a

week: Monday, Tuesday and

Wednesday, 10am-3pm until

the end of the year. A free

lunch is provided.

Open to anyone over-16 who

would benefit.

Whakaraupo Carving

Centre, Lyttelton. There will

be limited spaces, but those

interested can phone 741 1410

or Caine Tauwhare on 027

3522288.

Markets

Mt Pleasant Farmers

Market: The market has

temporarily moved to

the western end of the

McCormacks Bay Reserve.

You will find it at the

intersection of McCormacks

Bay and Main Rds. Every

Saturday, 9.30am-12.30pm.

Lyttelton: Every Saturday,

10am-1pm, London St.

Ferrymead

The Person Controller

by David Baddiel

From the author of THE PARENT AGENCY comes a thrilling, funny and

touching new adventure. Fred and Ellie are twins. But not identical

(because that's impossible for a boy and a girl). They do like all the

same things, though. Especially video games. Which they are very

good at. They aren't that good, however, at much else – like,

for example, football, or dealing with the school bullies.

Then, they meet the Mystery Man, who sends them a video

game controller, which doesn't look like any other controller

they've ever seen. And it doesn't control any of their usual

games. When the twins find out what it does control,

though, it seems like the answer to all their problems. And

the key to all their wildest dreams. At least it seems like that…

The Bourne Enigma

by Eric Van Lustbader

The new action-packed thrilling adventure of Jason Bourne co-inciding

with the new movie starring Matt Damon. Jason Bourne is in Moscow

to attend the wedding of his old friend and fellow spymaster General

Boris Karpov. But amid the celebrations, the General has an important

message to deliver to Bourne - 'a lifeline,' he says, 'for the end of the

world'. Before Bourne can decipher this enigmatic warning, Karpov's

wedding ends in chaos and bloodshed. Bourne discovers that the

Russian has betrayed the Kremlin to forewarn him of the crippling

disaster about to engulf the world. Bourne has just four days to discover

the nature of the catastrophe and halt it. To get to the truth, Bourne must

first track down an infamous and elusive arms dealer - a man both he

and Karpov have been hunting for years. With the clock ticking, Bourne

follows a labyrinthine path that weaves from the underbelly of Moscow

to the pyramids of Egypt and the war-torn border between Syria and

Turkey as he races to stop a world-threatening conspiracy in its tracks.

WIN THIS BOOK

book

release

ENTER TO

WIN

THIS BOOK

We have one copy of The Person Controller to give away, courtesy of Take Note Ferrymead. To be in the

draw, email giveaways@starmedia.kiwi with The Person Controller in the subject line or write to Take Note

Book Giveaway (The Person Controller), Star Media, PO Box 1467, Christchurch 8140. To be eligible for the

draw, all entries must include your name, address and contact number. Entries close Tuesday, 12th July, 2016.

Winner of 'Devotion by Louisa Young' is Kimberlee Spiers of Woolston.

Magazine & TV | sTyle.kiwi

Mt Pleasant

style

noun

elegance and sophistication.

synonyms: flair, grace, poise,

polish, suaveness, urbanity,

chic, finesse, taste, class,

comfort, luxury, affluence,

wealth, opulence, lavishness.

Property Wanted

As Is Where Is homes

needed now to meet

high demand after very

successful recent sales!

CAn you HELP?

Redcliffs/Sumner

2 or 3 bed modern

townhouse (or similar)

for a retired couple

wanting to downsize.

For a confidential no-obligation chat about

the value of your home call Chris today.

Chris Moores

Harcourts Grenadier Ferrymead

1020 Ferry Road P: 03 384 7950 | M: 027 588 4440

E: chris.moores@harcourts.co.nz

Sumner

4 bed, 2 bath family

residence wanted for a

lovely growing family

eager to find a home

with room to spread

out.

GRENADIER

Licensed Sales Consultant REAA 2008
---
Wednesday June 29 2016

BAY HARBOUR

PAGE 23
---
PAGE 24 BAY HARBOUR

Wednesday June 29 2016

Slow Cooked

Mexican Beef

Fresh Tegel NZ Skinless Chicken Breast Fillets

SuperValue.co.nz/Recipes

Loose Philippine/Ecuadorian Bananas

$

11 99

kg

$

1 99

kg

Fresh NZ Pork

Shoulder Roast

(Excludes Free Range)

White/Brown/Sliced Button Mushrooms 200-250g

$

8 99

kg

$

3 49

pack

Whittaker's

Chocolate

Block 250g

Signature Range Mild/Colby/Edam Cheese

1kg

Sanitarium Weet-Bix 1.2kg

$

4 29

each

DB/Export Gold/Citrus/Tui

12 x 330ml Bottles/Cans

(Excludes Tui Lager/Pilsner)

$

7 99

each

Lindauer

750ml

(Excludes Special Reserve)

$

5 99

each

Surf Laundry Powder 500g

Please drink

responsibly

$

17 99

pack

$

9 99

each

$

2 00

each

svbhn2906

SuperValueNZ

SuperValue.co.nz

SuperValue Lyttelton: 17 London Street, Lyttelton. Phone 328 7368. Open 7am-9pm, 7 days.

SuperValue Sumner: 3 Village Mall, Sumner. Phone 326 5688. Open 7am-9pm, 7 days.

Specials available from Wednesday, 29th June until Sunday, 3rd July 2016 or while stocks last. We reserve the right to limit quantities. All limits specified apply per customer per day.

Trade not supplied. Prepared meals are serving suggestions only. Props not included. Certain products may not be available in all stores. Proprietary brands not for resale.

Customer Support Freephone 0800 40 40 40.
---
2

[EDITION DATE]

Wednesday June 29 2016

BAY HARBOUR

PAGE 25

Freshly baked quiches, tarts and

pies delivered to your door

Entente Cordiale are located in the distinctive brick building at 650 Ferry Road in Woolston

Imagine having freshly baked quiches,

tarts or pies delivered to your home in

time to serve for dinner and all you need

to do is pop them in to the oven to warm

up.

That's the service offered, Monday to Friday,

to residents around the bays, from Cass Bay

to Purau, by Entente Cordiale, a unique food

business run by husband and wife team Ian

and Gillian Mandley.

High quality ingredients are the key feature

of their products, with the range including

tasty quiches, pork pies, Bakewell tarts and

their signature tarte au citron (lemon tart).

New additions to the menu include chicken

pies, and steak and kidney pies, and all

varieties are available in three family sizes –

small, medium and large.

Or perhaps you are entertaining and

would like to serve tasty nibbles to surprise

your guests without having to prepare them

yourself. Entente Cordiale offers a selection of

beautifully presented platters, which include

sweet and savoury treats, sandwiches and

baguettes. Fresh salads are also available.

For same-day delivery, phone them on

( 03) 376 4482 before noon. Delivery is free for

orders over $25, otherwise the delivery charge

is $5.

Another facet to the business, which is

proving popular around the city, is their

corporate catering. Business lunches, morning

teas, retirement gatherings, openings of new

premises, special events – Entente Cordiale

caters for all these types of occasion. For

example, earlier this year, they catered for the

opening night reception for the French Film

Festival, serving 1500 individual tasty pieces

to the guests.

As Ian and Gillian explain, their philosophy

is to do things properly with genuine

ingredients. That's why these are selected very

carefully, such as their cheeses, which include

French Comté, Brie de Meaux, Emmental

from the French Alps and Gruyere from

Burgundy.

Entente Cordiale is located in the Holy

Smoke building, 650 Ferry Road, Woolston,

(entrance off Catherine Street), which

accommodates their kitchen and a small but

charming caf é where you can choose delicious

treats from the cabinet and enjoy them with a

coffee, tea or juice.

Their opening hours are 9am-4.30pm,

Wednesday to Friday and 10am-3.30pm,

Saturday. Pick-ups from the bakery are

possible outside these hours – phone to

arrange.

Entente Cordiale also wholesales to

other cafés and retail outlets and welcomes

enquiries. Phone (03) 376 4482.

Now delivering between Cass Bay

and Purau 5 days a week

FREE LYT.

HARBOUR

DELIVERY

For orders over $25

($5 fee for orders under $25)

You can choose anything from our selection of freshly baked savoury

and sweet items, from family sized quiches and sweet tarts through

party platters to individual cakes.

Open weekdays from 7.30am Holy Smoke building

650 Ferry Road, Woolston. Ph. 376 4482.

www.ententecordiale.co.nz

Great Service. Awesome Food.

$

15

for

STEAK

NiGHT

Wednesday Night

FREE

MiNi-PuT

kids with accompanying

paying adults. Great option

for dinner while the kids are

entertained!

Friday Night

FRiDAY HAPPY HOuR 5 - 7 PM

UNDER NEW OWNERSHIP

Open for lunch and dinner

Wednesday to Sunday

50 FERRYMEAD PARK DR,

FERRYMEAD

www.ferrymeadevents.co.nz

Phone 03 384-0522
---
PAGE 26 BAY HARBOUR

Wednesday June 29 2016
---
2

[Edition datE]

Wednesday June 29 2016

BAY HARBOUR

PAGE 27

Edgy "As is Where is"

34 Heberden Ave, Sumner

Auction: Thursday, 30 June, 1.00pm (98 Moorhouse Ave) unless sold prior

Redcliffs 107-109 Main Road

Absolute Waterfront in Redcliffs

Catch the rising tide of seaside values. Your chance to purchase

3 bedrooms |2 bathrooms |2 toilets |1 living room | 1 dining room | 2-car garage | Listing this Number: rare treasure FM4815 with 1583m2 of prime land, in two separate titles

(822m2 and 761m2).

This is stunning deep water frontage, on arguably Christchurch's

most desirable waterfront location, with ample width to build your

Grand Design, Wake to a tranquil atmosphere and the sound of

lapping water, with exquisite views across the broad expanse of

the Estuary and Moncks Bay. This rainbow of colour encompasses

stunning sunrises, bright yachts and kayaks, with captivating bird

life.

You will appreciate the proximity to the vibrant Redcliffs

village and shopping amenities. This really is the ultimate

location for your fantasy home. Do your homework, talk to

your architect and start dreaming the dream of waterfront

ownership with your own slice of Christchurch's Riveria.

Check it out on You Tube - 107-109 Main Rd, Redcliffs.

*the boundary line shown is approximates only and we cannot verify accuracy of it

Auction

Thursday 14th July 2016, 1pm

Ray White Auction Rooms

In Rooms 21 Humphreys Drive, Ferrymead

Agent on site 2pm Sunday

rwferrymead.co.nz/OPA23117

Bonnie Brown Licensee Salesperson

If you are looking for a modern funky backyard and a damaged pool area that could

021 343 407

home to do up, then you will find this a be reinstated or removed. The section is fully

bonniebrown@raywhite.co.nz

Take an online tour at www.redcliffswaterfront.co.nz

Open Home Dates: Wednesday and

very cool place. Styling has an industrial fenced and the garage is oversized.

hard to pick with the naked eye.

Saturday 12pm–12.40pm. See you at the

edge with its exposed steel beams, block The layout is two bedrooms and a bathroom Situated at the sunny hill end of Sumner,

Open Days, or for more information

walls and ply kitchen with stainless steel upstairs and one bedroom and a bathroom sheltered from the easterly winds and walking

contact Alison Carter of Harcourts

benchtop. The living is a large open plan space downstairs. The laundry is cleverly concealed distance to St Leonards Park, Sumner School

21 Humphreys Drive, Ferrymead

Grenadier Ferrymead (Licensed Agent

with high ceilings and lots of light. The living behind cupboard fronts. Full engineers and the beach.

REAA 2008) on 384 7950 or mob

has two sets of Eurosliders opening outside reports are available and we are selling on an Our owners now live offshore and a sale is

Phone (03) 384 4179

0274 318 960.

onto a large sundrenched deck with a good uninsured as-is basis. Deemed a rebuild but eminent.

rwferrymead.co.nz /RayWhiteFerrymead Prier Manson Real Estate Ltd Licensed (REAA 2008)

ON DEMAND AT WWW.stylE.kiWi

from magazine

to screen

storiEs givEn nEW liFE

Watch EvEry thursday at

7.30pm

rEpEats Friday at

11am & 4.30pm

ExclusivE intErviEWs

Andrea Allen meets the locals

coming to toWn

A look at what's on

Fashion Focus

Trends to follow

the ultimate guides

ExpErts sharE tips

StyleTV_StarAd_June_HP_001_2016

Freeview HD 40 | Live on ctv.co.nz
---
569a Colombo Street

Christchurch

03 377 6800

www.tocherish.co.nz

PAGE 28 BAY HARBOUR

Wednesday June 29 2016

Sunday 28 August

9.30am – 4.00pm

PROUDLY SPONSORED BY:

bliss

Modern

Contemporary

Hair

CREATING YOUR PERFECT WEDDING

weddings by

collective concepts

www.weddingconcepts.co.nz

Airforce Museum

45 Harvard Avenue,

Wigram, Christchurch

Tickets: $15.00
---
Wednesday June 29 2016

BAY HARBOUR

PAGE 29

Classifieds Contact us today Phone our local team 03 379 1100

Adult Information

LIVE ADULT CHAT

Explicit Naughty

Kiwi Babes 1 on 1

0900 77 747

Asian Babes 1 on 1

0900 88 100

XXX Listen

0900 69 100

Chat $3.99 - Listen $1.99/min+gst

Free VOIP & downloads

www.kiwibabes.co.nz

PHONE NOW!!

Caravans, Motorhomes

& Traliers

Computers

ALL

YOUR

COMPUTER

WORRIES SOLVED!

*$30.00 off your first

service with this coupon!*

No problem too big or

small from home PC's to

business networks. PC

slow? An end to Viruses,

Spyware, and Clogged

Systems. Safe secure

hassle-free computing.

Lost files recovered.

Microsoft Certified,

MCSE, MCP+l. 30 years

experience. Call Andrew

Buxton this week on 326-

6740 or 027 435-7596

for $30.00 off* Custom

Computers Christchurch

Firewood

FIREWOOD Bagged

delivered. Trade Me

Advert 563340295.

Tel 03 3129100.

FIREWOOD Bagged

delivered. Trade Me

Advert 563340295.

Tel 03 3129100.

ADD SOME

COLOUR

Gardening

& Supplies

A GARDEN OR

LANDSCAPING TIDY

UP? Rose & Fruit Tree

Pruning, Shrub, hedge

& tree pruning, Lawns,

Gardening, consistently

reliable general property

upkeep, Dip. Hort. 10

yrs experience, One off

tidy ups or on-going

service. Nick's Property

Maintenance. Keeping

your garden beautiful.

Free Quote. Ph. 942-4440

GARDENER - Need

your home or commercial

garden tidied up or

renovated or require long

term assistance. Phone

Ruth 326-6663 or 021

272-0303

TO YOUR ADVERT!

accountant

Gardening

& Supplies

Landscape

and Garden

Services

If you need help

getting your garden

back in order after

repairs, need any

type of landscape

construction work or

garden restoration.

Ph 021 272 0303

Finance

Holiday

Accommodation

QUEENSLAND SUN-

SHINE COAST AUSTRA-

LIA Resort, Ocean Views,

Balconies, Self Contained,

1 or 2 B/R Ensuite,

Heated Pool, Spa, Sauna,

Free Internet, Shops,

Restaurants, Tennis, Surf

Club & Patrolled Beach,

Public Transport at door.

Ask for our SEASONAL

SPECIALS. Phone 61 7

544-35011 Email: reception@mandolin.com.au

www.mandolin.com.au

Storage

Professional

Movers

Making Local

& International

Moving Easy

0800 4 world

(03) 341 2060

www.worldmoving.co.nz

COAL & FIREWOOD

Clean Dry Firewood

Marcrocarpa, Bluegum,

Oregon & Old Man Pine

Free delivery for 6cm

truckload or 3cm

by arrangement

COAL & FIREWOOD

suppLIEs yARD

stAtE HIgHWAy 75, KAItunA

Lynda or Ron Aldersely

Phone 329 6233

Mon- Sat 8am - 12 noon

Trades & Services

Your local professional

FOR ALL YOUR

PLUMBING

NEEDS

• Bathroom repairs

• Renovations

• Leaks

• Tap Repairs

• Gas and Drainage

Carol and Chris

Phone 376 5322 or email

chcheast@laserplumbing.co.nz

Trades & Services

LANDSCAPING/

STONE WORK

All forms of landscaping,

fences, decking & paving.

Phone Mike

Stoneage Landscapes

021 1499 733

ROOFING

- Re-roofing and

new roofing

- Quality roofing at

the best price around

- Licensed building

practitioner

Robinson

Roofing Ltd

Call Hamish for a

quote 03 347 90 45

Trades & Services

• Cut to size plastic • Sheet sales

• Brochure displays

Easyfix Double Glazing System

No more running windows

DIY and save OR get a quote to install

Showroom at 42 Wordsworth Street, Sydenham

www.awardplastics.co.nz

Phone 03 374 5500 or 0800 426 292

Trades & Services

Trades & Services

Now working

in your area

• Tree Pruning

& Removal

• Stump Grinding

• Hedge Trimming

Fully Insured

Qualified Arborist

For a free quote,

ph 0800 248 733

www.jimstrees.co.nz

Driveway specialist

hill specialist, stamped

concrete specialist and exposed

aggregate specialist

Servicing Canterbury since 1987

MeMber of the New ZealaNd MaSter

CoNCrete plaCerS aSSoCiatioN

M 022 175 7731

aH 03 384 8616

www.concreteworkscanterbury.co.nz

Trades & Services

IF IT'S PLUMBING YOU NEED

10%

WE CAN

Discount

HELP!

With This Ad

0800 217 5862

Landlord Special Service

cAll free

Gas Fitting & Hot Water System

Bathroom & Kitchen Renovations

0800

www.a1plumbing.co.nz

217 5862

We fIX IT All

Hot Water Problems,

Showers, Taps, Toilets,

New Installations

www.a1plumbing.co.nz

Trades & Services

ANDREWS TREE CARE

Services, tree removal,

trimming, stump grinding,

shelterbelt clean up,

section clearing, rubbish

removals, excavation

work, ph 027 728 5688

BRICKLAYER

George Lockyer. Over

30 years bricklaying

experience. UK trained.

Licensed Building

Practitioner number

BP105608. Insurance

work. EQC repairs.

Heritage brickwork a

speciality. No job too

small. Governors Bay.

Home 329-9344, Cell

027 684-4046, email

georgelockyer@xtra.co.nz

CARPET & VINYL

LAYING

Repairs, uplifting,

relaying, restretching,

E mail jflattery@xtra.

co.nz,

ph 0800 003 181

or 027 2407416

CARPETLAYER

Laying and Repairs, 40 yrs

experience, ph Peter 326-

7711 or 027 240-6532

CONCRETE

Decorative Concrete

Placing, Canterbury

owned & operated

for over 10 years,

competitive rates, full

excavation, coloured,

exposed, stamped, call

Paul 027 322 6119

FURNITURE

REMOVALS

Large Trucks $95 +

GST per hour 7 day NZ

wide, packing & moving,

Professional Company,

Professional Service.

Canterbury Relocations

Ltd. ph 0800 359 9313

LANDSCAPE

CONSTRUCTION

Lawns, paving, water

features, irrigation,

planting, decks,

driveways, kerbing, ponds,

retainer walls, fencing.

Free quotes, Phone Tony

021-034-8555

PAINTING SERVICES

Mature, reliable,

conscientious &

experienced, reasonable

rates, no job too small!,

call Ron 027 434-1400 or

03 384-2885

PLASTERING

INTERIOR, no job too

big or too small, specialise

in repair work & new

houses, free quotes given,

over 20 yrs plasterering

experience, ph 027 221-

4066 or 384-2574

Trades & Services

ROOFING

Qualified & Licenced

Practitioner. Re-Roof &

Repairs, all types. Member

New Zealand Roofing

Association. Over 35 years

experience. Phone John

027 432-3822 or 351-9147

email johnmill@ihug.

co.nz

VHS VIDEO TAPES

all camera tapes converted

to DVD, video taping,

weddings, twenty firsts,

special occasions, www.

grahamsvideo.co.nz ph 03

338-1655

WINDOW CLEANING

"Your Windows are the

eyes of your Home", for

a free no obligation quote,

call Greg Brown, Crystal

Clear Window Cleaning

ph 384-2661 or 027 616-

0331 Local Resident

Wanted To Buy

A+ Household effects,

fridges, freezers, washing

machines, ovens. Good

cash paid. Ph Paul 022

0891 671

A Records and Hi-Fi

gear wanted, excellent

prices paid for good

records especially kiwi

and overseas bands 60's

- 90's PennyLane 430

Colombo St Sydenham

7 days www.pennylane.

co.nz ph 3663278 or 021

2226144

Situations Vacant

CA$H

Strippers

& Podium

Dancers

Wanted!

18+ TO APPLY

NEISHA

021 193 0118

Public Notices

Public Notices

Rexellent Rentals

Cars, Vans, Brisbane , Coolangatta

FREE CALL

0800 601 508

www.rexellent.com.au

SALE AND SUPPLY OF

ALCOHOL ACT 2012

SECTION 101

MASTERS THEATRE

PROPERTIES LIMITED, (THE

LICENSEE, C/O Steven Jukes,

11 Duncan Street, Christchurch

8081), has made application

to the District Licensing

Committee at Christchurch for

the issue of ON-LICENCE NEW

in respect of the premises

situated at 26 Marriner Street

Sumner know as HOLLYWOOD

CINEMAS SUMNER.

The general nature of

the business conducted

under the licence is:

ON-LICENCE THEATRE/CINEMA

The days on which and the

hours during which alcohol is

intended to be sold under the

licence are:

MONDAY TO SUNDAY

9.00AM TO 11.00PM.

The application may be

inspected during ordinary

office hours at the office of the

Christchurch District Licensing

Committee, 77 Hereford Street,

Christchurch.

Any person who is entitled

to object and who wishes

to object to the issue of the

licence may, not later than

15 working days after the

date of the first publication

of this notice, file a notice in

writing of the objection with

the Secretary of the District

Licensing Committee, PO Box

73049, Christchurch 8154.

No objection to the issue of

a licence may be made in

relation to a matter other than

a matter specified in section

105(1) of the Sale and Supply

of Alcohol Act 2012.

This is the second publication

of this notice. This notice was

fist published on 23 June 2016

STOP Mandatory Fluoridation

in New Zealand

STOP Mandatory Fluoridation

in New Zealand

International Expert Speaker

Professor Paul Connett

Thursday International 14th July, Expert 7.30pm Speaker – 9.30pm

Addington Events Professor Centre, 75 Paul Jack Hinton Connett Drive, Christchurch

(Tickets Thursday for sale $5 14th www.fluoridefree.org.nz July, 7.30pm – 9.30pm or on the door)

Addington Events Centre, 75 Jack Hinton Drive, Christchurch

(Tickets for sale $5 www.fluoridefree.org.nz or on the door)

Keep Fluoridation Chemicals OUT of Christchurch Water!

Keep Fluoridation Chemicals OUT of Christchurch Water!
---
PAGE 30 BAY HARBOUR

Wednesday June 29 2016

RESOURCE MANAGEMENT ACT 1991

Resource consent applications:

Canterbury Regional Council: CRC167412, CRC167413, CRC167414, CRC167415, CRC167416, CRC167417, CRC167418, CRC167419

Christchurch City Council: RMA/2016/818 and Notice of requirement application: RMA/2016/800

Applicant/requiring authority: Christchurch City Council

Address for service: Jacobs New Zealand Limited, PO Box 1147, Christchurch 8140 Attn: Hamish Peacock. Email: Hamish.Peacock@Jacobs.com

The applicant seeks various statutory approvals to convert wastewater treatment plants to wastewater pumping and storage facilities in Governors Bay, Diamond Harbour, and Cashin Quay, Lyttelton and to construct

a new wastewater pump station on Simeon Quay, Lyttelton. Wastewater flows collected at Governors Bay and Diamond Harbour will be reticulated via a buried submarine pipeline across Lyttelton Harbour to a newly

constructed wastewater pump station at Simeon Quay, Lyttelton. A wastewater pipeline will also be constructed to reticulate wastewater flows through the Lyttelton Vehicle Tunnel and along State Highway 74 and road

reserve to an existing pump station (Pump Station 15) in Alport Place, Woolston where wastewater is pumped to the Christchurch Wastewater Treatment Plant in Bromley.

Construction works and operational activities will take place at the following locations:

Diamond Harbour

Pump Station

Governors Bay Pump

Station

Lyttelton Harbour

(Foreshore and

Seabed)

Site address Pauaohinekotou Head Jetty Road Seabed alignment in

site plan

NZ Topo 50 Grid

Reference (at or about)

Simeon Quay Pump

Station

2A Simeon Quay,

Lyttelton

Lyttelton Pump Station Lyttelton Tunnel Pipeline Crossing at

Heathcote River

Cashin Quay, Lyttelton

Port

SH74, Tunnel Road,

Heathcote

BX24:773697 BX24:719695 Centred at BX24:740700 BX24:771722 BX24:781717 Centred at BX

24:781717

Legal Description RS 39837 Lot 1 DP 55349 Crown Prt Lot 2 DP 9747 and

Lot 2 DP 12311

Additional construction works and operational activities associated with

reticulation will occur in road reserve or Council owned land between

Cashin Quay and Simeon Quay, via Norwich Quay, along Godley Quay,

SH 74, and Tunnel Road, and Bridle Path Road, Port Hills Road, Scrutton

Road, Tunnel Road, Ferry Road and Alport Place.

Canterbury Regional Council

• Use of land for the storage of wastewater at Governors Bay,

Diamond Harbour and Lyttelton Harbour (CRC167412);

• Use of land for excavation at Governors Bay, Diamond Harbour and

Lyttelton Harbour (CRC167413);

• Coastal Permit to disturb the seabed and foreshore during

construction and to temporarily place structures and buoys

at Governors Bay, Diamond Harbour and Lyttelton Harbour

(CRC167414);

• Coastal Permit to place, operate and maintain pipes beneath the

seabed, and where necessary place material over the marine

pipes at Governors Bay, Diamond Harbour and Lyttelton Harbour

(CRC167415);

• Discharge Permit to discharge contaminants to air from construction

at Governors Bay, Diamond Harbour and Lyttelton Harbour

(CRC167416);

• Discharge Permit to discharge stormwater to land and water

(CRC167417);

• Discharge Permit to discharge dewatering water associated with

construction to land and water (CRC167418); and

• Water permit to undertake dewatering of trenches and excavations

associated with construction (CRC167419).

• The drilling, installation placement and use of the wastewater

pipeline over and under surface water bodies (CRC169624)

The applicant seeks a consent duration of 35 years.

Christchurch City Council

• Notice of requirement to designate land at 2A Simeon Quay for

Sewerage Treatment purposes (RMA/2016/800); and

• Land use consent to disturb soil under the Resource Management

(National Environmental Standard for Assessing and Managing

Contaminants in Soil to Protect Human Health) Regulations 2011

and to undertake earthworks (trenching) associated with construction

for trenching (RMA/2016/818).

Lot 2 DP 71318 Crown Crown

SH74, Tunnel Road,

Ferrymead

BX24:751776

The requiring authority has also submitted outline plans to Christchurch

City Council for the conversion of the existing wastewater treatment plants

on designated sites at Governors Bay, Diamond Harbour and Lyttelton

to wastewater storage facilities and pump stations. The details of the

proposed works within the outline plans are described in the bundled

application to Christchurch City Council. However, outline plans are not

subject to notification under the Resource Management Act and therefore

no submissions on the activities at these sites can be considered.

SUBMISSIONS

The above applications may be viewed at Environment Canterbury,

200 Tuam Street, Christchurch, and the Christchurch City Council Civic

Offices, 53 Hereford Street, and service centres - Linwood Service

Centre, Eastgate Mall 1st Floor, Linwood, Christchurch, Fendalton Service

Centre, Cnr Jeffreys and Clyde Roads, Christchurch, Beckenham Service Centre, 66 Colombo Street, Christchurch, Hornby Service Centre, 2/8 Goulding Avenue, Hornby, Riccarton Service Centre, 199 Clarence

Street, Christchurch, Papanui Service Centre, Cnr Langdons Road and Restell Street, Christchurch, Shirley Service Centre, 36 Marshland Road, Christchurch, Lyttelton Service Centre, 15 London Street, Christchurch,

Akaroa Service Centre, 40D Rue Lavaud, Akaroa, and Little River Service Centre, 4236 Main Road, Little River.

The applications may also be viewed on the Environment Canterbury's website at: http://ecan.govt.nz/get-involved/consent-projects/Pages/CCC-Lyttelton-Wastewater-Pipeline.aspx

Any person may make a written submission on any of the above applications.

All submissions should be sent to Environment Canterbury, PO Box 345 Christchurch 8140. Your submission may also be emailed to Environment Canterbury. The email version of the submission form may be found

on the Environment Canterbury website at the following address: http://www.ecan.govt.nz/news-and-notices/notices/

A submission should include your name, address and phone number; the applicant's name and consent application number. A submission must state your reason for submission, whether you support or oppose the

application and if you wish to be heard in support of your submission. The submission must be signed, and a copy forwarded to the Applicant's address for service.

For advice on the Environment Canterbury applications please phone 03 353 9007 or 0800ECINFO (0800 324 636) or visit Environment Canterbury's website (www.ecan.govt.nz).

For advice on the Christchurch City Council applications please phone Ruth Markham-Short (Council Planner) on 03 941 8990 or visit the Christchurch City Council's website at

http://www.ccc.govt.nz/the-council/have-your-say/whats-happening-now/consultations/

Submissions must be received by Environment Canterbury not later than 5.00pm on Friday, 22 July 2016.

Bill Bayfield

CHIEF EXECUTIVE

ENVIRONMENT CANTERBURY

John Higgins

RESOURCE CONSENTS

UNIT MANAGER

CHRISTCHURCH CITY COUNCIL
---
Wednesday June 29 2016

BAY HARBOUR

PAGE 31
---
PAGE 32 BAY HARBOUR

Wednesday June 29 2016

ADVERTISEMENT

PRESENTS

Exciting news for our new and existing clients – CoMBER

aND CoMBER has launched our new mobile window

treatment service. Bringing our expertise and style into

to your home with fabric collections that will inspire.

Presenting all the latest in fabric

collections and technology.

We continue to see parallels between

the world of fashions and interiors

with fabric, colour and finish.

From runway to our hallway,

fabric house are continually

releasing new and exciting fabric

collections, allowing the consumer to

successfully mix and match furniture,

textiles and accessories with style

and confidence.

Planning is an essential part of the

process when deciding on how to

dress each window.

Many important questions must be

considered:

How do your rooms and windows

connect with each other: Will there

be ample stacking space for your

drapery.

New builds allow for more options if

given due diligence during the early

stages of the design process.

A trend is emerging for tracks and

rods to be installed at least 100mm

above the windows and more and

more are being fixed to the ceiling

and slightly puddling on the floor in

order to create an illusion of higher

ceilings, which ultimately translates

to a heightened sense of grandeur

and softness.

Motorised Blinds and Tracks are

on Trend, not just for a new build

options but also for renovation as

well with technology that does not

require wiring installation.

Call one of our experience

consultants to add the finishing

touches with Drapes, Blinds,

Shutters, and Soft furnishings.

n 0800 Dezign

Don't Purchase Your

Window Treatments

Until You've Talked To Us!

UP To 20% oFF

Charles Parsons + Ashley Wilde

UP To 15% oFF

Selected Blockout + Sunscreen Blinds

FREE MEaSURE,

QUoTE & MakING

oN DRaPES

3 months interest-free.

Special conditions apply, offers expire 31 July 2016.

Dial Style - Call NoW 0800 DEZIGN 0800 339 446

Bringing our mobile service into your home

www.comberandcomber.com
---
ON THIS

WEEKEND

SHOW

A Star Media Event

HORNCASTLE ARENA

1ST-3RD JULY 10AM - 5PM

Inspiration | Trends | Technology | Innovation | Show specials

Adults $8 • Children under 12 go free • Free parking

SHOW

Valid for up to 4 people with this coupon only.

SHOW

SATURDAY

SUNDAY

Valid for up to 4 people with this coupon only.
---
Take one step closer

to your dream lifestyle!

SHOW

This premium home and leisure show

has all the inspiration you need. It has

all the latest looks and trends and

guests can see what's new, get ideas

and compare prices with hundreds of

products and services under one roof.

Take advantage of show specials,

informative demonstrations,

thousands of ideas and giveaways.

Be in with a chance to win a

$25,000 Central Heating System

for your home thanks to Central

Heating New Zealand.
---
Exhibitors Directory

Stand

Company Name

Website

16-19 The Glass Room theglassroom.co.nz

20-21 Bambillo Pilows liveevents.co.nz

22 Enviromaster enviromaster.co.nz

23 Equitus Ltd equitus.co.nz

24 One Da Tool doublebatty.com

27 Smart Vent smartvent.co.nz

28-31 Star Media starmedia.kiwi

32 Action Security actionsecurity.co.nz

33 xteriorscapes xteriorscapes.co.nz

34 Chris Stone Photography duophotography.co.nz

35-36 Platinum Homes platinumhomes.co.nz

37 Logan Smythe & Associates Ltd logansmythe.nz

38 The Crowded House Coffee Company Ltd thecrowdedhouse.co.nz

39 Ceramic Hair Straightner showtv.co.nz

40-41 CPS Solar cpssolar.co.nz

42 Kagi Jewellery kagi.net

43 Allwood Trees Limited allwood.co.nz

45-46 Heat Smart heatsmart.co.nz

47 Cookware liveevents.co.nz

48-51 The Flooring Warehouse theflooringwarehouse.co.nz

52-53 Mike Pero Real Estate mikepero.com

54 Shuzi NZ shuzi.co.nz

55 Hypervent hypervent.com

56-57 Jennian Homes Canterbury jennian.co.nz

58 Venus Flooring venusflooring.co.nz

59 Nuttz Gourmet nuttz.co.nz

60 Eric James & Associates Ltd ericjames.co.nz

61 Holloway Builders hollowaybuilders.co.nz

62 UPVC Windows & Doors upvcwindows.co.nz

63 Garden City Communications gccomms.net

64-65 Ecobulb Led ecobulb.co.nz

66-67 Fryair showtv.co.nz

68-69 Urbano Interiors urbanointeriors.co.nz

70 Milestone Homes Canterbury milestonehomes.co.nz

71 NK Windows nkwindows.co.nz

72 Morepork morepork.nz

74 HPAC Energy Centre hpac.net.nz

75 Kitchen Studio Chch kitchenstudio.co.nz

76 Brenna Sincock Hearing & Gordon Audiology sincockhearing.nz gtaudiology.co.nz

77 Wright Hotspring Spas wsp.co.nz

78 Ladder liveevents.co.nz

80 WindoWow showtv.co.nz

81-82 Layne Watson Plumbing & Inline Plumbing

85-86 Homes By Maxim homesbymaxim.co.nz

87 Harcourts Twiss - Keir twisskeir.co.nz

91-93 Central Heating NZ centralheating.co.nz

94 NZ Home Loans - Whitmore nzhomeloans.co.nz

95 Plus 2WP Ltd - Pruning Range showshop.co.nz

99-105 Bed World bedworld.co.nz

106 Treble Glaze trebleglaze.co.nz

107 Happy Spine happyspine.co.nz

108-111 Pool Land poolland.co.nz

112-114 Waghorn Builders Ltd waghornbuilders.co.nz

115 Renovator Extra Pair of Hands z-vise.co.nz

116 Shimono NZ wealthtrading.co.nz

117 Bellamy's Real Estate bellamys.co.nz

118-119 DVS dvs.nz

120 Cornerstone Eco Homes Ltd cornerstoneecohomes.co.nz

121-122 Enable enable.net.nz

124-125 GNZIS breo.co.nz

129-131 Bed Post Chch bedpost.co.nz

134a IPGNZ www.ipgnz.co.nz

134b Curtains Plus curtainplus.co.nz

134c Unovent South unovent.co.nz

134d-134f Urbano Interiors

urbanointeriors.co.nz

135 Shower Dome South showerdome.co.nz

Stand

Company Name

Website

140-142 Heater & Paint Runner liveevents.co.nz

143 Pest Control ecosmart.com

144 Keith Hay Homes khh.co.nz

145-146 Sunshine Solar sunshinesolar.co.nz

147 House of Travel - Hornby hothornby.co.nz

148-149 Plus 2WP - Massage Machine showshop.co.nz

150-151 Retrospective Designs xeoos.co.nz logburners.info

152-153 MagRoc magroc.co.nz

154-156 Resene resene.co.nz

159 Moda Kitchens & Waredrobes moda.co.nz

160 Strategic Homes strategichomes.co.nz

162-163 Jayco Canterbury Caravan Court caravancourt.co.nz

164 Dinghy's & Outboards dinghysandoutboards.co.nz

165 Events NZ

166 WonderChamois doublebatty.com

167 Folding Bamboo Baskets doublebatty.com

168 The Hamptons harcourts.co.nz

170-171 iCycle Electric icycleelectric.co.nz

173 Graphic Glass Canterbury graphicglass.biz

174-175 & 177-178 HRV Windows hrv.co.nz

176 Massage Chair liveevents.co.nz

179 Munchy Seeds munchyseeds.co.nz

181 Ark Financial Group arkfg.co.nz

182 A1 Konjac Sponge at1konjacsponge.com

183 Kleva Cut Knives klevacut.co.nz

184 Dream Doors dreamdoors.co.nz

185 Innovative Driveways innovativedriveways.co.nz

186-187 GJ Gardner Homes gjgardner.co.nz

188-189 Hometech Solartube hometech.co.nz

190 OuterSpace Landscapes outerspacelandscapes.co.nz

191-192 Venluree venluree.co.nz

193 Scentsy db.scentsy.co.nz

194 Health Station showtv.co.nz

195 Duzz-All Beeswax duzz-allbeeswax.co.nz

198 Canterbury Insulation Ltd canterburyinsulation.co.nz

199 Morgan + Stone morganstone.co.nz

202 ANZ anz.co.nz

203 Lifetime Group lifetime.co.nz

204 Canterbury Continuous Spouting continuous.co.nz

206 Bermuda Pools bermudapools.net.nz

207-208 Bambillo Bed liveevents.co.nz

211 Showerwell showerwellchristchurch.co.nz

200-201 & 212-213 Simply Furniture simplyfurniture.co.nz

214-218 4 Seasons Home & Leisure 4seasons.co.nz

219 Natural Flow South naturalflow.co.nz

220-221 HRV Canterbury North& South hrv.co.nz

222-223 Agility Building Solutions agbs.co.nz

224-225 Woll Induction Line showtv.co.nz

226 Project Homes projecthomes.co.nz

227-234 R.V. Super Centre rvsupercentre.co.nz

235-238 Lifestyle lifestylels.co.nz

239 EnableMe enableme.co.nz

240 Vibrating Gym Plate liveevents.co.nz

241-244 Town & Country Gates townandcountrygates.co.nz

245 The Carpet Mill carpetmill.co.nz

247-248 Wall Art NZ mywallart.co.nz

245 & 249 The Carpet Mill carpetmill.co.nz

251-252 Zenteq zenteq.co.nz

253-254 Creative Images Photography creativeimages.co.nz

C6-Concourse Eenergy

eenergy.co.nz

C5-Concourse Stratton Bathrooms

strattonhomes.co.nz

C7 -Concourse Air Con Christchurch

airconnz.co.nz

C1-C4Concourse Avon City Ford

avoncityford.com

See Site Map Springfree Trampoline

springfreetrampoline.co.nz

Outside Tiny House tinyhousenz.co.nz

Outside Generator Place generatorplace.co.nz
---
ON THIS

WEEKEND

SHOW

COME & SEE!

For the latest looks, trends

and ideas...

Heating solutions

Home appliances & cookware

Furniture & bedding

Landscaping

Design and build

Kitchens and bathrooms

Aluminium joinery

Paint and wallpaper

Storage solutions

Windows & doors

Carpet

Spas

Roofing, spouting and guttering

HORNCASTLE ARENA

1st - 3rd July

BE IN TO WIN!

$25,000 central heating system

thanks to

Stand 91-93

COMFORTABLE | HEALTHY | EFFICIENT | FLEXIBLE

SAFE | QUIET | PROGRAMMABLE | PROVEN

A Star Media Event

Inspiration | Trends | Technology | Innovation | Show specials