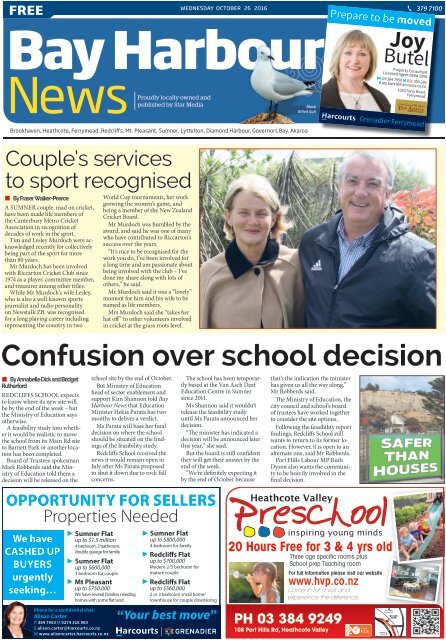 Bay Harbour: October 26, 2016
You also want an ePaper? Increase the reach of your titles
YUMPU automatically turns print PDFs into web optimized ePapers that Google loves.
FREE

Wednesday OCTOBeR 26 2016 379 7100

Prepare to be moved

Bay Harbour

News

Proudly locally owned and

published by Star Media

Black

Billed Gull

Joy

Butel

Property Consultant

Licensed Agent reAA 2008

Ph 03 384 7950 M 021 353 280

E joy.butel@harcourts.co.nz

1020 Ferry road,

Ferrymead

Four Seasons Realty

Grenadier Ferrymead

Brookhaven, Heathcote, Ferrymead ,Redcliffs, Mt. Pleasant, Sumner, Lyttelton, Diamond Harbour, Governors Bay, Akaroa

Couple's services

to sport recognised

• By Fraser Walker-Pearce

A SUMNER couple, mad on cricket,

have been made life members of

the Canterbury Metro Cricket

Association in recognition of

decades of work in the sport.

Tim and Lesley Murdoch were acknowledged

recently for collectively

being part of the sport for more

than 80 years.

Mr Murdoch has been involved

with Riccarton Cricket Club since

1974 as a player, committee member,

and treasurer among other titles.

While Mr Murdoch's wife Lesley,

who is also a well-known sports

journalist and radio personality

on Newstalk ZB, was recognised

for a long playing career including

representing the country in two

• By Annabelle Dick and Bridget

Rutherford

REDCLIFFS SCHOOL expects

to know where its new site will

be by the end of the week – but

the Ministry of Education says

otherwise.

A feasibility study into whether

it would be realistic to move

the school from its Main Rd site

to Barnett Park or another location

has been completed.

Board of Trustees spokesman

Mark Robberds said the Ministry

of Education told them a

decision will be released on the

World Cup tournaments, her work

growing the women's game, and

being a member of the New Zealand

Cricket Board.

Mr Murdoch was humbled by the

award, and said he was one of many

who have contributed to Riccarton's

success over the years.

"It's nice to be recognised for the

work you do, I've been involved for

a long time and am passionate about

being involved with the club – I've

done my share along with lots of

others," he said.

Mr Murdoch said it was a "lovely"

moment for him and his wife to be

named as life members.

Mrs Murdoch said she "takes her

hat off" to other volunteers involved

in cricket at the grass roots level.

Confusion over school decision

Phone for a confidential chat:

Alison Carter

P 384 7950 M 0274 318 960

E alison.carter@harcourts.co.nz

W www.alisoncarter.harcourts.co.nz

school site by the end of October.

But Ministry of Education

head of sector enablement and

support Kim Shannon told Bay

Harbour News that Education

Minister Hekia Parata has two

months to deliver a verdict.

Ms Parata will base her final

decision on where the school

should be situated on the findings

of the feasibility study.

Redcliffs School received the

news it would remain open in

July after Ms Parata proposed

to shut it down due to rock fall

concerns.

OppOrtunity fOr SellerS

Properties Needed

We have

CASHeD up

buyerS

urgently

seeking…

Sumner flat

up to $1.5 million

4 bedroom, 2 bathroom,

double garage for family

Sumner flat

up to $600,000

3 bedroom for couple

Mt pleasant

up to $750,000

We have several families needing

homes with some flat land

"Your best move"

The school has been temporarily

based at the Van Asch Deaf

Education Centre in Sumner

since 2011.

Ms Shannon said it wouldn't

release the feasibility study

until Ms Parata announced her

decision.

"The minister has indicated a

decision will be announced later

this year," she said.

But the board is still confident

they will get their answer by the

end of the week.

"We're definitely expecting it

by the end of October because

Sumner flat

up to $800,000

4 bedroom for family

redcliffs flat

up to $700,000

Modern 2/3 bedroom for

mature couple

redcliffs flat

up to $560,000

2 or 3 bedroom small home/

townhouse for couple downsizing

that's the indication the minister

has given us all the way along,"

Mr Robberds said.

The Ministry of Education, the

city council and school's board

of trustees have worked together

to consider the site options.

Following the feasibility report

findings, Redcliffs School still

wants to return to its former location.

However, it is open to an

alternate one, said Mr Robberds.

Port Hills Labour MP Ruth

Dyson also wants the community

to be heavily involved in the

final decision.

20 Hours Free for 3 & 4 yrs old

Three age specific rooms plus

School prep Teaching room

For full information please visit our website

www.hvp.co.nz

Come in for a visit and

experience the difference

Ph 03 384 9249

108 Port hills Rd, heathcote Valley

Lyttelton

Tunnel

Ferrymead

Heritage Park

Port Hills Rd

Tunnel Rd

We are

here

Bridle Path Rd

Martindales Rd
---
PAGE 2 BAY HARBOUR

Wednesday October 26 2016

FROM

THE

EDITOR'S

DESK

Inside

News....................................3-10

CONGRATULATIONS to Tim

and Lesley Murdoch for receiving

their life memberships of

Canterbury Cricket.

The Sumner husband and wife

roundly deserve the accolades

after their lifetime of involvement

in the sport from playing

to administration (see our article

on page 1).

Also congratulations to

Andrew Turner, the Lytteltonbased

city councillor who will be

deputy mayor for the next three

years.

Andrew is a Yorkshireman

who came to Lyttelton in 2003

and he and his partner bought

the Empire Hotel.

He has also been partner in

the London St Dairy, and Harris

and Turner Fresh Foods.

A future mayor?

All the fun of the fair at Orton Bradley Park

6

–Barry Clarke NEWS

Your Local Views......... 8

Sport...................................14,15

Community Events...18

Health & Beauty............20

Real Estate..................... 21

GET IN TOUCH

General Enquiries Ph 379-7100

Classified Advertising Ph 379-1100

The Christchurch Star Company Ltd. PO box 1467 - Christchurch

starmedia.kiwi

Annabelle Dick. 03 364 7497

annabelle.dick@starmedia.kiwi

NEWS SPORTS ADVERTISING ADVERTISING

Fraser Walker-Pearce. Ph: 364 7424

fraser.walker@starmedia.kiwi

Javier Balcazar. Ph: 982 9308

javier.balcazar@starmedia.kiwi

Rob Davison. Ph: 021 225 8584

rob.davison@starmedia.kiwi

FREE

Cat Food

Bag Giveaway *

Book a cat desexing procedure at

a VetEnt Canterbury clinic before

the end of November and receive

a FREE 1.5kg bag of Royal Canin

neutered food.

Find your nearest clinic today,

www.vetent.co.nz

*Whilst stock lasts, terms & conditions apply.
---
Wednesday October 26 2016

News

BAY HARBOUR

PAGE 3

From grocer to deputy mayor HISTORIC

• By Bridget Rutherford

IN 2009, a group of Lyttelton

business owners were fighting

against a plan to upgrade the

main street during summer –

their biggest trading period.

Back then, the cruise ships

were still visiting Lyttelton, and

business owners wanted the

work on London St to be done

in the winter so it would not

disrupt their trading.

They won the battle. Fastforward

six years and Andrew

Turner is facing a bigger challenge

– the role of deputy mayor.

"I guess if there was one thing

I would say marked my foray

into local politics, it probably

was that," he said.

Mr Turner said there had been

"conversations" since the election

that led to Mayor Lianne

Dalziel announcing him as her

deputy at last week's inaugural

meeting.

"I'm very pleased to have the

role. There's a compliment there

that Lianne has asked me to

perform this role."

Originally from Yorkshire,

United Kingdom, Mr Turner's

background has always been in

business development.

He moved to Lyttelton in

2003, and he and his partner

SWORN IN: Deputy mayor Andrew Turner and Mayor Lianne

Dalziel at the inaugural city council meeting last Thursday.

PHOTO: CHRISTCHURCH CITY COUNCIL ​

bought the Empire Hotel and

"brought it back to life".

Although they sold it in 2009,

Mr Turner said he was sad to see

it come down after the February

2011 earthquake.

Following that, he was coowner

of London St Dairy, and

Harris and Turner Fresh Foods.

That led him to become chairman

of Lyttelton Harbour Business

Association – a role he held

for four years.

Mr Turner was elected as

councillor for Banks Peninsula

in 2013, winning by five votes

over now National MP Nuk

Korako.

Previously he served on the

Lyttelton-Mt Herbert Community

Board for a term, and was

involved in the Lyttelton Master

Plan process and earthquake

recovery.

He said the past three years

had been full of challenges and

was "foundation-laying."

"Last term was really getting

to grips with what we'd inherited.

It was dealing with those

big issues of finance, insurance,

infrastructure, housing, earthquake

settlements and so on."

But this term posed a different

type of challenge – finishing off

the work the last council started.

He wanted to see community

boards getting more power, and

the completion of city council

projects such as the town hall,

Central Library and cycleways

completed.

Mr Turner said as part of his

supporting role to Ms Dalziel, he

would need to be more open to

talking to the media.

"I'm going to need to be approachable

and I'm going to

need to be responding quickly to

those kind of queries."

So is he keen for the top job in

three years?

"Three years is a long time and

a lot can happen. I think that's a

conversation we'd be wanting to

have closer to the time."

In Brief

WALL REPAIR

Lyttelton's 149-year-old Sutton

Quay retaining wall will be saved

as contractors work to fix it.

The parapet of the wall is being

restored after sustaining major

damage during the February

22, 2011, earthquake. The wall

originally supported a ramp that

gave access to the port and was

built of stones fashioned from

Port Hills trachyte. It will have a

double skin of the removed stones

and steel reinforcing bars in

between. The project is scheduled

to be completed in December.

PROTECTION FROM ROCKS

Heberden Ave will be closed as a

rock protection wall is installed.

Fulton Hogan will be modifying

existing services and building a

1.5m rock protection wall on the

edge of the existing footpath for

the length of the site. Pedestrians

will be affected and there will

be detours in place. Work is

expected to continue until

November 30.

ROAD CLOSURE

Cannon Hill Cres will be closed

at the intersection of Bridle Path

Rd for about two weeks from

today. Downer is repairing the

road. Stage two will begin in the

northbound lane of Bridle Path

Rd and traffic lights will be in

place.

TREE TROUBLE?

Call the

TREE PEOPLE

0800 4 SEASONS

384 9630

QUalIFIeD

aRBORIStS

LANDSCAPING & PLANTING

WWW.FOURSEASONSTREECARE.CO.NZ

Trees for CanTerbury

speCialisTs in

• Groundcovers

• Ferns

• Grasses

• Small to big

sized shrubs

Helping our community grow

42 Charlesworth Street

Ph/Fax (03) 982-1028

OPEN 7 DAYS

www.treesforcanterbury.org.nz

Our fee is

1%

min fee applies

We deliver a Powerful

Marketing Advantage

Why would you pay more?

Call Debra Hakaraia

03 384 8600

naTiVe planT

nursery

• Shelterbelts

• ALL grades

• Expert advice

• Planting now

Ask us about Super

Gold Card discounts

Call 0800 326 3326

Email: office@smartconnections.co.nz

www.smartconnections.co.nz

Formerly Andrew

Docking Electrical

(est. 1998)

BUILDING OR

RENOVATING

• New builds -

architectural

specialists

• Lighting design

recommendations

• LED lighting upgrades

• Audio and media

solutions

• Rewiring and

switchboard upgrades

• Inspections

and electrical

assessments
---
PAGE 4 BAY HARBOUR

Wednesday October 26 2016

News

COMING

TOGETHER:

The new

community

centre and

volunteer

library

could be

up and

running by

Christmas.

Library making fast progress

• By Annabelle Dick

HEATHCOTE Valley's

community centre and volunteer

library could be open by the end

of the year.

The new combined facility is

being constructed on the Bridle

Path Rd site of the former community

centre.

The combined insurance proceeds

from the former community

centre and library buildings

of $807,000 has been put towards

the cost of the new building.

The remainder of the $912,000

project has been funded by a

grant and the city council.

Heathcote Valley Community

Association chairwoman Jackie

Maurice said the building process

has been quick and smooth.

"It's at the stage where I think

we're going to be taking the

scaffolding down soon and we're

hopeful that it may even be finished

by Christmas," she said.

The old Heathcote Valley

Community Library, which was

situated on Martindales Rd,

and the community centre were

both demolished after sustaining

damage in the February 22, 2011,

earthquake.

Work began on the new buildings

at the end of June this year

to create a facility which will

have several meeting areas, a

kitchen, bathroom facilities and

a large deck.

Before construction began, the

community was consulted over

what they wanted the centre to

look like.

Ms Maurice said while the

facility has gone up in a matter

of months, the planning, tendering

and city council negotiations

took several years.

"We were one of the first

community centres the council

had thought about rebuilding

so there were a few teething

problems because it was a new

process. But, once we got to the

point that we could agree on how

it should look, it's been remarkably

quick," she said.

She said the community can't

wait to utilise the new building.

Kindergarten decision

expected next month

• By Annabelle Dick

A DECISION will be released

at the start of next month on

whether a kindergarten will be

rebuilt on a contentious site.

Commissioner Justine Ashley

considered Kidsfirst's resource

consent application for a 50-person

early childhood centre at a

Resource Management Act hearing

last Tuesday.

A city council spokeswoman

said a decision will be issued

within 15 working days after

the hearing, which will be by

November 5.

Kidsfirst applied for resource

consent to re-establish a kindergarten

at 3 McCormacks Bay Rd

in June, but were declined due to

a city council mistake.

A property on the street was

meant to notified about the

application but they weren't

initially seen as a property

affected by the centre, so

Kidsfirst had to resubmit their

application.

Kidsfirst wants to introduce

a larger 248 sq m kindergarten

after their Mt Pleasant

kindergarten was damaged in the

February 22, 2011, earthquake.

The new centre would run

UP IN THE AIR: This reserve on McCormacks Bay Rd next to the

Mt Pleasant Memorial Community Centre could be turned into a

kindergarten.

PHOTO: GEOFF SLOAN

longer hours from 8am to 5pm,

with an estimated 200 vehicles

expected to move in and out of

McCormacks Bay Rd.

The plan is to locate the

childhood centre 30m west of

the former kindergarten but a

number of residents opposed the

application.

Homeowners said the narrow

strip is a dangerous place

for a kindergarten, as busy

thoroughfare Main Rd is only

metres away and McCormacks

Bay Rd has a blind corner.

"While the community centre

was being rebuilt, there was three

accidents – one of them had their

door cleaned right off its hinges,"

said Graham Keats, a neighbour

of the proposed childhood

centre.

"It's really bad from a safety

aspect as kids are going to be

loaded and unloaded during the

peak times for traffic."

LYTTELTON

PORT UPDATE

Come and talk to us about our new developments

Saturday 29 October, 10.30am–1pm

'Port Talk', Corner London & Oxford Streets, Lyttelton

BNZ is proud to be part of

the Ferrymead community.

Got any banking questions? Pop in for a chat.

Te Ana Marina

Lyttelton Port of Christchurch (LPC)

is building a new marina at the

sheltered site of the inner

harbour pile moorings in Lyttelton

Harbour – Canterbury's only

walk-on floating marina.

Come and learn more about options

for mooring your boat at the new

Te Ana Marina. You can pick up

a Registration of Interest (ROI) to

licence a berth.

Visit www.teanamarina.co.nz

to learn more and register your

interest in a berth.

Proposed Channel Deepening

We need to increase the width,

depth and length of the Lyttelton

Harbour/Whakaraupō shipping

channel so larger ships can get in

and out of the port.

Our resource consent is being

processed by Environment

Canterbury. We have requested

public notification to allow any

person to lodge a submission.

The environmental monitoring

programme will be the most

extensive ever undertaken on a

dredge project in New Zealand.

Come and see what's planned.

We are open Monday to Friday, 9.00am - 4.30pm

Unit 9, 2 Waterman Place, Ferrymead, Christchurch

0800 275 269 bnz.co.nz

For more information:

feedback@lpc.co.nz (03) 328 8198
---
Wednesday October 26 2016

BAY HARBOUR

PAGE 5

Road layout changes proposed

In Brief

• By Annabelle Dick

DIAMOND HARBOUR could

be getting a new traffic and

footpath layout to address its

"confusing" road system.

The Diamond Harbour Community

Association and city

council staff have been working

together to formulate a plan to

enhance the village following

the earthquakes.

The draft proposal will be

revealed on Saturday at a community

meeting, with three

footpath options.

In January, they decided the

pathway was a priority as visitors

to the village got confused

with the layout,

DHCA chairman

Richard

Suggate (left)

said.

"We need to

separate out

pedestrian traffic from vehicle

traffic and parking too because

at the moment everything's

mixed up with each other. It's all

jumbled," he said.

The draft proposal recommendations

should link up the

community's key facilities and a

redesigned traffic layout around

the village centre.

The footpath would link the

Godley House site, the cemetery,

CHANGE NEEDED: Diamond Harbour's village centre could be revamped to make the roading

and footpath system less confusing.

Stoddart Point Reserve, the

shops, the community and

medical centres, Stoddart Cottage,

the playcentre and local

sports clubs.

The public meeting will be

held at Stage Room, Waipapa

Ave on Saturday from 2pm-4pm

where the draft will be available

for residents to give written

feedback.

City council staff will choose

an option depending on feedback

from the meeting and the

chosen plan will be presented

back to the community.

The city council has allocated

$15,000 as part of its long-term

plan to be spent on planning

for the village and Mr Suggate

hoped work would begin in the

next financial year.

The association was also

working with the city council to

determine the future use of the

Godley House site, develop better

signage, better links to the ferry

and better traffic as part of the

Diamond Harbour Village plan.

The outlines of the other eight

projects supported by the DHCA

will also be available at the

meeting.

Mr Suggate said the next

priority on the list was Godley

House.

BOARD MEETING

Community boards are meeting

for the first time following the

local body election on October

8. The newly-formed Banks

Peninsula Community Board will

have their first public meeting on

October 31 at 1pm in Lyttelton. At

that meeting they will be sworn

in and a chairperson and deputy

chairperson will be chosen to the

lead the board for the three-year

term.

STREET REPAIRS

Footpath and carriageway

repairs will close Stedley Pl next

week. Downer will shut the

street to traffic but access will

be maintained for residents and

there will be no on-street parking

around the work site. The work

began on Monday and is expected

to take about two weeks.

HISTORY PROJECT

Sumner Bays Union Trust is

developing an oral history

project for Sumner and

Redcliffs. The trust is recording

stories of people who were

alive during significant periods

such as World War 2 and the

earthquakes. If you know a

suitable candidate for this

project, please let Eddie Hayes

know at admin@sumnerbays.

org.nz

Kids Birthday Parties

Choose from one of our Great Party Packages to suit!

1

2

3

4

Paintball, mini golf (indoor or outdoor), 50 balls and

club hire for the driving range $39 per child.

Paintball, mini golf (indoor or outdoor) $32 per child.

Indoor and outdoor mini golf, 50 balls and club hire

for the driving range $20 per child.

Indoor or outdoor mini golf, 50 balls and club hire

for the driving range $14 per child.

To book ph 376 5350, 50 Ferrymead Park Drive, Ferrymead

Book any Birthday Party with Caddyshack

and you will receive:

• Mini golf game for each child ($9 per child).

• Use of party room for one hour for $50, or two hours for $90.

• Caddyshack Party Meal and drink.

• Caddyshack lollies.

• Themed party gear including invitations and balloons.

• Caddyshack party host to ensure fun and relaxation.

• The birthday child also receives a gift.

• All party goers receive a free child mini putt voucher for

their next visit.

Ph 384 1566, 21 King Edward Terrace, Woolston

Visit our new website: www.min.nz

With thriving communities and

picturesque views,

the bays are truly spectacular

COASTAL REAL ESTATE SPECIALISTS

We'll help you live the dream.

Min Sarginson Real Estate Ltd. specialises in homes, sections and

rental properties in the spectacular Lyttelton Harbour bays, and

coastal suburbs of Christchurch, New Zealand.

We'll make it so easy for you. All our sales consultants live in the

area – we can give you valuable insights into life in our thriving

coastal communities.

This is an exciting time; of promise, optimism, and opportunities

never anticipated pre-quakes. Beachfront, or hillside with

grandstand views, find the property of your dreams:

Lyttelton | Diamond Harbour | Governors Bay | Cass Bay

Charteris Bay | Church Bay | Purau Bay | Port Levy | Northshore

Southshore | New Brighton | Heathcote | Sumner | Redcliffs

Scarborough | Mount Pleasant | Clifton

Call Min Sarginson Real Estate Ltd. for free, no-obligation advice. Lyttelton: 03 329 4161, lyttelton@min.nz or Church Bay: 03 328 7273, churchbay@min.nz
---
PAGE 6 BAY HARBOUR

Wednesday October 26 2016

A BRANCH OF

News

The Orton Bradley Park spring fair was held on Sunday. There was live music throughout the day for the

5000-7000 people who attended. There was also food and drink tasting, plants, arts, craft and clothing stalls

and fun rides for the kids. Fairgoers could also take a walk through the rhododendron garden, mountain bike

or hike on nearby tracks, or try out the adventure playground. PHOTOS: NICK KING

Michael Toomey

mft@younghunter.co.nz

Proudly providing

legal advice to

the community

for 25 years

FAERIE FUN: Veronica Richards (left), Christchurch Faerie Circle's

Lily Peas Blossom and Leah (front) enjoyed a day out at Orton

Bradley Park spring fair.

SUNDAY FUN DAY: Sebastian took a ride on

Lollipop the pony.

Michelle Rossiter

mjr@younghunter.co.nz

P. 384-5350

www.younghunter.co.nz

david lloyd

Born in England in 1949

Emigrated to New Zealand in 1972

"I have had no formal training in art but have learned at the

coal face doing markets and craft shows. I have been self

employed practising my art since coming to NZ.

Part of the pleasure for me putting this show together has

been the enjoyments of seeing each piece take on its own

story.

The tales we are told when we are young help to shape our

lives making us who we are.

Legends and stories that extend into the roots of civilisation

add to our values and traditions.

Early mankind left rock drawings depicting how they lived

and what they saw in their everyday lives, they would have

made music and communicated with each other as we do

today with story and song. We have become a bit more

sophisticated since the advent of electronic communication.

The ancient Egyptians used hieroglyphics to record their

beginnings and have left a wealth of information about them.

Some cultures have no written language, so song is the way

in which they remember their stories and pass on their past

to the next generation.

I present in this show, a cacophony of untold stories and

songs yet still to be sung."

ROCKING OUT: Stephen McDaid

entertains the audience.

Tales Untold and Songs Unsung

VWB/YULA Series

pLYWOOD VANITY

30% Off

FUN: Carrot

and Pickle

the clowns

put on a

show for the

crowd.

NEW LOCATION

13b Parkhouse Rd, CHRISTCHURCH

OLD STOCK VANITIES

Up TO 50% Off

BEST

SELLER

NEW

David Lloyd

29 October – 23 November 2016

Main Rd, Little River | 03 325 1944 | art@littlerivergallery.com

T018

$

379

NOW $ 249

T039

$

399

NOW $ 189

T010

$

499

NOW $ 249

T003

$

429

NOW $ 289

T008

$

429

NOW $ 289

Open 7 Days

Mon - Fri 9.00 - 5.30, Sat 9.30 - 4.00, Sun 10.00 - 3.00

0800 MILLEN | www.millen.co.nz | 03 348 8678

T021

$

699

NOW $ 499

JOIN US AT CHRISTCHURCH HOME SHOW - STAND 158

OCTOBeR 14th - 16th
---
Wednesday October 26 2016

BAY HARBOUR

PAGE 7

CHILLING OUT: The crowd enjoyed the warm weather at

Orton Bradley Park.

AWAY WITH THE FAERIES:

Fairgoers check out faerie

dress-up costumes and

accessories.

JUMP AROUND: Lily gave the

inflatable obstacle course a go.

BOUNCE: The fair was

full of rides and stalls.

Blundstone 991

incl

$194.35 GST

TOP SELLERS

ANNUAL

PLANT

SALE

22-30

OCT

SAVE UP TO 60% on thousands of selected plants

Includes Natives, Hedging, Grasses, Specimen Trees, Perennials, Forestry & Fruit Trees

Open every day from 9am to 5pm, with plenty of helpful staff! Deals instore only.

Visit www.southernwoods.co.nz/sale for more details.

FINAL WEEK- ENDS

5PM

SUNDAY 30

DIRECT

access to best brands

Download our latest catalogue

38 Brisbane Street, Sydenham | Ph 377 7994

Oliver 45632Z

incl

$206.77 GST

www.amaresafety.co.nz

1133 Main South Road Christchurch 0800 800 352

Promotion valid until 31/03/2017
---
PAGE 8 BAY HARBOUR

Wednesday October 26 2016

Your Local Views

Open to new ideas

Newly-elected

Heathcote

councillor Sara

Templeton talks

about being

chosen for the

role and her

plans for the

next three years

It is a real privilege to be elected

to serve the community and this

month three new representatives

have been chosen by residents of the

new Heathcote Ward. As councillor

I will be joined on the new Linwood-

Central-Heathcote Community

Board by Dr Tim Lindley and Dr

Darrell Latham. Thank you for your

trust and belief in us as we move into

these new roles.

Being an elected representative

involves both advocacy for your ward

and decision-making on behalf of

residents. This requires members

to listen carefully to the needs and

desires of their communities and to

engage with them in an honest and

open way. We are elected for both

our experience and our vision, yet

we need to be open to new ideas and

evidence and to do what is right, both

for now and for future generations.

The new community board will

deal with local issues and at times

will have to balance competing views

within communities and make a

decision. This is not easy and not to

be taken it lightly, as there could be

disappointed residents one way or

another. Meetings are open to the

public and you can also request

speaking rights to let us know your

views on local issues or about projects

you're involved in.

Councillors wear two hats – one

for local issues and one for citywide,

or metropolitan issues. Balancing

the competing needs and desires

of the city against rates and debt is

one of the core responsibilities of

council and I would like to see more

groups and individuals engaged in

the decision-making processes. Our

meetings are also open and are live

streamed, so that you can see how

and why decisions are made.

Please contact Tim, Darrell or I

when you have an issue and we'll

try our best to help resolve it – our

contact details are on the CCC

website. I have also maintained a

Facebook page for the last three

years to keep the community up-todate

with local issues and the work

I have done as Hagley-Ferrymead

Community Board chairwoman. The

page is now called 'Sara Templeton

councillor for Heathcote'. Feel free to

follow and message me at any time.

Readers respond to last

week's question "should

freedom campers be

able to use the Windsport

Park?"

Ken Atkins – There is

a lot of good wind in New

Zealand and a lot of good

shallow, wave-protected

water. Seldom are the two

things co-located adjacent to

a large, safe launch area for

kites oriented to an onshore

wind. It is very necessary for

kiters to have these attributes

and not at all useful to freedom

campers. This location

deserves to be protected

for windsports use. I am in

favour of freedom camping

areas but not in prime sports

sites. How about in the old

stadium?

Lynette and Wayne

Nuttall – I do not think

that Windsport Park should

be used for freedom camping.

There is a commercial

camping very close at South

Brighton and also this is an

area for recreational sports.

When freedom camping was

allowed recently the car park

area was sometimes completely

overtaken.

Now at any given time

there are people enjoying the

view, stopping to have their

lunch or kite surfing which

is a wonderful asset for the

people of Christchurch and

this is how it should stay.

Ron Williams – This area

should be kept for use as its

name suggests, wind sport

. . . freedom camping must

be banned. Toilet facilities

should be built for sunshine

hours and locked at sundown.

Tony Jarman, of

Heathcote Valley – We wish

to voice our opposition to the

planned freedom campers

at Windsport Park. We

have lived in Redcliffs and

Heathcote Valley for the

last 35 years and on many

occasions we visit Windsport

Park to watch the kite surfers

do their stuff while having

a picnic lunch. When the

freedom campers had access

to this area we on many

occasions could not even

get access to the park, when

we could squeeze in quite

often we struggled to even

get out, not to mention the

rubbish and filth that these

so called freedom campers

left behind with absolutely no

consideration for us locals.

There is a local camping

ground on Linwood Ave

that they can use just like

us when we travel around

our beautiful country. We

are of the opinion that we

don't need these type of

tourists in our country they

contribute nothing but take

everything and leave us the

mess to clean up. Saying this,

we love the genuine tourist

who contributes to our

economy and respects our

environment.

We wish the Government

would ban freedom camper

companies that are not

providing self-contained

campervans – we don't need

them. The genuine tourist who

respects our country probably

cops quite a bit of the flack

caused by the disrespectful

so-called freedom campers,

so please don't allow this

foolhardy venture.

Tony Graham – Please

say no to freedom campers

– let the locals access their

playgrounds. I'm totally opposed

to freedom campers

and there's a campground up

the road they can use.

Masters

HOLLYWOOD 3

www.hollywoodcinema.co.nz

28 Marriner St,

Sumner

Phone:

03 326 6102

Less than a month to go

The magazine for

gardeners who

like To geT Their

hands dirTy

www.gardener.kiwi

100%

Dyers Road Landscape

& Garden Supplies

• Barks • Peastraw • Composts - we supply the best available

• Aggregates - Chip, Round and Basecourse

• Pavers & Schist products • Pungas

• Decorative Stones & Landscaping Rocks

• Trailer Hire first hour free with purchase

• Bag & Bulk - pick up or delivered

David, Carol & Mike

We will deliver!

Thursday 27 October - Wednesday 2 November

DOCTOR STRANGE (M) Violence

THU/FRI/TUES/WED 6.00, 8.15 SAT 3.45, 6.00, 8.15

SUN 1.30, 3.45 MON 3.45, 6.00

MONET TO MATISSE (EXEMPT)

THU/FRI/MON/TUES/WED 11.00 SAT/SUN 2.00

INFERNO (M) Violence & offensive language

THU/FRI/SAT/TUES/WED 8.00 SUN/MON 6.00

CAFÉ SOCIETY (M) Violence, drug references, sexual references

THU/FRI/TUES/WED 11.00, 1.30, 6.00 SAT 4.00, 6.00

SUN 4.00 MON 11.00, 2.00, 4.00

HELL OR HIGH WATER (R16) Violence, drug references, sexual references

THU/FRI/TUES/WED 6.00, 8.00 SAT 4.00, 6.00, 8.00

SUN/MON 4.00, 6.00

CYMBERLINE (TBC)

THU/FRI/TUES/WED 1.00 MON 12.00

GOLDEN YEARS (M) Sexual references

THU/FRI/MON/TUES/WED 1.30 SAT/SUN 2.00

STATE OF THE ART HIGH DEFINITION, LICENSED BAR

SOIL

AND

HARDFILL

DUMPING

Phone: 03 384 6540

183 Dyers Rd, Bromley • OPEN 7 DAYS

Weekdays 7.30am-5pm. Weekends 8.30am-3pm

www.dyersroadandlandscapes.co.nz
---
Wednesday October 26 2016

BAY HARBOUR

PAGE 9

free 11mm

high density

FINAL DAYS

luxury underlay

Bonita

• 48oz solution dyed

nylon

• extra heavy duty

+ stairs

• Cut pile

• 2 Colours

NOW

$139.90

3.65m

3.65m

Wide

Wide

Rolls

Rolls

WiTH

FREE

UNdeRlAY

Toulon

• Wool plus

• extra heavy duty

+ stairs

• Cut pile

• 1 Colour

• slightly imperfect

NOW

$95.00

WiTH

FREE

UNdeRlAY

Fairfields

• 48oz Wool plus

• extra heavy duty

+ stairs

• Cut pile

• 3 Colours

NOW

$159.90

3.65m Wide Wide Rolls

3.65m 3.65m Wide Wide Rolls Rolls

WiTH

FREE

UNdeRlAY

Sanctuary

• 55oz Polyester

• extra heavy duty

• Cut pile

• 1 Colour

• slightly imperfect

WiTH

FREE

UNdeRlAY

Tiburon

• 40oz Wool

• extra heavy duty

+ stairs

• loop pile

• 1 Colour

WiTH

FREE

UNdeRlAY

Carterville

• 50 oz Polyester

• extra heavy duty

• Cut pile

• 1 Colour

• slightly imperfect

WiTH

FREE

UNdeRlAY

NOW

$115.00

NOW

$95.00

NOW

$105.00

3.65m Wide Rolls

3.65m Wide Rolls 3.65m Wide Rolls

Horizon

• 36oz solution dyed

nylon

• extra heavy duty

• Cut pile

• 2 Colours

WiTH

FREE

UNdeRlAY

Madison

• 48oz Wool

• Commercial grade

• loop pile

• 1 imperfect colour

WiTH

FREE

UNdeRlAY

Newport

• solution dyed

nylon

• Commercial

grade

• loop pile

• 2 Colours

WiTH

FREE

UNdeRlAY

NOW

$125.00

3.65m Wide Rolls

NOW

$89.90

3.65m Wide Rolls

NOW

$115.00

3.65m Wide Rolls

Garage

carpet

from $15 per sqm

All carpet remnants

priced to clear from

$5 per piece

Conditions apply

Clearing vinyl

FROM

$30 per metre

(2 metre wide vinyl)

312 Wilsons Road North, Waltham Phone 366 0070

www.carpetkingdom.co.nz | Mon - Fri 8am - 5pm | Sat 10am -1pm

Q Card Finance Now Available

FREE no obligation measure & quote (conditions apply.)
---
PAGE 10 BAY HARBOUR

Wednesday October 26 2016

News

Book fair aims

to revamp

library

• By Hanna Reynolds

LYTTELTON PRIMARY School will

hold a book fair to raise funds for its

library.

The school rebuild and merger left

the library out of action for a few years

and in need of re-invigoration.

A second-hand book sale will take

place at the school hall on Saturday,

November 5, at 9am, to raise money to

overhaul the school library collection.

"We are behind a big push to make

it a fabulous and richly-resourced hive

of inspiration for the children," parent

Ruth Connor said.

"Although the new school building

has a beautiful library space, it has

limited funding and really needs an

update to make it an attractive and rich

resource for the children," she said.

The fair will also raise awareness

about the value of books and libraries.

It will take place at the end of the

school's book week, in which there

will be visiting authors and a character

parade to encourage reading.

Book donations are appreciated and

can be made at the school office during

school hours.

The book fair will run from 9am-

2pm in the Lyttelton Primary School

Hall, Sumner Rd. For more details,

contact familyhub@lyttelton.school.nz

ON NOW!

your chance to

win one of three

$1000

SHOPPING SPREES

THIS COULD BE YOU!

FACE-PAINTING FUN: Vivian Luo (left), Bella, Sophia and

Hannah Lin, and Olivia Liu enjoy a day out at Governors

Bay.

WIN

Shop scan

WELCOME: Cholmondeley

Children's Centre chief

executive Shane Murdoch (far

left), Caroline Stiles and board

member David Johnstone were

part of the welcoming party

as the centre opened up its

doors to the public recently.

Once a year, the organisation,

which provides emergency and

respite care for children whose

families are experiencing crisis,

invites the community to take

a trip out to its Governors Bay

base and have a look around.

PHOTOS: GILBERT

WEALLEANS

SAND PIT FUN: Aardijah Sheehan finds a different use for the

sand pit, with a helping hand from Kharnei Ferris (left) and

Emma Jarvis.

enter every time you shop at any of these participating businesses - more draws, more chances to win! Promotion closes 9th Dec 2016. conditions apply.

"Exclusive range of pottery, furniture,

handcrafts, stoneware & gifts"

395 Brougham St,

Christchurch

Ph (03) 365-3411

Open 7 days

Mon-Fri 10-4.30pm

Weekends 10-4pm

The Automotive Lamp

Specialists

New and Used Lamps for Cars, Trucks,

Vans, 4WD and Motorhomes

PH. 0800 225 483

325 Brougham Street, CHRISTCHURCH

Bezzera E61 Machines

Vitamix Blenders

Kitchenaid Mixers

Magimix Processors

Bialetti Espresso

Kai Shun Knives

Lodge Cast Iron

Le Creuset Cookware

Pyrolux Cookware

Arcos Knives

Cutlery Homeware

Cheforks Uniforms

Bamix Stick Blenders

Total Food Equipment

Schott Zwiesel

Victorinox Knives

Dualit Toasters

Electric Mincers

Food Dehydtrators

Cake Decorating

Roasting Dishes

Electric Kettles

Sabatier Knives

Acme Expresso Cups

Imperia Pasta Makers

Staub Cookware

Wood Chopping Boards

218 Moorhouse Ave 03 366 6912

Organic Whole Food Specialist

With a Large Range of Local Products,

Bulk Grains, Home Wares, Health,

Well-being & Beauty and more…

Get 10% off when buying in bulk

$22

WOF

SIZZLING

SAT WOF

SPECIAL

Full mechanical service

+ repair available

Cnr Fitzgerald Ave & Hereford St.

Phone: 365-5220

www.a1auto4service.co.nz

2016 seasoN

NoW starteD

the place to be

this summer!

Season passes available at the Woodford Glen Shop,

129 North Avon Road, ChCh | Ph (03) 385-1515

Check out www.woodfordglen.co.nz for meeting dates

Fresh Produce Delivered

Mon • Wed • Fri • Sat

Join the Co-op membership to

open up more discounts

Open: 10am - 6pm Mon to Fri

9:30am - 4:30pm Sat

10am - 5pm Sun

12 London Street, Lyttelton

03 3288 544 | shop@harbourcoop.co.nz

www.harbourcoop.co.nz
---
Wednesday October 26 2016

BAY HARBOUR

PAGE 11

Four Grenadier Seasons Ferrymead

Realty

Redcliffs

2 Challenger Lane

Experience an irresistible lifestyle of prestige, privacy and convenience from this 454m2 luxury residence with pool

designed by Ray Hawthorne and located on the lower slopes above Redcliffs Township which is within walking

distance. Capturing spectacular sunrises and sea views over the estuary, Shag Rock and the ocean, this pristine

home has extremely generous proportions and radiates style, comfort and elegant sophistication throughout.

Auction: 3 November 2016 from 1pm

View at: www.harcourts.co.nz ID#FM5000

Alison Carter Ph 0274 318 960

4 3 3 4 Sumner

4 2 2 2

5 Van Asch Street

Impeccably presented, this gorgeous three-bedroom home in our very best seaside village is a real gem. Lovingly restored

and updated, it's an absolute stunner, utilizing the modern style to create a funky and unique environment. Vendors have

committed to a move so wax up the surfboards and shake out the beach towels - you could be here by summer. There's

three double bedrooms, the master having its own stunning ensuite with a double shower. Fully fenced and gated, it's

perfect for families with pets or young children. From the striking black and white exterior, with its backdrop of the Port hills,

to the lifestyle you'll enjoy in this premier seaside suburb, there's plenty to fall in love with here.

Auction: 10 November 2016 from 1pm

View at: www.harcourts.co.nz ID#FM5006

Michelle Ward Ph 027 203 7858

AS iS, WheRe iS

Mt Pleasant 7 Challis Place

Mt Pleasant 45 Marama Crescent

Woolston 10 Bass Street

Cashmere 4/2 Wedgewood Avenue

4 2 2 2 3 2 1 2 2 1 1 2 2 1 1

1

Auction: 10 November 2016 from 1pm

View at: www.harcourts.co.nz ID#FM5011

Auction: 10 November 2016 from 1pm

View at: www.harcourts.co.nz ID#FM5010

Auction: 10 November 2016 from 1pm

View at: www.harcourts.co.nz ID#FM5012

Auction: 10 November 2016 from 1pm

View at: www.harcourts.co.nz ID#FM5007

Alison Carter

Ph 0274 318 960

Alison Carter

Ph 0274 318 960

Mari Crampton

Ph 027 230 1098

Deb Beesley

Ph 027 280 8837

Mt Pleasant 10 Peregrine Close

Redcliffs 109 Bay View Road

Bishopdale 5 Maple Street

Sumner 6 Cecil Wood Way

4 2 2 2

4 2 1 1

3 1 1 1 4 2 2 2

Auction: 3 November 2016 from 1pm

View at: www.harcourts.co.nz ID#FM5008

Auction: 3 November 2016 from 1pm

View at: www.harcourts.co.nz ID#FM4997

Auction: 3 November 2016 from 1pm

View at: www.harcourts.co.nz ID#FM4997

Price: $839,000

View at: www.harcourts.co.nzID#FM5002

Chris Moores

Ph 027 588 4440

Alison Carter

Ph 0274 318 960

Chris Smart

Ph 021 871 100

Alison Carter

Ph 0274 318 960

Greg Powell

Branch Manager

027 274 6157

Alison

Carter

0274 318 960

Michelle

Ward

027 203 7858

Deb

Beesley

027 280 8837

Joy

Butel

021 353 280

Chris

Moores

027 588 4440

David

Searle

021 565 950

Kirsty

McLeod

027 226 5893

Liz

Lewis

0274 530 952

This could

be you!

Ferrymead

Carol

Williams

027 282 4950

Mari

Crampton

027 230 1098

Catherine

Dougall

027 588 6844

Dave

Elston

0274 593 165

Chris

Smart

021 871 100

Craig

Todd

027 642 1075

Lisa

Ny

0276 225 060

Megan

Jarratt

027 841 2335

Shaun

Davey

027 953 8860

Alistair

Hazeldine

027 572 1555

1020 Ferry Rd Ferrymead • Ph 384 7950 • harcourtsgrenadier.co.nz

Grenadier Real Estate Ltd MREINZ is a Licensed Agent Under the

Real Estate Agents Act 2008
---
PAGE 12 BAY HARBOUR

Wednesday October 26 2016

Monday, 31st October 2016

Fresh NZ Pork Leg Roast

(Excludes Free Range)

Oak Baked Beans/Spaghetti 420g

$

7 99

kg

89 c each

Californian Sweet Celebration Red Seedless

Grapes

Wattie's Canned Fruit 400-410g

(Excludes Tropical)

$

4 99

kg

$

1 25

each

Fresh Tegel NZ

Chicken Legs

Country Fresh

Washed Potato

Range 2kg

Sealord Hoki Portions/Fillets 300-480g

(Includes Gluten Free)

$

5 99

kg

Speight's Gold Medal Ale/Summit

12 x 330ml Bottles

$

3 99

bag

Villa Maria Private Bin

750ml

(Excludes Pinot Noir/Syrah)

$

6 50

each

Keri Fruit Drink/

Juice 2.4-3L

Please drink

responsibly

$

17 99

pack

SuperValueNZ

SuperValue.co.nz

$

11 99

each

$

3 99

each

SuperValue Lyttelton: 17 London Street, Lyttelton. Phone 328 7368. Open 7am-9pm, 7 days.

SuperValue Sumner: 3 Village Mall, Sumner. Phone 326 5688. Open 7am-9pm, 7 days.

Specials available from Wednesday, 26th October until Sunday, 30th October 2016 or while stocks last. We reserve the right to limit quantities. All limits specified apply per customer per

day. Trade not supplied. Prepared meals are serving suggestions only. Props not included. Certain products may not be available in all stores. Proprietary brands not for resale.

Customer Support Freephone 0800 40 40 40.

svbhn2610
---
Wednesday October 26 2016

BAY HARBOUR

PAGE 13

SPORTS

ON THE DOMAIN

MARCH 4 2017 LINCOLN

LINCOLN'S FINEST SUBDIVISION

Live in Lincoln

nine bands. one day. www.selwynsounds.co.nz

Chance for young surfers

• By Hanna Reynolds

SUMNER BEACH will host

the Canterbury Primary School

Surfing Champs for the first

time on Sunday.

Organiser Steve Tyro of Point

Surf Team said the competition

provided a good platform for

young surfers.

"We are expecting the best

surfers in the area and those

just interested in going in a surf

contest for the experience."

The competition includes the

current year 6 New Zealand

champion, Campbell Heasley

from Northside Boardriders in

Waikuku.

"(We're) doing it to encourage

kids to get into surfing whether it

be for fun or for the competitive

side, and to create some positive

childhood memories," Mr Tyro

said.

Surf club talent scouts from

around New Zealand will be at

the competition to identify unaffiliated

boardriders who could

get a chance to compete in the

New Zealand Primary School

Championships in Gisborne

next year.

"Surfing is included in the

upcoming Olympics and these

are age groups that may have

the chance to go," Mr Tyro said.

PLATFORM:

Jack Tyro (left)

and Johnny

Andrews, of

Point Surf Team

Sumner, and

Jack McKenzie,

of Northside

Waikuku, will be

competing in

the Canterbury

Primary

School Surfing

Championships.

PHOTO: STEVE

TYRO

"They need a starting point

and organised events like this

are a good start."

Winners of each division will

receive a trophy and finalists

will receive medals. Sponsors

from Sumner businesses are

providing prizes.

The event will be held between

Head and Stoke Sts with

the first heat starting at 7.15am.

There are six divisions from

year 5 to year 8, including an all

ages longboard category.

Entry forms for the

competition are on the Point

Surf Team Facebook page and

close tomorrow.

In Brief

SUMNER STARTS STRONG

Sumner Cricket Club's senior side

started their one-day campaign

at home on Saturday with a win

against New Brighton. Sumner

bowled first at St Leonards Square

and the visitors played positively,

scoring in excess of six runs an

over. However, Sumner picked

up wickets regularly to keep New

Brighton in check. New Brighton's

last five wickets fell for eight runs

to finish all out for 183 from 30

overs. Dan Vann and new signing

Jordan Leech came to the crease at

92/4 and formed a crucial 63-run

partnership to give Sumner control

of the game. After Vann's wicket

fell, Leech and Andrew Bird guided

Sumner home for the win.

BAYS CRASH OUT

It was a tournament to forget for

the Ferrymead Bays under-19

football squad. The team played

at Cuthberts Green in Bromley

over Labour weekend in Coastal

Spirit's Lotto under-19 tournament.

After losing all three of their pool

matches against Southland Spirit,

Waimak United and Hornby, and

a play-off match against Parklands,

the side were staring down the

barrel of a wooden spoon finish.

However, the tournament ended

on a high for Bays when they

beat Burwood on penalties in the

15th/16th play-off match.

TOUCH SEASON

Schools from around the Bay

Harbour area will be looking

forward to getting on the field

at McCormacks Bay Reserve

tomorrow. The Bays cluster junior

touch rugby module will start

tomorrow afternoon and will

be run by Sumner Rugby Club

representatives. Heathcote Valley,

Sumner, Mt Pleasant, Redcliffs and

Star of the Sea schools are all taking

part in the competition, which runs

until December 8. Following that,

another seven-week tournament

will begin on February 2 next year

and run until March 16.

CLASSIC BOAT REGATTA

The Akaroa Classic Boats Regatta

is coming to Banks Peninsula

this weekend. On Saturday,

participating boats will be on

display at the Akaroa Recreation

Ground during the morning.

In the afternoon, the boats will

take to the water for an informal

parade past the Akaroa waterfront,

then out into French Bay and

the inner harbour. This will be

followed by an evening function

with a prizegiving at Camp Taylor

in Takamatua.

Nehad, Anita, Ashleigh, Kellie and Grant

Full Service Pharmacy

including...

• Passports Photos

• Revlon Cosmetics and Revlon Club

• Gifts and Gift Wrapping

• Ear Piercing

• Extensive Natural Health range

• Scarves, Hats and Sunglasses

• Focus on Natural Organic Skincare including Trilogy,

Antipodes and Sukin

OPEN SAT & SUN

Dispensary Service

• Medico Packs

• Quit Smoking Quitcards

• Emergency

Contraceptive Pill

• Delivery Service

Owned and operated by

your phamacist, Grant Bell

CAFÉ

NOW OPEN

1005 Ferry Rd, Ferrymead. Ph:943 9635

OPEN 7 DAYS: Mon to Fri 8.30am - 6pm

Sat 9am - 4pm and Sun 10am - 4pm
---
PAGE 14 BAY HARBOUR

Wednesday October 26 2016

FEATURE

LISTING

SIMPLY THE BEST - NEST OR INVEST!

14 St Adela Place

The vendors have outgrown this impressive home and they need to move soon. Only two years old and built

to high specifications, this family-perfect home features three double bedrooms, with built-in wardrobes,

quality curtains and carpet. Immaculate throughout, neutral tones, allow you to place your own stamp here.

An entertainer's haven, host perfect parties with a fantastic indoor/outdoor flow to a sun-drenched patio,

while the kids are safe with the fully fenced outdoor space. Inside, the open plan kitchen, dining and living is

the heart of the home, with quality appliances to make life a breeze.

Family fantastic, immaculate investment

Woolston

Auction

12pm, Fri 28 Oct 2016 (unless sold prior)

3 Deans Ave, Chch

View Thurs/Sun 11.30-12pm

www.bayleys.co.nz/553297

Bonnie Brown

M 021 343 407

bonnie.brown@bayleys.co.nz

WHALAN AND PARTNERS LTD, BAYLEYS,

LICENSED UNDER THE REA ACT 2008

MARILYN STILL

027 229 8769

marilyn.still@bayleys.co.nz

MARILYN STILL &

BONNIE BROWN

NOW WITH BAYLEYS FERRYMEAD

BAYLEYSCANTERBURY.CO.NZ I 03 595 2844 I 987 FERRY ROAD

BONNIE BROWN

021 343 407

bonnie.brown@bayleys.co.nz

CURRENT

LISTING

CURRENT

LISTING

CURRENT

LISTING

111b Taylors Mistake Rd, Scarborough

Rosemarie de Jong - 027 240 8005

3 Peregrine Close, Mount Pleasant

Adam Heazlewood - 027 327 7298

405 Upper Major Hornbrook, Mount Pleasant

Rosemarie de Jong - 027 240 8005

CURRENT

LISTING

CURRENT

LISTING

CURRENT

LISTING

119 & 121 Main Road, Redcliffs

Sara Ashcroft - 021 359 864

08 Marriner Street, Sumner

Rosemarie de Jong - 027 240 8005

220 Major Hornbrook Road, Mount Pleasant

Wendy Miles - 021 533 251

CURRENT

LISTING

CURRENT

LISTING

CURRENT

LISTING

92 Mt Pleasant Road, Mount Pleasant

Sally Hargreaves - 027 240 8005

2 Teviotdale Way, Richmond Hill

Rosemarie de Jong - 027 240 8005

345 Mt Pleasant Road, Mount Pleasant

Steve and Belinda Ellis - 0800 30 30 33

Whalan and Partners Ltd, Bayleys, Licensed under the REA Act 2008
---
Wednesday October 26 2016

SPORTS

Race proves

more popular

than expected

• By Fraser Walker-Pearce

HIGH DEMAND for places in

Sunday's Boulder Bay Classic

has seen 100 extra runners

added to the race.

About 400 runners will start

the race from Taylors Mistake.

Hosted by the Sumner Running

Club for the fourth time

in a row, event organiser Lisa

Brignull said in spite of adding

extra places to the race, people

have still missed out on a spot.

"Because the race is taking

place on (Department of

Conservation) land, we had

to apply for a new consent . . .

and with that they granted us

an extra 100 people that could

race. Those spots were taken

within four days of us advertising,"

she said.

The 10.5km race will see

runners go over the peninsula

and past Boulder Bay out to

Godley Head, then back to

Taylors Mistake.

Mrs Brignull said the only

thing left to do in preparation

for the race is to hope for good

weather.

"We just have to hope the

sun is shining and we'll be

alright," she said.

Young Bay Harbour crews

get experience on the water

• By Fraser Walker-Pearce

FOUR YACHTING crews

from the bay area competed

in a youth competition over

the long weekend, but couldn't

topple an experienced

Marlborough team.

Naval Point Club Lyttelton

hosted the South Island

Youth Interclub Trophy, but

the spoils went to Queen

Charlotte Yacht Club, which

returned home to the Marlborough

Sounds with the

trophy after winning all its

races.

Over the three-day competition,

Naval Point finished second,

with Charteris Bay Yacht

Club third, Mt Pleasant Yacht

Club fourth and Christchurch

Yacht Club fifth.

Of the five teams which

raced each other in Lyttelton

Harbour, four were

local crews and the other was

Queen Charlotte.

Naval Point manager Matt

Hunter said the Queen Charlotte

team was a class above

the other crews and shone

through in the races.

"They were pretty convincing,

and they're quite an

experienced team as well. The

kids did well because they

were sailing in some pretty

strong conditions, sometimes

between 14 and 23 knots," he

SETTING UP: Naval Point Club Lyttelton held an interclub

yachting competition over the long weekend, but results

didn't go the way of the local crews. ​

said.

Mr Hunter said he was

proud of the way the local

competitors handled

themselves against tough

opposition.

The competition saw five

races held each day, with four

of the five teams contesting

each race. Then a team would

be rotated with the one that

missed the previous race.

Mr Hunter said second

place was contested between

the four local crews.

"A lot of the races were

very closely fought between

the Christchurch clubs. In

all races, everyone finished

within a minute of each other,

which was good to see," he

said.

BAY HARBOUR

PAGE 15

FISHERMAN'S

WHARF

Lyttelton Harbour Views

Kiwi, Thai and Chinese Chefs

combine their skills and fresh

local ingredients. Not just

seafood! Steaks, duck and our

famous pork belly; also

vegetarian, dairy and gluten-free.

Desserts created here

with happy eggs and butter.

FROM OUR BOATS

TO YOUR PLATE

39 Norwich Quay, 8082

Lyttelton.

Ph 328 7530.

www.lytteltonwharf.co.nz

Open Thursday to Sunday,

12pm till Late

MALTWORKS VILLAS

LIFESTYLE VILLAGE • HEATHCOTE VALLEY • CHRISTCHURCH

Lifestyle Village

for over 55 yrs

Under offer

• 65 FREEHOLD UNIT TITLES - protecting your

investment (not licence to occupy)

• On site caretaker for maintenance of grounds,

common areas plus a communal clubhouse

• Selection of well designed larger floor plans

with both single and double garaging

• Solar panels on all villas generating

power savings

Sue & Gemma Roberts

P 03 323 6045 Sue 027 4401 282 Gemma 027 2236 471

E sue.roberts@harcourts.co.nz E gemma.roberts@harcourts.co.nz W www.sueroberts.co.nz twisskeir.co.nz Licensed Agent REAA 2008

MALTW

LIFESTYL
---
PAGE 16 BAY HARBOUR

Wednesday October 26 2016

News

Dragon set to rock at Lincoln concert

With a catalogue of hits including Kiwi anthems

April Sun in Cuba, Rain and Are You Old Enough?

Dragon have well and truly earned their place as

New Zealand rock royalty. Tom Doudney caught up

with lead singer Mark Williams in the lead up to their

appearance at the Live in Lincoln Selwyn Sounds

concert in March

FLYING IN and out of

Christchurch over the years,

Mark Williams has often

wondered about the land between

the city and Te Waihora/Lake

Ellesmere as he gazed down from

his seat in the aircraft.

But the Dragon singer admitted

he had to Google Lincoln

when the band were asked to

co-headline the Selwyn Sounds

concert with Mi-Sex and a host

of other well-known New Zealand

artists in March.

Now he knew where it was,

Williams, who joined the reformed

band in 2005, said he was

looking forward to exploring the

area – and to playing with the

rest of the show's line up, most

of who were friends or artists he

had performed with before.

That line-up includes Sharon

O'Neill, Annie Crummer, Margaret

Urlich, Debbie Harwood,

the Jordan Luck Band and former

Opshop frontman Jason Kerrison,

as well as other local bands.

"I think there is a hell of a lot

of nostalgia going to be going on

here and I'm always up for that,"

Williams said.

Although the band has been

releasing new material over the

last 11 years, he indicated people

could expect plenty of old favourites

when they hit the stage.

"We don't tend to add too

much new stuff because we know

that given the longevity of the

band people do want to hear

the songs that were part of their

growing up period," he said.

He said hits like April Sun in

Cuba and Rain remained popular

because they were songs that

every generation could relate to.

"I think it's the same thing that

caught everyone's attention at the

time they came out – they are evergreens,

they are kind of standard

and an integral part of Australian

and New Zealand culture."

In spite of having played the

songs hundreds of times over the

years, Williams said he never felt

like he was going through the

motions when performing them

READY TO ROCK: Singer Mark Williams, bottom, and his band

Dragon are among a stellar line-up of New Zealand acts set to

play Lincoln in March.

and the crowd's positive reaction

was a big part of that.

"It's all about the music, really,

and that mass communication

and that's the thing that has been

driving me since I was five-yearsold,"

he said.

"If we're working hard I kind

of expect [the crowd] to work

hard as well back at me."

Williams said that the band

was likely to turn its attention

to working on some new music

soon after Selwyn Sounds.

With the band members,

which also include Todd Hunter,

Bruce Reid and Pete Drummond,

scattered around New South

Wales, Australia, and with several

hours driving time between

them, they made full use of

modern technology when writing

new music – often emailing

audio recordings back and forth

for each to add their own touch.

"We are way overdue for the

next lot of songs and I think this

one is going to be an album,"

Williams said.

Williams had a successful solo

career before Dragon, with hits

including Yesterday Was Just The

Beginning of My Life and Show

No Mercy, and he didn't rule out

performing a song or two from

those years at Selwyn Sounds

either.

Asked whether there was a

chance he might pop down to

play at Lincoln's Famous Grouse

Hotel after the gig he laughed

and said "you never know."

"If there is something interesting

happening or someone from

the town that we are in says 'go

down and check out this band'

or whatever you will often find

me and the drummer will be

there – not so much Todd or

Bruce," he said.

"With a bit of cajoling, if somebody

asks us I am sure we would

more than oblige."

•Selwyn Sounds will be held

on March 4, from 11.30am-

8.30pm. Tickets can be

purchased via Ticketek and

buyers will be able to prepurchase

a return bus ride

between pick-up points in

Christchurch or Rolleston

and Lincoln Domain.

KSL AUDIT PRESENTS

EARTHQUAKE SOLUTIONS SEMINAR

In association with Aurum Property Systems Ltd

& Simplexity Construction Ltd

Harcourts Ferrymead

Welcomes back

Carol Williams (Duckmanton)

Do you know if you have

serious damage?

Are you struggling with

your insurer?

Have you been

cash settled?

Do you live in a damaged

hillside property?

Do you own a TC3

damaged property?

Have you had a repair

undertaken that you are

not satisfied with?

VENUE:

DATE:

TIME:

RSVP:

PROTOCOL

2 Colombo Street, Cashmere

Wednesday, 2nd November

7pm

Please email office@ksl.co.nz

or contact Emma - 365 4460

Please join us for a night of discussion.

KSL Audit is here to help you negotiate

your claim and will outline the process

we have used for settling in excess of 150

claims, 60% are either hillside property

and TC3.

Aurum will outline how they can help you

as the interface between you, your insurer

and the builder. Aurum has successfully

managed the rebuild of over 100 houses

through their process since 2011 ranging

from $300,000 to $2.3 million

Simplexity Construction will demonstrate

how they can assist homeowners from

scoping the damage, preparing the

reinstatement methodology through to

constructing your repair or rebuild.

Harcourts Grenadier Ferrymead is delighted to

welcome back Carol Williams who has joined Alison

Carter's team.

Alison and Carol have over 3 decades of combined

Real Estate experience and expertise.

Carol's repeat refferal business along with her

passion, enthusiasm and commitment have created

proven results.

Her communication skills are second to none.

Give Carol a call to discuss you Real Estate needs or

schudule a free property appraisal.

Carol Williams

M 027 282 4950 | P 03 384 7950

E carol.williams@harcourts.co.nz

W harcourtsferrymead.co.nz

PROVIDING THE CLAIMS REVIEW YOU DESERVE

GRENADIER REAL ESTATE LTD MREINZ IS A LICENSED AGENT UNDER THE REAL ESTATE AGENTS ACT 2008
---
Wednesday October 26 2016

BAY HARBOUR

PAGE 17
---
PAGE 18 BAY HARBOUR

Wednesday October 26 2016

Meditation and Buddhism

Wednesdays

Today, 7.30pm-9pm

Each class consists of a guided

meditation and a talk based on

Buddhist wisdom. Classes are

suitable for everyone. Join in any

week, booking is not required.

This course will help you to

experience mental clarity and

inner peace by meditating on

the mind itself. Meditation has

many benefits from calming your

mind and helping to dissolve

distractions, worry and delusions

to improving our concentration

and mindfulness. Suggested

donation of $10

Mt Pleasant Community

Centre, 3 McCormacks Bay Rd

Create 'n' Connect Art and

Craft

Thursday, October 27, 9.30amnoon

Enjoy creativity in company.

Take your project along,

or others can help provide

inspiration for something

new to do. Call Beth for more

information on 022 678 1252.

St Andrew's Church, 148 Main

Rd, Redcliffs

Former Families of Redcliffs

Beryl McCombs Kindergarten

Friday, October 28, 5pm-7pm

Join in a farewell (a few years

Email annabelle.dick@starmedia.kiwi

by 5pm each Wednesday

late) for the wonderful Liz

Davey, previous head teacher

of Beryl McCombs Kidsfirst

Kindergarten, for the 16 years of

dedicated, fun-loving education

she provided to so many Redcliffs

children and families. Bring your

own fish and chips or dessert and

entertainment will be provided.

Sumner Community Hall, 20

Wiggins St, Sumner

Mainly Music Movement and

Music Class

Friday, October 28, 9.45am-

11.15am

A fun and educational music

and movement session followed

by morning tea and social time.

A great chance to have fun with

your pre-schoolers and get to

know other local families. $3 per

family. Phone Hazel on 384 1965

or 021 077 1264.

St Andrew's Church, 148 Main

Road, Redcliffs

Learn to Sail

Saturday, October 29, 9am-

5.30pm

Learning to sail is a lot of

fun and provides children and

adults of all ages with valuable

life skills. To help children and

families to get into sailing in

an easy and affordable way,

without the up-front cost of

having to purchase a boat,

Gala

5–8pm

FRIDAY 4 NOVEMBER

Naval Point Club in Lyttelton

has 10 well-equipped Optimist

dinghies. Contact David Noakes

on 021 022 88411 or email

programmes@navalpoint.co.nz

Naval Point Club Lyttelton,

Erskine Point, Lyttelton

HEATHCOTE VALLEY

SCHOOL

Drayton Reserve Working

Bee

Saturday, October 29, 2pm-

4pm

The working group has been

clearing weeds and will now

plant some of the original

native trees which used to grow

in the local area. Everyone is

welcome. If the weather is bad,

the alternative dates will be

October 22 and November 5. For

further information, call Dave

Bryce on 021363498.

Meet at the Avery Pl entrance

Live Entertainment Food & Drink Tombola

CraftStalls Blanket Sales Bouncy Castle

Chocolate Wheel Silent Auction

Mystery Boxes Dunk Tank

Horizontal Bungy

Raff les......

Banks Peninsula Walking

Festival

Saturday, November 5 to

Saturday, November 26

The Banks Peninsula

Walking Festival is back

again. The festival celebrates

the stunning scenery and

intimate communities of Banks

Peninsula. The event is designed

by local people who love to share

their passion for this special

place with people from the wider

community. Participants will

enjoy a refreshing walk and

are guaranteed an enjoyable

experience as they relax, meet

new people and absorb the

stories and atmosphere of

this rugged land right on the

doorstep of Christchurch.

Discover the taonga of Banks

Peninsula with our experienced

FUN NIGHT

OUT: On Friday,

November 4,

from 5pm-8pm,

Heathcote Valley

School will host

their annual school

gala. Head on

down for some

live entertainment,

food, drink stalls

and more. 61 Bridle

Path Rd, Heathcote

Valley. ​

volunteer guides who have a

passion for the land, ecology,

history and communities of this

unique part of Canterbury. Go to

www.bpwalks/banks-peninsulawalking-festival

to view what's

coming up and walks can

either be booked via eventfinda.

co.nz (search Banks Peninsula

Walking Festival) or people

without computer access can call

Sarah on 021 082 53606.

Lyttelton Harbour Information

Centre, 20 Oxford St, Lyttelton

Markets:

Mt Pleasant Farmers' Market

Every Saturday, 9.30am

12.30pm, 3 McCormacks Bay Rd

Lyttelton Farmers' Market

Every Saturday, 10am-1pm,

London St

3 Garlands Road, Woolston

DeluxeCinemas.co.nz

Phone FREE Bookings ICE CREAM | Free Parking WITH | EVERY Cafe/Licensed TICKET Bar

03 389 5360

Online Before Bookings 5pm, Monday | Cinema to Friday. Club Terms | Hot & Conditions Nuts/ Cheeses Apply.

An Absolute Crowd Pleaser

M Violence, Coarse Language,

DAILY CAFE SOCIETY: 12:10pm, 4.15pm THU: 12:20pm, SING 4:35pm, STREET

6:30pm

Some Scenes May Disturb

Young Children

WED FRI: 12:20pm, 12:10pm, 4.15pm, 4:25pm, 8:20pm 6:30pm SAT: 12:20pm, 4:25pm, 6:30pm, 8:35pm

Pauline Collins, Jonathan Pryce

THU SUN, MON: 10:00am12:20pm, 4:25pm, DOUG

6:30pm

M Course Language and sexual references.

TUE: 12:20pm, 4:35pm, 6:30pm, 8:25pm

WED 12:10pm, 4.15pm, 8:20pm

NZ Biggest Film Ever

M Violence, Coarse Language,

WED: 11:00am,

Some Scenes May Disturb

THU 10:00am

1:15pm, 6:30pm

HUNT FOR THE WILDERPEOPLE Young Children

Jacky Cambel, Seth Rogan

M Violence, Coarse Language,

DAILY THE GIRL 12:10pm, ON THE 4.15pm TRAIN:

Some Scenes May Disturb

ME

WED:

BEFORE

1:10pm, 8:20pm

YOU Young Children

THU: 2:15pm, 6:15pm, 8:25pm FRI, SAT, SUN, MON: 2:15pm, 6:20pm

WED 12:10pm, 4.15pm, 8:20pm

An Absolute Crowd Pleaser

TUE: 2:15pm, 6:15pm WED: 3:15pm, 8:30pm

M Violence, Coarse Language,

Some Scenes May Disturb

THU 10:00am THE PAPAL BASILICAS Young Children

Pixar Family Film

INFERNO: WED: M Violence, Coarse Language, Some

FINDING 3:30pm, 8:30pm DORYTHU: JULY 11:50am, 20TH 8:30pm

Scenes, May Disturb, Young Children

COMING

FRI: 11:50am, 8:35pm SAT: 11:50am SUN, MON: 11:50am, Pixar 8:35pm Family Film

M Violence, Coarse Language,

FINDING DORY JULY 20TH Some Scenes, May Disturb,

TUE: 11:50am, 8:30pm WED: 11:50am

Pixar Family Film

SOON

M Violence, Coarse Language, Some

FINDING DORY JULY 20TH Scenes, May Disturb, Young Children

BRIDGET JONES'S BABY: WED: 1:55pm, 6:10pm THU: 10:00am, 3:55pm

FRI, SAT, SUN, MON: 10:00am, 2:05pm TUE: 10:00am, 3:55pm WED: 4:10pm

GOLDEN YEARS: WED: 12:00pm THU: 10:00am, 2:05pm

FRI, SAT, SUN, MON: 10:00am TUE: 10:00am, 2:05pm WED: 10:00am, 2:15pm

MISS PEREGRINE'S HOME FOR PECULIAR CHILDREN:

WED: 10:45am

HELL OR HIGH WATER: FRI, SAT, SUN, MON: 4:30pm, 8:25pm

COMING SOON: OCT 27TH I, Daniel Blake

NOV 3RD The Light Between The Oceans

NOV 3RD The Accountant

OCT 30TH A Clockwork Orange

Cafe Society PG. The Girl On The Train R16 Violence, offensive language, sex scenes and content

that may disturb. Inferno M Violence and offensive language. Bridget Jones's Baby M Offensive

language and sexual references. Golden Years M Sexual references. Miss Peregrine's Home For

Peculiar Children M Violence and scary scenes. Hell or High Water PG.

SAT. NOVEMBER 5

6 ISSUES

delivered to your door

FROm ONly

$

44. 50

SUBSCRIPTIONS FREEPHONE

0800 77 77 10

rugbynews.co.nz

Thinking of Selling?

SPRING into action!

After the dormant winter months the property market has sprung

into life with very active buyers urgently looking for their new

home. If considering selling before Christmas call Chris today

for an up to date property appraisal and latest market news.

For a confidential no-obligation chat about

the value of your home call Chris today.

Chris Moores

Harcourts Grenadier Ferrymead

1020 Ferry Road

P: 03 384 7950 | M: 027 588 4440

E: chris.moores@harcourts.co.nz

GRENADIER

Licensed Sales Consultant REAA 2008

& DINNER $65

Tickets

WOOLSTON CLUB

43 Hargood St, Woolston | ph 389 7039

www.woolstonclub.co.nz

SHOW &

THREE COURSE

MEAL

Tickets available at club reception

& online: http://tickets.dkcm.co.nz

BOOK YOUR

XMAS PARTY

SET MENUS STARTING FROM

$25 PER HEAD

THE ORIGINAL GOURMET PIZZA BAR

EMAIL US FOR OUR SET MENU: FERRYMEAD@WINNIEBAGOES.CO.NZ | PH. 376 4900
---
Wednesday October 26 2016

BAY HARBOUR

PAGE 19

Inspiring young minds

Heathcote Valley Preschool is a modern,

purpose built Childcare Centre located in

Heathcote Valley, Christchurch with an

emphasis on high quality care and education

for all young children comprising of three

individual areas. We cater for families with

children aged 3 months to six years.

What makes us unique:

✓ State of the Art, purpose built facilities.

Stimulating, spacious and fully air-conditioned

modern learning environment

✓ Teaching room designed to aid in transitioning

to school

✓ Dedicated, professionally qualified teachers

✓ Low child to teacher ratio

✓ Quality, comprehensive, educational learning

programmes

✓ Web-based learning stories through EDUCA

✓ We offer 20 hours ECE for all 3 and 4 year old

children

✓ On-site chef providing nutritious meals and

snacks

✓ On-site hairdresser

✓ Extra curricular activities offered include PMP,

brain gym, dance classes, sporty shorties,

instruments, learning other languages

Nursery

Our Nursery provides a peaceful and nurturing environment

for your 0-18 month old child. Our high teacher to child ratio

ensures your baby receives full attention and individual care

consistently each day. An inspiring environment offers a range of

safe equipment and activities that allows babies to explore, excite,

discover, stimulate and experiment through their sensory play.

Toddlers

Our Toddler room is set up for children aged between 18 months

and 2-year-old children and children aged between 2-3 years of age

with a focus on independence and self help skills. The environment

highlights space for child to explore, challenge, discover and foster

their physical and social skills. Our 18 month to 2-year-old children

use our primary care-giving system as the Nursery children.

Preschool

Our Preschool learning programmes are designed to support

children aged 3 to 5 years old as they discover who they are so that

they can learn to express their own opinions and nurturing ideas.

Our environment offers stimulating, challenging and accessible

resources in a specially created environment entices the child to

explore, discover, manipulate and learn.

The Teaching Room

The Teaching room is a prepared environment providing an

education foundation for successful future development. The room

is a well resourced, specifically designed environment set within

the centre designed for children over 3 years. Within this prepared

environment we are able to recognise the unique and diverse

learning approaches of each child.

Ferrymead

Heritage Park

We are

here

Bridle Path Rd

Port Hills Rd

Tunnel Rd

Martindales Rd

Lyttelton

Tunnel

108 Port Hills Road, Heathcote Valley | Open 7.30am-6.00pm

Come in for a visit and experience the difference.

Phone us today 03 384 9249

hvp.co.nz
---
2

[EDITION DATE]

PAGE 20 BAY HARBOUR

Wednesday October 26 2016

Spinal health is

brain health

The spinal cord is literally an

extension of the brain, which

means that spinal health is brain

health says the New Zealand

Chiropractors' Association as part of a

drive to explain how improved brain-body

communication is vital to improving the

nation's wellbeing.

"The focus of chiropractic care is on the

health and integrity of the nervous system,"

chiropractor and NZCA spokesman

Dr Hayden Thomas explains.

"The health and function of the spine

affects the entire nervous system. We

already know that the spinal cord is part of

the central nervous system and processes

information just like parts of the brain do,

and the latest New Zealand research into

the effects of chiropractic care suggests

that it may have an important role to

play in maximising sporting performance

and aiding recovery from a range of

conditions where muscle function has

been compromised."

The New Zealand College of

Chiropractic Centre for Chiropractic

Research has recently published a study

in the journal Experimental Brain

Research, which suggests that full spine

chiropractic adjustments can significantly

improve brain-body communication

and coordination.

According to Dr Thomas, "Earlier

New Zealand research indicated

that chiropractic care improves the

communication between the brain and

body and results in better control of the

core muscles during body movements,

so that your spine is at less risk of injury.

The researchers tell us that just a single

"The focus of chiropractic care is on the

health and integrity of the nervous system,"

chiropractor and NZCA spokesman

Dr Hayden Thomas.

session of chiropractic care may improve

muscle activation and increase muscle

contractions to the same extent as three

weeks of gym-based strength training."

New Zealand research indicates that

chiropractic care may have a role to

play in assisting those who display poor

proprioceptive function, the ability of the

brain to sense the relative position of the

body parts in space and the ability to move

accurately and precisely without having

to look at what you are doing. Without

accurate proprioception, you would not be

able to drive a car safely as you would need

to constantly look at what your arms and

legs are doing.

"We know that chiropractic care assists

brain function in many ways, one of

which is proprioceptive function and this

improves the accuracy of the internal brain

map so your brain accurately knows what

is going on all the time."

Tracy

Sally

Jolene

Tuesday-Saturday, 9am-5pm

Wednesday-Thursday, 9am-7pm

Tuesday & Friday, 10am-2pm and

Saturday 10am-4pm

Pro Fiber

Prescriptive reconditioning

treatment. $30 in salon,

plus take home products.

Ask your stylist which one is

best for you.

Phone 03-328-8859 or book online

www.facebook.com/honeycomblyttelton

34a London Street, Lyttelton

Your Local

Friendly

Dental

Team

Varicose Vein Treatment

Non-surgical Vein Laser Treatments available

Tired of aching and unsightly veins?

No surgery, no scars, no stitches. No time off work

- continue normal daily activities. An affiliated provider to

Southern Cross Health Society (medical necessity

criteria apply) - check your policy for cover.

Enjoy skirts, short and cropped pants again.

Payment plans available (Conditions apply)

230 Barrington st

332 4004

Easy parking

& great service

Free Assessment

www.transformclinic.co.nz | 52A Mandeville St | Riccarton | 08002lookgood | 343 2880
---
Wednesday October 26 2016

REAL ESTATE

Sublime lower slopes living

20a Seamount Terrace, Mt Pleasant

4 bedrooms | 3 bathrooms | 2 car-garage

Positioned at the top an exclusive leafy

lane this new highly specified family

home enjoys some of the best views on

Mt Pleasant.

Light infused rooms showcasing floor to

ceiling glass, pristine presentation and an

intelligent floorplan allow you to live and

entertain with ease. An integral feature of

the house is the balance of indoor-outdoor

living spaces, with an easy transition from

the open plan kitchen, dining and living

area to the superb north-facing secluded

balcony. Every room exudes a sense

of luxury and appeal and no detail has

been spared. There's even a semi selfcontained

apartment for extended family

or teenagers craving privacy.

This is a primo location which the whole

family will love offering easy access to

high decile schools, cafes, shops and

services.

Act quickly, our vendors have moved

north and purchased another home so

this property must be sold on or before

auction day.

Auction

1.00pm, Wed 9 Nov 2016

On site (unless sold prior)

View Thurs, Sat, Sun 11.30-12.00pm

rwferrymead.co.nz OPA23275

Mark Gardner - 021 633 669

mark.gardner@raywhite.com

Ferrymead 03 384 4179

Prier Manson Real

Estate Licensed (REAA 2008)

BAY HARBOUR

PAGE 21

now bigger than ever

The magazine for gardeners who

like to get their hands dirty

Celebrate the success of local

businesses and people!

growing with you

SprIng Is here –

It'S Sow Time

how to get the best results from

seeds and seedlings

100% NatIve In

The capItal

Unravelling the secrets of

Otari-wilton Bush

The New Zealand

landscape awards

The people behind

the projects

September 2016 | 100%

It's time

to grow!

New look and more

content than ever!

MeeT LeSTer Brice

A Garden coach

Thursdays at 7.30pm

CTV Freeview Channel 40,

live and on demand at ctv.co.nz

SubScribe from

$43. 50*

$7.90 incl. GST

*6 issues/6 months

ISSN 2423-0219

Save our roSeS

How a rose register is protecting our heritage

auckland Botanic GardenS

Why we love our public grounds

SUBSCRIPTIONS FREEPHONE

0800 77 77 10

www.gaRdENER.kIwI
---
PAGE 22 BAY HARBOUR

Wednesday October 26 2016

Adult Information

LIVE ADULT CHAT

Explicit Naughty

Kiwi Babes 1 on 1

0900 77 747

Asian Babes 1 on 1

0900 88 100

XXX Listen

0900 69 100

Chat $3.99 - Listen $1.99/min+gst

Free SLOTS & downloads

www.kiwibabes.co.nz

PHONE NOW!!

Community Events

ALCOHOLICS

ANONYMOUS, If you

want to have a drink thats

your business. If you want

to stop, we can help. Phone

0800 229-6757

Gardening

& Supplies

Landscape

and Garden

Services

If you need help

getting your garden

back in order after

repairs, need any

type of landscape

construction work or

garden restoration.

Ph 021 272 0303

Gardening

& Supplies

A GARDEN OR

LANDSCAPING TIDY

UP? Rose & Fruit Tree

Pruning, Shrub, hedge

& tree pruning, Lawns,

Gardening, consistently

reliable general property

upkeep, Dip. Hort. 10

yrs experience, One off

tidy ups or on-going

service. Nick's Property

Maintenance. Keeping

your garden beautiful.

Free Quote. Ph. 942-4440

GARDENER - Need

your home or commercial

garden tidied up or

renovated or require long

term assistance. Phone

Ruth 326-6663 or 021

272-0303

Classifieds Contact us today Phone our local team 03 379 1100

Holiday

Accommodation

QUEENSLAND SUN-

SHINE COAST AUSTRA-

LIA Resort, Ocean Views,

Balconies, Self Contained,

1 or 2 B/R Ensuite,

Heated Pool, Spa, Sauna,

Free Internet, Shops,

Restaurants, Tennis, Surf

Club & Patrolled Beach,

Public Transport at door.

Ask for our SEASONAL

SPECIALS. Phone 61 7

544-35011 Email: reception@mandolin.com.au

www.mandolin.com.au

Computers

Holiday

Accommodation

ALL

YOUR

SUMNER Holiday

COMPUTER

Accom 027 600 6076

WORRIES SOLVED!

www.kotaresumner.nz

*$30.00 off your first

service with this coupon!*

No problem too big or

small from home PC's to

business networks. PC

slow? An end to Viruses,

Spyware, and Clogged

Systems. Safe secure

hassle-free computing.

Lost files recovered.

Microsoft Certified,

MCSE, MCP+l. 30 years

experience. Call Andrew

Buxton this week on 326-

6740 or 027 435-7596

for $30.00 off* Custom

Computers Christchurch

Tours

ADD SOME

COLOUR

TO YOUR ADVERT!

Rexellent

Rentals

Cars, Vans, Brisbane, Coolangatta

FREE CALL

0800 601 508

e: rexellent@bigpond.com

Trades & Services

LANDSCAPING/

STONE WORK

All forms of landscaping,

fences, decking & paving.

Phone Mike

Stoneage Landscapes

021 1499 733

Trades & Services

HOME CLEANING

basic clean,

declutter,

pantry,

cupboards etc.

9yrs exp

021 051 6150

Trades & Services

Trades & Services

BUILDER

Licensed & Experienced

From new decks

to full remodels

& new builds.

Free quotes

Ph Deane

022 123 1175

Now working

in your area

• Tree Pruning

& Removal

• Stump Grinding

• Hedge Trimming

Fully Insured

Qualified Arborist

For a free quote,

ph 0800 248 733

www.jimstrees.co.nz

Trades & Services

ROOF

PAINTING

Rope & harness

a speciality,

no scaffolding

required,

30 years of

breathtaking

experience.

FREE QUOTES

Exterior staining,

exterior painting,

moss and mould

treatment and

waterblasting

Phone Kevin

027 561 4629

Trades & Services

BOOKKEEPIng

ADMInISTRATIOn

Ph 027 600 6076 www.

kotaresumner.nz

RE-ROOFING

QUALITY ROOFING AT THE

BEST PRICE AROUND

Protect your home with a new Colorsteel roof.

Call for a friendly, FREE assessment and quote.

• Roofing

• Spouting and Downpipe

• Safety rails

• Licensed Building

Practitioner

Ph: 347 9045 or 021 165 1682

Email: Robinsonroofing99@gmail.com

Trades & Services

BRICKLAYER

George Lockyer. Over

30 years bricklaying

experience. UK trained.

Licensed Building

Practitioner number

BP105608. Insurance

work. EQC repairs.

Heritage brickwork a

speciality. No job too

small. Governors Bay.

Home 329-9344, Cell

027 684-4046, email

georgelockyer@xtra.co.nz

CARPETLAYER

Laying and Repairs, 40 yrs

experience, ph Peter 326-

7711 or 027 240-6532

CARPET & VInYL

LAYIng

Repairs, uplifting,

relaying, restretching,

E mail jflattery@xtra.

co.nz,

ph 0800 003 181

or 027 2407416

COnCRETE

Decorative Concrete

Placing, Canterbury

owned & operated

for over 10 years,

competitive rates, full

excavation, coloured,

exposed, stamped, call

Paul 027 322 6119

DRAInLAYER

Reg, all types, 20 yrs hill

work exp, ph 028 408-

0121

ELECTRICIAn

JMP Electrical.

Experienced & registered..

Expert in all home

electrical repairs &

maintence.Call James 027

4401715

FURnITURE

REMOVALS

Large Trucks $95 +

GST per hour 7 day NZ

wide, packing & moving,

Professional Company,

Professional Service.

Canterbury Relocations

Ltd. ph 0800 359 9313

LAnDSCAPE

COnSTRUCTIOn

Lawns, paving, water

features, irrigation,

planting, decks,

driveways, kerbing, ponds,

retainer walls, fencing.

Free quotes, Phone Tony

021-034-8555

MOVIng HOME?

Call Little Miss Clean for

exit cleans 022 359-8624

PAInTIng

PLASTERIng

Free quotes. Int/ext &

roof painting Family run

business, work guaranteed.

Ph Kerin or Paul 022 191

7877 or 379-1281. Website

www.swedekiwipainting.

co.nz

PAInTER/PLASTERER

Experienced tradesman,

quality work, free quotes,

ph Simon 027 389-1351 or

03 328-7280

PLASTERIng

InTERIOR

no job too big or too

small, specialise in repair

work & new houses, free

quotes given, over 20 yrs

plasterering experience, ph

027 221-4066 or 384-2574

ROOFIng

Qualified & Licenced

Practitioner. Re-Roof &

Repairs, all types. Member

New Zealand Roofing

Association. Over 35 years

experience. Phone John

027 432-3822 or 351-9147

email johnmill@ihug.

co.nz

Trades & Services

STOnEMASOn

BRICK&BLOCKLAYER,

Earthquake Repairs, Grind

Out & Repoint, River/

Oamaru stone, Schist,

Volcanic Rock, Paving,

all Alterations new & old,

Quality Workmanship,

visit www.featureworks.

co.nz or ph 027 601-3145

VHS VIDEO TAPES

all camera tapes converted

to DVD, video taping,

weddings, twenty firsts,

special occasions, www.

grahamsvideo.co.nz ph 03

338-1655

WInDOW CLEAnIng

"Your Windows are the

eyes of your Home", for

a free no obligation quote,

call Greg Brown, Crystal

Clear Window Cleaning

ph 384-2661 or 027 616-

0331 Local Resident

Wanted To Buy

A+ Household effects,

fridges, freezers, washing

machines, ovens. Good

cash paid. Ph Paul 022

0891 671

Situations Vacant

CA$H

Strippers

& Podium

Dancers

Wanted!

18+ TO APPLY

NEISHA

021 193 0118

Public Notices

Lyttelton Primary

School

Board of Trustees'

by-election

Nominations are invited

for the election of 1 parent

representative to the board of

trustees.

A nomination form and a

notice calling for nominations

will be posted to all eligible

voters.

You can nominate another

person to stand as a candidate,

or you can nominate yourself

(make sure you sign both parts

of the form).

Additional nomination forms

can be obtained from the

school office.

Nominations close at noon on

Friday 4 November 2016 and

may be accompanied by signed

candidates' statements.

The voting roll is open for

inspection at the school and

can be viewed during normal

school hours.

There will also be a list of

candidates' names, as they

come to hand, for inspection at

the school.

Voting closes at noon on 18

November 2016.

Rita (AH) Norris

Returning Officer

Public Notices

business video

PRoduCTion

A video will bring your business

alive & into your customers mind.

Promote your

services or business

with a professionally

created video with us

• Corporate and

Business video a speciality

• Competitive rates

• 25 years experience

• Start to finished product

• Professional quality guaranteed

PHone KeRRY 021 635 083

MUMS & DADS

Would you like your children to

exercise more and earn some money?

DELIVERY

PEOPLE

WANTED

Bay Harbour News

is looking for people

to deliver the paper

on a Wednesday. The

work involves door to

door delivery of The

Bay Harbour News

Please Call

Leanne Lucus 364-7451

or Mark Coulthard 364 7453

email: deliveries@starmedia.kiwi

Public Notices
---
Wednesday October 26 2016

BAY HARBOUR

PAGE 23

RESOURCE MANAGEMENT ACT 1991

Applicant:

Lyttelton Port Company Limited

Address for service: Jared Pettersson, Lyttelton Port Company Limited, Private bag 501, Lyttelton 8841; or email: Jared.Pettersson@lpc.co.nz

The Canterbury Regional Council has received an application from Lyttelton Port Company for resource consents in respect of its proposed Channel Deepening Project (CDP).

This CDP involves:

• Channel deepening dredging to enable larger vessels to access Lyttelton Port;

• Subsequent maintenance dredging of the channel created after deepening; and

• Dredging of seabed material at Te Awaparahi Bay in preparation for reclaiming land for a new container facility.

Channel Deepening Dredging

The applicant seeks to dredge the area marked 'Dredging for channel deepening' as shown on Figure 1, to a depth that allows a vessel with a 14.5 metre draught to enter Lyttelton Port at all tide levels. In addition to that, the

applicant seeks to dredge the seabed material at Te Awaparahi Bay in preparation for reclaiming land for a new container facility. Dredge spoil (seabed material) will be disposed of at the channel deepening spoil disposal ground

indicated on Figure 1.

The applicant has applied for the following resource consents in

relation to the proposed channel deepening dredging.

(1) CRC172455 - A Coastal Permit:

a. to dredge (disturb) seabed material for purposes of

deepening, extending and widening a shipping (navigation)

channel that includes a ship-turning basin and berth pockets;

and

b. to dredge seabed material in preparation for reclaiming land

for a new container facility in Te Awaparahi Bay; and

c. to deposit seabed material on the seabed associated with (a)

and (b) above.

(2) CRC172522 - A Discharge Permit:

a. to discharge contaminants (seabed material and water) into

water associated with channel deepening dredging as described

in (1) above.

Figure 1: Site Plan for Channel Deepening and spoil

disposal ground

Figure 1

Maintenance Dredging

The applicant seeks to undertake dredging to maintain the

navigational channel, ship-turning basin and berth pockets in the

area marked as the 'Deepened shipping channel' on Figure 2, to

a depth required for a vessel with a 14.5 metre draught to enter

Lyttelton Port at all tides. Dredge spoil (seabed material) will

be disposed of primarily at the offshore maintenance disposal

grounds as shown on Figure 2, with the Godley Head spoil

disposal ground being retained as an alternative option.

The applicant has applied for the following resource consents in

relation to the proposed maintenance dredging.

(3) CRC172456 - A Coastal Permit:

a. to dredge (disturb) seabed material for purposes

of maintaining the depth of a shipping (navigation)

channel that includes a ship-turning basin and berth

pockets; and

b. to deposit seabed material on the seabed associated

with 3(a) above;

(4) CRC172523 - A Discharge Permit:

a. to discharge contaminants (seabed material and water)

into water associated with maintenance dredging in (3)

above.

Figure 2: Site Plan for maintenance dredging

The application includes an assessment of effects.

A consent duration of 35 years is sought for the above four

consents.

A 10 year lapse period is sought for the channel deepening

dredging consents. A 12 year lapse period is sought for the

maintenance dredging consents.

SUBMISSIONS

The above applications may be viewed at Environment Canterbury offices at 200 Tuam Street, Christchurch and the Christchurch City Council, Lyttelton Service Centre, 15 London Street, Lyttleton. The applications may also be

viewed on the Environment Canterbury's website at: http://ecan.govt.nz/get-involved/consent-projects/Pages/Lyttelton-Port-Channel.aspx.

Any person may make a written submission on any of the above applications, but a person who is a trade competitor of the applicant may do so only if that person is directly affected by an effect of the activity to which the

proposal relates that:(a) adversely affects the environment; and (b) does not relate to trade competition or the effects of trade competition.

All submissions should be sent to Environment Canterbury, PO Box 345 Christchurch 8140. Your submission may also be emailed to Environment Canterbury. An electronic submission form may be found on the Environment

Canterbury website at the following address: http://www.ecan.govt.nz/news-and-notices/notices/.

A submission should include your name, address and phone number; the applicant's name and consent application number. A submission must state your reason for submission, whether you support or oppose the

application and if you wish to be heard in support of your submission. The submission must be signed, and a copy forwarded to the Applicant's address for service above. Any submission made online will automatically forward

to the Applicant.

For advice on the Environment Canterbury applications please phone 03 353 9007 or 0800ECINFO (0800 324 636) or visit Environment Canterbury's website (www.ecan.govt.nz).

Submissions must be received by Environment Canterbury not later than 5.00pm on Monday, 5 December 2016.

Bill Bayfield

CHIEF EXECUTIVE

ENVIRONMENT CANTERBURY

Figure 2
---
PAGE 24 BAY HARBOUR

Wednesday October 26 2016

Rattan

3 Piece Cafe Setting

288869

Jack and Jill

Pacific Hardwood

Setting

248065

Whitford

3 Piece Steel

Setting

202058

$

229

Como

3 Piece Cafe

Setting

!88003

$

479

Contempo

Egg Chair

With Cushion

248424

$

97 $

299

Pacific

3 Piece

Bench Setting

1500 x 900mm table and

2 bench seats. Eucalyptus hardwood.

Bench Cushions Included.

!88195

$

599 Siena

3 Piece Pod Setting

Throw cushions included.

288902

$

699

$

1299

Romance Hardwood Umbrella

2.7m, Green. Also available in Black or Natural.

248048

Contempo

9 Piece Table Setting

Wicker !88186

Contempo

4 Piece Wicker Lounge Setting

1700 x 840mm sectional lounger, one

footrest and glass top coffee table. Black

powder-coated aluminum frame. Polyester

cushions included.

248421

Ravenna

4 Piece Wicker Lounge Setting

Rust resistant powder-coated aluminium

frame. All weather wicker.

288872

Siena

4 Piece Lounge Setting

Grey wicker.

288907

$

179

$

2199

$

1999

$

2999 $

3299

Gasmate

Column Heater

Electric 2000w.

248398

Gasmate

Outdoor Gas Fire

293936

$

899

30 Seconds

BBQ Cleaner

1L Spray Bottle

082534

Grillman

2 Piece BBQ

Tool Set

202238

Premium

BBQ Mat

Rectangular

279634

$

79 98

$

299

$9 95

$

14 98

Nouveau

Steel Push Up Umbrella

2.3m, Black.

126185

BBQ Pizza Oven

Fire Box

292702

$

128

BBQ 3 Burner

With Wooden Trays

289049

$

399

Gasmate

Portable BBQ

Powder Coated Ranger.

202319

Weber Q2000

Portable Gas BBQ

239458

$

549

$

49 98

$

349

Cart sold

separately

239465

$

249

Gemini

4 Burner BBQ

Hooded, Black

288996

$

Gemini

499 $

599

6 Burner BBQ

Hooded, Black

288997

Maestro

4 Burner BBQ

Hooded.

248607

$

799 $

999 $

1099

Masport

Graphite

4 Burner BBQ

Hooded.

248612

Horizon

6 Burner BBQ

Hooded, Stainless

Steel.

229235

Ferrymead

1005 Ferry Road, Phone: 366 6306

Opening Hours: Monday–Friday: 7:00am–7pm

Saturday, Sunday and Public Holidays: 8:00am–6:00pm

Offers available at Mitre10 Mega Ferrymead only, until the 6th of November, while stocks last.

mitre10mega.co.nz

If you find a lower price on an identical stocked

product locally we will beat it by 15%.

find us

mitre10.co.nz

If you find the same product cheaper from another Mitre 10 store or Mitre 10 website we'll match that price. Excludes trade

and special quotes, stock liquidations and commercial quantities. The in-store price may be lower than that advertised.