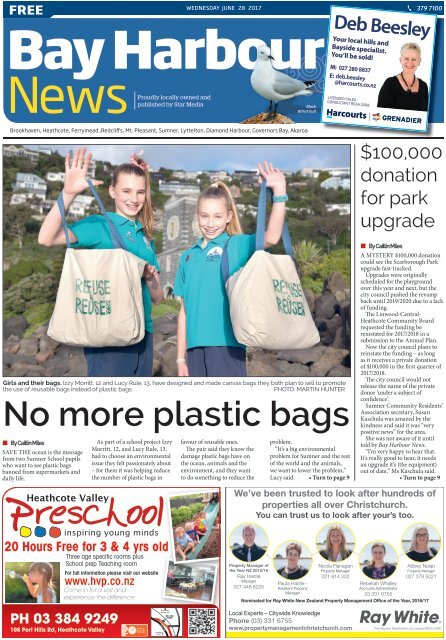 Bay Harbour: June 28, 2017
Create successful ePaper yourself
Turn your PDF publications into a flip-book with our unique Google optimized e-Paper software.
FREE

Wednesday june 28 2017 379 7100

Bay Harbour

News

Proudly locally owned and

published by Star Media

Brookhaven, Heathcote, Ferrymead ,Redcliffs, Mt. Pleasant, Sumner, Lyttelton, Diamond Harbour, Governors Bay, Akaroa

Black

Billed Gull

Deb Beesley

Deb Beesley

Your local hills and

Bayside specialist.

You'll be sold!

Your local hills and

Bayside specialist.

You'll be sold!

M: 027 280 8837

E: deb.beesley

@harcourts.co.nz

M: 027 280 8837

E: deb.beesley

@harcourts.co.nz

LICENSED SALES

CONSULTANT REAA 2008

LICENSED SALES

CONSULTANT REAA 2008

GRENADIER

GRENADIER

$100,000

donation

for park

upgrade

Girls and their bags. Izzy Morritt, 12 and Lucy Rule, 13, have designed and made canvas bags they both plan to sell to promote

the use of reusable bags instead of plastic bags.

PHOTO: MARTIN HUNTER

No more plastic bags

• By Caitlin Miles

SAVE THE ocean is the message

from two Sumner School pupils

who want to see plastic bags

banned from supermarkets and

daily life.

As part of a school project Izzy

Morritt, 12, and Lucy Rule, 13,

had to choose an environmental

issue they felt passionately about

– for them it was helping reduce

the number of plastic bags in

favour of reusable ones.

The pair said they know the

damage plastic bags have on

the ocean, animals and the

environment, and they want

to do something to reduce the

problem.

"It's a big environmental

problem for Sumner and the rest

of the world and the animals,

we want to lower the problem,"

Lucy said. • Turn to page 9

• By Caitlin Miles

A MYSTERY $100,000 donation

could see the Scarborough Park

upgrade fast-tracked.

Upgrades were originally

scheduled for the playground

over this year and next, but the

city council pushed the revamp

back until 2019/2020 due to a lack

of funding.

The Linwood-Central-

Heathcote Community Board

requested the funding be

reinstated for 2017/2018 in a

submission to the Annual Plan.

Now the city council plans to

reinstate the funding – as long

as it receives a private donation

of $100,000 in the first quarter of

2017/2018.

The city council would not

release the name of the private

donor 'under a subject of

confidence'.

Sumner Community Residents'

Association secretary, Susan

Kaschula ​was amazed by the

kindness and said it was "very

positive news" for the area.

She was not aware of it until

told by Bay Harbour News.

"I'm very happy to hear that.

It's really good to hear, it needs

an upgrade it's (the equipment)

out of date," Ms Kaschula said.

• Turn to page 9

We've been trusted to look after hundreds of

properties all over Christchurch.

You can trust us to look after your's too.

20 Hours Free for 3 & 4 yrs old

Three age specific rooms plus

School prep Teaching room

For full information please visit our website

www.hvp.co.nz

Come in for a visit and

experience the difference

Ph 03 384 9249

108 Port hills Rd, heathcote Valley

Lyttelton

Tunnel

Ferrymead

Heritage Park

Port Hills Rd

Tunnel Rd

We are

here

Bridle Path Rd

Martindales Rd

Property Manager of

the Year NZ 2015/16

Ray Hastie

Manager

027 448 8225

Nicola Flanagan

Property Manager

021 914 332

Paula Hastie -

Rebekah Whalley

Assistant Property

Accounts Administrator

Manager

03 331 6755

Nominated for Ray White New Zealand Property Management Office of the Year, 2016/17

Local Experts – Citywide Knowledge

Phone (03) 331 6755

www.propertymanagementchristchurch.com

Abbey Nolan

Property Manager

027 379 5021

Prier Manson Real Estate Ltd Licensed (REAA 2008)
---
PAGE 2 BAY HARBOUR Latest Christchurch news at www. .kiwi

Wednesday June 28 2017

Inside

FROM

THE

EDITOR'S

DESK News...................................... 3-9

EVERY LITTLE bit counts.

And in the case of the campaign

to clean up our oceans, two

Sumner School students (see

page 1) are taking small but very

important steps in the right

direction.

Save the ocean is the message

Izzy Morritt and Lucy Rule are

broadcasting with their school

project campaign to ban plastic

bags from supermarkets and daily

life in general.

Plastic is killing the world's sea

life and the chemicals that plastic

contains has now worked its way

into the food chain.

The world's super powers haven't

taken climate change and the

environment particularly seriously

over the decades.

It will be the likes of Izzy and

Lucy and their generation who

will become leaders of the future.

So maybe there is hope for the

planet's future.

– Barry Clarke

8

Festival of Lights NEWS

Local Views......................4

Local Schools...................15

Sport.................................. 17

Community Events......21

Real Estate.....................22

GET IN TOUCH

General Inquiries Ph 379-7100

Classified Advertising Ph 379-1100

The Christchurch Star Company Ltd. PO box 1467 - Christchurch

starmedia.kiwi

NEWS

Caitlin Miles

Ph: 364 7442

caitlin.miles@starmedia.kiwi

ADVERTISING

Javier Balcazar

Ph: 982 9308

javier.balcazar@starmedia.kiwi

ADVERTISING

Rob Davison

Ph: 021 225 8584

rob.davison@starmedia.kiwi

Crazy but true –

you can have a

smoke-free fire.

You'll be warmer and

save on firewood!

Learn how to burn smoke-free

and be in to WIN great prizes.

Enter meow.

An iPad

Prizes to

WIN!

Purrrfect.

12 Kindling Crackers

40 Cosy Home Packs

Learn more at our website.
---
Wednesday June 28 2017

Latest Christchurch news at www.

.kiwi

BAY HARBOUR

PAGE 3

News

From Bermuda to Akaroa for Team New Zealand?

• By Gordon Findlater

THE AKAROA Yacht Club

hosted a crowd of around 40

for yesterday's America's Cup

finale. After its success they

can't see why they couldn't host

the whole regatta.

"There were some murmurs

of Akaroa hosting the next

America's Cup," laughed club

• By Caitlin Miles

A TEMPORARY targeted

rates increase could be put on

properties in Akaroa to help

fund the health hub.

Akaroa Community Trust

has asked the city council

to increase rates on houses

that the Akaroa Health Hub

would service to help reach its

community fundraising target.

The community needs to

raise roughly $2 million for the

project and, while fundraisers

and private donations are

helping it towards this goal, the

trust thinks the temporary rates

increase could speed things up.

The health hub is not a city

council project, meaning it is

uncertain whether the increase

will actually happen.

City council staff are working

captain Tim Richardson. "It

was a beautiful morning here,

you could have thought you

were in Bermuda, other than

there being no wind and some

ice on the steps."

When a 5am coffee quickly

turns into a champagne breakfast,

any idea can't be ruled out.

The club has been in full

swing, hosting early morning

on a report about the impact of

the proposed rates increase so

councillors can make a more

detailed decision on what it

should do.

Ngai Tahu Holdings – Te

Runanga o Ngai Tahu pulled

out of the project last year,

which meant the Akaroa

community needs to raise the

more of the money required for

the health hub.

The project is a partnership

between the Canterbury District

Health Board and the Akaroa

community.

HAVE YOUR SAY: Should

the city council put a

targeted rates increase on

Akaroa properties? Email

your views to caitlin.miles@

starmedia.kiwi

breakfasts since the beginning

of the Louis Vuitton America's

Cup qualifiers.

"We haven't changed the

menu. It's been ham and cheese

croissants with gold medal ham

from the Akaroa Butchery,"

said Mr Richardson.

Even after the events of San

Francisco, he described the

atmosphere in the early hours

as a calm one.

"We were pretty confident.

We had We Are the Champions

by Queen ready to play as soon

as they crossed the line," he

said.

After the big race some of

the club members got into the

racing spirit themselves with

some remote control yachts on

the wharf.

Plan to increase rates to build health hub

OUTSIDE: An artist's impression of the final design for the

Akaroa Health Hub.

In Brief

MUSEUM LAND FEEDBACK

The Lyttelton community has

until Friday to provide their input

into a proposal to gift city council

land to the Lyttelton Historical

Museum Society. The city council

is considering gifting land at 33-35

London St to the society so it can

rebuild a museum. The city council

has no plans to use the land,

which the Lyttelton Service Centre

occupied until it was demolished

following the February 22, 2011,

earthquake. The land is valued at

$220,000. To make a submission on

the proposed gifting of the land, go

to https://ccc.govt.nz/the-council/

consultations-and-submissions/

haveyoursay/show/39

RESIDENTS PARKING

A decision on introducing

controversial residents only

parking in Clifton Tce, Sumner,

could be made soon. The Linwood-

Central-Heathcote Community

Board will go to the section of

Clifton Tce on Monday which the

city council is proposing to make

residents only parking. This would

mean residents would have to pay

a yearly fee to be able to park there.

The plan was met with mixed

responses from residents. Five

responders supported the plan

and five were against. The

community board is expected to

make a decision once they have

visited the site.

Nuk Korako

National list MP based in

the Port Hills

A

E

P

6/950 Ferry Road, Ferrymead

nuk.korakomp@parliament.govt.nz

03 384 0008

facebook.com/nukkorako.PortHills

korako.co.nz

Funded by the Parliamentary

Service and authorised by

Nuk Korako, 6/950 Ferry Road,

Ferrymead, Christchurch

WINTER

NESTING

Top Quality

Free Range Meat

Cuisine Artisan Award Winner 2017

• Fresh meats – all free range

• Smallgoods made on site

• Gluten free sausages

• Cheeses and deli items

Share, like and

make a comment

on our Facebook

page to go into

the draw to WIN a

$50.00 voucher

Closes June 30, 2017.

303 Colombo Street

(opp Funky Pumpkin)

Telephone: 03 337 2929

www.eurogourmetmeats.co.nz

CHECK OUT OUR

NEW WEBSITE

homestore + ten27 eatery

curtains + cushions + wallpaper + furniture + bed linen + homewares

1027 Ferry Road + 03. 384 4880

www.casualandcountry.co.nz
---
PAGE 4 BAY HARBOUR Latest Christchurch news at www. .kiwi

Wednesday June 28 2017

Your Local Views

ews

ashion

We said:

Port Hills MP Ruth Dyson

is worried nothing will

be done about the

contentious St Andrews

Hill Rd intersection, even

though feedback from the

Gardening

community supports a

change

You said:

Scott Nelson – A stop or give

way sign for north-bound traffic

on Bridal Path Rd would solve the

issue and be cheaper and a sensor

on St Andrews Hill Rd to gauge

otoring

traffic volume and activate the

lights for a bit longer and a green

left turn arrow onto Main Rd.

Stephen Graham – A

fourth option would be to

observe driver behaviour at the

intersection. Anyone having

difficulty has their licence

revoked immediately, and then

intersections everywhere will be

free of incompetent drivers.

Tony Winkworth Howell

– It's a bad design. Needs

reconfiguring.

Chris Farrier – They are out

to destroy our city and make it

not user-friendly.

Katrina Prendergast – Try

getting across there in a truck!

We said:

The Timeball Station will

finally begin its rebuild next

month, a year after it was

supposed to

You said:

Lou Days – I watched that fall

down from Diamond Harbour.

Fantastic that it's going to be

rebuilt.

Stephanie Hunt – Fantastic.

I go and have a look every time

I'm home.

Chris Moyse – So what about

Christ Church Cathedral?

Raewyn Best – So good to

hear, love seeing the timeball

drop.

Benefits of volunteering

List MP for

the Port Hills

Nuk Korako

reflects on

National

Volunteer

Week and

recognising those in the

community

Last week was National

Volunteer Week 2017, so it's

a great time to acknowledge

the amazing contribution

that volunteers make to our

communities.

The theme this year was

"Live, laugh, share – volunteer"

or "Kia ringa hora: Me Mahi

tuao", which really captured the

fact that volunteering isn't only

great for our communities, but

actually benefits those of us who

choose to volunteer.

Volunteering feels great and is

good for your mental and physical

health.

As a former business owner

who has employed many staff, I

can also tell you that volunteer

experience stands out on your

CV and can really enhance your

job prospects.

But, I think if you asked our

wonderful volunteers, they'd tell

you all of these positive benefits

are just a by-product.

The real reason they volunteer

WORKING BEE: Nuk Karako is encouraging people to

volunteer for causes like restoring the Port Hills.

is their desire to do something

good for their community.

There are many volunteering

opportunities available right

here in the Port Hills area.

We have organisations like

0800 HUNGRY, which rely

on volunteers to deliver food

to those who need it, Hohepa

Home, where volunteers can

help make life better for people

living with an intellectual disability,

and many other charitable

organisations which rely on

volunteers for their important

work.

Right now there are also lots

of opportunities for volunteers

to assist with the re-planting

work that is happening as the

Port Hills recover from the fires.

Given it is election year, I

also want to acknowledge the

hundreds of volunteers who will

be hitting the streets to support

election candidates right across

the political spectrum.

Election campaign volunteers

sometimes get a hard time, but

no matter which party they

support these are a dedicated

group of people who are giving

up their time to support the

values and policies they believe

in.

If you are currently a

volunteer – kia kaha. Thank you

for everything you do on behalf

of our community.

If not, perhaps it's time to

think about whether you can

spare some time to help your

community and how your skills

would best be used.

asty Bites

23 Mount Pleasant Road, Mt

Pleasant

oney

SMALL CHANGE

MAKES A BIG DIFFERENCE

Twice a year we clear the Community Fund collection boxes at

Christchurch Airport and share the money across the community.

Kiwi dollars, international currency, small change from your cup

of coffee, plus a top-up donation from us, all add up for local

charities and community projects.

Absolutely Stunning Views!

Fabulous sunny unobstructed views of estuary

and out to sea from this wonderful section on

sought-after lower slopes. Established mature

planting with Portuguese Laurel hedging, stone

steps plus grapefruit and lemon trees. Bob Burnett

Architecture concept plans for "Ecohill Home"

available. Our owner has purchased and leaves a

wonderful opportunity for astute buyers. Geotech

available.

Nicholas & Lyn Martin

Licensed Sales Consultants

M 027 4345 792 P 03 349 9919

lyn.martin@harcourts.co.nz

703 sqm

Boundary Lines are indicative only

Auction Thursday 6 July 10:30 a.m.

Te Hapua Centre, 341 Halswell Road

Unless Sold Prior

View at fourseasons.harcourts.co.nz

ID#HR4497

Licensed Agent REAA 2008

Charities and community groups

can apply for funds at

christchurchairport.co.nz/communityfund

180 Degrees Trust uses outdoor adventures to inspire

and teach life skills to vulnerable Canterbury youth, to

develop self-awareness, confidence and decision making

skills and so initiate a turnaround in young people's lives.

Christchurch Airport proudly supports the 180 Degrees

Trust through the Community Fund.
---
Wednesday June 28 2017

Latest Christchurch news at www.

.kiwi

BAY HARBOUR

PAGE 5

ews

Community

centre for

Birdlings Flat

ashion• By Andrew King

• By Caitlin Miles

AFTER Birdlings Flat residents

lobbied for years for a community

centre they now have one.

The community centre was

opened on Friday and was blessed

by Wairewa kaumatua James

Robinson. The building's name, ​

Gardening

and the lambs inside them

Te Whare o te Mata Hapuku was

gifted by the Wairewa Runanga.

Residents have wanted a

centre since 2008 to provide a

community facility in the area

so people would have a meeting

place and spot to use for various

different events and for some

health services.

In 2014 the city council

otoring

now not only has he lost three

provided $180,000 to help get

a community centre built. The

budget was also topped up by a

Lotteries Grant of $200,000.

The Little River Wairewa

Community Trust took charge

of the project, it managed the

construction and assigned local

builder Callum Schenkel to do the

work.

asty Bites

It's believed that the killing

Trust chairman Robert Burch

said the trust took on the project

because they could see the longterm

benefits the new centre

would bring to the community.

Children's pet sheep

killed in weekend attack

"THEY'RE A pack of thieving

pigs."

That's the view of angry Little

River builder, Danny Bulman,

who woke on Saturday to find

three of his family's pet sheep

had been slaughtered for meat

discarded on the ground.

About 20 of the defenceless

animals had been grazing

in the stockyards next to the

Banks Peninsula Rugby Club

near the corner of SH75 and

Western Valley Rd.

Mr Bulman said all three

were pregnant with twins, so

pets, he has lost six future pets

as well.

"I would love to catch the

bastards," Mr Bulman said.

He made a point of hanging

the guts on the fence to make

everyone aware what had

happened, he has since cleaned

it up.

happened over Friday night or

early Saturday morning, police

said.

His children, who are seven

and five, are also sad at the loss

SLAUGHTERED: Danny Bulman's family pet sheep were

grazing in these stockyards when three were killed either on

Friday night or early Saturday morning.

of their pets.

"They know they are gone,

but they don't know really

how," he said.

He has been around all the

neighbours and to the local

pub to try and find the person

or persons responsible for the

deaths.

"There have been quite a few

go missing over the past few

years. I won't be putting my

sheep back down there again,"

he said.

His father has a lease deal

with the stockyards to keep

animals in there to keep the

grass down.

"Whoever has done it knew

what they were doing," he said.

The police are also making

inquiries.

Senior Constable Tim

Johnston said if anyone has any

information they can phone

363 7400 and ask to be put

through to the Akaroa Police

Station.

Rebuild forces

temporary

relocation

• By Bridget Rutherford

LINWOOD College will

temporarily shift to the site of

Avonside Girls' High School while

its whole school is rebuilt.

Principal Richard Edmundson

has announced the school

would relocate to the Avonside

Drive school in term 2, 2019, for

the duration of its rebuild and

redevelopment.

Avonside Girls' will be moving

to its new school at QE II in early

2019, alongside Shirley Boys' High

School.

Once it has moved, Linwood

would move onto the site, which

is largely made up of relocatable

classrooms following damage in the

February 22, 2011 earthquake.

Mr Edmundson said they were

very happy, as it would take a year

off the construction time.

It also meant there would be no

disruption to the students' learning

during the build, he said.

The move was expected to save

$1 million, as there was no need for

re-relocatable classrooms.

Mr Edmundson said a transport

plan would be developed with the

Ministry of Education.

The full-school rebuild is expected

to be completed by the end

of 2020.

oney

seconds | samples | clearance

Make your GP team your first call 24/7

Even after-hours a nurse is available to give free health advice

Phone your usual General Practice number 24/7

find your new object of desire at

our christchurch outlet store.

great selection of furniture, gifts,

home decor & kitchenware

all reduced to clear

9

12

6

3

opening this saturday!

43 garlands road, woolston

mon - fri 9am - 5.30pm

sat - 9am - 5pm

sun - 10am - 5pm

12

9

6

3

www.nood.co.nz
---
PAGE 6 BAY HARBOUR Latest Christchurch news at www. .kiwi

Wednesday June 28 2017

SOMETHING

INSTORE FOR

EVERYONE

great winter reads

the railway Bogie

By local children's book

author Christopher Llewelyn

instore Book

signing session

saturday 15 July at 1.00pm

Bring your children along

to meet Christopher!

CHRISTOPHER LLEWELYN

Kids aCtiVities & BOOKs

educational Box sets for Kids

wall

Charts for

Kids walls

1005 Ferry rd

Ph 384 2063

while stocks last (see instore for terms and conditions)

Barry & kerry
---
Wednesday June 28 2017

Latest Christchurch news at www.

.kiwi

BAY HARBOUR

PAGE 7

News

KiwiRail back tracks over fee

• By Caitlin Miles

KIWIRAIL HAS apologised for

any upset it caused when Heathcote

property owners were told

they would have to pay for sheds

and fences that encroach on the

rail corridor.

About 50 Heathcote residents

were shocked earlier this year

when they

received a

letter from KiwiRail

saying

they needed

a "licence to

occupy" the

company's

land at an

Ruth Dyson

annual rate

of $350 a year

with a yearly increase of two

per cent. The alternative was to

remove any private structures

on the land.

KiwiRail said the reason it had

told residents they needed the

licence was to understand what

the residents were doing on

their land to enure everyone was

safe.

However, MP Ruth Dyson

said KiwiRail has now "backed

down" after she met with the

company's representatives at

the request of residents.

She said if KiwiRail wanted to

know what the land was being

REDCLIFFS

DENTAL CENTRE

Dr Kim Hughes B.D.S (Otago)

& Pip Anderson B.D.S (Otago)

Dental SuRgeonS

used for they simply "could have

asked".

She said residents' reactions

ranged from "slightly bemused

to being extremely angry" at

the letter received from the

company.

At the meeting, Ms Dyson

spoke to KiwiRail representatives

about the company's approach

and discussed the

residents' issues.

A KiwiRail spokesman

said the company acknowledges

there are issues with its

management of the

rail corridor and apologises

for any concern that has been

caused as a result of its approach.

As a result, the company plans

to hold a meeting with affected

residents to hear their concerns

and to discuss a management

plan for the corridor.

Ms Dyson said while she is

not sure what the company will

offer, she is "delighted they have

backed down" and are willing to

take another approach.

"I don't think many (residents)

had much faith, but it is a great

result," Ms Dyson said.

A time and date has not yet

been set for the meeting, but it

is expected to go ahead in

August.

Healthy teeth...

Beautiful smiles

Providing a complete range of gentle

high quality dental care in a calm,

relaxing, friendly and professional

environment.

178 Main Rd, Redcliffs | ph: 384 5038 | www.redcliffsdental.co.nz

OFF TRACK: KiwiRail has apologised for the way it handled the

'licence to occupy' issue with residents and wants to look at

alternatives.

Big Sale

nOW On

We would like to say a big

thank you to all the locals

who purchased or just

called in to have a look

at our recent 'pop up'

sale shop in Ferrymead.

We are now back at

our city store.

In Brief

HISTORIC REPAIRS

Repairs to two historic buildings

used by the Akaroa Museum are

nearing completion. Scaffolding

around the repainted 138-yearold

court house on Rue Lavaud

has been removed and a heat

pump been installed. The court

house's audio visual equipment

has been upgraded so it can

be used as a theatre by the

museum. Customs house on

Rue Balguerie is also nearly

ready to reopen. Its external

chimney has been rebuilt and

is now supported by a steel

frame constructed within

the chimney. The barrier and

viewing windows, which

previously prevented visitors

from walking into the building,

have been removed and the

exterior has been repainted.

FUTURE OF BACHES

Privately-owned baches on

city council-owned land in

Taylors Mistake and Boulder

Bay may not be allowed to stay.

Heathcote Ward city councillor

Sara Templeton will head a

working party to determine if

the baches should remain and

under what terms. The legality

of the baches​ on public land has

been an ongoing issue. A report

from the working party is

expected to be presented to the

city council by September 30.

interior concepts

Durham Lane,

72 Orbell St, Sydenham

Phone 365 3523

www.cuchi.co.nz

CHCH FANZONE

ALL BLACKS v THE BRITISH & IRISH LIONS

THIS SATURDAY

POPLAR STREET FROM 5PM

BE THERE. BE HEARD.

ccc.govt.nz/chchhostcity
---
PAGE 8 BAY HARBOUR Latest Christchurch news at www. .kiwi

Wednesday June 28 2017

Classic Styles by Triumph

Non Wired

Masters

HOLLYWOOD 3

28 Marriner St,

Sumner

Phone:

03 326 6102

www.hollywoodcinema.co.nz

Thursday 29 June - Wednesday 5 July

THIS BEAUTIFUL FANTASTIC (PG) Coarse language

THU/FRI/TUE/WED: 1.00pm, 6.00pm, 8.00pm

SAT: 4.00pm, 6.00pm, 8.00pm SUN: 4.00pm, 6.00pm

MON: 1.00pm, 4.00pm, 6.00pm

CARS 3 (G)

SAT/SUN: 2.00pm

CHURCHILL (PG) Coarse language

THU/FRI/TUE/WED: 6.00pm, 8.15pm

SAT: 4.00pm, 6.00pm, 8.15pm SUN/MON: 4.00pm, 6.00pm

THE TIME OF THEIR LIVES (M) Nudity, drug use and offensive language

THU: 1.00pm, 8.15pm FRI/MON/TUE/WED: 8.15pm

SAT: 2.00pm, 8.15pm SUN: 6.15pm

Metropolitan Opera: IDOMENEO

FRI/MON: 11.00am - Finish 4.00pm

SUN/TUE/WED: 1.00pm - Finish 6.00pm

MY COUSIN RACHEL (PG) Violence and coarse language

THU/FRI/TUE/WED: 1:00pm, 6.00pm, 8.00pm,

SAT: 6.00pm, 8:00pm SUN: 6.00pm MON: 1.00pm, 6.00pm

DESPICABLE ME 3 (PG) Violence

SAT/SUN: 2.00pm, 4.00pm

STATE OF THE ART HIGH DEFINITION, LICENSED BAR

Kiss of

Cotton

12-18B, 12-20C,

12-20D, 12-18DD

(colour - fresh powder)

News

Light it up

• By Amelia

Christensen-Rose

LYTTELTON'S Festival of

Lights has brightened up the

winter sky again.

Every year 10,000 to

12,000 people crowd into

Lyttelton to watch the 15

minute firework display

and enjoy the street party,

parade, food stalls and live

music.

In spite of the bad weather

people still turned up to

enjoy the spectacle.

The firework display,

sponsored by and set off

from Lyttelton Port on

Friday had a total of 286

effects.

The largest effects are

125mm star shells which are

the same size as the largest

fireworks at Hagley Park's

Sparks in the Park.

Non Wired

Poesie Firm

Support

12-18B, 12-20C,

12-22D, 12-24DD

(colour - fresh powder)

Professional Free Bra Fittings

ACCESS TV FOR NZ

SKY CHANNEL 083

Thursday 7.30pm

Shop 48 Barrington, Barrington Street

Phone 03 337 6609

www.lingerieonbarrington.co.nz

PHOTO: SIMON

BAKER/DIGIFLICKS

Nehad, Anita, Ashleigh, Kellie and Grant

Full Service Pharmacy

including...

• Passports Photos

• Revlon Cosmetics and Revlon Club

• Gifts and Gift Wrapping

• Ear Piercing

• Extensive Natural Health range

• Scarves, Hats and Sunglasses

• Focus on Natural Organic Skincare including Trilogy,

Antipodes and Sukin

OPEN SAT & SUN

Dispensary Service

• Medico Packs

• Quit Smoking Quitcards

• Emergency

Contraceptive Pill

• Delivery Service

Owned and operated by

your phamacist, Grant Bell

CAFÉ

NOW OPEN

1005 Ferry Rd, Ferrymead. Ph:943 9635

OPEN 7 DAYS: Mon to Fri 8.30am - 6pm

Sat 9am - 4pm and Sun 10am - 4pm
---
Wednesday June 28 2017

Latest Christchurch news at www.

.kiwi

BAY HARBOUR

PAGE 9

$100k donation for park

• From page 1

Community board

member Darrell Latham

(right) said they requested

the funding be reinstated

because the community

felt the improvements to

the park are important to

the community.

City council head of

parks Andrew Rutledge

said the funding was originally

pushed back due to

affordability.

"The funding was

pushed back due to the

Annual Plan process and

the overall affordability of

• From page 1

They started working on

the project two weeks ago,

they designed the logos,

Refuse and Reuse, and approached

Green Elephant

to help make them.

They had 50 made and

Green Elephant donated

an extra 50 and a $50 gift

voucher to show their

support.

"We didn't expect them

to donate some bags too,

we're really thankful to

the council

budget to the

ratepayer," Mr

Rutledge said.

Ms

Kaschula

said the park

is widely used by the

people of Christchurch

and upgrading it would be

"very good" for tourism as

well.

The city council has

a capital expenditure of

$450,000 for the project.

Last year the city council

asked the community what

they would like to see in

have their support," Izzy

said.

The bags cost $1 to make

and the girls plan to sell

them for $2 – with profits

going into saving marine

life.

Izzy and Lucy are very

excited to also share their

campaign with Dr Jane

Goodall, a primatologist,

ethologist and anthropologist

who is considered

to be the world's foremost

expert on chimpanzees.

the park, in terms of equipment

upgrades and other

improvements needed for

the park. The city council

had 25 responses to the

pre-engagement.

Upgrades could include

updating play equipment,

footpaths, park furniture,

landscaping and drainage.

Message: Save the ocean

Izzy and Lucy will be

stationed outside Sumner

Supervalue this weekend,

selling the bags for $2.

Mayor Lianne Dalziel

has signalled her support

for a crack down on single

use plastic bags also.

Ms Dalziel has joined

27 other mayors by signing

a letter calling for the

Government to support

a charge on plastic bags,

or give the power to local

authorities to impose one.

Christchurch Casino

Golden Oldies Sports Celebration

1 - 29 April, 2018

SPEND $25 AND

TXT IN YOUR

UNIQUE CODE

FOR THE CHANCE

TO WIN A

RETRO BAR FRIDGE

OR LIMITED EDITION

UKULELE!

For details see instore or www.foursquare.co.nz

Pams Fresh

Express Cooked

Chicken Size 16

Sanitarium Up & Go

3 Pack

$

12 99 ea

$

3 79 pk

Fresh NZ

Quality

Mark Prime

Beef Mince

$

10 99

kg

Pams Fresh

Express Potatoes

2.5kg Prepack

Product of New Zealand

$

4 99

pk

Tegel Frozen

Chicken 1.7kg

$

9 99

ea

Enter

On Line

Now!

Cricket Basketball Softball Football Rugby Squash Netball

Hockey Golf Lawn Bowls • For The Love Of The Game

www.christchurchgoldenoldies.com

Arnott's Shapes

120-190g

$

1 99 ea

Coca-Cola, Sprite,

Lift or L&P 8 Pack

355ml Cans

$

9 99

pk

EVERY DAY 11.30AM TO 2.30PM

LUNCH AT WINNIES

PASTA OF THE DAY $14

SALAD OF THE DAY $14

MINNIE WINNIE $12

MEDIUM TRADITIONAL PIZZA $15

SMALL GOURMET PIZZA $14

2 WATERMAN PL. PH (03) 376 4900 | WWW.WINNIEBAGOES.CO.NZ

Monteith's Ale

6 Pack 330ml Bottles

pk

www.foursquare.co.nz

Mud House 750ml

(excludes Pinot Noir)

$

12 99 $

11 99 ea

facebook.com/FourSquareNZ

Specials available South Island only from Monday 26th June until Sunday 2nd July

2017 or while stocks last. Wine and beer available at stores with an off licence.

Wine and beer purchases restricted to persons aged 18 years old and over.
---
2

[Edition datE]

BAY HARBOUR Latest Christchurch news at www. .kiwi

PAGE 10 Wednesday June 28 2017

itLocal

Bay Harbour

News

Keep

Ferrymead Dry

Cleaners & Laundry

Winter is in full force and now is the

best time of year to clean your duvets,

jackets (puffer jackets!) drapes, bedding,

as well as all of your day-to-day dry

cleaning. Ferrymead Dry Cleaners

specialise in everything from casual

wear to formal attire, both ladies clothes

as well as menswear.

Ferrymead Dry Cleaners are the

Port Hills dry cleaning and laundry

professionals. They are conveniently

located at 1027 Ferry Road (next to

Casual and Country).

Ferrymead Dry Cleaners work with

orders of all sizes – and their next day

service is fast and convenient.

They specialise in all fabrics and can

help you with

Jackets (Leather, Suede, Puffer

Jackets)

Feather Duvets

Curtains and Drapes

Furnishings and Cushion Covers

Wedding & Ball Gowns

Leather & Suede

Blankets, Linen & Pillows

Sleeping Bags

Dresses

Blouses

Men's Suits

Shirts

Ties

If you are looking to have all of your

curtains cleaned, call them and arrange

for them to come out to your home, take

down your drapes and then rehang them

for you when they deliver them pressed

and cleaned. Let the experts handle

everything, you don't have to do a thing.

They offer free pickup and delivery of

drapes for your convenience!

Ferrymead Dry Cleaners offers the

extended services of pressing and

repairs.

Give them a call today to chat about

your dry cleaning and laundry needs.

See how they can help you. Phone 03

384 5015.

While you're on the phone ask about

their Executive Care Program for those

with busy work schedules. Enjoy huge

discounts on all of your dry cleaning

and laundry services plus their free

pickup and delivery.

Hours: Monday thru Friday 7:30am-

5:30pm, closed Saturday and Sunday.

Bring in this article and

receive a 20% discount

on your next visit!

DOES

YOUR CHILD

NEED SOME HELP?

ENROL THEM TODAY!

FERRYMEAD

• Mathematics

• Reading

• Spelling

• English

• Sciences

• NCEA Subjects Y11-13

• Preparation for school

entrance test

Ferry Good Cleaning

Ferry Good Service

Ferry Nice People

FREE

AssEssmEnt

Unit 1/27 Waterman Place, Ferrymead

(just off Ferry Rd) | Phone 384 1188

www.kipmcgrath.co.nz

Open Monday - Friday 6am-5pm

& Saturday 7am-3pm

8 Norwich Quay, Lyttelton

Phone: 03 328 9004

You are ferry welcome to

call on us at our new home.

Phone: 03 384 5015

Kite lane, 1027 Ferry Rd

Behind Casual & Country

SPACE

AVAILABLE

If you're reading this ad chances are thousands

of other local Bay Harbour readers be will also

Are you interested in advertising on our

'Keep it Local' page and for less than $100

per month and also includes an advertorial

Contact Rob Davison 021 225 8584

or Javier Balcazar 021 225 8221

HIKING BOOTS

& SHOES

For men, women

and children

From

$79.95

to $250

47c Garlands Road, Woolston

Phone 389 3431

www.thefootwearfactory.co.nz

Lyttelton

Framing

Four good reasons to use us

to frame your artwork:

1. Know how - UK qualified

conservation framer

2. Experience - We have been

established now for eighteen years

3. Guarantee - All work guaranteed

4. Price - Very competitive prices

Contact Malcolm Ph 328-7350

32 London St, Lyttelton

Mon-Fri 9am-5pm, Sat 9am-1pm

RECYCLED CLOTHING

BOUTIQUE

The best in recycled designer

clothes, shoes & accessories.

Thou Shall Not Pay Retail.

Accepting winter stock now.

OPEN 7 DAYS

Shop 2, Sumner Village Mall

Christchurch | 03 326 7246

www.facebook.com/SumnerTimeAndTimeAgain

Advertising enquiries Javier Balcazar | Ph: 021 225 8221 | javier.balcazar@starmedia.kiwi
---
Wednesday June 28 2017

Latest Christchurch news at www.

.kiwi

BAY HARBOUR

PAGE 11

UNDER

$

10

Damprid

Disposable Moisture

Absorber

Prevents mould and mildew

stains and protects from

moisture damage. 510g.

$6.98 each. 187776

BUY 2 FOR

$

9 98

Offer available in store only

SNAP

DEAL

GET IT BEFORE IT'S GONE!

UNDER UNDER UNDER

$

20 $

50 $

100

$4 98 $10 67

$ 39 99

Set

Number 8

Dustpan & Brush Set

Assorted colours.

240593

Drain Clean

1L Liquid Drain Clean

Clears blocked drains.

Professional strength.

325217

Browns

Take 5 Microfibre

Spary Mop 400mm

Fast cleaning with

microfiber. No bucket

required. Easy refillable

liquid container.

247479

$79Set

Stanley FatMax

Levels

1200mm level and a

250mm torpedo level.

Life time warranty.

305383

$6 90

Each

30 Seconds

Indoor Mould Remover 1L

Ready to use, lemon scented,

biodegradable mould remover.

122148

$14 98 $ Each

49 98

Browns

House Broom

Fine sweep.

127985

Bona

4L Stone, Tile &

Laminate Cleaner

Quick and easy cleaning.

Dries fast.

No dulling residue.

247664

EXCLUSIVE

$89Kit

EXCLUSIVE

$6 98

Each

M10

20L Plastic Bucket

Compact and durable.

Lid sold separately.

201705

$9 98

Set

Fuller Pro

10PC Hex Key Set

A straight hex end set.

Chrome vanadium.

Ring style holder.

255669

EXCLUSIVE

$9 99

Stanley

8M Tape Measure

Magnetic tip.

Hivis leverlock.

134766

$19 99 $33 47

Simple Green

4L All Purpose Cleaner

Non-toxic, non-hazardous

all-purpose cleaner that

can be used on any

washable surface.

270432

Fuller

410mm Black Toolbox

Metal latches.

Soft grip

handle.

Portable

tote tray.

123647

Fuller Pro

Claw Hammer 565g

Solid steel shaft.

Cushioned rubber grip.

245078

$18 47

Energizer

$47 89

LED Head Light

2x white and

1x red LEDs.

Requires

3x AAA batteries

(included).

108566

$19 98

Set

Stanley

10PC Screwdriver Set

Cushion grip handles

with magnetic tip.

Chrome vanadium.

255679

Black+Decker

Mouse Sander

with Accessories

120w

New compact

design. Includes

storage tin.

284158

$97 95

Kit

Rapid

Staple Gun Kit

Takes 140 series staples 6-14mm.

Includes case

and staples.

169247

DOING IT YOURSELF

Get all the help you need

online at mitre10.co.nz/easyas

Ferrymead

1005 Ferry Road, Phone: 366 6306

Opening Hours: Monday–Friday: 7:00am–7pm

Saturday, Sunday and Public Holidays: 8:00am–6:00pm

Offers available at Mitre10 Mega Ferrymead only, until the 5th of July, while stocks last.

mitre10mega.co.nz

If you find a lower price on an identical stocked

product locally we will beat it by 15%.

find us mitre10.co.nz

If you find the same product cheaper from another Mitre 10 store or Mitre 10 website we'll match that price. Excludes trade

and special quotes, stock liquidations and commercial quantities. The in-store price may be lower than that advertised.
---
PAGE 12 BAY HARBOUR Latest Christchurch news at www. .kiwi

Wednesday June 28 2017

ADVERTORIAL

THE RICCARTON MARKET

IS NOT CLOSING!

During winter, as expected, the number of stall

holders and the number of people coming to the

market reduces but we still get in excess of 4,000

people coming every week. One of the strong points

about the Riccarton Market is that both entry and

parking is free to the public".

HUNDREDS

OF STALLS

Don't believe everything that you

hear! Despite numerous rumours

the popular Riccarton Market is

not closing.

"It is easy to understand the confusion" says Craig

Murphy, President of the Rotary Club of Riccarton.

(The Riccarton Market is owned by the Riccarton

Rotary Charitable Trust and managed by the Rotary

Club of Riccarton). "With much publicity being

given to the proposed new housing subdivision

on some of the land currently occupied by the

Riccarton Racing Club people have missed the

point that not all of the land is going to be utilised.

Over the next few years land will be progressively

developed into residential sections along Yaldhurst

Road and Steadman Road and then into other parts

of the property.

It does not however intrude into that portion of the

land currently occupied by the Riccarton market".

Plans released by the developers, Ngai Tahu

Properties, show the proposed subdivision being

done over 6 stages which when completed will

provide approximately 600 new residential sections.

"In preparation for the development the Riccarton

Market has reduced its footprint and condensed

the number of stalls available. The Racing Club

has offered other land closer to the entrance in

exchange for land surrendered by the market.

These new areas will be incorporated into the

market over time" advises Ross Binning, Chair of

Riccarton Rotary's Market Committee. "By reducing

the footprint now we have been able to provide

additional parking for our customers making coming

to the Riccarton Market even easier. Over the

summer months we have been getting crowds in

excess of 10,000 people every Sunday.

The Riccarton Market has been in operation for

29 years. Over that time it has moved location

several times. From its origins as a 'car boot sale'

located at the Riccarton Mall carpark, it moved to

The Bush Inn, then outgrew sites at Riccarton High

School and then at the University, relocating to

the racecourse site more than 15 year ago. It has

become an institution in Christchurch – described

by the Christchurch City Council as 'an icon' for

locals and tourists alike. It is the largest charity

market in New Zealand and with room for over

300 stalls it is arguably the largest weekly market

in the country. During this period Riccarton Rotary

has donated more than $3 million to local charities

and individuals as well as supporting other national

and international projects especially at times of

emergency.

"It is disappointing that people still talk about the

Riccarton Market closing" says Craig Murphy. "In

many cases those people are directly associated

with competitive markets around the city so they

no doubt see it to their advantage by creating

uncertainty about the future of the Riccarton Market.

Be assured the Riccarton Market is here to stay. We

have a secure long term arrangement over

the Riccarton Park site and apart from some

relatively minor redesign of the footprint over

the next few years there is nothing that will

change as far as our many loyal customers

are concerned. They will be able to continue

to come for their vegetables, meats, other

food items, hardware, tools, furniture, plants,

artworks, jewellery, cat and dog needs,

clothing as well as to be entertained by the

live music and stay and have their lunch from

one of the numerous ethnic and specialised food

and refreshment stalls located around the central

'commons'.

If you would like to know more about the Riccarton

Market please go to www.riccartonmarket.co.nz

RICCARTON MARKET

OPEN EVERY SUNDAY

9am - 2pm | Riccarton Racecourse

HUNDREDS

OF STALLS

LIVE

ENTERTAINMENT

EXTENSIVE

FOOD COURT

For more information visit our website: www.riccartonmarket.co.nz
---
Wednesday June 28 2017

Latest Christchurch news at www.

.kiwi

BAY HARBOUR

PAGE 13

ews

Tickets on

sale NOW!

The Star scoops media awards

THE

ashion

STAR has been judged

the best of the best at the New

Zealand Community Newspaper

Awards.

The Star scooped the three top

awards – best newspaper, most

improved newspaper and it also

took out the supreme award

which covers newspapers, magazines

and websites.

Venetia Sherson who judged

the supreme award category

said: "The Star is bold in design

Gardening

and bold in attitude. The Star

urges its readers to engage in

debate and reflect on the issues

it deems important to the community.

"Strong grass roots reporting,

and tight writing are the

hallmarks

otoring

of the paper. It tackles

big subjects with a sure hand

and features a good mix of civic

issues, crime and community

stories."

Mike Fletcher who judged

the most improved newspaper

category said of The Star: "The

paper is a cracker. It is a joy

to read. Judging by The Star's

asty Bites

pagination growth, the readers

and advertisers like it and value

it too.

categories.

"The Star is filling a vital niche

for news and views in Christchurch.

Every page is attractive.

Every page is interesting."

Organic Training College

oneyCOURSES (All fees under $500)

LEARN FROM

THE EXPERTS

Start a career in

organics. Reduce

your footprint and

produce a regular

supply of your own

fruit and vegetables.

It was a big night for Star

Media's team at the awards

ceremony which was held in

Christchurch on Friday.

As well as The Star winning

the top three awards, Kiwi Gardener

was judged best all round

lifestyle magazine, Gabrielle

Stuart was the winner of the best

senior feature/lifestyle journalist

category and Bridget Rutherford

was runner-up in the junior

reporter and feature writer

Year 1

Introduction to Organics

44 weeks

Starts August 2017

(Lincoln campus)

Year 2

Applied Organics

46 weeks

Starts August 2017

(Lincoln campus)

Programme information

college@bhu.org.nz | 03 325 3684 | www.bhu.org.nz

'The Star is filling a vital

niche for news and views in

Christchurch.'

– Mike Fletcher, judge

Star Media also featured in the

advertising awards.

Rodney Grey was the winner

and runner-up in the best advertising

portfolio categories and

Michaela Bolster was the sales

excellence winner.

The awards come at a great

time for Star Media – The Star's

readership has increased substantially

in the latest Nielsen

report.

Star Media has a large portfolio

of newspaper titles – The

Star, Nor'West News, Western

Vortex Flush

T025 Now $399

News, Pegasus Post, Southern

View, Bay Harbour News and

Selwyn Times, magazines Kiwi

Gardener, Style, Rugby News and

With This Ring, web news site

www.star.kiwi and operates several

annual events City 2 Surf,

the Home & Leisure Show and

With This Ring, Bridal Show.

Star Media is a family business,

locally-owned by Pier and

Charlotte Smulders.

Star Media chief executive

Steve McCaughan said: "I

believe the awards won on the

weekend are reflective of all our

Star Media team's effort and the

fact that we are locally-owned

T008 Now $289

TEAM: Star Media

reporter Bridget

Rutherford, graphic

designer Rodney Grey,

account executive

Michaela Bolster,

chief executive Steve

McCaughan, managing

director Charlotte

Smulders, editor-inchief

Barry Clarke,

magazines editor Kate

Preece and reporter

Gabrielle Stuart.

and understand our local market.

We strive to be the best in

all that we do and it's satisfying

to see all our efforts recognised

at the CNA awards. I am so

lucky and proud to have such a

talented team.

"Our aim is to produce publications

that fully engage with

the audiences they serve.

"Our big haul of awards on

the weekend and the rising

readership of our titles is

indicative that we are hitting the

mark.

"This keeps our audiences engaged

and is great news for our

advertisers too."

NEW SHoWRoom

13b Parkhouse Rd, Christchurch

All Plywood Vanity Range 20% off

Check out our Stand at the STAR

Homeshow 30th June - 2nd July

Stand 110

Open 7 Days Mon-Fri 9am - 5.30pm | Sat 9.30am - 4pm | Sun 10am-3pm

0800 MILLEN | www.millen.co.nz | 03 348 8678

Visit our new website: www.min.nz

A professional realtor with

local expertise

and a personal touch

COASTAL REAL ESTATE SPECIALISTS

We'll help you live the dream.

Min Sarginson Real Estate Ltd. specialises in homes, sections and

rental properties in the spectacular Lyttelton Harbour bays, and

coastal suburbs of Christchurch, New Zealand.

We'll make it so easy for you. All our sales consultants live in the

area – we can give you valuable insights into life in our thriving

coastal communities.

This is an exciting time; of promise, optimism, and opportunities

never anticipated pre-quakes. Beachfront, or hillside with

grandstand views, find the property of your dreams:

Lyttelton | Diamond Harbour | Governors Bay | Cass Bay

Charteris Bay | Church Bay | Purau Bay | Port Levy | Northshore

Southshore | New Brighton | Heathcote | Sumner | Redcliffs

Scarborough | Mount Pleasant | Clifton

Call Min Sarginson Real Estate Ltd. for free, no-obligation advice. Lyttelton: 03 329 4161, lyttelton@min.nz or Church Bay: 03 328 7273, churchbay@min.nz
---
PAGE 14 BAY HARBOUR Latest Christchurch news at www. .kiwi

Wednesday June 28 2017

40-

all

%

60OFF *

*Conditions apply, see below

25-

%

30OFF *

TVs

*Conditions apply, see below

%

20OFF *

Vodafone

MOBILE PHONES

*Excludes iPhone and Galaxy handsets.

Conditions apply, see below.

ONESALE

DAY

LATE NIGHT SHOPPING Stores open until 7pm Friday 30 th June

SAVE

$

2340

6kg SENSOR

VENTED

DRYER

375L FRIDGE

FREEZER

EQUALIZE Queensize Bed

60 % OFF * selectedBeds

WAS $3899.99 NOW

$

1559 99

SAVE

$

231

WAS $749.99 NOW

$

518 99

*T&Cs apply

SAVE

$

550

WAS $1649.99 NOW

$

1099 99

*Conditions apply, see below

7kg TOP LOAD

QUICKSMART

WASHING

MACHINE

143L CHEST

FREEZER

SAVE

$

4410

SAVE

$

411

SAVE

$

200

ANDROS Queensize Bed

WAS $7349.99 NOW

$

2939 99

WAS $1299.99 NOW

$

888 99

WAS $549.99 NOW

$

349 99

ARIZONA RECLINER

LOUNGE SUITE

Sumptuous and hardwearing

velour fabric that features

2 recliners and a

3 seater with a recliner

at each end.

SAVE

WAS $2699.99 NOW

$ SIT BACK AND RELAX

1080 $

1619 99

with 4 recliners

7.5kg FRONT

LOAD

WASHING

MACHINE

SAVE

$

500

WAS $1199.99 NOW

$

699 99

FREE-STANDING

MULTIFUNCTION

RANGE

SAVE

$

730

WAS $2329.99 NOW

$

1599 99

NO REPAYMENTS for 12 months

on everything over $499 storewide, one day only*

Get everything you need for

your home under one contract

*Flexible interest free terms to suit you under a single contract for everything you purchase.

SCG0674BHN

smithscity.co.nz

SHOP YOUR WAY Delivered to your door or pick up in-store 0800 SMITHS (0800 764 847)

COLOMBO ST MegaStore | Bush Inn MegaStore, RICCARTON | NORTHWOOD MegaStore | 38 Kermode St, ASHBURTON | 130-134 Beach Road, KAIKOURA

*Discount is off our full retail price. Exclusions, fees, terms and conditions apply. See in-store or visit smithscity.co.nz
---
Wednesday June 28 2017

CREATIVE: Front:

Jack Miller, Billy

McLoughlin, Francis

Dougherty, Rio

Simpson, Darcy

Dougherty, Joel

Fulford. Back: Bruno

Davies, Reuben

Cawood, Elijah Butts,

Sasha Stedman,

Petra Musinszki, Pania

Thoen designed and

printed their own

T-shirts. ​

Learning T-shirt design

DESIGNING IS in the future of

some pupils from Our Lady Star

of the Sea School.

The year 7 and 8 pupils have

been learning about the process of

designing SES and printing T-shirts.

Senior teacher Tony Lamb said

the end product from the pupils

was "wonderful".

"The children came up with

their own designs and followed

a careful process to screen print

their design onto a T-shirt," Mr

Lamb said.

The pupils got to make the

T-shirts as part of the graphic

design programme the school is

running. ​

Kids challenge themselves

BALANCE AND some

serious concentration

were needed by children

that took part in

Youthtown's Diamond

Harbour after school

programme.

Rueben Gill (right)

took part in the

challenge learning to

slackline.

It is similar to tightrope

walking, but closer to the ground.

It requires concentration,

balance and a bit of confidence

to do. The children also

started to learn some

tricks.

Diamond Harbour

School pupils also got

their hands dirty working

with Youthtown.

The school took part

in the Make Trees Count

campaign and planted a

native lancewood tree at

the school to celebrate Arbour

Day.

Trees for Canterbury is also

involved in the programme.

Latest Christchurch news at www.

• By Caitlin Miles

LYTTELTON Primary School

pupils were surprised by the

large donation of books from a

local author.

Ben Brown has written

children's books for 25 years as

well as writing for adults. He

went to the school recently and

gifted 42 books to the school

library.

Mr Brown wanted to see the

books going to a good cause

and being read by children in

Lyttelton.

Some of those donation included

books that were entered

in the New Zealand Book

Awards SPORTS

for Children and Young

Adults 2017.

Mr Brown was a judge in the

nationwide competition.

The school has a display in the

library around the book awards

and the additions have been

added.

The donation includes a wide

range of books from authors

across the country detailing

many interesting, creative and

imaginative stories.

Principal Brendan Wright

.kiwi

said it was unexpected but great

for the children.

"It blew us away on the day.

The librarians were impressed

with the variety of books," Mr

Wright said.

The pupils were also visited

by a world champion and

Olympian rower.

Nicola Coles is an Olympic

ambassador and she told the

pupils about the challenges,

disappointments and failures

BAY HARBOUR

SCHOOLS

to SCHOOLS Lyttelton Primary

SPORTS

PAGE 15

Author's big donation

GIFTED: The collection of 42 books have been added to

the library for all the pupils to enjoy.

she has faced on her journey.

Although her story was full of

challenges her message was to

encourage the children to never

give up and stay determined and

work hard to see success – even

if it doesn't always come with a

medal.

Her speech not only shared

her passion for her support but

it also aimed to connect with

the Olympic values of respect

and friendship.

SCHOO

PRIZE-

Saturday 8 – Saturday 22 July 2017

Tickets on

sale NOW!
---
PAGE 16 BAY HARBOUR Latest Christchurch news at www. .kiwi

Wednesday June 28 2017

FAN

FAVOURITES

Ideas to feed the crowd, plus go in the draw to win! See SuperValue.co.nz for details. 26 th June to 2 nd July 2017

great deal

$

13 99

kg

Fresh NZ Beef Blade Steak/Bolar Roast

$

5 99

bag

3 for

$

4 00

Country Fresh

Washed White

Potatoes 4kg

Pepsi/7UP/

Mountain Dew 1.5L

Fresh NZ Lamb Loin Chops

Whittaker's Chocolate Block 250g

$

19 99

kg

$

3 49

bag

$

4 29

ea

Royal Gala Apples

2kg

2 for

$

5 50

$

3 99

ea

$

4 00

ea

Sanitarium Weet-Bix 750g

Nature's Fresh Bread

700g

Just Juice/Citrus Tree

Fruit Juice/Drink

2.4/2.8L

$

23 99

pk

Steinlager Classic

15 x 330ml Bottles

$

9 99

ea

$

1 00

ea

Lindauer

750ml

(Excludes Special Reserve)

Fancy Feast

White Label Cat Food

85g

svbhn2806

Owned & operated

by locals

SuperValue Lyttelton: 17 London Street, Lyttelton. Phone 328 7368. Open 7am – 9pm, 7 days.

SuperValue Sumner: 3 Village Mall, Sumner. Phone 326 5688. Open 7am – 9pm, 7 days.

While stocks last at SuperValue Lyttelton and Sumner only.

We reserve the right to limit quantities. Trade not supplied. For inspiration visit SuperValue.co.nz |

Please drink

responsibly
---
Wednesday June 28 2017

SPORTS

Penalty shoot-out takes

Bays to English Cup final

• By Gordon Findlater

FERRYMEAD Bays

handed a first team debut

to 15-year-old Mikaele

Rabuka on route to

booking their spot in the

final of the English Cup.

Bays defeated Western

4-3 on penalties at Ferrymead

Park on Saturday

to move into the final of

the competition they won

last year.

With a number of first

team regulars missing,

coach Danny Halligan

was forced to give some of

the younger guns a run,

including Rabuka who up

until last week hadn't even

trained with the first team.

"I hadn't seen too

much of him going into

Saturday, but a lot of guys

in the team had given me

the recommendation and

said he was a very talented

player," said Halligan.

"I thought he applied

himself very well and I can

see him becoming a first

team player in the coming

years."

Rabuka has been with

Bays since 2009, coming

through the grades. He

has represented Canterbury

at age-group level

and has been part of the

FUTURE: Mikaele Rabuka, 15, got his first taste of

first team football on Saturday. ​

Mainland Football Federation

Talent Centre programme.

He was recently

named in the Canterbury

youth training squad.

Trailing 0-2 late in the

game, Bays introduced the

attacking midfielder with

15min to go. Their late

comeback involved two

scrambling goals to Geoff

MacIntyre and Andreas

Wilson.

Bays goalkeeper Adam

Highfield was the star

after extra-time, saving

two of Western's attempts

from the spot to lead Bays

to victory.

Bays will play the winner

of the Coastal Spirit

and Cashmere Technical

semi-final, which is yet to

be scheduled.

Bays now turn their

immediate focus to their

Mainland Premier League

match against Nomads

United at English Park

on Saturday. Bays are

currently second on the

league table.

Sumner keen to move on

after one-point defeat

• Gordon Findlater

SUMNER HAVE a tough

pill to swallow after a last

minute converted try saw

them go down to Shirley

25-26 at Burwood Park

on Saturday.

The final act of the

division one, section two

metro rugby game was

full of drama.

After scoring on fulltime,

Shirley were left

with a conversion to win

the game.

The shot at goal

narrowly missed.

However, the kick was

retaken after a Sumner

player was heard yelling

during their charge down

attempt.

Shirley's Nathan Smith

didn't miss on the second

attempt, ending Sumner's

seven-game winning

streak.

The usually dependable

first-five Nik Cumming

would have been wishing

he had the same luxury,

making just two of his

seven attempts at goal for

Sumner.

While Sumner coach

Martin Dodgson was

frustrated with the way

the game ended, he said

the decision to allow the

kick to be retaken was

correct under the rules.

He was more upset

about the number of

players offside who were

not penalised.

He said rather than

dwell on the result, the

team were determined to

use it as fuel going into

Saturday's clash with

High School Old Boys.

"The team got together

at the end of the game

and decided that however

we're feeling at the

moment, we use that

going into next week,"

said Dodgson.

The game against

Shirley got off to a slow

start with the home side

taking a 5-3 advantage

into half-time.

However, in the second

half, Sumner didn't muck

2

Latest Christchurch news at www.

around with No 8 Dylan

Nel crossing the line early

on before the opposition

regained control to lead

Sumner 19-10.

Sumner introduced

game-breaking winger

Poasa Waqanibau

midway through the

second half and he made

an immediate impact.

Several minutes

after being introduced,

Waqanibau crossed the

line before later setting

up Cumming with an

impressive off-load.

With less than 10min

to play, Tom Crozier

scored for Sumner to give

them a 25-19 advantage

before Shirley's last

minute heroics.

On a brighter note,

Sumner will have close to

a fully fit side going into

their home game against

High School Old Boys.

Dodgson is expecting

to have the services of key

players Tom Manly and

Wes Mauafu, who will

both return from injury.

[Edition datE]

.kiwi

SIGNAL ICT GRAD SCHOOL

Returning to work, but

looking for a change?

If you watched What Next? on TV One

recently, you will be aware how quickly NZ

is being impacted by emerging technologies.

Tech roles exist in nearly all industries

now, from agriculture to zoology, and huge

growth in the already significant tech sector

in Canterbury is predicted by the Canterbury

Development Corporation.

To fuel this growth, we need more trained

tech people. SIGNAL is working with

industry to help meet this need via Shift, an

innovative industry-driven tech programme

for those who are seeking a new career path,

but who do not have an IT background. This

intensive 9 month programme is open to

degree holders in any discipline, from NZ or

off-shore - in fact, diversity is welcomed!

The Shift programme is ideal for those

looking to return to the work force, and

offers school friendly hours allows you to

up-skill without sacrificing family time.

There are a number of tech jobs in NZ and

they cover a varied skill set. You can focus

on software design and development or you

could concentrate on other high demand

skills, such as project management, product

testing, user experience, business analysis,

technical writing. The Shift programme

uses immersive studio-based learning and

real-world experience via industry projects

and placements to produce graduates with

well-rounded technical and communication

skills, able to work with any team within the

exciting tech sector.

"The first half of the Shift program has

Want to Shift to a new career?

We can make it happen.

CDC estimates ICT employment in Canterbury

will grow 2500 additional jobs by 2025

Scholarships

available

APPly noW!

Combine your existing degree and life experience with

innovative learning to prepare for a career in the booming Tech

sector. Shift, Signal's 9 month industry focused programme

starts July 24, is open to graduates of any discipline, with

limited scholarship opportunities still available.

Choose from the Software development stream or the

Development Allied stream to focus on other areas such

as testing, user experience or technical writing.

Be part of one of NZ's fastest

growing sectors with fantastic

employment opportunities.

SIGNAL is powered by:

BAY HARBOUR

SHIFT offers tech training with school

friendly hours, so you can move into a

role within Canterburys' booming tech

sector.

PAGE 17

succeeded in delivering to my expectations - I

have enjoyed learning introductory tech skills

such as programming, web development,

databases and user experience. The project

work has provided real-life examples of how

these skills could be applied and required

our group to work together to achieve the

desired result." Qualified geologist and Shift

learner Isaac Burwell.

Limited spaces are available for the

Christchurch Shift programme starting on

July 24 and there are scholarships available

too.

To find out more about the Shift

programme, call SIGNAL today on 0800

990024 and start your shift into NZ's

fastest growing sector.

P 0800 990 024

E info@signal.ac.nz

W www.signal.ac.nz/shift
---
PAGE 18 BAY HARBOUR Latest Christchurch news at www. .kiwi

Wednesday June 28 2017

Parents of Year 6 students are

encouraged to take a good

look at their child's full primary

school when choosing

schooling for 2018.

Why change schools when you don't

need to? Full Primary schools are

tried and tested and have developed

in innovative and cost effective ways

since their inception in 1877. They

are as important to the provision of

education in 2018 as they were in 1877.

What makes them successful?

• They have evolved over time and have responded to the

different demographic changes since 1877.

• They are located in neighbourhoods; they cater for

families and respond to community needs.

• They are staffed by highly trained teachers who know

curriculum levels from Level 1 – 5 who have had the

same teacher training as teachers in other Year 7 and 8

school types.

• Teachers in the student's current full primary school

know about individual students learning progress and

learning style from Year 1 – 8.

• Developing the whole child, flexibility, nurture,

innovation and child centred learning sum up full primary

schools.

• Year 7 and 8 students are the leaders and role models

along with the adults in a full primary school with

opportunities to nurture Year 1 – 6 students.

• School organisation in a full primary school fits the

needs of students not the timetable.

• All Year 7 and 8 students are included in leadership

opportunities, sporting opportunities, school community

job opportunities, buddy responsibilities and role model

expectations. They are seen by others in the school as

the leaders and younger students look up to them.

• These opportunities and strategies to build leadership,

key competencies and resilience are available to all Year

7 and 8 students in a full primary.

What does the research tell

us about the learning needs

of Year 7 and 8 students?

• Curriculum that is relevant, challenging,

integrative, and exploratory

• Multiple learning and teaching

approaches

• Assessment and evaluation programmes

that promote quality learning

• Organisational structures that support

meaningful relationships and learning

• Educators who value working with the

age group

• Courageous, collaborative leadership

• School-wide efforts and policies that

foster health, wellness, and safety

• Multifaceted guidance and support

services

• School-initiated family and community

partnerships

Looking at the above list it becomes clear that it isn't school

type or school buildings that make the difference for Year

7 and 8 students. It is instead the innovative approach to

learning and the attitude of professionals toward this group of

students. This can happen in any school setting as long as the

leadership, teachers and non-teaching staff are committed

to the social and emotional development of this group of

learners. Full Primary Schools are providers of Year 7 and 8

education in every way that other types of schools are.

"Encouraging life-long learners. Expanding Horizons"

Our school offers…

Burnham School

§ Fun and authentic learning.

§ A family orientated environment.

§ Quality teaching with high expectations.

St Joseph's Papanui
---
Wednesday June 28 2017

Latest Christchurch news at www.

.kiwi

BAY HARBOUR

PAGE 19

Avonhead 55 Avonhead Road, Avonhead 03 348 7361 admin@avonhead.school.nz www..avonhead.school.nz

Beckenham 71 Sandwich Road, Beckenham 03 337 1404 principal@beckenham.school.nz www.beckenham.school.nz

Belfast 700 Main North Rd, Belfast 03 323 8849 office@belfast.school.nz www.belfastschool.co.nz

Burnham School Chaytor Avenue Christchurch 03 347 6851 principal@burnham.school.nz www.burnham.school.nz

Christchurch East

School

311 Gloucester St, Christchurch 03 366 2440 admin@chcheast.school.nz www.chcheast.school.nz

Christ the King 92 Greers Rd Burnside 03 358 2708 admin@christtheking.school.nz www. christtheking.school.nz

Diamond Harbour 13 Hunters Road, Diamond Harbour 03 329 4842

office@diamondharbour

.school.nz

www.diamondharbour

.school.nz

Halswell 437 Halswell Rd, Halswell 03 322 7038 admin@halswell.school.nz halswell.school.nz

Heathcote Valley 61 Bridle Path Rd, Heathcote Valley 03 384 1058 admin@hvs.school.nz www.hvs.school.nz

Kaiapoi Borough

School

20 Hilton Street, Kaiapoi 03 327 7231 principal@kbs.school.nz www.kbs.school.nz

Kaiapoi North 278 Williams Street, Kaiapoi 03 327 8803 jason.m@kaiapoinorth.school.nz www.kaiapoinorth.school.nz

Loburn RD 2 Rangiora 03 312 8828 principal@loburn.school.nz www.loburn.school.nz

Lyttelton Primary

School

34 Oxford Street, Lyttelton 03 929 0588 office@lyttelton.school.nz www.lyttelton.school.nz

And also

The research also provides insight into

what works for Year 7 and 8 students:

Ministry of Education by Dinham and Rowe

of the Australian Council for Educational

Research. 2007

• From the broader 'teaching and learning literature',

there is strong evidence that the quality of teaching

which students receive at all levels and stages of

schooling is of major importance in influencing

achievement outcomes for students.

• While productive and positive student-teacher

relationships are identified as an important

characteristic of highly performing schools

catering for middle years' students, it needs to be

acknowledged that good teachers and school leaders

at all levels of schooling is what works.

• It is therefore debateable whether at least some

aspects of the philosophy and enactment of middle

schooling is any different from 'good' teaching and

effective schooling generally in all school types.

The literature is clear in advocating 'middle schooling

approaches focusing on quality teaching and

enhanced learning' rather than on school type.

Therefore it is what happens in the classroom to

support learning and what happens across the school

to cater for the specific developmental, cognitive,

physical, emotional and social needs of Year 7 and 8

that makes the difference. Not school type.

The research on middle schooling and its implications

to provide quality education to Year 7 and 8 students

is as applicable to full primary school as it is for other

schooling types.

Mairehau Primary 43 Mahars Road, Mairehau 03 385 3796 principal@mps.school.nz www.mps.school.nz

Merrin 41 Merrin Street, Avonhead 03 358 8369 office@merrin.school.nz www.merrin.school.nz

Mt Pleasant School 82 Major Hornbrook Road 03 384 3994 principal@mtpleasant.school.nz www.mtpleasant.school.nz

New Brighton

Catholic (Mary

Immaculate)

100 Lonsdale Street, New Brighton 03 388 7982 office@nbc.school.nz www.nbc.school.nz

Oaklands 37 Cunningham Place, Halswell 03 322 8735 office@oaklands.school.nz www.oaklands.school.nz

Ōpāwa School 30 Ford Rd. Opawa, Christchurch 03 332 6374 principal@opawa.school.nz www.opawa.school.nz

Our Lady of the

Assumption

Our Lady Star of

the Sea

89A Sparks Rd Hoon Hay 03 338 9503 admin@ola.school.nz www.ola.school.nz

45 Colenso Street, Sumner 03 326 5315 office@ourladystar.school.nz www.ourladystar.school.nz

Ouruhia School 21 Turners Rd, Christchurch 03 323 8855 principal@ouruhia.school.nz http://ouruhia.wikispaces.com

Parkview Chadbury St, Parklands 03 383 0833 office@parkview.school.nz www.parkview.school.nz

Pegasus Bay

School

5 Solander Rd, Pegasus 03 920 7000 principal@pegasusbay.school.nz www.pegasusbay.school.nz

Prebbleton School Blakes Road, Prebbleton 03 349 6553 admin@prebbleton.school.nz www.prebbleton.school.nz

Queenspark 222 Queenspark Drive, Christchurch 03 383 1578 admin@queenspark.school.nz www.queenspark.school.nz

Redcliffs Truro St, Sumner 03 384 3853 admin@redcliffs.school.nz www.redcliffs.school.nz

Riccarton Primary English Street, Upper Riccarton 03 348 5700

office@riccartonprimary

.school.nz

www.riccartonprimary

.school.nz

Russley 74 Cutts Road, Russley 03 342 7783 reception@russley.school.nz www.russley.school.nz

South New Brighton 160 Estuary Road, South New Brighton 03 388 9426 admin@snbs.school.nz www.snbs.school.nz

Springston School 16- 20 Leeston Road, Springston 03 329 5724 office@springston.school.nz springston.school.nz

St Bernadette's

Catholic

St Joseph's

Papanui

74 Hei Hei Road, Hornby 03 342 9780 admin@stb.school.nz

www.stbernadetteschch

.school.nz

4 Vagues Rd, Christchurch 03 352 8779 office@stjopapa.school.nz www.stjopapa.school.nz

St Martins Albert Terrace, St Martins 03 332 6121 admin@stmartins.school.nz www.stmartins.school.nz

St Patrick's Kaiapoi 61 Fuller St, Kaiapoi 03 327 7700 tcoleman@stpatkai.school.nz www.stpatkai.school.nz

St Peter's 11 Fisher Avenue, Beckenham 03 332 7598 office@saintpeters.school.nz www.saintpeters.school.nz

Sumner Colenso Street, Sumner 03 326 6546 admin@sumner.school.nz www.sumner.school.nz

Templeton 40 Kirk Road, Templeton 03 349 7045 office@templeton.school.nz www.templeton.school.nz

Waltham School Waltham Road & Hastings Street 03 379 3137 admin@waltham.school.nz www. waltham.school.nz

Westburn 257 Waimairi Road, Ilam 03 358 8173 admin@westburn.school.nz www.westburn.school.nz

West Eyreton 1651 North Eyre Road, Rangiora RD 5 03 312 5850 office@westeyreton.school.nz www.westeyreton.school.nz

West Melton

Primary

743 Weedons Ross Road,

West Melton

03 347 8448 tracey.ogle@westmelton.school.nz www.westmelton.school.nz

Wharenui 32 Matipo Street, Riccarton 03 348 5263 office@wharenui.school.nz www.wharenui.school.nz

Woodend Full Main Road, Woodend 7641 03 312 7808 g.barber@woodend.school.nz www.woodend.school.nz

Yaldhurst Model 48 School Road, Yaldhurst 03 342 7933 secretary@yaldhurst.school.nz www.yaldhurst.school.nz

Lyttelton Primary School -

Te Kura Tuatahi o Ōhinehou

Parkview School

New Brighton Catholic
---
PAGE 20 BAY HARBOUR Latest Christchurch news at www. .kiwi

Wednesday June 28 2017

SAVE $8,000

cnr Montreal & St Asaph Streets, Christchurch

www.christchurchmitsubishi.co.nz

Sales, Service & Parts: 03 379 0588

NEW ASX XLS AWD Diesel now only $33,990 +ORC

Get a little style, a little attitude, the most desirable warranty and a whole lot more with

the powerful yet fuel effiecent ASX XLS AWD Diesel. See for yourself at Christchurch

Mitsubishi. Call 03 379 0588 or visit ChristchurchMitsubishi.co.nz to take a test drive.

*Price listed is for ASX XLS AWD 2.3L Diesel RRP is $41,990+ORC. Price excludes On Road Costs which includes WoF, Registration and a full tank of fuel.

Offer available while stocks last. Visit mmnz.co.nz for full Diamond Advantage terms & conditions.

100% UNIQUE. 0% INTEREST.

For a limited time you can get behind the wheel of these unmistakable MINI models with 0% interest and just 3 payments. *

MINI HATCH

MINI CLUBMAN

Iconic design, with three or five doors and plenty of customisable details to make your MINI an individual.

Highly crafted design with distinct split rear doors, offering ample space and room to move.

Book a test drive at Christchurch MINI Garage today.

INTEREST NOW

(Deposit)

0% ($250 Establishment Fee)

1

/ 1 2018

3 / 1 2019

3 (Month 12) / 3

(Month 24)

CHRISTCHURCH MINI GARAGE.

30 Manchester Street. Christchurch. 03 363 7240.

MINI.CO.NZ

*Offer includes an establishment fee of $250 and recommended on-road vehicle costs. Offer excludes MINI John Cooper Works Clubman. BMW Financial Services New Zealand Ltd terms, conditions and standard

lending criteria apply. Offer expires June 30th 2017.
---
Wednesday June 28 2017

Latest Christchurch news at www.

.kiwi

BAY HARBOUR

PAGE 21

Use it or Lose it

Wednesday 9am-9.50am

This class is for the over-50s

and is a gentle exercise class

suitable for those wanting to improve

their strength, balance and

mobility. Have fun in a friendly

atmosphere, meet new people

and get active and fit at the same

time. First class is half price.

Redcliffs Bowling Club, James

St, Redcliffs. $5

Running Club

Thursday, 6pm-7pm

Get active and have fun running

with like-minded people

at the Kathmandu and Salomon

event. There are various professional

coaches to help improve

your running style and encourage

you. It will also give you a

chance to learn to run on different

terrains.

Mt Vernon Valley track car

park. Free entry

Create 'n' Connect Art and

Craft Group

Thursday, 9.30am-noon

If you're crafty or want to start

getting crafty go along to this

group. Take your own project

or go with ideas for a new one.

Others in the group are there to

offer help or advice. Meet new

like minded creative people and

learn new skills. Pass on your

tips and pick some up from

other people at the group. This

event aims to help with your

projects and meet new people.

Phone Beth on 022 678 1252 for

more information.

St Andrews Anglican Church,

148 Main Rd, Redcliffs. $3

Mainly Music

Friday, from 9.30am

If you're looking to engage

your baby or pre-schooler in

music go along to the sessions

every Friday morning for a series

of 30min sessions. The first starts

at 9.30am and the last finishes at

11.45am. This event runs during

term school times. The sessions

allow for children, parents and

caregivers to meet one another

and interact with others around

the Sumner, Redcliffs and Mt

Pleasant area. Mainly Music is a

fun and educational music and

movement session followed by

morning tea and a social and

play time. The first session is

free, $4 per session after that.

Phone Hazel on 384 1965 or

021 077 1264 for more information.

St Andrews Church, 148 Main

Rd, Redcliffs

Faerie Ball

Saturday 9pm

The magical Faerie Ball is

being held once again. It will

be a mix of wizards, faeries and

magical moments with prizes

for best costume, best wings

and best dancer. There will be

mutliple performances and

music playing throughout the

night. Doors open at 8.30pm and

Email caitlin.miles@starmedia.kiwi

by 5pm each Wednesday

performances start at 9pm.

Wunderbar. Tickets $15

Storytimes

Tuesday, 11am-11.30am

Encourage reading in your

pre-schoolers. Storytimes has interactive

programmes which includes

stories, songs, rhymes and

play. Have children meet each

other and build friendships at

this event while learning more.

Pick up some library books to

read to them at home.

Lyttelton Library, 18 Canterbury

St. Free entry

Markets:

The weekly markets have

many different attractions and

delicious treats on offer. From

fresh produce to freshly baked

bread, cheeses and free range

eggs. Find some healthy food

options and sip on a coffee while

taking a wander around any of

the markets happening in the

area at the weekend.

Lyttelton Farmers Market:

Every Saturday, 10am-1pm,

London St

​Akaroa Farmers Market: Saturday,

9.30am - 1pm, Madeira

Car Park

Mt Pleasant Farmers Market:

Saturday, 9.30am-12.30pm, 3

McCormacks Bay Rd

CLASSIC: Rachel Ratten's latest exhibition touches on classic

movie stills and treasured and cheesy objects. While she

doesn't make a direct reference to specific films it is the

gestures undertaken by the characters, which open up new

narratives for the viewer. The exhibition is called Hard Boiled

and will be on display until July 8 at 50 Works Gallery in

Lyttelton. ​

3 Garlands Road, Woolston

DeluxeCinemas.co.nz

Christchurch's Premium Cinema Experience

Phone Bookings | Free Parking | Cafe/Licensed Bar

03 389 5360 Online Bookings | Cinema Club | Hot Nuts/ Cheeses

MONSIeur CHOCOlat

WeD: 12:00pm (Senior sneaks) tHu: 12:00pm, 8:00pm

FrI: 12:00pm, 2:05pm, 8:00pm Sat, SuN: 11:50am, 4:00pm, 8:00pm

MON, tue: 11:50am, 2:00pm, 8:00pm

peCKING OrDer ChCh Poultry, Bantam and Pigeon Club

WeD: 12:25pm, 4:20pm, 8:30pm tHu/FrI: 10:10am, 2:20pm, 6:10pm

Sat: 10:00am, 4:15pm, 6:10pm SuN: 10:00am, 4:25pm, 6:15pm

MON, tue: 10:00am, 2:10pm, 6:10pm

MClareN Pioneer, Leader, Father, Champion

WeD: 4:30pm, 6:30pm tHu: 4:10pm FrI: 4:10pm, 8:25pm

Sat: 2:10pm, 8:20pm SuN: 2:00pm, 6:25pm MON, tue: 4:00pm, 8:20pm

CHurCHIll Brian Cox, Miranda Richardson

WeD: 10:00am, 2:20pm, 6:10pm tHu: 10:00am, 2:15pm FrI: 10:00am, 6:25pm

Sat: 12:00pm, 6:20pm SuN: 12:00pm MON, tue: 10:00am, 6:20pm

tHe tIMe OF tHeIr lIveS

WeD: 10:10am, 2:10pm tHu: 12:10pm, 4:20pm FrI: 12:00pm, 4:20pm

Sat: 10:00am, 2:00pm SuN: 10:00am, 8:20pm MON, tue: 12:00pm, 4:20pm

GreaSe SING alONG

SuN: 2:15pm

COMING SOON

july 6th Polina

july 20th Dunkirk

july 20th Paris Can Wait

2

BRING IN THIS

FOR

VOUCHER MENTION THIS AD 1FOR

MINI GOLF

Buy 1 round of Mini Golf at

either Ferrymead Golf

(Monster & Zombies Indoor

or Volcano Park outdoor)

or Caddyshack indoor and get

another round FREE

Only available May, June, July, August 2017

SpeCIal eveNtS/retrO

GreMlINS July 14th 12:30pm

2001: a SpaCe ODySSey August 27th 5:45pm

WIlly WONKa aND tHe CHOCOlate

FaCtOry October 13th 12:30pm

MONSIEuR ChOCOlAT M Violence & offensive language. pECkING ORdER PG Coarse Language

MClAREN G ChuRChIll PG Coarse Language GREASE SING AlONG PG Coarse language

ThE TIME OF ThEIR lIVES M Nudity, Drug Use & Offensive Language Coarse Language.

NEW: SERVING FREE MORNING TEA ENjOy A FREE TEA, COFFEE & A FREShly BAkEd BISCuIT WITh

EVERy MORNING ShOW

The magazine for

gardeners who

like To geT Their

hands dirTy

www.gardener.kiwi

100%

Cafe OPEN

from 11am

Whitford's

Restaurant

NEW WINTER

MENU

NEW

WINTER

MENU

HOUSIE

Tue, Thur Sat

SATURDAY

JACKPOT

UP TO $80

WinTEr Fun For EvEryonE

Ph 384 1566, 21 King Edward Terrace, Woolston

www.caddyshack.co.nz

Function

Facilities

TAB &

Gaming

SHUTTLE Tue - Sat

phone 0508 966 5786

WHAT'S ON

ENTERTAINMENT

STEPHEN JAMES 7.30PM SATURDAY Whitford's Bar

LIONS v ALL BLACKS SATURDAY 7.30PM, Sports Bar

AVON CITY JAZZ feat. Southern Jazzmen

4PM SUNDAY Sports Bar, gold coin entry

Open 7 Days from 5.30pm

Volcano Park

WEDNESDAYS

RETRO ROAST

LUNCH

12PM-1.30PM

$10 Members / $12 Non

Ph 376 5350, 50 Ferrymead Park Drive, Ferrymead

www.ferrymeadgolf.co.nz
---
PAGE 22 BAY HARBOUR Latest Christchurch news at www. .kiwi

Wednesday June 28 2017

REAL ESTATE

180 degree views and a 4 car garage

Mt Pleasant, 169A Major Hornbrook Road

2 bedrooms | 1 bathroom | 1 toilet | 1 living room | 4 car-garage | Listing # FM5170

Located directly opposite the Major

Hornbrook Reserve, this fabulous

townhouse opposite a reserve and tennis

court represents a rare opportunity to

establish yourself in highly desirable spot

without having to break the bank to do so.

Inside, two bedrooms are complemented

by a well-appointed bathroom, a recently

modernised kitchen and a generouslyproportioned

living area. An abundance of

glass bathes the home in natural light and

ensures you'll always be able to appreciate

the view - a breath-taking outlook that

stretches across Pegasus Bay to the Alps

and the Kaikoura ranges beyond. Outside,

the garden at the rear means those with

green thumbs can potter to their heart's

content, while the adjacent reserve (with

tennis court) ensures you'll never be short

on space. The icing on the cake is the fourcar

garage, while the cherry on top is the

proximity to everything from restaurants

and cafes to the array of shops and services

on offer in Ferrymead. With all EQC work

completed this delightful property is ready

and awaiting its new owners. Interested

parties are advised to act quickly - call now

for more information.

Motivated vendor, present all offers.

Open Homes:

Wednesday 28 June 1.00pm - 1.45pm

Thursday 29 June 2.00pm - 2.45pm

Friday 30 Jun 1:00pm - 1:45pm

Saturday 1 July 1:00pm - 1:45pm and

Sunday 2 July 1:00pm - 1:45pm.

See you at the Open Homes or to arrange

a private viewing of this property call Joy

Butel of Harcourts Grenadier Ferrymead

(Licensed Agent REAA 2008) on 384 7950

or mob: 021 353 280

Ferrymead

Eleanor Oliphant is

Completely Fine

by Gail Honeyman

'Funny, touching and unpredictable' Jojo Moyes

Eleanor Oliphant has learned how to survive – but not how to live

Eleanor Oliphant leads a simple life. She wears the same clothes to

work every day, eats the same meal deal for lunch every day and buys the same two bottles

of vodka to drink every weekend.

Eleanor Oliphant is happy. Nothing is missing from her carefully timetabled life. Except,

sometimes, everything.

One simple act of kindness is about to shatter the walls Eleanor has built around herself.

Now she must learn how to navigate the world that everyone else seems to take for granted

– while searching for the courage to face the dark corners she's avoided all her life.

Change can be good. Change can be bad. But surely any change is better than… fine?

'Heartwrenching and wonderful' Nina Stibbe

'Deft, compassionate and moving' Paula McLain

'I adored it. Skilled, perceptive, Eleanor's world will feel familiar to you from the very first

page. An outstanding debut!' Joanna Cannon

Resurrection

(Skulduggery Pleasant, Book 10)

WIN THIS BOOK

ENTER TO

WIN

THIS BOOK

by Derek Landy

The skeleton detective is coming back to life… again! It's the tenth, triumphant novel in the

Skulduggery Pleasant series, and it will rearrange your world.

Skulduggery and Valkyrie are back in the tenth instalment in the bestselling Skulduggery

Pleasant series – an incredible and unexpected treat for the legions of fans around the world.

We can't say much but we can say this: Skulduggery and Valkyrie are going to team up

with beloved characters from the first 9 books as well as an all-new cast, including new

teen co-star Omen Darkly, for an adventure that takes the story to truly global proportions…

while answering questions that go right back to the beginning.

And Derek says this: "I was halfway through Last Stand of Dead Men, I think, when I

realised that I had more stories to tell. I told myself that if Skulduggery and Valkyrie survived

the series, I would leave the option open of returning to their world. There were still secrets I

need to reveal, after all, and there were still horrors they had to face. They survived the first

series. But they're really going to wish they hadn't."

book

release

We have one copy of Eleanor Oliphant is Completely Fine to give away, courtesy of Take Note Ferrymead. To

be in the draw, email giveaways@starmedia.kiwi with Eleanor Oliphant is Completely Fine in the subject line or

write to Take Note Book Giveaway Eleanor Oliphant is Completely Fine, Star Media, PO Box 1467, Christchurch

8140. To be eligible for the draw, all entries must include your name, address and contact number. Entries close

Tuesday 11th July, 2017. Winner of A Dark So Deadly is Warren Thomson of Ferrymead.

are you considering selling

before winter arrives?

The weather may be cooling but the property market in the seaside

suburbs certainly isn't!

Find out what your home could be worth to eager buyers actively

trying to find their next home with a free property appraisal. I look

forward to guiding you through your options for selling and advising

on latest marketing ideas available.

for this professional advice and

more call chris Moores today.

chris Moores

Harcourts Grenadier Ferrymead

1020 Ferry Road

P: 03 384 7950 | M: 027 588 4440

E: chris.moores@harcourts.co.nz

At Whitehead Plumbing & Gas Ltd

we have a great team of loyal staff

offering a diverse range of skills.

Serving Canterbury for over 35

years, we do everything from

domestic maintenance to new

homes and commercial buildings.

Make us your first call today.

GRENADIER

Licensed Sales Consultant REAA 2008

Plumbing.

Gasfitting.

Drainlaying.

03 379 0711

whiteheadplumbing.co.nz
---
Wednesday June 28 2017

Latest Christchurch news at www.

.kiwi

BAY HARBOUR

PAGE 23

Computer

Services

VIRUS REMOVAL AND

PC HEATH CHECK

$50.00

With free pick and delivery

within 10km of Redcliffs.

Phone Paul on 021495577.

Microsoft Certified Pro

with 25 years experience

Computers

ALL

YOUR

COMPUTER

WORRIES SOLVED!

*$30.00 off your first

service with this coupon!*

No problem too big or

small from home PC's to

business networks. PC

slow? An end to Viruses,

Spyware, and Clogged

Systems. Safe secure

hassle-free computing.

Lost files recovered.

Microsoft Certified,

MCSE, MCP+l. 30 years

experience. Call Andrew

Buxton this week on 326-

6740 or 027 435-7596

for $30.00 off* Custom

Computers Christchurch

accountant

Classifieds Contact us today Phone our local team 03 379 1100

For Sale

Gardening

& Supplies

Landscape

and Garden

Services

If you need help

getting your garden

back in order after

repairs, need any

type of landscape

construction work or

garden restoration.

Ph 021 272 0303

CHEAP-PLYWOOD

HARDWOOD VENEER FACED PLY

with 3 hardwood finishes

Great for lining that sleep out/

batch/garage etc

A plaster-board alternative,

looks good vanished or oiled

JUST $57 PER

18x1220x2440mm sheet

JUST $33 per

9x1220x2440mm sheet

Pickup in Bromley

Text: 021 152 521

or see the website:

cheap-plywood.co.nz

Pets and Supplies

Gardening

& Supplies

GARDENER - Need

your home or commercial

garden tidied up or

renovated or require long

term assistance. Phone

Ruth 326-6663 or 021

272-0303

• Quiet rural setting

• Modern purpose built facility

• AsureQuality approved

• Caring qualified staff

• Inspections welcome

69 Avoca Valley Road, Heathcote.

Ph. (03) 3844028 Email. info@avocacats.co.nz

www.avocacats.co.nz

Holiday

Accommodation

QUEENSLAND SUN-

SHINE COAST AUSTRA-

LIA Resort, Ocean Views,

Balconies, Self Contained,

1 or 2 B/R Ensuite,

Heated Pool, Spa, Sauna,

Free Internet, Shops,

Restaurants, Tennis, Surf

Club & Patrolled Beach,

Public Transport at door.

Ask for our SEASONAL

SPECIALS. Phone 61 7

544-35011 Email: reception@mandolin.com.au

www.mandolin.com.au

Holiday

Accommodation

SUMNER Holiday

Accom 027 600 6076

www.kotaresumner.nz

COAL & FIREWOOD

Clean Dry Firewood

Marcrocarpa, Bluegum,

Oregon & Old Man Pine

Free delivery for 6cm

truckload or 3cm

by arrangement

COAL & FIREWOOD

suppLIEs yARD

stAtE HIgHWAy 75, KAItunA

Lynda or Ron Aldersely

Phone 329 6233

Mon- Sat 8am - 12 noon

Trades & Services

Trades & Services

Your local professional

FOR ALL YOUR

PLUMBING

NEEDS

• Bathroom repairs

• Renovations

• Leaks

• Tap Repairs

• Gas and Drainage

Carol and Chris

kitchen renovation

Kitchen looking tired?

Revitalize with new colour at a

fraction of replacement cost

• Alterations & Hardware available

• Laminated Kitchens no problem

• 'On Site' finishing available

• Over 20 years experience

• Free Quotes with no obligation

• All Joinery & Furniture repair & Spraycoatings

PABLO'S PAINTWORKS

27 Birmingham Drive, Middleton

03 338 6280 | 021 541 323

pablospaints@xtra.co.nz

www.pablospaintworks.co.nz

RE-ROOFING

QUALITY ROOFING AT THE

BEST PRICE AROUND

Protect your home with a new Colorsteel roof.

Call for a friendly, FREE assessment and quote.

Ph: 347 9045 or 021 165 1682

Email: Robinsonroofing99@gmail.com

Phone 376 5322 or email

chcheast@laserplumbing.co.nz

• Roofing

• Spouting and Downpipe

• Safety rails

• Licensed Building

Practitioner

ADD SOME

COLOUR

TO YOUR ADVERT!

Plumbing & Drainage

Plumbing & Drainage

PLUMBING & DRAINAGE

Local business for all

plumbing MTPD and drainage

Call Local Morgan business work. - 0223758506 for all

plumbing and drainage

Morgan Thomas Plumbing & Drainage Ltd

Local business for all plumbing and

drainage work.

Freework.

Free Quotes

Quotes

Free Quotes

New SkyVac

Gutter Cleaning Machine

New SkyVac

Trades & Services

CARPET & Vinyl

lAying

Repairs, uplifting,

relaying, restretching,

E mail jflattery@xtra.

co.nz,

ph 0800 003 181

or 027 2407416

COnCRETE

Revolutionary Gutter cleaning system.

No job too big or too small!

Gutter Cleaning Machine

Revolutionary Gutter cleaning system.

MORGAN THOMAS PLUMBING & DRAINAGE LTD

No job

Calltoo Morgan

big0223758506

or too small!

MORGAN Visit our THOMAS website PLUMBING - www.mtpd.co.nz

& DRAINAGE LTD

Email Call-Morgan morgan@mtpd.co.nz

0223758506

Visit our website - www.mtpd.co.nz

Trades & Services

glASS & glAZing

Double glazing/retro fits,

all glass repairs, cat &

dog doors, showers &

mirrors, also splashbacks.

Local fully qualified

tradesman. For all your

glass & glazing needs,

contact Diamond Glass &

Glazing for a free measure

& quote, ph 027 539 9776,

email diamondglass@xtra.

co.nz

PAinTER/PlASTERER

Experienced tradesman,

quality work, free quotes,

ph Simon 027 389-1351 or

03 328-7280

PAinTER AVAilAblE

RAPID RESPONSE,

quality work guaranteed,

interior/exterior,

roofs, spraypainting,

waterblasting, ph Graeme

for a free quote, 027 318

2614

PlASTERing

inTERiOR

no job too big or too

small, specialise in repair

work & new houses, free

quotes given, over 20 yrs

plasterering experience, ph

027 221-4066 or 384-2574

ROOFing

Qualified & Licenced

Practitioner. Re-Roof &

Repairs, all types. Member

New Zealand Roofing

Association. Over 35 years

experience. Phone John

027 432-3822 or 351-9147

Decopave Ltd,

Canterbury owned &

operated for over 10

years, competitive rates,

full excavation, coloured,

exposed, stamped, call

email

co.nz

johnmill@ihug.

Paul 027 322 6119 STOnEMASOn, bRiCK

EARTHWORKS & blOCKlAyER

EXCAVATiOn

Earthquake Repairs, Grind

SERVICES 3.5 tonne Out & Repoint, River/

digger & truck. Geoff Oamaru stone, Schist,

Jarvis 027 231 9463 Volcanic Rock, Paving,

informcontracting@gmail. all Alterations new & old,

com

Quality Workmanship,

ElECTRiCiAn

visit www.featureworks.

JMP Electrical.

co.nz or ph 027 601-3145

Experienced & registered.. TREES big OR SMAll

Expert in all home tree removal, trimming,

electrical repairs & stump grinding, shelterbelt

maintence.Call James 027 clean up, section clearing,

4401715

rubbish removals,

FEnCing

excavation work, ph Trees

Urban & Rural Fencing Big or Small, for a free

Retaining walls, quote, 021 061 4783

excavation, landscaping, VHS ViDEO TAPES

decks. Contact Geoff 027 & all camera tapes

231 9463 grjarvis@xtra.

co.nz

converted to DVD, video

taping special occasions,

www.grahamsvideo.co.nz

ph 03 338-1655

WinDOW ClEAning

"Your Windows are the

eyes of your Home", for

a free no obligation quote,

call Greg Brown, Crystal

Clear Window Cleaning

ph 384-2661 or 027 616-

0331 Local Resident

Situations Vacant

HOUSE Cleaner wanted

2 hours per fortnight, Mt

Pleasant ph 03 3845453

Public Notices

NOTICE OF INTENTION TO

PREPARE MANAGEMENT

PLANS

MISTY PEAKS RESERVE AND

TE OKA RESERVE

The Christchurch City Council is intending to prepare

a reserve management plan for each of two regional

parks on Banks Peninsula.

These are:

• Misty Peaks Reserve, a scenic reserve near

Akaroa

• Te Oka Reserve, a recreation reserve near Little

River

These plans are necessary to guide how the parks are

looked after into the future.

The public is invited to make comments and

suggestions to assist the Council in preparing the

draft plans, as provided for by Section 41(5) of the

Reserves Act 1977.

Information about the parks and the intended

planning can be found on the Council website

www.ccc.govt.nz/HaveYourSay

Comments and suggestions should be made in

writing no later than 5pm on Monday, 24 July 2017.

You can do this:

• online at www.ccc.govt.nz/HaveYourSay

• by e-mail philippa.upton@ccc.govt.nz

• by mail (no stamp required) to Freepost Authority

No. 178, Philippa Upton, Engagement Advisor,

PO Box 73013, Christchurch 8154

• by hand delivering to Civic Offices, 53 Hereford

Street.

The Council will give full consideration to

comments or suggestions received in this initial

round of consultation. Those who respond will be

advised when the draft plans are notified for public

submission later in 2017 or early in 2018.

For further information contact Derek Roozen, Senior

Network Planner Parks, phone (03) 941 9798 or email

derek.roozen@ccc.govt.nz

J Daly

COUNCIL SECRETARY

www.ccc.govt.nz

The magazine for

gardeners who

like To geT Their

hands dirTy

www.gardener.kiwi

100%

ADVERTISE YOUR

BUSINESS HERE

Phone for further details

(03) 379 1100
---
PAGE 24 BAY HARBOUR Latest Christchurch news at www. .kiwi

Wednesday June 28 2017

Hurry in for amazing

savings!

FINAL WEEK - DON'T MISS OUT

save

$100

save

$50

Nohr 4 Piece Bedroom Package

The simple white drawer fronts make this range suitable for both kids and adults

bedrooms and each drawer features smooth runners for ease of use. All units of

the same height can be put side by side to create a seamless long chest.

Cologne 2.5 Seater Sofabed

The cologne is packed with comfort, this sofa pulls out with ease

to become a bed settee, perfect for all those overnight guests.

Includes Queen Bed, 2 Bedsides

& 6 Drawer Tallboy.

was $1199

$1099

now only

save

$300

was $1399

now only $1099

Dimensions:

W2082xD1605xH1370mm

Geo Queen Bed

The Geo bed is geometric style at

its finest with an intricately patterned

headboard and footboard. Available in black or white, this

Queen Bed will be the statement piece of your Bedroom!

was $349

now only

$299

FREE

SIZE UPGRADE

ON ANY MATTRESS

PURCHASED

save

$1280

Diego Lounge Suite (Grade A)

This NZ Made Diego modular suite is a Target favourite. How many other suites can transform

to suit the shape of your room? This one can and it does it with comfort in mind!

was $3179

now only $1899

Oliver Living Collection

This Oliver has a twist with dark

inserts smartly encased by light

sandblasted Acacia and you

can't go past the cleverly

designed wall leaning bookcase.

Highboard

Coffee Table

Entertainment Unit

7 Piece Dining (2000mm Table)

was $1999

now only $1659

Coffee Table

was $599

now only $499

Cnr Blenheim & Curletts Rds, Christchurch. Ph: 03 343 3204

View our collections online: targetfurniture.co.nz

Sideboard

was $1599

now only $1299

Highboard

was $1999

now only $1699

Sideboard

Entertainment Unit

was $999

now only $799

Offers and product prices advertised here expire 03/07/17.

Sale excludes Manchester and accessories.

Jamie Bunk Bed

save

$100

was $599

An ideal way to save on space in your kid's bedroom. This

stylish bunk can be set up as shown or converted into two

single beds and is available in either white or black.

now only

$499

500 DAYS

NO PAYMENTS

AND NO INTEREST *

*Minimum purchase $499. Finance offer expires 24th July 2017.

Lending criteria, $50 Annual Account Fee, Establishment Fees,

terms and conditions apply. See below for terms & conditions.

*No Payments and No Interest for 500 Days ("Payment Holiday") is available on Q Card Flexi Payment Plans for in-store purchases only until offer ends 24th July 2017. Minimum spend $499.

Annual Account Fee of $50 applies. New Q Cardholder fees - $55 Establishment and ($3 PPSR - Q Card only. Existing Q Cardholder fee - $35 Advance. Q Card Standard Interest Rate,

currently 25.25% p.a. applies to any outstanding balance at end of Payment Holiday. Payment Holiday period may vary depending on Cardholder's payment cycle dates. Q Card lending

criteria, fees, terms and conditions apply. Rate and fees correct as at date of publication, subject to change.
---
A Star Media Event

JUNE 30 - JULY 2, HORNCASTLE ARENA

10am - 5pm, adults $8 - under 12's free

Win Retrofit Double-glazing,

value of 10K+ *T's and C's apply

WIN

a winter getaway

adventure

Valid for up to 4 people with this coupon only.

Attend this year's FREE Build Right

Seminars and enjoy a free coffee.

SATURDAY SUNDAY

Win! A $500 Resene voucher

Valid for up to 4 people with this coupon only.
---
Exhibitors Directory

Site map in your Home & Leisure Programme

Stand

Company Name

Website

C1-C4 Armstrong Motor Group armstrongmotorgroup.com

C5 Stratton Bathrooms strattonbathrooms.com

C6 Eenergy eenergy.co.nz

C7 Graphic Glass grapghicglass.biz

1 With This Ring Bridal Show bridalshow.dashtickets.co.nz

2-4 Star Media star.kiwi

5 Oderings oderings.co.nz

6,8 Professionals Real Estate professionals.co.nz

7,9 Woll Cookware showtv.co.nz

10 Ideal Building Canterbury idealbuilding.co.nz

12 Veito Heater branddevelopers.co.nz

13 Harrisons Curtains & Blinds harrisonscurtains.co.nz

14 Turbo Scrub branddevelopers.co.nz

15,17 Harrisons Energy Solutions harrisonsenergy.co.nz

16 Wright Spa Pools wsp.co.nz

18 EnviroMaster Ltd enviromaster.co.nz

19 Outerspace Landscapes outerspacelandscapes.co.nz

20 Fidget Spinner cuddlebuddies.co.nz

21-22 Platinum Homes platinumhomes.co.nz

23 UPVC Windows & Doors upvcwindows.co.nz

24 The Crowded House thecrowdedhouse.co.nz

25 Happy Spine happyspine.co.nz

26 Tumeric Powder showtv.co.nz

27 Milestone Homes milestonehomes.co.nz

28,30 Your Sparky leds4u.co.nz

29 Dream Home Curtains dreamhomecurtains.co.nz

31 Fry Air showtv.co.nz

33 Flatstacks showtv.co.nz

32, 34 Air Con New Zealand airconnz.co.nz

35,37 Xteriorscapes xteriorscapes.co.nz

36 Zenteq zenteq.co.nz

38,40 Heatsmart Central heatsmart.co.nz

39,41 Whitehouse Builders whitehousebuilders.co.nz

42 Morepork morepork.nz

43 Air Roaster branddevelopers.co.nz

44 Suntrenz Skylights suntrenz.co.nz

45,47,48,49 Living House NZ livinghouse.co.nz

46 Insulmax Insulation insulmax.co.nz

50 Automated Technologies automatedtechnologies.co.nz

51 Durasteel durasteel.co.nz

52,54 Edoma NZ edoma.co.nz

53,55 Sunshine Solar sunshinesolar.co.nz

56 Transforma Ladder branddevelopers.co.nz

57-58 GJ Gardner Homes gjgardner.co.nz

59 Kleva Cut Knives cuddlebuddies.co.nz

60 KS Lighting kslighting.co.nz

61 The Heath shuzi.co.nz

62 Eric James & Associates emcjames.co.nz

63 WindowWow showtv.co.nz

67,68,70,71 Harvey Norman Bedding harveynorman.co.nz

64-66 Central Heating New Zealand centralheating.co.nz

69 My Eco myeco.co.nz

72,73 Kitchen Studio kitchenstudio.co.nz

74 Sharp Asphalt sharpasphalt.co.nz

75 YMCA Christchurch ymcachch.co.nz

76 Citrus Magic citrusbasedcleaner.co.nz

77-78 Venluree venluree.co.nz

79 Bambillo Toppers branddevelopers.co.nz

81,83,84 Edwards & Hardy Roofing edwardsandhardyroofing.co.nz

82 Fig Landscapes Figlandscapes.co.nz

85-87 BuildRight Homes buildrighthomes.co.nz

88-94 Bedworld bedworld.co.nz

95 Surafce Solutions surfacesolutions.co.nz

96 NZHL nzhomeloans.co.nz

Stand

Company Name

Website

97 Readylawn readylawn.co.nz

98-99 DVS dvs.co.nz

100-102 Austin Bluewater austinbluewater.co.nz

103-104 Enable Services enable.co.nz

101 Chopper cuddlebuddies.co.nz

105 Strategic Homes strategichomes.co.nz

106-109 Resene resene.co.nz

110 Millen Christchurch millen.co.nz

112 A1 Konjac Sponge cuddlebuddies.co.nz

113-114 On Cue oncue.net.nz

115-117 Plus 2WP showshop.co.nz

116 Logan Smythe & Associates logansmythe.co.nz

118 Polar Energi polarenergi.co.nz

119 David Reid Homes davidreidhomes.co.nz

120 McKenzie & Willis Flooring Mckenzieandwillis.co.nz

121 VDS Design estervdsande@gmail.com

123 BellaRoc Stone & Tiles bellaroc.co.nz

125 Infrared Panels NZ infraredpanels.co.nz

126 McKenzie & Willis Bedding Mckenzieandwillis.co.nz

127 Sincock, Till & Setz Audiology staudiology.co.nz

129 Property Investors Club propertyclub.co.nz

133 IPG Paintball ipgnz.co.nz

134 Natural Pest Control urbaadv@xtra.co.nz

135 Showerdome showerdome.co.nz

136 Duzz-all beeswax duzz-allbeeswax.co.nz

137 Unovent South unovent.co.nz

138 TC Groundworks tcgw.co.nz

139 Redrock hats redrockhats.co.nz

142-144 Rest area with Summerset summerset.co.nz

145 Power fit gym branddevelopers.co.nz

146 Ark Financial Group arkfg.co.nz

147-150 The Glass Room theglassroom.co.nz

151-156 The Carpet Mill carpetmill.co.nz

157 Treble Glaze trebleglaze.co.nz

158-159 Hororata Highland Games hororata.org.nz

160 Springfree Trampolines springfreetrampoline.co.nz

162 Canterbury Insulation canterburyinsulation.co.nz

163,165 Hometech hometech.co.nz

164,166,168 Carpet Plus carpetplus.co.nz

170 ANZ Bank anz.co.nz

172 Window Innovation windowinnovation.co.nz

174 Canterbury Continuous Spouting continious.co.nz

176-178 Morgan + Stone morganstone.co.nz

181-183 Simply Wardrobes simplywardrobes.co.nz

184,189 Bambillo Beds branddevelopers.co.nz

185 Dream Doors Christchurch dreamdoors.co.nz

186 Waste Co. wasteco.co.nz

187-188 Condensation Control condensation.co.nz

191,193 Venus Flooring venusflooring.co.nz

195-197 Target Furniture targetfurniture.co.nz

192,194,206,208 HRV safe Windows hrv.co.nz

198-202 4 Seasons Home & Leisure 4seasons.co.nz

203 IBS www.ibs.co.nz

204 Air Hawk branddevelopers.co.nz

210 X-Golf Avonhead xgolfavonhead.co.nz

205, 207 Thermatech thermatech.co.nz

209, 211 Agility BuildingSolutions agbs.co.nz

212-213 Icycle electric icycleeletric.co.nz

214 Beam by Electrolux Central Vacuums beam.co.nz

215-218 Dreamwool Beds dreamwool.co.nz

226-231 Boat, Motorhome and Caravan Show classicevents.co.nz

220-224 Pool Land poolland.co.nz

217-227 The Playhouse Challenge birthrightchch.org.nz tpa.org.nz

Main Entrance Generator Place

generatorplace.co.nz

Main Entrance Mobile skips4u

mobileskips4u.co.nz

JUNE 30 - JULY 2 HORNCASTLE ARENA

10am - 5pm, adults $8 - under 12's free