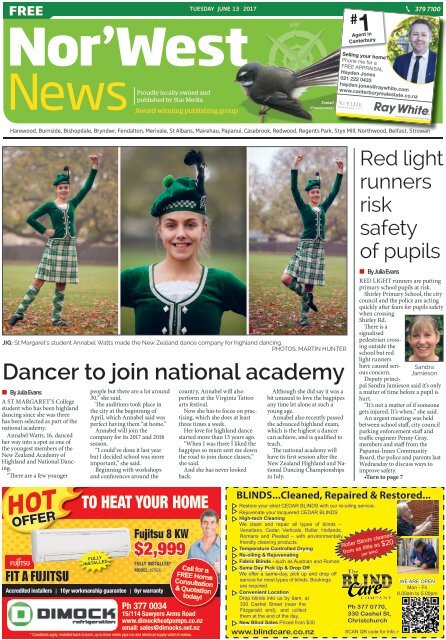 Nor'West News: June 13, 2017
You also want an ePaper? Increase the reach of your titles
YUMPU automatically turns print PDFs into web optimized ePapers that Google loves.
6/105 Coleridge St, Sydenha

* Conditions apply. Normal lending criteria, booking fee and an

FREE

TUESDAY jUnE 13 2017 379 7100

#

1

Agent in

Canterbury

Proudly locally owned and

published by Star Media

Award winning publishing group

Fantail

(Piwakawaka)

Selling your home?

Phone me for a

FREE APPRAISAL

Hayden Jones

021 222 0433

hayden.jones@raywhite.com

www.canterburyrealestate.co.nz

Crest Realty Ltd Licensed (REAA 2008)

Harewood, Burnside, Bishopdale, Bryndwr, Fendalton, Merivale, St Albans, Mairehau, Papanui, Casebrook, Redwood, Regents Park, Styx Mill, Northwood, Belfast, Strowan

JIG: St Margaret's student Annabel Watts made the New Zealand dance company for highland dancing.

PHOTOS: MARTIN HUNTER

Dancer to join national academy

• By Julia Evans

A ST MARGARET'S College

student who has been highland

dancing since she was three

has been selected as part of the

national academy.

Annabel Watts, 16, danced

her way into a spot as one of

the youngest members of the

New Zealand Academy of

Highland and National Dancing.

"There are a few younger

people but there are a lot around

30," she said.

The auditions took place in

the city at the beginning of

April, which Annabel said was

perfect having them "at home."

Annabel will join the

company for its 2017 and 2018

season.

"I could've done it last year

but I decided school was more

important," she said.

Beginning with workshops

and conferences around the

country, Annabel will also

perform at the Virginia Tattoo

arts festival.

Now she has to focus on practising,

which she does at least

three times a week.

Her love for highland dance

started more than 13 years ago.

"When I was three I liked the

bagpipes so mum sent me down

the road to join dance classes,"

she said.

And she has never looked

back.

Although she did say it was a

bit unusual to love the bagpipes

any time let alone at such a

young age.

Annabel also recently passed

the advanced highland exam,

which is the highest a dancer

can achieve, and is qualified to

teach.

The national academy will

have its first session after the

New Zealand Highland and National

Dancing Championships

in July.

Red light

runners

risk

safety

of pupils

• By Julia Evans

RED LIGHT runners are putting

primary school pupils at risk.

Shirley Primary School, the city

council and the police are acting

quickly after fears for pupils safety

when crossing

Shirley Rd.

There is a

signalised

pedestrian crossing

outside the

school but red

Sandra

Jamieson

light runners

have caused serious

concern.

Deputy principal

Sandra Jamieson said it's only

a matter of time before a pupil is

hurt.

"It's not a matter of if someone

gets injured. It's when," she said.

An urgent meeting was held

between school staff, city council

parking enforcement staff and

traffic engineer Penny Gray,

members and staff from the

Papanui-Innes Community

Board, the police and parents last

Wednesday to discuss ways to

improve safety.

•Turn to page 7

OFFER

FIT A FUJITSU

TO HEAT YOUR HOME

FULLY

INSTALLED

on 8KW Heat Pum

Deal

Hot Hot

Heat Pump for Just

KW 8 ASTG24L Fujitsu

$2,999

Six Year

Warranty

Fully Installed*

PH 377 0034 OR 0800 800 734

Installed back to back, up to 3 met

run and electrIcal supply wIthIn 6 m

www.dimockheatpum

Email: sales@dimoc

Fujitsu 8 KW

$2,999

FULLY INSTALLED*

MODEL: ASTG24L

Accredited installers | 10yr workmanship guarantee | 6yr warranty

Ph 377 0034

15/114 Sawyers Arms Road

www.dimockheatpumps.co.nz

email: sales@dimocks.net.nz

* Conditions apply. Installed back to back, up to three metre pipe run and electrical supply within 6 metres.

Call for a

FREE Home

Consultation

& Quotation

today!

BLINDS...Cleaned, Repaired & Restored...

Restore your oiled CEDAR BLINDS with our re-oiling service.

Rejuvenate your lacquered CEDAR BLINDS

High-tech Cleaning

We clean and repair all types of blinds –

Venetians, Cedar, Verticals, Roller, Hollands,

Romans and Pleated – with environmentally

friendly cleaning products.

Temperature Controlled Drying

Re-oiling & Rejuvenating

Fabric Blinds - such as Austrian and Roman

Same Day Pick Up & Drop Off

We offer a same-day, pick up and drop off

service for most types of blinds. Bookings

are required.

Convenient Location

Drop blinds into us by 9am, at

330 Cashel Street (near the

Fitzgerald end), and collect

them at the end of the day.

New Blind Sales Priced from $30

Roller Blinds cleaned

from as little as $20

per blind

Ph 377 0770,

330 Cashel St,

Christchurch

www.blindcare.co.nz SCAN QR code for Info >

WE ARE OPEN

Mon - Fri

8.00am to 5.00pm
---
2

Latest Christchurch news at www. .kiwi

Tuesday June 13 2017

Inside

FROM

THE

EDITOR'S

DESK

NOR'WEST NEWS

News.......................................3-5

THE WORLD is a rapidly

changing place, and today we

report on new technology at St

George's.

It's called 4k. If you're not sure

what that actually means watch

Hunger Games or Spectre – it's the

same technology used in those

Hollywood movies.

The technology will be used in

the hospital's five new operating

theatres.

What the technology does is

produce a resolution four times

as higher than the traditional full

HD, making it possible to zoom

in on the smallest details and

magnify them.

That will allow surgeons to watch

what they are doing live on a screen

during keyhole surgery, and zoom

in as they work to see right into the

individual blood vessels.

We've come along way since

Space Invaders and PlayStation.

– Barry Clarke

Rangi Ruru music teacher honoured SCHOOLS 8

Local Views..................... 7

Schools.....................................8

Sports.................................11

Real Estate...........................14

Events................................ 17

Food...........................................19

Elmwood

GET IN TOUCH

General Enquiries Ph 379-7100

Classified Advertising Ph 379-1100

The Christchurch Star Company Ltd. PO box 1467 - Christchurch

starmedia.kiwi

NEWS

Julia Evans

Ph: 021 914 742

julia.evans@starmedia.kiwi

ADVERTISING

Monique Maynard

Ph: 364 7474

monique.maynard@starmedia.kiwi

Discover Christchurch's

best priced pet

accommodation

your one stop shop!

We welcome you to come along and have a look

SUPER LIQUOR

ELMWOOD

Now open!

• 15 fresh craft beers

on tap

• Great range of wines

& premium spirits

• Knowledgeable team

to help you out!

X

• Grooming

cats and dogs

• Daycare -

all breeds

• Long stay/

short stay

Call now to book in your fur baby -

inspections welcome anytime!

aLameDa

kenneLs & cattery

271 Dyers Road | Ph 384 1297

www.alameda.nz

1 Amyes Rd, Hornby Ph. 349 4163

Hours: Mon - Fri 9am-4.30pm,

Sat 9.30am-1.30pm

335b Riccarton Rd, Church Cnr

Ph. 341 8539

Hours: Mon - Fri 9.30am-5pm

Sat 9.30am-2.30pm

We've been trusted to look after hundreds of

properties all over Christchurch.

You can trust us to look after your's too.

SUPER LIQUOR ELMWOOD

1 NORMANS RD, STROWAN

P: 03 355 1170 E: slelmwood@xtra.co.nz

Property Manager of

the Year NZ 2015/16

Ray Hastie

Manager

027 448 8225

Nicola Flanagan

Property Manager

021 914 332

Paula Hastie -

Rebekah Whalley

Assistant Property

Accounts Administrator

Manager

03 331 6755

Nominated for Ray White New Zealand Property Management Office of the Year, 2016/17

Local Experts – Citywide Knowledge

Phone (03) 331 6755

www.propertymanagementchristchurch.com

Abbey Nolan

Property Manager

027 379 5021

Prier Manson Real Estate Ltd Licensed (REAA 2008)
---
NOR'WEST NEWS Latest Christchurch news at www. .kiwi

Tuesday June 13 2017 3

News

4K technology for St George's

FROM HOLLYWOOD to the

operating theatre – technology

used in blockbuster movies

is now being used to help

Christchurch surgeons during

operations.

The 4k imaging technology

has been incorporated in the five

new operating theatres built as

part of the redevelopment at St

George's Hospital.

The technology has been

used to film big screen movies,

including the Hunger Games and

Spectre.

It produces a resolution four

times higher than the traditional

Full HD, making it possible to

zoom in on the smallest details

and magnify them.

That will allow surgeons to

watch what they are doing live

on a screen during keyhole surgery,

and zoom in as they work

to see right to the individual

blood vessels.

Hospital chief executive Greg

Brooks said the technology

would directly benefit patients.

"The redevelopment has

provided us with a key

opportunity to invest in worldleading

innovation to provide

our patients with superior care,"

he said.

ADVANCED: One of the new

operating theatres at St

George's, where the new 4k

technology will make it easier

for surgeons to do keyhole

surgery. The technology now

in use has been used in big

screen movies, including the

Hunger Games.

In Brief

BARBECUE ARRIVES

A barbecue donated by the

Wigram Lions Club has been

delivered to Burnside Park

and is being stored until the

shelter and picnic tables arrive.

City council staff are currently

working through the building

consent required for the shelter,

which is due to arrive in July.

Installation of the barbecue and

shelter will also take place in

July. However, the delivery of the

picnic tables has been delayed.

NEW MEMBERS

THe Elmwood Club has two

new sport clubs using its

community facilities. The

Shirley Volleyball Club and

Canterbury Handball have

joined as affiliate members and

take a joint membership of more

than 100 to the club.

SCHOOL REDEVELOPMENT

Northcote School is to undergo

a building redevelopment, set

to be completed by the end of

2019. The Board of Trustees is

currently working on concept

plans for the new-look school.

Not only will the redevelopment

impact the buildings but it may

also change the way the school's

classes are structured and the

way teachers manage them.

'CEREC' & cosmetic dentistry

Wisdom tooth removal

Painless, high quality dentistry

Sedation dentistry

Experienced, conscientious team

Experienced hygienists

OPEN SATURDAYS

355 9380

144 Cranford Street

www.stalbansdentalcentre.co.nz

Still Pedalling!

Full Workshop Services:

• WOF's • Service Checks

• Wheel Alignment • Brakes

• Clutches • Tyres etc

All makes & models

Trevor Crowe's been

involved with cars for a

while. You can benefit

from his experience at...

Subaru Specialists

518 Moorhouse Ave (East end) | P: 379 7615

W: crowesport.co.nz | E: service@crowesport.co.nz

Kama Jacobs

Our fee is

1%

from

min fee applies

At Smart Real Estate YOU keep the Profits

Our Smart Marketing offers Global Exposure

Full service…Free Appraisals

Call Kama Jacobs: 022 043 7696

Jahna Brennan: 021 557 010

Office: 03 384 8600

Jahna Brennan
---
4

Tuesday June 13 2017

.kiwi

NOR'WEST NEWS

Latest Christchurch news at www.

News

McMaster & Heap

Veterinary practice

Air rifle

injury

in A cAt

Chanel, a beautiful 17 month old Birman

arrived home late one Sunday evening with

a profusely bleeding wound on her back.

Her very concerned owners rushed her to

the After hours clinic where she was placed

on oxygen, given intravenous fluids and pain

relief. The xray taken showed Chanel had

been shot with two air rifle pellets – one was

sitting in her abdomen and one in her left

hind leg. She was also slightly anemic due

to blood loss. Miraculously she was still alive.

Chanel was operated on to remove the hind

leg pellet that night but it was felt too risky

to open her up and remove the abdominal

pellet due to ongoing blood

loss. Thankfully the pellets

missed her vital organs and

spine.

Chanel arrived at McMaster

& Heap Vet Practice on

Monday morning in a fairly

critical condition. She was

closely monitored and her

pain medication with a

fentanyl patch provided

her with continuous relief

– being shot would be

quite sore!

Chanel had regular blood

tests in house to check her

vital organs and to be sure

her anemia wasn't worsening. Unfortunately

she was becoming more anemic. Kirsty

performed an abdominal ultrasound and

took chest xrays to check for free blood

indicating an active bleed. There was also

some concern about potential damage

to her left kidney from the pellet location.

Thankfully through all this her appetite was

great!

Prior to her

second surgery,

it was decided

that Chanel

would benefit

from a blood

transfusion to

help her red

blood cell levels.

She was blood

typed ( Type A)

and found to be

a match for Kirsty's cat "Wolfie". Wolfie was

sedated

and

about 60mls of blood was drawn from

him to give to Chanel over a couple of hours.

The donor cat has their red

cell levels checked and must

be Feline Aids (FIV) negative.

The following day Chanel

appeared brighter and

happier. We decided to

wait a further week before

operating to make sure her

blood levels were stable

and that she was producing

good numbers of red cells

on her own. The repeated

ultrasound and xray showed

that thankfully her left

kidney appeared normal

however the bullet had

slightly moved.

Chanel's surgery proceeded without a

hitch. The bullet was successfully removed

with very little trauma, from just behind

her left kidney. That afternoon she was

rolling around, playing in her cage, able

to be discharged from our hospital. We

continued with pain relief and one week

later Chanel was near normal. This would

have been a completely different story had

her abdominal organs been penetrated or

her spine shattered. Thanks to her owner's

rapid response, Chanel's life was saved and

she's never looked back. Also a bonus that

her dedicated owners have pet insurance.

Dr Michele McMaster

Lions club celebrates

• By Julia Evans

THE CHRISTCHURCH

North Lions Club has

marked a significant

milestone.

At the end of May members

from the club gathered

for a luncheon to celebrate

the 50 th anniversary.

It comes in the same year

as centenary celebrations

for the Lions Club internationally.

Early members from

the 60s and 70s joined the

current members for a

celebratory luncheon.

"It was a great day, there

were at least 65 people

there," club president

Bruce Greenaway said.

It was good seeing former

members of the club

join with us in marking

our 50 years of service to

the community he said.

Over the course of its

history, the branch has

raised more than $250,000.

Many charitable

organisations, as well as

deserving individuals, have

benefited from the quarter

of a million dollars raised

over the 50 years, Mr

Greenaway said.

The club has funded

The magazine for

gardeners who

like To geT Their

hands dirTy

www.gardener.kiwi

100%

ANNIVERSARY: Club members June Cook and Anne

Rogers cutting the cake.

projects such as the Orana

Wildlife Park's lion den

and enclosure.

It also built and donated

to the Salvation Army a

purpose-fitted caravan for

use in emergency situations.

"All the former members

gave generously of their

time and effort to help

those in need. We are

now hopeful that at this

milestone in the club's

history, more will come

forward to join our

thinning ranks," Mr

Greenaway said.

Be warm in

winter with

mohair and

alpaca rugs,

throws and

scarves

140 Colombo Street

Beckenham, Christchurch

Phone 03 943 1639

www.themohairstore.co.nz

Bathroom & Shower

Renovations

Open 7 days

Cnr Hoon Hay & Coppell place

phone 338 2534, Fax 339 8624

e. mcmasterandheap@yahoo.co.nz

www.mcmasterheap.co.nz

McMaster & Heap

Tile & grout Cleaning

Re-grouting

Grout Sealing & Re-colouring

Replace Mouldy Silicone

CALL TODAY 0800 247 688

www.groutpro.co.nz

befoRe

afTeR
---
NOR'WEST NEWS Latest Christchurch news at www. .kiwi

Tuesday June 13 2017 5

Police presence stops fires

• By Andrew King

ARSON ATTACKS in

Burnside and Ilam have

stopped after police increased

patrols around the area.

Over a number of weeks,

there have been a series of

deliberately lit fires

in the area, with

wheelie bins, a car

and for sale sign set

alight – some close

enough to scorch

Stephan the exterior of occupied

homes.

McDaniel

Senior Sergeant

Stephan McDaniel

said in response to

the fire, police have

increased patrols in

the area in an effort

James to catch who is

Wallace

lighting the fires.

"At this stage, we have no

clear suspects, but we are looking,"

he said.

He said while there appears

to have been a halt in the attacks,

police will continue to

keep an eye on the area.

"The extra patrols will stay in

place for now,' he said.

Bins on Greers Rd and Westburn

Tce were set on fire three

weeks ago, prompting police to

dispatch a dog unit to try and

track the offender or offenders.

None have been found.

SINISTER: Most of

the arson attacks

have been wheelie

bins up against

the side of homes.

PHOTO: JAMES

WALLACE

Burnside resident James

Wallace's bin was set alight

about a month ago and

scorched the side of his house

while his children were asleep.

He said he had not heard of

any more events around his

area.

"I haven't seen them, but

I've been told there are extra

patrols and a dog unit on

standby," he said.

• Anyone with

information about the

fires should phone 363

7400. Alternatively,

information can also be

reported anonymously to

Crimestoppers on 0800

555 111.

STUMPED: Bill Willoughby is happy the Bishopdale Village Mall

blue gum trees have been removed. PHOTO: MARTIN HUNTER

Good riddance trees

• By Julia Evans

SOME RESIDENTS are not sad

to see eight blue gum trees around

Bishopdale Village Mall felled.

Burnside's Bill Willoughby, 79,

said he was pleased the trees had

finally got the chop.

"The city council have done the

right thing, they were getting a bit

scraggy," he said.

As a regular shopper at the mall,

he said it had really tidied the

place up.

The trees were felled recently

because of their poor health,

structural condition and the

risk they presented to the

public. The Bishopdale Business

Association expressed concern

after a limb fell and wrote off a

parked car last year.

Debris from the trees was

also an additional burden for

businesses in the mall causing

regular maintenance issues.

Appropriate replacement trees

will be planted in consultation

with mall businesses.

•Soap Box, page 7

Make your GP team your first call 24/7

Even after-hours a nurse is available to give free health advice

Phone your usual General Practice number 24/7

12

9

3

6

12

9

3

6
---
6 Tuesday June 13 2017

Latest Christchurch news at www. .kiwi

NOR'WEST NEWS

Our story continues...

Bayleys opening soon

in Fendalton

Find out more at bayleys.co.nz/Fendalton

Whalan and Partners Ltd, Bayleys, Licensed under the REA Act 2008
---
NOR'WEST NEWS Latest Christchurch news at www. .kiwi

Tuesday June 13 2017 7

Your Local Views

Ode to the blue gums

Papanui-Innes

Community

Board member

John Stringer

writes about the

loss of trees in

the community

With sadness I observed the

felling of the Bishopdale blue

gums.

I regularly use both the larger

Northlands Shopping Centre

and the little Bishopdale Village

Mall.

The rank of tall australian

blue gums ringing the village

mall car park was a feature I

enjoyed.

As well as the trees, we

recently lost the Mitre 10 at the

mall, which has shifted further

down Harewood Rd.

Trees are important to a community,

which is why we have

protection orders and bylaws

governing some trees.

The Bishopdale blue gums

were on private property so,

in one sense, they can do as

they please, but as trees are an

important aesthetic to any community

is it worth extending

the reach of bylaws to cover not

just historic trees but also the

impact on a community of the

removal of large treescapes?

There is a lot of tree removal

going on in our community.

With all the change in our

city and roadworks strangling

our arterials, the continuity

of arboreal landscapes is

important for psychological

well-being.

Too much change all at once

brings a feeling of dislocation

and being wrenched from stability

and familiarity.

When I moved from a large

property in Papanui several

years ago, the owners cut down

every single tree on what was

one of the last un-subdivided

residential properties in the

area – a remnant quarter acre

section.

Down came the red peaches,

the figs, a tall native, blueberries,

pears and a huge magnolia

that was such a feature of the

local community.

FELLED: A

Treetech

arborist

removed

eight blue

gums

outside the

Bishopdale

Village

Mall.

Up went a tilt slab jammed in

behind an older house.

As the Bishopdale blue gums

toppled, I reflected on Gerard

Manly Hopkins' famous eulogy

to Binsey Poplars.

"My aspens dear, whose

airy cages quelled, Quelled or

quenched in leaves the leaping

sun, All felled, felled, are all

felled; Of a fresh and following

folded rank . . . O if we but knew

what we do."

RIP Bishopdale blue gums –

you will be missed.

DANGER: Red light runners at this Shirley Rd pedestrian crossing

are causing concerns for pupils safety.

PHOTO: GILBERT WEALLEANS

Pupils safety at risk

•From page 1

Community board chairwoman

Ali Jones said off the back of the

meeting, the group came away

with seven action points.

"The school is not that obvious,

it actually looks like a big office

block . . . if drivers are aware there

are children in the area they will

slow down," Ms Jones said.

Plans likely to be implemented

include a sign

that warns of children in

the area, increased police

presence, increased city

council enforcement and

pupils carrying flags as

they cross the road.

Mrs Jamieson said they

were also looking at having

a longer waiting time between

the light changing red and the

crossing turning green.

"It will be a combined effort.

The sign, police enforcing, city

council enforcing and also

Ali Jones

someone suggested the children

holding flags as they cross

the road like they already do at

St Albans Primary," Ms Jones

said.

A full safety audit by the city

council, of traffic from Hills Rd to

The Palms Shopping Centre has

also begun.

Although ideas such as

a flashing 40km/h signs

outside the school were

also proposed but is unlikely

to go ahead.

"They're expensive and

we have to tick a lot of

NZTA boxes related to

getting that," Ms Jones

said.

But due to traffic

congestion along Shirley Rd after

school, Mrs Jamieson said it

wasn't so much an issue of speed

as red light running.

Ms Jones said changes would be

in place within four weeks.

Helping us,

Helps tHe

community

Drop off or buy

3 family stores in your community

30 Main North Rd,

Ph 352 4581

520 Cranford St,

Ph 352 0515

50 Charles St, Kaiapoi

Ph 03 903 0017

"WHERE THE SALE NEVER ENDS"

The one stop shop for Cosmetics and

Fragrances (for women and men)

THE MAKEUP SALE SHOP

Shop 3, inside Bush Inn Centre Mall

(Before Paper Plus) | Ph 03 343 1516

www.makeupsale.co.nz

@makeupsale.co.nz

makeupsalenz

Organic Training College

LEARN FROM

THE EXPERTS

Start a career in

organics. Reduce

your footprint and

produce a regular

supply of your own

fruit and vegetables.

COURSES (All fees under $500)

Year 1

Introduction to Organics

44 weeks

Starts August 2017

(Lincoln campus)

Year 2

Applied Organics

46 weeks

Starts August 2017

(Lincoln campus)

Programme information

college@bhu.org.nz | 03 325 3684 | www.bhu.org.nz

wish

you were

HERE?

Be in to WIN $10k* in travel

when you take a virtual walk

around the world at Northlands.

Visit northlands.co.nz

for more information.

*Terms & conditions apply.

northlands.co.nz
---
8 Tuesday June 13 2017

Latest Christchurch news at www. .kiwi

SCHOOLS

NOR'WEST NEWS

MUSIC: Independent Schools of New Zealand Board

chairwoman Heather McRae (left), with Janet Kingsbury and

Sandra Hastie at the awards ceremony.

Rangi's 'Mozart' gets award

A RANGI Ruru Girls' School

teacher has received an award for

her outstanding contribution to

music.

Director of music Janet Kingsbury

received the honours award

from Independent Schools of

New Zealand.

She joined Rangi Ruru 14 years

ago. Then, following the September

4, 2010, earthquake, she

volunteered hundreds of hours

to work closely with the campus

design team to ensure the music

department was successfully

rebuilt.

At the Independent Schools

of New Zealand conference,

principal Sandra Hastie said

Mrs Kingsbury is an exceptional

music teacher and leader who

goes above and beyond what is

expected.

"Music is a flagship of Rangi

Ruru and is revered both within

the school and throughout the

music community, both locally

and around the country."

During a recent performance

review, one of her students said:

"Apart from Mozart, no one

knows more about music than

Mrs K."

Dr Hastie said the school is

incredibly fortunate to have

Mrs Kingsbury as part of the

team. She was thrilled that her

dedication, talent and hard work

had been recognised with this

award.

Fendalton pupils learn how

the settlers lived

Jayden White, Kellan Faulkner and Connie Zhou

(above) were among the year 1, 2 and 3 pupils

from Fendalton Open Air School who visited

Canterbury Museum last week. They learnt

about the early settlers and how they lived,

worked and played.

Ethan Wong (right) and Paige Layton found out

what it felt like to wear Victorian clothes, which

the children of colonists would have worn.

CREATE AN

AWESOME LIFE

FOR YOU AND

YOUR WHANAU

Gain skills for employment for FREE* through

He Toki. Training options include construction,

electrical, plumbing, health, engineering and more.

Through He Toki you'll explore your cultural

identity and be supported to join the next

generation of Māori leaders.

*

Conditions apply.

Apply now at Ara

For more information

0800 24 24 76

ara.ac.nz/he-toki

Tomorrow I will be celebrating

the contribution made by

the women of Waimakariri

electorate to the community

and professional sectors at a

working luncheon with Hon

Amy Adams. I am hosting this

event to celebrate the hard

work of our local women and

to provide an opportunity

for them to hear about the

personal journeys other women

have travelled towards turning

their vision into a life path. The

luncheon is an opportunity to

network, make connections and

be inspired by the experiences

of others.

I enjoyed great feedback from

my Keeping Connected Evening

Meetings held last month to

be more accessible outside

business hours. Transport and

roading were topics raised

frequently. Thank you to all

who attended.

Budget 17 delivered good

news for families who will

welcome adjustments to tax

thresholds, increased Working

for Families and assistance

with housing costs. The

$2 billion package delivers

comprehensive support for

families that is underlined by

our strong economy and wage

growth, and reinforces our

commitment to supporting our

families to get ahead.

The return of cruise ships

to Lyttelton will benefit local

tourism operators. I advocated

for our operators whose

businesses were affected

when the port couldn't berth

cruise ships after the 2011

earthquake, meeting with the

Port company, Christchurch

City Council and Canterbury

Tourism. The return of these

liners is going to mean some of

our local people can stay

in business.
---
NOR'WEST NEWS Latest Christchurch news at www. .kiwi

Tuesday June 13 2017 9

WORK

WITH THE

BEST!

MARKETING

Superb in-house

design team

CUSTOMER

SERVICE

Full-time

Customer

Service

Manager

'AS IS,

WHERE IS'

Talk to us about our

expertise today

AUCTION

excellence
---
10 Tuesday June 13 2017

Latest Christchurch news at www. .kiwi

NOR'WEST NEWS

12th - 18th June 2017

Seedless Easy Peel

Mandarins

$

12 99

kg

Fresh NZ Beef

Braising Steak

$

2 99

kg

TBA

$

8 99

each

$

3 99

each

Alpine Mild/Colby/Edam

Cheese 1kg

Whittaker's Chocolate

Block 250g

2

for

$

5 50

$

3 80

each

$

7 99

each

Molenberg Bread 700g Sanitarium Weetbix 750g/Up & Go 3 Pack Moccona Coffee Refill 75-100g

4

for

$

19 99

pack

Carlsberg

12 x 330ml Bottles

$

7 99

each

Jacob's Creek 750ml

(Excludes Reserve/Sparkling/Double Barrel)

$

5 00

Schweppes Sparkling Soft Drink 1.5L

(Excludes Classic Dry)

FreshChoice Merivale

189 Papanui Road, Christchurch.

Open 7am – 9pm, 7 days.

FreshChoice.co.nz FreshChoiceNZ 355 4432

FreshChoice Merivale

While stocks last at FreshChoice Merivale only. We reserve the right to limit quantities. Trade not supplied.

Owned and

operated

by locals

fcno1306
---
1 2 3 4 5 6 7 8 9 10 11 12 13 14

1 2 3 4 5 6 7 8 9 10 11 12 13 14

1 2 3 4 5 6 7 8 9 10 11 12 13 14

1 2 3 4 5 6 7 8 9 10 11 12 13 14

1 2 3 4 5 6 7 8 9 10 11 12 13 14

NOR'WEST NEWS Latest Christchurch news at www. .kiwi

Tuesday June 13 2017 11

CBHS prepare for St Andrew's

SPORTS

• By Andrew King

CHRISTCHURCH Boys' High

have a hard week ahead of

them with a traditional rival

looking to topple their season

on Saturday.

St Andrew's will be looking

to take points from top-of-thetable

CBHS when they meet at

the weekend.

CBHS manager Rob Smith

said it will be a tough game.

"This will be a good test for

the boys. They are definitely up

to it; they love playing the game

so the more the better," he said.

CBHS are currently top of the

table in the UC Championship

after a five try to four win over

St Thomas on Saturday.

Smith said the St Thomas

match was very physical, but he

didn't expect anything less from

the men from Middlepark Rd

on their club day.

• By Andrew King

RANGI RURU'S first XI

hockey team have won the Pat

Barwick Shield for the first time

in the school's history with a

great second half performance

against Villa Maria on Friday

night.

The shield was named after

Barwick, a ​former Black Sticks

women's captain from 1971-79,

and came into existence in 2014.

It is considered the Ranfurly

Shield of high school women's

hockey.

The first half of the game

was a feeling out period at

Marist Park. With Rangi slow

out of the blocks, they found

themselves defending a penalty

corner within minutes of the

first whistle.

They turned it around in the

second half, finding the back

of the net four times to win the

shield off their nearby rivals.

HARD SLOG: CBHS's first XV got past St Thomas on Saturday 32-24, They will now play two

games in four days.

PHOTO: BRENDAN BIGGS

"They gave it their all – it was

a great match," he said.

In the week's other matches,

Burnside were unable to

get a point against Lincoln

It was presented to captain

Annabelle Wilson by Barwick

herself.

Rangi director of sport Jo

Fogarty said it was a real buzz to

on Saturday losing 15-0.

Meanwhile, Shirley grabbed

their second win of the season

with a 17-8 victory over St

Bede's.

have the shield on the line and

they look forward to seeing who

will challenge them for it first.

The shield has to be challenged

for by schools, 3 it is not

•Today CBHS will host rugby,

hockey and football teams

from Wellington College in

the annual school exchange

fixtures.

Rangi take Barwick Shield for first time

NO. 13 HARCOURTS NEW ZEALAND 2012-2013

PROUD MOMENT: Pat

Barwick (left) presents the

shield named after her to

winning Rangi Ruru captain

Annabelle Wilson.

automatically on the line when

playing the holder.

Three challenges must be

made each season.

"We cannot wait to see who

will take us on for it next,"

Fogarty said.

North-west

rivals meet

• By Andrew King

CHRISTCHURCH BOYS' High

will take on St Bede's tomorrow

in the Connetics first XI football

competition.

Seventh placed CBHS put six goals

past Rangiora last week and will be

looking to keep their foot firmly to

the floor when they meet sixth placed

St Bede's at 4pm. All games will be at

the Christchurch Football Centre.

CBHS coach Mick Braithwaite said

after a slow start to the season, the

team are starting to ramp things up.

"The St Bede's game will be a

tough ask. The key for us to get three

points is for our defence to continue

their impressive record and we start

scoring more of the chances we are

creating," he said.

St Bede's played out a 4-4 draw

against Riccarton last week to help

them retain sixth position on the

table.

Meanwhile, St Andrew's will look

to continue their winning way when

they take on Riccarton at 7.30pm

tomorrow. They moved into second

position on the table with a solid 2-0

win over Lincoln last week.

Burnside will have their work

cut out for them when they face

off against a rampaging St Thomas

squad at 5.45pm.

Burnside moved into third position

on the table with a hard fought 2-2

draw against Shirley last week.

Burnside will have a crack at the

Connetics Shield tomorrow night,

but will face staunch opposition

from St Thomas who defended it for

a second time with a 5-1 win over

Papanui in round 6.

Burnside coach David Williams

said the shield challenge has come as

a surprise as they have never played

for it.

Papanui will have a crack against

third-placed Lincoln tomorrow at

4pm.

•Last week we said Papanui was

defeated 3-0 by St Thomas in last

year's fixture. It was Papanui who

beat St Thomas 3-0.

Points table

1. St Thomas, 12pts; 2. St

Andrew's, 12pts; 3. Lincoln, 11pts;

4. Burnside, 11pts; 5. Cashmere,

10pts; 6. St Bede's, 10pts; 7.

CBHS, 9pts; 8. Riccarton, 7pts; 9.

Shirley, 7pts; 10. Middleton, 4pts;

11. Christ's, 4pts; 12. Papanui,

3pts; 13. Rangiora, 3pts.

Contact me today... I can make a real difference!

HARCOURTS CANTERBURY TOP 20 2004-2017

HARCOURTS NEW ZEALAND TOP 100 2004-2017

AUCTION

5 Springbrook Lane STYX MILL, NORTHWOOD

Land size

Land size

Private Park-Like Perfection

4 2 2 3 2

Land Land Bedroom size Bedroom

size

Bedroom Bathroom

Bathroom Bathroom Lounge

Bedroom

BathroomLounge

Lounge

Lounge

Dining

Dining Dining

Toilet

Dining

Toilet

Shower Shower

Toilet Garage

Study

Shower Study Study

• Spacious, stylish executive property (built 2008) with

functional, appealing floorplan.

Garage

Carport

Car pad

Boat pad

Pool

Tennis court

Garage

Carport

Car pad

Boat pad

Pool

Tennis court

Garage

Carport

Car pad

Boat pad

Pool

Tennis court

Garage

Carport

Car pad

Boat pad

Pool

Tennis court

• Impressive detail throughout and fabulous indoor/

outdoor flow to private 815m2 garden.

• Sun drenched, double glazed with several heating

options & excellent storage.

• Embrace the lifestyle on offer & be part 850m of the sought 4 2 1

after Styx Mill community.

850m 4 2 1 2.5

850m Open 4Homes: 2 1Saturday 2.5 and Sunday 12:00 – 1:30 p.m.

850m 4 2 1 2.5

850mAuction: 4 Thursday 2 1 2.5 29th June at 10:00 (unless sold prior)

Land size

Bedroom

Carport Study

Bathroom

Car pad

Lounge

2.5

Boat pad

Dining

Pool

Toilet

Shower

Tennis court

Study

Phone 03 352 6166 or 027 220 6565

deb.harvey@harcourtsgold.co.nz

471 Papanui Road, Christchurch

LICENSED AGENT REAA 2008

OVER

$250 MILLIO N IN

H A R C O U R T S

SALES

G O L D

D eb Harvey
---
12 Tuesday June 13 2017

Latest Christchurch news at www. .kiwi

NOR'WEST NEWS

HOSPITAL

RICCARTON AVE

HAGLEY PARK
---
NOR'WEST NEWS Tuesday June 13 2017 13

LICHFIELD ST

AVON RIVER

ST MICHAEL'S

CHURCH SCHOOL

BUS

INTERCHANGE

SOL

SQUARE

C1

VODA-

FONE

KATH-

MANDU

TUAM ST

ANTIGUA ST

MONTREAL ST

THE GREENWAY

DURHAM ST

ST ASAPH ST

COLOMBO ST

SCOULAR PARK

ECAN

MANCHESTER ST

EPIC

MADRAS ST

HOSPITALITY & ENTERTAINMENT
---
14 Tuesday June 13 2017

Latest Christchurch news at www. .kiwi

NOR'WEST NEWS

REAL ESTATE

MARKETING

Superb in-house

design team

CUSTOMER

SERVICE

Full-time

Customer

Service

Manager

'AS IS,

WHERE IS'

Talk to us about our

expertise today

AUCTION

excellence

FOLLOW US ON...
---
2

NOR'WEST NEWS [Edition datE] Latest Christchurch news at www. .kiwi

Tuesday June 13 2017 15

KIDSTUFF

Kids love CASPA!

School that never was

Chairman of the Papanui Heritage Group Murray Williams

writes about the Government's doomed plan to build

'Redwood High School'

AS EARLY as 1960 it was accepted by

both the Papanui High School Board

of Governors and the Department of

Education that the rapid increase in the

population of the city's north-west would

require the construction of another

secondary school in the area.

The site chosen was a 7.7ha block at

the western end of Tuckers Rd, approximately

2km from Papanui High School.

Most of the land had been "taken by

proclamation," meaning it was acquired

under the Public Works Act, which gave

the Government the right of compulsory

purchase if the land was required for

reasons of public interest.

The completion of Kaiapoi High School

in 1972 might have been expected to

reduce some pressure on the Papanui roll,

but the board remained adamant that the

Tuckers Rd site should be developed as

soon as possible.

A pressure point at Papanui High

School was the lack of quality accommodation.

The departmental reaction had

been to increase the supply of temporary

buildings, thus creating a prefab alley of

dingy classrooms.

The board considered the possibility

of creating a side school at the new site,

one that should be administered from

Papanui High School. The possibility of

creating two single sex schools was also

LAwyERS

We have over 40 years' experience

to assist you with…

• Buying and Selling Houses and

Commercial Property

• Wills, Trusts and Estate matters

• All issues facing you

and your business;

• Employment Law

matters;

• Traffic matters;

• Advice regarding

Retirement Villages

• General Legal Advice on all matters

Call John, Brendan or Andrew today

03 366 8996

Email. lawyers@mclegal.co.nz

Airport Business Park

92 Russley Road, Christchurch 8042

PLANS: The site

plan developed

by the Ministry

of Works for the

proposed new

secondary school

in the 1970s. The

school would have

been accessed

from Tuckers Rd

and by a right of

way from Sturrocks

Rd. ​

advanced, although neither option was

found to be favourable.

The local newspaper took up the cause

of an extra school and demanded "urgent

action now."

In May 1976, the Department of Education

decided to build a new co-educational

high school on Tuckers Rd (tentatively

named Redwood High School).

It was scheduled to open in 1980, initially

with a form 3 intake of 200.

The design of the school would be the

same as the S68 model used at Kaiapoi.

However, by 1977, the issue suddenly appeared

less urgent.

It was noted that the Papanui roll had

stabilised and the Burnside High School

roll was falling. In April 1979, the education

minister decided that the new school

would not be built.

In retrospect, it can be seen that the

department's planners had been blindsided

by the decrease in the national birth

rate, which had fallen by 18 per cent over

the period from 1964 to 1974. The boom

years of the demand for new schools had

come to a halt.

Most of the land that had been earmarked

for the "school that never was"

is now owned by the Exclusive Brethren

church.

•Reference: Archives NZ, CAAA,

CH45

Discover this

unique Emporium

Metal art - gifts - hoMewares

water features - pottery

Mirrors - candles

wall hangings & More

722 Marshland Road, Top end Styx

Open 7 Days

Ph: 03 323 9781

www.hitchingpost.co.nz

CASPA (Creative After School Programmed

Activities) incorporating PAPA JACKS, offers

children the opportunity to be creative, make

new friends and try new experiences all within

a safe, nurturing environment. CASPA offers

working parents an affordable after school and

school holiday programme that their kids just

love!

CASPA attributes its success to the variety of

activities on offer as well as the convenience and

affordability for parents. CASPA

kids enjoy an exciting range of

activities including sports, music,

games, drama, arts and craft as

well as fun trips. Previous themes

and activities have included a

Karaoke Dance Party, CASPA

Fear Factor, Healthy Art, Out

of Africa and hundreds of other

amazing themes/activities!

CASPA parents enjoy peace

of mind, knowing their kids

Lindisfarne Nursery School was established

in 1987 by Tricia Cuthbert and remains part

of the Cuthbert family today. We have a large

open villa which offers pre-schoolers a great

space for lots of fun activities, and a nursery

building where the babies and toddlers can

develop and explore at their own pace.

Our registered teachers provide a

programme of wonderful activities based on

the national curriculum, Te Whariki, which

encourages a love of learning, and you will

receive regular updates about how your child

is developing.

The pre-school villa offers the children a

large open space with family and role-play

areas, areas for construction and art, a library

full of wonderful books and puzzles, and a

"classroom" area where the pre-schoolers love

to 'play schools'.

The nursery house provides the babies and

toddlers with the environment and resources

to develop their skills in the precious first two

years.

Your child will have a portfolio which will

reflect their interests, as well as show their

learning and individuality.

Morning and afternoon tea and a cooked

lunch are provided, and we are open all

year. Please call in at your convenience.

are safe and enjoying the benefits of a quality

after school programme. Some parents and

caregivers also enjoy government subsidies

for CASPA. CASPA is Child Youth and Family

approved for the OSCAR Subsidy and in some

circumstances, the full CASPA fee will be

covered by the subsidy.

For more information or to enrol, call

Caroline, Rachel or Tania on 349 9260 or

visit www.caspa.org.nz.

Lindisfarne is a

Family Business

call us

noW

CASPA

After School

& Holiday Programme

Creative

After

School

Programmed

Activities

P: 349 9260 or 027 352 1638

E: info@caspa.org.nz

W: www.caspa.org.nz

The pre-school villa

offers the children a

large open space.

• Central location

• Cooked healthy heart meals

• Large private outdoor play area

• Casual care available

• Enrolments available now

• 7.30am - 5.30pm Monday to Friday

EST 1987

389 2483

375 Worcester Street • Christchurch

Your friendly childcare solution

• We provide a safe, creative

environment for 5-13 year olds

• Our staff are trained

• A range of fun activities

• 7.15-8.30am and 3-6pm Mon-Fri

• 8am-6pm Holidays

• Kids just LOVE it!

Incorporating

Subsidies

Apply
---
16 Tuesday June 13 2017

Latest Christchurch news at www. .kiwi

NOR'WEST NEWS

One step

closer

to your

dream lifestyle

JUNE 30 - JULY 2

HORNCASTLE ARENA

10AM - 5PM

Adults $8 - Under 12's free

Star Media is proud to be sponsoring Canterbury's first ever Playhouse Challenge

Live Auction Saturday July 1 at 4pm

Proceeds to charity - Birthright Canterbury and Tenants Protection Association

starhomeshow.kiwi

Star Media Event
---
NOR'WEST NEWS Latest Christchurch news at www. .kiwi

Tuesday June 13 2017 17

Email julia.evans@starmedia.kiwi

by 5pm each Wednesday

Join a maths craft day featuring

seven craft creation stations

as well as public talks by

mathematician crafters. The

day-long celebration of maths

promises to engage people of

all ages. Make a Möbius strip,

crochet a hyperbolic plane, build

a fractal sculpture, fold an origami

octahedron, and listen to talks

about the connections between

maths and crafts. Open to

everyone: experts and amateurs,

maths-fans, and the crafty and

the curious. Sunday, 10am-5pm.

Free entry, hosted by Canterbury

University at Arts Centre's The

Great Hall , 2 Worcester Boulevard.

Reading to Dogs

Tuesday, 3.30-4.30pm

These sessions have been

designed to provide a relaxed

and non-threatening

atmosphere to encourage

children to practice their

reading skills and develop

a love of reading. This programme

uses dogs who are

the pets of the city council

animal management team

and have been trained and

tested for health, safety and

temperament. Sessions are

15min. Phone 941 7923 to

book a spot.

Free entry, Shirley Library,

36 Marshland Rd.

Scrabble Club

Wednesday, 11am-noon

Go along to scrabble

club. All materials are supplied.

Free entry, Shirley Library,

36 Marshland Rd.

Topia Duo

Wednesday, 8.30pm

Catch Topia Duo playing

covers at the Carlton Bar

and Eatery until late.

Free entry, The Carlton

Bar and Eatery, 1 Papanui

Rd.

Fendalton Library Book

Discussion Group

Wednesday, 11am-noon

For those who love

reading and want to share

in discussion with other

friendly book lovers. Held

every second Wednesday

of the month at 11am.

Phone 941 7923.

Fendalton Library, 4 Jeffreys

Rd.

Go Well Group – Play

Rummikub

Thursday, 1-3pm

Go along to Fendalton

Library and play Rummikub.

Free entry, Fendalton

Library, 4 Jeffreys Rd.

Bryndwr Community

Barbecue and March

Saturday, from noon.

The Bryndwr Community

Group is hosting a

barbecue lunch in Morley

Reserve from noon before

a rally and march to stop

the sale of Christchurch

state houses. Vans will

then pick you up and take

you to the march at Shand

Crescent Reserve on Riccarton

Rd, which includes

speakers such as Nae Nae

Higgs, Bishop Victoria

Matthews, Labour MP

Megan Woods and Green

MP Eugenie Sage.

Free entry, Morley Reserve,

corner of Clyde Rd

and Morley St

Your Path to Medical

School

Sunday, 10am-noon

Go along to this free

expo with insights, tips

and hints into everything

there is to know about

applying for and attending

Medical School in

Otago, Auckland and even

Australia. The expo is for

students from all schools

and ages year 9 to year 13,

but parents can go along

too. Register via Eventbrite

or email admin@medview.

co.nz.

Free entry, Rangi Ruru

Girls' School, 59 Hewitts Rd.

The Great Carlton Quiz

Sunday, 4-8pm

With live music and eccentric

presentation from

regular musicians, the

Carlton quiz is not to be

missed. A unique blend of

quiz and live music, which

starts at 4pm and the quiz

kicks off at 5pm. Great

prizes to be won.

Free entry, Carlton Bar

and Eatery, 1 Papanui Rd.

Activity Zone After

School Club

Monday, 3.30-4.30pm

Have fun at the new

Shirley Library after

school club. There will be

technology, games, crafts,

books, and most of all –

fun. Suitable for ages 6-10.

Caregivers will need to

remain.

Free entry, Shirley Library,

36 Marshland Rd

Want to Shift to a new career?

We can make it happen.

CDC estimates ICT employment in Canterbury

will grow 2500 additional jobs by 2025

Combine your existing degree and life experience with

innovative learning, to prepare for a career in the booming

Tech sector. Shift, Signal's 9 month industry based programme

starts July 24, is open to graduates of any discipline,

with limited scholarship opportunities still available.

Choose from the Software development stream or the

Development Allied stream to focus on other areas such

as testing, user experience or technical writing.

Be part of one of NZ's fastest

growing sectors with fantastic

employment opportunities.

SIGNAL is powered by:

Scholarships

available

APPly noW!

P 0800 990 024

E info@signal.ac.nz

W www.signal.ac.nz/shift
---
2

Tuesday [Edition datE]

18 June 13 2017

Latest Christchurch news at www. .kiwi

NOR'WEST NEWS

Creating a Better

Denture Experience

When was the last time you

had your dentures checked?

Call us today for your FREE

check today.

At Better Denture, the denture clinic

situated in Brynley Street, Hornby, the aim

is to take the hassle out of getting new teeth,

says experienced dental technician and

owner Chris Castle.

"We focus on making it easier for people

coming here to have dentures made or

maintained with our relaxed environment

and friendly approach."

Chris understands that people can be a bit

nervous about coming into a dental clinic,

but he makes sure everyone feels welcome

and comfortable at Better Denture by

breaking down those barriers and putting

them at ease.

The process of having new dentures made

and fitted usually takes four appointments,

and Chris explains the process step by step

so patients understand what's being done,

further complete after care is provided at no

additional cost.

"Every set of dentures is made to onsite

by hand, using higher grade materials as

standard, allowing us the ability to customise

every aspect of the process. We also aim to

cater toward the upkeep of existing dentures,

with same day repairs and relines on offer,

as well as being available on Saturdays,

allowing us to work around even the busiest

schedules," he says.

"Our aim at Better Denture is to create

the best possible denture experience for

you, the customer, whether it be through

the products we custom create, the service

we provide or the manner in which strive to

achieve both of those goals."

Anyone needing new dentures is invited

to contact Better Denture, phone 349 5050,

for a free consultation. The clinic is spacious

and welcoming, and patients are invited to

bring someone with them for support at any

appointment if they wish.

Located at 6 Brynley Street Hornby,

Better Denture is open Monday to Friday,

9am-5pm and Saturday, 10am-12pm.

Off-street parking and wheelchair access

available.

Give Chris

and the

friendly team

at Better

Denture a call

today for your

free denture

check.

watch local | support local | shop local

Join our

hosts Geoff &

renee on sKy

ChaNNeL 83

Thursday

7.30pm

repeaTs friday

1.30am

& 7.30am

tHe tRuSteD nAme in fAbRicS

"Specialists in real value

apparel and upholstery fabrics"

BLENHEIM RD

WE SHARE YOUR VISION

SKY 083 + On Demand

ANNEX RD

BIRMINGHAM DRIVE

47

MATIPO ST

WWW.STAR.KIWI

for enquiries, contact Geoff moreton: 021 1066 177

HARALDS

47 Birmingham Drive, Middleton | Phone 338 7700 | Open Mon-Sat 10-4
---
NOR'WEST NEWS Latest Christchurch news at www. .kiwi

Tuesday June 13 2017 19

GREAT food

BROUGHT TO YOU BY...

Your fresh food people

MANDARINS IN CARAMEL

SAUCE

Ingredients

8 Mandarins

1 cup Caster sugar

1 cup Water

1 handful Mint leaves, to ganish

1 pot Creme fraiche, to serve

Directions

Peel mandarins and set aside.

Into a small pot place sugar

and water.

Slowly bring to a simmer

and continue to cook for 10-15

minutes until mixture starts to

turn a caramel colour.

At this stage keep a close eye

on it. It will brown very quickly.

When it is a caramel colour

remove from heat and add ¼-½

cup water.

It may spit a bit at you, so do

this carefully.

Stir until syrup is clear. Cool.

Place mandarins in glasses and

pour over caramel sauce.

Decorate with mint leaves

and serve creme fraiche on the

side.

SILVERBEET WITH

PUMPKIN, PINENUTS AND

LENTILS

Ingredients

500g Pumpkin, peeled and sliced

2 tsp Brown sugar

1 Tbsp Butter, melted

1 Tbsp Sherry vinegar

3 Tbsp Olive oil

½ tsp Nutmeg, (freshly grated)

2 Tbsp Pine nuts

3 stalks Silverbeet

1 cup Brown lentils, cooked

Directions

Preheat the oven to 180deg

C. In a large bowl, add the

pumpkin, sugar, butter and

vinegar. Add two Tbsp of olive

oil, nutmeg, then season and toss

all together.

Grease an oven tray, add

the pumpkin and bake for 45

minutes. Meanwhile, toast the

pinenuts over a gentle heat until

coloured – approximately five

minutes.

Slice the silverbeet. Heat

a large frying pan, add one

Tbsp of olive oil and then the

silverbeet, season and stir-fry

for 10 minutes. To serve, plate

the pumpkin, alternating with

the silverbeet then spoon over

the lentils and finish with a

scattering of pinenuts.

GLUTEN-FREE LEMON

BISCUITS

Ingredients

100g Butter

½ cup Sugar

1 Egg

2 cups Rice flour

2 Lemons

½ cup Gluten-free icing sugar to

decorate

Directions

Preheat oven to 170deg C.

Beat the butter and sugar until

pale and creamy, add the egg and

beat well. Mix in flour and one

tablespoon of grated lemon rind.

Roll mixture into small balls

and place on a lined baking tray.

Gently press biscuits with a fork

dusted with rice flour.

Bake for 15 minutes until

lightly golden and firm. Cool on

a wire rack, dust with icing sugar

and sprinkle with 1 tablespoon

lemon rind when cool.

Bananas ............................ 1 .79

kg

Satsuma Mandarins .... 2 .99

kg

NZ Meyer Lemons .......... 2 .99

kg

Silverbeet ........................ 2 .49

Red Yams ........................... 4 .99

kg

Beef Corned

Silverside ........................ 7 .99

kg

Chicken Thigh

Cutlets .............................. 7 .99

kg

Lamb Shoulder

chops ................................... 11 .99

kg

All our fresh meat is 100% NZ FARMED.

specials VAlid 12th june - 18th june 2017. ONLY AVAILABLE AT

RAEWARD FRESH HAREWOOD RD, TOWER JUNCTION & MARSHLAND RD

harewood rd Mon–Fri 7.00am–6.30pm Sat–Sun 8.00am–6pm

Tower junction Mon–Fri 8.00am–7.00pm Sat–Sun 8.30am–6pm

MARSHLAND RD Mon–Sun 8.00am–6:00pm

bunch

WWW.

.CO.NZ
---
20 Tuesday June 13 2017

Latest Christchurch news at www. .kiwi

AUTOMOTIVE PROFESSIONALS

NOR'WEST NEWS

No job too small at

this repair business

Scratch on the bumper? Dent in the door?

Damage like this can happen so easily – in

supermarket car parks, for example. And

the place to get minor damage quickly and

professionally repaired is SMART Repairs

in Lichfield Street.

SMART (Small to Medium Automotive

Repair Techniques) Repairs provides a topquality

service with a quick turnaround

– vehicles are usually in and out within a

couple of days.

SMART Repairs is owned and operated

by Brian and Maxine Caffell, who bought

their first panelbeating business in 1993.

Brian has a total of 31 years' experience in

the trade, so customers can be confident

they will get a first-class job.

Services include paintless dent removal,

or PDR, and while a large percentage of

their work is non-insurance, they also

provide insurance quotes and carry out

those repairs quickly and efficiently.

To keep their customers on the road while

their vehicle is in the workshop, SMART

Repairs recently acquired a courtesy car,

and this has already proven to be a great

help for people, Maxine says. They also offer

a pick-up and delivery service if required.

As a small, friendly operation, SMART

Repairs specialises in small to medium

repair work, with no job too small, Maxine

says. Their aim is to provide personalised

service, and make it easy for customers

unsure what to do if their vehicle is

damaged.

"We take pride in our work and ensure

that our customers are happy with the

results."

SMART Repairs is located at 272

Lichfield Street, at the Fitzgerald Avenue

end. Opening hours are Monday to Friday,

8am-4.30pm.

To enquire about repairs to your

vehicle, call in, or phone 377-0409.

®

PARKER

AUTOMOTIVE

■ All Automotive Repairs and

Servicing including 4WD

■ Suspension Brakes & Cambelts

■ WOF, Tyres, Batteries

■ Courtesy Car

55 Lincoln Rd, behind Caltex

(Cnr Lincoln & Torrens Rd)

Ph 03 982 4268

Mob 027 331 0382

Email: parkerauto@clear.net.nz

A vonhead

utomotive

free

6 months roadside assist

with any vehicle servicing

• automatic transmission

flushing service

• Wof • tune-ups • suspension

• batteries • neW tyres • oil &

lube service • courtesy cars

• full mechanical repairs

oPen 6 days (sat until 1pm)

126 racecourse road

Ph 342 7123 or 027 495 6600

new & near new

tyres

Excellent range

at great prices!

Brand new

location

343 0099 or 027 22 63 805

www.jcmdirect.co.nz

8c Birmingham Drive, Middleton

Next to Addington Raceway

s

m

a

r

t

Free Check & Assessment

ROSES

AUTO ELECTRICAL

mall

edium

utomotive

epair

echniques

• Paintless dent removal

• Minor paint repairs

Smart repairS (NZ) Limited

automotive refinishers

272 Lichfield St (Fitzgerald Ave end) Ph 377-0409

Fast

turnaround

The Automotive Lamp

Specialists

New and Used Lamps for

Cars, Trucks, Vans, 4WD

and Motorhomes

PH 0800 225 483

325 Brougham Street

CHRISTCHURCH
---
NOR'WEST NEWS Latest Christchurch news at www. .kiwi

Tuesday June 13 2017 21

REAL ESTATE

Diamond in the rough overlooking Redcliffs

54 Augusta Street, Redcliffs

Auction: Thursday, 29 June 2017 Unless Sold Prior

4,414m2 section in 2 lots | 3 bedrooms | 1 bathroom | 2 living rooms | 1 dining room | 2 car-garage | 3 off-street parks | Listing # FM5297

What an Outstanding Developers

Opportunity! Available for the first time

in 60 years. 'As is - Where is'

The anticipation as you enter this

substantial and unique 4,414m2 section is

rewarded with wonder, as the views unfold

and the secluded position reveals itself.

Gently elevated on the lower slopes of the

popular Redcliffs suburb and in a microclimate

that basks in sunshine, this generous

site is already in 2 lots with a possibility to

sub-divide, subject to CCC approval. With

drive-on access already in place via a shared

driveway and with an option to have the

existing house demolished, all that's left to

do is plan for where your future home will

come to life, and start making it happen.

The views are amazing, with the everchanging

estuary and Brighton spit in

the foreground setting the grand scene

beyond of Pegasus Bay and the Kaikoura's

in the distance. Surrounded by established

trees and the with glorious sound of bird

song, it's easy to see the possibilities for

really transforming this section into your

special home. Only a short walk or drive

sees you in Redcliff 's Village, with the

new supermarket, medical services, and

the recreational options of the estuary and

Sumner so close, making this a great spot

for either relaxation or play.

Viewing will set your imagination alight

with possibilities and begin your journey in

paradise.

Open Homes Wednesday, Saturday and

Sunday 11.00am – 12.00pm until auction

day. Auction 29th June at Grenadier

House, 98 Moorhouse Ave, Chch from

12.00pm. See you at the Open Homes

or to arrange a private viewing of this

property call Alistair Hazeldine or Joy

Butel of Harcourts Grenadier Ferrymead

(Licensed Agent REAA 2008) on

384 7950 or Alistair mob: 027 572 1555 or

Joy mob: 021 353 280.

now bigger than ever

The magazine for gardeners who

like to get their hands dirty

growing with you

SprIng Is here –

It'S Sow Time

how to get the best results from

seeds and seedlings

100% NatIve In

The capItal

Unravelling the secrets of

Otari-wilton Bush

The New Zealand

landscape awards

The people behind

the projects

September 2016 | 100%

It's time

to grow!

New look and more

content than ever!

MeeT LeSTer Brice

A Garden coach

on the

PLACEMAKERS

PRIZE WHEEL *

21 CHANCES TO WIN

OVER 3 DAYS!

SubScribe from

$43. 50*

$7.90 incl. GST

*6 issues/6 months

ISSN 2423-0219

Save our roSeS

How a rose register is protecting our heritage

auckland Botanic GardenS

Why we love our public grounds

SUBSCRIPTIONS FREEPHONE

0800 77 77 10

www.gaRdENER.kIwI
---
22

Latest Christchurch news at www. .kiwi

Tuesday June 13 2017

NOR'WEST NEWS

Classifieds Contact us today Phone our local team 03 379 1100

Computers

ALL

YOUR

COMPUTER

WORRIES SOLVED!

*$30.00 off your first

service with this coupon!*

No problem too big or

small from home PC's to

business networks. PC

slow? An end to Viruses,

Spyware, and Clogged

Systems. Safe secure

hassle-free computing.

Lost files recovered.

Microsoft Certified,

MCSE, MCP+l. 30 years

experience. Call Andrew

Buxton this week on 326-

6740 or 027 435-7596

for $30.00 off* Custom

Computers Christchurch

Curtains

www.curtainfabric-outlet.com

Fashion Designs & Colours

Discontinued Designs

End of Lines Bargain Prices

Call at Our Shop

CURTAIN FABRIC OUTLET

71 Hawdon St Sydenham

Ph 366-5026

Gardening

& Supplies

A GARDEN OR

LANDSCAPING TIDY

UP? Shrub, hedge &

tree pruning, Lawns,

Gardening, consistently

reliable general property

upkeep, Dip. Hort. 10

yrs experience, One off

tidy ups or on-going

service. Nick's Property

Maintenance. Keeping

your garden beautiful.

Free Quote. Ph. 942-4440

Holiday

Accommodation

Health & Beauty

QUEENSLAND SUN-

SHINE COAST AUSTRA-

LIA Resort, Ocean Views,

Balconies, Self Contained,

1 or 2 B/R Ensuite,

Heated Pool, Spa, Sauna,

Free Internet, Shops,

Restaurants, Tennis, Surf

Club & Patrolled Beach,

Public Transport at door.

Ask for our SEASONAL

SPECIALS. Phone 61 7

544-35011 Email: reception@mandolin.com.au

www.mandolin.com.au

Public Notices

Weka Pass Railway

Waipara, North Canterbury

We are RUNNING

SUNDAY 18th June

Running 1st & 3rd

Sunday of every month

Phone 0800wekapass

Depart Glenmark Station

11.30am & 2.00pm

www.wekapassrailway.co.nz

ACUPUNCTURE

H R I S T C H U R C H

CUPUNCTURE

C E N T R E

To Let

NEED MORE

SPACE?

WARMER THAN A CARAVAN

NO BOND

Ideal as an extra

bedroom or office

Three convenient sizes

from $70 p/w:

Standard 3.6m x 2.4m

Large 4.2m x 2.4m

Extra-large 4.8m x 2.4m

Visit our display cabins at

470 Cranford Street or call

0211277227 for a free brochure

www.justcabins.co.nz

C H R I S T C H U R C H

ACUPUNCTURE

C E N T R E

Patrick Guo MB (China)

Registered acupuncture specialist

ACC treatment provider

25 years experience

Specialising in injuries, muscular

problems and pain relief

440 Papanui Rd (end of Blighs Rd), Chch

Ph: 03 3542398 | Email: patguo@gmail.com

www.chchacupuncture.co.nz

Trades & Services

PAINTING &

WALLPAPERING

• Satisfaction

guaranteed

• Over 30 years

experience

• Reliable &

honest

Please call

Ray Martin Ltd

021 770 551

or 359 5520

r.martin@globe.net.nz

Trades & Services

MAINTENANCE

Doctor

Fixit

• Carpentry • Repairs &

Maintenance

• Doors & Windows

• Fencing

• Painting & Plastering

• Tiling

• Outdoor Maintenance

• Renovations

• Decks & Pergolas

Norm McRae

027 222 3060 | 03 312 0082

www.doctorfixit.nz

Trades & Services

concrete & paving

• Driveways

• Earthquake repairs

• New Home Specialists

• Patios & Paths

tel: 0508 873 7483

email: sales@affordableconcrete.co.nz

www.affordableconcrete.co.nz

Trades & Services

DRIVEWAYS

Exposed Aggregate

Stamped Concrete Plain

Concrete Resurfacing

Things we offer...

Competitive/affordable pricing

Attention to detail

Professional service

free quotes/insurance scopes

Cell 0278 145 848

www.drivecrete.co.nz

EXTERIOR PLASTERING

Quality

Workmanship

at Competitive Pricing

Free Quotes

Aynsley Frewer

M: 027 201 1296

E: aynsleyfrewer@xtra.co.nz

PO Box 20534 Bishopdale

Swimming Pool Specialist

The Pool Guys

Need your pool:

• Fully Renovated?

• Cracks Repaired?

• Plumbing Checked or Upgraded?

• Filtration?

• Painted, Plastered or Tiled?

Email: sbcontracting01@gmail.com

Call 027 562 7457 www.thepoolguys.co.nz

EQC CASH SETTLEMENT

We will re-scope your property to ensure

you have been paid in full to cover all

your repair costs.

None of the properties that we have

re-scoped so far has been paid the

correct amount to repair their damage.

EXAMPLES

Trades & Services

PAINTER

Michael Kelly Painters

Locally owned and

operated family

business.

25+ years Experience

• Painting • Wallpapering

• Interior • Exterior

Free Quotes

Phone

Michael 0212 649 492

michaelkellypainter@hotmail.co.nz

Trades & Services

PROFESSIONAL & QUALIFIED

PAINTING

Plastering, Wallpapering

Spray Painting

Ph John 027 860 8106

• Replacement/new roofing

• Colour Steel gutter & fascia

• Flue & log burner installs

• Skytube/light installs

• Earthquake repairs

Licence Building

Practitioner LBP

Member of the Roofing

Association

DCM ROOFING LTD

The Roofing Specialists

PHONE IAIN

027 445 5597

iain@dcmroofing.co.nz

HOUSE

CLEARING

Are you

moving house

or trying to

downsize?

Call All Clear

Canterbury. We work

with you to recycle,

sell and dispose of

unwanted items.

Ph: 03 260 0934

or 021 078 4553

raewynlcooke@gmail.com

www.allclearcanterbury.co.nz

& Property Maintenance

Paving

Patio - Pathways - Driveways

Lawns and Gardens

Planting - Raised Vege Gardens

Readylawn - Irrigation - Fencing

General Maintenance

Water Blasting - Gutter Cleaning

Rental Property Maintenance

Section Clearing - Weed Spraying

20 Years Experience

Locally owned and operated

Free Quotes - Competitive Pricing

Blair Gibson 027 699 5815

•Yaldhurst Road Initially $3,800 after our

re-scope payment received $46,320

•Wairakei Road Initially $7,575 after our

re-scope payment received $38,182

•Prossers Road Initially $19,827 after our

re-scope payment received $60,273

•Kaplan Avenue Initially $859 after our

re-scope payment received $34,931

•Liverton Crescent Initially $11,000 after our

re-scope payment received $29,842

•Dalkeith Street Initially $5,000 after our

re-scope payment received $8,945

• We have re-scoped 50 properties who have been under

paid for their repairs.

• Have your initial repairs failed?

• Did you receive your full entitlement?

• Do not pay your excess until all repairs are completed.

• General under payments are: Asbestos testing and

exterior lead paint, peeling wallpaper, cracking in exterior

plaster not repaired correctly.

For re-scoping and all earthquake repairs

including painting and redecorating.

Enquire now Phone 021-667-444

Trades & Services

AAA HANDYMAN

licensed carpenter

LBP, all property and

building maintenance,

repairs, bathroom/shower

installations, with free

quotes 03 383 1927 or 027

245 5226 ciey@xtra.co.nz

BRICKLAYER

George Lockyer. Over

35 years bricklaying

experience. UK trained.

Licensed Building

Practitioner number

BP105608. Insurance

work. EQC repairs.

Heritage brickwork and

stonework a speciality. No

job too small. Governors

Bay. Home 329-9344,

Cell 027 684 4046, email

georgelockyer@xtra.co.nz

BUILDER

For all building work

but specialist in bathroom

renovations, 30 yrs

experience, with service

and integrity. Free Quotes.

Ph Lachlan 383-1723 or

0274 367-067.

BUILDER

LICENSED, available for

all aspects of building.

Please call 027 241-7471

or 335-0265

****************

CARPET & VINYL

LAYINg

Repairs, uplifting,relaying,

restretching, jflattery@

xtra.co.nz,

ph 0800 003 181

or 027 2407416

CARPET CLEANINg

and free deodorising,

3 rooms & hallway

from $59, over 20 yrs

experience ph 027 220-

2256

ELECTRICIAN

REgISTERED

for all electrical

installations & repairs Ph

03 322 4209 or 021 026

73375

HANDYMAN

No job too big or small.

Good rates. Call 020 410

67205

PAINTER

Available, All aspects in

painting. Very competitive

in roofs and fences. Please

call 027 241-7471 or 335-

0265

PAINTER

Top quality work, I stand

by Canterbury, ph Wayne

03 385-4348 or 027 274-

3541

PLASTERER

Gib Stopping, Small

job specialty. 30 + years

experience. Ring 0800

387-369

PLASTERINg

Stopping / skimming. 30

yrs exp, all work large &

small. Contact Tony 027

222 2993 or Earl 027 345

0561

PLUMBER

For prompt service for all

plumbing maintenance,

repairs and alterations.

Phone Michael 364 7080

or 027 438 3943

PLUMBER

A Top Plumbing job

completed at a fair price,

prompt service, all work

guaranteed, Ph Brian 960-

7673 or 021 112-3492

PLUMBER

ALF THORPE

PLUMBING Certifying

Plumber for all types of

plumbing, maintenance,

spouting, alterations etc.

Phone 352-7402 or 0274-

350-231

Trades & Services

Plumbing maintenance

& repairs

New housing

Kitchen/bathroom

renovations

Gas fitting & gas water

conversions

Hot water cylinder

replacement & repairs

Cam Stevens Plumbing Ltd

Certifying Plumber

Phone. 0212 146 042

or 03 383 8050

Email. info@camstevens

plumbing.co.nz

ROOFINg

Qualified & Licenced

Practitioner. Re-Roof &

Repairs, all types. Member

New Zealand Roofing

Association. Over 35 years

experience. Phone John

027 432-3822 or 351-9147

email johnmill@ihug.

co.nz

SHOE REPAIRS

Belfast engraving.Shoe

repairs,key cutting &

engraving.(10 yrs exp)683

Main North Rd

ph 027 3113423

SPOUTINg CLEANINg

Spouting Unblocked,

Cleaned Out and Flushed

Out. Also Full Handyman

Services Available. Call

Trevor 332 8949 or 021

043-2034

TILER/CARPENTER

35 years exp, no job

too small. Ph Ross 027

4311440.

TREES BIg OR SMALL

tree removal, trimming,

stump grinding, shelterbelt

clean up, section clearing,

rubbish removals,

excavation work, ph Trees

Big or Small, for a free

quote, 021 061 4783

TREE WORK

Hedge trimming, stump

grinding, rubbish removed,

small job specialty Ph

Andrew 03 322-8341 or

027 435-8759

T.V. SERVICE CENTRE

Repairs, tvs, microwaves,

stereos, DVD. Aerial

installations and kitsets,

480 Moorhouse Ave, ph 03

379 1400

UPHOLSTERER

Dining Chairs, Lounge

suites, Caravan Squabs

etc. recovered. Free

Quotes. Phone Graeme

383-1448

VHS VIDEO TAPES

& all camera tapes

converted to DVD, video

taping special occasions,

www.grahamsvideo.co.nz

ph 03 338-1655

WATERBLASTINg

Quick service, great rates

Call Bret 02041067205

Wanted To Buy

AAA Buying goods

quality furniture,

Beds, Stoves, Washing

machines, Fridge Freezers.

Same day service. Selwyn

Dealers. Phone 980 5812

or 027 313 8156

TOOLS Garden,

garage, woodworking,

mechanical, engineering,

sawbenches, lathes, cash

buyer, ph 355-2045
---
NOR'WEST NEWS Latest Christchurch news at www. .kiwi

Tuesday June 13 2017 23

Thoughtful lyrics, soaring

melodies...'Blue Sky Songs'

"When Hobnail take the stage,

they tear into their set with

mucho gusto, injecting volume

and energy into the evening with

their illustrious blend of bluegrass,

Celtic folk, pop, and rock'n'roll."

- Nelson Mail

HOBNAIL has an exciting new

album and is about to hit the road

on an extensivle nationwide tour to

promote their new offering.

Following the triumph of their

most successful album so far 'String

ings' in 2015, 'Blue Sky Songs' is

a more acoustic offering. Featuring

violins, acoustic guitars and

mandolas alongside electric

instruments, as well as 3 different

lead singers, the result is a beautiful

album rich in variety. eir musical

cra is clearly on display with

thoughtful lyrics and soaring

melodies, and a feel good vibe

coming from their unique blend of

folk and celtic, country and rock.

HOBNAIL has won considerable

acclaim over their 23 year career.

Having headlined everywhere from

Canada to Norfolk Island, from

Oamaru to Auckland, the

Wellington based four piece has

also racked up multiple New

Zealand Music Awards

Lunch & Dinner

All you can eat, 7 days

Bookings Essential PH 386 0088

fb.com/GardenHotelRestaurant www.gardenhotel.co.nz

HAPPY HOUR

5PM - 7PM DAILY

nominations.

HOBNAIL - made up of Rob Joass

(vocals/guitar/mandola); Jo Moir (violin/vocals);

Caroline Easther (drums/vocals); and Hamish Graham

(bass) - is a close-knit quartet with rare musical

empathy.

ere are two chances to experience this superb lineup

performing material from their stunning new album

along with older tunes at exceptional live Christchurch

shows.

Friday 16th June at Blue Smoke in the Woolston

Tannery (tickets available at hobnail.co.nz and

eventnda.co.nz)

Sunday 20th August at the Christchurch Folk Music

Club in the Irish Society Hall, Doman Tce. Door sales

(cash).

www.hobnail.co.nz www.facebook.com/hobnailband

Live Music:

6PM.FRI.16 JUNE

OUR CABINET ITEMS ARE HOMEMADE

CREATED FRESH ON SITE DAILY

$12

LUNCH

SPECIALS

COFFEE

HAPPY

H O U R

Mid-Winter

Christmas

Saturday Saturday 17 June 17 June to to

Sunday Sunday 2 July 22017

July 2017

LUNCH

Mon to Fri $23.50pp

Sat & Sun $24.50pp

DINNER

Mon to Thur $30.50pp

Fri to Sun $32.50pp

Senior Citizens

discount available.

2PM-4PM

DAILY

MON: ROAST MEAL

TUE: FISH & CHIPS

WED: FISH BURGER

THU: ROAST MEAL

SAT: FISH & CHIPS

$3.50

Offer available for a limited time

and includes tea, hot chocolate

AVAILABLE

FROM

11.30AM-2PM

FOR A

LIMITED TIME

Vintage Blue

PHONE 385 8880 FIND US ON FACEBOOK fb.com/GBCCHCH

THE GARDEN HOTEL COMPLEX | 110 MARSHLAND RD

www.gardenhotel.co.nz | phone 385 3132

RESTAURANT & CAFÉ

Cooked Breakfasts

We are open from 6.30am

Seniors SPECIAL

2 courses Soup/Roast or Roast/Dessert

Special available lunch only. Monday - Saturday 12pm - 2.30pm

Family Friendly

Kid's 2 course special

JOIN

A CLUB BY

THE SEA!

ClubBISTRO

Open Tuesday to Saturday

12pm-2pm and from 5pm

Midweek $10

SPECIAL ROAST

Available Tuesday,

Wednesday, & Thursday

$18

$20

$10

'Famous for

their roasts!'

The

RACECOURSE HOTEL

& Motorlodge

118 Racecourse Rd, Sockburn,

Christchurch. Ph 03 342 7150

www.racecoursehotel.co.nz

H ORNBY

WORKINGMEN'S

CLUB

«WHAT'S ON« «COMING UP«

FRIDAY 16 JUNE

7PM REMINISCE

SATURDAY 17 JUNE

4.30PM DES NEWTON

8PM C-BAY BAND

Club

CAFE

OPEN 7 DAYS

LUNCH & DINNER

Gluten Free &

Vegetarian options

www.newbrightonclub.co.nz

LIVE MUSIC...

DRIVE

SATURDAY 17th JUNE, 7PM

MID-WINTER

XMAS FUNCTIONS

WE HAVE THE VENUE.

EXCELLENT CATERING. PLENTY OF

PARKING. ENQUIRE NOW!

TUESDAYS & THURSDAYS

Members Lucky Card Draw

FUNCTION ROOMS

SHUTTLE RUNNING

Tues, Thurs, Fri & Sat

TAB POD

GAMING ROOM

202 Marine Parade | Ph 388-9416

Members, guests and affiliates welcome

Chalmers

Restaurant

Early Bird Special

5.30pm – 6.30pm

FRI & SAT

Roast (4 Choices)

and Free Desserts

still only $22.50

Unbeatable value

including your

choice of fresh

Veges and Salads

PIERVIEW

Restaurant

Quality

a la carte

with a view!

Open from 5.30pm

FRIDAY, SATURDAY & SUNDAY

OPEN FOR SUNDAY 3 COURSE

SUNDAY BRUNCH DINNER SPECIAL

$25

By the Seaside!

10.30am-2pm

SUNDAY BUFFET

Sunday 25th June

ALL YOU CAN EAT

$25 BOOK NOW!

Hornby WMC | ph 03 349 9026 | 17 Carmen Road | Hornby

www.hornbyworkingmensclub.co.nz | Members, guests & affiliates welcome
---
24 Tuesday June 13 2017

Latest Christchurch news at www. .kiwi

NOR'WEST NEWS

TOP

02

03 04

Paul Nichols

FENDALTON

Chris Lewis

FENDALTON

Jenni Rolton

ST ALBANS

Cindy-Lee

Sinclair

MERIVALE

05

06

07

08

Grant Milligan

FENDALTON

David Canning

ILAM 2

Tracy Thomson

ST ALBANS

Corina Grey

ILAM

09 10

11

12

Richard Dawson

ILAM 2

Cathy Carter

FENDALTON

Janine Laney

ILAM 2

Chris Campbell

ILAM

13

14

15

16

Michael Limmer

ST ALBANS

Nerina Higgins

MERIVALE

Don Yee

ILAM

Fiona Williams

ILAM

17 18

19

20

Peter Hampton

ST ALBANS

Fiona Nankivell

ILAM 2

John Morrison

ILAM 2

Steven Marshall

FENDALTON

Win-Win

Congratulations to our Top 20 consultants for 2016/17

It's an unquestionable truth – the success of our clients is directly tied to the

success of our people. That's why it's their triumphs we celebrate as much as

those of the individuals you see here.

We want to thank our clients for their trust in us. We wish to congratulate our high

achievers for their passion and dedication, their unique expertise and exemplary

service. We look forward to further success with you in the years to come.

Contact one of our top

performers today:

Fendalton 03 355 6116

Ilam 03 351 6556

Ilam 2 03 351 3002

Merivale 03 355 6677

St Albans 03 377 0377

holmwood.co.nz