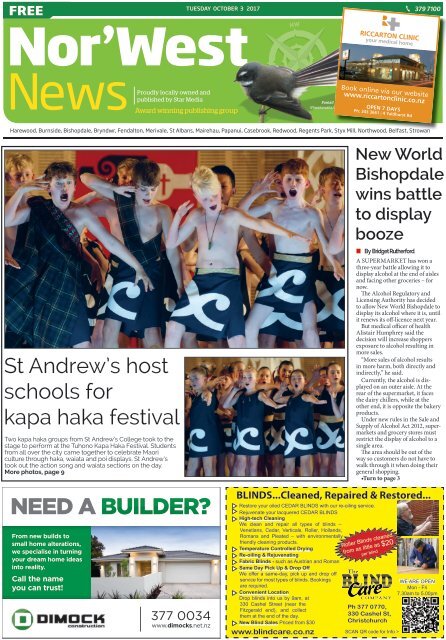 Nor'West News: October 03, 2017
Create successful ePaper yourself
Turn your PDF publications into a flip-book with our unique Google optimized e-Paper software.
FREE

TUESDAY OCTOBER 3 2017 379 7100

Proudly locally owned and

published by Star Media

Award winning publishing group

Fantail

(Piwakawaka)

Book online via our website

www.riccartonclinic.co.nz

OPEN 7 DAYS

Ph: 343 3661 | 4 Yaldhurst Rd

Harewood, Burnside, Bishopdale, Bryndwr, Fendalton, Merivale, St Albans, Mairehau, Papanui, Casebrook, Redwood, Regents Park, Styx Mill, Northwood, Belfast, Strowan

St Andrew's host

schools for

kapa haka festival

Two kapa haka groups from St Andrew's College took to the

stage to perform at the Tuhono Kapa Haka Festival. Students

from all over the city came together to celebrate Maori

culture through haka, waiata and poi displays. St Andrew's

took out the action song and waiata sections on the day.

More photos, page 9

New World

Bishopdale

wins battle

to display

booze

• By Bridget Rutherford

A SUPERMARKET has won a

three-year battle allowing it to

display alcohol at the end of aisles

and facing other groceries – for

now.

The Alcohol Regulatory and

Licensing Authority has decided

to allow New World Bishopdale to

display its alcohol where it is, until

it renews its off-licence next year.

But medical officer of health

Alistair Humphrey said the

decision will increase shoppers

exposure to alcohol resulting in

more sales.

"More sales of alcohol results

in more harm, both directly and

indirectly," he said.

Currently, the alcohol is displayed

on an outer aisle. At the

rear of the supermarket, it faces

the dairy chillers, while at the

other end, it is opposite the bakery

products.

Under new rules in the Sale and

Supply of Alcohol Act 2012, supermarkets

and grocery stores must

restrict the display of alcohol to a

single area.

The area should be out of the

way so customers do not have to

walk through it when doing their

general shopping.

•Turn to page 3

From new builds to

small home alterations,

we specialise in turning

your dream home ideas

into reality.

Call the name

you can trust!

377 0034

www.dimocks.net.nz

BLINDS...Cleaned, Repaired & Restored...

Restore your oiled CEDAR BLINDS with our re-oiling service.

Rejuvenate your lacquered CEDAR BLINDS

High-tech Cleaning

We clean and repair all types of blinds –

Venetians, Cedar, Verticals, Roller, Hollands,

Romans and Pleated – with environmentally

friendly cleaning products.

Temperature Controlled Drying

Re-oiling & Rejuvenating

Fabric Blinds - such as Austrian and Roman

Same Day Pick Up & Drop Off

We offer a same-day, pick up and drop off

service for most types of blinds. Bookings

are required.

Convenient Location

Drop blinds into us by 9am, at

330 Cashel Street (near the

Fitzgerald end), and collect

them at the end of the day.

New Blind Sales Priced from $30

Roller Blinds cleaned

from as little as $20

per blind

Ph 377 0770,

330 Cashel St,

Christchurch

www.blindcare.co.nz SCAN QR code for Info >

WE ARE OPEN

Mon - Fri

7.30am to 5.00pm
---
2

Latest Christchurch news at www.star.kiwi

FROM THE

REPORTER'S

DESK

Tuesday October 3 2017

Inside

NOR'WEST NEWS

News..................................3, 5-7

EVERY SPORTS club needs an

Alan Jamieson.

The 69-year-old has dedicated

a lifetime to St Albans cricket but

after five decades of administration

work he's decided to call it

quits.

On page 13, we talk with Jamie

about his time at the club and

why he's decided to close his innings.

He joined the club from

Papanui High in January 1965

and played 521 games, took 1260

wickets and scored 7008 runs

until March 2006.

That's not a bad scoreboard in

anyone's reckoning.

And Jamie says he won't be

seen much around te club now

either and he'll be likely watching

matches from a discreet distance.

"I want to give them a chance

to take the reins without me hovering

around," he says of the new

administrators.

- Barry Clarke

St Albans cricket stalwart pulls up stumps

138

SPORT NEWS

Local Views......................4

Schools.....................................9

Sport...........................10-15

Events.......................................16

Food................................... 17

Senior Living...............18-19

Health................................20

GET IN TOUCH

General Inquiries Ph 379-7100

Classified Advertising Ph 379-1100

The Christchurch Star Company Ltd. PO box 1467 - Christchurch

starmedia.kiwi

NEWS

Julia Evans

Ph: 021 914 742

julia.evans@starmedia.kiwi

ADVERTISING

Monique Maynard

Ph: 364 7474

monique.maynard@starmedia.kiwi

THE JEwEllEry

ValuaTion SpEcialiSTS

Caring for your jewellery since 1990

• Personal service with your

professional valuer

• Qualified, experienced gemologist

& diamond graders

• All valuations completed on premises

• Validate + Research + Knowledge

= Value

New Location: 2/301 Lincoln Road

www.jvcvaluers.co.nz

P: (03) 332 4233 | E: jim@jvcvaluers.co.nz
---
NOR'WEST NEWS Latest Christchurch news at www.star.kiwi

Tuesday October 3 2017 3

News

Supermarket wins booze battle

• By Bridget Rutherford

•From page 1

In 2014, New World

Bishopdale's new owner Bond

Markets, applied to the district

licensing committee for a new

off-licence under the new rules.

During the hearing, concerns

were raised about the alcohol

display being

in the general

shopping area.

But owner Nigel

Bond said due to

space restraints,

there were no

Alistair

Humphrey

other options.

The committee

ruled to restrict

the area, so Bond

Markets appealed the decision

to ARLA, which ruled in its

favour.

Dr Humphrey then appealed

ARLA's decision to the High

Court. Justice David Gendall

then quashed ARLA's ruling.

After a Court of Appeal

sitting, ARLA reconsidered

the appeal against the district

licensing committee's original

2014 decision in July.

In a recent decision, ARLA

said the supermarket's offlicence

was up for renewal next

year.

SUCCESS: New World Bishopdale has won a battle on how it can display alcohol.

PHOTO: MARTIN HUNTER

"The Authority does not

consider it in the interests of

justice that the parties are put

to the trouble and expense of

having to renew the licence only

to have to do so again almost

immediately thereafter."

But Dr Humphrey said ARLA

declined to take into account

limiting exposure to alcohol,

instead taking a pragmatic

approach.

"By placing alcohol directly

opposite a section of the

supermarket which most

shoppers frequent, exposure

to alcohol, often significantly

discounted, will be increased,"

he said.

He said the High Court

victory meant supermarkets

were now recognising their

obligations when it comes to

alcohol sales and having a

separate alcohol area.

New World Bishopdale's

alcohol sale area had remained

the same while the issue was in

dispute.

New World South City

was originally fighting a

similar battle, but because it

is redeveloping on a different

location, it withdrew its

appeal.

Foodstuffs South Island

retail general manager Tim

Donaldson said it was "very

pleased" with the decision.

He said Foodstuffs stores

understood the obligations

under the current legislation.

Local

News

Now

In Brief

Fire rages, homes at risk

MERIVALE MALL STORE

Now Merivale Paper Plus has

closed its doors, the shop is being

fitted out to welcome new tenant,

Whitcoulls. The new store will open

to the public in November as part of

Merivale Mall's wider upgrade.

NO STOPPING AT SCHOOL

After putting up its own no

parking signage, Roydvale Primary

School now has the backing of the

Fendalton-Waimairi-Harewood

Community Board, which approved

city council no-parking restrictions

outside the school. The no parking

signs will be installed by the school's

back entrance off Sir William

Pickering Drive.

NORM WITHERS PLAQUE

The Papanui-Innes Community

Board-commissioned plaque at

Norm Withers Family Park has

now been installed in the garden

area. Mr Withers served on the

community board for nine years

and was deputy mayor for three.

PRIVATE MEETING

Due to "property disposal"

negotiations as part of the Northern

Arterial and QE II Drive four-lane

roading project, the Papanui-Innes

Community Board excluded the

public from its Friday meeting.

It said a report would be made

public following "completion of

settlement".

Burwood

HOME OF THE

$

40 SERVICE

LAY-BY NOW FOR XMAS

SHOP HOURS

Mon-Fri 8.30am-5.30pm. Sat 9.00am-4.00pm

Ph: 383 2114

269 Burwood Rd, Burwood

Lay-by available

LIPSTICK

DREAMS

BY HELEN O'CONNOR & SIMON HOPKINSON

5-14 OCTOBER

A must-see play full of laughter, tears and fun,

with toe-tapping songs from the Swinging 60s

that will have you dancing in the aisles!

HAGLEY THEATRE, HAGLEY COLLEGE, 510 HAGLEY AVE

TICKETS: $23 WAGED / $19 UNWAGED. FOR SHOW TIMES

AND BOOKINGS PHONE 03 338 4699 OR VISIT

WWW.RICCARTONPLAYERS.CO.NZ

6th, 7th & 8th Oct

www.theswapmeet.org.nz
---
4 Tuesday October 3 2017

Latest Christchurch news at www.star.kiwi

NOR'WEST NEWS

Your Local Views

Rangi international club raises

money for cyclone hit Tonga

Rangi Ruru Girls'

School head of

the international

club, Amy

Chen, writes

about raising

funds for a

school in Tonga

devastated by a cyclone

and the importance of

being a global citizen

There are about 60 members in

the international club, including

both international and domestic

students from all over the world.

Some now live here permanently,

while some are international

students with families

overseas.

Something we learn from our

early years here is that we are

global citizens; that we are part

of a much bigger picture.

I like to live my life by treating

others how I want to be treated

myself. And I think a good way

to check yourself now and then is

to make sure you are contributing

to the lives of others and not

making it all about you.

We have fun in the international

club, too, with occasional

movie nights and club outings.

Some girls help others settle in

GLOBAL: International week

at Rangi Ruru Girls' School

saw students embracing

cultures from all over the

world.

if they are new to New Zealand,

while others have great energy

and drive to keep the club going.

Diversity is so important in life

and at Rangi Ruru we are proud

to celebrate it every day, while

having a bit of fun too.

International week at Rangi

Ruru aimed to enable the girls

at our school to become more

engaged with different cultures

and raise funds for a school

in Tonga affected by Cyclone

Winston.

One of the highlights for me

was the international food day,

where girls brought in food from

their culture to share with the

school and raise funds.

St Andrew's High School in

Tonga is still struggling after

Cyclone Winston more than a

year ago. It was already under

pressure as it was short of basic

education necessities, such as

stationery and school books.

Being able to keep the

maintenance up at St Andrew's is

almost considered a luxury. The

school struggles to find enough

money to do what it needs to do.

Many of the families are

struggling and unemployment

is an issue. Because the school is

funded from fees, it means there

isn't enough money for even the

basics like books and other dayto-day

needs

We are very fortunate here

in New Zealand, and especially

being students at Rangi Ruru.

We raised $1700 for St Andrew's.

St Andrew's oldest alum dies

• By Julia Evans

ST ANDREW'S oldest collegian

has passed away.

Naylor Hillary, 102, was part of

the centenary celebrations at the

college in March where he cut

the cake.

But it was way back at the beginning

of 1929 that Mr Hillary

first attended St Andrew's. He

moved into the boarding school

from his family home in Opawa.

"I have very pleasant memories

of my time there," he told

Nor'West News in March.

His son, grandsons and now

great-grandson have all received

their education at St Andrew's.

Rector Christine Leighton

said Mr Hillary was a "special

person".

"We are privileged to have had

some special moments with him

over these last few years," Mrs

Leighton said.

The Papanui resident was also

one of the oldest veterans of the

Royal Air Force's Tempsford 138

CELEBRATION:

Naylor Hillary and

his great-grandson

Henry Bissland

cutting the cake

with St Andrew's

rector Christine

Leighton during

the centenary

ceremony.

HISTORY: Naylor Hillary was a

navigator during World War 2.

Special Duties Squadron, which

he was a navigator for during

World War 2. Until 1989, the

existence of the squadron was

so classified it had never been

acknowledged.

At the end of last year, Mr

Hillary was awarded the French

Legion d'Honneur medal by the

French ambassador for his services

during WW2. His daughter

Pam Bissland said her father

didn't talk much about his life

during the war.

St George's Cancer Institute

Charity Variety Concert

featuring

Southern Cross Brass

from Australia & New Zealand

Staff Bandmaster Colin Woods

Soprano - Lois Johnston

Helen Webby - Harp

Zion Dance

(Hip Hop group going to the World Champs)

Christchurch Transitional Cathedral

Sunday 8th Oct 2pm - 3.30pm

KIDS

SKATEBOARD

WHILE PARENTS SHOP

Tickets $25

St George's Hospital

Reception

St George's Cancer

Care Centre

Reception

For kids aged 8 – 12 years

Two sessions a day 10am and 1pm

Book your space now 03 385 3067

All equipment provided

Any querieS Or TiCkeTS ph: CillA GlASSOn 021 662 195

dOOr SAleS AvAilAble

Corner Marshland & New Brighton Rd, Shirley

*For full terms and conditions visit thepalms.co.nz

TPS31231
---
NOR'WEST NEWS Latest Christchurch news at www.star.kiwi

Tuesday October 3 2017 5

News

Haunting of Sisson Drive

• By Julia Evans

THIS TIME cars are not to

blame for congestion around

Northlands Shopping Centre –

it's the ghosts.

After receiving complaints

of congestion from users of

the Sisson Drive and Sawyers

Arms Rd intersection, the city

council investigated and found

"ghost calling" is causing traffic

build up, city council manager

planning and delivery transport

Lynette Ellis said.

She said feedback from people

using the intersection indicated

the light phasing was not correct

when detecting cyclists.

"When the signal operation

was analysed ghost calling

was evident in the detection

logs."

Ms Ellis said finding a cause is

difficult as ghost calls can occur

for a variety of reasons.

"They happen when the

induction loops or the thermal

cameras incorrectly detect a

vehicle, cyclist or pedestrian,"

she said.

At the Sisson Drive

intersection, Ms Ellis said the

lights were incorrectly detecting

cyclists, which may be caused by

electrical interference, software

coding or thermal spikes. It

unnecessarily changes the phase.

COMMUTERS: The lights at the intersection of Sisson Drive and

Sawyers Arms Rd were found to be ghost calling.

PHOTO: GILBERT WEALLEANS

She said ghost calling tends

to effect new intersections and

the lights only went in recently

during the Papanui Parallel

cycleway upgrades.

City council staff and

contractors have been working

on the issue and said the

occurrences of ghost calling have

been reduced.

Ms Ellis said she believed the

underlying issues causing the

ghost calling have been found.

"Changes have been made to

the software and some changes

to the detection loop settings

inside the traffic signal controller

and this is currently being

monitored to ensure issues have

been resolved," Ms Ellis said.

EXERCISE: Commodore Airport Hotel general manager

Michael Patterson and David Cartwright try out the new

Burnside fitness trail.

Fitness trail open in Burnside

• By Julia Evans

BURNSIDE PARK'S $69,000

fitness trail was opened on

Saturday.

Said Fendalton-Waimairi-

Harewood Community Board

chairman David Cartwright:

"It's a fantastic asset for the city

and particularly this part of the

neighbourhood."

The project was a joint effort

by the community board, which

was approached by the Commodore

Airport Hotel with the

idea.

The hotel then donated

$10,000 and the board gave

$11,500, plus a similar contribution

came from three rotary

clubs – Bishopdale-Burnside,

Avonhead and Riccarton.

Mr Cartwright said it was a

great example of someone coming

to the community board

with an idea, and the board taking

it on and getting involved.

The four stations include a situp

bench, push-up bars, stairs, a

vertical ladder, chin-up bar, gym

rings, a shoulder wheel, cross

trainer, pull down exerciser,

recumbent cycle, skier, leg press,

parallel bars, monkey bars and a

balance beam.

"The exercise equipment is

quite general. Kids, adults and

those with disabilities can use

the gear," he said.

It was all installed in phases,

starting two years ago but completed

this month.

The most expensive equipment

was part of the forth station.

Sore Feet?

03 349 5050

New Dentures > Relines > Repairs >

www.betterdenture.co.nz

FASh I onS

WOMEN'S WEAR CLEARANCE

CASUAL & DRESSY • SIZES 10-26

LOTS OF BARGAINS

FABRIC BONANZA

DESIGn ER DRESS FABRICS

At VERY REASonABLE PRICES

FABRIc BONANz A & cOTu RA

113 MAIn S o U th RoAD o FF St REEt PARKIn G

03 366 6958 Mon-FRI 8AM-4PM

we can help!

Come and see Ian

and Anna at the

Papanui Foot Clinic.

Anna and Ian

Specialising in all:

• Corns, callouses and toenail cutting. Done

expertly and painlessly with all instruments

sterilised to a high standard to prevent infection.

• In-grown toenails.

• Sport injuries including painful heels, knees,

bunions and hammertoes.

• Foot orthotics made personally for you.

Evening Clinics extended hours:

Tuesday 8pm & Thursday 7:30pm.

448 Papanui Road (opp BP Petrol station) Ph 03 352 6400

www.papanuifootclinic.co.nz
---
6 Tuesday October 3 2017

Latest Christchurch news at www.star.kiwi

News

Pump house designs out

• By Julia Evans

FENDALTON residents

will have their water back to

pre-quake volumes with the

installation of a new $2.5 million

pump house.

A new pump house, with a 500

cu m tank, is now in the planning

stage for Jeffreys Reserve

on Jeffreys Rd. An architect

has drawn up the design which

will go out for consultation this

month.

Fendalton-Waimairi-Harewood

Community Board chairman

David Cartwright said he

asked city council staff about

the costs around further design

options.

"Staff came back and said it

could be as much as $20,000.

That's $20,000 of ratepayers'

money that could be spent on

fixing potholes."

He said the board did not want

to "over consult" on something

that was an essential service.

"It is a big beast and its necessary,"

Mr Cartwright said.

Fendalton city councillor

Jamie Gough said from his

perspective, it was a great pump

house.

"Not many pump houses are

designed by architects," he said.

Residents will get a chance to

give feedback on the design during

a community engagement

PLANS: The pump house will

get Fendalton residents water

service back to pre-quake

levels. ​

meeting this month, city council

manager planning and delivery

John Moore said.

"At the end of the day, it'll

blend in. After a while you walk

past telephone or power boxes

and generally don't notice," Mr

Cartwright said.

Four bores have already been

dug by the city council 100m

into the ground to get to the

water reservoir below.

"The earthquake-damaged

water tank, which is not in use

now, needs to be replaced . . .

Jeffreys Rd pump station will

then be able to provide the

pre-earthquake flow rates to the

network," Mr Moore said.

The land is set to be secured by

November, a detailed design will

be complete by February and

the structure will be finished in

2019.

Students behind arcade games

• By Julia Evans

WE SPECIALISE IN THE CARE AND

PRESERVATION OF TREES

• Pruning

• Expert Tree Felling

• Fully Insured

• Free Quotes

• Powerline Clearing

• Branch Chipping

• Competitive Rates

• Orion Approved Contractor

FULLY

QUALIFIED

ARBORISTS

COMPUTER programming

may seem daunting to most

of us but not for the students

whose video games are

featuring on the giant outdoor

arcade system in the central

city.

Year 12 and 13 students from

Burnside and Papanui High

Schools have designed games,

such as The Last Kiwi, featuring

a kiwi with lasers for eyes, and

Bug Invasion where players

fly The Wizard to the New

Brighton Pier to protect it from

a bug invasion.

These and another five games

are at Gap Filler's Super Street

Arcade on Tuam St. They will

feature one at a time for three

days each.

"It's amazing when they see

their games being played and

enjoyed by complete strangers,"

Gap Filler learning facilitator

Sally Airey said.

Ms Airy said the games will

be running through the school

holidays. She said the best few

will also get to feature for a

week after the holidays finish.

Seven teams of students have

been designing the games as

part of their digital technologies

classes.

Supported by the Ministry

of Education, the programme

GAMERS: Bug invasion, designed by Aaron Briggs and

Thomas Were from Papanui High School, takes The Wizard

to New Brighton Pier to protect it from a bug invasion.

has seen students experience

the Super Street Arcade for

themselves, respond to a brief,

create and work on concepts

then present those to a panel of

experts.

Game developers Cerebral-

Fix, which designed the app

Attack of the Cones based on

Christchurch and create content

for Disney, worked with the

students.

Ms Airy said CerebralFix has

loved working with the younger

NOR'WEST NEWS

generation.

"We're blown away by what

the students have achieved,

they're tackling quite complex

technical and design challenges

and smashing it," Nadia

Thorne, head of studio at CerebralFix

said.

Ms Thorne said she hopes to

run the programme again next

year.

Check the Super Street Arcade

Facebook page to see what

game is currently being played.

Member of NZ Arboriculture Association

For quotes and enquiries phone 03 349 7143 | For urgent enquiries phone 027 272-6710

Email: office@arbor-tek.co.nz

www.arbor–tek.co.nz

Wai: We care

"

I joined the water zone committee

because I saw a great opportunity

for local people to be part of a

problem solving team.

"

What's your wai? Canterbury's water zone committees are looking

for new community members, visit ecan.govt.nz/waiwecare

before 8 October and let us know wai you care.

Tony Blunt,

KaikŌura Water Zone Committee member
---
NOR'WEST NEWS Latest Christchurch news at www.star.kiwi

Tuesday October 3 2017 7

Local

News

Now

Fire rages, homes at risk

Pokemon on the cycleways

POKEMON GO took the world

by storm and has now provided

the inspiration for a campaign

to get people using the city's

cycleways.

A group of Selwyn House

pupils looked at the app which

involved collecting imaginary

monsters from locations around

the world as a way to increase

usage of the paths.

As part of a class project on

community problem-solving,

Alice Hunter, Reed McHugh,

Cleo McLeod and Sophie

Hogson, used their school's laser

cutter and 3-D printer to create

bicycle shaped cut-outs that

would be hidden in places along

the cycleways.

People would have to find and

collect photos of the cut-outs,

like Pokemon Go characters,

then post them on social media

or a website.

The pupils said they hope

to decorate the cut-outs to

encourage people to get out

on the cycleways to hunt them

down.

"This could get families and

kids off their couches and onto

the cycleways,'' Alice, 11, told

the city council's infrastructure,

transport and environment

committee.

Reed, 11, said they hoped to

involve other schools in the

project by inviting them to

decorate the cut-outs.

"Safety will be a major factor

in choosing where these bikes are

placed because we don't want to

cause crashes or traffic jams,'' she

said.

Cleo, 12, said social media

INVENTIVE: Sophie

Hogson, Reed

McHugh Cleo McLeod

and Alice Hunter

spoke to a city council

committee about

their idea to get more

people using the

cycleways.

could be used to promote the

cycle hunt and the cycleways.

"The project could tie in with

social media to get more people

involved. Once people find a bike

they can take a picture next to it

and post it on social media using

the hashtag,'' she said.

"A website could be created

that pulls all the hashtag posts

from Instagram, Twitter and

Facebook. It could also have a

downloadable and printable map

of the bikes' locations."

The girls' ideas were well

received by the committee.

"The committee is very

impressed and excited by

this idea and we will use the

appropriate channels to pick this

up,'' committee chairwoman and

city councillor Pauline Cotter

said.

Bid to make corner safe

• By Julia Evans

AFTER 19 crashes over a sixyear

period, Chaneys Corner is

about to be upgraded.

City council staff said safety

improvements at the corner of

Main North, Marshland and

Spencerville Rds are critical.

"As part of this work, we will

create a left hand turning slip

lane for motorists travelling

north on Marshland Rd who

want to turn left to access the

Northern Motorway," staff said.

There has been uncertainty

from vehicles coming off Main

North Rd, staff said.

So the left hand slip will allow

"clear separation" from motorists

travelling straight ahead

- avoiding oncoming traffic

altogether.

"The Main North Rd give

way will be changed to a stop

sign to make it consistent with

the Spencerville Rd approach

and reduce confusion regarding

priorities."

There will also be updated

warning signs that say "slow

down" installed on Marshland

CRASH: After 19

accidents over a

six year period,

Chaneys Corner

is now being

upgraded. ​

Rd as an early advisory to motorists.

The city council investigated

the possibility of putting traffic

lights or a roundabout at the

intersection.

However, staff said traffic is

"anticipated to reduce drastically"

with the completion of

the Northern Arterial.

These options would also

cause significant delays to

vehicles on Marshland Rd,

and staff said the pattern of accidents

would change and could

increase in severity.

"A roundabout is not suitable

for this location due to the

unbalanced number of vehicles

at the four approaches to this

intersection."

The city council has opened

the proposal up for feedback

from the public until October

27, which can be given on its

website.

All feedback will be considered

before a staff recommendation

goes to the Papanui-Innes

Community Board in February.

If approved, the project will

begin in the middle of next year.

10 % DISCOUNT

ON YOUR NEXT CAR WOF *

Go safer

with

*Special conditions apply

HAREWOOD VEHICLE

INSPECTION CENTRE

Motor Vehicle Licensing • Registration / Plates

Change of Ownership • Road User Charges

Vehicle servicing • Full Workshop service

YOUR ONE STOP WARRANT SHOP

*Special conditions apply

Russley Rd

Habitat for

Humanity

ReStore

Wairakei Rd

WE ARE

HERE

Holt Place

Woolridge Rd

HAREWOOD VEHICLE

INSPECTION CENTRE

580 Wairakei Rd, Christchurch

Ph 357 0911

Hours: Mon - Fri 8.00 - 5.30 & Sat 8.00 - 4.00
---
8 Tuesday October 3 2017

Latest Christchurch news at www.star.kiwi

NOR'WEST NEWS
---
1 2 3 4 5 6 7 8 9 10 11 12 13 14

1 2 3 4 5 6 7 8 9 10 11 12 13 14

1 2 3 4 5 6 7 8 9 10 11 12 13 14

1 2 3 1 24 3 5 64 7 5 8 6 9 7 10 8 9 11 10 12 1113 1412 13 14

1 2 3 4 5 6 7 8 9 10 11 12 13 14

1 2 3 4 5 6 7 8 9 10 11 12 13 14

1 2 3 4 5 6 7 8 9 10 11 12 13 14

1 2 3 4 5 6 7 8 9 10 11 12 13 14

1 2 3 4 5 6 7 8 9 10 11 12 13 14

NOR'WEST NEWS Latest Christchurch news at www.star.kiwi

Tuesday October 3 2017 9

Papanui students take out

theatre sports challenge

TAKE A BOW: Elliot Latham,

Sven Ewans and Rhys

Murdoch won the final of the

Theatresports in Schools

competition.

COBHAM Intermediate pupils

have shown their talent.

The school's annual talent

show was split into four

categories – variety, dance,

music and singing.

There was a winner from

each category and an overall

winner.

Courtney Hillyer performed

a contortionist-style dance to

win the variety category.

Molly Brown performed a

fabulous variety dance to win

SCHOOLS

• By Julia Evans

THINKING ON your feet was

the aim of the game.

And it's what won Papanui

High School the champion's title

during The Theatresports in

Schools Competition.

Young performers from

every corner of the South Island

gathered at The Court Theatre to

pit their improvisational skills

against one another.

the dance category.

Oscar Chin from room 19

played a beautiful piano piece

off by heart to win the music

(instrumental) category.

And finally, Jana wowed

the crowd to bag the singing

category.

But it was Molly who was the

overall winner.

The pupils were judged by

teachers from the school and

Adam Percival and Eve Palmer

from The Adam and Eve Show.

And it was the Papanui three

man team, made up off year 11

students Elliot Latham, Sven

Ewans and Rhys Murdoch that

came away South Island champions

after beating Cashmere High

School in the final.

Heats began in August.

But making it to the semifinals

were Nelson College,

Otago Boys' High School, Riccarton

High School, Geraldine

Academy of Performance and

Arts, St Thomas of Canterbury

College, Marian College as well

as Papanui and Cashmere.

The Court Theatre has run the

competition since 1989.

Talent shown at Cobham

STARS: Cobham's talent show

competitors wowed the judges

during the variety show. ​

St Andrew's host kapa haka

POI: Kapa haka groups performed

a range of items including a waiata,

haka and action song.

Maori culture was

showcased during

the Tuhono Kapa

Haka Festival. The

event was hosted

by St Andrew's

College and its

kapa haka groups

took to the stage.

Teacher Matua

Steve Reid led

the groups and

also created the

St Andrew's haka

– Haka O Hatu

Anaru. The school's

junior group won

the action song

category and the

seniors won the

waiata section.

HAKA: St Andrew's College's senior kapa haka group won

the waiata section of the Tuhono festival.

Discover Christchurch's

best priced pet

accommodation

• Grooming

cats and dogs

• Daycare -

all breeds

• Long stay/

short stay

Call now to book in your fur baby -

inspections welcome anytime!

aLameDa

kenneLs & cattery

271 Dyers Road | Ph 384 1297

www.alameda.nz

'CEREC' & cosmetic dentistry

Wisdom tooth removal

Painless, high quality dentistry

Sedation dentistry

Experienced, conscientious team

Experienced hygienists

OPEN SATURDAYS

355 9380

144 Cranford Street

Fashionable Functional Footwear at Feet First Podiatry

White

F rankie4 Nat Range

3

www.stalbansdentalcentre.co.nz

37 Main South Road, Upper Riccarton | Ph 348-7910 | www.feetfirst.co.nz

NO. 13 HARCOURTS NEW ZEALAND 2012-2013

Cream

Black

Contact me today... I can make a real difference!

HARCOURTS CANTERBURY TOP 20 2004-2017

HARCOURTS NEW ZEALAND TOP 100 2004-2017

Land size

Bedroom Land size

Bathroom Bedroom

Bathroom Lounge

Lounge Dining

Toilet Dining

Shower Toilet

Study Shower

Study

Land size

Bedroom

Land size

Bathroom

Bedroom

Lounge

Bathroom

Dining

Lounge

Toilet

Dining

Shower

Toilet

Study

Shower

Study

Land size

Land Bedroom size

Bedroom

Bathroom Bathroom Bathroom Lounge Lounge Lounge Garage Dining Dining Dining Garage Carport

Toilet

Toilet Shower

Carport

Shower pad

Study Study Study Car Boat pad pad

Boat Pool pad

Tennis Pool court

Tennis court

Land size Land size Land Bedroom size Bedroom Bedroom Bathroom Bathroom Bathroom Lounge Lounge

LoungeGarageDining

Dining Garage Toilet Carport Toilet

ToiletShower

CarportCar Shower Study pad Study Car Study padBoat pad

Boat pad Pool

Pool Tennis court Tennis court

Garage

Garage

Garage

Carport

Carport

Carport

Car pad

Car pad

Car pad

Boat pad

Boat pad

Boat pad

Pool

Pool

Pool

Tennis court

Tennis court

Tennis court

Garage

Garage

Carport

Garage

Carport

Carport

Car pad

Car pad

Car pad

Boat pad

Boat pad

Boat pad

Pool

Pool

Tennis court

Pool

Tennis court

Tennis court

850m

850m 4 2

4 1

2 2.5 1

2.5

850m

850m 4 2

4 2 1

1

2.5

2.5

850m

850m

850m 4

4

4

2

2

2

1

1 2.5

1 2.5

2.5

850m 4 2

850m 4

850m 4 2

1

2

1

2.5

1 2.5

2.5

Phone 03 352 6166 or 027 220 6565

deb.harvey@harcourtsgold.co.nz

471 Papanui Road, Christchurch

LICENSED AGENT REAA 2008

OVER

$250 MILLIO N IN

H A R C O U R T S

SALES

G O L D
---
10

Tuesday October 3 2017

LAwyERS

We have over 40 years' experience

to assist you with…

• Buying and Selling Houses and

Commercial Property

• Wills, Trusts and Estate matters

• All issues facing you

and your business;

• Employment Law

matters;

• Traffic matters;

• Advice regarding

Retirement Villages

• General Legal Advice on all matters

Call John, Brendan or Andrew today

03 366 8996

Email. lawyers@mclegal.co.nz

Airport Business Park

92 Russley Road, Christchurch 8042

Helping us,

Helps tHe

community

Drop off or buy

3 family stores in your community

4 Restell Street, Papanui

Ph 352 4581

520 Cranford St, Redwood

Ph 352 0515

50 Charles St, Kaiapoi

Ph 03 903 0017

Latest Christchurch news at www.star.kiwi

St Andrew's skipper selected

at hooker in NZ Schools team

SPORTS

BACK TO FORWARD: Former St Andrew's College player

Shilo Klein moved from second-five to hooker and has

been selected in the New Zealand Schools side.

• By Andrew King

SPEED AND power are

two attributes needed in the

modern-day hooker.

But 18-year-old Shilo Klein

has something else too: He's a

natural midfielder.

The St Andrew's College

student, who moved from

second-five to hooker last year,

was one of 25 named in the

New Zealand Schools side to

play three games against two

Australian and a Fijian team

in Sydney.

He didn't play in the 54-7

demolition of the Fijian

Schools side on Thursday.

Christ's College first XV

captain and centre Isaiah

Punivai was also named in the

New Zealand Schools side.

Klein was also included

in the Crusaders Academy

for next year and is looking

forward to making a career

out of rugby.

He weighs in at 105kg and

is 180cm. He's well-suited to

the forward pack, first XV cocoach

Mike Johnston said.

"The skills he learnt at

second-five has helped out as

a hooker. He has developed

some really good passing skills

and lines to run out in those

wider channels," he said.

NOR'WEST NEWS

"We thought he would be a

good fit in that position and

that has been proved correct

with his selection in the New

Zealand Schools side."

Klein, who was born in

Sacramento, California, said it

was a no-brainer to move into

the forward pack.

"I had a lot of feedback that

this position would suit my

style of play. I played like a

forward in the backline, I ran

straight and looked for good

physical go-forward," he said.

It took him a few attempts to

feel comfortable in the middle

of a scrum, but now he loves it.

"In my first scrum, I felt

claustrophobic, but I got used

to it," he said.

Klein captained St Andrew's

this year, leading them to fifth

in the UC Championship and

third in the co-ed cup in the

New Zealand Barbarians first

XV championship.

He moved to Christchurch

when he was three with his

parents, Howard and Wendy.

"I play the sport in one way

or another all year round,

as I play touch and sevens

also. I really want to play

professionally some day," he

said.

•More sport, pages 13-15

Function Venue

Let us host your next event

A real hidden

gem with wrap

around views

• Private & corporate functions

• Full catering options

• We welcome everyone to enjoy

our bar & cafe, open 7 days.

WAIMAIRI BEACH

GOLF CLUB

460 Bower Ave, Parklands Phone: 383 0307

catering@waimairibeach.co.nz www.waimairibeachgolf.co.nz
---
NOR'WEST NEWS Latest Christchurch news at www.star.kiwi

Tuesday October 3 2017 11

raNGiora • Northwood • st martiNs • tower juNctioN • BishoPdaLe • raNGiora • Northwood

Northwood • st martiNs • tower juNctioN • BishoPdaLe • raNGiora • Northwood • st martiNs • tower juNctioN • BishoPdaLe •

FIDGET TOYS

FIDGET

PAD

MINI

HAND

SPINNER

WRITE AND DRAW KITS

WERE $14.99

EACH

OR 2 FOR

$15.00

NOW

$

9 .99

EA

FIDGET

CUBES

ANY 2 FOR

$10.00

USBORNE ACTIVITY BOOKS

HEX FIDGET

SPINNERS

ONLY

$

8 .99

EA

THE

FIDGET

SPINNERS

INFINITY CUBE

THESE

SCHOOL

HOLIDAYS

@papertreestores

OVER 50 PRODUCTS ON CLEARANCE

GAMES

JURASSIC

EXPLORER

KIT

2 IN 1

GEO SCIENCE

WONDERS OF LEARNING BOX SETS $

29 .99

EA

INCLUDES:

REFERENCE BOOK

STICKER BOOK

WALL CHART

MODEL AND

EXCAVATION KITS

ONLY

$

5 .99

EA

BUY ONE,

GET ONE

FREE!

BOOKS AT $1 4.99 EACH

THE LITTLE MISS

COLLECTION

13 NEW STOREYS

TO ENJOY!

ALL

$

9 .99

EA

THE 91 STOREY

TREEHOUSE

SPECIAL

PRICE

$12.99

ENID BLYTON

THE TWINS AT

ST CLARE'S

OR 2 FOR

ENID BLYTON

THE MAGICAL

COLLECTION

$15.00 DISC WARS

POP AND HOP

OR 2 FOR

$45.00

FAS 2L PVA GLUE

$

18 .99

EA

Follow us on Facebook:

@papertreestores

ENID BLYTON

FIRST TERM AT

MALORY TOWERS

PVA GLUE FOR DIY SLIME

FAS 500ml

PVA GLUE

$

10 .99

OR 2 FOR

$18.00

tower junction, off Clarence St, Riccarton | Bishopdale, 31 Bishopdale Court, Bishopdale | rangiora, 206 High Street, Rangiora

Northwood supa centre, Main North Road, Belfast | st martins shopping centre, Wilsons Road, St Martins

EA

TROLLS RING &

NAIL ART SET

MONSTER

MASH

DOMINO

RUN

Or BUY ONE

and get a

FREE poster!

PLUS MUCH, MUCH MORE INSTORE!

• st martiNs • tower juNctioN • BishoPdaLe • raNGiora • Northwood • st martiNs • tower juNctioN • BishoPdaLe • raNGiora
---
12 Tuesday October 3 2017

Latest Christchurch news at www.star.kiwi

NOR'WEST NEWS

LOOKING FORWARD TO SUMMER

THE LATEST OUTDOOR FURNITURE IS IN-STORE NOW

The CALIFORNIA MODULAR SUITE

The GAS ADJUSTABLE LOUNGER

The CALIFORNIA U shape suite is a great conversation piece. With its U shaped

configuration you are able to have a great group of people around and entertain.

Constructed with powder coated aluminium frames and UV stabilized PVC 'Wicka',

this stunning piece of furniture is built to last. The California U shaped suite comes

complete with olefin covered cushions and a high table.

The COPENHAGEN SUITE

CHECK IN-STORE

OR ON OUR

WEBSITE FOR THE

FULL RANGE OF

OUR OUTDOOR

FURNITURE

LOOKING FORWARD TO S

THE LATEST OUTDOOR FURNITURE IS IN

The GAS ADJUSTABLE The CALIFORNIA LOUNGER MODULAR SUITE

The COPENHAGEN outdoor suite has the lines and design of

the perfect outdoor lounge. Powder coated aluminium frames

and UV stabilized PVC 'wicka' construction will ensure this suite

is around for years. The cushions are covered in a olefin outdoor

fabric with an open cell foam seat allowing faster drying if

caught in the rain.

The GAS Lounger is the perfect place to enjoy the warmth

of summer. Relax with a book or take a siesta, the adjustable

back makes it so easy. The

The

Gas

COPENHAGEN

Loungers are

SUITE

constructed in UV

stabilized PVC 'wicka' with olefin fabric covered cushions.

Style at the

best price

CRANFORD CENTRAL - 484 CRANFORD STREET 03 354 5026

We deliver within 48 hours Conditions apply
---
NOR'WEST NEWS Latest Christchurch news at www.star.kiwi

Tuesday October 3 2017 13

RETIRED: No, it's not Martin Crowe or Brendon McCullum, after his lifetime service for the St Albans Cricket Club Alan Jamieson is still not out.

PHOTOS: MARTIN HUNTER

Jamieson pulls up stumps at St Albans

• By Andrew King

ST ALBANS Cricket Club's

season will begin this weekend.

After 52 years as a club member

– 44 of those as president and

chairman – Alan Jamieson, 69,

has pulled has pulled stumps on

his administration career to allow

a new crop of management to

take it into the future.

He may not be at the ground

for the opening game – but you

might see him watching the action

from afar.

After 52 years, 44 as president

and chairman, the Avonhead

man has pulled stumps on his

administration career to allow a

new crop of management to take

it into the future.

"I want to give them a chance

SPORTS

to take the reins without me

hovering around," he said.

On August 1, Graham Curgenven

took over as president and

Pierre Flavell as chairman.

Jamieson oversaw the merger

between the St Albans Women's

Cricket Club and men's club in

1977, one of the first clubs to do

so in the city, saw the coming and

going of a number of professional

players at the club and watched

Chris Harris, Chris Martin and

Mark Priest go on to play for New

Zealand. He said he can't take

credit for Martin's batting style,

which is famous around cricket

grounds both here and abroad.

"He was a number 11 the day

he joined the club from Christchurch

Boys'," he laughed.

Jamieson joined the club from

Papanui High in January 1965

and played 521 games, took 1260

wickets and scored 7008 runs

until March 2006.

Jamieson played "on the front

foot" both on and off the pitch

resulting in a few run-ins with

cricket bosses.

"Lee Germon and I have

had some fierce conversations

over the years, I didn't win too

many of those," he said with a

chuckle. •Turn to page 14

A SPRING CLEAN FOR YOUR HEARING

Could your ears or hearing do with a spruce up?

Ear problems occur gradually, just like dust building up on a skirting

board. It's only when you deal with them that you realize just how

significant they have become. We can remove the cobwebs for you!

FREE NO OBLIGATION INITIAL HEARING CHECK

FREE CLEAN & CHECK FOR YOUR HEARING AIDS

FREE TEST DRIVE OF THE VERY LATEST DEVICES

FULLY INDEPENDENT UNBIASED ADVICE

EAR WAX REMOVAL BY MICROSUCTION

LOWEST COST HEARING AID BATTERIES

BOOK YOUR SPRING

CLEAN TODAY, CALL:

03 974 1658

Chris and Neil will make you feel very welcome at our Hornby Clinic.

They have over 15 years experience of helping people with hearing

difficulties to live the life to the full. With limitless patience, they

will be happy to help you rejoin the conversation, and HEAR AGAIN

Clinic: The Hub, Hornby, Christchurch (opposite )

Web: www.hearagain.co.nz Email: info@hearagain.co.nz
---
14 Tuesday October 3 2017

Latest Christchurch news at www.star.kiwi

Pulling up

stumps

after 52 years

•From page 13

He said the club had become a bit

"nomadic" after the 2014 redevelopment

of Hagley Oval, but the overall end result

was a fantastic international cricket

ground.

Jamieson said the lure of the game will

be hard to stay away from, but as he did

after finishing his playing days, he will

watch from a distance.

"I used to watch from afar after I finished

playing, behind trees and in cars,

because, you know how it is. If you are

hanging around, soon you are called up to

fill in then your back playing," he said.

The main thing he will miss is the communication

with all the players, officials,

coaches and management of the club, he

said.

"I have noticed since I have been away

the communication has stopped. It remains

to be seen if the winter month quietness

will reflect the summer months,"

he said. One of the hardest and best moments

in his long tenure share a common

date: January 30, 2009.

The clubrooms, in Hagley Oval, suffered

an arson attack at about 7am, burning it

to the ground.

Jamieson said it was the worst moment

of his time at the club standing on the

field watching his beloved clubrooms billow

smoke and collapse in the inferno.

"But rebuilding it brought the club

together. The club rallied and it made it

stronger," he said.

Now retired, Jamieson said he has time

to do something else rather than cricket.

Top UC Championship season

Aranui's Tahu

Kaa-Goodwillie has

been selected in the

under-18 Maori side

after a solid season

with UC Championship

winning Christchurch

Boys' High School. He

talks to Andrew King

about almost heading

to Auckland after

being spotted at an

intermediate sevens

tournament

Tahu Kaa-Goodwillie has

been playing the sport he

loves since age four and the

hard work has paid off with

his inclusion in the under-18

Maori side.

The 17-year-old, whose

iwi is both Ngati Porou and

Ngai Tahu, was a standout

performer in this year's UC

Championship at second-five

with a number of line breaks

and a huge defensive workload

cementing his spot in the

starting Christchurch Boys'

High School side and earning

him a call-up for higher

honours.

But he could have been

busting tackles in Auckland.

His talent was identified

when he was 12 by talent

scouts from a couple of

Auckland schools at the 2012

AIMS Games in Tauranga,

LEADER: Tahu Kaa-Goodwillie leads the haka for Christchurch Boys' High School.

where he was playing

sevens for Chisnallwood

Intermediate.

He was offered a full

scholarship to St Kentigern

College, Auckland, which

prompted him to talk with

then coach and PE teacher

Jared Mitchell about what he

should do.

"I had no idea what to tell

him so I got High School Old

Boys coach Aaron Mauger to

have a chat with him about the

pros and cons of going north

or staying here," Mitchell said.

Kaa-Goodwillie was planning

on heading to CBHS,

but the offer from Auckland

gave him another option to

consider.

A meeting with CBHS

headmaster Nic Hill, school

sports co-ordinator Steven

Dodds and Mauger outlined

that he could have the best of

NOR'WEST NEWS

both worlds, great education

and a chance to play in a wellrespected

rugby team.

"Aaron told him you don't

need to be in Auckland to

be an All Black. But we said

it would not just be rugby,

school work came first," Mr

Hill said. Kaa-Goodwillie said

the decision to stay in Canterbury

was so he could be close

to family, but the Auckland

offer was hard to turn down.

MONDO

BLACK

Introducing..

Alesha Brehaut

Now at Mondo Black

for all your

hair services

Tuesday: 9am - 5pm

Wednesday: 9am - 5pm

Thursday: 9am - 8pm

Friday: 9am - 5pm

Saturday: 9am - 5pm

Welcoming new & existing clients to

the Mondo Black experience

Book an appointment today, call 03 385 9903

Shop 1, 680 Barbadoes Street, Edgeware

Thank you for

your support.

Authorised by Matt Doocey,

130a Percival Street, Rangiora

Beautiful Teeth

Meet the

Owner

Ryan Carlton

Matt

MATT DOOCEY MP

WAIMAKARIRI

Natural Smile

Free Consultation, No Obligation

• Full Dentures • Dentures Repaired • Implant Assisted Dentures

• Injection Moulded Flexible Partials • Relines

• Mouthguards • Additions/Repairs

• Purchase cleaning and care products from our website.

All dentures personally

designed and created to ensure

a comfortable natural fit.

DENTURES PLUS (2014) LTD

Denture Clinic and Laboratory

396 Innes Road, St Albans. Phone 385 5517.

Email: denturesplus@paradise.net.nz

www.denturesplus.co.nz

Orbiter Bus stops Innes Road
---
NOR'WEST NEWS Latest Christchurch news at www.star.kiwi

Tuesday October 3 2017 15

earns Maori selection

"But it has worked out pretty

good for me," he said.

He stayed with his uncle

Stewart Kaa for two years on

Rata St, Fendalton, less than 1km

from CBHS, so he was in the

zone to attend the high school

before moving back home with

his mother Tania Kaa and father

Carlin Goodwillie in Parklands.

His form this year earned him

selection in the Crusaders Junior

Knights development camp

held at St Andrew's College in

July before being selected in the

Junior Knights who lost 25-10 in

a curtainraiser match against the

under-18 Hurricanes side.

He has been involved in Metro

representative rugby since age 13.

He trialled and missed out

on the New Zealand Schools

team this year but said making

the Maori team is a fantastic

stepping stone for him as it has

always been his dream to play

rugby professionally.

"With the Maori team, we get

to play more games compared to

the New Zealand Schools side.

So that has been a bit of blessing

in disguise," he said.

Kaa-Goodwillie played for

the Linwood Rugby Club until

age 11, before playing for the

Christchurch Football Club until

high school. He now plays for

CBHS's first XV.

"The move to Christchurch

Football Club was to develop me

as a player. I will always have a

START: Tahu Kaa-Goodwillie's passion for rugby started at the

Linwood Rugby Club in 2004. He said he would like to play for

the club again one day.

PHOTOS: TANIA KAA

soft spot for Linwood, though,

and I am considering a return

to play there one day," Kaa-

Goodwillie said.

The Christchurch club was

formed in 1863 and is the oldest

club in the country, producing

32 All Blacks including Richie

McCaw.

CBHS first XV coach Danny

Porte said Kaa-Goodwillie is an

impressive ball-runner.

"He is a very physical when

carrying the ball into contact

and is a direct physical threat to

the defensive line," he said.

"He has great footwork and

great leg drive and is very

professional about the way he

goes about things on and off the

field."

He was in the gym last week

when the call came through

that he had been included in the

Maori side.

"It hasn't really soaked in yet,

but for me, it was a satisfying end

to the season and a great reward

for all hard work that I had put

in over the year," he said.

Kaa-Goodwillie, who

measuring 185cm and weighing

in at 91kg is one of the quickest

players in the current CBHS

CHARGE: Kaa-Goodwillie had a great season with CBHS

and was a big part of the side's second consecutive UC

Championship title this year.

team, said he looks up to players

like Sonny Bill Williams and

Ryan Crotty. The under-18 Maori

team played the New Zealand

SPORTS

Schools Barbarians yesterday in

Palmerston Northand will take

on Tonga Schools in Porirua on

Friday.]

THE RUSSLEY VILLAGE

HOLLY LEA VILLAGE

russleyvillage.co.nz

03 357 9392

73 Roydvale Ave,

Christchurch

For enquiries contact

Nola Lamb

STYLISH DESIGN,

CONTEMPORARY RETIREMENT LIVING

Making your retirement move is easy when its to one of these sought after locations.

Located on the site of the old Russley Hotel,

the Russley Village is set within eight acres

of award-winning gardens and grounds.

The Russley Village has recently opened its

purpose built resident community facility,

The Homestead. Inside The Homestead you

will find Abode Café & Brasserie, a boutique

cinema, library, arts & crafts space, hair salon

and wellness rooms.

Holly Lea Village is nestled in the heart of

Fendalton within beautifully tailored grounds

with an extensive range of facilities including

restaurant, garden lounge, cinema, library, hair

salon and the newly renovated dining room.

The village offers a range of care and extra

support services delivered to your apartment.

We currently have a beautiful selection of

studio and one bedroom apartments available.

hollylea.co.nz

03 351 2679

123 Fendalton Rd,

Christchurch

For enquiries contact

Juliane Brand
---
16 Tuesday October 3 2017

Latest Christchurch news at www.star.kiwi

NOR'WEST NEWS

Make a Cardboard Antarctic

Base

Every weekday from 9am

Go along to the library and

help build an Antarctic base out

of cardboard. This is a collaborative

project. Watch the base

grow and then go back to read

or play in it. Take the family

along and jump into the fun. All

ages are welcome.

Free entry, Shirley Library,

Papanui Library and Redwood

Library.

St Albans Exercise

Tuesday, 9.15-10.15am

These classes are designed for

people living with long-term

health conditions. Classes generally

occur weekly but won't happen

on public holidays and also

school holiday periods. Phone

0800 663 463 to register.

Foundation of the Blind, 96

Bristol St.

Fendalton Family History

Help

Wednesday, 9.30-11.30am

Are you interested in your family

history? A volunteer from the

Canterbury branch of the New

Zealand Society of Genealogists

is available to help with your

family history questions.

Email julia.evans@starmedia.kiwi

by 5pm each Wednesday

Fendalton Library, 4 Jeffreys

Rd.

Scrabble Group

Tuesday, 9.45am-noon

Go along and play Scrabble

with the friendly weekly group.

Exercise your brain and have

fun.

Gold coin donation. Sundbye

House, 100 Farrington Ave.

Into the White – Scott's

Antarctic Odyssey

Wednesday, 10-11am

Author Joanna Grochowicz

will run a series of talks with

young adults. She will talk about

the value of teamwork, curiosity

and resilience in the context

of Antarctic exploration. Those

in attendance will have the

opportunity to share what the

know about the frozen continent

while learning about the

characters and events that made

Scott's expedition so remarkable.

Suitable for children aged seven

to 12 years old.

Free, Ōrauwhata: Bishopdale

Library and Community Centre,

13 Bishopdale Court

Go Well Group – Play

Rummikub

Thursday, 1-3pm

HEAT PUMP

SALE NOW ON!

Amazin' spring Specials!!

• We will offer you the best quality brands and

option of heat pump for your home/business

• Providing Heat Pump solutions for over 15 years to Cantabrians

• We personally guarantee all our products & installs for 5 years

(providing annual maintenance has been completed)

Phone us today for your free consultation & quote

41A SHAKESPEARE RD, WALTHAM

PHONE 03 366 0525

www.enviromaster.co.nz

"A local team for local people"

Go along to Fendalton Library

and play Rummikub. The

game is an exciting, interactive

strategy game that will test your

wits.

Fendalton Library, 4 Jeffreys

Rd.

Knit 'n' Yarn

Thursday 2-3pm

Go along and enjoy a chat

with other as you knit. For anyone

who loves to knit or wants

to learn.

Fendalton Library, 4 Jeffreys

Rd.

Card Club

Friday, 1.30-3.30pm

This weekly card club is on

2

every Friday, just go along and

join in the fun.

Shirley Library, 36 Marshland

Rd.

Homeland Wedding

Saturday, 7-9pm

Homeland Wedding invites

Russian, Indian and Chinese

performers to the stage. There

will be dancing, singing and a

documentary introduction to

their wedding cultural diversty,

as well as fantastic stage lighting

effects. It will be of a very high

quality and colourful event. For

more information phone Holly

Xu on 021 157 6358.

Aurora Centre for the

Performing Arts, cnr Greers Rd

[Edition datE]

HOME & HEATING

Whether it be a new build, or a retrofit,

most homes include at least one heat pump,

if not a whole heating solution. They can

provide cheap, clean heat and are much more

convenient than a log burner as you just need

to press a button. But how do you decide

what is best? Choosing the right sized heat

pump is key to ensuring optimum comfort

levels. Every situation varies and it is therefore

important to get professional advice from heat

pump experts.

The range varies from wall mounted high

walls, floor mounted systems, multi systems,

ceiling cassettes, right through to ducted

central heating systems allowing you to have a

very discreet way of heating your whole home

to a constant temperature throughout.

Firstly, you must select a heat pump that

is suitable for the size of the space you wish

to heat. Usually a site visit is the best way to

ascertain this. Not only is the size of the area

taken into consideration but also, insulation,

building orientation, windows and ceiling

space. There are a wide range of heat pumps

available with different heating outputs so it

is important to select the correct size for your

requirements that will handle the job but not

be unnecessarily overpowered.

Secondly, the location of your heat pump

is also extremely important. The cheapest

installation is a back to back where the outdoor

unit is positioned directly behind the indoor

unit however this is not necessarily always

the best option. It is vital that the indoor

unit is positioned in a place that will not be

Animates Papanui

presents school holiday

activities. The holidays

are here and once again,

Animates is hosting

some exciting activities

to keep kids entertained.

Go along to your local

Animates on Thursday.

Children can learn

everything they need

to know about fantastic

fish and rocking reptiles.

The sessions are a great

way introduce children

to the skills they need

to be a nurturing parent.

Each child that attends

will also receive a

certificate to take home.

No bookings are required

but make sure you get

in early. Free entry,

Animates, 469 Papanui

Rd.

and Memorial Ave.

Social Dance with Fevah

Modern Jive

Monday, from 7.25pm

From absolute beginners,

to people with two left feet,

everyone is very welcome.

Every night begins with a

friendly class that assumes you

have never danced before. It's

partner dancing but you don't

have to bring your own, you'll

meet plenty doing the evening.

Classes start at 7.25pm and

have a 45min duration, then

there's a social dance until

10pm.

$14/$11 Adults/senior, Papanui

High School, 30 Langdons Rd.

Choosing the right heat

pump for your home

constantly blowing on you. Also important, is

the location of the outdoor unit. Most people

do not want their outdoor unit sitting directly

in their outdoor entertaining area or right

outside their bedroom window.

Choose a brand you can trust. Many brands

have come and gone over the years but there

are a number of manufacturers who provide

reputable and reliable products. All brands

vary in their energy efficiency, quietness of

systems and price, so it depends on your

application as to which will be most suitable.

Major brands such as Panasonic, Fujitsu,

Mitsubishi, Daikin, Toshiba and Hitachi are

all reliable brands backed up by good technical

after sales service.

Ensure your heat pump is installed by an

accredited installer. This will not only ensure

correct installation of your heat pump, but

also validate the manufacturers warranty.

Other things to consider when choosing a

heat pump are time clocks, ease of use of the

remote controllers, air filtration and also wifi

capabilities.

Heating is a major investment in your home

and it is vital to get the right advice.

Enviro Master Ltd specialise in the supply,

installation and servicing of all major brands

of heat pumps. Our salesmen are engineers

ensuring you get quality, unbiased advice as

to which system will suit your application

the best. Enviro Master Ltd offer a free, no

obligation quote and will come to your home

to see what is required. Visit our website at

www.enviromaster.co.nz.
---
NOR'WEST NEWS Latest Christchurch news at www.star.kiwi

Tuesday October 3 2017 17

GREAT food

BROUGHT TO YOU BY...

Your fresh food people

KUMARA, ORANGE AND

PISTACHIO CAKE

Ingredients

1-2 Orange Kumara, medium

size

1 cup Pistachio nuts, shelled

1¼ cups Sugar

4 Eggs

2 tsp Oranges, rind

¼ cup Flour

1 tsp Ground cardamom

Orange drizzle

CARAMELISED ASPARAGUS

AND BACON

Ingredients

16 Asparagus spears

4 rashers Streaky bacon, smoked

2 Tbsp Olive oil

2 Tbsp Maple syrup

1 Tbsp Worcestershire sauce

1 Tbsp Sesame seeds

Directions

Preheat the oven to 190 deg C.

Line a large roasting pan with

baking paper.

Place a wire rack on top.

Snap the tough ends off the

asparagus. Cut the stalks to

measure about 15cm.

If the bacon is thick, run the

blunt edge of a heavy knife along

the bacon to 'stretch' it. Take four

spears of asparagus and wrap

the bacon around the bunch.

Place on the rack, bacon ends

down. Repeat with the remaining

asparagus and bacon.

Combine the oil, syrup and

sauce. Brush thoroughly over the

asparagus and bacon.

Bake for 15-20min, until the

bacon is cooked.

½ cup Sugar

¾ cup Orange juice

1 Tbsp Orange marmalade

Directions

Peel kumara and cut into evensized

pieces. Cook in boiling

water for 15min or until tender.

Drain well.

Place saucepan back on the

warm element for 2min to

remove any excess moisture

from kumara.

Push kumara through a coarse

sieve into a bowl. Chop pistachio

nuts finely. Add to kumara with

orange rind.

Separate eggs and beat yolks

with 1/2 cup of measured sugar.

Sift flour and cardamom over

kumara and fold in egg yolk

mixture.

Beat egg whites with

remaining sugar until thick

and glossy. Fold into kumara

mixture.

Line the base of a 20cm cake

tin with baking paper, then pour

over mixture.

Bake at 180 deg C for 45min.

Stand for 15min before cutting.

Cut and serve with orange

drizzle.

Orange drizzle

Place orange juice, sugar and

marmalade in a small saucepan.

Simmer until golden.

NEW SEASON

Asparagus . ..................................... 3 .99

Loose Carrots ...........................

All our fresh meat is 100% NZ FARMED.

specials VAlid 2ND OCTOBER - 8TH october 2017. ONLY AVAILABLE AT

RAEWARD FRESH HAREWOOD RD, TOWER JUNCTION & MARSHLAND RD

harewood rd Mon–Fri 8.00am–6.30pm Sat–Sun 8.00am–6pm

Tower junction Mon–Fri 8.00am–6.30pm Sat–Sun 8.30am–6pm

MARSHLAND RD Mon–Sun 8.00am–6:00pm

WWW.

99 C

Eve Apples ........................................ 2 .99

KG

Orange Kumara ............................ 5 .99

kg

BUNCH

Large Pineapples ....................... 2 .99

EACH

Chicken Thigh Cutlets........ 7 .99

kg

Premium Beef Mince ................ 11 .99

kg

Butterflied Lamb Legs ..... 16 .99

kg

KG

At

TUESDAY &

WEDNESDAY only

CAPSICUM

BAGS 1KG 3 .99

............... BAG

WHOLE BUTTERFLIED

CHICKEN 7 .99

................ EACH

WHILE STOCKS LAST!

specials VAlid 3rd & 4TH october 2017. ONLY AVAILABLE AT

RAEWARD FRESH HAREWOOD RD, TOWER JUNCTION & MARSHLAND RD

.CO.NZ
---
2

[Edition datE]

Tuesday October 3 2017

18

Latest Christchurch news at www.star.kiwi

SENIOR LIVING

Miracle weight loss fruit

An extract of a small pumpkin-like fruit

called Garcinia Cambogia from India &

Asia has shown itself to greatly assist weight

management & overall health. In fact many

have found it to increase fat loss by 2 to 3

times greater than normal. T.V. Dr. Oz has

said it is the most effective & fastest working

natural supplement to support weight loss.

Even without exercise & diet changes

many have found it beneficial, although even

better & quicker results are often obtained

with extra exercise & an improved diet.

The extract of this amazing fruit is called

Hydroxycitric Acid (HCA) or CitriMax.

Research has shown HCA to help suppress

the appetite, reduce cravings, feel fuller for

longer, increase energy levels, help prevent

fat from being made & stored in the body,

increase lean muscle mass, increase

serotonin levels in the brain that

help control mood & sleep

(great for emotional eaters),

improve cholesterol levels

that may help reduce

the chances of strokes

& cardiovascular

disease, help prevent

sugar spikes as well

as other health

benefits.

It is considered

a very safe

supplement

(although check first

if you are on medication)

as it has been used for centuries

as a flavouring agent & digestive aid.

To obtain reliable results it is important

NEED MORE VITALITY?

VIGOR VITALITY FOR HIM & VIGOR VITALITY FOR HER

VIGOR VITALITY FOR HIM & VIGOR VITALITY FOR HER are two exceptional products to

support a more vibrant life! FOR HIM contains 14 (FOR HER 11) well researched potent

natural ingredients of the highest quality combined to provide potent products to support

a more optimum health, lasting energy & stamina, blood flow, healthy hormone balance,

performance & recovery.

VIGOR VITALITY SUPPORTS:

• Increased Energy & Stamina

• Muscle Growth & Strength

• Healthy Hormone Balance & Desire

• Increased Libido & Blood Flow

• Healthy Testosterone Levels & Sexual Function

• Positive Mood & Vibrant Life

SUPER CitriMax

CLINICAL STRENGTH GARCINIA CAMBOGIA

According to Dr. Oz an extract of Garcinia Cambogia, (a small

pumpkin-like fruit) called CitriMax is the most effective & fastest

working natural supplement to support weight loss. However

it is only the clinically researched Super CitriMax that contains a

special blend that offers superior absorption & proven

results compared to other non-Super CitriMax brands.

CliniCAlly SHOwn tO:

• Helps stop fat being made & stored in the body

• Suppresses appetite & cravings. Feel fuller for longer

• Increases energy levels & lean muscle mass

• Increases Serotonin levels in the brain, especially good for

emotional eaters. Serotonin may also improve mood & sleep.

• Improves cholesterol & blood lipid levels

Swanson Super CitriMax is a unique patented extract that

is highly bio-available & clinically proven for reliable results.

Bringing You the Best in Natural Health

to take a product that contains a

standardized extract of 60% HCA & also

take the recommended amount as used in

the clinical research. Some supplements also

contain ChromeMate, a well-researched

form of niacin-bound chromium to help

improve the results even more.

Further information & advice is

available in store at Marshall's Health &

Natural Therapy, 110 Seaview Road, New

Brighton, Phone: 388-5757. Call in & talk

to our naturopath & medical herbalist or

one of our helpful natural health advisers.

We are Always Happy

to Help!

FOR HIM CONTAINS: Zinc, Boron, Vitamin B6,

Selenium, Vitamin D3, Deer Velvet Extract,

Agmatine Sulfate, Fenugreek, Tribulus Terrestris,

Horny Goat Weed, Ginkgo Biloba, Tongkat Ali

Extract, Cnidium Monnier Extract, Bioperine. FOR

HER CONTAINS: Deer Velvet Extract, Maca Root,

Tribulus Terrestris, Avena Sativa, Horny Goat Weed,

Tongkat Ali Extract, Damiana, Valerian, Passion

Flower, Bioperine.

PURe VITALITY manufactures life changing natural supplements &

premium skincare products on the West Coast of the South Island.

Bringing You the Best in Natural Health

- WE ARE ALWAYS HAPPY TO HELP! -

FREE GUIDE

How to lose

weight fast &

permanently!

(Available in store)

Natural Weight Management

& Appetite Control

SUPER

SPECIAL

120 Capsules

only $39.90

240 Capsules

only $69.90

MAIL ORDER AVAILABLE

MARSHALLS HEALTH & NATURAL THERAPY

CONSULTING - PRESCRIBING - DISPENSING - MANUFACTURING - MEDICAL HERBALISTS

110 SEAVIEW RD, NEW BRIGHTON • PH 03 388 5757 • Email: enquiry@marshallshealthshop.co.nz

- WE ARE ALWAYS HAPPY TO HELP! -

SUPER PRICE

1 Months Supply (60 capsules)

SAVe

$10.00

OnLY $ 59 .90

MAIL ORDER AVAILABLE

MARSHALLS HEALTH & NATURAL THERAPY

CONSULTING - PRESCRIBING - DISPENSING - MANUFACTURING - MEDICAL HERBALISTS

110 SEAVIEW RD, NEW BRIGHTON • PH 03 388 5757 • Email: enquiry@marshallshealthshop.co.nz

Need more vitality?

The nutrient balance of the body is critical

for optimum aging. Research has shown

the body performs much better if all the

required nutrients are available in sufficient

quantities. The problem is it is very hard

to obtain enough if any of some of these

nutrients from a normal diet. Boron is one

of the many nutrients with amazing benefits

that is lacking in our diet. A 2014 double

blind placebo controlled human clinical

study of a patented form of the mineral

121 Skyhawk Road

NOR'WEST NEWS

boron delivered significant reduction in

pain, stiffness and joint comfort with 80%

stopping or reducing medication and

87.5% saying they had less or no stiffness

in just four weeks. Boron also helps balance

hormones in both men and woman and can

increase fertility. It helps promote healthy

muscle mass, fights diabetes, strengthens

the bones and increases concentration and

brain function.

Pure Vitality are based on the West Coast

of the South Island. They aim to manufacture

life changing supplements that provide

the highest quality natural ingredients to

support optimum health and vitality.

VIGOR VITALITY FOR HIM and

VIGOR VITALITY FOR HER provide a

potent blend of well researched nutrients

that act like an anti-aging tonic for the

body's hormonal and other systems. These

nutrients help support healthy testosterone

levels, libido, desire and sexual function.

They do this by supporting the better

function of many body systems including

the immune, brain, adrenals, pancreas and

cardiovascular. Improved energy, stamina,

mood and the feeling of wellbeing as well

as general health improvement are often

noticed over a short period of time.

Find out more about the amazing

benefits of VIGOR VITALITY from the

Natural Health Advisers at Marshall's

Health & Natural Therapy, 110 Seaview

Road, New Brighton, Phone: 388-5757. We

are Always Happy to Help!

Would you like

to promote your

Business?

For local features

please contact

Bev Stanger

03 364 7407

bev.stanger@starmedia.kiwi
---
[Edition datE]

NOR'WEST NEWS Latest Christchurch news at www.star.kiwi

Tuesday October 3 2017 19 3

SENIOR LIVING

Aspire

Canterbury

Mobile

Aspire Canterbury is a not-for-profit

community-focused organisation

committed to meeting the needs of older

persons with mobility issues and disabled

persons. Their aim is to assist people in

making informed decisions about accessing

services or choosing products that will

assist them in their daily lives.

They have taken their services on the

road and out into communities, meeting

people in their environments to make

daily living easier. Aspire Mobile is a

response to the need to reconnect, giving

disabled people easier access to services

and introducing them to new products

which can make their lives more enjoyable

and provide them with a sense of inclusion

in the wider community.

They will show you how to choose a

walker or walking stick that is the correct

height, provide information about both

their services and other resources available

ARE YOU READY

TO DOWNSIZE?

Paying rates for a house that's

too big? Paying maintenance and

heating costs for space you don't use?

A move to one of our

architecturally designed villas

at McKenzie Lifestyle Village in

Geraldine will cut those costs.

Three villas are available for

occupation now, priced from

$355,000.

Talk to David Connolly today

on 0800 84 55 24.

for community, disability and health

organisations.

For more information visit

www.aspirecanterbury.org.nz,

03 366 6189 mobileservices@

aspirecanterbury.org.nz We can help.

Third Age

Tours EST 1999

Small Group Tours for

the over 50s

Domestic and

International

Great Prices!

England/Wales & Yorkshire Dales

23 August - 24 September 2018

Enchanting Ireland & Scotland

31 May - 27 June 2018

curiosities of cuba

25 April - 21 May 2018

Treasures of Turkey 1 - 25 September 2018

captivating croatia, Slovenia

montenegro & Venice

1 - 25 June 2018

2017

Full

Vietnam & cambodia

4 - 26 October 2018

Beautiful norfolk Island

4 - 11 November 2017

Sicily, rome & Southern Italy

29 Sept - 24 Oct 2018

South Island Tours

Glorious Autumn in Arrowtown

17 - 22 April 2018

catlins/Stewart Island

22 February - 2 March 2018

White herons, Glaciers & Alpine

loop Tour

28 January - 2 February 2018

PluS oThEr DESTInATIonS!

For a FrEE InFormATIon

PAck contact Brenda

Third Age Tours

Ph 03 379 3799 or 03 312 7050

Freephone: 0800 927 725

sunshineone@xtra.co.nz | thirdagetours.co.nz

Take a trip with

Third Aged Tours

Taking people aged over 50 on trips

around New Zealand and the world for

nearly 20 years has earned Third Age Tours

a brag book that Director Brenda Corby-

Yarrall says "businesses would give their

eye teeth for.''

"Taking small groups of 10 – 24 people

means I can operate the tour in a relaxed,

companionable manner. We have an

absolute blast when we're away. It's all about

having fun".

"Most of my trips are run annually

because they're so

popular, but I'm always

adding new destinations

- like "Sicily, South Italy

& Vatican" + "Cuba", as

people ask for them.''

Brenda checks out

all accommodation

before booking it, and

ensures the party spends

at least a few nights at

each place. "That way

you don't feel like you're

living out of a suitcase.''

Many clients now have

made over 20 tours with

us, one has completed a

whopping 27 tours.

"My clients tell me

they keep coming back

because of the size of the groups and our

relaxed manner. My motto is 'There are no

strangers, only friends waiting to meet.'

We gather together for breakfast at

8.30am which sets us up for the day and

everybody thinks is a very civilised hour.''

"I organise incredible trips at incredible

prices. Look around, you can't find better

for all we include".

For more information, phone

03 379 3799 or 03 312 7050 or email her

on sunshineone@xtra.co.nz.

Support and Resources for Independent Living

walkers to

purchase

(FroM $230)

or hire

$20

per week

Can we help you or someone you support?

Disability Information Service – a 'one stop

information service' which offers unbiased

advice to assist people navigate their way to

organisations or services that can provide them

with support or advice.

Aspire Canterbury Shop – shop online or call in

to our shop at 314 Worcester Street and view our

range of easier living products We also hire out

wheelchairs, ramps and walkers.

Total Mobility Discounted Taxi Service – a scheme

which provides 50% discounts on taxi journeys to

eligible people in the Christchurch area who, due

to health conditions, are unable to access public

transport. Contact us for more information on

03 366 9093 or visit our website.

Mobile Service – Fun interactive presentations of

our information, services and easier living

equipment. We come to you! To book our

presenter to speak to your group call Richard

at numbers below or email mobileservices@

aspirecanterbury.org.nz

Mobility scooter demonstrations available.

Aspire Canterbury is a not-for-profit organisation

providing services to the community since 1981

Physical Address:

314 Worcester Street

Linwood Christchurch

Postal Address:

PO Box 32074

Christchurch 8147

2015 NZ Disability

Information Centre

of the Year

Ph: 03 366 6189

Freephone: 0800 347 242

Ph: (Total Mobility) 03 366 9093

Mobile Service: 027 588 9700

E: admin@aspirecanterbury.org.nz

W: www.aspirecanterbury.org.nz
---
20 Tuesday October 3 2017

Latest Christchurch news at www.star.kiwi

HEALTH & BEAUTY

NOR'WEST NEWS

A family affair

at local gym

The Smith and Mackintosh families

When Ignite Fitness was set up at the

Papanui Club in early 2016, the challenge

was to create an exercise atmosphere that

appealed to a diverse market. One of the

areas identified was the involvement of

family members and groups, manager of

the fitness centre Eddie Kerrigan says.

"We must have done something right

as we now have numbers of families who

have joined up. The environment at Ignite

Fitness is a safe, non-threatening one in

which parents can be confident that all

their family members will be looked after

in a professional and caring manner."

There are three families of four, four

family groups of three, and around 25

family groups of two currently signed up,

Eddie says.

Two of those families are the Smith

family and the Mackintosh family, and

Eddie spoke to them about why they

joined Ignite Fitness, and what they got

out of it. There were a variety of reasons

for joining. These included improving

fitness, losing weight, keeping joints and

limbs moving, stalling the effects of ageing

and family bonding. The handy location

of the gym was also an important factor,

they said.

Both families said they went to the gym

two to four times a week, depending on

their school and work schedules. Asked

what activities they enjoyed most, in

order of popularity they said these were

resistance training, cardio exercise and

circuit classes, though they liked taking

part in all of the activities and exercises.

Depending on the activity, they

sometimes competed with one another to

see who could achieve the most, and both

sets of parents tried to be an inspiration

for their families.

Both families said they had gained a

number of health benefits since starting

at Ignite Fitness. Strength and fitness

were two key beneflts, but there was also

pain management and all-over physical

stability. In addition to the physical

benefits, they enjoyed socialising with

other gym members, and their self-esteem

improved.

"We are delighted that families like the

Smiths and the Mackintoshes get so much

enjoyment from coming to our gym, and

new families and groups are always more

than welcome to join," Eddie says.

Ignite Fitness is open 5.30am-9.30pm

Monday to Friday and 5.30am-6.30pm

weekends and public holidays. To find

out more information about Ignite

Fitness phone 359-9586, ext. 706 or

email gym@papanuiclub.co.nz

The environment at

Ignite Fitness is a safe,

non-threatening one

in which parents can

be confident that all

their family members

will be looked after

in a professional and

caring manner.

Discover this

unique Emporium

Metal art - gifts - hoMewares

water features - pottery

Mirrors - candles

wall hangings & More

722 Marshland Road, Top end Styx

Open 7 Days

Ph: 03 323 9781

www.hitchingpost.co.nz

Shop online

with the in

store special

prices!

Discount code:

Goat

themohairstore

140 Colombo Street, Beckenham

Phone 03 943 1639

www.themohairstore.co.nz

tHe tRuSteD nAme in fAbRicS

"Specialists in real value

apparel and upholstery fabrics"

BLENHEIM RD

ANNEX RD

BIRMINGHAM DRIVE

47

MATIPO ST

HARALDS

47 Birmingham Drive, Middleton | Phone 338 7700 | Open Mon-Sat 10-4
---
NOR'WEST NEWS Latest Christchurch news at www.star.kiwi

Tuesday October 3 2017 21

REAL ESTATE

A touch of Scandinavia

35 Holliss Avenue, Cashmere

Auction: Thursday, 12 October 2017 Unless Sold Prior

4 bedrooms | 2 bathroom | 2 toilets | 1 living rooms | 2 car-garage | Listing #BE192895

Nestled into a private setting on the lower

slopes of Cashmere, this four-bedroom

family home is just finished and available

now. With solid wood everywhere in white

and pale natural tones, the fresh décor has

a modern Scandinavian look that combines

with the setting to make this special

property, one of a kind.

The living, dining and kitchen areas are

open plan with polished wood floors and

ranch sliders to a private and sunny wrap

around deck. Newly planted gardens gently

slope up from the deck and in this sheltered

microclimate are bound to quickly get

established. The living area also has direct

access to a smaller deck on the other side of

the house providing great indoor/outdoor

flow and a spot in the sun from morning

to evening.

The stylish kitchen is beautifully designed

with modern white joinery and light oak

feature accents. Stone bench tops, an underbench

oven and an induction hob all make

this a statement kitchen built to last. Raised

ceilings in most rooms add an extra feeling

of light and space and a heat pump in the

living area ensures year round economical

comfort.

There are four double bedrooms one with

ensuite. The main bathroom has a full sized

bath and large vanity, there is a separate

shower room and a separate toilet, all

ensuring that the morning bathroom rush

is as easy as it possibly could be. A double

garage with internal access and good

off street parking complete this unique

property.

Open Homes Saturday & Sunday 2:00pm

- 2:30pm.

See you at the open home or to arrange

a private viewing of this property call

Debbie Pettigrew on 027 777 0411 or

Debbie Johnson on 021 0515225 from

Harcourts Grenadier Beckenham

(Licensed Agent REAA 2008) or phone

the office 337 1316

growing with you

SprIng Is here –

It'S Sow Time

how to get the best results from

seeds and seedlings

100% NatIve In

The capItal

Unravelling the secrets of

Otari-wilton Bush

The New Zealand

landscape awards

The people behind

the projects

$7.90 incl. GST

Save our roSeS

How a rose register is protecting our heritage

September 2016 | 100%

It's time

to grow!

New look and more

content than ever!

MeeT LeSTer Brice

A Garden coach

auckland Botanic GardenS

Why we love our public grounds

now bigger than ever

The magazine for

gardeners who like to get

their hands dirty

SubScribe from

$43. 50*

*6 issues/6 months

ISSN 2423-0219

SUBSCRIPTIONS FREEPHONE

0800 77 77 10

www.gaRdeNER.kiwI
---
22 Tuesday October 3 2017

Latest Christchurch news at www.star.kiwi

Caravans, Motorhomes

& Traliers

CARAVAN Or Poptop

wanted ph 027 306 6544

TRAILER Briford or

similar wanted ph 027 306

6544

Community Events

ALCOHOLICS

ANONYMOUS, If you

want to have a drink thats

your business. If you want

to stop, we can help. Phone

0800 229-6757

Computers

ALL

YOUR

COMPUTER

WORRIES SOLVED!

*$30.00 off your first

service with this coupon!*

No problem too big or

small from home PC's to

business networks. PC

slow? An end to Viruses,

Spyware, and Clogged

Systems. Safe secure

hassle-free computing.

Lost files recovered.

Microsoft Certified,

MCSE, MCP+l. 30 years

experience. Call Andrew

Buxton this week on 326-

6740 or 027 435-7596

for $30.00 off* Custom

Computers Christchurch

Holiday

Accommodation

QUEENSLAND SUN-

SHINE COAST AUSTRA-

LIA Resort, Ocean Views,

Balconies, Self Contained,

1 or 2 B/R Ensuite,

Heated Pool, Spa, Sauna,

Free Internet, Shops,

Restaurants, Tennis, Surf

Club & Patrolled Beach,

Public Transport at door.

Ask for our SEASONAL

SPECIALS. Phone 61 7

544-35011 Email: reception@mandolin.com.au

www.mandolin.com.au

Personals

HANDSOME silver fox is

searching for an attractive

slim euro or asian lady to

pamper and enjoy

company together

0276594425

LARGE male spoon seeks

a small female spoon ph

3583634

SINGLE MALE is

looking for a lady in the

NW to wine dine and

intertwine with. Im 180cm

athletic

single live on own and have

time on my hands. email

me at tossthecoin68@

gmail.com

Wanted To Buy

AAA Buying goods

quality furniture,

Beds, Stoves, Washing

machines, Fridge Freezers.

Same day service. Selwyn

Dealers. Phone 980 5812

or 027 313 8156

A+ Household effects,

fridges, freezers, washing

machines, ovens. Good

cash paid. Ph Paul 022

0891 671

TOOLS Garden,

garage, woodworking,

mechanical, engineering,

sawbenches, lathes, cash

buyer, ph 355-2045

NOR'WEST NEWS

Classifieds Contact us today Phone our local team 03 379 1100

To Let

NEED MORE

SPACE?

WARMER THAN A CARAVAN

NO BOND

Ideal as an extra

bedroom or office

Three convenient sizes

from $70 p/w:

Standard 3.6m x 2.4m

Large 4.2m x 2.4m

Extra-large 4.8m x 2.4m

Visit our display cabins at

470 Cranford Street or call

0211277227 for a free brochure

www.justcabins.co.nz

Trades & Services

CONCRETE

Concrete Removal

& Trucking

Driveways, paths, sheds, garages, site clearances.

We also deliver and spread landscaping supplies –

topsoil, bark chip, shingle etc.

3 Tonne Digger and operator available for hire.

For fast friendly service phone

Nick on 0274 324 124

keacontracting@yahoo.com

concrete & paving

• Driveways

• Earthquake repairs

• New Home Specialists

• Patios & Paths

tel: 0508 873 7483

email: sales@affordableconcrete.co.nz

www.affordableconcrete.co.nz

ELECTRICIAN

• Water heater repairs

• Alterations • New Housing

• Heatpump Installations

• Maintenance & Installations

• Commercial & Industrial

Ph: (03) 359 4523

Mob: 0274 333 458

dke@xtra.co.nz

Trades & Services

HOUSE

CLEARING

Are you

moving house

or trying to

downsize?

Call All Clear

Canterbury. We work

with you to recycle,

sell and dispose of

unwanted items.

Ph: 03 260 0934

or 021 078 4553

raewynlcooke@gmail.com

www.allclearcanterbury.co.nz

RUST REPAIRS

Welding & General

Panel Beating 40 yrs exp,

reasonable hourly rate

Ph 027 201 8042

or 027 746 9685

9164023AA

Trades & Services

EXTERIOR PLASTERING

Quality

Workmanship

at Competitive Pricing

Free Quotes

Aynsley Frewer

M: 027 201 1296

E: aynsleyfrewer@xtra.co.nz

PO Box 20534 Bishopdale

Trades & Services

& Property Maintenance

Paving

Patio - Pathways - Driveways

Lawns and Gardens

Planting - Raised Vege Gardens

Readylawn - Irrigation - Fencing

General Maintenance

Water Blasting - Gutter Cleaning

Rental Property Maintenance

Section Clearing - Weed Spraying

20 Years Experience

Locally owned and operated

Free Quotes - Competitive Pricing

Blair Gibson 027 699 5815

Trades & Services

AAA HANDyMAN

licensed carpenter

LBP, all property and

building maintenance,

repairs, bathroom/shower

installations, with free

quotes 03 383 1927 or 027

245 5226 ciey@xtra.co.nz

BRICKLAyER

George Lockyer. Over

35 years bricklaying

experience. UK trained.

Licensed Building

Practitioner number

BP105608. Insurance

work. EQC repairs.

Heritage brickwork and

stonework a speciality. No

job too small. Governors

Bay. Home 329-9344,

Cell 027 684 4046, email

georgelockyer@xtra.co.nz

BUILDER

For all building work

but specialist in bathroom

renovations, 30 yrs

experience, with service

and integrity. Free Quotes.

Ph Lachlan 383-1723 or

0274 367-067.

Trades & Services

BUILDER

LICENSED

available for all aspects of

building. Please call 027

241-7471 or 335-0265

CARPET & VINyL

LAyINg

Repairs, uplifting,relaying,

restretching,

jflattery@xtra.co.nZ

ph 0800 003 181

or 027 2407416

Christchurch's

premier Eco

Friendly cleaning

company

• Eco Friendly

• Gear Supplied

• Professional

• Guaranteed

Contact us today!

Freddie

020 4143 7007

www.snapclean.co.nz

ELECTRICIAN

REgISTERED

for all electrical

installations & repairs

Ph 03 322 4209

or 021 026 73375

FENCE PAINTINg

Staining Quality at

a reasonable price.

Free quotes. Phone

Warren today on 980-

1676 or 027 2014713

HANDyMAN

No job too big or

small. Good rates.

Call 020 410 67205

PAINTER

Available, All aspects in

painting. Very competitive

in roofs and fences. Please

call 027 241-7471 or 335-

0265

MAINTENANCE

Doctor

Fixit

• Carpentry • Repairs &

Maintenance

• Doors & Windows

• Fencing

• Painting & Plastering

• Tiling

• Outdoor Maintenance

• Renovations

• Decks & Pergolas

Norm McRae

027 222 3060 | 03 312 0082

www.doctorfixit.nz

Situations Vacant

FOREMEN AND CARPENTERS

Trinity QT Construction are looking to fill vacancies in the

Construction side of our fully integrated development company,

successfully delivering award winning multi-million dollar commercial

and residential projects. Trinity has a proud track record in building

luxury residential homes in the Queenstown and Southern Lakes

area and are seeking long term, committed employees with a

passion for excellence and attention to detail.

In return we provide a safe and stable work environment, excellent

conditions, solid management support, mentoring from our longterm-local

and diversely experienced owners, plus opportunities for

advancement and career development.

Senior Foreman

• Top end luxury home projects in stunning locations

• Previous experience in a similar position essential

• Able to manage all requirements of complex architecturally

designed projects and small to medium sized teams

• Rates and package negotiable based on experience

Qualified Carpenters and 2nd and 3rd Year Apprentices

• Great working environment with quality equipment

• Rates and package negotiable based on experience

• Need to be physically fit and a good team player

All positions are for an immediate start. Please contact us direct for

more information or apply directly with your CV and cover email.

We would prefer applicants for this position to have NZ

residency or a valid NZ work visa.

CV and applications to accounts@trinitydevelopments.co.nz

and/or contact Wayne Foley on 0274 864 244

Trades & Services

PAINTER

Quality work, I stand by

Canterbury Ph Wayne

03 385-4348 or 027 274

3541

PLASTERER

Gib Stopping, Small

job specialty. 30 + years

experience. Ring 0800

387-369

PLUMBER

ALF THORPE

PLUMBING Certifying

Plumber for all types of

plumbing, maintenance,

spouting, alterations etc.

Phone 352-7402 or 0274-

350-231

SHOE REPAIRS

Belfast engraving.Shoe

repairs,key cutting &

engraving.(10 yrs exp)683

Main North Rd

ph 027 3113423

TILER/CARPENTER

35 years exp, no job

too small. Ph Ross 027

4311440.

T.V. SERVICE

CENTRE

Repairs, tvs, microwaves,

stereos, DVD. Aerial

installations and kitsets,

480 Moorhouse Ave, ph 03

379 1400

Trades & Services

UPHOLSTERER

Dining Chairs, Lounge

suites, Caravan Squabs

etc. recovered. Free

Quotes. Phone Graeme

383-1448

VHS VIDEO TAPES

& all camera tapes

converted to DVD, video

taping special occasions,

www.grahamsvideo.co.nz

ph 03 338-1655

PAINTER

Michael Kelly Painters

Locally owned and

operated family

business.

25+ years Experience

• Painting • Wallpapering

• Interior • Exterior

Free Quotes

Phone

Michael 0212 649 492

michaelkellypainter@hotmail.co.nz

ROOF RESTORATIONS

• Roof Restoration

• Painting/Decorating

• Moss Treatments

Trades & Services

WINDOW CLEANINg

Average 3 bdrm house

inside or out $40. Both

$70. Phone Trevor 344-

2170

PROFESSIONAL

TREE CARE

Tree Pruning, Shrubs, Hedges,

Driveways & Boundary Clearing

Over 25yrs experience

Call Jonathan 027 338 2726

• Gutter Cleaning

• Leaks

Paul Jefferies - 021 235 9552

allaspectsroofpaint@gmail.com
---
NOR'WEST NEWS Latest Christchurch news at www.star.kiwi

Tuesday October 3 2017 23

What's On

Entertainment

Lunch & Dinner

All you can eat, 7 days

Bookings Essential

PH 386 0088

fb.com/GardenHotelRestaurant

www.gardenhotel.co.nz

SERVING

HAPPY HOUR

5PM - 7PM DAILY

To advertise, contact

Jo Fuller 027 458 8590

jo.fuller@starmedia.kiwi

Say I do Say I do

OUR CABINET ITEMS

ARE HOMEMADE

CREATED FRESH ON SITE DAILY

$12

LUNCH

SPECIALS

Live Music:

6PM.FRI.6 OCT

COFFEE

HAPPY

H O U R

at Garden Hotel & Restaurant's

LOVE ON THE LAWN

WEDDING OPEN DAY

Sunday 15th October, 12pm - 3pm

2PM-4PM

DAILY

$3.50

Offer available for a limited time

and includes tea, hot chocolate

MON: ROAST MEAL

TUE: FISH & CHIPS

WED: FISH BURGER

THU: ROAST MEAL

SAT: FISH & CHIPS

AVAILABLE

FROM

11.30AM-2PM

FOR A

LIMITED TIME

Vintage Blue

PHONE 385 8880 FIND US ON FACEBOOK fb.com/GBCCHCH

THE GARDEN HOTEL COMPLEX | 110 MARSHLAND RD

www.gardenhotel.co.nz | phone 385 3132

JOIN

A CLUB BY

THE SEA!

www.newbrightonclub.co.nz

'Famous for their roasts!'

RESTAURANT & CAFÉ

Cooked Breakfasts

Check out our extensive breakfast

menu from Continental to Cooked

We are open from 6.30am

Seniors SPECIAL

Two courses $20

Soup/Roast or

Roast/Dessert

LET US

ENTERTAIN YOU!

WESTVIEW LOUNGE

THIS FRIDAY, 7PM:

JO'S KARAOKE

Special available lunch only

Monday - Saturday 12pm - 2.30pm

$18

TREAT THE

FAMILY!

Kid's 2 course

special

School

Holidays

We are family

friendly.

Great Kids menu

plus designated

play area.

$10

The

RACECOURSE HOTEL

& Motorlodge

118 Racecourse Rd, Sockburn,

Christchurch. Ph 03 342 7150

www.racecoursehotel.co.nz

H ORNBY

WORKINGMEN'S

CLUB

THIS SATURDAY, 4.30PM:

MARION'S OUTLAWS

THIS SATURDAY, 8PM:

MAIDEN ENGLAND

SPORTS HALL

THIS SUNDAY, 1.30PM

PAUL COSTA

EDDIE LOW

KEVIN GREAVES

Tickets $20

Door sales $25

SUN.8 OCT, 1.30PM

UNBEATABLE FAMILY DINING

Chalmers

Restaurant

CHALMERS FAMOUS

SUNDAY

BUFFET

DINNER

Friday

Saturday

Sunday

BUFFET

LUNCH

Every Sunday

12pm - 2pm

IT'S THE CHERRY ON TOP!

FREE DESSERT

FRIDAYS & SATURDAYS

ENJOY OUR EXTENSIVE CARVERY

BETWEEN 5.30PM & 6.30PM

PRICED AT ONLY $22.50 PER PERSON

AND DESSERT'S ON US!

LUNCH | 12PM-2PM | $25

DINNER | 5PM-8PM | $27

CELEBRATE THAT SPECIAL OCCASION WITH US!

GROUPS WELCOME BOOKINGS ESSENTIAL

Club CAFE

OPEN 7 DAYS

LUNCH & DINNER

Gluten Free &

Vegetarian options

The Hornby Club | ph 03 349 9026 |17 Carmen Rd | Hornby

www.hornbywmc.co.nz | Members, guests & affiliates welcome

CANTY v TARANAKI

RANFURLY SHIELD CHALLENGE

ClubBISTRO

Open Tuesday to Saturday

12pm-2pm and from 5pm

Midweek $11

SPECIAL ROAST

Available Tuesday,

Wednesday, & Thursday

FRIDAY 7.35PM

BOOK NOW! SUNDAY NIGHT BUFFET

SUNDAY 29th October, $25 PER PERSON

TUESDAYS & THURSDAYS

Members Lucky Card Draw

FUNCTION ROOMS

SHUTTLE RUNNING

Tues, Thurs, Fri & Sat

TAB POD

GAMING ROOM

PIERVIEW

Restaurant

202 Marine Parade | Ph 388-9416

Members, guests and affiliates welcome

Quality

a la carte

with a view!

Open from 5.30pm

FRIDAY, SATURDAY & SUNDAY

OPEN FOR

SUNDAY BRUNCH

By the Seaside!

10.30am-2pm

SUNDAY 3 COURSE

DINNER SPECIAL $25

SUNDAY NIGHT

BUFFET

Sunday 29th October

ALL YOU CAN EAT

$25 BOOK NOW!
---
24 Tuesday October 3 2017

Latest Christchurch news at www.star.kiwi

NOR'WEST NEWS

SUPER DEALS

SUPER

DEALS ON

BEDS

IN-STORE

CHIROPRACTIC HD

KAURI PLUSH

Medium or Firm

Queen

NOW $2,499

King

NOW $2,899

SANCTUARY OPAL

7 Zoned Sensorzone Support

System, Fusion Graphene,

ReActive, Dreamfoam ® and

Latex Gold comfort layers

Queen

NOW $3,499

King

NOW $4,199

SAVE

NOW

Other sizes available in store

SUPER

BUY

Other sizes available in store

SANCTUARY

JADE

7 Zoned Sensorzone

Support System Latex Gold

& Dreamfoam ® Comfort

layers

TOP

SELLER

CHIROPRACTIC

Torquezone Spring

System

King Single

NOW $999

Queen

NOW $1,249

GREAT

VALUE

Other sizes available in store

Queen

NOW $3,099

King

NOW $3,599

Other sizes available in store

SERTA WISCONSIN

Serta Pocket Spring

Queen

NOW $1,699

Huge Pocket Spring Range in store

SUPER

BUY

10

YEAR

7 Day Money Back Comfort Guarantee on Queen and King Beds

CNR MOORHOUSE AVENUE & MONTREAL STREET NEXT TO FARMERS PHONE 365 0132.