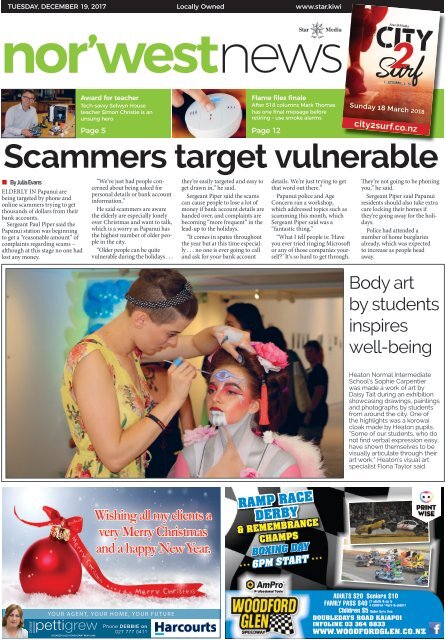 Nor'West News: December 19, 2017
You also want an ePaper? Increase the reach of your titles
YUMPU automatically turns print PDFs into web optimized ePapers that Google loves.
TUESDAY, DECEMBER 19, 2017

Locally Owned

www.star.kiwi

A Star Media Event

Star Media

Award for teacher

Tech-savvy Selwyn House

teacher Simon Christie is an

unsung hero

Page 5 Page 12

Flame files finale

After 518 columns Mark Thomas

has one final message before

retiring – use smoke alarms

Sunday 18 March 2018

city2surf.co.nz

Scammers target vulnerable

• By Julia Evans

ELDERLY IN Papanui are

being targeted by phone and

online scammers trying to get

thousands of dollars from their

bank accounts.

Sergeant Paul Piper said the

Papanui station was beginning

to get a "reasonable amount" of

complaints regarding scams –

although at this stage no one had

lost any money.

"We've just had people concerned

about being asked for

personal details or bank account

information."

He said scammers are aware

the elderly are especially lonely

over Christmas and want to talk,

which is a worry as Papanui has

the highest number of older people

in the city.

"Older people can be quite

vulnerable during the holidays . . .

they're easily targeted and easy to

get drawn in," he said.

Sergeant Piper said the scams

can cause people to lose a lot of

money if bank account details are

handed over, and complaints are

becoming "more frequent" in the

lead-up to the holidays.

"It comes in spates throughout

the year but at this time especially

. . . no one is ever going to call

and ask for your bank account

details. We're just trying to get

that word out there."

Papanui police and Age

Concern ran a workshop,

which addressed topics such as

scamming this month, which

Sergeant Piper said was a

"fantastic thing."

"What I tell people is: 'Have

you ever tried ringing Microsoft

or any of those companies yourself?'

It's so hard to get through.

They're not going to be phoning

you," he said.

Sergeant Piper said Papanui

residents should also take extra

care locking their homes if

they're going away for the holidays.

Police had attended a

number of home burglaries

already, which was expected

to increase as people head

away.

Body art

by students

inspires

well-being

Heaton Normal Intermediate

School's Sophie Carpentier

was made a work of art by

Daisy Tait during an exhibition

showcasing drawings, paintings

and photographs by students

from around the city. One of

the highlights was a korowai

cloak made by Heaton pupils.

"Some of our students, who do

not find verbal expression easy,

have shown themselves to be

visually articulate through their

art work," Heaton's visual art

specialist Fiona Taylor said.

Wishing all my clients a

very Merry Christmas

and a happy New Year.

RAMP RACE

DERBY

& REMEMBRANCE

CHAMPS

BOXING DAY

6PM START

Your Your agent, agent, Your Your home, home, Your Your future future

LICENSED SALES CONSULTANT REAA 2008

Phone DEBBIE on

027 P 777 08000411

DEBBIE

www.mylisting.co.nz

ADULTS $20 Seniors $10

FAMILY PASS $40

Children $5 Under 5yrs free

(2 adults & up to

4 children 14yrs & under)

DOUBLEDAYS ROAD KAIAPOI

INFOLINE 03 364 8833

WWW.WOODFORDGLEN.CO.NZ
---
2 Tuesday December 19 2017

Latest Christchurch news at www.star.kiwi

from the editor's desk

IT'S HARD to believe another year has

just about whizzed by.

It's been another 12 months of change

– particularly in the media game as the

big overseas-owned media groups grapple

over how to deliver the news to its consumers, and still stay in

business.

But the Nor West News rolls on, providing good local news

and advertising to readers who, in spite of what the big boys

might say, still enjoy the feel and touch of a newspaper.

But best of all it's local, and that's something the Nor West

News has been doing for a long time.

So have a very merry, safe and enjoyable Christmas, and of

course a Happy New Year!

– Barry Clarke

get in touch

GENERAL ENQUIRIES Ph 379 7100

CLASSIFIED ADVERTISING Ph 379 1100

The Christchurch Star Company Ltd

PO box 1467, Christchurch

starmedia.kiwi

news

Rangi boarding boss retires

Frances Barnett says standing down after 25 years of

being boarding house manager at Rangi Ruru wasn't an

easy decision to make.

Page 4

schools

Top scholars recognised

Marisol Hunter was named dux of Rangi Ruru Girls'

School and was presented with the award at the end-of-year

prize-giving.

Page 8

community events

NOR'WEST NEWS

Christmas in the community

Head along to the Neighbourhood Trust's Christmas Eve

community celebration at the St Albans Baptist Church

from 7pm.

NEWS

Julia Evans

Ph: 021 914 742

julia.evans@starmedia.kiwi

ADVERTISING

Monique Maynard

Ph: 364 7474

monique.maynard@

starmedia.kiwi

Javier Balcazar

Ph: 982 9308

javier.balcazar@

starmedia.kiwi

Page 13

The best-read local newspaper, delivered to

16,717 homes every Tuesday

Harewood, Burnside, Bishopdale, Bryndwr, Fendalton, Merivale, St

Albans, Mairehau, Papanui, Casebrook, Redwood, Regents Park,

Styx Mill, Northwood, Belfast, Strowan.

Corner Marshland

& New Brighton

Road, Shirley

www.thepalms.co.nz

The Palms is open

later this Christmas!

18 th – 23 rd Dec 9am – 10pm

24 th Dec 9am – 6pm

Christmas Day

Boxing Day

CLOSED

9am – 6pm

TPS31720
---
NOR'WEST NEWS Latest Christchurch news at www.star.kiwi

Tuesday December 19 2017 3

News

Heavy vehicle ban mooted

• By Julia Evans

HEAVY VEHICLES could soon

be stopped from driving along

Fendalton roads.

A ban on heavy vehicles

is being investigated by city

council staff in a bid to start

addressing traffic and roading

concerns on

Glandovey and

Idris Rds. The

concerns were

raised by the

Glandovey, Idris

and Straven

Raf Manji

Residents'

Association.

City councillor

Raf Manji said he and fellow

councillor Aaron Keown had

met with city council chief executive

Karleen Edwards about

the roading issues.

"What came out of that

meeting is that we immediately

need to get the heavy freight off

Glandovey Rd," Cr Manji said.

Following that, he said the

Fendalton-Waimairi-Harewood

Community Board and city

council would look at the layout

of the Glandovey and Idris Rds

intersection and nearby roads.

The number of heavy vehicles

using the roads has increased

since the earthquakes, Cr Manji

said. And he said it had also

SOLUTIONS: A ban on trucks along Glandovey and Idris Rd is

being investigated as a way to address pedestrian and cyclist

safety in the area. ​

become easier for large vehicles

to drive through the area since

the roundabout was upgraded to

lights in 2013.

Residents' association spokesman

James Wilding said a ban

on heavy vehicles would be good

progress in the battle to make

the roads safe for pedestrians

and cyclists.

The roads are classified as minor

arterial or collector routes,

which Mr Wilding said is concerning

given the high number

of schools in the area.

"We have freight routes, for

example Blenheim Rd. Those

four and six-lane roads are the

ones freight should us," he said.

The move comes after

Nor'West News reported the association

obtained safety audits

from the city council which

say "death or serious injury" at

the intersection is "likely" once

every five to 10 years due to visibility

issues between vehicles

and pedestrians.

Mr Wilding said the community

should have been aware

of these audits as their lives are

at risk.

A city council spokeswoman

said staff are working with the

community board to address the

communication concerns surrounding

the audits.

"Unfortunately due to the

volume of documents provided

to the requestor as part of the

LGOIMA responses, the safety

audits weren't immediately

passed on to the board members,"

the spokesperson said.

Residents have been battling

the city council to address ongoing

roading, traffic and safety

issues in the area for almost a

year.

During the saga, Dr Edwards

recommended residents not

be involved in a work shop

with city council staff and

the community board to find

solutions.

However, the board went

against that decision and included

residents in discussions.

Cr Manji said he understands

it has been frustrating for residents.

"It's important to get the community

voice out there, it has

been strong and its finally being

heard," he said.

Local

News

Now

In Brief

Fire rages, homes at risk

AURORA CENTRE REPAIRS

Major repairs and upgrade

work will start at Burnside High

School's Aurora Centre for

Performing Arts next month.

The work is a combination of

earthquake and weather-related

repairs. Due to the complexity

of the work, the centre will be

closed and unavailable for use

until the middle of February.

NO TREES IN EDGEWARE

The protection of electrical

wiring is one reason Edgeware

Rd will remain tree-free. The

Papanui-Innes Community

Board has fielded requests

from residents to improve the

amenity of the neighbourhood

by planting trees on berms.

However, a city council arborist

told the board most of the

street has to remain unplanted

because of traffic safety

measures and infrastructure

like wiring.

CAVENDISH RD TARSEAL

Cavendish Rd residents in

Casebrook have expressed

concern over the weeping

tarseal on their street and on

Gardiners Rd. They said it

has caused damage to several

properties. While the road has

now been resurfaced, concerns

remain that the issue will

return.

Helping us,

Helps tHe

community

Drop off or buy

WINNER

of the 2017

FRANchIsEE oF

thE YEAR

home services

3 family stores in your community

4 Restell Street, Papanui

Ph 03 352 0515

50 Charles St, Kaiapoi

Ph 03 903 0017

'CEREC' & cosmetic dentistry

Wisdom tooth removal

Painless, high quality dentistry

Sedation dentistry

Experienced, conscientious team

Experienced hygienists

OPEN SATURDAYS

355 9380

144 Cranford Street

www.stalbansdentalcentre.co.nz

Follow us on Facebook

@Dream Doors Christchurch

for design inspiration

Amazing

Kitchen

Facelifts!

• Replacement doors

• Drawer fronts

• panels & bench tops

• or a complete brand

new kitchen, all

made to measure.

Ph 03 338 1081 adrian@dreamdoors.co.nz

2017 Winner

RookieStoreof the Year

Sorted

GIFT CARD

GIFT CARDS

now instore

Super Liquor Elmwood

The Super Liquor Annual Awards evening recognises store owners and

managers, who uphold Super Liquor's brand pillars - Super Service,

Super Range, Super Deals, Super Convenient.

Super Liquor Elmwood picked up the Rookie Store of the Year Award

recognising the work of the Super Liquor Elmwood team since the store

opened a year ago.

3for

$

99!

OR FROM $34.99ea

INCLUDES JIM BEAM, SMIRNOFF RED,

GORDON'S, BAILEYS, CORUBA OR

FAMOUS GROUSE 1 LITRE OR EL JIMADOR

OR JACK DANIEL'S 700ML

Offers end close of trade 24th December 2017, while stocks last. Available

at participating stores only. Limits may apply. Trade not supplied. Terms and

conditions may apply. Please see www.superliquor.co.nz for details.

now open!

SUPER LIQUOR

ELMWOOD

1 Normans Road

P 03 355 1170
---
4 Tuesday December 19 2017

Latest Christchurch news at www.star.kiwi

News

NOR'WEST NEWS

Sand in

water not

harmful

• By Andrew King

DID YOU notice sand in your

water? Don't worry it was not

harmful according to city

councillor Vicki Buck.

Dry conditions and warm

temperatures have seen water

use in the city soar, making the

city's pumps run near capacity

24-hours a day meaning​ they

have picked up some of the natural

sand that acts as a filter from

aquifers.

On Wednesday, Cr Buck let

the public know the city council

is aware of the sand in the water

and flushed the pipes to deal

with it.

"We know about the sand in

some water – we're dealing with

it and it's not harmful," her Facebook

post said.

She said contractors will flush

pipes along Papanui Rd and

some streets close by such as

Mays Rd.

"It is not uncommon for sand

to get into the water supply and

it poses no known health risks –

it does not contain harmful bacteria.

In affected areas, people

may have noticed a few grains in

a glass of water."

Rangi boarding boss retires

IN 1992, Jim Bolger was prime

minister, The Headless Chickens

won New Zealand album of

the year, Shortland Street first

went to air and Frances Barnett

started working at Rangi Ruru

Girls' School in the boarding

house.

After 25 years, the 76-year-old

boarding house manager has

retired and she said it wasn't an

easy decision to make.

"I will miss everyone terribly,"

she said. "The girls have been an

extension of my own family."

Mrs Barnett's own family is

large. She has five children and

14 grandchildren, as well as the

thousands of students she has

looked after.

"I'm a nurse by profession and

I have loved working closely

with the girls over the years,

looking after their pastoral care,

just being there for them," she

said.

"I think empathy is missing in

so many parts of our every day

lives and I have always told the

girls, put yourself in someone

else's shoes, imagine what something

is like for them."

When Mrs Barnett started at

Rangi Ruru, the boarding house

was located in Te Koraha the

main historic homestead on the

school site.

"We had five fireplaces that

Mr Rex used to set every day. I

would go around and light them

and the house quickly warmed

up. Seems such a long time ago

now," Frances said.

A particular highlight over

her years was winning an

outstanding contribution to

boarding from the New Zealand

Boarding School Association

last year.

"The award is definitely one. I

never expected it," she said.

"Other highlights? There have

been so many. I get invitations

to weddings, 21st birthdays and

christenings from the girls who

went through here and that's

very special to me."

Mrs Barnett said there's a real

warmth about the boarding

house.

"All of the girls knew that I

was here when they needed me.

The whole boarding family is

MOTHERLY:

Frances

Barnett

proudly shows

her award to

Rangi Ruru

students

Becky

Schmack,

Bridget

Maw, Izzy

Ussher, Leah

Zydenbos and

Makie White.

PHOTO:

MARTIN

HUNTER

focused on the girls' well-being,

their happiness," she said. "A

kind heart can take you a long

way in a happy life."

She said working at the boarding

house has kept her feeling

young.

Mrs Barnett intends to remain

involved with the boarding

house as much as possible, helping

with Christmas events and

"other bits and pieces."

•Rangi Ruru prize-giving, p8

Pack a

it ' s

Picnic,

Island

Time!

0800 436 574

www.blackcat.co.nz

Discover walking tracks, native birds,

penguins, the swimming beach and

shipwrecks, all on the island that's

only 15 minutes from Christchurch!

Start Exploring

Otamahua/Quail Island today!

DEPARTS: LYTTELTON QUAIL ISLAND

Oct – Apr 10.20am 3.30pm

Dec – Feb 10.20am & 12.20pm 12.30pm & 3.30pm

FARE: adult $30 child $15 return

CRUISES

LYTTELTON & AKAROA

LIQuID LAuNDROMATs

345 sTANMORE ROAD, RICHMOND

261 BuRwOOD ROAD, BuRwOOD

7 DAYs: 5am-11pm

wAsH & DRY ALL YOuR

LAuNDRY IN ABOuT 1 HOuR

$4.00 WASH

$4.00 DRY

wash 2 Mink Blankets, Duvets

or woolrests for only $8

DRY UP TO 3 LOADS IN

ONLY 25 MINUTES! $4

SAvE TIME & ELEcTRIcITY

• Fast Dryers

• Sports Gear

• Duvets

• Mink Blankets

• Bedding

• Washers

• Domestic Laundry

SELF SERvIcE

Other Locations: 289 Colombo Street, Sydenham • 47 Carmen Road, Hornby

17 Halswell Road, Hoon Hay • 713 Ferry Road, Woolston • 319 Pages Road, Aranui

www.liquidlaundromats.co.nz
---
NOR'WEST NEWS Latest Christchurch news at www.star.kiwi

Tuesday December 19 2017 5

Tech-savvy teacher awarded

• By Julia Evans

WINNING an unsung hero

award from EducationHQ New

Zealand is no easy feat.

Selwyn House teacher

Simon Christie had to develop

an entirely new curriculum,

the first of its kind in New

Zealand, to take out the unsung

hero technology category last

Tuesday.

The Burnside resident codeveloped

the mechatronics

course with his colleague, Liz

Fairhall. It mixes technology,

robotics, mechanical

engineering, mathematics,

science and the arts.

"We've always had a robotics

programme but we wanted

to find a point of difference,"

he said. That's when the

mechatronics course began its

development.

"Girls are often

underrepresented in the science

and technology fields. We want

them not only to be taking part

in them, but leading the way,"

he said.

Winning the award was

"vindication" that his pupils

would have an advantage in a

world dominated by technology.

While he has put many days

and nights into the curriculum,

the course will never quite be

complete. "That's what we tell

our girls. In mechanical engineering,

nothing's ever quite

finished. It's a never-ending

task. You can always find something

to change and upgrade.

It's the same with mechatronics,"

he said.

Mr Christie said while the

mechatronics curriculum began

in one Selwyn classroom, it

is now taught throughout the

school.

"From years 1-8. And they've

even started teaching it in the

pre-school," he said.

One of his proudest moments

was when his year 7 pupils

ROBOTIC

LEARNING:

Selwyn

House

teacher

Simon

Christie won

a national

teaching

award

after he

developed an

entirely new

curriculum

for the

school.

PHOTO:

GILBERT

WEALLEANS ​

developed a knife that could be

used by his mother-in-law who

has tetraplegia.

"The girls were learning about

rights in society in terms of

people with a disability. They

then applied their mechatronics

learning to help solve a problem,"

he said.

Local

News

Now

In Brief

Fire rages, homes at risk

CAR PARKING LOST

Portacoms for contractors have

been installed on the front lawn and

temporary car park of Jellie Park

Sport and Recreation Centre for the

next year as earthquake repair work

is completed. The site will be used

for contractors who are repairing

several of the centre's pools and will

not be available for car parking.

CHILD SAFETY IMPROVED

Concerns regarding the safety of

children at the KidsFirst on Kendal

Ave have been addressed by the

city council. Following a site visit

by city council staff, it was agreed

that 10min parking restrictions

be installed. The kindergarten

requires a safe area for parents and

caregivers to park and pick-up or

drop-off children and the creation

of a short-term parking restriction

will provide turnover of parking.

FUNDING APPROVED

A grant of $200 has been approved

by the Fendalton-Waimairi-

Harewood Community Board for

Hannah Stanely to attend the 2018

Ranger Event in Masterton. The

13-year-old is a pupil at Breens

Intermediate and a member of the

Kendal Air Rangers. The event

will involve adventures that girls

can participate in including rock

climbing, rafting, visit to Te Papa,

tramping and horse riding.

SHOP UNTIL

MIDNIGHT

on Thursday

Entertainment, giveaways and loads of fun from 7pm. Visit northlands.co.nz

northlands.co.nz

#shopsocial
---
6 Tuesday December 19 2017

Latest Christchurch news at www.star.kiwi

NOR'WEST NEWS

Buy any Nouveau, Classique or

Whirlpool Fridge Freezer and receive a

bonus Classique 19 Bottle Wine Cooler

OPEN UNTIL 8PM

THURSDAY 21ST & FRIDAY 22ND

SNAP

DEAL

BONUS

Classique 19 Bottle Wine

Cooler, valued at $699

(268110)

GIFTS

UNDER $30

GIFTS

UNDER $100

GIFTS

OVER $100

Gerbera

10cm assorted

188109

$

3

EACH

Armor All

5 Piece Car

Detailing Kit

242948

$

24 99

$

99 84

Black +

Decker

Li-Ion Drill

Driver 18V

289699

Stanley

Fatmax

18V Drill &

Driver Kit

with 8m

Tape

307766

$

299

Number 8

BBQ Tool Set

3 Piece Set.

304807

$

10

Fuller

61 Piece

Tool Set

with BONUS

kids tool kit.

203999

297045

$

75

BONUS

Number 8

3 Person Tent

1400x2250x3000mm

in grey

308800

$

99

Bakerstone

Pizza Oven

236950

$

199

$

4

EACH

Poinsettia

100mm

149172

ACE

3 Piece Chilly

Bin Set

42L Cooler,

4.5L Cooler,

1L Drinking

Container.

936724

SNAP

DEAL

$

45

$

79

Muscle Rack

Shelfing

1830x 910x

460mm

307842

$

549

Weber

Q2000

BBQ

Cart sold

separately.

318399

$

26 98

Enrich With

Nature

Peace Lily

Comes in a

ceramic pot.

242191

Number 8

Portable

Butane Stove

268843

$

34 98

$

99

Werner

Double Sided

150kg Step

Ladder

184924

STILL STUCK

FOR IDEA'S?

BUY A MITRE 10

GIFT CARD!

CS181217

Available from Tuesday

19th December to

Sunday 24th

December 2017

while stocks last.

Mitre10 MEGA Hornby Ph: 349 8497 Mitre10 MEGA Papanui Ph: 359 5443

*If you find a lower price on an identical stocked

product locally we will beat it by 15%

*If you find the same product cheaper from another Mitre 10 store or Mitre 10 website

we'll match that price. Excludes trade and special quotes, stock liquidations and

commercial quantities. The in-store price may be lower than that advertised.
---
Collections

Look up

NOR'WEST NEWS Latest Christchurch news at www.star.kiwi

Tuesday December 19 2017 7

News

CROWD

WATCH:

Northlands

Shopping

Centre is

expecting

its busiest

time of the

year will be

December

23 at

lunchtime.

Best times to shop

at Northlands

IT'S ALL hands on deck

at Northlands Shopping

Centre as the festive season

heats up.

With only six

days until Christmas,

the centre's

management team

has come up with a

few tips to get you

through.

Judging from last

year's activity, the

mall has predicted

the busiest day will

be December 23 at

lunchtime. To ease stress,

the best times to go shopping

are either first thing

in the morning, around

4pm or after 8pm.

More than 30 hours of

extra shopping has been

added to the mall's usual

trading hours.

Northlands is

open until 10pm

every day until

Saturday, with a

special midnight

closing on Thursday.

And parking

shouldn't be an

issue, as a dedicated

team will be

on hand to help

you find a park.

"We realise Christmas

shopping is a stressful time

for many, so we've tried

to make shoppers' visits

Vicki Bain

to Northlands as easy as

possible," centre manager

Vicki Bain said.

Additionally, in exchange

for a gold coin

donation, visitors to the

mall can have gifts of all

shapes and sizes wrapped,

with proceeds going to the

Rotary Club of Papanui

and nine other local community

groups.

The initiative raised

more than $18,000 last

year. It is predicted the

gift-wrapping volunteers

will wrap more than 9500

presents and more than

60,000 Eftpos transactions

will be made at the mall

before Christmas.

Kerbside Collection Dates

for Christmas and New Year

Starting this Christmas, you'll notice a change with

your wheelie bin collection. For the weeks starting

Monday 25 December and Monday 1 January 2018,

wheelie bins will be collected the day after their usual

collection day.

RED

MON TUE WED THU FRI SAT

• Monday collections will be picked up on Tuesday

• Tuesday collections will be picked up on Wednesday

• Wednesday collections will be picked up on Thursday

• Thursday collections will be picked up on Friday

• Friday collections will be picked up on Saturday

Please ensure wheelie bins are placed at the kerbside

by 6am on your deferred collection day.

Download the Christchurch Wheelie Bins App for

collection day reminders. Available on Android and iOS.

GREEN

YELLOW

For more information, phone 941 8999

or visit ccc.govt.nz

Messages Information

FAMILY STORES

AMALGAMATE IN

PAPANUI

Two of the Salvation Army

Family Stores in the north of the

city have amalgamated into one

new location in Restell Street

Papanui.

The Main North Road shop

has closed, and the Cranford St

shop, which was opened after

the earthquakes to provide

furniture and linen for displaced

families, has also closed

its doors.

"The Cranford St shop had

come to the end of its season,

and the opportunity arose to

bring the two shops together,

which has been very exciting

for us," says Pastor for Salvation

Army Christchurch North, Gill

Waugh.

"The new premises in Restell St

offer a large, bright open space

with lots of room for stock.

New stock is on the shop floor

every day, so it pays to drop in

regularly."

The huge selection includes

clothing, the popular label

racks for that something special,

toys, books, crockery and

glassware, electrical items and

furniture, all donated by the

public.

"There's off-street parking at

the new shop, which makes it

easier for people dropping off

items, and also for our customers,"

Gill says.

The Family Store will also pick

up donated goods and deliver

as arranged, Monday to Friday.

All the proceeds from sales go

towards the Salvation Army's community

work, such as budgeting advice,

advocacy, WINZ quotes, welfare

support and the Positive Lifestyle Programme.

(These services operate from

the Belfast Centre, 794 Main North

Rd.)

The Family Store offers a Loyalty Card

system, with customers getting their

card clicked for every $10 spent. Once

they have 10 clicks, they get $10 to

spend in the store.

New manager at the Papanui Family

Store, Anne Tihore, previously worked

as a Family Store volunteer. She has

four employees on her team, who are

assisted by 25-30 volunteers. Some

ladies have volunteered for up to 20 and

30 years.

Anne and staff member Pauline say

customer feedback on the new shop has

been really positive.

"They love the spaciousness, brightness

and the layout, and that everything

is all in one place, not in two shops,"

Pauline says.

Anne says the new Family Store has

also brought a consolidation amongst

the staff.

"There's a great team spirit. And the

shop also has a community feel about

it, which comes from the customers.

Papanui is a very strong community

and we are excited to be a part of it."

The Papanui Family Store is currently

recruiting for volunteers. Anyone interested

should phone Anne on 352 0515

or call in to the Family Store. Hours are

Monday to Friday 9.30am-4.30pm and

Saturday 10am-3pm.
---
8 Tuesday December 19 2017

Latest Christchurch news at www.star.kiwi

NOR'WEST NEWS

Top scholars recognised at Rangi Ruru

RANGI RURU Girls' School

came together to celebrate top

achieving students at its

end-of-year prize-giving.

Marisol Hunter was named

dux, while Isabella Gregory was

announced as proxime accessit

for the senior school.

Awards:

•Marisol Hunter - Dux and

Faletoese cup and the PTA

prize for the best all round girl

Marisol received distinction

in the ICAS Science Competition,

high distinction in the

Australian Chemistry Quiz and

third in the University of Otago

Senior Science Quiz.

In addition to her outstanding

academic role, Marisol is

also an athlete and a musician,

senior athletics champion,

captain of cross country and

lifesaving, lifesaving coach,

national selection in orienteering,

clarinet and percussion

player.

•Isabella Gregory - Proxime

Accessit, The Dorothy Bates

Trophy awarded to a pupil

who shows outstanding

potential during her years at

school, The Ian Stephenson

Prize for passion for the environment

and PTA prize for

head of sustainability

Isabella has a scholarship

place waiting for her at

Victoria University, and in addition

has applied for places

overseas.

She has been the top scholar

in curriculum English for

the last two years and gained

a New Zealand Qualifications

Authority Outstanding Scholarship

Award in English in 2016

from year 12. .

PTA prizes for the associate

heads of the school:

Head of Culture - Anna

Bruce

Dawson Prize for the associate

head of the school

with responsibility for service

- Felicity van der Pohl

Head of Community - Danielle

Bussell

Head of Wellbeing - Phoebe

Spiers

Head of Sport and Otago

University Leaders of Tomorrow

Entrance Scholarship -

Zoe Gilpin

Ethel Gibson Memorial

Prize for the head of house -

Monica Marshall

The Samantha Perkins

ACHIEVEMENT: Marisol Hunter was named dux of Rangi Ruru and best all round student.

Memorial Prize for the head of

the school - Meg Dutton

The Special Award for perseverance

- Phoebe Spiers

The Sophie Savill Cup for

outstanding sportswoman -

Esra McGoldrick

The prize for outstanding

performing arts student -

Anna Bruce

The Principal's Award for

generosity of spirit - Eden

Cotter-Longworth

General excellence - Year 9

Chloe Hughes, Samantha

Senior, Megan Tansey, Poppy

Blake-Manson, Saskia Simmers,

Isis Ward, Penelope

Frost, Eliza McIntosh, Penny

Procter, Anna Bedggood, Rosa

Blake, Emma Ffowcs, Niamh

Cummingham, Stella Prescott

and Alice Symons-Edwards.

Year 10

Amie Coombes, Hannah

Margison, Sophia Smith, Michelle

Boulais, Amy Clough,

Pippa Lange Rosa Jones,

Ruby Lee, Olivia Yankov-Reid,

Holly Blake, Georgia Sheat,

Landie, Daisy Auker-Woor,

Anna Casey and Maddy Sheat.

Year 11

Alisha Bedggood, Lucy

Johnson, Hazel White, Lucy

Anderson, Sarah Lawrence,

Leah Zydenbos, Emily Davey,

Sadie Nash, Holly Lewis, Ryley

Visser, Amelia Wilson, Sarah

Woodward, Alex Dunn, Charlotte

Helms, Isabella Inkson,

Tulsi Lathia, Amber Spurway

and Samantha Summerfield.

Georgina Jolly - Cross cup

for consistent work in year 11

Year 12

Emily Aitken- First in food

and nutrition, high achievement

in accounting, biology

and history

Ruby Blake-Manson - First t

in Biology, high achievement

in chemistry, French and physics

Jane Boyle -First in textile

technology, high achievement

in economics

Yuna Chon - First in level 3

calculus and the recipient of

the Elinor Wilson Cup, high

achievement in music and

chemistry

Charlotte Corkery - First in

design, high achievement in

chemistry, graphics and paint/

print

Abby Croot - First in Spanish,

first in classical studies,

high achievement in economics,

English and history

Emma Cushing - First in

economics, First in equal in

media studies, high achievement

in drama

Maddi Halliday - First in

history, high achievement in

classical studies

Molly Halpine - First in

English and the William Adam

Memorial Prize, high achievement

in graphics

Eugene In - First in chemistry,

high achievement in

English, music and physics

Moeka Kanemaru - First in

geography, high achievement

in business technology

Ploy Kriangkriwakin - First

in graphics

Eleanor Lester - First in

physics, high achievement in

biology, chemistry, French and

level 3 calculus

Lily McKenzie - First in contemporary

music

Holly Manning -First in

SCHOOLS

general science for citizenship,

high achievement in accounting

Mari-Clare McLaughlin -

First in accounting, first in

French, high achievement in

chemistry, physics and level 3

calculus

Ava Morrow - First equal in

media studies, high achievement

in history

Ella Neale - First in drama

Poppy Prentice - First in

business technology

Alyssa Robinson - First in

paint/print, first in photography,

high achievement in

design

Lucy Simpson - First in

physical education, high

achievement in food and

nutrition

Maddison Wall - First in

statistics

Valerie Xiang - First in

music, high achievement in

chemistry, French, English and

level 3 calculus

Madeleine Finch - PTA

prize for consistently high

standard of achievement in

year 12

Old Girls' Special Prizes for

excellence in year 12 – Abby

Croot, Ellie Lester, Mari-Clare

McLaughlin, Valerie Xiang

Year 13

Jessie Anderson - First in

classic studies and the Friends

of Rangi Ruru Prize, high

achievement in English and

music, Auckland University

Top Achievers Scholarship, the

Victoria University Vice-Chancellor's

Excellence Scholarship

and a Victoria University

Excellence Scholarship

Linda Ban - First in business

technology and the Eckersley

Prize, high achievement in accounting

Charlotte Bowman -The

Moira Thompson Salver for

excellence in art

Ella Brownrigg - First in

textile technology

Anna Bruce - First in drama

and the Fay Lester Trophy for

drama, first in printmaking and

the Cleavin-Copeland Cup,

high achievement in painting

and art history

•Continued on p10

20% OFF

ComplimEntary

gift wrapping

STOREWIDE

Wednesday 20 th decemBer

Excludes prescription items and already reduced items

Entries close Saturday 30th September

Barrington pharmacy

Next to CouplaNds, 256 BarriNgtoN st

Ph 332 3156

@WilsoNsBarriNgtoNpharmaCy

10% discount

everyday

using

*excludes prescriptions & sale stock
---
NOR'WEST NEWS Latest Christchurch news at www.star.kiwi

Tuesday December 19 2017 9

raNGiora • Northwood • st martiNs • tower juNctioN • BishoPdaLe • raNGiora • Northwood

Northwood • st martiNs • tower juNctioN • BishoPdaLe • raNGiora • Northwood • st martiNs • tower juNctioN • BishoPdaLe •

RRP $15.99

$

7 .99

EA

EAT

CHELSEA

WINTER

AMAZING

GIFT SHOP

CHRISTMAS FOR LESS!

HALF

PRICE

BOXED

XMAS CARDS

LET'S EAT

NADIA LIM

THE RED COAST

DI MORRISEY

RRP $7.99

$

3 .99

EA

DARKER

E.L. JAMES

CALENDARS

50 %

PAST PERFECT

DANIELLE STEELE

5 INGREDIENTS

JAMIE OLIVER

@papertreestores

LIFE ON MUZZLE

FIONA REDFERN

*Stock may vary from store-to-store

Follow us on Facebook:

@papertreestores

THE

MIDNIGHT LINE

LEE CHILD

tower junction, off Clarence St, Riccarton | Bishopdale, 31 Bishopdale Court, Bishopdale | rangiora, 206 High Street, Rangiora

Northwood supa centre, Main North Road, Belfast | st martins shopping centre, Wilsons Road, St Martins

off

NEW RELEASES AT HOT PRICES

RRP $50.00

$

34 .99

GIFTS

FOR KIDS

STAR WARS

BOUNTY HUNT

LIFT THE FLAPS

RRP $64.99

$

14 .99

STAR WARS

TREASURY

RRP $59.99

$

24 .99

STAR WARS

BOOKS & MODEL

RRP $64.99

$

19 .99

RRP $49.99

$

34 .99

DIARY OF A

WIMPY KID:

THE GETAWAY

RRP $39.99

$

29 .99

BAD DAD

DAVID WALLIAMS

RRP $19.99

$

14 .49

$

17 .99 $

12 .99

TURTLES ALL

THE WAY

DOWN

RRP $49.99

$

17 .99

GALAXY OF

COLOURING

$

14 .99

RRP $17.99

RRP $30.00

$

23 .99

MAGNETIC

SLIME

FORCE AWAKENS

VISUAL DICTIONARY

BOOGER

SLIME LAB

RRP $34.99

$

26 .99

UNICORN

BALLOON BALLS

XMAS ROLL

WRAP

35 %

off

UP TO 40% OFF RRP

RRP $65.00

$

49 .99

UNICORNS

THELMA THE

UNICORN MIRACLE

BOOK MELTING UNICORN

RRP $45.00

$

34 .99

$

7 .99 $

6 .99

$

14 .99 $

19 .99

RRP $18.99

$

14 .99

$

15 .99

EA

UNICORN

LAMP

$

14 .99

RRP $38.00

$

29 .99

100s of MAGICAL

GIFTS FOR

EVERYONE

SWINGBALL SET

• st martiNs • tower juNctioN • BishoPdaLe • raNGiora • Northwood • st martiNs • tower juNctioN • BishoPdaLe • raNGiora
---
10 Tuesday December 19 2017

Latest Christchurch news at www.star.kiwi

Rangi Ruru prize-giving

SCHOOLS

NOR'WEST NEWS

•From page 8

Amelia Bryden - First in

graphics and the Gould Stewart

Cup for the senior student

showing the most potential in

graphics, high achievement in

business technology

Eden Cotter-Longworth -

First in photography and the

Haslam Cup for photography,

high achievement in drama

Isabella Evans - First in

physical education and the

Sherburn Cup for physical

education

Isabella Gregory - First in

art history, first in French and

the Ford Cup for flair in French,

first in English and the Rewiti

Gardener Prize, first in music

and the Nancy Grant Salver

for outstanding performance

in music, high achievement in

physics

Bing Han - First in economics,

high achievement in accounting,

business technology

and textile technology

Marisol Hunter - First in biology

and the Mawson Cup, first

in chemistry, first in Spanish,

first in statistics and the Helen

Wily Prize for statistics, first in

physics and the New Zealand

Institute of Physics Prize, high

achievement in English

Petra Law - First in media

studies and the Katharine

Price Prize for media, first in

philosophy

Xiaoling Liu - First in

contemporary music, first in

design and the Barbara de

Lambert Cup for design, first

HARD WORK: Proxime accessit for the year went to Isabella

Gregory. She also won the The Dorothy Bates Trophy for

showing outstanding potential. PHOTOS: TONY STEWART

in Japanese, high achievement

in English and calculus

Xiling Liu - First in accounting

and the Price Waterhouse

Prize for accounting, high

achievement in English and

calculus and level 2 Japanese

Amanda McBride - First

in history and the Friends of

Rangi Ruru Prize, high achievement

in English, economics

and painting

Frances Pearce - First in

food and nutrition and the

Lena Goss Memorial Salver

Maasa Takahashi - First in

geography, high achievement

in Japanese and philosophy

Abigail Williams - First

in painting and the Beattie

Cup

Eden Cotter-Longworth

and Georgia Reynolds - Joint

recipients of the Te Ngere

Pehi Memorial Prize Awarded

for achievement in maori studies

and kapa haka

Old Girls' special prizes

for a consistently high

standard of achievement in

all subjects:

Francesca Beaton - Biology,

calculus and statistics

Michelle Cronje - Chemistry,

French and physics

Kate Donald - Art history,

drama and English

Ashleigh Goh - Biology,

chemistry, English, physics,

statistics

Siena Rapley - Accounting,

classics and Spanish

TOP AWARDS: St Margaret's College students (from left) Abida

Denny, Julieet Samandari, Kate Jenkins and Georgia Lund won

the night's special awards. ​

Awards at St Margaret's

LAST Wednesday, St Margaret's

College spent the evening

celebrating its highest achieving

students during prize-giving.

Kate Jenkins – Virginia

Christie Cup for dux of St Margaret's

College for international

baccalaureate programme

Georgia Lund - Virginia

Christie Cup for dux of St Margaret's

College for NCEA

Hanah Kim - MacBrayne

Cup for proxime accessit in

the international baccalaureate

programme

Juliet Samandari - Mac-

Brayne Cup for proxime accessit

for NCEA

Abida Denny - St Margaret's

Cup for the senior student

who, in all aspects of school

life, most clearly expresses

the spirit of St Margaret's College

Ella Wells - St Margaret's

College Award for head girl

Emma Taylor - Lindo Cup

for academic excellence in

Year 11

Adeline Chau - Deputy

Principal's Cup for academic

excellence in the year 12

international baccalaureate

programme

Katie Ellis - Deputy Principal's

Cup for academic excellent

in NCEA

Alexandria Bagot - Watson

Salver for dedication

and commitment to the

international baccalaureate

programme

Emily Stewart - Marlene

Bell Cup for best all round

year 12 student

DRESS-SMART HORNBY

JOIN US FOR AN EVENING

DEDICATED TO THE BLOKES!

WIN

SPOT

PRIZES*

MEET

CANTERBURY

CRICKET LEGEND

CHRIS

HARRIS

EXCLUSIVE

DRESS-SMART

DEALS

WED 20 TH DEC 2017

5.30–8.00PM

SEE THE NEW

FORD

RANGER

UTE

THE ROCK

LIVE

GIFT

WRAPPING

*Including 2 X $100 Tarocash Gift Vouchers,

Dress-Smart Gift Cards, Performance Backpacks,

Sports Bags & More!

PLUS, all the help fella's need to

pick gifts for the family!

HORNBY | 409 Main South Road

*TERMS AND CONDITIONS APPLY
---
NOR'WEST NEWS Latest Christchurch news at www.star.kiwi

Tuesday December 19 2017 11

News

Mural brings Mairehau alive

Pupils inspire

Innes Rd art

• By Julia Evans

A DRAB wall in Mairehau

has come to life with colourful

artwork – an idea sparked

entirely by local children.

When asked what was

wrong with their community,

Mairehau Primary School pupils

said the area needed more

colour.

So Richard 'Popx' Baker was

enlisted to paint a mural on a

wall between the school and

Innes Rd.

The Neighbourhood Trust

and Child and Youth Friendly

Cities organised the artwork,

which features Mairehau pupils

planting a garden.

Trust manager Ginny Larsen

said it has been a great result

from a collaborative effort.

"The project started two-anda-half

years ago when the trust

was working with children from

Mairehau Primary asking them

what they liked about the area,

what they didn't like and what

they would like to change," she

said.

One of the main themes was

that the pupils found Mairehau

a "bit grey" and wanted "more

LIKE BANKSY: George Croton, teacher Alice McGinty, Luseane Alexander, Chelsea Radcliffe

and Amy Scott in front of the mural on Innes Rd.

PHOTO: GILBERT WEALLEANS

colour and vibrancy" in the

area.

The pupils took photos and

made up a board of ideas.

"One of the things they

suggested was a mural," Ms

Larsen said.

But the trust quickly hit a

road block.

Said Ms Larsen: "We thought

this would be lovely but we've

got no money."

That's when Child and Youth

Friendly Cities came on board.

Ms Larsen said the group

really liked the fact that it was

the voices and ideas of local

children being heard.

Many large-scale murals by

Baker feature across the city.

They include a building

at Phillipstown School through

to the "wall of love" in New

Brighton.

Local

News

Now

Fire rages, homes at risk

No further

traffic calming

measures

near school

• By Julia Evans

MORE TRAFFIC calming

measures around Paparoa Street

School are off the table.

In a memo to the

Papanui-Innes, city council

traffic engineer Penny Gray said

although the area around Paparoa

St, Tomes Rd and Rutland St is

congested, that does not mean it is

dangerous.

"Congestion around the school

is solely caused by the school and

the traffic it generates," Ms Gray

said.

She said although the congestion

is noticible during peak

school hours, the city council

expects this as the school's roll is

more than 550.

Paparoa St already has a

"high level" of traffic calming

measures installed that ensure a

low speed environment, Ms Gray

said.

"The school has excellent offstreet

paths directly from the

school, which children and parents

can safely use to access other

roads in the network. This could

help spread congestion from the

school gate."
---
12 Tuesday December 19 2017

Latest Christchurch news at www.star.kiwi

FLAME FILES

Fire columnist bids farewell

• By Mark Thomas – fire risk management

officer

THIS IS the last flame files.

After nearly 11 years back in

Christchurch and 518 columns completed,

I've decided it's time to shuffle off into

retirement.

The column has been something I've

always enjoyed.

Sometimes the time available has been

too short for comfort and some other

times I've had a good subject and time to

do it justice.

I can only hope it's been entertaining to

some and even occasionally informative.

I know the issues haven't really changed.

There are still too many kitchen fires.

There are still too many arson fires.

But in recent years, the number of fire

fatalities has fallen.

This must in part be the result of our

promotion of smoke alarms and I still live

STAY SAFE: A group

of prisoners Mark

Thomas spoke to

at Christchurch

Women's Prison

later used their

phone privileges to

ring home to ensure

their families were

protected by smoke

alarms.

in hope of the day none of us will agree to

sleep anywhere that is not alarm covered.

Another quite satisfying part of this job

has been the public speaking.

I've talked to older people, young

people, service groups and even prisoners

in jail.

Some of the most satisfying feedback I

ever got was being told all of the group I

had spoken to at Christchurch Women's

Prison later used their phone privileges

to ring home to ensure the family was

protected by smoke alarms.

Finally, sincere thanks are due to Star

Media for providing me with the platform

to preach the fire safety message.

That's a true public service and is very

much appreciated.

I've been fortunate with the calibre

of people I've worked with, both in the

firefighting family and those outside.

Stay safe everyone!

Special Olympians tested

• By Andrew King

A SWAG of medals were won by

north-west athletes at the Special

Olympics New Zealand national

summer games in Wellington.

Pitting themselves against others from

around the country, medals were won in

indoor bowls, 10-pin bowling, swimming,

athletics and basketball.

The full list of the winners are:

Indoor Bowls

Pairs:

Virginia Fowler, Redwood, and

Raymond Keith Smith, Hoon Hay,

bronze in the B1 division.

10-pin Bowling

Teams: ​

Todd Quested, Redwood, Andy

Brown, Papanui, Ian Johnson,

Sydenham and Stephen Cooper, St

Martins, silver in division two.

Andrew Westgarth, Northwood,

Richard Willmott, New Brighton,

Jessica Stevens, Linwood, and Ian

Dobbie, Halswell, silver in division six.

Singles:

Dean Smith, Casebrook, bronze in

division 11.

Andy Brown, Papanui, bronze in

division six.

Hayden Wright, Papanui, silver in

division 23.

Ian Johnson, Redwood, silver in

division five.

Swimming

Teams:

Nathan Winkelman, Papanui,

Shawn O'Rourke, Halswell,

Jonathon Smithan, Burwood, and

Ethan Hamilton-Currey, Selwyn,

won gold division M1 in the 4x50m

relay.

SPORTS

NOR'WEST NEWS

Singles:

Nathan Winkelman, Papanui,

silver in the 25m freestyle and 50m

backstroke.

Athletics

Allan Stewart, St Albans, gold in

the softball throw and 100m, silver

in the 50m

Raymond Smith, Burnside,

gold in the shot put, silver in the

100m.

Kevin Horne, Burnside, gold in the

100m and long jump, bronze in the

shot put.

Samuel Goddard, Fendalton,

silver in the long jump, bronze in the

1500m.

Roseanne Parrish, St Albans,

bronze 50m and 100m.

Nela Inwood, St Albans, silver in

the 100m.

Andrew Oswin, Fendalton, gold in

the 100m.

Equestrian

Amy Verdellen, Bryndwr, gold in

equestrian working trails and bronze

in dressage.

Thomas Sutton, St Albans, silver

in english equitation and bronze in

working trails.

Basketball

Allenvale School won gold in

division three.

Papanui High was sixth in division

three.

Christmas

Shopping Hours

16 – 17 December 9am – 5pm

18 – 19 December 10am – 5pm

20 – 22 December 9am – 8pm

23 – 24 December 9am – 5pm

Christmas Day

Closed

Boxing Day

9am – 6pm

27 December 9am – 6pm

28 – 31 December 10am – 5pm

New Year's Day

Closed

SIGN UP AT DRESS-SMART.CO.NZ

Be the first to hear about the latest deals plus

be into win a $100 gift card drawn every month.

HORNBY | 409 Main South Road
---
NOR'WEST NEWS Latest Christchurch news at www.star.kiwi

Tuesday December 19 2017 13

Email julia.evans@starmedia.kiwi

by 5pm each Wednesday

Bishopdale Documentary

Project

Every day, 9am-6pm

A selection of photographs

from the Christchurch

Documentary Project: Bishopdale

2017 are on display in the

library.

Ōrauwhata: Bishopdale Library

and Community Centre, 13

Bishopdale Court

Scrabble Group

Tuesday, 9.45am-noon

Go along and play scrabble

with the friendly weekly group.

Exercise your brain and have fun.

Gold coin donation. Sundbye

House, 100 Farrington Ave

Papanui Book Club

Tuesday, 10-11am

With no set book to read, it's

a relaxed, social group who talk

about book or books they have

been reading.

Papanui Library, 35 Langdons

Rd

Technology Help Session

Drop-In

Tuesday, 10-11am

These free drop-in sessions are

available to help you with specific

issues such as using email,

searching the internet, using the

library catalogue, using electronic

resources and any other general

computer related queries. Go

along with your laptop, tablet,

smartphone or use one of the

desktop computers if you need

help with anything digital. No

bookings required.

Orauwhata: Bishopdale Library

and Community Centre, 13

Bishopdale Court

Holiday Activity – Make your

own Popsicle Stick Decoration

Tuesday, 10-11.30am

Create popsicle stick decorations

to decorate the Christmas

tree at home. Free, no bookings

required but a caregiver is

required. On At Shirley Library

and Redwood Library as well.

Orauwhata: Bishopdale Library

and Community Centre, 13

Bishopdale Court

Also Wednesday, 10-11.30am at

Papanui Library, 36 Langdons Rd

Bishopdale Bridge Club

Wednesday, 11am-2.30pm

Go along and join in with this

social group who meets every

Wednesday for a game or two of

bridge. Table fees $5. Phone Janet

for more information on 352

1440.

Ōrauwhata: Bishopdale Library

and Community Centre, 13

Bishopdale Court

Head along to the Neighbourhood Trust's Christmas Eve community celebration at the St

Albans Baptist Church from 7pm. Spend the night before Christmas with family, friends and

neighbours with special, creative Christmas carol service and delicious food in a relaxed

environment.

Scrabble Club

Wednesday, 1-3pm

Go along and enjoy a friendly

game of scrabble in the library.

There will be boards provided

boards but you are welcome to

bring your own. No need to book,

just turn up and play.

Ōrauwhata: Bishopdale Library

and Community Centre, 13

Bishopdale Court

Go Well Group Play

Rummikub

Thursday, 1-3pm

Go along to Fendalton

Library and play Rummikub,

the exciting, interactive strategy

game.

Fendalton Library, 4 Jeffreys Rd

Knit 'n' Yarn

Thursday, 2-3.30pm

Go along and enjoy a chat with

others as you knit. For anyone

who loves to knit or wants to

learn.

Fendalton Library, 4 Jeffreys Rd

Technology Help Drop-In

Sessions

Friday, 10-11am

New to computers? The

web? Email? Trade Me?

Facebook? Skype? eBook readers?

Spreadsheets? Word? Never

touched a PC before and want

to have a go? Got a question

about how to do something?

The Shirley Library staff are not

boffins but we can help you out

with most of the things people

get stuck with at some time or

other. Free. Drop in, no booking

required. You don't need your

own PC but if you do have a laptop

or tablet or eReader, they can

work with you using these tools

too.

Shirley Library, 35 Marshland

Rd

WE SERVICE

WHAT WE SELL

LAwyERS

"the best oil that

money can buy"

WAYNE HILL CARS

313 LINCOLN RD

ADDINGTON CHRISTCHURCH

Ph. (03) 338 3255 E. hillcars@es.co.nz

We have over 40 years' experience

to assist you with…

• Buying and Selling Houses and

Commercial Property

• Wills, Trusts and Estate matters

• All issues facing you

and your business;

• Employment Law

matters;

• Traffic matters;

• Advice regarding

Retirement Villages

• General Legal Advice on all matters

Call John, Brendan or Andrew today

03 366 8996

Email. lawyers@mclegal.co.nz

Airport Business Park

92 Russley Road, Christchurch 8042

We design your jewelery unique

to your style and personality.

We offer a resize and redesign service.

Affordable Lifestyle in Waitikiri

Set back on a spacious, established section and located moments away

from all the lifestyle and recreation that Waitikiri offers, this very sunny

three-bedroom home delivers more than just a space to call home.

This home has just been given a make over by the current owners including

a new kitchen, carpet, drapes and a complete repaint throughout the home.

You can simply move in and enjoy this home.

Contact Jonathan Rea

M 027 848 9955 T (03) 928 1860 E jonathan.rea@raywhite.com

Full Circle

Real Estate Ltd

Licensed (REAA 2008)

Merivale Mall | ChristChurCh

Phone 356 2377
---
14 Tuesday December 19 2017

Latest Christchurch news at www.star.kiwi

NOR'WEST NEWS

Festive Season Survival Tips

Healthy snacks are always popular

Christmas is a time for celebration,

spending time with friends and

family and enjoying festive foods

and drinks. Nutrition-wise, this

festive fare can be a challenge.

Here are some simple tips to help you

survive the festivities:

• Don't try to lose weight over the festive

season. With parties, families and all the

special foods that go with Christmas, it's

going to be just about impossible! Your

main aim should be to maintain your weight

(using some of the tips below!)

• Eat regular meals. If you skip meals you

are more likely to fill up on high fat snacks.

It only takes a few of these snacks to add

up to more calories than your usual meal.

• Avoid going to a function hungry, you

can easily eat a lot of party food in a short

time. Have a small snack beforehand like a

bowl of cereal, yoghurt or a sandwich are

quick and will help fill you up. It will also

help if you are well hydrated, so try drinking

a few glasses of water before you arrive.

• Deep fried foods, crumbed and battered

foods, cheese platter and nuts are all high in

fat. Choose fruit, vegetable or bread based

snacks.

• If you are hosting the party, offer your

guests a range of healthy snacks. Always

popular are hummus or salsa dips with

vegetable sticks.

• If you are taking a plate, make yours a

healthy option. How about a platter of fruit

currently in season?

• Listen to your body and stop eating

when you feel full.

• Just say 'No" to food – mentally

Be aware of how much you are actually drinking

practice strategies to decline food offers. For

example: "It looks amazing but I am full" or

"I tried it and it was great".

• Chat and mingle. If you are bored at a

party you're more likely to hover around the

food table or seek out the serving platter. A

good conversation can distract you from the

food. Avoid standing right beside the food

table or bar while you're talking.

• Consider your drinks, they can add to

the calorie count very quickly. Try diluting

your alcoholic drinks, such as a spritzer

(½ wine, ½ soda). If you prefer spirits,

try a diet mixer. Lite beers are lower in

calories and alcohol. Remember soft drinks,

juices, punches, tonic water and flavoured

mineral water can all have similar calories

to alcoholic drinks.

•Be aware of how much you are actually

drinking. Alternate alcoholic drinks with

glasses of water and non-alcoholic choices.

• Keep active. Join in the Christmas

backyard cricket game or go for a walk

with friends or relatives. Remember you're

aiming for 30 minutes of physical activity

each day.

• If your regular exercise class stops over

the Christmas break, plan other types of

exercise - organise your friends and put a

date in your diary.

If you do really overdo the festive foods

or drinks, take a deep breath and start the

next day afresh with healthy foods and some

exercise. No fasting - just sensible eating.

Remember, a few parties don't make you

overweight, it's what you do all the other

days of the year which count.

True

Who thought

DENTURES

and false!

could look this

natural?

• Full dentures • Metal partial dentures

• First-time immediate dentures • Implant supported dentures

STUNNING: A beautiful new denture for

a young female patient

These stunning lovebite full upper and

lower dentures have been expertly crafted by

internationally-recognised dental technician

Richard Greenlees at his Christchurch studio.

The combination of Richard's skill, experience

(including 15 years in London's prestigious

Harley Street) knowledge and revolutionary

techniques allow him to create beautiful

bespoke false teeth that truly resemble those

in nature and reflect each patient's individuality

and unique character.

Shop online

with the in

store special

prices!

Discount code:

Goat

themohairstore

140 Colombo Street, Beckenham

Phone 03 943 1639

www.themohairstore.co.nz

HealtHy Heat

& eat meals

delivered to your door

Discover this

unique Emporium

AGING GRACEFULLY: Natural teeth for

a gentleman patient in his 80's

402 Montreal Street

Christchurch | P. 379 1222

By appointment only.

Consultation fee applies.

Convenient, Healthy,

Fresh Meals.

HOLLYWOOD: It's all white for this

female patient in her 60's

lovebite.com

Simple to Store,

Heat and Eat.

Pick Up or

Delivered Weekly.

Metal art - gifts - hoMewares

water features - pottery

Mirrors - candles

wall hangings & More

Richard will personally guide you through the entire process to create

teeth with small nuances in the fabrication, colour and shape. Your beautiful new

lovebite dentures will boost your confidence and make you look and feel year's younger!

www.eatl8r.co.nz

9 Raycroft St, Opawa

P. 03 420 0722

orders@eatl8r.co.nz

722 Marshland Road, Top end Styx

Open 7 Days

Ph: 03 323 9781

www.hitchingpost.co.nz
---
NOR'WEST NEWS Latest Christchurch news at www.star.kiwi

Tuesday December 19 2017 15

GREAT food

BROUGHT TO YOU BY...

Your fresh food people

PINEAPPLE, GINGER AND

COCONUT CRUMBLE

Ingredients

Filling

1 pineapple

2 Tbsp butter

1 tsp vanilla essence

2 pieces star anise

4 pieces crystallised ginger, finely

chopped

3/4 cup coconut milk

Coconut crumble

100g butter

160g flour

½ tsp ground ginger

50g sugar

80g shredded coconut

1 lime, zested

Directions

Heat oven to 180 deg C. Peel

pineapple, cut into quarters,

remove core then slice into small

even pieces.

Melt butter in a large frying

pan, add pineapple, vanilla and

star anise.

Cook on a high heat until

pineapple begins to caramelise.

Add ginger and coconut milk,

allow to simmer gently for

10min.

Dice butter then rub in flour

and ginger using fingertips until

it resembles breadcrumbs.

Stir through sugar, coconut

and lime zest.

Spoon pineapple into a

baking dish, sprinkle over

coconut crumble mix and

bake for 20-30min until

crumble topping is golden and

fragrant.

MOROCCAN GRATED

CARROT AND BEET SALAD

Ingredients

2 cups of grated carrots (from

about three carrots)

1 cup of grated fresh beets (from

about one medium sized peeled

beet)

1/2 cup golden raisins

1/2 teaspoon paprika (sweet, not

hot)

1/4 teaspoon ground cumin

1/4 teaspoon cinnamon

Small pinch of salt

Small pinch of cayenne

2 Tbsp lemon juice

2 teaspoons honey

2 Tbsp sliced fresh mint leaves

Directions

Place the grated carrots in a

medium sized serving bowl.

Place the grated beets into a

sieve and briefly rinse with cold

water. This will rinse away a

little of the excess beet juice that

may otherwise colour the whole

salad beet red.

Pat dry with a paper towel.

Then add to the bowl with the

carrots. Add the raisins. Stir to

gently combine.

In a small bowl, whisk

together the paprika, cumin,

cinnamon, salt, and cayenne.

Then add the lemon juice and

honey and whisk until smooth.

Drizzle over the carrots and

beets, then gently fold

until the carrots and

beets are lightly coated.

Let sit for an hour

before serving, either

chilled or at room

temperature, for the

dressing to seep

into the carrots and

beets.

Right before serving,

stir in a couple

tablespoons of sliced

fresh mint leaves.

Garnish with fresh

mint.

JERSEY BENNEs 1kg ................................ 3 .99

box

BUNCHED CARROTS & BEETROOT ..... 2 .99

Large Pineapples ............................ 2 .99

EACH

Iceberg Lettuce ................................ 1 .49

EACH

NEW SEASON

Delicious Cherries, Berries &

Stonefruit Now in Store!

bunch

Free Farmed NZ Ham On The Bone ... 12 .99

kg

Frozen Whole Chicken (large) ........ 8 .99

EACH

Whole Lamb Leg Roasts .................. 10 .99

KG

Beef Ribeye Whole

and Halves ........................................... 27 .99

KG

At

we have...

local FRESH produce

everyday

in season nOW

SUMMER

Apricots, Nectarines, Plu ms,

Cherries, Strawberries, Raspberries,

Blackberries a nd more!

All our fresh meat is 100% NZ FARMED.

specials VAlid 18th december - 24th december 2017. ONLY AVAILABLE AT

RAEWARD FRESH HAREWOOD RD, TOWER JUNCTION & MARSHLAND RD

harewood rd Mon 18th-Thu 21st 7am-6:30pm,

Fri 22nd & Sat 23rd 6am-7pm & Sun 24th 6am-6pm

Tower junction Mon 18th-Fri 22nd 8am-7pm Saturday 23rd 6am-8pm

& Sun 24th 6am-6pm

WWW.

.CO.NZ
---
16 Tuesday December 19 2017

Latest Christchurch news at www.star.kiwi

NOR'WEST NEWS

A Star Media Event

Star Media

Sunday 18 March 2018

#areyouupforit? 14km, 6km Community Fun Run Event

Entries NOW OPEN

$20 Early bird tickets available from www.city2surf.co.nz
---
NOR'WEST NEWS Latest Christchurch news at www.star.kiwi

Tuesday December 19 2017 17

REAL ESTATE

A Chic Urban Lifestyle

20 Beechwood Drive, Northwood

3 bedrooms | 2 bathrooms | 3 toilets | 1 living room | 2 car-garage | Property ID: PI49467

This gorgeous home offers chic

contemporary living and great value for

money in a setting that's hard to beat.

Built by Horncastle Homes and boasting

a Palazzo kitchen, it is tastefully decorated

and immaculately presented to create a

home you'll be proud to call your own.

A spectacular location, with a reserve

boundary to the north, ensures you

can never be built-out - and you're just

a few minutes' walk or a short drive to

supermarket, cafés and shops.

Inside, an elegant, open-plan living space

flows from the north-facing lounge - where

a gas fire lends ambience and French doors

open to a superb outdoor entertaining space

- to the dining area and kitchen beyond.

Cleverly placed glazing fills the kitchen

with natural light, making it an inviting

workspace. High-spec, with great extras

including induction cooktop and separate

combination oven, it is as functional as it is

beautiful. Upstairs, two double bedrooms,

including one with a balcony looking out

over the reserve, share a family bathroom,

while the master occupies the third floor,

enjoying wonderful space and light with its

own balcony, absorbing outlook, WIR and

en suite. A double internal-access garage

is a welcome feature, while the sunny

courtyard garden is beautifully manicured

and designed to offer effortless outdoor

living with the minimum of maintenance.

This property ticks all the boxes as an

inviting and easy-care home or investment

property. The owners have already

purchased another property so must

relinquish their much-loved home. This is

your chance. Contact the agent today to

view.

To arrange a private viewing, give me a

call today Deb Harvey of Harcourts Gold

Papanui (Licensed Agent REAA 2008) on

352 6166 or mobile 027 220 6565.

Classifieds Contact us today Phone our local team 03 379 1100

Trades & Services

DRIVEWAYS

Exposed Aggregate

Stamped Concrete Plain

Concrete Resurfacing

Things we offer...

Competitive/affordable pricing

Attention to detail

Professional service

free quotes/insurance scopes

Cell 0278 145 848

www.drivecrete.co.nz

real estate

"When experience counts"

Residential & Business Brokers

Free appraisals/no obligation

competitive commission rates

JOHN BENTLEY areinz

Ph. 352-2457/021 386 001

jbentley@actrix.co.nz

Bentley Realty MREINZ

Licensed agent REAA 2008

• 25+ years

experience

• Personal service

• $1000 donation to

your sports club/

team/charity etc

(special conditions

apply)

ROOF RESTORATIONS

• Roof Restoration

• Painting/Decorating

• Moss Treatments

• Gutter Cleaning

• Leaks

Paul Jefferies - 021 235 9552

allaspectsroofpaint@gmail.com

Trades & Services

junk

Why go to the Dump? Junkman comes to you!

Items too big for the rubbish bin?

Or too heavy for you to move?

Junkman comes to FROM

you & takes it away $

65 *

*Prices vary depending on items and volume – minimum charge $65

0800 586 5626

www.junkman.co.nz office@junkman.co.nz

Trades & Services

PAINTER

Michael Kelly Painters

Locally owned and

operated family

business.

25+ years Experience

• Painting • Wallpapering

• Interior • Exterior

Free Quotes

Phone

Michael 0212 649 492

michaelkellypainter@hotmail.co.nz

VIDEO PRODUCTION

business video

PRoduCTion

A video will bring your business alive & into your

customers mind.

Promote your services or business with a

professionally created video with us

• Corporate and Business

video a speciality

• Competitive rates

• 25 years experience

• Start to finished product

• Professional quality

guaranteed

PHone KeRRY 021 635 083
---
18

Latest Christchurch news at www.star.kiwi

Tuesday December 19 2017

NOR'WEST NEWS

Classifieds Contact us today Phone our local team 03 379 1100

Trades & Services

HOUSE

CLEARING

Are you

moving house

or trying to

downsize?

Call All Clear

Canterbury. We work

with you to recycle,

sell and dispose of

unwanted items.

Ph: 03 260 0934

or 021 078 4553

raewynlcooke@gmail.com

www.allclearcanterbury.co.nz

Trades & Services

PAINTER AvAIlAblE

All aspects in painting.

Very competitive in roofs

and fences. Please call 027

241-7471 or 335-0265

PlASTERER

Gib Stopping, Small

job specialty. 30 + years

experience. Ring 0800

387-369

PlUMbER

For prompt service for all

plumbing maintenance,

repairs and alterations.

Phone Michael 364 7080

or 027 438 3943

PlUMbER

ALL

YOUR

COMPUTER

WORRIES SOLVED!

*$30.00 off your first

service with this coupon!*

No problem too big or

small from home PC's to

business networks. PC

slow? An end to Viruses,

Spyware, and Clogged

Systems. Safe secure

hassle-free computing.

Lost files recovered.

Microsoft Certified,

MCSE, MCP+l. 30 years

experience. Call Andrew

Buxton this week on 326-

6740 or 027 435-7596

for $30.00 off* Custom

Computers Christchurch

Curtains

www.curtainfabric-outlet.com

Fashion Designs & Colours

Discontinued Designs

End of Lines Bargain Prices

Call at Our Shop

CURTAIN FABRIC OUTLET

71 Hawdon St Sydenham

Ph 366-5026

Gardening

& Supplies

A GARDEN OR

LANDSCAPING TIDY

UP? Shrub, hedge &

tree pruning, Lawns,

ALF THORPE

PLUMBING Certifying

Plumber for all types of Gardening, consistently

ROOF plumbing, maintenance, reliable general property

spouting, alterations etc. upkeep, Dip. Hort. 10

PAINTING

Phone 352-7402 or 0274- yrs experience, One off

Rope & harness 350-231

tidy ups or on-going

a speciality, SHOE REPAIRS

service. Nick's Property

Maintenance. Keeping

no scaffolding Belfast engraving.Shoe

your garden beautiful.

repairs,key cutting &

required,

Free Quote. Ph. 942-4440

engraving.(10 yrs exp)683

30 years of

Main North Rd

Holiday

breathtaking ph 027 3113423

Accommodation

experience. STONEMASON, bRICK

FREE QUOTES & blOCKlAYER,

Earthquake Repairs, Grind

Exterior staining,

Out & Repoint, River/

exterior painting,

Oamaru stone, Schist,

moss and mould Volcanic Rock, Paving,

treatment and all Alterations new & old,

waterblasting Quality Workmanship,

QUEENSLAND SUNvisit

www.featureworks.

Phone Kevin

SHINE COAST AUSTRAco.nz

or ph 027 601-3145

LIA Resort, Ocean Views,

027 561 4629 T.v. SERvICE CENTRE

Balconies, Self Contained,

1 or 2 B/R Ensuite,

Repairs, tvs, microwaves,

Trades & Services stereos, DVD. Aerial

Heated Pool, Spa, Sauna,

installations and kitsets,

AAA HANDYMAN

Free Internet, Shops,

480 Moorhouse Ave, ph 03

licensed carpenter

Restaurants, Tennis, Surf

379 1400

LBP, all property and

Club & Patrolled Beach,

vHS vIDEO TAPES

building maintenance,

Public Transport at door.

& all camera tapes

repairs, bathroom/shower

Ask for our SEASONAL

converted to DVD, video

installations, with free

SPECIALS. Phone 61 7

taping special occasions,

544-35011 Email: reception@mandolin.com.au

quotes 03 383 1927 or 027 www.grahamsvideo.co.nz

245 5226 ciey@xtra.co.nz ph 03 338-1655

www.mandolin.com.au

bRICKlAYER

WINDOW ClEANING

George Lockyer. Over Average 3 bdrm house Personals

35 years bricklaying inside or out $40. Both

experience. UK trained. $70. Phone Trevor 344- CHARMING

Licensed Building 2170

GENTLEMAN.

Practitioner number

Is looking to find an asian

Wanted To Buy

BP105608. Insurance

lady to enjoy each others

work. EQC repairs. AAA Buying goods company and be a close

Heritage brickwork and quality furniture, lady friend

stonework a speciality. No Beds, Stoves, Washing email with pic to

job too small. Governors machines, Fridge Freezers. tossthecoin68@gmail.com

Bay. Home 329-9344, Same day service. Selwyn SINGLE GUY. seeks

Cell 027 684 4046, email Dealers. Phone 980 5812 a single lady as a 24/7

georgelockyer@xtra.co.nz

or 027 313 8156

activities companion. ph

TOOLS Garden, 3583634

bUIlDER

garage, woodworking,

For all building work

mechanical, engineering, To Let

but specialist in bathroom

sawbenches, lathes, cash

renovations, 30 yrs

HOMESITTERS

buyer, ph 355-2045

experience, with service

reqd Xmas 2-3 wks.

and integrity. Free Quotes. Camping Lovely homes / pets. Ph

Ph Lachlan 383-1723 or Equipment Lisa 359-2323 www.

0274 367-067.

TENT

townandcountryhomesit.

bUIlDER lICENSED Colman Chalet 9. Three co.nz

available for all aspects of rooms, good cond, used 4

building. Please call 027 times. $500 firm. Ph Jonny HOMESITTERS

241-7471 or 335-0265 027 4406 349 or 354 0128 reqd Xmas 2-3 wks.

**************** evenings.

Lovely homes / pets. Ph

CARPET & vINYl

Lisa 359-2323 www.

Computers

lAYING

townandcountryhomesit.

co.nz

Repairs, uplifting,

relaying, restretching,

E mail jflattery@xtra.

Entertainment

co.nz

ph 0800 003 181

or 027 2407416

PAINTER

Quality work, I stand by

Canterbury Ph Wayne

03 385-4348 or 027 274

3541

PAINTING

DECORATING

Wingfields Contracting,

all interior & exterior

painting & all forms of

interior plastering & jib

fixing, ph Mark 021 171-

1586 or 355-5994

Christmas

Church

Services

Christmas at

St Christopher's

We welcome you to join us and

celebrate Jesus, God's king has come.

Sunday 24 December

9:30am Combined Communion service

6:30pm Kids' Christmas Eve service

11:00pm Midnight Christmas service

Monday Christmas Day

9:30am Family Christmas service

244 Avonhead Rd. Phone 358-8780

www.stchristophers.org.nz

Christmas at the

Transitional Cathedral

THURSDAY 21 DECEMBER

3.00pm Children's Christmas Service

with Animals

FRIDAY 22 DECEMBER

12.05pm Holy Eucharist

SUNDAY 24 DECEMBER

~ Christmas Eve

8.00am Holy Eucharist

10.00am Choral Eucharist

Preacher: Bishop Victoria Matthews

Music: The Cathedral Choir

6.00pm Carol Recital by the Cathedral Choir

10.30pm Carol Singing

11.15pm The First Eucharist of

Christmas

Preacher: Dean Lawrence Kimberley

Music: The Cathedral Choir

MONDAY 25 DECEMBER ~ Christmas

8.00am Holy Eucharist & Carols

10.00am Choral Eucharist

Preacher: Revd Ben Randall

Music: The Cathedral Choir

5.00pm Choral Evensong

Music: The men of the Cathedral Choir

234 Hereford St

Latimer Square

ChristChurch

Cathedral

Transitional

Anglican

St Aidan's Anglican Church

cnr Brookside Tce & Aorangi Rd.

Christmas Eve 11pm - Communion Service

"Let there be peace on Earth"

Christmas Day 9am - Family Communion Service

Please join us at one of our services this Christmas.

Phone 351 8075

Methodist

Christchurch

North

Methodist

Parish

Cnr Harewood

Rd & Chapel St

Wednesday 20th

December, 7pm

– Blue Christmas

Service

Christmas Eve:

5.30pm – All Age

Worship service

11.30pm –

Candlelight service

Christmas Day:

9.30am – Service of

Celebration

Wishing

you all a

very

Happy Christmas
---
NOR'WEST NEWS Latest Christchurch news at www.star.kiwi

Tuesday December 19 2017 19

What's On

Entertainment

Christchurch's only

SEASIDE CLUB

TUESDAYS & THURSDAYS

MEMBERS LUCKY CARD DRAW

NEW YEARS EVE

FUNCTION ROOMS | GAMING ROOM

SHUTTLE SERVICE Tues, Thurs, Fri, Sat

To advertise, contact

Jo Fuller 027 458 8590

jo.fuller@starmedia.kiwi

DINE BY THE SEA!

UPSTAIRS

Pierview A la Carte Restaurant.

The restaurant is open from 5.30pm

Friday, Saturday and Sunday, and for

Sunday Brunch from 10.30am to 2pm.

SUNDAY NIGHT BUFFET

LAST SUNDAY OF THE MONTH

NEXT BUFFET : BOOK NOW!

NEW YEAR'S EVE

Sunday 31st Dec, from 5.30pm

DOWNSTAIRS : CLUB BISTRO

Open Tuesday to Saturday

from 12pm - 2pm & from 5pm.

New Brighton Club

202 Marine Pde | Ph 388-9416

www.newbrightonclub.co.nz

Members, guests and affiliates welcome

Get all 'Christmasy' with us!

PRE-CHRISTMAS FUNCTIONS,

PARTIES, WORK BREAK UPS,

CHECK THIS OUT!

TWO COURSE THREE COURSE

FESTIVE MENU FESTIVE MENU

ONLY

$

30

EACH

ONLY

$

45

EACH

AVAILABLE LUNCH & DINNER DAILY

UNTIL 24/12/16 FOR PARTIES OF 10 OR MORE

SORRY, WE ARE CLOSED CHRISTMAS DAY

'TIS THE

SEASON

TO BE

JOLLY

CHRISTMAS

IN THE

BUFFET

RESTAURANT

The

RESTAURANT & CAFÉ

0pen daily from 6.30am

Breakfast, Lunch & Dinner

RACECOURSE HOTEL

& Motorlodge

118 Racecourse Rd, Sockburn,

Christchurch. Ph 03 342 7150

www.racecoursehotel.co.nz

Members Weekly

Cash Draws

Thursdays

$200 Jackpotting

Cash Draw

Drawn Member must be present

to claim the cash.

If not claimed the $200 jackpots

to the following week until won.

Folding Fridays

Four chances to win $50

$2 per ticket to enter

H ORNBY

WORKINGMEN'S

CLUB

LET US

ENTERTAIN YOU!

WESTVIEW LOUNGE

THIS SATURDAY, 8PM:

MAIDEN ENGLAND

We wish

everyone

a very

happy & safe

festive season

from the

Club CAFE

Christmas Cheers

Meal Deal

Members that purchase any main

meal at the Riverview Restaurant

can receive a complimentary

glass of tap beer, cider or

house wine. Free soft drink or

coffee for designated driver.

Lucky Dip Christmas

Gift Draws

$1000 of prizes to be won!

Purchase any house wine or tap beer/

cider & go in the draw to win a lucky dip

present. Drawn at 10am following day.

Member will be contacted.

50 Colombo St, Cashmere | Ph: 03 332 0092, Fax: 03 337 3772 | www.cashmereclub.co.nz

Chalmers

Restaurant

FREE DESSERT

FRIDAY & SATURDAY

EXTENSIVE CARVERY FROM 5.30PM PRICED AT

ONLY $22.50 PER PERSON AND DESSERT'S ON US!

PLEASE NOTE:

CHALMERS CLOSES FOR HOLIDAYS

SAT 23 DEC, REOPENING THURS 11 JAN

NEW SUMMER MENU

TAKE A LOOK! HERE'S SOME OF OUR TASTY NEW DISHES

Ceasar Salad Thai Beef Salad

Club CAFE

GF & V options available

LUNCH & DINNER DAILY

The Hornby Club | ph 03 349 9026 | 17 Carmen Rd | Hornby

www.hornbywmc.co.nz | Members, guests & affiliates welcome

Steak Sandwich

The Buffet Restaurant

will be closed from

Tuesday 26th Dec 2017,

reopening on

Thursday 4th Jan 2018.

We wish everyone a

very happy Christmas

and look forward to

seeing you all in the

New Year.

Lunch & Dinner

All you can eat, 7 days

Bookings Essential

PH 386 0088

fb.com/GardenHotelRestaurant

www.gardenhotel.co.nz

SERVING

HAPPY HOUR

5PM - 7PM DAILY

OUR CABINET ITEMS

ARE HOMEMADE

CREATED FRESH ON SITE DAILY

$12

LUNCH

SPECIALS

COFFEE

HAPPY

H O U R

2PM-4PM

DAILY

$3.50

Offer available for a limited time

and includes tea, hot chocolate

MON: ROAST MEAL

TUE: FISH & CHIPS

WED: FISH BURGER

THU: ROAST MEAL

SAT: FISH & CHIPS

AVAILABLE

FROM

11.30AM-2PM

FOR A

LIMITED TIME

GBC will be closed from 25th to 28th Dec 2017,

and 1st to 3rd Jan 2018. We will resume normal

business hours from Thursday 4th Jan 2018.

PHONE 385 8880 FIND US ON FACEBOOK fb.com/GBCCHCH

THE GARDEN HOTEL COMPLEX | 110 MARSHLAND RD

www.gardenhotel.co.nz | phone 385 3132
---
20 Tuesday December 19 2017

Latest Christchurch news at www.star.kiwi

NOR'WEST NEWS

Now Open

Introducing our brand new

purpose built retirement village

in the heart of Shirley.

Retirement just started looking a whole lot

better in Shirley! The Village Palms offers

affordable luxury and first class care.

• One bedroom serviced apartments

starting at $285,000

• Two serviced studio apartments for sale

at $255,000

• Studio care rooms certified up to hospital

level care $155,000

Call us on

022 321 1872

or Freephone

0800 THE VILLAGE

for your own

personal

guided tour

At The Village Palms, we also offer the full continuum

of care, with care suites, Rest Home & Hospital level rooms

available with care delivered 24 hours a day by Registered

Nurses and experienced staff.

The Village Palms - 31 Shirley Road, Shirley Where new memories are made