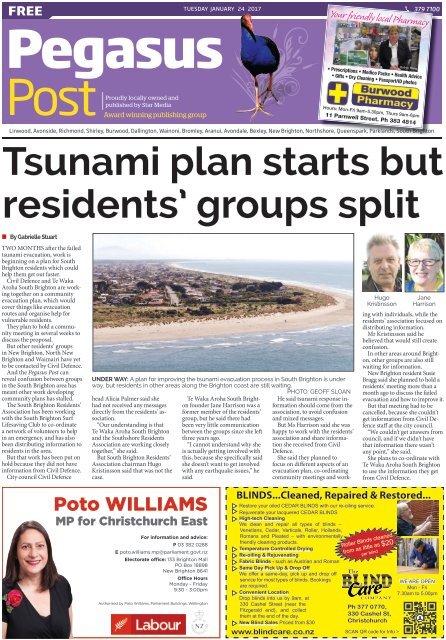 Pegasus Post: January 24, 2017
Do you know the secret to free website traffic?
Use this trick to increase the number of new potential customers.
FREE

TUESDAY JANUARY 24 2017

Pegasus

"We have lost a lot of good friends

but we still have a close community"

Your friendly local Pharmacy

Robyn Thew

379 7100

Post

Proudly locally owned and

published by Star Media

Award winning publishing group

• Prescriptions • Medico Packs • Health Advice

• Gifts • Dry Cleaning • Passport/ID photos

HEALTH ADVICE MEDICINES

Hours: Mon-Fri 9am-5.30pm, Thurs 9am-6pm

11 Parnwell Street. Ph 383 4814

PRESCRIPTIONS

FREE LOCAL DELIVERY

BURWOOD / AVONDALE

Linwood, Avonside, Richmond, Shirley, Burwood, Dallington, Wainoni, Bromley, Aranui, Avondale, Bexley, New Brighton, Northshore, Queenspark, Parklands, South Brighton

PASSPORT/ID

PHOTOS

Tsunami plan starts but

residents' groups split

DRY CLEANING

SERVICES

COSMETICS

QUIT SMOKING

GREAT RANGE

OF GIFTS

• By Gabrielle Stuart

TWO MONTHS after the failed

tsunami evacuation, work is

beginning on a plan for South

Brighton residents which could

help them get out faster.

Civil Defence and Te Waka

Aroha South Brighton are working

together on a community

evacuation plan, which would

cover things like evacuation

routes and organise help for

vulnerable residents.

They plan to hold a community

meeting in several weeks to

discuss the proposal.

But other residents' groups

in New Brighton, North New

Brighton and Waimairi have yet

to be contacted by Civil Defence.

And the Pegasus Post can

reveal confusion between groups

in the South Brighton area has

meant other work developing

community plans has stalled.

The South Brighton Residents'

Association has been working

with the South Brighton Surf

Lifesaving Club to co-ordinate

a network of volunteers to help

in an emergency, and has also

been distributing information to

residents in the area.

But that work has been put on

hold because they did not have

information from Civil Defence.

City council Civil Defence

UNDER WAY: A plan for improving the tsunami evacuation process in South Brighton is under

way, but residents in other areas along the Brighton coast are still waiting.

head Alicia Palmer said she

had not received any messages

directly from the residents' association.

"Our understanding is that

Te Waka Aroha South Brighton

and the Southshore Residents

Association are working closely

together," she said.

But South Brighton Residents'

Association chairman Hugo

Kristinsson said that was not the

case.

Te Waka Aroha South Brighton

founder Jane Harrison was a

former member of the residents'

group, but he said there had

been very little communication

between the groups since she left

three years ago.

"I cannot understand why she

is actually getting involved with

this, because she specifically said

she doesn't want to get involved

with any earthquake issues," he

said.

Hugo

Kristinsson

Jane

Harrison

PHOTO: GEOFF SLOAN

He said tsunami response information

should come from the

association, to avoid confusion

and mixed messages.

But Ms Harrison said she was

happy to work with the residents'

association and share information

she received from Civil

Defence.

She said they planned to

focus on different aspects of an

evacuation plan, co-ordinating

community meetings and working

with individuals, while the

residents' association focused on

distributing information.

Mr Kristinsson said he

believed that would still create

confusion.

In other areas around Brighton,

other groups are also still

waiting for information.

New Brighton resident Susie

Bragg said she planned to hold a

residents' meeting more than a

month ago to discuss the failed

evacuation and how to improve it.

But that meeting had to be

cancelled, because she couldn't

get information from Civil Defence

staff at the city council.

"We couldn't get answers from

council, and if we didn't have

that information there wasn't

any point," she said.

She plans to co-ordinate with

Te Waka Aroha South Brighton

to use the information they get

from Civil Defence.

Poto WILLIAMS

MP for Christchurch East

For information and advice:

P 03 382 0288

E poto.williams.mp@parliament.govt.nz

Electorate office: 133 Brighton Mall

PO Box 18898

New Brighton 8641

Office Hours

Monday - Friday

9:30 - 3:00pm

Authorised by Poto Williams, Parliament Buildings, Wellington

BLINDS...Cleaned, Repaired & Restored...

Restore your oiled CEDAR BLINDS with our re-oiling service.

Rejuvenate your lacquered CEDAR BLINDS

High-tech Cleaning

We clean and repair all types of blinds –

Venetians, Cedar, Verticals, Roller, Hollands,

Romans and Pleated – with environmentally

friendly cleaning products.

Temperature Controlled Drying

Re-oiling & Rejuvenating

Fabric Blinds - such as Austrian and Roman

Same Day Pick Up & Drop Off

We offer a same-day, pick up and drop off

service for most types of blinds. Bookings

are required.

Convenient Location

Drop blinds into us by 9am, at

330 Cashel Street (near the

Fitzgerald end), and collect

them at the end of the day.

New Blind Sales Priced from $30

www.blindcare.co.nz

Roller Blinds cleaned

from as little as $20

per blind

Ph 377 0770,

330 Cashel St,

Christchurch

SCAN QR code for Info >

WE ARE OPEN

Mon - Fri

7.30am to 5.00pm
---
2

Tuesday January 24 2017

Inside

PEGASUS POST

FROM

THE

EDITOR'S

DESK News............................3, 5 & 9

MORE DRAMA on the tsunami

front.

Weeks after the Pegasus Post and

The Star highlighted the lack of a

plan by Civil Defence to get people

to safety in the event of a close

off-shore earthquake, there's more

trouble at t'mill.

Civil Defence is now talking to

South Brighton residents about

a plan, but as our page 1 article

highlights there's discord between

the different residents' groups in

the area. To be fair that's not Civil

Defence's fault; some of the groups

don't appear to be on talking terms

with each other.

So, guys call a meeting to get

everyone together, and get on with

it.

And Civil Defence: Don't forget

about the people north of South

Brighton. When one of those giant

faults in Pegasus Bay breaks,

they'll need to get away too.

– Barry Clarke

Enjoying the great outdoors

during the school holidays

HOLIDAY FUN 10

Your Local Views..........4

Our People......................6, 7

Holiday Fun...................10

City2Surf.................................14

Community Events...15

Focus on Health.............18

Health & Beauty.........19

Real Estate..........................20

GET IN TOUCH

General Enquiries Ph 379-7100

Classified Advertising Ph 379-1100

The Christchurch Star Company Ltd. PO box 1467 - Christchurch

starmedia.kiwi

NEWS

Caitlin Miles

Ph: 364 7442

caitlin.miles@starmedia.kiwi

ADVERTISING

Mark Sinclair

Ph: 364 7461

mark.sinclair@starmedia.kiwi

Dyers Road Landscape

& Garden Supplies

• Barks • Peastraw • Composts - we supply the best available

• Aggregates - Chip, Round and Basecourse

• Pavers & Schist products • Pungas

• Decorative Stones & Landscaping Rocks

• Trailer Hire first hour free with purchase

• Bag & Bulk - pick up or delivered

David, Carol & Mike

We will deliver!

SOIL

AND

HARDFILL

DUMPING

Phone: 03 384 6540

183 Dyers Rd, Bromley • OPEN 7 DAYS

Weekdays 7.30am-5pm. Weekends 8.30am-3pm

www.dyersroadandlandscapes.co.nz

DON'T MISS OUT! LIMITeD OffeR!

HOT PRICE Hot Hot Deal

on 8KW on FLOOR 8KW CONSOLE Heat Pum

$3,399

Heat Pump for Just

installed

Six Year

Warranty

"Model FUJitsU aBtG24lVt (Conditions apply) Six Year

$2,999 Warranty

Fujitsu ASTG24L 8 KW

Fully Installed*

Call for a FREE no obligation assessment and quotation

PH 377 0034 OR 0800 800 734

PH 377 0034 OR 0800 800 734

Installed back to back, up to 3

run and electrIcal supply wIthI

www.dimockheatp

Email: sales@dim

6/105 Coleridge St, Syden

www.dimockheatpumps.co.nz

Email: sales@dimocks.net.nz

* Installation is back to back with up 5 meter pipe run

6/105 Coleridge St, Sydenham, run up to three Christchurch

meters, in home assessment recomme

* Conditions apply. Normal lending criteria, booking fee and annual account fee applies. Limited stock.
---
PEGASUS POST Tuesday January 24 2017 3

News

Plan to beat arsonists, vandals

• By Andrew King

FIRE SERVICE and education

bosses are working together to

prevent vacant schools from

being the target of arsonists.

The campaign is aimed at

removing things such as rubbish

bins, outside furniture and other

combustibles from school sites

that opportunist arsonists use to

set fires.

There are 25 schools citywide,

that have either been earmarked

for disposal, further education

purposes or community use

as part of the $1.137 billion

Christchurch Schools Rebuild

Programme.

Fire Service's

Bruce Irvine

(left) said they

are working with

the Ministry of

Education over a

prevention plan.

"We have been looking around

the schools for things like

rubbish bins not being stored

away correctly, outside furniture

not pushed against buildings,

that sort of thing to try limit the

amount of opportunity," he

said.

Ministry of Education head of

education infrastructure service

Kim Shannon said all schools

are vulnerable over summer

TARGETS: Wainoni School (above) and Aranui High now have extra security after both were

vandalised recently.

because they are generally

unoccupied.

"It's an unfortunate fact

that all schools are potential

targets for arson and vandalism,

particularly during the summer

months when the buildings

aren't in use," she said.

Aranui High and Wainoni

schools now have extra security

after both were vandalised

recently.

Aranui High was hit just

a week after it closed down

for good last month. A

number of windows were

smashed, buildings tagged and

construction equipment on-site

was vandalised and tagged.

Wainoni was hit by vandals

this month. It also had a number

of windows smashed, some of

which have since been boarded

over.

Mr Irvine said the unoccupied

schools were "pretty high risk"

when it came to fires.

He said Aranui High School

was lucky to not have a fire

during the recent attack.

Funding can be allocated to

schools to repair buildings that

have been deliberately set on fire,

provided the damage is under

$2500.

The MoE has a funding

programme, backed by private

sector insurance, to pay for

repairs to school buildings

damaged in a fire or natural

disaster.

Buildings will be covered for

loss or damage costing more

than $2500 to repair and that

meets the criteria.

In Brief

SHED FIRE

A car and shed were severely

damaged by fire, in Linwood, on

Monday morning. Two crews

from the Central Fire Station

were called to Woodham Rd at

about 2am to battle the blaze

described as well involved when

they arrived. It was extinguished

within 30min. A Fire Service

spokesman said it was not

deemed suspicious.

MEETINGS RESUME

Community boards in the east

will resume normal meetings

next week. The first meeting of

the Linwood-Central-Heathcote

Community Board will be

held on Monday at 10am in the

Linwood boardroom, 180 Smith

St. The first meeting of the

Coastal-Burwood Community

Board will be held on February

10 at 1pm in the boardroom, cnr

Beresford and Union St, New

Brighton.

WASTEWATER REPAIRS

Bower Ave will have a traffic

light system in place for the next

three weeks while repairs are

carried out to the wastewater

system. Repairs of six wastewater

laterals will take up to three

days each to carry out. The work

will take place outside properties

numbered 28, 30, 32A, 38, 64

and 150 Bower Ave.

BOUTIQUE BOARDROOM

for intimate & corporate functions

Family Gatherings - Celebrations

Management & Training Retreats

at unbelievably good rates

Catering as required

1 & 2 Bedroom Apartments - Spa

E: info@clearridge.co.nz | W: www.clearridge.co.nz

T: +64 (3) 3155144 | Reservations NZ: 0800 555 596.

A: 28, Jacks Pass Road | Hanmer Springs 7334 | NZ.

1834590

DISCOUNTS ON ALREADY

DISCOUNTED TYRES!

eND OF LINe • LIMITeD STOCK

175 / 65 / 14 - $65

195 / 60 / 15 - $70

215 / 45 / 17 - $80

215 / 60 / 16 - $80

PRICE INCLUDES FITTING & GST

Complete

Tyre and

Auto

Canterbury owned and operated

464 Ferry Rd, 03 389 5370

ctawoolston@yahoo.co.nz

8am-7pm Tues-Wed

8am - 5pm Mon Thurs Fri | 9am-3pm Sat

New & Used Tyres • Puncture Repairs

Batteries • WOF • Balancing

Mechanical Repairs • Lube & Servicing

Wheel Alignment

Introducing Ray White

Citywide Property Management

We've been entrusted to look after over $99 million of property throughout Christchurch.

You can trust us to look after yours too. Call today.

Drop 'em

for free,

responsibly

Take your dangerous

and hazardous

household items to

an EcoDrop.

Some things

can't WHEELIE

be binned.

Property Manager of

the Year NZ 2015/16

Ray Hastie

Manager

027 448 8225

Paula Hastie -

Assistant Property

Manager

Local Experts – Citywide Knowledge

Nicola Flanagan

Property Manager

021 914 332

Rebekah Whalley

Accounts Administrator

03 331 6755

Abbey Nolan

Property Manager

027 379 5021

RED

GREEN

YELLOW

DROP

For more information, phone: 941 8999

or visit www.loveyourrubbish.co.nz

Phone (03) 331 6755

www.propertymanagementchristchurch.com

Prier Manson Real Estate Ltd Licensed (REAA 2008)
---
4

Tuesday January 24 2017

Your Local Views

PEGASUS POST

Maintaining trust and confidence

This week's

opinion piece

is written by

Canterbury

district police

commander

Superintendent John Price

about modern day policing

I am extremely proud of the

police team who serve the people

and make a difference to the

community every minute of

every day as our team keep the

peace and ensure the public will

be safe and feel safe.

In New Zealand our police

have the implicit consent of the

community.

In order to do this we must be

seen as policing with integrity

and with accountability.

Essentially we must have the

trust and confidence of the community.

Policing by consent follows the

principles, ideas and ideals of Sir

Robert Peel which define an ethical

police organisation.

These 'Peelian Principles' are

as relevant today as they were in

1829 when they were established.

Police, at all times, should

maintain a relationship with the

public that gives reality to the

historic tradition that the police

are the public, and the public are

the police.

We maintain the highest level

of 'full trust and confidence' of

any policing organisation in the

world, at about 80 per cent.

By comparison, some policing

jurisdictions have trust and confidence

levels lower that 10 per

cent, demonstrating that those

organisations are not widely seen

as ethical and trustworthy.

If you have travelled overseas

you will have seen examples of

policing organisations whose approach

is to police with fear and

only force.

We place enormous importance

on maintaining and fostering

the trust and confidence of

our communities and we work

hard to ensure we maintain our

core values and hold each other

to account.

Having been a member for 30

years I think the community is

justified in having trust and confidence

in this organisation.

In Canterbury we want to

ensure that people can be safe

and feel safe and I'm sure that is a

sentiment you will share.

Our focus is on reducing harm

caused to families, whether that

be through violence in the home,

death and injury on the roads,

drug use or dishonesty offending.

We also want to empower

communities to work together,

support each other and to speak

up when something isn't right.

We work very closely with

a range of agencies and community

groups to ensure people

receive the support they need and

deserve.

Over the past year we have

targeted those bringing illegal

drugs and firearms into our

communities and as a result have

seized 140 illegal firearms.

Each one of those is potentially

a life saved.

We have also prevented significant

amounts of illegal drugs in

getting to our streets.

We are very lucky in that we

receive a lot of positive feedback

from members of the community

for the work we do.

To those people who have taken

the time to contact us I would

like you to know that your words

of support mean a lot to myself

and my team who come to work

every day to make a difference in

the lives of everyone so that we

can be the safest country.

start

NO JOINING FEE

JOIN NOW

wherewe.co.nz

Pools, Fitness Centres,

Classes and more

Recreation &

Sport Centres

thepioneer.co.nz

7 DAYS OF RACING

549KM OF RIDING

15,824M OF CLIMBING

5 – 11 FEBRUARY 2017
---
PEGASUS POST Tuesday January 24 2017 5

News

Youth group gets pool open

• By Caitlin Miles

COURTNEY Stothers

is spending her summer

pool-side – working as a

volunteer lifeguard at Linwood

Community Pool.

The Parklands 17-year-old

heard Youthtown was looking

for young people to become

volunteer lifeguards to help out

at the pool.

"I just thought it was a great

way to be in the community and

the kids and families are really

great," Courtney said.

It's the second year Youthtown

is operating the community

pool, located at Linwood

Avenue School.

This year it has decided to encourage

nine local teenagers to

become volunteer lifeguards to

help keep an eye on the children

using the pool.

The city council helped cover

the costs of training the nine

teenagers. Youthtown southern

area manager, Amanda Murray,

said it wanted to help give local

kids some useful skills.

"We think it's really good to

get the local teenagers involved

and this way they can then work

at other council run pools with

the training and skills they've

learnt," Ms Murray said.

To help with costs of running

VOLUNTEER: Courtney Stothers of Parklands spends many of her summer days as a volunteer

lifeguard at the Linwood Community Pool.

PHOTO: GEOFF SLOAN

the pool the Linwood-Central-

Heathcote Community Board

granted $6500 to the organisation

to help cover lifeguard

wages and running costs.

"We're training eight

teenagers to help out. It gives

the local kids a chance to

learn some new skills too," Ms

Murray said.

Users pay $1 a day to be able

to use the pool which is open

seven days a week from 11am

until 6pm.

She said it was great to be

able to provide a pool for the

community over the summer

months, since there isn't one

available in the area.

But she said the community

was vocal about its desire for a

long-term solution.

A $21.8 million pool is

planned for the Linwood

Woolston area. A project team

was assigned to the project

last year, with a design due in

November this year and construction

to start on the project

in 2018.

The pool opened at the start

of January and will close on

Waitangi weekend.

Calendars,

movies

at museum

THE NEW Brighton Museum

still has 2017 calendars for sale.

This year the subject is old shops

and shopkeepers.

A museum spokesperson said

the calendar is a classic, and have

gone into reprints. They are selling

for $10 each or three for $25

The museum is open every day

from 1pm to 3pm. The calendars

are also at Hammer Hardware.

The museum is seeking volunteers

to staff the desk one day a

week and show people around.

Someone with a love for New

Brighton would be great. Pop in

or phone Peg on 388 4286.

Meanwhile, golden oldie movies

screen every Monday at 1.30pm

Go early for a cuppa. $2 donation.

Movies:

February 6 – Singing in the

Rain, 1952 Debbie Reynolds,

Gene Kelly, musical 1hr 43min.

February 13 – Driving Miss

Daisy, 1989 Morgan Freeman

,Jessica Tandy, comedy drama 1hr

10min.

February 20 – Cattle Queen

of Montana, 1954 Ronald Regan,

Barbara Stanwyck, 1hr 48m,

adventure.

February 27 – Thoroughly Modern

Millie, 1961, Julie Andrews,

musical 2hr 33min.

CaNtErBUrY

sUpEr saLOON & prODUCtION

saLOON CHamps

+ stOCKCar

tEams raCING

satUrDaY JaNUarY 28 tH

7pm start

tHE pLaCE tO BE

tHIs sUmmEr!

DOUBLEDaYs rOaD KaIapOI

INfOLINE 03 364 8833

www.wOODfOrDGLEN.CO.Nz

CONSTRUCTION

@ SIT

CHRISTCHURCH

ENROL NOW for 2017

ª Certificate in Construction (15 March & 21 August)

ª National Certificate In Building, Construction, and Allied Trades

Skills (Level 2) (12 June & 3 October)

Call today or email info@sit.ac.nz

0800 TO STUDY

www.sit.ac.nz
---
6

Tuesday January 24 2017

Our People

PEGASUS POST

Kate Russell

Proud mum awarded for her

Kate Russell has been a leader in the

not-for-profit health sector for 24 years. Georgia

O'Connor-Harding spoke to her about working

at the Canterbury Medical Research Foundation

and what it was like to raise three children as a

solo parent.

Congratulations on becoming

and Officer of the New Zealand

Order of Merit. You must be

very excited?

I was thrilled when I heard.

My first reaction was who the

heck must have nominated

me? But I still don't know and

possibly never will. I am very

honoured. I didn't know I was

going to get nominated. There

are so many different sectors

in my professional life where it

could have come from, but they

said health and governance and

that has narrowed it down.

What made you stick to

helping the not-for-profit

organisations?

I fell into the not-for-profit

sector by accident. My first job

was as a fundraising assistant

for Presbyterian Support. I

got it because it was a 20-hour

week job and it suited the fact I

had small children at the time.

I was in that job for a couple

of weeks and I had what you

would describe as a vocational

empathy of thinking, oh my

goodness, this is what I want to

do for the rest of my life. I was

30-years-old and aside from

being a mother, I hadn't figured

out what I wanted to do careerwise.

I had always done things to

do with social justice. I had gone

on the 'no tour marches' and

was a junior member of human

rights organisation, Amnesty

International.

Tell me about working at the

Canterbury Medical Research

Foundation?

When I took this role, some

of my colleagues at the national

programme, Cystic Fibrosis New

Zealand, were like isn't that a

step back because you are going

into a regional role? But after the

earthquakes, I very much had

in my heart to do something in

Canterbury. Medical research is

something you don't always get

RECOGNISED: Kate Russell is chief executive of the Canterbury Medical Research Foundation,

which funds research and oversees organisations like the New Zealand Brain Research Institute.

PHOTO: GEOFF SLOAN

immediate results. In the nearly

three years I have been there, I

can't say there has been a new

blockbuster drug. Rarely does

medical research go ahead in a

quantum leaps, it is these little

baby steps that happen over a

number of years.

Could give me a picture of the

research you are doing at the

moment?

We just finished a study on the

use of vitamin C and breast cancer.

We are also funding a young

women at Otago University

who is looking to use vitamin

C for people who have got ear

infections. We are also pivotal in

supporting the development of

the UC Rose Centre for Stroke

Recovery and Research.

NEW LOCAL

MECHANIC

& now a Bosch car care centre

Full Mechanical Repairs

Full Auto Electrical Repairs

NEW LOCATION ADVERT.pdf 1 1/05/2014 11:51:35 a.m.

18E Bower Avenue, New Brighton

Phone 388 5750

VISIT OUR NEW LOCATION LOCATION

430 ST ASAPH STREET!

Hours of Business: 7am-4.30pm Mon-Thurs

Fri 8am to midday

or by appointment with Keith 027 566 3909

RECOVER YOUR LOVED FURNITURE

No job too big or small

Still able to offer

you the finest top

quality new furniture

Visit us online

www.qualityfurniture.co.nz

P. 371 7500

QUALITY FURNITURE SPECIALISTS

RE - UPHOLSTERY SPECIALISTS KEITH HARTSHORNE 0275 663 909

HELPING US,

HELPS THE

COMMUNITY

Drop off or buy

2 family stores in your community

30 Main North Rd,

Ph 352 4581

520 Cranford St,

Ph 352 0515

Beautiful Teeth

Meet the

Owner

Ryan Carlton

Natural Smile

Free Consultation, No Obligation

• Full Dentures • Dentures Repaired • Implant Assisted Dentures

• Injection Moulded Flexible Partials • Relines

• Mouthguards • Additions/Repairs

• Purchase cleaning and care products from our website.

All dentures personally

designed and created to ensure

a comfortable natural fit.

DENTURES PLUS (2014) LTD

Denture Clinic and Laboratory

396 Innes Road, St Albans. Phone 385 5517.

Email: denturesplus@paradise.net.nz

www.denturesplus.co.nz

JO HAYES

NATIONAL LIST MP BASED

IN CHRISTCHURCH EAST

Mobile clinics

Last Friday of every month

Check out my Facebook

page: Jo Hayes MP

6/950 Ferry Road,

Ferrymead

P: 384 9459

Call to make an

appointment

www.national.org.nz

Orbiter Bus stops Innes Road
---
PEGASUS POST Tuesday January 24 2017 7

role in medical research

How do you think our

medical research compares to

the rest of the world?

We punch very well above our

weight. What gets achieved here

in research for the fraction of a

cost is really quite astounding.

In spite of the frustration we all

naturally get with the health system

and getting put on waiting

lists and restricted medicines, we

still have universal public health

care here. When you look at the

hideous situation people in the

United States find themselves

in, where they don't have health

insurance, we have a fabulous

system here. We only pay $5 per

item for medicine which may

cost up to $150. Still some people

complain about that.

You often hear about there

not being enough beds at

Christchurch Hospital.

For sure, Christchurch Hospital

is an incredibly busy hospital.

But the financial results and just

the strategic results the CDHB

gets in terms of the development

of new services; they are

just terrific and stack up very

well compared to the rest of the

district health boards around

the country. I can tell you these

places are populated by bloody

good people who all have a very

Pack a

it ' s

Picnic,

Island

Time!

FAMILY OUTING: Kate Russell with her family at the

Châteauneuf-du-Pape winery in southern France.

big heart for what they do.

How old were you when you

first had children?

I had my first child when I was

19. It was a surprise. It wasn't in

my plan to get pregnant in my

second year of university. By the

time Sam, my eldest boy, was one

I was back at university doing a

full-time course, looking after

him and holding down two parttime

jobs. I have no idea how I

Discover walking tracks, native birds,

penguins, the swimming beach and

shipwrecks, all on the island that's

only 15 minutes from Christchurch!

Start Exploring

Otamahua/Quail Island today!

did it.

Would that have been one of

the most difficult times in your

life?

No. I always had plenty of

family support around me. I

have a very close family. But the

most difficult time of my life was

when I broke up with my first

husband. I was a solo parent on

my own for seven years with

three children. For me, it got to

the stage where I was very poor.

I wouldn't say I had hit rock bottom,

but I was very poor and I

had to work very hard and make

significant sacrifices for the

well-being of my children. I was

there for some time and I had

to make a conscious decision to

climb myself out of that. To not

be dependent on welfare.

How did you get through?

The whole family had to make

sacrifices for that to occur.

There were a lot of times where

I couldn't go to the kids' sports

days. I couldn't be the one to

drop them off at school or look

after them after school. I recognise

my children paid the price

for me putting a lot of evidence

on the development of my career.

I had a 12, eight and four-yearold.

What do your children say

about it now?

They are very proud. From

time to time, we have these conversations

where I say I still carry

some guilt about not being there

because I had to work. I had to

be the main bread-winner in the

family. They are very pragmatic

about it and say what you taught

us is a really good work ethic. We

understand why you did what

you did.

What was the job that got you

to turn your career around?

Probably the one that started

me on the road to financial

recovery and career development

was the one at CCS Disability

Action where I was the regional

fundraisng manager. That was

where I felt like my skills were

fully utilised and I was given a

sufficient amount of authority.

Have you found a new partner?

We are coming up to our

second year now and it is all very

new. He lives in his house and

I live in my house and we have

a very nice time when we are

together. But I am independent

and decided I am not really cut

out for living with another person.

I am much too independent.

So you are keeping the magic

alive?

Exactly, and my independence.

I make my own money.

If I want a diamond ring, I buy

it, I don't worry about someone

else. I watched my mother model

independence to me because my

father died when I was 12. She

had a very hard road to hoe and

she was and still is an extremely

hard-worker. And again, a very

independent thinker, bright and

an inspiring woman.

0800 436 574

www.blackcat.co.nz

DEPARTS: LYTTELTON QUAIL ISLAND

Oct – Apr 10.20am 3.30pm

Dec – Feb 10.20am & 12.20pm 12.30pm & 3.30pm

FARE: adult $30 child $15 return

CRUISES

LYTTELTON & AKAROA
---
8

Tuesday January 24 2017

PEGASUS POST
---
PEGASUS POST Tuesday January 24 2017 9

News

FLAME FILES

Don't make it easy for arsonists

• By Mark Thomas – Fire

Risk Management Officer

WE'RE IN a new year and

the same old incidents

keep on occurring. By this

I mean kitchen fires and

arsons.

An unattended cooking

fire in Sockburn this

week raised an interesting

dilemma for landlords.

Most know that there

is a new building law

requirement that landlords

provide smoke detectors in

their properties.

In the case referred to

there weren't any smoke

alarms in a rental where

the tenant went off to work

forgetting about food

cooking on the stove.

Smoke was seen and Fire

Service troops attended.

There wasn't too much of

a mess and our crew made

sure there was a brand new

10-year smoke detector

installed (free of charge

by the way) before the

occupant went back in.

But what would be the

result if the tenant had

gone to bed after cooking

rather than leaving for

work? What if then the

worst happened? How

would the law treat the

landlord?

It's a good enough

reason to make sure an

alarm is there and that the

installation is recorded.

Then it's the tenant's

responsibility if the alarm

is removed. Otherwise

landlords, you could be in

the gun!

An arson fire in

Addington on Wednesday

morning was lit in

PHOTO: ANDREW KING

cardboard stored under

a canopy in the rear

yard. Most of the damage

was cosmetic but some

light fittings and air

conditioning units were

destroyed. It probably

wouldn't have happened if

combustibles hadn't been

available.

Please make sure your

skips, bins and cardboard

cages are locked and away

from your building.

Don't make it easy!

Stray cat problem

on the increase

• By Gabrielle Stuart

THEY ARE cute, fluffy – and reaching

plague levels in Christchurch.

Cat Rescue Christchurch has just had

its busiest month on record, taking in

137 stray cats and kittens for rehoming

in December. That was up from 80 at the

same time the year before.

It has left the charity with more than

$12,800 in vet bills for December alone.

The numbers show no signs of slowing,

with another 40 arrived already this

month.

Managing director Beki Milligan said

the charity had been working for more

than a decade to try to reduce Christchurch's

stray cat problem, so the spike was

disheartening.

"I like to think we're getting somewhere,

but as soon as we think that,

something like December will happen,"

she said.

"It doesn't take long for a problem to

get out of control, especially when it's

cats. They can start reproducing at 16

weeks, so if you've got one litter and in

four months they are reproducing themselves,

then you can have a colony of 50

in six months."

The majority of the cats had been living

wild for a long time, she said, often in

Christchurch's industrial areas.

HOMELESS: Leia, one of the kittens

Cat Rescue Christchurch currently

has up for adoption.

The kittens and some cats were homed

by the network of volunteer foster families,

who socialise and train them before

they are put up for adoption.

Wild adult cats are usually released

again after they are desexed and have

medical needs taken care off.

•For more information on adopting,

volunteering or donating to Cat

Rescue Christchurch, visit www.

catrescue.org.nz.

GROWING WITH

KIDSFIRST

HOURS

FREE

EACH DAY

FOR ALL CHILDREN

6Ask about no fees. Conditions apply.

2017

OUR YEAR

OF INSPIRATION

QUALIFIED TEACHERS

GREAT LEARNING

ENVIRONMENTS

KF 1702

With over 70 Kidsfirst Kindergartens and Early Learning Centres,

there's one near you, visit our website for more information...

www.kidsfirst.co.nz
---
10

Tuesday January 24 2017

PEGASUS POST

The Youth Alive Trust's holiday programme has

been in full swing recently, with activities including

a camp in Akaroa and swim at the Jellie Park

Recreation and Sports Centre

PHOTOS: MATT BARNES

ALL TOGETHER: The group posed for photos in

Akaroa.

BALLING: Kea Noble-Gawn made a

layup in the Youth Alive Trust gym.

HUNTSMAN: Oscar Langridge tried his hand at archery.

RACE:

Keegan

Harris and

Emma

Crichton

raced

down the

hydroslides

at Jellie Park.

HEIGHTS: Jesse Green jumped

from the diving board.

PEACE: Keely Grey-Bell and Ricardo Stoppels took a walk

along the wharf in Akaroa.

MID SUMMER SALE:

Salewa Packs 30% off | All clothing 30% off | Oztrail 30% off

Sleeping bags 30% off | Lowa/Han Wag boots 15% off

Open 7 days | twO lOcatiOns

7d Mandeville st, Opp placeMakers

ph 03 366 4166

dressMart hOrnby, Main sOuth rd

ph 03 344 5304

www.highcountry.net.nz

INDIAN FOOD MArT

we Are bACk

• 100% Halal Meat

• Fresh Vegetable

• Lentils, Spices & Herbs

• Nuts Almonds, Cashews

• Groceries

205C Hills Road, Edgeware,

Ph 03-3860111.

Shop 4, 103 Stanmore Road,

Linwood, Ph 03-3816163.

Email: spiceheaven123@gmail.com

www.spiceheaven.co.nz

• Indian

• Fiji

• Filippino

• Samoan

• Mediterian

• Thai

• brazilian

• Asian

• Pacific Islands

New Zealand Post, Kiwi Bank & NZTA Registration Services

(Licensing, Change of Ownership, RUCLA)

Available 7 days a week

72 New Brighton Mall, New Brighton

03 388 1809

The only Book and Stationery store

with Fly Buys and Big Deal VIP Rewards

Monday to Friday 8.30 to 5.30

Saturday 9.00 to 5.30

Sunday 10.00 to 4.00

paperplus.co.nz
---
PEGASUS POST Tuesday January 24 2017 11
---
12

Tuesday January 24 2017

PEGASUS POST

FOR SALE

AUCTION

Belfast 29 Rushmore Drive

Family Space

Harcourts ID: BF27355

Buyers will enjoy the comforts of this modern 302m² home sited on a large 755m ² section, provides

great living spaces both inside and out! Huge living areas and full-length feature-windows maximise

natural light and space throughout the home, opening out to the sizeable outdoor patios and

private lawns beyond, with a beautiful backdrop of trees from Darroch Reserve.

Mitchell Roberts & Mana Tai

M 027 413 0797 or 027 626 2824 P 03 323 6045

Harcourts Twiss-Keir Realty / Belfast Licensed Agent REAA 2008

DEADLINE AUCTION SALE

4

2 3

For Sale: No price - offers invited!

View: Phone for viewing times.

Belfast 19 Rushmore Drive

A Modern Outlook

Mitchell Roberts & Mana Tai

M 027 413 0797 or 027 626 2824 P 03 323 6045

Harcourts Twiss-Keir Realty / Belfast Licensed Agent REAA 2008

DEADLINE SALE

4 2 2

Harcourts ID: BF27467

The outlook for 2017 is positive and the same can be said of this fresh new family home listing.

Backing onto Darroch Reserve this home cannot be built out. You will come home every day to the

outlook of a scenic tree line and the feeling that you're coming home to your own private oasis.

Designed with sprawling living areas optimising natural light and great outdoor entertaining area.

Auction: Russley Golf Club , Memorial Avenue

1 st February at 3.00pm (unless sold prior)

View: Phone for viewing times.

Belfast 4/2 Third Street

Wow What A GEM!

1 2

Harcourts ID: BF27537

Totally refurbished inside and out! An immaculate shiny gem, perfect for 1st home buyers, retirees,

couples, investment. Two genuine bedrooms, excellent sheltered and private back yard. Separate

standalone tandem garage. Walking distance to schools, shops and public transport. Be quick

register your interest today - Deadline 7th February 2017 unless sold prior priced $320,000.

2

Belfast 9a Darroch Street

Late Xmas Present for 1st Home Buyers

2 1 1

Harcourts ID: BF27525

Highly motivated owner needs this sold! The home itself is where this property really shines; a

modern open plan layout is complemented by multiple living areas seldom found in townhouses.

Both the living, dining and the master bedroom featuring outdoor access. Very private and manicured

garden ideal for entertaining. This fantastic property will appeal to 1st home buyers and retirees.

Sue & Gemma Roberts

M 027 440 1282 or 027 223 6471 P 03 323 6045

Harcourts Twiss-Keir Realty / Belfast Licensed Agent REAA 2008

Deadline Sale: All offers invited on or before

7 th February at 4.00pm

View: Phone for viewing times.

Paul Pretorius

M 027 688 8512 P 03 323 6045

Harcourts Twiss-Keir Realty / Belfast Licensed Agent REAA 2008

Deadline Sale: All offers invited on or before

8 th February at 5.00pm

View: Phone for viewing times.

FOR SALE

AUCTION

Edgeware 2/117a Warrington Street

Modern Family...

4 2 1

Harcourts ID: BF27277

Buyers should take this opportunity seriously for this beautifully contemporary styled brand new

townhouse, which offers modern living with space and style, in a convenient urban location. Splitlevel

living and seamless outdoor flow to the private easy-care section provides great use of space,

and living comfort for all inhabitants.

Woolston 51 Sheldon Street

New Year, New Home!

3 2

Harcourts ID: BF27295

Start the new year, with a brand new home, and you'll never look back! Whilst enjoying all the

modern comforts of a new build, this attractive home incorporates a beautifully classic villa-style, but

without any of the challenges of the villa era. Smartly designed with clean lines and colouring, with

careful attention to window placement to maximise light and high-stud ceilings to emphasise space.

Mitchell Roberts & Mana Tai

M 027 413 0797 or 027 626 2824 P 03 323 6045

Harcourts Twiss-Keir Realty / Belfast Licensed Agent REAA 2008

For Sale: No price - offers invited!

View: Phone for viewing times.

Mitchell Roberts & Mana Tai

M 027 413 0797 or 027 626 2824 P 03 323 6045

Harcourts Twiss-Keir Realty / Belfast Licensed Agent REAA 2008

Auction: Russley Golf Club , Memorial Avenue

1 st February at 3.00pm (unless sold prior)

View: Phone for viewing times.

Contributor to www.realestate.co.nz

www.twisskeir.co.nz
---
PEGASUS POST Tuesday January 24 2017 13

25 Laguna Gardens, Shirley 27 Laguna Gardens, Shirley

Who's Next???

A great result for the sellers of these properties.

If you are thinking about selling please give me a call, I have

unsatisfied buyers looking for property in the Shirley area.

Andrea Twiss

M. 021 256 4087 P. 03 323 6045

E. andrea.twiss@harcourts.co.nz

W. twisskeir.co.nz

Harcourts Twiss-Keir Realty Licensed Agent REAA 2008

Your house could be just what they are looking for!

Call me now for a no obligation pressure free appraisal.

0800 MRS TWISS

Andrea Twiss

Harcourts Twiss-Keir Realty

Who you going to call?

Issues with your rental property never happen at the right time.

Have you got a list of contacts to sort the problem effectively and quickly?

Harcourts Twiss-Keir Property Management have a list of repairmen on

call to take care of any emergency your rental property may have.

We've got your back.

For unbeatable local knowledge

and service call me today!

Contact Jill Andrews

P. 03 323 6045

E. jill.andrews@harcourts.co.nz

W. www.tkpropertymanagement.co.nz

• Stage 1 Sections from $139,000

Must Be Sold!

• Stage 2 Sections from $165,000

With Rural Outlook

• Childcare Centre Opening 2017

• Close to the Beach, River, Schools,

Public Transport and Township

Bring your own builder, your own plans and

create your family dream in BeachGrove.

Call Julie-Ann Brownlee today on

0800 beach grove

or visit beachgrovekaiapoi.co.nz

Licensed Agent REAA 2008

Contributor to www.realestate.co.nz

www.twisskeir.co.nz
---
plete and attach to clothing bag for

14

Tuesday January 24 2017

14km

6km

PEGASUS POST

name

signed

2017

14km

6km

19 March 2017

This

emergency

contact number

2017

sticker is valid for entry into either

distance. Must be worn during the event,

to claim prizes, and for free entry into

Ferrymead Heritage Park.

OFFICIAL ENTRY NUMBER:

This

Moving with you for 43 years!

existing

medical condition

19name

th March 2017 • Prize Giving Ferrymead

emergency

Park.

signed

contact number

existing

medical condition

19 th March 2017 • Prize Giving Ferrymead Park.

dist

to c

Ferr

OF

ENTER NOW $25

ENTRIES NOW OPEN!

$20 Early bird available online

Online • PakNSave • New World • The Athletes Foot • YMCA

Children 10 years old and under free

Be in to win return flights for two,

thanks to Singapore Airlines

A Star Media Event

Are you up for it?

The Star Photo Archive: 1983

city2surf.co.nz
---
PEGASUS POST Tuesday January 24 2017 15

Email fraser.walker@starmedia.kiwi

by 5pm each Wednesday

Talking Needles

Every Wednesday, 11am-1pm

Go along to join in with a

friendly chatty needle craft

group. Bring along a project

to get on with, all adults are

welcome.

Shirley Public Library, 36

Marshland Rd. Free entry

Diverse Women

January 16 to 28, Monday to

Friday 11am-4pm, Saturday

noon-3pm

Diverse Women is a tribute

to the complexity of the female

mind, with women artists ranging

in age and ability. The youngest

exhibitor showing work is just

10. This exhibition is a showcase

and a tribute to the many facets

of women's art; perfect, imperfect

and everything in between.

Artists exhibiting include Abby

Howe, Ada Lam, Ann Wilby,

Charlotte Fisher-Taylor, Clare

Hardy, Esther Gane, Folina Vili,

Ilya Kriel, Jenny Haines, Kate

Glass, Linda James, Margaret

Wong, Nicky Taylor, Rae Tiernan,

Rita Thornley, Robyn Kilty,

Sami Cotton, Tiffany Thornley

and Tune Kriel.

Linwood Community Arts Centre,

388 Worcester St. Free entry

2

Kite Day

Sunday, January 29, noon-3pm

Spectacular [Edition kites of all datE] varieties

and sizes will flutter and

soar over New Brighton Beach,

delighting children and adults

alike. Kite makers from around

New Zealand and the world travel

to partake in this event. Create

and decorate your own kite or

buy one from The Kite Shop on

the day and fly it on the steady

sea breeze. If you don't have a

kite sit back, relax and watch

while enjoying an ice cream, cool

drink or fish and chips for tea

on the beach. The New Brighton

Silver Band will perform on the

promenade. Catch a bus to avoid

parking hassles or car pool with

friends and family. Don't forget

to be sun smart.

New Brighton Beach. Free entry

Summer Bandstand

Sunday, January 29, 12.30-2pm

Christchurch has a rich history

of brass, silver and pipe bands

with many achieving national

and international awards. Join

them on Sunday afternoons

throughout January, February

and March in locations around

the city. Bring a picnic rug or

chair and relax in parks and

gardens. The New Brighton

Silver Band will be performing.

New Brighton Beach. Free entry

Bromley Monthly Market

Sunday, January 29, 11am-2pm

Meet Darth Vader at Bromley's

BACK AGAIN: The New Brighton Ukulele Jam is back for 2017, and the pirates are starting the

year with a party. Every Friday night from 7.30pm the group meets to play the ukulele and

other instruments and sing all kinds of songs and different genres of music – anything that is

in the spirit of Joyful Anarchic Music. There is a data projector so all the lyrics and the chords

are available. Everyone is welcome. Tea, coffee and biscuits are free. Held at St Faith's Hall, 46

Hawke St, New Brighton. $2 entry. ​

very own community market

this month. On the last Sunday

of each month. Based indoors

and is held rain or shine. There

is a range of stalls which include

art, craft, knitting, clothing,

winter blankets, draft stoppers,

household goods, baking, cards

and more. There is an on-site car

park for convenience and a playground

right next door. If you

are interested in having a stall,

phone 389 1657.

Bromley Community Centre,

45 Bromley Rd. Free entry

Linwood Village Market

Saturday February 4, 9am-1pm

The Linwood Community Arts

Centre hosts the market with

parking in its car park, corner of

Worcester St and Stanmore Rd.

Fresh produce, plants, books,

antiques, bric-a-brac, retro items,

vintage clothes and household

goods, jam, recycled and upcycled

crafts, artworks and more.

A warm invitation to you and

yours to come and sample the

market. Music, friendly atmosphere,

and reasonably priced

refreshments.

Linwood Community Arts

Centre, cnr Worcester St and

Stanmore Rd. Free entry

Family Fun Day – I Love New

Brighton

Monday, February 6,

11am-3pm

Free activities, have-a-go

sports, market stalls, food stalls,

bouncy castles, face painting,

games and a live stage featuring

local bands.

Thomson Park, Marine Pde

CONTINUING EDUCATION

Christchurch School of Music

The Christchurch School of Music is a family-oriented

community aimed at providing quality music education in and

around Christchurch.

We have an exciting offer for all new enrolments for 2017,

where you will receive $775 worth of lessons for just $450! All

you have to do is click here to enrol before January 15th, 2017:

http://www.csm.org.nz/enrol/

This deal includes: 1 year of group lessons for beginners on

recorder, flute, clarinet, violin, ukulele, guitar or voice (worth

$525), FREE instrument hire where instruments are available

(worth $110), FREE joining of a performance ensemble for the

second semester (worth $140).

We also have individual lessons and ensembles for a wide

range of instruments available too, for any age and from

beginner through to experienced - explore our website www.

csm.org.nz to learn more.

CSM is a not-for-profit organisation with a strong focus on

community. On a Saturday morning the whole family can find

something to suit. Preschool children can start their musical

journey by joining in our experiential "Take Off with Music"

while older children and adults may opt for group or individual

lessons on a specific instrument (including voice). Those who

already play are welcome to join in one of the great ensembles

which all take part in regular concerts including Saturday

soirees and the popular annual Showcase Concert. Recitals

where individuals can perform are also held regularly.

CSM also provides a comprehensive music education to

participating primary schools via its Outreach programmes.

With programmes offered in band, strings, recorder and ukulele

in a wide range of Christchurch schools this is an area of the

School, which has grown fast over the last few years.

Another area that has grown rapidly over the last few years

is the Late Starters programme where adults approaching

retirement with more time on their hands have really enjoyed

learning an instrument they never had the chance to play in

their early years and join an ensemble with other like-minded

adults.

If Saturday isn't an option, CSM also offers a range of

weekday opportunities for learning and playing music.

If affordability is an issue, CSM may be able to offer a

discount through funding provided by the Rata Foundation.

Please contact us via our website www.csm.org.nz and let

us start you on a musical journey that will bring pleasure for

a lifetime.

2017 ENROLMENT DEAL!

$775 $ 450!

GROUP LESSONS, ENSEMBLE,

AND INSTRUMENT HIRE!
---
16

Tuesday January 24 2017

BECOME A MEMBER

PEGASUS POST

Play

House of Cards is a day-time bridge

club situated in Merivale. Our philosophy

is to provide a friendly, family-type

environment for bridge players.

Bridge is not only a wonderful,

stimulating game, it is also splendidly

social. We have had much pleasure in

seeing many new friendships flourish over

the years.

House of Cards is especially renowned

for its teaching and we have taught

literally thousands of beginners as well as

improvers, in Christchurch and around

New Zealand. We have run several

national teachers' conferences and have

been instrumental in creating a national

standard for bridge teachers.

We have also written a whole series

of bridge books for new and improving

players which are widely used in New

Zealand, Australia and the United

Kingdom.

We are a friendly, enthusiastic team

who welcome new players. We have four

sessions dedicated especially for the novice

player, so you needn't feel nervous!

We will also introduce you to

SkyBridgeClub. This is an online club

catering for the improving player, where

you can practice online during your course.

It's a great way to learn.

Come in and see us. We'd love to meet you.

Belly Dance

With Kashmir

Beginners Classes

and Beyond

Next 8-week

beginner course:

7:00 -8:15pm Tuesdays,

14 February - 4 April

from $90 (Early Bird prepaid)

South Brighton

Other classes available

(see website)

www.bellyraqs.co.nz

382 0071 or

027 438 7277

Ladies! Love to Sing?

Come sing with us.

The Christchurch City Chorus,

Australasia's premiere international

award winning women's a cappella chorus

welcomes all eager female singers. Can

you see yourself in Pitch Perfect, Glee or

Grease? Then we are the chorus for you.

We rehearse on Wednesday evenings, 7pm

to 10pm and are interested in hearing

from all females keen to join our chorus.

We have recently returned from the Sweet

Adelines International Competition where

we placed 5th and were voted by the

audience as the Most Entertaining Chorus.

Come along to try out 4-part a capella

Belly Dancing

Show your body a little love with some

fun, gentle exercise starting this Valentine's

Day. Kashmir's beginner belly dance class

runs for eight weeks and explores not only

the movement of belly dance but also a

little of the background. You can watch

some of the top belly dancers on video,

begin to get a feel for the music, and get a

glimpse into a different culture all while

learning about how your own body can

move to express the music as a belly dancer.

Belly dance is the dance of celebration

and entertainment in many Middle Eastern

countries. Everyone does it (men, women,

singing and receive six weeks of group

singing lessons for $70. The lessons begin

on Wednesday 1 February at 7pm.

The Chorus was founded in 1985 and

is directed by Virginia Humphrey-Taylor.

There are over 100 members with ages

ranging from 21 years to over 70. Sweet

Adelines is a world-wide organisation

with over 600 choruses singing in the

barbershop style.

All ages and voice ranges are welcome.

The ability to read music is not necessary.

Contact us, phone 022 689 9745 to find

out more. See you there.

and children). It is kind to the body with

no extreme flexibility required and, unlike

most folkdances, no jumping. It is based

around movement of the torso rather than

footwork.

Although travelling and weight

transitions are required for stage work, as

a beginner you will learn mainly to move

your hips and shoulders ("belly" dance is

a misnomer). Then you can start to put

movements together into phrases, add

"layering" (two or more things at once),

and sharpen your ability to isolate.

More information: www.bellyraqs.co.nz

Line up for some fun

& learn to line dance

If you like to dance, want a social life

with a friendly bunch of people, then

Line Dancing could be just what you

are looking for. Scientists theorize that

dancing has a triple benefit for the brain,

it increases blood flow, reduces stress

and keeps that vital grey matter in shape.

Dancing also combines physical, mental

and social activity and is a whole lot of

fun too. Laughing is good for you because

it increases our ability to think positively

and we even cater for people who think

they have two left feet. You can have all

these benefits plus meeting new friends by

joining "Cathedral City Line Dancers".

See our ad on this page or phone Mary

on 389 8809 or 021 216 3382

BRIDGE

LESSONS

4 introductory simple lessons to

the wonderful game of bridge

Classes start:

Tues February 7th at 1.30pm &

Thur February 9th at 9.30am

Come and Play

BRIDGE!

FREE

Play FREE online

during your course

Ph: 355 0643 • Email: bridge@houseofcards.co.nz

184 Papanui Road (opposite the Merivale Post Office)

Learn To Line Dance

With Mary Stanley-Shepherd

CATHEDRAL CITY LINE DANCERS

MONDAYS

Commencing 6 th February 2017

Bromley Community Centre, Bromley Rd.

New Dancers 6 – 7pm

Experienced Dancers

7.00 – 8.30pm

Tuesday & Wednesday

Afternoons

Commencing 7 th & 8 th February 2017

Woolston Club, Hargood St, Woolston

New Dancers 12.30pm – 1.30pm

Experienced Dancers 1.30pm – 3.15pm

Tuesday Evenings

Commencing 14 th February 2017

Paparua RSA, 38 Kirk Rd. Templeton

New Dancers 6.15 – 7.00pm

Intermediate 7.00 – 8.15pm

For further information

Phone Mary 389 8809 or 021 216 3382

Email danzlines@xtra.co.nz

www.cathedralcitylinedancers.co.nz
---
PEGASUS POST Tuesday January 24 2017 17

BECOME A MEMBER

Aikido Shinryukan

Do you enjoy cards?

Canterbury

This is the advice we always give to

people who want to learn aikido. It really

is that easy. Of course every new student

is naturally apprehensive about beginning

a Japanese martial art; we have all "been

there." But to begin you need to take that

first step.

At Aikido Shinryukan Canterbury we

take care to ease beginners into training

through our basics classes taken by

senior instructors. Step by step we build

knowledge. We focus on beginners

understanding the fundamentals of aikido

so that they can take the next step and

begin what we hope will be a life long study

of the art. Anyone can do aikido regardless

Harewood Golf

Harewood Golf Club is a friendly club

with a well-established yet magnificent

new-look 18-hole golf course close to the

international airport and just 15 minutes'

drive north-west of central Christchurch.

The Woodlands Course at Harewood

has won rave reviews since reopening

in 2012 after major improvement work

masterminded by renowned golfer Greg

Turner of the acclaimed course design firm

Turner Macpherson Golf Design.

Members, guests and visitors are all

equally welcome to enjoy what is now

regarded as one of the finest layouts in

Canterbury. The club has equally impressive

practice facilities including a vast short

game area and a public driving range

featuring the choice of 23 undercover bays

or extensive grass tee areas. With a resident

professional offering game improvement

lessons and a fully-stocked Pro Shop, an

exceptional all-round golfing experience is

complete.

After practice or play, the Harewood

clubhouse offers a warm and relaxing space

to unwind, with onsite caterers Moveable

Feasts providing everything from threecourse

meals to light snacks and coffees. A

full range of cold refreshments can also be

found at the club's bar.

Further details can be found at www.

harewoodgolf.co.nz

of age or fitness.

"We want students to develop technically

and physically as quickly as they are

capable" notes chief instructor Andrew

Williamson. "We can then introduce

them to more advanced training and

international instructors and build on the

total knowledge base held in our group."

Aikido Shinryukan Canterbury has dojos

in Burnside and Linwood and provides

daily classes for adults and children.

Beginners are very welcome.

For more about Aikido Shinryukan

Canterbury phone Andrew 021 343 672

Website www.christchurchaikido.co.nz.

Christchurch

Bridge Club

Do you enjoy cards, like challenges

and want to stay mentally alert?

Then discover Bridge with the

Christchurch Bridge Club!

FREE Beginner

Bridge Lessons

Wednesday 1st February 2017

at 7.30pm

Phone: 366-1516

21 Nova Place, Christchurch

Email: office@chchbridge.co.nz

www.chchbridge.co.nz

AIKIDO

OPEN DAY

Friday 27 January 6pm

At our

Burnside Dojo

Corner of

Morley Ave &

Clyde Road

phone 021 343 672

www.christchurchaikido.co.nz

SHINRYUKAN

Do you enjoy cards, like challenges and want to stay mentally alert?

Then Discover BRIDGE with the Christchurch Bridge Club

Established in 1952, the Christchurch

Bridge club was rebuilt in 2013 after the

earthquake. We are the largest bridge

club in New Zealand with a membership

of approximately 900 members, from

teenagers to 90+ years.

Our modern, architecturally designed

clubrooms are centrally located in Nova

Place, off Barbadoes Street and has

extensive off-street parking.

Our modern design combines

excellent lighting & acoustics,

offering the ability to divide the

space for multiple users, not

only bridge.

The Christchurch Bridge

Club offers lessons provided

by professional teachers who

are well skilled in the game and

utilise the latest technologies

for improved learning that can

be practiced and reviewed at

home on the Internet. After 10

These include:

• Membership options that are

tailored to suit your age and

lifestyle

• Up to 9 free rounds at reciprocal

clubs in Christchurch

• A 20-bucket driving range

concession card

weeks you will be ready to

set out upon the highway

to bridge success and will

have developed a skill and

passion to last a lifetime.

Many opportunities will be open to you

representing your club, province or country

in a variety of grades. Or, just enjoy a social

game with the warmth and friendship of

like-minded people of all ages. Watch out

though! Bridge is very addictive!

The next FREE beginner's course

commences on February 1st, 2017 at the

Christchurch Bridge Club, 21 Nova Place.

For further details or to enrol, phone

366-1516 or email office@chchbridge.

co.nz www.chchbridge.co.nz

Bridge refresher course also starts

Wednesday 1st February at 7.30pm for 4

weeks, cost $25.

Join Harewood Golf Club

before 31 March 2017 and

receive benefits of over

$400 in value!*

*Value depends on membership type

Come and play,

practice or

have some

family-friendly

fun at one of

Canterbury's

finest golf

facilities

Enquire now – Phone 03 359 8843 or

visit www.harewoodgolf.co.nz
---
18

Tuesday January 24 2017

FOCUS ON HEALTH

Advanced Weight

Management Support +

GO SLIM GARCINIA GOLD is the latest

in Natural Weight Management Support

to hit the market. It contains three well

researched herbal extracts in optimum

amounts to support weight management

as well as offer surprising benefits for good

health.

An extract of the purple rind of

Mangosteen contains an amazing

group of compounds called Xanthones.

Xanthones may support weight loss by

helping normalising a slow metabolism

(common as we age), improving digestive

function and nutrient absorption, acting

as a powerful appetite suppressant by

promoting synthesis of glycogen in the

body (With adequate levels of glycogen

the brain receives a signal to suppress the

appetite), increasing energy and activity

levels (but non stimulating) as well as

supporting fat metabolism. Xanthones also

offer amazing health support in other ways.

They contain a wide variety of vitamins

and minerals as well as some of the most

powerful antioxidant nutrients found in

nature that may help slow the aging process,

ward off degenerative diseases and physical

and mental deterioration.

East Indian Globe Thistle has been

shown to increase the levels of the hormone

adiponectin which encourages food to

be burned as energy rather than stored

as fat. When East Indian Globe Thistle is

combined with Xanthones weight loss is

potentiated as shown in an 8 week study of

100 people on a calorie controlled diet with

exercise where half the participants took

the combination of the two herbs. Weight

loss benefits, including a reduction in hip

and waist size were significantly increased

in the 50 people using the combination of

East Indian Globe Thistle and Xanthones

compared to those on diet and exercise

alone.

The third ingredient Garcinia Cambogia

is a source of hydroxycitric acid or HCA.

HCA can help burn fat for energy, help stop

the formation of fat from excess calories

in the diet, while reducing the appetite as

well as food cravings. It has become one of

the most popular weight loss supplements

for this reason. Garcinia Cambogia also

increases your serotonin levels which can

improve mood and sleep.

One of the big problems today is we

eat much more than we need. This excess

eating has been shown to lead to serious

health issues as well as a shorter life span.

GO SLIM GARCINIA GOLD contains

three powerful natural ingredients to

support a healthy weight as well as the

potential to support improved body

function.

Further information is available from

the Natural Health Advisers at Marshall's

Health & Natural Therapy, 110 Seaview

Road, New Brighton, Phone: 388-5757.

We are Always Happy to Help You!

Krill Oil No.1

for Good Health!

All our body cell membranes are made

up of phospholipids exactly the same

phospholipids as available in Krill Oil.

These phospholipids available in Krill

are its big advantage over fish oil that is

in a triglyceride form and that must be

converted by our liver to phospholipid

form to be able to have benefits to our

cell membranes. This conversion of

triglycerides to phospholipids is inefficient

and a much larger dose of fish oil is

needed for the same benefits as a much

smaller dose of Krill Oil. Some research

has shown Krill Oil to be 48 times more

potent than fish oil. Another benefit of Krill

Oil is it contains one of the most potent

antioxidants known, Astaxanthin.

Recent research shows Krill Oil can

lower your risk for cardiovascular disease,

metabolic syndrome, obesity, Type-2

diabetes and may lessen a variety of brain

and mental disorders including Autism

and Dyslexia, Parkinson's and some forms

of Alzheimer's disease. Krill Oil can help

normalise high blood pressure by reducing

inflammation of the blood vessels and

improving blood quality. It is also highly

effective at reducing high cholesterol

levels, increasing HDL cholesterol,

reducing triglycerides (a damaging blood

fat), reducing C - reactive protein and

reducing other damaging blood factors. It

can also reduce dangerous fat levels in the

liver and heart. Krill Oil is also a natural

anti-inflammatory and can help reduce

PEGASUS POST

pain, improve joint function and reduce

symptoms of arthritis.

The secret is therefore the phospholipid

and Astaxanthin content rather than

just the amount of Krill oil in the soft gel

capsule. Some brands have very low levels

of these two important compounds and

may not even list them on the label. For the

maximum nutritional benefit we are happy

to help you choose a quality product with

effective amounts of Phospholipids and

Astaxanthin and at a realistic price.

Talk to our natural health advisers

today at Marshall's Health & Natural

Therapy, 110 Seaview Road, Phone: 388-

5757. We are Always Happy to Help You!

Go Slim Garcinia Gold

The laTeST in advanced WeiGhT loSS SupporT!

Three powerful natural herbal extracts have been combined in optimum amounts

to support your weight loss goals. Xanthones from Mangosteen may support

weight loss by helping normalise a slow metabolism, improving digestion & nutrient

absorption, reducing appetite & supporting fat metabolism. East Indian Globe

Thistle encourages food to be burned as energy rather than stored as fat. Garcinia

Cambogia helps burn fat stores for energy, helps stop the

formation of fat, and reduces appetite & food cravings.

Go Slim Garcinia Gold Supports:

•Weight reduction

•Burning stored fat for energy

•Preventing fat formation

•Reducing cravings

•Reducing appetite

•Improved metabolism

& energy

•Improved digestion &

nutrient absorption

•Improved mood & sleep

•Improved body function & health

•Powerful antioxidant protection

Super

Special

60 Capsules

only $22.90 Save $12.00

120 Capsules

only $39.90 Save $20.00

240 Capsules

only $69.90 Save $49.90

MAIL ORDER

AVAILABLE

Contains studied ingredients shown to significantly

increase weight loss over diet & exercise alone.

Talk to our Natural Health Advisers about

how to maximise your weight loss results!

Bringing You the Best in Natural Health!

MARSHALLS HEALTH & NATURAL THERAPY

CONSULTING - PRESCRIBING - DISPENSING - MANUFACTURING - MEDICAL HERBALISTS

110 SEAVIEW RD, NEW BRIGHTON • PH 03 388 5757 • Email: enquiry@marshallshealthshop.co.nz

- WE ARE ALWAYS HAPPY TO HELP -

set same as 7928588aa with same copy. Thank you.

KRILL OIL - Super Health Benefits!

Krill oil provides the body with a potent antioxidant astaxanthin as well as phospholipid bound omega-3's

that have been shown to be highly beneficial in maintaining good health.

KRILL OIL SUPPORTS:

• Healthy blood circulation, blood pressure & cardiovascular function

• Healthy cholesterol & improved blood quality

• Healthy brain function & may lessen a variety

of disorders including autism, dyslexia &

diseases such as Parkinson's & Alzheimer's

• Eye & nerve health

• Pain reduction, Natural anti-inflammatory

• Arthritis & Joint health

• Potent antioxidant

• Improved health & longevity

• Liver health

• Improved metabolism & gene repair

ONLY ONE CAPSULE DAILY REQUIRED

SUPER PRICE

30 capsules, 1500mg

only $36.90, save $34.90

60 capsules, 1500mg

only $64.90, save $63.70

120 capsules, 1500mg

only $124.90, save $132.30

Sanderson Red Krill Oil undergoes rapid ship-board

processing for superior quality & one of the highest amounts of

phospholipids (620mg) & astaxanthin (2mg) levels available.

Bringing You the Best in Natural Health!

- WE ARE ALWAYS HAPPY TO HELP! -

Mail Order

Available

MARSHALLS HEALTH & NATURAL THERAPY

CONSULTING - PRESCRIBING - DISPENSING - MANUFACTURING - MEDICAL HERBALISTS

110 SEAVIEW RD, NEW BRIGHTON • PH 03 388 5757 • Email: enquiry@marshallshealthshop.co.nz
---
2

PEGASUS [Edition POST datE]

Tuesday January 24 2017 19

Stretch

your way back to it

As we return to our normal daily routines after the holidays you

may begin to find the odd ache or pain creeping in.

This is a good indicator from our

bodies, that the holiday routine

was somewhat different. Perhaps

you sit a lot for work and you

were on the go or, you are normally more

active and the holiday break was more

sedentary. Either way the sooner you pay

attention to these signals the easier it will

be to deal with it.

So what can you do to ward off pain

and stiffness and boost your energy and

alertness? 10 simple stretching exercises

at your desk that will release tension from

head to toe. They take only a few minutes.

Set the alarm on your cell phone or

computer to go off every hour to remind

you it's time to get up and stretch.

Just stand up and sit down - no hands

If you stand up and sit down (over and

over) without using your hands it can be a

challenge, do it while you're on the phone;

no one will know.

Shrug your shoulders - to release the neck and shoulders

Inhale deeply and shrug your shoulders,

lifting them high up to your ears. Hold.

Release and drop. Repeat three times.

Loosen the hands with air circles

Clench both fists, stretching both hands

out in front of you.

Make circles in the air, first in one direction,

to the count of ten. Then reverse the circles.

Shake out the hands.

Point your fingers - good for hands, wrist, and forearms

Stretch your left hand out in front of you,

pointing fingers toward the floor. Use your

right hand to increase the stretch, pushing

your fingers down and toward the body.

Be gentle do the same with the other hand.

Now stretch your left hand out straight

in front, wrist bent, with fingers pointing

skyward. Use your right hand to increase

the stretch, pulling the fingers back toward

your body. Do the same on the other side.

Release the upper body with a torso twist

Inhale and as you exhale, turn to the right

and grab the back of your chair with your

right hand, and grab the arm of the chair

with your left. With eyes level, use your

grasp on the chair to help twist your torso

around as far to the back of the room as

possible. Hold the twist and let your eyes

continue the stretch see how far around

the room you can peer. Slowly come back

to facing forward. Repeat on the other side.

Do leg extensions

Grab the seat of your chair to brace yourself

and extend your legs straight out in front of

you so they are parallel to the floor.Flex and

point your toes five times. Release. Repeat.

Stretch your back with a "big hug"

Hug your body, placing the right hand on

your left shoulder and the left hand on your

right shoulder. Breathe in and out, releasing

the area between your shoulder blades.

Cross your arms - for the shoulders and upper back

Extend one arm out straight in front of you.

With the other hand, grab the elbow of the

outstretched arm and pull it across your

chest, stretching your shoulder and upper

back muscles. Hold. Release. Stretch out the

other arm in front of you - repeat.

Stretch your back and shoulders with a "leg hug"

Sit on the edge of your chair (if it has

wheels, wedge the chair against the desk or

wall to make sure it does not roll). Put your

feet together, flat on the floor.

Lean over, chest to knees, letting your arms

dangle loosely to the floor. Release your

neck. Now bring your hands behind your

legs, right hand grasping left wrist, forearm

(or elbow if you can reach that far), left hand

grasping the right. Feel the stretch in your

back, shoulders and neck. Hold. Release

your hands to the floor again. Repeat three

times or as often as it feels good.

Look up to release upper body

Sit up tall in your chair, or stand up. Stretch

your arms overhead and interlock your

fingers. Turn the palms to the ceiling as

you lift your chin up, tilt your head back,

and gaze up at the ceiling, too. Inhale,

exhale, release.

Back & neck pain

Sprains and strains

Functional training studio

Biomechanical assessments

Headaches and migraines clinic

Work injuries & gym rehab

Pre and post surgery rehab

Bishopdale Clinic

13a Bishopdale Court, Ph 360 3606

City Clinic

12 Hereford Street, Ph 961 0236

Wigram Skies Clinic

67 Skyhawk Road, Ph 322 9400

Call us today Ph 360 3606

musclepeople.co.nz

VEBITE

MID SUMMER SALE:

Salewa Packs 30% off | All clothing 30% off | Oztrail 30% off

Sleeping bags 30% off | Lowa/Han Wag boots 15% off

lovebite.com

Open 7 days | twO lOcatiOns

7d Mandeville st, Opp placeMakers

ph 03 366 4166

dressMart hOrnby, Main sOuth rd

ph 03 344 5304

www.highcountry.net.nz
---
20

Tuesday January 24 2017

REAL ESTATE

Contemporary Comfort

8 The Belfry, Waimairi Beach

Price $1,125,000

4 bedrooms | 3 bathrooms | 3 toilets | 2 living rooms | 1 office/study | 2 car-garage | 2 off-street parks | Listing # PI44852

PEGASUS POST

Striking contemporary design meets

comfortable and practical living in this

stunning home. Situated in a spectacular

location, with a northwest aspect and

uninterrupted views across Waimairi

Beach Golf Course, it is just a short walk

from the beach.

Bathed in light, the home enjoys

wonderful views from almost every

room. The open-plan casual living area

is beautifully sunny, opening to outdoor

living. There is room for dining and

relaxing, as well as a stylish contemporary

kitchen. An adjoining separate lounge

features a gas fire; the perfect place for

enjoying the view. With floor-to-ceiling

glazing to showcase the outlook, the master

bedroom has a WIR and luxurious en

suite bathroom with double shower. Two

other double bedrooms are served by a

family bathroom. The fourth bedroom is

downstairs, opening to its own deck, with

use of a third bathroom. An over-sized

double internal-access garage and separate

laundry add further convenience. Outside,

the landscaped 603 sqm section offers easycare

plantings and extensive decking.

Cleverly designed by SK Architecture to

make full use of the remarkable setting,

post-earthquake construction ensures your

peace of mind. Don't miss your opportunity

to secure a superb contemporary lifestyle.

Open Home: Sunday 29th Jan from 11 –

11:30am See you at the open homes or for

a private viewing contact Cameron Bailey

on 352 6166 or mobile 0275 557 079 of

Harcourts Gold Papanui (Licensed Agent

REAA 2008)

Back tourism

Tax tourism

Should visitors pay? | THE MIKE HOSKING BREAKFAST | 6am – 8.30am weekdays

NEWSTALKZB.CO.NZ

CHRISTCHURCH 100.1FM
---
PEGASUS POST Tuesday January 24 2017 21

Caravans, Motorhomes

& Traliers

Are you about to sell

your caravan? We can

sell it in our busy yard on

behalf for you, at www.

affordablecaravans.co.nz

512 Blenheim Road

CHCH 03 3488614.

Caravan 4 to 5 Berth

Wanted Repairs OK

027 938 5344

Community Events

ALCOHOLICS

ANONYMOUS, If you

want to have a drink thats

your business. If you want

to stop, we can help. Phone

0800 229-6757

BROMLEY MONTHLY

MARKET

Sunday 29 Jan 11am

to 2pm at Bromley

Community Centre,

Bromley Road.

For full details e mail:

bromley.monthly.

market@gmail.com

Computers

ALL

YOUR

COMPUTER

WORRIES SOLVED!

*$30.00 off your first

service with this coupon!*

No problem too big or

small from home PC's to

business networks. PC

slow? An end to Viruses,

Spyware, and Clogged

Systems. Safe secure

hassle-free computing.

Lost files recovered.

Microsoft Certified,

MCSE, MCP+l. 30 years

experience. Call Andrew

Buxton this week on 326-

6740 or 027 435-7596

for $30.00 off* Custom

Computers Christchurch

Curtains

www.curtainfabric-outlet.com

Fashion Designs & Colours

Discontinued Designs

End of Lines Bargain Prices

Call at Our Shop

CURTAIN FABRIC OUTLET

71 Hawdon St Sydenham

Ph 366-5026

For Sale

HANDBAG Genuine

Guess Leilani box bag -

CR240831 sand/neutral

colour, sz 42cm long x

22cm high, excellent

condition only $160 ono

ph 020 444 4204

Gardening

& Supplies

A GARDEN

PROFESSIONAL

NEEDED? Qualified

Horticulturist, offering

expert pruning, garden

makeovers, garden design

and landscaping, for free

quotes call Bryce 027 688-

8196 or 0508 242-733

Classifieds Contact us today Phone our local team 03 379 1100

Holiday

Accommodation

QUEENSLAND SUN-

SHINE COAST AUSTRA-

LIA Resort, Ocean Views,

Balconies, Self Contained,

1 or 2 B/R Ensuite,

Heated Pool, Spa, Sauna,

Free Internet, Shops,

Restaurants, Tennis, Surf

Club & Patrolled Beach,

Public Transport at door.

Ask for our SEASONAL

SPECIALS. Phone 61 7

544-35011 Email: reception@mandolin.com.au

www.mandolin.com.au

Jewellery

WATCHES Ladies

Versace, Gucci & Calvin

Klein, brand new in boxes,

bracelet design excellent

price $99.95 each, plse ph

ChCh 020 444-4204

To Let

RENT NEED MORE ME!

SPACE?

NO BOND THIS MONTH

Ideal as an extra

bedroom or office.

Three convenient sizes

from $70 p/w:

Standard 3.6m x 2.4m

Large 4.2m x 2.4m

Extra-large 4.8m x 2.4m

Visit our display cabins at

470 Cranford Street or call

0211277227 for a free brochure

www.justcabins.co.nz

Tours

Rexellent

Rentals

Cars, Vans, Brisbane, Coolangatta

FREE CALL

0800 601 508

e: rexellent@bigpond.com

Trades & Services

ROOF REPAIRS

Locally owned & operated with

over 30 years experience.

• Extensions & repair • Roof coating

• Concrete & clay tiles • Butynol

• Malthoid • Asbestos Certified

• Coloursteel • Old iron • Guttering

Phone Dave 981 0278

or 021 223 4200

E: dave@beaumontroofing.co.nz

BEAUMONT ROOFING LTD

Trades & Services

rubbish removal

tRAiLER SKiP HiRE

• 2 or 5 cubic metre

• Household Rubbish

• Green Waste

• Yard Clean ups

• Load it yourself or hire us

• Locally owned and operated

bin co

Phone: 383-0646

027 2131 733

Trades & Services

Appliance Sales & Service

388 4780

Appliance Services

14 Brighton Mall, New Brighton

FOR ALL YOUR

★Garden Clean-ups

★Pruning

★Lawn Mowing

★Garden Maintenance

Call us today for a FREE quote

PH 0800 4 546 546

(0800 4 JIMJIM)

Trades & Services

• Replacement/new roofing

• Colour Steel gutter & fascia

• Flue & log burner installs

• Skytube/light installs

• Earthquake repairs

Licence Building

Practitioner LBP

Member of the Roofing

Association

DCM ROOFING LTD

The Roofing Specialists

PHONE IAIN

027 445 5597

iain@dcmroofing.co.nz

PLUMBER

Michael

Gale

Plumbing Ltd

PROMPT SERVICE

For all

Plumbing

•Roofing/

spouting

•Maintenance

•Installations

8790441AA

Trades & Services

Small work

no problem

Ph 364 7080 (24 hour)

Mob 027 438 3943

GLAZING

Stephen Thom

Glazing 2012 Ltd.

(Under New Management)

• Mirrors

• New Glazing

• Pet Door

Specialists

• Frameless

Showers

• Splashbacks

WE CAN DO YOUR

WORK NOW

ALL BROKEN

WINDOWS

Phone Cushla

03 352 6225

or 027 352 6225

Trades & Services

WINDOW TINTING

tintawindow

advanced film solutions

99% uv block

fade protection

heat control

reduce glare

25 Years Experience

9155874AA

privacy films

frosting designs

non-darkening films

Workmanship Guaranteed

Lifetime Warranties on Most Films

UV

block

Trades & Services

Lawns, Gardens

& Home Cleaning

Free Quotes Canterbury and Districts

03 365 3653 0800 368 468

9185885AA

Free Quotes

Professional, personalised

service. Regular &

one-offs. Fixed price.

Ph: 377-5814

For all your property and

cleaning requirements

Trained, insured & security

screened owner/operators

Multi-award winning

systems & Franchises

Franchises Available

www.fviphomeservices.co.nz

Trades & Services

AAA CARPENTRY

licensed builder

practitioner all property

maintenance small job

expert by tradesman /

handyman free quotes city

wide call now 03 387-

0770 or 027 245 5226

ciey@xtra.co.nz

BUILDER

For all building work

but specialist in bathroom

renovations, 30 yrs

experience, with service

and integrity. Free Quotes.

Ph Lachlan 383-1723 or

0274 367-067.

BUILDER

LICENSED

available for all aspects of

building. Please call 027

241-7471 or 335-0265

CARPENTER

HANDYMAN

Small Job Specialists,

Carpentry, Repairs,

Decking & Maintenance,

40 years experience, no

job too small, Ph Warren

03 322-1103 or 027 697-

8541

CARRIER

Local, experienced,

friendly, trade-me

purchases, single items

to truck loads, furniture

to whatever, removals &

trade deliveries a specialty.

Ph GEH 341-5069

*****************

CARPET & VINYL

LAYING

Repairs, uplifting,

relaying, restretching,,

E mail jflattery@xtra.

co.nz,

ph 0800 003 181

or 027 2407416

Trades & Services

DRIVEWAYS

Replace, repair or new.

We are a local company

with over 10 yrs exp.

We also operate a

digger for all other

earthworks.

Ph. R.M. Solutions

021 02866981

for a free quote.

ELECTRICIAN

Rewire specialists. Some

old wiring, some new,

get a free appraisal and

quote. Switch boards, LED

lighting, garages, spas you

name it we do it. Give the

boys at Turned On a ring,

phone Muzza 022 6177-

275

FENCING

All styles and shapes,

gates, wooden, ph Mark

027 331-3223

FURNITURE

REMOVALS

Large Trucks $95 +

GST per hour 7 day NZ

wide, packing & moving,

Professional Company,

Professional Service.

Canterbury Relocations

Ltd. ph 0800 359 9313

HANDYMAN

Silver Threads. A

bunch of nice friendly

mature tradies, builders,

electricians, painters,

landscapers, section

tidying. Ring for a free

quote 022 140-7852

LANDSCAPING

Mini Digger hire for

drainage & section

development. Ph Silver

Threads 022 140 7852

LANDSCAPE

CONSTRUCTION

Lawns, paving, water

features, irrigation,

planting, decks,

driveways, kerbing, ponds,

retainer walls, fencing.

Free quotes, Phone Tony

021-034-8555

LED / DOWNLIGHT

replacement. Huge new

year special, get those

troublesome downlights

replaced wih modern LED

lights from $38 + GST

inclusive. Ring the boys at

Turned On for free advice

& quotes. Call Muzza 022

6177 275

OVEN CLEANING

Professional cleans

$50.00. Gift Vouchers

avail. Phone 0800 683-

6253 or 027 228-0025

PAINTING DECORATING

interior & exterior,

gib fixing, plastering,

paperhanging, Est 50 yrs

in ChCh, ph Wingfields

Ltd, ph Mark 021 171-

1586 or 355-5994

PAINTER

Available, All aspects in

painting. Very competitive

in roofs and fences. Please

call 027 241-7471 or 335-

0265

PAINTER

Top quality work, interior/

exterior, pensioners

discount, free quotes, 30

years experience, I stand

by Canterbury, ph Wayne

your friendly painter

03 385-4348 or 027 274-

3541

PLUMBER

ALF THORPE

PLUMBING Certifying

Plumber for all types of

plumbing, maintenance,

spouting, alterations etc.

Phone 352-7402 or 0274-

350-231

Trades & Services

ROOFING

Qualified & Licenced

Practitioner. Re-Roof &

Repairs, all types. Member

New Zealand Roofing

Association. Over 35 years

experience. Phone John

027 432-3822 or 351-9147

email johnmill@ihug.

co.nz

RUBBISH REMOVAL

From Kleensacks to truck

loads, the messier th better.

Trees, flat clean ups. Call

Silver Threads 022 1407-

852

SPOUTING CLEANING

Spouting Unblocked,

Cleaned Out and Flushed

Out. Also Full Handyman

Services Available. Call

Trevor 332 8949 or 021

043-2034

TILER/CARPENTER

35 years exp, no job

too small. Ph Ross 027

4311440.

TREES BIG OR SMALL

tree removal, trimming,

stump grinding, shelterbelt

clean up, section clearing,

rubbish removals,

excavation work, ph Trees

Big or Small, for a free

quote, 021 061 4783

TREE WORK

Hedge trimming, stump

grinding, rubbish removed,

small job specialty Ph

Andrew 03 322-8341 or

027 435-8759

T.V. SERVICE CENTRE

Repairs, tvs, microwaves,

stereos, DVD. Aerial

installations and kitsets,

480 Moorhouse Ave, ph 03

379 1400

UPHOLSTERER

Dining Chairs, Lounge

suites, Caravan Squabs

etc. recovered. Free

Quotes. Phone Graeme

383-1448

VHS VIDEO TAPES

& all camera tapes

converted to DVD, video

taping special occasions,

www.grahamsvideo.co.nz

ph 03 338-1655

WATERBLASTING

Quality Job, Quick Service

by skilled tradesman, Ph

Richard Severin at Jet-X

0800 538 969 Free quotes,

visit www.jetx.co.nz

WINDOW CLEANER

Standard 2 bdrm house int

& ext from $45. Ph John

021 215 1476

Situations Vacant

Public Notices

Weka Pass Railway

Waipara, North Canterbury

Trains run

every Sunday

in January

Phone 0800wekapass

Depart Glenmark Station

11.30am & 2.00pm

www.wekapassrailway.co.nz

Public Notices

DEMOLITION

With care and respect we

will remove your dwelling.

Our policy is to recycle as

much as we can. We are a

local company specialising

in residential properties. We

will endeavor to cater for

your individual needs.

Ph. R.M. Solutions

021 02866981

for a free quote.

Wanted To Buy

AAA Buying goods

quality furniture,

Beds, Stoves, Washing

machines, Fridge Freezers.

Same day service. Selwyn

Dealers. Phone 980 5812

or 027 313 8156

A+ Household effects,

fridges, freezers, washing

machines, ovens. Good

cash paid. Ph Paul 022

0891 671

TOOLS

Garden, garage,

woodworking,

mechanical, engineering,

sawbenches, lathes, cash

buyer, ph 355-2045

Occupational Therapist

Part Time

Returning to work, have young children or wanting to

reduce your hours this could be the ideal job?

We are a community based trans-disciplinary therapy business,

working with people of all ages who have disabilities.

Our services include: assessment and treatment: group

activities: client and carer education: supervision and safety in

the home and workplace.

We seek an experienced NZ Registered Therapist who is able to

work autonomously, and enjoys working flexibly within a team

environment.

Experience should include work in some of the following

areas:

• Community, residential and educational settings

• Disabled children, adults or elderly

• 15 hours per week approximately with some flexibility

Application closing date: 5pm Friday 19 February 2017

Please send a copy of CV to:

The General Manager

Therapy Professionals Limited

PO Box 7807 Christchurch

Or email: therapyprofessionals@clear.net.nz

Applicants for this position should have NZ Residency or a valid

NZ work permit.
---
Complete and attach to clothing bag for

free clothing transport from start to finish.

Name: ______________________

Email: ______________________

Phone:______________________

Complete and attach to clothing bag for

free clothing transport from start to finish.

Name: ______________________

Email: ______________________

Phone:______________________

22

Tuesday January 24 2017

Classifieds

Entertainment

PEGASUS POST

Cafe open from 11am

TAB & Gaming

Function Facilities

HOUSIE

Tuesday, Thursday,

Saturday

SHUTTLE

Tuesday - Saturday

LIVE MUSIC

THIS FRIDAY

7pm Whitfords Bar

STEVIE D

THIS SATURDAY

7.30pm Whitfords Bar

SOULSHINE DUO

Open 7 Days from 5.30pm

WEDNESDAYS

RETRO ROAST

LUNCH

12PM-1.30PM

$10 Members / $12 Non

name

signed

2017

14km

6km

19 March 2017

This

emergency

contact number

Ferrymead Heritage Park.

existing

Moving with medical conditionyou for 43 years!

19name

th March 2017 • Prize Giving Ferrymead

emergency

Park.

signed

You can also pin it

You can also pin it

A Star Media Event

2017

sticker is valid for entry into either

distance. Must be worn during the event,

to claim prizes, and for free entry into

OFFICIAL ENTRY NUMBER:

This

contact number

existing

medical condition

14km

ENTRIES NOW OPEN!

$20 Early bird available online

Are you up for it?

14km

6km

19 th March 2017 • Prize Giving Ferrymead Park.

ENTER NOW $25

Online • PakNSave • New World • The Athletes Foot • YMCA

Children 10 years old and under free

Be in to win return flights for two,

thanks to Singapore Airlines

The Star Photo Archive: 1983

city2surf.co.nz

6km

OFFICIAL ENTRY NUMBER:

www.newbrightonclub.co.nz

GREAT

DINING

- downstairs -

ClubBISTRO

Open Tuesday to Saturday

12pm-2pm and from 5pm

Midweek $10

SPECIAL ROAST

sticker is valid for entry into either

distance. Must be worn Available during Tuesday, the event,

to claim prizes, Wednesday, and for free & entry Thursday into

Ferrymead Heritage Park.

OFFICIAL ENTRY NUMBER:

TUESDAYS &

THURSDAYS

Members Lucky

Card Draw

TAB POD

GAMING ROOM

FUNCTION ROOMS

SHUTTLE RUNNING

Tues, Thurs, Fri & Sat

SUNDAY

29th January

ALL YOU

CAN EAT

BUFFET

$25

BOOK NOW!

PIERVIEW RESTAURANT

OFFICIAL ENTRY NUMBER:

GREAT

DINING

- upstairs -

PIERVIEW

Restaurant

Quality a la carte

with a view!

Open from 5.30pm

FRIDAY, SATURDAY

& SUNDAY

FRIDAY SPECIAL:

SIRLOIN STEAK

or

CHICKEN BREAST

WITH JACKET POTATO

& SALAD BAR

$22!

SUNDAY SPECIAL:

3 courses

$25

NOW OPEN FOR

SUNDAY

BRUNCH

By the Seaside!

10.30am-2.30pm

202 Marine Parade

Ph 388-9416

Members, guests and affiliates welcome

H ORNBY

WORKINGMEN'S

CLUB

«WHAT'S ON«

FRIDAY 27 JAN, 7PM

REMINISCE

SATURDAY 28 JAN

4.30PM IAN MAC

8PM MEDIUM RARE

SUN 29 JAN, 2PM

NEVILLE WILKINS &

THE VISCOUNTS

$5 ENTRY

THIS SUNDAY 11AM

CLUB PICNIC

MEMBERS & THEIR FAMILIES

YALDHURST SCHOOL

Club

CAFE

OPEN 7 DAYS

LUNCH & DINNER

Gluten Free & Vegetarian options

Hornby WMC

17 Carmen Rd, Hornby

Phone 03 349 9026

www.hornbyworkingmensclub.co.nz

Members, guests & affiliates welcome
---
PEGASUS POST Tuesday January 24 2017 23

'Famous for their roasts!'

RESTAURANT & CAFÉ

Kid's SPECIAL

Two courses

Seniors SPECIAL

Two courses

$10

We are family friendly. Great Kids menu plus designated play area.

Soup/Roast or

Roast/Dessert

Special available lunch only

Monday - Saturday 12pm - 2.30pm

$20

Need

Accommodation?

We have

GREAT SUMMER

HOLIDAY RATES

on Studio Units

Book now! 03 342 7150

Sports Bar, Carbine Bar,

HOOFBEATS Open for

breakfast, lunch & dinner

The

RACECOURSE HOTEL

& Motorlodge

118 Racecourse Rd, Sockburn,

Christchurch. Ph 03 342 7150

www.racecoursehotel.co.nz

Lunch & Dinner

All you can eat, 7 days

Bookings Essential PH 386 0088

fb.com/GardenHotelRestaurant www.gardenhotel.co.nz

NOW SERVING

available

from

9am

Breakfast

HAPPY

HOUR

5PM - 7PM

DAILY

Live Music:

Vintage Blue

6PM.FRI.27 JAN

PHONE 385 8880 FIND US ON FACEBOOK fb.com/GBCCHCH

THE GARDEN HOTEL COMPLEX | 110 MARSHLAND RD

www.gardenhotel.co.nz | phone 385 3132
---
24

Tuesday January 24 2017

PEGASUS POST

$

15 99

kg

Fresh NZ Beef Rump Steak

$

3 49

each

Large Whole Watermelon

$

8 99

each

3for

$

5 00

Mainland Tasty 700g/Mild/Colby/Edam Cheese 1kg

2

for

$

5 50

Molenberg Bread 700g

$

5 99

each

Beehive Streaky Bacon 250g

$

4 50

each

Wattie's Canned Fruit

400-420g

(Excludes Tropical)

Whittaker's Sharepack 12 Pack/Chocolate Block 250g

$

31 99

pack

DB/Export Gold/Tui

24 x 330ml Bottles

$

11 99

each

Stoneleigh 750ml

(Excludes Rapaura/

Latitude/Wild Valley)

4

for

$

5 00

Schweppes Sparkling Soft Drink 1.5L

(Excludes Classic Dry)

Entries with any purchase at FreshChoice from 16th

January until the 29th January 2017. Two Avanti

20 inch kids bikes and helmets to be won in each store.

For more information and terms and conditions see

FreshChoice.co.nz/Bike-Wise.

FreshChoice Parklands

60 Queenspark Drive, Christchurch.

Open 7am-11pm, 7 days.

FreshChoice.co.nz FreshChoiceNZ 383 1004

FreshChoice Parklands

Certain products may not be available in all stores. Savings are based on non-promotional price. Limits may apply.

Prices apply from Tuesday 24th January to Sunday 29th January 2017, or while stocks last.

Owned and

operated

by locals

FCPP2401