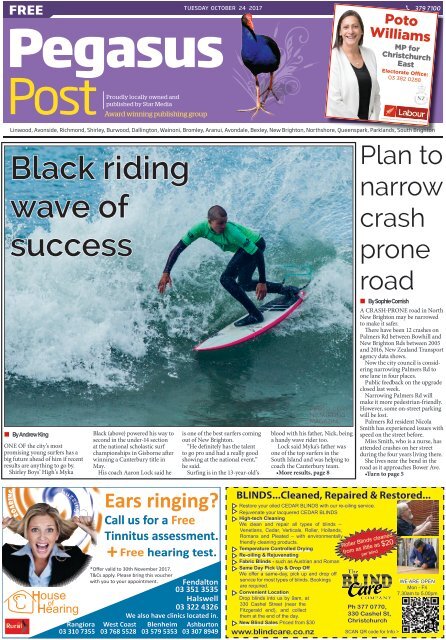 Pegasus Post: October 24, 2017
You also want an ePaper? Increase the reach of your titles
YUMPU automatically turns print PDFs into web optimized ePapers that Google loves.
FREE

TUESDAY OCTOBER 24 2017

Pegasus

379 7100

Poto

Williams

MP for

Christchurch

East

Post

Proudly locally owned and

published by Star Media

Award winning publishing group

Electorate Office:

03 382 0288

Linwood, Avonside, Richmond, Shirley, Burwood, Dallington, Wainoni, Bromley, Aranui, Avondale, Bexley, New Brighton, Northshore, Queenspark, Parklands, South Brighton

Black riding

wave of

success

Plan to

narrow

crash

prone

road

• By Andrew King

ONE OF the city's most

promising young surfers has a

big future ahead of him if recent

results are anything to go by.

Shirley Boys' High's Myka

Black (above) powered his way to

second in the under-14 section

at the national scholastic surf

championships in Gisborne after

winning a Canterbury title in

May.

His coach Aaron Lock said he

is one of the best surfers coming

out of New Brighton.

"He definitely has the talent

to go pro and had a really good

showing at the national event,"

he said.

Surfing is in the 13-year-old's

PHOTO: CORY,

NZ SURFING

MAGAZINE

blood with his father, Nick, being

a handy wave rider too.

Lock said Myka's father was

one of the top surfers in the

South Island and was helping to

coach the Canterbury team.

•More results, page 8

• By Sophie Cornish

A CRASH-PRONE road in North

New Brighton may be narrowed

to make it safer.

There have been 12 crashes on

Palmers Rd between Bowhill and

New Brighton Rds between 2005

and 2016, New Zealand Transport

agency data shows.

Now the city council is considering

narrowing Palmers Rd to

one lane in four places.

Public feedback on the upgrade

closed last week.

Narrowing Palmers Rd will

make it more pedestrian-friendly.

However, some on-street parking

will be lost.

Palmers Rd resident Nicola

Smith has experienced issues with

speed on the street before.

Miss Smith, who is a nurse, has

attended crashes on her street

during the four years living there.

She lives near the bend in the

road as it approaches Bower Ave.

•Turn to page 5

Roaring

buzzing

House

of

Hearing

Rangiora

03 310 7355

Ears ringing?

Call us for a Free

Tinnitus assessment.

+ Free hearing test.

*Offer valid to 30th November 2017.

T&Cs apply. Please bring this voucher

with you to your appointment.

West Coast

03 768 5528

Fendalton

03 351 3535

Halswell

03 322 4326

We also have clinics located in.

Blenheim Ashburton

03 579 5353 03 307 8949

BLINDS...Cleaned, Repaired & Restored...

Restore your oiled CEDAR BLINDS with our re-oiling service.

Rejuvenate your lacquered CEDAR BLINDS

High-tech Cleaning

We clean and repair all types of blinds –

Venetians, Cedar, Verticals, Roller, Hollands,

Romans and Pleated – with environmentally

friendly cleaning products.

Temperature Controlled Drying

Re-oiling & Rejuvenating

Fabric Blinds - such as Austrian and Roman

Same Day Pick Up & Drop Off

We offer a same-day, pick up and drop off

service for most types of blinds. Bookings

are required.

Convenient Location

Drop blinds into us by 9am, at

330 Cashel Street (near the

Fitzgerald end), and collect

them at the end of the day.

New Blind Sales Priced from $30

Roller Blinds cleaned

from as little as $20

per blind

Ph 377 0770,

330 Cashel St,

Christchurch

www.blindcare.co.nz SCAN QR code for Info >

WE ARE OPEN

Mon - Fri

7.30am to 5.00pm
---
2

Latest Christchurch news at www.star.kiwi

Tuesday October 24 2017

Inside

FROM

THE

EDITOR'S

DESK

PEGASUS POST

News..........................3-5, 8

SOBERING DETAILS on page

3 today showing the need for

emergency food supplies in low

decile schools has doubled over

the past six years.

No surprises the jump has

been particularly noticed in the

eastern suburbs. Linwood North

principal Sandra Smith says more

pupils are coming to school than

ever before without food.

It was never that way when I

went there. Mum would always

make sure we had our lunchbox

when she waved us off at the front

door.

But that was many, many years

ago and times have changed

dramatically – drugs, pokie machines

and the cost of housing eat

into the family budget.

The brakes are about to go on

that race track known as Palmers

Rd (see page 1).

About time.

– Barry Clarke

Shirley rides to silverware

SPORT 12

Local Views...........................6

Events................................10

Sports........................................12

Food...................................14

Health.....................................16

Real Estate..................... 17

GET IN TOUCH

General Inquiries Ph 379-7100

Classified Advertising Ph 379-1100

The Christchurch Star Company Ltd. PO box 1467 - Christchurch

starmedia.kiwi

NEWS

Sophie Cornish

Ph: 364 7437

sophie.cornish@starmedia.kiwi

ADVERTISING

Mark Sinclair

Ph: 364 7461

mark.sinclair@starmedia.kiwi

SMART

BRANDS

SMARTER

PRICES

DESIGNER

FASHION

AT OUTLET

PRICES

HORNBY 409 Main South Road | Open 10am–5pm, 7 days
---
PEGASUS POST Latest Christchurch news at www.star.kiwi

Tuesday October 24 2017 3

News

Demand for emergency food increases

Families

struggle

in eastern

suburbs

SCHOOL FOOD charity

KidsCan says demand for

emergency food supplies in low

decile schools has doubled over

the last six years.

KidsCan chief executive Julie

Chapman said the percentage

of children needing food in

schools supported by the charity

has jumped from 11 per cent

in 2011 to 22 per cent this year.

Chapman says the jump has

been particularly noticeable

in the east of Christchurch

where at least 10,000 houses

were demolished due to the

earthquakes.

"Certainly the housing pressures

[in Christchurch] have

forced a lot of families into

situations where they're sharing

houses and I think that, coupled

with increased cost of living, is

having a real impact."

Linwood North School

principal Sandra Smith said the

stress on the local community is

acute and has resulted in more

pupils coming to school without

food than ever before.

"Things have become

exponentially more challenging

for families in the east of

Christchurch," she said.

"There is absolutely genuine

poverty in this community that

can't be helped by the families

that are living in it.

"It's time for the rest of New

Zealand to really wake up to the

fact that many of our children

are not getting the lives that we

had when we were children."

Ms Smith said she now relies

on food and clothing provided

by businesses and charities

like KidsCan to ensure her

students don't go hungry

during the day.

TACKLING

HUNGER: Linwood

North School

principal Sandra

Smith said more

pupils are coming

to school without

food than ever

before.

"When you're hungry you

can't learn. So for some children

who come to school with no

breakfast or lunch we're able to

provide the food. We're filling a

real need," she says.

KidsCan figures show the

charity now supports 700

schools and a record 30,000

children every week across the

country.

Local

News

Now

In Brief

Fire rages, homes at risk

WATER TAX OPPOSED

The Coastal-Burwood

Community Board discussed

the possibility of the city

council charging for water

usage at its meeting. The board

agreed that if water charges

are proposed, it will not be in

favour of the plan.

ARANUI HOST SCOTLAND

The Scottish rugby league

team's official training ground

with be at Wainoni Park wile

they are in Christchurch for

the World Cup. The team will

train at the park on October 31

from 2pm. The training is part

of preparation for the match

against the Kiwis in the city. on

November 4.

AVON RIVER SAFETY

Environment Canterbury's

Navigation Safety Bylaw rules

for the Avon River

were discussed at the Coastal-

Burwood Community Board

meeting. Members of the

Arawa Canoe Club and

Canterbury Rowing are hoping

for safer changes to the river's

traffic lanes. ECan has required

the clubs to consult with

other river users and the board.

The community board had

agreed to support the proposed

changes.

Helping us,

Helps tHe

community

Drop off or buy

3 family stores in your community

4 Restell Street, Papanui

Ph 03 352 0515

50 Charles St, Kaiapoi

Ph 03 903 0017

Kids from

$79.95

Adults

from

$125

Lots of colours and sizes available

Great range of summer sandals

instore now…

47c Garlands Road, Woolston

Phone 389 3431

www.thefootwearfactory.co.nz

Contact:

Kama Jacobs

022 043 7696 or 03 384 8600

Spring

into action

Call the Smart

Real Estate team

You will SAVE

thousands

84 Royal Park Drive

Parklands - Deadline Treaty

FOR SALE

Prime Wiatikiri Double

Sections from $339,000+

62 & 62A Bluestone Drive, Waitikiri

FOR SALE

FOR SALE

23 Clearbrook St. Shirley - Deadline Treaty

www.smartrealestate.co.nz

kama.jacobs@smartrealestate.co.nz Licenced under the Real Estate Agents Act 2008

all new landsCape zone

bulk Compost, lawn mix,

aggregates and stones

The new Ferrymead Mitre10 Trade Centre and Landscaping Zone has

everything you need to complete your projects.

• Screened Soil

• Vege/Zoom Grow

• Bio Blend

• Garden Grow

• Turf Mix

• Tree Mulch

• Black Mulch

• Standard Bark Nuggets

• Premium Bark Nuggets

• Builders Mix

• AP20 Shingle

• AP40 Shingle

• Plastering Sand

• Brick Sand

• Bedding Sand

• Crusher Dust

• Round Stones

• Driveway Chip

• Teddington Chip

Ferrymead 987 Ferry Road Phone 373 6550

mitre10.co.nz/trade
---
4 Tuesday October 24 2017

Latest Christchurch news at www.star.kiwi

PEGASUS POST

tue 31 st OCTOBER

Turn your home into a halloween

haunted house... get yourself and

the kids dressed up!

Costumes, wigs, hats, masks, capes, ghosts, bats, spiders,

black balloons and many more spine-tingling accessories!

Outfits may vary from store to store

Make this halloween the spookiest yet!

Your Local JUST INCREDIBLE STORES

• Barrington Mall

• The Hub, Hornby

• New Brighton Mall

• South City Centre

NEW

SOUTH CITY

POP-UP STORE!

NExT DOOR TO OUR STORE aND

WHITCOULLS
---
PEGASUS POST Latest Christchurch news at www.star.kiwi

Tuesday October 24 2017 5

News

Pupils learn from jazz master

• By Sophie Cornish

​AN AWARD-winning jazz

band from Chisnallwood

Intermediate has played

alongside New Zealand big band

legend Rodger Fox.

The three-time Tui award

winner for New Zealand jazz

recording of the year was in

Christchurch for the Big Band

Festival at the weekend and

played with the ​Chisnallwood

band on Thursday.

Fox held a series of school and

adult band workshops during

the weekend.

Chisnallwood music programme

co-ordinator Judith Bell

said the workshops gave some

pupils their first experience playing

in a big band.

The​Chisnallwood jazz band

won a silver title at the Ara Institute

of Canterbury's JazzQuest

•From page 1

Motorists have lost control

there, including a drink driver

who smashed into her fence.

Potholes and other road

damage following the

PERFORMING: New Zealand big band legend Rodger Fox played with Chisnallwood

Intermediate's jazz band at the Christchurch Art Gallery last week.

for high school bands this year.

They were the only intermediate

school band in JazzQuest.

Dylan Jonkers, who also

earthquakes are also a concern

for Miss Smith.

"They don't have warnings for

any of the pot holes."

"You have to go 10km/h over

some of the bigger potholes,

won the Rockshop Bandquest

with Class Disruption, plays

trombone in the Chisnallwood

jazz band and wrote a piece

they have signs up saying

30km/h but you still have to

slow right down for them," said

Miss Smith.

She said her car has received a

lot of stone chips over the years.

called Memory Blues. Dylan

wrote all the parts for each

instrument and also sings in the

piece.

Plan to narrow North New Brighton road

A decision on the plan

will be made by the Coastal

Burwood Community Board in

December.

Work for the project will not

begin until mid-2018.

Local

News

Now

• By Sophie Cornish

Fire rages, homes at risk

Chisnallwood

marks 50 years

CHISNALLWOOD Intermediate

School will celebrate its 50th

jubilee this weekend.

The school was officially opened

in July 1967. It

was named after

William Chisnall

(1827-1876) and

William Wood

(1824-1904).

who first farmed

the area which

formed the

school's district.

Justin Fields

It is estimated

more than 30,000 students have

attended the school over the past

50 years.

The first day of the jubilee

will take place on Friday with a

welcome event and powhiri ceremony

at the school.

On Saturday, there will be a

community day at the school,

involving former and current students.

Principal Justin Fields said

this day will be for showcasing the

school's talent.

Live entertainment, food and

drinks will be available while the

school shows off its cultural, artistic

and sporting abilities.

Opportunities to register for

the event are still available on the

school's website.

Nova Montessori

Early Childhood Centre

and Primary School

OPEN DAY

Saturday 4th November 10am-2pm

YOUR LOCAL GARAGE

• All vehicle repairs

• Oil changes and services

• Brakes • Loan car available

• Tyres, punctures & batteries

• W.O.F • Tune up

Your LocaL GaraGe

VERY FRIENDLY SERVICE AND ADVICE

NEW BRIGHTON AUTOMOTIVE

Phone: 03 388 3630

40 Hawke St (behind Z Petrol Station)

Offers an individual holistic

education for children between

the ages of 3 to 13 years.

Nova Montessori Children's House

and Primary School

53 Owles Terrace, New Brighton

www.novamontessori.school.nz
---
6 Tuesday October 24 2017

Latest Christchurch news at www.star.kiwi

PEGASUS POST

Your Local Views

Funding gives confidence to plan ahead

Manager of the

Neighbourhood

Trust Ginny

Larsen writes

about how

three years

of funding

has secured the trust's

future to the benefit of the

community

Funding – the very word is

enough to send chills up the

spine of most not-for-profit organisations.

As the manager of Neighbourhood

Trust, (the community arm

of St Albans Baptist Church),

a local not-for-profit working

mainly in the Mairehau, Shirley

and St Albans part of town, I

feel like half my life is taken up

with funding applications and

accountabilities.

So it is a nice surprise to have

some funders making the process

a bit easier by putting three-year

funding as an option.

This year both NZ Lotteries

and the city council, through its

community boards offered this

alternative.

And we are exceptionally grateful

to the Papanui-Innes Community

Board for its grant.

It must be hugely difficult

making decisions, especially as

the funds available to them have

been cut by $85,000.

So what does this mean for an

organisation to have funds guaranteed

for three years?

It gives us confidence to plan

and look ahead, to know we can

retain our wonderfully effective

staff and provide appropriate

training to keep them up-to-date.

It means we can continue to

offer our community consistent,

community-led work at a high

level to a variety of sectors – the

Golden Connections programme

for over-60s; from exercise classes

to community days; from free

English as a second language

classes to OSCAR programmes

to the Pay It Forward collective

of over 50 local designers, selling

their products through the store

at 49 Nancy Ave.

It also means we can dream

a little about working with our

community in different ways,

supporting and mentoring,

listening to their aspirations for

their whanau.

Through the Mairehau Neighbourhood

Project, a three-year

Dyers Road Landscape

& Garden Supplies

• Barks • Peastraw • Composts - we supply the best available

• Aggregates - Chip, Round and Basecourse

• Pavers & Schist products • Pungas

• Decorative Stones & Landscaping Rocks

• Trailer Hire first hour free with purchase

• Bag & Bulk - pick up or delivered

David, Carol & Mike

We will deliver!

SOIL

AND

Phone: 03 384 6540

183 Dyers Rd, Bromley • OPEN 7 DAYS

Weekdays 7.30am-5pm. Weekends 8.30am-3pm

www.dyersroadandlandscapes.co.nz

COMMUNITY: The Neighbourhood Trust can focus on

supporting the community now that it has secured three years

of funding. ​

project supported by The Tindall

Foundation, we have seen transformational,

long-term change;

some remarkable stories.

Working alongside partners

Te Ora Hou and Kingdom

Resources, with Mairehau

Primary School as a base has

brought a depth to our work with

families.

We have seen the value of

longer-term thinking and are

delighted that this work can

now continue to develop. It's

HARDFILL

DUMPING

EVERYDAY WELLNESS

GET UP & GO! BUY 2

FOR $40

ON SELECTED gO hEALThY PRODUCTS

energising and empowering for

our organisation and for our

community.

On one hand, we are humbled

by the trust funders have put in

us; on the other hand, we'd love

to see the process made easier for

all those organisations who have

a proven track record and give

great value for money.

Let's release them from the

application grind and free them

for more time making things

happen.

Readers respond to an

article about residents

who are unhappy with

consultation over the

Christchurch School of

Gymnastics lease at QE II

Park

Jackie McDonald – These

residents need to get a life. It's

not a bottle store or pub, it's

something that hundreds of

children use and is an asset to

the community.

Kendra

Wilkie

Street – The

Christchurch

School of

Gymnastics

has a 100-

year lease with the city council

which needs to be honoured.

The first location was shot down

because it infringed on a rugby

field. Now they aren't happy with

the second location? Hundreds of

children use these facilities each

week. It is a blessing that CSG

can remain in the area. Why are

people complaining?

Maria Mann – Oh, get over

yourselves. It's a great idea to

have the school of gymnastics by

QE II.

Janice Belgrave – Loss

of trees? How many have they

destroyed to build the two new

high schools.

YOUR ONE STOP SHOP!

TYRES

NEW & USEd

WoF

FLAGS

TYRES

bOOk

IN NOW

FULL MECHANICAL

SERVICES

WHEEL

ALIGNMENTS

SPECIALISTS$49

Wigram - 341 1226 104 Hayton Rd

Woolston - 384 0000 49 Garlands Road

10% discount

everyday using

*excludes

PrescriPtions

& sale stock

Barrington Pharmacy

next to couPlands, 256 Barrington st

Phone

332 3156

Entries close Saturday 30th September

@WilsonsBarringtonPharmacy
---
PEGASUS POST Latest Christchurch news at www.star.kiwi

Tuesday October 24 2017 7

Your World Awaits

Together with World Journeys and House of Travel Shirley

It takes years and many personal moments to know a place; its nooks and crannies, its people, how it all works.

Our travel consultants have first-hand knowledge of the below destinations and World Journeys have created

special small group itineraries that will ensure a unique and inspiring journey, all in comfort and style.

Small group travel offers a chance to share the trip of a lifetime. Travel is about much more than just ticking off the sights

on the well-trodden tourist trail. It's about experiencing new cultures, savouring local cuisine, hearing new melodies

and meeting fascinating people. An incredible world is out there to be explored, and World Journeys has put

together a range of hosted tours with that in mind.

With a maximum group size of 18, all of the below tours are guaranteed to depart, so you can book

in confidence with House of Travel Shirley. Pop in to see us now to secure your spot

on one of these amazing trips.

Below prices are

AIRFARE

INCLUSIVE

Best of Southern Africa

Nicky de Clifford

nickyd@hot.co.nz

Explore Southern Africa in style

and comfort. Enjoy a luxury

eco-reserve in South Africa and

the dunes of Namibia. Head north

to the Victoria Falls and cruise on

the Zambezi River. On thrilling safaris witness the

animals in their natural habitat and experience the

magnificence of the Okavango Delta.

Madagascar

18 DAYS

23 DAYS

* *

from

$23,940

$11,290

from

pp

pp

share twin

share twin

DEPARTS 29 APRIL – 21 MAY 2018 DEPARTS 1 SEPTEMBER – 18 SEPTEMBER 2018

Lisa Hutchison

lisahutchison@hot.co.nz

With exotic wildlife and

dramatic, contrasting landscapes,

Madagascar is truly a destination

for avid travellers. You will be

guaranteed a warm welcome from

the friendly locals and a chance to witness the quirky

and charming Lemurs, which the country is most well

known for.

Grand Tour of South America

Leanne Newton

lnewton@hot.co.nz

Amazonian rainforest, Incan

ruins, colonial towns, white

sandy beaches, and the wonderful

wildlife: the wonders of South

America make for incredible

experiences. You'll love the rich history and vast range

of cultures, colours and sights, all in comfort and style.

Cherry Blossom Japan

from

$26,835

$14,135

pp

share twin

DEPARTS 26 AUGUST – 28 SEPTEMBER 2018

*

34 DAYS

from

share twin

DEPARTS 24 MARCH – 9 APRIL 2018

Julia Dawson

juliad@hot.co.nz

Each spring, Japan's landscape

is host to fragile pink and white

sakura blossom, stunning

colour that is celebrated through

the entire country. This unique

and incredibly scenic country with

enchanting culture, wonderful cuisine and gracious

people awaits you.

*

pp

17 DAYS

Castro's Cuba

Bella Hill

bellah@hot.co.nz

Trapped in a time warp there is

nowhere else like Cuba! On this

journey visit the historic cities of

Havana and Santiago de Cuba and

watch the classic cars cruise by. Head

down to the pastel coloured colonial towns of Trinidad

and Camaguey and enjoy the natural beauty, fascinating

history, the warm Cuban people along the way….

Best of the Med

20 DAYS 26 DAYS

* from

*

from

$11,875

$13,670

pp

share twin

share twin

DEPARTS 18 MAY – 6 JUNE 2018 | 7 – 26 SEPTEMBER 2018 DEPARTS 19 AUGUST – 13 SEPTEMBER 2018

Alannah Batt

alannahb@hot.co.nz

Tour beautiful Lake Como

and the teetering coastal

villages of the Cinque Terre

before cruising from Venice to

iconic Mediterranean ports, ending

with a taste of Spain in Barcelona!

EARLYBIRD DEAL BOOK ANY 2018 HOSTED JOURNEY AND DEPOSIT BY 30 NOV 2017 TO SAVE $400 PER COUPLE (OR $200 PER PERSON)

pp

The best holidays are created together.

199 - 201 MARSHLAND RD, CHRISTCHURCH I 03 385 0710 I SHIRLEY@HOT.CO.NZ

*All prices include return Economy class airfares (including taxes) ex Auckland, all accommodation, some meals, comprehensive sightseeing and entrance fees, tipping, and a World Journeys Host. Excludes optional Shore

Excursions on Best of the Med cruise; travel insurance and any visas required. Book and deposit by 30 Nov 2017 on one of these 2018 departures to save $200 per person off the prices above. All tours subject to availability.

Further terms and conditions apply, see in store for details. Add-on fares from Christchurch available, just ask us.
---
8 Tuesday October 24 2017

Latest Christchurch news at www.star.kiwi

News

SEWING: Hannah Perry and her daughter Millie sew together one of the 300 bags which

community group Stitch-O-Mat hopes to create in order to cut down on plastic bag usage.

Community group leads effort

to replace plastic bags

• By Sophie Cornish

STITCH-O-MAT has opened

and is already making positive

contributions to the community

by sewing reusable bags.

Located in The Old School,

formerly Central New Brighton

School, the community group is

aiming to sew 300 reusable bags

to reduce plastic consumption.

Run by co-founders Bridget Allen

and Samantha Fay, the project

runs in conjunction with the

New Brighton FoodTogether hub.

FoodTogether is a collective of

organisations selling cheap fruit

and vegetables.

The New Brighton hub, located

at St Faith's Church, is one of 40

distribution hubs in Canterbury

and offers a $12 bag of fruit and

vegetables, enough to feed a family

of four.

Ms Allen gets curtain material

cut-offs donated from businesses

such as Hubbers, Millers and

McKenzie and Willis.

Each bag requires 2m of material.

Ms Allen said for some it's

more than just sewing a bag.

"The people that are coming

along to the workshops, it is more

than just sewing the bag, it is the

social aspect and bringing people

together," she said.

"Some people are out of work

and just want something positive

that they could be doing with

their skills. A lot of people have

sewing skills but don't really have

a reason to use them."

Three years ago, Ms Fay

and Ms Allen worked with

students from Linwood College

to sew fairy dresses and capes

for children at Christchurch

Hospital.

Ms Allen hopes to start this

project up again with the opening

of Stitch-O-Mat.

•From page 1

The Canterbury scholastic

surf team finished third overall

at the national scholastic surf

championships in Gisborne.

Haeata Community Campus'

Estella Hungerford made the

podium, finishing third in

the under-16 girls section and

backing up her win in the

Canterbury girls open section

in May.

The event hosts 11 regional

teams which compete for

overall team points as well as

individual titles in seven age

Local

News

Now

Fire rages, homes at risk

Hungerford helps

Canty team to third

Canterbury scholastic

surfing team:

Christchurch Boys' High:

Sam Sands, Thomas

Harcourt and Connor

McLennan (now at the

Raglan Surf Academy); St

Bede's: Jordan Sparrow,

Casper McCormick,

Neko Tohiariki and James

Millar; Haeata Community

Campus: Estella Hungerford;

Cashmere High: Frith Davis;

Kaiapoi High: Koby Cameron;

Rangiora High: Tegan Bishop;

travelling reserve: Kristy

McDonald, of Burnside High

School.

PEGASUS POST

CARVING: Estella

Hungerford finished third in

the under-16 girls section.

PHOTO: MARK BISHOP

groups and disciplines.

Each team consists of 12

secondary school-aged surfers.

Final team standings:

Bay of Plenty, 1, 7790pts;

Gisborne, 2, 7715pts;

Canterbury, 3, 7045pts.

Under-18 boys: Sam Sands,

7=; Thomas Harcourt, 7=;

Conor McLennan, 13; Jordan

Sparrow, 19.

Under-16 boys: Neko

Tohiariki, 19.

Under-14 boys: Myka

Black, 2; Koby Cameron, 13;

James Millar, 19.

Longboard: Caspar

McCormick, 2.

Under-18 girls: Frith Davis, 7.​

Under-16 girls: Tegen

Bishop, 2; Estella Hungerford, 3.

growing with you

SprIng Is here –

It'S Sow Time

how to get the best results from

seeds and seedlings

100% NatIve In

The capItal

Unravelling the secrets of

Otari-wilton Bush

The New Zealand

landscape awards

The people behind

the projects

$7.90 incl. GST

ISSN 2423-0219

Save our roSeS

How a rose register is protecting our heritage

September 2016 | 100%

It's time

to grow!

New look and more

content than ever!

MeeT LeSTer Brice

A Garden coach

auckland Botanic GardenS

Why we love our public grounds

A GREAT

FUN NIGHT

FOR ALL THE

FAMILY

now bigger than ever

The magazine for

gardeners who like to get

their hands dirty

SubScribe from

$43. 50*

*6 issues/6 months

SUBSCRIPTIONS FREEPHONE

0800 77 77 10

www.gaRdeNER.kiwI

140 Colombo Street, Beckenham

Phone 03 943 1639

www.themohairstore.co.nz

Celebrate a

at

Tuesday, 31st October 4pm till 8pm

• Kids Scary Scavenger Hunt

• Halloween Family Feast

• Adult Monsters and Zombies Mini Putt includes

Wow Monster Burger with Flesh Fries $27 per adult

• U/16 Monsters and Zombies Mini Putt includes

Wowwee Monster Burger with Flesh Fries $15 per child

Shop online

with the in

store special

prices!

Discount code:

Goat

themohairstore

GOLF COURSE MEMBERSHIP PASSES

NOW AVAILABLE

Early Bird Annual Pass $325

Under 14 Annual Pass $120

While stock lasts - spaces are limited

DRIVING RANGE

CONSESSION CARDS:

Birdie

$200 ($240 value)

$500 ($700 value)

$1000 ($1600 value)

BOOKINGS ESSENTIAL PHONE 376-5350 EXT 2 | 50 FERRYMEAD PARK Eagle DR, FERRYMEAD

Albatross

WEDDINGS & RACES

phone: 03 374 5858

363 lincoln road, addington

mon - fri 9am - 5pm

sat 10am - 4pm sun 10am - 2pm
---
PEGASUS POST Latest Christchurch news at www.star.kiwi

Tuesday October 24 2017 9

CARPET HOUSE LOT DEALS

Prices are based on an average 3 bedroom home, using 20 broadloom metres of carpet, three finishing bars and fully installed.

POLYPROP

NYLON WOOL

Benmore

• Heavy Duty

• Cut Pile

• 4 Metre Wide Rolls

• Foam Back

• 4 Great Colours

• $79.90 per m

Boucle

• Extra Heavy Duty

+ Stairs

• 80/20 Wool Plus

• 48oz

• 1 Colour

• $99.90 per m

Detroit

• Extra Heavy Duty

• 26oz Solution dyed

nylon

• 12 Colours

• $75.00 per m

$2600

FoaM Back

InstaLLatIon IncLuded

$3500

Luxury underLay &

InstaLLatIon IncLuded

$3000

Luxury underLay &

InstaLLatIon IncLuded

POLYPROP POLYESTER

NYLON

Cartersville

• Extra Heavy Duty

• 50oz Luxury Polyester

• Cut Pile

• Slightly Imperfect

• $79.90 per m

Bedrock

• Heavy Duty

• Polyprop

• 1x Great Colour

• Loop Pile

• $49.90 per m

Windsor Twist

• Extra Heavy Duty

• 36 oz Solution Dyed

Nylon

• Cut Pile

• 8 Amazing Colours

• $99.90 per m

$3100

Luxury underLay &

InstaLLatIon IncLuded

$2500

Luxury underLay &

InstaLLatIon IncLuded

$3500

Luxury underLay &

InstaLLatIon IncLuded

NYLON

Horizon

• Extra Heavy Duty

• 36oz Solution Dyed

Nylon

• 1 Colour - Dusk

• $99.90 per m

$3500

Luxury underLay &

InstaLLatIon IncLuded

POLYESTER

Sanctuary

• Extra Heavy Duty

• 50 oz Luxury Polyester

• Cut Pile

• Great Colour

• $99.90 per m

$3500

Luxury underLay &

InstaLLatIon IncLuded

south island's largest stockist of vinyl

buy 1 metre get 1 metre free!

2 metre wide vinyl

selected patterns

conditions apply

312 Wilsons Road North, Waltham Phone 366 0070

www.carpetkingdom.co.nz | Mon - Fri 8am - 5pm | Sat 10am -1pm

Q Card Finance Now Available

FREE no obligation measure & quote (conditions apply.)
---
10 Tuesday October 24 2017

Latest Christchurch news at www.star.kiwi

PEGASUS POST

​Imagination Station

Friday-Monday, 9.30-5.30pm

Lego lovers, head down to

the Imagination Station pop-up

facility in New Brighton. The

popular centre uses Lego and

Duplo as a medium for

learning and creativity. $2 entry

fee.

Carnaby Lane, New Brighton

Mall

Ascot Scrabble Group

Friday, 12.45pm

Challenge your word

knowledge with other likeminded

folk. Join in with this

friendly group suitable for

beginners or experienced players.

Cost $3, includes afternoon

tea.

Ascot Community Centre, Ascot

Ave, North New Brighton

Reading to Dogs

Wednesday, 3.30-4.30pm

Encourage your children's

reading skills in a relaxed

and fun environment. The

programme's animals have

all been trained and tested for

health, safety and temperament.

Library staff and a dog handler

will be present at all times to help

facilitate the sessions. Sessions

are 15min.

New Brighton Library, Marine

Pde

Email sophie.cornish@starmedia.kiwi

by 5pm each Friday

Aranui Creation Station

Wednesday 10am-noon

This initiative from Otautahi

Creative Spaces encourages

people to use their imagination

and encourage their crafty

side. Make new friends and

share ideas and tips on creative

projects. It's free to take part and

everyone is welcome to go along

and share their crafty side.

109 Aldershot St. Free entry

Church air – Anglican Parish

of East Christchurch

Saturday, 10am-2pm

Loads of bargains and fun.

There will be a bouncy castle

and a puppet show at 11am. For

enquires 03 383 4656.

St Faiths Church Hall, 48

Hawke St, New Brighton

Learner Licence Course

Friday, 9.30-11.30am

Get the knowledge and

confidence you need to

succeed when sitting your

learner's licence test. This

course is delivered by Literacy

Christchurch which provide you

with laptops to use during class

time to sit practice tests and for

researching questions.

The course does not include

the actual test, or the fee to sit the

actual test.

Aranui Library, 109 Aldershot St

SEASIDE MARKET: Every Saturday, 10-2pm, head along to the seaside to enjoy live

entertainment, great food, fresh produce, artisan bread, arts, crafts, jewellery and more.

There will also be a bouncy castle and free face-painting for the children. New Brighton Mall.

Have-A-Go Indoor Bowls

Every Tuesday, 11am-1.30pm

Indoor bowls for the senior

community. No experience

necessary and all abilities

welcome. Go along to try it out.

Please wear soft shoes. Cost per

person is $2. First session free.

Phone Tania Smith at ACTIS on

963 7070 or 027 540 5442 with

any inquiries.

Aranui/Wainoni Community

Centre

Eastside Gallery

Until Thursday, 11-4pm

Time & Memory is an

exhibition of drawings prints and

paintings by Linda James, Robyn

Kilty, Margaret Ryley and Tiffany

Thornley who have worked and

exhibited together for many

years. The time work by Linda

James' mother who recently

passed away is included. Any

inquiries, phone 981 2881.

388 Worcester St

Grace Vineyard Church Family

Fun Night

Tuesday October 31, 5-7pm

Everyone is welcome at the annual

family fun night. Enjoy the

carnival games, bouncy castle,

arts and crafts, games and live

bands. You are encouraged to

dress 'non-spooky' because it's a

safe and fun alternative to trick

or treating. Gold coin donation.

Grace Vineyard Beach Campus,

111 Seaview Rd, New Brighton.

style

noun

elegance and sophistication.

synonyms: flair, grace, poise,

polish, suaveness, urbanity,

chic, finesse, taste, class,

comfort, luxury, affluence,

wealth, opulence, lavishness.

Shop

Win

& Relax

FAMILY GETAWAY TO HANMER SPRINGS

Pegasus Post Winner

GAY SYME

Star Media Advertising Manager, Shane Victor

presenting Gay with her vouchers

Magazine | style.kiwi

Thank you to everyone who entered this competition

Proudly supported by
---
PEGASUS POST Latest Christchurch news at www.star.kiwi

Tuesday October 24 2017 11

Introducing our brand new

purpose built retirement village

in the heart of Shirley.

Retirement just started looking a whole lot

better in Shirley!

The Village Palms, opening in November,

offers affordable luxury

and first class care.

Our stylish one bedroom apartments start at

an unbelievable purchase price of $255,000 and

spacious studio's at a competitive $150,000.

At The Village Palms, we also offer the full continuum of

care, with care suites, Rest Home & Hospital level rooms

available with care delivered 24 hours a day by Registered

Nurses and experienced staff.

Call us on

022 321 1872

or Freephone

0800 THE VILLAGE

for your own

personal

guided tour

The Village Palms Where new memories are made
---
12 Tuesday October 24 2017

Latest Christchurch news at www.star.kiwi

KIDSTUFF

Lindisfarne Nursery School

Lindisfarne Nursery School was

established by Tricia Cuthbert in 1987 and

remains part of the Cuthbert family today.

We are committed to Christchurch, to our

community, our Lindisfarne families, and

most importantly the futures and happiness

of our children.

We believe in developing children's

Keeping up with what girls

want includes Herbology

with Professor Sprout

Part of the magic of being a girl-led

organisation is that GirlGuiding New

Zealand can offer camps and activities

that girls really love. A recent example is

a Harry Potter camp held in Christchurch

by Westburn Guides and Brownies which

saw girls enjoying lessons on herbology,

potions, duels, Quiddich and care of

magical creatures.

Westburn Guides and Brownies uncover

local wildlife on camp. Photo: Katie Collins

• Central location

• Cooked healthy heart meals

• Large private outdoor play area

• Casual care available

• Enrolments available now

• 7.30am - 5.30pm Monday to Friday

EST 1987

389 2483

375 Worcester Street • Christchurch

She'll see

opportunities

not obstacles

Build up you daughters'

confidence levels so

she can conquer her

mountains. We have

spaces in our local

Pippin, Brownie and

Guide groups for her to

start her adventure.

Call us today.

feelings of self-worth, and encouraging

tolerance and understanding of others.

Our teachers all hold a Diploma of

Teaching in Early Childhood, and one

holds a Diploma of Teaching in Primary

as well as early childhood. She prepares

the four year olds for school through an

informal and brief daily 'lesson' time which

the children love to take part in.

We have a separate nursery with an

outdoor area where the children discover

and explore.

We are a strong multi-cultural centre

with committed teachers who embrace and

celebrate diversity for our families.

Morning and afternoon tea and a cooked

lunch are provided, and we welcome

visitors.

Check us out at www.lindisfarnenursery.

school.nz or phone 389 2483

The two-day camp was a fantastic

example of how GirlGuiding New Zealand

brings girls together to challenge them,

excite them to learn new things, make

friends and above all, have fun.

GirlGuiding Christchurch is looking for

people who can share their skills with the

girls and young women in their community.

Volunteering with us means you can put

your unique talents to good use, develop

your leadership skills, and it looks great on

your CV! Call us today to discuss how we

can work together.

Space is also available for girls in

Christchurch at Pippins (5 - 6 years),

Brownies (7 - 9 1/2 years), Guides (9 - 12

1/2 years) and Rangers (12 1/2 - 17 years).

Call 0800 22 22 92 or visit

https://www.girlguidingnz.org.nz/ for

more information.

girlguidingnz.org.nz

0800 22 22 92

• By Sophie Cornish

SHIRLEY BOYS' High

School mountain biking

coach Pete Beswick finally

has the trophy he's been

waiting four years for.

The trophy was won by

his team of Shirley students

at the South Island mountain

biking championships

in Dunedin.

"I've been eyeing it up, it

is the fourth year in a row

that I've had my eyes set on

that trophy," he said.

Five SBHS students

finished in the top 10 of

their individual categories,

generating enough points

for the school to finish

first with 1102 points. Mt

Aspiring College finished

second with 1057 points.

The overall individual

category included three

races – cross-country,

downhill, and 'super-D',

a less technical version of

the downhill race with

more pedalling.

Beswick said he has witnessed

a real growth in the

sport across the country

and within the SBHS.

"I started this club (at the

school) five years ago with

six people, now this year

we had about 35 people

sign up."

Beswick said the competition

was met with thunder,

lightning, a downpour

of rain and "inches of

mud" on the first day of

competition.

SBHS student Indy

Hawthorne took the best

overall individual result

with fourth in the under-16

grade. He finished second

in the cross-country race, a

huge achievement, Beswick

said.

"The cross-country was

SPORTS

PEGASUS POST

JUMP: Indy Hawthorne

on the downhill course

in Dunedin during the

South Island mountain

biking championships

where he finished fourth

in the under-16 age

group. PHOTOS: ALEX

FAIRBROTHER

Coach leads SBHS team to top

of mountain biking champs

DETERMINED: Hamish

Bennett finished

seventh in the under-20

age group.

fiercely competed for in

every age group."

Team captain Hamish

Bennett finished seventh

in the under-20 age group

and Keelan Thomson was

ninth. Jordan Sutherland

finished eighth in the under-16

age group.

DOWNHILL: Jordan Sutherland finished eighth in the under-16 age group.

Discover this

unique Emporium

Metal art - gifts - hoMewares

water features - pottery

Mirrors - candles

wall hangings & More

722 Marshland Road, Top end Styx

Open 7 Days

Ph: 03 323 9781

www.hitchingpost.co.nz

Discover Christchurch's

best priced pet

accommodation

• Grooming

cats and dogs

• Daycare -

all breeds

• Long stay/

short stay

Call now to book in your fur baby -

inspections welcome anytime!

aLameDa

kenneLs & cattery

271 Dyers Road | Ph 384 1297

www.alameda.nz
---
PEGASUS POST Latest Christchurch news at www.star.kiwi

Tuesday October 24 2017 13

Linwood

College

PERSONALISED

PATHWAYS

TO SUCCESS

2018 Student Leaders: 1st Row: Vai Mariner, Crystal Mehlhopt, Jenna Hollis, Leeah Mullany, Sarah Moana Wooff-Smyth

2nd Row: Eden Pettigrew, Adonai Schwenke, Anaru Gray, Cole Barrie

3rd Row: Havana Aaifou, Thomas McHutchison, Sapana Kharal, William Paulden, Sean Robertson-Wright, Makayla Austin

Enrolling now for 2018

Principal's Report

Kia ora koutou. Talofa.

Kia Orana. Malo e

lelei. Bula. Fakaalofa

atu. Namaste and

Kumusta. Greetings to

our Community.

The content of this

page shows the busy

life of a NZ secondary

school. Education is

about seeing the whole person and how these

developmentally positive experiences enrich our

students' understanding of whom they are and

broaden their outlook. They nurture students'

classroom focus by contextualising their learning

and sowing the seeds of positive ambition.

Linwood College believes in a 'pathwayed

curriculum'. This means the school, students and

families knowing:

1. students' past learning and skills as they come

into LC from our partner primary schools and

building on these successes

2. how the learning at LC connects to what the

students want to do when they leave school.

"What are my post-school pathways and how

does my LC learning help me to achieve these

pathways?"

In this way learning is meaningful to the individual

and strengths-based.

Coast to Coast Update

Article by The Press' Robert van Royen

– Sept, 2017 (paraphrased)

Six Linwood College pupils are competing in the

Tough Mudder event alongside Richie McCaw

in Auckland in November, thanks to iSport

Foundation and Coast-to-Coast Rangers.

Linwood College's Mapu Uasi, Moahengi

Ngauamo, Juilan Elia-Lui, Tupito Saofai and

Kyle Amer couldn't contain their excitement

when they heard the news that they would

be competing. They will all do the 20km mud

and obstacle course, which is designed to test

physical strength, stamina and mental grit.

Connected to these student pathways are the

national development of Kāhui Ako-Communities

of Learning. Education, unfortunately, can have

its share of short-term fads, but Kāhui Ako are

not one of them. In fact, effective schools and

communities have taking this approach for

decades. Kāhui Ako are schools collaborating

to ensure that the student is at the centre of all

activity, not just in the individual school that they

are in at the time, but as students progress in

education from early childhood centres through

their schooling to tertiary and the workplace.

Linwood College is in two Kāhui Ako. Tamai is

the schools of Bamford, Bromley, Linwood Ave,

Linwood College, Linwood North, Tamariki,

and Te Waka Unua. Aupaki is Heathcote Valley,

Linwood College, Lyttelton, Our Lady Star of

the Sea, Mt Pleasant, Redcliffs and Sumner.

One practical outcome already of our Kāhui Ako

has been a specific focus on enrichment with

students from our schools getting together

for very successful eight week enrichment

programmes in Maths, Debating, Pasifika and

with Technology to come.

Finally, schools can be complicated places. If

for any reason you would like to talk to me about

anything please contact the office so we can

arrange this. My door is open.

Ngamihinui – best wishes,

Richard Edmundson - Tumuaki (Principal)

McCaw's Foundation contacted Jess De Bont,

who is currently training the pupils for next year's

Coast-to-Coast and suggested the Tough Mudder

event to her.

"It's an amazing

opportunity –

once in a life time

stuff," she said.

"Auckland is a

really good lead

up for the Coastto-Coast,"

said

Jess De Bont.

Planting at Charlesworth Reserve

Linwood College's Year 7 & 8 students did an awesome job during a day of

planting at Charlesworth Reserve according to Karla Guerin, the Kiwi Can

Coordinator from the Graeme Dingle Foundation.

Karla said that the planting day (late last term) was very hot and windy but

the students all persevered and gave it their best. She said that it was great

to see everyone fully engaged and work alongside each other with great

teamwork.

Cultural Festival

NZ Army Visit

College's Car Club

Linwood College students' Car Club had a great

time at Ara Institute of Canterbury over Term 3,

learning about all things cars. Under the careful

guidance of Tutor Bernie Blanken, students

learnt how to change tyres, jump-start flat

batteries, strip down and rebuild a small fourstroke

engine, disassemble and reassemble a

gearbox as well as automotive welding.

Students thanked Bernie by buying him a big box

of chocolates at the end of the course.

Drama Review

Year 10's mini production is going to

be #fairestofthemall. This story is

an adaption of Snow White with an

improvised and modern twist.

Masking Up

Part of the Year 9 Drama curriculum is to focus

on Drama technologies, so last term students

worked on Mask Making.

This is an important technology which has

links to Greek Theatre and Commedia

Del'Arte, both types of Drama which the

students will be researching when they get to

their NCEA studies.

Year 11's Tasha Matoe in

'Harbouring Ghosts', a play

about healing past mistakes.

'The Change Over' Review

As a Christchurch resident from the Eastern suburbs, the

movie 'The Changeover' is certainly well worth watching,

not just for its plot but for the visually striking scenes of

post-quake Christchurch. Aerial views show the lead

character's home surrounded by a sea of vacant lots and

low-lying swampy stretches. Looking across to the city,

with randomly plonked containers and road works, these

scenes also tell part of our story. Linwood College is listed

on the credits as many of our students were acting extras.

Jarrod Bishop

Year 12/13 performers in

an adaptation of Hamlet's

'Ophelia Thinks Harder'.

Linwood College presented three cultural

dances at the 2017 Primary Schools' Cultural

Festival. Filipino students performed a sacred

dance which was followed by a Samoan dance,

'Do it, do it' siva.

The final item was

a kapa haka and

song 'Kapi-oi-oi'.

Our students made

us proud while

demonstrating

the rich cultural

diversity of our

College.

The New Zealand Army Band paid Linwood

College a visit late last term and provided a very

enjoyable lunchtime musical ensemble.

Our Head Boy, Thomas McHutchison (pictured)

joined the band.

Linwood College • Phone: 982-0100 • office@linwoodcollege.school.nz • www.linwoodcollege.school.nz
---
14 Tuesday October 24 2017

Latest Christchurch news at www.star.kiwi

PEGASUS POST

GREAT food

BROUGHT TO YOU BY...

Your fresh food people

PRAWN AND AVOCADO

COCKTAIL

Ingredients

1 squeeze Tomato paste

1 squeeze Mayonnaise

1 dash Worcestershire sauce

1 dash Tabasco sauce

1 squeeze Lemon

1 optional Brandy

1 Avocado

1 handful Cooked prawn

1 handful Cos lettuce leaves

Directions

Make a seafood cocktail sauce

by blending mayonnaise, a little

tomato paste, a dash of Worcester

sauce, a dash of tabasco, a

squeeze of lemon and, if you like,

a glug of brandy.

Season to taste then fold

through cooked prawns and

avocado balls made by using

a melon baller (dress these

with a little lemon juice to stop

browning).

Arrange some small cos lettuce

leaves in glass dishes or bowls

and spoon in your prawn and

avocado mix.

ALMOND MERINGUES

WITH STRAWBERRIES

Ingredients

130g Caster sugar

2 Eggs, whites, room

temperature

½ tsp Vanilla essence/extract

90g Almond flakes

200g Mascarpone

10 Strawberries

Directions

Preheat oven to 150 deg C.

Line a tray with baking paper.

Beat the egg whites until stiff

then slowly add the sugar, a

little at a time, while still beating.

Add the vanilla then fold

through the almonds.

Place in small spoonfuls on

the tray and bake for 45min.

Turn the oven off, leaving the

door slightly ajar to let the meringues

cool completely in the

oven. Top the meringues with a

small spoonful of mascarpone

and the strawberries

NZ Strawberries ...................... 3 .49

Red Capsciums ................................... 1 .49

each

Avocados ........................................... 1 .49

each

Lettuce ................................................... 1 .99

each

Ambrosia Apples ......................... 3 .79

kg

Premium Beef Mince ................ 11 .99

kg

Chicken Tenderloins .......... 9 .99

kg

Lamb Leg Chops ........................ 8 .99

kg

All our fresh meat is 100% NZ FARMED.

specials VAlid 24th october - 29th october 2017. ONLY AVAILABLE AT

RAEWARD FRESH HAREWOOD RD, TOWER JUNCTION & MARSHLAND RD

punnet

At

wednesDAY &

thursday only

Bananas 1 .69

............. kg

Skin on Chicken

Breasts 7 .99

............... kg

harewood rd Mon–Fri 8.00am–6.30pm Sat–Sun 8.00am–6pm

Tower junction Mon–Fri 8.00am–6.30pm Sat–Sun 8.30am–6pm

MARSHLAND RD Mon–Sun 8.00am–6:00pm

WWW.

WHILE STOCKS LAST!

specials VAlid 25th & 26TH october 2017. ONLY AVAILABLE AT

RAEWARD FRESH HAREWOOD RD, TOWER JUNCTION & MARSHLAND RD

.CO.NZ
---
PEGASUS POST Latest Christchurch news at www.star.kiwi

Tuesday October 24 2017 15
---
16 Tuesday October 24 2017

Latest Christchurch news at www.star.kiwi

HEALTH & BEAUTY

PEGASUS POST

Clinic offers easy

solution to varicose veins

If varicose veins are a problem for you, the

dedicated, professional team at Transform

Clinic in Mandeville Street Riccarton can

provide the perfect solution.

Firstly, they will give you a free

assessment of your veins, and then suggest

the appropriate method of treatment,

depending on the condition of the veins.

There are two methods available –

endo-venous laser treatment, which is

used for both smaller and larger veins,

and ultrasound guided sclerotherapy.

Both are easy and straightforward, and

you can be fully active immediately

afterwards, without needing to take any

time off work, or curtail your normal

activities. The only requirement is for you

to wear special stockings for two weeks

following treatment, and daily walking is

recommended.

Both these treatments give long-term

relief from the pain and discomfort of

varicose veins, and as Transform Clinic's

Jenny Little points out, they have become

the treatment method of today, with

surgical removal of varicose veins now

considered obsolete.

Jenny advises having treatment as early

as possible when varicose veins start to

appear, as left untreated they may lead to

venous ulcers and venous eczema, although

if these have developed, Transform Clinic

can treat them as well.

Transform Clinic has an affiliation

with health provider Southern Cross and

relationships with several other health

insurance companies, which means you are

usually covered for treatment, providing it

is included in your policy.

Transform Clinic also offers a full range

of appearance medicine options, including

skin rejuvenation and skin-tightening

treatments designed to improve skin quality

and enhance self-esteem. They remove

superficial veins on the legs and face, and

also provide mole mapping, mole removal

and primary skin cancer removal. Their

website, www.transformclinic.co.nz, has

information on all the various treatments

available.

"We are a 'one-stop shop' for all cosmetic

medicine treatments," says Jenny.

Transform Clinic is discreetly located

at 52a Mandeville Street. Opening hours

are Monday to Friday from 8.30am, with

late nights on Tuesday and Thursday,

and Saturday from 9am to 3pm. Phone

343-2880 to enquire about treatments or

make an appointment.

Transform Clinic is discreetly located at 52a Mandeville Street.

Call now for an appointment on 343-2880

Varicose veins -

BEFORE.

Varicose veins -

AFTER.

True

Who thought

DENTURES

and false!

could look this

natural?

• Full dentures • Metal partial dentures

• First-time immediate dentures • Implant supported dentures

STUNNING: A beautiful new denture for

a young female patient

These stunning lovebite full upper and

lower dentures have been expertly crafted by

internationally-recognised dental technician

Richard Greenlees at his Christchurch studio.

The combination of Richard's skill, experience

(including 15 years in London's prestigious

Harley Street) knowledge and revolutionary

techniques allow him to create beautiful

bespoke false teeth that truly resemble those

in nature and reflect each patient's individuality

and unique character.

AGING GRACEFULLY: Natural teeth for

a gentleman patient in his 80's

402 Montreal Street

Christchurch | P. 379 1222

By appointment only.

Consultation fee applies.

HOLLYWOOD: It's all white for this

female patient in her 60's

lovebite.com

Richard will personally guide you through the entire process to create

teeth with small nuances in the fabrication, colour and shape. Your beautiful new

lovebite dentures will boost your confidence and make you look and feel year's younger!
---
PEGASUS POST Latest Christchurch news at www.star.kiwi

Tuesday October 24 2017 17

REAL ESTATE

Timing is now! Brand new for you!

50a Buckleys Road

Price: $395,000

3 bedrooms | 2 bathrooms | 2 toilets | 1 living room | 1 car-garage | 2 off-street parks | Listing ID ST7242

This single storey townhouse will impress.

Whether it's a real estate investment or first

home buyers both location and timing is

perfect. With our developers now eager

to move onto their next project, offers

you the opportunity to secure your future.

The townhouse enjoys ample sun and easy

access to a north-facing courtyard. The

three bedrooms all offer double wardrobes.

The amalgamation of materials is assuring.

Designed to meet the city's stringent new

engineering and structural requirements.

The kitchen sparkles with all the modern

conveniences complemented by double

glazing and an open plan living. 2

bathrooms and single garage with internal

access.

Positioned in close proximity to a great

retail shopping (Eastgate Mall) and a

selection of cafes, eateries, bars, restaurants

and amenities.

With strong demand for new builds on

individual freehold titles, early enquiry is

highly recommended.

Open Homes Sunday 29 Oct 12:00pm

- 12:30pm and Sunday 5 Nov 12:00pm -

12:30pm.

See you at the Open Homes or for a

private viewing contact Peter or Kathryn

Hampton of Harcourts St Albans -

Holmwood (Licensed Agent REAA 2008)

on 377 0377 or Peter mobile 021 367 761

or Kathryn mobile 021 889 903.
---
18

Latest Christchurch news at www.star.kiwi

Tuesday October 24 2017

PEGASUS POST

Classifieds Contact us today Phone our local team 03 379 1100

Caravans, Motorhomes

& Traliers

CARAVAN Or Poptop

wanted ph 027 306 6544

CARAVAN Affordable

Caravans can sell your

caravan On Behalf in our

busy yard, 512 Blenheim

Rd, Christchurch. 03 349-

6614

CARAVAN 4 to 5

berth wanted. UK type

preferred. Don't mind

repairs. 022 3022 587

CARAVAN about 17-26ft

wanted. 027 249 5571

TRAILER Briford or

similar wanted ph 027 306

6544

Cars

$8,001 - $12,000

******************

MAZDA AXELA.

2008,2 litre, excellent

condition, looks and

drives fantastic, 64K,WOF

& Registratuin,White,

stereo,central locking,

airbags, Tow Bar, genuine

reason for selling, $10,000

firm.

.Ph 021 300 567

Community Events

ALCOHOLICS

ANONYMOUS, If you

want to have a drink thats

your business. If you want

to stop, we can help. Phone

0800 229-6757

Computers

ALL

YOUR

COMPUTER

WORRIES SOLVED!

*$30.00 off your first

service with this coupon!*

No problem too big or

small from home PC's to

business networks. PC

slow? An end to Viruses,

Spyware, and Clogged

Systems. Safe secure

hassle-free computing.

Lost files recovered.

Microsoft Certified,

MCSE, MCP+l. 30 years

experience. Call Andrew

Buxton this week on 326-

6740 or 027 435-7596

for $30.00 off* Custom

Computers Christchurch

Curtains

www.curtainfabric-outlet.com

Fashion Designs & Colours

Discontinued Designs

End of Lines Bargain Prices

Call at Our Shop

CURTAIN FABRIC OUTLET

71 Hawdon St Sydenham

Ph 366-5026

Gardening

& Supplies

A GARDEN OR

LANDSCAPING TIDY

UP? Shrub, hedge &

tree pruning, Lawns,

Gardening, consistently

reliable general property

upkeep, Dip. Hort. 10

yrs experience, One off

tidy ups or on-going

service. Nick's Property

Maintenance. Keeping

your garden beautiful.

Free Quote. Ph. 942-4440

LANDSCAPE GARDEN

PROFESSIONAL

Qualified Horticulturist,

offering expert, garden

makeovers, design and

landscaping, for free

quotes call Bryce 027 688-

8196 or 0508 242-733

Health & Beauty

FOOTCARE

OASIS

Senior Citizens Foot Care

25 Conway Street, Spreydon

Treating hard thick nails, calluses

and corns finishing with a foot massage

Price $30 Allow 45 mins

Home Visits available by appointment

Therapist – Amanda

(30 years experience)

Ph. 942-6036 for an appointment

HOURS ARE FLEXIBLE

Holiday

Accommodation

QUEENSLAND SUN-

SHINE COAST AUSTRA-

LIA Resort, Ocean Views,

Balconies, Self Contained,

1 or 2 B/R Ensuite,

Heated Pool, Spa, Sauna,

Free Internet, Shops,

Restaurants, Tennis, Surf

Club & Patrolled Beach,

Public Transport at door.

Ask for our SEASONAL

SPECIALS. Phone 61 7

544-35011 Email: reception@mandolin.com.au

www.mandolin.com.au

To Let

NEED MORE

SPACE?

WARMER THAN A CARAVAN

NO BOND

Ideal as an extra

bedroom or office

Three convenient sizes

from $70 p/w:

Standard 3.6m x 2.4m

Large 4.2m x 2.4m

Extra-large 4.8m x 2.4m

Visit our display cabins at

470 Cranford Street or call

0211277227 for a free brochure

www.justcabins.co.nz

Trades & Services

ROOF REPAIRS

Locally owned & operated with

over 30 years experience.

• Extensions & repair • Roof coating

• Concrete & clay tiles • Butynol

• Malthoid • Asbestos Certified

• Coloursteel • Old iron • Guttering

Phone Dave 981 0278

or 021 223 4200

E: dave@beaumontroofing.co.nz

BEAUMONT ROOFING LTD

Trades & Services

spouting

www.superiorspouting.co.nz

Ph. Jem 0277 515 250

0800 751 525

Trades & Services

junk

Trades & Services

LANDSCAPING

Landscape Design &

Construction

• Landscape designers

• Builders of quality gardens

Andy Cox

Mobile: 027 433 7629

pegasus.landscapes@gmail.com

Why go to the Dump? Junkman comes to you!

Items too big for the rubbish bin?

Or too heavy for you to move?

Junkman comes to FROM

you & takes it away $

65 *

*Prices vary depending on items and volume – minimum charge $65

Trades & Services

PROFESSIONAL

TREE CARE

Tree Pruning, Shrubs, Hedges,

Driveways & Boundary Clearing

Over 25yrs experience

Call Jonathan 027 338 2726

BLOCKED

DRAINS?

• VIDEO INSPECTION

• WATERBLASTING

• LIQUID WASTE

PH: 03 365 7960

24 hours // 7 days

info@h20jet.co.nz

www.h20jet.co.nz

FOR ALL YOUR

★Garden Clean-ups

★Pruning

★Lawn Mowing

★Garden Maintenance

Call us today for a FREE quote

PH 0800 4 546 546

(0800 4 JIMJIM)

0800 586 5626

www.junkman.co.nz office@junkman.co.nz

9164023AA

Trades & Services

HOUSE

CLEARING

Are you

moving house

or trying to

downsize?

Call All Clear

Canterbury. We work

with you to recycle,

sell and dispose of

unwanted items.

Ph: 03 260 0934

or 021 078 4553

raewynlcooke@gmail.com

www.allclearcanterbury.co.nz

Trades & Services

AAA HANDYMAN

licensed carpenter

LBP, all property and

building maintenance,

repairs, bathroom/shower

installations, with free

quotes 03 383 1927 or 027

245 5226 ciey@xtra.co.nz

bRicKlAYER

George Lockyer. Over

35 years bricklaying

experience. UK trained.

Licensed Building

Practitioner number

BP105608. Insurance

work. EQC repairs.

Heritage brickwork and

stonework a speciality. No

job too small. Governors

Bay. Home 329-9344,

Cell 027 684 4046, email

georgelockyer@xtra.co.nz

bUilDER

For all building work

but specialist in bathroom

renovations, 30 yrs

experience, with service

and integrity. Free Quotes.

Ph Lachlan 383-1723 or

0274 367-067.

bUilDER

licENSED

available for all aspects of

building. Please call 027

241-7471 or 335-0265

*****************

cARPET & viNYl

lAYiNG

Repairs, uplifting,

relaying, restretching

E mail jflattery@xtra.

co.nz

ph 0800 003 181

or 027 2407416

FENcE PAiNTiNG

Staining Quality at a

reasonable price. Free

quotes. Phone Warren

today on 980-1676 or 027

2014713

FENciNG

All types of residential,

including gates,

demolition & removal,

ph 021 231-1860

Fencing Uprite

Trades & Services

GARDENER

AvAilAblE

exp & reliable. Garden

maintenance. lawns

mowed, rubbish removed.

Ph Frank 021 088 23104.

GlAZiER

Window repairs, pet

doors, new glazing, double

glazing, conservatory

roofs. Experienced

tradesman. Call Bill on

981-1903 or 022 413-3504

PAiNTER

AvAilAblE

All aspects in painting.

Very competitive in roofs

and fences. Please call 027

241-7471 or 335-0265

PAiNTER

Quality work, I stand by

Canterbury Ph Wayne

03 385-4348 or 027 274

3541

PAiNTiNG

DEcoRATiNG

Wingfields Contracting,

all interior & exterior

painting & all forms of

interior plastering & jib

fixing, ph Mark 021 171-

1586 or 355-5994

PlUMbER

ALF THORPE

PLUMBING Certifying

Plumber for all types of

plumbing, maintenance,

spouting, alterations etc.

Phone 352-7402 or 0274-

350-231

SToNEMASoN, bRicK

& blocKlAYER

Earthquake Repairs, Grind

Out & Repoint, River/

Oamaru stone, Schist,

Volcanic Rock, Paving,

all Alterations new & old,

Quality Workmanship,

visit www.featureworks.

co.nz or ph 027 601-3145

TilER/cARPENTER

35 years exp, no job

too small. Ph Ross 027

4311440.

T.v. SERvicE cENTRE

Repairs, tvs, microwaves,

stereos, DVD. Aerial

installations and kitsets,

480 Moorhouse Ave, ph 03

379 1400

UPHolSTERER

Dining Chairs, Lounge

suites, Caravan Squabs

etc. recovered. Free

Quotes. Phone Graeme

383-1448

vHS viDEo TAPES

& all camera tapes

converted to DVD, video

taping special occasions,

www.grahamsvideo.co.nz

ph 03 338-1655

WiNDoW clEANiNG

Average 3 bdrm house

inside or out $40. Both

$70. Phone Trevor 344-

2170

Tuition

Wanted To Buy

AAA Buying goods

quality furniture,

Beds, Stoves, Washing

machines, Fridge Freezers.

Same day service. Selwyn

Dealers. Phone 980 5812

or 027 313 8156

TOOLS

Garden, garage,

woodworking,

mechanical, engineering,

sawbenches, lathes, cash

buyer, ph 355-2045

Horticulture Course

FREE

Part Time

distance Learning

(workshops & Tutorials provided) Fee free.

Contact Ryan Young

(Training facilitator)

021 222 9678

ryan@florascapes.co.nz

www.florascapes.co.nz
---
PEGASUS POST Latest Christchurch news at www.star.kiwi

Tuesday October 24 2017 19

What's On

Entertainment

THREE TIMES

LUCKY

FOR LANA

LUCKY? Perhaps more pure talent than luck!

Lana Doublet says she is 'over the moon' aer

claiming the NZ Country Music Awards

Songwriter of the Year for the 3rd consecutive

year.

"e song that won my recent title is called

'Together Apart' - inspired aer watching an

Attitude Live documentary of the same name

that told a beautifully sad story about how a

family lived with the struggle of dementia."

Taking place in Rotorua on Saturday 14th

October, the prestigious NZCMA event is

considered the pinnacle for winners of

regional Country Music competitions.

"I've always had a love of music and

storytelling but it wasn't until I was

introduced to the country music scene aer

meeting my husband Phil Doublet, that I was

able to combine the two," said Lana. "I have

always been very stage-shy, and still get

extremely nervous, so thankful for the

constant support and encouragement from

family and friends telling me 'I can'."

And 'she has'. Over the past few years Lana

has claimed numerous awards, including

To advertise, contact

Jo Fuller 027 458 8590

jo.fuller@starmedia.kiwi

Runner- up at the 2016 MLT Songwriting in

Gore.

With her debut EP complete, Lana says she

will be releasing it in conjunction with the

South Island Tour of NZ Songwriters in the

Round hitting the road in late November.

Lana plays live at Songwriters in the Round

at Alvarado's on Stevens St this ursday along

with Phil Doublet, Al Hunter, and Cam Luxton.

7pm start. Free entry.

RESTAURANT & CAFÉ

We are open from 6.30am

Seniors SPECIAL

2 courses Soup/Roast or Roast/Dessert

Special available lunch only. Monday - Saturday 12pm - 2.30pm

Family Friendly

Kid's 2 course special

Lunch & Dinner

All you can eat, 7 days

Bookings Essential

PH 386 0088

fb.com/GardenHotelRestaurant

www.gardenhotel.co.nz

$20

$10

'Famous for their roasts!'

The

RACECOURSE HOTEL

& Motorlodge

118 Racecourse Rd, Sockburn,

Christchurch. Ph 03 342 7150

www.racecoursehotel.co.nz

Christmas

Functions

Lunch & Dinner Buffet

FRIDAY 24th NOV - SUNDAY 24th DEC

Book & dine with us for your Christmas party this

festive season, and we'll take care of the rest!

Christchurch's only

SEASIDE CLUB

RUGBY : MITRE 10 CUP

FINALS

TUESDAYS & THURSDAYS

MEMBERS LUCKY CARD DRAW

FUNCTION ROOMS | GAMING ROOM

SHUTTLE SERVICE Tues, Thurs, Fri, Sat

DINE BY THE SEA!

UPSTAIRS

Pierview A la Carte Restaurant.

The restaurant is open from

5.30pm Friday, Saturday and

Sunday, and for Sunday Brunch

from 10.30am to 2pm.

DOWNSTAIRS

Club Bistro is open Tuesday to

Saturday from 12pm - 2pm

and from 5pm.

New Brighton Club

202 Marine Parade

Phone 388-9416

www.newbrightonclub.co.nz

Members, guests and affiliates welcome

SERVING

HAPPY HOUR

5PM - 7PM DAILY

OUR CABINET ITEMS

ARE HOMEMADE

CREATED FRESH ON SITE DAILY

$12

LUNCH

SPECIALS

Live Music:

6PM.FRI.27 OCT

COFFEE

HAPPY

H O U R

2PM-4PM

DAILY

$3.50

Offer available for a limited time

and includes tea, hot chocolate

MON: ROAST MEAL

TUE: FISH & CHIPS

WED: FISH BURGER

THU: ROAST MEAL

SAT: FISH & CHIPS

AVAILABLE

FROM

11.30AM-2PM

FOR A

LIMITED TIME

Vintage Blue

PHONE 385 8880 FIND US ON FACEBOOK fb.com/GBCCHCH

THE GARDEN HOTEL COMPLEX | 110 MARSHLAND RD

www.gardenhotel.co.nz | phone 385 3132

H ORNBY

WORKINGMEN'S

CLUB

LET US

ENTERTAIN

YOU!

WESTVIEW LOUNGE

THIS SATURDAY,

4.30PM:

ANDY

GILMOUR

8PM:

IAN MAC

Club

CAFE

OPEN 7 DAYS

LUNCH &

DINNER

Gluten Free &

Vegetarian

options

UNBEATABLE FAMILY DINING

Chalmers

Restaurant

FREE DESSERT

DINNER

Fri, Sat, Sun

BUFFET LUNCH

Sunday 12pm

EXTENSIVE CARVERY 5.30PM & 6.30PM PRICED AT

ONLY $22.50 PER PERSON AND DESSERT'S ON US!

SUNDAY BUFFET

FRIDAYS & SATURDAYS

LUNCH $25 12PM | DINNER $27 5PM

GROUPS WELCOME. BOOKINGS ESSENTIAL.

PRE CHRISTMAS BUFFETS

SUNDAY 3, 10, 17 DECEMBER

LUNCH & DINNER BUFFETS : $30 PP

LIVE MUSIC with NEVILLE BARRIE

DINE & DANCE

SATURDAY 16 DECEMBER

BUFFET DINNER & SHOW : $45PP

MADSEN PROMOTIONS present

THE MUSIC OF THE BEACH BOYS

The Hornby Club | ph 03 349 9026 | 17 Carmen Rd | Hornby

www.hornbywmc.co.nz | Members, guests & affiliates welcome
---
20 Tuesday October 24 2017

Latest Christchurch news at www.star.kiwi

PEGASUS POST

RiCHMoND DiSCoUNT

Furniture and Bedding - The Best little Furniture Shop in Town

BEDRooM FURNiTURE

beds, tallboys, mirrors, cabinets, chests & more!

Queen Frame

& Mattress

Ther-a-pedic Mattress & Base

Reversible pillowtop innersprung

lowboy

6 Drawer

1130x410x820

Duchess with

Mirror

1090x410x820

NZ MADE

Solid Timber

Free

Standing

Mirror

oNly

$599

SiNglE $499

kiNg SiNglE/DBlE/ 3/4 $599

QUEEN $699

oNly

$399

oNly

$549

WaS $169

oNly

$129

Midi 7 Drawer

Scotch Chest

975x760x410

With metal runners. Also

available in Black.

Bedside Cabinet

540x460

With metal runners.

Also available

in Black.

7 Drawer

Scotch Chest

1140x800x410

Also available in black.

Jumbo 4

Drawer Chest

1140x800x400

NZ MADE. Metal runners.

Also available in black.

Tallboy 4 Drawer

600x400x900

Tallboy 5 Drawer

600x1100x420

Towerboy 6

Drawer

1260x460x410

With metal

runners.

Also

available

in Black.

oNly

$269

FRoM

$130

oNly

$299

oNly

$269

oNly

$199

oNly

$399

oNly

$220

FURNiTURE

storage shelves, bookcases, buffet units, dining tables, hall tables, side cabinets & more!

White Bookcase/

Storage Shelf

800x1600x300

White Bookcase/

Storage Shelf

800x1980x300

Foundry Display

Cabinet

900x1800x420

Timber Bookcase

600x320x1200

Buffet Unit

1500x800x420

Buffet Unit

800x425x840

Buffet

Unit

1175x

430x840

Buffet Unit

with Wine Rack

1300x840x430

oNly

$199

oNly

$249

oNly

$599

oNly

$199

oNly

$549

oNly

$299

oNly

$399

EaCH

Entertainment Unit

1900x600x450

2 Draw Entertainment Unit

1200x600x450

Entertainment Unit

1100x400x480

Entertainment Unit

1530x520x660

Solid Timber.

Entertainment Unit

980x600x460

Solid Timber.

oUT oF SToCk

oNly

$499

oNly

$399

oNly

$299

oNly

$499

oNly

$299

2 Draw Hall Table

1200x810x420

oNly

$379

Side Cabinet

600x600x450

oNly

$199

Hall Table

1500x800x420

oNly

$449

Hall Tables

2 Drawer

900x350x770

oNly

$279

3 Drawer

1260x350x775

oNly

$349

7 Drawer TV/DVD Chest

760x1140x410

(Gap 150)

oNly

$299

Coffee Tables

Solid Timber.

oNly

$169

1200x600

oNly

$329

Corner TV Unit

1000x750x550

oNly

$299

Coffee Table

1200x400x600

oNly

$399

Nest of Tables

oNly

$149

aRRiViNg SooN!

Dining Table + 2 Chairs

800x800

oNly

$499

3 Piece

Dining Suite

600x600

oNly

$399

5 Piece

Dining

Suite

1100x800

oNly

$599

233 STANMORE ROAD • PHONE 03 389 0536

WE aCCEPT EFTPoS, ViSa aND MaSTERCaRD... PaRkiNg aT REaR