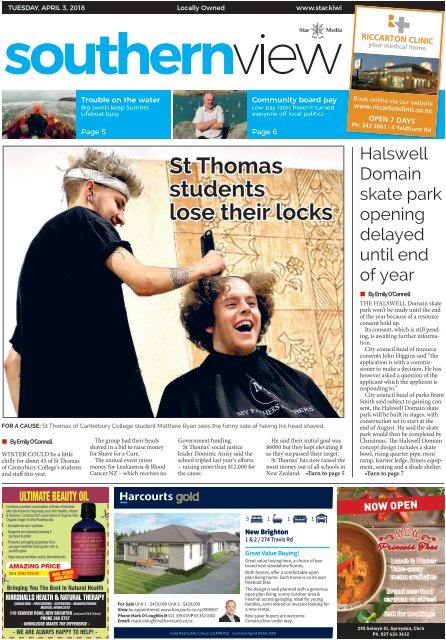 Southern View: April 03, 2018
Create successful ePaper yourself
Turn your PDF publications into a flip-book with our unique Google optimized e-Paper software.
TUESDAY, APRIL 3, 2018

Locally Owned

www.star.kiwi

• By Emily O'Connell

WINTER COULD be a little

chilly for about 45 of St Thomas

of Canterbury College's students

and staff this year.

Trouble on the water

Big swells keep Sumner

Lifeboat busy

Page 5 Page 6

The group had their heads

shaved in a bid to raise money

for Shave for a Cure.

The annual event raises

money for Leukaemia & Blood

Cancer NZ – which receives no

Community board pay

Low pay rates haven't turned

everyone off local politics

St Thomas

students

lose their locks

FOR A CAUSE: St Thomas of Canterbury College student Matthew Ryan sees the funny side of having his head shaved.

Government funding.

St Thomas' social justice

leader Dominic Anisy said the

school tripled last year's efforts

– raising more than $12,000 for

the cause.

He said their initial goal was

$6000 but they kept elevating it

as they surpassed their target.

St Thomas' has now raised the

most money out of all schools in

New Zealand. •Turn to page 5

Book online via our website

www.riccartonclinic.co.nz

OPEN 7 DAYS

Ph: 343 3661 | 4 Yaldhurst Rd

Halswell

Domain

skate park

opening

delayed

until end

of year

• By Emily O'Connell

THE HALSWELL Domain skate

park won't be ready until the end

of the year because of a resource

consent hold up.

Its consent, which is still pending,

is awaiting further information.

City council head of resource

consents John Higgins said "the

application is with a commissioner

to make a decision. He has

however asked a question of the

applicant which the applicant is

responding to."

City council head of parks Brent

Smith said subject to gaining consent,

the Halswell Domain skate

park will be built in stages, with

construction set to start at the

end of August. He said the skate

park would then be completed by

Christmas. The Halswell Domain

concept design includes a skate

bowl, rising quarter pipe, mini

ramp, learner ledge, fitness equipment,

seating and a shade shelter.

•Turn to page 7

ULTIMATE BEAUTY OIL

Contains a perfect combination of three of the best

skin oils known to help keep your skin healthy, vibrant

& flawless. Contains100% pure blend of Organic Dilo,

Organic Argan & Wild Rosehip oils.

- Exceptional skin hydration

- Supports skin elasticity leaving it

plumper & softer

- Powerful anti-aging properties for a

younger healthier looking skin with a

youthful glow

- Help reduce wrinkles, scars, blemishes etc.

AMAZING PRICE

50ml only $26.90

MAIL ORDER

AVAILABLE

Bringing You The Best In Natural Health

MARSHALLS HEALTH & NATURAL THERAPY

CONSULTING - PRESCRIBING - DISPENSING - MANUFACTURING

MEDICAL HERBALISTS

110 seaVIeW roaD, NeW BrIGHToN (Just past C.N.B School)

pHoNe 388 5757

- KNOWLEDGE MAKES THE DIFFERENCE -

- We are alWaYs HappY To Help! -

For Sale Unit 1 - $419,000 Unit 2 - $429,000

View by appointment www.harcourts.co.nz/RD5897

Phone Mark O'Loughlin M 021 339 078 P 03 352 0352

Email: mark.oloughlin@harcourts.co.nz

3 1 1 1

New Brighton

1 & 2 / 274 Travis Rd

Gold Real Estate Group Ltd MREINZ Licensed Agent REAA 2008

Great Value Buying!

Great value buying here, a choice of two

brand new standalone homes.

Both homes, offer a comfortable open

plan living home. Each home is on its own

freehold title.

The design is well planned with a generous

open plan living, sunny outdoor area &

internal access garaging. Ideal for young

families, semi retired or investor looking for

a new rental.

Kiwi saver buyers are welcome.

Construction under way.

NOW OPEN

Lunch & Dinner

Take-away

menu available

Brand new food

caravan on street

Call for bookings

295 Selwyn St, Spreydon, Chch

Ph. 027 424 3632
---
s something that

ugh how 2 much Tuesday April 3 2018

Latest Christchurch news at www.star.kiwi

nd to your cup of

en transferred into

from the reporter's desk

onvenience food,

gar in it.

AS a challenge YOU'LL read is on page 1, the Halswell Domain skate park is

r still is bad, awaiting but that its resource consent.

y, The to many park of has the been highly controversial What we with now some face residents as

sume, even when

against the proposal. a challenge is not that

ften-reduced

It will be interesting to the suddenly see when or sugar if the skate is bad, park but gets its

mpared consent to from the city council. that it is added, often quietly

them It's good an easy the Knights Stream to many skate park of will the be processed

constructed

r sooner. or uneducated foods we consume, even

I think it's important these facilities are built in areas like

le tips you can when they aren't sweet.

ng

Halswell

food labels;

– giving residents an opportunity to get out and about.

od On as possible page 1 you will also see Matthew Ryan smiling as his locks

are tural shaved form off. and as the path to long-term health.

. Consumers I think it's great also St Thomas For more of Canterbury advice and College direction students to

and rketing staff claims are getting behind improve a very your worthy health cause. talk to your

full

– Sophie

nutritional

Cornishregistered exercise professional, they can

offer some advice and are able to refer

art is by

you to sources of information and other

n processed food

ith

get

regular

in

activity

touchnutritional professionals that you

can trust.

GENERAL ENQUIRIES Ph 379 7100

CLASSIFIED ADVERTISING Ph 379 1100

The Christchurch Star Company Ltd

PO box 1467, Christchurch

starmedia.kiwi

Tech savvy new entrants

Pupils take iPad lessons

Find out how St Anne's Catholic School's new entrants use

iPads which allow parents to see the work pupils are doing as

they are doing it.

Page 10

Health & Beauty

Effects of sugar

Should you cut down your sugar intake? The answer is likely

to be yes, but find out how and why.

Page 13

Creative writing course

SOUTHERN VIEW

Learn the art of story-telling

Go along to Creative Writing on Wednesdays from

4-5.45pm to craft, create and develop your ideas, stories or

works of art.

NEWS

Sophie Cornish

Ph: 364 7437

sophie.cornish@starmedia.kiwi

ADVERTISING

Mark Sinclair

Ph: 364 7461

mark.sinclair@starmedia.kiwi

Page 14

The best-read local newspaper, delivered to

15,826 homes every Tuesday

Spreydon, Hoon Hay, Hillmorton, Cracroft, Cashmere,

St Martins, Somerfield, Sydenham, Addington, Waltham,

Opawa, Beckenham, Huntsbury, Woolston.

4 2 2 2

A Perfect Opportunity

500 Tai Tapu Road, Tai Tapu

Your agent, Your home, Your future

LICENSED SALES CONSULTANT REAA 2008

Auction 05 Apr 2018 Unless Sold Prior

With the Court ordering this sale this well located property is for definite sale

on or before auction day.

Only minutes away from Tai Tapu township and an easy commute to

Christchurch this lifestyle property of just over 7ha offers country living on the

doorstep of Christchurch.

My client has done all the hard work for you - new kitchen, two new bathrooms,

new carpets and hard floors, new drapes, a freshly painted interior and even a

new garage door!

You can simply move in and start planning how to utilize all the space around

you. Perhaps some horses, or grow some crops, fatten some calves?

The property has well established gardens and shelter belts along with a three

bay shed.

Call now to view - this may well sell before the scheduled auction day.

P 027 777 0411

The magazine for

gardeners who

like To geT Their

hands dirTy

www.gardener.kiwi

100%

CELEBRATING

2 YEARS

of our Christchurch branch

FREE Quotation

FREE Installation

FREE Aluminium Track

for Christchurch customers

PROFESSIONAL CUSTOM MADE CURTAINS

25 Picton Avenue Riccarton, Christchurch

P 349 4888 E officinevoluptasnz@gmail.com

www.officinevoluptas.co.nz

Air Conditioning and Heat Pumps

Commercial and Residential

• Daikin • Fujitsu • Mitsubishi • Gree • Panasonic

• Toshiba • Hitachi

Mitsubishi

Hypercore

Heat Pumps

installed

from $2,495 *

*Conditions apply. Back to back installations 3 metre pipe run.

Email info@pshc.co.nz

Website www.pshc.co.nz

LET'S GO SHOPPING

Preloved & quality

• Clothing /Footwear

• Bricabrac

• Furniture

• Household items

Thankyou

for your

support

Late night Thurs resuming Thurs 4th October to 6.30pm

1 Amyes Rd, Hornby Ph. 349 4163

Hours: Mon - Fri 9am-4.30pm, Sat 9.30am-1.30pm

335b Riccarton Rd, Church Cnr Ph. 341 8539

Hours: Mon - Fri 9.30am-5pm, Sat 9.30am-2.30pm

Like us on Facebook Hornby Family Store and Riccarton Family Store
---
SOUTHERN VIEW Latest Christchurch news at www.star.kiwi

Tuesday April 3 2018 3

News

Addington's history soon in print

AFTER A long wait, a book

about the history of Addington

is due to be published in June.

The book titled Local Lives: A

History of Addington was due to

be released on November, but

was postponed until June, due to

funding issues.

It is being

produced by

the Addington

Neighbourhood

Association

and

historian John

Wilson.

Mr Wilson

John Wilson

has spent more

than 20 years

interviewing locals, pouring

over records and collating a huge

amount information to put the

368-page book together.

"I have talked to a lot of people,

but have missed a lot as well.

If I was to interview everyone on

the list, I would have been dead

for 20 years," he said.

Mr Wilson, who now resides

in Arthur's Pass, was working

for the city council heritage

team in the 1990s when he was

approached by the association

to write a book about the suburb.

The book begins with Addington's

birth as a working-class

suburb in the 1860s and travels

LOOKING BACK: Local Lives: A History of Addington will feature more than 150 photos and

illustrations including this one with the concrete water tower which was built in 1883.

through the years up until the

Christchurch earthquakes.

Mr Wilson, who has a PhD in

history from Harvard University,

said it was great the book

was being designed and printed

in Christchurch.

The Addington Neighbourhood

Association will host

a book launch at St Mary's

Church, in Church Square, Addinton,

on June 25

•Orders for the book can

be placed now for a prepublication

price of $40 to

addingtonhistory@xtra.co.nz

After publication it will be $50

Local

News

Now

In Brief

Fire rages, homes at risk

PEDESTRIAN BLOCKED

A private landowner's rock

landscaping has blocked

pedestrian access to a crossing

near the corner of Dyers Pass and

Hackthorne Rds, making it unsafe.

City council staff are investigating

the landscaping and will give the

Cashmere-Spreydon Community

Board urgent advice on reinstating

the pedestrian crossing.

UPKEEP NEEDED

Ngaio Marsh House and Heritage

Trust chairman Ian Lochead,

and trustee Margaret Sweet,

updated the Cashmere-Spreydon

Community Board on the state

of the Ngaio Marsh house and

gardens. As the house is over

100-years-old, it is needing

some upkeep, such as the roof

replacement and insulation.

Maintenance of the grounds is also

required.

SLIPWAY REPAIRS

Work to fix the failed experimental

slipway at Moncks Bay is expected

to begin in two to three weeks

time, with design detail almost

complete. The city council-owned

slipway was incorrectly installed

before Christmas and the hinged

extension was set too high,

creating a large drop-off that was

difficult for sailors and jetboaters

to launch from.

Dyers Road Landscape

& Garden Supplies

• Barks • Peastraw • Composts - we supply the best available

• Aggregates - Chip, Round and Basecourse

• Pavers & Schist products • Pungas

• Decorative Stones & Landscaping Rocks

• Trailer Hire first hour free with purchase

• Bag & Bulk - pick up or delivered

David, Carol & Mike

We will deliver!

Hon Nicky Wagner

National List MP

Come and visit us at our new

office at 922 Colombo Street

A

E

P

W

922 Colombo Street

Central Christchurch

PO Box 21359

Christchurch 8143

chch.office@parliament.govt.nz

03 365 8297

nickywagner.co.nz

Funded by the Parliamentary Service and authorised by

Nicky Wagner, 922 Colombo Street, Christchurch.

SOIL

AND

HARDFILL

DUMPING

Phone: 03 384 6540

183 Dyers Rd, Bromley • OPEN 7 DAYS

Weekdays 7.30am-5pm. Weekends 8.30am-3pm

www.dyersroadandlandscapes.co.nz

liQuid laundromatS

289 Colombo St, Sydenham

(next to SuShi Shop)

17 halSwell rd, hoon hay

713 ferry rd, woolSton

7 dayS: 5am-11pm

waSh & dry all your

laundry in about 1 hour

$4.00 WASH

$4.00 DRY

wash 2 mink blankets, duvets

or woolrests for only $8

DRY UP TO 3 LOADS IN

ONLY 25 MINUTES! $4

SAvE TIME & ELEcTRIcITY

• Fast Dryers

• Sports Gear

• Duvets

• Mink Blankets

• Bedding

• Washers

• Domestic Laundry

SELF SERvIcE

Other Locations: 47 Carmen Road, Hornby • 319 Pages Rd, Aranui

• 345 Stanmore Rd, Richmond • 261 Burwood Rd, Burwood

www.liquidlaundromats.co.nz
---
4 Tuesday April 3 2018

Latest Christchurch news at www.star.kiwi

SOUTHERN VIEW

Southern ChiropraCtiC

3 kennedys bush rd, halswell (upstairs)

Headaches are not normal

In today's fast paced world,

headaches are a normal ailment we

just have to put up with or we can

gloss over by taking a pill or a quick

nap. WRONG! Studies have shown

that roughly a third of all people suffer

from headaches. So yes they are

common, but no they are not normal.

A headache is considered pain

anywhere in the region of the head or

neck, caused by many different

conditions. The brain tissue itself is

not sensitive to pain as it lacks pain

receptors. Rather, the pain is caused

by disturbance of pain-sensitive

structures around the brain.

As many as 45 million people suffer

from chronic or severe headaches

that seriously interfere with their lives.

Signs and Symptoms

Headaches vary in intensity and have

different symptoms:

• Pain in the head

• Visual impairment (blurred vision)

• Nausea and vomiting

• Hearing impairment

• Confusion

• Discomfort

• Irritability

What causes headaches?

Spinal misalignment-nerve irritation/

interferences, certain foods,

toxic fumes, preservatives and

alcohol are all contributing factors to

headaches. Spinal misalignments are

shown to be involved in up to 80% of

all headaches.

Tension headaches are the most

common type of headache for both

adults and children. Triggers point

include lack of sleep, emotional

tension at home, work or school,

second-hand cigarette smoke,

skipped meals, poor nutrition, eye

strain and bright lights.

How Chiropractic helps

Your spine protects your nervous

system, which starts with the

brain and becomes the spinal cord.

Whenthe vertebrae in your neck are

unable to move properly, it irritates

or puts pressure on the nerves in that

area. This can cause headaches.

Chiropractic care addresses

the cause of many types of headaches

and therefore they are capable of

removing or dramatically reducing the

occurrence and frequency of these

headaches, because they are usually

due to what is called subluxations

in the spine. They achieve this by

performing Chiropractic adjustments

to remove pressure on the nerves,

which then also helps to improve

nerve function.

On a study conducted by the

government of New Zealand it found

that the majority of people who

suffered from spinal misalignments

had their headaches relieved or

their condition improved through

Chiropractic care.

Next time you have a headache, call

Southern Chiropractic at 03 322 1432.

Relief is only a phone call away.

Southern Chiropractic is located at 3 Kennedys Bush Rd and is open Monday,

Wednesday, Thursday and Friday. on Tuesdays the clinic operates from Ashburton

Chiropractic in Ashburton.

For Tuesday bookings please phone 03 308 9516, or 03 322 1432. For all other

bookings at the halswell location, please phone 03 322 1432, email dre.nik@xtra.co.nz,

or visit their website at www.southernchiropratic.co.nz for further information.

5 Warning Signs

HEADACHES

of Spinal Stress!

NECK PAIN

AND TENSION

André Grob, Dr of Chiropractic, has had over

15 years experience of specialty spinal care in

Australia and New Zealand.

A healthy spine is vital to your wellbeing.

Specialist spinal therapy

at Southern Chiropractic

consists of:

• Manual manipulative therapy

• Soft tissue Massage

• Low level Laser therapy

• Exercise and postural education

• For correction of spinal complaints

and to enhance your health!

SCIATIC PAIN

MID BACK PAIN AND

TENSION

LOW BACK PAIN

Southern Chiropractic Ltd

Telephone (03) 322 1432

3 Kennedys Bush Road • Halswell • Christchurch 8025

www.southernchiropractic.co.nz | email dre.nik@xtra.co.nz

Halswell Jct Road

Halswell

Road

Kennedys

Bush Road

3 Kennedys

Bush Road
---
SOUTHERN VIEW Latest Christchurch news at www.star.kiwi

Tuesday April 3 2018 5

News

Local

News

Now

Busy summer of callouts for lifeboat

Fire rages, homes at risk

• By Sarla Donovan

SIZEABLE SWELLS resulted

in a busy past few months for

the Sumner Lifeboat coastguard

service.

Following a quiet end to

2017 and between Christmas

and New Year, coxswain Blair

Quane said call numbers picked

up markedly with a number of

operations between January and

March.

One callout on February 1

involved three separate incidents

happening at the same time, after

a big southerly change came

through and a "massive off-shore

wind" got several people into

trouble.

First a boogie boarder was

caught in a rip by the station

headquarters.

At the same time, a kite surfer

off Scarborough Beach got into

trouble and had to release his

kite which flew off "halfway to

the Chatham Islands," said Mr

Quane.

"We had to take one of the

boats out pretty much to the

horizon to get his kite because

we kept getting calls from people

on the hills saying 'there's something

out there that looks like a

yacht in trouble'."

SKILLED: The Sumner Lifeboat headquarters during a recent

operation.

Simultaneously, a catamaran

in the Avon-Heathcote Estuary

flipped over and everybody on

board fell out.

"We were all hands on deck."

A week-long search for

14-year-old Jack Sutton was one

of the biggest the lifeboat had

ever been involved in, with 93

vessels searching from Waimairi

to Lyttelton Harbour.

Jack was swept out to sea after

getting caught in a rip off Sumner

Beach on February 5.

His body was found washed

up on the foreshore on February 12.

Sumner Lifeboat has about

40 active voluntary crew, along

with reserve crew and three paid

part-time staff members. It costs

about $200-$250,000 a year for

wages, crew gear, vessel maintenance,

fuel and operational

outgoings.

The boat can often be spotted

heading offshore on Tuesday

evenings – training night.

"Sumner is quite a unique

unit for coastguards; it does a

lot of its work within the surf,

whereas Coastguard Canterbury

and Waimakariri-Ashley are

predominantly offshore or doing

river work."

"We need skippers to be able

to helm the boat in pretty atrocious

conditions. A lot of the

time, if there's a really big surf

BIG WAVES: Sumner Lifeboat trainees practice driving the

boat in large swells and putting out fires on the breakwater. ​

on you'll see the boat go out and

spend an hour or so out there.

The guys are just getting used to

driving the boat in the surf. Now

we're coming into winter so we

start moving into night operation

stuff where we're driving in

the dark, practising navigating

into the estuary, being able to

identify landmarks in the dark

and use gear like the radio and

GPS when it's dark."

It takes a year of training

before a new volunteer can crew

on a callout.

Heads

shaved for

a good cause

•From page 1

The money will go towards information

packs, emergency assistance

vouchers, counselling and support

group meetings for those affected by

the cancer.

Proud of his school's accomplishment,

Dominic says it's been

rewarding.

"The boys really got behind it and

really enjoyed it," he said.

SMOOTH: About 45 St Thomas

of Canterbury College students

and staff had their heads shaved

in a bid to raise money for

Leukaemia & Blood Cancer NZ. ​

CLOSE CUT: Deputy principal

Brendan Biggs (top) and social

justice leader Dominic Anisy

under the razor.

5 Broomleigh Drive, Faringdon, Rolleston

enquiries over $695,000

Trade me Listing #1534012698

SuPeRioR

SHow Home

FoR

SALe

oPeN

Home

Sunday 11am - 12pm or

viewing by appointment

• 800m Section

• 249m Floor Area

• 4 Bedrooms

• 2 Bathrooms

• 2 Living Areas

• Study Nook

Rob Jones, Artisan Homes • Phone 021 324 876 • robin@artisanhomes.co.nz • www.artisanhomes.co.nz
---
6 Tuesday April 3 2018

Latest Christchurch news at www.star.kiwi

News

Future of

waterways

in focus

• By Bridget Rutherford

MODELLING IS being carried out

to assess the current condition of

the city's waterways and to predict

what they will be like in 35 years.

City council city services

general manager David Adamson

said the modelling estimates the

annual amounts of contaminants

such as copper, zinc and sediment

in the stormwater, which could

end up in the rivers.

"An initial pilot trial has been

done on the Avon catchment and

this has now been extended to

include all the major catchments

in Christchurch."

He said the work was yet to be

peer reviewed so could not be

released.

A recent city council survey of

the waterways found people rated

them more important than housing

and education. But 60 per cent

said the rivers were in "poor" or

"terrible" states.

The modelling was being

done as part of the city council's

consent application to ECan to

discharge stormwater into land

and water.

The application is on hold until

June to allow the modelling to be

done.

Remuneration not a factor for

• By Sarla Donovan

FAIRNESS: John McLister spoke out about low pay rates earlier this year, but it hasn't deterred

five people from standing for election to the board.

LOW PAY rates haven't served

to dampen interest in local body

politics in Lyttelton.

In January this year, Banks

Peninsula Community Board

member John McLister spoke

out against the population-based

formula used by the Remuneration

Authority to set pay rates

for boards.

The population-based model

means boards in areas with

smaller populations get paid less.

Banks Peninsula's board members

receive $9527 a year, less

than half the $22,503-$23,742

paid to members of the six city

boards.

But this hasn't deterred the

five candidates contesting the

seat vacated by Christine Wilson.

Funeral consultant Robyn

Struthers, public sector analyst

Tyrone Fields, Healthy Harbour

chairwoman Yvette Couch-

Lewis, community volunteer

Paul Dietsche and bar manager

Ashley Stanbridge are running

in the by-election triggered by

Ms Wilson's resignation last

month.

Bay Harbour News asked the

candidates what they thought

of the remuneration – and why

they were standing.

Robyn Struthers she understood

that rates were set using

a population based formula but

didn't want to comment further.

"To me it's not an issue; I'm

not standing because of that, I'm

standing for the people."

She said she could understand

the pay rate may affect some

board members' decision to

stand again. "I am semi-retired.

I'm in a different position; that's

not my reason for standing and

for some of the younger ones,

probably it is. But I'm in a different

position and I've got time."

Tyrone Fields said if people

had to take time off work it was

"fair enough" they were compensated.

He was aware the population

SOUTHERN VIEW

based model affected the pay

level: "It's a bit odd that they're

out of alignment so you'd probably

want to have a look at the

remuneration packages around

community boards in general."

Mr Fields said having finished

his Masters in social work, the

by-election seemed like an opportune

time to get involved.

Beautiful Spacious

2 Bedroom Apartment

AvAilABle NOW

Best

Motorbuys

TM

ANYTHING WITH A MOTOR!

The South Island's leading motoring publication

FREE every Friday at hundreds of locations

around the South Island, and it's available online!

www.bestmotorbuys.co.nz

For advertising enquiries, ph Lea Godfrey 021 277 3086

Seldom available, north facing spacious

apartment with views to the Port Hills and

capturing all day sun. Settle now, before

winter sets in, in your very own independent

unit and enjoy the supportive community that

is unique to Chatswood Retirement Village.

Contact Kyla Hurley on 03 332 7323 or Rhonda Sherriff on 027 507 0521

Chatswood Retirement Village - 60 Hawford Road, Opawa, Christchurch

www.chatswoodretirement.co.nz

style

noun

elegance and sophistication.

synonyms: flair, grace, poise,

polish, suaveness, urbanity,

chic, finesse, taste, class,

comfort, luxury, affluence,

wealth, opulence, lavishness.

MAGAZINE

STYLE.KIWI
---
SOUTHERN VIEW Latest Christchurch news at www.star.kiwi

Tuesday April 3 2018 7

five candidates

Local

News

Now

Fire rages, homes at risk

"I've only been politically

active for a few years but I've

always been interested and the

fact that it's Lyttelton is the real

clincher for me. It's a unique

opportunity to connect with my

home town."

Yvette Couch-Lewis said it

wasn't an issue she had taken

into consideration.

"I think community is important

and I think we're losing a

lot of that, whether at national

or local level. So instead of complaining

about that, I might as

well get in there, see if it's true

and do something about it."

Paul Dietsche said remuneration

was something that needed

to be addressed, whether he was

elected to the board or not.

"It's ridiculous that board

members have to go great

distances in the area at their

own expense because of the low

wage."

He said if elected, one of the

key things he wanted to work

on was increasing community

engagement with the board.

"I was looking through some

of the minutes for the previous

six months of meetings and

noted that for a lot of them

there were no people deputised

to speak. To me that says the

public isn't very well informed or

engaged with the board. I think

it's a shame more people aren't

PAY DIFFERENCE: The Banks Peninsula Community Board

covers a large area but the low population base means a

smaller rate of remuneration for board members.

coming to the meetings and letting

their concerns be heard."

Social media was one of the

simplest and cheapest tools for

communicating with people

who weren't currently engaged,

he said.

Ashley Stanbridge said it was

unfair that the Banks Peninsula

board were paid less than the

city boards, but he wasn't standing

for the money.

"I have a job that pays the bills.

It's about giving a voice to the

younger or less visible members

of the community that I get to

speak with pretty regularly."

Mr Stanbridge said attending

fortnightly full-day meetings

wouldn't affect his work as he

had flexible hours, though as

the father of a young baby it

would be an extra factor.

"But again, I am raising a

child in this community so it is

in all of our interests for me to

be there."

Voting papers will arrive

around April 24 and voting

closes on May 16.

PROCESS: The Halswell Domain skate park won't be ready until

the end of the year. Construction on the Knights Stream skate

park is scheduled to start today.

Halswell Domain skate

park opening delayed

•From page 1

Work is scheduled to start

today on another Halswell skate

park today.

The $350,000 Knights Stream

skate park will be constructed by

Hunter Civil and is expected to

be completed by the end of July.

Initially, both skate parks were

supposed to be completed at the

start of the year. But this was then

extended to April.

Mr Smith says it's very satisfying

that work is about to start at

Knights Stream.

"We know there are a lot of

young people in the local community

who are very eager to get

out and use these parks so we're

keen to see them built as speedily

as possible," he said.

The Knights Stream skate park

design includes quarter pipes,

timber post skate elements, flow

bowl, pump bump, bank, stair set

up with china bank, a flat open

space with street skate elements,

seating and shade shelter.

As part of the overall development

of Knights Stream

Sports Park there will also be a

learn-to-ride facility, a basketball

half-court, pavilion and sports

fields. However, these are being

developed separately from the

skate park.

FOR THE

SMARTEST DEALS

IN SPORTSWEAR

Visit Dress-Smart Christchurch, for all your favourite

Gym & Sportswear Brands. We've got incredible deals to

help you set your new personal best for shopping.

Get the home advantage for Gym & Sportswear

at Dress-Smart Christchurch.

Sign up to Smart Deals &

be in the monthly draw for a

$100 Dress-Smart gift card!

CHRISTCHURCH 409 Main South Road, Hornby

Open 10am-5pm, 7 Days 03 349 5750

www.dress-smart.co.nz
---
8 Tuesday April 3 2018

Latest Christchurch news at www.star.kiwi

News

Call to rid river of hazards

• By Sophie Cornish

Dorothee

Pauli

NATURAL hazards and rubbish

are causing congestion, accidents

and near misses for more than

800 rowers and paddlers who

use the Avon River near Kerrs

Reach.

Plants called flag

iris, geese, weeds,

trees and water

quality are all

issues Union Rowing

Club president

Dorothee Pauli

would like addressed

in an

"ideal world" to improve health

and safety on the river.

"We are grappling with natural

hazards and the flag irises are

chief among them. They detach

from the side of the banks and

cause free-flowing islands, they

change position all the time and

people collide with them. They

trap rubbish also, making the

islands even bigger."

Loose weeds are not able to

drain away properly as they

are getting caught in the plant

islands.

The iris, which Ms Pauli

believes are often waist-height or

higher, make visibility difficult.

"For me as a coach, the worst

PROBLEMS: Union Rowing Club president Dorothee Pauli is

calling for action to combat natural hazards, such as flag iris

plants, which are causing problems for Avon River users.

PHOTO: GILBERT WEALLEANS

thing is that they reduce visibility,

sometimes I can't see my

crews and we are supposed to

supervise them at all times."

City council acting manager

land drainage Tim Joyce said

it has not carried out any mechanical

removal of flag iris this

year. However, it has undertaken

a more targeted spraying programme.

"Getting equipment to these

sites is very difficult, either due

to the reach required or wet and

unstable banks," he said.

"Flag iris is a pest plant and

we get our contractor to spray

it wherever we encounter it, not

just limited to the Avon River.

This is only done at certain

times of the year when it is most

effective."

Ms Pauli said several groups

such as rowers, paddlers, and

other recreational river users are

having to adhere to strict rules

to avoid collisions.

"We have already looked at

safety issues in terms of the

rules of the river, how the traffic

should flow, who goes where,

how to overtake, it is difficult to

enforce, but we are trying."

The flag iris' reduce lane width

in the river, taking 1-2m on each

side, said Ms Pauli.

Growing numbers of geese

are a difficulty with their faeces

covering the pontoons used at

Kerrs Reach.

"We have to clean them all the

time and it all just goes into the

Avon . . . it's endangering our

health," said Ms Pauli.

Concerns about the state of

the trees on the river banks are

also an issue.

In January, a Shirley Boys'

High School rowing boat was

crushed by a rotten 30m tree,

with the crew narrowly avoiding

injury.

The congestion has caused accidents

in the past.

Late last year a single skull

rower was run over by a boys

eight boat, causing a rescue

operation, bad back injury and a

boat to be written off.

SOUTHERN VIEW

Local

News

Now

Fire rages, homes at risk

Felled trees

in Rawhiti

Domain used

for play area

THE TREES felled at Rawhiti

Domain due to safety concerns

have been used to form a small

natural children's play area near

the Keyes Rd entrance.

City council approached the

Guardians of Rawhiti group to

ask if it could use the logs and

stumps to form a play area in

the domain after the trees were

brought down on March 13.

"It was all quite short notice

and an opportunity we just

grabbed. This was a case of

seizing the moment, to make

use of what we were loosing, to

create a fun area with material

that is naturally in the domain.

It gives people an idea of the

type of play area which could

be extended into the tree grove

area," said Guardians of Rawhiti

member Ruthie Gareth.

The city council has put up

a sign asking people not to remove

the logs following an incident

in June when logs reserved

for a play area were chopped up

and taken by members of the

public.

www.ruapunaspeedway.co.nz

FIREWORKS NIGHT

SATURDAY 7 APRIL 2018 GATES OPEN 5pm • THE SHOW STARTS AT 6pm • (IF WET 14 APRIL)

ADULTS $20 • STUDENTS/SENIORS $15 • KIDS U/14 FREE (WITH AN ADULT) • FAMILY: 2 ADULTS & UP TO 4 KIDS $40 • EFTPOS AVAILABLE

SEASON FINALE!

FULL THROTTLE FUN!

THE BIG FAMILY NIGHT!

DON'T MISS THIS!

PLUS A NIGHT OF HEART STOPPING SPEEDWAY ACTION

1/4 MIDGETS, 6 SHOOTERS, TQ'S,

MIDGETS, MODIFIED SPRINTS,

SPRINTCARS PLUS RALLY

CARS IN THE DARK!

If wet check the Speedway Infoline 03 349 7727 or www.ruapunaspeedway.co.nz or FACEBOOK Ruapuna Speedway
---
SOUTHERN VIEW Latest Christchurch news at www.star.kiwi

Tuesday April 3 2018 9

FREE

11mm

high

density

luxury

FREEunderlay

ON SELECTED PRODUCTS *

nylOn

newport

• Commercial Heavy

Duty

• Solution Dyed Nylon

• Loop Pile

• 5 Colours

FREE

UNDERLAY

$109 90

POlyester

Cartersville

• 55oz

• Polyester

• Extra heavy duty

• Slightly imperfect

FREE

UNDERLAY

$99 90

nylOn

Brescia twist

• 50oz

• Solution dyed nylon

• Extra heavy duty

FREE

UNDERLAY

$139 90

WOOl

Boucle twist

• Extra Heavy Duty

• 80/20 Wool

• Cut Pile

• 1 Great Colour

FREE

UNDERLAY

$119 90

LIMITED

OFFER

garage Carpet

• 6mtr x 6mtr garage fully installed for $900

$900

2nds Carpet

• Thousands of metres

• Pure Wool

• Extra Heavy Duty

• Slightly Imperfect

CLEARANCE

FrOM

$59 90

2 Metre Wide

Vinyl

• Selected patterns

• Buy 1 metre and get

the 2nd metre free

BUY 1

GET 1 FREE

$49 90

Vega luxury

Vinyl Planks

• 12 Colours available

some conditions apply

Only

$30M 2

312 Wilsons road north, Waltham Phone 366 0070

www.carpetkingdom.co.nz | Mon - Fri 8am - 5pm | sat 10am -1pm

Q Card Finance now available

Free no obligation measure & quote (conditions apply.)
---
10 Tuesday April 3 2018

Latest Christchurch news at www.star.kiwi

New

entrants

St Anne's Catholic School's

new entrant pupils have been

caught up in a cyclone.

The Cyclone Computer

company has been assisting

them with technology, and

teaching them about sharing

and enhancing their learning

through ICT.

The pupils have been

learning about iPads and the

programme 'Seesaw', which

allows parents to see the work

pupils are doing as they are

doing it and add their comments

and thoughts to the

learning.

"Like all things St Anne's

does, we are looking at how

technology can be used to

make the world a better place

and this is a big part of their

programme," said principal

Dallas Wichman.

Shyla-Lilly Prakash

SCHOOLS

Mela Carroll

Niko Parker

Stephen Saunderson

Milly Walker

Scarlett Bailey

Tai'imoana Palepoi

SENIOR LIVING

Device to prevent

snoring

Why put up with broken sleep, when

help is at hand with Snorex, an appliance

that prevents snoring, sleep apnoea, and

dry and raw throats.

Snorex is custom-fitted to your mouth

for comfort, and a follow up service is

provided.

Denise Lim has been involved with

Snores for 22 years

and has had a 98%

success rate with

people using the

appliance. Snoring

can be a health

hazard, causing

sleep apnoea, where

the person actually

stops breathing for

short periods.

It can cause

short-term memory

loss, tiredness and

contribute to high

blood pressure.

The Snorex

device does not feel

restrictive, is noninvasive

and carries

SOUTHERN VIEW

a money-back guarantee.

Many people are referred by ear, nose

and throat specialists, however, anyone can

phone for an appointment.

For an information pack or to discuss

the Snorex further, phone Denise Lim on

377 4318 or check out the website

www.snorex.co.nz

ARE YOU READY

TO DOWNSIZE?

style

noun

elegance and sophistication.

synonyms: flair, grace, poise, polish, suaveness,

urbanity, chic, finesse, taste, class, comfort,

luxury, affluence, wealth, opulence, lavishness.

MAGAZINE

STYLE.KIWI

Paying rates for a house that's

too big? Paying maintenance and

heating costs for space you don't use?

A move to one of our

architecturally designed villas

at McKenzie Lifestyle Village in

Geraldine will cut those costs.

Three villas are available for

occupation now, priced from

$355,000.

Talk to Hayley Grant today

on 0800 84 55 24.

you can stop him

snoring with a

SNOREX

Why put up with a broken

night's sleep?

Ph 377-4318 or 027 682 1752

DENISE LIM

FOR A FREE INFO PACK

Website: www.snorex.co.nz
---
SOUTHERN VIEW Latest Christchurch news at www.star.kiwi

Tuesday [Edition April 3 datE] 2018 11 3

SENIOR LIVING

Centuries old folk remedy

supports good health!

A fermented liquid health tonic offers an array of powerful health

benefits. It is none other than the popular apple cider vinegar or ACV.

Since the time of Hippocrates – the

"Father of Medicine" – ACV has been

renowned for its curative properties.

In his popular book "ARTHRITIS &

FOLK MEDICINE", DR. D.C. Jarvis

reports how he found that Vermonters

who regularly consumed ACV and Honey

had excellent health with many putting in

a vigorous day's work on the farm even

when well into their eighties. He also noted

the effects of ACV and H on arthritis to be

remarkable with many patients reporting

almost total relief after taking a course

of the mixture. Dr. Jarvis surmised that

the acid and potassium in cider vinegar

counteracted calcium deposits and helped

the body control calcium use. He also noted

that Vermonters who consumed ACV and

H around meal time had excellent blood

pressure and circulation. The reason he

found was that protein foods thickened the

blood and vinegar thinned it. As the blood

thickens it cannot pass as easily and quickly

through the blood vessels and capillaries.

This poor blood flow would reduce cellular

health by limiting nutrients to the cells as

well as waste elimination from the cells.

To prevent cell damage the body naturally

increases blood pressure but this puts

more stress on the blood vessels, organs

Would you

like to profile

and grow your

Business?

For feature advertising

please phone

Jenny Wright

03 364 7446 or 021 220 3484

jenny@starmedia.kiwi

and heart. Having ACV and H with meals

will help prevent protein raising the blood

pressure. It also contributes to a feeling

of greater well-being because the thinner

blood circulates quickly and more easily

through the blood vessels. Dr. Jarvis found

regular consumption of CV and H to be

an excellent health tonic with numerous

Health attributes.

ACV is highly nutritious as it contains all

the goodness of the apple in a form that is

readily accepted by the bodyGood health

starts with good digestion and assimilation

of nutrients. ACV taken before food will

stimulate and promote healthy digestion

and assimilation of vital nutrients for good

health. A well-functioning digestive system

helps prevent disease by neutralising any

toxic substances that enter the body.

It is important to note not all ACV is

produced in the traditional way and results

are likely to prove disappointing with these

other vinegars.

Marshall's Premium ACV & ACV

with 20% Manuka Honey is produced in

Canterbury from Organic whole apples in

the traditional way. It is double strength so

you can use less.

Further information is available from

the Natural Health Advisers at Marshall's

Health & Natural Therapy, 110 Seaview

Road, New Brighton, Phone: 388-5757.

We are always happy to help!

A Leader in

Healthcare

Excellence for

the Older Person

Brookhaven

Retirement Village

29 Alport Place

Woolston

Phone 03 384 5046

Albarosa

Dementia

80 Harewood Road

Papanui

Phone 03 375 0727

Somerfield

Dementia

137 Barrington Street

Somerfield

Phone 03 332 5897

www.goldenhealthcare.co.nz

Golden Age

Retirement Village

96 Harewood Road

Papanui

Phone 03 375 0720

Camellia Court

Dementia

84 Harewood Road

Papanui

Phone 03 375 0722

Hoon Hay

Dementia

16 Anvers Place

Hoon Hay

Phone 03 379 7825

Lady Wigram

Retirement Village

Sarah Jacobson

Village Manager

210 Kittyhawk Ave,

Wigram

Phone 027 3411 464

Ultimate beauty oil?

Are you looking for a beauty oil that

contains a blend of some of the most

effective oils available and that these oils are

just 100% pure and natural with no fillers

or cheap additives?

Our new ULTIMATE BEAUTY OIL

BLEND contains a perfect combination of

three of the best natural healing and skin

restoration oils available to give your skin

what it needs!

The first oil is the remarkable Organic

Dilo. One of the best kept secrets of the

Pacific Islands Dilo oil may however be the

number one natural beauty oil available.

According to ethnobotanist

Chris Kilham, Dilo is a

powerful skin regenerator, as

it is one of the most effective

agents in promoting the

regeneration and formation

of new skin tissue. It is superabsorbing

and can penetrate

all three layers of the skin,

offering exceptional cell

hydration and regeneration.

Dilo contains powerful

antibacterial, antioxidant and

anti-inflammatory properties

which promotes the growth

of healthy and glowing skin.

Organic Argan oil (or liquid

gold) is the next amazing

oil that is extremely rich in

beneficial nutrients, fatty

acids and vitamin E. It gives

the skin a youthful glow

restores elasticity and leaves

the skin feeling plumper and

softer.

ACV SUPPORTS

• Healthy digestion, assimilation of nutrients, elimination of wastes

• Energy – Vitality – Endurance

• Elimination of viruses, bacteria, fungus & parasites

• Powerful antioxidant

• Cardiovascular health, blood flow & healthy blood pressure

• Diabetes – improves insulin sensitivity

• Arthritis & joint support • Longevity & improved health

• Settles the stomach & reduces reflux

• Weight Loss

Wild Rosehip is the final powerful oil. It

is known to hydrate the skin and correct

skin damage over a period of time. It is well

known to help with scars, stretch marks,

age spots, skin pigmentation and reduce

the signs of premature aging.

The ULTIMATE BEAUTY OIL BLEND

helps give your skin the nourishment and

nutrition it may require to restore itself and

keep it vibrant and flawless.

Marshall's Health & Natural Therapy,

110 Seaview Road, New Brighton, Phone:

388-5757 – Bringing you the best in

natural health!

ULTIMATE BEAUTY OIL

Our new ULTIMATE BEAUTY OIL contains a perfect combination of three of the best skin

oils known to help keep your skin healthy vibrant & flawless. The 100% pure blend is as

natural as it gets containing only Organic Dilo, Organic Argan & Wild Rosehip with no other

additives to give your skin the best natural nutrition. These three oils all offer remarkable

skin benefits.

ULTIMATE BEAUTY OIL SUPPORTS:

• Skin moisture (Hydrates the skin)

• Gives the skin a natural boost of nutrition giving it a youthful glow

• Helps restore skin elasticity leaving it plumper & softer

• Helps restore damaged skin & speed healing

• Reducing scars, stretch marks, wrinkles, blemishes

• Has powerful anti-aging properties to protect your skin helping

keep it young & healthy

• Stimulates healthy new skin cells

Bringing You the Best in Natural Health

50ML

BOTTLE

ONLY

$26.90

MAIL ORDER

AVAILABLE

MARSHALLS HEALTH & NATURAL THERAPY

CONSULTING - PRESCRIBING - DISPENSING - MANUFACTURING - MEDICAL HERBALISTS

110 SEAVIEW RD, NEW BRIGHTON • PH 03 388 5757 • Email: enquiry@marshallshealthshop.co.nz

- WE ARE ALWAYS HAPPY TO HELP! -

Apple Cider VinegAr - Powerful Natural Health Tonic

ACV is a highly nutritious with all the goodness of apples (one of our most health-giving fruits) in a form that is readily

accepted by the body. It promotes healthy digestion, assimilation of nutrients & elimination of wastes. Detoxifying

& purifying & supports the function of vital organs like the kidneys, bladder, liver & heart. Helps neutralise toxic

substances & harmful bacteria in food. A time-honoured natural remedy to improve health & longevity.

ALWAYS INSIST ON MARSHALL'S TRUE APPLE CIDER VINEGAR FOR

MAXIMUM NUTRITIONAL VALUE & HEALTH BENEFITS!

Bringing You the Best in Natural Health

MARSHALLS HEALTH & NATURAL THERAPY

CONSULTING - PRESCRIBING - DISPENSING - MANUFACTURING - MEDICAL HERBALISTS

110 SEAVIEW RD, NEW BRIGHTON • PH 03 388 5757 • Email: enquiry@marshallshealthshop.co.nz

- WE ARE ALWAYS HAPPY TO HELP! -

Super price

Premium QuALity N.Z. DoubLe

StreNgth, orgANic APPLe

ciDer ViNegAr:

750ml only $9.90, 2ltr only $19.90

With 20% mANukA hoNey ADDeD:

750ml only $14.90, 2ltr only $29.90

MAIL ORDER

AVAILABLE
---
12 Tuesday April 3 2018

Latest Christchurch news at www.star.kiwi

SOUTHERN VIEW

June 29 - July 1

EXHIBITORS BOOK NOW

vanessa.fleming@starmedia.kiwi

021 914 565
---
2

SOUTHERN [Edition VIEW datE]

Latest Christchurch news at www.star.kiwi

Tuesday April 3 2018 13

HEALTH & BEAUTY

The health

effects of sugar

Should we be alarmed or is this

likely to be another area that science

backtracks on?

The answer to that question is Yes,

we should be worried, there are real

problems caused by the volume of sugar

being consumed by the average person

and when look back over the last decades

the problem is getting worse, not better.

developments in research and

understanding the fields of nutrition

and food safety change how we view

products we consume and patterns of

consumption can make the negative

effects of foods more pronounced.

while these advances should be

embraced, as each development leads

to better understanding and health

outcomes it can also be frustrating to

the average consumer who can feel like

just when they 'get' a good healthy eating

plan together, the rules change.

The recommendations for sugar are a

good example of how information can

be confusing, some sources encourage

the complete ban on all sugar containing

products and others, such as the heart

foundation recommend a reduction

rather than complete removal.

It's not so confusing though really, at

no time in history has sugar ever been

presented as a healthy food, but as in the

past it took more effort to consume sugar

it was less of a problem, we could 'get

away with it'.

In the past sugar was something that

you could control through how much

you added, in baking and to your cup of

tea. This knowledge then transferred into

the first generation of convenience food,

if it was sweet, it had sugar in it.

what we now face as a challenge is

not that suddenly sugar is bad, but that

it is added, often quietly, to many of the

processed foods we consume, even when

they aren't sweet.

The availability and often-reduced

price of these foods compared to

healthier option make them an easy

choice to the time poor or uneducated

consumer. "Your face is unique.

There Trust are your some injectable simple tips you can

follow, wrinkle including treatments reading food labels;

consuming to an as experienced much food as possible

in a Cosmetic state close Physician" to its natural form and

avoiding sugary drinks. Consumers also

need to be Medical aware Director of marketing claims

Dr Heather Jefferies

that do not provide the full nutritional

picture of a product.

A sensible place to start is by

combining a diet low in processed food

and sugar combined with regular activity

What we now face as

a challenge is not that

suddenly sugar is bad, but

that it is added, often quietly

to many of the processed

foods we consume, even

when they aren't sweet.

as the path to long-term health.

For more advice and direction to

improve your health talk to your

registered exercise professional, they can

offer some advice and are able to refer

you to sources of information and other

nutritional professionals that you

can trust.

Pain free laser

"Your face is unique. skin Trust rejuvenation your injectable wrinkle

Facial assessments

treatments to an experienced Cosmetic Physician."

Injectable wrinkle

- Medical Director, Dr treatments Heather Jefferies

Dermal fillers

Prescription peels

• Pain free laser skin Microdermabrasion • Prescription peels

rejuvenationMole Mate® skin • Microdermabrasion

cancer

• Facial assessments and mole

• Mole

checks

Mate

Leg vein treatment

® skin cancer

• Injectable wrinkle and mole checks

treatments

• Leg vein treatment

• Dermal fillers

Meet Ruth

at the Te Hapua ¯ Halswell Centre Café

2-3pm Friday 13 April

31 Colombo St, Cashmere

31 Colombo St, Cashmere | Phone 372 3589

Phone 372 3589 www.koruskin.co.nz

www.koruskin.co.nz

ACC Registered

Phone 09 376 4512

porthills.mp@parliament.govt.nz

Letterbox Advertising

Flyers and Newspaper Inserts

DESIGN

We offer professional

design services.

PRINT

We print your gloss

mailers and letterbox

flyers.

Delivery

Canterbury wide

coverage or targeted

zone deliveries.

FREE QUOTES

Contact: Michaela Malloch

P: (03) 379 7100 or 021 932 177

E: michaela.malloch@starmedia.kiwi
---
2

Tuesday [Edition datE]

14 April 3 2018

Latest Christchurch news at www.star.kiwi

HOME & HEATING

SOUTHERN VIEW

Email emily.oconnell@starmedia.kiwi

by 5pm each Wednesday

Air Con

Christchurch

Air Con Christchurch is your locally owned company recognised by EECA and

CCC as a provider of insulation and heating to meet the Building Code and

landlord requirements. We have all major brands and offer the chance to win

a $5000 Gold Coast Holiday with every heat pump, insulation or ventilation

purchase prior to December 2018.

Go along to Creative Writing on Wednesdays between 4-5.45pm. Group

leader Jennifer works with group members to craft, create and develop their

own work. Take with you pens or pencils, a laptop, paper and any of your

wonderful ideas, story-telling, or art. Talk to any of the Linwood Library team for

contact information. No charge. The session will be held at the Linwood Library,

Eastgate Shopping Centre. ​

Toddlerock St Martins

Wednesday, 9.30-11am

Music, dance, food and

fun for pre-schoolers and

their big people. $2 per

family.

Hillview Christian

School gym, 150 Wilsons

Rd.

Knit 'n' Yarn

Wednesday, 11am-1pm

Go along to Linwood

Library for our friendly

craft corner sessions. Take

your knitting, crochet or

other portable craft project

and enjoy time with other

crafters. Have a look at

their range of books to get

ideas for your next project.

Free, beginners welcome.

Linwood Library, Eastgate

Shopping Centre

Mid-Week Laughter

Club

Wednesday, 6-7pm

The focus of the club is

to get over the stress of the

first part of the week and

have a positive outlook for

the rest. The event aims

to release endorphins and

help you relax and lower

stress levels. There is no

comedy, stand-up or jokes

at this session. Instead,

you are encouraged to

make yourself laugh at

nothing at all for the purpose

of relaxing.

St Marks Methodist

Church, cnr Barrington

and Somerfield Sts. Entry

$2

South Library Book

Discussion Group

Wednesday, 6-7pm

For those who love

reading and want to

share in discussion with

other friendly book

lovers. They subscribe

to the Book Discussion

Scheme so there is a cost

involved. Held on the first

Wednesday of each month

at 6pm. Places are limited

so phone or email to

inquire about availability

and cost.

South Library, 66 Colombo

St.

Rummikub Club

Thursday, 10am-noon

Go and join in on a

game of Rummikub, a

tile-based game for two

to four players, combines

elements of the card game

rummy and mahjong.

Every Thursday from

10am-noon. No charge.

Linwood Library, Eastgate

Shopping Centre

Beckenham Exercise

Class

Friday, 9.30-10.30am

Designed for people living

with long-term health

conditions. Classes generally

occur weekly other

than on public holidays.

Phone 0800 663 463 to

register.

St Marks Methodist

Church, cnr Barrington

and Somerfield Sts.

Scrabble @ Linwood

Library

Friday, 10.30am-noon

Go along to our Scrabble

club every Friday. No

obligation, just go along

when you can and join the

friendly group. All materials

are supplied. No fee.

Linwood Library, Eastgate

Shopping Centre

Babytimes

Friday, 11-11.30am

Encourage learning

through language. Babytimes

is a free interactive

programme including

songs, rhymes, stories

and play. Non-members

welcome.

Linwood Library, Eastgate

Shopping Centre

Linwood Village Market

Saturday, 9am-1pm

Go along for fresh

produce, plants, antiques,

crafts, jam, jewellery,

books, clothes and more.

You will be given a free

box in the interest of waste

minimisation. There will

be reasonably priced refreshments,

cupcakes, tea,

herb teas and coffee. There

may be hangi, music and

dance also.

Cnr of Worcester St and

Stanmore Rd

Spreydon Social Games

Club

Saturday, 10am-noon

Join a friendly game or

two of Upwords, Scrabble,

cards, Chess, Mahjong and

more.

Spreydon Library, 266

Barrington St

Mt Pleasant House

Tour

Saturday 1-4pm

Visit seven fabulous

homes on the hill. This

is a fundraising event for

the Mt Pleasant Centre

and Mt Pleasant School.

Houses range from 1920s

vintage to brand new. $35

for self-drive or $50 for a

chauffeur service. Tickets

available from the Mt

Pleasant Centre, Mt Pleasant

School, Mt Pleasant

Farmers Market, Country

and Casual Homestore

and Eventbrite.

Mt Pleasant

Opawa Farmers' Market

Sunday, 9am-noon

Go along to the Opawa

Farmer's Market this

Sunday for organic and

delicious produce from

local growers. Enjoy

sipping on a coffee while

wandering around the

market and checking out

the food on offer. From

artisan bread and French

pastries to fresh berries

and local cheeses, there

will be something for

everyone.

275 Fifield Tce, Opawa.

Summer cooling

"Did you know your heat pump is an air

conditioner?"

BUT!! If you bought it for heating it will

struggle to cool the area as cooling is always

less output e.g. Mitsubishi Electric MSZGE42

= 5kW heating and 4.2kW cooling. So always

ask your installer if you want cooling as well as

heating. We at Air Con Christchurch always

advise what we have quoted for.

Heating tips

Select "Heat" on heat pump and set

temperature at approximately 21 – 22 degrees

with fan on Auto

Cooling tips

Select "Cooling" and set at 20 – 22 degrees this

will save you up to 30% running costs and still

be cool (try it and see). 16 degrees is too low.

Heat pump cleaning is now due for

the winter.

Winter Heat Pump Spec

Use this editorial and we will provide a Heat

Pump Clean Service for $59.95 in Christchurch.

See our website for comprehensive list.

Call Air Con Christchurch on 03 343 3049

or 0800 161 163 or visit our website on www.

airconnz.co.nz

New Zealand's best low temper

performance heat pump, guaran

While ordinary heat pumps produce less heat belo

only Mitsubishi Electric HyperCore ® Technology gu

its fully rated capacity right down to -15°C so yo

all the heat you paid for.

WIN A $ 5000

HOLIDAY

Save

$250

5.3kW Heating

Wide Temperature Operation

HIGH WALL HEAT PUMP

FH25 3.2kW Heat Pump

FREE WIFI INCLUDED*

$2,695

$2549.80

INSTALLED

Installed BACK BB. TO BACK*

including Conditions GST apply.

Hypercore 2.2-8.4kW Heating

MFZ-KJ50VEHZ

Dimensions (WxDxH): 750 x 215 x 600mm

Heating Capacity:

5.8 kW (min 2.2kW–max 8.4kW)

Heating Efficiency – COP:

3.94 / ACOP: 3.94

Cooling Capacity:

5.0kW (min 1.6kW–max 5.7kW)

Cool Efficiency–ER:

3.57 / AEER: 3.57

$3,974 INSTALLED

BACK TO BACK*

Unit 8/33 Watts Road, Sockburn

®

Save

HEAT PUMP DEALS

$400

Your chance to win with Heat Pump purchase. See in store for details.

GREE heat pumps are designed to

operate efficiently from -22° to +43°C

including GST

FLOOR CONSO

KJ60 6.8kW Heat Pu

$4449.5

Installed BB.

Conditions apply.

Hypercore -15°

Quietly Supe

Unit 8/33 Watts

0800 161 162

03 343 3886

Sockburn, Chris

www.airconnz.co.nz
---
SOUTHERN VIEW Latest Christchurch news at www.star.kiwi

Tuesday [Edition April 3 datE] 2018 153

HOME & HEATING

Choosing the

right heat pump

for your home

Whether it be a new build, or

a retrofit, most homes include

at least one heat pump, if not a

whole heating solution. They can

provide cheap, clean heat and are

much more convenient than a log

burner as you just need to press a

button. But how do you decide

what is best? Choosing the right

sized heat pump is key to ensuring

optimum comfort levels. Every

situation varies and it is therefore

important to get professional

advice from heat pump experts.

The range varies from wall

mounted high walls, floor mounted systems,

multi systems, ceiling cassettes, right through

to ducted central heating systems allowing

you to have a very discreet way of heating

your whole home to a constant temperature

throughout.

Firstly, you must select a heat pump that is

suitable for the size of the space you wish

to heat. Usually a site visit is the best way to

ascertain this. Not only is the size of the area

taken into consideration but also, insulation,

building orientation, windows and ceiling

space. There are a wide range of heat pumps

available with different heating outputs so it is

important to select

the correct size for

Heating is a major

investment in your home

and it is vital to get the

right advice.

your requirements

that will handle

the job but not

be unnecessarily

overpowered.

Secondly, the

location of your

heat pump is also extremely important. The

cheapest installation is a back to back where

the outdoor unit is positioned directly behind

the indoor unit however this is not necessarily

always the best option. It is vital that the indoor

unit is positioned in a place that will not be

constantly blowing on you. Also important, is

the location of the outdoor unit. Most people

do not want their outdoor unit sitting directly

in their outdoor entertaining area or right

outside their bedroom window.

Choose a brand you can trust. Many brands

have come and gone over the years but there

are a number of manufacturers who provide

reputable and reliable products. All brands

vary in their energy efficiency, quietness of

systems and price, so it depends on your

application as to which will be most suitable.

Major brands such as Panasonic, Fujitsu,

Mitsubishi, Daikin, Toshiba and Hitachi are

all reliable brands backed up by good technical

after sales service.

Ensure your heat pump is installed by an

accredited installer. This will not only ensure

correct installation of your heat pump, but also

validate the manufacturers warranty.

Other things to

consider when

choosing a heat pump

are time clocks, ease

of use of the remote

controllers, air

filtration and also wifi

capabilities.

Heating is a major

investment in your home and it is vital to get

the right advice.

Enviro Master Ltd specialise in the supply,

installation and servicing of all major brands

of heat pumps. Our salesmen are engineers

ensuring you get quality, unbiased advice as

to which system will suit your application

the best. Enviro Master Ltd offer a free, no

obligation quote and will come to your home

to see what is required. Visit our website at

www.enviromaster.co.nz.

Fresh air

in your home

All houses require air exchange in order

to stay fresh and dry. No one likes to live

in a stuffy, smelly, damp home. Indoor air

quality is important for the health of the

occupants. Houses can have many sources of

contaminants, such as bathrooms, kitchens,

pets, smokers, and even furnishings. Opening

the windows can refresh the air, but is not

always an option for security reasons and can

also lead to heat energy being lost to outside.

Although older houses have small gaps around

windows and doors, you want to be able to

control the flow of air. You don't want air

coming in to the bathroom or kitchen and

pushing the soiled air around the house. It

is better to expel the air out of kitchens and

bathrooms to outside. This will draw air in

from the rest of the house to replace the air that

has been removed.

Modern houses are very airtight and

theoretically require a source of incoming air

to allow kitchen and bathroom extraction to

work optimally. Ventilation systems should be

low air velocity and low air pressure so as not

to cause draughts.

There are two main types of ventilation system:

Positive pressure and Balanced pressure.

Positive pressure systems, such as the Dry-

Matic, bring filtered, warmed attic air into

the house, which then percolates through the

rooms, pushing the damper stale air out.

Balanced pressure systems bring in a similar

amount of air to the amount they exhaust.

Balanced pressure systems with Heat

Exchange, such as the HEX390, use the heat

of the outgoing air to warm the incoming

air from outside. These are the most energy

efficient systems available, as they recover up

to 80% of the energy in the air, rather than

losing it to outside. Heat exchangers work just

as well cooling incoming air when the house is

cooled in summer.

The NZ building code has recommended

air exchange rates for houses. To ascertain

the required airflow for your home, please

contact Smooth-Air on 0800 SMOOTH

(0800 766 684), who will also be able to

recommend a solution if your ventilation

doesn't yet meet the New Zealand standard.

Ventilation Equipment Suppliers

totrade

retail

Domestic

Commercial

Industrial

&

HEAT PUMP

SALE NOW ON!

Amazin' Autumn Specials!!

Centrifugal

inline fans

Axial inline fans

Axial fans Axial fans Bathroom fans

Window fans

• We will offer you the best quality brands and

option of heat pump for your home/business

• Providing Heat Pump solutions for over 15 years to Cantabrians

• We personally guarantee all our products & installs for 5 years

(providing annual maintenance has been completed)

Phone us today for your free consultation & quote

41A SHAKESPEARE RD, WALTHAM

PHONE 03 366 0525

www.enviromaster.co.nz

"A local team for local people"

0800 SMOOTH

(0800 766 684)

sales@smooth-air.co.nz

the

right

351c Blenheim Rd

Riccarton

Christchurch

03 343 6184

product

for the

job

Monday - Friday

7.30am - 5pm

www.smooth-air.co.nz
---
16 Tuesday April 3 2018

Latest Christchurch news at www.star.kiwi

SOUTHERN VIEW

Connecting

COMMUNITIES

Local

people

Local

news

Local

ownership

Local

opinions

Star Media.

We're connecting

Cantabrians!

Your local newspapers.

www.starmedia.kiwi
---
SOUTHERN VIEW Latest Christchurch news at www.star.kiwi

Tuesday April 3 2018 17

REAL ESTATE

Corner the market in Westminster

165 Westminster Street, St Albans

3 bedrooms | 1 bathroom | 1 toilet | 1 living room | 1 dining room | 2 car-garage | 2 off-street parks

Listing Number: ST7364

Our current owners have family

commitments visiting their nearest and

dearest overseas - hence this should leave

you in no doubt as their willingness to

sell.

This charming character bungalow has

been well maintained over the years, with

an updated kitchen/dining, bathroom,

separate lounge and 3 bedrooms. Extend

your summer al-fresco entertaining

options with the delightful north

facing deck and vistas of the garden.

Underfloor insulation plus the ambience

of a logburner and a heat pump for good

measure covers heating for the cooling

months.

The 671sqm grounds allow children to

play freely in the fully fenced property

where there is room for backyard cricket

and a trampoline. Move straight into this

friendly neighbour located on the fringe

of Merivale, zoned for St Albans Primary

School and Heaton intermediate is part

of the appeal for families, parents will

love the added bonus of cafes & amenities

virtually on your doorstep.

Homes in this sought-after location are

always popular and this gem offers an

affordable first (or second) step onto the

property ladder. Come and view before

it's gone. Open Home: Sunday 8th April

2.15pm – 2.45pm.

See you at the Open Homes or for

a private viewing contact Peter or

Kathryn Hampton of Harcourts St

Albans - Holmwood (Licensed Agent

REAA 2008) on 377 0377 or Peter

mobile 021 367 761 or Kathryn mobile

021 889 903

Visit www.star.kiwi

anytime, anywhere!

Breaking news,

delivered to

your pocket.

Fire rages, homes at risk

•news •CTV •sport •districts •schools •lifestyle •opinion •what's on

www.star.kiwi
---
18

Latest Christchurch news at www.star.kiwi

Tuesday April 3 2018

SOUTHERN VIEW

Classifieds Contact us today Phone our local team 03 379 1100

Pets and Supplies

Trades & Services

Trades & Services

Trades & Services

• Quiet rural setting

• Modern purpose built facility

• AsureQuality approved

• Caring qualified staff

• Inspections encouraged

69 Avoca Valley Road, Heathcote.

Ph. (03) 3844028 Email. info@avocacats.co.nz

www.avocacats.co.nz

Building Supplies

SHOWERLINERS

Installed to fit your tired

or old existing shower,

the perfect solution, ph

Lachlan for a free quote

383 1723 or 027 436 7067

Computers

ALL

YOUR

COMPUTER

WORRIES SOLVED!

*$30.00 off your first

service with this coupon!*

No problem too big or

small from home PC's to

business networks. PC

slow? An end to Viruses,

Spyware, and Clogged

Systems. Safe secure

hassle-free computing.

Lost files recovered.

Microsoft Certified,

MCSE, MCP+l. 30 years

experience. Call Andrew

Buxton this week on 326-

6740 or 027 435-7596

for $30.00 off* Custom

Computers Christchurch

Gardening

& Supplies

A GARDEN OR

LANDSCAPING TIDY

UP? Shrub, hedge &

tree pruning, Lawns,

Gardening, consistently

reliable general property

upkeep, Dip. Hort. 10

yrs experience, One off

tidy ups or on-going

service. Nick's Property

Maintenance. Keeping

your garden beautiful.

Free Quote. Ph. 942-4440

LANDSCAPE GARDEN

PROFESSIONAL

Qualified Horticulturist,

offering expert, garden

makeovers, design and

landscaping, for free

quotes call Bryce 027 688-

8196 or 0508 242-733

ADVERTISE YOUR

BUSINESS HERE

AFFORDABLE Dog

Grooming $46 small,

$52 med, experienced

and qualified groomer/

veterinary nurse,

Redwood, ph June 03 354-

6414 or 027 746-5295

QUEENSLAND SUN-

SHINE COAST AUSTRA-

LIA Resort, Ocean Views,

Balconies, Self Contained,

1 or 2 B/R Ensuite,

Heated Pool, Spa, Sauna,

Free Internet, Shops,

Restaurants, Tennis, Surf

Club & Patrolled Beach,

Public Transport at door.

Ask for our SEASONAL

SPECIALS. Phone 61 7

544-35011 Email: reception@mandolin.com.au

www.mandolin.com.au

Phone for further details

Pets & Supplies

Holiday

Accommodation

Wanted To Buy

TOOLS Garden,

garage, woodworking,

mechanical, engineering,

sawbenches, lathes, cash

buyer, ph 355-2045

ADD SOME

COLOUR

TO YOUR ADVERT!

(03) 379 1100

Cracked tiles?

Dirty grout?

Old or mouldy

silicon?

Brett Ph 03 358 5105

or 027 746 7632

www.groutpro.co.nz

GLAZING

Stephen Thom Glazing 2012 Ltd.

• Mirrors • Pet Door Specialists

• Splashbacks

THE CAT DOOR MAN

ALL BROKEN WINDOWS

Phone Cushla or Darren Twist

03 352 6225 or 027 352 6225

HOUSE

CLEARING

Are you

moving house

or trying to

downsize?

Call All Clear

Canterbury. We work

with you to recycle,

sell and dispose of

unwanted items.

Ph: 03 260 0934

or 021 078 4553

raewynlcooke@gmail.com

www.allclearcanterbury.co.nz

Lawns, Gardens

& Home Cleaning

9185885AA

Free Quotes

Professional, personalised

service. Regular &

one-offs. Fixed price.

Ph: 377-5814

For all your property and

cleaning requirements

Trained, insured & security

screened owner/operators

Multi-award winning

systems & Franchises

Franchises Available

www.fviphomeservices.co.nz

ROOF

PAINTING

Rope & harness

a speciality,

no scaffolding

required,

30 years of

breathtaking

experience.

FREE QUOTES

Exterior staining,

exterior painting,

moss and mould

treatment and

waterblasting

Phone Kevin

027 561 4629

AAA HANDYMAN

licensed carpenter

LBP, all property and

building maintenance,

repairs, bathroom/shower

installations, with free

quotes 03 383 1927 or 027

245 5226 ciey@xtra.co.nz

BRICKLAYER

George Lockyer. Over

35 years bricklaying

experience. UK trained.

Licensed Building

Practitioner number

BP105608. Insurance

work. EQC repairs.

Heritage brickwork and

stonework a speciality. No

job too small. Governors

Bay. Home 329-9344,

Cell 027 684 4046, email

georgelockyer@xtra.co.nz

BUILDER LICENSED

available for all aspects of

building. Please call 027

241-7471 or 335-0265

BUILDER

For all building work

but specialist in bathroom

renovations, 30 yrs

experience, with service

and integrity. Free Quotes.

Ph Lachlan 383-1723 or

0274 367-067.

CARPET & VINYL

Laying. Repairs, uplifting,

relaying, restretching.

Email jflattery@xtra.co.nz

ph 0800 003 181 or 027

2407416

PAINTING

& Decorating Wingfields

Contracting, all interior

& exterior painting & all

forms of interior plastering

& jib fixing, ph Mark 021

171-1586 or 355-5994

PAINTER AVAILABLE

All aspects in painting.

Very competitive in roofs

and fences. Please call 027

241-7471 or 335-0265

PAINTER

Quality work, I stand by

Canterbury Ph Wayne 03

385-4348 or 027 274 3541

PLASTERER

Gib Stopping, Small

job specialty. 30 + years

experience. Ring 0800

387-369

PLUMBER

ALF THORPE

PLUMBING Certifying

Plumber for all types of

plumbing, maintenance,

spouting, alterations etc.

Phone 352-7402 or 0274-

350-231

junk

Why go to the Dump? Junkman comes to you!

Items too big for the rubbish bin?

Or too heavy for you to move?

Junkman comes to FROM

you & takes it away $

65 *

*Prices vary depending on items and volume – minimum charge $65

Enjoy outdoor living all year round

• House, deck, carport & window canopy etc

• Warm & dry in winter

• UV protection for summer

• Customised & Tailored

• Café curtains fitted

• 5 year warranty

ARCHGOLA

0800 586 5626

www.junkman.co.nz office@junkman.co.nz

15 months

INTEREST FREE

Normal lending criteria apply

Chris Thorndycroft

Grant Stewart

Ph 0508 272 446 | www.archgola.co.nz

From new builds to small home alterations, we

specialise in turning your dream home ideas into reality.

Call the name you can trust!

Ph 377 0034

SPOUTING CLEANING

Spouting Unblocked,

Cleaned Out and Flushed

Out. Also Full Handyman

Services Available. Call

Trevor 332 8949 or 021

043 2034

STONEMASON

BRICK

&

BLOCKLAYER,

Earthquake Repairs, Grind

Out & Repoint, River/

Oamaru stone, Schist,

Volcanic Rock, Paving,

all Alterations new & old,

Quality Workmanship,

visit www.featureworks.

co.nz or ph 027 601-3145

TILER/CARPENTER

35 years exp, no job

too small. Ph Ross 027

4311440.

T.V. SERVICE CENTRE

Repairs, tvs, microwaves,

stereos, DVD. Aerial

installations and kitsets,

480 Moorhouse Ave, ph 03

379 1400

BUILDER

www.dimocks.net.nz

T.V. SERVICE CENTRE

Repairs, tvs, microwaves,

stereos, DVD. Aerial

installations and kitsets,

480 Moorhouse Ave, ph 03

379 1400

UPHOLSTERER

Dining Chairs, Lounge

suites, Caravan Squabs

etc. recovered. Free

Quotes. Phone Graeme

383-1448

VHS VIDEO TAPES

& all camera tapes

converted to DVD, video

taping special occasions,

www.grahamsvideo.co.nz

ph 03 338-1655

WINDOW CLEANING

Average 3 bdrm house

inside or out $40. Both

$70. Phone Trevor 344-

2170

WINDOW CLEANING

Average 3 bdrm house

inside or out $40. Both

$70. Phone Trevor 344-

2170

DRIVEWAYS

Exposed Aggregate

Stamped Concrete Plain

Concrete Resurfacing

Things we offer...

Competitive/affordable pricing

Attention to detail

Professional service

free quotes/insurance scopes

Cell 0278 145 848

www.drivecrete.co.nz

FOOTCARE

OASIS

Senior Citizens Foot Care

25 Conway Street, Spreydon

Treating hard thick nails, calluses

and corns finishing with a foot massage

Price $30 Allow 45 mins

Home Visits available by appointment

Therapist – Amanda

(30 years experience)

Ph. 942-6036 for an appointment

HOURS ARE FLEXIBLE

spouting

www.superiorspouting.co.nz

Ph. Jem 0277 515 250

0800 751 525
---
SOUTHERN VIEW Latest Christchurch news at www.star.kiwi

Tuesday April 3 2018 19

What's On

Entertainment

To advertise, contact

Jo Fuller 027 458 8590

jo.fuller@starmedia.kiwi

'Famous for their roasts!'

Start your

day with us

RESTAURANT & CAFÉ

Kid's SPECIAL

Two courses

Seniors SPECIAL

Two courses

$13

We are family friendly. Great Kids menu plus designated play area.

Soup/Roast or

Roast/Dessert

Special available lunch only

Monday - Saturday 12pm - 2.30pm

$20

We are open from 6.30am

Cooked

breakfasts

$19

Check out our extensive

breakfast menu from

Continental to Cooked

The

RACECOURSE HOTEL

& Motorlodge

118 Racecourse Rd, Sockburn,

Christchurch. Ph 03 342 7150

www.racecoursehotel.co.nz

What's On

TUESDAYS &

THURSDAYS

MEMBERS LUCKY

CARD DRAW

DOWNSTAIRS

CLUB BISTRO

Open Tuesday

to Saturday

from 12pm - 2pm

& from 5pm.

DINE BY THE SEA!

UPSTAIRS

Pierview Restaurant

Open from 5.30pm

Friday, Saturday and Sunday

and for

Sunday Brunch

from 10.30am to 2pm.

SUNDAY 29th APRIL, from 5.30pm

SUNDAY NIGHT BUFFET

$25pp BOOK NOW!

202 Marine Pde | Ph 388 9416 | www.newbrightonclub.co.nz | Members, guests & affiliates welcome

Lunch & Dinner

All you can eat, 7 days

Bookings Essential

PH 386 0088

fb.com/GardenHotelRestaurant

www.gardenhotel.co.nz

SERVING

HAPPY HOUR

5PM - 7PM DAILY

OUR CABINET ITEMS

ARE HOMEMADE

CREATED FRESH ON SITE DAILY

$12

LUNCH

SPECIALS

Live Music:

6PM.SAT 07-APR

COFFEE

HAPPY

H O U R

2PM-4PM

DAILY

$3.50

Offer available for a limited time

and includes tea, hot chocolate

MON: ROAST MEAL

TUE: FISH & CHIPS

WED: FISH BURGER

THU: ROAST MEAL

SAT: FISH & CHIPS

AVAILABLE

FROM

11.30AM-2PM

FOR A

LIMITED TIME

Rhonda Campbell

& John Bevin

PHONE 385 8880 FIND US ON FACEBOOK fb.com/GBCCHCH

THE GARDEN HOTEL COMPLEX | 110 MARSHLAND RD

www.gardenhotel.co.nz | phone 385 3132

H ORNBY

WORKINGMEN'S

CLUB

FAMILY FRIENDLY DINING

Club CAFE

OPEN DAILY

LUNCH & DINNER

GF & V options available

Dine and

WIN

A

DOUBLE

PASS

TO SEE

Chalmers Restaurant

CARVERY DINNER $22.50

EVERY FRIDAY & SATURDAY FROM 5.30PM

Early Bird Special

5.30pm - 6.30PM

LIONEL

RICHIE

SUNDAY 15 APRIL 2018

ENTER WHEN YOU DINE IN THE CLUB CAFE

& CHALMERS RESTAURANT.

Conditions Apply.

FREE

DESSERT

Family Friendly

SUNDAY NIGHT BUFFET $27

EVERY SUNDAY FROM 5PM-8PM

PERFECT FOR SPECIAL OCCASIONS & FAMILY EVENTS!

IT'S TIME TO

RENEW

2018 SUBS

ARE NOW DUE

PLAYING

THIS WEEKEND

FRIDAY 7PM

JO'S KARAOKE

SATURDAY 4.30PM

MARION'S OUTLAWS

COMING UP...

FRI 27 APR, 8PM

Tickers $20 on sale now

at the club ofce

The Hornby Club | ph 03 349 9026 | 17 Carmen Rd | Hornby

www.hornbywmc.co.nz | Members, guests & affiliates welcome
---
20 Tuesday April 3 2018

Latest Christchurch news at www.star.kiwi

SOUTHERN VIEW

The Ultimate

Driving Machine

FINAL DAYS TO ENJOY 15% OFF ALL

NEW BMW SEDANS AND HATCHES. *

Find your ultimate driving machine at the BMW EXPO Sales Event. Enjoy

15% off all new BMW Sedans and Hatches * along with other outstanding

opportunities across a wide range of BMW models, ends 31 March.

Visit Christchurch BMW today to find out more.

Christchurch BMW

30 Manchester Street, Christchurch, 03 363 7240. chchbmw.co.nz

*

15% saving applies across the BMW Sedan and Hatch range only and is based on Manufacturers Recommended Retail Price excluding On Road Costs for new vehicles ordered, registered and delivered between

February 1st and March 31st 2018, or while stocks lasts. Offer excludes pre-owned and demonstrator vehicles, the BMW X Range, the BMW i3 and the BMW M5. Cannot be used in conjunction with any other offer.

GRAND OPENING SALE

BL Model

ASX XLS Diesel

$30,990

ONLY

a2

vailable

+ORC

&NVP

Lancer Final Edition

+ORC

&NVP

$25,990

ONLY

a6

vailable

Outlander LS 2WD

$30,990

ONLY

a6

vailable

+ORC

&NVP

Triton GLX-R 2WD Manual

$29,990

DRIVE

AWAY

ONLY

a8

vailable

392 Mooorhouse Avenue, Christchurch www.christchurchmitsubishi.co.nz

Sales, Service, Parts & Finance: 03 379 0588