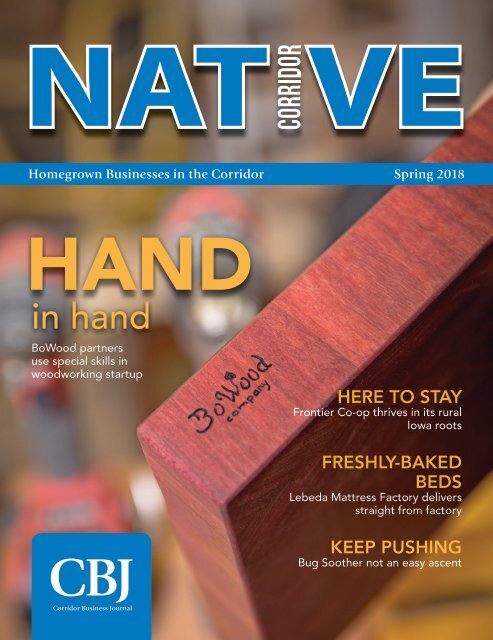 Corridor Native Spring 2018
You also want an ePaper? Increase the reach of your titles
YUMPU automatically turns print PDFs into web optimized ePapers that Google loves.
Homegrown Businesses in the Corridor Spring 2018

HAND

in hand

BoWood partners

use special skills in

woodworking startup

HERE TO STAY

Frontier Co-op thrives in its rural

Iowa roots

FRESHLY-BAKED

BEDS

Lebeda Mattress Factory delivers

straight from factory

KEEP PUSHING

Bug Soother not an easy ascent
---
FROM THE EDITOR

Spring 2018

Chief Executive Officer & Publisher

John F. Lohman

Vice President

Aspen N. Lohman

Chief Operating Officer & Associate Publisher

Andrea Rhoades

Magazine & Special Projects Editor

Angela Holmes

Writers

Cindy Hadish

Angela Holmes

Emery Styron

Photographer

Brian Draeger

Graphic Design Manager

Becky Lyons

Graphic Designer

Julia Druckmiller

Magazine Media Consultant

Judith Cobb

CBJ Editor

Adam Moore

CBJ Media Consultant

Kelly Meyer

Event Marketing Coordinator

Ashley Levitt

Event Media Consultant

Rhonda Roskos

A place to grow

Yes, we grow a lot of corn here in Iowa. And while we are certainly

proud of our status as an agricultural leader, we are also home

to many more products – some you probably don't even know

about. Spreading the word about the region's

homegrown goods and brands was the inspiration

behind Corridor Native.

In the first issue of this twice-yearly magazine,

we take a closer look at several Eastern

Iowa companies ranging in size from one or

two employees to a total staff of around 500

spread across four locations.

A few of the businesses, like BoWood in Vinton,

are just starting out and trying to make a

name for themselves. Others, like Frontier Coop

and Lebeda Mattress, are established brands

Angela Holmes

with customers around the country and the globe.

The entrepreneurial spirit is alive and well in the Corridor,

as evidenced by the number of startups operating and receiving

solid support from several area business development centers.

The manufacturing sector remains a top employer in the region

and state, producing billions in exports.

We hope you enjoy this inaugural issue of Corridor Native

and learn more about our thriving business climate. The next

issue will be published in October. If you have any story ideas for

local-based companies – big or small – drop me a line at (319)

665-6397 ext. 309 or angela@corridorbusiness.com.

Marketing & Distribution Manager

Jean Suckow

Contents are registered to Corridor Media Group.

Reproductions or other use, in whole or in part, of the contents

of the publication without permission is strictly prohibited.

Angela Holmes

Editor

2345 Landon Rd., Ste. 100

North Liberty, IA 52317

(319) 665-NEWS (6397)

www.corridorbusiness.com

ON THE COVER

HOMEGROWN

in the Corridor

Corridor Native features

businesses in the 7-county

Corridor region

Benton, Linn, Jones,

Iowa, Johnson, Cedar

and Washington

BoWood, a two-man

startup in Vinton,

specializes in handmade

wooden cutting boards

and kitchen utensils.

2 CORRIDOR NATIVE APRIL 2018
---
CONTENTS

HERE

TO STAY

Frontier Co-op proud to be

based in rural Iowa

6

PHOTO FRONTIER CO-OP

STARTUP

CULTURE

HOT

Surveying the region's

entrepreneurial climate

4

HAND IN

HAND

Vinton woodworking

startup looking to grow

10

FRESHLY-

BAKED

BEDS

Lebeda Mattress

delivers directly

from Marion

16

HORTICULTURAL

HIT

MCG BioComposites' plant

markers find their niche

20

KEEP

PUSHING

Simply Soothing

owners show

no signs of

slowing down

24

CORRIDOR NATIVE APRIL 2018 3
---
STARTUP

CULTURE

HOT

IN CORRIDOR

By Emery Styron

BY THE NUMBERS

The Marion-based Kirkwood

Small Business Development Center

enjoyed a big 2017:

What economist John Maynard Keynes called "animal spirits" are rampant

in the Corridor, if the traffic through Scott Swenson's office door is any

indication.

"It was a record year in almost all aspects," said Swenson, who counseled

380 entrepreneurs and small business owners last year as director of

the SBA's Marion-based Kirkwood Small Business Development Center.

High points included 30 businesses started, 244 jobs created, $7.6 million

capital invested and sales increases of $12.8 million for the center's clients.

380 entrepreneurs

30 businesses started

244 jobs created

$7.6 million capital

invested

$12.8 million sales

increases

REGION'S ENTREPRENEURIAL CLIMATE 'ROBUST'

"One of the main drivers now is the climate for starting a business and the

entrepreneurial culture is exceptionally robust," Swenson said. Regional

collaboration and partnering by economic development entities is working,

he added. "As people successfully start businesses, others get more

confidence in pursuing their ideas as well."

Five years ago, most referrals to Kirkwood's SBDC were from banks,

but now they come from past clients and "almost every economic development

group including the city of Cedar Rapids, University of Iowa, ISU

CIRAS, NewBoCo, the EDC, Kirkwood, the Economic Alliance, NewBo

City Market, Marion and Czech Village/NewBo Main Street programs and

more," Swenson noted.

Paul Heath, the veteran director of the UI's Small Business Development

Center, reports activity is running ahead of last year. Just six months

4 CORRIDOR NATIVE APRIL 2018
---
in, the center has already exceeded fiscal year goals for new businesses created, capital

infusion and clients counseled.

People start businesses for a variety of reasons, but "with unemployment in Johnson County

at 2 percent, it is probably not because they cannot find a job," Heath observed. TV shows

like "Shark Tank" and resources such as the John Pappajohn Entrepreneurial Center are popular

and help seed startup dreams, he said.

STATE SOWING ITS ECONOMIC OATS

The entrepreneurial vigor stretches beyond the Corridor.

"There has been a record high of new corporation registrations in Iowa in each of the

past two years. We broke the 20,000 mark for the first time in 2016, and that record was

broken again in 2017," Secretary of State Paul Pate told the CBJ.

"I believe the business climate in Iowa for new business startups is very good right now.

Unemployment is below 3 percent. Businesses continue to add jobs. That's good news for

everyone," he added.

Iowa's rankings in the 2016 Kauffman Index of Main Street Entrepreneurship support

Pate's observations. The 2016 index was up in all but three states for the first time since

the Great Recession, which lasted from December 2007 to June 2009. Iowa's sixth-place

ranking of 2.74 among the 25 less populated states was unchanged from 2015.

Scott Swenson

Paul Heath

COMPONENTS OF IOWA'S KAUFFMAN INDEX RANKING

• Business ownership rate: 7.66 percent of the adult population, mid-range between West

Virginia's low of 4.1 percent and Montana's high of 10.2 percent.

• Established small business density: 702.7, near the top of the range between Nevada's low

of 544.3 and Vermont's high of 707.1. The ratio is calculated by dividing the number of established

small employer businesses by the total employer business population in 1,000s.

STARTUPS ON PAGE 30

Paul Pate

I believe the business climate in

Iowa for new business startups

is very good right now.

Paul Pate, Secretary of State

CORRIDOR NATIVE APRIL 2018 5
---
Frontier Co-op

3021 78th St.

Norway, IA 52318

www.frontiercoop.com

A Frontier Co-op

employee performs

a quality check on a

product in the bottling

line at the main plant

in Norway. PHOTO

FRONTIER CO-OP

Here

to Stay

Frontier Co-op thrives

in its rural Iowa roots

By Cindy Hadish

Frontier Co-op could have relocated to a trendier location,

but the company remains firmly rooted in rural Iowa.

From its humble beginnings in 1976 in a tiny cabin

along the Wapsipinicon River, Frontier has blossomed

from a two-person operation into a major supplier in the

natural products industry, with nearly 500 employees at

four Iowa locations.

"It was borne out of need and at a time when people were

looking at organic," Frontier CEO Tony Bedard said, citing

founder Rick Stewart's initial foray into providing herbs to

6 CORRIDOR NATIVE APRIL 2018
---
stores in smaller packaging, rather than bulk quantities. "From

the beginning, it was an alternative kind of company."

Frontier products are sold in major chains across the United

States and Canada, including Target, Hy-Vee, Safeway,

Kroger and many smaller outlets, such as New Pioneer Food

Co-op in the Corridor, and in pockets of other countries.

The co-op's Simply Organic cinnamon and pure vanilla

extract are among its biggest sellers, but Frontier offers thousands

of other products, including new bottled spices, such

as Ancho Chili Powder from dried and ground poblano

chili peppers, and packaged organic "simmer sauces" used

to season fajitas and other Southwestern entrées.

In addition, its Aura Cacia line offers organic essential

oils, new roll-ons, do-it-yourself home care blends and other

body and facial care products.

SOCIAL RESPONSIBILITY A CORE VALUE

Since its inception, Frontier has been a member-owned

co-op, with a board of directors elected by members who

directly participate in the business. Wholesale customers –

the stores, distributors and buying clubs that purchase and

resell Frontier's products – provide capital for Frontier to operate

and share the co-op's earnings.

Bedard noted that Frontier's interests extend beyond the

financial to social justice, environmental concerns and other

values that influence the co-op's products.

For example, Frontier offers a large selection of Fair Trade

Certified loose-leaf teas, spices and herbs. Fair Trade certification

ensures fair prices and good working conditions,

while the producing communities benefit from projects,

"People want

more than

just pay and

benefits."

Tony Bedard

Frontier Co-op CEO

PHOTO BRIAN DRAEGER

CORRIDOR NATIVE APRIL 2018 7
---
PHOTO FRONTIER CO-OP

PHOTO BRIAN DRAEGER

Frontier Co-op

produces a variety

of organic products

such as onion

powder and red

enchilada sauce.

Other products

include herbs, teas

and personal care

items.

such as building a school or offering daycare

to workers, funded by a portion of the Fair

Trade premium.

Frontier has taken that a step beyond, by

digging wells in Madagascar villages to help

its vanilla growers and starting other projects

both at home and abroad, Bedard said.

The co-op imports from more than 50

countries, and several employees "roam the

globe" to build its supply chain, he said, citing

supply as one of Frontier's biggest challenges.

A portion of every Aura Cacia purchase

supports Frontier's Positive Change Project,

with $230,000 provided last year to six organizations,

including the Catherine McAuley

Center in Cedar Rapids, and others around the

country that help women better their lives.

EMPLOYEES MOST VALUABLE ASSET

Those values are reflected in the business atmosphere,

as well, where Frontier employees

enjoy benefits such as on-site daycare and lowcost,

nutritious meals at its organic cafe. The

co-op's site in rural Norway, Iowa, is its largest,

with about 375 employees who work in

packaging and other operations in three shifts.

Another 30 are employed each in Belle Plaine

and in Urbana – the site of its Aura Cacia facility

– and about 50 at its North Liberty location.

"We're connected to Iowa and connected

to the rural community," Bedard said, noting

that Frontier helped bring high-speed internet

to Belle Plaine when it opened its facility there.

A job fair in January attracted more than

100 people for 50 openings, mainly full-time

positions in production, while the number of

Frontier employees doubled in the past five

years alone.

"We're a good employer," Bedard said.

"People want more than just pay and benefits."

He attributes the co-op's success, which includes

double-digit growth over the past 15 years

and "a couple hundred million" in annual sales,

to its outstanding workforce and integrated technology.

Employees work in self-directed teams,

with no mandated overtime and opportunity for

8 CORRIDOR NATIVE APRIL 2018
---
a work-life balance, Bedard said.

Frontier is hiring a vice president of innovation to keep

promoting the growth the co-op has experienced, while a

new innovation center is being constructed on its main campus

in Norway. The two-story building is expected to open

in July.

"Nobody launches more products than we do in the natural

food industry," Bedard said, citing "dozens and dozens"

of products annually. "Our goal is to continue that double-digit

growth."

As it has grown, some in the company called for moving

Frontier's headquarters to somewhere "more hip," such as

Boulder, Colorado.

But Bedard remained a staunch proponent of staying in

Iowa, noting that employees are now moving to the state

from Portland, Oregon, the Twin Cities and elsewhere.

"We're winning in rural Iowa," he said. "I'm really excited

about our future." CN

"We're winning in rural Iowa."

Tony Bedard, Frontier Co-op CEO

1606 Greens Way Ct NE

Cedar Rapids IA 52402

319-362-3200

kim@kimwilkerson.com

www.kimwilkerson.com

Kim Wilkerson is known as a realtime,

high impact consultant and

coach who creates both dramatic

organizational progress and profound

individual growth. Her clients, who

engage her as a trusted advisor and

partner, consistently achieve tangible,

successful results in their mission

to "get from here to there." She is

recognized for achieving mission

critical, high stakes results.

Consulting & Coaching

Trusted Advisor

Workshops & Facilitation

Speaking

Healthcare Programs

CORRIDOR NATIVE APRIL 2018 9
---
HANDin

hand

10 CORRIDOR NATIVE APRIL 2018
---
T.J. Bowen, left, and Payton Schirm each

bring their own talents to their business,

BoWood, in Vinton. Bowen is the head

craftsman while Schirm is the business

development manager.

Partners

complement

each other's skills

in startup

By Angela Holmes

TWO VINTON MEN each bring their

own talents to the table of their woodworking

business that specializes in handmade

kitchen utensils, serving bowls and

cutting boards.

After making products for friends and

family, T.J. Bowen and Payton Schirm officially

launched BoWood in 2015 to introduce

their craft to a wider audience. Bowen

is the head craftsman while Schirm is

the business development manager.

The business started in earnest when

Schirm's wife, Alexa, asked Bowen – her

brother-in-law – to make her a cutting board.

A carpenter by trade, Bowen specializes in

fine cabinetry and finish work. He uses his

skills to create intricate cutting boards made

with a variety of domestic woods, including

maple and cherry which come from a 100-

mile radius of Vinton, and specially-ordered

exotic selections like zebrawood, marblewood

and East Indian rosewood.

While Bowen creates the checkered-pattern

cutting boards and utensils such as

scoops, spatulas and servers in the wood

shop in his garage, Schirm is busy behind

the scenes managing the books and developing

a marketing and social media plan.

BoWood Company

602 E. Second St.

Vinton, IA 52349

http://bowoodco.com

PHOTOS BRIAN DRAEGER

CORRIDOR NATIVE APRIL 2018 11
---
12 CORRIDOR NATIVE APRIL 2018

T.J. Bowen sands a

wooden kitchen utensil

at BoWood's shop in his

Vinton garage. He hopes

to add more equipment

and expand his business.
---
T.J. Bowen engraves

BoWood's insignia on a

utensil's handle. Bowen

handcrafts a variety of utensils

including rice scoops, spurtles

and spatulas.

I try to do everything I can to let him focus on woodworking.

Payton Schirm, Business Development Manager, BoWood

"I try to do everything I can to let him

focus on woodworking," Schirm said.

Schirm, who works full-time as an

engineer in Cedar Rapids, helped his

wife with her health and wellness business,

Simple Roots Wellness, for several

years before starting BoWood.

He set up her website, including

shooting and posting photographs of

food and making podcasts.

"It gave me experience with a startup

and the benefit of coming up with an

idea and trying it out," he said.

HITTING THE ROAD

The men began selling their products

during the summer of 2015 at the Cedar

Rapids Downtown Farmers' Market and

NewBo City Market. By October that year,

BoWood Company was licensed with the

state as an Iowa domestic limited-liability

company.

They have since traveled to shows in

Kansas City, Colorado and other places.

"Craft shows and markets are the

CORRIDOR NATIVE APRIL 2018 13
---
BoWood uses various kinds

of wood for their products,

including maple and cherry

and exotic selections like

zebrawood, marblewood

and East Indian rosewood.

biggest way to get the product out there," Schirm

said, adding they attend shows around two times

a month during the summer. "It is important to be

face-to-face with customers. They are able to touch

and feel our product, pick it up and see how heavy

it is and check its quality."

Although the company's website, bowoodco.com,

wasn't live until late 2016, online orders make up 25-

30 percent of sales. The local customer base is the

largest with referrals coming from word of mouth.

After a busy holiday season in November and

December, the first several months of the year are

the slowest before the craft show season begins in

spring. This gives Bowen time to stock up inventory,

as a typical patterned cutting board takes a couple

weeks to a month to finish.

DURABLE PRODUCT

As the primary cook in his house, Bowen gets inspiration

for his products from working in the kitchen.

The quality of the handmade wooden products

is their main selling point, Schirm said.

"They don't get chemicals like in plastic utensils

and they last longer and look better."

BoWood has developed a food-safe mineral oil

and wood butter made of beeswax for customers to

protect and preserve their purchases. Each customer

is given a care card with their purchase.

"We want them to get the best out of their product

and enjoy it for a long time," Schirm said.

WORK IN PROGRESS

While both men have full-time jobs, their goal is to

build BoWood into a sustainable business.

They didn't use any outside financial sources to

get the business up and running but utilize resources

such as the Kirkwood Small Business Development

Center in Marion.

"We put a lot of money back into the business,"

Schirm said. "We're always looking for the next

thing in equipment."

Their work has caught the attention of businesses

looking for custom woodworking at their locations.

BoWood will be doing all booth seating, table tops,

custom metal legs for tables and booths and some

cabinetry for Gianna's Italian Beef, scheduled to

open this spring at 323 Third St. SE in downtown Cedar

Rapids. They have a similar project in the works

for a restaurant opening next year in Des Moines.

To boost revenue, they also hope to add furniture

and higher-ticket items, but realize they would

have to add employees, space and equipment.

For now, it is a two-man operation with Bowen

designing and Schirm keeping the books.

"Neither one of us has to do what the other

does," Schirm said. CN

14 CORRIDOR NATIVE APRIL 2018
---
Veronica Tessler, Owner, Yotopia Frozen Yogurt

I needed a bank that believed in me

and my business plan.

"

A lot of banks simply said no, but MidWestOne took the time to listen and understand

why I was so excited about the potential of Yotopia Frozen Yogurt. Opening Iowa City's

first self-serve frozen yogurt shop was a big deal to me – and I could not have done it

without MidWestOne.

"

MidWestOne.com | 800.247.4418

Member FDIC
---
16 CORRIDOR NATIVE APRIL 2018

Patty Stapella quilts a mattress

in Lebeda Mattress Factory's

production plant in Marion.
---
By Emery Styron

Photos Brian Draeger

LEBEDA MATTRESS DELIVERS

STRAIGHT FROM FACTORY

CORRIDOR NATIVE APRIL 2018 17
---
"The best part of being factorydirect

is the consum er talks

directly to the people that made

the mat tress."

Todd Peterson

General Manager of Marion-based

Lebeda Mattress Factory

Lebeda

Mattress Factory

2525 Seventh Ave.

Marion, IA 52302

www.lebeda.com

18 CORRIDOR NATIVE APRIL 2018
---
"All our beds are freshly-baked," said

Todd Peterson, general manager of Marion-based

Lebeda Mattress Factory. "If

you live in Iowa and order a mattress on

Monday, it will be built on Tuesday and

delivered to your home on Wednesday."

The company has enjoyed success with the

factory-direct model since 1946, when Jim

Lebeda left his job at Smulekoff's Furniture

in Cedar Rapids to strike out on his own.

Mr. Lebeda had been re-covering bedding

for the retailer when he realized, "I'm

an upholsterer, I can make a better mattress,"

said Mr. Peterson.

From a small garage operation turning

out a couple beds a week, Lebeda has

grown into a 35-employee factory selling

beds through 20 company-owned stores in

five Midwestern states.

Mike Emerson, who worked for Lebeda

while in high school, bought the operation

and grew it to a full-fledged business with

several Iowa stores. He later partnered with

Russ Miller, who helped steer Lebeda Mattress

Factory to its current configuration.

LEBEDA ON PAGE 31

Joseph Baguet assembles

a mattress in Lebeda

Mattress Factory's

production plant in Marion.

CORRIDOR NATIVE APRIL 2018 19
---
Horticultural Hit

MCG BioComposites'

plant markers grow

in popularity

By Emery Styron

Photos Brian Draeger

MCG BioComposites

3425 Sycamore Court NE

Cedar Rapids, IA 52402

mcgbiocomposites.com

20 CORRIDOR NATIVE APRIL 2018
---
Injection molders wrinkled their noses

when Sam McCord, founder of Cedar Rapids-based

MCG BioComposites, came calling

in 2009 with his new biocomposite plastic

resin. Not only did the stuff smell, they

worried the polymer compounded from

post-industrial recycled plastics and corn

cobs would burn their tools and ruin their machines.

To demonstrate that MCG's resin is a viable substitute

for virgin plastic, the firm produced a run

of 9-inch plant markers to sell to commercial seed

growers. MCG BioMarkers quickly became a hit in

the horticulture industry and are today the company's

main business.

MARKERS THAT COMPOST

MCG offers plant identifiers in three sizes. The stickin-the-dirt

markers are made with biodegradable

material and are time-savers for commercial plant

growers who must identify hundreds of thousands

of different cultivars because "they don't have to

hand-pluck all the markers out," McCord explained.

The markers come with weatherproof labels that

can be laser-printed or written on with a permanent

ink Garden Marker which MCG also supplies. When

it's time to replace the labels, they peel off easily

and leave no residue.

BioMarkers are also popular with home gardeners

and institutions. Kelly Norris, of

the Des Moines Botanical Center,

said his organization likes keeping

its business with an Iowa company

that utilizes a recyclable product

made from sustainable materials.

The markers are especially useful for

seasonal displays and are "a cost-effective

way of connecting information

about plants to a visitor's experience,"

he said.

Sam McCord

MCG has recently added custom

engraving for the plant markers, which is done by

an Iowa City company. This type of label lasts even

longer and is popular with arboretums and botanical

gardens.

The company also offers Wiggle Worm Soil

Builder, an organic fertilizer made of earthworm

They don't have to handpluck

all the markers

out. They degrade when

placed in their compost.

Sam McCord

Founder of Cedar Rapids-based

MCG BioComposites

MCG BioComposites products include

plant markers and BioMarkers made from

recycled plastic with corn cob fiber.

CORRIDOR NATIVE APRIL 2018 21
---
castings, produced by an Indianola company.

"We sell to so many gardeners, worm castings are

a very nice tack on," McCord said.

Products are available online and at some Hy-

Vee stores in Eastern Iowa and other locations.

KEEPING IT IN IOWA

MCG grew out of an effort begun several years ago

to generate revenue from Iowa's agricultural waste.

McCord was part of an Iowa Economic Development

Group division addressing the ag byproducts

issue, when he met an entrepreneur who had lots of

ideas for products made from corn cob fibers blended

with recycled plastics.

He served as a consultant to help bring the entrepreneur's

product to market, working with a venture

capital firm. That effort was ultimately unsuccessful,

partly due to the nature of venture capital funding,

McCord said, but he "saw a need." Later, he and his

wife, Mary, along with two partners, launched MCG

using their own capital.

McCord, a long-time leader in the plastics industry,

takes pride in using Iowa raw materials and vendors

to manufacture his products.

"That was one of the key things in setting up

our business," he said. "We have developed relations

over 25 years with hundreds of companies.

We knew the good ones and wanted to do as much

business in Iowa as we could."

A local designer does the product and tool design.

The tool building is handled by a local mold builder,

who works hand in hand with injection molder

Vantec, of Webster City. Independence-based Best

Cob supplies the corn cob fiber.

RESIN BUSINESS: 'A SLOW PROCESS'

Sam McCord, standing with a pallet he

makes to support shipped products,

displays his garden/plant/tree labels used by

gardeners and horticulturists.

Despite the success of BioMarkers, marketing the

resin remains "a slow process," McCord said. Injection

molders are gradually coming around to

biobased resins.

"When we show them the proper processing parameters,

they get very comfortable with it," he said.

In addition, some of the compounding firms

McCord talked to when he was getting the company

off the ground have begun manufacturing their

own biocomposites, which he expects to increase

acceptance of his own products.

The company sells half a dozen different resins,

MARKERS ON PAGE 30

22 CORRIDOR NATIVE APRIL 2018
---
Top 10 Iowa Manufacturing Sectors

in millions of dollars, 2015

PRODUCTS

$7,027

Machinery

$6,858

Food/Beverage/Tobacco

$6,397

Chemical

$1,959

Computer/Electronic

$1,951

Fabricated Metal

$1,276

Motor Vehicles and Parts

$1,044

Plastics/Rubber

$964

Primary Metals

$850

Paper

$832

Nonmetallic Mineral

Sources: U.S. Bureau of Economic Analysis and the U.S. Census Bureau

Dupaco is more than local. As a financial cooperative owned by

its members, Dupaco Community Credit Union uses sustainable

money methods to keep members' money working here, locally.

The more our members do with Dupaco, the more we're able to

give back through better rates, fewer fees, low-cost insurance,

and freebies like on-demand credit monitoring tools, Money

Makeovers, and Credit History Lessons. Empowering members to

achieve financial success enriches the whole community.

Federally Insured

by NCUA

Ready to join something better? Join Dupaco.

Everyone who works or lives in the area is eligible for membership.

Dupaco.com/join

800-373-7600

CORRIDOR NATIVE APRIL 2018 23
---
Keep pushing

PHOTOS BRIAN DRAEGER

During the past five years, Simply Soothing

has posted $6 million-$7 million in sales, with

Bug Soother now sold in more than 6,000

retail locations across the United States.

24 CORRIDOR NATIVE APRIL 2018
---
'Overnight sensation' Bug

Soother not an easy ascent

Simply Soothing

207 E. Access St.

Columbus Junction, IA 52738

www.simplysoothing.net

By Cindy Hadish

The fairy tale success of Simply Soothing Inc., a family-owned business

based in Columbus Junction, tells only part of the story.

"People have romanticized all of that," founder and CEO Freda

Sojka said of the company's seemingly overnight rise from basement

operation to international sensation. "But it's not all easy."

Upon retiring after 22 years with Monsanto, Sojka started

the bath and body products company in 2003 with her

daughter, Nikki Salek.

The company's most well-known product, Bug

Soother, is a natural bug repellent Sojka originally

developed for her then 5-month-old grandson. It

began its ascent during Iowa's floods of 2008.

She didn't want to apply DEET – commonly

used in insect repellent – or other chemicals on

her grandson, so she combined lemongrass

oil, vanilla and other natural ingredients to

create her own formula.

The product was given a timely test when a

crew working near her sister's flooded home on

the Cedar River was attacked by gnats. The Bug

Soother worked, and their crew chief bought all

of Sojka's insect repellent the next day.

From there, news of Bug Soother spread by

word of mouth, shared by fans at baseball games,

on golf courses and other outdoor spaces.

GROWTH GOES VIRAL

By 2011, a local grocery store owner asked to sell the bug spray and

in six weeks, more than 700 bottles flew off the shelves in the town of

just 1,800. The following year, Simply Soothing moved into a bigger

building to produce Bug Soother in larger quantities.

"In 2014, we had our biggest year," Sojka said. "It was such a viral,

crazy thing."

During that time, Simply Soothing was approached by numerous

outlets hoping to sell their insect repellent, but demand was so great

that they didn't want to enter into more contracts than they could

fulfill. A European fan even asked about selling it overseas.

Looking back, Sojka said that time period was hectic, with 16-

hour days, but among the high points for the company.

She found help and encouragement through the Cedar Rapids-based

Entrepreneurial Development Center, including the EDC's

Founders Group of fellow small business owners.

"We share ideas and commiserate," Sojka said. "There are high

Simply Soothing Inc. founder and

CEO Freda Sojka has experienced the

ups and downs of running a growing

business since 2003.

CORRIDOR NATIVE APRIL 2018 25
---
highs and low lows and they all have those stories."

That led her to discover other homegrown businesses,

which she tries to promote as much as possible.

"There are so many products made here in Iowa," Sojka

said, citing Tiny But Mighty Popcorn of Shellsburg and others.

"We need to all hook together. We can help each other grow."

That was part of the impetus behind the Simply Soothing

Iowa Marketplace, a retail store opened in 2015 in Columbus

Junction that sells the company's products, along with wine,

home décor, jewelry and other handcrafted items made by

Iowa artisans.

From left, Barb Dotson,

Nikki Salek and Jim Sojka

package products at the

Simply Soothing facility in

Columbus Junction.

26 CORRIDOR NATIVE APRIL 2018
---
NOT FOR FAIR-WEATHER FANS

Sojka notes that she was advised against opening the retail

store, but wanted to give others a place to sell their

Iowa-made products.

"It's a battle," she said of the current state of retail,

especially in a small town like Columbus Junction.

The same is true with the retail world for Bug Soother.

"It changes every year," she said, citing weather as a

big factor in their sales.

During rainy years, the insect repellent sells well, but

the past two years have been relatively dry with fewer

insects, so larger retailers, such as Hy-Vee, had difficulty

moving the product.

Competition also moved in, with other companies

hoping to cash in on the success of Bug Soother with

their own version of the spray.

Simply Soothing has had its share of growing pains,

but remains a family-owned business that employs six, a

number that goes up to 20 when in manufacturing mode.

The popularity of Bug Soother has taken Sojka and

other family members to Scotland, where a distributor

dilutes the product from concentrated form and bottles

and distributes it in Europe, as well as places such as Colombia

and Panama, a difficult market to enter.

During the past five years, Simply Soothing has posted

$6 million-$7 million in sales, with Bug Soother in more

than 6,000 retail locations across the

United States.

The company is moving

into more e-commerce,

producing larger-sized

bottles for use on pets

and horses and has

started a line of essential

oils. They

are also looking

into patio candles

and a bug bite treatment,

and have an

agreement with an

East Coast company

for their insect repellent

to be sold under another

name, including at Kroger

stores.

At age 66, and with her husband, Jim,

now 67, Sojka laughs when asked about retirement.

"In any business, you can't let up," she said. "There's

no coasting. You keep pushing." CN

Web Design and Development

Logos • Social Media • Photography

Video • Business Consulting • SEO / SEM

Digital Marketing • Visual Solutions

BUSINESS SOLUTIONS

We Turn Websites into Cash Machines

319.354.0019 info@Vortex108.com

VortexBusinessSolutions.com

We offer a wide range of services to our

closely-held business and individual clients.

SERVICES INCLUDE:

Accounting Succession Planning Wealth Management

Consulting Payroll Retirement Taxes

Valuation & Litigation Support Audits, Review & Compilations

Because our firm is locally owned, our

clients benefit by getting personalized,

quality service beyond comparison.

Focused On Your Success

WWW.LATTAHARRIS.COM

IOWA CITY (319) 358-0520 CEDAR RAPIDS (319) 366-2163

CORRIDOR NATIVE APRIL 2018 27
---
LEVERAGE

SPONSORED CONTENT

Leverage: a new agency, powered by Clickstop.

If you're familiar with Clickstop,

then you already know

it's a pretty unique place. Consistently

ranked a Top Workplace

in Iowa, a Coolest Place

to Work for the last 5 years, and

the only organization to be a

Fastest Growing Company for

8 consecutive years… the accolades

speak for themselves. And

sure, we play ping pong and get

chair massages in the office, but

we also roll up our sleeves and

get to work.

Over the years, other area

business owners have asked

us how we do it - so we shared

what we know! No secrets here.

We soon realized people were

not just curious how we worked,

they were interested in having

us do the work for them. So we

decided to leverage the many

techniques we'd mastered,

and the growing mountain of

knowledge we'd accumulated,

to provide an amazing service

to organizations who need

help. And Leverage was born.

Our number one goal at

Leverage is to empower growth

and we do that in a number of

ways within these four categories:

marketing, talent enrichment,

IT solutions, and digital

imaging.

Our talent enrichment experts

know how to attract exceptional

talent aligned with

your values and then inspire

employee engagement in order

to keep them. Our IT gurus live

and breathe Netsuite and provide

fully customized technology

solutions. Our branding and

creative buffs are strategic organizers

of the marketing tactics

that drive the most qualified

customer engagement. And hot

off the presses! We now have

state-of-the-art printing capabilities

including variable data

mailers and posters available in

more materials and ink colors

than ever.

Most importantly, the lack

of hierarchy typically found

in agency reporting structures

means we're chock full of nimble

decision-makers. Consider

us your Growth Guides, leveraging

our talents and accompanying

you on a journey to improve

your relationships with your

customers and employees. Your

success is our priority and we

are driven by results. If you're

seeking to empower growth,

you just need Leverage. •

Tim Guenther,

Clickstop Founder

and CEO

LeverageGrowth.com

800-838-3450

202 Blue Creek Drive

Urbana, IA 52345

28 CORRIDOR NATIVE APRIL 2018
---
Manufacturers

(Ranked by total number of local employees)

RANK

Name

Contact Information

Total Number of

Local

Employees

Top Executives

Year

Established

in the

Corridor

Product or Service

1

Rockwell Collins

400 Collins Road NE

Cedar Rapids, IA 52498

(319) 295-1000; fax (319)

295-9374

www.rockwellcollins.com

8,974 Kelly Ortberg 1933

Provides aviation electronics and airborne

and mobile communications products and

systems for commercial and military

applications

2

Amana Refrigeration Products, A

Whirlpool Corporation

2800 220th Trail

Amana, IA 52204

(319) 622-5511; fax (319)

622-2900

www.WhirlpoolCorp.com

3,200

Jeff Durham

Joshua Pesek

1934

Home appliances - premium refrigerators

(Whirlpool, Maytag, Amana, Kitchenaid,

Jennair)

3

Quaker Oats Co., a division of PepsiCo

418 Second St. NE

Cedar Rapids, IA 52401

(319) 362-3121; fax (319)

398-1692

www.quakeroats.com

910 Cindy Thul 1873

Markets and manufactures grain-based

foods

4

Integrated DNA Technologies

1710 Commercial Park

Coralville, IA 52241

(800) 328-2661

(319) 626-8400; fax (319)

626-8444

custcare@idtdna.com

www.idtdna.com

734

Joseph A. Walder

Trey E. Martin

1987

Custom, synthetic DNA and RNA

oligonucleotides (oligos) for research

applications

5

General Mills Inc.

4800 Edgewood Road SW

Cedar Rapids, IA 52404

(319) 396-8000

www.generalmills.com

700 Rue Patel 1973 Markets food brands around the world

6

Kinze Manufacturing Inc.

Interstate 80 at Exit 216

Williamsburg, IA 52361

(319) 668-1300; fax (319)

668-1328

www.kinze.com

600 1965

Farm equipment, row crop planters, grain

auger carts, high-speed tillage

9

10

11

12

13

14

15

Oral B Laboratories

1832 Lower Muscatine Road

Iowa City, IA 52240

Procter & Gamble

2200 Lower Muscatine Road

Iowa City, IA 52240

PMX Industries Inc.

5300 Willow Creek Drive SW

Cedar Rapids, IA 52404

ADM - Corn Processing Division

1350 Waconia Ave. SW

Cedar Rapids, IA 52404

Centro Inc.

950 N. Bend Drive

North Liberty, IA 52317

Cargill Inc. Corn Milling

1710 16th St. SE

Cedar Rapids, IA 52401

Raining Rose Inc.

100 30th St. Drive SE

Cedar Rapids, IA 52403

Quality Chef Foods, division of H.J. Heinz

Co.

5005 C St. SW

Cedar Rapids, IA 52404

International Paper, Cedar River Mill

4600 C St. SW

Cedar Rapids, IA 52404

(319) 338-5411; fax (319)

356-9165

www.pg.com

(319) 339-2000; fax (319)

339-2262

www.pg.com

(319) 368-7700; fax (319)

247-4763

www.ipmx.com

(319) 398-0600; fax (319)

247-2880

info@admworld.com

www.admworld.com

(319) 626-3200; fax (319)

626-3203

salesmkt@centroinc.com

www.centroinc.com

(319) 399-2111; fax (319)

399-6131

www.cargill.com

(800) 481-3934

(319) 362-8101

internetcontacts@rainingrose.com

www.rainingrose.com

(319) 362-9633; fax (319)

362-3924

www.qualitycheffoods.com

(319) 365-2100; fax (319)

365-0436

www.internationalpaper.com

600 Mike McCleary 1958 Produces toothbrushes

600 Michael Hughes 1956

Shampoo/conditioner: Pantene, Head and

Shoulders, Herbal Essences, Aussie and

Vidal Sassoon; Oral rinse: Scope and Crest

ProHealth; body wash: Olay, Ivory, Old

Spice and Gillette

472 S.G. Kim 1990 Copper and brass strip mill

450 Eric Fasnacht 1971 Processes corn

400

Brian Olesen

Tripp Traicoff

Alvin Spence

Sal Hazboun

1970

350 Brian Bares 1967

275

Chuck Hammond

Mike Wehr

1996

240 Stephen Maddocks 1985

223 Derek Depuydt 1995

Manufacturer of custom rotationally

molded plastic parts

Produces corn syrup and corn starches for

food and industrial applications and feed

products

Personal care products such as lip balm,

lotion, bar and liquid soap, sunscreen and

hand sanitizer available for private labeling

Manufactures frozen soups, sauces and

entrees for wholesale

Manufactures recycled paper for

cardboard boxes

16

Ingredion Inc.

1001 First St. SW

Cedar Rapids, IA 52404

(319) 398-3700; fax (319)

398-3771

www.ingredion.com

215 Roxie Simon - -

Manufactures modified industrial and food

starches and ethanol

17

Loparex Inc.

2000 Industrial Park Road

Iowa City, IA 52240

(319) 341-5000; fax (319)

351-8977

www.loparex.com

200 Paul Steigleder 1970

Produces a variety of specialty coatings for

papers and firms

18

19

20

International Automotive Components

2500 Highway 6 E.

Iowa City, IA 52240

Apache Inc.

4805 Bowling St. SW

Cedar Rapids, IA 52404

Diamond V

2525 60th Ave. SW

Cedar Rapids, IA 52404

(319) 338-9281; fax (319)

339-4784

www.iacgroup.com

(866) 757-7816

(319) 365-0471; fax (319)

365-2522

jill.miller@apache-inc.com

www.apache-inc.com

(319) 366-0745

www.diamondv.com

160 1964 Interior automotive parts

155

Tom E. Pientok

Kyle Gingrich

Randy Walter

Gregg Hanson

1963

128 Jeff Cannon 1943

Source: Staff research.

Note: Entries may be edited for length and clarity. Some companies were not included because they did not respond to requests for information.

Fabrication of hose, belting, cut and

molded rubber and industrial consumer

products

Natural immune support products that

optimize animal health, animal

performance and food safety

CORRIDOR NATIVE APRIL 2018 29
---
STARTUPS

FROM PAGE 5

• Five-year survival rate: 52.77 percent,

upper middle of the range, between

Nevada's low of 43.4 percent and

North Dakota's high of 58.1 percent.

RESOURCES

Kirkwood Small Business

Development Center

3375 Armar Drive

Marion, IA 52302

(319) 377-8256

www.kirkwood.edu/ktos/sbdc

University of Iowa Small Business

Development Center

IOWA Centers for Enterprise

W140 BioVentures Center

Coralville, IA 52241

(319) 335-3742

http://iowasbdc.org/regionalcenter/iowa-city-coralville/

Cedar Rapids MICRO Loan

Program

www.ecicog.org/micro.html

SMALL BUSINESS

PACKS PUNCH

Lest anyone forget how important startups

and small businesses are to the

overall economy, Iowa State University's

Small Businesses Development

Center notes that in 88 of the 99 counties,

firms employing less than 100 persons

account for three-quarters of those

counties' businesses.

In addition to small businesses with

employees, another 20,370 firms are

run by sole operators. Often hobbies or

sideline enterprises, these have the potential

to grow into full-time businesses.

New businesses account for nearly

all net, new job creation and almost 20

percent of gross job creation, according

to the Kauffman Foundation. Over the

past three decades, businesses under

one year old created, on average, 1.5

million jobs per year nationwide.

IT TAKES MONEY

TO MAKE MONEY

Startups are overwhelmingly small businesses,

but with the right management,

strategy, luck, hard work and all-important

financing, they sometimes grow into

larger enterprises. Financial backing is

generally available for Corridor entrepreneurs.

"I do some work with investor capital

and anytime I have someone in that

category, they seem to get a receptive

reaction," Swenson said. Clients using

a "lean startup approach" that proves

there are customers before building out

the company reduce risk and attract capital

"once market fit and some early sales

traction has been established," he added.

"Most of our work with lifestyle businesses

involves debt capital and it's a terrific

market for funding. The banking industry

is competitive, and, coupled with

SBA loan guarantees, makes it a very

good market to get projects funded."

The Cedar Rapids MiCRoloan program

and revolving loan fund options

managed by the East Central Iowa Council

of Governments, combined with other

sources, provide financing for 90 percent

of the Kirkwood SBDC's applicants.

"Part of that, of course, is providing

lenders with well-vetted and qualified

projects," Swenson noted.

"Venture capital is always hard to

get," Heath noted. "Most of the people

we see are more suited for traditional

financing through banks." Obtaining

VC funding often involves out-of-state

trips, repeated attempts and lots of time.

"However, with venture school training,

some are finding success in getting equity

financing."

When those animal spirits are afoot,

entrepreneurs will find a way. CN

MARKERS

FROM PAGE 22

including its proprietary blend, MCGB

DuraMaze BioComposite. All are compounded

from various combinations

of corn cobs, wheat starch, pine wood

and other fibers, and reprocessed polypropylene

or natural and synthetic biodegradable

polymers. The formulas can

be varied to achieve different properties

such as heat tolerance.

Kansas-based Green Dot Bioplastics

formulates the resins. Since all materials

originate in the United States and processing

is done in-country, the carbon

footprint for the product is lower than

that of competing products with components

or manufacturing done outside

the country. By incorporating these

materials in their products, companies

can conserve resources and promote

sustainable operations while meeting

government compliance and USDA certification

requirements.

The day is not long off, McCord believes,

when many more manufacturers

will drop their reservations and embrace

biobased raw materials. After all,

he said, "we tackled all those issues and

turned out an excellent product." CN

We wanted to do as

much business in

Iowa as we could.

Sam McCord

MCG BioComposites

founder

30 CORRIDOR NATIVE APRIL 2018
---
LEBEDA

FROM PAGE 19

FACTORY-DIRECT: A WIN-WIN

SITUATION

"The best part of being factory-direct, the consumer

talks directly to the people that made the mattress,"

Peterson said. "Being factory-direct is nice

for us and for the customer."

By "eliminating the middle man" Lebeda can

sell a higher-quality mattress for less money and

offer customer service that a national manufacturer

selling through retailers would be hard-pressed

to match.

Not that Lebeda is trying to be a low price leader.

The company stresses quality over making the least

expensive product, Peterson said. Lebeda's economy

models compare to middle or lower-middle

quality mattresses of national brands.

"Customers want their beds to last," he said. "They

are investing in a nice sleep, not just a mattress."

Comfort customization is another benefit

Lebeda offers with its factory-direct channel. Beds

change as they break in, so customers sometimes

buy something they love at first then later dislike.

That's why Lebeda allows them to exchange mattresses

or return them to the factory to be tweaked.

"We'll make it firmer or softer for free," Peterson

said. "We have a lot of people who bring their mattress

in and we get it done in a couple of hours."

The factory staff is cross-trained and many have

been with Lebeda for 15-25 years. Experience is especially

deep in the sewing and quilting department.

The crew makes deliveries to Iowa mattress buyers'

homes directly from Marion. Stores outside

Iowa receive mattress deliveries once a week, and

deliver them to customers.

Leggett & Platt, a Carthage, Missouri, manufacturer,

supplies the metal components, including popular

adjustable frames, for most of Lebeda's beds.

"We've been buying from them since 1990.

You're dealing with an American company, so if

something goes wrong, we can get parts for them,"

Peterson said.

TODAY'S BEDS HIGH-TECH AND RETRO

Beds these days "definitely have a lot of doodads,"

Peterson said. "It's become more expected from

the consumer."

An example is the Ultra Adjustable base, with

three areas that can be moved to the body's needs,

variable intensity massage, multiple USB ports,

underbed lighting, adjustable leg height and a

Bluetooth app for Apple and Android.

Lebeda stores and its website offer mattresses

and box springs, along with furniture lines from

regional manufacturers and frames, pads and pillows.

Furniture, Peterson said, "is not our main

thing, but we have some nice stuff. For it not being

our main thing, we sure do sell a lot of it."

People today want to live and sleep healthier, so

they're asking for natural, breathable fabrics like

cotton and bamboo. Sleeping cool and avoiding

allergic reactions is also important, so Lebeda uses

natural rubber instead of polyurethane.

"Everyone sells a bed and upholsters with pretty

fabric, but it's what's inside that counts," Peterson

said.

Customers are also

requesting "flippable"

mattresses. "What's old

is new again," Peterson

said, noting that two-sided

mattresses have been

around for years but

went out of fashion due

to higher costs.

As for the company's

future, Lebeda is

"not looking to grow

just to grow," said Peterson,

who's been there

since 1994. "Our goal

is to maintain and grow

where we feel we'll do

the best for the community

we go to."

Lebeda continues to

upgrade stores in existing

markets. A new

showroom in Marion

opened last year and another

was just completed

in Dubuque. Plans are in

the works for another in

Cedar Rapids. Coralville

will also see its Lebeda

showroom expanded to

4,500 square feet.

"With factory direct,

the further you get away

from here, the harder it is to accomplish," Peterson

said. "We want to make sure our product is still the

best in the market." CN

"Customers are

investing in a nice

sleep, not just a

mattress."

Todd Peterson, general manager

Lebeda Mattress Factory

CORRIDOR NATIVE APRIL 2018 31
---
A PUBLICATION OF THE

CBJ MAGAZINES

What continues to make print ads valuable is the

(nearly) undivided attention that readers give to

magazine and newspaper content, rather than multitasking

like they do when consuming digital content. *

LURE

Articles accompanied by lush photography feature lifestyle stories

of Corridor residents and their distinctive homes, new construction

developments in the Corridor, home remodeling projects, home

improvement ideas, decorating trends, gardening ideas, and more.

PUBLISHES: JUNE 4 SEPT. 10 DEC. 3

AD DEADLINE: APR. 20 JULY 27 OCT. 19

TAKE A TOUR OF A

MODERN FARMHOUSE

LURE

KITCHENS

with style

Corridor restaurants

go farm to table

Container

Gardening

SALVAGED ITEMS

BECOME ART

Homegrown Businesses in the Corridor Spring 2018

HAND

in hand

BoWood partners each

use special skills in

woodworking startup

HERE TO STAY

Frontier Co-op thrives in its rural

Iowa roots

FRESHLY-BAKED

BEDS

Lebeda Mattress Factory delivers

straight from factory

KEEP PUSHING

Bug Soother not an easy ascent

CORRIDOR NATIVE

Featuring stories on great things and innovative ideas homegrown in Eastern

Iowa. Some may be familiar, and others may just surprise you. From mom-andpop

shops, hip startups to large-scale manufacturing, Corridor Native celebrates

our local entrepreneurs, innovators and inventors - large and small - those who

have taken simple ideas and turned them into something extraordinary.

PUBLISHES: OCT. 1 AD DEADLINE: AUG. 10

WORKFORCE LEADERS

The magazine identifies challenges to attract and retain workers, current

recruiting trends and shares best practices of companies that are ahead of

the curve in creating and maintaining their workforce talent.

2017

WORKFORCE

LEADERS

PUBLISHES: DEC. 1 AD DEADLINE: NOV 13

Corridor Business Journal

2345 Landon Road, Ste. 100

North Liberty, IA 52317

PRST STD

U.S. POSTAGE

PAID

PLATTEVILLE, WI 53818

PERMIT NO. 124

CONTACT:

Judith Cobb, Magazine Media Consultant

judith@corridorbusiness.com | 319.665.6397, ext. 318

*Originally published in the April 2015 issue of Marketing News.

www.corridorbusiness.com/custom-publications