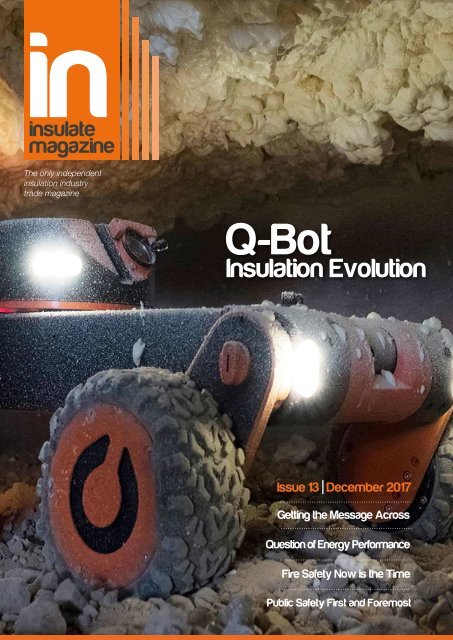 IN_Dec_18_Final_SP
An Insulation Evolution is upon us in Insulate Magazine Issue 13. Q-bot a Robot that applies sprayfoam insulation under floors is set to take the insulation world by storm. Also features compelling articles from regular columnists and insulation experts.
An Insulation Evolution is upon us in Insulate Magazine Issue 13. Q-bot a Robot that applies sprayfoam insulation under floors is set to take the insulation world by storm. Also features compelling articles from regular columnists and insulation experts.
SHOW MORE
SHOW LESS
Create successful ePaper yourself
Turn your PDF publications into a flip-book with our unique Google optimized e-Paper software.
The only independent

insulation industry

trade magazine

Q-Bot

Insulation Evolution

Issue 13 | December 2017

Getting the Message Across

Question of Energy Performance

Fire Safety Now is the Time

Public Safety First and Foremost
---
Published on a monthly basis by Versanta ltd

Corser House, 17 Geen End, Whitchurch, Shropshire, SY13 1AD

Call 01948 759 351

Outside of the UK +44 1948 759351

Monday - Friday 9am - 5.30pm

Website: www.insulatenetwork.com

Email: sales@insulatenetwork.com

Q-Bot Insulation Evolution

www.insulatenetwork.com

Contents

6-9

SUBSCRIPTION INFORMATION

Anyone can subscribe for free online at https://insulatenetwork.

com/insulate-magazine-free-subscription

Subscriptions are available around the world free in digital format.

Print subscriptions are available around the world, please call us for

a quote or email us on sales@insulatenetwork.com

Our subscriber list is occasionally made available to very carefully

selected companies whose products or services may be of interest

to you. Your privacy is of paramount importance to us and should

you prefer not to be part of these lists then please email your details

and a short message to sales@insulatenetwork.com

CLASSIFIED ADVERTISING

Rate: No photo classified £25 for 20 words, each additional word

costs £1. All classified advertising must be paid in advance. We

must receive your classified advert at least two weeks prior to the

publication date.

Getting the Message Across 10-13

Ensuring Insulation Fits

14-16

New Acoustic Stud System 18

The Effects of Hand Arm Vibration 20-22

WE DO NOT ACCEPT PHONE IN CLASSIFIED ADVERTISING

In the first instance, email your advert to sales@insulatenetwork.

com and await your invoice, once payment is received our design

team will clarify the advert insertion with you directly. CLASSIFIED

ADVERTISING APPEARS IN PRINT AND ONLINE. WE ARE NOT

RESPONSIBLE FOR ERRORS AFTER PROOFING AND INSER-

TION.

DISPLAY ADVERTISING.

Contact one of our sales staff to discuss your requirements on

01948 759 351. Publisher reserves the right to reject any

advertising that in its opinion is misleading, unfair or incompatible

with the character of the magazine.

We adhere to the IPSO code of practice for editors. Further information

can be found at www.ipso.org.uk

BACK ISSUES OR REPRINTS

Digital back issues can be foud online at www.insulatenetworkazine.com

For printed editions please email contact@insulatenetwork.com

, there will be a postage charge and handling fee of

£5+VAT for each copy requested.

CIRCULATION

The magazine is sent to 17,000 digitial subscribers per month

Public Safety First and Foremost 23-25

A Question of Energy Performance 28-31

Fire Protection Specialists

33

Broken Housing Market Been Fixed? 34

Fire Safety Now is the Time

36-37

Insulating our Nation's Homes 38

©VERSANTA LTD

No part can be reproduced without the express

permission of the publisher

www.instagram.com/insulatenetwork

www.twitter.com/insulatenetwork

www.youtube.com/channel/insulatenetwork

The Vase Enters Final Phase 39-40

Ecobuild 2018 Preview 42-43

The UK's only dedicated

trade journal for the insulation industry

3
---
It has been a turbulent month for us here at Insulate Magazine.

Despite exhausting every opportunity and resource to deliver the

Insulation Awards in year one, our plans were thwarted.

We apologise to all for the inconvenience caused. It was the hardest

decision for us to make, given the relentless preparations and the

support from the industry.

Colin Heath

Managing Editor

colin@insulatenetwork.com

@colinversanta

We will deal with all of the outstanding issues regarding the awards, learn

from the experience and continue to provide the platform to promote the

Insulation Industry

On a positive note, we are proud to bring you another edition of Insulate

Magazine. Including a great feature on Q-Bot with the BBA, Two articles

written by our new Technical Editor, Paul Forrester and excellent contributions

from our regular insulate columnists. With continued industry support

we are looking forward to taking the publication from strength to strength in

2018.

We wish you and your families a pleasant and rewarding festive period, and

look forward to you joining us in the New Year.

Enjoy

Jamie Street

Creative Director

jamie@insulatenetwork.com

@jamieversanta

4

www.insulatenetwork.com
---
SIG360 work with us

on site, to ensure we

not only meet our

client's needs but

exceed them.

NEIL HARRISON

HARRISON PROJECTS

AN SIG CUSTOMER

BUILD YOUR NAME ON US

Providing impartial

product advice

The SIG360 Technical Centre is a service offering from SIG, that focuses on helping customers

deliver energy efficient buildings.

Through an intimate knowledge of building regulations and product performance, brought

about through more than 50 years specialising in the energy efficiency of the fabric of a

building, the SIG360 Technical Centre is able to make cost effective and impartial product

selection to ensure the best energy performance can be achieved.

The service provided includes energy statements, U value calculations , condensation risk

analysis, thermal modelling and SAP assessments leading to EPC certification.

If you are seeking impartial advice on the fabric energy efficiency of your building contact

SIG360 Technical Centre.

For guidance you can trust call 0844 443 0059

email 360enquiries@sigplc.com or visit www.sig360.co.uk

Talk to the SIG360 Technical

Centre at the start of your project

for a 360 o view of cost effective

and energy efficient home building
---
Cover Story Exclusive

Q-bot

insulation

evolution

Mathew Holloway from innovators Q-Bot talks about their robot for

insulating under floors - and how BBA Certification will help them gain

prominence in the market place.
---
The only independent insulation industry trade magazine

Q-Bot Insulation Evolution

Mathew Holloway from innovators Q-Bot talks about their robot for insulating under floors

- and how BBA Certification will help them gain prominence in the market place.

Introducing an impressive new product that considerably reduces the cost outlay when people are considering

underfloor insulation. Such an operation traditionally necessitates the complete removal of the

flooring so that insulation materials can be installed and then the floor re- laid afterwards. This can be a

nightmare for Housing Associations commissioning this kind of work as residents often need to be

temporarily rehoused, which amounts to another not inconsiderable cost implication.

Q-Bot Chief Executive Mathew Holloway explains:

"To insulate underfloor space in the UK you need to remove

all carpets and flooring to access the void, then cut

insulation panels by hand between the joists and roll mats

of insulation in between, working to a degree of accuracy

of 1mm, which is really quite difficult. If there are any gaps

left between the insulation and the joists the insulation is

not effective.

"The method is very disruptive and difficult to do well.

And of course, once it's done you have to put your

home back together and redecorate. It's usually enough

of a barrier to stop anyone wanting to do it."

The new procedure takes one or two days at a fraction of

the cost and performs just as well as traditional methods.

This is a particularly welcome innovation for Housing Associations

as it minimises disruption to residents who also

benefit from lower heating bills.

"Specifically, costs are typically half the alternatives and

£150 per year is saved on heating bills. It also reduces the

temperature stratification – the difference from your feet to

your head, creating warm feet, which is a significant factor

in keeping warm.

"An independent case study with the Leeds Beckett University

showed that the heat loss in the building was reduced

by 25% - that's a huge amount – meaning more

than a quarter of heat loss was from the

floor."

Another feature of the robot is that it records

the whole process and provides

real time feedback of the thickness of

the insulation, so that the operator can

make sure the job is completed correctly

and the required depth of insulation is

applied. The fact that the process can be

monitored and recorded also incentivises

installers to take pride in their work and

removes the temptation to cut corners.

"Generally, the built environment has got

a problem with accountability and quality

control. The BBA is trying to address this,

and Q-Bot is bringing smarter tools that

8

www.insulatenetwork.com
---
www.insulatenetwork.com

have quality control built in. Our robot records what

happens using cameras and sensors to build a 3D

map of the void before and after the install. We monitor

the area and depth of insulation, take measurements

during the process, and the installers know

that what they do is being monitored and recorded.

That gives them the motivation to do a better job.

"People can be very negative when it comes to new

technology at first, but eventually they see that this

means they can take pride when working in the built environment.

It allows installers to differentiate themselves

from others and demonstrate they can do a good job.

That philosophy also helped assure the BBA that we

were minimising risk."

The BBA's specific focus was to test the polyurethane

foam insulation materials and the spraying process for

efficiency and safety.

"We set up an area in BBA Test Services at Watford to

demonstrate the application process. This was watched

and monitored, with readings taken to see how deep

the insulation was.

"Then the BBA came and visited us to check what

happened onsite. They also came to see our training

and even went and talked to our customers. We went

through a really stringent set of tests."

BBA Certification is well-known for sealing a new product's

reputation in the market place, leveraging brands

and providing specifier and consumer confidence.

Mathew explained why the UK's leading construction

certification body was so important for Q-Bot.

"When you're a small organisation but one that is rapidly

growing with the potential to change the world and

have a really big impact, you have to make sure you do

everything properly in order to be taken seriously. You

need to punch above your weight. The BBA is a very

well-respected mark and organisation. Audits improve

your control system which gives you a lot of credibility

and helps show customers that there are processes

in place that ensure the quality and scalability of the

service.

"Because this is a relatively new product and solution,

we were unsure as to whether the BBA would even

consider approving something like this as it's simply

not been done like this before. We are obviously very

pleased that the BBA took it seriously.

"It's a great relief to finally get our certificate because it

shows the outside world that what we've been saying is

true. An independent party is happy to say yes, this is a

process that has quality control built in."

Q-Bot has been busy all over the south coast, from

Hastings all the way up to the north of Scotland,

through England, Wales and Scotland.

Trials have also been done overseas, in the US and

France. With the blessing of the British Board of Agrément,

this smart little newcomer to the insulation industry

looks set to make its mark in the built environment,

throughout the UK and beyond.

www.insulatenetwork.com

9
---
Exclusive Insulate Column

Getting the

Message Across

In construction marketing, and the marketing of insulation in particular, there's a popular type of

phrase used in trade press and journal articles. It's often worded, "ever-increasing building

regulations", or a close variant on it. But is it the right message to keep shouting? By Paul Forrester.
---
The only independent insulation industry trade magazine

Exclusive Insulate Column

Getting the Message Across

It's easy to understand the appeal: the wording highlights

the importance of insulation and encourages the reader

to accept manufacturers as the authority on the subject.

There's an imperative: the reader isn't as up to date as

they should be, so they should consult the authors to

find out which products can help their current projects

comply.

Looking to the Future

All of which is fine … except that things are fairly static

from a building regulations point of view.

In England and Wales, for example, the U-value targets

for extensions and alterations to existing buildings have

been the same for SEVEN years. Revised standards for

compliance in new-builds were introduced in 2013 and

2014 respectively, but were still based on a system in

place since 2006.

The biggest change - the introduction of a fabric energy

efficiency standard (FEES) in England - only brought

the country into line with the sort of lower fabric backstops

that had been a hallmark of the Scottish Technical

Handbooks for years.

Updated standards will be introduced across the UK

eventually, but there's no definitive timetable for revision

- and no reason to make people worry they're in danger

of not keeping up with something that isn't here yet.

Known Unknowns

Articles published in the last few editions of Insulate have

shown customers already see insulation manufacturers

as the authority. The issue lies in people knowing they

need advice, and understanding the right time to call on

the available expertise. From personal experience in the

last few months, a couple of examples:

- A property developer wanted to know how best to position

insulation in a flat roof extension, and was surprised

to discover his proposed specification was inadequate -

"Oh, is it 0.18 for a roof now?"

- A conversation with a college brickwork lecturer yielded

its own surprises. He thought the U-value currently required

in walls was 0.35 W/m2K, which is the figure given

in Approved Document L 2002.

Fortunately, it was possible to advise on a better flat roof

specification - but how many other developments are under-insulated

despite the static thermal targets for existing

buildings? And what understanding of insulation are

brickwork students gaining if they're not familiar with the

solutions they should see on site?

The here and now

It's not preparing for the future that's the problem, then,

but getting everybody up to speed on the present!

Communicating via traditional construction media will always

have its place but, arguably, its readers generally

know what they need to do to make a project succeed.

On big contracts, workflows are in place to maximise efficiency

and help things flow as smoothly as possible on

the way to completion.

A roofing contractor, for example, knows the specification

and asks their preferred supplier for a price on insulation

to achieve the required U-value. The distributor prepares

a quote and contacts the manufacturer for a calculation

to back it up. Straightforward, job done, several thousand

square metres of roof ready to go.

Of course, the relative simplicity of larger projects pays

for the advice offered to smaller projects. When a client

or builder needs guiding step-by-step, insulation manufacturers

are almost the front line of defence, identifying

issues in design, specification or installation and steering

them in the right direction.

Another example...

If a chain of correspondence between a housing developer

and an Approved Inspector includes a comment from

the latter - "Not much of a link between wall and floor

insulation, so whoever provides the Energy Performance.

12

www.insulatenetwork.com
---
www.insulatenetwork.com

So how much should manufacturers police the projects

that cross the desks of their technical teams?

Acknowledgement of the issue was a start, but the

words implied no intent to do anything other than have

an Energy Assessor address it via paperwork. There was

no suggestion of attempting to educate the contractor

or have the work rectified, or of helping the developer

understand why the new properties would benefit from

greater attention to detail.

It's possible the as-built energy performance calculations

showed a detriment to the predicted performance but,

ultimately, the work was likely signed off and the properties

sold, leaving the buyers to suffer cold draughts and

excessive heat loss - something that was almost certainly

not acknowledged during the purchase.

Fighting the Good Fight...

Reading this, there's a good chance you have examples

of occasions where you've witnessed sub-optimal

building work being the rule rather than the exception.

Skills and training in the construction industry are not

up to scratch, but the magic bullet remains elusive.

The Passivhaus Trust recently released a 'Good Practice

Guide to Insulation', and the 'Builder's Book'

remains available on the Zero Carbon Hub website, but

these are relatively niche outlets for information, that

most people won't easily stumble upon.

Insulation manufacturers and their trade associations

do genuinely good work lobbying government and

campaigning for better standards in the built environment.

It's a long term project though, and people need

advice and guidance now.

Start the Debate

If a chain of correspondence between a housing developer and an Approved Inspector includes a comment from the

latter - "Not much of a link between wall and floor insulation, so whoever provides the Energy Performance Certificate

needs to be aware" - is there anything the manufacturer reading it can do?

1

2

3

4

If traditional media isn't doing the job, does the answer lie in finding ways to better use social media

to reach people?

Perhaps photographic records of projects, even the smallest extension, need to become part of the

evidence base for compliance so there's no hiding bad workmanship.

Indeed, more examples of both good and bad work should be put in the public domain as a source

of reference.

Rather than rolling out smart meters, maybe energy companies should be obliged to undertake

thermographic surveys so homeowners can see for themselves where their money is going?

13
---
The only independent insulation industry trade magazine

Insulation News

Ensuring Insulation Fits

for Improved Thermal Performance

Buildings are responsible for nearly 50% of the UK's energy consumption and carbon emissions.

Well-insulated existing and new-build properties will help improve that figure, but only if the insulation

is correctly fitted in the first place. global leaders in PIR manufacture, Recticel Insulation,

provides a guideline to installation practices and techniques in respect of one of the more innovative insulation

products on the market.

A Green Building Council report released earlier this year

revealed 25 million homes need to be refurbished by

2050 in order to meet insulation standards, and achieve

the UK's pledge to cut carbon emissions by 80%, by

then in line with the 2008 Climate Change Act. Excess

energy used to heat draughty buildings is a major

contributor to the country's carbon footprint, hence the

need for quality insulation that is fitted to a high

standard. The onus on providing buildings which deliver

in terms of thermal performance will largely fall on

architects, developers and the building industry as a

whole. However, manufacturers can also play their part

by continuing to refine the properties and performance

of 'fabric first' materials which are so vital in putting a

thermal seal on the building envelope.

Innovative Solution

Dedicated to raising the standards of insulation

products in the UK, Eurowall + represents Recticel Insulation's

commitment to PIR innovation to improve a building's

thermal performance and enhance the comfort and

wellbeing of its occupants. Eurowall + was the first rigid

insulation board to feature a tongue and groove joint on

all four sides. This interlocking feature ensures boards slot

together easily to provide insulation that is solid and airtight

and minimises heat loss caused by thermal bridging,

as well as offering effective protection against elements

such as wind-driven rain.

In the quest for improved energy efficiency, designers can

be left with little option but to increase the thickness of

insulation in a dwelling's external walls. This additional

insulation can be added internally, externally or within

the cavity, all of which mean that floorplans need to be

enlarged, which for housebuilders can mean smaller

rooms or fewer houses per plot.

Eurowall +, a premium, full-fill cavity insulation board

manufactured from high performance closed cell polyisocyanurate

(PIR) foam, has been developed to allow

designers and housebuilders to maintain traditional build

techniques, without compromise to thermal performance.

It's resulted in a board that achieves a U-value of 0.18W/

m2K to enable compliance with Part L1A of the Building

Regulations 2013 in England and Part L1A of the Building

Regulations 2014 in Wales.

Installation Made Easy

Installing Eurowall + couldn't be easier. To help the

installer fit the boards the right way, there is a different

gas-tight foil-faced finish on each side: one is distinctive

grey alkali-resistant facing for placing against the inner

leaf; where wet cement can affect the foil facing. The

other is a low emissivity multi-layer aluminum facing

which enhances the thermal resistance of the cavity.

In terms of reveals, wall ties continue to be installed at

every second course of blockwork, rather than every

course, as is common practice. Two ties are positioned

within 225mm of the reveal. Corner details are formed

by cutting the boards squarely and closely butt-jointing.

A vertical 300mm wide DPC covers the corner and runs

the full length of the junction. Cavity trays are fitted by

either cutting the insulation at an angle and running a

DPC over the top of it, or using a partial-fill board behind

the section where the DPC is due to be fitted.

14

www.insulatenetwork.com
---
Case study: Gerrards Cross, Buckinghamshire

Eurowall + was used by Mentmore

Homes in the construction of two energy-efficient,

detached five-bedroom

homes in Gerrards Cross, Buckinghamshire,

valued at £2.5 million each.

The high-quality, traditionally-constructed

homes feature external walls built

using brick/block cavity construction.

Cavity wall is the UK's most common

method of wall construction for residential

dwellings. For Mentmore Homes,

a significant challenge was to retain a

standard-sized cavity while complying

with the latest Building Regulations.

To maximise the thermal performance

of the external walls without increasing

the width of the 100mm wide cavity,

Mentmore Homes specified Eurowall

+ full-fill insulation. Using this high-performance

PIR insulation board enabled

the developer to meet the thermal performance

required to achieve Building

Regulation compliance.

A total 500m2 of Eurowall + boards

were used in the wall construction

of the two houses. Nicholas Peck,

contracts manager at Mentmore

Homes was impressed with the performance

of Eurowall +: "We wanted to

make the properties as energy efficient

as possible; to make this happen the

best place to start is the insulation," he

said. "Specifying Eurowall + meant we

didn't have to increase the size of the

wall cavity and lose space inside the

properties".

The panel's interlocking feature was

another element of the product that

Peck says was beneficial: "Eurowall +,

because it slots together so easily will

remain solid and airtight," he said. "We

required a high-performance product

for this extremely high-profile project

and Eurowall + didn't disappoint".

15
---
Case study: Hedge End, Southampton;

Ludgershall, Andover

Ease of handling and simplicity of installation were just

two of the reasons Foreman Homes selected Eurowall +

to insulate the walls of the homes on two large housing

developments in the south of England. The schemes at

Hedge End, Southampton, and Ludgershall, Andover, together

contain a mix of over 300 plots of social and private

housing; homes vary in size from two- to five-bedrooms.

Mark Kew, a bricklayer with Foreman Homes, applauded

the benefits of using Eurowall +: "In 35 years'

experience in construction, the insulation developed by

Recticel is easy to cut accurately due to the grid printed

on the foil-facing side which makes it easy to install with

minimal waste. I can honestly say our quality and speed

have excelled as a result of its use."

In total over 15,000m 2 of Eurowall + insulation was installed.

For Foreman Homes, using Eurowall + meant the

homes' external walls could be built quicker and easier

resulting in a corresponding saving in construction costs.

And, the full-fill insulation's excellent thermal performance

will mean that residents on both developments will be able

to enjoy their comfortable, energy-efficient dwellings.

As these case studies demonstrate, innovative PIR

products such as Eurowall + contain a host of benefits to

fit the 21st century need for insulation which improves a

property's thermal performance and speeds-up the overall

construction process. However, for the performance to

match the quality of the product, its installation has to be

correct – hopefully first time.

16

www.insulatenetwork.com
---
ecobuild

The future of the built environment is here

06-08 March 2018 / ExCeL, London

Timber

Concrete

Infrastructure

Green & Blue

Infrastructure

Offsite

Energy & HVAC

Building

Performance

District Energy

Presenting the futurebuild districts

The 'must go' event

in the construction

industry calendar

for forward thinking

professionals and

influencers.

ecobuild 2018 will

present the latest

technology, the freshest

thinking and materials

to keep you at the

forefront of the industry.

The centrepiece will

be the comprehensive

conference programme

curated by top industry

fi gures. Surrounding

this will be a series of

futurebuild districts, each

exploring a di erent

aspect of the built

environment.

Be part of

something

special

+44 (0)20 3011 2540

info@ecobuild.co.uk

www.ecobuild.co.uk

#ecobuild

#ecobuild

/ecobuildnow

/ecobuildnow

/ecobuild_now

ecobuild-uk

SUPPORTED BY
---
The only independent insulation industry trade magazine

Insulation News

Siniat Targets High Rise Multi-Occupancy

with New Acoustic Stud System

An innovative thin partition system from

leading drywall products manufacturer Siniat

is set to help multi-residential developments

increase floorspace while providing high-specification

acoustic insulation.

Resilient Acoustic Stud (RAS) 90 is the newest addition

to Siniat's specialist stud range, allowing specifiers and

installers to maximise saleable floorspace for both new

builds and refurbishments without compromising

performance.

RAS 90 is capable of exceeding Part E of Building Regulations

for acoustic performance in residential buildings

at a partition width of only 150mm – up to 50mm thinner

than traditional partitions. It is the first product in the RAS

range to be designed specifically for use in the residential

sector, as well as hotels, student accommodation and

change of use projects.

With value in every square metre of living space, RAS

90 increases net internal areas to have a demonstrable

impact on development value. Most recently, Galliard

Homes' Great Scotland Yard development – a 95,000 sq

ft hotel refurbishment – gained an additional one square

metre per room by switching from a traditional party wall

and external corridor partition to a RAS system.

The stud's simple design means that frame installation

can be up to 50 per cent quicker than standard systems.

Unlike traditional metal studs, RAS 90 features an inbuilt

visco-elastic acoustic material which prevents airborne

and impact sound from passing through dividing walls,

removing the need for cavities or an acoustic brace.

Lee Hamilton, product manager for Resilient Acoustic

Stud at Siniat, commented:

"RAS 90 is a simple but game-changing innovation for

creating high-performance acoustic partitions. Its unique

design provides a minimum 45 DnTw +Ctr while only

using half the amount of metal needed for a standard

partition, making it thinner, lighter and faster to install than

traditional equivalents.

"In the context of the housing shortage, the design and

construction sectors need to find new ways to speed up

project delivery and maximise space. RAS 90 reduces

installation time while delivering the high acoustic

performance required for modern homes to ensure quality

of life for residents."

Reflecting Siniat's commitment to driving technological

innovation in drywall products, RAS 90 has been developed

by the business' own acoustic engineering team at

its Innovation and Technology Centre in France, which is

managed by parent company Etex Building Performance.

18
---
insulatenetwork 19

www.insulatenetwork.com

Insulation

Our latest arrivals have landed...

...offering you 4 new lower lambda

products to choose from

Kingspan Kooltherm ® K103 Floorboard, K110 and K110 PLUS Soffit Board,

and K118 Insulated Plasterboard feature an advanced, fibre-free insulation

core, enabling them to achieve an outstanding thermal conductivity of

0.018 W/m . K. As a result, the products can enable buildings to be built to

the upper levels of fabric performance with minimal thickness.

Further information on the Kingspan

range is available on:

+44 (0) 1544 387 384

literature@kingspaninsulation.co.uk

www.kingspaninsulation.co.uk

Pembridge, Leominster, Herefordshire HR6 9LA, UK

www.kingspaninsulation.co.uk/lowerlambda

®

Kingspan, Kooltherm and the Lion Device are Registered Trademarks of

the Kingspan Group plc in the UK and other countries. All rights reserved.
---
insulate columnist

The effects of Hand-Arm

Vibration (HAV) in the Workplace

Insulate Magazine columnist George Elliott, a technical specialist at

science-based technology company 3M, explains ways of controlling

HAV exposure levels in the workplace

The repetitive use of power tools when placing insulation into walls, ceilings and thermal

controlled areas exposes personnel to significant levels of Hand-Arm Vibration (HAV), a

health hazard that almost two million people in the UK are exposed to in the

workplace, according to the Health and Safety Executive (HSE).

HAV is the transmission of vibration from a piece of equipment or a tool into the body,

resulting in potential injury and serious health conditions, if used for too long. The most

commonly-associated health risk is hand arm vibration syndrome (HAVS), commonly

manifested in Vibration White Finger, a painful and permanent condition that can

lead to finger numbness, hand tingling and bone cysts.

Users also often complain of a sore sensation and limited movement in the

hands, commonly diagnosed as carpal tunnel syndrome. This

musculoskeletal problem reduces the sufferer's ability to manipulate

objects.

HAV damage is detrimental and irreversible, yet entirely preventable.

Employers have a duty of care to their workforce, to ensure that

they have adequate protective measures in place to control

excessive HAV exposure.

For this reason, the Control of Vibration at Work Regulations

states a need for HAV-related risk assessments and requires

consequential measures to be put in place to control such exposure.

Continues page 20...

20
---
21
---
www.insulatenetwork.com

The importance of risk assessment

According to the HSE, a good power tool supplier

should recommend a range of appropriate tools and

include vibration design information. In addition,

they should provide a clear description of the vibration

risk of each tool and instructions on how to safely use it.

Although all vibrating tool manufacturers are required to

provide figures quantifying each tool's vibration HAVS

level, a full assessment is still crucial. This is because a

manufacturers' figures are typically generated using a

standard test carried out on a flat panel with new

machines.

The only way to realistically conclude values for each

working condition is to measure vibration in

the environment that the tool will be used, using the

actual tool, substrate and abrasive.

A competent person within the company should

measure each tool's vibration level using the HSE's

purpose-built calculator, available from:

http://www.hse.gov.uk/vibration/hav/information.htm.

However, the testing equipment can be expensive, so

smaller businesses may wish to use an independent

company. Even for larger organisations, this can provide

extra peace of mind. Because the effects of HAV are

cumulative, the calculator gives the total length of time

that a vibrating tool can be safely used for by any single

person over the course of a day, even with breaks.

How much action is required?

The level of activity that employers need to take is

determined by the Control of Vibration at Work Regulations.

This depends on two different values – the

exposure action value (EAV) and the exposure limit value

(ELV). The EAV is 2.5m/s2 (equal to 100 points on the

HSE calculator). The ELV is 5m/s2 (or 400 points).

These figures relate to an eight-hour period during a

single working day. If a tool's vibration level is less than

the EAV over an eight-hour period, it can theoretically be

used for eight hours a day.

vibration to the lowest level reasonably practicable,

doing likewise for the exposure level if it is above the

EAV. In any workplace where employees are exposed

to HAV, employers must provide access to a competent

occupational physician to receive detailed feedback

about each individual, regularly monitoring and

reporting any confirmed cases HAVS or carpal tunnel

syndrome through the Reporting of Injuries, Diseases

and Dangerous Occurrences Regulations 2013

(RIDDOR).

Taking Action to Reduce HAV Exposure

Employers can place stickers on tools explaining how

long they can be used for or use tool timers, which

measure how long the tool has been used for and sound

an alert when the limit is reached.

A company can also use alternative, non-vibrating

methods where possible; automating tasks; using jigs,

clamps or rotating work involving vibrating tools between

several workers. Using a tool with a lower vibration

measurement or a smart sensor can also help.

Personnel should be trained to not hold vibrating tools

too tightly; use lower

speed settings; ensure

tools are properly

stored and maintained;

and check

them before use.

HAV exposure is not

limited to the workplace

- DIY tools

used outside of work

can also contribute.

Although out of the

employer's control,

HAV risk should be

communicated to

employees, nonetheless.

For more information, visit www.3M.co.uk/safety.

Once the EAV is exceeded, employers must demonstrate

that significant health surveillance is being undertaken,

along with measures aimed at reducing exposure

to the lowest possible level.

If the exposure level surpasses the ELV, the operator

must immediately stop using tools likely to cause vibration.

The employer must then reduce the risk from

22 www.insulatenetwork.com
---
The only independent insulation industry trade magazine

Insulate insulate Columnist columnist

Hackitt Review Must Put Maximum

Public Safety First and Foremost

Sarah Kostense-Winterton Executive Director, MIMA

With the Hackitt interim report expected before Christmas, we all have high hopes for

Dame Judith's independent review. What is clear is that we simply cannot and must not

compromise on public safety.

As the organisation representing the non-combustible insulation manufacturers, MIMA is firmly supportive

of the scope of the Building Regulations review but believes we need to be more stringent, albeit

prescriptive with particular attention being given to all mid- and high-rise, sensitive and high occupancy

buildings such as schools, hospitals and care homes.

Fit for purpose?

We need to go wider with a review that fully considers

the implications for fire safety in technology advances.

Current developments in technology mean it is perfectly

practical to track a product from factory to installation

while keeping a digital record of what the product characteristics

are. A record for current and future building

occupants.

We should consider whether wider testing methodologies

are fit for purpose. Specifically focusing on whether the

testing regimes applying in all buildings are only testing a

perfect installation rather than a 'real world' one.

Current regulations are ambitious

Currently 'guidance' for facades in buildings over 18m

high sits in multiple documents with Approved Document

B referencing a variety of supporting documents which

don't lead to clear guidance on what is or isn't permitted.

To offer maximum public safety, the approved document

should offer the only point of reference and the only permissible

routes to compliance should be the use of Euroclass

A1 or A2 rated products on facades which should

be clearly set out in a redrafted Approved Document B.

That redrafting should also clearly set out that Approved

Document B is the only acceptable route to compliance

Routes to compliance

Approved Document B is not the only means to

compliance with the Building Regulations – other bodies

are permitted to publish their own guidance on how the

regulations can be met. This has led to industry bodies

publishing their own guidance on BR135 – these guides

both contained four routes to compliance including

desktop studies, which allow for combustible materials to

be used without even being tested.

There is substantial confusion within the industry and even

amongst fire experts about what the official regulations do

and do not state – many are under the false impression

that the oft-quoted 'four routes to compliance' are in ADB

or BR135, when they are not.

Only specifying either A1 or A2 Euroclass products / systems

can ever offer certainty to occupants that the façade

will offer the maximum protection against fire. All other

routes permit human error or judgement in to the system.

Classification

References in Approved Document B to national fire

classifications such as "Class O" alongside Euroclasses

than is actually the case. Similarly, marketing terms such

as "fire retarded", "fire safe" and "non-flammable" are

www.insulatenetwork.com

23
---
www.insulatenetwork.com

frequently used to describe the reaction to fire properties

of materials which are classified as combustible.

The difference between combustible and non-combustible

materials is an extremely significant distinction which

must not be blurred. Combustible materials contain considerable

fuel loads which contribute to the spread of fire.

Non-combustible products cannot contain significant

quantities of combustible materials, including any glues

and binders, as this would prevent them from achieving a

non-combustible classification. Fact.

Building regulations must offer greater assurance of fire

safe performance for occupants of both residential and

non-residential buildings over 18m. With the health of

building occupants, a priority, the smoke toxicity of construction

products must be tested, classified and labelled

to provide important information to consumers and made

a key component within Approved Document B.

The Euroclass system should be the only classification

system referenced in a redrafted Approved Document B.

All reference to the British Standard (BS) 'Class O' should

be removed as this adds ambiguity and uncertainty of interpretation.

Testing Methods

No modelling available can ever genuinely replicate the

behaviour of a fire in a complex building in the real world

while no fire test on a perfect installation can ever replicate

fire behaviour in buildings that have received real world

installation practices.

Desktop Studies

There are serious concerns about the validity and accuracy

of probability-based calculations for both desktop

studies and fire safety engineering and little to no experience

is available today to show that buildings assessed

using Fire Safety Engineering have performed as predicted

during a fire.

Desktop studies do not produce a reliable indication of fire

performance. These generalised assessments can do little

more than guess at how combustible materials might behave

in a fire on an unspecified building. The acceptance

of these studies has promoted a light-touch approach.

24
---
The only independent insulation industry trade magazine

BS8414 Test

Even passing a full BS8414 test does not necessarily indicate

that a system would provide adequate resistance

to a real-life fire and do not reflect common installation

issues in the market, as recognised in the Each Home

Counts Review.

Testing regimes must be continually reviewed to keep

pace with construction practices as well as to ensure the

process is sufficiently robust. The BS8414 test should be

updated to reflect real life construction features such as

windows and vents and the communication of test results

based on perfect laboratory conditions must highlight

the limitations of these tests in terms of predicting

real life performance as highlighted by the Fire Protection

Association.

Given the fatal danger of toxic smoke, material testing

and classification should be introduced for toxicity. These

products must then be labelled and regulated accordingly.

new guidance will tackle policing and sanction should

also be clearly set out. No one can disagree that sanctions

must be meaningful, tough and properly enforced.

MIMA believes that public safety is paramount and we

can be instrumental in developing a comprehensive fire

risk analysis for both existing and new buildings. However

Dame Judith must recommend the right framework

to ensure we can deliver maximum safety for the general

public across the UK.

MIMA's submission to the Hackitt Review can be found

here at http://mima.info

Sarah Kostense-Winterton is Executive Director of MIMA,

the Mineral Wool Insulation Manufacturers Association and provides

the secretariat to the Energy Efficiency Infrastructure Group

(EEIG). For further details of the EEIG or if you would like to

join, please contact Sarah at sarah@mima.info

Enforcement

Finally, compliance clearly needs to be policed while sanctions

for non-compliance robust. Approaches on how any

25
---
IMPROVEMENTS

IN SAP* FROM

USING THE

HYBRID SYSTEM

RESULTED IN

LOWER PROJECT

COSTS

Peter Dawson, Housebuilder

HYBRID INSULATION - TOGETHER FOR THE FUTURE

HCONTROL HYBRID

HYBRIS

BOOST' R HYBRID

We know that making SAP improvements is

high on your agenda. We also understand

that minimal insulation thickness can help you

to reduce overall project costs. So we have

good news. The reduction in thermal bridging

achieved by our Hybrid range is producing

up to 15% SAP improvement*, proving that

savings can be made on the DER vs TER

without compromising on space.

All Hybrid products can be used in walls and

roofs, separately or together, to provide a high

performance, total insulation system. They are

certified to harmonised standards by accredited

bodies, are CE marked and have LABC and

NHBC acceptance acceptance when used in

accordance with the certification.

Each Hybrid product combines both insulation

and airtightness properties:

HControl Hybrid, a thin multifoil insulation

product with a built-in vapour control function

and an unrivalled thermal performance.

, an innovative reflective insulation

product providing an excellent thermal

performance.

R Hybrid, a thin multifoil insulation

product with a built-in breather membrane

function and an exceptional thermal

performance.

*as calculated over a standard house using Hybrid model

junctions compared with default junction heat losses
---
The UK's Only Exhibition

Dedicated to the Insulation Industry

Showcasing the latest insulation innovations, perspectives & expertise

18th & 19th June 2018 | EMCC Nottingham

Register for your free visitor ticket

Book your exhibitor space

www.insulationexpo.co.uk

@insulationexpo
---
Exclusive Insulate Column

A Question

of Energy Performance

Insulation manufacturers sell quality products designed to make people more comfortable in

their homes and reduce their energy bills - but is the message getting through? And what will

it take for home buyers and tenants to ask different questions? by Paul Forrester.
---
The only independent insulation industry trade magazine

A Question of

Energy Performance

A friend and I recently went walking

in the Peak District. It was bright and

sunny - a perfect November day for

exploring the Pennine Way - albeit

cold, particularly in the wind. Our

route took us through the village of

Edale, passing picture-perfect stone

cottages. Outside one home, a man

in overalls was attacking a

rigid insulation board with a saw.

Not in a frenzied sort of way, I should

make clear! In fact, he was being very

precise about it. He'd already cut a

couple of letterbox-sized holes right

through the board, and was setting

about removing further sections of

insulation to around half the depth of

the board.

"I want to know how that insulation's

going to be used!" I muttered, fighting

the temptation to go over and

make a polite enquiry.

Most likely, it needed to accommodate

some service penetrations and

a few lumps and bumps in whatever

bit of the structure it was going to be

fixed to. Trouble is, the holes would

introduce significant cold bridges,

and the half-cut sections would

worsen the insulation's thermal conductivity.

Other software will display it

differently, but the important thing is

knowing what to look for.

The Heating's On

I reconciled my lack of investigative skills with an awareness

that I might have started 'preaching' to the guy

about how he was ruining the product's performance,

and so we continued walking.

Inspired by this turn of events, a new topic of conversation

arose: "These last few weeks, I've had to have the

heating on," my friend bemoaned. He'd only been in his

new flat for a couple of months - his first taste of home

ownership - and was encountering low temperatures for

the first time. "I can't not have the heating on."

"To feel comfortable?" I added, to confirm my

understanding that he isn't a Dickensian miser who'd

huddle around a single candle if it was an option.

At which point he asked a question that too few

people consider when looking at property: "Why don't

they give more information about the energy efficiency of

properties?"

"Who's 'they'? Who do you wish you'd had more

information from?" I asked with genuine interest.

"The sellers? The estate agents?" he suggested,

launching us into a wide-ranging conversation about the

cost of energy and fuel poverty, among other topics.

Property performing properly

It brought to mind the fact that, since early 2013,

advertisements for property being sold or let have been

required to include the energy rating of the property. It

also brought to mind the time I was told, anecdotally, that

many estate agents advise customers, "nobody takes

any notice of EPCs anyway".

Encountering apathy on that scale is dispiriting, but what's

even more dispiriting is accepting there might be logic

behind it. For existing properties, an EPC is based on a

visual survey and records of work carried out to improve

the property. It doesn't allow for the quality of the work

being undertaken.

If the cottage we walked past is put up for sale or rent,

an Energy Assessor will compile the specification and

include for insulation of a particular thickness and

performance, installed to an assumed standard.

30

www.insulatenetwork.com
---
The assessment isn't sophisticated enough to reflect the

impact of insulation boards being modified to accommodate

services or irregular building fabric.

Where improvements are suggested, they're not always

feasible, leading the authority of EPCs to be questioned.

An ex-colleague was once advised to consider ground

floor insulation to improve the energy rating of his home.

He'd have had to dig up the floor of every room, since

there wasn't enough height to accommodate insulation

over the existing structure.

Hardly a practical suggestion, and indicative of the issues

many properties will face when trying to improve

occupant comfort.

Short-term thinking

SAP calculations, for example.

On a more optimistic note,

if the new requirement is

communicated well then

it might encourage more

tenants to ask the same

question my friend did. If that

gives television producers reason

to change what they put on our

screens, or estate agents to offer

more informative advertisements, then

we could start to find ourselves on

the righttrack.

As property prices have ballooned and escaped the

grasp of more and more first-time buyers, estate agent

adverts seem increasingly targeted at those who can

afford to add to an existing property portfolio. Seeing

property as an investment is nothing new, of course,

but the effective retrofit of properties is becoming an

urgent consideration - and one that is not effectively

communicated to buyers or renters.

Television programmes like Homes Under the Hammer

only encourage this trend, focussing on quick turnarounds,

rental yields, and aesthetics and surface sheen.

On one episode, the person renovating a house decided

to keep it for their daughter to live in. "We've taken a

bit more time over it than normal," he said, admitting he

only aimed for a better standard of work after deciding

his family would enjoy the benefit of it.

While it might be idealistic to expect everybody to buy

in to relatively distant aims like carbon reduction targets

in 2050, the casual acceptance of such complacency

on a popular daytime programme only makes the

retrofit challenge harder, not easier.

A New Direction?

Between now and 2020, new legislation will make

landlords more responsible for better comfort and lower

energy bills for tenants. Rental properties will have to

meet a minimum EPC rating of E, and it will be interesting

to see what impact such a requirement has.

demonstrate compliance, or risk losing work to those

who will - especially when other anecdotal evidence

suggests this has been known to happen with as-built

31
---
Spray Foam's

Biggest Event is Back

… with Keynote Speaker, Jeff Havens!

2018 CONVENTION & EXPO

January 29 – February 1

Mobile, Alabama

Uncrapify Your Life!

With all the entertainment of a comedy show, Jeff Havens will

lead us in the most hilarious communication and teambuilding

keynote. Prepare to learn and laugh in equal measure!

Join the Who's Who in Spray Foam for:

• Four Days of Educational Sessions

• The Industry Excellence Awards

• Annual Golf Tournament

• Professional Certification Programs and Testing

• A 50,000 Square Foot Exhibit Hall

• VIP Events

• And More!

Network with the Best in the Business.

Don't miss it!

thesprayfoamshow.com • sprayfoam.org/expo
---
The only independent insulation industry trade magazine

Insulation News

SIG Fire Protection Specialists Increase

Client Service Capabilities Across UK

SIG Fire Protection Specialists attain FSIDip

status to increase client service capabilities across UK

The specialist SIG fire protection service has

been developed; with six members of the

national team receiving an industry

accredited Fire Stopping Inspection Diploma. The

SIG team receiving the qualification is the largest

and most experienced dedicated Fire Protection

team working across the UK.

The SIG Fire Protection Specialists offer expert advice to

customers installing fire protection materials, in what is

a complex and challenging area, especially as now it is

under increased scrutiny.

SIG's dedicated team of Fire Protection Specialists provides

customers with early engagement and advice on

Fire Protection and Fire Stopping for a range of new build

and refurbishment projects. Six members of the team,

Shaun Hugill, Lee Bentley, Aaron Gardiner, Jon Scott, and

Dave Steel, as well as National Manager Nigel Gillingham,

have all studied and received the Fire Stopping Inspection

Diploma, recognised and accredited by The Institute of

Fire Safety Managers and Institution of Fire Engineers.

Due to the complexity of fire protection, detailed

information such as scope of application, fire tests and

assessment reports are needed, as they allow robust

product selection to complement all the other

construction systems and interfaces in each application.

This diploma provides each member of the SIG Fire

Protection Specialist team with knowledge of material

technical documents, and the latest methods of best

practice.

Nigel Gillingham, National Manager, comments:

"SIG is committed to investing in our people to raise

knowledge and consistently improve skills and available

expertise. This has given us a proven level of competency,

and we are the go-to people for all fire stopping and

protection, with representation in every region of the UK.

"This diploma applies a different perspective for the Fire

Stopping activities we undertake; on our responsibilities;

the responsibilities others have for Fire Stopping; our responsibilities

to be accurate in our understanding and our

knowledge, and our communication in the high risk, high

liability Fire Stopping arena.

"I am extremely proud of the team's enthusiasm whilst

undertaking this course, and proud that each member of

the team passed with flying colours."

L-R: Nigel Gillingham, Shaun Hugill, Jon Scott,

Aaron Gardiner, Dave Steel and Lee Bentley

33
---
The only independent insulation industry trade magazine

Insulate Columnist

Has the Broken Housing

Market Been Fixed?

Simon Storer, Chief Executive of Insulation Manufacturers Association (IMA)

The announcement in the budget last week of a package of housing measures totalling around £44bn

was welcome news for everyone in the construction industry. But will this really deliver on the

Government's promise to fix our broken housing market?

Certainly scrapping stamp duty for properties under the £300,000 threshold for first time buyers is good news for the

consumer but we need to be sure that when they invest in their new home that they are getting a property that is fit

for purpose. This means being able to buy a home with confidence that has been properly built by a skilled workforce

and that lives up to current energy efficiency regulations, otherwise any cost savings on stamp duty will be negated by

higher running costs for the building over its lifetime.

It is also good to see that there will be a review on the

controversial topic of 'land banking'. With claims from

large builders on the one hand that planning issues are

the real cause of the problem and claims from others that

speed of build is being deliberately slowed down to push

up house prices, it will be good to get some clarity from

Oliver Letwin on this so that building can proceed at the

ambitious rate demanded. The announcement that

support to unlock smaller sites and identify brownfield sites

to allow SME builders to build 40,000 new homes is great

news for the construction industry but again we need a

skilled workforce to deliver on this.

With around £34 million promised to develop construction

skills across the country, we need to be sure that we get

the skills training in place ahead delivery of the ambitious

target of 300,000 new homes a year, otherwise the

construction industry is setting itself up for failure and

consumers will lose confidence.

Building 300,000 new homes a year is certainly an

ambitious target and a pledge that we have heard numerous

times before but we need to ensure that all new

homes can live up to the expectations of those living in

them or aspiring to live in them. Will that happen? Let's

wait and see.

For more information about

Insulation Manufacturers Association please visit:

www.insulationmanufacturers.org.uk

34

www.insulatenetwork.com
---
The only independent insulation industry trade magazine

Insulate Columnist

Fire Safety: Now is the Time

for Architects to Take Back Ownership

Duncan Voice, Store Manager, Insulation Superstore, outlines why architects need to learn a valuable lesson from

the Grenfell Tower tragedy and take back control of specification.

In the wake of the Grenfell tower tragedy, there has been a dramatic shift in attitudes towards the role

of architects within construction. The avoidable disaster has forced the industry to take design quality

more seriously, whilst also demonstrating how high-quality build specifications can not only protect

occupants, but save lives.

A post-Grenfell review is currently underway, spearheaded

by the Department for Communities and Local Government

(DCLG), with RIBA also calling for a comprehensive

reappraisal of Approved Document B and related fire

standards. Although the official outcome is still yet to be

determined, there will undoubtedly be a focus on the fact

that components such as cladding, insulation and fixing

methods must be considered holistically as part of a robust

fire safety build strategy.

Traditionally, architects have always played a significant

role in the specification of materials; however, the rise of

complex 'design build' contracts is increasingly leaving

them powerless within the construction supply chain -

with no say or input on budget cuts or the substitution of

cheaper alternative products.

Following Grenfell, it is crucial that architects become

leaders on fire safety, as well as taking responsibility for

their specifications, considering the impact of individual

components across an entire build while future proofing

their designs by using non-combustible materials. This is

an issue focused on care, protection and long-term build

performance, working to ensure tragedies like Grenfell do

not happen again.

Vital Lesson

A critical factor in the failure of Grenfell was the cost saving

substitution of an FR grade aluminium composite material

cladding for an unrated grade with a polyethylene

core, which has since proved combustible in Government

tests. In addition, the synthetic insulation used on

the building was made from polyisocyanurate, which is

known to burn when exposed to heat. Initial reports from

the disaster also revealed that the insulation chosen for

the £10m tower refit was acceptable for use on tall buildings,

but only when combined with incombustible cement

panels.

Individually, both the cladding and insulation materials can

prove problematic, but when used together, they can be,

and were, catastrophic. Detailed analysis of public documents

has also revealed a complex chain of contractors

and sub-contractors, which has raised the question of

who was ultimately responsible for fire safety during the

refurbishment.

95% of buildings screened and covered by the recent

Government BS8414 testing program failed to meet current

fire safety standards, indicating that ambiguity and

confusion is still prominent across the industry. There are

two major fire components of fire safety to consider; stopping

fire ignition and intensity, as well as preventing it from

spreading. These are essential factors when focusing on

a building's exterior envelope, with all components of a

wall contributing to its fire performance.

A New way Forward

In the past, architects have been able to ensure that

specified materials were used as part of a unified design

strategy. However, facing increasing industry pressure

to cut costs, this isn't the reality with performance

specifications enabling alternative materials to be used -

often selected by the developer, contractor or sub-contractors.

This shift in build processes has meant that

during construction there is no longer a single appointed

36

www.insulatenetwork.com
---
www.insulatenetwork.com

professional who is responsible for ensuring that the

specified materials perform when placed under pressure

from potential risks such as fire, heat and smoke.

Designers now need to take responsibility for any

non-standard build slip ups. This includes understanding

how materials work together in a more holistic way, as well

as their influence on key build factors such as fire safety,

attention to detail, environmental impact and workmanship.

Informed specification decisions should be based

on not just budget requirements or their performance in

isolation, but on how components interact across the entire

build and with each other.

Getting Serious

Architects play a vital role in ensuring tragedies like Grenfell

do not happen again, making fire safety not just an

extra consideration but instead a vital component in the

early design stages. This is essential when protecting

a building's exterior, evaluating and selecting products

based on their behaviour with other structural elements,

the surrounding environment and its occupants.

For example, if a non-combustible insulation product cannot

be applied uniformly across a façade, it is the architect's

responsibility to ensure the implementation of cavity

barriers to stop, or at least slow fire spreading. Non-combustible

insulation can also provide an element of building

preservation during fires, offering an extra opportunity to

protect its inhabitants.

This is supported by recommendations from RIBA, which

has advised that architects should act as a single point

of responsibility from project conception to completion,

as this would prevent key specification decisions (such

as the use of fire-retardant cladding) being transferred to

contractors during the build process. It would also mean

that the materials specified not only work together cohesively

as part of a wider fire safety strategy, but that they

are also correctly installed and maintained to regulatory

standards.

Whilst reviews and investigations are still ongoing, there

is no doubt that fire safety regulations and standards will

become more stringent, and undoubtedly architects will

be expected to play a greater role within not just design,

but also construction. Designers now have the opportunity

to educate developers and contractors on the importance

of incorporating high quality specifications and

fire protection measures into building design at an early

stage. Whilst budget cuts are unlikely to be eradicated

overnight, Grenfell serves as a lesson to all those within

the industry on how cost cutting can potentially cost lives.

www.insulatenetwork.com

37
---
The only independent insulation industry trade magazine

Insulate Columnist

Insulating Our Nation's Homes

Neil Marshall, Chief Executive, National Insulation Association (NIA)

Household Energy Efficiency Statistics published by Government last week identified that whilst there

has been considerable progress in insulating homes across Great Britain there is

still allot more to be done.

The figures identified that nearly 16 million homes in the

UK have only 125mm or less of existing loft insulation

compared to the current standard of 270mm. These

properties would certainly benefit from topping up.

There are still over 5 million homes with cavity walls that

are not insulated andvonly 718,000 which equates to just

8% of the 8.5 million homes with solid walls have been

insulatedvto date.

It is important therefore that Government continues to focus

efforts on building fabric insulation measures in the

new Energy Company Obligation which is due in 2018.

They need to continue towork with industry and

consumers in identifying ways to increase the uptake of

insulation among householders. To this end, the Department

for Business, Energy and Industrial Strategy recently

issued a call for evidence "Building a Market for Energy

Efficiency" and the NIA will be responding to this with

our thoughts on a number of important areas including;

raising consumer awareness of the benefits of insulation,

targeted consumer incentives, standards and regulations

and attractive payment options.

For more information about the National Insulation

Association (NIA) contact

Meava.robson@nia-uk.org

38

www.insulatenetwork.com
---
The only independent insulation industry trade magazine

Insulation News

London's The Vase Building Enters

Final Phase for Western Thermal

Western Thermal, leading specialist engineers

in thermal & acoustic insulation,

ventilation ductwork, trace heating, and

fire stopping, with over thirty years' experience,

has entered into its final phase of thermal insulation

and trace heating work for Number One Blackfriars,

known colloquially as "The Vase".

Thermal insulation and trace heating work is being

completed by the Company on a wide range of mechanical

and public health systems throughout the

54-storey building and its basements.

Western Thermal is working on the former Sainsbury's

Group Head Quarters and other core elements of the

£140 million project that spans 74,925 sq m and includes

274 homes, including commercial space at

ground level. The Company has also been working on

the building's new four star hotel, which is located on

the lower three levels.

Michael Slater, Executive Operations Director of

Western Thermal, said: "The Vase skyscraper is a rich

addition to London's skyline and adds to our fast-growing

residential project portfolio. We have enjoyed our role

in this iconic project.

"Our clients are asking increasingly for our Thermal

Insulation offering in conjunction with our Trace Heating

specialism. This trend toward a multi-disciplined approach

www.insulatenetwork.com

39
---
The only independent insulation industry trade magazine

to thermal engineering solutions in the construction industry

is growing, and Western Thermal's complementary

nature between the different divisions is what makes the

Company stand out."

Western Thermal's client for Number One Blackfriars is

The division has contributed to numerous landmark

projects including Heathrow Airport Terminal 5, Wembley

Stadium, and Queen Elizabeth Hospital in Birmingham.

More recently, it has installed thermal insulation at

Victoria Station, completed major works at the

Battersea Power Station residential, retail and leisure development,

and worked on the redevelopment of Bond Street

Underground Station, along with a number of University

of Leeds projects including the Worsley building and the

Edward Boyle Library.

Western Thermal's Trace Heating division specialises

in providing water at a constant temperature through

a building's pipes and also protection from frost, which

is now a commonplace function for thermal insulation

solutions. It is an important and complex part of any given

project and key to overall insulation packages. The

Company's trace heating systems include self-limiting

Designer Group, with Brookfield Multiplex Construction

Europe Ltd being the main contractor.

Western Thermal's Thermal division is one of the

country's leading heating and ventilation insulation

contractors. Its services meet the ever-increasing

demands for both economic and environmental

efficiency while meeting client specification and

manufacturers' recommendations, for both internal and

external applications. The Company has also pioneered

specialist insulation jackets using the latest thermal

materials, which are both removable and reusable. These

include valve and flange jackets, bespoke Plate heat

exchanger jackets, which are used in international

weather stations, and bespoke trace heated jackets,

which are predominantly used within the food processing

industry.

heating cables, flexible resistant series heating cables,

and metal-sheathed resistant series heating cables.

The division has contributed to numerous landmark

projects including 8.5 kilometres of trace heating and

frost protection at One Hyde Park, one of London's most

prestigious residential developments. More recently,

the Company has delivered its trace heating and frost

protection services at Royal Liverpool University

Hospital, the Battersea Power Station development, and

C610 Crossrail.

For more information, please visit:

http://www.western-thermal.co.uk/

40

www.insulatenetwork.com
---
CREATE THE SOUND GOOD FACTOR

WITH ACOUSTIC SOLUTIONS FROM ISOVER

The sound good factor is here and you can

build it into every property with Isover

acoustic insulation.

This means you can create homes that sound

as good as they look, while not just passing

acoustic regulations but surpassing them.

For your customers, this means enjoying

every room to the full without the worry

of noise disturbing anyone else. Use Isover

in your next build and see for yourself how

the sound good factor can enhance build

quality and increase sales.

41

Find out about turning sound into

sales at soundgoodfactor.co.uk
---
The only independent insulation industry trade magazine

Industry Event

Ecobuild 2018

The Event Shaped by The Industry

Ecobuild is returning to the ExCeL London in March 2018 and under the new ownership of Futurebuild

Events Ltd, things are set to be very different. The event is being designed and built around the industry,

bringing to life the latest technology, freshest thinking and most innovative materials.

The event is not only being shaped through comprehensive

industry feedback, but also with direct input from

leading industry influencers. These include Lynne Sullivan,

Nathan Baker, Julie Hirigoyen, Darren Richards and Peter

Murray, who are all members of the ecobuild Steering

Group which is helping to set the agenda for the event.

Martin Hurn, Managing Director of Futurebuild

Events, explains: "New, independent ownership offers a

unique opportunity to completely overhaul the event. We

believe that to be as relevant and valuable as possible,

we need to understand and act on what built environment

professionals want to see at ecobuild. We see our role as

to facilitate the agenda, rather than dictate it, and we also

believe that it is more important to bring future trends to

life, rather than just thinking and talking about them."

The CPD Accredited Conference Programme

Sustainability will be a key focus at ecobuild 2018, giving

built environment professionals the opportunity to highlight,

debate and present issues that matter now and

will still matter in the future. Central to the event is the

comprehensive conference programme, curated by top

industry figures. The programme will provide an interactive

platform for examining the big issues facing the built

environment and creating an action plan for change, focused

on real solutions.

Day One begins with some of the most pressing global issues,

delivering the UN Sustainable Development Goals,

the Paris Agreement and the New Urban Agenda. The

keynote speaker is Paula Caballero, Global Director of

the Climate Programme at the World Resources Institute.

Paula is one of the driving forces behind the development

of the SDGs.

The conference programme also includes a panel discussion

on the response to the Grenfell Tower tragedy. There

will also be focuses on solving the housing crisis and how

to achieve the aim of making all buildings net zero carbon

by 2050.

Sue James, Content Producer for ecobuild,

commented: "We plan to develop three key recommendations

from each conference session, with audience

support in shaping the outputs. This will ensure that each

topic covered in the ecobuild conference programme

concludes with actions that can be understood and implemented

by the wider built environment."

ecobuild Sustainability Showcases

Surrounding the conference arena will be the ecobuild

sustainability showcases, home to the some of the most

innovative solutions to the issues facing the built environment.

The showcases will truly put sustainability at the

heart of the event.

They will feature two full-scale builds. One of these properties

is the zero net carbon home from Zedfactory which

is designed to minimise fossil fuels and annual energy

bills. It offers a complete response to the housing crisis

with build times reduced to two weeks.

They are also home to The Hive from The Edible Bus Stop,

a multifunctional, engaging social space. The sustainability

showcases don't stop there, more details about the

confirmed exhibits will be released in the coming weeks.

42

www.insulatenetwork.com
---
www.insulatenetwork.com

The Futurebuild Districts

The conference arena and sustainability showcases are

surrounded by the futurebuild districts, each of which will

act as an immersive and stimulating area where people,

brands and companies will be able to network and develop

profitable relationships.

The Building Performance district is where architects can

look far beyond the construction and design of buildings,

instead considering the wellbeing agenda across new

and HVAC will be presented through a series of seminars

and workshops. The Green and Blue Infrastructure

district will offer solutions in water management, external

landscaping, biophilic design and biodiversity.

New for 2018 is the Timber district, in association with the

Structural Timber Association and supported by Wood

for Good and TRADA. This will be a showcase for the

latest technological innovations and systems, alongside

the Timber Talks seminar programme.

Another new addition is the Concrete district, delivered in

association with The Concrete Centre and This Is Concrete.

Here, information and inspiration will be shared to

realise the potential of concrete as a sustainable material,

as well as its range of solutions for housing, buildings and

infrastructure.

Following its success last year, offsite technology will return

for the second year in partnership with Explore Offsite.

The district will feature a ground-breaking exhibition

of offsite construction solutions and masterclasses.

build, refurb and retrofit projects too. Leading brands

responsible for providing the envelope of a building will

showcase the latest construction materials, products and

technologies.

This district will also be home to the RIBA bookshop and

lounge, a vibrant architect designed space next to the

seminar area. It will be used to promote the RIBA brand,

the benefits of membership and to sell relevant architecture

publications. The design of this area will be decided

through a competition in association with Rockpanel and

ROCKWOOL.

In the Energy and HVAC district, the latest innovations

and best practices across renewables, smart buildings

This year will again see District Energy taken to the next

level. The district will be hosted by the ukDEA and is in association

with the Danish and Swedish Embassies. It's set

to include a programme full of key speakers and debates,

a networking lounge and a product launch pad.

Key Partnerships

ecobuild is working with a number of strategic partners

who are contributing to the overall strategy and shape

of the event to ensure it is wholly reflective of the industry's

needs. Notable partners include the Considerate

Constructors Scheme, CIAT, NLA, Bioregional, CIBSE,

The Edible Bus Stop and the Edge. The event will also

host the BREEAM Awards and the Offsite Construction

Awards.

You can register for a free ticket at www.ecobuild.co.uk/

register. Alternatively, share your thoughts and feedback

about the event by emailing martin.hurn@ecobuild.co.uk.

www.insulatenetwork.com

43
---
Subscribe FREE Online

www.insulatenetwork.com

www.instragram.com/insulatenetwork

www.twitter.com/insulatenetwork

www.youtube.com/channel/insulatenetwork