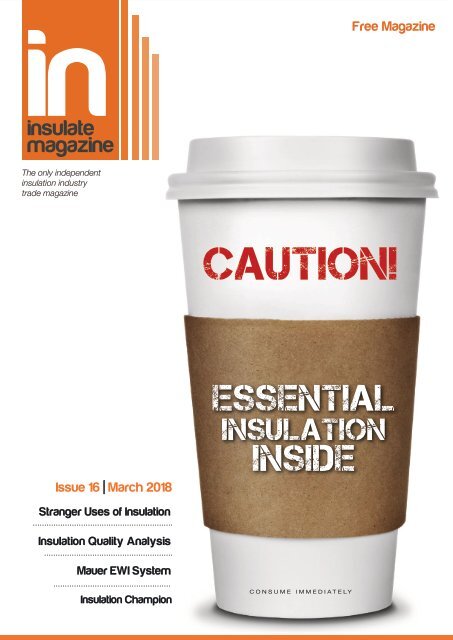 Insulate Magazine - Essential Insulation Inside - March 2018 Issue 16
Insulate Insulation Magazine, Featuring articles on innovative new insulation products, grand design projects, captivating case studies, industry updates and exclusive articles. Essential publication for the construction industry
Insulate Insulation Magazine, Featuring articles on innovative new insulation products, grand design projects, captivating case studies, industry updates and exclusive articles. Essential publication for the construction industry
SHOW MORE
SHOW LESS
Create successful ePaper yourself
Turn your PDF publications into a flip-book with our unique Google optimized e-Paper software.
Free Magazine

The only independent

insulation industry

trade magazine

CAUTION!

Essential

insulation

inside

Issue Issue 15 | 16 February | March 2018

Insulation Stranger Supply Uses and of Insulation Demand

Insulation

A Sound

Quality

Opportunity

Analysis

Are

Mauer

you

EWI

Bricking

System

it?

Insulation Champion

Insulation Innovation
---
The only independent

insulation industry

trade magazine

Insulation

Outlook 2018

The only independent

insulation industry

trade magazine

Published on a monthly basis by Versanta ltd

Corser House, 17 Geen End, Whitchurch, Shropshire, SY13 1AD

Call 01948 759 351

Outside of the UK +44 1948 759351

Monday - Friday 9am - 5.30pm

Issue 14 | January 2018

Website: www.insulatenetwork.com

Standing Out From the Crowd

Email: sales@insulatenetwork.com

NIA Conference Review

Keeping Everything Moving

Review, Reflect and Reset

SUBSCRIPTION INFORMATION

Anyone can subscribe for free online at

https://insulatenetwork.com/insulate-magazine-free-subscription

Subscribe

Free

Subscriptions are available around the world free in digital format.

Our subscriber list is occasionally made available to very carefully

selected companies whose products or services may be of interest

to you. Your privacy is of paramount importance to us and should

you prefer not to be part of these lists then please email your details

and a short message to sales@insulatenetwork.com

WWW.INSULATENETWORK.COM

DISPLAY ADVERTISING.

Contact one of our sales staff to discuss your requirements on

01948 759 351.

Publisher reserves the right to reject any advertising that in its

opinion is misleading, unfair or incompatible with the character of

the magazine.

Outlook 2018

Insulation

We adhere to the IPSO code of practice for editors. Further information

can be found at www.ipso.org.uk

BACK ISSUES OR REPRINTS

Digital back issues can be found online at www.insulatenetwork.

com For printed editions please email contact@insulatenetwork.

com , there will be a postage charge and handling fee of £15+VAT

for each copy requested.

CIRCULATION

Digital: 6,024

Print: 10,000

Total: 16,024

©VERSANTA LTD

No part can be reproduced without the express

permission of the publisher

www.instagram.com/insulatenetwork

www.twitter.com/insulatenetwork

www.youtube.com/channel/insulatenetwork

The only independent

insulation industry

trade magazine

Insulation

Outlook 2018

Subscribe Free

Receive every issue

on release day:

www.insulatenetwork.com

Issue 14 | January 2018

Standing Out From the Crowd

NIA Conference Review

Keeping Everything Moving

Standing Out From the Crowd

Review, Reflect and Reset

Issue 14 | January 2018

NIA Conference Review

Keeping Everything M

Review, Reflec

WWW.INSULATENETWORK.COM NEWS@INSULATENETWORK.COM |
---
www.insulatenetwork.com

Contents

Welcome to the March

edition of Insulate Magazine.

Design of Future Policy : Policy Connect

Revolutionary Aerogel Blanket

6

8

We have just returned from a highly informative and vastly

improved ecobuild. At the event we helped MAUER launch

their new EWI system to the world, the response was

fantastic. You can find out more about it on page 22.

Also amongst this months unmissable articles, MIMA

discuss growing support for non-combustible insulation and

cladding, Lucideon join the NIA and 3M talk all things PPE

compliance. We also have information on Knauf and Veolia's

new glass recylcing facility, a stunning project featuring

Kingspan Insulation and a Tyvek Grand Design in London.

Paul Forrester continues his streak of captivating articles

with observation of more overlooked uses of

insulation and the new MAUER EWI system.

Enjoy!

gOMS Insulation Quality Analysis

9

Pioneering Design Museum : Kingspan 10

Glass Recycling Facilitiy from Knauf & Veolia 12

The Importance of PPE Compliance 13

Lucideon NIA Announcement 15

Support for Non-Combustible Insulation... 16

Stranger Uses of Insulation

18

Mauer EWI System

22

BBA Room in a Roof Scheme

24

Colin Heath

Managing Editor

colin@insulatenetwork.com

@colin_insulate

NIA Helping Landlords

IMA - Wellbeing and the Built Environment

Understanding MEES

Imaginative Building Technology

25

26

29

30/31

Insulation Champion - to be annouced at IEX 32

Jamie Street

Head of Creative

jamie@insulatenetwork.com

@jamie_insulate

26

9

Paul Forrester

Technical Editor

6 18

The UK's only dedicated

trade journal for the insulation industry

3
---
The only independent insulation industry trade magazine

instant insulate

A quick look at what is in store in this months issue of Insulate Magazine.

Head over to page 29 for Understanding MEES

One of the issues highlighted by the

roundtable is that buildings rarely

perform as well in practice as their

designers predict.

Read More: Page 6

A certain amount of common sense

can be applied to questions about

'non-standard' uses, but sometimes

requests for the unusual go beyond the

comfort zone of manufacturers'

expertise.

Read More: Page 18

The building, rated 'Excellent' at its design

stage BREEAM assessment, combines

renewable energy generating technologies

with a highly insulated

construction.

Read More: Page 24

The glass collected equates to over

350 million bottles thrown out

yearly – which could otherwise end up

in landfill or pollute our environment.

Read More: Page 12

In the wake of the tragedy at Grenfell

Tower, what has become clear is that the

support for using non-combustible

materials is growing and growing rapidly

Read More: Page 16

We believe it's important that

landlords have access to the

most trusted and reliable of local

specialists, and we hope that our

online service will enable landlords

to meet their obligations

Read More: Page 25

Sustainable buildings are not just about

energy performance, aesthetics and the

materials that are used to build them, we

must also ensure that the people that use

them are comfortable and happy.

Read More: Page 26

The U-Value is the most important

value for the user-independent determination

of a building's

thermal performance.

Read More: Page 9

Armacell Armagel Aerogel Blanket Turn to page 8

4

www.insulatenetwork.com
---
@INSULATENETWORK

WWW.INSULATENETWORK.COM

insulate network puts

you in touch via every device

www.insulatenetwork.com

insulatenetwork
---
The only independent insulation industry trade magazine

Insulate Insight

Policy Connect to Help

Shape Design of Future Policy

Top business forum and the UK's leading

construction certification body discuss

building performance and consumer protection

for promoting better domestic energy

efficiency in the UK.

Just over a year on from the publication of 'Each

Home Counts', and the launch of 'The Building

Performance Network', it was perhaps a timely

decision for the British Board of Agrément (BBA)

and the Westminster Sustainable Business Forum

(WSBF) to get together and consider associated

issues like closing the building performance gap.

The roundtable 'BPN and progress with Each

Home Counts' 29 January 2018 was hosted by

BBA Chief Executive Claire Curtis-Thomas who is

on the Each Home Counts review team specialising

in Compliance and Enforcement.

Held in Portcullis House at Westminster, the event

was opened by the Chair - Antoinette Sandbach

MP. George Martin, CEO of the Building Performance

Network (BPN) provided an overview of the

network's approach to improving standards, quality

initiatives in the Housing sector and what the BPN

hopes to achieve, and invited participants to discuss

what discuss what they are currently doing to

improve building performance in use.

One of the issues

highlighted by the

roundtable is that

buildings rarely

perform as well in

practice as their

designers predict.

over the coming months. Suffice to say that hopefully

these will result in the deployment of initiatives

that will deliver significant improvements to energy

efficiency in all manner of commercial and

domestic buildings and, more importantly, the

everyday lives of building occupants all over the

UK.

Policy Connect's parliamentary roundtables provide

an intimate forum to discuss relevant policy topics

and issues in open debate with policy-makers and

other stakeholders to help shape the design of future

policy.

The next roundtable event takes place in March and

will focus on infrastructure and flooding.

One of the issues highlighted by the roundtable

is that buildings rarely perform as well in practice

as their designers predict. The difference between

anticipated and actual performance is known as

the performance gap, with actual energy

consumption in buildings found to be between

twice and ten times higher than originally predicted.

Needless to say, this is only a small part of the

bigger picture when it comes to energy usage and

saving initiatives, and the full list of the

roundtable's recommendations will be published

6

www.insulatenetwork.com
---
7
---
Insulate Innovations

Armacell Introduce

Revolutionary ArmaGel Aerogel Blanket

Armacell a global leader in energy efficiency have launched a next generation Aerogel Blanket.

The Armacell ArmaGel HT Blanket is suitable for high-temperature applications up to 650 degrees

C and is available in multiple thickness' to meet specific customer requirements; 5, 10,

15 and 20mm. The Aerogel Blanket is produced at a new production line in South Korea and features

proprietary dust-reducing technology developed by Armacell.

As part of the company's new ArmaGel range, Arma-

Gel HT is optimised for high-temperature applications

up to 650 degrees Celsius. With its exceptionally low

thermal conductivity, it is one of the best performing

insulation materials available today, offering equal

thermal performance at a fraction of the thickness

- up to 80 percent thinner than competing insulation

products. It will introduce new sizes of aerogel

blankets to the market providing the customer with

more choice. 10mm thickness is available today, with

5, 15, and 20mm thicknesses available later in 2018.

ArmaGel HT offers a multitude of benefits. It is lightweight

for improved handling and easier transportation.

For maintenance purposes, product removal is

made simple reducing both downtime and the need

to purchase replacement insulation during regular

maintenance cycles. It cuts easily and conforms to

preferred shapes. It is hydrophobic and breathable,

thereby keeping mechanical equipment drier for

longer and enhancing protection against corrosion

under insulation. It also offers best-in-class acoustic

performance and designed thicknesses reduced by

up to 40 percent.

Effective insulation is a key factor in tackling climate

change, as it is one of the simplest, fastest and most

cost-effective means of improving energy efficiency.

Our new product is environmentally safe, chloride-free

and landfill disposable. In addition, it features

Armacell's innovative dust-reducing technology,

LoDust, making it the right fit for installers.

Patrick Mathieu, President

& CEO of the Armacell Group:

"We are excited to launch the next generation

aerogel technology, enabling us to

deliver a complete portfolio of thermal and

acoustic insulation solutions. In combination

with our core elastomeric flexible foam offering

and design capabilities, the enhanced

performance parameters of ArmaGel deliver

state-of-the-art solutions to our customers

around the globe with an excellent quality/

cost ratio"

8

www.insulatenetwork.com
---
The only independent insulation industry trade magazine

Building Insulation Quality

Analysis Via Unique gOMS

greenTEG AG: Solutions for insulation quality assessments

The gO Measurement Systems (gOMS) is a

cloud-based, wireless system for measuring

U-value, R-value, humidity and temperature in

building physics applications. The system enables

simultaneous measurements with up to 16 sensor

nodes. All measurements can be monitored remotely

in real-time via the cloud. The gOMS is the only

system on the market which generates quantitative

data regarding the building insulation quality (U-value,

R-value) wirelessly and checks it against the strict ISO

9869 norm. All measurements can be made non-invasively.

real-time.

greenTEG AG

greenTEG provides Swiss made thermal sensing

solutions for applications in building physics, photonics,

med-tech, industry, and R&D. The company was

founded in 2009 as a ETH Zurich spin-off. Today,

greenTEG supplies OEMs and researchers at world

class research institutes with sensors and measurement

systems.

Applications in building physics and beyond

The U-Value is the most important value for the user-independent

determination of a building's thermal

performance. Because different parameters can be

measured with the gOMS, various scenarios and

applications are possible. U-Value measurements

are conducted when an energetic refurbishment is

planned and the status quo of a building needs to

be determined in the planning phase. Especially with

older buildings it is often unclear which materials were

used and how their properties change over time.

A further application case is the detection of heat

bridges to identify the source of mold or to prevent

mold growth, for example when refurbishing windows.

Continuous monitoring of facilities such as archives

are also possible.

Specifications

The gOMS consists of a base station and up to 16

sensor nodes. The sensor nodes send the data via

Lora protocol to the base station where they are

transferred via a safe 3G connection to the cloud. The

data can be monitored and analyzed at all times in

www.insulatenetwork.com

9
---
www.insulatenetwork.com

Insulate News

Kingspan Specified

for Pioneering Museum Design

Roof and floor insulation products from

industry leading manufacturer —

Kingspan Insulation — have formed an

integral part of the iconic building envelope for

Scotland's first museum of design.

KENGO KUMA & ASSOCIATES' design for V&A

Dundee sets an impressive figure against the city's

waterfront. Its angular form, wrapped with horizontal

concrete panels, draws inspiration from the dramatic

cliffs of the country's east coast. BAM Construct UK

and Dundee City Council are overseeing construction

of the £80 million museum which is due to open this

September, providing 1,650 m² of world class exhibition

facilities.

The building, rated 'Excellent' at its design stage

BREEAM assessment, combines renewable energy

generating technologies with a highly insulated

construction. To insulate the building's expansive flat

roof, whilst also providing effective drainage, over

6,500 m2 of Kingspan Thermataper TT46 LPC/FM

was specified along with a further 1,000 m2 of Kingspan

Thermaroof TR26 LPC/FM.

The high-performance roofing products were installed

by Q9 Cladding Solutions. They can achieve thermal

conductivities as low as 0.022 W/m.K and are

compatible with most mechanically fixed single–ply

waterproofing systems. Kingspan Insulation's specialist

tapered roofing design team provided a detailed

layout scheme for the products. This ensured that the

build-up met the target thermal performance requirements

with a minimal construction depth, limiting

structural support requirements, whilst also effectively

channelling water off the roof space. In addition, both

products have been approved to Factory Mutual Research

Standard 4470: 2016 for Class 1 Steel Deck

Roof Assemblies and LPS 1181:Part 1.

To insulate the ground floor throughout the building a

further 5,300 m2 of Kingspan Kooltherm K3 Floorboard

was installed. Kingspan Insulation has now released

Kingspan Kooltherm K103 Floorboard as part

of its Kooltherm K100 range of premium performance

insulation boards, offering a thermal conductivity of

just 0.018 W/m.K across all board thicknesses.

As part of the project's BREEAM commitments,

considerable care was taken to ensure the materials

specified met the highest standards in responsible

sourcing. All three Kingspan Insulation products

installed at the museum have been assigned the

highest possible BRE Green Guide Summary Rating

of A+. The insulated boards, manufactured at

Kingspan's facilities in Herefordshire and North

Yorkshire, are also certified as 'Excellent' under the

demanding BES6001 Responsible Sourcing

Standard. As a result, they contributed toward the

award of credits within the Materials section of the

building's BREEAM assessment.

Photo Credit: Ross Fraser McLean

10

www.insulatenetwork.com

10
---
The complete

insulation system for

energy efficiency &

condensation control

AF/Armaflex Class 0

The #1 choice for condensation

control & energy efficiency.

• Closed cell flexible elastomeric foam

provides built in vapour barrier

• Low thermal conductivity for long

term energy efficiency

• Built-in Microban® antimicrobial

protection prevents mould and

bacteria growth

• Euroclass B/BL-s3, d0 for entire

range

• FM and UL approved

Armafix Ecolight

Eco-friendly pipe supports made

using 100% recycled PET foam.

• Prevents thermal bridging at pipe

fixings for HVAC applications

• Available in 13, 19, 25, 32 & 40mm

thickness

• Density of 95 - 105kg/m³

• Thermal conductivity 0.033 W/(m•k)

• Temperature range -30°C up to

+80°C

• Self seal closing seam for fast

application

Armaflex RS850 Adhesive

The drip-free adhesive for faster

and cleaner application of

Armaflex.

• Reduced solvent emissions, ideal

for installations in workshops and

confined spaces

• Extended 3 year shelf-life

• Thixotropic, non-drip gel based

adhesive

1. 2. 3. INSTALL

1. Fit clamp to threaded rod

& insert Armafix Ecolight pipe

supports.

2. Fit adjoining lengths of

AF/Armaflex Class O tube.

3. Seal Ecolight pipe supports &

AF/Armaflex Class O tube with

Armaflex RS850 adhesive.

MAKING A DIFFERENCE AROUND THE WORLD

t: 0161 287 7100 e: info.uk@armacell.com w: armacell.co.uk
---
Insulate News

Knauf and Veolia Open

New High Tech Glass Recycling Facility

Knauf Insulation and Veolia have officially opened a new high-tech glass recycling facility in St

Helens. Each year, over 60,000 tonnes of used glass bottles and jars will now be given a new

lease of life as the partners join forces to clean, separate and refine household glass, before

transforming it into high performance, energy-saving insulation solutions.

Veolia's world-first facility uses the latest technology

to sort and separate glass at a micro-level

with exceptional accuracy, delivering an ultra-pure

glass cullet. The state of the art machinery includes

vibrating screens for size sorting, magnets to extract

ferrous materials and eddy current separators[i] for

non-ferrous materials.

The new facility enables Knauf Insulation to secure its

glass supply and maximise the use of recycled materials

instead of virgin minerals. Also the proximity of

the new facility will save approximately 375,000 miles

of road journeys.

The glass collected equates to over 350 million bottles

thrown out yearly – which could otherwise end

up in landfill or pollute our environment. With a £10M

investment and a decade long commitment from

Knauf Insulation, both companies are demonstrating

their dedication to sustainable and circular manufacturing.

John Sinfield, Managing Director at Knauf Insulation

Northern Europe, said:

"Our insulation solutions play a key role in helping reduce

carbon emissions and benefit the environment.

and the fact we have delivered this in partnership with

Veolia demonstrates what can be achieved when

two leaders in their respective fields work together to

achieve mutual goals."

Estelle Brachlianoff, Senior Executive Vice-President

at Veolia UK & Ireland, said:

"This innovative new facility is a £10 million investment

in the UK green economy which is good for

jobs, good for the community and good for the

planet.

"To see our site officially open today is a vote of confidence

in our technology and the quality of cullet we

produce - and by using a significant amount of this

glass in its manufacturing process, Knauf Insulation is

setting the standard for other manufacturers to follow

– making use of recycled material mainstream rather

than niche.

"We want to see this first-of-its kind partnership pave

the way for others; where waste is seen as an

indispensable commodity and given a completely

new lease of life. It would be fantastic to see more

key industry players follow Knauf Insulation and incorporate

circular economy thinking into production."

"We have been using recycled glass in our manufacturing

process for some time already. As well as

securing our glass supply, the quality and consistency

that we are getting now from the new facility will

enable us to increase further the percentage of glass

cullet we use in the manufacture of our Glass Mineral

Wool insulation solutions, taking us one step further

in our sustainability journey.

"This is also a real boost for the circular economy

12 www.insulatenetwork.com
---
www.insulatenetwork.com

Insulate Columnist

The Importance

of PPE Compliance

Insulate Magazine columnist George Elliott, a technical specialist at science-based technology company 3M,

discusses the importance of PPE Compliance

Pespiratory protective

Personal Protective

Equipment (PPE) can be

vital for protecting workers

who are fitting and removing

insulation, but it can quickly

become redundant when worn

incorrectly.

Non-compliance can come in

many forms but is typically seen

when workers do not wear their

PPE correctly, or choose not

to wear it at all. It is therefore

important to make compliance

part of an organisation's culture,

putting safety at the forefront of

the minds of both workers and

management.

The Personal Protective Equipment

at Work Regulations Act

1992 states that employers must

give personnel suitable training on

the use of supplied PPE and ensure

that it is worn when required.

Items such as hard hats, respirators,

goggles and protective

clothing can go a long way

towards protecting an individual

from hazards associated with the

insulation industry – but PPE is

only effective when it is worn, and

worn correctly.

Choosing PPE

When selecting which items to

supply workers with, health and

safety managers should choose

equipment that is not only adequate

for the job, but also suitable

for the wearer.

While the level of protection given

by PPE is of high priority, comfort

is also a very important factor

in the selection process. Considering

the size, fit, weight and

allowable movement in the PPE is

therefore essential.

Involving workers in the selection

process can help to reduce

incidences of non-compliance or

disregard for PPE. The Workers'

Choice campaign by 3M aims to

ensure that supplied equipment

does not become a hindrance to

an individual and fulfils comfort

requirements.

Poor compatibility between PPE,

like safety glasses and respiratory

protection, can often be a reason

behind non-compliance. If safety

glasses and respirators have not

been designed to accommodate

one another, wearers may find

that their eyewear steams up

(causing them to remove the item)

or their PPE fits incorrectly on

their faces – potentially reducing

the protection provided.

3M offers extensive free product

trials, giving employees time to

initially try solutions and managers

a chance to ensure that there is

worker buy-in.

Open Discussion

Encouraging open conversation

about PPE use, and giving

a workforce methods of raising

issues, can be a positive way to

improve compliance in the workplace.

Sometimes personnel simply do

not realise the seriousness of

incorrect PPE wear and experienced

workers may think they

know best.

3M also offers questionnaires to

help health and safety managers

get valuable feedback from their

workforce. This helps to identify

the reasons why they may not be

wearing their PPE – perhaps because

it's uncomfortable, restricts

their ability to do their job or that it

takes too long to put on.

www.insulatenetwork.com

13
---
A key part of improving compliance

rates is properly training

employees on not only how to

wear their equipment correctly, but

also why it is important to do so

For more information on this topic,

or for information about the

selection and use of 3M PPE in the

workplace, call the 3M helpline on

0870 608 0060.

Training

Sometimes non-compliance can be unintentional

- employees may not be aware they are wearing

their PPE incorrectly.

A key part of improving compliance rates is

properly training employees on not only how to

wear their equipment correctly, but also why it

is important to do so. Those informed about the

hazards they face may be more likely to want to

protect themselves.

The type and level of training required will depend

on the nature of the work and the hazards

involved. Workers should be informed of the

correct way to wear each item, the approved

cleaning, maintenance and storage methods,

and also how to spot and report defects.

Setting the Tone

Compliance should be regularly monitored and

nonconformity addressed promptly.

Managers have to be noticeably visible in complying

with any safety requirements. Wherever

possible, they should engage with workers in an

encouraging manner if and when they observe

non-compliance. Asking non-confrontational

questions that tap into the reasoning behind the

non-compliance can help with making future

improvements.

In addition to mandatory signage, it can also be

useful to display awareness posters that signify

the risks and rules of PPE compliance around the

workspace. This will keep safety at the forefront

of everyone's mind.

14
---
www.insulatenetwork.com

Insulate News

Lucideon Becomes

Member of National Insulation Association

Lucideon, the international

materials development

and commercialization

organization, is delighted

to announce that it is now a

member of the National Insulation

Association (NIA).

The NIA represents manufacturers,

system certificate holders

and installers of cavity wall, external

wall, internal wall, loft, roof

and floor insulation and draught

proofing in the UK.

For Lucideon, membership of the

NIA will facilitate introductions

within industry and the promotion

of its services, as well as the

opportunity to attend members'

meetings and the annual conference.

The sharing of industry

news and briefings on policy

matters, regulations and technical

matters will ensure Lucideon

remains abreast of developments

within this sector.

Neil Marshall, chief executive

at the NIA, said:

"As the insulation industry's

leading trade association, we're

very pleased to have Lucideon

join us as they will not only bring a

wealth of knowledge and expertise

regarding EWI, but will also

strengthen our industry voice with

Government and external stakeholders."

Joanne Booth, business

manager, construction at

Lucideon, added:

"Being a member of the NIA will enable us to

further support and provide up-to-date advice to

our own customers who are key players in the

External Wall Insulation (EWI) industry.

"I'm very much looking forward to participating in

the EWI Technical Committee meetings. Using our

extensive knowledge and testing experience, we

will be able to provide an insight into the key

factors affecting the performance of EWI systems

under the current controversial aspects of

durability and resistance to wind loads which are

negatively affecting the industry."

Lucideon provides support

throughout the lifecycle of

products, systems and buildings,

from developing new materials

and laboratory testing, to factory

production control and on-site

investigations.

The purpose-built, large-scale

construction laboratory at Lucideon's

Stoke-on-Trent headquarters

has a 300 anchorage strong

floor, loading rigs with 900 tonne

capacity, as well as large-capacity

hygrothermal testing chambers

and an indoor dynamic wind

loading and wind uplift test rig.

To find out more about Lucideon

and its service offerings for the

construction industry, please visit

www.lucideon.com/construction.

www.insulatenetwork.com

15
---
Insulate insulate Columnist columnist

Growing Support for

non-combustible insulation and cladding

Sarah Kostense-Winterton Executive Director, MIMA

I

n the wake of the tragedy at Grenfell Tower,

what has become clear is that the support for

using non-combustible materials is growing

and growing rapidly. Along with MIMA, the Royal

Institute for British Architects, the Association

of British Insurers, the All-Party Parliamentary

Group on Fire Safety and Rescue and the Communities

and Local Government Select Committee

have all recommended the use of non-combustible

materials only on high rise and sensitive

building façades.

Building owners have also been seeking support in

assessing the safety of their buildings with the Metal

Cladding and Roofing Manufacturers Association

(MCRMA) publicly stating in November 2017 that,

"Guidelines are not legal requirements, and should

be considered the minimum acceptable standards.

The legal requirement is for buildings to adequately

resist the spread of fire and therefore, common sense

suggests the use of limited combustibility materials

wherever reasonably possible. Furthermore, it is a

great concern that to date there is no guidance to

discourage highly combustible façades from being

installed on buildings under 18m (such as a five-storey

block of flats)."

Sarah Kostense-Winterton is Executive Director of MIMA, the Mineral

Wool Insulation Manufacturers Association, the industry trade body for

non-combustible, breathable insulation which provides an authoritative

source of independent information and advice on glass and stone wool

insulation. MIMA actively promotes the benefits of mineral wool insulation

and the contribution it makes to the energy efficiency of buildings and to

the comfort and well-being of their occupants.

For further details of the guidance, please visit MIMA's website at http://

mima.info/info-centre/news/ or contact Sarah at sarah@mima.info

This guide provides information in respect to building

façades, and includes details of A1 and A2

Euro-class rated non-combustible façade materials

which meet the highest standards of performance

in relation to fire whilst also delivering on energy

efficiency.

Additionally, whilst our guidance focusses on building

façades, the guidance it offers is also relevant to

other building aspects such as at roofs and cavities

which contain insulation materials.

MIMA has responded to this call by publishing

guidance recommending that all mid- and high-rise

buildings of 12 metres and over should be reviewed,

as well as all sensitive and high occupancy buildings

such as hospitals, schools, hotels and sports

arenas, regardless of their height.

16
---
The only independent insulation industry trade magazine

Industry guidance and recommendations for non-combustible materials only

The MCRMA supported their November statement with the following advice to its members to be taken in

conjunction with professional advice:

PE ACM (Polyethylene Aluminium Composite Material) should not be used for

construction, internally or externally, at any height.

The overwhelming priority is to satisfy yourself that you have taken reasonable

steps to ensure that the building adequately resists the spread of fire, not

that you have followed the minimum requirements of the current guidance.

A marginal cost benefit is not a reasonable justification for choosing a significantly

more combustible product.

Height – for the purposes of fire safety, and in the knowledge that refurbished

buildings may have poor standards of passive fire safety, the MCRMA considers

the appropriate threshold for height consideration to be 12m. This

represents a typical three-storey building where one would have a reasonable

expectation to survive escaping via a window, in the event that stairs were

inaccessible.

High Buildings (>=12m) – the major elements of the external façade should

comprise only limited combustibility materials (subject to items 7 and 8).

These include the sheathing board (where used), the insulation, the mounting

system and the external facing material. Thermal isolation pads and vapour

membranes located between the sheathing board (or structure) and insulation

are not included, but the total combustible energy content of minor

components should not exceed 20 MJ/ m2. There are currently too many

concerns regarding the BS 8414 test to confidently use it as the sole measure

of fire safety of an 'as installed' system. The MCRMA is seeking further

evidence on the robustness and predictability of BR 135 results when systems

contain commonly found construction errors and variations such as

wall penetrations.

Low Buildings (< 12m) – having no limitation on the combustibility of low rise

buildings (which often includes hotels, hospitals, schools) is not adequately

preventing the spread of fire.

If combustible insulation is used, it should be Euroclass B or C and only used

in conjunction with limited combustibility (A1 or A2) external facing material.

If combustible external facing material is used it should be Euroclass B (and

used with class A1 or A2 insulation).

Toxicity –It is possible that in future, toxicity and smoke performance will

be regulated. It is nevertheless common sense to choose materials with

superior toxicity and smoke characteristics (i.e. 's2' or above).

'Limited Combustibility' – for the purposes of this guidance, also includes

'non-combustible'. Above 12m, limited combustibility external facing products

that rely on bonding or adhesives for their mechanical integrity must

prove their mechanical stability in a fire through the successful pass of a BS

8414 test. This includes ACM material, non-mechanically fixed materials

and sandwich panels.

Low melting point materials – care should be taken with materials such

as zinc. Above 12m, the MCRMA would advise where a material is specified

with a melting point below aluminium, that a BS 8414 test verifies

the mechanical performance. Similarly, MCRMA advises against using an

external facing material that has a significantly higher melting point than the

mounting system (e.g. Corten on aluminium). There is a danger in such situations

that the load bearing framework could disintegrate in a fire prior to

the facing material, resulting in a catastrophic collapse of the entire façade.

Roofing – MCRMA reminds members that similar diligence should be

shown when considering the re performance of a roof.

Product Identification – missing or incorrect product marking was a major

obstacle in the identification of materials following the Grenfell fire. Given

the difficulties associated with identifying similar looking materials, MCRMA

recommends that the installed major elements are traceable and identifiable

(e.g. through visible markings or radio frequency (RFID) tags). This is not

only good quality control practice but will also help building control inspectors

check that the correct materials are being used during construction.

The Ministry of Housing, Communities and Local Government (MHCLG, previously DCLG) has also produced a series

of guidance notes for building owners since June 2017. These notes have included information on assessing the materials

on buildings, assessing the compliance of the materials used and undertaking remedial works.

MIMA's guidance will be available at the beginning of March and will be circulated to a wide range of stakeholders,

including building owners, local and national government organisations and departments as well as Ministers and

Parliamentarians.

www.insulatenetwork.com

17
---
www.insulatenetwork.com

Exclusive Insulate Column

Stranger Uses of

Insulation

Paul Forrester Technical Editor, Insulate Magazine

Insulation should be a reliable sector of construction

in which to work - most products

are made for specific applications, certified

to demonstrate their suitability in those applications,

and sold via a distribution network designed

to see them reach building sites. But what

happens when people get other ideas? by Paul

Forrester

Although the construction industry's resistance to

change is frequently cited as a bad thing, it does offer

one or two perks. Repeating and refining a limited

number of methods or processes, for example, quickly

builds a vast database of knowledge about what works

and what doesn't.

The journey of manufacturing, testing and

approving products makes sure they're used

appropriately and safely, and will do what the manufacturer

claims when used as part of those proven building methods.

For anybody offering technical support in the use of

insulation products, that predictability is a foundation

for confident, accurate advice.

New tricks

There will always be projects where unusual site conditions

are encountered, or where a unique detail needs

treating in a different way.

In such situations, the architect or specifier might be

aware of it and tackle the issue head on. Other times,

the manufacturer's technical helpdesk might spot a

potential stumbling block and pass the query back for

further thought.

A certain amount of common sense can be applied to

questions about 'non-standard' uses, but sometimes

requests for the unusual go beyond the comfort zone

of manufacturers' expertise. Every once in a while,

somebody throws a curveball.

The next section of the article relies heavily on a background

in rigid foam insulation, but sales and technical

staff working for manufacturers of other insulation types

undoubtedly get their fair share of strange requests for

advice too.

Question Time

Of course, not long after the article's publication, the A

short quiz for you: which of the following are real applications

in which people wanted to use rigid insulation

boards?

• Lining the hull of an aluminium catamaran.

• Refurbishing an oast house.

• A hog roast cooking pit.

• A chamber storing, and keeping warm,

large pots of honey.

• In the floor of a chimpanzee enclosure.

• For a new building at an owl sanctuary.

Strength of Feeling

It is, as you have probably guessed, a trick question.

They're all real, and a couple of them are not as

detached from common practice as they might sound

(the owl sanctuary, meanwhile, is both real and simply

a fun reference for any Alan Partridge fans).

Where the chimpanzee enclosure was concerned, a

floor is a floor regardless of what species of great ape

walks on it.

18 18

www.insulatenetwork.com
---
A certain amount of common sense can be

applied to questions about 'non-standard'

uses, but sometimes requests for the unusual

go beyond the comfort zone of manufacturers'

expertise.

www.insulatenetwork.com

19

19
---
20 www.insulatenetwork.com

The only independent insulation industry trade magazine

It was a perfectly normal floor with no unusual loads

and, as such, merited no special consideration

beyond its potential to one day inspire a magazine

article(!).

Oast houses were buildings for drying hops as part of

the brewing process, most commonly found in South

East England and the West Midlands. Many are

converted and refurbished, mainly for domestic use

(including in this example), and are typically characterised

by their unusual shape. The only way to sensibly

fix rigid sheets was to a timber frame constructed

internally, avoiding the need to follow the contours of

the structure.

Stranger Things

The catamaran, the cooking pit and the warming

chamber were all less clear cut. The conditions in

which the insulation was expected to be used, the

way it would be fixed, and the surrounding constructions

were all unclear.

unconventional applications doesn't just mean being

willing to seek advice. It means being prepared to

potentially consult several different sources.

It also means being prepared to work

collaboratively to try and arrive at a solution that

has the best chance of succeeding. There's a good

chance the person you speak to wants to help but

is simply uncertain - perhaps because the product

they're giving advice about is not well suited to your

proposal, or because the information they're being

asked to make a judgement on is insufficient.

If the inclusion of insulation is not part of an holistic

approach to making the chosen project and

application as efficient as possible then there is little

to be gained from installing it in an isolated area -

because the lack of any resulting benefit will be most

unexpected.

It was possible to understand why someone wanted

to use insulation for these distinctly different applications,

but it was difficult to understand how best to

use it to achieve a good result - or even what a good

result would be!

There are no clearly defined U-value targets for these

situations; it is not obvious how to achieve continuous

insulation, or whether vapour control measures

are a necessity. The client couldn't put into words exactly

what they wanted to achieve - they just wanted

to know if the insulation was 'suitable'.

And that's a difficult question to answer. Just because

something could be used, does it mean that it

should be used?

Grand Designs

IProblem solving is inherent to the construction

industry, finding solutions for new ideas and

unfamiliar situations. But specifying insulation for
---
@INSULATENETWORK

WWW.INSULATENETWORK.COM

insulate network puts

you in touch via every device

www.insulatenetwork.com

insulatenetwork
---
www.insulatenetwork.com

New Product Innovation

Mauer EWI System

Paul Forrester Technical Editor, Insulate Magazine

Freezing cold weather gripped the UK at the

end of February and into March, and the

deficiencies of the country's housing stock

were once again laid bare for all to see. A gas

supply warning, issued at the height of the poor

conditions, only served to highlight the fragility

of relying heavily on mostly imported fossil

fuels.

It's easy to talk about pursuing better standards for

new buildings as an answer to this. That remains

important, but the real differences stand to be made

in tackling existing homes and buildings.

Energy bills and fuel poverty; unhealthy buildings

and weather-related fatalities (including overheating

in summer); carbon emissions targets and the UK's

contribution to climate change - all will remain an

issue without ambitious retrofit targets.

Mixed success

Government schemes like the Green Deal and ECO

have tried to kick-start energy efficiency improvements

with varying degrees of success. Where improvements

to existing homes have been made, they

have tended to be the 'low hanging fruit' of relatively

straightforward solutions.

Achieving a wider level of retrofit, however, means

engaging with and incentivising owner-occupiers and

the private rented sector.

With that in mind, April 2018 sees minimum energy

efficiency standards for rental properties come into

effect. From the beginning of the month, landlords will

not be able to offer new leases on properties in Energy

Performance Certificate (EPC) bands F or G. In

2020, active leases will fall under the regulations too.

An English Housing Survey in 2014 suggested there

are more than a quarter of a million private rental

properties in England and Wales that do not meet the

minimum band E requirement, and there are already

calls to tighten the rules to band C by 2030.

Mission impossible? Not necessarily...

Mauer UK Ltd want to help tackle these issues, particularly

fuel poverty. Achieving retrofit at scale means

finding new solutions to improve the building fabric

of properties with solid walls or narrow, hard-to-treat

cavities - thereby reducing fuel consumption and

energy bills for occupants.

The team at Mauer, led by Dan and Matt, have immersed

themselves in the development of a unique

external wall insulation (EWI) system providing an

efficient and cost-effective answer to the challenges

faced by existing solutions.

The self-funded project has led to the first genuine

innovation in the EWI industry for several years, and

they are proud to introduce it to the readers of Insulate

magazine.

Embracing off-site manufacturing (OSM)

One of the difficulties of producing a viable insulation

solution is the variety found across the housing stock.

A system that is easy to apply on one site may be

impossible at another, and that uncertainty is harmful

to the success of the industry.

Recognising this variety, Mauer use laser-scanning

technology to digitally survey each property. The

results are uploaded to CAD software to create a

bespoke design to millimetre accuracy. In turn, that

design informs a manufacturing process that takes

full advantage of the benefits of OSM.

Every insulation component is produced and cured in

factory conditions before being delivered to the installer,

fully finished, ready for use as a

project-specific 'kit'.

22

www.insulatenetwork.com
---
23

23

Product Features Summary

• Ideal for new and existing buildings; traditional procurement or modular build

• Manufactured off-site; installation is fast and not weather dependent.

• Independently tested to ETAG 034 (European technical approval of kits for external wall claddings).

• Complete system, including composite facade board (CFB) and steel framing system, assessed and awarded an Agrement

certificate by Kiwa BDA.

• Durable, low-maintenance and robust: suitable for any exposure and impact zone.

• Unrivalled structural stability under wind loading.

• U-value of 0.295 W/m2K, based on TRISCO numerical modelling calculations.

• Core insulant material: Knauf Supafil Frame (blown mineral fibre giving complete coverage).

• Overall fire rating of Euroclass A2 (non-combustible).

• Insurance-backed product.

• Eligible for ECO funding.

• Complete traceability of all raw materials.

• Mauer is a working partner on several UK and European energy efficiency and innovation projects.

• Approximate 25% cost saving compared to conventional EWI solutions.

• Choice of finishes: brick or stone-effect all derived from one Mauer-specific raw material. Colour matching available, and

bespoke patterns and sizes available.

Working with Mauer

Visit mauer.uk.com/get-in-touch to find out more

about the Mauer EWI system, case studies and

its further development, or to enquire about using

it on a project or becoming an installer.

The Mauer technical team assist throughout,

including a constant on-site presence and

monitoring of the design, production (based in

East Lancashire) and installation.
---
www.insulatenetwork.com

New BBA Room in a Roof

Scheme Cuts Inspection Costs

IA unique scheme to make Room in Roof

installation compliance quicker and cheaper

has been launched by the British Board of

Agrément (BBA).

Just one inspection is required with the BBA's new

Room in Roof Insulation Installer Scheme, the first of

its kind in the industry.

"This new all-inclusive service makes it quicker

and more cost-effective for insulation contractors

to ensure their room in roof projects comply with

regulations," said Ken O'Sullivan, Head of Audit &

Inspection at the BBA. "Until now installers have been

required to gain separate approvals for pitched roof

and internal wall insulation installations. This new

scheme requires just one, lowering costs and saving

time for contractors."

Properly insulated loft conversions and rooms in roofs

can retain up to 25% of heat generated in a house.

Work must be done correctly to ensure it complies

with energy efficiency, ventilation, fire protection

standards and Building Regulations. The RiR scheme

has been developed following feedback from BBA

competent installer scheme members, leveraging the

technical excellence offered by the BBA and its Approved

Installer network to deliver properly and safely

insulated rooms in roofs in a more cost-effective and

timely way.

Existing BBA Approved installers need only ask to

join the scheme. Those not yet BBA Approved must

register for assessment.

The British Board of Agrément was formed in 1966

and offers certification, testing, audit and inspection

services to manufacturers of construction products

and systems and installer approval. It is also the UK's

leading authority on the assessment of insulation

products and installation techniques.

For further information contact eives@bbacerts.co.uk

24

24

www.insulatenetwork.com
---
www.insulatenetwork.com

Insulate Columnist

NIA Helping Landlords

Meet New Energy Efficiency Regulations

Insulate Magazine columnist Neil Marshall, Chief Executive of the National Insulation Association

A

The National Insulation

Association (NIA) is

providing assistance to

private landlords to help them

meet new regulations by

providing access to NIA

installer members to carry out

work.

On 1st April 2018, the Government

is introducing new regulations

in England and Wales which

will require private landlord's with

premises that are rated EPC band

F or G to upgrade them to band

E by installing insulation measures

before they can renew tenancies

or re-let the properties.

Neil Marshall, Chief Executive of

the NIA commented: "Landlords

can contact their local NIA Installer

member free of charge through

the installer postcode locator tool

on our website www.nia-uk.org

to obtain a survey and quotation

and details of grants available to

help pay for the work. By using

an NIA member, landlords can be

safe in the knowledge that the installer

meets stringent criteria and

has signed up to the NIA's Code

of Professional Practice providing

added assurance and recourse."

"We believe it's important that

landlords have access to the

most trusted and reliable of local

specialists, and we hope that our

online service will enable

landlords to meet their obligations

by making their properties more

energy efficient."

"Landlords should be thinking

about what they need to do to

meet the Minimum Energy Efficiency

Standard (MEES) and how

they can provide warmer homes

for their tenants. The minimum E

rating may be raised further in the

future and so landlords with buildings

rated F or G may decide that

they wish to spend more than the

minimum in order to bring those

buildings to D or above."

For more information about all

the work above and

membership of the NIA

please email

neil.marshall@nia-uk.org

www.insulatenetwork.com

25
---
www.insulatenetwork.com

Insulate Columnist

Wellbeing

and the Built Enviroment

Simon Storer, Chief Executive of Insulation Manufacturers Association (IMA)

Wlhether it is at home, in workplaces, leisure facilities or healthcare environments, there can

be no doubt that people spend large amounts of their time in buildings. In the drive towards

both sustainability in construction and reducing our carbon footprint, we need to ensure that

we build with this in mind. So, naturally we should be creating buildings that ultimately make people

feel healthier and happier.

We already know that a well-designed

and insulated building fabric

provides the benefits of energy

reduction, lower fuel bills and

better control of internal temperature,

keeping the occupants warm

in winter and cool in the summer

which all adds to their comfort and

wellbeing. But it's not just an issue

of temperature that impacts our

wellbeing; we need to design to

control humidity and consider the

acoustic and visual comfort of occupants.

Well-designed ventilation

systems promoting good indoor air

quality, coupled with good natural

light are essential elements for

good health.

Of course, the improved health of

building occupants is a key consideration

since warm, dry homes

help to reduce the impact on the

NHS by the most vulnerable in our

society. Living in under-heated,

cold and draughty homes can

pose severe health risks, due to

the higher instances of damp and

mould, which exacerbates health

issues such as asthma, bronchitis,

heart and lung disease.

A comfortable thermal environment

that will meet all these needs and

those of all occupants is of course

a challenge, particularly when you

take into consideration individual

preferences and also the vagaries

of a building's thermal environment.

High performance PIR insulation

has an important role to play in

any new build or retrofit project

which aims to substantially raise

thermal performance standards

and improve the building's internal

environment. Good design and

workmanship also play their part,

as does good detailing. Ultimately,

it's a balancing act of a complex

set of interdependent factors –

however, the benefits of getting it

right are worth it.

Sustainable buildings are not just

about energy performance, aesthetics

and the materials that are

used to build them, we must also

ensure that the people that use

them are comfortable and happy.

The design of our built environment

has a significant impact on

the nation's health and we need

to ensure that we get it right first

time in order for everyone to feel

better about themselves in the

longer term, and to ensure that we

do not have to go back and retrofit

buildings in the future because we

failed to deliver today the highest

performing insulation that is

practically and economically

available.

For more information about

Insulation Manufacturers

Association visit the official

website:

www.insulationmanufacturers.org.uk

26

www.insulatenetwork.com
---
Sustainable buildings are not just about energy

performance, aesthetics and the materials that are used

to build them, we must also ensure that the people that

use them are comfortable and happy.

27
---
A site for

sore eyes

Looking at the advantages of BBA Certification

As you well know, major construction work on building sites

involves a huge amount of product and materials checking, not

least to make sure everything meets the exacting requirements

of building regulations. This can be stressful at the best of times

and a helping hand is always welcome.

That's why more and more people are coming to the BBA for

off-site certification of their products. For many years now, our

work in the offsite construction sector has brought peace of mind

to hundreds of architects and manufacturers alike.

BBA Agrément Certificates are widely read and respected by

industry decision-makers who want to select innovative products

that have been thoroughly assessed by the BBA. Our assessors

have decades of experience in evaluating Offsite Construction,

and we are currently assessing many new systems, adding to the

many already approved including insulated concrete formwork,

SIPs and framed systems.

Of course, our main focus is on the requirements of Building

Regulations — not just in England and Wales, but also in Scotland

and Northern Ireland. But we go much further than that. We

want to ensure that a system is not only waterproof, warm and

structurally sound; it has to be durable, too. No-one wants to buy

a system with a short life expectancy, so we seek to ensure that it

will last for an appropriate period of time.

Neither are our assessments simply desk exercises. As well as

testing, we go out to the factory to check system documentation

and control, making sure that the specification we approve is

capable of being produced consistently.

We also go out on site to see units being offloaded and installed.

That's because we know that what may seem simple when

explained in a dry office or factory can turn out to be very

different on a building site.

Once we have gathered data from testing, factory inspections

and site surveillance, we consider how we can use it to establish

that the requirements of Building Regulations and other statutory

or non-statutory documents have been met.

BBA Agrément Certificates are regarded as quite simply the best

assurances you can get for your off-site products. With BBA's 50

years of unrivalled expertise in building and construction

certification, it's easy to see why.

clientservices@bba.star.co.uk

www.bbacerts.co.uk

01923 665300
---
The only independent insulation industry trade magazine

Insulate Columnist

Understanding MEES

How Landlords Can Prepare for April Deadline Day

Duncan Voice, Store Manager, Insulation Superstore

F

rom April 2018, new MEES (Minimum Energy Efficiency Standards) will come into force, meaning

a landlord cannot renew or grant tenancies of longer than six months if their property does not

meet strict minimum Energy Performance Certificate (EPC) standards. Failure to comply, and if

the EPC rating of a property is an 'F' or lower, landlords are liable to pay a substantial fine, alongside

the long-term loss of valuable rental income.

Initially applying to domestic and non-domestic lettings

and lease renewals, surprisingly only one third of UK

landlords are aware of the new MEES rules, and with

enforcement set to begin from next month, it is essential

that changes are made to failing properties now to

avoid hefty penalties – potentially up to £150,000.

With MEES set to apply to all privately rented residential

property from 2020 and to all existing non-domestic

leases by 1st April 2023, Duncan Voice,

Construction Materials Online offers guidance on how

to successfully navigate the standards, as well as

outlining why making the right choice in materials can

help landlords future proof their property.

MEES Basics

Facing global pressure to reduce carbon emissions

within the built environment, and to make the UK's

housing stock more efficient and attractive, MEES was

first introduced by the Government in 2015. Contributing

to the UK's target of reducing CO2 emissions for

all buildings to around zero by 2050, and with Build

Regulations ensuring that new properties meet modern

efficiency standards, the primary aim of MEES is to

improve the energy output of the nation's oldbuildings.

Enforced by Local Weights and Measures of Local

Authorities, MEES are based on an EPC rating of E

and above – any property which is graded as an F or

G will be considered unlawful to let, unless significant

improvements are made to improve its energy efficiency.

Properties which need to meet these standards

include any domestic privately rented property, with

only a few possible exemptions, including some listed

buildings.

While likely to be seen by many as an inconvenience,

MEES offers several opportunities for landlords. For

those with non-compliant properties, there is an

opportunity to potentially increase market and rental

value following energy efficiency upgrades, with tenants

also benefiting from reduced energy requirements

and lower bills.

However, with the first deadline looming how can

landlords of the 10% of UK residential properties and

18% of commercial properties, which currently have

an EPC rating of F or G meet the new energy efficiency

standards quickly with minimal disruption?

EPC Education

Landlords can prepare for MEES now by first auditing

their properties to understand which fall into the scope

of MEES, as well as where improvements are required.

While some may be tempted to undertake the required

works at the end of a lease, a better option for landlords

is to work with occupants, implementing incentives

to allow necessary improvements to be made out

during a tenancy.

MEES is based on EPC ratings and it is essential that

landlords carry out energy assessments to determine

a property's correct rating, with estimations revealing

that nearly 70% of these are currently incorrect –

largely due to changes in the assessment practice.

www.insulatenetwork.com

29
---
Carried out by a professional, EPC ratings

are determined following a detailed survey

of a building; this includes estimating its

total energy and CO2 outputs, as well

as assessing heating systems, insulation

and windows, with a final grade provided

between A-G.

Several courses of action can be taken to

improve a property's EPC rating, ranging

from the replacement of doors, windows

or lights, to introducing a more efficient

secondary heating source, such as electric

heaters. However, where a rating is particularly

poor, a larger investment may be

required to address the fabric of a building.

Insulation plays a vital role in achieving a

positive EPC rating, and a poorly insulated

property can potentially lose up to 33%

of its heat through its roof. For landlords,

insulation materials need to be evaluated

based on several crucial factors, including

lifespan and ease of installation. Flexible

materials such as spray foam or mineral

wool are usually simple to retrofit; spray

foam requires only a hole in the wall for

applying it into the cavity of an empty

room, such as a loft.

Materials with long lifespans are unlikely to

require further investment and disruption in

future, and high performing materials significantly

improve efficiency and occupant

comfort. Materials such as TLX Gold Multifoil

can be fitted from a building's exterior,

removing the need for internal access, or

raising of a roof.

Up to five times thinner than traditional

forms of insulation, multifoil is also an

ideal solution for smaller rooms or spaces.

Achieving the same performance as its

thicker counterparts, multifoil insulation ensures

a comfortable internal environment

all year round, with its reflective surface

acting as a barrier to thermal transfer,

resulting in significant energy savings.

fibre – and, used on its own or combined

with other insulations, can achieve any

U-value. Easy to install and with little

wastage, it's also an eco-friendly choice,

produced from 40% recycled materials.

As an additional consideration, when

selecting insulation for use in residential

buildings with multiple occupants, insulation

should also be chosen based on its

acoustic performance qualities. Materials

should impede the transmission of sound

through a structure - Rockwool's acoustic

slab, made from volcanic rock, traps

sound waves and dampens vibrations,

and is easy to install around fittings and

fixtures. Stone installation also provides

exceptional fire performance qualities; a

necessity in any residential or commercial

building.

Taking it Seriously

Landlords should not see MEES as a

box-ticking exercise, instead it should be

viewed as a commercial opportunity, with

many tenants and developers now evaluating

properties based on EPC ratings

– some tenants may also be willing to pay

more for properties which are proven to be

energy efficient.

With the deadline of April 1 looming, landlords

should take the opportunity to get to

grips with the MEES now to understand

the importance of energy efficiency, as

well as how the impact of non-compliance

could negatively affect leases and lending

conditions. Making the required changes

quickly will not only benefit both tenants

and property owners but will go far in

preventing the need for larger financial

investments in the future.

Multi-Layer Foil Insulation SF40 by Super-

FOIL, is also a good choice for roofs, walls

and floors. Offering enhanced thickness

combined with radiant reflective and air

barrier properties, it provides benefits over

traditional open-face insulation like glass

30 www.insulatenetwork.com
---
www.insulatenetwork.com

Imaginative Use of Building Technology

Creates a Compact yet Grand Design

Small may be beautiful, but

it isn't always easy. In fact,

creating a compact new build

to squeeze into a limited footprint in

London, while meeting all regulations

(and the high expectations of a design

engineer building his own home)

was a challenge of grand proportions

for Joe Stuart of Warehome. This

ambitious project certainly met the

'interest factor' for Channel 4's iconic

TV show. Occupying a plot of just 9.5

x 4 m, the house is a

contemporary timber frame design

using structurally insulated panels,

on the site of a former coffin workshop

in east London, and is the

smallest 2-bed residence permitted

by London planners.

As seen on Grand Designs: Joe Stuart

has created a beautifully airtight

and efficient home on a tiny plot in

London

Apart from elegant aesthetics and

ensuring a sense of light and flow in a

restricted space, safety and sustainable

performance were also key considerations.

To ensure excellent wind, water

and UV resistance with superior vapour

diffusion, while also minimising fire risk

and enhancing airtightness and thermal

stability, a clever combination of Tyvek®

membranes, tapes and sealants was

applied to the building envelope.

Among the products and systems used

to achieve the performance goals of this

design is Tyvek® UV Façade, a specialised

all black breather membrane with

excellent longevity, which allows for greater

design freedom and confidence when

installed behind open-jointed façades.

It makes the ideal 'behind-the-scenes'

partner for the elegant Cedar cladding

that Joe selected for the exterior.

Another important element is Tyvek®

FireCurb® Housewrap, an innovative

fire-retardant breather membrane that

has been applied to protect the timber

frame structure and the foam-filled SIPS

– a vital specification due to the proximity

of neighbouring buildings. In addition, an

ingenious concertina-style airtight sealant

tape, Tyvek® FlexWrap NF, has been

fitted to thoroughly seal awkward joints

and penetrations, including the bespoke

windows that Joe designed. This optimal

system is completed by Tyvek® Supro, a

highly valued underlay with many years of

proven durability.

Pictures: Joe chose a combination of

advanced Tyvek® membranes and tapes

to create a holistic system for the building

envelope that would optimise both airtightness

and thermal efficiency, and keep

the structure and insulation well-protected

from the elements, for the long

term. These include: specialised breather

membranes Tyvek® UV Façade (with

Tyvek® FlexWrap® NF airtight sealing

tape) behind the cladding, and Tyvek®

FireCurb® Housewrap to the walls.

Undertaking the kind of thorough research

one would expect from a design

and engineering professional, Joe says,

"I chose the best products and combinations

available. I needed absolute

reliability when it came to quality and performance.

Great advice and service from

the DuPont regional manager and the experts

at the Tyvek® Building Knowledge

Centre made addressing the project's

complex challenges far easier and more

straightforward. This may be one of the

smallest 2-bed houses in London, but it

will always be one of my most important

projects, and an example of what my

practice can achieve."

"I know that I have made the right choice

in Tyvek®," Joe adds," and I can have

complete confidence in the long-term

performance and energy saving of the

building envelope."

The build took 28-year-old Joe two years

to complete at a budget of £250,000, but

now means that he and partner Lina can

not only leave behind the 'rent trap' for

young Londoners, but can take pride in

a home they have lovingly poured heart,

soul and sheer grit into creating.

For more information about DuPont Tyvek®, FlexWrap® and AirGuard® please

visit: www.construction.tyvek.co.uk or call 08444 068 722

in the UK and 087 922 2740 in the ROI.

www.insulatenetwork.com
---
www.insulatenetwork.com

Insulate Education

Insulation Apprentice Champion

to be Announced at IEX 2018

On 16th and 17th May the best insulators

from nine European countries will meet

in Cologne at the leading Insulation trade

fair IEX - Insulation Expo Europe to crown the

European Champion of the insulation trade.

Showcasing Skill at Insulation Expo IEX

Insulation Expo Europe provides apprentices with an

opportunity to showcase the high standards in insulation

and cladding work for cold and thermal insulation

as well as acoustic and fire protection.

The championship is organised by FESI (Fédération

Européenne des Syndicats d'Entreprises d'Isolation),

the umbrella trade association of the European

insulation industry. Apprentices from nine nations will

compete this year, including teams from Germany,

the UK, France, the Netherlands, Austria, Switzerland,

Denmark, Poland and Ireland.

The Challenge Ahead

The challenge that will be faced by the best Insulation

installers from nine countries involves the lagging of a

dummy with a variety of different insulation materials.

FESI general secretary Andreas Gürtler Says

"The level of technical expertise at the FESI Insulation

Apprentice Championship is extremely high; each

nation sends their best insulation apprentices, all of

whom prevailed in their respective national competitions

as country champions"

"But the event isn't all about the fighting spirit –

cooperation, mutual understanding and friendship

among the competitors play an equally important

role"

IEX – Insulation Expo Europe 2018

The European championship will take place at IEX –

Insulation Expo Europe. As the leading trade fair for

industrial insulation materials and technologies, IEX

is the No. 1 destination for insulation companies, facilities

engineering planners, mechanical engineering

companies, architects, energy managers and facility

managers looking for efficient insulation. The trade

fair puts on display the entire range of materials and

processing options in thermal, cold, acoustic and fire

protection. The exhibition spectrum covers everything

from insulation materials and systems to tools, equipment,

measuring instruments and software solutions.

In total, more than 150 exhibitors are expected at

the Exhibition Centre in Cologne on 16 and 17 May

2018.

For more information visit the

IEX Insulation Expo website

32

www.insulatenetwork.com

32
---
The only independent insulation industry trade magazine

Content Partners

National Insulation Association (NIA)

The NIA represents the insulation industry in the UK and our members include manufacturers and

installers of a number of insulation solutions for your home or business. Both the NIA and its members

are fully committed to maintaining and raising standards within the insulation industry.

Contact Name: Neil Marshall Email: neil.marshall@nia-uk.org Website: http://www.nia-uk.org/ Social:

@NIALtd

Mineral Wool Insulation Manufacturers Association (MIMA)

Established in 1962 (originally as 'Eurisol'), the Mineral Wool Insulation Manufacturers Association

(MIMA) provides an authoritative source of independent information and advice

on glass and stone wool. MIMA actively promotes the benefits of mineral wool insulation

and the contribution it makes to the energy efficiency of buildings and the comfort and

wellbeing of their occupants.

Contact Name: Sarah Kostense-Winterton Email: sarah@mima.info Website: www.mima.info/ Social:

@MIMA_UK

Insulation Manufacturers Association (IMA)

Insulation Manufacturers Association (IMA) is the representative body for the PIR and PUR

insulation industry in the UK. Known for 40 years as BRUFMA, IMA will continue to speak

out on behalf of its members and seek to ensure it is the principal point of contact for all

audiences relevant to the sector.

Contact Name: Mel Price Email: mel.price@ima.org.uk Website: www.insulationmanufacturers.org.uk Social:

@IMA_Org

www.insulatenetwork.com

33
---
SIG help us run our

business smoothly.

We know we can

always rely on their

expert support.

HAYLEY REYNOLDS

ITECH ROOFWORKS LTD

AN SIG CUSTOMER

BUILD YOUR NAME ON US

No one knows

Insulation like SIG

SIG Insulation started out 60 years ago. Since then we've grown to become the UK's

leading specialist distributor of insulation, dry lining and related products to the

construction sector.

It's not just our vast product range and major brands that sets us apart from the

competition. The unrivalled technical expertise and impartial advice of our staff – who

each have on average 10 years experience within SIG – help you source the products

you need, and guide you through what the legislation means to your project.

And when getting the job done relies on having the right products at the right time, you

need a fast, reliable supplier with UK-wide branches, a huge delivery network and stock

always available.

Contact your local branch via www.siginsulation.co.uk