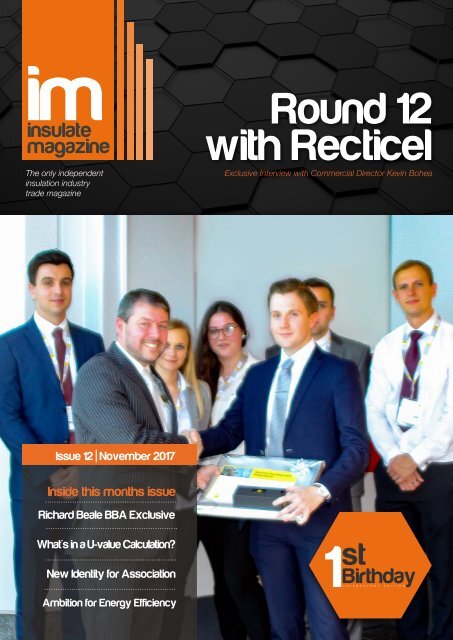 Insulate Magazine Issue 12 - November 2017
The 1st Birthday issue of Insulate magazine titled "Round 12 with Recticel" features an exclusive interview with Recticel's commercial Director Kevin Bohea. If that wasn't enough we have a great exclusive inside the BBA, featuring an interview with BBA Chef Executive Richard Beale.
The 1st Birthday issue of Insulate magazine titled "Round 12 with Recticel" features an exclusive interview with Recticel's commercial Director Kevin Bohea. If that wasn't enough we have a great exclusive inside the BBA, featuring an interview with BBA Chef Executive Richard Beale.
SHOW MORE
SHOW LESS
Create successful ePaper yourself
Turn your PDF publications into a flip-book with our unique Google optimized e-Paper software.
Round 12

with Recticel

The only independent

insulation industry

trade magazine

Exclusive Interview with Commercial Director Kevin Bohea

Issue 12 | November 2017

Inside this months issue

Richard Beale BBA Exclusive

What's in a U-value Calculation?

New Identity for Association

Ambition for Energy Efficiency
---
www.insulatenetwork.com

Published on a monthly basis by Versanta ltd

Corser House, 17 Geen End, Whitchurch, Shropshire, SY13 1AD

Call 01948 759 351

Outside of the UK +44 1948 759351

Monday - Friday 9am - 5.30pm

Website: www.insulatenetwork.com

Email: sales@insulatenetwork.com

SUBSCRIPTION INFORMATION

Anyone can subscribe for free online at https://insulatenetwork.

com/insulate-magazine-free-subscription

Subscriptions are available around the world free in digital format.

Print subscriptions are available around the world, please call us for

a quote or email us on sales@insulatenetwork.com

Our subscriber list is occasionally made available to very carefully

selected companies whose products or services may be of interest

to you. Your privacy is of paramount importance to us and should

you prefer not to be part of these lists then please email your details

and a short message to sales@insulatenetwork.com

CLASSIFIED ADVERTISING

Rate: No photo classified £25 for 20 words, each additional word

costs £1. All classified advertising must be paid in advance. We

must receive your classified advert at least two weeks prior to the

publication date.

Contents

Round 12 with Recticel's Kevin Bohea 6-7

Part 2: When is an Insulation Manufacturer 8-9

BBA Behind the Scenes with Richard Beale 10-12

A New Identity for Association 14

Working at Height : Reality of the Risk 16-17

WE DO NOT ACCEPT PHONE IN CLASSIFIED ADVERTISING

In the first instance, email your advert to sales@insulatenetwork.

com and await your invoice, once payment is received our design

team will clarify the advert insertion with you directly. CLASSIFIED

ADVERTISING APPEARS IN PRINT AND ONLINE. WE ARE NOT

RESPONSIBLE FOR ERRORS AFTER PROOFING AND INSER-

TION.

DISPLAY ADVERTISING.

Contact one of our sales staff to discuss your requirements on

01948 759 351. Publisher reserves the right to reject any

advertising that in its opinion is misleading, unfair or incompatible

with the character of the magazine.

We adhere to the IPSO code of practice for editors. Further information

can be found at www.ipso.org.uk

BACK ISSUES OR REPRINTS

Digital back issues can be foud online at www.insulatenetworkazine.com

For printed editions please email contact@insulatenetwork.com

, there will be a postage charge and handling fee of

£5+VAT for each copy requested.

CIRCULATION

The magazine is sent to 17,000 digitial subscribers per month

Ambition for Energy Efficiency

18-20

What is in a U-value Calculation? 22-24

Home is Where the Hearth is

26-27

Judges Deliver Awards Verdict 28-29

Benefits of Independently Assessed Psi Values

30-31

Insulation and Reducing Fuel Bills 32

©VERSANTA LTD

No part can be reproduced without the express

permission of the publisher

www.facebook.com/insulatenetwork

www.twitter.com/insulatenetwork

www.youtube.com/channel/insulatenetwork

Taking Winning to the Next Level 33

Trevor Moves on from TICA 34

NIA Conference 2017 Preview 37-39

The UK's only dedicated

trade journal for the insulation industry

3
---
When we started Insulate Magazine 12 months ago, we

wanted to get to this issue, we wholeheartedly believed

that there was a need for a standalone publication for an

industry that is essential to and often overlooked by the construction

industry, to gain the traction and readership we wanted, we had to

get to issue 12 - We did it!

Colin Heath

Managing Editor

colin@insulatenetwork.com

@colinversanta

It would be remiss of me as editor, not to thank they many contributors,

advertisers and friends we have worked with over the past 12 months, a

certain level of belief in the magazine had to be shown by you all and for

that I am truly grateful. Back in issue one, we featured a list of friends who

had helped get the first issue out, we would need a whole page to list those

people now so I'll simply say thank you, you know who you are.

In this bumper Birthday issue, we've got an exclusive interview from Recticel's

Kevin Bohea, An introduction to The BBA's Commercial Director

Richard Beale. We shine the spotlight on the EEIG launch with Sarah

Kostense-Winterton and have a major announcement from Simon Storer of

……..

Reaction to the first printed edition was fantastic, subscribe at www.insulatenetwork.com

or drop me an email colin@insulatenetwork.com and I'll add

you to the list!

Jamie Street

Creative Director

jamie@insulatenetwork.com

@jamieversanta

Enjoy……

4

www.insulatenetwork.com
---
SIG360 work with us

on site, to ensure we

not only meet our

client's needs but

exceed them.

NEIL HARRISON

HARRISON PROJECTS

AN SIG CUSTOMER

BUILD YOUR NAME ON US

Providing impartial

product advice

The SIG360 Technical Centre is a service offering from SIG, that focuses on helping customers

deliver energy efficient buildings.

Through an intimate knowledge of building regulations and product performance, brought

about through more than 50 years specialising in the energy efficiency of the fabric of a

building, the SIG360 Technical Centre is able to make cost effective and impartial product

selection to ensure the best energy performance can be achieved.

The service provided includes energy statements, U value calculations , condensation risk

analysis, thermal modelling and SAP assessments leading to EPC certification.

If you are seeking impartial advice on the fabric energy efficiency of your building contact

SIG360 Technical Centre.

For guidance you can trust call 0844 443 0059

email 360enquiries@sigplc.com or visit www.sig360.co.uk

Talk to the SIG360 Technical

Centre at the start of your project

for a 360 o view of cost effective

and energy efficient home building
---
The only independent insulation industry trade magazine

Cover Story Exclusive

Round 12

with Recticel's Kevin Bohea

Insulate Magazine's Colin Heath had the unique oppotunity to get in the ring for round 12 (issue 12) with

Recticel's Commercial Director Kevin Bohea. In the Interview Kevin reflects on his industry background,

the Recticel proposition, the key behind Recticel's growth and the plans for the future.

Hi Kevin, Thanks for taking the time with us, you've

spent some twenty years in the construction industry,

could you talk us through that period until

joining Recticel in 2013?

The key factors behind our growth has been really listening

to our customers and understanding our customers'

needs and then what we've done is mapped our resources

and our approach to really maximise the opportunities

with the small range of customers that we have.

I was lucky enough to work for a big German company

for fourteen years at that period and they sold into pretty

much every part of the construction industry, so that gave

me the chance to get experienced in a number of different

areas of construction and to understand a number of

different methods that are used in different kinds of buildings

different kinds of construction methods and it gave

me a great footing really, a great I suppose a great foundation

for really understanding about how construction

really works and how different elements of construction

can compliment other areas of the build.

So what was the proposition that Recticel offered?

It was actually 2013 when I joined Recticel and what I

liked about the proposition from Recticel was that it was

relatively unknown, there was a blank sheet there with

the Company, it was a brand that wasn't recognised or

known by anyone and it had great quality and the ethos

of the business, a great foundation as well. You know

Recticel as a group has been trading since 1778 so huge

prominence in history and it wanted to invest and grow

and it wanted to give the autonomy to someone to come

in and say right we want you to do something with this

company, and that's where the appeal was.

Clearly a progressive company that has seen significant

growth in the U.K.?

We've deliberately not tried to be all things to all people,

we've deliberately tried to say right we've got a key account

approach here with some really big players in the

construction industry and we've made sure that we map

our resources to what they want delivered from the supplier.

There is much talk of PIR shortages at present,

what can the industry do and specifically, how are

Recticel coping?

Recticel are working really hard on trying to get a fix to

this, we've had a real challenge this year as an industry

because of supply chain issues further down the line in

raw materials, it's affected the whole industry, it's affected

the availability of product from every manufacturer and

6

www.insulatenetwork.com
---
www.insulatenetwork.com

Tom Nash (right, front) receives his Recticel Graduation from Kevin Bohea (Left, front) at UK Construction Week at the NEC Birmingham

it's gone on far longer than any of us really expected it

to. However, with Recticel being such a large user of the

two real types of products that have been affected, there's

both MDI which is a key raw ingredient used within PIR

manufacturing and TDI which is the main raw ingredient

which is used on flexible foam manufacturing and so of

our five plants in the UK all five plants have been affected

by either MDI or TDI shortages, but because we are such

a European organisation of the size, magnitude and usage

of both MDI and TDI we've really been exerting pressure

on the supply chain to try and get things right and I think

we are going to emerge from this sooner, stronger than

the competition.

We are hearing through the industry that there may

be new lines coming to market in 2018, can you

elaborate on these at all?

We're keen to be investing in the UK but we want to be

sure that we invest in the right way with the right added

value for the industry there are some new parts coming

on line in 2018 We're being very sensible I think in

our approach about where and when we put our plant

down and on the back of the challenges that we have

had on raw material supply and foreign exchanges and

looming Brexit we're just taking a breath to ensure that the

decisions that we make are the best for our industry

Recticel as a group has been trading

since 1778, so huge prominence in history

and it wanted to invest and grow

and it wanted to give the autonomy to

someone to come in and say right we

want you to do something with this

company, and that's where the

appeal was.

www.insulatenetwork.com

7
---
The only independent insulation industry trade magazine

Insulate Exclusive

Part 2: When is an

Insulation Manufacturer...

Still not an insulation manufacturer? Last month we started looking at occasions when a manufacturer's

role risks going beyond advice on the products they make. Whether being asked to recommend

defined U-value targets, or approve the installation of products, there are times when salespeople or

technical help desks have to recommend seeking advice from other professionals. In part two, we look at

how that applies to design advice. By Insulate Magazine.

Design Professionals

We all appreciate the pressures on architects and design

professionals. Balancing the many and varied constraints

that threaten their vision for a building, then juggling any

issues that unexpectedly arise once work starts, is no

easy challenge. A change in product availability here, a

difference in level there, and what started life as a simple

design or elegant detail quickly finds itself hammered

(sometimes brutally!) into a wholly different shape.

And that presents problems. After all, the position of loadbearing

elements is pretty non-negotiable! The building's

footprint sets the foundation design, which dictates the

line of the external wall structure and where the roof structure

is supported. Floor decks and slabs, steel beams,

timber components - they all have to be a minimum size

and can't be shrunk.

If that sounds obvious then it is only to highlight why the

insulation specification often becomes the target for potential

changes or savings.

Thermal performance targets set by Building Regulations

result in substantial insulation layers. Everyone is as aware

of insulation as they are of, say, bricks and blocks - but

while materials like bricks and blocks come in standard

sizes, everyone also knows there are different types of

insulation, and varying thicknesses within any insulation

range.

Product substitution isn't always about swapping one

similar-performing product for another. Unexpected constraints

that put pressure on the original design can result

in a fundamental change in specification being considered,

the wider implications of which need to be assessed.

When questions about that sort of change come direct

from the architectural practice, the key person or people

who need to make that assessment are directly involved.

The manufacturer can advise on best practice and help

the design professional to understand how the performance

characteristics of their products differ - or otherwise

- compared to the material originally specified.

When the questions come from clients or contractors,

however, things start to get more difficult. They are less

likely to understand what has driven certain detailing decisions

or material specifications, and how they relate to the

design philosophy of the building as a whole. Decisions

about product swaps might be centred more on price or

availability, putting the onus on the insulation manufacturer

to make the assessment on design impact.

In particular, asking an insulation manufacturer to comment

on a single section or junction detail can be risky.

Trying to work out why the original product was specified,

or what about the site or building design requires certain

product characteristics, is tricky without all of the information.

And even where the information might be present,

the person looking at it may not be suitably qualified to

make such a judgement.

Insulation manufacturers employ good technical and

specification people, some of whom have architectural

experience.

8

www.insulatenetwork.com
---
www.insulatenetwork.com

But those people cannot take on design liability, and on

some projects there is a fine line between offering product

advice and making design decisions. It only continues

to highlight the importance of true collaboration

on construction projects, ensuring the right people are

involved at the right stages to aid the decision-making

process.

Structural Engineers

examination of the times when too much is asked Does

anything generate more confusion and uncertainty than

structural loading and compressive strength declarations?

It's not hard to see why. The potential ramifications of

using an insulation product incapable of taking the loads

imposed on it would make any specifier nervous about

committing to a specification they were unsure about.

And from the point of view of understanding products,

what is the relevance of declarations made at "10%

compression"?

purely on the basis of compressive strength declarations

will not offer a fair comparison. There is, however, a set of

technical guidelines, jointly drafted by certification bodies

across Europe, that describe how insulation products for

flat roofs should be evaluated. The guidelines include assessment

of compressive strength and, based on testing,

classification of 'fitness for use'. It is from here that

references to 'access for maintenance' or 'suitable for

pedestrian traffic' can be derived.

Through guidelines like these, insulation manufacturers

can offer advice about their products and good practice.

Asking if an insulation product is "suitable for use on a

terrace", however, is too vague. It doesn't convey the

size of the terrace, how often it might be used or, crucially,

the total loads that using it could impose. When

it comes to the calculation of in-service loadings, that's

where the structural engineer is needed.

Some applications - like basements or floors for heavy

industry - impose such substantial loads on the insulation

layer that it is relatively easy to select an insulation

product capable of working in those conditions. Extruded

polystyrene (XPS) products, for example, can offer

compressive strengths in excess of 300, 500 or even

700 kPa.

At the opposite end of the scale, there are expanded

polystyrene (EPS) products perfectly suitable for domestic

ground floor constructions that 'only' offer a compressive

strength of 70 kPa. Does that mean the declarations

of between 120 kPa and 175 kPa offered by

polyisocyanurate (PIR) and phenolic foam products for

the same use are overkill?

Well, no. It means that different insulation types offer a

different balance of cost, thermal performance and load

bearing capability - and it is up to the specifier to ensure

that the one best suited to the individual project is selected.

Performance declarations like compressive strength are

made based on accepted test methods that form part of

harmonised European standards - documents that ensure

construction materials meet minimum performance

levels to ensure their safety and suitability for sale. These

tests examine the product in isolation to determine a

particular characteristic, without accounting for how the

product will be used.

Flat roofs are another application where loadings are critical,

and where differentiating between insulation types

www.insulatenetwork.com

9
---
The only independent insulation industry trade magazine

BBA Exclusive

Behind the Scenes

at the BBA with Richard Beale

The Insulate Magazine team was invited to the BBA headquarters in Watford to meet with their newly

appointed Commercial Director, Richard Beale. Managing Editor, Colin Heath interviewed Richard

and the team were given a tour of the facility, here's what happened…..

Hi Richard, Thanks for having us, could you give us

a brief overview of your career to date?

You're welcome, thanks for taking the time to come along.

I began by studying at the University of Brighton where

I gained my degree in civil engineering. I immediately

joined Metsec, selling lattice joists and beams, and was

soon promoted to National Sales Manager, after which I

became International Sales Director for Cable

Management Systems. I was then promoted to Sales

Having spent upwards of 20 years in the manufacturing

space, I felt I had sufficient knowledge of the in-depth

manufacturing process, new product development

and the significant investment required to bring quality

products to market. I felt that this activity should be

recognised by all the players within the supply chain,

from Specifiers to Contractors and Installers, and that

certification is the driver to do this. The rigorous BBA

process provides third party reassurance to the industry

and gives credibility and confidence in the use of

applications, and in so doing improves standards in the

sector.

As Commercial Director, how do you see your role

developing and driving the BBA forward?

Director for the last 6 years of my 15 years tenure.

In 2008, I joined Marshall Tufflex as Commercial Director

where I was responsible for all commercial activities for

the group, which covered construction products ranging

from underfloor systems to PVC trunking. I subsequently

joined the BBA in June 2017 as Commercial director.

So a career in construction products finds you now

here at the BBA, what was the draw to the product

certification space?

The new BBA strategy sets clear growth targets

that expand beyond our traditional core business of

certification. The expansion of our product portfolio into new

product areas, and the development of new go-to-market

approaches represents a change in the way the BBA

does business and will require the alignment of the whole

organisation to market and meet client requirements. The

Commercial Director role was created specifically to drive

this growth by being the central coordination point for all

business development initiatives.

Much has been made recently of the testing of

insulation products both at the BBA and other

testing organisations. What can the industry do to

assist in the development of these products/tests and

ensure that they are fit for purpose?

We know that what matters to our clients, more than

anything else, is that their new products get to market as

quickly as possible, and we can help them achieve this

10

www.insulatenetwork.com
---
www.insulatenetwork.com

providing we get an early "heads-up" on their plans and

ideas. Sometimes we will be invited to look at a product

and will know instantly that more work needs to be done

to get it to the point where it can be successfully assessed.

This situation is now

being routinely avoided

by clients coming to

see us as soon as they

get their ideas onto the

drawing board. The other

challenge for our clients

is marshalling all the documentation

and testing

that they need to demonstrate

that their product

or service meets a required

standard. Again,

we can help by pointing

out what will be needed.

Exciting work with The BIM Store and CIT

amongst others, lots of development occurring

here, do you have any up-coming projects you

can share with us?

In the last year, we opened our new office in Cardiff and

early next year we will open our new office in Dublin.

We have a series of technical seminars planned which

will bring together the UK's experts on a range of

projects. We will also be working with industry partners to

develop new standards and assessments for some of the

very innovative construction products that we are now

beginning to see coming into the market. And of course,

we continue to provide expert advice to Government

departments and Housing Associations.

BBA Certification is regarded as one of the most

widely recognised forms of system certification.

What factors do you believe are key to this

recognition and how do you aim to sustain this in

to the future?

The BBA's reputation is

founded on 50 years of

technical excellence. We

invest significantly in the

development of our Staff

and this will never change.

We actively campaign on

behalf of our clients and

seek to influence government

policy to realise the

potential of our clients'

innovations. Big ideas go

nowhere if there is no access

to the market, and

our reputation allows us to

speak to agencies and governments alike. In fact, we are

involved in an ongoing campaign to persuade them to

permit the use of new products and services.

We stand by our clients and their products, and we

are proud to do so. We have never forgotten our duty

to protect the interests of the public and we continue

to offer impartial advice to our colleagues within local

authorities and housing associations, as well as

designers and specifiers alike.

In simple terms, how would you explain what the

BBA does and the value it brings to a business or

specific system?

11
---
The only independent insulation industry trade magazine

BBA Exclusive

For over five decades, specifiers, and users of

construction products have been able to count on the

BBA to accurately describe a product, its possibilities and

limitations.

Construction is an industry where innovation is

costly and carries long term risks. The BBA provides an

independent and reliable assessment of new products for

that we all value.

BBA Certification for many is an essential yet high

value investment, how do you respond to people

who consider it too expensive?

A BBA Certificate is an investment very much linked

with the long-term success of a construction product.

Having BBA back up is a key element in reducing barriers

for adoption and facilitating market acceptance of new

products. Although the initial investment could be

considered high for some manufacturers, the

performance, aimed at helping manufacturers who are

promoting those products, in this country and abroad.

This adds enormous value to both the industry and the

economy.

A BBA Certificate or Service Assessment is thorough and

we never cut corners. We will continue to work hard to

do what is necessary to protect the public and our clients

from activities of product manufacturers and installers

that bring the industry into disrepute. These endeavours

don't always make us popular, but we have to protect our

clients who are committed to maintaining the standards

return on investment could also be high over time, and

this can be realised in many ways: access to tenders,

selection of products by Specifiers, Architects and Installers

willing to use the product. In other words, we give our

clients a unique competitive advantage in an increasingly

competitive market place.

12
---
www.insulatenetwork.com
---
The only independent insulation industry trade magazine

New Identity for Association

BRUFMA launches new name to become

Insulation Manufacturers Association

BRUFMA (the British Rigid Urethane Foam Manufacturers

Association) has unveiled its new name - Insulation Manufacturers

Association. A response to create clarity within the marketplace,

the new name reflects the critical role the organisation plays in representing

a key component in the built environment.

BRUFMA has announced a change of its name to Insulation Manufacturers

Association with immediate effect. The new name reflects the position that PIR

and PUR insulation manufacturers hold in providing the largest share of insulation

products used in the UK market. With a growing need for ever greater energy

performance and thermal efficiency across all buildings, this share of the market is

expected to keep on growing and therefore the Trade Association has a responsibility

to ensure it is the principal point of contact for all audiences relevant to this

sector with a name that reflects this responsibility.

Speaking about the change of name, Simon Storer,

Chief Executive of IMA said; "BRUFMA as a name has

served the industry extremely well over the years, especially

on technical and industry matters and this of course,

will not change.

"However, the membership agreed that the Association now

needed to build on this well-established foundation, move

away from predominantly inward facing activity and extend

its reach and influence to a wider and more diverse external

target audience, which is not necessarily steeped in

technical or industry language.

"Events of this year certainly brought this need into sharp

focus, as many commentators and other interested parties

were unable to immediately identify which trade

association spoke for which part of the industry. We also

wanted to be sure that as an Association we are solely responsible

for and have ownership of the messages coming

from this sector.

insulation market. We are setting out to develop and

expand our policy, communications and public affairs

activity, to support the Association's technical and

scientific work.

"At IMA we are very excited as we start a new chapter

in the Association's life, of representing our members,

including all the manufacturers of PIR and PUR in the UK

and Ireland, as well as all those across the supply chain

including chemical and ancillary suppliers.

"There is a very important job to be done with regards to

ensuring buildings in the UK meet their design

specification. We have a large part to play in this and

changing our name to Insulation Manufacturers Association

is one step in fulfilling this longer-term objective."

For more information about

Insulation Manufacturers Association please visit:

www.insulationmanufacturers.org.uk

With a name that enables everyone to understand

exactly who we are and what we do, it gives the

recognition that we speak for the largest part of the

14

www.insulatenetwork.com
---
insulatenetwork 15

www.insulatenetwork.com

Insulation

Our latest arrivals have landed...

...offering you 4 new lower lambda

products to choose from

Kingspan Kooltherm ® K103 Floorboard, K110 and K110 PLUS Soffit Board,

and K118 Insulated Plasterboard feature an advanced, fibre-free insulation

core, enabling them to achieve an outstanding thermal conductivity of

0.018 W/m . K. As a result, the products can enable buildings to be built to

the upper levels of fabric performance with minimal thickness.

Further information on the Kingspan

range is available on:

+44 (0) 1544 387 384

literature@kingspaninsulation.co.uk

www.kingspaninsulation.co.uk

Pembridge, Leominster, Herefordshire HR6 9LA, UK

www.kingspaninsulation.co.uk/lowerlambda

®

Kingspan, Kooltherm and the Lion Device are Registered Trademarks of

the Kingspan Group plc in the UK and other countries. All rights reserved.
---
The only independent insulation industry trade magazine

insulate columnist

Working at Height

Reality of the risk

Insulate Magazine columnist George Elliott, a technical specialist at science-based technology company 3M,

explains the need for having suitable fall protection in place when working at height, whether that is at one or 500 metres

Last year, the number of worker fatalities due to falls from height was the lowest on record. In 2016/17,

there were a recorded 25 fatal injuries, compared to 37 in 2015/16 and an annual average of 40 over

the past five years. While increasing risk awareness and enhanced safety measures have helped

towards this improvement, even the most careful and focused worker can still be subject to the kind of

danger that could change a life forever.

In particular, when working on contracts such as loft insulation

there are a number of hazards which could lead

to potentially life threatening falls. Before turning to personal

fall protection equipment, managers must consider

the hierarchy of controls to ensure that the hazard is not

avoidable.

Eliminating Risk

The preliminary stage is to try to eliminate any risk

altogether. This can involve looking at the design or

engineering solutions in order to avoid a need to work

at height in the first place. Of course, in many cases

this is not possible, so the next stage is to find ways of

preventing the fall from occurring. Here, there are two

main channels to explore; collective and personal fall

protection.

Collective protection includes equipment such as

temporary working structures and guardrails. For

prolonged contracts, a semi-permanent platform could

be used in the place of ladders as these fixtures have

required HSE standards.

All potential dangers should be strictly assessed by

means of a risk assessment before any construction work

begins. Further information to assist in this process can

be found on the HSE's website, hse.gov.uk.

Individual Safety

Once the collective protection structure is deemed safe,

there is the matter of individual safety. When deciding on

the type of equipment to issue to their workforce,

managers should consider that just because equipment

is CE-marked, it does not mean it necessarily

provides the most suitable protection for any particular

job. CE-marking simply means that the minimum safety

requirement has been met.

For example, most harness equipment is tested against

the EN drop-test, using a weight of 100kg. An individual

may weigh more than this when fully kitted out with boots

and tools and so their harness may not be adequate.

In any case, a full risk assessment should determine

the most appropriate personal fall protection equipment

(PFPE). Companies should choose the best equipment

for each job, not simply supply equipment to demonstrate

compliance.

Aside from the risk of a fall, there is also the possibility of

objects dropping from above and causing injury. As stated

in The Work at Height Regulations 2005, measures

should be put in place to stop this from happening, but

also to protect workers should they be hit, particularly on

the head.

If - for reasons beyond control - measures to totally

prevent falls are not possible, then managers can look at

16

www.insulatenetwork.com
---
www.insulatenetwork.com

mitigation methods as a last resort to reduce

any potential impact.

Mitigation Methods

Such methods may include a personal fall arrest lanyard

attached to a body harness, specifically designed to

withstand the brunt of a fall through an energy-absorbing

element. Anchorage connectors can be used as a

secure point of attachment for lifelines of this type.

There are a number of PFPE options on the market

encompassing solutions for many of the above hazards,

all with differing levels of protection.

Finally, where work at height is necessary, companies

should have a rescue plan that either provides the prompt

rescue of workers in the event of a fall, or ensures that

they are able to rescue themselves. Descent and rescue

devices are one way of addressing this.

The Work at Height Regulations 2005 also state that

where other precautions do not entirely eliminate the risk

of a fall occurring, those who will be working at height

must be properly trained in how to avoid falling, and how

to avoid or minimise injury to themselves should they fall.

There are many training courses available for both safety

managers and their workforce.

3M offers training classes and tools to help promote

safety on every worksite, with courses delivered

either on site or at 3M's specialist training

centre near Manchester. For registration and

course information requests, visit 3M.co.uk/fallprotection,

email safetytraininguk@mmm.com or

call 01457 878640.

Risks at height should be preventable, so long as

the equipment is used correctly. In accordance

with HSE requirements and government legislation,

employers are responsible for ensuring all employees are

properly trained to safely use the appropriate fall protection

system and its components.

www.insulatenetwork.com

17
---
The only independent insulation industry trade magazine

insulate columnist

Renewed Aspiration and

Ambition for Energy Efficiency

Sarah Kostense-Winterton Executive Director, MIMA

On Thursday 12 October, The Guardian headline read "UK climate change masterplan – the

grownups have finally won". This announced the first of two major wins for MIMA, for the EEIG and

for the industry with a renewed aspiration and ambition from Energy Minister, Claire Perry in the

very long-awaited Clean Growth Strategy. The announcement that saw MIMA and the EEIG's aspirational

target of bringing homes up to EPC C by 2035 being publicly supported by the Energy Minister and the

Government.

Claire Perry told her colleagues in Parliament that the

measures in the Clean Growth Strategy "not only continue

our work in cutting emissions, but we can also cut

consumer bills, drive economic growth, create high-value

jobs right across the UK and improve our quality of life. It

is a win-win opportunity: it is ours for the taking".

Mirroring the messages of the EEIG, it could have almost

been lifted from the EEIG commissioned Frontier Economics

report, "Affordable Warmth, Clean Growth". Even

her predecessor, Nick Hurd acknowledged the that strategy

was much better than when he left his position as

minister.

This was swiftly followed by a second win from the National

Infrastructure Commission, recognising buildings

energy efficiency as an infrastructure priority saying "Two

priorities for achieving low-cost, low carbon are clear. The

first is to improve energy efficiency. The UK has old and

leaky buildings, which means households and firms use

far more heat than should be required, pushing up consumer

bills and increasing the costs of moving towards

18

www.insulatenetwork.com
---
www.insulatenetwork.com

low carbon heating in the longer term. The Commission

will consider how an ambitious programme of energy

efficiency improvements could rectify this."

However despite Perry's positive tone and ambition, we

do hear the many voices of caution, the voices that say

it is only aspirational, it doesn't mean the government will

do it. The devil's in the detail or there's a lack of detail. So

what does all this mean for us? Is the Government going

to deliver? What should we be doing? Where do we go

from here?

What it does mean is that we have ALL to play for, we

have to deliver and we must and we can make this

change happen. The opportunity is clear with one-third

of UK carbon emissions coming from buildings and with

19 million homes in the UK still with needlessly poor levels

of energy performance - below an EPC C rating. Up to a

quarter of the energy consumed in homes could be saved

cost-effectively, with the technical potential for energy use

in homes to be cut in half.

In a nutshell, this is the start of the next phase and where

the hard work really begins. We have been told that the

EEIG was instrumental in bringing about this renewed

ambition but that we need to continue to work together

as an alliance and even broaden our coalition. This is our

starting position and the EEIG's strategy and actions over

the next year will be vital to success.

We already have a healthy head start, where the Minister

has the aspiration and ambition, we have the vision

and the practical steps on how to implement – through

the EEIG commissioned Frontier Economics report, "Affordable

Warmth, Clean Growth". In this report, we clearly

set out an ambitious yet practical action plan for the

Government to make all homes energy efficient within 20

years. Perry quite rightly said that there is not one silver

bullet and everyone has to play their part.

So as part of the EEIG alliance, we have worked hard with

government to reach this stage and they are listening and

engaged, but now we must move forward to focus on

how to deliver and respond to the raft of government's

calls for evidence. To ensure we tick the government's

objective boxes – evidence how we bring the benefits to

consumers, to business; how we can deliver innovation;

be world-leading; how we can boost the UK economy

and create jobs but most of all that everyone across the

UK has the best chance of a warm and comfortable home

with lower bills.

Achieving this goal will require the adoption of world-leading

quality standards for retrofitting and constructing

homes, area-based schemes led by local authorities, additional

funding sources that won't raise energy bills

www.insulatenetwork.com

19
---
The only independent insulation industry trade magazine

insulate columnist

and financial incentives to encourage households to take

up energy-saving measures. A mix of measures, including

pilots, demonstrators, research and detailed short to medium

to longer term deliverables.

There's simply no

silver bullet.

The EEIG will not be stopping

there – we will be

grasping this opportunity

with both hands, focusing

on a strategy and activity

plan for the year ahead

to deliver for government

and EEIG members, new

and existing. We have

started this journey with a

successful media launch

of of our report with coverage

in The Guardian, The

Sun, BBC News, Carbon

Brief and Business Green

and others. This was only topped by our recent Parliamentary

launch event with a written endorsement from

Minister, Claire Perry and with support from a great many

MPs, including our sponsor, Eddisbury MP, Antoinette

Sandbach and speaker contributions from Lord Deben,

former Climate Change Committee Chief Executive and

Frontier Economics Director, Matthew Bell and CBI's Neil

Carberry.

We simply cannot ignore that energy efficiency formed a

substantial focus in the Clean Growth Strategy, that it is

firmly back on the political agenda. The Business, Energy

and Industrial Strategy department (BEIS) clearly has

more scope for ambition and

more power to influence their

colleagues across Whitehall.

We have a government

that needs to urgently deliver

carbon reductions to

deliver its carbon budgets.

A government perceived to

be weak on climate change

and that needs to secure

more and younger voters

(with climate change second

in importance only to health

according to Conservative

think tank, Bright Blue's polling).

Let's also not forget that

more energy-efficient homes

will do so much more to cut

energy costs in the long-run

than a cap on energy prices will.

So we have a big job ahead, no doubt about it. More ups

and downs, a lot to do and a lot to achieve. We don't

have any guarantees, but government's do deliver when

people show they want change and come together with

one voice. We need to stay focused, even to the point of

obsession and we need to spread the word - one voice,

one vision and make energy efficiency the new craze.

We believe the EEIG and its members can play a

crucial part in any future success and work closely with

government to deliver a comprehensive Buildings

Energy Infrastructure Programme. We can and will make

this happen.

p.s. Happy First Birthday to Insulate magazine!

Sarah Kostense-Winterton is Executive Director of MIMA,

the Mineral Wool Insulation Manufacturers Association and provides

the secretariat to the Energy Efficiency Infrastructure Group

(EEIG). For further details of the EEIG or if you would like to

join, please contact Sarah at sarah@mima.info

20

www.insulatenetwork.com
---
The UK's Only Exhibition

Dedicated to the Insulation Industry

Showcasing the latest insulation innovations, perspectives & expertise

18th & 19th June 2018 | EMCC Nottingham

Register for your free visitor ticket

Book your exhibitor space

www.insulationexpo.co.uk

@insulationexpo
---
The only independent insulation industry trade magazine

Insulate Exclusive

What is in a

U-value Calculation?

U-values are an important indicator of building performance. So why is there such limited understanding

of what calculations show? By Insulate Magazine.

Mainly because the standards describing how to calculate U-values are complex and inaccessible. For the majority,

there is no reason to try and understand them - but the knock-on effect of that is assumptions. Assumptions that any

calculation committed to paper has been done accurately; that the piece of paper is automatically correct. If the result

is the right number then all is well. If it shows a higher number then suddenly there are problems to solve.

There are a variety of software packages for calculating U-values. In theory, they are all created equal as they are

based on the same standards and calculation methods, but their user- and reader-friendliness can vary. The images

accompanying this article are from one widely used program and illustrate what a good level of information looks like.

Other software will display it differently, but the important thing is knowing what to look for.

1 Project details and construction type

In an ideal world, every U-value calculation should be for a

particular project. Of course, specifications get repeated

from one job to the next, so it's easy to understand why

generic calculations might be relied upon, but relating the

calculation to a project leaves no room for doubt as to

what has been specified and what should be constructed

on site.

Stating the application or type of construction also makes

clear to the reader what exactly is being calculated - just

in case a lack of detail or confusing terminology elsewhere

means it is not entirely obvious.

2 Material layers

This section provides the greatest scope for ensuring the

proposed construction can be well understood. The build

up is listed layer by layer, with a description of the material

and/or a product reference where necessary. If proprietary

products are not being used then the description should

reference a formal standard from which acceptable material

data has been obtained.

3 Material data

Although insulation materials contribute the bulk of thermal

performance in any calculation, it's still necessary to

take account of every layer in the build up. The calculation

also has to factor in the direction of heat flow (i.e. downwards,

horizontal, upwards) for the purposes of establishing

surface and airspace thermal resistances.

Working out the thermal resistances of materials requires

their thickness and thermal conductivity. Sometimes a

calculation doesn't display these values - such as when

the layer is a very thin membrane that has no meaningful

thickness and no declared thermal conductivity.

The order in which materials are listed is not important

for calculating the U-value. It does matter, however, for

the accuracy of any accompanying condensation risk

analysis - and for aiding the readability of the

calculation. For anybody comparing the calculation

to a design specification or on-site construction, it is

common sense and good practice that calculations reflect the

correct sequencing of layers.

22

www.insulatenetwork.com
---
ecobuild

The future of the built environment is here

06-08 March 2018 / ExCeL, London

Timber

Concrete

Infrastructure

Green & Blue

Infrastructure

Offsite

Energy & HVAC

Building

Performance

District Energy

Presenting the futurebuild districts

The 'must go' event

in the construction

industry calendar

for forward thinking

professionals and

influencers.

ecobuild 2018 will

present the latest

technology, the freshest

thinking and materials

to keep you at the

forefront of the industry.

The centrepiece will

be the comprehensive

conference programme

curated by top industry

fi gures. Surrounding

this will be a series of

futurebuild districts, each

exploring a di erent

aspect of the built

environment.

Be part of

something

special

+44 (0)20 3011 2540

info@ecobuild.co.uk

www.ecobuild.co.uk

#ecobuild

#ecobuild

/ecobuildnow

/ecobuildnow

/ecobuild_now

ecobuild-uk

SUPPORTED BY
---
www.insulatenetwork.com

4 Bridging details

Calculating U-values is easiest when a construction

comprises simple, uninterrupted material layers of consistent

thickness - but layers often have to be interrupted

by other materials. Accounting for bridging is important,

especially when it's an insulation layer and the disparity

in thermal performance of the two materials is significant.

This section states what percentage of the layer is

bridged and by what material. But it might not mean anything

to the reader. It's not obvious what "12.5% timber

bridging" represents in reality, but if the layer description

says the material is bridged by 50mm wide timber joists

or studs at 400mm centres, then the world suddenly

makes more sense!

5 Result and corrections

And so we reach the headline of the whole document! A

figure for the predicted loss of heat energy (in Watts, W),

per square metre of the construction fabric, per degree

of temperature difference (in Kelvin, K) between inside

and outside.

But what are the numbers that accompany the result?

Upper and lower limit thermal resistances refer to the

two methods of calculating heat paths through the construction,

as described by the Combined Method. These

two values are averaged, then a reciprocal taken, to give

the U-value.

Within the confines of mathematically modelling construction

build ups, certain corrections can be applied to

reflect the realities of installing insulation. In any calculation,

you may see values associated with the following:

Uf - corrections for mechanical fixings penetrating the

insulation layer.

Ug - corrections for air gaps in the insulation layer

Up - correction for compression of insulation in built up

metal roofing and cladding.

Ur - correction for rainwater cooling on inverted roofs.

Urc - corrections for rails and/or brackets supporting

rainscreen cladding.

6 Application-specific information

In the last issue of Insulate we looked at standards that

define how U-values are calculated. The Combined

Method is fairly limited in scope, so other standards

supplement it with calculation methods for ground

floors, anything involving steel components etc. Where

these other standards are employed by the calculation

software, the relevant information is displayed in this

section.

One point worth noting for ground floor constructions:

while it's tempting to think that perimeter upstand insulation

provided to screeds and slabs would be classed

as edge insulation, for the purposes of a U-value calculation

it isn't. It is there to treat the thermal bridge, so

could be referenced in the layer description to show it

has been thought about (e.g. 'Reinforced concrete slab

with perimeter upstand insulation to address thermal

bridging').

In Conclusion

Anybody calculating U-values should be armed

with as much information as possible about

the intended materials, and should ask lots of

questions where relevant information is missing.

Judging the veracity of calculations is difficult for

many, but communication is key. Knowing that

a design has been accurately calculated, or that

what is being constructed reflects what a calculation

shows, can go a long way to helping address

performance gap issues.

We don't have the space to delve into these corrections,

but if they impact on the calculation sufficiently then they

cause the result to be changed. It's important to ensure

that comparable corrections have been included when

judging one calculation against another, otherwise the

comparison is not a fair one.

24

www.insulatenetwork.com
---
Spray Foam's

Biggest Event is Back

… in the Birthplace of Mardi Gras!

2018 CONVENTION & EXPO

January 29 – February 1

Mobile, Alabama

Join the Who's Who in Spray Foam for:

• Four Days of Educational Sessions

• The Industry Excellence Awards

• Annual Golf Tournament

• Professional Certification Programs and Testing

• A 50,000 Square Foot Exhibit Hall

• VIP Events

• Close-Out Event Reception

• And More!

Network with the Best in the Business.

Don't miss it!

thesprayfoamshow.com • sprayfoam.org/expo
---
The only independent insulation industry trade magazine

Insulation news

Home is where

the Hearth is

New BBA tested composite doors keep the warmth inside.

The BBA talks about innovative new testing

procedures that monitor the thermal values

of composite door products, designed to

improve the insulation of buildings, keeping the

occupants nice and warm.

There's a lot of talk about various forms of building insulation,

from Cavity Wall Insulation and external cladding to

underfloor and roof insulation systems. But let's not forget

the importance of the good old everyday door. Doors in

regular use need to be efficient to do their part in keeping

the home at a constant comfortable temperature.

According to the West Midlands Public Health Observatory

(UK), an adequate level of wintertime warmth is 21

°C for a living room, and a minimum of 18 °C for other

occupied rooms, giving 24 °C as a maximum comfortable

room temperature for sedentary adults.

Records for last year (winter summer 2016) show the average

household internal temperature to be 21°C, with

the external temperature ranging from -9.7°C to 33.9°C.

26

www.insulatenetwork.com
---
www.insulatenetwork.com

The coldest recorded temperature in November last year

(UK)is -9.7°C and the hottest recorded day in 2016 (UK)

is 33.9°C.

The complete 48-hour cycle is

shown in the graph below:

These temperature changes can lead to a door leaf bowing

in its frame, which has an effect on the way it operates,

and in extreme circumstances it will allow draughts

to enter the home.

Choosing the right material can have an enormous

effect on the door's performance. Different types of

insulation infill can influence how the door reacts to

changes in differential temperatures, so it's important to

test the product before it goes on the market.

Test Services at the BBA has been using procedures

that have been devised to determine the effect of thermal

stress in the material build-up of doors, looking at

the infill medium, thickness of reinforcement or PVC-U

skin of a door leaf.

As you'd expect, this involves Summer time testing and

Winter time testing environments, to measure bow and

defection of a door leaf inside its frame at different internal

versus external temperature differentials.

This helps to determine permanent defection of the door

after extreme exposures, and to monitor any damage

like cracking or splitting for example. The effort required

to open and close the door, (operating forces),

are recorded before and after exposure to ensure all the

hardware functions correctly.

The sample will then be allowed to return to ambient

conditions before the operating forces are measured.

As you'll have gathered, the testing is extremely thorough

with rigorous temperature applications applied in

carefully simulated, real life conditions. It's important to

remember there's a lot more to putting the wood in the

hole than meets the eye. The good news is properly tested

composite doors can contribute significantly to better

and more sustainable insulation in homes up and down

the country.

Something to celebrate this Christmas

The specimens are installed with their external face in

an environmental chamber that is set to cycle between

-10°C to +10°C. The internal face of the door leaf remains

in the test laboratory ambient conditions. At periods

of one hour during the positive temperature parts of

the cycle, a 30 second water spray will be applied to the

external face of the door.

During the test, the deflection of the internal face of the

door leaf is measured at the top and bottom corners of

the locking edge.

www.insulatenetwork.com

27
---
The only independent insulation industry trade magazine

BREEAM Insulation Awards

Judges Deliver Verdict

Insulation Awards 2017 Preview

A

night of celebration approaches as the Insulation Industry looks forward to the inaugural Insulation

Awards supported by BREEAM on 30 th November. Hosted at the East Midlands Conference Centre in

Nottigham, the evening will recognise the very best in insulation, with eleven awards to be received on

the evening. The expert judging panel have cast their votes ready for the big announcements on the evening.

Speaking ahead of the judging day here is what Creative

Director Jamie Street had to say regarding the build up

towards the Insulation Awards and what it meant to have

such a presitigious judging panel in attendance to decide

the winners of the awards:

"The judges have come from all corners of the Country

and all different aspects of the industry. We have

representatives from different manufacturers and

associations, lecturers and speakers and we also

welcome Lord Deben. It's a pleasure to have them here to

be involved with this first Insulation Awards Event.

We are really excited about the Insulation Awards, it's

been a long process and a lot of work has gone on

behind the scenes. To have the judging today really brings

it all together and we're excited to be choosing the

winners and celebrating all the good things that are going

on in the insulation industry."

Judges Reflect

Having casted their votes here is what the judges at to

say regarding their

participation, the

importance of the

awards and the calibur

of entries received:

Mike Easdon,

MD InBuild

"Insulation is a very very

important element that

people sometimes overlook, it can be a small part of the

construction process when you are looking at energy

efficiency, you're looking at fuel saving, liveability factors

and all these other various elements then you realise that

it comes down to a fabric first approach which is where

insulation nicely fits and the Insulation Awards is ideally

placed to promote that."

Keira Proctor, MD A.Proctor Group

"I've been really impressed by the submissions, they're

very diverse across a lot of different sectors so

commercial, residential, new build, social housing, a lot of

interesting buildings and delving into the different

properties of the insulation and how they are adding

value to the building or

to the individuals within

that building has been

really interesting for me."

Simon Storer, Chief

Executive, IMA

"Having an Awards

Ceremony excites the

industry it's very

important that we're

seen not just as

providing materials, but it's really what those materials do

to buildings and people's lives.

There is a human aspect to it which I think is very

important, and the categories cover a whole range of

different criteria from the graduate to projects to installers

and I think that is also important because it's that variety

28

www.insulatenetwork.com
---
www.insulatenetwork.com

BREEAM Insulation Awards

Well the thing that has to happen in the

industry is that what is now the average

reaches to be the best and then the best

then reaches beyond that, I think what the

Award does is to remind people that sometimes

people are doing better than they are in

terms of sustainability, in terms of energy efficiency,

in terms of speed and accuracy of installation,

all those things we need to improve

all the time and Awards encourage people

to see that their businesses could do better.

One of the troubles is that we all get rather

complacent about the quality of what our

work is and if we are shocked to discover that

others are doing much better well then perhaps

we will start to improve ourselves.

which makes the industry interesting so it's not just the

product but it's what the product does and also the

people that work in it and make them part of the wider

aspect of making those

buildings better in so

many different aspects."

Dr Jolyon Berg,

Head of Technical,

Isover UK

"For me there were quite

a few entrants around

external wall

insulation (EWI) which is

important because there is a lot to do on EWI and it's a

challenging application and to see new entrants coming

with new ideas about how to tackle that in a better way I

think is really encouraging"

Richard Hillman – SOUND-IS

it just reinforces what

people are trying to do

in giving people

recognitions for the

efforts that they have

been putting in."

Kevin Bohea,

President IMA

"I think the Awards add

creditability to a very

hard working high performing industry that really is in

the background of building performance but with these

Awards what it does is bring to light the great work that

goes on within the insulation industry"

For more information about the Insulation Awards

supported by BREEAM visit www.inslationawards.co.uk

"It's good because it will reward people who have made

outstanding contributions over a period of time or

highlighting new systems that have been brought to the

market in the last twelve/eighteen months, so yes, I think

www.insulatenetwork.com

29
---
The only independent insulation industry trade magazine

insulate columnist

The Benefits of Independently

Assessed Psi Values

Insulate Magazine columnist Brandon Wipperfurth, Sustainability and Energy Consultant, Darren Evans Assessments

The heat loss through junctions is known as thermal bridging and can be one of the most significant

sources of heat loss within a building. In a building which has poor insulation, thermal bridging will

be less significant, but in a modern new building, that has a highly insulated fabric, the heat will pass

through these junctions much faster relative to the surrounding materials. While these junctions cannot be

eliminated, properly designed details can drastically reduce this effect. It's absolutely critical we

understand the heat loss through these important parts of a building and use a qualified assessor to

calculate the PSI value of a junction to better inform the design.

The effect of thermal bridging can vary drastically

between buildings depending on design, with anywhere

between a realised 5-50% of a building's heat loss

coming through these thermal junctions. The rate of heat

loss between these thermal junctions is measured as a

PSI values (pronounced 'si'). Calculating them will make

the thermal model much more accurate and feed back

into the design creating a real difference to the end client

and in terms of energy savings, or even more floor area if

radiators don't need to be as big.

When standardised details are being used, the cost for

each individual PSI value across each building is exceptionally

low in comparison to other options. The value the

client gains from putting in the calculated PSI values is

extremely cost effective. So, in situations where developers

are using the same corner detail on several projects

(i.e five houses in one location), it starts to add up quickly.

30

www.insulatenetwork.com
---
www.insulatenetwork.com

Independently assessed PSI Values will always be cost effective on every

medium scale and larger residential development

SAP calculation methodology assumes default values

that are very poor or estimates how much heat is going

through those areas. By calculating that specific PSI

value, you are actually measuring how much heat is

going through at that point. The assessor can input a

nd overwrite that poor value with something that's

realistic and can make 5-10% and sometimes 15% of

carbon savings for the entire building. On a standard

detached or terraced house, the assessor can expect to

make 5-6% carbon savings over ACDs.

If the thermal junctions are not measured, then a

default PSI Value is applied to the calculation. The

problem in the industry is these default values or dated sets of

values such as Accredited Construction Details (ACDs)

and Enhanced Construction Details (ECDs) can be

inaccurate. At Darren Evans Assessments we will carry

out an independently assessed thermal model to cover all

of the places where the default values or ACD values are

worse than in reality.

As a PSI value assessor, we are essentially tightening

down the design and making it more accurate by inputting

correct and supported heat loss calculations.

This improved accuracy in the building model will lead

to design improvements. By taking the time to look at

and feed that specific information into the calculation, the

assessor is able to provide advice on how to help build

these details. While there are some in the industry who

create thermal models that are completely unbuildable,

we are able to come on board and simplify the whole

thing to make sure it is correct.

Independently assessed PSI Values will always be

cost effective on every medium scale and larger

residential development. When you have more than 10

units employing these details (over even multiple sites with

standard details), the larger design and build contractors

can focus too much on big ticket items such as expensive

renewables and thermal bridging can be overlooked.

If you can make a difference over whether or not the

PV sits on the roof, the small cost to do the PSI value

calculations versus, say, £70k worth of PV, would seem

like a no-brainer. If you are not using independently assessed

PSI Values in your SAP calculation you are five or

10 years behind everyone else.

www.insulatenetwork.com

31
---
The only independent insulation industry trade magazine

insulate columnist

The Importance of Insulation

in Reducing Fuel Bills

Neil Marshall, Chief Executive, National Insulation Association (NIA)

Responding to the news of the proposed energy price cap the National Insulation

Association (NIA) is advising that there is still more that can be done to reduce fuel bills and help the

most vulnerable households, especially those in fuel poverty.

New analysis released by the Big Deal collective switching

site, shows that customers on standard deals with the

big six energy providers can pay as much as £225 more

than their cheapest deal. It is estimated that there are 8m

households on a standard variable tariff that have been

with the big six for more than three years.

The NIA says that whilst the price cap will help many

people it is important to stress that energy efficiency upgrades

to homes can also make a real difference. For example

a study by UK Energy Research Council (UKERC)

published this year highlighted that improved energy

efficiency since 2004 means that the average dual fuel

household bill was £490 lower in 2015 than it otherwise

would have been but more still needs to be done.

Therefore insulation has a key role to play in helping to

reduce future energy costs and the NIA is keen to

continue to raise awareness of the huge savings householders

can make by simply improving their home insulation.

In fact insulating solid walls can save as much as

£455 per year.

As well as the price cap the Government has

recently launched its clean growth strategy that marks out

investment in energy efficiency including insulation which

will help; provide economic growth, reduce carbon

emissions, tackle fuel poverty, reduce energy bills and

create jobs – The NIA welcome this move.

32

www.insulatenetwork.com
---
The only independent insulation industry trade magazine

Insulation News

Taking Winning To The Next Level

Our first ever L3 Apprentice of the Year is

Derrick Rodger! Del, who works for Actavo

Ltd, was chosen from the five apprentices

who were the first to complete the new

qualification with TICA.

"Del excelled throughout the apprenticeship," explains

Assessor Kevin Fleetham. "All the candidates really

took to the new course and the challenges of the higher

level qualification, but we chose Del due to his skills,

knowledge and the high quality of his finished work."

TICA's Marion Marsland said "It was a pleasure to

present our first ever Level 3 Apprentice Award to Derek

Rogers of Actavo. Our Level 3 certificate is focused on

sheet metal fabrication, so it was fitting that the award

was generously sponsored by SSAB"

"SSAB/Aluzinc will continue to sponsor this award in the

coming years" said Phil Lancaster of SSAB, "the skills

training that TICA provide is so important for the industry,

I was really impressed with the fabrication skills of

students I met during a recent visit to TICA's training

facility in Darlington"

We would like to thank SSAB for

sponsoring this award.

www.insulatenetwork.com

33
---
The only independent insulation industry trade magazine

Insulation News

Trevor Moves on from TICA

In December Trevor Horsley steps down as TICA

President, after three years at the helm Trevor

started his career as a 17 year old Asbestos

Remover with York Linings, working at Ferrybridge

Power Station. After 12 years as an Insulator he

took the opportunity to form his own company;

and Western Thermal was born. Now, 30 years

later, he's sold his business and will start the process

of stepping down from a long career within thermal

insulation.

"Trevor has been an amazingly active member of

TICA; he's gone out of his way to take on duties and

responsibilities which benefit the whole industry,

not simply his own company," explains TICA Chief

Executive Marion Marsland. "It's been an amazing

commitment. All trade associations have many members

but there are very few of them who are willing to

give such depth of commitment, over such a long period

of time. Trevor's appetite to get involved and drive things

forward has been hugely significant to our organisation."

Over the years Trevor held a range of posts prior to

becoming President. He was also the Chair of Trustees

within the IETTL Insulation and Environmental Training

Agency, as well as taking other active roles; in particular

TICA's wage negotiation panels and National Joint Council.

"I'm extremely proud of what we've achieved together,"

says Trevor, who will be taking a gradual back seat

at Western Thermal over the next two years "When

I first joined, TICA was dominated by the engineering

sector; now there's a much better balance. The diversity

of the membership is really healthy as it gives all parts

of the industry the chance to engage for the good of

the whole sector. The continued development of the

National Training Centre and the quality of the teaching

that's available is something I feel immensely proud of."

Looking to the future, Trevor expects continued

uncertainty over the shape of Brexit to have an impact,

but that there are also

huge opportunities.

"I believe there will be an

economic downturn as

a direct result of the UK

leaving the EU in 2019. I

think there will be a lot of

refurbishment contracts,

but members must also

make the most of the

new nuclear and major

infrastructure projects. In

the wake of the Grenfell

Tower tragedy, it's also a

chance to get involved in

helping shape future fire

safety strategy."

34

www.insulatenetwork.com
---
CREATE THE SOUND GOOD FACTOR

WITH ACOUSTIC SOLUTIONS FROM ISOVER

The sound good factor is here and you can

build it into every property with Isover

acoustic insulation.

This means you can create homes that sound

as good as they look, while not just passing

acoustic regulations but surpassing them.

For your customers, this means enjoying

every room to the full without the worry

of noise disturbing anyone else. Use Isover

in your next build and see for yourself how

the sound good factor can enhance build

quality and increase sales.

35

Find out about turning sound into

sales at soundgoodfactor.co.uk
---
2017's Unmissable

Insulation Event

NIA Annual Conference

7 th December 2017

JURYS INN HINCKLEY ISLAND HOTEL, HINCKLEY

BOOK YOUR PLACE TODAY

Contact the team today to book your place at the 2017 National

Insulation Association (NIA) Annual Conference and Black Tie Gala Dinner,

receive more information on exhibition sponsorship opportunities or

reserve a table at the Gala Dinner. We look forward to you joining us!

maeva.robson@nia-uk.org | 01525 383 313 | www.nia-uk.org
---
The only independent insulation industry trade magazine

NIA Conference 2017

National Insulation Association

Conference 2017 Preview

The National Insulation Association's (NIA) Annual

Conference, Exhibition and Black Tie Gala

Dinner will take place on Thursday 7th December

2017 at the Jury's Inn Hinckley Island Hotel,

Leicestershire. The event which is now in its 9th

year is firmly established in the calendar as a key

event for the insulation industry. It promises to be

an informative and enjoyable day and evening for

everyone and offers excellent opportunities for

participating exhibitors and sponsors to showcase

their products, services and brands.

The event will be attended by some 200 delegates from

the insulation industry as well as Energy Companies,

Government officials and other important industry stakeholders.

This makes it the perfect place to discuss current

issues affecting the sector

as well as learn about and

discuss plans and strategies

for the year ahead.

Energy at BEIS will reflect on the Government's manifesto

commitment on fuel poverty, the recent publication of the

Clean Growth Strategy and what might be expected from

future iterations of the Energy Company Obligation.

Denise O'Leary of multi-award winning Purpol Marketing

is an experienced bid professional across the manufacturing

and construction sectors. She will share knowledge

on how businesses can realise their potential and win critical

bids. The presentation will focus on 3 key points – the

attributes of consistently successful bids, how your team

can recover from a lost bid and golden rules to deliver

repeatable bid success.

BEAMA will explain the minimum requirements and

options for ventilation to enable insulation installers to

Neil Marshall Chief Executive

of the NIA commented:

"The NIA represents

the manufacturers, system

suppliers, installers, fixing

and component suppliers

of insulation measures and

this year we have some

great presentations lined

up including speakers

from; Department for Business,

Energy & Industrial

Strategy (BEIS), PURPOL

Marketing, BEAMA and the

National Energy Foundation

(NEF)."

Richard Mellish, Deputy Director

for Home and Local

www.insulatenetwork.com

37
---
NIA Conference 2017

comply with the standards contained within PAS2030.

A specialist Data Protection Consultancy will be delivering

a presentation on the General Data Protection

Regulations (GDPR) due to come into force in May

2018 and explain to companies what the new regulations

mean and how to ensure compliance.

Dr Kerry J Mashford OBE CEng FIMechE FICE

FIET FRSA, Chief Executive of the National

Energy Foundation will be giving a presentation

entitled - Is IWI an opportunity ripe for exploitation?

Dr Mashford commented:

"I'm looking forward to the event and to sharing rich

and diverse ideas and insights with colleagues from

across the sector."

The event also hosts a breakout exhibition area where

some 20 exhibitors will be showcasing their products

and services.

Chris Forshaw, Business Development Manager

Kiwa BDA commented:

"Kiwa BDA is proud to be a member of the NIA, and

the opportunity to exhibit at the Annual Conference

is an excellent forum to engage fully with the rest of

the membership. We are also pleased to have the

opportunity to sponsor the refreshments and lunch

during the day, ensuring the NIA members are fully

provisioned for a successful conference. The NIA

is at the forefront of representation of the insulation

sector and Kiwa BDA is pleased to offer product

and system testing and certification services to NIA's

manufacturer/system designer members."

Martin Clayton, Managing Director of GTI Direct

commented:

"GTI Direct are delighted to be exhibiting once again

at the National Insulation Association Conference

2017, the only event of its kind that brings together

the whole chain of industry professionals involved in

delivering the UK Governments carbon reduction and

fuel poverty targets through insulating homes and

businesses."

"The NIA conference is a key event in the insulation

industry calendar and we are delighted to be supporting

it," said Richard Beale, BBA Commercial

Director. "It is a great opportunity to network with

industry professionals and discuss issues affecting

this sector."

38 www.insulatenetwork.com
---
NIA Conference 2017

James Ormerod Managing Director of ALIVA UK

said: "We are very pleased to be a sponsor of this year's

NIA Conference – this is an important industry event as

it provides attendees with advice and information to aid

there business planning and a good platform for networking."

And finally Insulate Network's Colin Heath, Managing

director of Versanta, commented on the recent announcement

as media partners for the event: "It's exciting

to be partnering with the NIA. Our organisations play such

a crucial part in the insulation community, this partnership

offers a great platform and we will be providing coverage

before, during the day with live interviews and social media

activity and a follow up review feature. We are very

much looking forward to the event in December".

the insulation industry.

- By booking a table at the black tie gala dinner to entertain

clients and potential clients in informal surroundings.

A table for 10 costs £1,200 and includes a pre-dinner

drinks reception, 4 course meal, complimentary wine and

entertainment."

To book a place at the conference, exhibition stand

or sponsorship package or to find out more information

please contact Maeva on 01525383313 or

email Maeva.robson@nia-uk.org

Neil Marshall said: "There are a number of ways companies

and individuals can still get involved in this not to

be missed industry event:

- Non NIA member companies can attend the event by

booking external delegate places at just £199. However,

if companies join the NIA between now and the event they

will automatically be entitled to one free delegate place.

- We have a limited number of exhibition stands and

sponsorship packages still available. Exhibiting and

sponsorship provide an excellent opportunity for companies

to promote their products, services and brands to

www.insulatenetwork.com

39
---
Thank you for all your kind messages of support

as we celebrate our first Birthday...

"Happy first birthday Insulate! I applaud you for

delivering informative industry features, debating

hot topics and realising the National Insulation

Industry Awards. The magazine has achieved so

much in one year and I look forward to

supporting Insulate for the onward and

upward journey ahead."

CLAIRE CURTIS-THOMAS,

BBA CHIEF EXECUTIVE

"A publication for the insulation industry has been

a long time coming, we now have it and wish the

Insulate Magazine continued success in the future.

It's a pleasure to work with you in promoting the

benefits of insulation together with the

achievements and views

of our industry."

NEIL MARSHALL,

NIA CHIEF EXECUTIVE

"Happy Birthday! The magazine is a

great opportunity to raise the profile

of our industry. We look forward to

working with you over the coming

year."

MARION MARSLAND,

TICA

CHIEF EXECUTIVE

"Looking forward to supporting how

as an industry we can raise more

awareness of the role insulation has

to address efficiency and comfort of

our living and working spaces."

ANN FISHER,

SIG INSULATION

BRAND DIRECTOR

"Happy 1st Birthday and many

congratulations on creating a successful

and progressive publication,

highlighting our important energy

saving industry!"

KEVIN BOHEA,

RECTICEL INSULATION

COMMERCIAL DIRECTOR

"IMA sends best wishes and congratulation to everyone at Insulate Magazine to mark the publication's first birthday.

It has certainly been a hectic year and we are delighted that you have played such an important role for our sector,

providing a valuable and informative source of information to the wider construction industry. We certainly look forward

to continuing our work with you over the next 12 months and helping increase the knowledge and

understanding of the insulation industry and its products across the UK and beyond."

SIMON STORER

IMA, CHIEF EXECUTIVE

Subscribe to Insulate Magazine for FREE : www.insulatenetwork.com