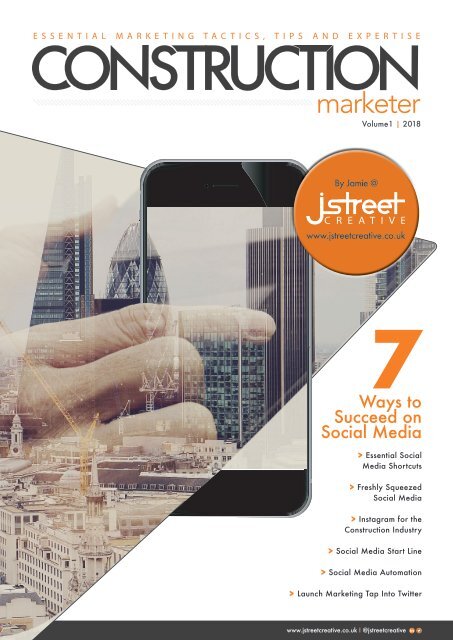 Construction Marketer Volume 1 2018 - Social Media
Essential marketing advice for the construction industry. In volume 1 learn how your construction business can use social media to best effect. Including how to get started on social, launching products on Twitter, Instagram for the construction industry and essential social media shortcuts
Essential marketing advice for the construction industry. In volume 1 learn how your construction business can use social media to best effect. Including how to get started on social, launching products on Twitter, Instagram for the construction industry and essential social media shortcuts
SHOW MORE
SHOW LESS
You also want an ePaper? Increase the reach of your titles
YUMPU automatically turns print PDFs into web optimized ePapers that Google loves.
E S S E N T I A L M A R K E T I N G T A C T I C S , T I P S A N D E X P E R T I S E

marketer

Volume1 | 2018

J

By Jamie @

STREET

www.jstreetcreative.co.uk

7

Ways to

Succeed on

Social Media

> Essential Social

Media Shortcuts

> Freshly Squeezed

Social Media

> Instagram for the

Construction Industry

> Social Media Start Line

> Social Media Automation

> Launch Marketing Tap Into Twitter

www.jstreetcreative.co.uk I @jstreetcreative
---
www.jstreetcreative.co.uk

Contents

Welcome to the first volume of Construction Marketer, after much deliberation I decided it was a good

moment to put my writing to paper (albeit digital) in order to share my knowledge and experience of

working in the construction and marketing space for a number of years.

Construction Marketer, is designed to support your construction marketing strategy and campaigns with tactics, advice

and expertise tailored for todays highly competitive marketing environment.

In volume 1 Construction Marketer, is in the Spotlight and I share with you some compelling ways to get the most

from a platform that may seem massively unrewarding and irrelevant to many in the construction industry space.

From an in-depth introduction to instagram to launching new content or products on twitter,

I hope you will embrace social media with fresh enthusiasm.

If you would like to share your thoughts on constructon marketing via the publication or on the website www.jstreetcreative.co.uk,

please contact me below.

Happy Marketing!

Jamie Street

Jamie Street

Branding and Design

jamie@jstreetcreative.co.uk

Linkedin: https://www.linkedin.com/in/jamiestreet87/

We provide design services to help business'

in the built environment create refreshing new identities.

P.S The guide uses the construction industry as the subject area but all skills can be applied to any business

©jstreetcreative

No part can be reproduced without

the express permission of the publisher

J

ST REET

www.jstreetcreative.co.uk I @jstreetcreative
---
www.jstreetcreative.co.uk

Social Media

Start Line

Inside a construction business

it's easy to become so invested

in a new product, service or

scheme that it becomes a simple

easy to understand concept.

More often than not, this is not the

case and the chances are that even

people within your business will

take some time to adjust and fully

understand the new concept.

Therefore potential customers will

require careful consideration when

choosing how best to

communicate with them. Left in

the wrong hands this could lead

to overly complicated technical

marketing messages being

communicated to our audience.

As part of the marketing campaign,

construction marketers can employ

a carefully considered social

marketing campaign as an effective

tool for drip feeding knowledge to

your customer.

Social Marketing Environment

Social media is a fragile environment

where a minor slip can lead

to significant consequences. For all

the good it can do for your

business, a badly perceived post can

be damaging.

The key is to maintain a balance

between the core principles of your

business whilst maximising the

response to your messages.

Avoid Cheap Tactics

A funny GIF or meme, that has no

relevance to your product and service

may lead to a few random likes

but what effect will it have on

credibility and is it fulfilling its

purpose of driving awareness?

GIFs and other novel tactics can be

highly effective (page 4) but don't

lose sight of your business goals

simply to suit the social media

platform.

Consistency

Delivery of your messages on social

media should reflect all the

messages you are communicating

on your website, email campaigns

and print activities. Consistency,

in all marketing and promotional

materials is essential.

Repetition, creates familiarity

and confidence and helps to build

a long term impression. Flakey

unguided messages can only serve

to confuse your audience and dilute

the intended message.

However this doesn't mean the

message has to be continuously

repeated. An extended story that

can be pieced together by

following each stage (hashtags

page.6) or re-squeezing (page.8)

can boost consumer engagement.

But the key in that instance is the

subject remains the same and each

communication holds significant

value on its own. Don't waste the

limited time you have with your

audience, who are well trained in

scrolling through news feeds.

Compelling

With so much information

available in the world of social

media and other outlets it's essential

that your posts are compelling

and engaging.

You can't guarentee a great image

of your project will be enough to

capture the interest of your

audience. This approach will likely

lead to people flicking their finger

past your message.

Construction marketers need to

show their creativty and employ

tactics that will not only ensure

your messages are seen but receive

a like, re-share or more crucially

website traffic.

JST

REET

www.jstreetcreative.co.uk I @jstreetcreative
---
www.jstreetcreative.co.uk

Crafting the Message

Instead of just posting an image, lets

look at how you can craft the ideal

message that will reward your time

investment.

Here's an example:

JST REET

A great feature with @company leads the

way in the next volume of construction marketer.

Subscribe Free to read it on day one:

http://www.jstreetcreative.co.uk

#construction #sustainability

09:01 - 7 March 2018

See other tweets

Key Message Features

1. The use of a perfectly sized

twitter image

2. A photo that draws the eye, combined

with a provocative headline

and body content

3. Consistent use of the

Construction marketer logo and

colour scheme throughout

4. Raises awareness of an upcoming

feature and a future release

5. It endorses another company

(@company) which can massively

enhance shareability

6. There is a clear call to action:

Subscribe Free

7. A consistent hashtag is used.

For the benefit of your product

you might choose go for

something completely unique.

The goal with the post is to increase

traffic to a landing page, with the

ideal result being a new subscriber to

the publication.

A Sustained Effort

Success requires consistent

interactions throughout the day, week

and month, appearing at various

times to act as a continuous reminder.

Marketers may grow frustrated with

the lack of response and convert their

efforts elsewhere. There is a degree

of experimentation, in terms of post

timing and structure but over time

the rewards will go beyond likes and

followers. Social media is a marathon

not a sprint.

We have safetly left the social media

starting blocks but there is a lot

more to learn and tactics to perfect

in order to take advantage of the

irrestible social marketing platform.

Create Your Dream

Brand Identity

We provide design services to help business'

in the built environment create refreshing new identities

Branding | Literature | Social Media | Lead Magnet

www.jstreetcreative.co.uk I @jstreetcreative

www.jstreetcreative.co.uk @jstreetcreative

J

ST REET

www.jstreetcreative.co.uk I @jstreetcreative JST REET
---
www.jstreetcreative.co.uk

If your construction business is using social

media, how responsive are people to your content,

are you getting likes, shares and comments from

your followers and partners?

JST REET

Gone Missing on Social Media

The cold truth of social media is that great content

can go missing. Expecting to share something and

the floodgates to open with people liking, sharing and

clicking through are unrealistic in such an

overpopulated marketing space. People may see and

acknowledge your message, but they might not feel the

need to share or like it.

Traditionally used for fun and amusement, a viral

response to your new construction project, product or

service is very uncommon. In some cases they may not

even see it at all.

Including engaging images and repeating your posts at

different times of the day can enhance response, but the

method of including @handles and tagging others is a

sure fire way to give your content a leg-up.

Minor Adjustments

If you want to increase the reach potential of your posts

here are just a few minor adjustments you can make to

your social media messages to multiply your

impressions, shares, likes and clicks.

Using the @ handle

On twitter, linkedin and Facebook you can use the @

function to include another person or company in your

message.

Here is an example of highlighting your businesses'

work with a housebuilder or architect:

Great to work with @housbuilder on @architect in location.

Read more about our work on the project here: www.website.com

09:01 - 12 June 2018

See other tweets

Using the @ will notify the businesses associated with

those social media accounts, who may choose to share

your content to their social media audience of 1000's,

increasing visibility of your business to their audience.

The Stats

The key goal here is that by sharing using the

@housebuilder and @architecthandles it is possible to

increase the "potential" number of viewers (impressions)

and clicks (engagements) the tweet can achieve by

creating the opportunity for it to be seen by

significantly more twitter users than before. Our twitter

following may be 150, but there's combined is several

thousand. If both parties re-shared the content we

would be visible to there audeince creating potential for

new relationships to be begin with minimal effort.

That is a worthwhile increase considering the minimal

effort required and undoubtedly lead to our brand and

those featured in the message being seen by new

audiences. A benefit that your partners will surely value.

Image Tagging

Not keen on complicating your social media messages

with @handles everywhere?

JST

REET

www.jstreetcreative.co.uk I @jstreetcreative
---
www.jstreetcreative.co.uk

An alternative and more attractive

method, is to attach a suitable image

and tag companies relevant to the

photo. This would also be the tidiest

approach for including your own

team in the message, to

further increase the sharing

potential.

As with the @handle approach the

tagged company account will be

notified, and in turn they may

choose to like or re-share your

content.

You may only be sharing the content

once, but others are also working

for you by extending the life of the

message.

More than a Novelty

Tagging and @handles may seem

novel, but they provide an example

of how by working together with

your partners beyond the initial

transaction relationships can be

enhanced further and new business

opportunities can be generated.

The Hashtag #

Less about sharing and more about

visibility and brand engagement

the hashtag is a powerful tool for

getting your business recognised

when people search via social media

platforms.

A construction company may always

uses the hashtag #construction to

appear in twitter social search for

this topic. They may use other

relevant hashtags such as #building

and #sustainability to broaden their

visibility to a relevant audience.

Short Term Power Hashtags

A clever way to use hastags in twitters/facebook

is to utilise the trends

from panel down the left hand side

of the news screen.

Using hashtags in your social media

posts for a specific day e.g

#wednesdaywisdom or

#fridayfeeling can put your content

in front of a much bigger audience.

An increase in impressions is

guaranteed but don't expect an

audience to love or care about your

content. Remember the

trending hashtags are being viewed

by millions of people who care little

or have absolutely no awareness

of your business. Employed in the

right situation however, it could

prove hugely rewarding.

Make the right judgement call when

it comes to balancing short term

impressions with the impact on your

business. If you can make your message

fit within the context it's worth

experimenting.

Below is an example of jumping on

this royal wedding craze:

Need a #RoyalWedding warm up?

Look no further: (www.website.com)

#construction #sustainability

10:10 - 19 May 2018

See other tweets

Exciting Features!

Short term hash tags assigned at

construction events are a great way

to increase the visibility of your

message. During the event Twitter

users and event organisers will be

following and engaging with the

hashtag for the latest updates.

Event hashtags become competitive

with companies keen to gain the

spotlight, success is dependent on

the content you are sharing but a

concentrated effort will give your

construction business excellent

visibility and can help drive traffic to

your stand, website or at your as

minimum your social page.

Below is an example of utilising the

ecobuild2018 hashtag. Continuous

use for all tweets during the event is

essential:

Excited to be at exhibiting at #ecobuild2018,

come and see us at stand E21

#construction #sustainability

09:01 - 7 March 2018

See other tweets

Long Term Hashtags

JST REET

A unique hastag, used consistently

can become a highly effective

branding tool in your marketing

efforts. Used consistently and

strategically alongside the right

content it can tell a persuasive story

about the ethos of your business.

The hashtag may be your company

name, a strap line your company

exclusively uses or a specific

marketting campaign you are running.

Through consistent use your

social media audience can access an

entire stream of content related to

your business simply by clicking the

hashtag in your post.

www.jstreetcreative.co.uk I @jstreetcreative

JST

REET
---
www.jstreetcreative.co.uk

People may also search for your

hashtag using traditional search

engines (Google), creating an additional

route into specific content you

are a promoting. You can also monitor

the performance of hashtags as

a means to measure the effectiveness

of your marketing efforts.

Marketing Campaigns

Companies with a large following

adopt new hashtags to

encourage people to get involved

with their new marketing initiatives

for launches and campaigns.

By encouraging their followers to

use the new hashtag, they can

identify their most valuable

customers through their

engagement with the hashtag. The

relationship can be enhanced by the

hashtag creator choosing to share

the customers content or following

up with more personal

communication.

Utilise Your Email Database

If the content of your social media

message justifies it (a new landmark

project, partnership or video) why

not send a link to your social media

message containing your content to

your email database.

This could offer a number of

significant benefits:

• Massively increase followers to

your social media account (they

may not have acknowledged

you had a social media presence

before)

• Increase shares and likes if

people are logged in at the time

as viewing your social media

message. If you have

included @ and tagging those

who tagged will see further

benefits from your efforts to

include them in your social

media messages.

More Than Meets the Eye

The cold truth of social

media is that great

content can go

missing. Expecting to share

something and the floodgates to

open with people liking, sharing

and clicking through are

unrealistic in such an

overpopulated marketing space.

Social media offers so much more

to construction marketers, than may

meet the eye. The potential leverage

and coverage can serve to be of great

value to your business.

Starting to use social media is a

positive step, but to make that

positive step a rewarding one it's

time to implement and measure the

tools laid out

here and really

start making your

content work for

you via a sustained

effort.

I hope these tips

help your

construction

business take

significant

strides to

stronger

relationships

and new

business

opportunities.

JST

REET

www.jstreetcreative.co.uk I @jstreetcreative
---
www.jstreetcreative.co.uk

Freshly

Squeezed

Social Media

When it comes to sharing content on social media the prospect of having enough to say can get

overwhelming. You may only have one new press release to share and you don't want to send your

audience to sleep by posting out a repeating message over and over again. Thankfully there is a lot more

life in your press release than you might expect, here's how you can squeeze more from your content with Twitter.

Follow the twitter stream to see how you may choose to get the most from your content:

Phase 1: Below is as example of a typical message that

may appear on twitter, following the post of a recent news

story, published directly from the original website. It ticks

all the boxes in terms of image, use of @ to increase share

potential with partners, #hashtags and the link to the post

itself.

JST REET

towards the original content or website you were

promoting in the previous social media message. Online

tools such as Canva are perfect for this. As before it's

important to leverage the accounts of other companies.

JST REET

"The project was a massive

success and was well received by

the local community"

- Spokespersons Name

Great to work with @housbuilder on @project in location.

Read more about our work on the project here: www.website.com

#construction #housebuilder #newbuild

09:01 - 12 June 2018

See other tweets

Phase 2/3/4/5: The choice is yours but create 3 or 4

further tweets that appear to look new but still point

The project with @housbuilder on @project in location was a huge success

Read more about our work on the project here: www.website.com

#construction #housebuilder #newbuild

09:01 - 12 June 2018

See other tweets

Phase 6: To really utilise the post content and the new

graphics, create a short video to pull everything together:

www.jstreetcreative.co.uk I @jstreetcreative

JST

REET
---
www.jstreetcreative.co.uk

"The project was a massive

success and was well received by

the local community"

- Spokespersons Name

JST

REET

Watch the video above for all the key points from our project with

@housbuilder on @project

Read more about our work on the project here: www.website.com

#construction #housebuilder #newbuild

09:01 - 12 June 2018

See other tweets

iMovie for Mac is ideal tool for loading your images,

inputting transitions and possible a backing soundtrack

to create an effective piece of marketing collatoral

efficiently.

Phase 7 Recycle your Social Media:

At this point you might feel you have

exhaused the current piece of content. Think again.The

good and the bad side of using twitter as a marketing

channel is that the response to your content can vary

based on the time of day or the day of the week.

Social Media is a

great way to squeeze

every last ounce of

juicy goodness out of your best

content. Turn that construction

brochure, product press release

or case study into a fresh glass of

knowledge with a new image,

headline, and text.

This time element makes it a lot more acceptable to

share previous tweets again later in the week, or month

and give the perception of sharing something new with

a different audience or a timely reminder to those who

may have overlooked it the first time.

You can achieving this quickly and efficiently by

using an automation tool like Buffer. Use the tool to

re-schedule the great tweets you just shared for the

following week, or a specific date and time in the calendar

(Read More Page.15)

"Freshly" Squeezed Content

As you can see Social Media is a great way to squeeze

every last ounce of juicy goodness out of your best content.

Turn a case study, press release or case study into a

fresh glass of knowledge with a new image,

headline, and text. To get all the essential goodness

from your post make sure you share each with your

partners, who will share content that looks new and

informative.

Hopefully these tips will give your some inspiration

on how to give the perception of "freshly squeezed"

to your existing and new content. Use this process

time and again to raise your business profile and the

awareness of your most valuable content.

www.jstreetcreative.co.uk I @jstreetcreative
---
www.jstreetcreative.co.uk

Gliding

Through

Instagram

Many may dismiss instagram as a marketing tool for a younger generation and fast moving consumer

brands but statistics and demographics would suggest there is a world of opportunity for companies

working in the construction industry.

2017 Statistics (1) Relevant to Construction Marketers

• 60% of instagram's 17.2 million users in the UK are

above the age of 25

• The age bracket of 18-34 dominates,

representing 61% of the total share

• 44% are men and 56% are women

• It was estimated that in 2017 70%

of brands will be on instagram (2)

• Engagement with brands (3) is 10 times higher on

instagram than on Facebook, 54 times higher than

Pinterest and 84 times higher than Twitter

Instagram's Construction Industry Potential

As a company involved in the construction industry the

important word is "potential"

1. Instagram membership is growing rapidly (4) and it's

users represent your customers, colleagues and

associates of today and the future – It is imperative to

get your products and services in front of them

2. Re-purposing content. If you are using resources

from your website or posting images and content on

other social media channels such as Twitter, Facebook

and Linkedin minimal effort is required to re-use the

content on instagram to great effect

3. The stats say it all. A lot of construction companies

are heavily invested in Twitter, to a point of overload.

With 84 times greater engagement rate (3) achievable

on Instragram, the opportunity to instill your brand

or business is significant. There is potential to become

a leading influence in the construction industry space.

4. Tell a Story. Construction marketers could use

Instagram Stories to capture photos and video of the

business' on-site construction project or factory line in

action, to maintain a continuous flow of communication

to your audience. Instagram Stories is a perfect

opportunity to enhance the business' a personality,

become more than a technical helpline, or somebody

at the end of an email.

- With minimum effort you can deliver a

regular stream of branded content in the palms of

your audience

www.jstreetcreative.co.uk I @jstreetcreative
---
www.jstreetcreative.co.uk

- Your brand is placed at the top of

instagram feeds for

maximum visibility and will

automatically appear when

instagram users are watching

their instagram stories

5. Influencer Marketing is used to

great effect by consumer brands that

are tapping in to

instagram users with 1,000's of

followers. By identifying the right

instagram users (you may already

employ them) to promote your

business, there could be a great path

to gaining recognition in this space.

Initial Instagram Growth

Unlike your website and Linkedin,

instagram is a platform your

audience is likely to use for pleasure

rather than business. You will need

to be open to adopting outside of

the box marketing tactics to get

them to follow and like your

content.

Here's some ideas:

Tell Your Business

Group wide email and internal

communications is a good starting

point for building a foundation of

initial followers.

Influencers

Encourage colleagues to mention

your account via their instagram

posts or stories. Maybe they are

working on a project and are well

placed to snap a good photo of your

product being installed, get them

to mention your account in the

description using

@yourcompanyname to point their

audience towards your account.

Motivation

Motivational quotes and images are

always well received on instagram as

audiences seek inspiration

throughout the day. To keep on

brand you might want to include

an influential or inspiring caption

or comment a colleague mentioned

about the company, or go for a more

traditional big name (Steve Jobs/

Einstein/Sports Star) approach.

Here's an example of how we might

promote the Freshly Squeezed

Social Media article on page 8 with

Instagram:

Not necessarily the most

motivational, but still informative

and eye catching which may lead to

audience engagement. A free online

tool like Canva or Pablo can help

you create these type of visuals.

Memes

Be wary of the damage a meme may

have on your brand. You might get

away with the odd meme on Twitter,

but on instagram your post has a far

more permanent presence.

Content Remains King

Content is king when it comes to

growing your instagram following

and achieving the audience

interaction to the justify time

investment the platform demands.

Let's look at some of the

resources you should look to utilise

or produce:

Case Study Photos

Landmark locations, or eye catching

architecture are great for catching

the audiences eye.

Personal Touches Showing the

inside of your business

operation is an

approach that is

highly valued by

instagram users

Premises

Showcasing your

factory, office or depot

can give a personal

touch to your

instagram feed.

Staff

Spotlight the team

that makes your

business a success.

Share there comments

and daily activities

Products, Brochures

&

Promotional Material

Give them a personal touch by

showing products being installed or

brochures being read by colleagues,

customers and influencers

Company Profile Video

Provide small snippets of your

company profile video and enhance

relationships with your audience

Instagram stories

In the responsible hands of your

staff out on the road, on site or in

your factory there is a never ending

source of valuable content you can

capture to achieve sustained

communication with your audience.

Include appropriate location and

product information, maybe even

the weather.

www.jstreetcreative.co.uk I @jstreetcreative
---
www.jstreetcreative.co.uk

Go The Extra Mile

• Drone Footage

This type of premium content is ideal for social media

engagement. If you have drone video content of your

headquarters or a project make the most of it here.

• Personal Hashtag

Create a breadcrumb trail for your instagram posts by

starting your own company hashtag. Be imaginative

and unique, but remain on brand. #loveconstruction

for example. Here's why:

- When people search a unique hashtag in insta

gram or a major search engine like Google they

will see all yourcontent associated with the

hashtag first

- When they click the hashtag in post they will

see all your other content

- The hashtag can be used across all your social

media feeds

- You can use it via other marketing channels to

give your audience another way to find you

- Give your brand greater personality

• Watermarking

If people steal or re-share your content you can still

get additional exposure by displaying a faded logo in

the corner of each post

• Re-squeezing

Don't miss an opportunity to re-tell a great story from

existing content in a different way through instagram.

• Build Awareness

Your existing audience may not expect to find you

on instagram, make sure they are aware through you

website, email and offiline collateral

Strategy Advice: A Consistent Mixture

The final hurdle is to provide your audience with a well

co-ordinated mixture of content consistently. Avoid posting

all of your great content in a single day, the rewards

come from dripping fresh content over days, weeks and

months. Early on gather followers and traction, consider

sharing a new piece of content every day, but mix up the

type of content you share each day to catch the eye.

As you audience grows you may reduce frequency and

increase quality even further. Over time you will be have

an audience that is eagerly awaiting your next post.

Warning

These content sources will bring your instagram feed to

life, but make sure the quality standards remain consistently

high. Your audience will accept and potentially value

amateur footage from your team, but don't lose control of

your business and risk repercussions. Lay down guidelines

to people with access to the account, and moderate where

possible. The live aspect of instagram stories is not suited

to business review, consider gathering and moderating

content first and re-issuing once approved.

More Leg Work

Unlike twitter, facebook or linkedin it's not straight

forward to re-share existing content, reducing the

possibility of piggybacking on other people's accounts. It is

possible through third party apps, but requires more than

a simple click. To maximise likes ensure you are tagging

any associated instagram users into your posts.

Enjoy the Glide

As with all social media channels a lot of work is required

to establish yourself on instagram. However, given the

potential to sew the seeds of your business amongst a new

and existing audience, it remains an effective way to leap

to the front of the line in a competitive industry.

The Tagline

Traditionally "a story tells a thousand words" but a well

orchestrated Instagram tagline is just as powerful.

This is an opportunity for Construction Marketers to

really bring a personality and voice to their business, that

will ultimately result in better engagment.

www.jstreetcreative.co.uk I @jstreetcreative

JST

REET
---
www.jstreetcreative.co.uk

Launch

Tap Into

Twitter

To capture the eye on Twitter, you can't just post about something once and hope your audience comes

flooding in. Inflict maximum impact with a focused twitter launch campaign as part of your launch marketing

efforts. With every brochure or product release, deliver a well co-ordinated twitter launch campaign to

stimulate interest prior to launch, at launch, immediately after launch and the window of opportunity there after.

Here's how we could promote this very social media guide on twitter to great effect:

The Foundation Tweet

Showing the front cover and release

date notifies the audience about the

forthcoming release:

Get your FREE copy of Construction

Marketer: www,jstreetcreative.co.uk

#construction #sustainability

09:01 - 18th June 2018

See other tweets

Teaser Tweets

JST

REET

7 Essential Ways

To Succeed on Social

Launches 25th June

Subscribe Free

Making our audience aware Below

I have showcased one of the main

articles "Freshly Squeezed Social

Media (page 8) . Making the

audience aware of what's to come,

not only gives them something to

look forward to but also encourages

content providers to alert their

followers as well.

JST REET

Things get fruity in volume 1, get it on

release FREE: www.jstreetcreative.co.uk

#construction #sustainability

13:01 - 18th June 2018

See other tweets

I would then continue to do the

same for each of the articles featured

in publication, or those that

we consider to be the best. Posting

out about each article at different

times during the day will provide

maximum exposure for your twitter

launch campaign.Articles that can

leverage support from other companies

on twitter will reach a bigger

audience. You can find out more

about social media shortcuts and

utilising other accounts on twitter

here.

Alternative Tweets

The images we have used for our

twitter launch campaign tweets so far

are true to the construction marketer

brand but may become overlooked by

scrolling twitter users that have

familiarised themselves to our content.

JST REET

www.jstreetcreative.co.uk I @jstreetcreative
---
www.jstreetcreative.co.uk

An alternative image can be used to

capture our audiences interest while

retaining the message and purpose

of the tweet. The intended effect is to

act as a continuous reminder of the

imminent launch:

Receive it on launch:

www.constructionmarketer.co.uk

#construction #sustainability

19:00 - 18th June 2018

See other tweets

7 Essential Ways

To Succeed on Social

Launches 25th June

Subscribe Free

ST REET J

Launch Day Tweet

The launch day has arrived and its time

to let everyone on twitter know.

A new image and message aligned

with the launch seeks to and encourage

audiences to read the publication

JST

REET

A small caption of an article featured

in the publication is displayed with a

relevant image. The aim is that each

teaser will attract different people to

download the publication.

Where applicable, this is another

ocassion where more re-shares can be

achieved, by including contributors

using the @handle.

These content snippets can be created

quite easily for all your articles using a

freemium design tool like Canva.

By re-packaging the core content

(construction marketer volume.1)

we can continue to drive extremely

valuable traffic to the publication for

an extended period.

This process not only serves to

notify the existing audience, but can

massively increase the reach of the

publication leading to new subscribers

and brand new audiences through the

shares and likes received.

Your Launch Marketing

content.

• Repeat content on different days

at different times when your

content is likely to be viewed by

different people.

• Retain brand consistency,

relevance and quality throughout

all of your other marketing

messages via your website, email

and offline activity to strengthen

credibility, anticipation and gain

better results on release and the

days following.

• Where applicable leverage partners,

colleagues and associates

to further extend the reach and

impact when launch day arrives.

If your construction company

has new product or service on the

horizon, a twitter launch campaign

is a great marketing tool to utilise.

Putter it in action alongside an

extended marketing launch, utilising

other essential channels such as

email, you website and youtube.

IT'S HERE! Read it now:

www.jstreetcreative.co.uk

#construction #sustainability

19:00 - 18th June 2018

See other tweets

Now

Available

Has your business got a launch on the

horizon and you want to utilise the

power of twitter? Here's a recap on

my recommended approach and how

you can re-master it for your own

purposes.

Prepare for Lift off...

Content Teaser Tweets

Similar to the the teaser tweets

adopted prior to final launch, content

teaser tweets are the perfect way to

continue to prolong the appeal and

interest in the e-book.

"The cold truth of social media is that

great content can go missing. Expecting

to share something and the

floodgates to open with people liking,

sharing and clicking through are

unrealistic in such an overpopulated

marketing space."

Discover social media shortcuts. Read it now:

www.jstreetcreative.co.uk

#construction #sustainability

19:00 - 19th June 2018

See other tweets

• Achieving the desired levels of

traffic endorsement from social

media promotion for your new

content is only achieved by a

relentless yet strategic approach.

• Use different types of content,

including text, images and video

to keep your audience motivated

and stimulated by your upcoming

release.

• Keep tweets looking fresh and

different, but don't neglect your

brand or dilute the message or

stray too far from theme of the

www.jstreetcreative.co.uk I @jstreetcreative

JST REET
---
www.jstreetcreative.co.uk

Cruise Control

Social Media

Automation

Automised social media, can save construction marketers several hours a day and allow greater focus on the

"real work" whilst gaining the most value from new and existing content. Automise content before and after

posting and to add value to your own news and updates.

Content Launch

Once content is complete, construction marketers need to do

everything within their power to get their message out to a

wider audience as quickly as possible for immediate impact.

Tools such as Publicize (1) represent a great automisation

feature for Wordpress that enables content to be shared as

soon as a post goes live.

If immeidate publishing isn't available, social

media automation through tools such as Buffer

(2) , Hootsuite (3) or Dlvr.it (4) is where time will

be saved. They may also be more beneficial as the

first automation tool to be employed, as content

can be scheduled rather than arriving on social

media channels all at the same time.

Recycle Content with Automation

These automisation tools will allow you to

continue to re-publish the same content on social

media at different times during the day, week or

month. Instead of a reactive approach to social

media the coverage and professionalism of your

messages is enhanced by spreading them over

time. Great content doesn't need to become old

and we can continue to recycle it thorugh our

social media channels. We can improve the impact of this

by changing the message and the graphics use (see page 8).

Twitter is ideal for this as we want to maximise the visibility

of our content. There is no harm in sharing the content one

morning and on the evening the next day, as it may serve a

different audience or remind those who overlooked it

previously.

As a construction marketer these methods eliminate a s

ignificant amount of stress. We know we need to address our

social media audiences but we

don't want interaction with them

to completely dominate our day.

A couple of hours of pre-planning

can provide a week of quality

interaction allowing you to shift

your efforts towards responding

and engaging on a more personal

level.

Automise Supporting Content

Sharing content from other

sources adds value to your social

media channels. Known as

the 80/20 rule of social media

(5) which is adapted from the

Pareto Principle (6) . The

concept emphasises the importance

of 20% of your content directly promoting your brand,

and the other 80% consisting of informative and educational

JST

REET

www.jstreetcreative.co.uk I @jstreetcreative
---
www.jstreetcreative.co.uk

resources from others. This balance helps retain your

credibility as a useful social media account to follow, rather

than appearing as an advertiser. Audiences are alert to

being sold to so create the right balance to show you are

there to add value.

Content accumalation is another time consuming task

but thankfully there are tools available to help assist with

this process. Feedly (7) for example can enable construction

marketers to build a healthy library of content appropriate

for sharing amongst your own company messages.

Automate The Audience

Efforts should also be made to automise the process in

which our audience is able to share our content with their

social media channels. On-site sharing tools should be

accessibile in various locations on page.

audience to share content would significantly reduce the

possibility of your content being shared to a far larger

audience.

As a minimum social sharing should be enabled at the

start or end of each post or piece of content, but other

places such as hovering on the sidebar can provide a more

immediate response. Other methods such as pop-ups may

also be considered to maximisie the sharing opportunity.

Automate Now

Automation ensures that all the hard work put into

creating great content is rewarded. Instead of social media

interaction being a drop in the ocean, automation ensures

your content is ever present, which is essential for success

to be achieved.

Some of these sharing tools may be available by default,

but failure to enable these features and relying on the

References

Essential Social

Media Shortcuts

Page 3

www.canva.com

https://pablo.buffer.com/

Freshly Squeezed

Social Media

Page 6

www.canva.com

https://pablo.buffer.com/

Gliding Through

Instagram

Page 8

(2)(4) https://www.brandwatch.com/blog/

instagram-stats/

Eye Catching

Social Media

www.canva.com

https://pablo.buffer.com/

Stepping Stone to

Email Subscribers

Page 15

(1)(4)http://www.rosemcgrory.

co.uk/2018/01/01/uk-social-media-statistics-for-2018/

(1)https://www.dreamgrow.com/11-reasonswhy-newsletter-beats-social-media/

Crusie Control

Social Media

Automation

Page 17

(1) https://jetpack.com/support/publicize/

(2) https://buffer.com/

(3) https://hootsuite.com/

(4) https://dlvrit.com/

(5) https://www.socialmediatoday.com/content/8020-rule-why-just-20-your-social-media-content-should-be-about-your-brand

(6) https://www.briantracy.com/blog/

leadership-success/apply-the-8020-rule-toeverything/

(7) https://feedly.com

www.jstreetcreative.co.uk I @jstreetcreative

JST

REET
---
www.jstreetcreative.co.uk

Stepping Stone

to Email Subscribers

Social media is here to stay, but it's value in construction marketing can only be judged by how we use it to

achieve a worthwhile return. Automated or manual social media engagement still demands our time and

careful co-ordination, to make that investment worthwhile construction marketers should ensure their social

media efforts are rewarded with a healthy return of email subscribers.

Email is Essential

It's easy to believe email is "old

technology" compared to social media,

but as products and services often

prove new doesn't necessarily mean

better.

Lost in Social

On social media your message can get

lost, surrounded by various

distractions; Celebrities, sports, music

and more. How does that great new

brochure look compared to the new

trailer for Jurassic World? The answer:

"Not so interesting".

Construction marketers who have

built great content, used all the tips

and tactics of handles (@), hashtags

(#), re-squeezing (p.8) and

automation to grab the social media

spotlight for long enough, deserve

gratification for their efforts.

The reward should come in the form

of the visitors email address for more

valuable interactions.

Landing Page

The first priority is that the audience

finds the information they expected

once they click your social media

interaction. Assuming this is the case,

priority should quickly shift to email

capture.

Don't rely on visitors to find your

contact page, or call you. Your website

needs to be pro-active in order to

achieve the maximum from their

precious time.

Capture the Moment

Via a page take-over, offer a

worthwhile incentive such as an

ebook to encourage subscription

immediately. A take-over is

recommended as it it gives your

audience little option but to at least

consume your message.

In my view a pop-up is slightly less

effecive as it shows your website in

the background, so visitiors may

instinctively react with an immediate

click-away.

If that fails, ensure on every page

there is a visible email sign-up form

as a minimum, or there is a standout

image that reminds people of your

giveaway incentive. Ensuring compliance

with GDPR the sign-up form

doesn't need to be over complicated.

Tell them what they are getting and

ask for their email in return. Save

their time and avoid additional fields,

those finer details can be captured

later.

The Reward

So all your hard social media work

has been rewarded with an email

address, but it's what can be gained

from that email address that really

makes it standout beyond new

followers and likes for your social

media pages.

Ongoing Communications

Email paves the way for more

effective and efficient ongoing

communcations. Your audiences are

expecting your valuable content, and

therefore willing to give you more of

their headspace when they open your

email.

Statistics show that emails achieve 4x

greater response rate than

Facebook (1) . So with every email

campaign you send out you can

expect 4x the website traffic to your

JST

REET

www.jstreetcreative.co.uk I @jstreetcreative
---
www.jstreetcreative.co.uk

your construction website than you

can from a facebook post. Using

segmentation could lead to an even

greater response rate.

Furthermore recent changes to facebook

(algorithms) mean audience

reach of non-promoted (organic)

posts has reduced by 50%( 1 ), which

means businesses need to rely

on paid advertising (boosting) to

achieve full visibility to their

followers. In contrast, e-mail

remains relatively low cost.

The important point is that by

capturing an email as a

consequence of social media

interaction, we move our audience

communications away from an environment

where our control over the

conversation and cost is spiralling

to a position that allows construction

marketers to budget better and

achieve a higher level of response.

Genuine Relationship Building

An email represents the start of a

more complex and rewarding relationship

with potential

customers and colleagues. Yes you

can comment, reply and direct

message on social media but email

remains a more professional

platform to have meaningful

business conversation.

The off-cuff interactions on social

media can

instead become

email communications

that

achieve

genuine

revenue.

Marketers can

achieve this

through

greater

personalisation

and

segmentation

of messages

with specific offers

and incentives.

However, it is important to

maintain the right balance to avoid

your new contact viewing your

emails as spam and your future

communications being ignored.

Their are also greater reassurances

such as life-span that construction

marketers can gain from converting

social followers into email

subscribers.

With social media we don't have any

control over whether our audience

will migrate to a different platform

or simply stop using it (#Leavefacebook)

making it unwise to hang

all our marketing efforts on the

number of followers are social pages

receive.

move our audience

communications away

from an environment

where our control over the

conversation and cost is

spiralling to a position that

allows construction marketers to

budget better and achieve a

higher level of response.

Once we have an email contact, we

posess a communication channel

that remains a foundation to

every other form of modern

communication including social

media itself.

Social Success

The important message in terms of

overall strategy is that construction

marketers should continue to persue

more followers and the benefits

associated with re-tweets and greater

visibility from social, but achieve

these targets with the goal of capturing

email addressess for further

more valuable communications and

relationships that can grow even

stronger over time.

www.jstreetcreative.co.uk I @jstreetcreative

JST

REET
---
www.jstreetcreative.co.uk

About the Author

Jamie Street

I'm passionate about building

brands, creative design and

marketing. In my daily blog

I provide FREE branding

and marketing advice. Areas

of discussion include

Artificial Intelligence,

Construction, digital

marketing and creative

design.

At JStreet Creative we

provide design services to help

business' in the built

environment create

refreshing new identities.

Our creative services include

branding, technical literature

and social media designs.

Connect with me on

Linkedin here

We provide design services to help business'

in the built environment create refreshing new identities

Branding | Literature | Social Media | Lead Magnet

www.jstreetcreative.co.uk I @jstreetcreative

J

ST REET

www.jstreetcreative.co.uk I @jstreetcreative
---
Create

Your Dream

Identity

We provide design services to help business'

in the built environment create refreshing new identities

Branding | Literature | Social Media | Lead Magnet

www.jstreetcreative.co.uk

www.jstreetcreative.co.uk I @jstreetcreative

J

ST REET