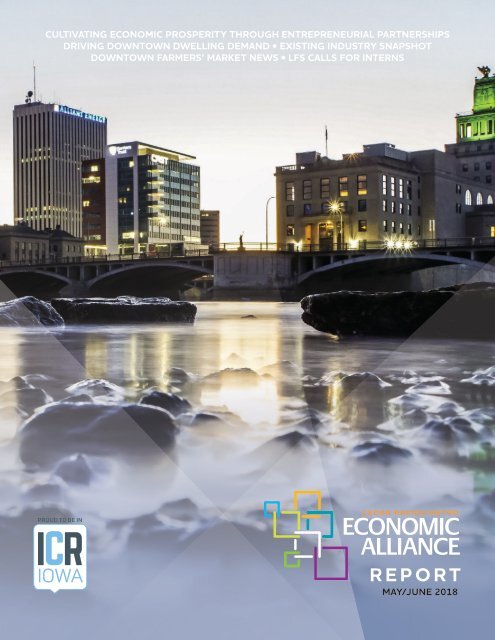 CRMEA May/June Report 2018
Create successful ePaper yourself
Turn your PDF publications into a flip-book with our unique Google optimized e-Paper software.
CULTIVATING ECONOMIC PROSPERITY THROUGH ENTREPRENEURIAL PARTNERSHIPS

DRIVING DOWNTOWN DWELLING DEMAND • EXISTING INDUSTRY SNAPSHOT

DOWNTOWN FARMERS' MARKET NEWS • LFS CALLS FOR INTERNS

REPORT

MAY/JUNE 2018
---
evolutionize

your business.

A revolution is happening.

A business revolution sparked by

the internet. Now up to 25 times faster

than before. Experience the power

of up to 1 Gigabit over our existing

network, so your business can lead

the revolution, not just join it.

MediacomBusiness.com

800-479-2091

BUSINESS INTERNET BUSINESS PHONE BUSINESS TV & MUSIC
---
New Look,

New Opportunities

Doug Neumann,

Executive Director

Welcome to the new Cedar Rapids Metro Economic Alliance Report!

Melissa McCarville

COMMUNICATIONS MANAGER

Ellen Bardsley

COMMUNICATIONS SPECIALIST

Clarissa Koch

GRAPHIC DESIGN SPECIALIST

Judith Cobb

CBJ ADVERTISING COORDINATOR

Corridor Business Journal

PRINTING & CIRCULATION

WWW.CEDARRAPIDS.ORG

ON THE COVER

The latest Cedar Rapids

Housing Market Analysis,

commissioned annually by the

City of Cedar Rapids, indicates

housing and population

growth rates in flood-affected

areas are expected to outpace

growth in surrounding

neighborhoods due to

increases in high-density

housing downtown. Learn

more on page 9!

Based on feedback from Economic Alliance member businesses, we're building on the ways we

provide valuable information. Several communications changes have already been implemented,

but this - the refreshed Economic Alliance Report - will be the most visible and apparent initiative,

given its new distribution in the Corridor Business Journal.

For those who might be seeing this for the first time and wondering what is the Cedar Rapids

Metro Economic Alliance...allow me to explain. We're a membership-based organization

supporting all things growth - growth of our economy, our business community and our

workforce. We don't do this work alone. We have numerous strategic partners and collaborators

within the community to assist our vision of becoming the top economic growth region in the

country. Many of those partnerships are highlighted in this Report.

For members who have been long-time readers, the purpose of this magazine is the same as the

previous monthly Report you've received for years. We still want to provide you valuable, relevant

information about businesses, the economy and how you can best get involved with and use your

Economic Alliance membership. This new format and distribution strategy, though, allows us to

up our game with an enhanced reader experience. We've reimagined how the Report looks, feels

and how you read it. Within this issue, and issues to come, we look forward to bringing you more

eye-catching design, and storytelling that clarifies how we work on our members' behalf to build

the regional economy.

For Economic Alliance members who love reading the digital version of our Reports, and who

appreciate receiving it via email or finding it on our website, that won't change. Watch for the

Report in your inbox the second Monday of every month. For members who didn't previously

receive the weekly Corridor Business Journal, you will begin receiving it on the second Monday of

each month, which is the issue in which the Economic Alliance Report is distributed.

We're excited about this new look and new opportunity to connect with you. We hope it leads to

even greater involvement of members in Economic Alliance initiatives, as we all work together to

help businesses succeed and the economy thrive.

Regards,

Doug Neumann

Executive Director

ECONOMIC ALLIANCE REPORT

3
---
UPCOMING EVENTS CALENDAR

Greene

square

MAY

18

For our full Calendar of Events including

member events, visit www.cedarrapids.org.

Food Truck Fridays

May 4 - Sept. 7, 11:00 a.m. - 2:00 p.m.

Greene Square

400 4th Ave. SE

Joint Corridor

Business PM

Hosted By

LFS Alumni Spring Breakfast

May 25, 7:30 a.m. - 9:00 a.m.

The Early Bird Cafe

Thursday, May 24th, 4:30-6:30 pm

Please join us for refreshments,wine and appetizers

565 Cameron Way, #108, North Liberty

319- 626- 6873

Cohosts:

*Complimentary for Chamber and EA members

24

333 First St. SE

Great for all members, and

especially new members!

26

2

12

TechBrew AM with Cammie Greif

Co-Founder of Tax Act

June 12, 8:00 a.m. - 9:00 a.m.

Cedar Rapids Metro Economic Alliance

501 First St. SE

21

Joint Corridor Business PM

May 24, 4:30 p.m. - 6:30 p.m.

565 Cameron Way, #108, North Liberty

25

Cedar Rapids Downtown

Farmers' Market

May 26, 7:30 a.m. - Noon

Downtown Cedar Rapids

JUNE

Cedar Rapids Downtown

Farmers' Market

June 2, 7:30 a.m. - Noon

Downtown Cedar Rapids

Membership 101

June 12, 3:30 p.m. - 5:00 p.m.

Cedar Rapids Metro Economic Alliance

501 First St. SE

12

BizMix: Plaid Swan

June 21, 4:00 p.m. - 6:00 p.m.

425 Second St. SE Ste. 300B

4 MAY/JUNE 2018
---
NEW

MEMBERS

AAVIN Private Equity

1245 First Ave. SE, Cedar Rapids, IA | www.aavin.com

Bauer Built Tire & Service

628 58th Ave. Ct. SW, Cedar Rapids, IA | www.bauerbuilt.com

Feldco Windows, Siding & Doors

4920 Blairs Forest Ct. NE, Cedar Rapids, IA | www.4feldco.com

Pinnacle Realty

1918 St. Andrews Court NE, Cedar Rapids, IA | www.pinnaclerealtyia.com

The Pointe School of Dance

5331 North Park Place NE, Cedar Rapids, IA| www.thepointeschool.com

The Y. For a Better Us.

150 years of improving lives

in the Cedar Rapids community.

BECOME A

MEMBER TODAY!

Receive access to all five locations in the area plus

any YMCA in the country, a large variety of free

fitness classes daily, discounts on programs, financial

assistance, free child watch and much more!

Coming up in 2018:

June 8th-10th -

Camp Wapsie Alumni Reunion

June 9th -

Camp Wapsie Centennial Celebration

August 25th -

"Cranking for 150 More" Y Bike Ride

August 27th -

Golf Classic Fundraiser

November 3rd -

YMCA 150th and Camp Wapsie 100th

Anniversary Celebration Gala

YMCA of the Cedar Rapids Metropolitan Area | www.crmetroymca.org

ECONOMIC ALLIANCE REPORT

5
---
DOWNTOWN

CEDAR RAPIDS

Sizzles

IN SUMMER

"Summer is a special time

in Downtown Cedar Rapids.

People are out and about

enjoying amenities like bike

lanes, community pianos,

and unique events.

The heart of the city comes

alive with an energy not to

be missed."

-Jesse Thoeming,

Downtown Executive Director

6 MAY/JUNE 2018

COMMUNITY DEVELOPMENT

Glasses clink from the tables of al fresco diners. Flowers bloom on

every corner. Cyclists pedal down the bike lane towards a local

brewery. Tunes from pianos fill the air. Welcome to summer in

Downtown Cedar Rapids. Now, we prep. More than 200 planters are

being filled with spring bulbs, so get ready for tons of color. Greene

Square will once again be green, playing host to Food Truck Fridays

May through September.

Pops of color come in more forms than flowers. The Economic

Alliance assisted the City of Cedar Rapids and Iowa BIG with

support for a one-of-a-kind artwork initiative for seven storm drains.

Community pianos are back by popular demand and will also be

beautified by local artists. Look for both this month. And of course, the

Downtown Farmers' Market returns May 26. Read more market news

on page 14.

These beautification projects create a vibrant, lively downtown.

Great downtowns pack a positive economic punch that benefits

the entire city, with their high concentration of businesses and

inhabitants. Our efforts create a district that keeps current and

prospective residents coming back.
---
EXISTING INDUSTRY

Insights, data and forecasts from business leaders drive the

Economic Alliance's priorities related to business expansion and

retention, community development, business support and public

policy. Data from our Existing Industry surveys in the past six

months (Nov. 2017 – April 2018) indicate optimistic outlooks for

business growth, but show workforce availability and proposed

legislative policies continue to be a concern for leaders.

SNAPSHOT

ECONOMIC DEVELOPMENT

What the Economic Alliance is doing:

• Workforce Availability: Workforce has been the top

concern of businesses for several years now, with a

combination of availability, stability and quality (see graphic)

hurting businesses' ability to grow. Your concerns were the

primary reason we formed a joint venture with the Iowa

City Area Development Group to create what's now called

ICR IOWA. Learn more about ICR IOWA's efforts on page 9.

Efforts extend beyond ICR IOWA with Economic Alliance

partnerships, including the great work being done at

Kirkwood Community College.

• Legislative Policies: The adverse effects businesses noted

regarding public policy include the uncertainties around

tariffs and trade policies that directly affect Iowa's economy.

The Economic Alliance has represented businesses' voice

through our Congressional delegation on those issues. On a

more promising legislative front, approval of the statewide

Future Ready Iowa initiative should help make progress on

workforce issues. The aim to get post-secondary education

for 70% of Iowans by 2025 should boost available labor

in high-demand career fields. The Economic Alliance has

incorporated that goal as part of its scorecard metrics and

will support the effort in every way possible.

Availability Quality Stability Productivity

Help Us Help You:

We can only drive meaningful pro-growth strategies if we know

what your business and your industry need to be successful. We

represent the voice of the business community, and we want

your voice to be heard. Reach out to Mike Lukan, Local Business

Project Specialist at mlukan@cedarrapids.org or 319.730.1403

to get connected to available resources and opportunities. 65.3%

OF BUSINESSES SURVEYED

48% 52% 68%

7

6

5

4

3

2

1

WORKFORCE CHARACTERISTICS

3.77

4.01

3.77

5.49

5.21

4.72

5.31

5.12

5.16

SEE RECENT AND ANTICIPATED

LEGISLATIVE CHANGES

ADVERSELY AFFECTING BUSINESS

IN THE NEXT 5 YEARS

5.61

5.32

5.54

CR MSA '17 CR MSA '16 Iowa '17

CR MSA

'16

IOWA

'17

CR MSA

'17

BUSINESSES THAT PLAN TO

EXPAND IN THE NEXT 3 YEARS

ECONOMIC ALLIANCE REPORT

7
---
STRATEGIZING PUBLIC POLICY

PRIORITIES

ECONOMIC DEVELOPMENT PUBLIC POLICY

The Cedar Rapids Metro Economic Alliance is focused on

the growth of our region and we work with our members to

prioritize needs and implement strategies that make local

businesses and our region successful. Our public policy strategy

provides a unified voice of our members to advocate for progrowth

and pro-business policies.

With input from our more than 1,200 member businesses, our

governance leadership, local municipalities and other strategic

partners, we develop our yearly legislative agendas. Our state

priorities this year have focused on programs that address

workforce needs, meaningful tax reform and preserving economic

development programs that help retain and recruit business. Our

federal priorities have focused on pro-Iowa trade policies, job

creating immigration reform and flood protection funding.

PRIMARY ELECTION DAY ON JUNE 5

VISION DOWNTOWN

CEDAR RAPIDS

PLAN OFFERS

OPPORTUNITIES FOR

DEVELOPMENT

The historic flood of 2008 forever changed Cedar Rapids,

but under strong leadership, the disaster was turned into

possibility – an opportunity to reinvent the downtown.

The Economic Alliance supports core district growth

by implementing strategic plans for housing, signature

streets and beautification, quality of life events and flood

protection progress.

In 2007, the Economic Alliance (then the Downtown

District) along with other community partners,

commissioned the first "Vision Downtown Cedar Rapids"

plan, which provided a broad understanding of downtown's

purpose and helped to direct the energy and resources of

future downtown development opportunities.

With many of the initiatives realized and much of

Downtown Cedar Rapids and surrounding districts

transformed, we're at a turning point.

We saw early success when the Future Ready Iowa Act was

signed into law after receiving unanimous support in both the

House and Senate. The Economic Alliance hosted Governor

Reynolds last year during her Future Ready Iowa Tour where

members had the opportunity to provide feedback and

recommendations to address our region's workforce shortages

and strategies to fill the skills gap. The law provides a plan

for the state to create opportunities for more Iowans to have

careers in high-demand fields by the year 2025.

Our efforts continue through the year with strategies that

utilize our state and national partners, staff lobbying and

organized member grassroots advocacy.

Electing pro-growth, pro-business candidates is vital to the Economic Alliance's public policy advocacy efforts. This year Iowans will

go to the polls to choose local, state and federal elected officials and our next chance to influence the outcome is on June 5,

Primary Election Day. To vote in the Primary, you must be registered and choose a party affiliation. Go to the Iowa Secretary of

State's website, https://sos.iowa.gov, and look for the "Elections" section to view a full list of candidates and obtain information

on how to register to vote.

The most recent update to the plan in 2017 will launch an

even bigger and brighter future thanks to some significant

factors like undeveloped land, or impact sites, in the

heart of downtown, collaborative district leadership and a

general feeling of momentum for Downtown Cedar Rapids.

You can read the entire updated Vision Downtown Cedar

Rapids plan, on our website at www.cedarrapids.org/ourcommunity/downtown.

8 MAY/JUNE 2018
---
WHAT IS

ICR IOWA?

DRIVING

DOWNTOWN

DWELLING

DEMAND

COMMUNITY DEVELOPMENT

The latest Cedar Rapids Housing Market Analysis commissioned

annually by the City of Cedar Rapids, indicates that Downtown

Cedar Rapids housing will continue to grow through 2030. New

options are coming on the market all the time, supporting the

demand. Higher populations of urban dwellers result in districts

that are more viable for business success and improved vitality.

Cedar Rapids developer Fred Timko certainly feels the

continued demand for downtown housing. One of his newest

projects, 15 rowhouse units called The Redstone in Kingston

Village, is part of the surge of development in the downtown

neighborhood of Kingston Village, an area severely impacted

by 2008 flooding. Last year, the Economic Alliance assisted in

securing Workforce Housing Tax Credits for The Redstone in

Kingston Village. The purpose of the tax credit program is to

take an abandoned, empty or decaying and neglected property

and turn it into affordable housing for Iowa communities.

In mid-April, after just two weeks of advertising, Fred received

numerous inquiries about The Redstone, which formally

opens in June. Many of the inquirers have been single, young

professionals.

The Redstone in Kingston Village was one of ten urban

properties showcased on May 6, during Urban Living in

Downtown Cedar Rapids. The open house event supports core

district housing by bringing prospective downtown residents

and property managers together to highlight the unique

amenities enjoyed by those living downtown. If you couldn't

make the event, view our Interactive Downtown Housing Map

on our website, at www.cedarrapids.org/our-community/coredistricts/downtown/housing.

REGIONAL DEVELOPMENT

ICR IOWA is the new external-facing brand for our

seven-county region and the new name for our

regional economic development group, a joint venture

between the Economic Alliance and Iowa City Area

Development Group. The organization is charged with

leading the efforts to market our region, grow our

workforce, and recruit more businesses and individuals

to locate here.

Collectively across the region, and from our Economic

Alliance members, we understand that recruiting

and retaining a sufficient workforce is a top concern.

We are working together as a region to collectively

strengthen our communities and strategically attract

and develop the necessary talent for growth.

To best identify each of the core areas of ICR IOWA's

work, the following sub-brands have been created:

• Choose ICR - business attraction efforts

• ICR Future - talent pipeline efforts

• ICR Talent - workforce attraction and retention efforts

• Inclusive ICR - diversity workforce efforts

We are encouraging businesses, organizations, and our

cities and counties to help us amplify ICR IOWA by

using the brand in their own marketing.

• Add the Proud to be in ICR IOWA logo to your

website and printed materials, showcasing that

you are a part of the region.

Visit https://bit.ly/2r4qKnB to download logos.

• Add #ICRIOWA to social media posts that showcase

business growth, workforce development,

and quality of life in our region.

If you're interested in learning more, please contact

Jennifer Daly, President & CEO of ICR IOWA,

at jdaly@icriowa.org.

ECONOMIC ALLIANCE REPORT

9
---
Cultivating Economic Prosperity Through

Entrepreneurial Partnership

COMMUNITY DEVELOPMENT

Two years ago, the Economic Alliance announced a new

partnership with the New Bohemian Innovation Collaborative,

or NewBoCo, an organization focused on accelerating worldchanging

ideas from Iowa. The flagship of the partnership

is EntreFEST, one of the Midwest's largest innovation and

entrepreneurial conferences. EntreFEST has existed for nearly a

decade, but 2018 marks the second year the Economic Alliance

and NewBoCo are co-producing the event.

Happening in Downtown Cedar Rapids and surrounding

neighborhoods May 17-18, EntreFEST gathers hundreds from

across the country to think outside of the box, learn about

emerging technology trends and discover new ways to grow their

business, no matter its size, from world-renowned experts.

The Economic Alliance's mission is to be the top economic growth

region in the country. There are a lot of avenues to make that

happen, like finding ways to assist businesses in their growth,

advocating for business-friendly policies, offering programs and

training opportunities to develop the region's talent and planning

events that spur community development, to name a few.

Fostering a successful entrepreneurial ecosystem is another

component in achieving economic prosperity. Startups and

entrepreneurs take innovative approaches to solve problems and

represent the job creators of tomorrow. A healthy entrepreneurial

ecosystem supports a lasting, resilient business community.

We also know that the entrepreneurial mindset can be incredibly

valuable for members of the business community. Since the

Economic Alliance and NewBoCo started co-producing the event,

EntreFEST has been transformed into a corporate innovation event

with programming that's relevant for numerous people in virtually

any organization. By nature, entrepreneurs must be nimble,

constantly keep customers top of mind, be okay with making

mistakes and are incredibly passionate about what they do.

They're deeply invested in the outcome of their business. These

are all traits any business would desire in current and potential

employees.

We look forward to the next chapter in our partnership with

NewBoCo and what it will bring for the business community

and the entrepreneurial ecosystem. Find everything EntreFEST,

including speakers, after-hours activities and more at

www.EntreFEST.com.

10 MAY/JUNE 2018
---
Intern Welcome Reception | Coe College | Thursday,

June 14 from 4:30 – 6:30 p.m.

Interns will network, kick back with yard games, fill up

on BBQ and treats and receive a special welcome from

business community leaders.

RETAINING WORKFORCE

WITH THE LEADERSHIP FOR

FIVE SEASONS COLLEGE &

INTERN PROGRAM

REGIONAL DEVELOPMENT

Summer is quickly approaching, and with it brings summer

interns. Businesses attract interns from near and far. Today's

interns are tomorrow's full-time employees, and ultimately,

we want those employees here. Enter the Leadership for Five

Seasons College & Intern Program. Interns need to see what

it's like to live here before they decide to stay and know their

employer values their growth. That's why this year's program

has two parts: the Internship Summer Series and Quality of Life

events.

Internship Summer Series

Higher learning institutions play an important role in retaining

young talent. Presented in conjunction with Coe College, the

Economic Alliance is collaborating with area business leaders

to share their advice and insight. Interns will also hear from

experts on relevant topics like time management, networking,

professional branding, team building in a diverse workplace

and more. Save these dates and share them with interns in your

office:

• Monday, June 25 from 4 – 5:30 p.m. | Athletic Recreation

Complex, Coe College

• Monday, July 16 from 4 – 5:30 p.m. | Athletic Recreation

Complex, Coe College

• Monday, August 6 from 4 – 5:30 p.m. | Athletic

Recreation Complex, Coe College

Quality of Life events are designed to connect interns outside

of the office and showcase some of our community's amazing

quality of life amenities.

Intern Progressive Dinner | Downtown Cedar Rapids +

surrounding neighborhoods | evening of Saturday, July 21

This is a popular event every summer. The downtown area

has amazing, local restaurants, so we're putting them

center stage.

Economic Alliance members can register for all events on

our Events Calendar at www.cedarrapids.org. Questions?

Contact Jordan Atwater, Leadership and Business Programs

Specialist at jatwater@cedarrapids.org or 319.730.1412.

Joint Corridor

Business PM

Hosted By

Thursday, May 24th, 4:30-6:30 pm

Please join us for refreshments,wine and appetizers

565 Cameron Way, #108, North Liberty

319- 626- 6873

Cohosts:

*Complimentary for Chamber and EA members

ECONOMIC ALLIANCE REPORT

11
---
CEDAR RAPIDS

NAMED

TECHNOLOGY

COMMUNITY

OF THE YEAR

Doug Neumann, executive director,

Cedar Rapids Metro Economic Alliance,

accepts award in Des Moines

COMMUNITY DEVELOPMENT

Congratulations to Cedar Rapids for receiving the

Technology Association of Iowa (TAI) Prometheus Award for

Technology Community of the Year!

Cedar Rapids was acknowledged as a leader in

telecommunications, manufacturing and alternative

energy. Our local companies improve the way

we feed the world through bioprocessing and

manufacturing, power the planet through

alternative energy, and grow technical

talent through Iowa's premier code school

and partnerships between employers and

educational institutions.

The Prometheus Awards acknowledge individuals

and companies impacting Iowa's $11 billion

technology industry, which accounts for 8.8

percent of the state's GDP and employs over

76,000 workers. Finalists and award winners

epitomize the great talent and innovation

that permeates through our state. We are

proud Cedar Rapids is recognized as a

leading community that embodies these

characteristics.

Thank you to our partners at NewBoCo for

assisting the Economic Alliance in Cedar

Rapids' nomination.

CELEBRATE ALL-STARS OF ICR WITH

KIRKWOOD COMMUNITY COLLEGE!

LARGE INVESTOR NEWS

The event will begin with a networking reception,

followed by lunch and the awards ceremony. Winners

will be recognized from each of the following sectors:

LUNCHEON

May 24, 2018 | The Hotel at Kirkwood Center | 11:30am-1pm

Advanced Manufacturing

Architecture, Construction & Engineering

Health Care

Financial Service, Insurance & Customer Service

Information Technology

Transportation

Join Kirkwood Community College in in celebrating the the All-Stars of

ICR, Iowa City Cedar Rapids region!

of ICR, Iowa City Cedar Rapids region!

Thirteen "all-star" employees will be recognized for demonstrating

leadership skills, work accomplishments and commitment to their careers.

Thirteen Honorees represent "all-star" 18-35 employees year-olds will in diverse be recognized career fields across for a variety

of industries. Winners were chosen by the ICR Iowa Industry Sector Boards.

demonstrating leadership skills, work accomplishments and

The event will begin with a networking reception, followed by lunch and the

commitment to their careers. Honorees represent 18-35

awards ceremony. Winners will be recognized from each of the following

year-olds sectors: in diverse career fields across a variety of industries.

Winners Advanced Manufacturing were chosen by the Architecture, ICR Iowa Construction Industry & Engineering Sector Boards.

Health Care

Information Technology

12 MAY/JUNE 2018

Individual fee: $49

Financial Service , Insurance & Customer Service

Transportation

Individual fee: $49

Table seating (10 people): $400

Pre-registration is required by calling 319-398-1022.
---
Corridor Business Journal

2345 Landon Road, Ste. 100

North Liberty, IA 52317

REFER - A - FRIEND PROGRAM

ENDS JUNE 29

Refer a friend, get rewarded!

Members join the Economic Alliance to grow their business,

connect with resources and business leaders, develop their

team and community leaders and help build our region,

workforce, economy and quality of life. Know of a business that

isn't a member yet but needs to get in on the action? Refer

them to become a member and YOU could receive one of the

rewards shown on the right, as our way of saying "thank you!"

ONE TWO-HOUR CONFERENCE

ROOM RENTAL CREDIT

ONE BANNER AD IN A

MONTHLY EBLAST

MEMBERSHIP

Don't wait! If you refer a friend, they must become a member

by Friday, June 29 for you to receive your reward. Send

your friend a link to the Become a Member form at www.

cedarrapids.org/membership/become-member and remind

them to fill in who referred them (that's you!)

ONE TICKET TO A

SIGNATURE EVENT

Any questions? Contact Jody Guither, Business Relations

Specialist at jguither@cedarrapids.org or 319.730.1404.

GETCONNECTED…

2017

$2.00 I A LOCALLY OWNED BUSINESS WEEKLY IN IOWA'S CREATIVE CORRIDOR I JULY 17 - 23, 2017

2017's Best of

the Corridor II

Sparks fly when we discuss who's the best in the

Corridor. In the spirit of democracy, however, the

CBJ held a calm and orderly vote by readers back in

June, which we call our annual Best of the Corridor

competition. After profiling the first group of 25

winners in last week's edition, we invite you turn the

page to see who cleaned up in Best Cleaning Service,

who locked down Best Security Company, and who

wrote the book on Best Printer, among others. >>

CBJ's Hall

of Fame

See the nex two

businesses to be

inducted into the

Corridor's most

exclusive club.

$2.00 I A LOCALLY OWNED BUSINESS WEEKLY IN IOWA'S CREATIVE CORRIDOR I APRIL 16 - 22, 2018

Fireworks burst around the Tree of Five Seasons in downtown Cedar Rapids. PHOTO WILLIAM BUCKETS

HALL

OF

FAME

CULTIVATING ECONOMIC PROSPERITY THROUGH ENTREPRENEURIAL PARTNERSHIPS

DRIVING DOWNTOWN DWELLING DEMAND • EXISTING INDUSTRY SNAPSHOT

DOWNTOWN FARMERS' MARKET NEWS • LFS CALLS FOR INTERNS

R E P O R T

MAY/JUNE 2018

When you promote your

business in the monthly Cedar

Rapids Metro Economic Alliance

Report, you connect with a wide

audience of decision makers.

The CBJ has been proud to serve

business news to a targeted

audience of community leaders

and top professionals since 2004.

FOR ADVERTISING RATES CONTACT:

Judith Cobb at (319) 665-6397, ext. 318 or judith@corridorbusiness.com

Corridor Business Journal

2345 Landon Road, Ste. 100

North Liberty, IA 52317

NEXT WEEK'S CBJ

The April 23rd edition of the CBJ wi l include a special senior

living section. The focus wi l be Going Up: Building Projects in the

Corridor and the CBJ List wi l be Architecture Firms.

ECONOMIC ALLIANCE REPORT

13
---
Produce & flowers

Toiletries & Pet Items

Specialty Food & Alcohol

Prepared Food & Baked Goods

Artisans

KWWL

KCRG

The

Gazette

DAY

SPONSORS

DAY

SPONSORS

WMT

MAY 26

JUNE 2

JUNE 16

JULY 7

JULY 21

AUGUST 4

AUGUST 18

SEPTEMBER 1

NEW START DATE FOR 13TH

SEASON OF CEDAR RAPIDS

DOWNTOWN FARMERS' MARKETS

COMMUNITY DEVELOPMENT

Downtown Farmers' Market Saturdays are closer than you may

think! The Cedar Rapids Downtown Farmers' Market presented

by Cedar Rapids Bank & Trust begins Saturday, May 26 from

7:30 a.m. to noon.

Each Downtown Farmers' Market brings an average of 14,000

people to Downtown Cedar Rapids. Not only does the event

serve as a catalyst for small businesses in Iowa who are selected

to vend, but brick and mortar businesses in the venue and

surrounding area benefit from the thousands of potential

customers. Each Downtown Farmers' Market season sees an

average economic impact of $3.1M to our community.

Search by vendor name or product type as you plan your

morning at the Downtown Farmers' Market, using the online

venue map, available at CRDowntownMarket.com. Be sure

to pick up the Sunday, May 20 edition of The Gazette for our

Downtown Farmers' Market Guide, filled with the venue map,

entertainment, market tips and more. The Downtown Farmers'

Market Guide is the perfect companion all market season long.

New This Season: Mug Club, which offers exclusive deals

and discounts from a variety of vendors all season long

14 MAY/JUNE 2018

BASKET

BOWTIQUE

126B

2S

KGAN

MARIE'S

JEWELRY

106

108

110

112

114

116

118

120

122

124

126

SIMPLY

DIVINE

2nd St. SE

87

89

102

85

100

128

83

98

130

2nd Ave. SE

81

BALLOON

ANIMALS

96

NEED PIZZA

GRINGOS

94

2A

92

ENCHANTED

GIFT

COFFEE

EMPORIUM

PARKING

111

2A GRIN 'N'

2A 2A

GOOSE

113

PUB 217

INSIGHTS

BOUTIQUE

PARKING

ART

MUSEUM

125

3A 3A 3A

127

3rd Ave. SE

3A

MAP KEY

90

88

4th Ave. SE

86

84

3S

SNAP

CRBT

3rd St. SE

INFO

when you show your mug. It's not just for

coffee! Discounts will extend to all types of

products with participating vendors. Purchase

the mug (pictured right) for $10 online

at CRDowntownMarket.com, at our office

(501 First St. SE, Cedar Rapids) or at the Info

Booth every Downtown Farmers' Market.

A list of Mug Club specials can be found at

CRDowntownMarket.com. See you downtown

on Saturday, May 26!

Thanks to our

Presenting Sponsor

91

93

95

132

79

97

134

77

99

Media

com

75

101

138

73

103

140

105

142

COLORING

MURAL

107

Wick

wire

109

144

146

148

NP

152

154

FACEPAINTING

115

117

119

121

129

131

133

135

3S

3S

KZIA

VanDer

Ginst

82

71

156

139

80

69

158

141

ImOn

67

160

143

76

65

162

145

2A

74

63

166

147

3A

72

61

168

149

BRICKS BAR

70

59

170

151

68

57

172

153

66

55

174

155

176

157

64

53

178

159

Life

101.9

Stage

BALLOON

ANIMALS

51

180

161

60

182

163

49

58

184

165

47

2A

56

186

167

45

3A

54

188

169

ADDITIONAL

ENTERTAINMENT

43

52

190

171

Greene Square

41

BIKE CORRAL

50

192

173

39

5S

48

5S

194

175

46

44

NP

40

38

36

34

NP

30

28

26

24

22

196

177

20

18

16

14

12

10

8

6

4

2

5th St. SE

37

35

33

31

29

27

25

23

19

15

13

11

9

7

5

3

1

5S 5S

Pick Up Your

Mug Club Mug at the

Info Booth for $10!
---
ROBERT HALF:

A PIONEER

IN PROFESSIONAL

STAFFING

MEMBER

SPOTLIGHT

MEMBERSHIP

Robert Half is a specialized staffing firm with 300 locations across

the globe. The Cedar Rapids office services Cedar Rapids, Iowa City,

Waterloo and Cedar Falls. We spoke with Julie Albert, Cedar Rapids

Branch Manager, to learn more about Robert Half and trends they're

seeing in the current job market.

What makes Robert Half unique?

We match great people with great companies. Robert Half is the

world's first and largest specialized staffing firm, as we pioneered the

idea of professional staffing services nearly 70 years ago. As the needs

of businesses have evolved, so have we. Our clients and candidates

find value in professional-level staffing, which is why we launched a

series of professional staffing divisions in the finance and accounting,

legal, creative and marketing, technology and administrative fields.

Specialization benefits both us and our clients because we can

focus on the top 10% of local candidates to make sure we're placing

qualified and readily available professionals.

Availability of workforce is a top concern

for our member businesses. What strategy

does Robert Half use to find qualified

candidates for businesses with open

positions?

Iowa's unemployment rate recently hit an 18-year low. This is very

positive news for job seekers and our local economy, but it can prove

difficult for businesses looking to hire top talent. In this case, it's

important for employers to reach candidates who are both actively

and passively seeking a new job opportunity. A passive candidate is

someone who's currently employed and not actively searching for a

job, but may be open to changing positions if the right opportunity

arose. That's the advantage of partnering with a specialized staffing

firm such as Robert Half; we have access to an extensive network of

both active and passive job seekers, and can identify the right match in

terms of skills, as well as corporate culture fit.

Another trend we're seeing is more employers – and candidates –

interested in temp-to-full time positions. Hiring a full-time employee is

an investment for businesses, and temp-to-full time is an ideal way for

the candidate and employer to try each other out before making a final

decision. Businesses that adopt a temp-to-hire strategy benefit from

observing job candidates firsthand — and by hiring people who've

gained a familiarity with the organization and its corporate culture.

This approach to staffing provides a hands-on, realistic way of choosing

a new employee with a lower risk of a hiring mistake.

Learn more about Robert Half on their website, RobertHalf.com.

ECONOMIC ALLIANCE REPORT

15
---
Stop the burnout

Upgrade to LED lighting

LEDs last 25 times longer than traditional bulbs. That means less time changing

bulbs and more time running your business. With money-saving rebates, it's the

perfect time to make the switch.

alliantenergy.com/rebates

1-866-ALLIANT (866-255-4268)

Rebates are for existing buildings only. Must be ENERGY STAR ®

or DesignLights Consortium ® (DLC) qualified.

© 2018 Alliant Energy 6280701 3/18 MJ