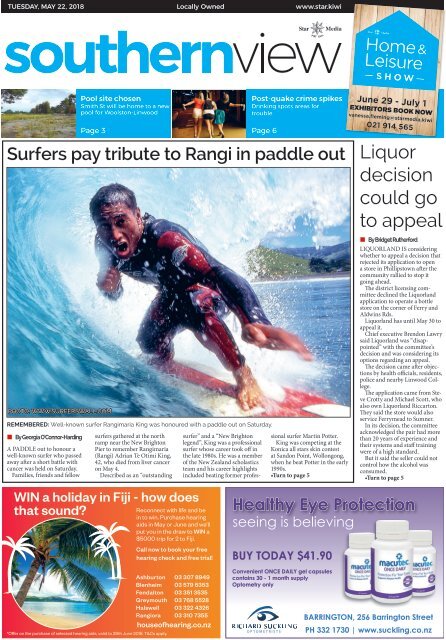 Southern View: May 22, 2018
You also want an ePaper? Increase the reach of your titles
YUMPU automatically turns print PDFs into web optimized ePapers that Google loves.
TUESDAY, MAY 22, 2018

Locally Owned

www.star.kiwi

Pool site chosen

Smith St will be home to a new

pool for Woolston-Linwood

Post-quake crime spikes

Drinking spots areas for

trouble

June 29 - July 1

EXHIBITORS BOOK NOW

vanessa.fleming@starmedia.kiwi

Page 3 Page 6

Surfers pay tribute to Rangi in paddle out

PHOTO: WWW.SURFERSWALL.COM

REMEMBERED: Well-known surfer Rangimaria King was honoured with a paddle out on Saturday.

• By Georgia O'Connor-Harding

A PADDLE out to honour a

well -known surfer who passed

away after a short battle with

cancer was held on Saturday.

Families, friends and fellow

surfers gathered at the north

ramp near the New Brighton

Pier to remember Rangimaria

(Rangi) Adrian Te Otimi King,

42, who died from liver cancer

on May 4.

Described as an "outstanding

WIN a holiday in Fiji - how does

that sound?

Reconnect with life and be

in to win. Purchase hearing

aids in May or June and we'll

put you in the draw to WIN a

$5000 trip for 2 to Fiji.

Call now to book your free

hearing check and free trial!

surfer" and a "New Brighton

legend", King was a professional

surfer whose career took off in

the late 1980s. He was a member

of the New Zealand scholastics

team and his career highlights

included beating former professional

surfer Martin Potter.

King was competing at the

Konica all stars skin contest

at Sandon Point, Wollongong,

when he beat Potter in the early

1990s.

•Turn to page 5

021 914 565

Liquor

decision

could go

to appeal

• By Bridget Rutherford

LIQUORLAND IS considering

whether to appeal a decision that

rejected its application to open

a store in Phillipstown after the

community rallied to stop it

going ahead.

The district licensing committee

declined the Liquorland

application to operate a bottle

store on the corner of Ferry and

Aldwins Rds.

Liquorland has until May 30 to

appeal it.

Chief executive Brendon Lawry

said Liquorland was "disappointed"

with the committee's

decision and was considering its

options regarding an appeal.

The decision came after objections

by health officials, residents,

police and nearby Linwood College.

The application came from Steve

Crotty and Michael Scott, who

also own Liquorland Riccarton.

They said the store would also

service Ferrymead to Sumner.

In its decision, the committee

acknowledged the pair had more

than 20 years of experience and

their systems and staff training

were of a high standard.

But it said the seller could not

control how the alcohol was

consumed.

•Turn to page 5

Healthy Eye Protection

seeing is believing

BUY TODAY $41.90

Ashburton 03 307 8949

Blenheim 03 579 5353

Fendalton 03 351 3535

Greymouth 03 768 5528

Halswell 03 322 4326

Rangiora 03 310 7355

houseofhearing.co.nz

*Offer on the purchase of selected hearing aids, valid to 29th June 2018. T&Cs apply.

Convenient ONCE DAILY gel capsules

contains 30 - 1 month supply

Optometry only

BARRINGTON, 256 Barrington Street

PH 332 1730 | www.suckling.co.nz
---
2

Latest Christchurch news at www.star.kiwi

Tuesday May 22 2018

SOUTHERN VIEW

from the editor's desk

Photographer hangs up camera

RANGI KING got the traditional surfer

send-off on Saturday.

Fellow surfers gathered just off the north

ramp at Brighton to farewell the well-liked

42-year-old who succumbed to liver cancer

recently.

Rangi was one of the better surfers to come to of the region. A

professional whose career took off in the late 80s.

He finished a close second to Australian legend Mark Occhilupo

at the Konica All Stars skin contest at Wollongong, near Sydney.

Rangi started surfing at 11 and was a natural.

EXIT Surf Shop owner Tristan Bennett said no one had heard

of him before he went and competed in a Canterbury Scholastic

Surfing competition when he was 13 and "blew everyone away."

Rangi got the farewell he deserved at the weekend.

- Barry Clarke

get in touch

GENERAL ENQUIRIES Ph 379 7100

CLASSIFIED ADVERTISING Ph 379 1100

The Christchurch Star Company Ltd

PO box 1467, Christchurch

starmedia.kiwi

NEWS

Sophie Cornish

Ph: 364 7437

sophie.cornish@starmedia.kiwi

ADVERTISING

Mark Sinclair

Ph: 364 7461

mark.sinclair@starmedia.kiwi

Photo finish for racing's 'lucky charm'

After 60 years of covering horse racing in Canterbury, Colin

Berry has retired. The Addington Raceway grandstand fire of

1961 is a vivid memory.

Page 12

Sport

100 games for Sydenham stalwart

Flanker Reuben Harvey reached the century mark after a

12-year tenure with the club. Sydenham beat Burnside 31-3

in the milestone game.

Page 12

Community Events

Music and dance

Linwood College will celebrate New Zealand Music Month

with an event in the school library on Thursday, 5pm-7pm.

Page 14

The best-read local newspaper, delivered to

15,826 homes every Tuesday

Spreydon, Hoon Hay, Hillmorton, Cracroft, Cashmere,

St Martins, Somerfield, Sydenham, Addington, Waltham,

Opawa, Beckenham, Huntsbury, Woolston.

WWW .VI S I O N C O LLE G E.CO. N Z

True

Who thought

DENTURES

and false!

could look this

natural?

• Full dentures • Metal partial dentures

• First-time immediate dentures • Implant supported dentures

LEARN

MODERN OFFICE

COMPUTER SKILLS

STUNNING: A beautiful new denture for

a young female patient

These stunning lovebite full upper and

lower dentures have been expertly crafted by

internationally-recognised dental technician

Richard Greenlees at his Christchurch studio.

The combination of Richard's skill, experience

(including 15 years in London's prestigious

Harley Street) knowledge and revolutionary

techniques allow him to create beautiful

bespoke false teeth that truly resemble those

in nature and reflect each patient's individuality

and unique character.

FREE 20 week course.

NZ Certificate in Business (Admin & Computing).

This course will cover Windows 10 and Microsoft Office

(Word, Excel and Publisher). Taught within a business context,

this programme will prepare you for the modern office.

Hours are flexible and can include night classes.

ENROL

NOW

PHONE US NOW ON:

0800 834 834

txt OFFICE to 027 557 8839

COLLEGE

A division of ATC New Zealand. (Est 1984). NZQA Accredited.

VEBITE

50 Hazeldean Rd,

Addington, Christchurch

AGING GRACEFULLY: Natural teeth for

a gentleman patient in his 80's

HOLLYWOOD: It's all white for this

female patient in her 60's

402 Montreal Street

Christchurch | P. 379 1222

By appointment only.

Consultation fee applies.

lovebite.com

Richard will personally guide you through the entire process to create

teeth with small nuances in the fabrication, colour and shape. Your beautiful new

lovebite dentures will boost your confidence and make you look and feel year's younger!
---
SOUTHERN VIEW Latest Christchurch news at www.star.kiwi

Tuesday May 22 2018 3

News

Smith St chosen for pool site

A LOCATION has been chosen

for the Linwood-Woolston pool.

The Linwood Ave and Smith

St corner site was finalised on

Wednesday by the Linwood-

Central-Heathcote Community

Board.

The board considered 487 submissions

from the public, with

the clear majority favouring the

Smith St site.

"The response to this process

has shown us that the community

is really

on the same

page as the city

council when

it comes to this

project," said

chairwoman

Sally Buck.

Sally Buck

"The council

went through

a thorough site selection process,

and identified 141 Smith St,

which is on a section next to

Linwood Park that faces onto

Linwood Ave, as the best location

for a pool."

She said as the majority

favoured the site, it made the

board's final decision "very

easy."

"When we went out with the

options, people were also able to

suggest other sites they thought

might be suitable, and 89 per

TOP SPOT: The old nursery site at Linwood Park, on the corner of Linwood Ave and Smith St,

will be the location for the new Linwood Woolston Pool. ​

cent of submitters came back in

favour of our preferred site."

Submitters said the accessibility

of the location for local

schools and the public, and the

opportunity to create a social

space in the area, were the main

reasons for the choice.

"We've received plenty of

food for thought through the

submissions, including how

we can make sure we keep the

tennis courts at Linwood Park,

and overall the message was our

community wants this facility

right here and wants us to get

started straight away," Ms Buck

said.

The next step is for the city

council to produce a concept

design that will show how the facility

looks and what it features.

This design will be developed

with feedback and input from

the wider community and key

stakeholders, including Linwood

Rugby League and South

Brighton Tennis Club.

The design process will begin

later this year.

HORNCASTLE ARENA

June 29 - July 1 10AM - 5PM

TICKETS ONLINE: starhomeshow.kiwi

In Brief

BUS TRAFFIC IN SPOTLIGHT

Concerns have been raised by

the Linwood-Central-Heathcote

Community Board about buses

using Linwood's Butterfield Ave to

return to the depot on Maces Rd.

City council staff are investigating

restricting heavy traffic on

Butterfield Ave. Staff advice will go

back to the board at an upcoming

meeting.

PLAQUE INSTALLED

The cast bronze plaque to honour

Christina Loughton, the woman

who brought transgender

issues out of the shadows in

Christchurch, has been installed

on a seat in Barrington's Athelstan

St bus shelter. It reads: "In memory

of Christina Loughton 19 August

1938 to 31 December 2015- A

brave and tireless worker for the

good of others." Ms Loughton

died in 2015, aged 77. She founded

Agender Christchurch in 2000, and

campaigned for better bus services.

GRANT FOR STUDENT

Cashmere's Benjamin Kelly has

recieved a $500 grant from the

Spreydon-Cashmere Community

Board to attend the National

Schools Shakespeare Festival in

London. Benjamin is one of 24

students who will attend a series

of workshops and performances at

the Globe Theatre in London from

July 5 to 22.

Lunch & Dinner

Take-away menu available

Brand new food

caravan on street

$10

Lunch

Specials

12-2pm

295 Selwyn St, Spreydon, Chch

Call for bookings Ph. 027 424 3632

SELWYN STREET

NOW OPEN

Diesel & Cola

7% 320ml

Cans

$

13 99

Each

6Pk

Carlsberg

330ml

Bottles

$

19 99

Each

12Pk

SPECIALS AVAILABLE FROM 21/05/18 UNTIL 10/06/18

Selwyn Street 1/304 Selwyn St

Ph. 03 377 6586

www.thebottle-o.co.nz

Hardys

Range

1L

2 fOr

$

19 99

Grant's 1L

$

34 99

Each

shop hours

Monday to Saturday 8am - 6pm

Sunday 9am - 4pm

seconds available

238 Port Hills Road, Heathcote

corner of Port Hills and Chapmans Rds

FILL UP FOR

LESS WITH

YOUR GOLD

CARD.

15

*Terms and Conditions apply.

111-115 Milton Street

Phone 332-6056

as local as you are | www.challenge.net.nz
---
4 Tuesday May 22 2018

Latest Christchurch news at www.star.kiwi

Your Local Views

SOUTHERN VIEW

HORNCASTLE ARENA

June 29 - July 1 10AM - 5PM

TICKETS ONLINE: starhomeshow.kiwi

What is the process for naming roads?

Heathcote

Ward city

councillor Sara

Templeton

explains

the process

behind road

naming in the city

THERE'S BEEN some

discussion within these pages

recently about the naming of a

new street in Heathcote Valley –

Kairuri Lane.

It's clear from comments

that the city council's processes

around road naming are opaque,

so I thought I'd have a go at

explaining them, using this one

as an example.

Under the city council's roads

and right-of-way naming policy,

the names considered for new

roads must be requested by the

developer, who puts forward

three for consideration. The

community board is then able to

either approve a name or not.

In this instance the developer

had requested that Reynard Lane

be approved by the Linwood-

Central-Heathcote Community

Board, but the board

had concerns that it wasn't in

keeping with other historic street

MEANING: The choice of the name 'Kairuri Lane' for a new subdivision on Bridle Path Rd has

attracted controversy.

names in the area, so asked the

developer to present some other

options.

He did and came back at the

following meeting with Reynard

Lane as his preferred option,

then Abney Lane (named for

an old surveying tool) and also

Kairuri Lane (the Maori word for

surveyor).

He had consulted with Mahaanui

Kurataiao Ltd, a resource

and environmental advisory

group, which agreed that the

name 'Kairuri' was culturally

appropriate.

The word kai in this case is

used as a prefix to verbs and

stipulates the person of the

action. For example mahi (work)

is kaimahi/worker and kōrero

(speak) is kaikōrero/speaker.

Rūri is a translated English

word for ruler, so Kairūri means

surveyor. The community board

has previously had concerns

about the road naming policy

and last year asked the city

council to review the policy to

enable better outcomes.

We were concerned that

there is currently little resident

involvement and also that it was

difficult to encourage developers

to present Te Reo names as

options.

The city has very few

Maori street names, even

with the long historic connection

to the area and so this was

one of the issues that we took

into consideration when we

approved the developers' third

option.

I am hopeful that the review of

the policy will mean both greater

community involvement in road

naming processes, especially

in existing communities, and a

greater recognition of tangata

whenua. Ngā mihi

Hoon Hay school finalist in excellence awards

HOON HAY School has been

named a finalist in the 2018

Prime Minister's Education

Excellence Awards.

The awards celebrate outstanding

education practices across the

country and this year 15 finalists

selected from 127 entries.

Hoon Hay is a finalist in one

category, excellence in teaching

and learning/atatū award.

Ministry of Education deputy

secretary for early learning

and student achievement, Ellen

MacGregor-Reid said the

finalists' entries demonstrated

excellent teaching practices that

support student achievement.

"I'd like to congratulate this

year's finalists in the awards. We

will celebrate their achievements

and share their stories with

the sector, communities, and

whānau. I wish the finalists all

the best for the announcement of

FUN: Hoon

Hay School

is a finalist

in the Prime

Minister's

Education

Excellence

Awards.

the winners in July," she said.

The school wanted to ensure

that Māori achieve success and

enjoy the same level of academic

success in mathematics as other

students in their school.

To achieve this, the school

introduced and expanded their

use of a unique mathematical

problem solving approach across

the school to ensure that each

student has the opportunity to

engage in worthwhile mathematical

tasks.

To support this, the leadership

team prioritised mathematics as

the sole professional focus.

They successfully raised student

engagement and outcomes

in mathematics across the school

as a result.

Members of the award's judging

panel are visiting the finalists

during May and June to see their

work and speak with all involved.

Winners from each category

will receive $20,000 and a

professional development

opportunity.

The Prime Minister's supreme

award will then be selected

from the category winners. It is

presented to the early learning

service, school or kura that has

had the greatest influence on

education outcomes.

The winner of this will receive

an additional $30,000 and an

opportunity to represent New

Zealand in an international education

conference.

The awards ceremony will be

held in Wellington in July.

RECENT

SALES
---
SOUTHERN VIEW Latest Christchurch news at www.star.kiwi

Tuesday May 22 2018 5

News

Former pro surfer honoured during paddle out

•From page 1

King narrowly came second to

Australian surfer Mark Occhilupo

in the Konica contest.

He began surfing at age 11 after

volunteers, including his father

Wally, helped start a surfing

programme as part of St Ambrose

Anglican Church's drop-in

centre.

Faith Family Fellowship

Aranui soon found out the group

was interested in surfing and donated

their old surfboards from

the 1940s.

It wasn't long before King

"caught the bug". He took just

three weeks to pick up surfing

while the rest of the group took

about 18 months.

His sister Nga Anderson said

he would borrow other people's

surfboards and they would laugh

at him until they saw him surf.

•From page 1

"We find that on the evidence

placed before us that the locality

is very vulnerable, contains a

high number of housing units for

those affected by mental illness

and addiction issues, including

alcohol addiction."

The community rallied to stop

the proposal because it

was 50m from Thirsty Liquor,

and close to several others, with

121 submitting to object the

proposal.

The decision is the latest in a

string of successful community

campaigns to stop liquor stores

opening in their areas, including

Harewood.

Edmonds Factory Garden

spokesman and nearby resident

John Hoskin said they were

"highly delighted" and it was

a "wonderful community

effort."

"It just goes to show if you

don't try you'll never get anywhere."

He said people drunk in the

historic gardens during the day

and night leaving rubbish and

"That was when they had different

respect for him," she said.

EXIT Surf Shop owner Tristan

Bennett said no one had heard

of him before he competed in a

Canterbury scholastic surfing

competition when he was 13 and

"blew everyone away".

"I have got people who would

come into the surf shop and say 'I

have just been down at Brighton;

there is a kid out there destroying

intimidating people and families.

Medical Officer of Health

Cheryl Brunton said she was

pleased with the decision and it

was a win for the community.

"While the effect of this decision

is primarily local, it will help

contribute to reducing alcohol

related harm and perhaps also

encourage other communities to

voice their concerns about new

alcohol outlets."

TRIBUTE: Families, friends

and fellow surfers held a

paddle out on Saturday to remember

New Brighton surfer

Rangimaria King.

PHOTO: www.surferswall.com

it'," he said.

Photographer Warren Hawke,

who travelled with King for

photoshoots over a period of two

to three years, said he had an

uncanny natural surfing ability.

He said at the beginning of his

career, King started to win contests

on surfboards which were

not even up to high performance

level at the time.

He was quickly picked up as a

professional and sponsored by

the Exit Surf Shop, surf clothing

and board company O'Neill,

Linwood Ward city councillor

Yani Johanson welcomed the

decision.

"It's good news for the

community, they've worked

really hard."

Mr Lawry said Liquorland

abided by its obligations under

the Sale and Supply of Alcohol

Act, and ran information

programmes about responsible

consumption.

"Our aim is to offer consumers

choice for occasions with friends

and family and for celebrations

of all types, in a safe and sensible

way."

In his evidence during the

hearing, Phillipstown Neighbourhood

Policing Team officer

in charge Sergeant Michael

Kingston said further availability

would exacerbate the existing

alcohol abuse and related harm

in the area.

Meanwhile, Linwood College

deputy principal Melissa Young

said 20-30 per cent of students

sought counselling services, and

in about 90 per cent of those

cases alcohol was a factor.

HORNCASTLE ARENA

June 29 - July 1 10AM - 5PM

TICKETS ONLINE: starhomeshow.kiwi

and POTTZ Surfboards, among

others.

King's pro career lasted

more than 10 years into his early

20s.

After he stopped surfing

professionally, he continued to

teach surfing in New Brighton.

Close friend Sam Johnston,

who started out surfing with

King, said he was unique in

and out of the water, a talented

guitarist and good at any sport he

played.

Another friend Haydo Brain

said King was one of the most

influential surfers for him

growing up, and one of New

Zealand's best, fastest and most

progressive board riders during

and after his pro carreer.

Hundreds turned out for King's

funeral at Clareville Cemetery,

Carterton, on May 7.

Philipstown liquor decision could go to appeal

Previous battles:

•Harewood residents successfully

opposed a bottle

store proposed for Trafford

St in July last year after a

petition gained more than

1100 signatures.

•In December 2015, Edgeware

residents opposed a

bottle store on the corner

of Hills Rd and Dudley

St. Opawa residents

then quashed a second

proposal by the same

owner to open a store

on the corner of Opawa

and Hawford Rds.

•Wendy's failed in its bid to

serve alcohol at its Hornby

outlet in November 2015

after hundreds objected.

•In April 2015, Aranui residents

were successful in

their bid to stop a Thirsty

Liquor being built on

Pages Rd, after starting a

petition.

Copper ridge in halswell.

55 brand new home & land packages in the first 2 stages.

• Modern, beautiful and affordable homes

• Titles expected later this year

• Sought after location on Halswell Junction Road

• Brand new Primary School scheduled to open early 2019

just across Halswell Junction Road

• Close to Southern Motorway for easy access to

Christchurch CBD and going South

• Everything Halswell has to offer and so much more

Show Home 1 Richmond Ave, Halswell, 7 days 10am-4pm.

Copper Ridge Sales Kiosk, Halswell Junction Road.

Thursday to Monday 2pm-4pm.

Enquiries to Evan Beker,

evanb@generation.co.nz | 021 840 088

Generation Homes Christchurch

www.generation.co.nz
---
6 Tuesday May 22 2018

Latest Christchurch news at www.star.kiwi

News

SOUTHERN VIEW

Local

News

Now

Fire rages, homes at risk

Crime at post-quake drinking spots

A new report has

analysed the city's

post-quake drinking

spots and whether

crime followed.

Bridget Rutherford

looks at the findings

THEY WERE the places where

people went to drink when the

popular central city nightlife

spots closed following the

February 22, 2011, earthquake.

Some were makeshift nightclubs

in the suburbs, some were

restaurants that turned into bars

after dinner service finished,

while others were places many

never would have frequented

before the quakes.

But at the time there was little

to choose from.

Now, a new report, Postearthquake

analysis of crime and

alcohol outlets in Christchurch,

commissioned by the Health

Promotion Agency, has analysed

where people tended to drink

following the quake, where the

liquor outlets were, and if there

was an increase in crime as a

result.

The report, by Greg Breetzke,

Benjamin Elley and Jarrod

Gilbert, looked at the period

between 2009-2014, and six case

studies in particular.

It found the areas where more

people tended to go to drink following

the quake mostly resulted

in a temporary spike in crime

because there were more people

in the area.

However, most had returned

to normal as the central city

revitalised.

The case studies included the

central city, Merivale, Riccarton,

Church Corner, Hornby and

Papanui.

The central city saw little offending

because popular spots

such as The Strip, Poplar Lane

and Sol Square had closed.

While some bars were available

in the central city, such as on St

Asaph St, Victoria St and Lincoln

BINGE: The report found the suburbs had an increase in patronage, with many existing bars and

restaurants transforming into nightclubs.

Rd, the report found they were

spread apart and little crime was

recorded.

The suburbs were where patronage

increased significantly,

the report said.

Merivale was one of those areas,

with bars such as Aikmans,

JDV and Bardello clustered

around Merivale Mall becoming

more popular.

Some bars in the area said they

had seen a "significant" increase

in patronage, and an increased

range of patrons including a mix

of business people, tradesmen

and younger patrons with disposable

income.

The worst year for crime was

in 2012, but it had decreased significantly

since then. Dishonesty

crime, such as burglary, vehicle

conversion or theft, and property

damage was the most common.

The crime rate in Merivale was

relatively low compared to the

other case studies.

However, it received a lot of

public interest in 2013, when

former Black Caps player Jesse

Ryder was assaulted outside Aikmans

and hospitalised.

The report found there was an

increase in offending between

midnight and 1am in 2011, which

police said could have been a

result of the shortlived nightclub.

Since then crime had dropped.

Riccarton was another area

that became more popular with

bars such as the Running Bull,

Fox & Ferrett and The Craic becoming

popular. Police began to

focus on the area as a result.

The report said a lot of bars

converted into "nightclub style"

bars to keep up with the patronage

levels.

In 2011/12, crime in the area

around Westfield Riccarton, increased

by 26 per cent, but it had

since dropped back down.

Night-time offending increased

substantially in 2012, and to a

lesser extent in 2013, between

10pm-midnight, the report

found. It dropped back down in

2014.

The report said a lot of offending

was down to deliberate

enforcement projects by police on

alcohol ban breaches in the area.

While Church Corner had seen

a large increase in the number of

liquor licences, most were restaurants,

not bars.

There was no increase in corresponding

offending.

The majority of liquor licences

in Hornby were bars, sports clubs

and liquor stores, and there was a

lower density of outlets compared

to the other areas.

The average number of offences

rose by 11 per cent in 2011 and

2013, which had since remained

steady.

The report comes after the city

council was forced to scrap its

Local Alcohol Policy in November.

It has since agreed to develop

a new one, which would restrict

where and when alcohol can be

sold.

Community Action on Youth

And Drugs senior project worker

Paul McMahon said alcohol was

the most harmful drug because it

was so easy to access.

CAYAD wants the city council

to introduce a targeted rate on

off-licence premises, including

supermarkets.

Mr McMahon said pre-loading

was more common than drinking

at bars and if alcohol was

more expensive, it would act as a

deterrence.

"Harmful drinking has

increased since 2011 across the

board. The amount we're drinking

keeps going up."

He said it was more common

for women aged 24-25.

Canterbury Metro area prevention

manager acting Inspector

Paul Reeves said police did a lot

of work in the alcohol space.

"As well as collaborating with

key partners, such as the District

Health Board and the city council,

there are specialist police staff

who prevent harm through the

monitoring of licences and by

creating a safe drinking environment."

The research found existing

licences adapted to suit larger

numbers.

It said existing "tavern-style"

premises had transformed to "de

facto nightclubs", while some

restaurants became "quasi bars"

switching to alcohol service after

dinner.

The places that saw large

increases in patronage were clustered

around malls and other food

outlets, and easily accessible.

The report said as the central

city revitalised, with places such

as The Terrace opening, it was

important to look at how to

"minimise disruption."

Best

Motorbuys

TM

ANYTHING WITH A MOTOR!

The South Island's leading motoring publication

FREE every Friday at hundreds of locations

around the South Island, and it's available online!

www.bestmotorbuys.co.nz

For advertising enquiries, ph Lea Godfrey 021 277 3086

LiQuiD LaunDroMatS

289 CoLoMBo St, SyDenhaM

(next to SuShi Shop)

17 haLSWeLL rD, hoon hay

713 Ferry rD, WooLSton

7 DayS: 5am-11pm

WaSh & Dry aLL your

LaunDry in aBout 1 hour

Dry up to 3 LoaDS in

onLy 25 MinuteS! $4

SaVe tiMe & eLeCtriCity

$4.00 WaSh $4.00 Dry

Wash 2 Mink Blankets, Duvets

or Woolrests for only $8

• Fast Dryers

• Sports Gear

• Duvets

• Mink Blankets

• Bedding

• Washers

• Domestic Laundry

SeLF SerViCe

other Locations: 47 Carmen Road, Hornby • 319 Pages Rd, Aranui

• 345 Stanmore Rd, Richmond • 261 Burwood Rd, Burwood • 65 Percival St, Rangiora

www.liquidlaundromats.co.nz
---
SOUTHERN VIEW Latest Christchurch news at www.star.kiwi

Tuesday May 22 2018 7

Euro Gourmet Meats

advertorial

Euro Gourmet Meats is a quintessentially

European butchery which has been in Christchurch

for over 35 years. Inspired food is offered to

customers, crammed full of heart and flavour.

To celebrate the first year in their spacious new

premises at 303 Colombo Street, which is open 7

days a week, they are offering some great specials

as shown in the ad below.

Many smallgoods are crafted by Brian

Nieuwenhuize, utilising traditional Dutch recipes,

most unchanged from those passed down from his

father. These include rookvlees (hot smoked beef),

leverkaas, rosbief, frankfurters, naturally fermented

salamis and magerspek.

All the bacons and hams are made the oldfashioned

way, full of natural flavour! The in-house

cook creates English pork pies and a range of

Heat'n'Eat meals.

Sausages showcased here

are unique to this butchery.

Savour the distinctive flavours

of the favourites: Olde English

beef sausage, traditional Dutch

Braadworst, Cumberland,

Italian, Pork Apple & Fennel

and Drunken Lamb. Only

real meat and the freshest

ingredients are utilised,

everything is made from

scratch in-house.

Euro Gourmet Meats is

committed to providing the

perfect balance between

quality and value, offering

competitive prices on premium

cuts. All their meat is free

range, sourced from local

Canterbury farms. Their Pork

and Lamb is "from paddock to

plate", allowing them to guarantee the quality and

consistency of the meat. They intend to offer this

same guarantee for their beef within the next year.

Give your taste buds a real treat. A special line

of Wagyu beef is available only at Euro Gourmet

Meats. This exclusive product is a Japanese breed

of beef which is grain fed in Canterbury. "This meat

has a completely different taste to regular beef and

is much sweeter and more tender," says Jacqui

Johnstone, owner of Euro Gourmet Meats. "You

have got to try it at least once; this is a completely

different product."

Euro Gourmet Meats offer customers a

personalised service, expertly cutting the meat to

bring out its unique flavour and texture. Drop in

to see them and take advantage of their birthday

specials, friendly service and excellent range of all

things meaty.

It's our

1st Birthday

Join us in celebrating

with these great specials:

pork loin cHops

(Cressy Farm free-farmed)

was $20.00 now

$15.99/kg

beef sausages

(Olde English, new recipe)

was $20.50 now

$16.50/kg

plus!

SPEnd $50 or more in OnE viSit

and rECEivE a free $5 voucHer

tOwardS yOur nExt viSit

specials valid from 21st to 31st may 2018 or while stocks last

303 Colombo Street (opposite Funky Pumpkin)

www.eurogourmetmeats.co.nz

Telephone: 03 337 2929 Hours: Monday to Saturday 8am-6pm & Sunday 9am-5pm Cuisine Artisan Award Winner 2017
---
8 Tuesday May 22 2018

Latest Christchurch news at www.star.kiwi

SOUTHERN VIEW

OUTLET

STORE

DRYERS

FROM $394

NEW LOCATION - 99 FERRY RD, CHCH

St Asaph St

Fitzgerald Ave

Barbadoes St

Ferry Rd

OUTLET

STORE

DINING

TABLES FROM

$349

BEDROOM

FURNITURE

CRAZY DEALS ACROSS THE STORE

ONCE IT'S GONE IT'S GONE!

FREEZERS

FROM $137

FRIDGE

FROM $698

FRIDGE FREEZERS • WASHING MACHINES • DRYERS • COOKING

SMALL APPLIANCES • MACHESTER • LOUNGE SUITES

DINING SUITES • BEDROOM SUITES • BEDS AND HEAPS MORE!

DEALS TO MAKE YOUR DOLLAR$ GO FURTHER!

Images indicative only. Outlet Store items are over stocked, end of line, scratch & dent, ex display, ex repair items and more.
---
SOUTHERN VIEW Latest Christchurch news at www.star.kiwi

Tuesday May 22 2018 9

From one Coastal to another

• By Jacob Page

COASTAL SPIRIT midfielder

Lauren Dabner may be

chasing her football dream

halfway round the world,

but her heart belongs in

Christchurch.

The former Riccarton High

School student is enjoying

her off-season by playing for

the Coastal premier women's

team, safe in the knowledge

she still has more to prove in

the United States.

The 22-year-old is set to

play for Coastal Carolina

University from July after

leaving Texas Tech.

The exercise science

major said her first year of

a scholarship in Texas was

tough on many levels but the

struggles were worth it.

"I certainly had thoughts

about not continuing but I'm

so glad that I got through that

first year because it's been so

worth it," she said.

"It's a combination of a lot

of things – you're a long way

from home, in unfamiliar

surroundings playing in a new

league."

The former under-17 New

Zealand representative has

also been part of a World Cup

bid.

Living abroad and playing

women's football in a global

stronghold has had its

challenges.

"The game is more physical

(in the US); the standard is

very high," she said.

Coastal Carolina University

is in NCAA division one and

Dabner is motivated to put her

stamp on things.

"They're a young team who

have finished runner-up in

their conference the past two

seasons so to get the that top

MIDFIELD ACE: Lauren

Dabner hopes to win her

conference and make the

national NCAA women's

football tournament in

the United States with her

new college team this

year.

PHOTO GARY BENNETT

SPORTS

finish would be great."

Dabner said she was always

excited to come home and play

for Coastal Spirit.

"I've been with them for

seven seasons and they've

been very supportive with

me chasing this dream and

allowing me to come home

and play when I'm available."

Dabner has put her New

Zealand international career

on hold until her studies and

scholarship are complete.

"If you want to be part of

that set up you have to be in

Auckland and right now I'm

committed to my studies and

helping my team reach their

goals.

"I'm still young enough that

I can come back, too, when

things change."

Right now, Dabner wants

to help her two Coastal teams

earn victories.

•More sport, page 12

Commissioned by

JOIN US NOW!

See website for details

K & K FASHIONS

Take an extra 25% off the

lowest marked price

THE WATCH.CO.NZ

Timex 20 – 60% off.

Plus, an extra 10% off*

See in-store for full Terms & Conditions

HALLENSTEINS

All Suit Jackets now $50

ANDREA BIANI

Take a further $10 off

Ladies last pair clearance over $20

Terms & Conditions apply

BONDS

All Men's Trunks $15

Men's Chesty & Raglans $10

23 May – 29 May 2018.

STYLES MAY DIFFER TO IMAGE SHOWN

Sign up to Smart Deals & be in the monthly draw for a $100 Dress-Smart gift card!

Be one of the first to hear about the latest deals, sent straight to your inbox each week!

CHRISTCHURCH 409 Main South Road, Hornby

Open 10am-5pm, 7 Days 03 349 5750

www.dress-smart.co.nz
---
WESTERN Tuesday NEWS May 22 2018

[Edition SOUTHERN datE] VIEW 27

10

Latest Christchurch news at www.star.kiwi

keep it local

and support businesses in your community

Popular Thai restaurant offers

authentic flavours and unique

twists

If you are looking for authentic

Thai flavours in all your favourite Thai

dishes, you should head along to Hoon

Hay Thai in Coppell Place. Since opening

in September 2013, this delightful Thai

restaurant has become a local favourite,

with many regular customers coming to

dine in or get takeaways.

The menu includes an extensive range of

dishes freshly made every day, and the staff

pride themselves on making all their own

entrees, which include spring rolls, curry

puffs, money bags and Thai fish cakes.

Pad Thai is one of the most popular dishes

on any Thai menu, and at Hoon Hay Thai

they put their own unique twist on the dish,

while other favourites include red, yellow

and green curries, Panang and Mussamun

curries, satays, and a wide selection of stir

fry choices.

They also offer a special lunch menu,

with

i t e m s

ranging in price

from just $5 to $12.

Dishes can be served mild, medium or

hot, according to customers' taste.

The restaurant is fully licensed and

BYO. It is also ideal for larger groups, such

as work parties or families and friends

celebrating special occasions. Off-street

and on-street parking is available.

Hoon Hay Thai, 9 Coppell Place, is open

Tuesday to Sunday. Hours are Tuesday

to Saturday 11am-2pm and 5pm-9pm,

Sunday 5pm-9pm. For group bookings,

phone 339 0320. Walk-ins welcome.

Check out their Facebook page for the

full menu and further information.

Authentic Thai Cuisine

Lunch Special

From$10 Tuesday - Saturday

10%

or

discount off main

menu prices

if you mention this

advertisement

HooN HAY THAI rESTAUrANT

Open 6 Days • Lunch & Dinner

9 Coppell Place. Phone 339 0320.

Shop with us and

Give Hope.

Te Ope Whakaora

Open Monday - Friday 9am - 5.15pm

62 Poulson Street & 300 Lincoln Road,

Addington

PH: 338 5154

Your donations of household goods support our

emergency housing hostel

oFten quoted as

"the best thai in ChRistChuRCh"

Amazing authentic Thai food will also turn you into a

Green Chilli Thai restaurant advocate.

big oFFeR Wednesday sPeCial!

3-course banquet deal! only $22pp

Home Delivery, Takeaway available, BYO,

Vegetarian Friendly

GREEN CHILLI THAI

RestauRant

1/596 Ferry Road

Woolston, Christchurch

greenchilli@windowslive.com

Phone: 03 384 9993 or 03 381 2855

Have an

Elite Haircut

for an

Affordable Price

Mens Cuts $20

Womens Cuts $27

Kids Cuts under 12 yrs $15

Clipper Cuts $14

Gold Card Mens $15

Gold Card Womens $20

Open Blade Box In $4

No appointment needed! Eftpos Available

HOURS: Mon-Fri 9am-5pm, Thu 9am-7pm, Sat 9.30am-12.30pm

238 Barrington Street, Spreydon (opp St Nicholas Church)

• new & quality secondhand tyres

• alloy wheels

• replacement rims

• puncture repairs

WITH A MASSIVE RANGE OF TYRES IN STORE, WHY NOT POP IN AND SEE US TODAY!

8c Birmingham Drive,

(Cnr Hands & Birmingham Drive)

Ph: 03 343 0099 Cell: 027 226 3805

Website: www.jcmdirect.co.nz

Advertising enquiries Mark Sinclair | Ph: 364 7461 | mark.sinclair@starmedia.kiwi
---
SOUTHERN VIEW Latest Christchurch news at www.star.kiwi

Tuesday May 22 2018 11

barrington | city market

$

11 99

kg $

1 99

kg

Fresh NZ Lamb Shoulder Chops

Dole Ecuadorian Loose Bananas

$

6 99

kg

$

3 99

kg

$

4 90

ea

Fresh NZ Pork Leg Roast

(Excludes Free Range)

USA Loose Navel Oranges

Tip Top Ice Cream 2L

$

1 70

ea

$

4 90

ea

$

8 50

ea

Bluebird Original/Thick/Thinly Cut Chips 140/150g

Westgold Butter 400g

Signature Range Mild/Colby/Edam Cheese 1kg

$

42 99

pk

$

8 99

ea

$

6 00

ea

Steinlager Pure/Stella Artois

24 x 330ml Bottles

Montana Classic/Saints

750ml

Whiskas Dry Cat Food 1kg/Multipack 12 Pack/

Temptations 180g/Pedigree Dentastix 7 Pack

Now available

Shop

Online

Colect Instore Save time

ClickCollect.nz

FreshChoice

Barrington | City Market

Open 7 Days a week.

FreshChoice.co.nz

FreshChoiceNZ

Specials valid 21st - 27th May 2018 or while stocks last at FreshChoice Barrington & City Market only.

We reserve the right to limit quantities. Trade not supplied.

Owned and

operated

by locals

fcsv2305
---
12

Tuesday May 22 2018

Latest Christchurch news at www.star.kiwi

SOUTHERN VIEW

100 games for Sydenham stalwart

SPORTS

• By Jacob Page

IT'S SAFE to say Sydenham

flanker Reuben Harvey was more

eager to remember his 100th

game for the club on Saturday

than he was his 50th.

The evergreen flanker reached

the century mark after a tenure

spanning about 12 years.

He celebrated the milestone

with a 31-3 win over Burnside.

Milestone games have not been

kind to the 35-year-old who, in

his 50th cap and blazer game,

was benched and then suffered a

nasty eye socket injury.

"I'd missed Tuesday training

that week because of work so

the coach benched me to set an

example, even though it was the

last game of the season," he said.

"I got on and ended up

smashing my eye socket late in

the game, so I missed the after

match and had to have a rather

awkward blazer ceremony the

following week."

In spite of returning to

Blenheim where he grew up for

a short period, as well as stints

playing rugby in the United

Kingdom, Harvey said he has

never wanted to play for another

club in Christchurch other than

Sydenham.

"I was always drawn to the

great club atmosphere and I liked

the nod to history that they had

with the blazers and that sort of

thing."

Harvey received a gold pin to

attach to his club blazer in commemoration

of his 100th game.

He said while his wife "would

probably like me to retire today,"

he believes he still has plenty to

offer.

"I want to keep going until the

wheels fall off," he said.

"I'd hate to look back when I'm

60 and think that I could have

gone for another season."

One motivation for Harvey

has been to give Sydenham an

elusive premier title.

"We thought we were close last

year, and in the sheds I think we

realised we'd let ourselves down

by not winning it all," he said.

"We have a team this year

which has the potential to do it."

CLUB LEGEND: Sydenham

flanker Reuben Harvey

played his 100th game for the

club on Saturday.

PHOTO: B KING PHOTOS

Photo finish for racing's 'lucky charm'

• By Jacob Page

AFTER 60 years of covering

horse racing in Canterbury,

photographer Colin Berry has

retired – sort of.

The 81-year-old, who lives in

Hornby, has been a regular sight

at Canterbury race meetings,

especially Riccarton Park gallops

and Addington trots, since the

late 1950s.

He has been photographing

winning horses, delighted

trainers, drivers and jockeys, and

ecstatic race owners for most of

his adult life – and says he will

miss it.

"A few years ago I had a double

hip replacement and I feel like

I've been slowing down since,"

he said.

"It's always been great to photograph

happy people.

"A lot of owners or trainers

would come up to me early in the

night and say to me 'I'm looking

forward to seeing you after

my race' as if I was their lucky

charm."

Born and bred in Christchurch,

Mr Berry began his career

during a three-month period of

compulsory military training

near the Ohakea Air Force Base

in Palmerston North.

He became a photographer's

assistant at Addington Raceway

in 1956 doing photo finishes, and

the rest as they say is history.

​As well as racing shots, he also

did horse breeding photography.

I won't miss the cold of the

winter night meetings but I've

just loved the camaraderie that

you have from working in the

industry," Mr Berry said.

"There was a lot of mixed emotions

on the night but my son

Ajay has taken over for me and

he's just fantastic.

"I'll just be the messenger boy

now, delving the odd photo and

doing odd jobs in the office."

Mr Berry said he remembers

covering the Addington Raceway

grandstand fire in 1961 as one

of New Zealand's best standard

bred horses, Cardigan Bay, led a

race from start to finish,

He said Christian Cullen remained

one of his favourite horses,

not only for his dominance

on the track, but also because of

his physical make up.

"He'd be one of the best I've

seen, he was just so well put

together physically and a joy to

photograph," Mr Berry said. "It's

very hard to compare horses

from different eras, though."

Mr Berry said technology advancement

has made the biggest

difference in race photography

over time.

"Back in the day, to try to get

a photo of a horse with all four

MOMENTS IN TIME: Colin

Berry remembers covering

the Addington Raceway

grandstand fire in 1961 and

taking photos of pacing

legend Christian Cullen

(above).

of its feet off the ground while

warming up was a real skill," he

said.

"I'd listen from the beat and

the pace of the hooves . . . now

you can snaps 14 photos off in

1sec.

"That happiness of nailing the

perfect shot when you only had

one shot at it back in the day is

replaced by frustration if you

don't get it these days with the

quality cameras."

Visit www.star.kiwi

anytime, anywhere!

Breaking news,

delivered to your pocket.

•news •CTV •sport •districts •schools •lifestyle •opinion •what's on

Fire rages, homes at risk

www.star.kiwi
---
SOUTHERN VIEW Latest Christchurch news at www.star.kiwi

Tuesday May 22 2018 13

RICHMOND DISCOUNT

Furniture and Bedding - The Best Little Furniture Shop in Town

BEDROOM FURNITURE

BEDS, TALLBOYS, MIRRORS, CABINETS, CHESTS & MORE!

Queen Frame

& Mattress

Ther-a-pedic Mattress & Base

Reversible pillowtop innersprung

Lowboy

6 Drawer

1130x410x820

Duchess with

Mirror

1090x410x820

NZ MADE

Solid Timber

Free

Standing

Mirror

ONLY

$599

SINGLE $499

KING SINGLE/DBLE/ 3/4 $599

QUEEN $699

ONLY

$449

ONLY

$549

WAS $169

ONLY

$129

Midi 7 Drawer

Scotch Chest

975x760x410

With metal runners.

Also available in Black.

Bedside Cabinet

540x460

With metal runners.

Also available

in Black.

7 Drawer

Scotch Chest

1140x800x410

Also available in black.

Jumbo 4

Drawer Chest

1140x800x400

NZ MADE. Metal runners.

Also available in black.

Tallboy 4 Drawer

600x400x900

Towerboy 6

Drawer

1260x460x410

With metal

runners.

Also

available

in Black.

Bombay

Chest

ONLY

$349

ONLY

$269

FROM

$130

ONLY

$299

ONLY

$269

ONLY

$199

ONLY

$220

Bombay

Bedside

ONLY

$129 EACH

FURNITURE

STORAGE SHELVES, BOOKCASES, BUFFET UNITS, DINING TABLES, HALL TABLES, SIDE CABINETS & MORE!

White Bookcase/

Storage Shelf

800x1600x300

Foundry Display

Cabinet

900x1800x420

Timber Bookcase

600x320x1200

Buffet Unit

1500x800x420

Buffet

Unit

1175x

430x840

Nest of Tables

Entertainment

Unit

1530x520x660

Solid Timber.

Buffet Unit

with Wine Rack

1300x840x430

ONLY

$199

ONLY

$599

ONLY

$199

ONLY

$549

ONLY

$399

EACH

ONLY

$149

ONLY

$499

Entertainment Unit

1900x600x450

2 Draw Entertainment Unit

1200x600x450

Entertainment Unit

1100x400x480

Entertainment Unit

980x600x460

Solid Timber.

Hall Tables

2 Drawers

ONLY

$279

ONLY

$499

ONLY

$399

ONLY

$299

ONLY

$299

3 Piece

Dining Suite

600x600

2 Draw Hall Table

1200x810x420

ONLY

$379

Side Cabinet

600x600x450

ONLY

$199

Hall Table

1500x800x420

ONLY

$449

Coffee Tables

Solid Timber.

ONLY

$169

1200x600

ONLY

$329

Coffee Table

1200x400x600

ONLY

$399

ONLY

$399

Hall Tables

3 Drawers

ONLY

$349

7 Drawer TV/DVD Chest

760x1140

x410

(Gap 150)

Corner TV Unit

1000x750x550

Entertainment Unit

Solid

Timber

Buffet

Units

Buffet

700x

320x

1070

ONLY

$299

ONLY

$299

ONLY

$649

ONLY

$299

ONLY

$299

233 STANMORE ROAD • PHONE 03 389 0536

WE ACCEPT EFTPOS, VISA AND MASTERCARD... PARKING AT REAR
---
14 Tuesday May 22 2018

Latest Christchurch news at www.star.kiwi

SOUTHERN VIEW

26th August 2018

10am – 3pm

Air Force Museum, Wigram

Tickets available on door

For exhibiting

enquiries contact

Mark Sinclair:

mark.sinclair@

starmedia.kiwi

BRIDALSHOW
---
SOUTHERN VIEW Latest Christchurch news at www.star.kiwi

Tuesday May 22 2018 15

Email gilbert.wealleans@starmedia.kiwi

by 5pm each Wednesday

Creative writing

Wednesday, 4-5.45pm

Group leader Jennifer works

with group members to craft,

create and develop their own

work. Bring with you some pens

or pencils, (even a laptop), paper,

and any of your wonderful ideas,

story-telling, or art! Talk to any

of the friendly Linwood Library

team for more information.

Suitable for adults and teens. No

charge.

Linwood Library, Eastgate

Shopping Centre.

Knit 'n' Yarn

Wednesday, 10.30am-1pm

Go along to Linwood Library

for our friendly Craft Corner

sessions. Take your knitting,

crochet or other portable craft

project and enjoy time with

other crafters. Have a look at

their range of books to get ideas

for your next project. Free, beginners

welcome.

Linwood Library, Eastgate

Shopping Centre

Mid-Week Laughter Club

Wednesday, 6-7pm

Go along to a club with the focus

on getting over stress. It aims

to release endorphins and help

you relax and lower stress levels.

There is no comedy, stand-up or

jokes at this session. Instead, you

are encouraged to make

yourself laugh at nothing at

all for the purpose of relaxing.

Entry is $2.

St Marks Methodist Church,

cnr Barrington and Somerfield

Sts

Rummikub Club

Thursday, 10am-noon

Go and join in on a game of

Rummikub, a tile-based game

for two to four players, combines

elements of the card game

rummy and mahjong. There is

no charge to play.

Linwood Library, Eastgate

Shopping Centre

Storytimes/Wā Kōrerō

Thursday, 10-10.30am

Encourage learning through a

love for stories. Storytimes is an

interactive programme including

stories, songs, rhymes and play.

This is a free session.

Linwood Library, Eastgate

Shopping Centre

Beyond Beginner iPads

Friday, 9–10.30am

Part of a six-week course on

Fridays finishing June 15. Expand

your iPad knowledge by focussing

on a different topic each

week. Explore working and playing

on the iPad, music, books,

movies and social networking.

Linwood College Showcase Concert – New Zealand Music Month, Thursday, May 24, 5pm-

7pm. Linwood Library is delighted to host Linwood College and support local students as they

showcase their musical and dancing talents at this family-friendly and energy-filled event. Part of

Youth Week and New Zealand Music Month, ​

Bookings essential, places are

limited. Cost: $15

South Library,66 Colombo St

Just Five Minutes More –

Nature Play Specialist

Friday, 11.30am – 11.45am

At the end of every month,

Linwood Library, hosts a Just

Five Minutes More session where

a childcare expert talks, for just

5min, about their area of expertise.

These informative sessions

start 11.30am, immediately after

the 11am Friday Babytimes/

Wā Pepi. All sessions are free of

charge.

Linwood Library, Eastgate

Shopping Centre

Spreydon Social Games Club

Saturday, 10am-noon

Join a friendly game or two of

Upwords, Scrabble, cards, Chess,

Mahjong and more.

Spreydon Library, 266 Barrington

St

Girls Minecraft Club

Saturday,2.30pm – 3.30pm

Get creative, start crafting!

Build imaginative worlds and

battle nocturnal creatures a the

learning centres' Minecraft Club.

Novice or expert, join the club

and play with your friends in

our very own world. A tutor will

be in attendance to supervise

and assist if necessary. Bookings

essential, places are limited.

Age 8-12 years. $20 per child per

term.

South Library,66 Colombo St

Opawa Farmers' Market

Sunday, 9am-noon

Go along to the farmers market

for organic and

delicious produce from local

growers. Enjoy sipping on a coffee

while wandering around the

market and checking out

the food on offer. From artisan

bread and French pastries to

fresh berries and local cheeses,

there will be something for

everyone.

275 Fifield Tce, Opawa.

exHibitors

book now

limited spaces available!

Don't miss your opportunity to showcase your

business in front of 10,000+ qualified attendees

Vanessa.fleming@starmedia.kiwi

021 914 565

Horncastle arena June 29 - July 1 10AM - 5PM

Inspiration | Trends | Technology | Innovation | Show Specials
---
16 Tuesday May 22 2018

Latest Christchurch news at www.star.kiwi

Get your tickets

online and be

in to win a

$500 Resene

gift voucher

SOUTHERN VIEW

Earlybird

tickets available

online now

$6 or 2 for $10

Children under

12 FREE

JUNE 29 – JULY 1 2018

Horncastle Arena

BOOK NOW: www.starhomeshow.kiwi

Friday, Saturday, Sunday, 10am-5pm
---
SOUTHERN VIEW Latest Christchurch news at www.star.kiwi

Tuesday May 22 2018 17

REAL ESTATE

As is where is - 2 for 1 deal on Cracroft!

2A Cracroft Terrace, Cashmere

Auction: Thursday, 31 May 2018 - No Prior Sale

3 bedrooms | 2 bathrooms | 3 toilets | 1 living room | 1 dining room |

1 office/study | 2 car-garage | 2 off-street parks | Listing #FM5400

This could be the deal of the year for

builders/developers.

The owners of these 2 very spacious

apartments have cash settled with their

insurer and are selling the 2 properties

combined on an 'as is, where is' basis.

On offer is two 3 bedroom, 2 bathroom

apartments that both feature extremely

spacious open plan living, and modern

kitchen/dining area. The views from these

properties are worth the visit alone with the

top floor apartment having uninterrupted

panoramic views. Both offer the space of

a traditional family home combined with

the easy-care benefits of apartment living,

including an inbuilt lift!

Set on the lower slopes of Cashmere, you

are within walking distance to a great choice

of cafes as well as being close to Cashmere

Primary School and in the Cashmere High

School.

For those looking for a home plus income

why not live in one apartment and rent out

the other? This also makes a great buying

option for extended families.

Make no mistake the decision to sell has

been made and there is no looking back

so ensure you book your viewing ASAP,

options like this rarely come to the market

and there can only be one new owner.

Please note that 2A & 2B properties are to

be sold together.

Auction date Thursday 31 May 12:00pm

(98 Moorhouse Ave, Grenadier House) No

Prior Sale

Open Homes: Wednesday, Saturday and

Sunday 2:00pm - 2:45pm.

For more information or to arrange

a private viewing contact Chris Moores

of Harcourts Grenadier Ferrymead

(Licensed Agent REAA 2008) on 384

7950 or 0275 884 440

growing with you

SprIng Is here –

It'S Sow Time

how to get the best results from

seeds and seedlings

100% NatIve In

The capItal

Unravelling the secrets of

Otari-wilton Bush

The New Zealand

landscape awards

The people behind

the projects

$7.90 incl. GST

Save our roSeS

How a rose register is protecting our heritage

September 2016 | 100%

It's time

to grow!

New look and more

content than ever!

MeeT LeSTer Brice

A Garden coach

auckland Botanic GardenS

Why we love our public grounds

now bigger than ever

The magazine for

gardeners who like to get

their hands dirty

SubScribe from

$43. 50*

*6 issues/6 months

ISSN 2423-0219

SUBSCRIPTIONS FREEPHONE

0800 77 77 10

www.gaRdeNER.kiwI
---
18 Tuesday May 22 2018

Latest Christchurch news at www.star.kiwi

Computers

ALL

YOUR

COMPUTER

WORRIES SOLVED!

*$30.00 off your first

service with this coupon!*

No problem too big or

small from home PC's to

business networks. PC

slow? An end to Viruses,

Spyware, and Clogged

Systems. Safe secure

hassle-free computing.

Lost files recovered.

Microsoft Certified,

MCSE, MCP+l. 30 years

experience. Call Andrew

Buxton this week on 326-

6740 or 027 435-7596

for $30.00 off* Custom

Computers Christchurch

ADVERTISE YOUR BUSINESS HERE

Phone for further details

(03) 379 1100

Classifieds Contact us today Phone our local team 03 379 1100

Gardening

& Supplies

A GARDEN OR

LANDSCAPING TIDY

UP? Shrub, hedge & tree

pruning, Lawns, Gardening,

consistently reliable general

property upkeep, Dip. Hort.

10 yrs experience, One

off tidy ups or on-going

service. Nick's Property

Maintenance. Keeping

your garden beautiful. Free

Quote. Ph. 942-4440

A GARDEN OR

LANDSCAPING TIDY

UP? Shrub, hedge & tree

pruning, Lawns, Gardening,

consistently reliable general

property upkeep, Dip. Hort.

10 yrs experience, One

off tidy ups or on-going

service. Nick's Property

Maintenance. Keeping

your garden beautiful. Free

Quote. Ph. 942-4440

Holiday

Accommodation

Australia QLD

SUNSHINE

COAST

RESORT

ALEXANDRA HEADLAND

All Units Have Ocean Views.

Heated Pools, Spa & Sauna,

Free Wifi, Tennis

& Mini Golf.

CHECK OUR GREAT

WINTER SPECIALS

www.mandolin.com.au

0061 7 5443 5011

JUNE to AUG temps 20C

Pets and Supplies

• Quiet rural setting

• Modern purpose built facility

• AsureQuality approved

• Caring qualified staff

• Inspections encouraged

69 Avoca Valley Road, Heathcote.

Ph. (03) 3844028 Email. info@avocacats.co.nz

www.avocacats.co.nz

Public Notices

Curtains

www.curtainfabric-outlet.com

Fashion Designs & Colours

Discontinued Designs

End of Lines Bargain Prices

Call at Our Shop

CURTAIN FABRIC OUTLET

71 Hawdon St Sydenham

Ph 366-5026

Wanted To Buy

TOOLS Garden,

garage, woodworking,

mechanical, engineering,

sawbenches, lathes,

cash buyer, ph 355-2045

Computers

ALL

YOUR

COMPUTER

WORRIES SOLVED!

*$30.00 off your first

service with this coupon!*

No problem too big or

small from home PC's to

business networks. PC

slow? An end to Viruses,

Spyware, and Clogged

Systems. Safe secure

hassle-free computing.

Lost files recovered.

Microsoft Certified,

MCSE, MCP+l. 30 years

experience. Call Andrew

Buxton this week on 326-

6740 or 027 435-7596

for $30.00 off* Custom

Computers Christchurch

style

noun

elegance and sophistication.

synonyms: flair, grace, poise, polish, suaveness,

urbanity, chic, finesse, taste, class, comfort,

luxury, affluence, wealth, opulence, lavishness.

MAGAZINE

STYLE.KIWI

Enjoy outdoor living all year round

• House, deck, carport & window canopy etc

• Warm & dry in winter

• UV protection for summer

• Customised & Tailored

• Café curtains fitted

• 5 year warranty

Trades & Services

ARCHGOLA

15 months

INTEREST FREE

Normal lending criteria apply

Chris Thorndycroft

Grant Stewart

Ph 0508 272 446 | www.archgola.co.nz

junk

From new builds to small home alterations, we

specialise in turning your dream home ideas into reality.

Call the name you can trust!

Ph 377 0034

Why go to the Dump? Junkman comes to you!

Items too big for the rubbish bin?

Or too heavy for you to move?

Junkman comes to FROM

you & takes it away $

65 *

HALSWELL

GLASS & GLAZING 2017 LTD

THE PET DOOR SPECIALIST

• PET DOORS

• NEW GLAZING

• FRAMELESS SHOWERS

• MIRRORS

• INSURANCE CLAIMS

• RETRO GLAZING

• BALUSTRADING

ALL SUBURBS COVERED FOR

ALL YOUR GLAZING NEEDS

PHONE GAIL OR SARAH ON

322 7999 OR 021 CAT DOOR

(228 3667)

*Prices vary depending on items and volume – minimum charge $65

0800 586 5626

www.junkman.co.nz office@junkman.co.nz

PAiNTER AVAiLAbLE

All aspects in painting.

Very competitive in

roofs and fences. Please

call 027 241-7471 or

335-0265

PAiNTiNG

Indoor Outdoor, over 30

exp, same day quotes,

ph Steve 021 255 7968

PAiNTiNG

Indoor Outdoor, over 30

exp, same day quotes,

ph Steve 021 255 7968

PAiNTiNG

& Decorating Wingfields

Contracting, all interior

& exterior painting & all

forms of interior plastering

& jib fixing, ph Mark 021

171-1586 or 355-5994

AAA HANDYMAN

licensed carpenter

LBP, all property and

building maintenance,

repairs, bathroom/shower PAiNTER

installations, with free Quality work, I stand by

quotes 03 383 1927 or 027 Canterbury Ph Wayne 03

245 5226 ciey@xtra.co.nz 385-4348 or 027 274 3541

PLASTERER

CARPETLAYER

Gib Stopping, Small

35yrs experience. Special

job specialty. 30 + years

rates for seniors. Prompt

experience. Ring 0800

service. Ph 021 263 7209

387-369

CARPET & ViNYL

PLUMbER

Laying. 50 Yrs exp

ALF THORPE

Repairs, uplifting,

PLUMBING Certifying

relaying, restretching,

Plumber for all types of

Email jflattery@xtra.co.nz

plumbing, maintenance,

ph John on 0800 003 181

spouting, alterations etc.

or 027 2407416

Phone 352-7402 or 0274-

GARDENER

350-231

Need your home or ROOFiNG REPAiRS

commercial garden tidied

up or renovated or require

Fully Qualified, Over 40

Yrs experience Ph John

long term assistance. 027 432-3822 or 351-

Phone Ruth 326-6663 or

021 272-0303

iRRiGATiON

9147 email johnchmill@

outlook.com

SPOUTiNG CLEANiNG

Fed up with standing Spouting Unblocked,

around with a hose? Need Cleaned Out and Flushed

an irrigation system for Out. Also Full Handyman

your garden? Ph Andy 03 Services Available. Call

2601378 or 0211419199. Trevor 332 8949 or 021

englishgrdnr@gmail.com 043 2034

Native PlaNts

naTiVe planT nursery

Trees for

CanTerbury

speCialisTs in

• Groundcovers

• Ferns

• Grasses

• Small to big

sized shrubs

Trades & Services

BUILDER

www.dimocks.net.nz

• Shelterbelts

• ALL grades

• Expert advice

• Planting now

Ask us about Super

Gold Card discounts

Helping our community grow

42 Charlesworth Street

Ph/Fax (03) 982-1028 | OPEN 7 DAYS

www.treesforcanterbury.org.nz

Trades & Services

STONEMASON

BRICK

&

BLOCKLAYER,

Earthquake Repairs, Grind

Out & Repoint, River/

Oamaru stone, Schist,

Volcanic Rock, Paving,

all Alterations new & old,

Quality Workmanship,

visit www.featureworks.

co.nz or ph 027 601-3145

STONEMASON

BRICK

&

BLOCKLAYER,

Earthquake Repairs, Grind

Out & Repoint, River/

Oamaru stone, Schist,

Volcanic Rock, Paving,

all Alterations new & old,

Quality Workmanship,

visit www.featureworks.

co.nz or ph 027 601-3145

TiLER/CARPENTER

35 years exp, no job

too small. Ph Ross 027

4311440.

SOUTHERN VIEW

Trades & Services

T.V. SERViCE CENTRE

Repairs, tvs, microwaves,

stereos, DVD. Aerial

installations and kitsets,

480 Moorhouse Ave, ph 03

379 1400

VHS ViDEO TAPES

& all camera tapes

converted to DVD, video

taping special occasions,

www.grahamsvideo.co.nz

ph 03 338-1655

VHS ViDEO TAPES

& all camera tapes

converted to DVD, video

taping special occasions,

www.grahamsvideo.co.nz

ph 03 338-1655

WiNDOW CLEANiNG

Average 3 bdrm house

inside or out $40. Both

$70. Phone Trevor 344-

2170
---
SOUTHERN VIEW Latest Christchurch news at www.star.kiwi

Tuesday May 22 2018 19

SAS Club presents

The DnD DUO

THE DnD DUO (aka Dateless n

Desperate) entertains at the St

Albans Shirley Club this Saturday

night.

Made up of Jojo (vocals, guitar)

and Mark (vocals, electronic

drums), the Duo is a stripped back

version of popular DnD Showband

that is a regular act on the chartered

club circuit across the country.

As the DnD DUO, this quirky

lineup entertains with a wide cross

section of material. Country, Celtic,

classic Rock, Pop, Rock n Roll, with

a few one hit wonders thrown in for

good measure. Catch them this

Saturday. 7pm start.

And on Friday night there's Super

Rugby action live with Crusaders v

Hurricanes from 7.35pm.

The Club Bistro has a tasty new

winter menu. With Mains priced

from as little as $14 through to $24,

the selection is affordable and

excellent value. The Bistro is open

Thursday, Friday and Saturday from

5pm to 8pm.

There's also plenty of easy access,

off street parking or if you prefer,

leave the car at home - the Club

Shuttle is available Thursday, Friday

and Saturday evenings.

Located on the cusp of St Albans

Lunch & Dinner

All you can eat

7 days

Mo

WINNERS

SERVING

st

1 prize of B&B in Timaru: Paulette Rae

nd

2 prize of Furi Pro 2 piece Classic Knife Set: Nicola Westland

rd

3 prize of Panasonic Hand Blender: Marie Ross

HAPPY HOUR

5PM - 7PM DAILY

and Shirley, the SAS Club provides its

members and affiliate members access to

discounted bar prices, Bistro, TAB, gaming

machines, big screen SKY sport, pool tables;

live entertainment; and shuttle.

Anyone can apply to become a member of

the SAS Club and potential new members

are welcome to call in and check out the

great facilities. For more information, go to

www.sasclub.co.nz, visit them on facebook,

call in at 269 Hills Rd, or phone them on

385 1632.

Bookings Essential PH 386 0088

fb.com/GardenHotelRestaurant www.gardenhotel.co.nz

OUR CABINET ITEMS

ARE HOMEMADE

CREATED FRESH ON SITE DAILY

$12

LUNCH

SPECIALS

Live Music:

6PM.SAT 26-MAY

Mid-Winter

Christmas

COFFEE

HAPPY

H O U R

Saturday Saturday 17 June 23 June to to

Sunday Sunday 2 July 2017 15 July.

LUNCH

Mon to Fri $23450pp

Sat & Sun $24550pp

DINNER

Mon to Thur $31.50pp

Fri to Sun $33.50pp

Senior Citizens

discount available.

2PM-4PM

DAILY

$3.50

Offer available for a limited time

and includes tea, hot chocolate

MON: ROAST MEAL

TUE: FISH & CHIPS

WED: FISH BURGER

THU: ROAST MEAL

SAT: FISH & CHIPS

AVAILABLE

FROM

11.30AM-2PM

FOR A

LIMITED TIME

'Famous for their roasts!'

RESTAURANT & CAFÉ

Cooked Breakfasts

Check out our extensive breakfast

menu from Continental to Cooked

We are open from 6.30am

Seniors SPECIAL

Two courses $20

Soup/Roast or

Roast/Dessert

Special available lunch only

Monday - Saturday 12pm - 2.30pm

What's On

TUESDAYS & THURSDAYS

MEMBERS LUCKY CARD DRAW

LIVE MUSIC - COMING UP

SUNDAY 27 MAY, 2PM

UNFINISHED BUSINESS

$19

H ORNBY

WORKINGMEN'S

CLUB

LIVE MUSIC

SATURDAY

4.30PM:

EDDIE SIMON

8PM:

MEDIUM RARE

SUNDAY

BRENDAN DUGAN

50TH

ANNIVERSARY SHOW

feat. FAMILY & FRIENDS

2PM. TICKETS LIMITED.

COMING UP

SATURDAY 9 JUNE

A TRICK OF THE LIGHT

THE PINK FLOYD PROJECT

SATURDAY 23 JUNE

STARS IN THEIR EYES

feat TONY WELLINGTON

AS ROY ORBISON and

EDDIE SIMON AS LEO SAYER

TREAT THE

FAMILY!

Kid's 2 course

special

We are family

friendly.

Great Kids menu

plus designated

play area.

$13

The

RACECOURSE HOTEL

& Motorlodge

118 Racecourse Rd, Sockburn,

Christchurch. Ph 03 342 7150

www.racecoursehotel.co.nz

Dine by the Beach

PIERVIEW

RESTAURANT

UPSTAIRS

Open from 5.30pm Fri, Sat,

Sun, and Sunday Brunch

from 10.30am to 2pm.

202 Marine Pde | Ph 388 9416 | www.newbrightonclub.co.nz | Members, guests & affiliates welcome

FAMILY FRIENDLY DINING

OPEN

EVERY DAY

Club CAFÉ

LUNCH &

DINNER

JOIN US FOR OUR

EXCITING SERIES

OF CLUB CAFÉ

$17

Chalmers Restaurant

FRIDAY & SATURDAY

CARVERY DINNER

$22.50

OPEN FROM 5.30PM

Early Bird Special

5.30pm - 6.30PM

MONTH-END

SUNDAY NIGHT

BUFFET $25pp

Sunday 27th MAY,

from 5.30pm

BOOK NOW!

CLUBBISTRO

DOWNSTAIRS

Open Tuesday to Saturday

12pm - 2pm & from 5pm.

FREE

DESSERT

SUNDAY BUFFET

$27

EVERY SUNDAY FROM 5PM-8PM

COMING UP

BOOK NOW!

PHONE 385 8880 FIND US ON FACEBOOK fb.com/GBCCHCH

THE GARDEN HOTEL COMPLEX | 110 MARSHLAND RD

www.gardenhotel.co.nz | phone 385 3132

The Hornby Club | ph 03 349 9026

17 Carmen Rd | Hornby

www.hornbywmc.co.nz

Members, guests & affiliates welcome

LUNCH & DINNER
---
20 Tuesday May 22 2018

Latest Christchurch news at www.star.kiwi

SOUTHERN VIEW