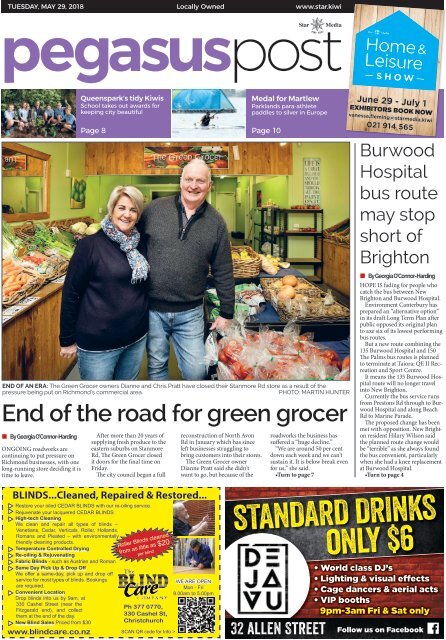 Pegasus Post: May 29, 2018
Create successful ePaper yourself
Turn your PDF publications into a flip-book with our unique Google optimized e-Paper software.
TUESDAY, MAY 29, 2018

Locally Owned

www.star.kiwi

Queenspark's tidy Kiwis

School takes out awards for

keeping city beautiful

Medal for Martlew

Parklands para-athlete

paddles to silver in Europe

June 29 - July 1

EXHIBITORS BOOK NOW

vanessa.fleming@starmedia.kiwi

• By Georgia O'Connor-Harding

ONGOING roadworks are

continuing to put pressure on

Richmond businesses, with one

long -running store deciding it is

time to leave.

Page 8 Page 10

END OF AN ERA: The Green Grocer owners Dianne and Chris Pratt have closed their Stanmore Rd store as a result of the

pressure being put on Richmond's commercial area.

PHOTO: MARTIN HUNTER

End of the road for green grocer

After more than 20 years of

supplying fresh produce to the

eastern suburbs on Stanmore

Rd, The Green Grocer closed

it doors for the final time on

Friday.

The city council began a full

reconstruction of North Avon

Rd in January which has since

left businesses struggling to

bring customers into their stores.

The Green Grocer owner

Dianne Pratt said she didn't

want to go, but because of the

roadworks the business has

suffered a "huge decline."

"We are around 50 per cent

down each week and we can't

sustain it. It is below break even

for us," she said.

•Turn to page 7

021 914 565

Burwood

Hospital

bus route

may stop

short of

Brighton

• By Georgia O'Connor-Harding

HOPE IS fading for people who

catch the bus between New

Brighton and Burwood Hospital.

Environment Canterbury has

prepared an "alternative option"

in its draft Long Term Plan after

public opposed its original plan

to axe six of its lowest performing

bus routes.

But a new route combining the

135 Burwood Hospital and 150

The Palms bus routes is planned

to terminate at Taiora: QE II Recreation

and Sport Centre.

It means the 135 Burwood Hospital

route will no longer travel

into New Brighton.

Currently the bus service runs

from Prestons Rd through to Burwood

Hospital and along Beach

Rd to Marine Parade.

The proposed change has been

met with opposition. New Brighton

resident Hilary Wilson said

the planned route change would

be "terrible" as she always found

the bus convenient, particularly

when she had a knee replacement

at Burwood Hospital.

•Turn to page 4

BLINDS...Cleaned, Repaired & Restored...

Restore your oiled CEDAR BLINDS with our re-oiling service.

Rejuvenate your lacquered CEDAR BLINDS

High-tech Cleaning

We clean and repair all types of blinds –

Venetians, Cedar, Verticals, Roller, Hollands,

Romans and Pleated – with environmentally

friendly cleaning products.

Temperature Controlled Drying

Re-oiling & Rejuvenating

Fabric Blinds - such as Austrian and Roman

Same Day Pick Up & Drop Off

We offer a same-day, pick up and drop off

service for most types of blinds. Bookings

are required.

Convenient Location

Drop blinds into us by 9am, at

330 Cashel Street (near the

Fitzgerald end), and collect

them at the end of the day.

New Blind Sales Priced from $30

Roller Blinds cleaned

from as little as $20

per blind

Ph 377 0770,

330 Cashel St,

Christchurch

www.blindcare.co.nz SCAN QR code for Info >

WE ARE OPEN

Mon - Fri

8.00am to 5.00pm

STANDARD DRINKS

only $6

32 allen Street

• World class DJ's

• Lighting & visual effects

• Cage dancers & aerial acts

• VIP booths

9pm-3am Fri & Sat only

Follow us on Facebook
---
2

get in touch

Tuesday May 29 2018

from the editor's desk

A WELL deserved accolade for New

Brighton clubbie James Gaskell.

He was named coach of the year at the

recent Canterbury surf lifesaving awards.

Sports reporter Jacob Page has a chat to

him on page 10 today.

Gaskell is the New Brighton club's surf boat coach and it was

their success at the nationals that earned him the award.

New Brighton won the open men's open short course for the

second time and the women's open long course title for the first

time in club history.

Gaskell, 40, has been involved with New Brighton for more

than 25 years and has been an integral part of loosening the

grip North Island crews have had on surf boat races at the

nationals.

– Barry Clarke

GENERAL ENQUIRIES Ph 379 7100

CLASSIFIED ADVERTISING Ph 379 1100

The Christchurch Star Company Ltd

PO box 1467, Christchurch

starmedia.kiwi

NEWS

Georgia O'Connor-Harding

Ph: 364 7438

georgia.oconnor@starmedia.kiwi

ADVERTISING

Elaine Moon

Ph: 364 7436

elaine.moon@starmedia.kiwi

Latest Christchurch news at www.star.kiwi

Ready to swim

QE II centre opening

Get ready for the Taiora: QE II Recreation and Sport Centre

opening on Thursday and the line-up of events over Queen's

Birthday weekend.

Page 8

Home & Leisure Show

Win a $500 Resene gift

Get ready for the Home & Leisure Show on June 29 to July 1

at Horncastle Arena. Book online and be in to win.

Page 14

Community events

Samoan Language Week

Celebrate Samoan with stories, songs, rhymes and fun at

the Shirley and New Brighton libraries.

Page 15

PEGASUS POST

The best-read local newspaper, delivered to

15,657 homes every Tuesday

Linwood, Avonside, Richmond, Shirley, Burwood, Dallington,

Wainoni, Bromley, Aranui, Avondale, Bexley, New Brighton,

Northshore, Queenspark, Parklands, South Brighton.

WWW .VI S I O N C O LLE G E.CO. N Z

Best

Motorbuys

TM

ANYTHING WITH A MOTOR!

LEARN

MODERN OFFICE

COMPUTER SKILLS

The South Island's leading motoring publication

FREE every Friday at hundreds of locations

around the South Island, and it's available online!

www.bestmotorbuys.co.nz

For advertising enquiries, ph Lea Godfrey 021 277 3086

Letterbox Advertising

Flyers and Newspaper Inserts

FREE 20 week course.

NZ Certificate in Business (Admin & Computing).

This course will cover Windows 10 and Microsoft Office

(Word, Excel and Publisher). Taught within a business context,

this programme will prepare you for the modern office.

Hours are flexible and can include night classes.

ENROL

NOW

PHONE US NOW ON:

0800 834 834

txt OFFICE to 027 557 8839

COLLEGE

50 Hazeldean Rd,

Addington, Christchurch

A division of ATC New Zealand. (Est 1984). NZQA Accredited.

DESIGN

We offer professional

design services.

PRINT

We print your gloss

mailers and letterbox

flyers.

Delivery

Canterbury wide

coverage or targeted

zone deliveries.

FREE QUOTES

Contact: Michaela Malloch

P: (03) 379 7100 or 021 932 177

E: michaela.malloch@starmedia.kiwi
---
PEGASUS POST Latest Christchurch news at www.star.kiwi

Tuesday May 29 2018 3

News

Bromley's stinky sites investigated

• By Bridget Rutherford

MORE THAN 60 sites in

Bromley have been investigated

for potentially causing a stink

– but none were warranted bad

enough for action.

Environment Canterbury and

the city council have carried out

an odour investigation project

in the suburb, which currently

gets the most

complaints in

Christchurch.

The project's

findings are

being analysed

and will be used

Ross Trotter

to help further

investigations

as odour complaints

continued.

City council solid waste manager

Ross Trotter said it

was created to help provide a

register of the industrial sites

in Bromley to assess "potential

odour risk".

Of the 270 sites surveyed, 60

were noted as being activities

or industries that could create

odour. Seventeen of those had

already been noted as being "at

risk."

"During the survey undertaken,

three sites' activities were

noted for further investigation to

Environment Canterbury," Mr

Trotter said.

"These activities were reviewed

by a senior resource management

officer and no pollution

event was raised, as he was

confident there was no further

concern."

Bromley has long had an

odour problem.

The city council-owned organics

processing plant Living Earth

on Metro Place, which deals

with the contents of green bins,

has been the source of most of

the complaints.

In 2016, a putrid stench

wafted over the suburb plaguing

residents and forcing Bromley

School to close for two days,

though the source was never

determined.

Christchurch West Melton

Banks Peninsula zone manager

Steve Firth said the investigation

meant they could determine

the "character" of the different

odours and how to deal with

them in the future.

Since January 1, Bromley has

had the highest number of odour

complaints in the city.

ECan stats show there had

SMELLY: Bromley

has long had an

odour problem,

with many of

the previous

complaints having

come from the

Living Earth plant. ​

been about 108 reports of odour,

and 58 odour events.

An odour event is when complaints

are received for the same

location during any 24-hour

period.

Fifty-one of the odour events

were from Metro Place, where

Living Earth is, three came from

Senior Place, two from Tanya St,

and one each from Wickham St

and Francella Place.

Mr Firth said of the 16 substantiated

odour events, many

were not deemed offensive, while

the source was unable to be

found at others.

HORNCASTLE ARENA

June 29 - July 1 10AM - 5PM

TICKETS ONLINE: starhomeshow.kiwi

In Brief

FIRE STATION SET TO OPEN

Firefighters will move into the

new Anzac Drive Fire Station

on June 14. Christchurch metro

assistant area commander

Steve Kennedy said while a

date has not been set, the new

fire station will have an official

opening and public open day in

a couple of weeks after the move.

Construction for the fire station

has been under way for the past

12 months and will amalgamate

the New Brighton volunteer

and Wainoni career crew. Mr

Kennedy said the fire station is

on schedule and fire crews are

looking forward to its opening.

GRANT APPROVED

The Coastal-Burwood

Community Board has approved

$500 from its 2017/18 Youth

Development Fund to go to

Hamish Smith, 20, who has been

selected to attend the JM Jazz

World Orchestra. He was one

of 18 of the world's top young

professional jazz musicians

selected. Last year, Smith was the

first South Islander to earn a place

in the JM Jazz World Orchestra.

He has also been accepted into

the Manhattan School of Music

to study Jazz Performance Double

Bass on a full tuition scholarship

and will be moving to New York

in August.

Cnr Keyes & Bowhill Rd

North New Brighton

Ph: 382 0867

Email: info@framencopy.co.nz

www.framencopy.co.nz

Design & Print

Business Cards

Flyers

Photocopying

Typing

Binding

Scanning

Laminating

up to A0 Plan Printing

T-Shirt Printing

Signage

Picture Framing

and so much more…….

FOR ALL YOUR PRINTING REQUIREMENTS

Welcome Phillipa Shaw

The partners of Harmans are delighted to announce that Phillipa Shaw

has joined the firm as an Associate and now leads our renowned Seniors

Law Team. In addition to her senior law expertise, Phillipa specialises in

property and private client matters, and has built a strong following of

loyal clients throughout her career.

P 03 352 2293 A 485 Papanui Rd, PO Box 5496, Christchurch 8542

www.harmans.co.nz

$10

PIE, MASH, PEAS AND GRAVY

STEAK & MURPHY'S

MOROCCAN LAMB

PORK AND APPLE

CHEESE & SPINACH

03 260 0325 - Cnr of Worcester St & Stanmore Road
---
4 Tuesday May 29 2018

Latest Christchurch news at www.star.kiwi

Your Local Views

Organisation helps to promote well-being

Methodist

Mission

community

response

worker

Tim Corry

writes what

Wellbeing New Brighton

does to promote wellbeing

and community

connectedness in the

suburb

THE SIGN of how strong our

communities are is how they

respond when the going gets

tough.

The earthquakes have shown

time and again how strong

and resilient our communities

can be. Taking opportunities

to connect with others is a

key factor in building and

Burwood Hospital bus may no longer travel to New Brighton

•From page 1

"It is so short-sited, (ECan)

should be increasing bus services,

not decreasing them," she said.

But ECan senior public

transport senior manager

Stewart Gibbon said there is an

opportunity for new patronage to

be created when the new Shirley

Boys and Avonside Girls' High

School campus opens at the QE II

site next year.

maintaining community

resilience.

Luckily there are so many

ways to connect with each other

in greater New Brighton.

Wellbeing New Brighton

started in 2015 and is a grassroots,

local, parent-led community

development initiative

which focuses on running projects

and activities that promote

well-being and community

connectedness.

Over the past few years, parents

involved in Wellbeing New

Brighton have developed several

initiatives.

These include the 'Borrow-

A-Bucket Beach Toy Treasure

Chest', a treasure chest full

of toys for families to borrow

when they visit New Brighton

beach, and 'New Brighton

The route 60 bus

already travels between

New Brighton and QE II.

"The vast majority of

passengers travelling to

New Brighton already

use the Yellow Line and

route 60, which will

continue to serve

New Brighton

without any changes,"

he said.

Bin Inn New Brighton

owner Nikki Griffin

said she would strongly

recommend ECan wait

until the new school

campus opens at QE II

to see what the need is in

the area.

She said New Brighton

has suffered enough

David East

already and a lot of

elderly people have to catch two

Rocks', a family activity involving

the decorating, hiding and

finding of rocks in local parks.

These and other initiatives,

such as celebrating New Zealand

Random Acts of Kindness

Day, help to connect local families

with each other and grow

community well-being.

Over the last few months,

Wellbeing New Brighton has

been planning a new project,

the 'Brighton Buccaneers'

Treasure Trail'.

This will be a fun, free treasure

hunt activity which will be

part of Kidsfest 2018.

We hope it will encourage

families to get out and about to

explore Brighton this winter.

The activity will take place

over the July school holiday

period.

•For more information

on the Brighton

Buccaneers' Treasure Trail

or the Wellbeing New

Brighton group, check

out its Facebook page

– www.facebook.com/

wellbeingnewbrighton.

BEACH FUN: Wellbeing

New Brighton started the

'Borrow-A-Bucket Beach

Toy Treasure Chest' initiative.

to three buses to get to where

they want to go.

City councillor David East said

the new bus route is great for

bringing people from Prestons to

QE II, but it was "rather strange"

that New Brighton has been

chopped out.

Bus patronage has not fully

recovered following the February

22, 2011, earthquake.

Data shows for the past 12

PEGASUS POST

months, 29,774 people used the

135 equating to 82 passenger trips

per day.

•HAVE YOUR SAY: What

do you think of Environment

Canterbury's plans to

exclude New Brighton from

its 135 Burwood Hospital

route? Email your views to

georgia.oconnor@starmedia.

kiwi

exHibitors

book now

limited spaces available!

Don't miss your opportunity to showcase your

business in front of 10,000+ qualified attendees

Vanessa.fleming@starmedia.kiwi

021 914 565

Horncastle arena June 29 - July 1 10AM - 5PM

Inspiration | Trends | Technology | Innovation | Show Specials
---
PEGASUS POST Latest Christchurch news at www.star.kiwi

Tuesday May 29 2018 5

News

Jones joins school zone battle

• By Sophie Cornish

A CALL has been made to the

minister of education to ensure

suburbs in east Christchurch are

no longer tested "to the point of

breaking."

In a letter from the Papanui-

Innes Community Board

to Minister Chris Hipkins

last week,

chairwoman

Ali Jones called

for him to

reconsider the

proposal which

would exclude

the suburbs of

Ali Jones

Richmond and

Shirley in the

new enrolment

zone for Shirley Boys and

Avonside Girls' High School.

The two schools, which will

relocate to a shared campus

on QE II Park next year,

are required to create a new

enrolment zone.

The board of trustees led

consultation in April, based on

a document with a 'draft zone',

which included the suburbs

of Burwood, Parklands, New

Brighton, South Brighton and

Southshore.

It excludes currently in-zone

suburbs Richmond, Shirley,

ABANDONED: Laura McIntosh (left), of Richmond, and

Vanessa van Hoof, Dallington, are fighting to get their suburbs

included in the new zone for Shirley Boys and Avonside Girls'

High Schools.

PHOTO: MARTIN HUNTER

Avonside, Dallington and

Edgeware.

It was met with public

outcry from people who felt

"abandoned" and asked why

suburbs with no historical

connection to the schools were

included, while others were left

out.

In the letter, Ms Jones

said some families who

chose to remain in the area

at "considerable hardship"

are no longer assured of

enrolment for their children

and are "frustrated by the lack

consultation, transparency and

commitment by the MoE."

"The local communities in

Richmond and Shirley feel

abandoned following their

exclusion from the zones

that will contain the schools

their children have attended

and supported pre and postearthquake."

"This situation adds to the

stress and upset for families

remaining in an area that was

hard hit by the earthquakes,"

said the letter.

Residents have gathered

more than 1900 signatures

in an online petition against

the exclusion as well as

delivering about 3000 leaflets

to surrounding areas, alerting

people to the issue.

Signs have also been placed on

fences of suburbs which may be

excluded saying: 'Don't leave our

kids out in the cold' and 'Haven't

our kids lost enough in the

quake already?'

The MoE will make the final

decision and deputy secretary

sector enablement and support

Katrina Casey said at this stage,

no decisions had been made.

"We are in the process of

assessing recommendations

from the two boards, which

includes feedback from the

consultation they undertook

with their communities."

HORNCASTLE ARENA

June 29 - July 1 10AM - 5PM

TICKETS ONLINE: starhomeshow.kiwi

Clock tower

repairs to

start this week

• By Georgia O'Connor-Harding

REPAIRS ON New Brighton's

historic clock tower will begin

this week.

Paint is set to be removed

from around the clock face followed

by the removal of the face

itself.

Earthquake and historical damage

repairs of the tower will follow

shortly afterwards.

City council head of parks

Andrew Rutledge said the tower's

paint has tested positive for lead

so it is "imperative" to remove it

safely before work starts on drilling

into the concrete for the clock

face removal.

It is estimated the repairs will

be completed by September.

Structural engineers had started

investigations about the damage

the tower sustained while scaffolding

on the tower has been in

place since February.

Mr Rutledge said a concrete

report had been received but the

project team and structural engineers

need time to read and digest

the information.

The clock tower is a historic

landmark in New Brighton with

its foundation stone laid on December

14, 1934.
---
6 Tuesday May 29 2018

Latest Christchurch news at www.star.kiwi

PEGASUS POST

NEW BOOK

SHIPMENT

JUST UNLOADED

NEW RELEASES

It won't happen overnight: Creating

wealth through New Zealand property

by Heather Morris

'It won't happen overnight…' takes you through the process of getting started

in property investment in New Zealand. Mike Pero and David Weusten step you

through almost everything a successful property investor needs to know to succeed,

from the basics of budgeting through to tips on selecting property, exercising due

diligence and managing the buying process itself. They also cover managing debt

and cash flow as these are critical elements to successful property management.

Those who invest in property are often criticised in the media for being greedy,

self-serving and a blight on the country. Yet without the people looking to create

wealth for themselves through property investment, and providing the capital to

house those who can't or chose not to own their own property, it would be left to

the government, local bodies or charitable organisations to provide rental housing

resulting in higher taxes for all New Zealanders. Mike Pero and David Weusten offer

the essential handbook to equip new property investors and provide reassurance

to those already in the market. Although it won't happen overnight with the wisdom

and experience this book provides you can be assured it will happen!

Rugby Rebel

by Christopher Tobin

Rugby Rebel investigates a sensational accusation made against brilliant All

Black winger Duncan McGregor that he sold team secrets which cost the Original

All Blacks their unbeaten record on the famous 1905 tour of Britain, France and

the United States. What made it worse was that McGregor's Accusers were some

of his fellow All Blacks. But has his name been unfairly besmirched? This book

tells McGregor's ex¬traordinary and previously untold story. In doing so, it delves

deeply into an explosive and controversial period in New Zealand rugby history, the

early 1900s, when 'shamateurism' was rife and the sport was split apart by the

emergence of rugby league. Rugby Rebel shatters myths, offers new insights and

provides enough information for the reader to decide whether McGregor was hero,

or as his deractors claimed, villain.

The Leisure Seeker:

Read the Book That Inspired

the Movie

by Michael Zadoorian

Now a major motion picture starring Helen Mirren and Donald Sutherland.

Ella and John have shared a wonderful life for more than sixty years. Now they're

on the run from their doctors and middle-aged children, who just want them to go

gently into that undignified night of old age. In their trusty camper van, the pair

embark on a forbidden vacation of rediscovery along Route 66. Though time is

catching up with them, Ella is determined that together they'll make it to their final

destination for one more carefree day together, even if it is their last.

Unfiltered: No Shame, No Regrets, Just Me

by Lily Collins

International bestseller - In this groundbreaking debut essay collection,

featuring never-before-seen photos, actress Lily Collins - star of Mortal

Instruments and Rules Don't Apply - is opening a poignant, honest

conversation about the things young women struggle with: body image, selfconfidence,

relationships, family, dating and so much more.

For the first time ever, Lily shares her life and her own deepest secrets,

proving that every single one of us experiences pain and heartbreak. We all

understand what it's like to live in the light and in the dark. For Lily, it's about

making it through to the other side, where you love what you see in the mirror

and where you embrace yourself just as you are. She's learned that all it takes

is one person standing up and saying something for everyone else to realise

they're not alone. By turns hilarious and heartbreaking, Lily's honest voice will

inspire you to be who you are and say what you feel. It's time to claim your

voice! It's time to live your life unfiltered.

ATTENTION

NZ ART LOVERS

If you don't already have this classic NZ art

book in your collection, NOW is the perfect

time to purchase.

Grahame Sydney Paintings

1974 -2014

Normal retail $99

DON'T MISS OUT!

LIMITED NUMBERS

This 304 page

NZ classic art

hardback

(in slipcase)

features over

200 paintings

and covers

Grahame's

40 year

career as a

full-time artist.

SUPER

DEAL

HALF PRICE

$

49 99

1005 Ferry rd

Ph 384 2063

while stocks last (see instore for terms and conditions)

Barry & kerry
---
PEGASUS POST Latest Christchurch news at www.star.kiwi

Tuesday May 29 2018 7

News

Makeover for 'eyesore'

HORNCASTLE ARENA

June 29 - July 1 10AM - 5PM

TICKETS ONLINE: starhomeshow.kiwi

• By Georgia O'Connor-Harding

AN UNTENANTED "eyesore"

on Stanmore Rd has been given

a makeover in a bid to help

improve the commercial sector

of Richmond.

New World Stanmore and

two Shirley Boys' High School

students have cleaned up the former

Movieman Video Shop site

cutting away

long grass

and painting

the building.

Store

owner Justin

Purcell said

it saw an

Hayley Guglietta

opportunity

to get the

students as

part of their work experience

day at New World.

"At the end of the day we want

to make sure the community

and the hub down Stanmore Rd

is in a nice presentable condition,"

he said.

Mr Purcell said it was "obviously

a prime location," with

Stanmore Rd being a main

arterial to the north of the city

and would like to see the site

tenanted.

He said the site was overgrown

with a lot of bush around the

building and tagging.

It comes as Richmond

residents have decided to take

charge against the ongoing problem

of some landlords the area

not maintaining their properties.

It was decided at a recent

BEAUTIFY: New World Stanmore store owners Justin and

Jocelyn Purcell, with Shirley Boys' High School student Alex

Sheppard, have cleaned up the former Movieman Video Shop

site.

community engagement meeting,

a Richmond business and

residents' association would be

formed to help tackle the issue.

Richmond resident and business

owner Hayley Guglietta

said while residents are grateful

to New World, they should not

have had to have cleaned up the

property.

"These absent landlords are

despicable and they have got no

respect for a suburb that is under

heaps of pressure," she said.

Issues including overgrown

gardens, litter and the general

upkeep of the suburb have been

a problem in the Richmond

village.

But Mrs Guglietta said she

was pleased to see the former

The Uniform Centre across from

the Movieman site had been

cleaned up.

Residents have previously

taken part in a wide-scale cleanup

of the area.

•HAVE YOUR SAY: What do

you think needs to be done

to improve commercial area

in Richmond? Email your

views to georgia.oconnor@

starmedia.kiwi

Chance to have say on red zone

• By Kurt Bayer

THE BLANK canvas created by

the 2010 and 2011 earthquakes

could house riverside bars,

floating houses, a gondola, and

eco-sanctuaries, according to

shortlisted plans up for public

consultation.

A new exhibition highlighting

possible uses for the old

residential red zone in the

quake-hit east of the city

opened on Saturday.

Regenerate Christchurch

wants the city's feedback on its

options for the Ōtākaro Avon

Corridor Regeneration Area,

including the "Green Spine" –

an 11km public open space following

the winding river from

the city to the sea.

Branching off the Green

Spine and wetland areas, connected

by a network of trails,

paths and footbridges, three

areas, coined "reaches" are

proposed, where land uses

would be combined into various

themes.

The Red Zone Futures

exhibition, at 99 Cashel St in

the city's Cashel Mall, runs

until June 30.

•Feedback can be given at

redzonefutures.nz

DISRUPTION: Businesses in North Avon Rd are feeling the

effects of road works.

End of the road

for green grocer

•From page 1

While Mrs Pratt and her

husband Chris will continue

to sell produce at the Riccarton

Market on Sundays, she described

the store their "bread and butter,"

and were sad to be leaving.

"We were always a very

buoyant business and it is just

like someone has turned the tap

off," she said.

Pegasus Post was told at least

three businesses are considering

leaving the area.

City council's planning and

delivery manager Lynette Ellis

said it is aware the road works

can impact the community

which it takes seriously.

"We are working with the

contractor in North Avon Rd

to minimise disruption where

possible through programming

of works and ensuring that

parking within the shopping

centre remains visible and

accessible," she said.

Richmond Village Book and

PostCentre business owner Alan

Spooner said the city council set

temporary traffic lights across

the entrance way to his car park

meaning no one could enter.

He said the road works

have had a "drastic affect" on

businesses with no customers

coming into his shop, meaning

no income.

Mr Spooner said prior to the

February 22, 2011, earthquake

Richmond had "good, sound"

businesses.

"But being right on the edge of

the red zone we immediately lost

at least half of our population,"

he said.

He is calling for residents to

"walk through the door and

spend money."

"They have got to support

us or they just won't have local

businesses," Mr Spooner said.

Hibbards Butchery owner

Steven Joseph said business is

down by 15 per cent, but is just

going to have to "battle through

the tough times."

"When I used to work in

Australia they did road works,

they at least gave us free

advertising in the paper . . . that

would help out quite a lot," he

said.

•HAVE YOUR SAY:

What do you think needs

to be done to alleviate

the pressure Richmond

businesses are under?

Email your views to georgia.

oconnor@starmedia.kiwi

www.trainme.org.nz

Gain NCEA Credits

with the Ultimate

career taster

FREE

*

Enrolling NOW!

FOR JULY START

*Some conditions apply

Txt 'Ultimate' to 027 557 8839

to find out more

or phone 0800 872 466

50 Hazeldean Road

Addington, Christchurch
---
8 Tuesday May 29 2018

Latest Christchurch news at www.star.kiwi

News

COMING HOME: The QE II Masters will return to the Taiora: QE

II Recreation and Sport Centre when it opens. ​

Swim group to

return to QE II

• By Georgia O'Connor-Harding

A SWIMMING group holding

on for "grim death" to survive

since the earthquakes is

anticipating its move into the

new Taiora: QE II Recreation and

Sport Centre.

The QE II Masters will return

to its former swimming pool

after getting down to as low as

four members over the past seven

years.

The group will celebrate its first

swim in the pool on Tuesday,

June 12, following the opening

over Queen's Birthday weekend.

Formed in 1983, the group

was a "powerhouse" for master's

swimming and received great

support from local surf clubs,

member Sam Hannifin said.

When QE II closed after the

February 22, 2011, earthquake,

the group had about 50 members.

The group trained in three

different sites – moving first to

the Pioneer Recreation and Sport

Centre, then Jellie Park Recreation

and Sports Centre before

moving to Christ College's pool.

By the time it moved to the

STUDY @ SIT

CHRISTCHURCH

Graham Condon Centre in 2012,

the group had whittled down to

about five members.

But Mr Hannifin said the

group never lost hope it would

return to QE II.

Numbers have since grown

during the group's time at

Graham Condon, and when it returns

to QE II there will be about

25 members.

Over the years, the group has

attracted "great coaches" including

former QE II swimming

teacher Rosemary Bishop, who is

known to many parents as their

children's coach, Mr Hannifin

said.

Other well-known public figures

to coach the group includes

Canterbury District Health

Board member Jo Kane.

The current coach is Sammy

Winward, who up until last

season swam for national teams,

specialising in open water events.

The group is welcoming people

to come along and try a class

with no obligation on June 12 at

8pm.

Training will be held on Tuesdays

and Thursdays, 8-9pm.

ENROL NOW FOR SEMESTER TWO

ª Vocational Pathways Construction and Infrastructure - Construction

(Level 2) - Starting 11 June 2018

ª New Zealand Certificate in Electrical Engineering Theory

(Level 3) - Starting 11 July 2018

ª New Zealand Certificate in Construction Trade Skills - Carpentry

(Level 3) - Starting 22 August 2018

Call today or email sit@sit.ac.nz

ONE OF the first lifeguards at

the old QE II pool is returning to

its replacement to run a club for

swimmers aged over 50.

Willie Pitama, 67, started

work at QE II pool on February

9, 1974, a week after the

Commonwealth Games were

held at the complex.

Forty-two years ago he

founded The QE II 50 Plus and

Early Bird Club and now he is

re-establishing it at the $38.6

million Taiora: QE II Recreation

and Sport Centre when it opens

this week.

The club will meet on

Monday, Wednesday and Friday

mornings from 6.30am to

9.30am, and the first get-together

will be on June 6.

"It's like coming back after I've

been away on a holiday. It just

feels the same," Mr Pitama said.

Mr Pitama developed the idea

as a young lifeguard after seeing

a need for a social group for

older swimmers.

At its peak, the club had

300 members, but since the

February 22, 2011, earthquake,

the numbers had dwindled to a

core group of 30 who still meet

for lunch once a month and hold

annual Christmas parties.

Club co-ordinator Shirley

Forbes, who is 81 and still goes

to the gym and aqua jogs, said

it's a great time for new members

to join.

She and her husband Bruce

became regular members of the

club after they retired.

The oldest member of the

HORNCASTLE ARENA

June 29 - July 1 10AM - 5PM

TICKETS ONLINE: starhomeshow.kiwi

Seniors get into new pool

• By Georgia O'Connor-Harding

QUEENSPARK Primary

School pupils have been

doing their bit to keep the city

beautiful, earning two awards

for their efforts to be tidy Kiwis.

The school and its caretaker

Chris Kime were recognised for

going "above and beyond" to

make the city a greener place at

the annual Keep Christchurch

Beautiful awards recently.

The organisation's chairwoman

Alexandra Davids said

the school is dedicated to being

a litter-free school.

Queenspark has been involved

in Keep Christchurch

Beautiful's school programme

BACK TO IT: Shirley Forbes and Willie Pitama are excited to

re-establish the QE II 50 Plus and Early Bird Club at the new

Taiora: QE II Recreation and Sport Centre. ​

for almost 25 years and will

receive a long service award in

November. Mr Kime was recognised

for going "well beyond

the call of duty" by working

with groups of pupils to care

for the school environment and

but Queenspark Reserve, Ms

Davids said.

PEGASUS POST

group is 97 and still swims

30 lengths three times a week

at Graham Condon Pool and

Recreation Centre.

Another eight members

used to car pool from Kaiapoi

so they could swim together at

QE II.

Queenspark picks up green awards

MR CLEAN:

Kayne Ridden,

Alanah Beedles,

Chris Kime, Brad

Stokes Cassidy,

Daniel Parkin and

Joel O'Callaghan,

planting a

pittosporum.

PHOTO: MARTIN

HUNTER

He works with a group of

pupils called the "green team.

"Our side of the city has

suffered badly through the

earthquakes. Anyway we can

promote and enhance our side

of the city I think can only benefit

the entire city," Mr Kime

said.

0800 TO STUDY

www.sit.ac.nz
---
PEGASUS POST Latest Christchurch news at www.star.kiwi

Tuesday May 29 2018 9

huge flooring

clearance

NYLON

Ruby Bay

• 75oz solution dyed

nylon

• Extra heavy duty

• Cut pile

• Slightly imperfect

• Colour Riverton

$109 90

NYLON

Riviera

• 26oz solution dyed

nylon

• Extra heavy duty

• Cut pile

• 5 colours

$79 90

WOOL

Impressionist

• Wool blend

• Extra heavy duty

• Cut pile

• Slightly imperfect

$69 90

NYLON

Columbia

• 36oz solution dyed

nylon

• Extra heavy duty

• Cut pile

• 12 colours

$99 90

WOOL

Sierra

• Pure wool

• Extra heavy duty

• Loop pile

• 2 colours

$59 90

NYLON

Windsor Twist

• 36oz solution dyed

nylon

• Extra heavy duty

• Cut pile

• Slightly imperfect

• Colour Paua

$79 90

Garage Carpet

6m by 6m garage fully

installed for $900

Some conditions apply

$900

vINYL

2m wide vinyl

• Selected patterns

hALF

pRICE!

$25 00

NOW

pER M

312 Wilsons Road North, Waltham Phone 366 0070

www.carpetkingdom.co.nz | Mon - Fri 8am - 5pm | Sat 10am -1pm

Q Card Finance Now Available

FREE no obligation measure & quote (conditions apply.)
---
10 Tuesday May 29 2018

Latest Christchurch news at www.star.kiwi

PEGASUS POST

Gaskell named top surf coach

• By Jacob Page

JAMES GASKELL'S integral

part in New Brighton's national

surf boat racing success has seen

him earn coach of the year at the

annual Canterbury awards.

The three New Brighton crews

Gaskell helped to coach

came away with two national

titles and a silver

medal, which saw him

honoured at the Canterbury

surf lifesaving

awards of excellence.

New Brighton won

the open men's open

short course for the

second time and the

women's open long

course title for the first time in the

club's history.

The up-and-coming under-19

women's crew earned a silver

medal in the girls short course.

The 40-year-old has been part

of the club for more than 25 years,

and says the accomplishments

are a nod to the improvement of

South Island crews.

"It's very much a North Island

dominated sport so to have the

three South Island clubs achieving

James Gaskell

well at nationals is a big thing," he

said.

"To send three boats to nationals

and get all of them on the

podium was a great achievement

and proof that we can foot it with

the best in the country," he said.

Gaskell said winning the

award was recognition not

just for him, but for the

whole club.

"I'm honoured to win it

but it's a real sign that the

club is going really well.

Gaskell started swimming

at the club at the age

of 14 but transitioned to

surf boats at 20.

While he still competes,

he said he enjoys coaching

for the opportunity to give back.

"It's a chance to stay involved

with a really good club and ensure

that it continues to grow," he said.

"It's time I gave my body a break

from being battered during races,

too."

He said the club showed they

could match it in the open grades

while building up young crews,

ensuring there was always a succession

plan.

SPORTS

WINNERS: James Gaskell helped the New Brighton open women's crew win a national

championship and took out coach of the year at the Canterbury awards of excellence.

PHOTO: SLNZ

ON THE

WATER: Scott

Martlew's

silver medal

in the paracanoe

World

Cup KL2

200m will

hopefully be a

step towards

gold at the

2020 Tokyo

Paralympics.

Parklands para-athlete

paddles to silver at

World Cup in Hungary

• By Jacob Page

Scott Martlew

SCOTT MARTLEW has had

to call on all of his multiple

sporting talents to fulfil his

sporting aspirations.

The talented 25-year-old

from Parklands has

just returned from the

para-canoe World Cup

in Hungary, where he

earned a silver in the

KL2 200m.

It is just reward for

an former Shirley Boys'

High School student

who initially missed

out on Rio Paralympic

qualification by 100th of

a second. However, the

suspension of Russian athletes

gave him a last minute paralympic

reprieve and he finished

eighth in the A final of the KL3

200m.

Martlew had a full leg amputation

in 2010 following a muscle

tear after a knock to the leg during

a SBHS rugby curtain-raiser

for a Crusaders match.

The injury became infected

with a flesh-eating bacteria.

Martlew is a former national

champion surf lifesaver

and dragon boat racer.

These skills, along with

help from his mates,

helped him adapt to his

new sport.

"I was always big into

water sports, even before

my injury, and while I

went through some dark

times, it was my mates

who really encouraged

me to get back out there."

Martlew said being reclassified

into the KL2 200m

event made a medal a realistic

outcome.

"It was pretty surreal to stand

on that podium after a long road

with plenty of ups and downs,"

he said. Martlew also finished

fourth in the VL3 200m at the

World Cup.

He aims to win gold in both

events at the Tokyo Paralympics

in 2020. But his next focus is the

world championships in Portugal

in August. "There will be some

long training days on the Avon

River and Kerrs Reach," he said.

"It often feels like I leave home

in the dark and I return in the

dark after a long winter training."

Martlew has been a largely selffunded

athlete throughout his

career and he wanted to thank

family and friends who had

supported him throughout his

career so far. He would also like

to thank the New Zealand Rugby

Foundation, Canterbury Orthopaedic

Services, Cyril Smith

Legacy Fund, Canoe Racing New

Zealand and Parafed Canterbury.

SBHS cap off week with

bonus point victory

• By Jacob Page

SHIRLEY BOYS' High got a

much-needed bonus point win

away from home on Saturday

when they beat Timaru Boys'

High School 33-26 in the UC

Championship.

It capped off a good week for

the first XV, which also beat

Marlborough Boys' College

24-17 at home in their annual

school sports exchange fixture

last Tuesday to kick-start their

campaign after two narrow

defeats.

Christ's College warmed-up

for their top-of-the-table clash

against Christchurch Boys' High

on Thursday with a convincing

29-5 win over Lincoln High at

Hagley Park North.

Christ's dominated the first

half in wet conditions to lead

22-0 at the break and effectively

end the contest.

Rangiora High caused the

upset of the round when they

toppled top four contenders

Nelson College 16-15.

St Thomas' scored a try in the

final play of their game to edge

St Andrew's College 24-22 and

leave STAC with just one win

after four rounds.

St Bede's proved they were

genuine semi-final contenders

after they went to Blenheim and

ground out a 29-22 victory over

Marlborough Boys' College.

St Bede's now sit third while

MBC are in fourth.

CBHS had the weekend

off after they racked up 102

unanswered points against

Mid-Canterbury Combined on

Wednesday.

Waimea Combined had no

trouble dispatching Aoraki

Combined 23-7 to ensure they

were firmly entrenched in the

middle of the table.

SBHS will welcome Rangiora

HIgh School on Saturday. St

Thomas' host TBHS, St Andrew's

will look to find form

against Aoraki Combined, St

Bede's travel to Nelson to face

Waimea Combined, Lincoln

welcome Mid-Canterbury Combined,

while Marlborough Boys'

College will host Nelson College

in their annual grudge match.

All eyes will be on the Christ's

College v CBHS game at The

Upper on Thursday. Kick-off will

be at 2.40pm

GAP: Lincoln

Combined

player Bryce

Hargreaves

breaks

through

the Christ's

College

defence.

PHOTO:

MARTIN

HUNTER
---
PEGASUS POST Latest Christchurch news at www.star.kiwi

Tuesday May 29 2018 11

40 % UP TO

30

OFF *

OUTDOOR

CLOTHING

OUTDOOR/SPORTS

% OFF *

SELECTED

CAMPING

SUPER SALE

up to

30 % OFF *

FOOTWARE

STARTS IN-STORE WEDNESDAY AT

COLOMBO ST

up to

up to

up to

25 % OFF *

HUNTING

GEAR

30 % OFF *

WATER

SPORTS

25 % OFF *

FISHING GEAR

LIMITED STOCK! DON'T MISS OUT - HURRY IN-STORE

12smithscity.co.nz

months INTEREST FREE

on everything $499 and over #

0800 SMITHS (0800 764 847)

550 Colombo Street, CHRISTCHURCH

SHOP YOUR WAY Delivered to your door or pick up in-store

*Discount is off our full retail price and applies to stock on hand only. Excludes clearance. Valid until Tuesday 5th June.

#Apple products, selected computers, game consoles, gift cards, clearance items and some promotional items are not available in conjunction with INTEREST FREE offers. Exclusions, fees, terms & conditions apply. See in-store or visit smithscity.co.nz
---
12 Tuesday May 29 2018

Latest Christchurch news at www.star.kiwi

PEGASUS POST

26th August 2018

10am – 3pm

Air Force Museum, Wigram

Tickets available on door

For exhibiting

enquiries contact

Mark Sinclair:

mark.sinclair@

starmedia.kiwi

BRIDALSHOW
---
2

PEGASUS

[Edition

POST

datE]

Latest Christchurch news at www.star.kiwi

Tuesday May 29 2018 13

HEALTH & BEAUTY

Linwood Medical

Centre offering

new Sick Kids Clinic

With winter around the corner, cold

and flu season is now upon us. As a result,

general practices tend to be busier and

it can often be more difficult to get an

appointment.

Linwood Medical Centre is trying to

change that.

Beginning 5 June, the medical centre

will be providing a Sick Kids Clinic to

streamline visits for children with acute

health needs. At the end of each morning

and afternoon, appointments will be

available for children under 14. These

appointments will be with a nurse who

will be able to provide letters for schools

and advice to parents to help get their

child well.

General Practitioners (GPs) will be

available to see the child if the nurse

has additional concerns or believes a

prescription is needed.

Parents will need to call the medical

centre to schedule an appointment for

their child. Enrolled patients will have

priority and the visits will be free as

always to children under 13. If a nonenrolled

child needs to be seen, the cost

will be just $20.

The clinics will streamline appointments

for sick kids and provide the best service

possible for as many children as need to

be seen.

Linwood Medical Centre is located

upstairs in Eastgate Shopping Centre next

to The Loft and the Linwood Library. The

Centre provides extended hours general

practice, with it's own social worker, and

specialised nurse services like B4 School

Checks, diabetes education, and smear

clinics. Linwood Dispensary, Physio

South and Bubs4u Midwifery Care Nurse

Maude district nursing, and CDHB Older

Persons health are also located inside the

Centre.

Next door, The Loft

www.theloftchristchurch.org.nz provides

numerous social services.

For additional information on

Linwood Medical Centre, visit

www.linwoodmc.co.nz or call to make

an appointment 03 389 2550.

The flu season is upon

us and Linwood Medical

Centre is here to help!

New eNrolmeNts welcome

Level 1, 20 Buckleys Rd, Linwood

(located inside Eastgate Shopping Centre)

P 03 389 2550 W linwoodmc.co.nz

Mon to Thurs 8am-8pm,

Fri 8am-5pm and Sat 10am-4pm

"Where Every Smile Matters"

Experienced team provides caring and

gentle dentistry for the whole family

Dental Hygienist Available

Sedation dentistry

Wedding packages

Winz quotes

ZOOM whitening

treatment

ACC accredited

Dental Health Counselling

Free treatment for

adolescents (13-18 years)

Free treatment of

children (0-13) with a

school dentist referral

PH 332 6399

We've moved!

Now based at

104 Colombo Street,

Beckenham

www.smileconcepts.co.nz

style

noun

elegance and sophistication.

synonyms: flair, grace, poise,

polish, suaveness, urbanity, chic,

finesse, taste, class, comfort,

luxury, affluence, wealth,

opulence, lavishness.

Use the winter months to sort your toe nails for summer

New technology to treat fungal nails

A simple solution to a complex problem

before

for appoiNtmeNts phoNe 03 348 7910 | www.feetfirst.co.Nz

riccartoN

37 main south road

redcliffs

2 augusta street

marshlaNds

427 marshland road

after

darfield

darfield pharmacy

MAGAZINE

STYLE.KIWI
---
14 Tuesday May 29 2018

Latest Christchurch news at www.star.kiwi

Get your tickets

online and be

in to win a

$500 Resene

gift voucher

PEGASUS POST

Earlybird

tickets available

online now

$6 or 2 for $10

Children under

12 FREE

JUNE 29 – JULY 1 2018

Horncastle Arena

BOOK NOW: www.starhomeshow.kiwi

Friday, Saturday, Sunday, 10am-5pm
---
PEGASUS POST Latest Christchurch news at www.star.kiwi

Tuesday May 29 2018 15

Email sophie.cornish@starmedia.kiwi

by 5pm each Friday

JP Clinic at Shirley Library

Tuesday, 10am–1pm

A justice of the peace will

be available to members of

the community, to witness

signatures and documents,

certify document copies, hear

oaths, declarations, affidavits

or affirmations as well as sign

citizenship, sponsorship or rates

rebates applications. There is no

charge for this service.

Shirley Library, 36 Marshland

Rd

Babytimes/Wā Pēpi

Tuesday, 11.15 – 11.45am

Encourage learning through

language. Babytimes is an

interactive programme including

rhymes, songs, stories and play.

This is a free session.

Aranui Library, 109 Aldershot

St

Scrabble Club

Tuesday, 1.30–2.30pm

Enjoy Scrabble? Go along to

the library for a friendly game or

two with other like-minded folk.

Parklands Library, 46

Queenspark Drive

Reading to Dogs

Tuesday, 3.30–4.30pm

Designed to provide a relaxed,

non-threatening atmosphere

which encourages children to

practice their reading skills

and develop a love of reading.

The programme uses dogs who

are the beloved pets of the city

council animal management

team. These furry friends have

all been trained and tested for

health, safety and temperament.

The dogs can increase a child's

relaxation while reading, listen

attentively, do not laugh, judge

or criticise, allow children to

proceed at their own pace and

can be less intimidating than a

child's peers. Library staff and

a dog handler will be present

at all times to help facilitate the

sessions. Sessions are 15min.

Shirley Library, 36 Marshland

Rd

Music Workshop

Wednesday, noon-3pm

Head along to a song-crafting

workshop at Avebury House.

For more information and

bookings, call Andy on 027 387

4094.

Avebury House, 9 Evelyn

Couzins Ave, Richmond

Spider Art: Room 14,

Linwood Avenue School

Wednesday, Thursday and

Saturday 9am– 6pm

Linwood Avenue School are

regular visitors to Linwood

Library and this month we are

delighted to present art work by

students of Room 14, Linwood

TALOFA: Join in to celebrate Samoan Language Week with stories, songs, rhymes and fun. This

is a free session. The event will be held Tuesday 10.30-11am at the Shirley Library, 36 Marshland

Rd and New Brighton Library, 213 Marine Pde, and Wesdnesday, 3.30-4.30pm, at the Aranui

Library, 109 Aldershot St.

Avenue School. Titled "Spider

Art", these vibrant mixed media

paintings, enable everyone the

opportunity to come and see

some of the work our students

of our community schools are

doing.

Linwood Library, Eastgate

Shopping Centre, Buckleys Rd

Minecraft Club

Wednesday, 3.30–4.30pm

Get creative, start crafting.

Build imaginative worlds and

battle nocturnal creatures at the

learning centres' Minecraft club.

Novice or expert, join the club

and play with your friends. A

tutor will be in attendance.

New Brighton Library, 213

Marine Pde

Rocket Club

Wednesday, 3.30–4.30pm

Rocket Club is a weekly afterschool

program which runs

during term time. All whanau

are welcome to join the club and

become involved in different

activities based on local and

current events in a fun learning

environment. Homework help is

available during this time. Free

to attend, no bookings required.

Aranui Library, 109 Aldershot

St

Bible Reading

Thursdays, 9.30-10.30am

A bible-reading group for

women is being held weekly.

Especially designed for those

who want to read the bible for

the first time. Phone Elissa on

021 023 65910.

In the "Small Room" at the

Aranui Wainoni Community

Centre, 31 Hampshire St

CV drop-in

Thursday, 10–11.30am

A librarian will be on hand

to assist customers with their

resume. The library offers

guidance on creating, updating,

and editing your CV.

New Brighton Library, 213

Marine Pde

Seaside Market

now bigger than ever

Saturday, 10am - 2pm

Held in the Brighton Mall

every Saturday. Bakery, clothing,

vegetable, crafts of all kinds

and food stalls. Face Painting,

entertainment, just across the

road from the beach and the

new children's playground. The

event is free.

New Brighton Pedestrian

Mall, cnr Marine Pde and

Beresford St

Super Saturday Storytimes

Saturday, 11–11.45am

Encourage learning through a

love for stories. Storytimes is an

interactive programme including

stories, songs, rhymes and play.

This is a free session.

Shirley Library, 36 Marshland

Rd

Magic: The Gathering

Saturday, 1pm–4pm

Go along to play, swap cards or

hang out. Snacks provided. For

ages eight to 18.

Shirley Library, 36 Marshland

Rd

growing with you

SprIng Is here –

It'S Sow Time

how to get the best results from

seeds and seedlings

100% NatIve In

The capItal

Unravelling the secrets of

Otari-wilton Bush

The New Zealand

landscape awards

The people behind

the projects

$7.90 incl. GST

Save our roSeS

How a rose register is protecting our heritage

September 2016 | 100%

It's time

to grow!

New look and more

content than ever!

MeeT LeSTer Brice

A Garden coach

auckland Botanic GardenS

Why we love our public grounds

The magazine for

gardeners who like to get

their hands dirty

SubScribe from

$43. 50*

*6 issues/6 months

ISSN 2423-0219

SUBSCRIPTIONS FREEPHONE

0800 77 77 10

www.gaRdeNER.kiwI
---
16 Tuesday May 29 2018

Latest Christchurch news at www.star.kiwi

PEGASUS POST

#GetBetterResults

The Press audited circulation

46,252 *

VS

audited circulation

149,948 *

Mass Circulation | Mass Readers | Massive results

Advertise with Star Media and let us help you grow your customers, sales and profits.

We home deliver into over 100,000 more homes than The Press. In fact we reach more people with

just one ad than any other Christchurch media channel. Get the Star Media advantage working for

your business today. For a professional, no obligation free consultancy for your business, call us now.

Contact Shane today: 03 379 7100 shane@starmedia.kiwi

www.starmedia.kiwi

*ABC circulation report The Star, Bay Harbour News,

Selwyn Times and North Canterbury News vs Press. ANP
---
PEGASUS POST Latest Christchurch news at www.star.kiwi

Tuesday May 29 2018 17

REAL ESTATE

Build a beautiful life

314 Highsted Road, Casebrook

Auction: Thursday 21st June, 2018 (unless sold prior)

Listing #PI53337

This piece of land offers the opportunity

to build your dream home within easy reach

of city amenities - without compromising

on space. Situated away from the road

for the ultimate in peace and privacy, the

2000sqm freehold section means room to

design the lifestyle you've always wanted,

both indoors and out.

Situated just moments from leafy

walking trails at Styx Mill Conservation

Reserve, with schools, supermarkets,

shops and cafés within five minutes' drive,

you'll be surprised at the convenience

of this location. With many high-calibre

homes within close proximity, plus new

developments in the area, the growing

popularity of this neighbourhood will

ensure the enduring value of your property.

Plus, you'll be able to enjoy all the planned

new amenities nearby, such as childcare

facility, café and retail, while enjoying a

section of generous proportions.

This is your chance to build a beautiful

new life in a location that has is all.

Possibilities like this are all too rare,

so to find out more contact 352 6166 or

Cameron Bailey on mobile 0275 557

079 or Brendan Hart on 027 5106 525 of

Harcourts Gold Papanui (Licensed Agent

REAA 2008) today and register your

interest.

Visit www.star.kiwi

anytime, anywhere!

Breaking news,

delivered to

your pocket.

Fire rages, homes at risk

•news •CTV •sport •districts •schools •lifestyle •opinion •what's on

www.star.kiwi
---
18

Latest Christchurch news at www.star.kiwi

Tuesday May 29 2018

PEGASUS POST

Classifieds Contact us today Phone our local team 03 379 1100

Caravans, Motorhomes

& Traliers

CARAVAN Wanted to

buy. Up to $5000 cash

today 027 488-5284.

Community Events

ALCOHOLICS

ANONYMOUS, If you

want to have a drink thats

your business. If you want

to stop, we can help. Phone

0800 229-6757

Computers

ALL

YOUR

COMPUTER

WORRIES SOLVED!

*$30.00 off your first

service with this coupon!*

No problem too big or

small from home PC's to

business networks. PC

slow? An end to Viruses,

Spyware, and Clogged

Systems. Safe secure

hassle-free computing.

Lost files recovered.

Microsoft Certified,

MCSE, MCP+l. 30 years

experience. Call Andrew

Buxton this week on 326-

6740 or 027 435-7596

for $30.00 off* Custom

Computers Christchurch.

Curtains

www.curtainfabric-outlet.com

Fashion Designs & Colours

Discontinued Designs

End of Lines Bargain Prices

Call at Our Shop

CURTAIN FABRIC OUTLET

71 Hawdon St Sydenham

Ph 366-5026

Health & Beauty

KATANG

Fitness

Held at St Faiths Church Hall,

46 Hawke Street, New Brighton

Sit & Be Fit

Monday 1 – 2pm

$4 per class

Movement to Music

Thursday

9.30 – 10.30am

$5 per class

For more info contact Katrina 3811704 or 0274966845

Gardening

& Supplies

A GARDEN OR

LANDSCAPING TIDY

UP? Shrub, hedge &

tree pruning, Lawns,

Gardening, consistently

reliable general property

upkeep, Dip. Hort. 10

yrs experience, One off

tidy ups or on-going

service. Nick's Property

Maintenance. Keeping

your garden beautiful.

Free Quote. Ph. 942-4440.

Holiday

Accommodation

Australia QLD

SUNSHINE

COAST

RESORT

ALEXANDRA HEADLAND

All Units Have Ocean Views.

Heated Pools, Spa & Sauna,

Free Wifi, Tennis

& Mini Golf.

CHECK OUR GREAT

WINTER SPECIALS

www.mandolin.com.au

0061 7 5443 5011

JUNE to AUG temps 20C

Trades & Services

• Commercial Carpet Cleaning

• Residential Carpet Cleaning

• Upholstery Cleaning

• Stain & Odor Removal

• Tile & Grout Cleaning

NEED HELP

WITH YOUR

CARPET CLEAN?

Simply give us a call

on 021 035 8989

We will get the job done

in a professional way.

FOR ALL YOUR

★Garden Clean-ups

★Pruning

★Lawn Mowing

★Garden Maintenance

Call us today for a FREE quote

PH 0800 4 546 546

(0800 4 JIMJIM)

Trades & Services

ROOF REPAIRS

Locally owned & operated with

over 30 years experience.

• Extensions & repair • Roof coating

• Concrete & clay tiles • Butynol

• Malthoid • Asbestos Certified

• Coloursteel • Old iron • Guttering

Phone Dave 981 0278

or 021 223 4200

E: dave@beaumontroofing.co.nz

BEAUMONT ROOFING LTD

Trades & Services

BLOCKED

DRAINS?

• VIDEO INSPECTION

• WATERBLASTING

• LIQUID WASTE

PH: 03 365 7960

24 hours // 7 days

info@h20jet.co.nz

www.h20jet.co.nz

Trades & Services

HOUSE

CLEARING

Are you

moving house

or trying to

downsize?

Call All Clear

Canterbury. We work

with you to recycle,

sell and dispose of

unwanted items.

Ph: 03 260 0934

or 021 078 4553

raewynlcooke@gmail.com

www.allclearcanterbury.co.nz

Trades & Services

AAA HANDYMAN

licensed carpenter

LBP, all property and

building maintenance,

repairs, bathroom/shower

installations, with free

quotes 03 383 1927 or 027

245 5226 ciey@xtra.co.nz

*****************

CARPET & ViNYl

Laying. 50 Yrs exp

Repairs, uplifting,

relaying, restretching,

Email jflattery@xtra.co.nz

ph John on 0800 003 181

or 027 2407416

PAiNTiNG

& Decorating Wingfields

Contracting, all interior

& exterior painting & all

forms of interior plastering

& jib fixing, ph Mark 021

171-1586 or 355-5994

PAiNTER

Quality work, I stand by

Canterbury Ph Wayne 03

385-4348 or 027 274 3541

PAiNTER AVAilAblE

All aspects in painting.

Very competitive in roofs

and fences. Please call

027 241-7471 or 335-0265

PlUMbER

ALF THORPE

PLUMBING Certifying

Plumber for all types of

plumbing, maintenance,

spouting, alterations

etc. Phone 352-7402 or

0274-350-231

ROOFiNG REPAiRS

Fully Qualified, Over

40 Yrs experience Ph

John 027 432-3822 or

351-9147 email

johnchmill@outlook.com

Trades & Services

SPOUTiNG ClEANiNG

Spouting Unblocked,

Cleaned Out and Flushed

Out. Also Full Handyman

Services Available. Call

Trevor 332 8949 or

021 043 2034

STONEMASON

BRICK

&

BLOCKLAYER,

Earthquake Repairs, Grind

Out & Repoint, River/

Oamaru stone, Schist,

Volcanic Rock, Paving,

all Alterations new & old,

Quality Workmanship,

visit www.featureworks.

co.nz or ph 027 601-3145

TilER/CARPENTER

35 years exp, no job

too small. Ph Ross

027 4311440.

T.V. SERViCE CENTRE

Repairs, tvs, microwaves,

stereos, DVD. Aerial

installations and kitsets,

480 Moorhouse Ave, ph

03 379 1400

T.V. SERViCE CENTRE

Repairs, tvs, microwaves,

stereos, DVD. Aerial

installations and kitsets,

480 Moorhouse Ave, ph

03 379 1400

VHS ViDEO TAPES

& all camera tapes

converted to DVD, video

taping special occasions,

www.grahamsvideo.co.nz

ph 03 338-1655

WiNDOW ClEANiNG

Average 3 bdrm house

inside or out $40. Both

$70. Phone Trevor

344-2170

Wanted To Buy

A+ Household effects,

fridges, freezers, washing

machines, ovens. Good

cash paid. Ph Paul

022 0891 671

A+ Household effects,

fridges, freezers, washing

machines, ovens. Good

cash paid. Ph Paul

022 0891 671

TOOLS Garden,

garage, woodworking,

mechanical, engineering,

sawbenches, lathes, cash

buyer, ph 355-2045

ADVERTISE YOUR BUSINESS HERE

ADD SOME

COLOUR

TO YOUR ADVERT!

Phone for further details

(03) 379 1100

exHibitors

book now

limited spaces available!

Don't miss your opportunity to showcase your

business in front of 10,000+ qualified attendees

Vanessa.fleming@starmedia.kiwi

021 914 565

Horncastle arena June 29 - July 1 10AM - 5PM

Inspiration | Trends | Technology | Innovation | Show Specials
---
PEGASUS POST Latest Christchurch news at www.star.kiwi

Tuesday May 29 2018 19

What's On

Entertainment

FAST PACED

PSYCHOLOGICAL

THRILLER - 'A PICASSO'

FOLLOWING on from past productions 'Turn of

the Screw' and 'e Woman in Black', locally

based independent theatre group, NO Productions

eatre Collective presents its latest offering, A

Picasso.

Photo credit: euns Verwoerd

Written by Jeffrey Hatcher, A Picasso is a fastpaced

psychological thriller set in an interrogation

room in Nazi-occuppied Paris.

Directed by Michael Adams ('Turn of the

Screw'), this intense piece about art, sex, politics

and truth is full of unexpected twists and

surprises.

To advertise, contact

Jo Fuller 027 458 8590

jo.fuller@starmedia.kiwi

e story line follows a cat-andmouse

game between the great artist

and a captivating female cultural attaché

from Berlin.

"Which of these three paintings are

genuine, Señor?"…

When Miss Fischer (played by

Nataliya Oryshchuk) reveals that the

genuine Picasso pieces are destined not

for an exhibition but a burning of

degenerate art, the artist (played by

David Allen) begins a desperate

negotiation with his Nazi opponent,

who turns out to be his secret admirer.

'A Picasso' takes place at the

Christchurch Art Gallery Te Puna o

Waiwhetū in the Philip Carter Family

Auditorium on Friday June 8 at 7.30pm

and Saturday June 9 at 2.30pm and

7pm. Tickets $27 (concessions $22).

Recommended R16.

RESTAURANT & CAFÉ

Cooked Breakfasts

Check out our extensive breakfast

menu from Continental to Cooked

We are open from 6.30am

TREAT THE FAMILY!

Kid's 2 course special

Great Kids menu

plus designated play area.

What's On

TUESDAYS & THURSDAYS

MEMBERS LUCKY CARD DRAW

LIVE MUSIC - COMING UP

SUNDAY 3 JUNE, 2PM

$19

$13

Dine by the Beach

PIERVIEW

RESTAURANT

UPSTAIRS

Open from 5.30pm Fri, Sat,

Sun, and Sunday Brunch

from 10.30am to 2pm.

Famous for their

succulent roasts

available Lunch & Dinner

The

RACECOURSE HOTEL

& Motorlodge

118 Racecourse Rd, Sockburn,

Christchurch. Ph 03 342 7150

www.racecoursehotel.co.nz

MONTH-END

SUNDAY NIGHT

BUFFET $25pp

Sunday 24th June

from 5.30pm

BOOK NOW!

CLUBBISTRO

DOWNSTAIRS

Open Tuesday to Saturday

12pm - 2pm & from 5pm.

202 Marine Pde | Ph 388 9416 | www.newbrightonclub.co.nz | Members, guests & affiliates welcome

Lunch & Dinner

All you can eat

7 days

SERVING

Bookings Essential PH 386 0088

fb.com/GardenHotelRestaurant www.gardenhotel.co.nz

HAPPY HOUR

5PM - 7PM DAILY

OUR CABINET ITEMS

ARE HOMEMADE

CREATED FRESH ON SITE DAILY

$12

LUNCH

SPECIALS

Live Music:

6PM.SAT 2.JUNE

Mid-Winter

Christmas

COFFEE

HAPPY

H O U R

Saturday Saturday 17 June 23 June to to

Sunday Sunday 2 July 2017 15 July.

LUNCH

Mon to Fri $24.50pp

Sat & Sun $25.50pp

DINNER

Mon to Thur $31.50pp

Fri to Sun $33.50pp

Senior Citizens

discount available.

2PM-4PM

DAILY

$3.50

Offer available for a limited time

and includes tea, hot chocolate

MON: ROAST MEAL

TUE: FISH & CHIPS

WED: FISH BURGER

THU: ROAST MEAL

SAT: FISH & CHIPS

AVAILABLE

FROM

11.30AM-2PM

FOR A

LIMITED TIME

Sima & Vaea

PHONE 385 8880 FIND US ON FACEBOOK fb.com/GBCCHCH

THE GARDEN HOTEL COMPLEX | 110 MARSHLAND RD

www.gardenhotel.co.nz | phone 385 3132

H ORNBY

WORKINGMEN'S

CLUB

LIVE MUSIC

FRIDAY 7PM:

JO'S KARAOKE

SATURDAY

4.30PM:

DES NEWTON

8PM:

ROBBIE DREW

COMING UP

SATURDAY 9 JUNE

A TRICK OF THE LIGHT

THE PINK FLOYD PROJECT

SUNDAY 10 JUNE

THE C-BAY BAND

SATURDAY 23 JUNE

STARS IN THEIR EYES

feat TONY WELLINGTON

AS ROY ORBISON and

EDDIE SIMON AS LEO SAYER

The Hornby Club | ph 03 349 9026

17 Carmen Rd | Hornby

www.hornbywmc.co.nz

Members, guests & affiliates welcome

FAMILY FRIENDLY DINING

OPEN

EVERY DAY

Club CAFÉ

LUNCH &

DINNER

JOIN US FOR OUR

EXCITING SERIES

OF CLUB CAFÉ

$17

Chalmers Restaurant

FRIDAY & SATURDAY

CARVERY DINNER

$22.50

OPEN FROM 5.30PM

Early Bird Special

5.30pm - 6.30PM

FREE

DESSERT

SUNDAY BUFFET

$27

EVERY SUNDAY FROM 5PM-8PM

COMING UP

BOOK NOW!

LUNCH & DINNER
---
20 Tuesday May 29 2018

Latest Christchurch news at www.star.kiwi

PEGASUS POST

YOU CAN AFFORD

TO BE DIFFERENT.

From an estimated weekly payment of $35 * , you can escape the city in

a new MINI Countryman – with three years of scheduled servicing, a

warranty plan and roadside assistance. All for the price of your weekend

brunch.

Available in ALL4 all-wheel drive with increased cargo and passenger

space, and ruggedly handsome design the biggest

MINI yet is ready when you are.

Start your adventure. Book a test drive today at

Christchurch MINI Garage.

*Estimated Weekly Payment means the estimate of the weekly cost to you for budgeting

purposes of the monthly payments required for this monthly finance product. Offer based on

a MINI Countryman Cooper with a RRP of $45,750 plus on road costs, on a loan agreement,

an initial customer deposit of $10,980, 2 x annual structured payments of $10,980 due

in month 12 and 24, a final payment of $10,980 in month 36 and a total of 33 monthly

payments of $149.70.

Finance calculation based on a 36 month term with a fixed interest rate of 1.99%. Total

amount payable is $48,860.10 which includes an establishment fee of $175, a PPSR of

$10.35, a dealer origination fee of $200.

CHRISTCHURCH MINI GARAGE.

30 Manchester Street, Christchurch. 03 363 7240

CHCHMINI.CO.NZ

THE MINI COUNTRYMAN.

MIN0327

MINI Financial Services terms, conditions, and standard lending criteria apply. Offer

expires 31 July 2018 or while stocks last. New MINI's come with MINI's 3 Year Scheduled

Servicing Warranty Plan and Roadside Assistance. Model shown with optional extras. For

full car specifications see www.MINI.co.nz.

386 Moorhouse Avenue, Christchurch.

Sales, Service, Parts & Finance: 03 379 0588

For the first time striking design,

seamless connectivity, intuitive driving

and exceptional safety have come

together perfectly in a bold new SUV

To explore the many features and

experience it for yourself at

Christchurch Mitsubishi on

03 379 0588 to book a test drive.

*Price listed is for Eclipse Cross 2WD XLS. Eclipse Cross 2WD VRX pictured. Brilliant Red colour pictured available for an additional $500.

Price excludes On Road Costs - which includes WoF, Registration and a full tank of fuel. See www.mmnz.co.nz for Diamond Advantage terms and conditions.