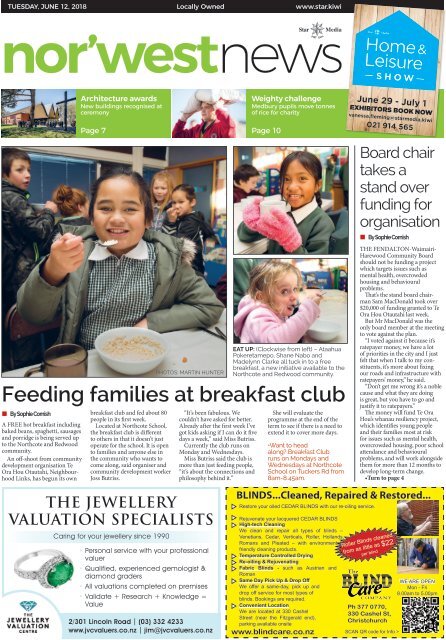 Nor'West News: June 12, 2018
You also want an ePaper? Increase the reach of your titles
YUMPU automatically turns print PDFs into web optimized ePapers that Google loves.
TUESDAY, JUNE 12, 2018

Locally Owned

www.star.kiwi

Architecture awards

New buildings recognised at

ceremony

Weighty challenge

Medbury pupils move tonnes

of rice for charity

June 29 - July 1

EXHIBITORS BOOK NOW

vanessa.fleming@starmedia.kiwi

• By Sophie Cornish

A FREE hot breakfast including

baked beans, spaghetti, sausages

and porridge is being served up

to the Northcote and Redwood

community.

An off-shoot from community

development organisation Te

Ora Hou Otautahi, Neighbourhood

Links, has begun its own

Page 7 Page 10

breakfast club and fed about 80

people in its first week.

Located at Northcote School,

the breakfast club is different

to others in that it doesn't just

operate for the school. It is open

to families and anyone else in

the community who wants to

come along, said organiser and

community development worker

Joss Butriss.

PHOTOS: MARTIN HUNTER

Feeding families at breakfast club

"It's been fabulous. We

couldn't have asked for better.

Already after the first week I've

got kids asking if I can do it five

days a week," said Miss Butriss.

Currently the club runs on

Monday and Wednesdays.

Miss Butriss said the club is

more than just feeding people,

"it's about the connections and

philosophy behind it."

EAT UP: (Clockwise from left) – Ataahua

Pokeretamepo, Shane Nabo and

Madelynn Clarke all tuck in to a free

breakfast, a new initiative available to the

Northcote and Redwood community.

She will evaluate the

programme at the end of the

term to see if there is a need to

extend it to cover more days.

•Want to head

along? Breakfast Club

runs on Mondays and

Wednesdays at Northcote

School on Tuckers Rd from

8am-8.45am.

021 914 565

Board chair

takes a

stand over

funding for

organisation

• By Sophie Cornish

THE FENDALTON-Waimairi-

Harewood Community Board

should not be funding a project

which targets issues such as

mental health, overcrowded

housing and behavioural

problems.

That's the stand board chairman

Sam MacDonald took over

$20,000 of funding granted to Te

Ora Hou Otautahi last week.

But Mr MacDonald was the

only board member at the meeting

to vote against the plan.

"I voted against it because it's

ratepayer money, we have a lot

of priorities in the city and I just

felt that when I talk to my constituents,

it's more about fixing

our roads and infrastructure with

ratepayers' money," he said.

"Don't get me wrong it's a noble

cause and what they are doing

is great, but you have to go and

justify it to ratepayers."

The money will fund Te Ora

Hou's whanau resiliency project,

which identifies young people

and their families most at risk

for issues such as mental health,

overcrowded housing, poor school

attendance and behavioural

problems, and will work alongside

them for more than 12 months to

develop long-term change.

•Turn to page 4

THE JEwEllEry

ValuaTion SpEcialiSTS

Caring for your jewellery since 1990

• Personal service with your professional

valuer

• Qualified, experienced gemologist &

diamond graders

• All valuations completed on premises

• Validate + Research + Knowledge =

Value

2/301 Lincoln Road | (03) 332 4233

www.jvcvaluers.co.nz | jim@jvcvaluers.co.nz

BLINDS...Cleaned, Repaired & Restored...

Restore your oiled CEDAR BLINDS with our re-oiling service.

Rejuvenate your lacquered CEDAR BLINDS

High-tech Cleaning

We clean and repair all types of blinds –

Venetians, Cedar, Verticals, Roller, Hollands,

Romans and Pleated – with environmentally

friendly cleaning products.

Temperature Controlled Drying

Re-oiling & Rejuvenating

Fabric Blinds - such as Austrian and

Roman

Same Day Pick Up & Drop Off

We offer a same-day, pick up and

drop off service for most types of

blinds. Bookings are required.

Convenient Location

We are located at 330 Cashel

Street (near the Fitzgerald end),

parking available onsite

Roller Blinds cleaned

from as little as $22

per blind

Ph 377 0770,

330 Cashel St,

Christchurch

www.blindcare.co.nz SCAN QR code for Info >

WE ARE OPEN

Mon - Fri

8.00am to 5.00pm
---
dance school

2 Tuesday June 12 2018Anna Lee School of Dance is one of Latest Christchurch students feel comfortable news at as www.star.kiwi

they learn

Canterbury's premiere dance schools, dance movements. Benefits for students

offering specialised classes in ballet, jazz, participating in regular dance sessions

Party, CASPA Fear Factor, from Healthy Art, the Out editor's contemporary and desk hip-hop. With studios include increased confidence, self-esteem,

of Africa and hundreds of other amazing in Papanui, Sumner/Ferrymead, Halswell coordination and self- discipline.

themes/activities!

and the Selwyn District (Ladbrooks and Hurry to ensure your place - enrol

CASPA parents enjoy peace of mind, Lincoln), we offer a unique blend of a now for a no obligation trial and

knowing their kids are safe PEOPLE and enjoying WILL the no family doubt focused be polarised studio with over all the benefits join us onstage in our December

benefits of a quality after our school front programme. page article of a large, today. well-established school – multiple recital! Call 354 6228 or email office@

Some parents and caregivers Should also the enjoy Fendalton-Waimairi-Harewood

CASPA. Community CASPA recitals Board at the be spending beautiful Isaac Theatre Royal, your spot now! (Dependent on

exam/grading opportunities, large scale annaleeschoolofdance.co.nz to secure

government subsidies for

is Child Youth and Family approved for the quality teaching staff who really care about availability!)

OSCAR Subsidy and in some

$20,000

circumstances,

on a group

their

that

students.

helps

The

people

Papanui

with

studio operates

the full CASPA fee will mental be covered health by the and from those two living purpose-built in overcrowded

subsidy. housing?

studios in a modern building.

dance

Board For more chairman information Sam or MacDonald to enrol, call put his Anna head Lee School out of of the Dance

trench Caroline, and Rachel said he or Tania didn't on support 349 9260 the or idea has a when proven it history was discussed of students

visit www.caspa.org.nz

excelling with superb exam,

at last week's board meeting.

medal and competition results.

That's

the

admirable for

art

a politican. When Dance they classes are in are power tailored they for preschoolers

says ratepayers through to shouldn't advanced

tend to go middle ground. MacDonald

be funding Te Ora Hou's whanau resiliency students, project catering – it's for all a role levels of

commitment. There are classes

for central government.

designed for those who wish

The

ol

board decided to go ahead with the to dance funding for fun in and spite fitness, of as

MacDonald's view.

well as those who are aiming

In sport today we feature boxer Sam Watt for a career and in softballer dance (we have

Brittany Terrey.

past students currently dancing

in companies, professional

– Barry Clarke

shows and full-time schools

around the world!). The fun and

get in touch

supportive environment, with its

emphasis on enjoyment ensures

GENERAL ENQUIRIES Ph 379 7100

CLASSIFIED ADVERTISING Ph 379 1100

The Christchurch Star Company Ltd

PO box 1467, Christchurch

around starmedia.kiwi

them, the children are sure to

enjoy the daily experiences provided in

this stimulating environment. Our daily

curriculum includes Te NEWS Reo, French /

Mandarin and Ballet classes Sophie are available Cornish

as an optional extra.

This uniquely developed Ph: outdoor 364 7437 area

with soft fall, tracks, hillocks, sophie.cornish@starmedia.kiwi

naturally

situated sandpits, water features, huts

and a boat and gross motor structures

certainly provides activity for all

throughout the well-designed ADVERTISING

indoor/

outdoor daily class routines.

Tiggers is open from Monique Monday to Maynard

Friday 7.30am – 5.30pm. Ph: Phone 364 7474 us on

03 352 5025 for more information.

monique.maynard@

starmedia.kiwi

Geoff Moreton

Ph: 353 4595

geoff.moreton@

starmedia.kiwi

Sprinter off to US

Scholarship for Blake

The St Albans sprinter didn't like the 400m distance when she

first started, now it's got her a US college scholarship.

Page 16

Kidstuff

Premier school of dance

See what's on offer at the Anna Lee School of Dance,

including ballet, jazz, contemporary and hip-hop.

Page 19

Elmwood Players

70th anniversary special

Catch Leaves of Glass, a complex play about two brothers

and the hold the past has on them, at the Elmwood

Auditorium.

Page 24

NOR'WEST NEWS

The best-read local newspaper, delivered to

16,717 homes every Tuesday

Harewood, Burnside, Bishopdale, Bryndwr, Fendalton, Merivale,

St Albans, Mairehau, Papanui, Casebrook, Redwood, Regents

Park, Styx Mill, Northwood, Belfast, Strowan.

Hugh LeLievre

Manufacturing Jeweller

reg 236

Why choose us:

• 38 years trade experience

• Honest, approachable, free appraisals

• Knowledge • Skills • Advice

• Quality work • Affordable prices

• All work carried out on premises

• Make/create your designs

• Repairs, re-makes, re-models

• Unique, one off pieces in stock

Immediate in-store quotes

2a Straven Rd (Cnr Riccarton & Straven Rds)

Ph 03 348 1135

OPEN MON-FRI, 9AM-5.30PM

Free Quotation

Free Installation

Free Aluminium Track

for Christchurch customers

CURTAINS | BLINDS | SHUTTERS | SHADES

ProFessional Custom made Curtains

25 Picton Avenue Riccarton, Christchurch

P 349 4888 E officinevoluptasnz@gmail.com

www.officinevoluptas.co.nz

A UNIQUE FISH IN A BIG POND

...progressive in every way

Awarded Top Property Management Growth – First National

Progressive

Licensed REA 2008

1 Wentworth Street | 03 358 9088 | www.gpre.co.nz

We've been trusted to look after hundreds

of properties all over Christchurch.

You can trust us to look after yours too.

Property Manager of

the Year NZ 2015/16

Ray

Hastie

Manager

027 448 8225

Local Experts – Citywide Knowledge

Phone (03) 331 6755

rwferrymead.co.nz

Paula

Hastie

Inspections

Administrator

027 588 8822

Chloe

McGill

Property Manager

021 914 332 Rebekah

Whalley

Accounts

Administrator

03 331 6755

Tom

Brittenden

Property Manager

021 054 5003

Nominated for Ray White New

Zealand Property Management

Office of the Year, 2016/17

Prier Manson Real Estate Ltd Licensed (REAA 2008)
---
NOR'WEST NEWS Latest Christchurch news at www.star.kiwi

Tuesday June 12 2018 3

News

Bid to further lower speed limit

• By Sophie Cornish

Julie

Greenwood

RELIEF MAY be in sight for

those with concerns about the

speed limit outside Harewood

School.

Last week, the Fendalton-Waimairi-Harewood

Community

Board approved several speed

limit changes to the Harewood

and Yaldhurst area.

However, it recommended city

council review

the change to the

speed outside

of the school

and consider

lowering it again

from 60km/h to

50km/h. Currently

it is 70km/h.

Harewood

School principal

Julie Greenwood spoke at the

last board meeting, calling for it

to reconsider lowering the speed

to 50km/h, a cause she has been

supporting for many years.

"The community board has

been fantastic at listening to our

concerns as a school, which has

been great."

"We are delighted that the

speed will be lowered to 60km/h

but we would like them to consider

if it can be 50km/h to make

it consistent with Harewood Rd

. . . this will assist in the safety

of children and parents crossing

the road in the vicinity of the

school," said Ms Greenwood.

Lower speed limits will aim

to address the changing nature

of post-earthquake, north-west

Christchurch, with its recent and

proposed residential developments.

The changes seek to mitigate

the effects of increased traffic

flows along previously rural

roads and reduce the risk and

severity of accidents to residents

and users of these roads.

City council received 144

public submissions about the

changes, with most supporting

the lowering of speed limits.

The changes will come into

affect in July, following final

approval from city council and

the installing of appropriate

ADJUSTMENTS:

Speed limits

will change

on several

Harewood and

Yaldhurst roads

next month after

the Fendalton-

Waimairi-

Harewood

Community

Board approved

new changes

last week.

speed signs.

Under the plan, parts of Sawyers

Arms, Waimakariri, Harewood,

Styx Mill, Watsons and

Gardiners Rds will all become

60km/h while parts of Highstead,

Claridges, Hussey and

Harewood Rds will be reduced

to 50km/h.

Sections of Guys, Coringa,

Savills, Conservators and Ryans

Rd will become 60km/h.

HORNCASTLE ARENA

June 29 - July 1 10AM - 5PM

TICKETS ONLINE: starhomeshow.kiwi

In Brief

OLD MITRE 10 SITE PLANS

Plans for the former Mitre 10 site

in the Bishopdale Village Mall are

still unclear. Last week Nor'West

News reported businessman Doug

Spence had purchased the site.

Bishopdale Centre Association

for Bishopdale Village Businesses

chairwoman Amanda Nuttall

said the organisation is looking

forward to seeing the site, which

has sat empty for two years, be redeveloped.

"Hopefully it will help

re-invigorate the area and draw

more people here. Mr Spence has

some concept plans being drawn

up at the moment which I am

sure he will share with us as soon

as he can". Mr Spence owns the

Bishopdale New World site and is

currently looking to build a retail

complex in Church Bay.

SHIRLEY SITE CLEAN-UP

Remediation work on the former

Shirley Community Centre site

will begin soon. The site at 10

Shirley Rd will be cleared of all

cabins, stockpiled materials and

stones. Maintenance of the site will

then be handed back to the city

council.

ST MARGARET'S PLAY

The St Margaret's College production

of Alice! will run from July

2-5. More than 200 students will

take part in the play at Charles

Luney Auditorium.

HEARING AIDS

THAT DELIVER

THE SOUND

NATURE INTENDED

• Most Natural Own Voice

Struggling to see

with your dim lights?

Get switchedon

Upgrade your old power hungry halogen downlights

• Switch to LED for sleek long lasting efficient lighting

• 70% saving on power for lighting

• Crystal clear Sound

• Superior Speech

Understanding in Noise

• Tinnitus Control

• Bluetooth compatibility

• Longer battery life

FREE

CONSULTATION

Book your appointment today

Merivale

Hearing Clinic

24b Church Lane.

Call now: 356 2324

nova Series LEd

Fixed Recessed

downlights

Replace 4 downlights

$240 + GSt

✓ Security and landscape lighting

✓ Pre purchase/Insurance Electrical Inspections

✓ Replace tired/old existing switches sockets

✓ Switchboard Upgrades

✓ House Rewires

ContaCt US today!

24 Frank Coxon Road, Belfast, Christchurch

03 373 8320 • info@switchedon.net.nz

www.switchedon.net.nz
---
4 Tuesday June 12 2018

Latest Christchurch news at www.star.kiwi

News

NOR'WEST NEWS

McMaster & Heap

Veterinary practice

EXCITING NEW TECHNOLOGY

AT MCMAsTEr & HEAp VETs

Veterinary science is an ever changing,

progressive and exciting field to try to keep

abreast of. Over the past year Steve and I

have invested in an Ultrasound machine

that is of human quality and we also have

digital radiography, which is amazing. Now

I can zoom in on joints and bones to look

for a lesion. We are also moving very shortly

to a new in house laboratory system which

will allow us to perform many more blood

tests in clinic.

Recently we made the

huge leap to change

our veterinary software

system and integrate

a digital system for

patient monitoring,

both our intensive

care, hospital and

surgical patients,

therefore getting

rid of pen and paper completely. Our old

system had served us well for 15 years but

it was high time to go "cloud based". Last

week we went "Live" with EzyVet software

and actually its not as difficult as I thought

it would be. I've learnt you just need an

open mind as any old dog can learn new

tricks. Its actually been quite fun.

There are loads of benefits with EzyVet, one

of them being better faster communication

with you, our client. We now can easily

text or email ( your preference) your

surgical and consultation appointment

times. We will progress into sending you

reminders, if you want, for the products

you regularly purchase from us like flea

and worm treatments, vaccinations,

Open 7 days

Cnr Hoon Hay & Coppell place

phone 338 2534, Fax 339 8624

e. mcmasterandheap@yahoo.co.nz

www.mcmasterheap.co.nz

prescription foods, arthritic medications

etc. Once we get going with the system we

will have ipads out at reception for you to

electronically consent to a procedure and

update your details for us. Our database will

be more accurate and it will speed up the

process.

Once you have consented to a procedure,

your pets details and what its in for gets

transferred digitally to the treatment

area and goes up live on one of our TV

monitors. As certain tasks are completed

like blood tests, radiographs, sedations

given, then the TV monitor ticks these tasks

off. Its been quite hard resisting a paper

chart but we have less clutter and mess

and more accurate means of recording

every little detail now.

I'm really proud of how our 20+ staff have

embraced this challenge and tried hard to

learn all the features these new systems

have to offer. Last

Tuesday I had two

knee surgeries in dogs

to do and Jaimee

my nurse managed

the ipad monitoring

and charting so well.

Everything entered

on the Smartflow

monitoring system

sinks immediately to

the EzyVet software system, therefore

freeing up our time considerably.

Our field is so challenging and exciting and

there is always something new to consider

having to improve the level of service we

can offer. Steve and I have got big plans

in the next 12 months to build onto our

existing Vet Practice, therefore offering

more services to our clients and providing

more space to our ever growing database

of clients and their pets. We will keep you

updated when building starts but we are

hoping by the end of this year.

I'd say "WATCH this SPACE……..

Dr Michele McMaster

McMaster & Heap

Stand taken over funding

•From page 1

Mr MacDonald believes

the funding should come

from the central government,

not local.

Since 2015, the city

council has granted

$246,108 to Te Ora

Hou.

However, deputy

board chairman

Aaron Campbell supported

the funding.

"I am very happy

to give the programme

a shot, unfortunately

there are

no other options right now,

the Government isn't in

that space and parts of our

Sam

MacDonald

I enjoyed connecting with

Northwood's business people

recently when I spoke at a

business breakfast around our

current economic climate and

where people think things could

be done better. I enjoyed the

two-way conversation as it is

important to me to know about

the issues that are affecting you

as your voice in Parliament.

I routinely visit our local

businesses to see how they're

doing.

Highlighting what we do well

in Waimakariri electorate is

something I enjoy. It was great

to bring National's Conservation

Spokesperson Sarah Dowie to

visit some impressive initiatives

in our area, including a visit to

Odyssey House and an update

on Willowbank's Kiwi programme.

National's Spokesperson for

Health Michael Woodhouse was

another colleague I hosted and

we had informative sessions with

the 298 Youth Health Centre

area are in need, we have

got to try do something,"

he said.

"Sure we could choose

not to spend it, but there

are a lot of reasons on why

we should."

Te Ora Hou

general manager

Jono Campbell

said ideally they

would like to see

more funding from

the Government,

but a key thing

they value about

local government

investment is that it can

meet a local need.

"Local solutions designed

FUNDING:

Fendalton-

Waimairi-

Harewood

Community

Board chairman

Sam MacDonald

believes

ratepayer money

should be spent

on roads and

infrastructure

rather than

giving it to

community

development

organisations.

locally for local people."

"While it is important to

invest in infrastructure, it

is also important to invest

in the communities and

people that utilise our infrastructure

and those people,

like our built infrastructure,

have taken a hammering."

"If we don't invest in

them then eventually something

breaks and the effort

to find solutions becomes

even more costly, impacting

and time-consuming."

•HAVE YOUR SAY:

Where do you think the

funding should come

from? Contact sophie.

cornish@starmedia.kiwi

before donning hard hats to

view progress on Christchurch

Hospital's new outpatients

building.

If you would like to connect

with Leader of the Opposition

Simon Bridges, then the place to

be on Tuesday 17 July at 11am is

the Rangiora A&P Showgrounds

Centre. The public meeting

is part of Simon's Connecting

to Communities tour. Simon

wants to hear from as many

New Zealanders as possible, so

please do join us and have your

say as we develop from these

nationwide discussions positive

policies that deliver.

I have been speaking at a range

of community events on mental

health. We will all have times

of good and bad mental health

and having conversations in our

communities helps to take away

the stigma of asking for help.

Please do get in touch if you

would like me to speak to your

group.
---
NOR'WEST NEWS Latest Christchurch news at www.star.kiwi

Tuesday June 12 2018 5

News

Building friendships for over-60s

• By Sophie Cornish

ABOUT 340 over-60s

are benefitting from the

Neighbourhood Trust's Golden

Connections programme which

focuses on building relationships

and friendships between older

people in the community.

Manager of the Mairehau trust

Ginny Larsen said 280 of the 340

in the programme live alone, so

having a place to come and connect

is very important for them.

The programme runs twice a

week with Monday being for a

walking group and Wednesday

for different activities such as

meals, bus trips, movies, hymn

service, games afternoon and a

foot clinic.

"The meals are always hugely

popular – as they say, for many it

is the only time they eat with others.

We have to cut it off at 75, as

we have around eight to 10 volunteers

working in the kitchen,

set-up and serving and we can't

fit more than 85 into the space."

Ms Larsen said the group is

"staunch" opting to turn up to

the walking no matter what the

weather.

"They inspire each other," she

said.

"We love the way people look

after each other and the valuable

friendships that have grown.

HOT MEAL: Members of the Neighbourhood

Trust's Golden Connection programme (left

to right) – Pam Ronald, Dawn Powis, Jean

Wilkie, Jack Wilkie, Bill Noster, Joyce Brown

and Jocelyn Simpson with their hot meal.

PHOTOS: MARTIN HUNTER

When someone is sick, others

send cards and make phone

calls. Sometimes they'll ask if we

can help organise a care package

or access other services, like our

food bank or our free counsellor,

who is on-site on Wednesdays."

APPETISING:

John and Jenny

Flygenring at

lunch.

HORNCASTLE ARENA

June 29 - July 1 10AM - 5PM

TICKETS ONLINE: starhomeshow.kiwi

Reserve

planting

now tops

2000 trees

• By Sophie Cornish

THERE ARE now more than

2000 trees planted in Papanui

Bush as part of a restoration

project for Bridgestone Reserve.

The second planting in Papanui

Bush's restoration took place last

week.

In spite of the cold and rain

about 100 volunteers turned out

to plant 1400 native trees.

They included Papanui-Innes

Community Board members, a

local MP, Papanui Heritage Group

members, the Rotary Clubs of

Riccarton and Papanui, students

from Papanui High School and

members of the public.

Community board member John

Stringer said he saw several fantails

"flitting from new tree to new tree"

while planting took place.

"It was as if to say: 'Thanks for

these, we approve. Only took you

170 years!'"

The bush once took up 36ha of

land that is now Papanui High

School and Vagues Rd in 1850.

During this time, most trees

were felled over a period of five to

six years.

It doesn't have to be new to be

FABULOUS!

15% off

WOOl SalE

My Favourite Things

2b Trafford Street, Harewood

(just up the road from Copenhagen Bakery)

Phone 03 360 2129 or 022 081 1001

Dress to

impress

at Smith and Boston!

WINTER HOURS: Tues-Thurs 11am-4pm,

Fri 11am-7pm Late Night, Sat 11am-4pm,

Sun-Mon Closed

Follow us on Facebook:

@myfavouritethingsNZ

Still Pedalling!

Full Workshop Services:

• WOF's • Service Checks

• Wheel Alignment • Brakes

• Clutches • Tyres etc

All makes & models

Trevor Crowe's been

involved with cars for a

while. You can benefit

from his experience at...

Subaru Specialists

518 Moorhouse Ave (East end) | P: 379 7615

W: crowesport.co.nz | E: service@crowesport.co.nz

Designer

Collection

Made in NZ

Sizes 6-22

SMITH & BOSTON

Prebbleton Village | Christchurch

Ph: 03 349 5646

www.smithandboston.co.nz
---
6 Tuesday June 12 2018

Latest Christchurch news at www.star.kiwi

REAL ESTATE

NOR'WEST NEWS

Lynette McFadden

Harcourts Gold Business Owner

Harcourts NZ Inspirational Women Ambassador
---
NOR'WEST NEWS Latest Christchurch news at www.star.kiwi

Tuesday June 12 2018 7

News

HORNCASTLE ARENA

June 29 - July 1 10AM - 5PM

TICKETS ONLINE: starhomeshow.kiwi

HEART: The new hall at Christchurch Boy's High School which won an award at the

2018 Canterbury Architecture Awards. SKILL: The Cathedral Grammar junior school.

New structures earn awards for architecture

SEVERAL COMMERCIAL and

public architecture projects and

innovative buildings for learning

were recognised at the 2018

Canterbury Architecture Awards last

week.

As part of the peer-reviewed New

Zealand Architecture Awards programme

run by the New Zealand Institute

of Architects, the awards announced

34 winners at a ceremony at

the Transitional Cathedral.

Designed by Architectus, the St

Andrew's College Centennial Chapel

received an award for it's "exemplary

response to a challenging brief – to

replace a damaged but much-loved

school building," said the jury convenor

for this year's awards architect

Melanda Slemint.

"The chapel roof, a series of folded

ridges and valleys, is a powerful

sculptural element reminiscent

of early church buildings yet contemporary

in execution," said Ms

Slemint.

Continuing with school awards,

Andrew Barrie Lab and Tezuka Architects

picked up an award for their

work on the Cathedral Grammar

junior school.

"To compose a building that is

so 'scale specific' to its primary

occupants also requires immense

patience and diligence, coupled with

serious architectural skill."

The school also received an interior

award, with the jury commenting

on the "sumptuous and warm character"

and noting that "any building

with a playground on the roof must

be a winner," said Ms Slemint.

A new hall at Christchurch Boys'

High School designed by Jasmax is a

"clever insertion of a contemporary

building within the traditional

school fabric that has given the

school a new heart," the jury said.

Awards were also given to a

"community-minded" housing development

in Fendalton, Lintrathen

Gardens and earthquake rebuild

Ellis House, both by Sheppard and

Rout Architects.

A heritage award was given to

restoration projects for Glandovey

House by Warren and Mahoney.

REPLACEMENT: The St Andrew's College Centennial

Chapel received an award for its 'exemplary response

to a challenging brief.'

Serviced Apartment, Resthome & Hospital

Open Afternoon

Sunday 17 June, 1–4pm

We warmly invite you to our open afternoon this Sunday.

Join us for a special tour of our serviced apartments,

resthome and hospital.

Feel free to bring a friend or family member with you and

please call us if you require assistance with transport.

If you would like to learn more about the care options, the

fees and your subsidy entitlements then we encourage you

to attend our information presentation at 2pm.

We look forward to seeing you.

For more information phone

Anna or Marie on 352 5140

95 Grants Road, Papanui

8281
---
8 Tuesday June 12 2018

Latest Christchurch news at www.star.kiwi

NOR'WEST NEWS

Your Local Views

Lend a hand at Northcote School

Northcote

School

principal

Justin Perriam

talks about

volunteers

making a

difference in

pupils' education

AT NORTHCOTE School we

are so lucky to have a number of

new community initiatives that

we want to share with you, as

well as some that we'd love you

to be involved in.

On May 21, with the

assistance of Neighbourhood

Links and Te Ora Hou Ōtautahi,

a community breakfast club

was launched in the Northcote

community. This has been in

development for some time and

we were excited with the first

breakfast in the multi-purpose

room at Northcote School.

The numbers attending were

higher than expected, catering

to about 30 people on Monday,

and 50 on Wednesday, which is

evidence that the community

needs a programme like this.

Although it is situated within

the school, this is a community

programme and everyone is

welcome. It is supported and

run by a team of volunteers from

LEARNING: Parent helpers and volunteers from the Salvation

Army help Northcote School pupils in the vegetable garden.

the community, alongside staff

from Neighbourhood Links.

Also this term, we have

started our reading mileage

programme, which is designed

to provide pupils with the

opportunity to read more often.

Currently, we have about 12

community members coming

into our school to read daily for

15min with some of our pupils.

This is already showing great

results with pupils displaying

increased enthusiasm and

commitment to improving their

reading ability.

Again this is something we

could not offer without the

support of the greater Northcote

and Redwood community.

Another initiative we have

running at the school is our

vegetable garden programme.

We have parent helpers, along

with members of the Salvation

Army who come in on Tuesday

afternoons and work with

pupils to prepare a meal, which

includes some of the produce

grown in our own garden.

We are currently looking

for people to help lead this

programme, so if this sounds

like you then please get in

contact with the school.

We have two year 10 students

from Papanui High School

who are running after-school

netball sessions on Thursday

afternoons as part of their

Duke of Edinburgh awards. It

is a great way to see our young

future leaders giving back to the

community.

There are always plenty of

opportunities for us all to

become involved in our local

communities and when we do

so, the benefits for our tamariki/

children can be great.

•The breakfast club

runs on Mondays and

Wednesdays at Northcote

School on Tuckers Rd from

8-8.45am. If you'd like to

volunteer and help prepare

the food, please give us a

call on 352 9371.

HORNCASTLE ARENA

June 29 - July 1 10AM - 5PM

TICKETS ONLINE: starhomeshow.kiwi

Readers respond to an article

about the Papanui-Innes

Community Board asking the

education minister to include

Shirley and Richmond in the

enrolment zone for the new

school at QE II

Craig Orr – Geographically

speaking, it would make sense

to change the zones and utilise

Mairehau High School to service

the majority of that

area and add rooms

if needed. It looks

to be a well underutilised

facility and

is in a sensible place

for the area. Anyone

from say the east

side of Marshland Rd goes to Shirley/

Linwood, and west goes to Mairehau,

maybe it's not that simple but something

will have to change to find a

balance.

Angela Toomey – Why does

this have to be do hard? Why is

the MoE being so tunnel visioned?

Why can't they see it's time to be

innovative? For a community already

ravaged by forces beyond their control

and looking to build hope and

positivity for the youth and families

in Christchurch, the earthquake was

a leveller. Christchurch has been

fractured. The MoE has a prime opportunity

to help bring communities

back to health, mental and physical,

in their attitude to these new schools.

Don't lose that opportunity MoE.

fall in

Love

with your

favourite

furniture

all over again.

30 YEARS

EXCELLENT

RANGE OF FABRICS

EXPERIENCEFREE

Recover your couches and chairs and save money!

BEFORE

AFTER

QUOTES

03 349 5050

free

CONSULTS

Somerfield Upholstery Ltd

FURNITURE RECOVERY SPECIALIST

10 Calgary Place, Hornby | Ph 021 251 6200 | 349 0456

VISIT OUR SHOWROOM | QUALITY WORKMANSHIP GUARANTEED

www.somerfieldupholstery.co.nz

New Dentures > Relines > Repairs >

6 Brynley Street, Hornby, Christchurch

www.betterdenture.co.nz

TONIGHT 5PM - 7PM

SIT OPEN NIGHT

CHRISTCHURCH CAMPUS

60 Waterloo Road, Hornby, Christchurch

CHECK OUT MID YEAR STUDY OPTIONS

Come and discuss your study options with our staff

For more info email sit@sit.ac.nz

0800 TO STUDY

www.sit.ac.nz
---
NOR'WEST NEWS Latest Christchurch news at www.star.kiwi

Tuesday June 12 2018 9

huge flooring

clearance

NYLON

Ruby Bay

• 75oz solution dyed

nylon

• Extra heavy duty

• Cut pile

• Slightly imperfect

• Colour Riverton

$109 90

NYLON

Riviera

• 26oz solution dyed

nylon

• Extra heavy duty

• Cut pile

• 5 colours

$79 90

WOOL

Impressionist

• Wool blend

• Extra heavy duty

• Cut pile

• Slightly imperfect

$69 90

NYLON

Columbia

• 36oz solution dyed

nylon

• Extra heavy duty

• Cut pile

• 12 colours

$99 90

WOOL

Sierra

• Pure wool

• Extra heavy duty

• Loop pile

• 2 colours

$59 90

NYLON

Windsor Twist

• 36oz solution dyed

nylon

• Extra heavy duty

• Cut pile

• Slightly imperfect

• Colour Paua

$79 90

Garage Carpet

6m by 6m garage fully

installed for $900

Some conditions apply

$900

vINYL

2m wide vinyl

• Selected patterns

haLf

pRICe!

$25 00

NOW

peR m

312 Wilsons Road North, Waltham Phone 366 0070

www.carpetkingdom.co.nz | mon - fri 8am - 5pm | Sat 10am -1pm

Q Card finance Now available

fRee no obligation measure & quote (conditions apply.)
---
10 Tuesday June 12 2018

Latest Christchurch news at www.star.kiwi

Medbury pupils move

tonnes of rice for charity

MEDBURY SCHOOL pupils

have gained an insight to what

life is like for refugees after they

moved 118,082kg of rice and

water on Friday.

The whole school event

'Strength for Sudan' had a goal

of moving 40,000kg over 40m to

raise funds for World Vision's 40-

Hour Famine.

School spokeswoman

Rachelle Mathews said this

goal got "totally

obliterated" when

the boys moved

close to triple that

amount.

The pupils were

sponsored per

kilogram moved,

Amos

Pilgrim

total kilograms

moved, or by a

lump sum amount.

The rice and water used was

purchased by the school and will

be donated to the Salvation Army

and Christchurch City Mission.

A similar event, 'Stroll for

Syria' took place last year, which

saw the school raise almost

$23,000, the second highest

amount raised by a group in the

South Island.

The event on Friday was

run by year 8 house leaders,

head of community service

Amos Pilgrim, and student

head of community service

LIFT: Year 8 Medbury School pupil Jack McKenzie carries rice

on his head as part of the school's World Vision challenge.

Sam Moorhead. Mr Pilgrim

said community service events

like this were fast becoming a

highlight of the school's calendar.

"Money raised from this event

will be used for child-friendly

spaces such as playgrounds and

classrooms. Our boys will get to

make a meaningful difference

in the lives of other children

their age. We were able to come

together as a school community

and continue to develop a culture

of having fun together while

helping those less fortunate than

ourselves," he said.

The money raised in this year's

40-hour famine will go towards

supporting the refugee children

of south Sudan and their families

with food, clean water, toilets,

education, emergency response

items, a place to live and a place

to play in child-friendly spaces.

• By Sophie Cornish

AN "EMOTIONAL insight"

into the United States in the

1950s was given to St Margaret's

College history students by a

member of The Little Rock Nine,

Minnijean Brown-Trickey.

Little Rock Nine was formed

by a group of African-American

teenagers who attended a

segregated school, Central

High School in Little Rock,

Arkansas, which they helped to

desegregate.

Ms Brown-Trickey talked

about her personal experiences

of being met by a mob of protesters

outside the school when

she was 15-years-old. For the

SCHOOLS

NOR'WEST NEWS

EXPERIENCE: St Margaret's College pupils attended a talk by

Minnijean Brown-Trickey, a member of The Little Rock Nine,

who spoke about her experiences in the 1950s during the

civil rights movement.

St Margaret's students hear

from civil rights campaigner

whole school year, on orders

from US President Dwight

Eisenhower, members of the

Arkansas National Guard were

assigned to protect the African-

American students.

Sixteen year 12 and 13 students

attended the civil rights

talk at St Margaret's, which

was organised through the

Canterbury History Teachers'

Association.

Ms Brown-Trickey also told

personal stories about the racism

she faced and the bullying

she endured while attending

school and her experience on

The Oprah Winfrey Show, where

some of her peers apologised for

their treatment of her.

WHY COBHAM FOR 2019?

Here are two opportunities to find out why!

Fun, hands-on, and interactive!

Spend the morning at Cobham with staff and students.

Have fun participating in activities that Cobham students experience each day.

Meet students from other schools. They might be in your class next year!

Informative and engaging!

Meet students and staff.

Discover what Cobham has to offer.

View our great facilities.

20 OR 22 JUNE

9:15am – 1:00pm

RSVP OFFICE BY 18 JUNE

P: 351 6381 OR

E: office@cobham.school.nz

24 JULY

3:30pm – 5:30pm

OR

6:30pm – 8:30pm

Please visit www.cobham.school.nz for more information.

294 Ilam Road, Burnside, Christchurch PHONE 03 351 6381

Cobham

INTE RME D I AT E
---
NOR'WEST NEWS Latest Christchurch news at www.star.kiwi

Tuesday June 12 2018 11
---
12 Tuesday June 12 2018

Latest Christchurch news at www.star.kiwi

Ask us about FEES FREE *

NOR'WEST NEWS

Get The

Job You

Want

Info and

Wednesday

20 th June

School's Not

for everyone!

7:00-9:00pm

Business Admin & Technology

Looking for an administration role? This FREE 20

week course will give you the skills to work in a

modern office, covering advanced use of

Microsoft Word, Excel, Publisher and other

computer based business applications

digital Media

Looking for a career in Digital Media &

Design? This level 2 Certificate in Arts and

Design course will set a great foundation for

an exciting start to your future in design.

FREE for Ages 16-19

Web Development

Join the fast growing and in-demand career of

Web Development. You will be at the computer

from the first day, with expert tutors guiding you

through this practical courses. UE is not required

to enter our one year diploma and there are $2,000

scholarships available for students aged 25 to 35.

Security & Armed Forces Prep

Looking for a career in uniform? This course

gives you the fitness and training for roles in

the Armed Forces, Police and fast growing

Security industry. NCEA credits included.

FREE For Ages 17-19

Early Childhood Education

Looking for a career as an Early Childhood teacher?

We offer the best way to get there! Study your first

year on campus with our amazing caring tutors,

then earn while you learn for the rest of the degree.

If you did not enjoy school, this is totally different

and you do not require UE to enter this programme.

The Ultimate Career Decider

Didn't enjoy school? This FREE 19 week

course offers skills to find a job, learner

drivers licence, tasters of a range of

careers and the opportunity to gain

credits towards NCEA Level 1.

FREE For Ages 16-19

PHONE US ON:

0800 834 834

OR TXT 'VISION'

TO: 027 557 8839

www.vision.ac.nz

50 Hazeldean Road,

Chrsitchurch

Phone us on:

0800 872 466

www.Trainme.org.nz

OR TXT 'TRAINME' TO:

027 557 8839
---
NOR'WEST NEWS Latest Christchurch news at www.star.kiwi

Tuesday June 12 2018 13

• By Jacob Page

PAPANUI BOXERS were

among the winners at the South

Island Golden Gloves at the

Cashmere Club.

Papanui club's Sam Watt

became the elite 91kg open

champion.

Watt is a multiple time national

champion and showed

his class over Queen's Birthday

weekend.

Wiremu Herbert from Smiling

Tigers was victorious in the

under-64kg elite class. Herbert's

clubmate, Daniel Meehan, won

the under-60kg junior category

and Papanui's Tom Weastell won

the under-75kg youth title.

Rendz Remaneses from Redwood

won the under-56kg elite

title.

The event saw 45 bouts split

over two sessions.

Riverside took out the most

successful club honours on the

back of some strong individual

performances.

Sunny Teki-Clark won most

scientific male boxer after winning

his two bouts in convincing

fashion in the under-83kg male

open class.

Nate Bates also won the

under-69kg youth male open

SPORTS

Fighters show form

at Golden Gloves

TOP CLASS: Papanui boxer

Sam Watt showed he was

the top boxer at the South

Island Golden Gloves at the

Cashmere Club.

title against tricky southpaw

Ethan Brae from Redwood Boxing

Club.

• By Jacob Page

PAPANUI TIGERS' pitcher

Brittany Terrey's talents are

taking her all over the world.

The 18-year-old will represent

New Zealand at the under-19

level at the Canada Cup in July

before taking up a two-year

scholarship at Indian Hills Community

College in Iowa.

Terrey has played for the Tigers

since she first played teeball as a

young child.

Her mother, father and grandfather

were all pitchers, and once

she was a teenager, Terrey added

to that legacy.

"It's definitely an art learning

how to pitch and control your

command on the mound," she

said.

The Junior White Sox member

has been clocked at 102km/h for

her fast ball while her curve ball

is about 60km/h.

Terrey said she learnt a lot

from her trip to Florida for the

world championships with the

junior White Sox team last year

but admitted she found the step

up challenging.

"Compared to club softball

here, the margins were a lot less

and the skill of some of some of

the other international players

made me step up my performance,"

she said.

Terrey said she wants to win a

ACE

PITCHER:

Brittany

Terrey will

travel to

the Canada

Cup with the

junior White

Sox next

month then

take up a US

scholarship.

Canada Cup for Papanui pitcher

starting berth during the tournament.

"I'm happy to get into any

games and contribute to the

team, but I want to be a starter."

She said she hoped her past

experience with national agegroup

squads would hold her in

good stead.

The event will run from July 13

to 23 in Surrey, British Columbia,

and provides a platform for

players to compete on the international

stage in advance of next

year's under-19 women's World

Cup in Irvine, California.

The Canada Cup offers three

divisions in which federations,

colleges and clubs can compete.

•More sport, page 16

Hidden treasures, right

in the centre of Riccarton

Natural Attraction Antiques and

Treasure started life as a hair salon

(Natural Attraction Hair Stylists)

over 30 years ago and has gradually

transitioned over to an antique shop

with four registered dealers - Sue, Geoff,

Steve and Uma – providing expertise

and unique things. Part of its ongoing

charm is that two of the dealers are still

also hairdressers so some days you will

find clients having their hair done in the

salon section of the shop while others

are browsing the eclectic displays of

jewellery, curios, fabrics and porcelain.

They cover a wide range of traditional

antiques, decorative items and plenty

of interesting collectables making it the

perfect place if you want a special gift

for any occasion or have been searching

for that piece to complete a collection.

Prices are reasonable and range from

$5-$500 with new stock brought in

every week. If they don't have what you

are looking for, they are always happy

to try and source specific pieces, taking

their treasure-hunt far and wide. You

can also try their main shop, The Ferry

Antique Centre at 282 Ferry Road,

Waltham.

Located at the Windmill Centre, 184

Clarence Street, there is easy parking at

the door and the shop is near to the wellknown

"Ed Hopper" coffee shop - they

recommend that customers check out

the coffees and legendary date scones.

Call in, meet the dealers and share

their natural passion for antiques and

treasures. Follow them on Facebook at

facebook.com/pg/Natural-Attraction-

Antiques-Treasure

Natural

Attraction

ntiques & Treasures

Open 10am - 4pm Monday to Saturday

(Except Friday12.30pm - 4pm)

Shared premises with Natural Attraction Hair Salon

"A range of traditional antiques, decorative items and collectables" | Ph. 03 348 0444 • Windmill Centre 184 Clarence Street, Riccarton
---
14

Tuesday June 12 2018

Latest Christchurch news at www.star.kiwi

NOR'WEST NEWS

TE PAE ON

TRACK FOR 2020

OPENING

01 Weighing an impressive 50 tonnes,

the 50 metre long main steel

roof truss for the auditorium was

recently secured into place.

02 The 1400 seat auditorium is

designed to be flexible and

configurable so different events

can be held simultaneously.

03 Looking out over Victoria Square,

Te Pae's curved façade reflects

Canterbury's mountain and

braided river landscapes.

Construction on Te Pae, Christchurch's

new convention centre, is progressing

rapidly. This venue opens Christchurch

to the world. Having a central city facility

purpose-built for large-scale events allows

opportunities to promote our local strengths

and internationally respected expertise in

sectors such as primary production, earth

sciences, medical research and software

innovation, to an international audience.

01

Already we are expecting 3000 visitors

for events in the month of October 2020,

soon after Te Pae is scheduled to open.

Business event travellers typically

spend twice as much as leisure tourists

and ChristchurchNZ estimates

our city is currently missing out on

$90M in direct investment each year

by not having such a facility.

Christchurch has long been considered a

great city for hosting business events. Te Pae

will ensure we are once again able to welcome

visitors with an experience like no other.

02

3000

VISITORS IN

OCTOBER 2020

03
---
NOR'WEST NEWS

Latest Christchurch news at www.star.kiwi

Tuesday June 12 2018

15

TEPAE.CO.NZ

From a phenomenal riverfront location

in the central city, to world-class

purpose-built facilities, Te Pae offers

an experience like no other.

One meaning of Te Pae is 'gathering

place'. Much more than a traditional

convention centre, this iconic new

facility will indeed be just that -

a gathering place for the 21st century,

where locals and visitors alike come

together to share, learn, be hosted

and entertained. As well as holding

conferences and meetings, you'll be able

to attend expos, public presentations,

galas and other special events there.

An iconic landmark in our flourishing

cityscape, influences of our landscape

are interwoven into the striking

building design, making it a physical

representation of New Zealand, our

culture and the stories of our people.
---
16 Tuesday June 12 2018

Latest Christchurch news at www.star.kiwi

SPORTS

Sprinter overcomes fear

to win scholarship in US

• By Jacob Page

FORMER ST Margaret's sprinter

Jordyn Blake didn't like the

400m distance when she first

started. Now it's got her a United

States college scholarship.

The 18-year-old will head to

Loyola University Chicago and

compete in its NCAA division

one programme in August after

impressing in her first season

back from injury.

She said she can see the funny

side of her once least favourite

distance now providing her with

SPEEDSTER: Jordyn Blake

has accepted a college

scholarship to Loyola

University Chicago and will

leave in August.

PHOTO: BLAKE FAMILY

a great career opportunity.

"I came to the sport quite late

when I was 12," she said. "I was

definitely a sprinter from the

start but I refused to run the

400m for the first couple of years.

"It's ironic because it's become

my best event as I've got older

and I was joking with dad that

it's probably the distance that's

got me the scholarship," she said.

The former South Island

200m age-group champion

finished fourth in her heat at the

Australian championships in

march.

Blake has taken 2sec off her

personal best time in the 400m

after returning from injury.

"In January of 2016, I had a

sore foot and I was getting physio

on it every week and was being

told it would come right so I kept

competing and playing hockey

on it as well," she said.

"By November, I had it x-rayed

and it was discovered I had two

NOR'WEST NEWS

bones in my foot that were joined

together from birth.

"It's very common but most

people never discover it, but

because I'd been competing on it

for so long, I had a fracture."

During her six-month

recovery, Blake said she was able

to work on her technique with

coach Jill Morrison, which has

seen her run personal bests over

all sprint distances in the last

season.

Blake said she gets nervous at

the start of the 400m but believed

it was all part of the love-hate

relationship she has with it.

"There's nothing in the tank

by the end of it, and I always

like to get a fast start to let my

competitors hear me coming up

on them," she said. Blake, who

will study business marketing

in Chicago, said she was looking

forward to being able to compete

12 months of the year, which will

include an indoor season.

Heale gets national hockey call-up

• By Jacob Page

ST ALBANS' Llewellyn Heale

has turned the skills he learnt

on a concrete tennis court with

wooden sticks and a tennis ball

into a New Zealand under-21

hockey call-up.

It is the first time Heale has

been part of a national squad,

with 30 players selected for a

camp in Hawkes Bay from July

16-20.

That squad will be cut to a

travelling squad for the Sultan

of Johor Cup in Malaysia in October

before a test series against

Australia in December.

Heale, a midfielder, has captained

teams throughout the agegrades

and said he will relish the

chance to be part of a national

team environment.

"It's a really exciting opportunity

to learn loads and I hope to

make the most of it," he said.

The 19-year-old has come

through the Canterbury agegroup

system, playing Hatch Cup

twice, under-15s, regionals and

under-21s.

The former Christ's College

captain moved to the Hornby

club this season, eager to take on

more responsibility.

"Hornby gave me the best

chance to be a leader and have

the greatest impact on team success,"

he said.

Heale described himself as a

pass-oriented player who likes to

play at pace with vision up the

field.

Heale is one of seven Canterbury

players in the squad with

Louis Beckert, Lawrence Darling,

Moss Jackson, Declan Keaney,

Sam Lane, Harry Lawson and

Gus Wakeling also part of the

camp.

The squad was selected following

the national under-21 tournament

in May where selectors

put together the 2018 national

programme with the main focus

being the transtasman series at

the end of the year.

NATIONAL HONOURS:

Llewellyn Heale has got his

first national call-up with

the New Zealand under-21

hockey squad.

www.trainme.org.nz

Gain NCEA Credits

with the Ultimate

career taster

FREE

*

Enrolling NOW!

FOR JULY START

*Some conditions apply

Txt 'Ultimate' to 027 557 8839

to find out more

or phone 0800 872 466

50 Hazeldean Road

Addington, Christchurch
---
NOR'WEST NEWS Latest Christchurch news at www.star.kiwi

Tuesday June 12 2018 17

Get your tickets

online and be

in to win a

$500 Resene

gift voucher

SPECIAL

ONLINE TICKET

PRICE

$6 or 2 for $10

Door entry $8

Children under

12 FREE

JUNE 29 – JULY 1 2018

Horncastle Arena

BOOK NOW: www.starhomeshow.kiwi

Friday, Saturday, Sunday, 10am-5pm
---
18 Tuesday June 12 2018

Latest Christchurch news at www.star.kiwi

NOR'WEST NEWS

OSCAR-ENDORSED

SCHOOL HOLIDAY

PROGRAMME

SIGN UP FOR YOUR

NEXT ADVENTURE!

9–20 July, 8am–3pm

We offer a new

adventure-based 'mission'

each holiday and a

balance of themed games,

art, craft and outdoor play!

Book online or call

03 343 9504

For more

adventure check out

our aviation-themed

Birthday Party

options online.

FREE ENTRY // Open 10am – 5pm daily

45 Harvard Avenue, Wigram, Christchurch

www.airforcemuseum.co.nz
---
NOR'WEST NEWS Latest Christchurch news at www.star.kiwi

Tuesday June 12 2018 19

KIDSTUFF

Kids love CASPA!

Premiere

dance school

CASPA (Creative After School

Programmed Activities) incorporating

PAPA JACKS offers children the opportunity

to be creative, make new friends and try

new experiences all within a safe, nurturing

environment. CASPA offers working parents

an affordable after school and school holiday

programme that their kids just love!

CASPA attributes its success to the variety

of activities on offer as well as the convenience

and affordability for parents. CASPA kids

enjoy an exciting range of activities including

sports, music, games, drama, arts and craft

as well as fun trips. Previous themes and

activities have included a Karaoke Dance

Party, CASPA Fear Factor, Healthy Art, Out

of Africa and hundreds of other amazing

themes/activities!

CASPA parents enjoy peace of mind,

knowing their kids are safe and enjoying the

benefits of a quality after school programme.

Some parents and caregivers also enjoy

government subsidies for CASPA. CASPA

is Child Youth and Family approved for the

OSCAR Subsidy and in some circumstances,

the full CASPA fee will be covered by the

subsidy.

For more information or to enrol, call

Caroline, Rachel or Tania on 349 9260 or

visit www.caspa.org.nz

State of the art

preschool

Anna Lee School of Dance is one of

Canterbury's premiere dance schools,

offering specialised classes in ballet, jazz,

contemporary and hip-hop. With studios

in Papanui, Sumner/Ferrymead, Halswell

and the Selwyn District (Ladbrooks and

Lincoln), we offer a unique blend of a

family focused studio with all the benefits

of a large, well-established school – multiple

exam/grading opportunities, large scale

recitals at the beautiful Isaac Theatre Royal,

quality teaching staff who really care about

their students. The Papanui studio operates

from two purpose-built dance

studios in a modern building.

Anna Lee School of Dance

has a proven history of students

excelling with superb exam,

medal and competition results.

Dance classes are tailored for preschoolers

through to advanced

students, catering for all levels of

commitment. There are classes

designed for those who wish

to dance for fun and fitness, as

well as those who are aiming

for a career in dance (we have

past students currently dancing

in companies, professional

shows and full-time schools

around the world!). The fun and

supportive environment, with its

emphasis on enjoyment ensures

students feel comfortable as they learn

dance movements. Benefits for students

participating in regular dance sessions

include increased confidence, self-esteem,

coordination and self- discipline.

Hurry to ensure your place - enrol

now for a no obligation trial and

join us onstage in our December

recital! Call 354 6228 or email office@

annaleeschoolofdance.co.nz to secure

your spot now! (Dependent on

availability!)

Tigger's state of the art Montessori

Preschool on Harewood Road, Papanui

offers an exciting environment. This

purpose built school provides extensive

indoor/outdoor flow, specifically

designed nursery, junior school and prep

school areas. We also offer individual

art / creativity rooms, science rooms,

extension class room and discovery

centre.

With a low children to staff ratio of

New Zealand Registered, Montessori

qualified and experienced teachers, a

teaching philosophy that focuses on the

development of the senses, independence

and care of oneself and the universe

Would you

like to profile

and grow your

Business?

For feature advertising

please phone

Jenny Wright

03 364 7446 or 021 220 3484

jenny@starmedia.kiwi

around them, the children are sure to

enjoy the daily experiences provided in

this stimulating environment. Our daily

curriculum includes Te Reo, French /

Mandarin and Ballet classes are available

as an optional extra.

This uniquely developed outdoor area

with soft fall, tracks, hillocks, naturally

situated sandpits, water features, huts

and a boat and gross motor structures

certainly provides activity for all

throughout the well-designed indoor/

outdoor daily class routines.

Tiggers is open from Monday to

Friday 7.30am – 5.30pm. Phone us on

03 352 5025 for more information.

Tigger's Montessori

Nursery & Preschool

"Enriching Children's Lives"

• Low teacher/pupil ratios

• NZ Registered & Montessori

qualified staff

• WINZ and ECE subsidy

• Working curriculum including:

Practical life skills including Care of

Self and the Environment, Sensorial

refinement, Maths, Languages

(French and Mandarin), Art &

Creativity, Science, Social Skills,

Grace and Courtesy

• Optional Ballet classes available

For all enquiries please contact

59 Harewood Road, Papanui

tiggersmotessoripreschool@outlook.co.nz

Ph: 03 352 5025 | www.tiggersmontessori.co.nz

Open 7.30am - 5.30pm • Monday - Friday

call us

noW

CASPA

After School

& Holiday Programme

Your friendly childcare solution

Creative

After

School

Programmed

Activities

P: 349 9260 or 027 352 1638

E: info@caspa.org.nz

W: www.caspa.org.nz

• We provide a safe, creative

environment for 5-13 year olds

• Our staff are trained

• A range of fun activities

• 7.15-8.30am and 3-6pm Mon-Fri

• 8am-6pm Holidays

• Kids just LOVE it!

Incorporating

Subsidies

Apply
---
20 Tuesday June 12 2018

Latest Christchurch news at www.star.kiwi

NOR'WEST NEWS

For the first time striking design,seamless connectivity,

intuitive driving and exceptional safety have come together

perfectly in a bold new SUV.

To explore the many features and experience it for yourself at

Christchurch Mitsubishi on 03 379 0588 to book a test drive.

*Price listed is for Eclipse Cross 2WD XLS. Eclipse Cross 2WD VRX pictured. Brilliant Red colour pictured available for an additional $500.

See www.mmnz.co.nz for Diamond Advantage terms and conditions.

PRE-OWNED SELECTION AVAILABLE FROM CHRISTCHURCH MITSUBISHI

2006 Lexus IS 250 Limited

2.5L Petrol, 6 speed Auto

80,000 km $15,990

2008 Holden Commodore

Clubsport R8 V8 Auto

107,009 km $37,990

2008 Mitsubishi Lancer SX

2.0L Petrol, Auto

123,000 km $9,990

2014 Ford KUGA Ecoboost,

AWD, 1.6L Petrol, Auto, 81,000

km $19,990

2014 Mitsubishi Triton GLS

2.5L Diesel, 4WD, Auto

83,000 km $32,990

2014 Volkswagen Golf Tdi

Comfortline, Turbo Diesel,

7DSG, 29,500 km $25,990

2015 Mazda CX-3 GSX

2.0L Petrol, 6 speed Auto,

34,000 km $27,990

2010 Mitsubishi Colt Plus LS

1.5L Petrol, 80,000 km

$9,990

FOR MORE VISIT CHRISTCHURCHMITISUBISHI.CO.NZ

386 Moorhouse Avenue, Christchurch. Sales, Service, Parts & Finance: 03 379 0588
---
NOR'WEST NEWS Latest Christchurch news at www.star.kiwi

Tuesday June 12 2018 21

AUTOMOTIVE PROFESSIONALS

Work or live

in Barrington,

Spreydon or

Hillmorton

Auto repairs for all types of vehicle

Whatever type of repairs your vehicle

needs, Parker Automotive is the place to

go. The business has been providing a full

range of auto repair services for customers

across the Spreydon, Hillmorton and

Barrington areas for the last 10 years.

Services include full servicing, lubes,

mechanical repairs, supply and fitting of

tyres and batteries, auto electrical repairs

and WOFs. And while they can successfully

carry out any job on any petrol or diesel

vehicle, the particular specialty is brakes

and suspension.

A courtesy vehicle is available, so

customers can carry on with their daily

business while their own vehicle is being

repaired.

Parker Automotive is located on the

corner of Lincoln and Torrens roads,

just behind the service station and next

to Bin Inn. Opening hours are 7.30am-

4pm Monday to Friday, and 8am-12pm

Saturday.

So next time your vehicle needs some

attention, give Kevin a call at Parker

Automotive, phone 982 4268 or email

parkerauto@clear.net.nz. He will be

more than happy to help.

Parker Automotive

workshop, corner of

Lincoln and Torrens Roads.

NeW LoCATIoN 95 Gasson St

The Automotive

Lamp Specialists

New and Used Lamps for Cars, Trucks,

Vans, 4WD and Motorhomes

95 Gasson Street, CHRISTCHURCH

PH 0800 225 483

A vonhead

utomotive

free

6 months roadside assist

with any vehicle servicing

• automatic transmission

flushing service

• Wof • tune-ups • suspension

• batteries • neW tyres • oil &

lube service • courtesy cars

• full mechanical repairs

oPen 6 days (sat until 1pm)

126 racecourse road

Ph 342 7123 or 027 495 6600

PARKER

AUTOMOTIVE

• All Automotive Repairs and

Servicing including 4WD

• Suspension Brakes & Cambelts

• WOF, Tyres, Batteries

• Courtesy Car

55 Lincoln Rd, behind NPD (Cnr Lincoln & Torrens Rd)

Ph 03 982 4268

Mob 027 331 0382

Email: parkerauto@clear.net.nz

Free Check & Assessment

ROSES

AUTO ELECTRICAL

• new & quality

secondhand tyres

• alloy wheels

• replacement rims

• puncture repairs

WITH A MASSIVE RANGE OF TYRES IN STORE,

WHY NOT POP IN AND SEE US TODAY!

YOUR CENTRAL

CITY WORKSHOP

s

m

a

r

t

mall

edium

• Panel beating

• Spray painting

Fast

turnaround

utomotive

epair

echniques

8c Birmingham Drive,

(Cnr Hands & Birmingham Drive)

Ph: 03 343 0099 Cell: 027 226 3805

Website: www.jcmdirect.co.nz

®

Smart repairS (NZ) Limited

automotive refinishers

272 Lichfield St (Fitzgerald Ave end)

Ph 377-0409
---
22 Tuesday June 12 2018

Latest Christchurch news at www.star.kiwi

NOR'WEST NEWS

26th August 2018

10am – 3pm

Air Force Museum, Wigram

Tickets available on door

For exhibiting

enquiries contact

Mark Sinclair:

mark.sinclair@

starmedia.kiwi

BRIDALSHOW
---
2

NOR'WEST [Edition NEWS datE]

Latest Christchurch news at www.star.kiwi

Tuesday June 12 2018 23

HEALTH & BEAUTY

Protect your face

during winter weather

The wind is howling outside, and your

face is taking the brunt of the winter

weather. Cold, chapped, dehydrated skin

is depleting your face of its moisture and

youthful glow.

Plus, with the high levels of chlorination

in the city water, skin damage has taken

place even though the levels

of chlorine are being lowered.

Too little, too late as it doesn't

matter what age a person is,

the short-term effect on the

body's skin has been harmful

especially on the face which can

tremendously benefit from the

ADURO LED Light Therapy

machine.

NASA uses LED light therapy

to heal wounds in space and on

earth, imagine what it can do

for your skin.

Acne a concern? As it thrives

in harsh environments like dry

weather or hormonal imbalance

and can be very painful and

uncomfortable, plus acne leaves

a person's skin looking worn,

leather looking and scarred.

Charmaine and her team to

the rescue. With more than two decades

of experience behind them, the clinic

offers a variety of services including Teeth

Whitening, Anti-Acne, Anti-Aging, Age

Spots, Eczema, Psoriasis, Uneven Skin

Tone, Rejuvenation treatments and so

much more.

BEFORE

AFTER

Amazing results – before and after photos

supplied by a happy client, who has been

battling acne all her life

Their technical LED Light Therapy facial

machine is having astounding results by

infusing nourishment back into the skin

pores with the natural but active Mismo

skincare range.

For acne, the LED machine helps with

anti-bacterial treatments, which makes

puss pools smaller and smaller

over time, so the acne won't be as

visible on the face. Then as soon

as the acne has started lessening,

switch to the Acne Anti-Scarring

treatment program.

The LED machine also triggers

the regrowth of collagen which

smooths out wrinkles and lessens

facial line severity, Age Spots &

Scars

In addition to the LED laser

machine, the clinic is expanding

its services and relocating to a

new facility in mid-June.

"The expansion and new

location is exciting. Our team

looks forward to providing these

new services to our customers

to enhance their lifestyle," owner

Charmaine smiles.

"We appreciate our customer

loyalty and for the opportunity to serve

them as we started with the Sparklewhite

teeth whitening system, which we still

offer, and then expanded into the LED

Light Therapy and facial treatments and

now have expanded our beauty services,

products, and treatments at our new

location."

Don't neglect your skin or body this

winter, plus its always nice to have a

pearly white smile. Check out their

services at www. turnbacktimebeauty.

co.nz and make an appointment today

on their online booking system or call

339 7374 or 021 161 2349 or Facebook

Turnbacktimebeauty.

Beauty never felt so good!

LED Light

Therapy

Facials

The patented design offers a full facial

rejuvenating experience, for a range of skin

imperfections and signs of aging.

Including Anti Wrinkle, Increases Collagen

Cells, Age Spots, Acne, Scaring, Rosacea,

Eczema, Psoriasis, Redness, Uneven

Skin Tone plus many more...

Call us now and experience

the difference!

BEFORE

AFTER

3x LED

Facials

Packages starting

from $199

(normally $450)

Expires 30th

June

'CEREC' & cosmetic dentistry

Wisdom tooth removal

Painless, high quality dentistry

Sedation dentistry

Experienced, conscientious team

Experienced hygienists

OPEN SATURDAYS

355 9380

144 Cranford Street

style

noun

elegance and sophistication.

synonyms: flair, grace, poise,

polish, suaveness, urbanity, chic,

finesse, taste, class, comfort,

luxury, affluence, wealth,

opulence, lavishness.

Phone 339 7374 or 021 161 2349

www.turnbacktimebeauty.co.nz

www.stalbansdentalcentre.co.nz

MAGAZINE

STYLE.KIWI
---
24 Tuesday June 12 2018

Latest Christchurch news at www.star.kiwi

NOR'WEST NEWS

Papanui Book Club

Tuesday, 10-11am

Love sharing your favourite

reads? Go and join other book

lovers in our friendly, relaxed

library environment. No bookings

required.

Papanui Library, 35 Langdons

Rd

JP Clinic

Tuesday, 10am-1pm

A justice of the peace will be

available to members of the community,

to witness signatures

and documents, certify document

copies, hear oaths, declarations,

affidavits or affirmations as

well as sign citizenship, sponsorship

or rates rebates applications.

There is no charge for this service.

Fendalton, Shirley and Papanui

libraries

GenConnect

Tuesday, 12.10-12.40pm

Connecting generations by

sharing knowledge. Do you have

questions about your iPad, smart

phone or tablet? Or maybe you

want to know how to use Skype,

Facebook, or share your photos

with family or friends? Ask an

expert. Papanui High School students

will be available every

Tuesday during term time from

12.10-12.40pm to help you find

Email gilbert.wealleans@starmedia.kiwi

by 5pm each Wednesday

answers to all your questions.

Papanui Library, 35 Langdons

Rd

Citizens Advice Bureau

Tuesday, 2-5pm

The Citizens Advice Bureau

provides free and confidential

advice to everyone. They take

the time to listen to you and

equip you with the information,

options and support that fit your

needs.

Fendalton library, 4 Jeffreys Rd

Redwood Outreach Centre

activities

Wednesday, 1-4pm

Go along and enjoy an afternoon

with activities, craft,

library and stall. There will be a

free on-site barber to attend to

men's haircut needs and ladies

come and have your nails done.

Free hot vege soup, tea and coffee.

A koha is appreciated. This

event will take place on the first

and third Wednesday of every

month. Phone Janene Hawke for

more information on 022 042

1348.

St Lukes Presbyterian Church,

2 Daniels Rd

Reading to Dogs

Thursday, 3.30-4.30pm

These sessions have been designed

to provide a relaxed and

Elmwood Players continues its 70 th anniversary season with

Leaves of Glass, a complex play about two brothers and the

hold the past has on them. Tickers range from $18-$20 and can

be purchased online. The play runs from Thursday through to

next Saturday at the Elmwood Auditorium.

non-threatening atmosphere to

encourage children to practise

their reading skills and develop a

love of reading. This programme

uses dogs who are the pets of the

city council animal management

team and have been trained and

tested for health, safety and temperament.

Sessions are 15min.

Phone 941 7923 to book a spot.

Papanui library, 35 Langdons

Rd

Bishopdale Bridge Club

Wednesday, 11am-2.30pm

Go along and join in with this

social group which meets every

Wednesday for a game or two

of bridge. Table fees $5. Phone

Janet for more information on

352 1440.

Ōrauwhata: Bishopdale Library

and Community Centre, 13 Bishopdale

Court

Knit 'n' Yarn

Thursday 2-3pm

Go along and enjoy a chat with

other as you knit. For anyone

who loves to knit or wants to

learn.

Fendalton Library, 4 Jeffreys Rd

Christchurch Women's Toastmasters

Friday, 12.30-1.30pm

Want to advance your career?

Have the confidence to speak

up for issues you care about? A

friendly group of women meet

weekly to help women succeed

through developing speaking

and leadership skills. See our

website for more information –

www.cwctoastmasters.org.nz

St Pauls, behind the tennis

pavilion, 1 Harewood Rd

Bedtime stories

Friday, 6.30-7.30pm

Have some Friday night fun.

Themed stories, songs and

simple crafts will entertain your

four to seven-year-olds, but

the whole family is welcome.

Don't forget to wear your

pyjamas.

Fendalton library, 4 Jeffreys Rd

Learn to dance – classes for

adults

Monday, 7.25-9pm

Fevah Modern Jive run the

busiest social dance events in

Canterbury. Absolute beginners

and those with two left feet

are very welcome. Every night

begins with a friendly class that

assumes you have never danced

before so you can come any day

that suits you. It's partner dancing

but you don't have to bring

a partner with you, you'll meet

plenty during the evening. Tickets

can be purchased online.

Papanui High School, 30 Langdons

Rd

Addictive Eaters Anonymous

Monday, 7.30-8.45pm

Do you under-eat or over-eat?

Are you sick of trying to control

food? We are a group of people

who have recovered from our

addictive eating. Whether under

or over-eating (or just thinking

about food all the time) we

were gripped by an obsession

and a compulsion to beat it.

We have found recovery in the

twelve steps of addictive eaters

anonymous, as successfully as

members of alcoholics anonymous

have found freedom from

alcohol, we have found freedom

from food. This event is all ages

and admission is free.

Bishopdale Seventh-day Adventist

Church, corner of Breens

Rd and Bonita Pl

JOIN US NOW!

See website for details

UNDER ARMOUR

Women's Apparel, Buy 1

Get 1 Half Price.

SCRIBER & MARKS

School Ball Suit Offer, Slim Fit

Fashion Suit $279, with Free

Shirt, Tie & Belt.

BONDS OUTLET

40% Off All Marked Prices

Storewide.

STYLES MAY DIFFER TO IMAGE SHOWN

HALLENSTEINS

Sweats & Chinos from $20.

BENDON OUTLET

Massive Mid-Year Sale,

Starts Wednesday 13th.

Sets from $15.

Sign up to Smart Deals & be in the monthly draw for a $100 Dress-Smart gift card!

Be one of the first to hear about the latest deals, sent straight to your inbox each week!

CHRISTCHURCH 409 Main South Road, Hornby

Open 10am-5pm, 7 Days 03 349 5750

www.dress-smart.co.nz
---
NOR'WEST NEWS Latest Christchurch news at www.star.kiwi

Tuesday June 12 2018 25

REAL ESTATE

Exceptional living in every way

10 Euan Sarginson Place, Church Bay/Diamond Harbour

Price: $795,000

4 bedrooms | 3 bathrooms | 2 living rooms | 2 car-garage | 2 off-street parks | Listing #7011

From the striking design to the location

and the breath-taking views this one owner

as new home has it all.

Built as their forever home a job transfer

means this lovely warm family home must

come to the market. Quality and space

abound with seamless open plan living

opening onto a large west facing deck to

capture all the afternoon sun and maximise

those stunning sea views.

The living area and designer kitchen

will be sure to impress. There are 4 double

bedrooms, 2/3 gorgeous bathrooms and a

second downstairs living area. This home

has quality wool carpet throughout, HRV,

DVS, solar power and central heating

creating a cosy warm ambience right

through the house.

There is a large internal access double

garage and the section has been nicely

landscaped.

In immaculate condition throughout and

sheltered from the easterly wind you could

not begin to build it for this price.

Only 30 minutes scenic drive from

bottom of Colombo Street. Local amenities

are many and varied to indulge in and in

the pipeline is a cinema, supermarket and

additional shops, as well as the development

of the Marina at Lyttelton which is nearing

completion. The local school and Kidsfirst

centre have an excellent reputation and the

zoned high school is Cashmere.

To view this home contact Tim

Dunningham of Min Sarginson Real

Estate (Licensed Agent REAA 2008),

phone 027 651 5474 or 329 4161

now bigger than ever

The magazine for gardeners who

like to get their hands dirty

Enjoy a

COFFEE ON US

when you attend our

FREE Seminars

Offer only available to Build Right

seminar attendees for 2018

show duration.

growing with you

SprIng Is here –

It'S Sow Time

how to get the best results from

seeds and seedlings

100% NatIve In

The capItal

Unravelling the secrets of

Otari-wilton Bush

The New Zealand

landscape awards

The people behind

the projects

SubScribe from

$43. 50*

$7.90 incl. GST

*6 issues/6 months

ISSN 2423-0219

Save our roSeS

How a rose register is protecting our heritage

September 2016 | 100%

It's time

to grow!

New look and more

content than ever!

MeeT LeSTer Brice

A Garden coach

auckland Botanic GardenS

Why we love our public grounds

SUBSCRIPTIONS FREEPHONE

0800 77 77 10

www.gaRdENER.kIwI
---
26

Latest Christchurch news at www.star.kiwi

Tuesday June 12 2018

NOR'WEST NEWS

Classifieds Contact us today Phone our local team 03 379 1100

For Sale

PAPER END

ROLLS

Newsprint, White Gloss

& White Matte available

Great for Packing, Pattern Making,

Drawing Paper

NOW AVAILABLE FROM

To Let

NEED MORE

SPACE?

WARMER THAN A CARAVAN

NO BOND

Ideal as an extra

bedroom or office

Three convenient sizes

from $70 p/w:

Standard 3.6m x 2.4m

Large 4.2m x 2.4m

Extra-large 4.8m x 2.4m

Visit our display cabins at

470 Cranford Street or call

0211277227 for a free brochure

Trades & Services

EXTERIOR PLASTERING

Quality

Workmanship

at Competitive Pricing

Free Quotes

Aynsley Frewer

M: 027 201 1296

E: aynsleyfrewer@xtra.co.nz

PO Box 20534 Bishopdale

Trades & Services

FOOTCARE

OASIS

Senior Citizens Foot Care

25 Conway Street, Spreydon

Treating hard thick nails, calluses

and corns finishing with a foot massage

Price $30 Allow 45 mins

Home Visits available by appointment

Therapist – Amanda

(30 years experience)

Ph. 942-6036 for an appointment

HOURS ARE FLEXIBLE

29A Coleridge Street, Sydenham

or Phone Martin 0276 942 007

for delivery options

Community Events

ALCOHOLICS

ANONYMOUS, If you

want to have a drink that's

your business. If you want

to stop, we can help. Phone

0800 229-6757

Gardening

& Supplies

A GARDEN OR

LANDSCAPING TIDY

UP? Shrub, hedge &

tree pruning, Lawns,

Gardening, consistently

reliable general property

upkeep, Dip. Hort. 10

yrs experience, One off

tidy ups or on-going

service. Nick's Property

Computers

ALL

YOUR

COMPUTER

WORRIES SOLVED!

Maintenance. Keeping

*$30.00 off your first

your garden beautiful.

service with this coupon!*

Free Quote. Ph. 942-4440

No problem too big or

small from home PC's to

business networks. PC Real Estate

slow? An end to Viruses,

TOWNHOUSE

Spyware, and Clogged

Systems. Safe secure

WANTED House or

hassle-free computing. Townhouse wanted in

Lost files recovered. Girls High/Boys High

Microsoft Certified, zone. 3 bedrooms two

MCSE, MCP+l. 30 years

toilets/bathrooms.

experience. Call Andrew

Looking for my Mum to

Buxton this week on 326-

6740 or 027 435-7596

move closer to us. Cash

for $30.00 off* Custom buyer, up to 550k. Please

Computers Christchurch phone 021 372 479

Holiday

Accommodation

Australia QLD

SUNSHINE

COAST

RESORT

ALEXANDRA HEADLAND

All Units Have Ocean Views.

Heated Pools, Spa & Sauna,

Free Wifi, Tennis

& Mini Golf.

CHECK OUR GREAT

WINTER SPECIALS

www.mandolin.com.au

0061 7 5443 5011

JUNE to AUG temps 20C

Wanted To Buy

AAA Buying goods

quality furniture,

Beds, Stoves, Washing

machines, Fridge Freezers.

Same day service. Selwyn

Dealers. Phone 980 5812

or 027 313 8156

TOOLS Garden,

garage, woodworking,

mechanical, engineering,

sawbenches, lathes, cash

buyer, ph 355-2045

www.justcabins.co.nz

HOMESITTERS reqd.

Pref retired / part time.

Lovely home / pets. Ph

Lisa 359-2323 www.

townandcountryhomesit.

co.nz

Trades & Services

HALSWELL

GLASS & GLAZING 2017 LTD

THE PET DOOR SPECIALIST

• PET DOORS

• NEW GLAZING

• FRAMELESS SHOWERS

• MIRRORS

• INSURANCE CLAIMS

• RETRO GLAZING

• BALUSTRADING

ALL SUBURBS COVERED FOR

ALL YOUR GLAZING NEEDS

PHONE GAIL OR SARAH ON

322 7999 OR 021 CAT DOOR

(228 3667)

HOUSE

CLEARING

Are you

moving house

or trying to

downsize?

Call All Clear

Canterbury. We work

with you to recycle,

sell and dispose of

unwanted items.

Ph: 03 260 0934

or 021 078 4553

raewynlcooke@gmail.com

www.allclearcanterbury.co.nz

AAA HANDYMAN

licensed carpenter

LBP, all property and

building maintenance,

repairs, bathroom/shower

installations, with free

quotes 03 383 1927 or 027

245 5226 ciey@xtra.co.nz

BRICKLAYER

George Lockyer. Over

35 years bricklaying

experience. UK trained.

Insurance work. EQC

repairs. Heritage

brickwork and stonework

a speciality. No job too

small. Governors Bay.

Home 329-9344, Cell

027 684 4046, email

georgelockyer@xtra.co.nz

BUILDER

For all building work

but specialist in bathroom

renovations, 30 yrs

experience, with service

and integrity. Free Quotes.

Ph Lachlan 383-1723 or

0274 367-067.

****************

CARPET & VINYL

Laying. 50 yrs exp,

repairs, uplifting, relaying,

restretching. Email

jflattery@xtra.co.nz ph

John on 0800 003 181 or

027 2407416

ELECTRICIAN

Registered, electrical

installation and repairs,

Gorbie Electrical, ph 021

026 73375 or 03 322 4209

LANDSCAPING

To Ezycare or Winter

tidyup Ph Greame 027 341

8596 / 342-5151

PAINTING

& Decorating Wingfields

Contracting, all interior

& exterior painting & all

forms of interior plastering

& jib fixing, ph Mark 021

171-1586 or 355-5994

PAINTER

Quality work, I stand by

Canterbury Ph Wayne 03

385-4348 or 027 274 3541

PAINTER AVAILABLE

All aspects in painting.

Very competitive in roofs

and fences. Please call 027

241-7471 or 335-0265

PLASTERER

Gib Stopping, Small

job specialty. 30 + years

experience. Ring 0800

387-369

PLUMBER

ALF THORPE

PLUMBING Certifying

Plumber for all types of

plumbing, maintenance,

spouting, alterations etc.

Phone 352-7402 or 0274-

350-231

PLUMBER

A Top Plumbing job

completed at a fair price,

prompt service, all work

guaranteed, Ph Brian 960-

7673 or 021 112-3492

ROOFING REPAIRS

Fully qualified, over 40

yrs experience. Ph John

027 432-3822 or 351-

9147 email johnchmill@

outlook.com

SHOE REPAIRS

Belfast engraving. Shoe

repairs,key cutting &

engraving.(10 yrs exp)

683 Main North Rd ph 027

3113423

PAINTER

Michael Kelly Painters

Locally owned and

operated family

business.

25+ years Experience

• Painting • Wallpapering

• Interior • Exterior

Free Quotes

Phone

Michael 0212 649 492

michaelkellypainter@hotmail.co.nz

SPOUTING CLEANING

Spouting Unblocked,

Cleaned Out and Flushed

Out. Also Full Handyman

Services Available. Call

Trevor 332 8949 or 021

043 2034

STONEMASON

BRICK

&

BLOCKLAYER,

Earthquake Repairs, Grind

Out & Repoint, River/

Oamaru stone, Schist,

Volcanic Rock, Paving,

all Alterations new & old,

Quality Workmanship,

visit www.featureworks.

co.nz or ph 027 601-3145

TILER/CARPENTER

35 years exp, no job

too small. Ph Ross 027

4311440.

TILER/CARPENTER

35 years exp, no job

too small. Ph Ross 027

4311440.

T.V. SERVICE CENTRE

Repairs, tvs, microwaves,

stereos, DVD. Aerial

installations and kitsets,

480 Moorhouse Ave, ph 03

379 1400

VHS VIDEO TAPES

& all camera tapes

converted to DVD, video

taping special occasions,

www.grahamsvideo.co.nz

ph 03 338-1655

VHS VIDEO TAPES

& all camera tapes

converted to DVD, video

taping special occasions,

www.grahamsvideo.co.nz

ph 03 338-1655

WINDOW CLEANING

Average 3 bdrm house

inside or out $40. Both

$70. Phone Trevor 344-

2170

Visit www.star.kiwi

anytime, anywhere!

Breaking news,

delivered to your pocket.

•news •CTV •sport •districts •schools •lifestyle •opinion •what's on

Fire rages, homes at risk

www.star.kiwi
---
NOR'WEST NEWS Latest Christchurch news at www.star.kiwi

Tuesday June 12 2018 27

What's On

Entertainment

John snares

Nashville

distribution

deal

KIWI Country artist, John McCabe has

secured a world-wide distribution

contract with Lamon Records. e

Nashville based record company is one

of the largest independent record labels

affiliated with Sony Music.

Affectionately known as the Kiwi with

the "golden voice", John McCabe was

born and raised in Oamaru and has

been performing since he was 12 years

old.

John departed for Canada in 1981 and

quickly gained recognition touring with

his live band through several states of the

USA and Canada.

Returning to New Zealand some 13

years ago, John has been in demand,

performing regularly at Clubs, events

and private functions.

He has an impressive catalogue of

material with several more original

releases pending. His songs are recorded

in Nashville using some of the very best

record producers and studios.

Under the Lamon Record label his

To advertise, contact

Jo Fuller 027 458 8590

jo.fuller@starmedia.kiwi

songs will be released in 243 different

territories world-wide which includes

radio station and music download sites.

John will be returning to Nashville

shortly to produce a music video.

In the meantime, you can catch him in

the Westview Lounge at the Hornby

WMC next Saturday 23rd June. 8pm

start.

'Famous for their roasts!'

SENIORS SPECIAL

Two courses: $

22

Soup/Roast or Roast/Dessert

Special available lunch only

Monday - Saturday 12pm - 2.30pm

Conditions apply

FAMILY FRIENDLY

Kid's Special

Two courses

Great Kids menu plus

designated play area.

$

13

What's On

TUESDAYS & THURSDAYS

MEMBERS LUCKY CARD DRAW

LIVE MUSIC - COMING UP

SATURDY 30 JUNE

RESTAURANT & CAFÉ

Open daily from 6.30am - Breakfast, Lunch & Dinner

The

RACECOURSE HOTEL

www.racecoursehotel.co.nz

Dine by the Beach

PIERVIEW

RESTAURANT

UPSTAIRS

Open from 5.30pm Fri, Sat,

Sun, and Sunday Brunch

from 10.30am to 2pm.

& Motorlodge

118 Racecourse Rd, Sockburn,

Christchurch. Ph 03 342 7150

MONTH-END

SUNDAY NIGHT

BUFFET $25pp

Sunday 24th June

from 5.30pm

BOOK NOW!

CLUBBISTRO

DOWNSTAIRS

Open Tues to Sat 12pm - 2pm & from 5pm.

GAMING ROOM : NEW MACHINES!

202 Marine Pde | Ph 388 9416 | www.newbrightonclub.co.nz | Members, guests & affiliates welcome

Lunch & Dinner

All you can eat

7 days

SERVING

Bookings Essential PH 386 0088

fb.com/GardenHotelRestaurant www.gardenhotel.co.nz

HAPPY HOUR

5PM - 7PM DAILY

OUR CABINET ITEMS

ARE HOMEMADE

CREATED FRESH ON SITE DAILY

$12

LUNCH

SPECIALS

Live Music:

6PM.SAT 16.JUNE

Mid-Winter

Christmas

COFFEE

HAPPY

H O U R

Saturday Saturday 17 June 23 June to to

Sunday Sunday 2 July 2017 15 July.

LUNCH

Mon to Fri $24.50pp

Sat & Sun $25.50pp

DINNER

Mon to Thur $31.50pp

Fri to Sun $33.50pp

Senior Citizens

discount available.

2PM-4PM

DAILY

$3.50

Offer available for a limited time

and includes tea, hot chocolate

MON: ROAST MEAL

TUE: FISH & CHIPS

WED: FISH BURGER

THU: ROAST MEAL

SAT: FISH & CHIPS

AVAILABLE

FROM

11.30AM-2PM

FOR A

LIMITED TIME

PHONE 385 8880 FIND US ON FACEBOOK fb.com/GBCCHCH

THE GARDEN HOTEL COMPLEX | 110 MARSHLAND RD

www.gardenhotel.co.nz | phone 385 3132

H ORNBY

WORKINGMEN'S

CLUB

LIVE MUSIC

SATURDAY

4.30PM:

MARION'S OUTLAWS

8PM: A & P DUO

SATURDAY 16 JUNE, 9AM

CLUB ELECTIONS

COMING UP

SATURDAY 23 JUNE

STARS IN THEIR EYES

Featuring

TONY WELLINGTON as

ROY ORBISON & BUDDY HOLLY

and EDDIE SIMON as

LEO SAYER & JOHN FOGERTY CCR

7.30PM. PRE-SALE TIX $20.

DOOR SALES $25.

SATURDAY 30 JUNE

AVONHEAD ROTARY FUNDRAISER

ANOTHER GREAT VARIETY

TRIBUTE SHOW

TICKETS $15

The Hornby Club | ph 03 349 9026

17 Carmen Rd | Hornby

www.hornbywmc.co.nz

Members, guests & affiliates welcome

FAMILY FRIENDLY DINING

OPEN

EVERY DAY

Club CAFÉ

LUNCH &

DINNER

JOIN US FOR OUR

EXCITING SERIES

OF CLUB CAFÉ

Chalmers Restaurant

FRIDAY & SATURDAY

CARVERY DINNER

$22.50

OPEN FROM 5.30PM

Early Bird Special

5.30pm - 6.30PM

FREE

DESSERT

SUNDAY BUFFET

$27

EVERY SUNDAY FROM 5PM-8PM

COMING UP

BOOK NOW!

LUNCH & DINNER

$17
---
28 Tuesday June 12 2018

Latest Christchurch news at www.star.kiwi

NOR'WEST NEWS

Top

02

03

04

Chris Lewis

FENDALTON

Paul Nichols

FENDALTON

Peter Hampton

ST ALBANS

Steven Marshall

FENDALTON

05

06

07

08

Phil Holt

COMMERCIAL

Richard Dawson

ILAM 2

Jenni Rolton

ST ALBANS

Tracy Thomson

ST ALBANS

09

10

11

12

Simon Watson

ILAM 2

Mike Tapley

ILAM 2

Corina Grey

ILAM

Jayne Lattimore

ILAM 2

13

14

15

16

Jacq Lawler

ILAM 2

Peter

Fitzhardinge

ILAM 2

Cindy-Lee

Sinclair

MERIVALE

Mitchell

MacDonald

ST ALBANS

17

18

19

20

Brian

Buckingham

ILAM 2

Bridget Perry

MERIVALE

Sarah Piggott

ST ALBANS

Don Yee

ILAM

Win-Win

Congratulations to our Top 20 Consultants for May 2018

It's an unquestionable truth – the success of our clients is directly tied to the

success of our people. That's why it's their triumphs we celebrate as much as

those of the individuals you see here.

We want to thank our clients for their trust in us. We wish to congratulate our high

achievers for their passion and dedication, their unique expertise and exemplary

service. We look forward to further success with you in the years to come.

Contact one of our top

performers today:

Fendalton 03 355 6116

Ilam 03 351 6556

Ilam 2 03 351 3002

Merivale 03 355 6677

St Albans 03 377 0377

holmwood.co.nz